French Polynesia's second largest island will simply leave you lost for words. Nuku Hiva in the distant Marquesas Islands is wildly beautiful beyond imagination, with a unique language, rich ancient history and a landscape fit for a Hollywood movie set. With this kind of beauty, do not expect to recharge your batteries in this island. Nuku Hiva is action packed with incredible hikes, scenic road trips, archeological sites and plenty more to tire you out. I spent 5 days in Nuku Hiva while backpacking across the South Pacific Islands. Here's a sample 4 days in Nuku Hiva itinerary to help you plan the adventure of a lifetime!
Here's a quick teaser of what expects those who make it all the way to Nuku Hiva!
Traveling to other islands in French Polynesia? Here are the best ones!

4 Days In Nuku Hiva Itinerary Map
Click on the image to open in Google Maps: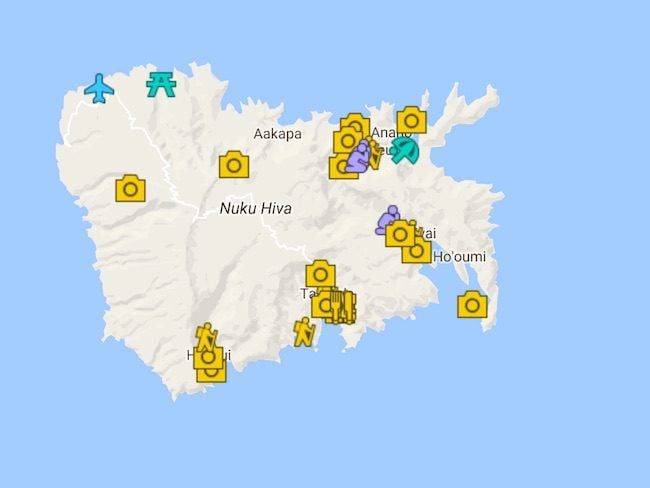 Where To Stay?
You'll no doubt base yourself in the main village of Taiohae, where you'll find family-owned pensions and a couple of hotels. If you're looking for something on the authentic side, I totally recommend Pension Koku'u. Hosts Alvane, Claudine and their family live in a simple home on a hill overlooking Taiohae Bay, just a 15-minute walk from the center of the village. As you'll see in this Nuku Hiva sample itinerary, Alvane was one of the main reasons this island ranks way up on my list. Read a full review of Pension Koku'u in the Nuku Hiva Travel Guide.
Day 1: Scenic Drive & Exploring Taiohae
Your 3+ hour flight from Tahiti will arrive around noon, landing in the remote northwestern side of the island known as 'desert land'. Your friendly pension hosts should be waiting for you with their 4X4 and off you go on the most scenic airport-to-town ride you'll ever have.
A Scenic Drive From The Airport
The 75-minute ride from the airport to the main village of Taiohae will leave you speechless if you aren't already lost for words from the view during landing. Your driver will stop along the sharp ridgeline for a great view of Nuku Hiva's version of the 'Grand Canyon'. Are you impressed by now?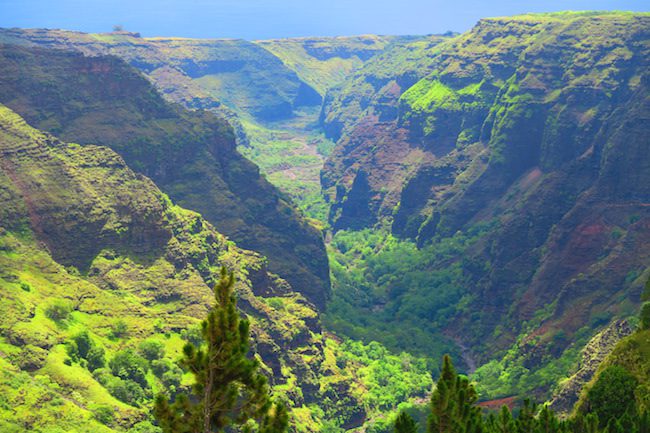 Your 4X4 will then snake its way up the mountain, passing endless pine-covered forests reaching for the sky. Watch out for wild horses and cattle on the road, and waterfalls cascading from the surrounding mountains.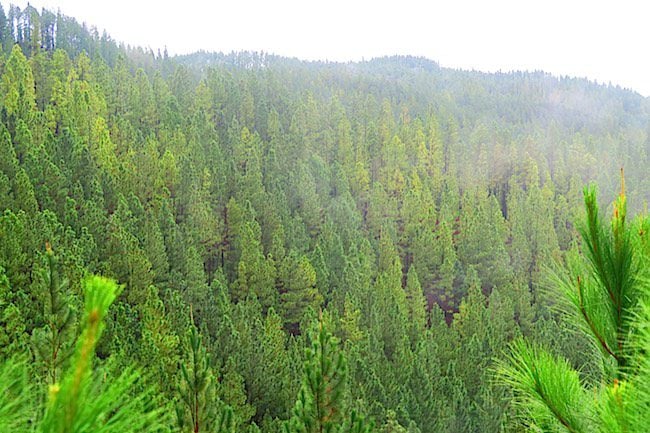 At last, you've reached the top of the Toovii Plateau. The view from up here will no doubt raise some doubts about whether you've actually landed on the right island. This fertile plateau is much cooler than the usual tropical heat, so green and so 'Swiss-like'.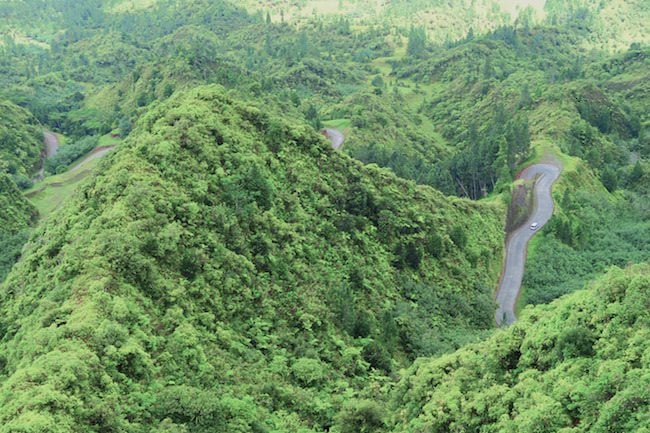 There's only one way to go from up here, and that's twisting and turning down to the plateau and descending from its southern end towards Taiohae.
A few more hair razing kilometers and this perfectly shaped bay finally comes into view. "Holy cow" is the first thing coming to mind, and yeap – that's Taiohae down there, where you'll be spending the next 4-5 nights!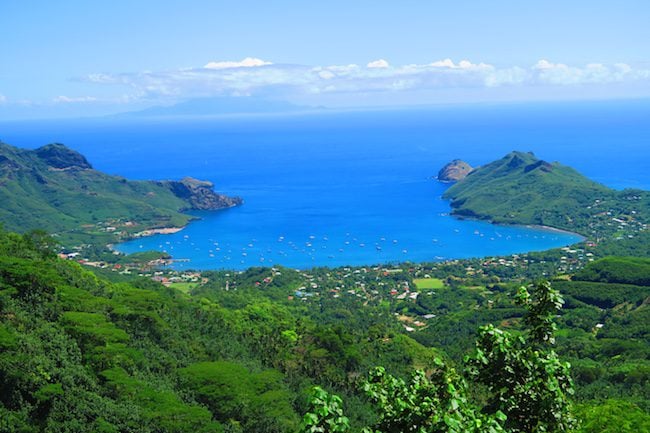 Walking Around Taiohae
All unpacked in your pension, put on your walking shoes and walk to town. Taiohae is the capital of the Marquesas Islands, but it's hardly a stressful place. With just a few streets and a whole lot of colorful tropical flowers, it's the perfect place to base yourself.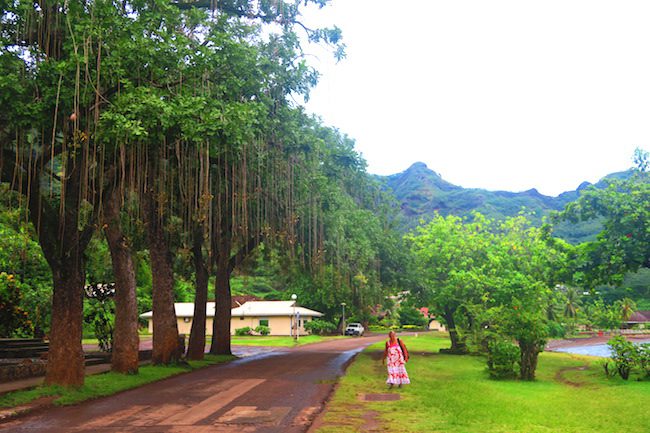 Head to the beach, a perfectly crescent patch of black sand. With lush mountains wrapping around the back, and dozens of yachts waiting for the cyclone season to pass in the bay – this little village is as picturesque as they come.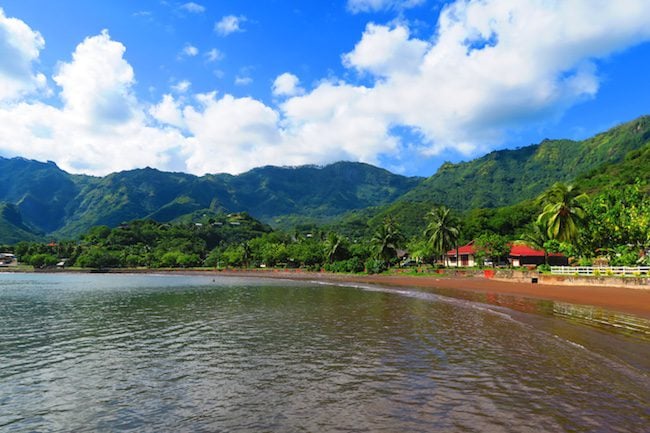 Down by the main quay, stop at Cafe Vaeaki for a cold beer or something small to eat, and say hi to all the yachties passing the time thanks to the free wifi. Across from you, locals will probably be tossing their fishing lines with the (sure) hope of catching something for tonight.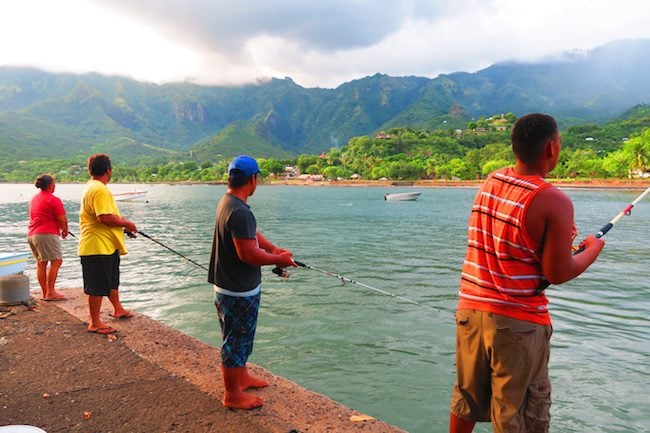 A few steps away, peek inside the fruit & vegetable market if it's still open and pop into the artisan market for some shopping. The Marquesas Islands are the best place in French Polynesia for anything fashioned from wood or rock. Local islanders are among the best carvers in the South Pacific, and this is a great opportunity to buy a few lasting memories from paradise (cash only).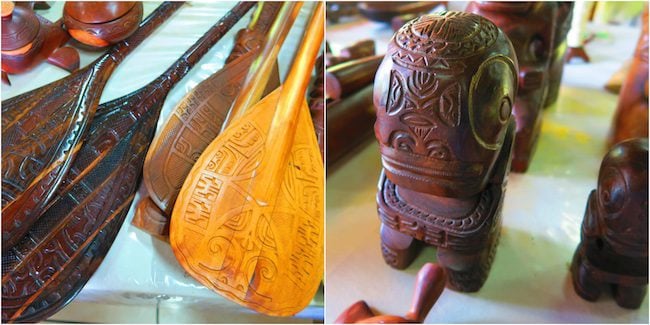 Before heading back, stop by the Notre Dame Cathedral. Taiohae's main church looks like something out of a fairytale, or at least an episode of Game Of Thrones. If you just happen to be in Nuku Hiva on Sunday, don't forget to join the entire village at 8am (that's right) for a memorable service and lots of food!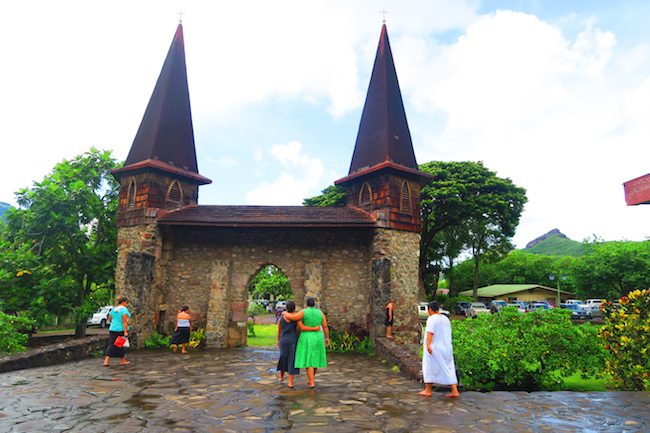 Dinner & Stars
Walk back to your pension and enjoy a delicious dinner. I bet some form of red tuna is on the menu! As for dessert, how about millions of stars in the night sky?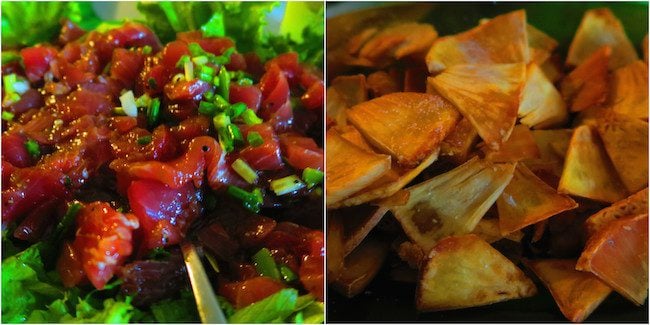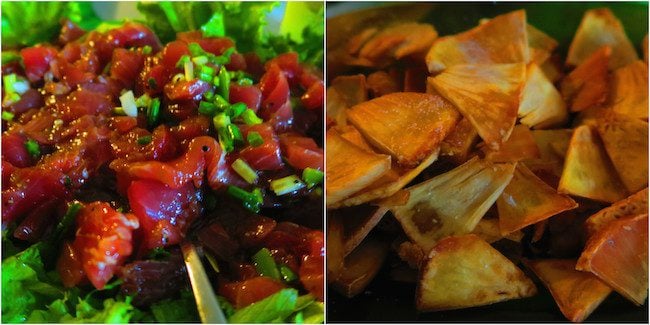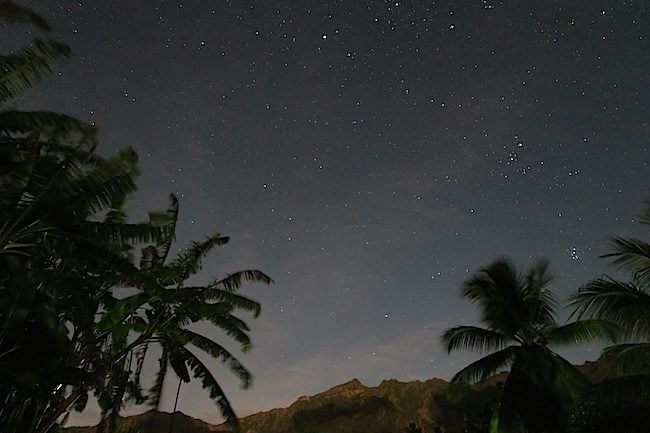 Day 2: Hakatea Bay & Hike To Vaipo Waterfall
Here's a day you won't want to miss. To see the highest waterfall in French Polynesia, get in touch with Thiery Tekuataoa (+689-87791969 Skype:tht1966) or with Tangy and Ana from Cannibal Art. Thierry offers straightforward day hikes into the valley while Tangy and Ana can also arrange multi-day camping trips.
The "normal" day trip begins with a scenic 40-minute boat ride to Hakatea Bay. Out at sea, you'll be treated to sublime views of Taiohae Bay and the exposed sea cliffs – clearly showing layer upon layer of ancient volcanic history.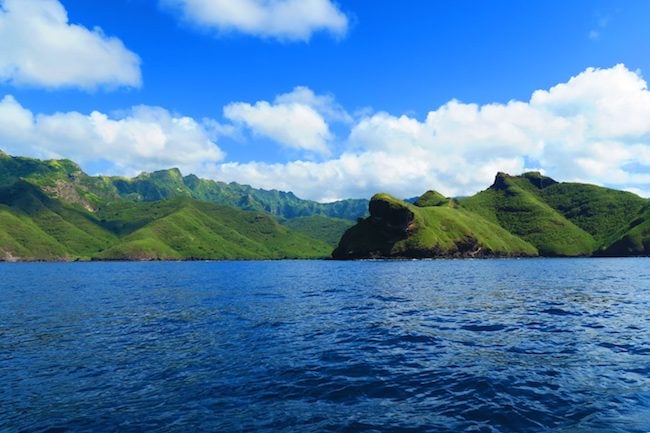 Hakatea Bay & Hakaui Valley
As you enter Hakatea Bay, you might find yourself lost for words. The bay hides a beautiful white sand beach, welcoming local fishermen returning from a night at sea. Out in the Hakaui Valley, the signature basaltic cliffs of Nuku Hiva run deep, hiding the waterfall somewhere in there. That's for you to find, so let's go!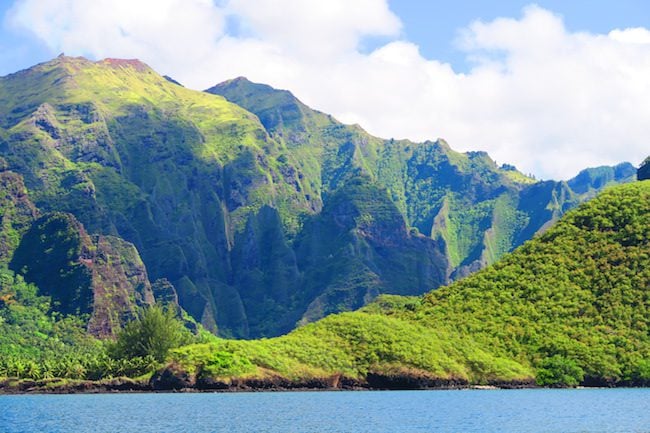 You'll enter the thick rainforest and walk the length of the valley along the ancient royal road, crossing a number of rivers. The valley was once home to thousands of islanders, with only stone platforms left centuries after their departure, now overrun by magnificent mape trees.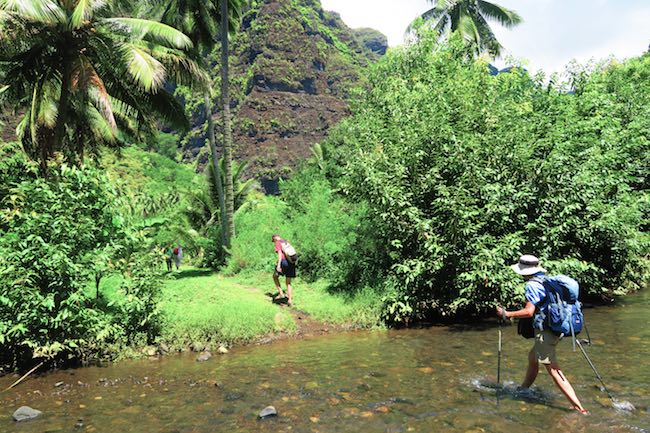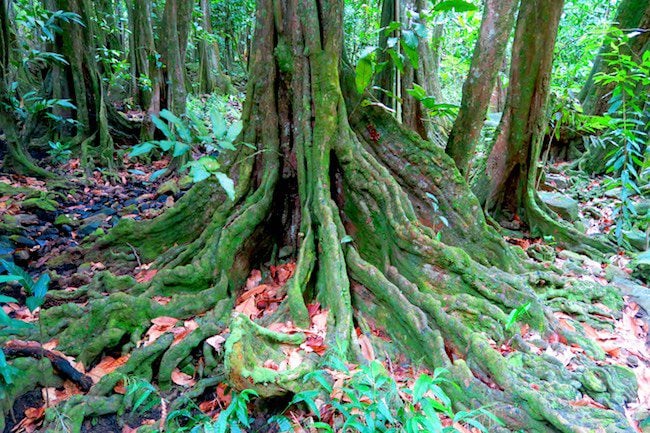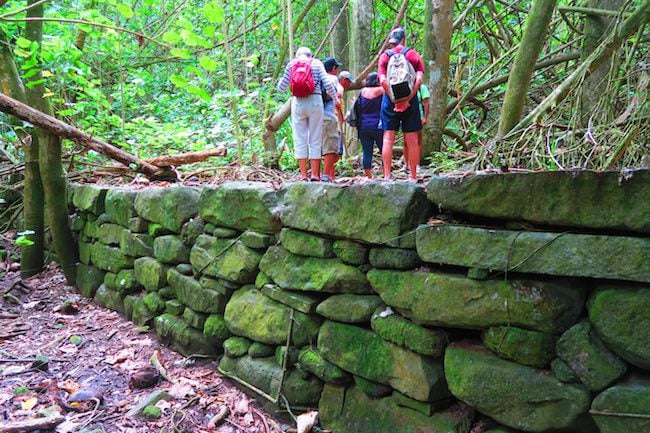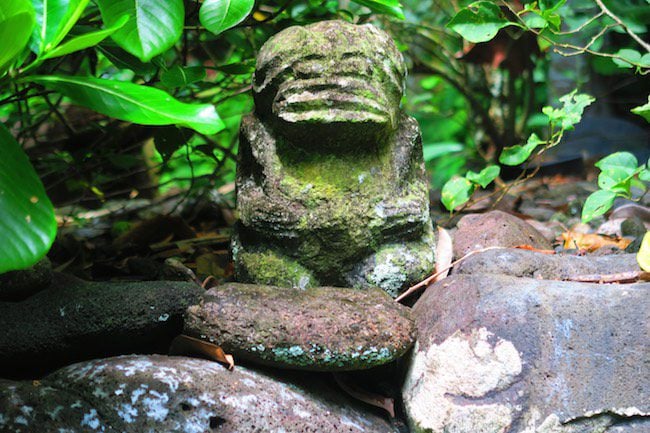 Vaipo Waterfall
A few kilometers later, a clearing in the forest will finally reveal the 350-meter high Vaipo Waterfall – a marvelous sighting, totally worth the endless battles with the mosquitos.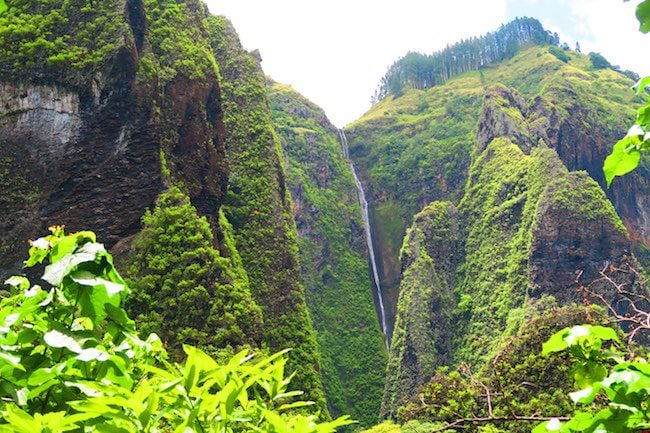 You'll continue walking inside the creek until reaching a swimming pool at the base of the waterfall. From here, it's back to the beach and back on the boat to cap off a memorable day. Have a look at the Nuku Hiva Travel Guide for full logistical information. I highly recommend booking this for your first full day in Nuku Hiva as tours might be: fully booked, underbooked or canceled due to bad weather.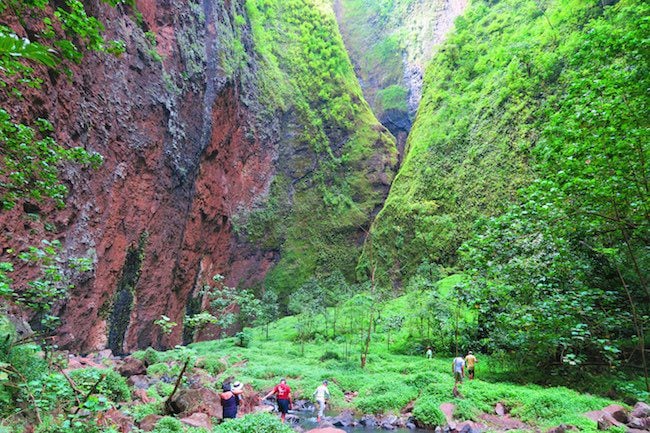 Drinks & Live Music
And how shall you celebrate such a fine day? Head to the 'market snack' for some drinks and great food. If you're lucky, there might even be a live band playing traditional tunes. Can you please ask them to play my absolute favorite song from French Polynesia?