Day 2: Kalaupapa Peninsula & Leper Colony
The second day of your 5 days in Molokai will uncover one of the most fascinating stories you've probably never heard of. Today, we'll explore the remote Kalaupapa Peninsula, home to a former leper colony that is still somewhat in use today. Get your history books and hiking shoes ready!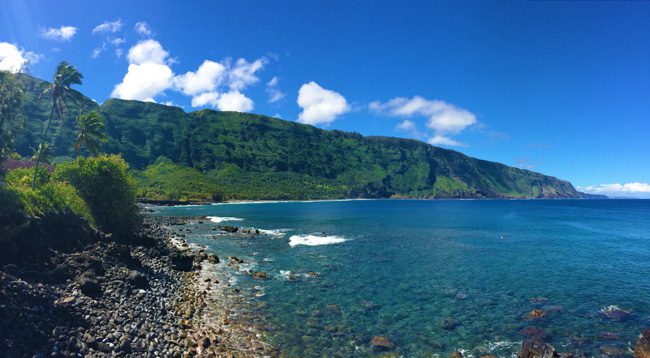 Background
In the most inaccessible part of the most isolated of the (main) Hawaiian Islands, lies the Kalaupapa Peninsula. Meaning "flat-leaf", the peninsula is squeezed by the majestic Pali Coast – the tallest sea cliffs in the world – and the Pacific Ocean. The peninsula is not only a place of dramatic natural beauty but also the site of a tragic episode in modern Hawaiian history. In an effort to curb the spread of the leprosy virus and under mounting pressure from wealthy sugar plantation owners who feared a dwindling labor supply, King Kamehameha V signed legislation to designate this isolated spot as a permanent quarantine area for patients of leprosy from across the Hawaiian Islands.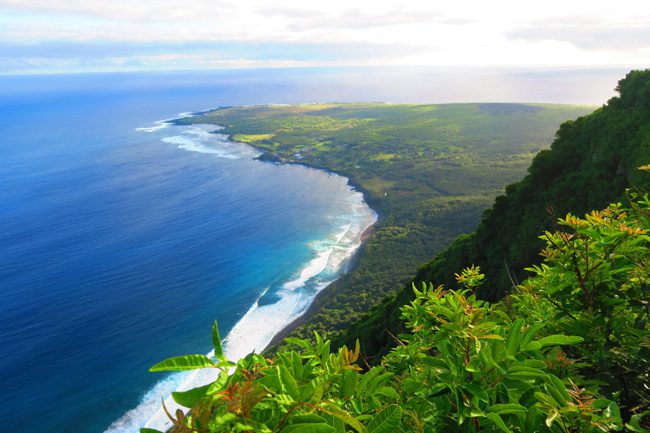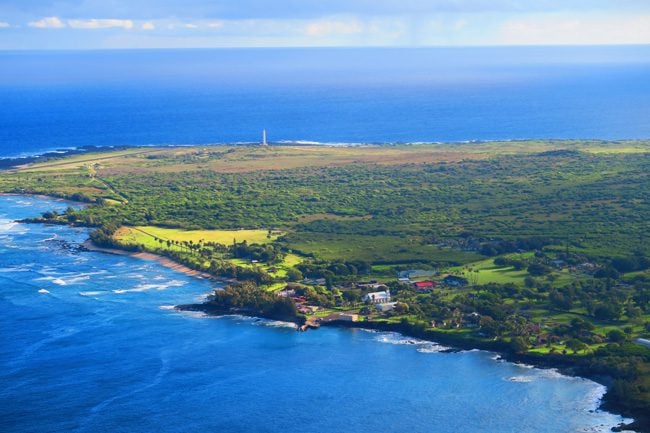 From 1866 to 1969, about 8,500 patients called this place home, forced to leave their islands, their families, and even their children behind in the case of adults. Living conditions were appalling during the first few years, with patients having little medical care or adequate facilities.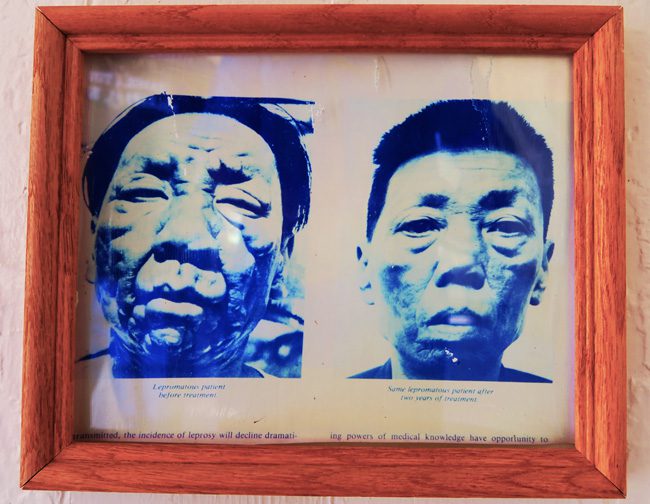 That all began to change with the arrival of Belgian-born Father Damien (now St. Damien) and later Mother Marianne, Joseph Dutton and a number of other good souls who cared for the patients, washed their wounds, provided schooling and even created a rich social scene (theatrical plays, sporting activities, parades, and even a working dairy farm). Ironically and tragically, Father Damien contracted the leprosy virus in Kalaupapa, eventually succumbing to the disease for which a cure was eventually discovered in the 1940s. You can say a lot of things about the church but here's an example of something good, a story of compassion and sacrifice when nobody else cared.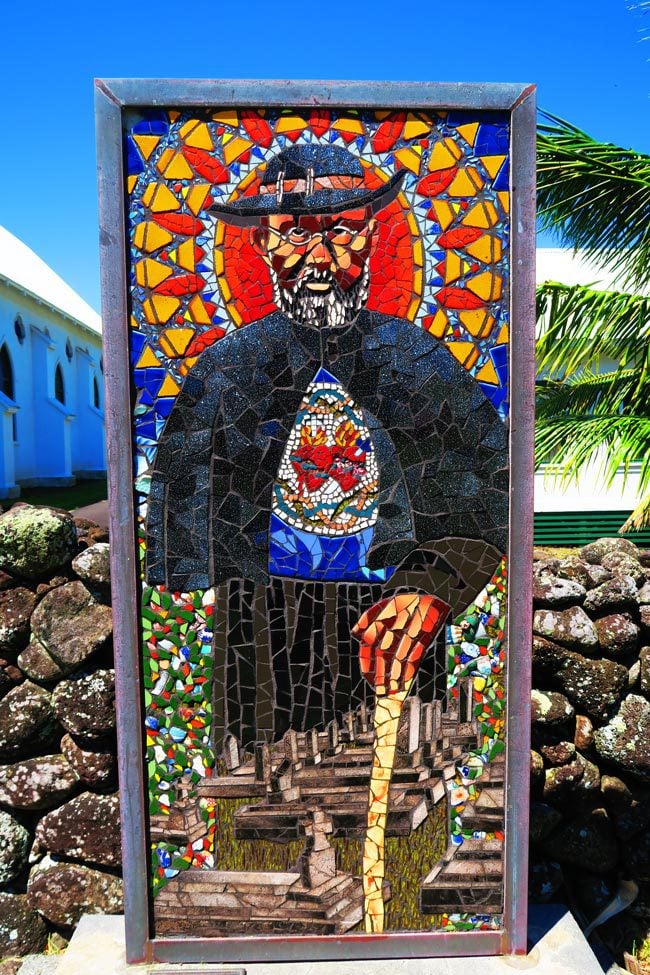 The cure for leprosy (known as Hansen's Disease in the politically correct lingo) made the need for a quarantine zone obsolete, turning the tides for the colony and leading to a very happy end. Patients were now free to leave and return home, but some simply chose to stay. Kalaupapa was their home and, well, the million-dollar views probably helped tip the scales. With their status changed from "patients" to "residents", the government took over and has tried ever since to make up for all those "lost years". Residents were awarded with some degree of self-governing autonomy (their own county, for example), healthcare, meals, modern infrastructure such as super-fast internet, and even a post office. Heck, even Amazon delivers! A real mini-utopia.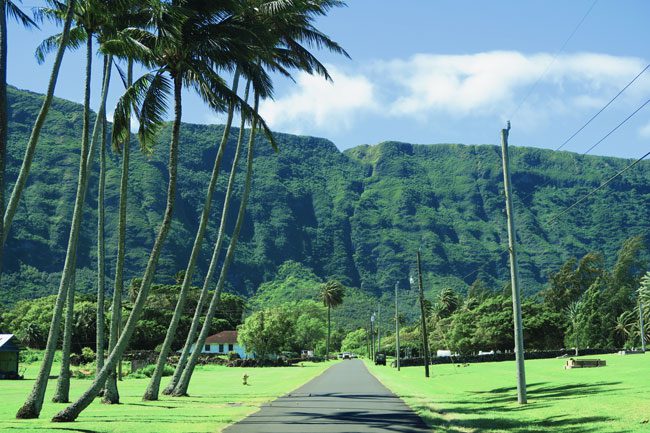 These days, only about a dozen or so resident-patients live in Kalaupapa, which has become a National Historical Park. Visiting the former leper colony is a must-do activity in Molokai, not only for its sheer natural beauty but also for the feeling of visiting a forbidden place (even Hollywood made a film about its story).
Logistics
Visiting Kalaupapa is a bit tricky so let's start with the logistics of the day before exploring the peninsula.
Entering the peninsula can only be done so with an official permit and as part of a guided tour

. Hiking down without a permit is an offense and the privacy of residents is taken very seriously around here.

Overnight stays are only permitted for guests of residents and volunteers in the National Park (the latter is a good idea if you wish to spend a few nights in this magical place).

No children under the age of 16 can enter the peninsula. This draconian rule stems out of respect and remembrance to the fact that patients could not bring their children with them when forced to relocate here back in the day.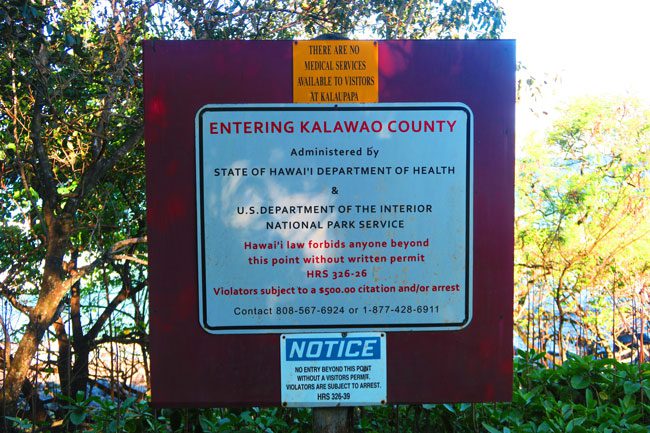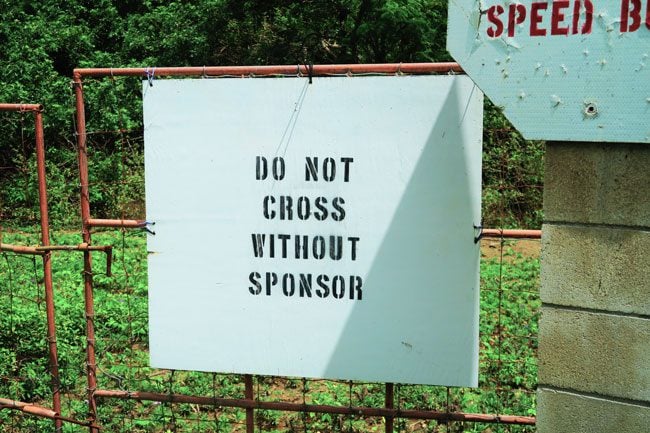 There are three ways of visiting the Kalaupapa Peninsula:
(#1) Hiking: by far my recommended option. The 3.5-mile trail (each way) is advertised as super strenuous, but if you are fit this shouldn't be a problem. You'll hike 1664 ft down for about one hour on a well-marked trail that has 26 switchbacks and 1,400 steps. The views along the way are superb and you can stop whenever you want as there's hardly anyone to share the trail with. The challenge, of course, is getting back up so take things slow and allow for about 90 minutes at least (I did it in 45 mins). Wear comfortable shoes, sweat-repelling clothing, sun protection, and pack light rain gear just in case, a full change of clothes, packed lunch, snacks and plenty of water (can refill). Bring walking poles if it helps you. You can park your vehicle right at the trailhead (see map) but aim to start hiking by 8-8:30 am. That way, you'll avoid sharing the trail with the convoy of mules heading down, which also involves negotiating their manure…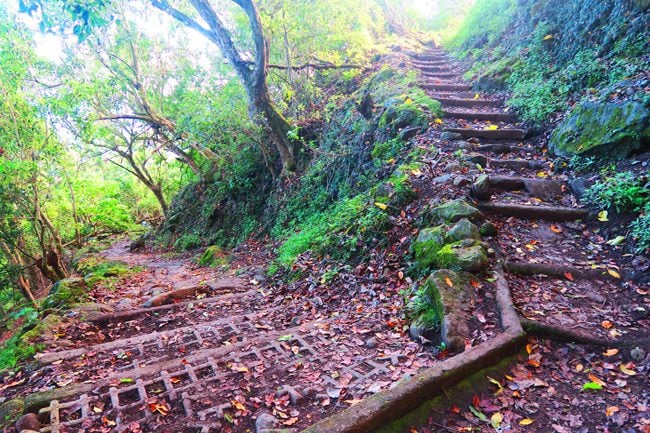 Most importantly, you'll need to pre-book a tour with Damien Tours and meet your guide at a designated signposted area more or less at the end of the trail. The guided tour costs $60 (cash only + tip) and be aware that some accommodations will offer this exact tour for $75 (so book directly). I was fortunate to have Rick Schonely as my guide. He was super knowledgeable about the history of the place and was really into his job, not to mention he's a talented singer and plays the ukulele.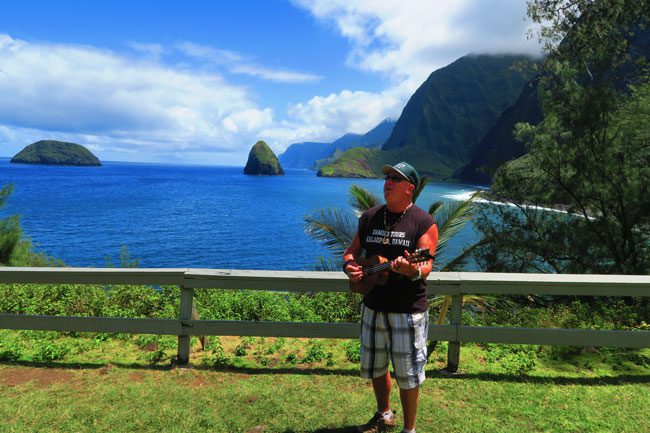 Surprisingly, Damien Tours offers a slightly cheaper self-guided option which also involves having to check in with a guide. They'll equip you with a map and a permit which you must wear throughout your visit. However, I do not recommend this option since you won't have the benefit of a knowledgeable guide in a place which is mostly "about the story" but also because you will not be able to visit the super-scenic Kalawao section with its incredible views of the Pali Coast and famous twin churches (it is simply too far of a walk).
(#2) Mule rides: quite an expensive way to avoid the hike. You might be able to score a return ride on the mules to avoid hiking back up. Book with Kalaupapa Mule Tour.
(#3) Flying: Makani Kai offers daily flights to the peninsula from the "topside" airport in Molokai. You can book a return ticket or combine it with a hike and a one-way ticket.
Places of Interest
Here are some of the sights you'll get to visit in the Kalaupapa Peninsula as part of your guided tour.
Kalaupapa Beach
One of the most dramatic beaches in Hawaii and there will likely not be a soul around here when you visit. The part sandy part rocky beach offers a great view of the Pali Coast of Molokai with its towering sea cliffs. If you have some time to kill before your tour begins, this is a good place to wait.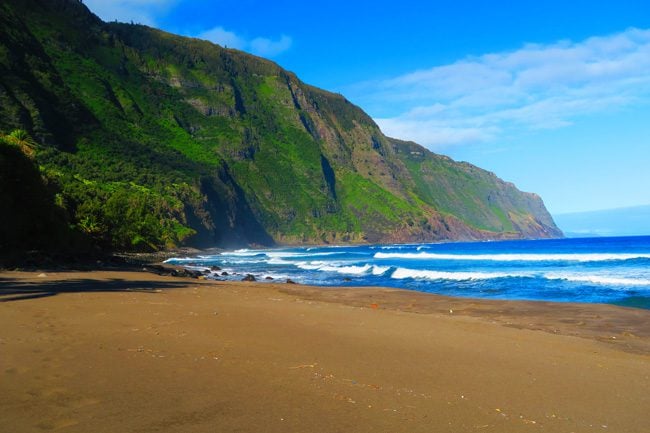 Kalaupapa Village
Your guide will then lead you on an air-conditioned ride through the village, where you'll make a number of stops. You'll notice how organized this place is, with a post office, infirmary, and even a small bar. Most, if not all of the buildings were once used by patients and have since been restored, now used by either the remaining residents or by park staff and volunteers.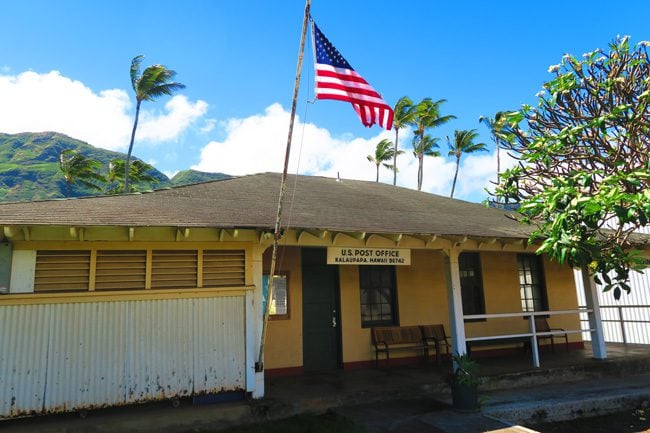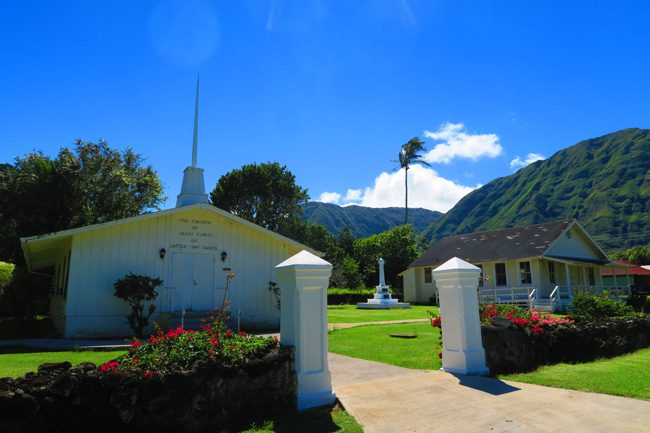 If you're in luck, you might visit the bookstore and get to meet Boogie, one of the few residents that actually like to meet visitors. He's lived here for a few decades and now runs the bookstore, where you can buy a few cool souvenirs that help run this place. Over at the Bishop House, you'll meet the resident sister, who will show you around and share the story of the former girls' home that was established by Mother Marianne.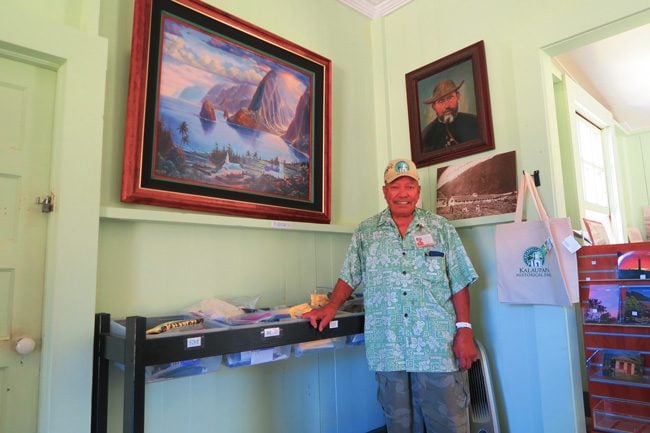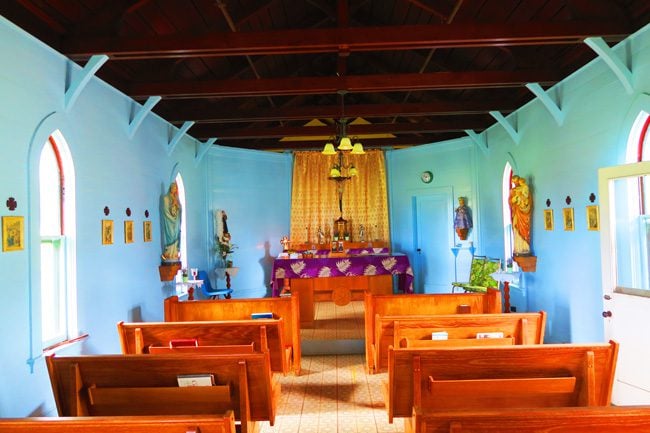 You'll also stop at the scenic Kalaupapa Landing – the only port in the peninsula. The views from here are, once again, incredible, and you might even spot a few whales breaching in season. In case you were wondering, supply is delivered to Kalaupapa once a year on a barge sent over from Oahu. All heavy equipment including new cars, appliances, etc come on the barge and its arrival in the summer months is as celebrated as Christmas (day-to-day supply is shipped via air cargo).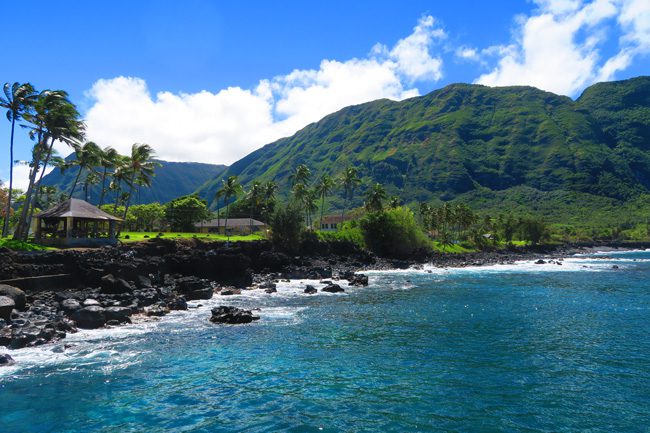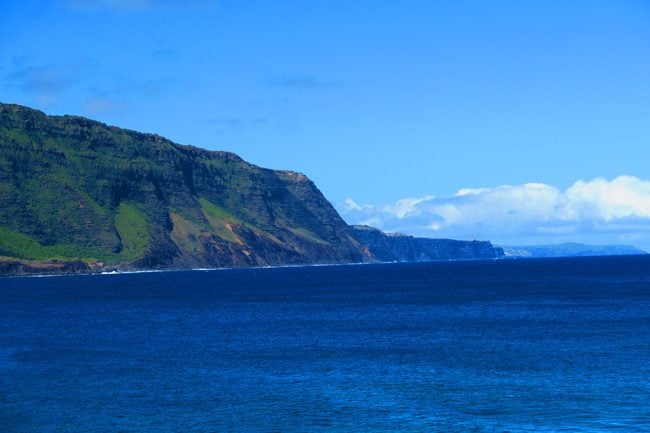 Finally, you'll pay a visit to the local cemetery and the impressive Catholic church. The church has a small museum where you can see pictures of former patients (it ain't pretty) as well as statues of Father Damien and his "gang of saints".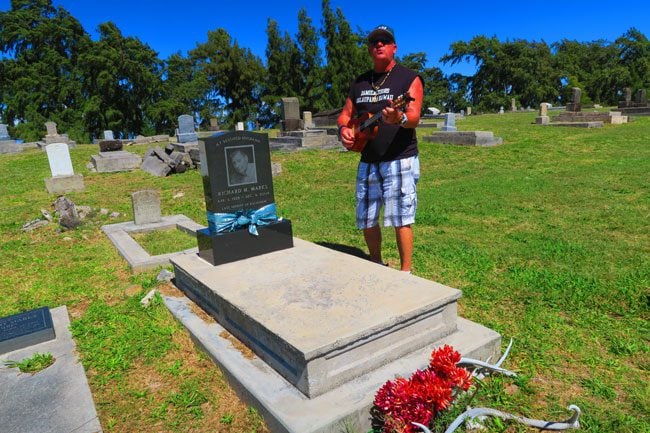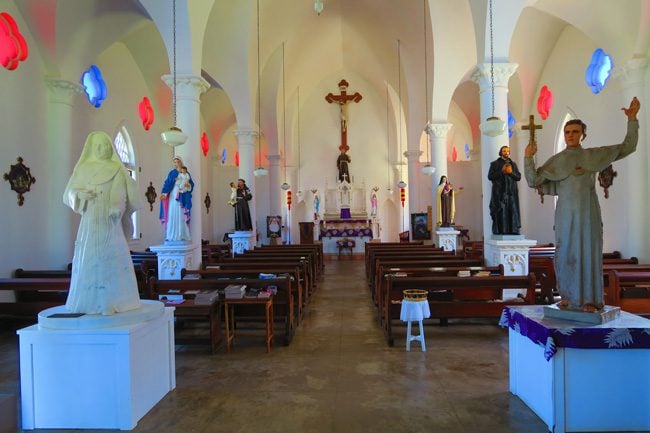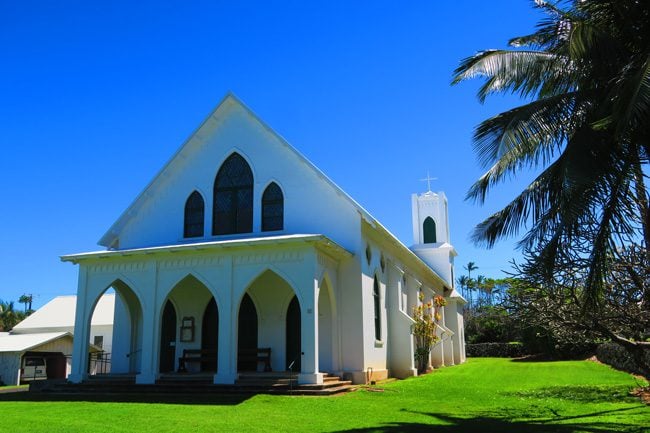 Lighthouse
Next up is the tiny airport and lighthouse. This is where flights arrive and depart on a daily basis. The lighthouse is another interesting story. Keepers and their families were confined to the lighthouse during the quarantine years and were not allowed to come into contact with the patients. This extreme isolation, in an already isolated place, was often broken by patients who came at night to socialize with the lonely keepers. Today, locals and staff swear that visiting the lighthouse overnight guarantees a meeting with one or two spirits.
Kalawao
The highlight of the tour is the trip to the windward side of the peninsula, known as Kalawao. This is the site of the original settlement and where patients were "dropped off". As you'll soon see, it is a very wild spot. Eventually, the settlement was relocated to the leeward side of the peninsula, where the weather was a bit more friendly.
The scenic drive from the village offers incredible views of deep valleys that slice the peninsula's interior. There are a number of heiaus along the way (ancient Hawaiian temples) which you'll pause next to and a very eerie forest where spirits are said to often roam.
Next up are the Siloama Protestant Church and St Philomena Catholic Church. The latter was built was Father Damien in 1872 and he is buried out back along with others who are rewarded with eternal scenic views. Damien's body was actually exhumed and shipped back to Belgium, but in 1995, his right hand was returned and buried at this very spot.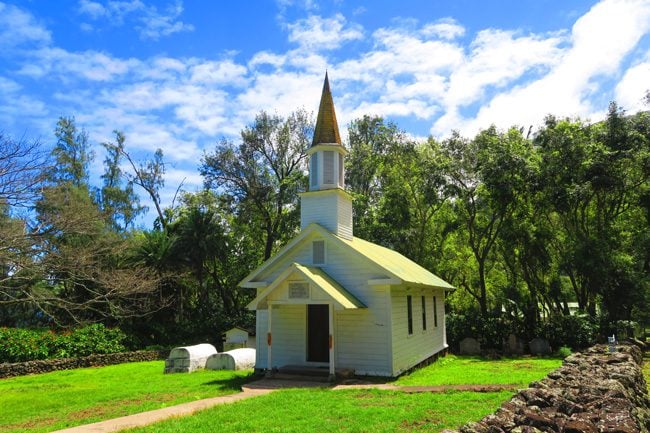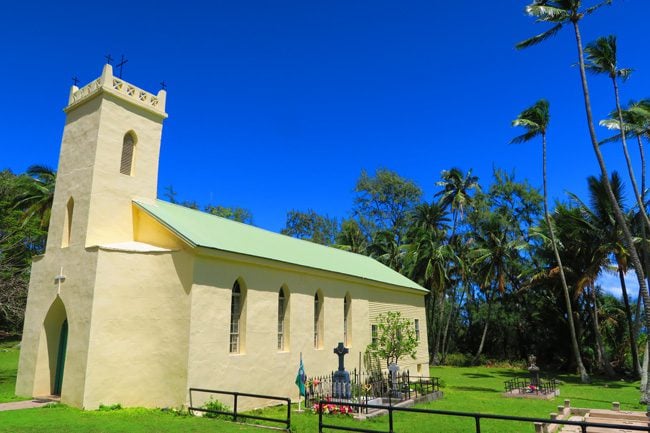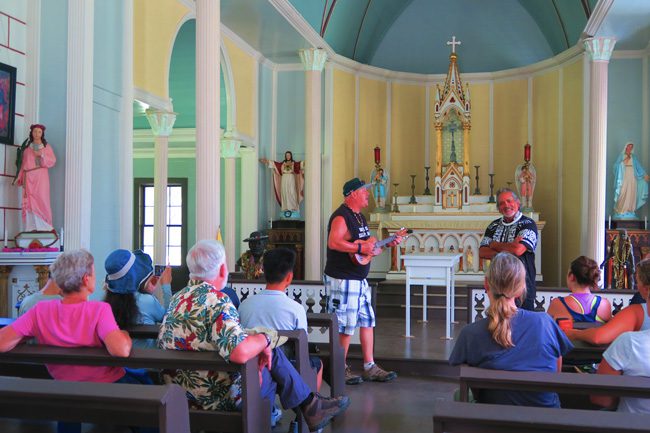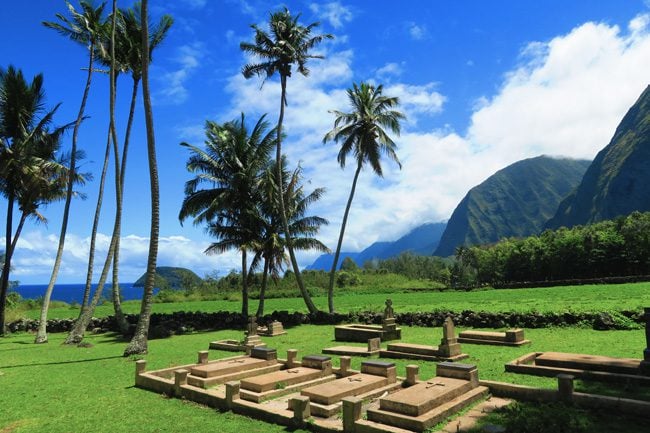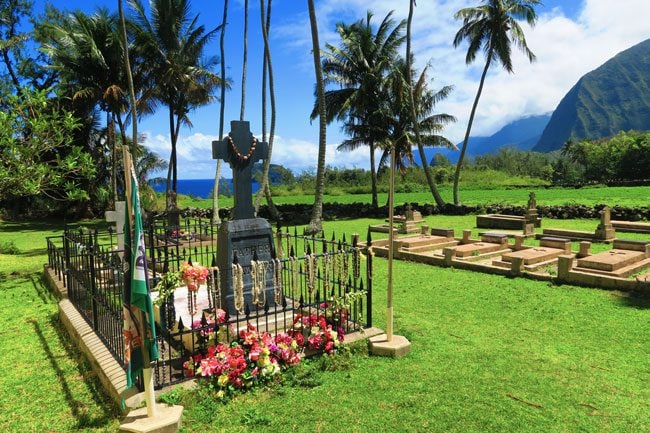 As far as scenic views are concerned, the viewpoint in Kalawao is one of the best in Hawaii (and maybe even the world). From here, you can get a good sense of the sheer size of Molokai's Pali Coast and only imagine what it was like for terrified patients landing here in rough waters. This rugged coastline is only accessible by boat, and I'm told hides incredible camping spots that only locals know about!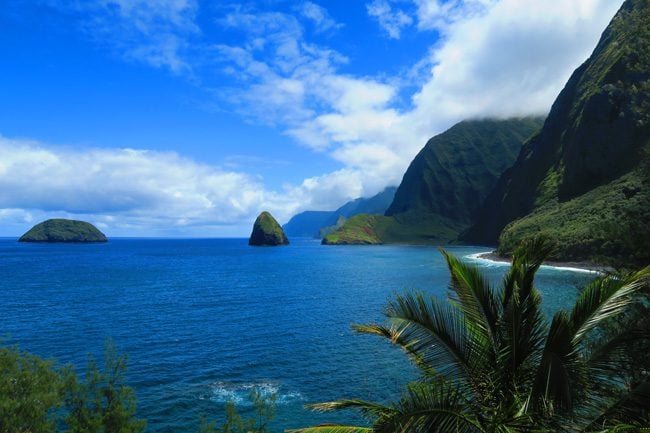 You'll have time for lunch at the shaded picnic area by the viewpoint so don't forget to pack something. Apparently, there is also an impressive water-filled crater not too far away but it wasn't accessible as part of the tour.
Kalaupapa Overlook
Back "topside", drive to the end of the road and visit the Kalaupapa Overlook. The bird's eye view from this spot is breathtaking and offers the chance the fully appreciate the journey you just completed. If you won't be visiting the peninsula, this is obviously an even greater must.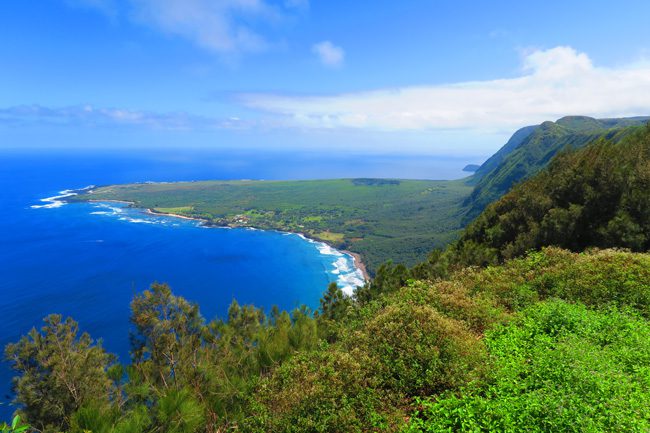 About a 10-minute walk from the parking, you can hike through the ironwood forest to the phallic rock, a huge slab in the shape of a… penis. There's obviously a Hawaiian legend behind this weird-looking boulder but, in any case, these days women have been known to offer the rock a flower necklace and following an overnight stay (spooky), got pregnant!
Spending the Rest of Your Day
You'll likely wrap up the Kalaupapa chapter of the day at around 2-3 pm (including the hike and overlook visit). This leaves enough time to either head west to one of the beaches (see day 3 itinerary) or simply take it easy in and around Kaunakakai or at your condo. En route back to town, stop at Coffees of Hawaii and taste their locally grown coffee. There's a lovely outdoor seating area and they also sell souvenirs. For dinner, head to Paddlers Inn – the only proper bar/restaurant in Molokai (the one at the Hotel Molokai shut down when I visited). Both locals and visitors come here for the good food and the great vibe.