Day 4: Molokai Forest Reserve & Kamakou Preserve
Day four of your 5 days in Molokai will be spent exploring Molokai's tropical and elevated interior on a scenic drive and hike. If the weather cooperates, you will be awarded with unparalleled views that might offer a glimpse as to what the other Hawaiian islands may have looked like prior to mass development.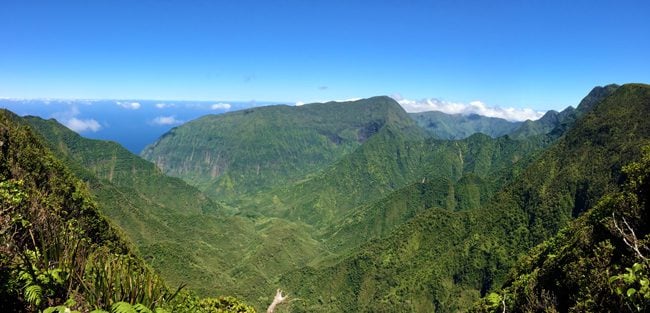 Logistics for the day: a proper 4WD is essential for this day's itinerary. It is even worth renting one just for this day if the weather report is optimistic. The other option is mountain biking and you'll need to inquire in town where to rent one. Aim to start the off-road section by no later than 9 am. The road is rough and despite only having to drive 30 miles or so (return) on the dirt road, it will take a few hours without taking into account the breathtaking scenic stops. Moreover, starting early means having a better chance of beating the clouds but in any case, be prepared for rain and the wind (and intense sun on a clear day). Bring lots of food, snacks and more water than you think you need. Wear comfortable hiking shoes (no sandals) and pack beach gear for later.
Molokai Forest Reserve
There are a number of ways to enter the remotest part of Molokai, but basically, you just want to make it onto Forest Preserve Rd somehow (ask around). I personally turned right on HWY 460 just before The Tobacco Shack. The scenery here is still desert-like and you can spot the coral reef just like we did the other day. However, be prepared for rough-going as the road is very bumpy from here on.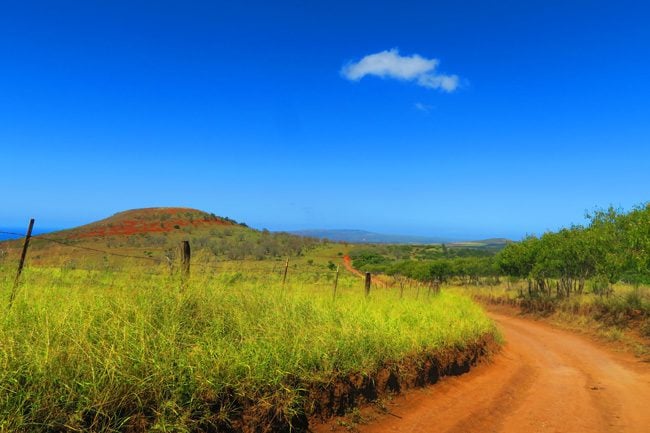 The bumps taper off as you enter the Molokai Forest Reserve and it actually gets cooler as you keep driving and gain elevation. As you'll soon see, the reserve's trees were once of great monetary value but these days, driving through is a magical experience, with a changing scenery so different than what you've seen just a few minutes before.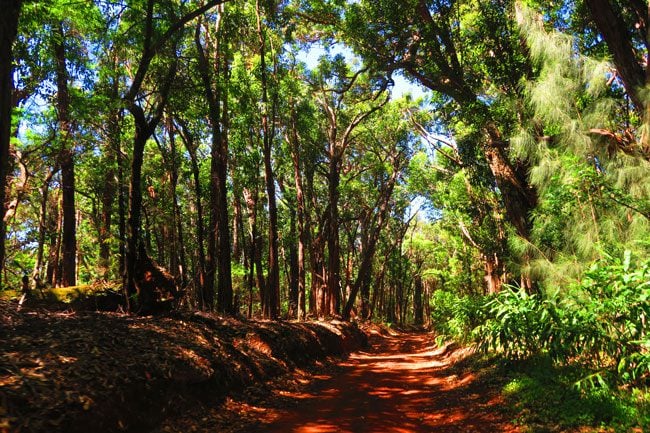 Your first real stop is at the Sandalwood Pit. Now covered in grass, the pit was excavated in the 19th century to the exact dimensions of a ship's "cargo bay". Locals would trek all the way up here and chop down the sandalwood trees – a sought-after tree with an addictive fragrance that is pretty much extinct on many Pacific islands. They would use the pit's dimensions to maximize their efforts and somehow manually carry the logs down to the port. The pit itself is nothing exciting, but with the history added, it makes for an interesting stop.
The next stop is at the 3600 ft Waikolu Lookout. From here, you'll be treated to sensational views of the Waikolu Valley and its beach, a portion of which you saw from the Kalawao Lookout in Kalaupapa a few days ago. Bear in mind that clouds and mist can quickly roll but that's not necessarily a bad thing – just have a look at the pictures. Moreover, if it's been raining lately, the peaks will be dripping with waterfalls – yet another reason to visit. Note that camping is possible just across the lookout, with a permit, of course.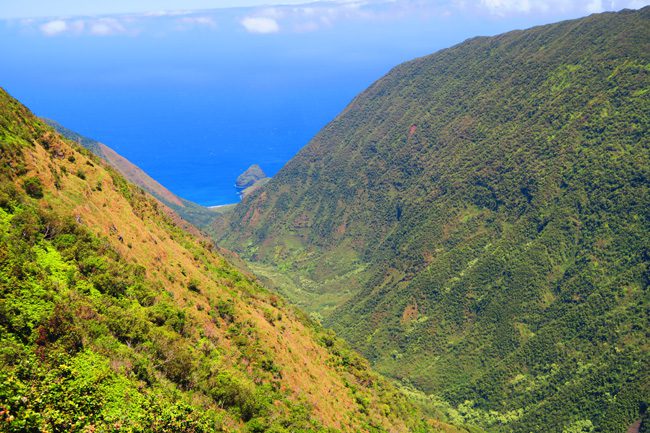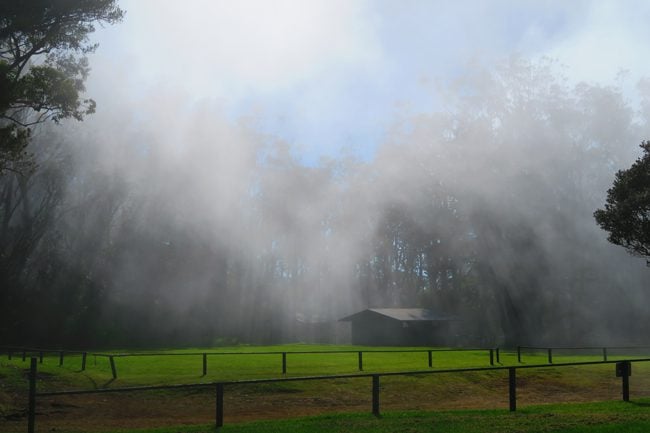 Kamakou Forest Preserve
Continuing from the Waikolu Lookout, you'll now enter the Kamakou Preserve – home to over 200 species of native plants, songbirds, and unique ecosystems. The dirt road pretty much ends at the entrance to the PepeOpae Trail and is the absolute highlight of the day.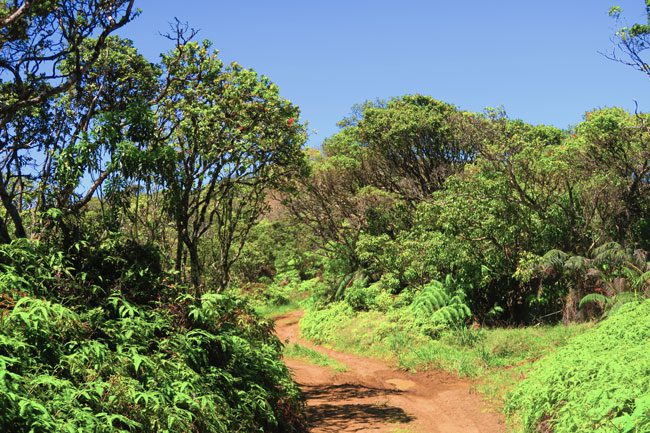 Walking a "tightrope" along a narrow boardwalk, you'll hike over a mile deep into a cloud forest and over a bog where centuries of rotten vegetation has mixed with who-knows-how-many inches of rain (so watch your step because every mistake is a muddy one). Similar to the Alaka'i Swamp trail in Kauai (minus 99% of the people you need to share the trail with) the setting is surreal and looks like something out of an episode of Lord of the Rings. Spongy moss-covered ohia lehua trees are arching over your head, their sweet red flowers a magnet for apapane songbirds who cheer you on.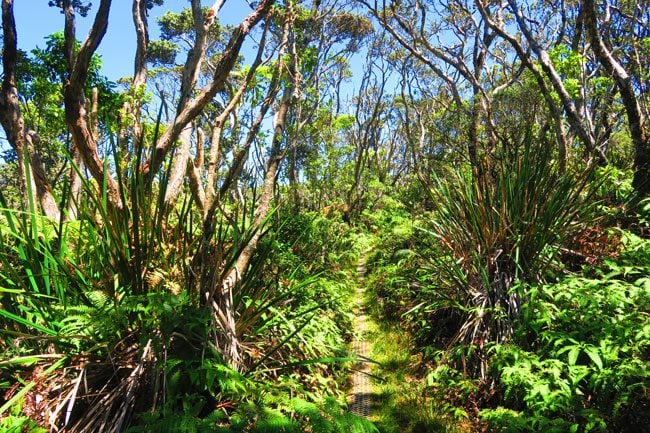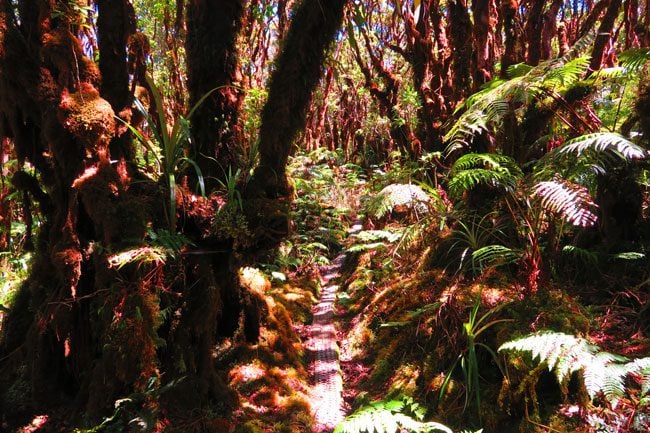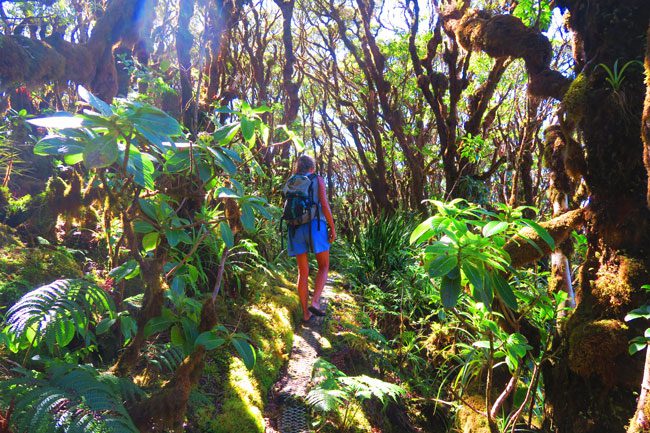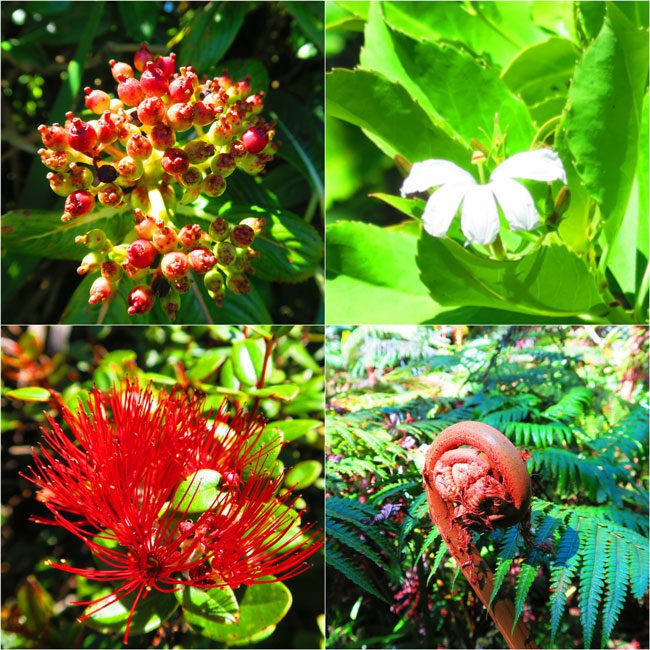 The metal-covered boardwalk then leads you to a rare clearing in the cloud forest where the views on a clear day are phenomenal. Pay close attention to the unique flora and fauna: species of native birds and the mountain naupaka paka – so reminiscent of the rare tiare apetahi on the sacred island of Raiatea in French Polynesia.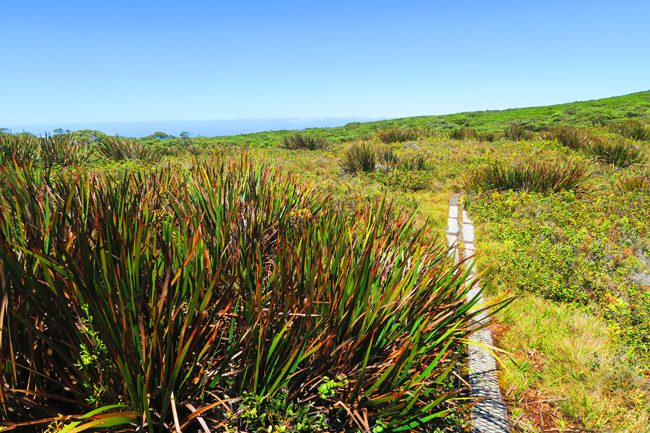 You then re-enter the cloud forest, only to emerge at the Pelekunu Valley Overlook. No words can describe the breathtaking vista and the purity of nature that you experience from having this magical spot all to yourself. Across the valley are Molokai's highest peaks, often covered in clouds. To your left, the deep chasms of the valley meet the blue of the Pacific Ocean. Once again, if it has been raining lately, you'll be treated to a display of towering waterfalls but even on an extremely rare super-sunny day like I was fortunate enough to have, this is a pretty good spot to park it for a couple of hours, have a picnic lunch, and to count your blessings.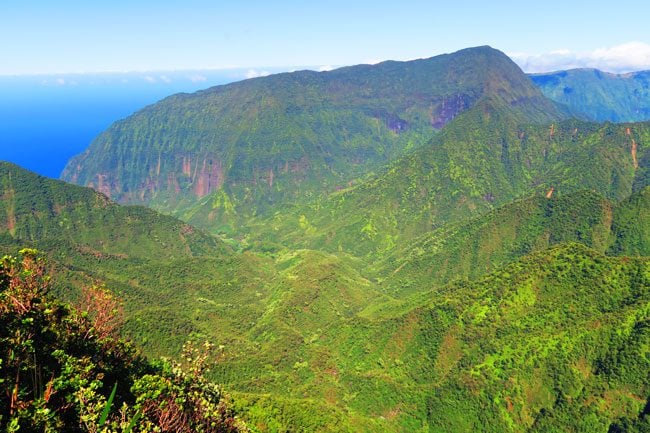 Mo'omomi Beach
Not ready to call it a day quite yet? Since you already have a 4WD, you might as well continue your off-the-grid day with a trip to deserted Mo'omomi Beach on the island's north shore. This sand dune of a beach – a favorite breeding ground for sea turtles – is remote and only accessible with a 4WD via a 2-mile stretch of muddy road from the end of HWY 480.