Put on your walking shoes and explore one of the greatest cities in the world. From the Gold Rush to the Golden Gate Bridge, San Francisco is rich with historical landmarks, Pacific views, great food and colorful people.
With houses that defy the rules of gravity – built on steep hills, Pacific Ocean views, a beautiful bay, colorful neighborhoods, a notorious former prison, Gold Rush history, and one 'golden bridge' – San Francisco is a destination on every traveler's mind. We had the privilege of visiting San Francisco during August when the days are long and the summer fog meets the California sun.
America's closest version of a European city, San Francisco's appeal is not only in the beautiful panoramic views it offers from the hills dotting the city but also from the diversity that lies within its strikingly different neighborhoods. In a matter of a few city blocks, one can visit Chinatown, Little Italy, the hipster Mission and so on. We also used our holiday in San Francisco to explore the beautiful coastline and head out on one the ultimate road trips, California Highway 1.
So, as the famous tune goes "if you're going to San Francisco"… be sure to read through this 5 days in San Francisco travel guide and plan your memorable holiday.
What's Included in this 5 Days in San Francisco Itinerary?
Essential San Francisco travel tips & itinerary map [This Page]
Day 1: Union Square, Chinatown, North Beach & Telegraph Hill [Skip To Page]
Day 2: Civic Center, the Painted Ladies & The Mission District [Skip To Page]
Day 3: Farmer's Market, Embarcadero, Alcatraz & Fisherman's Wharf [Skip To Page]
Day 4: Cable Car Ride, Lombard St, Bike Tour, Golden Gate Bridge, Baker Beach, Golden Gate Park & Sausalito [Skip To Page]
Day 5: Muir Woods, Stinson Beach & Point Reyes [Skip To Page]
Looking for a Quick Read?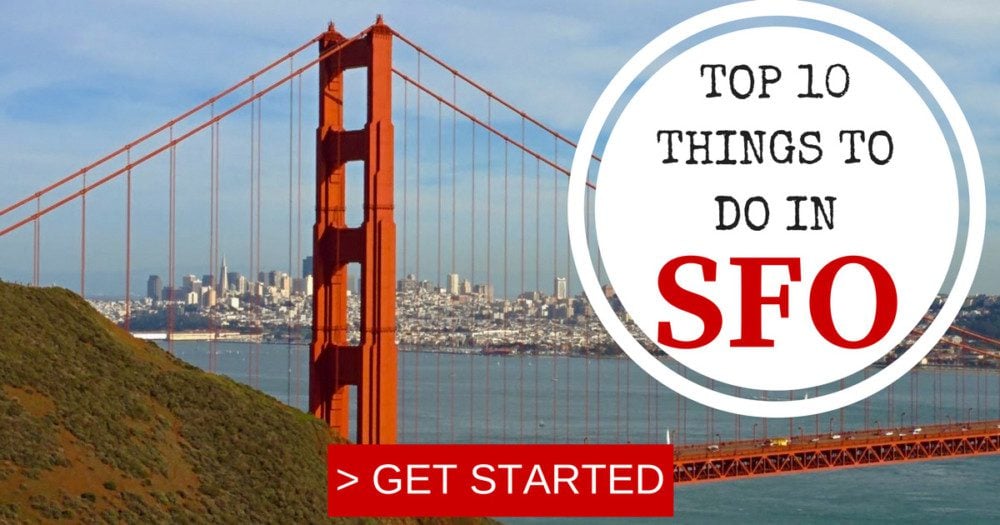 San Francisco Travel Tips:
Pack this with you! Get the Pocket Rough Guide to San Francisco. It's got loads of photos, restaurant listings and will be your best friend in SFO along with this guide of course.
Browse through this collection of online tickets to San Francisco's various sites, tours, and experiences. Tickets are immediately issued and delivered by email, and in certain cases, you can also enter via a 'special queue' (a.k.a skip the line). San Francisco is packed with tourists, so this can come in handy in certain situations.
San Francisco is famous for its microclimates and the summer fog. We can get into the scientific explanation but instead, check out this link. Basically, summer mornings are foggy and chilly, then in the late morning / early afternoon the sun usually comes out and around early evening, the fog rolls back in along with some wind. Therefore, always dress in layers and be prepared for some chilly weather at times, even in the summer. But do be sure to pack those sunglasses. Fear not the terrible weather as the fog does usually clear as mentioned above and traveling just a few miles out of San Francisco, the temperatures can be a lot higher and the sun quite strong.
San Francisco is best enjoyed by foot. It is not your typical US city. So be sure to pack comfortable shoes and be prepared to walk up a few hills – it's the best way to see the city (though there are plenty of options if you are not able to walk extensively).
Speaking of the hills – if distances look short on a map, they could involve negotiating some steep (but beautiful) hills so take that into account.
The city is served by two public transportation companies: BART and Muni. The BART is essentially a subway system that serves the entire bay area whereas Muni serves the city (streetcars, buses, cable cars). On the BART, your fare depends on the destination while on Muni, the adult fare is $2.25 per ride and that includes a free transfer valid for 90 minutes on other Muni lines aside from cable cars. A Clipper Card is worth it if you'll be doing a lot of traveling and can be used on both Muni and BART as well as on ferries and the Caltrain. Above ground, you'll need to have exact change (no change is given on buses, streetcars, etc.).
Cable cars are synonymous with San Francisco. The popular line is Powell & Hyde which runs from Market Street to Fisherman's Wharf and offers the best views (fare is $6 per ride). More tips on riding the cable cars later on.
If you're hopefully planning to drive across the iconic Golden Gate Bridge, keep in mind that it's tolled on the southbound leg, heading back into town. A one-way fare is $7 per car and must be paid online. If you have a rental car and fail to pay the toll on time, an invoice will be sent to the rental company and it will add a service fee to the toll so be sure to go online and pay ahead of time for the duration of your rental period by license plate number.
San Francisco is one of the most expensive cities in the US. Book early to find good deals. Tipping is also part of the local custom. In restaurant- add 15-20% (to the pre-tax value), in bars – $1 per drink, valet parking – $2 minimum, hotel porters – $1 per bag and in taxis – 10%
As the tech capital of America, you'll find plenty of wi-fi spots across the city. However, if you don't like surprises, T-Mobile offers a $3 per day package that includes unlimited talk and text (The US only of course) and most importantly, 200Mb of data per day. In any case, download an offline Google Map of San Francisco and use your GPS to get around.
Renting a car in San Francisco? Rates are competitive but most locations close at 5 or 6 pm without the option of just dropping off the keys (aside from airport locations). Take that into account when renting and at the very worst, pay for an extra day so you are not in a hurry to get back.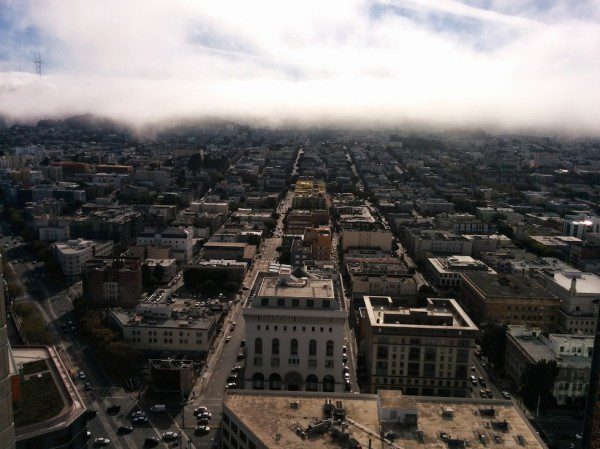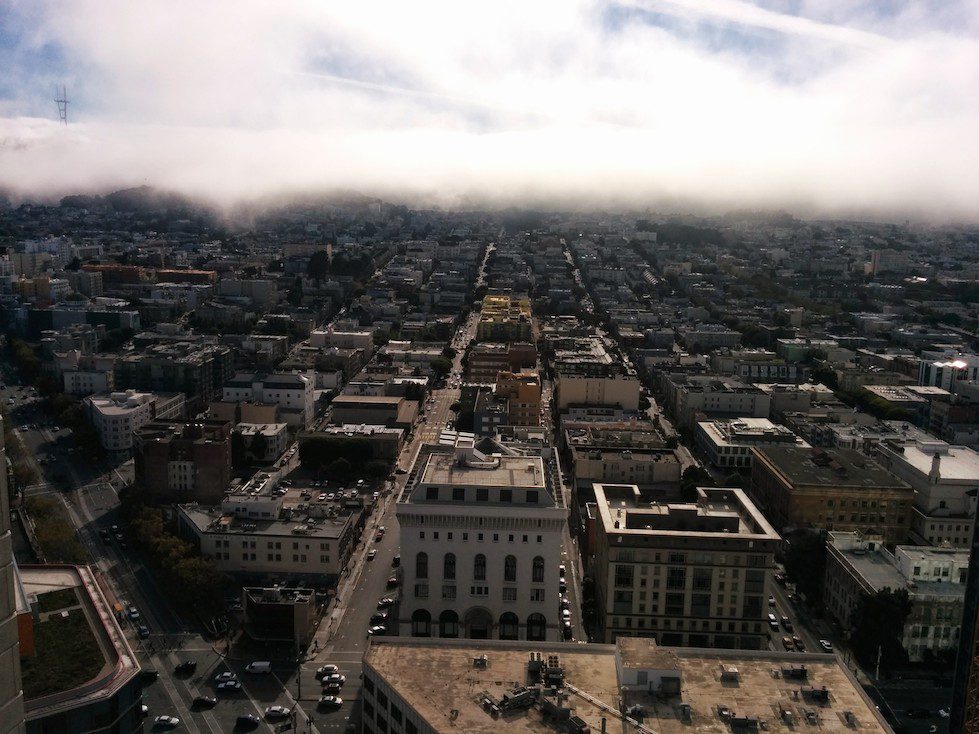 Where to stay?
If you're after a hotel, a great choice is the Villa Florence Hotel. It's comfortably situated smack in the middle of Union Square, close to shops, restaurants and the famed cable car. If you're looking to stay closer to Fisherman's Wharf, the Holiday Inn Fisherman's Wharf is quite a bargain. Rates are competitive, continental breakfast is included in the price and you're super close to the beach. I've stayed at both places and feel very comfortable recommending them to you.
Here's a list of all available San Francisco accommodations that you can book online
Our 5 Days in San Francisco Route:
Click on the map to open in Google Maps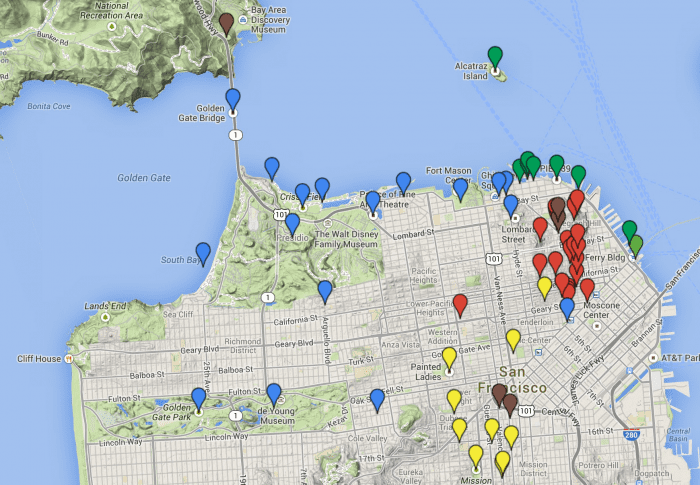 Day 1: Union Square, Chinatown, North Beach & Telegraph Hill
We arrived the evening before and conveniently stayed in an apartment on Market & 10th St. It's not the best part of the town at the moment, especially at night. A taxi from the airport can set you back $45-60 and in rush hour, can be a lot more. Instead, we took the BART from the airport directly to the Civic Center stop, paying only $8.75 one way and taking about 30 mins.
The following day, we headed out to explore the downtown area of San Francisco. The first stop was Lotta's Fountain, at the corner of 3rd St. Named after actress Lotta Crabtree, this now decommissioned fountain, served as a gathering spot after the devastating 1906 earthquake. Market St. is also a great place to see some of San Francisco's railway cars (not to be confused with the cable cars). These railway cars were actually bought by Muni from other U.S. and world cities, restored, and put in service within the city. Each car is uniquely painted and you can read about its origin on board.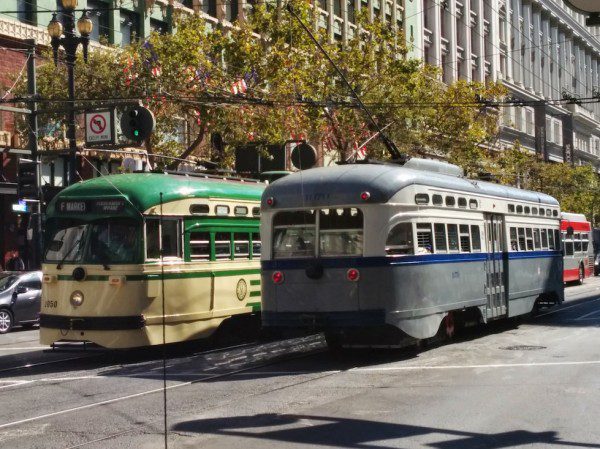 It was time for breakfast and we headed to Union Square and Sears Fine Food on Powell St. just across from the famous Sir Francis Drake Hotel. Aside from the signature meals this place has been serving since 1938 (including the famous Swedish pancakes), it's rich with old San Francisco history and you'll see right when you walk through the door. Ceiling fans, wooden decor, and tiled floor tell the story of this place and hundreds line up here each morning (breakfast served until 3 pm). We had the eggs benedict on English muffin and a vegetarian omelet with hash browns – delicious! At the end of your meal, spin the slot machine on your way out for your chance to win some yummy prizes.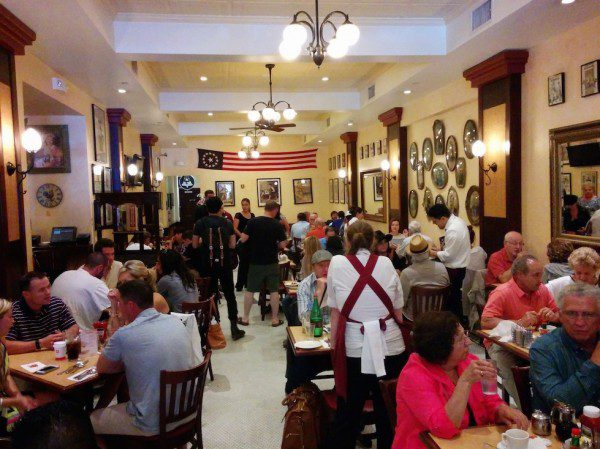 Next up was Union Square, San Francisco's major shopping spot. The square itself is lovely to walk through (or skate through in the winter) and surrounding it are dozens of shops and hotels. You'll find here luxury brands like Tiffany's, Coach and Burberry, but also more down to earth shops like Nike, Levi's, DSW and of course, Macy's. Macy's Union Square is actually made up of two buildings, one for men and the other for women. If you're visiting from outside the US, be sure to get your visitors pass, which will give you a 10% discount at Macy's. Be sure to also make your way up to the top floor and to the Cheesecake Factory. Though this place does serve ordinary dishes, it's famous for… you guessed it – cheesecake. Choose from dozens of variations and enjoy the best view of Union Square from the outside balcony. Other good shopping choices in the area include nearby Maiden Lane on Morton St. and the Westfield Shopping Center on Market.
A short stroll away on the corner of Grant and Bush is the entrance gate to a totally different world, Chinatown. San Francisco is home to the oldest Chinatown in the US and walking through some areas of it really does feel like you're in a different place. Chinatown is concentrated around two major streets: Grant and Stockton, along with the side streets in between. Grant Avenue is more tourist-oriented while Stockton Street is home to more locally used businesses. The best and most famous way to enter Chinatown is via the Grant Avenue Chinatown Gate.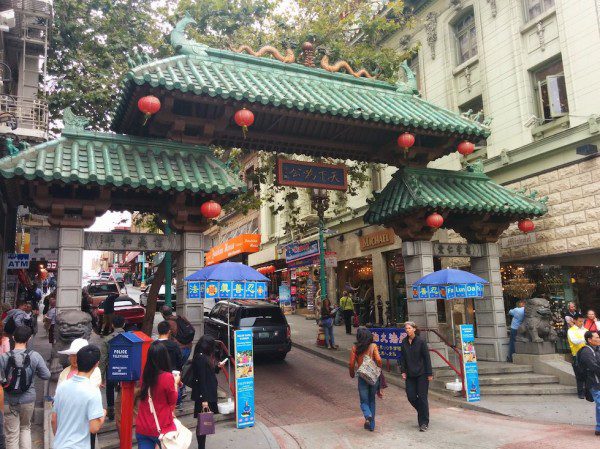 As you walk up Grant Avenue, you are greeted by dozens of kitschy shops selling anything from Chinese firecrackers to giant ceramic vases. You'll soon hit the cable car tracks of the California Street line and a red brick church – Old St. Mary's Church. Head inside the church for a great photo exhibition of the area just after the devastating 1906 earthquake and fire that brought immense destruction (and reconstruction) to this part of town. If you come here at noon on a Tuesday, you'll also be treated to a classical concert! Grant Avenue from this point looks just lovely, decorated with a Chinese touch all across.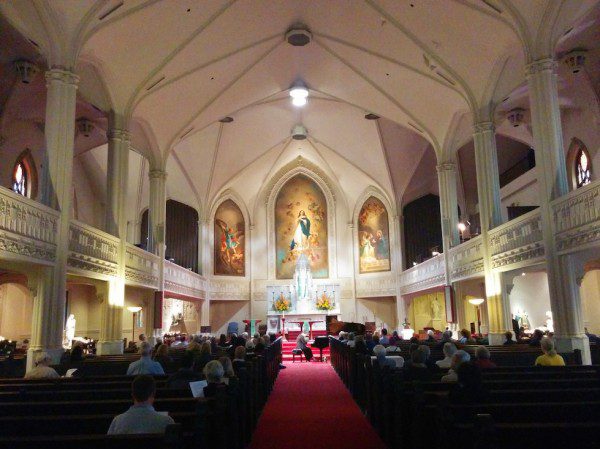 From Old St Mary's Church, we went on a little detour, climbing California Street. Stop at the corner of Stockton St. and wait for a cable car to climb up or roll down the hill. This is a great photo spot with the skyscrapers below and the Bay Bridge making a slight appearance in the background.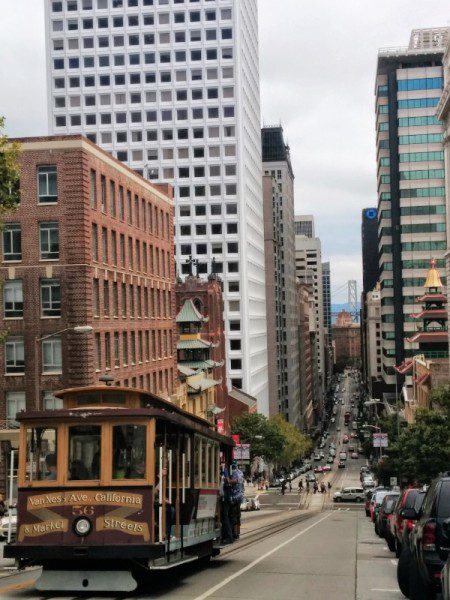 Further along California St. is Grace Cathedral which looks like a church straight out of Europe. This is one of the nicest spots in Nob Hill. If you really feel like getting a good view and further exploring this neighborhood, continue up to Ina Coolbrith Park on Taylor St. for one of the best downtown views. You might even have this place all to yourself.
Now back in Chinatown, it was time to explore Stockton St. Abundant with vegetable stalls, Dim Sum joints, and fish markets, this place has an authentic feel to it, in sharp contrast to souvenir shop lined Grant Avenue. Turn right on Clay St. and then either right or left on Waverly Place, a very small but beautiful street. On this tiny street, look above you and you'll see magnificent Chinese pagodas. Waverly Place is home to numerous temples. At #109 is Norras Temple and at #125 is Tin How Temple, which we visited. Don't let the modest staircase fool you, this active Tibetan temple is magnificent. Incense is continuously burned and traditional Chinese red ornaments light up this prayer chamber. Step outside onto the balcony and admire the tranquility of this place, at the heart of bustling Chinatown. Entrance is free but donations are highly appreciated, no photography is allowed.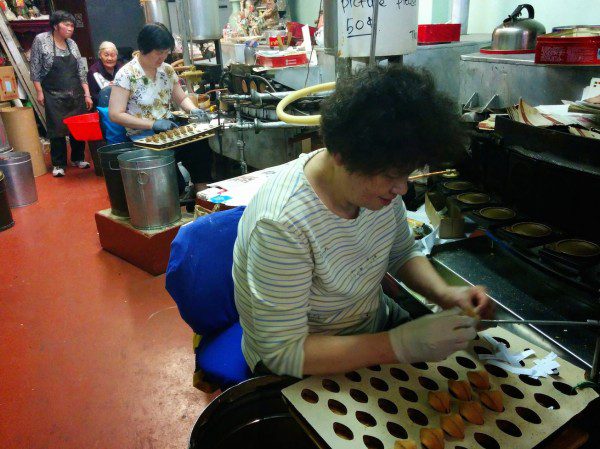 Now open up your smelling sense and walk up the tiny Ross Alley. You'll soon smell something familiar (it's not 'weed') and just towards the end, find the Golden Gate Fortune Cookie Factory. Step inside this crowded working factory that's been making fortune cookies since the 1960s. Watch how cookies (and fortunes) are made and also buy a small bag if you want ($1). Also, be prepared to pay 50 cents for taking photos but it's totally worth it. Just across the road is Delicious Dim Sum on Jackson St, very popular with the locals.
Take a right on Grant and a left on Washington St. and you'll see across the street a beautiful Pagoda housing the East West Bank but better known as the Chinese American Telephone Exchange Building. Opened in 1909, this former busy telephone exchange was manned by operators who routed the calls by memorizing each subscriber's destination, as Chinese homes did not have a number, due to traditional customs.
Just across from you at 763 Washington St, head into Ellision Enterprises Corp. Don't let the ambiguous name fool you, this traditional Chinese medicine shop is lined up with hundreds of different herbs for any ailment and excellent tea options. Pharmacists still use hand-held scales to serve customers – really cool to see and great if you're in the market for some ginseng.
Back on the other side of the street was our last Chinatown stop, Portsmouth Square. This little square is extremely popular with the locals and you'll see many congregate in small circles and watch as two battle it out in an intense game of Chinese checkers.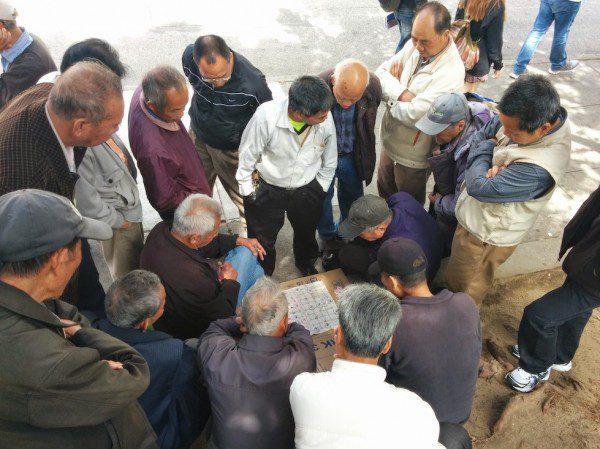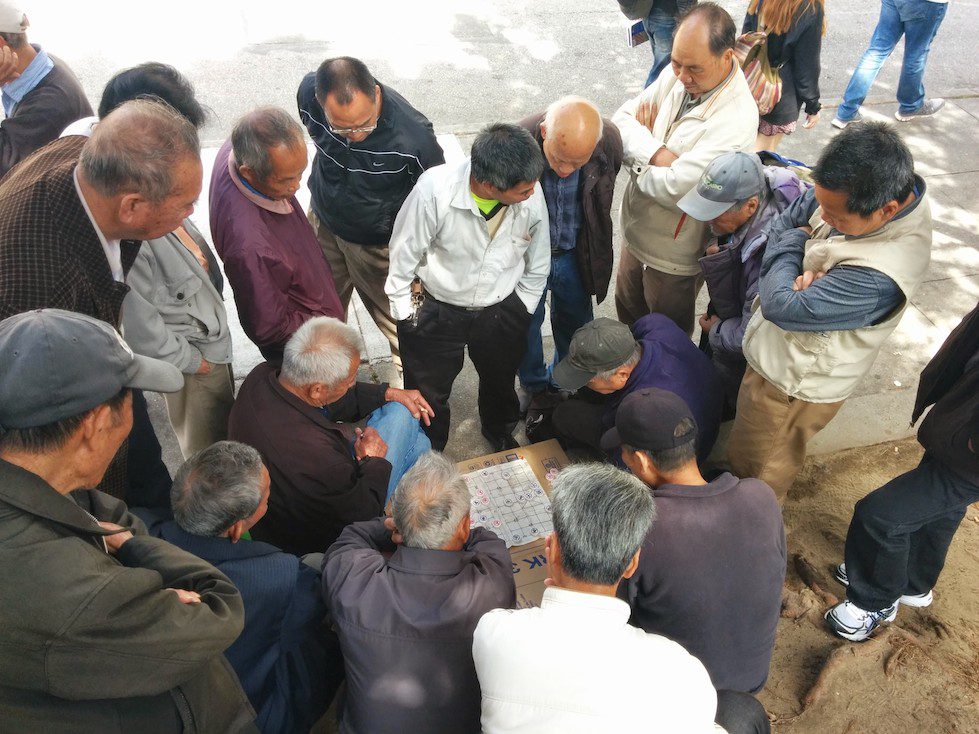 San Francisco's Chinatown was by far the coolest one we've ever visited. There are so many spots to explore and it's amazing what just a few city blocks in San Francisco can do, to completely change the atmosphere – a theme that would repeat itself on our city journey.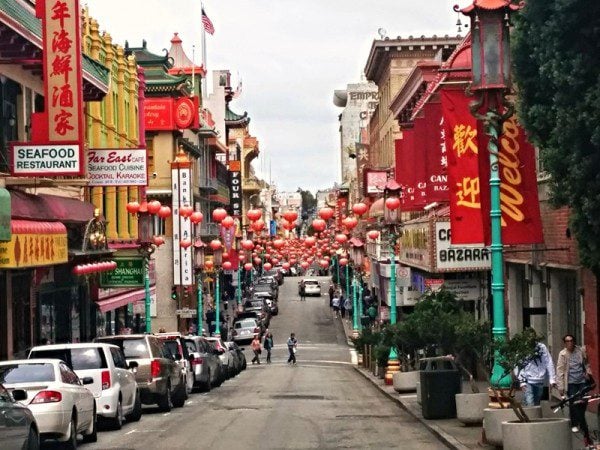 It was time for a late lunch by now so we walked down to Columbus Avenue via Kearny Street towards Washington Square Park. Along the way, stop at the intersection with Pacific Avenue and Kearny Street, for a great view of new and old architecture in San Francisco. You'll see the famous Transamerica Pyramid which was completed in 1972, in the backdrop of the Columbus Tower, completed in 1907.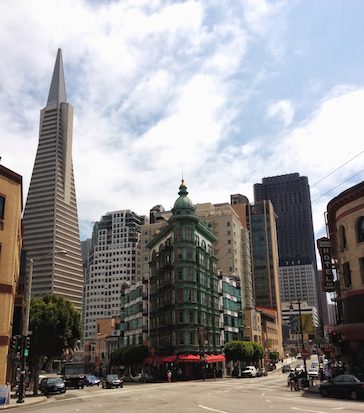 Further along Columbus Avenue, you are now entering the area known as North Beach. This part of town is Little Italy and at just a few blocks away from Chinatown, really shows how diverse San Francisco is.
North Beach is home to many Italians and many Italians mean great food and European style cafes.
You'll find dozens of good options in this part of town. We stopped for lunch at Mario's Bohemian Cigar Store Cafe. This cafe has a simple and inexpensive yet delicious Italian menu and a great selection of Italian flavored soda. The staff is friendly, the food is great but the bathroom could use a makeover. We enjoyed the cannelloni and turkey focaccia with fine Washington Square views.
After a good lunch, we headed for a stroll in Washington Square Park. This is a very popular hangout spot and if you come in the morning, you're bound to see Chinese seniors practicing their tai-chi. Saint Peter and Paul Church cannot be missed from the park area, and its two towers are a dominant feature in the local skyline. We had already done quite a bit of walking so relaxing in the park was a pretty good idea.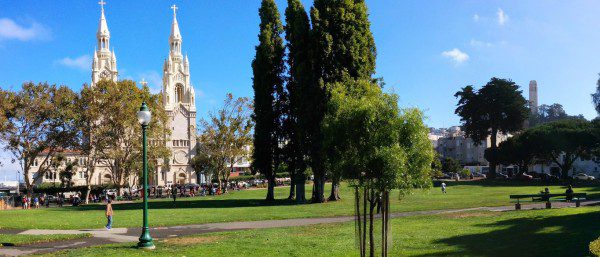 Our next stop was the Coit Tower on Telegraph Hill and we made our way via the Filbert Steps on Filbert Street. The climb is compensated by great vistas which come into view as you head up to one of San Francisco's most famous landmarks. The Coit Tower was built in 1933 and rises like a pin over Telegraph Hill. The view from Pioneer Park, where the tower resides, is amazing with the entire San Francisco Bay just below you, along with Alcatraz and the Golden Gate Bridge to the west. You can climb to the top of Coit Tower but since the queue was too long, we decided to just enjoy the view from the park.
You can head back down the same way you came but a better option is to take the Greenwich Steps down towards the opposite side. This steep staircase takes you through a lush urban forest and through some beautiful homes with enviable views.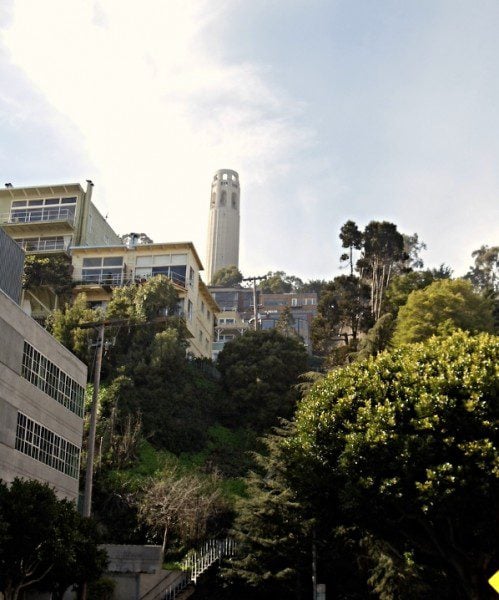 From here, we headed to the Embarcadero and caught the 'F' streetcar back to Market Street. For dinner, we decided to explore Japantown and went to Isobune Sushi at the Japantown Plaza. Japantown certainly lacks the architecture and vibe of Chinatown but there's a great choice of excellent sushi restaurants around here. The plaza is really a small shopping center that's worth visiting when the shops are open if you're into crafts and Japanese fine paper. Isobune Sushi is not your average sushi joint. Guests sit around a river, where boats deliver the sushi that's being prepared by the chefs in the 'island'. Take what you want and pay according to the plate's color. The sushi is simple and not the fanciest in town but this place certainly gets points for originality and the sushi is not bad at all. It's also extremely reasonably priced and we had boatloads of sushi for only $45 including beer.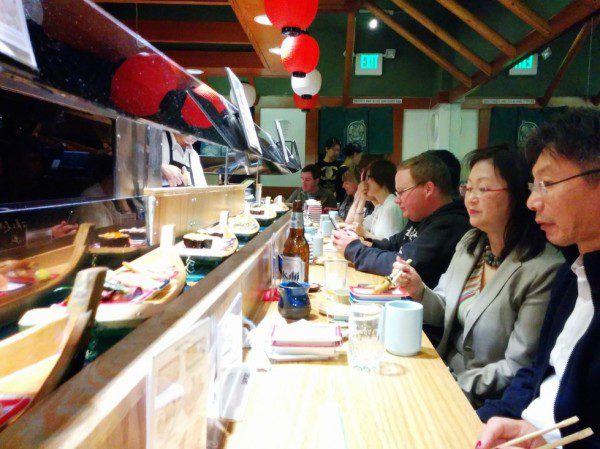 Any regrets?
We really enjoyed Chinatown and wish we had more time to explore. There are a few good tea shops in Chinatown that we wanted to try.
The view from Pioneer Park is really amazing. However, we would have loved to catch the unobstructed view from the top of the Coit Tower but the queues were simply too long.
Day 2: Civic Center, Painted Ladies & The Mission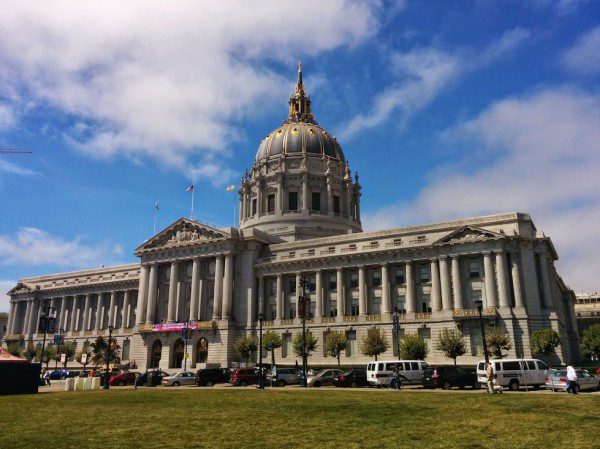 The next day of our 5 days in San Francisco involved a lot of walking but would totally pay off. We started with a visit to the nearby Civic Center, a large and open complex of civic buildings (library, opera house and city hall). Strolling around the civic plaza feels like walking around Rome, as magnificent Classical building are all around you. However, this area is also home to many of San Francisco's homeless population, a stark contradiction. You can't really miss the San Francisco City Hall, it's dominant at the center of the plaza with its gold dome, quite impressive. Completed in 1915, this building was also the site of the 1978 murder of Mayor Moscone and gay activist Harvey Milk.
Next up was climbing Fulton St. towards Alamo Square. This gave us a glimpse of what's to come – beautiful pastel-colored Victorian houses, that are immediately associated with San Francisco. As you reach Alamo Square, you won't be able to miss the Painted Ladies, a row of Victorian houses with the city's skyline in the background – famous from postcards, movies, and television shows.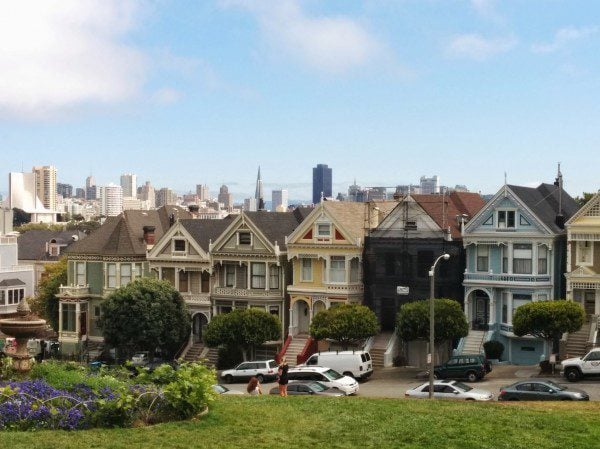 We then headed back down the hill on Steiner St. and stopped at the lovely Duboce Park Cafe, just across from Duboce Park. This cafe has outside seating and on such a sunny day, after climbing up to Alamo Square, we stopped to relax and catch some sun.
Continue down on Sanchez St. until you hit 16th St. and you'll probably see people queuing up. This is Ike's Place, a legendary sandwich place in San Francisco. You can call ahead of time and pick up your choice but queuing up gives you a chance to go over the extensive names on the menu such as the Fat Bastard, Al Bundy, Heath Ledger or perhaps the Menage a Trois. The sandwiches here are fresh and fabulous (and quite filling). I had the Elvis Keith, a delicious combination of chicken, teriyaki and wasabi mayo – on a dutch crunchy bread. Wait for your name to be called and in the meantime, enjoy a complimentary bag of hipster style potato chips. But wait – don't eat your sandwich yet.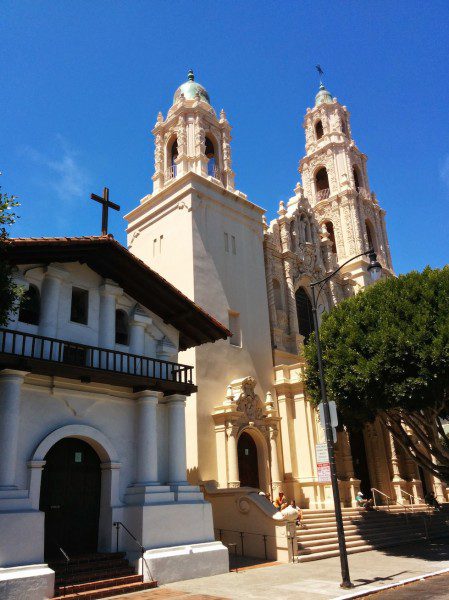 Just a block down the road on 16th St, you can't miss an impressive classical Spanish basilica. Dwarfed next to it is a tiny adobe church – this is Mission Dolores ($5 entrance) and the 1776 birthplace of San Francisco (or Yerba Buena as it was called back then). This was the first European settlement in the area, on the site of what was then a creek. Mission Dolores also gives its name to one of the coolest neighborhoods to explore in San Francisco – The Mission.
The Mission district is comprised of Mission and Valencia Streets. Though running in parallel, these two streets couldn't be more different. Mission St. is strikingly Hispanic while Valencia St. is hipster central. This mix of cultures, in a neighborhood that has always been dominated by immigrants, is what gives The Mission its cool flavor and makes for a pleasant stroll. Like Chinatown and North Beach, it's yet another example of how diverse San Francisco is, in a matter of a couple of city blocks.
We didn't forget about the sandwiches from Ike's Place, hard-earned through 20 minutes of wait. We just waited for the perfect spot to have them. That place is Dolores Park, a favorite gathering spot for Mission residents and you can understand why. Dolores Park offers a superb escape from the city, with wide green areas and great city views from the southern end. Along with fellow sunbathers and guitar players, we grabbed a spot on one of the hills to enjoy lunch with a sunny and unobstructed view of San Francisco.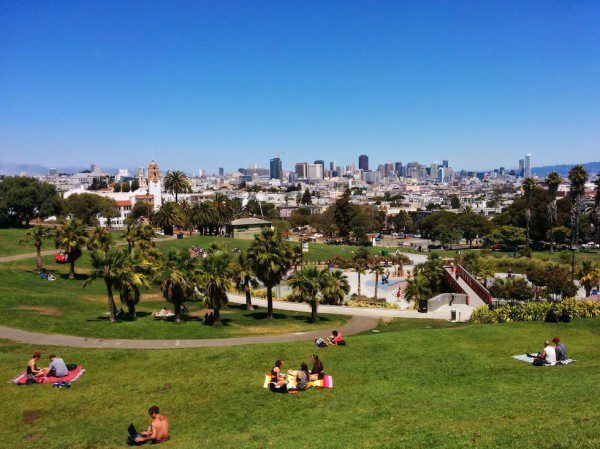 With our stomachs full, it was time to explore The Mission. A good way to head down towards The Mission is via 20th Street. Starting at Dolores Park, this street boasts a great variety of lovely Victorian houses, each with its own unique character.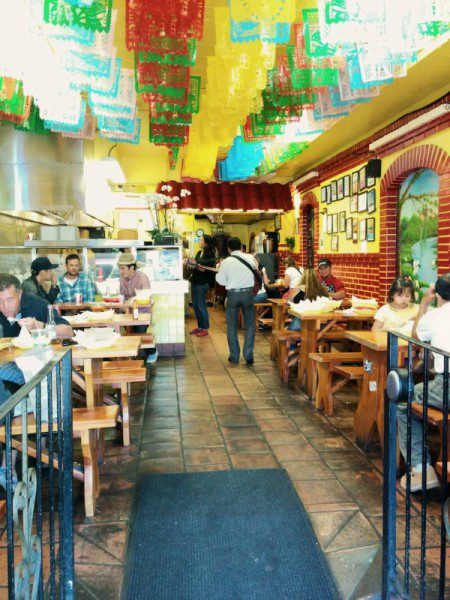 It's also relatively quiet here, so different from other parts of town. Because there are no famous landmarks here, not too many tourists venture out to this area and it feels pretty local. We stopped at the corner of Mission St. to explore the Hispanic area first, turning left and heading north on Mission. This street feels rough and vibrant: pawn shops, fruit & vegetable markets, tobacco shops, tattoo parlors, Latin music in full volume from passing cars and of course – a great number of taquerias. Though some recommend avoiding certain parts of Mission Street, we didn't feel unsafe, and its rough atmosphere was quite cool to suck in. We wished we had some appetite left for burritos as some of the city's best can be found here.
After a few blocks, you'll see to your right a tiny but colorful alley, lined up with hundreds of murals. This is Clarion Alley. You might also recognize it by the smell of urine as this place is a bit rough. It's a good spot to cut west through the alley towards Valencia Street and marvel at some of these remarkable pieces of urban art, usually with a political or cultural theme. More on San Francisco's famous murals in a bit.
At the end of Clarion Alley, turn left onto Valencia St. and San Francisco's 'hipster central'. Valencia St. couldn't be more different than its parallel neighbor. This street is made for walking, filled with good ethnic restaurants with a hipster twist, cafes, boutiques, music shops, vintage shops, and specialty shops. If you're wondering what's that funny smell in the air, well it's probably Marijuana ('weed' as it's commonly referred to). It's San Francisco after all… The atmosphere here is very pleasant and it's just fun to explore. A good stop for book lovers is Dog Eared books, with a really cool selection of international titles, second hand, and photography books.
Once at 24th St. and Valencia, make a left and walk towards Balmy Alley. On the way, we stopped for some for cardamon tea at Cafe la Boheme, a really cool spot with a good lite menu – quite popular with youngsters on Macs who seem to be working from here on the next tech startup. Another good refreshment option is Philz Coffee on Folsom St. This place regularly receives top awards for its blends and is very popular.
Just a few meters after Folsom, make a right onto Balmy Alley – the best place to admire the Mission's murals. It's a lot more pleasant to view the murals here than on Clarion Alley. Local Latino artists have been painting here since the 1970s, depicting Latino life along with their hardships through this beautiful art. The rising real estate prices in San Francisco have forced many out of the neighborhood and the frustration is vented through art in Balmy Alley.

If your muscles aren't aching by now and you're in the mood for another adventure, head back to Folsom St. and keep heading south. You'll enter the neighborhood of Bernal Heights, a quiet place with a village feel. Its beautiful houses are perched on a steep hill. Residents must either have strong leg muscles or very powerful cars. Continue climbing up Folsom until you reach the entrance to Bernal Heights Park. Trust me, you'll be rewarded.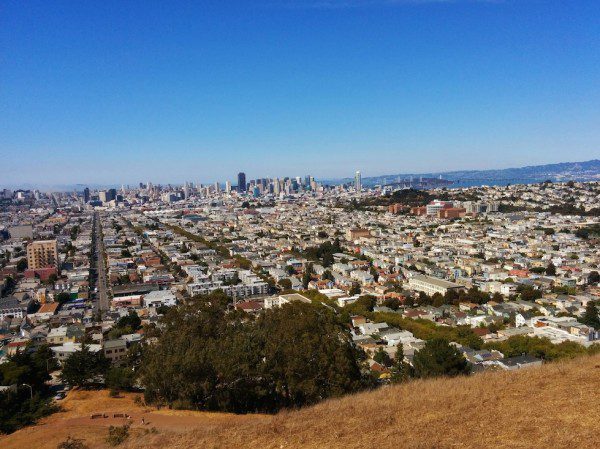 Follow the path and soon you'll be treated to breathtaking views of the city, with the mission below, the bay to your right and the city's skyline just in front of you. It's a great spot to sit back and relax after all that walking. You can actually walk around the hill and gain different perspectives and if you're feeling even extra adventurous, get off the path and climb to the top of the hill (where the radio tower is) for an even better view. What a way to finish off the day! As a tip, watch out for the fog that will probably start to roll back in (just look to the west) around 5-6pm and time your visit accordingly.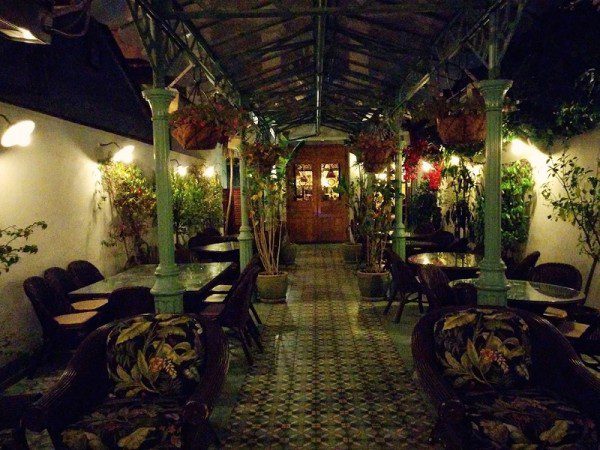 After a nice rest, we made our way down and after a stop at Taqueria Can Cun for some ever refreshing Horchata (sweet Mexican drink). The BART conveniently runs below Mission Street and we took it all the way back home.
For dinner, we headed to Le Colonial on Cosmo Place for some French Vietnamese cuisine. Well decorated on the outside, with a lush garden entrance, the interior is just as appealing and colonial in feel with traditional ceiling fans and tiled floor. We started off with some cocktails, The Spice of Saigon and a mojito. For starters, we had some delicious vegetable rolls and for mains – tuna steak and lemongrass chicken in coconut sauce ($100 not including tip).
Any Regrets?
The Mission is filled with excellent taquerias and Mexican restaurants. Among them: Papalote, Es Castillito, and La Espiga De Oro. We would have loved to visit at least one of these but we were quite full from the excellent sandwich at Ike's place.
Another great spot for a San Francisco view is at Twin Peaks, which commands a great view of the city, just above Market Street. A visit there goes well with exploring the Castro district, which is quite close to Mission Dolores. The Castro is the city's LGBT hotspot and we were recommended to pay a visit. We simply didn't have the time and I think this area actually deserves its own day.
Day 3: Farmer's Market, Alcatraz & Fisherman's Wharf
It was Saturday and our day's itinerary would focus on the waterfront area. We planned to visit Alcatraz on this day and had booked tickets in advance (as you should) for a noon departure at Pier 33 ($30 for a day tour). Saturday mornings (and Tuesdays & Thursdays) provide you with a great opportunity to visit a California farmers market, in the city. We headed to the Ferry Terminal Building via the Market St. streetcar, on the southern end of the Embarcadero. The building itself is unmistakable, with its clock tower designed after the famous Giralda in the Seville Cathedral in Spain. This 1898 building used to be very busy with bay area travelers before the Bay & Golden Gate bridges were completed. Nowadays, it's an embarkation point for the surrounding towns in Marin County and Oakland.
It's also a great place for food. The farmers market brings together local producers from around the area selling lots of organic stuff and regular fruits & vegetables, flowers and great food – all with the great background of the Bay Bridge. Inside, you'll find more gourmet and specialty shops selling anything from olive oil to fresh pastries. We grabbed some breakfast and headed outside for breakfast with a view.
From the ferry terminal, we continued along the Embarcadero towards Pier 33. This wide boulevard has come a long way and it's now a favorite jogging spot for locals, also boasting seafood restaurants with bay views. Pier 33 is the departure point for Alcatraz, one of the highlights of any holiday to San Francisco.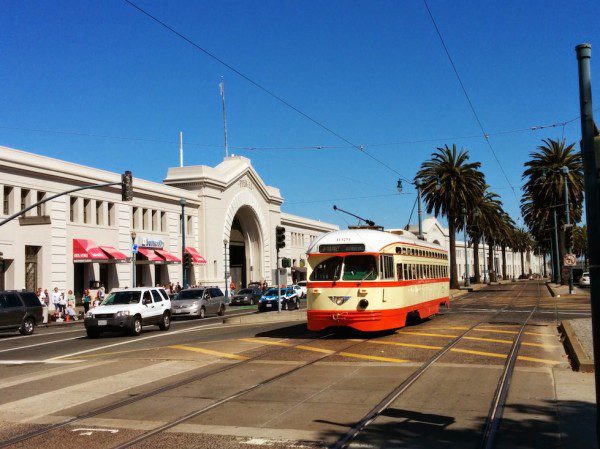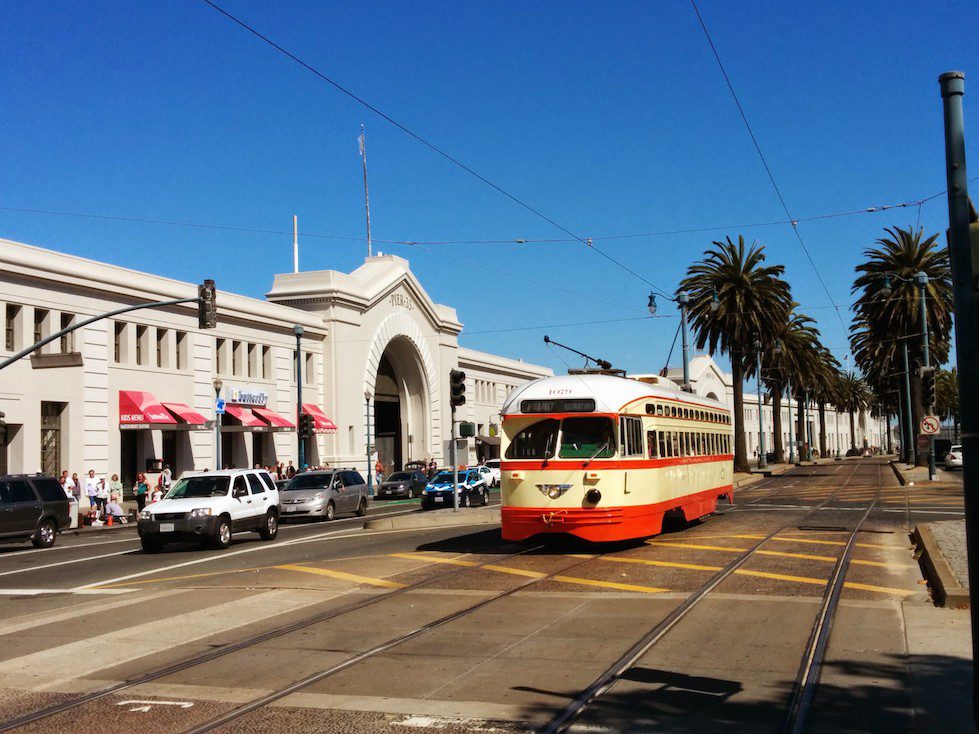 The boat ride to 'The Rock' offers great city and bay views and takes about 15 minutes. As soon as you disembark, you really feel like you've stepped back in time. Alcatraz is a major tourist spot so they've really invested a lot of effort making this experience special. Now a US National Park, Alcatraz was originally an army fort until converted to a federal prison in 1934. Housing the worst criminals in the US until 1963 like Scarface Al Capone, 'The Rock' became infamous for a place with a one-way ticket.
Nowadays it's an extremely popular destination. You can visit Alcatraz on a day tour in which your $30 ticket includes the boat ride, park entrance, and an audio tour, or a night tour which includes a more intimate tour (and quite recommended from what I've heard). The audio tour is a must. It takes you around the must-see areas of the former prison. The story is told through the eyes of former guards and prisoners. With all the legend around Alcatraz, it's really cool to walk around and see how these inmates lived. You can even step into one of the solitary confinement cells for a few minutes, which goes pitch black – hard to imagine how someone would endure this for weeks. Allow at least 2.5 hours for a visit to Alcatraz and be sure to enjoy the great view from the outside deck. This is certainly an 'achievement unlocked' and we can now tick that box on our 'must see places list'.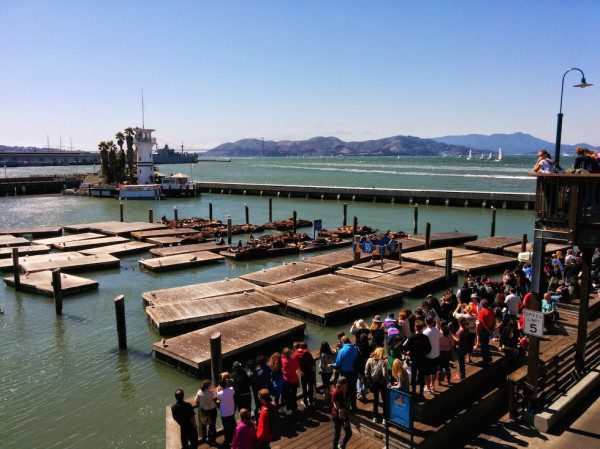 Continuing on the Embarcadero, we eventually reached Pier 39, another tourist hotspot. This little complex is packed with souvenir shops, cafes, arcades, and restaurants. It has a county fair atmosphere to it. We came here to watch the dozens of seals that have been calling this place home since the 1989 earthquake. They soak in the sun, swim around for food and mainly make a lot of noise.
A few more steps along the Embarcadero and you'll see the familiar sign welcoming you to Fisherman's Wharf. This was once the center of the fishing industry but that's long gone and today, this place draws the tourist crowds.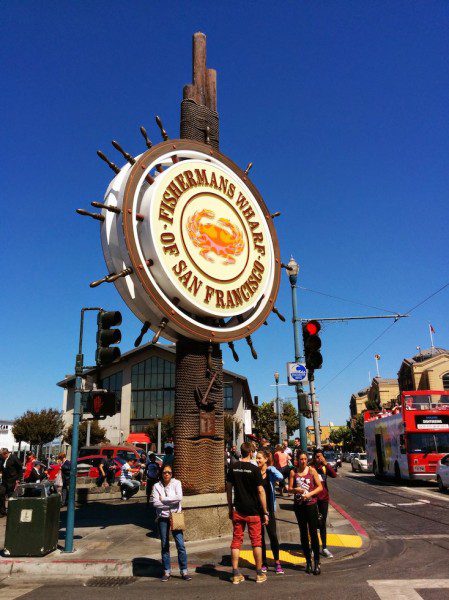 A popular spot for street performers, you'll also find here souvenir shops and touristy seafood restaurants. It's cool to walk around and see the fine crab and lobsters being prepped up for a meal. Another popular item here is the bread bowl seafood chowder – where the bowl is actually the bread. Head over to nearby legendary Boudin Bakery, famous for its sourdough bread. Breadmakers put on a show for the tourists, just look for the large window. You can also grab a tour and a meal inside.
Before dinner, we continued to explore Fisherman's Wharf. We headed over to Musée Mécanique (free) to experience what an arcade used to look like many decades ago. These vintage arcade machines have been restored and you'll find old 'love meters', pinball machines and also a few other vintage machines that may have been considered 'X-rated' at the time. There are other, more maritime museums to explore if you're into that like the Hyde Street Pier.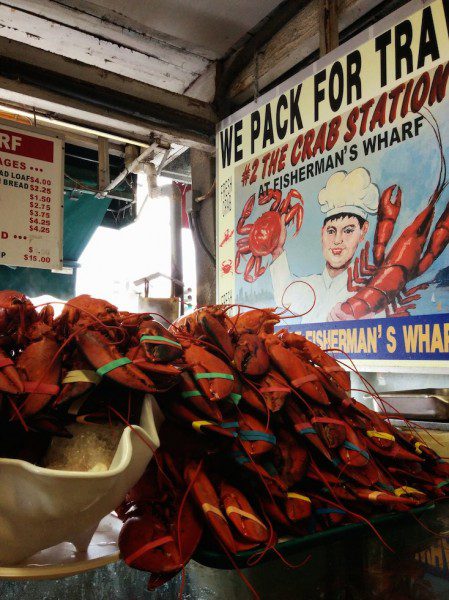 Even though the restaurants are touristy around here when in Fisherman's Wharf, you must taste the local seafood. We ate at Alioto's Waterside Cafe which offers good combination options for those of us who are not seafood experts and just want to taste. We had ½ a crab and ½ a lobster to share, along with salad and fries. It's not too expensive, the food was good and hey, you get to wear ridiculous lobster aprons!
Any Regrets?
We really wanted to visit Alioto-Lazio, one of the last family-owned and operated fishing companies in San Francisco. This place opens and closes early but apparently, you can see fish wholesaling at its best.
One of the better seafood restaurants in San Francisco is the Franciscan Crab Restaurant. Unfortunately, they were fully booked.
Day 4: Lombard St, Bike Tour, Golden Gate Bridge & Sausalito
Today we would cover a greater distance and to do so, we would rent bicycles, another very popular thing to do in San Francisco. We started our day early, as you need the time on a day like this. There are many bike tour companies in San Francisco and one of the most popular ones is Blazing Saddles. They offer a wide range of bikes and good prices ($32 per day) as well as multiple locations in the city. There is no need to book but locations get crowded, especially on weekends, so get there early to avoid the queues.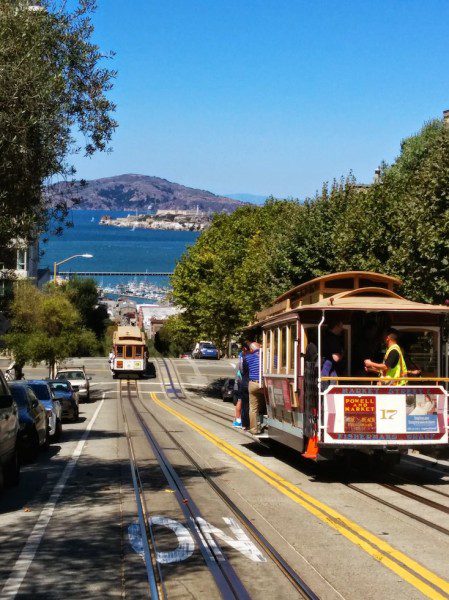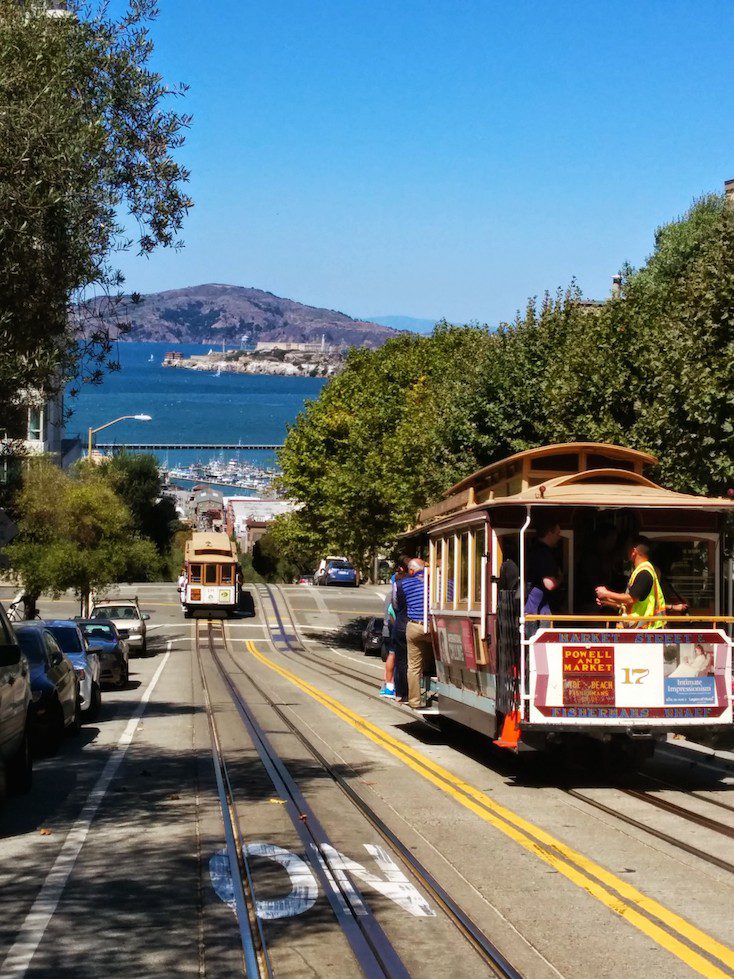 On the way to pick up the bikes, why not take advantage of the view? We headed out to Market and Powell and bought one-way tickets ($6) for the cable car (you can actually pay on board, cash only). Your ticket here also gives you 10% off at Ghirardelli's and that would come in handy later on. The 'best' line is the Powell – Hyde line, which takes you all the way down to Fisherman's Wharf. This is the starting point and the queue here is horrendous. If you want to skip the queues, simply walk a few blocks up Powell St to Union Square and catch the cable car from there. It's not the nicest thing to do but if you think about it, it's quite smart and makes sense (not everyone catches the bus at the same station – right?).
Riding a San Francisco cable car is a must. This piece of engineering marvel has been negotiating the city's steep hills since 1873. There is no practical need for them today but being as iconic as they are, Muni keeps them running (though not very efficiently). If you want to learn more, head to the Cable Car Museum at some point, admission is free. Snaking up and down the hills, with a few turns in between, make sure to stop at the corner of Lombard Street. This is one of the best spots in San Francisco. With Alcatraz straight in the background, you'll see cable cars climb up and down the hill. It's one of the best photos ops in town.
And now for Lombard Street. This famous street snakes its way down the hill via 8 steep curves and is famous around the world. Originally conceived to help drivers safely negotiate the hill, this section of Lombard Street is popular with the tourists who drive down the hill in endless amounts. For those of us on foot, it's great to walk down and admire the landscape, along with the panoramic views that the lucky (or unlucky) residents of this street enjoy.
We continued straight down Hyde St to pick up the bikes. The staff here will explain to you various bike routes you can take and you'll get a very useful map to take with you. Be sure to bring with you plenty of water and sunscreen (as well as a light wind jacket). Each bike is equipped with a pouch.
The most popular bike route is to cycle across the Golden Gate Bridge to Sausalito and return by ferry to Fisherman's Wharf (and then cycle back to return the bikes). Since this is my second time doing this, I'll actually be giving two options here. More on that later.
To start off with, there's pretty much one way to go and that's along the water until you reach a steep climb towards Fort Mason. The view from here is fantastic and gives you the first good glimpse of the Golden Gate Bridge. We continued along the path through the grassy park and down to Marina Boulevard (don't worry, you'll see many other cyclists with you). To your right, great bay views and to your left, amazing modern Victorian houses with million dollar views (literally).

The first real stop is the Palace of Fine Arts which is on your left side. This is another famous landmark in San Francisco and you'll surely recognize this open classical rotunda. Built for a fair in 1915, the palace has since managed to go through a period of decay and reconstruction. It's popular with the swans in the center pond and couples on pre-wedding photo shoots (the houses around it aren't too bad either).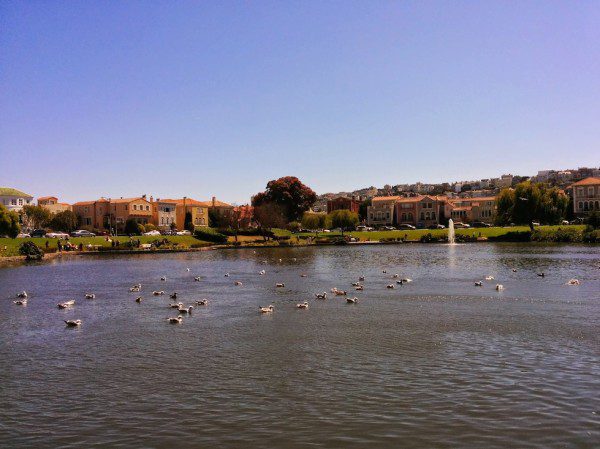 Back on the bikes, we continued along the San Francisco Bay Trail which takes through Crissy Field Marsh and by a beautiful beach with great Golden Gate views (everything is well marked).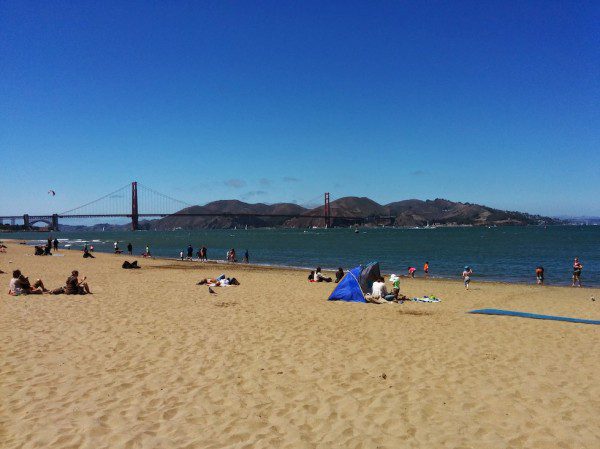 Eventually, we got to Crissy Field, a huge park very popular with locals on weekend BBQs. The views of the Golden Gate Bridge and the city behind you keep getting better and better and there's no better to enjoy it than grabbing lunch from the Warming Hut Cafe and eating outside with a view. Sandwiches are amazing here and the view, well, have a look at the picture.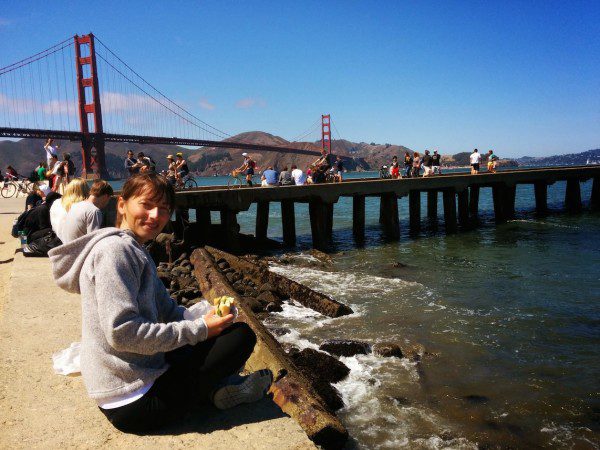 After fueling up you are now faced with two choices: either cycle across the Golden Gate Bridge or cycle towards Baker Beach across the Presidio, eventually getting to Golden Gate Park. Both options involve climbing up a hill and getting to HWY 101.
Option 1: Cycle Across the Golden Gate Bridge to Sausalito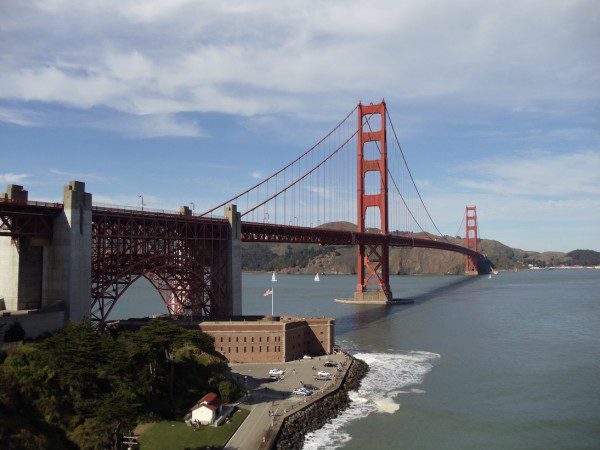 When you think about San Francisco, the image that first comes to mind is no doubt, of the Golden Gate Bridge. After 4 years of construction (costing over $1B in today's money), the bridge opened in 1937. This beautiful suspension bridge (spanning 1,200 meters between towers) is the symbol of the city and connects Marin County to San Francisco, almost 3 kilometers away. Continuously pounded by the Pacific winds (it's pretty windy up here), the bridge was designed to endure the worst that mother nature can swing at it and hanging over 60 meters above water, is, unfortunately, a popular spot for suicides.
Crossing the bridge is certainly another 'achievement unlocked' and only when crossing by foot or bike, you really get a true sense of this engineering marvel.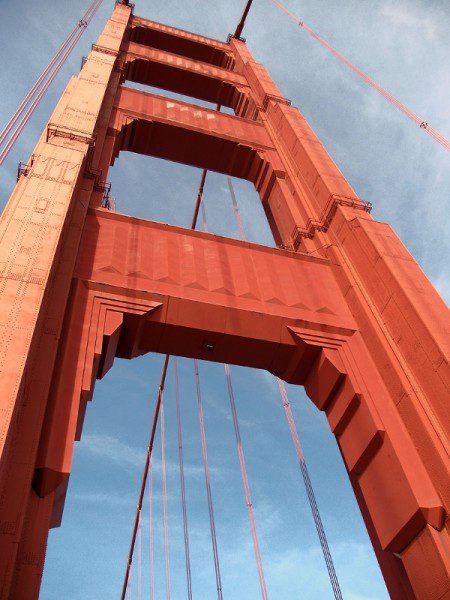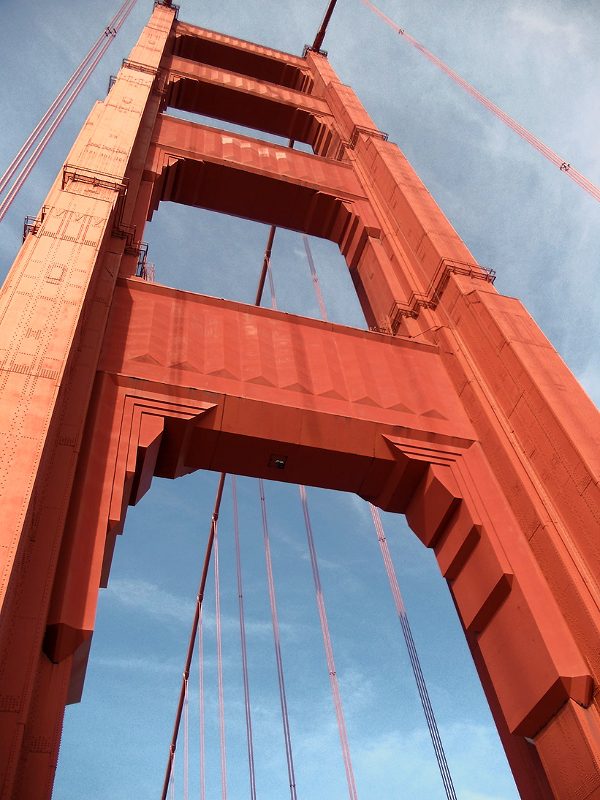 It can get pretty crowded on the bridge but you do have some spaces to stop and soak in the sites. When crossing the bridge heading north, you'll be on the opposite side of the city. However, there are plenty of good viewing spots when you cross the bridge. One option is the vista point just as you cross the bridge, but we'll cover that with the car the next day when we head out to Muir Woods.
As you finish crossing the bridge, you'll just follow the path that takes you onto Conzelman Rd, below the bridge then onto Moore Rd and finally East Rd and into Sausalito.
Sausalito is the kind of town you'd love to live in. Its tiny but cute main street is filled with restaurants, cafes, and boutiques. Its hills are lined with beautiful cottages that have million dollar views, and its houseboats further to the north have become iconic. The marina in the city center make Sausalito extremely accessible for day-trippers and you'll take the ferry back to town.
We parked the bikes near the marina and headed for a stroll in town. If you have a sweet tooth (and you deserve some candy after all that riding), head to Munchies Candy and try their saltwater taffy. After a nice stroll in town, we hopped on the bikes for a 1km ride to Wellington's Wine Bar. No need to make reservations here but the highlight is definitely to sip a glass of wine with an appetizer outside on the deck. The action here is to watch the boats come and go and maybe a few seals if you're lucky. It's a very popular place with local Marin residents.
For early dinner, we made reservations at Sushi Ran beforehand, just across the street. This busy place requires a reservation and it's the perfect way to end the afternoon. The sushi is great with fine finishing touches and ever so fresh.
After dinner, we caught the ferry back to the city. The ride back offers great sunset views of the city, the Golden Gate Bridge, and Alcatraz. Check the ferry times here and be sure to come back before Blazing Saddles closes for the night (they are open until pretty late).
Option 2: Cycle to Baker Beach and Golden Gate Park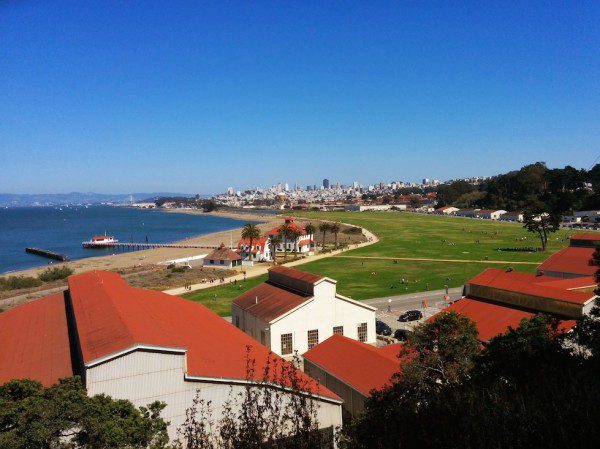 If crossing the bridge is not your thing or if you are fine with crossing it by car – here's an excellent option for you. Instead of crossing the bridge when you reach HWY 101 just after climbing from The Warming Hut, turn left and continue on Merchant St and then Lincoln Blvd. You are now deep in the Presidio. A military fort for 218 years, this present-day national park is filled with hills, beautiful mansions and lots of paths. Just Follow Lincoln Blvd and walk if the climb is too much. You will eventually be rewarded with a fun downhill ride right onto Baker Beach.
Not too many tourists venture out to Baker Beach. That's a shame because this beach is one of the nicest city beaches you'll come across. With a unique view of the Golden Gate Bridge to the east, stroll along the fine white sand and watch as huge ocean liners enter the bay. Don't be alarmed if you see a few nudists in the northern part of the beach. This beach is the birthplace of the legendary Burning Man festival which now takes place in Nevada – so you can imagine it's quite a free spirit spot.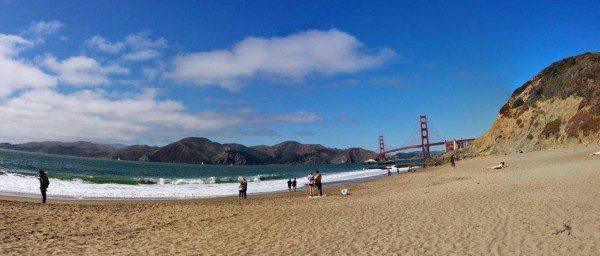 From Baker Beach, you are faced with two options.
If you're too tired at this point, head back via Lake and Clay streets, eventually making it back to Hyde street, where you drop off the bikes. The drive is mostly flat and on the odd hill, just walk the bikes. You'll pass through one of the nicest (and quietest) parts of town and be amazed that in the heart of the city, you have such grand Victorian houses as you see here.
If you still have some gas (and daylight) left, head down via 25th Av to Golden Gate Park. Rivaled only by New York's Central Park, this is one of the finest city parks you'll come across. It's quite huge and really deserves its own day to explore but if you don't have the time and have a bike, it makes for a pleasant ride, with plenty of trails and roads to ride on. There are a few highlights within the park, with the most famous (and touristy) one being the Japanese Tea Garden – the oldest Japanese garden in the US. The gardens ($8 for non-residents) are filled with small footpaths, pagodas, bonsai and cherry trees, ponds and everything you'd expect from such gardens. Other highlights include the famous bronze Buddha sculpture and the oversized U-shaped bridge. Be sure to unwind in the tea shop, where you can choose from a wide range of selections.
If you're still up for some adventure, cycle east out of the park to Haight-Ashbury, the iconic peace movement area. Once again, this place does deserve more time for exploring. There are cool vintage shops, restaurants, and bars. Here too, you'll smell a lot of Marijuana and parts of it are a bit rough around the edges. From here, it's about 4 miles back to Blazing Saddles so it is quite a long ride.
All the cycling options I've mentioned here are an excellent way to discover this side of San Francisco (and even beyond the bridge). It can be challenging, but you are definitely rewarded with an experience of a lifetime.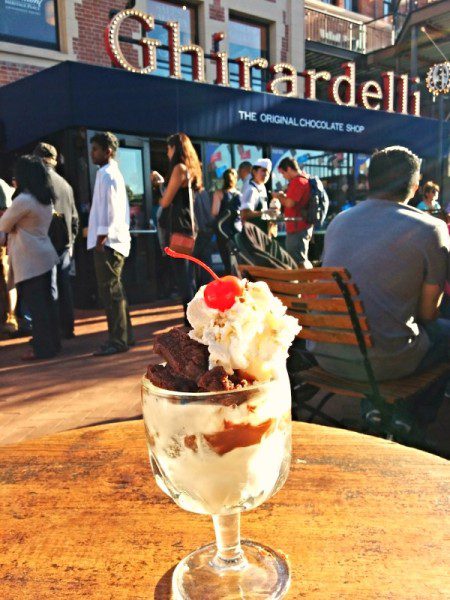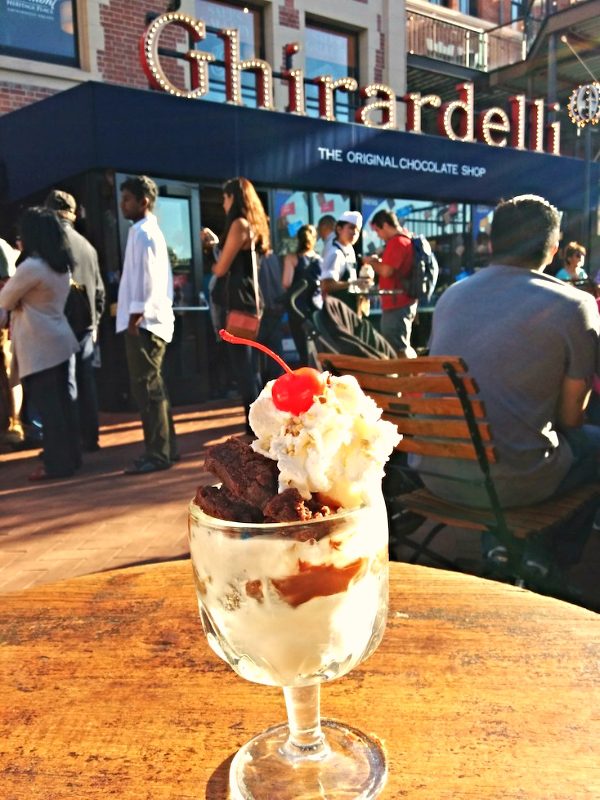 After all that cycling, you really deserve a sweet break. Conveniently enough, Ghirardelli's is just a block away from Blazing Saddles. Famous for their chocolate squares, Ghirardelli's is also famous for sundaes. What a perfect way to welcome the evening with a sundae in Ghirardelli Square. Your cable car ticket also gives you 10% of your sundae.
If you want to head back home, the Powell – Hyde line starts just one block away. Be warned though that queues can take well over an hour. Of course, you can climb up the hill and catch the cable car from there too. We took a taxi to Washington Square and to Tony's Pizza Napoletana for dinner. This is one of the best places in San Francisco for pizza. You can either try your luck in the restaurant or if the queue is too long, order takeaway at their spin-off location just 2 doors down. Slices are big and the pizza is excellent!
Any Regrets?
The queues to the cable car are quite long at the start/end points. We did wait for a while in line before we thought about walking further along the line and hopping on.
There's a lot to see on any of the options I've described here. Some areas do deserve their own day but it really depends on your time. We finished the day exhausted but ecstatic!
Day 5: Muir Woods to Point Reyes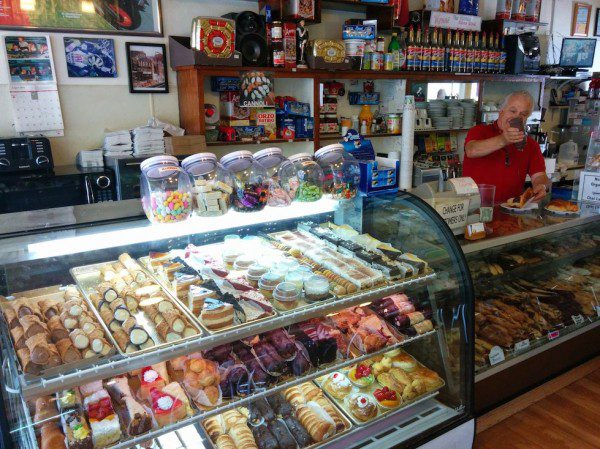 For the last of our 5 days in San Francisco, we actually took a day trip outside the city, and see some nature. Getting an early start, we picked up a rental car ($35 per day including insurance – not bad ah?) and headed for breakfast at Mama's. This place is super famous for their breakfast and you really need to get there early. By the time we go there around 9 am, the queue was already stretching around the block. Onto 'plan B' which wasn't bad at all, we headed to nearby Mara's Italian Pastries. As close to a simple Italian cafe outside of Italy, the cafe's walls are covered with Italian souvenirs and the lovely owner/barista can be your grandfather. The pastries are buttery and the coffee is strong. Try the cannolis or Nutella croissant.
Pro Tip: don't feel like renting a car? You can also visit Muir Woods as part of a day trip from San Francisco. The trip also includes a stop in Sausalito.
Our Route:
Click on the map to open in Google Maps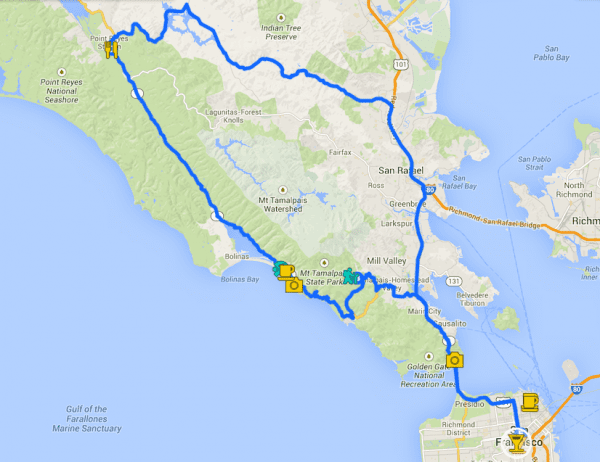 The drive from San Francisco to Muir Woods takes about 45 minutes without stops. However, there is a 'must stop' just as you cross the Golden Gate Bridge heading north. Turn right into the vista for a great view back towards the bridge and the city skyline across the bay. Even when foggy, this view never fails to impress.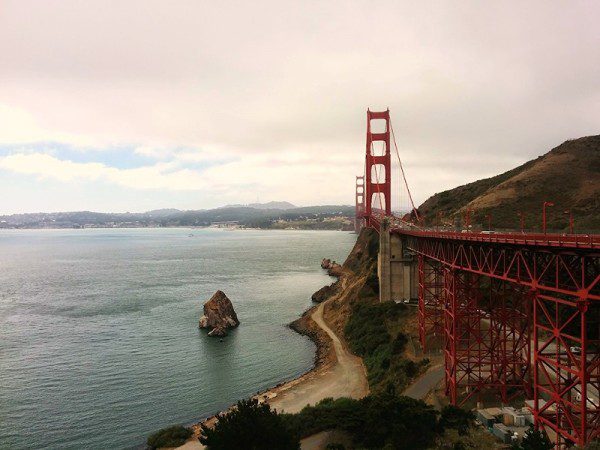 After a short and windy drive through the woods, you'll eventually make it to Muir Woods National Monument ($7). This forest is home to thousands of the tall Redwood trees, some started their growth many centuries ago! Muir Woods is a popular city escape so you're not alone. Try and visit on a weekday morning. Parking can be a little bit tricky as there aren't many spots. However, there are plenty of walking trails inside the park so once you've parked the car, you're pretty much set.
UPDATE: as the number of visitors to Muir Woods increases, parking has become a serious issue. As of 2018, you now must pre-book your visit to the park if arriving in your private car. Parking must be reserved in advanced and shuttles will take you to the major site. More information can be found here.
There are a number of easy loop paths running on the forest floor that you can choose from. The longest one is only 2 miles long and the farther you walk, the fewer people you'll encounter (you might even be able to hear the Woodpeckers). There are also a few proper trails in this area that connect to the forest floor loop. The Redwoods were a prized commodity in the past and we all owe our visit to William Kent and his wife Elizabeth Thacher, who bought this land in 1905 and donated it to the government in order to create the park.
The next stop was Stinson Beach and for that, we got back onto the Pacific Coast Highway (HWY 1). Just after Muir Beach, there's a superb lookout point at Muir Beach Overlook. Park the car and head down towards the cliff's edge on the marked trail. You'll notice on your way old WWII defense positions carved into the cliff, a relic of years past. The view from the end of the trail is amazing, with fine southerly views of Muir Beach and north towards Stinson Beach. You might even spot a few whales.

From the lookout, it's another 15 minutes to Stinson beach. There's another great viewing spot just before you descend towards the beach. Stinson Beach is wide and long. I hope you get to see it without fog as it is beautiful, but it can get foggy. The beach is popular with surfers and the town with holidaymakers. We grabbed some snacks to-go at the Parkside Cafe and enjoyed the beach.

We received a highly recommended tip to head in the direction of Point Reyes and grab lunch at Marin Sun Farms. The 25-minute drive is a pleasant one, driving on HWY 1 by lagoons and through forests until you hit the spot to your left. The food here is amazing and not for vegetarians if you know what I mean. Choose from a selection of fine cuts inside and enjoy lunch in the sunny outside garden. We had the aged New York steak and it was one of the best we've ever tasted. It's really worth the drive.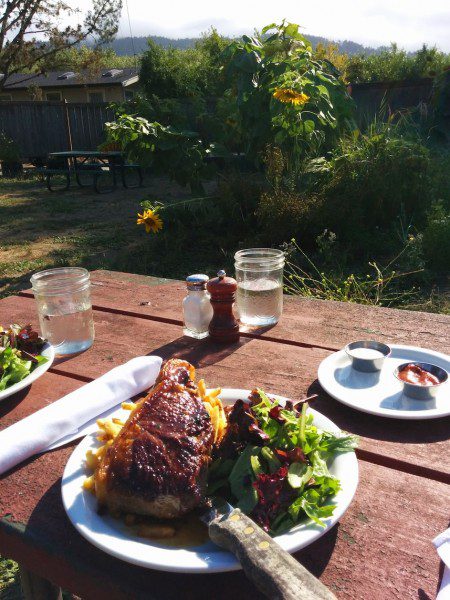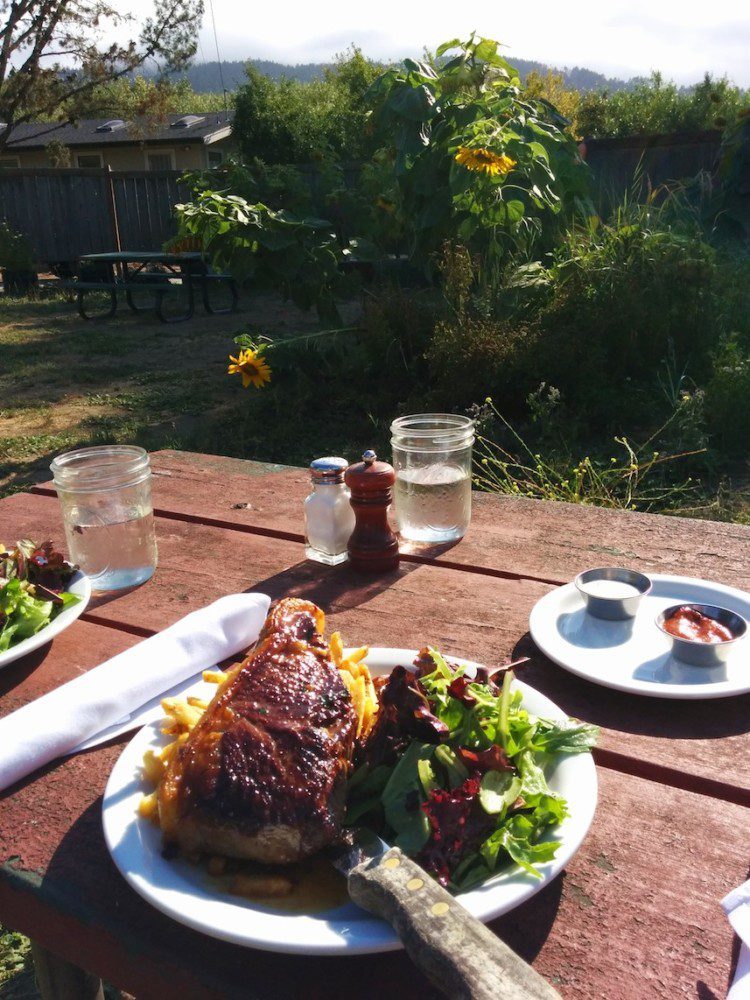 Heading back towards San Francisco, we drove on Sir Francis Drake Blvd all the way to HWY 1, through beautiful ranches and Redwood forests.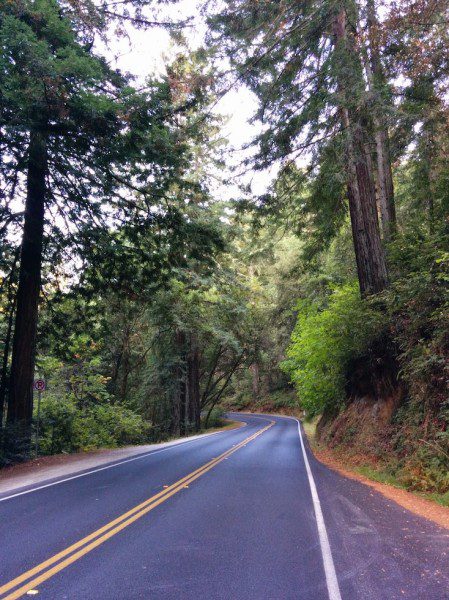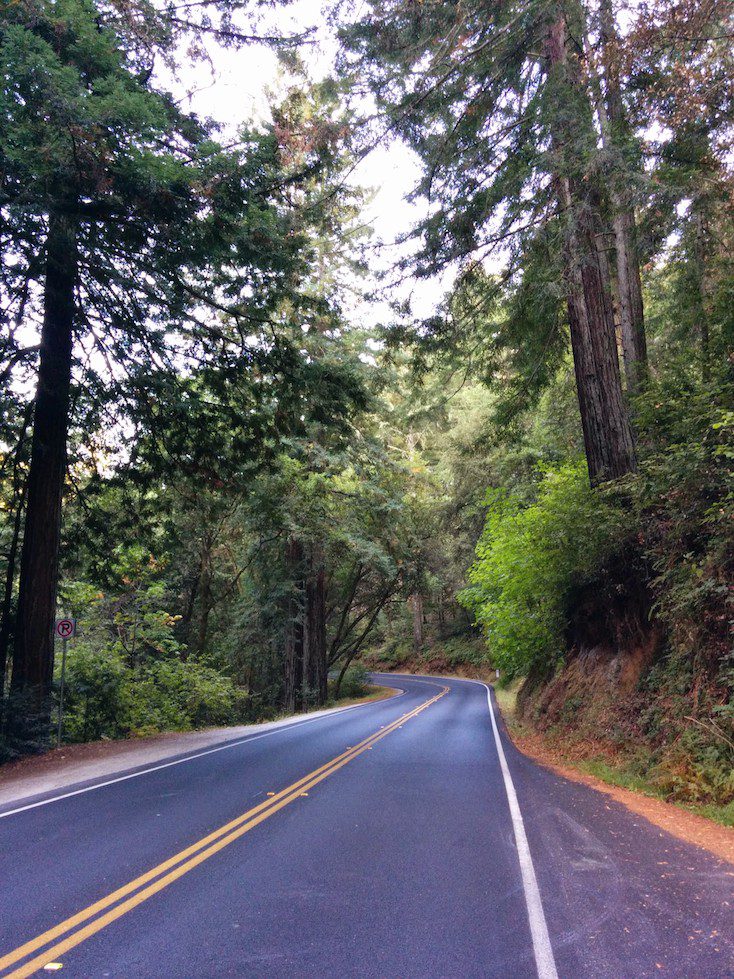 If it's not dark at this point, just before hopping on the Golden Gate Bridge (don't forget the toll, see the earlier San Francisco travel tips section), get off at Conzelman Rd towards Marin Headlands. Stop at the lookout point for probably the best view of the Golden Gate Bridge and San Francisco. This was a great spot to finish our San Francisco adventure!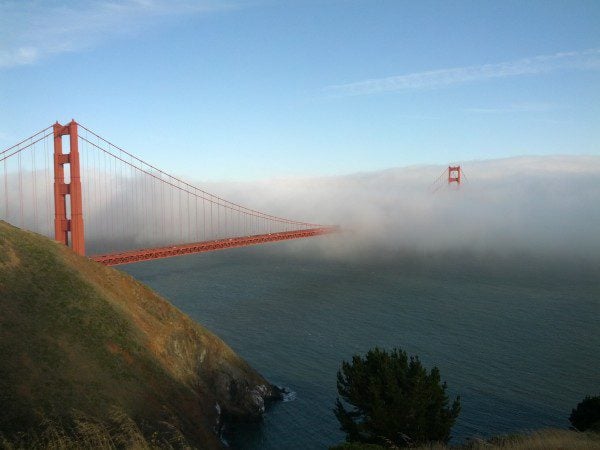 For drinks on our last night, we headed nearby to the Armory Club on Mission St. It's a really vibrant place with excellent cocktails and local beers. Another good option in nearby Zeitgeist, very popular with Mission residents – with a great selection of beers, famous bloody mary's and outside garden. We had an amazing 5 days in San Francisco. We saw so much but there is still much more to explore. We can't wait to be back!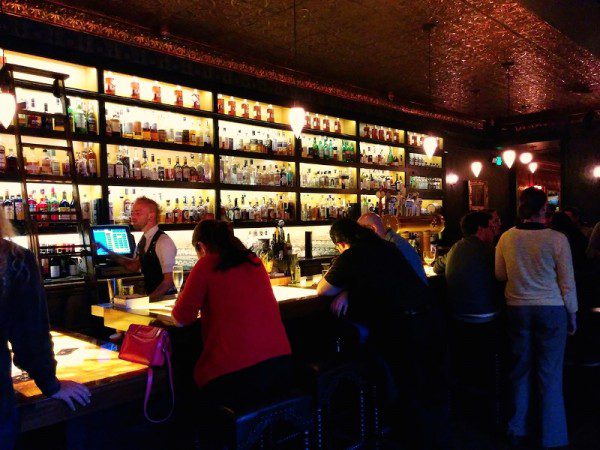 Any Regrets?
There are excellent day (and short overnight) trips you can do from San Francisco. We really wanted to experience Napa Valley (or Sonoma) but that really deserves at least a full day.
If you're already there and it's not foggy, the lighthouse in Point Reyes looks cool. This area is really wild. By the time we finished lunch, the Reyes Peninsula was covered in fog.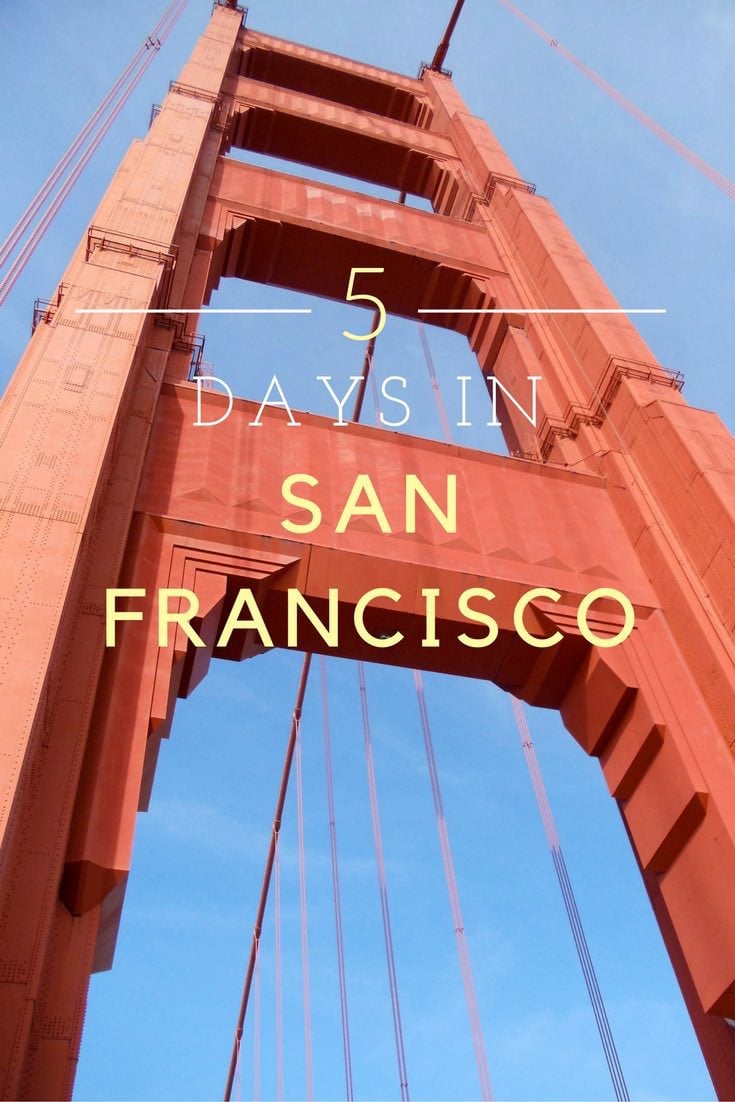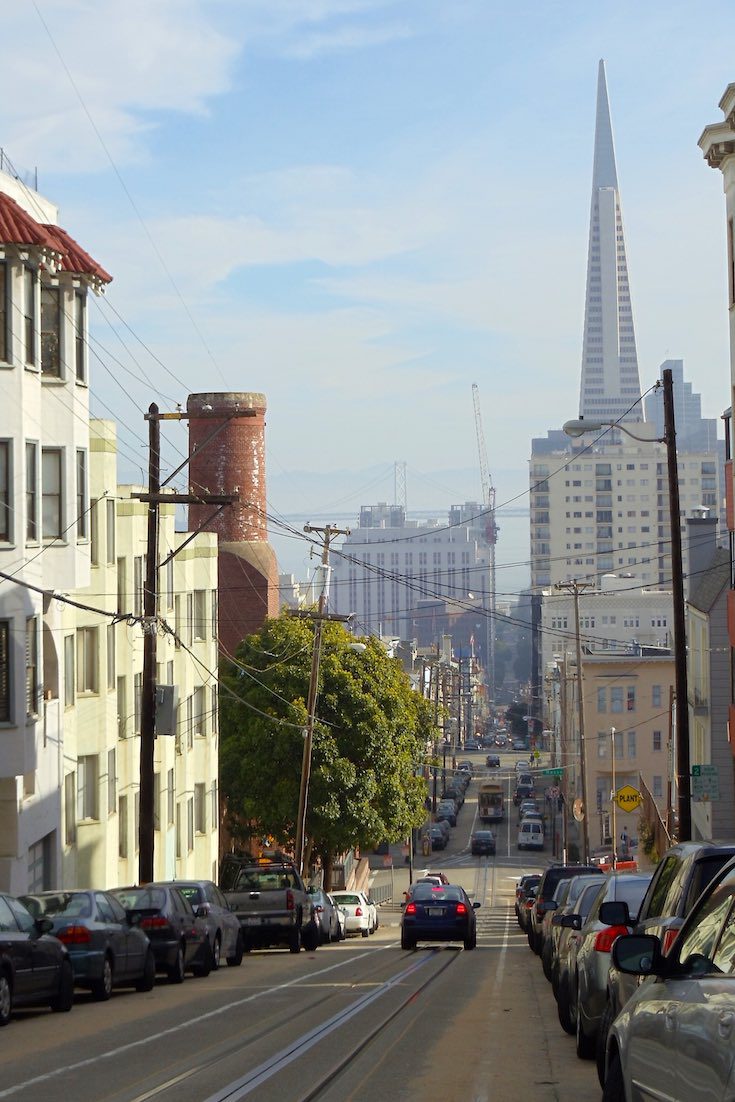 Pin These Photos To Your Favorite Boards