Moorea is known as the 'magical island' and with the shape of a heart, it's so easy to understand why you fall in love with this place so quickly. Just a 30-minute ferry ride from the "big island" of Tahiti, Moorea feels centuries away. With a laid back vibe and time ticking away so peacefully as you're living the Polynesian dream – you simply won't want to leave. But wait! There are plenty of things to do in Moorea. It's the perfect holiday package without the packaged holiday vibe. From diving to hiking to cultural shows, Moorea has something for everybody. I spent a whole month in Moorea on my first trip to the South Seas and have since returned on three more occasions. Here's a one week in Moorea itinerary guide, which you can also use to plan shorter itineraries un Moorea.
Heading off to French Polynesia? In-depth island guides to all 5 archipelagos await you, including sample itineraries and essential travel tips & tricks.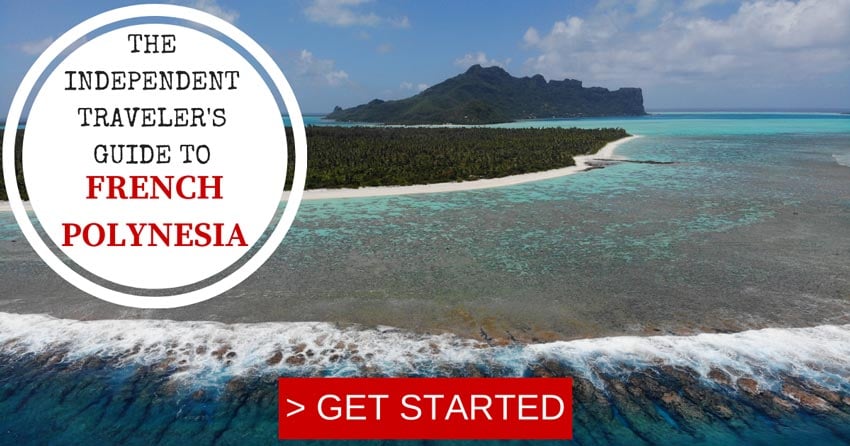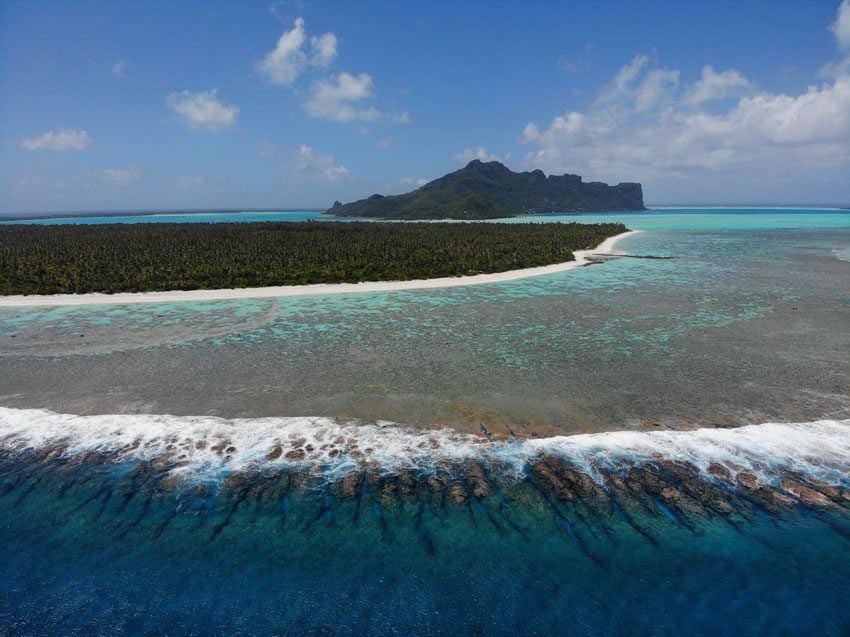 Tahiti, Tailor Made!
The Islands of Tahiti are among the last places to be colonized by mankind, 118 islands, each with their unique personality.
Get expert advice and assistance with planning your trip to the destination where tropical dreams come true!
See Options
---
What's Included In This Moorea Itinerary?
Several sections make up this sample itinerary so even if you won't be spending a full week in Moorea, choose the days that suit your taste and create your own itinerary.
Day 1: Scenic Views & Tropical Beach Life
Day 2: Shark & Stingray Feeding Lagoon Tour
Day 3: Scuba Diving Or Swimming With Whales
Day 4: Hiking & Tahitian Culture
Day 5: Road Trip Around Moorea
Day 6: Waterfalls, Vistas & Marine Life
Day 7: Local Delights & Relaxation
Additional Moorea Travel Guides
Check out these additional resources for planning a trip to Moorea.
---
7 Days In Moorea Itinerary Map
All places mentioned in the Moorea itinerary can be found on this map. Simply click on the image to open in Google Maps. As you might already spot, the bulk of the island's highlights are concentrated around its scenic north coast.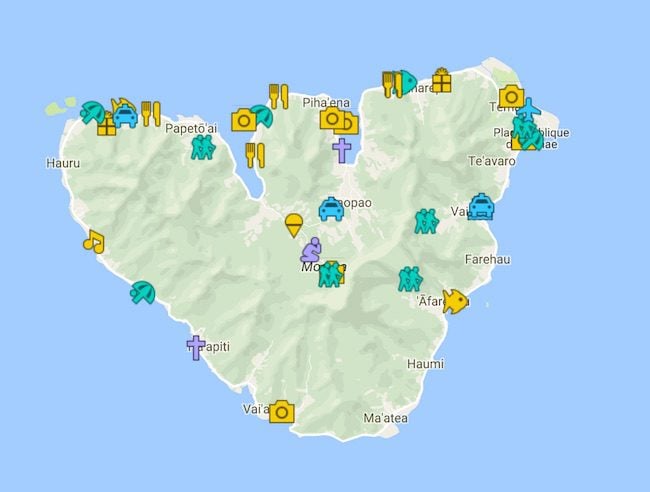 Where To Stay?
Moorea is one of the most visited islands in French Polynesia and as such, it offers a wide range of accommodations to suit all budgets. If you're not planning to stay at a resort, it is highly recommended to book well in advance to avoid having to settle for a place without much value for money (and there are those as well in Moorea). This is especially true during the high season (June-September) and local school holidays.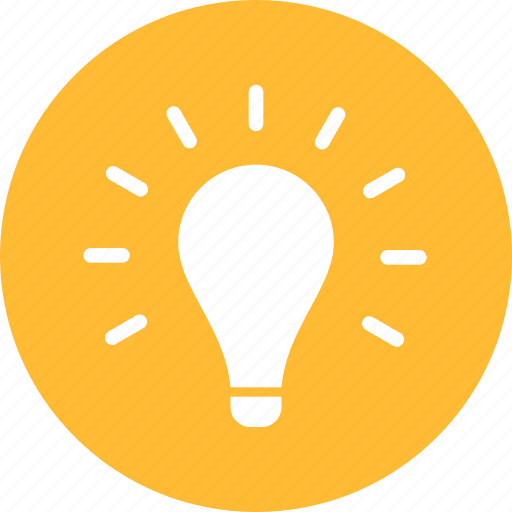 Pro Tip
The best part of the island to base yourself at is somewhere between Haapiti and Papetoai. Here, the lagoon is wide and the sunsets are to die for. Avoid the south end of the island as it lacks any major attractions or dining options. Here's a list of all Moorea accommodations which you can book online.
Resorts: the Hilton Moorea is the best resort on the island. It's currently the only five-star resort in Moorea. It's located at the foot of Mount Rotui and offers splendid views and good snorkeling. Next up is the Sofitel Moorea which will soon upgrade to a five-star category. It's located on the east coast on sandy Temae Beach. After the closure of the InterContinental Moorea in 2020, the Manava Beach Resort is the remaining option. It's conveniently located just outside Maharepa, the largest village in Moorea. At some point, the grounds of the former InterContinental will house a new resort.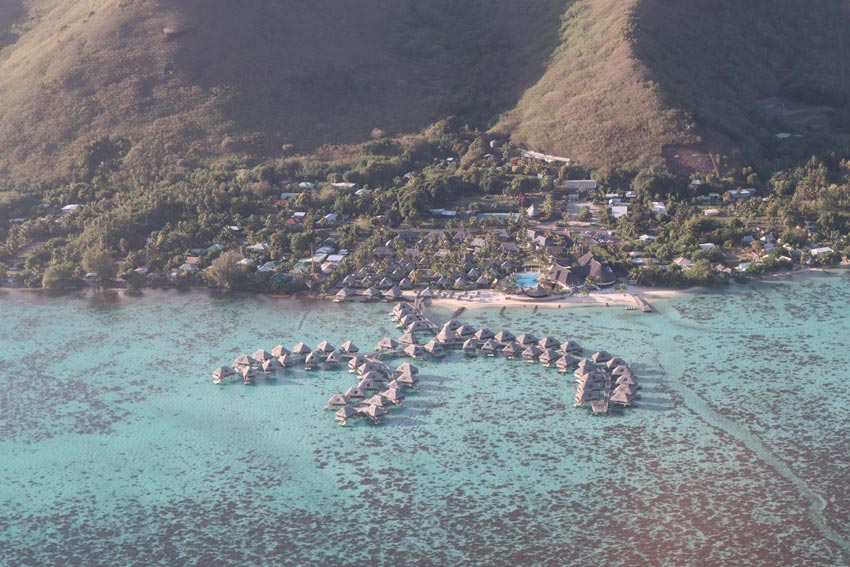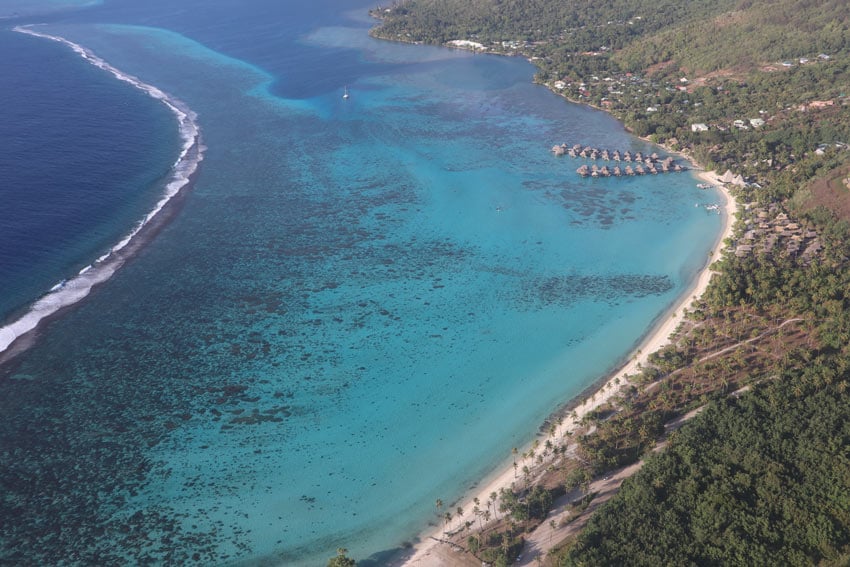 Pensions: there's a large selection of pensions and beach lodges in the prime areas of the island. Pensions range from simple accommodation to pampering "boutique" style lodgings. My top recommendations include Moorea Beach Lodge, Moorea Island Beach, Moorea Green Lodge, Pension Poerani, and the family-friendly Linareva Resort (not actually a resort). Unlike pensions on other islands, most of Moorea's pensions do not offer half-board stays so you'll need to go out for dinner.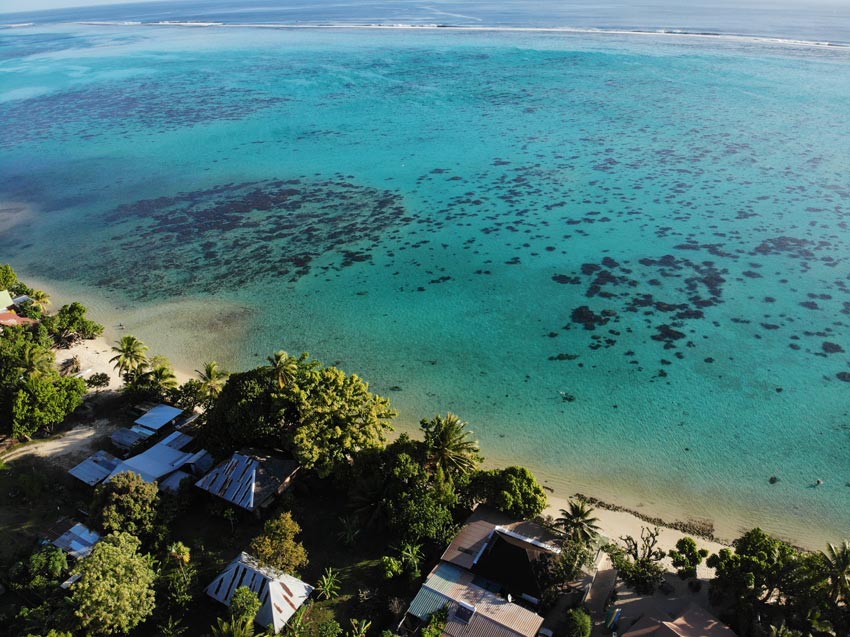 Hotels: this rare category is somewhere between a resort and a pension in terms of offered services. In Moorea, the Hotel les Tipaniers is the best choice. It's popular with families and lies on arguably the best public beach on the island. It has a beach restaurant, a dive center, and boat rental. The twin islets (motu) are just a short kayak paddle away. The beach is great for swimming, snorkeling, and kitesurfing. Another option is Hotel Hibiscus which offers both garden bungalows as hotel-style rooms.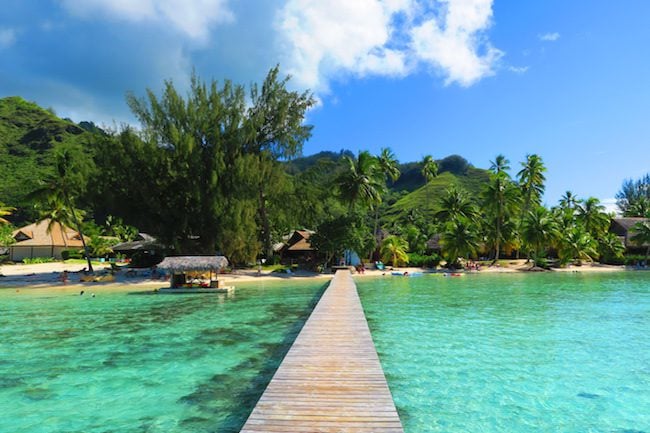 Self-catering & Airbnb: you'll find plenty of vacation rental units around the island but do your due diligence before as some photos are deceiving. Remember the important factors: location, privacy, proximity to the lagoon, and the availability of Wi-Fi.
Camping & Backpacker: there's a growing number of establishments that offer dorm room stays for backpackers in Moorea. Check out the dorm room at Pension Motu Iti, ideally located between the two bays. Another option is at Camping Nelson, both for dorm room stays and for pitching a tent. This place is slightly out of date but there are lots of dining and grocery options nearby.
Day 1: Scenic Views & Tropical Beach Life
On your first day in Moorea, spend the day exploring parts of its majestic twin bays and hit the beach.
The Belvedere & Around
Pick up a rental car or scooter for the week and head to the Belvedere Lookout for some serious vistas. The road snakes its way up the mountain before reaching one of the prettiest spots in French Polynesia. From up here, you'll get a chance to see Moorea's twin bays separated by Mount Rotui – so beautifully carving Moorea in the shape of a heart. Beneath your feet is the lush Opunohu Valley, prime agricultural land where pineapples are grown. The Belvedere is the starting point for several hikes, the most famous is the Three Coconuts hike (more info in the 'hiking section' of the Moorea Travel Guide).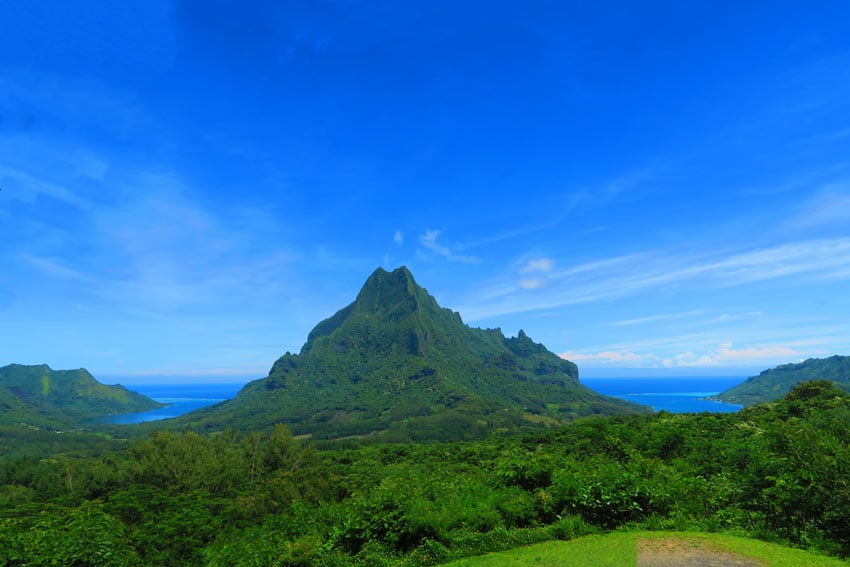 Opunohu Valley is not only prime agricultural land but also sacred land. On the way back down, stop at the marae complex and explore a set of ancient Polynesian temples. Notice how nature has taken over this place, further adding to the mystery.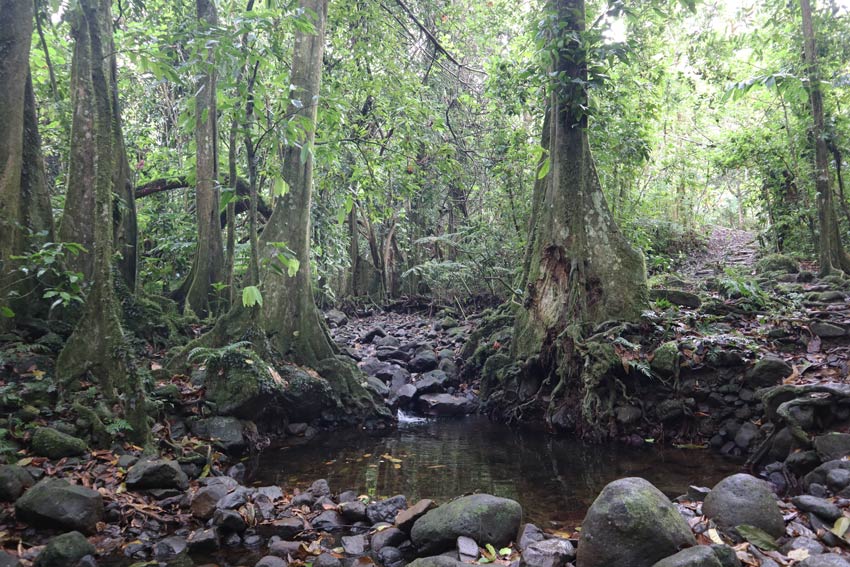 As you almost hit flat land again, stop at the Lycee Agricole (agricultural college), where you can enjoy fresh fruit juices, ice cream, and homemade jams that are very popular across French Polynesia. If you just happen to rent a 4WD, you can join the main road via the Pineapple Route and have a closer look at Moorea's top cash crop. If not, explore the Pineapple Route on foot. Simply park your car at the intersection of the main road to/from the Belvedere and the turnoff to the Pineapple Route. It's a short walk from them into the pineapple fields, eventually reaching the parking lot of the new 'Tiki Park' where you can actually enter a working field.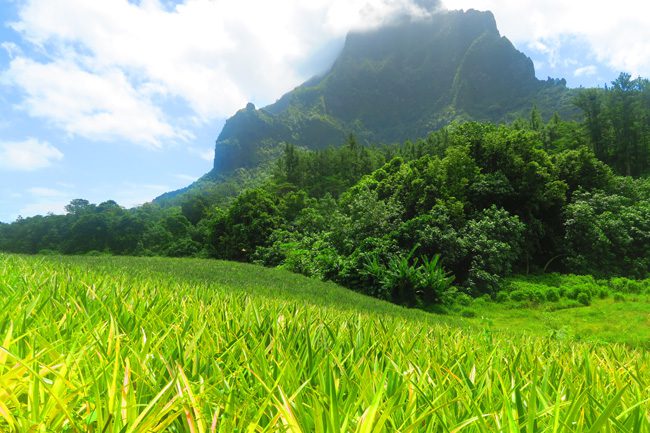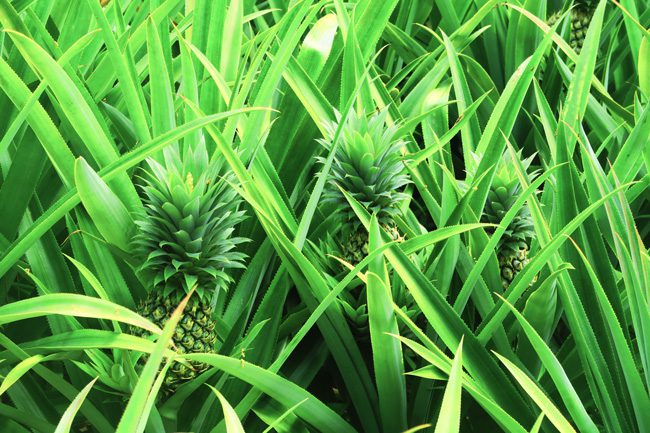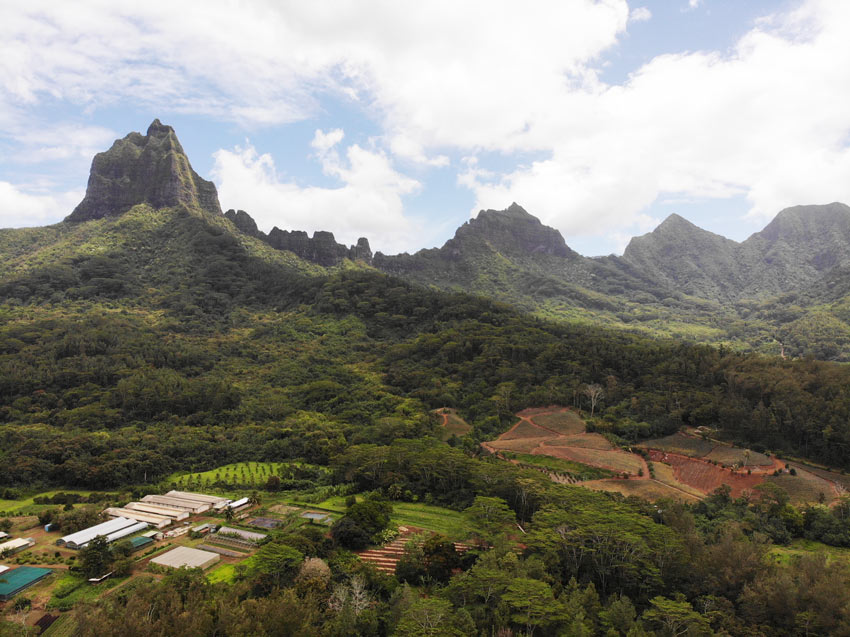 Te Fare Natura
The unique structure of this recently opened eco museum cannot be missed when turning inland towards the Moorea's Belvedere scenic lookout. A great option if traveling to Moorea with children, the museum invites you to discover and learn about the geology and the ins and outs of French Polynesia's terrestrial and marine ecosystems.
Magic Mountain
The views from the Belvedere are simply gorgeous but the ones at Magic Mountain are even better. Head inland around PK21 and pay the small fee to one of the locals manning the fruit stand. Guided ATV and 4X4 island tours make it to the top a few times a day, but it's only a 20-minute hike on foot, though it's very steep and without any shade. Up at the top, enjoy dazzling panoramic views all the way from Opunohu Bay to lagoon motus way out west!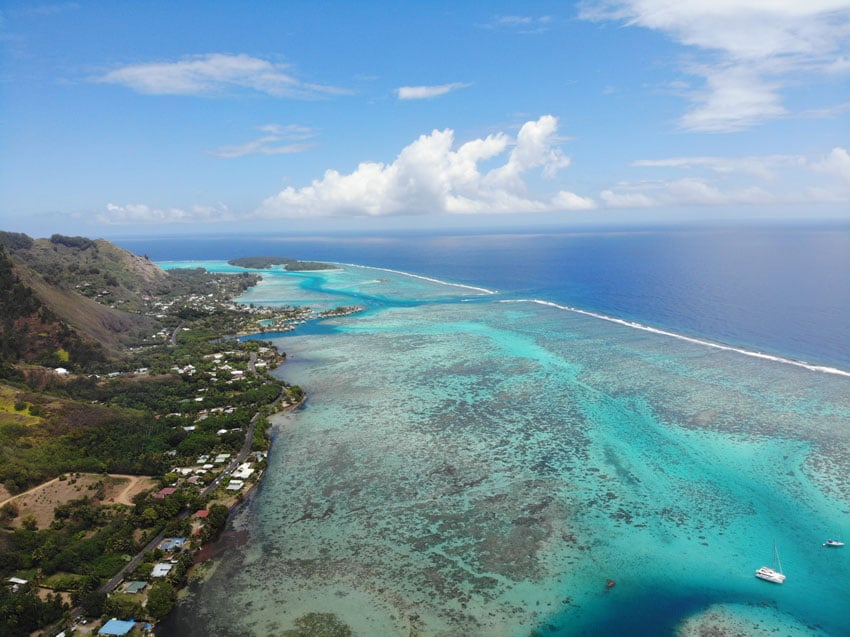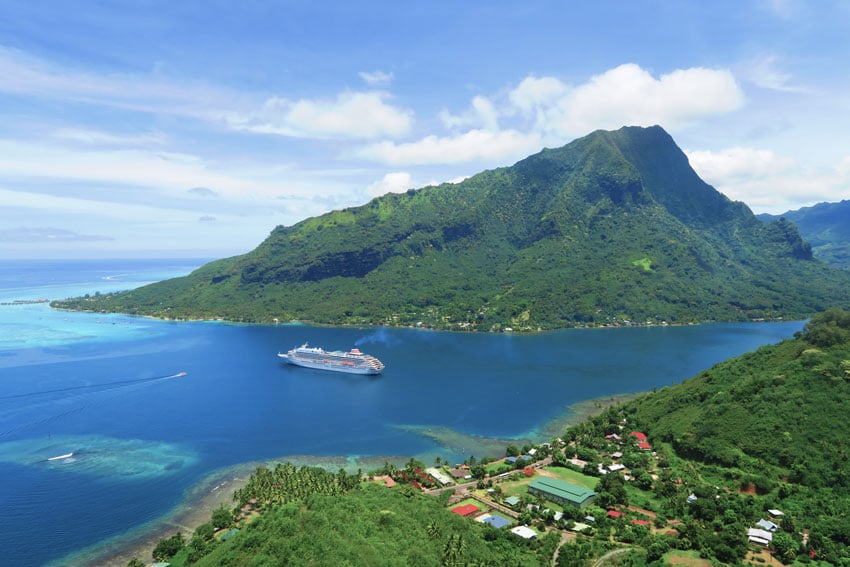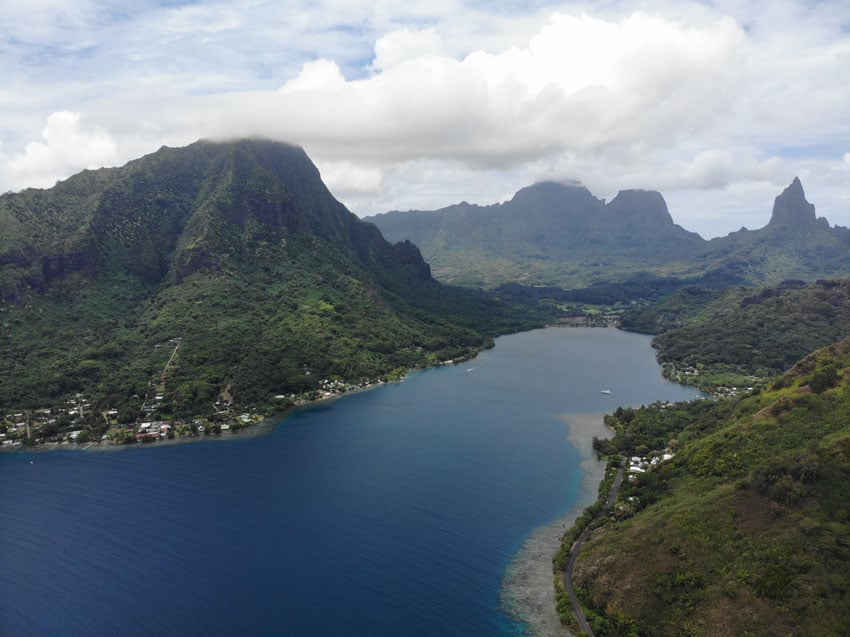 Lunch In a Tropical Garden
Time for lunch (finally). Drive to nearby Cook's Bay and look for the turnoff to the Moorea Tropical Garden. Further up the hill, enjoy more breathtaking views but this time with some authentic Polynesian cuisine and a glass of fresh pineapple papaya juice in your hand. Oh, and there's a cute little garden to wander around (obviously), complete with its very own mini vanilla farm.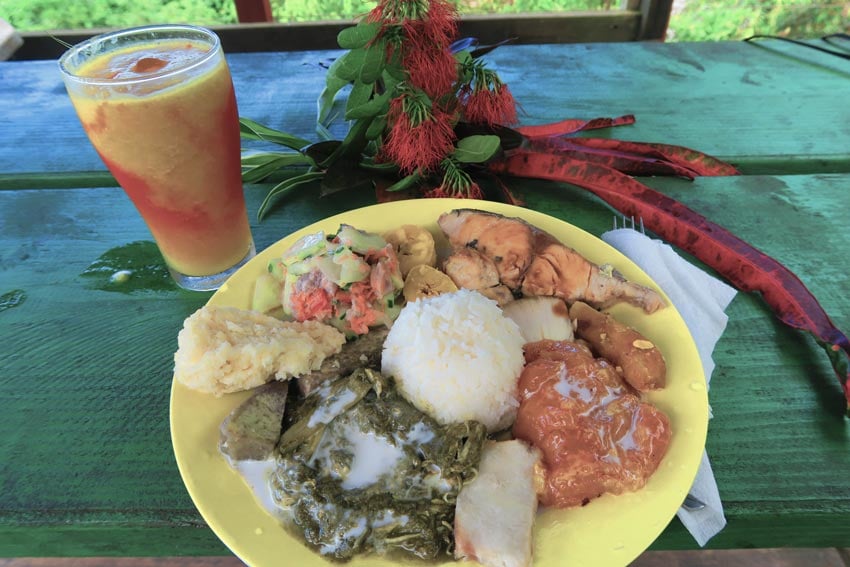 Afternoon In Mareto Beach
What better way to cap off this magical first day than at the beach. The good news is that you don't need to drive too far. Just as you start rounding Opunohu Bay, you can't miss one of Moorea's public beaches – Mareto Beach (a.k.a Ta'ahiamanu Beach). Locals love hanging around the grassy lawn and children love somersaulting from the palm trees that somehow hang over the water. There's a serious drop-off just meters away, where plenty of fish like to hang around. So don't forget your snorkeling gear.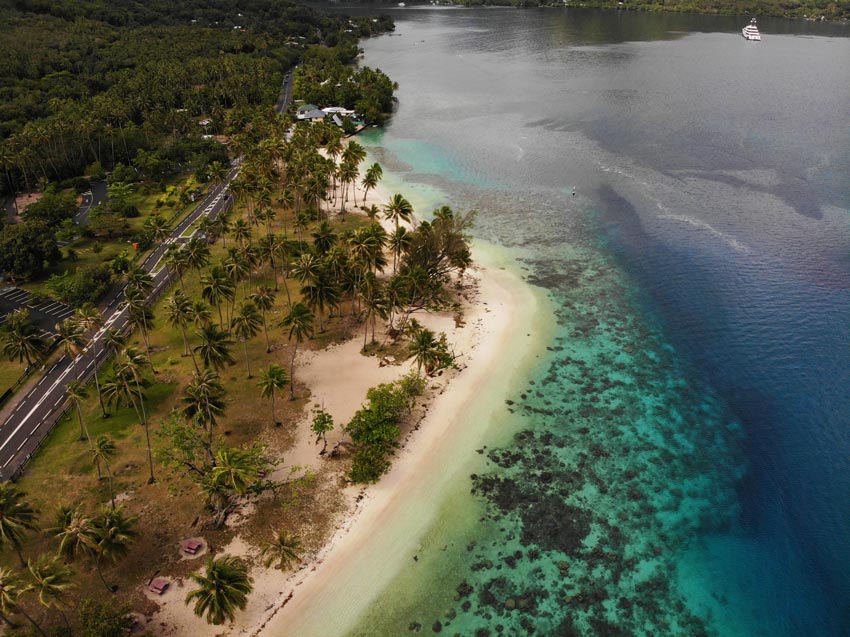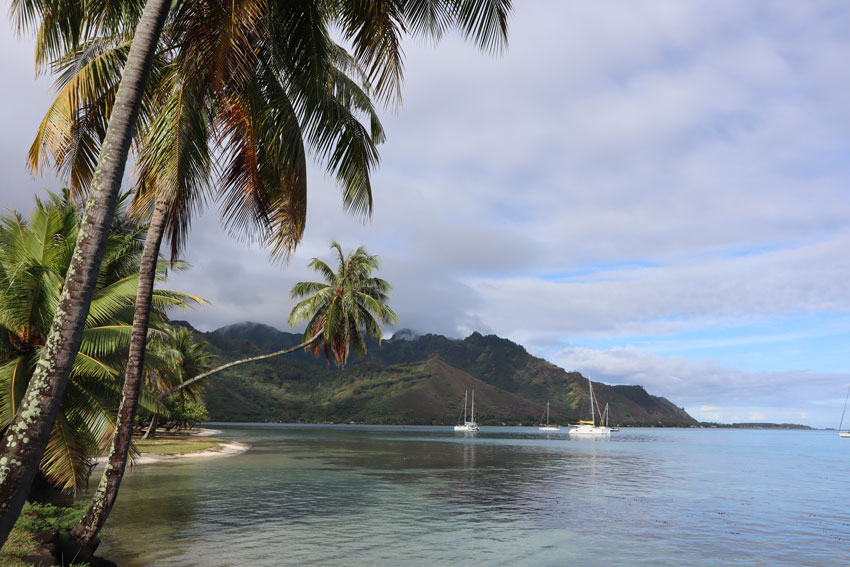 Day 2: Shark & Stingray Feeding Lagoon Tour
Spend a full day exploring Moorea's lagoon. The guided tour focuses on the area close to the island's large motus and includes a picnic lunch.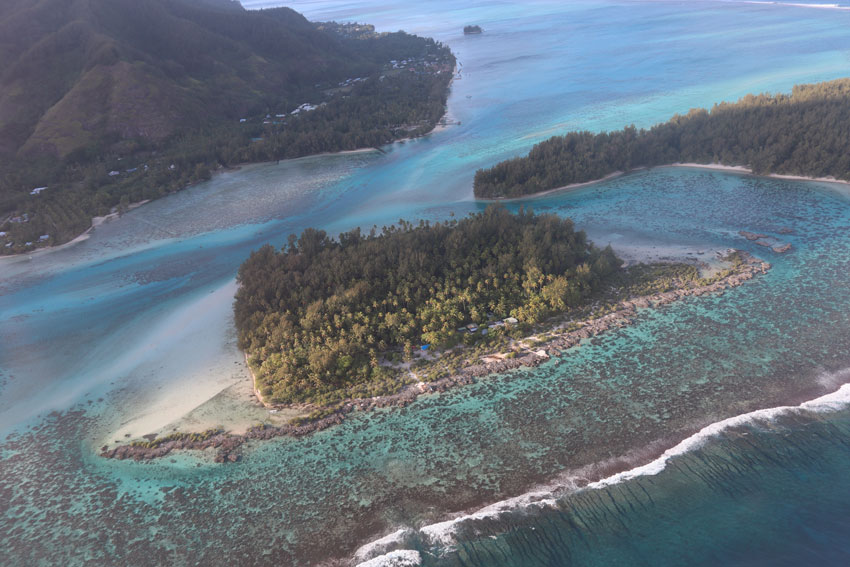 Moorea Lagoon Tour
Ready to see some sharks? How about some stingrays? Hop on a full-day lagoon tour with one of the local operators, such as Moorea Mahana Tours. I will say that if you'll be making further stops in either the Society Islands or the Tuamotu Atolls, the lagoon tours are more thrilling than the one in Moorea.
The full-day tour departs at around 10 am (a half-day option available). You'll start with a quick boat ride to the worst kept secret in Moorea – the shark and stingray feeding area. Against all common sense, you step down the ladder and spend 30 minutes snorkeling and swimming, with dozens of reef sharks and stingrays coming to check you out. Don't worry – it's all perfectly safe (and you'll hardly be alone here).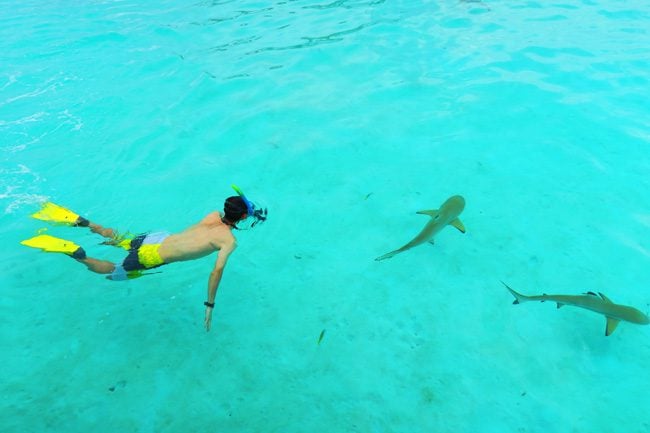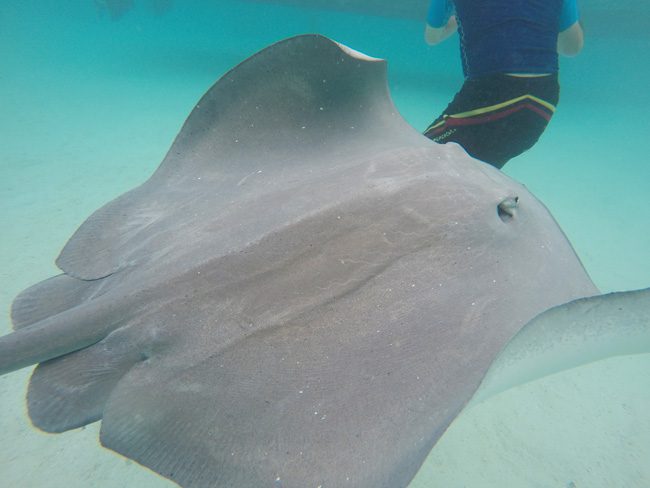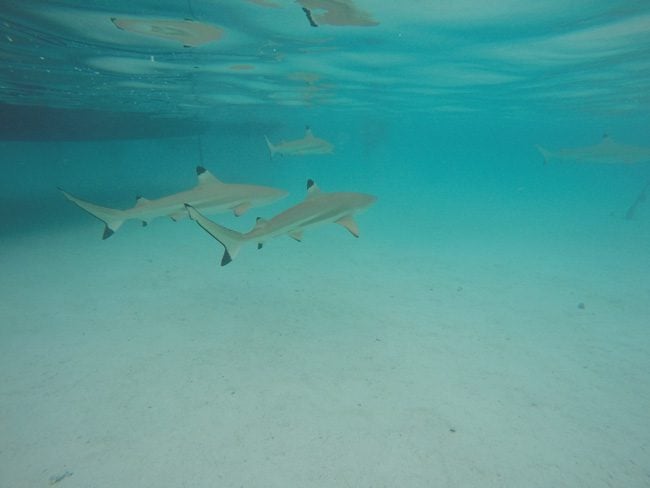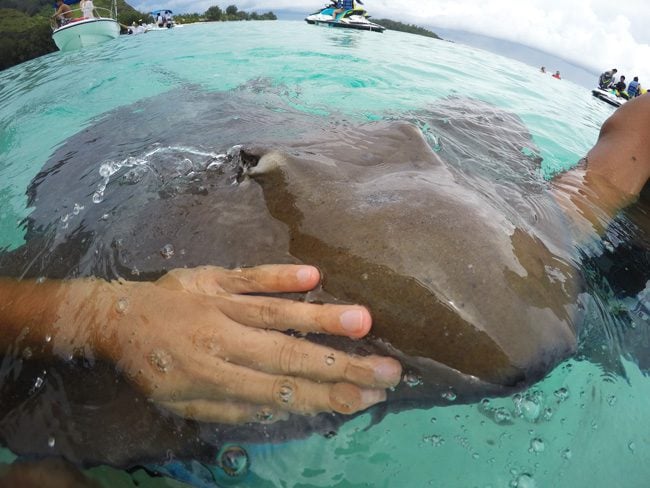 Back on the boat, you'll stop on one of the motus (small islet) inside the Moorea lagoon. Put your mask and fins and explore one of the best snorkeling spots in Moorea as your crew prepares a delicious Polynesian buffet lunch.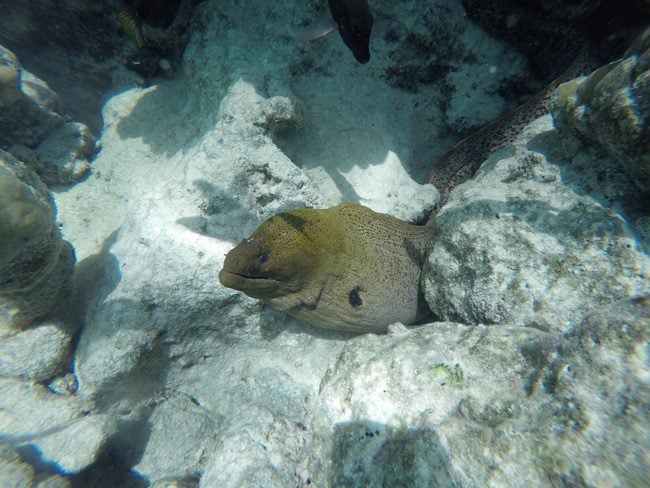 It's not all fun and games though – there's an educational part as well. You'll learn two valuable lessons during this excursion: preparing the national dish – the poisson cru, and how the heck to open a coconut.
Here's a look back at this amazing day spent in the Moorea lagoon!
Beach Time & Relax
Back on the 'mainland' at around 2 pm, take the rest of the day to relax, hit the beach, or just catch up on some reading. If you're hungry in the evening or just fancy a cocktail, head to the Hilton Resort for some delicious fresh crepes and drinks at Creperie Toatea. You'll see some of the creatures you met underwater today swimming in the pool that's beautifully lit at night!
Day 3: Scuba Diving Or Swimming With Whales
On day 3 of this Moorea itinerary, it's time to hit the water. Spend the morning scuba diving or joining a dolphin and whale guided excursion.
Diving In Moorea
Start your day bright and early with a 7:30 am departure for some scuba diving! Diving will be one of the highlights of your visit to Moorea specifically and French Polynesia in general. Crystal clear warm waters, tropical fish everywhere and so many sharks that it becomes the norm – are all part of what you can expect. Whether getting your diving certification or just heading out on a two-tank dive, Moorea is a great option. After much research, I went diving with Moorea Blue Diving. Owners Diane & Stephane are the 'shark experts' in Moorea. They'll take you to dive sites just off the twin bays where you're almost guaranteed to see some serious sharks.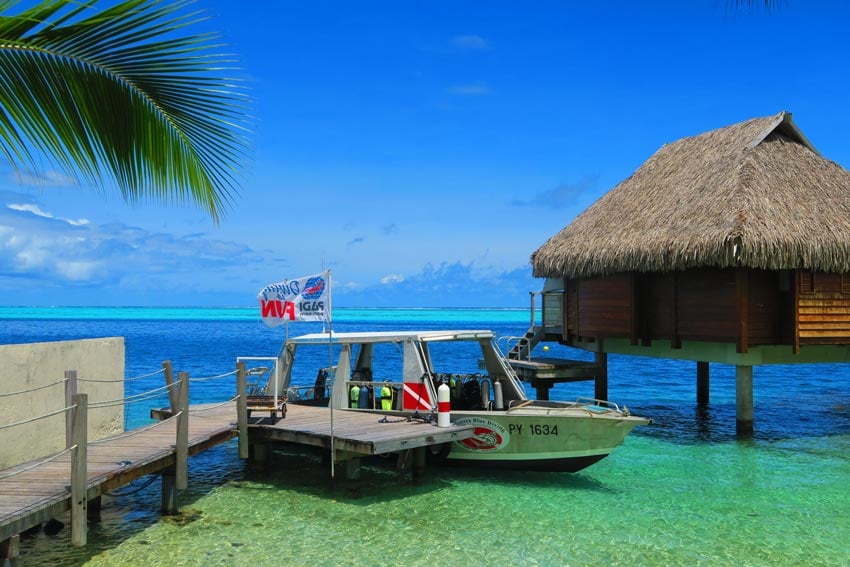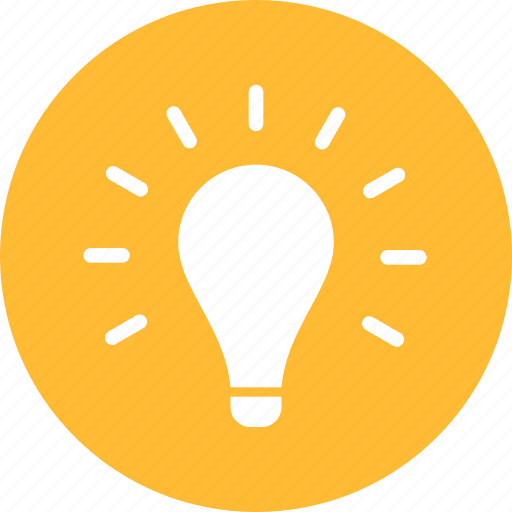 Pro Tip
Save 10% off your dives when you mention the promotional code 'X Days In Y' to Diane & Stephane. The offer is for direct bookings not part of the Te Moana Pass.
On our two dives just off Opunohu Bay, we swam along a valley just outside the reef, occasionally going in and out of channels. Along the way, dozens of reef and lemon sharks came to check us out – especially when we got close to a cute little sea turtle snacking away on some hard coral.
Stephane even took our small group of divers into a cave, where there was an adult nurse shark just napping away! The dives in Moorea were some of the best I've done in the South Pacific Islands, and if you aren't heading to the atolls of the Tuamotu Archipelago, do not miss this golden opportunity!
Here's a video summary of my dives in Moorea with Moore Blue Diving.
Dolphin and Whales Tour
Throughout the year, you can join dolphin-watching tours and get to meet Moorea's famous spinner dolphins. Between July and October, humpback whales visit Moorea and you can join a tour to see and even possibly swim with them. Several outfits run swimming with whales tours, the most famous of which is Dr Michael Pool (Monday and Thursday only).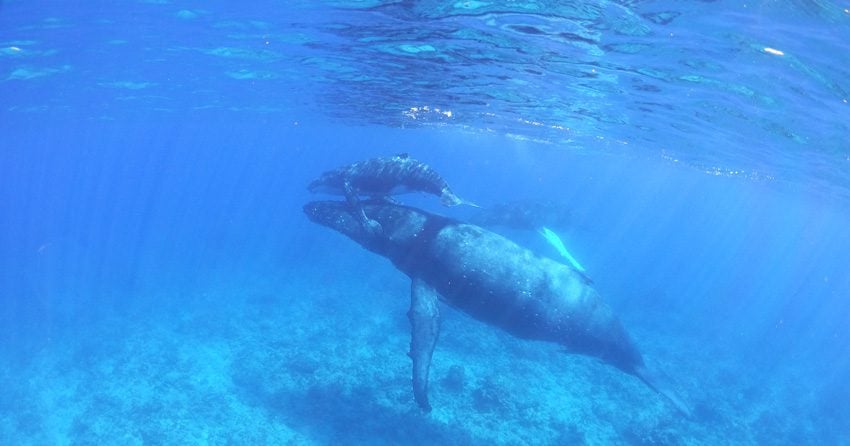 Lunch In Maharepa Village
All that diving will surely make you hungry. After all, the clock is about to hit noon. Head over to the village of Maharepa, the liveliest in Moorea. Locate Snack Didier – a great place for lunch. Grab a seat on the outside terrace and enjoy some poisson cru, sashimi, or anything else from the generous menu. When you're done, explore the village shops. Maybe you'll find a nice black pearl or even a colorful sarong for the beach. A short walking distance away in the outskirts of the village, you'll easily recognize La Maison Blanche – an early 20th-century house in the outskirts of Maharepa that sells colorful island fashions, sarongs, and Polynesian crafts.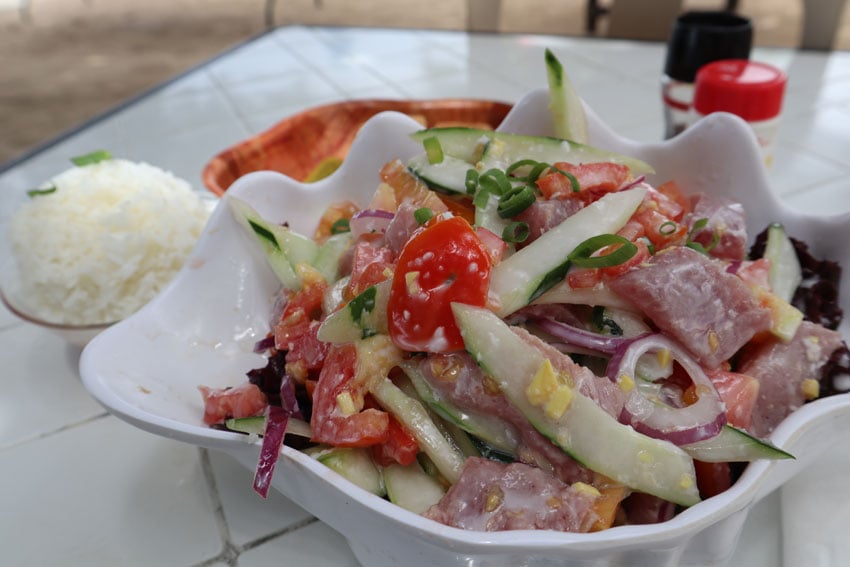 Afternoon At The Beach
Time to rest a bit, but why not do it on one of the prettiest beaches in Moorea. Get back to the car and drive for about 10 minutes to the Toatea Lookout – just to really appreciate the beach you're about to visit. The view from up here is gorgeous, with the overwater bungalows of the Sofitel Resort, Temae Beach, and Tahiti in the far distance.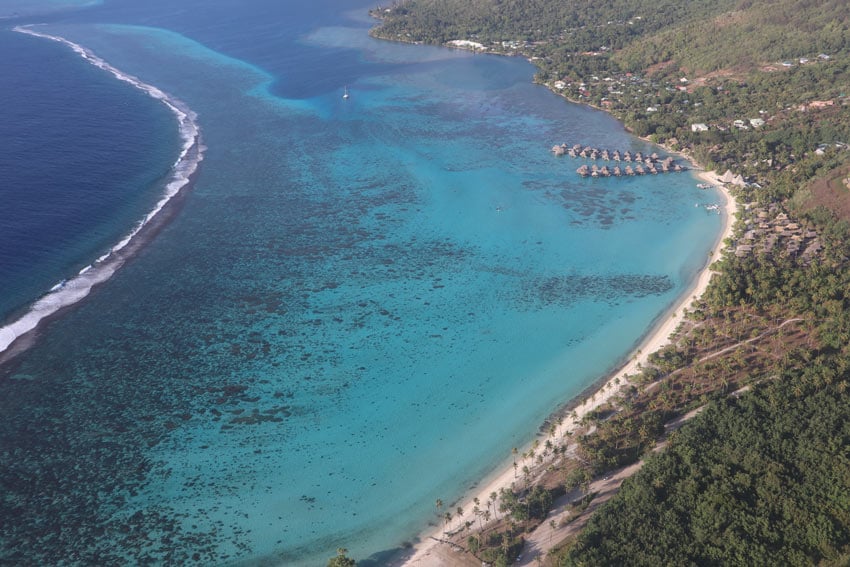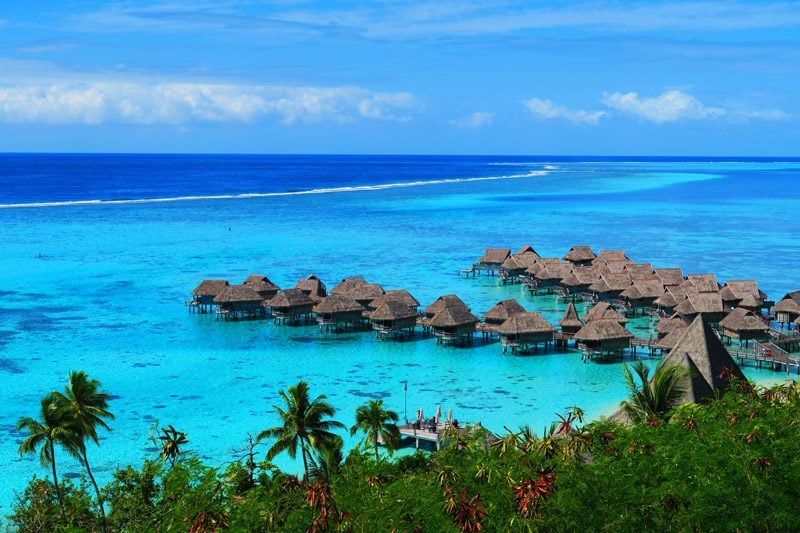 Find a spot in beautiful Temae Beach – it's so big you shouldn't have a problem! It's one of those postcard beaches your friends will be so jealous of. Snorkeling is excellent out here and the water – like the best swimming pool ever!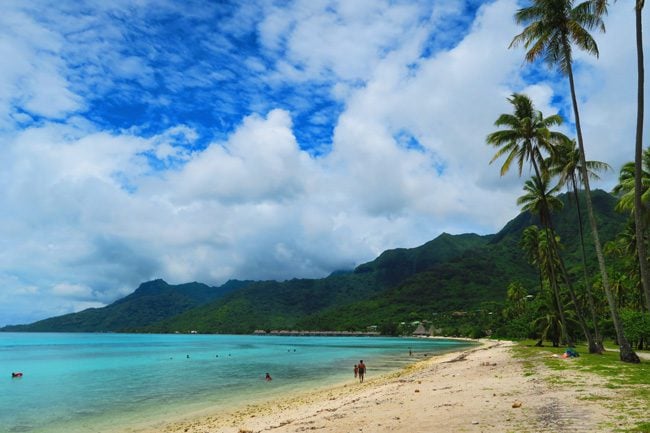 Lake Temae
Feel like seeing more? Continue along the dirt road, eventually reaching Lake Temae. It's one of the most peaceful spots on an already peaceful island. There's a bunch of locals living out here and not much else.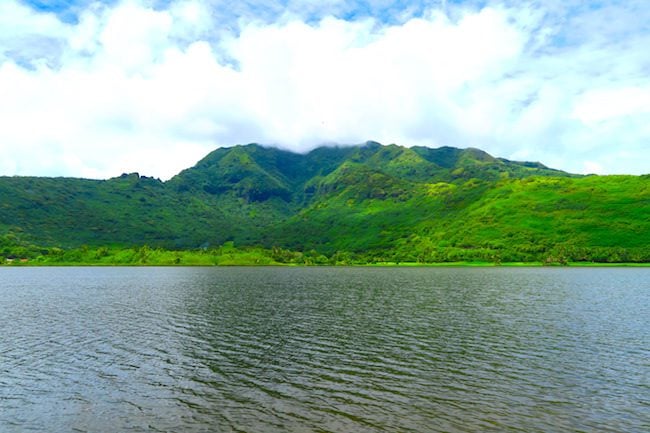 Day 4: Hiking & Tahitian Culture
Spend the bulk of this day exploring Moorea on foot. Listed below are a few options, including DIY and guided hikes. If you're staying in or around Maharepa, start your morning off at Carameline with a delicious almond croissant and fresh coffee – because you'll need all the energy you can get on this day!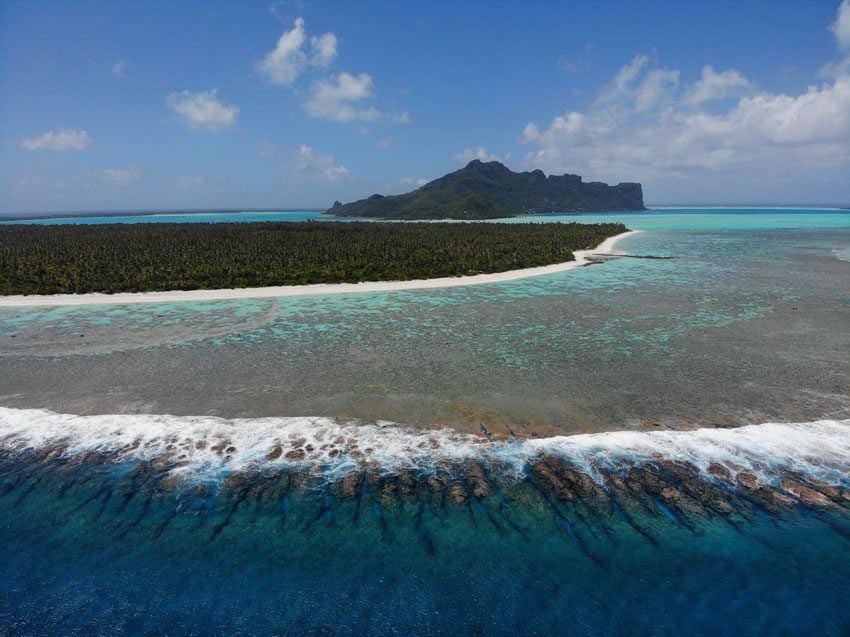 Tahiti, Tailor Made!
The Islands of Tahiti are among the last places to be colonized by mankind, 118 islands, each with their unique personality.
Get expert advice and assistance with planning your trip to the destination where tropical dreams come true!
See Options
Opunohu Valley Or The Three Coconuts (Easy)
Moorea's lush Opunohu Valley is home to several marked trails that criss-cross the rainforest and pineapple fields. If you didn't hike the Three Coconuts Pass on the first day, head back to the Belvedere and hike to this unique lookout.
Vaiare to Paopao Hike (Moderate)
The Vaiare to Paopao hike is my favorite in Moorea. As long as you're able to pick up the trailhead – you'll be fine doing this on your own (have a look at the hiking section of the Moorea Travel Guide for more info). The walk starts along the orchards behind the villages of Vaiare, before taking you on a steep climb through a beautifully dense mape forest. After about an hour of sweaty climbing, you'll reach the ridgeline and all your efforts will be rewarded. The view from up here is classic French Polynesia, giving you a unique perspective to both sides of the island. You can continue down the valley and finish off in Paopao or just turn around and get back to your air-conditioned car. Allow 3-4 hours for the hike.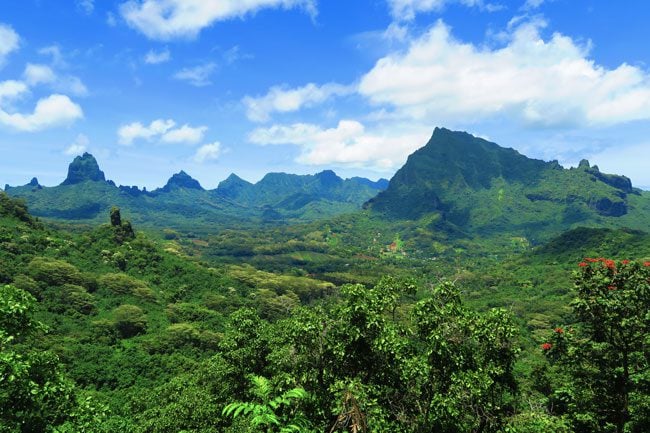 Temae Hike (Moderate)
Head back to Temae beach but this time, instead of turning right towards the beach, take a left and park by the post office. A 45-minute steep hike up the trail will bring you to the top of a ridge overlooking the entire northeastern part of Moorea. From up here, you'll see some of the places you've already visited, but this time with a bird's eye view. Tahiti doesn't seem so far away, clearly visible in the distance yet feels like miles away. If you fancy some more time on the beach. Temae Beach is right at your doorstep.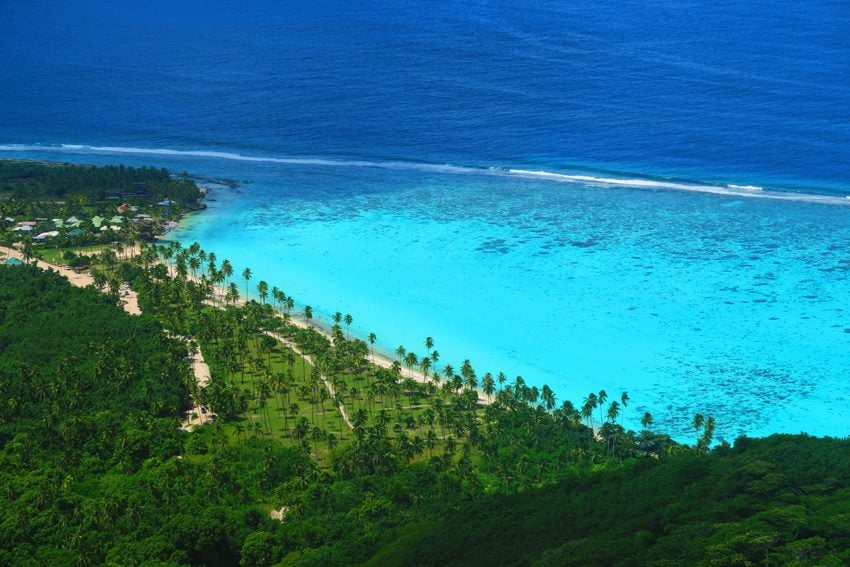 Mount Rotui Hike (Challenging)
Towering above the island's twin bays, the hike to the summit of Mount Rotui is very challenging yet rewarding. You can pick up the trail opposite the Hilton parking lot and either climb to the summit or to a point that satisfies your legs.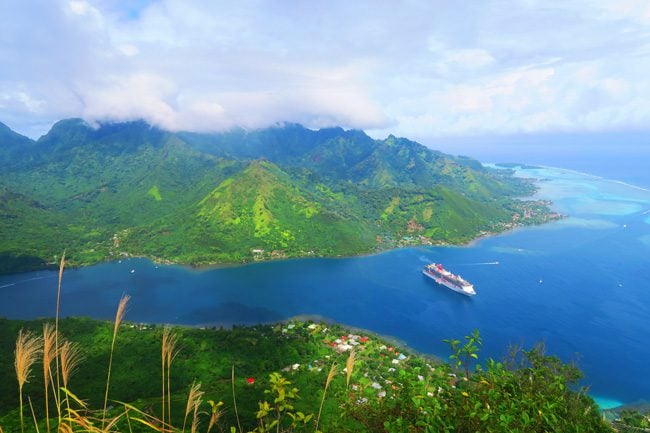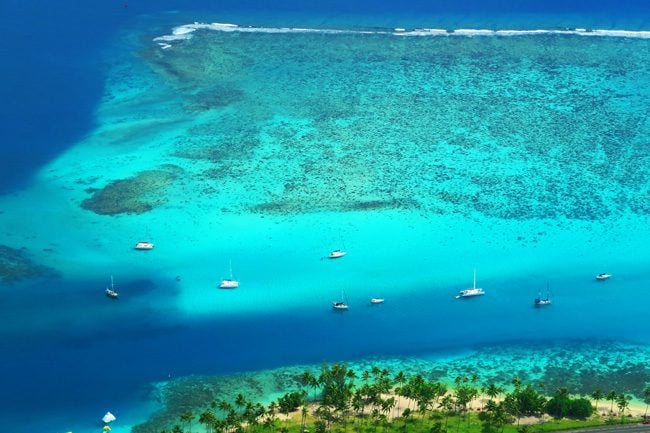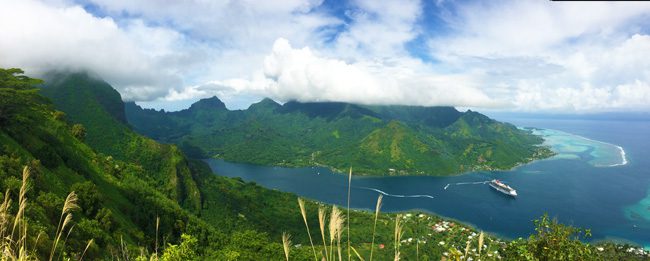 The Pierced Mountain (Challenging)
This is one of the best hikes in Moorea but is a challenging one and should only be done with the help of a guide. Mount Mouaputa rises to a height of 830m but it's better known as "The Pierced Mountain" thanks to the large hole just beneath its summit.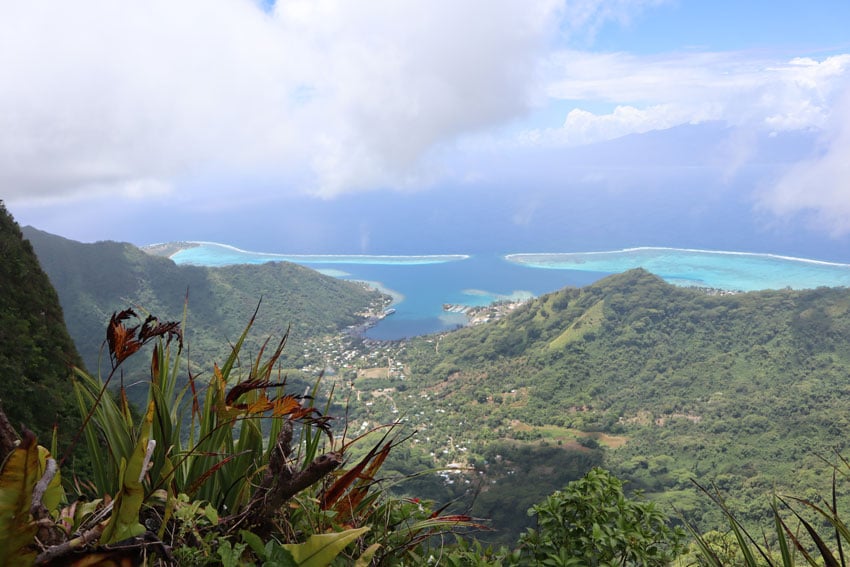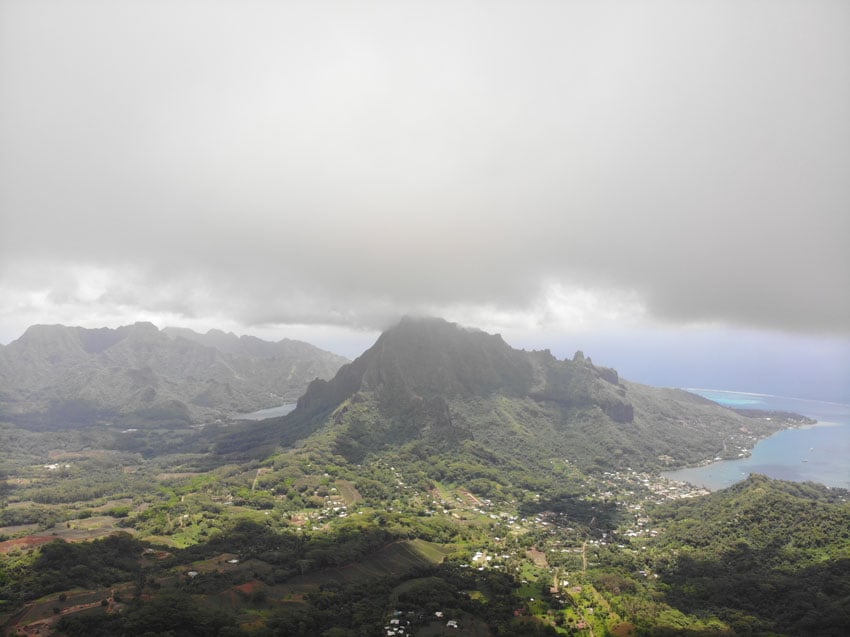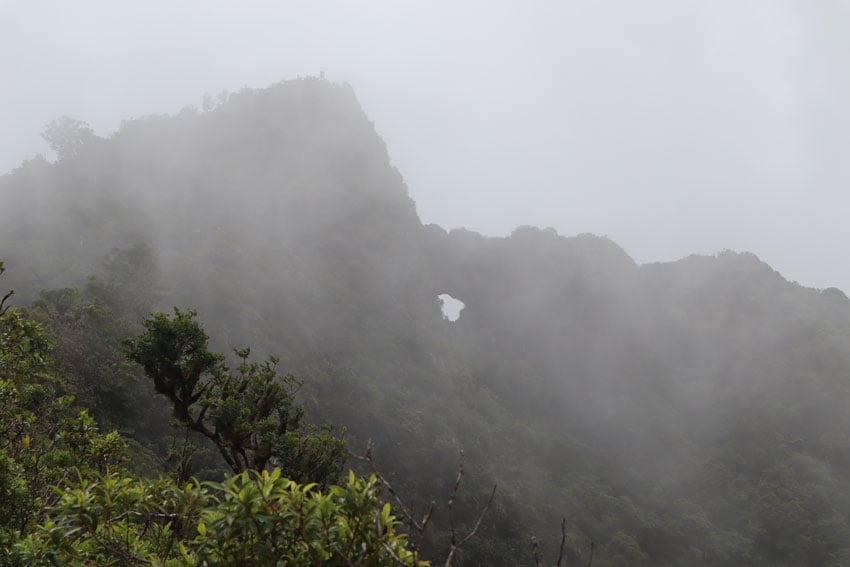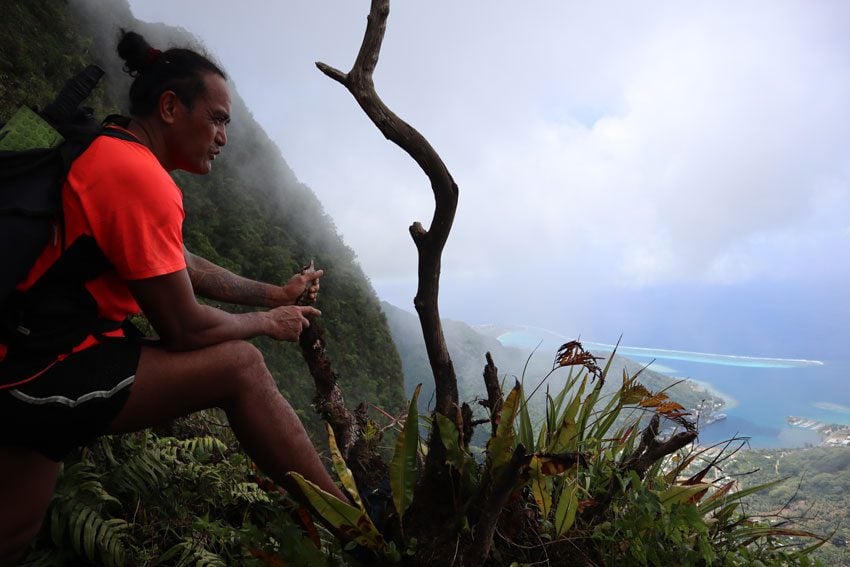 Evening In The Tiki Village
Surely you'll be tired (and sweaty) by now. Take some time to relax and head to the Tiki Village at 6:30 pm. Proudly showcasing Tahitian culture since 1983, the Tiki Village in Moorea is not something you want to miss. Set in a reconstructed ancient Polynesian village, the best time to come is during the night show. Your visit will start with a tour of the village, where you'll finally learn how to crack a coconut like a real Tahitian. You'll then witness the unveiling of the traditional earth oven, where tonight's dinner has been slowly cooking for 6 hours!
Dinner is served buffet-style, with Tahitian dishes and children's favorites on the menu – as staff serenades you with traditional ukulele tunes. As dessert is served, you'll even learn a dozen or so of the hundreds of ways you can wear a sarong (highly useful by day 4…).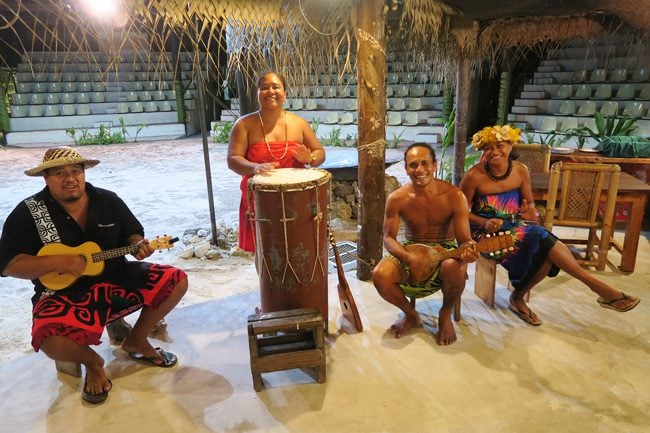 The highlight is no doubt the nightly dance show, which starts after you've had your own taste of what the dancers are about to show you. Tahitian dancing is mighty hard, with women working their hips from side to side and men twisting and turning their knees looking like a young Elvis Presley doing the famous 'shake'.
As the amateurs take their seat, the pros come on stage for the show of a lifetime – changing elaborate costumes, singing, dancing, and acting out a local legend. The sounds of the beating drums and the vividness on stage will surely cause you to pinch yourself and realize "damn, I'm really in French Polynesia!" I don't want to spoil more than I already have but…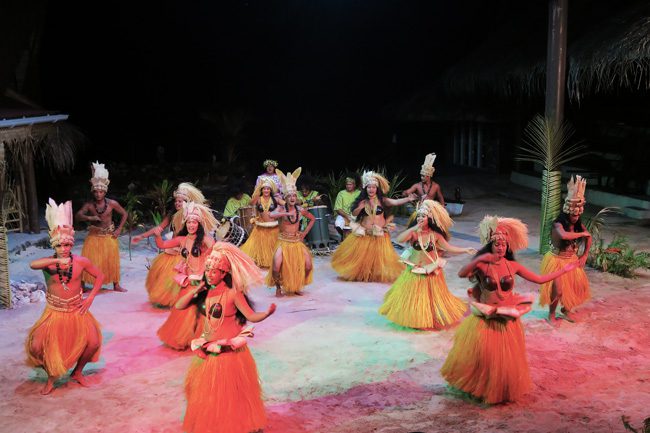 No Polynesian show is ever complete without some fire dancing. In the Tiki Village, they really outdo themselves.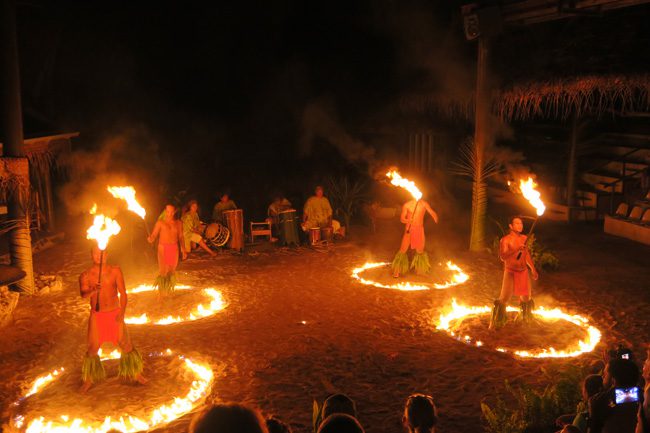 Here's a quick look at the Tiki Village dance show and spectacular fire dancing!
Day 5: Road Trip Around Moorea
It's time to finally see the 'other' side of Moorea, as we hit the road and drive around the island's 60-kilometer coastal road. Feel like being a bit more active? It's totally doable by bicycle if you're fit – with only a small handful of minor inclines.
I'll mention a few highlights that we haven't covered yet, but feel free to stop along the way wherever you want. There are plenty of artisan shops on the sides of the road, small beaches, and locals selling fruits, vegetables, and fresh coconuts. A big smile and a mauruuru (thank you in Tahitian), will sometimes get you an extra fruit of some sort.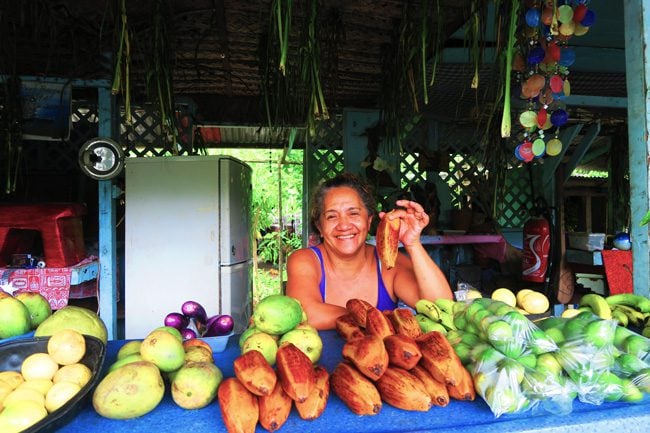 The only thing I really recommend here is to aim to reach the vicinity of Papetoai around mid/late afternoon (so take that into account when considering in which direction to drive).
Here are a few highlights:
Cook's Bay: named after Captain Cook despite the fact he never actually anchored here, the bay is one of the prettiest parts of Moorea. Be sure to stop at Pihaena Lookout (PK11), where you can relax and spot the pineapple fields which cling to the side of the imposing mountains.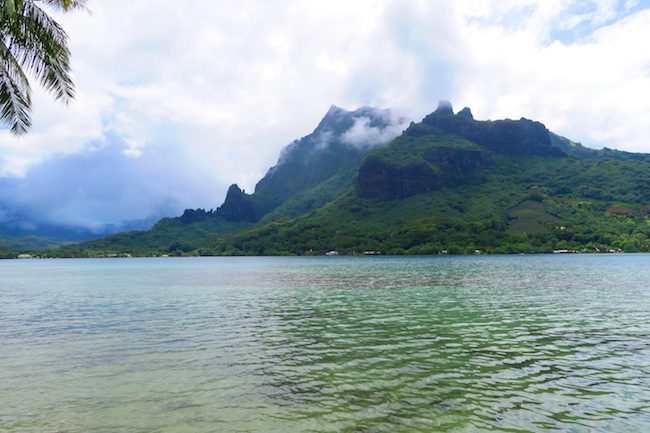 St Joseph's Church: a cute church that resembles something out of a Spanish mission.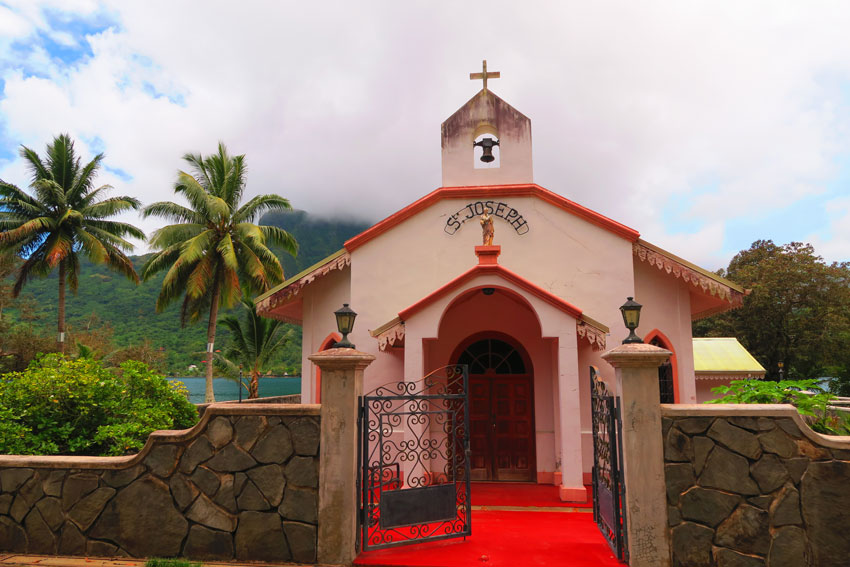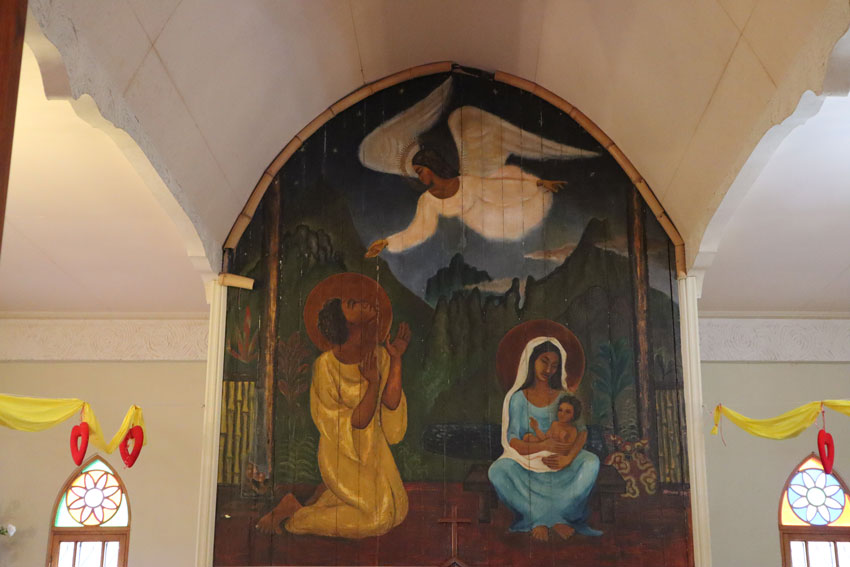 Opunohu Bay: though we just passed the famous captain's bay, it is actually Opunohu Bay where Captain Cook anchored. This deep bay is so beautiful. It was even chosen as the filming location for the 1984 movie The Bounty, starring Anthony Hopkins and Mel Gibson. The bay's coastline isn't that developed, and the peaks around the Belvedere Lookout are just in front of you.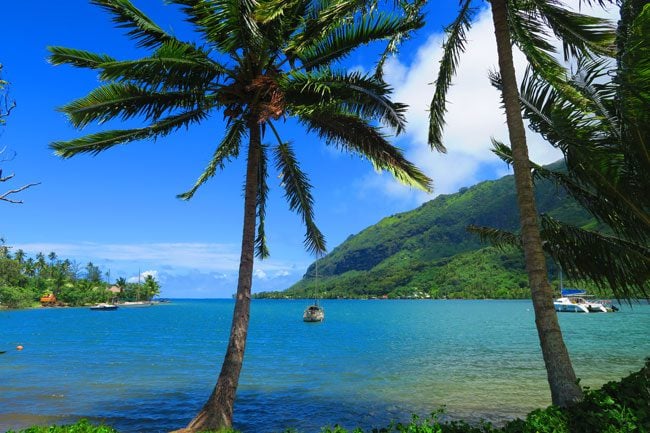 Atiha Bay: my favorite spot on the island, I used to just stare at the bay for hours upon hours. The best time to visit is just before sunset, but with views like these – any hour of the day will do just fine!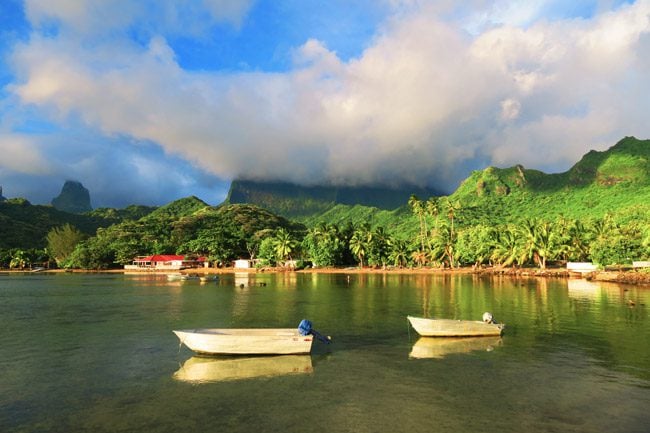 The churches of Haapiti: the prettiest on the island, the Protestant and Catholic churches in Haapiti are definitely worth a stop. The Protestant is on the lagoon side, while the Catholic is backed by lush peaks.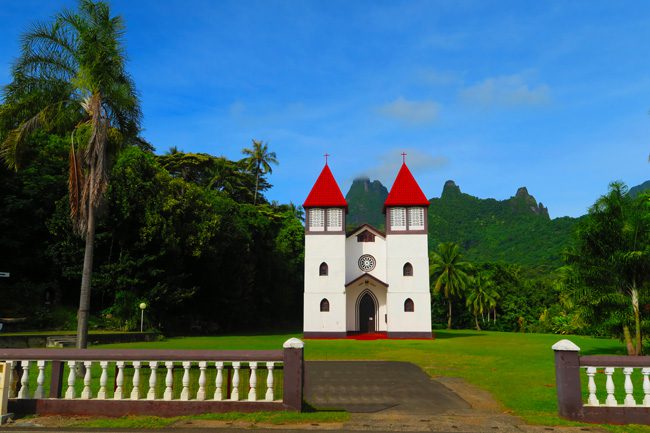 Painapo Beach: around PK33, look for a massive wooden statue of a Tahitian warrior holding a… pineapple. It's one of the less known but beautiful beaches in Moorea, and the cafe might be open – a perfect opportunity to freshen up a bit.
Tahiti Aromes: fancy some tamanu oil? Or how about some tiare scented monoi oil for some after-sun care? How about some noni juice to keep your plumbing in tip-top shape? If you have no clue what I'm talking about, visit this factory & shop to learn and buy some natural Tahitian goodies.
Lunch & Afternoon Beach Time
Time for some food! Today, we'll have lunch at the best snack in Moorea. Think of snacks as casual restaurants, operated by locals and serving simple local dishes. Snack Mahana takes the top prize due to the delicious seafood and the relaxed setting – a huge garden right on the lagoon. Enjoy some poisson cru, sashimi, or even lobster while watching the lagoon to the soundtrack of the palm trees and birds.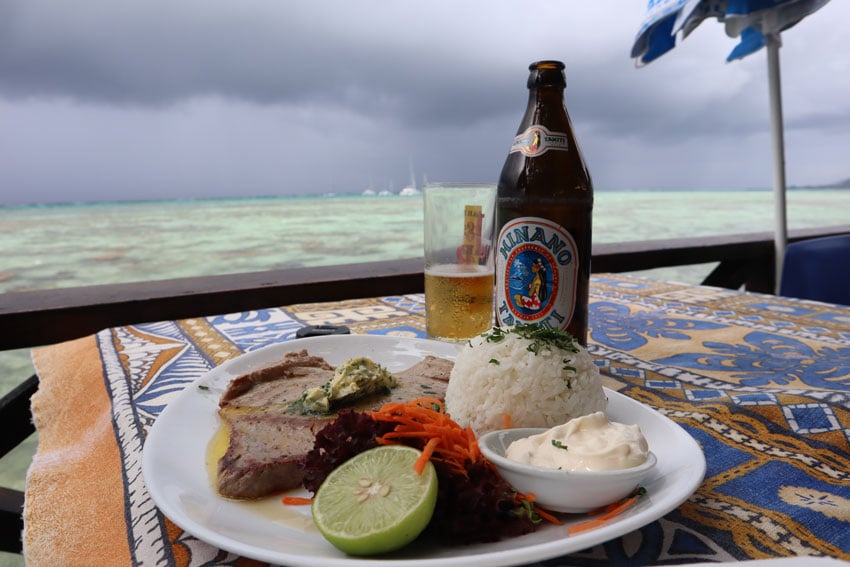 We'll finish off the day not too far at Les Tipaniers Beach. This is one of the best beaches in Moorea, which also just happens to have a bar (and a restaurant) just next door. Grab some shade beneath a palm tree, go for a swim, and snorkel. Happy hour should be starting pretty soon!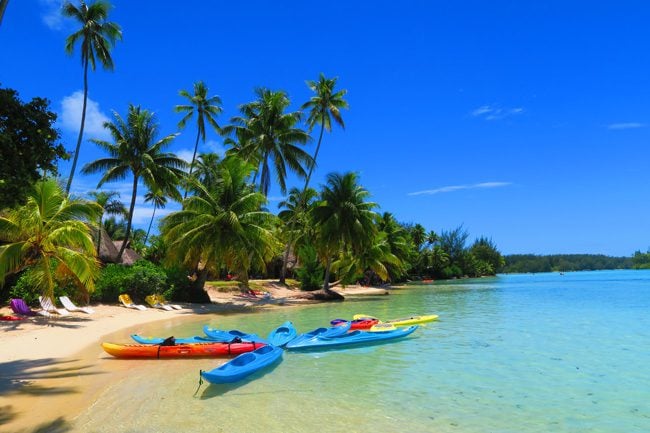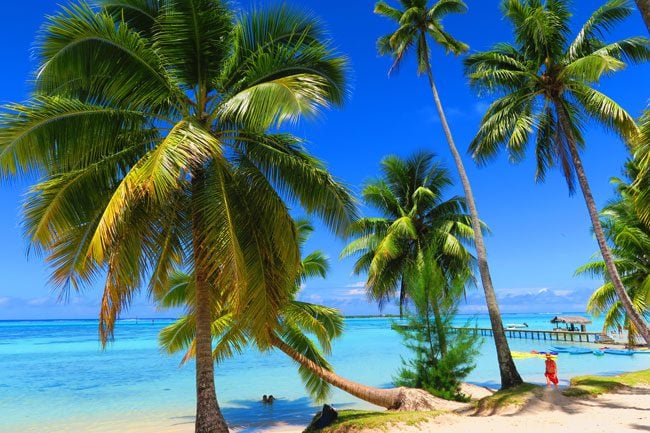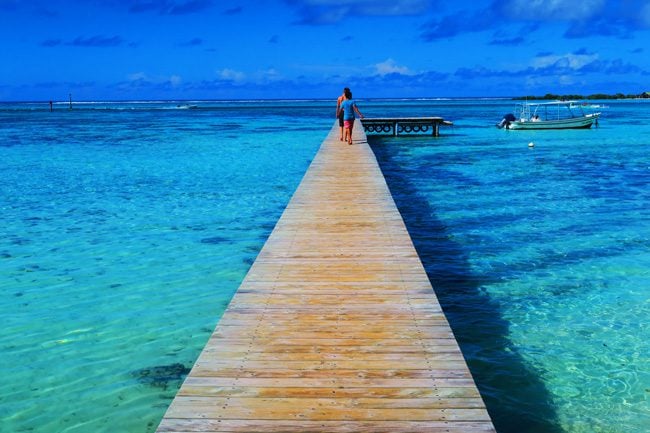 Day 6: Waterfalls, Vistas & Marine Life
On this day, choose from a morning half-day activity of either hiking to a waterfall or snorkeling.
Afareaitu Waterfall
Drive to Afareaitu, Moorea's administrative center, and head inland for a 30-minute easy hike along a river. En route, you'll pass under endless fruit trees and the famous mape – the Tahitian Chestnut tree with its incredible roots. Don't forget your swimming gear, as the waterfall's natural pool is so refreshing after the sweaty hike. It's a great spot for a picnic or just a snack, and you might have this magical place all to yourself!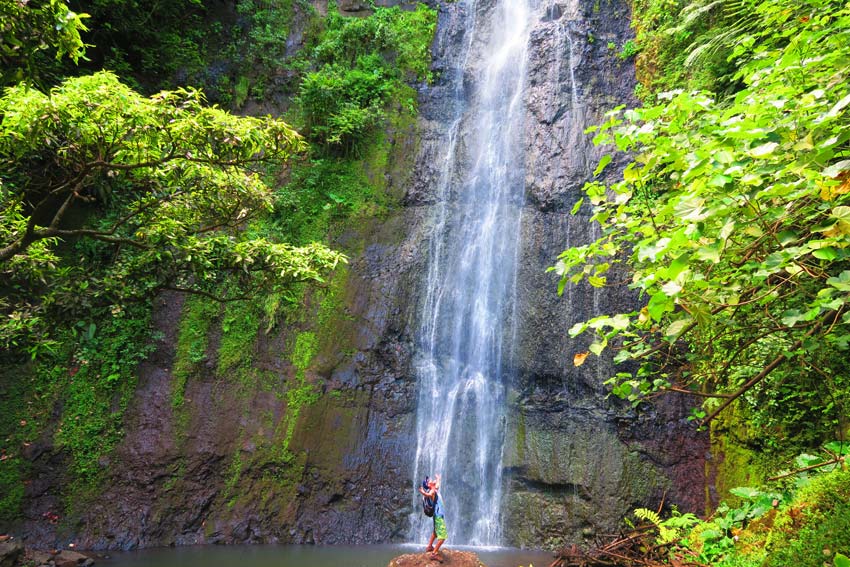 Moorea Lagoonarium
located in a tranquil spot just in Afareaitu, the Lagoonarium gets great reviews from visitors. Experience Moorea's rich marine life inside the lagoon, relax on the motu and enjoy some Tahitian food.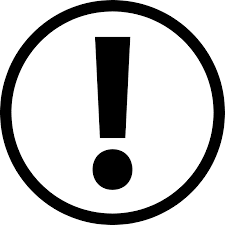 Update
The Moorea Lagoonarium closed its doors in May 2021 and may or may not open again in the future.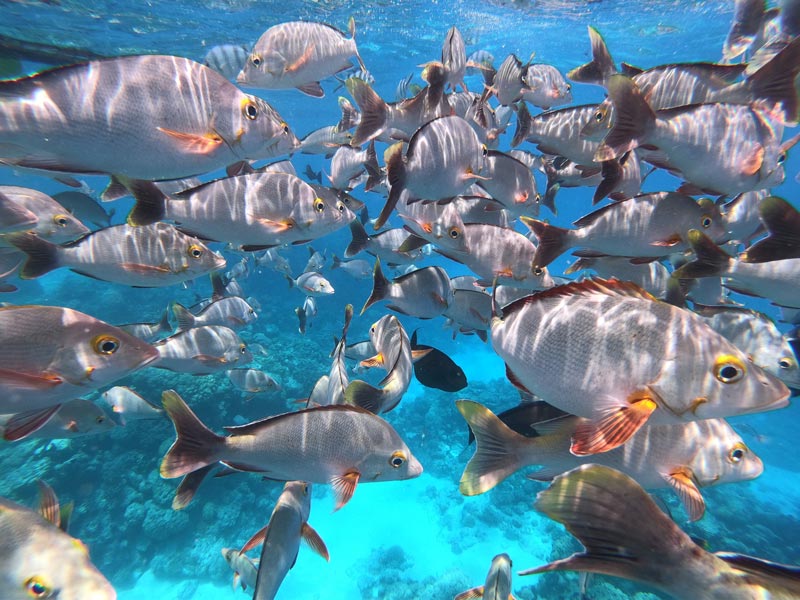 Since you've had quite an active day, use the rest of it to relax, stock up on some fresh tropical fruit from the local stalls along the road and get ready to watch some stars at night! If you haven't done so already, don't miss the sunset in Moorea. Head for sunset drinks at Painapo Beach or anywhere between Haapiti and the Les Tipaniers. If you want some privacy, park the car at the Tiki Village and stroll along the nearby beach.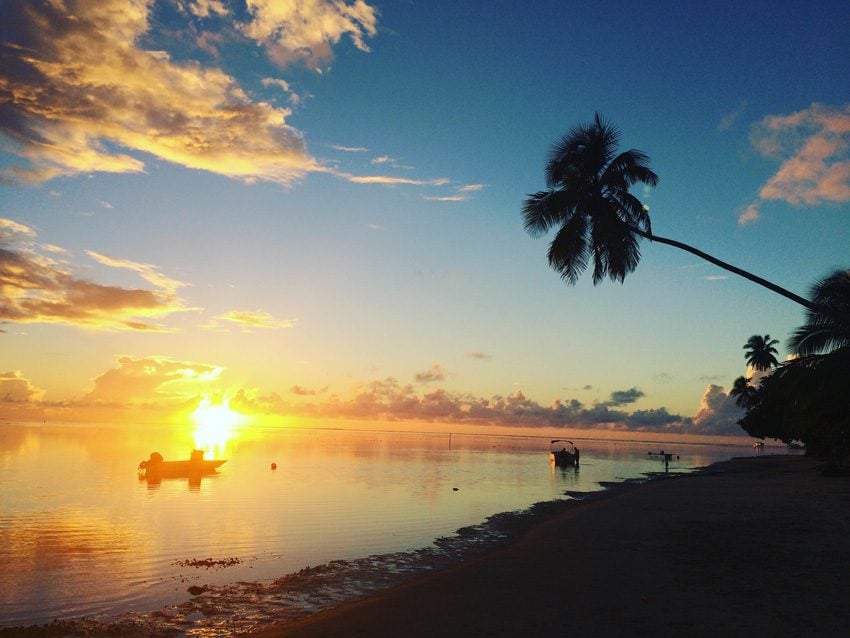 Day 7: Local Delights & Relaxation
It's your last day in Moorea so we'll keep it relatively free, allowing you to revisit the places you fell in love with and take it easy.
Moorea Juice Factory
Head to the Moorea Juice Factory to see where all that amazing juice you've been drinking throughout the week comes from. If you make it by 9 am (or 2 pm) on a Tuesday or Thursday, you can even join a factory tour (100F, 1 hour). In 1982, a bunch of pineapple growers joined forces to turn the Queen Tahiti pineapples that grow here in abundance into juice. Over the years, the Rotui brand has expanded to a variety of tropical flavors, even adding the Manutea label recently which produces delicious jams and exotic liqueurs. Like every great factory tour, this one ends with a tasting. Be prepared to down shot after shot of juice and vanilla liqueur! Make sure there's some room left in your suitcase because you'll want to buy everything they sell here.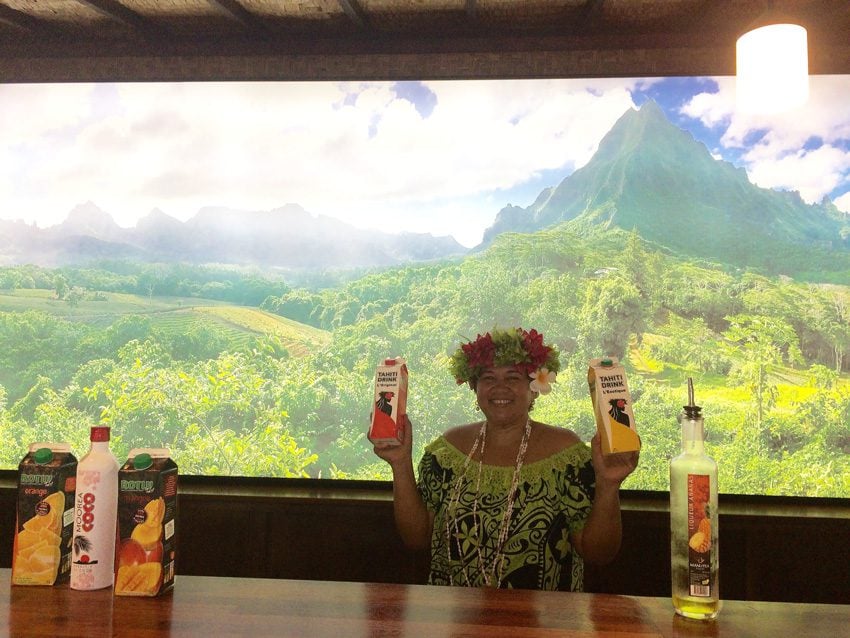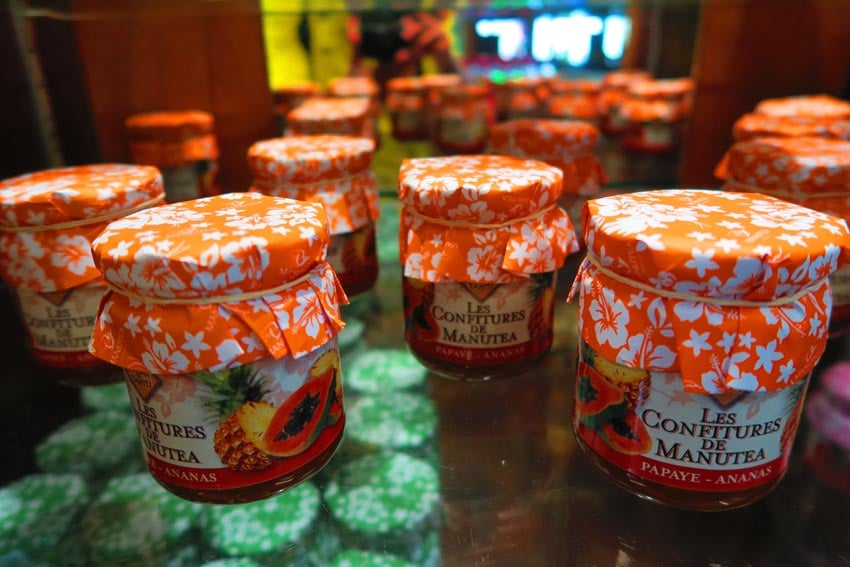 The factory is located in Cook's Bay so from here, it's easy to visit some of the places you didn't get a chance to see or just hit the beach for one final taste of paradise!
What Now?
I am confident this 7 days in Moorea itinerary will really maximize your time on the island. The most important thing to remember is not to do too much. The island is really as close as it gets to paradise so be sure to spend time just enjoying this moment! For more information about Moorea and French Polynesia, check out these recommended guides.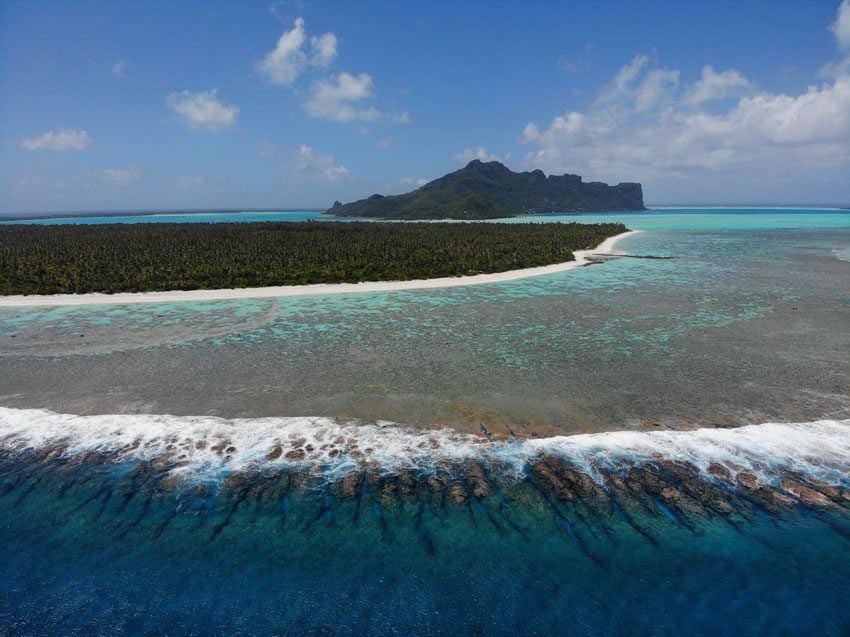 Tahiti, Tailor Made!
The Islands of Tahiti are among the last places to be colonized by mankind, 118 islands, each with their unique personality.
Get expert advice and assistance with planning your trip to the destination where tropical dreams come true!
See Options
---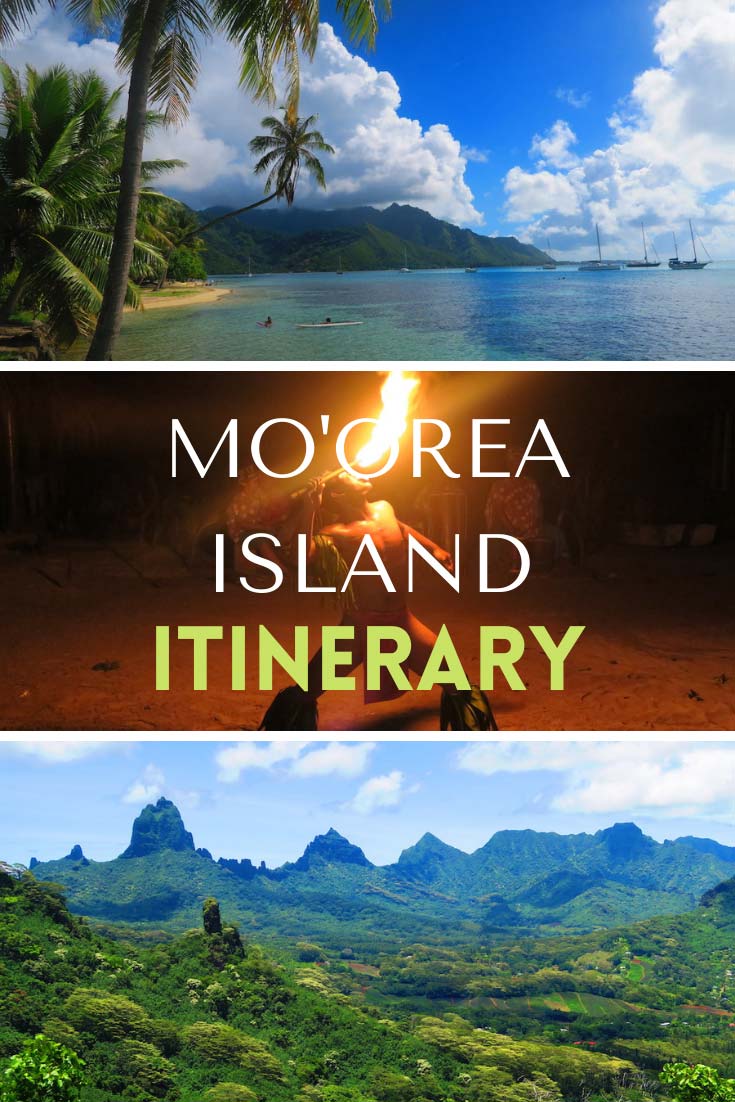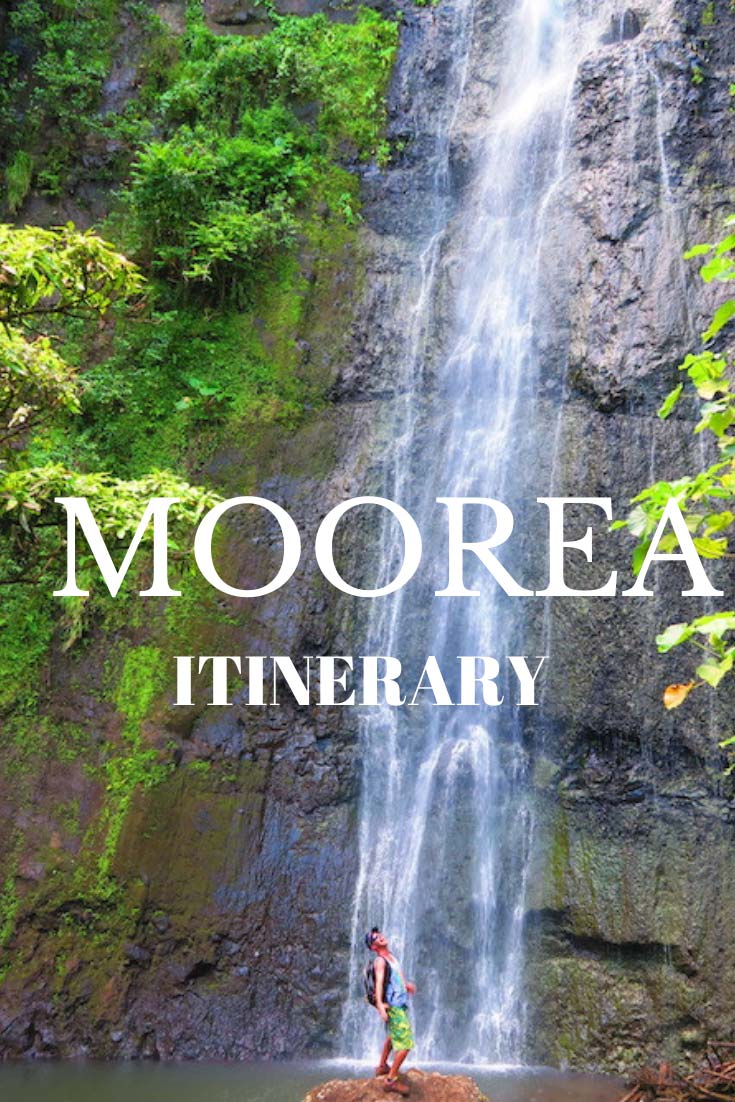 Pin These Images To Your Favorite Boards