Day 2: Shark & Stingray Feeding Lagoon Tour
Spend a full day exploring Moorea's lagoon. The guided tour focuses on the area close to the island's large motus and includes a picnic lunch.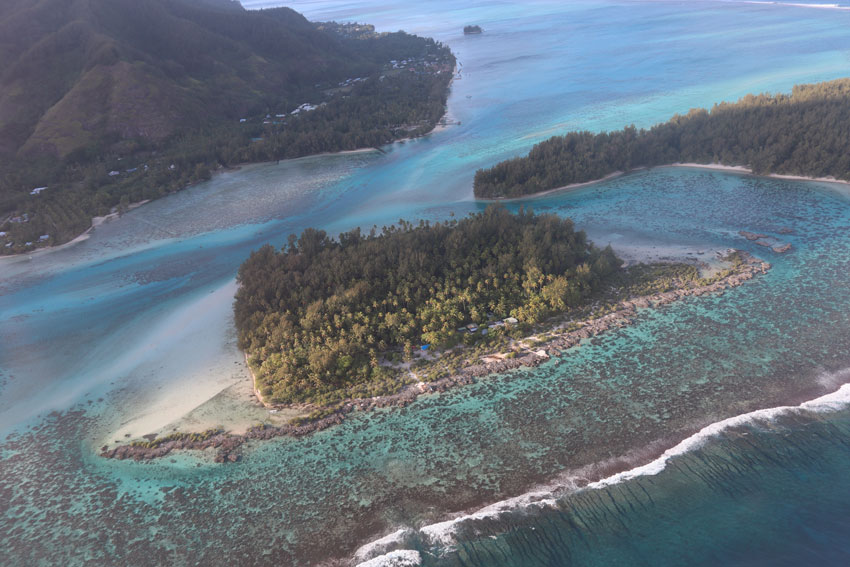 Moorea Lagoon Tour
Ready to see some sharks? How about some stingrays? Hop on a full-day lagoon tour with one of the local operators, such as Moorea Mahana Tours. I will say that if you'll be making further stops in either the Society Islands or the Tuamotu Atolls, the lagoon tours are more thrilling than the one in Moorea.
The full-day tour departs at around 10 am (a half-day option available). You'll start with a quick boat ride to the worst kept secret in Moorea – the shark and stingray feeding area. Against all common sense, you step down the ladder and spend 30 minutes snorkeling and swimming, with dozens of reef sharks and stingrays coming to check you out. Don't worry – it's all perfectly safe (and you'll hardly be alone here).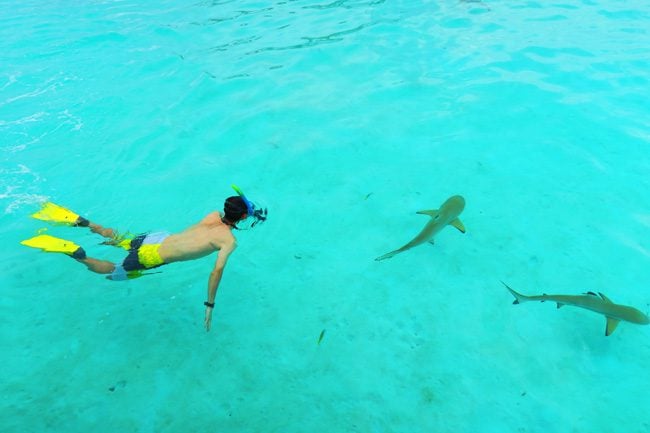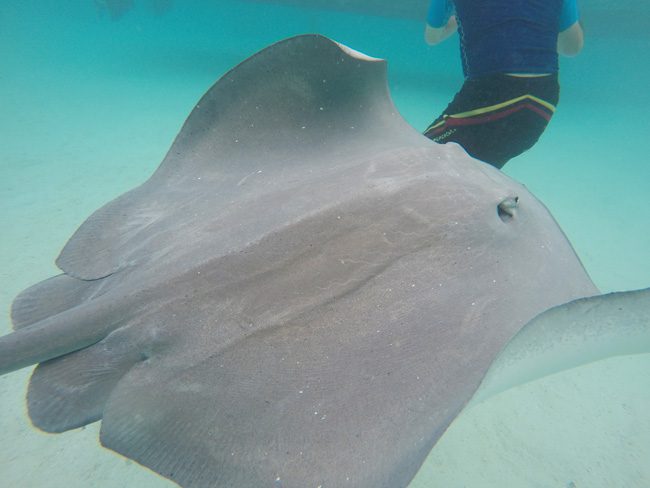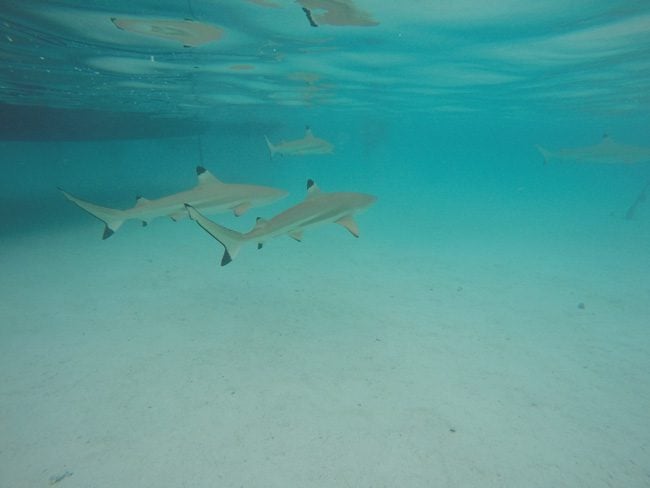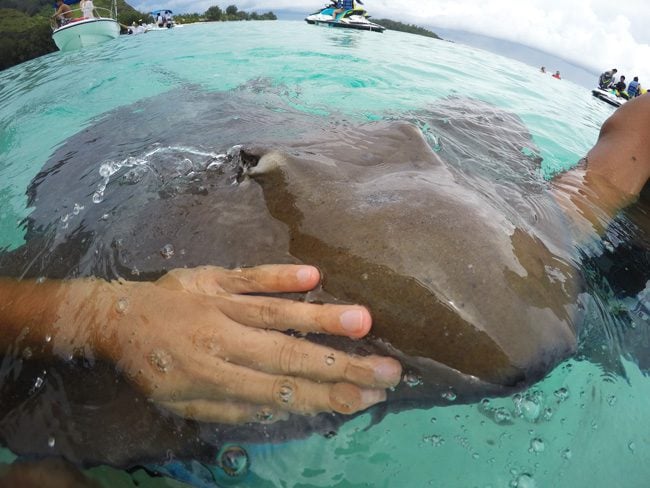 Back on the boat, you'll stop on one of the motus (small islet) inside the Moorea lagoon. Put your mask and fins and explore one of the best snorkeling spots in Moorea as your crew prepares a delicious Polynesian buffet lunch.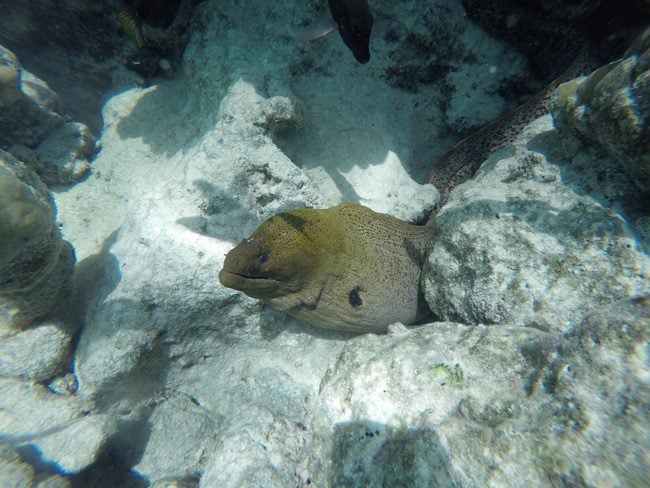 It's not all fun and games though – there's an educational part as well. You'll learn two valuable lessons during this excursion: preparing the national dish – the poisson cru, and how the heck to open a coconut.
Here's a look back at this amazing day spent in the Moorea lagoon!
Beach Time & Relax
Back on the 'mainland' at around 2 pm, take the rest of the day to relax, hit the beach, or just catch up on some reading. If you're hungry in the evening or just fancy a cocktail, head to the Hilton Resort for some delicious fresh crepes and drinks at Creperie Toatea. You'll see some of the creatures you met underwater today swimming in the pool that's beautifully lit at night!
Day 3: Scuba Diving Or Swimming With Whales
On day 3 of this Moorea itinerary, it's time to hit the water. Spend the morning scuba diving or joining a dolphin and whale guided excursion.
Diving In Moorea
Start your day bright and early with a 7:30 am departure for some scuba diving! Diving will be one of the highlights of your visit to Moorea specifically and French Polynesia in general. Crystal clear warm waters, tropical fish everywhere and so many sharks that it becomes the norm – are all part of what you can expect. Whether getting your diving certification or just heading out on a two-tank dive, Moorea is a great option. After much research, I went diving with Moorea Blue Diving. Owners Diane & Stephane are the 'shark experts' in Moorea. They'll take you to dive sites just off the twin bays where you're almost guaranteed to see some serious sharks.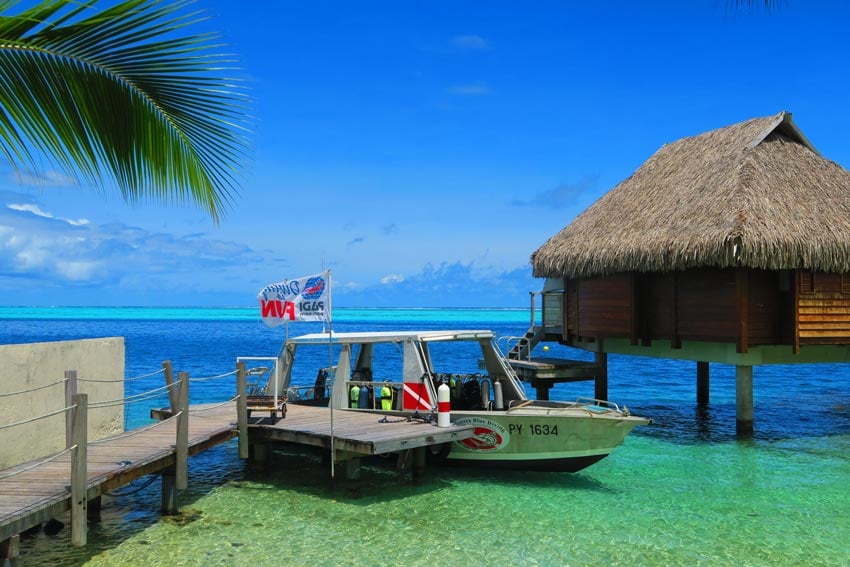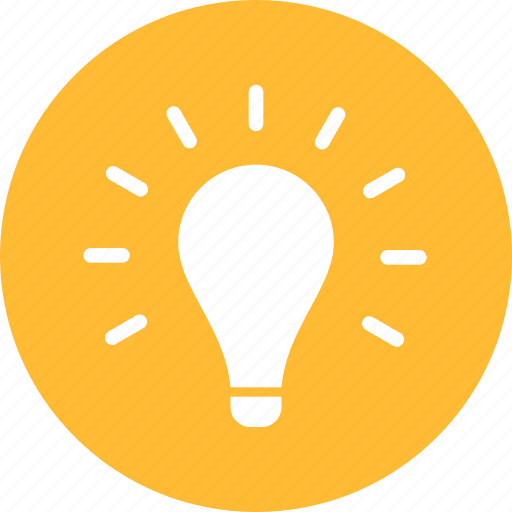 Pro Tip
Save 10% off your dives when you mention the promotional code 'X Days In Y' to Diane & Stephane. The offer is for direct bookings not part of the Te Moana Pass.
On our two dives just off Opunohu Bay, we swam along a valley just outside the reef, occasionally going in and out of channels. Along the way, dozens of reef and lemon sharks came to check us out – especially when we got close to a cute little sea turtle snacking away on some hard coral.
Stephane even took our small group of divers into a cave, where there was an adult nurse shark just napping away! The dives in Moorea were some of the best I've done in the South Pacific Islands, and if you aren't heading to the atolls of the Tuamotu Archipelago, do not miss this golden opportunity!
Here's a video summary of my dives in Moorea with Moore Blue Diving.
Dolphin and Whales Tour
Throughout the year, you can join dolphin-watching tours and get to meet Moorea's famous spinner dolphins. Between July and October, humpback whales visit Moorea and you can join a tour to see and even possibly swim with them. Several outfits run swimming with whales tours, the most famous of which is Dr Michael Pool (Monday and Thursday only).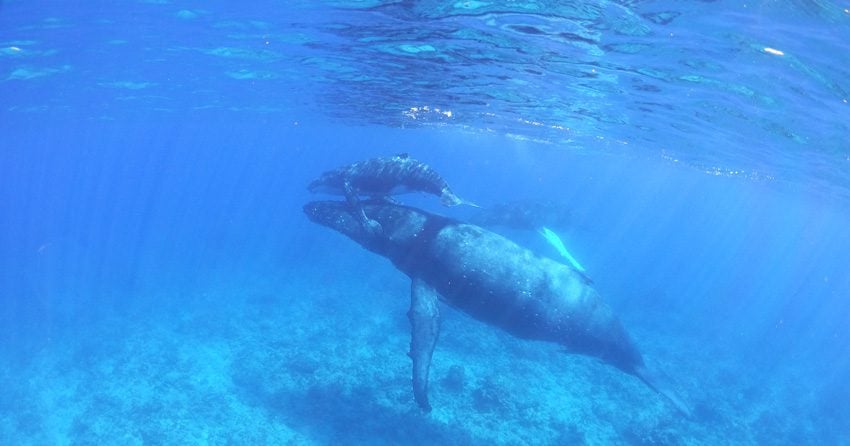 Lunch In Maharepa Village
All that diving will surely make you hungry. After all, the clock is about to hit noon. Head over to the village of Maharepa, the liveliest in Moorea. Locate Snack Didier – a great place for lunch. Grab a seat on the outside terrace and enjoy some poisson cru, sashimi, or anything else from the generous menu. When you're done, explore the village shops. Maybe you'll find a nice black pearl or even a colorful sarong for the beach. A short walking distance away in the outskirts of the village, you'll easily recognize La Maison Blanche – an early 20th-century house in the outskirts of Maharepa that sells colorful island fashions, sarongs, and Polynesian crafts.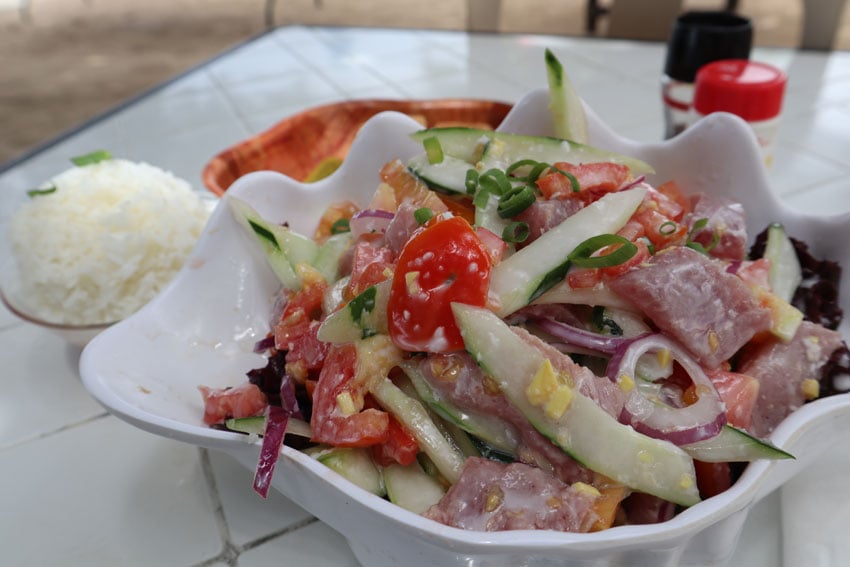 Afternoon At The Beach
Time to rest a bit, but why not do it on one of the prettiest beaches in Moorea. Get back to the car and drive for about 10 minutes to the Toatea Lookout – just to really appreciate the beach you're about to visit. The view from up here is gorgeous, with the overwater bungalows of the Sofitel Resort, Temae Beach, and Tahiti in the far distance.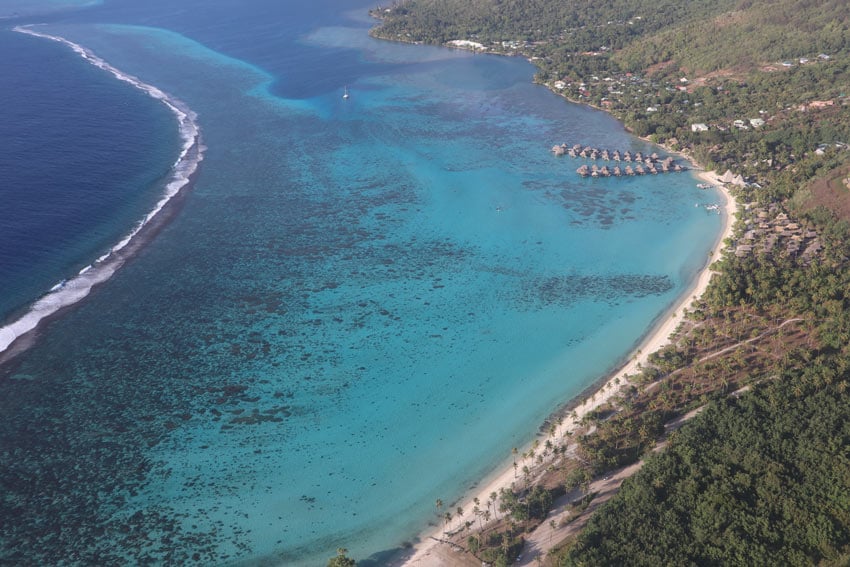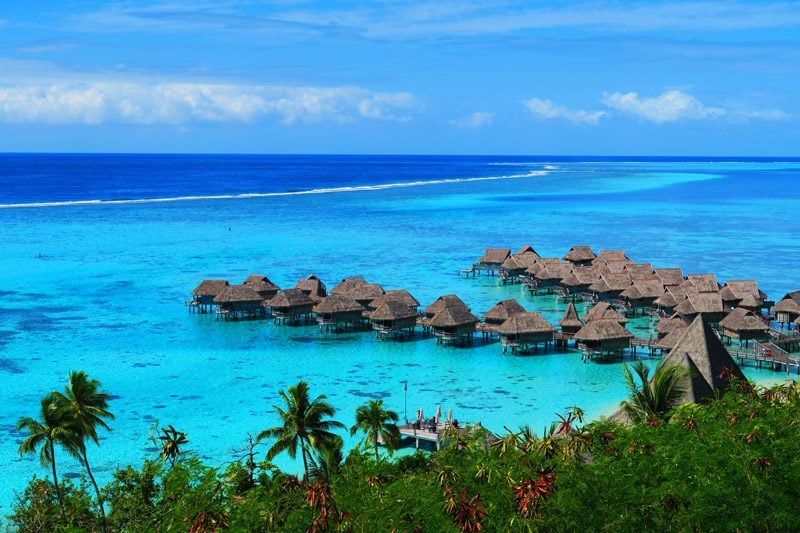 Find a spot in beautiful Temae Beach – it's so big you shouldn't have a problem! It's one of those postcard beaches your friends will be so jealous of. Snorkeling is excellent out here and the water – like the best swimming pool ever!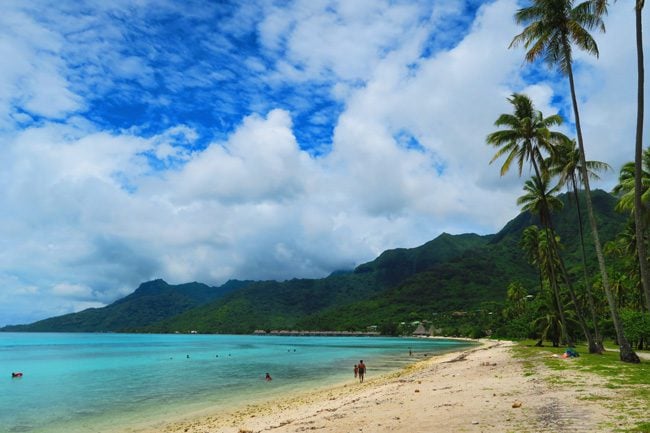 Lake Temae
Feel like seeing more? Continue along the dirt road, eventually reaching Lake Temae. It's one of the most peaceful spots on an already peaceful island. There's a bunch of locals living out here and not much else.