Tubuai Travel Guide
Tubuai is the largest island in the archipelago (45 square km) and its administrative capital. I planned to use it as a stopover from Rurutu to Raivavae but ended up staying for three nights due to the flight schedule. Without any monumental highlights, Tubuai on its own may not be alluring enough to warrant the voyage, but as a stop on your Austral Islands tour, you certainly won't be bored.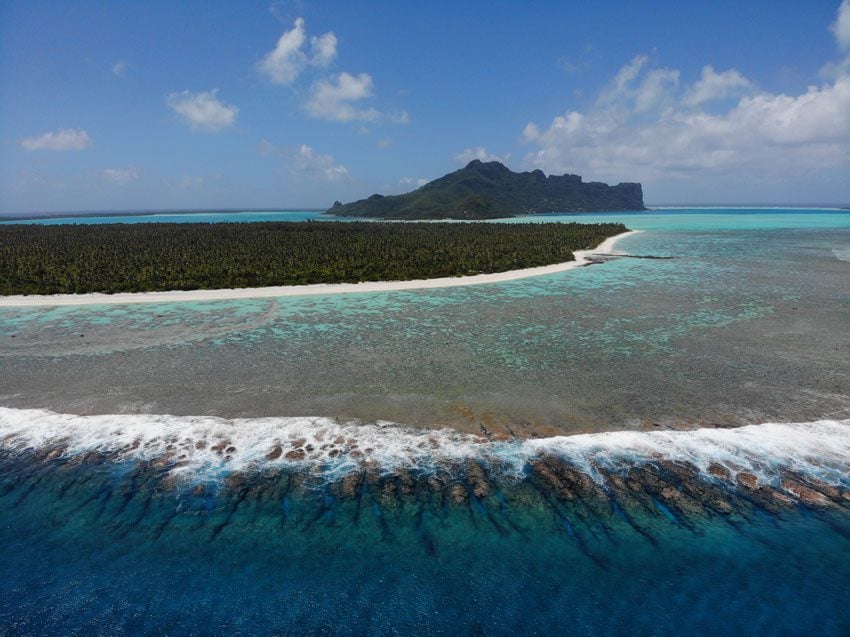 Tahiti, Tailor Made!
The Islands of Tahiti are among the last places to be colonized by mankind, 118 islands, each with their unique personality.
Get expert advice and assistance with planning your trip to the destination where tropical dreams come true!
See Options
Brief History
Perhaps its immense lagoon, mild weather, and large fertile plains are the reasons why Tubuai has always been a seat of power in the area. The island is thought to have been settled by Polynesians well over 1,000 years ago and evidence of their ancient settlement can still be seen today in the form of expansive ceremonial sites known as marae.
Challenging to navigate through, Tubuai's barrier reef is low-lying for the most part though there are several slightly-elevated sandy islets (motu) scattered in some sections. This might explain the lack of European visitors to the island and also why the Bounty mutineers chose it as their initial hideout from the British Crown after the infamous mutiny in 1789. Led by Fletcher Christian, they unsuccessfully tried to erect Fort George, which no longer exists.
Tubuai enjoys mild weather throughout the year though the island has been devastated by cyclones in the past, most recently by Cyclone Oli in 2010. Agriculture is the main source of income for the island's 2,050 inhabitants.
Tubuai Travel Tips
Listed here are specific travel tips for visitors to Tubuai. Be sure to go through the general Austral Islands travel tips in the first section of this Austral Islands Travel Guide.
Tubuai or Tupuai?
Tubuai is pronounced locally Tupuai, though the island's original name is Raroata.
When to Visit?
Like all islands in the archipelago, Tubuai is best visited during the dry season between May/June to October. These are also the cooler months of the year. On sunny days, it will be pleasantly warm during the day but it can be quite chilly at night, especially if the trade wind blows. During the wet season (December to April), it can rain for the entire day in Tubuai. Though only 150 km southeast of Rurutu, Tubuai tends to be colder by 2-3 degrees on average during the dry season.
Flying to Tubuai from Rurutu
For the best aerial views of Rurutu, sit on the left side of the plane if flying to Tubuai from Rurutu. The airport in Tubuai does have a small kiosk and a crafts shop.
Where to Stay in Tubuai?
I stayed at the Wipa Lodge and highly recommend it. Operated by Wilson Doom and his wife Gisele, don't let their last name scare you away. Though you might hear some mixed reviews about him, Wilson is an amazing host and he's very knowledgeable about the island's history.
The modern yet charming pension has been recently rebuilt in its present location, a short drive from the airport and the main village. A sandy beach fitted with a wooden shack is just across the road, a perfect hideout for watching the sunset.
Bungalows surround a well-kept garden and the main house, where delicious and plentiful communal meals are eaten together with Wilson and sometimes with his wife. Units are very spacious, tap water is filtered for drinking, showers are excellent, and there's a ceiling fan in case it gets too hot. There were many wasps when I stayed here but it was very easy to get rid of them and I assume it's a seasonal nuisance.
Wilson can also show you around the island and he was very gracious at dropping me off at the quay and the trailhead. Kayaks and bicycles are free to use though the bikes needed fixing at the time of my visit. WiFi was quite OK and available at the main building.
Another highly recommended pension is Pension Taitaa who can also take you on lagoon tours with their boat. There are a few other options that can be booked online, and Pension Toena as another option.
Getting Around
There is no public transportation in Tubuai but there really isn't a need to rent a car. The 27 km circle island road is always flat so a bicycle should be enough and hitchhiking is always an option. Island tours are provided by all pensions and you can always ask for a ride to the trailhead if hiking, hitching, or walking your way back.
Money
Tubuai has a bank ATM located across from the mairie (town hall), halfway between the Wipa Lodge and main quay.
Food
Your accommodation will most likely be on a half-board basis so breakfast and dinner are taken care of. Lunch and snacks can be a bit tricky in Tubuai so inquire with your hosts when planning your day. It might be wise to ask for a quick stop at a shop on the way to the pension from the airport. There are a few roadside stalls that sell fresh produce and snacks but you never know if they'll be open when you pass by. There are two snacks in Tubuai (local restaurants) and apparently also a few roulottes (food trucks). As always in the Austral Islands, I recommend flying to a new island with a sandwich or some snacks for the first day.
Things To Do In Tubuai
All the following spots are highlighted in the Austral Islands travel guide map. I also recommend reading this Austral Islands itinerary to see how to put everything together.
Around the Island
The main island's highlights can easily be seen in a half-day guided island tour. If you're a DIY traveler, renting a car and getting some instructions is also possible, though getting a local's perspective on things is always superior. I joined a guided tour offered by Wilson Doom from the Wipa Lodge on the day I arrived in Tubuai. We left in the early afternoon and returned before sunset (3,000 XPF).
Pro Tip
Bring mosquito repellent. You'll need it when visiting the ancient ceremonial sites in the island's interior.
Crafts Center
Apart from the small crafts shop at the airport, there is a craft center in Tubuai that can be visited. Inquire with your hosts for opening hours and ask to visit as part of the island tour. The center is located in the main village of Matuara.
Fort George
In 1789, mutineers from the HMS Bounty arrived in Tubuai. Led by Fletcher Christian, they were looking for a good place to hide from the British Crown who would, no doubt, come looking for them. The first contact with the local population resulted in a massacre at what is now known as Bloody Bay. After a few days on the island, the mutineers returned to Tahiti to get women and supplies and returned to Tubuai once again. Better equipped, they erected Fort Geroge to protect themselves and their ship. The mutineers stayed for two months, after which they left in search of a permanent hideaway, eventually found in Pitcairn Island.
There is nothing left of Fort George in Tubuai today, mainly due to storms and beach erosion. Across the road from where the fort once stood, a local resident has erected a small wooden plaque in memory.
Archaeological Sites
Over 200 ancient sites have been discovered in Tubuai and there are probably hundreds more waiting to be unearthed. Some of the more famous sites are covered in the island tour (see below) but if you're really into archeology, inquire with your hosts if some of the lesser-known sites can be visited.
Marae Tupaparu
Reached via an unmarked path that heads inland from the coastal road, Marae Tupaparu is a large ancient complex that hasn't been completely unearthed despite its current size. It is believed to have been a ceremonial site for the disabled and around what used to be the main altar were many houses. The jagged rocks are believed to have been used for sharpening tools. The petroglyphs on some of the large rocks are not original but do walk around and discover some of the exterior sections of this complex.
Marae Raitoru
It was both a moving and eerie experience to visit this ancient ceremonial site, believed to have served as a birth-giving marae. For ancient Polynesians, birth was a cause for both prayer and celebration. Women would give birth at this spot and the umbilical cord would be severed and planted in the ground. Our host Wilson tells us that he likes to visit this place of solitude from time to time. Very often, he can see the ancient spirits come to life. Believe it or not, Polynesians on many islands have these experiences, as the marae is believed to be a source of mana.
Island Interior
Along the cross-island road, you'll see why many islands in French Polynesia depend on Tubuai's produce. They grow everything on this island, from the usual tropical favorites such as mango, papaya, cassava, and taro, to fruits and vegetables that require a cooler climate, such as cabbage and lychee.
Bloody Bay
The site of the massacre that took place when the Bounty Mutineers first arrived in Tubuai is probably the nicest beach on the main island. It has a long sandy shore and casuarina trees for shade. Picnic tables are laid out behind the trees.
Hiking in Tubuai
Tubuai has one famous hike and it's signposted so you can do it on your own. You'll just need to get a ride to the trailhead and return either by walking or hitchhiking along the coastal road. The official direction is north-south and that's the way the arrows point but I hiked in a south-north direction which turned out to be much easier. I recommend hiking in the direction that brings you the closest to your pension at the end of the trail.
Pro Tip
If you're pressed for time, simply climb to the summit of Mount Taitaa from the official starting point and return the same way.
Hiking in a south-north direction, the hike begins with a moderate climb through a forest of pines and ferns. The grade is moderate and from time to time, a clearing in the forest offers great views of the island's interior and lagoon.
After about 90 minutes of hiking, the summit of Mount Taitaa is reached (422m). You'll want to stay here for at least an hour as the 360-degree views are sensational. The summit itself is quite strange, formed by a collection of immense boulders that seem to have piled on top of each other.
Hiking down from the summit required some care as it was steep in many sections. I was happy to be going down and not hiking up. Some sections were also overgrown with vegetation but the trail itself was easy to find.
Logistics: the hike takes about 4 hours to complete, including stops and the walk back to the pension. Wear long pants if your skin easily gets irritated as some sections are overgrown with vegetation. Bring plenty of water and snacks. Prepare for windy weather and no shade at the summit. Have some cash with you for the walk back as you might come across a roadside stall or a restaurant.
Motu Picnic & Motu One
Tubuai's immense lagoon is much larger than the island itself so you really should check it out. I spent a full day chilling on one of the motu (islets) at the edge of the lagoon. The tour was booked via Pension Taitaa (6,500 XPF including lunch).
After a short but choppy boat ride from the main quay, we reached the family-owned motu. This is a paradise of a spot through the vegetation on the islet is not tropical. Dozens of birds were hanging out around this motu and its neighbors, and the uninterrupted view of the main island is perfect.
As your hosts fire up the grill, go snorkeling on the lagoon side where you'll see Tubuai's famously large and colorful clams.
A traditional Polynesian lunch is served inside old clam shells and is both plentiful and delicious. We had grilled lagoon fish, poisson cru (raw chunks of marinated tuna), coconut and banana bread, fresh clams, and urchins caught just before lunch inside the lagoon. After lunch, you'll have some time to nap, go for a stroll, or snorkel once again.
Our hosts Narii and his brother James were gracious enough to make an additional stop before heading back to the quay. We requested to see Motu One and, despite poor weather conditions, our hosts took us to see this strange sandbar floating at the edge of the lagoon. Perhaps someday, it will look like some of the other motu but for now, there is almost nothing but fine and soft white sand.
Logistics: we left at 9:30 and returned at 16:30 (because of the additional stop). Payment is in cash. Bring reef shoes, snorkeling gear, swimwear, water, beer (optional), sun protection, sanitary gel (for lunch), something warm for the boat ride. Note that water can splash over the boat so be prepared with the right gear to protect any valuables.
Scuba Diving & Swimming With Whales
For scuba diving and whale watching tours, get in touch with Tubuai Plongee. The coral around Tubuai is quite impressive, with both hard and soft coral in abundance. Technically, to dive with humpback whales, you do need a rebreathing system but inquire with the dive center for the various options.
Horseback Riding and Nautical Sports
Horseback riding excursions can be arranged in Tubuai. Simply inquire with your hosts about various options. Depending on the right people being on the island when you visit, it might also be possible to do some windsurfing.