Austral Islands Travel Guide
Raivavae Travel Guide
It might sound like a travel cliche but visiting Raivavae really feels like going back in time. They say that Raivavae feels the way Bora Bora was a few decades ago. I wasn't around back then, but I can sure vouch for the authenticity of this seldom-visited island. It reminded me of an even slower version of Maupiti, a traditional island that has already been discovered by adventurous tourists.
With only a small number of tourists on the island at any given time and with the pace of life moving in slow gear, visit Raivavae if you're truly seeking to get off the beaten track. And we haven't even mentioned the island's impressive natural beauty, marked by successive high peaks and a clear lagoon dotted with nearly 30 islets (motu). I spent three days in Raivavae to complete my tour of the Austral Islands in late 2020.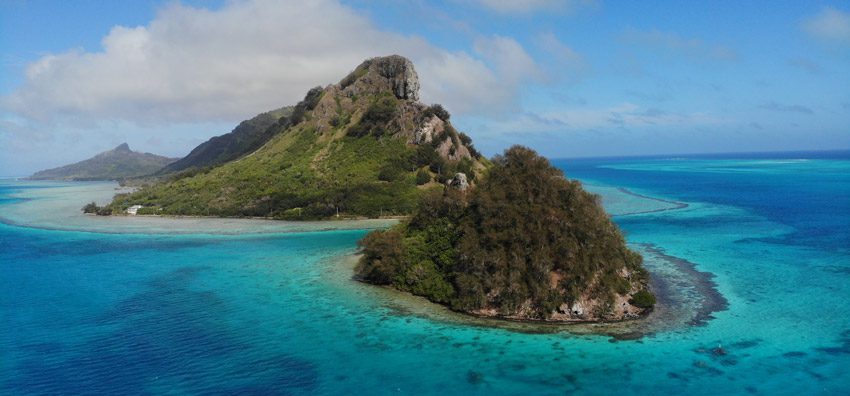 Brief History
Meaning "open sky" or "sunny sky" in the local dialect, Raivavae is a tiny island that measures less than 20 square kilometers. It's home to less than 1,000 residents who live primarily off the land. Located 257 km southeast of Tubuai, Raivavae is slightly milder in weather than its northern neighbors in the chain.
Raivavae was settled by ancient Polynesians together with other islands in the archipelago. It had a rich religious past as evidenced by the large number of ceremonial sites discovered on the island. Raivavae is still home to an original stone tiki statue, a testament to the island's superior sculptures. The Austral Islands were once home to many exquisite religious artifacts made from wood, stone, and animal bone, but they have been carried off the island to private collections and museums such as London's British Museum.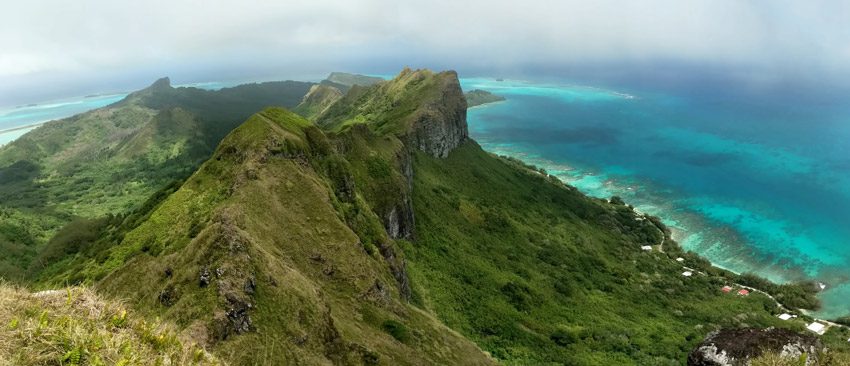 In 1775, Raivavae was first "discovered" by Europeans. It was the Spanish explorer Thomas Gayangos who spotted the island. During the 1820s, the inhabitants converted to Christianity, thanks to Protestants missionaries from the London Missionary Society (LMS). Due to this conversion, numerous sacred sites, as well as statues, were destroyed. At the same time, a terrible epidemic decimated the population, killing all the elders and other holders of the ancestral culture.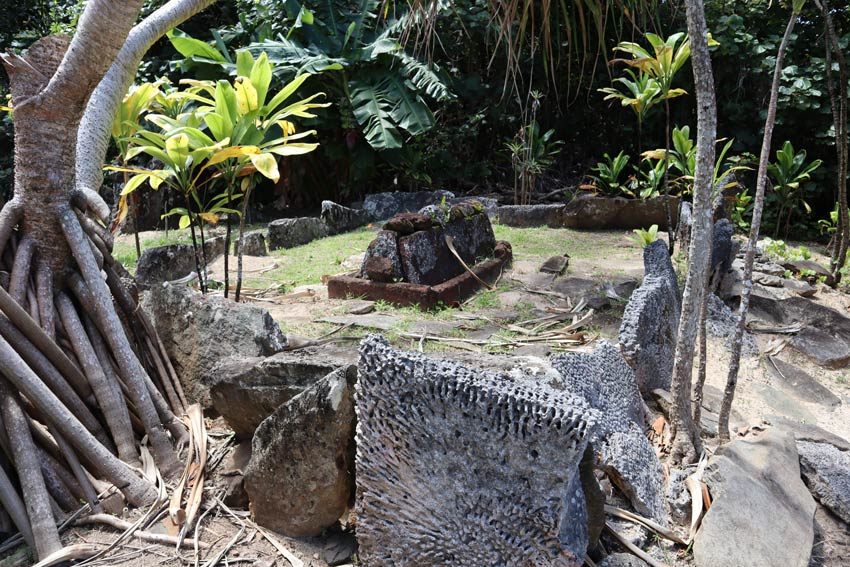 Raivavave was annexed to France only in 1880 (Tahiti was unofficially annexed already in 1842). Over the decades since, the island was quite off the grid, only accessible by cargo and cruise ships. In 2002, an airport was opened, its runway reclaimed from the lagoon. Since then, the island has been slightly modernized but is still very low-key. Tourists are slowly discovering Raivavae on their hunt for "authenticity", and locals are still figuring out how to balance ecotourism without disturbing their way of life too much.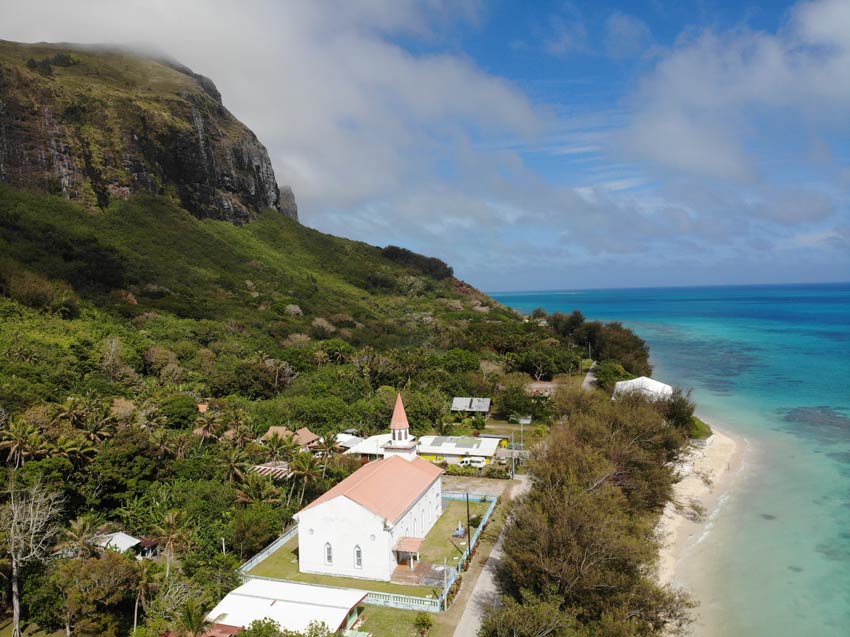 Raivavae Travel Tips
Listed here are specific travel tips for visitors to Raivavae. Be sure to go through the general Austral Islands travel tips in the first section of this Austral Islands Travel Guide.
The Local Dialect
It's hard enough to try and pronounce the island's name but let me add another twist to the story. On this island, they replace "r's" with "g's" so Raivavae becomes Gaivavae, ia ora na (hello) becomes ia oga na, and māuruuru (thank you) becomes mauguugu. I was certain that this is a prank played on rookie outside visitors but after a few hours on the island, I came to an understanding that this is indeed part of the local dialect. Locals mainly speak to each other in the local dialect and not in French, yet another proof of the authenticity of Raivavae.
When to Visit?
Like all islands in the archipelago, Raivavae is best visited during the dry season between May/June to October. These are also the cooler months of the year. If you visit between July and October, you might be able to see some humpback whales.
Flying to Raivavae from Tubuai
For aerial views of the main island, sit on the left side of the plane if flying from Tubuai and on the right side for views of Motu Piscine. The airport in Raivavae houses a small kiosk and a crafts shop.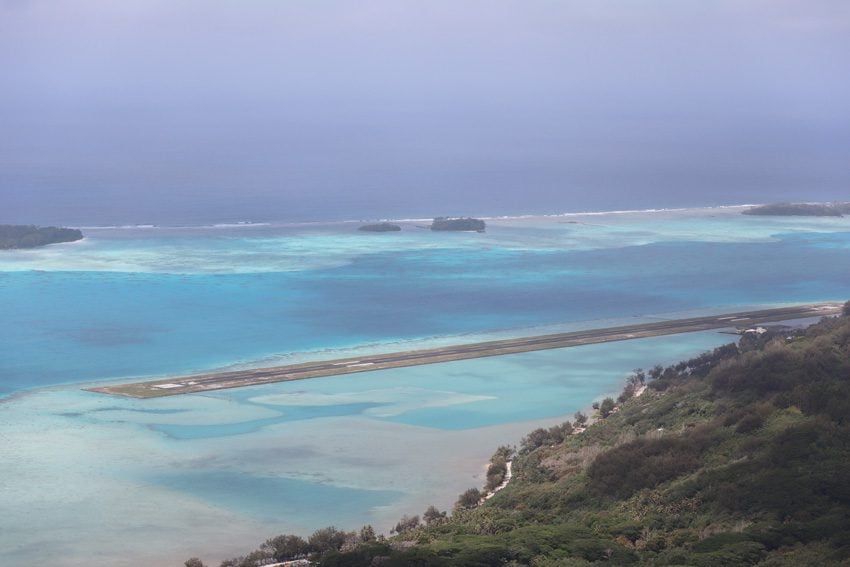 Where to Stay in Raivavae?
I stayed in Raivavae at Pension Vaimano, not too far from Vaiuru Village. It is owned and operated by Clarisse Paulin who is not only a very gracious host but also well-known in the Austral Islands for her tifaifai. In fact, she has won several awards in exhibitions in Tahiti over the years for her craftsmanship. Her pension has four bungalows perched on a hillside facing Motu Piscine. Units are equipped with a hot shower, mini-fridge, kettle, and a lovely porch that's perfect for chilling.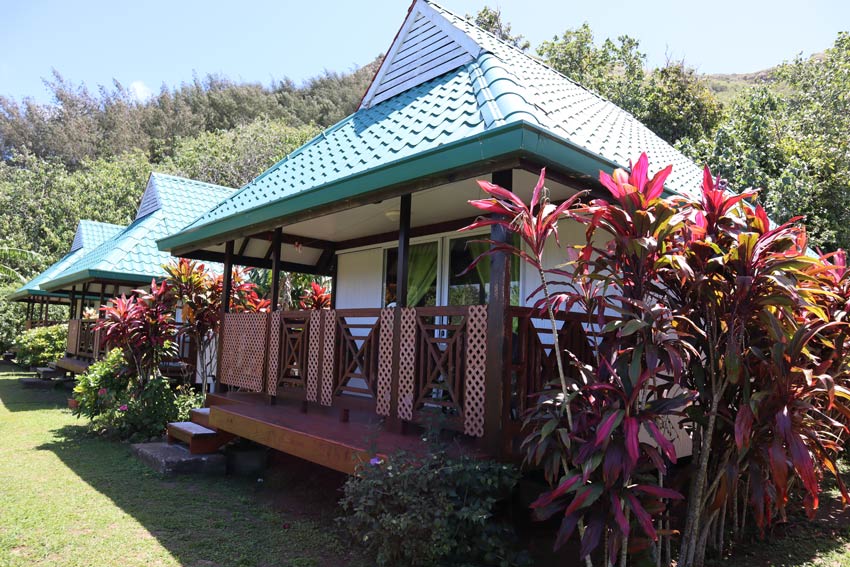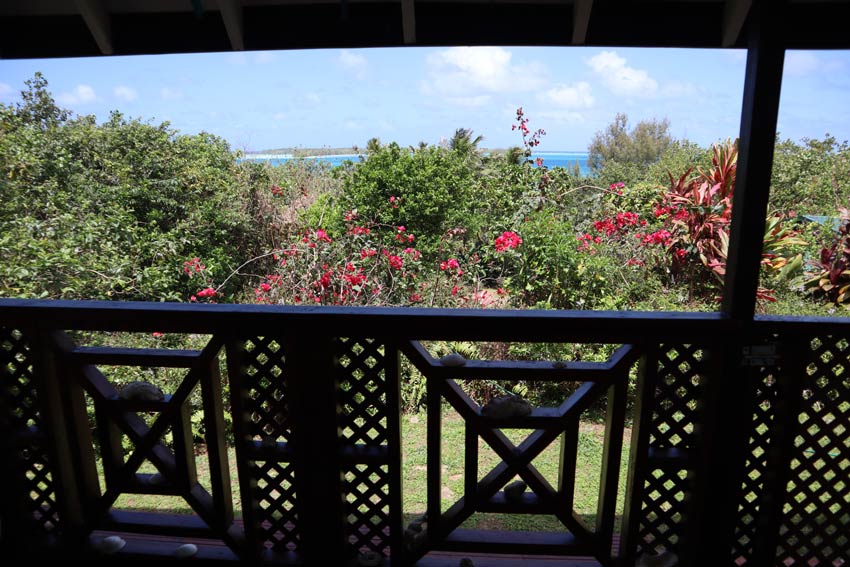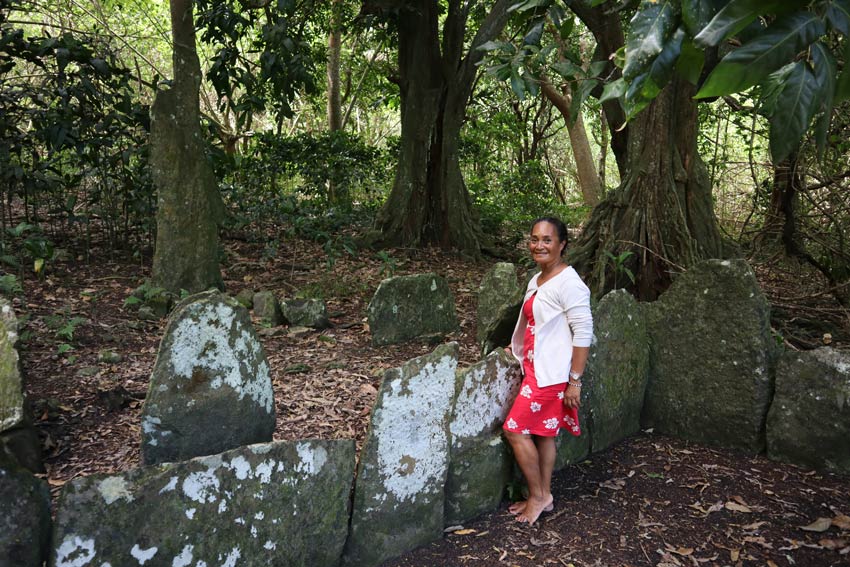 The room is quite spacious though the wooden beds are squeaky. Bicycles and kayaks are free to use but there was no WiFi at the time I visited since the utility company had not laid out infrastructure to this part of the island.
Though Clarisse worked for the tourism office many years ago, she either does not speak English at all or is too shy to try. She will understand some of what you say but it's best to come equipped with Google Translate downloaded to your phone. Breakfasts are an absolute delight, thanks to her homemade coconut bread, French bread rolls, honey, and jam. Dinners are very generous but the chats with Clarisse are the best part. Clarisse also offers guided island tours (3,5000 XPF) and guided hikes to Mount Hiro (3,500 XPF including snacks).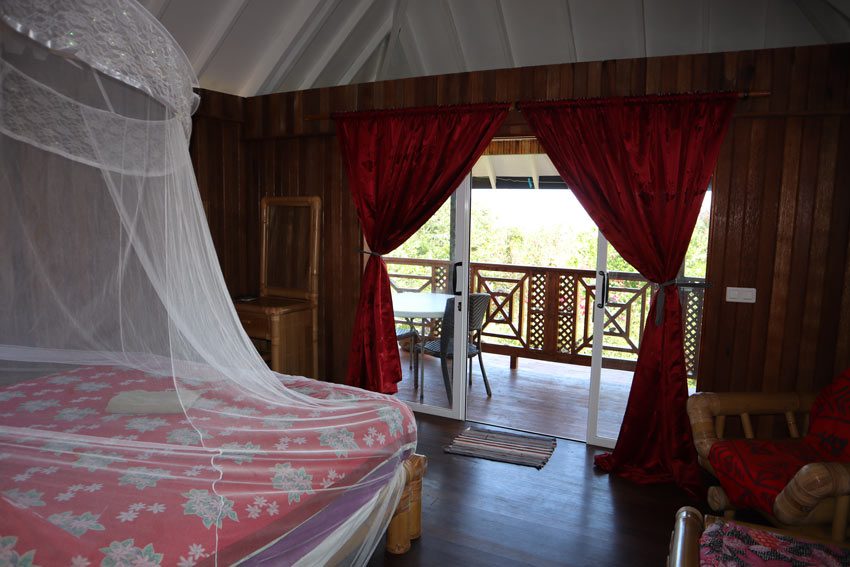 Other recommended options in Raivavae are Raivavae Tama Resort, Pension Ataha, and Pension Chez Linda. You'll also find a few low-key options on Airbnb and a few other pensions that are more of a homestay type of accommodation.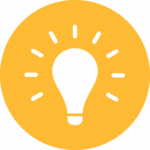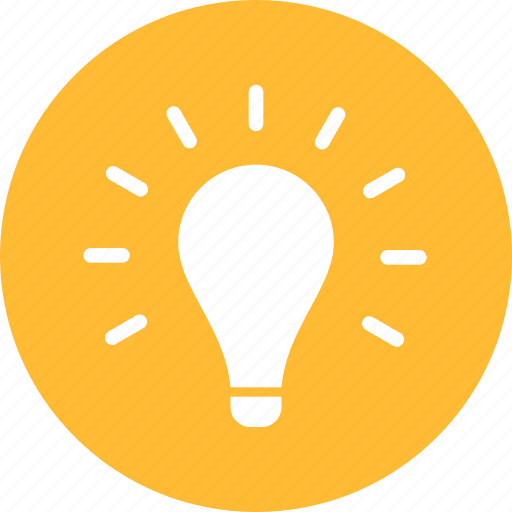 Pro Tip
It is possible to sleep on Motu Piscine itself in a small cabin. On Airbnb, you'll see a few listings by "Angelique". Contact them to see if they can arrange accommodations on the motu itself (approx 8,000 XPF per night).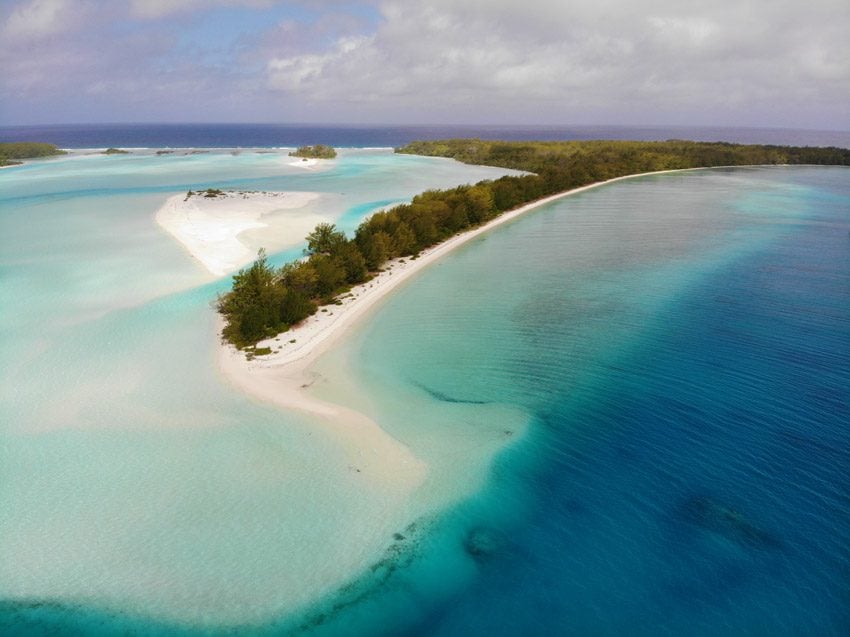 Getting Around
Raivavae is a tiny island so it does not have public transportation. Walking and cycling are great ways to get around the island. Hitchhiking should also not be a problem.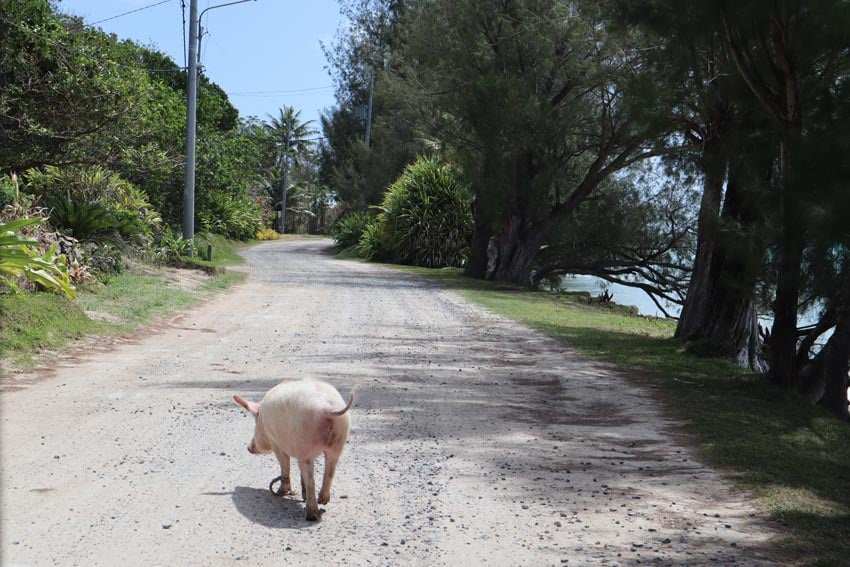 Mobile Reception & Internet
If you have a Vini Travel Card, you might have 3G in certain sections of the island. When I visited Raivavae, internet was not available in all parts of the island so my best advice is to tell your loved ones who might worry that you are off the grid for a few days. The post office in Rairua Village does have a hot spot that you can connect to for a small charge.
Money
It's best to come prepared with enough cash as credit cards are not widely accepted. The post office in Rairua Village has an ATM which I was told also accepts foreign cards.
Drinking Water
Water was not safe to drink out of the tap in my pension so be prepared for the possibility that you'll need to buy drinking water in grocery shops.
Food
Your pension stay will be on a half-board basis. For snacks and lunch, every village should have at least one small grocery shop but it's important to sync with your hosts about their opening hours. As always in the Austral Islands, I recommend flying to a new island with a sandwich or some snacks for the first day.
Agriculture Restrictions
At the time of my visit to Raivavae, it was forbidden to enter the island with any fresh produce. This included fruits and vegetables from other islands, even from within the archipelago, but also flower necklaces which sadly must be left on the plane. The good news is that you'll most likely get a fresh flower necklace from your hosts upon arrival.
Dogs
Almost every Polynesian house is guarded by at least one or two dogs. In Raivavae, they seemed to be slightly more aggressive, leaving their "extended perimeter" more than the usual. Simply cross to the other side of the road and keep walking. They'll eventually come to a halt and head back.
What to Pack
It can get a bit chilly at night in Raivavae during the dry season so pack some warm clothes (but not too many). Be sure to also gear up for both snorkeling and hiking.
Things To Do In Raivavae
All the following spots are highlighted in the Austral Islands travel guide map. I also recommend reading this Austral Islands itinerary to see how to put everything together.
Around the Island
Raivavae's coastline is ringed by a 20-kilometer road that can be easily covered by bicycle. Not all sections were paved when I visited in 2020. There is also a cross-island path that cuts through the rainforest. It's best to join a half-day island tour and get a measure for the island but especially to learn about its history and current state. In later days, you can revisit your favorite sections. I joined a three-hour island tour offered by Clarisse Paulin from Pension Vaimano (3,500 XPF).
Island Life
Less than 1,000 residents live in Raivavae and they seem to be going about their lives with a great deal of tranquility. As you round the island, you'll notice that no matter how simple the homes are, their gardens are perfectly manicured. Houses seem to have exceptionally large mailboxes on the main road but those are actually for baguette delivery every morning. In the absence of a cemetery, locals still bury their loved ones directly on the property.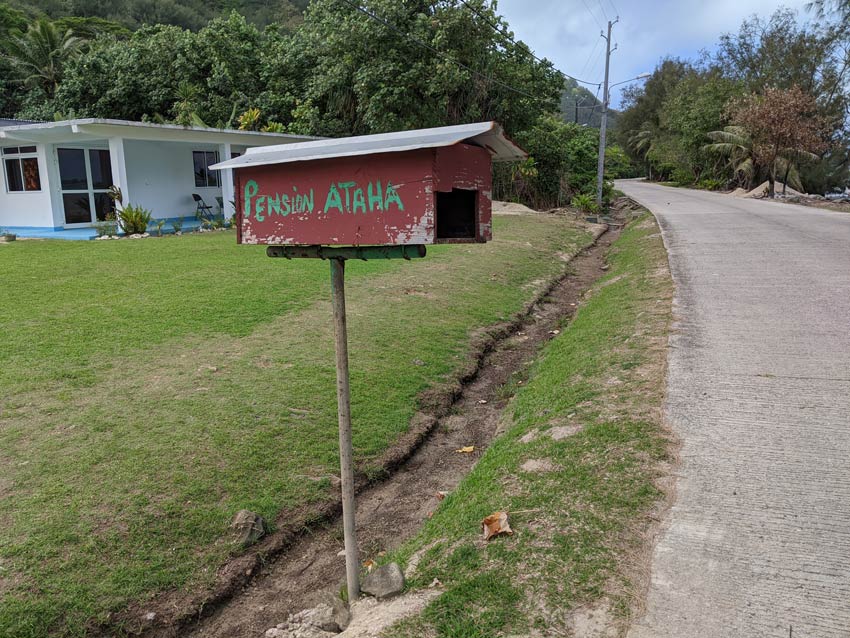 The slow pace of life is evident as you circle the island. From time to time, your host will come to a stop to give way to pigs, chickens, or dogs crossing the road. The lagoonside is also dotted with many wooden canoes. Those are the signature canoes of Raivavae and an indication of the reliance on fish as a main part of the local diet.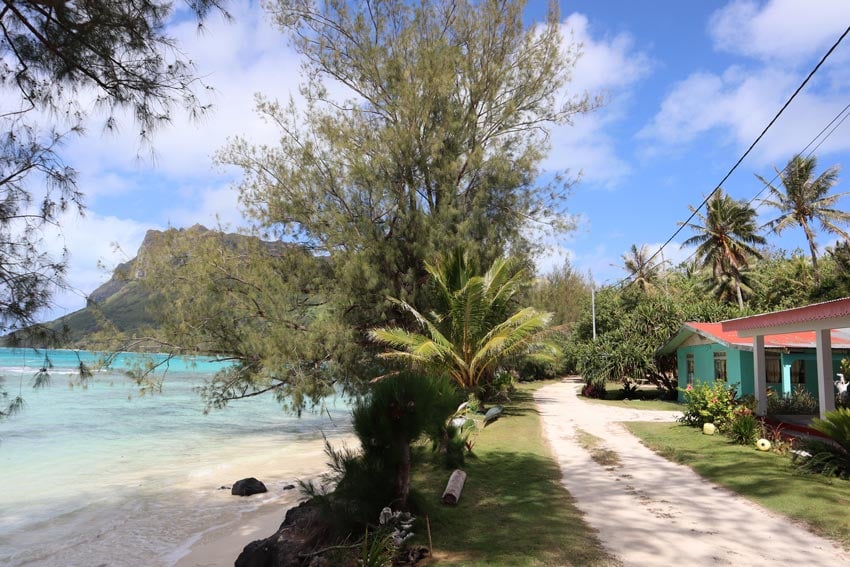 Marae Mauna Oto
This ceremonial site lies on private land. If you visit with a local guide there is no problem but if you're on your own, ask for permission first unless a sign says otherwise. This marae was a site of sacrifice and as you enter the complex, there's another small platform next to the large pandanus tree that's known as the "princess marae".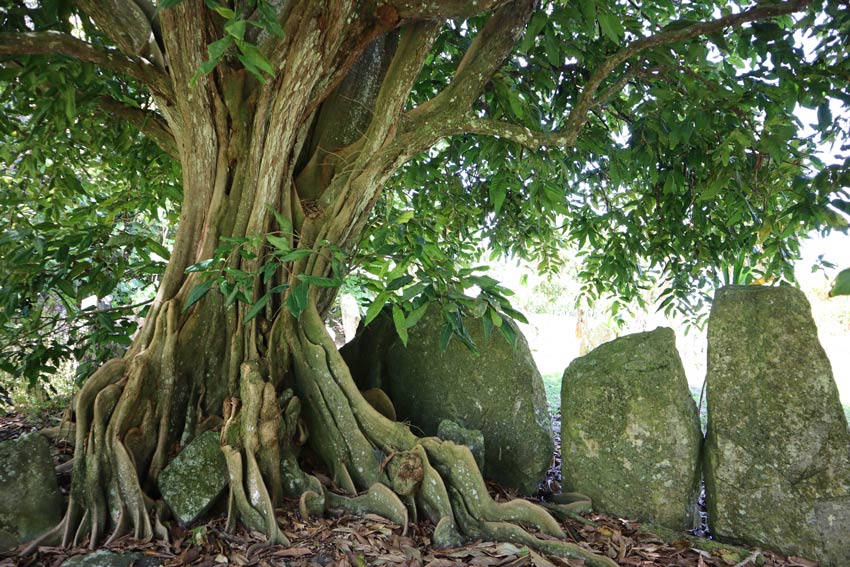 Vaiuru Protestant Church
The dominant denomination in Raivavae, this is one of two impressive churches on the island.
Cross Island Road
Enter the wild side of Raivavae, an area that was in pre-missionary days a popular place to live, evident by the numerous ancient relics uncovered by locals and researchers. Nowadays, the interior is a wild rainforest where wild coffee and bananas freely grow. Small paths veer to agricultural plots owned by the communes and various families.
Marae Puapua Tiare
Challenging to find, I was guided to this impressive unrestored complex by a barefoot Clarisse. This marae was used for birth-giving and medicinal ceremonies. The complex features a rock used for measuring height and rocks with cavities that were used for making medicine. When a newborn came to the world, a special rock would be banged on to announce to the gods and the commoners of this special event. Around the complex are mape and falcata trees that are used locally for making canoes.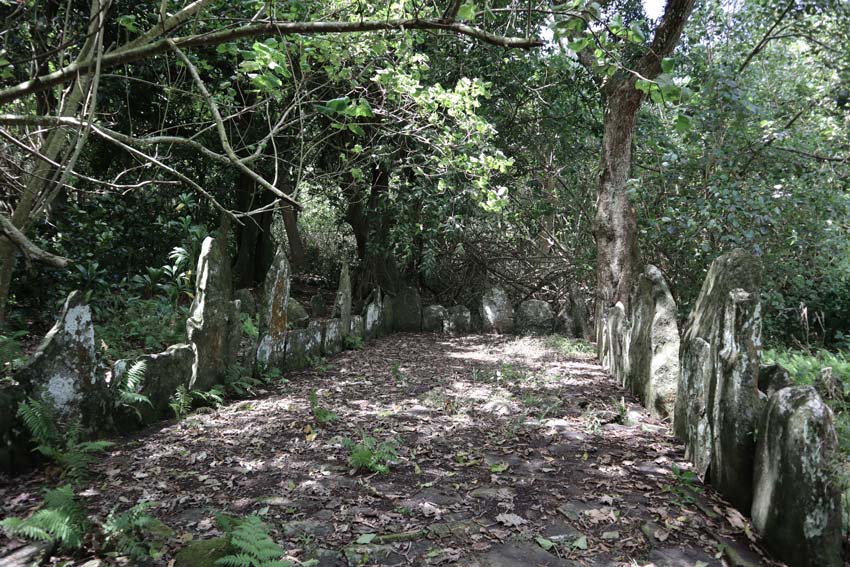 Marae de la Reigne Akiivainee
Across the road from the previous stop, this small marae is said to have been used by the queen for birth-giving. Notice the main rock that certainly seems to be fashioned in the right angle for birth-giving.
Motu Hotuatua
A beautiful high islet rising close to the shore of the main island. It might remind you of a small Thai island. The meaning of its name is "rock of the woman" and to make a long story short, there's a legend about a man and a woman who fought for this place and the woman won. There's a small and dreamy sandy beach on this motu. Inquire with your hosts about permission to kayak there.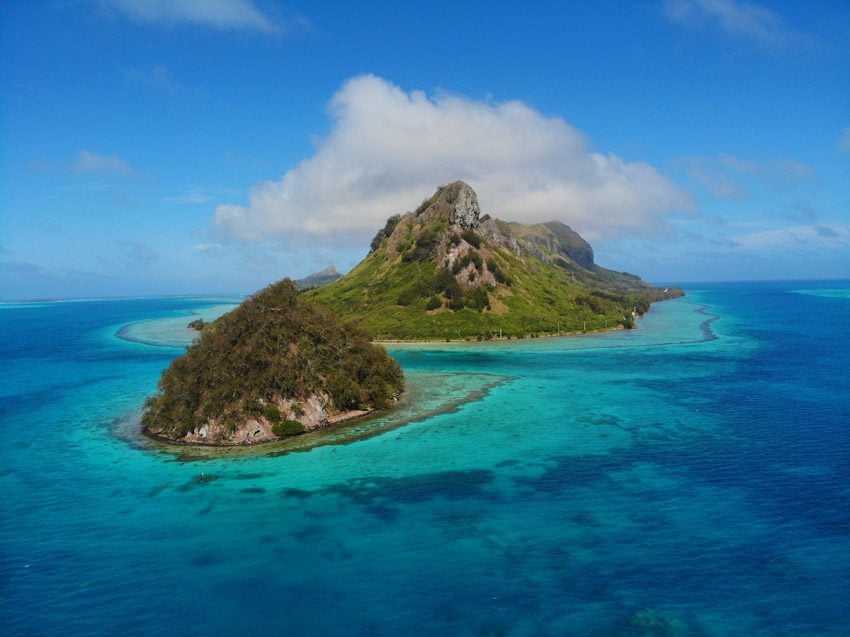 Antonu Village
There are a few grocery shops, a school, and another beautiful Protestant church in this village. Clarisse also took me to a workshop where locals still make traditional wooden fishing canoes.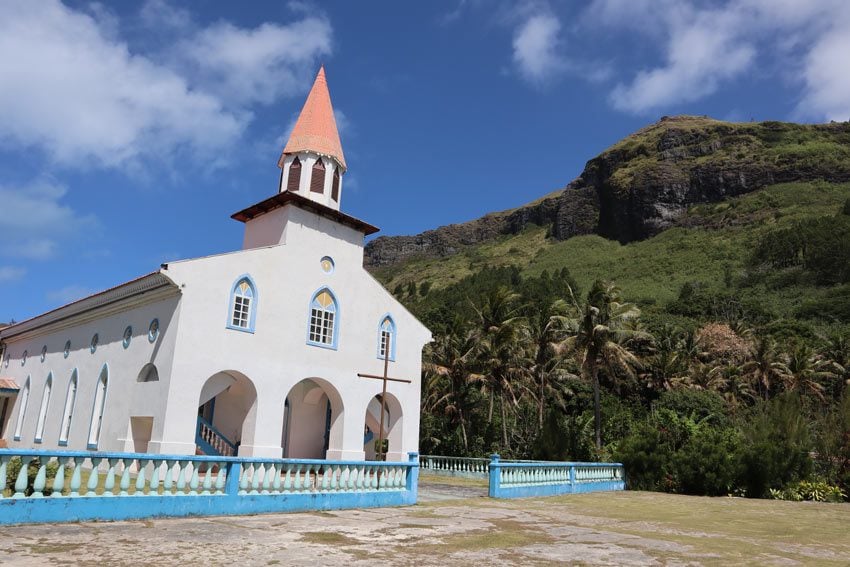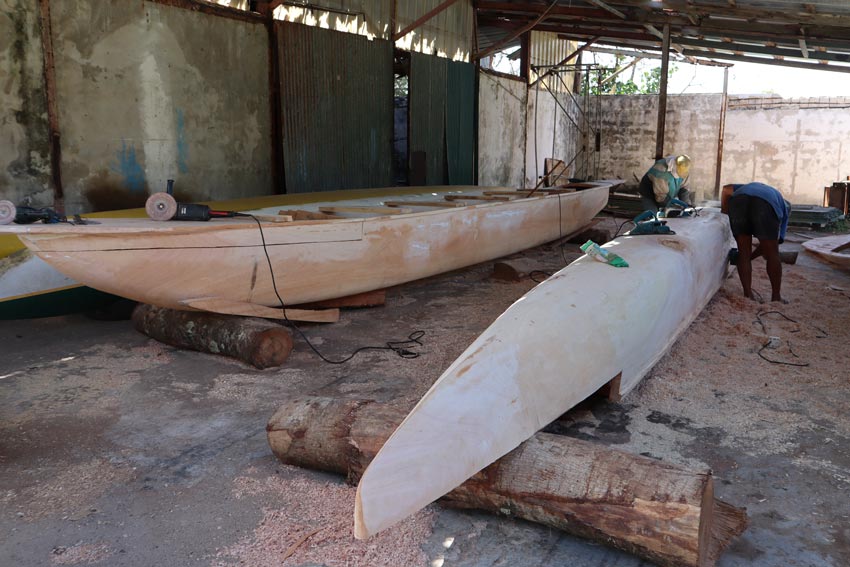 Plage Ruatara
Arguably the best beach on the main island, sheltered by high basalt cliffs and radiating under the warm sun.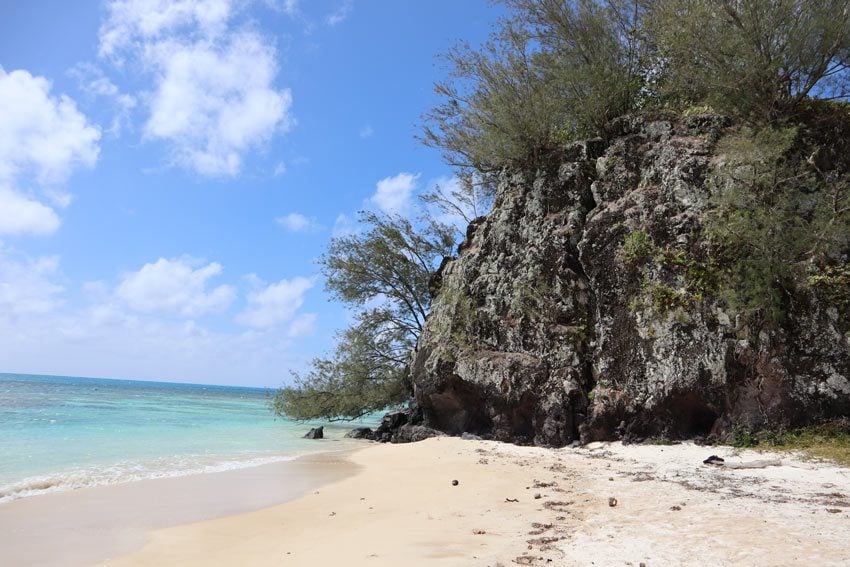 Mahanatoa
After the Protestant Church of Mahanatoa, take a right, park the car and walk a bit to enjoy great views of the mountain range and the coastline. The lagoon pass is somewhere nearby.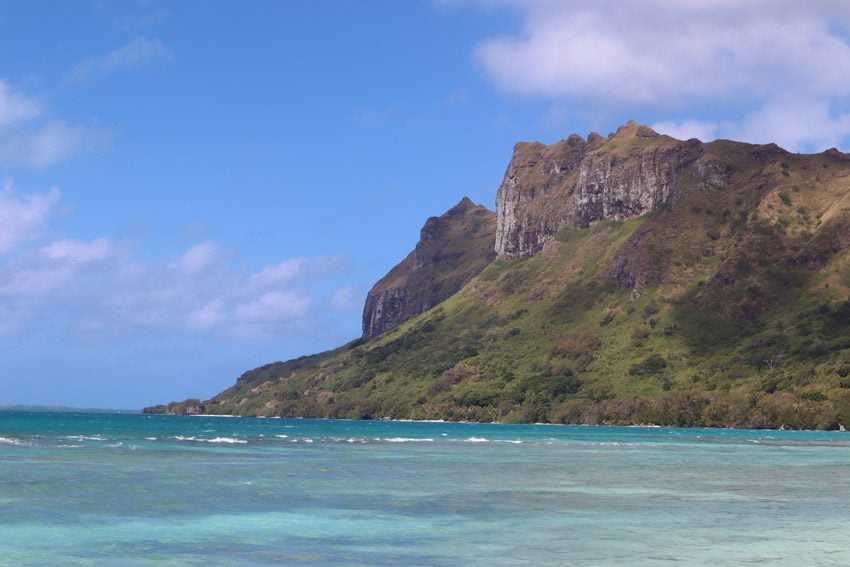 Smiling Tiki
The only remaining original tiki on the island is on private property. If the owners are present, it shouldn't be an issue to pay a visit.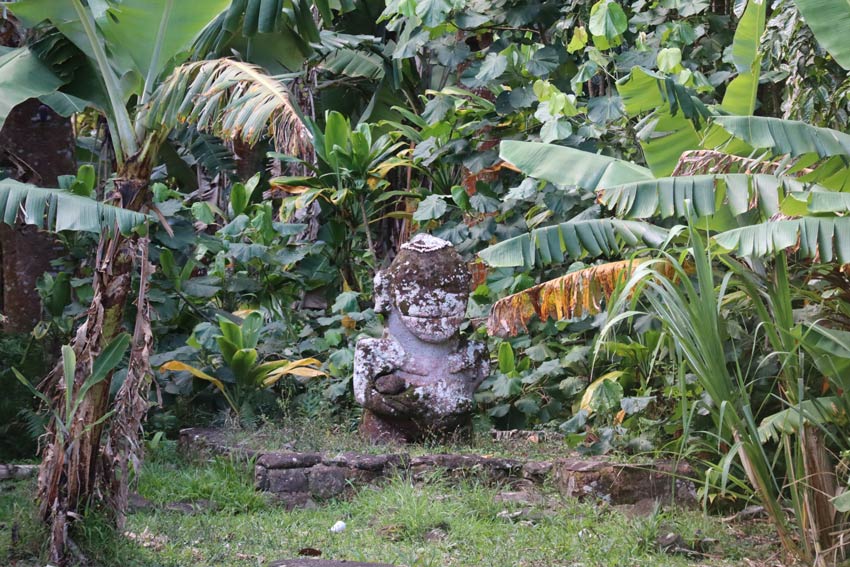 Rairua
The administrative center of Raivavae. The post office is here in case you need cash and an internet hotspot.
Cave
As you round the westernmost part of the island, there's a cave that can be visited. Inquire with your hosts if it's worth it.
Mount Hiro Hike
At an elevation of 437m, Mount Hiro is the highest peak in Raivavae, and hiking to its summit is one of the best hikes in French Polynesia. I've heard the name Hiro on several islands and everyone has a different legend about the mythical hero. The one I was told by Clarisse is that Hiro created Raivavae according to oral tradition, then he proceeded to create Tubuai, Rururutu, and Rimatara. He then moved on to the Society Islands and New Zealand, before returning to Tahiti.
Hiking to Mount Hiro is a short yet challenging experience. It should not be undertaken if it's raining and extra care is required if it has rained in previous days. Ask your hosts to drop you off close to the trailhead and ask for directions. You'll basically need to walk up an overgrown path from the main road and then head right once you reach a small building at the top of the steep path. At this point, cross the creek and follow the path using the red and white ribbons. You'll then begin to hike up the mountain via a series of steep rope-assisted switchbacks. Done with the switchbacks, you'll reach a clearing where you'll finally start to enjoy the views. This first section takes about one hour to complete.
From here, it's a short hike through a few hundred meters of thick and thorny bushes. Some sections are very slippery and steep so take extra care and always be prepared for a fall. This will continue until you've reached the ridgeline and the fun part of the trail.
There are two summits along this ridgeline. At the first summit, there's a large clearing where you can take a break and enjoy the best views of Motu Piscine on this trail. Mount Hiro is just a short distance away and you'll reach it by carefully walking on the ridgeline.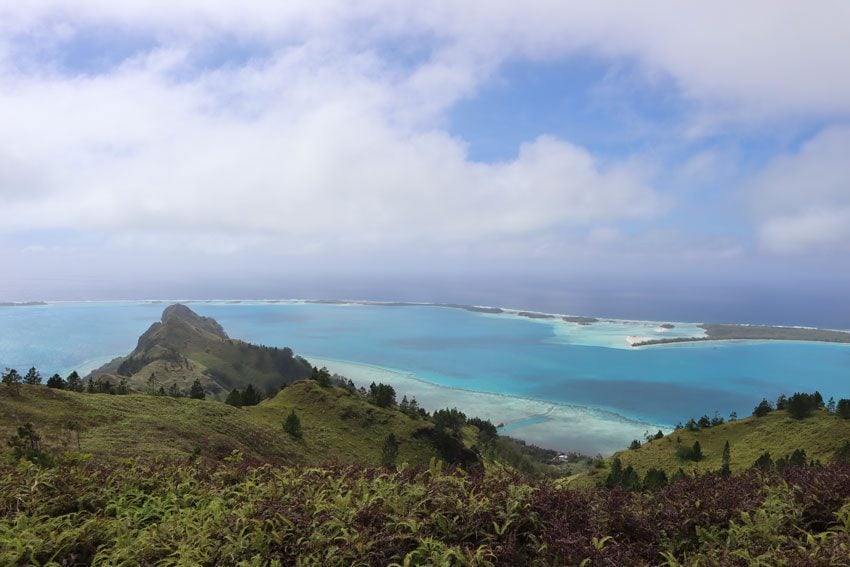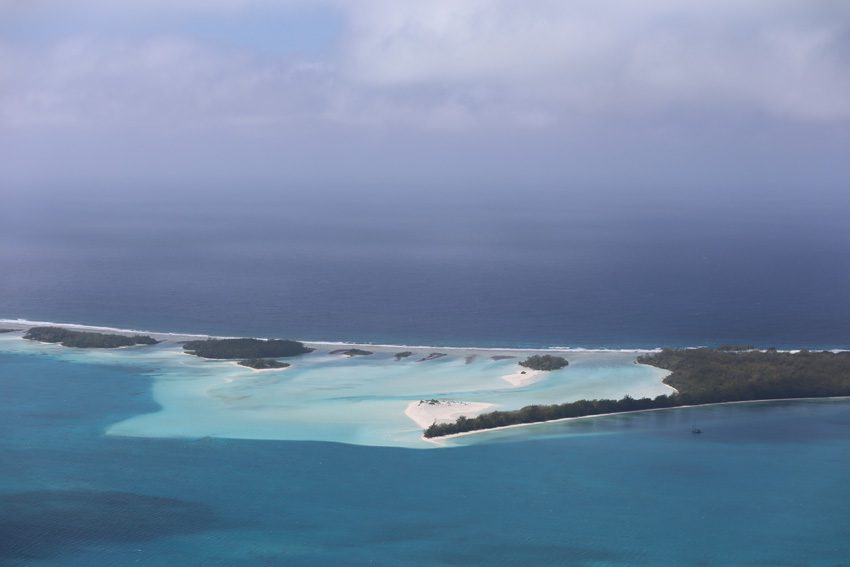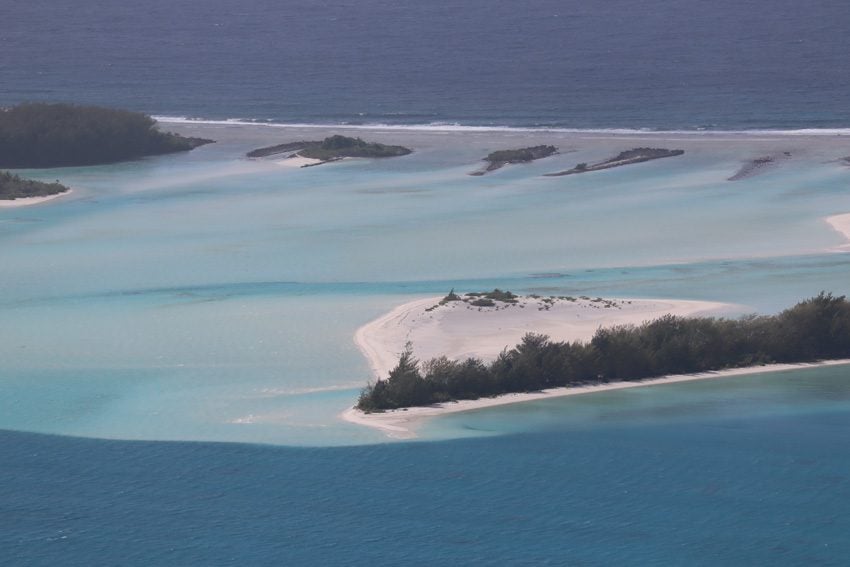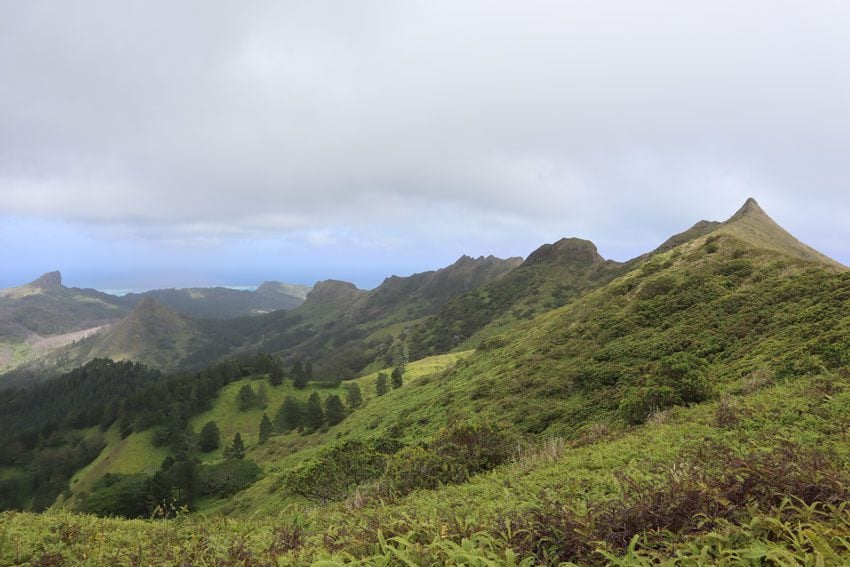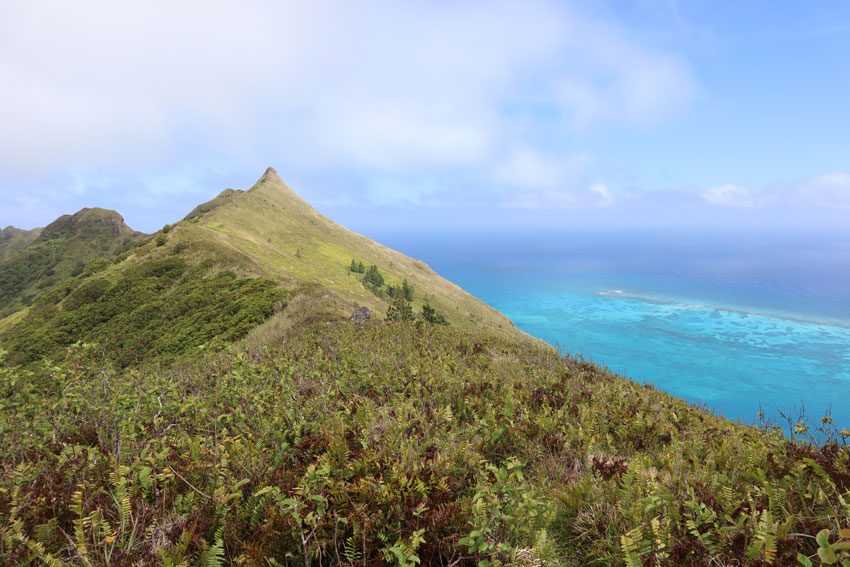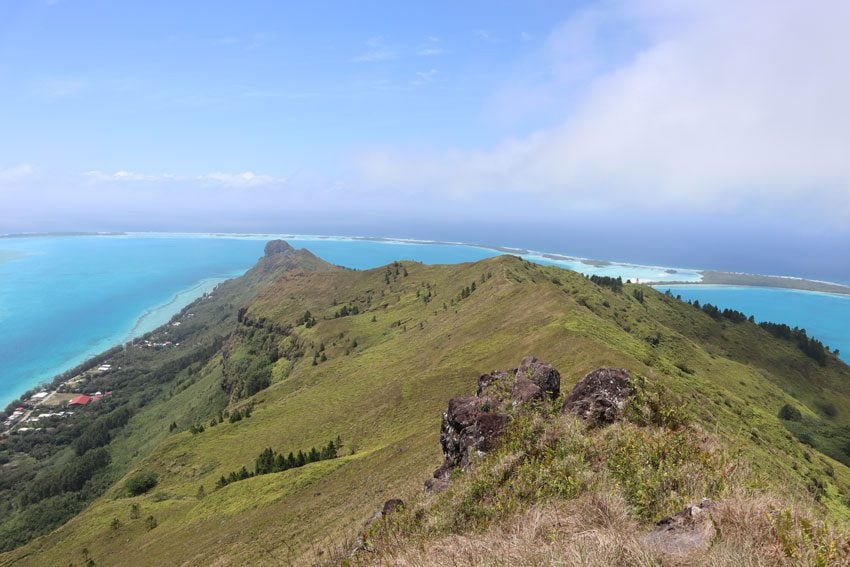 The view from the summit of Mount Hiro is one of the finest views in the South Pacific. You'll want to stay here for at least an hour to enjoy the sites and sounds. Keep your eyes peeled for birds riding the thermals and for wild goats that somehow manage to graze on the steep slopes.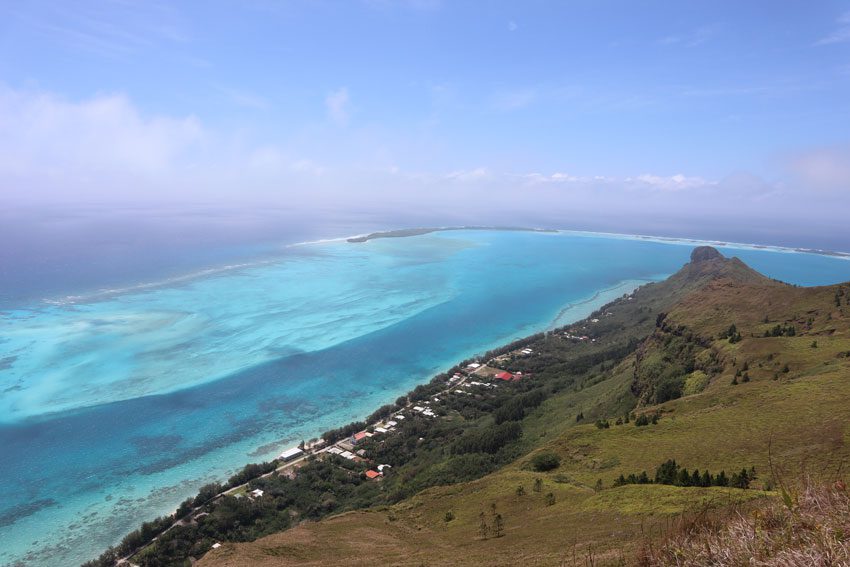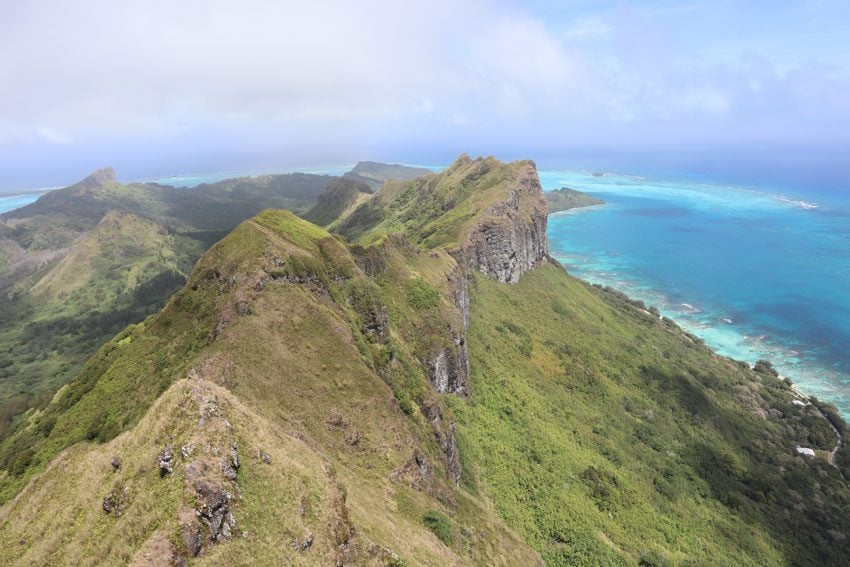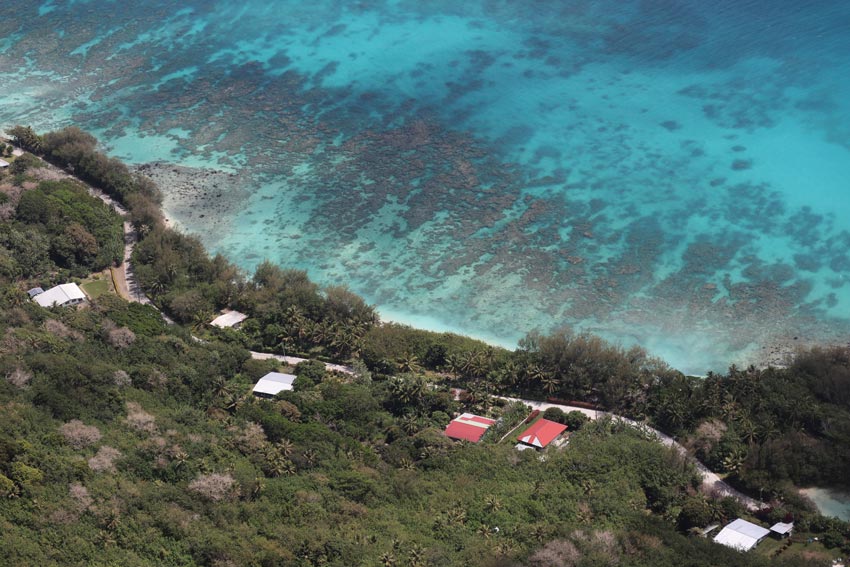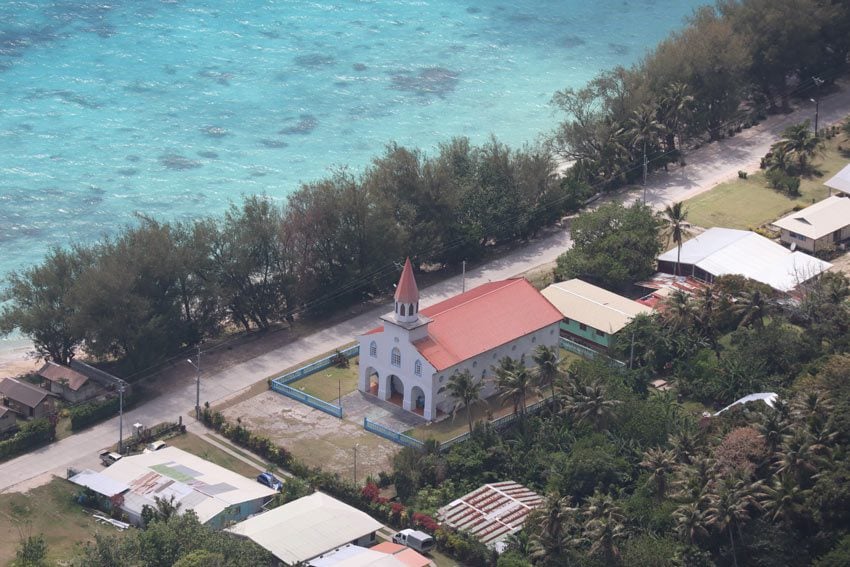 Logistics: the hike takes 4-4.5 hours to complete including stops. Be prepared for windy and exposed conditions at the summit. I highly advise you to wear proper hiking shoes and long pants. Poles might come in handy for extra stability.
Motu Piscine
Without a doubt the crown jewel of Raivavae, Motu Piscine is home to one of the best beaches in French Polynesia. Known as Motu Vaiamanu, locals call this place the swimming pool motu. The motu has spacious untouched landscapes and more than a mile of beaches lined with vegetation. With its blues of indigo and turquoise, this place is the perfect postcard scene that comes to mind when thinking of Polynesian islands.
All pensions should be able to arrange day trips to Motu Piscine, where clear waters, snorkeling, and traditional food are on the menu. It's also possible to sleep on Motu Piscine (see "where to stay" section).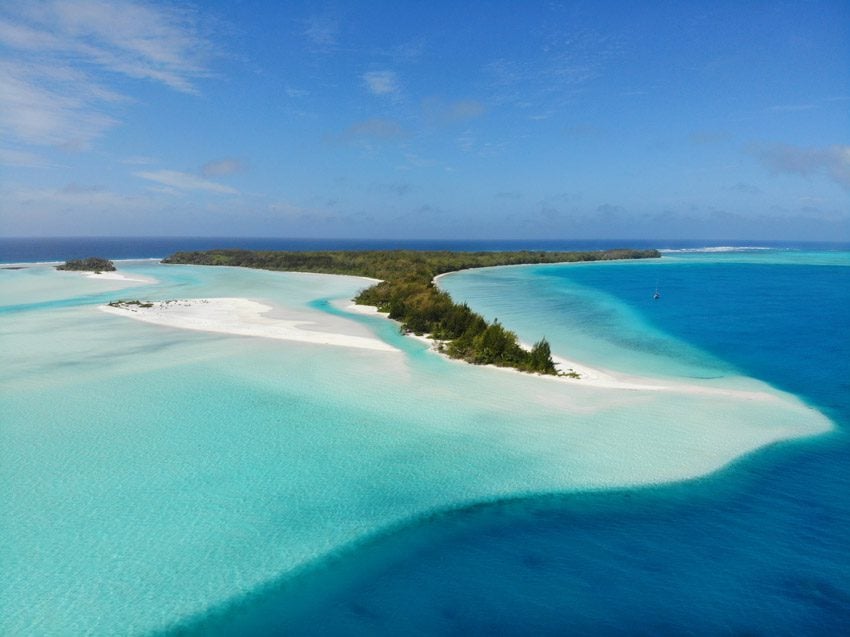 Whale Watching
Whale watching and swimming with whales in Raivavae isn't as popular as it is in Rurutu. But whales do visit between July and October and apparently, they like to hang around the reef side of Motu Piscine. Ask the locals if any excursions are available. I've also been told there's a "whale cemetery" and marae dedicated to whales somewhere on the island.
What's Next?
With this Austral Islands Travel Guide, you are now prepared to visit some of the more accessible islands in the archipelago. To further explore your options, I recommend going over the following resources to see how to put the puzzle together on your visit to the Austral Islands.
Tahiti, Tailor Made!
The Islands of Tahiti are among the last places to be colonized by mankind, 118 islands, each with its unique personality.
Get expert advice and assistance with planning your trip to the destination where tropical dreams come true!
---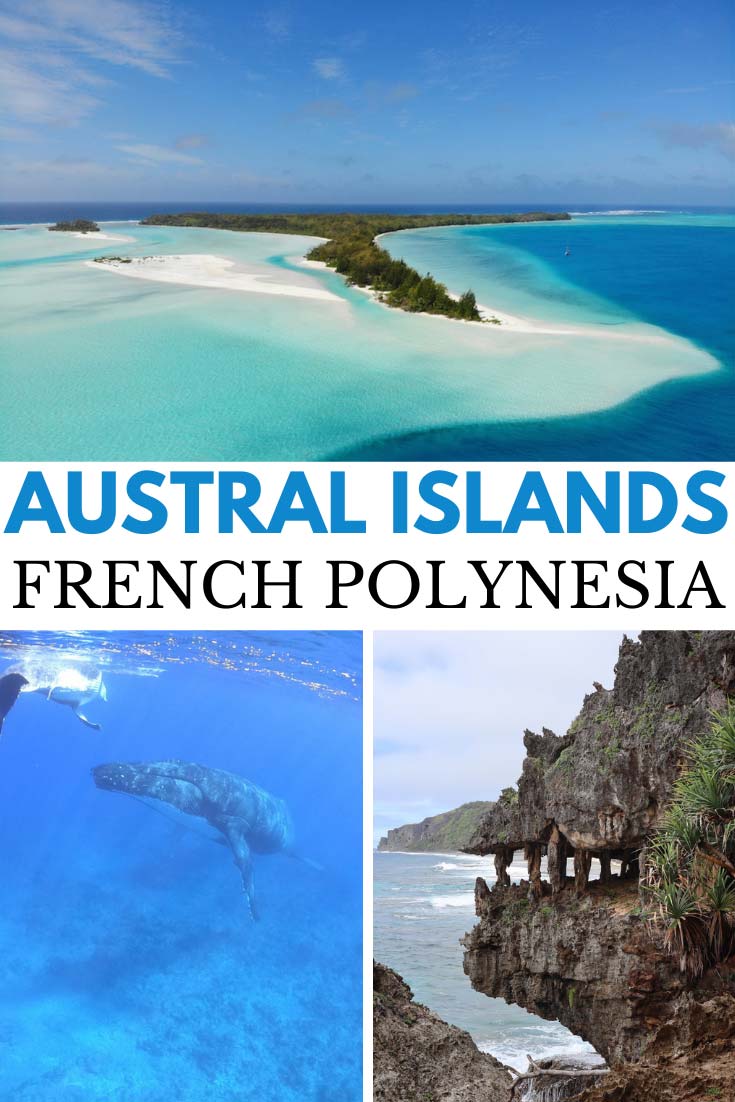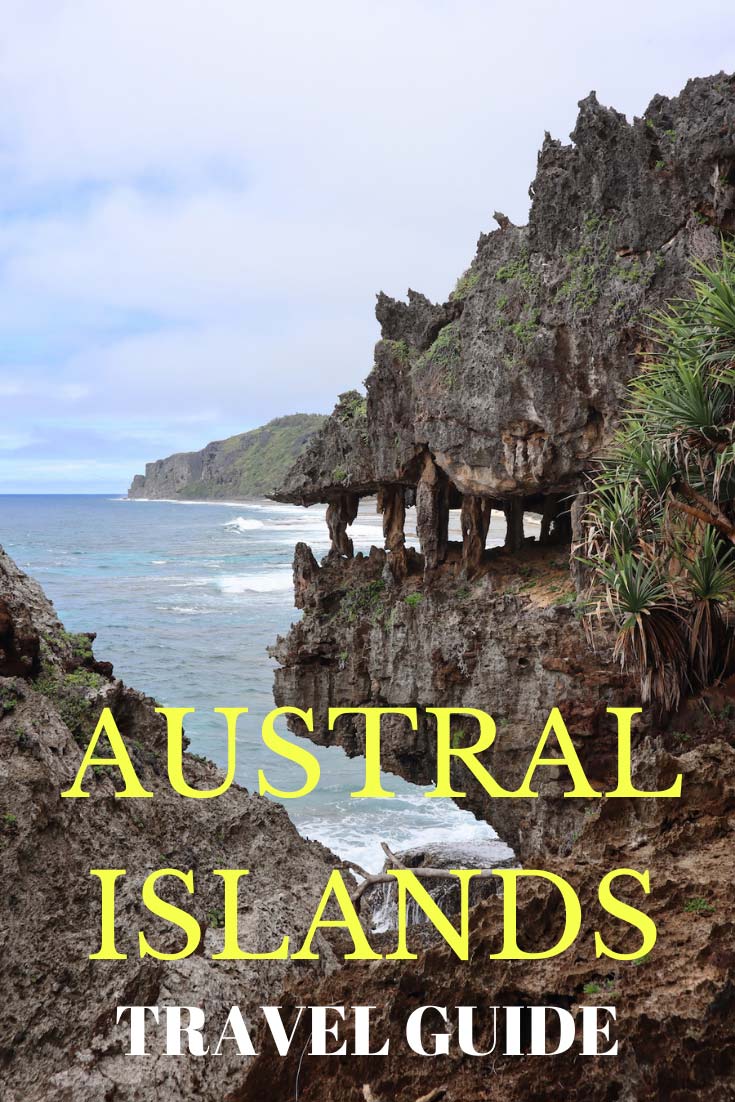 Pin These Images To Your Favorite Boards!