Who Knew Jurassic Park Actually Existed?
Roadtrippin' Nuku Hiva
The next morning we all woke up with a slight hangover, but there's no time to waste on Nuku Hiva. Alvane saddled up the Land Rover, Claudine packed some lunch for us, and off we went to explore one of the prettiest parts of Nuku Hiva. Riding through the village with Alvane is the perfect way to explain the meaning of 'island life'. "Here's my brother the cop. And this one is my brother. Oh, here's my cousin the firemen". Everybody knows everybody and there's a good chance they're somehow related. On this day, Alvane would be at his best, and he really grew on me from this day forward.
We ascended the steep mountains that shelter the village and made it once again to the Toovii Plateau, only to descend towards the breathtaking Taipivai Valley. The scenery we would see on this day will live so vividly in my memory forever.
After a few twists and turns, we made it to Controleur Bay. It felt like we'd just been teleported to the Norwegian Fiordland, but after a few spot checks, it was concluded that we're still south of the equator. Such is Nuku Hiva – a diverse piece of land. The bay is so nice that even Herman Melville, author of Moby Dick, decided to get off the ship and spend three weeks over here. His experiences turned into his first book – Typee, considered to be one of the first travel books.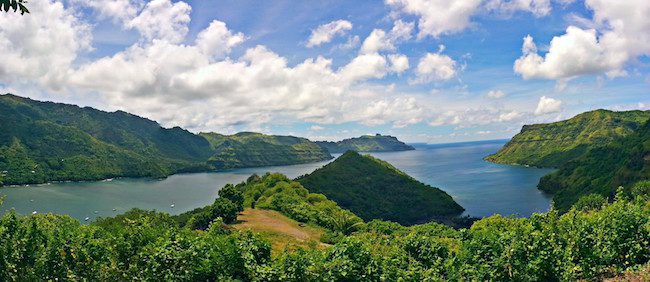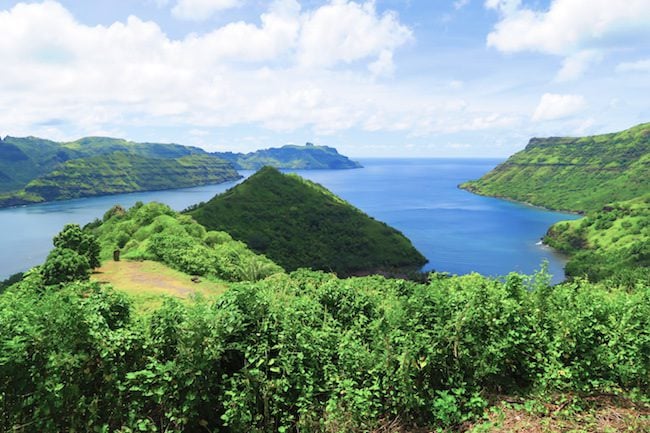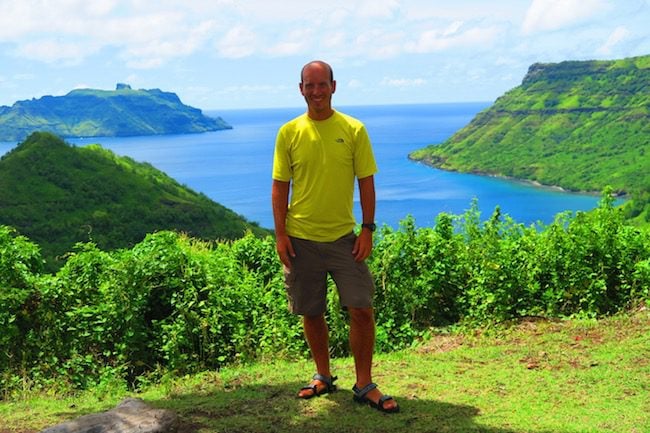 Back on the road, we cruised along the slopes of the mountains, stopping occasionally as Alvane spotted a waterfall, wild pigs or a rare bird species. He really knows his island, like most local Marquesans.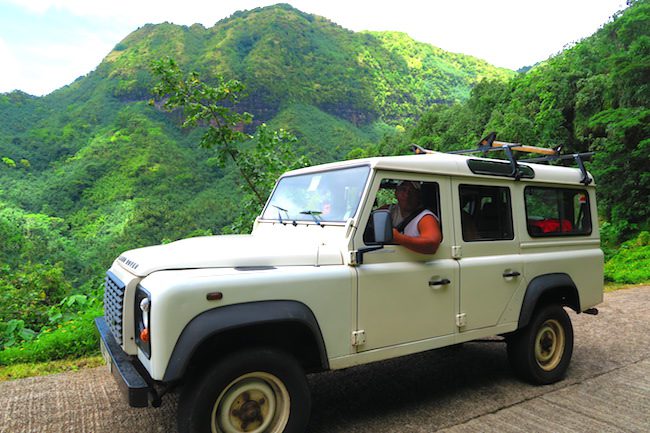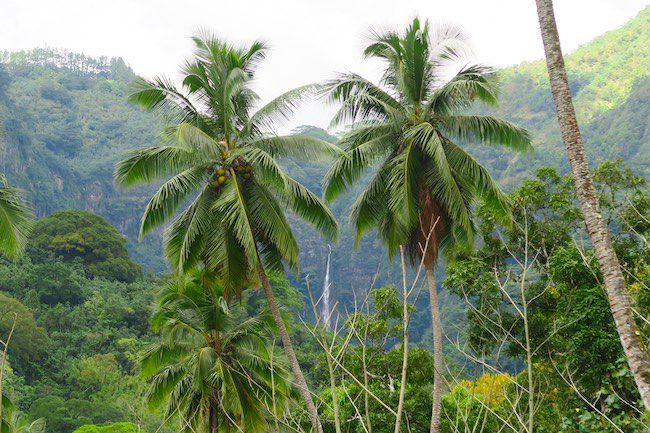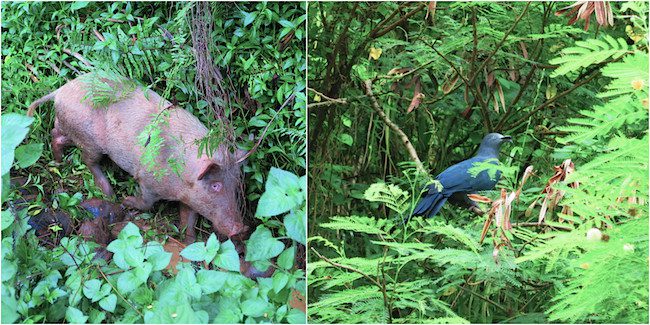 Is this for real?
A few hair razing turns later, the curvy green mountains rolled down to beautiful Hatiheu Bay. Down by the beach was a tiny village surrounded by the ocean on one side, and thousands of palms trees and giant peaks that resemble broken pieces of glass on the other.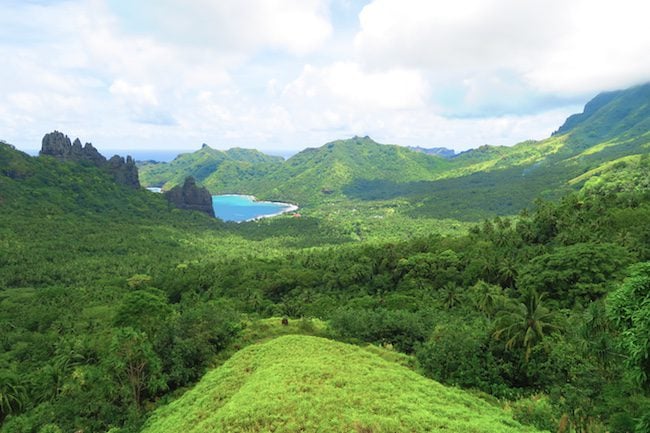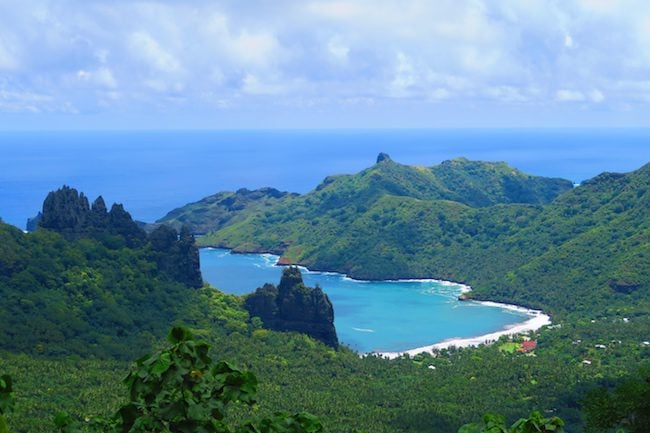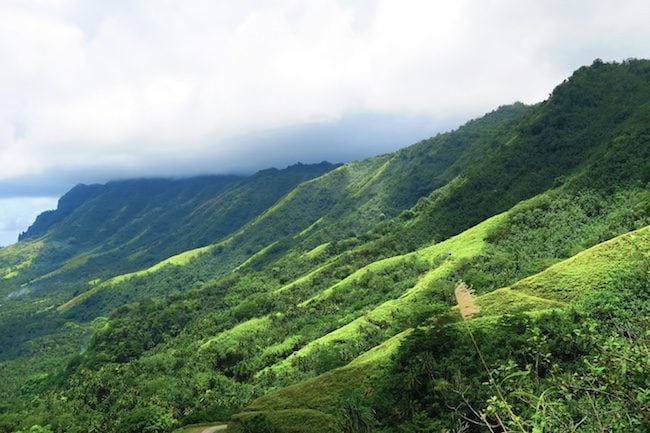 I can only begin to imagine the feeling the first settlers had when they saw this site, after so many months at sea.
We made it down to Hatiheu village, where there wasn't much happening on this Saturday morning. The village is as pretty from down here as it is from up there, with a black sand beach that glows in the sunlight and cliffs that somehow house a statue of the Virgin Mary since 1872!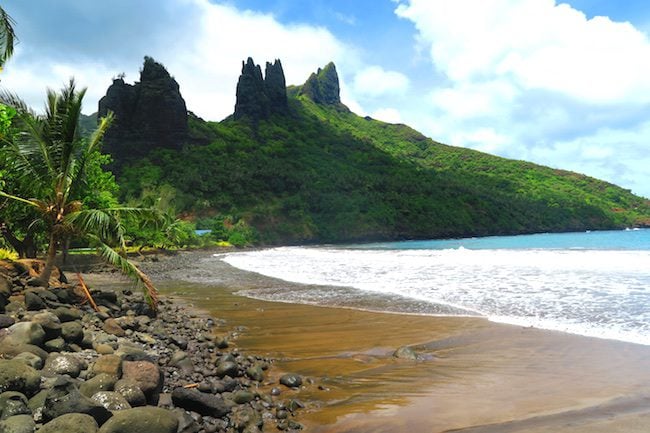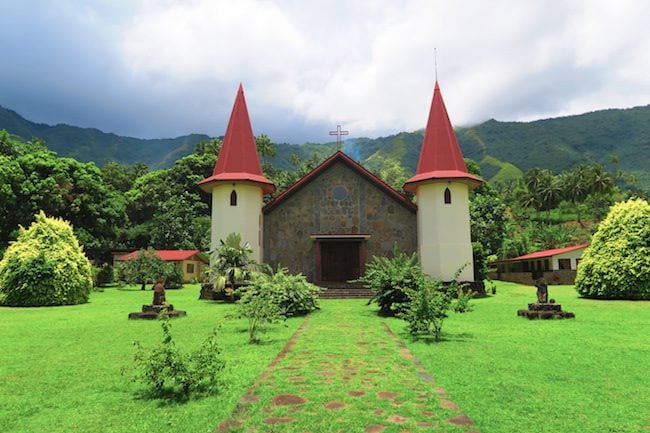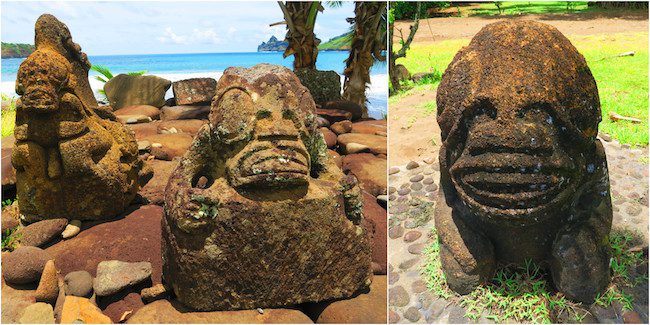 We weren't the only ones that fell in love with Hatiheu. Robert Louis Stevenson, author of Treasure Island, spend some time here back in 1888. Life seems pretty simple here. When the locals aren't at church or out at sea, they're probably making copra. Like we saw back in Tahaa & Rangiroa, coconut flesh is set out to dry in the sun before it can be squeezed for its oil.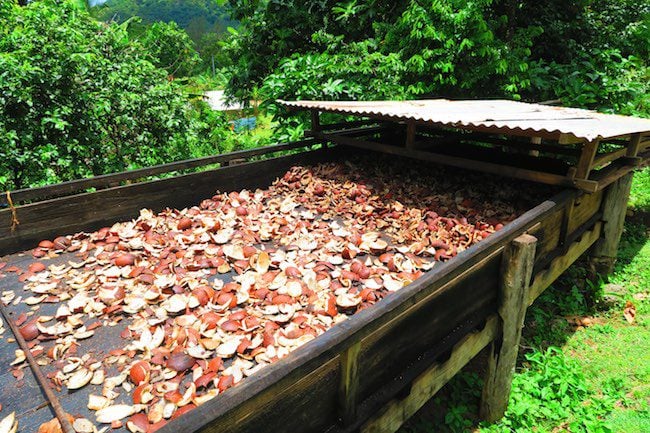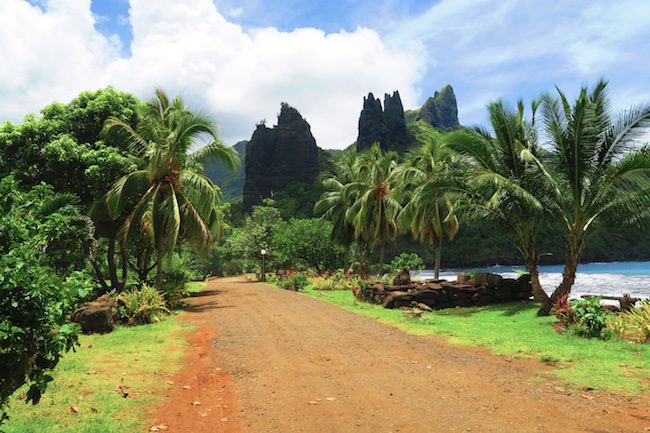 Hiking to Anaho Bay
Most tours stop here and head back to town – but not Alvane's. We continued along a dirt track, where we ditched the car and began hiking through a forest of endless mango trees that could no longer bear the weight of the tropical fruit. Snack? Check!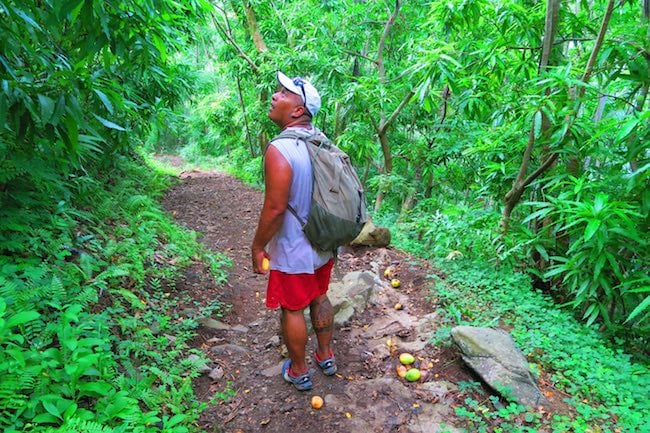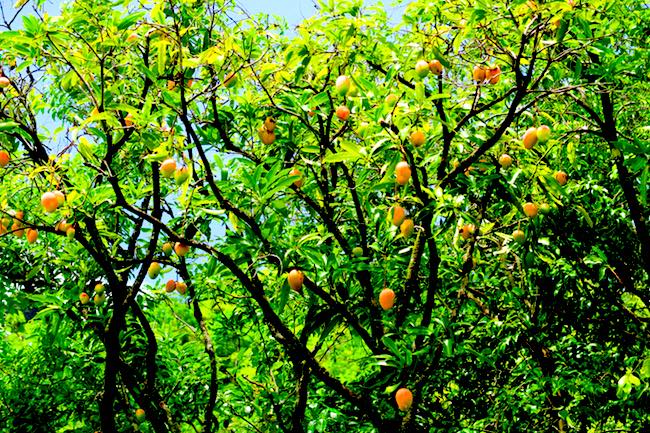 Thirty minutes later, we made it to the top of the ridge and finally saw the reason for all the sweat and mosquito bites – Anaho Bay. The best way to describe the exhilarating beauty, is through Robert Louis Stevenson's words:
"I have watched the morning break in many quarters of the world; the dawn that I saw with most emotion shown upon the Bay of Anaho"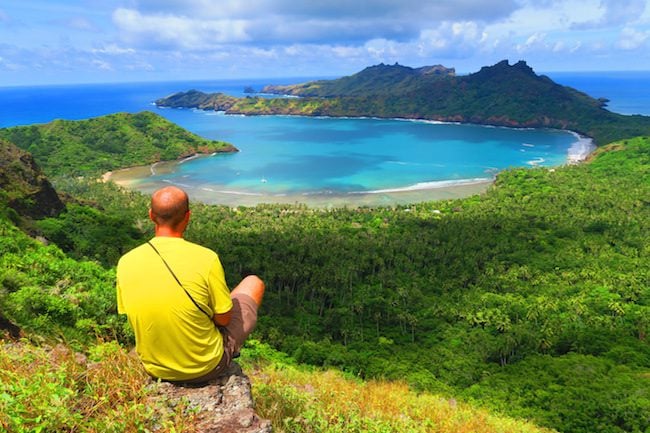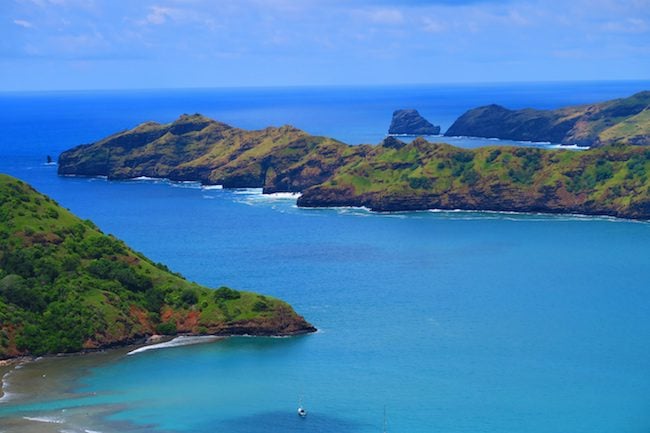 Laurent even spotted a mountain goat hanging on for dear life just across from us. Such is the contrast in the Marquesas Islands – a tropical island with coconuts and…. mountain goats.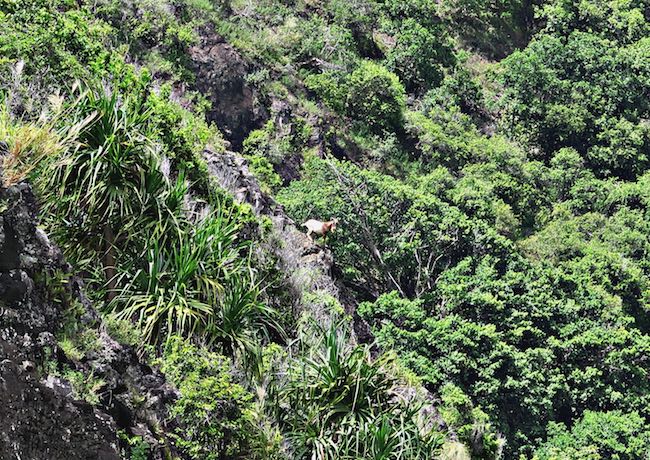 As pretty as this spot is, let's get down there already and check out the beach! The Marquesas are not famous for their beaches, but there are a few surprises here in there. Anaho Beach is certainly one of them, right up there with Ofu Beach in American Samoa. The few families that somehow manage to live in this remote part of the island were chilling at the beach. This place is off the grid, and I mean OFF the grid.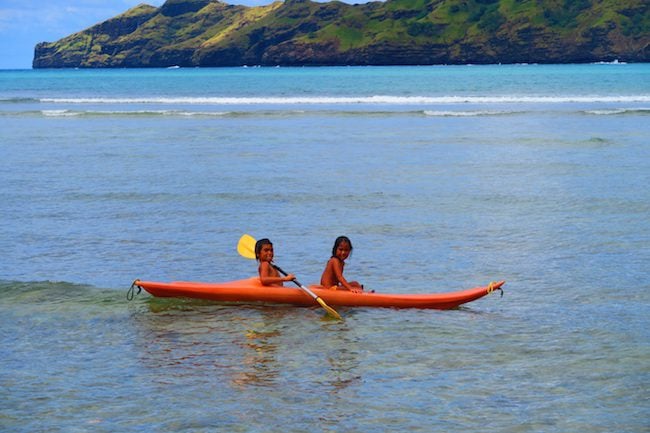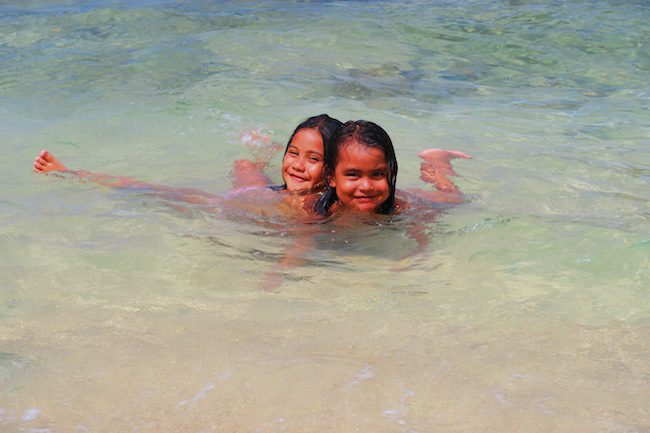 We found a good spot for lunch, enjoyed Claudine's sandwiches and went for a dip in the ocean. It's weird swimming in a beach that's unprotected by the reef, but at least you can ride the waves like back home in Israel.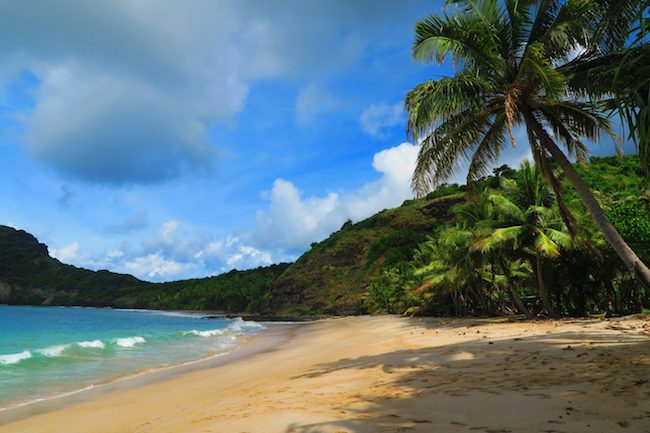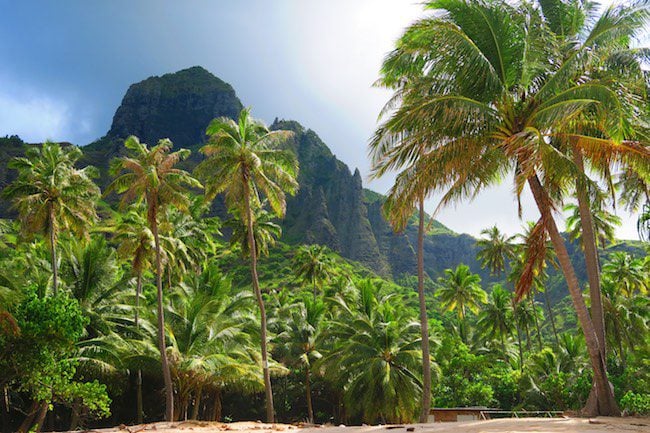 Proving that he's not only a great guide but also a meteorologist, Alvane noticed a few clouds getting too close and told us to pack up before the rain begins. Five minutes later, it was pouring rain, but there was no place to hide. We hiked all the way back to the jeep completely wet. I don't know which was harder, getting back up to the ridge or sliding down in the mud to the parking lot…
Alvane at his all-time best
On the way back to Taiohae, we stopped to have a look at ancient Polynesian temples that are scattered inside the jungle. These are some of the most impressive sites in French Polynesia and to think they were completely covered by the forest until just a few decades ago.
Marquesan ancient religion is different than that of the rest of French Polynesia. I've seen some impressive temples in Huahine and Raiatea, but this was on a whole other level.
Alvane parked the Land Rover in the middle of the first complex, and we checked out the volcanic stone statues that depict polygamy and even human sacrifice. These statues are well over 1,000 years old!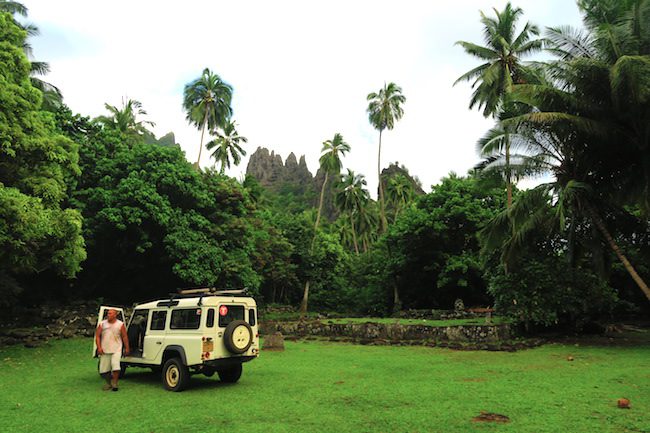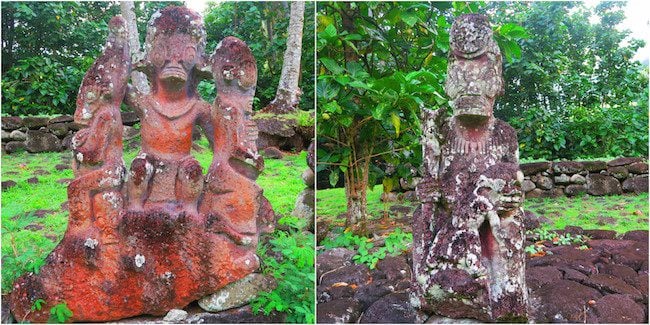 Alvane then took us over to a flat-looking rock where the human sacrifices were made. Back in the day, a poor fellow would lose his head to the Gods and his body to the appetite of his fellow villagers. To really paint a picture of what it was like, a courageous volunteer (a.k.a me), got on the stone and Alvane showed us how it's done.
This is when Alvane was at his best, and he followed the sacrifice demonstration with a traditional Marquesan haka dance. Sharp eyes may have noticed that Alvane knows his dancing (can you spot him here?). During the legendary Marquesan Arts Festival, he like many other fellow villagers, showcase Marquesan dance to the entire world. Impressive and scary – all at the same time!
This place feels creepy
We then drove to an eerie and much larger complex, completely taken over by the forest. There were tiki statues everywhere, underground food storage pits, huge banyan trees and dozens of loud crows making the roosters unrestful. It was a chilling experience walking through this huge complex pretty much on our own. This isn't a place you want to camp out for the night…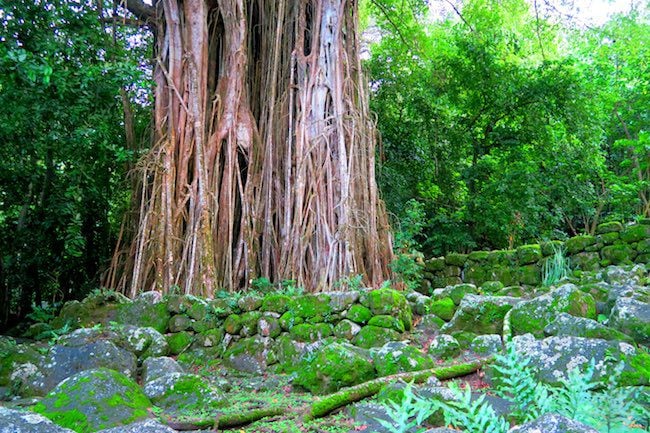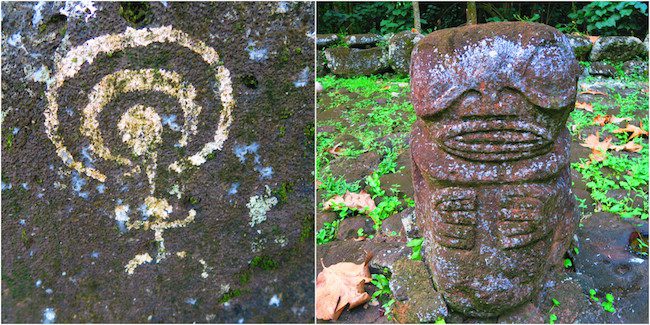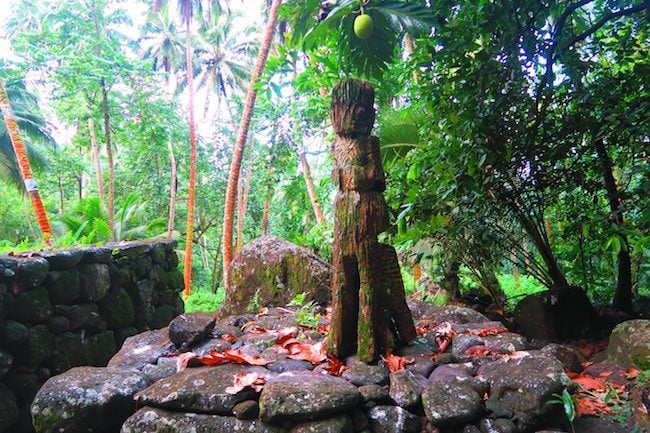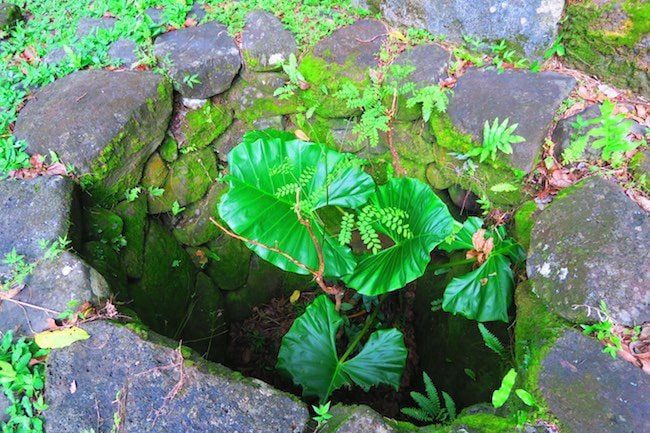 Anyone up for some hunting?
The next morning was also sadly the time to say goodbye to Fanfan, Laurent & Cyril. We all decided to visit the church and wish for some sun before the family headed back to Tahiti and Alvane & I head to… hunt! With a rainbow appearing in the sky and the weather clearing up a bit – maybe someone was actually listening up there?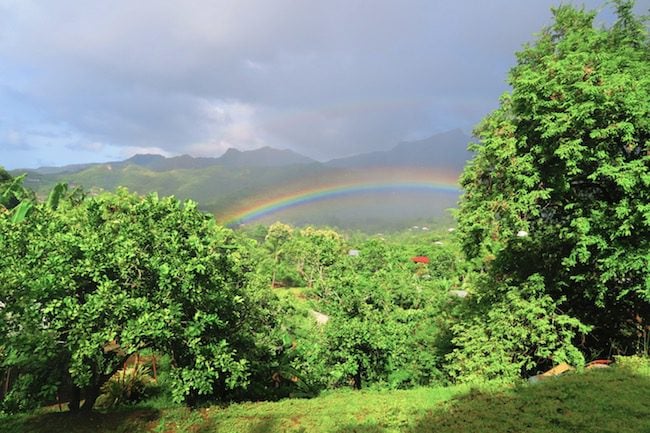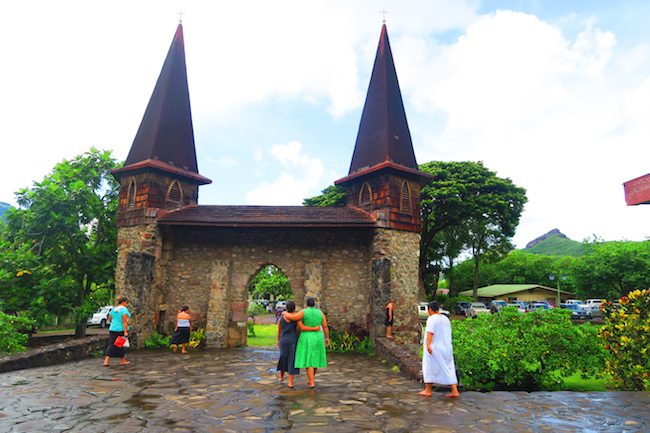 Since stepping a couple of days ago on the remote beach where Survivor was filmed, I was thinking: "wouldn't it be cool to get lost somewhere on the island for a couple of days?" I heard that Marquesans are excellent hunters and had the bright idea of asking Alvane if he knew anyone that could take me hiking & hunting. Alvane reacted like most local men would… jumping on the opportunity to get lost for a few days and potentially come back with food for the next month. He happily saddled up the Land Rover with all the provisions we'd need and picked up a 12 gauge shotgun from his father's house. The last tourist to go hunting with the locals never made it back, in one of the most bizarre stories this island has ever seen. I hope I'll have better luck!
After a teary goodbye at the airport, Alvane and I headed to his family's valley… that's right, his private valley. It's time to explain the story behind Alvane's last name – Alvarado. Not exactly very South Pacific is it?
The story goes way back to Chile of 1850. Alvane's great-great-grandfather got into a bit of trouble while protecting his beloved sister from her abusive husband. Instead of turning him over to the authorities, the local bishop remembered the good man that he was, and sent him on a ship heading west – never to return. When the great-great-grandfather saw Nuku Hiva's beauty, he hopped off and lived in a valley, hiding from the locals who had the nasty habit of eating strangers. He was eventually found by a local princess, who took him and was impressed by his handy skills. They quickly fell in love and were awarded some land by the queen. This is how the Alvarado Valley came to be, and why you can find sooooo many Alvarados in Nuku Hiva.
The Alvarado Valley sits in the remotest part of Nuku Hiva. The valley begins where the high Toovii plateau ends and snakes its way via a thick rainforest down to a beautiful beach.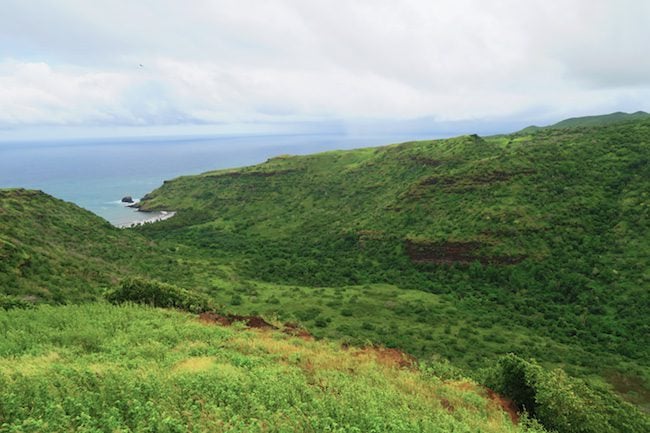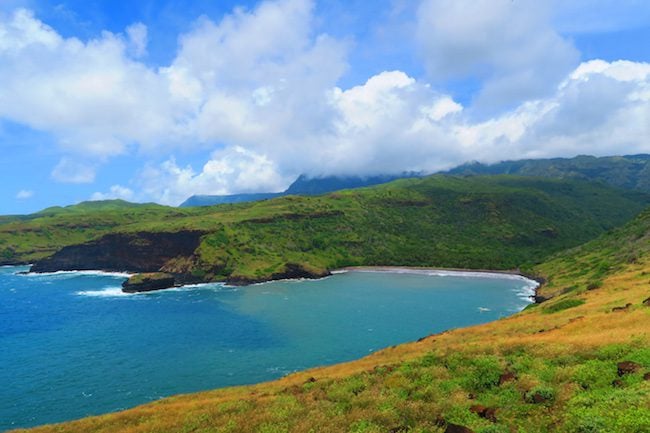 This ain't the Hilton – but who cares?
As for accommodation? Alvane built this small shack back in the days when he was a full-time hunter, long before Claudine rescued him and turned him into an honest man. Miraculously, there's running water from a reservoir high in the hills, but no electricity at all. We are totally off the grid out here, and that's a-OK!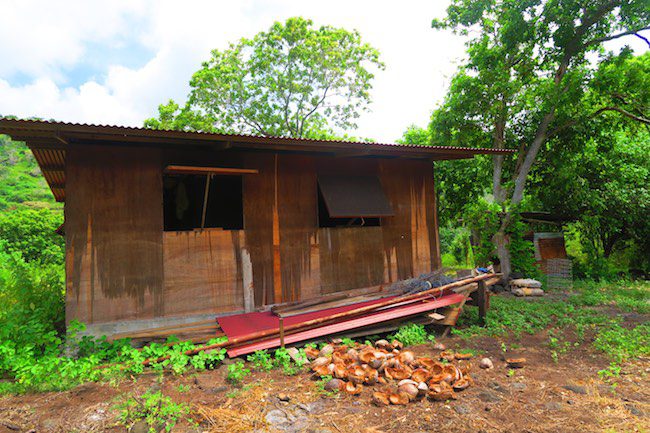 Since hunting on a Sunday brings with it bad luck, we headed to the beach to hang out, nap and get to know each other. Alvane speaks a bit of English and I speak a bit of French. When he can't find the English word he's looking for, which happens a lot, he just makes sounds like "psshhh & pffffff", while adding a few hand motions to fill in the blanks. He really grew on me and I think he kind of looks a bit like Hugo Chavez. In the hours we spent chilling together, Alvane explained that hunting is a way of life in the Marquesas. Think of it like American men and football. If we manage to catch something, it will feed his family for weeks. If not, it means a few extra trips to the supermarket…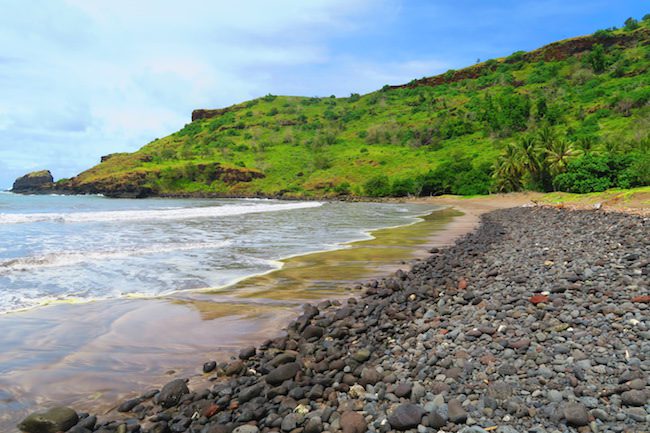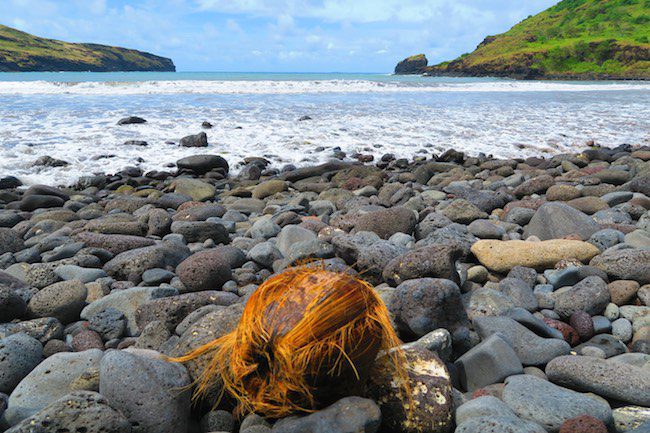 The one thing Alvane didn't want to talk about is his family. He said that it's not good to think about your family when you're hunting. Your mind needs to be focused on the hunt.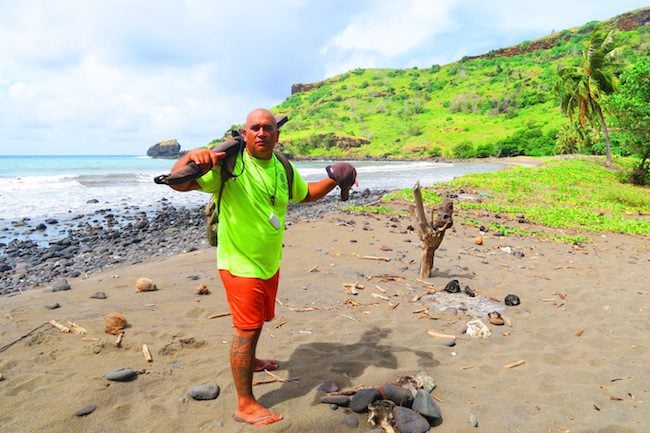 At dusk, Alvane woke me up from my nap and alerted me to the sounds of goats coming from the water reservoir up on the hill. He packed his leftover US Army WWII bag, grabbed the shotgun and off we went.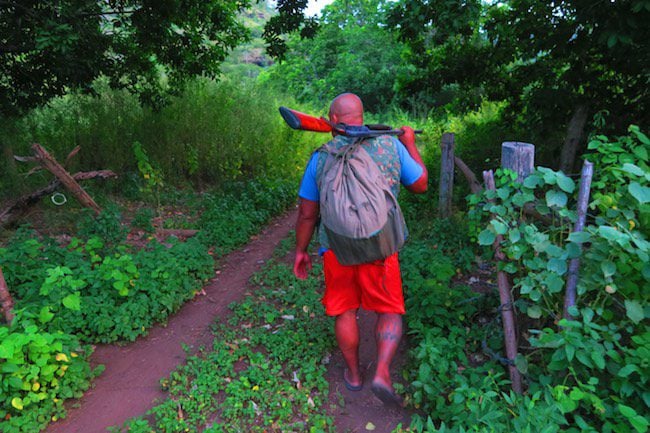 We hiked up the hill and got within about 20 or 30 meters from a family of goats. Alvane hid behind the boulder, hoping to draw the animals closer, without luck. With a shotgun, this is a difficult shot to make without much natural light. Maybe tomorrow we'll have more luck…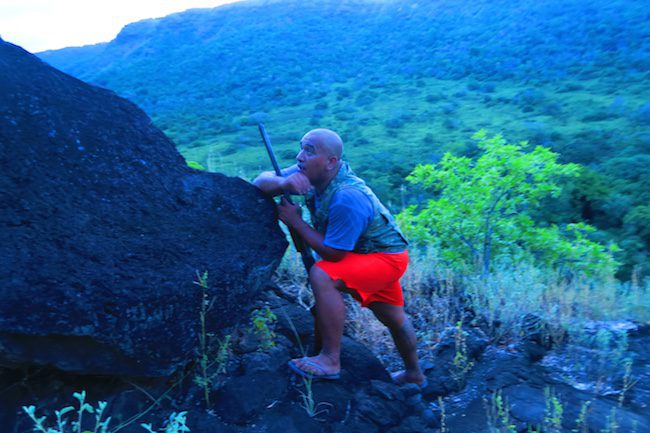 It was back to the shack for some ramen noodles and millions of stars just above the valley, before crawling into my suspended hammock for the night. In between dreams, I would hear wild pigs coming to check out our camp, rain occasionally pounding the tin roof, and Alvane snoring… of course.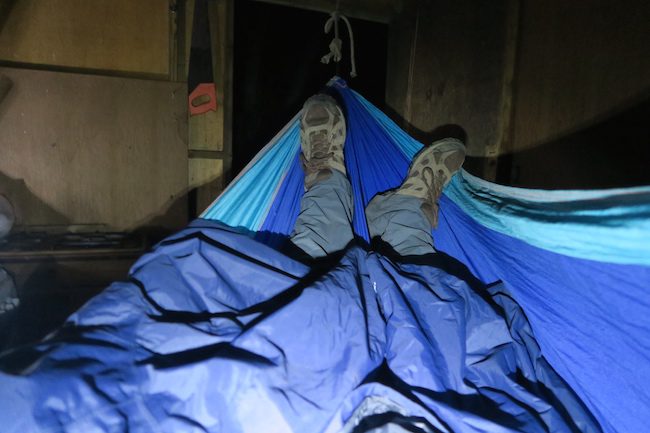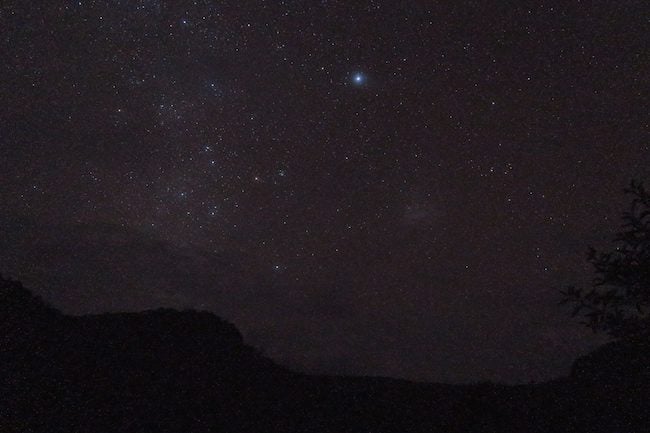 My toughest day in the South Pacific
In the morning, the skies really opened up with a thunderous pour, or as Alvane puts it "it's psssshhhhh'ing and pffffffff'ing". Alvane put a fresh pot of coffee on the gas and treated us to a bowl of coffee with some crackers inside, and a side of baked beans and corned beef. Essential hunting food – he says.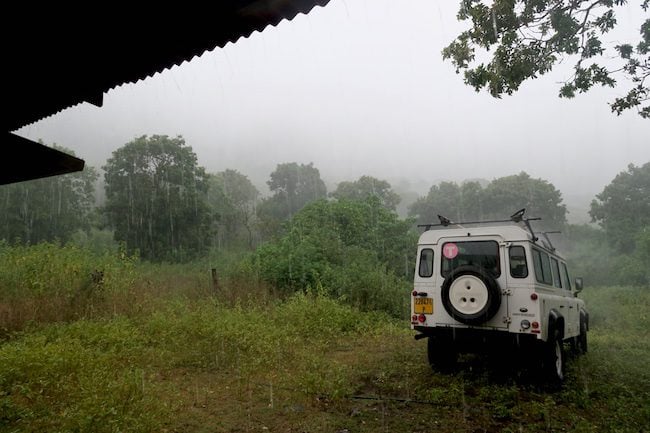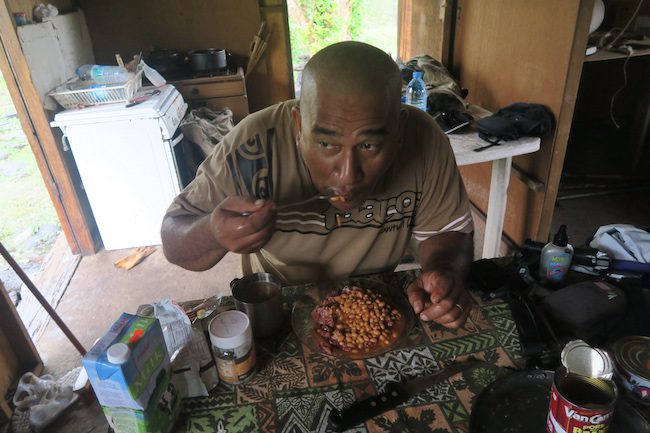 Despite the heavy rain, we headed into the valley. The plan was to walk along the dry river which runs all the way from the mountains to the beach. It was super slippery and full of, I mean FULL OF mosquitos. If you stopped for a few minutes, and in hunting, you have to – hundreds of hungry mosquitos would gather around and pierce through any piece of clothing. Hunting is difficult as is, but even more so on a tropical island.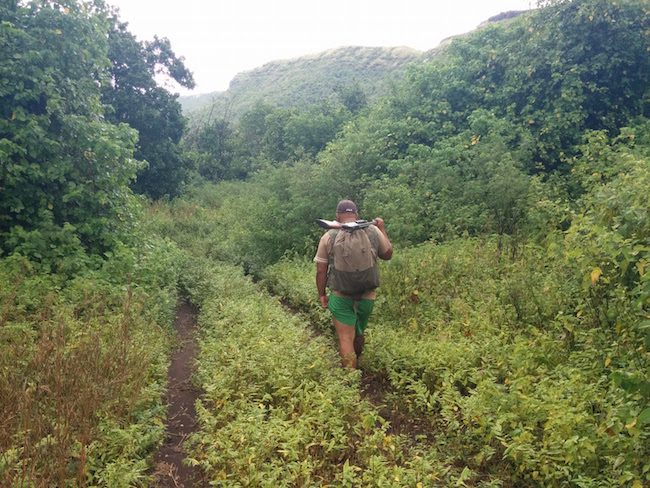 Hunting is no good when it rains out here. The rain just causes the animals to escape the valley into the highlands. We heard a few goats, found a few pig dwellings – but never got close enough for a single shot.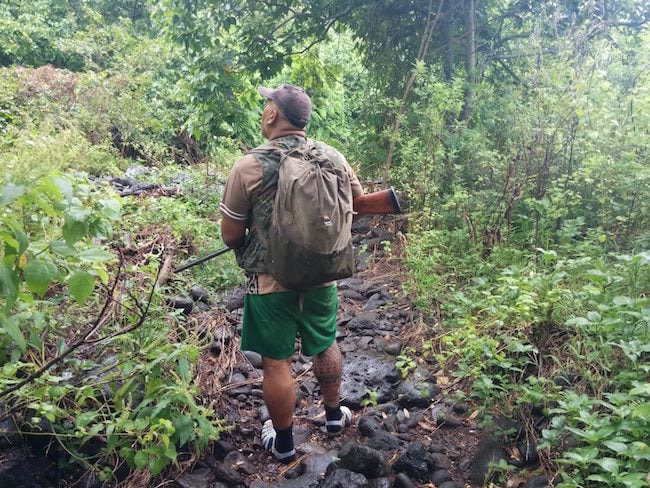 We walked and walked and walked, and even lost each other at some point. Completely wet and itchy with bites, Alvane was still totally in his own zone: stalking, sneaking through the forest and completely silent. About 4 km's into the valley, we turned around, hoping to spot something on the return but 'no cigar.' I'm kind of glad we came up empty-handed. I didn't kill an animal and still got the experience of being with a local Marquesan hunter in the middle of nowhere. Alvane says it can take a few days to catch something out here, but I have a flight to catch tomorrow. So it's back to civilization, driving back through the clouds!
What's next?
Five days in Nuku Hiva were just enough to scratch the surface of one of the most interesting islands in the South Pacific. Nuku Hiva is just so drop-dead gorgeous. Period. I'm now off to the second island in the Marquesas and the final island on this six-month voyage to the South Pacific. Next up – Hiva Oa Island. Home to Paul Gauguin and Jacques Brel, I guarantee I saved the best for last!
Heading off to French Polynesia? In-depth island guides to all 5 archipelagos await you, including sample itineraries and essential travel tips & tricks.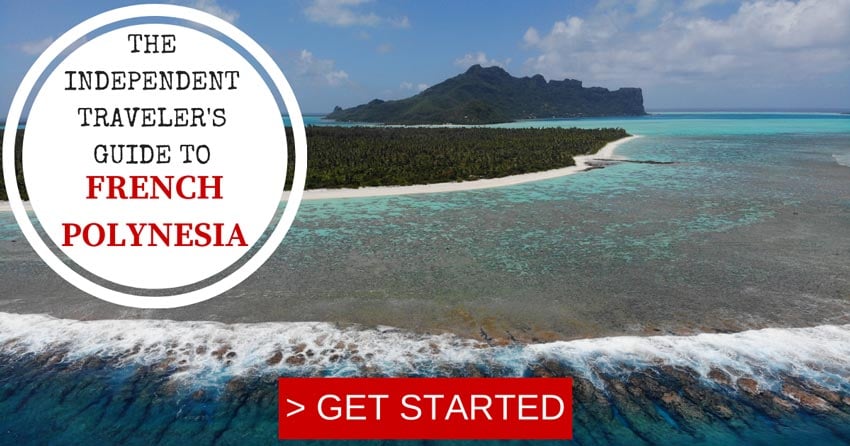 Tahiti, Tailor Made!
The Islands of Tahiti are among the last places to be colonized by mankind, 118 islands, each with its unique personality.
Get expert advice and assistance with planning your trip to the destination where tropical dreams come true!