Things To Do In Papeete
Check out these one, three and five-day sample Tahiti itineraries to see how to divide your days on the big island
While Papeete is the largest and busiest city I've visited while traveling across the South Pacific Islands, it can easily be explored in one day. With a colonial feel, a lovely waterfront, the best market on the islands, and lots of food options – Papeete certainly has some charm to it.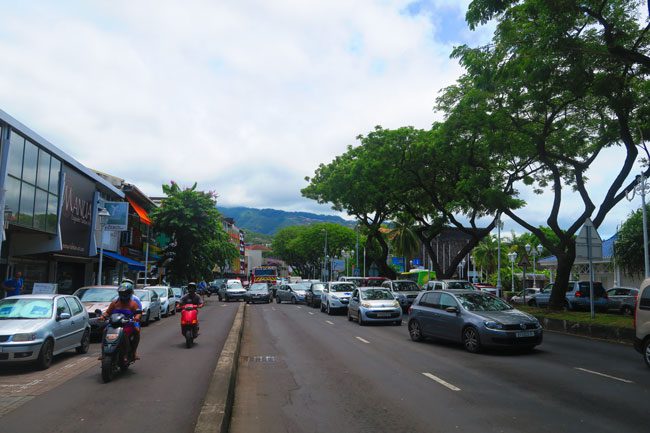 Papeete Market
By far the best market in the entire South Pacific, ahead of even the Punanga Nui Saturday market of Rarotonga in the Cook Islands. The 7,000 square meter Papeete municipal market (Le Marché de Papeete) is open daily from the early morning hours until 4 or 5 pm and on Sundays until 9 am. The covered market is really the beating heart of Papeete and is a must-see for visitors and locals alike.
Enjoy the ukulele tunes at the entrance and grab an ice-cold coconut, as you set to explore this exotic market. The bottom floor is home to souvenir stalls, fruits & vegetables, fish, and small food stalls (snacks) on the side. It's a great place to grab an unfussy breakfast (400F) and lunch (400-1500F).
For something a bit more intimate, head upstairs to Cafe Maeva. It serves generous portions of traditional Tahitian food (the raw fish is yummy) and don't forget to try the freshly squeezed pineapple juice.
The top floor is mainly home to large souvenir shops, but also a big selection of pearl shops and even tattoo parlors. Prices are generally OK and bargaining is not customary. Check out the 'shopping' section in the French Polynesia Travel Guide.
If you're an early riser (or just have some jet lag left), you can visit the Papeete Market in the early hours of the morning on Sundays, when Tahitian families crowd the market in last-minute food shopping for the Sunday feast known as ma'a Tahiti. Sunday is also when the market spills out into the nearby streets, with dozens of food and flower stalls. Inside the market, there's a Chinese family that makes delicious sugar cane juice…. But only on Sundays!
Outside the market, families sell pareo (sarongs), flower necklaces, traditional clothing, and even pearls. Prices here are the cheapest I've seen in Papeete, but not everything is locally made.
Around the market, you'll find lots of mainly Chinese bazaars selling discount clothes, shoes, toys, etc. There are also a few colorful-looking garment shops… if you're into sowing.
Here's what it feels like to stroll around the Papeete Market
Papeete Town Hall
Based on the design of the old palace of Queen Pomare, the Mairie de Papeete is worth checking out. It's one of the prettiest buildings in town. It's also the place to buy a hiking permit for the Fautaua Valley hike (see 'hiking in Tahiti').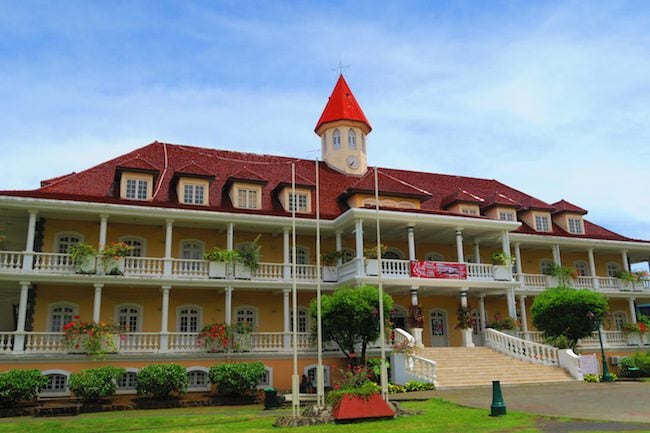 Notre Dame Cathedral
Construction of the oldest Catholic church in Tahiti began in 1844, only to be completed in 1875. Sitting in the middle of a very busy intersection, there's no way you'll miss it. The cathedral also marks the start of the pointe kilometre system (PK markers), from which distances are measured on the island.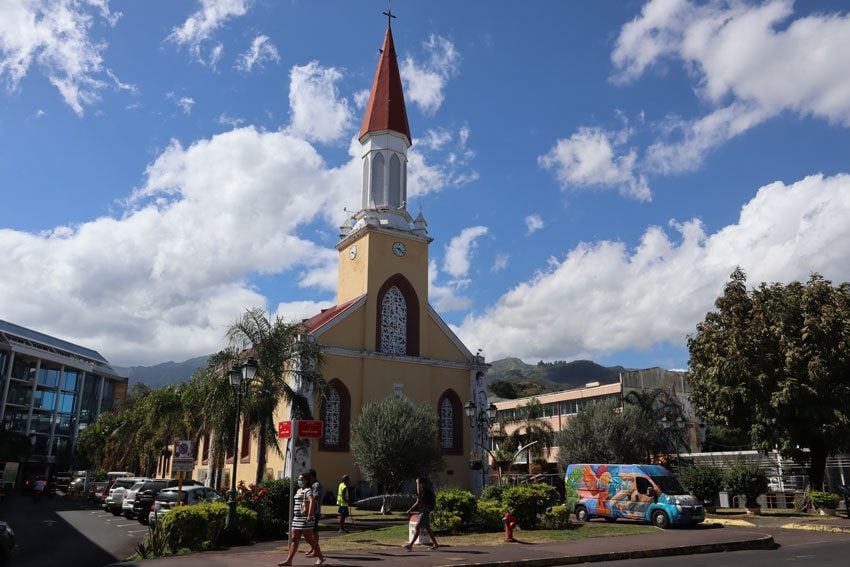 Paofai Temple
The pink-colored Temple de Paofai sits close to the waterfront slightly outside the center of town. This is the main Protestant church, with a colorful Sunday service that starts at 10 am (~90 mins). After grabbing breakfast in the Papeete Market, head here to watch locals dressed in their Sunday best, ladies showing off with their tropical hats and men sporting flower shirts. Be prepared for a whole lot of singing!
Here's what it looks and sounds like during Sunday church service in Tahiti.
Paofai Gardens
Right across from the Paofai Temple, the gardens are the 'central park' of Papeete. It's a great place for early evening jogging or simply strolling around. The garden's beach is a 'depot' for outrigger canoes, belonging to clubs that often practice in the lagoon. This is a serious sport in French Polynesia. At the edge of the gardens right behind the sandy soccer field, you'll find a handful of excellent snacks (see 'food section').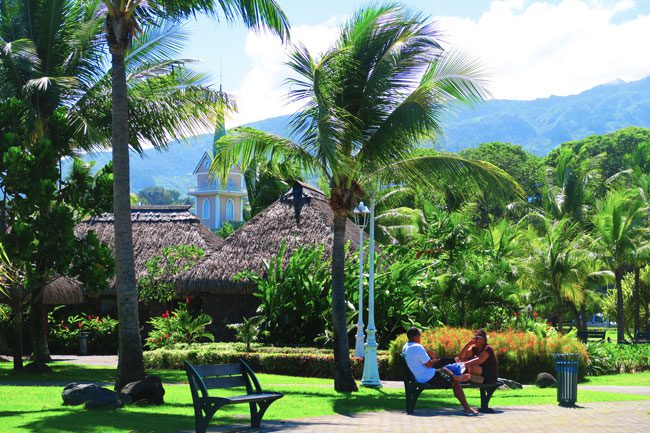 Waterfront Esplanade
Between Paofai Gardens and Place Vaiete, this newly-opened seaside boardwalk is located at the bottom of Pouvanaa Avenue a Oopa. It's a nice way to cut across town along the banks of the lagoon but also a good spot for a coffee or a meal.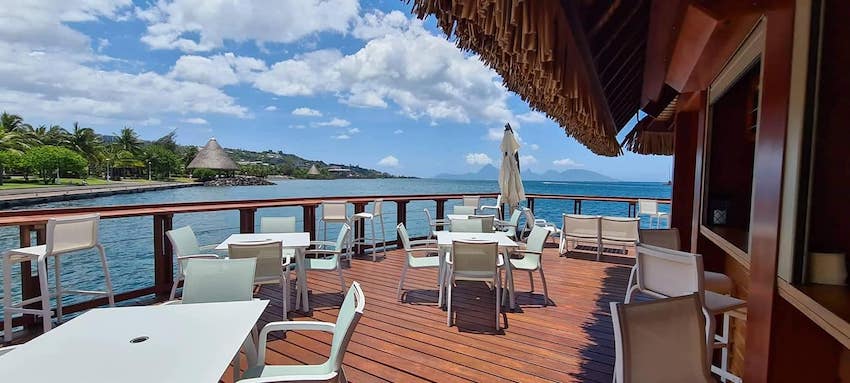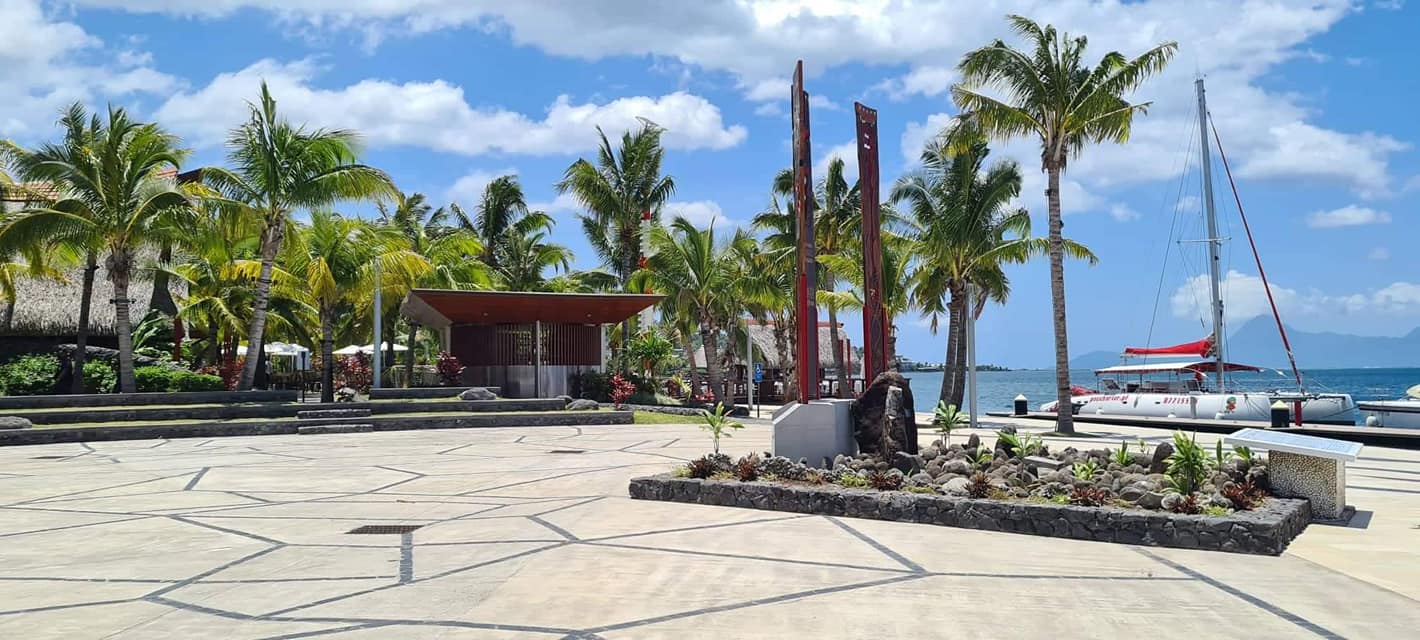 Tahiti Pearl Museum
The museum (free, Mon-Sat 9-5 pm) is inside the exquisite Robert Wan pearl store. Wan is the 'father' of the Tahitian black pearl industry, and the museum is a great place to learn about how black pearls are produced. In the outer islands, there's a very good chance you'll be able to visit an actual pearl farm (for sure in Bora Bora, Huahine, Taha'a & the Tuamotus). In any case, the museum is free, and you can even have a look at some of the best pearls in French Polynesia up for sale. For tips on buying a black pearl, visit the 'shopping' section in the French Polynesia Travel Guide.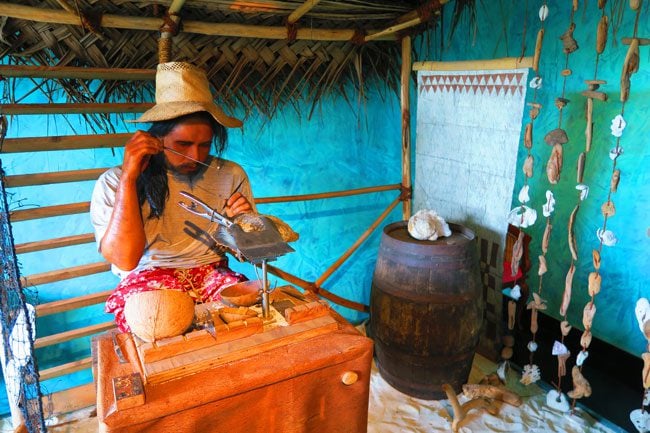 Bougainville Park
Grab some shade beneath a breadfruit tree, watch locals killing a few hours and have a look at the bust of the famous French navigator. The park, more like a tiny square, is not a must-see by any means.
French Polynesia Assembly Complex
The house of the French Polynesian parliament also doubles as a lovely botanical garden (known as the assembly garden), with native and imported plants lining the footpath along with a few impressive banyan trees. Signposted on your right as you enter, continue along the path until reaching the Queen's Pond. This is the most peaceful spot I've found in Papeete, a great place for a picnic lunch when it's hot outside (there's even cold water available for free). The pond's water is crystal clear, with giant goldfish swimming around. It is said that Queen Pomare used to come here every morning to bathe.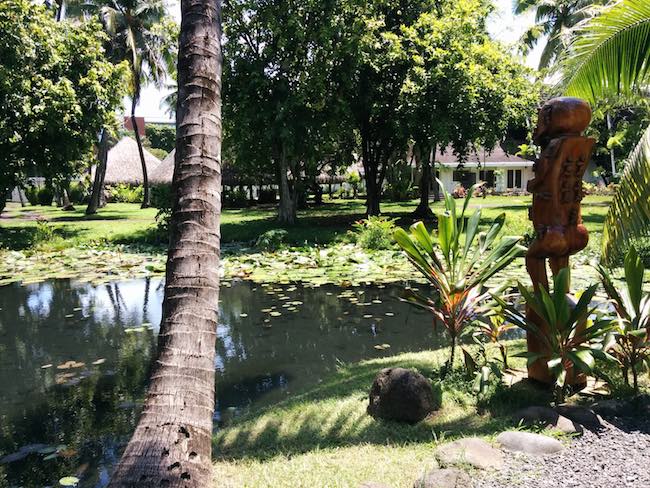 War Memorial
Commemorating the fallen Polynesian soldiers in battle, the war memorial is on the way from the assembly complex to the presidential palace.
Presidential Palace
The present structure was completed back in 2000. You can't obviously enter the home of the President of French Polynesia, but if you ask nicely, the guards might let you take a few steps inside and photograph this beautiful colonial-style palace.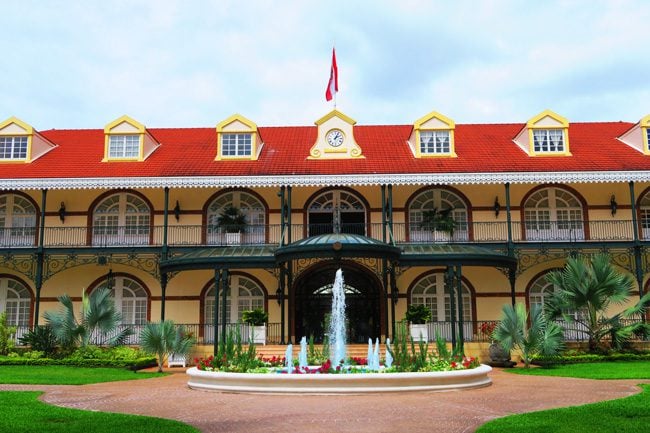 Place Vaiete
Papeete's 'main square', hot during the day, unavoidable by night. The square occupies prime real estate along the waterfront and comes to life after 6 pm when the famous roulottes (food trucks) take center stage. Dining out here is not something you want to miss. See the food section for more.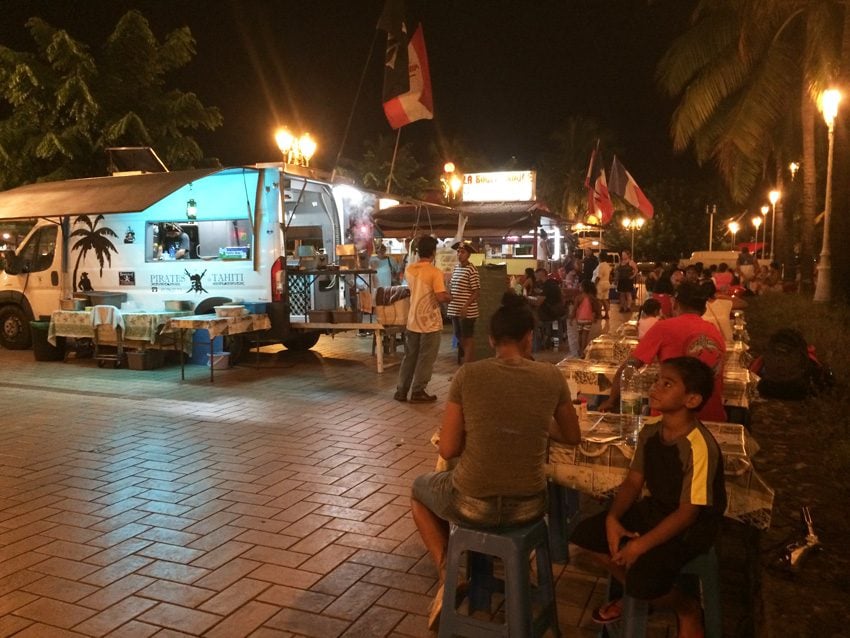 Papeete Marina
A lovely boardwalk stretches from Place Vaiete all the way to the Paofai Gardens. Popular with joggers and locals, it's a great little hike in the center of town. Admire the massive ships that dock just a few meters away or the lucky yachts that get to sail the warm waters of the South Pacific. The marina is also the meeting place for excursions heading out to the Tetiaroa Atoll (see 'excursions in Tahiti').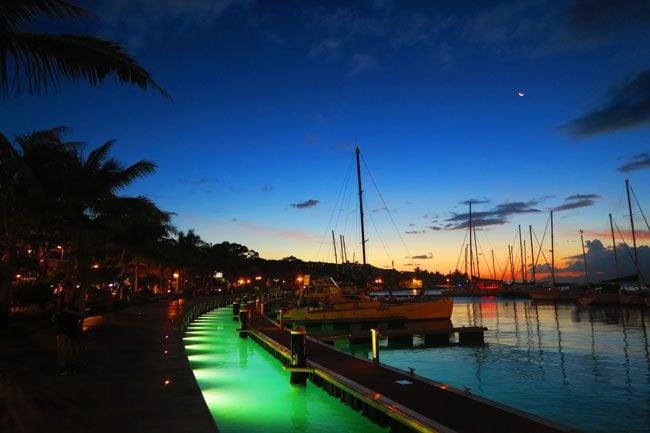 Jewish Synagogue
Any person of the Jewish fate will be amazed at the small Jewish community of Tahiti. If you're around on a Friday night, head for Shabbat service and there's a 100% chance you'll be invited for a post-service dinner you'll never forget!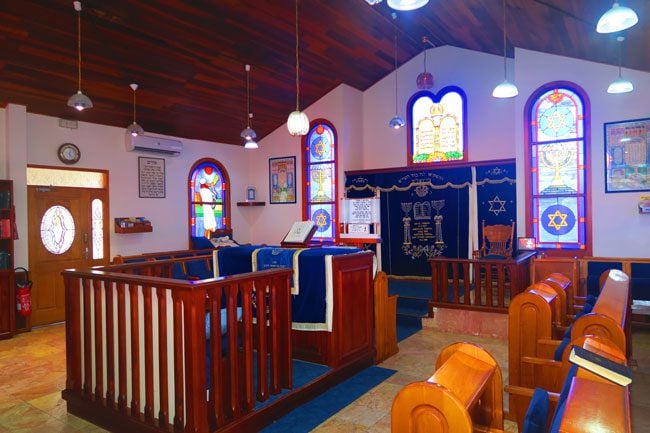 Kanti Chinese Temple
The only Chinese temple in Tahiti stands in the district of Mamao in Papeete. Chinese workers began to arrive in Tahiti in 1865 to work in plantations in the district of Papara. The temple surprises visitors at first with its very oriental architecture, with its big red columns, its green facade, and its pagoda roof in red glazed tiles. The Chinese temple is frequented all year, but especially before Chinese New Year to thank Kanti for the favors of the past year, and during the period of the Chinese New Year to renew the protections and know the future for the new year. The present temple was inaugurated on May 30, 1987, to replace an old temple built on the same site and destroyed by fire on May 20, 1981.
Recommended Places To Eat In Papeete
There are lots of food options in Papeete, including a few high-end French and ethnic restaurants. Here are a few favorites and well-recommended spots.
Place Vaiete Roulottes: a must for any visitor to Tahiti, this is a place frequented by locals as well as tourists. Every day after 6 pm (including Sunday), the square fills up with the legendary roulottes (food trucks) and lights up with an atmosphere reserved only for the 'big city'. In this food heaven, choose from Chinese, crepes, French dishes, and above all – traditional Tahitian food. Absolute musts include chow mein, sashimi, and the national dish – the poisson cru (Tahitian fish salad of raw tuna in coconut milk or sweet chili sauce). Portions are huge and always served with a side of baguette. Expect to pay 1200-2000F for a main dish + side (cash only). Note that roulottes are not allowed to sell alcohol, and you may not bring your own.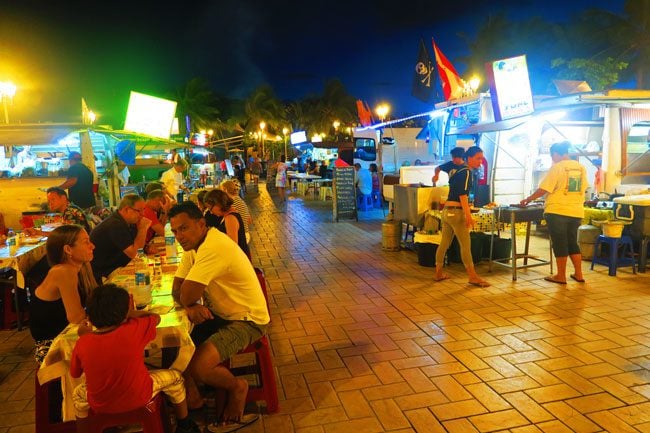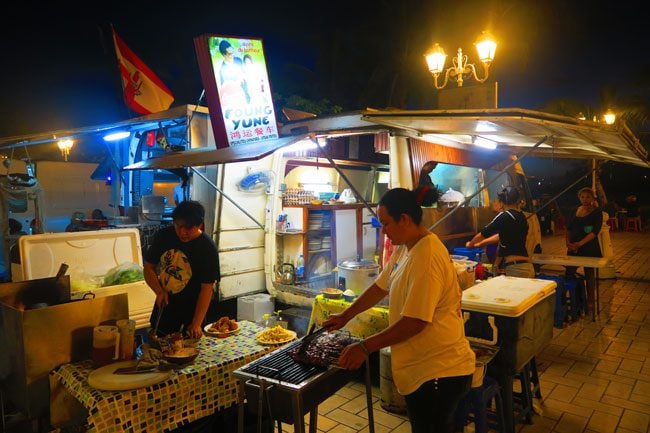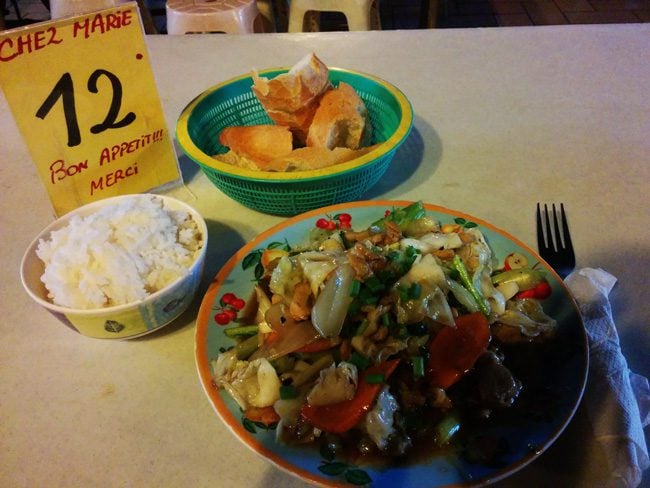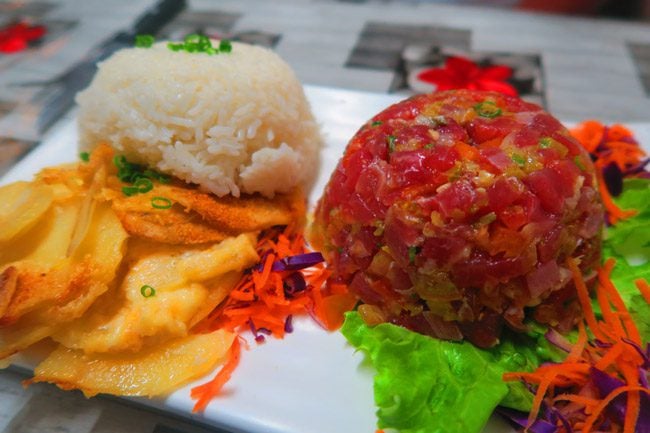 Snack Vaimiti: located close to Place Toata, just behind the soccer field in the Paofai Gardens. Opening hours are tricky so check their Facebook page before.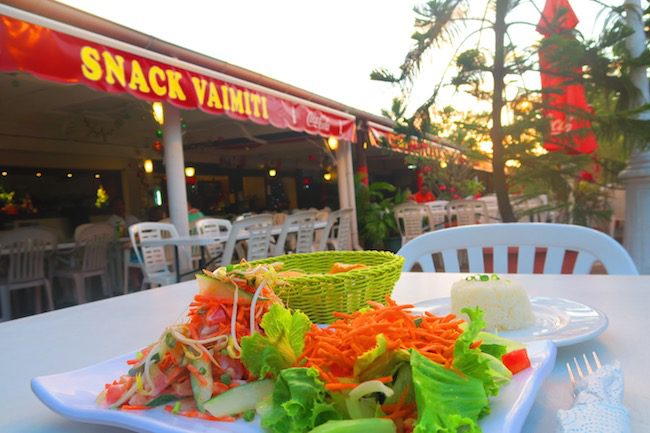 Patachou: located in a small pedestrian alley close to the market. This is a great (and quiet) spot for breakfast and lunch. Portions are huge and prices are reasonable. I just loved the grilled tuna sandwich and the grilled tuna salad (1200-1500F)!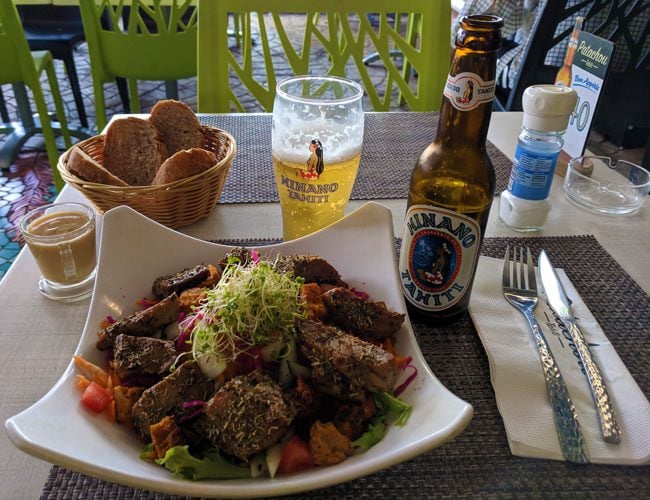 Ice cream at Queeny: four minutes away from Patachou, once you're ready for dessert, head to Queeny for some ice cream. Since you're in paradise, you must try the signature tiare flavor, directly made from the fragrant flower that is also the national emblem of Tahiti.
Papeete Market: lots of simple choices here on the first floor for breakfast and lunch. The simplest lunch options are the sandwiches, but you can also find fish dishes and traditional Polynesian food such as steamed taro. Upstairs, you'll find Cafe Maeva – slightly more upscale, quiet, and with live music usually around lunchtime.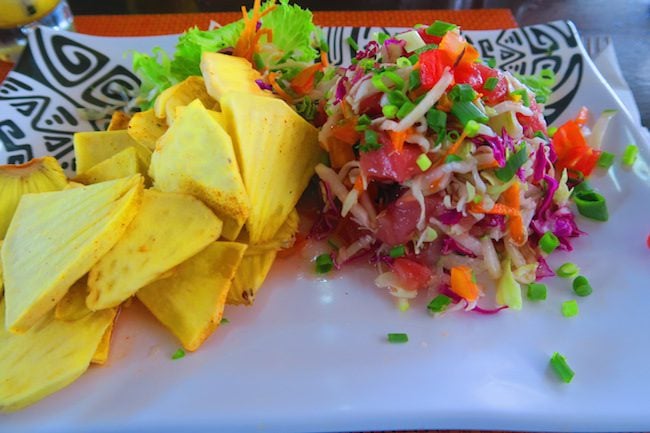 Other recommended places to eat in Papeete include L'O à la Bouche, L'api'zzeria, Zen Cafe (sometimes also called Mahou Cafe), Café Maeva – Grill House & Chill Bar. Reservations required.
Recommended Places To Eat Outside Papeete
If you're looking to spice things up on perhaps your second or third nights in Tahiti, taxi to either Le Lotus Restaurant at the InterContinental Resort, or to The Blue Banana, Roulotte Noix de Coco by Teva, La Casa Bianca, Tahiti La Plage, Poke Bar II, and La Plage Restaurant in Punaauia.
Recommended Bars & Nightlife In Tahiti
You'll find a handful of bars and nightclubs along the waterfront, but for the best experience, head to Les 3 Brasseurs. It's a good spot to visit before or after the roulottes of Place Vaiete, even though they serve their own food. Choose from five homemade beers that are brewed right here in Tahiti, served in small glasses and up to five-liter pitchers! A recently-opened rooftop bar is now a happening nightlife spot in Tahiti. You might need to book a table in advance but try your luck if it's not too busy this evening.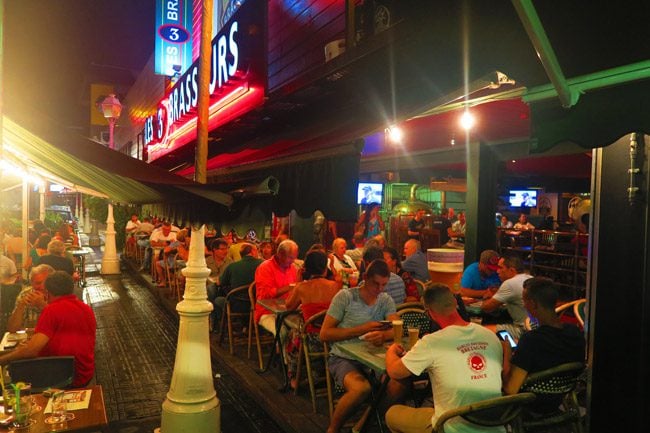 Other nightlife options include Cafe Maeva – Grill House & Chill Bar and Le Retro, by Place Vaima shopping center. These spots should have live music on most evenings but if it's a party you're looking for, perhaps Au Piment Rouge is for you.
Papeete is the best place for a quick round of shopping before heading home. The prime shopping is found in and around the main cathedral and on the streets leading to the central market.
Here's is my personal Tahiti shopping list:
Hinano fashion: Hinano beer has been sold since 1955 but its logo has been far more successful than the beer. Hinano clothing and merchandise can be found in many shops in Tahiti but the best place is at Boutique Hinano.
Black pearls: many shops sell loose pearls or jewelry. Pearls are graded in three main categories and are duty-free so don't forget your passport.
Books: head over to Odyssey Tahiti for the best selection of books and picture souvenirs of French Polynesia.
Papeete Market: the best place to buy sarongs (pareo), vanilla, and simple souvenirs.
Surf fashion: the surf shops along Avenue de Generale de Gaulle have some cool Tahiti-branded clothing that you won't find anywhere else.
Crafts: it's best to purchase crafts from the outer islands but if you didn't have the opportunity, the central market and a few specialty shops are good options. Just be sure of the source of what you're buying. The finest crafts are from the Marquesas Islands.
Clave prints: though I've heard he's never been to Tahiti (yet), Reunion Island-based Clave makes beautiful prints of various scenes from the islands. Head to Galerie Winkler to see what they have left. Large poster-size prints sell for around $60.
Monoi products: monoi is a traditional way of blending flower scents with coconut oil. It smells like paradise and worth taking back home with you. The most famous brand is Tiki Tahiti but more "upscale" brands can easily be found. I always bring back a few bottles of monoi oil, soap, and shampoo. It makes for a great souvenir as well as gifts. The best place to buy these is at supermarkets because locals use them as well. For monoi gift baskets, head to souvenir shops.