One of the happiest nations in the world, Vanuatu immediately puts a smile on your face. And as you reflect on the magical time you spent on its islands, this smile will reappear to brighten up your day. Vanuatu was a surprising first stop on my voyage across the South Pacific, visiting three islands that were completely unique. But such is Vanuatu, a beautiful mosaic of cultures, landscapes and adventure – floating in the warm waters of the South Pacific. This 10 days in Vanuatu sample itinerary takes you to Vanuatu's prime spots. From pristine beaches to blue holes to active volcanoes and plenty more in between, saddle up and let's begin!
Why Should You Visit Vanuatu?
Simply put, a vacation in Vanuatu can be as you want it to be. You can spend your time in a beach resort, seriously get off the beaten track in some remote community, and everything in between. Add to this the friendly attitude of locals and the fact that every island is completely different than its neighbor – and you have a winning combination. I was seriously contemplating whether to include Vanuatu on my six-month journey across the South Pacific Islands. However, the two weeks I spent in Vanuatu turned out to be a huge surprise!

What's Included In This 10 Days In Vanuatu Itinerary?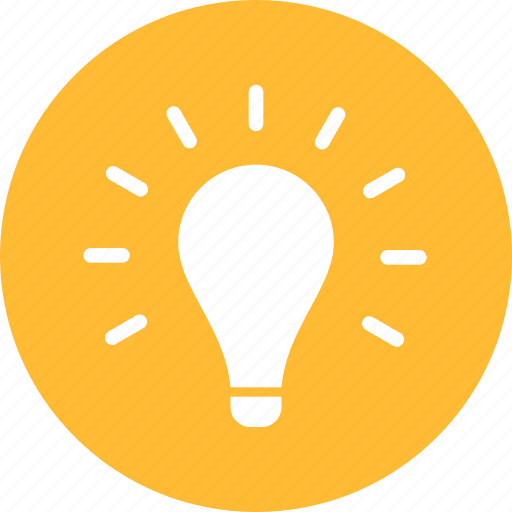 Pro Tip
Spending just 7 days in Vanuatu? I recommend visiting just two islands (Efate plus another island). You can theoretically visit Tanna on a day trip or just spend one night to visit the volcano.
Vanuatu Or Fiji?
The good news is that both destinations are connected via direct flights, quite a rarity in the South Pacific. I visited both Vanuatu and Fiji and much preferred Vanuatu for its diversity, authenticity, and lack of a party scene. I would say Fiji is more for the beach holiday (and it's beautiful, don't get me wrong), whereas Vanuatu offers more for those looking to get off the beach.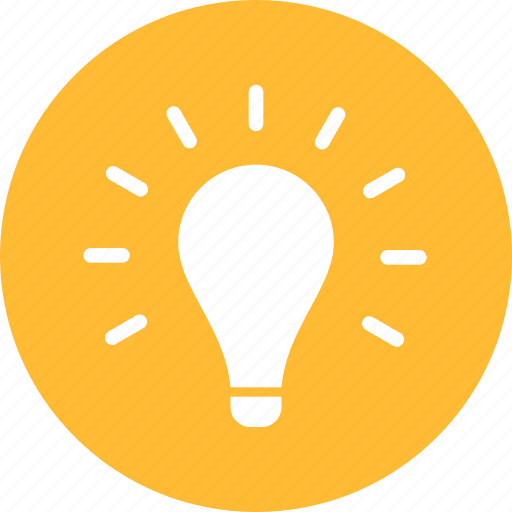 Which Islands To Visit In Vanuatu?
This is always the million-dollar question in the South Pacific. Here's my advice:
Efate: the main island and your international gateway unless flying directly to Espiritu Santo. Efate is great for markets, nightlife, families, road trips, and resorts.
Espiritu Santo: the largest island in Vanuatu, great for beaches, relaxing, simple or luxury accommodations, hiking, scuba diving, snorkeling.
Tanna: on the southern tip of Vanuatu and perhaps the most interesting island in Vanuatu. Come here to experience the awesome force of Mount Yasur, visit remote tribes little changed by time, experience nature and meet strange cargo cults.
Pentecost: the island famous for land divers plunging to the ground with nothing but vine ropes attached to their feet. Come here only between April and June when the land diving is in full swing, with day trips also available from Port Vila.
Ambrym: come here to do some 'volcano hunting'.
Banks Islands: go off the grid in these remote northern islands where lobster is cheaper than chicken and where tribal women dance and produce music from the water.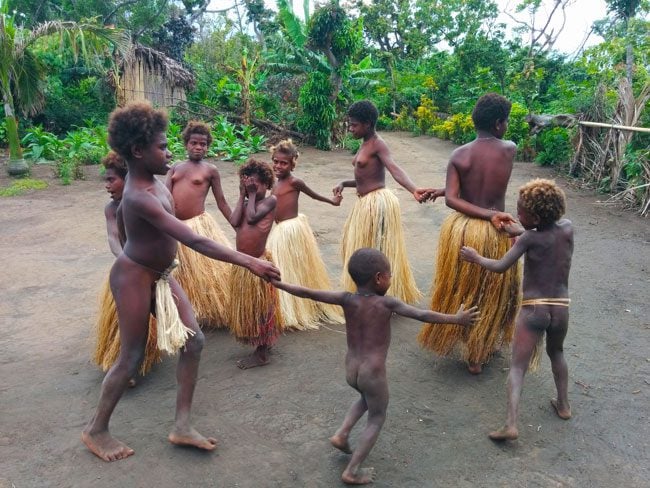 Cyclones Pam and Harold
Vanuatu is situated at the heart of the Pacific "cyclone belt". Several significant storms have recently hit it (see later section for when is the best time to visit Vanuatu). In 2015, Cyclone Pam ripped through the southern part of the archipelago and devastated the island of Tanna. In April 2020, Cyclone Harold battered through the island of Espiritu Santo and its eastern neighbors. This Vanuatu travel guide was written post Cyclone Pam but pre Cyclone Harold. If visiting Espiritu Santo, there are likely quite a few changes that have taken place as the island tries to recover.
Facts & Brief History
Vanuatu comprises 82 volcanic islands extending north to south in a 'Y' shape. Its people are known as Ni-Vanuatu (or Ni-Vans), and though dozens if not hundreds of dialects are spoken, the official language of Vanuatu is Bislama. A pidgin language, Bislama is made up of words that mix local dialect with English. For example, halo means hello, nambawan means the best ('number 1'), tankyu tumas means thank you very much ('thank you too much').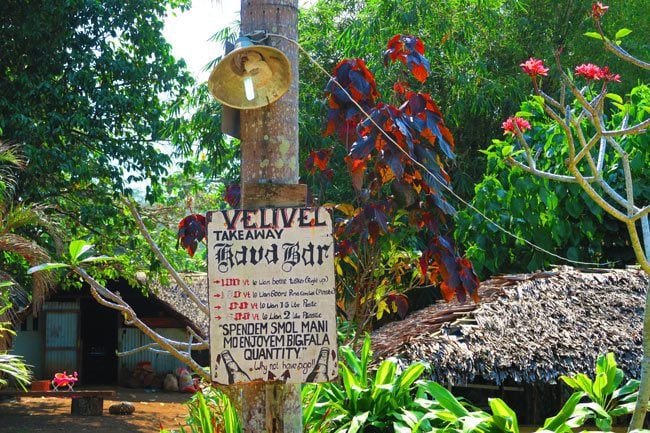 The islands of Vanuatu were settled by the Melanesians, dark-skinned explorers from Papua New Guinea who got as far as Fiji. Though later 'rediscovered' by Spanish explorers, France and Great Britain took control of what was then known as the New Hebrides. These superpowers co-governed the islands until independence was achieved in 1980. To this day, it's not uncommon to find both English and French schools on the islands. During WWII, the US had a large military base on Espiritu Santo, employing tens of thousands of Ni-Vans in the war effort.
These days, Vanuatu is a developing nation, with stark contrasts between the few modern towns and the many remote villages where traditional Kustom life still rules. It is very similar to Fa'a Samoa, the traditional Samoan code of behavior still upheld in independent Samoa. Despite living very simple lives, Ni-Vans are known as some of the happiest people in the world, complementing the tourism industry – a significant source of income on the islands.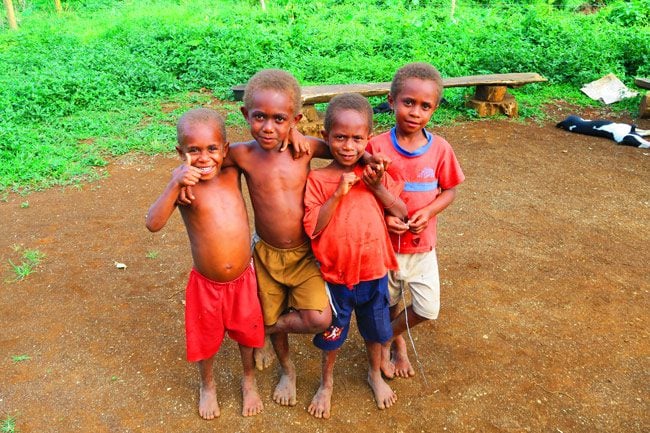 Vanuatu Travel Tips:
When in doubt, always ask the local Ni Vans. Their friendliness also extends to travel photography, seldom refusing to have their picture taken – though please be respectful and ask before snapping away. Here are a few essential travel tips for Vanuatu:
When Is The Best Time To Visit Vanuatu?
The best time to visit Vanuatu is from April to October. This period is known as the 'dry season'; you can expect plenty of sunshine, relatively cooler temperatures, and less humidity. November to March is not only the 'west season' but also cyclone season. Vanuatu lies in the 'cyclone hot spot,' and you don't want to be around on a rare landfall. Another period to watch out for is the Australian school holiday season, when some of the more upmarket accommodations and flights will sell out quicker than usual. I visited Vanuatu during the school holidays in September but had no issues despite earlier concerns.
Recommended Reading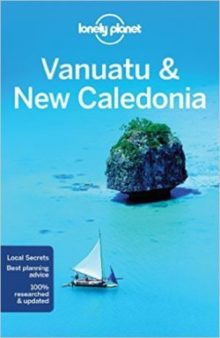 Along with this 10 days in Vanuatu sample itinerary, I highly recommend carrying a
Lonely Planet Guide to Vanuatu
. Together with this sample itinerary, the LP helps in the pre-planning stage and is a super handy companion once you hit the ground (not to mention it makes for a great souvenir when you return back home from your trip to paradise). The guidebook also has a lot of information about the country's interesting history and culture which both help you better communicate with the locals.
How Much Does It Cost To Travel To Vanuatu?
Vanuatu isn't the cheapest but definitely not the most expensive South Pacific travel destination. Vanuatu is a popular destination for Australian families and couples, but backpackers and budget travelers will also find their spots. Here's a cost breakdown of my visit to Vanuatu, a sort of 'high-end' budget trip in which no activity was missed, but no luxury was sought after. You'll find that organized tours are often quite pricey, though necessary in some cases (ex: Mount Yasur). If traveling in pairs or groups – it might be worth renting a car and exploring on your own if conditions allow.
Traveling Between Islands In Vanuatu
Cargo ships and passenger ferries in Vanuatu (Big Sista and Vanuatu Ferry) are only relevant for super flexible travelers. So flying or finding a spot on a yacht is realistically the only way of getting around the islands of Vanuatu.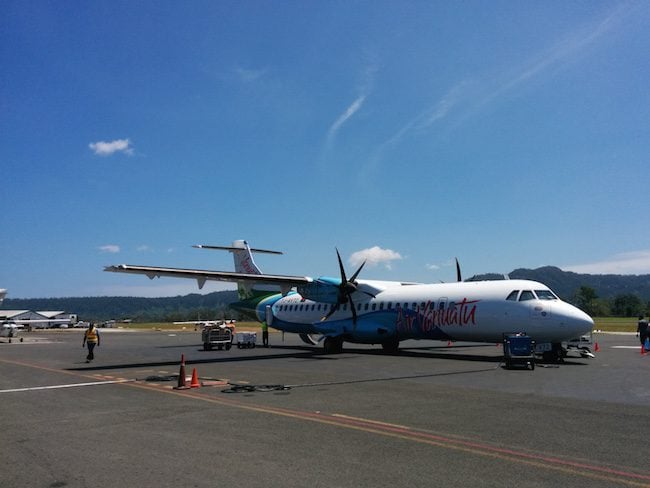 Air Vanuatu is the only domestic airline in Vanuatu with regular service to the islands. As such, you'll find that interisland fares are very expensive, but you might be entitled to a discount if you fly into the country with them. Purchasing the Air Vanuatu Pass can reduce these costs. However, Air Vanuatu either hides the existence of such a pass or has ceased selling it. I suggest calling their Australian office as in any case the purchase of an air pass could only be made over the phone.
If you did not fly with Air Vanuatu into the country, a 10kg weight limit will be imposed on domestic flights. Excess baggage can be safely stored at the Port Vila airport for ~V200 per day, but if you're spending the last night in Port Vila, perhaps your accommodation can provide a better deal. For charter flights, check Unity Airlines' offering. I met backpackers who managed to hop on these flights for super cheap via last-minute deals. Belair Airways was recently granted a license to serve interisland routes, but you'll need to contact them via email for schedule and pricing. That said, airlines come and go in the South Pacific so that availability may change, for better or worse, by the time you're reading these lines.
Air Vanuatu is not the most reliable airline, and it's not rare that flights are canceled, delayed, or malfunctioning jets are swapped with small twin-engine planes – without the airline notifying you by email or phone. Therefore, I highly recommend spending your last night in Port Vila just in case. This is especially true if you are not flying back home with Air Vanuatu.
Lastly, a ~V200 departure tax must be paid in cash at the airport before boarding your domestic flight. The international departure tax is already included in the price of your ticket.
Getting Around The Islands
On most islands, you'll find shared taxi vans (marked with 'B' on license plates) and regular taxis (marked with 'T'). The shared taxis (known as buses) can be flagged from the side of the road, and they'll drop you off wherever you want. They may refuse to take you if they're headed in a different direction but not to worry, another 'bus' will pass in a few minutes. The cost is a few hundred Vatu, but it's wise to consult a local before boarding so you'll know what price you should be quoted by the driver (always agree on the price before).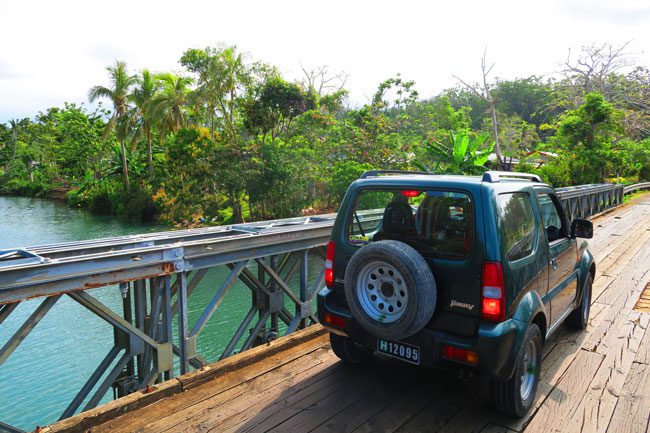 Renting a car in Vanuatu is quite expensive (~ V7000/day), though not a big deal if you're traveling as a couple or group. Rates are negotiable with local operators, but: double-check the quote and the car you actually get, mark all scratches and check if unlimited mileage is included. Be prepared to pay the compulsory insurance, which should amount to ~ V1,500 per day. Both Efate and Espiritu Santo have well-maintained sealed roads. As a budget traveler in Vanuatu, there is definitely no need to have a car at all times, perhaps just here and there for a small road trip.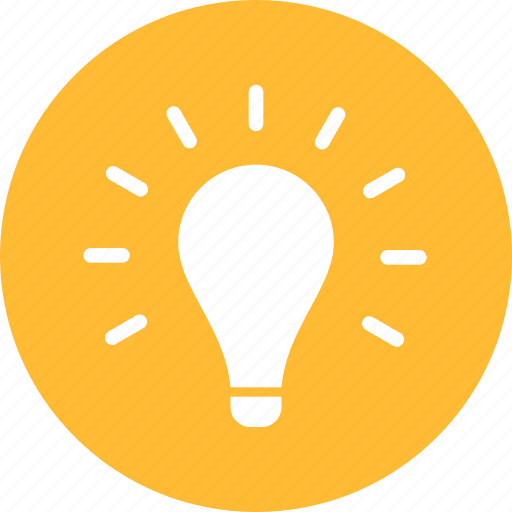 Pro Tip
Check out this article from the Vanuatu Tourism Board for additional information on how to island-hop in Vanuatu and how to get around the islands themselves.
Organized Tours & Excursion In Vanuatu
Some activities in Vanuatu can be done on your own with a rental car, but many activities cannot. By joining organized tours, you get a more complete picture of the places you visit and the chance to meet locals and perhaps visit unknown spots. The following sections of this Vanuatu itinerary list excursion-specific providers, but if you're island-hopping in Vanuatu and looking for a one-stop-shop, check out Vanuatu Ecotours. They offer guided tours and excursions on multiple islands.
Money
Vanuatu's currency is the Vatu (VUV or V). Credit cards can often be used with a 5% surcharge. ATM cash withdrawal charges are outrageous, so try and take out as much in one go. ATMs are available in Efate and Santo, but on Tanna, there is just one ATM that only caters to locals. Bargaining in markets is not accepted, and tipping in Vanuatu is unnecessary. Your bill will often be tallied using a hand calculator, so double-check because mistakes can happen. Many tourist attractions are located on land owned by villages, so do not be alarmed if asked to pay entrance fees. These usually amount to V500 but can be higher in the more popular spots.
Food & Drinking Water In Vanuatu
Unfortunately, fruits and vegetables can only be purchased in local markets and roadside stalls (in Port Vila and large supermarkets). Local grocery shops (most of which are owned by Chinese Ni-Vans) only sell dried goods, with snacks heavily relying on peanuts (keep this in mind if allergic). Local markets are also a great place to buy a home-cooked meal. To reduce any health risks, always check whether meat is refrigerated. You'll no doubt discover the local love for the coconut crab and its appearance on dinner menus. Though delicious, the crab is endangered throughout Vanuatu, so please be conscious and think twice before ordering. Bottled water is not necessary for some islands though highly recommended. Tap water is treated with calcium, and it's always wise to double-check with your hosts.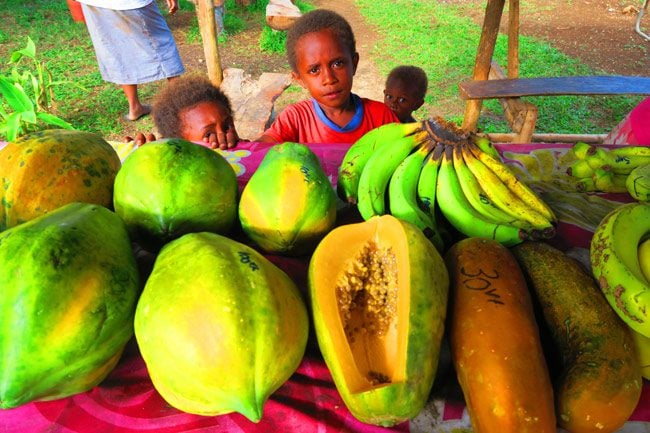 Internet & Mobile Phones In Vanuatu
At the time of writing this guide, Digicel and Vodafone were the mobile operators, offering prepaid packages with data at the Port Vila airport and major towns. Digicel did not have great coverage outside major towns but did offer free data on Facebook and other popular apps. WiFi is readily available in Vanuatu and is almost always free in hotels and guesthouses.
What To Pack For Vanuatu
Aside from the usual, here's what I recommend to pack for a holiday in Vanuatu. For a full list, have a look at the X Days In Y Packing List and ensure you pack the right gear for Vanuatu:
Travel Insurance
Especially in a remote tropical destination like Vanuatu, make sure you have sufficient travel insurance. World Nomads offer excellent coverage and value for money.
Part 1: Port Villa & Efate Island (2 Days)
Efate is Vanuatu's main island, and its capital Port Vila is a buzzing yet compact town sheltered by a beautiful bay. Once you get out of town, it's nothing but coconut plantations, fresh swimming holes, and empty coves just waiting to be discovered by adventurous road trippers! Unless you're on a relaxing family vacation, there's no need to spend too much time on this island, as Vanuatu's charm lies primarily in its outer islands. Efate was the first island I visited on a six-month voyage across the South Pacific, and it was a mix of adjusting to a new 'vacation routine', a positive culture shock, and wonderful discovery.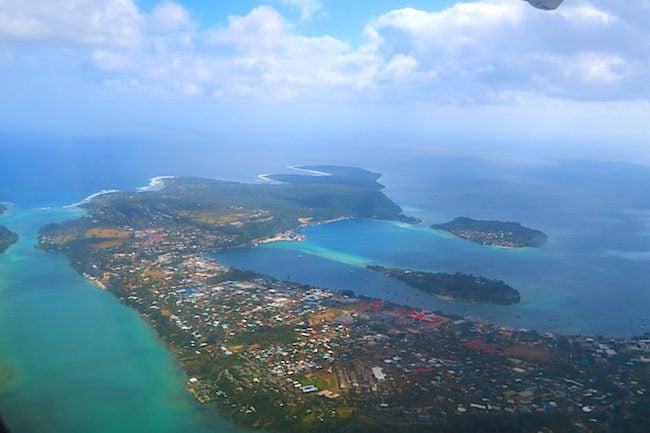 Port Vila & Efate Travel Tips
If arriving during the daytime, you can easily catch a shared taxi to and from the airport for about V150. At the airport, catch the shared taxis outside the domestic terminal.

Getting around Port Vila in a shared taxi should cost no more than V150 and if you're heading just slightly out of town (Mele Cascades for example), expect to pay V300.

The streets in Port Vila don't have names, but sketch maps should be available in your accommodations. Not to worry though, it's very easy to get around town.

Be extra cautious of cars when walking around Port Vila at night as most streets are not lit.

Sunday is a very quiet day in Port Vila with most businesses taking a day off. It's best to buy everything you need in advance.

Efate is circled by a well maintained sealed road that's safe for driving but its interior is mostly off limits.
Where To Stay In Port Vila?
There is no shortage of hotels, resorts, guesthouses, and bed and breakfasts in Port Vila. As a budget traveler, I stayed at the Traveller's Budget Motel and loved the warm hospitality Aussie owners Jack and Janelle offered. The Motel is a real oasis for budget travelers in Port Vila, offering accommodations for families, couples, and even backpackers in a comfortable dorm room. There are free wifi and drinking water in the common area, where you can also cook your own meals or purchase breakfast (V600) or dinner (V1,000). An airport pickup can be pre-arranged for V1,000 if you don't feel like taking a shared or private taxi.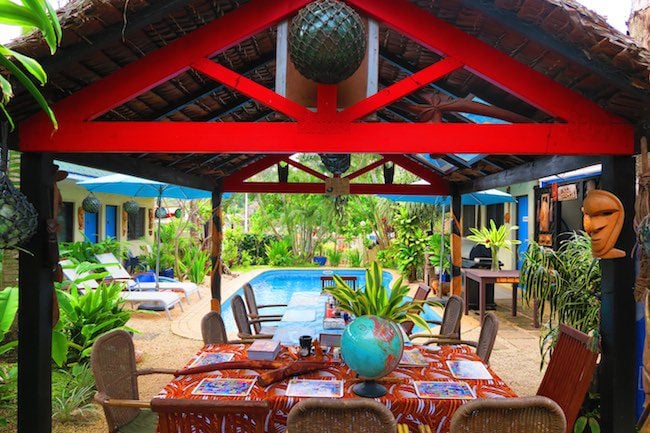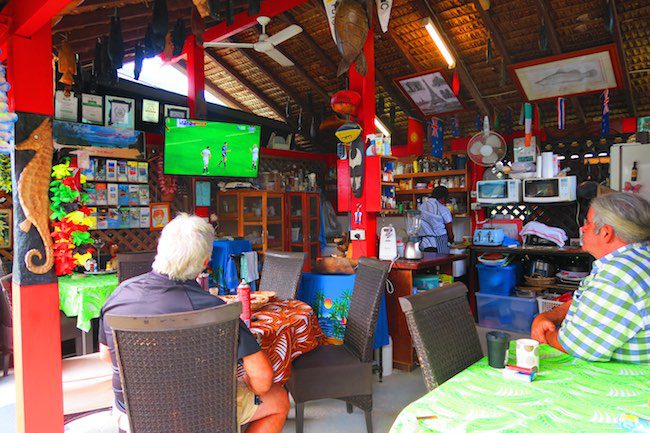 If the Traveller's Budget Motel is fully booked (and it might happen, so hurry up), the Vila Hibiscus Motel is just down the road and is a 'safe' option for budget travelers. The rooms are cheap, the walls are thin, but it'll do the job for a night or two.
10 Days In Vanuatu Map: Efate & Port Vila
Click on the image to open it in Google Maps. This map contains all the highlights mentioned in this section of the guide: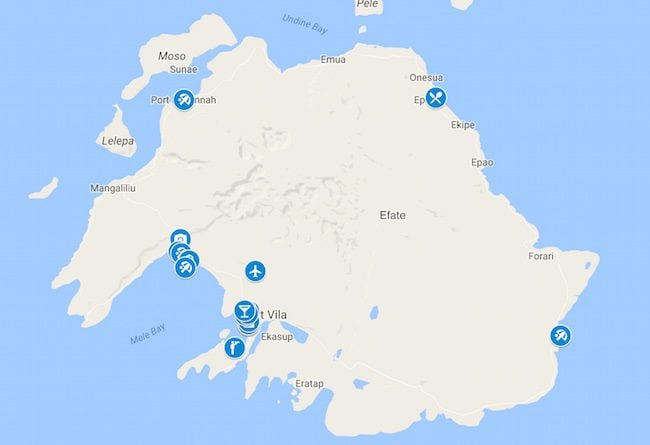 Day 1: Port Vila, Mele Cascades & Hideaway Island
Start your first full day in Vanuatu with a walking tour of Port Vila.
Port Vila Markets
Walk along the waterfront and head to the colorful outdoor central market. This is the largest market in Vanuatu, open all day on weekdays and until 2 pm on Saturdays. In the morning, the market is packed with local families from around the island who sell fresh fruits and vegetables, snacks, and traditional medicines. In fact, the place is sometimes so full that families just open up shop in the middle of the aisles. So treat yourself to fresh coconut and have a look around.
You'll strangely notice that the market is female-dominated (yay, girl power!). Since the produce sold here is grown in family plots, I'm assuming the men are sweating away while tending to the next week's merchandise…
On the side of the market, you'll find stalls selling island fashions, souvenirs, and the chance for you ladies to get your hair braided. On the other side of the market, there's an excellent food court, but we'll come back to this in just a bit.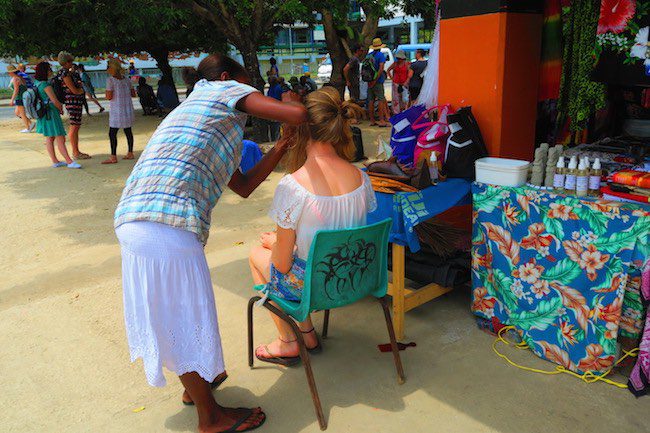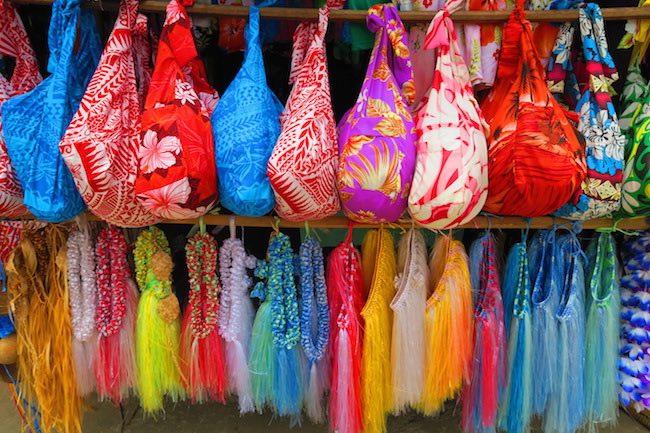 Now that you're all warmed up, head to the Hebrida Market Place, pretty much just across the road. This indoor market is a small maze of corridors where local women are busy sewing colorful dresses. If you feel like bringing an authentic, literally 'tailor-made' souvenir – this is the place. For those not into island fashions, the market is a prime spot for local souvenirs such as the quintessential 'coconut bra'.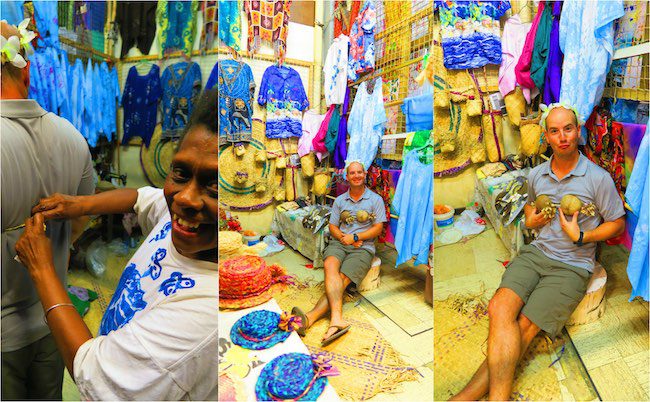 Just before noon, head back to the outdoor market for lunch. There's a quick 'takeaway' section in the middle of the market, but that didn't look very appealing when I visited. Instead, walk to the 'food court' and grab a seat wherever you fancy. The best way to know where to eat it is where: (1) you like what's on the menu, (2) you clearly see that food is kept refrigerated – if in doubt, just ask and (3) where other locals are eating. You can enjoy a delicious home-cooked meal for a mere V400 and use this opportunity to chit-chat with the friendly Ni-Vans. I ate here on two separate occasions and had no problem, though I made sure to bring my own drinking water!
Mele Cascades
Flag a shared taxi for a 10-minute ride to the Evergreen Cascades Waterfall, more commonly known as the Mele Cascades (ride should cost ~V300). Pay the steep ~V2,000 entrance fee and walk along the path through this beautiful tropical garden. A few steps later, you'll cross a series of seriously clear cascading pools, which eventually lead to a 35-meter waterfall. Enjoy the natural massage and practice your sliding skills from one pool to another.
Coffee Break
From the Mele Cascades, head to the Tanna Coffee Company (Facebook Page) on Devil's Point Road by walking or catching a taxi. Surprisingly, coffee is grown on Tanna Island in the footsteps of Mount Yasur, providing income for hundreds of families. The 100% Arabica coffee is of excellent quality, and it is here that you can learn how the beans are taken from 'tree to cup'. Enjoy some awakening coffee on the breezy deck and buy a few packs to share with friends back home.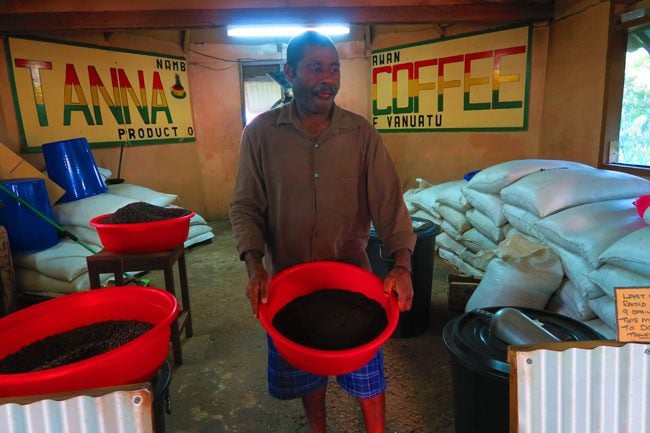 The cafe is also just steps away from a beautiful black sand beach that tourists do not frequent. So there's a very good chance you'll have it for yourself.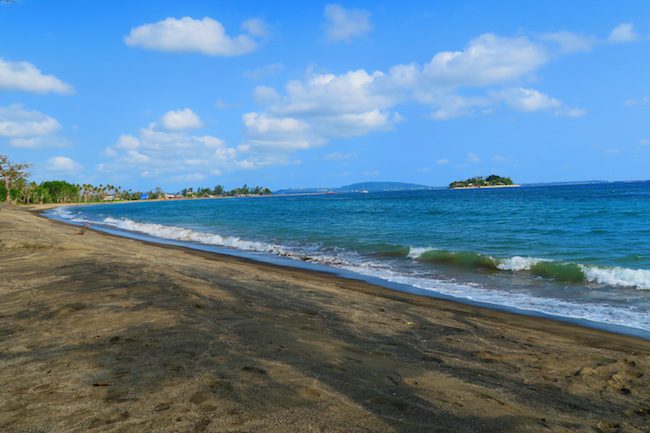 Hideaway Island
Catch the short ferry from Mele Beach to Hideaway Island (~V1,250), one of the top attractions in Port Vila. The tiny island is home to an acclaimed resort and the world's only underwater post office – that's right!
You can grab lunch if you passed on the opportunity back at the market but maybe wait for after the snorkeling session off the island's rocky beach. The reef is in pretty good shape and should be even healthier by the time you visit, thanks to 'coral gardening', where new coral is grown on small concrete slabs on the reef's sandy bottom.
Of course, do not miss the opportunity to visit the underwater post office and send a postcard back home from this bizarre gimmick. Waterproof postcards can be bought in the gift shop for V400.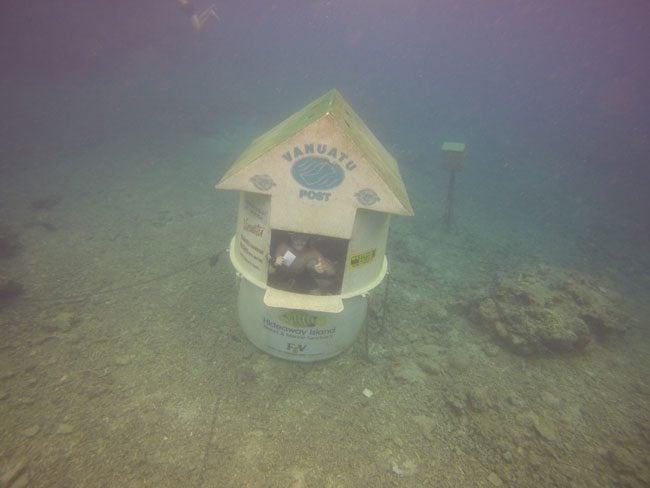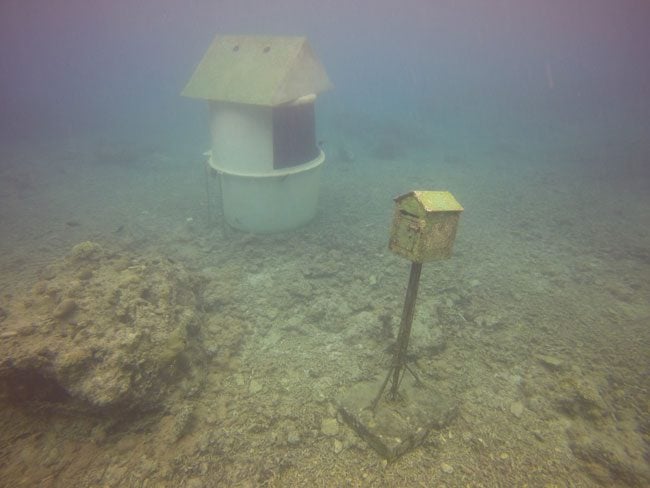 Dinner & Kava Bar Crawl
For dinner, head to Kesorn's Exotic Thai, a surprisingly authentic Thai restaurant with a breezy outdoor terrace overlooking the harbor. Now that your stomach is full (and this is the key) let's venture on a kava bar crawl. If you haven't figured this out yet, here's a secret: kava is a big deal in Vanuatu! In a long and manual process carried out during the day by men, the roots of a locally grown bush are ground and mixed with water to create a muddy-looking concoction. More precious than champagne, after a few 'shells' (a.k.a coconut bowls filled with kava), its sedative effects start to kick in.
It's perfectly legal and, in fact, kind of the thing to do around here: getting high… South Pacific style!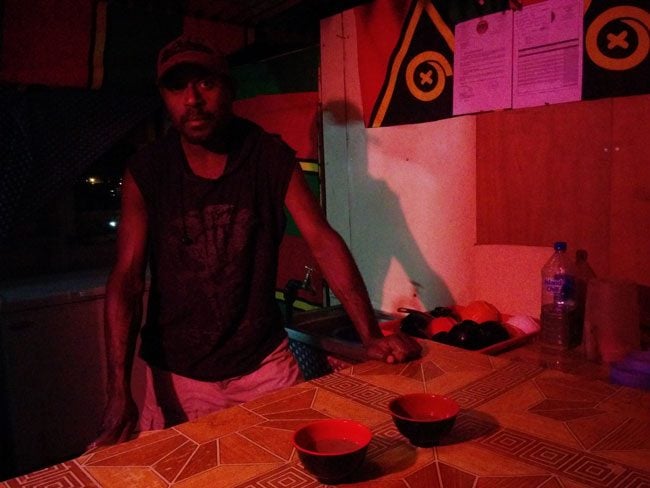 With significant ceremonial importance in Fiji and Samoa, kava drinking in Vanuatu is more of a casual nighttime activity, mostly reserved for men. All you have to do is walk around town and look for a colorful neon light that marks the spot. Step inside, down a few shells, and proceed to the 'Kava garden' to relax with the local patrons. Don't be alarmed by the constant sounds of spitting and throat clearing. This is perfectly normal, even if it might be a bit disgusting. Kava makes your tongue numb and your mouth dry – so these oral actions apparently help with that…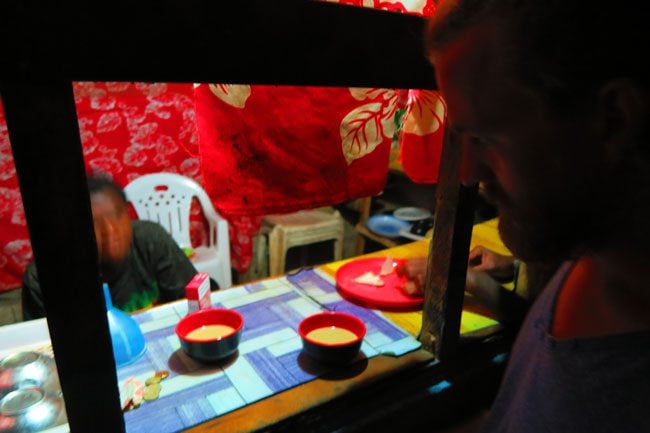 This accompanying map lists two kava bars that I liked (hopefully, they are still there by the time you visit). The one listed as 'local's kava bar' is just as it sounds – totally not geared for tourists, which is absolutely cool! The second one is known locally as 'Shefa kava bar', ideally situated on a hill overlooking the harbor. It's more 'trendy' and perfect for watching the sunset. Just get here before 8 pm when the kava usually runs out.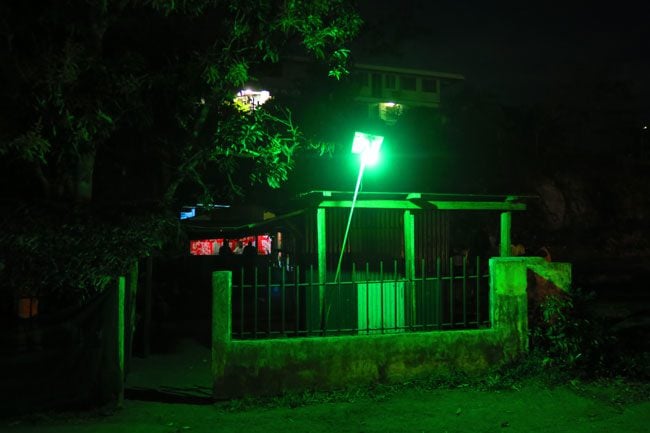 A few rules of thumb when it comes to kava: the less water % in the mix – the stronger the kava, the emptier your stomach is – the quicker you'll feel the 'high'; you can ask for a 'half' or even 'quarter' shells and finally – the 'high' can best be described as a feeling where everything seems to move at a slower pace, so really nothing to fear. You'll be sleeping like a baby!
Day 2: Efate Island Road Trip
Rent a car for a full day of circling Efate (see 'Vanuatu essential travel tips'). A regular 2WD will do just fine. Before leaving town, stop at the central market and stock up on some fruits and snacks for the road trip. Drive in an anti-clockwise direction, starting with a slight detour to an unofficial lookout point overlooking Port Vila Harbor.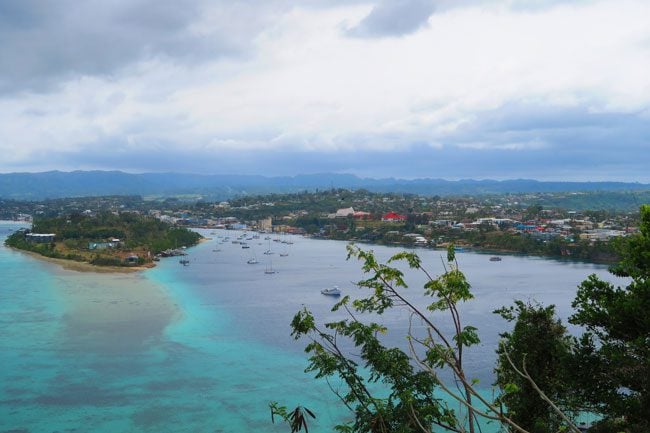 Once out of town, there's nothing but endless coconut plantations and hardly anyone on the road. Don't be surprised if you don't see too many road signs. This is kind of the norm in Vanuatu. The best way to navigate is by either asking locals or counting how many rivers you've crossed and matching it to your roadmap (don't forget to pick one up).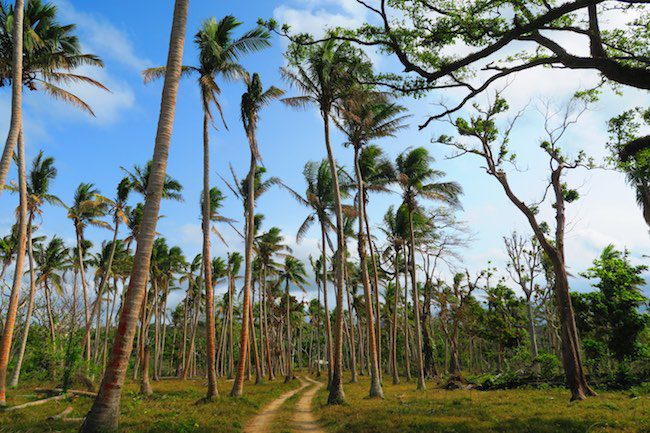 Eton Lagoon
The first official stop will be at the Eton Lagoon. Pay the ~V500 entry fee and practice swinging off the rope into the fresh pool. You'd be surprised how long it takes until you get bored of playing Tarzan.
There's a small bar on the premises, picnic tables, and changing facilities. Further down the road, Eton Beach can be another stop if you fancy a dip in the ocean (~V500).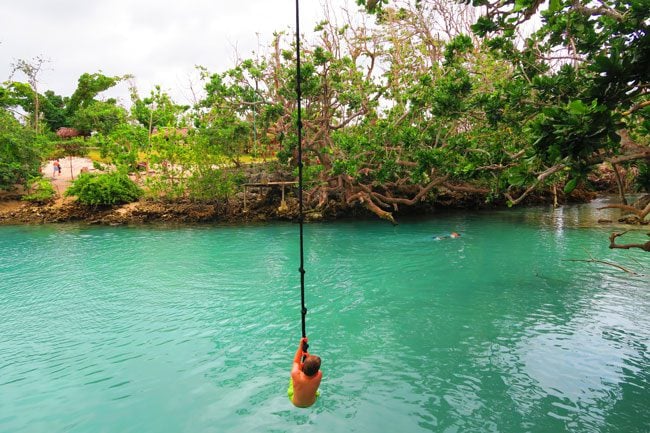 Traditional Lunch At Taka Village
The highlight of this road trip was the lunch stop at Taka Village. Look for the easy-to-miss sign and drive on the unsealed path towards the beach. Aim to get here around noon when a delicious beachside buffet lunch is served.
As you're feasting away on local dishes, you'll be serenaded by locals welcoming you to Vanuatu!
This incredible culinary and cultural experience costs ~V700. It's so good that even organized day trips from Port Vila make an effort to get here in time for lunch.
Port Havannah
The gentle drive from Taka Village to Port Havannah will take you along the island's remote northern coast. On the way, you'll cross a few rivers, pass a few more coconut plantations, and maybe even come across happy-looking children returning home from school.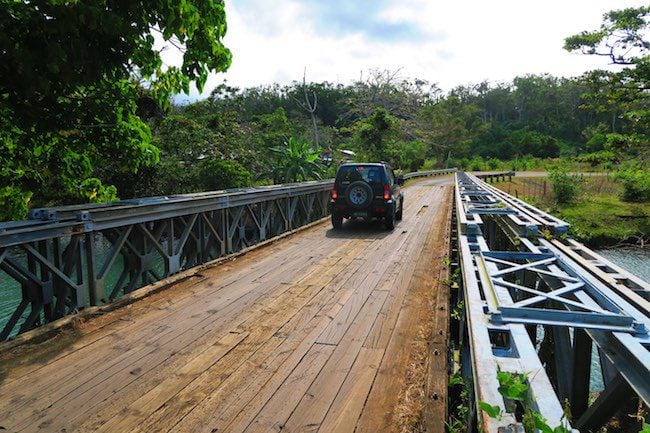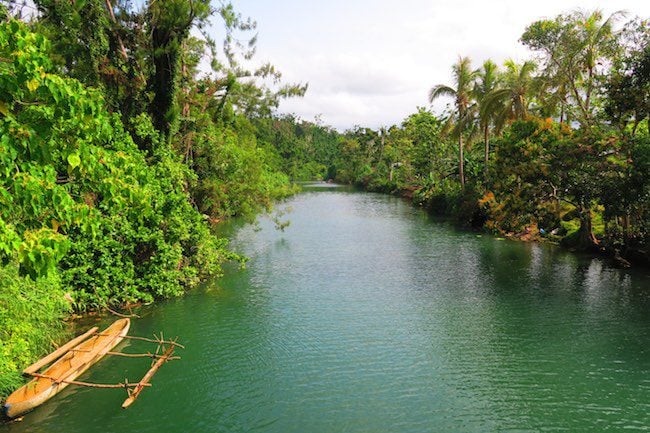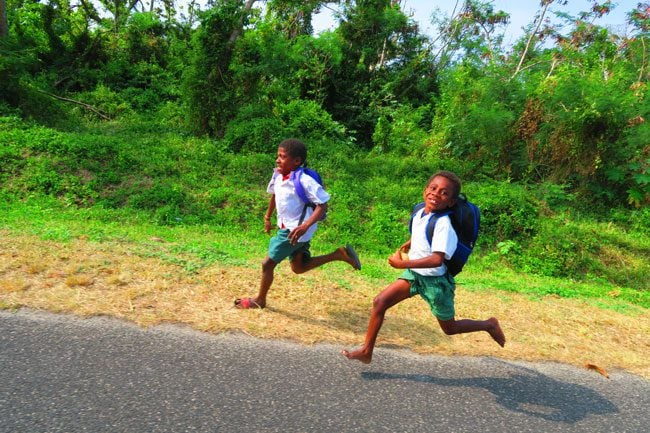 At Havannah Harbor, stop for some coffee at Gideon's Landing by the Eco Lodge and relax on this tranquil beach that was the filming location for Survivor Vanuatu. These days, this part of the island is home to upmarket resorts and restaurants, but you can easily kill a few hours relaxing on the beach.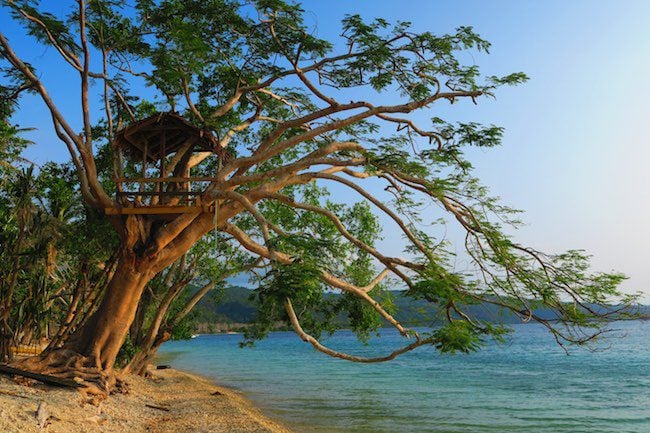 Don't forget your snorkeling gear! The marine life just meters away from the beach is simply superb.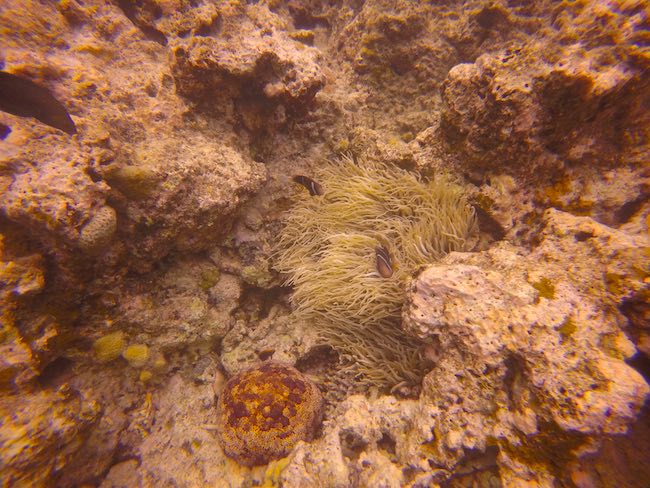 Cocktails On The Beach
You'll complete the circle island tour with a scenic descent from Efate's highlands back to Port Vila. To celebrate what I hope was a great day (it will be), head to a beach bar in Port Vila for some cocktails and food with the sand between your toes. If it's your lucky night, they might have some live entertainment involving fire!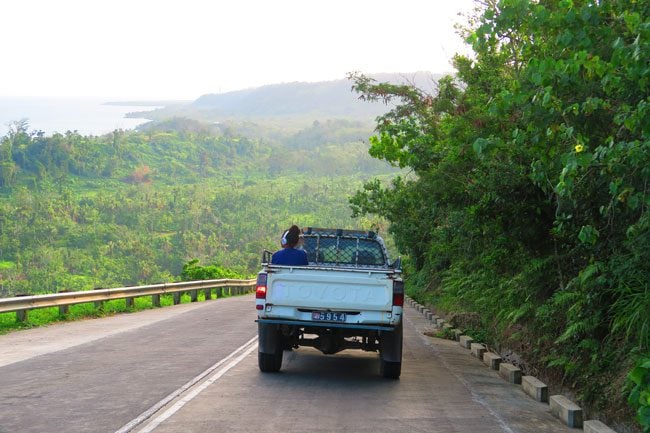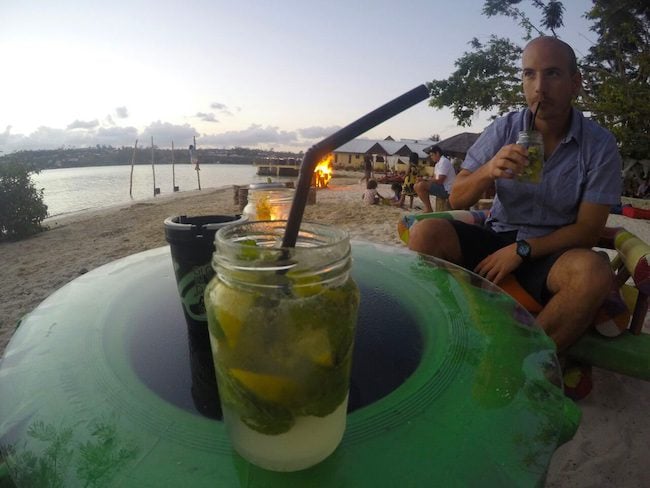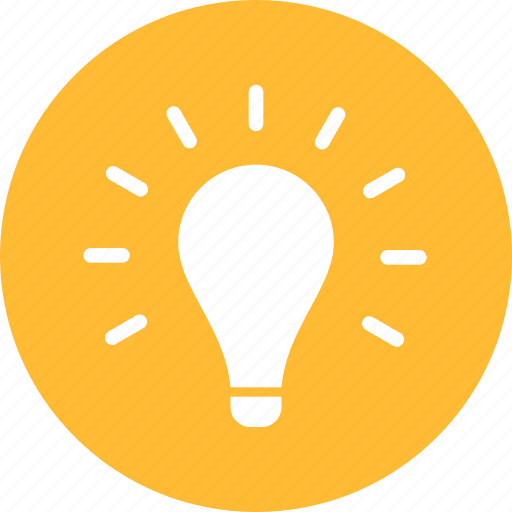 Pro Tip
A quick note before we move on: if you won't be visiting Tanna Island, you might want to go on the Lelepa Island day tour or visit the Ekasup Village in Efate. Both options will introduce you to the Ni-Van culture and traditional Kustom village life.
Part 2: Espiritu Santo Island (4 Days)
Vanuatu's largest island is known as its adventure playground. Espiritu Santo, simply referred to as 'Santo', is the kind of tropical island where you could spend your entire vacation. Santo was home to a large US military base during WWII. With the base came thousands of troops, paved roads, airstrips, and those familiar Quonset huts, which can still be seen around Luganville. These days, Santo is famous for its pristine white sand beaches, crystal clear blue holes, and WWII relics hiding beneath the gentle waves.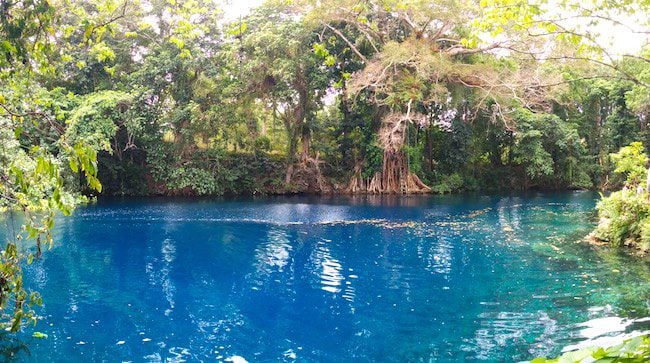 Espiritu Santo Island Travel Tips
Santo is a 45-minute flight from Port Vila but you can also get here on direct flights from Brisbane.

Private taxis from the airport to Luganville should cost ~V1,000. Shared taxis (marked with a 'B') are harder to come by outside the terminal but if you're lucky, a ride to town should cost ~V500.

Santo has a sealed road running up the east coast that's safe for driving. The interior of the island is pretty much off limits, home to a few remote villages that even most locals never get to see. I have heard of hiking trips to the remote west coast mountains but these are weeklong and require a lot of asking around.

If you're not traveling solo, renting a car would make sense for a maximum day or two as organized tours average ~V5,000-7,000. Keep in mind that entrance fees when traveling by car are higher (~V2,000 per car vs. ~V500 per person).

Private transfers from Luganville to accommodations on the east coast can be very expensive (~V6,000). If you're up for it, traveling with the locals can reduce this to just V500. Head to the Pacific gas station in the center of Luganville, which also doubles as the unofficial bus station. From Monday to Saturday, you should be able to easily catch a shared ride running up to Port Olry and get off wherever you want. On Sunday, you'll either have to hitchhike or book a private transfer.

Few shops exist outside Luganville aside from the occasional roadside stall. It's best to stock up on some snacks before leaving town for a few days.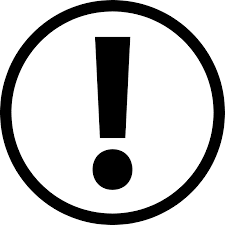 Update
In April of 2020, Cyclone Harold battered through the island of Espiritu Santo and its eastern neighbors. This Vanuatu travel guide was written pre Cyclone Harold. If visiting Espiritu Santo, there are likely quite a few changes that have taken place as the island tries to recover.
Where To Stay In Espiritu Santo?
This depends if you're coming to Santo for the diving, the beaches or both. If you are planning to dive the SS President Coolidge and Million Dollar Point, I recommend staying in Luganville for this portion of your trip. However, if you're not diving, there is no need to wait around town, and you should head straight to the beaches on the island's east coast. Here are a few options:
Luganville: I stayed at the Deco Stop Lodge, a recently renovated hotel commanding fantastic views from a hill overlooking Luganville and its bay. The lodge is centered around a lush tropical garden, just a 10-minute walk from town. Families, couples, and even backpackers are accommodated, with clean rooms equipped with hot showers, fans, towels, and some even with air conditioning. You'll be greeted with an ice-cold welcome drink at the reception, and a complimentary continental breakfast is served on the poolside deck. Other meals can be ordered and tours can be booked. Like all businesses in Vanuatu, a 5% surcharge will be added for credit card payments, so cash is better, and the free wifi could use a little boost. But other than that, this place is an absolute bargain!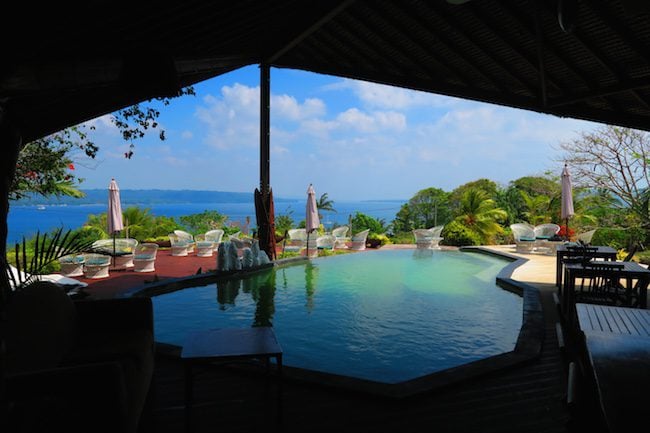 East Coast: for families and couples looking to get away from it all, the Oyster Island Resort has your name written all over it. This resort sits on a tiny private island off the east coast of Santo. It's got a lovely beach, walking trails, romantic bungalows, and of course – an excellent restaurant serving fresh oysters and hosting a happy hour.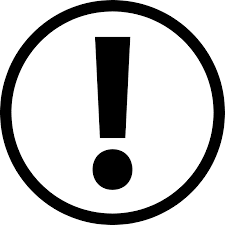 Update
Oyster Island has been purchased by a Chinese developer and may still be closed to the public by the time you visit Santo. There are however two additional acclaimed hotels in this area, Turtle Bay Lodge and Barrier Beach Resort.
Champagne Beach: to really get off the grid, stay at Lonnoc Beach Bungalows, just a 15-minute walk from Champagne Beach. A row of cute and straightforward bungalows front a white sand beach where you'll hear nothing but waves and songbirds during the day and swaying palm trees, crickets and falling coconuts at night. Established in 1985, the place is run by larger-than-life Kelmar Vocor and his family, along with students from the hospitality school he established just across the road, preparing villagers to work in the local hospitality industry.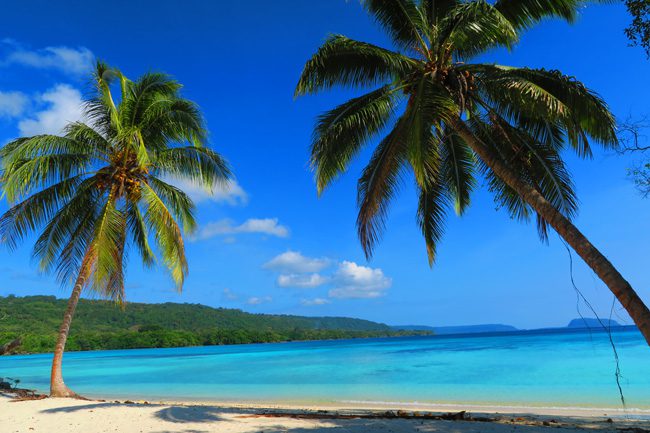 The bungalows are charming yet straightforward, and they've recently gone through an upgrade. Each unit is fitted with: a thatched roof, cold water showers, flush toilets, mosquito nets, and solar-powered lights (no electricity). They do have a lot of charm but expect to come across a spider or two – this is the tropics, after all. Electricity and (pretty good) WiFi are available in the restaurant from 9:00-14:30 and from 17:30-21:00, where you'll also enjoy a fantastic breakfast and order lunch and dinner with mains ranging from ~V1,000-3,000 (don't miss out on BBQ nights). A 10-bed dormitory and camping are also offered, perfect for budget travelers and backpackers.
You'll spend most of your time relaxing on the beach, with snorkeling OK and free kayaks to use. If you really want to get active, tours to the island's main attractions can be arranged (~V5,000-7,000). The only bummer is getting here, with the lodge arranging private transfers to and from Luganville for an overpriced V8,000. Alternatively, you can catch a shared taxi to/from Luganville running up and down the east coast for just ~V500.
Offering an authentic local stay in beautiful surroundings, you will no doubt be invited to visit the village or attend church service on Sunday! So come here if you're looking for a simple stay, living the dream on a beautiful beach, and being in tune with nature. Alternatively, you can stop here for lunch during the day while exploring this side of Santo.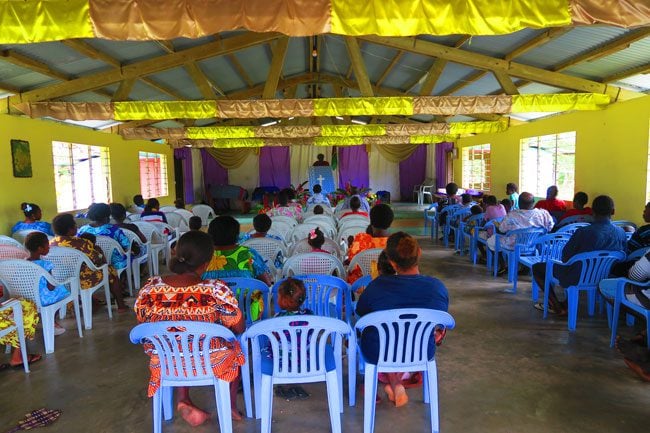 10 Days In Vanuatu Map: Espiritu Santo
Click on the image to open it in Google Maps. This map contains all the highlights mentioned in this section of the guide: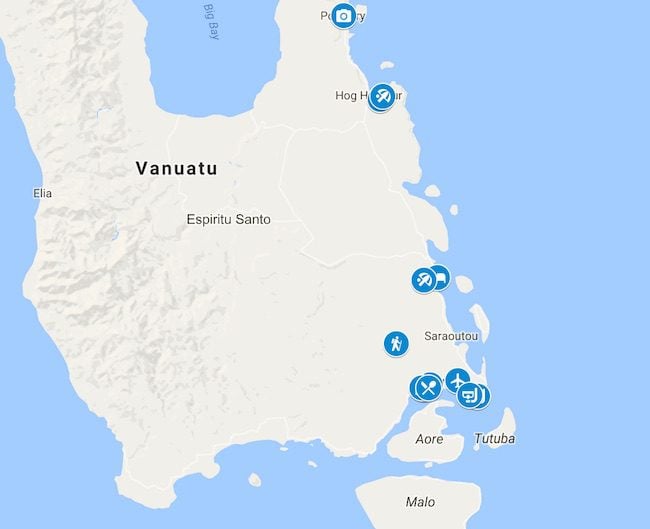 Day 1: Wreck Diving & Exploring Luganville
One of the main reasons for visiting Santo, if not the main one, is to dive into the wreck of the SS President Coolidge – a luxury liner converted to a troop carrier during WWII. In 1942, the 22,000-ton ship was en route to the US Army base on Santo with over 5,000 troops on board. As it neared Luganville, the vessel struck a friendly mine placed to defend against a Japanese invasion. The captain managed to beach the boat and the troops disembarked before the Coolidge slid down the reef just a few meters offshore. The tragic sinking of the Coolidge was probably the best thing to happen to the people of Santo, as thousands of divers visit the island to explore one of the best wreck dive sites in the world.
Diving The Coolidge Wreck
A 15-minute drive from Luganville brings you to the spot where you'll walk from the shore, grab a rope and begin your descent.
The ship's bow (front), lies at a depth of 21 meters while the stern (rear) is down at 73. Shockingly, you can request to dive deeper than the usual limit, where you'll find the engine room and other 'highlights' that can be fun to see if you're not experiencing nitrogen narcosis. In any case, your first dive will be a nice and easy one on the wreck's exterior.
Aside from the wreck, the coral and marine life are among some of the best I have come across in the South Pacific. So even though the main event is the Coolidge, don't forget to look around during your safety spot.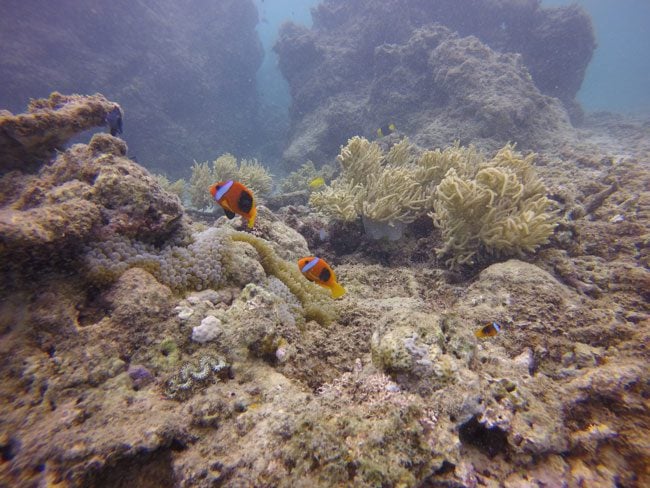 We'll explore the Coolidge from the inside, but first – it's time to take a break between the dives.
Walking Around Luganville
Luganville is not the kind of town you'll be writing home about. There's a rocky beach parallel to a dusty main street home to Chinese grocery shops, small hotels, restaurants, kava bars, and the usual small-town businesses. However, with the influx of tourists, there are a few higher-end drinking and dining options that I'll mention.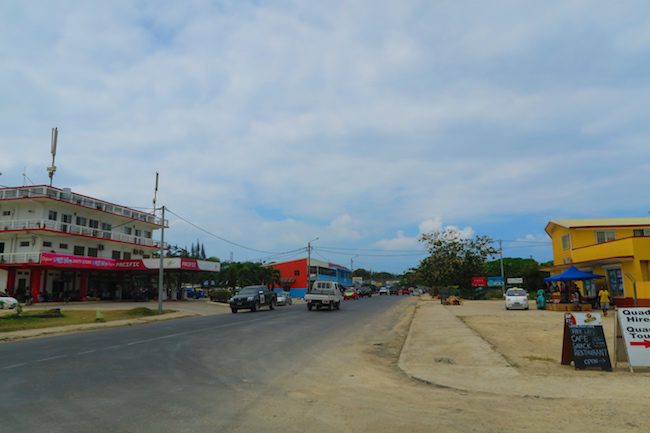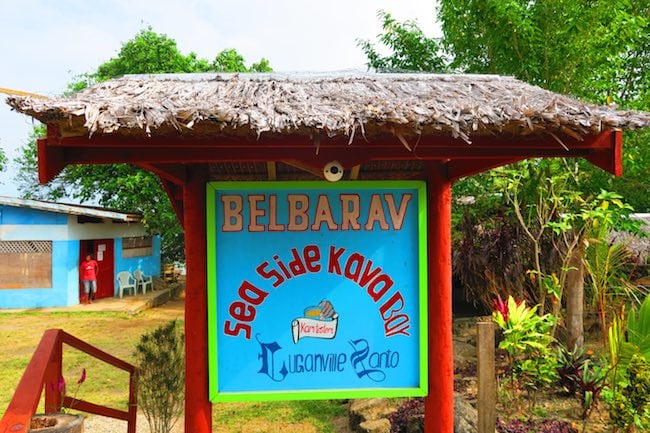 A definite Luganville highlight is the local market, about a 15-minute walk from Allan Power's dive shop. It's not as large and not as happy as the Port Vila market, but nonetheless, it offers a kaleidoscope of colors and faces that are worth the short walk.
Like in Port Vila, there is a small 'food court' here too. Grab a seat where you see other people dining and enjoy a delicious lunch at a fraction of what you'll pay in town (~V400).
Diving Inside The Coolidge
Back to the Coolidge wreck site, you've earned the right to venture inside the massive ship this time. You'll start with a sharp descent to 37 meters to 'kiss the princess' – the signature ornament of the Coolidge. Down here, it's pitch black, and you'll use the torches your instructor will equip you with.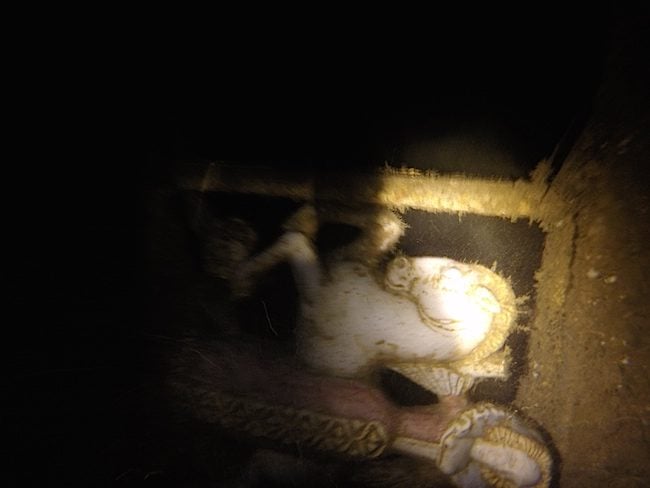 You'll then begin to slowly ascend back up to the surface, crawling through very tight spaces and inside the large hull, where you'll finally understand the enormous size of the Coolidge. En route, you'll see jeeps, aircraft fuel tanks, ammunition, medical supply, and even latrines. It's a thrilling, tragic, and eerie experience all at once.
Dinner & Drinks In Luganville
Cap off what must be a tiring day with either dinner at your hotel or another trip to Luganville. There's a decent Chinese Restaurant in the center of town or better yet, the Attar Cafe – a cozy restaurant with excellent wifi and western-style food (~V1,000 per main). For drinks, head to the Waterside Bar & Grill or for another round of kava bar hopping!
Days 2-4: Million Dollar Point & East Coast
You can keep diving the Coolidge for as long as you want but if two dives are enough, let's do something else. For the rest of your time Santo, I'll list the places you don't want to miss. You can choose if/how to see them and where to base yourself. I personally left Luganville after a morning visit to Million Dollar Point to spend the rest of my time in Lonnoc Beach, super close to Champagne Beach. But this is totally up to you.
Million Dollar Point
At the end of WWII, the US Army no longer needed the base in Santo. With no potential buyers around and considering the long voyage back to the US, decision-makers faced a huge dilemma over what to do with all the surplus military equipment. So they did what anybody else would do: they dumped the gear just off the beach, packed up, and went home! So you now probably understand how Million Dollar Point got its name…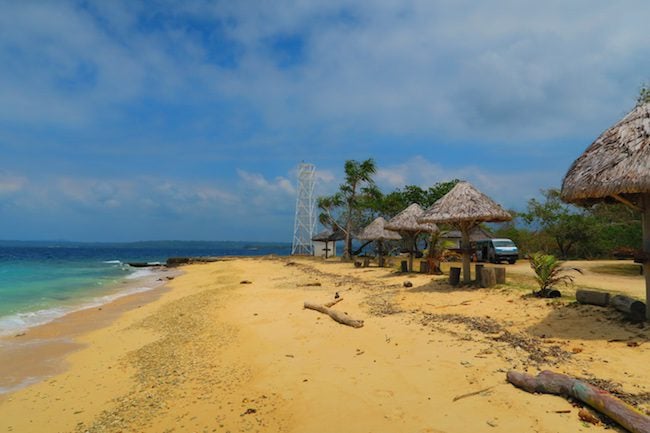 To get here, catch a bus (shared van) from Luganville for the 15-minute ride (~V500 as opposed to V1,000 with a taxi). You'll have to pay a ~V500 entrance fee, but at least somebody will be watching over your stuff and shower/toilet facilities. All you have to do is put your snorkel on and swim for about 30 meters offshore, where you'll start to see the leftover military equipment. There are cannons, tanks, jeeps, airplanes, and troop carriers littering the ocean floor. Super cool!
A scuba dive would come in handy to experience Million Dollar from up close. But snorkeling is also OK, and you get the point. Fins will help out here but are not a must.
East Coast Road
The sealed road from Luganville to Port Olry passes through sleepy villages, coconut plantations, and thick rainforests. Along the way, you might get lucky and find a roadside stall where you can chit-chat with the locals and stock up on fresh tropical produce. If you're extra lucky, the boys might be preparing a batch of kava for later distribution to local bars.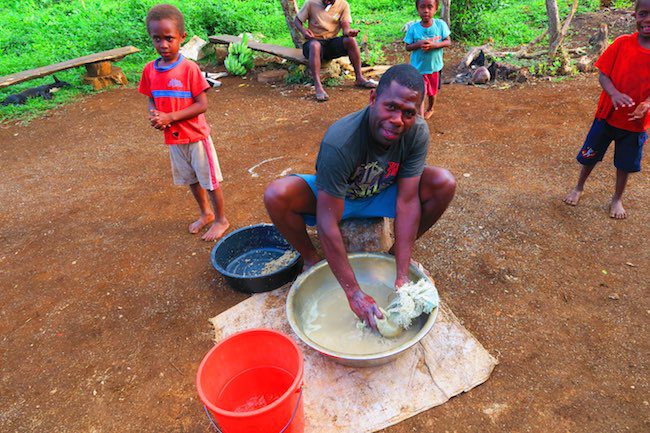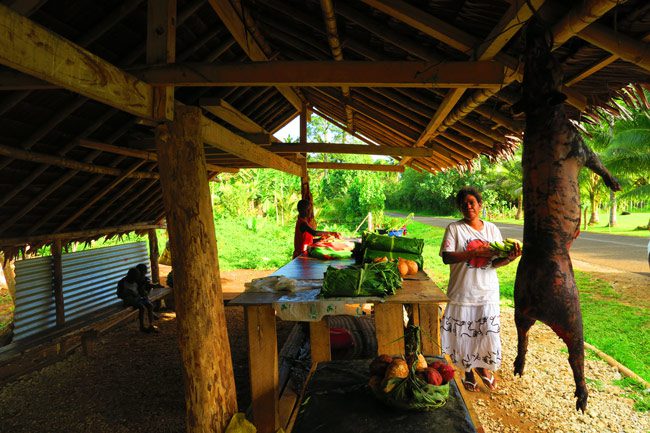 Oyster Island
Both a great lunch stop and a place to base yourself for exploring Santo, the Oyster Island Resort should not be missed. Look for the sign off the coastal road and bang loudly on the rusty gas drum. In a matter of minutes, a boat will come and fetch you to Oyster Island, a small oasis in Santo.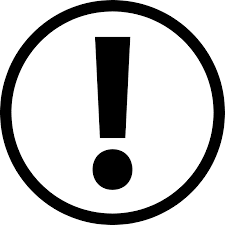 Update
Oyster Island has been purchased by a Chinese developer and may still be inaccessible to the public during your visit to Santo.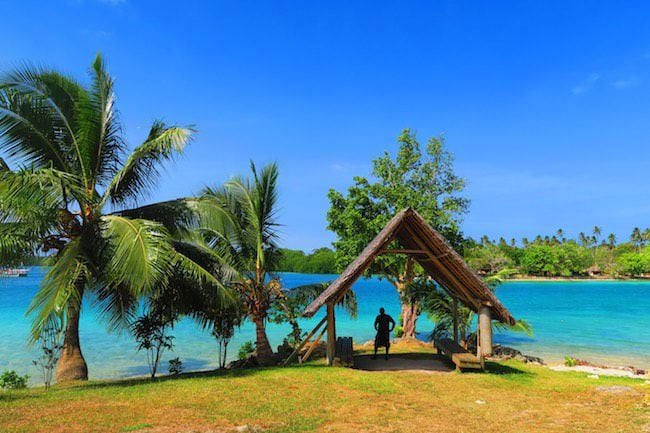 I came here as a day-tripper for lunch to sample the oysters, of course. After a great meal and a cold beer, it's really up to you whether to get back on the road or relax for a bit. The resort has a pretty but small sandy beach and walking trails that lead to more secluded coves where there's good snorkeling and even a plane wreck offshore.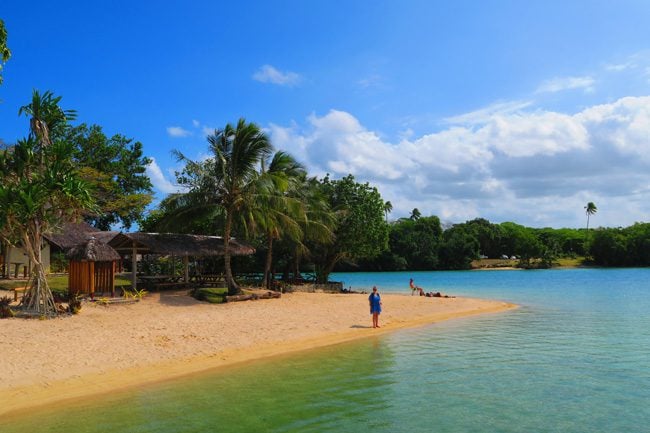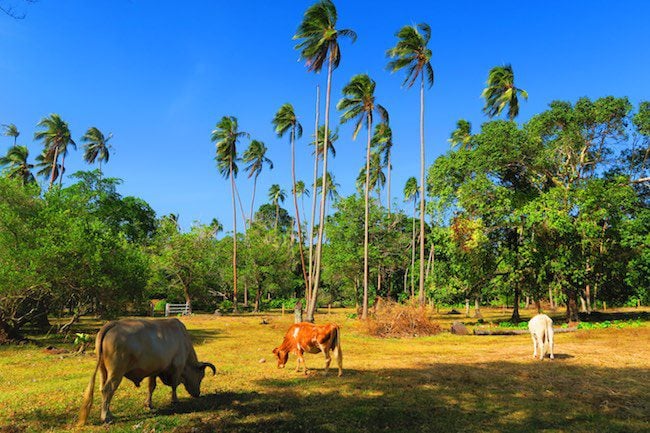 Matevulu Blue Hole
Vanuatu is blessed with thousands of fresh swimming holes, but the Matevulu Blue Hole in Santo is in a league of its own (~V500 walk-in entrance). Shaded by massive banyan trees, a crystal clear natural swimming pool springs from somewhere. Swimming in this blue hole feels like floating in space. Of course, after you've watched the local 'pros' in action, grab the rope and swing off the giant banyan tree!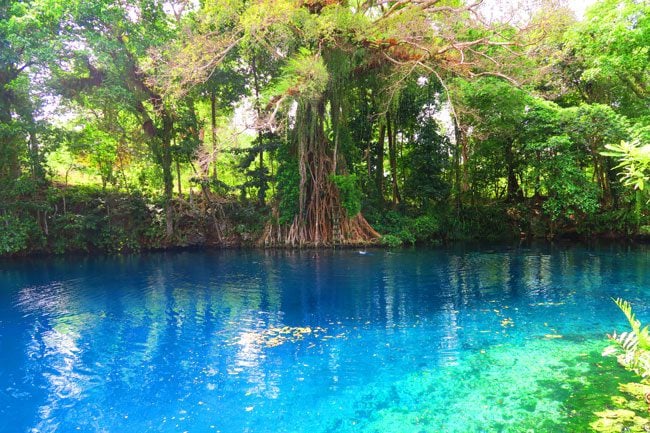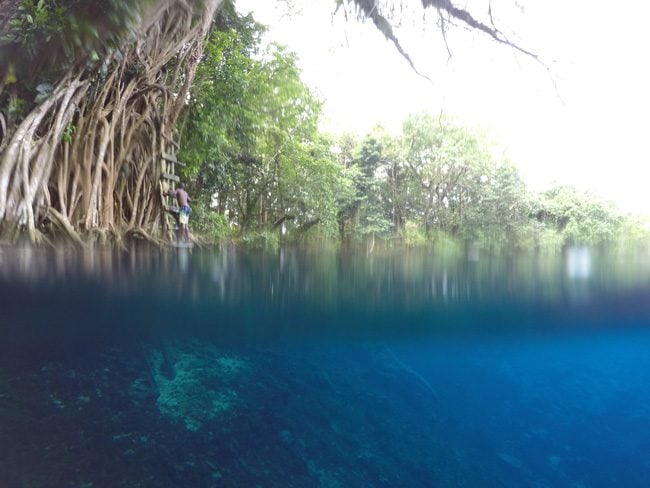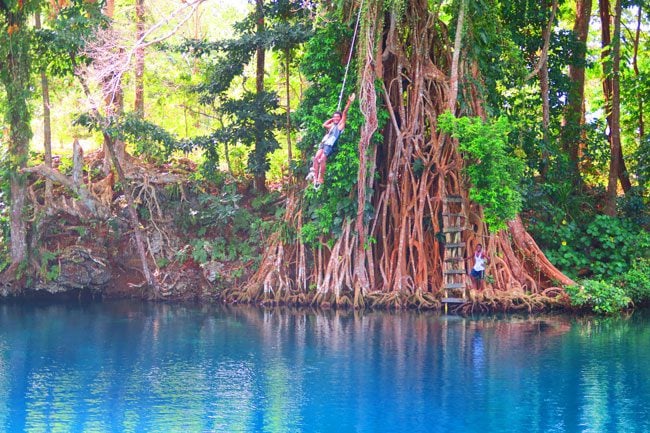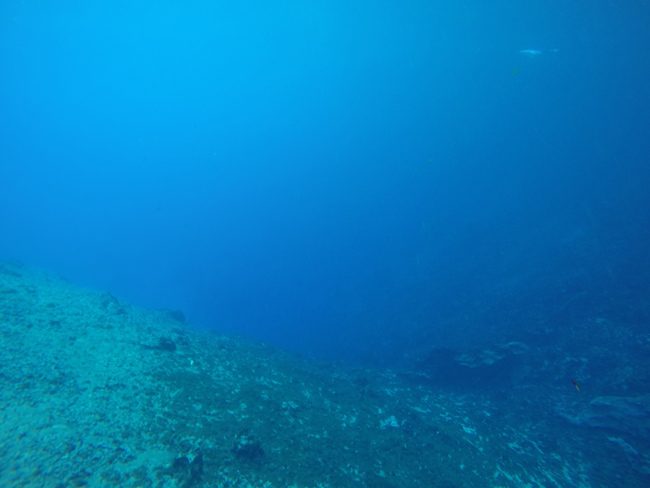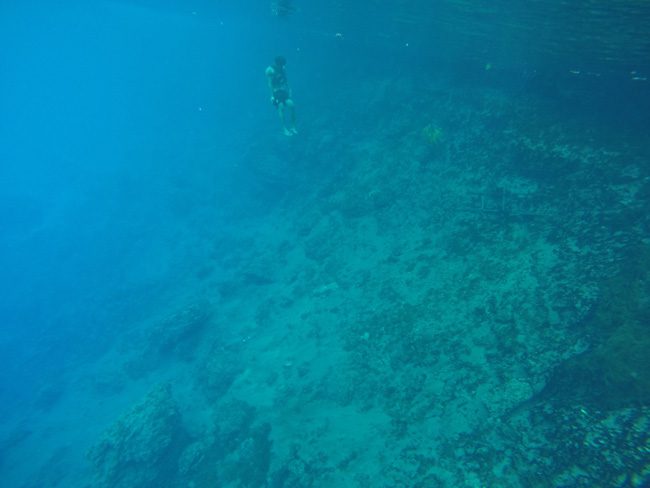 A popular way to visit the Matevulu Blue Hole is by kayaking from Oyster Island inland via the Riri Riri River. However, I am not a kayaking fan, and I met a couple who found it quite challenging to kayak against the current.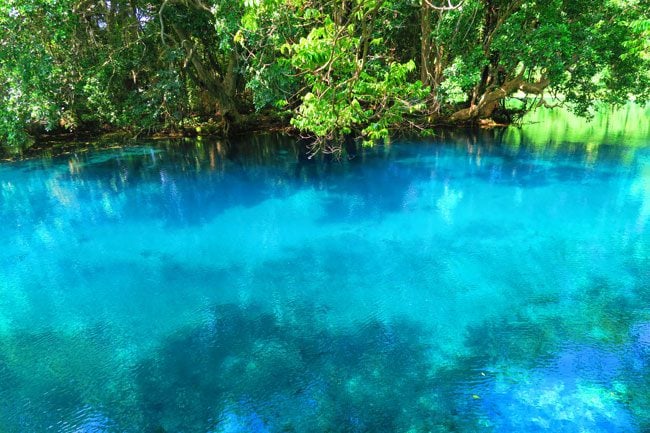 Champagne Beach
Considered the prettiest beach in Vanuatu, Champagne Beach is a must-visit in Santo. A long stretch of the whitest sand curves around a horseshoe-shaped bay, with plenty of shade in the back. Needless to say, this is a top-rated stop, even for cruise ships that anchor offshore. The entrance is ~V500 for walk-ins or ~V2,000 per car, and there are facilities. It's not a bad place for a picnic lunch or just a bit of relaxing and swimming.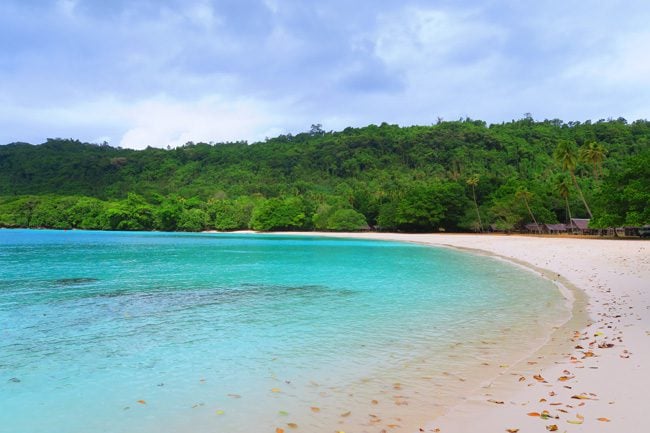 I thought Champagne Beach was lovely, but you can imagine how busy this place gets sometimes. When buses and cruise ships arrive, dozens of stalls spring to life, selling the typical souvenirs, sarongs, and other things you don't need (but certainly help the locals). So your level of affection towards Champagne Beach will depend on the day you visit.
Lonnoc Beach
While everyone makes the pilgrimage to Champagne Beach, its sister beach is just as pretty, and there's a good chance you'll be the only ones here. If you're not staying at Lonnoc Beach Bungalows, stop here for lunch or a drink and enjoy the magnificent beach.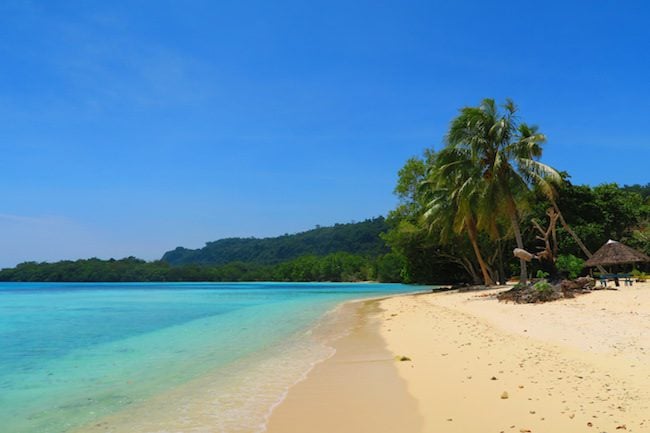 The snorkeling is 'just OK', but the intensity of the blue is simply incredible and, on its own, makes the stop well worth the effort. The beach bungalows have a few kayaks you can use to explore the bay and the food is quite good in the restaurant (free wifi).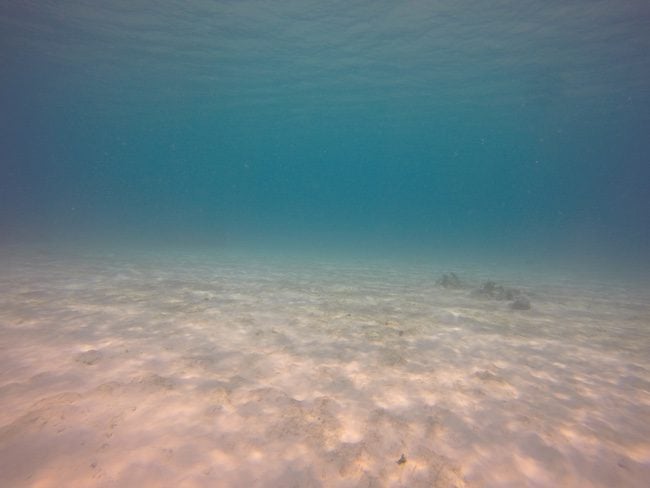 Port Olry
Marking the end of the coastal road, Port Olry's name is a reminder of past French influence. This small village centers around a Catholic mission that was founded in 1887. There's a lovely stretch of beach and a few restaurants that are popular with daytrippers.
Millennium Cave
If caving is your thing, you'll love the full-day tour of the Millennium Cave. This 50-meter high cave is not too far from Luganville but be prepared to get muddy, wet, and sweaty. Parts of the tour are quite extreme, requiring a bit of swimming and a good fitness level (~V7,000).
Part 3: Tanna Island (3 Days)
My favorite island in Vanuatu, do not miss the chance to visit Tanna. Its main attraction is Mount Yasur – the world's most accessible active volcano, but Tanna offers plenty more for those who stay for more than just a quick night. With hardly any paved roads and with remote villages where 26 different dialects are spoken, let curiosity lead you on a discovery of Tanna's wild nature and old Kustom way of life. Living on the fringes of society, mysterious cargo cults do their own thing, further adding to Tanna's cultural appeal to complement its awesome natural beauty.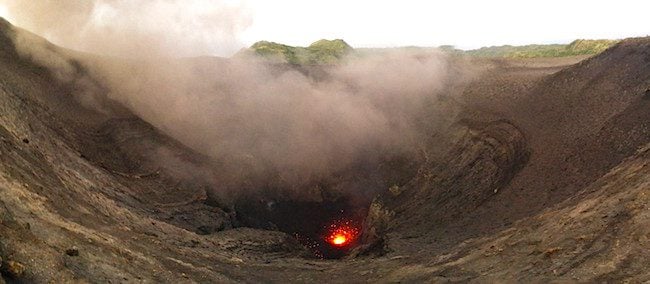 Tanna was severely hit by the category 5 Cyclone Pam in 2015, with the island taking a direct hit. Many lives were lost, along with destroyed crops and infrastructure. Signs of that horrible day were still evident when I visited Tanna, from the torn airport terminal roof to the lack of fruit on the trees.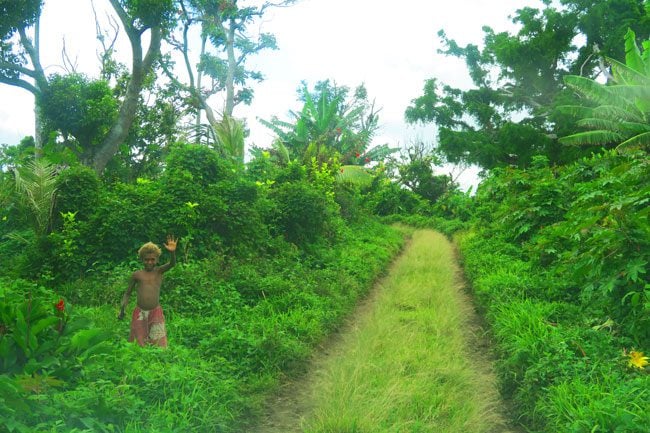 Tanna Island Travel Tips
Aim to spend at least two nights in Tanna. If the weather is bad and Mount Yasur trips are canceled, you'll at least have an extra shot.

Tanna is mainly reached via 40-minute flights from Port Vila.

Bring enough cash as the only ATM on the island serves local bank accounts. Some accommodations accept credit cards, but a 5% surcharge will be added to your bill.

Getting around Tanna is difficult and its only commercial center is Lenakel (not much happening there). Therefore, I highly recommend bringing some snacks to cover those 'in between' meals.

Confirm your departing flight a few hours before (your hosts can help you). When I visited, a mechanical problem caused disruption in service and miscommunication, causing some to miss their flight to Port Vila and their onward connection back home.

Pack something warm. Tanna can get a bit chilly at night, especially around Mount Yasur.

Don't forget reef shoes. Tanna has some amazing snorkeling off the west coast but it's quite a rocky approach to get to the best spots.

To get a sneak peek of the island, watch the highly recommended film

Tanna

, which accurately depicts Kustom life on the island.
Where To Stay In Tanna?
There are pretty much two areas to choose from as your base: the Mount Yasur area on the east side of the island and the airport area on the west coast.
Mount Yasur area

: very simple huts, campgrounds,

and even tree houses (no wifi and 24-hour electricity). They can be very cheap, offer a unique local stay, and you're close to Port Resolution and Mount Yasur (you can even walk there at night). Keep in mind that unless you happen to hitch a ride from the airport, the cost of a prearranged airport transport will almost equal that of a tour of Mount Yasur from the west coast.
Airport area: accommodations are more modern, with 24-hour electricity, WiFi, and dining options. You'll be close to excellent snorkeling spots, the airport, nearby guided tours,

and the 'town' of Lenakel – though Mount Yasur is a 90-minute drive.
I stayed at the Tanna Evergreen Resort and loved it! The resort is just 10 minutes north of the airport, and they'll pick you up for free. Small bungalows dot a lush tropical garden, and trails down to the ocean pass through a series of small tropical pools. When I stayed here, they were just starting to recover from the cyclone damage, but it looks like an oasis from recent photos. There are budget-style bungalows with shared bathrooms (hot water, electricity, and mosquito nets provided) to go along with fancier ocean-facing units. The entire property is perfectly situated for magnificent sunsets.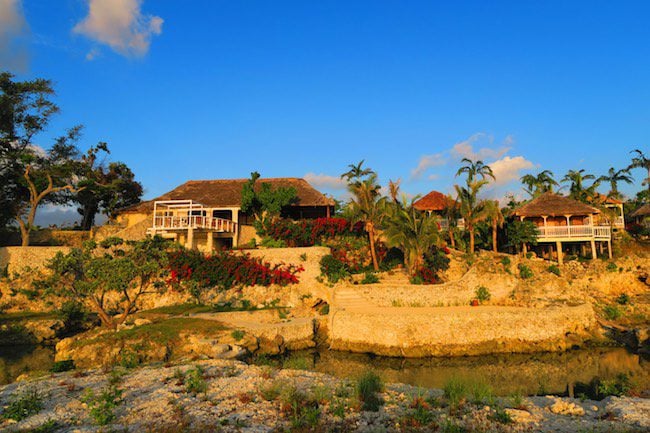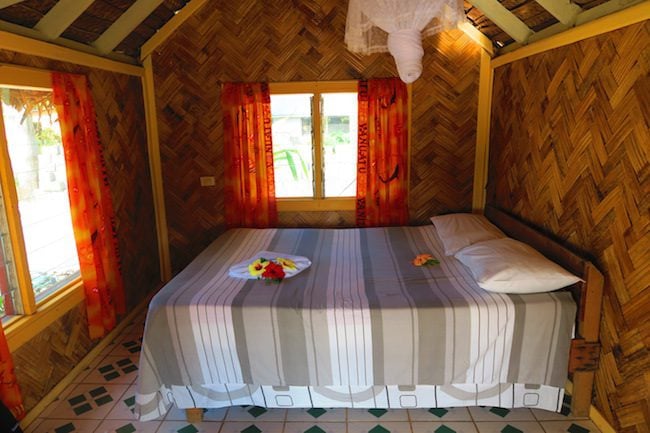 The resort's restaurant and bar are where you'll be treated to a great breakfast (with Tanna Coffee served, of course), sunset dinners, and connect to the (OK) wifi. Throughout the day, you can buy lunch, snacks, and drinks. The dinner menu was excellent and well priced, considering you're in the middle of nowhere (mains start at V1,200). Choose from Thai curry, chicken specials, and even a whole lobster for just ~V2,500. As the sun sets and the air gets a bit chilly, a bonfire is lit nearby and millions of stars begin to shine in the night sky.
Another advantage of staying here is the snorkeling. Right off the resort's rocky beach, you'll find superb marine life that's best explored a low tide. Don't forget your reef shoes!
Finally, the resort also doubles as a tour company, offering you the chance to visit Mount Yasur and discover all the highlights mentioned in this section of the guide. I went on four tours and would have done more if only I had more time. Though prices are quite steep, don't forget that Tanna is a remote island with very poor infrastructure, so everything is quite costly also for the locals. Nevertheless, all tours of Tanna featured in this section of the Vanuatu Travel Guide were booked directly via the resort and were well worth it.
A slightly more upscale option is the White Grass Ocean Resort, next door to the Evergreen Resort, or the recently opened Rockwater Resort.
10 Days In Vanuatu Map: Espiritu Santo
Click on the image to open it in Google Maps. This map contains all the highlights mentioned in this section of the guide: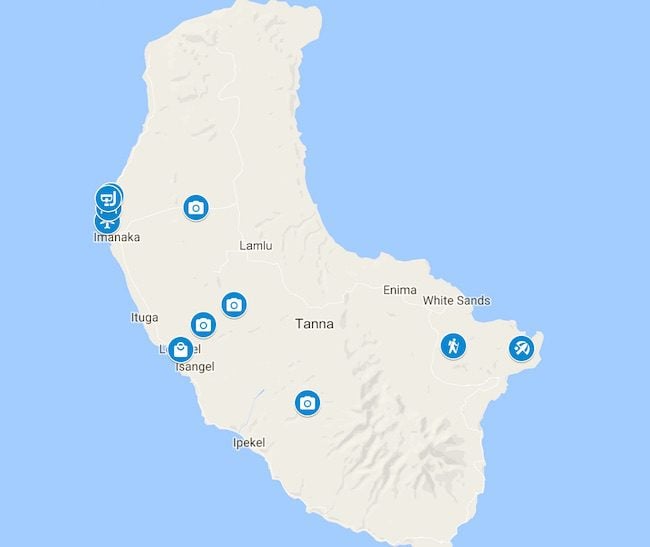 Day 1: Snorkeling & Mount Yasur Volcano Tour
Since it's your first full day in Tanna (or even if you've arrived on the morning flight from Port Vila), book a spot on a tour of Mount Yasur. This way, if the weather is bad, you'll have another shot tomorrow. The tour leaves around 3 pm, so use the morning to relax, enjoy the view and explore Tanna's marine life.
Snorkeling In Blue Hole #2
The best snorkeling in Tanna is just a 20-minute walk up the dirt road from the Tanna Evergreen Resort. Look for the sign to Blue Hole #2 and walk down to the rocky reef edge. From the surface, it looks nothing out of the ordinary, but once you enter the break in the reef (the hole), you enter a wonderland.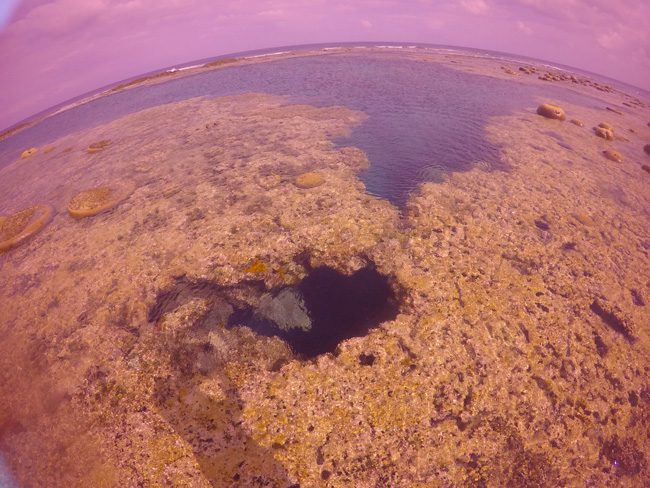 During low tide, the reef breaks create a calm tidal pool that's a good few meters deep. Tropical fish in all colors of the rainbow swim back and forth inside the safe confines formed by hard corals that grow on the volcanic rock.
The water is crystal clear, and if you're extra brave, you can venture inside small caverns and lava tubes running from the main pool. It's a magical experience, and you'll probably be the only ones here if you come early in the day.
Where's Blue Hole #1, you might ask? It's further up the road, but #2 is said to be better. Don't forget your reef shoes and snorkeling gear, of course. Inquire with your hosts about the tides and only venture inside at low tide when it's easy to spot the entrance and visibility is at its maximum.
Mount Yasur Volcano Tour
After lunch and a short nap, gear up for the trip of a lifetime. This is the prime reason you came to Tanna. Known as the 'world's most accessible volcano', the challenging and long trip to Mount Yasur is absolutely worth the effort and the cost (~V12,000-14,000). The volcano has been active for the last 800 years and its nightly glow is said to have led to its coincidental discovery by Captain Cook.
Your tour will depart at around 3 pm with a beautiful 90-minute drive up from the west coast to the highlands and down to the east coast where the volcano lies. Only the most difficult road sections are paved so expect a long and rough drive at times. You'll pass through remote villages where time stands still, villages destroyed during Cyclone Pam. Keep your eyes peeled for slices of tine roof wedged into the treetops, debris leftover from the cyclone.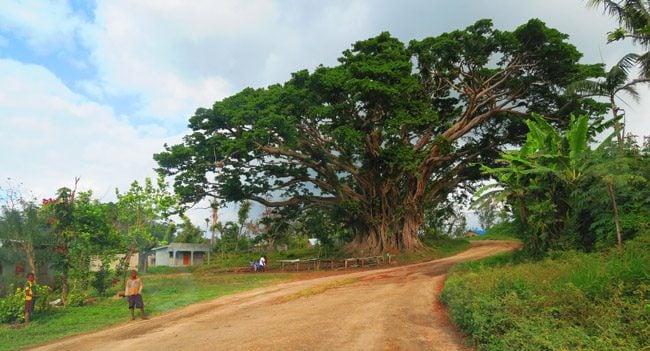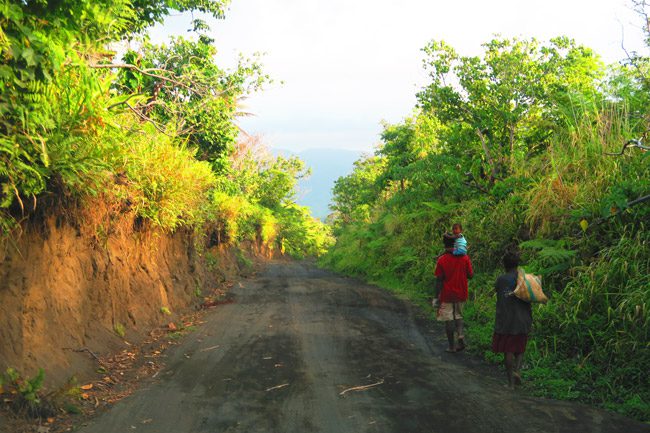 After the initial climb, you'll reach a lookout point with panoramic views of Tanna. To the north, the beautiful uninhabited coastline, and to the south – your first glimpse of Mount Yasur.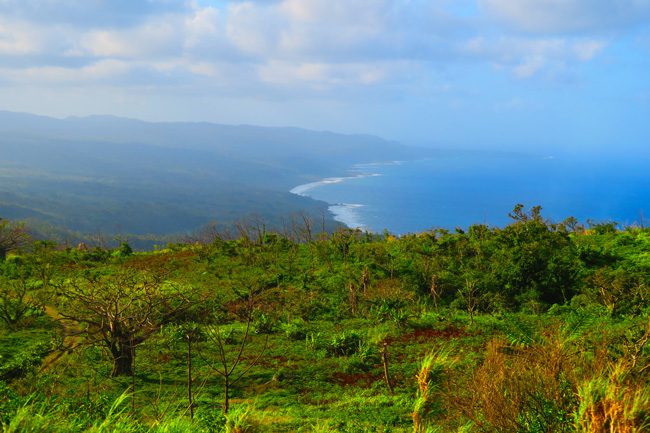 A few turns and a few miles later, you'll think you've just landed on the surface of Mars with a touch-down on the only highway in Tanna – the black ash plains of Mount Yasur. It's the only time you'll break out of third gear on this trip and it'll be your first glimpse of the volcano from up close.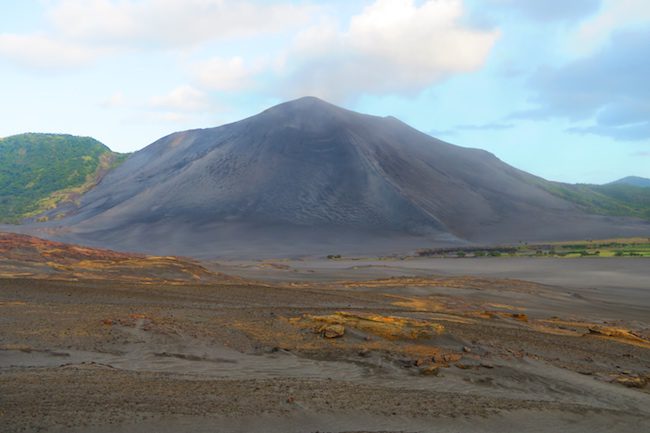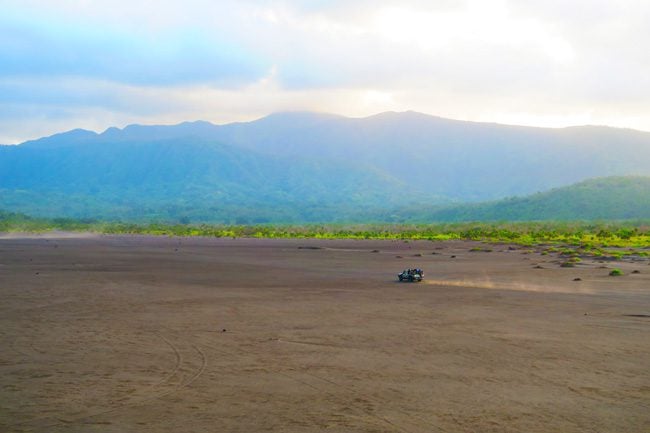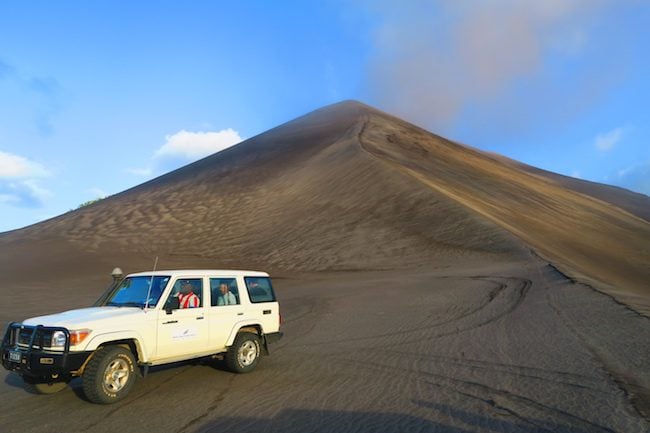 As you get closer, you'll pass a few small villages that live dangerously close to the volcano. There are a handful of accommodations out here in simple huts and treehouses for those who want to visit the volcano multiple times. Out here, you'll begin to notice smoke literally rising out of the ground, sure signs you took the right turn.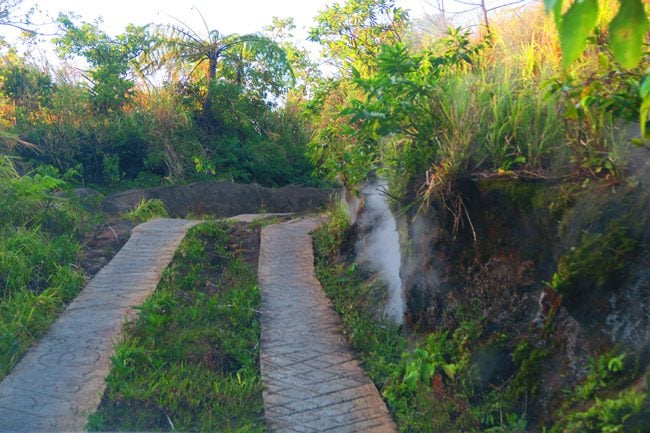 The jeeps will then park right at the foot of the volcano, where you'll embark on a short hike up to the creator to the sounds of exploding grenades and the smell of rotten eggs. En route, you'll have a chance to post a letter back home from a lonesome mailbox. In a country with such poor infrastructure, it amazes me how Vanuatu Post manages to reach the toughest of places.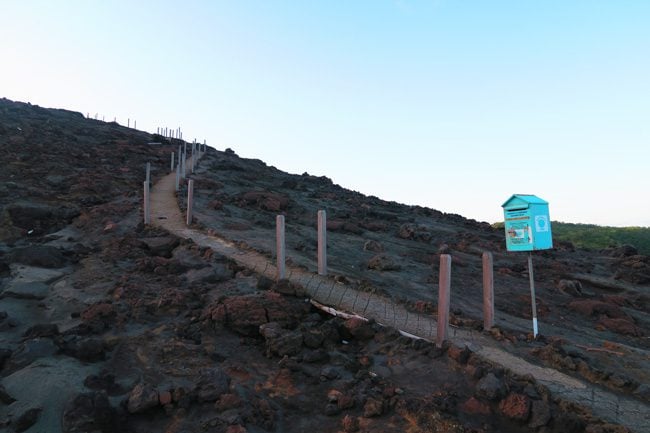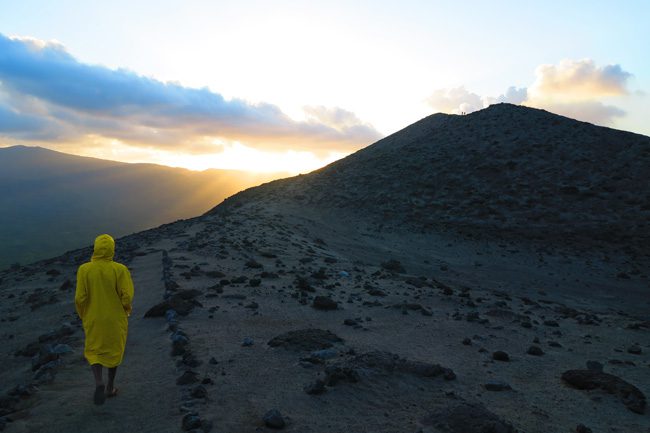 You'll make it to the rim just in time for a spectacular sunset. It'll be the last time you look out in that direction for the rest of the evening.
I've climbed the Pacaya Volcano in Guatemala, but I've never stared down the mouth of an active volcano. For the next hour, you'll be treated to a fiery display of lava eruptions that you'll never forget.
Here's what it felt like to be at the top of Mount Yasur and here's the entire experience from day to night in a time-lapse video
Logistics: tours from the west coast leave at 3 pm and return at 8 pm, so pre-order your dinner. Wear warm clothes and be prepared for a lot of ash flying your way. I recommend packing something to cover your nose and mouth with, baby wipes, tissues, a torch, and even something to protect your camera (mine briefly stopped working the following day).
Day 2: The Black Magic Tour
Another morning of taking it easy, pop into Lenakel to check out its small but excellent outdoor market, join a morning tour to the blue cave, 'wilderness waterfall', or just snorkel in the blue hole again.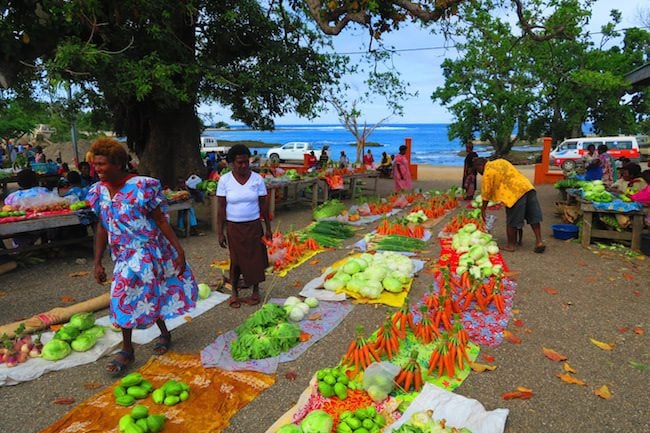 At 1 pm, depart to the middle of nowhere for the start of what's known as 'the black magic tour' – a reconstructed custom village where surprises lurk out of every corner – warning: spoilers coming up! You'll be greeted by a local tribe member who welcomes you to the village tour with the famous (true) story of a missionary that landed on the shores of Tanna only to be eaten by cannibals.
Great way to start your tour ah… here's what comes next!
After this welcoming introduction, you'll enter the village through a massive banyan tree where the next generation of warriors takes their shot at scaring the living daylights out of you.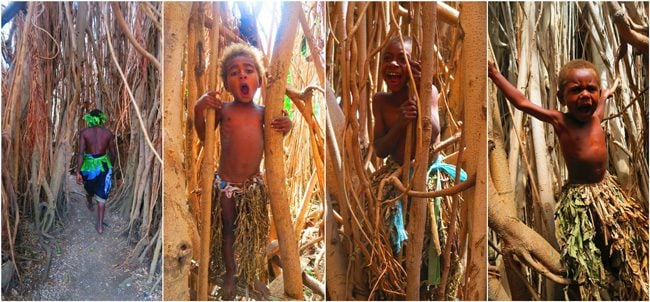 You'll then move from station to station, where you'll learn about the ancient ways of warfare: archery, camouflage, and medical evacuation using a few special leaves as a stretcher.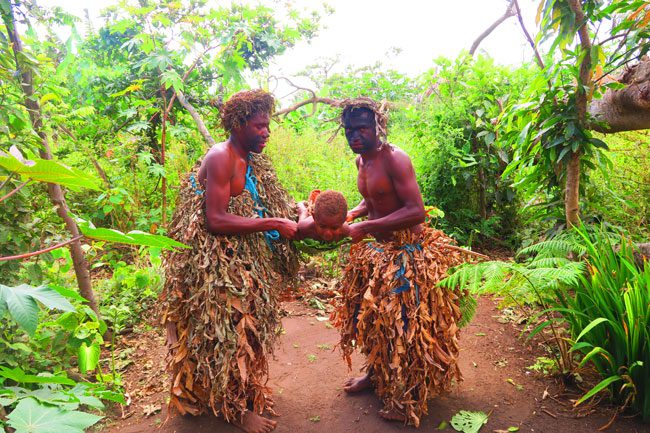 A few stations later, you'll finally be worthy of meeting the tribe's chief (he really is a chief). The chief will perform a beautiful wedding ceremony using his special powers to bind together two heart-shaped leaves known locally as Nanamian.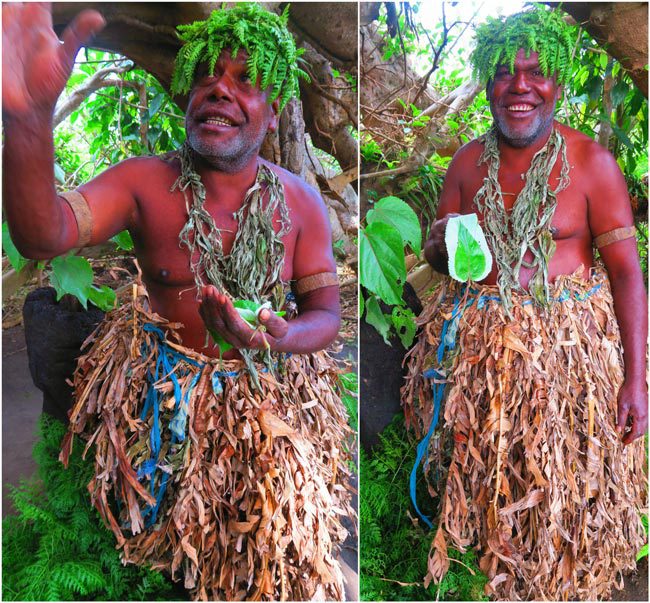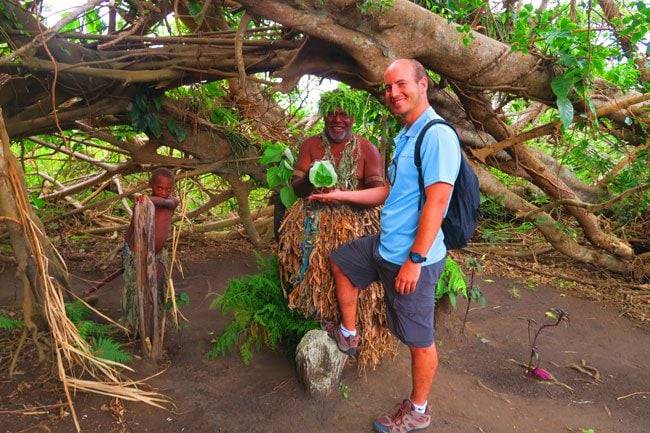 The tour then reaches its climax, with the entire village coming together to celebrate your arrival with traditional song and dance. The baton is then passed to you as you get to play chief and be paraded through the village with a huge entourage cheering you on!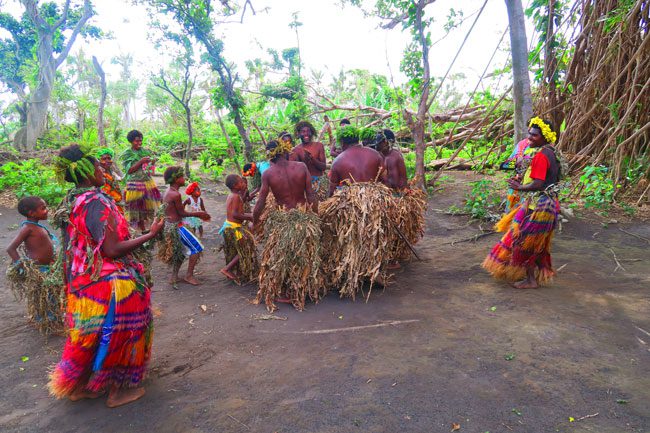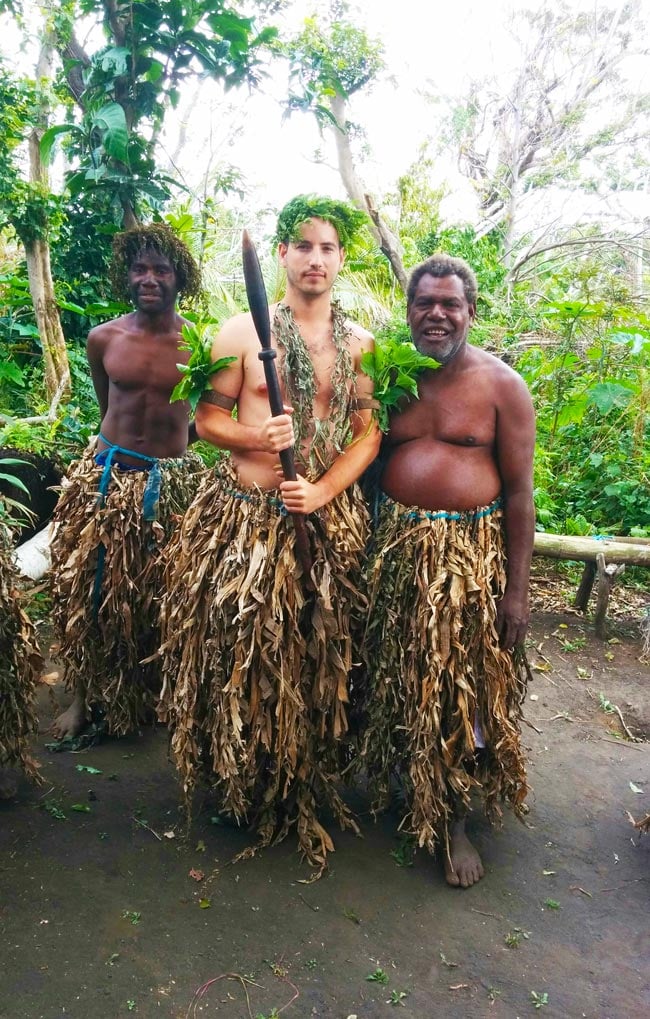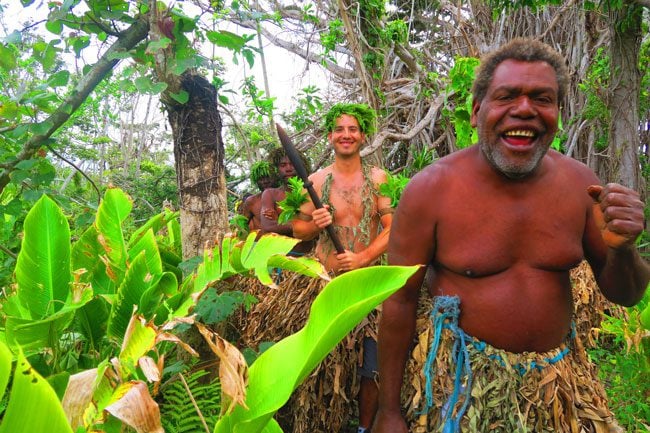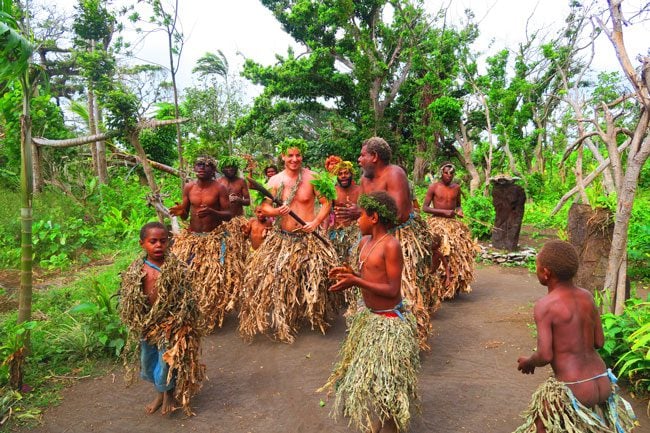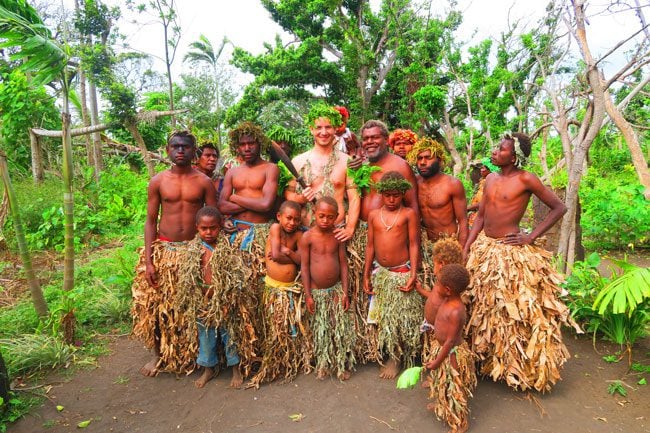 Bottom line: the Tanna black magic tour lasts for about 2 hours, and you'll have a chance to buy some local souvenirs from the villagers so bring extra cash (~V500-1,000). Despite being geared for tourists, I had a wonderful time on the magic tour. The special moments I experienced there still put a smile on my face whenever I dream about Vanuatu.
Day 3: Yakel Tribe Village Tour & Cargo Cults
The magic tour was great, but how about seeing the real deal? Tanna is home to a number of tribes that haven't changed much over the centuries, resisting Western influence and holding on to the traditional ways of Kustom. The most famous tribe is the Yakel tribe. A visit to their village is a must for any curious traveler.
Louinio Cultural Village
At around 8:30 am, you'll depart once again to the middle of nowhere, this time to the central highlands of Tanna. The ride will give you another opportunity to witness the beauty of Tanna's landscape and the allure of its remote villages.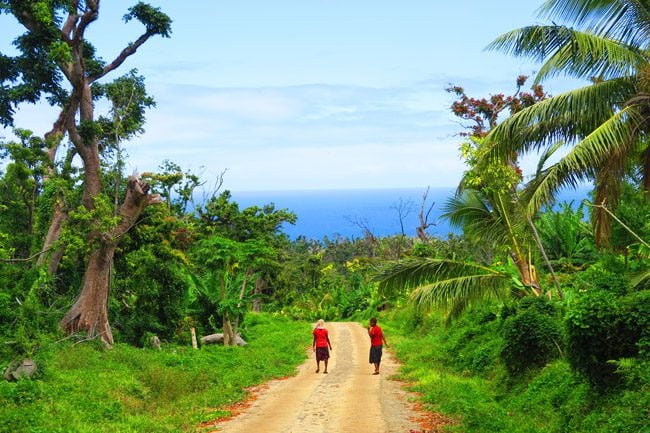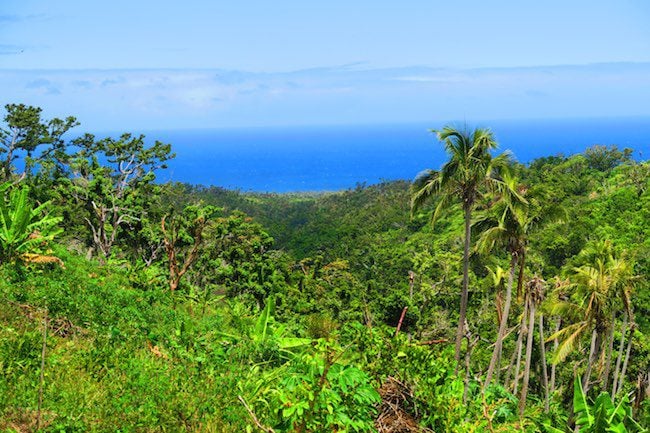 Arriving in Louinio Village, you'll think you've just arrived at a filming location for one of those BBC nature documentaries. In fact, this description is not that far from reality, as anthropologists from around the world come to Tanna to document the people of the Yakel tribe.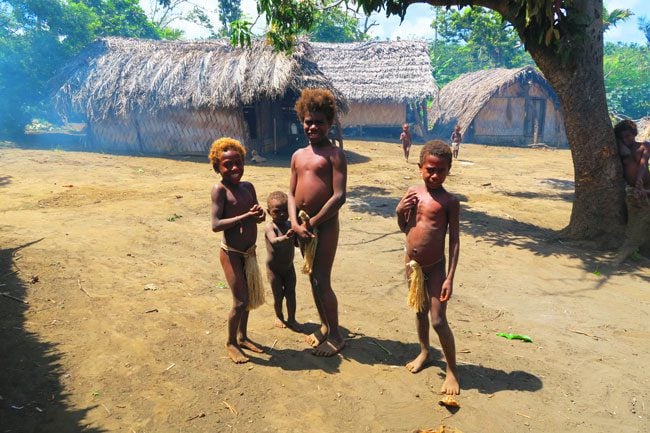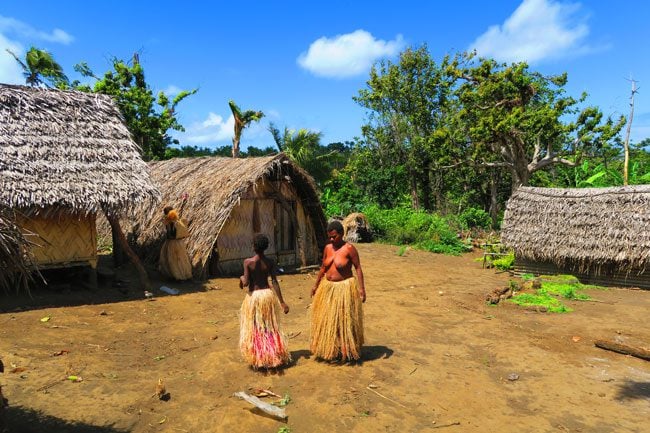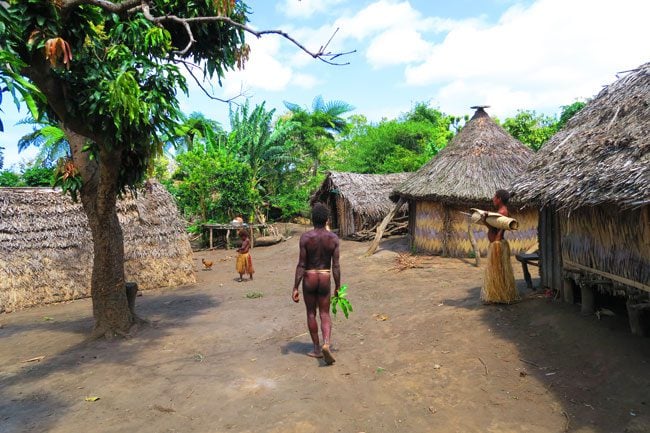 Your guide will lead you through the tribe's village, where women are covered only by grassy lavalava skirts and men by penis sheaths. There's no electricity out here and no 7-11. Everything is grown and raised on-site, with tribe members sometimes heading to town to barter for goods wearing their traditional clothing. In good years, the village is almost entirely self-sufficient, with taro, sweet potato, sugar cane, avocado, mango, and herbal medicines grown on-site to go along with chickens and pigs. Even tobacco and kava are grown in the village, with the men closely guarding these cash crops, which surely help pass the time in the absence of satellite TV and wifi.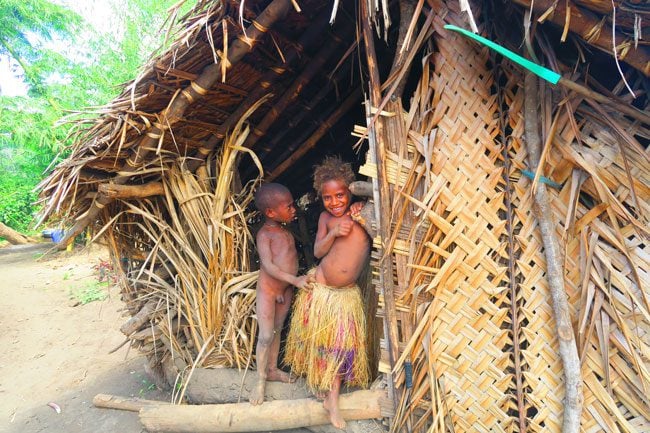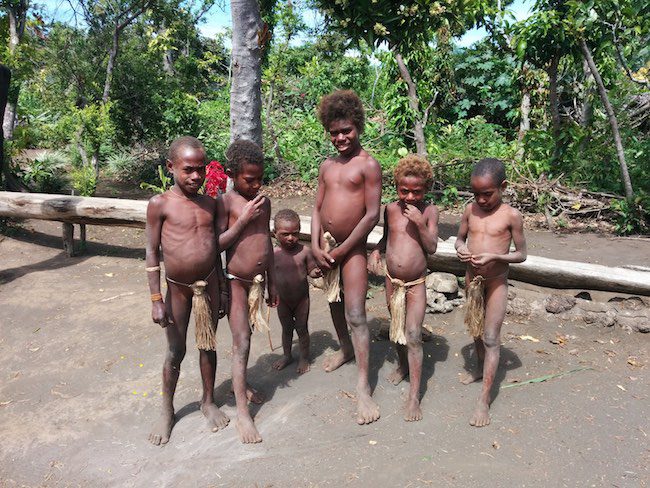 You'll then enter one of the huts, where a local mama is busy preparing traditional dishes that you'll get to taste. As you exit the hut, children play a local version of hide and seek, dancing around in a circle with one blindfolded in the middle. Who needs a PlayStation?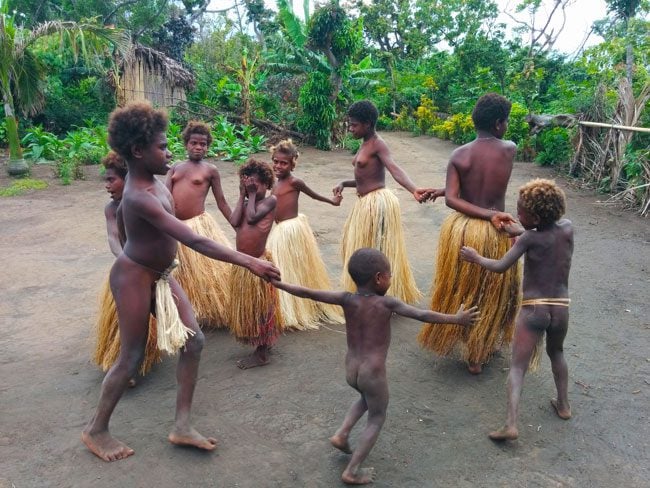 Moving closer to the tobacco plantation, the men demonstrate how they can light a fire with simply a wooden stick and some dried bark in seconds. The entire village will then join, erupting in a traditional dance that sends vibrations running through the ground.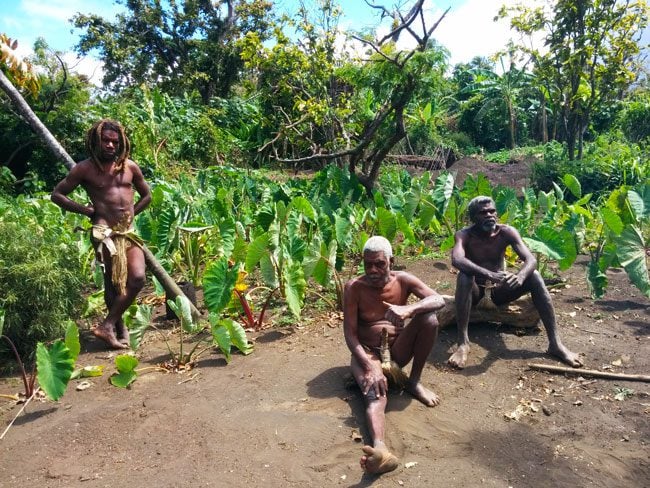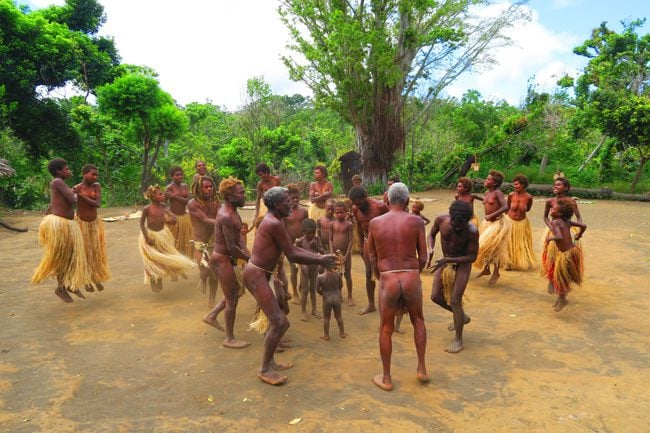 Bottom line: I highly recommend visiting the Yakel Tribe's village. It's as authentic as it gets, and after watching the (highly recommended) movie 'Tanna' – I can honestly tell you it's exactly like this in reality! In addition, like all villages in Tanna, Cyclone Pam really devastated the community, so any extra bit of cash goes a long way (bring some cash for souvenirs).
The Giant Banyan Tree
On the ride back from Louinio Village, you can detour and visit this freak of nature. Tanna has its fair share of banyan trees, but this one's huge! Though locals claim it's the biggest in the world, it's not quite there yet. What appears to be a single banyan tree that has somehow morphed into the size of a football field; nobody really knows when it all began. Local legend says that even when Captain Cook visited Tanna in the mid-18th century, this tree was already a giant. Perhaps its secret lies in the small stream that flows right through its heart.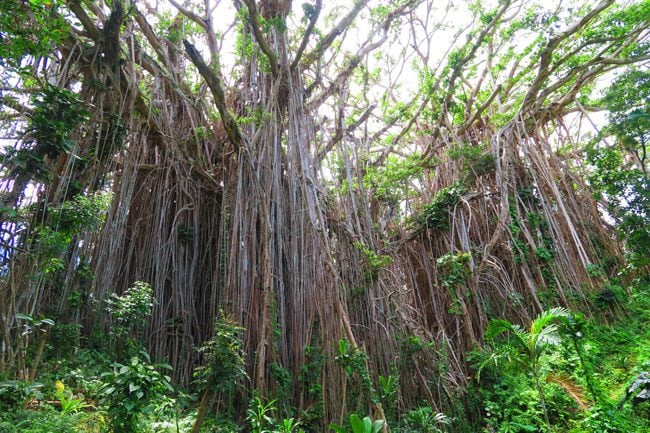 Logistics: the combo tour of the Yakel tribe village and the giant banyan tree leaves at 8:30 and returns at noon, so you can do this in the morning and catch an afternoon flight to Port Vila.
John Frum Cargo Cult
If it's Friday, you'll have the chance to visit one of the most bizarre scenes in the South Pacific. Tanna is home to a few cargo cults worshiping anything from Prince Philip to a mysterious figure called John Frum. Some say John Frum was a real person who spoke of the day when the European colonizers would depart Tanna and leave all their material wealth to the local Ni-Vans, while some say it's the misinterpretation of an American soldier 'John from (America)' whom islanders met while working for the US Army on other islands during WWII. While some John Frum villages worship 'cargo' i.e., old military equipment associated with this John Frum, others simply reject Western influence and hold on to their own belief system.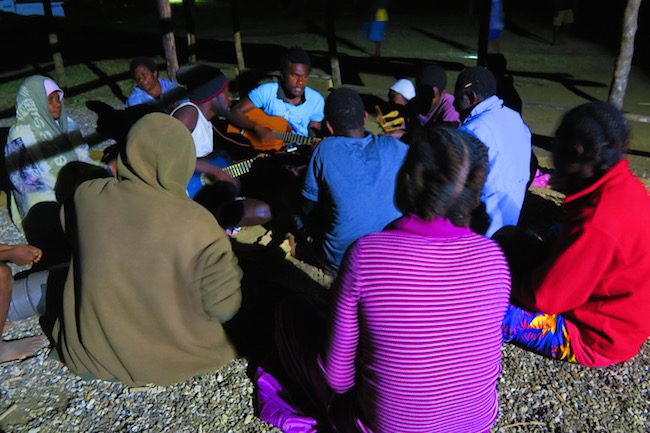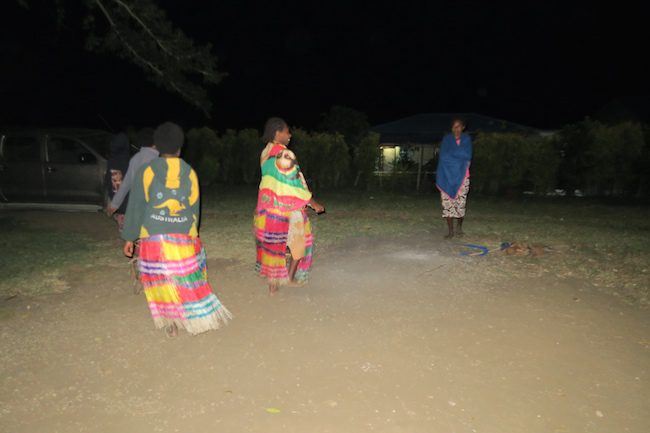 If you're staying close to Mount Yasur, you can visit the guys who worship WWII military cargo. I visited a John Frum village as night fell, locals gathered inside an open hut and began singing for hours. The men appeared to be completely high on kava, while some of the older women were dancing bizarrely outside and were also high on something.
Bottom line: it's certainly not a must to visit a John Frum village, but it is a rare nighttime activity on Fridays. Inquire about special occasions when cult members parade through their village dressed in old US military gear.
Part 4: Port Vila (1 Day)
I highly recommend returning to Port Vila for one last night, just in case there are any disruptions to inter-island flights on Air Vanuatu (which can happen). Use this last day in Port Vila to relax, reflect and shop in the town's market!
So What Do You Think?
I hope you've found this Vanuatu travel guide and 10-day sample itinerary helpful in planning your own adventure in Vanuatu!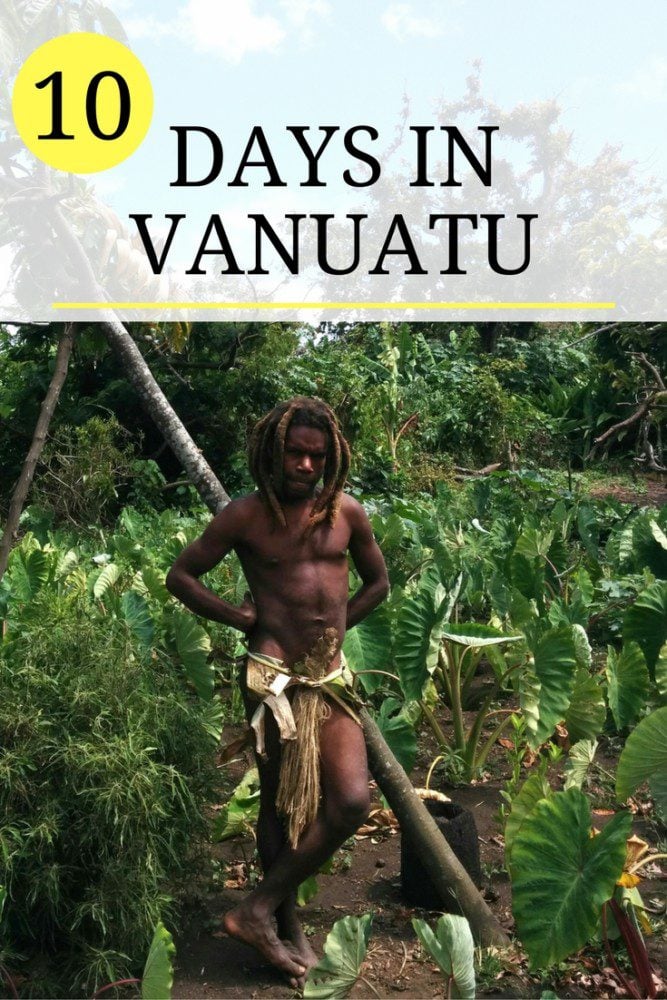 Pin These Images To Your Favorite Boards!