Europe's summer in all its glory, a visit to Mallorca is guaranteed satisfaction. A small island catering to all senses, you'll find exactly what your'e after in Mallorca, and still be surprised.
What's Included in this Mallorca Itinerary?
Essential Mallorca travel tips & itinerary map [This Page]
Part 1: Palma de Mallorca city tour [Skip To Page]
Part 2: Tramuntana Mountains, Valldemossa, Deià, Soller, Port de Soller & Sa Calobra beach [Skip To Page]
Part 3: Formentor Peninsula, beach, Pollença, Cala san Vincente, Sineu Market & Arta [Skip To Page]
Part 4: Southern Mallorca, Mondrago beach, Cala Figuera, Ses Salines, Es Trenc beach & Colonia de Sant Jordi [Skip To Page]
Part 5: Es Trenc to Palma & shopping [Skip To Page]
A popular summer destination, Spain's Mallorca, caters to all crowds. Fear not the stories of package holiday resorts and crowded beaches. Our Mallorca travel holiday, at the height of the season in July, was nonetheless unforgettable! With 10 days to spare, we wanted to cover both Mallorca and Menorca but had to 'settle' on Mallorca only. Mallorca finally won over its smaller neighbor due to the diverse landscape that offered us mountain getaways, rich cultural & rural history, fantastic beaches, and easier access.
Glad it turned out that way, Mallorca did not disappoint. Mallorca (more commonly spelled Majorca, in the UK) is the largest of the Balearic Islands and easily accessible from most European cities. With a population of just under 1 million and 3,620 km², Mallorca is easy to explore with a great road network and adequate public transportation. The capital, Palma, is a vibrant city and the usual entry point for most tourists.

There is so much to do on this small Mediterranean island. I hope you find this Mallorca travel guide useful and that you take the time to appreciate the vast diversity that this island has to offer both in nature as well as in culture. Though we traveled to Mallorca as a couple, much of the itinerary covered in this Mallorca travel guide is applicable also to families with children as Mallorca is very family-friendly.
Looking for a quick read? Here's a list of the top 10 things to do in Mallorca!

Essential Travel Tips for Mallorca:
Don't leave for the airport without a copy of The Rough Guide To Mallorca & Menorca. It's only $17 on Amazon, and loaded with useful info that along with this guide will be your best friends!
As a rule of thumb, always stock up on plenty of water, snacks, food, etc. when headed to Mallorcan beaches. You will find that most visitors are well equipped so consider bringing with you cooler bags and ice bags not to mention umbrellas and towels if possible. It's also a great way to enjoy the local produce while avoiding the overpriced tourist traps at the beaches.
Bring plenty of sunscreen even if you are a regular beachgoer as well as aloe vera.
It can get quite hot during the day though not overly humid. Consider having large breakfasts and dinners and light lunches.
You never know where you'll find a nice cove so bring with you a good set of snorkeling gear (no need for fins).
Our Mallorca Travel Itinerary Route:
Click on the image to open a driving map of this 10 days in Mallorca travel itinerary: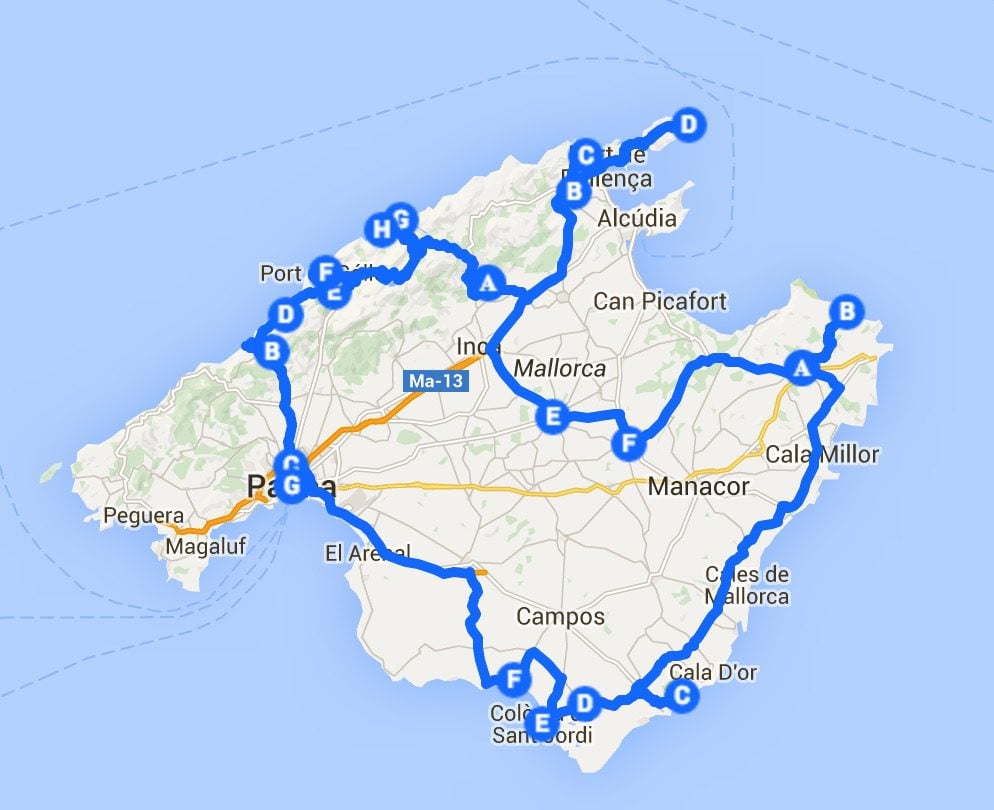 Part 1: Palma de Mallorca (1.5 Days)
Where to stay?
After landing in Palma in the early evening hours, we made our way directly to our hotel. Taxi fares are set and displayed in the official taxi station. We paid about €20 to get to the city center and stayed at Hotel Almudaina. Conveniently located in a central location just outside the old, you have the benefit of being close to everything but without the nightmarish traffic of the old city. The old city, cathedral, shopping area, and waterfront – are all just minutes away on foot. Let's not forget the great breakfast and rooftop terrace with fantastic panoramic views of the city.
Here's a full list of Palma de Mallorca accommodations which you can book online.
For dinner, we sampled some reasonably priced and fresh tapas at Restaurante Taste, just around the corner from the hotel, and headed for an evening stroll in the old city. The cathedral is magnificently lit at night and definitely worth a visit.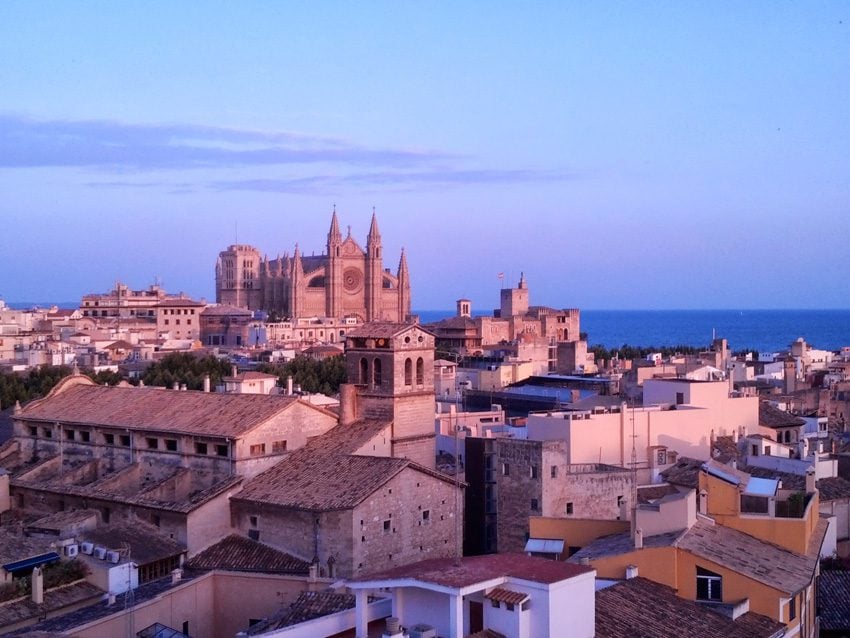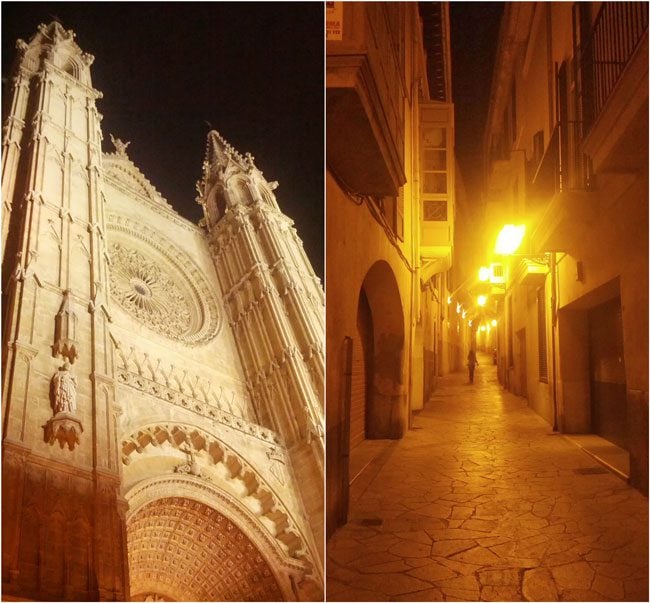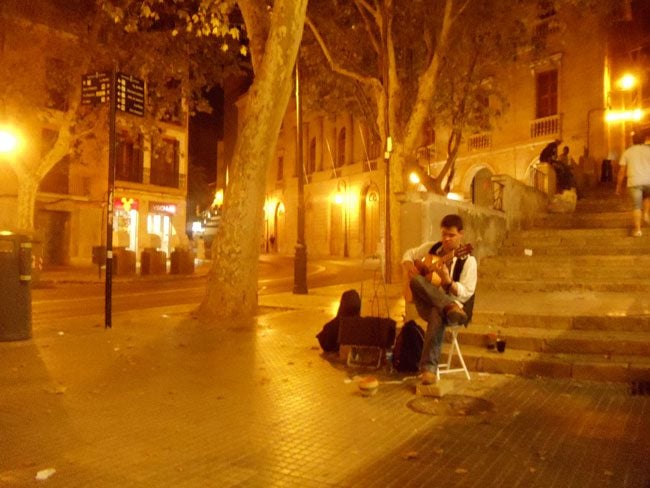 The following day was our only full day in Palma, which is more than enough to gather in the sights, sounds, and tastes of the city. Stroll down Passeig del Born, shaded by the boulevard of trees and lined up with fantastic Gaudi-like facades. It's a great shopping street and will also lead you to the waterfront and the cathedral.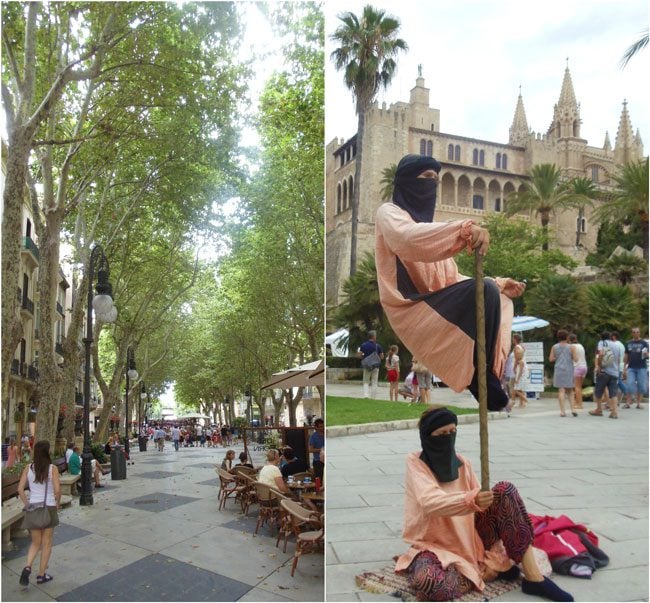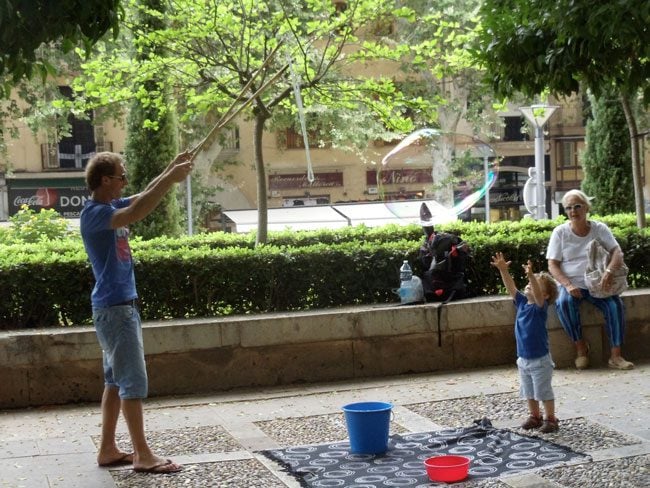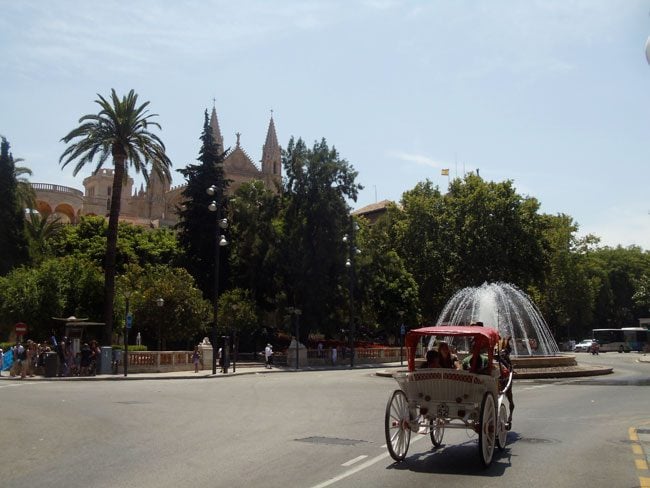 The cathedral is definitely a must (8€) though I would advise arriving early as it is packed with visitors. Even if you're an avid cathedral visitor, this one will still blow your mind. It's difficult to comprehend how humans built a structure like this centuries ago (even though it did take a few centuries to complete). Be sure to also walk around the exterior to catch the magnificent entrances meticulously decorated with remarkable and delicate gothic designs. The most exquisite is Portal del Mirador on the southern facade, overlooking the bay.
An obvious next stop is the Palau de l'Almudaina just opposite the cathedral, a Moorish palace which later served Mallorcan royalty. As the crowds moved in, we decided to skip this tourist attraction and simply enjoy strolling around old Palma. Getting lost in the old city is part of the fun so don't stress too much about it. Eventually, you'll find your way.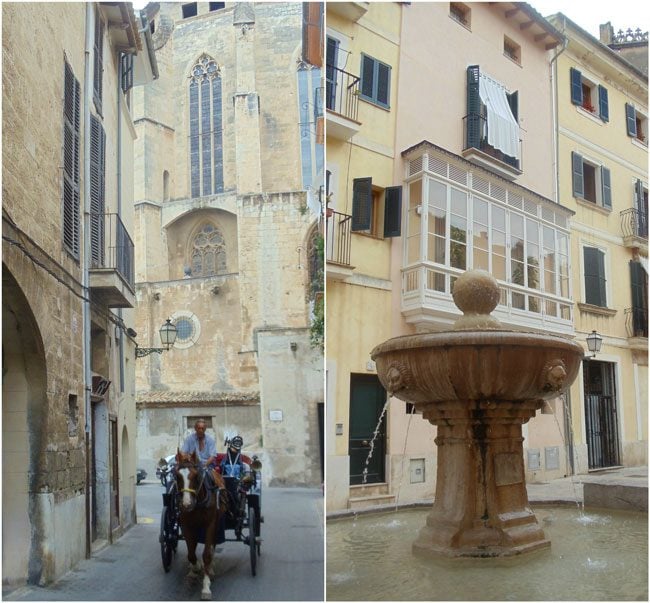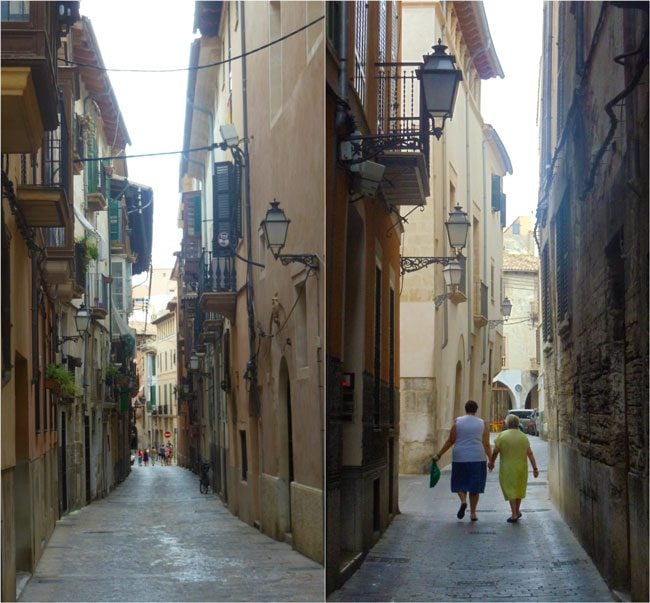 Nestled between the cathedral and the bay is the Parc del Mar with its famous fountain. It's a great place to snap some photos of the cathedral and the palace. En route to the park, you'll also walk alongside remnants of the old fort walls that once surrounded the area.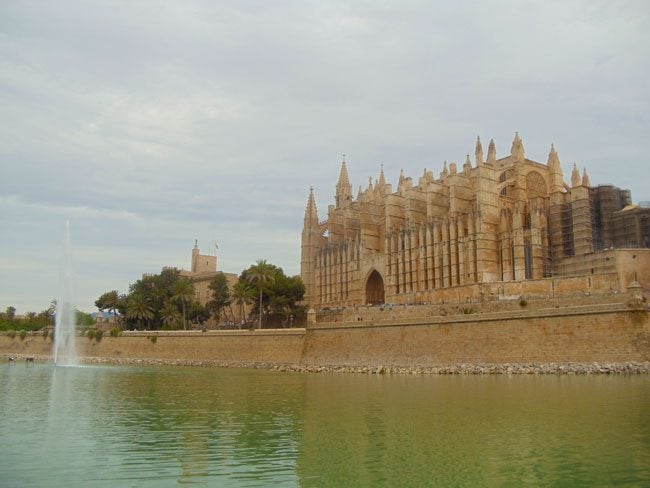 After snapping a few photos, we headed back up to the old city and past the Arab Baths (Banys Arabs), which are apparently one of the better preserved in Spain to Iglesia de Santa Eulalia and the Basilica de Sant Francesc – two of the city's other famous churches. Other highlights include Placa Sant Jeroni with its lovely church, Placa Major with its bustling center and various eating options, and simply strolling around the more major streets in the old city with their tourist catering shops.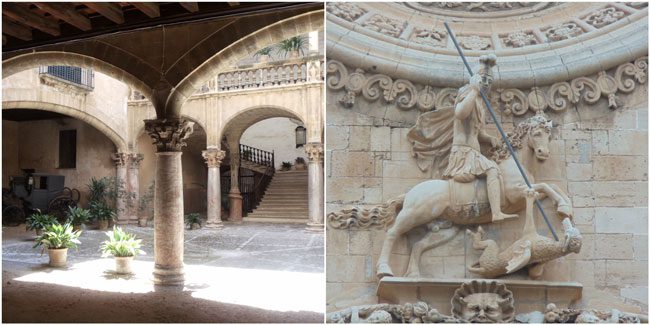 As far as eating, aside from tapas at Restaurante Taste, other notable places we tried are tapas at Bar Bosch (not bad but they ran out of most of the menu) and some superb sweets at Ca'n Joan de S'Aigo. This historical cafe serves up superb ice creams and pastries at ridiculously low prices. Try the almond ice cream and the famous Ensaimada, don't give up if you get lost as this place is hard to pin down in the narrow alleys.
Any Regrets?
The only thing we would really do differently in Palma is going to the Mercado del Olivar, which was not open on a Sunday. It's meant to be a covered market attracting many merchants from across the island.
Part 2: Tramuntana Mountains (2 Days)
Palma de Mallorca to Valldemossa
We got an early start on the second day of our Mallorca travels and picked up our rented car, which would be our companion for the remainder of the trip. The first stop in our mountainous adventure was the hilltop village of Valldemossa. The drive from Palma takes about 30 minutes and it's not until you get close to the village that things start to get interesting. The village is just lovely, perched over 2 hills with a dominating cathedral, a theme that repeats itself throughout rural Mallorca. Parking is quite easy and we were lucky that Sunday was market day.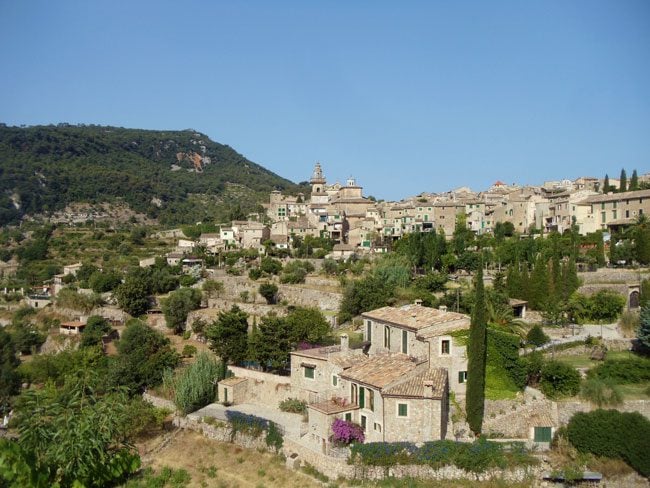 We decided to skip the famous monastery and immerse ourselves in rural life. The market is lovely and we stocked up for a later picnic. You will find a great selection here of fruits, vegetables, meats, olive oil, bread, and other local delights. We even bought a few gifts as prices are much lower than in deli shops back in Palma. Valldemossa is all about strolling its cobblestoned streets, taking in the lovely views of the surrounding hills and colorful flower arrangements decorating every historical stone house. Cafes are slightly overpriced and the cathedral in the town square is not free (as many Mallorcan cathedrals are) but this is still a worthy stop. One of the parallel streets below the cathedral leads to a lovely lookout point where you can enjoy spectacular panoramic views of the surrounding hills and the lower part of the village.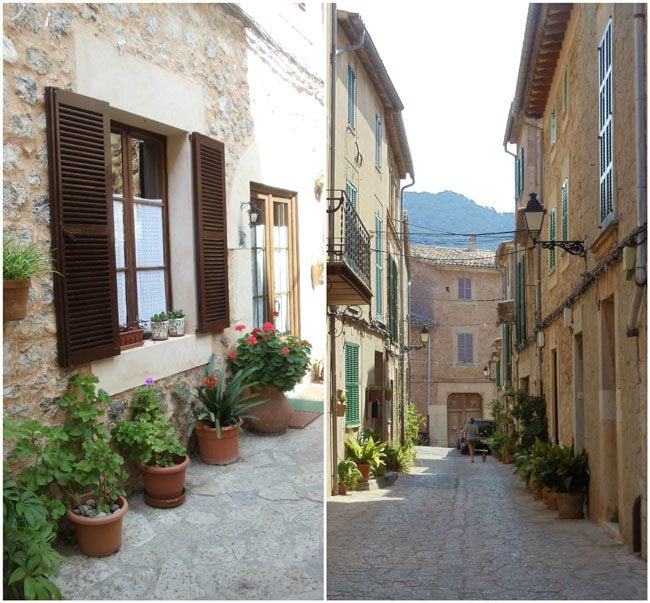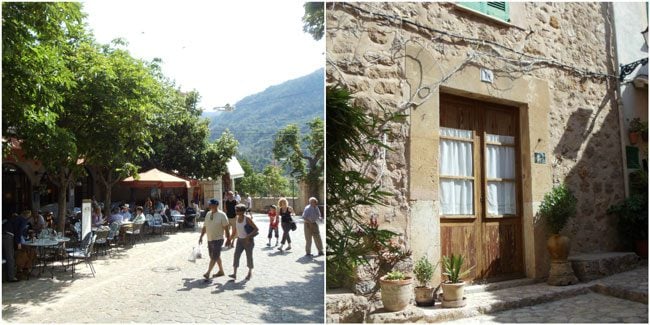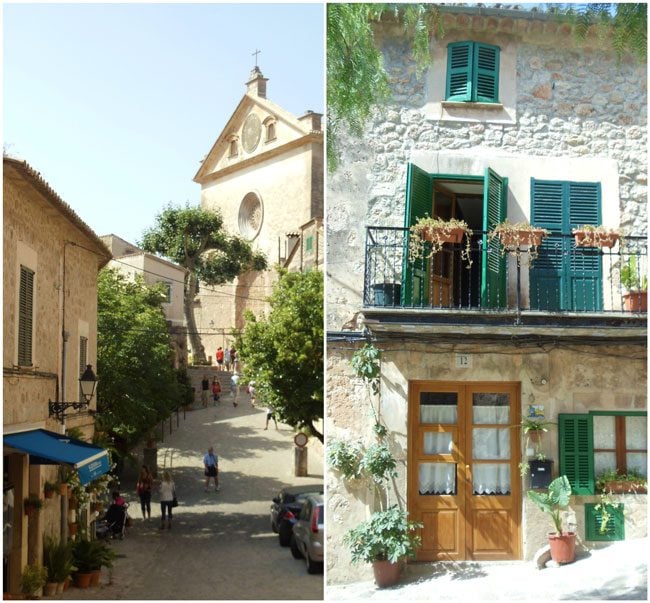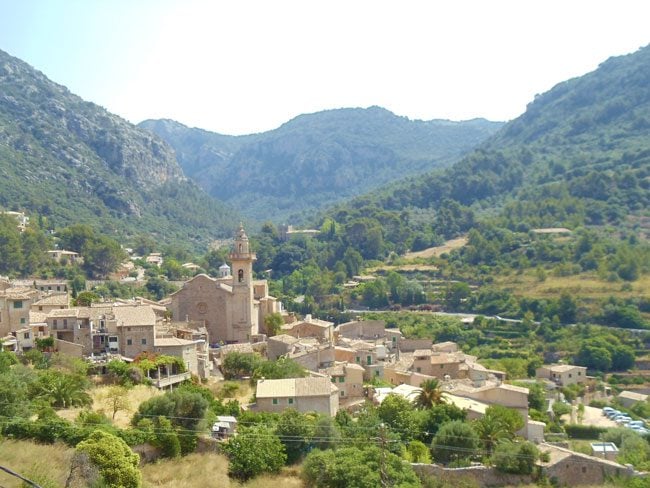 Valldemossa to Port Valldemossa
From the village, we drove for about 20 minutes down a narrow winding road to the beach at Port Valldemossa. Parking is difficult but manageable and the beach makes an ideal spot for enjoying your successful market shopping. The beach itself is rocky but not crowded and the views enjoyable.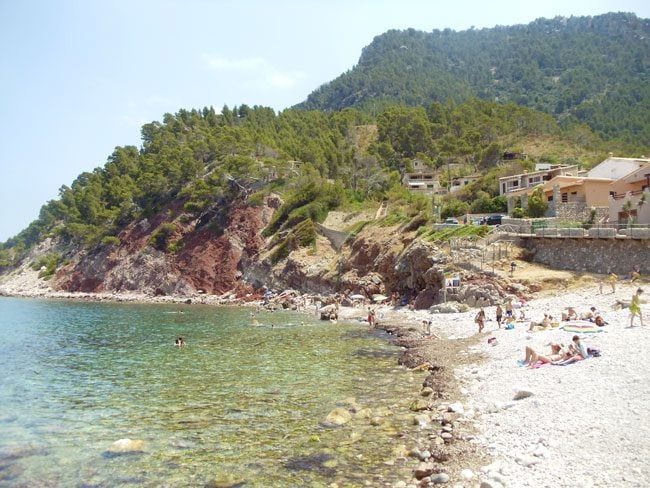 Port Valldemossa to Deià
About a 25-minute drive on the Ma-10 from Port Valldemossa rises the village of Deià, made famous by its resident poet Robert Graves. The drive to Deià on the scenic coastal road is spectacular, to your left, the sea and to your right, the towering mountains with the occasional house that makes you wonder how on earth did people build that? Deià is a beautiful village, definitely worthy of a stop.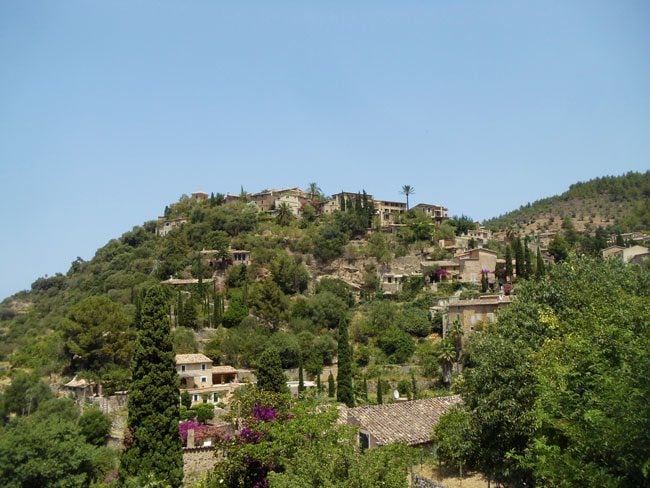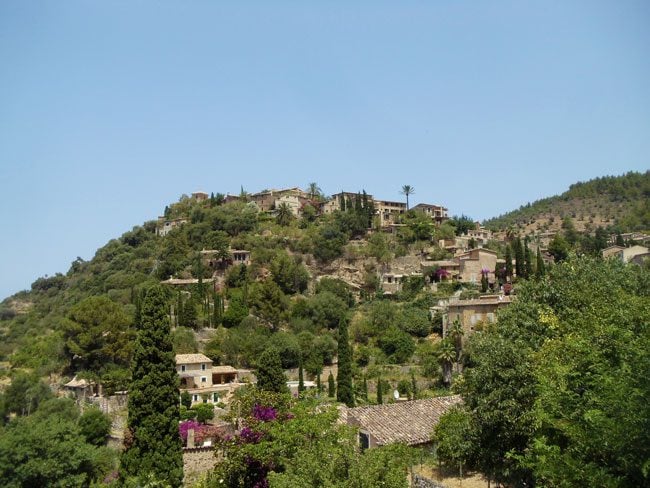 For great photos, stop on the side of the road where possible en route from Valldemossa. Like Valldemossa, simply enjoy strolling the narrow streets, eventually making your way to the hilltop cathedral. The cathedral houses an old cemetery with fantastic views of the surrounding hills and the sea. Coming down from the hill, we made our way to The Village Cafe, nestled on a side street at the edge of the village. Under the natural vine canopy, you can enjoy a great lunch and refreshing lemonade at excellent prices.
Deià to Sóller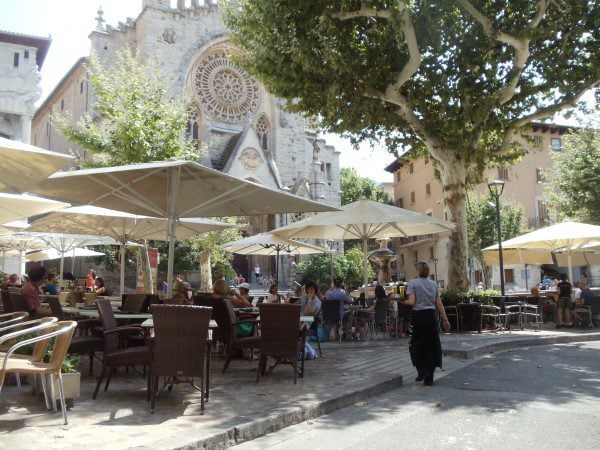 A 30-minute scenic drive on the Ma-10 will get you to Sóller. We arrived during siesta time so not many shops were open. With the majestic mountains towering in the background, Sóller is a nice spot and quite a major town in the mountain region. Parking is not a problem. Sóller is famous for its traditional train ride to/from Palma and you will see the train riding along the center of town. Most action happens, no surprise, around the town's main square with its dominating cathedral and historical building which is now a bank. Sóller has its fair share of nice restaurants and cafes and can be a relaxing spot. Most will venture from here down to Port de Sóller but it was about 4 pm by now and we wanted to head to our accommodation. We will revisit Port de Sóller tomorrow.
Sóller to Binibona
The ride from Sóller across to the eastern slopes of the mountains takes you through the most spectacular scenery of this area. This part of the island is rugged and sparsely inhabited. Right after Sóller, you drive through the old tiny villages of Biniaraix and Fornalutx. If you don't stop, you might even miss them. Though I read quite a bit about their beauty, we didn't really see a reason to stop. Perhaps you will appreciate them more by walking the short distance from Sóller. Just before reaching the highest area in the mountain range, you will pass Mirador de ses Barques, a lovely lookout point. From here, you can catch great views down to the sea and Port de Sóller with its beautiful horseshoe-shaped bay. Continuing the drive through the mountains and by now reaching its plateau, you enter the lake district. Here is a set of emerald lakes created I believe after a dam was erected to collect precious rainwater.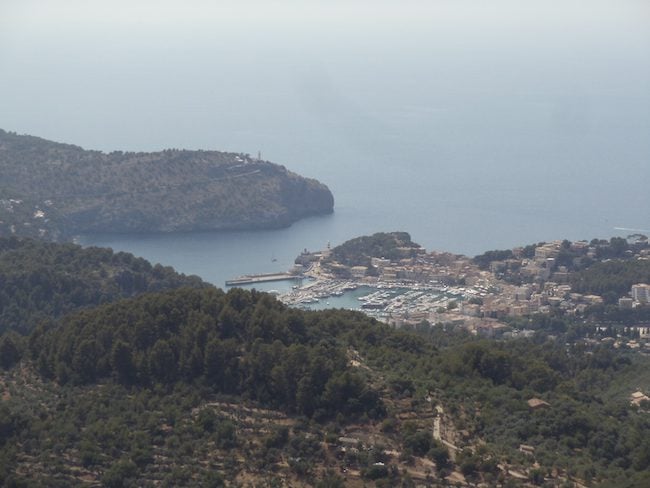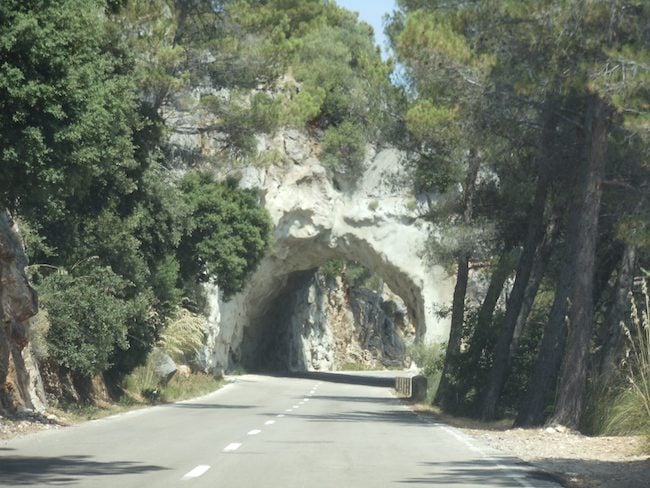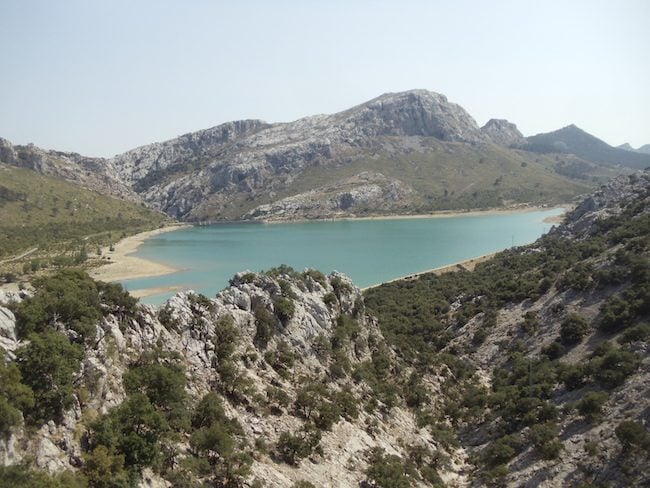 You'll be lucky to find a room here!
Snaking its way down the eastern slope, the Ma-10 is at its best with rugged views and sharp bends. A turnoff to the Lluc (famous monastery) is off this road but we headed straight to Finca Es Castell, just outside Binibona, arriving at 6:30 pm after a long day and demanding drives. Finca Es Castell is a restored farmhouse, sitting on a huge property filled with roaming sheep, olives groves, and orange trees.
It is an award-winning hotel and did not disappoint. With tranquility at its best, you can relax poolside, taking in the breathtaking views during the day and watch the countless stars as bell wearing sheep orchestrate the night in an enchanting symphony. Breakfast is superbly fresh and attention to detail is the name of the game in this relaxing country home. You can enjoy the changing dinner menu for 31€ pp or venture out to nearby Selva for a variety of dinner options.
Here's a list of all accommodations in the Binibona region which you can book online.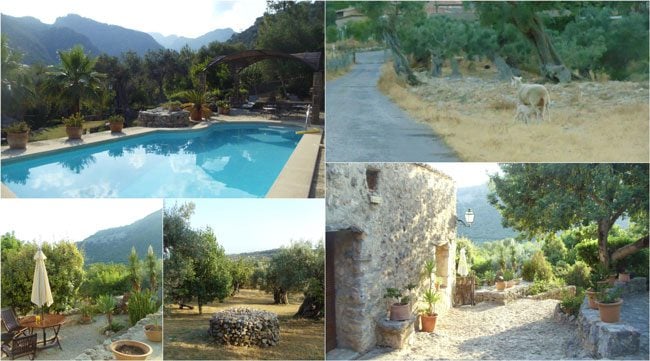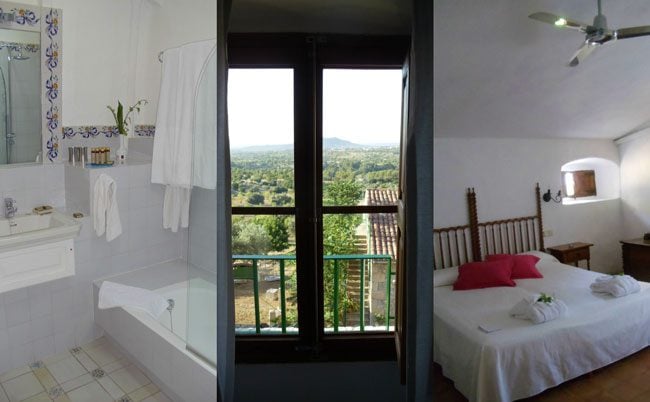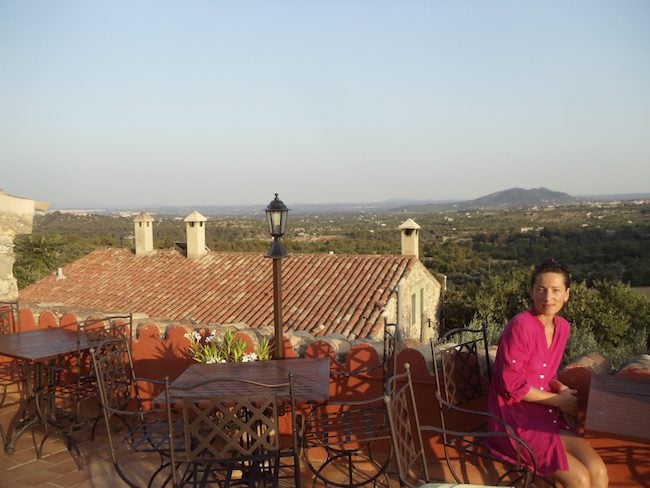 Binibona to Sa Calobra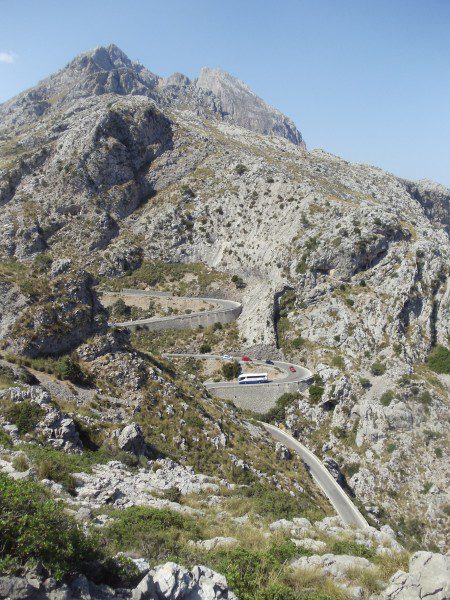 The following morning, we were headed for 3 beaches: Sa Calobra, Cala Tuent, and Port de Sóller. As a rule of thumb, always stock up on plenty of water, snacks, food, etc. when headed to Mallorcan beaches. You will find that most visitors are well equipped so consider bringing with you cooler bags and ice bags not to mention umbrellas and towels if possible. There is usually a place to buy food and drinks but it will definitely be pricey. We were well prepared and always took with us water, fresh fruit from the local market or grocery shop and some snacks. The road down to Sa Calobra is famous for its incomprehensible sharp curves. If you want to catch a postcard view of this road, stop at the lookout point just before the descent begins. The road down will take you some 30 minutes, depending on how many tour buses are making their way up or down and will challenge the best drivers with its 270-degree turns. Once completed, say goodbye to about 3€ per hour at the only car park, skip the first beach you see and race the other visitors through the tunnels down to the famous spot. The infrastructure at Sa Calobra caters to the masses, including endless tour buses dumping tourists off by the dozens. If you are to come, get here early. The beach and its surroundings are spectacular but once the masses arrive, its beauty disappears and so did we, not after a pleasant snorkel in its crystal clear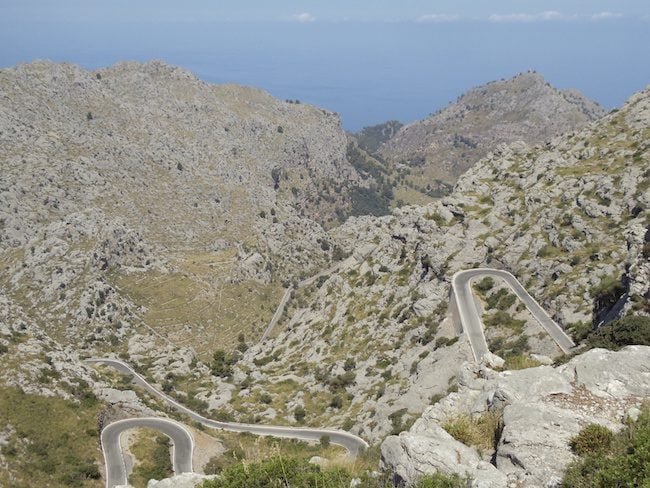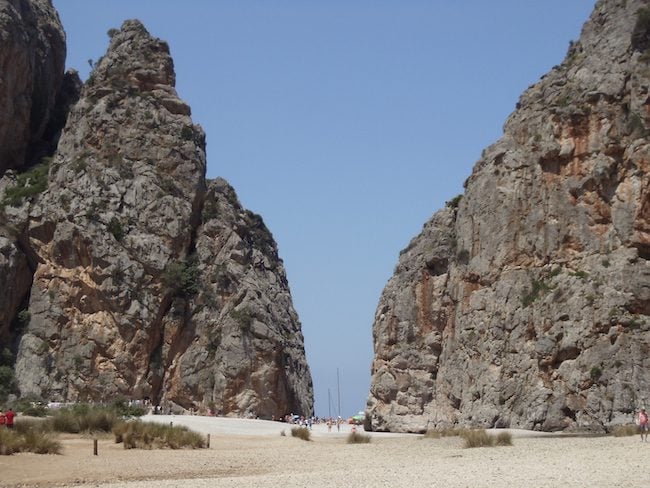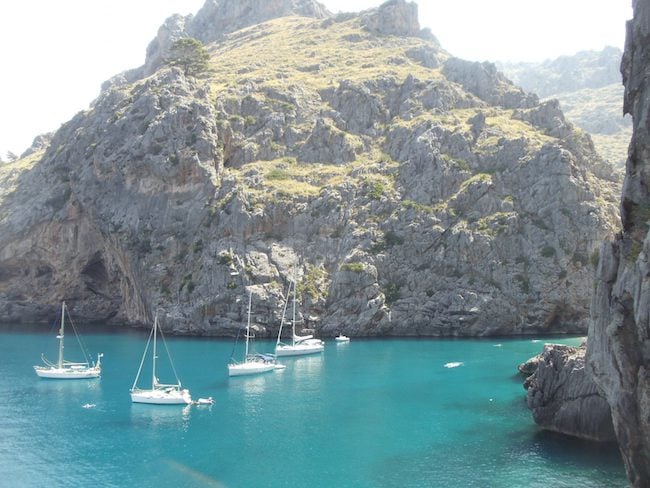 Sa Calobra to Cala Tuent
When things get crowded, head back to the car, pay the overpriced parking fee and head about 20 minutes to Cala Tuent– the 'unloved' sister beach of Sa Calobra. We really enjoyed this place. The drive holds great views and photo ops of the dramatic peaks on one side and the turquoise bay on the other. Not much parking is available here but you'll manage.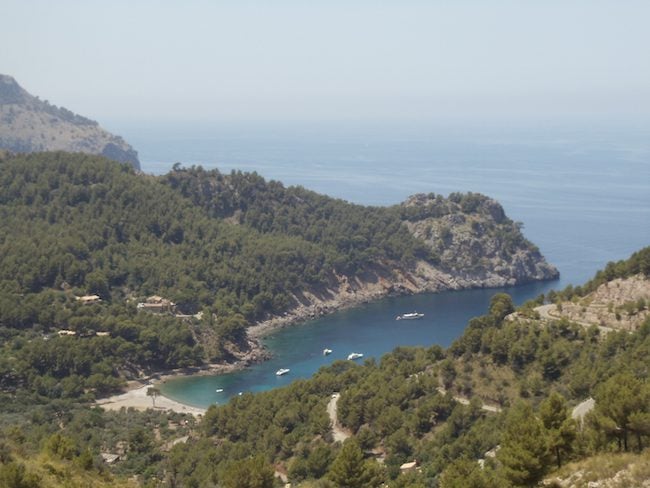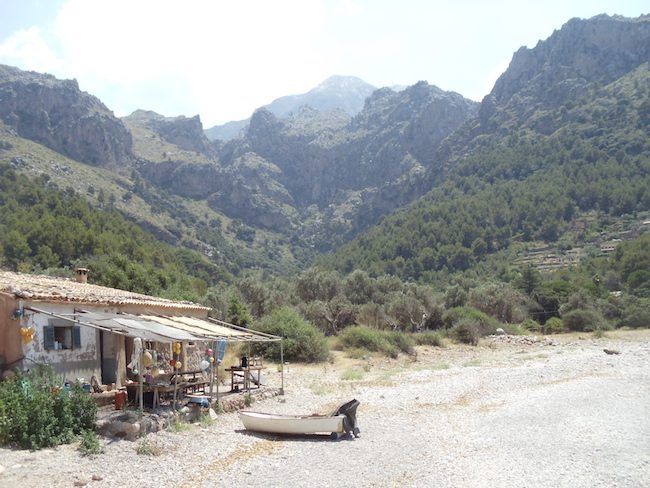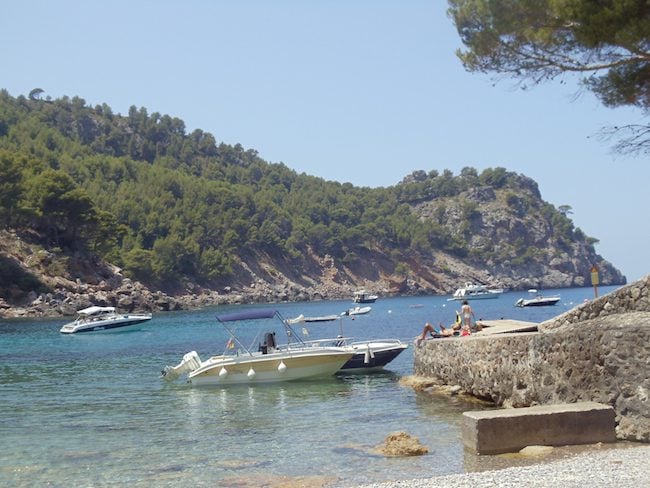 The beach is rocky and the water definitely not as nice as with the older sister at Sa Calobra but tranquility wins over here.
Cala Tuent to Port de Sóller and back to Binibona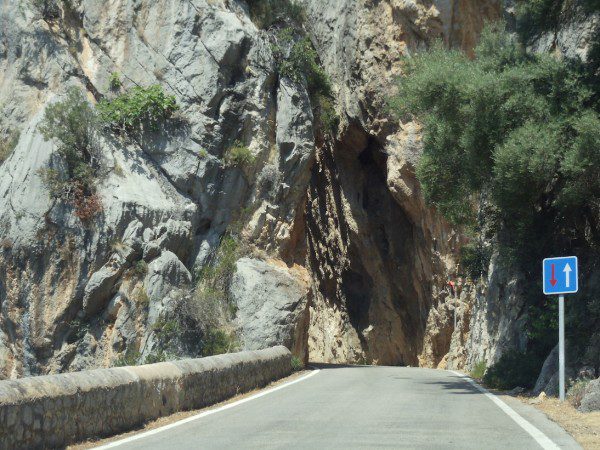 A 45-minute drive back on the Ma-10 took us back to Port de Sóller and our third and final beach for the day. We headed straight for the northernmost beach in Port de Sóller, which is less of a family beach. Sure, the horseshoe-shaped bay is nice and the town itself is cute even though a tourist resort, but we didn't understand what the hype about this beach is about. Considering we were pretty tired at this point, especially with the difficult drive, we really could have just stayed at Cala Tuent. On the day we visited, the water was very murky and visibility was almost zero. If you are looking for that special beach, head for the small coves (Cala) in this part of Mallorca. Instead of driving again through the mountains and the lake district, we used the Sóller tunnel (5€) to head directly to the eastern slopes of the mountain range and back to Finca Es Castell through Inca. For dinner, we found a gem of a place in Selva called Miceli. With memorable views across the valley outside on the terrace, you will not find a menu at this restaurant. Dinner depends on the local produce of that day. We chose the 'taste menu', a 5-course feast for 27€ including the best Gazpacho we have ever tasted and a memorable dessert.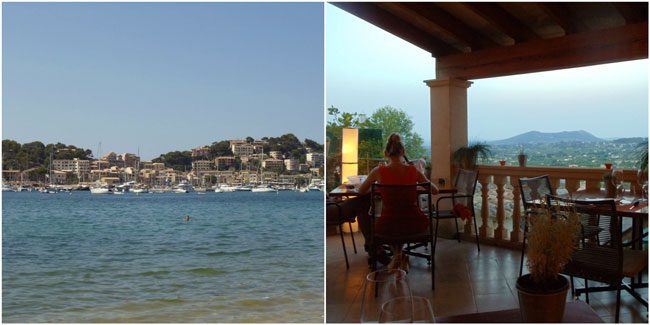 Any regrets?
We definitely underestimated the drive times in this part of the island. While distances are not great, roads are narrow, windy and usually one-laned, making driving times twice as long as you would think.
As far as beaches, doing 3 in one day was a bit too much. I would include Cala Deià in the mix as it looks inviting in pictures and probably not as crowded as neighboring coves. Definitely get to Sa Calobra early and Port de Sóller is not a must.
We didn't have time to see the Lluc, a famous monastery with some fantastic panoramic views.
There is a lot to see in this part of Mallorca: beaches, small towns, mountain views, and top-notch rural hotels to stay in. Two days may not be enough and you might feel rushed. We did not have time to hike in this region which is famous for its hikeable terrain. Allow at least one additional full day if you want to squeeze in a hike, there are plenty of options with well-marked and documented trails.
Part 3: Formentor Peninsula & Pollença (1.5 days)
Binibona to Formentor
Our next stop was the northwestern part of the Island culminating with the Formentor Peninsula, which is really where the Tramuntana Mountains splash down to the sea. From Binibona, we took the main interior highway to save time but you can also continue on the scenic Ma-10 for some more mountain views and also visit the Lluc Monastery. Once you pass Pollença, just follow signs to Cap de Formentor and the lighthouse. You'll eventually find yourself driving on the scenic Pm-221 road which is once again windy, but definitely not as challenging as the Ma-10.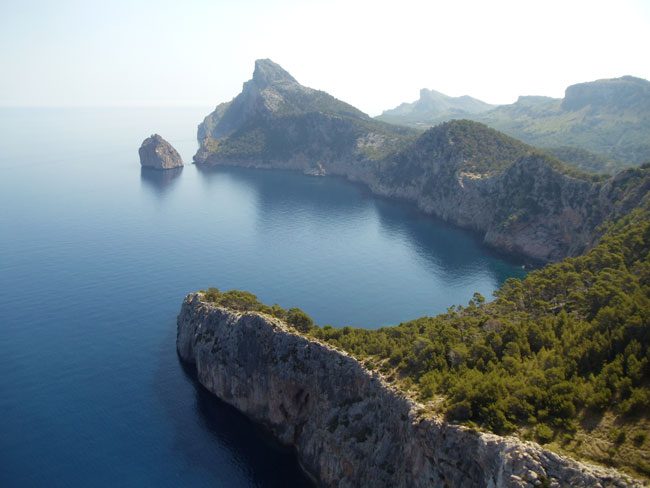 Once you pass the military base, you will not miss the sign to the lookout point. It's definitely a must stop with beautiful panoramic views, the bluest of waters and breathtaking cliffs. We were tipped by locals that it's not worth it to complete the journey all the way to the end of the peninsula, finally reaching the lighthouse. This road is quite touristy and can get congested. We were advised to hit the famous beach which is located pretty much as you come down from the lookout point. This is the 'hotel zone' and there is no way to avoid the 10€ parking fee.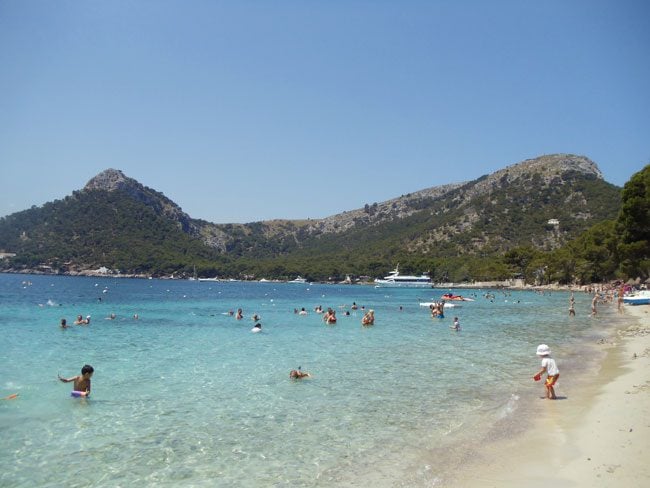 The beach is a narrow strip of sand sheltered by pine trees in the rear and in some areas, the concrete of seaside restaurants and cafes. It's not as intrusive as you think but since we're talking about a small beach, it can get very crowded. There is even a pier nearby which caters to the daytrippers from Port de Pollença. The waters are great for swimming but the snorkeling was not great when we visited. The tip we got was not a great one it turns out. Skip this beach altogether and continue driving towards the lighthouse. Along the way, you will find cars parked on the sides, a good indicator for the small coves which we were always on the hunt for. At about 3 pm, we started making our way from the beach to Pollença, our resting place for the night.

Formentor to Pollença
About a 25-minute drive from the Formentor beach, you'll reach Pollença, a charming little town and a good base for the night, especially if you want to avoid the crowded beach towns and touristy Alcudia. We checked into L´Hostal- Hotel D´Interior after a challenging drive in the narrow and one-way streets of the town. The town is quite small so just find parking on the modern streets and walk to your hotel. The hotel is situated in the heart of town, meters from Placa Major, the town's main square. Rooms are very reasonably priced, clean and comfortable. It is the sister hotel of Hotel Juma, a long establishment in the town and also where you'll have breakfast. Much of the action happens in and around Placa Major with its 13th-century cathedral, tapas bars, ice cream parlors, narrow streets, and souvenir shops. You will also find a lot of art galleries and crafts. The town really comes to life at night and Placa Major is the place to be, though be aware of overpriced tapas bars.
Here's a list of all Pollenca accommodations which you can book online.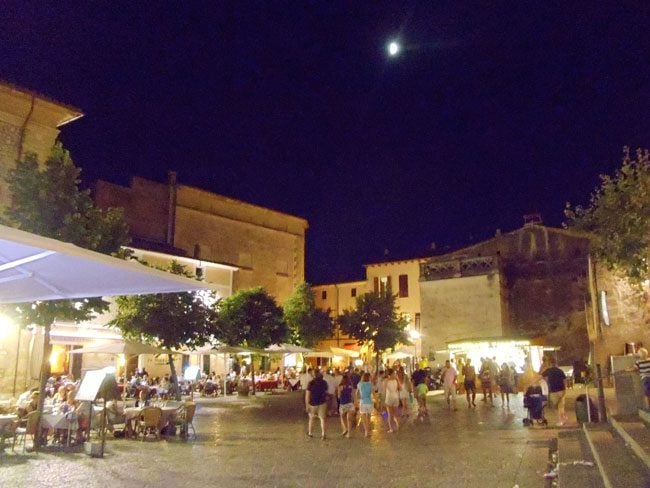 A must in Pollença is climbing the 365 cobbled stairs to the top of the sacred hill and reaching the Calvary Chapel. This climb is used by pilgrims during Good Friday and during the rest of the year, provides excellent views down to the town and across to the surrounding hills and nearby Port de Pollença.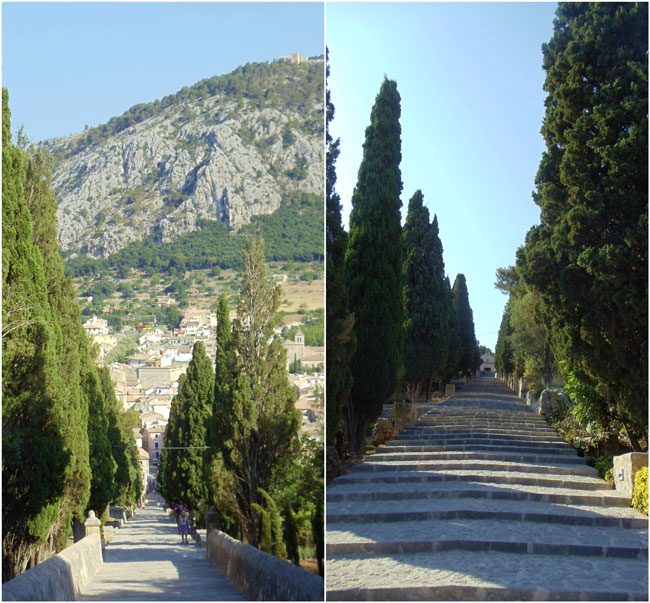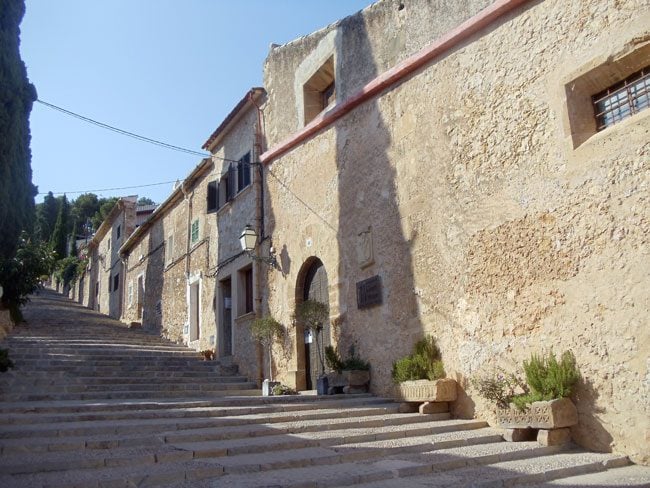 Pollença to Cala san Vincente
We got a great tip from the hotel staff in Pollença to visit Cala san Vincente despite the literature mentioning it is overcrowded. We headed there early the next morning, a short 15-minute drive from town and were not disappointed. The sleepy beach town is nestled on the shore and surrounded by the hills. There are numerous hotels and I can imagine this place getting crowded during the day but head there early and you won't be disappointed. Once you reach the main beach, the one with the soft sand, continue driving a bit and park the car.
You can either spend time at this beach which is quite well organized and caters to families or walk to the next cove, a narrow strip of rocks covered by dry seaweed and dotted with numerous wooden fishing boats. It might not seem like your dream beach, but you might have it all to yourself. Set your towel down on one of the boats or even the rocks as we did and enjoy superb snorkeling in crystal clear waters with the towering Formentor cliffs to the north. We snorkeled from this secret cove to the main beach, took a shower, grabbed our stuff and headed to our next stop.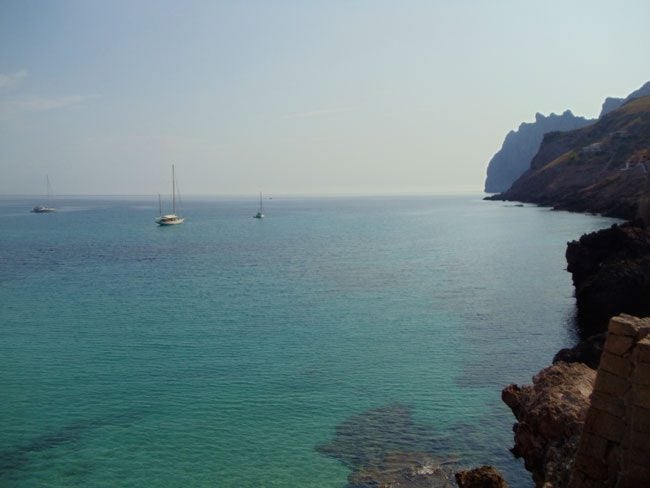 Cala san Vincente to Sineu
Not many visitors venture inland in heir Mallorca travel holiday and tend to stick to the coast. The island's interior is also home to lush agricultural land and Sineu is the location of a major market that takes place on Wednesday. If you like markets, you'll enjoy this one. The town is transformed on Wednesdays as merchants from across the region set up shop selling anything from fruits, vegetables, bread, cheese, crafts, honey, meats all the way to clothing, ceramics, and livestock such as various birds, calves, and pigs- quite a sight! Parking is not a problem and in our usual fashion, we stocked up for our traditional midday picnic and headed to our next destination.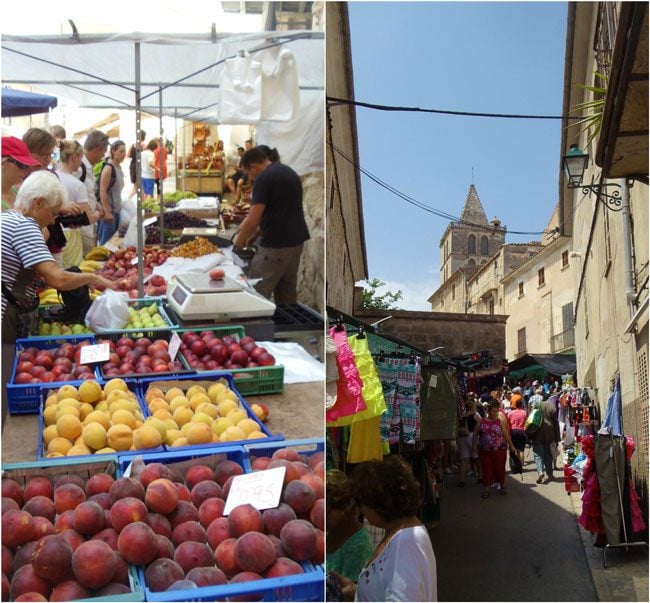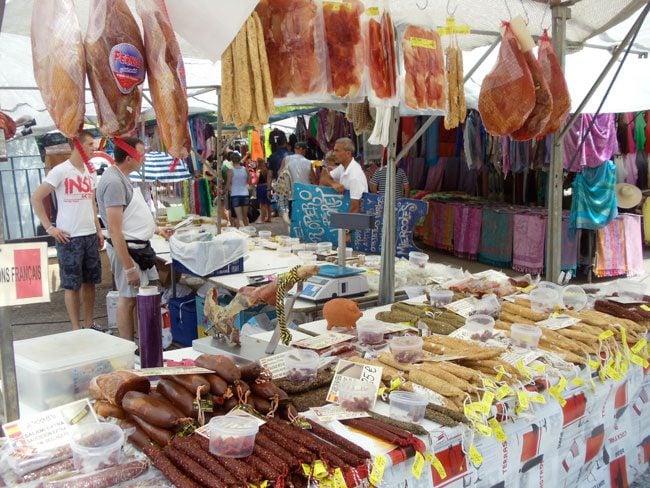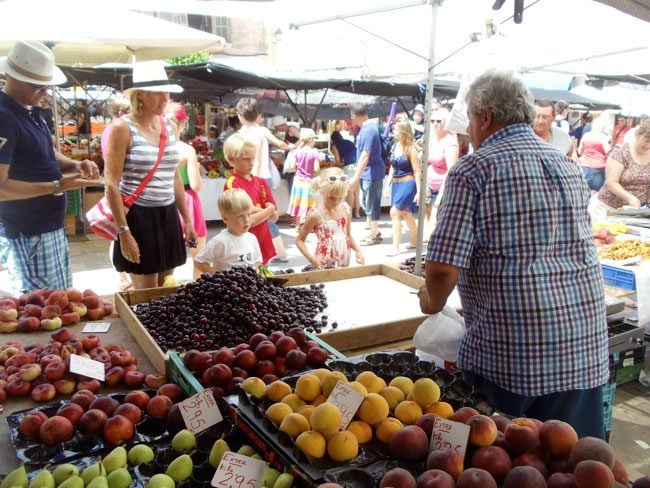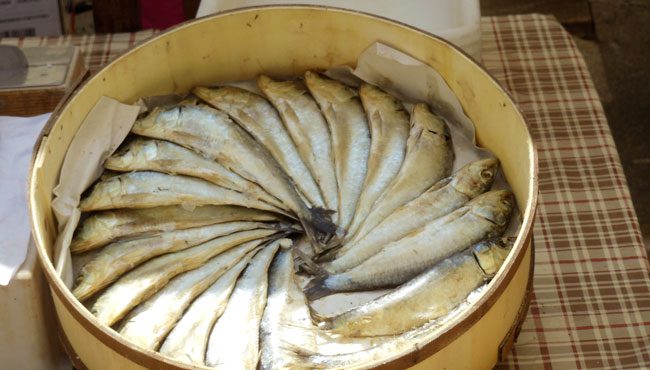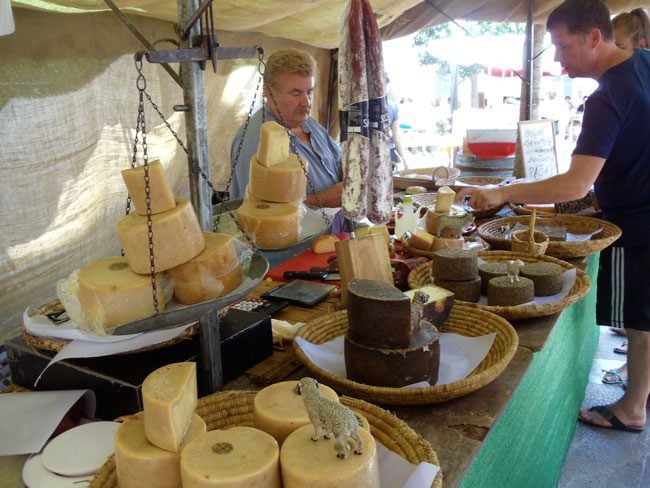 Sineu to Petra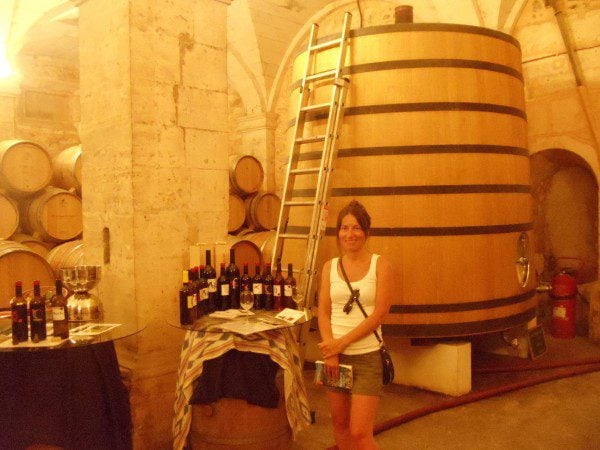 There is not much reason to make the 20-minute ride to Petra unless you're a wine lover. Petra is the home of the Miquel Oliver Winery, famous for its Muscat wine. We visited this sleepy town just for this reason and got a wonderful tour of the cellar and winemaking facility. The vines are grown elsewhere on the island and are shipped to this location. You can taste most of the wines such as Merlot, Muscat, and Rose. Prices surprisingly start at 6€ for a good Muscat so make sure there's room in your luggage.
Petra to Arta
To finish off this busy day that had started in Pollença, we headed for the beaches passed Arta. We drove straight through the town en route to the secluded beach of Cala Estreta and its neighboring coves. Once you get to Arta, follow signs to Cala Radaja on the Ma-15 and once you get to the Petronor gas station, turn left, following the sign for Cala Mitjana. After driving on a very rural road in the hills for about 20 minutes, you'll reach a fork in the road. A right turn will take you to Cala Mitjana, a large cove that has paved parking and a small beach bar. However, continue straight on the difficult dirt road which will slope downward, eventually leading to Cala Estreta.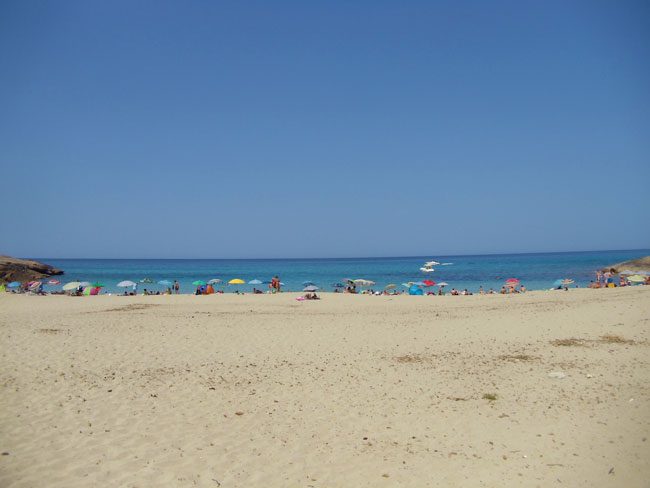 This is a gorgeous open cove beach with bright soft sand and clear blue waters. To your left, a small old fort perched on the hill and to your right, a footpath leading up the hill to the neighboring Cala Mitjana with impressive sea views. We arrived here at about 5 pm and wish we had more time for this spectacular place. Bring plenty of water and food if you don't want to walk across to the beach bar in the neighboring beach.
A lovely boutique hotel
In Arta, we stayed at Hotel Forn Nou, a fantastic boutique-style hotel in the center of the old town. The narrow streets are hard to navigate but there is no shortage of parking. Arta is a lovely little medieval town and a decent place to spend the night. There isn't a whole lot to do at night except enjoying some Sangria and Tapas in the main square. The town's main attraction involves climbing 180 stairs up to the majestic Sanctuary of Sant Salvador, an old 14th-century walled sanctuary atop a hill overlooking the town and its surrounding area. Start your journey at the impressive Church of Transfiguració in the center of town for this well worth short journey.
Here's a list of all accommodations in Arta which you can book online.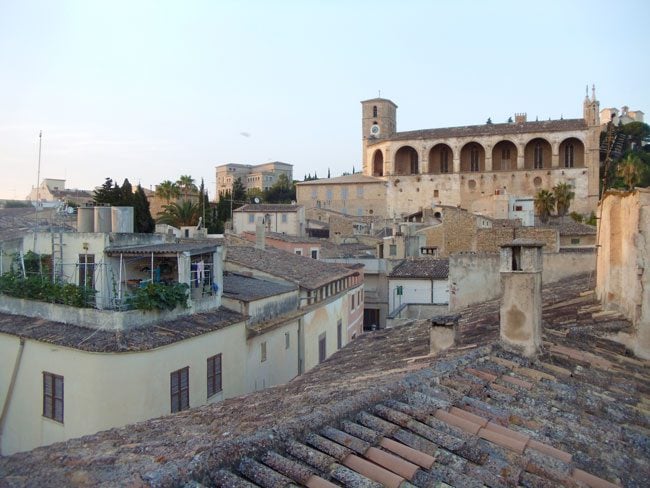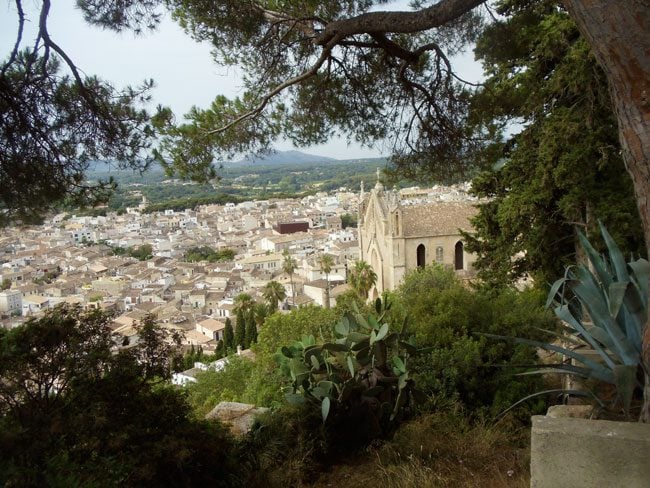 Any Regrets?
Don't settle for the main beach at Formentor, continue driving towards the lighthouse to find the more secluded beaches.
There are some fantastic beaches in the northeast part of Mallorca. We only got to spend a few hours at Cala Estreta and wish we had more time.
Just outside of Arta is the Ermitage de Betlem which is supposed to be lovely to visit and stroll around.
In the vicinity of the hermitage lies The Peninsula de Levante National Park. We actually ended up here by mistake en route to the beach and it looked amazing, totally remote. The ranger told us there are nice 3-4 hikes you can do which will lead you to secluded coves.
Part 4: Southern Mallorca (3 days)
Arta to Mondrago National Park & Cala Mondrago
About a 1.5-2 hour drive from Arta lies Mondrago National Park. There is no need to stop on the way and in general, try to avoid this part of the east coast which is where a lot of the package holiday resorts are situated (there are, however, some famous caves to visit if you're into that stuff). Park your car (free) in the parking lot and head down the paved path to the beach. As you reach the main beach, you are faced with 3 options: you can take the wooded path to your left for about 400 meters and reach a very narrow cove (in our case, it was quite crowded), you can simply stay at this main beach which is quite family-oriented, or take the right path (can't miss it) to the next beach which is in a wide cove with lovely sand and pinewood in the rear. There is a beach bar, chemical toilets and decent snorkeling in the surrounding rocks if the water is clear on that day. This is a lovely place to spend the day.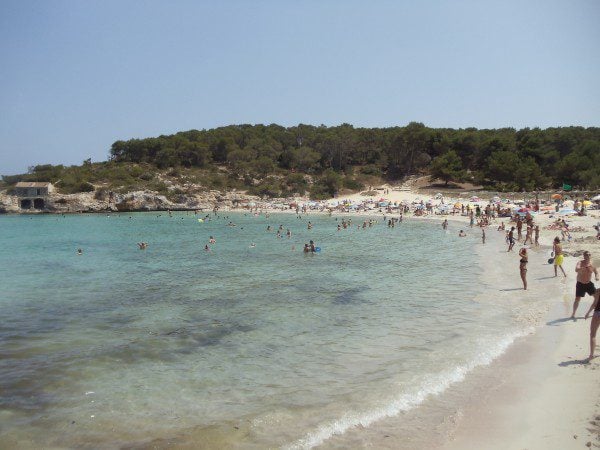 Mondrago National Park to Ses Salines
We were headed to the small village of Ses Salines for our next 2 nights and en route from Mondrago, stopped at the picturesque fishing village of Cala Figuera. No beach here, just a lovely stroll down to the old port and just in time to catch the fishing boats unloading their bounty. Local chefs eagerly await nearby for a good catch and dozens of tourists for a classic photo op. The port is a lovely place for a stroll through the narrow seaside path, dotted with boathouses and sunny villas clinging to the surrounding cliffs.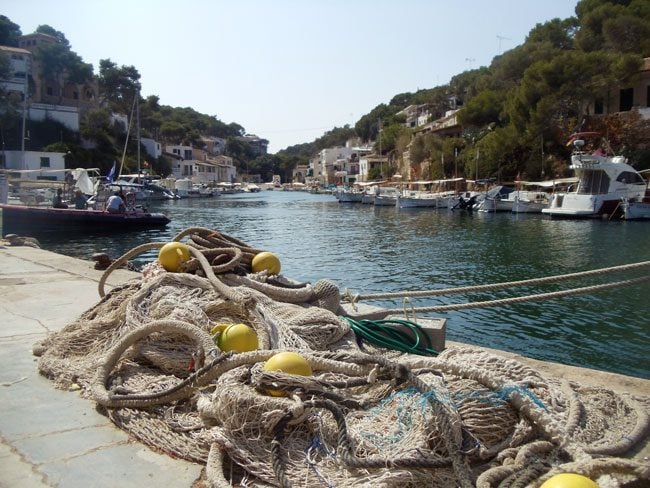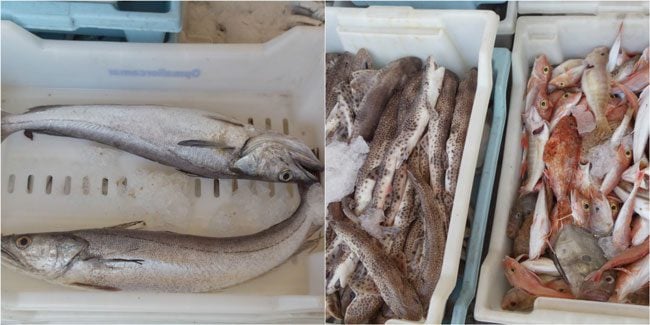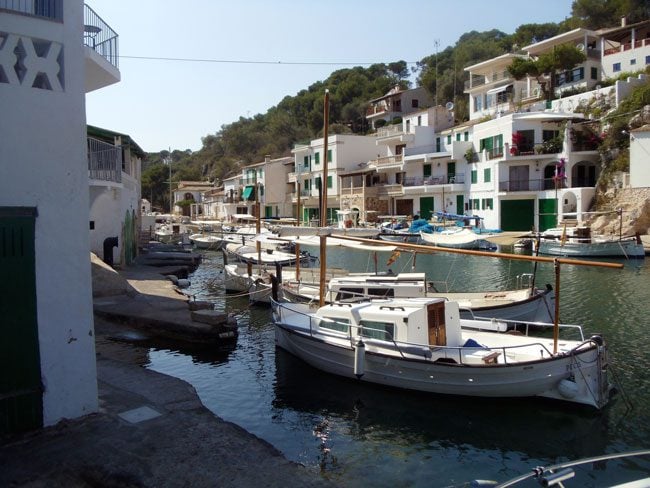 A further 10-minute drive brings you to Ses Salines which seemed like an upscale village to us. We stayed at the Villas Station hotel which is a great place but just hard to find so ring them up before to get directions. This is a converted train station with spacious family rooms and a nice swimming pool. There is an even an ancient but active well in the gardens, just watch out for the cactus. That night, we headed to Colonia de Sant Jordi for dinner on the seaside promenade. We chose Port Blau which offers a great dinner deal for a couple (21€ pp for a three-course meal and a bottle of wine) and some fantastic fresh fish.
Here's a list of all accommodations in this area which you can book online.
The next morning we went on a hunt after the best Ensaimada in Mallorca, the famous local spiral-shaped pastry. The hunt took us to the town of Campos and Patissiere Pomar, a famous establishment since 1902. This place really does deserve its reputation and is frequently visited by locals and visitors. You can buy various pastries (try the Ensaimada and the almond croissant), coffee, bread, and the typical Mallorcan 'pizza-like bread'. We bought some bread in the bakery, fruits, and vegetables in town and headed to the beach.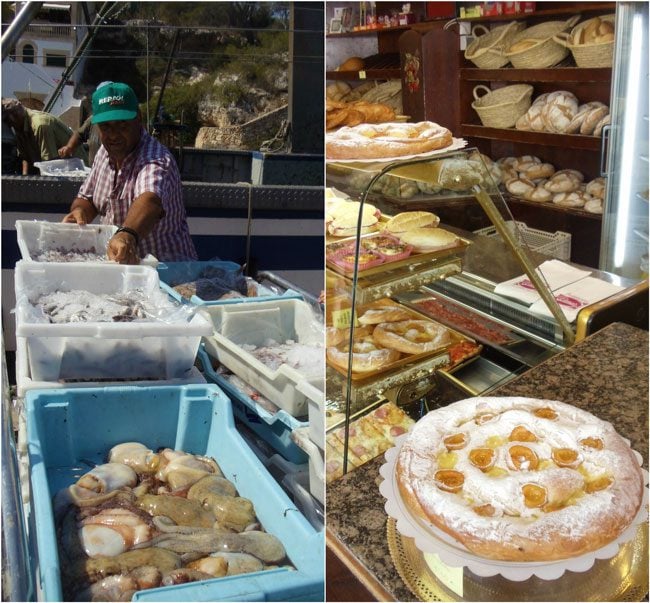 Ses Salines to Es Trenc Beach
Drive towards Colonia de Sant Jordi and just before the town, you'll see a right turn towards Es Trenc. This road takes you past the Flor de Sal d'Es Trenc salt factory which makes this region so famous (you can stop at the factory shop) and takes you to the parking lot (6€) of Es Trenc beach. This is by far the nicest beach we visited throughout Mallorca.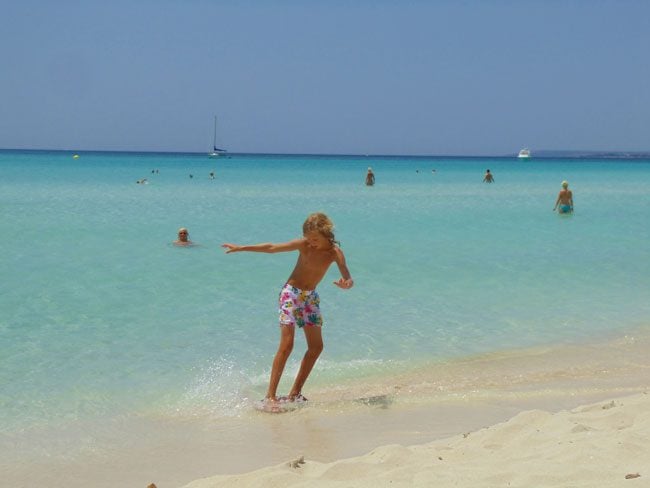 Es Trenc is a wide and long strip of nearly unspoiled white sand where you can have some space for yourself. The area near the parking lot is more family-oriented and houses numerous restaurants. Head an additional 300 meters to the nudist area which is in my opinion, the nicest part of the beach. Es Trenc is a Caribbean-like beach. Substitute the palm trees for the pine trees and you are in a tropical setting. The sand, soft and white. The waters shallow and crystal clear, stretching for about 300 meters.
If you truly fancy feeling on vacation, feel free to take your clothes off as this beach is popular with nudies. It's not a must though. What is a must is spending as much time as possible in this magnificent setting. Bring plenty of water, food, and shade as the beach bars and restaurants are quite overpriced and the sun is at its best. For dinner, we had some excellent tapas at Casa Manolo in Ses Salines, reasonably priced and rich with history.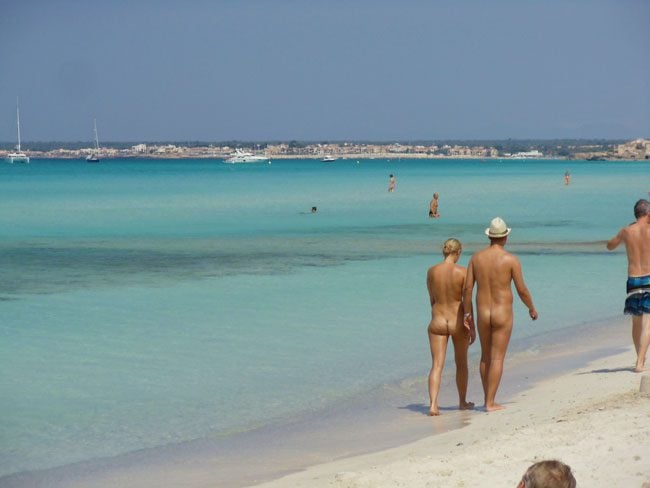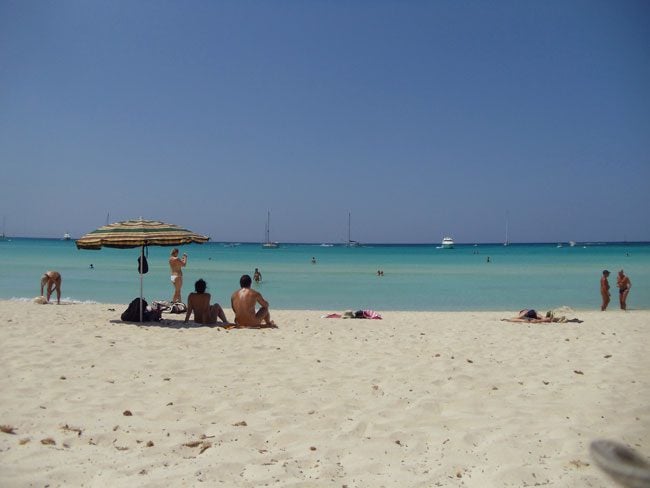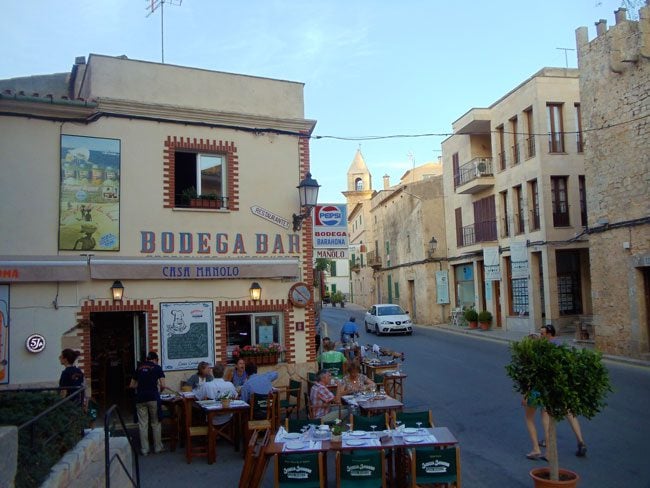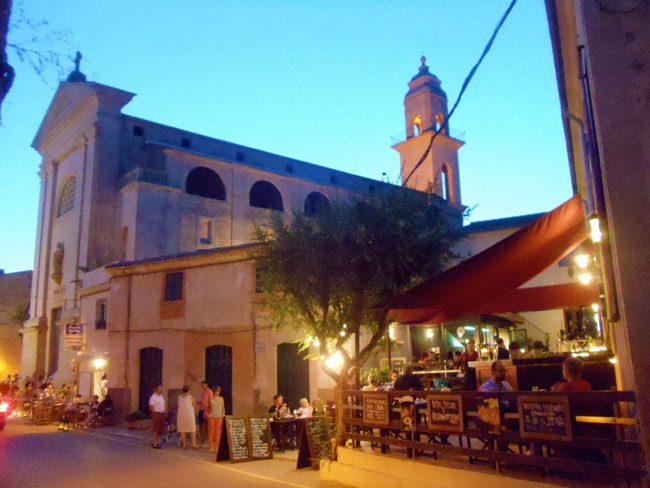 Any regrets?
Our only regret on this leg of the trip was not knowing how beautiful Es Trenc really was. We went to 9 Mallorcan beaches and this was by far the most memorable.
Part 5: Es Trenc to Palma (1 day)
Our trip was coming to an end. We spent another half day in Es Trenc and headed back to Palma that afternoon (45-minute drive), returning the car and checking in once again to Hotel Almudaina. We used this time to do a bit of shopping and for dinner went to the highly recommended Celler Pagés restaurant. Hidden in the back alleys of central old Palma, this restaurant is popular with the locals and we were fortunate to find a free table. Food consists of fresh Mallorcan cuisine and prices are extremely reasonable.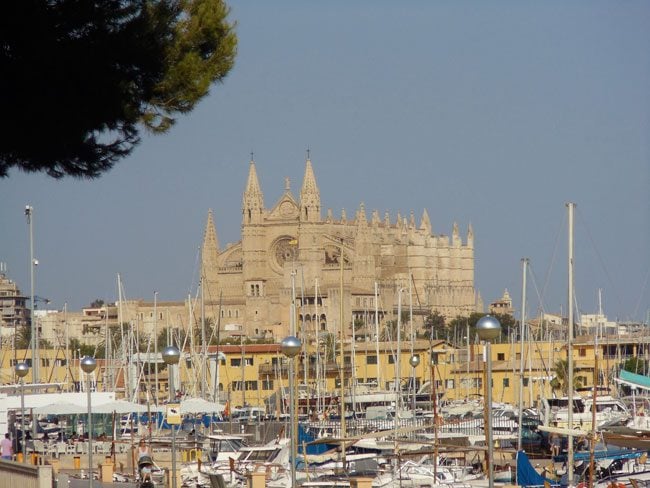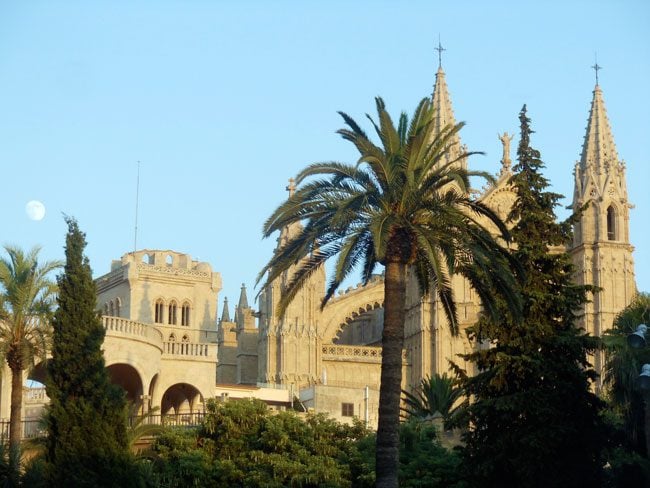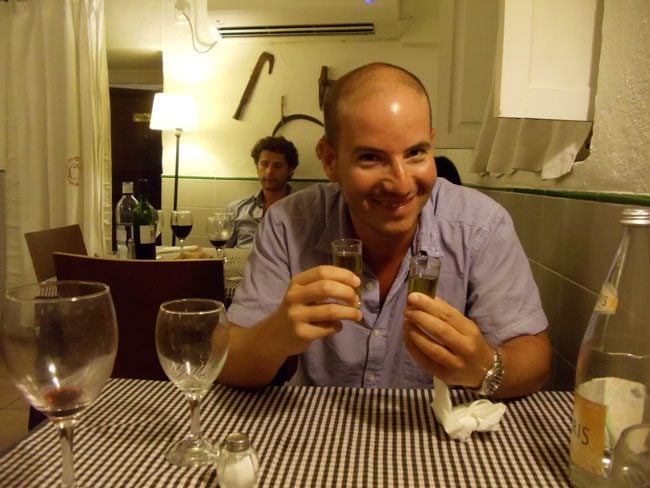 ---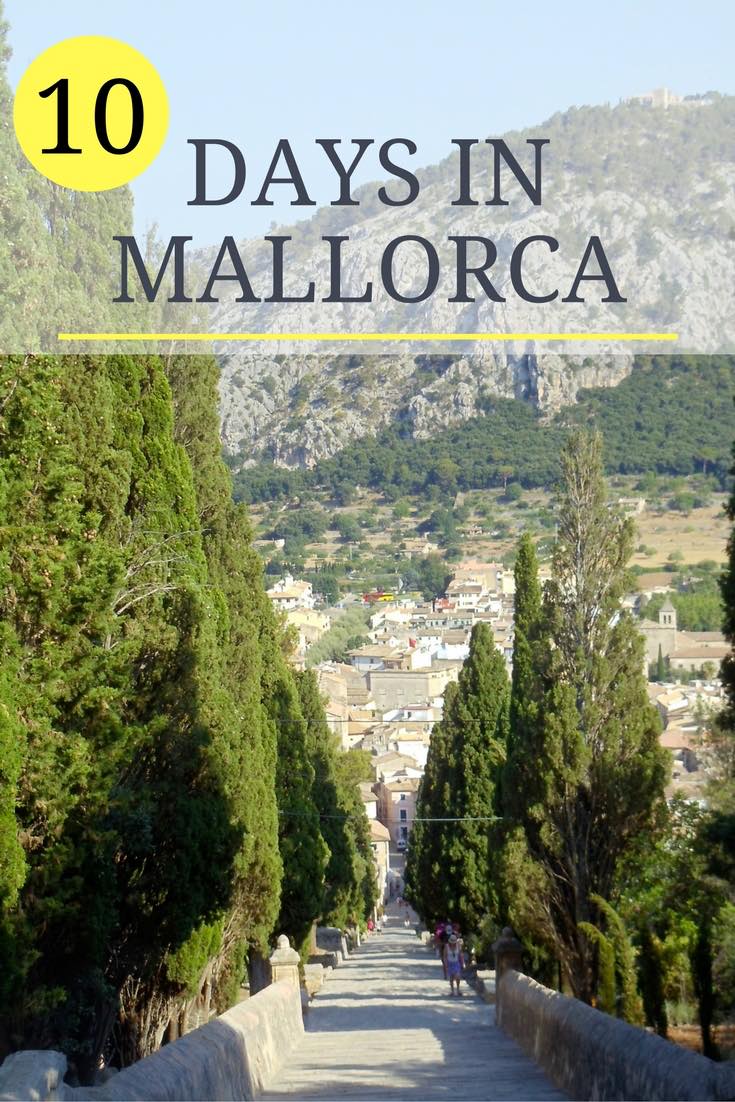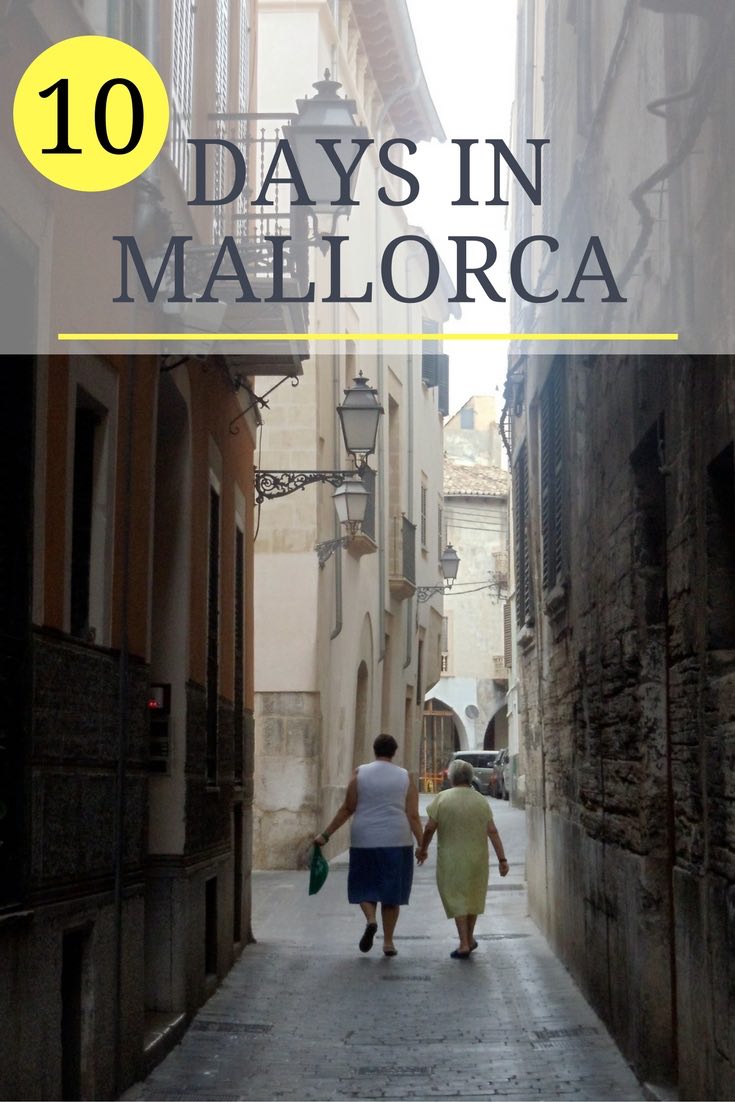 Pin These Photos To Your Favorite Boards!