Sawadika! One of the most pampering destinations in the world, you simply cannot go wrong with a trip Thailand. Exotic, diverse and beautifully chaotic – every traveler must make the pilgrimage to Thailand at least once in their lifetime, though I can almost guarantee there will be a return visit. Impressive temples and colorful markets await you in the mega-city of Bangkok, while on the outer islands, your decisions will vary from when to get a massage to when exactly to go for that fruit shake? While mass tourism has certainly taken away a lot of the charm, this 14 days in Thailand sample itinerary will help you outsmart the bandwagon crowds!
Thailand is one of the best value-for-money destinations in the world and it's also one of the prettiest places you'll ever visit. The problem is that you ain't the only ones that have figured this out. So if you're looking to have the place all to yourself, look elsewhere. Thailand lives and breathes tourism. In fact, tourists are pretty much everywhere you look. Kind of like Bangkok smog. But have no fear – with a little bit of planning, you will have a memorable experience.
What's Included In This 14 Days In Thailand Itinerary?
Looking for a quick read? Here's a list of the top 10 things to do in Thailand!

Chiang Mai: the Missing Piece
I traveled to Thailand during the second half of November on a couple's trip. We were living in Ireland at the time, so sun and beaches were our top priority. We, unfortunately, didn't have enough time to visit Chiang Mai – a charming northern city with magnificent temples, a laid-back vibe, top-notch food and awesome nature nearby. Looking back, all our beach stops were great but Railay Beach was not as impressive as we had hoped. So, we could have used these three days for Chiang Mai or as extra days in Ko Phi Phi and especially in Ko Lanta.
Thailand Travel Tips
Don't leave without the Rough Guide to Thailand and the Lonely Planet Pocket Bangkok. Together with this sample itinerary – they will be your best friends on the trip to Thailand. If you're only visiting Bangkok and the beaches, the Rough Guide to Thailand's Beaches and Islands will do the job.
You'll likely enter Thailand via Bangkok, a megacity with two international airports: Suvarnabhumi and Don Mueang. Suvarnabhumi is the ultra-modern airport serving all major airlines, while Don Mueang serves the low-cost airlines. Keep this in mind when booking your international and domestic flights, as airports are far apart and require plenty of travel time in between.
Domestic flights in Thailand are very cheap, with lots of competition over popular routes. However, safety is always a concern. This is the reason why we chose to fly with Nok Air, a great low-cost airline that's partially owned by Thai Airways.
Do not, I repeat – do not, joke or even mention the royal family. Don't even accidentally step on bills as they carry the portrait of the late King Rama IX. Offending the monarchy can get both locals and tourists into some serious trouble!
Pack very light, quick-drying clothes. If you're visiting the islands and beaches – a backpack is better than a trolly since you'll need to walk over sand and shallow water to get in or out of your ride. Here's a list of recommended travel items.
While accommodations in Bangkok are plentiful, the same cannot be said about the popular beach stops. It's wise to book in advance.
I strongly suggest carrying a first aid kit and a 'small pharmacy' that includes pills against a headache, fever, food poisoning, diarrhea etc. We met a handful of tourists who got sick on the outer islands during the weekend when pharmacies were shut.
On that subject: always check Tripadvisor before eating in a restaurant. If somebody recently got sick, there's a very good chance they posted a review. This trick worked for us and we managed to avoid a few potential mines.
At the airport, purchase a local SIM with data. This will seriously come in handy, especially in Bangkok.
Especially in a destination like this, make sure you have sufficient travel insurance. The folks at World Nomads offer excellent value plans for all types of trips.
How to Choose the Right Thai Island or Beach?
If you're visiting Thailand on a short holiday – choosing the right island or beach destination is a real challenge. You'll hear conflicting recommendations from friends and might attempt to squeeze in as many stops as you possibly can. Keep in mind that Thailand is huge! Its best islands and beaches are concentrated in the southern Gulf of the Andaman Sea (Railay Beach, Ko Phi Phi, Phuket, Ko Lanta) and in the Bay of Thailand (Ko Tao, Ko Phangan, Ko Samui). The most important factor when choosing your stops is the weather. Here's a general rule of thumb:
May – October: the rainy season, expect frequent rain, not the best time to visit the islands if on a short visit.
Nov – Feb: the cool season, ideal for visiting the islands of the southern Andaman Sea
Dec – April: the hot season, ideal for visiting the islands of the Bay of Thailand (+ Andaman Sea)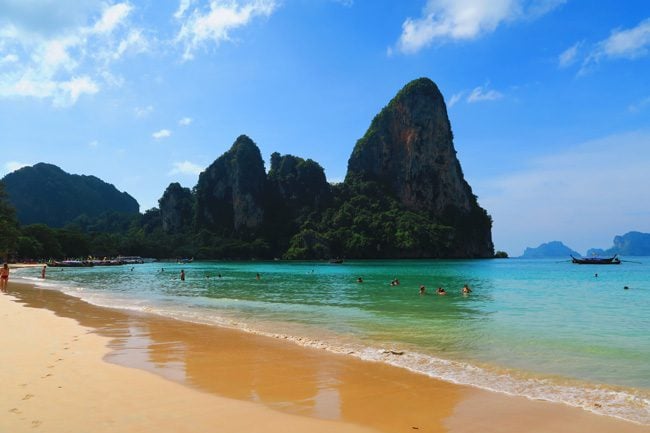 In any case – unless you like package holidays – avoid staying in Phuket, Pattaya, and Krabi. Not that these are not necessarily nice places, but they lack the authenticity that independent travelers usually seek. I also advise spending at least 3-5 night at each stop. This will not only allow you to unwind and enjoy the beach but also explore the surrounding area on awesome day trips. Also keep in mind that transfers from one island to another take a few hours either by land or sea, so it's best to keep these to a minimum.
Finally – I haven't been to all Thailand's islands and beaches, but here are the best choices:

Part I: 3 Days In Bangkok

It's enormous, smoggy, always congested, chaotic and smelly at times – but I simply adore Bangkok! It's a city where magnificent ancient temples share the same city block with slums and luxury skyscrapers, a city where the most ordinary-looking tree can be a holy pilgrimage site, a city where exposed electric cables dangle over your head like clues in a treasure map and a city with an endless variety of street food ranging from the bizarre to the exotically sweet. You'll either love it or hate it but in any case, pass through it, so simply embrace the mess. We started our 14 days in Thailand with 3 days in Bangkok and came back here for one final day of shopping and celebration (see part V). Let's start with a few essential Bangkok travel tips.
Looking for a quick read? Here's a list of the top 10 things to do in Bangkok!

Bangkok Travel Tips
Getting to/from the airport:
You can easily use a combination of the Airport Rail Link + BTS 'skytrain' to get from/to the center of Bangkok to/from Suvarnabhumi Airport. The journey should take approx. 30 minutes and cost less than THB 100 per person.
Taxis should cost under THB 400, depending on the traffic. The official taxi stand at the airport will print a voucher and guide you to your taxi. Though your driver might insist on a flat rate, insist on using the meter. To your fare, a THB 75 expressway toll and THB 50 airport charge will be added.
Getting around:
Bangkok is H-U-G-E, not exactly a city for walking like Paris or Rome.
Long journeys: the fastest way is the MRT (subway) and the super-convenient BTS 'skytrain'. Google Maps can help you choose the best routes.
Riverboats: if you can quickly get to the banks of the river – the Chao Phraya Express Boat is great for north-south journeys in the center of Bangkok.
Tuk Tuks: due to the heavy traffic, the 'in-your-face' motor pollution and the lack of desire by drivers to embark on long voyages – the famous Bangkok tuk-tuks should only be used for short journeys. Carry small bills of 100, 50 and 20, ask locals how much your fare should cost before flagging down a driver, ALWAYS agree on the price before commencing the ride, never agree to make ANY stops along the way (especially if offered to stop at a gem store) and finally, if you don't have a good feeling – another tuk-tuk is always 5 seconds away.
Taxis: great for shorter rides, preferably when there is less traffic (there's always traffic). Even though it's the law, it will be difficult to get the driver to turn on the meter. So either insist, bargain over a flat-fare, or flag another one down. By displaying a real-time Google Maps route on your phone, you'll know if you're getting ripped off when the meter is on.
Shopping:
One of the greatest joys of a holiday in Thailand. Siam Square is lined with modern shopping malls, but the best one is the MBK Center. For souvenirs, nothing beats the Chatuchak Weekend Market which takes place every Saturday and Sunday (see Part V).
Tours and discounts:
Browse through this list of skip-the-line and guided visits in Bangkok's top attractions. You'll also find unique experiences such as river cruises and cooking classes.
Safety and health:
Thailand has seen its fair share of civil unrest and military coups. Naturally, Bangkok is always the epicenter for such volatile times. It's wise to avoid the city in such times but if you have no choice, stick to the tourist areas and you should be fine.
Do not drink tap water! Bottled water is readily available and cheap.
Bangkok is a smoggy and humid city. It's a good idea to pack some 'wet-ones' with you for freshening up, especially before putting something in your mouth.
It seems that locals never cook at home with the infinite amount of street food in Bangkok. Often looking quite delicious – be careful where you eat and look for healthy signs (cleanliness, refrigeration, lots of local patrons).
Where to Stay in Bangkok?
Figuring out where to stay in Bangkok is a cause for a major headache. Bangkok is huge, there are many districts, and hotels are completely spread across the map. The good news is that supply is plentiful and excellent bargains are always to be found, even for last-minute bookings. As first-time visitors to Bangkok, I recommend basing yourself either in the Sukhumvit District (like we did) or the Khaosan District. Each has its pros and cons.
Sukhumvit District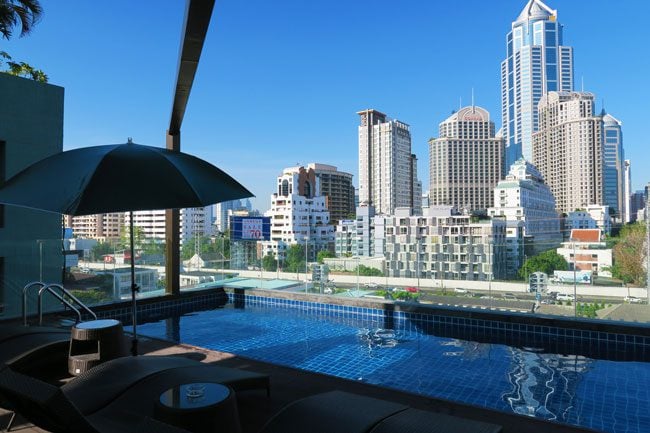 Lining both ends of Sukhumvit Boulevard is one of the most exclusive districts in Bangkok. With close proximity to Siam Square and the river, Sukhumvit is home to fancy apartments, loads of restaurants and a good nightlife. The best part is that the BTS Skytrain cuts right through it, and the metro isn't too far away. The only downside is the distance from the Grand Palace area and its multitude of sites (BTS and metro don't reach this part of Bangkok). We stayed at the Hotel Icon – very clean and comfortable and within walking distance of the district's nightlife. The best part was the rooftop swimming pool – a great way to end a long day with seriously awesome views of the Bangkok Skyline.
Khaosan District
Within walking distance of all the major Bangkok temples, the area around Khaosan road is synonymous with the city's vibrant backpacking scene. During the day, the road is buzzing with bazaars and cafes while at night it's the food and nightlife scenes that take over. With a ton of accommodation options for all budget types- stay in this area if you're looking to be close to the action and don't mind the madness of the big city.
Bangkok Itinerary Map
This map contains all the Bangkok highlights mentioned in this 14 days in Thailand sample itinerary. Simply click on the image to open the map in Google Maps.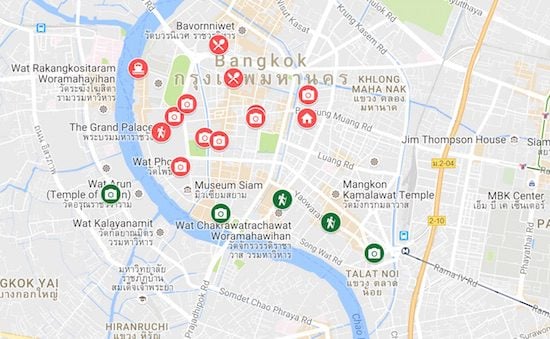 Day 1: Chinatown, Flowers and Temples
We'll ease into the Bangkok madness with a relatively easy-going first day. We'll start in the vibrant Chinatown district and end further up-river in the Rattanakosin district. Though we'll visit a few temples today, we'll leave the heavy-lifting for tomorrow after adjusting our clocks.
The Golden Buddha Temple
The Golden Buddha temple – also known as Wat Traimit – will be the first of many beautiful temples we'll visit in Bangkok. The main attraction here is obviously the golden Buddha figure which proudly sits atop a lotus-decorated pedestal. In case you're wondering – the 5-tonne Buddha is indeed made of gold, approximately 10 million dollars' worth of gold! It was likely sculpted in the 13th century and shipped to Bangkok covered in plaster to avoid theft. By complete coincidence, the gold was discovered when the Buddha was accidentally knocked over in the 1950's. Signs said it was THB 100 to enter and no photography was allowed, none of which were actually enforced. The rest of the temple stick to the 'gold motive' of the place – totally worth exploring and a lot less congested than the Golden Buddha's chamber.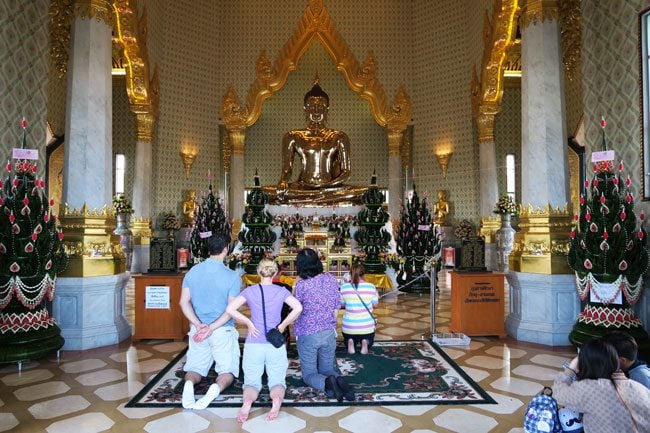 Exploring Chinatown
By far the best Chinatown I've ever visited, Bangkok's Chinatown is a confusing maze of narrow alleys intersected by busy thoroughfares. Getting lost is totally part of the fun and trying to catch your bearings is a challenging task even for seasoned navigators.
From the Golden Buddha temple, walk along Yaowarat Road or Charoen Krung Road (also known as New Road). Flashy signs – in Chinese of course – hang on to the buildings, hosting bazaar after bazaar and gold-shop after gold-shop.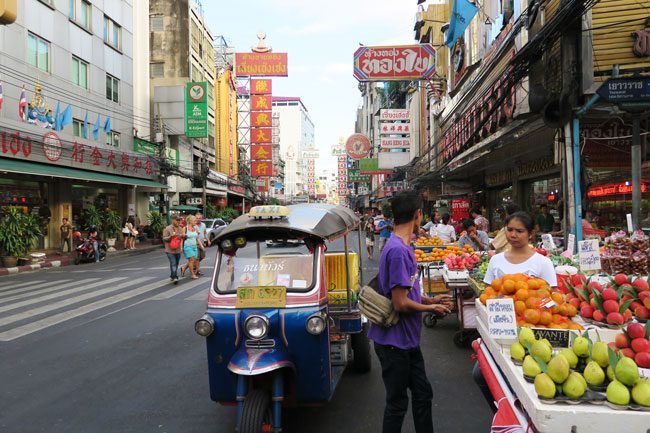 Somewhere in the middle of New Road, turn towards the river on Soi 16 and venture through this narrow street to Sampeng Lane (also known as Soi Wanit 1). This is probably the most interesting street in Chinatown, lined with stalls selling traditional Chinese medicine, fruit and vegetables, and take away food where no animal part goes to waste (if you know what I mean). Each stall is like its own little world, with different scenes taking place as you're passing through. I also encourage you to veer off Soi 16 and explore the even smaller lanes. Those often open up to small squares that are usually home to small street-food hubs.
Bangkok's Chinatown is a great place for lunch and you'll be faced with many options (and perhaps health concerns). We really wanted to sample some authentic food but didn't feel like getting sick on our first day in Thailand. So in one of the shops we visited and felt a good vibe with the owner, we simply asked for his recommendation. Since he didn't speak English, a drew a map for us on a piece of paper and wrote down the name of a dish we should show upon arrival. His little treasure map led us to what would otherwise be an ordinary-looking stall. The instructions on the map called for a double order of delicious green chicken curry with a side of rice and fermented egg. It was delicious albeit very spicy! Here are a few sites and sounds from lunch.
Pak Khlong Flower Market
Flowers are a big deal in Thai tradition. You'll realize this after your first temple visit. Though best experienced in the early morning hours, the main flower market is totally worth a post-lunch visit. Families sell bagfuls of colorful petals, bouquets, and woven flower necklaces – to be used by locals as offering to Buddha, and by hotels to spice up the lobby. The kaleidoscope of colors can lead to a bit of a daze; I didn't realize that flowers even came in some of these colors!
In the back of the market, fruits and vegetables are also on sale. It's always exciting to stroll around an exotic market and see what's growing on the other side of the world. Watch as ginger is painstakingly peeled and mountains of parsley weighed the old fashion way on actual scales. The fun doesn't end when you exit the market, as the adjacent streets are also packed with flower stalls and street food stands to satisfy the never-ending craving of shoppers and sellers.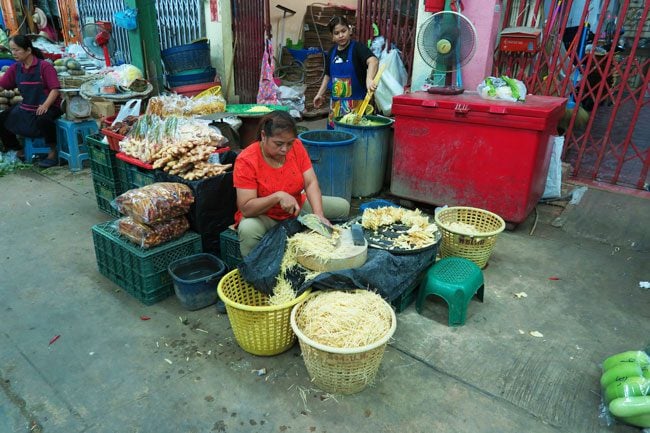 Wat Arun
Also known as the Temple of Dawn, Wat Arun is one of the must-visit Bangkok temples. From the flower market, it's an easy 15-minute stroll to the Tha Tien pier where THB 3 get you across the river to Wat Arun with some seriously nice views on the short journey.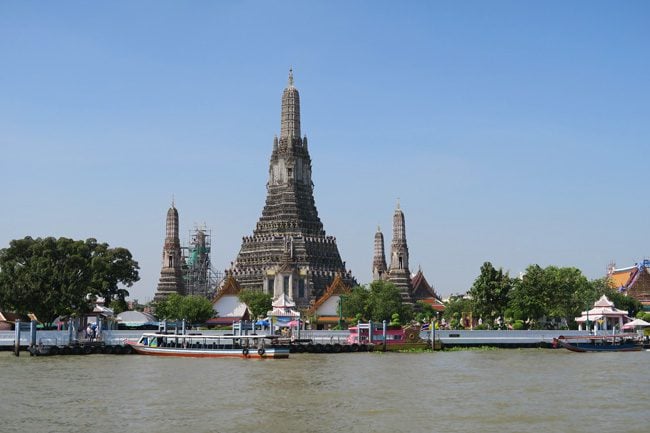 The temple's' signature feature is its 81-meter prang – a tall tower-like spire that is often richly carved and decorated. Entrance is THB 50 and before you climb the prang, have a stroll around this beautiful complex and visit the various shrines and courtyards where praying is always taking place.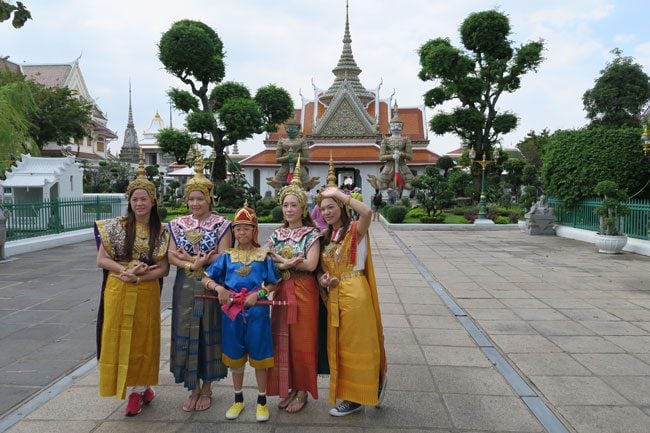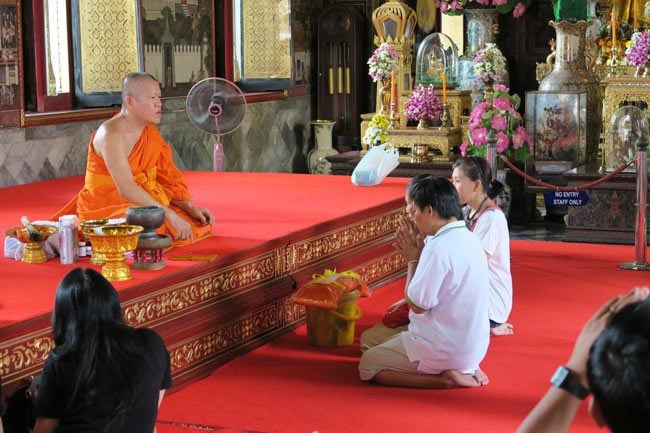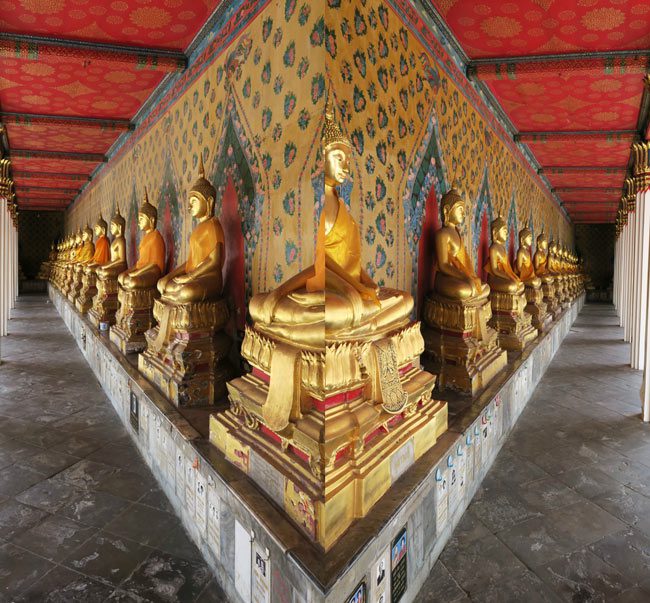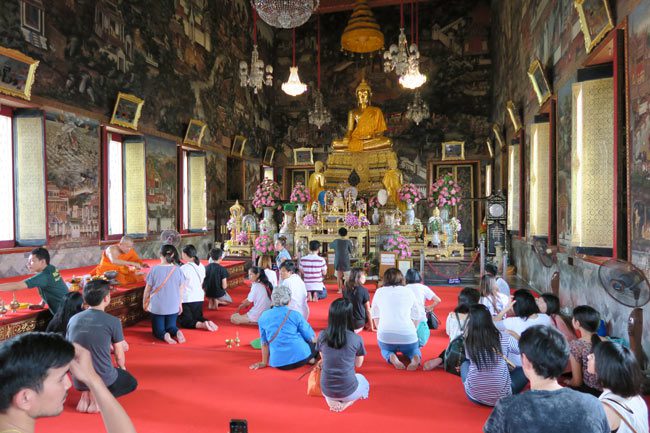 The tower itself is comprised of two stages, with the second being pretty steep. When you've made it to each level, walk around the platform and have a close look at the intricate decorations and the incredible level of detail.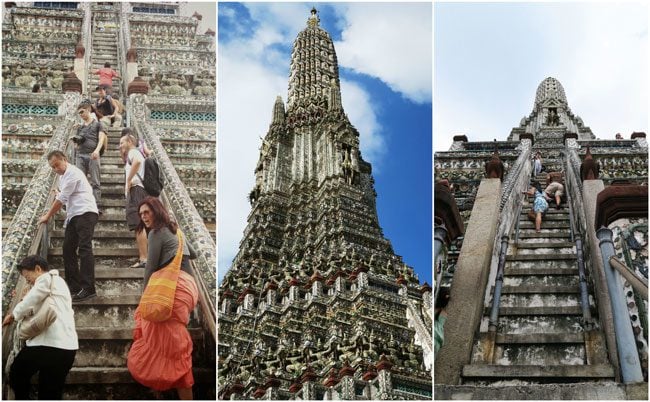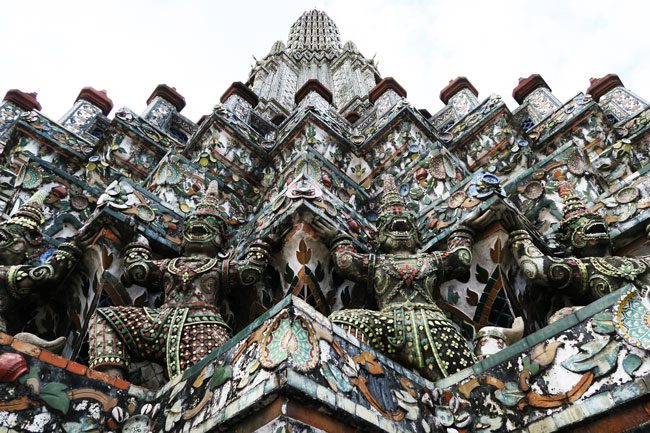 We decided to be extra adventurous and explored the area outside the temple complex, but there's nothing special to report from here so when you're done – simply take the ferry across the river and onto the next stop.
Dinner & Drinks in Sukhumvit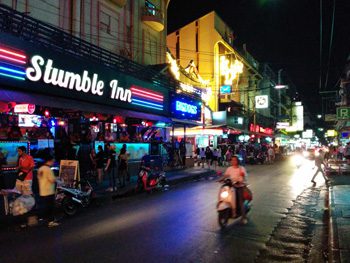 To end our first action-packed day in Bangkok, we sampled the Sukhumvit district's nightlife scene. This is one of the best places in Bangkok for easy-going nightlife: never boring but not too crazy. The section of Sukhumvit Road between the expressway and Ratchadaphisek Rd. is lined with street food stalls, discount shops and totally illegitimate 'pharmacies', while the numbered side streets – called 'soi' – are where you'll find restaurants and bars. Some of the 'sois' are a bit tacky – with cheesy music and alcohol sold by the buckets – while others are more appropriate for a couple's night out. The best is Soi 11, where you can enjoy dinner, drinks, and karaoke at the Zanzi Bar, or beers with expats at Cheap Charlie's.
Day 2: Grand Palace, Reclining Buddha & Khaosan
This will be a 'heavy-lifting' day where we focus our attention on the Rattanakosin district – a royal island where the city's most important monuments lie. So put your walking shoes on, don't forget your hat and lots of water and hang in there as there will be a small surprise!
The Grand Palace
A huge complex of temples, palaces, shrines, and mausoleums – The Grand Palace of Bangkok is an absolute must-visit. The palace was officially inaugurated as the residence of the King of Siam in 1782, though the royal family has moved to nearby Dusit in 1925. Due to its huge size and the vast amount of daily visitors it receives, I strongly suggest starting your day with a visit to the Grand Palace.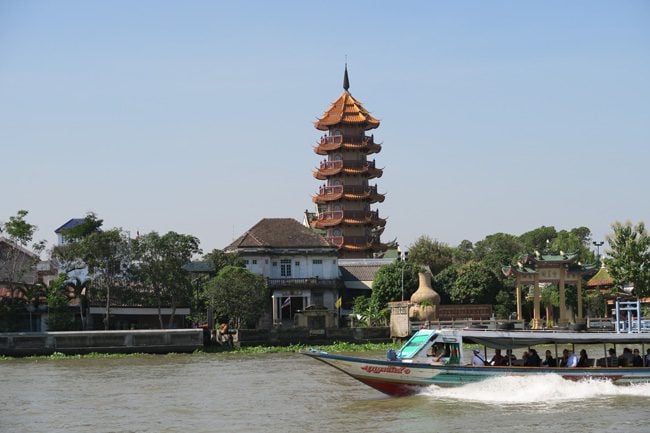 Getting to the Grand Palace depends on where you're spending the night. Since we stayed in the Sukhumvit district, we simply used the BTS (~THB 40) to get to the river and then hopped on the Chao Phraya Express Boat all the way to the #9 stop at the Tha Chang pier (~THB 40 per one-way ticket or ~THB 150 for a day pass). Using the Chao Phraya River to navigate Bangkok is not only an efficient way to beat the traffic but also a great way to catch awesome views of the city and life on the river, that is more like a highway.
A few things to note:
The Grand Palace is a heavily guarded site and there's only one entrance, so simply follow the crowds.
Be aware that con artists will approach you with the bad news that the palace is closed today because of a 'special' ceremony or some other excuse. They'll instead offer to take you on tuk-tuk city-tour and stop at gem and garment shops where you'll totally be ripped off. DO NOT pay attention and simply keep walking. The Grand Palace is open every day!
Admission is THB 500
You will be asked to put on long pants so pack some with you (if you haven't got any, they have a few rags you can borrow).
There's lots of walking to do so be sure to wear a hat and bring a bottle of water (free refills in fountains spread around the complex).
Most of the action lies in the Wat Phra Kaeo – also known as the Temple of the Emerald Buddha. It can get very crowded around here but the beauty of the place is out of this world. In fact, the temple complex feels like some kind of movie set.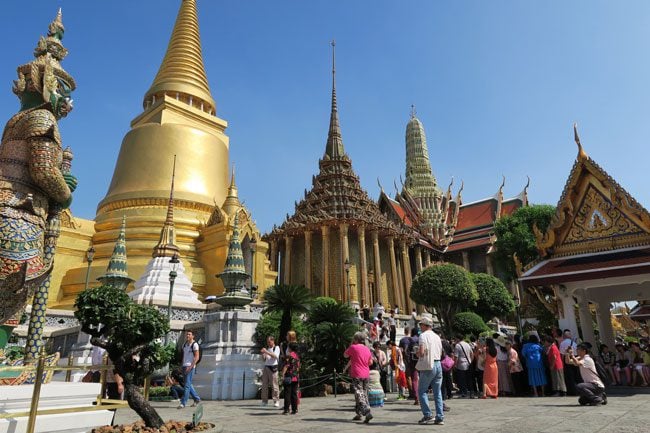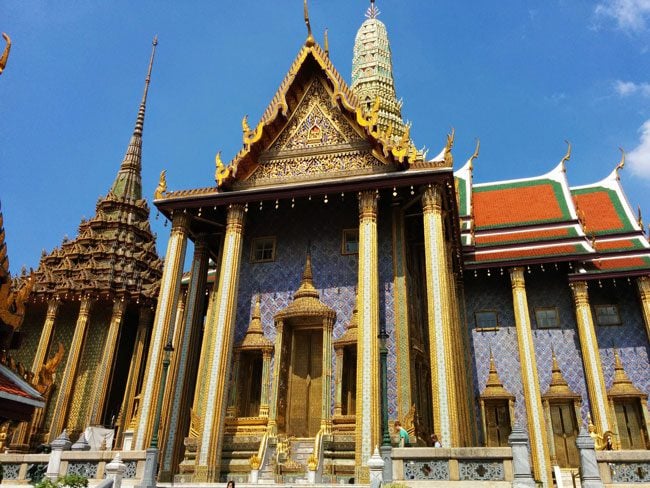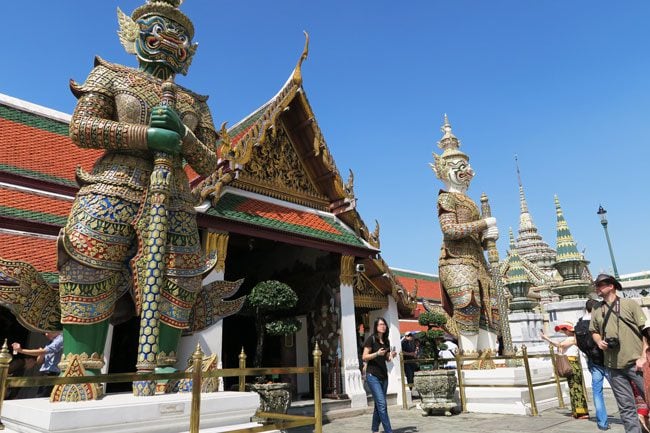 The intricate level of detail on every spire, gate and column makes you wonder if something like this could even be constructed with the tools we have today. The amount of gold – some solid and some coated paint – leave you blinded at times under the blazing sun. This place is out of this world. And wait, we haven't even visited the Emerald Buddha.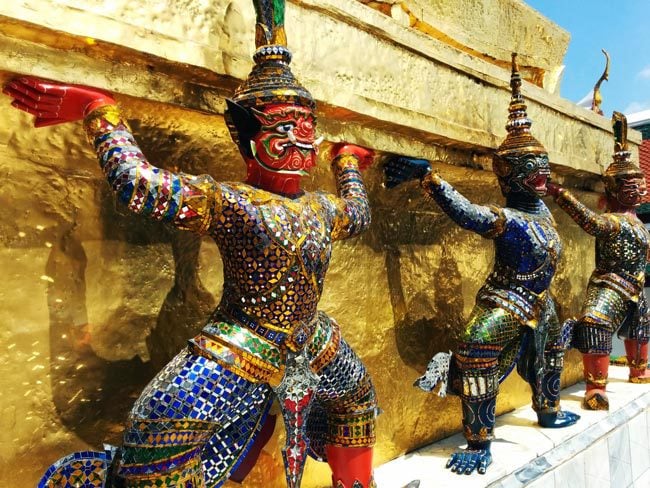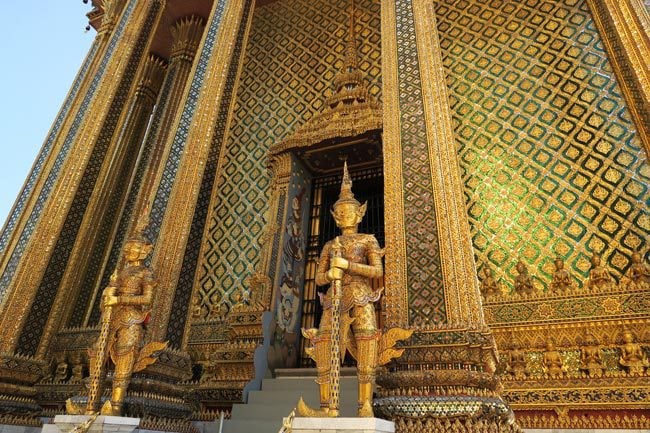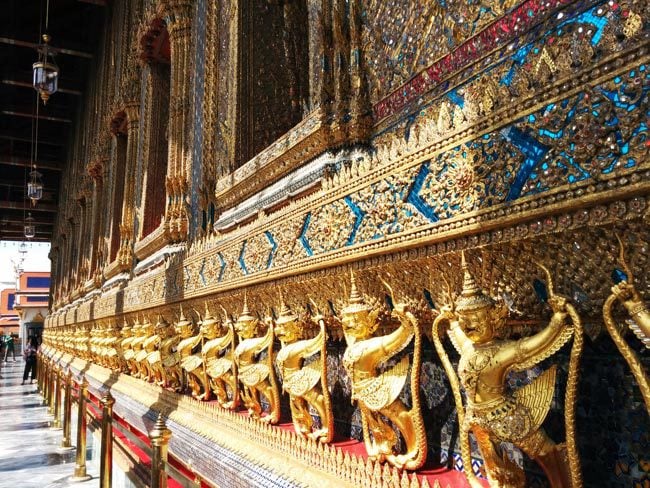 At the very heart of this complex – atop a 9-meter high pedestal – sits the Emerald Buddha. This is one of the holiest Buddha figures in Thailand so photography is absolutely forbidden. The figure is said to have been created many centuries ago, exchanging many hands and carrying out many miracles until finding a permanent home in this temple.
The second complex you'll visit is the actual Grand Palace. A lot of sections are sealed off to the public, but simply walking around amid the impressively huge royal structures is a moving experience.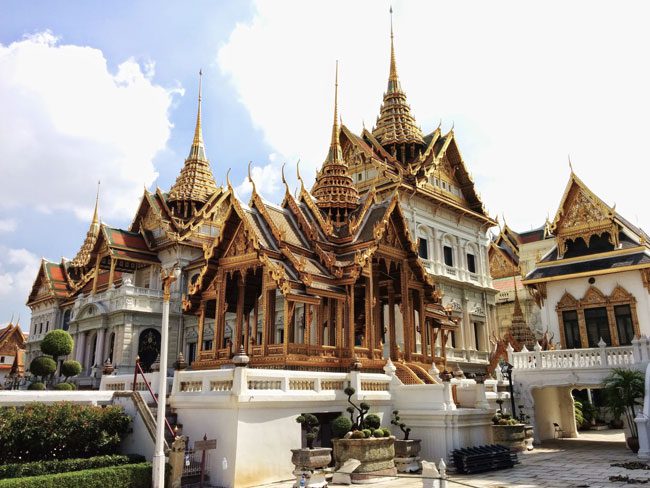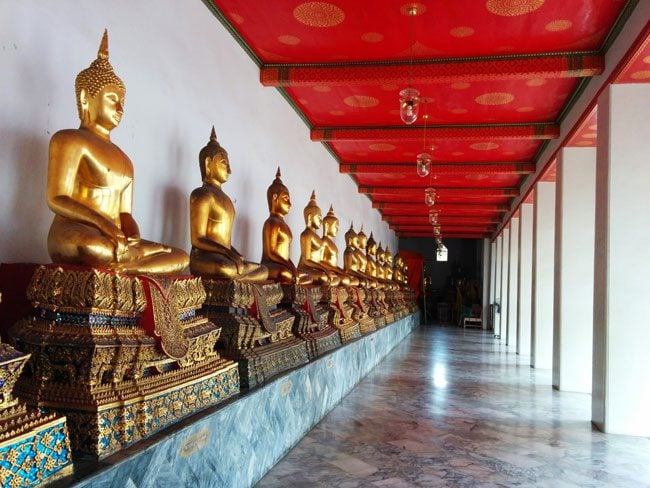 Wat Pho: The Reclining Buddha
A five-minute walk from the Grand Palace brings you to Wat Pho: the oldest temple in Bangkok (THB 100 – includes a bottle of water). The huge complex offers a pleasant stroll amid spires and gates guarded by massive Chinese-influenced sculptures.
The highlight is without a doubt the chapel of the Reclining Buddha. In a huge chamber, a 45 meter-long gold painted Buddha leisurely reclines – representing the holy figure entering a state of Nirvana. For good luck and longevity, buy a set of 108 coins from the monks and drop one to each of the 108 metal bowls that extend the length of the Reclining Buddha.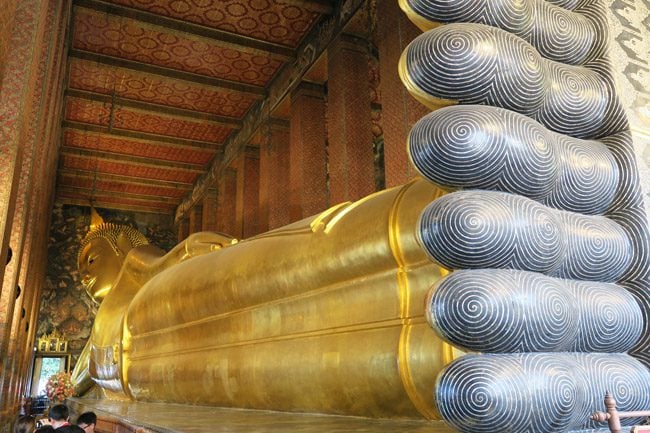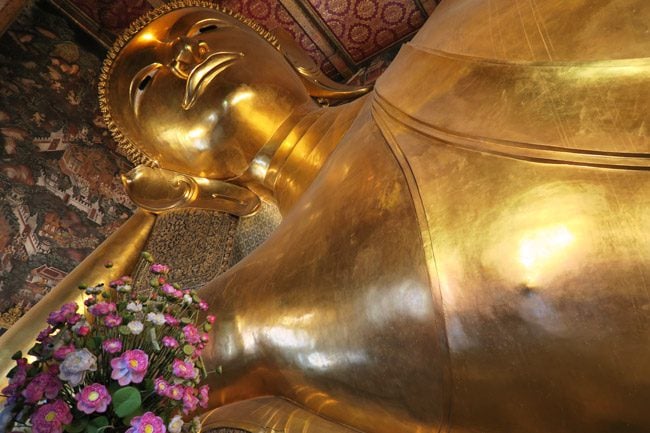 Though the Reclining Buddha's chamber gets all the attention, be sure to explore the rest of the temple compound – where quiet courtyards, hidden shrines, and other impressive golden Buddhas are awaiting.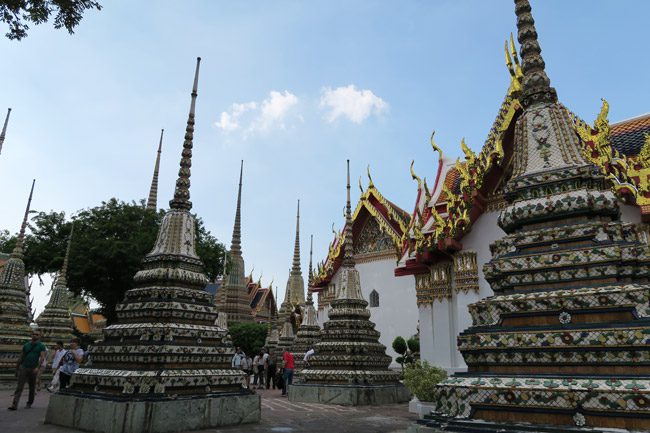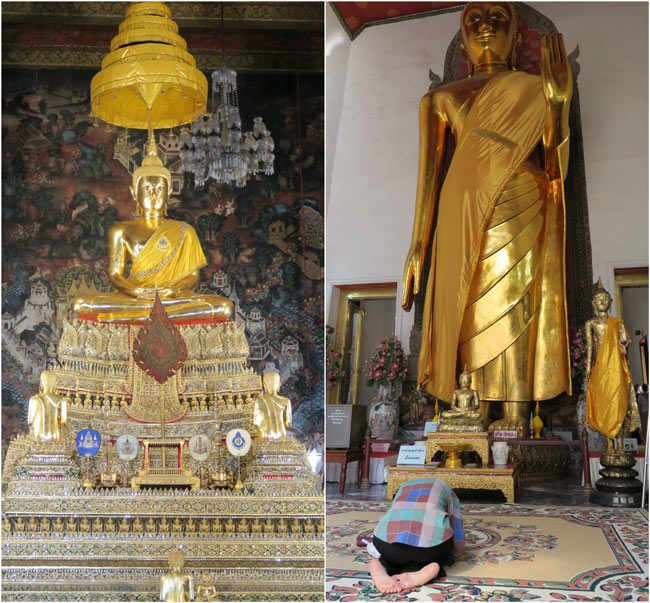 Since we've already done a lot of walking, it's time to finally experience one of those famous Thai massages! It just so happens that the grounds of the Wat Pho are also home to a massage center. I believe this place is actually some kind of school. It does get quite busy so I suggest first coming here to register and get a number before venturing off to explore the complex. You can choose from a 30 or 60-minute foot or Thai massage (~ THB 260-420), and though slightly more expensive than what we later experienced – the location and the timing couldn't be more perfect!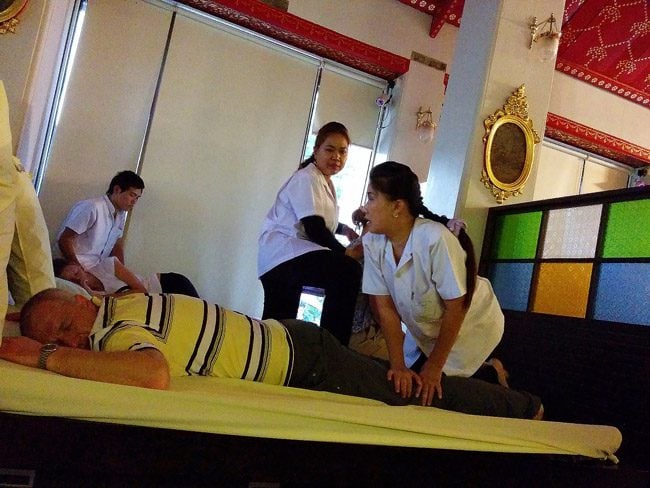 Wat Pho to Golden Mount Walk
You can extend your sightseeing day with a 30-minute scenic walk from Wat Pho to the Golden Mount (Wat Saket). Use this opportunity to sample authentic Thai food in Thanon Tanao (Tanao Road) – where there are plenty of dining options. Along the way, check out from the exterior: Lak Muang, the pretty temples of Wat Ratchapradit and Wat Rajabopit, the 25-meter high Giant Swing and its companion temple – Wat Suthat. Finish off the day in Wat Saket (Golden Mount) and check out Bamrung Muang Road – the place in Bangkok for Buddha-related paraphernalia.
Evening in Khaosan Road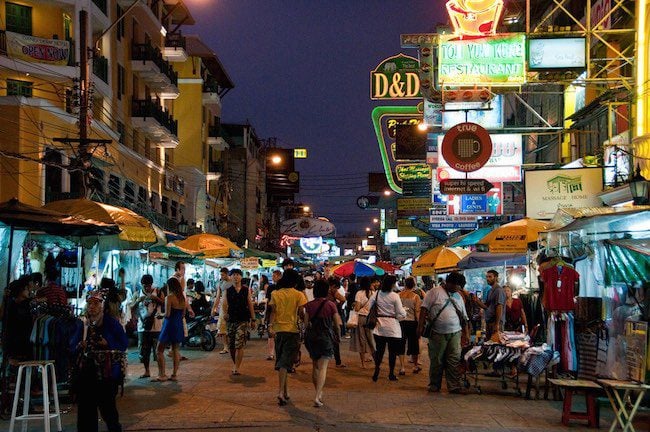 For some evening action, head to the area in and around Khaosan Road. This is the Mecca for Bangkok backpackers, an area crammed with internet cafes, cheap accommodations, and sketchy tour operators. At night, the area comes to life with an interesting food scene, loads of bars and those infamous ping-pong shows. The intense atmosphere may not be suitable for everyone, probably more for the curious traveler who is already taking a liking to the (charming) madness of Bangkok.
Day 3: Day Trip to Ayutthaya
There are two good options for this last day in Bangkok before heading to the islands. (1) The first is a day trip to the area's famous floating markets – made famous by the scene in James Bond. Many of these markets are flooded with tourists, so to really have a good experience, getting away from the city is a must. Here's a good list of the top floating markets in Bangkok. (2) The second option (and the one we opted for) is a day trip to Ayutthaya – the ancient capital of Thailand and UNESCO World Heritage Site. It was one of the best decisions we made on this trip – a day spent in the outdoors in the company of historic temples far away from the madness of the mega-city.
Getting to Ayutthaya from Bangkok
Ayutthaya lies 80 km's north of Bangkok and takes less than two hours to reach if you leave early enough in the morning (~ 8:30 am). Organized tours can take you straight from your hotel, but the best way to enjoy the ancient city is on a self-guided tour. You can take the train from Bangkok to Ayutthaya if the departure times fit your schedule (it didn't for us) or get to the Victory Monument with the BTS and metro and take the stairs down to the ground level on the eastern side of the massive roundabout (see the accompanying map). It is from this area that private minivans depart to Ayutthaya every 20-30 minutes. If you're not sure, simply ask one of the vendors and they'll be happy to show you the way.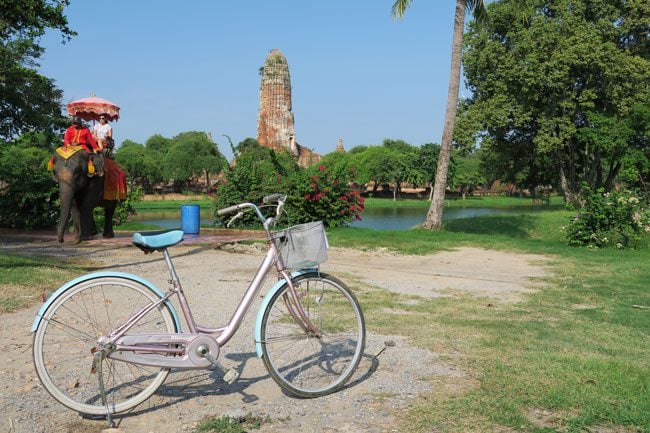 One way fare is ~THB 70 and once you reach the town of Ayutthaya, a tuk-tuk will take to the entrance for ~THB 60. Drivers will do their best to get you to hire them for the entire day (~THB 200), but the best way to explore the complex is on a rusty beach bicycle which you can easily rent at the entrance or in the nearby guesthouses (~THB 50 for the entire day).d
Exploring Ayutthaya
Spreading across a vast area on an island surrounded by rivers, exploring the ancient capital city requires a lot of ground to cover. The island is home to many temples, a few lakes, and even small communities. Road signs aren't great (to say the least), but it's so pleasant and tranquil to ride along the paths that you won't really mind getting lost. You'll usually be required to pay ~THB 50 at the major temple complexes, where you can also grab a map of the complex, food and drinks.

I recommend starting your visit at the Wat Phra Mahathat, where you'll also find the famous head of the Buddha stuck in a bodhi tree. From here, work your way west and visit the other temple complexes until you reach yet another reclining Buddha. You can also ride an elephant near Wat Phra Ram – the quintessential Thailand experience though I am not sure how much the elephants enjoy this…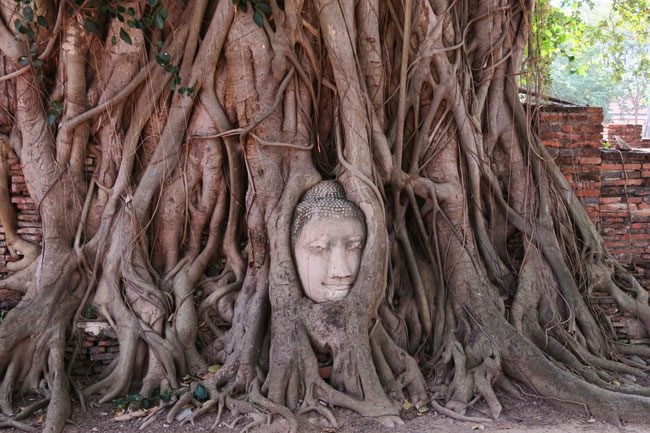 If you're visiting Ayutthaya on a day trip from Bangkok, you won't be able to see everything as there's just too much. Aside from the temples, there's a floating market nearby, a night market and other highlights. This is the reason why there are hotels and guesthouses around here. We wrapped things up and grabbed a late lunch at around 3:30 after seeing the major highlights. Don't forget that days are a lot shorter in the tropics and the ride back takes almost two hours due to the evening traffic.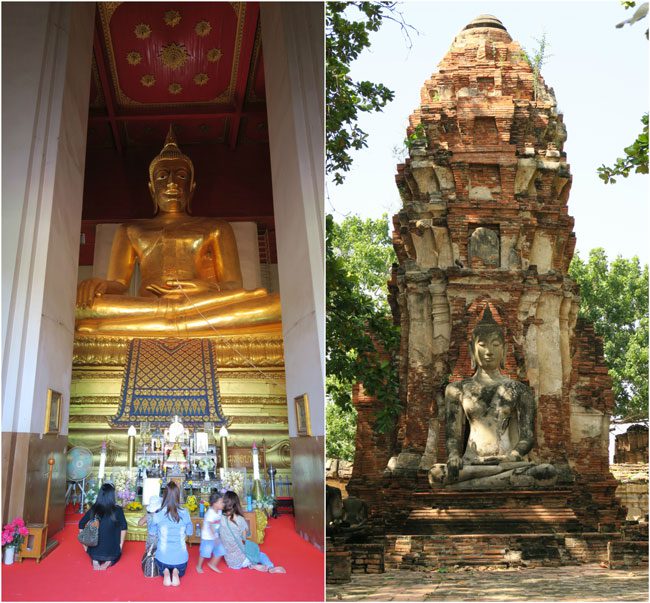 Evening Drinks in Sky Bar
To celebrate an action-packed three days in Bangkok, put on a pair of jeans and a nice shirt and head to the Sky Bar. Bangkok's posh skyscrapers are home to quite a few rooftop bars, but this is considered the 'best' one. Personally, this isn't my cup of tea but I just had to see what all the fuss was about. If you make it there before 9:30 pm, you'll likely avoid the long queues that form every single night. The rooftop bar is technically free to enter, but the $20 cocktails are sort of the price of admission. It's crowded, noisy and everyone is busy taking selfies with those stupid sticks (which should be outlawed!) – but nonetheless a worthwhile experience if you've had enough of the street bazaars.
Part II: 3 Days In Railay Beach

The first stop on the island-hopping section of the trip takes us to Railay Beach, which is actually not an island but rather part of the Laem Phra Nang Peninsula. Secretly tucked between towering limestone cliffs, this incredible masterpiece by mother nature is, unfortunately, everything but a secret.
In this section, I'll highlight all the top things to do in and around Railay Beach. Our daily routine in the first two days mostly involved: beaches, massages, meals, fruit shakes and cocktails. In fact, that should be the strategy for lazy days in Thai beaches and islands – always satisfy your immediate craving! On the third day, we decided to be a bit more active – venturing to nearby islands on a day trip. This part of the world is so beautiful after all…
3 Days In Railay Beach Map
Click on the image to open in Google Maps. The map features all the Railay Beach highlights mentioned in this section.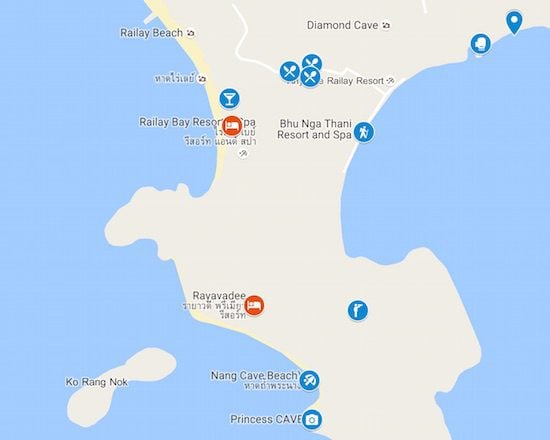 How to Get to Railay Beach?
Railay beach is connected by ferry to Ko Lanta and Ko Phi Phi. Coming from Bangkok, it's a 90-minute flight to Krabi. At the airport, hop on the minivan to Krabi Town but continue to Ao Nang Pier (THB 150). At the pier, purchase a ticket to Railay Beach (THB 100) and wait until nine other passengers do the same thing.
Where to Stay in Railay Beach?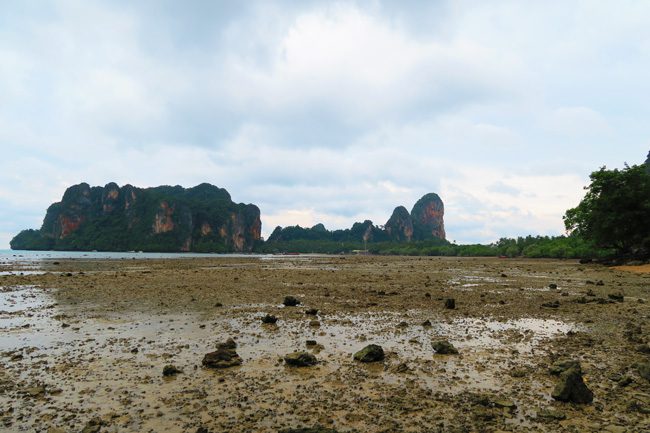 Due to its small size, accommodations in Railay Beach come at an extra premium. Value for money is not that great compared to other stops. Railay Beach is divided into east and west. East Railay is partially taken over by mangrove and its beach is very tidal. It's also where the busy promenade is located and where logistics such as garbage disposal and shipping take place. That said, we did come across a few incredible-looking resorts and lodges on the cliffs overlooking the northern section of East Railay. You can also just find a cheap place to stay on this side and spend your day just 5 minutes away in Railay West.
Hugged by the massive limestone cliffs on both ends – West Railay is really where you want to base yourself, especially its quieter northern section. The beach is stunning, the sunsets are incredible and the resorts are usually set amid palm trees and lush tropical gardens where songbirds do most of the talking. Prices in West Railay are higher and you'll have to book quickly as supply is short.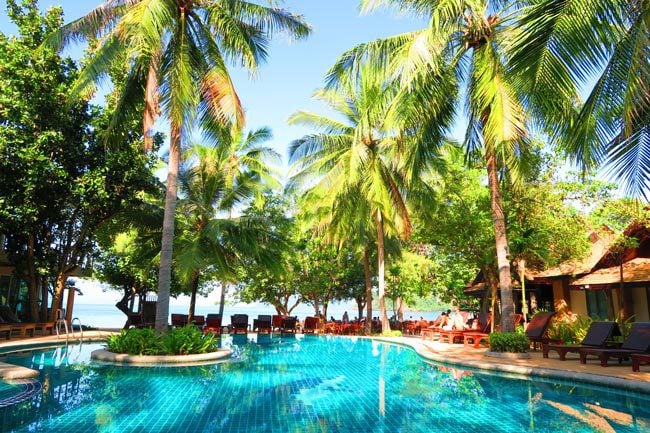 We stayed at the Sand Sea Resort in West Railay, in a superior bungalow which was the cheapest option (though costing ~$140 per night including breakfast). The bungalows were all located in a lush tropical garden and were quite comfortable, though in need of a bit of sprucing up (especially the bathroom). Breakfast was very good, served in a beachfront restaurant where you can also grab lunch and dinner. The front and back swimming pools were a great escape when the beach got too crowded (and it always does), and there was even a small minimarket to buy snacks. If you really want to stay in style – the Rayavadee is one of the best luxury resorts in the area.
West Railay Beach
Best enjoyed in the early morning hours and late afternoons, this is the prettiest beach in the peninsula. The emerald waters are perfect for swimming and the cliffs will keep curious kayakers busy. Oh, and the sunsets are out of this world (but more on that soon).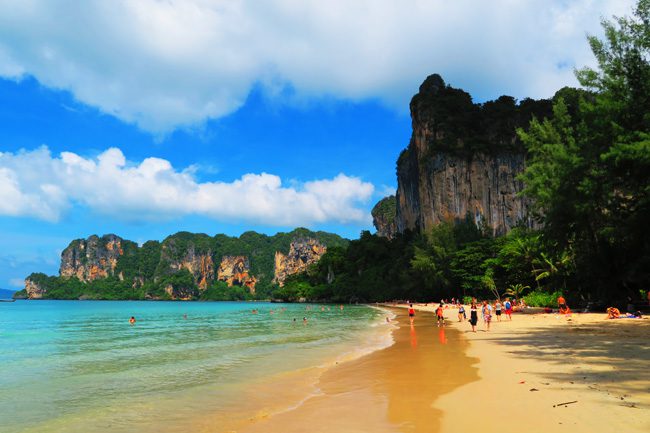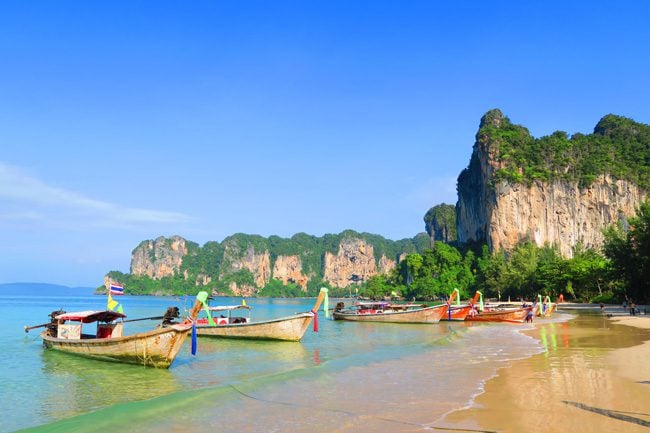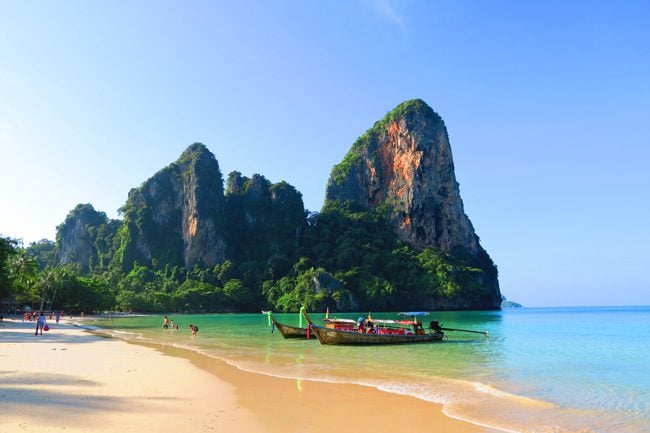 Unfortunately, locals haven't yet decided to keep the longboats away or at the very least confine them to a section of the beach. They're super loud, always spew out black smoke, and take up precious beach space. By noon, the beach gets very crowded with sunbathers and longboats ferrying day-trippers and new arrivals. I found that that northern section of the beach tends to stay quiet.
Princess Cave Beach
Also known as Ao Phra Nang, getting to this pretty beach involves a short walk from East and West Railay and a meeting with the friendly resident monkeys. Getting their attention doesn't involve a whole lot, but having a banana will really get them to like you.
As in West Railay, you want to come to this beach early in the morning or late in the afternoon. The beach gets VERY crowded with daytrippers and longboats that double as restaurants.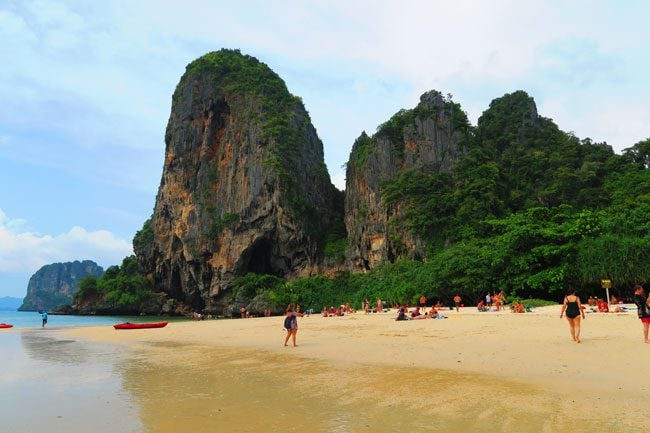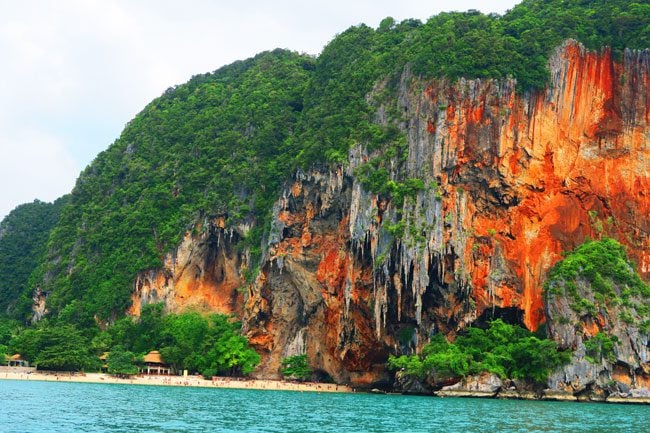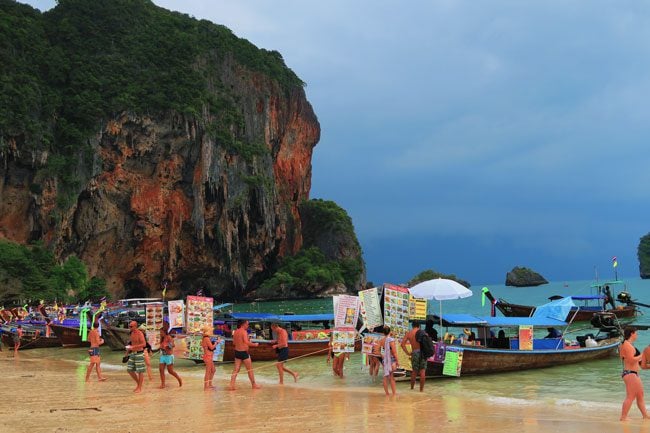 The main attraction is the cave – said to hold the spirit of an Indian princess whose boat was lost off the shores of this very beach. If you fancy some rock climbing, the enclosing limestone cliffs are a popular spot with lessons readily available.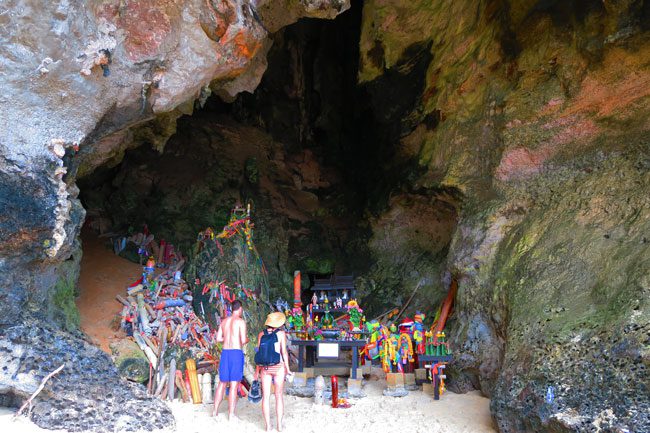 Panoramic Viewpoint
Not as high as its panoramic rival in neighboring Ko Phi Phi, the Railay Beach viewpoint gets a lot fewer visitors – a definite plus! Getting up here isn't easy and shouldn't be attempted if it has been recently raining (trust me). About halfway to the Princess Cave Beach, you'll see warning signs and a set of ropes heading up the cliff. Yeap – this is it! The slippery climb takes about 20 minutes, as monkeys mock you from the canopy. Prepare to get muddy, bring plenty of water, and don't even think about wearing flip flops! From the viewpoint, there is a challenging path to a 'secret lagoon', but we opted out. The viewpoint is best visited just after sunrise and during high tide East Railay.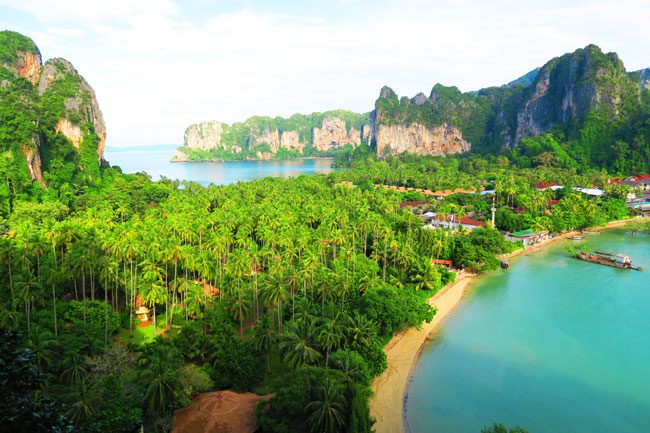 The Promenade & Food Scene
Running up much of East Railay is its narrow promenade. The swampy beach on this end of Railay is not a place you want to go for a dip, making the concrete open-air mall a little easier to swallow. Since Railay is quite isolated and requires a boat in and out of, the promenade actually comes in very handy even though it's the obvious sign of just how overdeveloped this once beautiful piece of land is.
The promenade is busiest at its center and gets quieter as you move northbound. Its narrow path is lined with ubiquitous tour operators, massage huts, mini markets and budget eateries where – with the exception of the resort restaurants – it looked to me that it's 'eat and drink at your own risk'. It is from here that I suggest to book tours and onward journeys if you haven't already done so. Heck, you can even book a bus to Singapore! We compared prices and bargained at a few stalls, eventually coming to the conclusion that prices are quite fixed.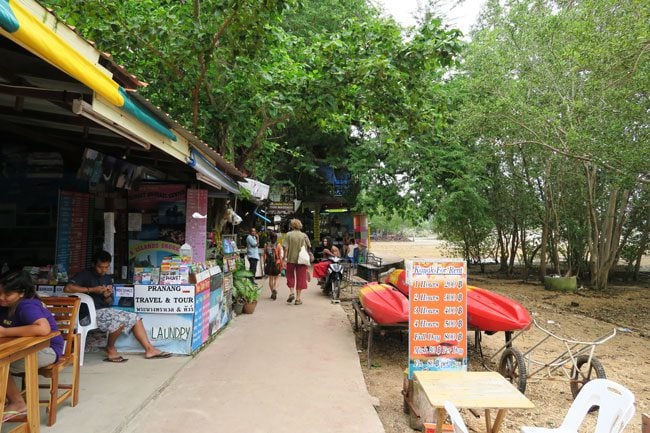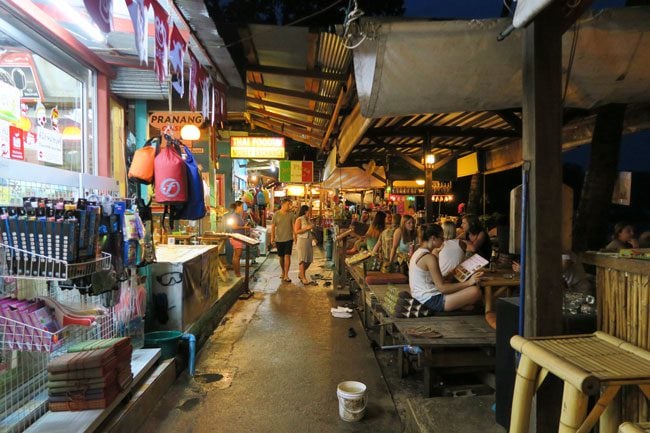 Intersecting the promenade is a sandy street that was our favorite place to stroll and grab dinner. We especially loved the Mangrove Restaurant for the super-authentic Thai dishes, and Kohinoor for the -believe it or not – incredible Indian food. Both were not only delicious but also seemed to be sanitary – passing our 'food poisoning test' (see Thailand travel tips section).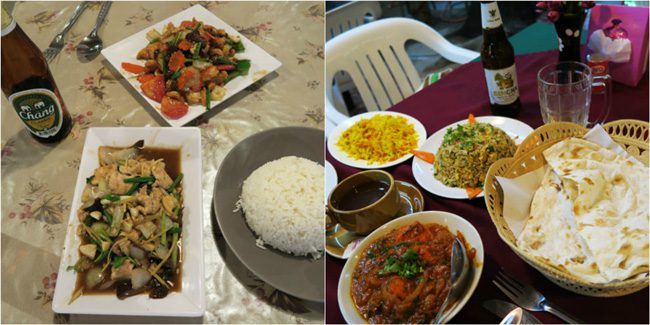 Sunsets
The sunsets off Railay Beach are some of the prettiest I've ever seen, definitely ranking up there with the sunsets of the Australian Outback and the remote South Pacific Islands. About an hour before the sun is due to set, head to West Railay and grab your spot on the beach in front of the Flame Tree restaurant. Order a cocktail (clue: the mai tai comes in a pineapple) and enjoy the spectacle!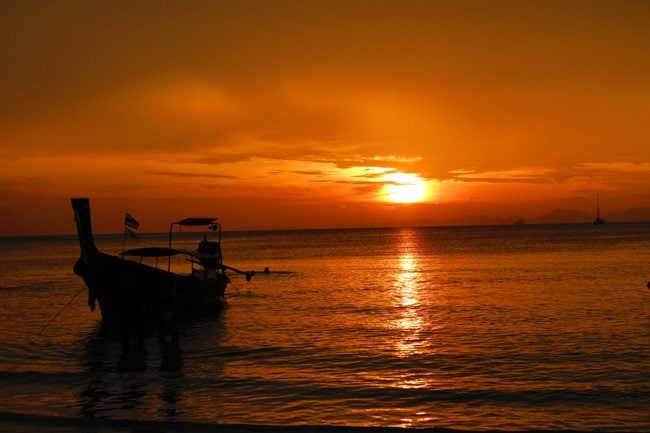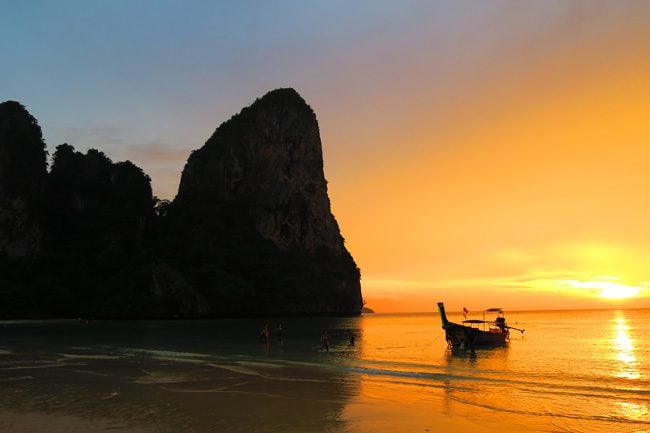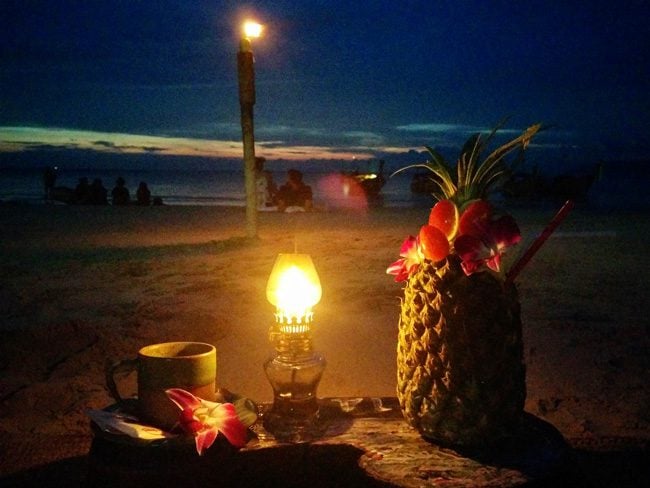 Thai Boxing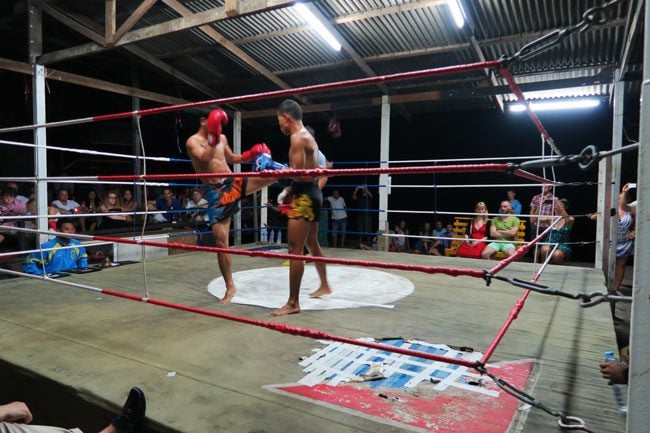 You can't visit Thailand without witnessing a Thai Boxing match. Lucky for you, the Last Bar in the East Railay promenade hosts fights every other day of the week. Aside from intense fighting, there's a whole lot of drinking and flashy fire dancing. Here's what it looks and sounds like.
Massages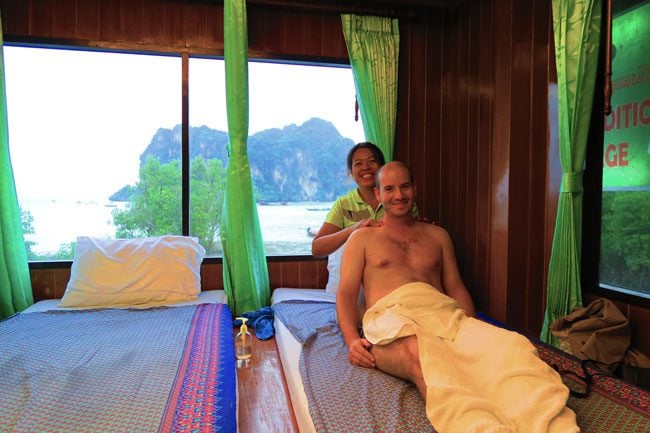 I mentioned earlier that your daily routine mostly includes a rotating schedule of beach, food, fruit shakes, naps, cocktails and… massages! The best place in Railay Beach for a massage is at the Last Bar Massage – in the far north end of the promenade. Unlike the massage 'parlours' down south, this one is very quiet, professionally run, and includes awesome views over east Railay. There are plenty of options on the massage menu, but we opted for the one-hour coconut oil Thai massage. The strong ladies took care of every ache in our bodies and displayed moves we've never seen before. The price was THB 350, much cheaper than in the resorts and looking back – the best massage we had in Thailand!
James Bond Island Tour
Like everyone, we too seriously thought about going on a day trip from Railay Beach to 'James Bond Island'. You know, the famous island from The Man With the Golden Gun. Well, the actual island is called Phang Nga and we had already read and heard that its present state is like nothing in the Bond film. Scaramanga, Nik Nak and 007 have long left. We heard. The water is murky and hundreds of tourist and souvenir stands take up the better part of the beach. So what's the point of visiting? In case you're still wondering: tours depart Railay Beach at 9:30 am and return at 5 pm. They involve an overland ride by minivan with a few uninteresting stops and then a quick visit to the James Bond Island and some kind of 'floating village'. We opted out in favor of an island-hopping trip which was totally awesome. Keep reading.
Island-Hopping Day Trip
The last of our 3 days in Railay Beach was spent on an island-hopping boat tour to the beautiful limestone islands and their beaches. We booked via Pranang Tours in Railay Beach for THB 450 including lunch and water. Unlike the James Bond Island tour, the islands on this particular trip are close to Railay Beach and Krabi, allowing you plenty of time to make 3-5 stops including a few snorkeling sessions.
We shared a longboat with a few other guests which wasn't bad at all. You can book a private boat if you fancy but keep in mind that all tours (and there are a lot of them) make the same stops so you won't be along in either case. That's the caveat of traveling in Thailand – it's oh so beautiful but you're hardly the only one there, so set the right expectations. For that awesome feeling of having tropical nature all to yourself – head to the South Pacific Islands!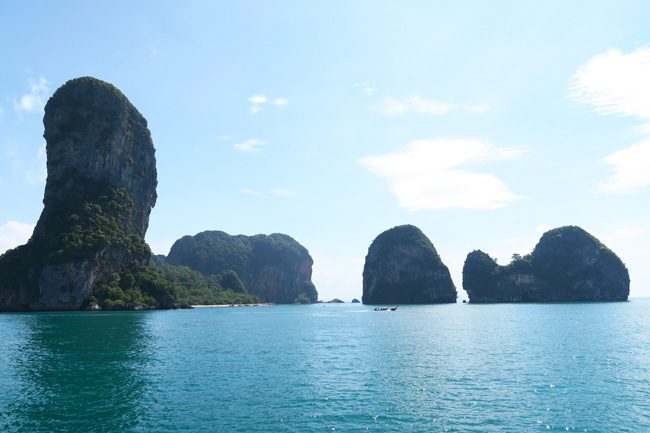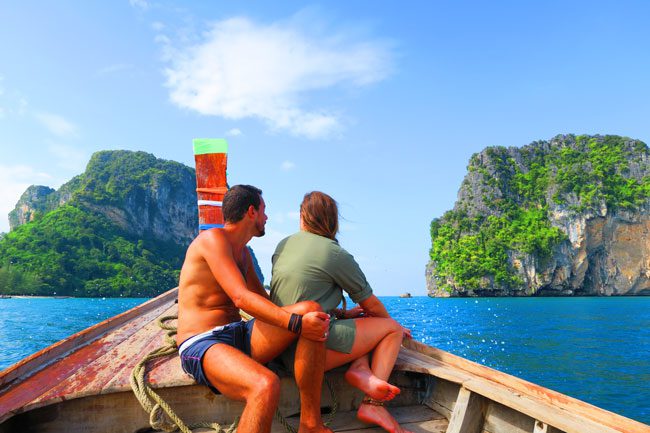 The first stop was Poda Beach (Ko Poda) – a majestically wide patch of pure white sand. The beach stretches at a perfect angle for admiring the beautifully sculpted limestone coastline of Krabi. We had about 45 minutes for chilling and swimming.
Our second stop was for 45 minutes of snorkeling at the base of giant limestone cliffs. It was sad to see the bleached coral but surprisingly, there were lots of tropical fish swimming around us. We then continued to the famous 'Chicken Island'. Yeap, that's right! When you see the photos it all makes sense, though – doesn't it? We stopped for some more snorkeling just off the chicken's neck and some fresh watermelon on board.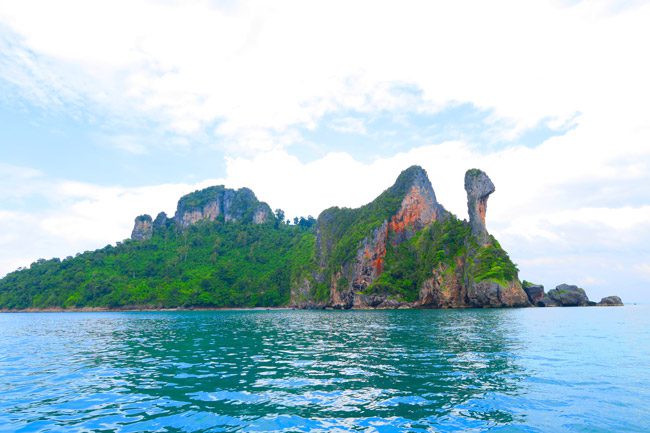 For lunch, we landed on beautiful Tup Island which – at low tide – is connected to small islets via a sandbar. If you want to feel like Jesus, try your walking-on-water skills! Ko Tup is the popular lunch spot for all the ubiquitous longboat tours. It does get pretty crowded but there's plenty of room for everyone. Lunch included mildly spicy green curry – so yummy that it kicked off 5 consecutive days of nothing but green curry for me!
The tour then wrapped up at Ao Phra Nang – better known as Princess Cave Beach. For those taking the tour from Krabi, this was their final beach stop. Since we were already staying in Railay Beach, we opted out and just walked back to our hotel. At this time of the day, the beach was unpleasantly packed. Overall – we were super happy to have joined this tour instead of the James Bond Island tour. We were back in our room by ~ 2:00 pm (instead of 5 pm), still with plenty of time to relax and do something else (like napping!).
Part III: 3 Days In Ko Lanta

Looking back, Ko Lanta was our favorite stop. The island may not feature the dramatic limestone cliffs of Railay or Phi Phi, but the lack of drama is exactly its main selling point. Lanta is a place to relax, a place that's perfect for families with children or couples, a place where you can do as little or as much as you want. In an effort to prevent Ko Lanta from turning into another Ko Phi Phi – the island's municipality has strict laws against noise, hawking, and littering. Prices for tours and taxi/tuk-tuk rides are always clearly displayed, taking away the need to negotiate.
Ko Lanta also features the longest beaches in the Krabi area and that means plenty of space to call your own. Unlike Railay and Phi Phi, locals actually live in Ko Lanta. So curious travelers have the chance to experience authentic markets and village life – another Lanta plus!
In just 3 days in Ko Lanta, we couldn't possibly see everything it has to offer. I'll list all the things we personally did, but keep in mind that you could easily spend a week here and not be bored (cooking classes, caving, and elephant rides anyone?).
3 Days In Ko Lanta Map
Click on the image to open in Google Maps. The map features all the Ko Lanta highlights mentioned in this section.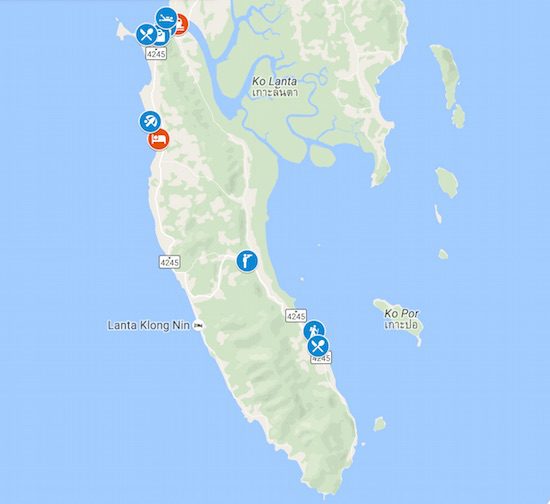 How to Get to Ko Lanta?
You can actually reach Ko Lanta by land from Krabi, thanks to a series of bridges connecting the mainland with Ko Lanta Noi and then Ko Lanta Yai – which is where you want to stay. To get to Ko Lanta from Railay Beach, Ko Phi Phi, and other island – ferries and speedboats are available in high-season. We took a two-hour ferry from Railay Beach which was super comfortable. The coastal views and the flying-fish were inspiring, and it was fun catching some sun on the deck. Boats arrive at Ban Sala Dan – the main town in Ko Lanta Yai – where you'll pay a municipal tax of THB 10 and catch a tuk-tuk to your accommodation (prices are fixed and displayed on rate sheets).
Where to Stay in Ko Lanta?
Ko Lanta caters to the entire spectrum of accommodations: from luxury resorts to holiday homes, to backpacker hostels. After much research (believe me), we decided to base ourselves in Long Beach (the best beach on the island) and to avoid the high-ground so that we don't have to venture too far to get to the beach. We eventually chose the Lanta Casuarina Beach Resort and it did not disappoint. The resort is right on the beach and its rooms and villas circle a very inviting swimming pool.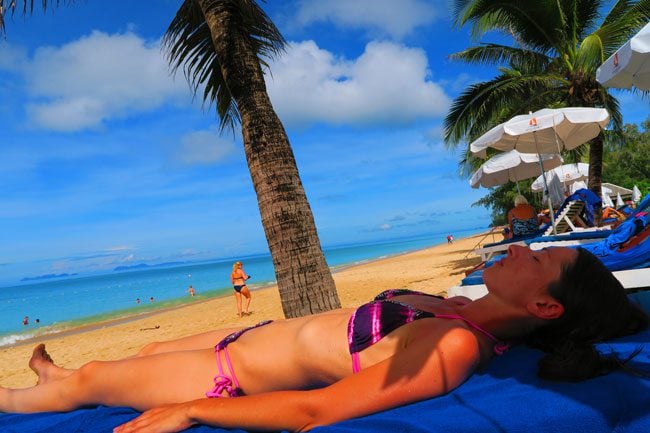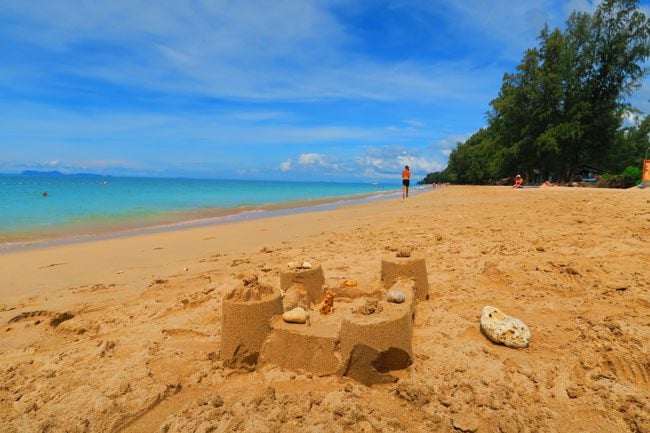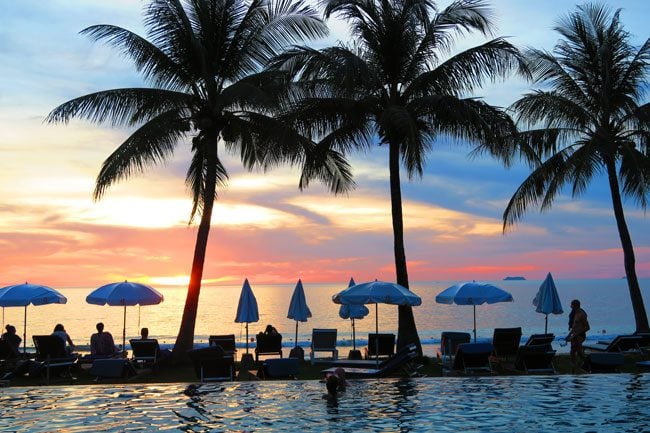 The back rooms are motel-style so – if the price is right – I recommend the villas, which all have sea views. The units are spacious, modern and most importantly – the AC works well! There's a great outdoor balcony for catching up on your reading and pondering life's greatest questions. In the morning, the birds take care of your wake-up call and at night, the crashing waves take care of your sweet dreams. This is pure relaxation!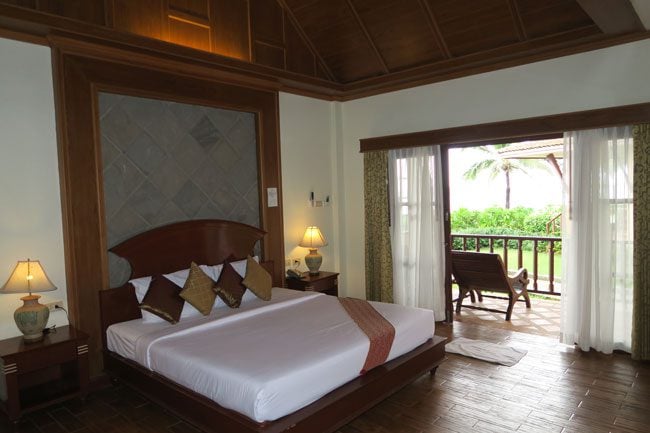 The resort's restaurant faces Long Beach and we especially loved coming here to admire the glorious sunsets with happy hour 2X1 cocktails in our hands. The food is quite good and not that pricey, with lots of traditional Thai dishes (oh yeah chicken-cashew) and Western food (leave that for back home) to choose from. Don't miss out on the fruit shakes!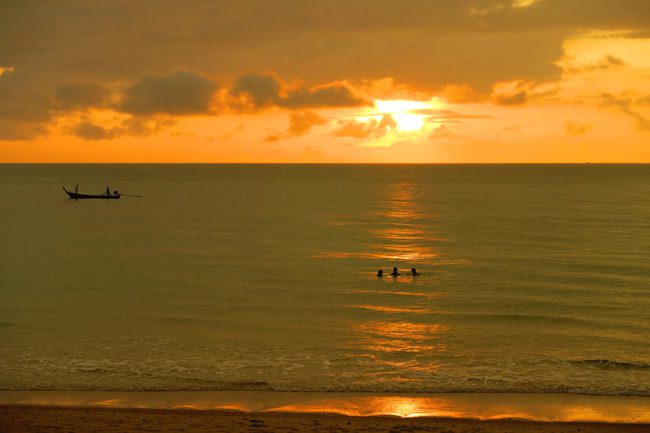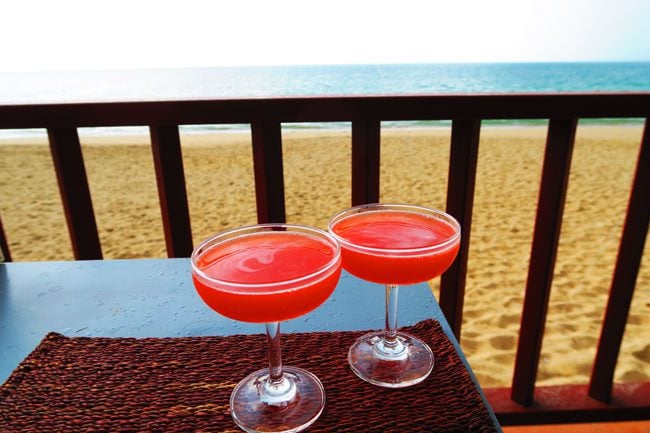 And of course – the massages! Right on the beach in this case. The ladies have the perfect sunburn treatment for careless white folks like me: a deep tissue aloe vera massage (THB 400).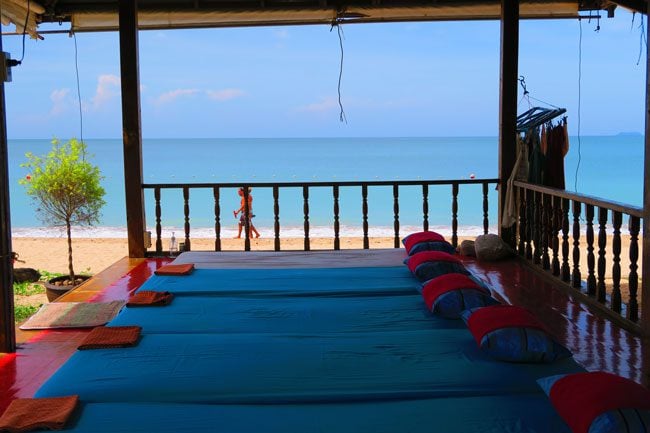 Ban Sala Dan & Market
The once sleepy fishing village of Ban Sala Dan is the first thing you'll see in Ko Lanta. This main town has everything you need: shops, restaurants, ATM, dive centers etc. On the approach to the dock, you can still see the old wooden homes that are resting on piles over the water – classic Thailand.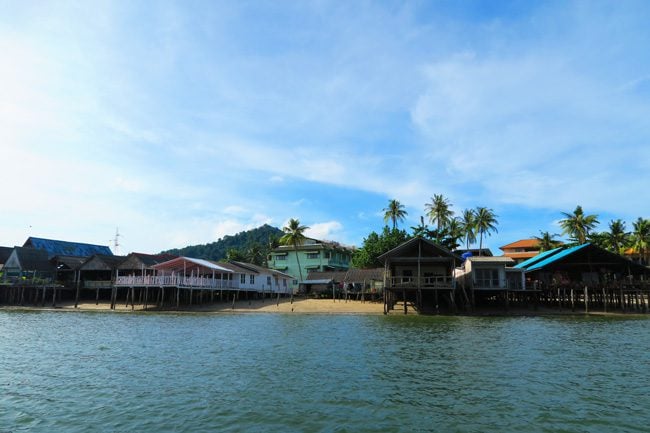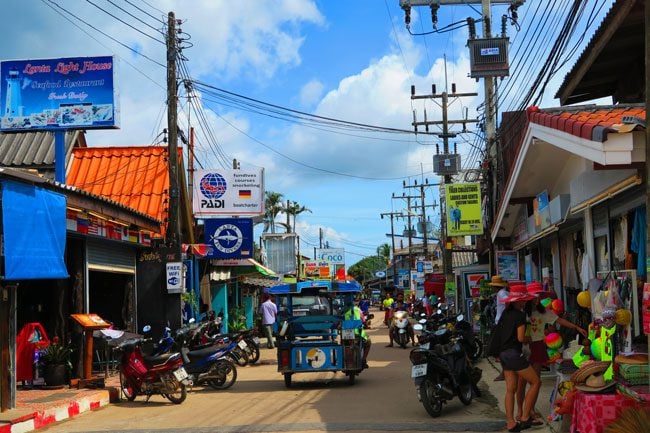 Of all the tourist attractions, the town has two interesting markets that are worth checking out. The first is the modern crafts market just as you're coming out of the center of town. The market is more like a small complex of shops, each selling things like bags, clothing, woodwork, toys and other souvenirs. Prices are marked on each item so there's no need to negotiate. For that – we'll head to the 'real market', where prices were 30% cheaper!
The 'real market' is located just outside of town on the side of the road. It's known as the 'wandering market', a fitting name since almost every day it pops up in a different village on the island. On the days in Ban Sala Dan, the market is at its best.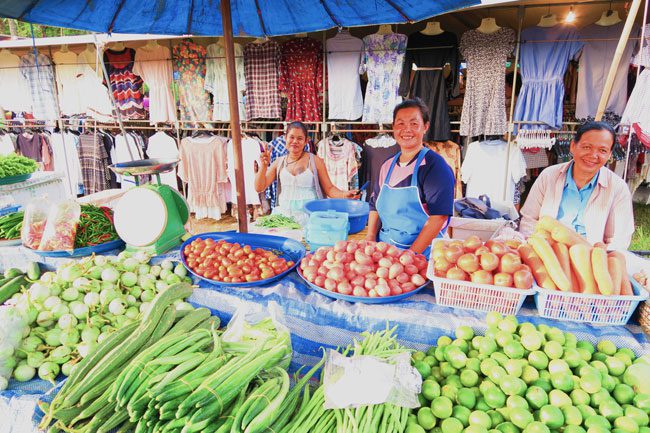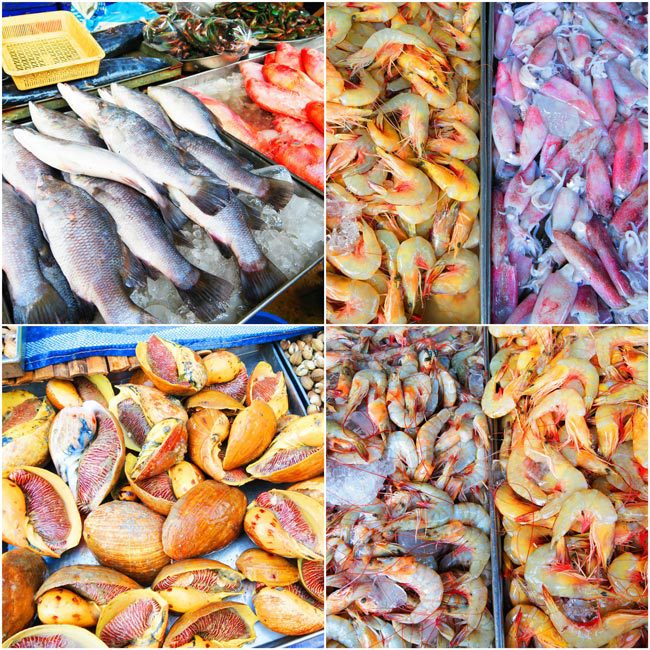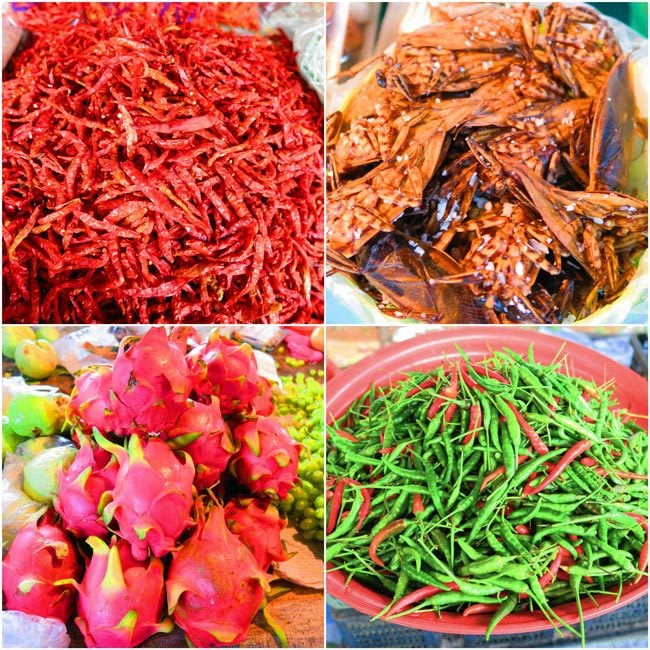 This is not a market for tourists by any means – 100% local and incredible to experience if you love markets like I do. It's mostly about food and there's plenty of it: from the cooked to the raw and from the familiar to the bizarre. Here are some sights and sounds from the market.
Long Beach
Officially named Ao Phra-Ae but more commonly referred to as Long Beach – this beach is, well… long! Beautifully long, in fact. It's so easy to find your spot on the beach and really unwind, or go for a swim in the warm waters without having a longboat get dangerously close to you like in other Thai beaches.
During the day, walk up and down the long sandy beach, grab a massage and fruit shake when you feel like it, and catch some shade beneath the casuarina trees when it gets too hot.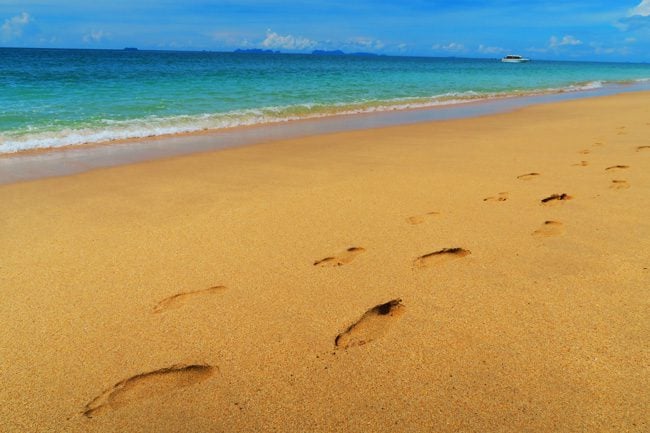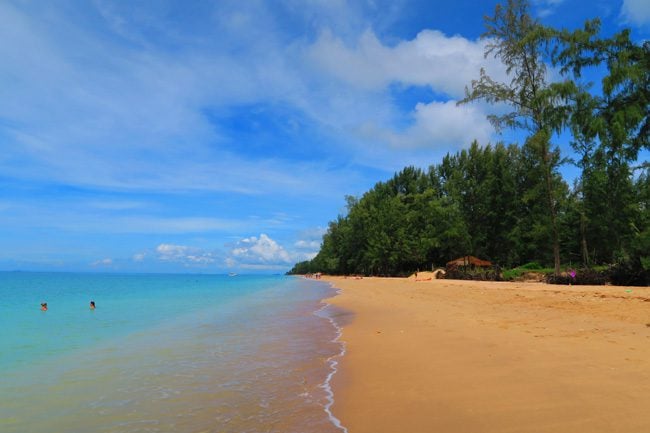 At night, you'll share the beach with busy crabs working to make a living in the pitch dark (bring a flashlight). But all you have to do in order to spot the beach bars and restaurants is to follow the spinning lights coming from the fire dancing shows. We especially loved the cocktails and reggae music at Koby Bar – somewhere in the middle of Long Beach.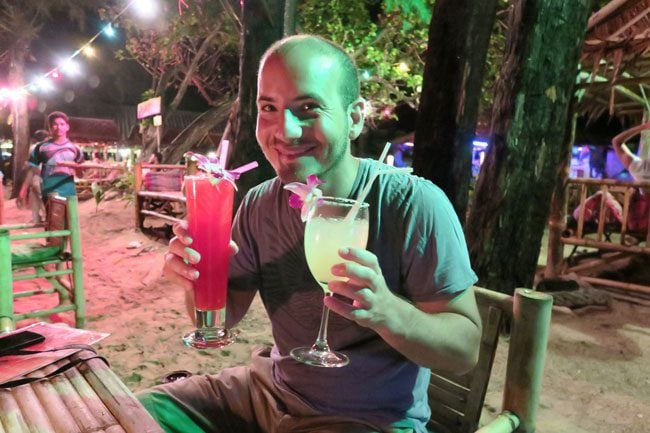 Scuba Diving & Snorkeling Tours
Much like in Railay Beach, the small islands off Ko Lanta make for popular snorkeling excursions. Since we already did one of those, it was time for some scuba diving (for me, at least). The best dive sites near Ko Lanta are at Ko Haa and Ko Bida. Not all dive centers make it out to these sites every day (there's a limit), so you'll need to double check. We went with the only five-star dive center in Ko Lanta – Hidden Depths – and the experience was first-class. They picked us up at our hotel and treated us to breakfast and a proper briefing in their dive center. I went for a two-tank dive (THB 4100, including THB 600 marine park fee) and Isabelle went snorkeling (THB 2300).
Photo credits: Steve Branson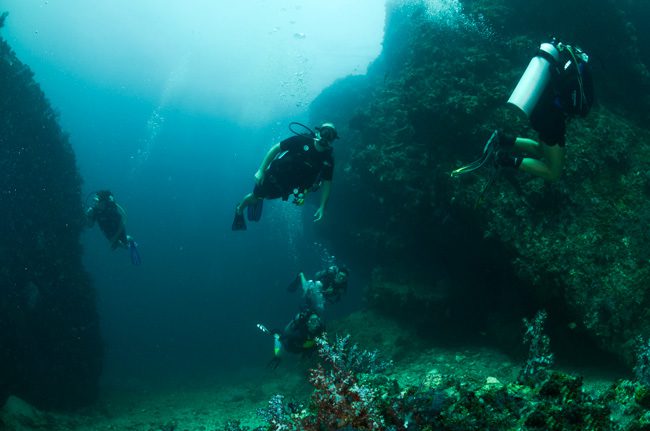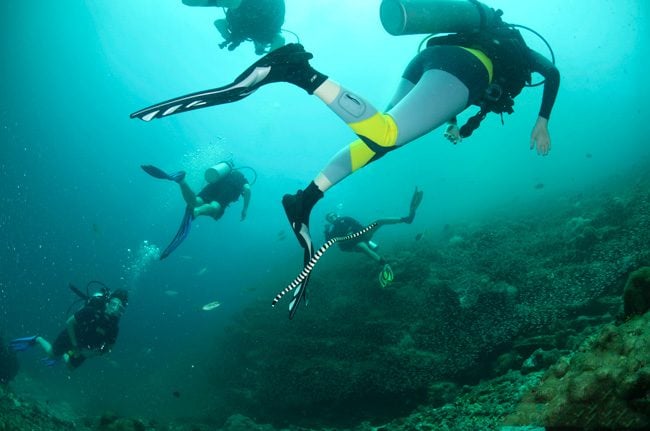 The dives off Ko Haa were quite spectacular and you can clearly see that the marine park is serving the coral right. We ventured in-and-out of caves and spotted interesting marine life that I didn't even encounter in the South Pacific.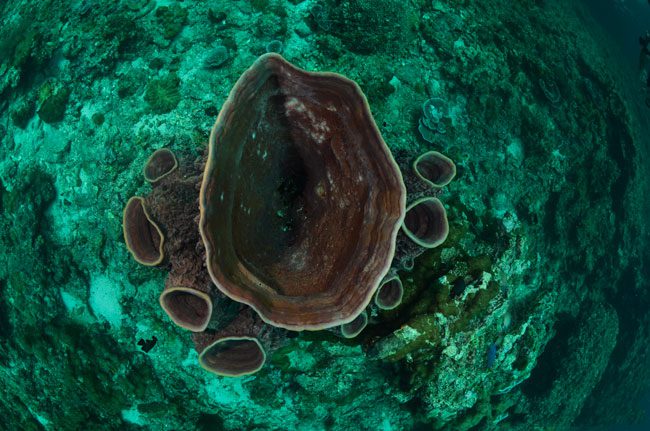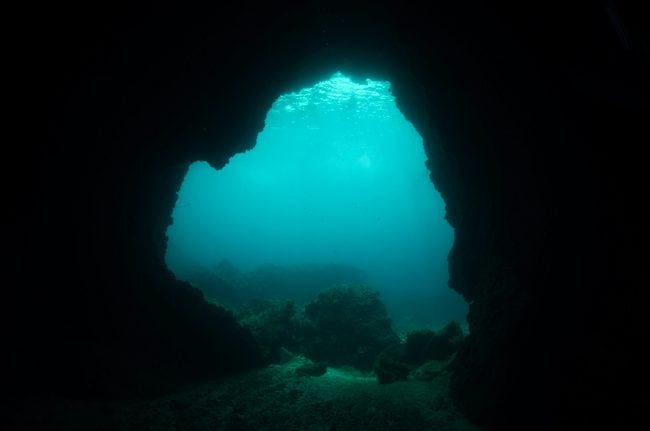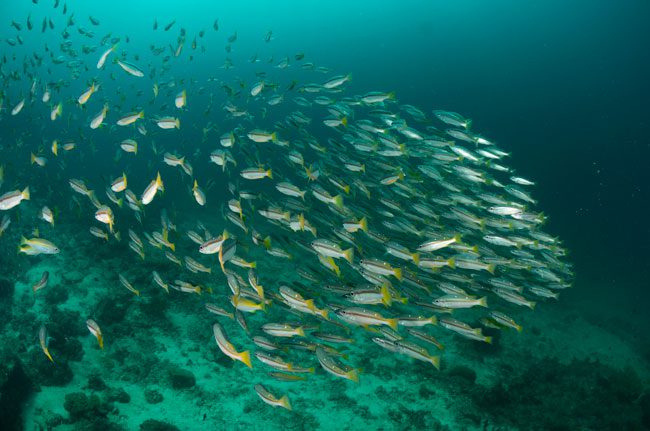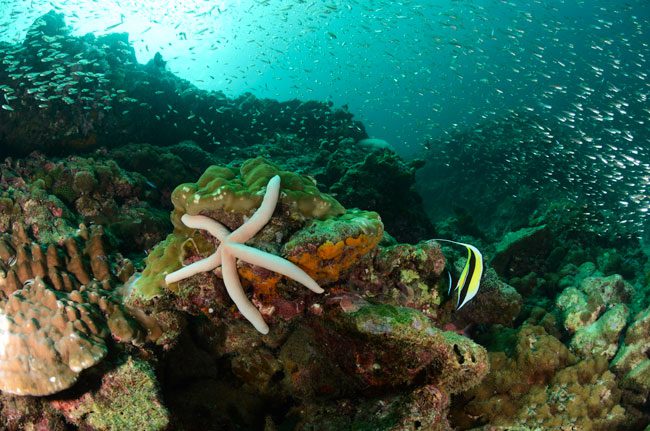 But the fun wasn't over when we exited the water. Upon our return to the dive center, a traditional Thai lunch awaited us. Can you believe that? We got to properly fill our log books, chat with the super-friendly staff and enjoy a delicious lunch right on the water!
Scenic Viewpoint
Ko Lanta is a big island so renting your own set of wheels and exploring totally makes sense. We didn't feel like risking it with a scooter (THB 200) so we opted for a tuk-tuk ride across the island to Lanta Old Town with a stop at the scenic viewpoint (THB 500 return). The island's mountain range divides the more developed west coast with the calmer east coast. A stop at the viewpoint before descending to Old Town is absolutely well worth it. The panoramic views are spectacular and there's also a popular restaurant/cafe for those in need of a quick break.

Lanta Old Town Old
Officially known as Ban Si Raya, this is the oldest settlement in Ko Lanta and its former capital city. These days, the sleepy village is a collection of charming wooden homes built over the water and businesses catering to day trippers and overnight guests.
We went for lunch at the Sandy at Old Town, a fantastic little restaurant. The food and the service were so good, that we totally splashed out. We started with fruit shakes, continued with green curry (of course) and fried rice with mango duck, and finished things off with banana waffle and ice cream for dessert!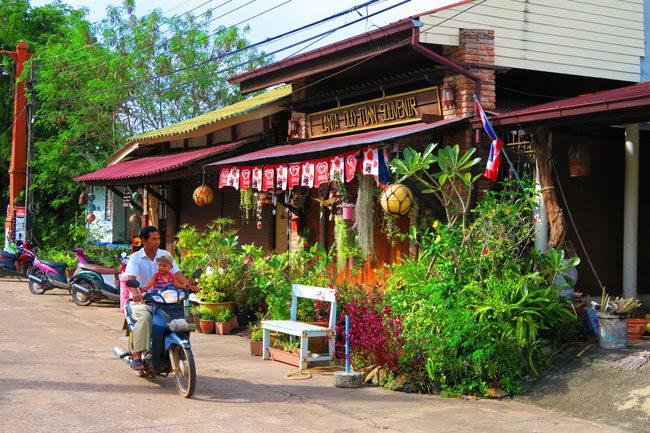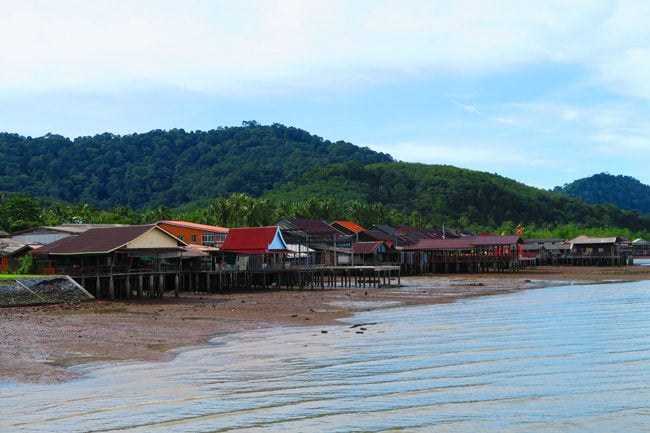 The trip to Old Lanta is not a must do but we had a great time. It was great to explore the island even if it was just for a short time. As I mentioned before, totally feel free to rent a scooter and ride around the island. There are lots of small villages and hidden beaches to be discovered. Just be extra careful with self-driving, especially when the road is wet. In the comforts of our covered tuk-tuk, we passed by a few unlucky tourists who slipped off their scooter…
Dinner at L. Maladee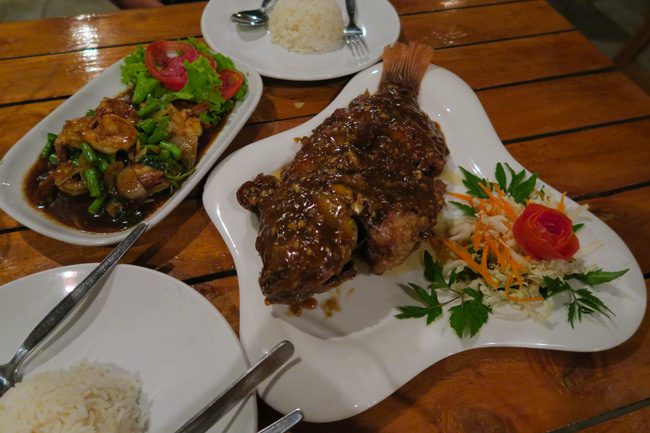 What a smart move to make reservations here for our last night in Ko Lanta. This family-run restaurant serves up a great atmosphere and delicious food. Heck, there's even a shrine inside. The specialty here is the seafood but you'll also find your usual Thai favorites. Choose your own fish and while it's cooking, devour some spring rolls and down a few Chang beers.
We went for the grilled red snapper in garlic sauce and prawn stir fry with green beans. This dinner was one of our best during our two weeks in Thailand – without a doubt!
Part IV: 4 Days In Ko Phi Phi

The most famous island in this end of the Andaman Sea, Ko Phi Phi Don is the perfect example of the double-edged sword that is the Thai tourism industry. It's an absolutely stunning island, with signature symmetric twin bays, dramatic cliffs, and white-sand beaches galore. But unfortunately, as soon as you arrive at its highway-of-a-pier, you start to wonder how on earth this tiny stretch of land supports the thousands of tourists who've just arrived with you? Well, the short answer is that it doesn't! It's enough just to look at a Google satellite view of the island's tourist hub to realize there's a problem here…
This problem has been worsened by the additional influx of tourists following the rise to fame of its sister neighbor – Ko Phi Phi Leh – featured in the sub-par Hollywood film – The Beach. In 2004, Ko Phi Phi Don was flattened by a tsunami, but these days, the only reminders are the broken-off coconut trees which have yet to grow back to their pre-tsunami height.
That said, if you carefully choose where to stay in Ko Phi Phi, you will have an amazing time, far away from the madness. So keep reading, you've come to the right place!
4 Days In Ko Phi Phi Map
Click on the image to open in Google Maps. The map features all the Ko Phi Phi highlights mentioned in this section.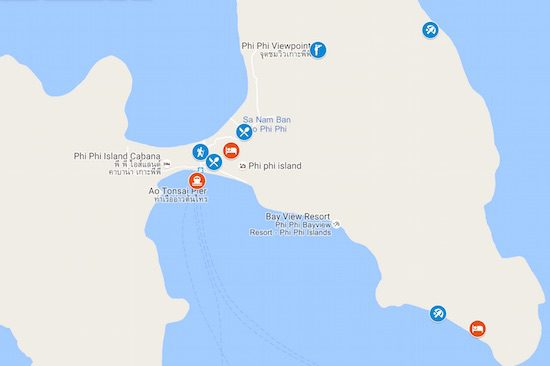 How to Get to Ko Phi Phi?
Koh Phi Phi Don is easily reached by ferry from Phuket, Krabi, Ko Lanta and smaller stops along the routes such as Railay Beach. We paid THB 300 to get from Ko Lanta to Ko Phi Phi, with the journey taking a little over an hour. At the pier, you'll pay a THB 20 'island cleanup tax'. Pro tip: we had to catch a flight from Krabi in the morning and the ferry from Ko Phi Phi wasn't exactly running like a swiss watch. It was a really close call and we had to pull a few strings. So keep this in mind and take an extra buffer. In any case, decline the offer to purchase a Krabi airport taxi voucher on the ferry. That way, as soon as you arrive, you can flag down an eager driver without having to wait.
Where to Stay in Ko Phi Phi?
The decision where to stay in Ko Phi Phi will 100% affect your experience on the island. Unless you are coming here for the party scene, to hang out with backpackers, or to be within walking distance of everything – avoid staying in and around the village of Tonsai (you'll see why later)!
Ko Phi Phi has a ton of accommodation options for all price ranges but since demand is always high – so are the prices. From my experience, you have three options, starting from the worst to best.
Stay in Tonsai Village: if you absolutely, 100% want to stay in the main village and be close to all the action – I can recommend the PP Palmtree Resort. It strikes a decent balance between location, price, and value. It's also relatively quiet here – a high-priced commodity in Tonsai.
Stay in the remote beaches: looking back, staying in the upmarket resorts in the more remote parts of the island is not a bad idea. The beaches are amazing and there's really no need to venture to Tonsai. The only concern is being 'trapped' when it comes to food and excursion options – but it's a small price to pay in my opinion.
Stay in Long Beach at Phi Phi The Beach Resort – by far our favorite accommodation in our 14 days in Thailand. As you'll later see, Long Beach is a gorgeous stretch of white sand and – as its name suggests – long (though not as long as the one in Ko Lanta). The real kicker here is that Long Beach is a quick boat ride from Tonsai village (THB 100 each way) but the crowds just don't seem to make it out here. So you are close enough to the action but the action is far away from you!
Staff will pick you up at the pier (and drop you off) for free, and whisk you away to paradise. The resort features charming wooden huts – all perched on a hill overlooking the beach and Ko Phi Phi Leh in the far distance. Tropical flowers are blooming everywhere and butterflies definitely outnumber guests. We especially enjoyed the exterior shower, free minibar, and spending hours out on the balcony. Look at that view! In the early morning hours, fix yourself a cup of coffee and listen to the rainforest waking up with zero noise pollution as those annoying longboats have yet to start their diesel engines.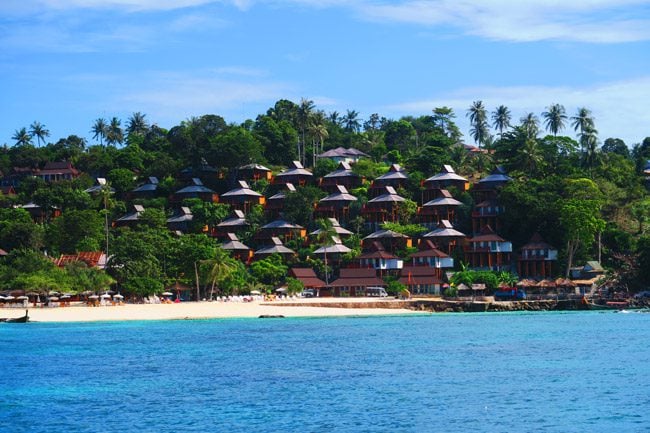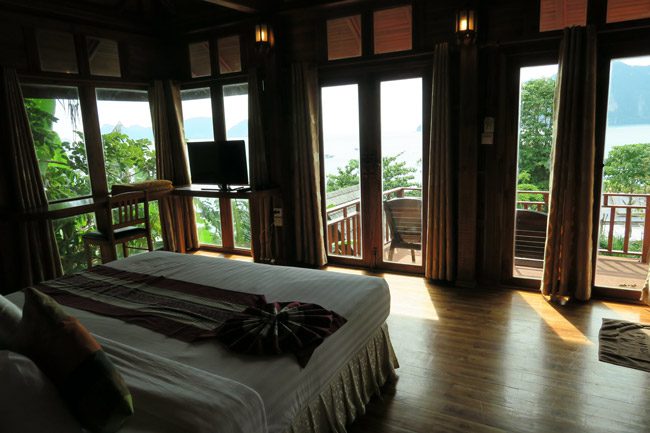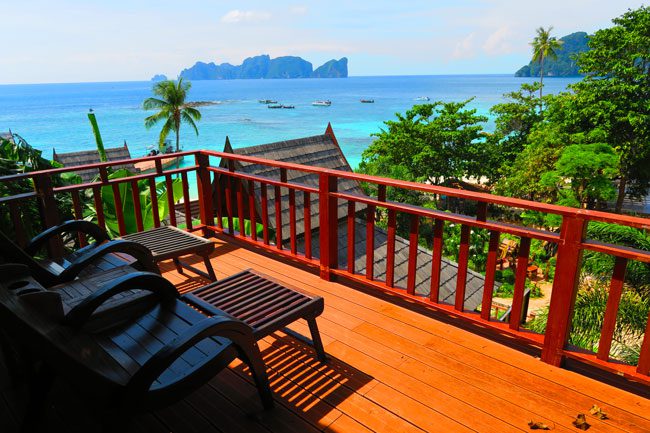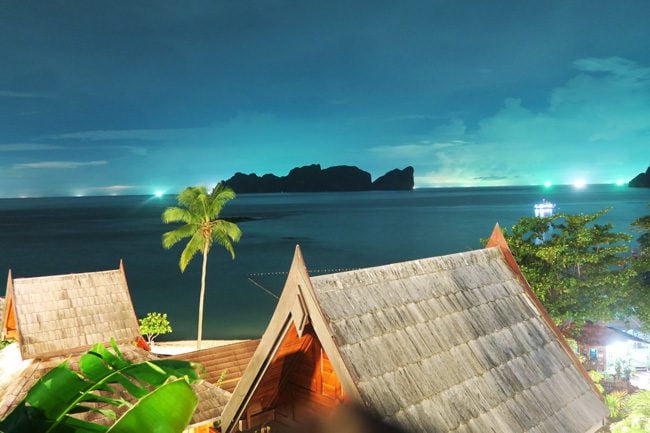 As for the food, breakfast was outstanding and the resort's restaurant was well priced for dinner under the stars. And yes, of course, there's a happy hour! How else will you pass the time on the beach? To mix things up, there are two or three additional good restaurants in the other resorts on the beach – all pretty good and decently priced. If you really want to visit Tonsai village by day or night, THB 100 will do the trick (each way).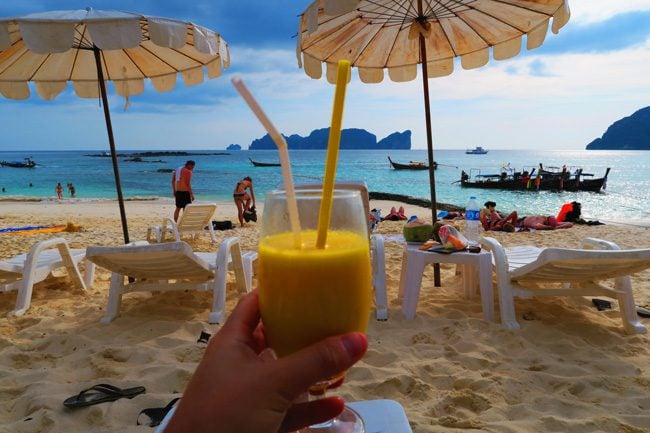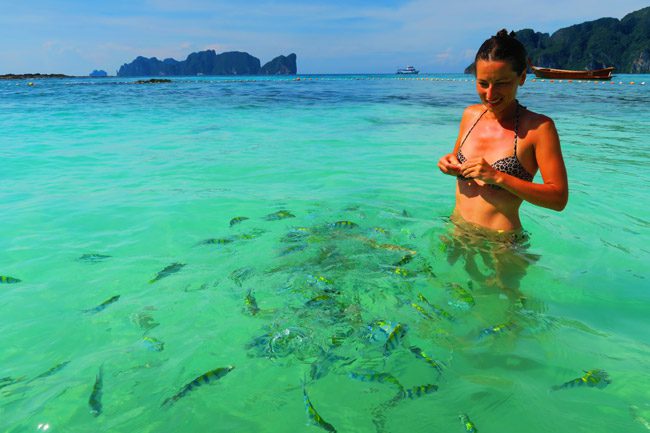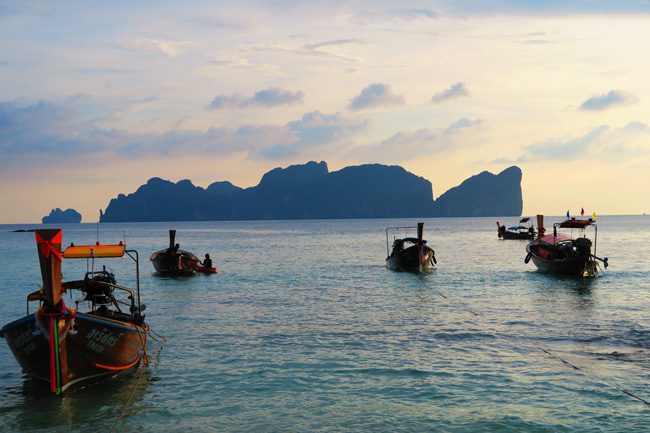 We had the perfect routine of food, fruit shakes, beach, massage, cocktails and more food. However, we made the grave mistake of deliberately switching hotels midway so that we can get a taste of Tonsai. Don't be foolish like we were!!! Doesn't the bandwagon crowd in Tonsai realize that paradise is just a short boat ride away, and for pretty much the same price?!
Long Beach

Its official name is Hat Yo but everyone calls this place Long Beach, and I guess you can figure out why. It's not as long as Ko Lanta's Long Beach but by Ko Phi Phi standards – this is one of the best beaches!
The beach is swimmable throughout the day and features a small patch of reef just meters offshore which with some decent snorkeling. We managed to spot clownfish, angelfish, and even stonefish! Our favorite activity though was feeding these guys with some leftover breakfast.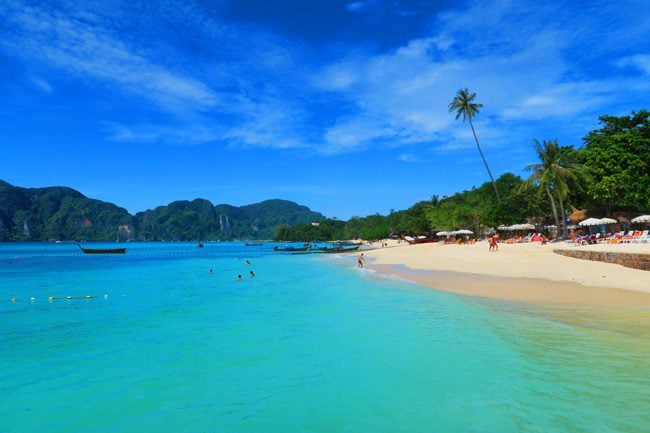 Long Beach is separated by land from Tonsai Village, so aside from a few curious day trippers, the only beach bummers are the resort guests. The only annoyance is the constant stream of longboats zipping and up down the coast but that's a general Thailand issue. At night, a low-key beach bar features the quintessential Thai fire show, but it's so peaceful that you can still hear the waves crashing.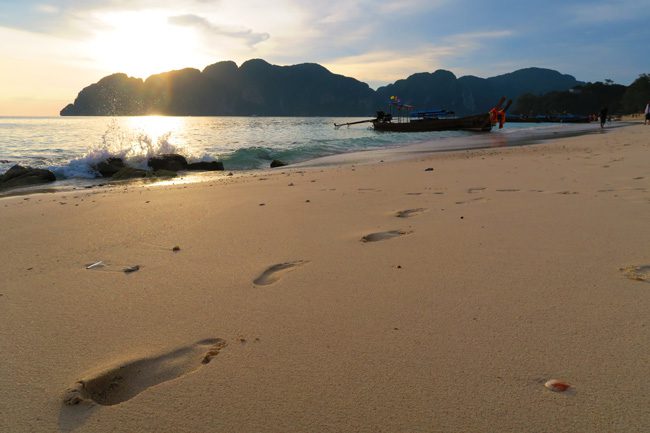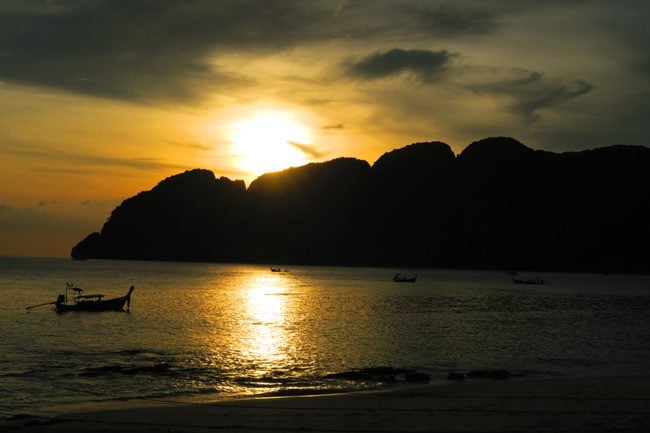 Scuba Diving
We ran out of the time but by the looks of things, the dive trips from Ko Phi Phi to Koh Bida were well priced (THB 2500 for two dives). Inquire with Long Beach Divers.
Day Trip To Maya Bay & Ko Phi Phi Leh

UPDATE: due to overcrowding and damage to the natural environment, Maya Bay is off-limits to visitors until June 2021 (at least). Therefore, choose from other day trips from Ko Phi Phi to either Bamboo Island or Mosquito Island (or both) and also consider trips to remote sections of Ko Phi Phi itself.
The #1 day trip from Ko Phi Phi Don is a visit to its beautiful and rugged little sister – Ko Phi Phi Le. Since this isn't exactly a secret – especially since the filming of The Beach – the trick is to leave early in the morning in order to avoid the crowds. We went for a 3-hour private longboat tour departing Long Beach at 7 am for THB 1500 (includes park fee).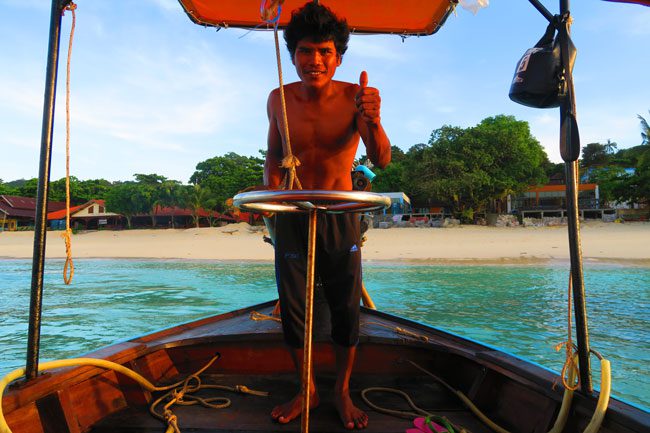 It's a very scenic 30-minute ride to your first (and most famous) stop – Maya Bay. Towering limestone cliffs almost completely encircle the bay, giving the feeling of detachment from the outside world if it weren't for the stream of longboats and small yachts entering together with you. We touched down on the shores of Maya Bay at 7:30 and the vibe was pleasantly quiet. The only caveat was that the sun hadn't yet fully risen, preventing us from seeing the bay's waters in all their aqua blue glory.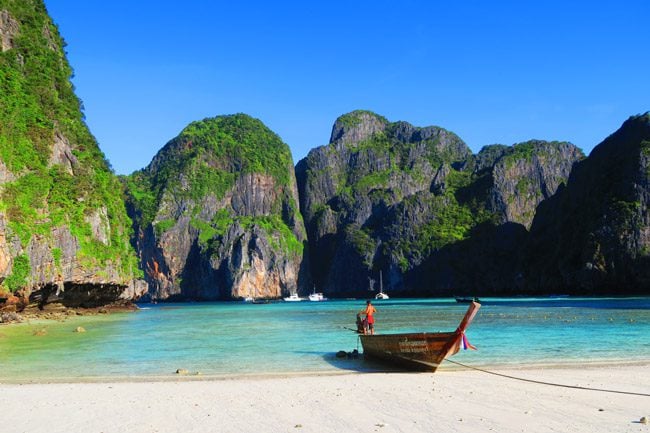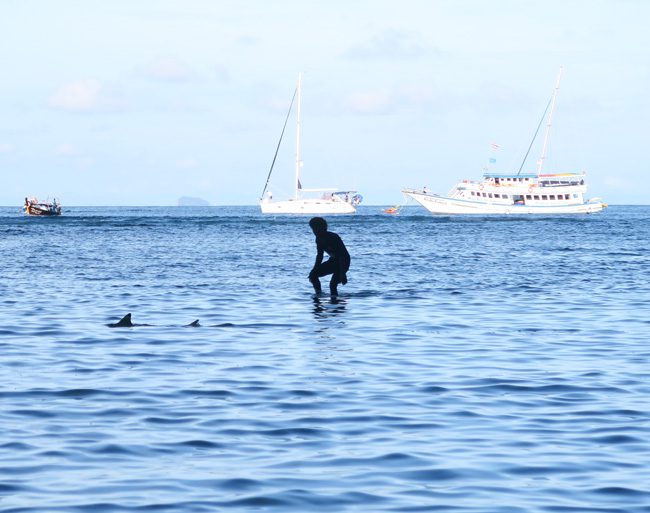 We had 50 minutes to walk around and explore the beach area. Our guides even spotted a few reef sharks and lured them close to us in what looked like a very 'ballsy' move. We also saw a few overnight campers waking up so – if you have the extra time – this could be a great option for really experiencing the magic of Maya Bay and the island.
By the time we left Maya Bay at around 8:30 am, rush hour was beginning. Our guides swung the longboat to a cove on the southern end of the island and we had 20 minutes to snorkel in Loh Samah Bay. Though the coral was pretty much all dead, there were tons of beautiful tropical fish. I recommend bringing your own mask and snorkel since the equipment onboard usually sucks.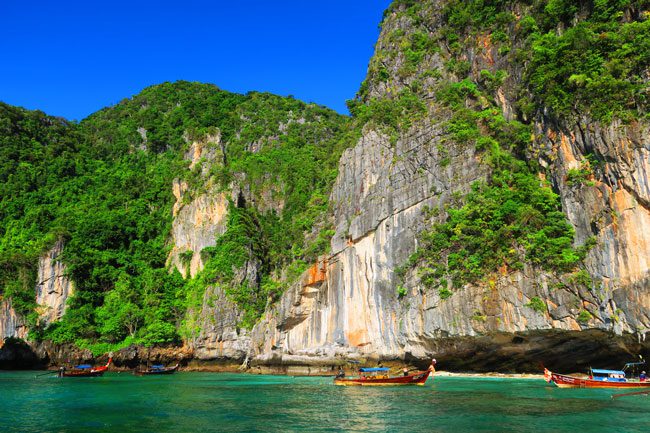 We then continued to Pileh Lagoon. The long approach to the lagoon affords incredible views of the surrounding cliffs, leaving you feeling completely tiny. Our timing was absolutely perfect as there weren't too many boats out here and the sun was radiating above our heads to show the magnificent colors of the lagoon.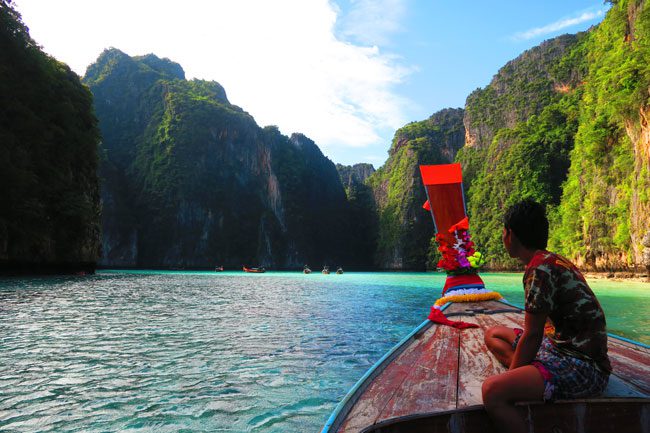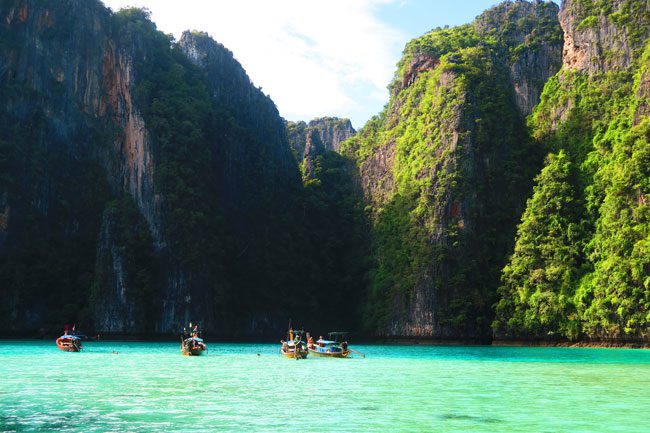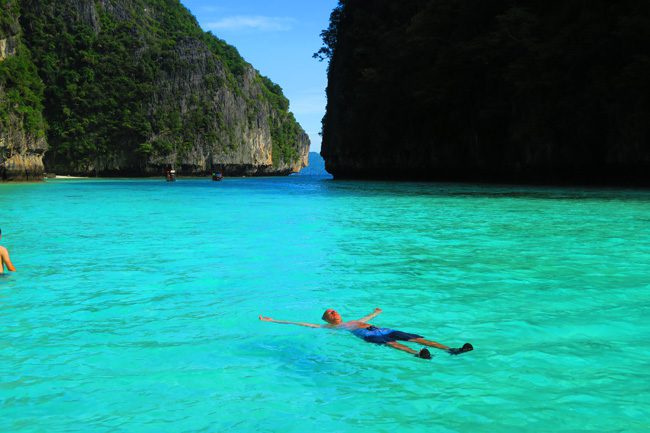 We had 20 minutes to swim and float in the shallow waters before making the trip back to Long Beach – arriving at 10 am just in time for breakfast. There are many variations of this tour which extend your day to include stops in Bamboo and Mosquito Islands. For us, the visit to Ko Phi Phi Leh was enough. It would have been nice to spend more time in Maya Bay but – considering the incoming traffic – I am not sure this is possible without overnighting there.
Ton Sai Village & Beach
I couldn't think of a more fitting name for the village of Tonsai other than 'sin city'. This tiny patch of once pristine land is way too overcrowded. Its center is a maze of narrow alleys lined with tattoo parlors, discount shops, ubiquitous tour operators, English pubs and mostly cheap eateries.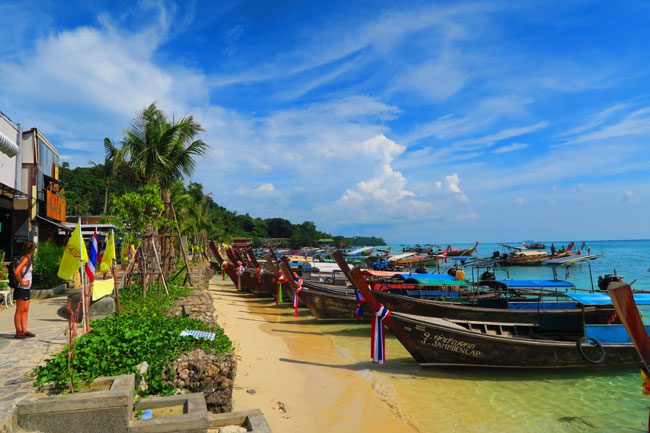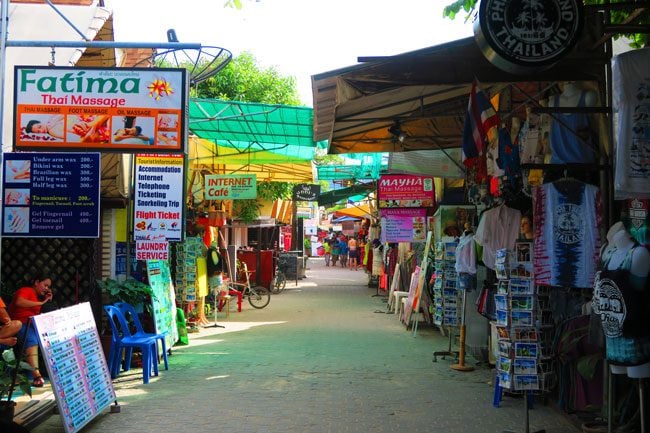 I'm afraid the news from its beach is no better – absolutely packed and requiring much attention with every step you take to avoid beer bottles, cigarette butts, and backpackers with the nerve to play a game of beach soccer. Relief from the overcrowdedness is only slightly felt in the early morning and late afternoon hours – when the massive ships carrying daytrippers from Phuket and Krabi depart.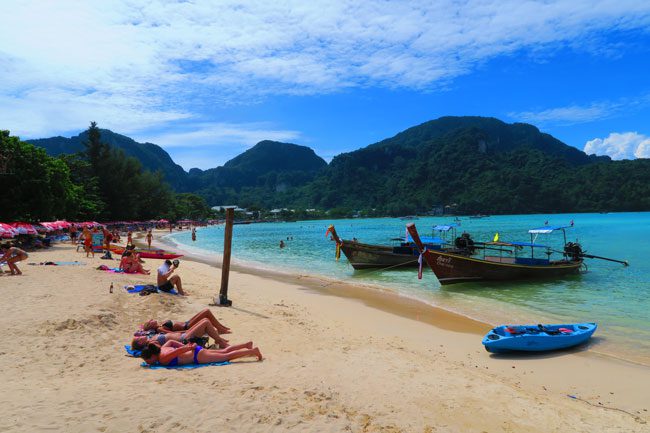 Perhaps things calm down at night – you might be thinking? Wrong answer! In fact, the daytime mayhem is just a prelude to what's to come after the beautiful sunset: alcohol sold by the bucket, wet t-shirt contests, ubiquitous nightclubs and electronic music. It's not exactly the atmosphere a couple or a family is looking for. However, if you're a backpacker seeking to 'capture a flag' (if you know what I mean) – Tonsai is for you!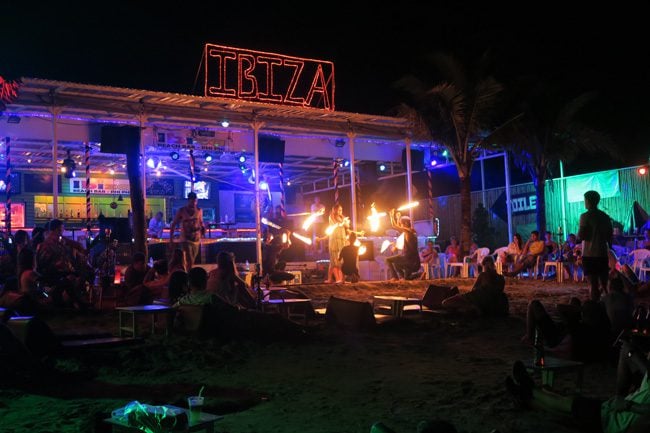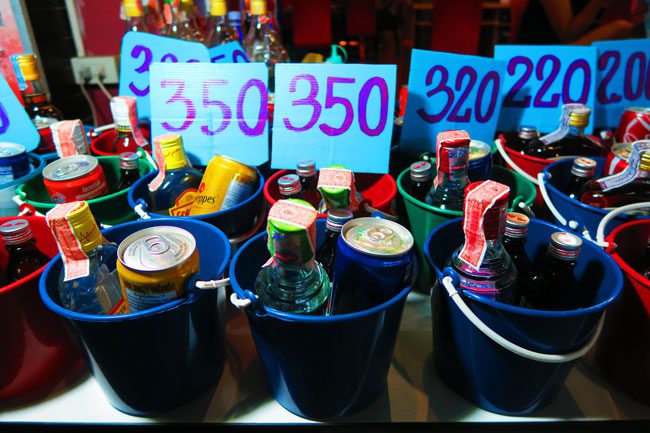 Scenic Viewpoint
Unless you're rock climbing in Ko Phi Phi, the most strenuous activity is without a doubt the rewarding climb to the panoramic viewpoint overlooking the island's twin bays. It's the quintessential Ko Phi Phi photo spot, very popular during sunsets and early mornings. Easily reached from Tonsai Village, just follow the signs and pay the THB 20 at the entrance to the 'tropical garden' leading to the top. We climbed just after breakfast when it still wasn't that hot, though by the time we reached the summit we were soaked in sweat. The good news is that fruit shakes and cold drinks can be enjoyed with the great views, thanks to the summit's cafe.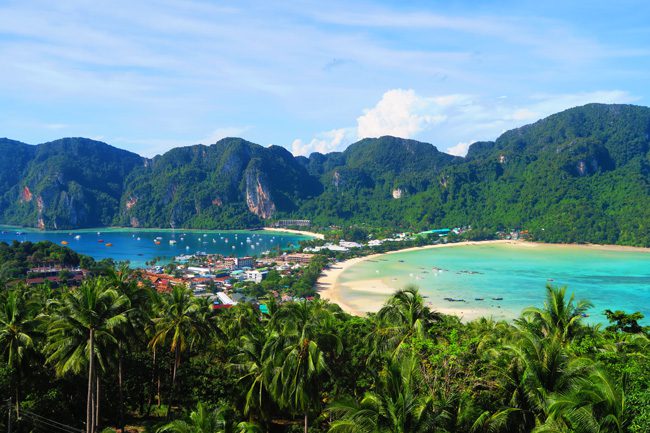 The viewpoint is also a crossroad where a series of trails to secluded beaches intersect. We used this opportunity to descend to Rantee Beach and spend the day in a gorgeous spot away from the beach-scene-mayhem of Tonsai.
Rantee Beach
Had it not been for our mistake of switching accommodations from Long Beach to Tonsai (it was a pre-booking mistake), we probably wouldn't have bothered to make the effort and hike to Rantee Beach. You can easily hire a taxi boat from Tonsai to Rantee for THB 600, but we leveraged our visit to the viewpoint to make it down here on foot (20 minutes). There are signs from the viewpoint to Rantee but they disappear after a while, leaving you to trust your instincts in the dense jungle to find your way down to the beach (it's not as hard as it sounds but bring mosquito repellent and a pair of long pants!). You can try and ask the monkeys and butterflies on the way for directions, but I'm not sure they'll cooperate.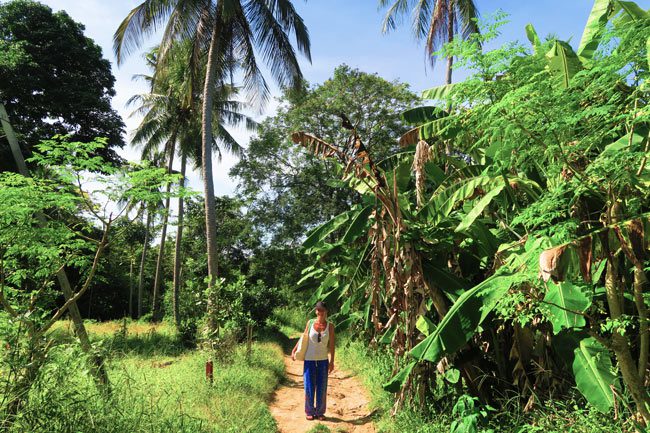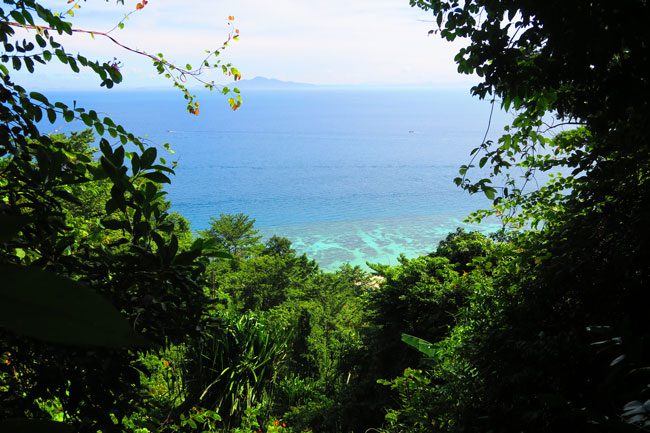 At some point, a patch of coral reef and white sand appear from beyond the canopy like a mirage. A few steps later, you make landfall on beautiful Rantee Beach. Aside from another day tripping couple, there were only a small handful of guests on the beach from the few low-key guesthouses located here.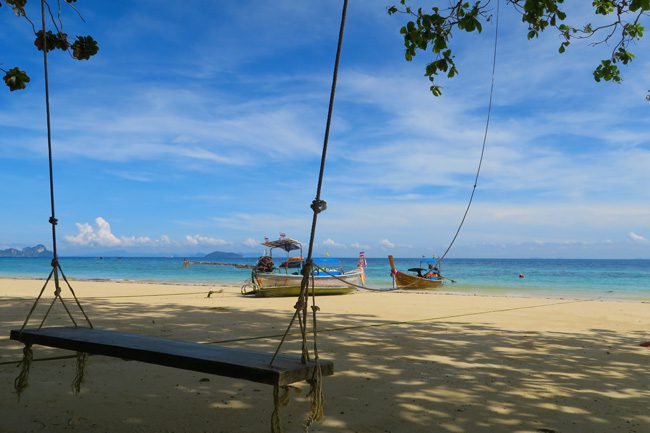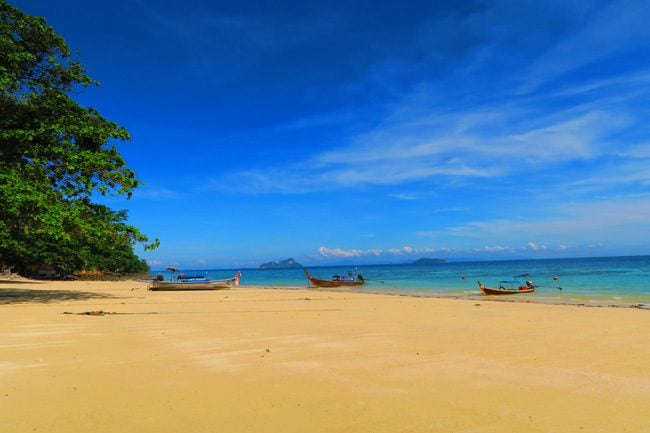 Palm and casuarina trees provide the shade, while entertainment includes: snorkeling, napping, massages and daydreaming while riding the giant swing. We absolutely loved this place and I kind of feel bad about letting the secret out! Bring some water with you but don't worry about food as there's a typical beach restaurant to satisfy your daily craving for green curry and fruit shakes. You can technically walk back to the village, but an easier way is just to pay THB 200 for a scenic ride back.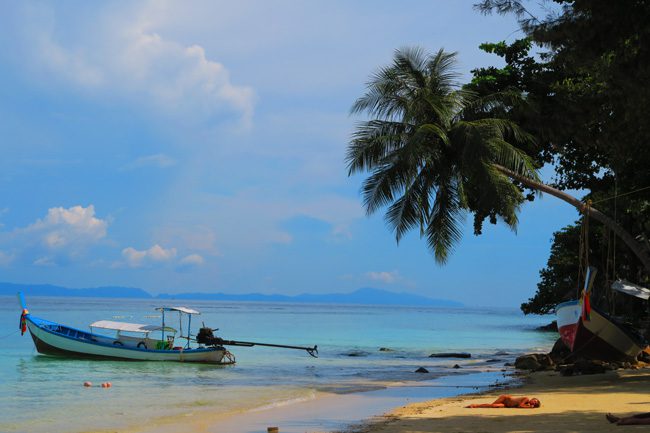 Places to Eat in Koh Phi Phi
Aside from the beach restaurants in Long Beach, here are the places we absolutely loved in the main village of Tonsai.
Grand PP Arcade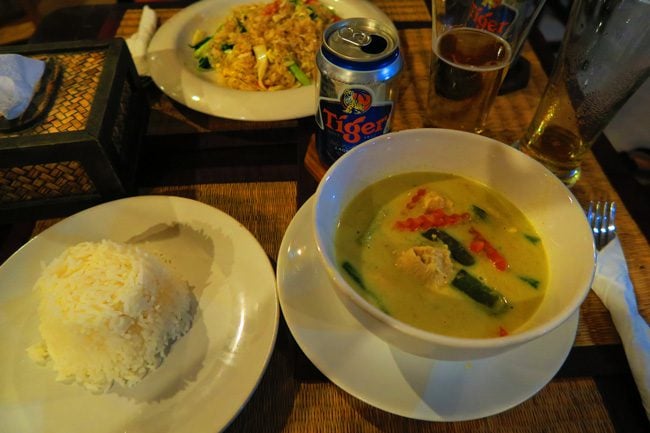 A quiet and romantic escape from the madness of the village. The restaurant features an outdoor setting and makes (by our accounts) the best fruit shakes in Thailand. We devoured some fried rice with shrimp and chicken cashew nut. The dishes are not only delicious but also large and sweetly decorated.
Anna's Restaurant
I'm not sure who Anna is but I do know the green curry she makes is the best in Tonsai. This restaurant is quite popular so it's best to make reservations in advance.
Part V: 1 Day in Bangkok
Before catching your international flight back home, it's a good idea to spend one last night in Bangkok to leave some margin for error. Use this opportunity to do a bit of shopping and celebrating your last night in the tropics. We timed our last night in Bangkok to coincide with the Chatuchak Weekend Market, also overnighting within walking distance at the very simple-but-adequate g9Bangkok Hotel. However, you can either pay a visit to the market during your first Bangkok leg or head to Siam Square's collection of modern shopping malls instead.
Chatuchak Weekend Market
The largest market in Bangkok is a must for any market lover and certainly for those in need of souvenirs and gifts by the bulk. The market covers a huge expanse of land outside central Bangkok, with additional stalls lining the streets around its perimeter. As its name suggests, the Chatuchak market only takes place over the weekend. Shops stay open until around 5-6pm, after which its main open-air sections become one giant street food market.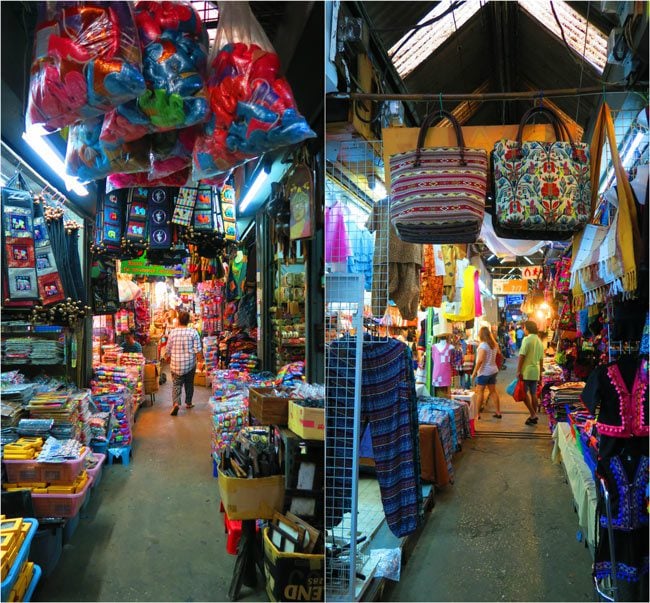 You'll seriously have to brace yourself as it's mighty hard work navigating to the sections that interest you the most. As with the visit to the Louvre Museum in Paris – don't try and see everything! You can pick up a map in the market and pick-and-choose the sections which interest you the most.
The main entrance is right by the BTS and metro stations. Just follow the crowds. In preparation for the miles of walking, you're about to undertake – pay a refreshing visit to the 'coconut samurai' and let the shopping begin!
Prices in Chatuchak (or JJ as it's often called) are rock bottom. Far cheaper than lesser quality identical items you've probably already bought in the islands (it's OK – just buy again). You'll also need to dust off the 'no bargaining' policy and bargain like there's no tomorrow, as the price quoted is rarely the price you should pay (but keep in mind that a few dollars more in a local's pocket goes much longer than a few more dollars in your pocket).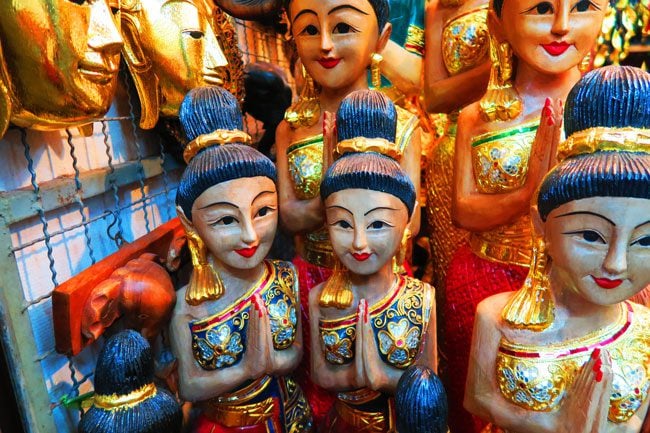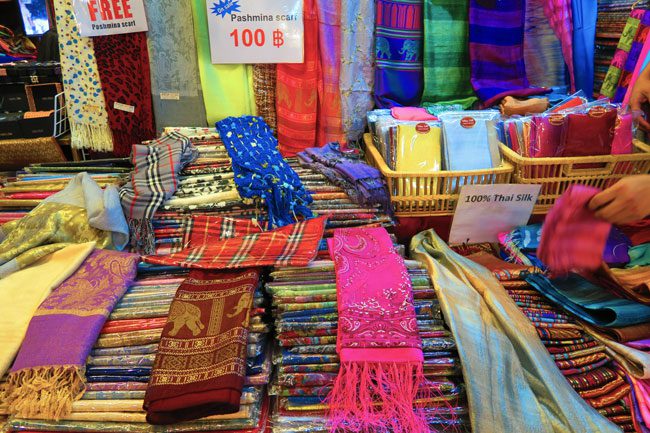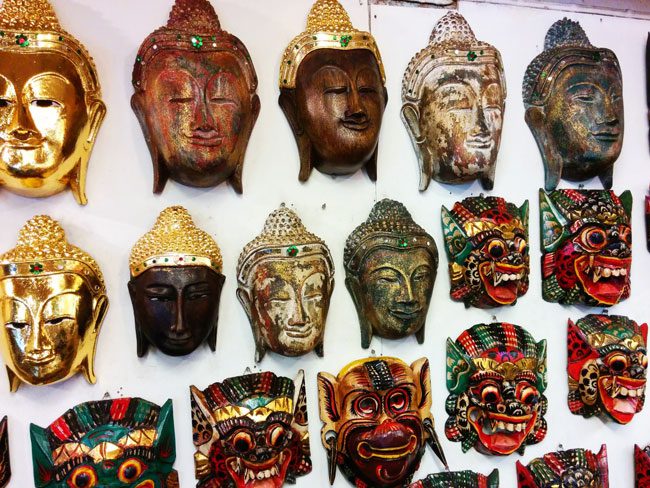 Getting tired of all that walking? No problem! Just stop for a massage somewhere in the middle of the market. Getting hungry? That's a non-issue too. The Chatuchak market has an awesome 'food court' in its southern section to go along with more upmarket options in the north. For dessert? How about some coconut ice cream!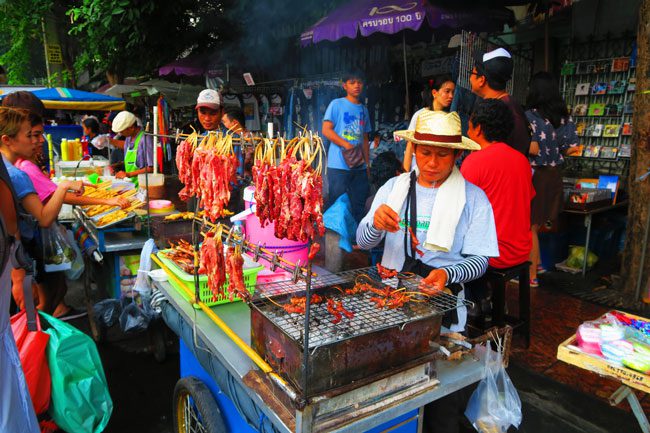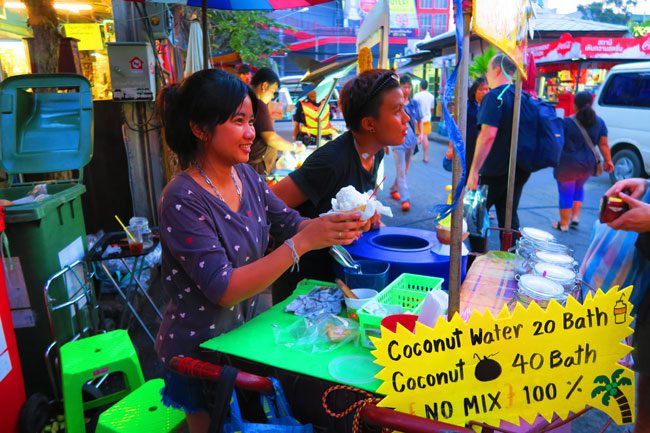 Last Night Out in Bangkok
Celebrate your last night in Bangkok if you still have some energy left. Have a look at Part I of this sample itinerary for top choices.
Now it's Your Turn!
This wraps up a very busy 14 days in Thailand. As you can see, there's plenty to see and do, and we barely scratched the surface! Have you been to Thailand and have some cool tips? Do you have any questions about this sample itinerary? Leave a comment below and let's get the conversation started.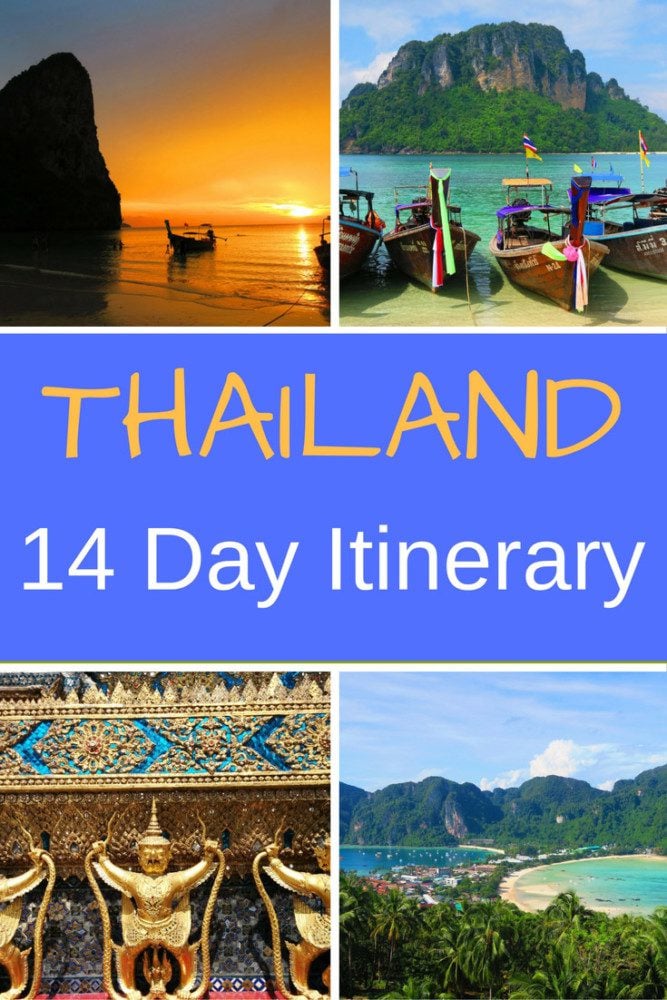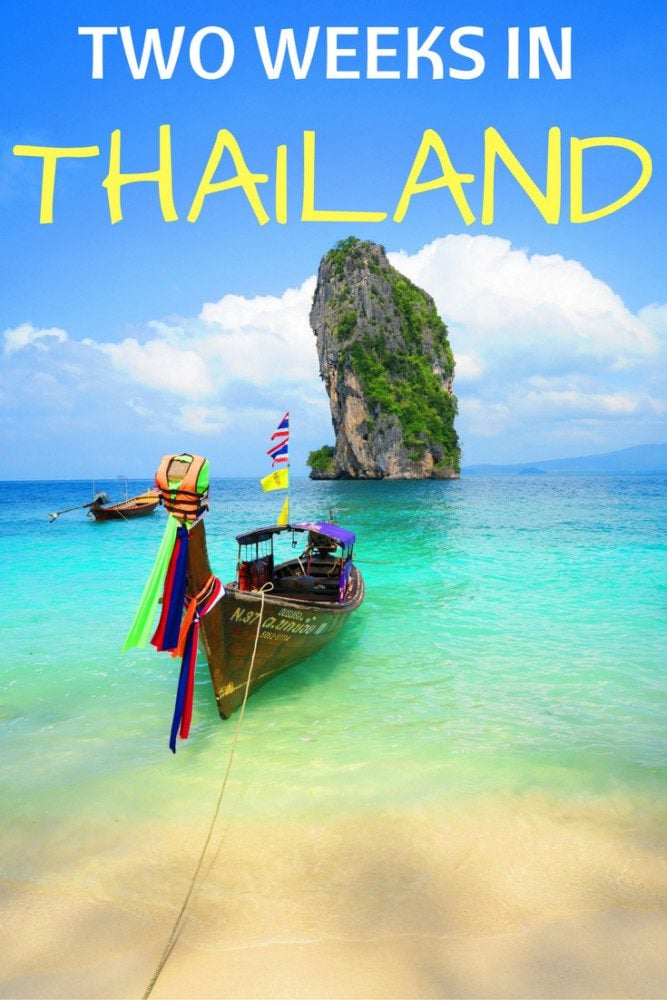 Pin These Photos To Your Favorite Boards!