Charming water canals, a liberal vibe and Golden Age history, Europe's 'sin city' is the perfect destination for a city break. Amsterdam is distinctly unique, satisfying all your cravings in one long weekend.
One of the most charming cities in the world, Amsterdam is the perfect destination for a city break. Something of an engineering marvel, Amsterdam is pretty much defined by the web of canals slicing through it. Charming canal houses with their distinct gables seem to be leaning on each other and on the brink of tumbling down to the murky waters; little bridges connect the city's neighborhoods, each with its unique vibe. Amsterdam owes much of its grandeur to the Golden Age, a time when the city was pretty much the capital of Europe and the center of the world.
On a long weekend in Amsterdam, you'll be treated to many guilty pleasures with countless cravings to be satisfied. We've all heard about the liberal atmosphere of Amsterdam (with what's legal here….) and first-time visitors will surely think they've either reached heaven or hell or something in between.


But Europe's 'sin city' has so much to offer, with excellent food, cafes, specialty shops, markets and so much more. Easily explored by foot, nothing is ever too far and you'll have a blast walking along the canals, just watch out for the bicycles that rule this town!
On this 3 days in Amsterdam travel itinerary, I'll try to avoid the hyper touristy stuff but we'll cover some of this as well. I've visited Amsterdam on a few occasions but the itinerary I'm sharing here was mostly comprised of a January couple's visit, though I will augment it with a few summer highlights as well. Either way, I hope this itinerary will help you plan your long weekend in Amsterdam.
There's so much to explore so let's get started.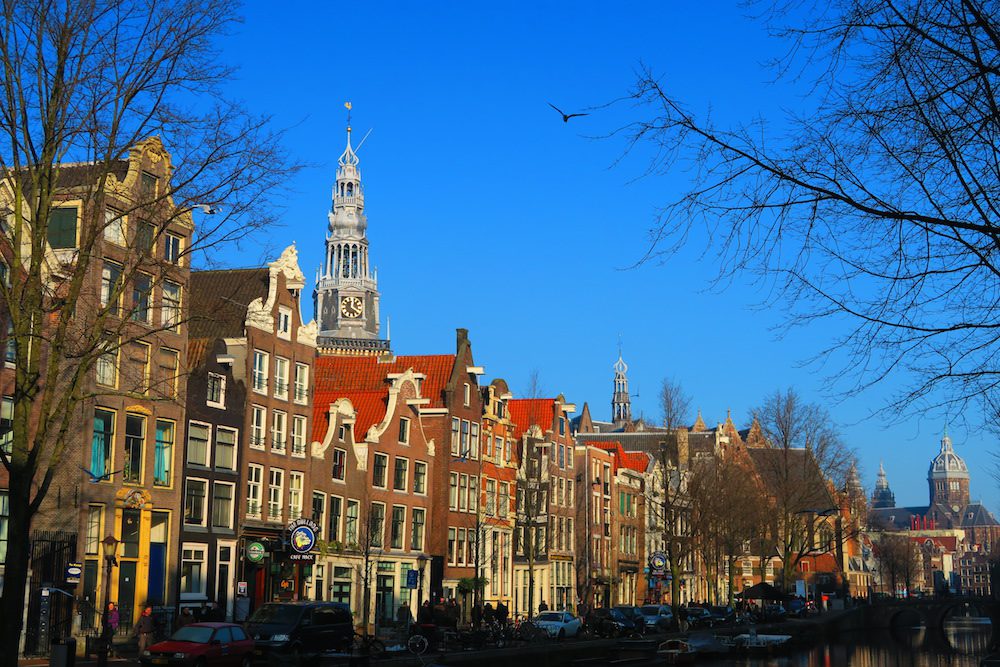 What's Included in this 3 Days in Amsterdam Itinerary?
Amsterdam Travel Tips
Don't leave home without the Pocket Rough Guide To Amsterdam,! It's got loads of information that together with this guide, will be your best friend in Amsterdam.
Browse through this collection of online tickets to Amsterdam's various sites, tours, and experiences. Tickets are immediately issued and delivered by email, and in certain cases, you can also enter via a 'special queue' (a.k.a skip the line). If you plan to combine multiple museum visits, consider getting the I Amsterdam Card which also offers free use of public transportation, canal cruise, and additional perks.
Amsterdam is a city of walking and in the center, nothing is too far. Get your walking shoes ready as it's the best way to explore Amsterdam. Navigating the seemingly similar looking canals can be confusing but it's also part of the fun.
That said, public transportation in Amsterdam is excellent. You can use the metro, buses and those famous streetcars to get around easily. You can buy tickets onboard (exact change not needed) or a GVP Pass in advance, but explore all your options on this official site.
The hotel situation in central Amsterdam, especially in the old center, is not amazing. Hotels are pricey and don't seem to have any incentives to upgrade. Many still use punch cards as room keys and seem to still be stuck in the 1970s. However, it's all about the location so book very well in advance to ensure a decent room and don't expect too much. On the bright side, most include breakfast in the price.
The best way to get from Schiphol Airport to the center of Amsterdam is to take the train. It will cost you €5.10 each way, with trains every 15 minutes. You'll get off at Amsterdam Centraal after a 20-minute ride and you're right in the center of town.
Bicycles rule this town! Be very cautious when crossing from one side of the street to the other. Their numbers can be overwhelming and an abrupt encounter can be painful.
Many shops are closed on Sundays or open very late. Plan accordingly and if there's a special place you want to visit, do check opening times.
Some markets are open throughout the week (like the Flower Market) and some only on Saturdays (like the Noordermarkt farmers market. Plan your trip accordingly.
Since this is more or less a 'family-friendly' travel blog, I'm not going to talk too much about the stuff we all know is legal in Amsterdam. If you do wish to explore this side of Amsterdam, the rule of thumb is simply to extensively empty all pockets before heading home … just in case.
3 Days in Amsterdam Guide Map
All places mentioned in this Amsterdam itinerary can be found on this companion map. Simply click on the image to open in Google Maps.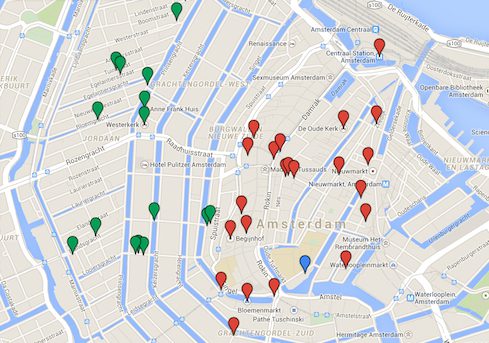 Day 1: Exploring Amsterdam's Old Center
Arrival
We arrived the night before, on a Thursday to have a full long weekend in Amsterdam. We booked the Hotel Rokin which seemed to be in a perfect location close to Dam Square. Like many other hotels in Amsterdam's old center, this hotel was super basic (but for €125 per night) and seemed to have changed very little since the 1970s. To make a long story short, our room which was facing the 'quiet' rear was just above the back deck of a popular bar so the noise was unbearable. Rooms facing the front had to endure street noise from Rokin Street, which is a major thoroughfare. Add to that the major construction going on in the street, and you simply can't have a quiet night. More on this saga a little bit later.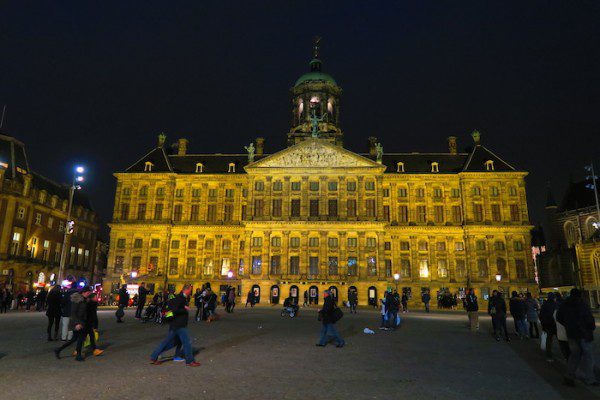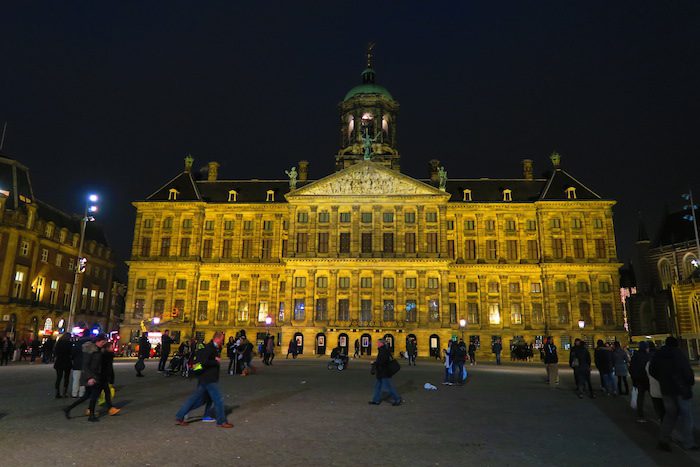 We didn't have much time for dinner so we ventured on a stroll around Dam Square. Though the french fries were invented just across the border in Belgium, the Dutch certainly have their way when it comes to making delicious fries. We've tried a few spots but by far, the best french fries in Amsterdam can be found at properly named Chipsy King on Damstraat just next to the National Monument in the extended Dam Square. The fries are dropped into the hot oil in real-time and are golden as they come out. You can choose from a variety of sauces but you can't go wrong with the classic mayo on top!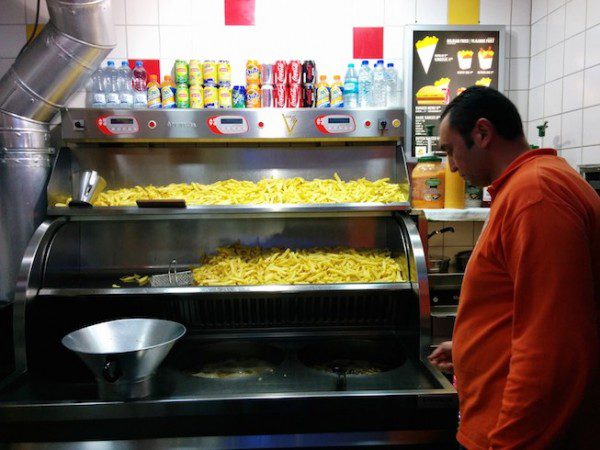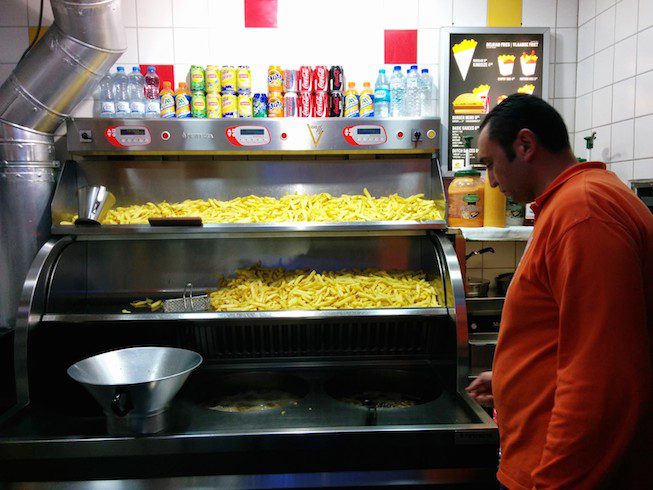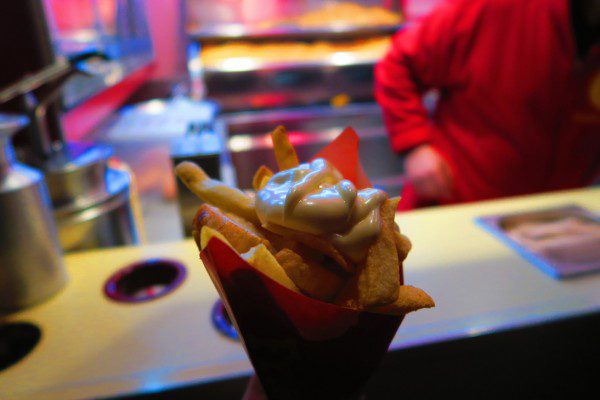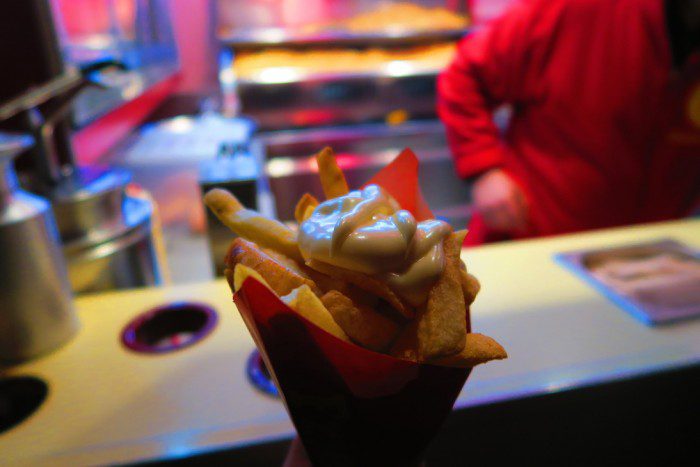 The following morning, the first of our 3 days in Amsterdam, we were graciously transferred to the Rho Hotel, a 'sister' of Rokin Hotel. The hotel is even closer to Dam Square and is housed in an art deco building that used to be a theater back in the day. Rooms are still basic but much larger. The shower is hot, the location perfect and it's quiet – what more do you need?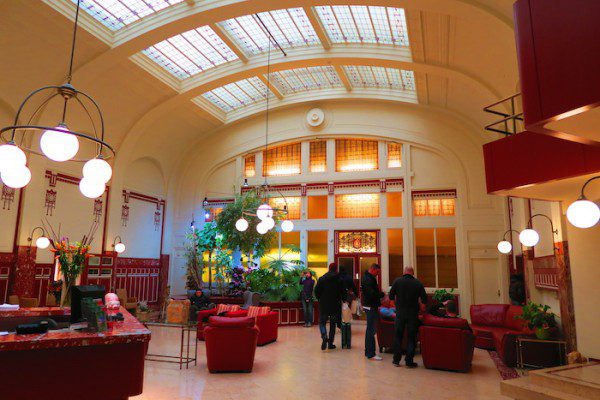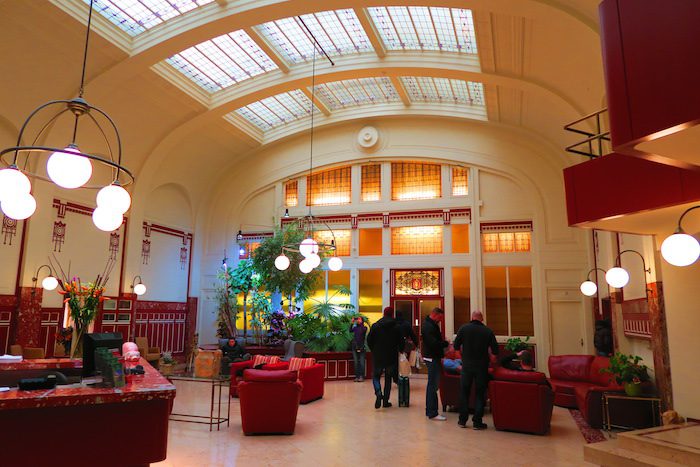 Around Dam Square
The plan was to visit the Royal Palace early in the day but since it only opens at 11 am, we spent the post-breakfast hours exploring the sites around Dam Square, Amsterdam's main square. The square marks the spot where the Amstel river was originally dammed and where Amstelredam, now Amsterdam, was pretty much born. You'll pass through the square many times and it's a prime spot for orienting yourself in Amsterdam. If you can't find it, follow the sounds of the music-playing-bells originating from the palace.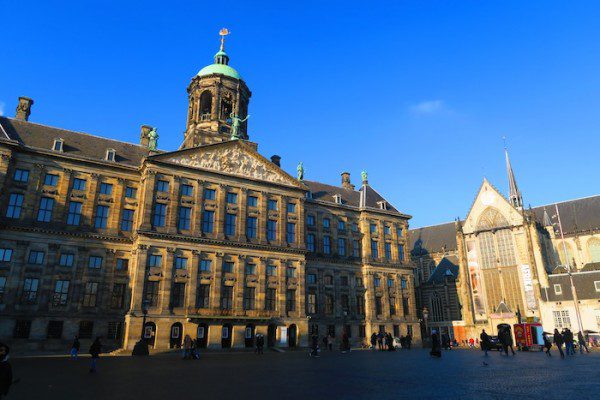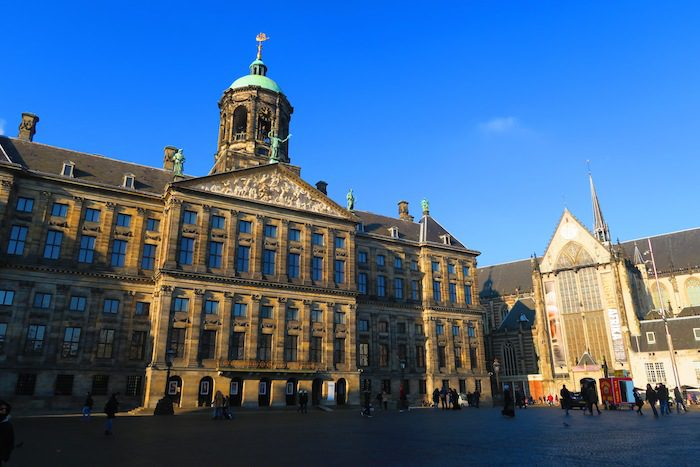 There are a few highlights around Dam Square. The Nieuwe Kerk, which is not as new as its name suggests was built in the back-then popular gothic style in the 15th century. Today it's used for exhibitions so if you don't fancy venturing inside, it's nice to look from the outside. Right behind it is Magna Plaza, a huge late 19th-century post office believe it or not. Today, it's a shopping center but worth exploring for those who appreciate old-school architecture. Back to the square and into Amsterdam's most famous department store, Bijenkorf. It's a chain of stores but this is the one you want to visit. It's been around since 1870 and deserves a visit if you fancy some shopping.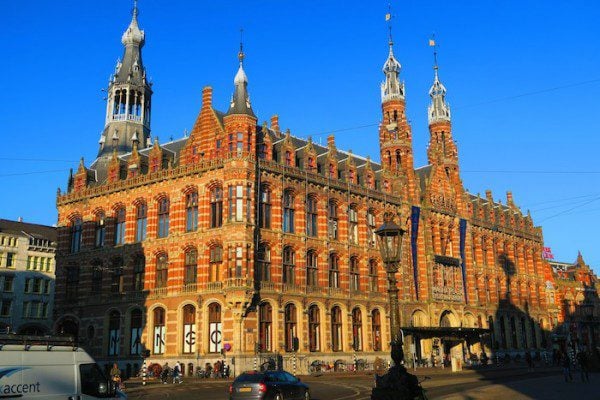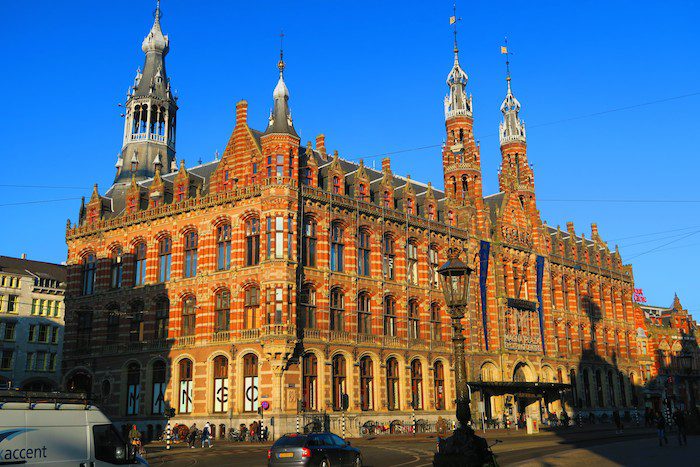 As the clock struck 11 am we were back in the Royal Palace. Originally built as Amsterdam's city hall in 1655, this massively impressive gothic structure was converted into a royal palace by Napoleon's brother, Louis – in 1808. It was built at a time when Amsterdam was the center of global commerce and symbolized the city's 'Golden Age'. It's now mostly open to the public but still used by the royal Dutch family on occasions. So the best thing to do is to check the website for opening days and to book your ticket in advance to avoid the queues.


The interior of the Royal Palace is even more impressive than the outside and as you climb the staircase to the main hall, the full beauty of this place is revealed. The main hall is decorated with fine marble and loaded with mythical figures and images depicting old Amsterdam. You should then start to explore the various rooms and I highly recommend opting in for the free audio guide, as you'll learn about the story behind each room. 'Room' is a very light way to describe what you see here. Chamber would probably be a better word. Each one is magnificently decorated in different colors and with lavish antique furniture, of course. Highlights include the Secretary's Office, City Council Chamber, and the Magistrate's Chamber – but honestly, every chamber is unique.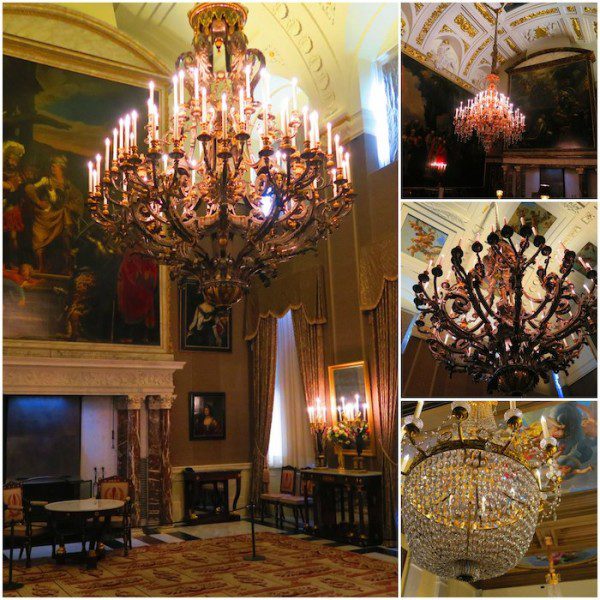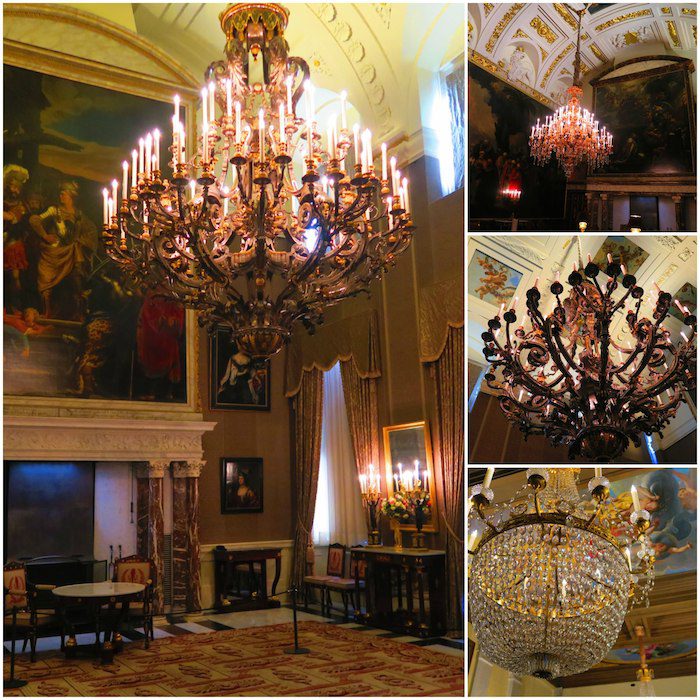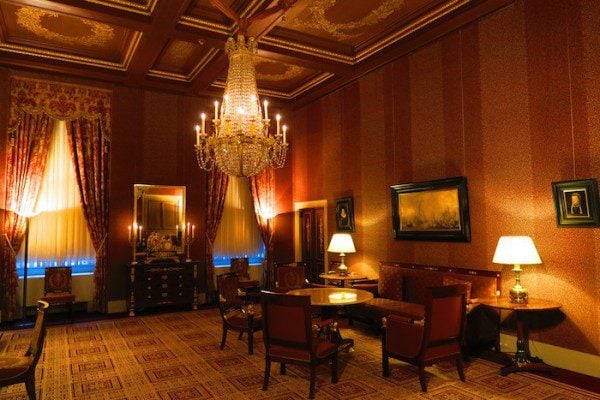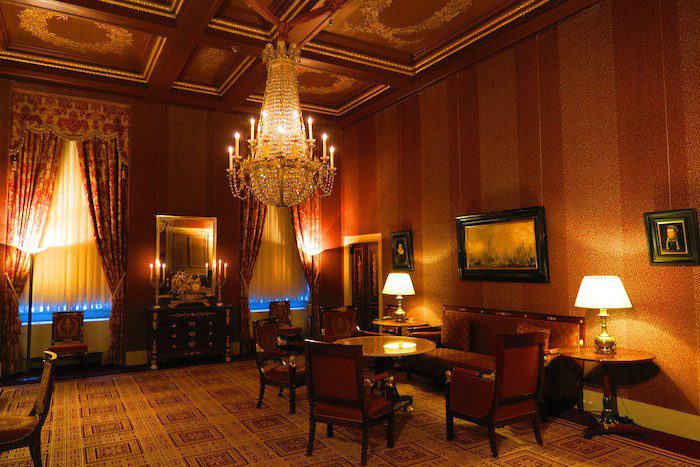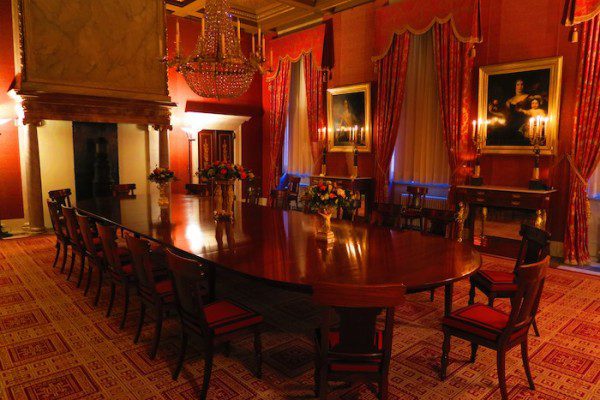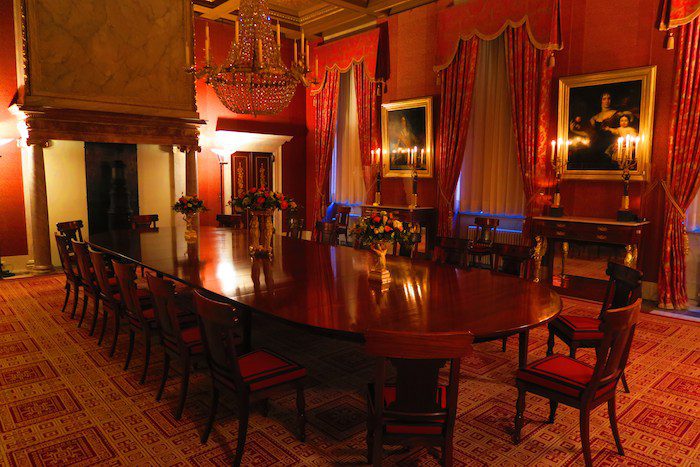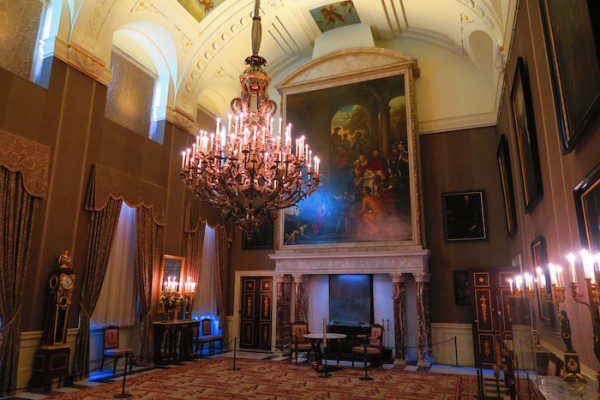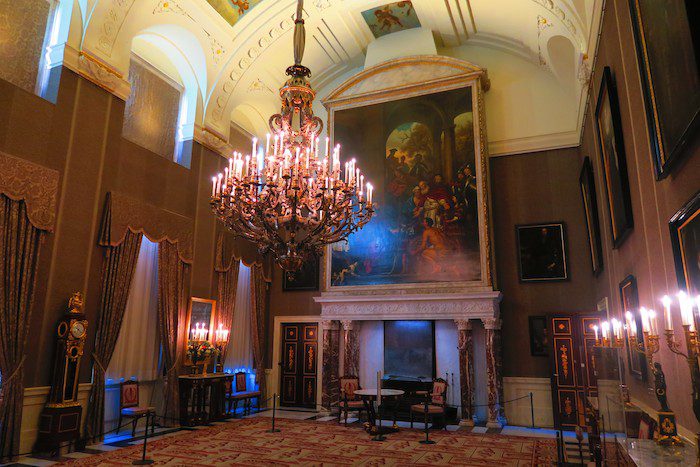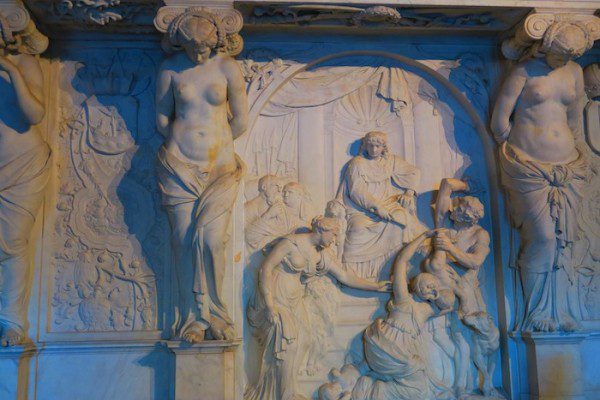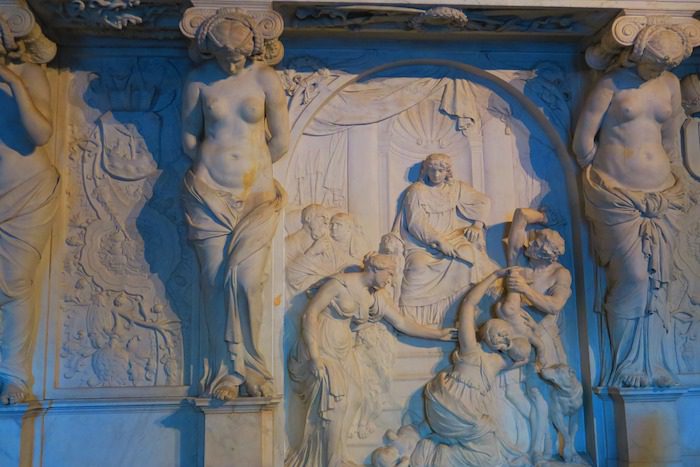 After getting a taste of Amsterdam's Golden Age, head south via the pedestrianized Kalverstraat. This is one of Amsterdam's major shopping streets and you'll find here all your favorite brands along with a few original shops. One of those is De Posthumus, just off Kalverstraat. You'll recognize this shop by the huge rubber stamp greeting visitors on the outside. This shop has been around since 1865 making custom-made rubber stamps, fine paper, and all sorts of accessories pen pals needed back in the day. Even if you're not into pen and paper anymore, it's worth a stop as it's more like a museum here. In fact, this whole side street off Kalverstraat (Sint Luciënsteeg) is packed with stamp collector shops and other historical collectibles made of paper.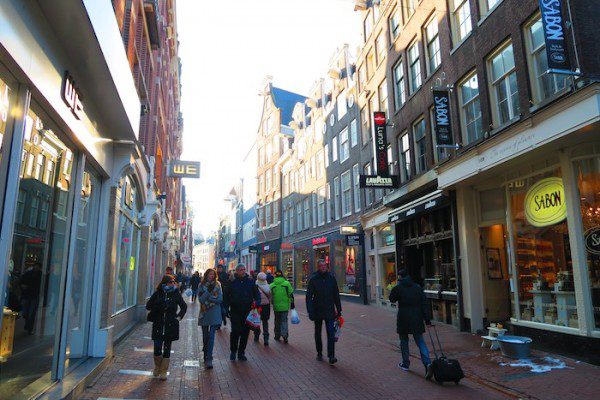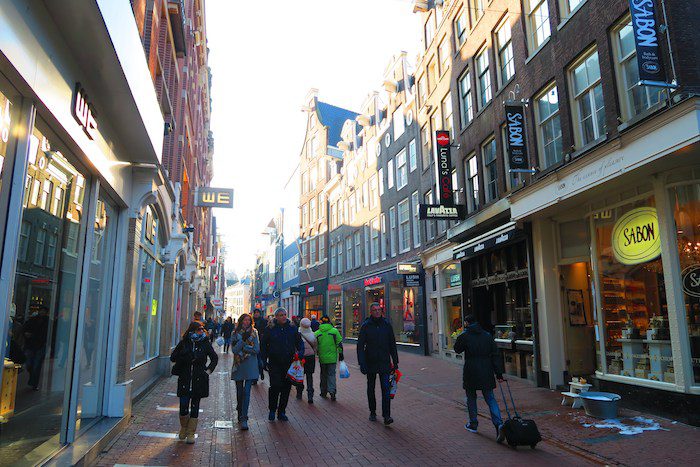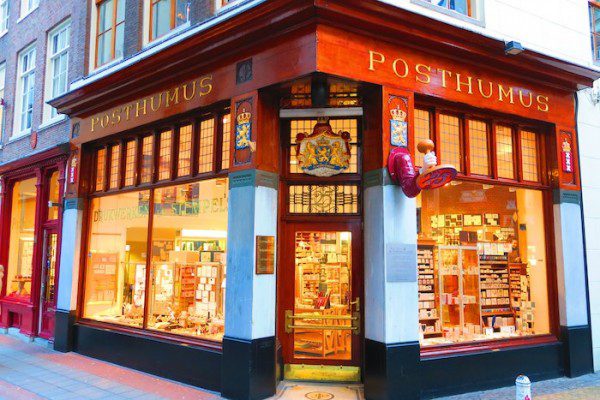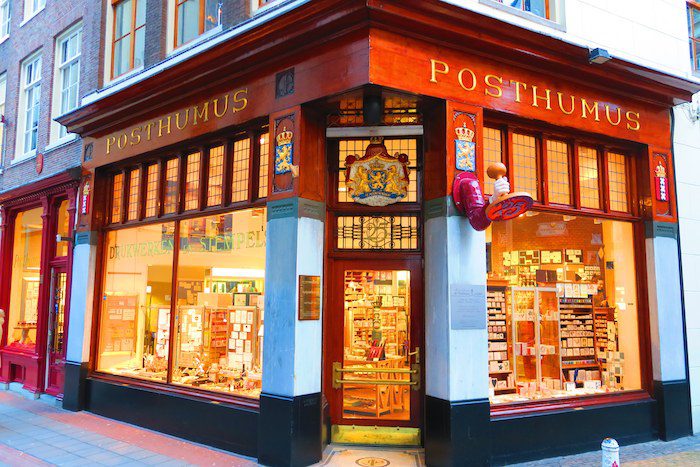 A Slice of Heaven
One more tiny detour off Kalverstraat is at Begijnhof. No, this isn't that department store from earlier on but rather a super tranquil little square in the heart of the old center and with lots of history. Originally built in the 14th century to house the Catholic sisterhood of the Beguines, this medieval complex changed many hands and is now for the most part home to classic Amsterdam apartment buildings with their decorated crowns (called 'gables') and those metal hooks on the top. If you're wondering what those are – well, since the apartments are so narrow, furniture would not fit in the winding staircases so it would be hoisted from the outside. This is also the reason why the apartments seem to 'lean' forward – they were built that way to make it easy to hoist stuff up. The Dutch are some of the world's top civil engineers and it is easy to see why once you visit Amsterdam.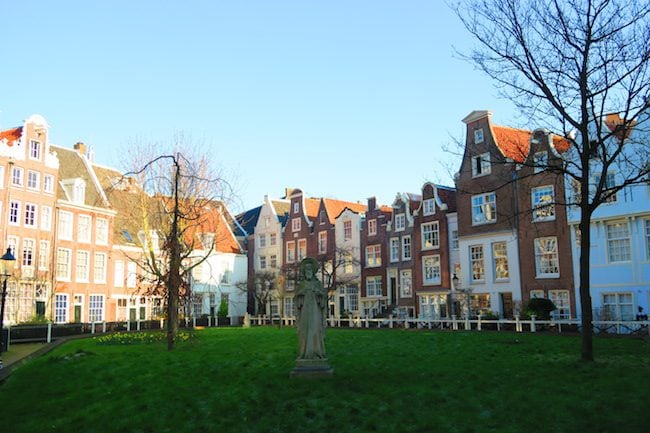 The Amsterdam Flower Market
Continue strolling down Kalverstraat until you eventually reach the Munttoren, a 15th-century clock tower that was once Amsterdam's mint. It now pretty much marks the start of the famous Amsterdam floating flower market, locally known as the Bloemenmarkt. It's not huge and only comprises a dozen or so floating shops but is one of the must-see attractions in Amsterdam. The market has been around since the 1860s and is still one of the major suppliers of flowers in Amsterdam. Sure, the shops do sell a lot of touristy souvenirs but they also put on display dozens of tulips and bulbs in all sorts of colors and sizes. Fancy some yellow tulips or maybe some roses? You'll find it here along with magnets and growing kits that you probably don't want to get caught with at airport customs (if you know what I mean).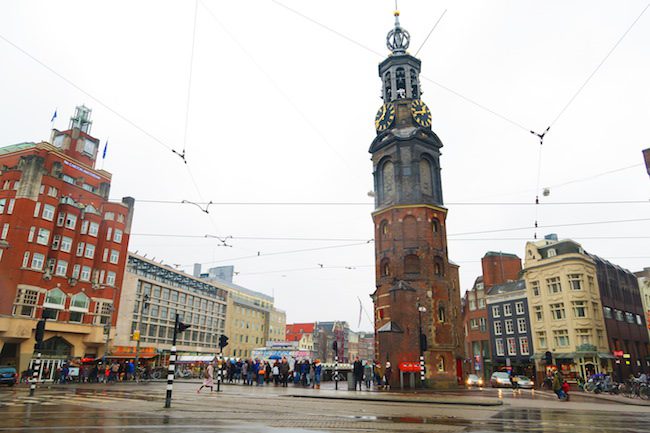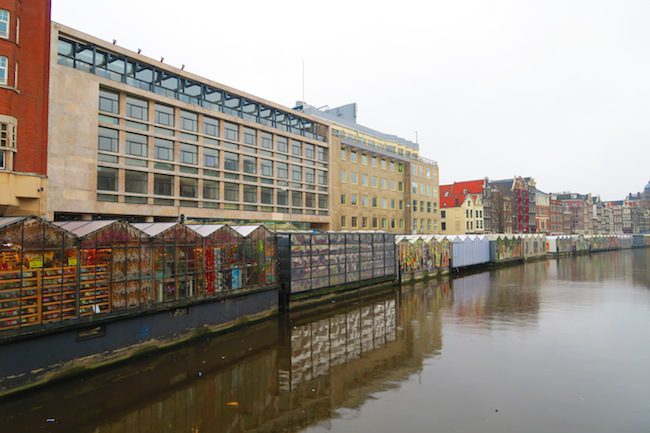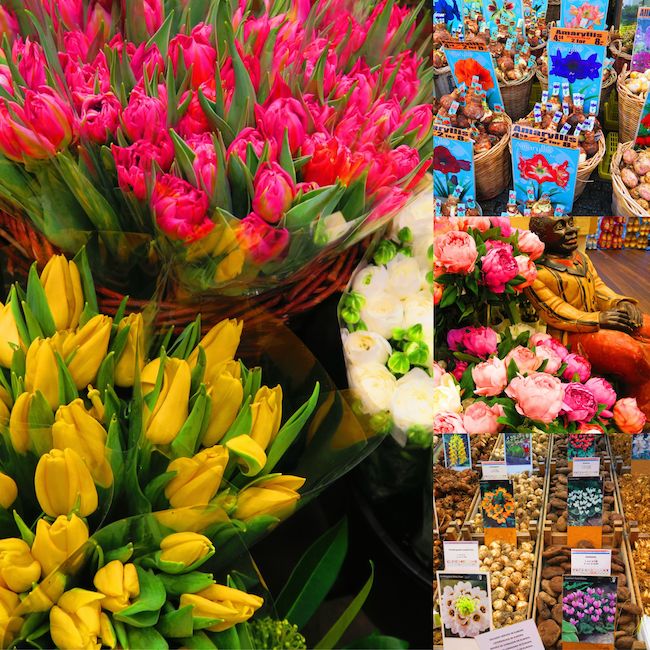 A Sandwich You Must Try
All those tulips will make you hungry and lucky for us, just as you exit the flower market you'll hit Frens Haringhandel in the tiny Koningsplein square. As we've seen with french fries, Amsterdam is a city of small (and guilty) pleasures and it's time for another one. A must-taste delicacy in Amsterdam is the broodjes herring, slices of fish served on a small bun with pickles, and finely chopped onions (€3.60). You'll find them all over town but this is one of the best places to grab this quick bite and experience some of Amsterdam's best street food.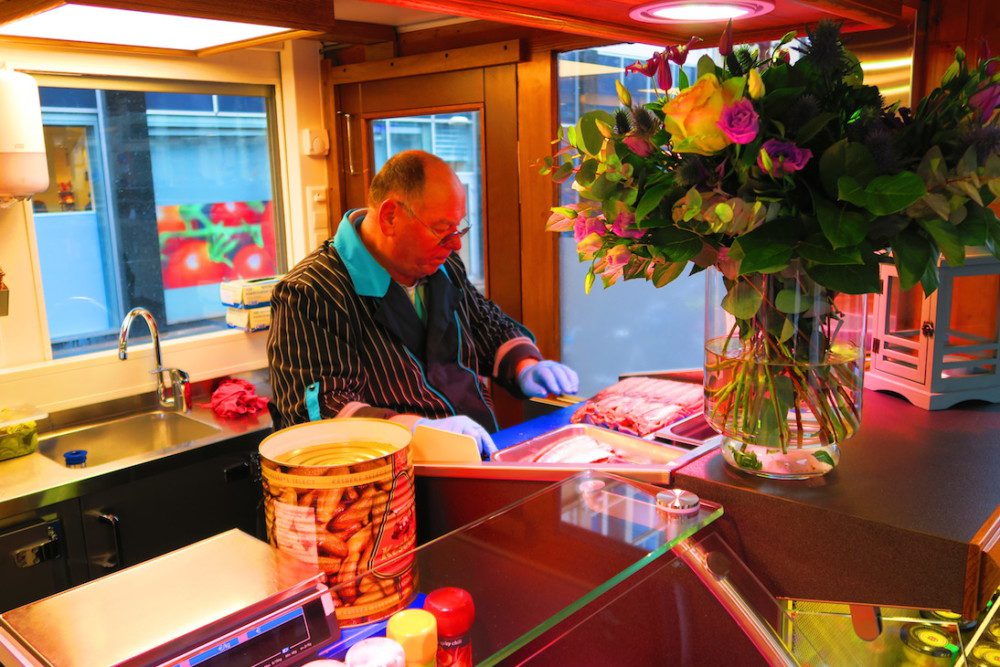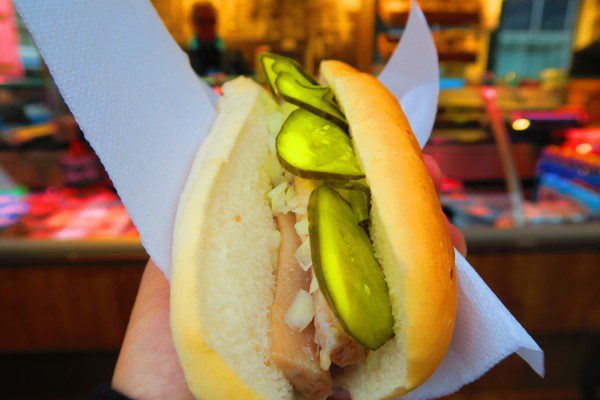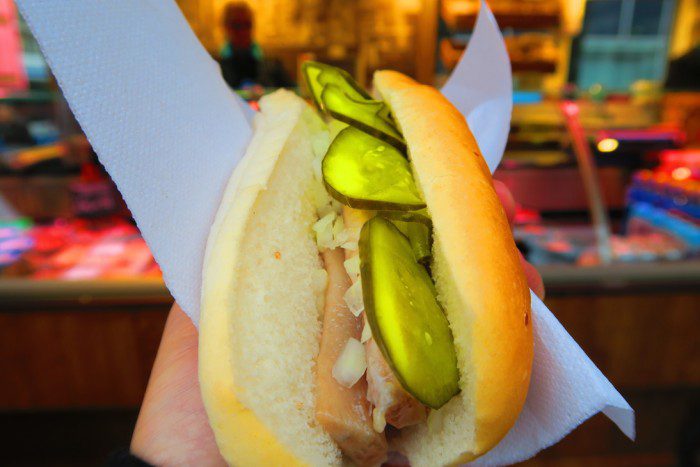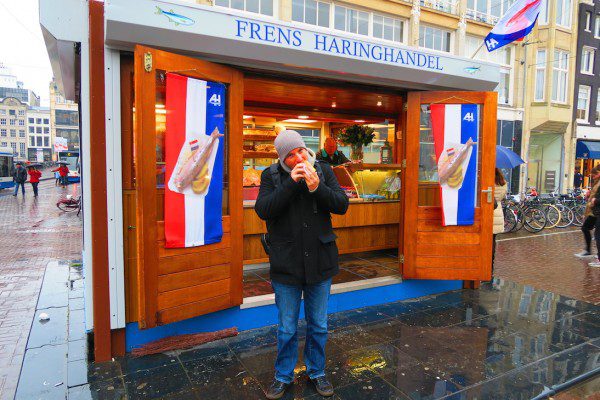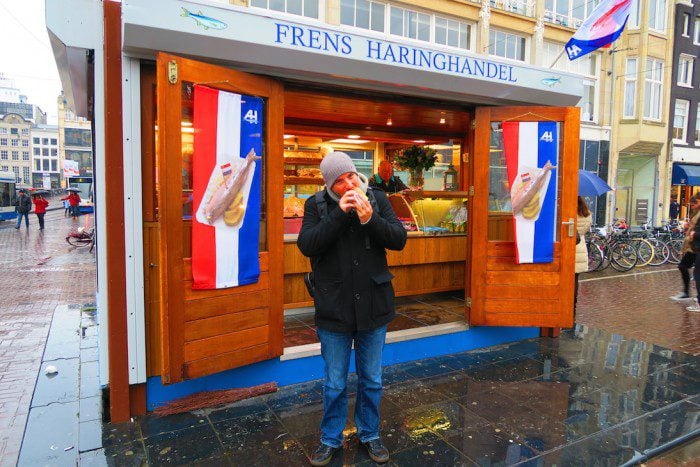 If you now feel like another tiny detour and are already loving Amsterdam's canals, walk along the southern side of Herengracht towards Nieuwe Spiegelstraat. Where these two intersect is known as the 'golden bend'. 'Bend' because the canal bends its way at this spot and 'golden' because of the mansions that occupy both sides of this canal. These mansions are a sharp contrast to the narrow buildings that make up most of the old center. It's not a must-see but architecturally impressive and not too far out of the way.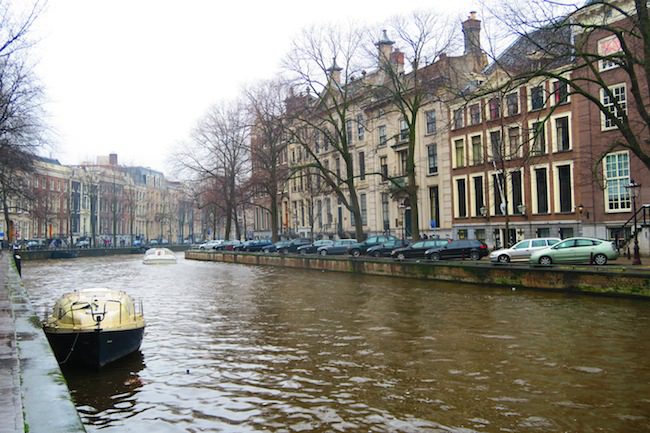 A Detour to the 'Skinny Bridge'
If you're in the mood for another detour, head along Kerkstraat until you reach the Amstel River (about a 10-minute walk). We're definitely out of the old center now but this doesn't mean it ain't nice over here. If you do venture out here, you'll walk along many cafes, bookshops, and antique stalls. As you near the Amstel River, this neighborhood is all of a sudden super quiet and tranquil, with narrow canals and tiny bridges. As you reach the Amstel River, you'll cross it via the Magere Brug or 'skinny bridge' – the reason why you walked all the way here. It's also Amsterdam's narrowest drawbridge. The original was built centuries ago and legend has it that it was built by two sisters who lived on either side of the river and the bridge was built to save them time – believe it or not.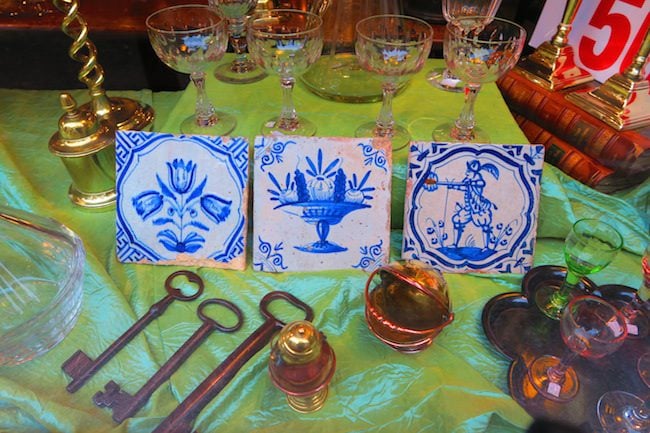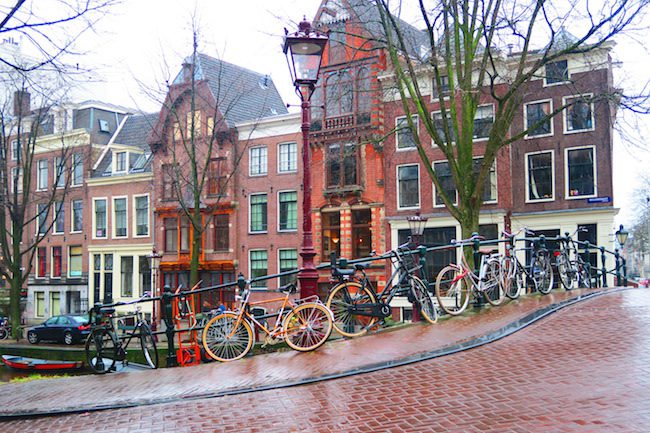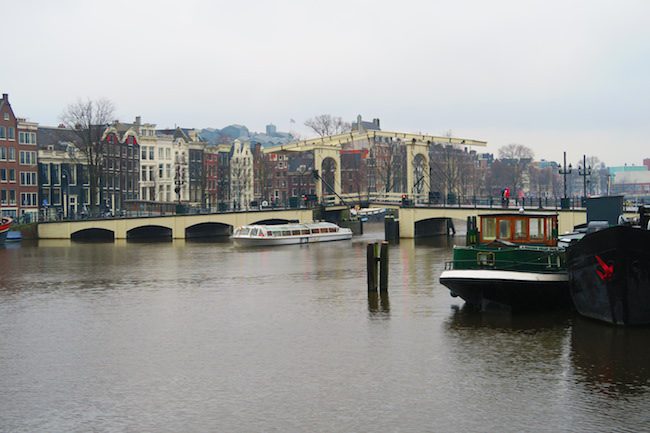 The Finest Chocolates in Amsterdam
Whether you detoured to the golden bend or the skinny bridge – we'll now head back into the old center proper and satisfy our sweet tooth. At Staalstraat 21, you'll find Puccini Bomboni, one of the best (if not the best) chocolate makers in Amsterdam. They have another location in the Jordaan but this is the original one. The chocolates are handmade and it's a shame to eat them since they're so pretty… but we will anyway. They don't come cheap but they're worth it. Grab a box and fill it up (price by weight).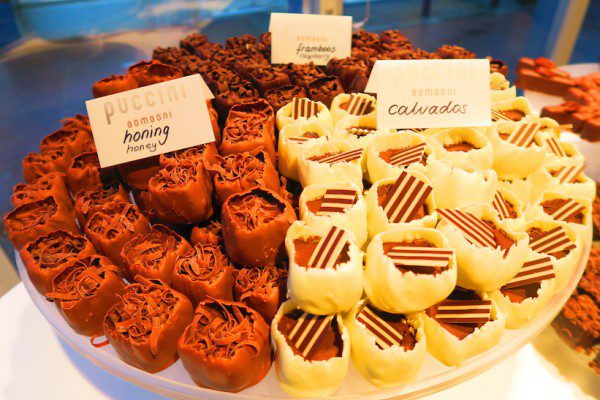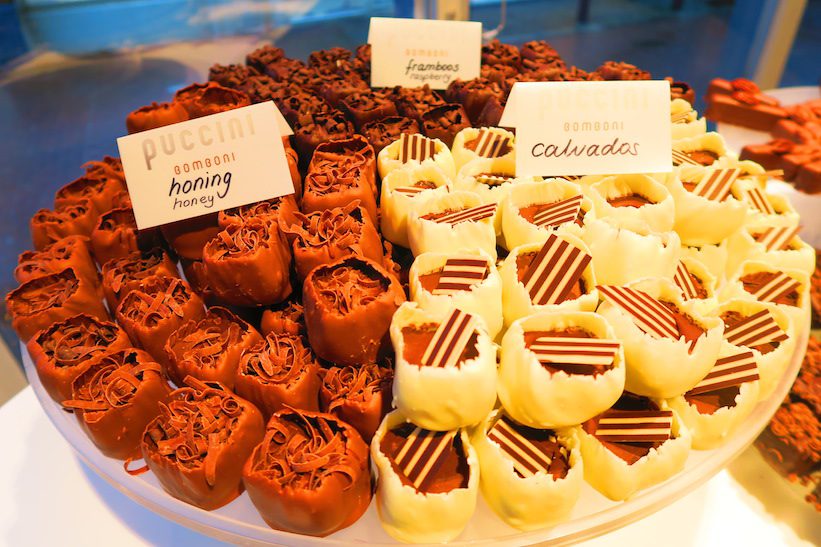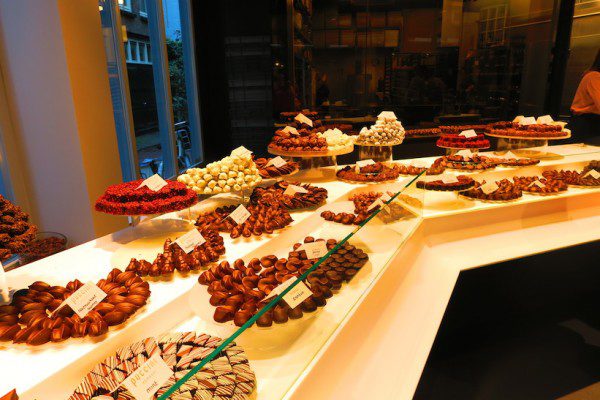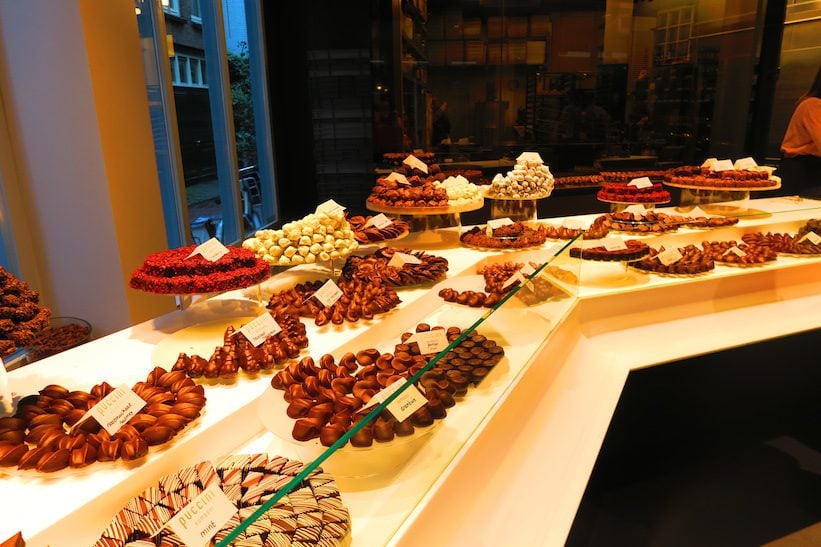 Adjacent to the chocolate shop, Puccini opened up a cafe and it was a great place to grab a light lunch. They make great focaccia sandwiches and as you'd expect from an Italian cafe, great coffee.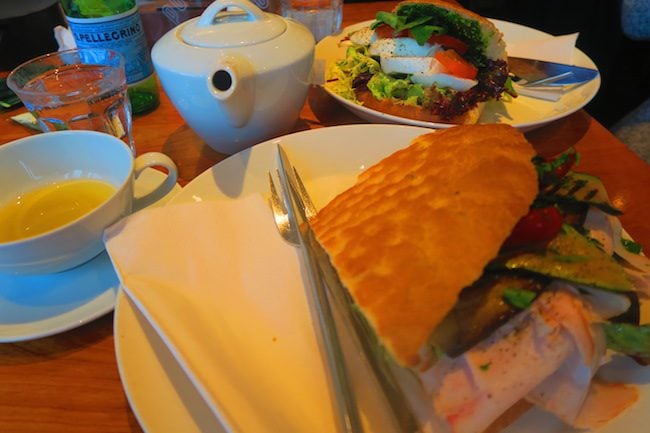 Exploring Old Amsterdam
After getting some carbs and sugar, we are now starting to head back with a few more highlights on the way. Very close by is the Zuiderkerk. You can't miss this former church with its tall and narrow clock tower (can be climbed during the summer for a great view apparently). This part of the old center is very peaceful to stroll around and on a misty winter day, this certainly adds to the atmosphere. The Zuiderkerk was unfortunately closed but nonetheless, it's on the way and worth the stroll.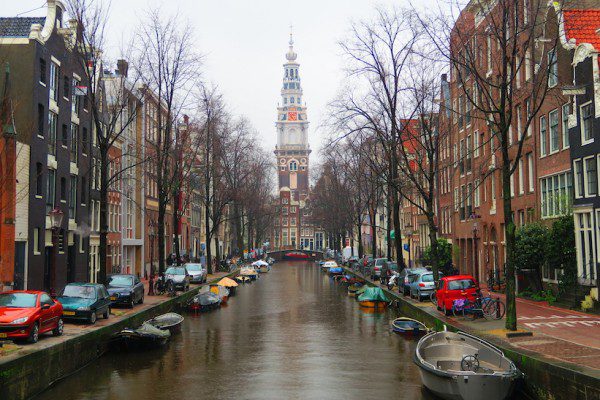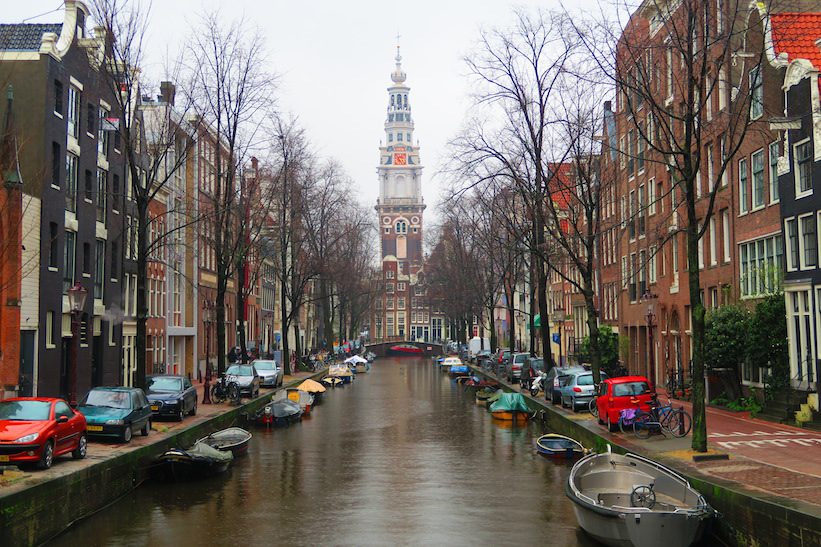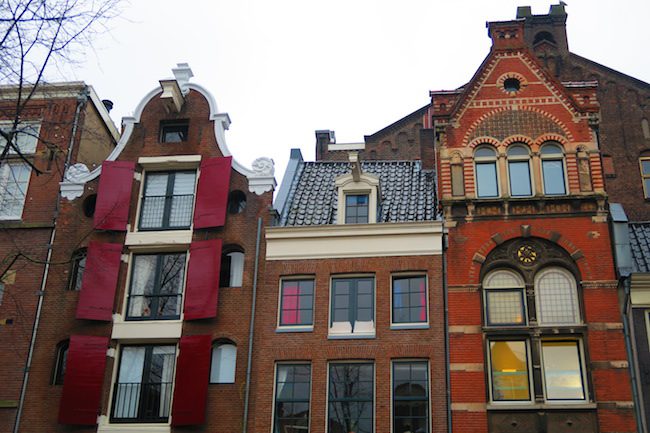 From here, it's a very short walk to Trippenhuis at Kloveniersburgwal 29. This huge mansion was built by the Trip family during the Golden Age. The mansion is nice and everything but for me, the real highlight was exactly on the opposite side of the canal – the Kleine Trippenhuis, one of the narrowest houses in all of Amsterdam. I wonder who lived there?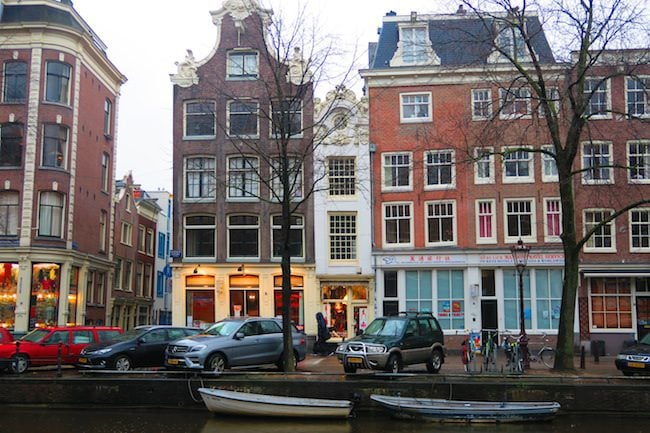 A few meters to the north, you'll see an open cobblestone square. This is the Nieuwmarkt, once a prime market in Amsterdam. The dominating building is the Waag, which was built in the 15th century and was one of the gates into the old center. Not much was happening in the square on this rainy day except for a flashing sign warning tourists of 'shady purchases'.
Crossing over a few canals to the west, you'll reach the Oude Kerk, one of Amsterdam's most impressive landmarks. The church has been around since the 14th century and was a mecca for pilgrims with even Rembrandt a frequent visitor. It's still the case today and every March, Catholics gather here to celebrate the 'Miracle of Amsterdam'. Legend has it that in 1345, a dying man threw up the Host he had swallowed and when the Host was placed in a fire – it did not burn. The Host was buried in a chest that has since gone missing. Inside the Oude Kerk, you'll find impressive painted glass and artwork.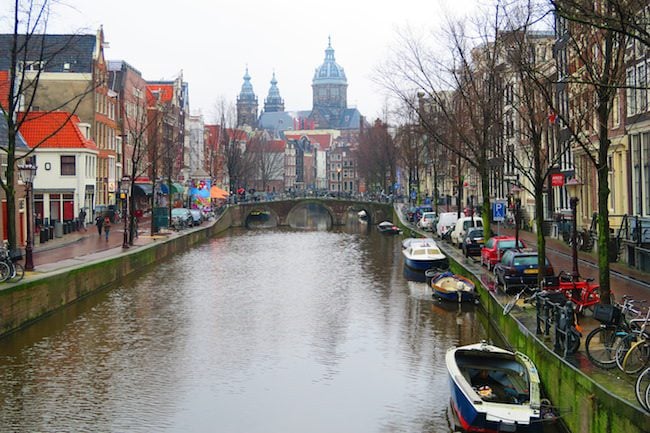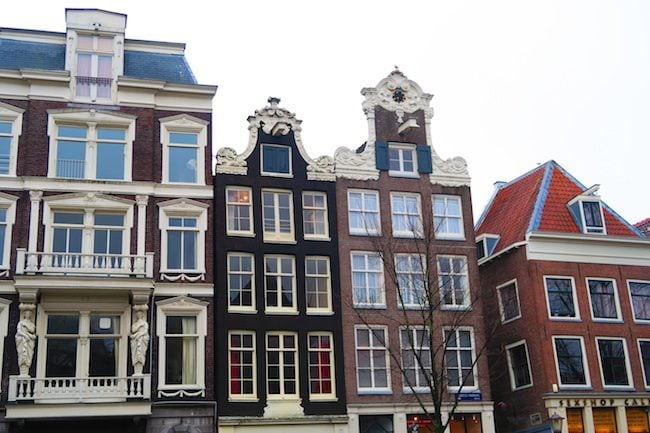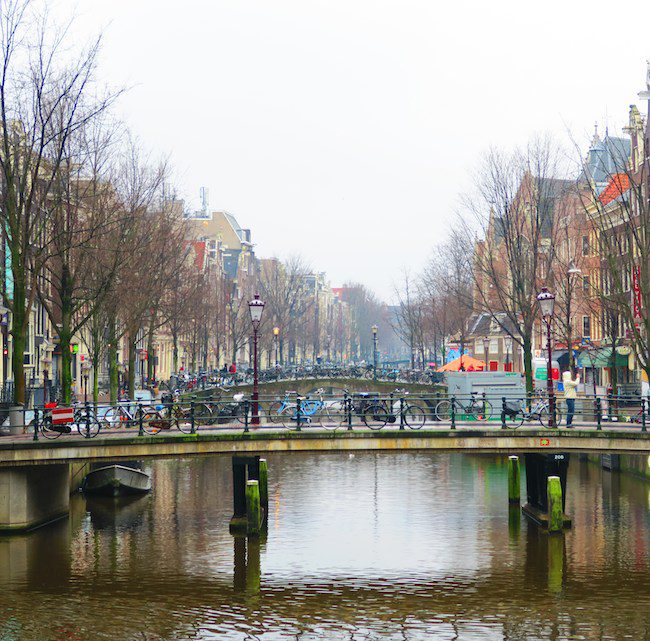 You're now in the center of old Amsterdam and if you stroll around the canals between the Nieuwmarkt and the Oude Kerk heading north, you'll notice shops which for better or for worse are associated with Amsterdam. Around you, are many Coffeeshops, 'smart shops', and erotic shops. This is also home of a very small 'little Asia' and we'll be back here for dinner shortly.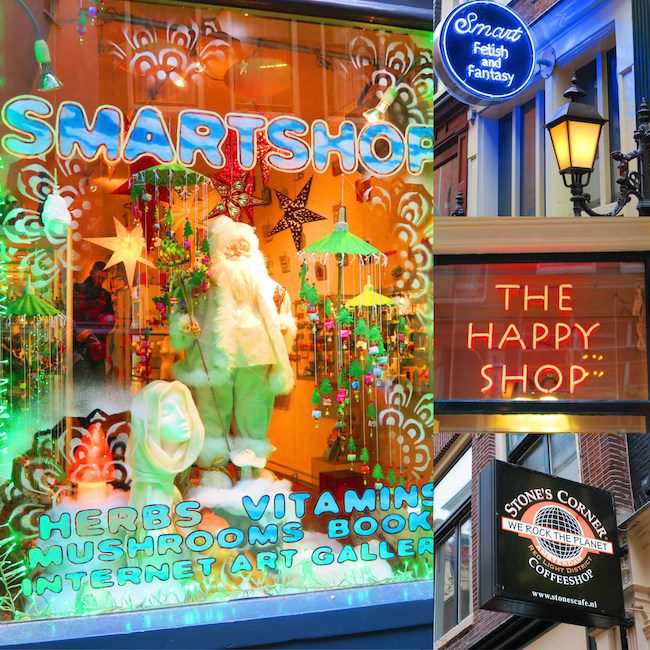 It was now just after 6 pm and we had done quite a bit of walking. After a short early evening power nap, we headed for some Thai food at Bird, in the old center. You might have to queue up as you can't book a table for 2 and this place is super popular – rightfully so. Authentically decorated and authentically tasting, Bird serves large portions of your favorite Thai dishes (around €15 per main dish). We had spring rolls for starters – of course, green curry and chicken cashew nut for mains while washing it down with a few Singhas.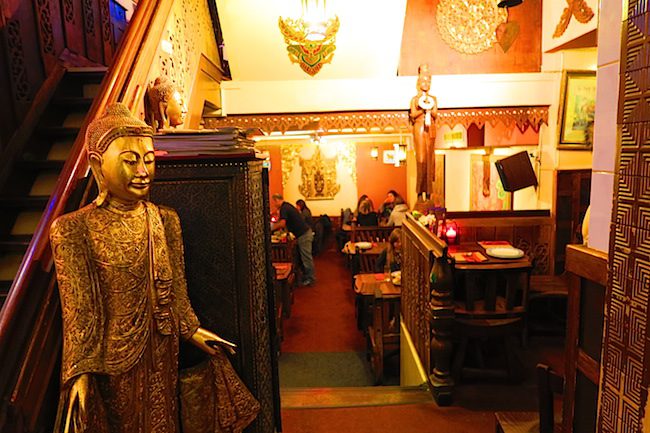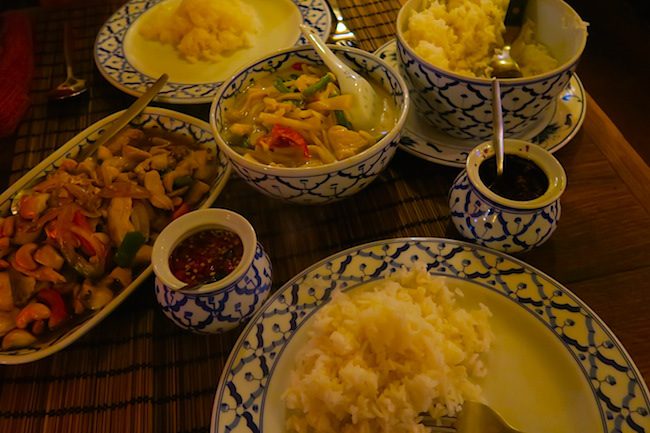 The Red Light District
We headed back towards the hotel via the famous (or infamous) Red Light District. Despite the efforts of local authorities to clean up this area – it's still a major draw. Scattered in the area between Oudezijds Achterburgwal and Oudezijds Voorburgwal are those famous windows with red lights on top and women of all shapes, sizes, and colors luring the next customer inside. Prostitution is legal here but it doesn't mean it looks right. Nonetheless, you can't come to Amsterdam without visiting the Red Light District at night when this place comes to life (more on that tomorrow night). Aside from the windows, you'll find here plenty of erotic shops and museums which may or may not appeal to your taste.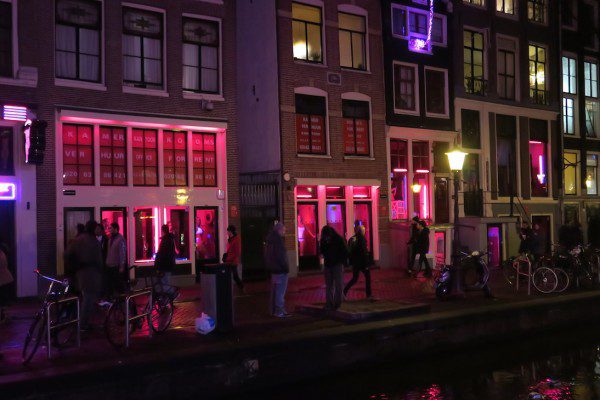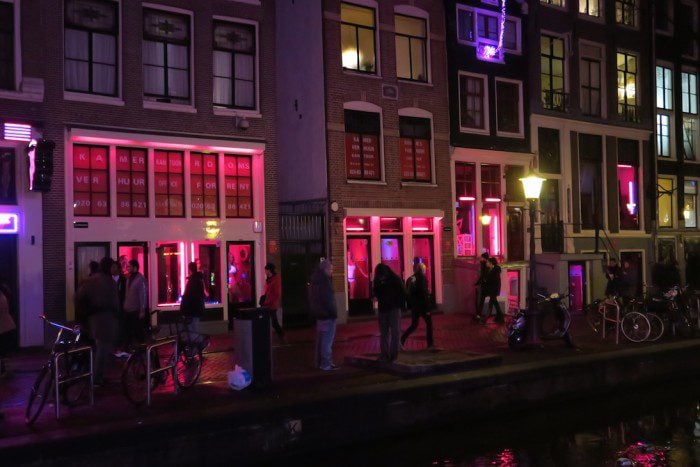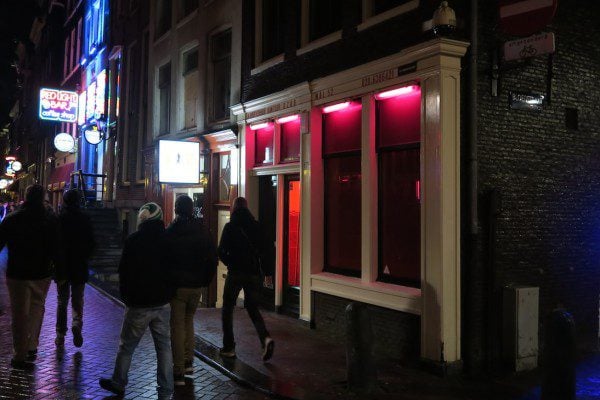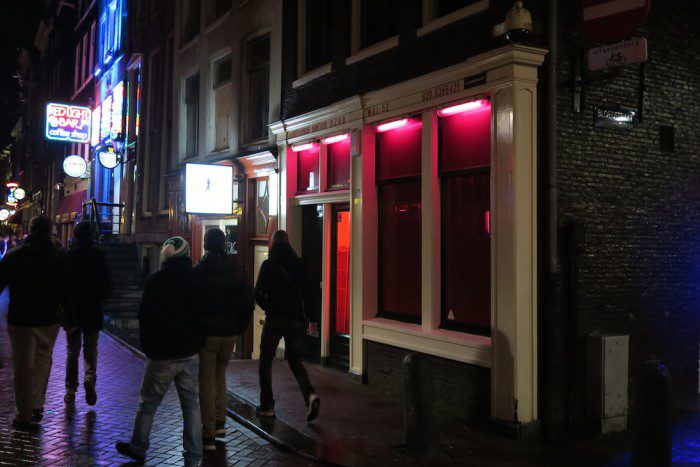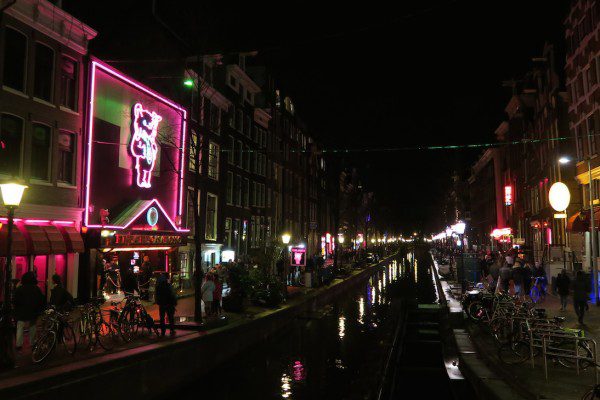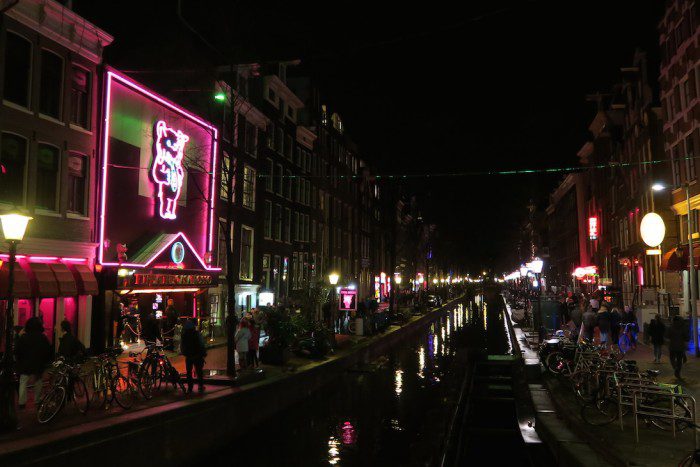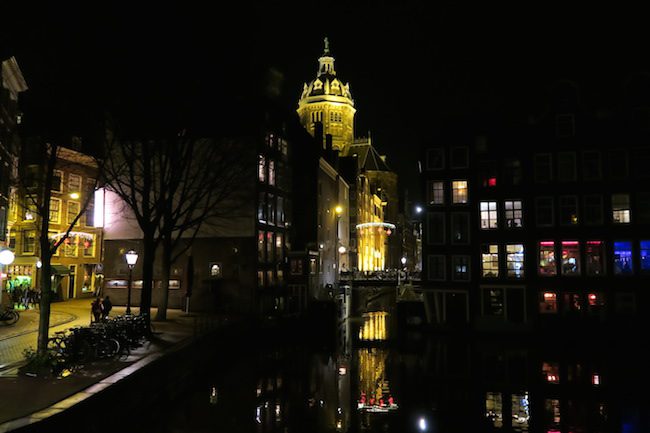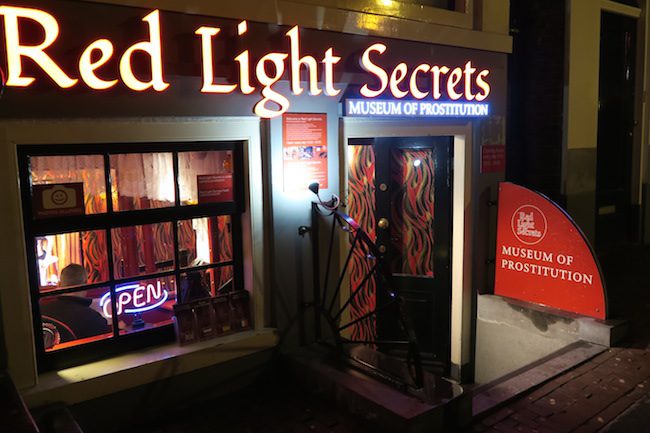 On a much sweeter note, right beside the Chipsy King, which we visited yesterday, is Rene's Croissanterie – an excellent place to grab dessert. The pastries in Amsterdam are far better than what you'd expect and the choice is tough. They're quite big here on waffles (probably a Belgian influence) and anything with vanilla custard inside – which is right up my alley!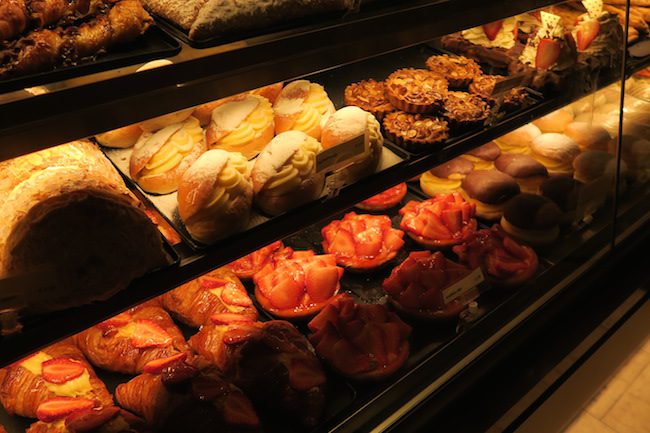 Any Regrets?
We wanted to visit the Pintohuis on Sint Antoniesbreestraat 69 which is a former mansion now turned into a public library. The painted ceiling is something to marvel at. Unfortunately for us, we didn't quite make it there.
Both the Zuiderkerk and Oude Kerk were closed when we visited and we would have loved to step inside. Better yet, both have climbable towers in certain months of the year for fine views of Amsterdam.
Day 2: Exploring the Grachtengordel and the Jordaan
On the second day of our 3 days in Amsterdam, we would explore the western neighborhoods of the city center, Grachtengordel, and the Jordaan. These are lovely parts of town and getting lost in the maze of canals is part of the fun.
The Grachtengordel was a major expansion to Amsterdam when its population started to rapidly grow. The four main canals that make up this part of town from Singel to Prinsengracht wrap their way around the old city all the way east to the Amstel River. The canals here are wider and home to dozens of houseboats. This is Amsterdam in its finest beauty – arching bridges across canals lined with old houses, each decorated with a different style of gables. Since Amsterdam had a pretty uniform building code, the gables were a way for owners to differentiate themselves. Some are real works of art.
The Jordaan is just further to the west of the Grachtengordel. It's narrower canals and streets which are more like lanes make for a very pleasant stroll. And with its cafes, boutiques, and specialty shops – it really has a vibe of its own. It's no surprise that the Jordaan is a very sought-after neighborhood in the center of Amsterdam.
Visiting the Anne Frank House
As we did with the Royal Palace and to avoid the queues, we booked tickets to the Anne Frank House online (€9.50). The museum opens at 9 am so we had time for breakfast and decided to skip the hotel's buffet. We headed to Broodje Bert on Singel and had an amazing breakfast in their cozy little cafe. Portions are huge and you can choose from your regular breakfast usuals to special sandwiches.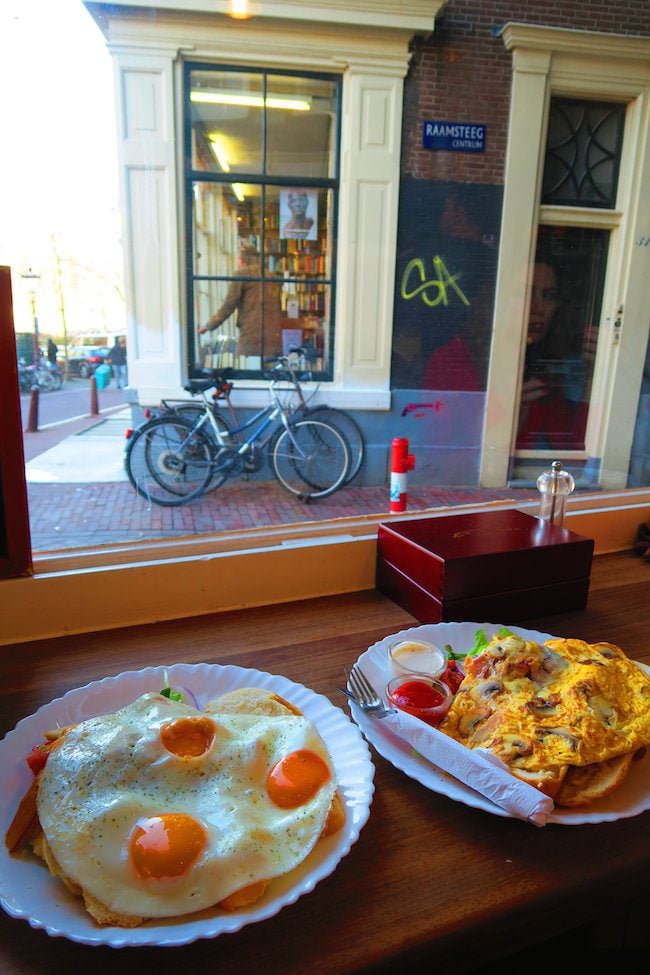 And now for the serious part of the day and a must-visit in Amsterdam – the Anne Frank House. I can't say I didn't know about Anne Frank's story but a visit to the museum, which is where she, her family, and a few others hid for two years during WWII, really moved me. The Frank family moved to Amsterdam in 1933 following the rise of the Nazis in Germany. Her father, Otto, set up a small manufacturing business on Prinsengracht, where the museum is today.
When the Nazis took over Amsterdam in 1942, the family went into hiding in the famous annex in the back of the house. A small trusted circle of Otto's employees agreed to help the family and provide them with the basic necessities, risking their own lives. This lasted for 2 years until the secret was exposed (nobody knows who exposed them even today) and the Franks were sent to the camps. The only Frank survivor was Otto and when he returned after the war to the house, he found a diary that Anne had kept during hiding. The famous diary, turned bestseller, along with the famous bookcase door that led to the annex are all part of the moving visit. This is definitely a must-see on your visit to Amsterdam and I recommend buying tickets in advance to avoid the huge queues – the house is very small after all.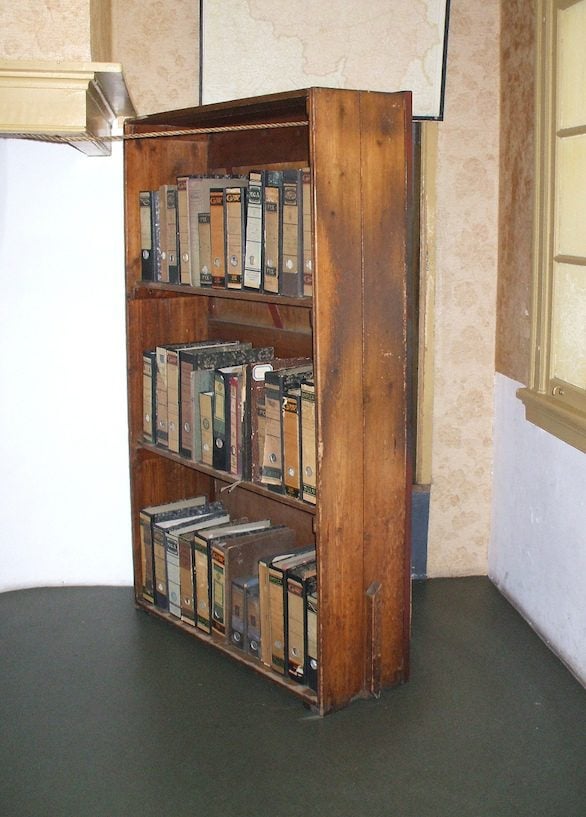 Right next door is the Westerkerk with its beautiful clock tower that cannot be missed. I can't imagine how hard it was for Anne Frank to listen to the church bells playing while she was trapped in the dark annex right next door. Unfortunately, it was closed when we were around but, like with the other churches in Amsterdam, you can climb its tower in certain months of the year. Nonetheless, it serves as an excellent backdrop to many 'classic' Amsterdam photos you'll be taking on this day.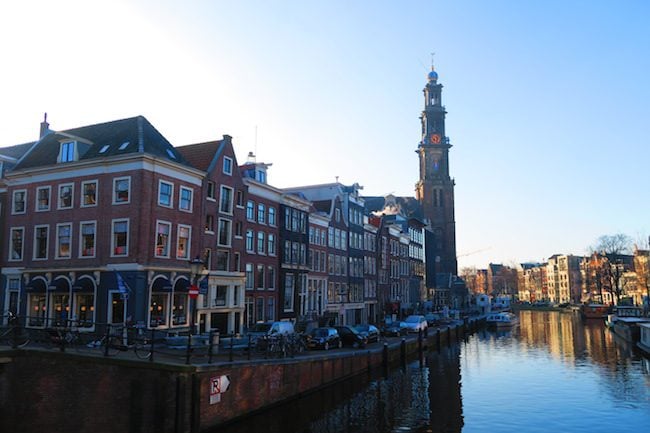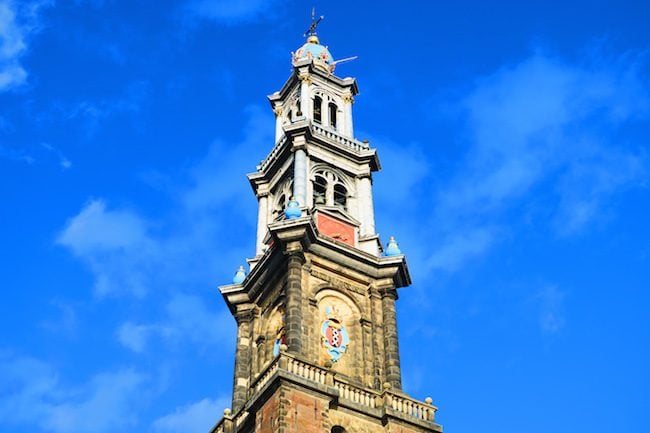 The 'Nine Streets'
I forgot to mention that the walk from Broodje Bert to the Anne Frank House will take you through what is known as the 'Nine Streets' or De Negen Straatjes (have a look at the map on the first page of this guide). The three main canals are intersected by three cross streets, forming the nine streets. These are some of the most photogenic streets in all of Amsterdam and also home to boutiques and other interesting shops. We'll be back here a little later on to explore.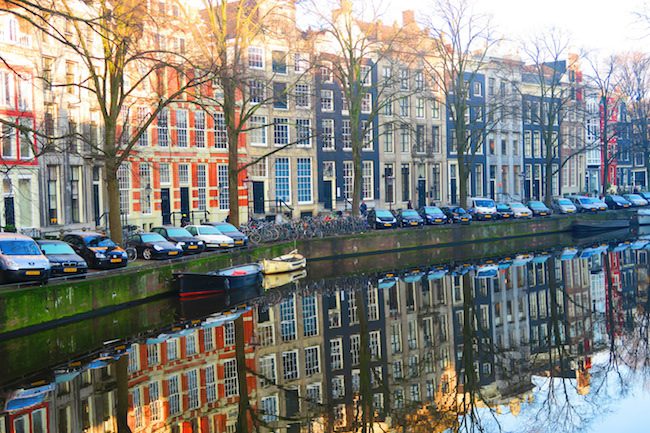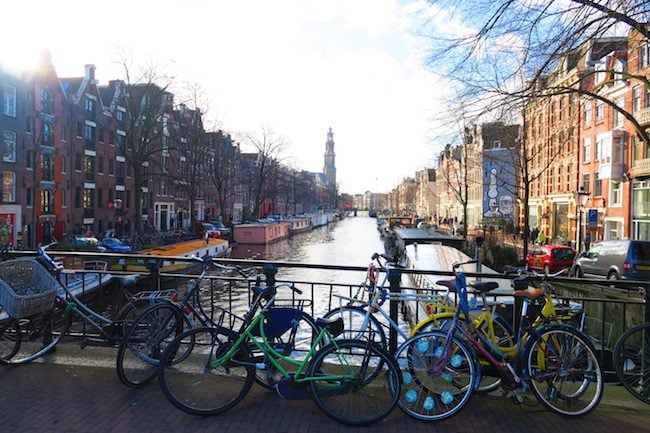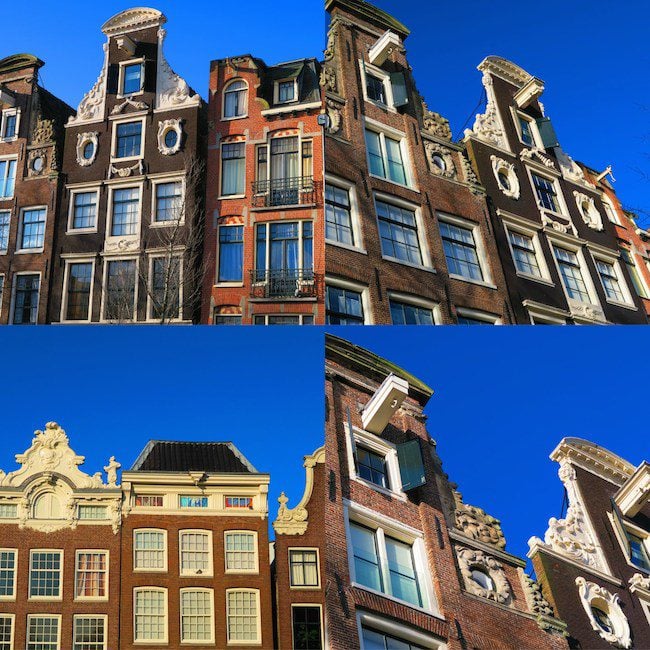 Street Market
After the Anne Frank House, it was time to lift the spirits, and what better way than visiting one of Amsterdam's best markets. Just a ten-minute walk along Prinsengracht and you're in the Noordermarkt. We're technically now in the Jordaan but we'll be swinging back and forth between the Jordaan and the Grachtengordel often today.
Noordermarkt square is home to the Noorderkerk (church) and is lined with cafes that are great for people watching on market days. Its most famous resident, therefore, is the Noordermarkt, an antique market on Monday and a farmers market on Saturday mornings (so plan accordingly). I personally love visiting European markets on weekends, when they are at their liveliest. On the day we visited, there was indeed a large food section but in the back, were quite a few antique stalls. Have a look at this video for some sights and sounds from the Noordermarkt, one of Amsterdam's best markets.
You can find pretty much everything you need for a good local meal in the Noordermarkt, from fresh oysters to vegetables and fine baked goods to of course – that famous Dutch cheese. Gosh, I didn't know so many flavors existed.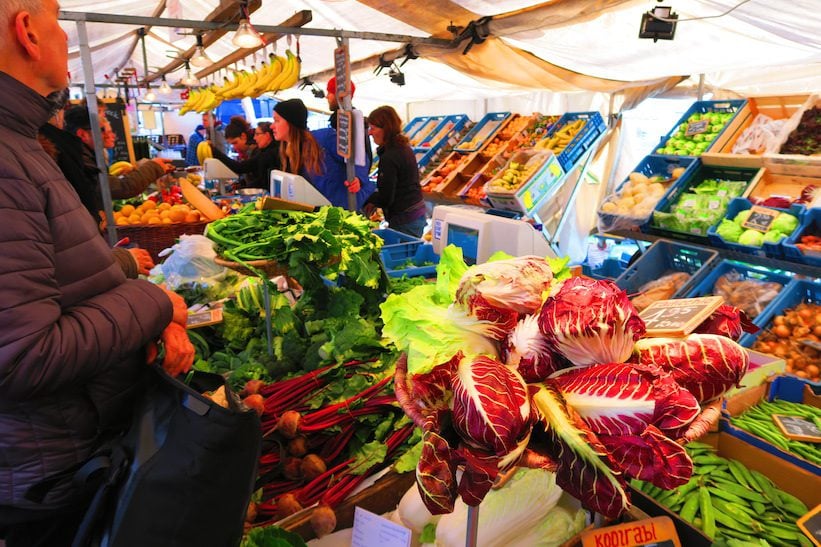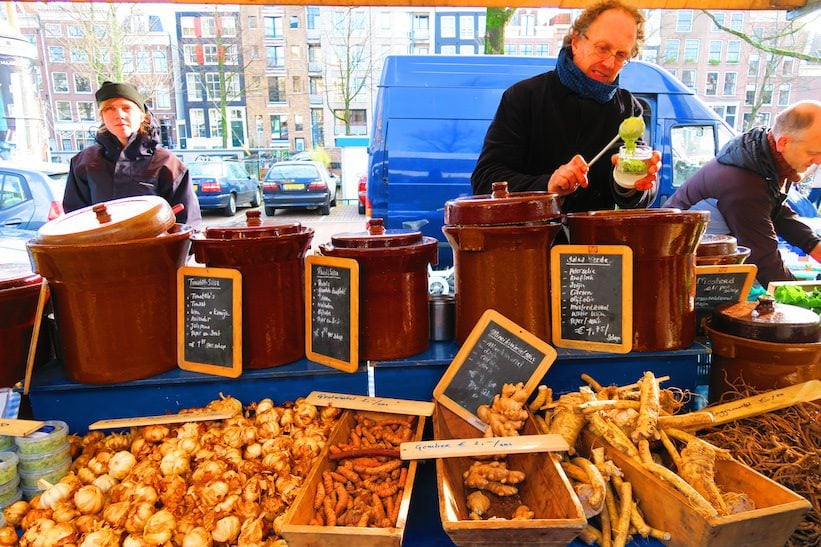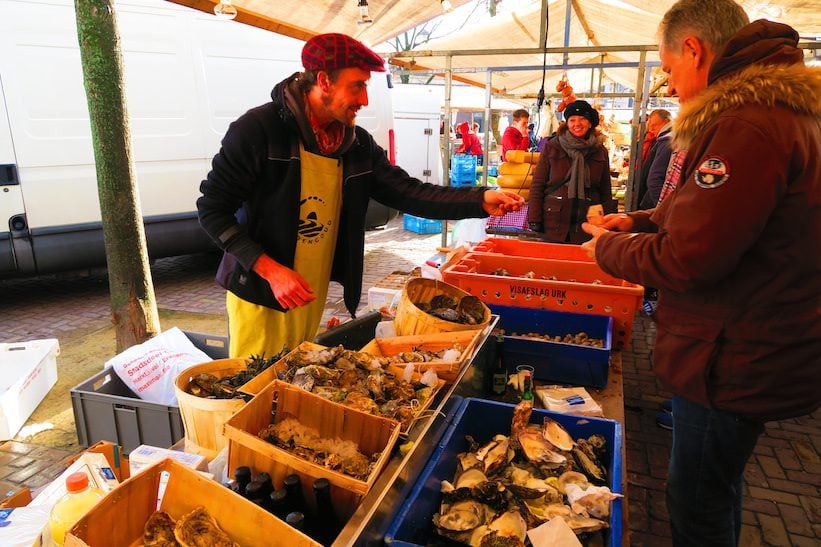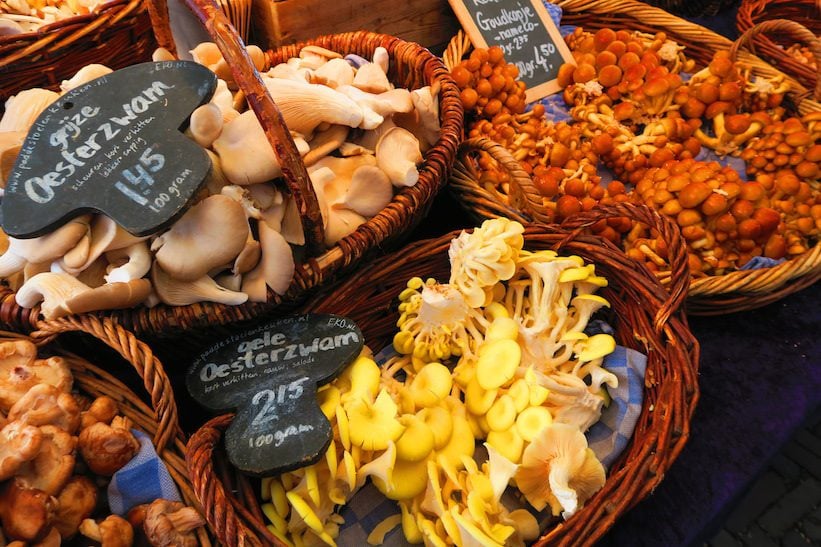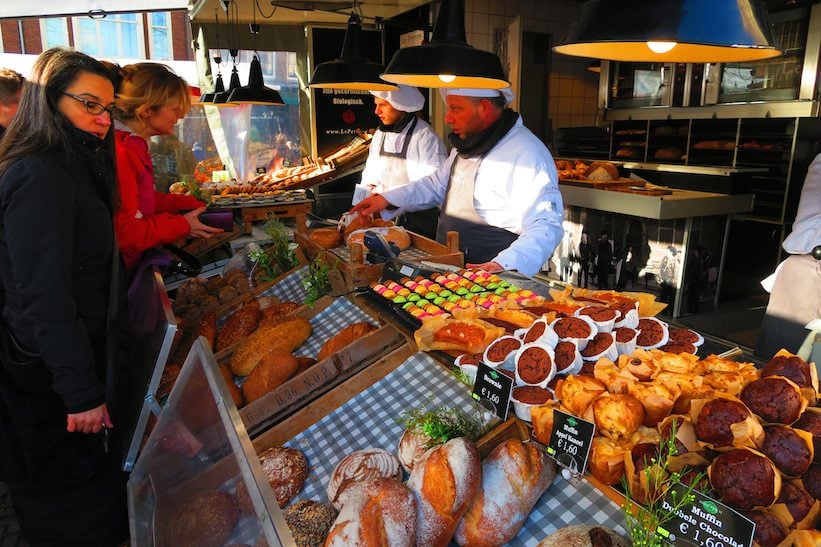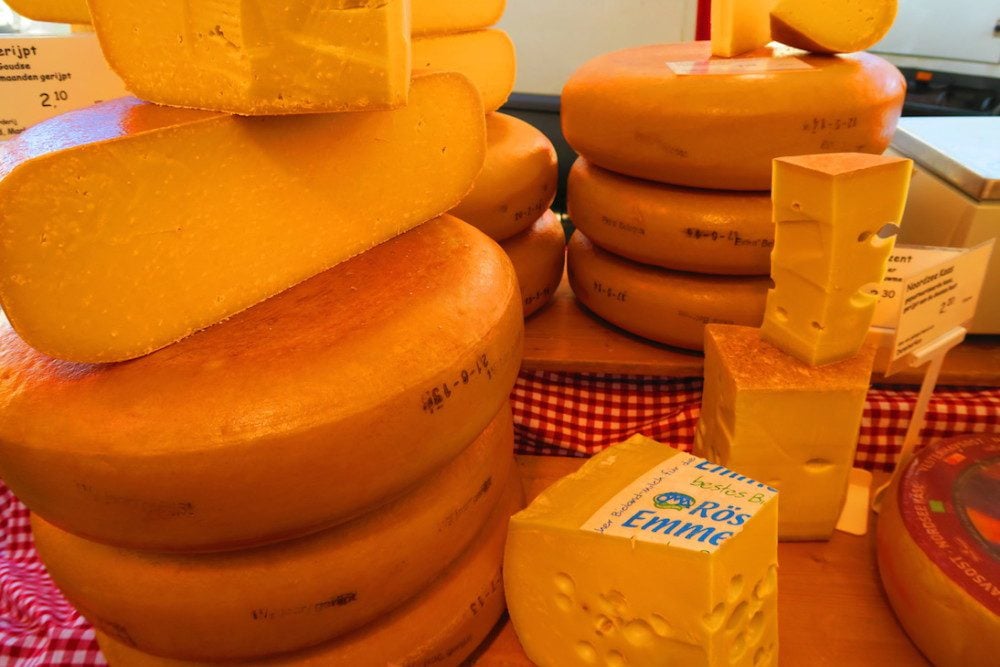 Let's not forget the great antiques you can find here – and this wasn't even the dedicated antique market day. I don't usually buy these, but I must admit that I love antique markets. It's really like taking a walk back in time. More on antique markets later in the day so stay tuned.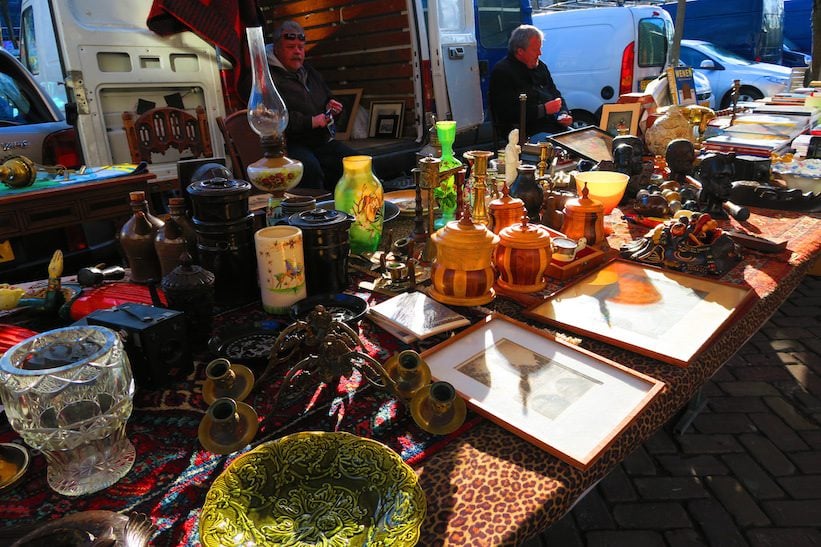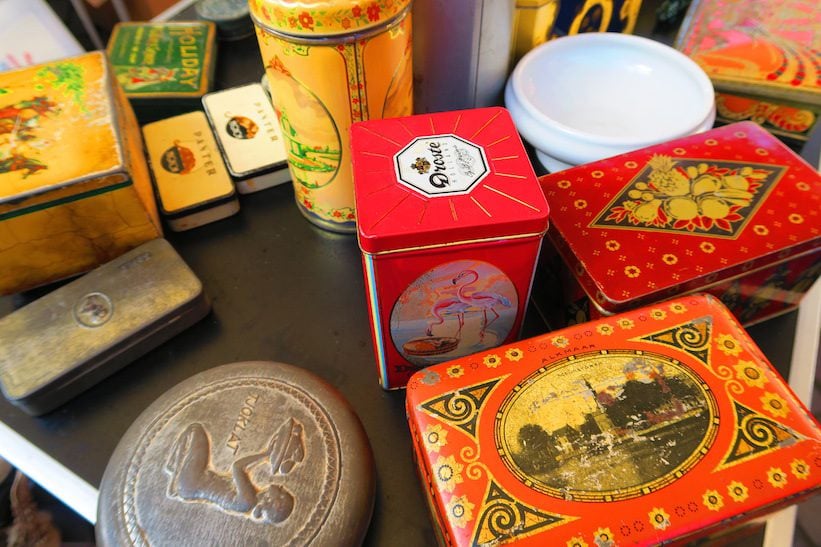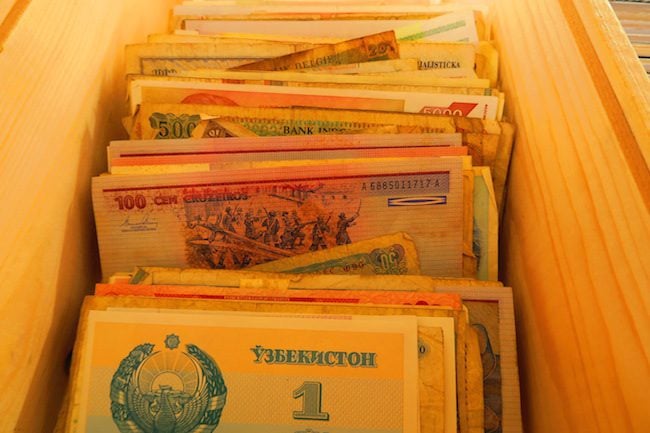 The Best Apple Pie in Amsterdam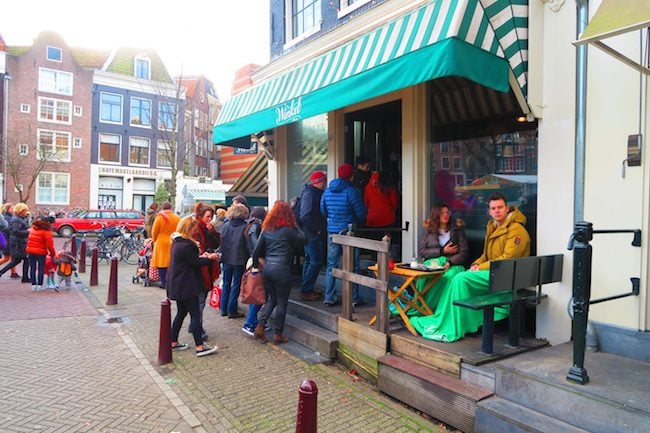 Noordermarkt Square is lined with cute cafes but there's only one that's reached celebrity status amongst Amsterdam locals – Winkel 43. You can't miss this cafe since pretty much everyone visiting the market queues up to taste the most famous apple pie in the city. The pies are always freshly warm and if you've got your head on straight, say 'yes' to some whipped cream on the side. Grab a spot wherever you can, inside or outside, and enjoy. I told you Amsterdam is a city of small (and guilty) pleasures!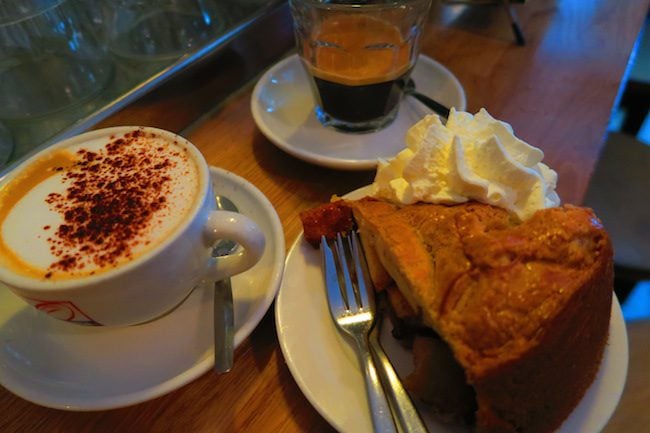 The Best Photo Spot in Amsterdam
The Noordermarkt pretty much intersects Brouwersgracht at its northern section and this area is definitely worth exploring. At the corner of Brouwersgracht and Papiermolen Luis is one of Amsterdam's prettiest sights and you might recognize this from postcards. Looking back towards the Noordermarkt area is a block of classic Amsterdam canal houses where some seem to be leaning on each other while others seem to be leaning forward – defying the forces of gravity. Add to that a pretty little bridge over two intersecting canals and large houseboats that make you regret taking that mortgage – and you have a picture-perfect spot!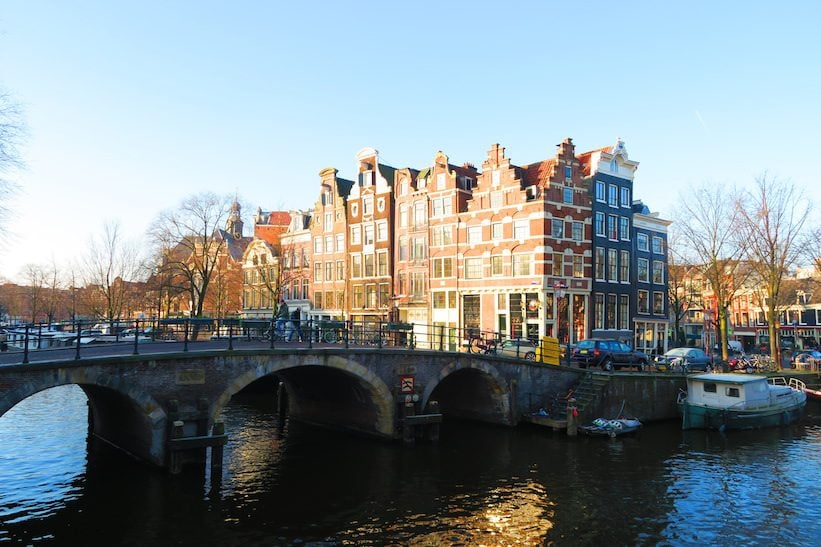 Once you snapped a dozen or so photos, continue east on Brouwersgracht. This used to be a warehouse area and is today recognized for its large wooden shutters that cover the windows. It's incredibly cute and a popular residential area these days. Large houseboats also take up residence in the canal and your neck will likely be a bit stiff as you wander around looking at these unique structures.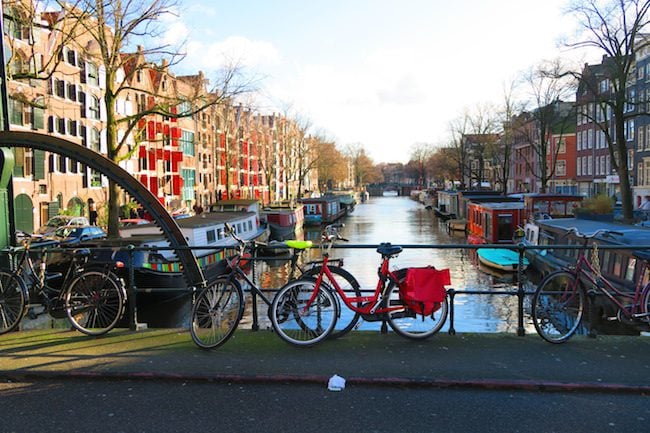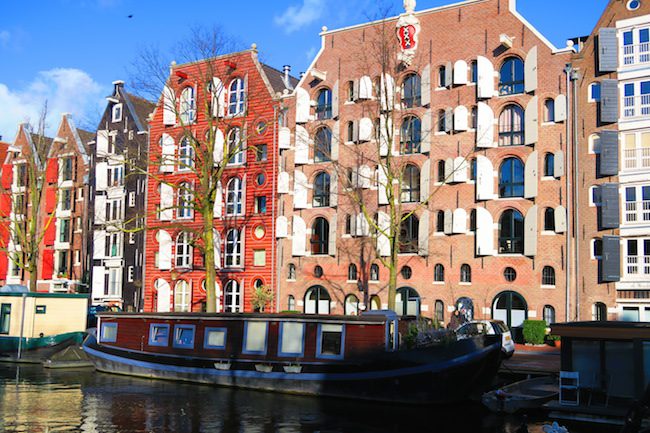 Another Street Market
After you've wandered enough on Brouwersgracht, head back south but this time on Lindengracht. This street used to be a major waterway but was covered a long time ago as the city expanded. Today, its avenue is lined with lime trees on a Saturday morning, the street is home to the Lindengracht Market, a very long stretch of mostly food stalls. It totally makes sense to combine the Lindengracht and Noordermarkt together on a Saturday morning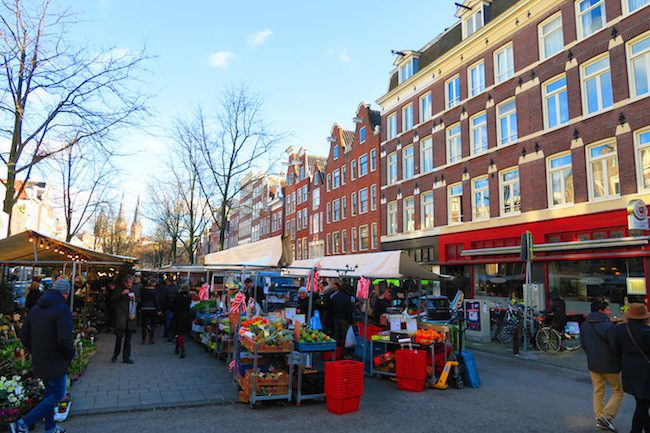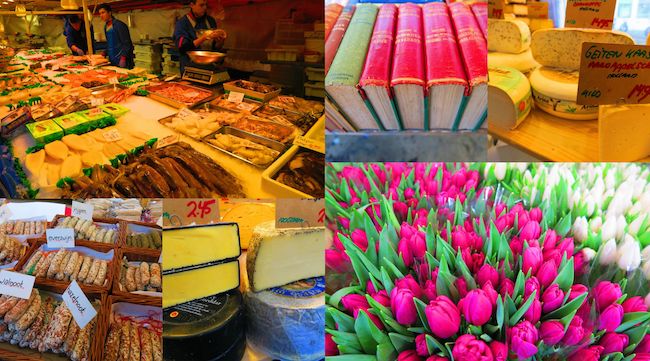 From here, we'll simply wander around the relatively quiet small streets of the Jordaan. The feeling is quite residential here with real Amsterdammers going about their weekend routine. It's probably why you'll find many cafes and small boutiques in the Jordaan and probably why it makes for such a pleasant stroll. We'll eventually make our way to Het Oud-Hollandsch Snoepwinkeltje and pick up some Dutch licorice. Not everyone likes this sour delight which is why it's so great if you actually do – you don't have to share! My favorite is the zout or better yet, the double zout – a painfully tasty sour licorice.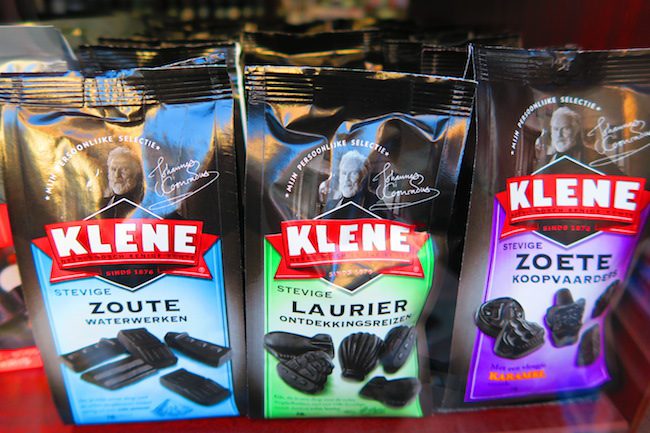 Now for a slight detour for the tulip lovers among our readers. Head over to the Amsterdam Tulip Museum on Prinsengracht 112 for a really good selection of tulip bulbs to take back home. There's also an exhibition in the back if you want to know more about tulips but I was simply impressed by the choice and quality of the tulips here.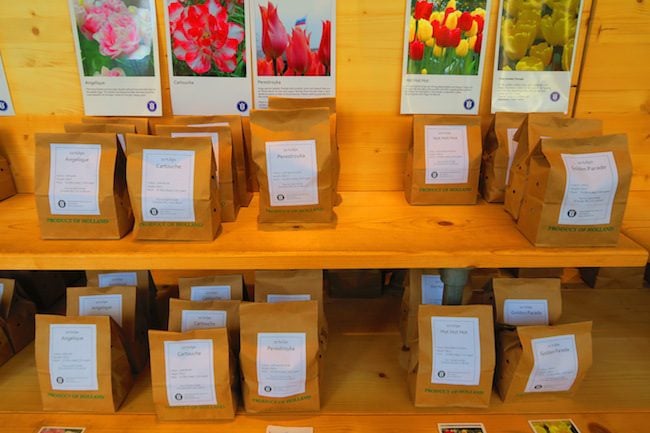 Wandering Around Amsterdam's Prettiest Canals
From here, we'll walk towards the Bloemgracht, preferably via one of the super narrow lanes that cross it. The Bloemgracht, or 'flower canal' is one of the prettiest in Amsterdam. Its murky waters are crisscrossed by arching bridges and leafy trees (in the summer) line both sides. You can't help but notice the decorated clock tower of the Westerkerk which is visible from pretty much any angle at this point. It helps in getting your bearings as well as for wonderful photos!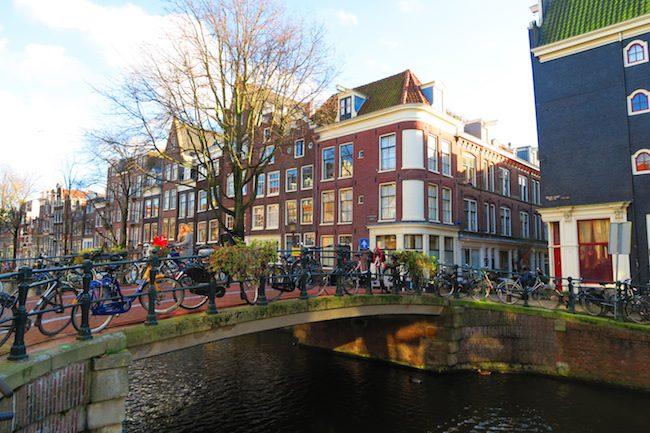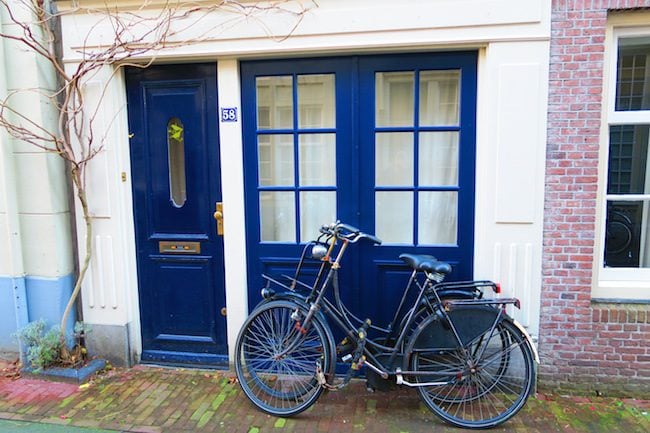 Once we've reached Rozengracht, we'll swing back west and explore the 'nine streets', which I've mentioned just after breakfast. The three main canals of the Grachtengordel are crossed by three intersecting streets, forming the nine streets. The houses on the main canals are some of the prettiest in town and you'll enjoy exploring every one of the nine streets.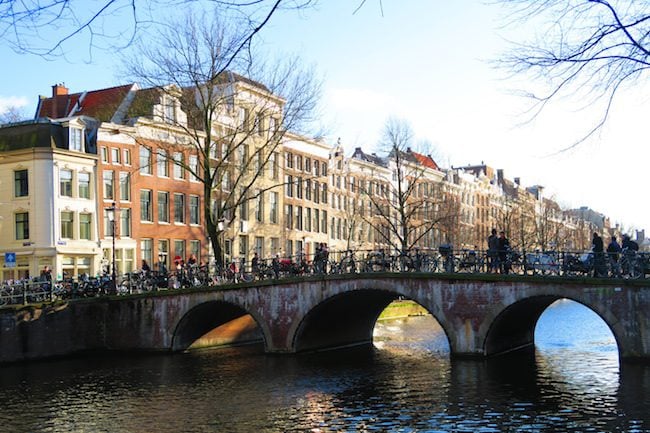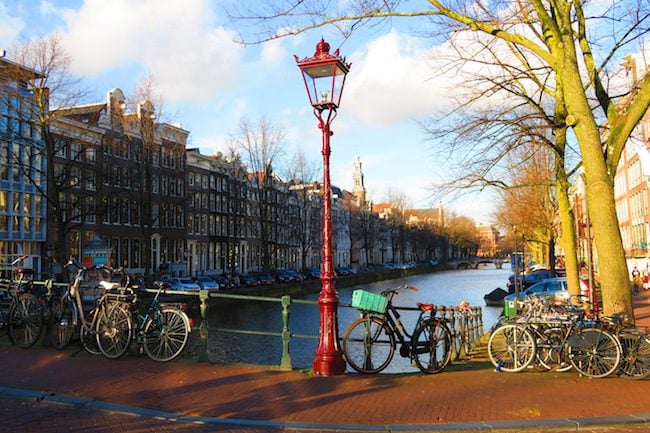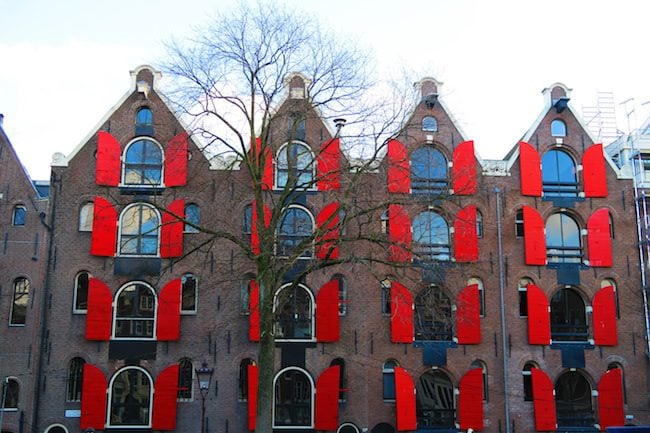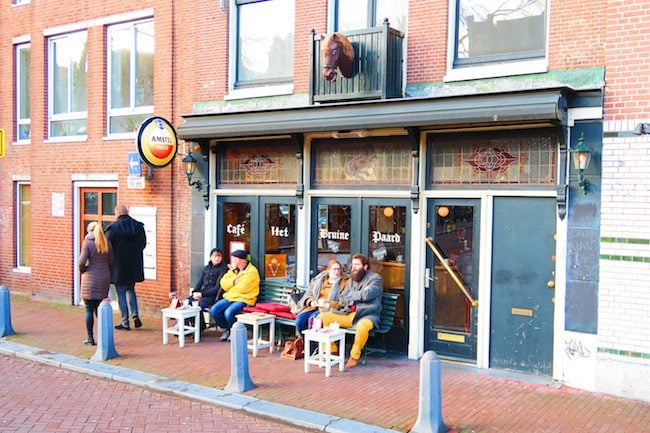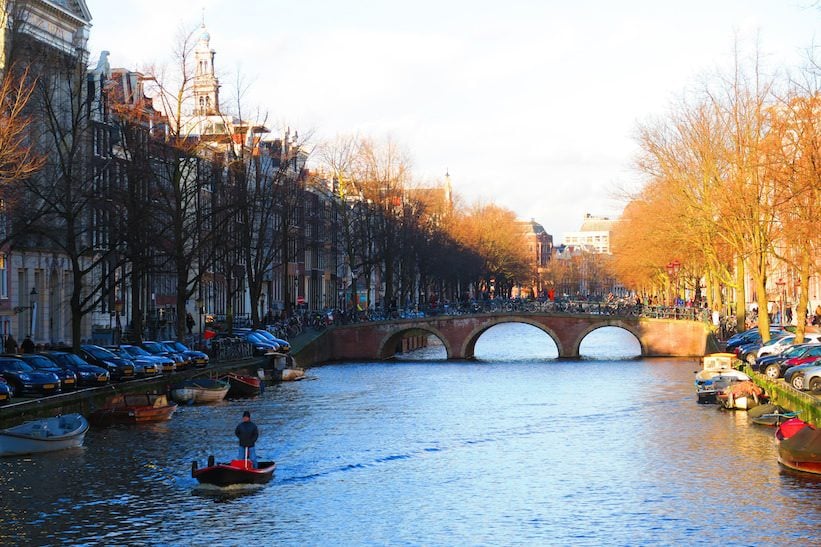 Cheese Lovers Paradise
Eventually, we'll make our way to Runstraat, at the southern end of the Nine Streets, which is filled with specialty shops. First up is geared once again to flower lovers, Gerda's Flowers. You must step inside and see some of the most extravagant and beautiful flower bouquets you'll ever see. It smells wonderful in here and most of the flower arrangements are probably even taller than you.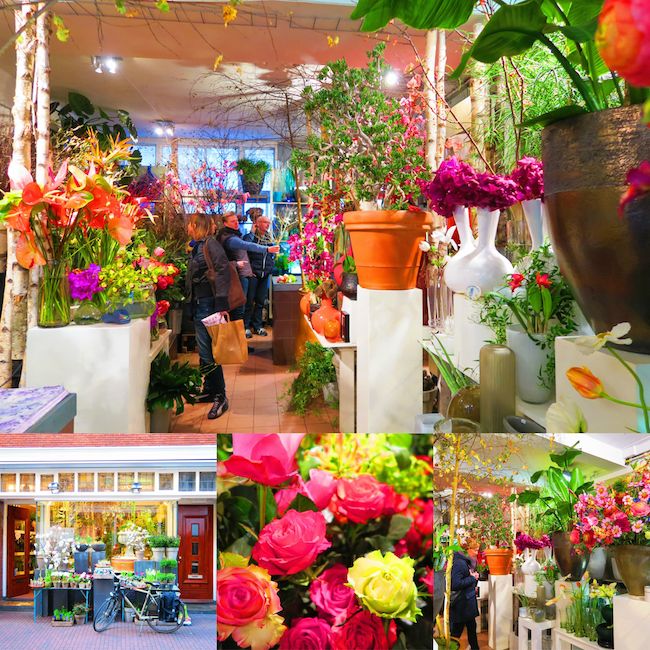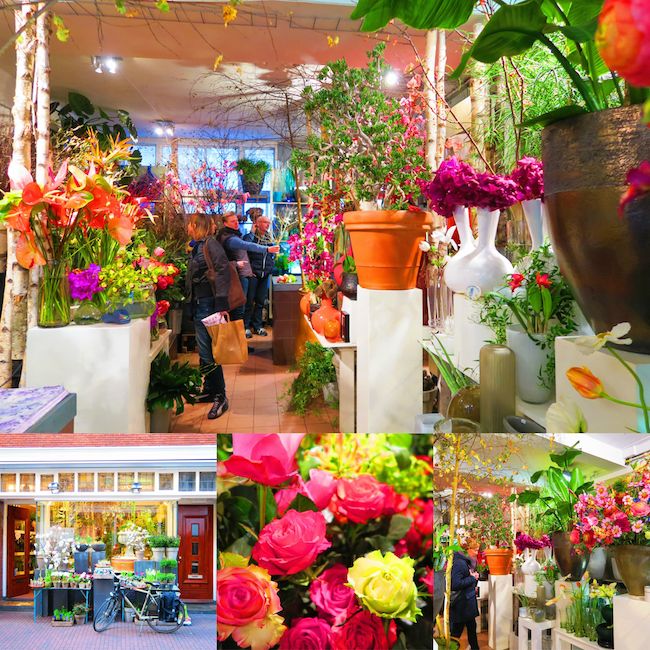 So I think we've got the flower lovers covered with our most recent stops. Now it's time for the foodies (once again). Lucky for you, right across from Gerda's is De Kaaskamer. The scent of cheese will hit you as you step inside and for cheese lovers, you'll think you've made it to heaven. The shop has been around for 15 years selling high-quality cheese mostly sourced from around the country and also from other parts of Europe. It also sells complimentary items like olives, sausages, and wine. The guys who work here know their stuff, some have been in the cheese business for over 30 years!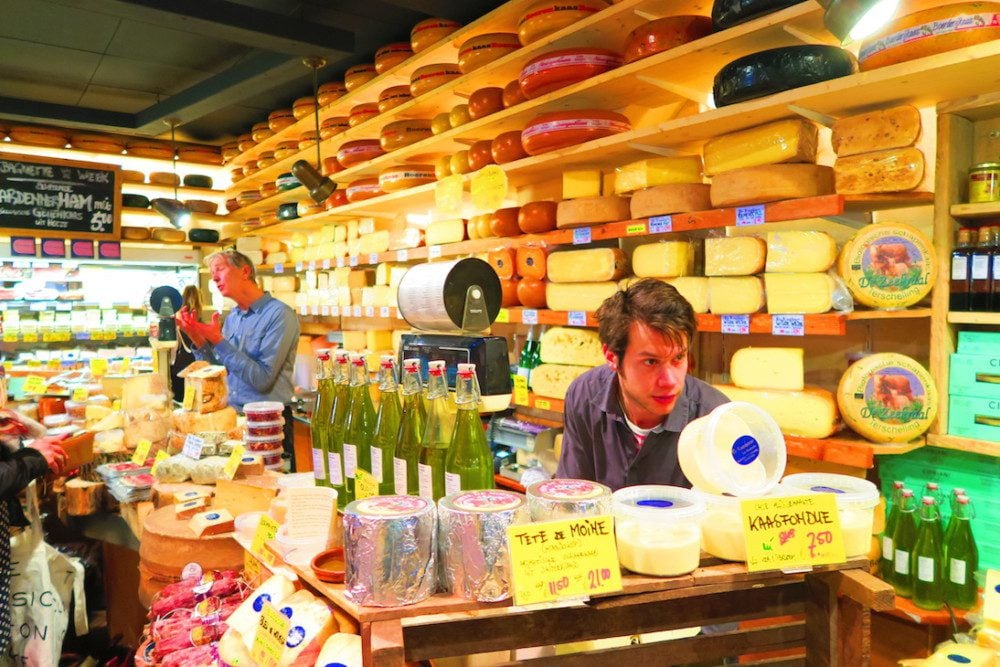 Now that we have some cheese and olives, we need bread to go along with that. Lucky for us, right next door is Bakkerij Paul Annee, known locally as the best place for sourdoughs and whole grain bread. We bought a few rolls and grabbed a bench at the nearest canal for a great improvised urban picnic.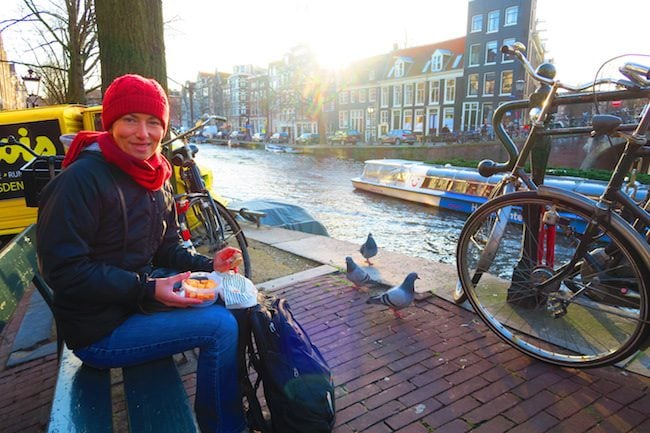 We've nearly reached the end of our sightseeing day but before our last stop, it's time for one last caffeine break. Swing back west and into the Jordaan once again and head to nearby Arnold Cornelis cafe at 78 Elangstarch. It'll be hard to choose between all those fine chocolates, pastries, and cookies but when you do, grab a spot in the cozy seating area upstairs and warn up with a strong cup of coffee.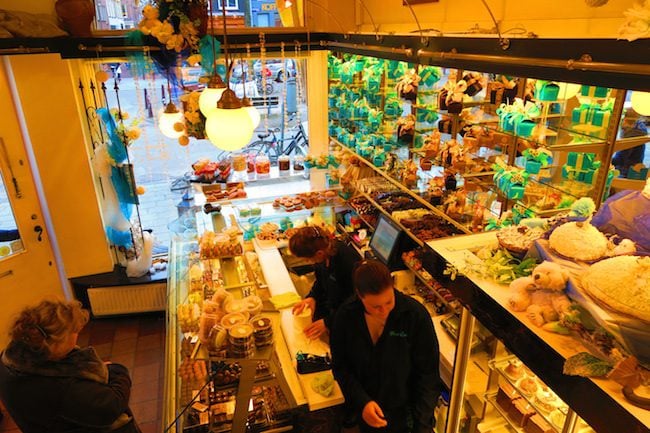 Amsterdam's Best Antique Market
Literally, a two-minute walk and we're at the last sightseeing spot of the day, the De Looier Antique Market. We've catered today for flower lovers and foodies and now it's time for the antique lovers. If you like antiques, you must visit this covered indoor market that's home to dozens of large open booths selling a whole lot of stuff you don't really need. It ranges from 15th century decorated ceramics to paintings, fine crystals, jewelry figurines, and even old Coca Cola and & Route 66 memorabilia. I had a blast wandering around the market and also looking at the serious collectors who come to find a bargain here.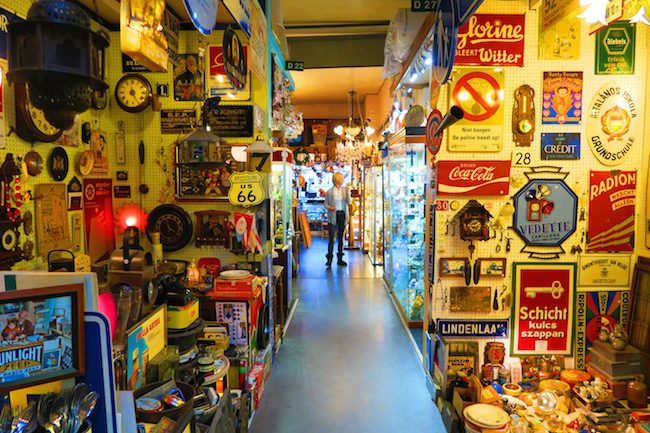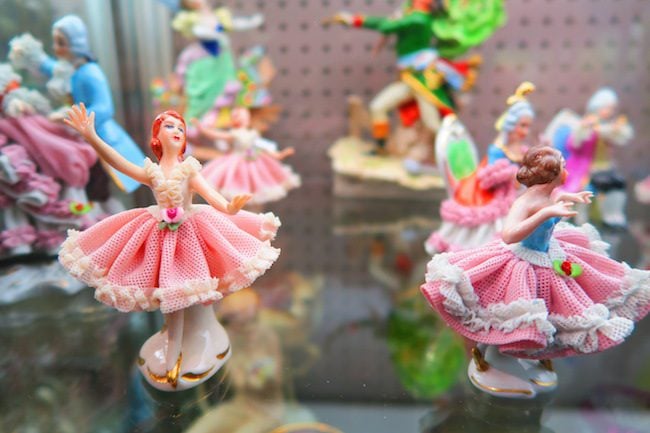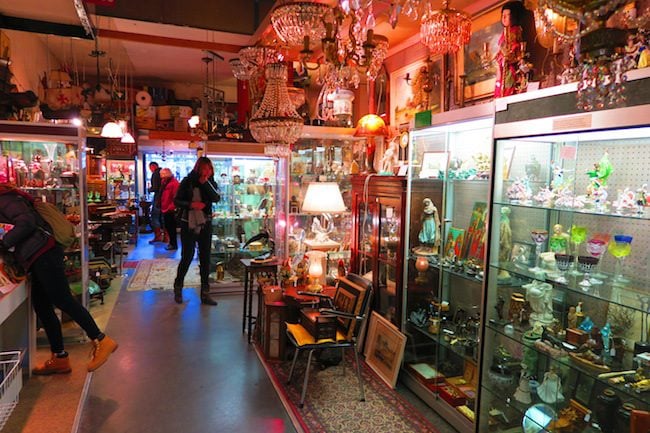 Once again it was around 6 pm and time for another power nap before hitting the streets again on a Saturday night in Amsterdam. Even with all this walking, it was less than a 20-minute walk back to the hotel in Dam Square. Amsterdam is pretty small and made for walking.
Saturday Night in Amsterdam
We made dinner reservations at La Oliva but before that, we went for drinks and appetizers at Gollem Beer Cafe, pretty close to where we had breakfast. This is a super cozy neighborhood bar with loads of Belgian beers to choose from and a few house brews. The place is small and the wooden chairs are on their final breaths but the atmosphere is great. Isabelle also went for a cheese platter (only €7.50) which comes loaded with cheese, Dutch bread, and olive jam.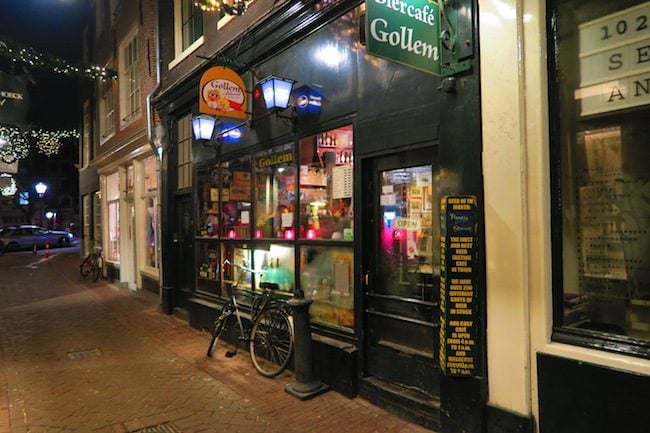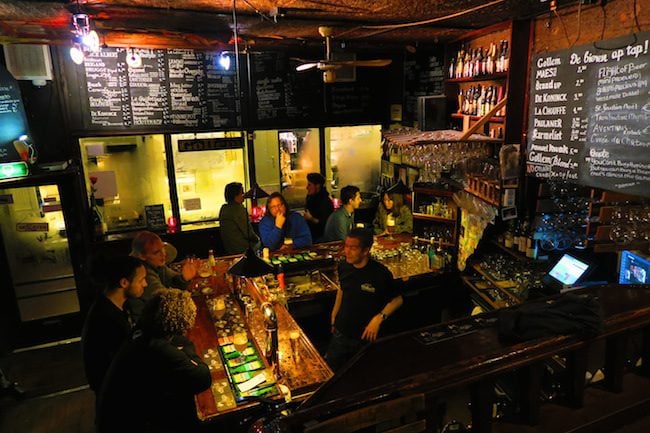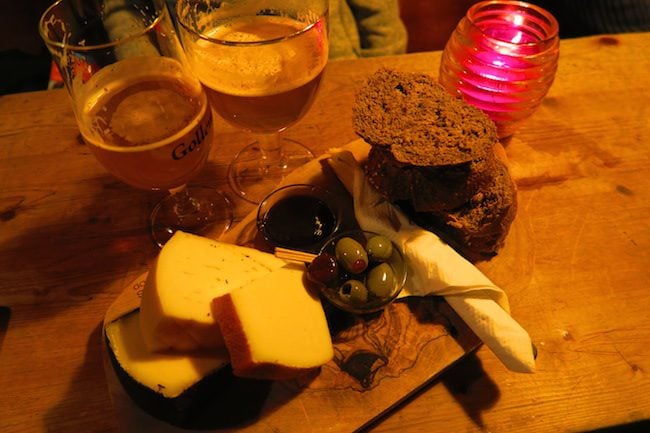 For dinner, we chose La Oliva back in the Jordaan, just a short stroll away. You can choose from a variety of freshly made pintxos, inspired by the Basque kitchen of northern Spain, or choose a la carte as we did. For an appetizer, we went for the salad with caramelized onions, green asparagus, and avocado. For mains, we had the Halibut with cava sauce and Sea Bream with vegetables (about €23 per main). The food was delicious, well prepared and the service was excellent. We couldn't resist topping everything off with that famous dessert from Spain's other self-identifying province – Crema Catalana!
Our action-packed day was coming to a close but not before we were treated to special sights as we walked back to our hotel. Amsterdam by night is just as charming as it is by day so strolling around is highly recommended. The streets are empty, the canals delicately lit and the church bells still ring with that Amsterdam chime.
In very sharp contrast to the tranquility of the canals by night in the western part of the old city, I took this video of the Red Light District on a Saturday night. This is probably the worst time to come here during the week. Aside from the usual weirdos, you'll have to struggle amongst the tourist 'pub crawlers' who are drunkenly led by their guides from one sketchy place to another.
Any Regrets?
The only thing I could recommend on what was nearly a perfect day is to perhaps visit the Anne Frank House on a weekday. We didn't have to wait in line since we booked online but the crowds were big and the house can only comfortably fit so many visitors. It was hard to spend time reading about the various artifacts, let alone seeing the pages from the original diary.
A 'Weather Dependant Day'
I'll do something a little bit different for this third and last day in our long weekend in Amsterdam and share an itinerary that's combined from two visits to Amsterdam. If the weather is nice (preferably in spring or summer) when you visit Amsterdam, then the full itinerary I'll share here would make sense and if it's rainy or 'winterish' outside, replace the outdoor stuff with more indoor activities.
After checking out from the Rho Hotel, we headed for breakfast at Cafe de Jaren, at the southern end of the old center. A very popular cafe, you wouldn't feel it due to its grand interior space. It's a great place for breakfast or brunch, serving quality food with fine views of the Amstel River. There's even a riverside deck for those rare sunny Amsterdam days.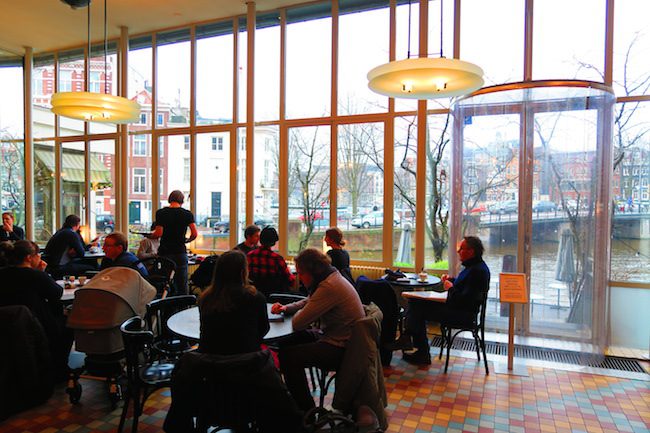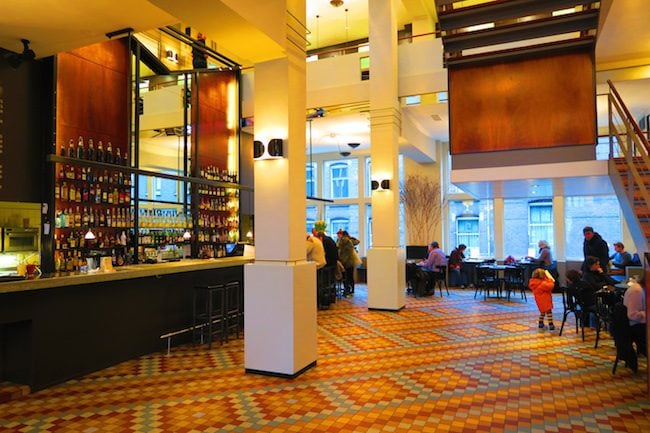 The Finest Museum in Amsterdam
Our next stop was the exquisite Rijksmuseum a definite must-visit for art lovers and even for folks like me, who prefer more outdoor activities. You can walk here (about 15 mins) or take the No. 5 cable car which stops right in front.
Amsterdam is a city loaded with great museums from the less serious erotically themed to world-famous ones such as the Van Gogh Museum. In fact, there's a dedicated 'quarter' for the best of them in the Museumplein, a huge open space dotted with the finest of Amsterdam's museums. You can technically see most of them but we'll visit the Rijksmuseum, arguably the best museum in Amsterdam.
Commanding the very top of Museumplein's green lawn, the Rijksmuseum cannot be missed. It's housed in a massive 19th-century grand building and home to the finest collection of Dutch art dating back to the Golden Age. This period saw Dutch influence reach the furthest corners of the globe with booming commerce, construction, and with it – the arts. As always, book your tickets in advance online to avoid the queues (€17.50) and be prepared for lots of fellow visitors between 11 am-2 pm. Once inside, you'll be treated to amazing artwork by the likes of Steen, Vermeer, Metsu, and others… oh, and one guy named Rembrandt. The artwork looks unbelievably real and isn't the type of art that looks like any kindergarten kid could draw – this is the real deal!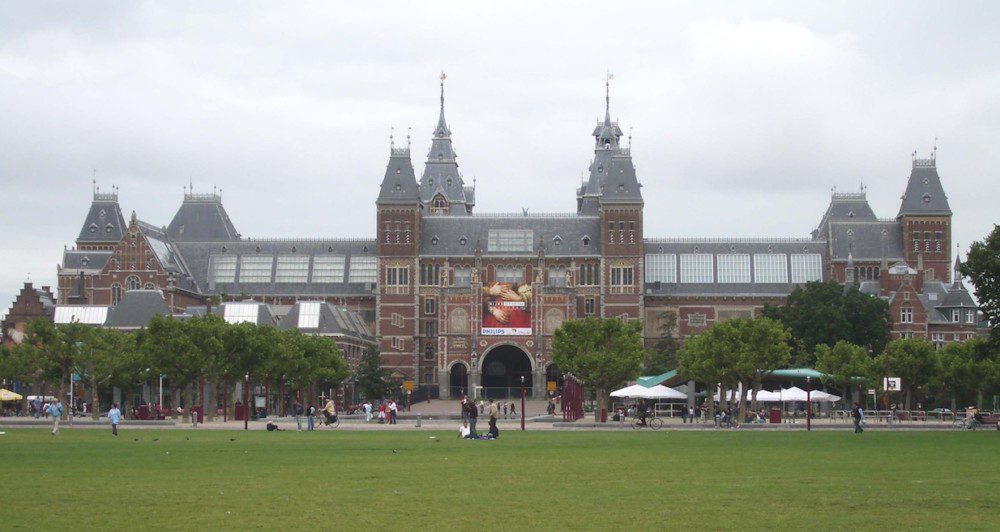 If you want to continue your artsy day (or if it's rainy/freezing outside), you can head to the nearby Van Gogh Museum. But assuming it's a sunny day, our next stop would be the Vondelpark, just a 10-minute walk from the Rijksmuseum.
Catching Some Sun
The Vondelpark is Amsterdam's best park and on a sunny summer day, it's packed with locals and tourists alike. The park was originally built on what was back then marshland at the very edge of Amsterdam by a group of prominent residents in 1865. It's named after the famous Dutch poet Joost van den Vondel and has so much to offer. In the summer, you might be treated to an open-air concert but even if not, it's great to stroll around the miles of footpaths or just relax in the sun.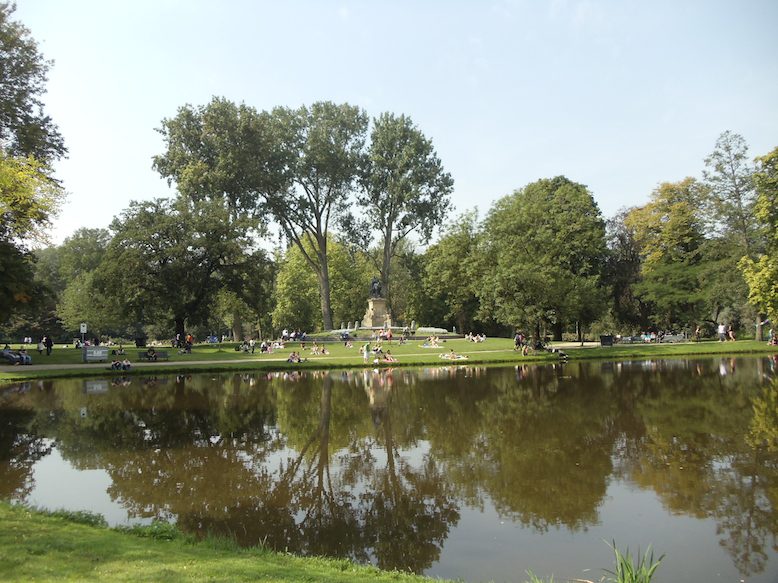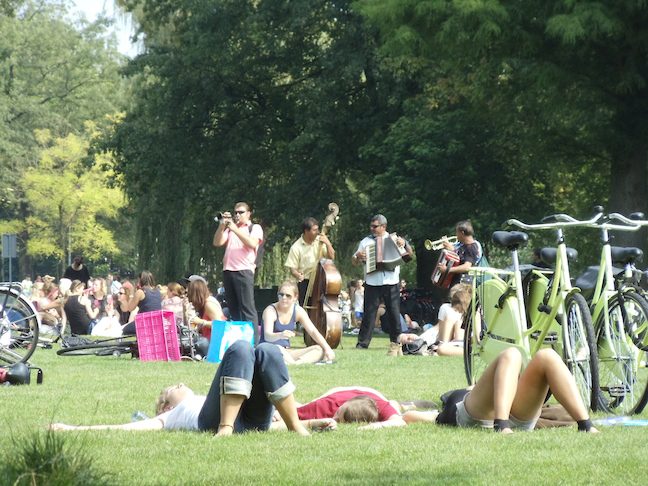 It was almost time to start making our way to the airport as our long weekend in Amsterdam was drawing to a close. A good way to get back to Dam Square is via Leidsestraat, a major shopping street where you can get some last-minute shopping done. You can also just hop on the cable car that runs from here straight to Dam Square.
At the very bottom of Leidsestraat is Leidseplein, a sort of square crossed only by the cable cars heading north and south. In the summer, it's the closest thing you'll find to an Italian piazza, with cafes and bars offering prime outside seating. Even in winter, it's a good way to take a break before heading back into the center.

Back to the Airport
After picking up our luggage, we headed back to where it all started, Amsterdam Centraal Station, and hopped on a train to Schiphol airport – probably the most convenient way to get to and from the airport to Amsterdam. Our 3 day long weekend in Amsterdam had come to a close but we had so much fun. I highly recommend putting Amsterdam on your top list of city breaks, whether in summer or winter. It's manageable by foot, with great food, culture, and oh… those cute canals. We'll definitely be back!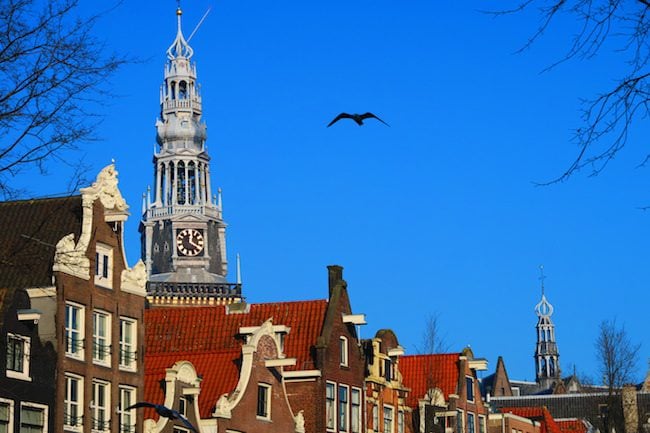 Any Regrets?
We would have loved to explore the Old Jewish Quarter, just east of the old center. Amsterdam's Jewish community flourished during the Old Age but was decimated during WWII. There are still a few spots worth visiting including some old synagogues.
The Albert Cuyp Market, outside Amsterdam's center, is the city's largest and open daily except for Sunday. It's out of the way but if you have the time and love city markets, you might want to attempt to visit.
It's not really a regret but didn't quite make it into this 3 days in Amsterdam itinerary. Amsterdam has quite a few restaurants without a set menu, where every week the menu changes. One of the best is Balthazar's Keuken in the Jordaan where I had dinner on one of my visits. For €32.50 per person, you're treated to five changing starters, a choice of meat or fish and a dessert. If you're the kind of person that is not picky with food (like I am), you'll probably love this super popular place – just be sure to book in advance (you can do this online).