With palm trees far outnumbering the local population, miles of pink sand beaches, and world-class diving, Tikehau is a great stop on an island-hopping journey in French Polynesia for those seeking to get off the beaten track. In this 5 days in Tikehau itinerary, we'll dive into how to best divide your time on this pristine coral atoll.

About This Tikehau Itinerary
I visited Tikehau on my fifth visit to French Polynesia, having previously explored neighboring Fakarava and Rangiroa. I spent 5 days in Tikehau which turned out to be just the right amount of time. This Tikehau itinerary is based on my experience on the island and on some of the lessons learned while exploring it.
Heading off to French Polynesia? In-depth island guides to all 5 archipelagos await you, including sample itineraries and essential travel tips & tricks.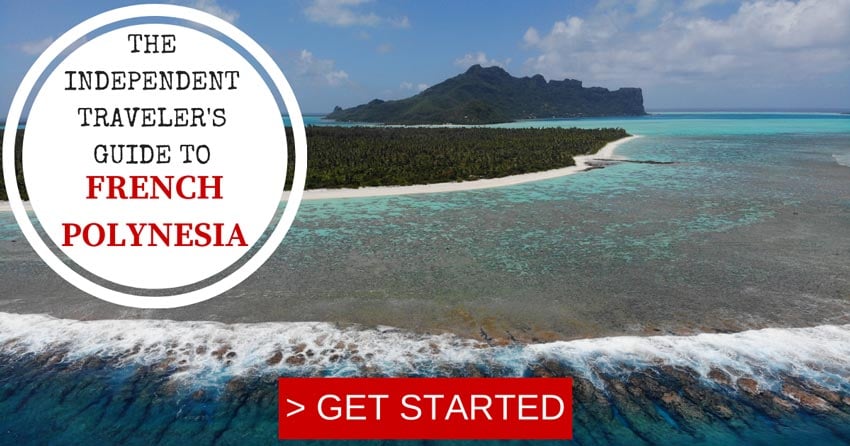 Tahiti, Tailor Made!
The Islands of Tahiti are among the last places to be colonized by mankind, 118 islands, each with its unique personality.
Get expert advice and assistance with planning your trip to the destination where tropical dreams come true!
Tikehau Travel Guide Video
Watch this video to see what's expecting you in Tikehau (you might need to disable your ad blocker).
Further Reading About Tikehau
Planning to visit Tikehau? Check out these additional resources.

---
5 Days In Tikehau Map
All points of interest mentioned in this Tikehau itinerary can be found on this map. Simply click on the image to open in Google My Maps.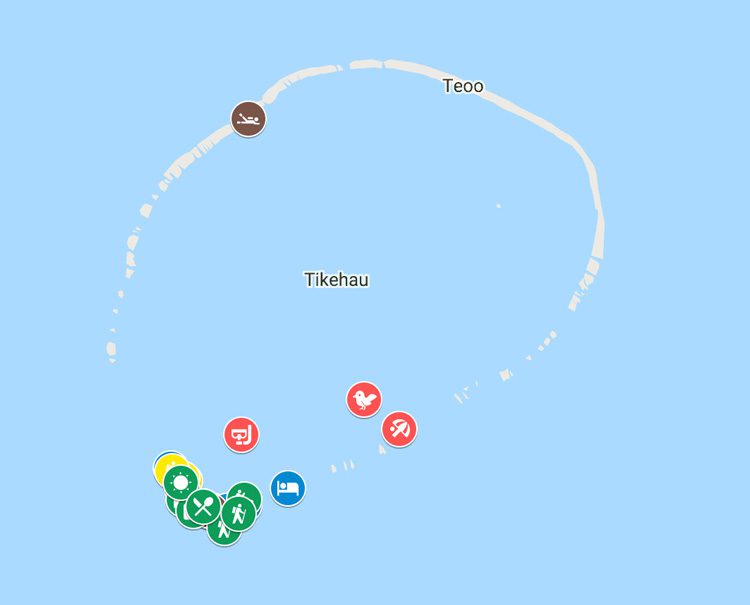 Where to Stay in Tikehau
Tikehau is still an off-the-beaten-track stop in French Polynesia but it does offer a wide range of accommodations. For luxury, choose between the remote and pampering Pearl Beach Resort or the more secluded Ninamu Resort. For a more traditional stay, pensions are the way to go. The Relais Royal is the most upscale, followed by the more simple albeit perfectly situated Tikehau Village and Pension Hotu. If those are full, look towards Pension Justine and Pension Aito Motel Collette. Finally, if you're traveling to Tikehau on budget, have a look at Pension Coconut Beach.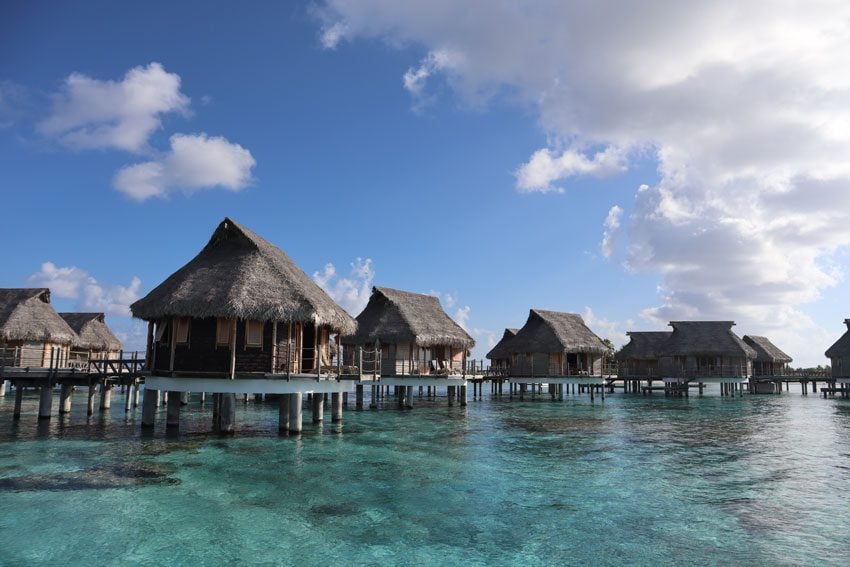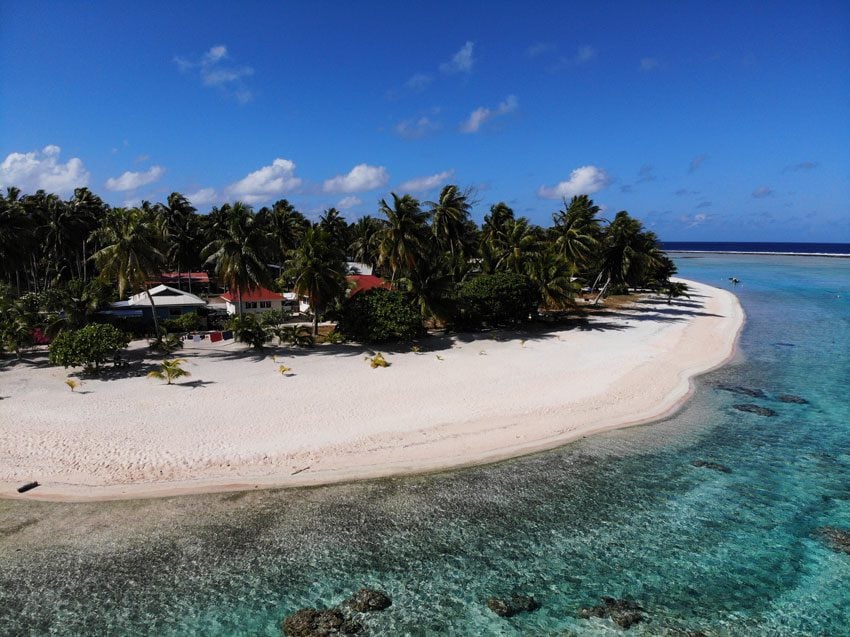 Day 1: Arrival, Beach Time & Snorkeling
As you approach Tikehau on the Air Tahiti flight, the atoll's pink sand beaches welcome you to paradise. Your hosts will pick you up from the tiny airport and whisk you away to begin your adventure.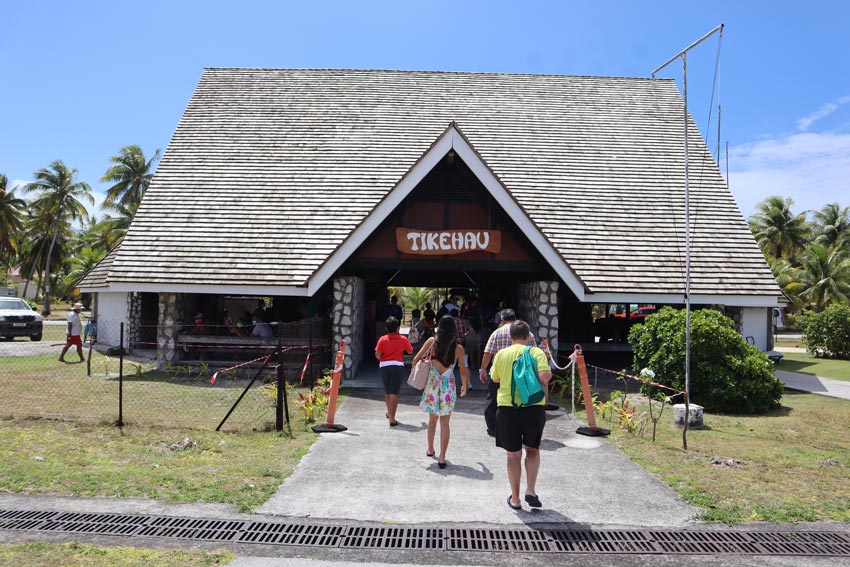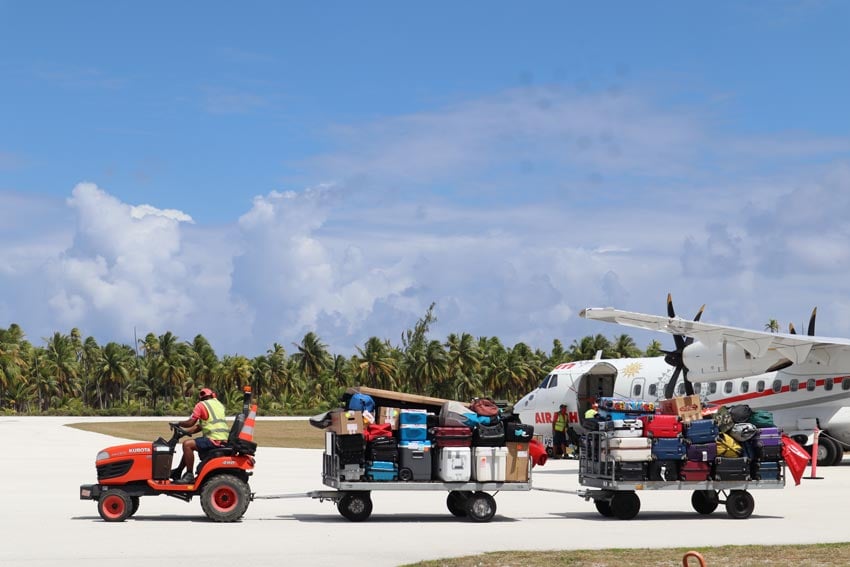 Use the first day in Tikehau to get acquainted with your surroundings, to relax, book excursions for the following days (scuba dives and lagoon tour), and hit the beach. If you're staying on motu Tuherahera (the "main island"), I recommend cycling to the wide beach at its western tip. It's known as Coconut Beach and, in my opinion, it's the finest beach on the motu.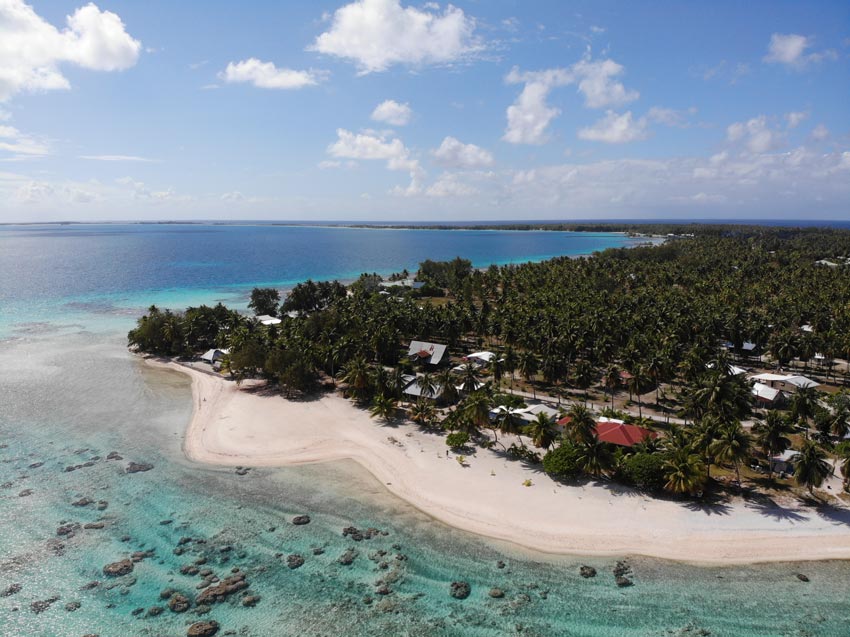 Don't forget to bring your snorkeling and beach gear, and to bring some snacks with you. The snorkeling here is quite good, with reef sharks often patrolling the wide channel. What I especially liked about this part of the island is that you can snorkel (or even walk to) a small sandbank with a lonely coconut tree. It really doesn't get any more "South Pacific" than this.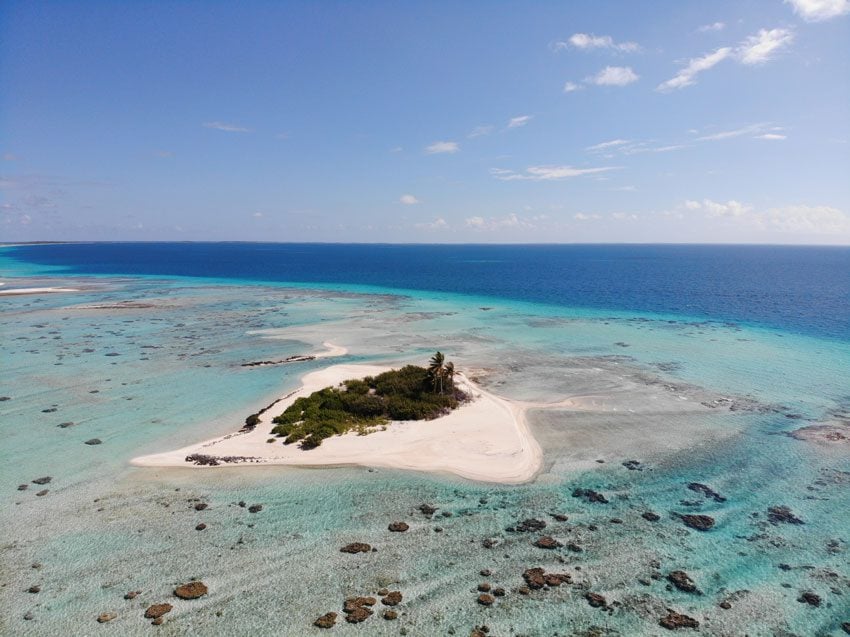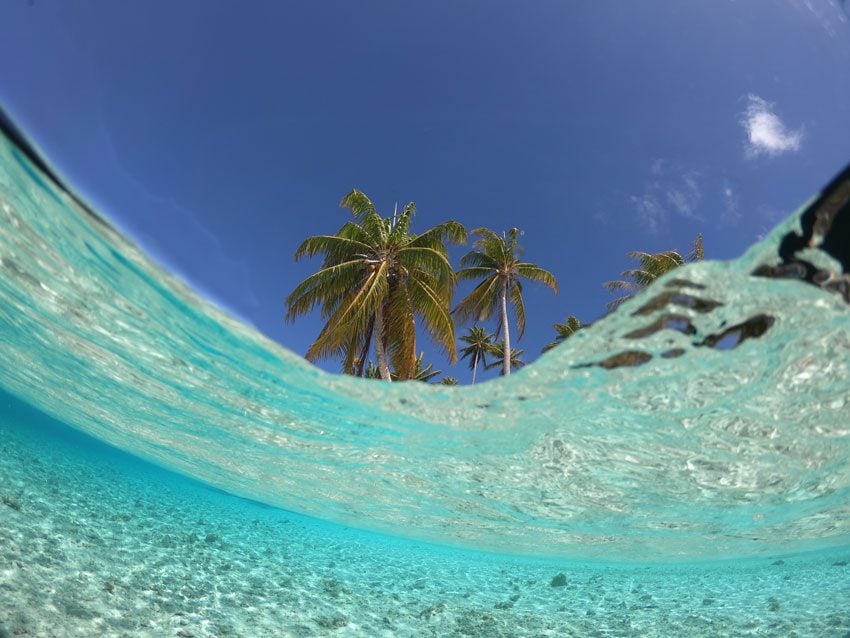 If you want to continue the adventure, swim further out to Motu Tavararo. The coral you'll come across on the way isn't the best, but the reward is served when you make landfall on this gorgeous islet. It's technically private land belonging to the Ninamu Resort but if you stick to the coastline and don't walk further north (where the actual resort is), you should be OK. I also slightly ventured inland through the coconut grove, where I found… more coconut palms.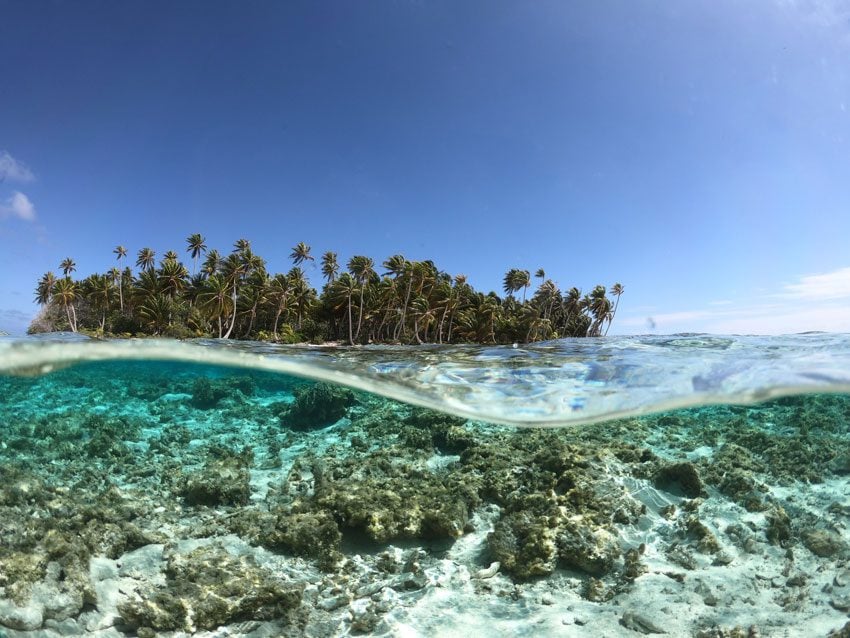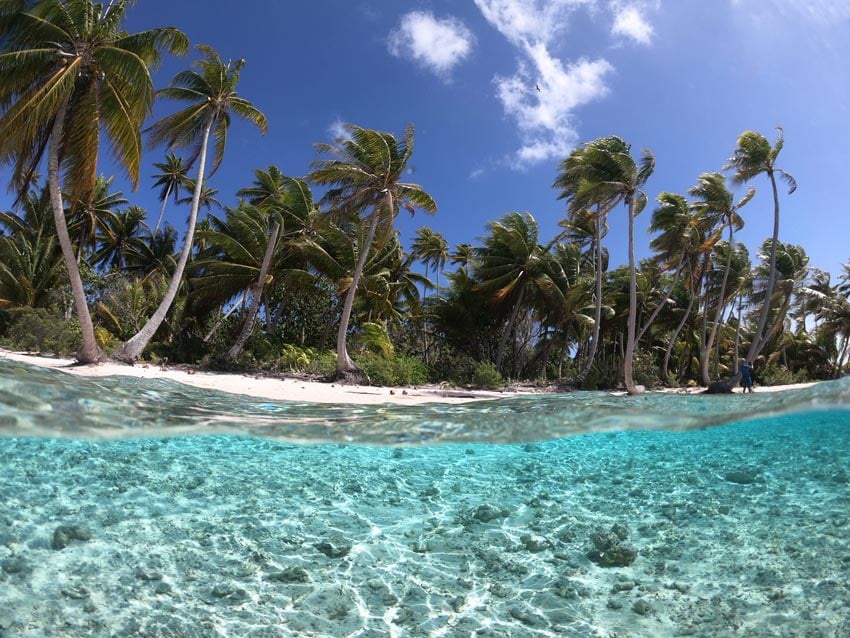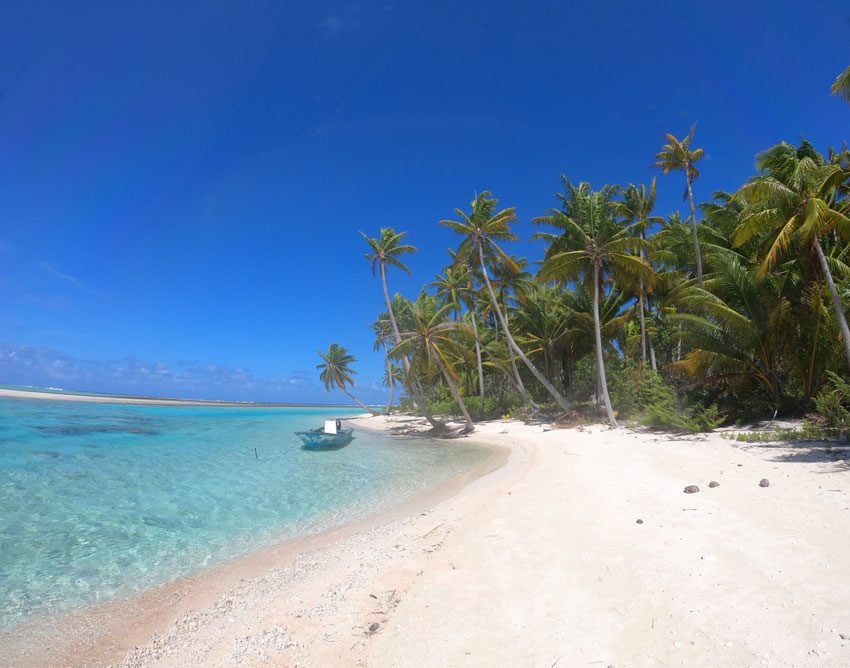 Coconut Beach is also a great spot to watch the sunset with a cold Hinano beer in your hand. However, you can also enjoy this spectacle from other spots on the main motu. The only difference is that around Coconut Beach, you have uninterrupted views and you will see the sunset below the horizon. Another prime sunset viewing location is not too far from here at La Cloche de Hina (see day 5 itinerary).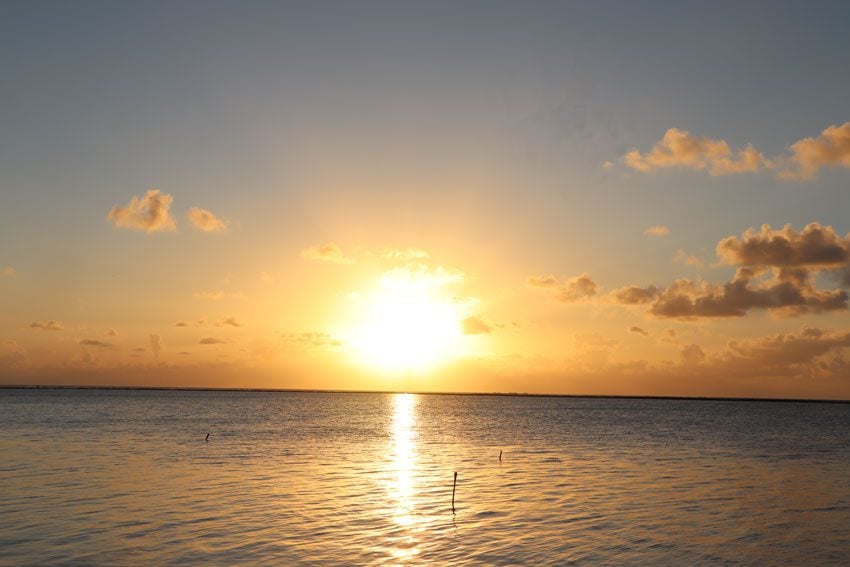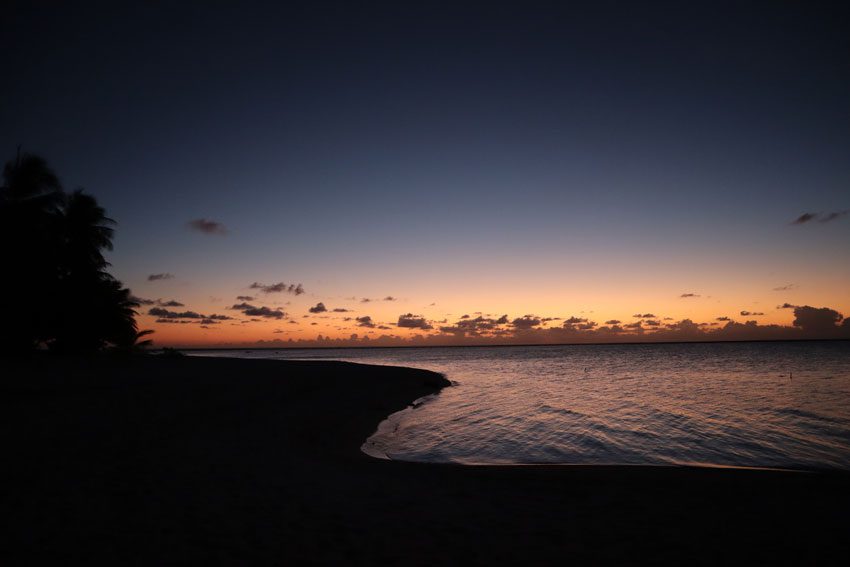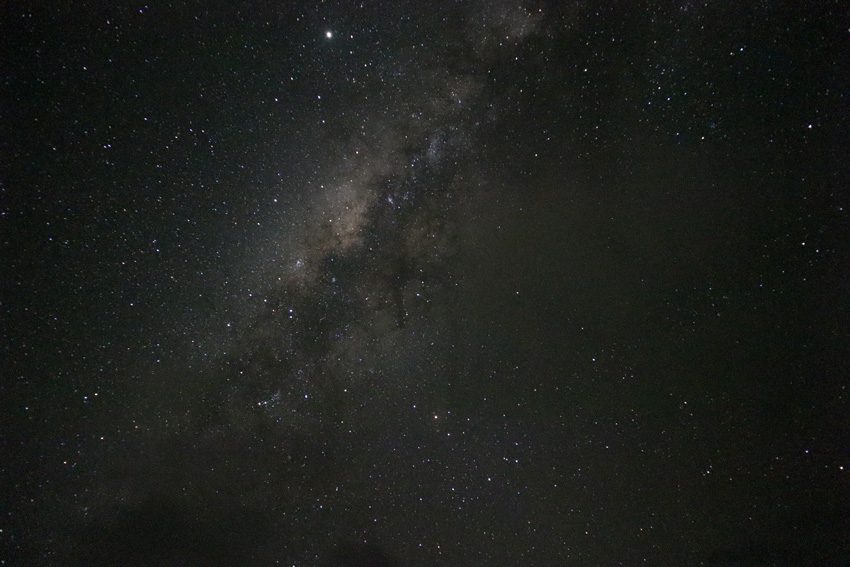 Day 2: Scuba Diving
One of the prime reasons for visiting Tikehau, or any atoll in the Tuamotu archipelago of French Polynesia, is for the diving. In 1987, French explorer Jacques Cousteau conducted a study of Tikehau's lagoon and found it to contain the greatest number of fish species than any other place in French Polynesia. This began scuba diving tourism in Tikehau. I found the dives in Rangiroa and Fakarava to be more impressive than I did in Tikehau but nonetheless, I still consider it to be world-class.
Most of the dives in Tikehau take place in and around Tuheiava Pass, the only way in and out of the lagoon. It takes about 30 minutes by boat to reach the dive sites. Factor in the waiting time on the boat between dives and you can expect the bulk of your day being spent on this activity. Your dive usually begins with a glide along the reef shelf on either end of the pass, after which you either ride the incoming current and drift into the lagoon or gently swim inside.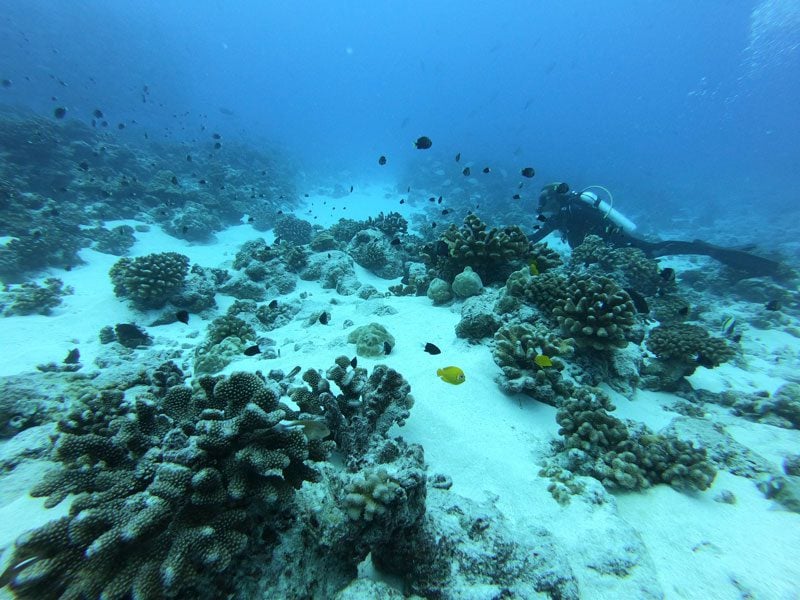 Expect to see lots of nurse sharks taking shelter from the current inside small caverns on your drift dives and a large variety of fish on other dives, including tuna, barracuda, jackfish, angelfish, lionfish, moray eel, and many more. If you get lucky, you might even spot tiger and hammerhead sharks in the shallows.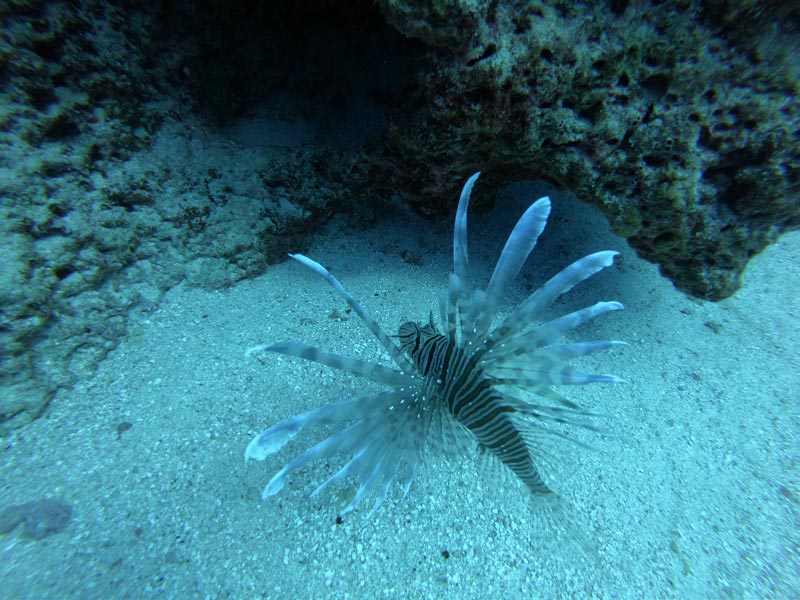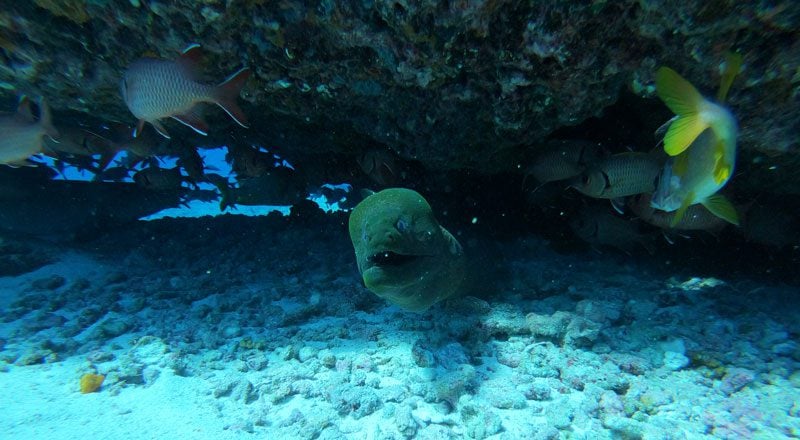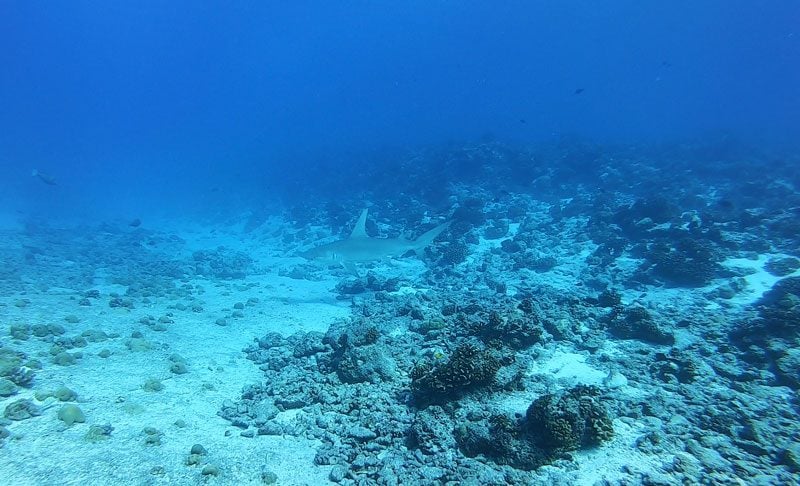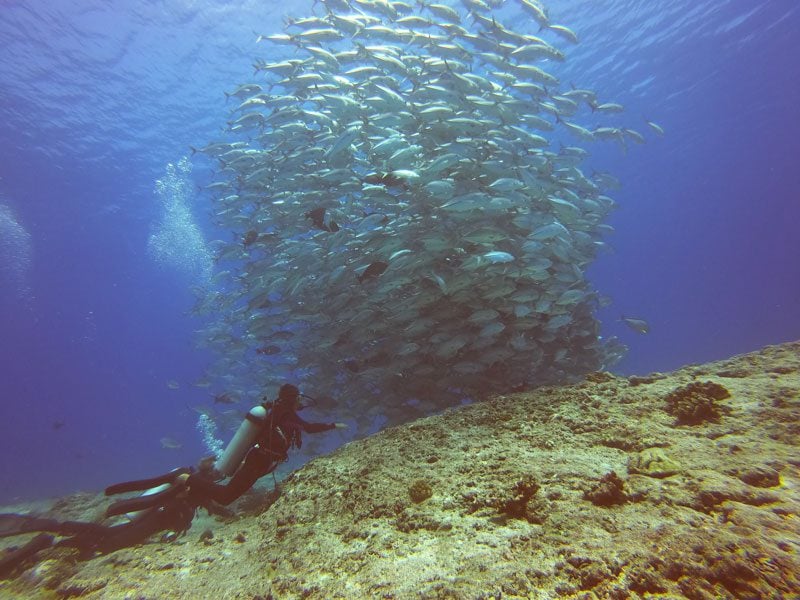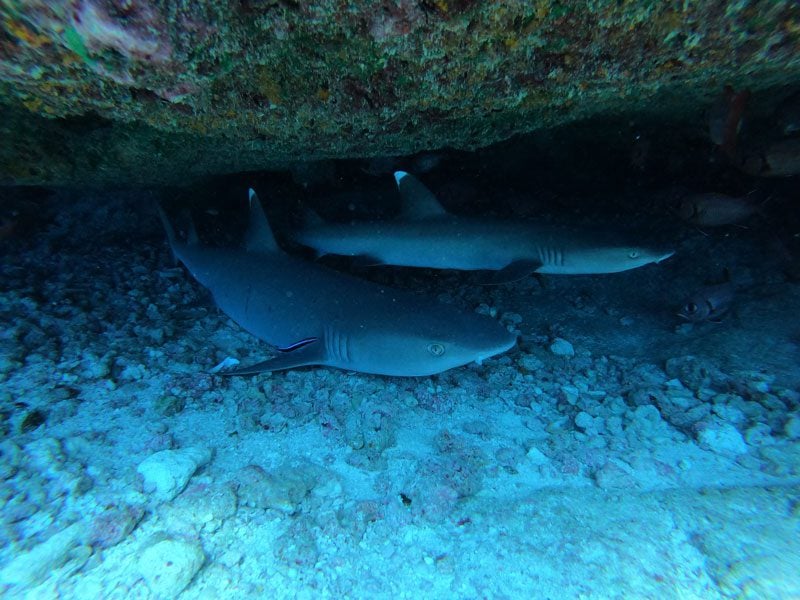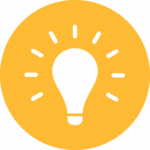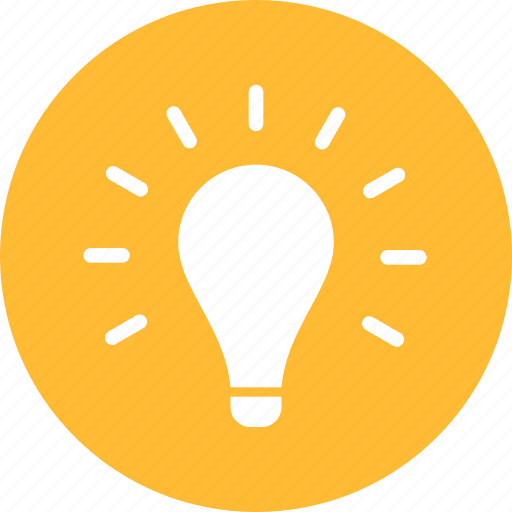 Pro Tip
Check out the Tikehau Travel Guide for in-depth information and tips on scuba diving in Tikehau.
Day 3: Scuba Diving
If you've made it to Tikheau, you might as well go for another day of diving. There's a small chance that the dive centers will head to a different location, but it really doesn't matter because every dive is different. Unless your first day of diving was as perfect as it gets in terms of sightings, dedicate another day in Tikehau for an additional two-tank dive.
Day 4: Lagoon Tour
The fourth day on this 5 days in Tikehau itinerary will be a memorable one. Prebook a full-day lagoon tour through your hosts and set out on a day of exploring the magical spots inside Tikehau's lagoon (7,500-8,500 XPF per adult, including lunch).
The first stop is at the manta ray cleaning station, a tiny islet in the middle of the lagoon that used to house a pearl farm. Under the water, giant manta rays gather every morning to get cleaned before "heading to work" by small fish that feed off the parasites on the manta's skin. It's a win-win situation not only for the mantas and the fish but also for snorkelers and divers who get to swim with these gentle giants at shallow depths.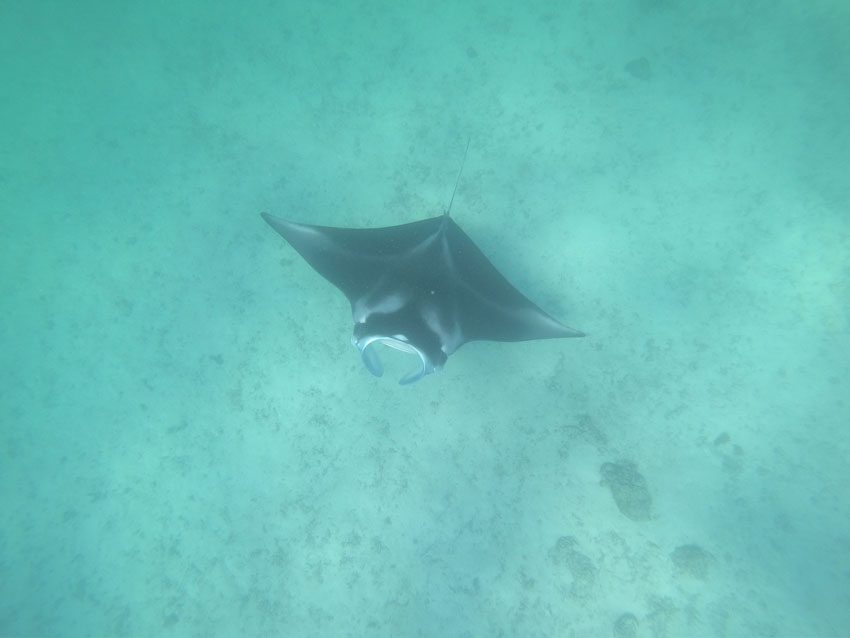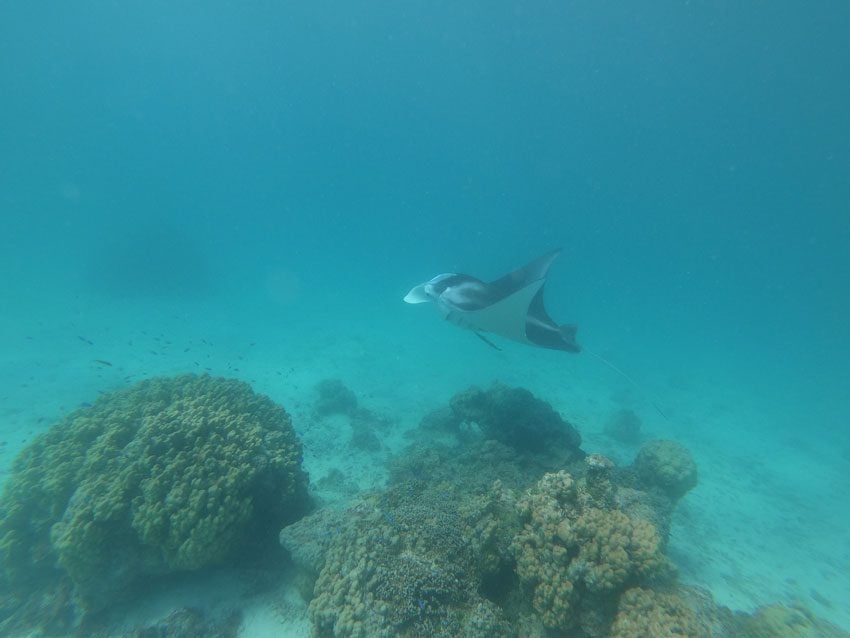 The next stop is Motu Puara, better known as Bird Island or Ile aux Oiseaux. As the boat approaches this rocky outcrop in the far end of the lagoon, it becomes clear how this place got its name. Hovering in circles above the island are hundreds of birds and even if your eyesight isn't what it used to be, you can clearly tell who lives here by the sound they emit.
You'll disembark on a patch of sharply raised coral and begin the guided tour of the island. Countless noddies and boobies nest in the trees and they have no fear of humans, so you can approach them but do respect their space.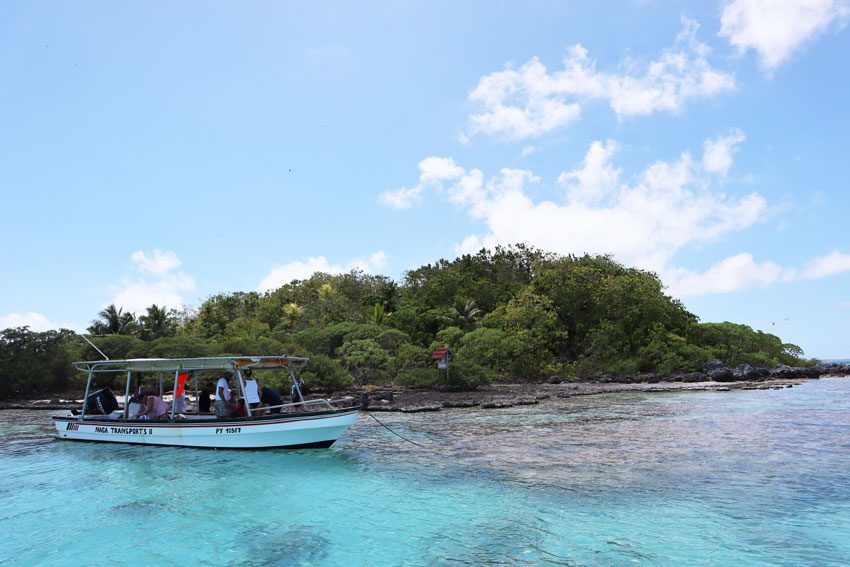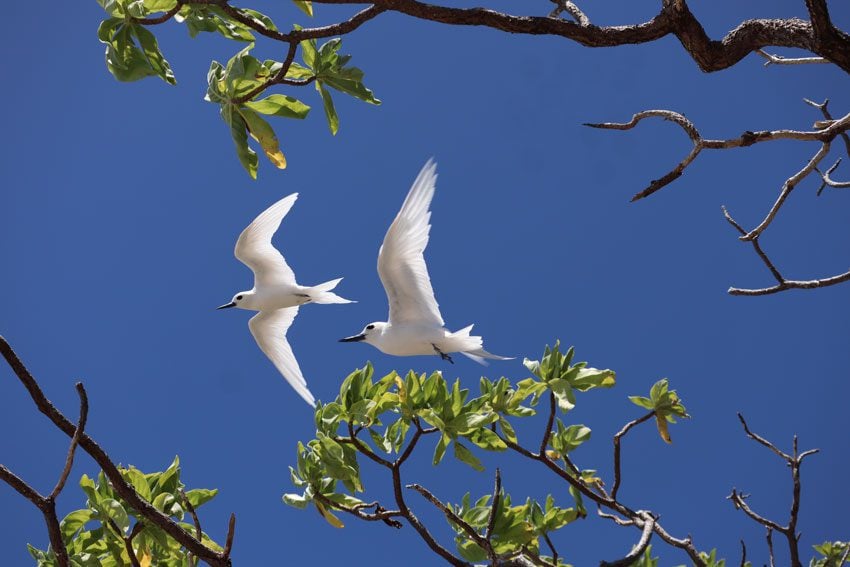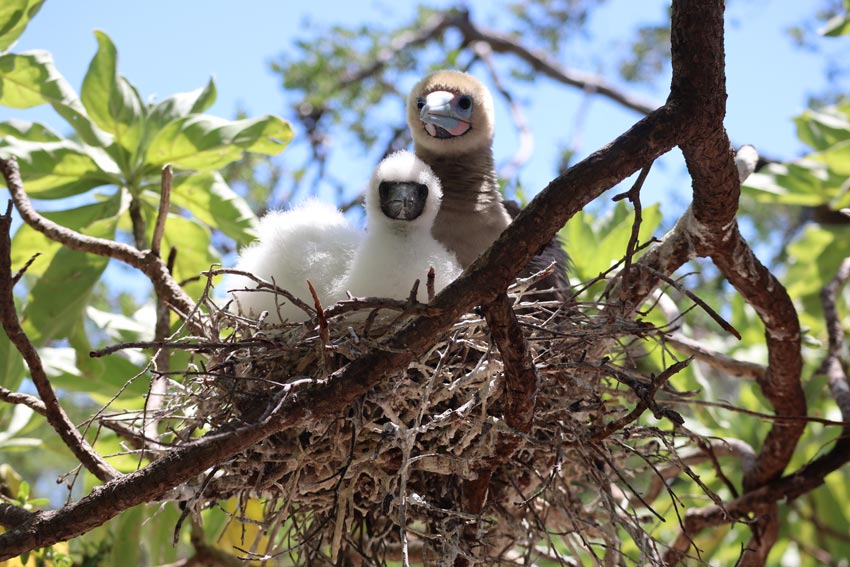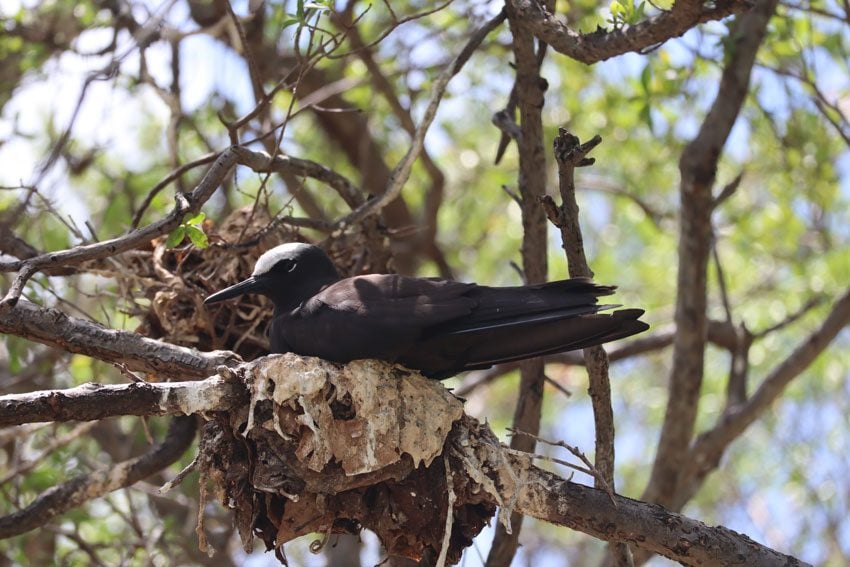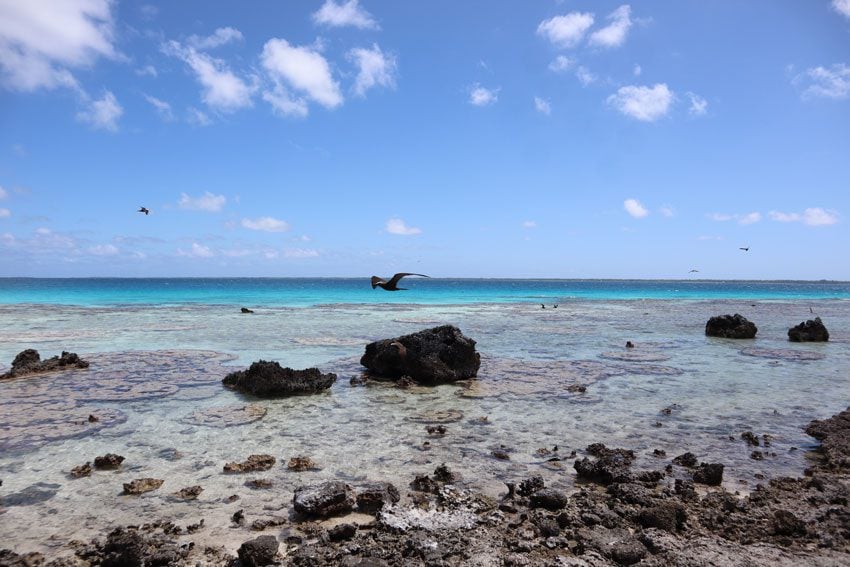 You'll then cross the heart of the tiny island, walking over centuries of guano. This area is rich with coconut palms both towering above and sprouting the next generation on the ground. Altogether, you'll spend about one hour on Bird Island which wasn't enough in my opinion as this was an extremely moving experience. But hey, it's almost time for lunch!
The full-day lagoon tour reaches its climax on the famous pink sand beaches of Tikehau, where you'll also have lunch (Les Sables Roses). Every tour operator owns a small motu, where they've built a vacation home that's used on family outings and lagoon tours.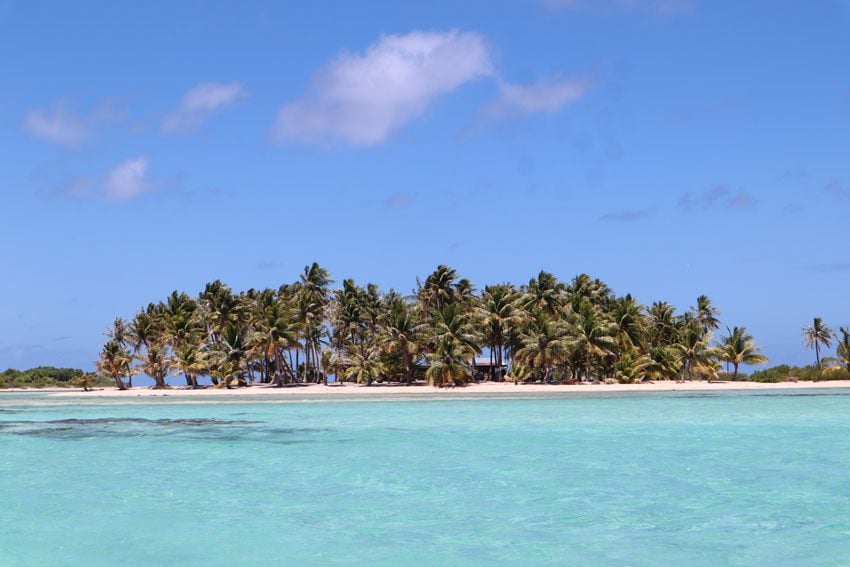 The setting couldn't be more spectacular, crystal clear waters, strings of small pink-sand motu separated by narrow channels like a pearl necklace, and coconut palms swaying in the gentle breeze. As the guides fire up the grill, you'll have plenty of time to explore the surroundings.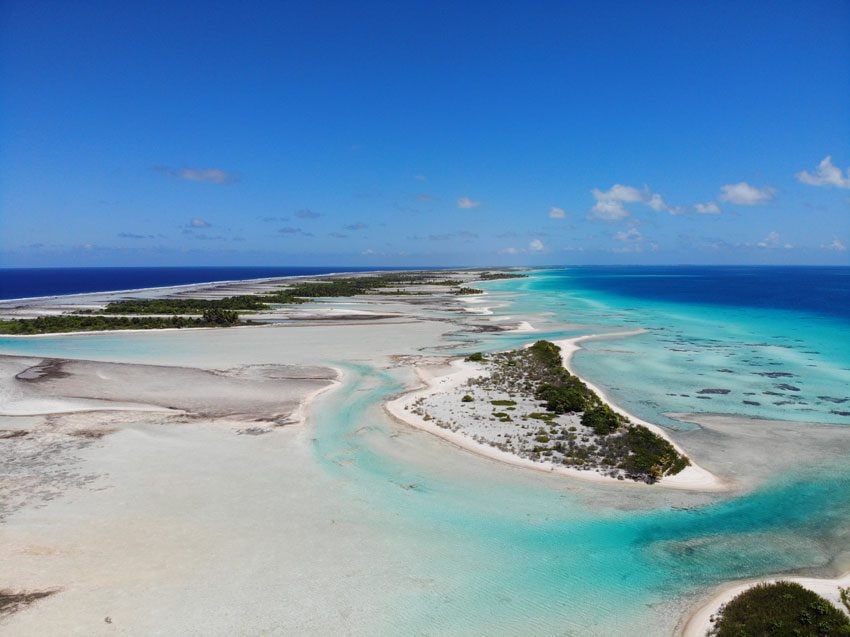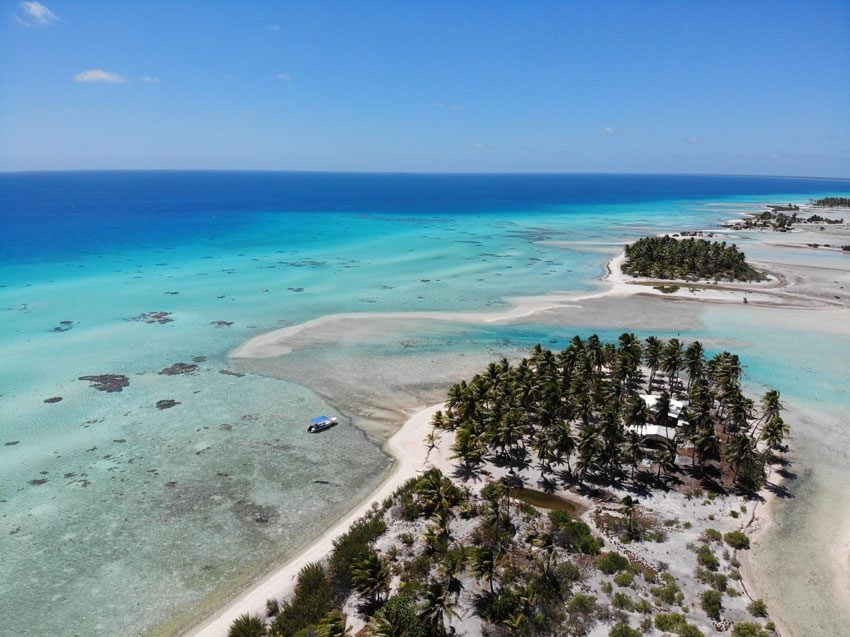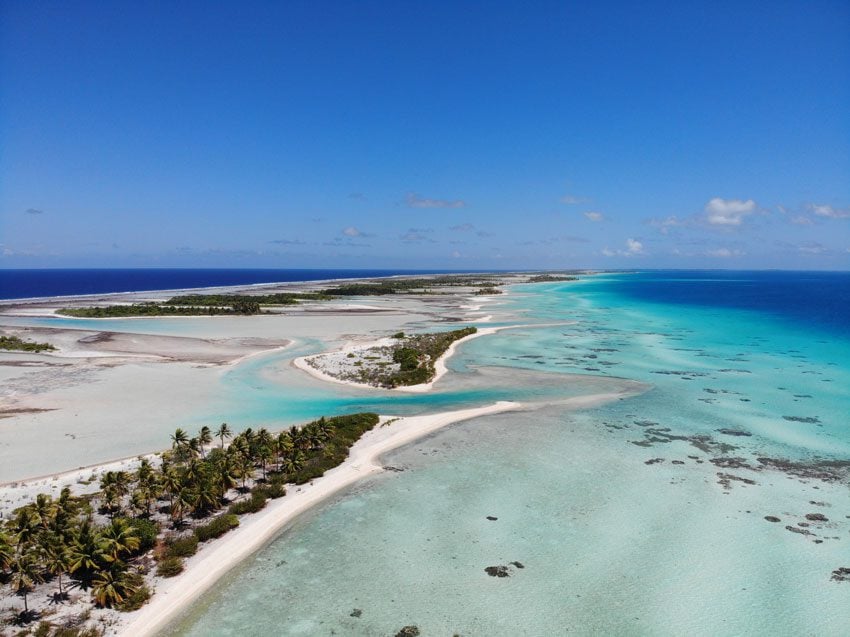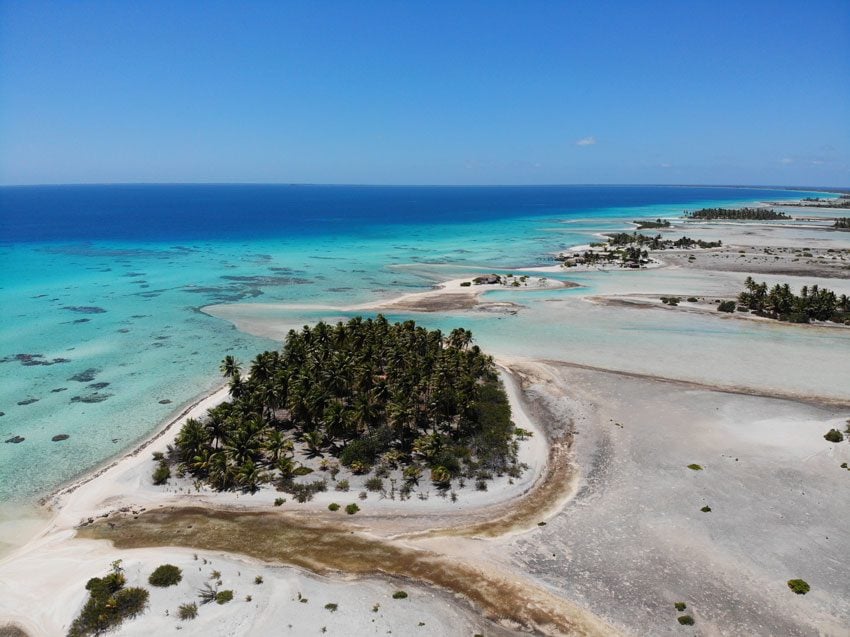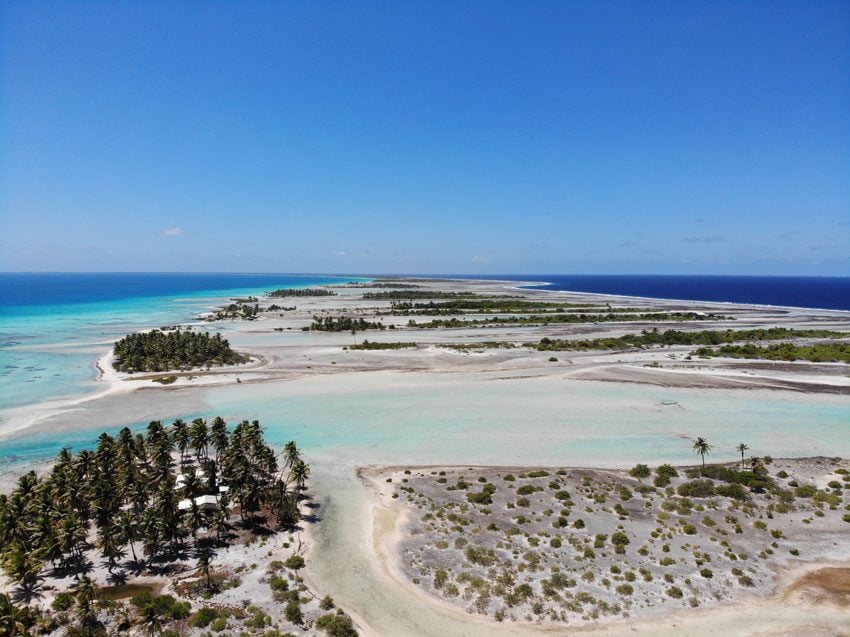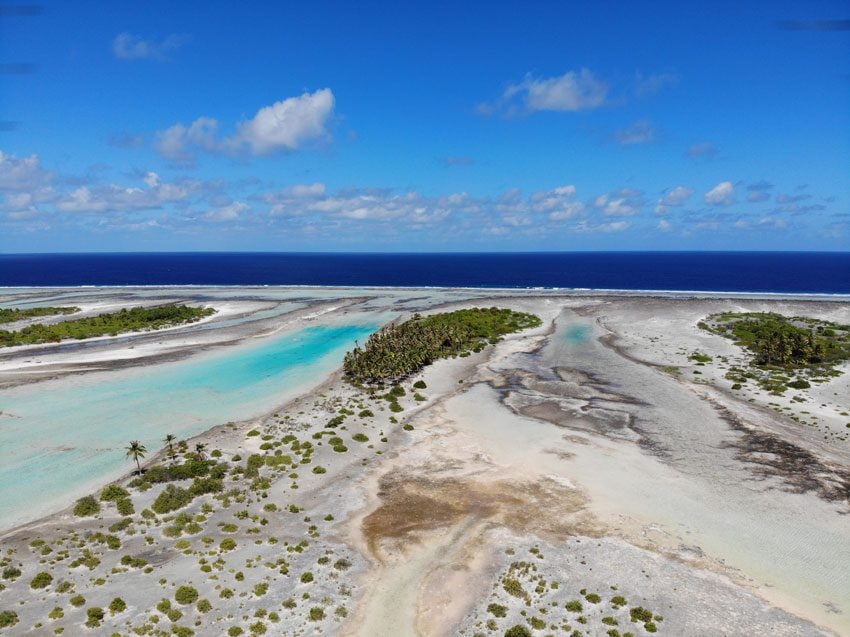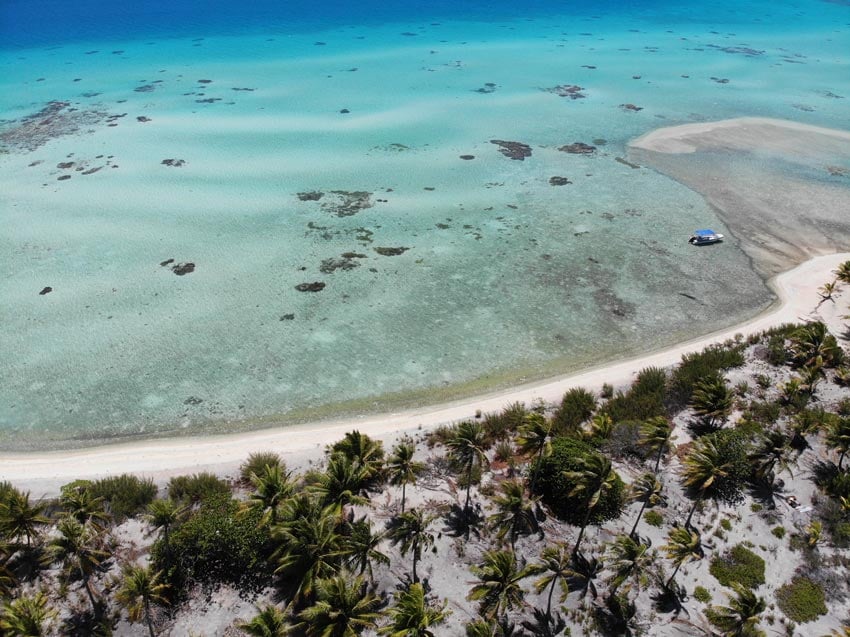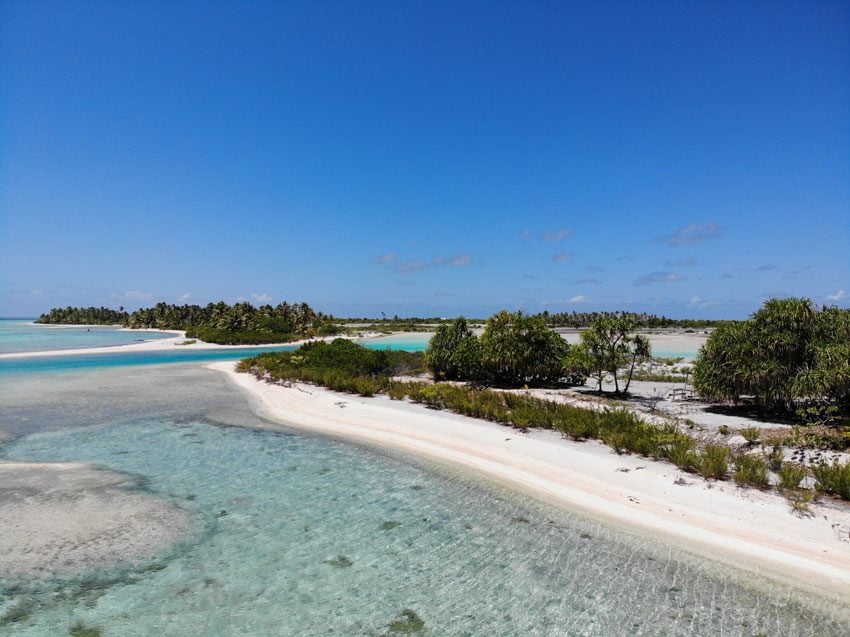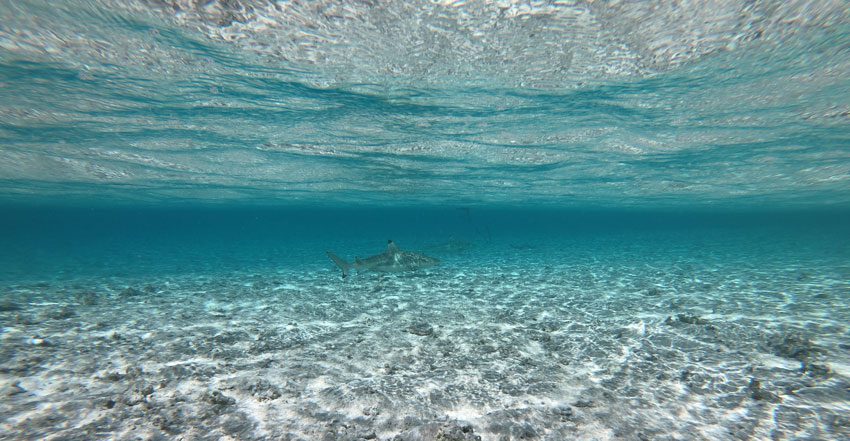 Lunch is more than generous and consists of traditional dishes as well grilled fish. After lunch, you'll have time for a nap or to snorkel with reef sharks in the shallow waters. This is an unforgettable day that will surely make your list of the top highlights in French Polynesia.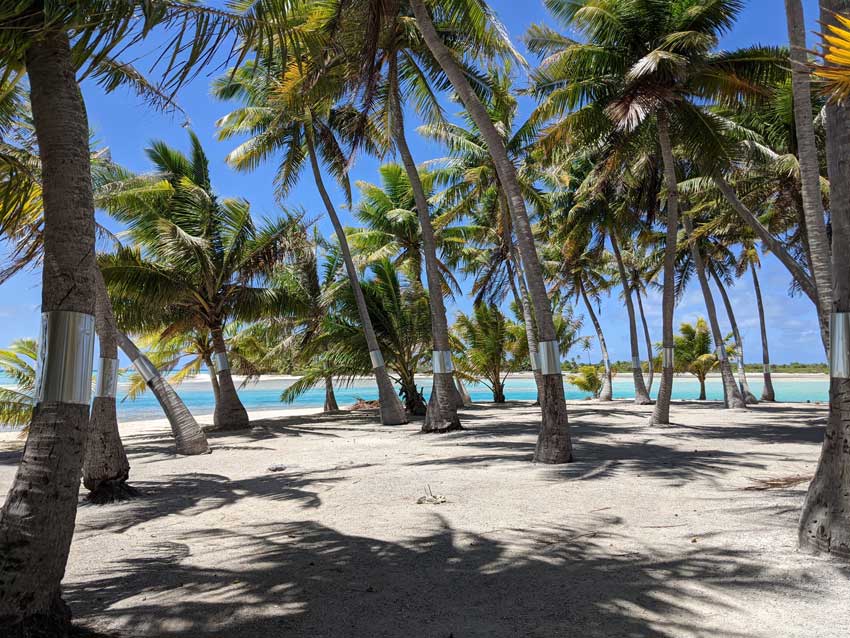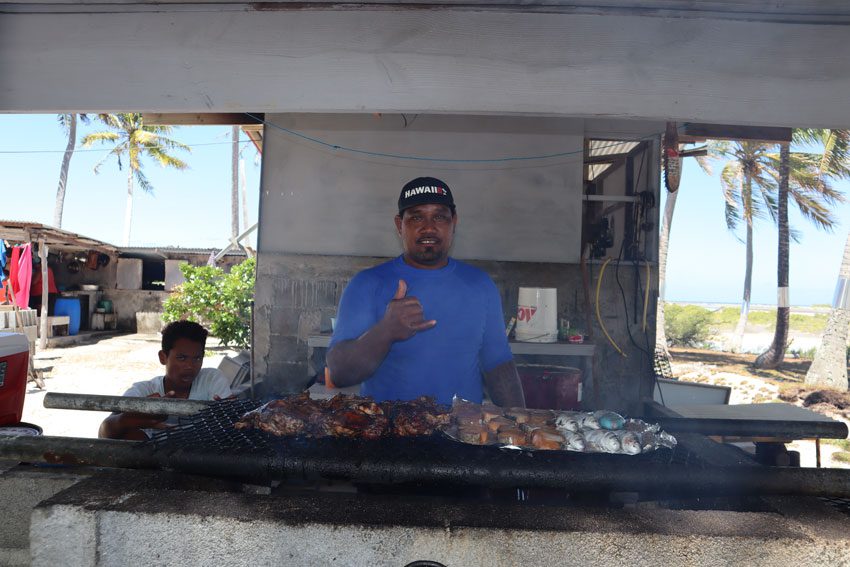 Day 5: Circle the Main Island or Kayak
On your final day in Tikehau, either relax on the beach or go for one last adventure. If yesterday's lagoon wasn't enough, rent a kayak and paddle east of the airport, where you'll find a string of motu (islets) worth exploring.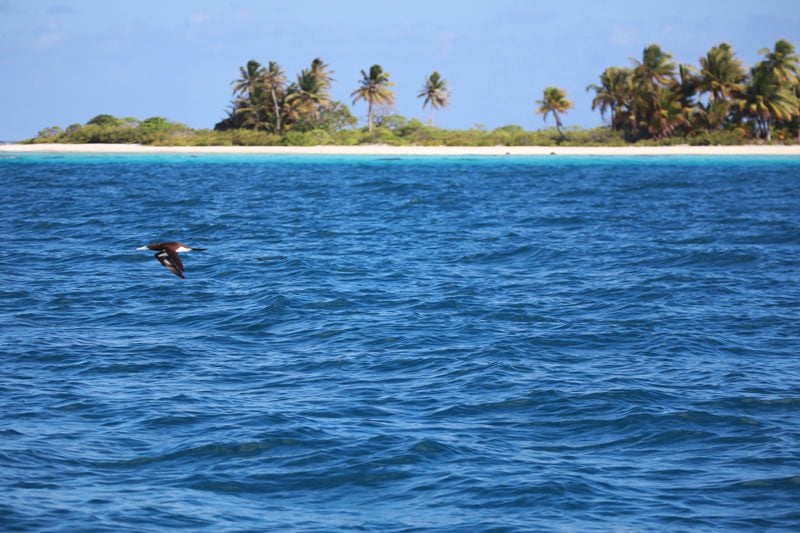 I chose to explore the main island on foot, the best way to really get a sense of a place, but you can also rent a beach bicycle and do the following itinerary. The goal is to basically circle motu Tuherahera (the "main island"), a total distance of 12-15 km. It doesn't really matter where you begin but do pack plenty of water and don't forget to protect yourself from the sun. Plan to be in the village for lunch. It's best to inquire with your hosts about the opening times of the snacks (local restaurants) on this particular day and to plan accordingly.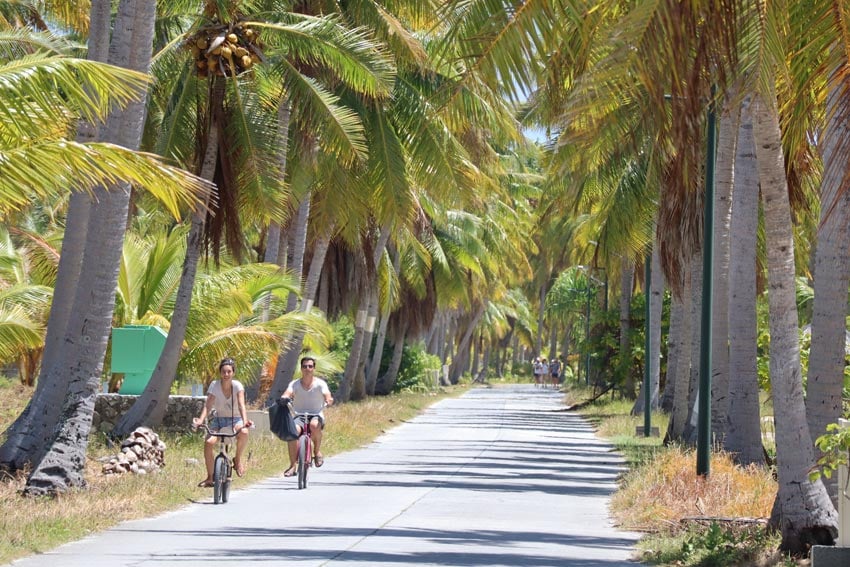 Coconut Beach
If you didn't get a chance to visit this beach during the first day (see day 1 itinerary), now is the time. Coconut Beach lies at the western edge of the main motu and boasts a wide strip of soft sand. This is a good snorkeling spot but the best part is that you can swim to a nearby sandbank and go Robinson Crusoe for as long as you want.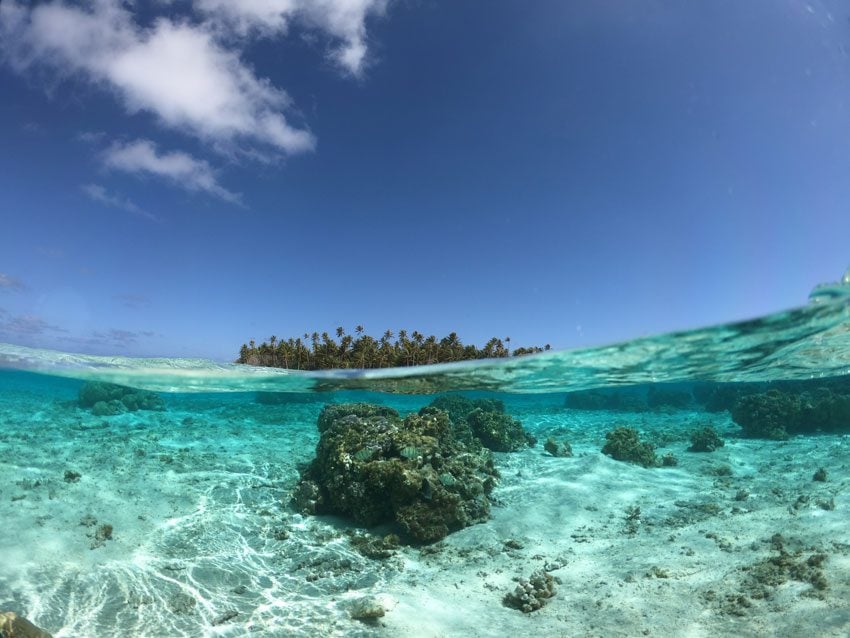 To extend your adventure, swim further out and explore Motu Tavararo, just be sure to stick to the coastline because it's technically private land belonging to the Ninamu Resort.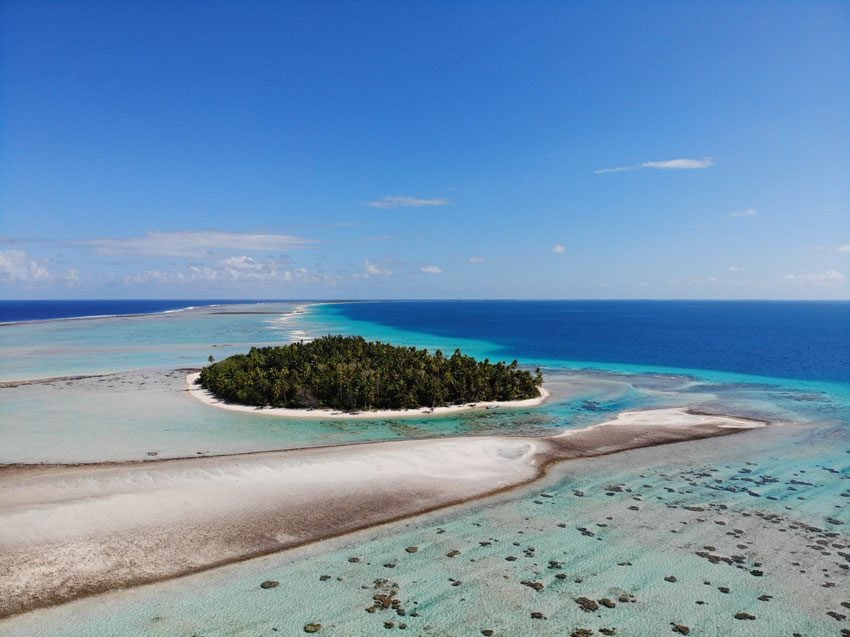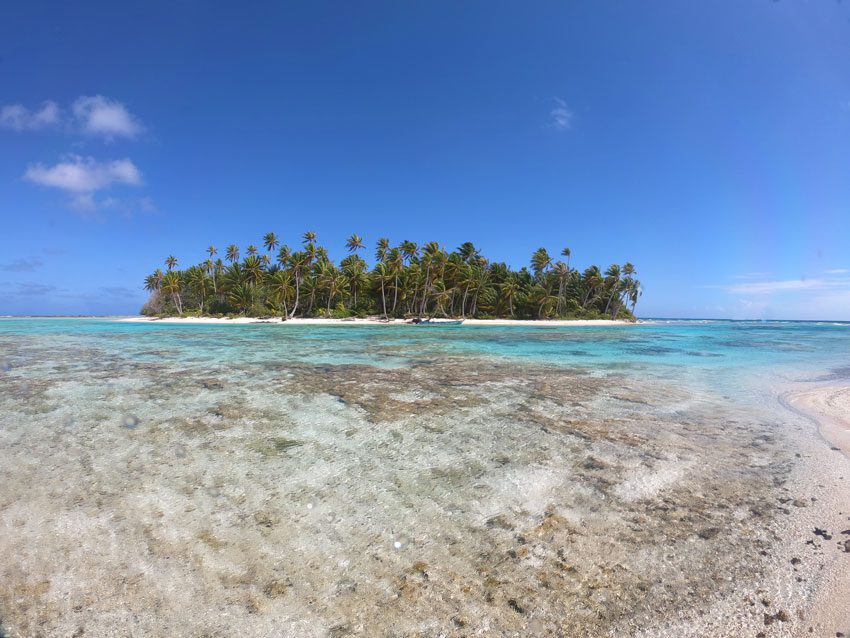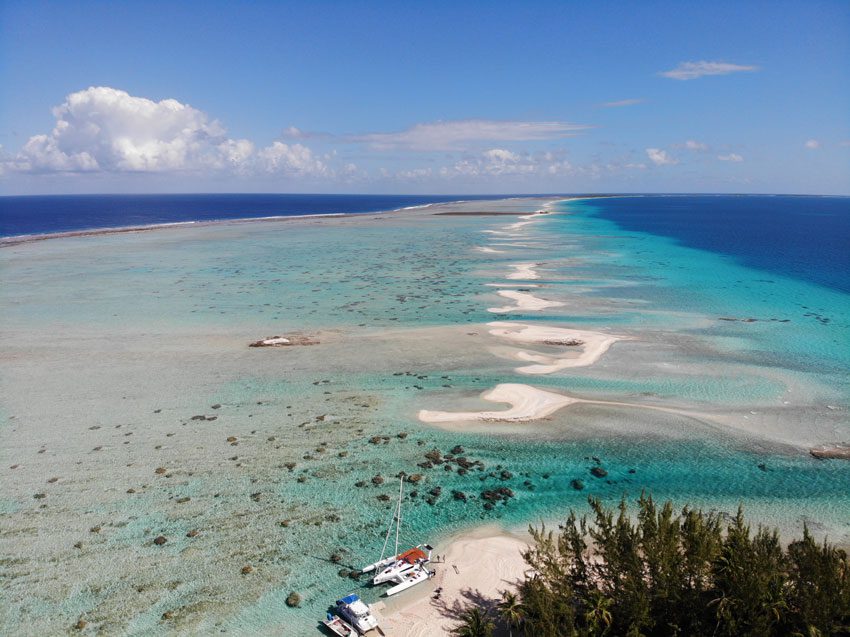 Coconut Beach can also be a good last stop for this day as it's perfectly situated for watching sunsets on Tikehau.
La Cloche de Hina
From Coconut Beach, the dirt road begins to head towards the airport along the reef side. A few hundred meters past the beach, look for the small sign pointing towards La Cloche de Hina. There is some legend around this spot, a collection of large coral slabs that creates a small natural pool. Pause and enjoy the sound of ocean waves meeting the barrier reef.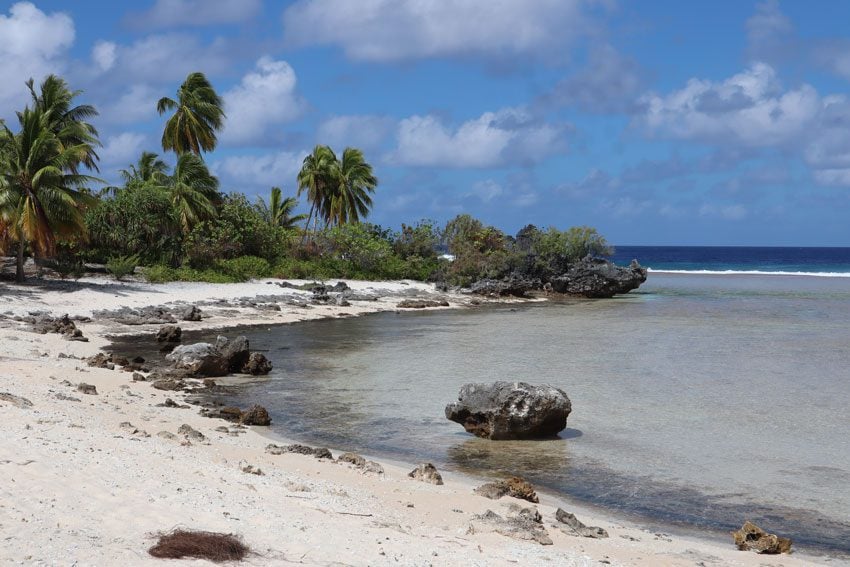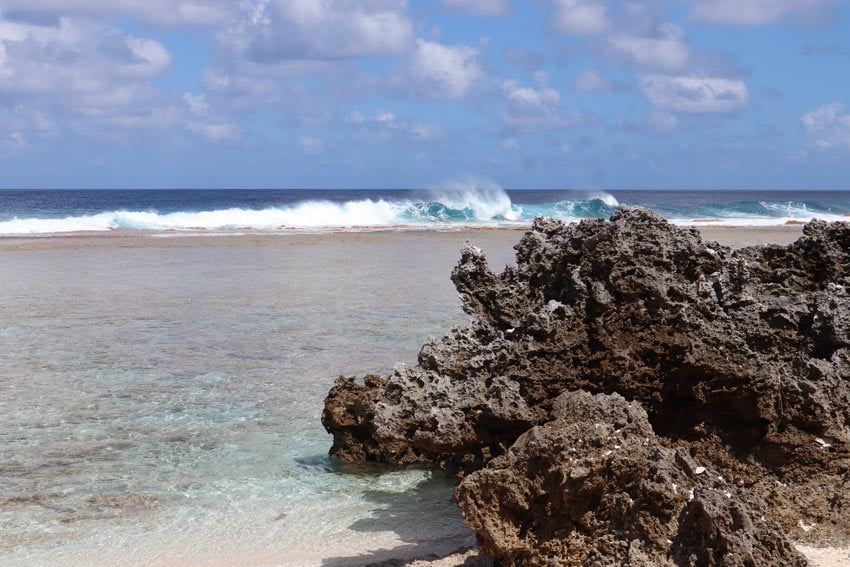 Reef Side
This section is my favorite part of the day. You are now deep in the most remote section of the main motu, a wild coconut grove with just a few houses here and there. Whenever you feel like it, veer off the path and check out the wild beaches on this coast, a mix of soft sand and coral boulders. The reef breaks just a short distance away so the ambiance is a mix of palm branches swaying in the breeze and crashing waves. This is paradise!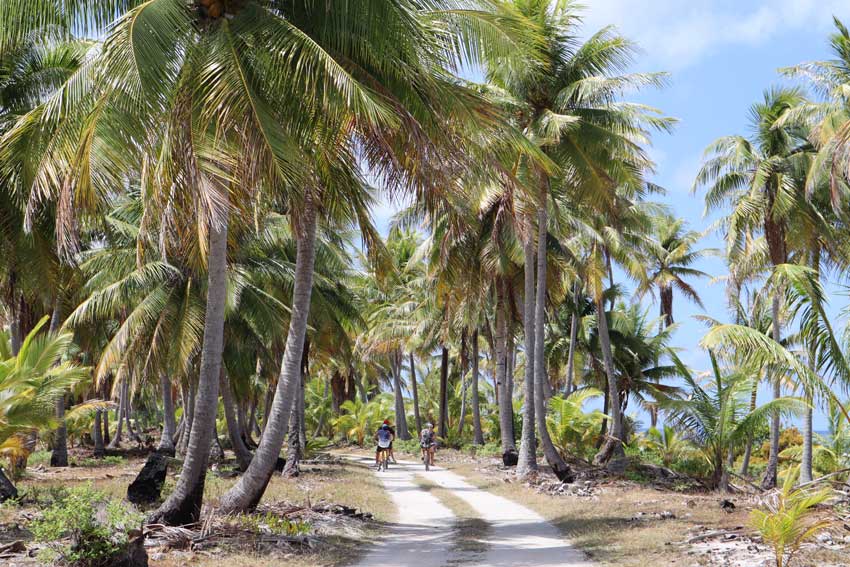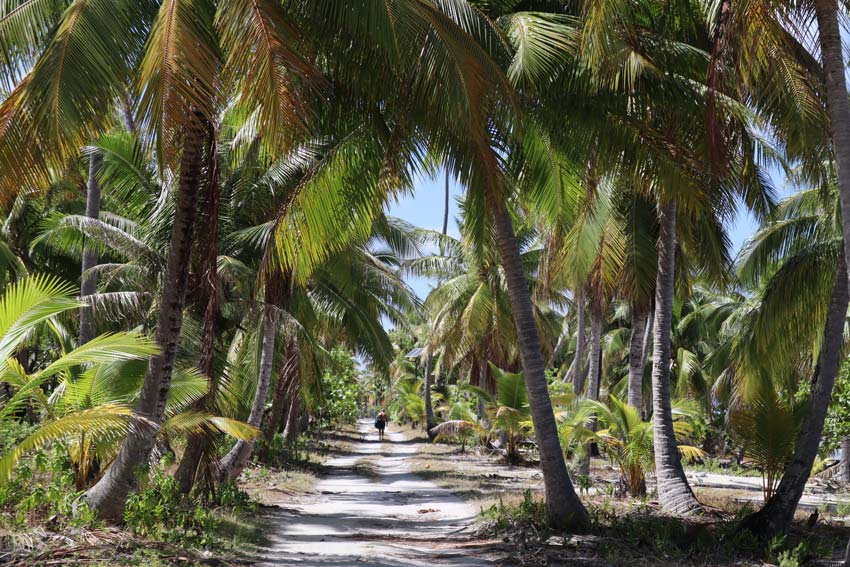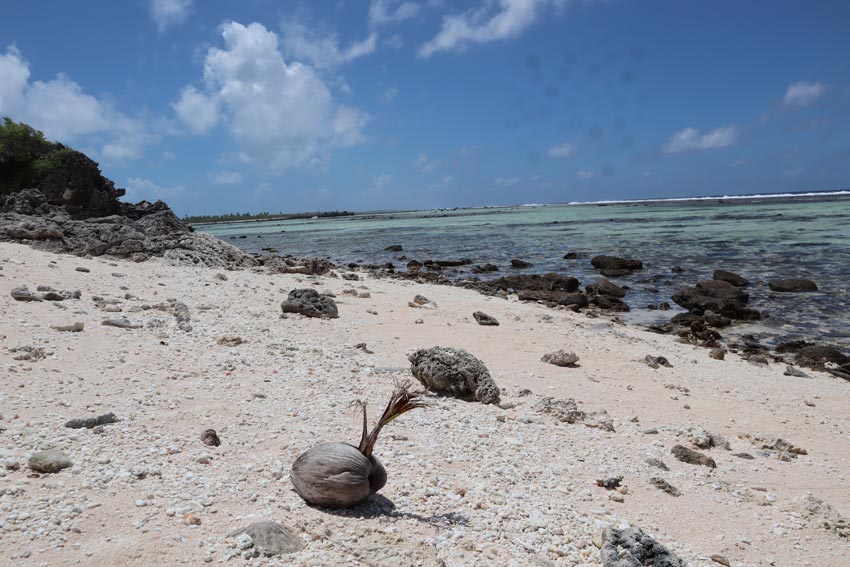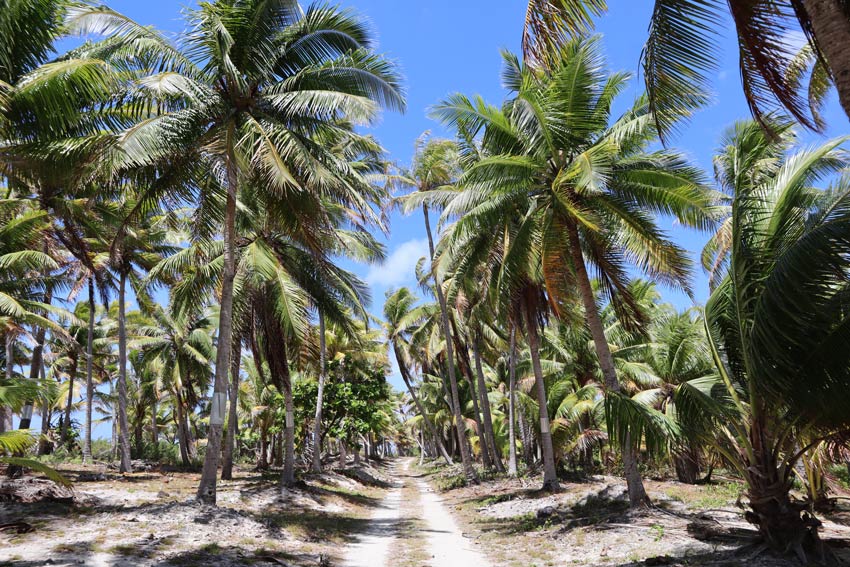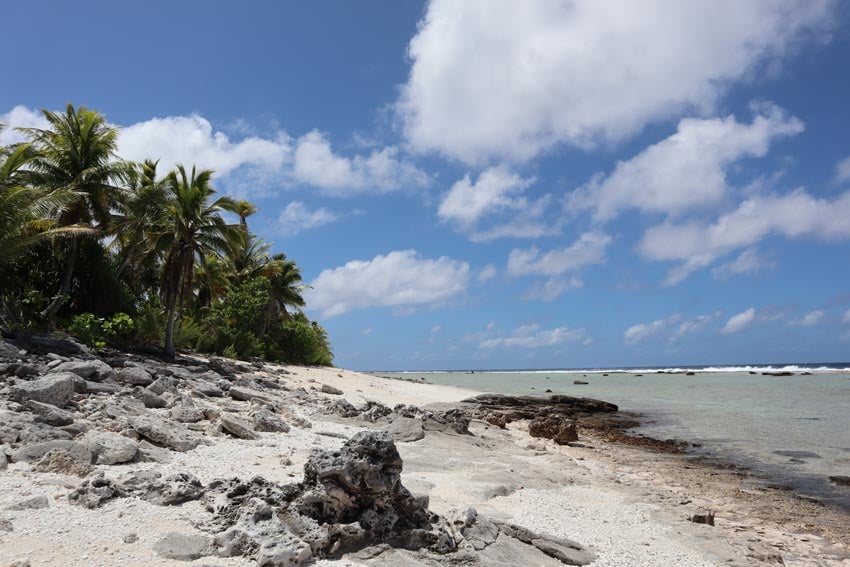 Airport
The dirt path eventually reaches the far end of the runway. If no planes are approaching, continue straight. You'll then reach the other end of the runway in an area that seems to be off-limits but it's not. Circle the edge of the runway until you pick up the path on the other side.
If it's low tide and you feel like it, stop here and cross the narrow channel to explore the neighboring motu on foot (in the direction of Pension Relais Royal.
Main Village
Pause for a well-deserved lunch in the main village. Snack Tikehau next to the quay and Snack Ohina next to the pharmacy in the village are the best options for local food. I hope you like fish!
After lunch, there might be some action at the quay if the cargo ship has called. Otherwise, the church, grocery shop, and bakery are the only attractions. You can also just walk around and immerse yourself in village life. Otherwise, head to Coconut Beach for sunset or back to your pension for a relaxing last evening in Tikehau.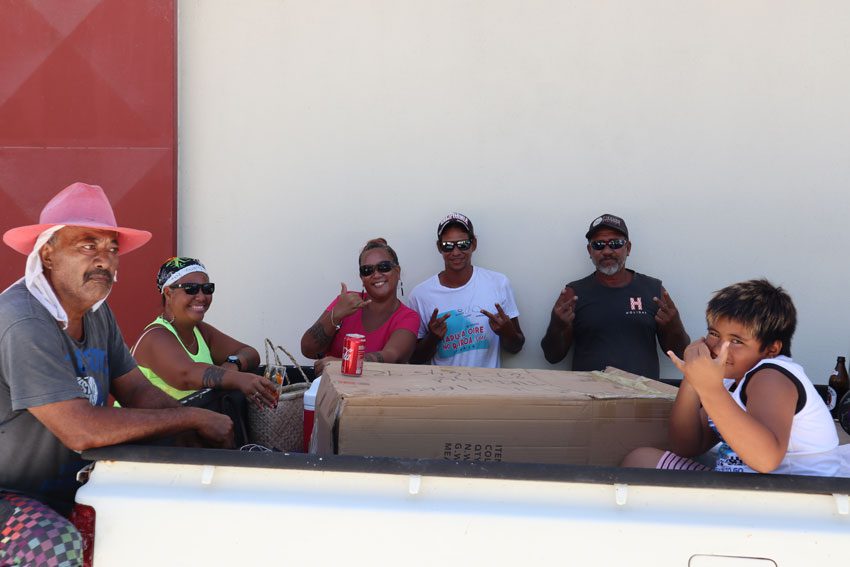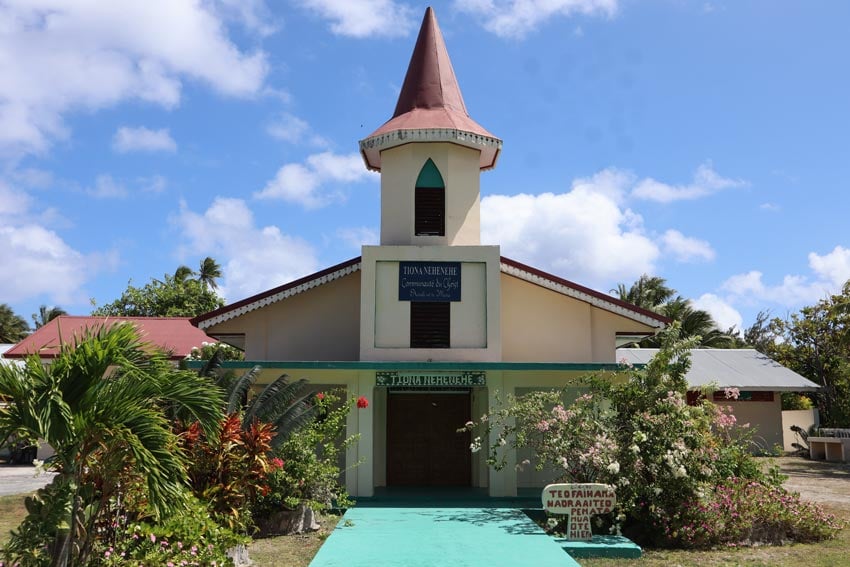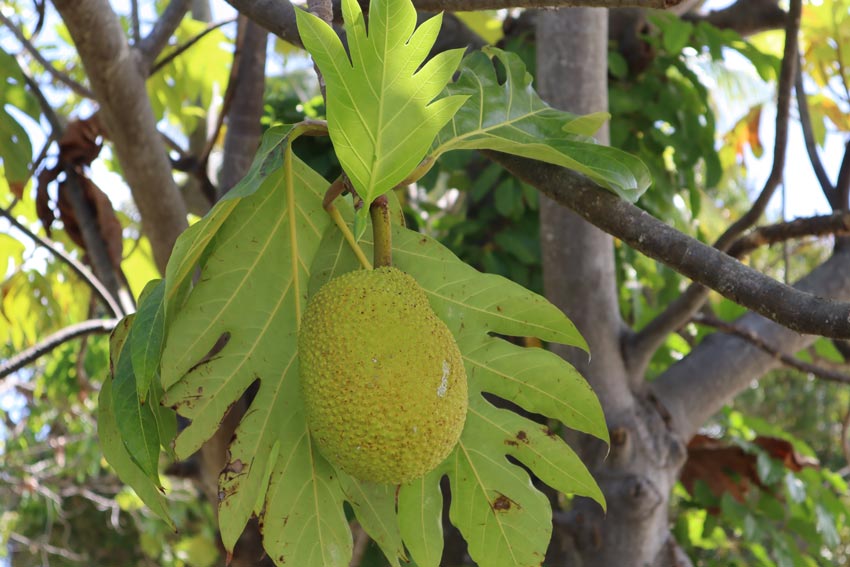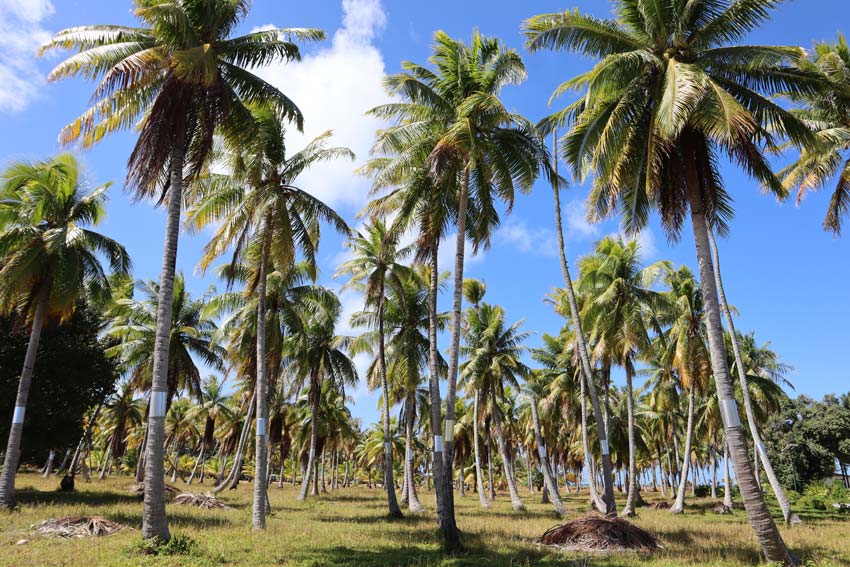 What's Next?
This 5 days in Tikehau itinerary includes the main highlights every visitor should experience in Tikehau. Check out the following guides for more information about the Tuamotu atolls and French Polynesia.
Planning to visit Tikehau? Check out these additional resources.

Tahiti, Tailor Made!
The Islands of Tahiti are among the last places to be colonized by mankind, 118 islands, each with its unique personality.
Get expert advice and assistance with planning your trip to the destination where tropical dreams come true!
---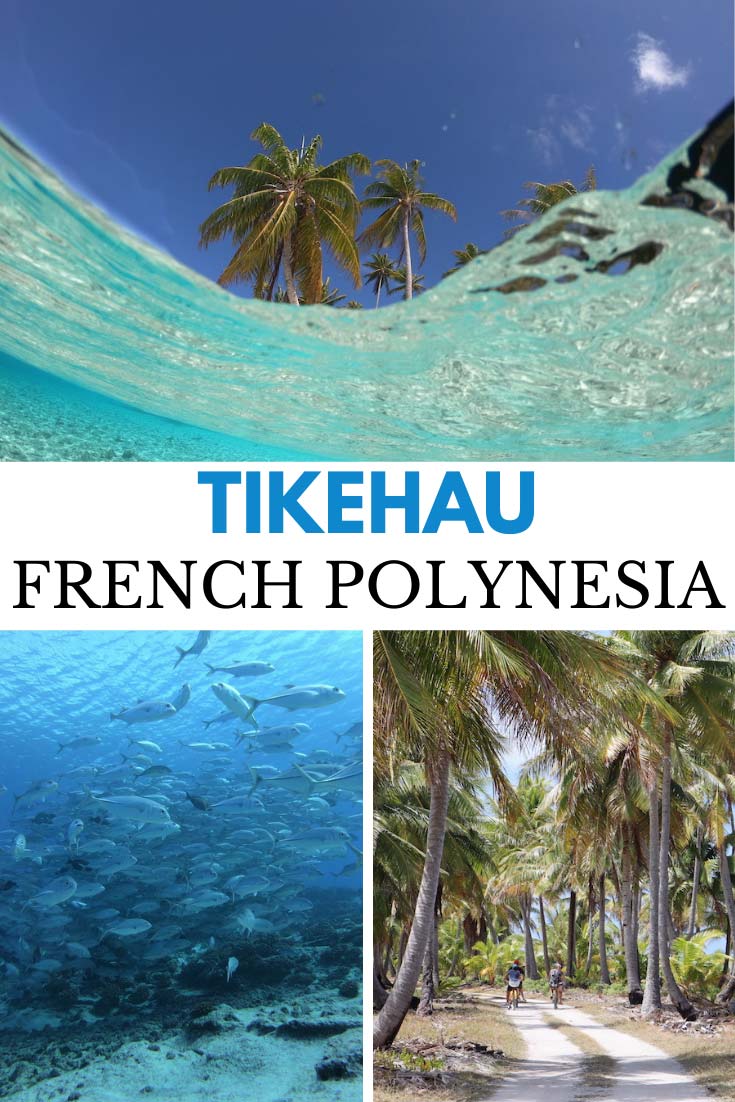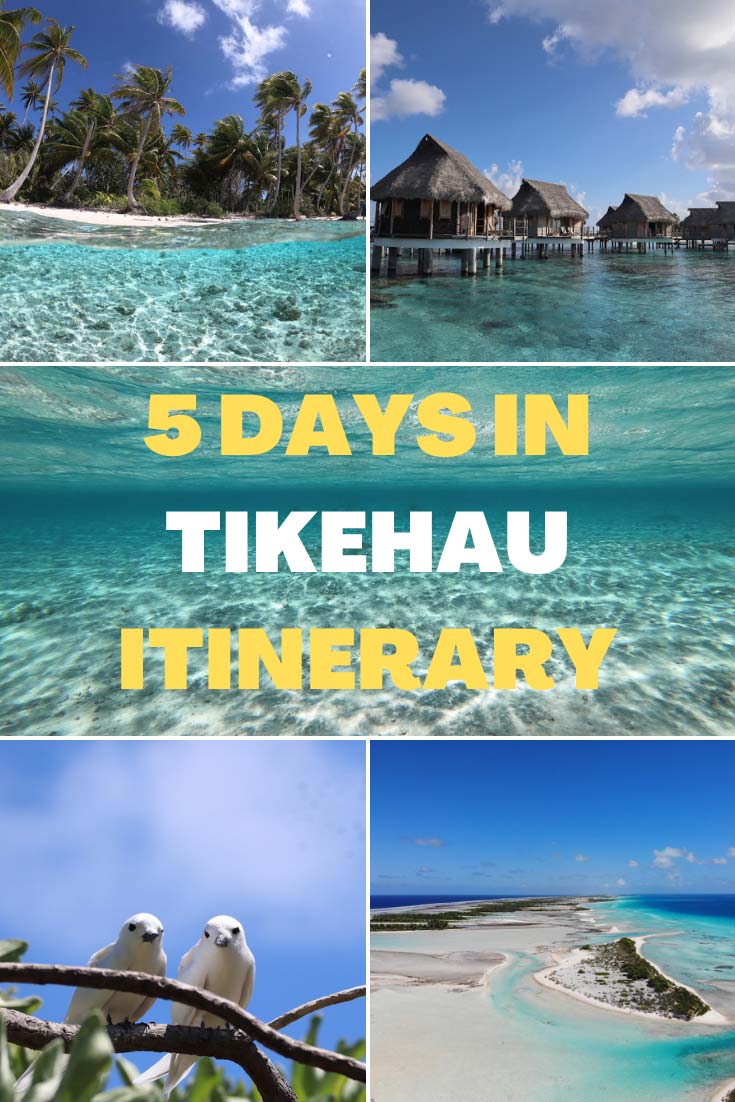 Pin These Images To Your Favorite Boards