Things To Do & Places To See In Hiva Oa
Listed here the top things to see in Hiva Oa outside the town of Atuona
Tahuata Island Day Trip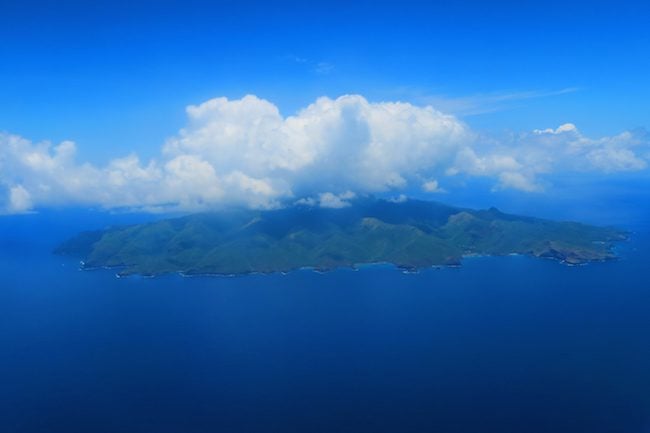 Tahuata is the smallest of the inhabited islands of the Marquesas group, lying just a few kilometers off the coast of Hiva Oa. You'll likely visit the island as part of a day trip from Hiva Oa, seeing how the ferry has long been out of service. Organized tours are not as frequent as you think so I highly recommend to inquire with your hosts in advance, and planning on visiting the island during your first days. I was fortunate enough that Pifa O'Conner, a fireman that also doubles as a guide, chartered a boat to take a few tourists with a spot open for me.
Wait a minute… O'Connor ain't exactly a Marquesan sounding name. Turns out that Pifa's great great grandfather escaped the great Irish famine and somehow ended up in Hiva Oa, marrying a local islander … and the rest is history!
You'll start off with a very scenic 40-minute boat ride to our first port of call – the tiny village of Hapatoni. Much like the trip to Hakatea Bay in Nuku Hiva, you'll be treated to sublime views of the dramatic coastlines of Hiva Oa and Tahuata.
Hapatoni really feels like the end of the line, with only 100 people living in 20 or so homes. They primarily live off copra production, fishing, hunting and making traditional Marquesan art (more on that shortly). The main attraction is walking along the ancient royal road which slices through the village. On one side is the beach – lined with century-old tamanu trees, while on the other – wild hibiscus, noni, gardenia and other things which we normally have to buy in a shop.
Along the pleasant little stroll, you'll likely bump into a local artist carving away on a piece of rosewood, animal bone or even rare sandalwood. In any case, local villagers will surely have the small artisan 'market' open for your visit, a good chance to do some shopping though I found everything here to be way too overpriced (cash only, of course).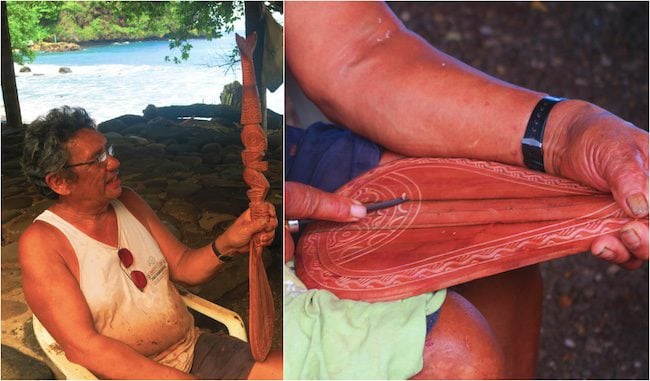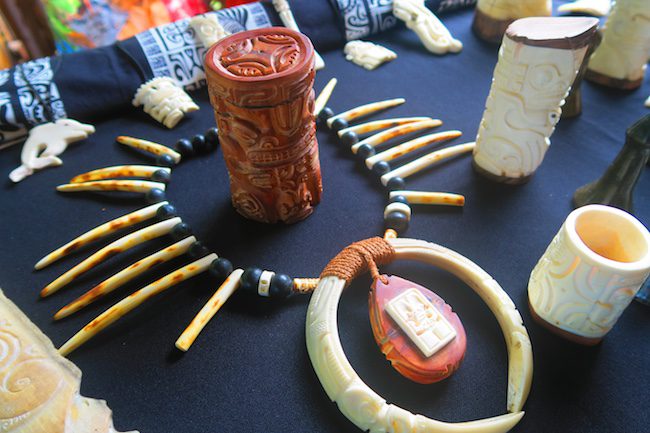 Somewhere along the royal road, you'll venture a bit inland and visit the ancient temple, known in the Marquesas as me'ae (marae in the other archipelagos). Like the timeless performance of Alvane back in Nuku Hiva, Pifa will show you how humans were sacrificed here centuries ago, swapping the machete with a ukelele.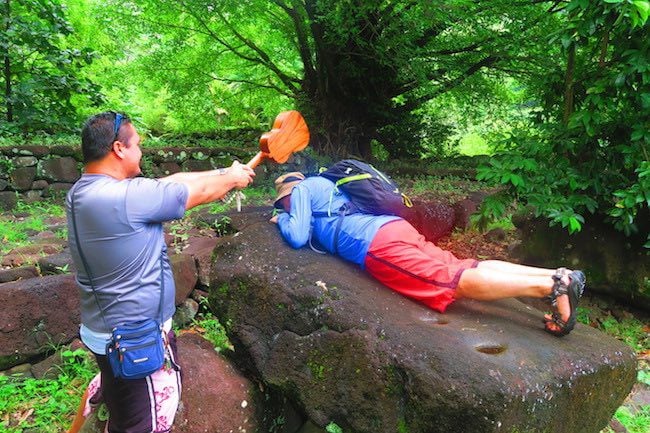 The Hapatoni tour will end with a visit to the picturesque local church, built in 1877 and by far the prettiest building in the village. Have a look inside the stone chapel, decorated with painted glass windows a la Paris style.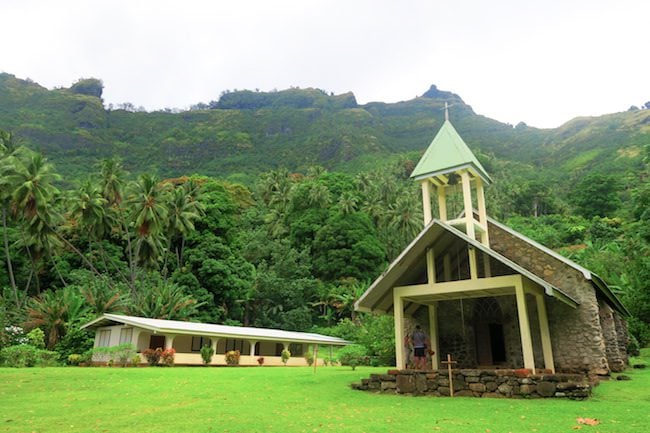 It's back on the boat and a quick trip to Hanamoenoa Bay, where you'll transfer to a tiny rowboat and land on the dreamy beach. Your crew will prepare a delicious BBQ lunch as you go for a dip in the ocean. Don't expect much in terms of snorkeling, as visibility is very poor and you'll be lucky to spot a few fish here and there.
Lunch is served buffet style and delicious as always. On the menu: grilled tuna, poisson cru, sashimi, salads and maybe even brownies for dessert! After a brief nap and some ukelele tunes, it's back on the big boat and back to Hiva Oa, just in time to watch the locals doing a bit of fishing!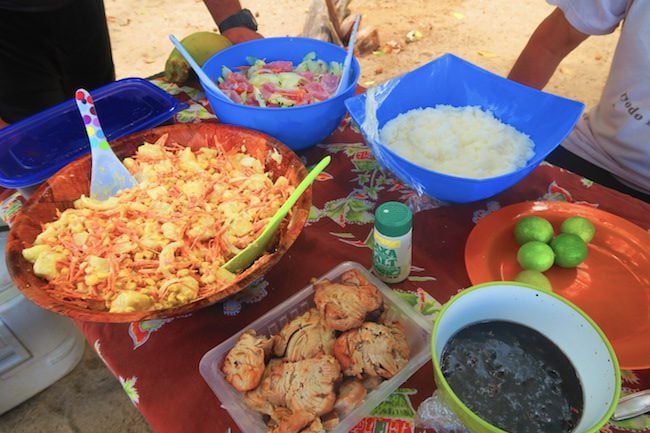 Logistics: you'll depart from the port at 8:30am and return before 4pm. Bring beach gear, pills if you get sick on boats, cash if you want to do a bit of shopping and monoi oil to keep the sand flies away. Cost is 10,000F per person, call Pifa: +689-87727633 or inquire with your hosts.
Horseback Riding
Horses in the South Pacific? In the Marquesas Islands, the answer to that is 'yes'! It's one of the best ways to explore the Hiva Oa countryside, definitely for someone who enjoys riding horses (I'm not one of them but I still took one for the team).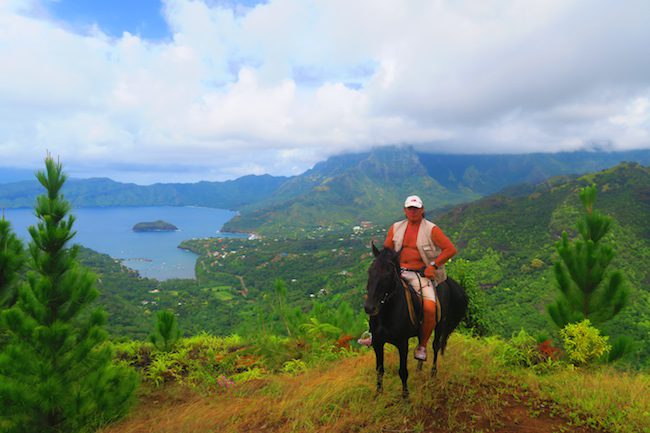 If you haven't already done so in Nuku Hiva, you'll get one final chance to go horseback riding in Hiva Oa. The best place for that is at Hamau Ranch, where Paco will pair you up with a horse and take you on a half day tour. Paco is a legendary horseman in French Polynesia, knowing everything there is to know about horses. You'll ride inside the rainforest around the ranch and the airport, going up and down hills and stopping at beautiful vistas.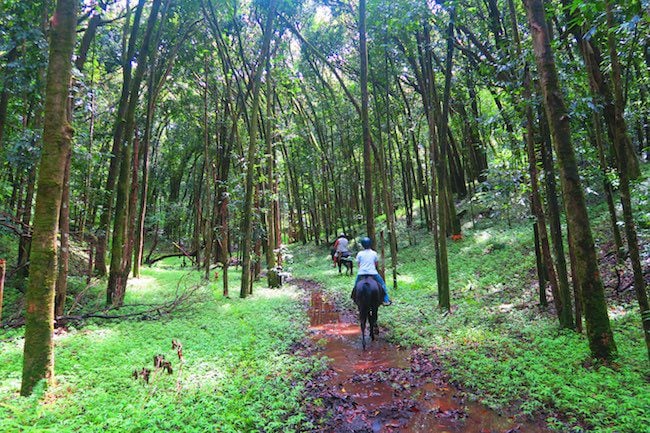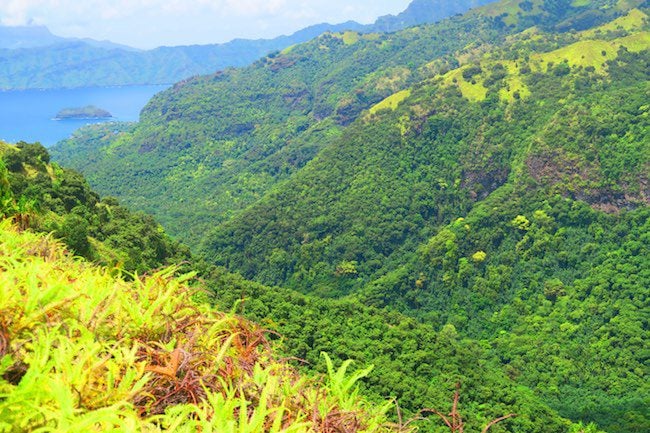 Logistics: no previous experience necessary, free pickup and drop off from your pension, approx. 4 hours, 7,000F per person. Wear long pants, bring sunscreen and water. Though you do stop a couple of times, don't count on snapping many photos on this tour so come with the mindset of truly horseback riding.
The Smiling Tiki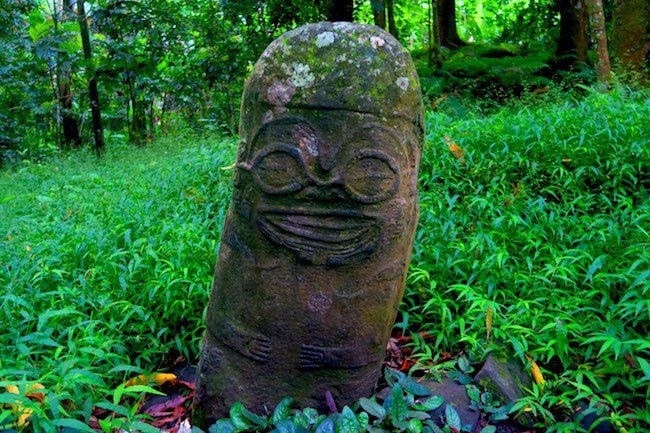 Of all the tiki statues you'll come across in French Polynesia (and there are a lot), none are as cute as the 'smiling tiki', locally known as tiki souriant. Hiding in a lonely spot in the rainforest, head towards the airport from Atuona and look for the small white plaque on the right side of the road. Park the car and follow the sketched map on the plaque for about 400 meters.
Hanaiapa Bay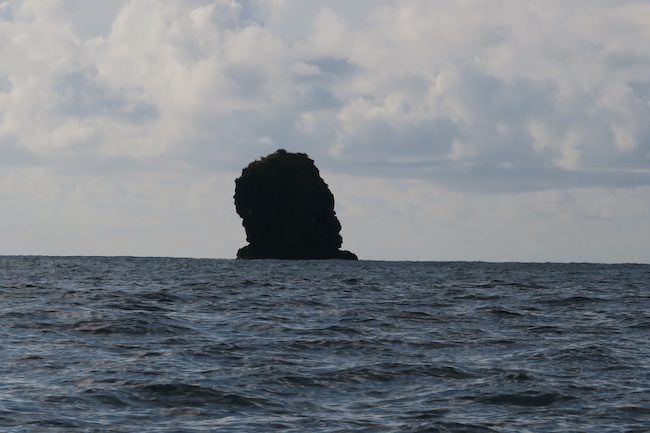 Take a left at the traffic circle passed the airport to reach Hanaiapa Village. Likely the way Atuona used to look like centuries ago, not much is happening in the village, at least not on land. Out in the bay, a small rock rises from the water, resembling that of 'James Bond Island'. If the lighting is just right, one side of the rock looks like the head of an African man, while the other of a woman. Further on the left, the bay's enclosing cliff sometimes resembles a giant moray eel. With so much time on their hands, it's no wonder locals have figured these out…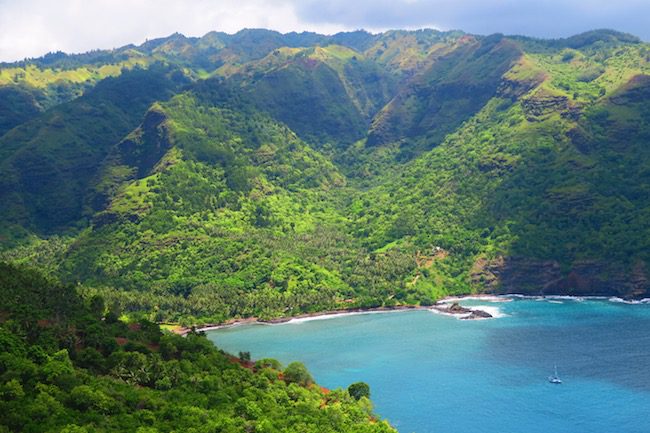 Hanatekuua Bay Hike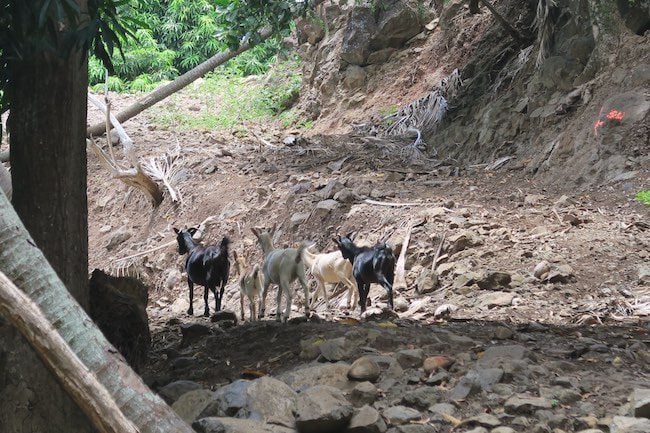 One of the best hikes I've done in French Polynesia and one that does not require a guide. Once you get to Hanaiapa Village, ask the locals to show you the trail head. The trail is clearly visible and you'll be sharing it with wild mountain goats.
After a quick ascent, you'll reach incredible panoramic views of Hanaiapa Bay. Look out for the waterfall cascading straight into the ocean in the far distance. You'll seriously want to 'park it' here for a while, so just grab some shade and a snack. Such a beautiful spot, and you'll have it all to yourself!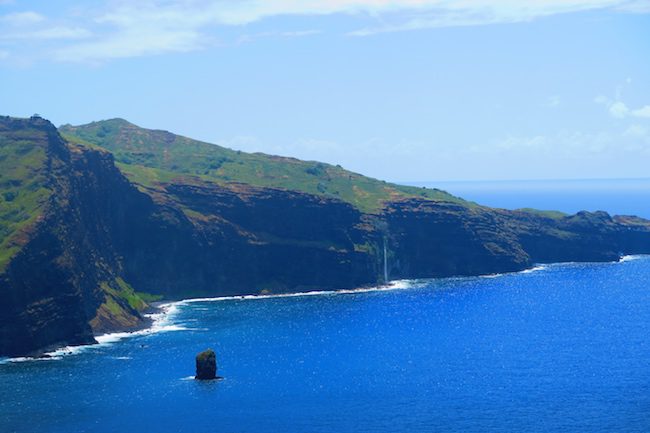 Continue along the trail until you reach a metal gate. Pass through and just stick to your left at the fork. You're now on the Hanahaoe Pass, right in between the two bays. Out in the horizon, you'll see Fatu Huku on a clear day – some 37 kilometers away.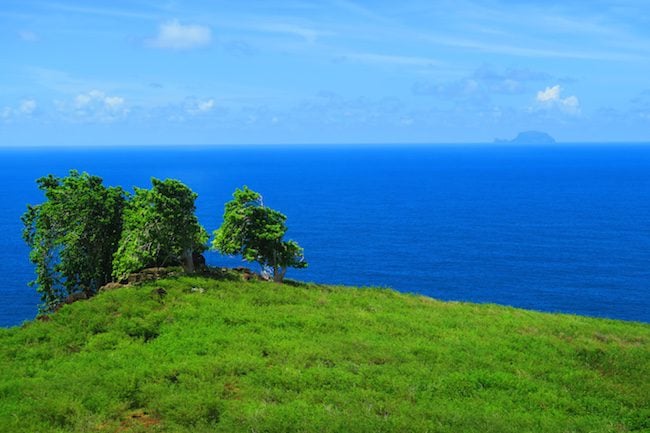 A few more steps will bring you to the top of Hanatekuua Bay, one of the most beautiful places in the Marquesas Islands. The bay shelters turquoise waters, splashing onto a white sand beach that's backed by coconut plantations. Let's head down, shall we?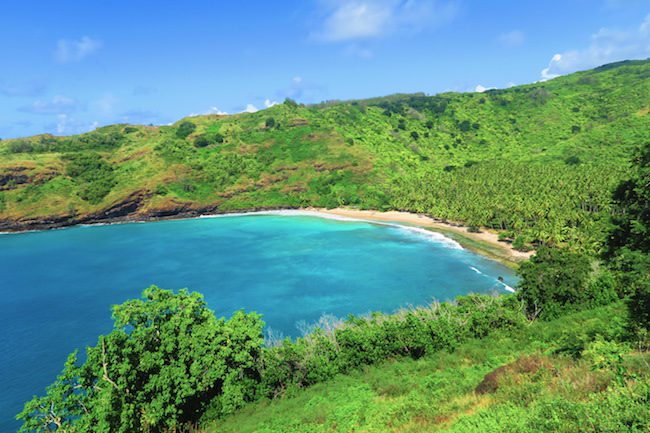 Hanatekuua beach is even prettier from level ground as it is from up on the ridgeline. There is one guy permanently living here and a couple of other families from Hanaiapa who spend a few days each week tending to their copra plantation. I met these friendly locals as I landed on the beach, just in time to watch them catch small crabs washed ashore by the waves.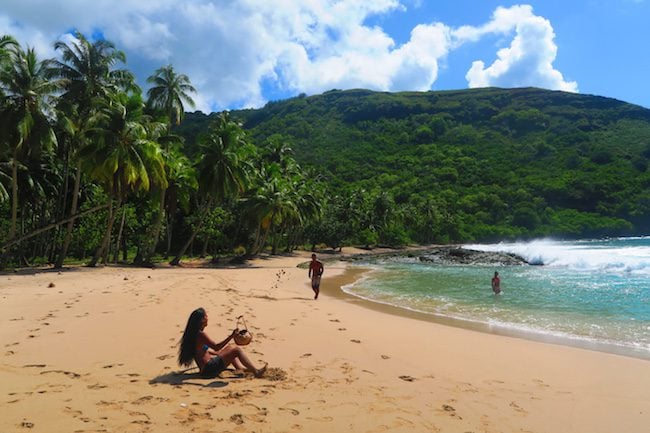 It was a memorable encounter, giving me the chance to get to know real islanders and practice my French (and my coconut cracking skills). They even made room for me on their tiny boat back to the village, saving the effort of walking back and having more time to spend on this paradise of a beach.
Logistics: the Hanatekuua Bay Hike can be done on your own, starting from Hanaiapa. It's a relatively easy 2 hour hike including stops (each way). Bring plenty of water, beach gear, food and citronel monoi oil against the sandflies (nono).
Hanapaaoa Bay
Only 21 kilometers from Atuona but requiring at least an hour of driving on mostly unpaved roads, Hanapaaoa is another sleepy village lying at the mouth of yet another deep valley. Such is the scenery in Hiva Oa, similar but always drop dead gorgeous.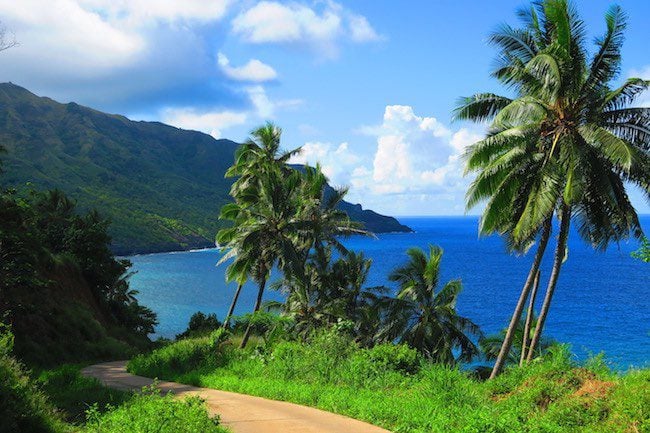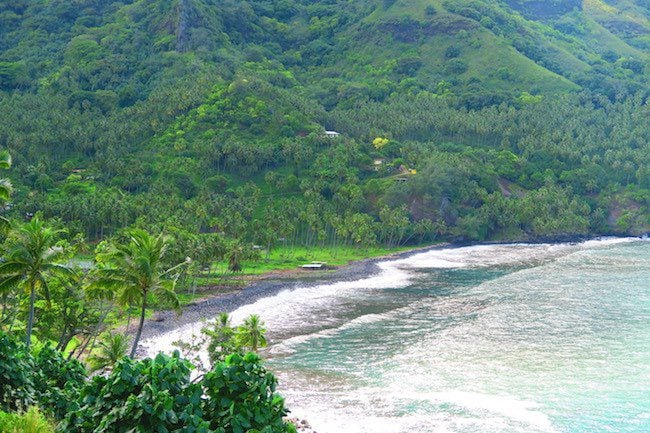 The main reason to visit Hanapaaoa, aside from curiosity, is Tiki Moe One – a small statue shrouded in mystery! It's very tricky to locate and you'll need the help of a local. Basically, head up the hill passed the cemetery and park your car near the houses overlooking the bay. Find a local and offer 500F to take you to see the tiki.
You'll veer off the trail in the coconut grove and walk up the hill until entering thick shrubs. A few steps later, you'll notice you're actually walking on smooth rocks. This is no coincidence, but an ancient temple that has yet to be excavated, complete with elaborate rock carvings and untouched human remains!!!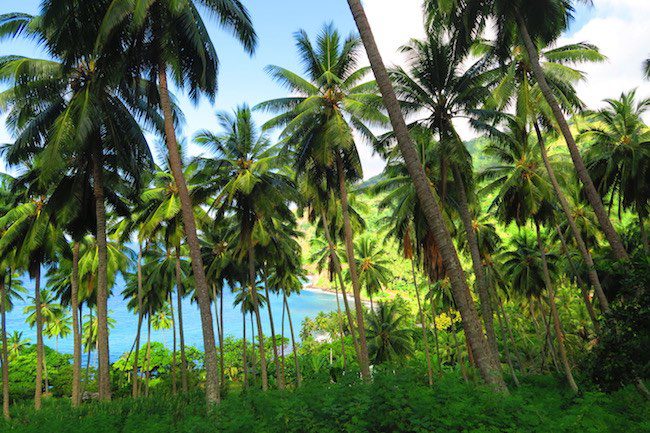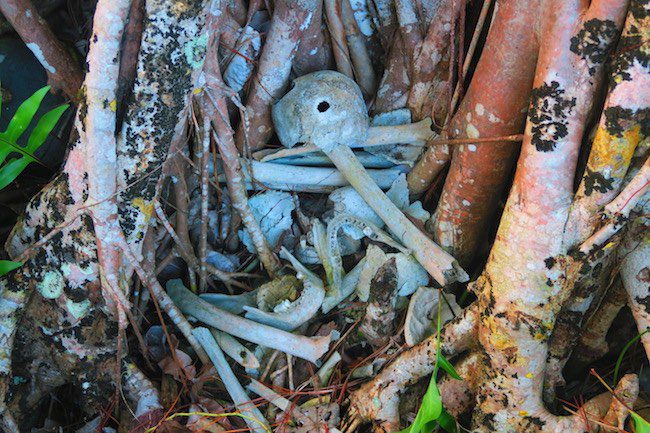 Continue walking a few more slippery steps and your guide will show you the tiki. This little statue has the best panoramic view out of all the tiki I came across. It is believed that locals would carry the statue down to the beach once a year in a ceremony that involved its bathing. Unfortunately, ancient religion is not the strong suit of today's average Marquesan, so it was difficult to obtain more information.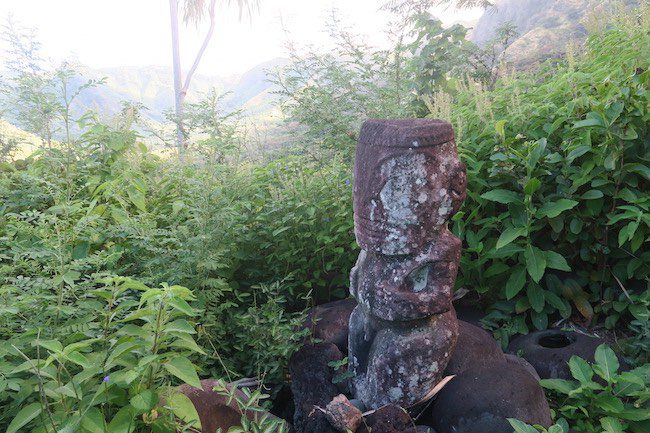 Puamau Scenic Drive
The challenging drive from Atuona to Puamau should not be missed! Whether as part of a tour or an even better road trip, this 40-kilometer trip will take you the entire day. Have a look at the 5 day Hiva Oa sample itinerary for more detailed information.
At the traffic circle passed the airport, you'll take a right and begin driving on the dirt road. You're now on a plateau that separates the south side of the island with its wild northeast. Stop along the way and enjoy fine panoramic views of Atuona, the surrounding peaks and even Tahuata Island.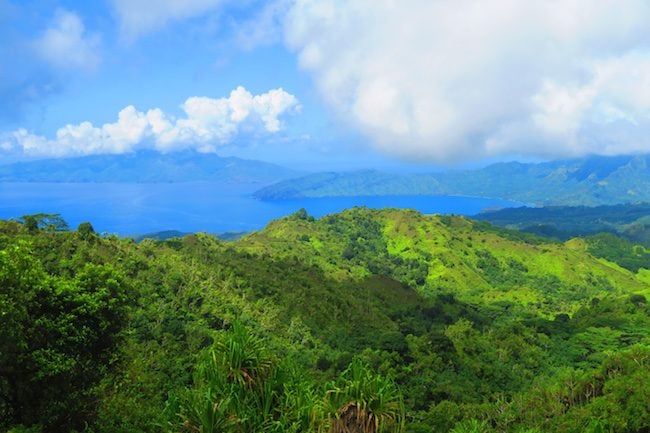 As you begin your descent to the northern side of the island, the memorable views that will accompany you throughout this scenic drive will begin. What to expect? Bay after bay of blue ocean and rugged cliffs hiding small hamlets where time really stands still.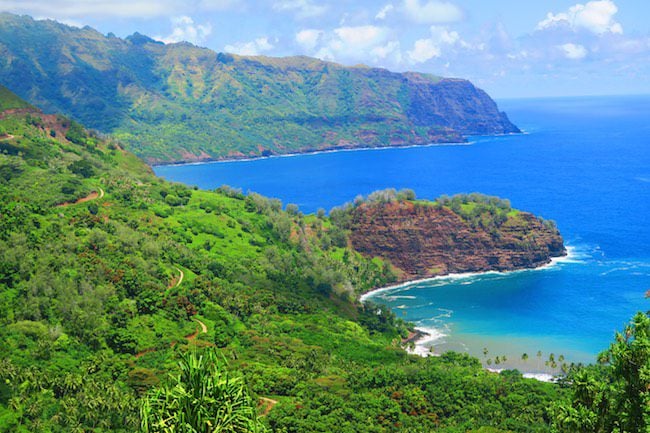 Continue along the dirt road, now becoming quite challenging as it winds its way on the cliffside. Watch out for falling rocks and don't expect to dive more than 20 km/h.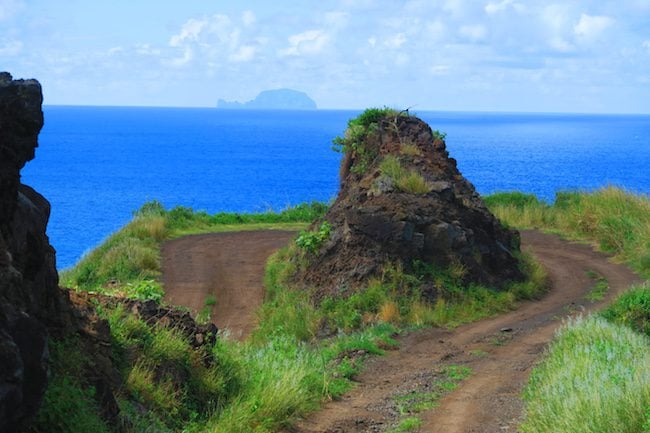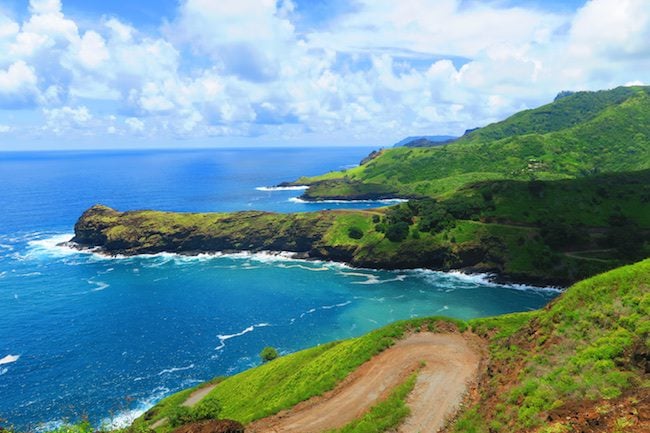 The road will offer exceptional views that will surely blow your mind, and you'll rarely pass any other cars!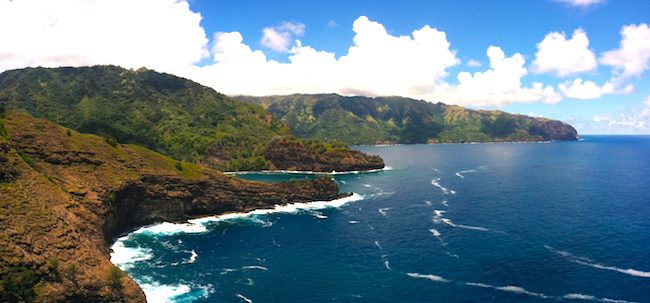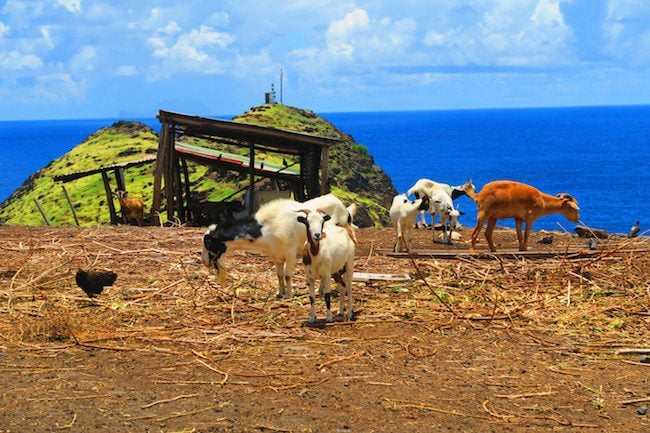 You'll pass through Motuua, Nahoe and Eianoe Bay, tiny hamlets where just a few families live. They have a mighty long commute to buy groceries, but also incredible views and a black sand beach all to themselves.
The coastal road ends at Puamau, the largest settlement on this side of the island. The view from atop is reminiscent to that of Hatieu back in Nuku Hiva, majestic and Jurassic Park like.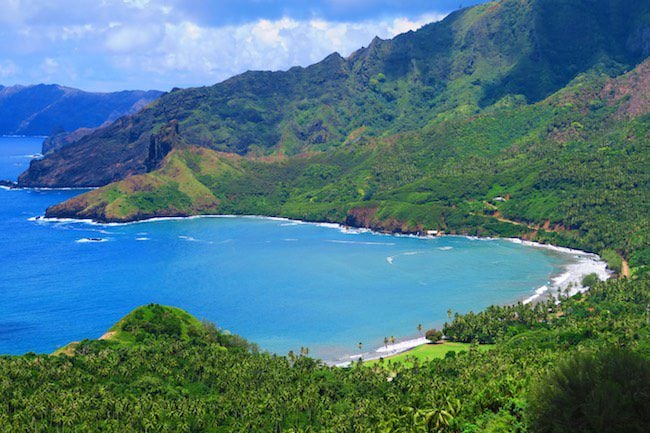 The village is home to a grocery shop, an impressive wild beach and the small tomb of the last valley chief known as Tohua Pehe Kua. The main attraction however, is the Lipona archeological site.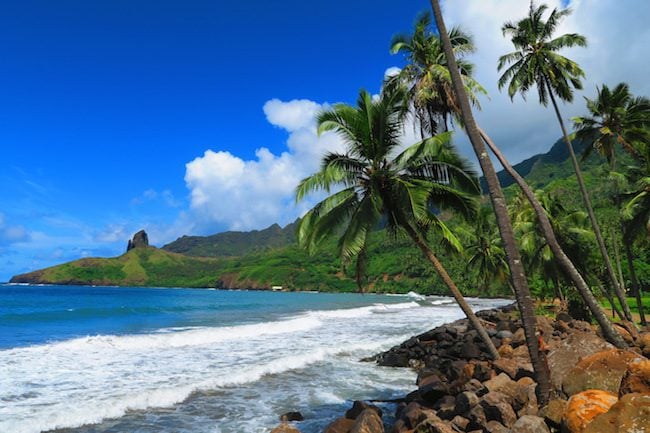 Lipona Archaeological Site
The best archaeological site in French Polynesia is definitely worth the arduous trip from Atuona. Easily eclipsing anything you have seen so far in any of the island guides, the Lipona site mysterious as it is impressive.
Tucked in a clearing at the edge of the rainforest, I was the only person in this remote site, only further amplifying the eerie feeling that always accompanies you in such ancient Polynesian temples.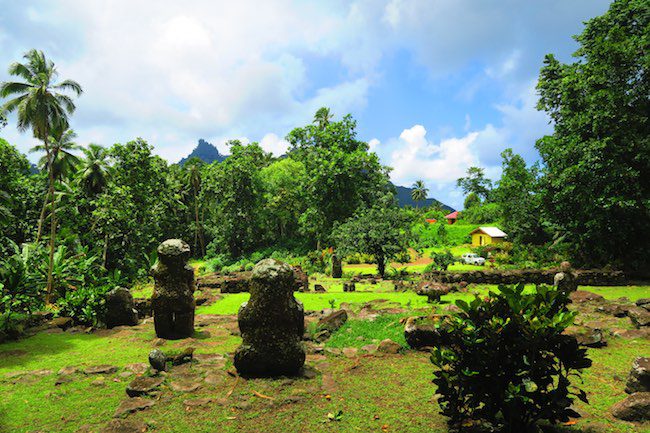 The main attractions in Lipona are the enormous tiki statues, so well preserved. One of them measures well over 2.5 meters! Just imagine how difficult it was to carve these out, and to have done so centuries ago!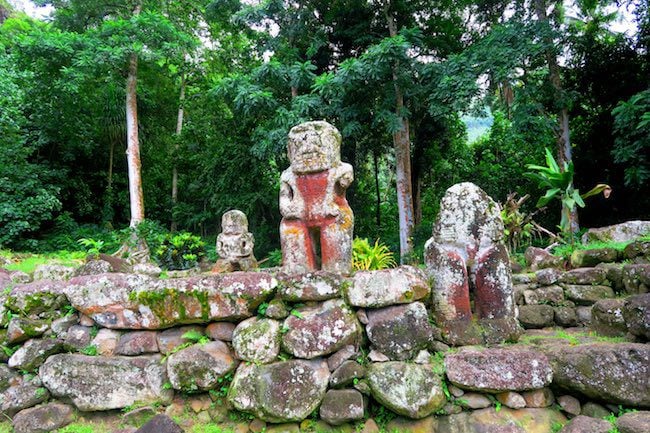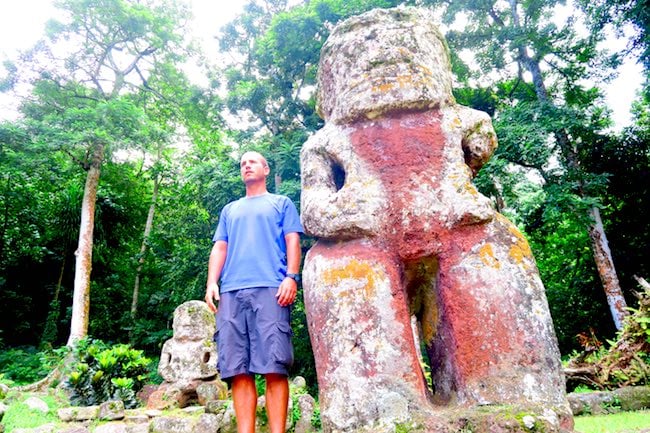 Pay close attention to the features on these statues. You'll notice that some clearly depict females, while one of them has six fingers on each hand. Who, or what does this tiki depict?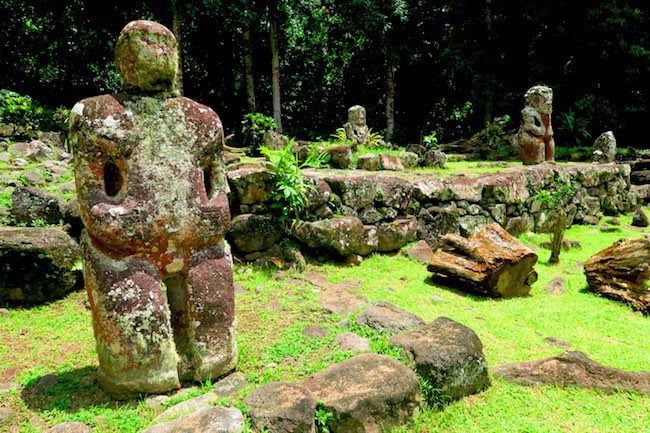 It technically costs 300F to visit the site, payable to anyone who comes to ask or at the village shop. When I visited, nobody came to ask and the shop was closed…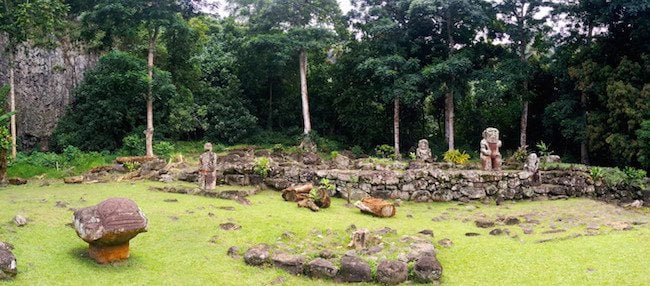 Places To Eat & Drink In Hiva Oa
If you're staying at Pension Kanahau, Tania will feed you exceptional well during breakfast and dinner. Here are a few lunch options: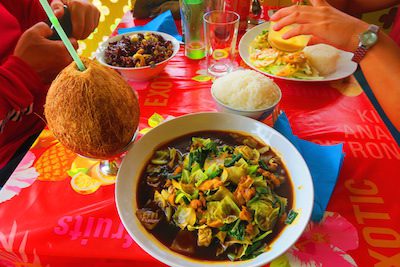 Snack Make Make: fish dishes along with Asian and western favorites. Mains are between 1000-2000F. Wash everything down with a fresh coconut!
Salon de The: a relatively new place right by the Gauguin center. Salads and sandwiches go for 300-1000F, but come here if you're craving a sweet crepe. Free WiFi when ordering food.
Now It's Your Turn
I hope you've found this Hiva Oa Travel Guide useful. If you have any questions or your own Hiva Oa travel tips, leave a comment below and let's get the conversation started!