From the aerial view as you land, to the scenic ride from the airport, to pretty much every second of every day – Nuku Hiva will leave you speechless. The capital of the Marquesas Islands, Nuku Hiva is just about as remote as one can go in the South Pacific. The island is dramatically beautiful beyond imagination and it is completely yours to discover with hardly anyone around. With action packed days filled with outdoor adventures, nature lovers will have their wildest fantasies come true. With the help of this Nuku Hiva Travel Guide, join the few independent travelers who venture to this fairytale of a destination, and prepared to be wowed!

About This Nuku Hiva Travel Guide
I spent three months in French Polynesia, as part of a six-month backpacking trip across the South Pacific Islands – with 5 days in Nuku Hiva and have since returned for a second visit in 2020. This travel guide to Nuku Hiva was written based on my experiences and is meant to help you make the most of this destination. The Nuku Hiva Travel Guide is geared towards independent travelers, but any visitor will find it useful.
Heading off to French Polynesia? In-depth island guides to all 5 archipelagos await you, including sample itineraries and essential travel tips & tricks.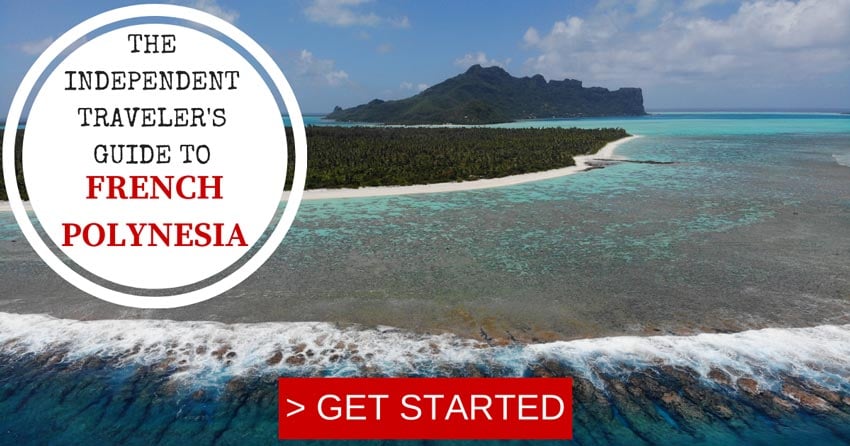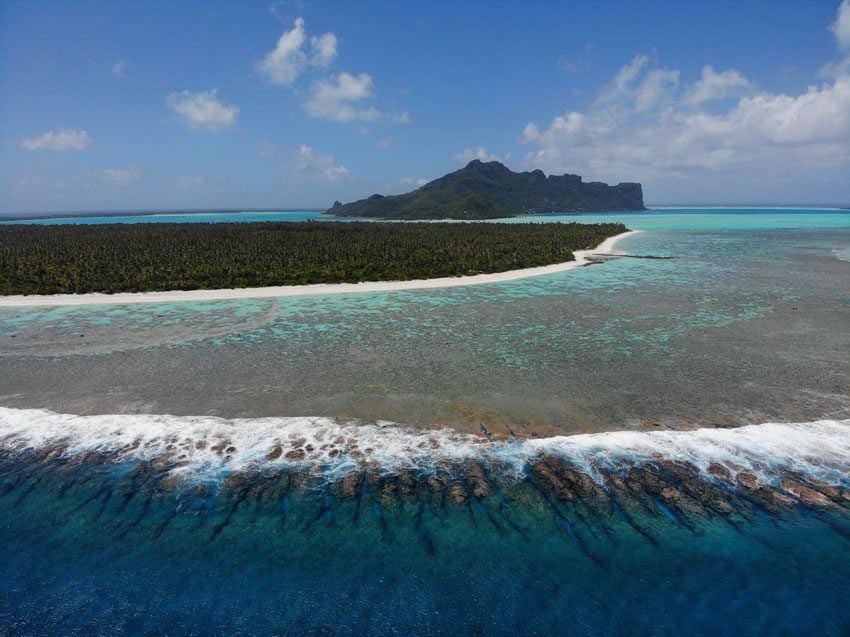 Tahiti, Tailor Made!
The Islands of Tahiti are among the last places to be colonized by mankind, 118 islands, each with their unique personality.
Get expert advice and assistance with planning your trip to the destination where tropical dreams come true!
See Options
---
Nuku Hiva Travel Guide Video
Watch this video to see what's expecting you in Nuku Hiva (you might need to disable your ad blocker).
Why Should You Visit Nuku Hiva?
Very few independent travelers make it to Nuku Hiva, so consider yourself in the excellent company of authentic explorers. In fact, many locals on other islands will tell you it is their dream to make it someday to the Marquesas Islands.
With so much to see and do on the island, you don't come to Nuku Hiva to recharge your batteries or lounge by the pool. If you're looking for something off the beaten track, love the outdoors, and curious about ancient cultures – Nuku Hiva is not to be missed. Fear not the stories of present-day cannibals, local islanders will welcome you with open arms to their paradise. On the menu? Hiking, scenic drives, whale watching, ancient temples and did I already mention hiking? Nuku Hiva is so diverse, you'll double-check if you're really in the tropics. And it's so beautiful, you'll be lost for words every minute of every day! If time and money allow – do not miss the opportunity to visit the Marquesas Islands.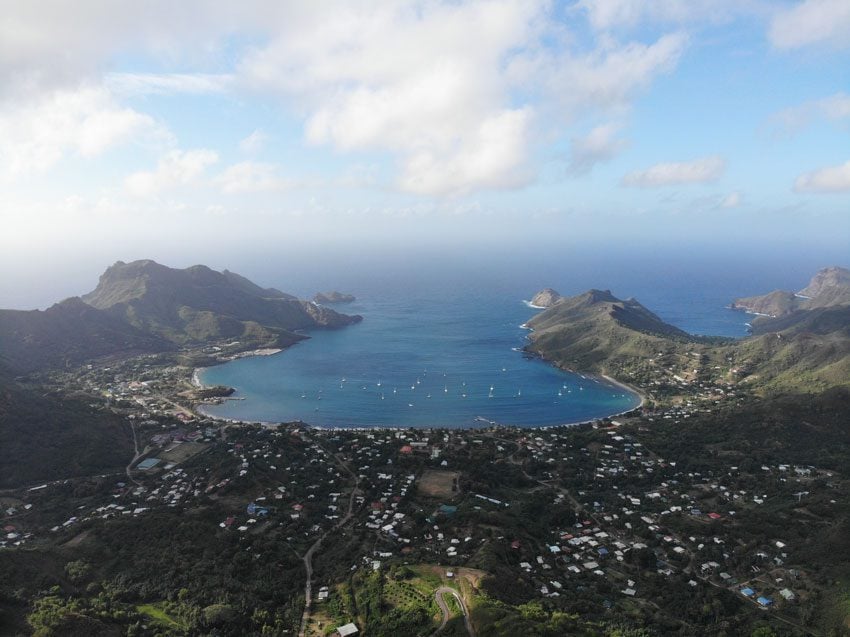 What's Included In This Guide To Nuku Hiva?
Several sections make up this travel guide:
Nuku Hiva Travel Guide Map
Click on the image to open in Google Maps. The map features all the highlights mentioned in this guide.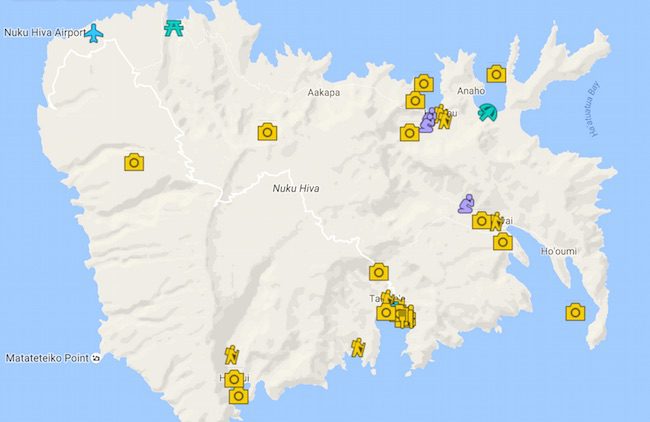 Facts & Brief History
Before we discover all that Nuku Hiva has to offer, here's a quick overview of the Marquesas Islands and Nuku Hiva.
The Marquesas Islands
Of the five archipelagos that make up French Polynesia, the Marquesas Islands are the closest to the equator. The archipelago's 12 islands are among the most remote in the world, lying over 1,000 km's from the capital Tahiti and over 4,500 km's from Mexico – the nearest continent. The high volcanic islands have no protective reef and are decorated by jagged peaks of basaltic rock.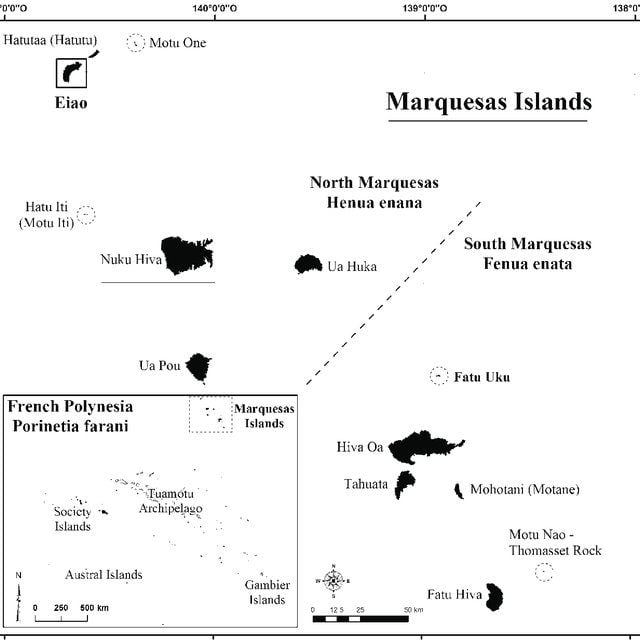 Known as 'The Land of Men' and 'The Mysterious Islands', Polynesians somehow arrived here in the 10th or 11th centuries on massive outrigger canoes, probably after colonizing Samoa in the west. The isolation of the islands led to the creation of a unique and rich culture, with its own language, religion, art, and even physical features.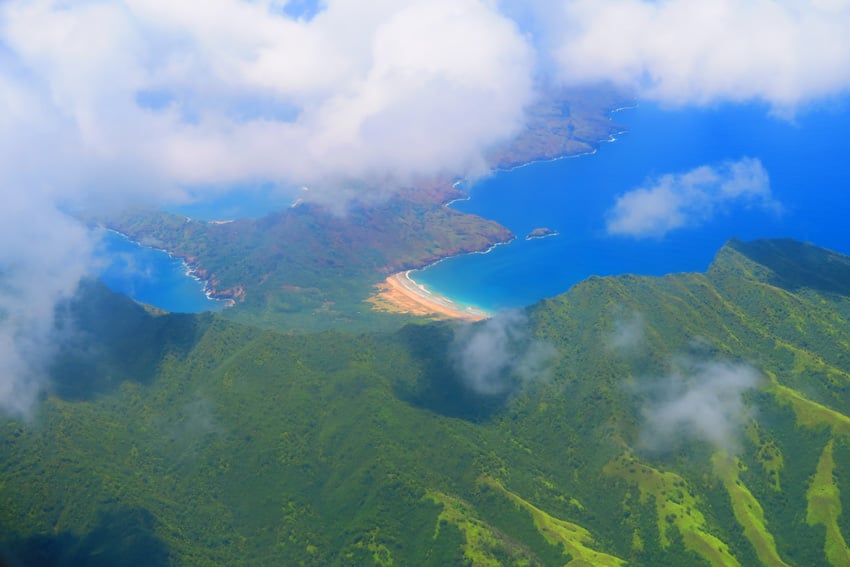 The first contact with the 'outside world' took place in 1526, with the arrival of a Spanish vessel, but it wasn't until Captain Cook's landing in 1774 that the islands were 'fully discovered'. Admired for their rich culture and easy way of life, the local population was decimated with the influx of foreign guests, who brought with them diseases for which the islanders had no immunity. From a population estimated at over 100,000, less than 4,000 Marquesans survived the turn of the 20th century!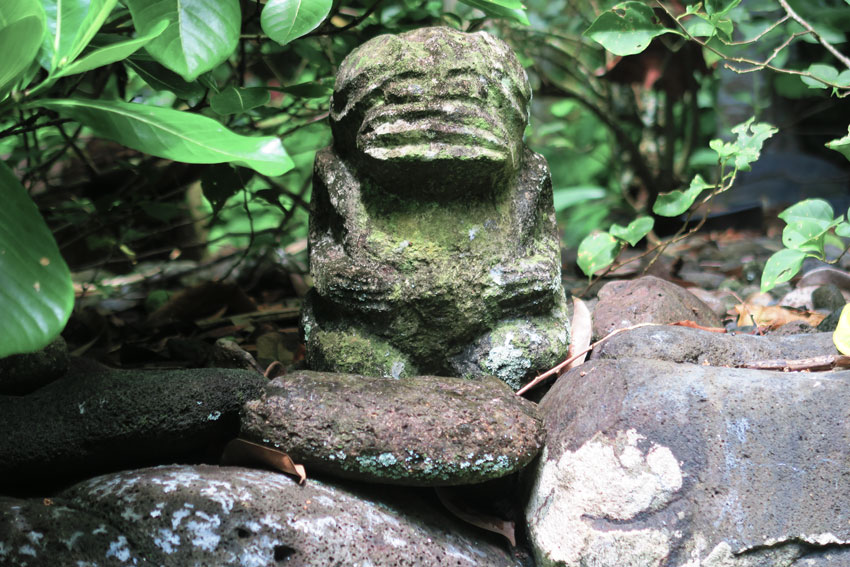 Today, islanders live very peaceful lives, primarily living off copra production, farming, fishing, and small-scale tourism. Though not faced with the threat of disease, population decline is an issue, with young islanders seeking employment (and excitement) in the big island of Tahiti.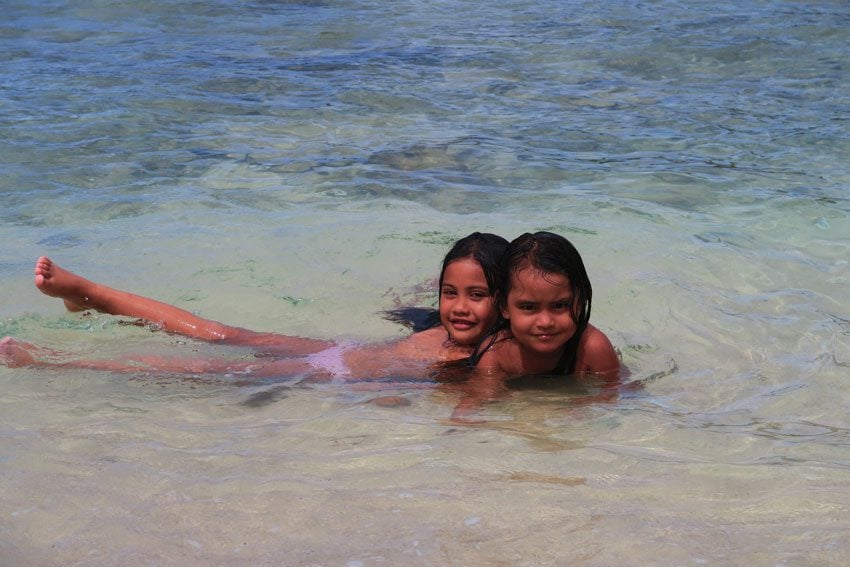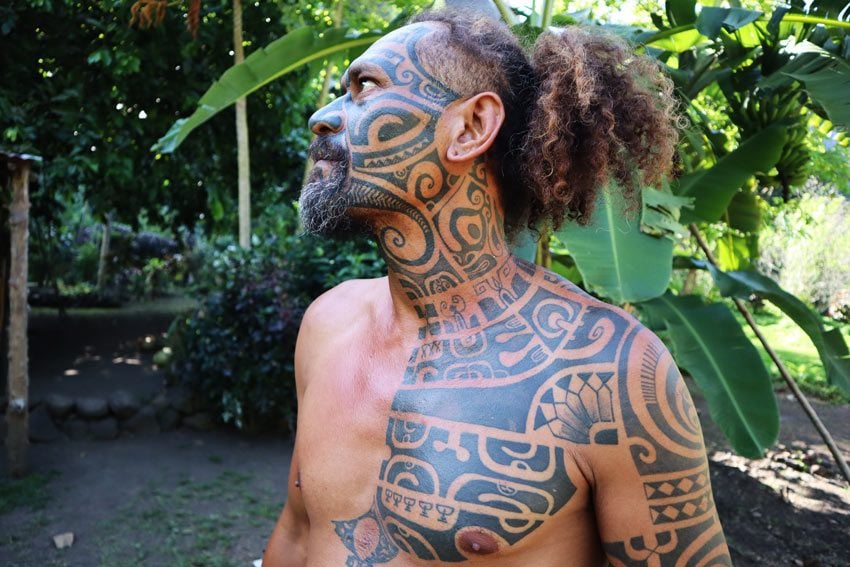 Nuku Hiva
Nuku Hiva is the largest island in the group and the second biggest island in French Polynesia. Its capital Taiohae serves as the administrative capital of the Marquesas Islands, where well over half of the island's 3,000 residents live. With incredible natural beauty and the slowest possible pace, quite a few renowned artists found inspiration on the island throughout the years. Among them, are Treasure Island author Robert Louis Stevenson, Moby Dick author Herman Melville, and American novelist Jack London.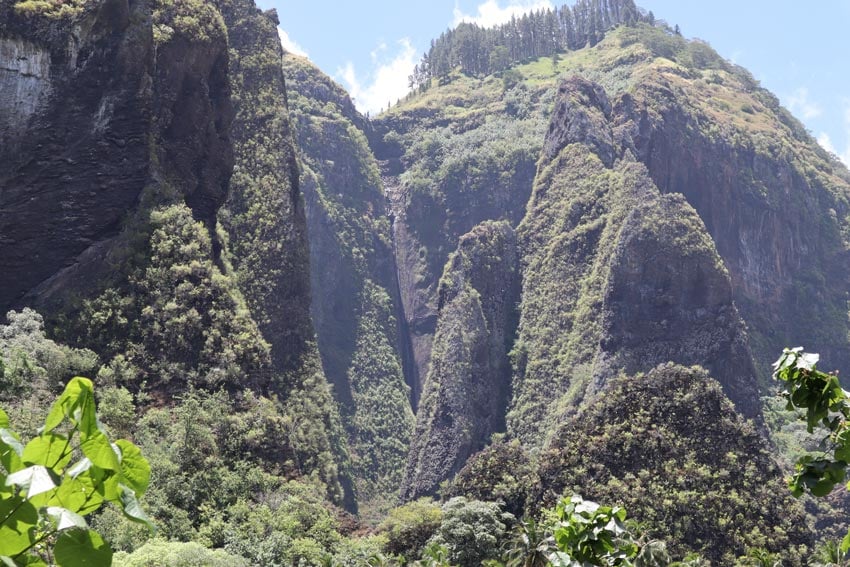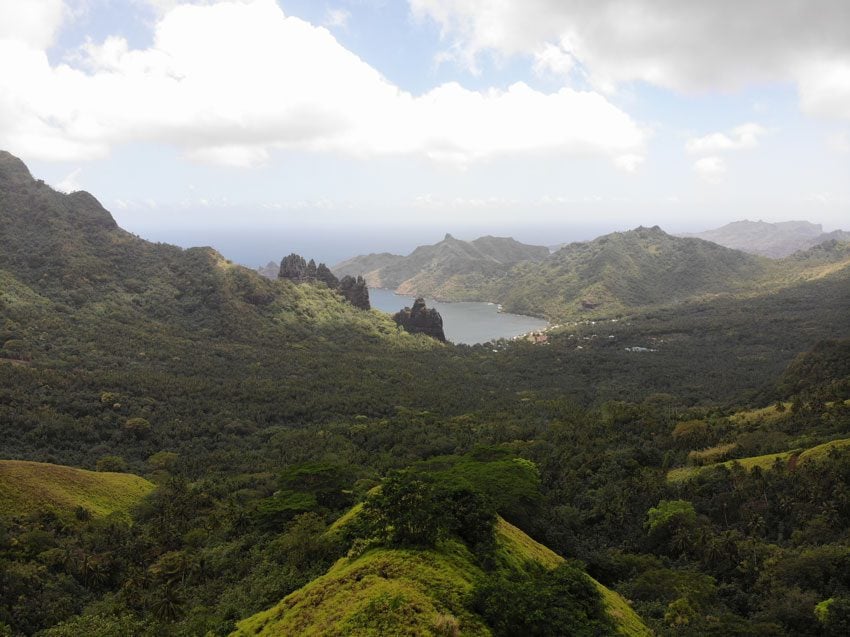 Nuku Hiva Travel Tips
Listed here are specific travel tips for Nuku Hiva. Be sure to also read the French Polynesia Travel Guide, filled with general travel tips to paradise.
Recommended Reading
How Many Days Do You Need In Nuku Hiva?
The Marquesas Islands are truly fairytale islands, far from Tahiti and expensive to get to. I would strongly advise spending 4 nights in Nuku Hiva and 5-7 nights if you really want to see it all. If you're planning to see more than one island in the archipelago (Nuku Hiva goes very well with Hiva Oa and Ua Pou), plan for 7-10 days. If you are super stretched and still want to make it out here, 3 nights will give you a decent taste of the island.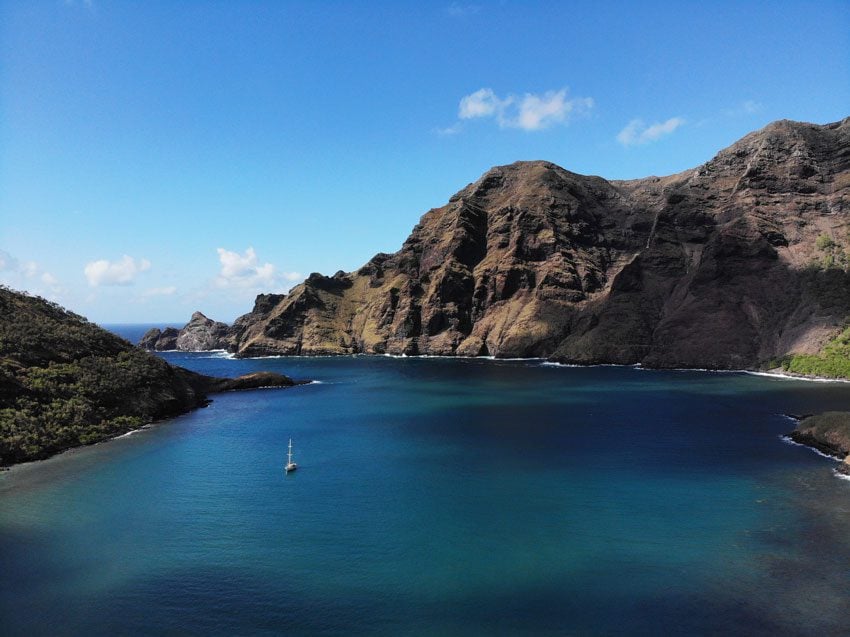 Is Nuku Hiva Worth Visiting?
The answer to that is simply: hell yes! Nuku Hiva was like nothing I've ever seen before. It is wild beyond imagination and there's hardly anyone around. It is a place you come to if you like outdoor discovery, and while it does have gorgeous beaches, it's definitely not a beach holiday destination.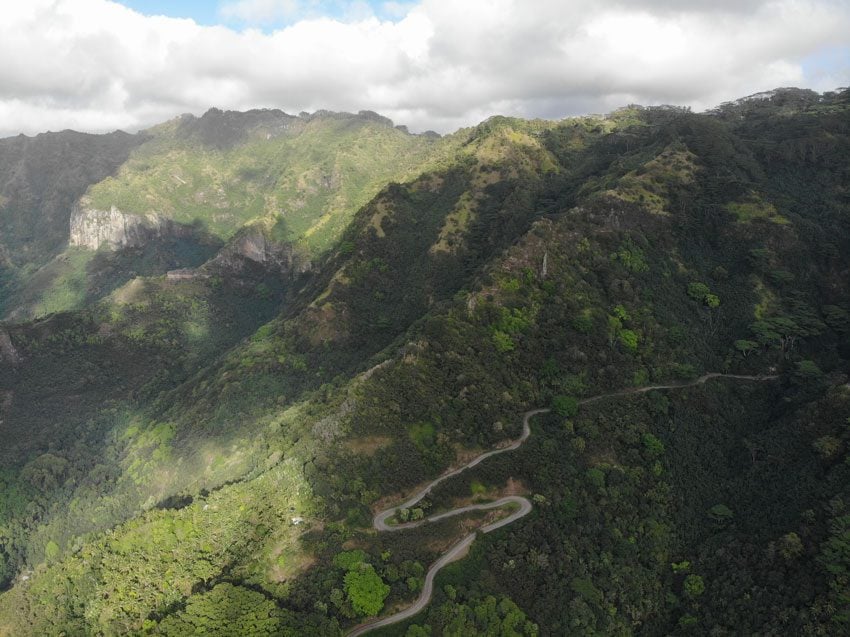 When Is the Best Time To Visit Nuku Hiva?
The closest islands in French Polynesia to the equator, the Marquesas Islands climate is pretty much opposite to that of Tahiti and the Society Islands. The best time to visit the Marquesas Islands is between October to April, when the islands get less cloud cover and rain. From May to October, there's a greater chance of storms and strong wind. I visited Nuku Hiva at the end of February on my first visit and had mostly sunny weather except for the last two days that were cloudy and rainy. My second visit to Nuku Hiva was during October and the weather was superb. With the recent climate change, the weather in this part of the world has become unpredictable.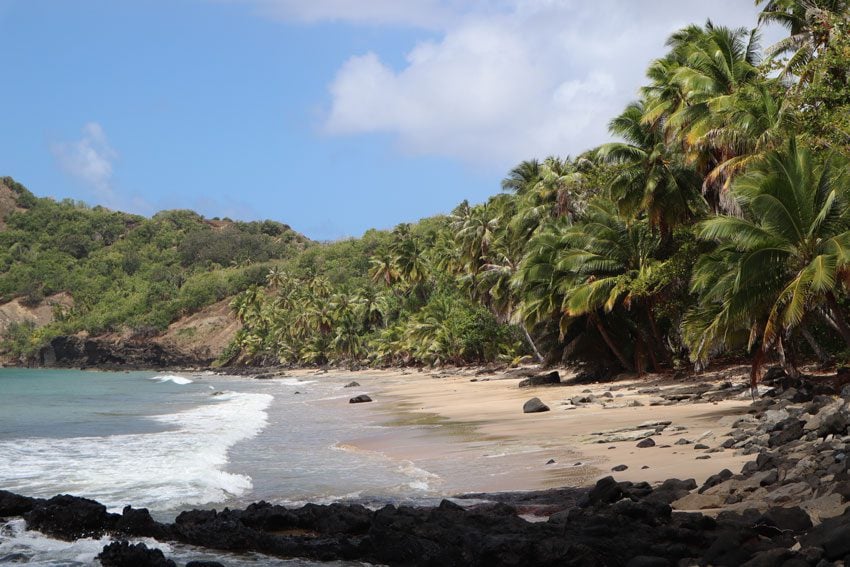 That said, Nuku Hiva is a very diverse island where you can experience 4 seasons in one day. It can be cloudy and cool up on the plateau and warm and dry by the village.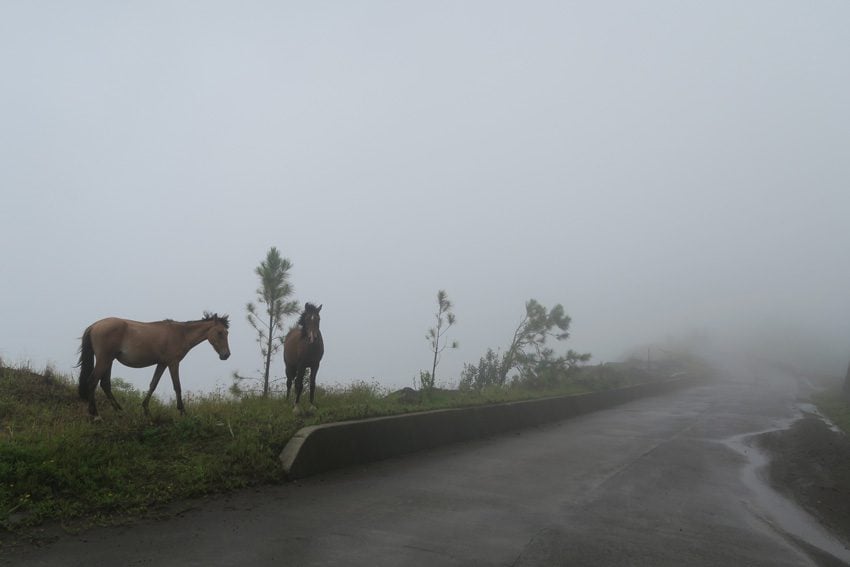 Festival lovers should aim to visit during the Marquesas Arts Festival, taking place every four years, usually in December and alternating between Nuku Hiva, Ua Pou, and Hiva Oa. Every two years, a "mini-festival" is held. The festival is a gathering of artists and teams from the islands who represent their village in traditional sports, dance, and song. You'll need to make arrangements well in advance and aim to stay for the first three days of the festival. The first day is for welcoming various teams. Spirits are high and the party is long. The second and third days are devoted to competition, and by the fourth day, things really begin to slow down.
How To Get To Nuku Hiva
By Air: by far the most convenient way to get to Nuku Hiva, with 5 flights per week from Tahiti (3:15 hours). Air Tahiti also connects Nuku Hiva with Hiva Oa, making the two islands easy to explore on a single trip. Flights to any island in this archipelago are expensive, but if you're visiting multiple islands in French Polynesia, consider buying one of the Air Tahiti Passes and adding on the 'Marquesas extension'. This will allow you to visit both islands for a more reasonable price. Bring something warm for the plane and as always, be sure to grab a window seat for the memorable views! Nuku Hiva is also a comfortable launch pad for flights to Ua Huka and Ua Pou.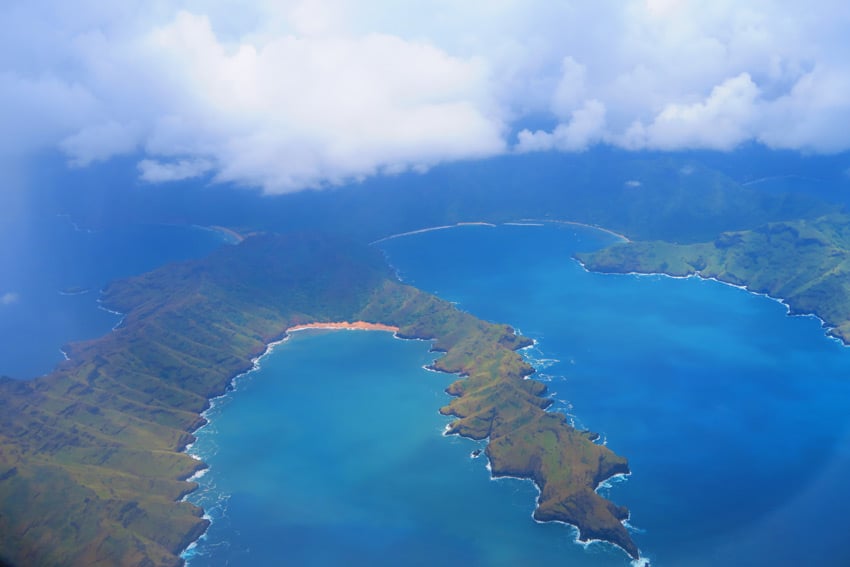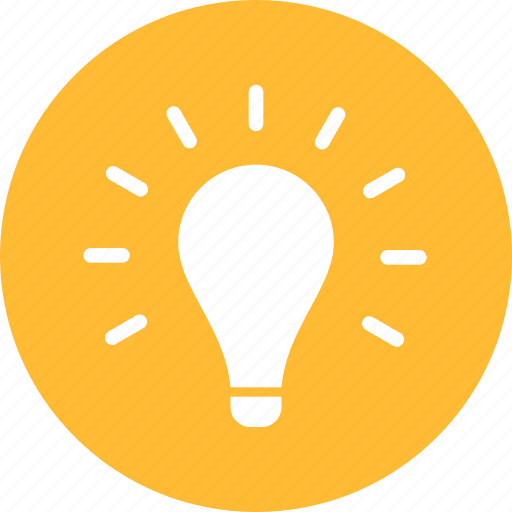 Pro Tip
If you have to catch a flight (domestic or international) or a boat to Moorea, give yourself a buffer and take into account delays. The weather can be foggy and flights can be delayed for hours.
By Boat: the luxury liner/cargo ship – The Aranui, calls at all inhabited islands in the Marquesas chain as it resupplies the locals and picks up exports back to Tahiti. Trips aren't cheap but you'll spend the day on each island. The ship also stops in Rangiroa or another atoll in the Tuamotus and usually also in Bora Bora. I personally would not enjoy this, as you have such little time on such gorgeous islands. Nonetheless, the Aranui usually books out very quickly.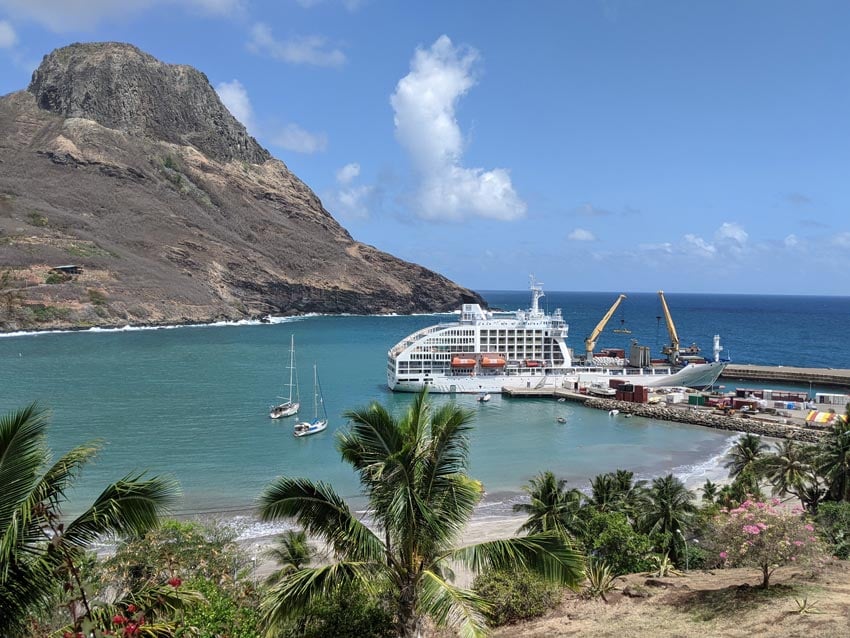 Getting Around Nuku Hiva
To/from the airport: the Nuku Hiva airport is located in a remote part of the island known as 'desert land'. It's a very scenic 75-minute drive to and from the main village of Taiohae, with the road snaking its way up to the plateau and down to the village. All pensions will arrange transportation for you, either picking you up personally or arranging a taxi service. Due to the distance, expect to pay 3,000F each way. This is totally worth it as you'll be stopping frequently for sensational views.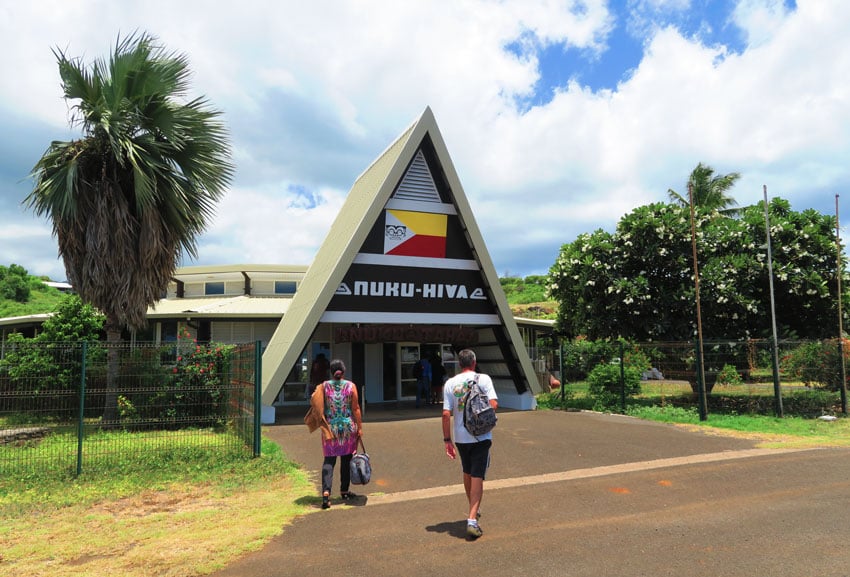 By Car: if you're not exploring Nuku Hiva as part of an organized excursion, you can rent your own 4X4 and drive around. Moana Nui Pension in the center of Taiohae and several other suppliers rent 4X4 vehicles for 10,000-12,000 XPF per day. You can also prepay for fuel should the gas station be closed when you're due to return the car. Keep in mind: while the major points of interest are accessible via sealed roads, drive with extra care. The roads sharply bend, animals may be present, and always watch out for falling rocks.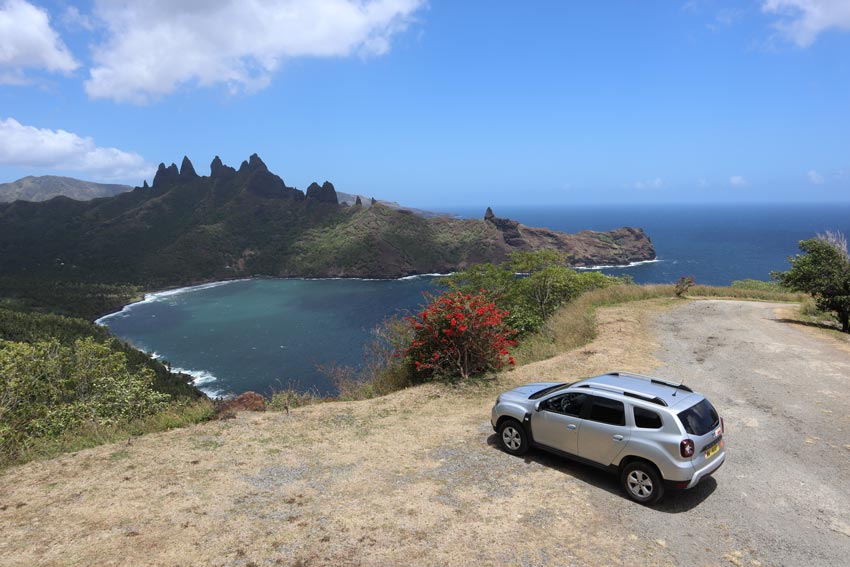 Where To Stay In Nuku Hiva?
Most accommodations in Nuku Hiva are centered in and around the main village of Taiohae, and most are "pensions" – family-owned and operated guesthouses that range from simple to "less simple" specifically in Nuku Hiva. Your pension stay will most likely be on a half-board basis (breakfast and dinner included) but, if this is not the case, dinner options are available in the village or at the Le Nuku Hiva. It's best to book well in advance if you have your heart set on a particular spot.
For a luxury stay, Le Nuku Hiva (formerly Keikahanui Pearl Lodge) is currently the only option in Nuku Hiva. This high-end lodge operates tours around the island for its guests. Apart from the majestic views over Taiohae Bay, rooms are modern and there's a restaurant on site. The lodge also hosts cultural shows on certain nights so inquire if planning to dine as outside guests. Le Nuku Hiva is located on the outskirts of Taiohae on a hill overlooking the bay.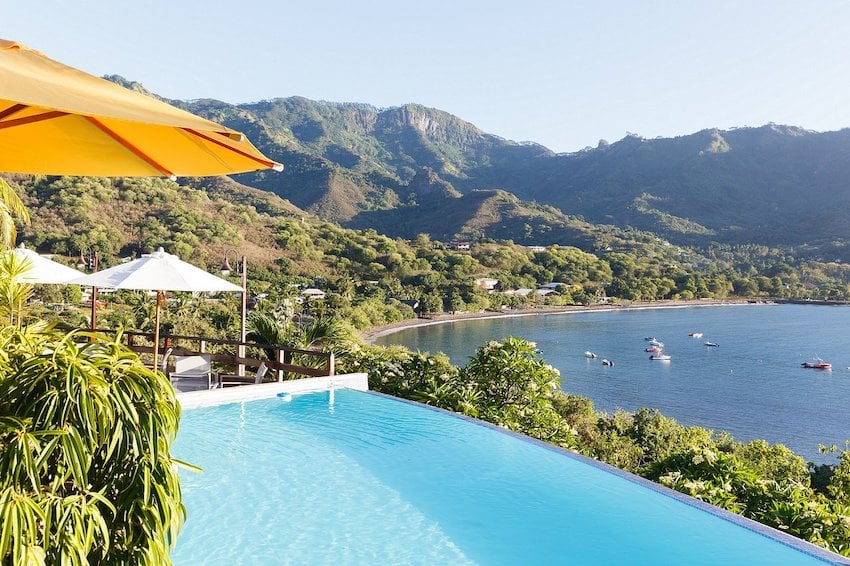 For a pension stay, look no further than to Pension Koku'u. Hosts Alvane, Claudine, and their family live in a simple home on a hill overlooking Taiohae Bay, just a 15-minute walk from the center of the village. Accommodations consist of basic rooms, some large enough for a family. All units are ensuite, with a cold shower that shouldn't be an issue with the kind of weather in Nuku Hiva. Wifi is free, with excellent reception throughout the pension, as is filtered water.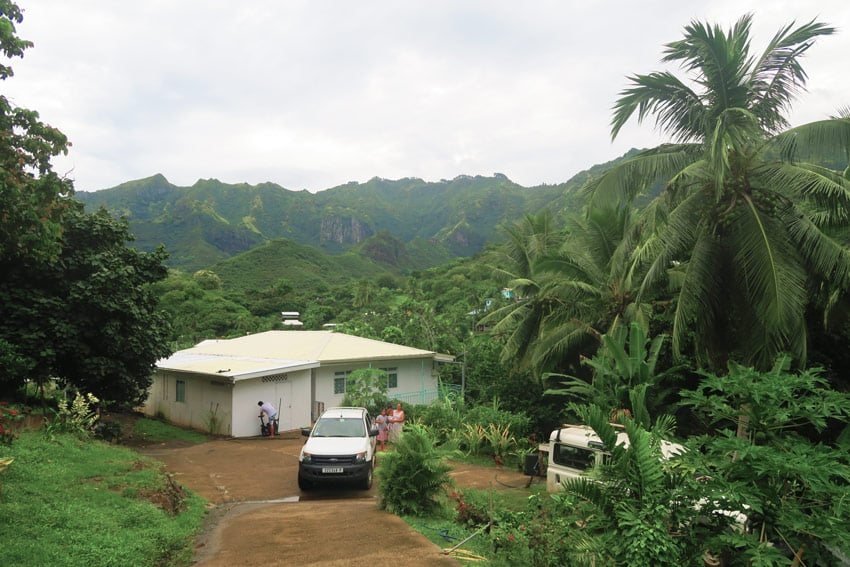 The real plus about Pension Koku'u is the warm Marquesan hospitality. Dinners are plentiful and always feature a local flavor, and Alvane and Claudine are great hosts. Alvane spends most of the time with the guests and he's quite a character. He's very knowledgeable about the local Marquesan culture and has even performed in several festivals. Alvane also leads the tours around the island and his itinerary is always more encompassing than what others offer. He even took me on an overnight hunting trip during my first visit.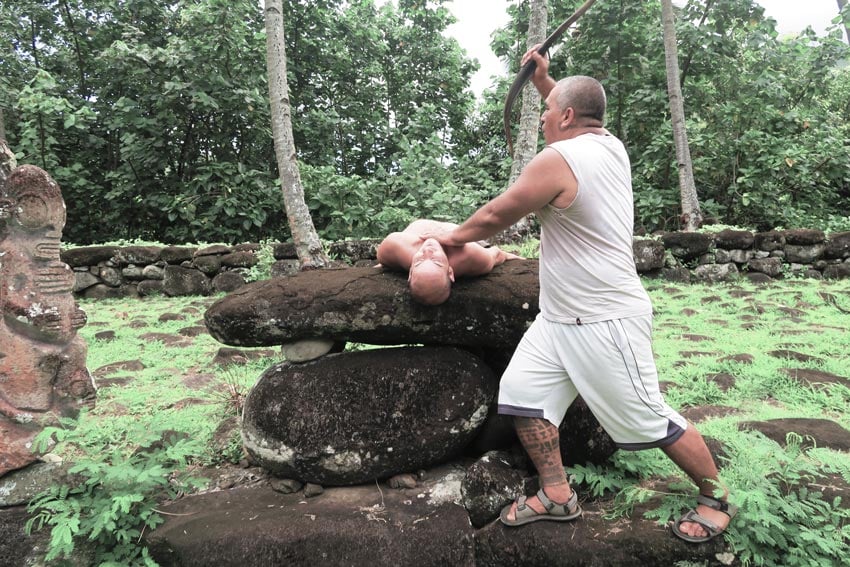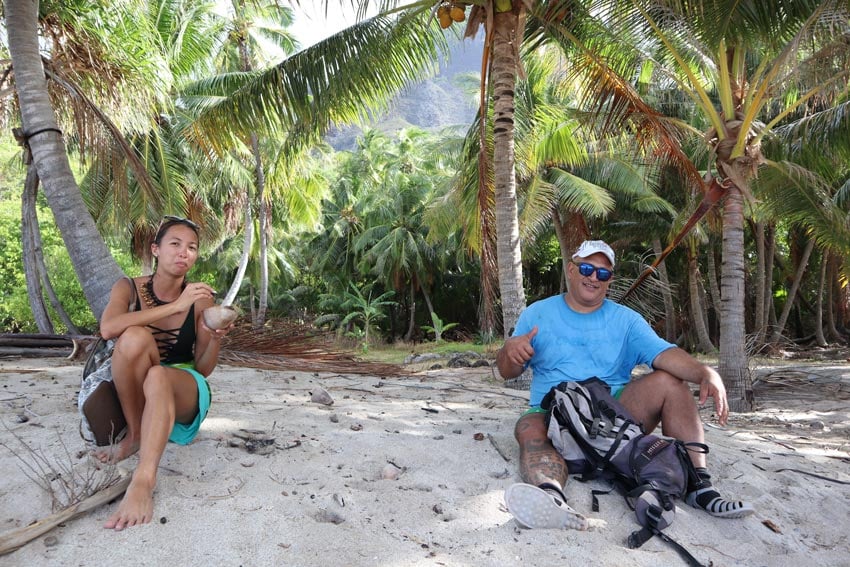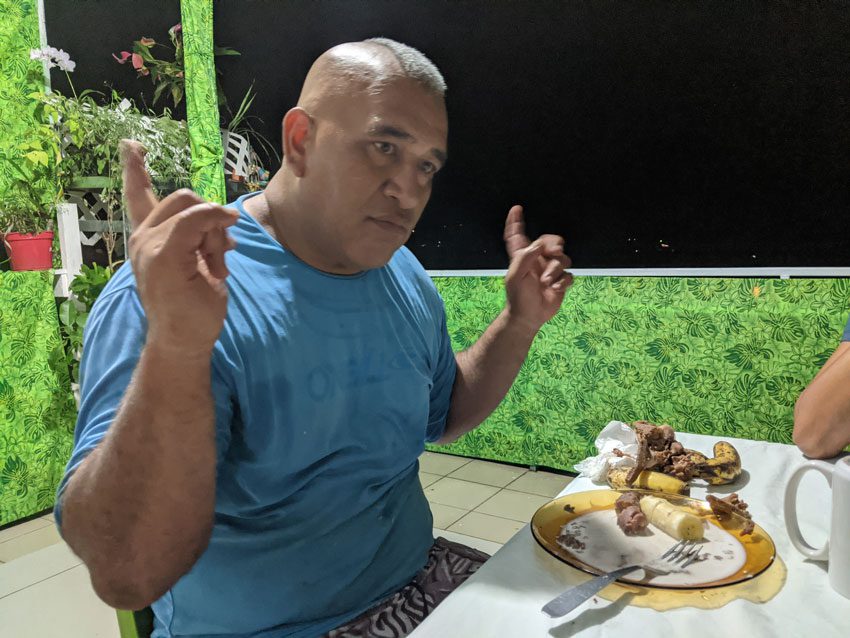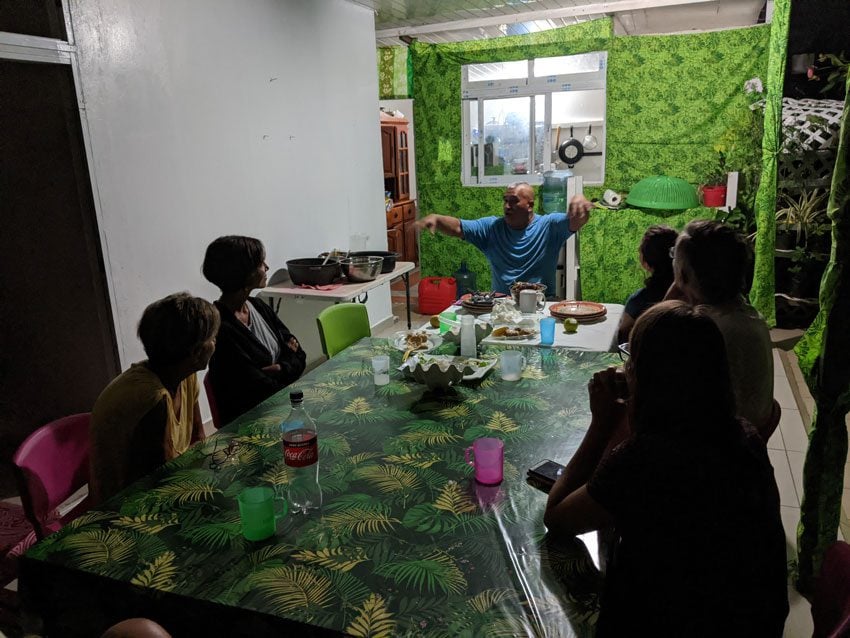 If you stay here, be sure to give the couple a warm hug from Avi (from Israel), and ask Alvane to tell you the interesting story of how his family came to live in Nuku Hiva.
Other options include the Hee Tai Inn, Pension Moana Nui, and Pension Mave Mai. On my return visit, Pension Koku'u was fully booked so I stayed at Mave Mai. I don't recommend staying here unless you have to as this place lacks a soul, though rooms are air-conditioned. You might also find a few options on Airbnb and Booking.com.
Time Difference
Yet another proof of the archipelago's remoteness, the Marquesas Islands are 30 minutes ahead of Tahiti time. Don't forget to adjust your watch!
Language
Though mostly speaking French these days, the native language in the archipelago is Marquesan and not Tahitian. So replace ia orana with ka oha (hello) and manuia with maitai roa (cheers).
What To Pack?
Nuku Hiva is a tropical destination, and as such – I recommend packing clothes that dry quickly and keep moisture (a.k.a sweat) out. Have a look at the X Days In Y Packing List for recommendations on what to pack for Nuku Hiva based on my experience.
Money
There is an ATM in Nuku Hiva, in the main village of Taiohae. Keep in mind that most ATMs on the outer islands have daily/weekly cash withdrawal limits. I was only able to take out a maximum amount of 30,000F. Inquire with your hosts if they accept credit cards and factor in for excursions, transportation, and shopping.
Internet
Surprisingly, the internet in Nuku Hiva is not bad at all. My pension had free wifi but just in case, you can get online at the local post office.
Mobile Phone
I highly recommend getting a Vini prepaid SIM card as it's currently the only mobile carrier with reception in Nuku Hiva. A Vodafone SIM card will not get reception on the island.
Nuku Hiva Average Costs
Here's a breakdown of costs during my 5 days in Nuku Hiva on my first visit in 2016. I stayed half board at a simple family pension and went on 3 excursions.
Diving In The Marquesas Islands
The Marquesas Islands have no protective lagoon. It is possible to scuba dive here, but expect challenging conditions and poor visibility due to the currents and plankton. That said, you might get to see whales, dolphins, and sharks. In Nuku Hiva, there used to be a dive center but I don't think it's still in operation at present.
Hiking & Guided Excursions In Nuku Hiva
Nuku Hiva is all about nature. While the hikes to Anaho Bay and Colette Bay can be done on your own, you'll need a guide for everything else. I strongly recommend booking excursions, tours, and hiking guides in advance of your visit to Nuku Hiva. Why? (1) The island isn't that developed in terms of tourism so there might not be a guide available on the day you planned to go. (2) some excursions require a boat or a 4X4 so a minimum amount of passengers is required. (3) When the Aranui arrives, all guides, boats, and 4X4's are dedicated to showing its passengers around the island.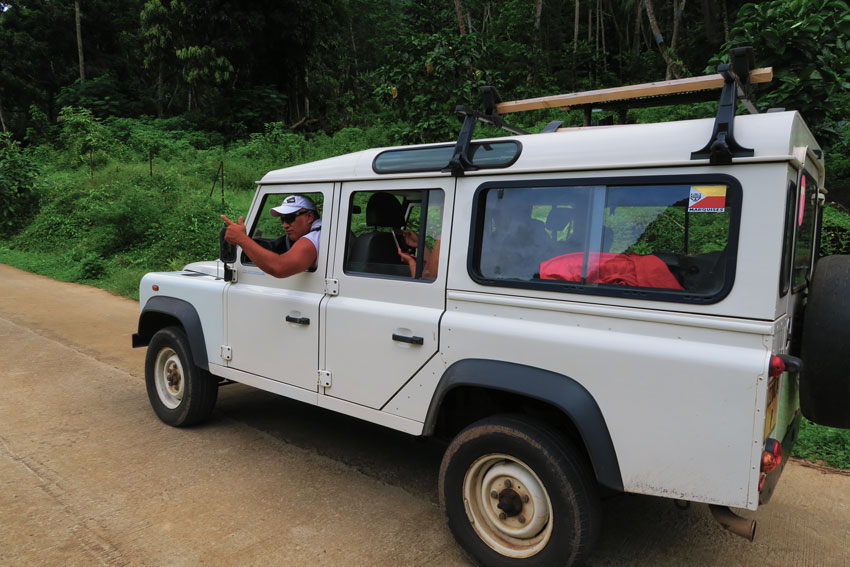 For guided hikes, if you don't want to hike on your own and/or want to hike the challenging and unmarked signature hikes of Nuku Hiva – get in touch with either Pako Tamarii ([email protected], +689-8723-2249, +689-40-920635), Christian Taata (+689-87-221640), or Kimi Teikiteetini (+689-87753969). Some might also be able to take you hunting. If Alvane Alvarado from Pension Koku'u is free, he can also take you hiking or hunting. For exploring the Hakaui Valley and the Vaipo Waterfall be sure to book with Tangy and Ana from Cannibal Art. Apart from local Marquesan crafts, the couple offers numerous ways of exploring the valley and the waterfall, from day hikes to multi-day camping trips.
For guided excursions, get in touch with Alvane Alvarado from Pension Koku'u, Richard Temarama from Temarama Tour, Mate Excursion, Jocelyne Henua Enana, or William Teikitohe (who often runs tours for the Pearl Lodge so he might be booked).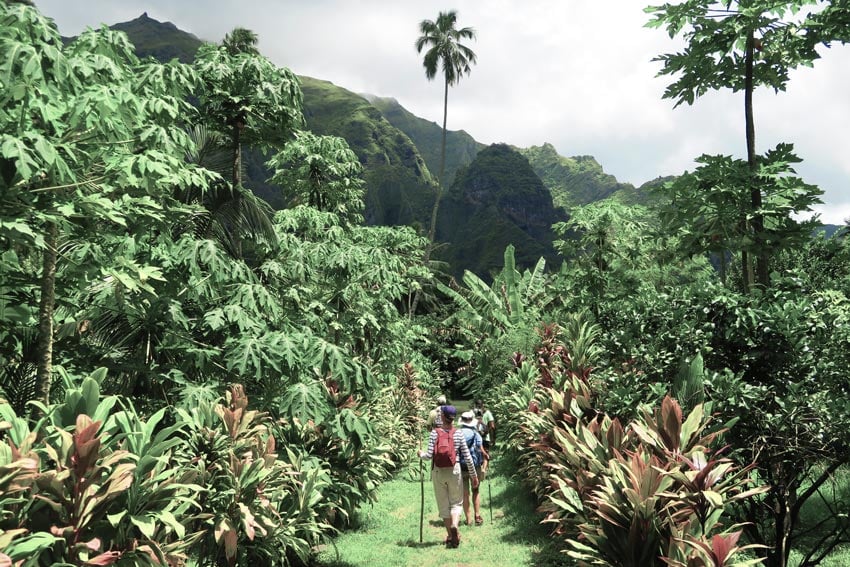 Beaches
Nuku Hiva has amazing beaches, but it's definitely not a beach holiday destination. There's no protective reef, no lagoon, and nasty sandflies known as nono are everywhere. Be sure to ask your hosts which beaches are nono-free!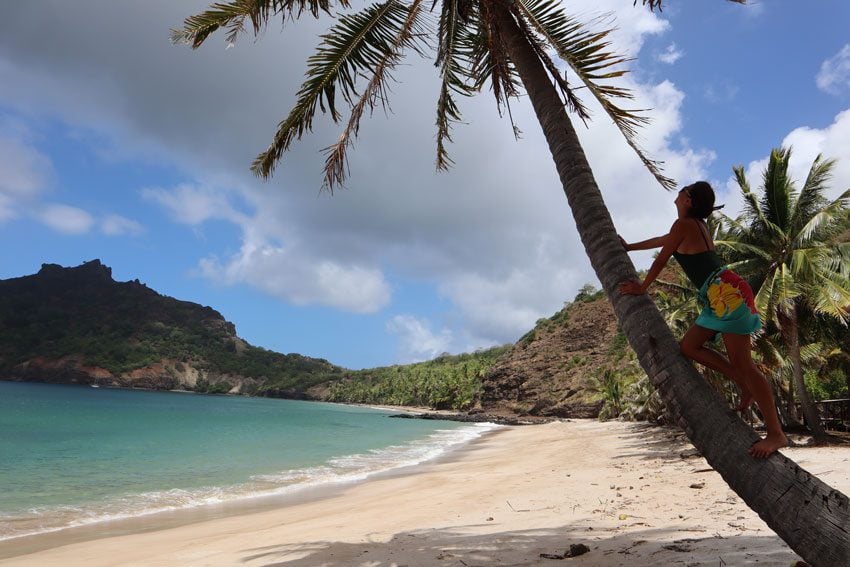 Drinking Water In Nuku Hiva
Do not drink tap water in Nuku Hiva! Pipes are rusty and fill up with dirt after the rains. If you see murky water coming out of the tap, this isn't necessarily your pension's fault. It's best to drink and brush your teeth with filtered or bottled water.
Eating
Taiohae has a couple of food shops (also open on Sunday mornings), a small fruit & vegetable market, and a handful of snacks. Your best bet for breakfast and dinner is at your pension, while for lunch it's best to pack a sandwich from one of the shops.
See the 'places to eat & drink' section for specific recommendations.
Safety In Nuku Hiva
For general safety tips in French Polynesia, have a look at the 'safety' section of the French Polynesia Travel Guide.
As for Nuku Hiva specific safety tips:
Bring

comfortable hiking gear

, especially shoes and waterproof sandals.

If you're renting a car,

drive with extra care

. Keep your eyes open for sudden bends, animals, and fallen rocks.

Be prepared for the notorious

nono

of Nuku Hiva

. These are tiny black or white sand flies

that are actually not native to the islands. They leave a nasty bite that itches for days, and if scratched – can leave a lasting mark. The best way to avoid getting bitten is by applying layers of

monoi oil

(the Citronelle kind). Always ask your hosts which beaches are non-free. I did not adhere to the advice and received dozens of bites without feeling the sting. The itch was unbearable for about a week!

If you're hiking in the forest, bring with you

strong mosquito repellent

that does not wash away with sweat. Consider hiking with long sleeves.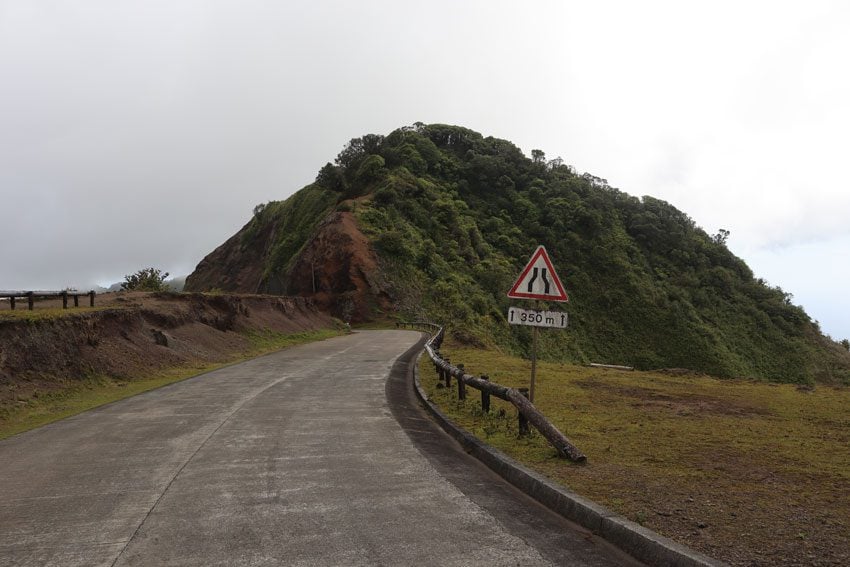 What To Buy In Nuku Hiva
While Papeete is the place to buy black pearls, the Marquesas Islands are the place to buy authentic arts and crafts. Marquesans are considered to be among the best wood and stone carvers in the South Pacific. Prices in Nuku Hiva are very reasonable compared to other places. Highlights include tiki statues fashioned from wood or volcanic rock (~3000-10,000F), wooden bowls (~5000-10,000F), sandalwood ornaments (~5000+F), bracelets, bone-carved weapons, and plenty more. Tapa can also be found, but it is super expensive. The best place to buy tapa is in Samoa.
There are two craft centers on the island, one in Tapivai and the main one in Taioha'e, right behind the tourist office and next to the market. It's open daily except Sunday, with prices far better than its counterpart in Hiva Oa. Bring plenty of cash and don't worry about customs (they might be accepting credit cards by now). I had no issues with bringing wood, dried vanilla, and monoi oils through Australian, New Zealand, and Canadian customs. In the adjacent market, you can also pick up local goods such as honey.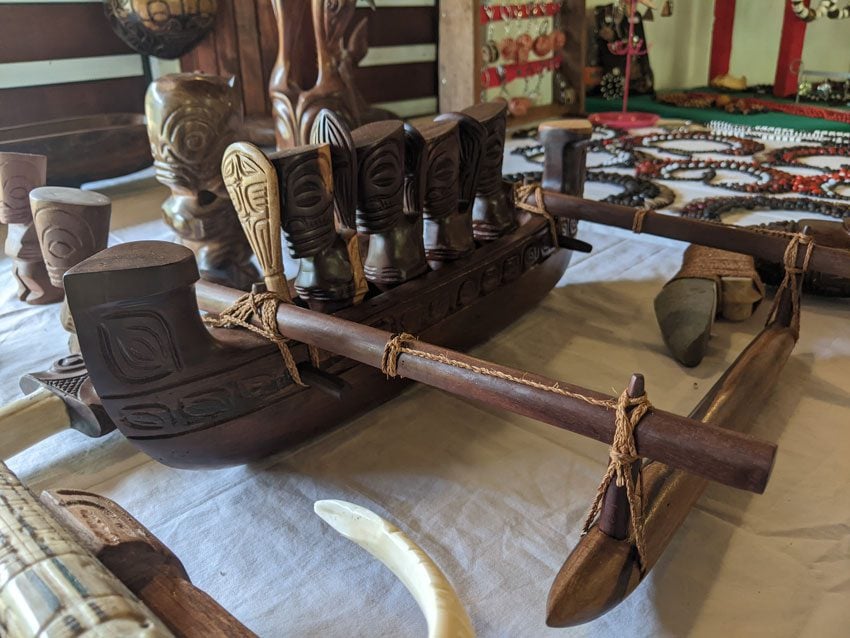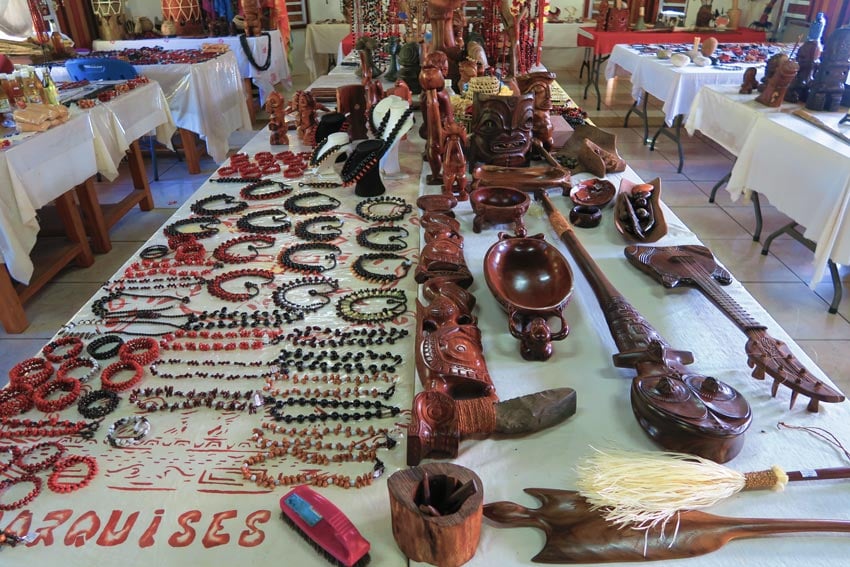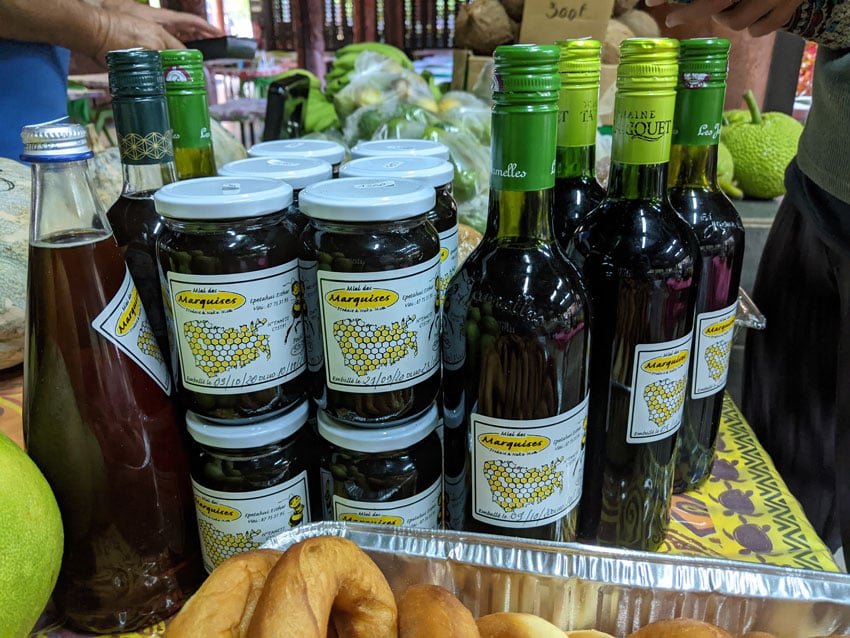 Nuku Hiva is also a good place to get a tattoo. Marquesans aren't only exceptional at carving rock and wood, but also skin. A large tattoo on your arm or leg should cost between 20-40,0000 XPF. Contact Moana Butscher for more information.
Things To Do & Places To See In Nuku Hiva
Check out this 4 days in Nuku Hiva sample itinerary to see how to divide your days on the island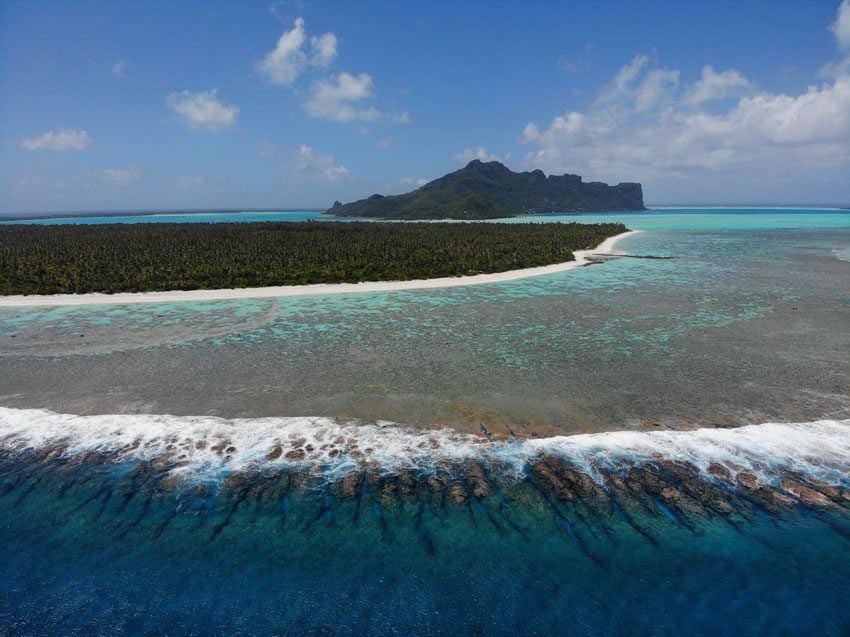 Tahiti, Tailor Made!
The Islands of Tahiti are among the last places to be colonized by mankind, 118 islands, each with their unique personality.
Get expert advice and assistance with planning your trip to the destination where tropical dreams come true!
See Options
Ride From The Airport
The only suitable place for an airport in Nuku Hiva is well over an hour northwest of the main village of Taiohae, in an area so remote it is simply known as 'desert land'. While in the past the only way to reach the airport was by boat, a sealed road now winds its way through the mountains and lush plateau. It's the most scenic airport ride you'll ever have, well worth the 3,000F price of admission.
The ride begins with a climb up the ridge and a quick stop to see the island's version of 'the Grand Canyon'. You'll then descend through thick forests of incredibly tall pine trees, double checking if you've actually landed on the right island. Look out for cattle and wild horses along the way and just pray there's no fog because if there is, you're totally missing out!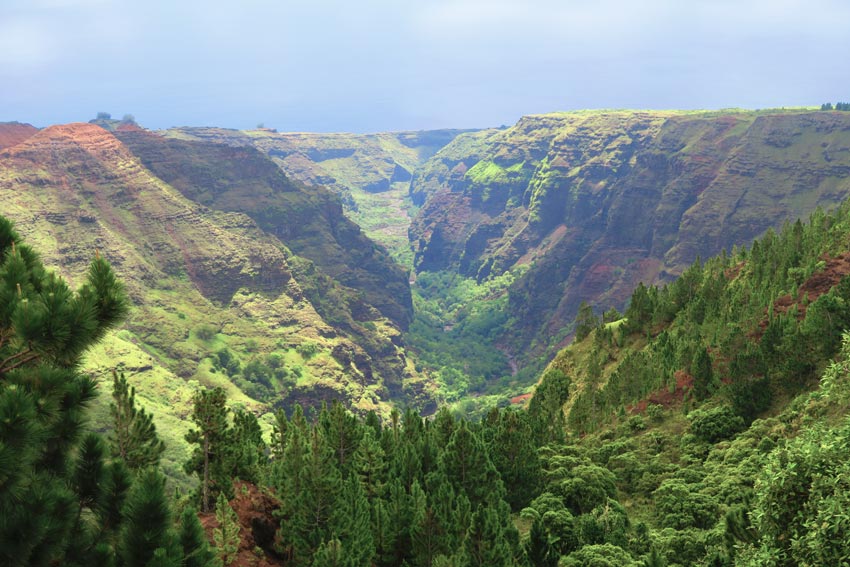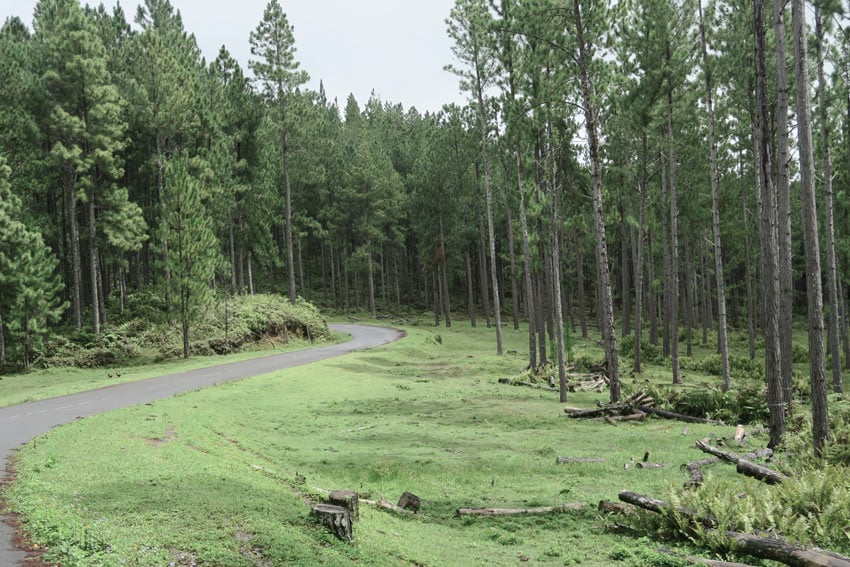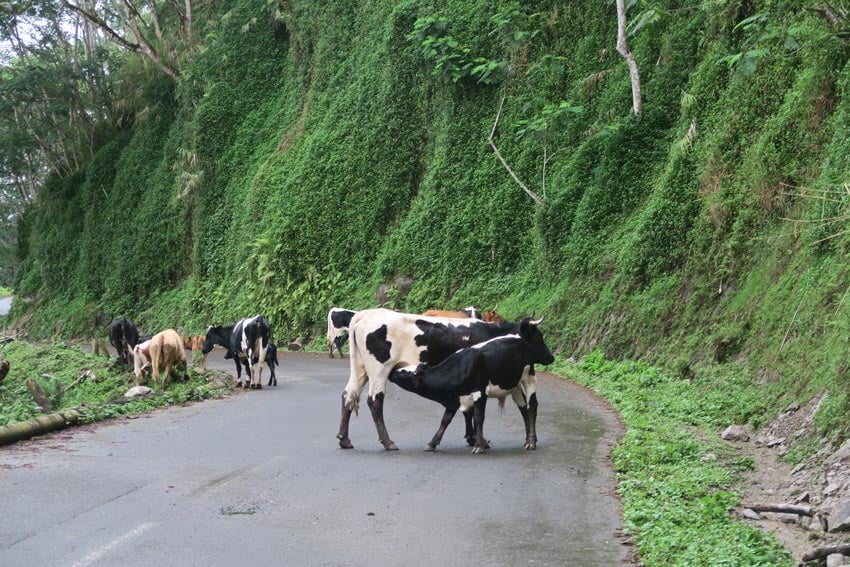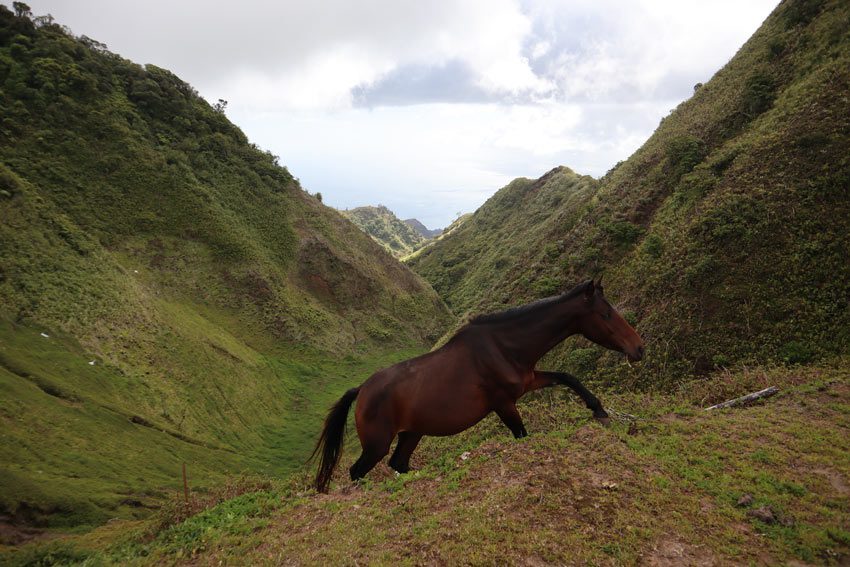 Your 4X4 will then reach the top of the Toovii Plateau, a huge expanse of lush land that's used these days for cattle grazing. The road somehow manages to snake down to the plateau before reaching the final ascent to Taiohae – the climax of your journey.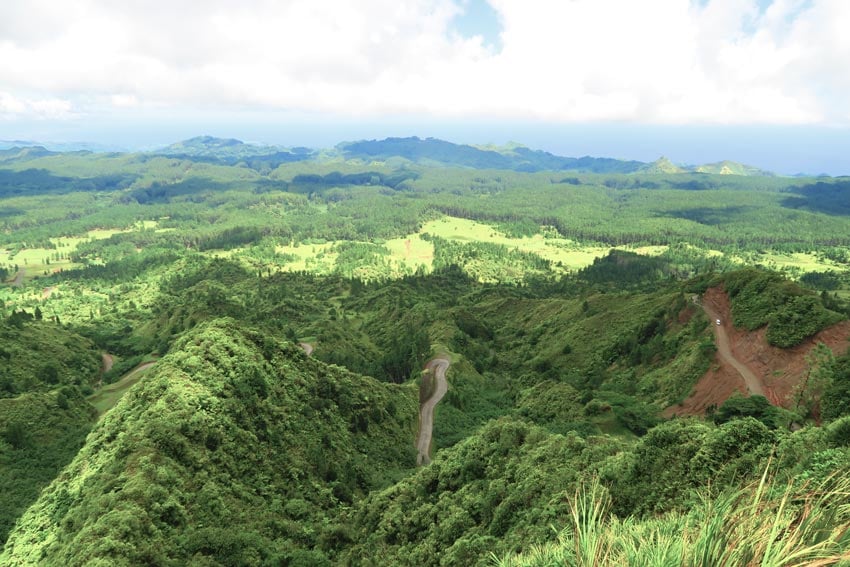 As you start to descend from the plateau, the weather changes once again. Nuku Hiva is so diverse, you'll sometimes encounter the four seasons in one day! After a few sharp bends, Taiohae is revealed down below in all its glory. What a view!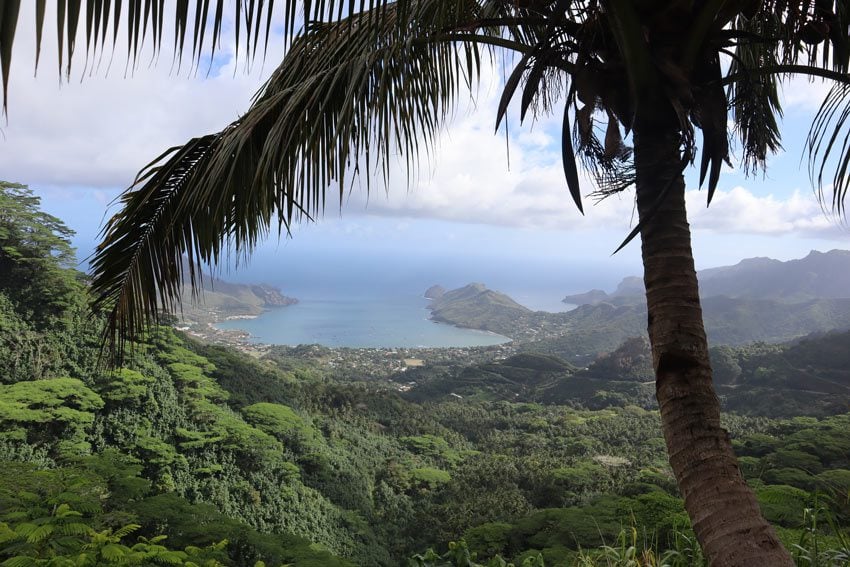 Taiohae
The main village in Nuku Hiva and the capital of the Marquesas Islands, Taiohae is simply gorgeous. The village is tucked between a beautiful crescent bay and lush mountains. You cannot find a more picturesque spot for a village in the South Pacific. The natural harbor is very popular with yachts, especially those arriving from the Americas en route to Australia, or those just passing the cyclone season in the safe confines of the bay.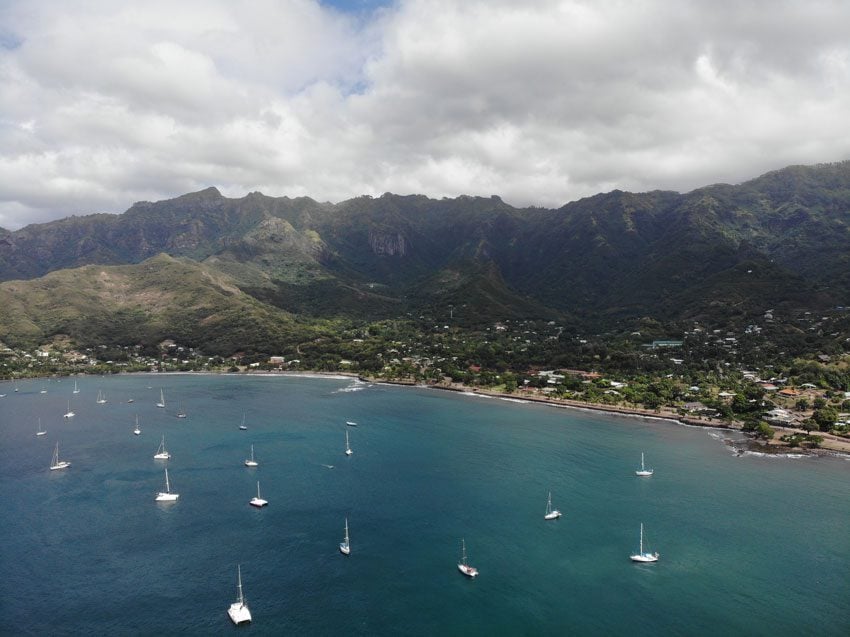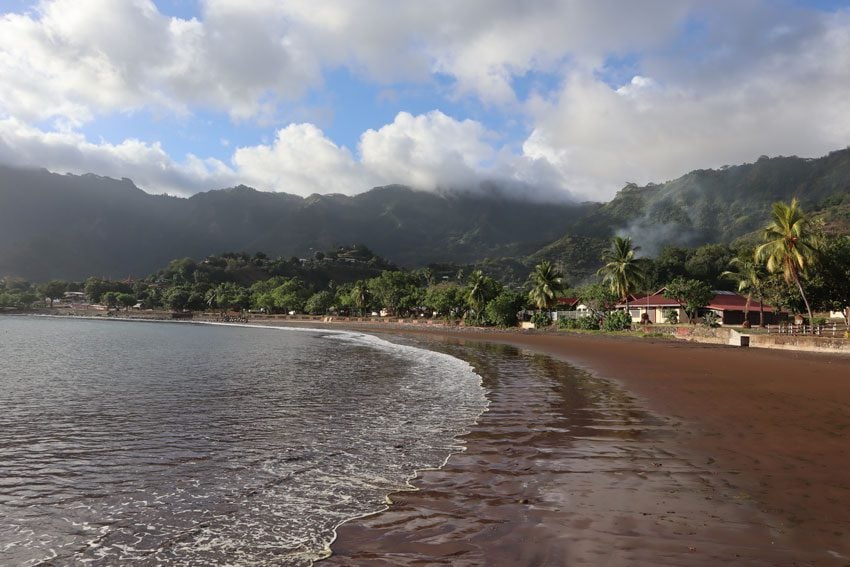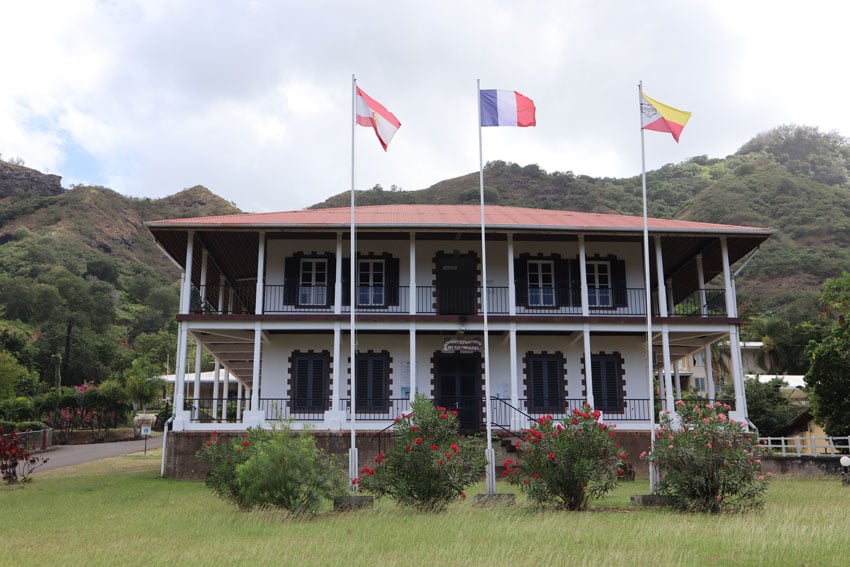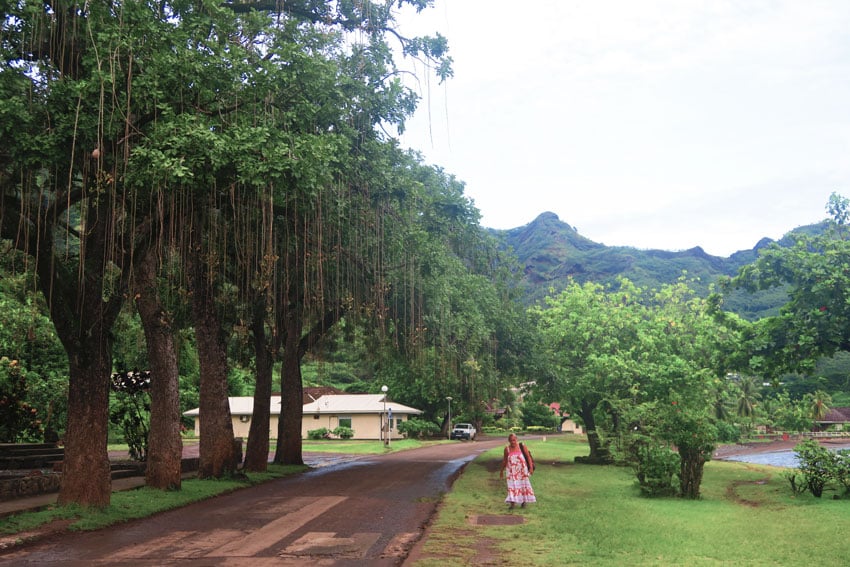 With charming colonial-style municipal buildings, Taiohae offers all the services you need (food, post office, ATM, etc.) but it also has a few highlights:
The Port: the most happening place in the village. During the day, there's a small snack that's popular with sailors who call in Nuku Hiva after the long Pacific crossing. In late afternoons, locals love to fish off this spot. On Saturday mornings, this place really comes to life with the fish market. It all ends just before 6 am so rise early for the authentic experience. Residents purchase large and small fish for the weekend feasts and sailors stock up on fresh fish for the next passage. The market is also open at this time. As fishermen clean their catch, unwanted parts are tossed to the water much to the content of praying sharks.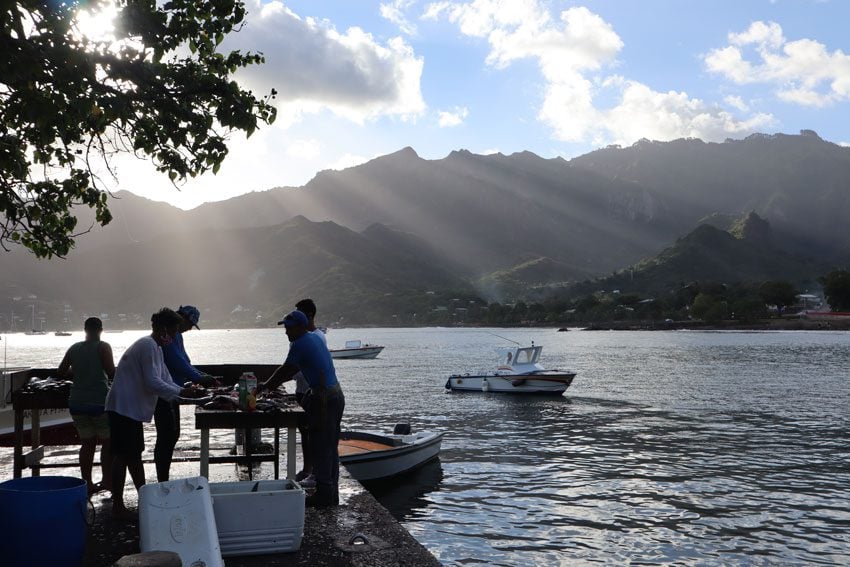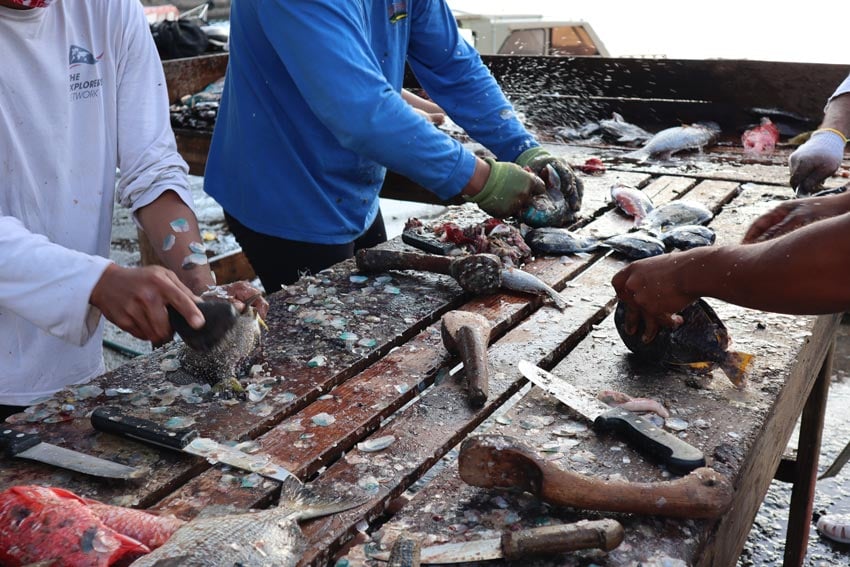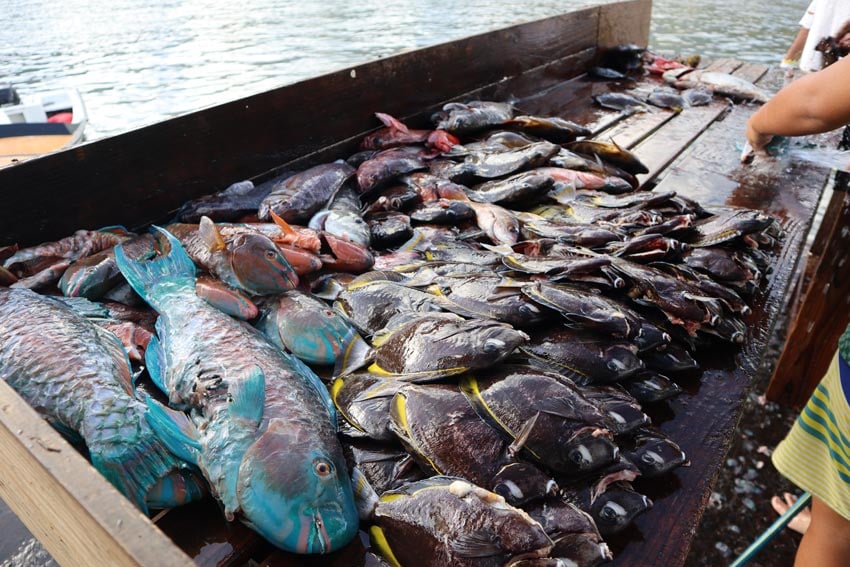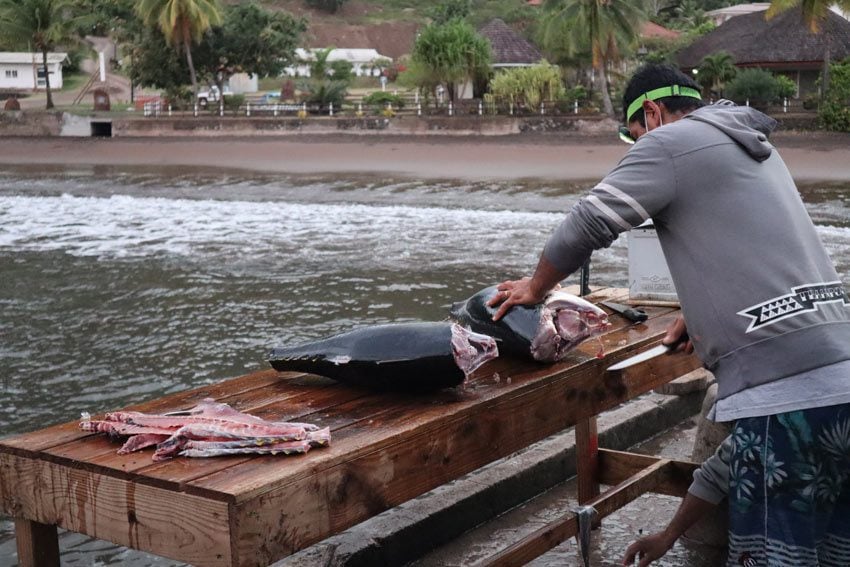 Artisan Market: the best place in the Marquesas Islands for local arts & crafts. The market is open every day but Sunday and it might only be cash.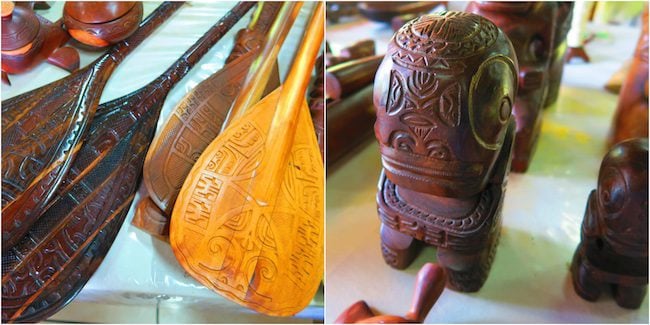 Fruit & Vegetable Market: you can easily pick your own fruit pretty much anywhere in Nuku Hiva, but the covered market offers all the island's produce under one small roof. It's open on weekdays until 4 pm.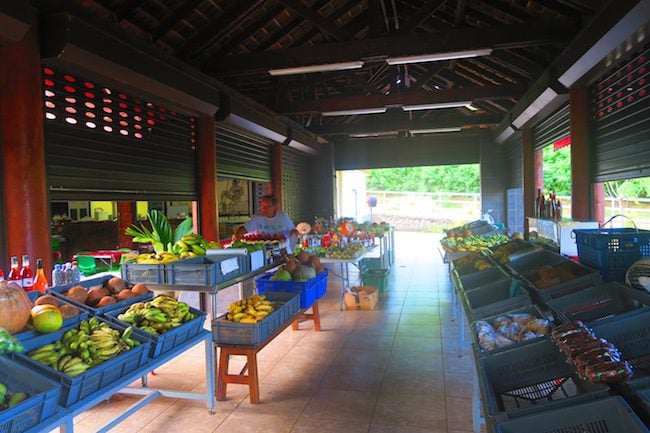 Tiki Tuhiva: this commanding spot is the former site of Fort Madison, built by the Americans in 1813. Nowadays, it's a panoramic lookout and a picnic spot from where you'll get the best views of the village.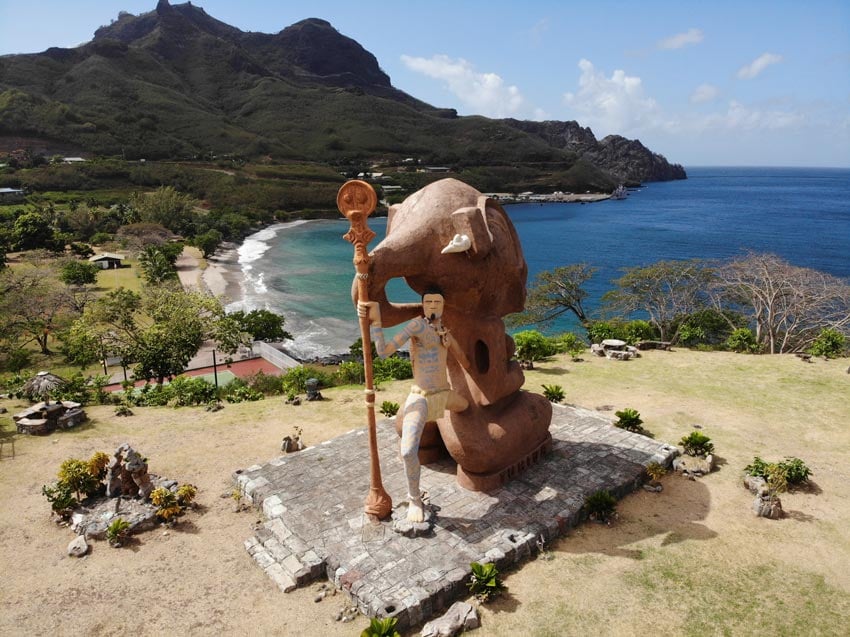 Notre Dame Cathedral: Taiohae's fairytale-looking church looks like it belongs somewhere in King's Landing. Do not miss Sunday church service (starts at 8 am), where pretty much the entire village gathers in prayer. Post-service, the plaza outside the church comes to life with food stalls selling packed portions of Polynesian classic dishes.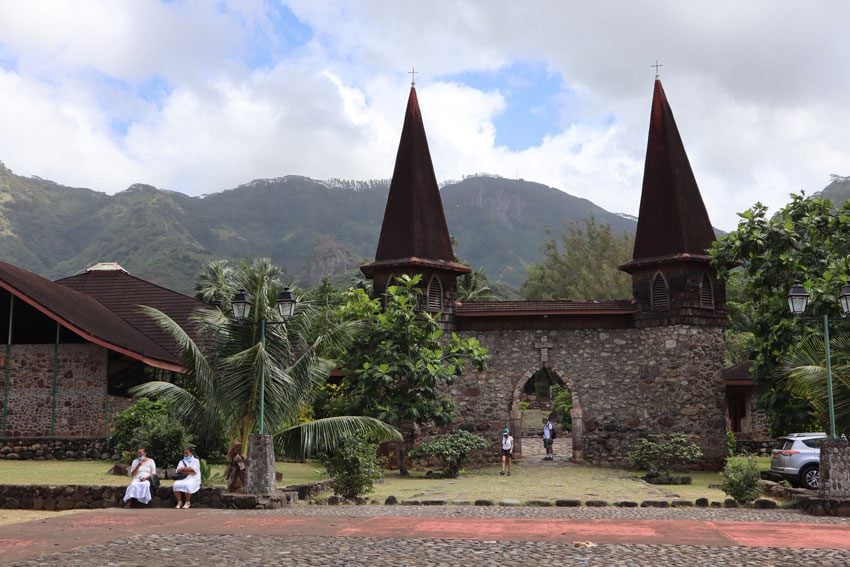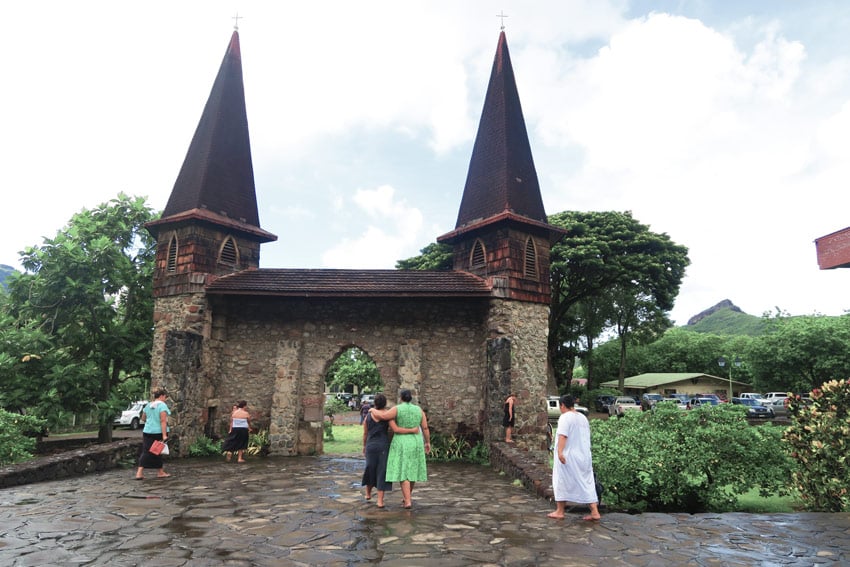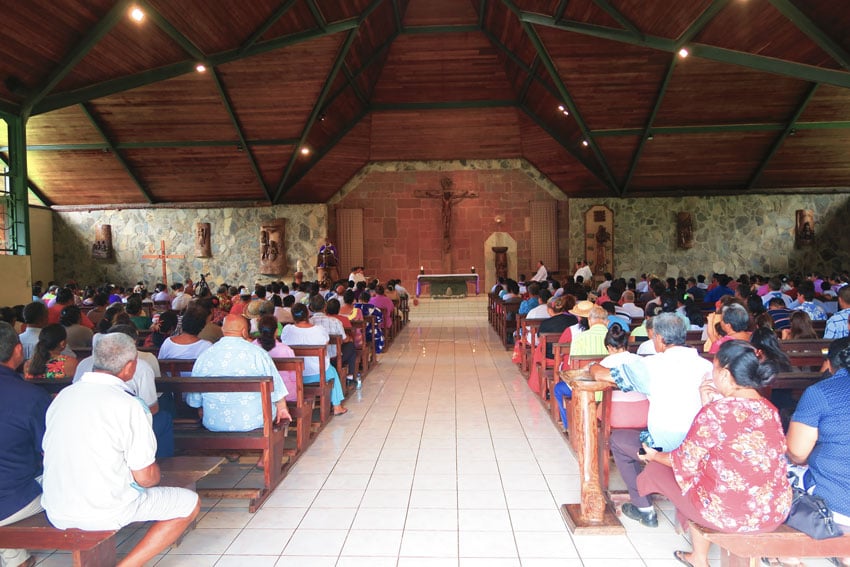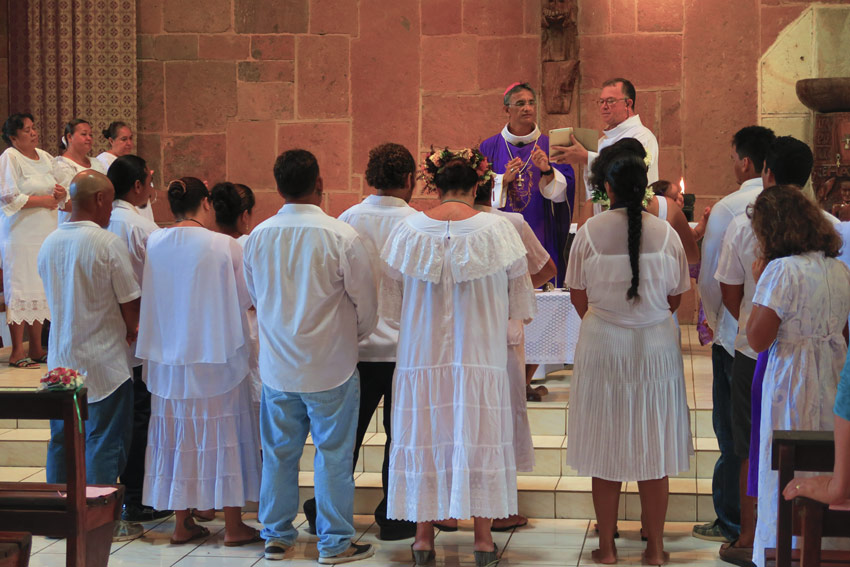 Tohua Temehea: across the road from the cathedral is this ancient ceremonial site. It mixes original findings as well as the work of local sculptures honoring the traditional past.
Hakaui Valley & Vaipo Waterfall Hike
Do not miss the opportunity to embark on what will no doubt be one of the most memorable days of your visit to the South Pacific. Hakaui is a lush valley walled on one end by a blanket of jagged basalt peaks. This is the hallmark attraction in Nuku Hiva. At the end of the valley is Vaipo Waterfall, the highest waterfall in French Polynesia. In pre-missionary days, the valley was inhabited by a local tribe, and evidence of the ancient settlement is still present.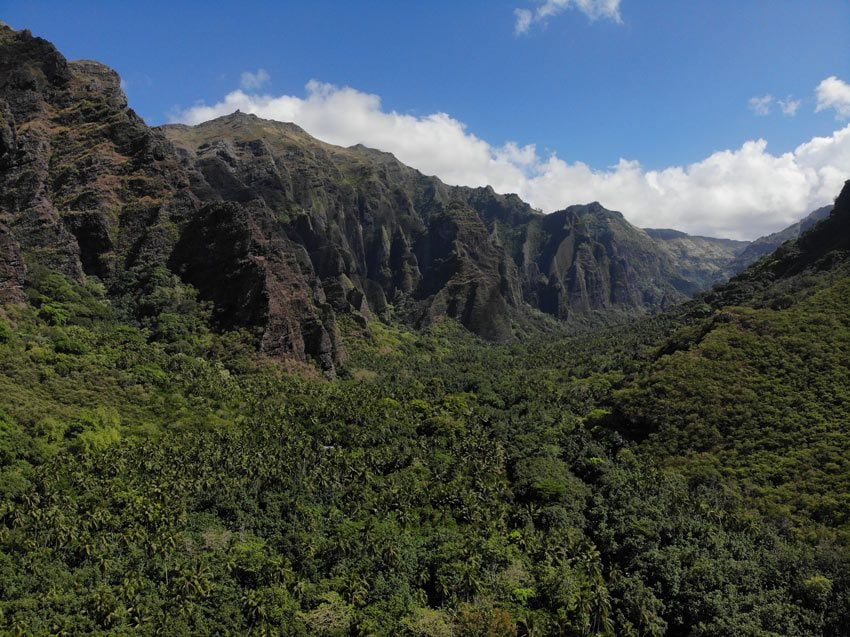 Hiking guides to Hakaui Valley: I strongly recommend booking your Hakaui Valley hike with Tangy and Ana from Cannibal Art. Tangy is a native of the valley and he has built a traditional Marquesan house with his own hands. Croatian-born, Ana had a dream of visiting Bora Bora so she decided to hitchhike from her home country. It took her several years but she did it. Upon returning home, she decided to write a book about her adventures and traveled once again to French Polynesia, this time going "the other way". She completed writing her book in Nuku Hiva, where she met Tangy and the rest is history. The couple offers several ways of exploring the valley, from day hikes to mutli-day camping trips. You can also hike with them into the valley from Taiohae. Their Hakaui adventure includes a hike to the base of the waterfall followed by a traditional lunch in their home.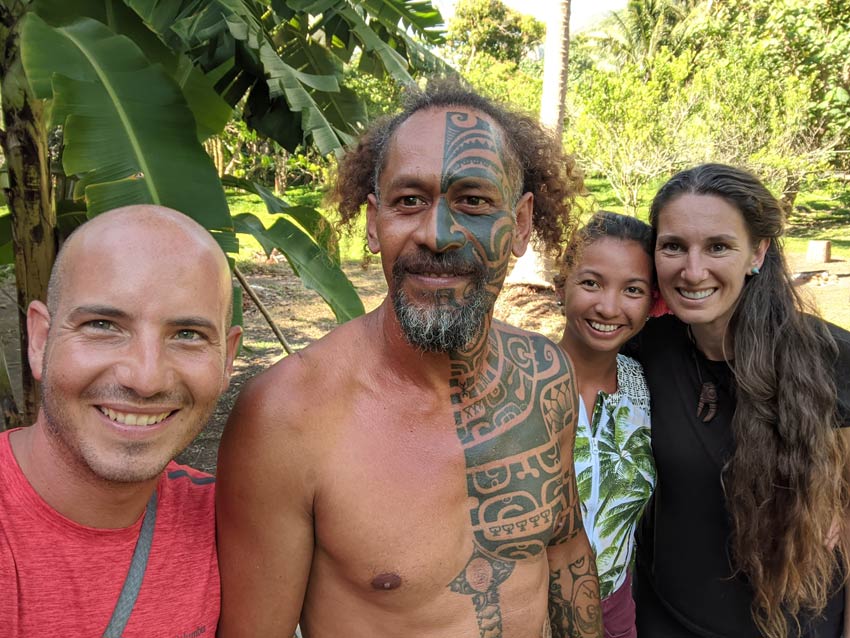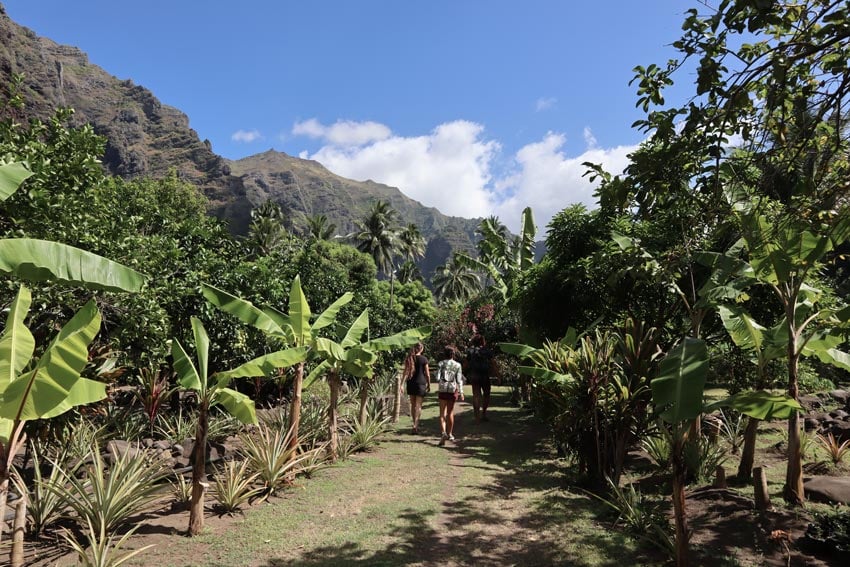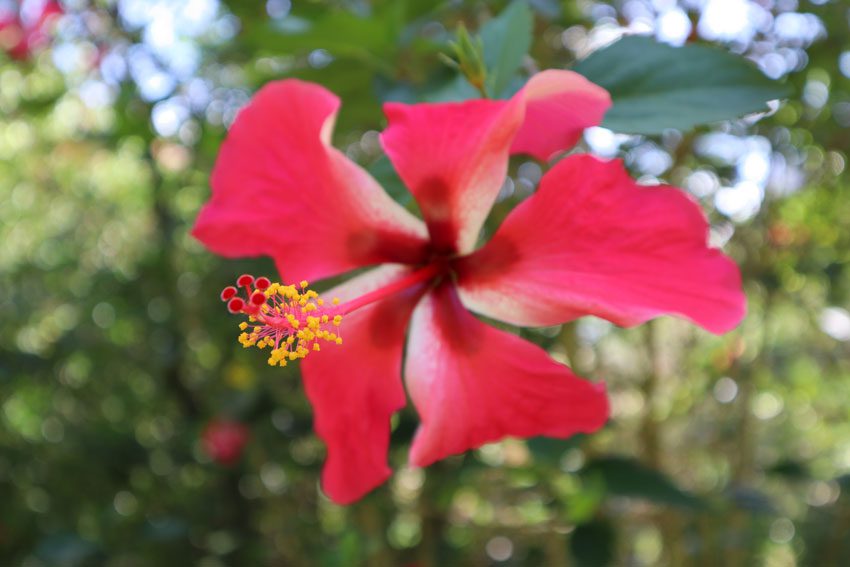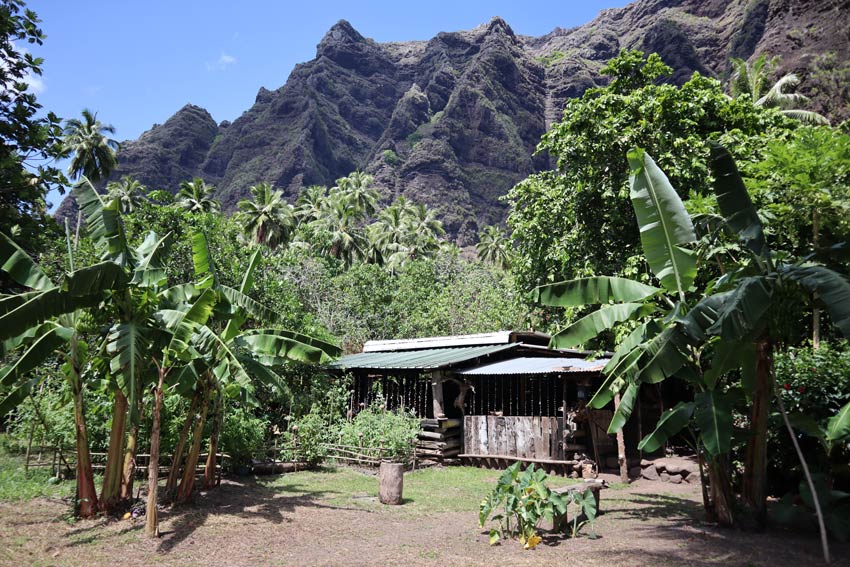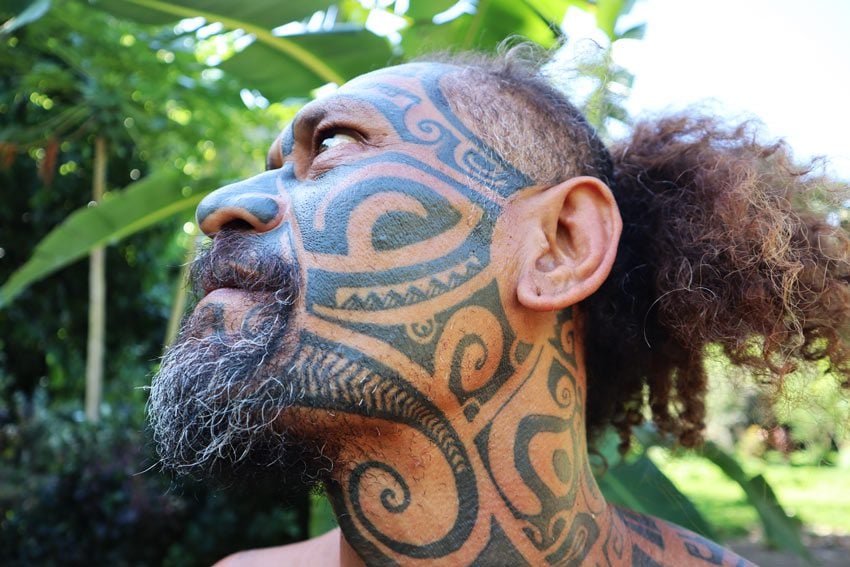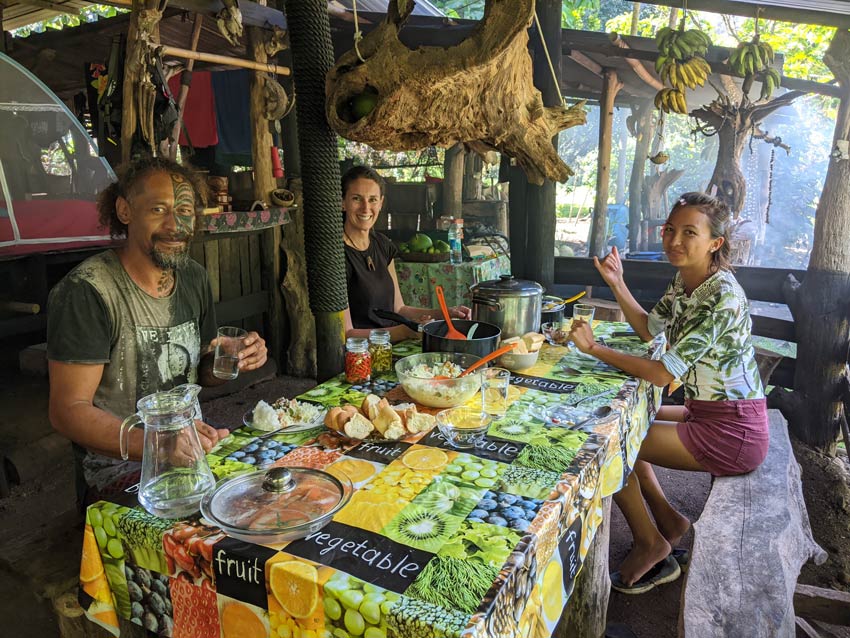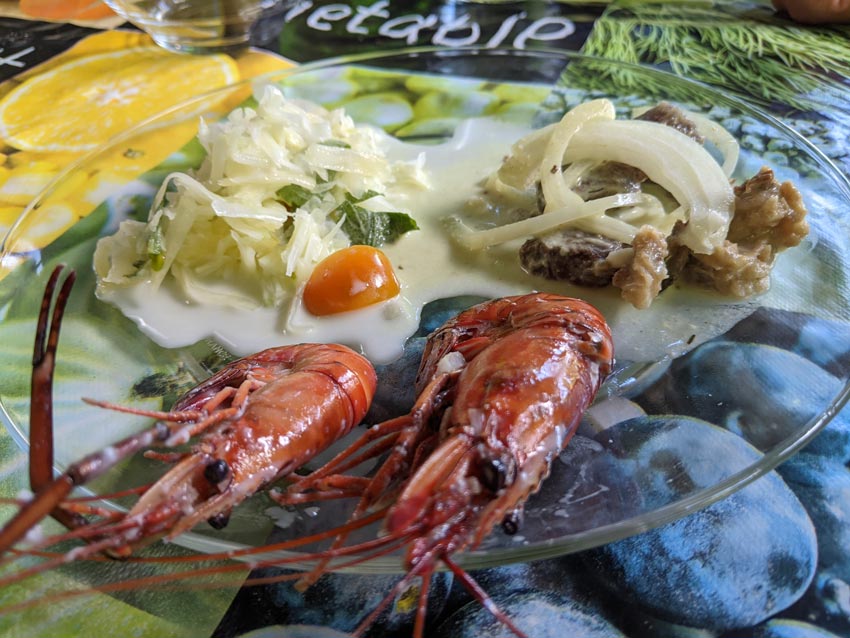 Tangy is also a gifted artist and he'll be happy to show you the basics of his trade. You can purchase exquisite art directly from their website or email Ana with a tailor-made request. Since they live off-the-grid in the valley, get in touch with them online and wait a few days for a response. Every week, the couple hikes to Taiohae to run their errands.
If Ana and Tangy aren't available, try getting in touch with Thierry Tekuataoa (+689-87791969 Skype:tht1966) or Francois Mayol (+689-87260472, [email protected]). During my last visit, I heard that Thierry moved to France but he might have returned since. If all else fails, perhaps the Pearl Lodge will allow you to join one of their tours (which also might include lunch at Ana and Tangy's). I highly recommend booking this excursion for the first full day in Nuku Hiva as tours might be: fully booked, under-booked, or canceled due to bad weather.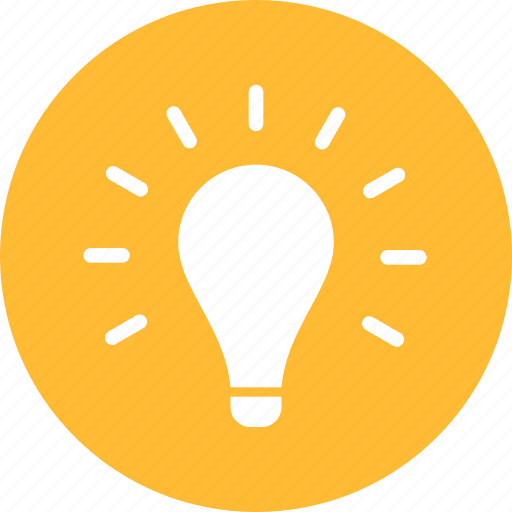 Pro Tip
Due to an incident of fallen rocks injuring a local or a visitor at the base of the waterfall, most excursions do not go all the way to the waterfall itself. To do so, they must equip guests with helmets. That said, some guides (including Tangy and Ana) have a waiver form that can be signed to continue the hike all the way to the waterfall.
Unless you hike into the valley, most excursions begin with a scenic 40-minute boat ride from Taiohae to Hakaui. This is a great chance to admire Taiohae from the bay and to get a close view of exposed cliffs clearly showing millennia of volcanic activity.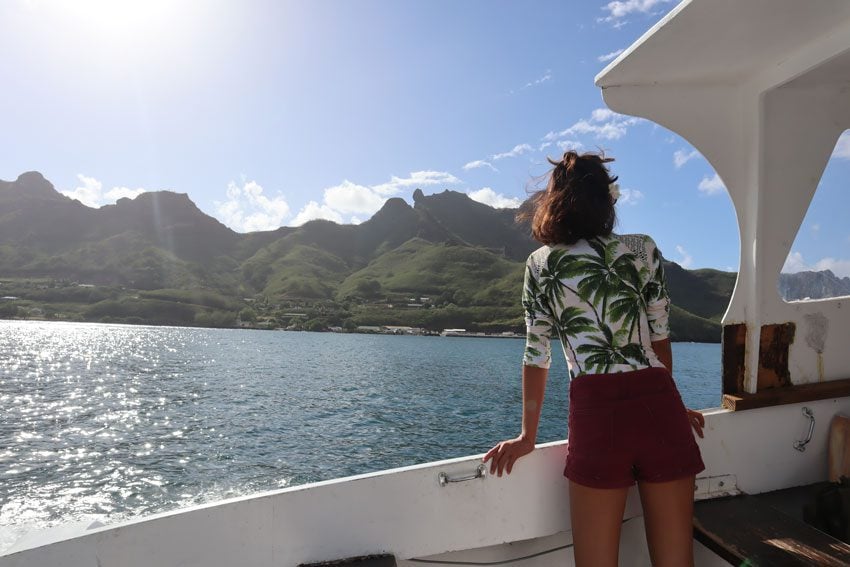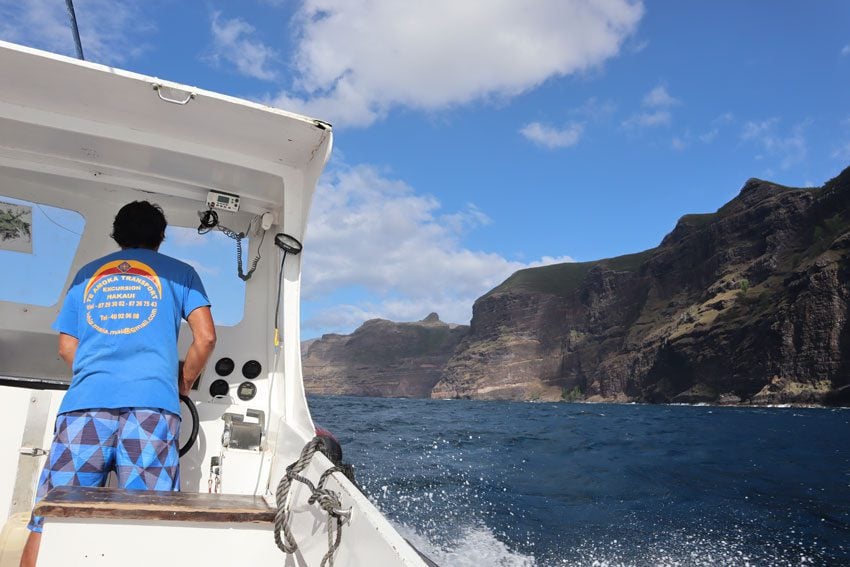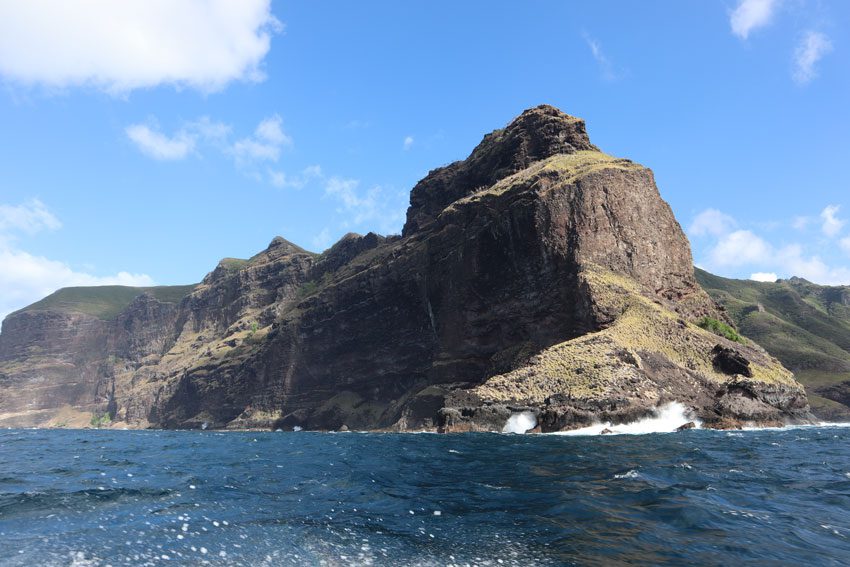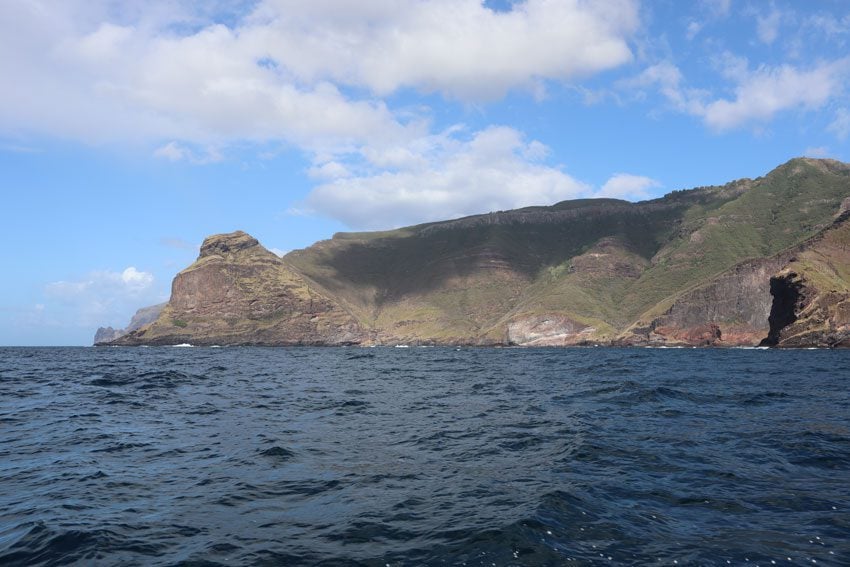 As you enter Hakatea Bay, you'll seriously be lost for words: emerald waters meet a white sand beach that's welcoming returning fishermen, and the signature basaltic cliffs of Nuku Hiva rise deep in the valley as if leading the way to Vaipo Waterfall. That's exactly where you're headed!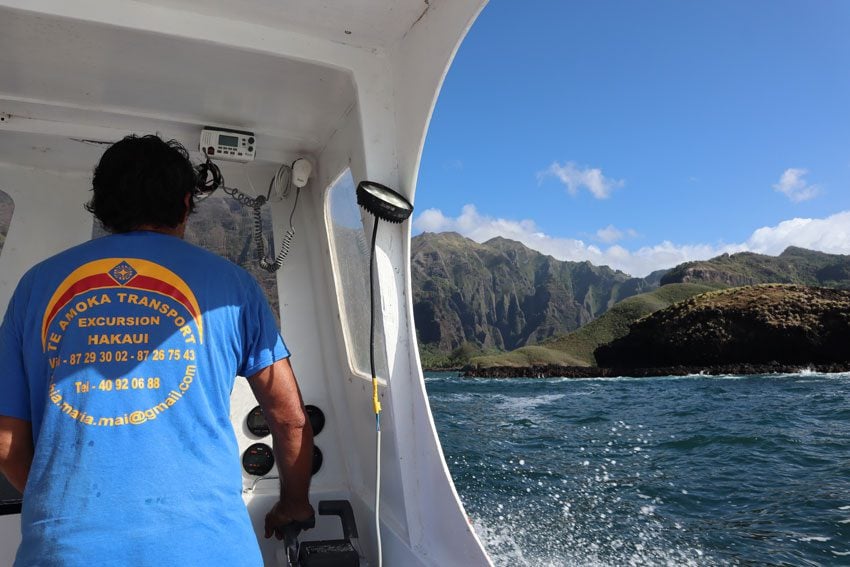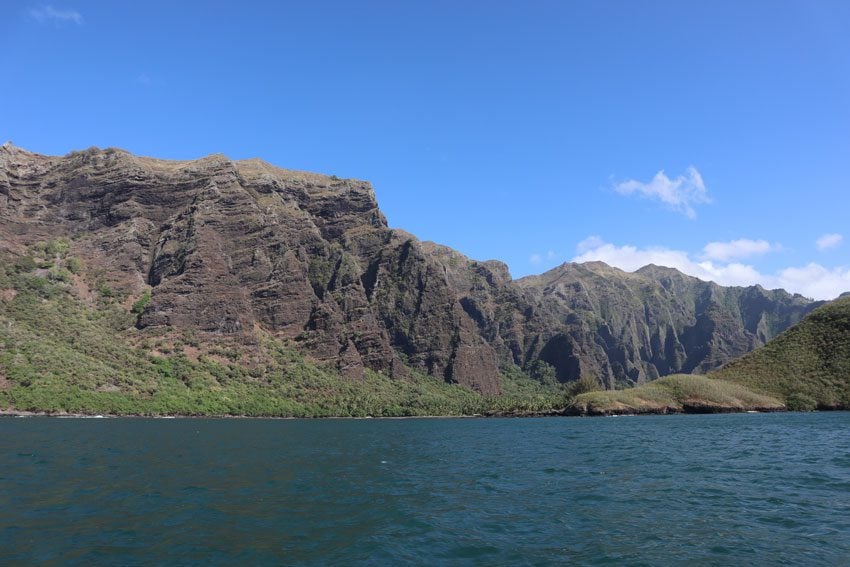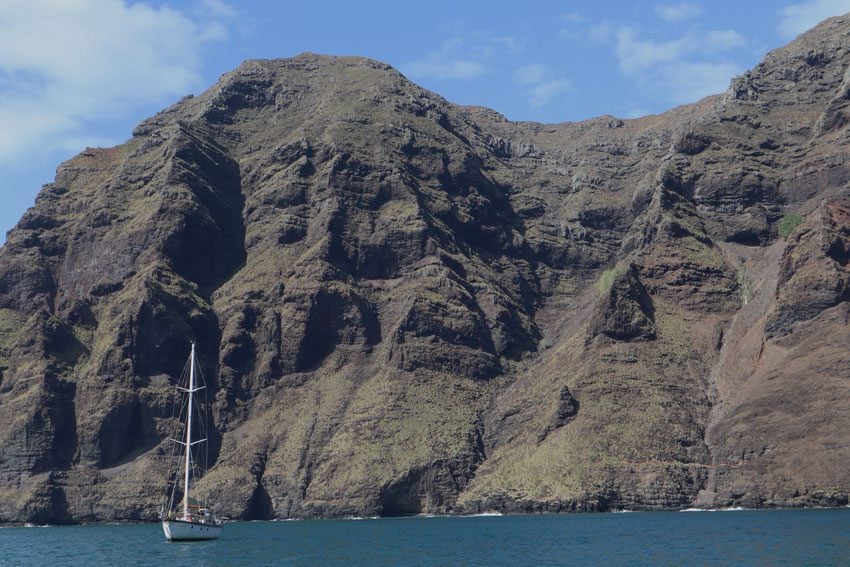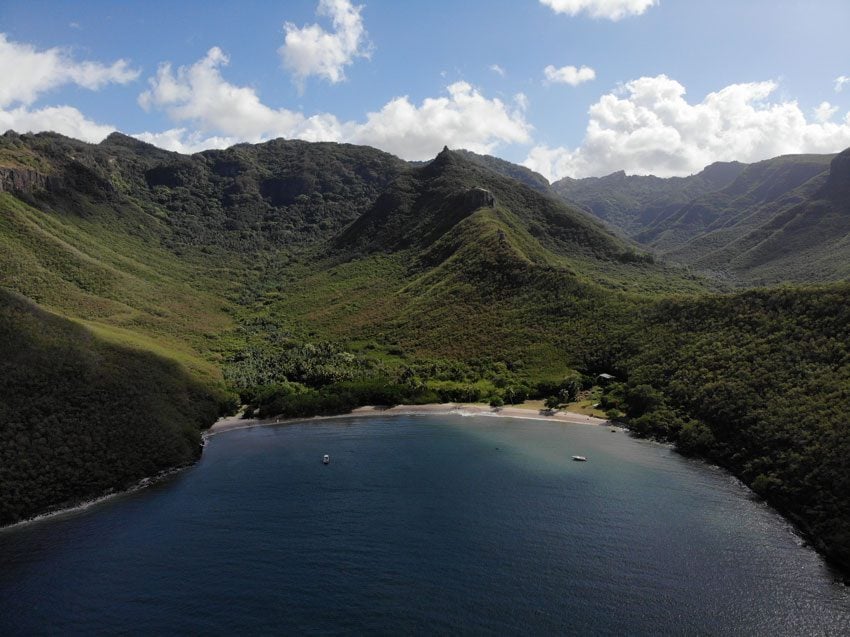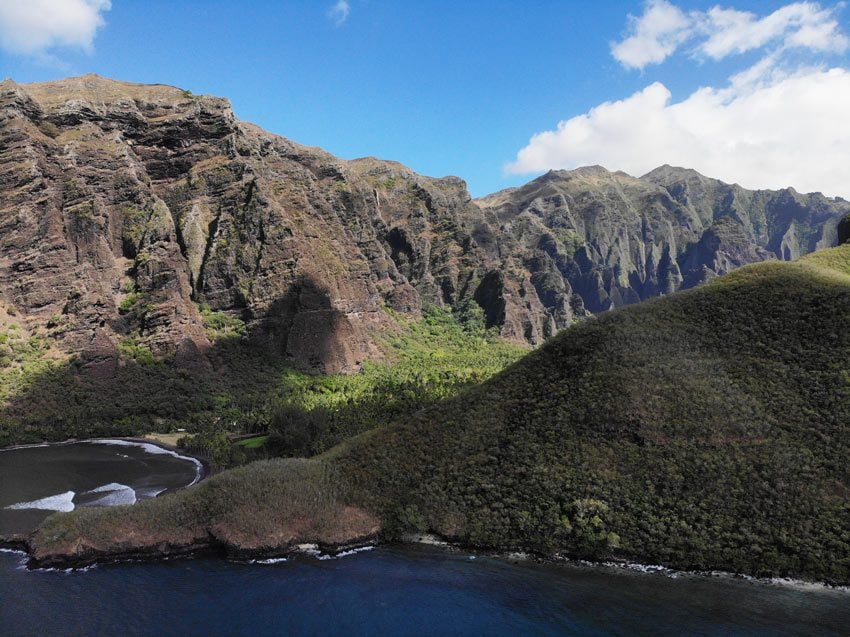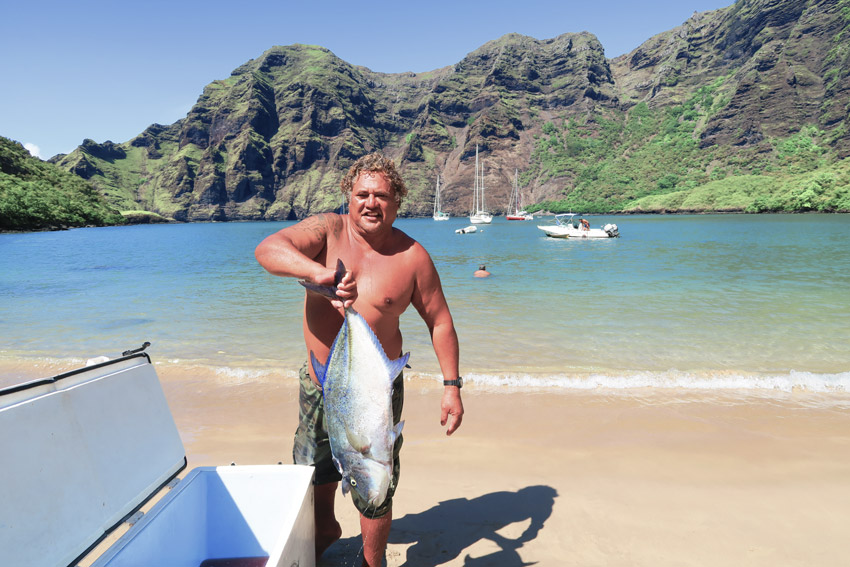 In Hakatea, your guides will take you along the rocky path to neighboring Hakaui Bay which sits at the mouth of Hakaui Valley. This beach is known to have nono (sandflies) so be sure to apply some monoi oil before arrival.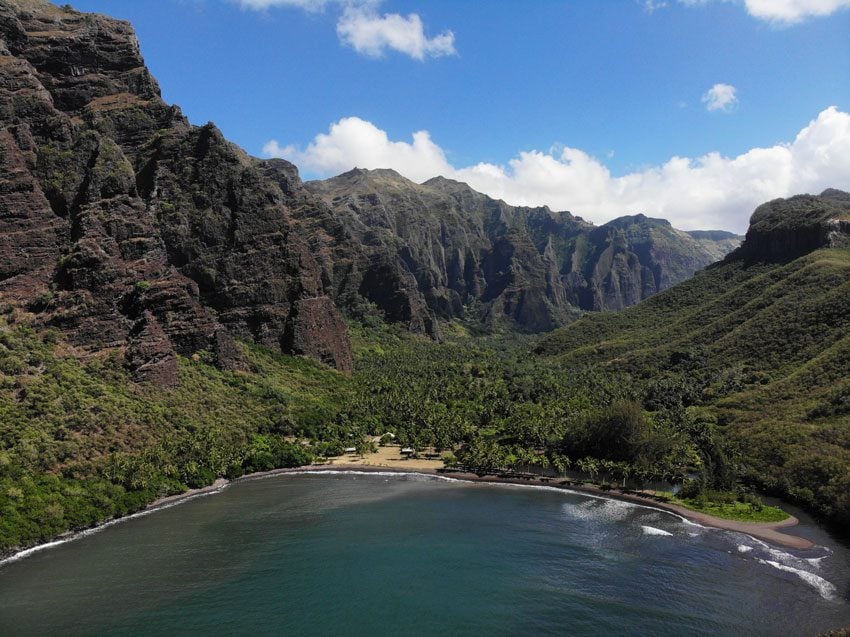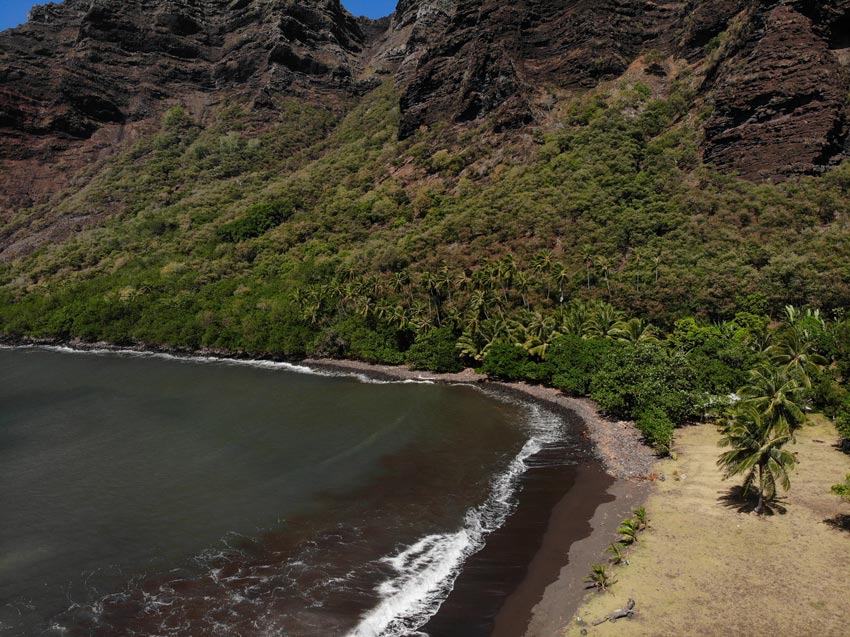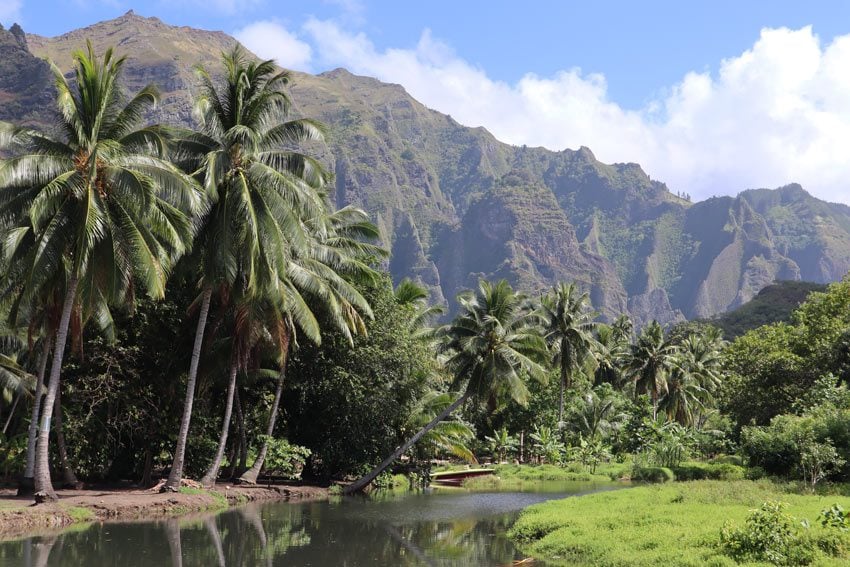 You'll then begin to walk in the valley (~4km each way), crossing the river and walking along parts of the ancient royal road. The valley was once the home of thousands of islanders, and you can still see the stone platforms that are these days overrun by the magnificent roots of the mape trees. These platforms (tohua and pae pae) were used in ceremonies, the ground pits for storing fermented breadfruit for drought years, and the tiki statues to keep the bad spirits away. The royal road is miraculously flat despite the changing elevation, a testament to the ancient Marquesan ingenuity.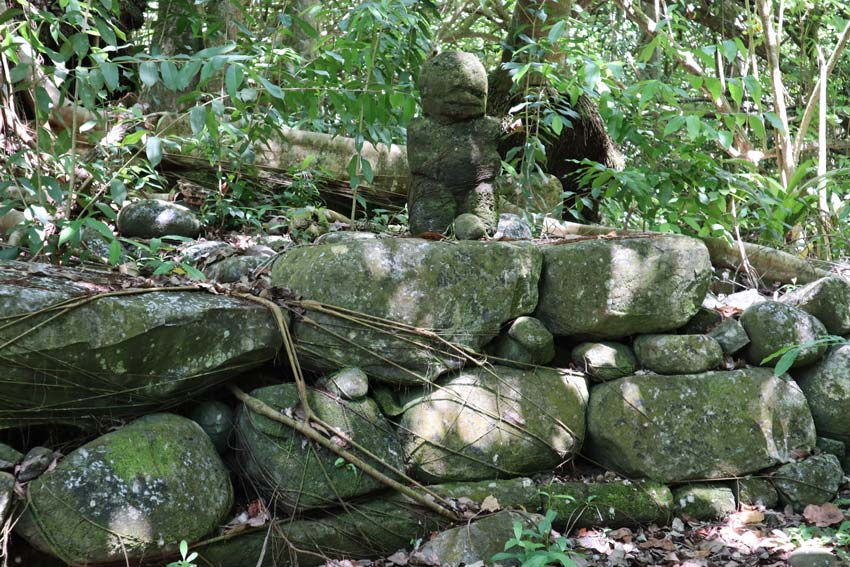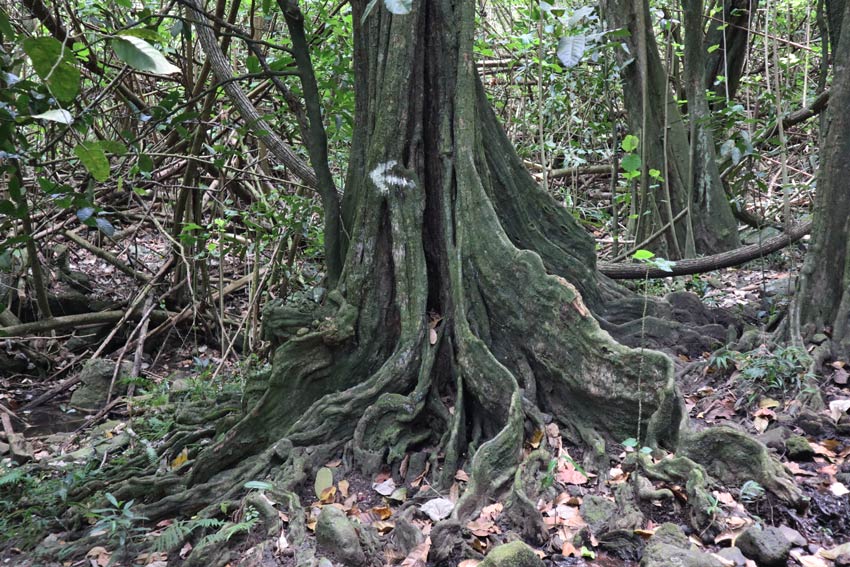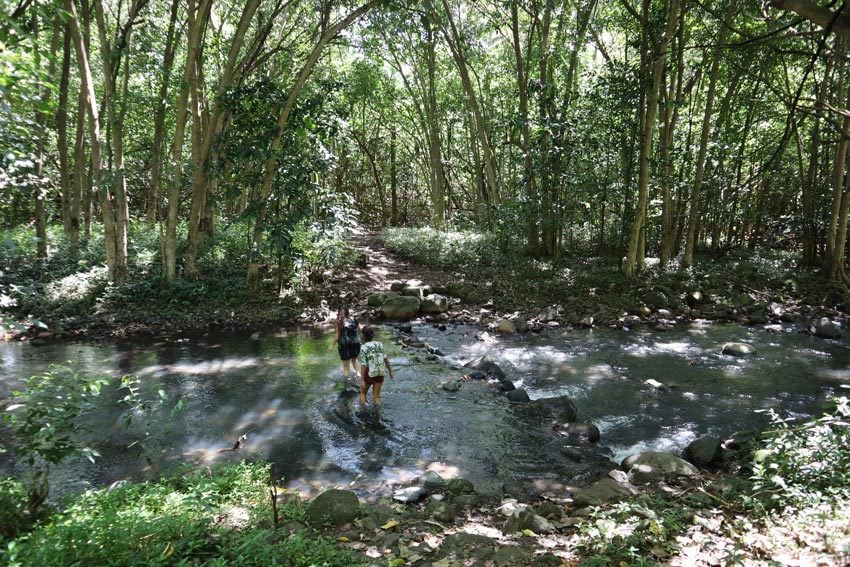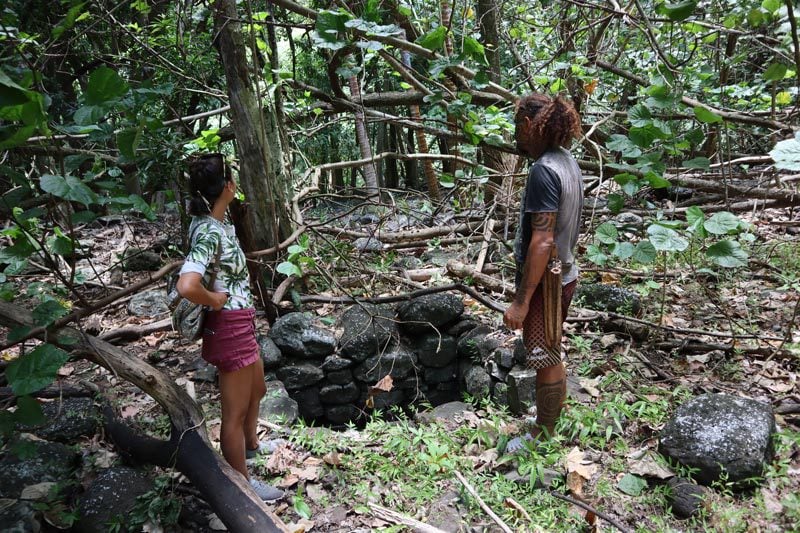 After stopping for lunch by a river crawling with giant eels, you'll reach a clearing in the rainforest where it's paramount to look up at the giant cliffs. If you look closely, you might even spot the canoe of an ancient chief that rests outside a cave at a cliff's edge. Then, like some Hollywood special effect, the Vaipo Waterfall gently cascades from the cliffs. At 350 meters, it is the highest waterfall in French Polynesia. Below you can see what it looks like during the wet and dry seasons.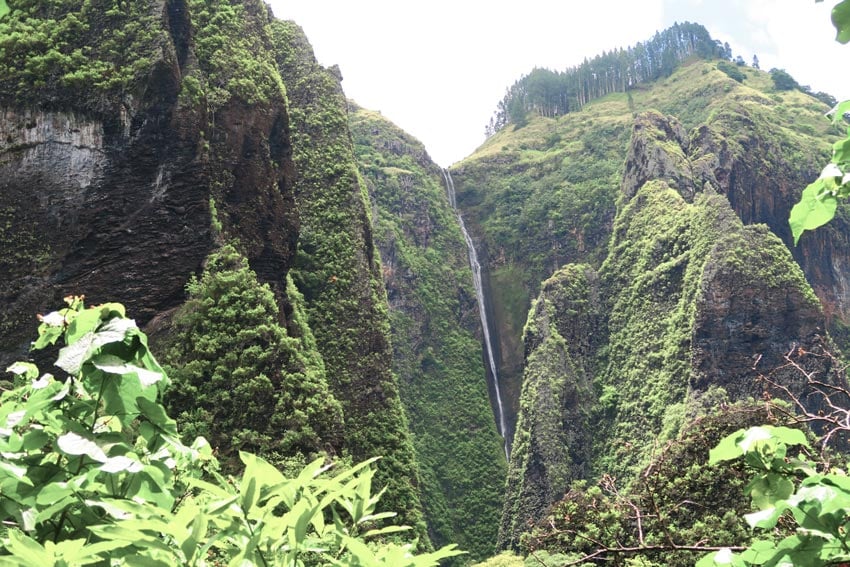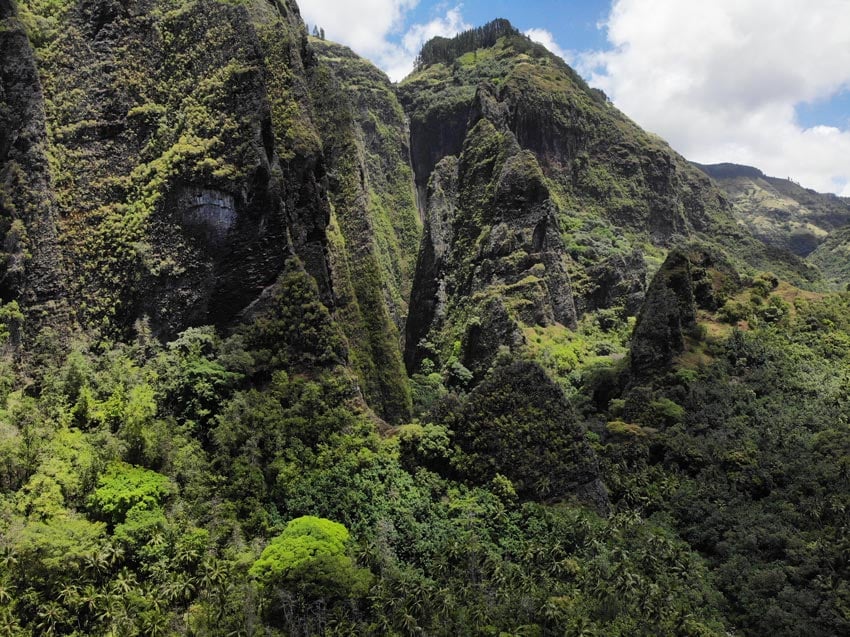 The set of cliffs where the burial caves are located also hides a "secret valley". There's a narrow entrance between the cliffs that opens to a hidden valley. Ana and Tangy can take you hiking there if you overnight at their place.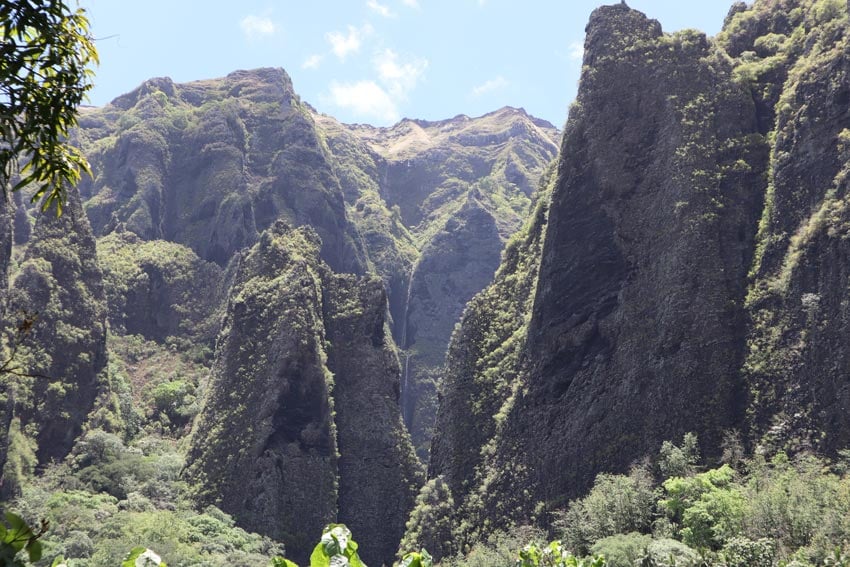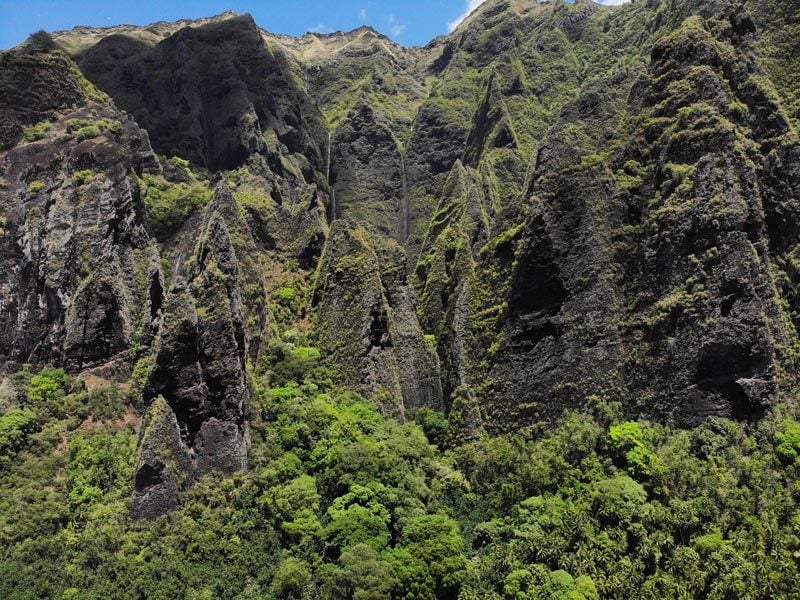 A further walk inside the creek will bring you to a freshwater pool at the base of the waterfall. Splash around before heading back to the boat and back to Taiohae, capping off a memorable day.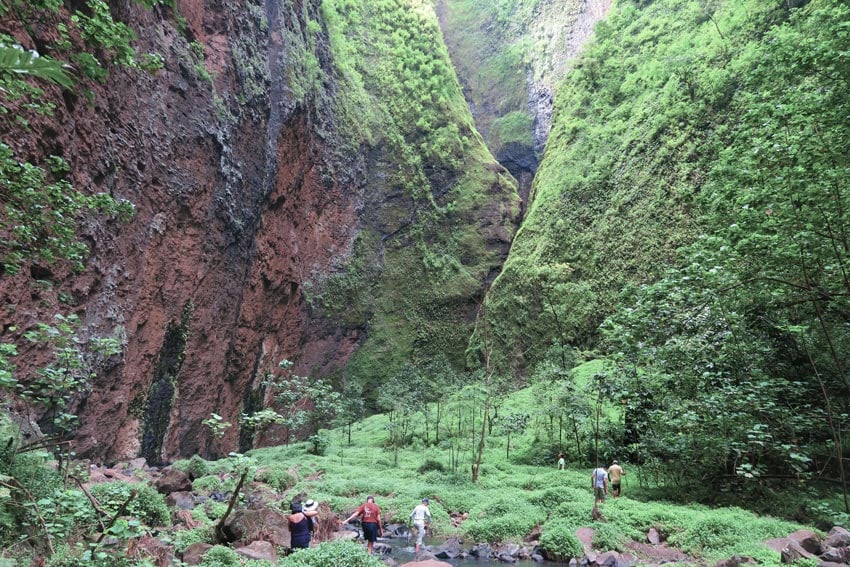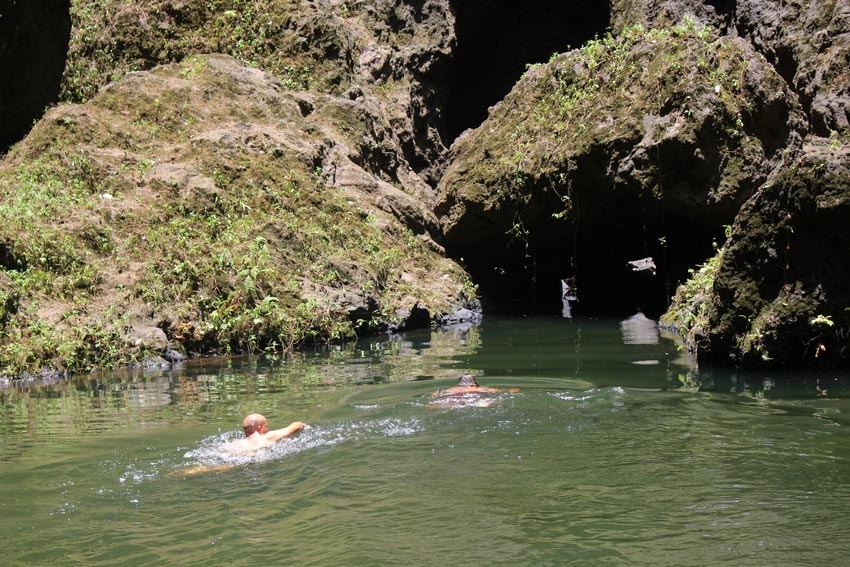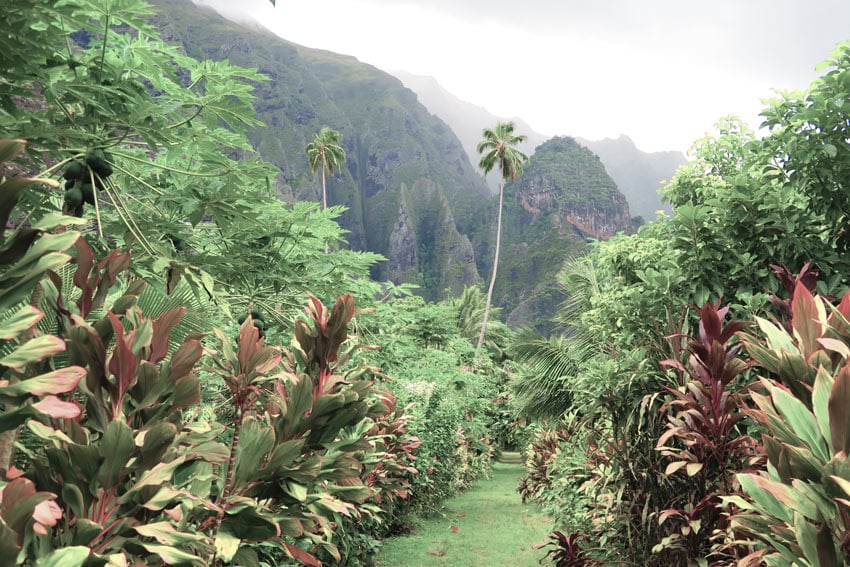 Logistics: your guides will advise on the boat departure time and its cost. Some guides might have their own boat but most do not so you'll book with the provider that operated the route between the main village and Hakaui (Te Amoka Transport | 87-293002, 87-267543, 40-920688 | [email protected]). The price will depend on the number of passengers. If it's a slow day, prepare to pay anywhere between $80-100 for the return trip (but it is absolutely worth it). The boat departs around 8:30 am and returns at 5 pm. The trip will be a bit bumpy and you might get slightly wet with sea spray so bring what you need to combat that. The 8-kilometer hike is relatively easy but it does involve crossing a stream so I advise wearing sandals. I also recommend wearing long sleeves to help combat the mosquitos, bring mosquito repellent, swimming gear for the waterfall, underwater camera, drone, and monoi oil (preferably lemon-scented) to prevent nono (sandfly) bites at the beach.
Taipivai Valley
A visit to this incredible part of Nuku Hiva can be combined on a full-day road trip together with Hatiheu, Anaho Bay, and everything in between. Have a look at this 4 days in Nuku Hiva itinerary for more info. You can visit the valley with your own car or book a spot with Alvane from Pension Koku'u (highly recommended, you'll later see why).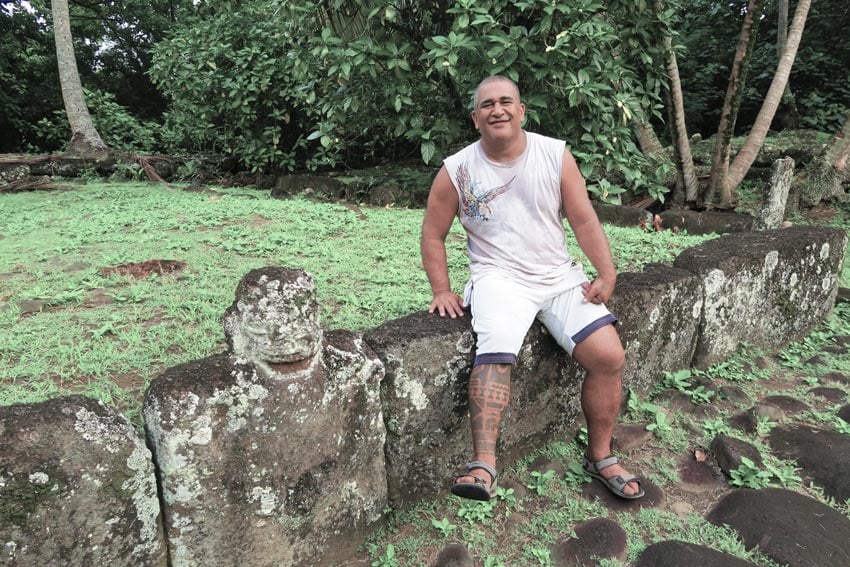 The valley is home to a sleepy village and a reconstructed ceremonial site used for the Marquesan Arts Festival. On one of the nearby hills, you'll also find the Paeke archeological site – home to a few me'ae (Marquesan for marae or ancient temple) and tiki statues. In the wetter part of the year, you might even spot a few waterfalls in the far distance.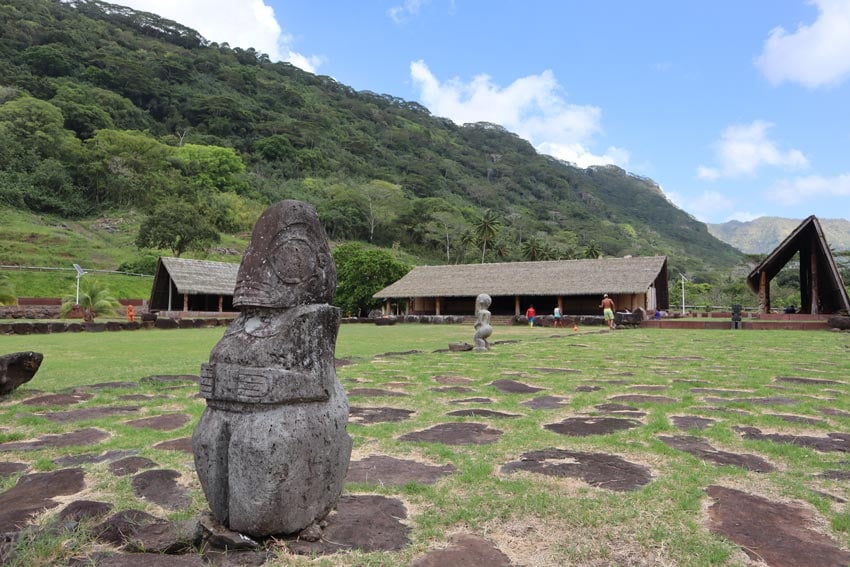 It's also worth checking if the Tapivai Crafts Market is open. It hosts the work of 26 local artists and you'll find here a great selection of Marquesan crafts at very reasonable prices.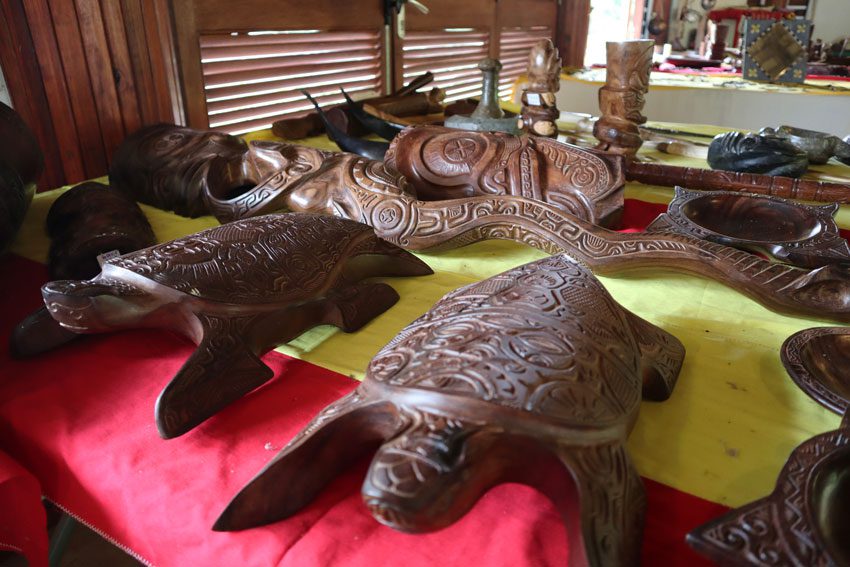 The real highlight is actually the view. As you descend from the Toovii Plateau, you'll be treated to panoramic vistas of Comptroller Bay. If it weren't for the humidity, you might think you're somewhere in the Norwegian Fiordland.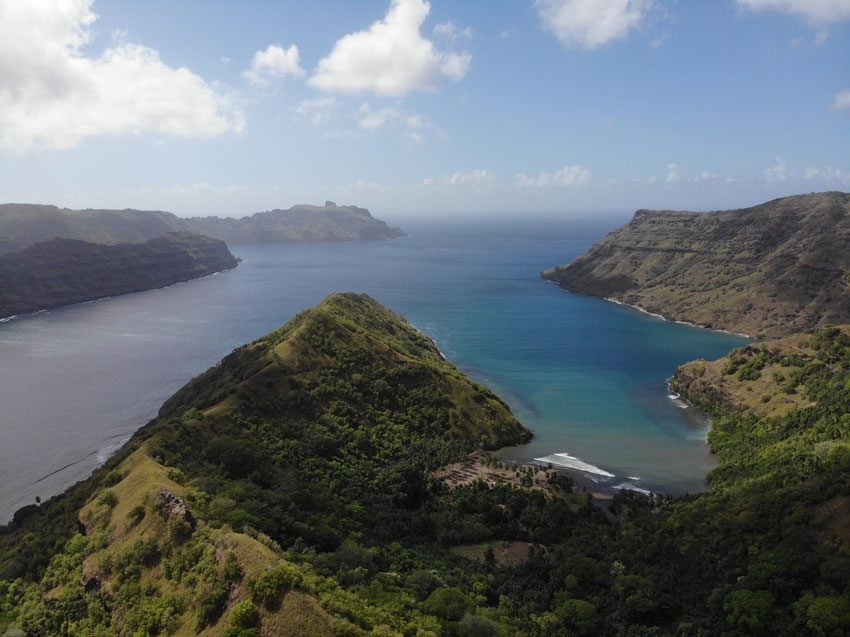 In 1842, whaler and later renowned American author Herman Melville (Moby Dick), jumped ship with a mate and spent three weeks in Taipivai. Based on his experience, he published Typee in 1846 with exotic accounts of Nuku Hiva. Seeing this view, I can absolutely understand why he would abandon the ship.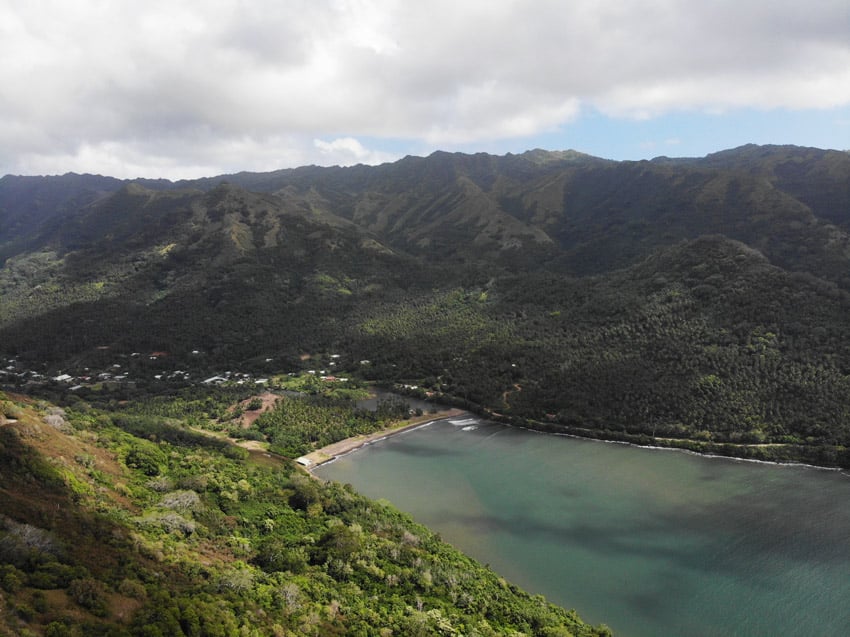 Distant Waterfall
In the outskirts of Taipivai, look left and spot the distant waterfall. It should flow even in the dry season. How tempting is it to try hiking to it? It should be possible with a guide.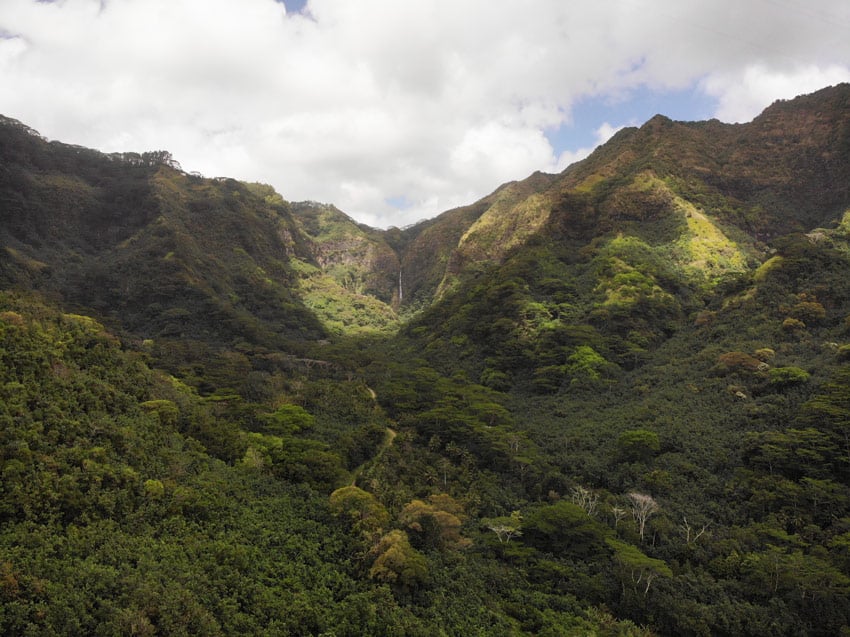 Hatiheu
Together with Hakaui Valley, Hatiheu Bay is not to be missed. The bay magically comes into view as the road emerges from the mountain pass just beyond the Taipivai Valley, offering breathtaking views of the rolling hills, sharp basaltic cliffs and the tiny village on the bay's shore.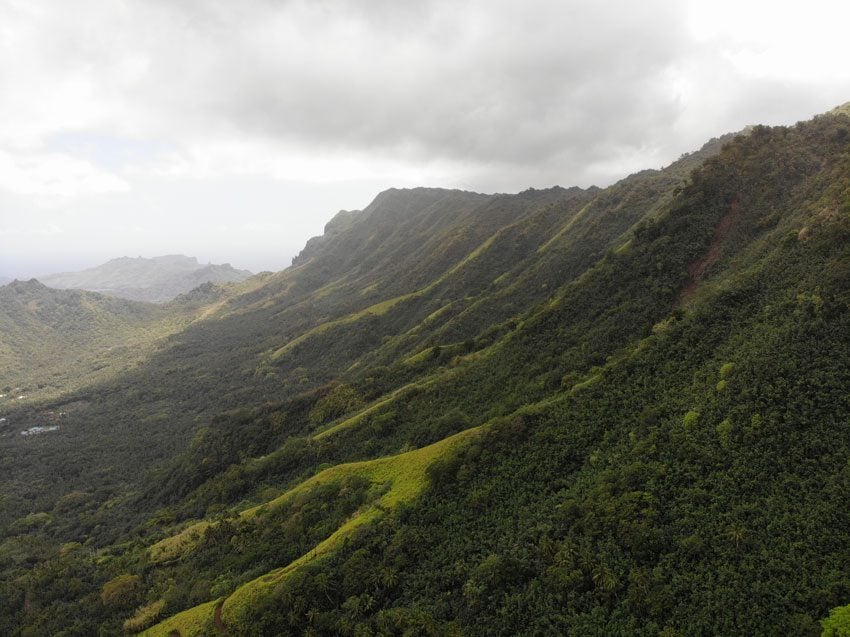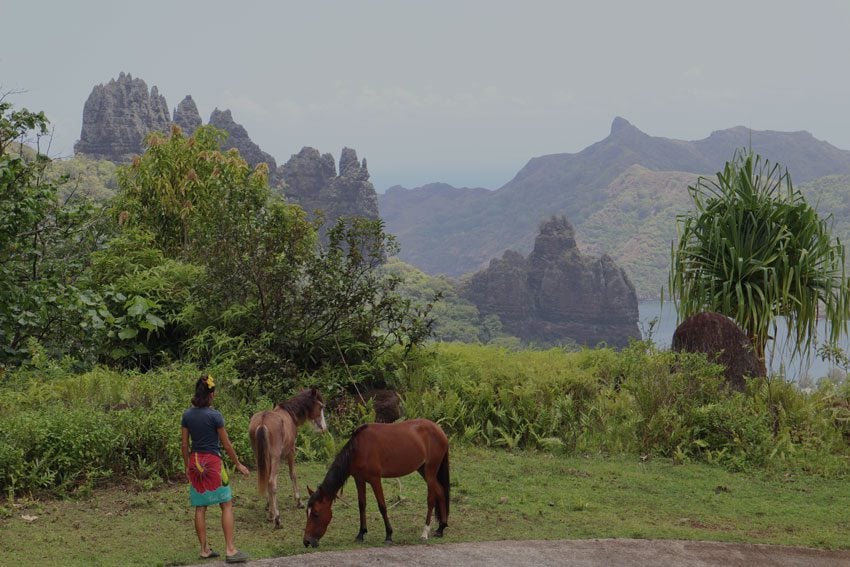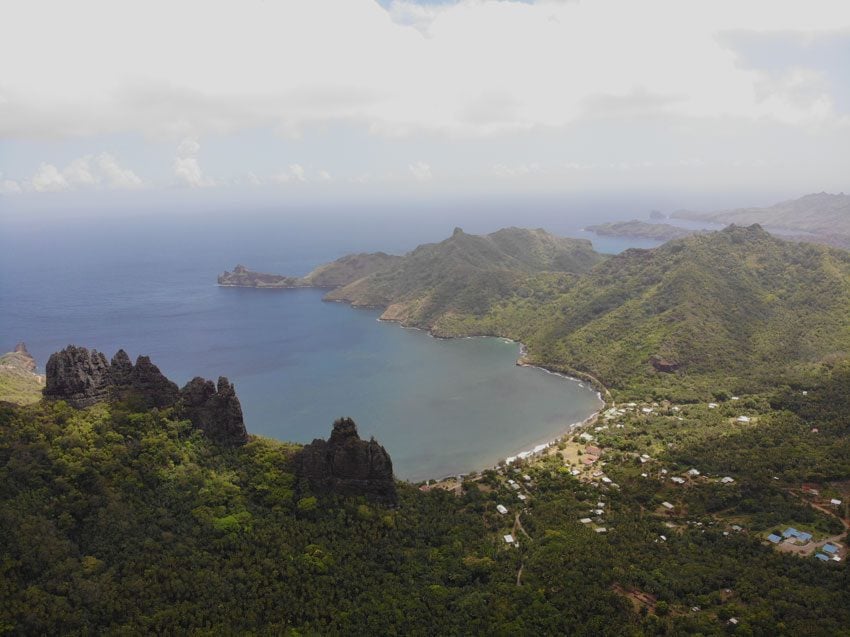 You'll be seriously contemplating parking it up here for an hour or snaking your way down to check out the village. What a sight!
Hatiheu Village is as charming from level ground as it is gorgeous from up in the mountains. Its black sand beach is protected by tiki statues and capped on its western end by the shark-toothed cliffs. Somehow, islanders hoisted a statue of the Virgin Mary to the clifftops in 1872.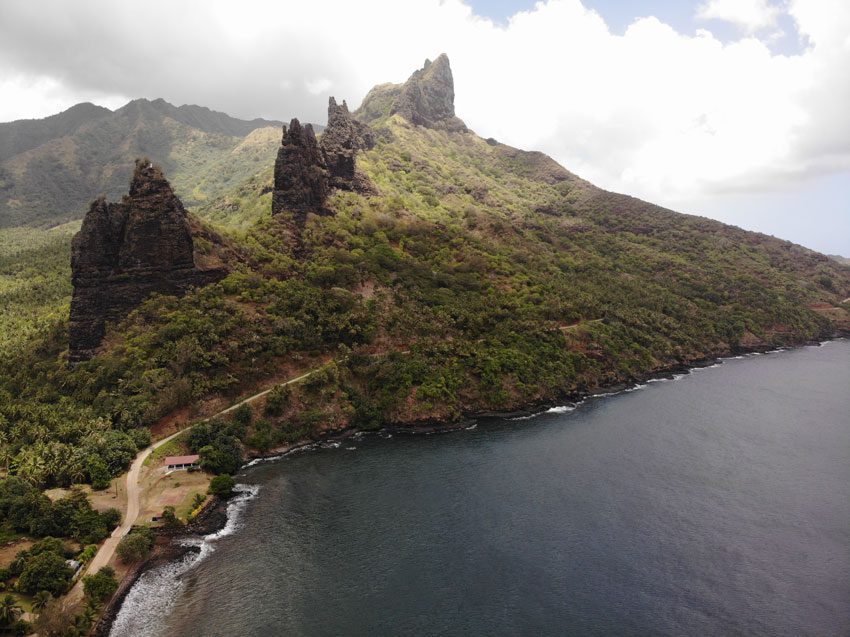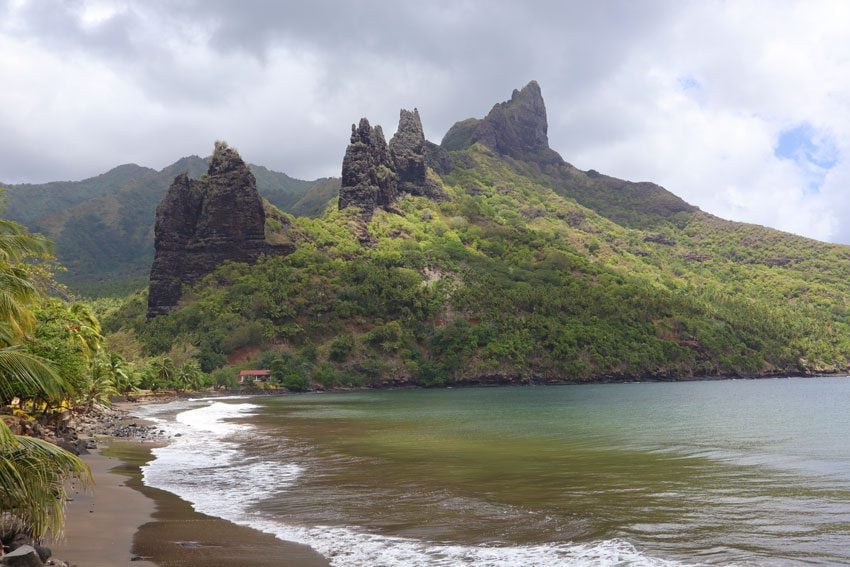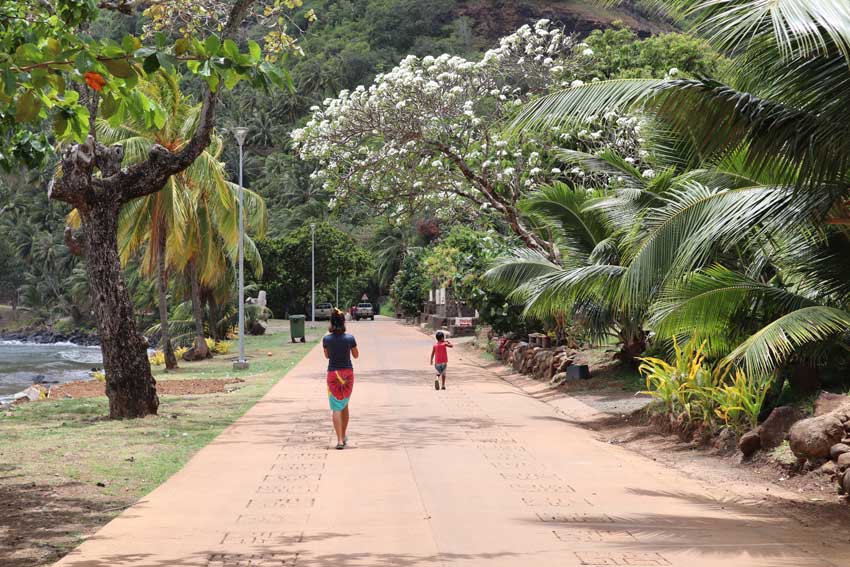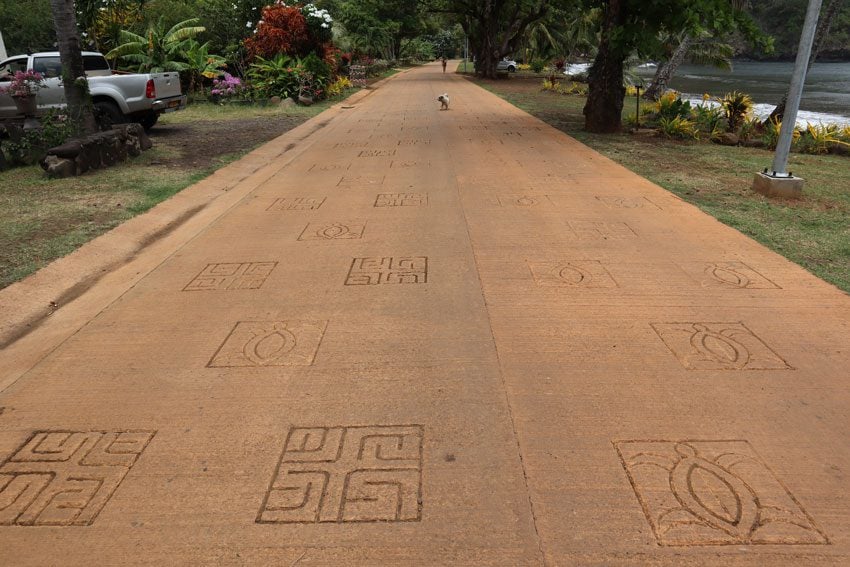 There's a small grocery shop that's open for the better part of the day, but if you're wondering where the locals are – they're either fishing out at sea or tending to their copra plantations. Spot the coconut drying 'shack', a contraption used to dry the flesh ahead of the extraction of oil.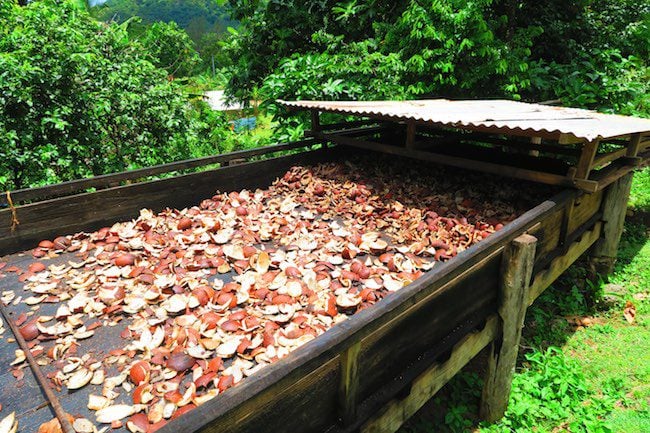 No matter how small the village is, the local Catholic church is always something to marvel at. If it happens to be closed, ask one of the locals to lead you inside.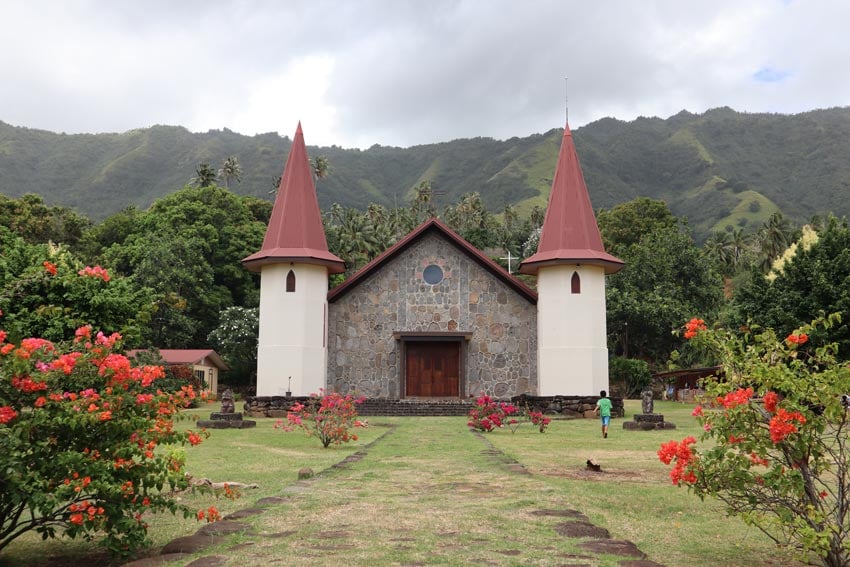 A'akapa Cliffs
As you enter Hatiheu, instead of turning right and entering the village, head left and drive to A'akapa. Part of the road is not sealed but it safe to drive. The cliffs of A'akapa are another Nuku Hiva highlight. They are best viewed from the lookout right next to a religious memorial that's hard to miss. If you have time, head down to the bay for more sensational views. Locals say the cliffs resemble a giant dinosaur and I certainly agree with that.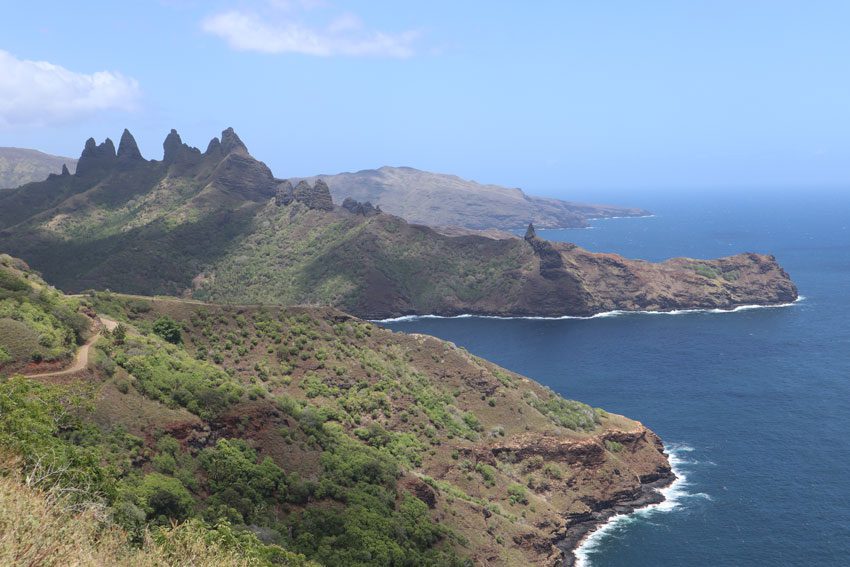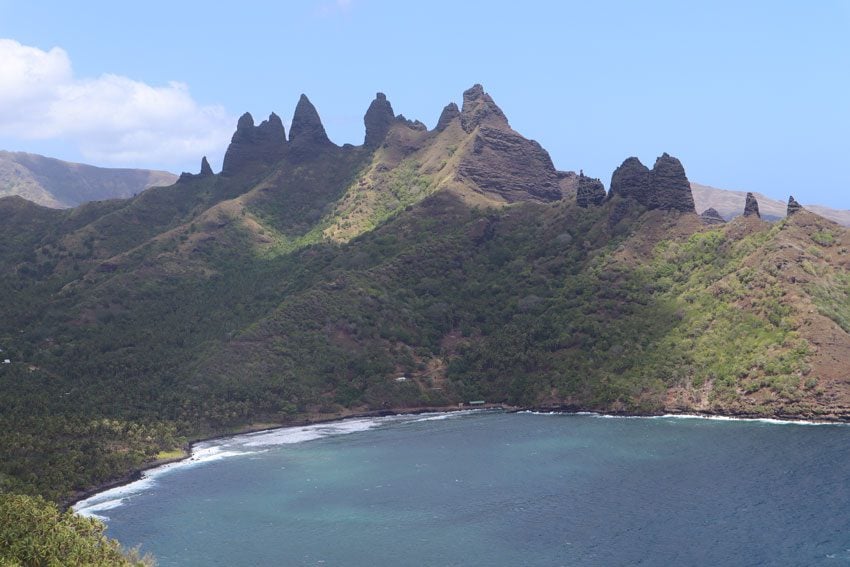 Archaeological Sites
Nearly every French Polynesian island has at least one ancient marae complex, with some of the finest in Huahine and Raiatea. However, these pale in comparison to what you'll see in Nuku Hiva (and neighboring Hiva Oa for that matter). Just before reaching Hatiheu Village, you'll be passing by four of the finest archaeological sites in the South Pacific: Hikokua, Kamuihei, Tahakia, and Teiipoka.
Hikokua Archaeological Site
This massive complex essentially consists of a central 'square' surrounded by stone platforms. I refer to this as a 'square' since it served for large gatherings and community ceremonies. Dating back to the 13th century, the site is believed to have been in use until the early 19th century.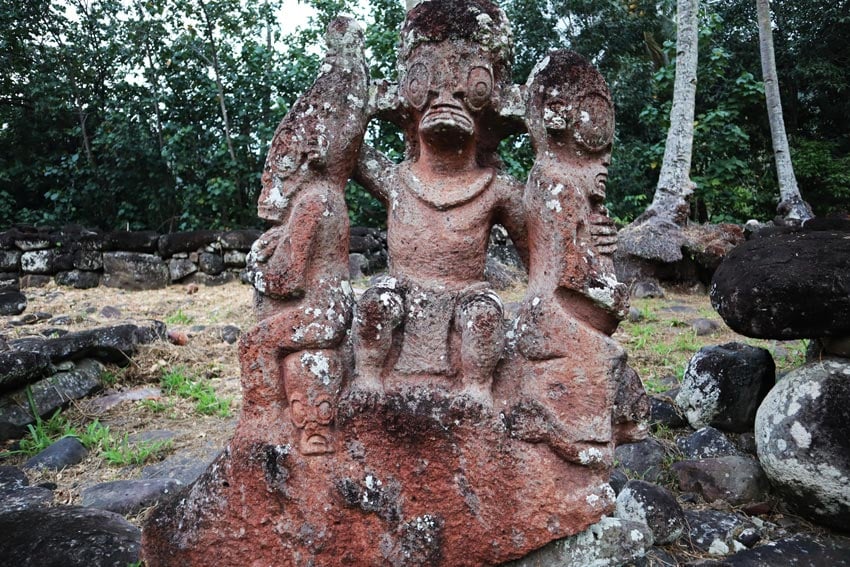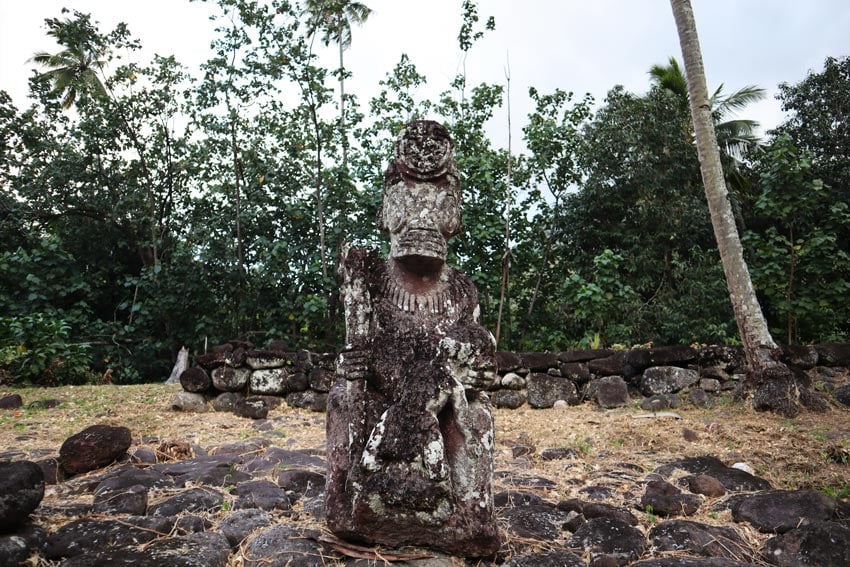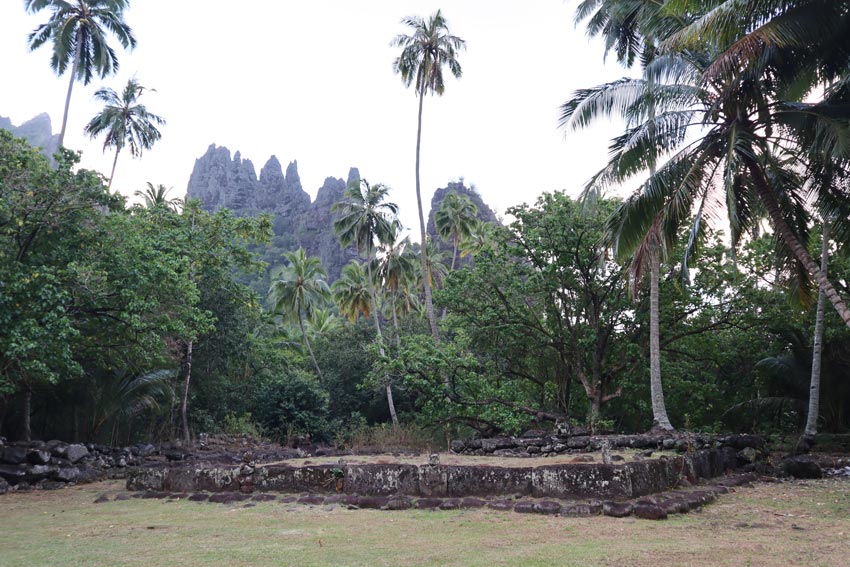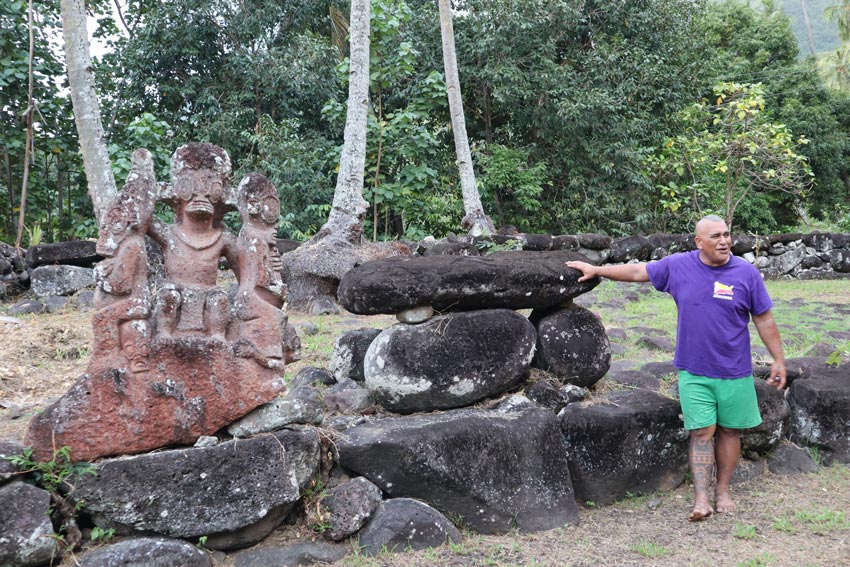 Around the large grassy square, examine from up close the stone statues, some depicting polygamy and human sacrifice. Speaking of that, climb atop the human sacrifice stone and imagine the terrifying thought that passed through the minds of so as they were about to lose their head… If you need a little help with that, here's Alvane showing us how it would have been done, with the help of one brave volunteer (that would be me). Have a look at the video.
As mentioned, this site was mainly used for community gatherings, where song and dance played a key part in Marquesan life. To show us what it would have looked like, Alvane performed a traditional haka dance that would have been used to welcome guests. Alvane is not only an excellent tour guide, but he also proudly displays Marquesan culture during the highly acclaimed Marquesan Arts Festival. If you're nice enough, he'll put on a show during your tour of the site.
Kamuihei, Tahakia and Teiipoka
These three complexes are further down the road from Hikokua and form the largest archeological site on the island. Take your time and stroll amongst the centuries-old giant banyan trees, tiki statues, petroglyphs, and sacrifice pits.
This place is so big, you might find yourself all alone at some point and it can feel incredibly strange. Locals say you can really feel the mana, spiritual energy, which radiates for eternity. This feeling is further amplified by the nonstop sounds of the crows (or some other bird that makes similar sounds). They congregate here in large numbers, terrifying the roosters, especially towards sunset.
This place is eerie, chilling and should not be missed!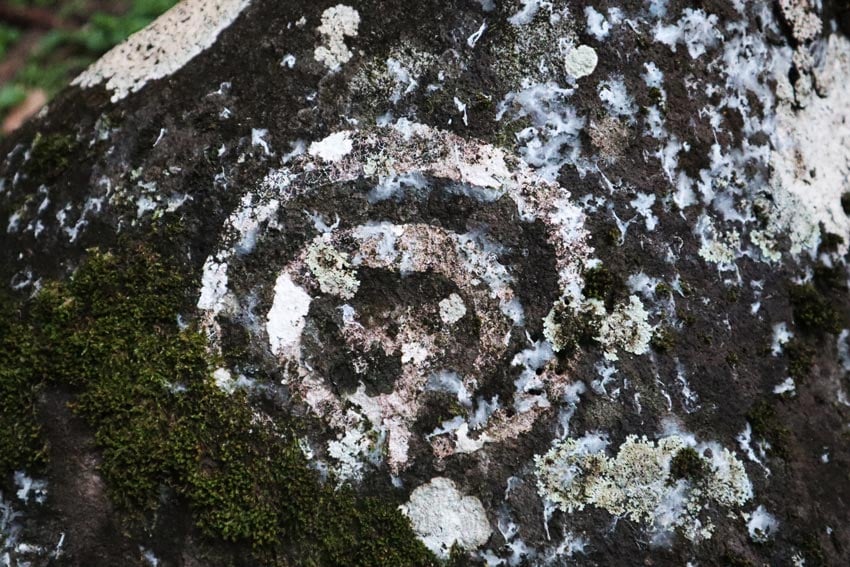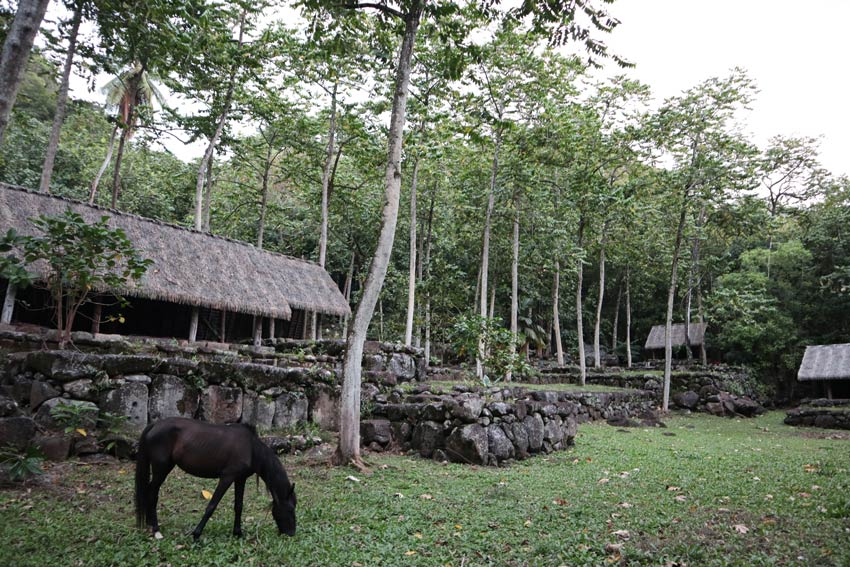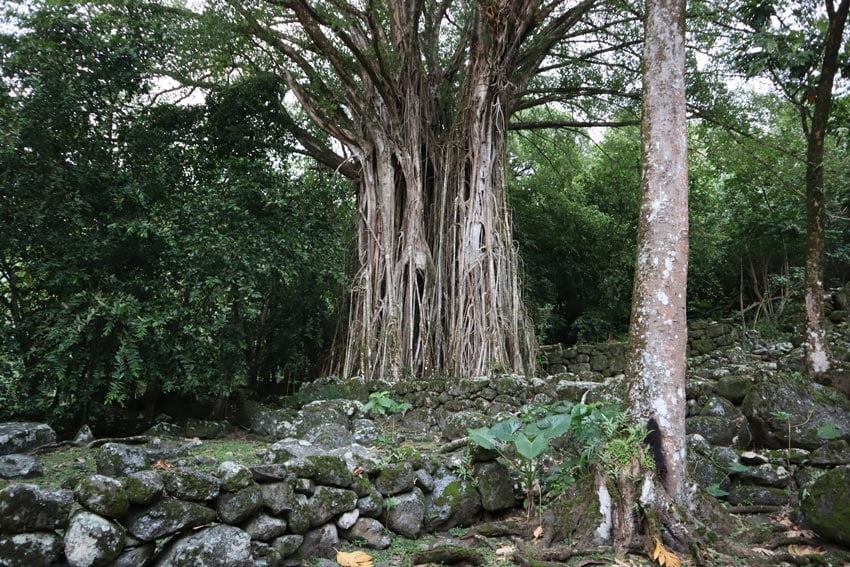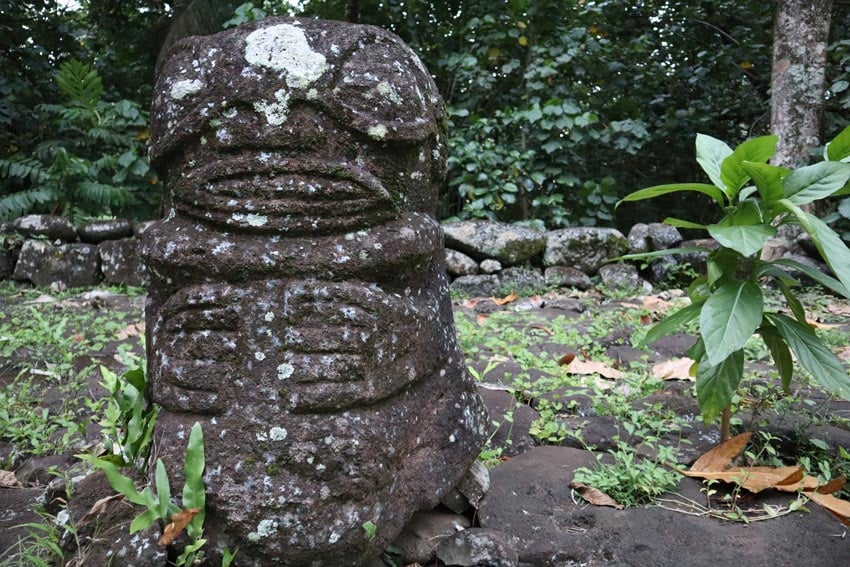 Hike To Anaho Bay
Most organized tours will stop at Hatiheu before returning to Taiohae, but Alvane's tour continues with a hike to Anaho Bay. This moderate hike offers yet additional sensational views and can be done without a guide in case you're exploring Nuku Hiva at your own pace.
The trail begins at the edge of the village, where you'll park the 4X4 and begin to climb through the mango-covered rainforest. If you're in luck, it's mango season. Simply pick a few good ones off the ground and save for later. After about 30 minutes, you'll reach the mountain pass – one of the most scenic spots in Nuku Hiva.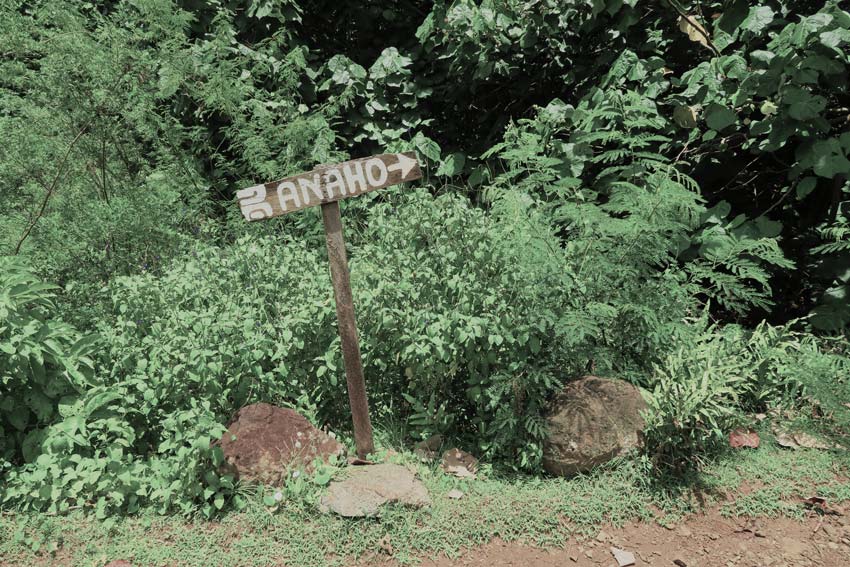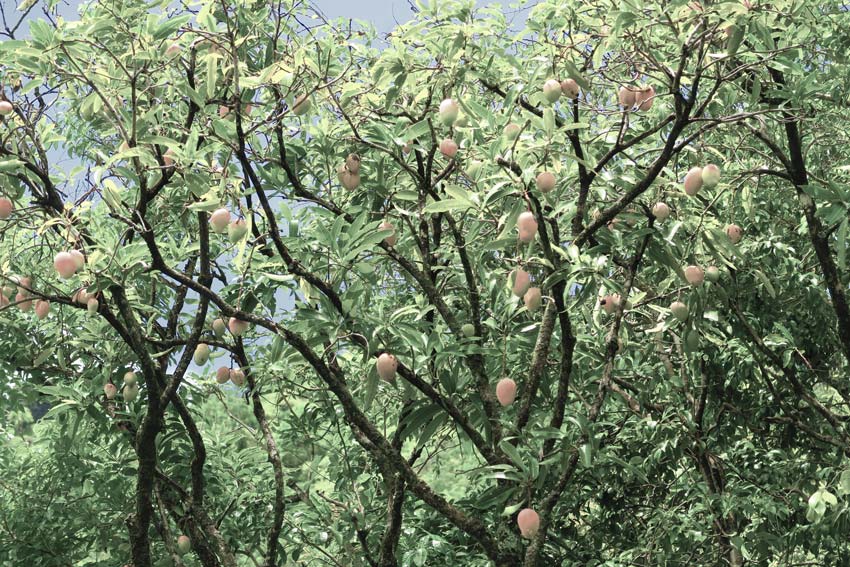 From up here, Anaho Bay simply looks like paradise. Gently wrapped by sea cliffs and radiating with blue, the bay also has the only snorkeling spot in Nuku Hiva thanks to a tiny reef. Plan to stop here for a while because it's simply gorgeous!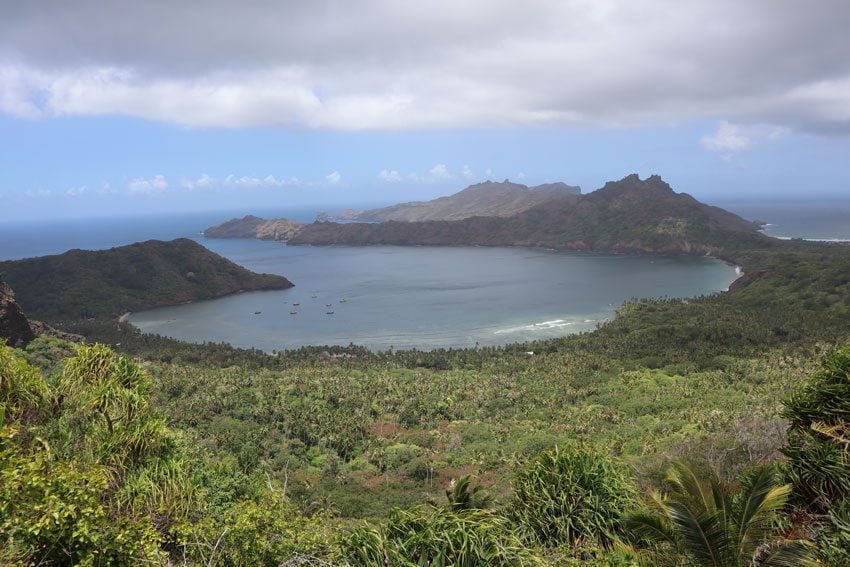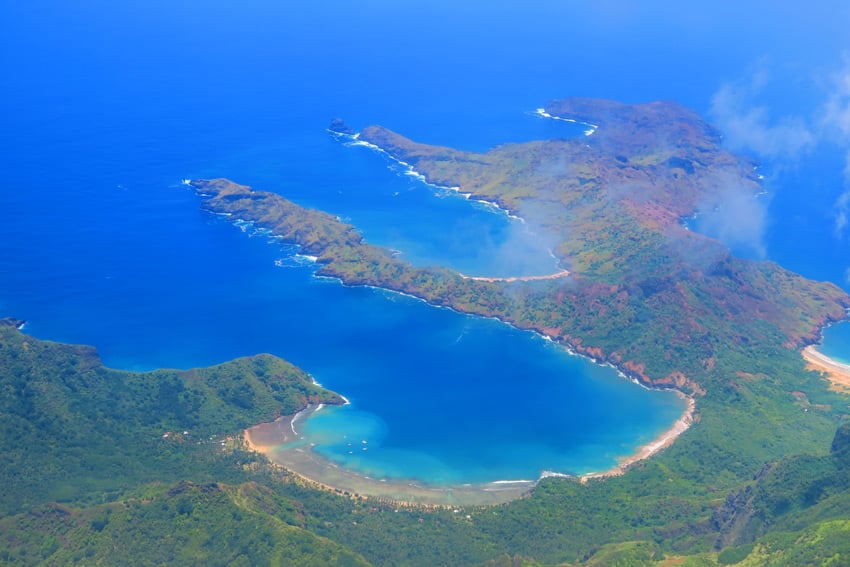 Another 30 minutes of hiking down from the pass bring you to Anaho Beach. Surprisingly, few families actually live out here. There's no electricity and no running water, but there are plenty of coconuts for the production of copra. With the government subsidizing copra farmers, this is actually a pretty decent business, though extremely labor-intensive.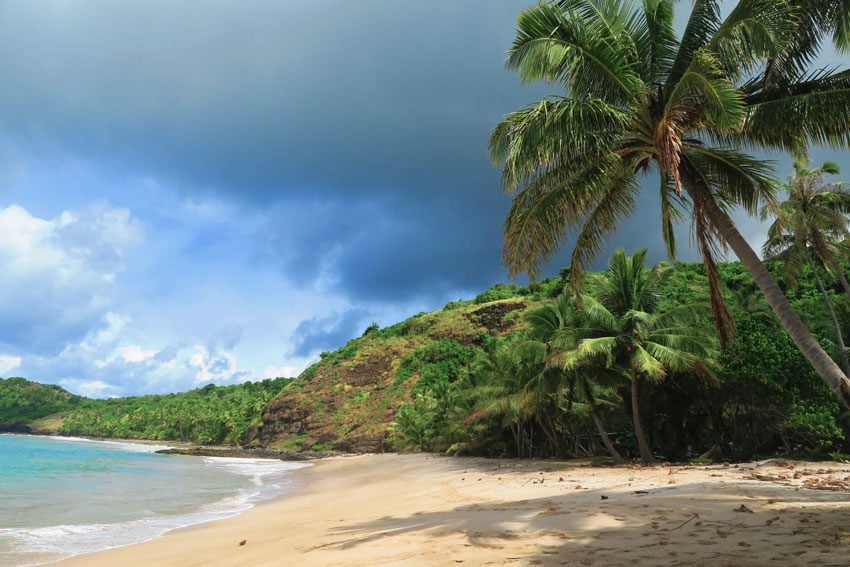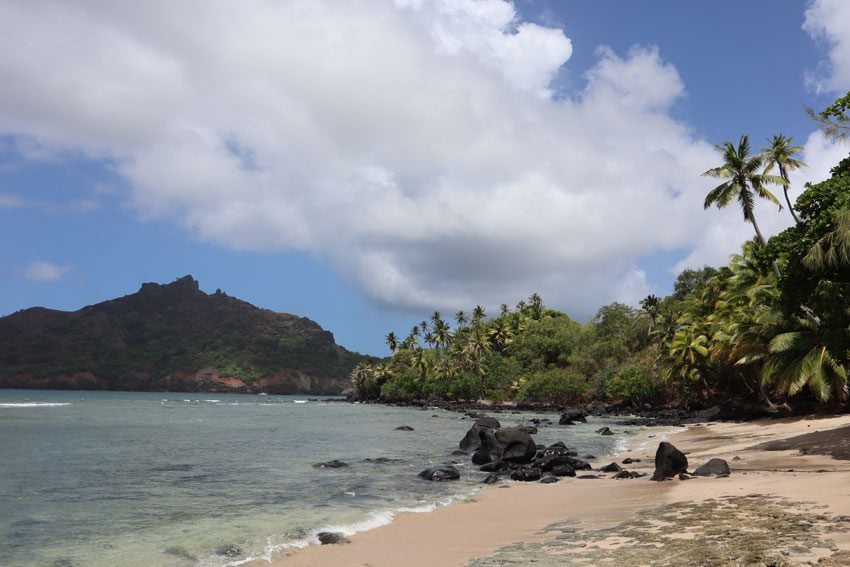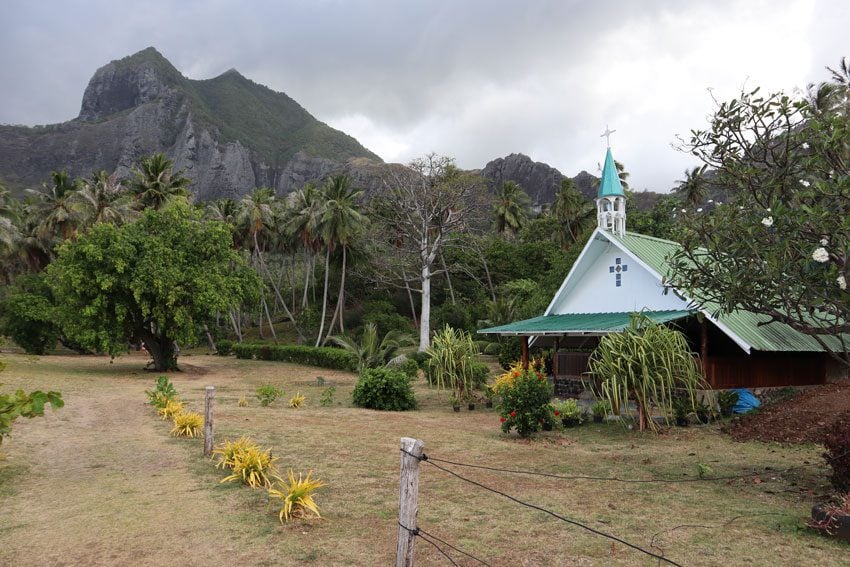 Once you've greeted the locals, find a spot along the beach and enjoy paradise. I suggest applying a thick layer of monoi oil to prevent the nasty nono from biting (sandflies). As for the swimming, you have the small reef on one end and crashing waves on the other. In any case, take it easy when swimming as there's no protective lagoon. It's also possible to hike for another 30 minutes to the neighboring Haatuatua Bay. See below for more information.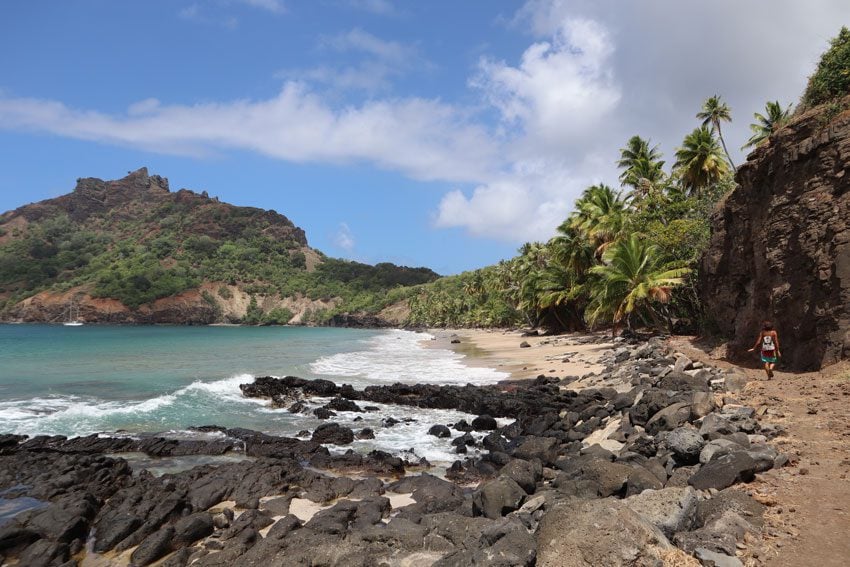 Logistics: the trail is clearly marked so you can definitely hike this on your own from Hatiheu. It's a moderate 90-minute hike (return) but add plenty of time for the view from the pass and for chilling on the beach. Bring everything you need including plenty of water (more water than you think you'll need), monoi oil, food, beach gear, walking sandals, and a change of clothes.
Hike from Anaho Bay to Ha'atuatua Bay
From the far end of Anaho Bay, a clear trail heads to the neighboring bay. Ha'atuatua Bay and its beach are as beautiful as they come. Soft golden sand, coconut palms, jagged onlooking cliffs, and not a soul around. However, hundreds of tiny blue jellyfish and invisible nono (sandflies) by the thousands make the trip out here memorable in all possible ways. It's strongly advised to either apply a generous layer of monoi oil before heading here or to admire the bay from a distance (there's a good spot for it halfway along the trail).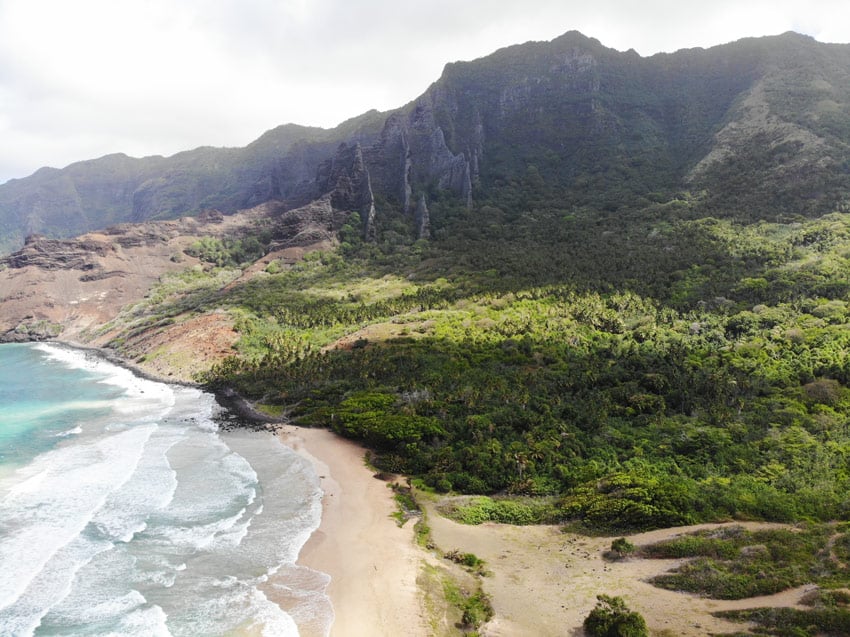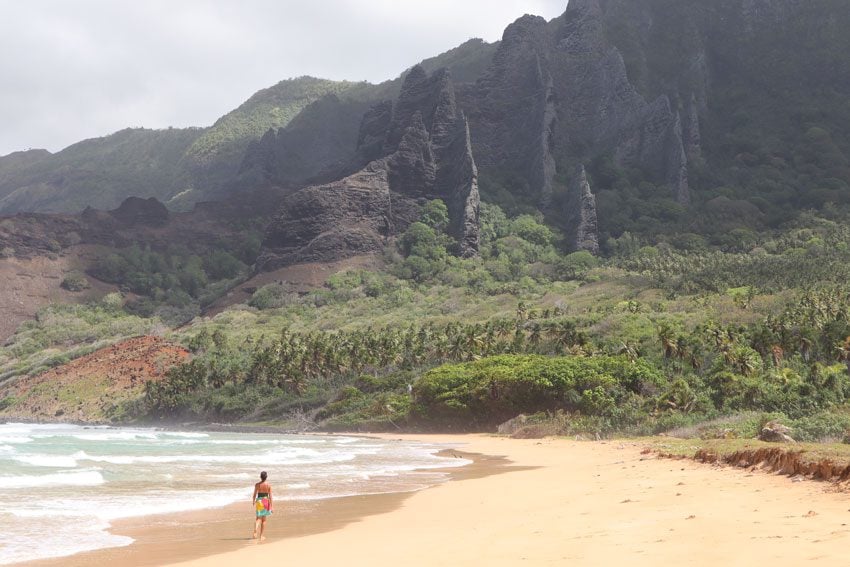 Colette Bay Hike
If you're pressed for time or just looking to hike more, the hike to Colette Bay is a great option. Pick up the trail just behind the Pearl Lodge and down to this small bay. Bring everything you need for the day.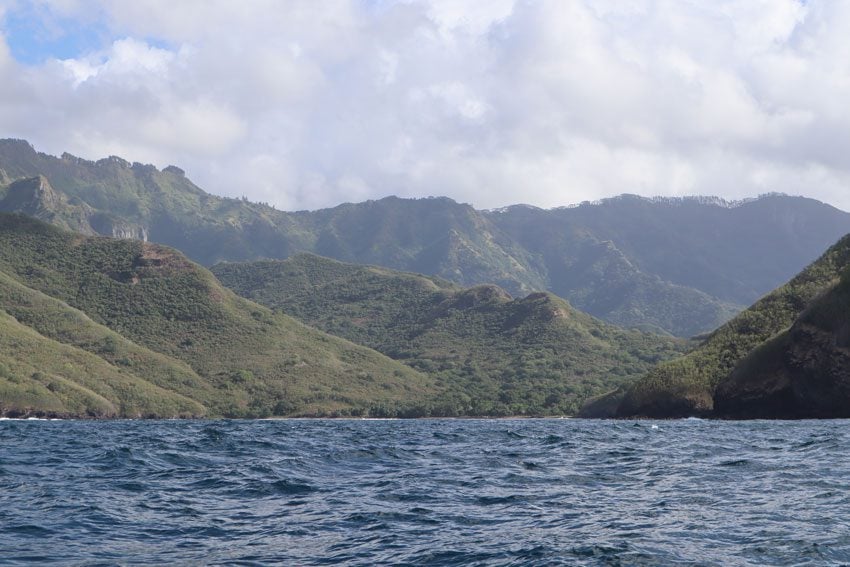 Toovi Plateau Hike or Bike Tour
The local administration has recently opened several hiking trails in the Toovi Plateau. Signs should point the way but hiking with a guide is advised. Alvane Alvarado from Pension Koku'u offers hiking tours of the plateau. You might also be able to explore the plateau on an electric bike. Contact E-Marquises on their Facebook Page or by email [email protected]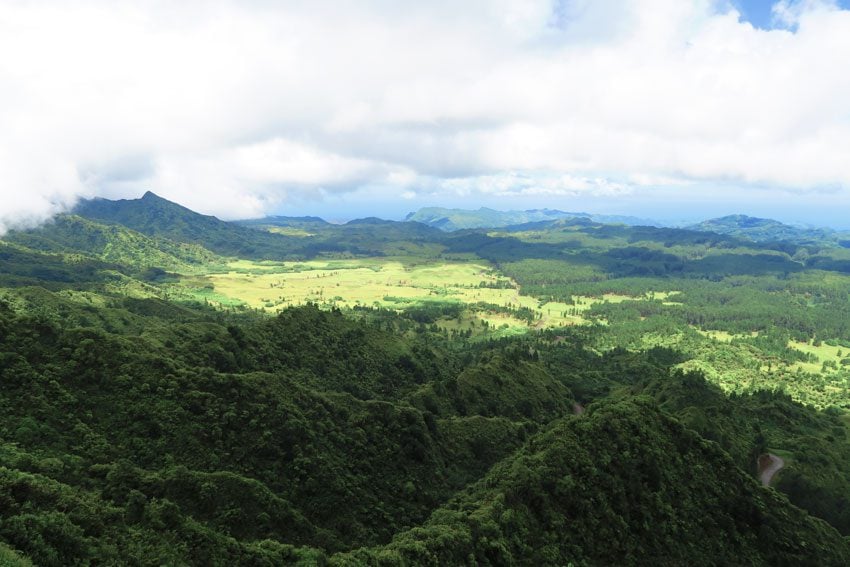 Hunting In Nuku Hiva
Want to really get a full Marquesas experience? There's one word that really fires up every man on the island: chasse. This means hunting, and no islander will refuse the chance to take you on a hunting trip. Hunting is a way of life on the islands, with the animals caught used for feeding a family for a month or even longer. Despite the infamous story of the German tourist who was 'killed by a cannibal' during a hunting trip, I was intrigued to do something totally off the beaten track.
Lucky for me, I stayed at Pension Koku'u, where Alvane was totally up for a 48-hour hunting trip. Have a look at the 'hiking and excursions' section for more guides that can take you hunting in Nuku Hiva.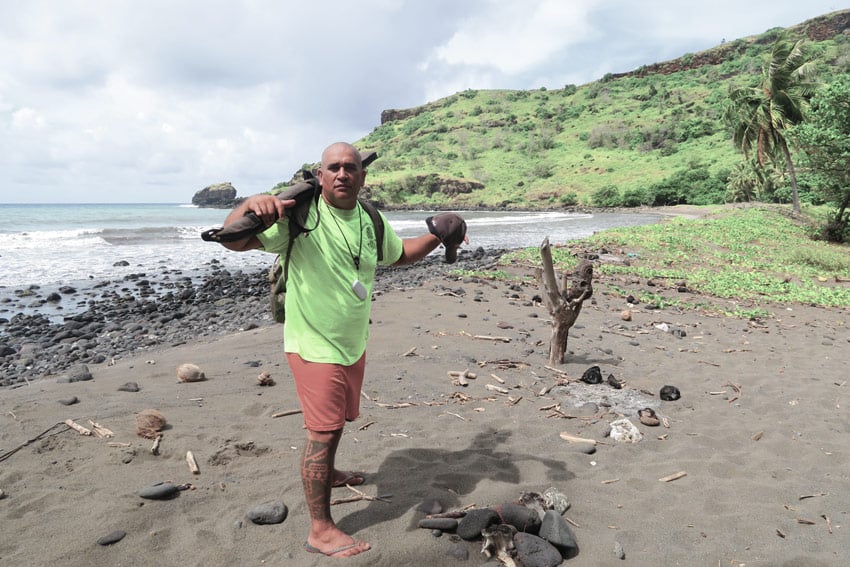 Alvane took me to his family's valley (that's right, they have their own valley), where we camped for the night in a shack that used to be his home before he married Claudine and became a decent man. We brought all the supplies with us, chilled during the day on the empty beach, and watched the stars at night.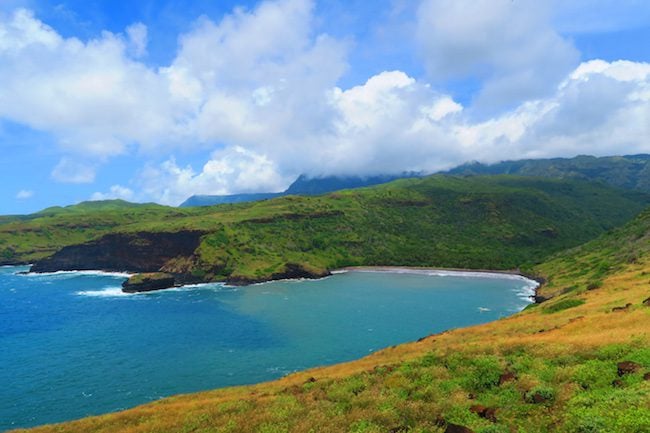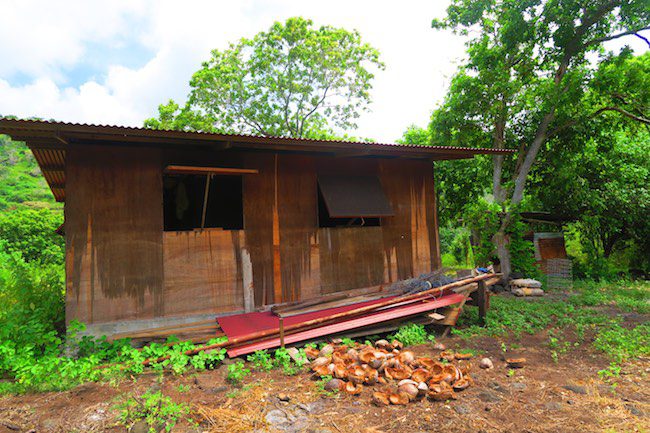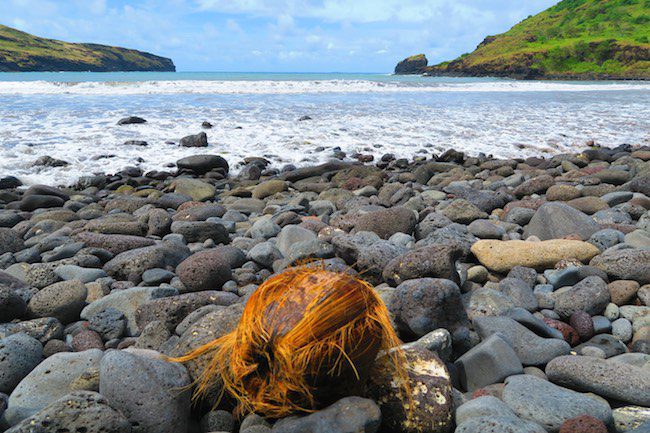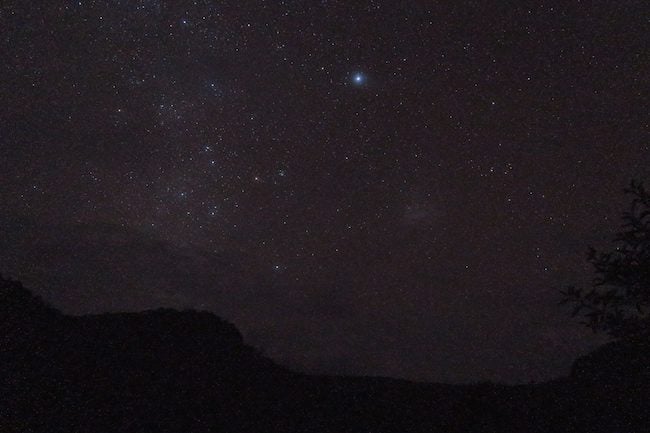 During dusk and dawn, we would venture out into the riverbed to try and stock goats. Our particular hunting expedition yielded no results, which I was perfectly happy with. The time I spent in the middle of nowhere with Alvane is something I'll never forget, and you can read more about it in this blog post I published from Nuku Hiva.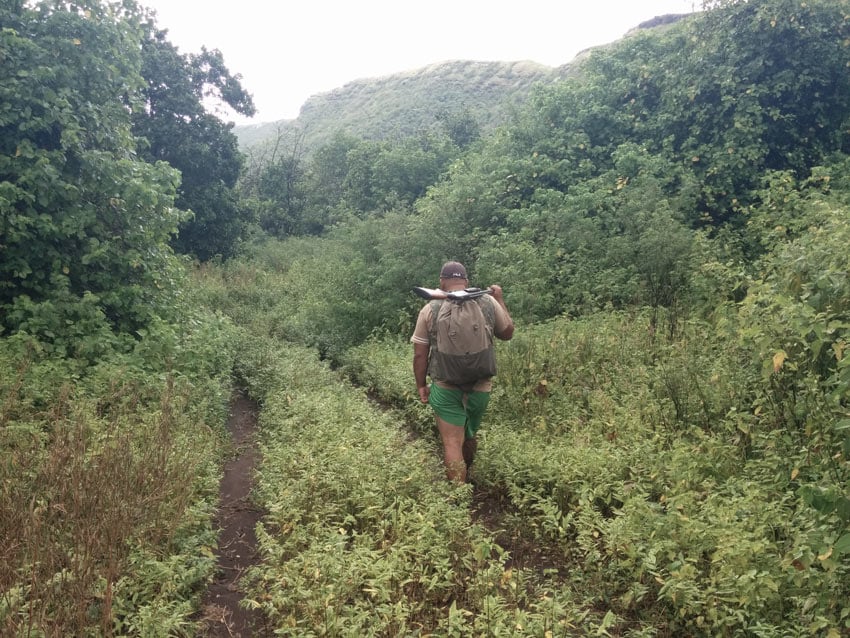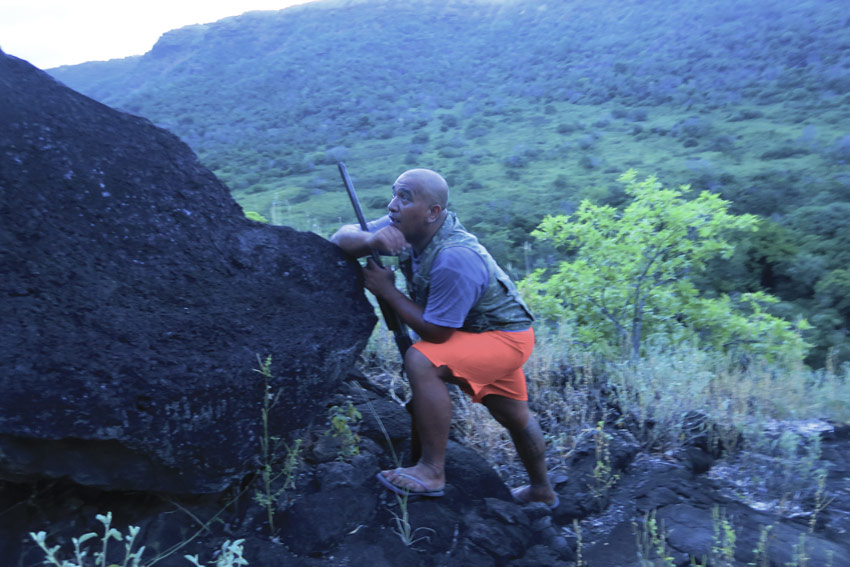 Logistics: the price will really depend on your hunting buddy and you'll negotiate this at the time of booking. Plan for an overnight stay, though you can totally squeeze this into a full day or even stretch it out longer. Bring rain gear, comfortable and waterproof shoes, long pants, and a flashlight. Be prepared for A LOT of mosquitos during the wetter days. Hunting isn't for everyone, so come with a sense of adventure and lots of mental toughness.
Horseback Riding & Whale Watching
I personally went horseback riding in Hiva Oa, but it's totally recommended to join a tour in Nuku Hiva as well. For whale watching, inquire locally about the opportunity to watch hundreds of melon-headed whales gathering off the coast of the island.
Places To Eat & Drink In Nuku Hiva
If you're staying at a good family pension, chances are you'll be treated to basic breakfasts and wonderful dinners as part of your half-board stay. Nonetheless, here are a few other options I've tested out:
The Market Snack: possibly also know as Snack Tuhiva, you'll find this where else but inside the market. I found it to be the 'liveliest' joint in Taiohae, a good place to grab a cold Hinano beer, lunch, or dinner. Traditional dishes of poisson cru, tuna and seafood are always on the menu, with prices starting as low as 600F. If you are extra lucky, there might also be some live music playing until the wee hours of the night (11 pm that is). If this happens when you're there, can you please ask the band to play my absolute favorite song from French Polynesia?
Snack Vaeaki: a favorite spot with yachties, right on the main quay. Come here for breakfast, lunch, sandwiches and free wifi! Before sunset, you can even watch the local fishermen cleaning the day's catch with an ice-cold Hinano beer in your hand!
Snack Tematapuaua: also located at the pier.
Moana Nui: a pension that also triples as a car rental agency and restaurant. Mains are between 1200-2000F and range from grilled chicken to seafood.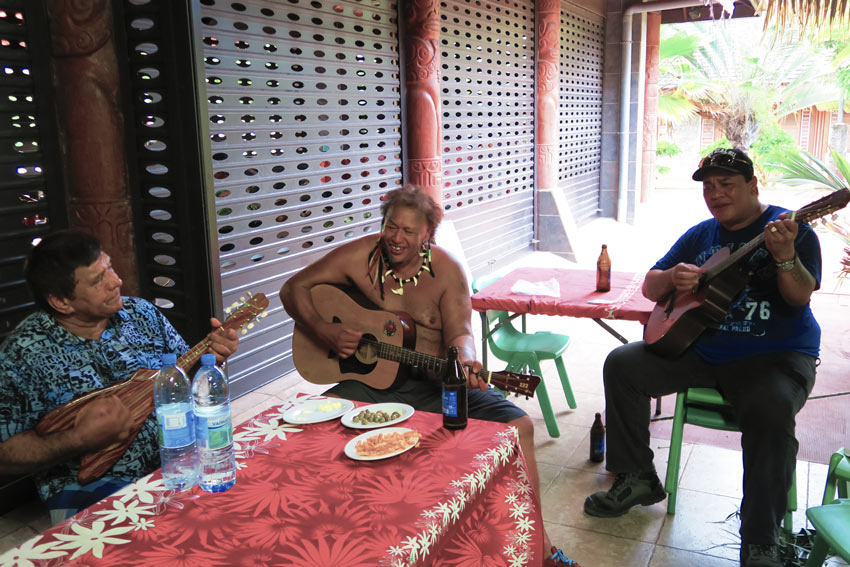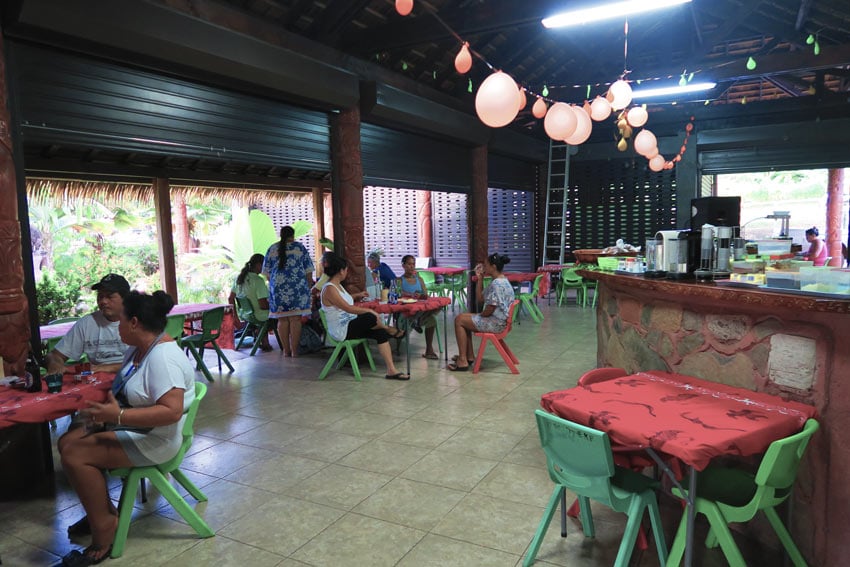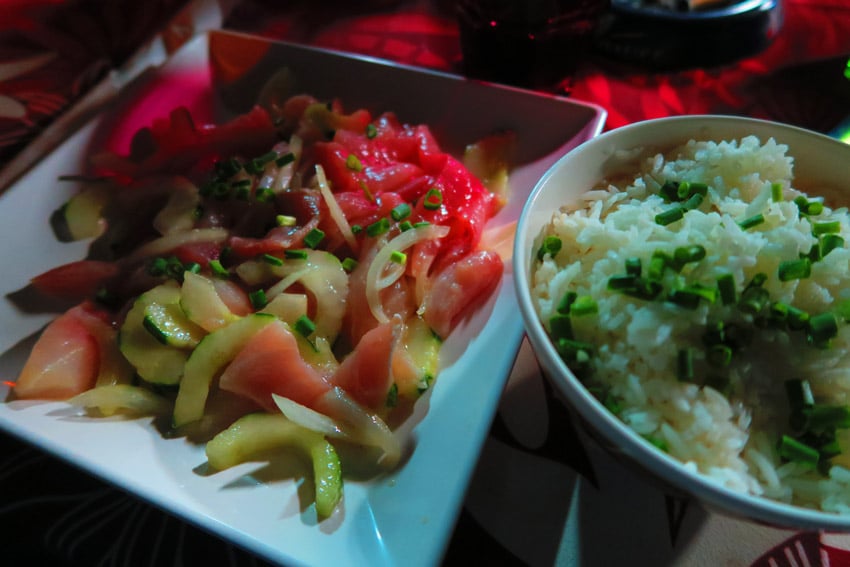 What's Next?
I hope you've found this Nuku Hiva Travel Guide useful. For more information about the Marquesas Islands and French Polynesia, check out these travel guides. To see how to split your time in Nuku Hiva, have a look at this four-day itinerary where you can pick and choose the days you wish to include in your own adventure.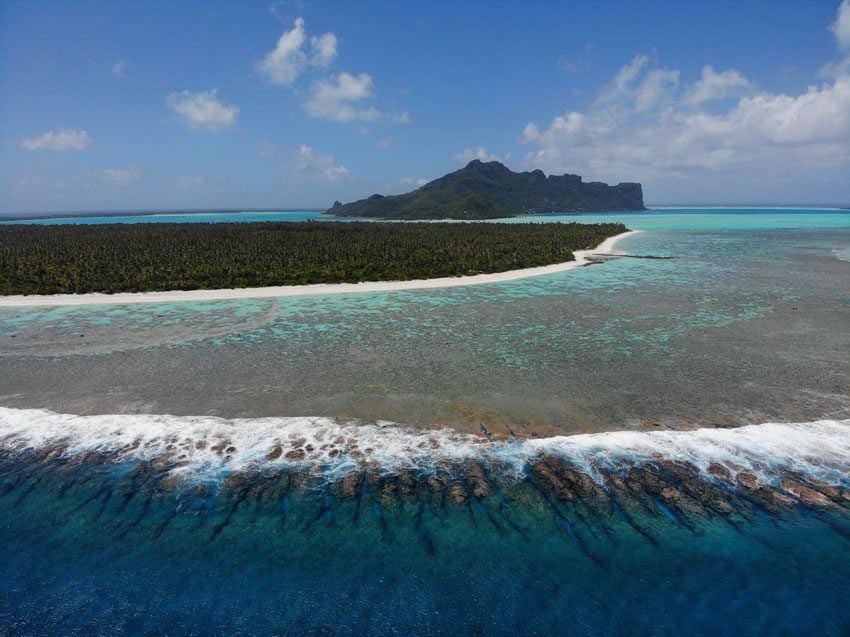 Tahiti, Tailor Made!
The Islands of Tahiti are among the last places to be colonized by mankind, 118 islands, each with their unique personality.
Get expert advice and assistance with planning your trip to the destination where tropical dreams come true!
See Options