Things To Do & Places To See In Nuku Hiva
Check out this 4 days in Nuku Hiva sample itinerary to see how to divide your days on the island
Ride From The Airport
The only suitable place for an airport in Nuku Hiva is well over an hour northwest of the main village of Taiohae, in an area so remote it is simply known as 'desert land'. While in the past the only way to reach the airport was by boat, a sealed road now winds its way through the mountains and lush plateau. It's the most scenic airport ride you'll ever have, well worth the 3,000F price of admission.
The ride begins with a climb up the ridge and a quick stop to see the island's version of 'the Grand Canyon'. You'll then descend through thick forests of incredibly tall pine trees, double checking if you've actually landed on the right island. Look out for cattle and wild horses along the way and just pray there's no fog because if there is, you're totally missing out!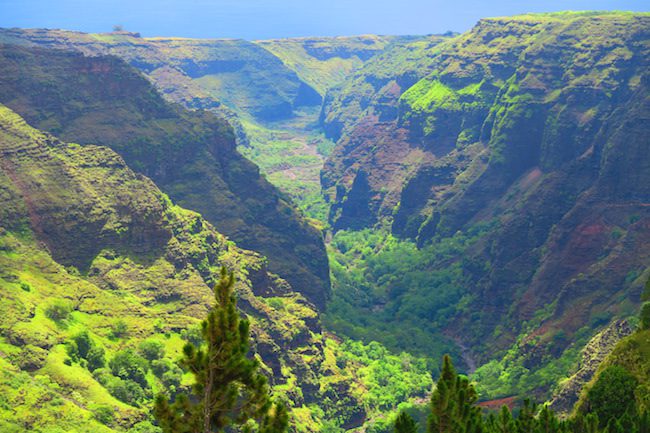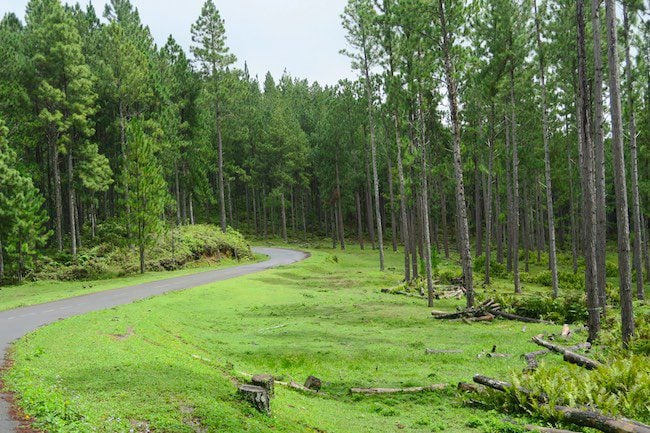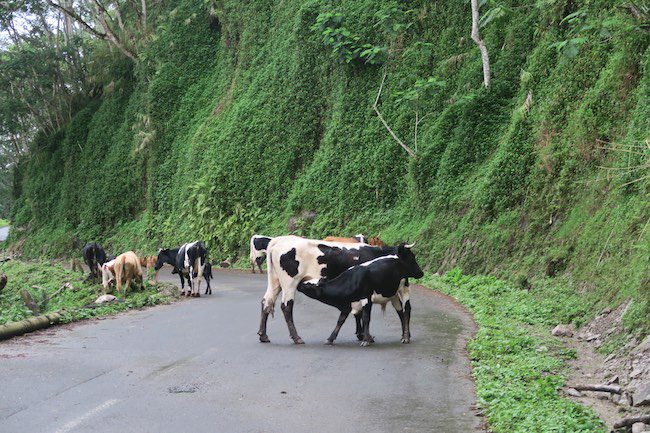 Your 4X4 will then reach the top of the Toovii Plateau, a huge expanse of lush land that's used these days for cattle grazing. The road somehow manages to snake down to the plateau before reaching the final ascent to Taiohae – the climax of your journey.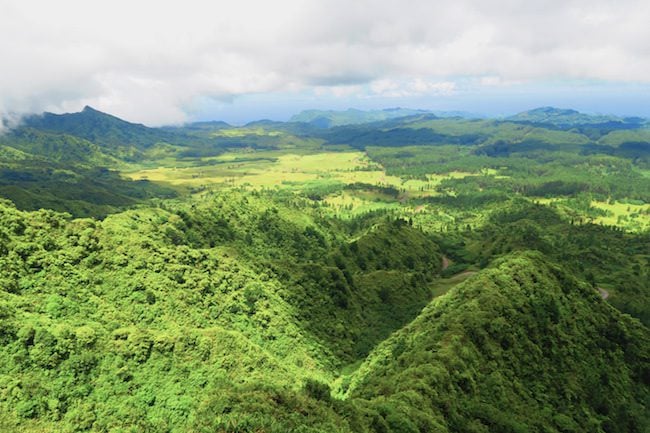 As you start to descend from the plateau, the weather changes once again. Nuku Hiva is so diverse, you'll sometimes encounter the four seasons in one day! After a few sharp bends, Taiohae is revealed down below in all its glory. What a view!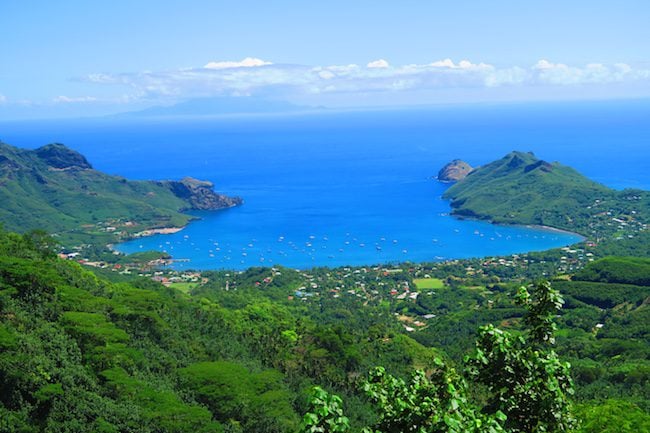 Taiohae
The main village in Nuku Hiva and the capital of the Marquesas Islands, Taiohae is simply gorgeous. The village is tucked between a beautiful crescent bay and lush mountains. You cannot find a more picturesque spot for a village in the South Pacific. The natural harbor is very popular with yachts, especially those arriving from the Americas en route to Australia, or those just passing the cyclone season in the safe confines of the bay.
With charming colonial style municipal buildings, Taiohae offers all the services you need (food, post office, ATM etc.) but it also has a few highlights:
The Port: the most happening place in the village. During the day, there's a small snack that's popular with the yachties who must also enjoy the free wifi, while before sunset, locals come here to catch some fish (do not miss this).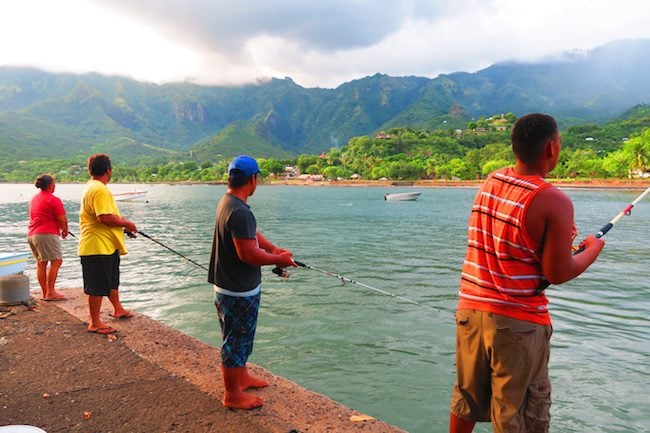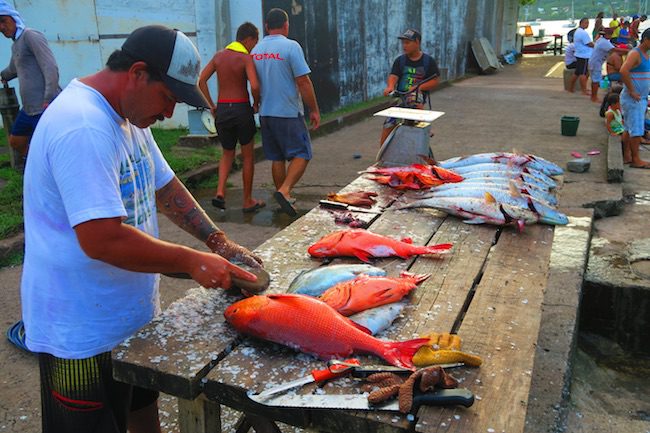 Artisan Market: the best place in the Marquesas Islands for local arts & crafts. The market is open every day but Sunday and it's cash only.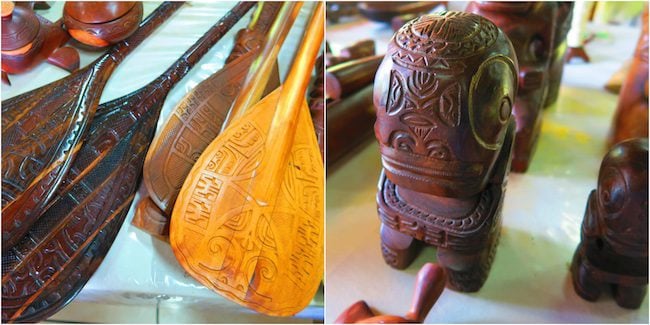 Fruit & Vegetable Market: you can easily pick your own fruit pretty much anywhere in Nuku Hiva, but the covered market offers all the island's produce under one small roof. It's open weekdays until 4 pm.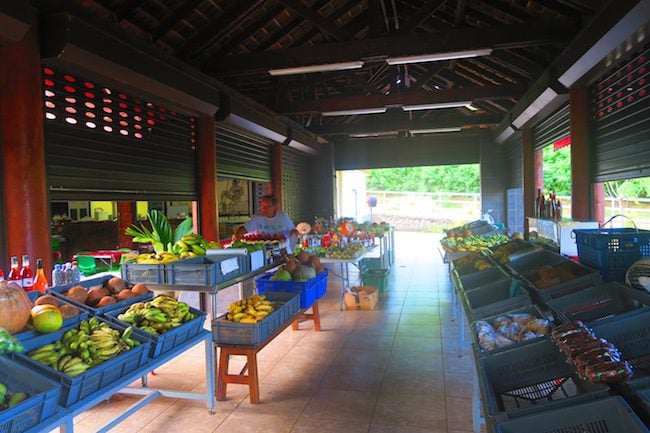 Notre Dame Cathedral: Taiohae's fairytale looking church looks like it belongs somewhere in King's Landing. Do not miss Sunday church service (starts at 8 am), where pretty much the entire village gathers in prayer. Post service, the plaza outside the church comes to life with food stalls selling packed portions of Polynesian classic dishes.
Hakaui Valley & Vaipo Waterfall Hike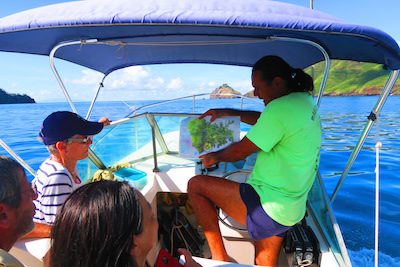 Do not miss the opportunity to embark on what will no doubt be one of the most memorable days of your visit to the South Pacific. Get in touch with Thiery Tekuataoa (+689-87791969 Skype:tht1966) who will take you on a hike to Vaipo Waterfall, the highest in French Polynesia. If he's not available, Francois Mayol is another option (+689-87260472, pepikatfm@gmail.com) and so is Rahu (Facebook Page).
Your trip actually starts with a scenic 40-minute boat ride from Taiohae to Hakaui. This is a great chance to admire Taiohae from the bay, be jealous of all the lucky yacht owners just chilling and to get a close view of exposed cliffs clearly showing millenniums of volcanic activity.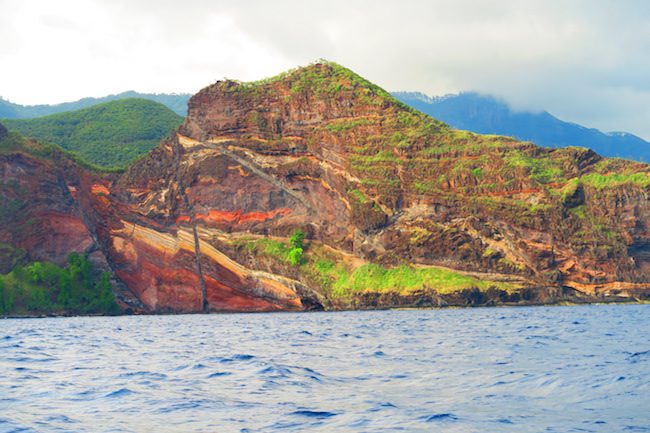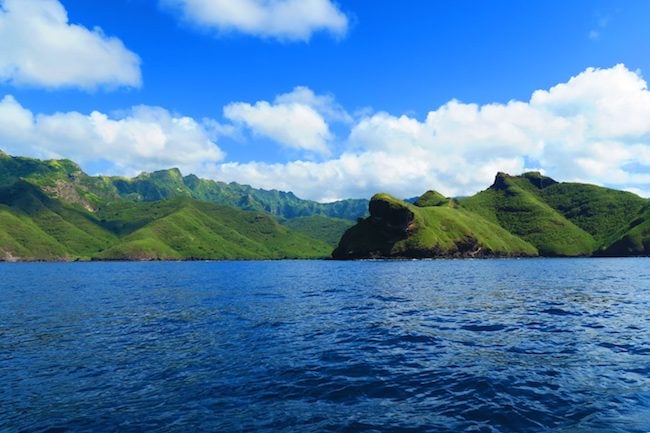 As you enter Hakatea Bay, you'll seriously be lost for words: emerald waters meet a white sand beach that's welcoming returning fishermen, and the signature basaltic cliffs of Nuku Hiva rise deep in the valley as if leading the way to Vaipo Waterfall. That's exactly where you're headed!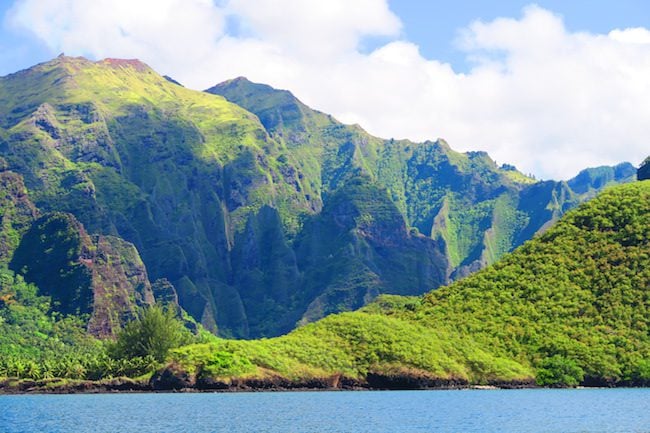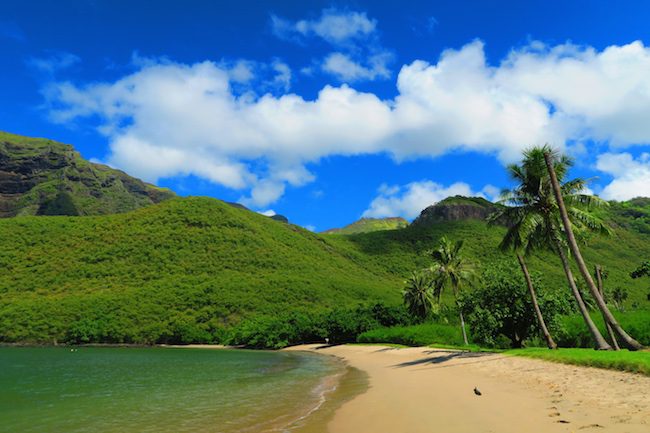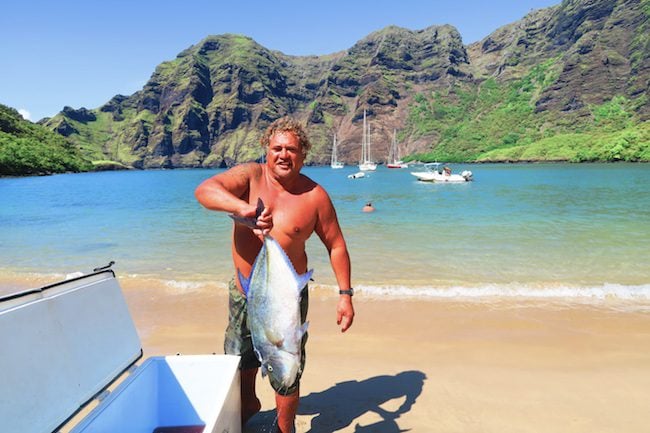 You'll then begin to walk in the valley (~4km each way), crossing rivers and walking along parts of the ancient royal road. The valley was once the home of thousands of islanders, and you can still see the stone platforms that are these days overrun by the magnificent roots of the mape trees. These platforms (tohua and pae pae) were used in ceremony, the ground pits for storing fermented breadfruit for drought years, and the tiki statues to keep the bad spirits away. The royal road is miraculously flat despite the changing elevation, a testament of the ancient Marquesan ingenuity.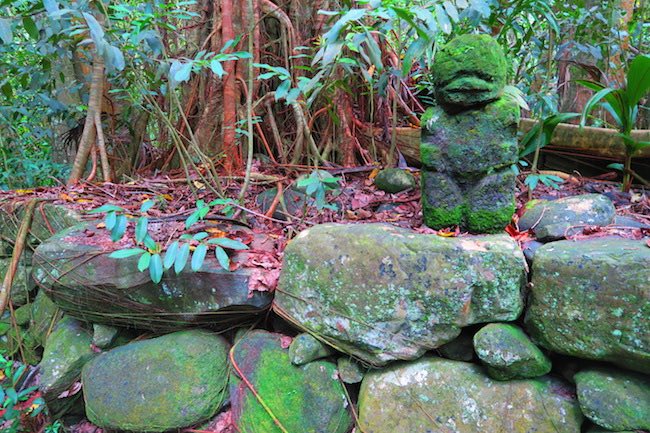 After stopping for lunch by a river crawling with giant eel, you'll reach a clearing in the rainforest where it's paramount to look up at the giant cliffs. If you look closely, you might even spot the canoe of an ancient chief that rests outside a cave at a cliff's edge. Then, like some Hollywood special effect, the Vaipo Waterfall gently cascades from the cliffs. At 350 meters, it is the highest waterfall in French Polynesia.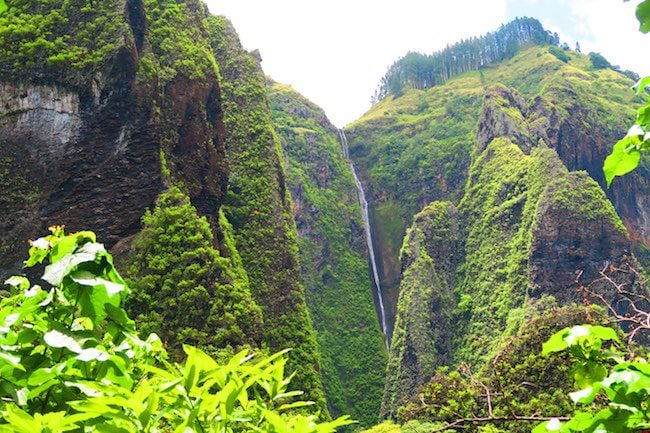 A further walk inside the creek will bring you to a freshwater pool at the base of the waterfall. Splash around before heading back to the boat and back to Taiohae, capping off a memorable day.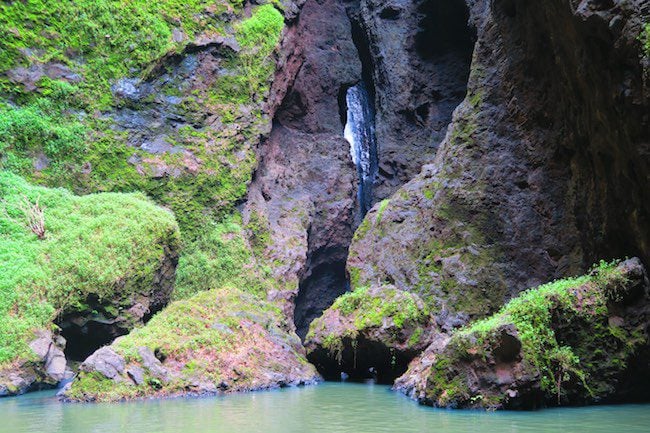 Logistics: boat departs at 8:30 am and returns at 5 pm. For the easy 8 kilometer hike, bring: lunch, waterproof sandals, hat, water and plenty of mosquito repellent. I would also recommend wearing long sleeves as the mosquitos in the forest can be ferocious. Cost is 6,000F with a maximum of 6 people. DO NOT miss this. I highly recommend booking this for the first full day in Nuku Hiva as tours might be: fully booked, underbooked or canceled due to bad weather.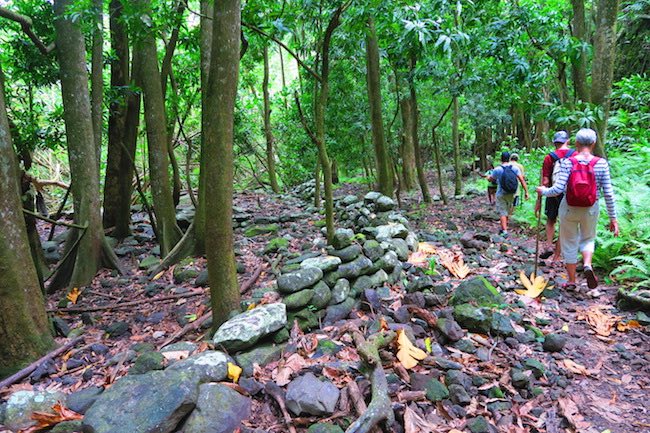 Taipivai Valley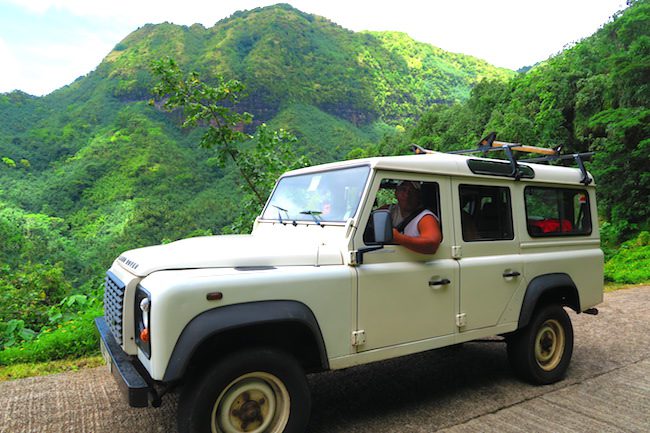 A visit to this incredible part of Nuku Hiva can be combined on a full day road trip together with Hatiheu, Anaho Bay and everything in between. Have a look at this 4 days in Nuku Hiva itinerary for more info. You can visit the valley with your own car or book a spot with Alvane from Pension Koku'u (highly recommended, you'll later see why).
The valley is home to a sleepy village and a reconstructed ancient temple used for the Marquesan Arts Festival. On one of the nearby hills, you'll also find the Paeke archeological site – home to a few me'ae (Marquesan for marae or ancient temple) and tiki statues. In the wetter part of the year, you might even spot a few waterfalls in the far distance.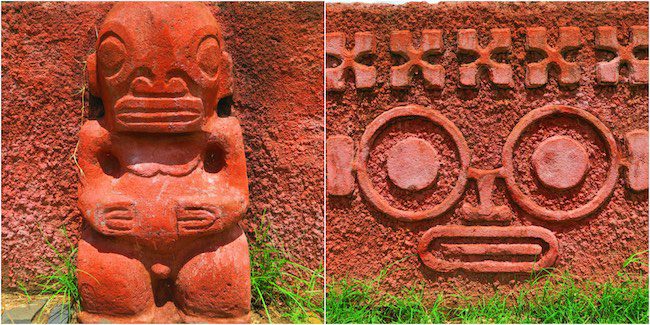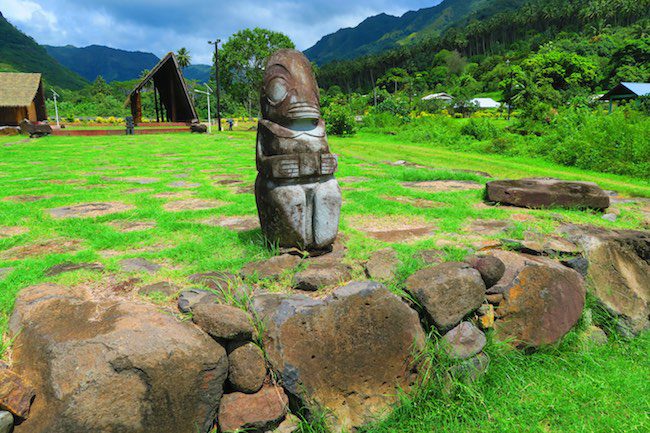 The real highlight is actually the view. As you descend from the Toovii Plateau, you'll be treated to panoramic vistas of Comptroller Bay. If it weren't for the humidity, you might think you're somewhere in the Norwegian Fiordland.
Hatiheu
Together with Hakaui Valley, Hatiheu Bay is not to be missed. The bay magically comes into view as the road emerges from the mountain pass just beyond the Taipivai Valley, offering breathtaking views of the rolling hills, sharp basaltic cliffs and the tiny village on the bay's shore.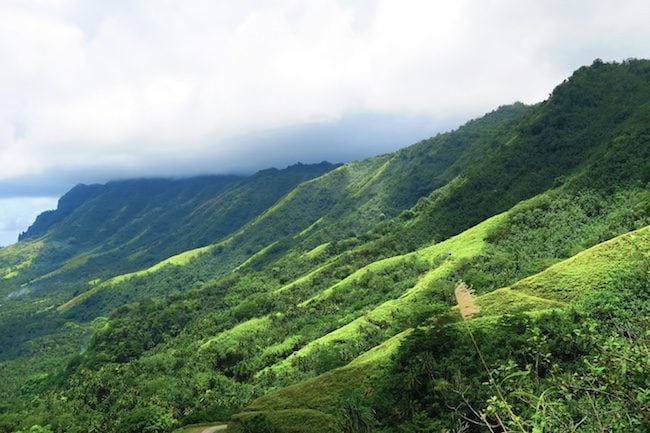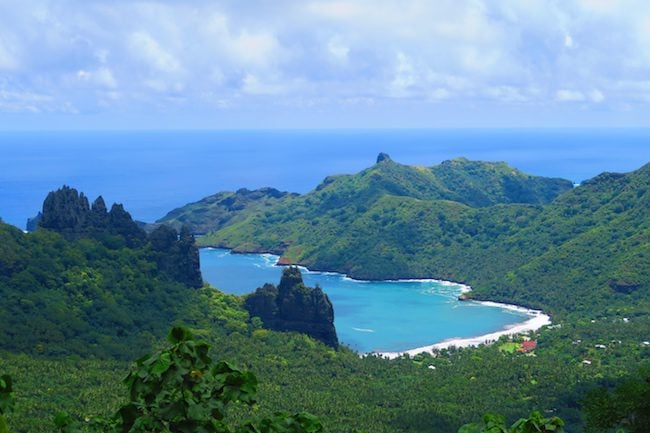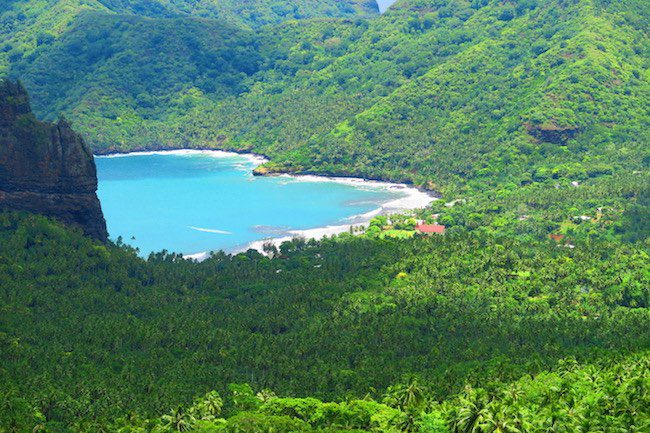 You'll be seriously contemplating parking it up here for an hour or snaking your way down to check out the village. What a sight!
Hatiheu Village is as charming from level ground as it is gorgeous from up in the mountains. Its black sand beach is protected by tiki statues and capped on its western end by the shark-toothed cliffs. Somehow, islanders hoisted a statue of the Virgin Mary to the clifftops in 1872.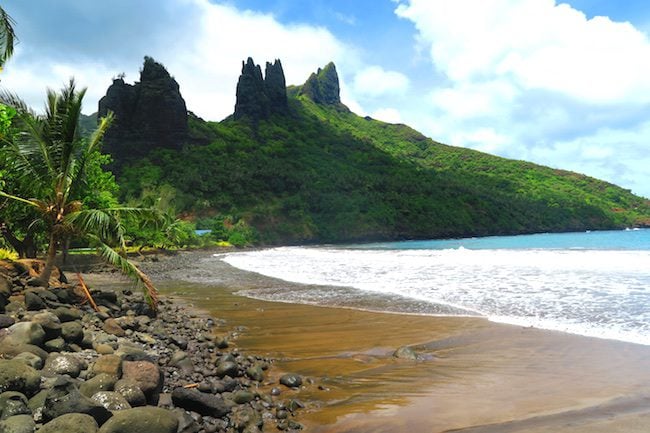 There's a small grocery shop that's open for the better part of the day, but if you're wondering where the locals are – they're either fishing out at sea or tending to their copra plantations. Spot the coconut drying 'shack', a contraption used to dry the flesh ahead of the extraction of oil.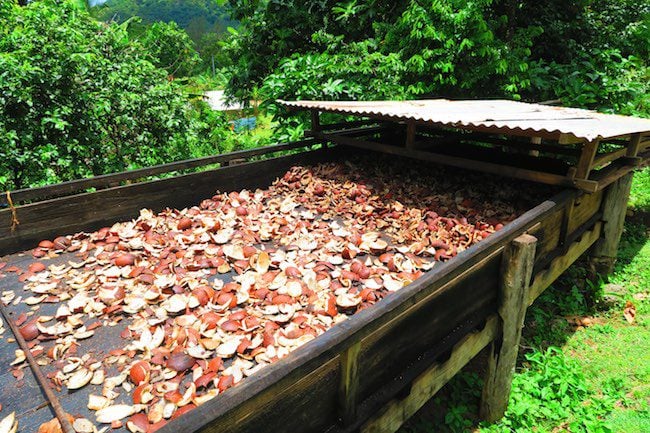 No matter how small the village is, the local Catholic church is always something to marvel at. If it happens to be closed, ask one of the locals to lead you inside.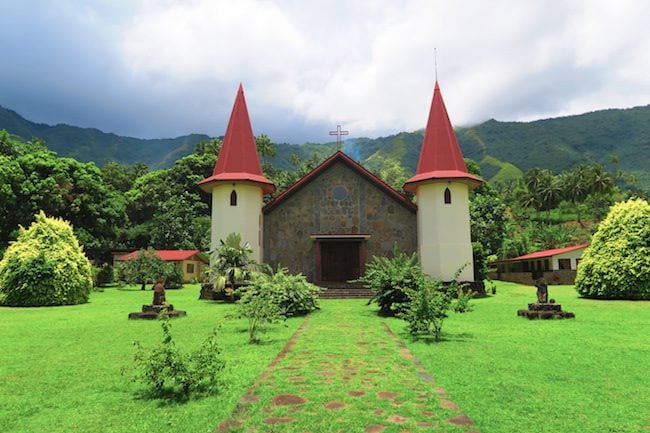 Archeological Sites
Nearly every French Polynesian island has at least one ancient marae complex, with some of the finest in Huahine and Raiatea. However, these pale in comparison to what you'll see in Nuku Hiva (and neighboring Hiva Oa for that matter). Just prior to reaching Hatiheu Village, you'll be passing by four of the finest archaeological sites in the South Pacific: Hikokua, Kamuihei, Tahakia and Teiipoka.
Hikokua Archeological Site
This massive complex essentially consists of a central 'square' surrounded by stone platforms. I refer to this as a 'square' since it served for large gatherings and community ceremonies. Dating back to the 13th century, the site is believed to have been in use until the early 19th century.
Around the large grassy square, examine from up close the stone statues, some depicting polygamy and human sacrifice. Speaking of that, climb atop the human sacrifice stone and imagine the terrifying thought that passed through the minds of so as they were about to lose their head… If you need a little help with that, here's Alvane showing us how it would have been done, with the help of one brave volunteer (that would be me). Have a look at the video.
As mentioned, this site was mainly used for community gatherings, where song and dance played a key part of Marquesan life. To show us what it would have looked like, Alvane performed a traditional haka dance that would have been used to welcome guests. Alvane is not only an excellent tour guide, but he also proudly displays Marquesan culture during the highly acclaimed Marquesan Arts Festival. If you're nice enough, he'll put on a show during your tour of the site.
Kamuihei, Tahakia and Teiipoka
These three complexes are further down the road from Hikokua, and form the largest archeological site on the island. Take your time and stroll amongst the centuries-old giant banyan trees, tiki statues, petroglyphs and sacrifice pits.
This place is so big, you might find yourself all alone at some point and it can feel incredibly strange. Locals say you can really feel the mana, spiritual energy, which radiates for eternity. This feeling is further amplified by the nonstop sounds of the crows (or some other bird that makes similar sounds). They congregate here in large numbers, terrifying the roosters, especially towards sunset.
This place is eerie, chilling and should not be missed!
Hike To Anaho Bay
Most organized tours will stop at Hatiheu before returning to Taiohae, but Alvane's tour continues with a hike to Anaho Bay. This moderate hike offers yet additional sensational views, and can be done without a guide in case you're exploring Nuku Hiva at your own pace.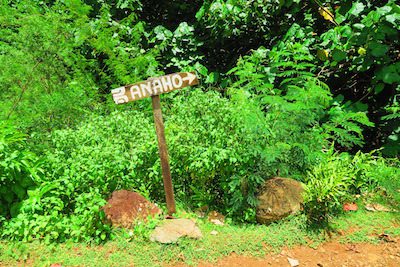 The trail begins at the edge of the village, where you'll park the 4X4 and begin to climb through the mango covered rainforest. After about 30 minutes, you'll reach the mountain pass – one of the most scenic spots in Nuku Hiva.
From up here, Anaho Bay simply looks like paradise. Gently wrapped by sea cliffs and radiating with blue, the bay also has the only snorkeling spot in Nuku Hiva thanks to a tiny reef. Plan to stop here for a while because it's simply gorgeous!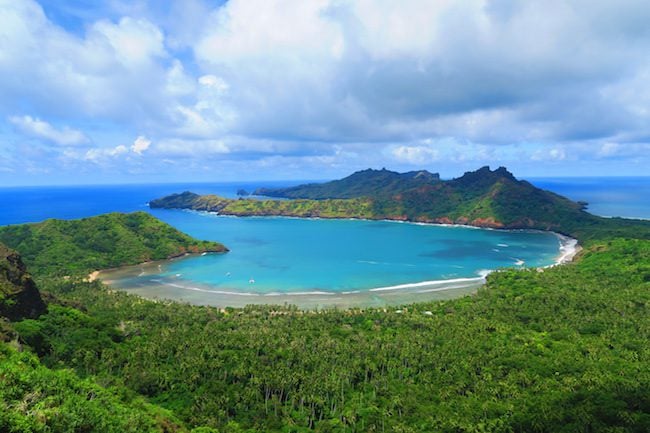 Another 30 minutes of hiking down from the pass brings you to Anaho Beach. Surprisingly, few families actually live out here. There's no electricity and no running water, but there are plenty of coconuts for the production of copra. With the government subsidizing copra farmers, this is actually a pretty decent business, though extremely labor intensive.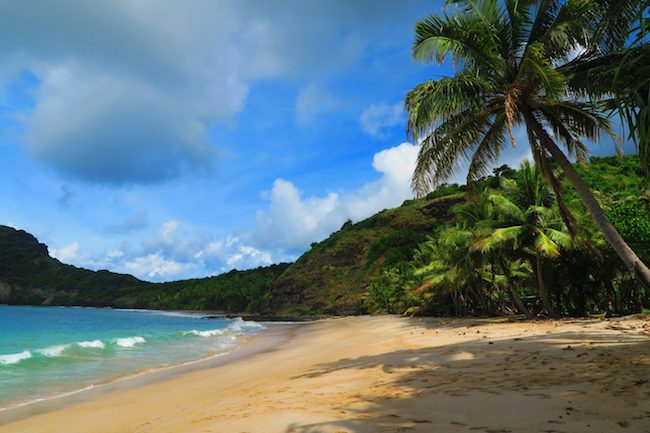 Once you've greeted the locals, find a spot along the beach and enjoy paradise. I suggest applying a thick layer of monoi oil to prevent the nasty nono from biting (sandflies). As for the swimming, you have the small reef on one end and crashing waves on the other. In any case, take it easy when swimming as there's no protective lagoon. It's also possible to hike for another 30 minutes to the neighboring Haatuatua Bay.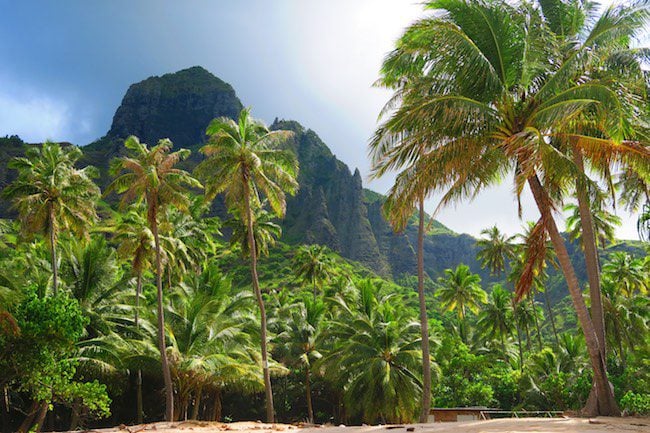 Logistics: the trail is clearly marked so you can definitely hike this on your own from Hatiheu. It's a moderate 90-minute hike (return) but add plenty of time for the view from the pass and for chilling on the beach. Bring everything you need including: plenty of water, monoi oil, food, beach gear, walking sandals and a change of clothes.
Hunting In Nuku Hiva
Want to really get full Marquesas experience? There's one word that really fires up every man on the island: chasse. This means hunting, and no islander will refuse the chance to take you on a hunting trip. Hunting is a way of life on the islands, with the animals caught used for feeding a family for a month or even longer. Despite the infamous story of the German tourist who was 'killed by a cannibal' during a hunting trip, I was intrigued to do something totally off the beaten track.
Lucky for me, I stayed at Pension Koku'u, where Alvane was totally up for a 48 hour hunting trip. Have a look at the 'hiking and excursions' section for more guides that can take you hunting in Nuku Hiva.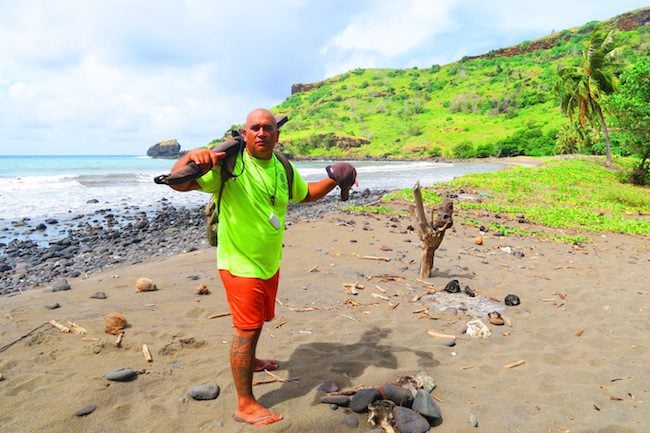 Alvane took me to his family's valley (that's right, they have their own valley), where we camped for the night in a shack that used to be his home before he married Claudine and became a decent man. We brought all the supplies with us, chilled during the day on the empty beach and watched the stars at night.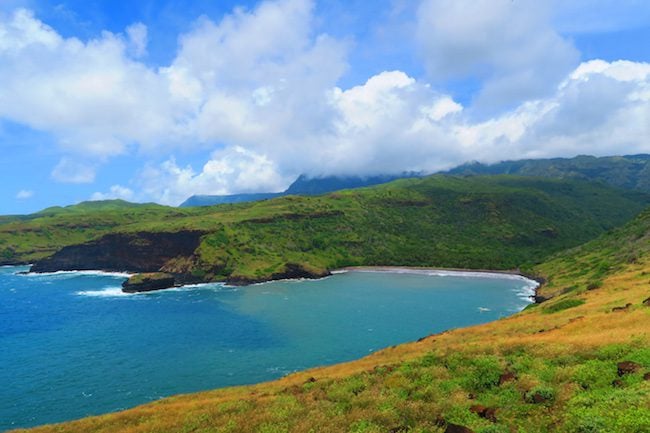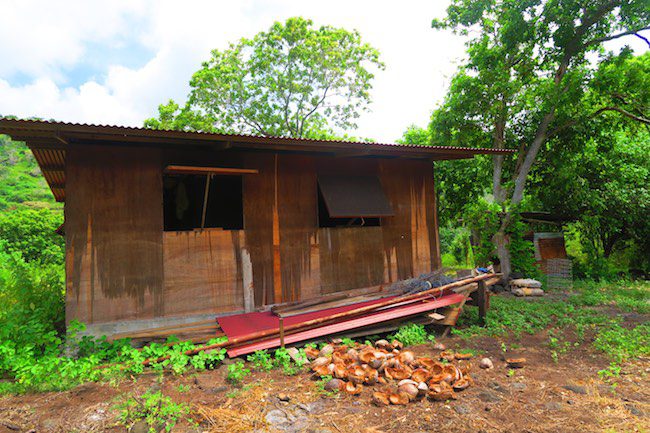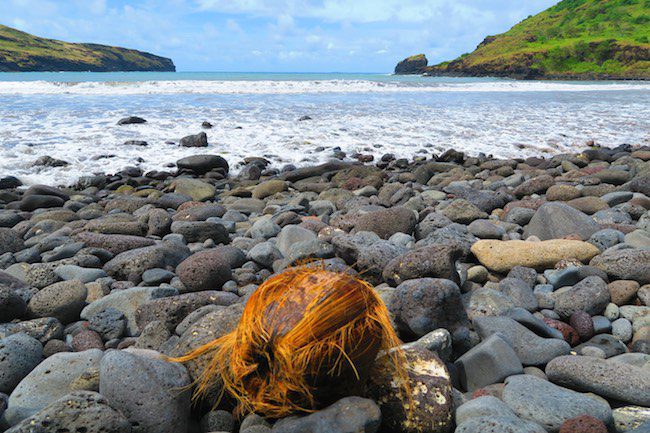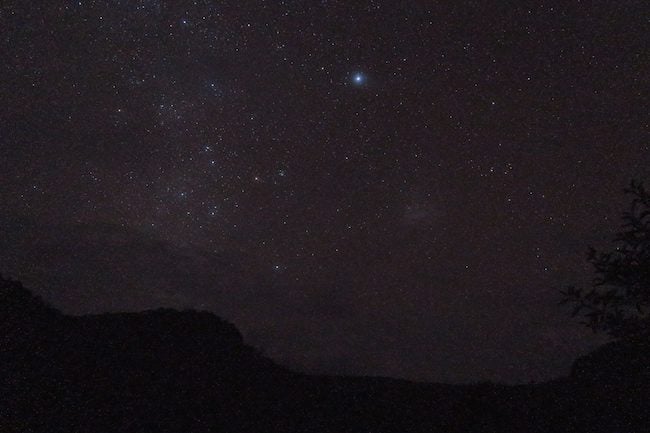 During dusk and dawn, we would venture out into the riverbed to try and stock goats. Our particular hunting expedition yielded no results, which I was perfectly happy with. The time I spent in the middle of nowhere with Alvane is something I'll never forget, and you can read more about it in this blog post I published from Nuku Hiva.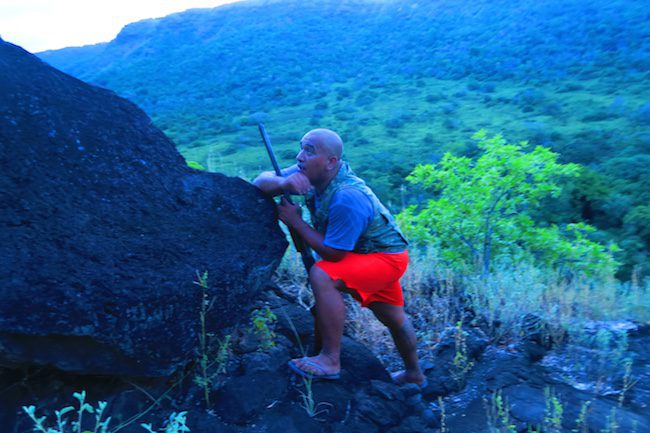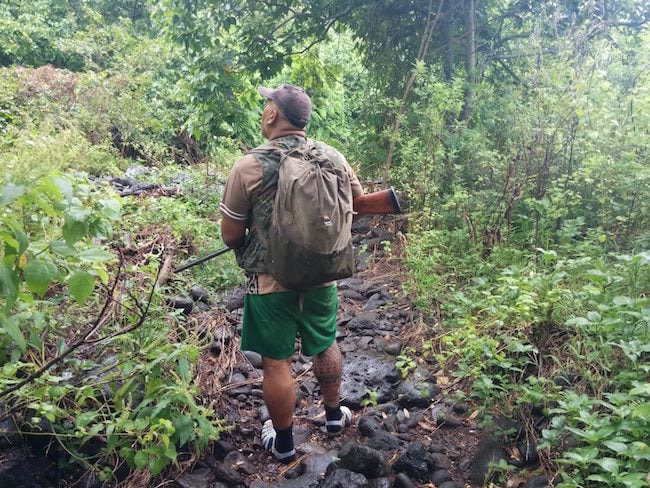 Logistics: the price will really depend on your hunting buddy and you'll negotiate this at the time of booking. Plan for an overnight stay, though you can totally squeeze this into a full day or even stretch it out longer. Bring with you rain gear, comfortable and waterproof shoes, long pants and flashlight. Be prepared for A LOT of mosquitos during the wetter days. Hunting isn't for everyone, so come with a sense of adventure and lots of mental toughness.
Horseback Riding & Whale Watching
I personally went horseback riding in Hiva Oa, but it's totally recommended to join a tour in Nuku Hiva as well. For whale watching, inquire locally about the opportunity to watch hundreds of melon-headed whales gathering off the coast of the island.
Places To Eat & Drink In Nuku Hiva
If you're staying at a good family pension, chances are you'll be treated to wonderful breakfasts and dinners as part of your half board stay. Nonetheless, here are a few other options I've tested out:
The Market Snack: possibly also know as Snack Tuhiva, you'll find this where else but inside the market. I found it to be the 'liveliest' joint in Taiohae, a good place to grab a cold Hinano beer, lunch or dinner. Traditional dishes of poisson cru, tuna and seafood are always on the menu, with prices starting as low as 600F. If you are extra lucky, there might also be some live music playing until the wee hours of the night (11 pm that is). If this happens when you're there, can you please ask the band to play my absolute favorite song from French Polynesia?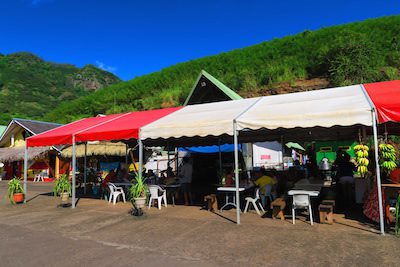 Cafe Vaeaki: a favorite spot with yachties, right on the main quay. Come here for breakfast, lunch, sandwiches and free wifi! Before sunset, you can even watch the local fishermen cleaning the day's catch with an ice cold Hinano beer in your hand!
Moana Nui: a pension that also triples as a car rental agency and restaurant. Mains are between 1200-2000F and range from grilled chicken to seafood.
Now It's Your Turn
I hope you've found this Nuku Hiva Travel Guide useful. If you have any questions or your own Nuku Hiva travel tips, leave a comment below and let's get the conversation started!