Nuku Hiva Travel Tips
Listed here are specific travel tips for Nuku Hiva. Be sure to also read the French Polynesia Travel Guide, filled with general travel tips to paradise.
Recommended Reading
How Many Days Do You Need In Nuku Hiva?
The Marquesas Islands are truly fairytale islands, far from Tahiti and expensive to get to. I would strongly advise spending 4 nights in Nuku Hiva and 5-7 nights if you really want to see it all. If you're planning to see more than one island in the archipelago (Nuku Hiva goes very well with Hiva Oa and Ua Pou), plan for 7-10 days. If you are super stretched and still want to make it out here, 3 nights will give you a decent taste of the island.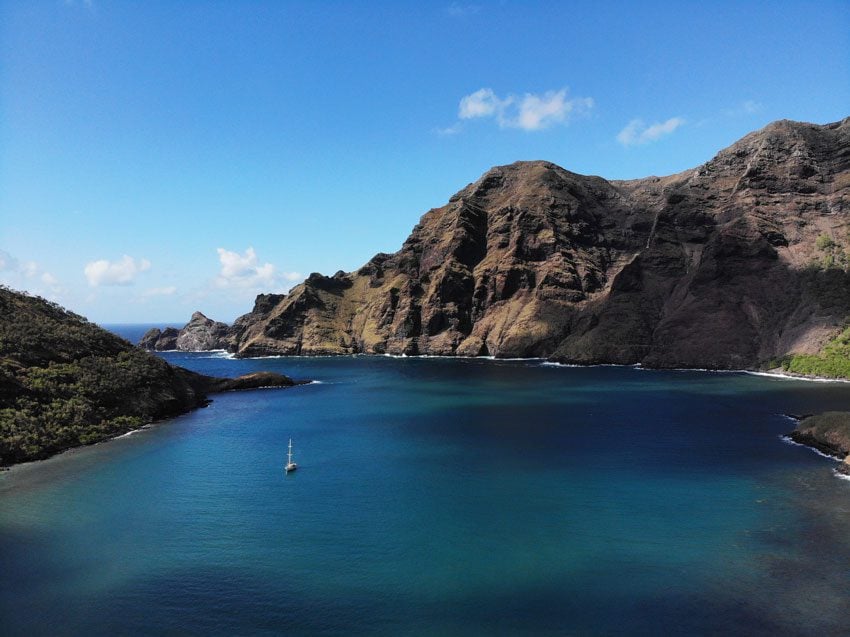 Is Nuku Hiva Worth Visiting?
The answer to that is simply: hell yes! Nuku Hiva was like nothing I've ever seen before. It is wild beyond imagination and there's hardly anyone around. It is a place you come to if you like outdoor discovery, and while it does have gorgeous beaches, it's definitely not a beach holiday destination.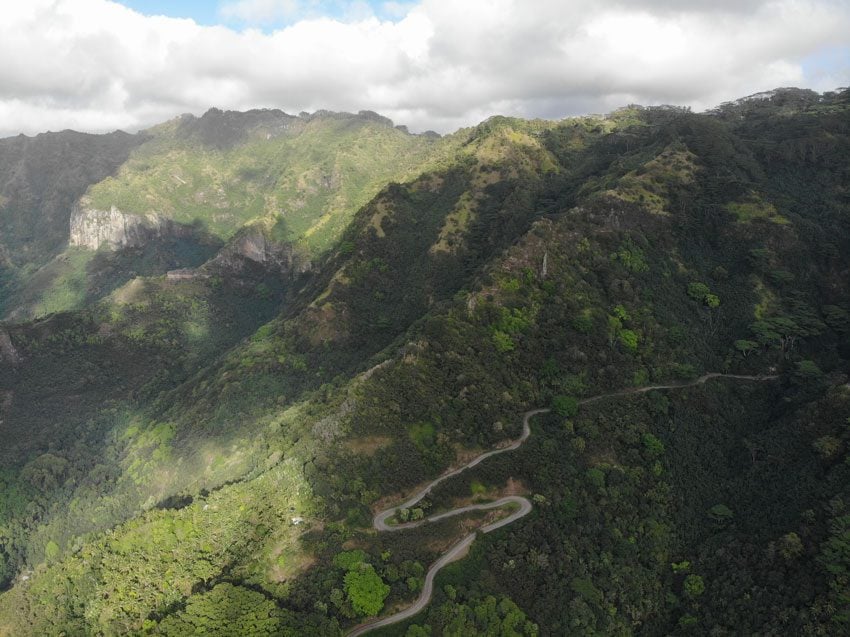 When Is the Best Time To Visit Nuku Hiva?
The closest islands in French Polynesia to the equator, the Marquesas Islands climate is pretty much opposite to that of Tahiti and the Society Islands. The best time to visit the Marquesas Islands is between October to April, when the islands get less cloud cover and rain. From May to October, there's a greater chance of storms and strong wind. I visited Nuku Hiva at the end of February on my first visit and had mostly sunny weather except for the last two days that were cloudy and rainy. My second visit to Nuku Hiva was during October and the weather was superb. With the recent climate change, the weather in this part of the world has become unpredictable.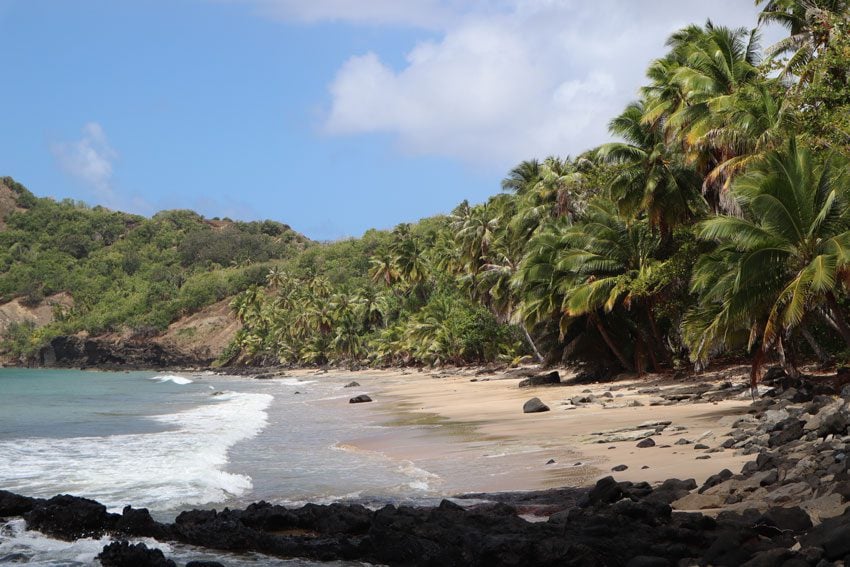 That said, Nuku Hiva is a very diverse island where you can experience 4 seasons in one day. It can be cloudy and cool up on the plateau and warm and dry by the village.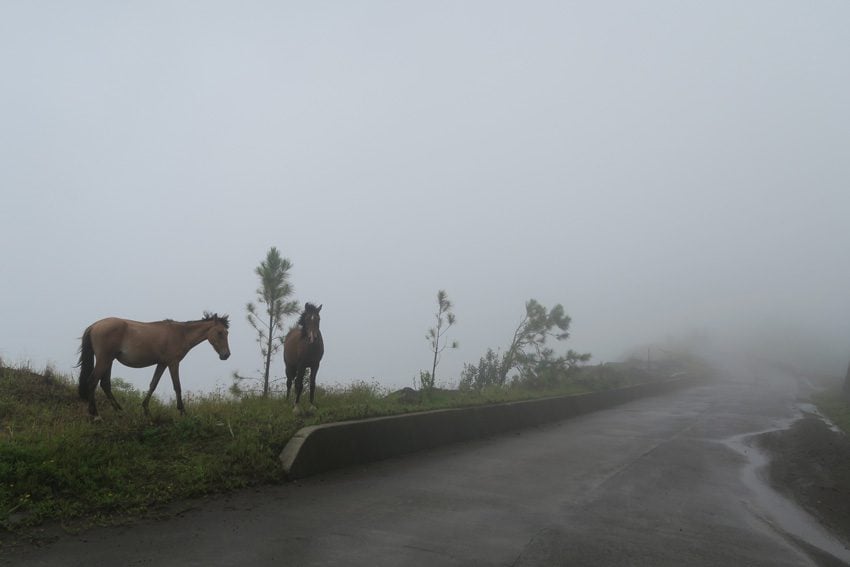 Festival lovers should aim to visit during the Marquesas Arts Festival, taking place every four years, usually in December and alternating between Nuku Hiva, Ua Pou, and Hiva Oa. Every two years, a "mini-festival" is held. The festival is a gathering of artists and teams from the islands who represent their village in traditional sports, dance, and song. You'll need to make arrangements well in advance and aim to stay for the first three days of the festival. The first day is for welcoming various teams. Spirits are high and the party is long. The second and third days are devoted to competition, and by the fourth day, things really begin to slow down.
How To Get To Nuku Hiva
By Air: by far the most convenient way to get to Nuku Hiva, with 5 flights per week from Tahiti (3:15 hours). Air Tahiti also connects Nuku Hiva with Hiva Oa, making the two islands easy to explore on a single trip. Flights to any island in this archipelago are expensive, but if you're visiting multiple islands in French Polynesia, consider buying one of the Air Tahiti Passes and adding on the 'Marquesas extension'. This will allow you to visit both islands for a more reasonable price. Bring something warm for the plane and as always, be sure to grab a window seat for the memorable views! Nuku Hiva is also a comfortable launch pad for flights to Ua Huka and Ua Pou.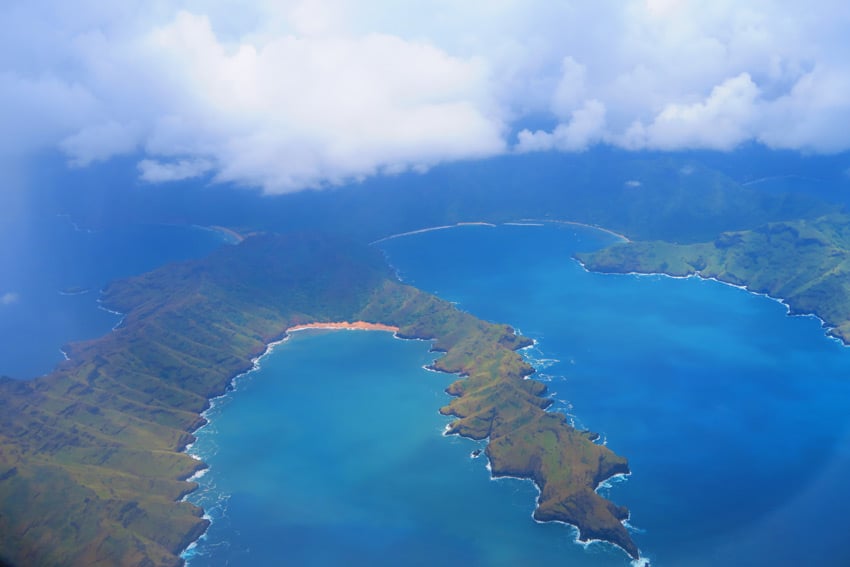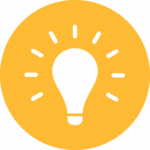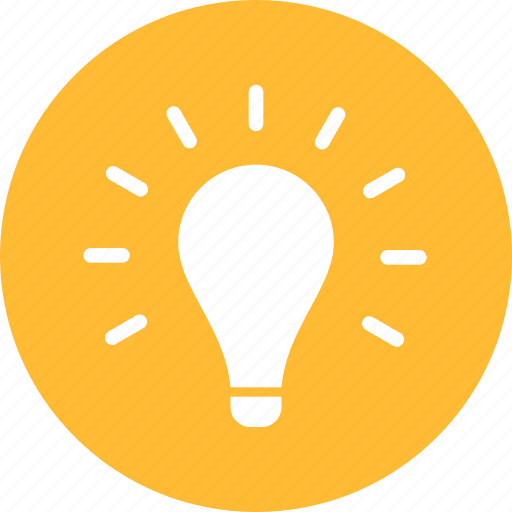 Pro Tip
If you have to catch a flight (domestic or international) or a boat to Moorea, give yourself a buffer and take into account delays. The weather can be foggy and flights can be delayed for hours.
By Boat: the luxury liner/cargo ship – The Aranui, calls at all inhabited islands in the Marquesas chain as it resupplies the locals and picks up exports back to Tahiti. Trips aren't cheap but you'll spend the day on each island. The ship also stops in Rangiroa or another atoll in the Tuamotus and usually also in Bora Bora. I personally would not enjoy this, as you have such little time on such gorgeous islands. Nonetheless, the Aranui usually books out very quickly.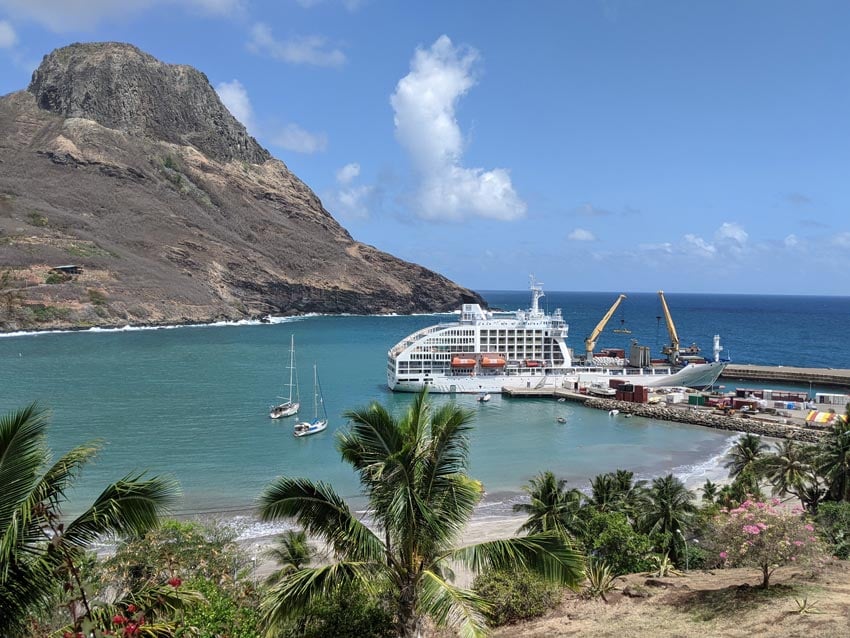 Getting Around Nuku Hiva
To/from the airport: the Nuku Hiva airport is located in a remote part of the island known as 'desert land'. It's a very scenic 75-minute drive to and from the main village of Taiohae, with the road snaking its way up to the plateau and down to the village. All pensions will arrange transportation for you, either picking you up personally or arranging a taxi service. Due to the distance, expect to pay 3,000F each way. This is totally worth it as you'll be stopping frequently for sensational views.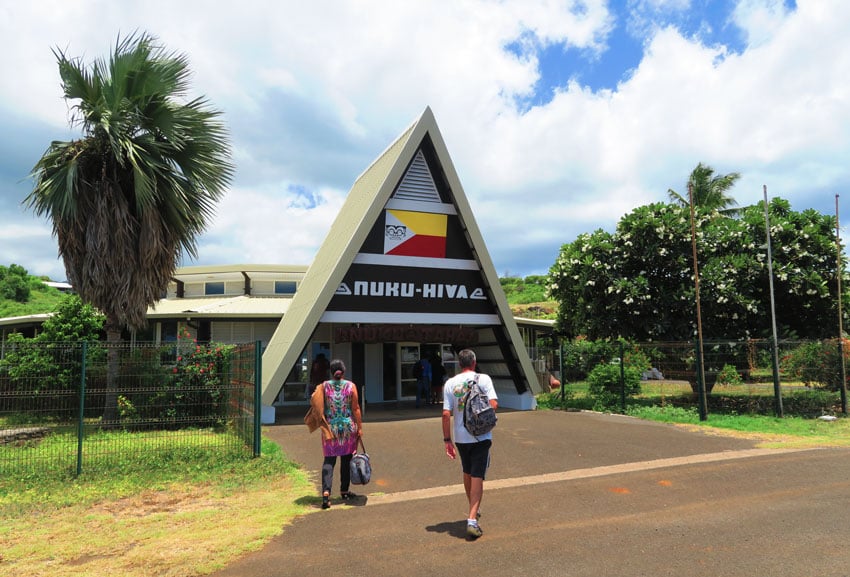 By Car: if you're not exploring Nuku Hiva as part of an organized excursion, you can rent your own 4X4 and drive around. Moana Nui Pension in the center of Taiohae and several other suppliers rent 4X4 vehicles for 10,000-12,000 XPF per day. You can also prepay for fuel should the gas station be closed when you're due to return the car. Keep in mind: while the major points of interest are accessible via sealed roads, drive with extra care. The roads sharply bend, animals may be present, and always watch out for falling rocks.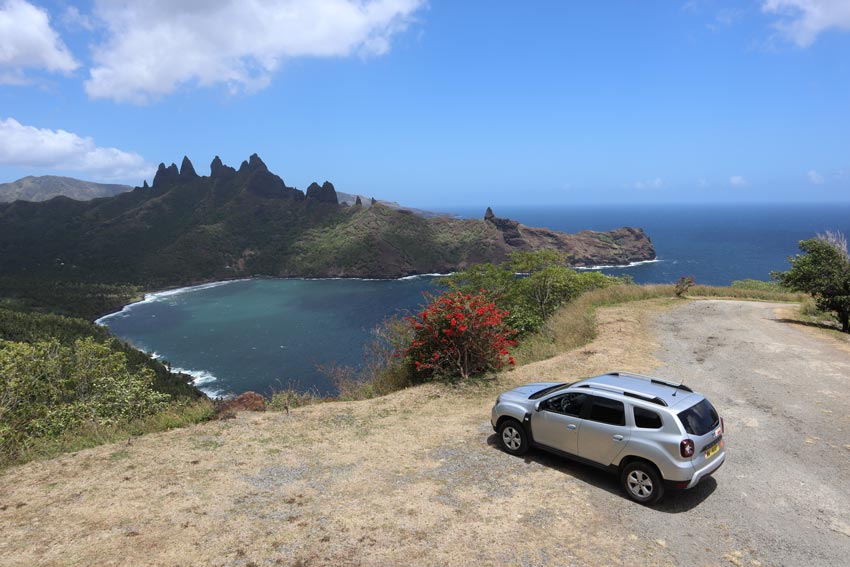 Where To Stay In Nuku Hiva?
Most accommodations in Nuku Hiva are centered in and around the main village of Taiohae, and most are "pensions" – family-owned and operated guesthouses that range from simple to "less simple" specifically in Nuku Hiva. Your pension stay will most likely be on a half-board basis (breakfast and dinner included) but, if this is not the case, dinner options are available in the village or at the Le Nuku Hiva. It's best to book well in advance if you have your heart set on a particular spot.
For a luxury stay, Le Nuku Hiva (formerly Keikahanui Pearl Lodge) is currently the only option in Nuku Hiva. This high-end lodge operates tours around the island for its guests. Apart from the majestic views over Taiohae Bay, rooms are modern and there's a restaurant on site. The lodge also hosts cultural shows on certain nights so inquire if planning to dine as outside guests. Le Nuku Hiva is located on the outskirts of Taiohae on a hill overlooking the bay.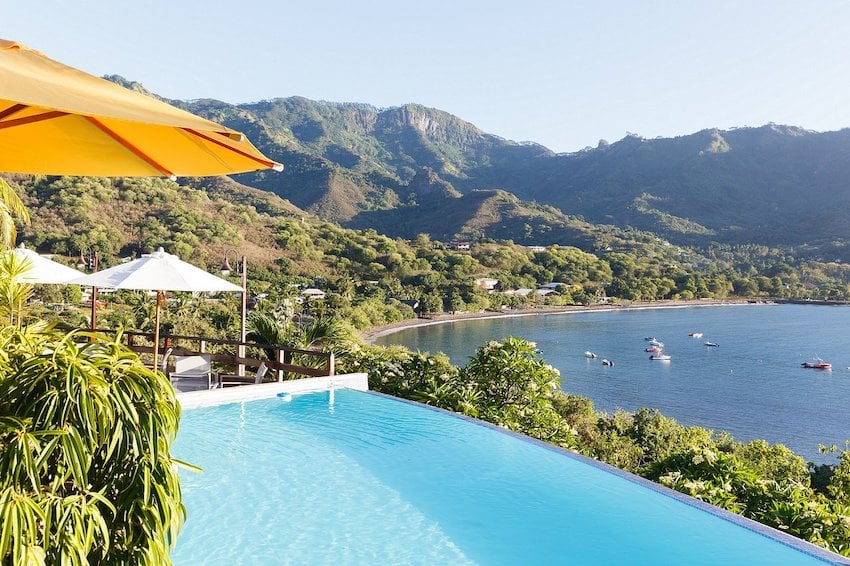 For a pension stay, look no further than to Pension Koku'u. Hosts Alvane, Claudine, and their family live in a simple home on a hill overlooking Taiohae Bay, just a 15-minute walk from the center of the village. Accommodations consist of basic rooms, some large enough for a family. All units are ensuite, with a cold shower that shouldn't be an issue with the kind of weather in Nuku Hiva. Wifi is free, with excellent reception throughout the pension, as is filtered water.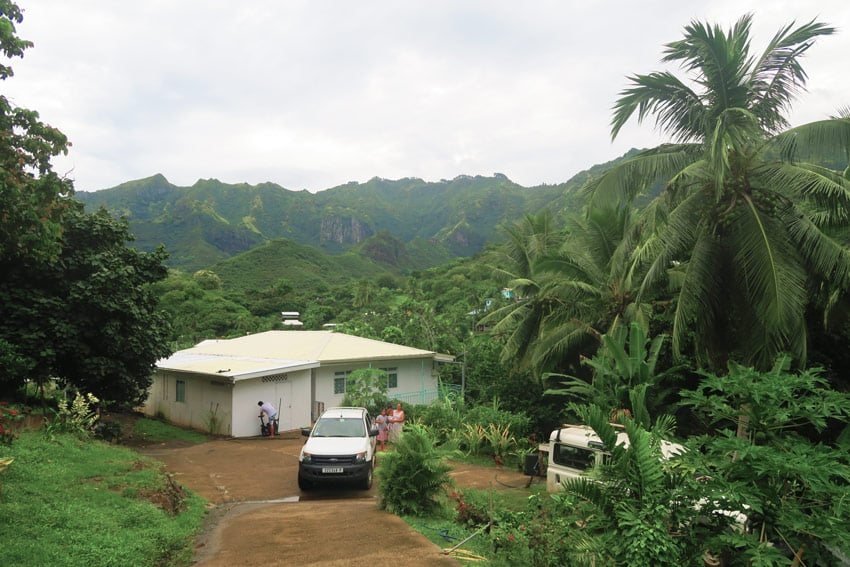 The real plus about Pension Koku'u is the warm Marquesan hospitality. Dinners are plentiful and always feature a local flavor, and Alvane and Claudine are great hosts. Alvane spends most of the time with the guests and he's quite a character. He's very knowledgeable about the local Marquesan culture and has even performed in several festivals. Alvane also leads the tours around the island and his itinerary is always more encompassing than what others offer. He even took me on an overnight hunting trip during my first visit.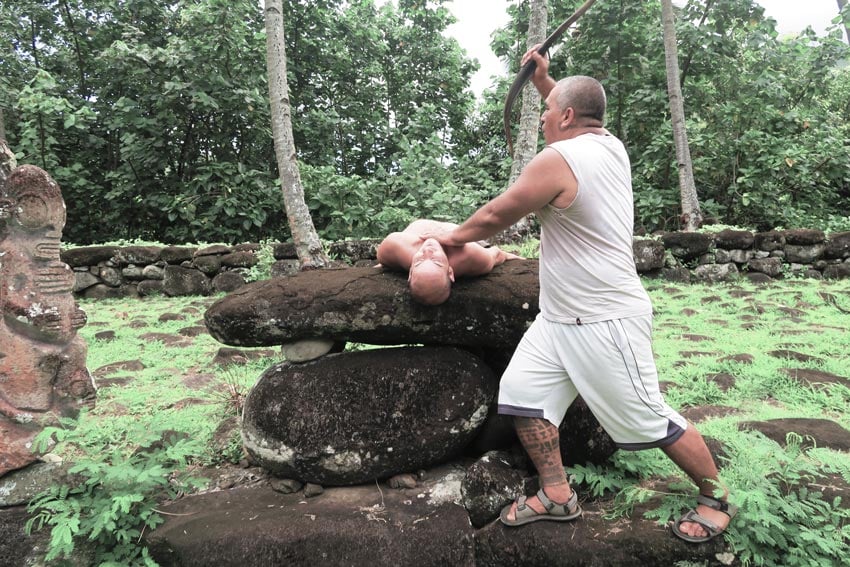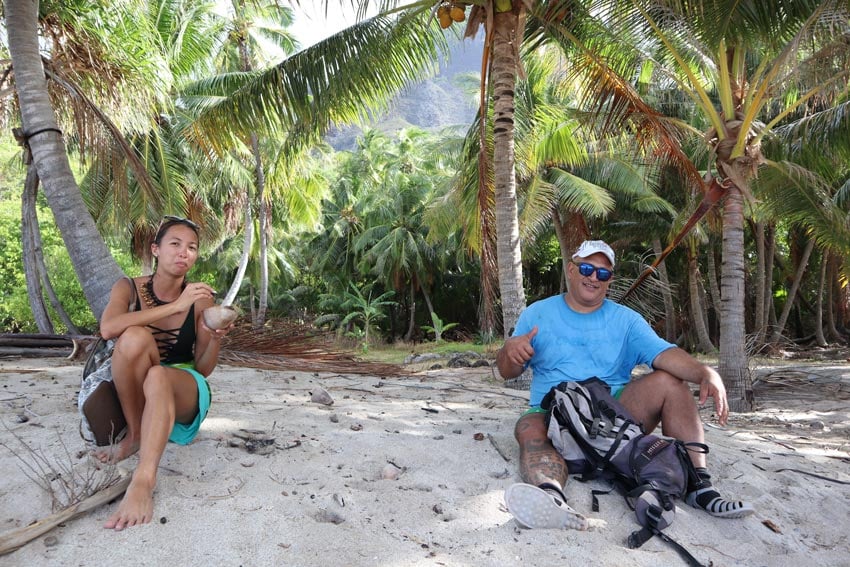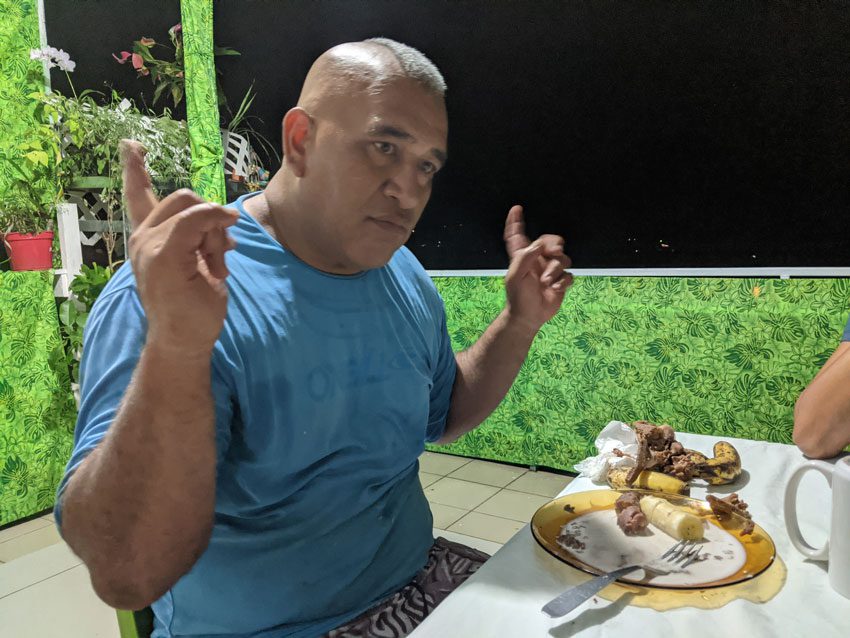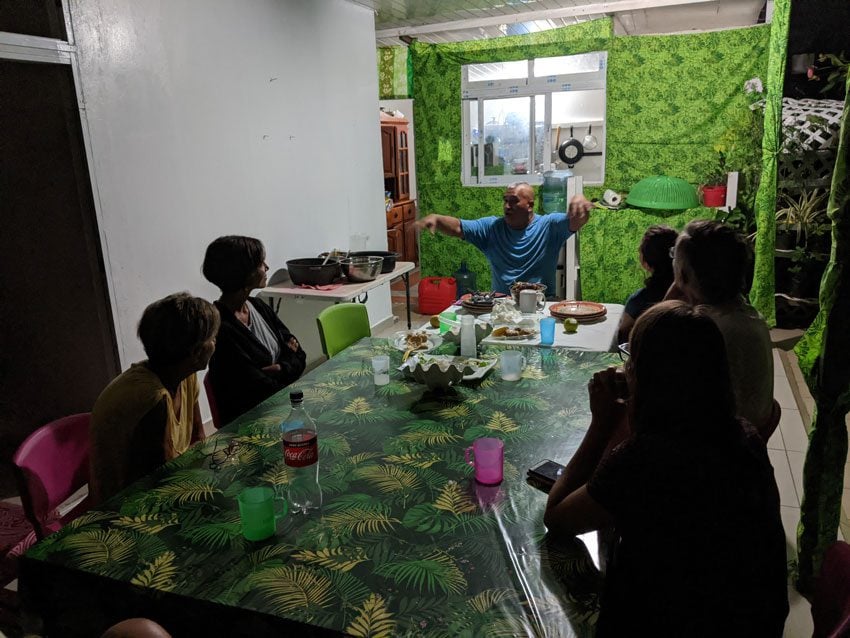 If you stay here, be sure to give the couple a warm hug from Avi (from Israel), and ask Alvane to tell you the interesting story of how his family came to live in Nuku Hiva.
Other options include the Hee Tai Inn, Pension Moana Nui, and Pension Mave Mai. On my return visit, Pension Koku'u was fully booked so I stayed at Mave Mai. I don't recommend staying here unless you have to as this place lacks a soul, though rooms are air-conditioned. You might also find a few options on Airbnb and Booking.com.
Time Difference
Yet another proof of the archipelago's remoteness, the Marquesas Islands are 30 minutes ahead of Tahiti time. Don't forget to adjust your watch!
Language
Though mostly speaking French these days, the native language in the archipelago is Marquesan and not Tahitian. So replace ia orana with ka oha (hello) and manuia with maitai roa (cheers).
What To Pack?
Nuku Hiva is a tropical destination, and as such – I recommend packing clothes that dry quickly and keep moisture (a.k.a sweat) out. Have a look at the X Days In Y Packing List for recommendations on what to pack for Nuku Hiva based on my experience.
Money
There is an ATM in Nuku Hiva, in the main village of Taiohae. Keep in mind that most ATMs on the outer islands have daily/weekly cash withdrawal limits. I was only able to take out a maximum amount of 30,000F. Inquire with your hosts if they accept credit cards and factor in for excursions, transportation, and shopping.
Internet
Surprisingly, the internet in Nuku Hiva is not bad at all. My pension had free wifi but just in case, you can get online at the local post office.
Mobile Phone
I highly recommend getting a Vini prepaid SIM card as it's currently the only mobile carrier with reception in Nuku Hiva. A Vodafone SIM card will not get reception on the island.
Nuku Hiva Average Costs
Here's a breakdown of costs during my 5 days in Nuku Hiva on my first visit in 2016. I stayed half board at a simple family pension and went on 3 excursions.
Diving In The Marquesas Islands
The Marquesas Islands have no protective lagoon. It is possible to scuba dive here, but expect challenging conditions and poor visibility due to the currents and plankton. That said, you might get to see whales, dolphins, and sharks. In Nuku Hiva, there used to be a dive center but I don't think it's still in operation at present.
Hiking & Guided Excursions In Nuku Hiva
Nuku Hiva is all about nature. While the hikes to Anaho Bay and Colette Bay can be done on your own, you'll need a guide for everything else. I strongly recommend booking excursions, tours, and hiking guides in advance of your visit to Nuku Hiva. Why? (1) The island isn't that developed in terms of tourism so there might not be a guide available on the day you planned to go. (2) some excursions require a boat or a 4X4 so a minimum amount of passengers is required. (3) When the Aranui arrives, all guides, boats, and 4X4's are dedicated to showing its passengers around the island.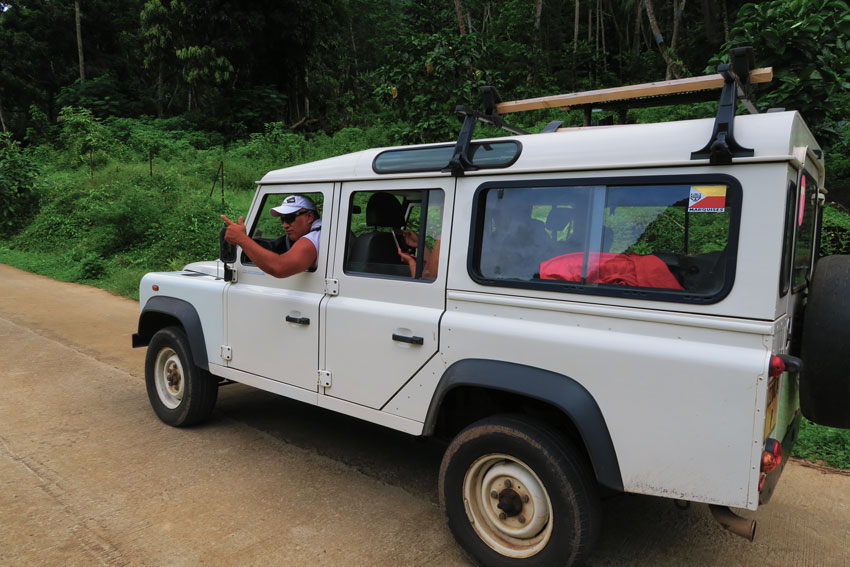 For guided hikes, if you don't want to hike on your own and/or want to hike the challenging and unmarked signature hikes of Nuku Hiva – get in touch with either Pako Tamarii ([email protected], +689-8723-2249, +689-40-920635), Christian Taata (+689-87-221640), or Kimi Teikiteetini (+689-87753969). Some might also be able to take you hunting. If Alvane Alvarado from Pension Koku'u is free, he can also take you hiking or hunting. For exploring the Hakaui Valley and the Vaipo Waterfall be sure to book with Tangy and Ana from Cannibal Art. Apart from local Marquesan crafts, the couple offers numerous ways of exploring the valley and the waterfall, from day hikes to multi-day camping trips.
For guided excursions, get in touch with Alvane Alvarado from Pension Koku'u, Richard Temarama from Temarama Tour, Mate Excursion, Jocelyne Henua Enana, or William Teikitohe (who often runs tours for the Pearl Lodge so he might be booked).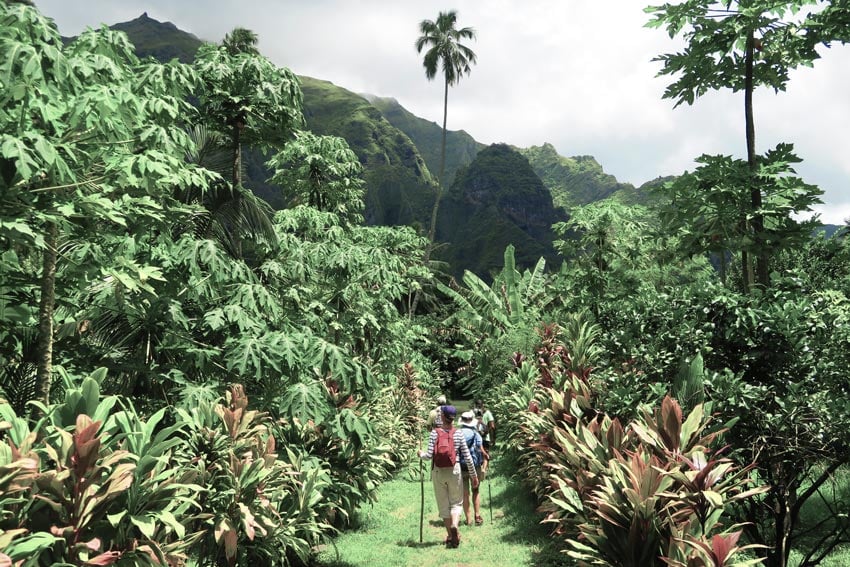 Beaches
Nuku Hiva has amazing beaches, but it's definitely not a beach holiday destination. There's no protective reef, no lagoon, and nasty sandflies known as nono are everywhere. Be sure to ask your hosts which beaches are nono-free!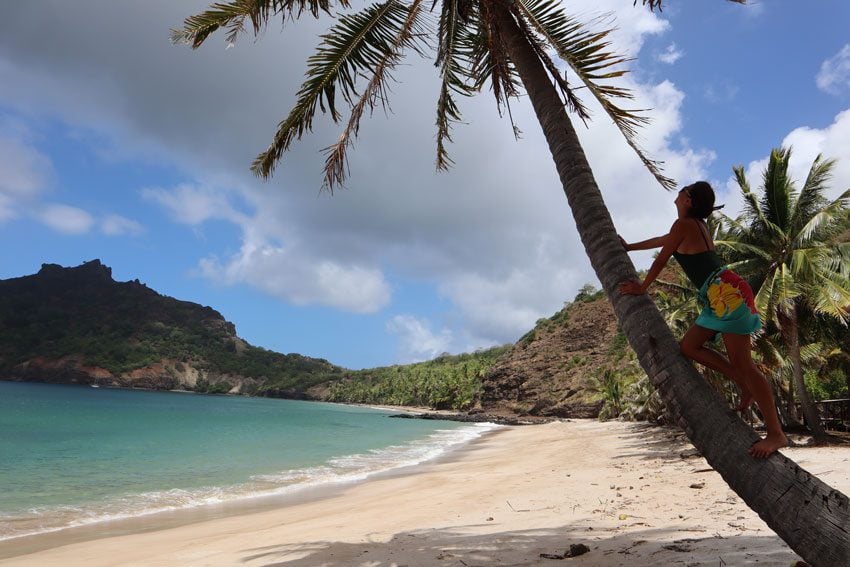 Drinking Water In Nuku Hiva
Do not drink tap water in Nuku Hiva! Pipes are rusty and fill up with dirt after the rains. If you see murky water coming out of the tap, this isn't necessarily your pension's fault. It's best to drink and brush your teeth with filtered or bottled water.
Eating
Taiohae has a couple of food shops (also open on Sunday mornings), a small fruit & vegetable market, and a handful of snacks. Your best bet for breakfast and dinner is at your pension, while for lunch it's best to pack a sandwich from one of the shops.
See the 'places to eat & drink' section for specific recommendations.
Safety In Nuku Hiva
For general safety tips in French Polynesia, have a look at the 'safety' section of the French Polynesia Travel Guide.
As for Nuku Hiva specific safety tips:
Bring

comfortable hiking gear

, especially shoes and waterproof sandals.

If you're renting a car,

drive with extra care

. Keep your eyes open for sudden bends, animals, and fallen rocks.

Be prepared for the notorious

nono

of Nuku Hiva

. These are tiny black or white sand flies

that are actually not native to the islands. They leave a nasty bite that itches for days, and if scratched – can leave a lasting mark. The best way to avoid getting bitten is by applying layers of

monoi oil

(the Citronelle kind). Always ask your hosts which beaches are non-free. I did not adhere to the advice and received dozens of bites without feeling the sting. The itch was unbearable for about a week!

If you're hiking in the forest, bring with you

strong mosquito repellent

that does not wash away with sweat. Consider hiking with long sleeves.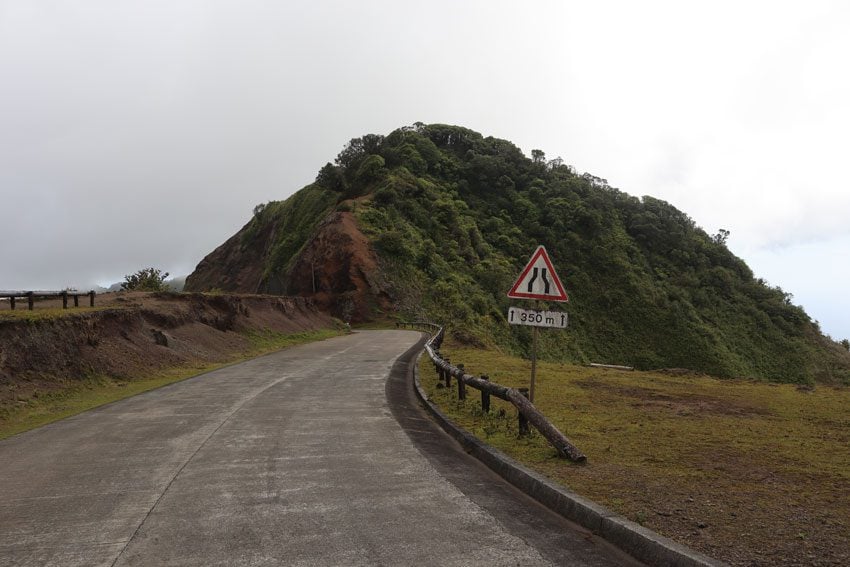 What To Buy In Nuku Hiva
While Papeete is the place to buy black pearls, the Marquesas Islands are the place to buy authentic arts and crafts. Marquesans are considered to be among the best wood and stone carvers in the South Pacific. Prices in Nuku Hiva are very reasonable compared to other places. Highlights include tiki statues fashioned from wood or volcanic rock (~3000-10,000F), wooden bowls (~5000-10,000F), sandalwood ornaments (~5000+F), bracelets, bone-carved weapons, and plenty more. Tapa can also be found, but it is super expensive. The best place to buy tapa is in Samoa.
There are two craft centers on the island, one in Tapivai and the main one in Taioha'e, right behind the tourist office and next to the market. It's open daily except Sunday, with prices far better than its counterpart in Hiva Oa. Bring plenty of cash and don't worry about customs (they might be accepting credit cards by now). I had no issues with bringing wood, dried vanilla, and monoi oils through Australian, New Zealand, and Canadian customs. In the adjacent market, you can also pick up local goods such as honey.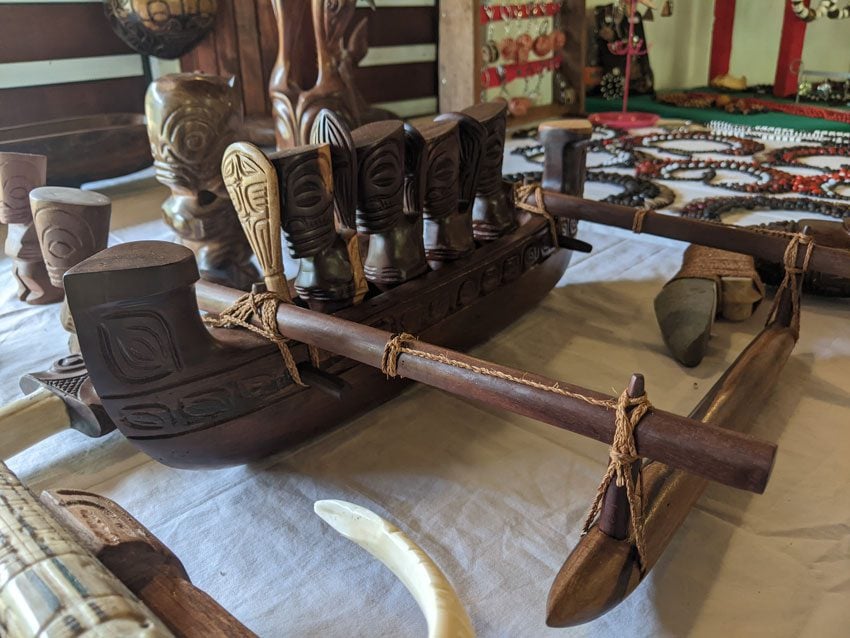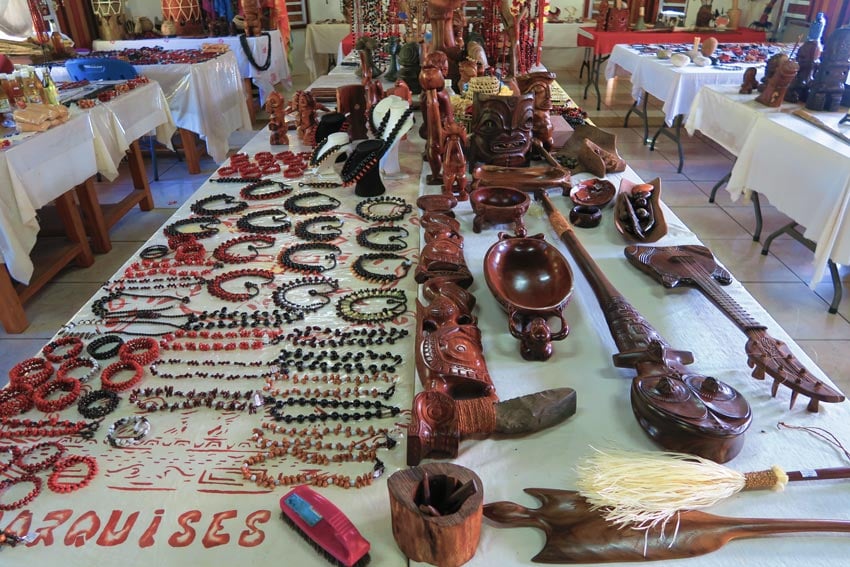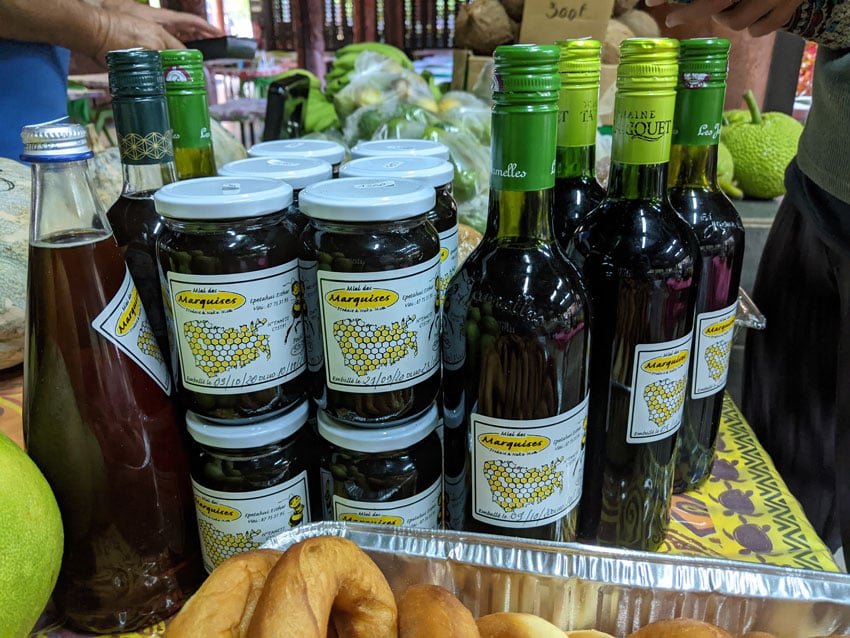 Nuku Hiva is also a good place to get a tattoo. Marquesans aren't only exceptional at carving rock and wood, but also skin. A large tattoo on your arm or leg should cost between 20-40,0000 XPF. Contact Moana Butscher for more information.