With a name you might want to consider for your future daughter, Raiatea will be one of the highlights of your visit to French Polynesia. Known as the 'sacred island', Raiatea was once the spiritual capital of the ancient Polynesian world. Off the beaten track, the island is home to a small and proud local population. With breathtaking views at every corner and one of the rarest flowers in the world waiting for you to find it – Raiatea is nature lover's paradise and it will grow you on very quickly. This Raiatea Travel Guide will help you make the most of this surprising destination!
About This Guide
I spent three months in French Polynesia, as part of a six-month backpacking trip across the South Pacific Islands – with four days spent in Raiatea. This travel guide to Raiatea was written based on my experiences and is meant to help you make the most of this destination. The Raiatea Travel Guide is geared towards independent travelers, but any visitor will find it useful.
Heading off to French Polynesia? In-depth island guides to all 5 archipelagos await you, including sample itineraries and essential travel tips & tricks.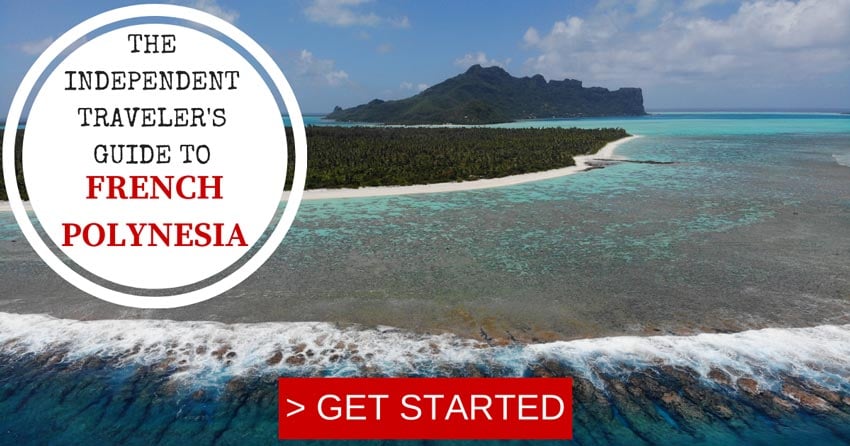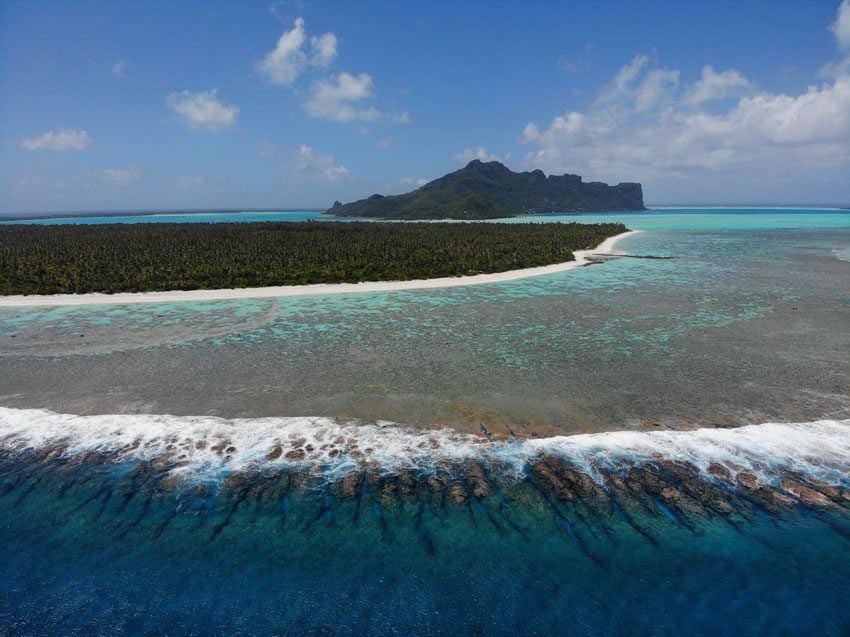 Tahiti, Tailor Made!
The Islands of Tahiti are among the last places to be colonized by mankind, 118 islands, each with their unique personality.


Get expert advice and assistance with planning your trip to the destination where tropical dreams come true!
See Options
---
Why Should You Visit Raiatea?
I wasn't expecting much, but Raiatea was one of the gems of my trip. If you like nature, you'll love Raiatea. The island may not have any beach to speak of, but it's got some serious natural beauty that totally makes up for it. And once you crave the beach, the lagoon it shares with Tahaa is loaded with small islands where you'll surely find that perfect beach. Speaking of Tahaa – it's right 'next door'. So in fact, visitors to Raiatea get to see an 'extra' island. Raiatea has some seriously gorgeous natural beauty and it's totally off the tourist map, with overhyped Bora Bora being so close. Come to Raiatea for the hiking, the strong spiritual history and the liberating feeling of having huge chunks of this gorgeous island all to yourself once you hit the road.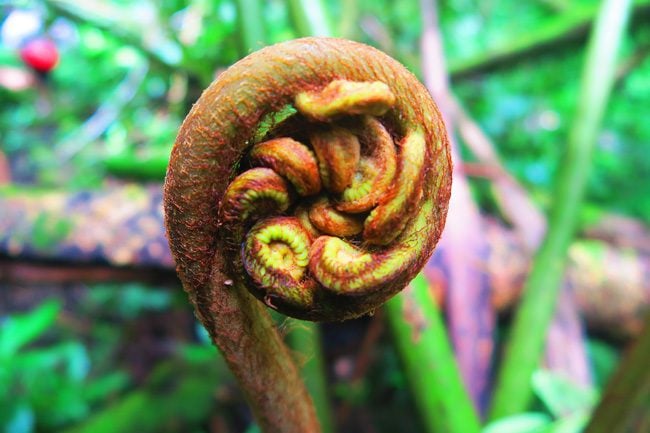 What's Included In This Raiatea Travel Guide?
Several sections make up this travel guide:
Raiatea Travel Guide Map
Click on the image to open in Google Maps. This map features all the highlights mentioned in this guide.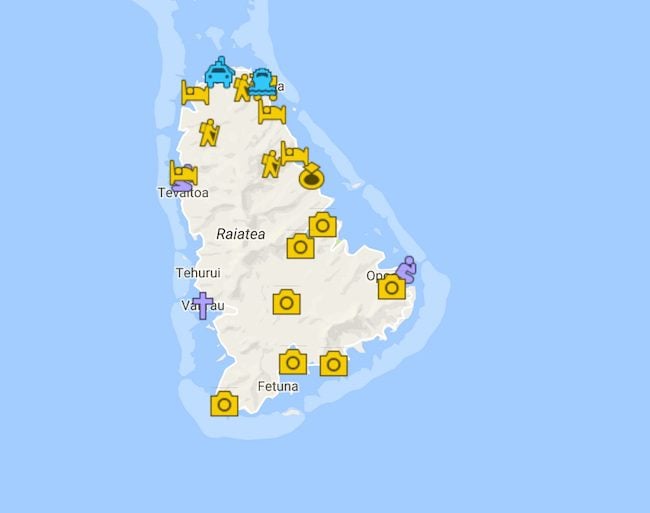 Facts & Brief History
Raiatea is the second-largest island in the Society Islands group of French Polynesia. The island shares the same lagoon with neighboring Tahaa and the two may have actually been part of a single island in the ancient past.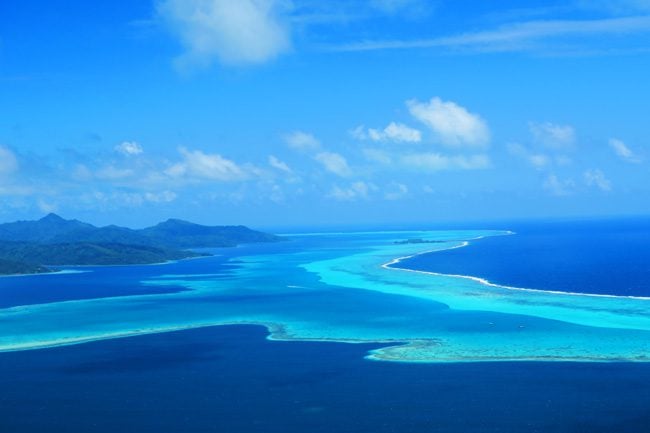 It's not exactly clear where the first Polynesian settlers came from and when. Some theories have it that Raiatea and Tahaa were the first islands to be colonized in the archipelago, with settlers coming from Samoa – way out in the west. Some time ago, during the course of the island's ancient history, Raiatea's influence rose to immense status – spanning across the entire Polynesian Triangle. Marae Taputapuatea – a newly named UNESCO World Heritage Site – on the island's east coast, was the spiritual center of power in the ancient Polynesian world. The island was one of the last to be taken by the Europeans, and not without a fight.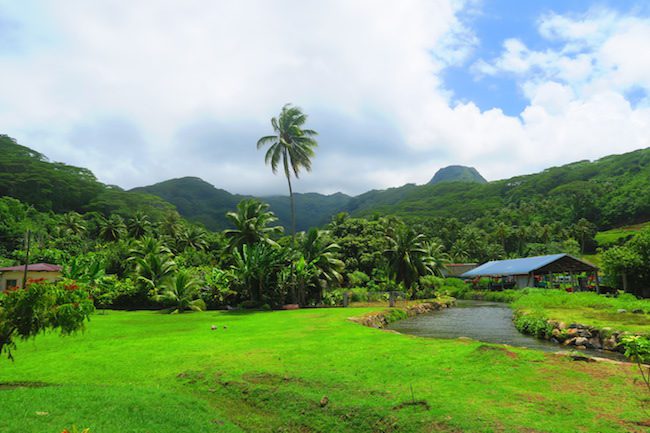 These days, Raiatea still enjoys an influential status in French Polynesia, even attracting French President Francois Hollande on his recent rare visit to this part of the world. The island's 12,000 strong population mainly lives off agriculture, black pearls, public sector jobs, and small-scale tourism.
Raiatea Island Travel Tips
Listed here are specific travel tips for Raiatea to help with the planning stages of your visit.
Recommended Reading
How Many Days Do You Need In Raiatea?
To properly experience Raiatea, three days (four nights if arriving late) should be enough. The island is small and there isn't all that much to see. If you're after a pampering luxury holiday of sipping cocktails on the deck of your overwater bungalow, you could probably spend a week (if you can afford that). I spent three full days in Raiatea and felt totally ready to leave for the next island.
Is Raiatea Worth Visiting?
Raiatea was one of my big surprises in French Polynesia. I wouldn't come here if you're after that 'classic' beach holiday, but if you like hiking and enjoy a good road trip – you'll find Raiatea very satisfying. Aside from hiking, there's good diving, excursions to explore the lagoon and neighboring Tahaa is super close. Raiatea reminded me of Moorea, an island that I dearly love. It doesn't have the beaches of Moorea but it does have the mountain scenery and a hell of a lot fewer people (and tourists) around.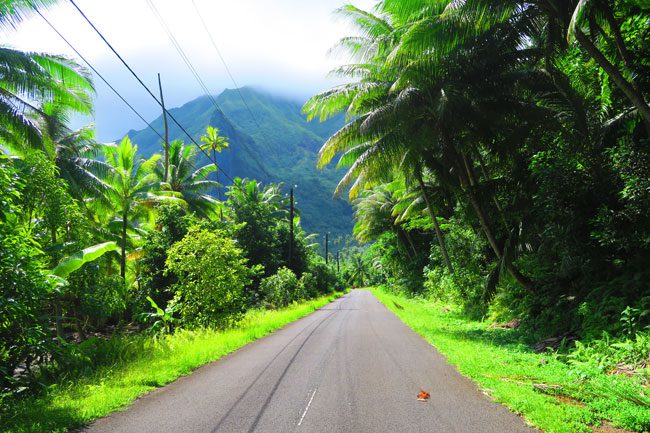 Tahaa vs Raiatea
Though sharing the same lagoon, Tahaa and Raiatea have their own distinct personalities. So if you're already here, you might as well see both. I was faced with a big dilemma of whether to sleep on both islands or use Raiatea as a base. Finally, I decided to spend 3 nights in Tahaa and 4 nights in Raiatea (I probably could have used an extra night in Raiatea). You can also visit Tahaa on day trips from Raiatea. Here's the deal: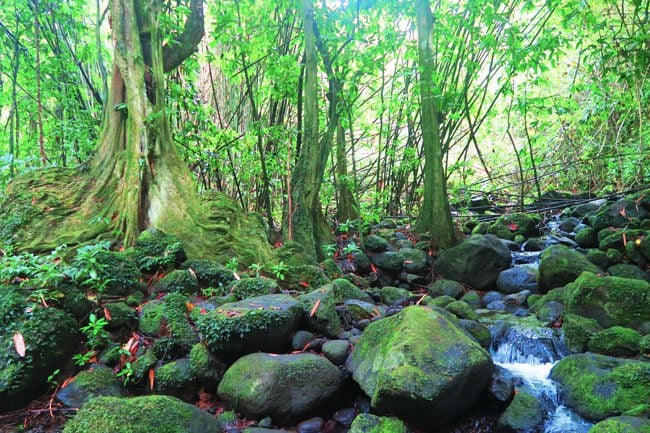 Tahaa vs Raiatea
Raiatea: much bigger than Tahaa and actually a central member of the Society Islands. It's home to a proper small town, government agencies, major hospital, regional high school, market, and the airport. Naturally, it's more geared to independent travelers with plenty of accommodation, car hire, activities, restaurants, etc. Visitors will enjoy lots of hiking opportunities and the most important archeological site in French Polynesia.
Tahaa: a super laid-back island, probably the 'wildest' island in the Society Islands. There are eight small villages along the coastline with not a whole lot happening in them aside from vanilla and pearl farming. It's also less geared to tourists, though there are a handful of accommodations.
The big exception is the lagoon. Tahaa is blessed with exceptionally beautiful lagoon motus. Of the two islands, it's off the coast of Tahaa where you'll find incredible beaches, dive sites, and snorkeling spots. You can even sleep on some of these motus. Raiatea, on the other hand, has no real beaches to speak of. Most lagoon excursions and some scuba dives will take place in Tahaa, even if booked in Raiatea.
When Is the Best Time To Visit Raiatea?
Like all Society Islands, the 'best' time to visit Raiatea is during the dry season (May – October). During this time, the temperature is slightly lower and most importantly – there are less rain and clouds. You wouldn't want to travel all the way out here and be confined only to your villa. Keep in mind that during these months, the southeasterly wind blows in this direction so the lagoon might be a bit choppy (and chilly at night).
I personally visited Raiatea during the heart of the wet season (November – April). This was probably the island where I had the worst luck with the weather. I had one incredibly sunny day and two cloudy days… so you do the math. Though I didn't mind it so much as I had plenty of islands coming up, I did see a few disappointed faces with visitors who came to French Polynesia for just a week.
Bottom line: aim for the dry season but don't let it stop you from visiting Raiatea. Look out for Raiatea's version of the legendary Heiva festival (July) and the Hawaiki Nui Canoe Race (November) – both excellent times to visit the island though book way in advance.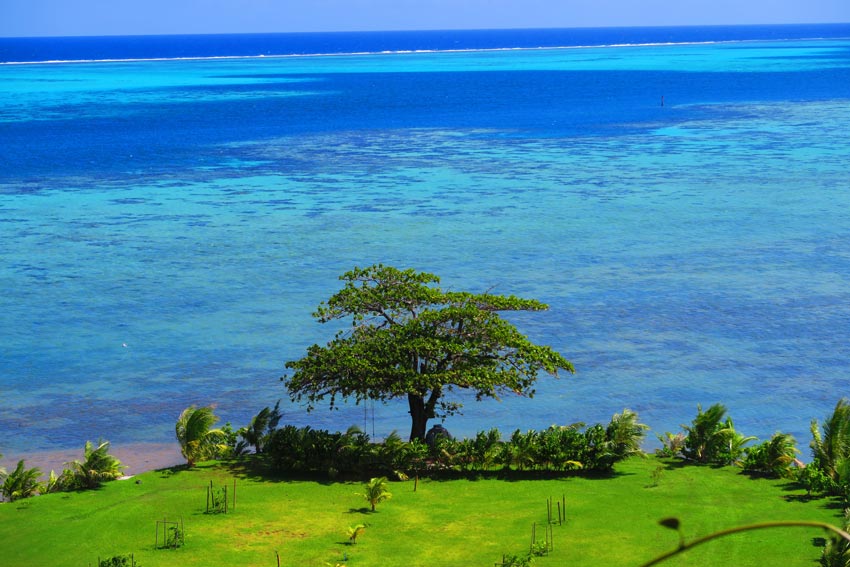 How To Get To Raiatea
Raiatea is an important island in French Polynesia and therefore, quite well connected. Here are the best options:
Getting to Raiatea
By air: the easiest way, no doubt. The island is connected to Tahiti (multiple daily flights), Moorea, Maupiti, Bora Bora, Huahine, and several atolls in the Tuamotu Archipelago. As always, if visiting several islands in French Polynesia, buy yourself an Air Tahiti Pass.
By boat: the Hawaiki Nui cargo ship departs Tahiti, calling port at Bora Bora, Raiatea, and Huahine. A short trip could cost as little as 1,500F – quite a bargain if you are flexible (and speak French). According to the latest information I found, the boat leaves to Raiatea from: Tahiti – Tues & Thu at 4 pm (12-hour journey), Bora Bora – Wed at 1 pm & Fri at 12 pm (short voyage) and Huahine – Friday at 3 am (~3-hour voyage). Do double-check this info.
By ferry: beginning in 2021, Aremiti launched a new route that serves Huahine, Bora Bora, Raiatea, and Tahaa from Tahiti. Three times per week, a boat will depart Tahiti and reach Huahine about three and a half hours later, then continuing to the other stops (about eight hours to reach Bora Bora taking into account all the stops). Note that the return leg will take longer due to the prevailing winds. In a couple of years, Aremiti will receive the Apetahi Express, a much faster boat that will reduce travel time. Terevau is also set to compete on this route. This is great news for both locals and tourists as the trip should cost half the price of an equivalent plane ticket (albeit taking much longer). Though lacking much information online, you might also be able to get to Raiatea from Tahaa and Bora Bora (and maybe even from Maupiti) with the Maupiti Express. Contact them via email ([email protected]) or phone (+689-40676669 or +689-87740240). These might be the current schedule and ticket prices.
From / to Tahaa: the public ferry (navette) connected the Raiatea with Tahaa during weekdays only. A single ride currently costs 763 and several routes are running from Uturoa to different parts of Tahaa. Tahaa Transport Rapide is another option, the only one on weekends and holidays (runs seven days a week). A single ride costs about 1,500F and they can drop off at several points around Tahaa. Both options depart from the quay in 'downtown' Uturoa.
In style: I didn't really know where to stick this one so I'm just putting it here. Dream Charter Yacht runs private or small group cruises around the Society Islands, departing from Raiatea. If that's your thing, go for it. I actually met several independent traveling couples in Huahine who arrived on one of these yachts and loved it!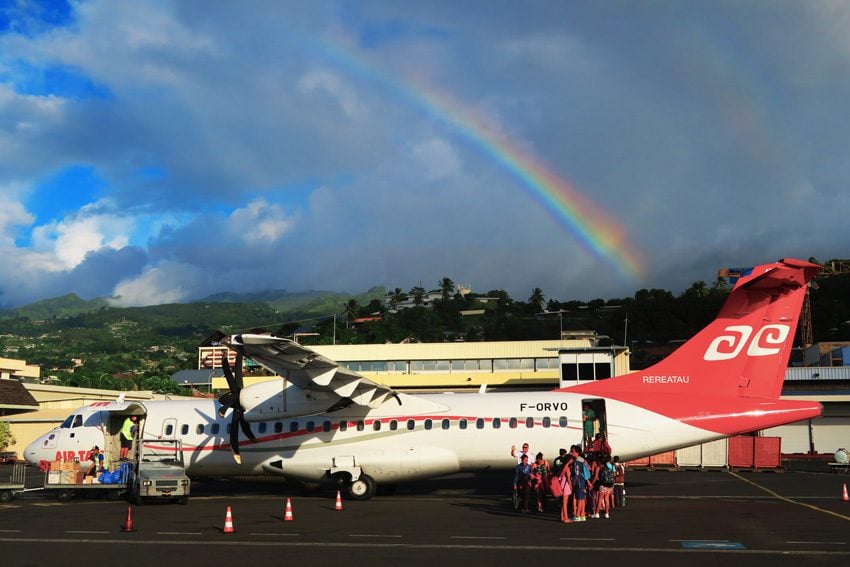 Where To Stay In Raiatea?
Raiatea has no resorts but only pensions, a couple of lodges, and self-catering options. Though there are a few high-end options in the bottom half of the island, I recommend staying close to Uturoa as it has everything you need such as supermarkets, ATMs, market, restaurants, etc. I did find a few options in the 'outer villages' – but those can be a hit or miss. Also worth mentioning is the minimum number of nights required by nearly all accommodations in Raiatea. The minimum stay is between 2-3 nights.
Resorts: for the luxury resort stay, you'll need to base yourself in Tahaa's lagoon. The best resort is Le Tahaa which faces Bora Bora on one end and Tahaa on the other, followed by Vahine Island on the other side of the lagoon.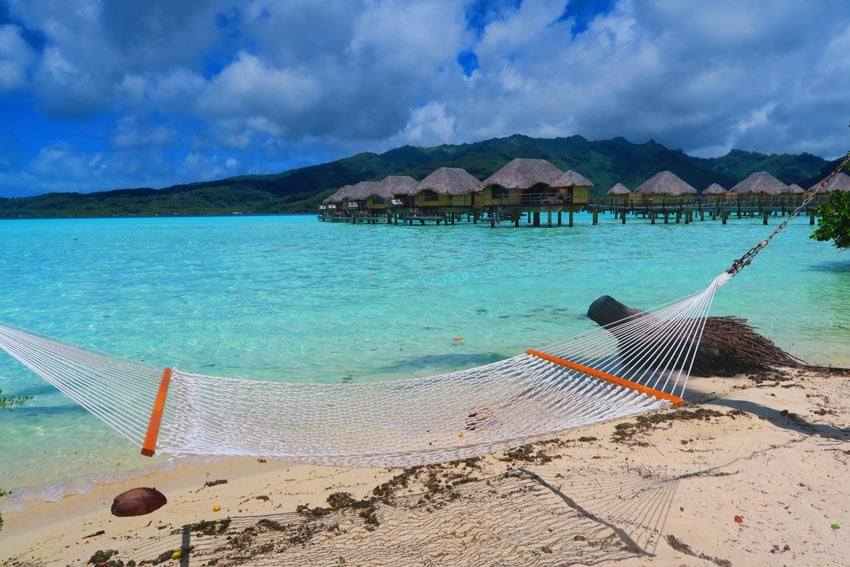 Lodges: on the south side of the island, Opoa Beach is a pampering option, and close to Uturoa, Raiatea Lodge is highly acclaimed both for its accommodation and dining.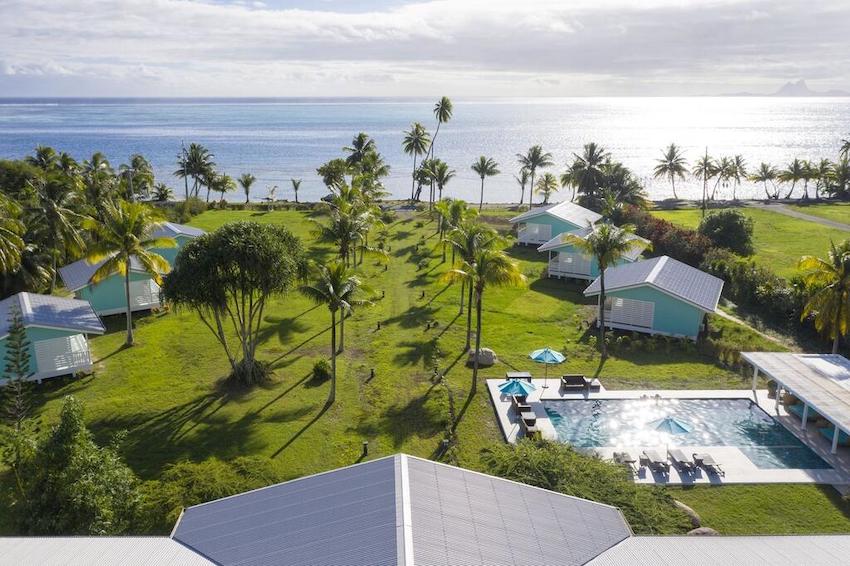 Pensions: in the vicinity of Uturoa, check out Villa Ixora and its lagoon-side location, Villa Tonoi for its high-altitude views if you don't mind the climb and Pension Temahani for its great location for sunsets and the friendly hosts. Further out of town, Pension Les Trois Cascade, Pension Manava, and Pension Fare Vai Nui are about halfway from Uturoa to the far end of the island. Close to Marae Taputapuatea, Pension Opeha and Hotel Atiapiti are solid options.
Self-catering & camping: the Sunset Beach Motel has a gorgeous setting. Its garden bungalows are sprinkled in a coconut plantation with incredible sunset views towards Bora Bora. You can also pitch a tent on their property. About a 15-minute drive from town, Pension Manava also offers camping options.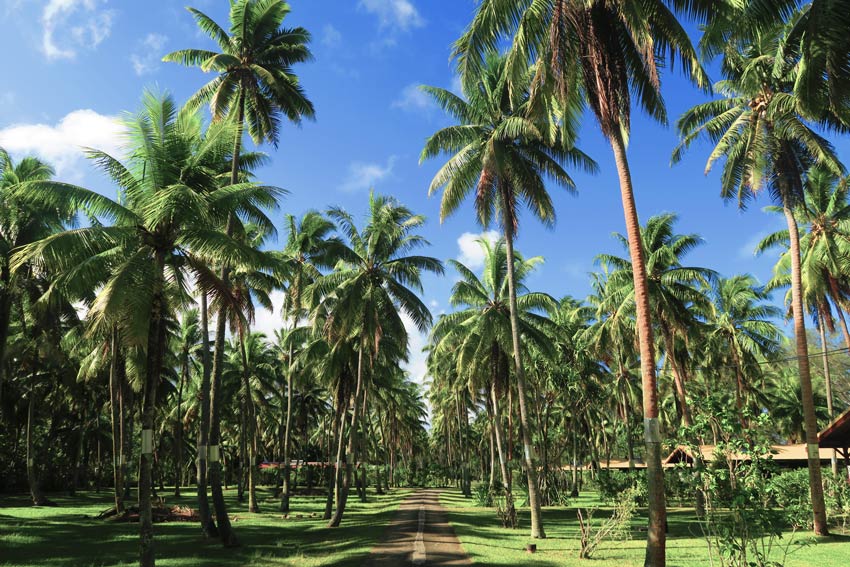 Getting Around Raiatea
There's a sealed road hugging the nearly 100 km coastline of Raiatea, dotted by PK markers indicating the distances. The Road is mostly flat aside from a few steep inclines. Here are the best ways to get around Raiatea.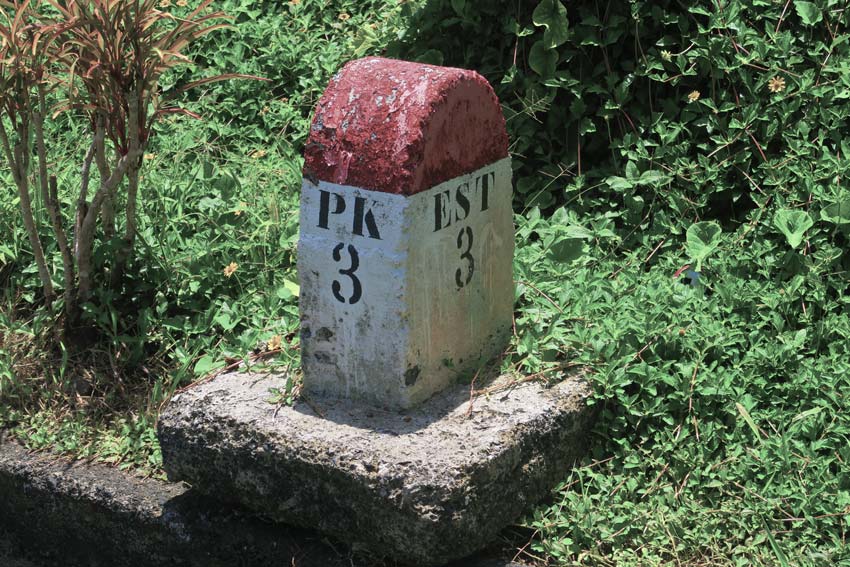 From the Airport: the Raiatea airport is 3.5 km from Uturoa. Your pension/hotel will likely pick you up for free or for a small fee. Taxis await all arrivals and a ride to town should cost 1,000F (outside of town 1,500F).
By Bus: there are local buses (known as le trucks) that connect the villages of Fetuna and Opoa with Uturoa. Busses operate weekdays only, have 2 departures per day, and are probably more suitable for locals than tourists.
By Car: renting a car in Raiatea is the easiest way to get around, and surprisingly not that expensive at all. I hired a manual economy car from Moana Rent a Car. They're located right outside the airport but also pick up from the pensions around town. You'll pay 6,000F for a 24-hour rental, 4,000F if you bring it back by 6 and there are discounts for longer rentals (you can even rent for 4-6 hours). Additional car rental companies are available in Raiatea.
By Bicycle: inquire locally about hiring a bicycle or it might even be offered at your pension. You'll find it difficult to see all parts of the island and keep in mind that the prettiest section of Raiatea (in my opinion) is between Opoa and Vaia'au – on the opposite end of Uturoa.
Hitchhiking: locals are very friendly in Raiatea and you should have no problem finding a ride. Keep in mind that the southern end of the island is quite sparsely populated without too many cars passing by.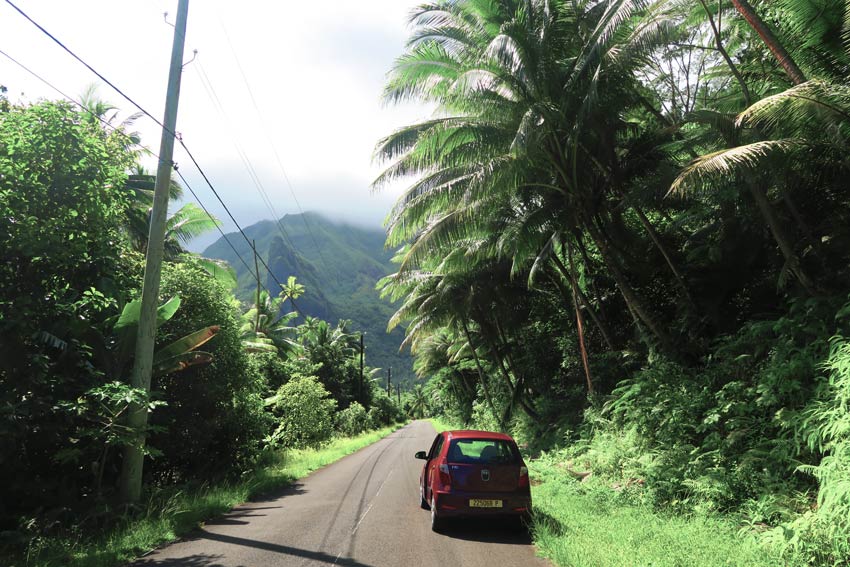 What To Pack?
Raiatea is a tropical destination, and as such – I recommend packing clothes that dry quickly and keep moisture (a.k.a sweat) out. Have a look at the X Days In Y Packing List for recommendations on what to pack for Raiatea based on my experience.
Money
You'll be able to use a credit card in most places in Raiatea. Note that the only ATM I'm aware of is in Uturoa, and if you're heading to Tahaa for a few days – bring enough cash with you.
Using a credit card for pretty much everything is not a problem in Raiatea. In fact, you can even get by with just US Dollars in your pocket. ATMs are available throughout the main island.
Raiatea Average Costs
Here's a breakdown of costs during my 4 days in Raiatea in 2016. I stayed in a dorm room close to town, cooked my own dinners, hiked a lot, and even hired a car for a day to go on a road trip.
Diving In Raiatea
Raiatea actually has some pretty decent scuba diving. I personally did not go diving in Raiatea, as I wanted to use my limited time for land-based activities. I went diving in Moorea and was headed to Rangiroa & Fakarava anyways – the best places to dive in French Polynesia. Raiatea offers the only wreck dive in French Polynesia and you can also do some drift dives in and around the lagoon pass. There are several dive centers so inquire locally, some included in the totally worth it Te Moana Dive Pass.
Hiking In Raiatea
Hiking in Raiatea was the biggest highlight for me. In fact, it's how I spent most of my time on the island. Apart from the newly opened trail near Marae Taputapuatea and the Mount Tapioi hike over Uturoa (this trail might currently be closed), hikes in Raiatea should be undertaken with a guide. I hiked with Kia Marti ([email protected] | +689 87 272300). He's a super nice guy, very knowledgeable about the island's history, flora, and fauna. If you want to do multiple hikes, Kiam will give you a discounted price. See the 'things to do' section for more information about specific hikes in Raiatea.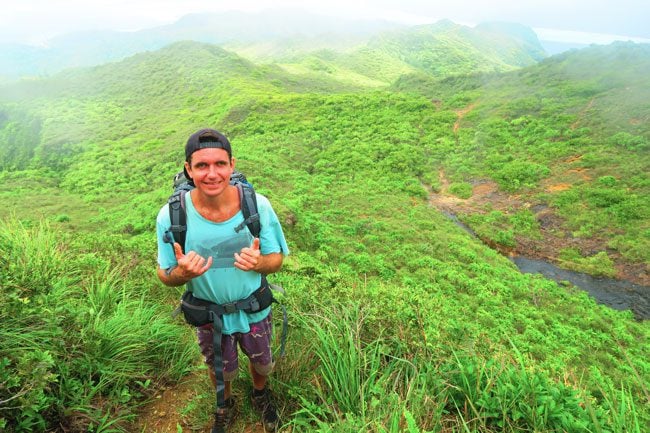 Beaches
There are no dreamy beaches in Raiatea – it is not a beach destination. The only white sand beach is an artificial one, right by Marae Taputapuatea. To satisfy your craving for a proper beach, you'll need to catch a ride to one of the lagoon motu. An even better option is to join a lagoon excursion to the prettier motu in neighboring Tahaa Island's north coast or even spend a night or two on one of them. Le Tahaa Island Resort & Spa is a great choice for those seeking luxury on a tropical island, but there are less expensive options as well on other motu.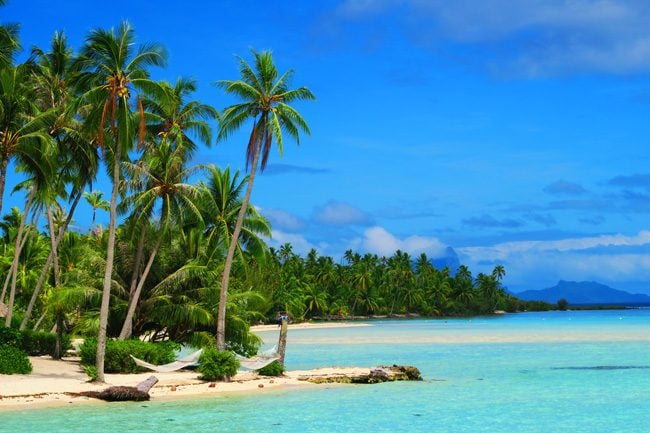 Drinking Water In Raiatea
Tap water might be OK to drink but it might not. It all depends on where the water is pumped from. To be on the safe side, ask at your pension.
Eating
There are several highly acclaimed restaurants in lodges and pensions around the island (reservations required). Notable mentions include Villa Ixora and Raiatea Lodge. Assuming you like going local (like me), Uturoa has snacks during the day – perfect for packed sandwiches, and roulottes at night – big portions of traditional & Chinese dishes. The town center also has a bunch of large supermarkets (one of them even open on Sunday until late afternoon) and a fruits & vegetables market (open weekdays). You can always count on locals selling fruits, vegetables, fresh coconut, and sometimes even fresh fish on the roadside.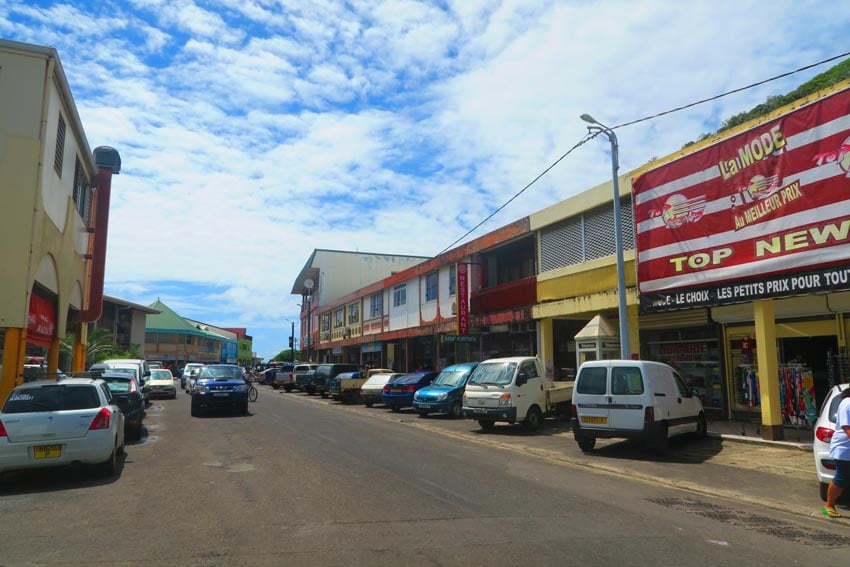 Safety In Raiatea
For general safety tips in French Polynesia, have a look at the 'safety' section of the French Polynesia Travel Guide. Specific to Raiatea: don't go hiking on your own unless it's the Mount Tapioi hike (trail might be currently closed). Trails are not marked and it's super easy to get lost (trust me). Contact Kia Marti ([email protected] | +689 87 272300) – a certified guide who knows every inch of the island.
Things To Do & Places To See In Raiatea
Check out this 5 days in Raiatea and Tahaa sample itinerary to see how to divide your days on the islands
Uturoa
The only town in Raiatea is actually the second largest in French Polynesia after much bigger Papeete. Tucked between the lagoon and Mount Tapioi, Uturoa offers all the comforts of a small town and is somewhat charming for a quick stroll. During the day, its main streets are busy with locals running errands, buying a small sandwich in one of the snacks, or doing some boutique shopping. During the night, roulottes set up shop in the center of town, cooking simple and affordable Tahitian and Chinese dishes.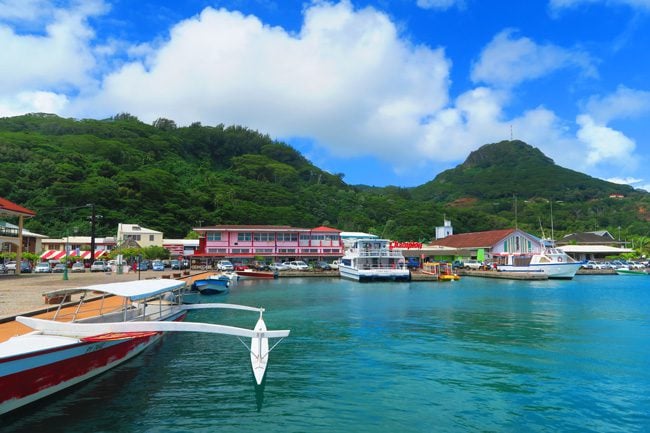 You'll find a bunch of proper supermarkets in the center of town, one of which is even open on Sundays. There's a covered market in the center of town that's open on weekdays and Saturday mornings. The ground floor has fruit & vegetable stalls while the top floor has a cafe and a bunch of artisan stalls selling local souvenirs (vanilla, necklaces oils, wood carvings, etc).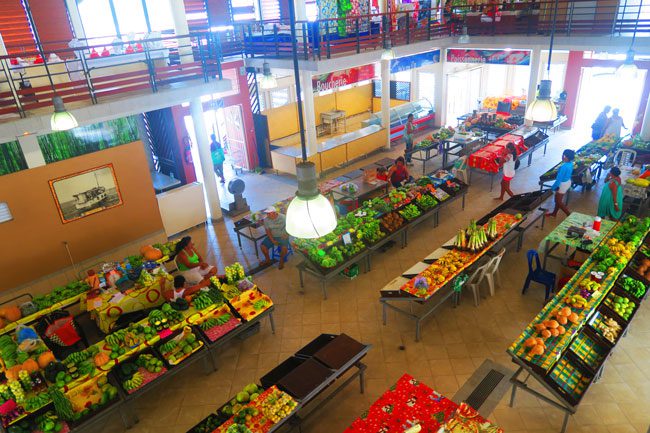 Mount Tapioi Hike
This DIY hike has been off-limits for a few years due to injuries suffered by local hikers who may or may not have been sober at the time of hiking. I'll still list it here because, at some point, it will reopen to the public.
Hiking Mount Tapioi was one of the highlights of any visit to Raiatea and similar to the hike up Mount Teurafaatiu in Maupiti. The views from the top of Mount Tapioi (294m) are breathtaking: Tahaa and the shared lagoon in front of you with its small palm-fringed motu, Bora Bora in the far distance on a clear day, Uturoa way down below, and Raiatea's west coast. It doesn't get any better than this considering the short climb – a great way to start your day.
Logistics: it's very easy to pick up the trail once you've made it to the right spot. If coming from town, take a left turn right before or after the police station (gendarmerie) and park the car inland. The trail is used by utility vehicles checking up on antennas at the summit, so there's no chance of getting lost. A few families are living along the first half of the trail and they were unhappy with the noise on weekends. Therefore, they put up signs saying you cannot hike Mount Tapioi on weekends! Whether this is enforced or not, I have no clue. Allow 1 hour to get up and 30 minutes down.
Road Trip Around Raiatea
There's no better way to experience the magic of Raiatea than by hitting the road and circling the island's 100 km coastline. Raiatea is beautifully wild, reminiscent of Moorea, and with hardly anyone around once you leave Uturoa. The road trip around Raiatea was one of my most enjoyable days. I stopped counting the times I just stopped on the side of the road to soak up the view. Here are a few highlights to look out for along the way.
East Coast
The 10 or so km south of Uturoa are home to several pearl farms. I already visited one in neighboring Tahaa just a few days ago (and many later) so I decided to keep driving. You can almost always join a free tour and of course, buy some pearls if you're interested (though Tahiti is your best option).
Faaroa Bay
Before reaching this beautiful bay, you'll drive over a bridge that marks the end of the Faaroa River – the biggest in French Polynesia. It is possible to go on a boat tour up the river.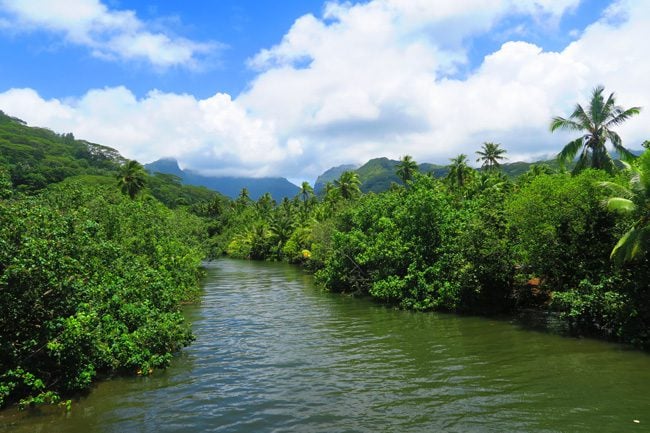 Faaroa Bay kind of marks the start of the sleepy section of Raiatea. Uturoa is 'far away' and for the next 60 or so kilometers, it's nothing but mountains, bays, and tiny villages. Copra production is still a major source of income for locals living around here.
Keep your eyes peeled for the flat 'wooden huts' on the roadside. A closer look will reveal its real purpose: drying coconut flesh in the sun. Once dried, the flesh will be packed in 50kg bags and shipped off to Tahiti for the production of copra.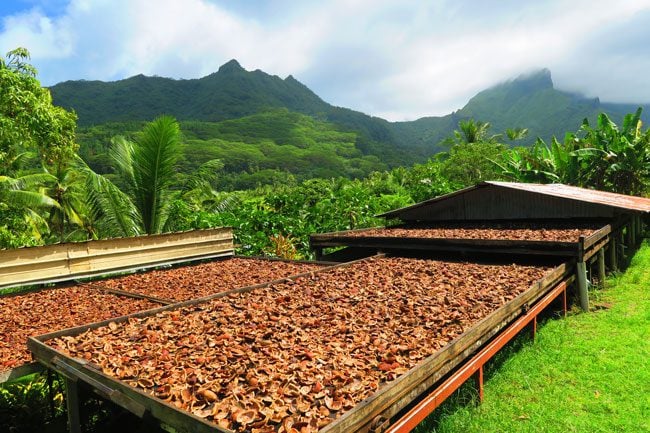 Belvedere Lookout Point
This is the only time we won't be driving along the coast. Just after the river, we'll take a right and head inland. This is the mountain road that connects Faaroa with Fetuna, bypassing the twists and turns of the southeastern part of the island and providing locals with a 'shortcut'.
Here's the tricky part, unlike in Moorea, this isn't an officially marked 'belvedere'. You'll know you've missed it when you start heading down to the other side of the island. So at the very top, park the car and find the trail that leads a bit inland (clue: there's a mini 'rally car' course up here). From up here, enjoy sublime views of the lush valley spilling to Faaroa Bay and the surrounding peaks.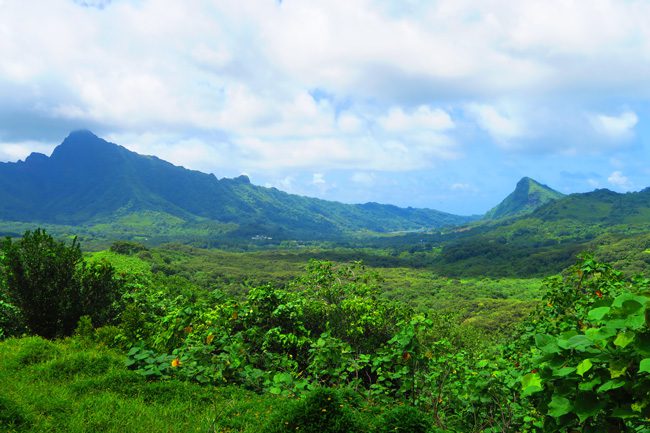 When you're done, drive back to Faaroa and continue driving along the east coast.
Marae Taputapuatea
This ancient Polynesian temple is the reason Raiatea is known as 'the sacred island'. Of all the temples in the vast expanse of the South Pacific Ocean, Marae Taputapuatea is the most important one. In fact, it's so important that even French President Francois Hollande paid a visit on his recent trip to French Polynesia.
This particular marae was the center of power for the ancient Polynesians. Kings and priests from across the Polynesian Triangle would make the long voyage for key meetings at this exact spot. There are actually three platforms to explore and even today, traditional ceremonies take place on the huge altar. When walking around, you can really feel the mana (ancient power). I wonder which key meetings took place here centuries ago?
Next to the marae is the main island's only white sand beach. I hate to spoil things for you but this beach is artificial… For truly amazing beaches, you'll have to head out to the lagoon motu.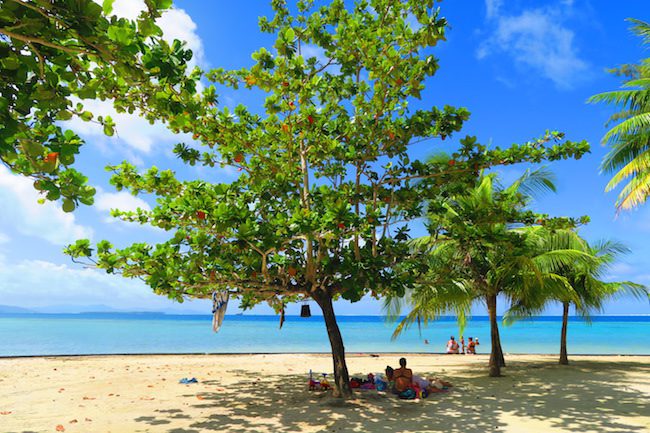 Marae Taputapuatea Hike
In June 2020, the commune inaugurated a new hiking trail in the vicinity of Marae Taputapuatea. The new hiking trail is designed to combine natural scenery with a chance to meet locals in their rural environment.
South Coast
In the most remote part of Raiatea, you'll be twisting your ways around bay after bay with hardly anyone around – but when do drive past someone, they'll always say hello!
Hotopuu Bay
The coastal road rises back into the mountains after Marae Taputapuatea, with views to beautiful Hotopuu Bay somehow emerging behind the canopy.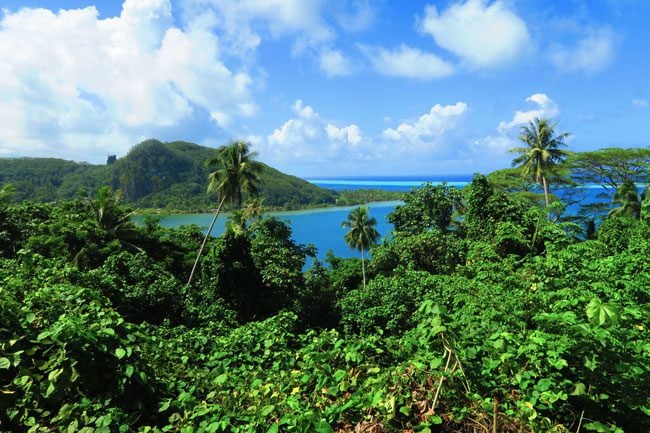 Puohine
Wow! Just look at the color of the water. The lagoon is simply stunning out here, teasing you to ditch the car behind and go for a dip. Continue driving and you're all alone on this country road aside from the occasional falling coconut. There are some serious cliffs out here, the prettiest in Raiatea. After days of rain, there should also be a few waterfalls cascading down if you're lucky enough.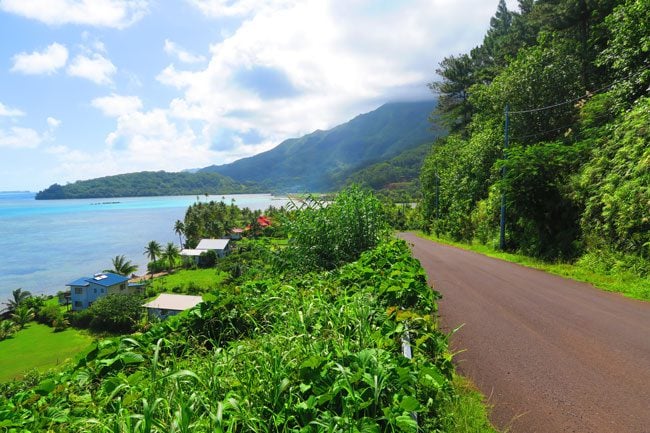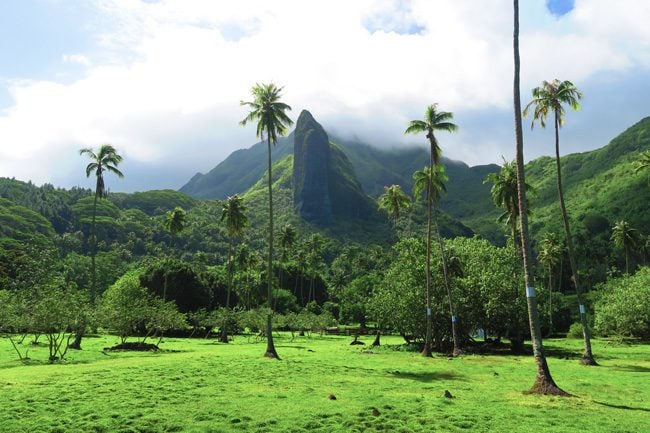 Faatemu Bay
Were we just teleported to Europe? The coastal road meets the southern end of the mountain road in sweeping Faatemu Bay. If it weren't for the palm trees, you would think you're somewhere in the British Highlands.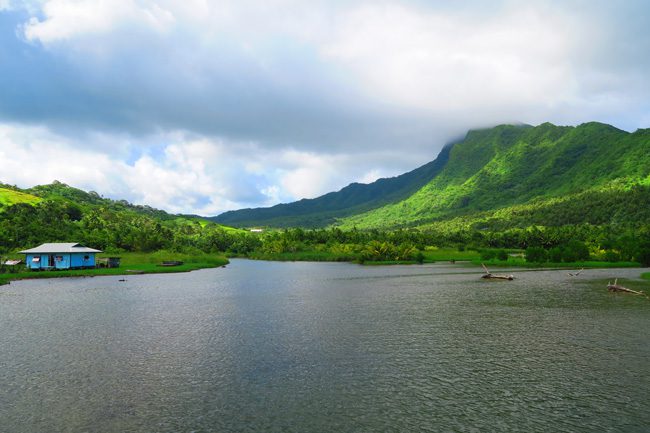 Not far from the coast is Motu Nao Nao, loaded with wild palm trees and looking like it's got a pretty little white sand beach. Too bad it's private… but lucky family!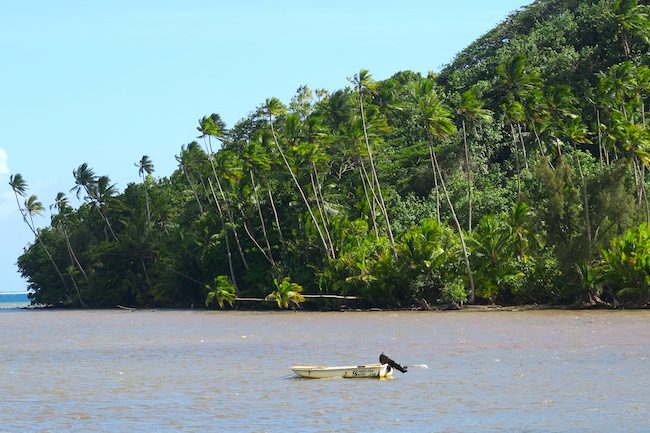 West Coast
You slowly get back to civilization as you're heading towards Uturoa, so take it extra slow and enjoy!
Tuurotu Bay to Vaiaau
You can almost touch the string of beautiful motus floating just off the coast. Some of them are so small, they only have enough room for a few palm trees. Their sight will make you rush to sell your house back home (if you got one) and buy some property in Raiatea – it's that beautiful.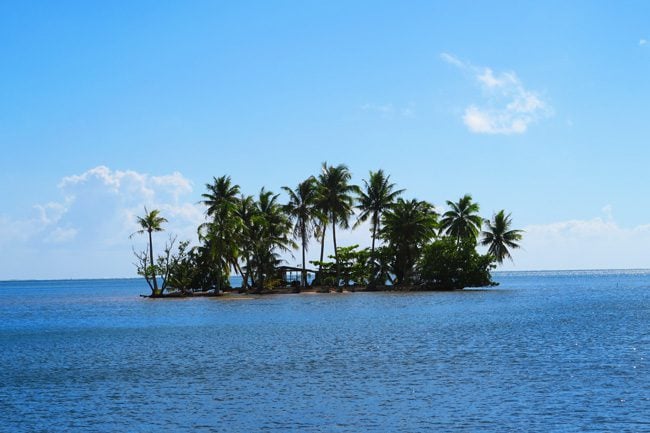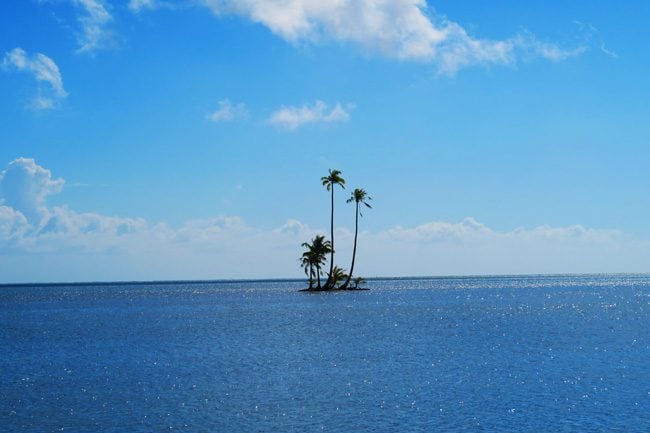 The village of Vaiaau will mark the start of getting back to 'civilization', though time really does seem to sit still over here. There's a very cute-looking whitewashed church that's worth checking out.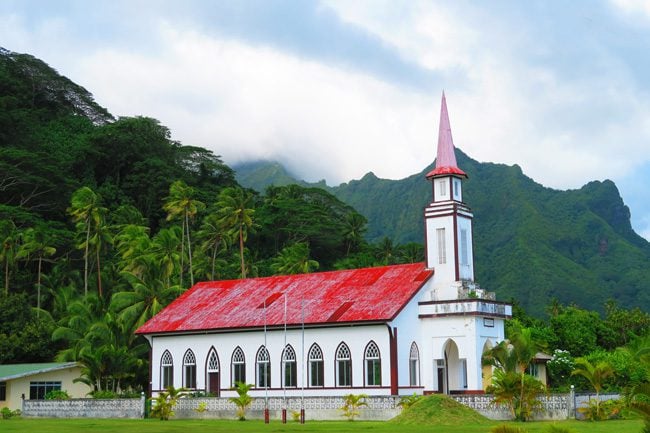 Vaiaau to Uturoa
If Marae Taputapuatea wasn't enough, stop at Marae Tainuu. Walk all the way behind the church and have a look at the remains of the ancient temple. There's pretty much just a wall there today and it's not that special at all so don't feel bad about skipping this one and cruise back to Uturoa for a well-deserved beer.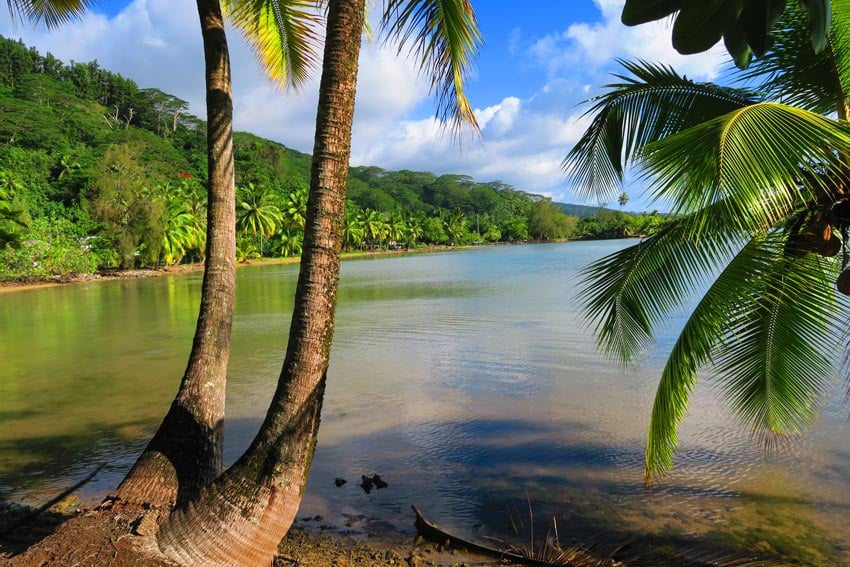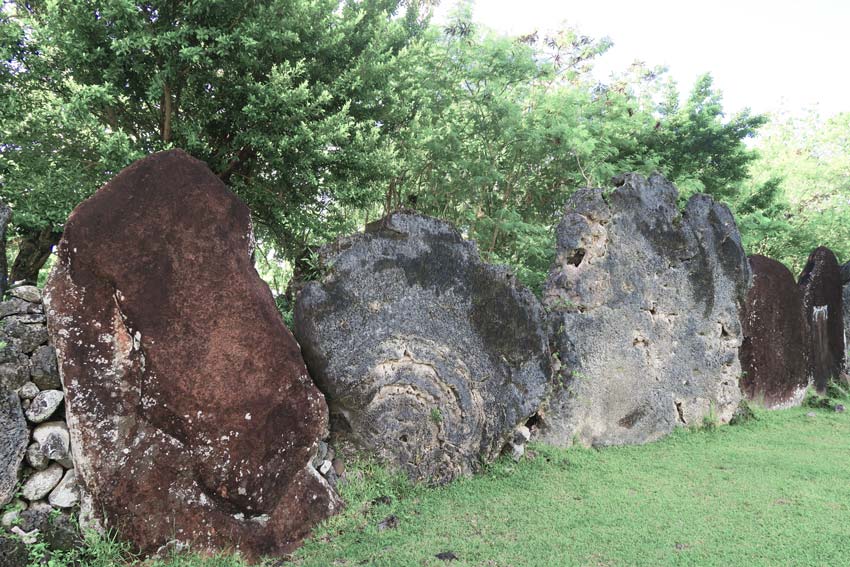 Temehani Plateau Hike – Tiare Apetahi Flower
Raiatea is not only 'the sacred island', but also home to one of the rarest flowers in the world – the tiare apetahi. This rare flower only grows in Raiatea and only on a single plateau. Despite an attempt to plant elsewhere, researchers cannot explain why the flower only survives here… Shrouded in mystery and at the very top of the island – isn't this a good enough reason for a long hike?
The hike to the northern section of the Temehani Plateau starts by climbing up to a pine forest that totally feels like you've just woken up somewhere in Scandinavia. This ain't the tropics up here… In fact, these trees are not native to Raiatea. They were introduced in the '50s or '70s to build up a furniture-making industry. This plan proved to be a disaster. Why? The wood wasn't of good quality and the cost of transporting the logs back to international markets was way too high. Didn't somebody think of that before these trees took over the forest, and almost completely destroyed the native species of plants?
After an hour of climbing, you reach the Temehani Plateau. The feeling? Ireland or England, either one. In fact, that's exactly what the first European explorers said… The soil here begins to be quite acidic, rising from the extinct volcano some 200,000 years ago. So not much grows here…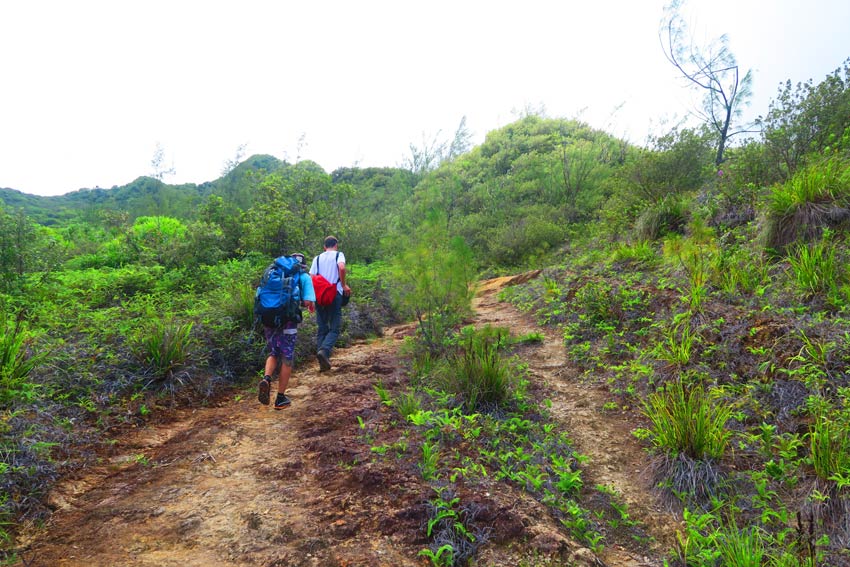 Before we enter the clouds, time for some views. From up here, the views are even better than from Mount Tapioi. On a clear day, you can even see the pretty island of Maupiti some 70 km away.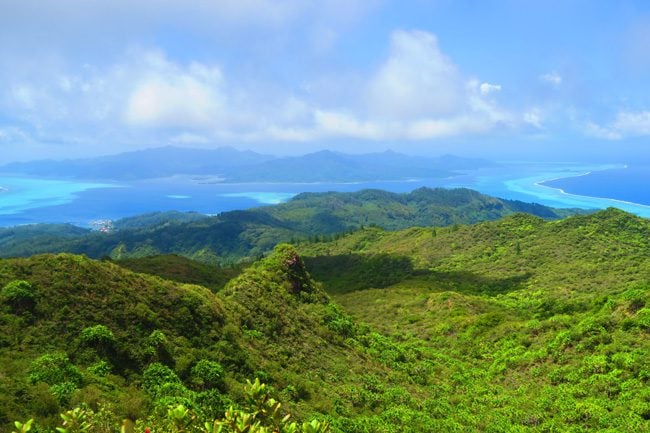 Plowing into the clouds, we reached about 650 meters. It's very wet and slippery up here, walking on bare volcanic rock. We took a little detour to check out a 40-meter deep lava tube. Our guide Kiam said this tube runs all the way beneath the lagoon and into neighboring Tahaa island.
We continued walking along the top of the plateau until Kiam stopped in front of an ordinary-looking bush. A closer look revealed the reason why we came all the way out here – the tiare apetahi! This rare flower is thought to have originated in Hawaii, though these days only growing on this plateau. It's part of the gardenia family, the heavenly scented flower that grows in abundance throughout French Polynesia.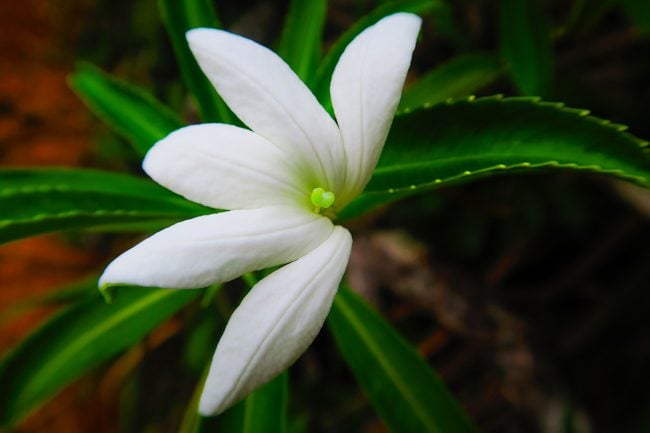 Legend has it that a long time ago, there was a beautiful Tahitian woman named Apetahi, who fell in love with the son of a king. When the prince had to leave the island on a royal quest, he assured the beautiful woman he would return. Waiting on the summit of the plateau to scout for her lover's returning boat, she could no longer overcome the burden of waiting. She cut her arm off, planting it in the ground, and jumped into the abyss. Out sprung the beautiful flower, with five petals in the shape of a hand.
With this achievement unlocked, we continued along the summit of the northern plateau, spotting a waterfall here and there and sliding back down. We stopped for lunch by a fresh water hole before making the final descent back to civilization.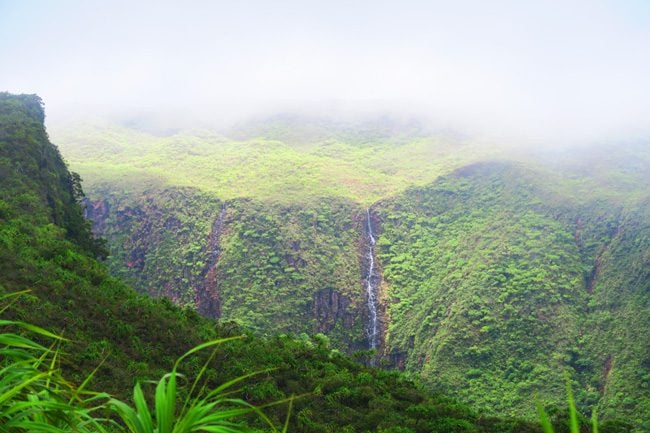 Logistics: only attempt this hike with a certified guide, so get in touch with Kiam Marti ([email protected] | +689 87 272300). Expect 6-7 hours (15-20k m's) of moderately difficult hiking (leave at 9 am back ~3:30 pm). Wear good hiking shoes (it will be slippery up at the top), long pants (vegetation can be knee-high in some parts), bring swim gear if you want to splash in the water hole, 2L of water minimum, rain gear (just in case), change of clothes for after (you'll be soaked in sweat). Your guide should bring lunch and snacks, but inform him of any dietary requirements ahead of time. The full-day hike costs 10,000F per person.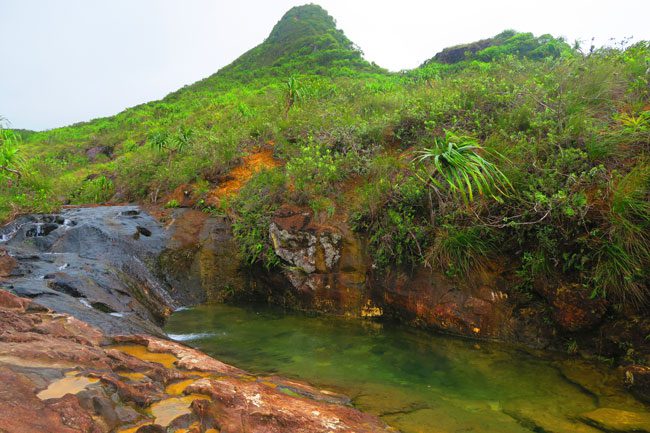 Three Waterfalls Hike
I actually attempted to hike 'Les Trois Cascades' on my own during my first day which was a bad idea. On my last day in Raiatea, I joined Kiam to reattempt seeing the three waterfalls. The hike begins with a long walk through thick rainforest, crossing slippery rivers, giant bamboo, and beautiful mape trees.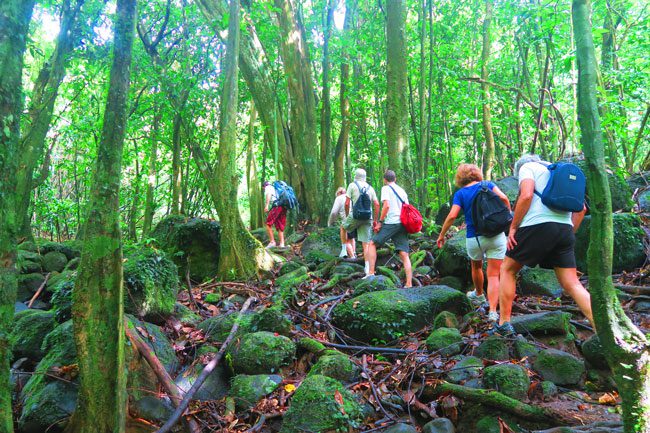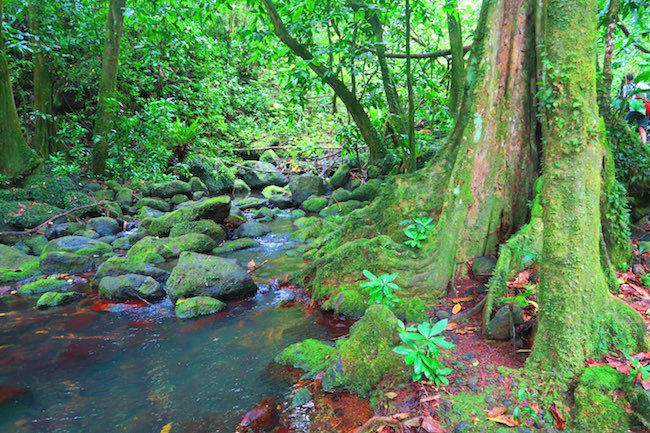 On the way, you'll learn about some of the plants that grow here like the red Tahitian ginger and the tamanu nuts, and a few others. Be prepared to be eaten alive by the mosquitos, so layer that repellent!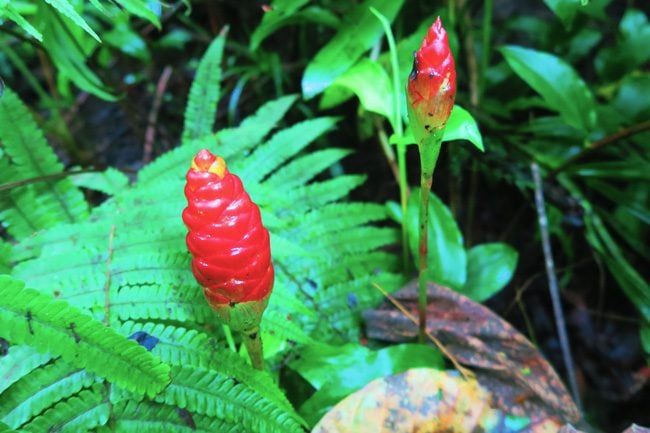 The first waterfall is reached after about an hour of walking though it's nothing special. The second waterfall, on the other hand, is starting to make things more interesting.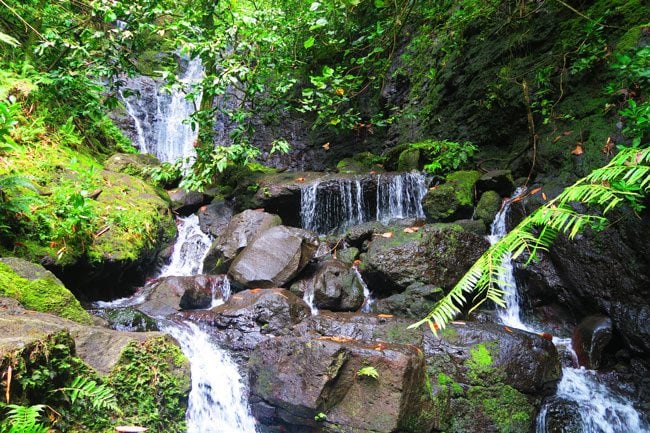 To get to the final waterfall, you do a bit of slippery climbing using a rope and somehow finding a way through the giant bamboo. It's all super worth it as you reach the climax of the hike.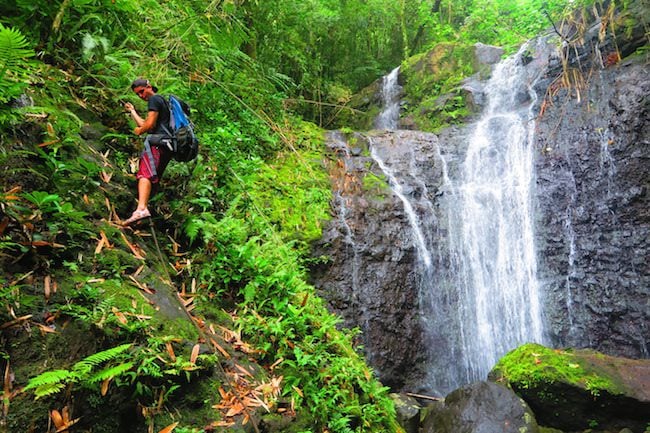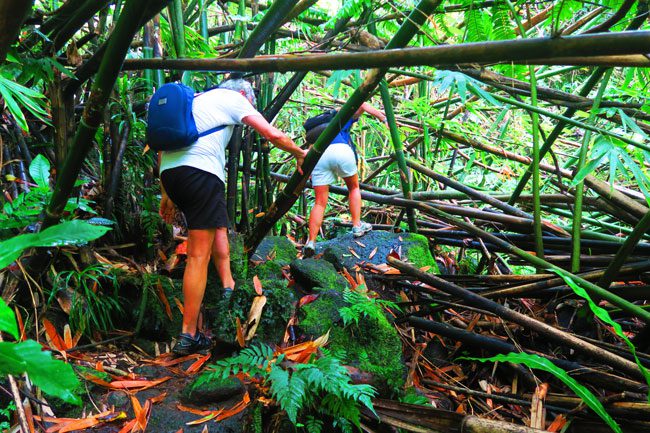 The third waterfall is actually a waterfall splashing into another waterfall. It's about 40 meters high and so beautiful, that a few commercials were shot right here. You know, the ones where there's this exotic woman shampooing herself beneath the waterfall or something like that…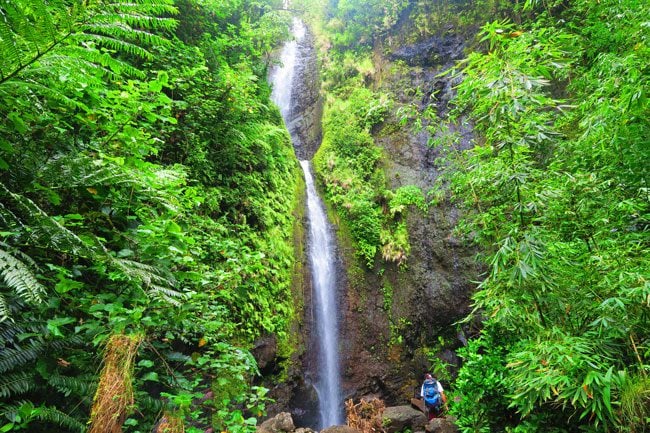 You'll park here for a while, going for a swim and enjoying being in the middle of absolutely nowhere. Spot the freshwater shrimps calling this place home, a local delicacy!
Logistics: on this hike as well, only go with a certified guide. It's a 5-6 km moderate hike with a few difficult sections involving rope. I left at 9 am and returned at ~ 12:30. Wear waterproof sandals as you'll be walking through water at times and bring plenty of mosquito repellant or citron scented monoi oil (they have no mercy in the rainforest). Shorts are OK but consider a long sleeve shirt due to the mosquitos and a change of clothes. Bring at least 1L of water, swimming gear, and some snacks. The three waterfalls hike in Raiatea costs 5,000F per person including transportation.
Day Trip to Tahaa From Raiatea
I didn't do this one but it doesn't mean you can't. Tours will either head to Tahaa for the day or stick around Raiatea. The latter ones will usually include marae Taputapuatea, a river cruise, pearl farm visit, and picnic lunch on Motu Iriru with some snorkeling (5,500 – 8,500F per person). Alternatively, you can inquire about just getting a ride to a motu and staying there for a few hours before your ride fetches you back.
What's Next?
I hope you've found this Raiatea Travel Guide useful. For more information about Raiatea, Tahaa, and French Polynesia, check out these recommended guides.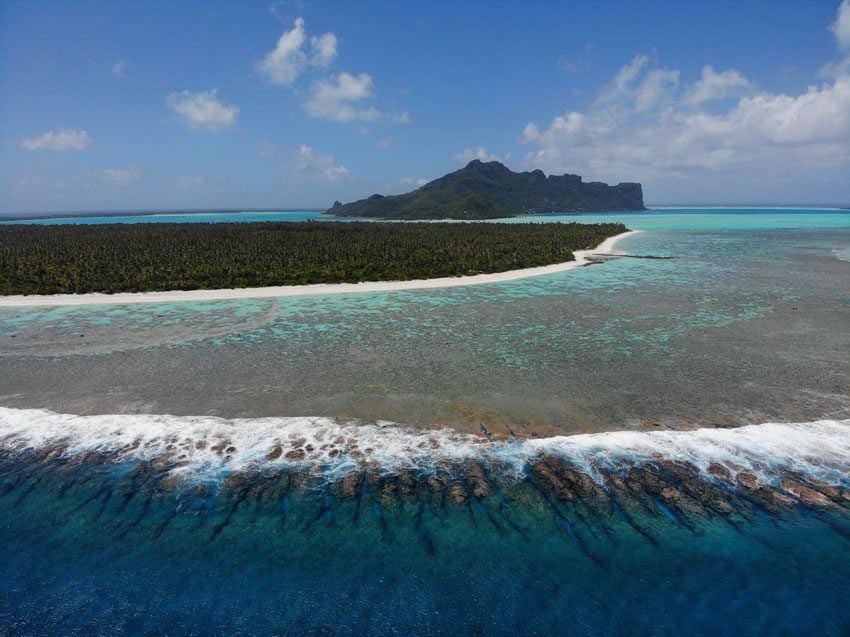 Tahiti, Tailor Made!
The Islands of Tahiti are among the last places to be colonized by mankind, 118 islands, each with their unique personality.


Get expert advice and assistance with planning your trip to the destination where tropical dreams come true!
See Options