Things To Do & Places To See In Raiatea
Check out this 5 days in Raiatea and Tahaa sample itinerary to see how to divide your days on the islands
Uturoa
The only town in Raiatea is actually the second largest in French Polynesia after much bigger Papeete. Tucked between the lagoon and Mount Tapioi, Uturoa offers all the comforts of a small town and is somewhat charming for a quick stroll. During the day, its main streets are busy with locals running errands, buying a small sandwich in one of the snacks, or doing some boutique shopping. During the night, roulottes set up shop in the center of town, cooking simple and affordable Tahitian and Chinese dishes.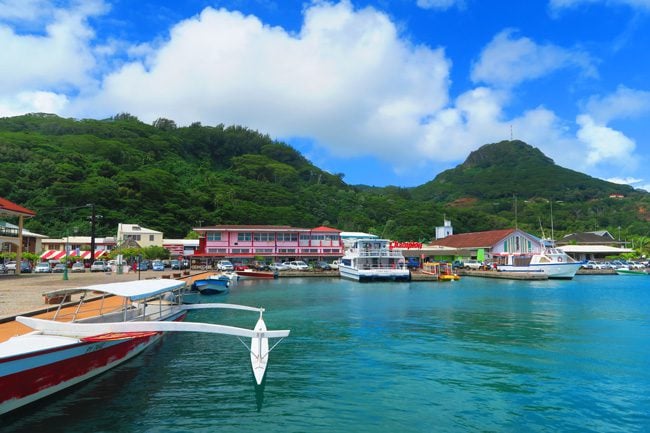 You'll find a bunch of proper supermarkets in the center of town, one of which is even open on Sundays. There's a covered market in the center of town that's open on weekdays and Saturday mornings. The ground floor has fruit & vegetable stalls while the top floor has a cafe and a bunch of artisan stalls selling local souvenirs (vanilla, necklaces oils, wood carvings, etc).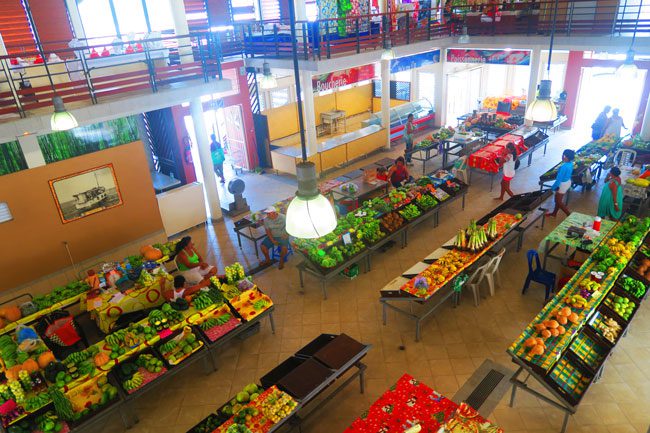 Mount Tapioi Hike
This DIY hike has been off-limits for a few years due to injuries suffered by local hikers who may or may not have been sober at the time of hiking. I'll still list it here because, at some point, it will reopen to the public.
Hiking Mount Tapioi was one of the highlights of any visit to Raiatea and similar to the hike up Mount Teurafaatiu in Maupiti. The views from the top of Mount Tapioi (294m) are breathtaking: Tahaa and the shared lagoon in front of you with its small palm-fringed motu, Bora Bora in the far distance on a clear day, Uturoa way down below, and Raiatea's west coast. It doesn't get any better than this considering the short climb – a great way to start your day.
Logistics: it's very easy to pick up the trail once you've made it to the right spot. If coming from town, take a left turn right before or after the police station (gendarmerie) and park the car inland. The trail is used by utility vehicles checking up on antennas at the summit, so there's no chance of getting lost. A few families are living along the first half of the trail and they were unhappy with the noise on weekends. Therefore, they put up signs saying you cannot hike Mount Tapioi on weekends! Whether this is enforced or not, I have no clue. Allow 1 hour to get up and 30 minutes down.
Road Trip Around Raiatea
There's no better way to experience the magic of Raiatea than by hitting the road and circling the island's 100 km coastline. Raiatea is beautifully wild, reminiscent of Moorea, and with hardly anyone around once you leave Uturoa. The road trip around Raiatea was one of my most enjoyable days. I stopped counting the times I just stopped on the side of the road to soak up the view. Here are a few highlights to look out for along the way.
East Coast
The 10 or so km south of Uturoa are home to several pearl farms. I already visited one in neighboring Tahaa just a few days ago (and many later) so I decided to keep driving. You can almost always join a free tour and of course, buy some pearls if you're interested (though Tahiti is your best option).
Faaroa Bay
Before reaching this beautiful bay, you'll drive over a bridge that marks the end of the Faaroa River – the biggest in French Polynesia. It is possible to go on a boat tour up the river.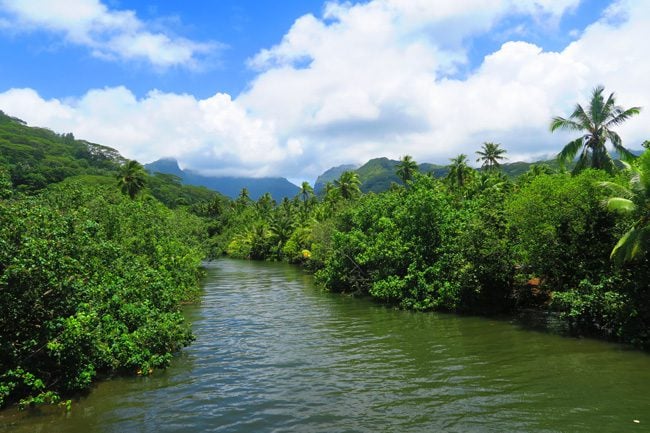 Faaroa Bay kind of marks the start of the sleepy section of Raiatea. Uturoa is 'far away' and for the next 60 or so kilometers, it's nothing but mountains, bays, and tiny villages. Copra production is still a major source of income for locals living around here.
Keep your eyes peeled for the flat 'wooden huts' on the roadside. A closer look will reveal its real purpose: drying coconut flesh in the sun. Once dried, the flesh will be packed in 50kg bags and shipped off to Tahiti for the production of copra.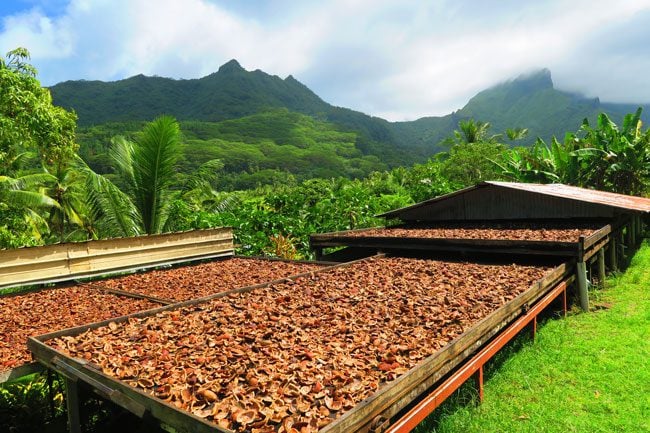 Belvedere Lookout Point
This is the only time we won't be driving along the coast. Just after the river, we'll take a right and head inland. This is the mountain road that connects Faaroa with Fetuna, bypassing the twists and turns of the southeastern part of the island and providing locals with a 'shortcut'.
Here's the tricky part, unlike in Moorea, this isn't an officially marked 'belvedere'. You'll know you've missed it when you start heading down to the other side of the island. So at the very top, park the car and find the trail that leads a bit inland (clue: there's a mini 'rally car' course up here). From up here, enjoy sublime views of the lush valley spilling to Faaroa Bay and the surrounding peaks.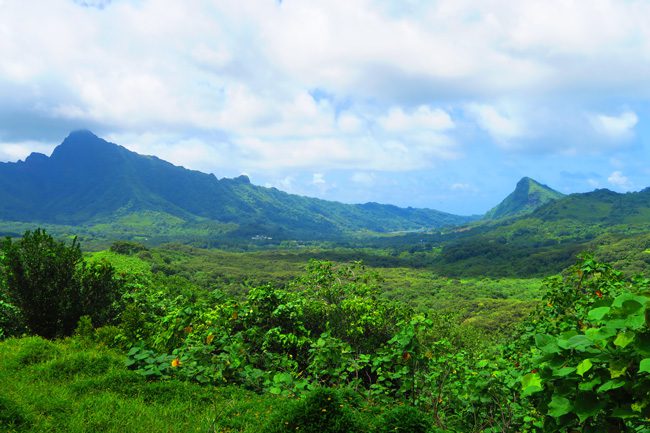 When you're done, drive back to Faaroa and continue driving along the east coast.
Marae Taputapuatea
This ancient Polynesian temple is the reason Raiatea is known as 'the sacred island'. Of all the temples in the vast expanse of the South Pacific Ocean, Marae Taputapuatea is the most important one. In fact, it's so important that even French President Francois Hollande paid a visit on his recent trip to French Polynesia.
This particular marae was the center of power for the ancient Polynesians. Kings and priests from across the Polynesian Triangle would make the long voyage for key meetings at this exact spot. There are actually three platforms to explore and even today, traditional ceremonies take place on the huge altar. When walking around, you can really feel the mana (ancient power). I wonder which key meetings took place here centuries ago?
Next to the marae is the main island's only white sand beach. I hate to spoil things for you but this beach is artificial… For truly amazing beaches, you'll have to head out to the lagoon motu.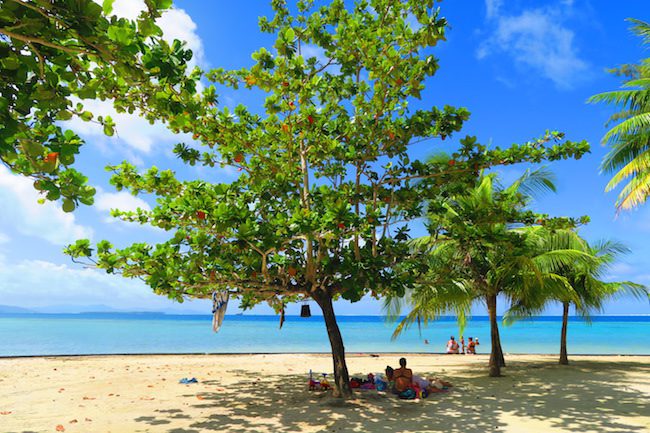 Marae Taputapuatea Hike
In June 2020, the commune inaugurated a new hiking trail in the vicinity of Marae Taputapuatea. The new hiking trail is designed to combine natural scenery with a chance to meet locals in their rural environment.
South Coast
In the most remote part of Raiatea, you'll be twisting your ways around bay after bay with hardly anyone around – but when do drive past someone, they'll always say hello!
Hotopuu Bay
The coastal road rises back into the mountains after Marae Taputapuatea, with views to beautiful Hotopuu Bay somehow emerging behind the canopy.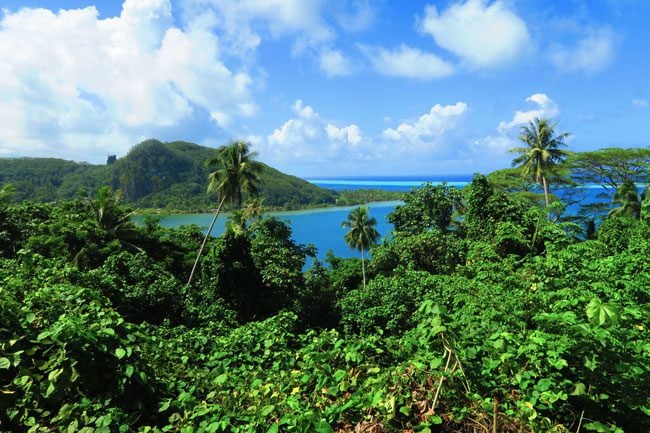 Puohine
Wow! Just look at the color of the water. The lagoon is simply stunning out here, teasing you to ditch the car behind and go for a dip. Continue driving and you're all alone on this country road aside from the occasional falling coconut. There are some serious cliffs out here, the prettiest in Raiatea. After days of rain, there should also be a few waterfalls cascading down if you're lucky enough.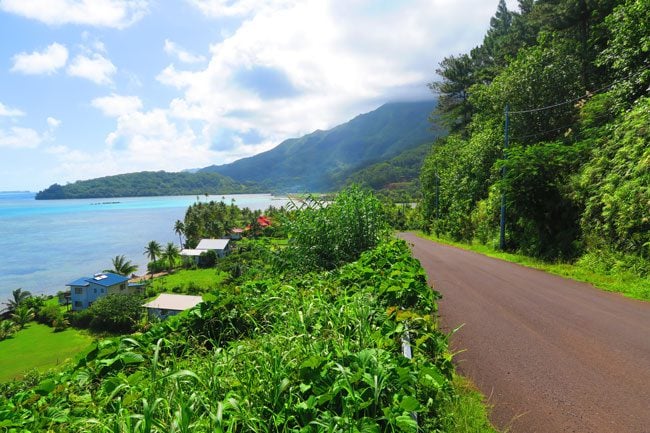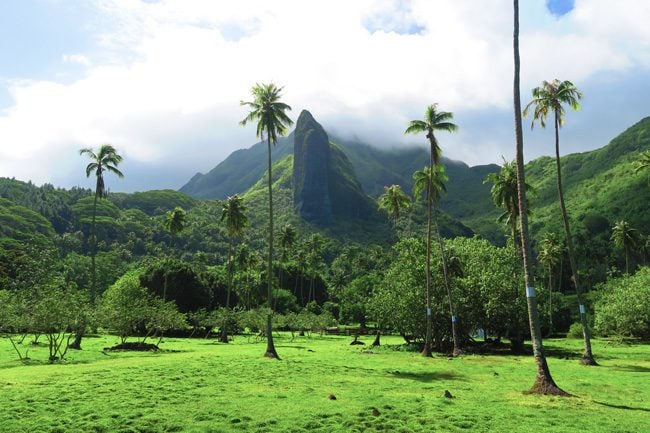 Faatemu Bay
Were we just teleported to Europe? The coastal road meets the southern end of the mountain road in sweeping Faatemu Bay. If it weren't for the palm trees, you would think you're somewhere in the British Highlands.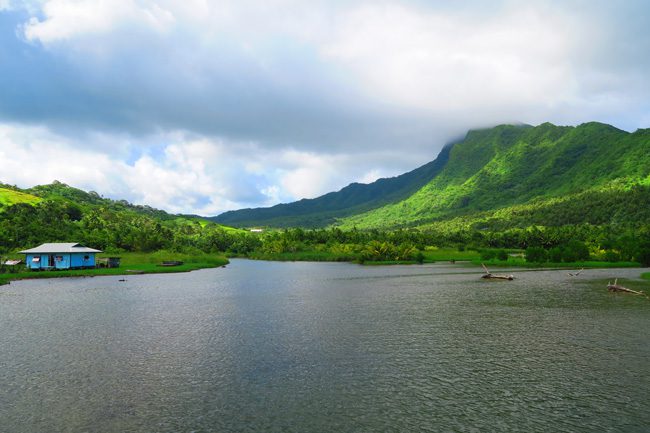 Not far from the coast is Motu Nao Nao, loaded with wild palm trees and looking like it's got a pretty little white sand beach. Too bad it's private… but lucky family!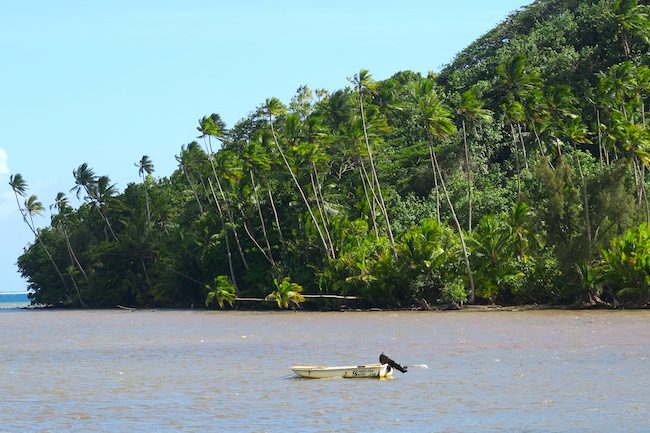 West Coast
You slowly get back to civilization as you're heading towards Uturoa, so take it extra slow and enjoy!
Tuurotu Bay to Vaiaau
You can almost touch the string of beautiful motus floating just off the coast. Some of them are so small, they only have enough room for a few palm trees. Their sight will make you rush to sell your house back home (if you got one) and buy some property in Raiatea – it's that beautiful.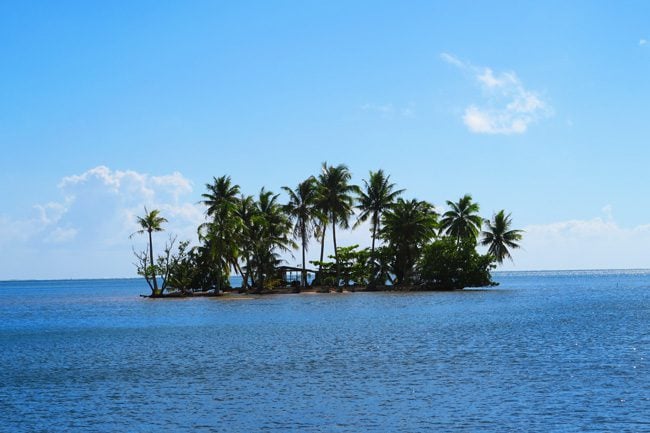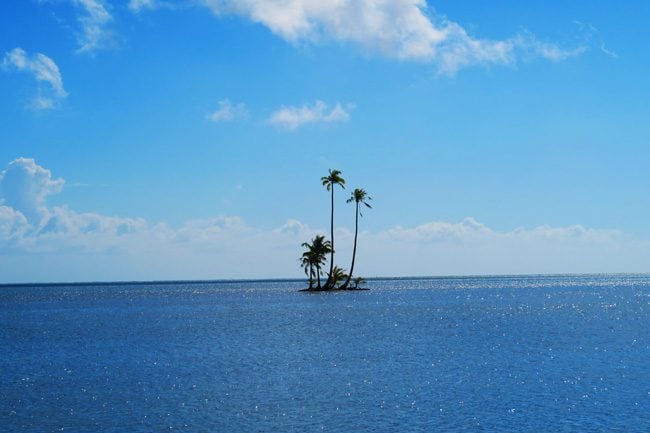 The village of Vaiaau will mark the start of getting back to 'civilization', though time really does seem to sit still over here. There's a very cute-looking whitewashed church that's worth checking out.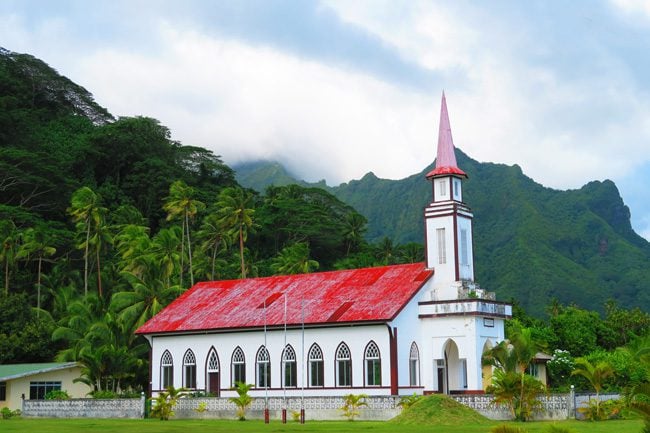 Vaiaau to Uturoa
If Marae Taputapuatea wasn't enough, stop at Marae Tainuu. Walk all the way behind the church and have a look at the remains of the ancient temple. There's pretty much just a wall there today and it's not that special at all so don't feel bad about skipping this one and cruise back to Uturoa for a well-deserved beer.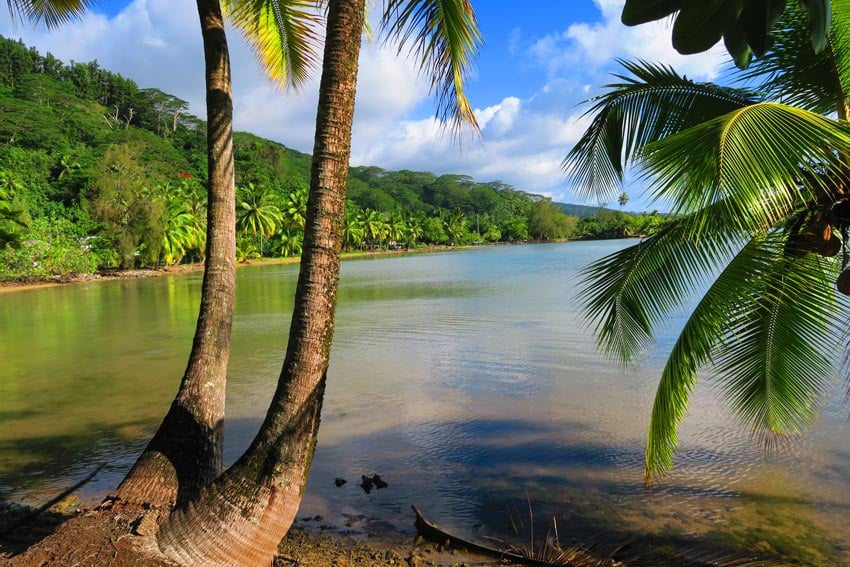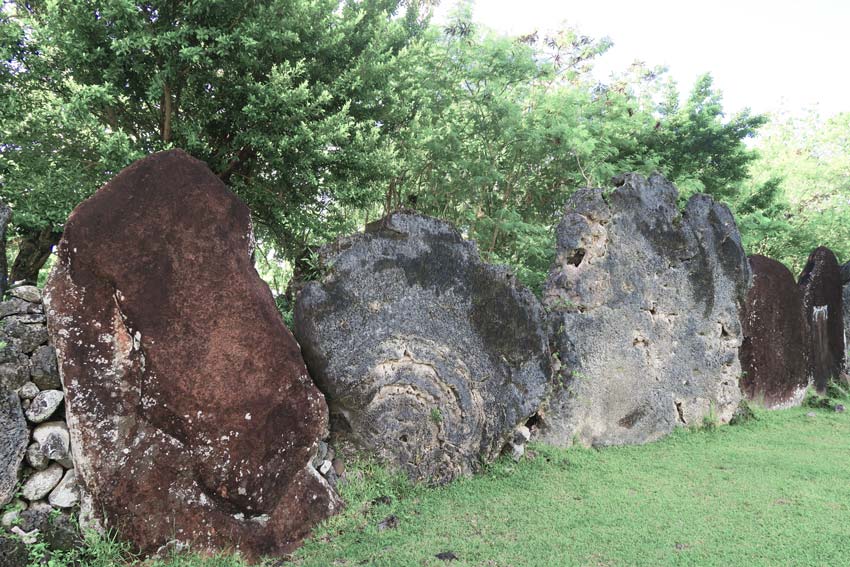 Temehani Plateau Hike – Tiare Apetahi Flower
Raiatea is not only 'the sacred island', but also home to one of the rarest flowers in the world – the tiare apetahi. This rare flower only grows in Raiatea and only on a single plateau. Despite an attempt to plant elsewhere, researchers cannot explain why the flower only survives here… Shrouded in mystery and at the very top of the island – isn't this a good enough reason for a long hike?
The hike to the northern section of the Temehani Plateau starts by climbing up to a pine forest that totally feels like you've just woken up somewhere in Scandinavia. This ain't the tropics up here… In fact, these trees are not native to Raiatea. They were introduced in the '50s or '70s to build up a furniture-making industry. This plan proved to be a disaster. Why? The wood wasn't of good quality and the cost of transporting the logs back to international markets was way too high. Didn't somebody think of that before these trees took over the forest, and almost completely destroyed the native species of plants?
After an hour of climbing, you reach the Temehani Plateau. The feeling? Ireland or England, either one. In fact, that's exactly what the first European explorers said… The soil here begins to be quite acidic, rising from the extinct volcano some 200,000 years ago. So not much grows here…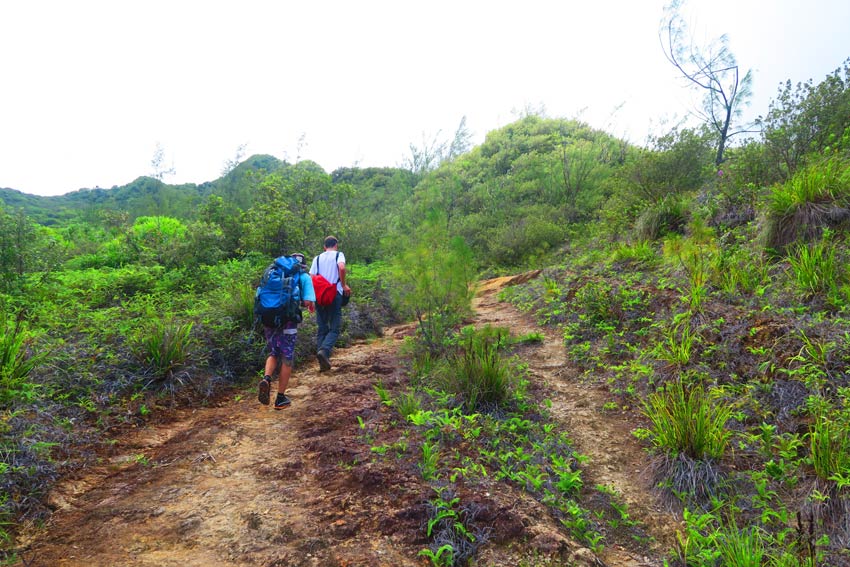 Before we enter the clouds, time for some views. From up here, the views are even better than from Mount Tapioi. On a clear day, you can even see the pretty island of Maupiti some 70 km away.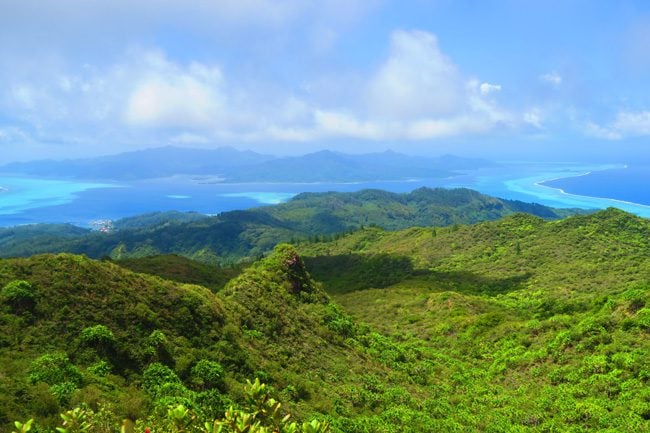 Plowing into the clouds, we reached about 650 meters. It's very wet and slippery up here, walking on bare volcanic rock. We took a little detour to check out a 40-meter deep lava tube. Our guide Kiam said this tube runs all the way beneath the lagoon and into neighboring Tahaa island.
We continued walking along the top of the plateau until Kiam stopped in front of an ordinary-looking bush. A closer look revealed the reason why we came all the way out here – the tiare apetahi! This rare flower is thought to have originated in Hawaii, though these days only growing on this plateau. It's part of the gardenia family, the heavenly scented flower that grows in abundance throughout French Polynesia.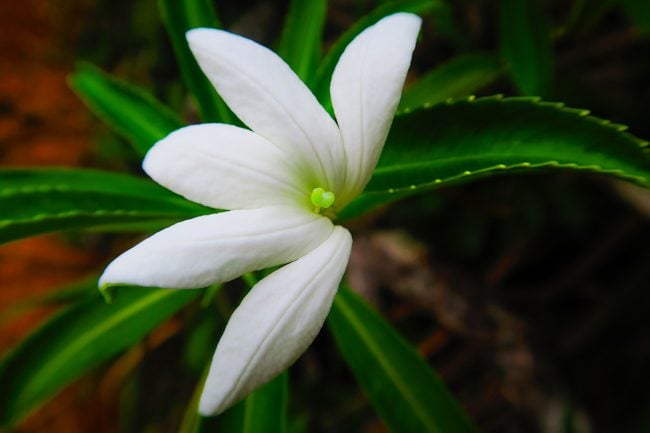 Legend has it that a long time ago, there was a beautiful Tahitian woman named Apetahi, who fell in love with the son of a king. When the prince had to leave the island on a royal quest, he assured the beautiful woman he would return. Waiting on the summit of the plateau to scout for her lover's returning boat, she could no longer overcome the burden of waiting. She cut her arm off, planting it in the ground, and jumped into the abyss. Out sprung the beautiful flower, with five petals in the shape of a hand.
With this achievement unlocked, we continued along the summit of the northern plateau, spotting a waterfall here and there and sliding back down. We stopped for lunch by a fresh water hole before making the final descent back to civilization.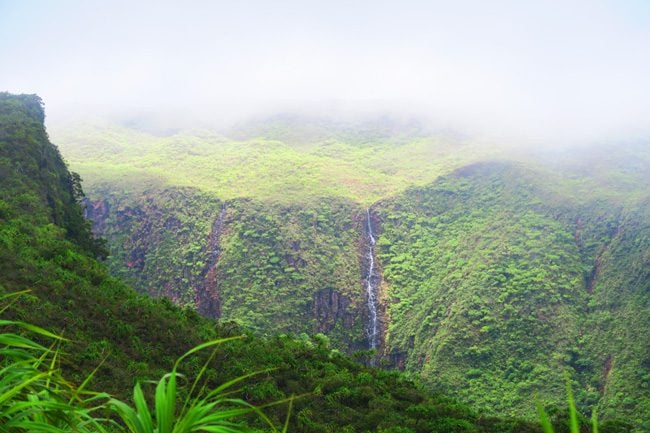 Logistics: only attempt this hike with a certified guide, so get in touch with Kiam Marti ([email protected] | +689 87 272300). Expect 6-7 hours (15-20k m's) of moderately difficult hiking (leave at 9 am back ~3:30 pm). Wear good hiking shoes (it will be slippery up at the top), long pants (vegetation can be knee-high in some parts), bring swim gear if you want to splash in the water hole, 2L of water minimum, rain gear (just in case), change of clothes for after (you'll be soaked in sweat). Your guide should bring lunch and snacks, but inform him of any dietary requirements ahead of time. The full-day hike costs 10,000F per person.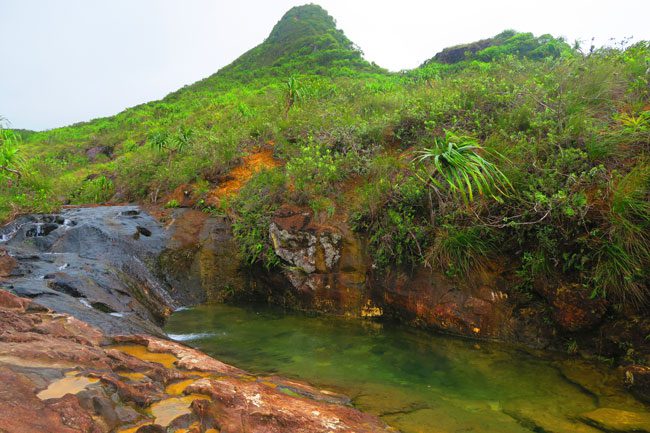 Three Waterfalls Hike
I actually attempted to hike 'Les Trois Cascades' on my own during my first day which was a bad idea. On my last day in Raiatea, I joined Kiam to reattempt seeing the three waterfalls. The hike begins with a long walk through thick rainforest, crossing slippery rivers, giant bamboo, and beautiful mape trees.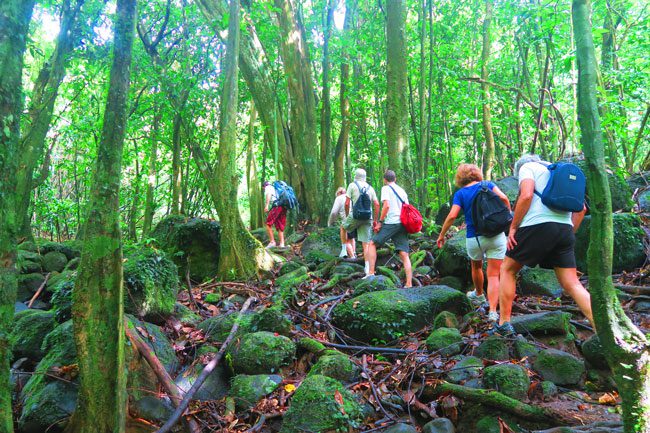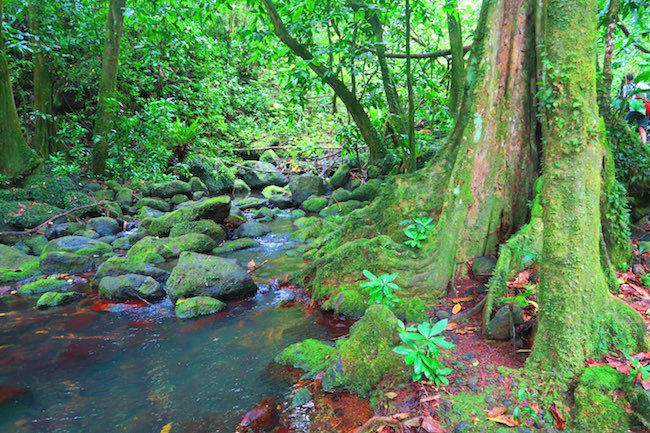 On the way, you'll learn about some of the plants that grow here like the red Tahitian ginger and the tamanu nuts, and a few others. Be prepared to be eaten alive by the mosquitos, so layer that repellent!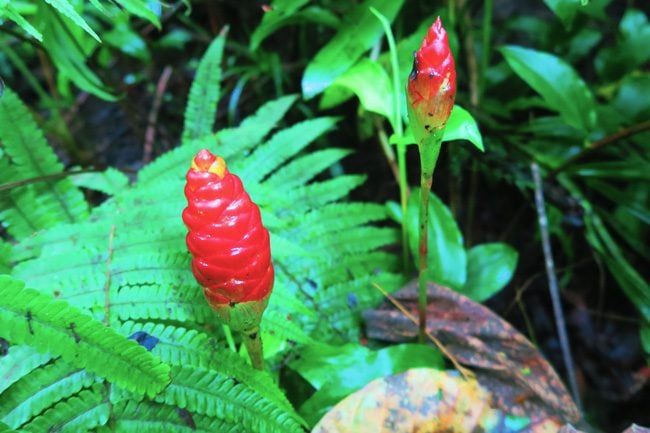 The first waterfall is reached after about an hour of walking though it's nothing special. The second waterfall, on the other hand, is starting to make things more interesting.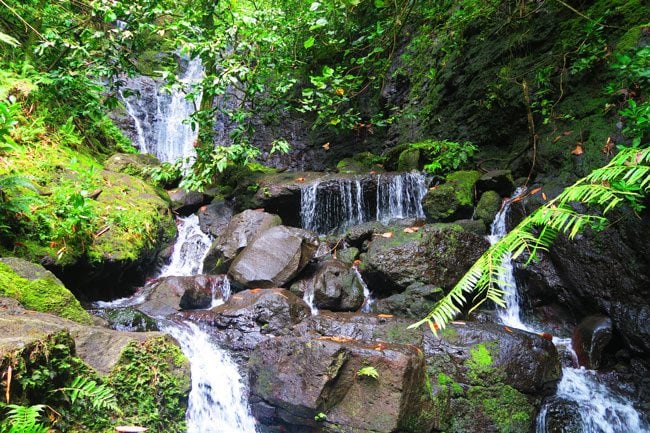 To get to the final waterfall, you do a bit of slippery climbing using a rope and somehow finding a way through the giant bamboo. It's all super worth it as you reach the climax of the hike.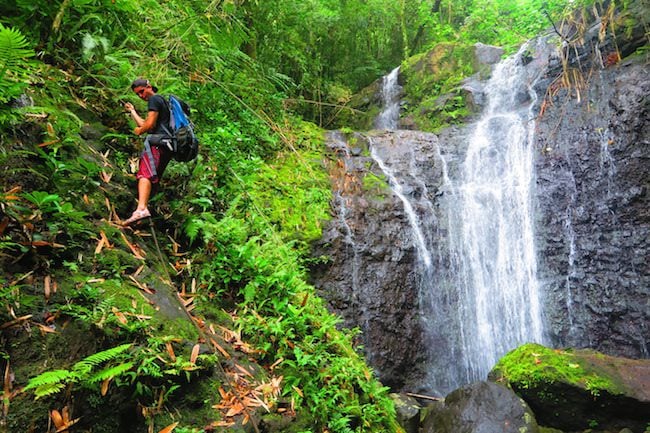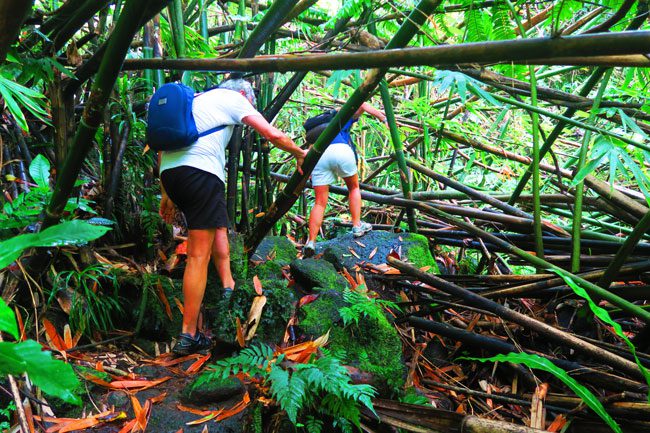 The third waterfall is actually a waterfall splashing into another waterfall. It's about 40 meters high and so beautiful, that a few commercials were shot right here. You know, the ones where there's this exotic woman shampooing herself beneath the waterfall or something like that…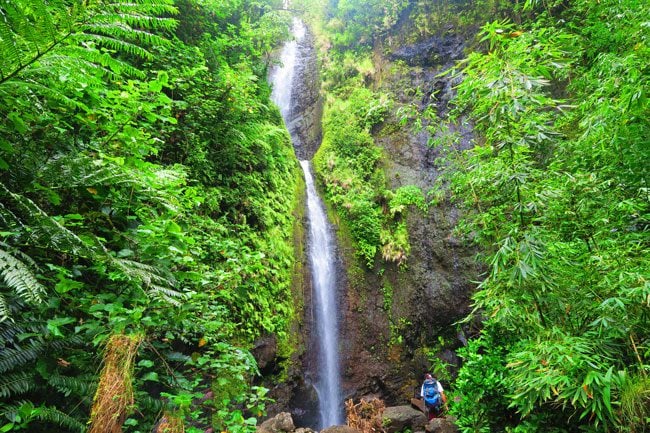 You'll park here for a while, going for a swim and enjoying being in the middle of absolutely nowhere. Spot the freshwater shrimps calling this place home, a local delicacy!
Logistics: on this hike as well, only go with a certified guide. It's a 5-6 km moderate hike with a few difficult sections involving rope. I left at 9 am and returned at ~ 12:30. Wear waterproof sandals as you'll be walking through water at times and bring plenty of mosquito repellant or citron scented monoi oil (they have no mercy in the rainforest). Shorts are OK but consider a long sleeve shirt due to the mosquitos and a change of clothes. Bring at least 1L of water, swimming gear, and some snacks. The three waterfalls hike in Raiatea costs 5,000F per person including transportation.
Day Trip to Tahaa From Raiatea
I didn't do this one but it doesn't mean you can't. Tours will either head to Tahaa for the day or stick around Raiatea. The latter ones will usually include marae Taputapuatea, a river cruise, pearl farm visit, and picnic lunch on Motu Iriru with some snorkeling (5,500 – 8,500F per person). Alternatively, you can inquire about just getting a ride to a motu and staying there for a few hours before your ride fetches you back.
What's Next?
I hope you've found this Raiatea Travel Guide useful. For more information about Raiatea, Tahaa, and French Polynesia, check out these recommended guides.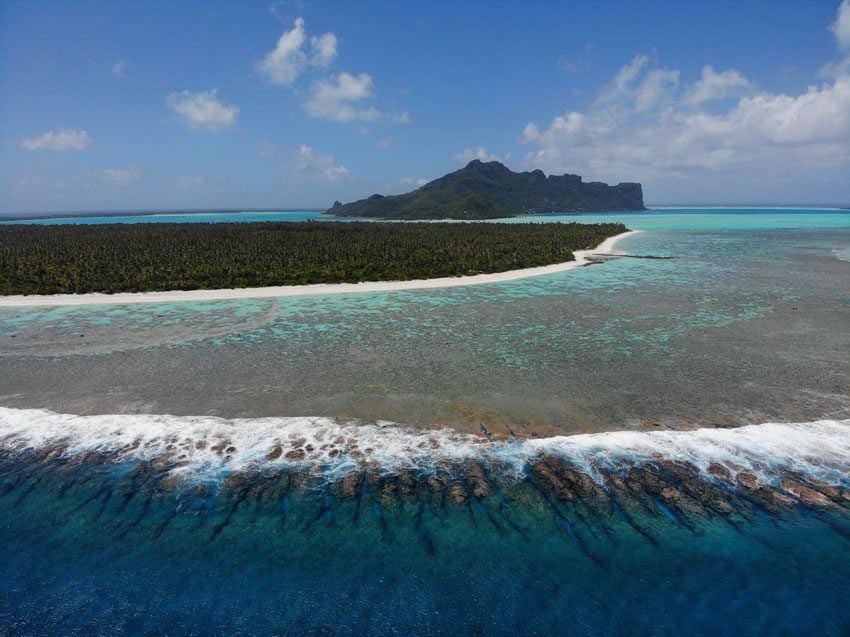 Tahiti, Tailor Made!
The Islands of Tahiti are among the last places to be colonized by mankind, 118 islands, each with their unique personality.


Get expert advice and assistance with planning your trip to the destination where tropical dreams come true!
See Options