Raiatea Island Travel Tips
Listed here are specific travel tips for Raiatea to help with the planning stages of your visit.
Recommended Reading
How Many Days Do You Need In Raiatea?
To properly experience Raiatea, three days (four nights if arriving late) should be enough. The island is small and there isn't all that much to see. If you're after a pampering luxury holiday of sipping cocktails on the deck of your overwater bungalow, you could probably spend a week (if you can afford that). I spent three full days in Raiatea and felt totally ready to leave for the next island.
Is Raiatea Worth Visiting?
Raiatea was one of my big surprises in French Polynesia. I wouldn't come here if you're after that 'classic' beach holiday, but if you like hiking and enjoy a good road trip – you'll find Raiatea very satisfying. Aside from hiking, there's good diving, excursions to explore the lagoon and neighboring Tahaa is super close. Raiatea reminded me of Moorea, an island that I dearly love. It doesn't have the beaches of Moorea but it does have the mountain scenery and a hell of a lot fewer people (and tourists) around.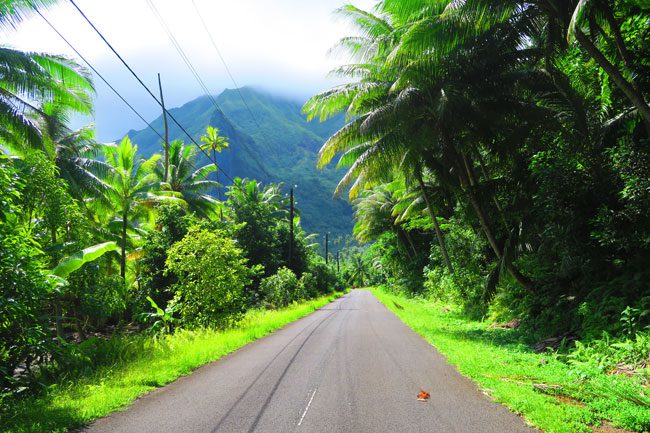 Tahaa vs Raiatea
Though sharing the same lagoon, Tahaa and Raiatea have their own distinct personalities. So if you're already here, you might as well see both. I was faced with a big dilemma of whether to sleep on both islands or use Raiatea as a base. Finally, I decided to spend 3 nights in Tahaa and 4 nights in Raiatea (I probably could have used an extra night in Raiatea). You can also visit Tahaa on day trips from Raiatea. Here's the deal: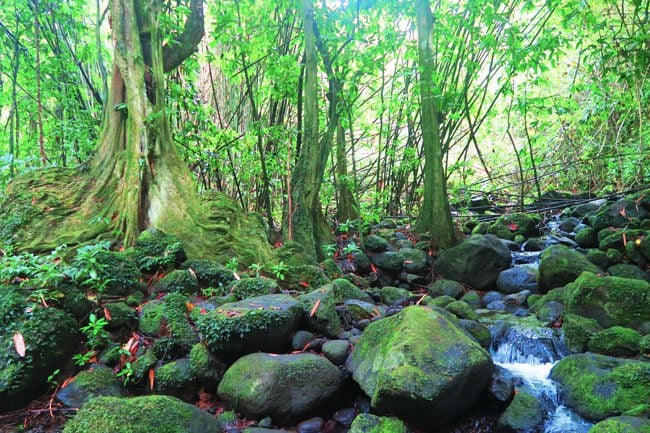 Tahaa vs Raiatea
Raiatea: much bigger than Tahaa and actually a central member of the Society Islands. It's home to a proper small town, government agencies, major hospital, regional high school, market, and the airport. Naturally, it's more geared to independent travelers with plenty of accommodation, car hire, activities, restaurants, etc. Visitors will enjoy lots of hiking opportunities and the most important archeological site in French Polynesia.
Tahaa: a super laid-back island, probably the 'wildest' island in the Society Islands. There are eight small villages along the coastline with not a whole lot happening in them aside from vanilla and pearl farming. It's also less geared to tourists, though there are a handful of accommodations.
The big exception is the lagoon. Tahaa is blessed with exceptionally beautiful lagoon motus. Of the two islands, it's off the coast of Tahaa where you'll find incredible beaches, dive sites, and snorkeling spots. You can even sleep on some of these motus. Raiatea, on the other hand, has no real beaches to speak of. Most lagoon excursions and some scuba dives will take place in Tahaa, even if booked in Raiatea.
When Is the Best Time To Visit Raiatea?
Like all Society Islands, the 'best' time to visit Raiatea is during the dry season (May – October). During this time, the temperature is slightly lower and most importantly – there are less rain and clouds. You wouldn't want to travel all the way out here and be confined only to your villa. Keep in mind that during these months, the southeasterly wind blows in this direction so the lagoon might be a bit choppy (and chilly at night).
I personally visited Raiatea during the heart of the wet season (November – April). This was probably the island where I had the worst luck with the weather. I had one incredibly sunny day and two cloudy days… so you do the math. Though I didn't mind it so much as I had plenty of islands coming up, I did see a few disappointed faces with visitors who came to French Polynesia for just a week.
Bottom line: aim for the dry season but don't let it stop you from visiting Raiatea. Look out for Raiatea's version of the legendary Heiva festival (July) and the Hawaiki Nui Canoe Race (November) – both excellent times to visit the island though book way in advance.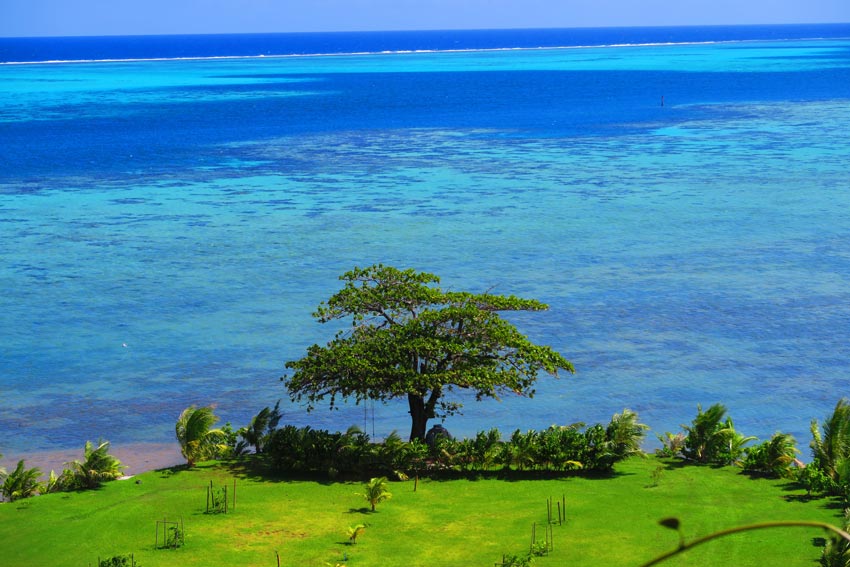 How To Get To Raiatea
Raiatea is an important island in French Polynesia and therefore, quite well connected. Here are the best options:
Getting to Raiatea
By air: the easiest way, no doubt. The island is connected to Tahiti (multiple daily flights), Moorea, Maupiti, Bora Bora, Huahine, and several atolls in the Tuamotu Archipelago. As always, if visiting several islands in French Polynesia, buy yourself an Air Tahiti Pass.
By boat: the Hawaiki Nui cargo ship departs Tahiti, calling port at Bora Bora, Raiatea, and Huahine. A short trip could cost as little as 1,500F – quite a bargain if you are flexible (and speak French). According to the latest information I found, the boat leaves to Raiatea from: Tahiti – Tues & Thu at 4 pm (12-hour journey), Bora Bora – Wed at 1 pm & Fri at 12 pm (short voyage) and Huahine – Friday at 3 am (~3-hour voyage). Do double-check this info.
By ferry: beginning in 2021, Aremiti launched a new route that serves Huahine, Bora Bora, Raiatea, and Tahaa from Tahiti. Three times per week, a boat will depart Tahiti and reach Huahine about three and a half hours later, then continuing to the other stops (about eight hours to reach Bora Bora taking into account all the stops). Note that the return leg will take longer due to the prevailing winds. In a couple of years, Aremiti will receive the Apetahi Express, a much faster boat that will reduce travel time. Terevau is also set to compete on this route. This is great news for both locals and tourists as the trip should cost half the price of an equivalent plane ticket (albeit taking much longer). Though lacking much information online, you might also be able to get to Raiatea from Tahaa and Bora Bora (and maybe even from Maupiti) with the Maupiti Express. Contact them via email ([email protected]) or phone (+689-40676669 or +689-87740240). These might be the current schedule and ticket prices.
From / to Tahaa: the public ferry (navette) connected the Raiatea with Tahaa during weekdays only. A single ride currently costs 763 and several routes are running from Uturoa to different parts of Tahaa. Tahaa Transport Rapide is another option, the only one on weekends and holidays (runs seven days a week). A single ride costs about 1,500F and they can drop off at several points around Tahaa. Both options depart from the quay in 'downtown' Uturoa.
In style: I didn't really know where to stick this one so I'm just putting it here. Dream Charter Yacht runs private or small group cruises around the Society Islands, departing from Raiatea. If that's your thing, go for it. I actually met several independent traveling couples in Huahine who arrived on one of these yachts and loved it!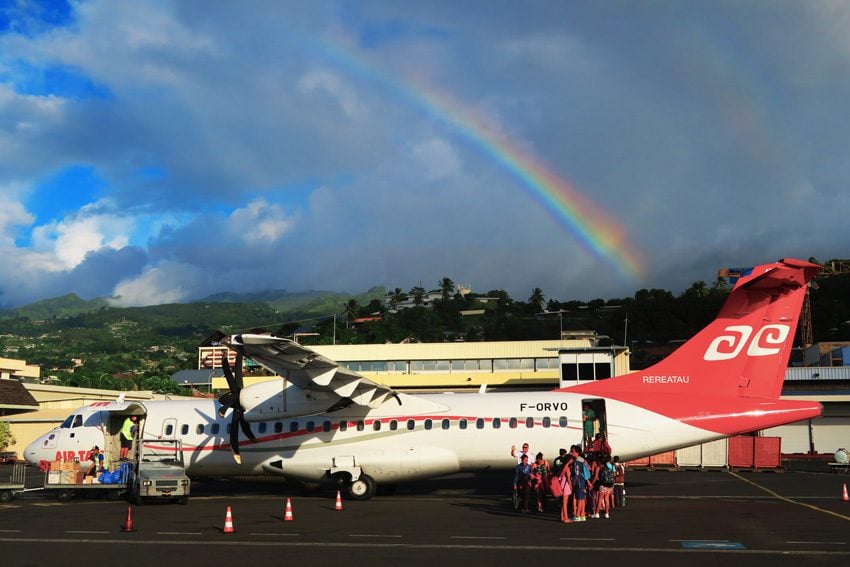 Where To Stay In Raiatea?
Raiatea has no resorts but only pensions, a couple of lodges, and self-catering options. Though there are a few high-end options in the bottom half of the island, I recommend staying close to Uturoa as it has everything you need such as supermarkets, ATMs, market, restaurants, etc. I did find a few options in the 'outer villages' – but those can be a hit or miss. Also worth mentioning is the minimum number of nights required by nearly all accommodations in Raiatea. The minimum stay is between 2-3 nights.
Resorts: for the luxury resort stay, you'll need to base yourself in Tahaa's lagoon. The best resort is Le Tahaa which faces Bora Bora on one end and Tahaa on the other, followed by Vahine Island on the other side of the lagoon.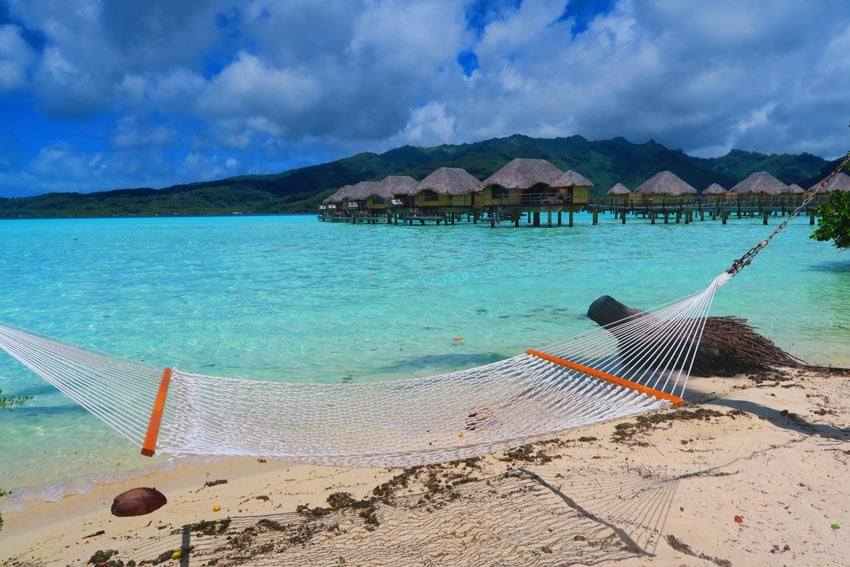 Lodges: on the south side of the island, Opoa Beach is a pampering option, and close to Uturoa, Raiatea Lodge is highly acclaimed both for its accommodation and dining.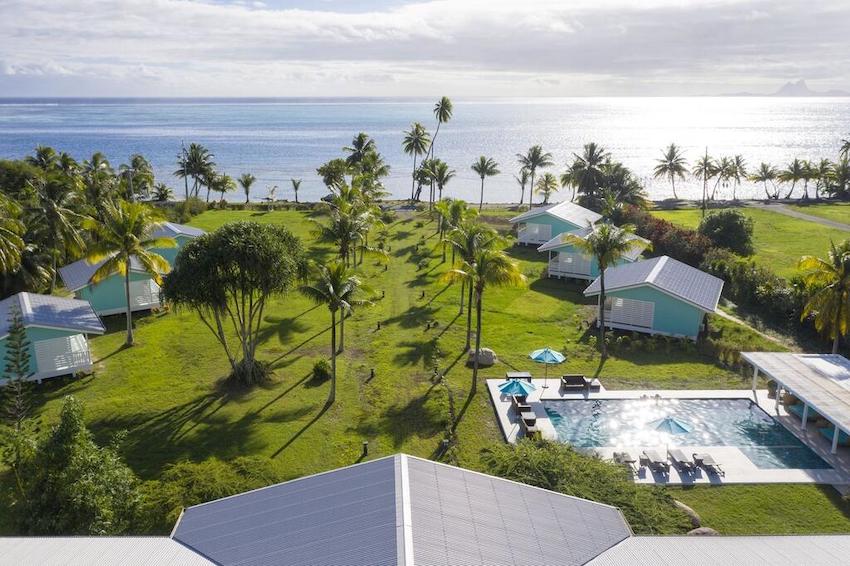 Pensions: in the vicinity of Uturoa, check out Villa Ixora and its lagoon-side location, Villa Tonoi for its high-altitude views if you don't mind the climb and Pension Temahani for its great location for sunsets and the friendly hosts. Further out of town, Pension Les Trois Cascade, Pension Manava, and Pension Fare Vai Nui are about halfway from Uturoa to the far end of the island. Close to Marae Taputapuatea, Pension Opeha and Hotel Atiapiti are solid options.
Self-catering & camping: the Sunset Beach Motel has a gorgeous setting. Its garden bungalows are sprinkled in a coconut plantation with incredible sunset views towards Bora Bora. You can also pitch a tent on their property. About a 15-minute drive from town, Pension Manava also offers camping options.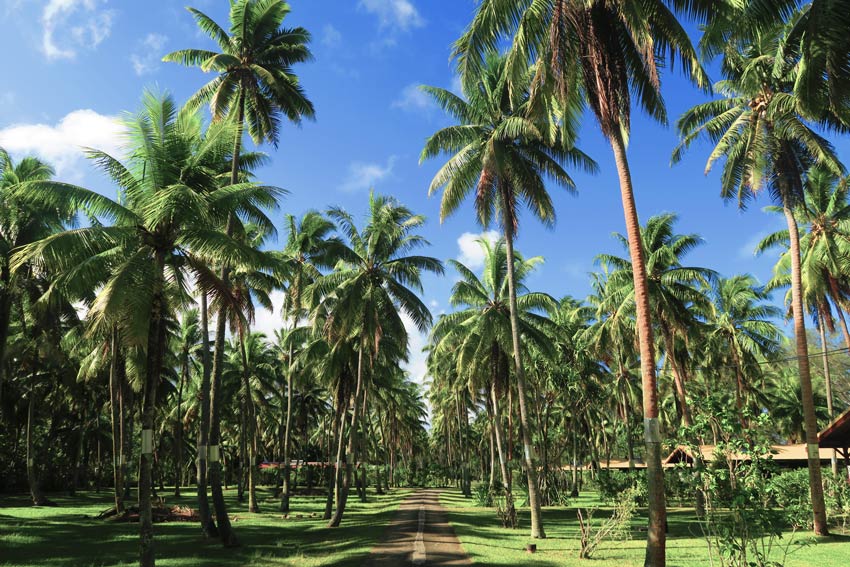 Getting Around Raiatea
There's a sealed road hugging the nearly 100 km coastline of Raiatea, dotted by PK markers indicating the distances. The Road is mostly flat aside from a few steep inclines. Here are the best ways to get around Raiatea.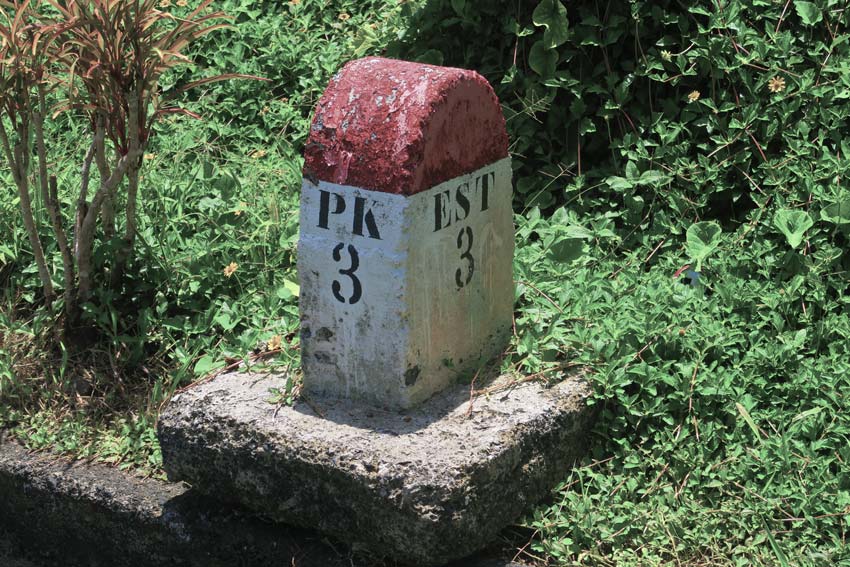 From the Airport: the Raiatea airport is 3.5 km from Uturoa. Your pension/hotel will likely pick you up for free or for a small fee. Taxis await all arrivals and a ride to town should cost 1,000F (outside of town 1,500F).
By Bus: there are local buses (known as le trucks) that connect the villages of Fetuna and Opoa with Uturoa. Busses operate weekdays only, have 2 departures per day, and are probably more suitable for locals than tourists.
By Car: renting a car in Raiatea is the easiest way to get around, and surprisingly not that expensive at all. I hired a manual economy car from Moana Rent a Car. They're located right outside the airport but also pick up from the pensions around town. You'll pay 6,000F for a 24-hour rental, 4,000F if you bring it back by 6 and there are discounts for longer rentals (you can even rent for 4-6 hours). Additional car rental companies are available in Raiatea.
By Bicycle: inquire locally about hiring a bicycle or it might even be offered at your pension. You'll find it difficult to see all parts of the island and keep in mind that the prettiest section of Raiatea (in my opinion) is between Opoa and Vaia'au – on the opposite end of Uturoa.
Hitchhiking: locals are very friendly in Raiatea and you should have no problem finding a ride. Keep in mind that the southern end of the island is quite sparsely populated without too many cars passing by.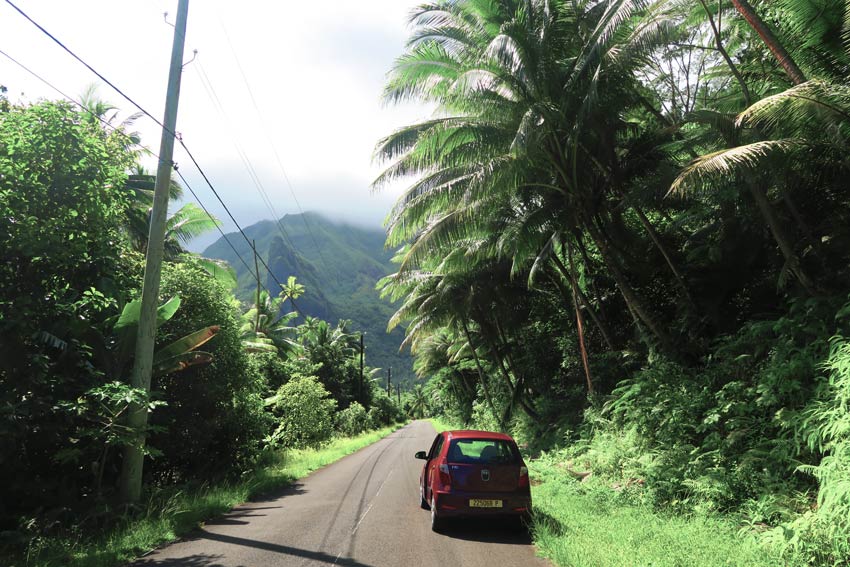 What To Pack?
Raiatea is a tropical destination, and as such – I recommend packing clothes that dry quickly and keep moisture (a.k.a sweat) out. Have a look at the X Days In Y Packing List for recommendations on what to pack for Raiatea based on my experience.
Money
You'll be able to use a credit card in most places in Raiatea. Note that the only ATM I'm aware of is in Uturoa, and if you're heading to Tahaa for a few days – bring enough cash with you.
Using a credit card for pretty much everything is not a problem in Raiatea. In fact, you can even get by with just US Dollars in your pocket. ATMs are available throughout the main island.
Raiatea Average Costs
Here's a breakdown of costs during my 4 days in Raiatea in 2016. I stayed in a dorm room close to town, cooked my own dinners, hiked a lot, and even hired a car for a day to go on a road trip.
Diving In Raiatea
Raiatea actually has some pretty decent scuba diving. I personally did not go diving in Raiatea, as I wanted to use my limited time for land-based activities. I went diving in Moorea and was headed to Rangiroa & Fakarava anyways – the best places to dive in French Polynesia. Raiatea offers the only wreck dive in French Polynesia and you can also do some drift dives in and around the lagoon pass. There are several dive centers so inquire locally, some included in the totally worth it Te Moana Dive Pass.
Hiking In Raiatea
Hiking in Raiatea was the biggest highlight for me. In fact, it's how I spent most of my time on the island. Apart from the newly opened trail near Marae Taputapuatea and the Mount Tapioi hike over Uturoa (this trail might currently be closed), hikes in Raiatea should be undertaken with a guide. I hiked with Kia Marti ([email protected] | +689 87 272300). He's a super nice guy, very knowledgeable about the island's history, flora, and fauna. If you want to do multiple hikes, Kiam will give you a discounted price. See the 'things to do' section for more information about specific hikes in Raiatea.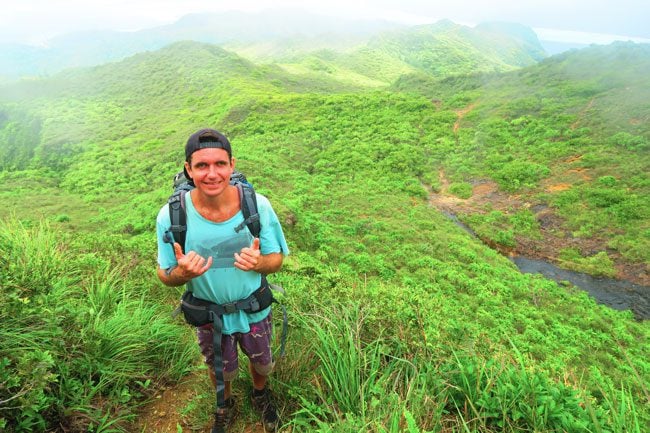 Beaches
There are no dreamy beaches in Raiatea – it is not a beach destination. The only white sand beach is an artificial one, right by Marae Taputapuatea. To satisfy your craving for a proper beach, you'll need to catch a ride to one of the lagoon motu. An even better option is to join a lagoon excursion to the prettier motu in neighboring Tahaa Island's north coast or even spend a night or two on one of them. Le Tahaa Island Resort & Spa is a great choice for those seeking luxury on a tropical island, but there are less expensive options as well on other motu.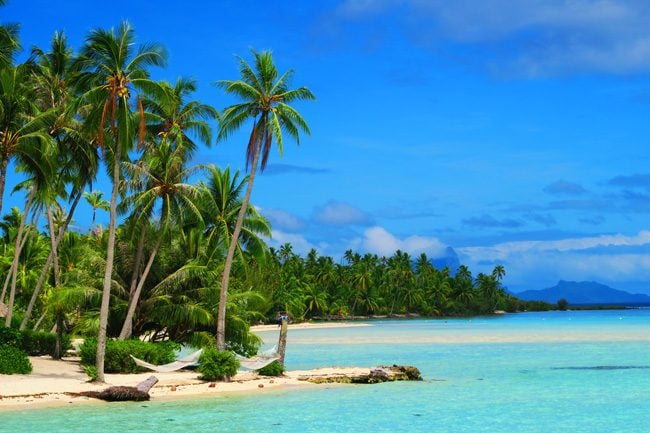 Drinking Water In Raiatea
Tap water might be OK to drink but it might not. It all depends on where the water is pumped from. To be on the safe side, ask at your pension.
Eating
There are several highly acclaimed restaurants in lodges and pensions around the island (reservations required). Notable mentions include Villa Ixora and Raiatea Lodge. Assuming you like going local (like me), Uturoa has snacks during the day – perfect for packed sandwiches, and roulottes at night – big portions of traditional & Chinese dishes. The town center also has a bunch of large supermarkets (one of them even open on Sunday until late afternoon) and a fruits & vegetables market (open weekdays). You can always count on locals selling fruits, vegetables, fresh coconut, and sometimes even fresh fish on the roadside.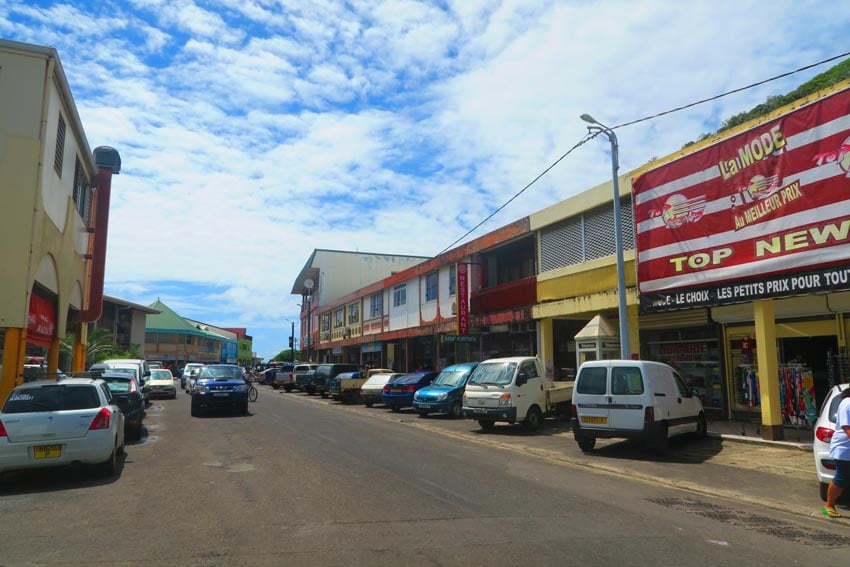 Safety In Raiatea
For general safety tips in French Polynesia, have a look at the 'safety' section of the French Polynesia Travel Guide. Specific to Raiatea: don't go hiking on your own unless it's the Mount Tapioi hike (trail might be currently closed). Trails are not marked and it's super easy to get lost (trust me). Contact Kia Marti ([email protected] | +689 87 272300) – a certified guide who knows every inch of the island.