Wild by even French Polynesian standards, Tahaa is really a 'get away from it all island', where traditional Tahitian life is still the norm. Sharpen your senses and breath deeply, the 'Vanilla Island' blooms with the sweet scented flowers that make your favorite desserts and the island's prime crop. Venture out into the lagoon, and discover small islets floating in the bright blue, with pristine beaches just waiting for you to set foot on! This Tahaa Travel Guide will help you make the most of your time on this off the beaten track destination.
About This Guide
I spent three months in French Polynesia, as part of a six-month backpacking trip across the South Pacific Islands – with two full days in Tahaa (three nights). This travel guide to Tahaa was written based on my experiences and is meant to help you make the most of the Vanilla Island. The Tahaa Travel Guide is geared towards independent travelers, but any visitor will find it useful.
Heading off to French Polynesia? In-depth island guides to all 5 archipelagos await you, including sample itineraries and essential travel tips & tricks.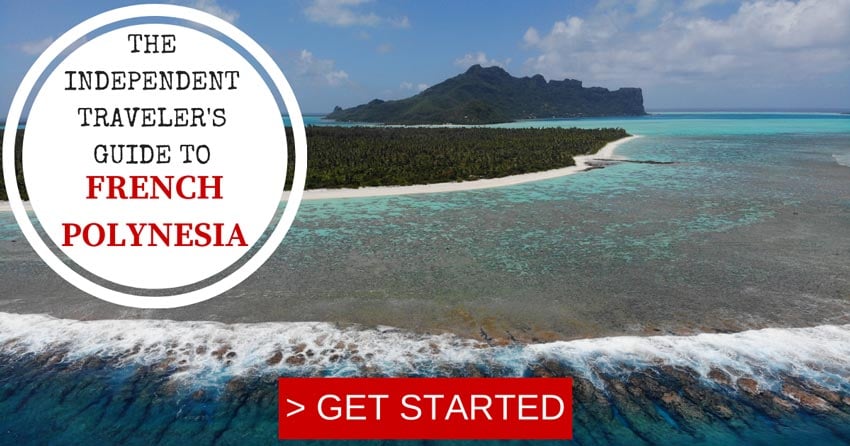 Why Should You Visit Tahaa?
If you're on a limited vacation, Tahaa is not a must-visit destination. However, here are four reasons for visiting Tahaa:
(1) Of all the Society Islands, Tahaa is its wildest member. There aren't too many people here (locals and tourists alike) and time really does seem to sit still. Deep emerald bays carve their way into rolling hills, with nothing but sleepy villages and a whole lot of wild hibiscus in between. (2) Tahaa is world-renowned for its vanilla production. Some of the world's best is grown right here, and you'll get the chance to see how it all works. (3+4) Tahaa's lagoon is blessed with some of the prettiest motus (small lagoon islets). I'm talking about pristine beaches, untouched and just waiting for you. Here's the real kicker: for those seeking to stay in a luxury resort on one of those 'dream islands', Tahaa offers a superb alternative to the overstretched resort scene in Bora Bora with one of the top resorts in French Polynesia. Keep reading for more details.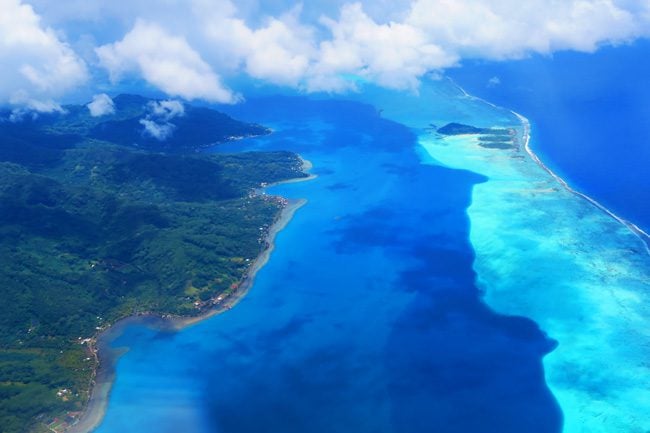 What's Included In This Tahaa Travel Guide?
Tahaa Travel Guide Map
Click on the image to open in Google Maps. This map features all the highlights mentioned in this guide.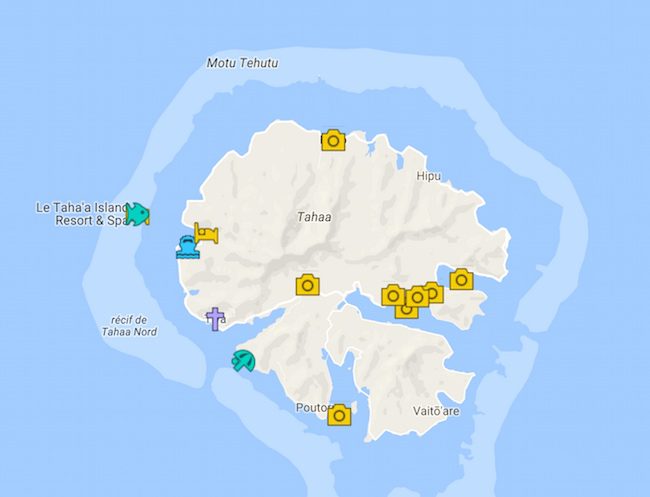 Facts & Brief History
Oddly shaped Tahaa shares the same lagoon with its big sister to the south – Raiatea. Some theorize that the two were once part of a single island, only to be split at some point. There are even accounts of an underground lava tube connecting Raiatea and Tahaa.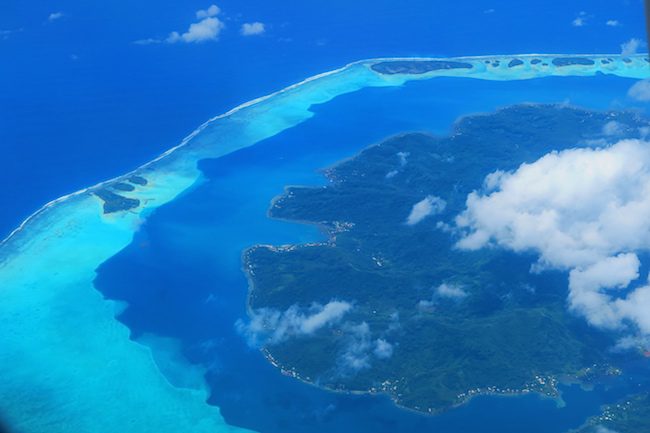 The 4,000 residents of Tahaa live almost entirely around the 70-kilometer coast, making a living from copra production, black pearl, and vanilla farming. Over 80% of French Polynesia's vanilla is grown in Tahaa, world-renowned for producing some of the finest vanilla in the world.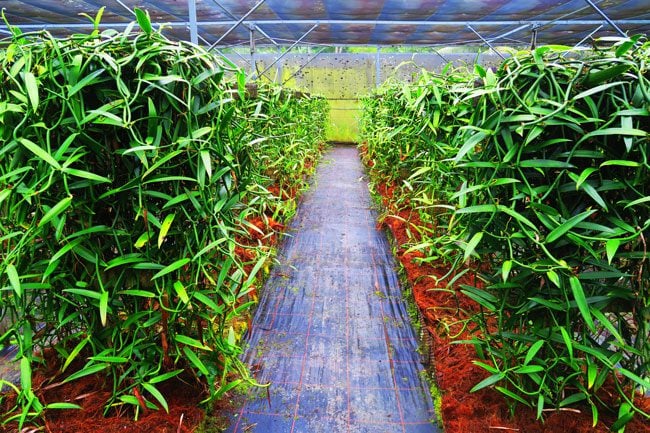 Tahaa Island Travel Tips
Listed here are specific travel tips for Tahaa. Be sure to also read the French Polynesia Travel Guide, filled with general travel tips to paradise.
Recommended Reading
How Many Days Do You Need In Tahaa?
If you're after a luxury resort stay, you could spend your entire vacation in Tahaa. If that's not the case, you don't have to base yourself in Tahaa to see it. You can use neighboring Raiatea Island as a base and visit Tahaa on an organized day trip from Raiatea. This is especially true if you are traveling solo and won't be renting a car on the island / hitchhiking but rather using an organized tour to see the island (in which case you can do this as a day trip from Raiatea).
Of course, if you have the time and are looking to really explore Tahaa, staying on the island is highly recommended. One or two full days in Tahaa should be enough. If you're looking to do some hiking and diving, add an extra day. I personally spent three nights in Tahaa (arriving late the first evening): two nights on the main island and one night in a resort out on a motu.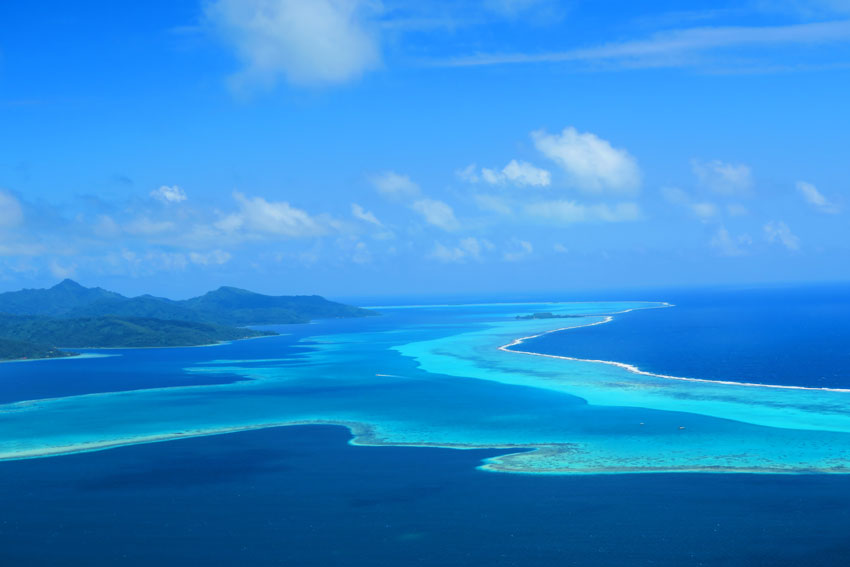 Tahaa vs Raiatea
Though sharing the same lagoon, Tahaa and Raiatea have their own distinct personalities. So if you're already here, you might as well see both. I was faced with a big dilemma of whether to sleep on both islands or use Raiatea as a base. Finally, I decided to spend 3 nights in Tahaa and 4 nights in Raiatea (I probably could have used an extra night in Raiatea). Here's the deal:
Raiatea: much bigger than Tahaa and actually a central member of the Society Islands. It's home to a proper small town, government agencies, major hospital, regional high school, market, and the airport. Naturally, it's more geared to independent travelers with plenty of accommodation, car hire, activities, restaurants, etc. Visitors will enjoy lots of hiking opportunities and the most important archeological site in French Polynesia.
Tahaa: a super laid-back island, probably the 'wildest' island in the Society Islands. There are eight small villages along the coastline with not a whole lot happening in them aside from vanilla and pearl farming. It's also less geared to tourists, though there are a handful of accommodations.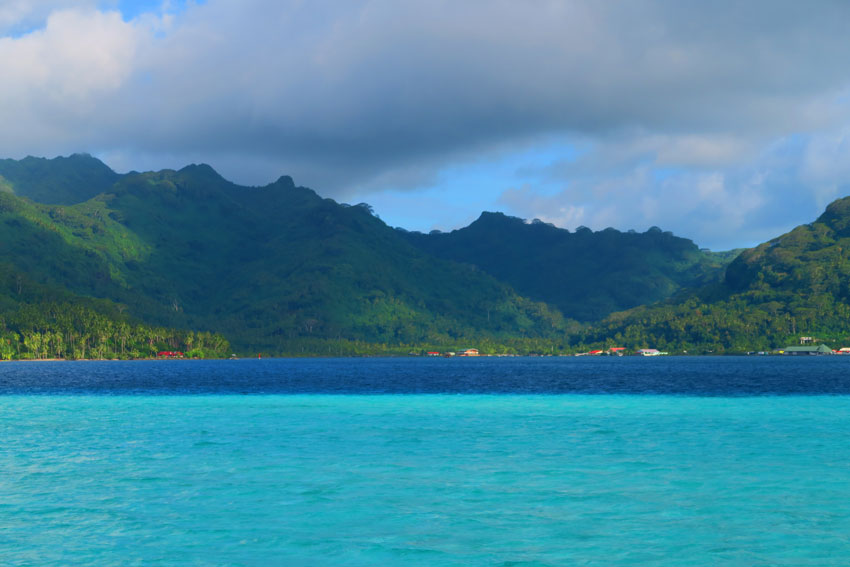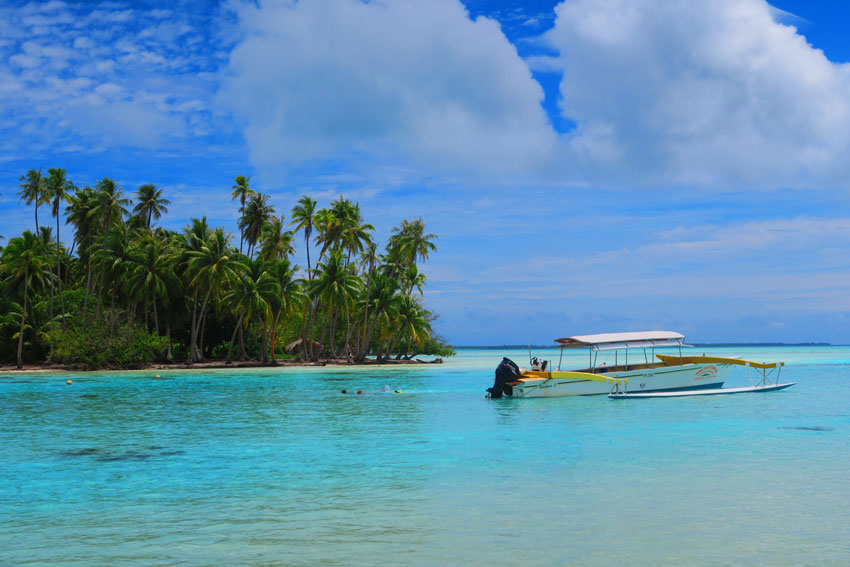 The big exception is the lagoon. Tahaa is blessed with exceptionally beautiful lagoon motus. Of the two islands, it's off the coast of Tahaa where you'll find incredible beaches, dive sites, and snorkeling spots. You can even sleep on some of these motus. Raiatea, on the other hand, has no real beaches to speak of. Most lagoon excursions and some scuba dives will take place in Tahaa, even if booked in Raiatea.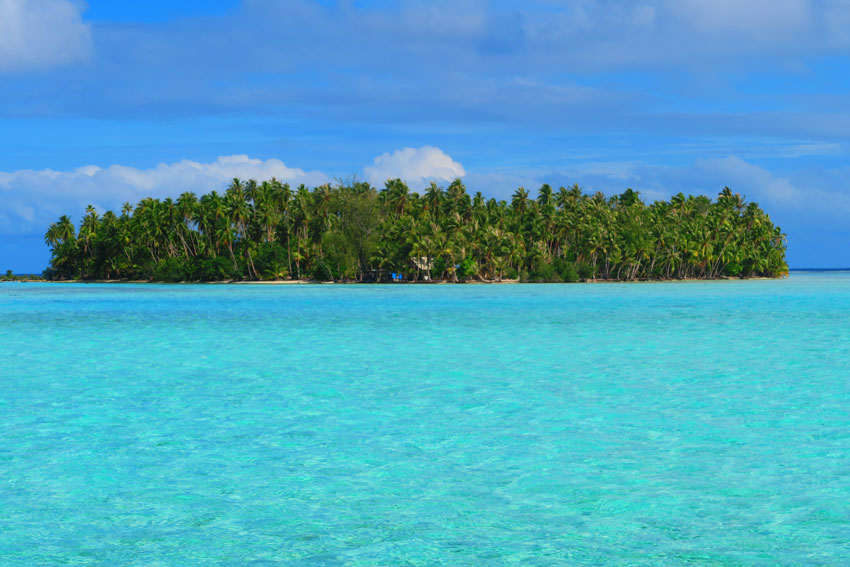 When Is the Best Time To Visit Tahaa?
Like all Society Islands, the 'best' time to visit Tahaa is during the dry season (May – October). During this time, the temperature is slightly lower, the southeasterly wind is cooling and most importantly – there's less rain and clouds (it can rain heavily in Tahaa).
I personally visited Tahaa during the heart of the wet season (November – April), arriving on a very rainy day. It's really a hit or miss because the following few days were super sunny, something to think about if coming for a short stay. If it is raining, you can still tour around the island and visit a vanilla farm – but you won't really enjoy the views and the lagoon.
Bottom line: aim for the dry season but don't let it stop you from visiting Tahaa. Look out for the Hawaiki Nui Canoe Race in November, a major sporting event that passes by the island.
How To Get To Tahaa
Tahaa does not have its own airport and getting there is a bit challenging. You'll be landing in neighboring Raiatea (~35 mins from Tahiti) and taking a boat to Tahaa (~30-60 mins). This boat transfer to Tahaa will be arranged by your resort or pension, costing anywhere from 40-75€ per person each way. If you're traveling off the beaten track, a taxi from the airport to Uturoa pier should cost about 1,000 XPF. Here are a few options for independent travelers.
Boat shuttle from Raiatea: the public Tahaa shuttle (navette) operates on weekdays only and connects Uturoa with the major villages on Tahaa. There might be two lines departing Raiatea with one serving the eastern side of Tahaa and one on the west coast. One-way adult ticket currently costs around 800XPF. There is also a private shuttle that runs seven days a week so this will be your only option if arriving on weekends. The boat is much smaller than the public shuttle. Have a look here for the price and schedule. Expect to pay 1,500 for a one-way ticket.
Ferry from Tahiti: beginning in 2021, Aremiti launched a new route that serves Huahine, Bora Bora, Raiatea, and Tahaa from Tahiti. Three times per week, a boat will depart Tahiti and reach Huahine about three and a half hours later, then continuing to the other stops (about eight hours to reach Bora Bora taking into account all the stops). Note that the return leg will take longer due to the prevailing winds. In a couple of years, Aremiti will receive the Apetahi Express, a much faster boat that will reduce travel time. Terevau is also set to compete on this route. This is great news for both locals and tourists as the trip should cost half the price of an equivalent plane ticket (albeit taking much longer).
Maupiti Express: though lacking much information online, you might also be able to get to Tahaa from Raiatea and Bora Bora (and maybe even from Maupiti) with the Maupiti Express. Contact them via email (maupitiexpress@mail.pf) or phone (+689-40676669 or +689-87740240). These might be the current schedule and ticket prices.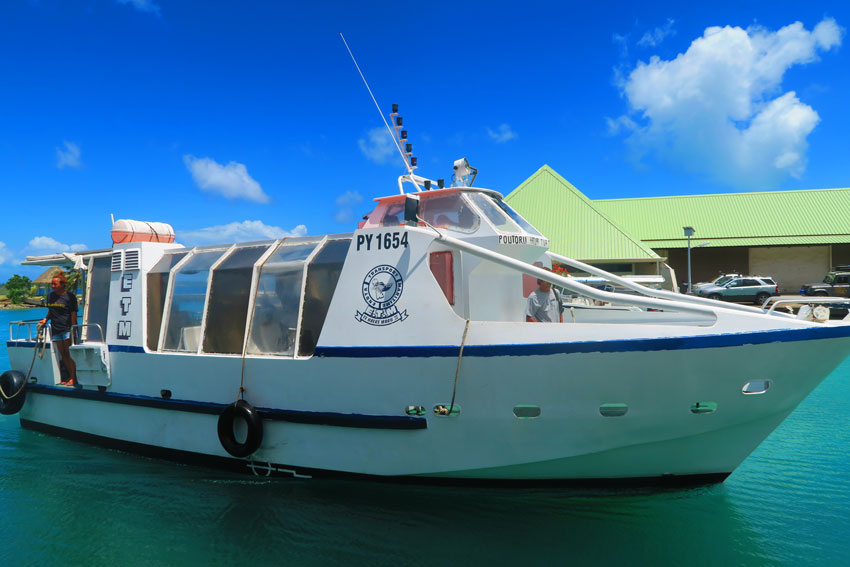 Getting Around Tahaa
There is absolutely no public transportation in Tahaa. From the pier, your pension/hotel will likely pick you up and drop you off (free or for a small fee). Do it yourself travelers can hire a car from Tahaa Locations Voiture for ~10,000F per day (other options available). There might be other small outfits renting out vehicles but you'll have to inquire when booking accommodation. In any case, roads in Tahaa are in very good shape, have PK markers indicating distances and there's really no problem driving on your own. If you are traveling alone and/or don't want to drive around on your own – the best way to get around Tahaa is on an island tour. If you want to have the freedom of eating in the village – inquire if your pension is within walking distance from such options.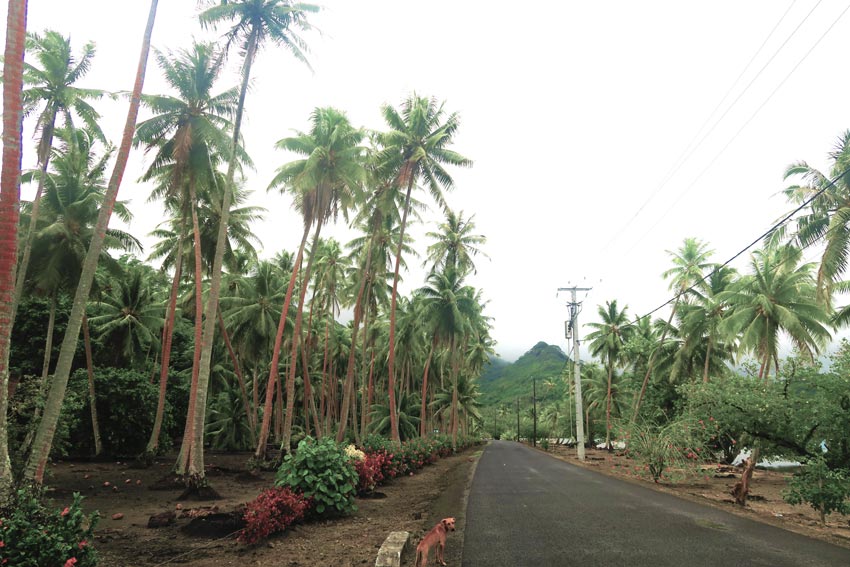 Where To Stay In Tahaa?
There are two resorts in Tahaa but they're located on islets at the edge of the lagoon (motu). On the main island, family-owned pensions are the way to go. All pensions offer half-board stays, meaning breakfast and dinner are taken care of. This is sometimes compulsory and it makes sense because dining options in Tahaa are limited. It's important to note that due to the topography of Tahaa's coastline, the bungalows of most if not all pensions on the main island are across the ring road but most also feature a lagoon-side area.
All pensions and resorts offer island and lagoon tours. Some pensions also offer "packages" that include accommodation, meals, boat transfers to/from Raiatea, and tours. For self-catering and backpacking options, try your luck on Airbnb and Couchsurfing. Listed below are my recommendations.
Click here for all Tahaa accommodations options that you can book online!
Resorts: the best resort in Tahaa is Le Tahaa. In fact, it is one of the best resorts in French Polynesia (children welcomed). Le Tahaa is located on Motu Tautau, arguably the best real estate on the island. It faces Bora Bora on one end and Tahaa on the other. Views are tantalizing, especially during sunsets. Choose from overwater bungalows (the best are the Bora Bora suites) or beach villas. Apart from the views, the resort sits on the grounds of a coral garden so the snorkeling in the channel that separates it from the neighboring motu is superb. Here's an in-depth review of Le Tahaa. On the other side of the lagoon, Vahine Island is the other luxury resort option in Tahaa.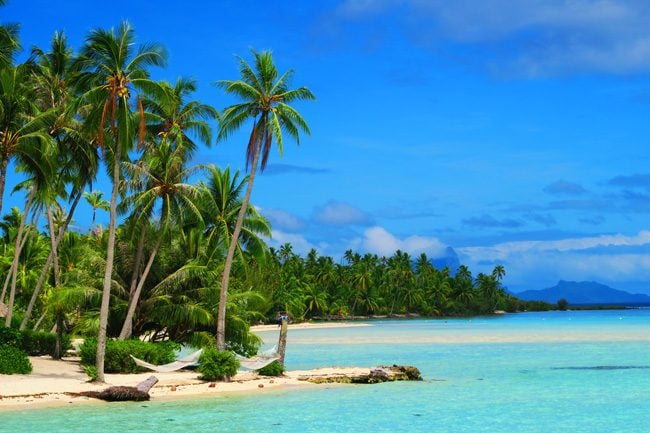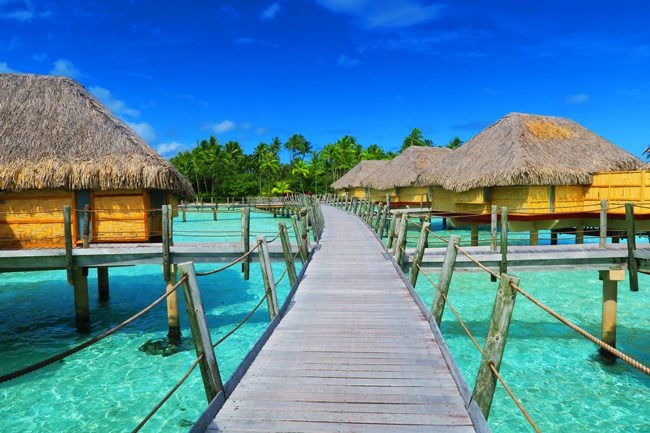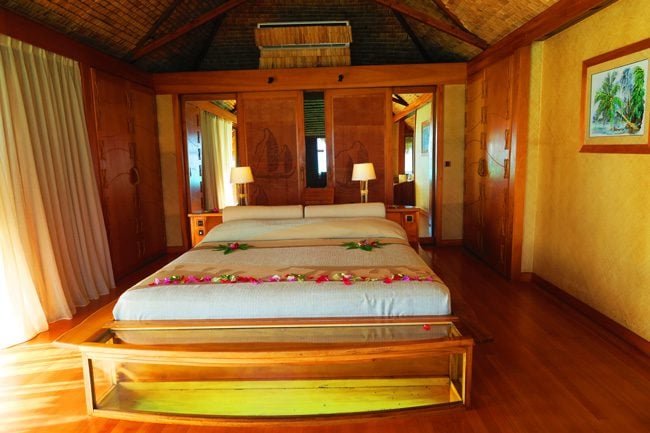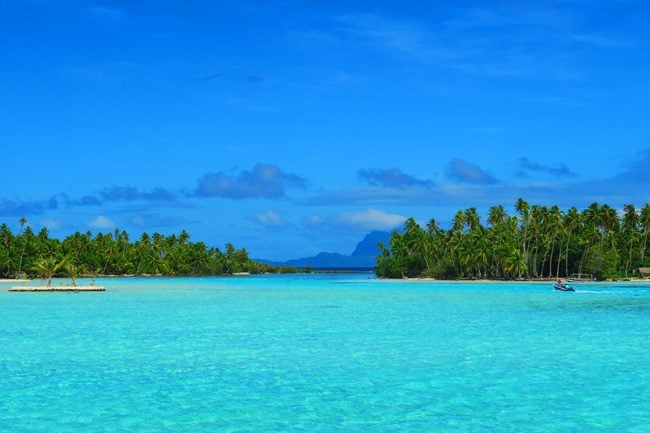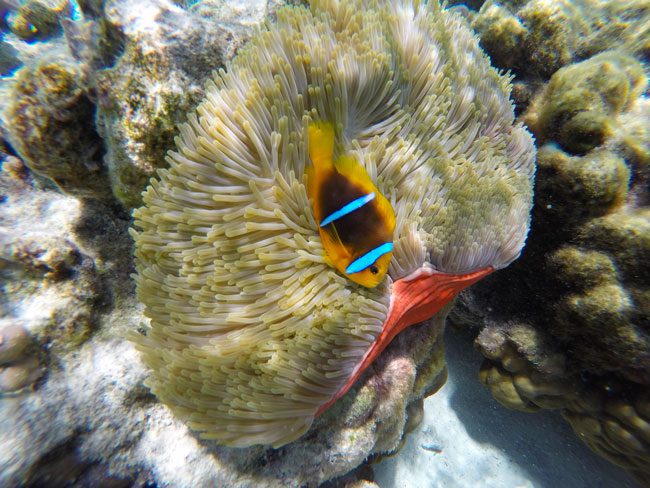 Boutique pensions: located on the north coast of the island with magnificent views overlooking a string of islets and Bora Bora, Fare Pea Iti is the most pampering pension. With only six units, this charming property with a well-tended garden, a swimming pool with a gazebo, and a pontoon for easy access by the lagoon, is the perfect place for a romantic getaway. Facing Le Tahaa resort, La Perle de Tahaa is another solid option. It has a small beach area and a restaurant as well as a few family units equipped with a kitchenette.
Family pensions: the highly acclaimed Au Phil du Temps features charming bungalows and private rooms. Its restaurant is well-known on the island and tours are available for guests. Snorkeling is possible off the pension's pontoon. The next best option is Pension Titaina which features three spacious units ideal for families.
Click here for all Tahaa accommodations options that you can book online!
What To Pack?
Tahaa is a tropical destination, and as such – I recommend packing clothes that dry quickly and keep moisture (a.k.a sweat) out. Have a look at the X Days In Y Packing List for recommendations on what to pack for Tahaa based on my experience.
Money
It's best to take out cash in Raiatea as there's only an ATM in Patio and you never know if it'll work or not (plus some banks have daily/weekly withdrawal limits). Find out ahead of time if you can pay with a credit card and always have some USD or Euro for 'emergency'.
Tahaa Average Costs
Here's a breakdown of costs during my three days in Tahaa in 2016. I spent two nights in a budget accommodation, one night in a luxury resort, and went on a tour around the island.
Diving & Snorkeling
There's good scuba diving off the east coast of Tahaa and Raiatea. Inquire with Tahaa Diving which just happens to be located in Le Tahaa Resort. For snorkeling, you'll have to somehow get to the motus (either by staying on one or visiting as part of a lagoon excursion from Tahaa or Raiatea).
Beaches In Tahaa
To get to those picture-perfect beaches in Tahaa you'll actually have to venture out to the small motus on the northern side of the island. On the main island itself, there's only Joe Dassin beach to speak of – a small sliver of white sand at the edge of a dense forest. You'll also need a boat to get to this beach as there are no roads leading down here…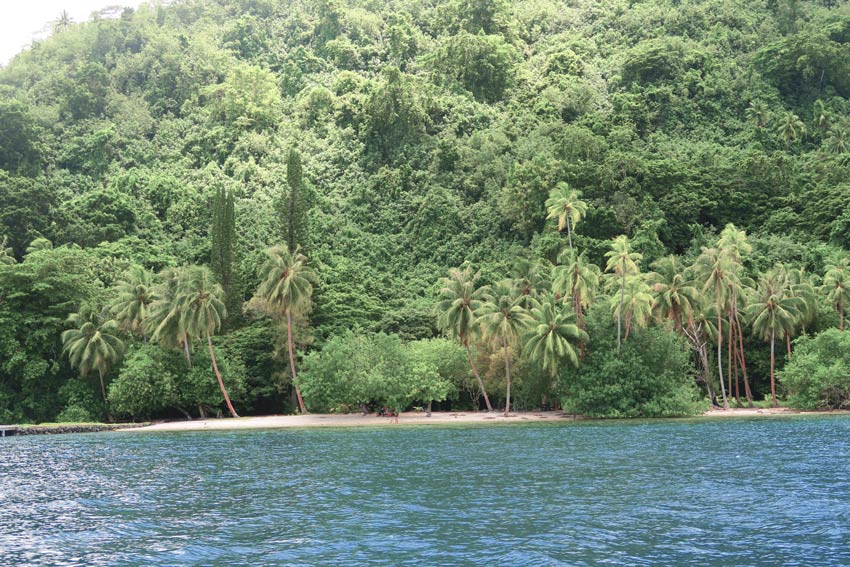 Drinking Water In Tahaa
Definitely ask before drinking tap water in Tahaa.
WiFi & Mobile Data In Tahaa
The current mobile networks in French Polynesia are Vini and Vodafone but I doubt newcomer Vodafone has coverage in Tahaa. Free WiFi should be available in all accommodations but perhaps only in common areas.
Eating
There are a few very low-key restaurants/snacks on the main island and a few food shops. Opening hours are strange so inquire locally. All pensions/hotels should offer half-board for an extra charge (breakfast and dinner).
What To Buy In Tahaa?
Vanilla, vanilla, vanilla! They don't call this place 'the Vanilla Island' for nothing. Don't expect it to be cheap, not even if you buy directly from the farmer. Prices are determined on an annual basis by all the growers and they are usually quite high. For about 4 sticks of vanilla, expect to pay 1,500F and up. You will have no problem bringing vanilla through customs, just be sure to declare. This makes a great gift for anyone who likes to bake. Local Tip: once opened, keep the vanilla in an upright position, at room temperature, and with a few drops of rum at the bottom of a sealed glass container. There are also quite a few black pearl farms in Tahaa but I always recommend doing your pearl shopping in Tahiti.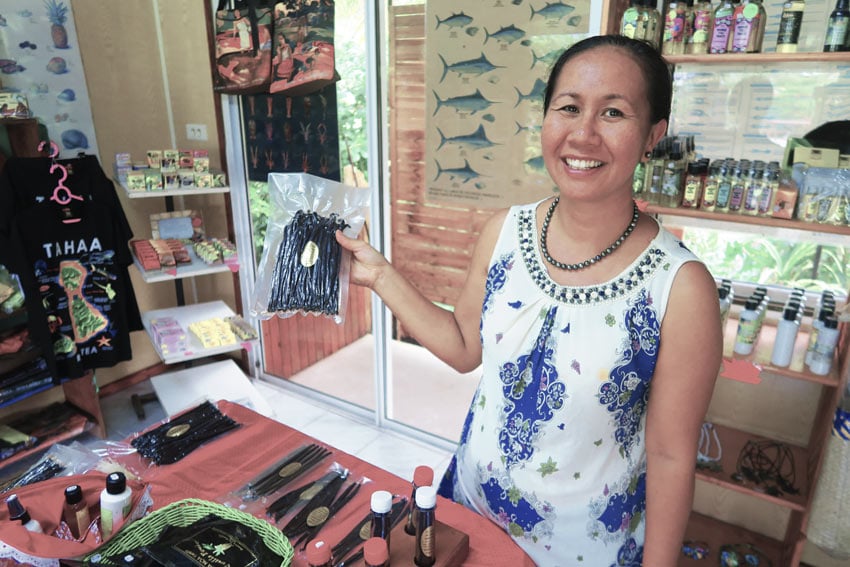 Things To Do & Places To See In Tahaa
Check out this 5 days in Raiatea and Tahaa sample itinerary to see how to divide your days on the islands
Tahaa Island Tour
The following sites can be visited on a self-guided tour with your own car or as part of an organized tour with a local guide. I opted for the second option since renting a car when you're solo wasn't worth it but. In addition, having a local guide has the added benefit of actually understanding what it is you're seeing. I booked a tour with Teva, the owner of Poerani Tours for a half-day 4X4 tour of the island (5,000F, | 3.5 hours | rani-poe@mail.pf | +689 87788025). Though you won't see every single part of Tahaa, the island's highlights are covered – especially the vanilla farm, which is the main reason for visiting Tahaa. Teva is super knowledgeable and speaks excellent English, though if demand is high you might get one of his relatives or friends who also work with him.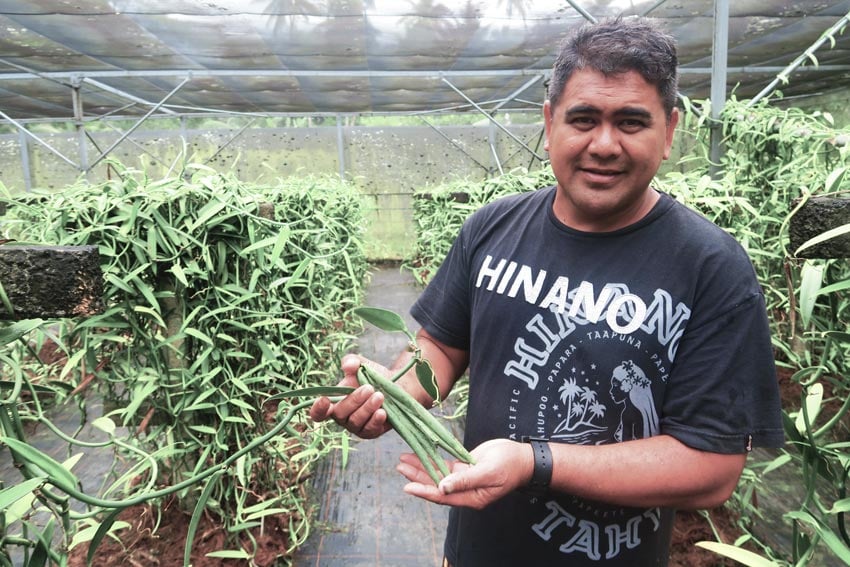 Along The Coastal Road
You might find yourself all alone on parts of the coastal road around Tahaa. Along the way, you'll drive through sleepy seaside villages and bay after bay of emerald water. On the western side of the island, you can see the silhouette of Bora Bora – a magnificent sight on a cloud-free day.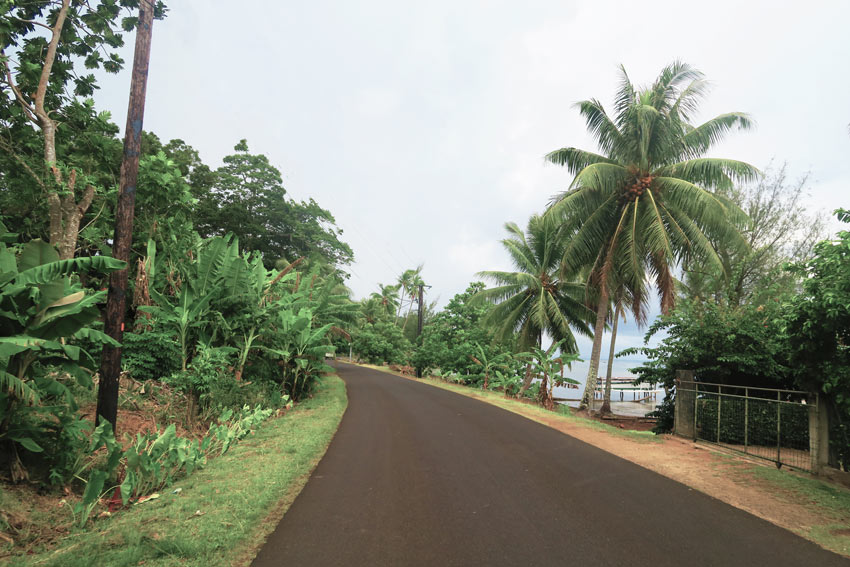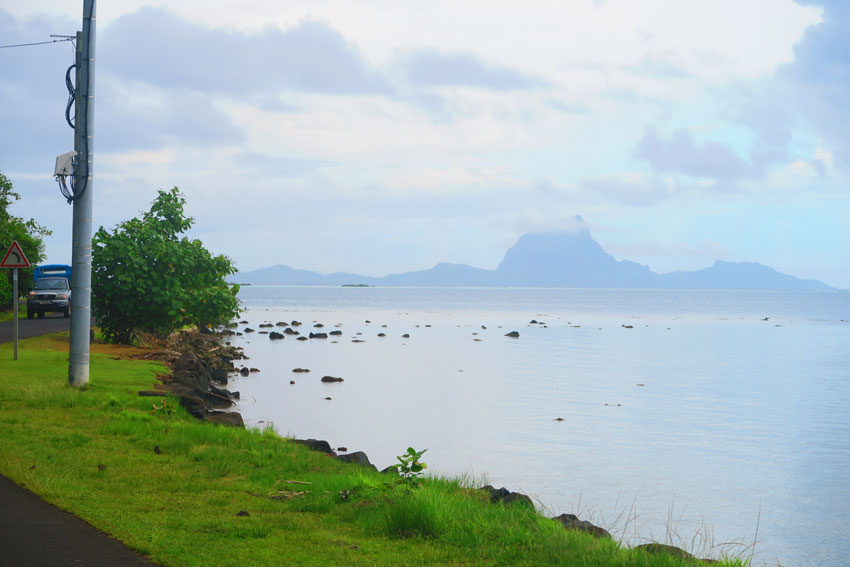 Be on the watch for extended mailboxes on the side of the road. In fact, they're not just used for delivering the mail but also for delivering fresh baguettes. Being such a lush tropical island, it's no wonder why everything grows here in such abundance. Spot the wild hibiscus growing on the roadside and even star fruit which comes in both sour and sweet versions.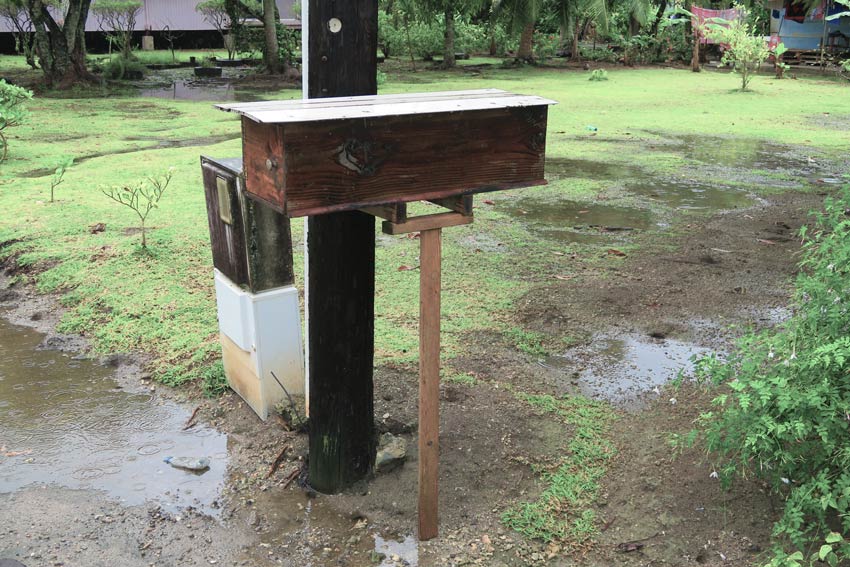 Apu Bay
One of the many pretty bays on Tahaa. This one sits on the southern end of the island, right before the road begins to climb to one of the mountain passes dropping to the western part of the island.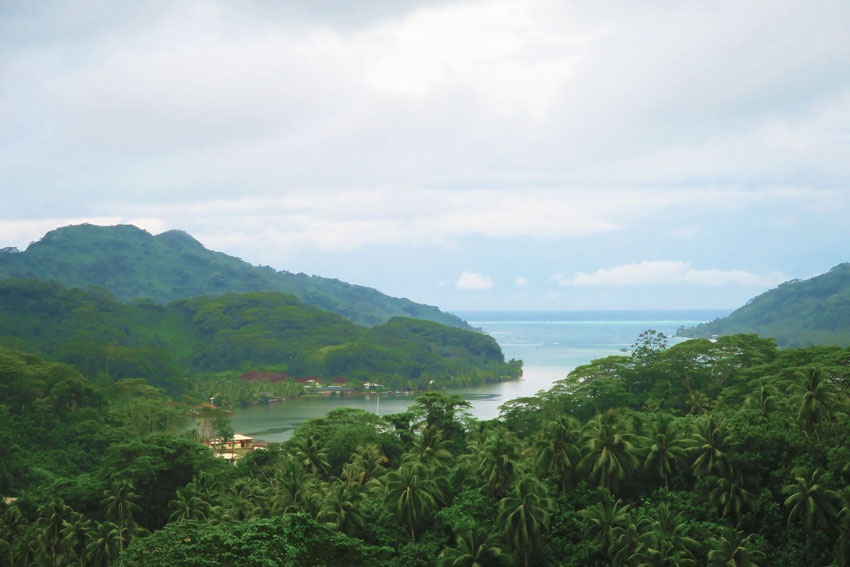 Tiva
A small picturesque village at the mouth of Hurepiti Bay. The highlight here is the signature church, beautiful and right on the water.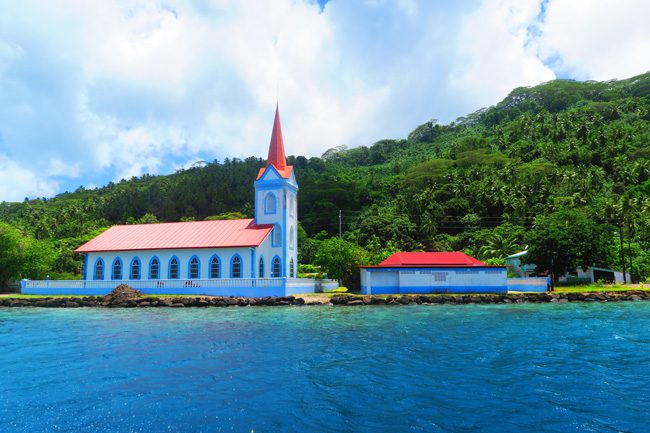 Patio
The 'capital' of Tahaa. Here you'll find a few shops and snacks but not much else.
Faaaha Bay
Undoubtedly the prettiest of many bays in Tahaa. The best way to appreciate the beauty around here is by continuing with the road as it climbs the mountain before dropping to the next bay – Haamene. Even on a cloudy and rainy day, the wild beauty of Tahaa is so impressive. You can really see just how sparsely populated the island is.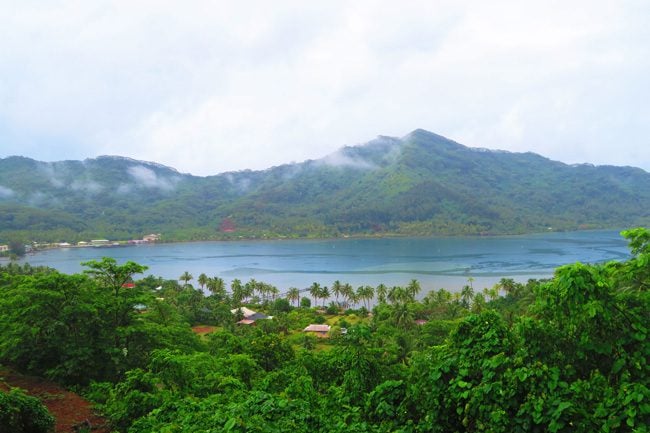 Haamene
From the viewpoint of Faaha Bay, the road drops down to Haamene Bay, the deepest in Tahaa. This bay is simply huge! Simple homes dot the coastline and fishing, copra production and black pearl farming are pretty much the only things to do around here.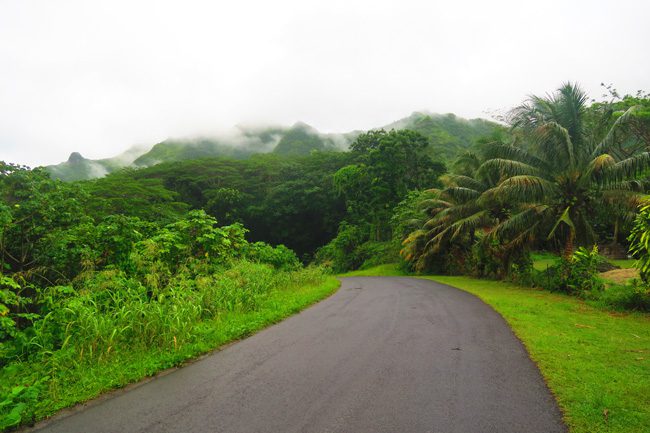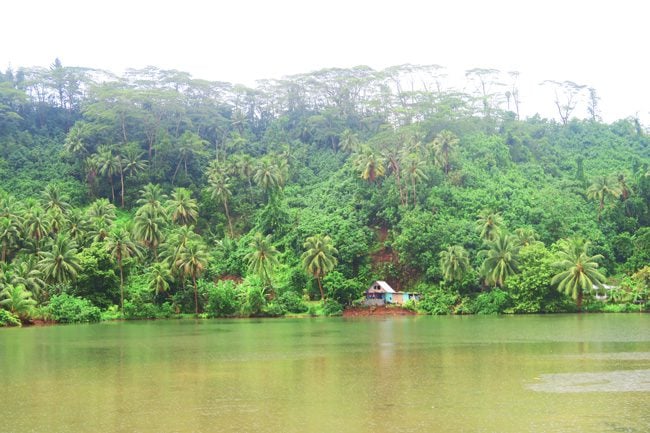 Black Pearl Farm
It just so happens that Teva's family also runs a pearl farm. We stopped for a quick tour of the Poerani Pearl Farm, nestled along the shores of Haamene Bay. Our guide just so happened to be Teva's mother, who's been running this place for decades. With surprisingly good English, she explained the process of making black pearls. It all starts with a 'mother of pearl', an oyster carefully selected by a professional grafter who will then use it to inseminate the other pearls – hopefully putting the good qualities of the mother pearl into mass production.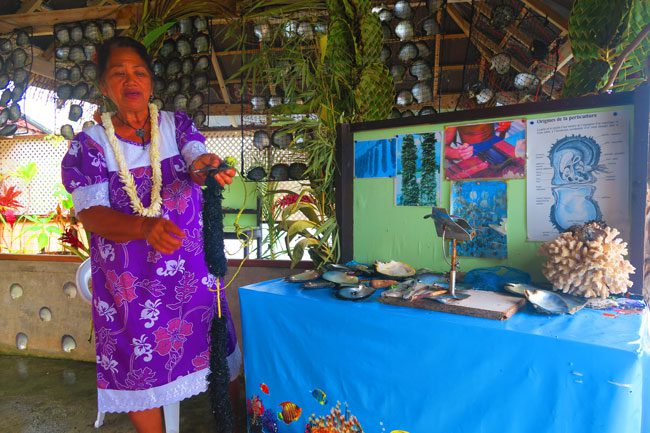 Though undergoing a major decline, black pearl farming is still a huge source of income for islanders in French Polynesia. You'll be able to visit a farm on almost every island and I highly recommend doing so. I learned that it takes up to five years to produce a quality pearl and that the same oyster can be used up to four times in its lifetime. But it's really a hit or miss, as quite a few pearls do not meet the standards and either must be discarded or used for very low-quality jewelry.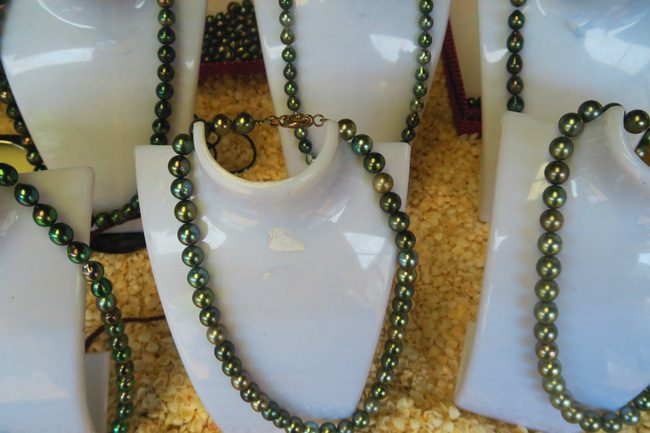 Vanilla Farm Tour
Tour company, black pearl farm – what else is missing in Teva's family? That's right… a vanilla farm. Well, he's got that too actually. From the pearl farm, we drove inland to the family's vanilla farm. This is the highlight of the trip and the main reason for visiting 'the Vanilla Island'.
To be honest, there's not much happening on a vanilla farm, and once you've seen one you've seen them all (and it rarely smells like vanilla inside). What is extremely interesting is learning about the process of making the final product and why Tahaa vanilla is considered to be the best in the world.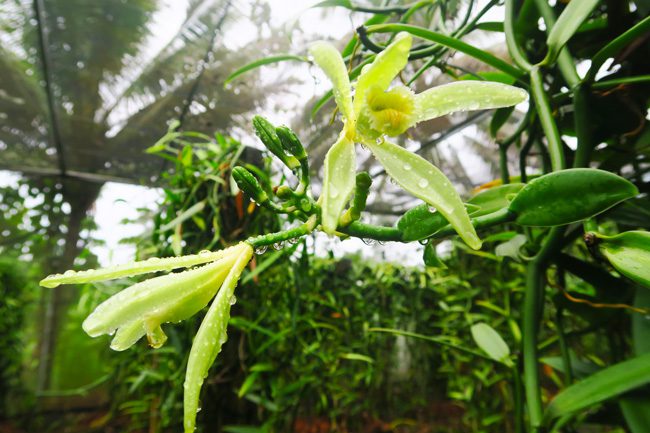 It turns out that it takes almost nine months to get the finished product. The vanilla that grows here is exceptional in quality due to the optimal conditions of elevation, humidity, and moisture. The only problem is that the insects that normally pollinate the flower are not to be found in French Polynesia. So what's the solution? Vanilla farmers manually pollinate the plants in a delicate process done by hand. So this is how the best vanilla in the world makes its way (hopefully) to your creme brulee, ice cream, and even fish dishes.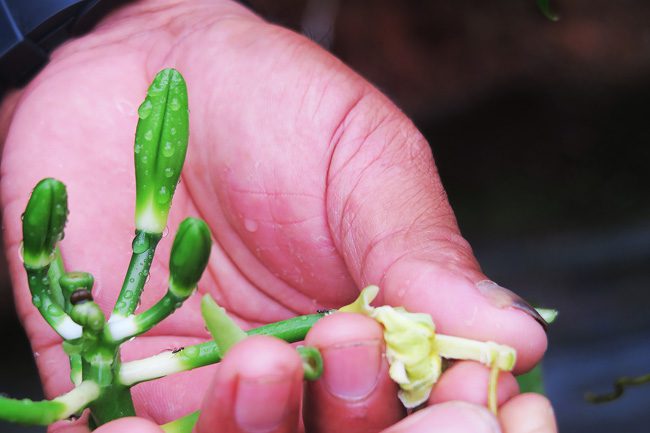 The tour ended back at the Teva's house, which also doubles as the gift shop. His lovely wife will greet you with fruit juices, vanilla coffee, and some fresh fruit to get you into shopping mode. You can obviously buy vanilla from the farm in small or large packs (five large vanilla sticks will cost about $25), as well as vanilla-related products (extract, coffee, etc.). Other French Polynesian specialties are also on sale, including monoi oils, sarongs, and even exotic spirits. Prices are very reasonable, but those of vanilla products will fluctuate on an annual basis.
Joe Dassin Beach
Between Pati and Tiva, Joe Dassin beach can only be accessed by boat. It's wild and you'll likely have it all to yourself, though I am not sure chartering a boat just for this makes sense. If you ask the locals, they'll even recommend just heading out to the motus.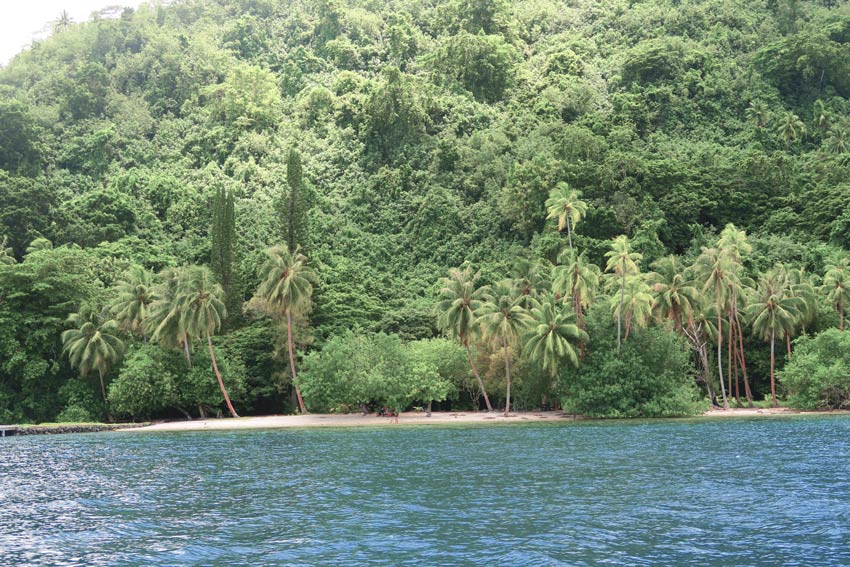 Motu Beaches
Surprisingly, for such an emerald island, the motus around Tahaa are considered to be some of the prettiest in French Polynesia. Perhaps it's because of their seclusion or perhaps it's the white sand and wild palm trees. One of the highlights of visiting Raiatea & Tahaa is definitely to head out to these small islets on the edge of the lagoon. You can join a lagoon tour which usually includes a picnic lunch on one of these dream beaches (known as picnic motu), but you can also sleep here. I stayed one night at Le Tahaa Island Resort & Spa in Motu Tautau, which is considered to be the prettiest spot in the lagoon, complete with pristine beaches 'as seen in travel magazines'.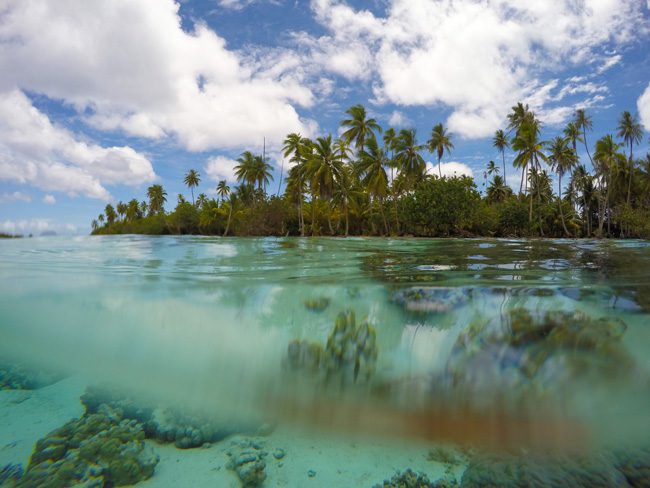 The small lagoon between the resort and the neighboring motu is known as 'the coral garden'. Even if you're not staying at the resort, chances are your lagoon tour will stop here for some of the best snorkeling around.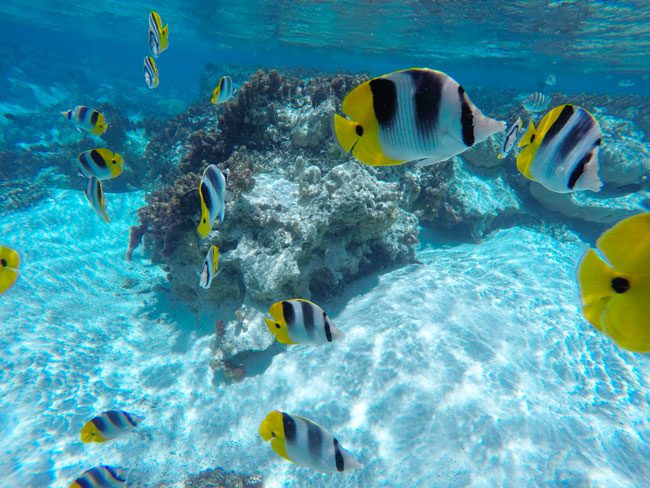 If you're looking for even more adventure, walk all the way to the edge of the neighboring motu until there's nothing but Bora Bora and a whole lot of ocean in front of you. Carefully jump into the channel leading back to the lagoon and enjoy the ridge. Riding the strong current back into the lagoon is the closest thing to flying I've ever felt, without having an airplane involved. You'll be zipping by schools of fish and maneuvering around the coral. Just be careful not to cut yourself on the coral and to always avoid the yellow coral – which is poisonous (but definitely not deadly).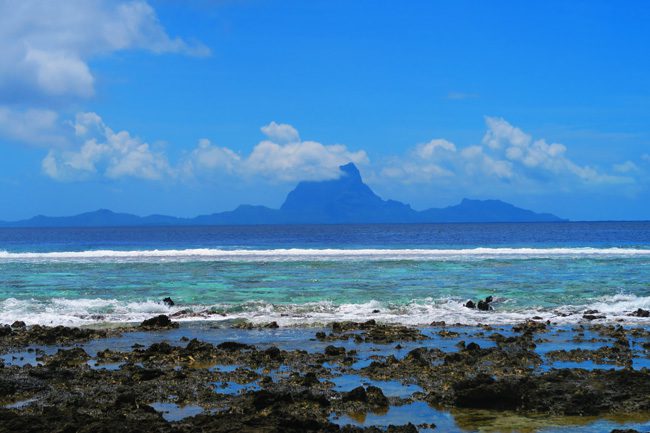 Hiking In Tahaa
The island of Tahaa conceals natural treasures hidden and well guarded by the inhabitants of the island. Inquire about a hiking guide that can take you to the summit of Mount Moiri. It's not a very high mountain but it does afford beautiful views of Tahaa and its lagoon. Along the way, you'll hike through a rainforest where locals have planted breadfruit and vanilla.
Other Activities In Tahaa
Apart from the island and lagoon tours which we covered above, you'll also find a few local operators offering jet ski tours in the lagoon (~20,000F per couple) and quad tours in the mountains of the main island (19,000F per couple). Poerani Tours is one such company (rani-poe@mail.pf | +689 87788025).
What's Next?
I hope you've found this Tahaa Travel Guide useful. For more information about Tahaa and French Polynesia, check out these recommended guides.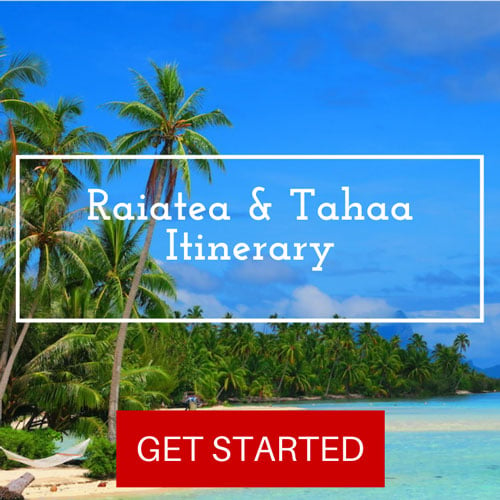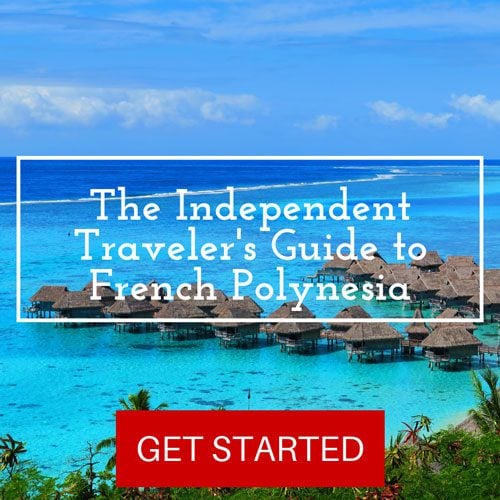 ---