Tahaa Island Travel Tips
Listed here are specific travel tips for Tahaa. Be sure to also read the French Polynesia Travel Guide, filled with general travel tips to paradise.
Recommended Reading
How Many Days Do You Need In Tahaa?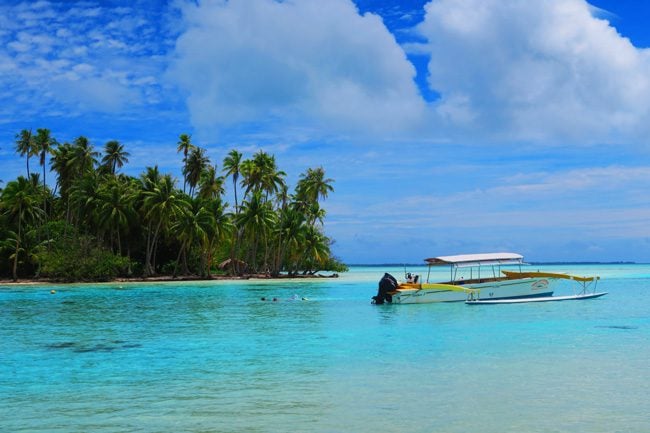 If you're after a luxury resort stay, you could spend your entire vacation in Tahaa. If that's not the case, you don't have to base yourself in Tahaa in order to see it. You can use neighboring Raiatea Island as a base and visit Tahaa on an organized day trip from Raiatea. This is especially true if you are traveling solo and won't be renting a car on the island / hitchhiking but rather using an organized tour to see the island (in which case you can do this as a day trip from Raiatea).
Of course, if you have the time and are looking to really explore Tahaa, staying on the island is highly recommended. One or two full days in Tahaa should be enough. If you're looking to do some hiking and diving, add an extra day. I personally spent three nights in Tahaa (arriving late the first evening): two nights on the main island and one night in a resort out on a motu.
Tahaa vs Raiatea
Though sharing the same lagoon, Tahaa and Raiatea have their own distinct personalities. So if you're already here, you might as well see both. I was faced with a big dilemma of whether to sleep on both islands or use Raiatea as a base. Finally, I decided to spend 3 nights in Tahaa and 4 nights in Raiatea (I probably could have used an extra night in Raiatea). Here's the deal: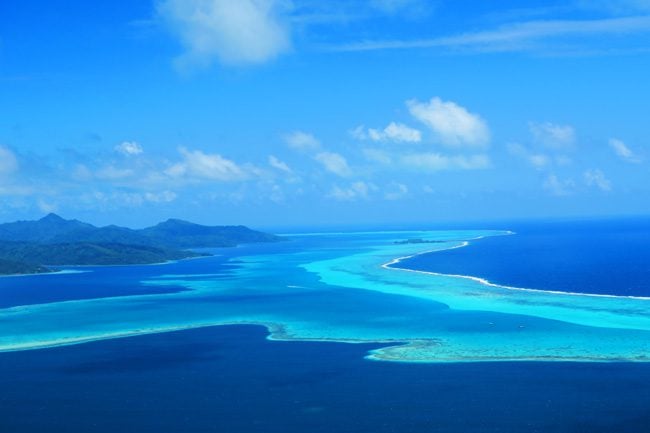 Raiatea: much bigger than Tahaa and actually a central member of the Society Islands. It's home to a proper small town, government agencies, major hospital, regional high school, market and the airport. Naturally, it's more geared to independent travelers with plenty of accommodation, car hire, activities, restaurants, etc. Visitors will enjoy lots of hiking opportunities and the most important archeological site in French Polynesia.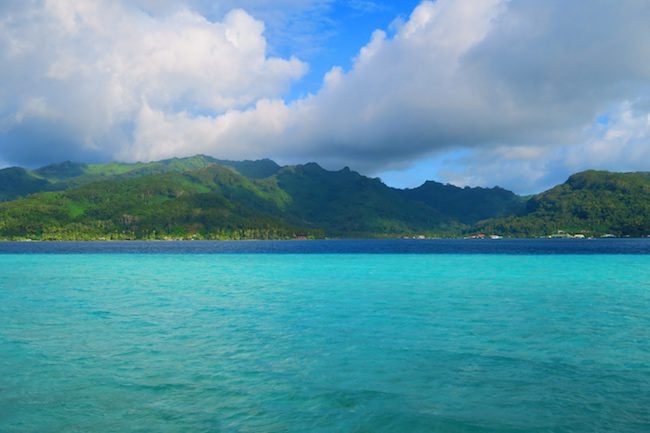 Tahaa: a super laid back island, probably the 'wildest' island in the Society Islands. There are eight small villages along the coastline with not a whole lot happening in them aside from vanilla and pearl farming. It's also less geared to tourists, though there are a handful of accommodations.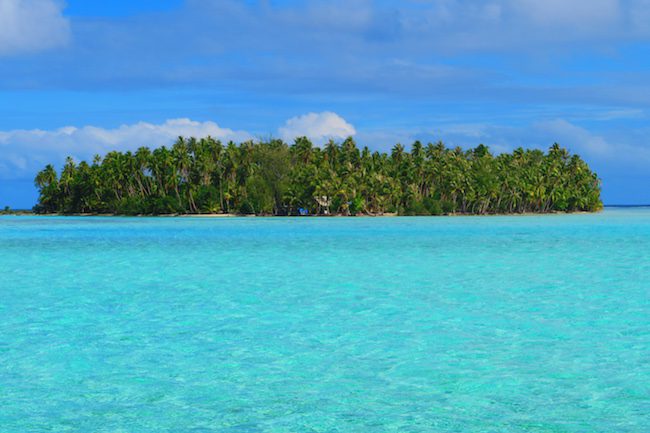 The big exception is the lagoon. Tahaa is blessed with exceptionally beautiful lagoon motus. Of the two islands, it's off the coast of Tahaa where you'll find incredible beaches, dive sites, and snorkeling spots. You can even sleep on some of these motus. Raiatea, on the other hand, has no real beaches to speak of. Most lagoon excursions and some scuba dives will take place in Tahaa, even if booked in Raiatea.
When Is the Best Time To Visit Tahaa?
Like all Society Islands, the 'best' time to visit Tahaa is during the dry season (May – October). During this time, the temperature is slightly lower, the southeasterly wind is cooling and most importantly – there's less rain and clouds (it can rain heavily in Tahaa).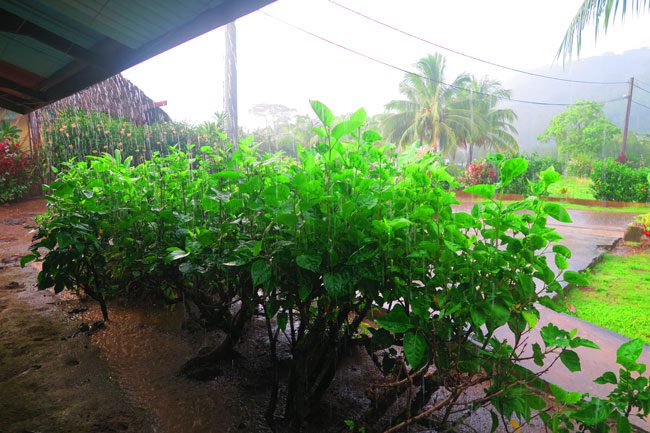 I personally visited Tahaa during the heart of the wet season (November – April), arriving on a very rainy day. It's really a hit or miss because the following few days were super sunny, something to think about if coming for a short stay. If it is raining, you can still tour around the island and visit a vanilla farm – but you won't really enjoy the views and the lagoon.
Bottom line: aim for the dry season but don't let it stop you from visiting Tahaa. Look out for the Hawaiki Nui Canoe Race in November, a major sporting event which passes by the island.
What To Pack?
Tahaa is a tropical destination, and as such – I recommend packing clothes that dry quickly and keep moisture (a.k.a sweat) out. Have a look at the X Days In Y Packing List for recommendations on what to pack for Tahaa based on my experience.
Money
It's best to take out cash in Raiatea as there's only an ATM in Patio and you never know if it'll work or not (plus some banks have daily/weekly withdrawal limits). Find out ahead of time if you can pay with a credit card and always have some USD or Euro for 'emergency'.
Tahaa Average Costs
Here's a breakdown of costs during my three days in Tahaa. I spent two nights in a budget accommodation, one night in a luxury resort and went on a tour around the island.
How To Get To Tahaa
Tahaa does not have its own airport and getting there is a bit challenging. You'll be landing in neighboring Raiatea (~35 mins from Tahiti) and taking a boat to Tahaa (~30-60 mins). This transfer will be arranged for you if you're staying in one of the two luxury resorts in Tahaa but if not, you have two options both requiring you to get to the main pier in Uturoa (1,000F by taxi from the Raiatea airport).
If you miss the last ferry you will be 'stuck' until the following day so don't make it too tight if catching a flight. Here's a good article about getting to and around Tahaa.
Tahaa Shuttle: public ferry connecting Uturoa with the major villages on Tahaa. I think there might be two lines departing Raiatea with one serving the eastern side of Tahaa and one the west coast. One way adult ticket currently costs 763F. Weekdays only.
Tahaa Transport Rapide: a small boat operated seven days a week by a private company. This will be your only option if arriving over the weekend. Have a look here for the price and schedule. Expect to pay 1,500 for a one-way ticket.
Maupiti Express, a boat service that used to link Maupiti with neighboring islands apparently now operates regular service between Bora Bora, Tahaa and Raiatea. They have no website at the moment, but you can contact them via email (maupitiexpress@mail.pf) or phone (+689-40676669 or +689-87740240). Here are the current schedule and ticket prices.
Getting Around Tahaa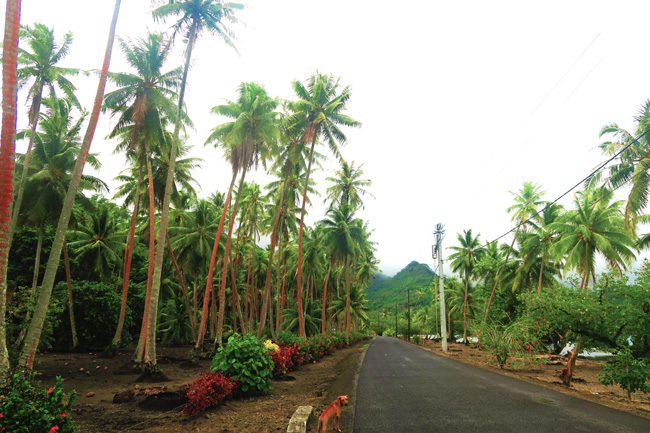 There is absolutely no public transportation in Tahaa. From the pier, your pension/hotel will likely pick you up and drop you off (free or for a small fee). Do it yourselfers can hire a car from Tahaa Locations Voiture for ~10,000F per day. There might be other small outfits renting out vehicles but you'll have to inquire when booking accommodation. In any case, roads in Tahaa are in very good shape, have PK markers indicating distances and there's really no problem driving on your own.
If you are traveling alone and/or don't want to drive around on your own – the best way to get around Tahaa is on an island tour. If you want to have the freedom of eating in the village – inquire if your pension is walking distance from such options.
Where To Stay In Tahaa?
Staying in or close to one of the villages means proximity to some kind of food option aside from your pension. I found the budget options to be very limited in Tahaa so expect to pay higher prices than on other islands for simple pensions. There are a few solid pensions on the island and two top-notch resorts. You might also be able to find Airbnb or couchsurfing options.
Here are a few honorable mentions along with a list of all Tahaa accommodations that can be booked online via booking.com.
Le Tahaa Island Resort & Spa
One of French Polynesia's top luxury resorts, Le Tahaa is the really the stuff dreams are made of. The resort is magically located on Motu Tautau, with one side facing Bora Bora and the other facing Tahaa. It's a great choice for both families and couples, offering you the chance to experience paradise while also being able to explore Tahaa and its lagoon.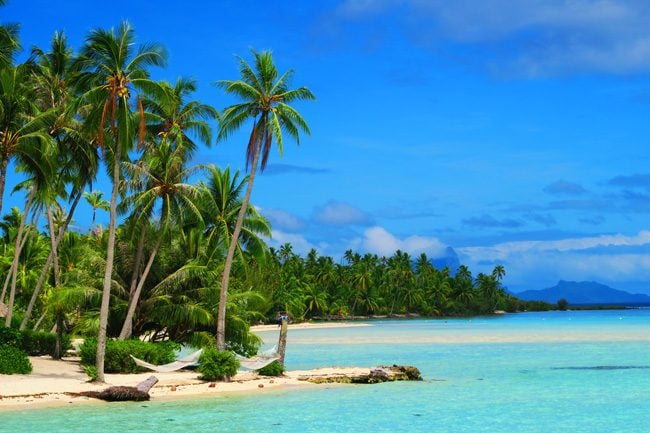 You can arrive at the resort in real 'style' on a helicopter ride, but chances are that a boat from the Raiatea airport or the Tapuamu pier in Tahaa will be your means of getting to paradise. Choose from a private beachside villa or an overwater bungalow. Whatever you go for will include all the modern comforts of a luxury resort with an exquisite traditional Polynesian touch. Rooms are air-conditioned, extremely pampering and offer absolute privacy.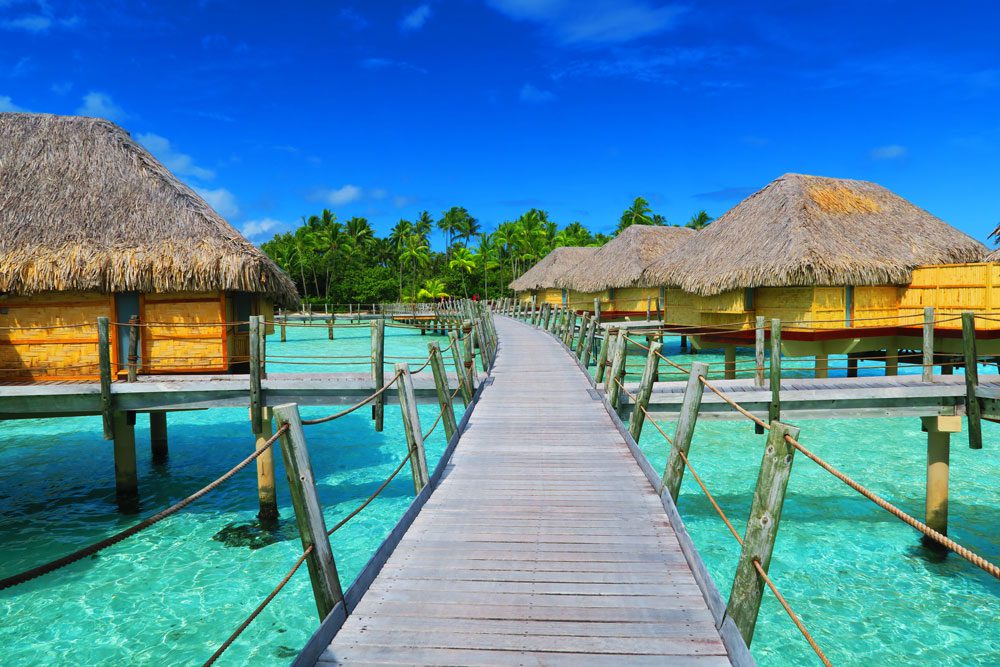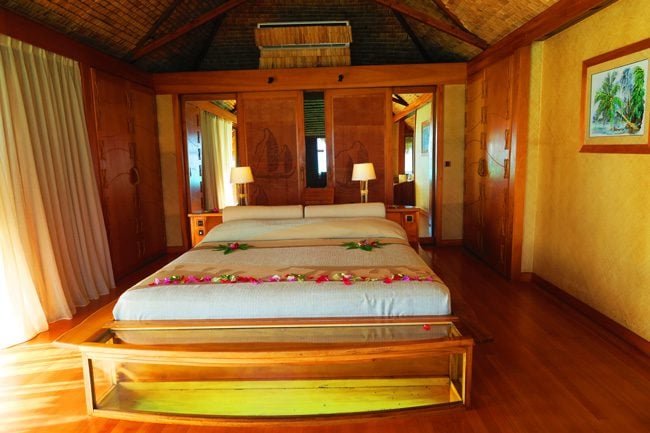 Children are welcomed at Le Tahaa and if they are under 12, they'll even stay and dine for free. Kids and adults alike will love the beautiful grounds, dotted with original palm trees and hammocks. The swimming pool is refreshing on a hot day and if that's not enough, head over to the spa for a Polynesian massage.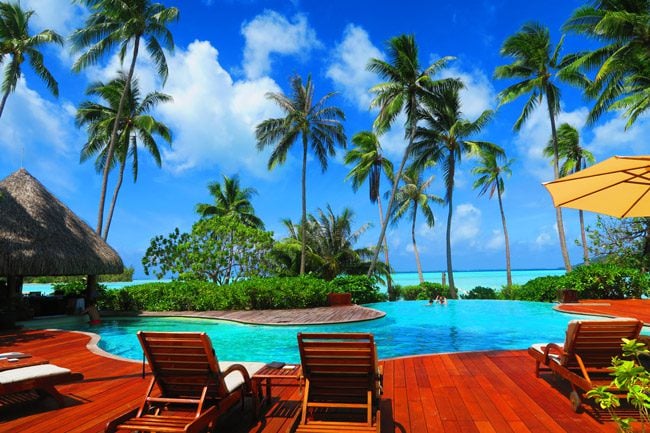 As I mentioned earlier, the best beaches in Tahaa are out on the motus. So Le Tahaa actually sits on one of the prettiest stretches of white sand you'll ever see. In the narrow channel that separates the resort from the neighboring motu, there's excellent snorkeling in an area known as the 'coral garden'.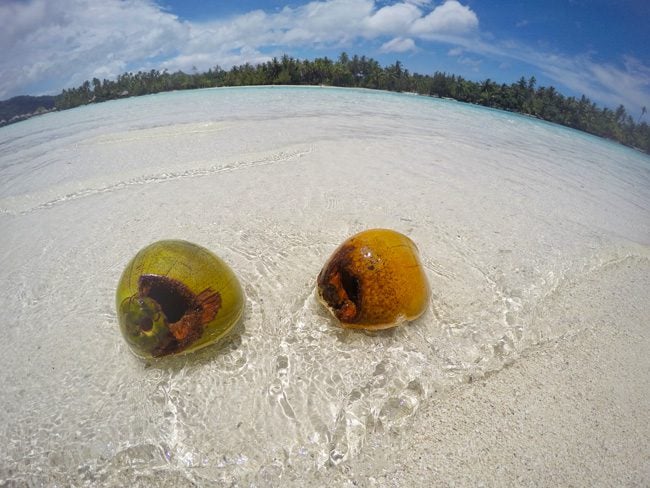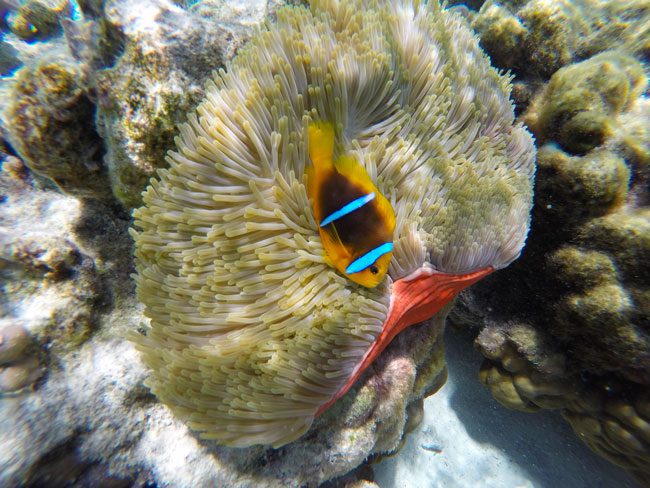 There's plenty more to this unique resort. Have a look at this review of Le Tahaa Island Resort & Spa!
La Perle de Tahaa
Located about 25-min from the airport by boat and car, La Perle de Tahaa is mountainside pension with an access to the lagoon on the other side of the road. Enjoy views of Bora Bora from the small beach area and restaurant in front of the guesthouse. The bungalows are well equipped with a beautiful Polynesian decoration. The pension's large bungalow category features an equipped kitchen and can accommodate up to for guests, perfect for families.
Pension Titaina
Located mountainside in the south of Tahaa in a very large garden, Pension Titaina features three spacious units ideal for families. Enjoy the exotic garden, a bicycle ride or a full day tour to Tahaa with the guesthouse when staying minimum of three nights. You will appreciate the delicious cuisine based on local products and the peaceful environment of the guesthouse. Small restaurants and a grocery store are located within 7km from the guesthouse.
Fare Pea Iti
Located on the north coast of Tahaa with magnificent views overlooking a string of islets and Bora Bora, Fare Pea Iti is a true piece of heaven. With only six units, this charming property with a well-tended garden, a swimming pool with gazebo, and a pontoon for easy access by the lagoon, is the perfect place for a romantic getaway.
Au Phils du Temps
This small mountainside pension is across the road from a pontoon beneath which you can snorkel. It has just two basic but comfortable bungalows set in the heart of a garden planted with Tahitian Gardenias and they come equipped with a Polynesian décor, pandanus roof and private bathrooms.
Diving & Snorkeling
There's good scuba diving off the east coast of Tahaa and Raiatea. Inquire with Tahaa Diving which just happens to be located in Le Tahaa Resort. For snorkeling, you'll have to somehow get to the motus (either by staying on one or visiting as part of a lagoon excursion from Tahaa or Raiatea).
Beaches In Tahaa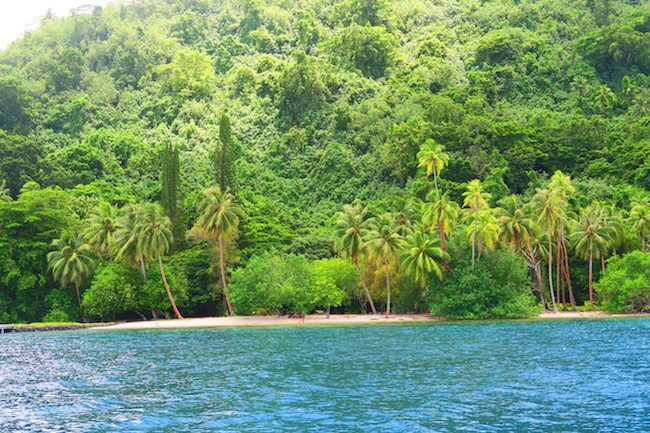 To get to those picture-perfect beaches in Tahaa you'll actually have to venture out to the small motus on the northern side of the island. On the main island itself, there's only Joe Dassin beach to speak of – a small sliver of white sand at the edge of a dense forest. You'll also need a boat to get to this beach as there are no roads leading down here…
Drinking Water In Tahaa
Definitely ask before drinking tap water in Tahaa.
Eating
There are a few very low key restaurants/snacks on the main island and a few food shops. Opening hours are strange so inquire locally. All pensions/hotels should offer half board for an extra charge (breakfast and dinner).
What To Buy In Tahaa?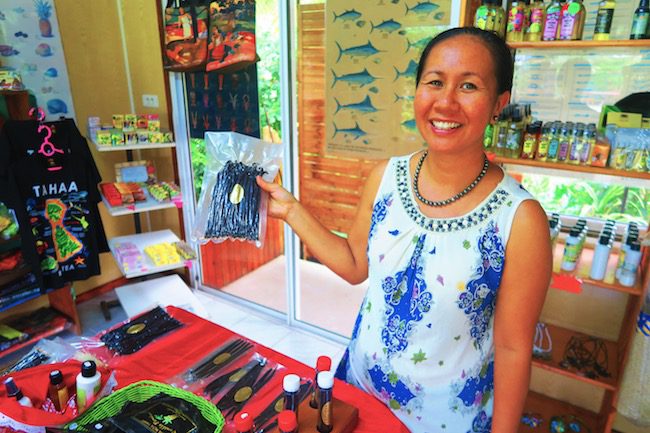 Vanilla, vanilla, vanilla! They don't call this place 'the Vanilla Island' for nothing. Don't expect it to be cheap, not even if you buy directly from the farmer. Prices are determined on an annual basis by all the growers and they are usually quite high. For about 4 sticks of vanilla, expect to pay 1,500F and up. You will have no problem bringing vanilla through customs, just be sure to declare. This makes a great gift for anyone who likes to bake. Local Tip: once opened, keep the vanilla in an upright position, in room temperature and with a few drops of rum at the bottom of a sealed glass container. There are also quite a few black pearl farms in Tahaa but I always recommend to do your pearl shopping in Tahiti.