Tahiti Island Travel Tips
Listed here are specific travel tips for Papeete and Tahiti Island to help with the planning stages of your visit.
Recommended Reading
How Many Days Do You Need In Tahiti?
Tahiti is a beautiful island, especially for nature-lovers. To really see the island of Tahiti, plan to spend at least three full days exploring the island. Have a look at these 24-hour, 3-day and 5-day Tahiti itineraries.
What To Pack For Tahiti?
Tahiti is a tropical destination, and as such – I recommend packing clothes that dry quickly and keep moisture (a.k.a sweat) out. Have a look at the X Days In Y Packing List for recommendations on what to pack for Tahiti based on my experience of island hopping for three months. Even during the dry season, always be prepared for rain, with a light rain jacket.
When Is the Best Time To Visit Tahiti?
Tahiti is best visited during the dry season (May – October), which is also the cooler season. Expect more frequent sunny days, a cool breeze, less humidity, and a need to put on a jumper in the evening. July sees the Heiva festival – a national celebration of Polynesian culture, August hosts the Billabong Pro surf championship, and whale watching is possible from July to October. That said – fear not visiting during the wet season (Nov – April) if you're coming for an extended vacation. There is a lot of rain, mountains often covered in clouds – but that's not the rule of thumb. I visited French Polynesian during the rainy season and all the photos you see were taken during this time. Bottom line: the dry season has much more calm & predictable weather, the wet season can be a bummer if you fall on a bad week.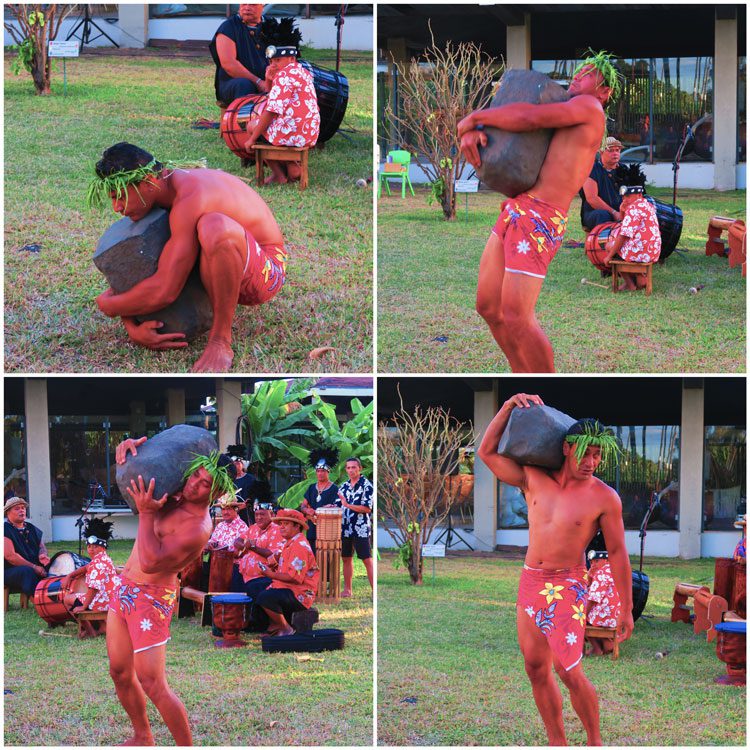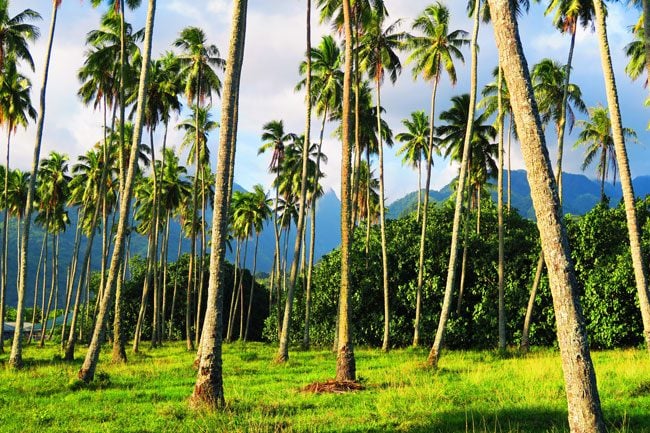 Tahiti Average Costs
Here's a breakdown of my costs from Tahiti during my first visit in 2015/6. I stayed at a hotel in central Papeete, ate mostly outside, rented a car for 3 days, and joined one organized tour.
Exchanging Money In Tahiti
The local currency in French Polynesia is the Pacific Franc (XPF) and you will no doubt need to get some. The easiest way is to withdraw cash when you land at the airport (check with your local bank what the withdrawal fees will be). However, if you need to exchange money, you have a few options:
At the airport: there is a currency exchange and an ATM at the Tahiti airport.
At your hotel: if you're staying at a proper hotel or resort, you should be able to exchange USD and Eur at the going exchange rate which is a pretty comfortable deal. The only catch is that you're limited to about 200€ per person per day.
At a local bank in Papeete: if you visit during opening hours, you can exchange major currencies such as USD, AUD, NZD, Euro, Yen, Pound, and Swiss Francs. However, there might be a limit of $460 per person per day (plus a fee of about $10). So it doesn't make sense if you need to exchange a lot of cash. If you are not traveling on your own, you can bypass the limit by coming with your travel party, since the daily limit is per person. Be sure to have your passport with you and be prepared to wait in line for a good 20 minutes or longer.
At an automatic machine: Banque de Tahiti operates an automatic foreign exchange machine at their branch just across the street from the tourist information center (just after the Vaima shopping center). The advantages of using it are that it's in operation all the time (like an ATM), fees are low (about 460F per transaction), and there appears to be a much higher limit (I exchanged $750 in one go). No ID required but keep in mind that the machine might be out of order and in no hurry to be fixed.
At a travel agent: travel agents in Papeete will even exchange large sums of cash. They do charge a fee but if the banks won't exchange for some reason (and this does happen), this is the best option.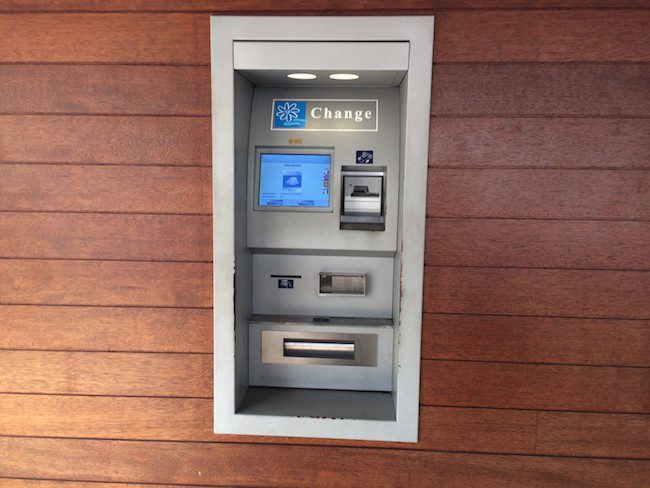 Getting Around Tahiti
Getting around the island:
By bus: Tahiti is the only island in French Polynesia with 'proper' public transportation. Lines serving the oceanside villages commence just behind the Banque de Tahiti and run on (somewhat) set schedules starting very early in the morning (not sure about Sundays). Fares start at 200F, which will get you to and from the airport. I used the bus quite a few times to get from Papeete to the airport. It will take about 20-30 mins. An exact fare is not needed.
By taxi: taxis are notoriously expensive in French Polynesia. The short ride to and from the airport to Papeete will start at 2,000 XPF and you'll add a few hundred Francs per piece of luggage. The rate jumps to 3,800 XPF in the evening hours. Trips to other parts of the island can be quite expensive. You can expect to pay a minimum price of 2100F to get by taxi from the airport to central Papeete.
By car: renting a car in Tahiti (and in French Polynesia), is an expensive affair. Expect to pay between 4000-10,000F per day, depending on the rental duration and transmission (manual or automatic). Always check if basic insurance and unlimited mileage are included. Avis Pacific Car offers a new fleet of cars, excellent customer service, free pickup & drop off, and also has a branch in the center of town. They'll also refund any unused days in your contract and offer prepaid wifi hotspots within your car. Eco Car & Tahiti Easy Car are located right outside the airport and offer rentals at lower rates. They'll also offer free pick up and drop off for certain accommodations. Newcomers Hertz Tahiti and Tahiti Auto Center are also options for renting a car or scooter in Tahiti. If you're over 70, you might be asked to show medical proof that you're able to drive so plan to get this document from your doctor.
By Scooter: no special license is currently required for renting small scooters in French Polynesia. If you're comfortable with the risk, some car rental companies also offer scooters for rent.
By foot: only visiting Papeete? The city, more like a town, can easily be explored on foot.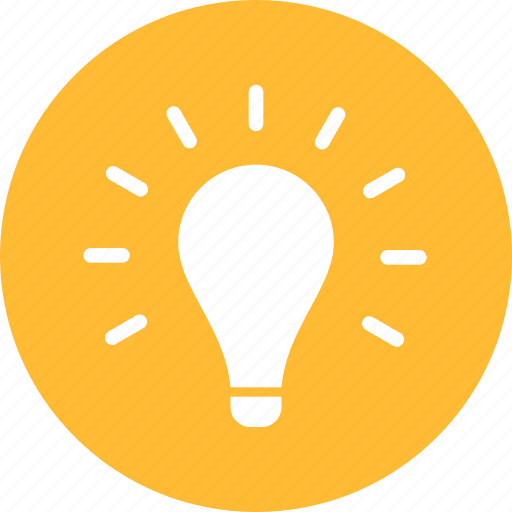 Pro Tip
I highly recommend exploring the island of Tahiti – there's lots to see around the coast. The best way to experience the island is by renting a car and driving around at your own pace. The road around Tahiti Nui is about 120km's, with Tahiti Iti being much smaller but impossible to completely circle by car.
Driving In Tahiti
Driving in Tahiti is fairly easy once you get out of the endless traffic jams of Papeete. Outside the city, a highway extends for a few kilometers, before turning into a rural road (you'll hardly drive faster than 70 km/h). Roads are in good condition and all points of interest are clearly marked. As on many islands in French Polynesia and France – Tahiti uses the PK markers, measuring road distance from Central Papeete and Taravao. You'll see these markers on the roadside.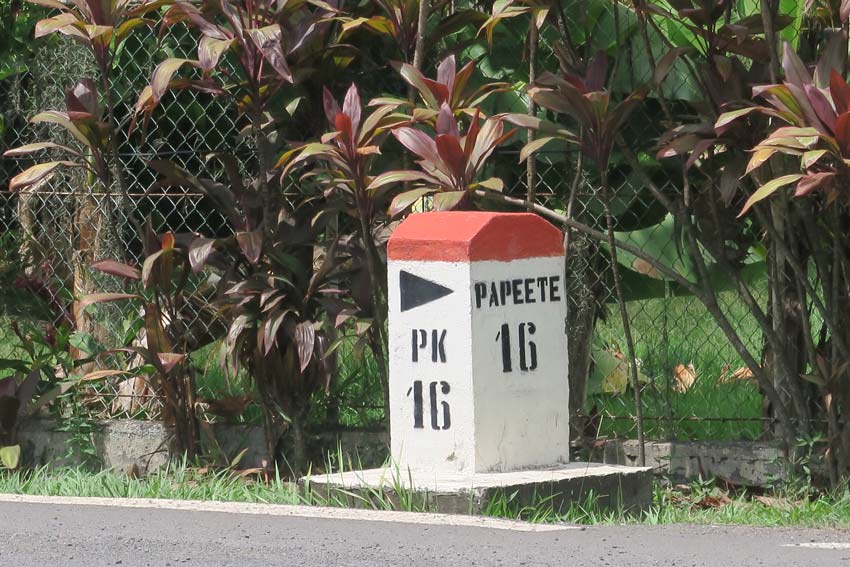 Taking The Ferry In Tahiti
You can fly to nearly every inhabited island in French Polynesia from Tahiti. The international airport in Faa'a also has a small domestic terminal dominated by Air Tahiti (see the French Polynesia travel guide for more information on domestic flights within French Polynesia). When it comes to taking the ferry in Tahiti, a large terminal in the center of Papeete mostly serves the route between Tahiti and Moorea. Two companies serve this line, Aremiti with its large boats and Terevau with their smaller but slightly faster catamarans. Crossings take about 30 minutes and run several times per day, though much less frequently on Sundays.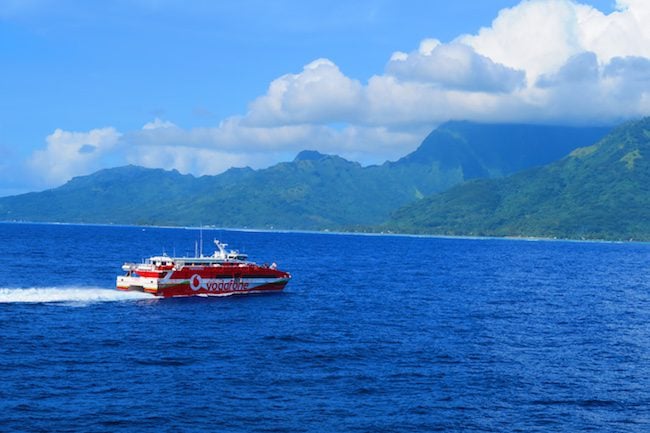 Beginning in 2021, Aremiti launched a new route that serves Huahine, Bora Bora, Raiatea, and Tahaa in the Leeward Islands group. Three times per week, a boat will depart Tahiti and reach Huahine about three and a half hours later, then continuing to the other stops (about eight hours to reach Bora Bora taking into account all the stops). Note that the return leg will take longer due to the prevailing winds. In a couple of years, Aremiti will receive the Apetahi Express, a much faster boat that will reduce travel time. Terevau is also set to compete on this route. This is great news for both locals and tourists as the trip should cost half the price of an equivalent plane ticket (albeit taking much longer).
Sundays In Tahiti
Pretty much everything is closed on Sundays in Tahiti. However, the Papeete Market has a special 'Sunday edition', starting very early and running until about 9 am. Only the food stalls are open and they spill over to the streets outside the market. Grab your breakfast outside and head inside for some sugar cane juice – only available on Sundays!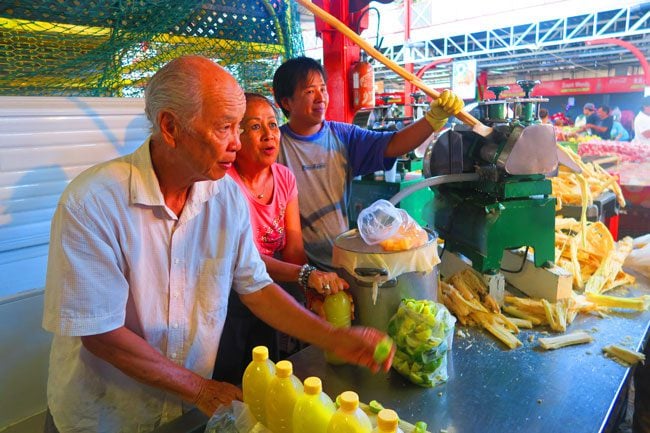 Drinking Water In Tahiti
Water is safe to drink in Tahiti and Papeete but it's best to ask at your accommodation. It is the big city after all.
WiFi & Mobile Data In Tahiti
Both Vini and Vodafone have good mobile coverage in Tahiti. Vodafone has less wait time in their office but Vini offers better coverage in the outer islands. Free WiFi should be available in all accommodations and most restaurants.
Safety In Tahiti
Tahiti is a very safe travel destination but it is also home to less fortunate Tahitians, some arriving from other islands with failed hopes of finding a job in the big city. Papeete is safe during the day but certain parts should be avoided at night. Inquire at your accommodation. If staying in Airbnb's or pensions, it's best to lock your room and windows when you're out.
Tourist Information Center
The friendly staff at the local tourism office can really help you with sorting out your visit to Tahiti and the outer islands, share useful maps and equip you with brochures. The tourist information center in Papeete is currently located at 91 Boulevard Pomare.
How To Save On Costs In Tahiti?
Ways to save:
Use public buses whenever you can. If you land or depart at a reasonable time, and just carry a backpack – taking the bus to and from the airport is super easy.
Have a look at Airbnb and Couchsurfing options. There should be plenty of those.
Don't discount those tourist maps and brochures at the tourist office! They will have a few very useful coupons (like X% of car rental).
Doing some shopping? There's lots of competition among Papeete shops catering to tourists. Take your time and compare prices. Keep in mind that bargaining is not customary in any South Pacific Island. Don't forget that some items qualify for a tax refund upon your departure or even on the spot.
Have your (breakfast and) lunch at the Papeete market and your dinner at the roulottes at Place Vaiete (food trucks).
Drink tap water. It should be perfectly safe, just double-check.
If opting to stay at resorts, some offer a free night if you stay for more than two nights.