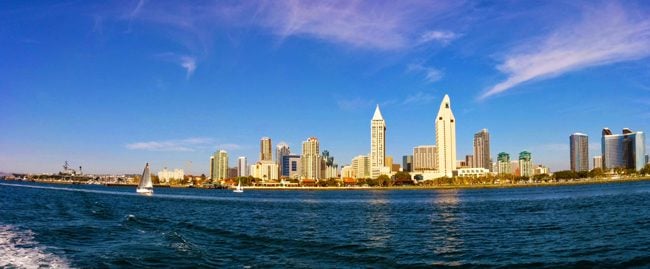 A big city with a small town feel, San Diego packs in fun for any type of visitor. Miles of golden beaches and good surf, a ton of history, great nightlife and the best weather money can't buy – San Diego will make you start thinking of moving.
✓ Be sure to also check out the top 10 things to do in San Diego!
On the backend of a business conference in late February, I had the pleasure of making up for some lost time with the sun and spend 3 days in San Diego, to explore this part of Southern California (I live in 'tropical' Dublin, Ireland). Though it's the 7th largest city in the entire United States (and #2 in California behind Los Angeles), San Diego has an easy going vibe to it.
Sure, it's got those skyscrapers that most American cities have, but also a real small town feel to it. Perhaps it's because of the miles of golden beaches that stretch on its western edges, drawing people away from the city center and into beautiful seaside communities that'll make you want to move here in a heartbeat. 
I found San Diego to be incredibly clean (kudos Mr. or Mrs. Mayor) and incredibly fun. There's a ton of history here too, attractions for the whole family and not to mention fine weather all year round. It's no surprise that San Diego is a popular destination for beach lovers and families alike. Did I say fine weather? Look at New York City from 30,000 feet en route from San Diego – ooooouch!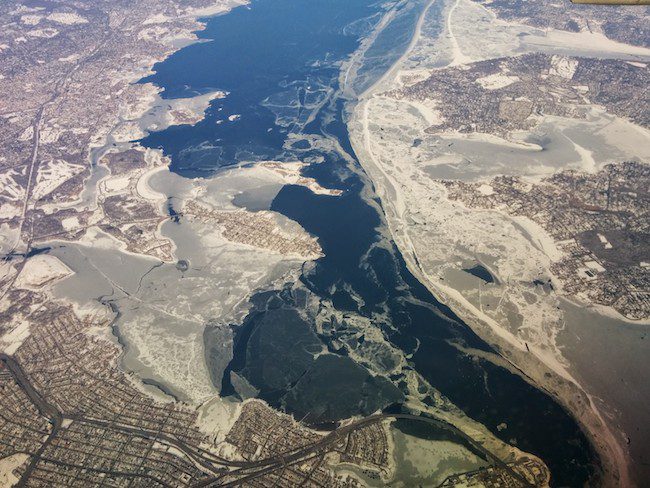 San Diego is also a Navy town with a very strong presence both on the ground, at sea and in the hearts of local folks. It's also the filming location of one of the greatest motion pictures ever to be made – Top Gun! I apologize in advance for anecdotes to the movie here and there throughout this guide.
So if you're kind of convinced by now but still wondering what is there to do in San Diego for 3 days? You've come to the right place. I hope you will find this 3 days in San Diego travel itinerary helpful and please free to add your comments. 
You can also check out this list of top 10 things to do in San Diego
What's Included in this 3 Days in San Diego Travel Itinerary
Day 1: Balboa Park, San Diego Zoo, Downtown & The Gaslamp District [Skip to Page]
Day 2: Old Town, The Midway & Coronado [Skip to Page]
Day 3: La Jolla, the beaches, Cabrillo Point & Point Loma [Skip to Page]
San Diego Travel Tips
Don't leave home without the Lonely Planet Guide to Southern California, only $14 on Amazon! It's got load of info about San Diego, Los Angeles, and everything in between. Together with this guide, will be your best friend on your visit to San Diego.
San Diego International Airport is just a 10-minute drive from downtown. A taxi will cost you about $15 and you can also grab a bus for much cheaper than that (check here).
Weather in San Diego is pleasant all year round and even if you're visiting in the winter months, don't be shy and bring those shorts with you just in case (and definitely sun glasses).
Though San Diego is a pretty laid back town, you're still in Southern California, so if you plan on going out at night, have some decent clothes with you as some bars have a light dress code.
San Diego's charm lies within its bay and though there are tons of hotels inside the town, try and stay around the waterfront (especially if you enjoy a morning run).
San Diego has a pretty good public transportation system of trolleys and busses (check here for daily pass options). However, if you're planning to check out the beach towns, and I strongly recommend you do, a car is kind of necessary.
As always in the US, pretty much add 20-30% to any price you see to account for tax and tips.
3 Days in San Diego Travel Itinerary Map
Click on the map to open in Google Maps: