Ia Orana, welcome to paradise! A trip to Tahiti and French Polynesia is something you'll never forget. With 118 islands stretching across a chunk of the South Pacific Ocean the size of Western Europe, it's important to pick and choose the right islands for you. Here's a sample 10 days in French Polynesia itinerary, which offers a few combinations of islands to choose from.
* Cet article est disponible en français *
I spent three months in French Polynesia while backpacking across the South Pacific Islands and have since returned on four additional visits. While no two islands are the same, it's key to avoid trying to see too much. This is paradise, after all, so leave plenty of time for relaxing. Independent travelers to French Polynesia will discover that there's way more to this destination than just luxury resorts. It all depends on you. This 10-day Tahiti and French Polynesia itinerary will focus on the "classic" route of Tahiti, Moorea, and Bora Bora, plus a few additional stops that can be added to your island-hopping journey.
Heading off to French Polynesia? In-depth island guides to all 5 archipelagos await you, including sample itineraries and essential travel tips & tricks.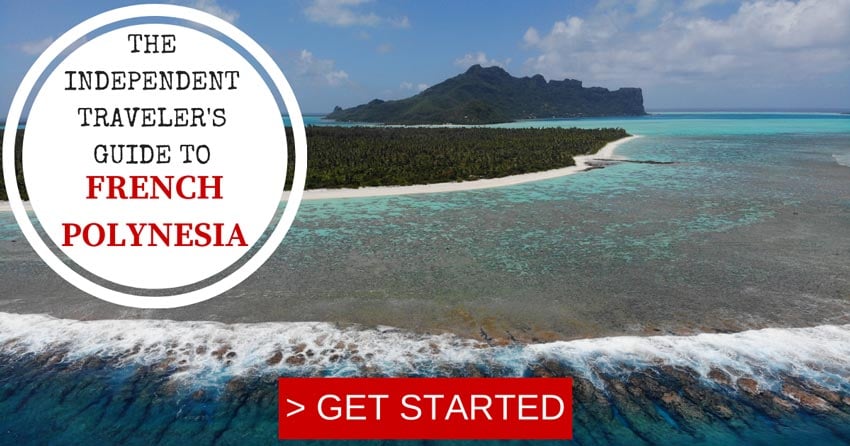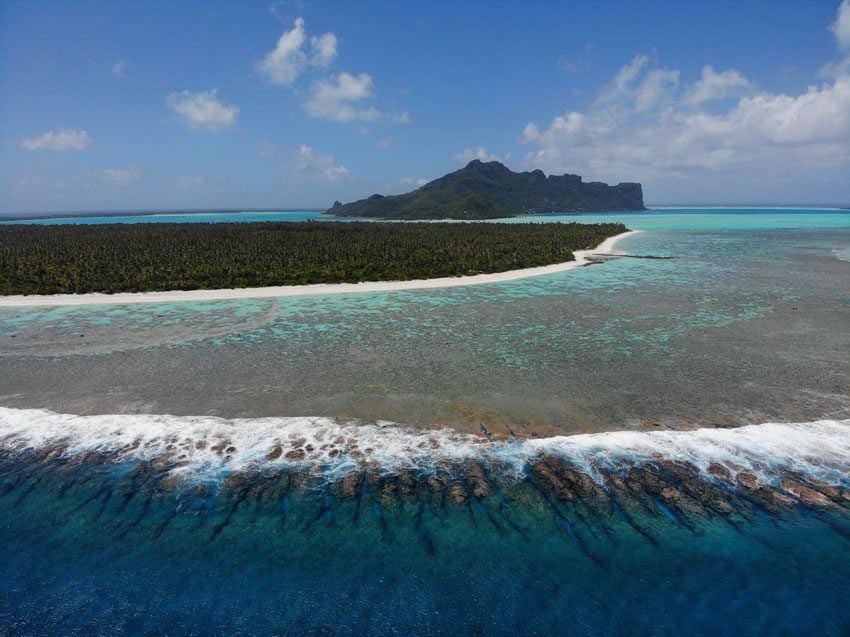 Tahiti, Tailor Made!
The Islands of Tahiti are among the last places to be colonized by mankind, 118 islands, each with their unique personality.
Get expert advice and assistance with planning your trip to the destination where tropical dreams come true!
See Options
Video Tour of the Islands of Tahiti
Here's a relatively lengthy but (I guarantee) enjoyable video that takes you across all five archipelagos in French Polynesia. You might need to disable your ad blocker for the video to load.
---
Part 1: Papeete, Tahiti (1 Day)
Tahiti is your gateway to paradise, and though deserving more than just a single day, you aren't here for a very long time. I suggest spending the night in or around Papeete for easy access to the city, airport, and ferry terminal to neighboring Moorea. I'll share a few options for how to spend one day in Tahiti.
Where to Stay in Tahiti?
Most of the recommended places to stay in Tahiti are in and around Papeete. If you choose to stay outside of Papeete and not in one of the places listed below, double and triple check the location of the accommodation as some places are located in the mountains. Such accommodations might have great views but will require having a car.
For a luxury stay in Tahiti, the best resorts are the Hilton Tahiti and the InterContinental Tahiti Resort. They're both located on the sunny west coast, perfectly situated to offer the best sunset views in Tahiti with a breathtaking panorama of Moorea. Next door, the Sofitel Tahiti Ia Ora Beach Resort and the Manava Resort in Punaauia are good options. On the other side of Papeete, en route to the east coast, the Le Tahiti by Pearl Resorts is another solid option.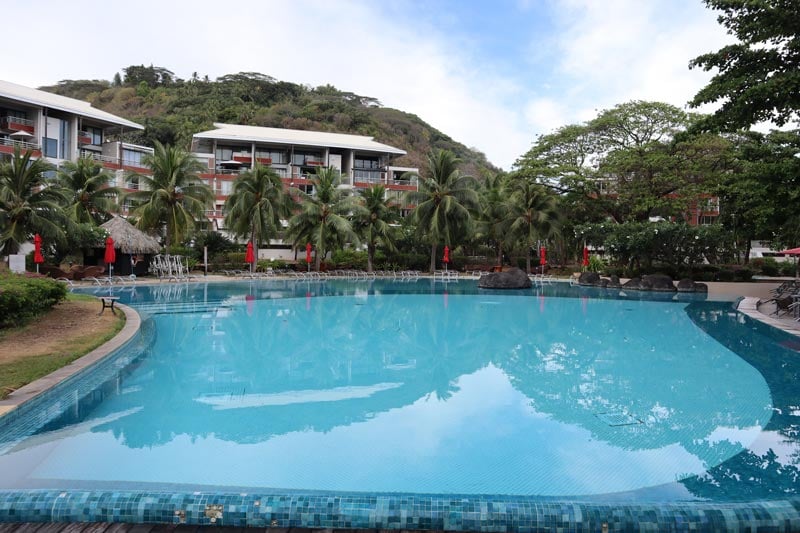 If you prefer to stay at hotels in Papeete, the Tahiti Nui Hotel or the Sarah Nui Hotel are your current options. The former is the best hotel in the city, located within a short walk of the central market and evening food market in Place Vaiete.
For a pension stay, the best in Papeete is by far Fare Suisse. They offer free transfers to/from the airport or ferry terminal, the breakfast is amazing, and the rooms are very well-furnished. Slightly out of town, along the west coast, Pension de la Plage and Relais Fenua are recommended options.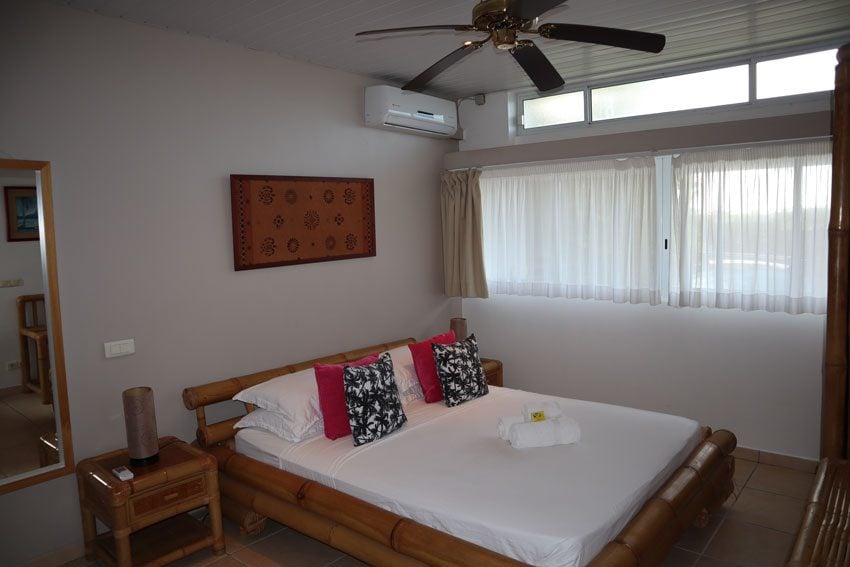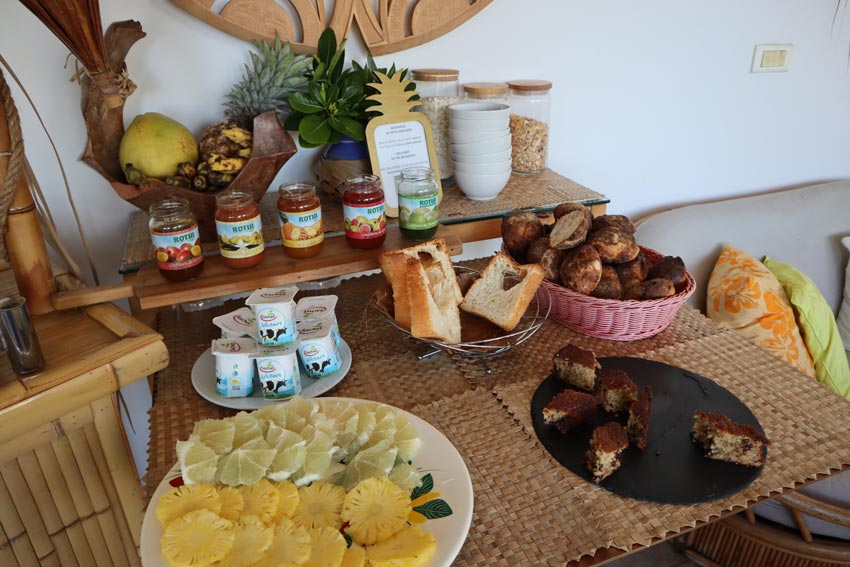 Backpackers and budget travelers in Tahiti can check out Fare Rea Rea or Mahana Lodge Hostel. There are also many more options on Airbnb.
Here's a list of all Tahiti accommodations that can be booked online.
Option 1: Papeete Walking Tour
Start your morning with a visit to Papeete Market – the most colorful market in the South Pacific. Shop for anything from black pearls to sweet mangos, and enjoy the exotic vibe.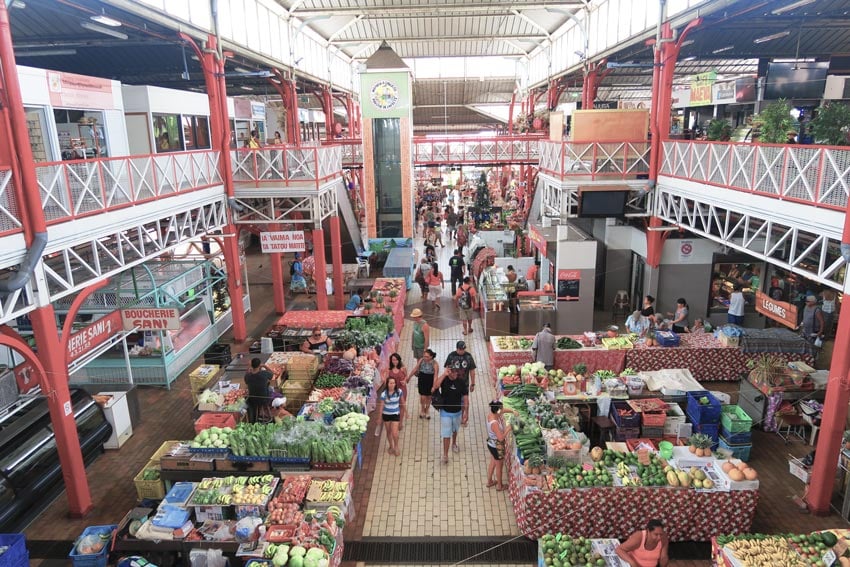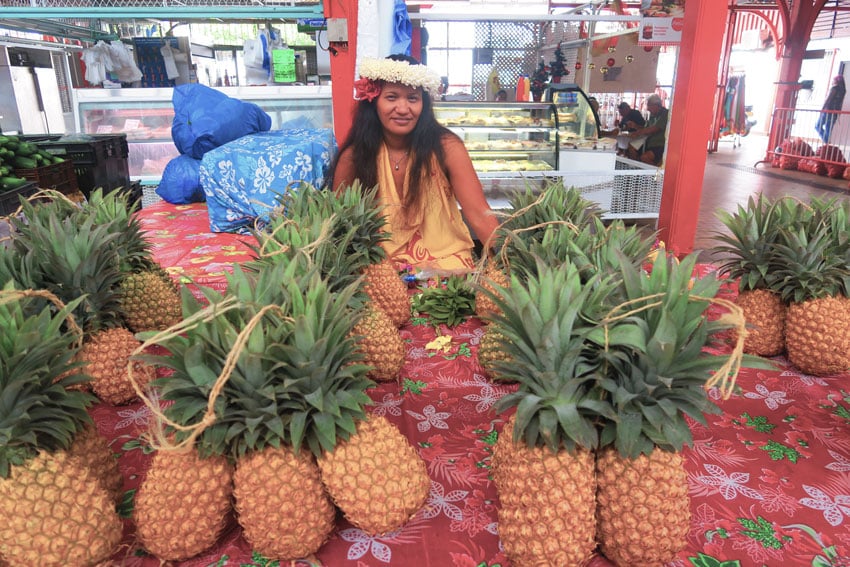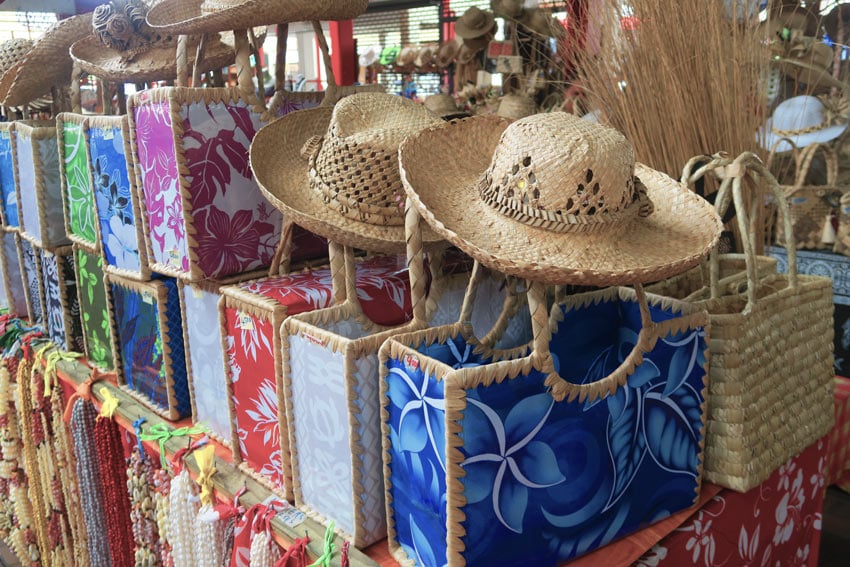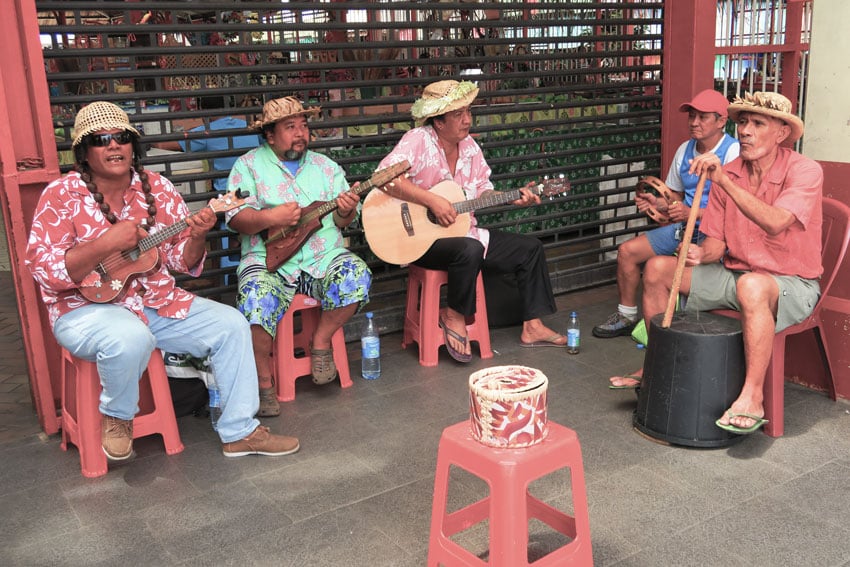 Here's a quick tour of the Papeete market.
In the afternoon, head on a walking tour of Papeete, checking out its colonial-style buildings, charming cathedrals and laid-back waterfront. Head to the Robert Wan Pearl Museum and grab lunch in the new waterfront boardwalk or in the heart of the city.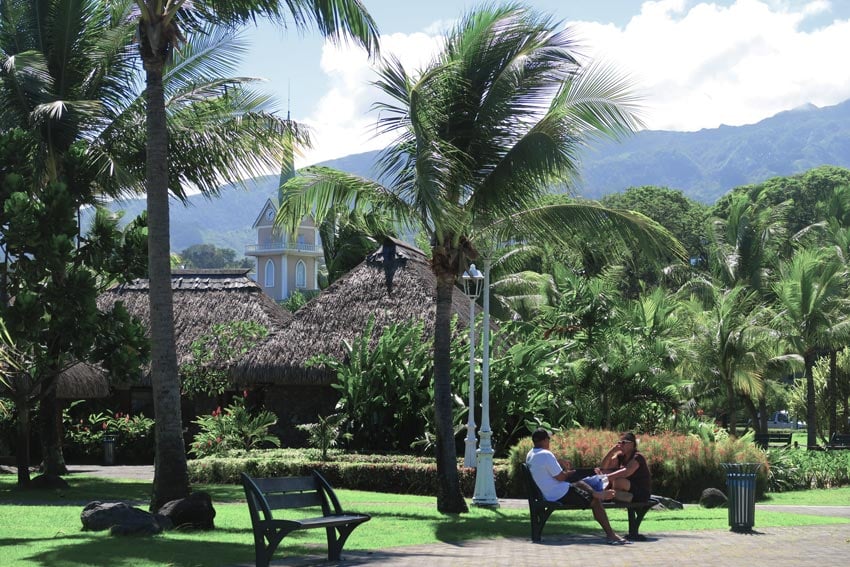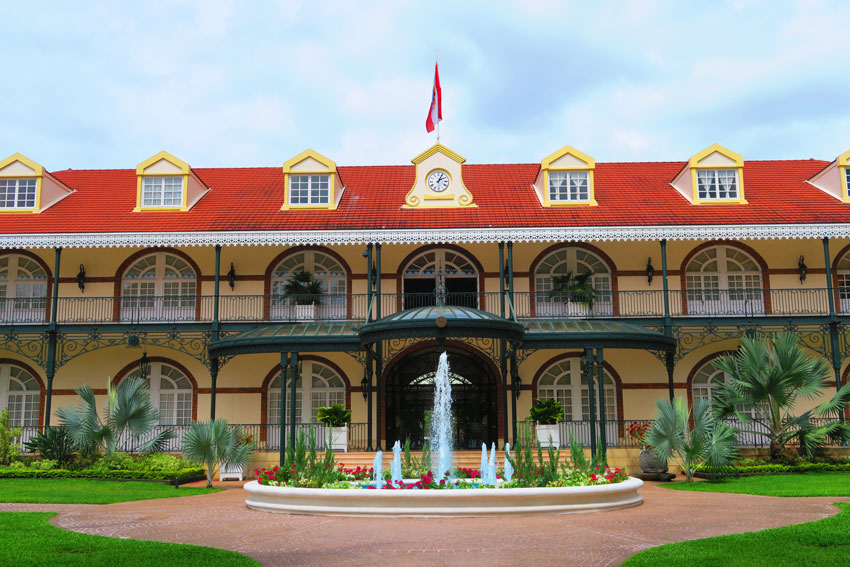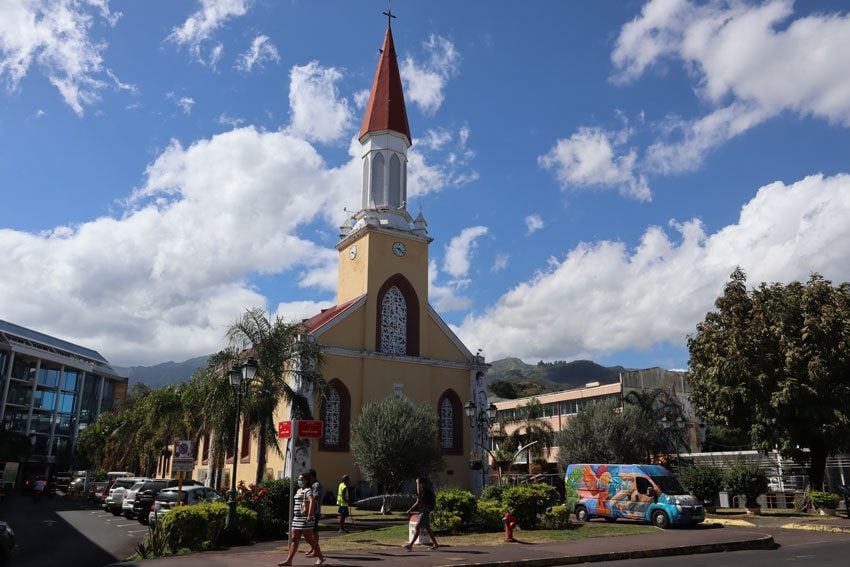 For dinner, head to Place Vaiete and experience the cuisine of the legendary roulottes. Tahitians love to eat out, and these food vans serve large inexpensive portions of local food, Chinese classics, and even French crepes! After dinner, go for a drink in one of Papeete's bars or check with your hosts if any traditional Polynesian dance shows are happening in one of the resorts.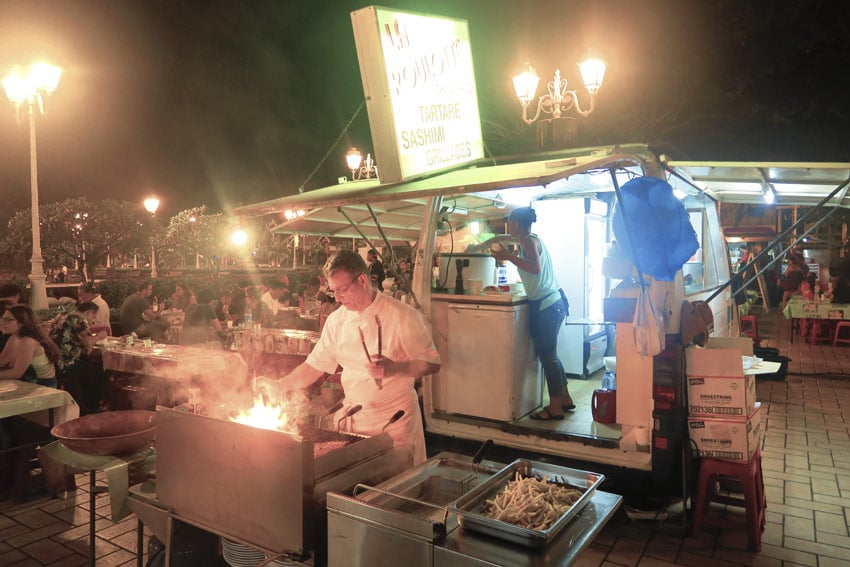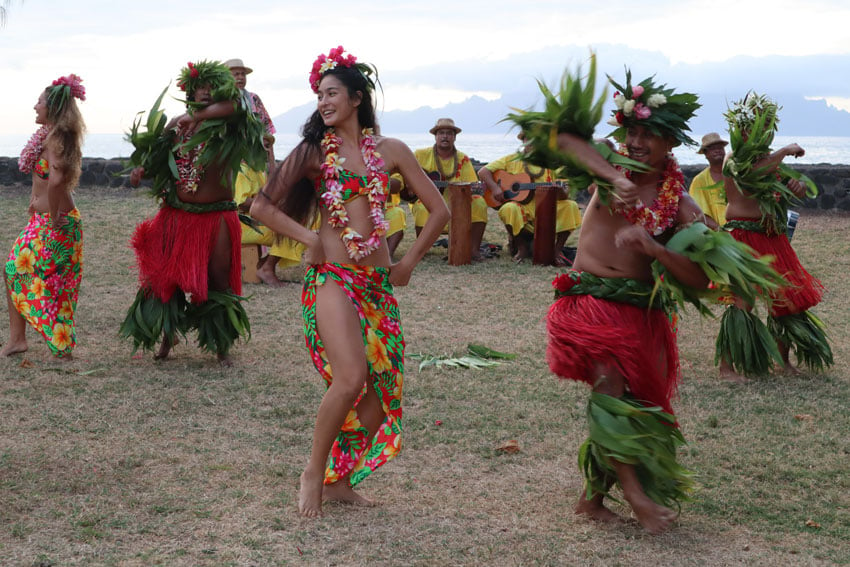 Option 2: Roadtrip Around Tahiti
Guided or with a rented car, spend your only day in Tahiti exploring the coastal areas of the island. Several itineraries exist but I recommend hitting the road early and driving from Papeete to Teahupo'o. On the way, you'll stop at ancient ceremonial sites, botanical gardens, black sand beaches, and eventually drive until the road ends in the surfing capital of Polynesia.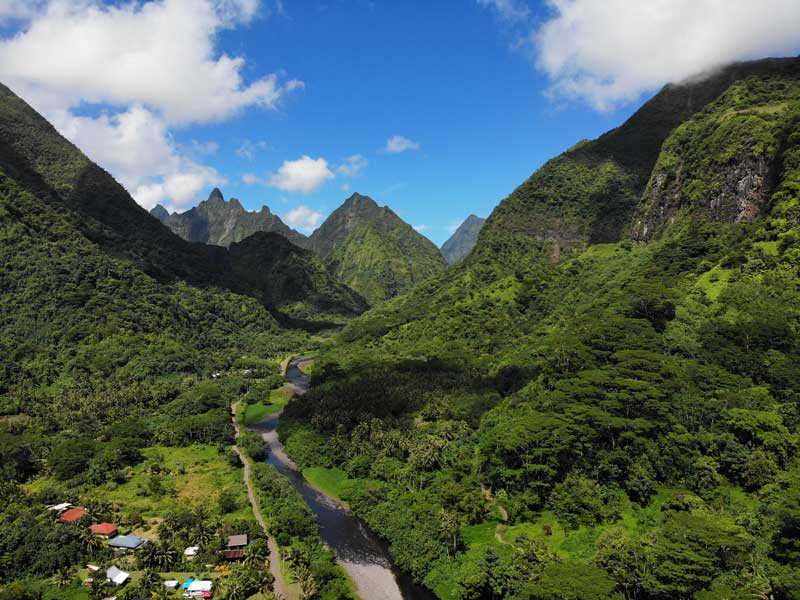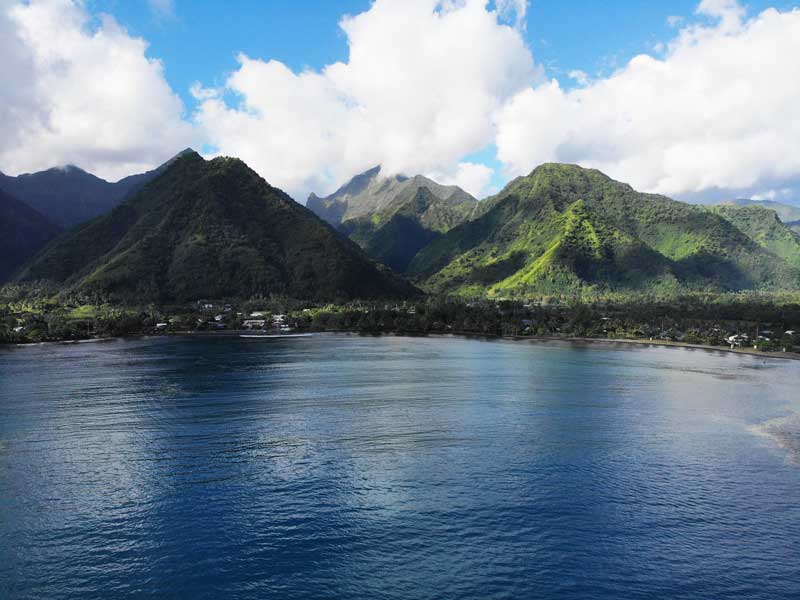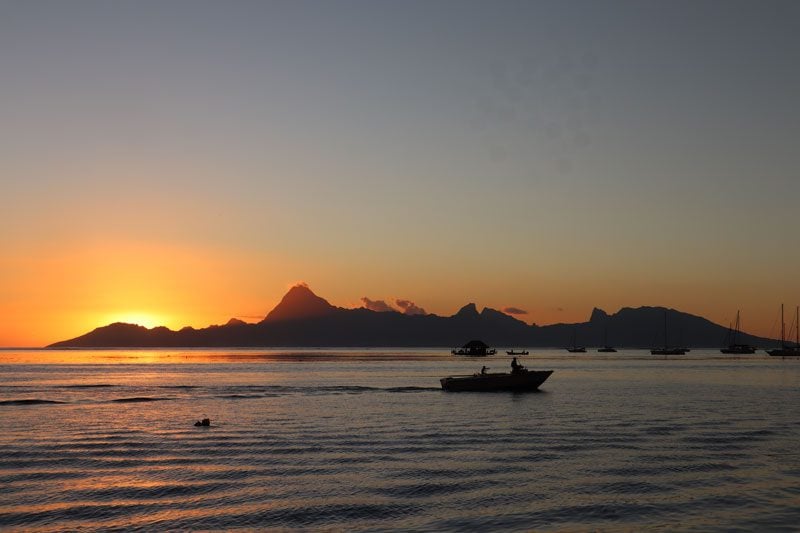 Option 3: Papenoo Valley 4X4 Tour
If you've imagined Tahiti to be filled with giant waterfalls cascading down from lush volcanic peaks – imagine no more! Venture into the uninhabited interior of Tahiti and you'll never forget this day. The drive takes you along the Papenoo River, crossing streams, climbing up to gorgeous vistas, and down to waterfalls that are straight out of a magazine cover. If you opt for the full-day tour, you'll also visit the secluded Lake Vaihiria. This is paradise folks, and there's hardly anyone around to share it with! This trip has a half-day and a full-day version. I recommend booking the full-day experience with Olivier Lenoir from Ia Ora Na Tahiti Expeditions (tell him Avi from Israel sent you).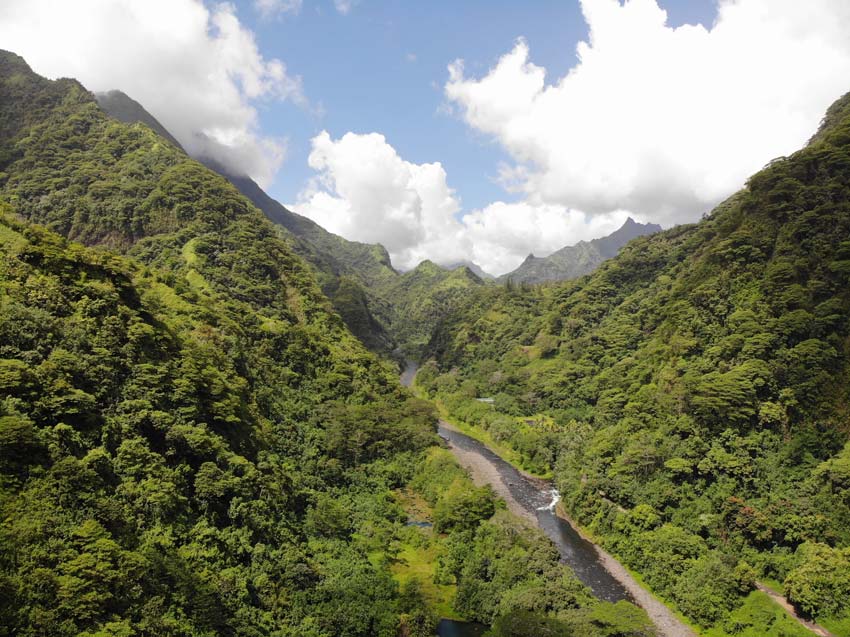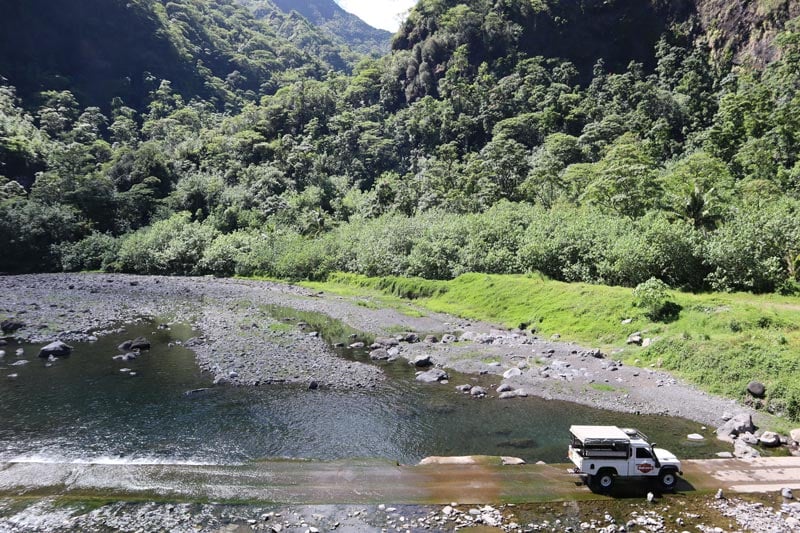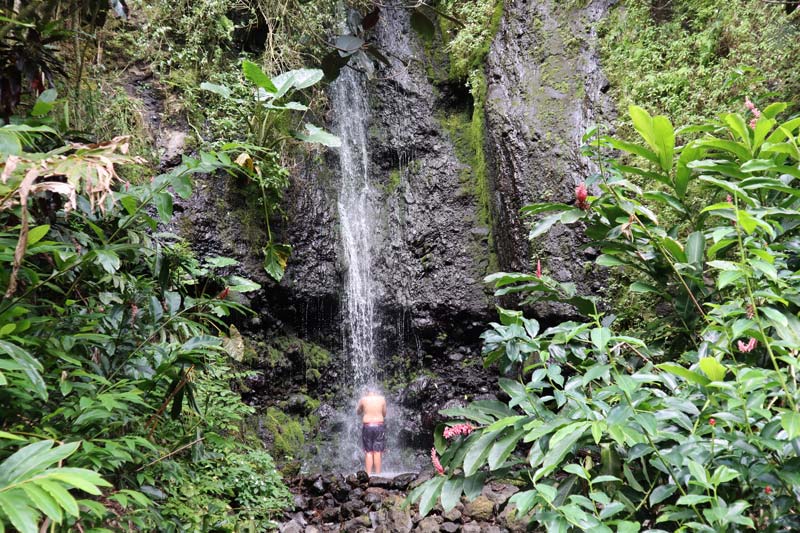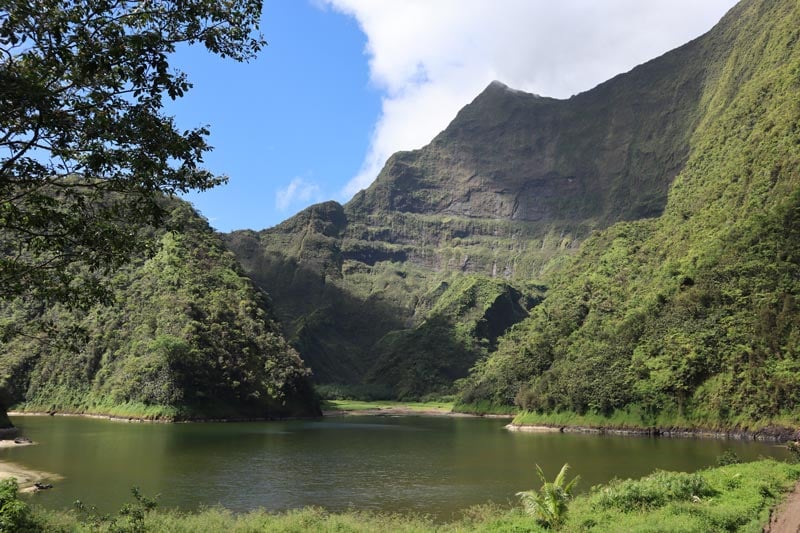 Part 2: Moorea (3 Days)
Moorea is just 30 minutes by ferry from busy Papeete. Once you land on its shores, you finally start to fully unwind and adjust your biological clock to "island time".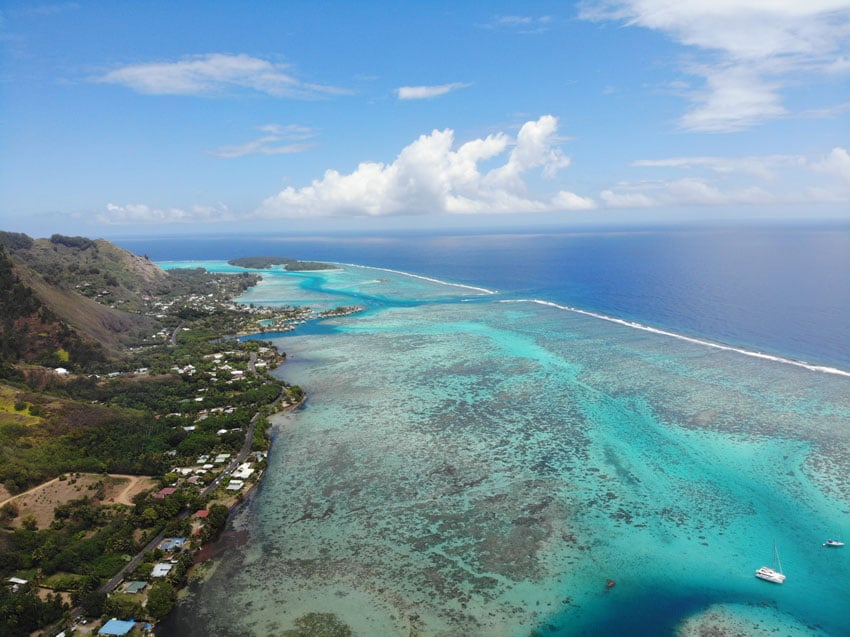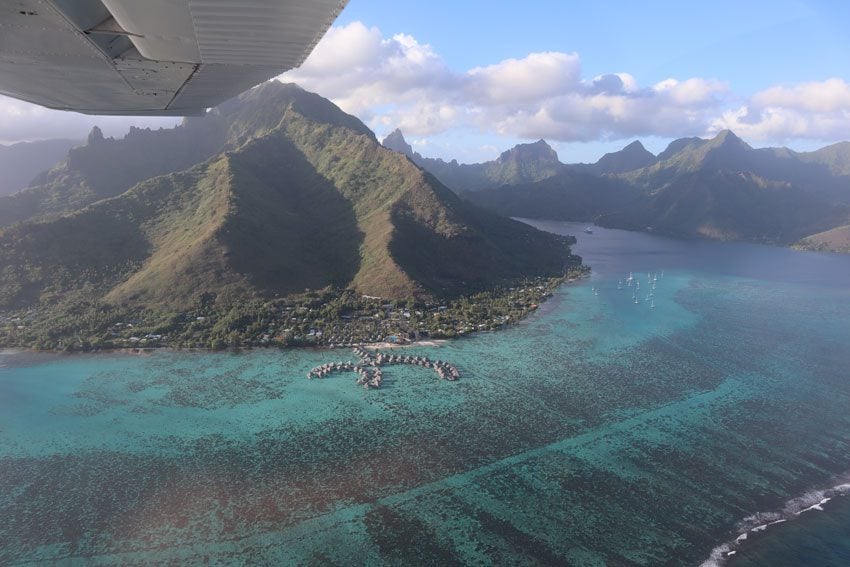 Where to Stay in Moorea?
Moorea is one of the most visited islands in French Polynesia and as such, it offers a wide range of accommodations to suit all budgets. If you're not planning to stay at a resort, it is highly recommended to book well in advance to avoid having to settle for a place without much value for money (and there are those as well in Moorea). This is especially true during the high season (June-September) and local school holidays.
The best part of the island to base yourself at is somewhere between Haapiti and Papetoai. Here, the lagoon is wide and the sunsets are to die for. Avoid the south end of the island as it lacks any major attractions or dining options.
Here's a list of all Moorea accommodations which you can book online.
Resorts: the Hilton Moorea is the best resort on the island. It's currently the only five-star resort in Moorea. It's located at the foot of Mount Rotui and offers splendid views and good snorkeling. Next up is the Sofitel Moorea which will soon upgrade to a five-star category. It's located on the east coast on sandy Temae Beach. After the closure of the InterContinental Moorea in 2020, the Manava Beach Resort is the remaining option. It's conveniently located just outside Maharepa, the largest village in Moorea. At some point, the grounds of the former InterContinental will house a new resort.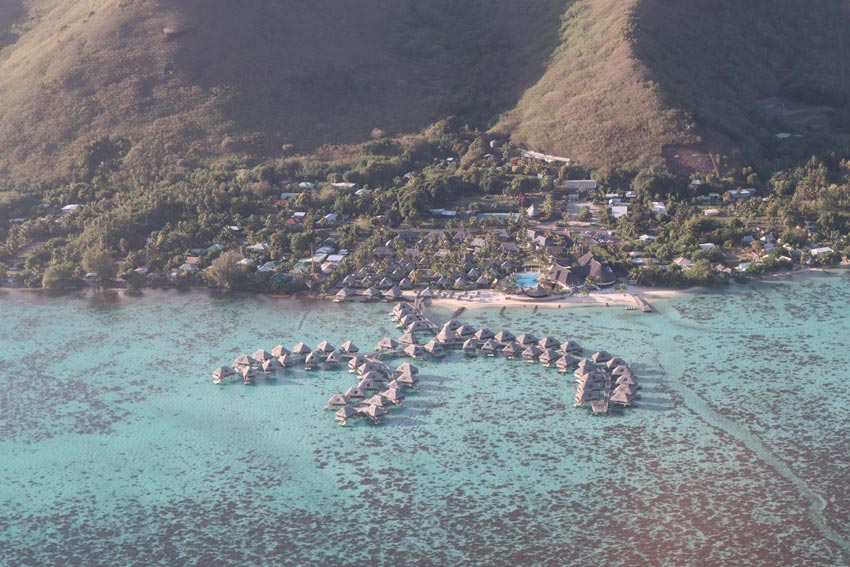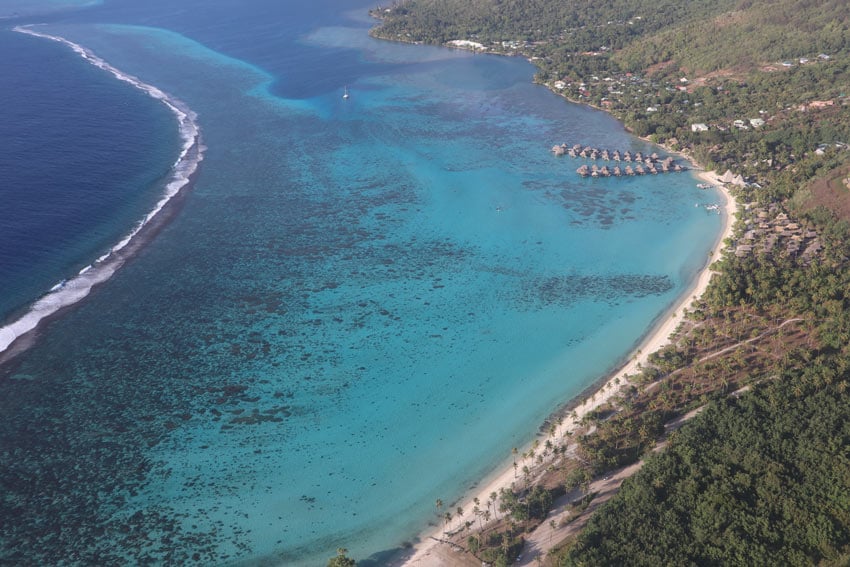 Pensions: there's a large selection of pensions and beach lodges in the prime areas of the island. Pensions range from simple accommodation to pampering "boutique" style lodgings. My top recommendations include Moorea Beach Lodge, Moorea Island Beach, Moorea Green Lodge, Pension Poerani, and the family-friendly Linareva Resort (not actually a resort). Unlike pensions on other islands, most of Moorea's pensions do not offer half-board stays so you'll need to go out for dinner.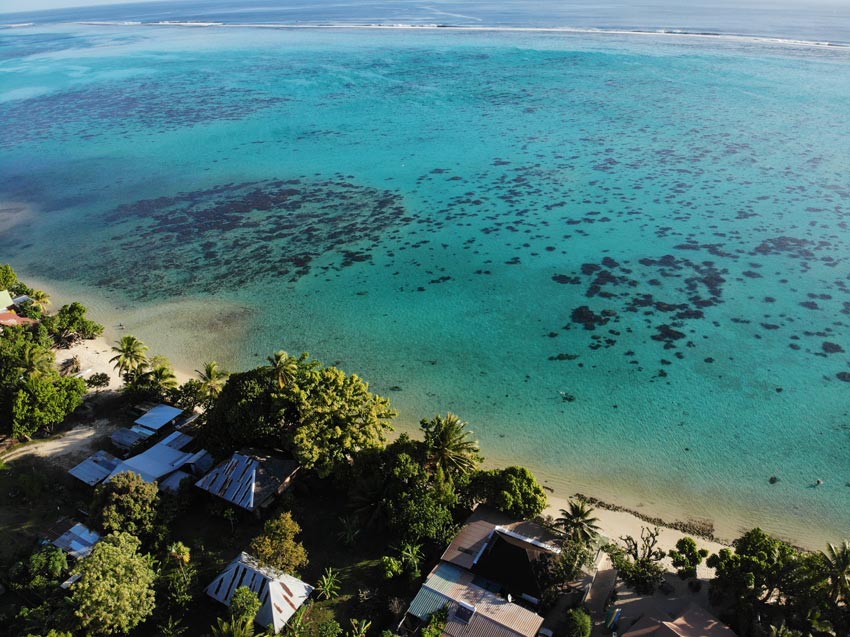 Hotels: this rare category is somewhere between a resort and a pension in terms of offered services. In Moorea, the Hotel les Tipaniers is the best choice. It's popular with families and lies on arguably the best public beach on the island. It has a beach restaurant, a dive center, and boat rental. The twin islets (motu) are just a short kayak paddle away. The beach is great for swimming, snorkeling, and kitesurfing. Another option is Hotel Hibiscus which offers both garden bungalows as hotel-style rooms.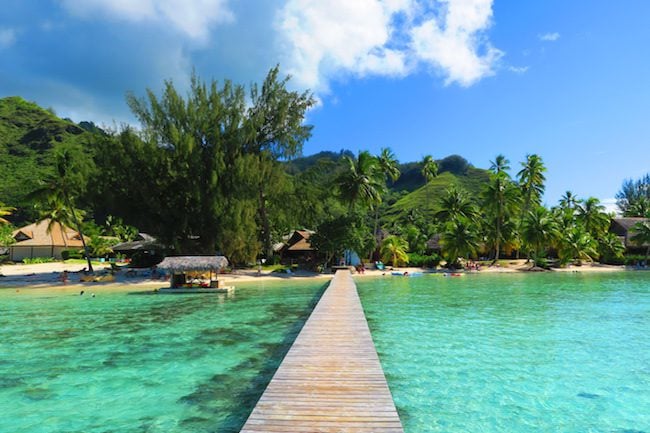 Self-catering & Airbnb: you'll find plenty of vacation rental units around the island but do your due diligence before as some photos are deceiving. Remember the important factors: location, privacy, proximity to the lagoon, and the availability of Wi-Fi.
Camping & Backpacker: there's a growing number of establishments that offer dorm room stays for backpackers in Moorea. Check out the dorm room at Pension Motu Iti, ideally located between the two bays. Another option is at Camping Nelson, both for dorm room stays and for pitching a tent. This place is slightly out of date but there are lots of dining and grocery options nearby.
Here's a list of all Moorea accommodations which you can book online.
Sightseeing in Moorea
The best way to explore Moorea is with your own set of wheels. The island has so many interesting sites, beaches, and places to eat, that it would be a shame to be restricted to a small area or to have to rely on guided tours, though there are plenty of those as well.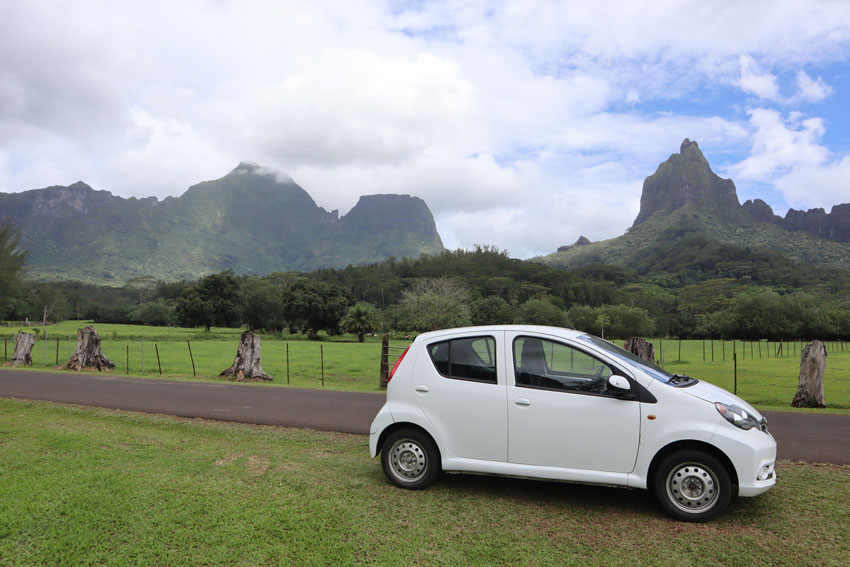 From the air, Moorea resembles the shape of a heart, thanks to its signature twin bays carve liked fiords into its northern coast. Opunohu and Cook's Bay provide some of the most stunning scenery in the South Seas. In fact, Captain James Cook mentions Moorea as one of his favorite anchorages in the Pacific. Moorea offers a wide range of activities that suit every traveler's needs, preferences, and desires. From high-end luxury resorts to family-owned pensions, from thrilling hikes to white sand beaches and from lazy snorkeling to world-class scuba diving, you could easily spend a week in Moorea. Be sure to drive to the Belvedere scenic lookout, climb or join a guided tour to Magic Mountain, snorkel and chill on one of the island's public beaches.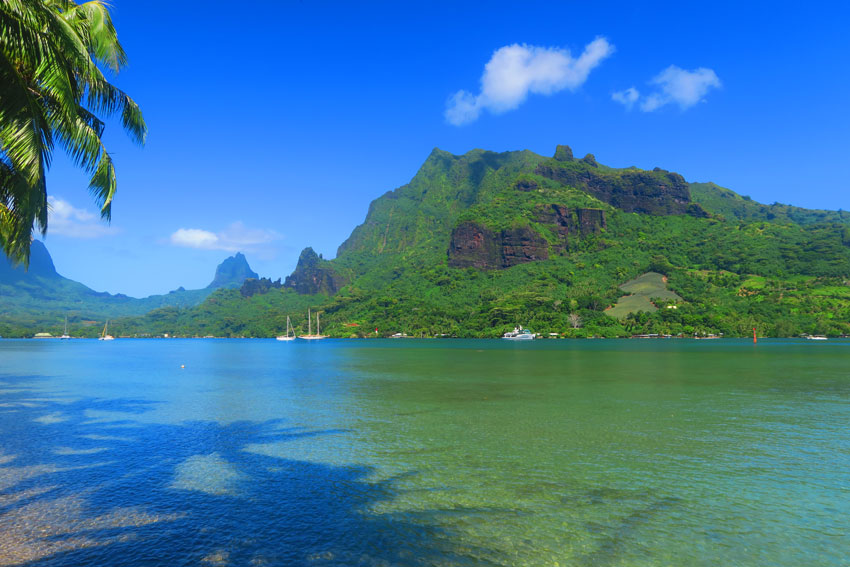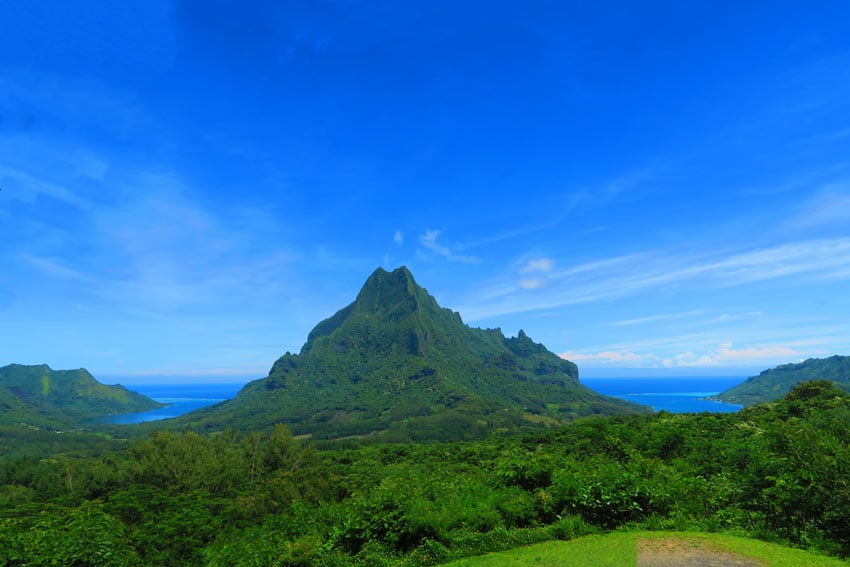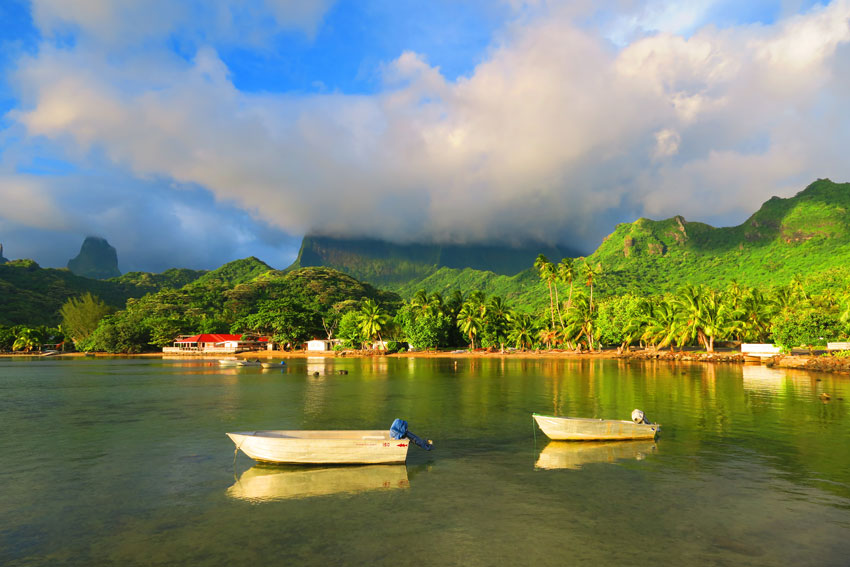 Moorea is also a popular scuba diving destination but since this itinerary includes a trip to the Tuamotu Atolls, it's best to save the diving for later. Moorea is also home to some of the best hikes in French Polynesia. Some hikes can be done on your own but some require a guide for your own safety.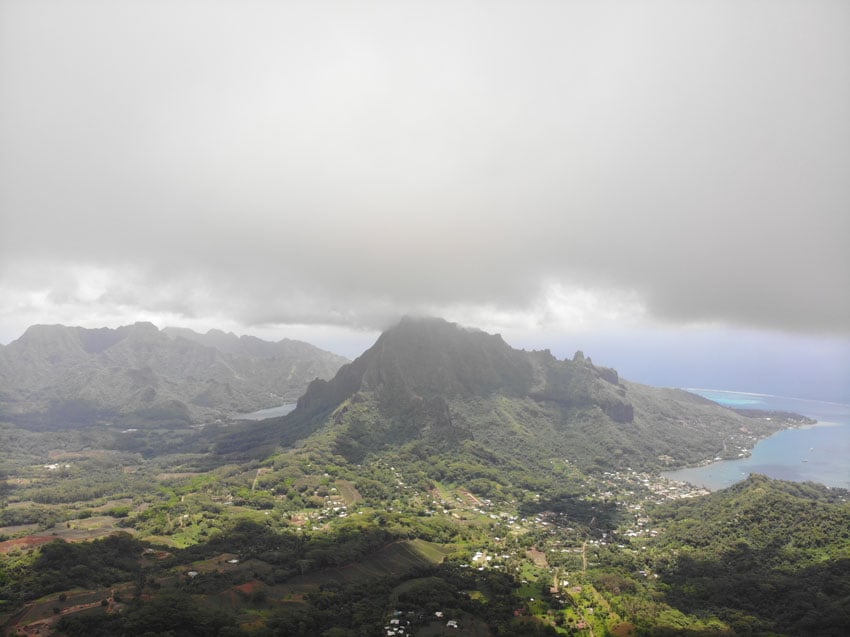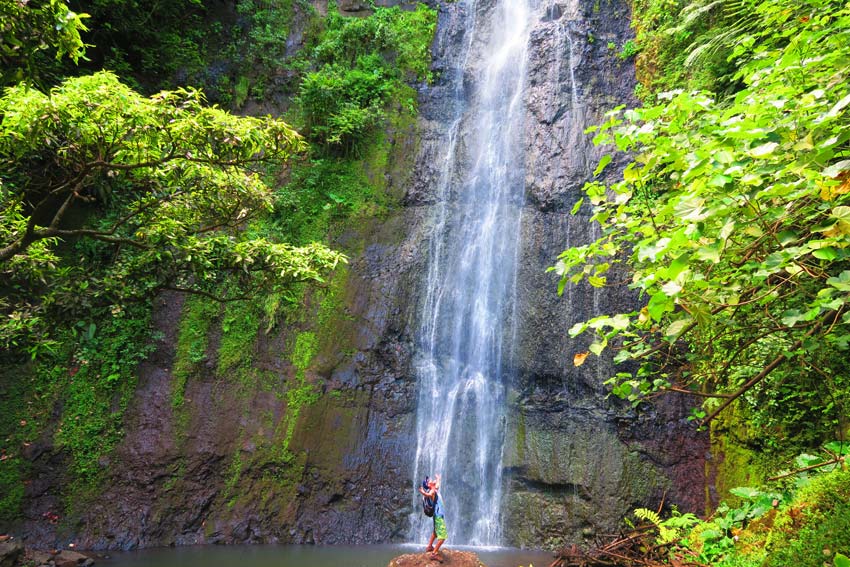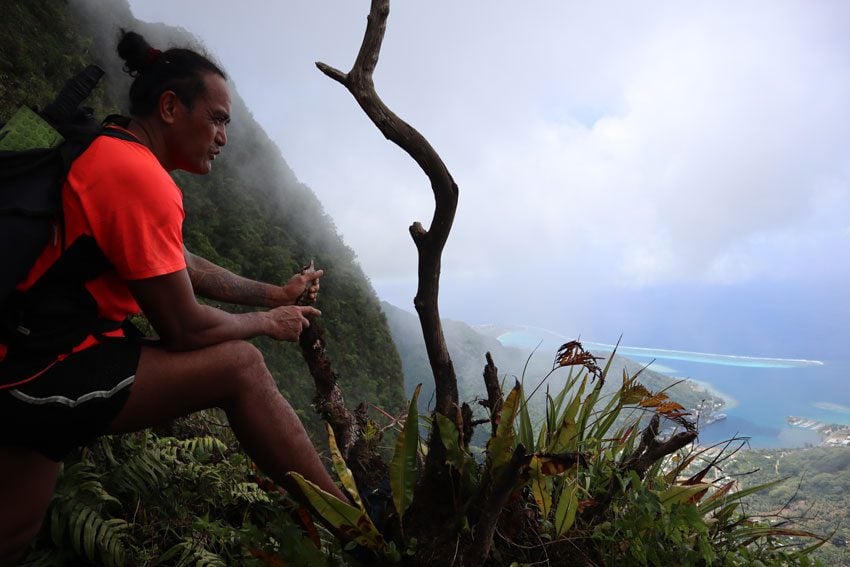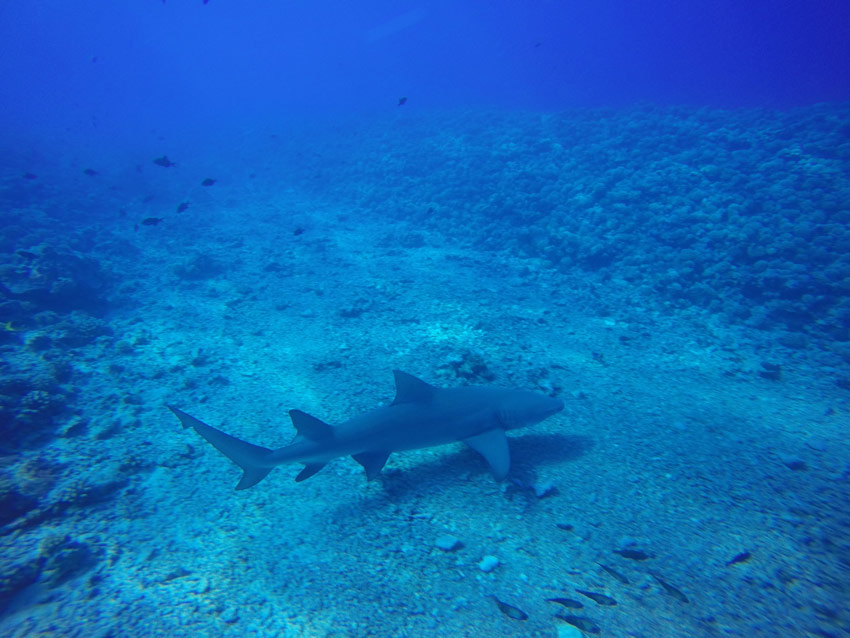 Part 3: Bora Bora or Maupiti (3 Days) / Rangiroa, Fakarava or Tikehau (5 Days)
For the third leg of your journey: stay in the Society Islands and choose from laid back Maupiti or luxurious Bora Bora (Option A). If you scuba dive, head to the coral atolls of the Tuamotus for some world-class diving (Option B).
Option A: Bora Bora Or Maupiti (3 Days)
This option is a natural extension of your visit to Moorea. You're staying with the Society Islands archipelago, using flights to get to the next stop.
Bora Bora
One of the most famous islands in the world, a visit to Bora Bora is a sure way to make your friends jealous. Bora Bora is the most visited island in French Polynesia so it is well-geared to tourists. The island's topography is simply stunning, a beautifully sculpted high island surrounded by a lagoon that is three times the size of the main island itself.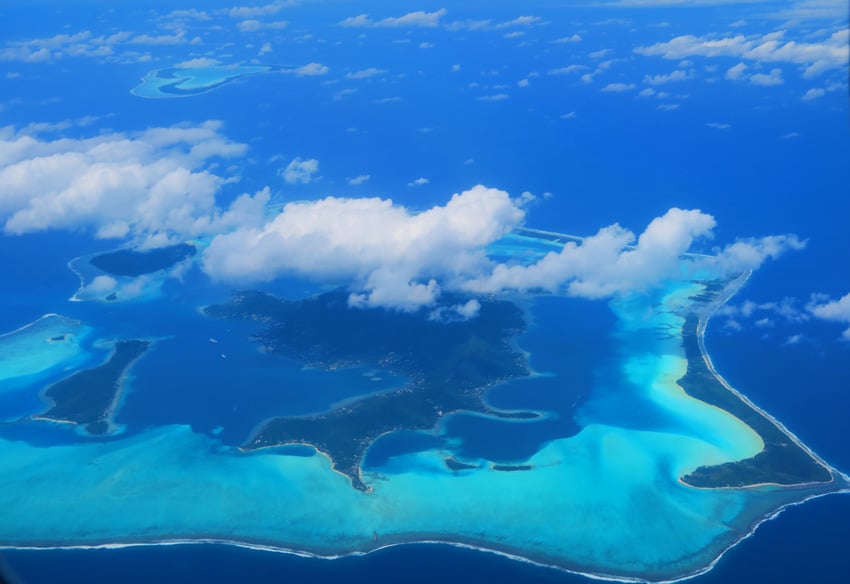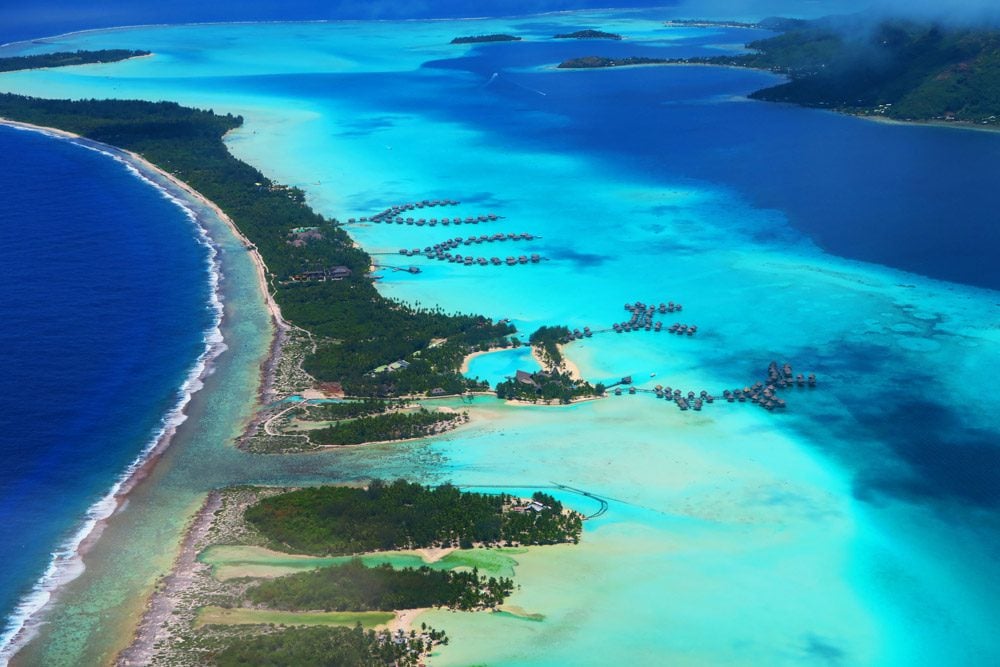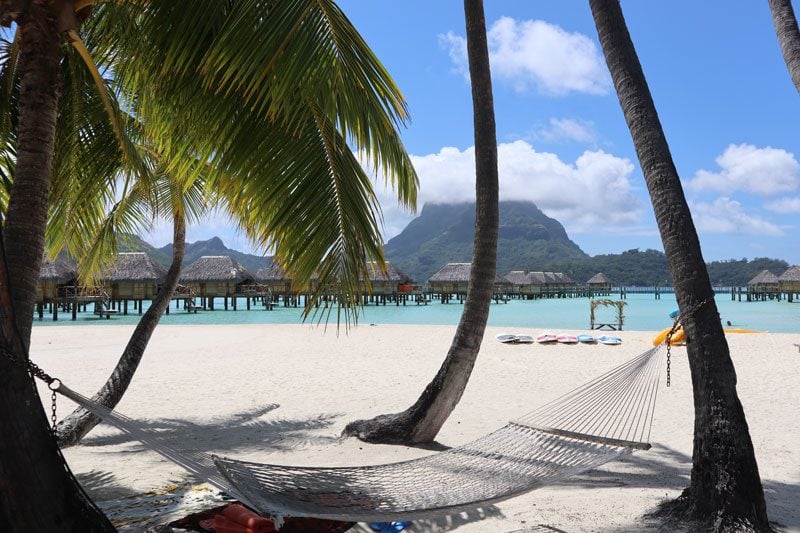 Where to Stay in Bora Bora?
This could literally be the million-dollar question. Jokes aside, choosing where to stay in Bora Bora could make or break your experience. Why? You likely have this perfect vision of Bora Bora in your mind so it's key to understand the ins and outs of Bora Bora's accommodation scene to avoid disappointment. This is such a key decision, that I've written a special guide exactly on this topic.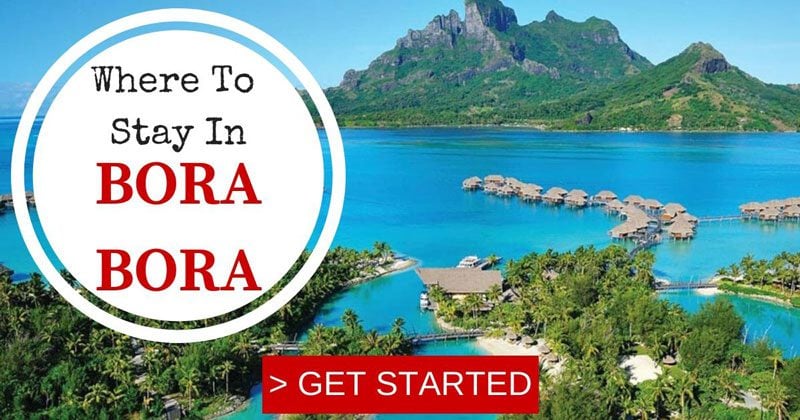 What to do in Bora Bora
Your days in Bora Bora can be as lazy or as active as you want. If you're staying in a luxury resort, you'll likely dedicate a full day for relaxing and getting your money's worth. That being said, don't miss the chance to explore the beautiful lagoon as part of a full-day excursion, where you'll be swimming with nurse sharks, feeding stingrays, snorkeling and grabbing lunch on your own private island. Half-day tours are also possible, but they include fewer snorkeling spots and no picnic lunch.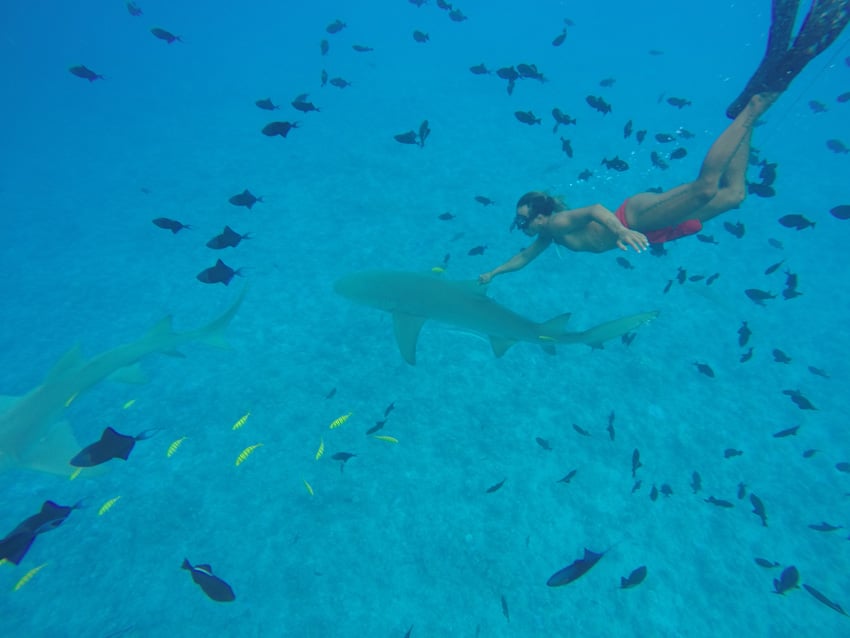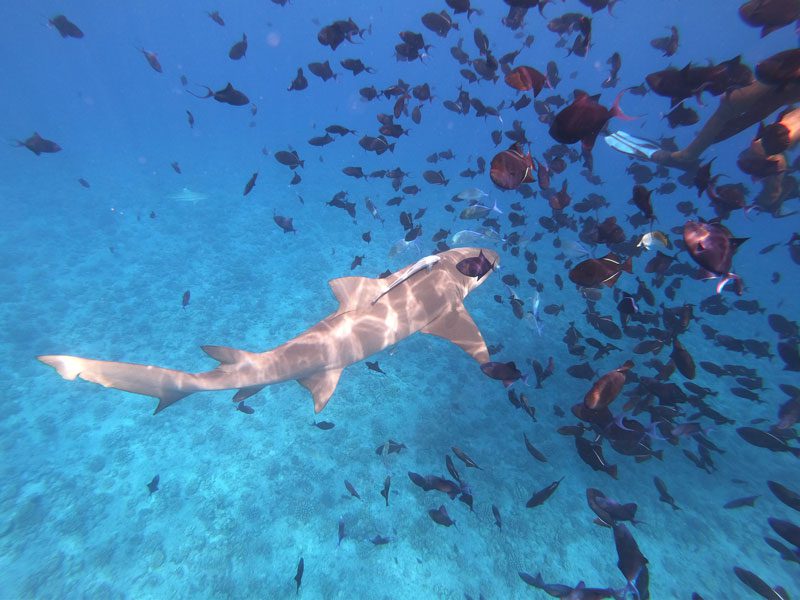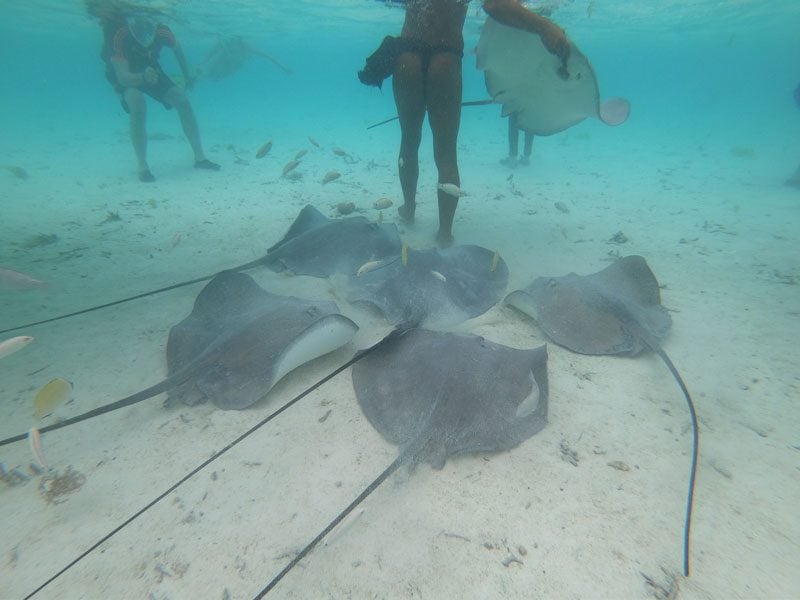 As far as beaches go, all the resorts on the motu (small islets surrounding the lagoon) will have their own white sand beaches. But for those staying or exploring the main island, don't miss Matira Beach – one of the prettiest tropical beaches you'll ever come across.
For those seeking to explore the real Bora Bora, rent a beach bicycle and circle the island on two wheels. It's just 32 kilometers around the island, and you'll get to see WWII stations, ancient temples, and authentic village life. You can also join 4X4 tours which bring you to sensational scenic lookouts.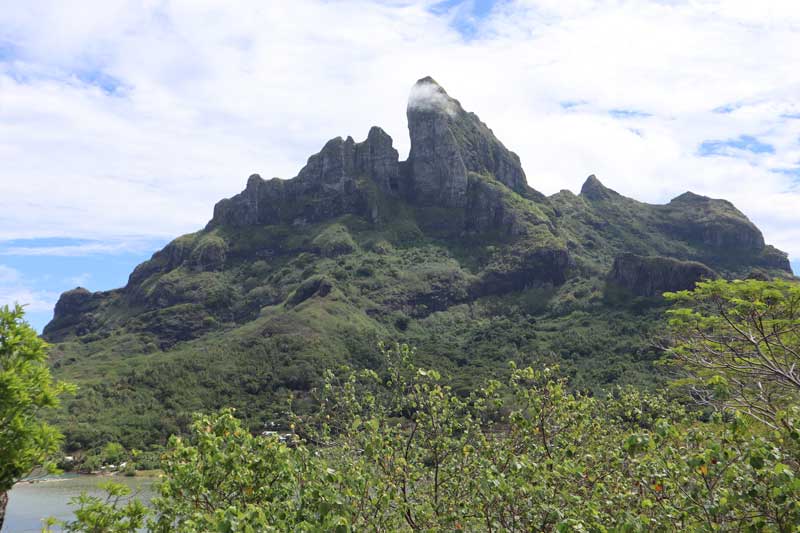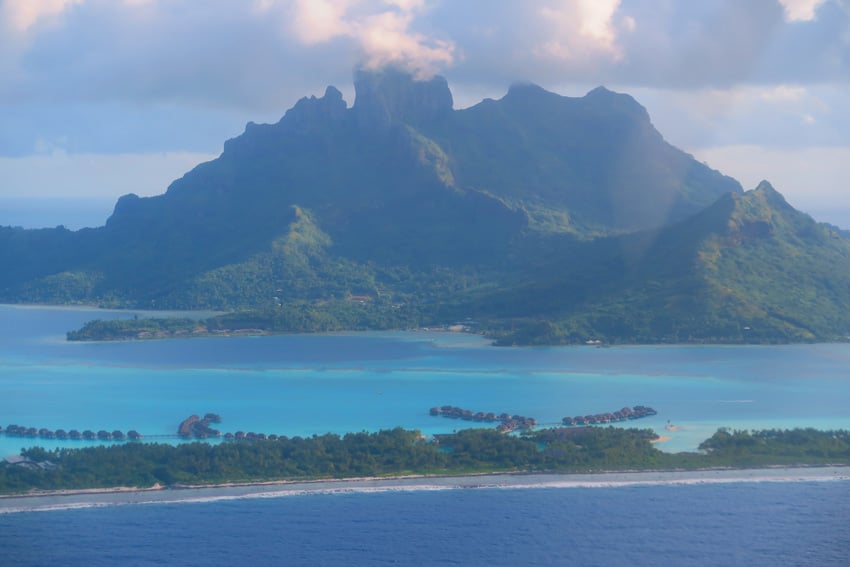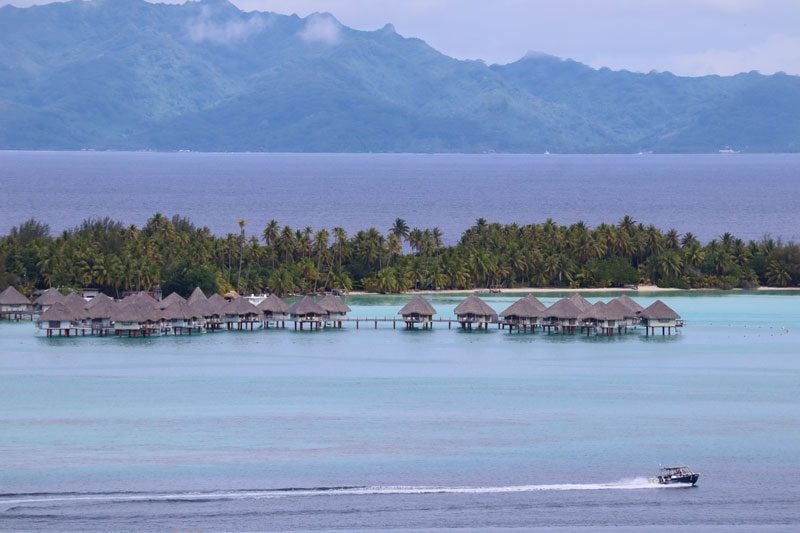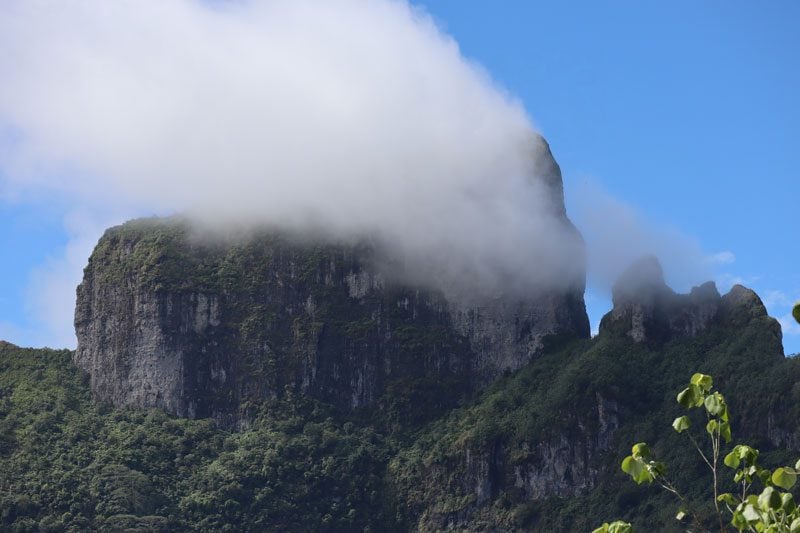 Maupiti
Maupiti is said to be 'the old Bora Bora', long before the tourist hype. It also looks like a miniature version of its big sister just a few kilometers away, and in fact, it's so small so you can get around on foot. With no resorts or nightclubs, Maupiti is an authentic little slice of paradise.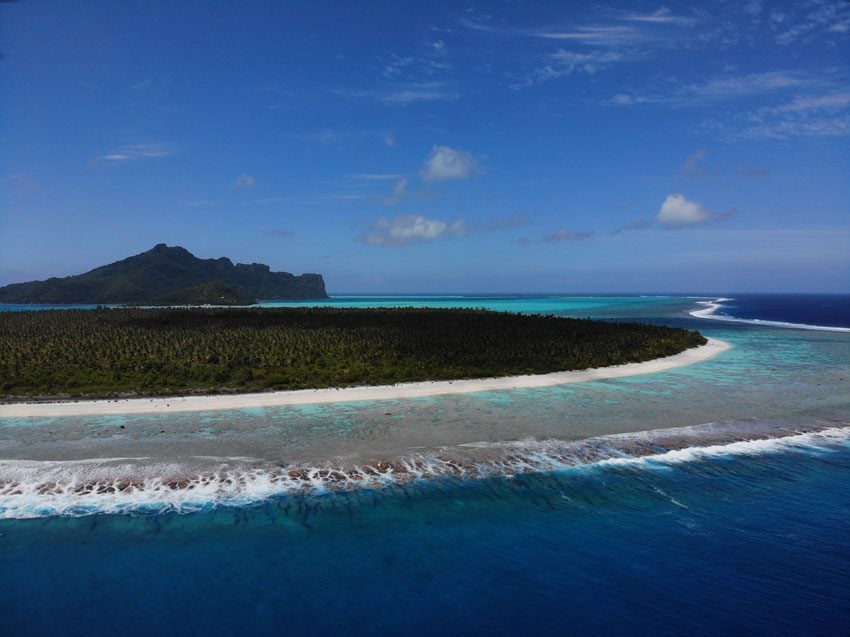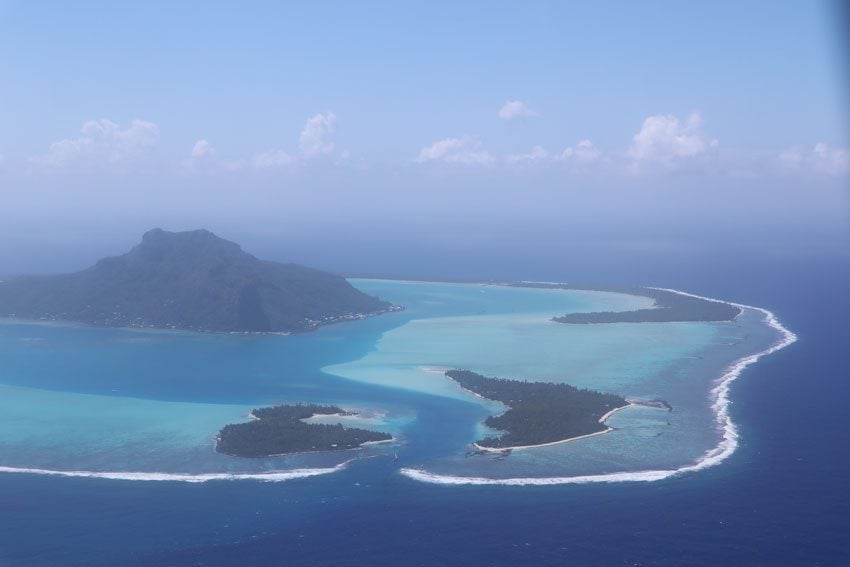 Where to Stay in Maupiti
On the main island, stay at Maupiti Residence, Pension Tereia, Pension Espace Beach, and Pension Tautiare Village. On the dream-looking motus floating at the edge of the barrier reef, stay at Pension Papahani or Pension Maupiti Holiday, where locals will take excellent care of you. Spend your days hiking Mount Teurafaatiu, going Robinson Crusoe on Motu Auira, and head underwater to dive with giant manta rays in 'the cleaning station'. Not to be missed, is a day out in the Maupiti lagoon, complete with snorkeling in the enchanting coral garden and sharing the leftovers from lunch with the stingrays.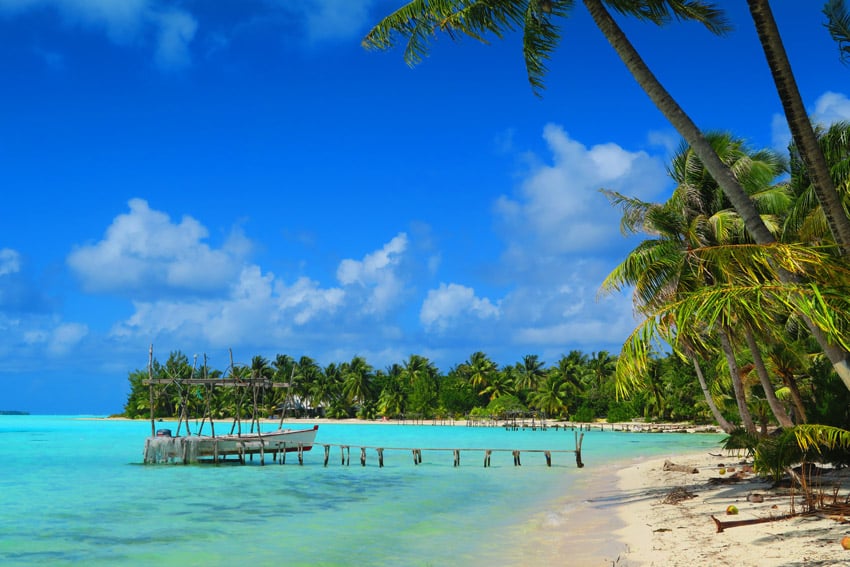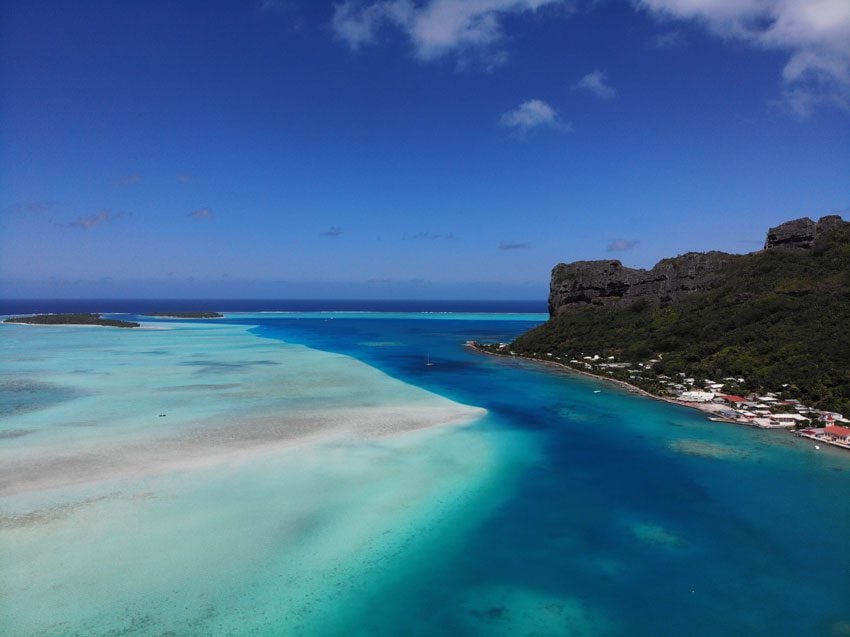 What to do in Maupiti
Maupiti is small enough that it can be circled on foot but you can also rent a bicycle for the day and explore island life at your own pace. An exciting detour is the sweaty but short hike to the summit of Teurafaatiu (380 m), where the finest views of the island can ben enjoyed for hours. This is one of the best hikes in French Polynesia and you'll want to stay at the summit for a few hours to digest all this beauty.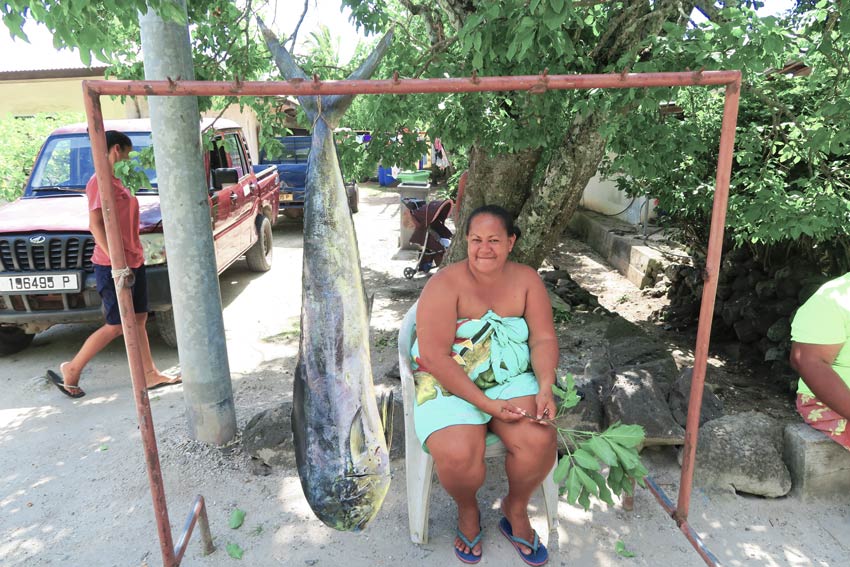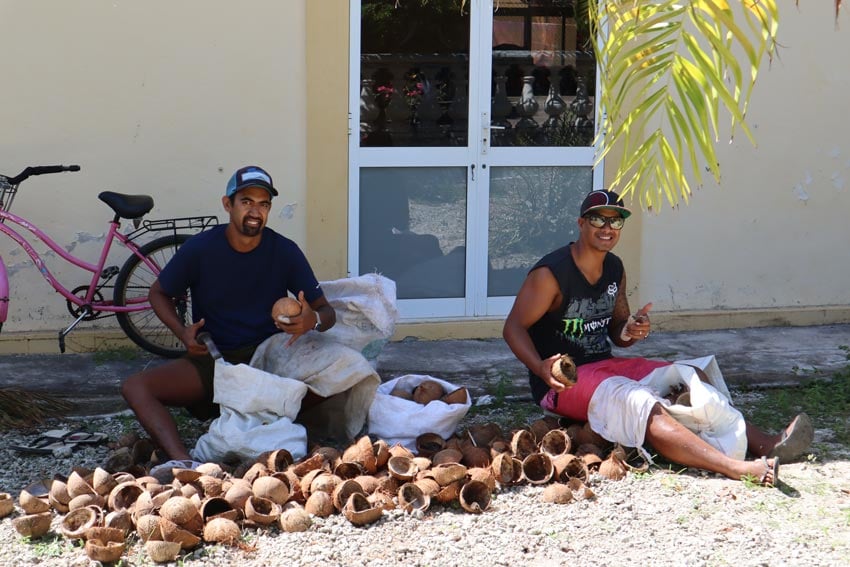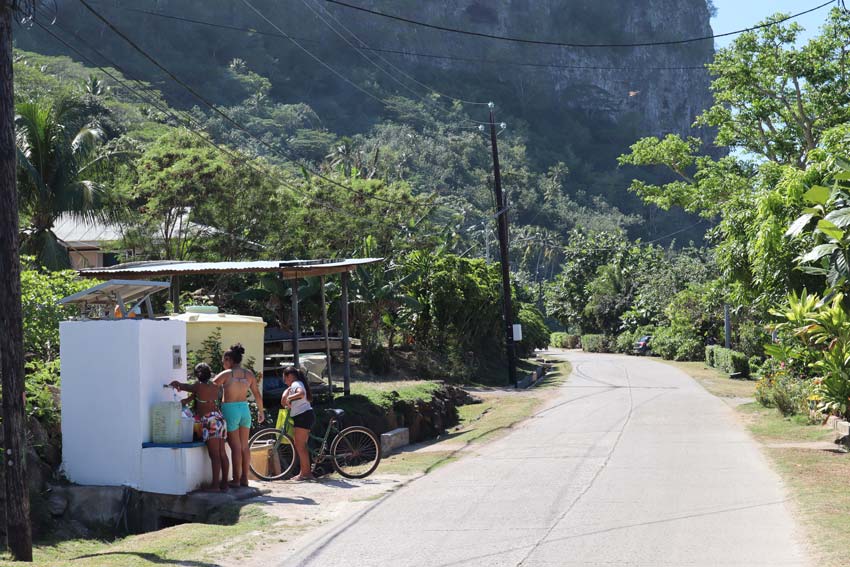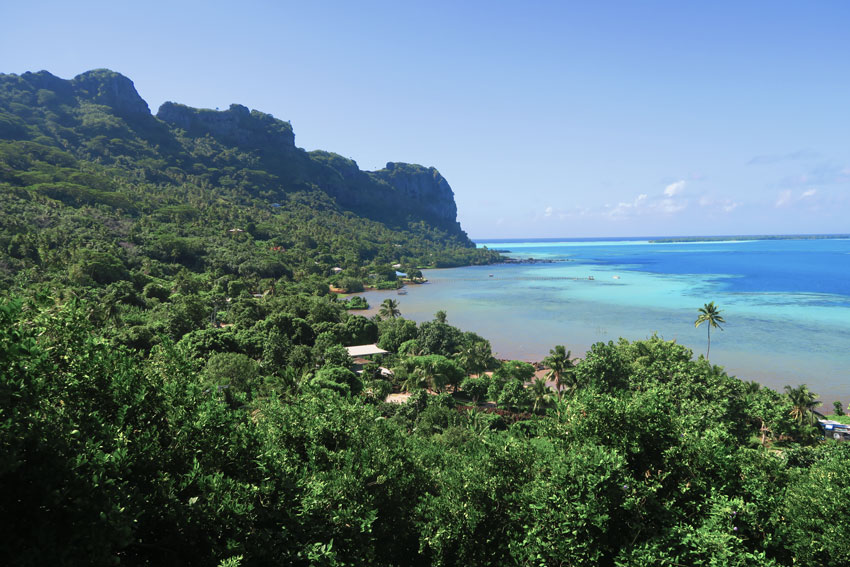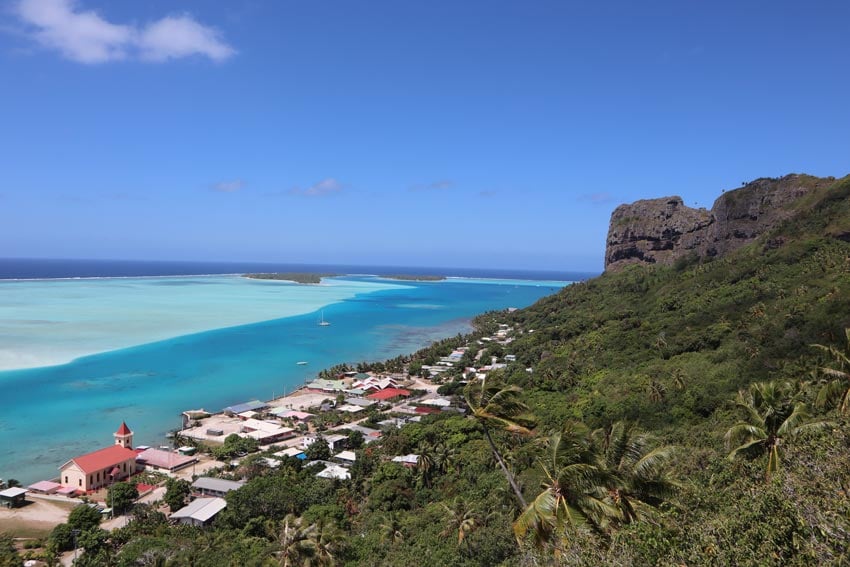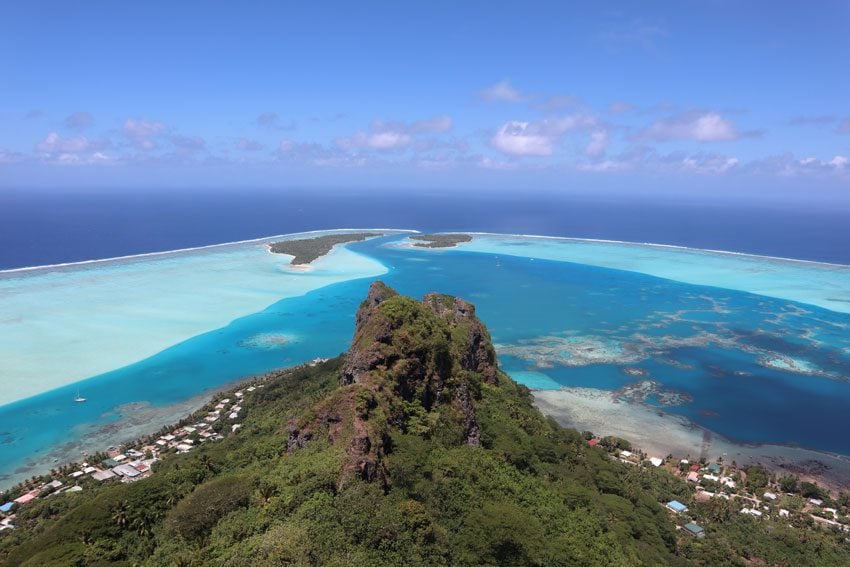 End the circle-island tour at Tereia Beach, the finest on the main island!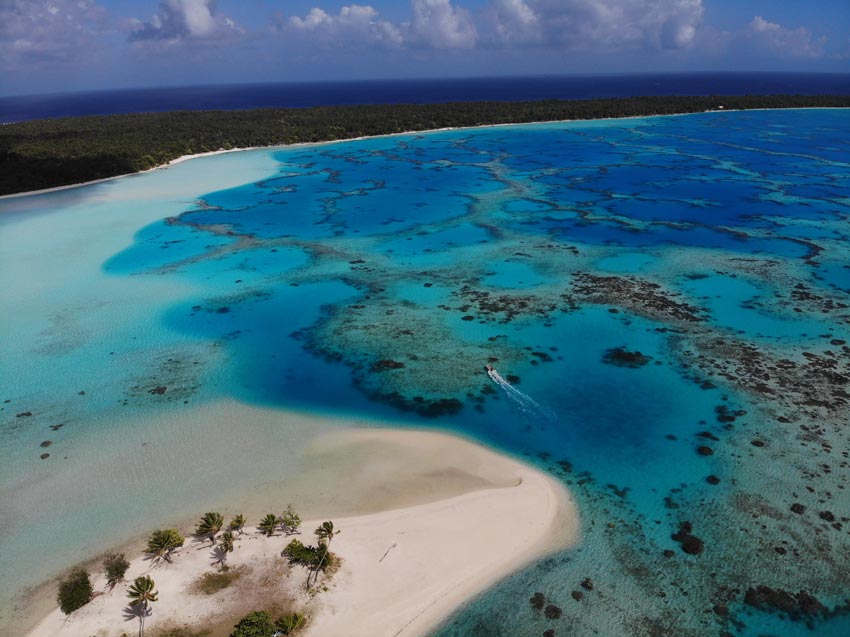 As in Bora Bora, be sure to devote a full day to exploring Maupiti's lagoon. You'll start at the manta ray cleaning station, where you'll snorkel with giant manta rays, continue to snorkel in the coral garden, and cap the day off with a traditional Polynesian lunch on a private island.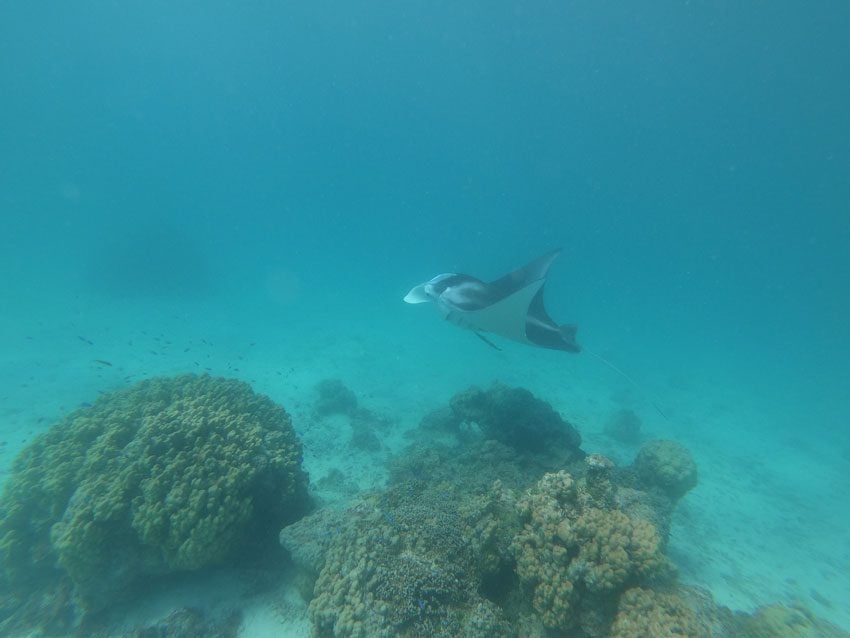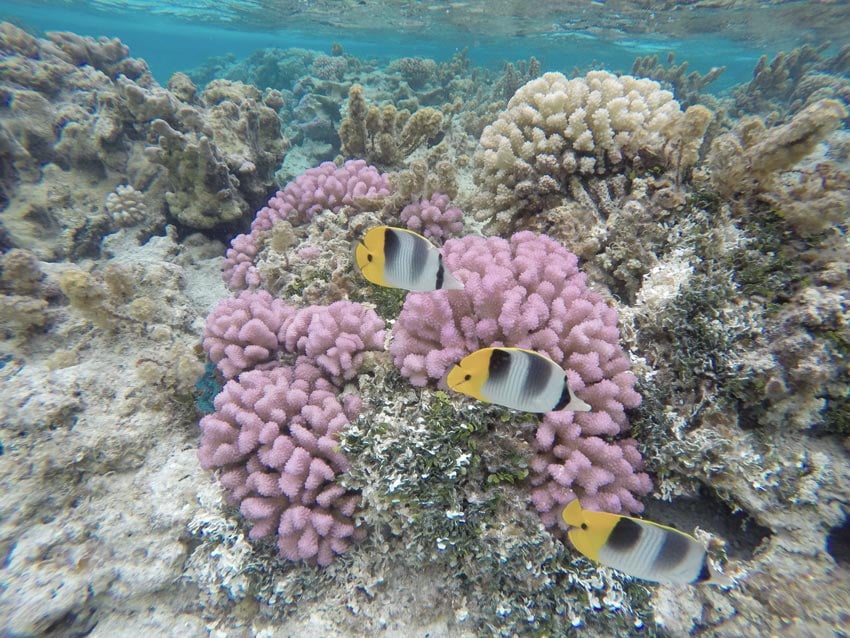 If you're really up for an adventure, cross the lagoon on foot to Motu Auira and spend the day in absolute bliss. The lagoon side is home to a few residents and a pretty beach, but it's the wild reef side that will blow your mind!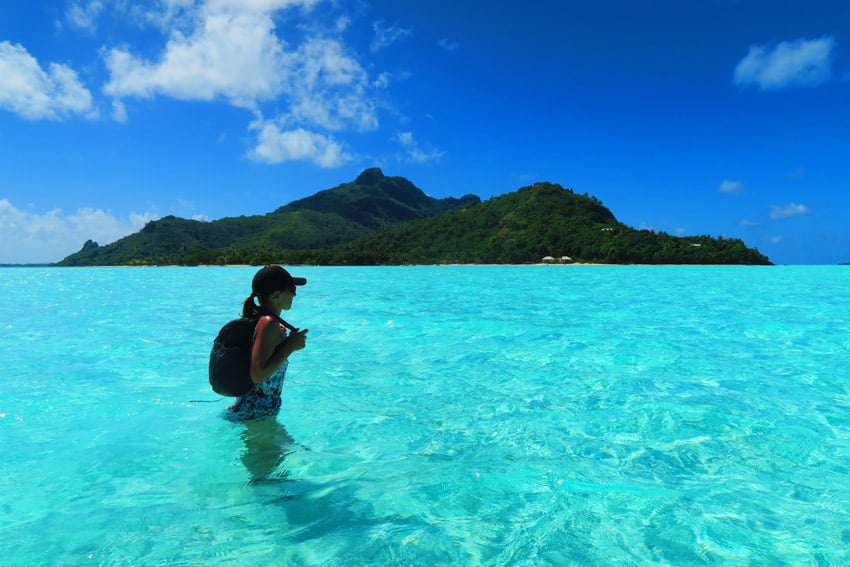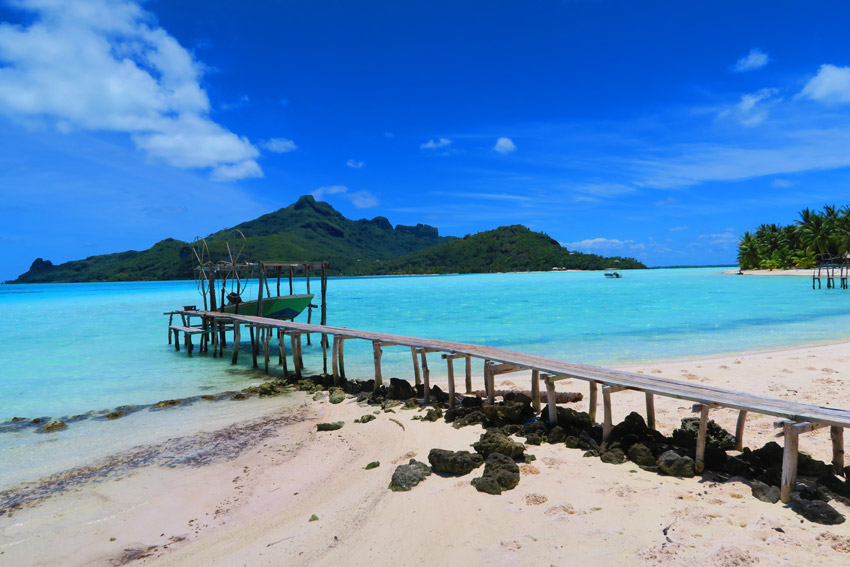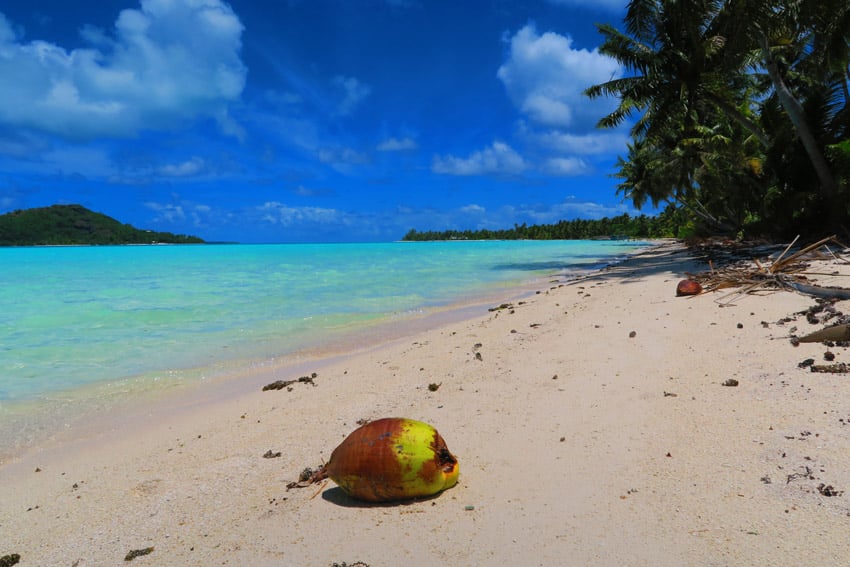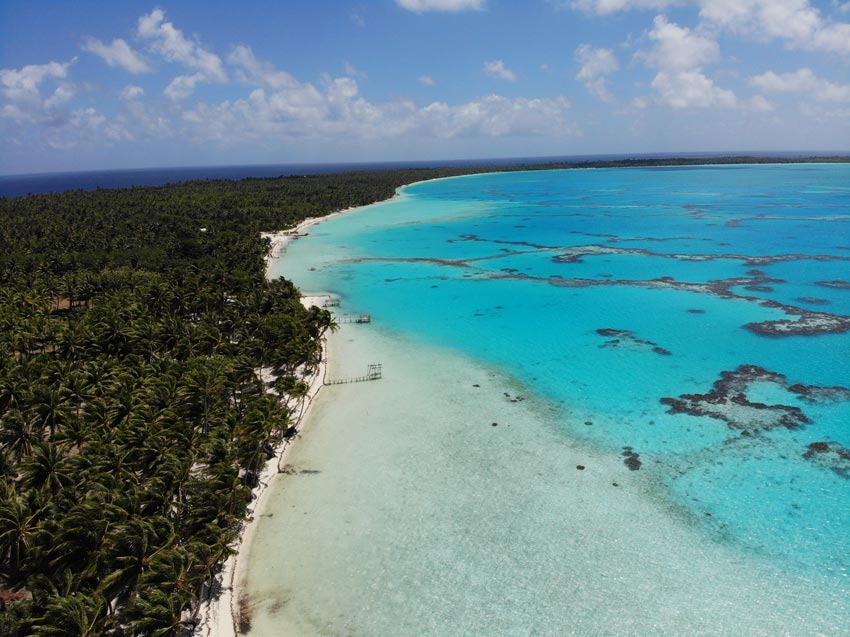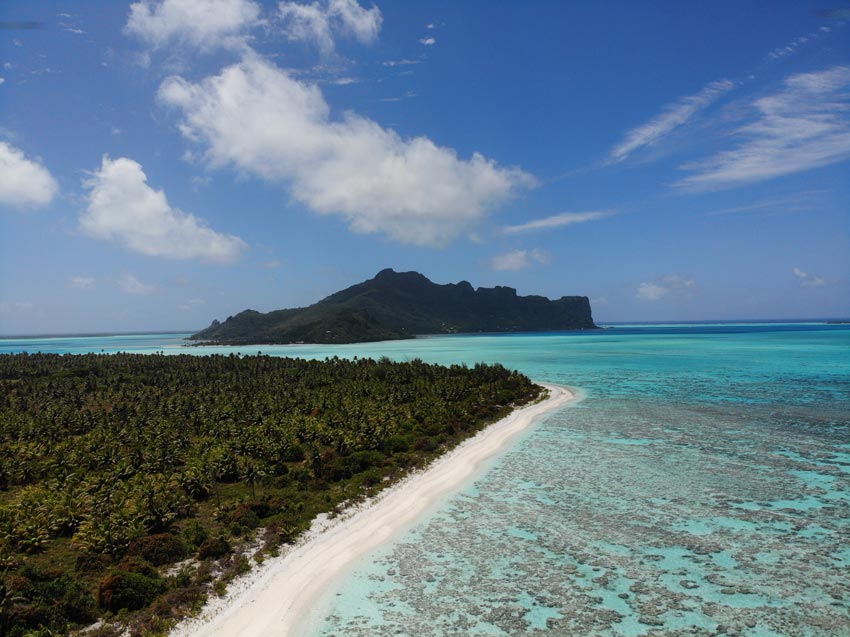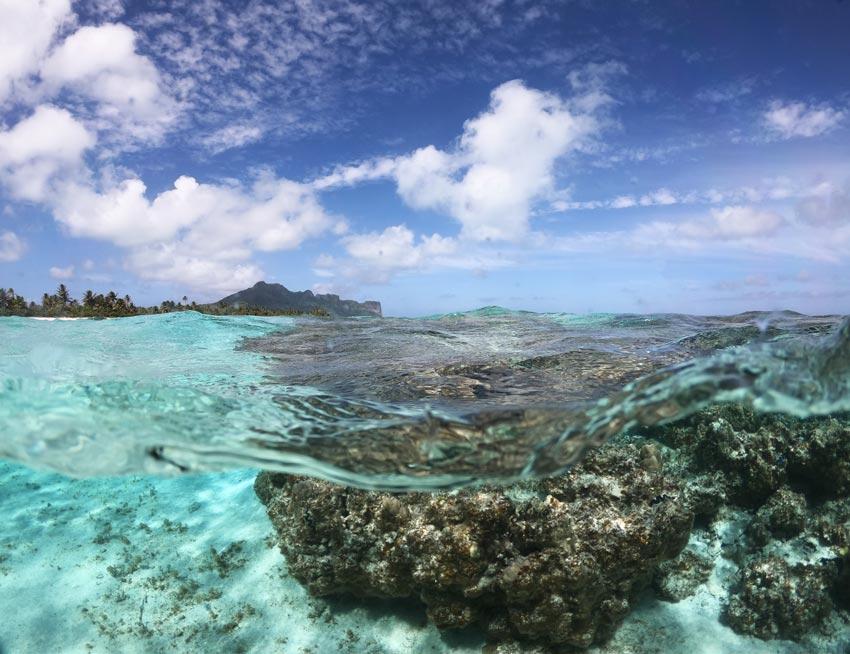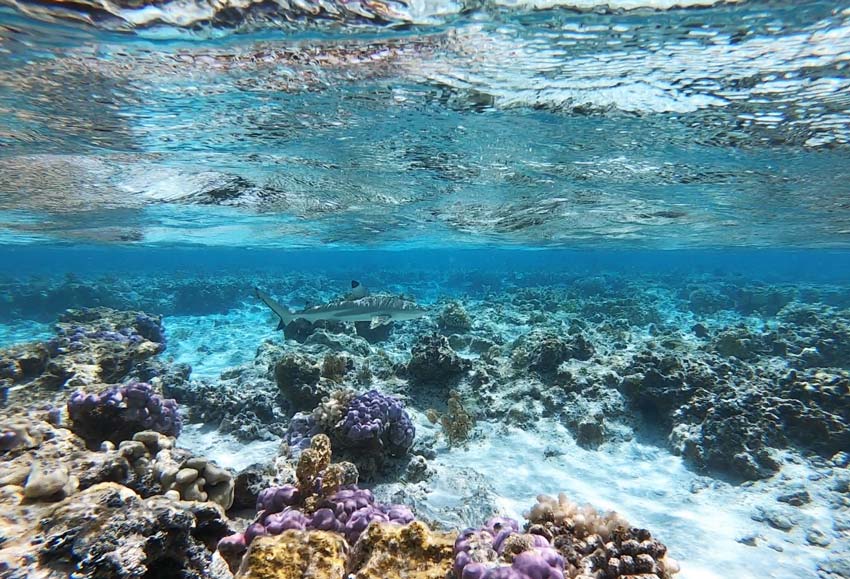 Option B: Rangiroa, Fakarava or Tikehau (5 Days)
This option is especially appealing if you scuba dive. The atolls of French Polynesia are mostly concentrated in the Tuamotu archipelago which is the largest chain of coral atolls in the world. Apart from diving, the atolls are well known for their perfect (and often deserted) beaches, pristine lagoons, sensational snorkeling, and just the general feeling of traveling to another planet where life is a lot more relaxing. You could theoretically split the five days and explore two atolls but I recommend choosing the right atoll that suits your preferences and spending the entire time there.
Rangiroa
Known as the 'infinite lagoon', Rangiroa is the second biggest coral atoll in the entire world. Rangiroa is to scuba diving what Bora Bora is for the ultimate luxury vacation. It's one of those destinations that's on every serious diver's bucket list. Rangiroa is known for having the greatest chances of seeing 'the big stuff' like sharks, dolphins, and manta rays while offering superb drift dives.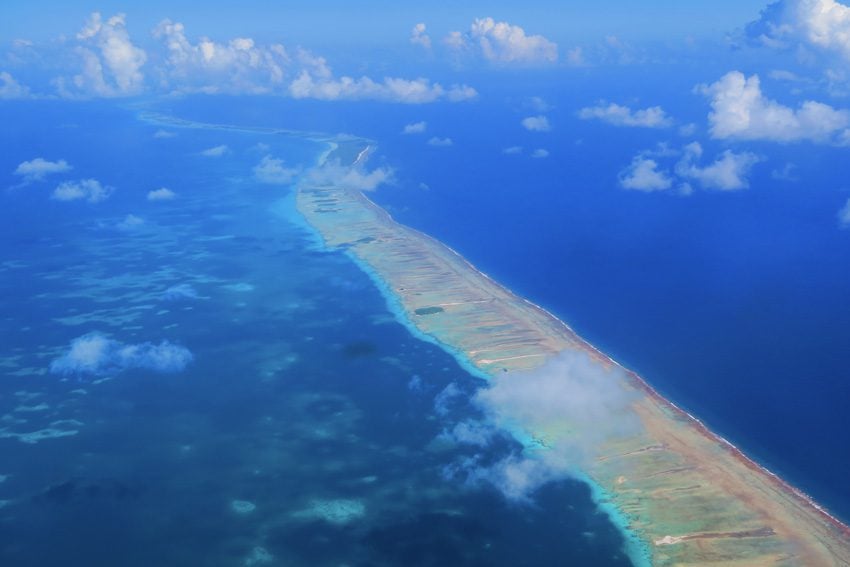 As far as where to stay, the Kia Ora is the finest resort on the atoll, followed by Maitai Rangiroa. On the pension/lodge side, Le Relais de Josephine is the upscale choice, followed by Le Coconut Lodge. Simpler but excellent options also include Va'a i Te Moana, Pension Cecile, and Pension Tapuheitini. For a budget stay, look towards Pension Teina & Marie. For backpackers in Rangiroa, inquire with Chez Olga & Rangiroa Plage. For camping in Rangiroa, contact Camping Nanua. If you want to get away from it all, check Tiputa Lodge, a pension located on the neighboring motu, close to Tiputa Village.
Click here for all available Rangiroa accommodations on booking.com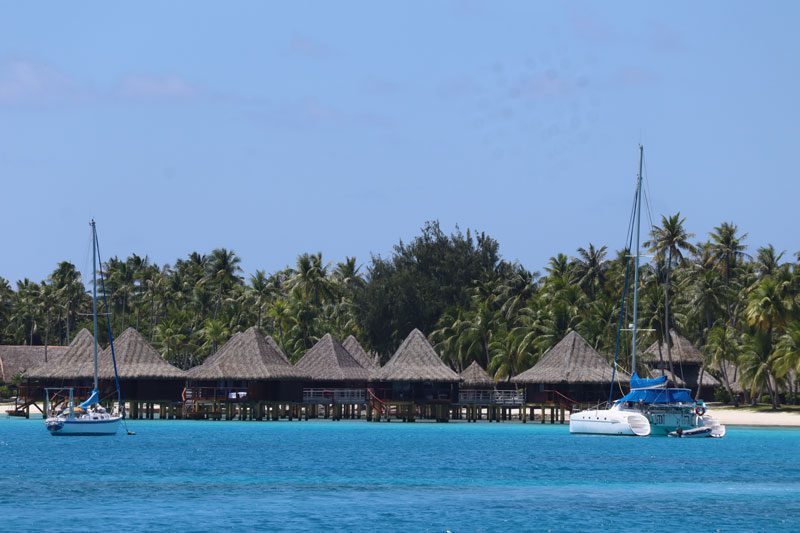 The prime reason for coming to Rangiroa is scuba diving. Most of your dives will be in the legendary Tiputa Pass, where you'll encounter sharks, dolphins, and sea turtles, before drifting back into the lagoon if conditions are right.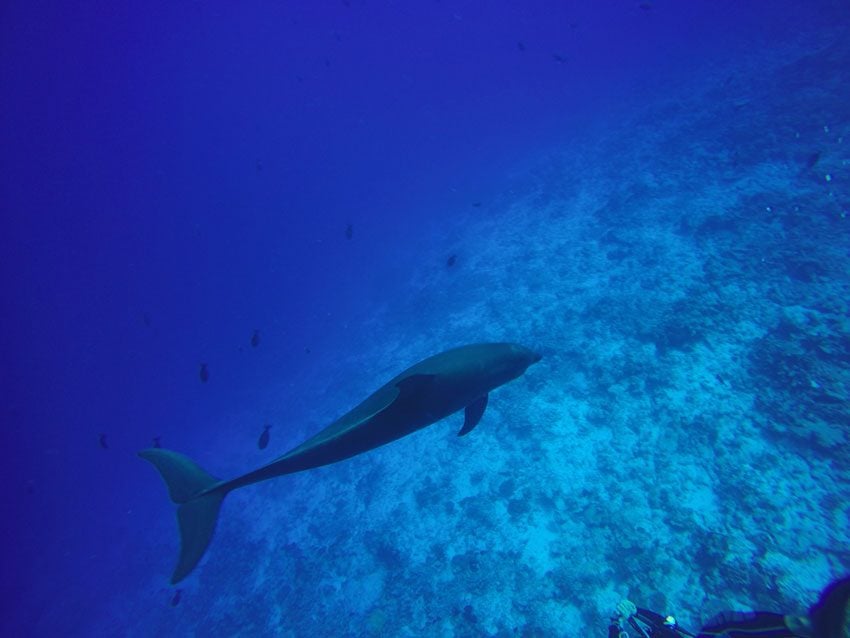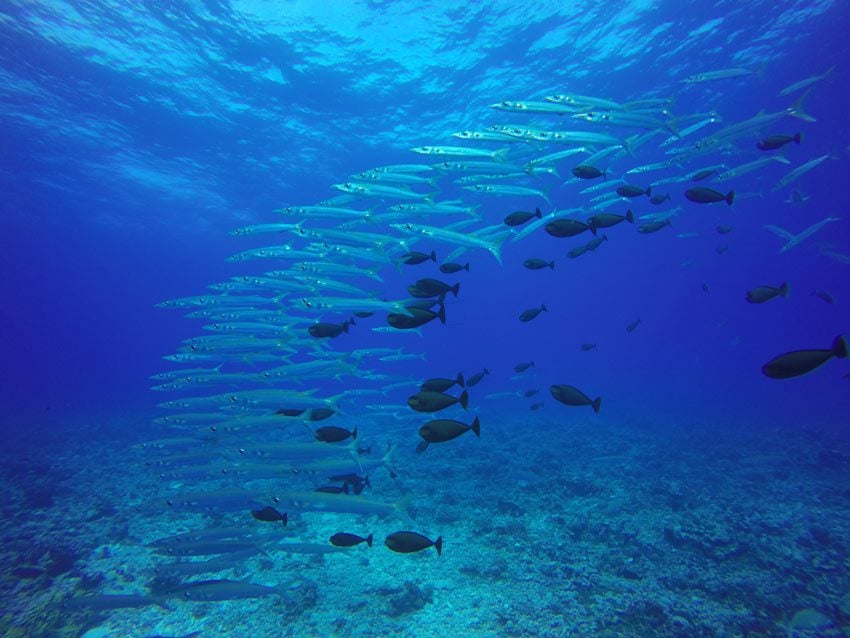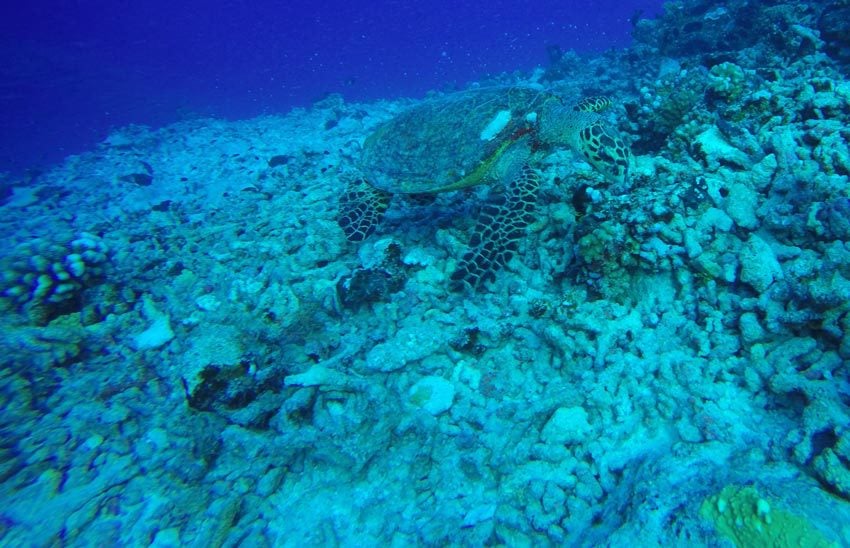 If you're diving with The Six Passengers, you can even see the mighty silvertip shark. Head to the Avatoru Pass in the early hours of the morning, when this predator likes to come out and patrol the reef. So scary yet so thrilling!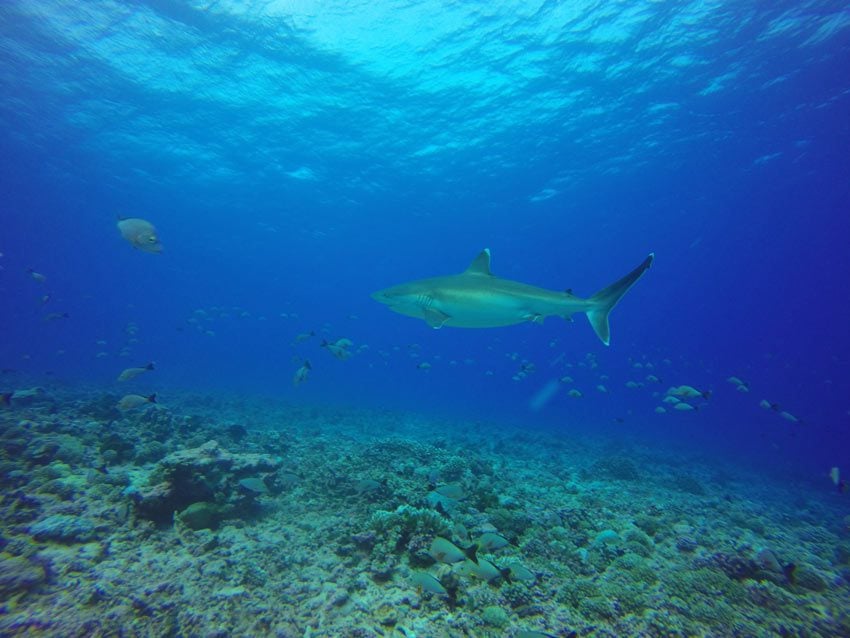 Apart from scuba diving, Rangiroa offers excellent snorkeling from just about every spot, and full-day lagoon excursions to the 'Blue Lagoon' and 'Ile Aux Recifs'.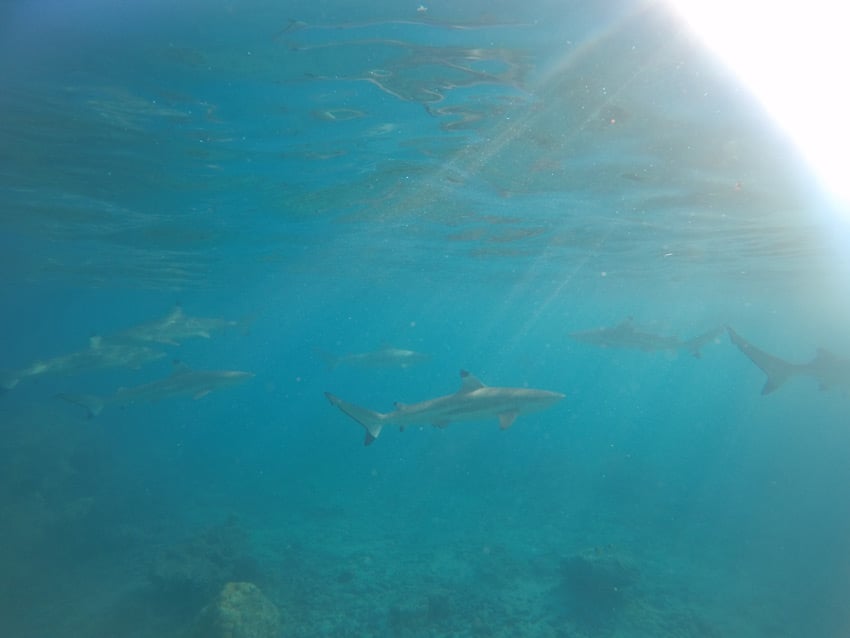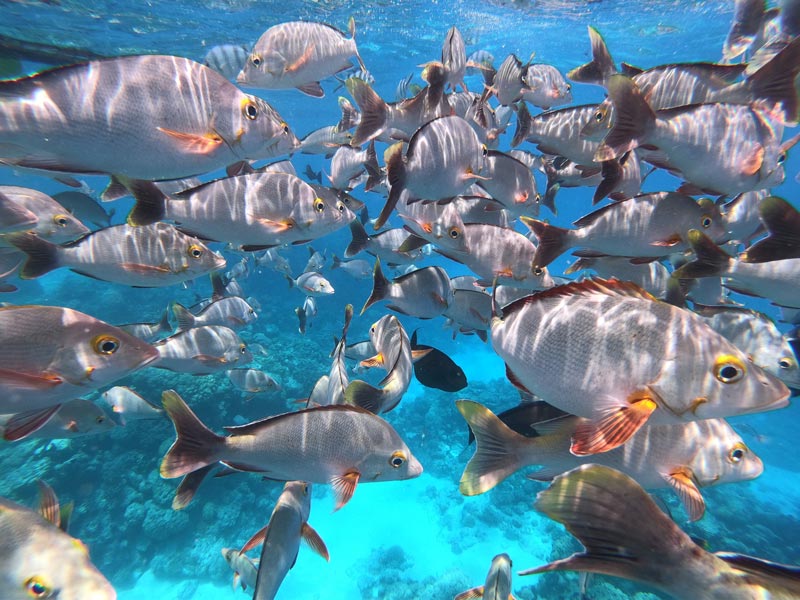 Fakarava
If you love scuba diving but looking for something beyond, Fakarava is a perfect choice. On the diving side, Fakarava never disappoints – with pristine coral as equally impressive as its famous "shark walls". But the added value of Fakarava is the possibility to enjoy life in the slow lane back on dry land, whether on a stroll through the sleepy village or on your very own tropical beach. While neighboring Rangiroa is (relatively) mass-marketed, Fakarava is still off the tourist radar (for now). You'll find fewer hardcore dive enthusiasts as you would in Rangiroa and a lot more down-to-earth independent travelers like you. Fakarava can also be "two destinations for the price of one". Its north (lagoon pass) is the most visited but it's the south pass that's most known for superb diving and pink sand beaches. You'll need to lower your standards and make an extra effort if you wish to overnight in the south pass.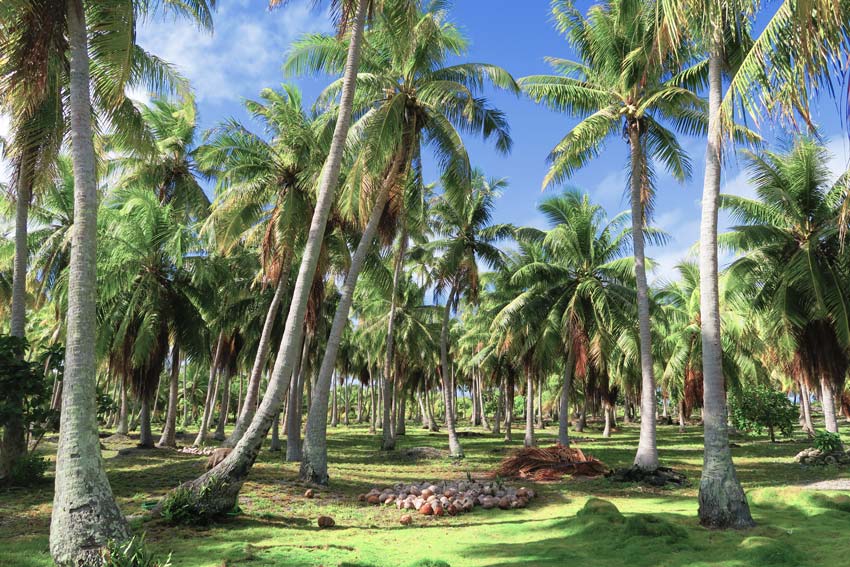 Much like the island vibe, the accommodations in Fakarava are as laid back as can be. There are currently no resorts on the island, just family-owned pensions. It's important to note that Fakarava is split into two "mini destinations", each centered around a lagoon pass. Close to the north pass is Rotoava Village, the main settlement on the atoll. Further south, the abandoned Tetamanu Village lies next to the south pass. This remote part of the island is close to the most known dive sites and the pink sand beaches but required a lengthy boat transfer to/from the airport or Rotoava.
Fakarava North
The most high-end option in the north part of the island is the Havaiki Lodge. This pension has beachfront properties as well as lower-priced options further back. Its location cannot be beaten and its restaurant is open to outside guests. Other solid pensions include Pension Veke Veke (great location), Pension Vaiama, Tokerau Village & Paparara (slightly remote but within cycling distance from the main village), and Kori Kori (very basic).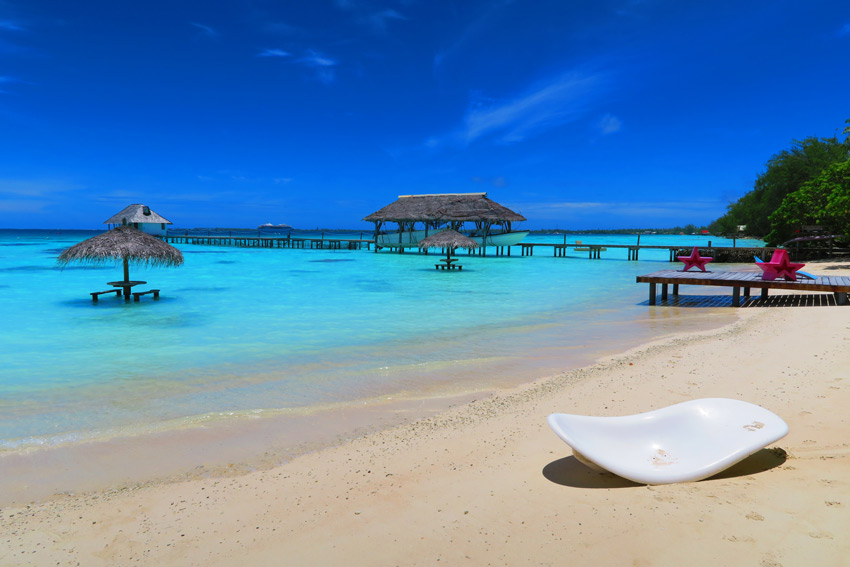 Backpackers, budget travelers and campers should look into the Relais Marama. Accommodations range from simple one-bedroom open-air bungalows facing the reef, to larger family units in the gardenia and noni-filled garden, and even a handful of camping spots to pitch your tent. Units are simple but comfortable, with a mosquito net, a small balcony, and even a lockable cabinet. As for the sleep quality? You'll be sleeping like a baby to the sounds of the crashing waves on the reef just meters away. If there's a breeze at night, you might even need to cover up.
Fakarava South
If you're staying at one of the pensions in the south pass, your hosts will arrange the transfer, based on Air Tahiti arrival and departure times. Since the journey is quite long, on days when there are several flights, you might be instructed to wait. The "main" accommodation right on the south pass is Pension Tetamanu. However, slightly friendlier options can be found at Pension Raimiti and Pension Motu Aito. Due to their remoteness, pensions need to be self-sufficient so don't expect luxury or even 24-hour electricity. Some pensions have strict booking conditions and some can bundle your stay with a dive and tour package.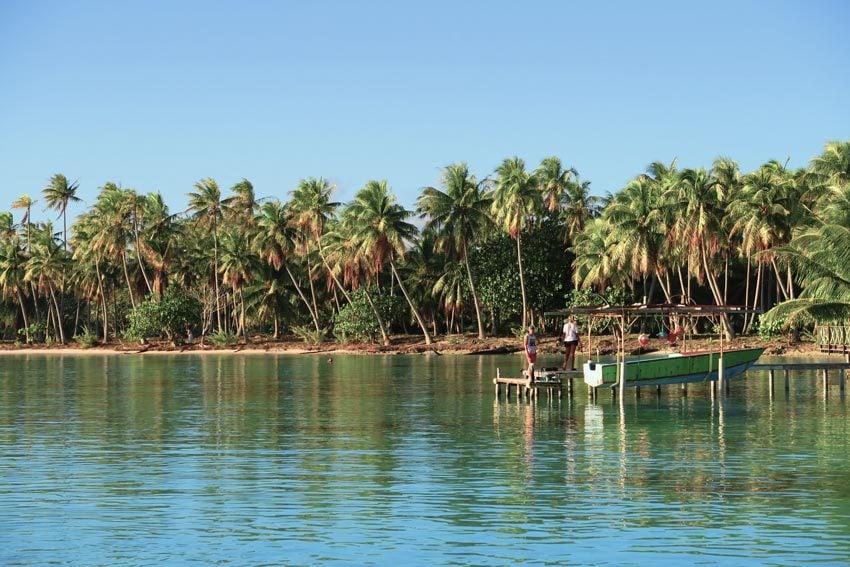 Book your dives with Dive Spirit Fakarava, who'll take you to all the secret spots in this UNESCO Biosphere Reserve. Cruise along the Ohutu Cliff and witness some of the finest coral in the south seas, drift into the lagoon faster than Superman, and explore the magical Alibaba Canyon – where sharks and other 'surprises' like to chill.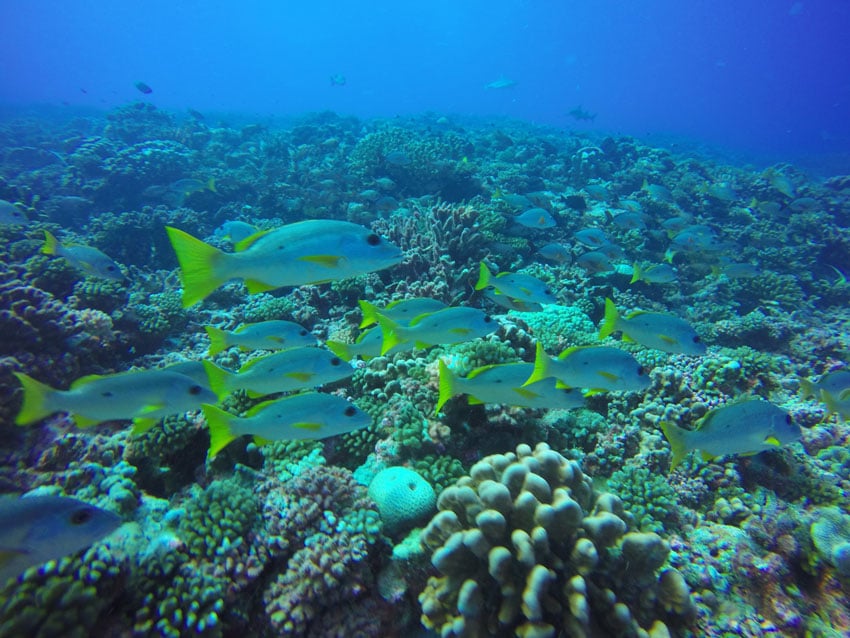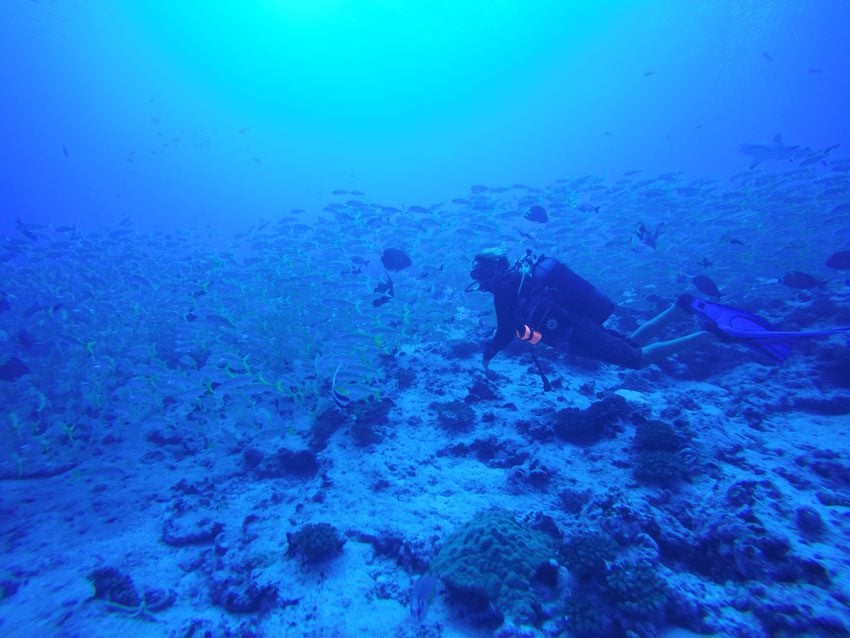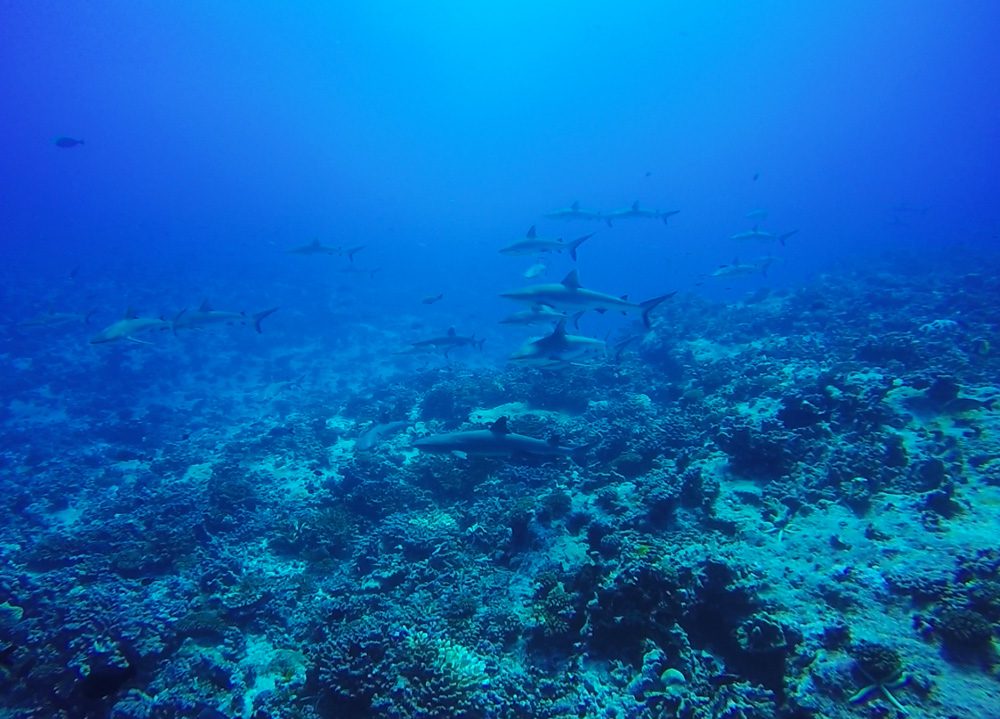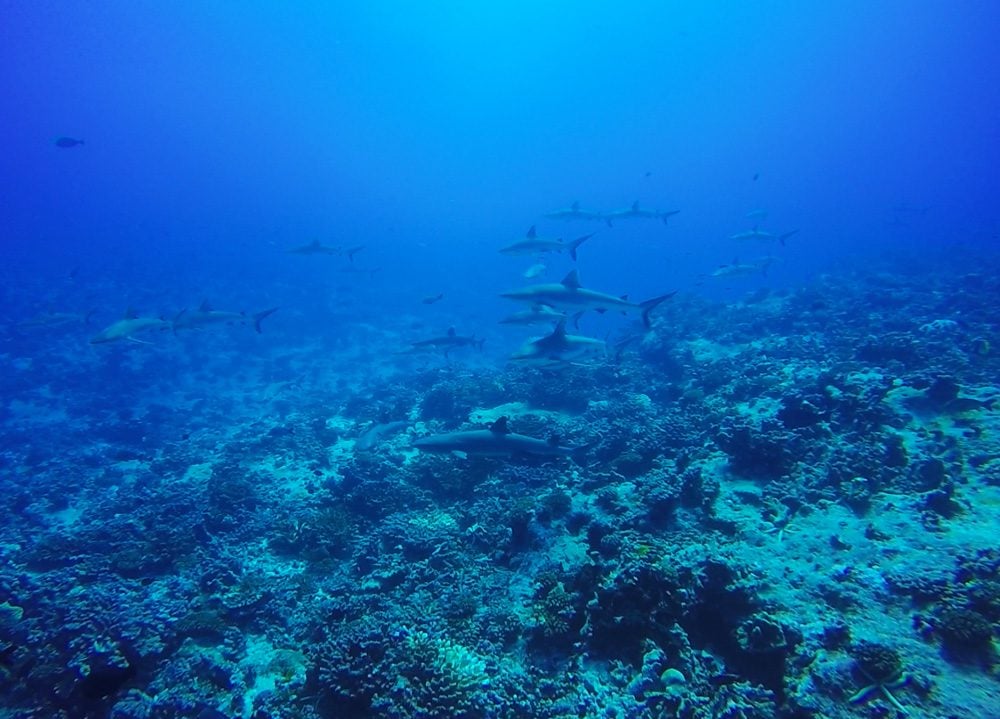 When you're not diving, grab a bike and explore the atoll. PK9 Beach is one of the prettiest you'll ever see, and it will likely be all yours for the day. If it's more beaches you're after, join a lagoon tour and visit the famous pink sand beach… that's right – pink sand!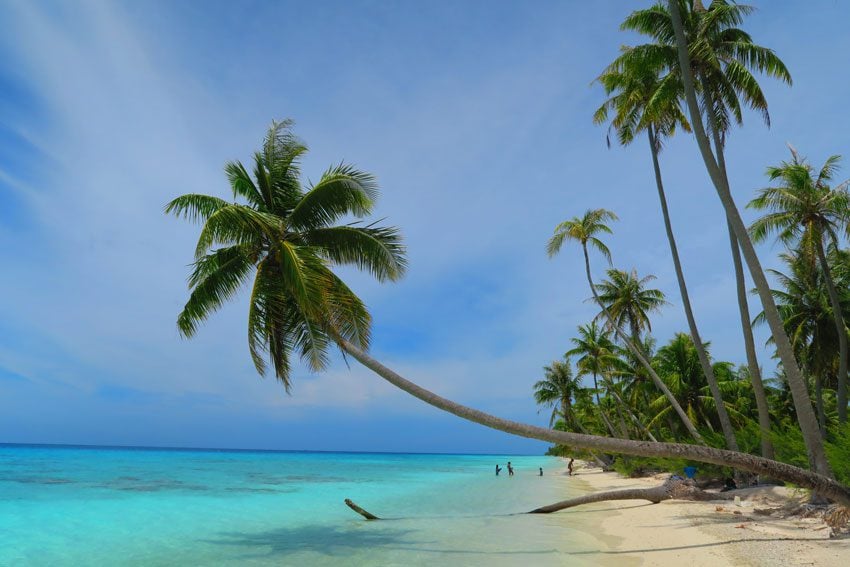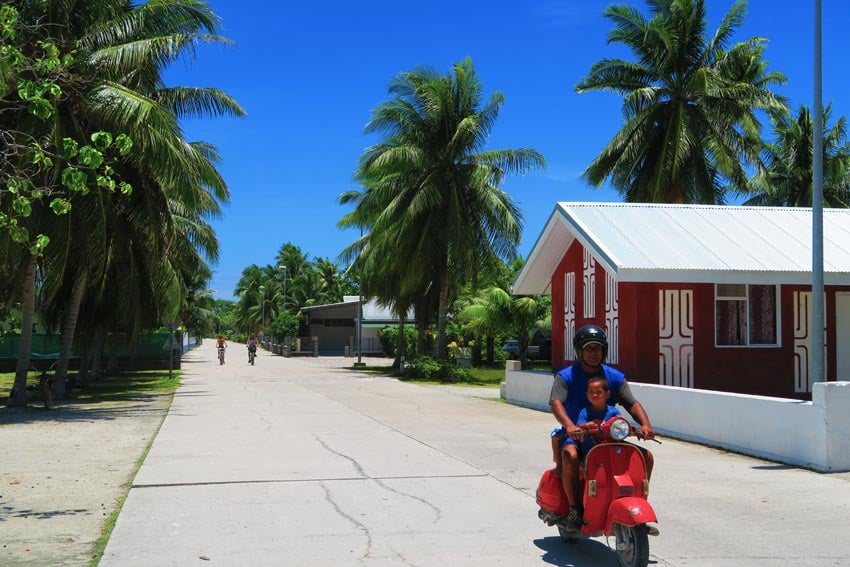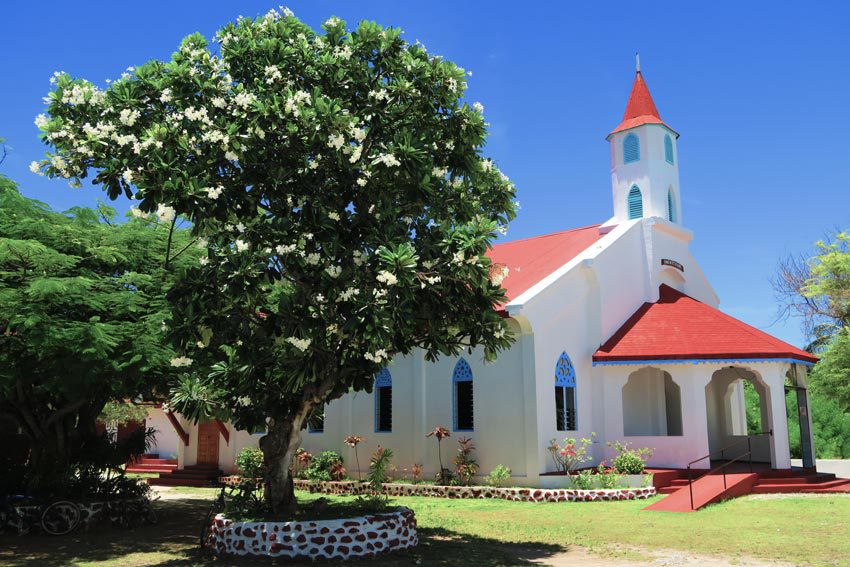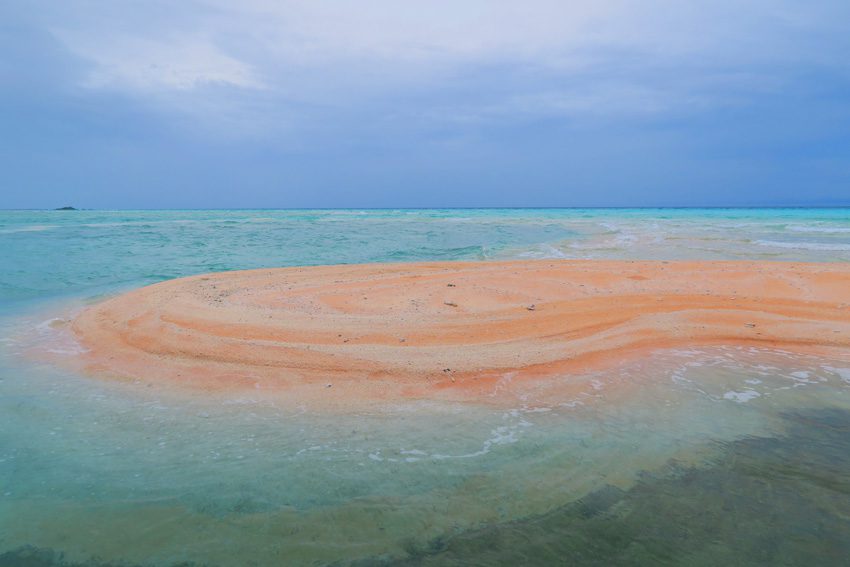 Tikehau
Meaning "peaceful landing" in the local Puamotu dialect, this is exactly what you'll get on this atoll. Much like Fakarava, Tikehau is both an ideal scuba diving destination but there's also a lot to see and do beyond diving. Even if you do not dive, you will still enjoy visiting this atoll. Tikehau boasts miles and miles of white and pink sand beaches that are relatively easy to access, either on foot, by boat, or with a kayak, its lagoon is filled with numerous attractions that everyone will enjoy, and the laid back vibe around the main village is the ideal setting for those in search of an authentic and calming experience.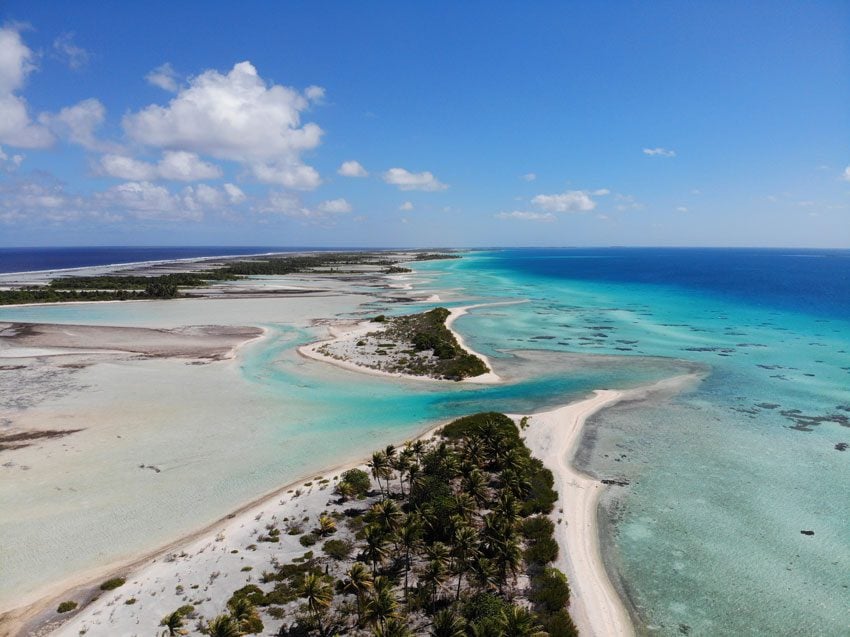 Most accommodations consist of family-owned pensions but there are a few high-end resorts on the island. If you're seeking luxury, look no further than the Pearl Beach Resort. The resort is located about 20 minutes by boat from the main village and boasts overwater bungalows (though over shallow waters). Apart from luxury in the middle of nowhere, the main appeal of the resort is its location. Guests can skip across white and pink sand motu or kayak and get lost for the day. On the other end of the airport, the Ninamu Resort is located on a private motu just 10 minutes by boat from the main village. The resort is Australian-owned and offers an all-inclusive experience.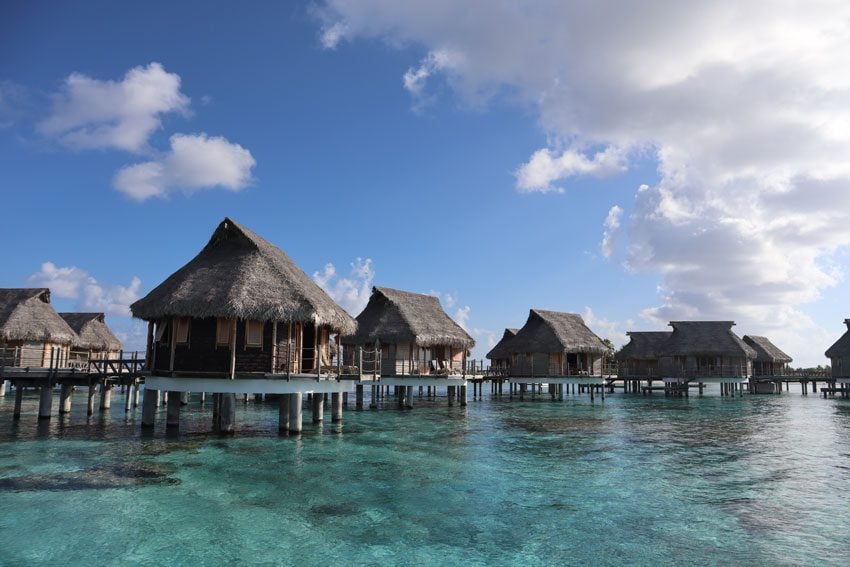 For a pension stay, Relais Royal is the best option for a high-end pension experience. It is located on a motu just across from the main village but it's not challenging to cross there and back. Next are the island's most popular pensions, clustered around a long string of white sand. Worth mentioning are Pension Hotu and especially Tikehau Village, both solid options. Other options in this cluster include Pension Justine and Pension Aito Motel Collette.
Most, if not all diving in Tikehau is done in and around Tuheiava Pass, the only way for boats to get in and out of the lagoon. It takes about 30 minutes by boat to get to and from and pass, so a two-tank dive will take almost a full day. You also need to factor in the tide, which means that on certain days, departure and return will be late.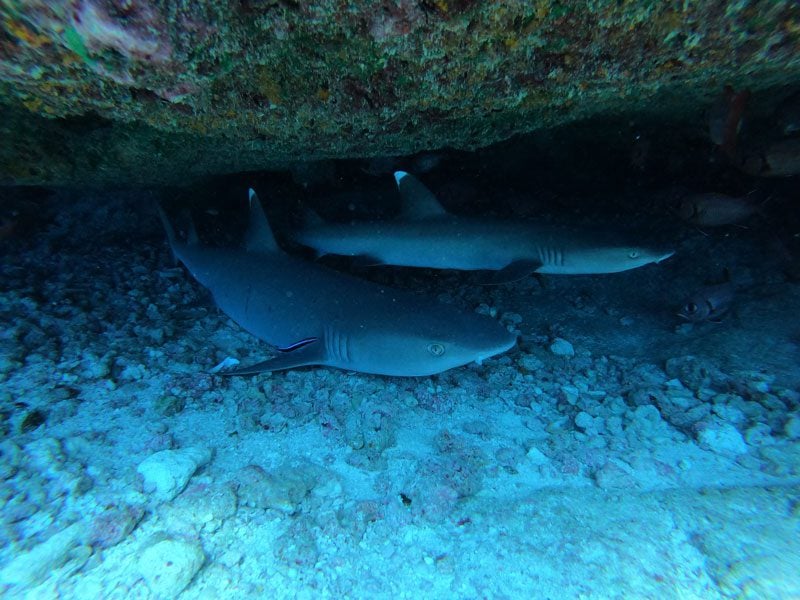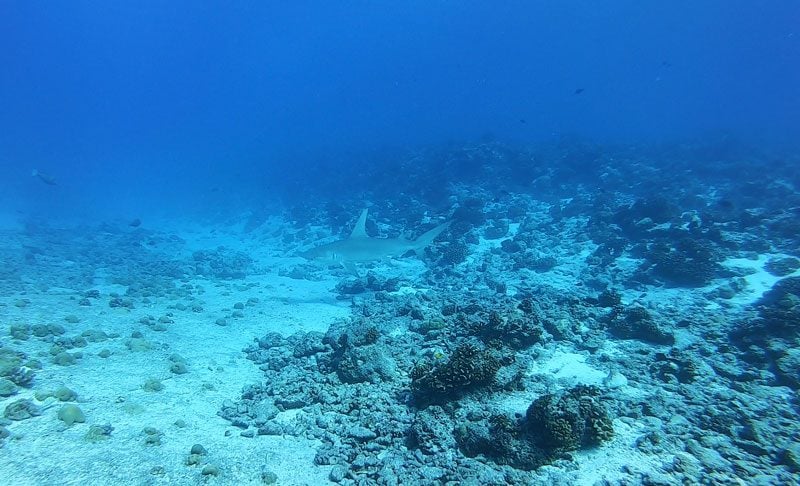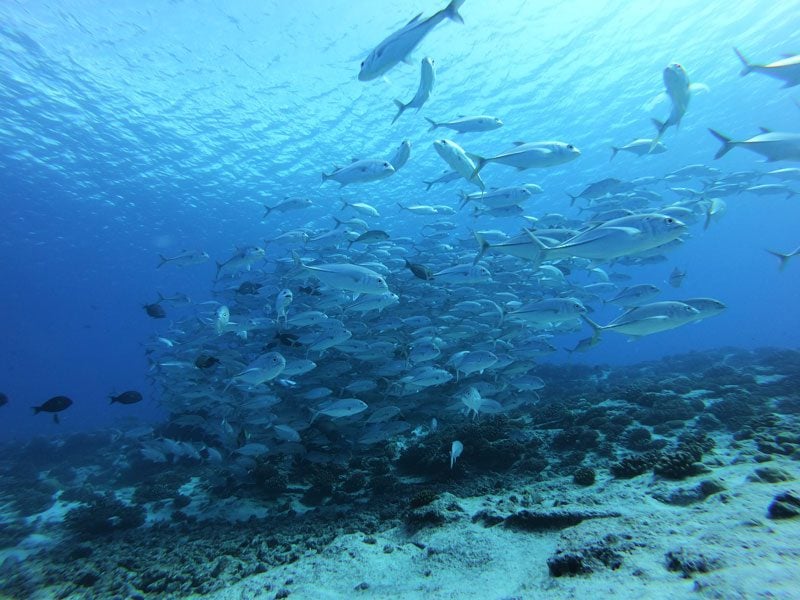 Apart from diving, circle the main motu (islet) either on foot or with a bicycle. You'll enjoy the tranquility of Tikehau and its radiating colors throughout the day. Stop at Coconut Beach and snorkel to lonely sandbanks or the neighboring motu.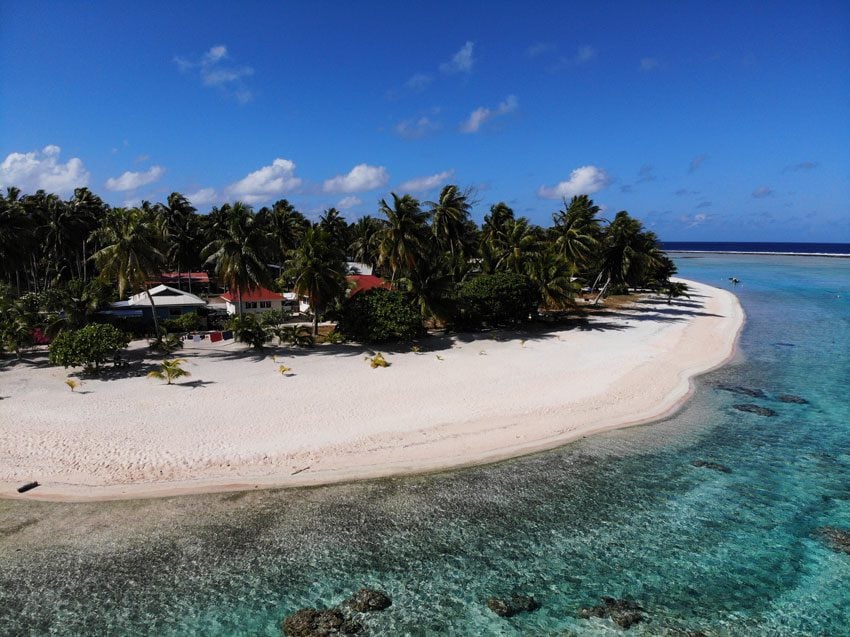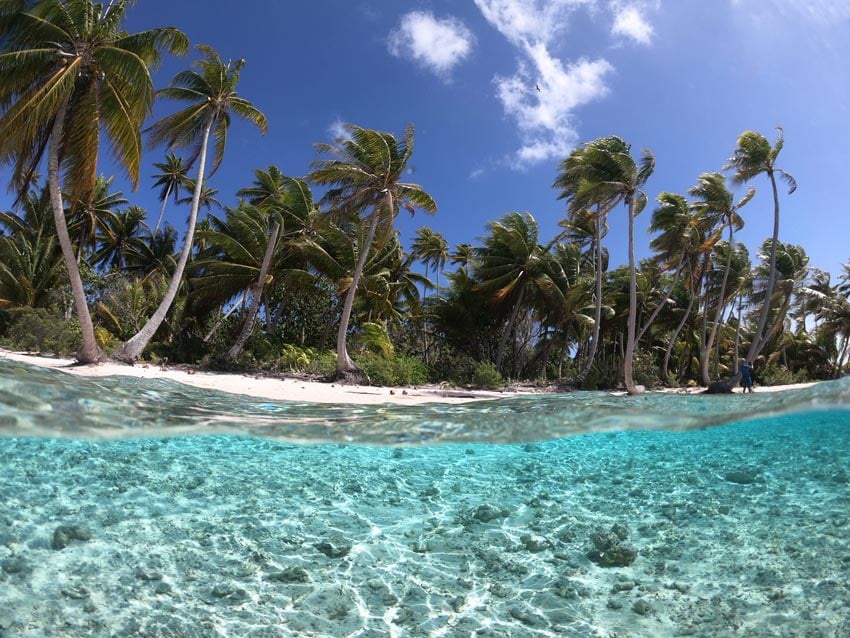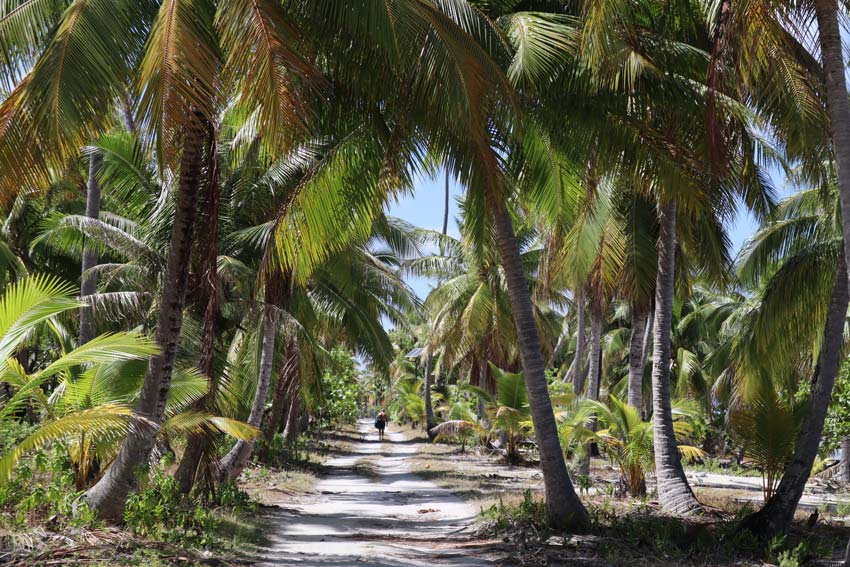 Spending a day exploring Tikehau's lagoon is simply a must. The tour begins with a visit to the manta ray cleaning station, a tiny islet in the middle of the lagoon that used to house a pearl farm. Under the water, giant manta rays gather every morning to get cleaned before "heading to work" by small fish that feed off the parasites on the manta's skin. The tour then swings to "bird island", where you'll be able to get super close to birds nesting in the trees. For lunch, you'll head to the famous pink sand beaches. This is an experience you'll never forget, where all of your tropical dreams finally come true.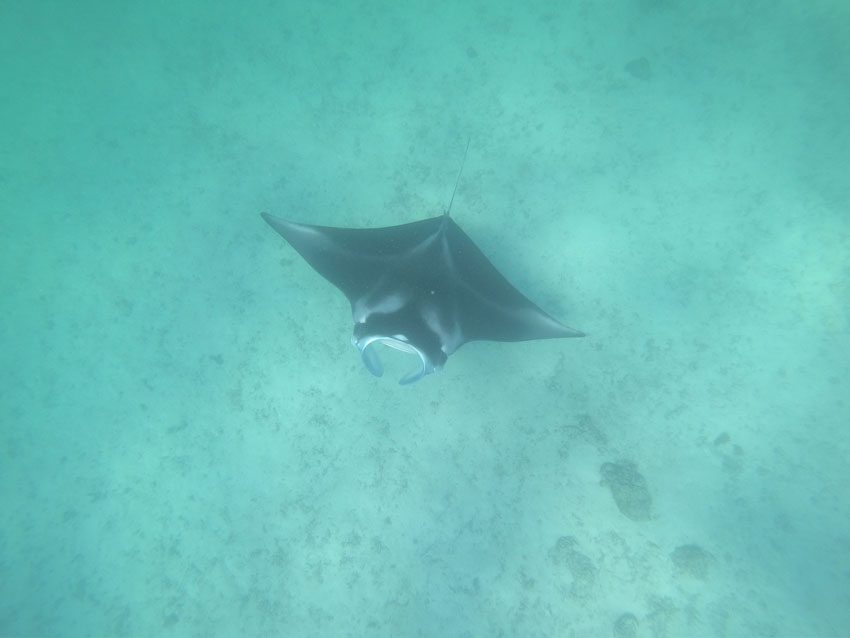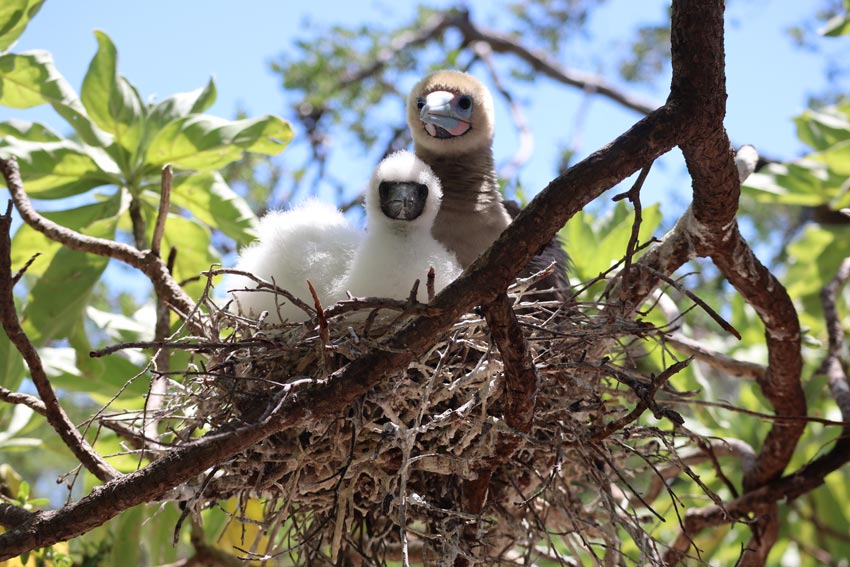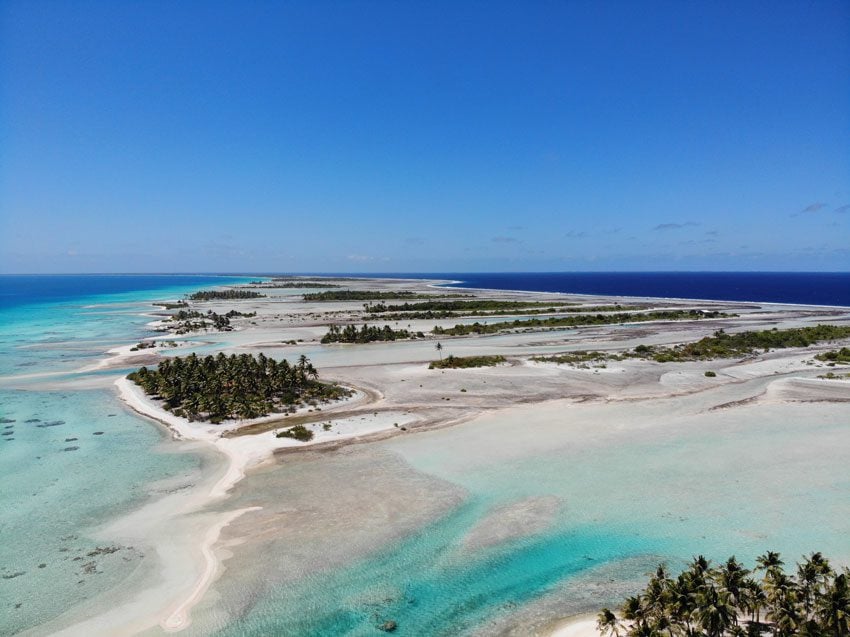 Part 4: Raiatea Or Huahine (3 Days)
Obviously, this part only applies if you skipped the atolls of either Rangiroa, Tikehau, or Fakarava. For the final leg of your 10 days in French Polynesia, it's back to the Society Islands and either Raiatea or Huahine.
Raiatea
If you like nature, you'll love Raiatea. The island may not have any beach to speak of, but it's got some serious natural beauty that totally makes up for it. And once you crave the beach, the lagoon it shares with Tahaa is loaded with small islands where you'll surely find that perfect beach. Speaking of Tahaa – it's right 'next door'. So in fact, visitors to Raiatea get to see an 'extra' island.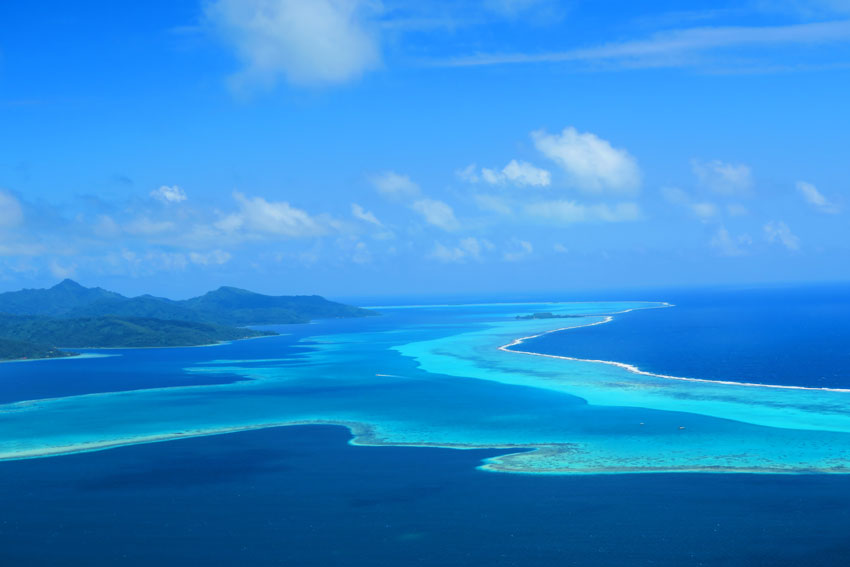 Raiatea has no resorts but only pensions, a couple of lodges, and self-catering options. For the luxury resort stay, you'll need to base yourself in Tahaa's lagoon at either Le Tahaa or Vahine Island. For a lodge-type experience, Opoa Beach is a pampering option on the south end of the island and Raiatea Lodge, close to the main village of Uturoa, is highly acclaimed both for its accommodation and dining. For a pension stay, check out Villa Ixora, Pension Temahani, Pension Les Trois Cascade, Pension Manava, and Pension Fare Vai Nui . Close to Marae Taputapuatea, Pension Opeha and Hotel Atiapiti are solid options. For self-catering and camping, check the Sunset Beach Motel.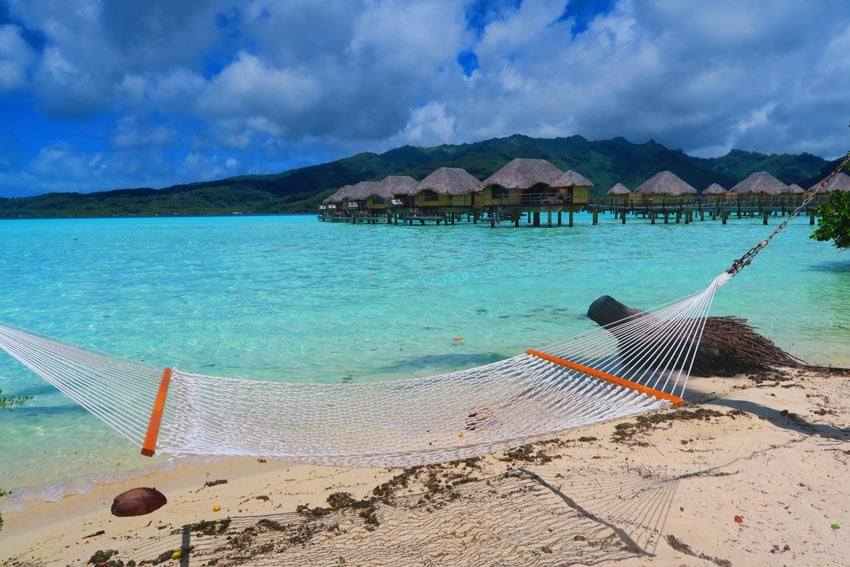 Raiatea is all about the outdoors, with excellent hikes on the menu. Choose from the short hike up to Mount Tapioi for gorgeous panoramic views (currently might be closed), venturing deep into the rainforest in search of three waterfalls, or a challenging hike up to the Temehani Plateau in search of one of the rarest flowers in the world – the tiare apetahi.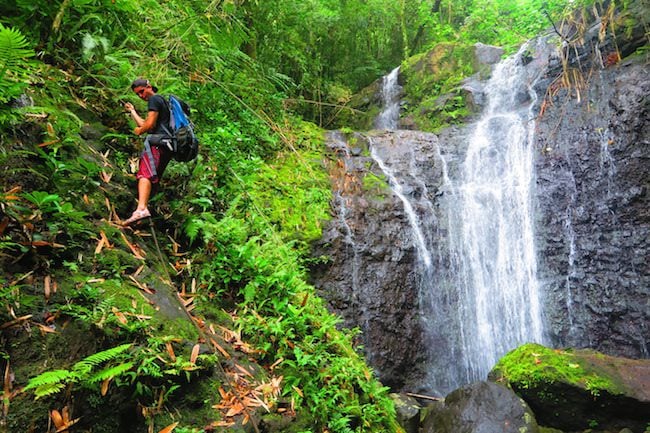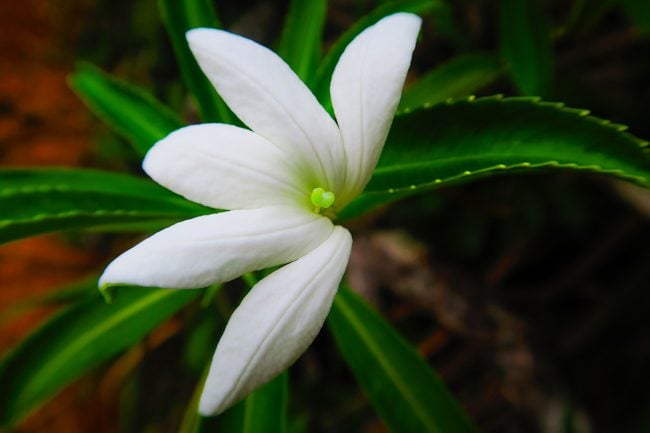 Aside from hiking, hit the road and circle Raiatea. Once you exit town, you'll have parts of the island all to yourself. Stop at Marae Taputapuatea, the most important ancient temple in the Polynesian Triangle and a newly named UNESCO World Heritage Site. On your final day, you can even take a trip to neighboring Tahaa Island, where you'll find pristine beaches out on the surrounding islets, and some of the finest vanilla in the world.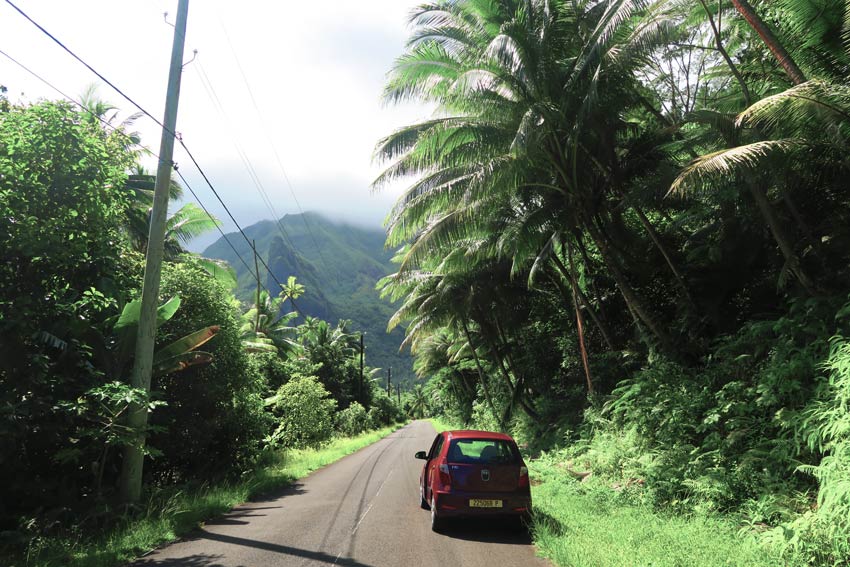 Huahine
Huahine is known as 'the Garden of Eden'. Independent travelers, families, and honeymooners seeking a laid back and authentic tropical island destination will just love Huahine. In this largely undeveloped paradise, you can do as little or as much physical activity as you desire, while easily finding your very own beach for the day. Huahine is largely off the mass tourism map.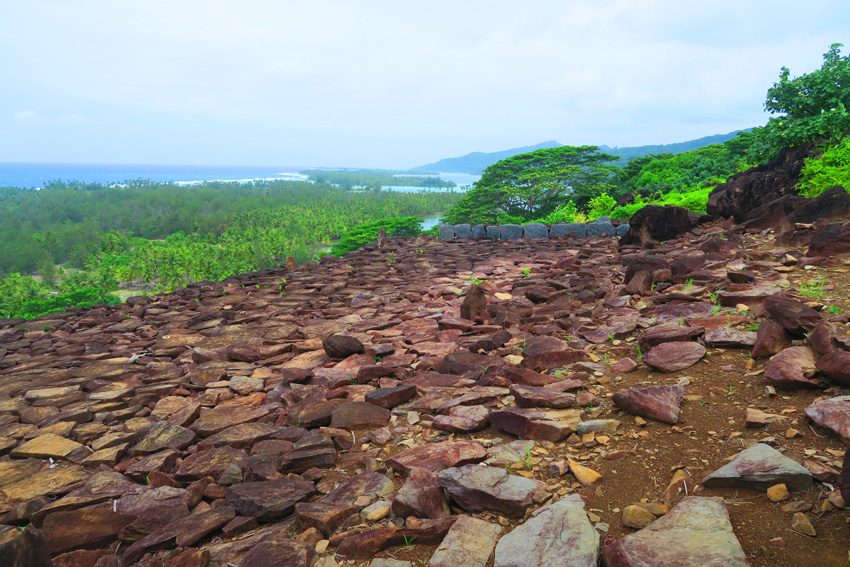 Huahine is a low-key destination but it does have somewhat of a wide range of accommodations. Accommodations near the main village of Fare entail easy access to amenities and dining, whereas accommodations in the far sections of the island, especially around Avea Bay in Huahine Iti, mean you'll feel more detached but also be more limited in terms of dining options. Huahine's best resort is the Maitai Lapita Village. It's located just outside the center of Fare with easy access on foot to the village. For something between a resort and a pension, Le Mahana is one of the most popular choices in Huahine and its Avea Bay location is unbeatable. For a pension stay, Pension Meherio offers a basic yet friendly local setting. Further out, Fare Maeva is a good option though lacking Polynesian charm. Over in Huahine Iti, Pension Moana Lodge has a beautiful setting. Halfway between Fare and Avea Bay, Pension Tupuna has a cozy setting though lacking a proper beach.
For those seeking to spend their final days in French Polynesia on a white sand beach, head to Avea Bay and work on your tan. If you like having the entire beach for yourself, the one by the abandoned Sofitel Resort will be to your liking.
If you're looking for a bit of action, rent a car or a scooter and simply circle the island. In fact, Huahine is made up of two islands connected by a bridge. Don't miss visiting the dozens of ancient Polynesian temples dotting Lake Maeva and the surrounding hills, and the sacred blue-eyed eels that are said to hold the spirits of ancient islanders.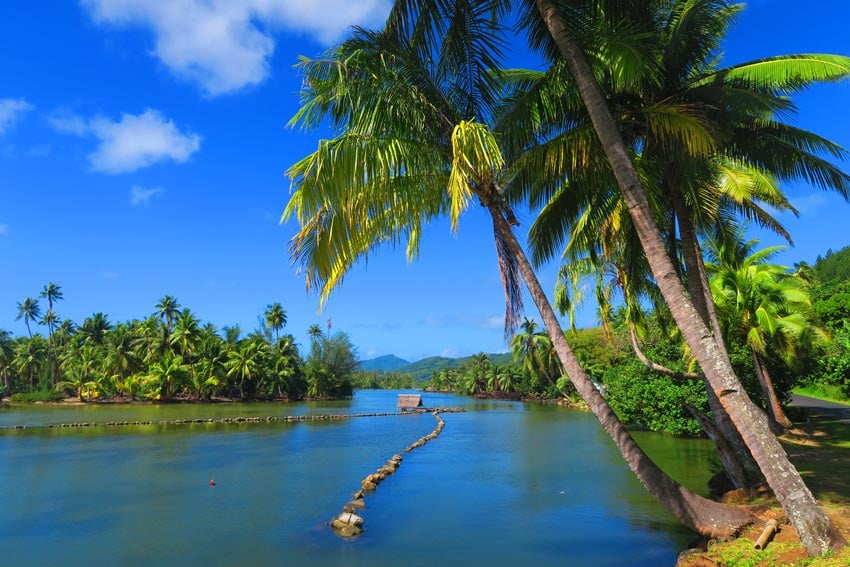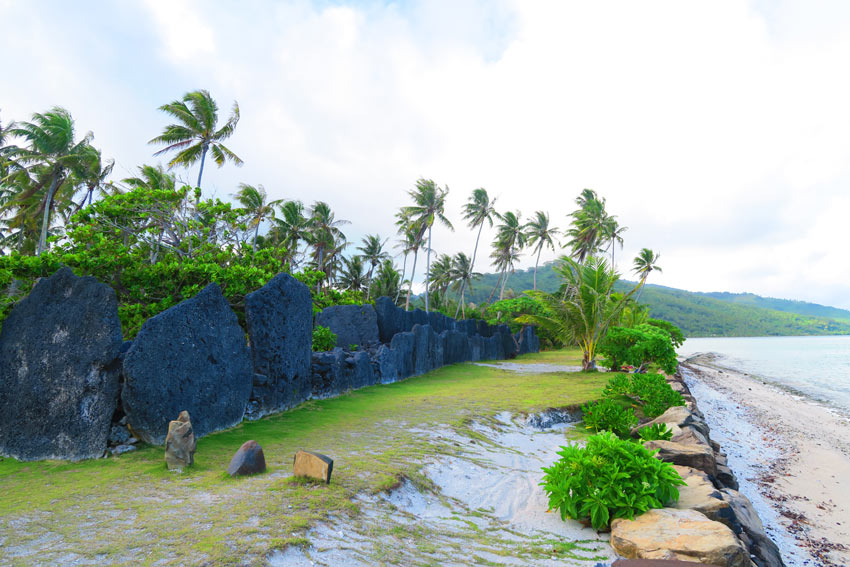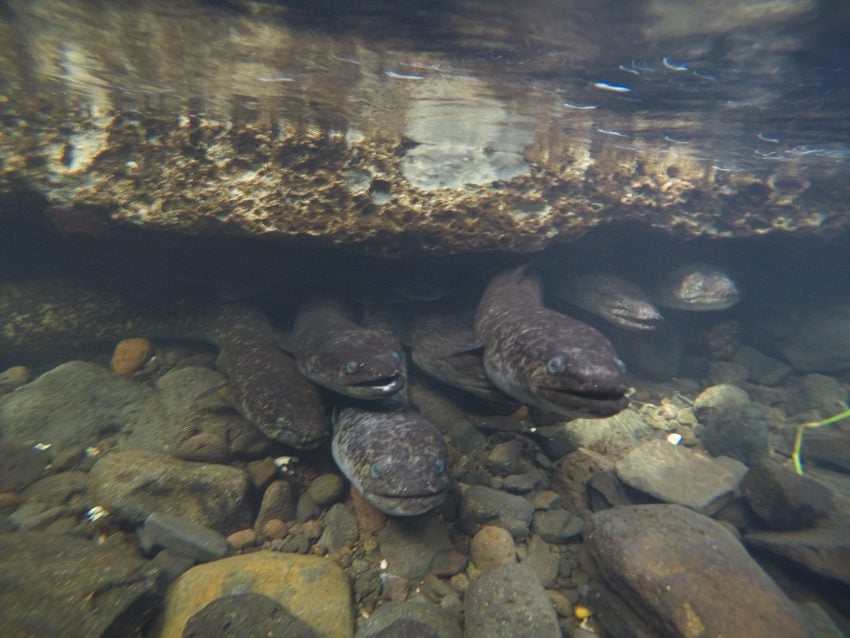 For one last taste of paradise, spend your last day exploring the Huahine lagoon. You'll visit a floating pearl farm, have lunch on a dream of a beach and get to feed hundreds of hungry sharks!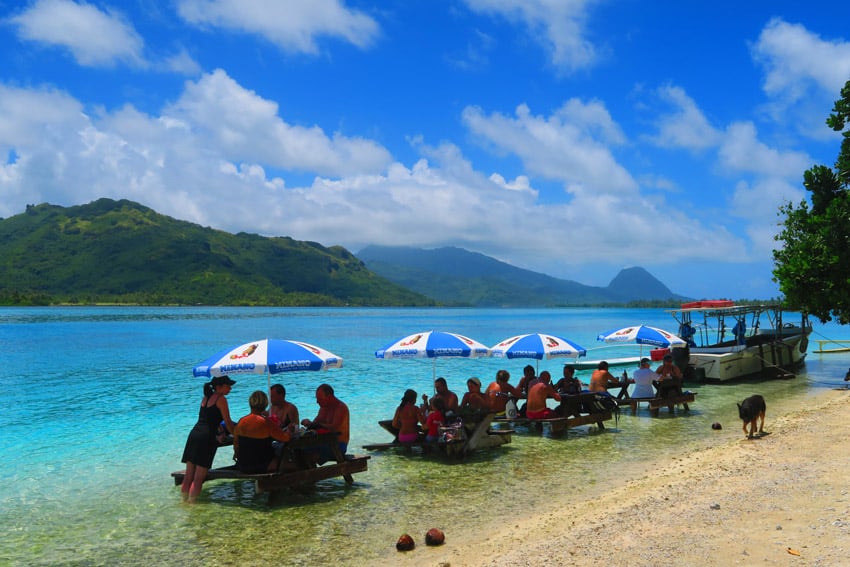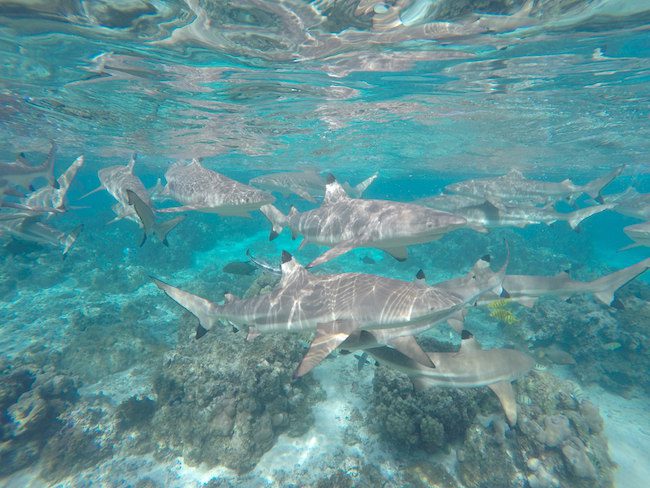 What's Next?
This 10 days itinerary for French Polynesia gives you a pretty good taste of the islands. Start planning your trip to French Polynesia with free travel guides to all five archipelagos, plus tailor-made services if you need a bit of help with planning your vacation to paradise.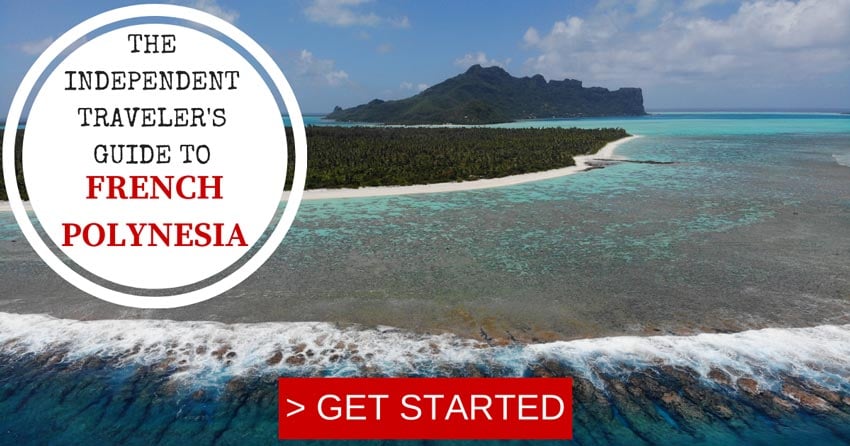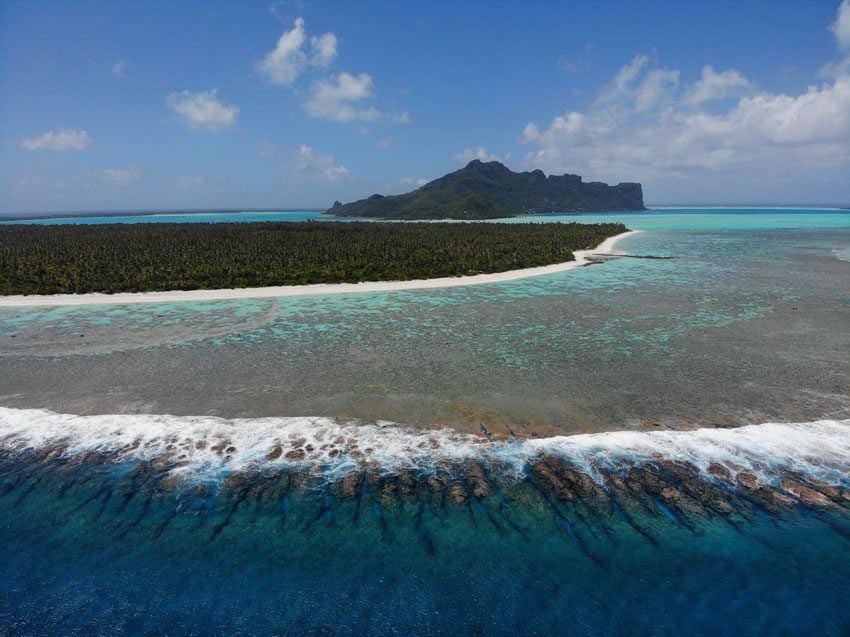 Tahiti, Tailor Made!
The Islands of Tahiti are among the last places to be colonized by mankind, 118 islands, each with their unique personality.
Get expert advice and assistance with planning your trip to the destination where tropical dreams come true!
See Options