A tropical island rich with history, mystery and exotic beauty. Exploring 'The Spice Island' is like pealing off the layers of time and relaxing on one its remote tropical beaches, is the ultimate escape.
Karibu! Welcome to paradise! Just the sound of it immediately invokes thoughts of a far-off exotic destination, unchanged by time, rich with history, and blessed with tropical beauty. A trip to Zanzibar, The Spice Island, was on our 'to do' list for quite some time. We spent 10 magnificent days in Zanzibar during November with a mix of sightseeing, diving, and a whole lot of relaxing.
A semi-autonomous part of Tanzania, Zanzibar is located just off the coast of Africa and holds a population of 1.3 million inhabitants. Its capital, Stone Town, is its center and your usual point of entry. Most visitors travel to Zanzibar to relax after an African safari in Tanzania and will rarely see more than a beach resort.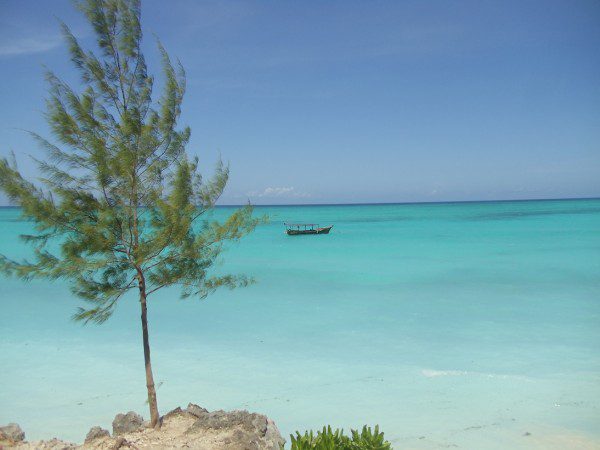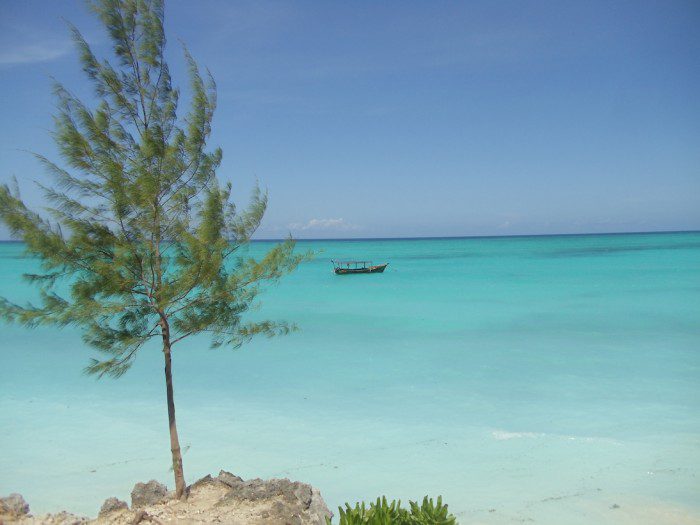 Zanzibar, and especially Stone Town, are magnificent to explore. It is a tiny piece of land where European, Arabian, Indian and African influences met and this is still evident today. We chose to travel to Zanzibar during November to avoid the Christmas crowds and its price hikes also it's the 'short rainy season' so not much rain was expected. I must say that we enjoyed exceptional weather through most of our visit with 3-4 short periods of rain, mainly around Stone Town and Nungwi with the East coast enjoying clear skies throughout. Neighboring Island Pemba is much less developed in general but offers superb diving and pristine beaches. You can inquire about getting to Pemba quite easily when you're in Stone Town. We focused our visit on the main island of Unguja however.
If you're going to go this far for your holiday, you should definitely plan well. I hope that this Zanzibar travel guide will help you plan your tropical dream vacation.
Planning a Trip to Africa?
Extend your African beach holiday to Zanzibar with a visit to neighboring Kenya. Here's a 3-day Kenya itinerary and a list of the top things to do in Kenya.
What's Included in this Zanzibar Itinerary?
Several sections make up this Zanzibar itinerary:
Essential Zanzibar travel tips, where to stay & itinerary map [This Page]
Travel Tips for Zanzibar
Listed here are a few key travel tips for Zanzibar that will help during the planning stage of your trip.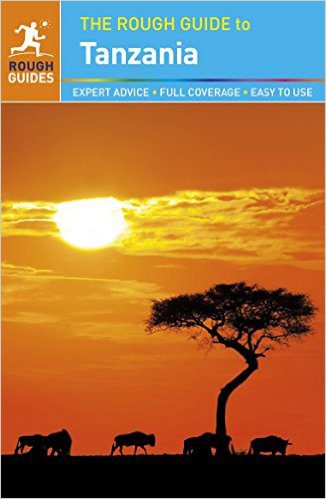 Don't leave home without the Rough Guide To Tanzania, only $25 on Amazon! It's got loads of useful information about Tanzania and Zanzibar. Together with this guide, will be your best friend on this epic trip to East Africa.
Will Zanzibar be your tropical ending to an African safari? Get in touch with Michael Shotii from Nature Experience Safaris for memorable private trips to Ngorongoro and Serengeti.
Zanzibar's beaches are beautiful but the water may have corals and sea urchins. Do yourself a favor and bring along a pair of water sandals. They will go a long way.
Don't forget to get your yellow fever shot and be sure to bring along your vaccination booklet. Be aware of the entry visa so bring along some US Dollars. You can get your entry visa at the Zanzibar airport.
Speaking of money, in most hotels, you'll be able to pay with a credit card (double-check before). However, they will add 1-3% to your bill. Therefore, have some cash with you. You can trust the Barclay's ATM in town and there are plenty of foreign exchange places around (a bargain for rates). There is also an ATM in the 'arrivals hall' at the airport if you want to take out some local currency.
Bargaining is expected and part of the fun but be sensitive to the local economic situation and ensure a win-win situation where both you and the merchant are happy.
The towns are full of locals trying to sell you things, from tour packages to transportation to art. They are commonly referred to as 'papasi' (ticks). Be firm and turn them away but always thanking them for the offer and with a smile.
Zanzibar is predominantly Muslim. This doesn't mean you cannot enjoy a nice cocktail but it does mean to respect local values especially when it comes to the dress code in urban areas where locals live. I advise men to refrain from sleeveless shirts and for women to cover their shoulders, especially in the market area of Stone Town.
Zanzibar's beaches are tidal and may not be suitable for swimming at all times of the day. Nungwi, Pongwe, and Kendwa are known for being tide-friendly but be sure to research this beforehand.
Transportation can be expensive if you're not taking local transportation. It can sometimes cost $50 pp to get from Nungwi to Stone Town. You might have luck in negotiating with your hotel for free transportation when booking directly through them.
Air connection to Zanzibar is usually achieved in small planes. Your large luggage may not arrive when you do (but will arrive eventually)! Do yourself a favor and pack the essentials for 3 days in a small carry-on suitcase. On departure, don't be alarmed if the official porter asks for a bribe to load your luggage to the plain. A few $1 bills will do the trick.
Electricity supply is not very reliable throughout the island and outages are very frequent, especially in Stone Town. Power is usually back within a short time and most places do have backup generators. Nonetheless, it's still advised to bring with you a good flashlight and take it with you when you go out so that you don't find yourself in a dark street.
Where to Stay in Zanzibar?
This is the million-dollar question! As mentioned above, Zanzibar's beaches are very tidal. In some places, the beach completely disappears during the tides – not too optimal for swimming. There are a few exceptions though. We stayed in Matemwe and (the good side of) Nungwi, but also looked at options in Pongwe. If I had to do it all again, here's where I would stay in order of preference. It's wise to stick to one or maximum two places.
Best places to stay
Matemwe: a gorgeously long beach with the whitest of sand. The beach is tidal but does have a few good swimming spots. It's so pretty out here, simple and quiet. Stay at the Villa Kiva Boutique Hotel which is perfectly located, intimate and offers delicious Italian-inspired local cuisine. Lots on Matemwe later on in this 10 days in Zanzibar sample itinerary.
Pongwe: one of the few beaches that doesn't seem to change much with the tides. Stay at the Tulia Zanzibar Unique Beach Resort and go for the full-board option that also includes unlimited alcohol! It's quite expensive but a good friend of mine just got back from there with rave reviews and incredible photos. The setting is intimate, the service is outstanding, and the beach is loaded with perfectly-shaped red starfish! Very few rooms are available so book fast.
Nungwi: the obvious choice for travelers to Zanzibar and sort of a tourist hub. The area is well-developed and everything is within a short distance. However, if it's peace and quiet you're after, stay at the Ras Nungwi Beach Hotel. It's located outside the village in a beautiful spot, away from the crowded scene. The beach is secluded and always great for swimming.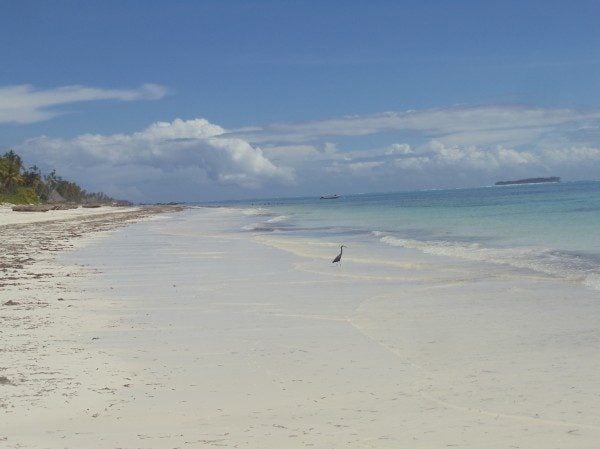 Day Trip Tips in Zanzibar
There are many popular excursions with dozens of tour operators to choose from for a day trip in Zanzibar. These range from spice tours, Safari Blue, snorkeling trips, dive trips, forest tours and more. The most popular ones are the Safari Blue and spice tours.
No excursion is cheap, decide on what you really want to get out of it, do some research and keep in mind that time on an excursion usually means less time to relax on the beach.
You can't do them all. Your Zanzibar travel holiday is probably meant to be a relaxing one.
When booking excursions, it is best to shop around first and ask other travelers. In most cases, booking a hotel outside of Stone Town will drive up the price considerably.
If you don't want to find yourself on a boat full of other travelers, try going for alternative excursions. We were fortunate enough to be able to visit Chumbe Island.
Diving Tips for Zanzibar
Scuba diving on a Zanzibar travel holiday is a must for any certified diver!
The finest dive spots are actually around Pemba Island. If you have the time and you're really into diving, look in Stone Town (or before arriving) for options.
In Unguja (the main island, where Stone Town is), the finest spots are around Mnemba Island and its reefs. Using Matemwe as a base, you'll be able to save lots of money and time to see the reefs here due to the proximity and relatively less commercialization.
If you're in or around Nungwi, booking from the dive shops that are located on the boardwalk (as opposed to the dive centers within the resorts) will save you a lot of money.
Zanzibar is heavily affected by tides so all diving departure times greatly fluctuate.
If you are into drift diving, there are excellent spots around Mnemba Island.
We used One Ocean who has multiple locations on the island. They have excellent equipment, professional staff, and reasonable prices. You may be obliged to take a refresher module if you haven't dived in a while but this totally in your favor and worth the 35$.
Zanzibar Itinerary Map
The image below displays the Zanzibar itinerary outlined in this travel guide. Simply click on the image to open in Google Maps.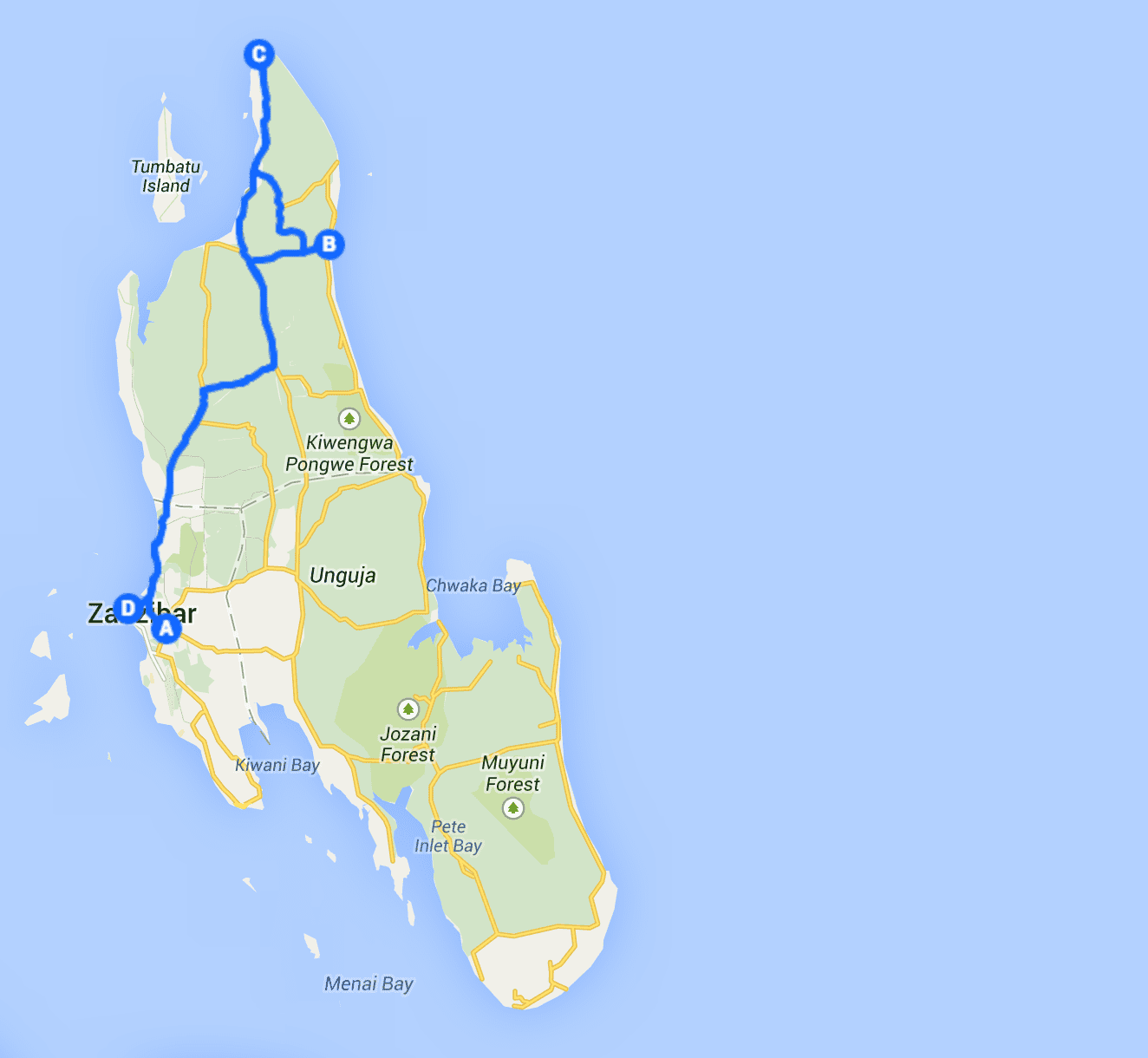 Part 1: Stone Town (2 Days)
The first part of this Zanzibar itinerary is dedicated to its major town. Many travelers overlook Stone Town en route to the beaches, but for those who seek a taste of the local vibe and have an affinity for architecture, don't miss a quick stop in Stone Town.
Where To Stay?
We landed in Stone Town in the morning hours after a connecting flight from Nairobi. Unlike us, our checked luggage did not make the connection, a story often heard from those connecting through Kenya. Luckily for us, we came prepared and had enough essentials to last us for a couple of days. We were greeted by sunny and humid weather, unlike the ominous weather reports which predicted constant rain throughout the week. We had arranged for an airport transfer when booking our hotel and were on our way to The Dhow Palace Hotel. Hakuna Matata!
All places mentioned in this section of the itinerary can be found on this companion map. Click on the image to open in Google Maps.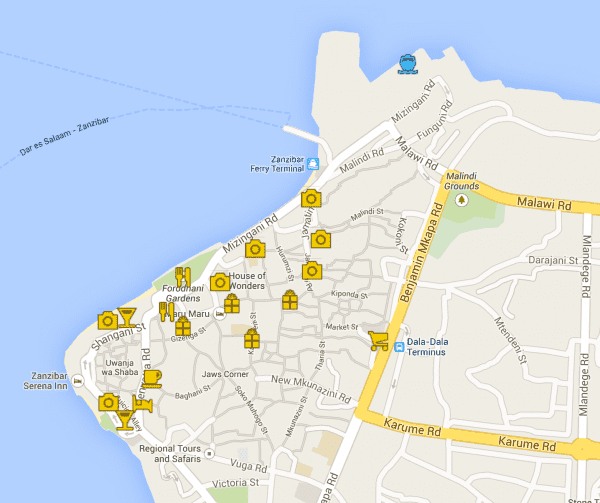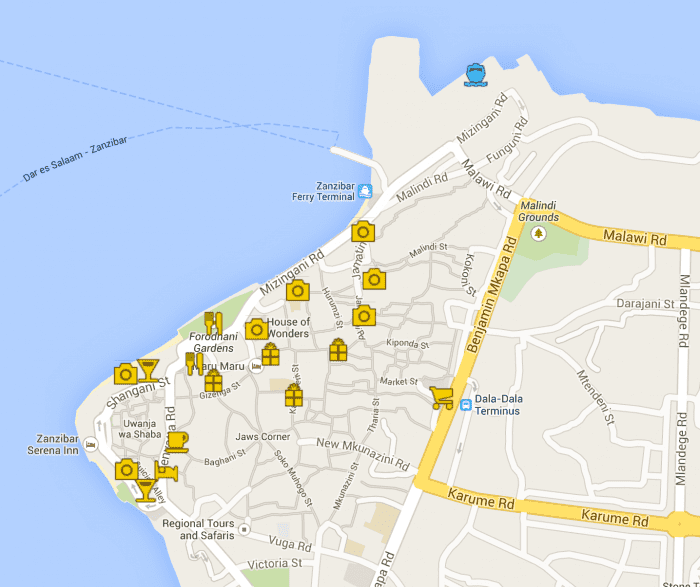 There are quite a few hotel options in Stone Town, both in the historic town itself and the surrounding beaches. If it's in the historic center you wish to stay in, I recommend choosing a place that is around Shangani Square. This area is less dense, with all the amenities you need, and relatively safe. Had we stayed in the labyrinth of alleys in the center of the historic area, we would have felt a bit unsafe.
The Dhow Palace was a great choice: excellent location, working air conditioning, wi-fi in the room (even Skype worked), a mini-refrigerator, hot water, friendly staff, well lit at night and with an excellent breakfast. Above all, the building is very historic, a beautiful colonial-style structure with heavy African influence and wonderfully furnished. It's not 'the Hilton' but excellent value for money. If you are sensitive to noise, avoid the rooms on the top floor as the tin-covered roof can get a bit noisy in the rain or when birds rest on it.
Before heading out to explore the town, we wanted to inquire about a day trip to Chumbe Island Coral Park. Chumbe Island is located just off the coast of Stone Town and is a marine-protected island. Due to the delicate land and marine ecosystem, only 14 guests are allowed on the island at any time. Bizarrely, though a truly authentic eco-friendly conservation project, the island holds a small and luxurious eco-lodge. Your only chance to visit this special island is either by booking a stay at the lodge, which will set you back a fortune, or call a day before you wish to visit and see if there is room on the island for day-trippers. If you're lucky, and we were, you can catch a ride for a day trip to the island for $100 per person. Call +255 (0) 242 231 040 or +255 (0) 777 413 232 to try your luck. More on this day trip later on.
Feeling good about tomorrow's island trip, we had the whole day to explore the town. Stone Town, at least the area that most attracts tourists, is very small and easily explored on foot. From the impressive colonial buildings dotted around the seafront to the narrow alleys further to the east, Stone Town is rich with history.
Stone Town was a trading (and slave) hub where the east literally met west. The architecture bears the influence of European, Indian, Arabian, and African touches with houses fitted with rotting yet charming wooden verandas and magnificent wooden doors, which Stone Town is famous for. You will find yourself snapping loads of pictures of… doors.
If there's one annoyance in Stone Town, it's the 'papasi'. With the literal meaning of parasite in Swahili, the papasi are mostly 'highly qualified' men who will try to sell you everything imaginable. They are tour guides, artists, shop owners, chefs, carpenters, taxi drivers and whatnot – all in one person. Don't be tempted to take them up on their offer but be warned- they will be VERY persistent. Just be very friendly, kindly decline and whatever you do- continue walking.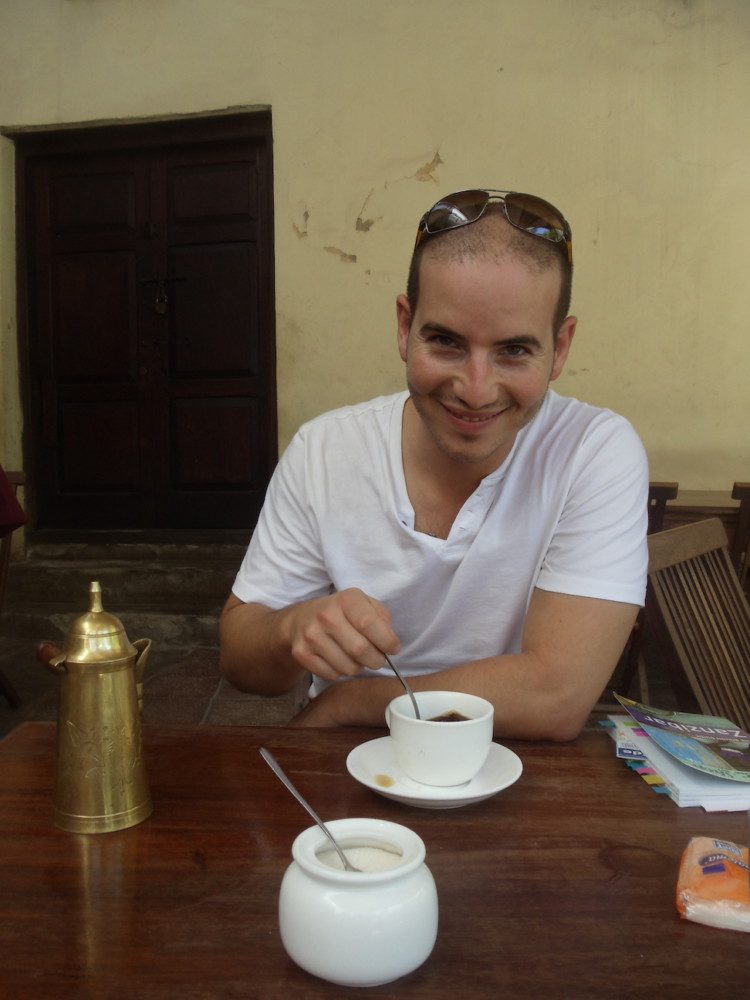 Start your city exploration in the waterfront area, eventually making your way east to Creek Road, which can serve as your boundary. Beyond Creek Road, there are very few tourist highlights and you may feel less safe with not too many visitors around you.
Our first stop was to get something to eat and we headed to the nearby Stone Town Cafe. With a non-pretentious menu at very reasonable prices, we had a lovely tuna steak with fresh salad and rice. The real highlights here are the fruit smoothies (try the mango) and the spiced coffee. Zanzibar is famous for its spiced coffee, a blend of Arabica coffee from the mainland beautifully blended with cardamom, ginger, cinnamon, and sugar and served in an Arabian brass pot. This is a must if you like coffee.
Oddly enough, you would think that such a local delicacy would be served at the hotels and resorts but this is an anomaly. So take my word and head to Stone Town Cafe as this is one of the best places on the entire island for spiced coffee.
From Stone Town Cafe, head down 'Suicide Alley' until you reach Tippu Tip's House. It's quite run down these days but this former slave trader's house boasts one of the nicest wooden doors on the island along with black and white marble stairs. It's not officially open to the public but makes for a great photo opportunity. You may also request a tour of the residence from the inhabitants for a small 'donation'.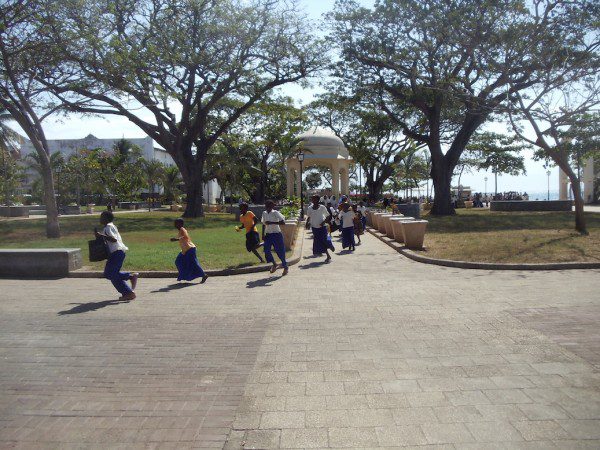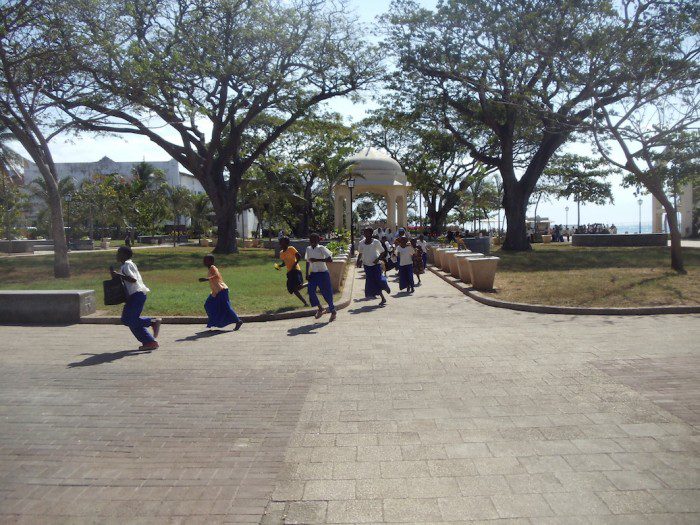 Continue walking beyond the Shangani Square and the historic Beyt al Chai hotel and you'll get to the beach area. If you fancy a dip, go for it but if you're pressed for time and will anyway hit the beach resorts, use this time to enjoy a great view of the Stone Town waterfront.
Just beyond the beach is the famous Forodhani Gardens, not much of a place as far as gardens are concerned but it serves as one of Stone Town's main gathering areas and at night, this place comes to life as locals set up food stalls as part of a nightly food market. More on this to come.
Just across from Forodhani Gardens, you cannot miss The House of Wonders (Beit-al-Ajaib), one of the most dominating landmarks in Stone Town. This former sultan's palace was the first building in Zanzibar to have electricity and the first in East Africa to have an elevator. The house is now a museum of local history.
Continuing along Mizingani Road and the waterfront, you'll see to your right the Palace Museum (Beit el-Sahel), another impressive landmark that now houses a museum about former Zanzibari royals. Just after the Palace Museum and a little bit tricky to find, is the Big Tall Tree, a strange huge fig tree. Catch some shade with the locals and enjoy its beauty.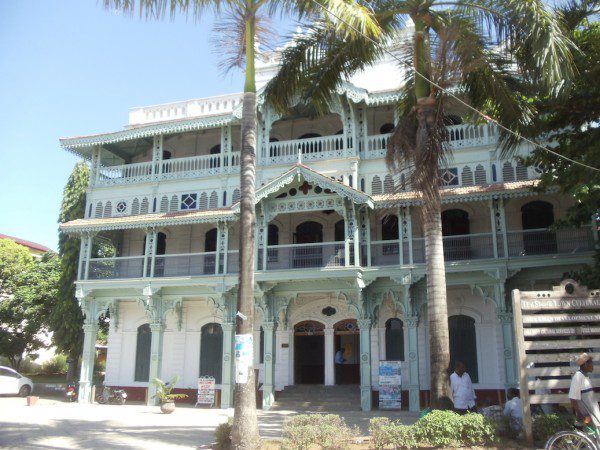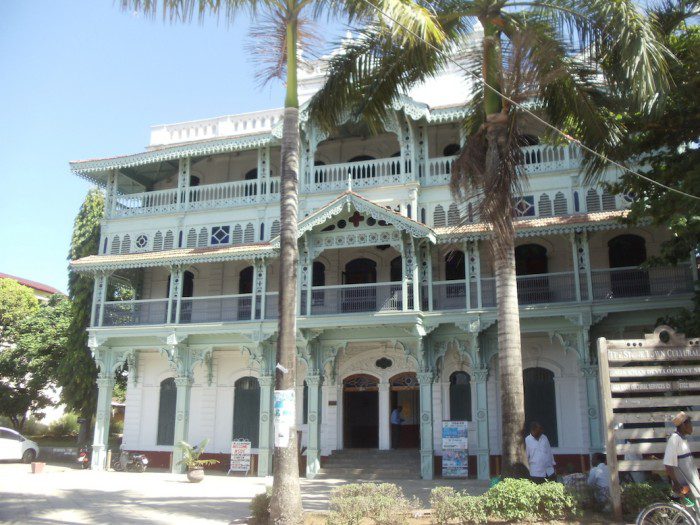 A short stroll away from the big tree is The Old Dispensary, another impressive local landmark. With heavy colonial, Indian and Arabian influence, this impressive wooden structure also has a decent crafts shop inside. Once you've seen the Old Dispensary, you've pretty much reached the port area. There's not much happening here with the exception of the early morning hours when fishermen return to port with their fresh bounty.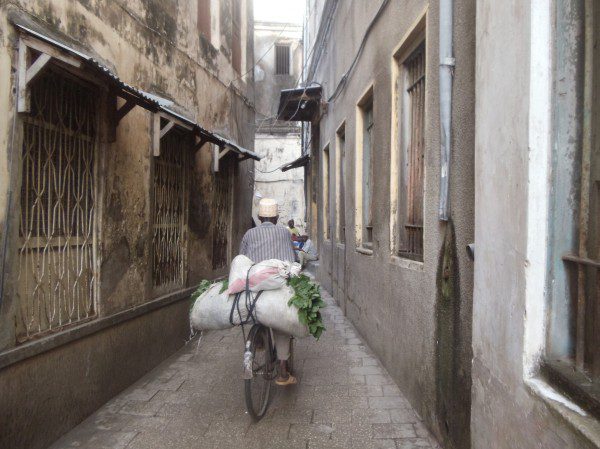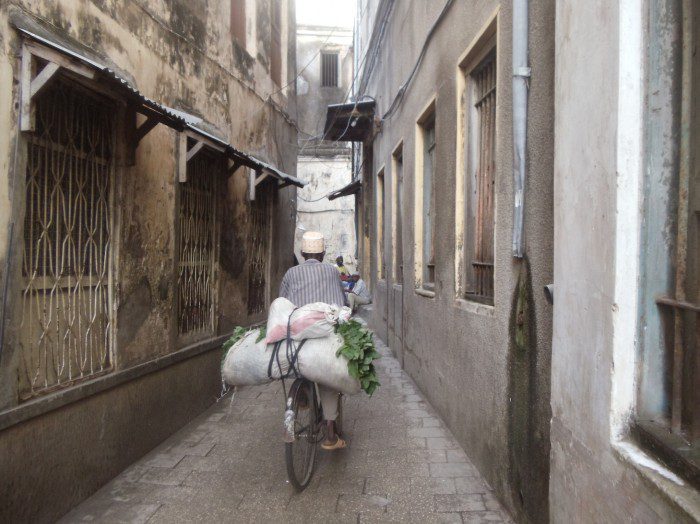 From the Old Dispensary, we ventured eastward into the labyrinth of ancient alleys that make up the old city. Getting lost is part of the fun so don't let it get to you. Locals are friendly but be sure to dress relatively modestly, especially covering your shoulders and if you're a female- preferably your legs as well. In this part of town, you'll be taken back in time as you stroll by decaying yet charming houses with magnificent carved wooden doors that Stone Town is famous for. You'll get to see the locals go about their daily routine, buying groceries in the small shops, freshening up with some sugar cane juice, going to school or to the mosque for prayer and like you- heading in the direction of the Darajani Market. If you get lost, just ask the locals for the direction of Creek Road, it's the main road to the east of you and can also serve as your border, no need to go beyond Creek Road.
If you are impressed by the wooden doors so far (or not yet), attempt to get to the Aga Khan Mosque (which might be also known as the Ismaili Mosque). Like a clearing in the forest, this mosque in the rare open courtyard has the nicest (and perhaps biggest) carved wooden door in town. It was tough to find this place and we needed the help of a local but it was certainly worth the adventure.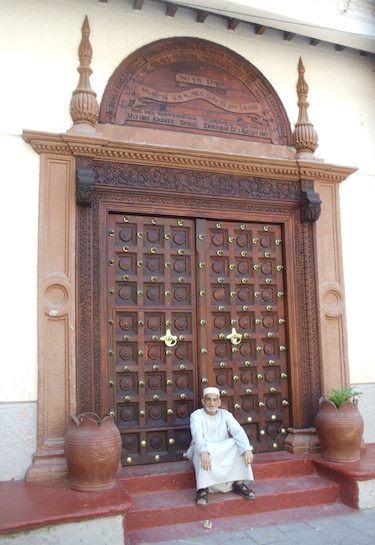 f you still have some time, head for a stroll in the Darajani Market. We were a bit tired and planned to visit the market in the morning hours anyway so we headed back through Changa Bazaar and Hurumzi Street, popular alleys lined with souvenir shops, back to the Dhow Palace Hotel (more on Darajani Market later). This way, we got to see what we could potentially buy at the end of our trip and get a feeling for the initial prices asked. If you will have some time in Stone Town on the last day of your trip, even just a few hours, I recommend saving the shopping for then. At night, we headed to the same beach area where we more or less started our day. We found a very nice bar near the Tembo House Hotel which also had seats outside in the sand. It's a very cool place to relax and have a beer.
Chumbe Island
The next morning we were greeted by the driver that was arranged by Chumbe Island to take us to the lovely Mbweni Ruins Hotel, where we would catch the boat to the island. Our driver, Salim, turned out to be a wonderful man and we ended up renting his services for other travels on the island (you can reach him at +255 777421199 / 787421199).
Lying just a short distance from Stone Town, Chumbe Island was one of the highlights of our trip. As mentioned earlier, Chumbe Island is a marine-protected coral park and only 14 visitors are allowed on the island at any given time (aside from the rangers). Pristine shallow waters surround this tiny island with superb marine life, something of a rarity these days even in a paradise-like Zanzibar.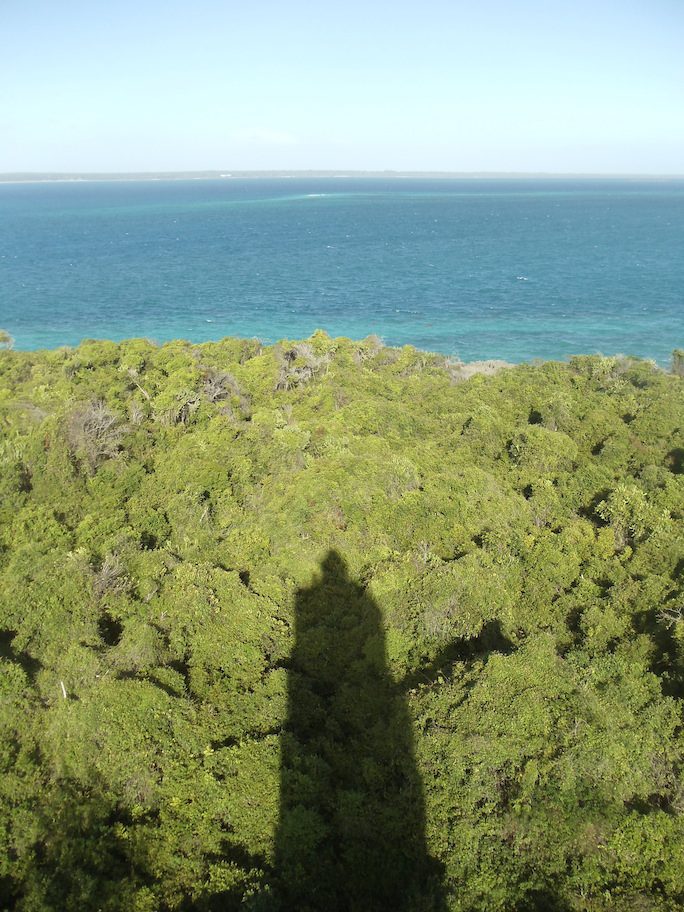 The island itself boasts a lovely mangrove forest and a relaxing beach. Guests on the island usually spend a few nights in its eco-friendly lodge and if you're lucky enough to come as a day tripper, part of your stay on the island includes your own cabin for the duration of your stay. Cabins are well equipped and quite comfortable. Complete with remarkably effective natural ventilation, eco-friendly toilet & shower, natural soaps and insect repellent- this is indeed luxury with a low carbon footprint.
You'll start your visit with a talk by the rangers about the island, animal and marine life and the conservation project. Depending on the tides, you'll then have some time to rest in the cabin, hit the beach, or walk around the island as you await lunch and the real treat which is the snorkeling trip.
The beach is fantastic and you'll have it almost to yourself. The forest walk is interesting as you'll see crabs, birds, and other animals living in a thick mangrove forest. Be sure to climb all the way up to the lighthouse for breathtaking panoramic views of the island and turquoise waters. Oh and one last thing, make sure you come hungry for lunch- an exquisite buffet of Swahili food which you can enjoy outside while gazing at the ocean.
And now to the highlight- the snorkeling trip. The rangers will take you out for pretty much as long as you want. If you get tired, they'll do rounds back to the lodge. Make sure to test your equipment before you leave as in my case, the mask wasn't amazing and that can kill the experience. If you're very sensitive to cold water, do take a wetsuit as you'll be out for a while and it's really a once-in-a-lifetime experience.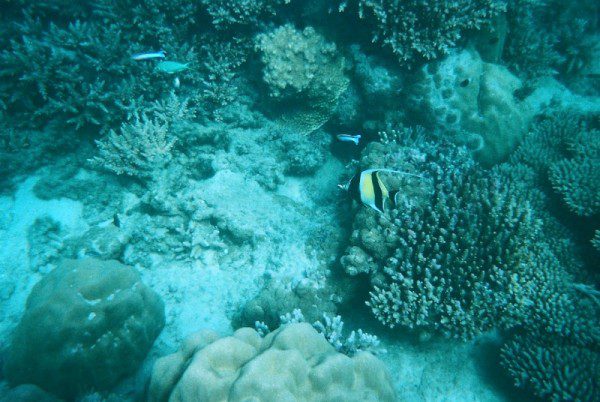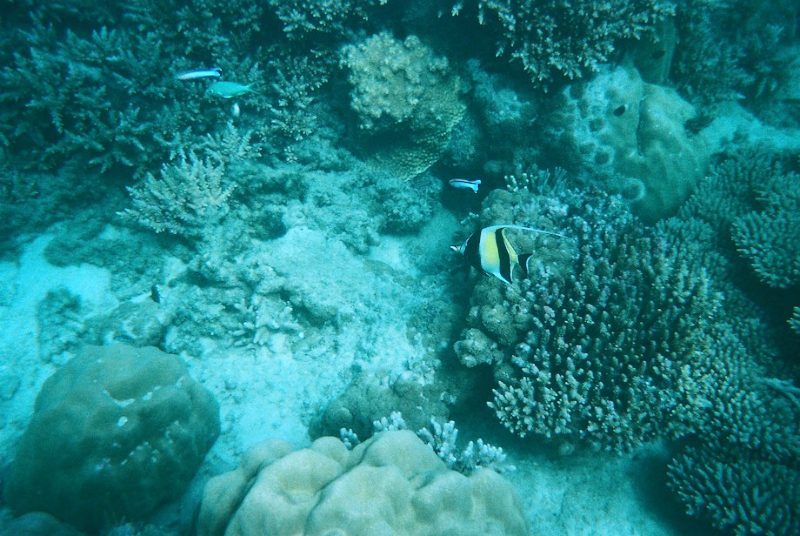 The waters are crystal clear and no deeper than 3-5 meters so it's perfect for snorkelers. I have never seen coral in such better shape like in Chumbe with a kaleidoscope of colors. You'll see plenty of tropical fish from the, very small but all-time favorite, the 'clownfish' and all the way to really big fish that I would never imagine seeing here. To sum it all up, it's worth the trip and the money: great beach, fantastic views, no crowds, friendly staff, amazing food and all part of a really good cause.
Evening in Stone Town
While it was sad to leave the island, and feeling a bit jealous of the 'lucky' ones who were going to spend the night on Chumbe Island, we got back to town just in time for the sunset. A must-do in Stone Town is to catch the sunset with a cocktail in your hand at the accurately named Sunset Bar in the historic Africa House Hotel (which is impressive on its own). Be sure to get there early enough to grab a good seat and simply enjoy the views as the Dhow boats come back to port in the backdrop of a majestic sunset. This place also serves great cocktails ($8-10), attracts the tourists and is visited by Maasai warriors who come over from the mainland to put on their traditional dance show for the tourist crowd (cheesy but nice to see).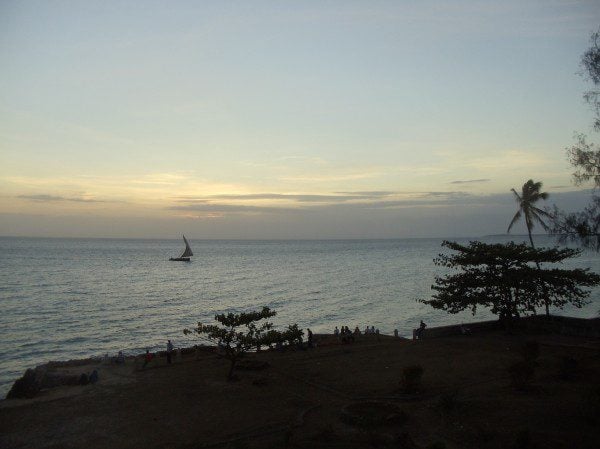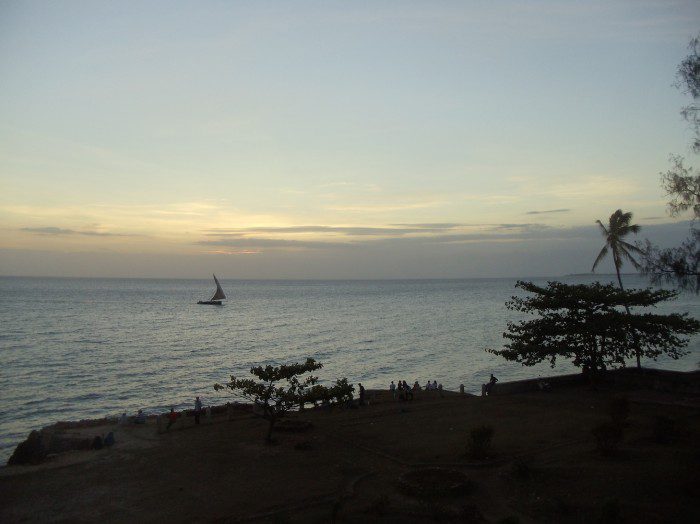 And now for another must-do in Stone, dinner at the Forodhani Gardens night food market. While a bit sleepy during the day, this place comes to life at night as dozens of stalls serving anything from traditional Swahili BBQ, seafood, spiced coffee, sugarcane juice and more fill up the gardens. This is quite an experience, especially if you like tasting authentic local food as many locals come to eat here but even if you're not, it's a great place to satisfy your curiosity. It's almost certain you'll pay double the price so do shop around a bit and whatever you drink- be sure there is no ice in it as it may not originate from purified water. While the local stomachs can probably tolerate it, your stomach will likely punish you for it so don't take the chance- no ice!
Any Regrets?
Inspired by the Arabian vibes, we were hoping to find a Shisha (water pipe) bar but were quite disappointed not to find any. The bar at the Africa House Hotel does serve Shishas but not on a regular basis.
We didn't have enough time to do the Safari Blue day trip which, though not the most intimate boat ride, does get you to some fantastic beaches with a superb BBQ lunch. We also didn't have the time for a spice tour and were hoping to book from the next destinations though this proved to almost double the price we could get if booking from Stone Town.
Part 2: Stone Town to Matemwe (4 days)
Leaving Stone Town behind, it's now time to unwind and relax on one of the island's finest beaches.
Matemwe
Leaving Stone Town en route to the beaches is when you really feel you started your vacation in Zanzibar and in our case, the first stop was Matemwe, a 45-minute drive from Stone Town. By booking directly with our hotel, we were able to get free transportation from Stone Town to Matemwe, saving $50 each. We had a couple of hours to kill before our ride so we headed to the Darajani Market to get some fruit and water for the journey (more on the market to come later).
Matemwe is a tiny village on the west coast of the island with a long, broad, and beautifully bright white sandy beach. There are several resorts dotting the beachfront but overall, this is a very laid-back place where you'll recharge your batteries. The beach also doubles as a bicycle highway and you'll see many locals riding up and down the beach. The beach is so wide so this won't bother you at all (aside from the children who'll try and sell you the odd souvenir). As beautiful as Matemwe beach may be (and it is), it is very tidal and so it is used by locals to harvest seaweed. Seaweed farms dot the shallow waters and depending on the tide, you'll see locals as far out as 100 meters from the shoreline tending their farm.
Where To Stay?
We checked into the Villa Kiva resort for a three-night stay in Matemwe. A successful selection of beach resorts will really impact your stay in Zanzibar so invest some time to find the right one. Villa Kiva was an excellent choice and it turned out it had only opened for business just recently. The resort is quite small with just a few 2 story bungalows. It is maintained to the highest standard by the manager Gabriella and the group of local staff from the village. A tropical garden surrounds a fresh pool in the front of the main house, which also serves as an open dining room with ocean views. There is a small sanded area with beach beds and a gate that leads out to Matemwe beach which is simply spectacular. We stayed in the top floor of the Africa House bungalow, with not much sea view unfortunately but the room was huge, clean, had good air conditioning, contained a small living room in the back and there was good wi-fi in the main house.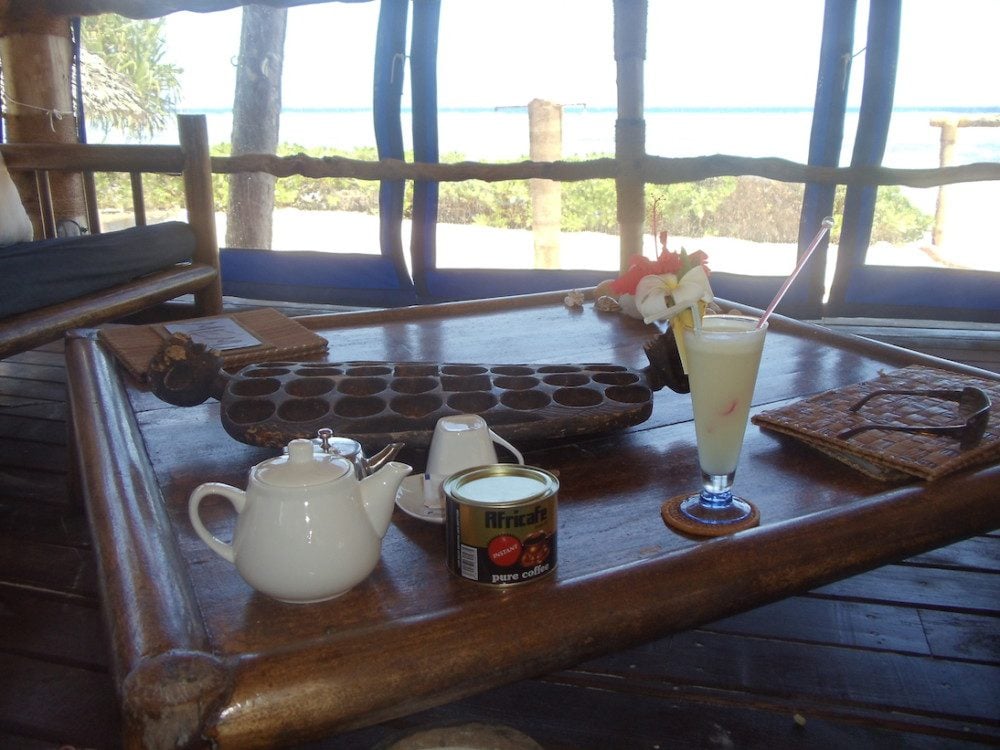 Breakfast is excellent with fresh passion fruit juice and eggs of your choice. For lunch, you can order a-la-carte from the kitchen at reasonable prices ($5-12) and treat yourself to a great cocktail. Afternoon tea and freshly baked cookies are served poolside as well but the real treat is dinner. A delicious 3-course meal is served poolside every night and I mean a gourmet dinner usually with an Italian flavor, probably inspired by Gabriella, the manager. You do get a few water bottles every night in your room (which is cleaned twice a day) but if you don't fancy paying a few dollars during the day for water, bring a few with you from Stone Town.
And now for the beach … During the day, it is a spectacular contrast of white, turquoise, and blue while at night, millions of stars light up the black sky, the most impressive star show I have ever seen. Matemwe beach is a picture postcard beach dotted with tall palm trees, fishing boats here and there, and the odd hammock.
There isn't much happening here so just relax. Don't expect to get a good swim here despite what you might hear. Matemwe beach is very tidal with the reef breaking 500 meters away (don't bother venturing out there in low tide, there isn't much to see). Even when the water seems to be OK, the reef is full of small corals and thousands of sea urchins so I wouldn't recommend swimming, definitely without sandals.
But on the bright side of things, the beach is so long that you will enjoy a stroll in any direction where you'll get to see the locals wandering about and also find better swimming spots where the sand extends further into the shoreline.
As for diving, Matemwe is perfectly situated close to Mnemba Island, whose reef is one of the finest diving spots in Zanzibar and whose beach is home to one of the most expensive resorts in Africa. There are plenty of dive sites here along with drift dives if you fancy. One Ocean Dive Centers has a branch in the Matemwe Beach Resort, a few steps north of Villa Kiva and is a reputable dive center. Their dive packages are reasonably priced (2 dives for $110) and snorkelers can join as well. I had to take a refresher course in the pool as I didn't dive for over a year which set me back $35 but was overall well worth it. The dive boat's departure time varies according to the tide but the ride gives you an excellent view of Matemwe beach and we even saw a turtle swimming by. As for what you see under the water, well that is spectacular.
Water visibility is excellent and you'll see a huge variety of soft corals, hard corals, and tropical fish. The guides are excellent and a Swahili lite lunch is even served on deck between dives. The water though can have a strong current so our second dive was more like a drift dive, which was a little scary but nonetheless provided a pleasant feeling of weightlessness. An unexpected treat awaited us on the return as we had to be dropped off about 30 km north of Matemwe due to the tides and be driven back by bus. We ended up landing on one of the nicest beaches I have ever been to, truly picturesque. We wished we could have stayed here longer.
Any Regrets?
Matemwe beach is a picture postcard beach but not amazing for swimming. There are only a handful of beaches in Zanzibar suitable for swimming and this is not one of them.
On the other hand, it is a real place for relaxation and unpretentious. We wish we had more time to spend here just to relax and to do more diving.
Part 3: Matemwe to Nungwi (3 Days)
In this section, we'll leave Matemwe and head north to Nungwi, one of the prime tourist hubs in Zanzibar.
Where To Stay?
Sad to leave Matemwe and Villa Kiva, we headed to our second and last beach resort, the Ras Nungwi Beach Hotel, just outside of Nungwi in the north of the island. We arranged a ride from Villa Kiva which wasn't too expensive and got there within about 30 minutes. The village of Nungwi is a major tourist hub. You can find a wide range of beach resorts, restaurants, and shops here.
Tourism has boomed here in recent years and what was once a quiet fishing village is now home to dozens of holiday resorts. The nearby village of Kendwa is more relaxed and popular with backpackers. It apparently also boasts an excellent beach, one of the few unaffected by the tides.
We decided to spoil ourselves for our last few days by staying at the fancier Ras Nungwi Beach Hotel. Located outside the village of Nungwi, it occupies a little hill overlooking beautiful yet strange turquoise water a bit murky, probably due to the currents washing up white sand. South African-owned, this place caters more to couples who pretty much come directly to the resort after their mainland safari.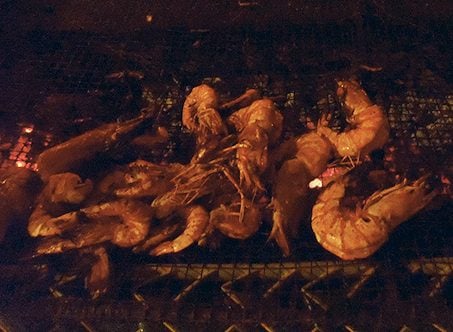 Dotted on the hill are a hundred or so bungalows, very comfortable with great air conditioning and a small balcony. Most bungalows face the garden, which also has a small ocean-facing pool. The resort is home to a dive center which is extremely overpriced as well as to a games room, a well-stocked bar and 2 restaurants. Breakfast here is OK, with nothing out of the ordinary. If dinner is not included in the price of your stay, you'll pay about $20-30 pp if you opt-in and do so on BBQ night where staff prepares a delicious selection of meats and seafood. You're almost certain to also be serenaded by the house band playing 'Hakuna Matata', a favorite among tourists (though originally really a song about how hospitable Kenyans are to visitors…).
If you fancy something a little bit more laid back, head to the adjacent Sazani Beach Hotel which is a simple eco-friendly resort, serving a modest yet excellent dinner comprised of local Swahili food.
The beach at the Ras Nungwi Beach Hotel is not bad at all. While the water is a bit murky from the currents washing up the white sand, it is swimmable nearly throughout the day and you don't have to worry too much about sea urchins, though sandals are recommended. At low tide, you can enjoy a nice stroll along the beach and find some beautiful spots to privately enjoy the ocean views. There has been some theft along these beaches so just be sure to notify the security guard that's present on the beach that you're going for a stroll and don't take with you unnecessary valuables.
The stay here was mostly about relaxation, working on our tan and catching up on some reading. The one excursion we did take was a walk from the hotel along the coast to the village of Nungwi. We left in the morning when the tide was high and walked on the hillside path until we got to the lighthouse. When at the lighthouse, cut down towards the beach, past the 'marine park' and start walking along the beach towards the village. It's a nice walk and you get to see dozens of fishing dhow boats coming back with their bounty and children playing in the ocean.
The village itself isn't amazing and there's not much to it but if you're here, you might as well take a look and see how the locals really live, just have some modest clothing with you to respect the local culture. You can then walk around the hotel area which is quite congested, with a narrow strip of sand that disappears when the tide is high and a decent wooden boardwalk where you can grab lunch and groceries at one of the restaurants. One the way back, we took the beach route back to our hotel which was quite a nice walk.
Any Regrets?
Overall the Ras Nungwi Beach Hotel is good by all standards but lacks the simplicity and tranquility we experienced at Villa Kiva. If you do choose to stay in Nungwi, you might as well stay here or at least in this area which is much prettier and quieter than staying in Nungwi itself.
The Nungwi area as a whole was more expensive and less tranquil than Matemwe. If you're looking for serenity, try the more laid back villages like Matemwe and Jambiani.
Part 4: Nungwi to Stone Town (1/2 Day)
We arranged with our driver friend Salim to pick us up from the Ras Nungwi hotel, drop us off in Stone Town for a few hours and then pick us up for our evening flight to Nairobi. Had we used the hotel's transportation rate, we would have paid double.
Prior to leaving Stone Town, we had arranged with the Dhow Palace hotel to store our stuff for a few hours while we wait for our flight as we had a good few hours to kill. They were so kind to us and even offered us to use their shower facilities. We wasted no time and headed for some shopping starting with the Darajani market. Since we spent some time window shopping on our first leg in Stone Town, we knew what we wanted to buy and knew how much to pay for it.
Darajani market was quite an experience and definitely, 'a must' for market lovers. Inside the market, you'll find countless stalls selling tropical fruit, spices, coffee, fish, scented soaps, and much more. Be sure to head deep inside to the seafood section for a real treat (depends on how you look at it).
Outside the market itself you'll find more of the same stuff but also street food, garments shops (great silk from India), live fish auctions, and shops that sell spices, soaps, and coffee wholesale – usually to local businesses and it's here that you can get great deals.
When buying some silk garments, we asked the local shopkeeper where to buy good spices and coffee. He was so nice and actually took us to a wholesale shop called Mahanjumati Spice & Herbs where we got great value for great products and we were not ripped off at all.
After doing our market shopping, we headed back to the hotel through Changa Bazaar and Hurumzi Street, the main tourist shopping area. Some stores are more upscale than others but overall, they mainly sell the same stuff. The interesting things to buy are wooden crafts and if you're into tribal masks like I am, you're in for a treat. Do shop around and get a feel for quality and price. Do feel comfortable bargaining as this is also expected but do try and make it a win-win situation.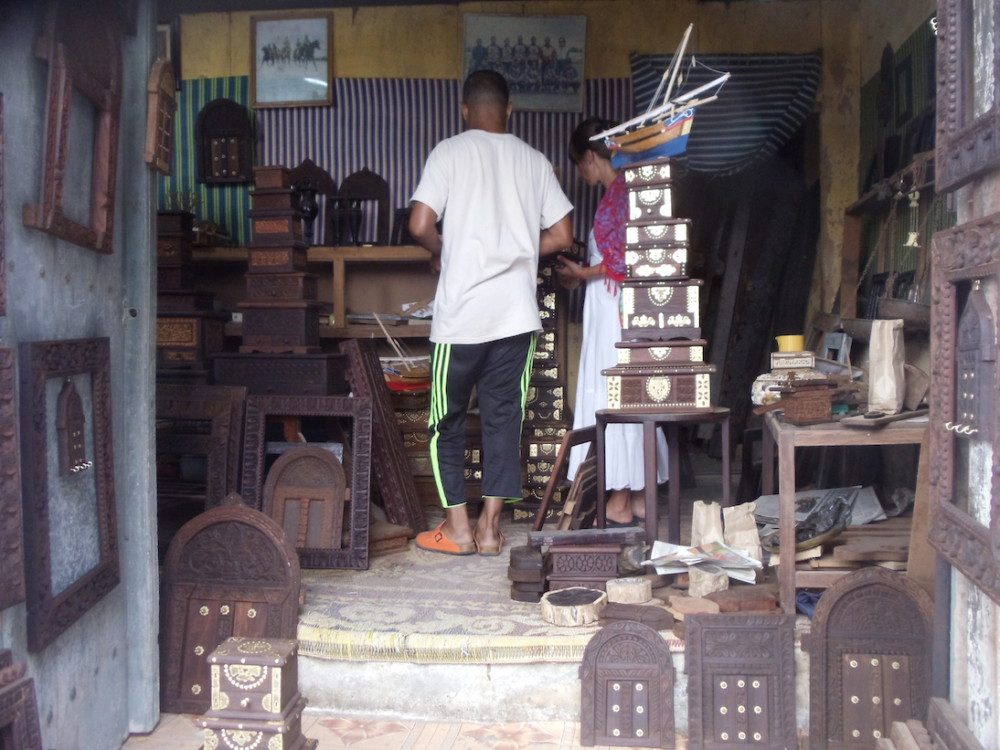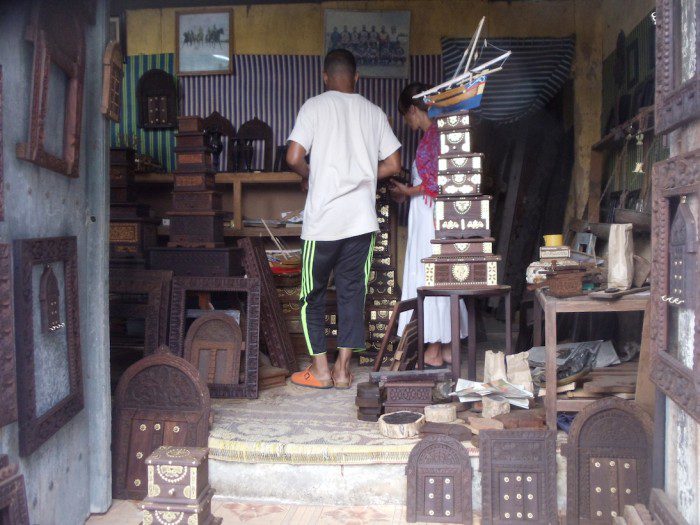 A few exceptions worth mentioning. Head to Zanzibar Souvenir Shop on Hamamni Street and look for Amour Aziz. This place creates beautiful pieces of useful art from recycled Stone Town doors. You can find for example handcrafted jewelry boxes beautifully decorated with gold tin. There are also some great craft shops on Cathedral Street and in and around the Old Fort which are worth checking out.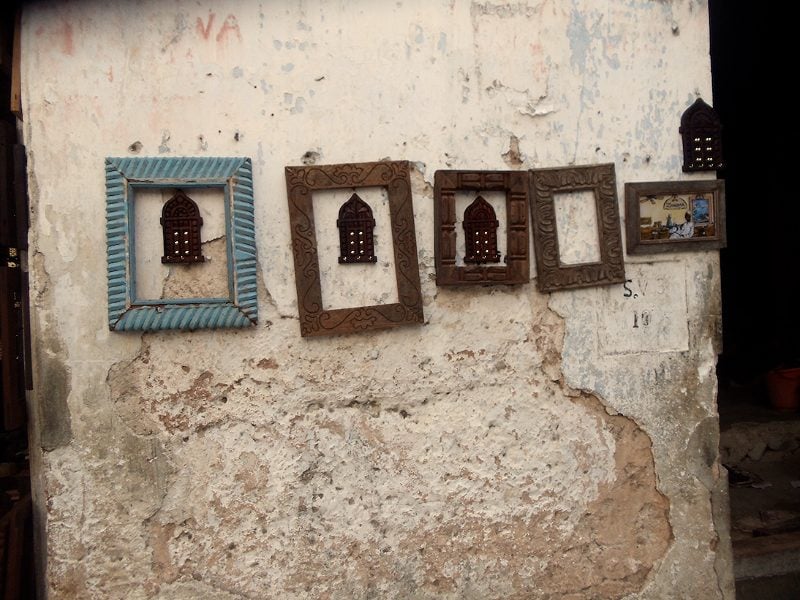 We capped off our visit to Zanzibar with and Indian lunch at the Silk Route Restaurant and spice coffee where else but in Stone Town Cafe. At the airport, you'll be hinted by the porters to give them some money in return for your bags to be loaded onto the plane. Don't try and be a wise guy and just have a couple of $1 bills prepared. This will ensure you ever get to see your bags again.
Our Zanzibar travels were over… for now, but the memories will last forever. The Spice Island did not disappoint and was an enchanting way to travel back in time while enjoying picture-postcard views.
Any Regrets?
Our only real regret was not buying a Bao, which is a traditional Swahili board game played on an impressive piece of decorated wood with 32 holes. Aside from being a good way to kill a few hours, it also makes a very nice decoration.
What's Next?
Now you know how to spend 10 days or less in Zanzibar, consider extending your African beach holiday to Zanzibar with a visit to neighboring Kenya. Here's a 3-day Kenya itinerary and a list of the top things to do in Kenya.