Paris Bastille Area Itinerary  
The birthplace of the French Revolution, exploring the Bastille area of Paris could be a revolutionary way to spice up your visit to Paris. Taking up the 11th & 12 arrondissements (districts), I'll share with you my Bastille area itinerary – including the best market in town, the happiest street in Paris and one memorable seafood dinner!
Traditionally a part of town reserved for the working class, the Bastille area along with other parts of eastern Paris is quickly changing, as young Parisians head east in search of lower (but not low) rents. They bring with them new energy to this part of town, making it an interesting place to explore by combining old working-class Parisian charm and hipster life.
Heading to Paris?
Plan the perfect trip to Paris with free and in-depth Paris travel guides, including the Best of Paris collection and a guide to all major Parisian neighborhoods.
Why Visit the Bastille Area?
Paris is a city that is so beautiful and so diverse. Walk just a couple of blocks and it feels like you've arrived in a whole other city. A good way to experience this is by venturing to east Paris and exploring the Bastille area. Aside from hosting what is, in my opinion, the best food market in all of Paris, this area is buzzing with life, especially on weekends. So if you've already seen all the major Paris highlights, or are looking for something a bit more local – the Bastille area could be your thing.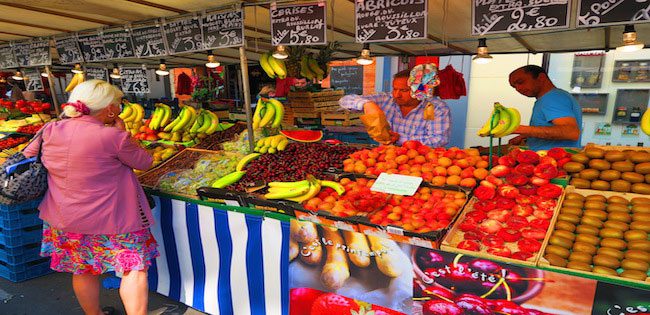 When to Go to the Bastille Area?
The only day to avoid coming to the Bastille area is Monday! Why do you ask? Well, one of the top neighborhood highlights is the colorful Marché d'Aligre (Aligre Market). This might be the best market in Paris and we'll head there in just a second. The market is open every day except Monday but its highlight is the colorful uncovered section that's only open until about 12:30 pm. So, to make a long story short, exploring the Bastille area is best on weekend mornings.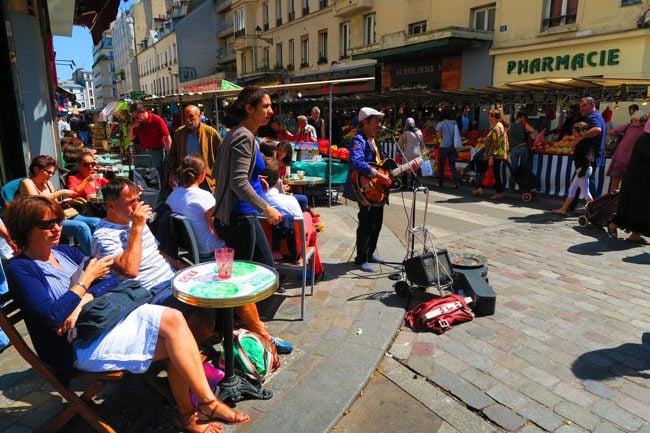 How to Get to the Bastille Area?
It really couldn't get simpler than this: take the Metro to the Bastille station. It's served by lines 1, 5 & 8 and you can download a free PDF map of the Paris Metro right here.
How Long to Spend in the Bastille Area?
In half a day, you can pretty much see all the top things in the Bastille area and even have some time left for shopping (Rue du Faubourg Saint-Antoine is a prime shopping street).
You can also make a full day of it by combining your Bastille area itinerary with other parts of town. The trendy Marais is just west of you, and there's plenty to see there, the Canal Saint-Martin is just to the north, and that's a prime spot for young Parisians, the Grands Boulevards area just east of Place de la Republique is filled with cocktail bars & shops – and lastly, you might just want to continue heading east and explore the legendary Parisian celebrity cemetery of Père Lachaise – truly an off the beaten track thing to do in Paris!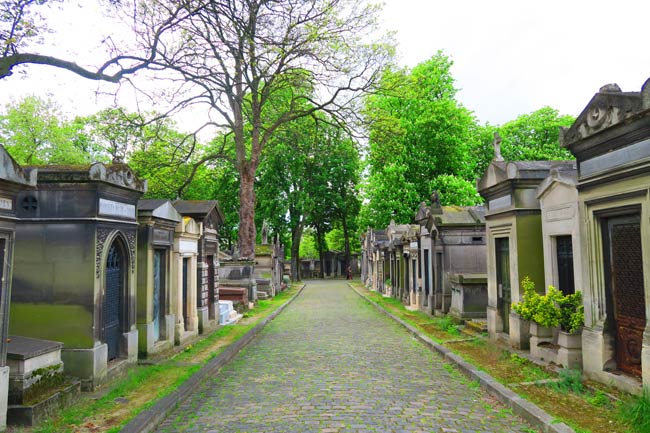 Things to Do in the Bastille Area
It was a beautiful Saturday morning and Isabelle and I hopped on the metro from our 8th district apartment and got off at Place de la Bastille. On previous trips to Paris, I've always wondered what that busy traffic circle was all about and today, it was finally time to explore a bit of eastern Paris!
All places mentioned in this Bastille travel guide can be found on this companion map. Simply click on the image to open in Google Maps.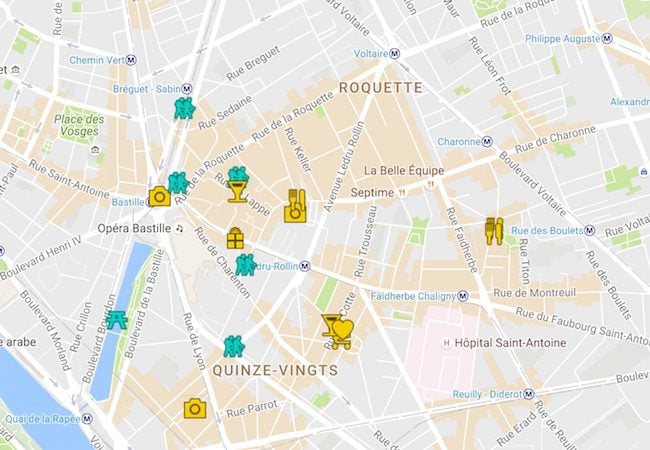 So, what today is one of those massive Parisian roundabouts (like the impossible-to-navigate one by the Arc de Triomphe) is actually the site of the former Bastille prison. On July 14, 1789, the prison was stormed and the French Revolution had officially started. The prison is no longer there but the Bastille Square is the sight of lots of partying every Bastille Day eve (July 13). The square is also the site of one of the 'Grand Projects' of former French president Francois Mitterrand. He commissioned a brand new opera house, to couple the grand Opera Garnier. In my opinion, the result is less than classy and there's nothing amazing (at least from the outside) about Opera Bastille. The Opera Garnier is one of the nicest, if not the nicest architectural monument in Paris (and should not be missed).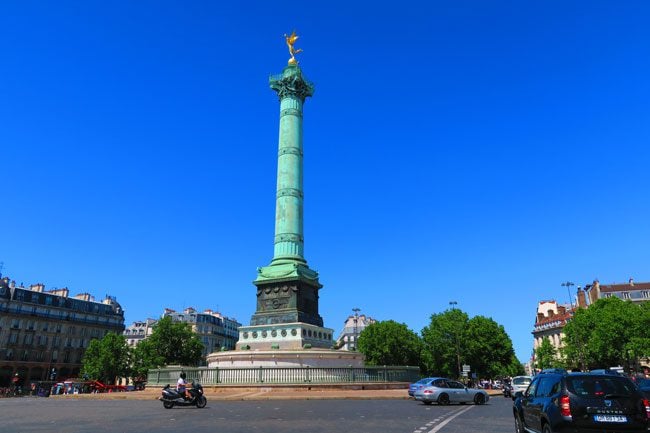 There are lots of distractions at Place de la Bastille but you gotta stay focused and head straight to the Aligre Market as things begin to wind down as we get closer to noon – so let's get moving!
The Best Market in Paris?
The action starts as you near the Place d'Aligre. This place is just buzzing and in retrospect, was probably the liveliest place I visited during my 3 months of living in Paris – and I just love this kind of stuff.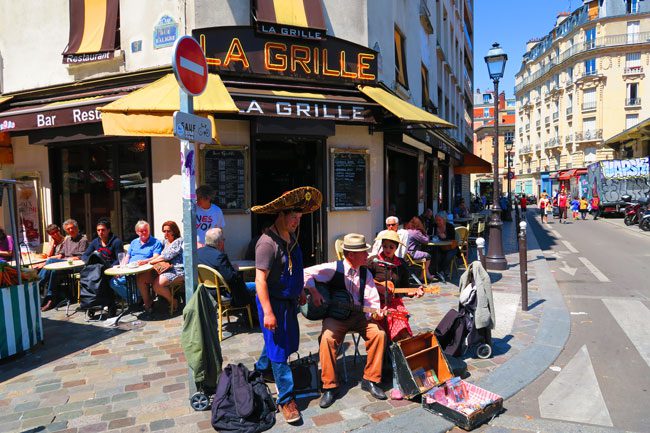 Let's start outdoors, around the Place d'Aligre and along rue d'Aligre. During the morning hours, dozens of fruits and vegetable stalls take up shop along the street. Nearly all the sellers here are of Algerian origins and since they all pretty much sell the same stuff – they have to attract the shoppers somehow to their little stall. So how do they do that? Let's start off by watching this video of the outdoor section of the Aligre Market!
As you can see, the market is buzzing and the best time to visit is on a weekend morning. This is when locals from surrounding neighborhoods come to do their shopping and since prices here are much lower than in other parts of town, it's also the buyers who must get aggressive if they want to get some shopping done. That's what makes the Aligre Market so special in my opinion – the produce is pretty good (not the best but good), there's action in the air and hey, it's the weekend!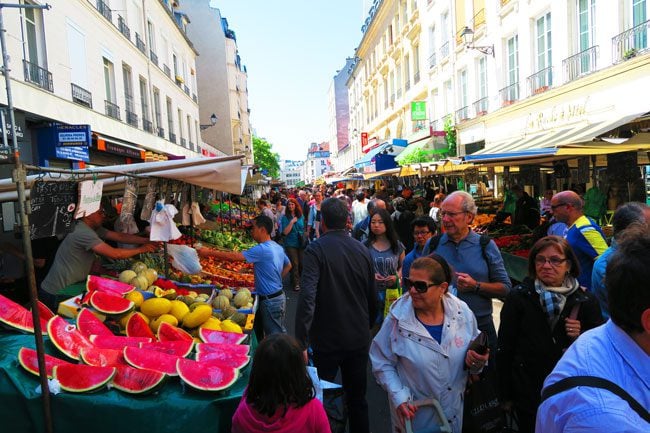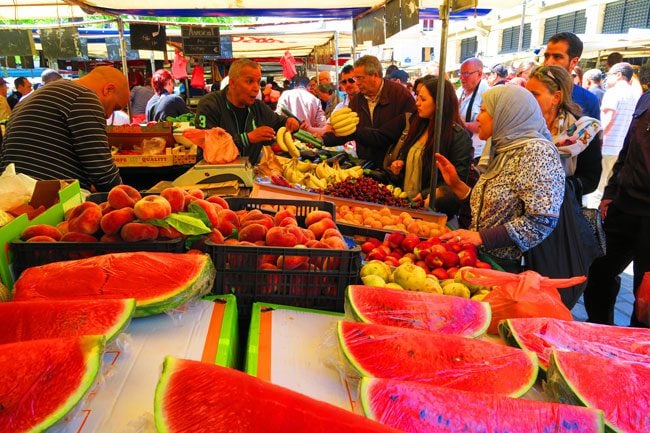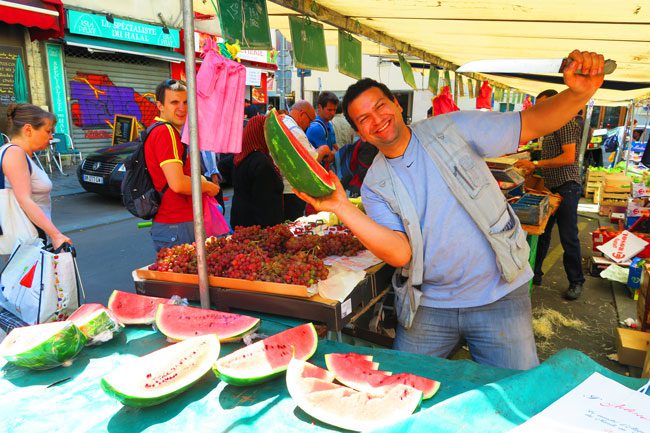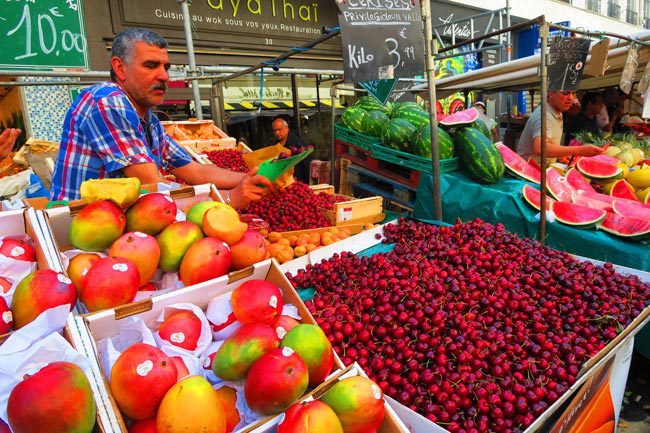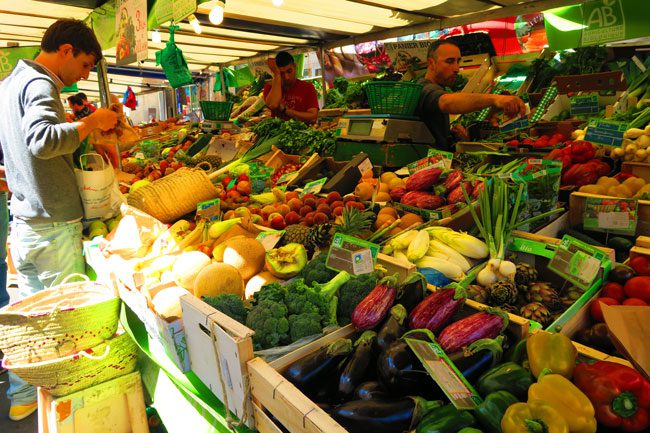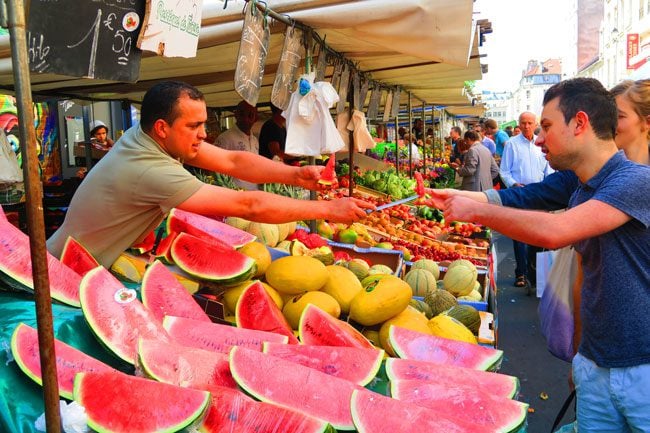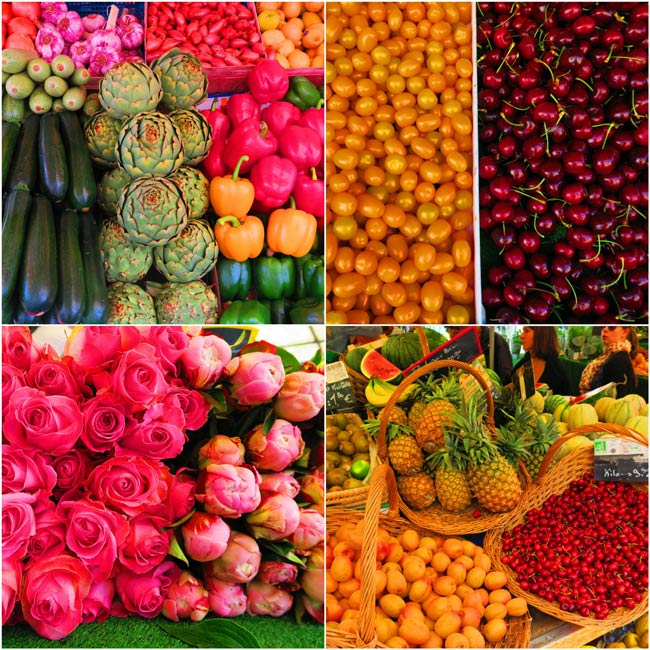 It's a good plan to stock up on some stuff for a picnic lunch so bring a backpack and whatever you fancy for an urban picnic.
By 1 pm, the outdoor stalls are gone but you can continue your culinary shopping indoors. Right in the main square is the covered market – Marché Beauvau. It couldn't be more different than what we just saw outside but you'll find here the missing ingredients for your picnic. Prices are higher inside (perhaps you pay extra for the shade) but since we're in eastern Paris and not in chic Saint Germain, everything is pretty down to earth.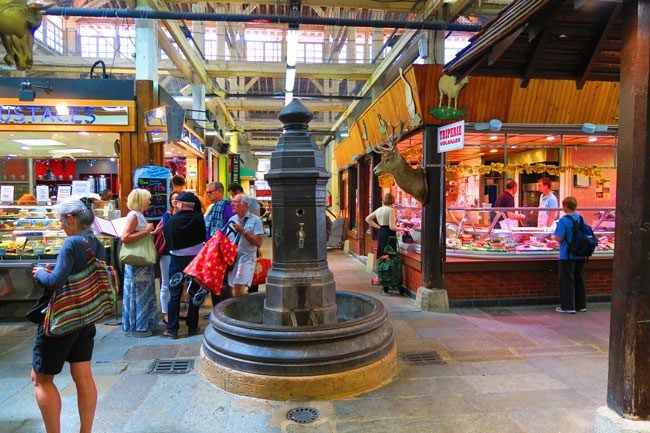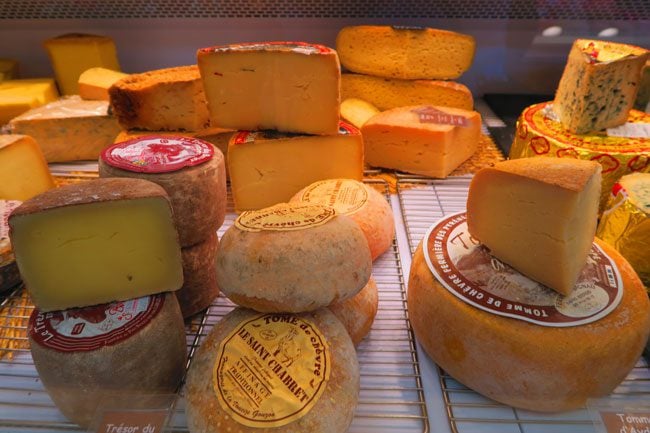 Taking into consideration both the outdoor and indoor sections of the Aligre Market – this is definitely one of the best markets in Paris and believe me, I've been to quite a few (Edgar Quinet in Montparnasse is right up there as well).
Around the Aligre Market
The area around the market is filled with other neighborhood gems. For starters, don't forget to head over to Le Pain au Naturel (see map) and buy some baguettes for the picnic. They make the best olive bread I've ever tasted!
Next up, all that shopping will make you thirsty but put away that water bottle and head over to one of the coolest wine bars in Paris – Le Baron Rouge. Choose from an immense selection of wines by the glass, that is about half of what you'll pay at a restaurant, or maybe even fill up your bottle straight from the barrel. Don't be shy and try a small aperitif to go along with your wine – it's the neighborhood thing to do!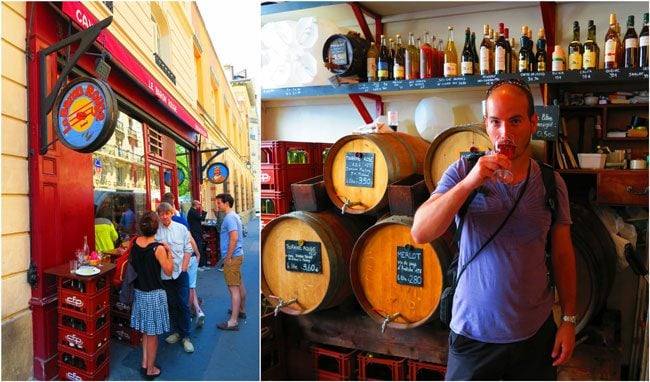 After a refreshing glass of rosé, we headed south, passing just under Coulée Verte René-Dumont – also known as Promenade Planteé. This is an old elevated railway line that hasn't been used for ages. It's been converted to a pedestrian walkway lined with trees that runs all the way to the eastern edge of Paris and views of some interesting architecture.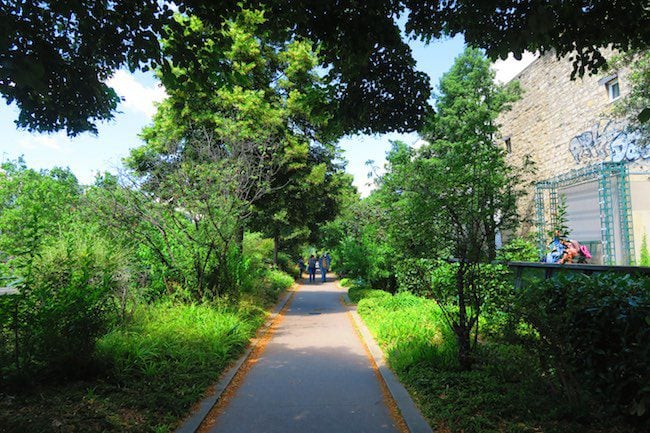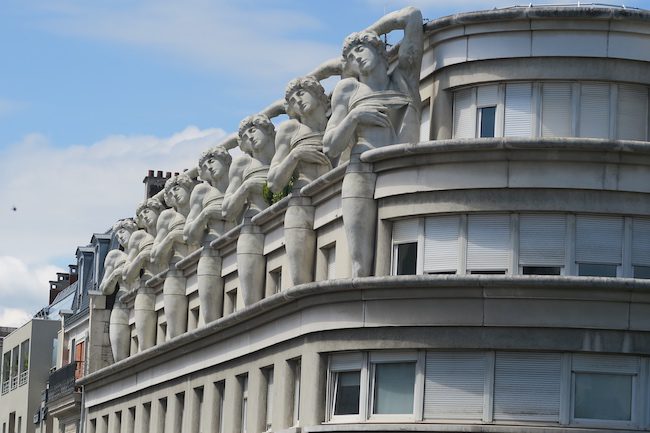 The Happiest Street in Paris
Our next stop was in one of the most beautiful spots in all of Paris, one that I am not sure too many visitors know about. On the map, there's nothing special about rue Cremieux – but this tiny street seems to be straight out of some Caribbean island or perhaps Brazil. Bright pastel-colored homes line a narrow cobblestone lane and when the sun shines – it's just the happiest street in town! Surprisingly, there weren't any tourists when we came here over the weekend, just residents reading the weekend papers in the sun.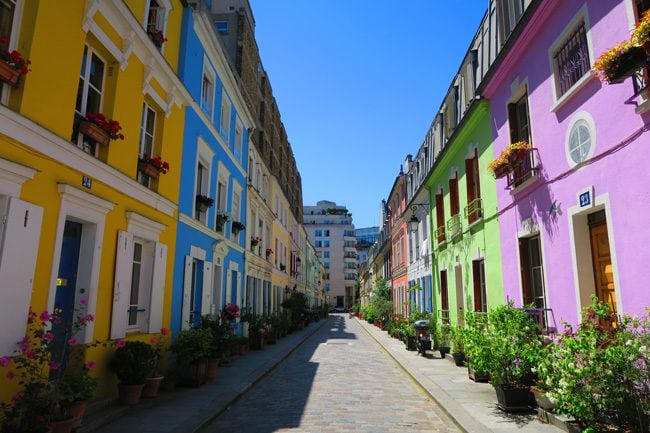 We didn't buy all those goodies at the Aligre Market for nothing – it was time for the weekend picnic. From rue Cremieux, we walked to the Port de l'Arsenal and grabbed a spot beneath the shade for our picnic lunch. That olive bread we bought in the market is just so damn good, especially with some olive spread inside (tapenade). This area used to be a water barrier around the Bastille prison but is now a marina and a popular weekend spot.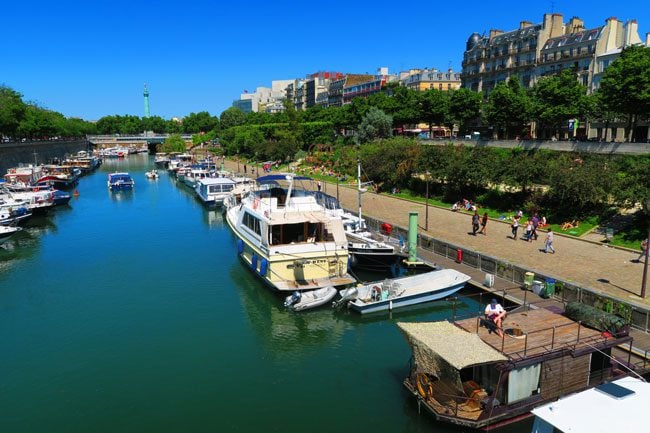 Port d'Arsenal marks the starting point for the Canal Saint-Martin, built to cut the travel time between the long bends of the River Seine. The canal was covered over by Napoleon III from Place de la Bastille to Place de la Republique, to easily ferry soldiers to rebellious parts of eastern Paris. At the edge of Port d'Arsenal, you can see the canal disappear into the darkness, where it'll see daylight a few kilometers up north!
Anyone Up for Some Shopping?
After a picnic and a short nap, we spent a little bit of time doing some shopping. Rue du Faubourg Saint-Antoine is the main artery in this part of Paris and you'll find here all the big brands as well as a high concentration of shoe shops. This area of Paris is known for good bargains and prices are a lot cheaper than further west.
As you shop your way through town, take note of a few passages that will provide a nice shortcut between boulevards and a quiet spot from the madness of the big city. Paris is scattered with covered passageways called passages. These were historic areas of commerce and the ones that survived the Baron Haussmann years (a period of mass demolition and grand construction in Paris), are just charming to pass through.
Check out Passage Louis-Philippe and Passage du Chantier but if you're lucky, the doors to the nicest one of them all might be open. I'm talking about Passage L'homme, a secluded passage covered in ivy that makes for the ultimate Paris photo!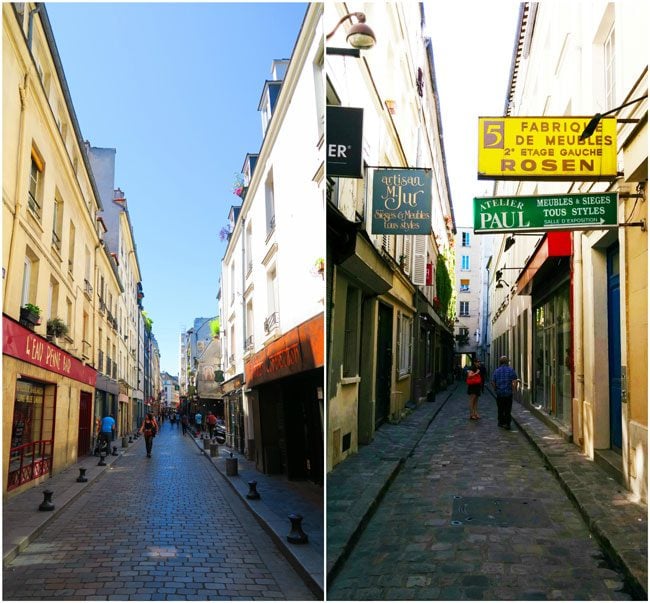 The area around Passage L'homme is the place to be, especially where Rue de Charonne meets Rue de Lappe. You'll find here cafes buzzing with neighborhood life where a spot on the sunny terrasse is almost as precious as gold. This is a good time for a break, taking in the sights and sounds of the neighborhood. Ladies, you'll also find here lots of boutiques to satisfy your shopping appetites!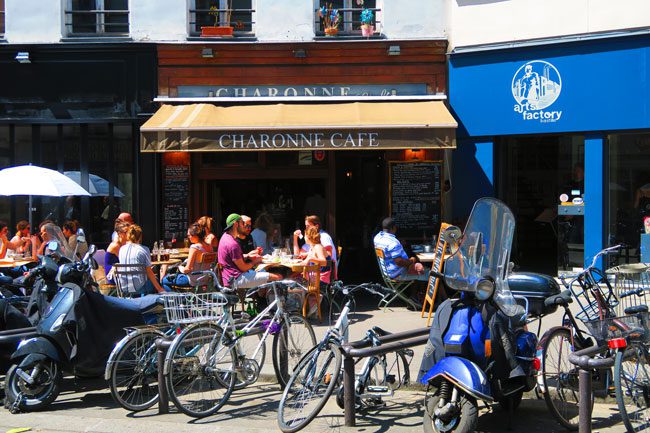 You can certainly continue exploring the neighborhood on foot but if you're on to something new, there are a few options.
The Place Where Legends are Buried
Only 15 minutes away by foot is the Père Lachaise cemetery, one of the most unique things to see in Paris. This quiet spot in the middle of town is the final resting spot for some of France's greatest – at least the ones that didn't make it into the Pantheon, over in the Latin Quarter. Also resting here, are a few celebrities of the past that simply passed away while living in Paris. Moliere, Delacroix, Edith Piaf, Oscar Wilde, and even Jim Morrison – are all buried in Père Lachaise and it's definitely worth making the trip, even on a cloudy or snowy day in Paris.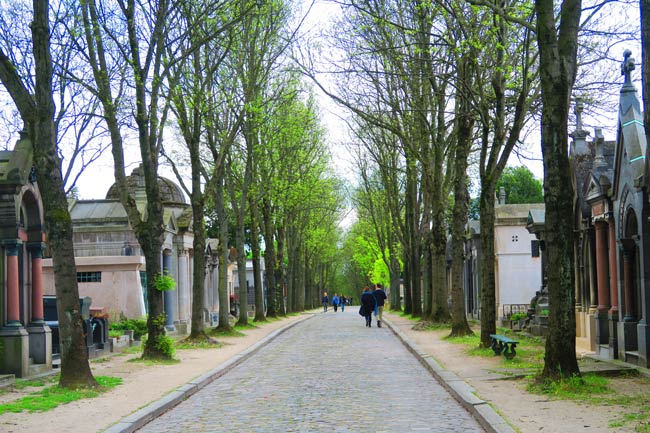 Another option is to walk back to Place de la Republique via Boulevard Richard Lenoir. The canal is flowing just beneath your feet but you probably won't realize this. The boulevard is lined with trees and is a prime spot for pétanque – somewhat of a national French pastime.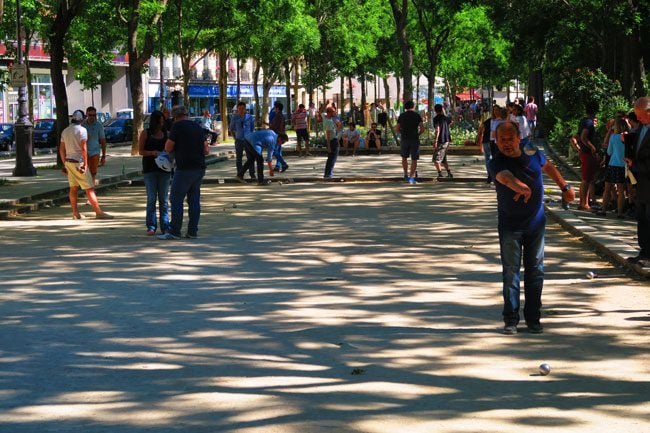 Place de la Republique is a prime gathering spot and not always in the most pleasant way. There is however always something happening in this square and the area around it is blessed with a great bar scene. It's also a good starting point for a day of exploring the Canal Saint-Martin – but that's for another time.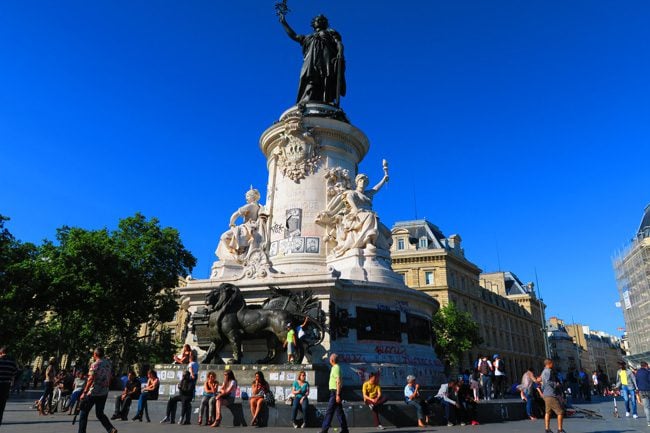 Wanna Have Dinner Instead?
Lastly, if you want to spend the evening in the Bastille area, I have a few good options for you. I've had dinner at two excellent restaurants that are both on the same street. Aside from the great food, which we'll get to in a second, the area itself is super laid back. In fact, this area couldn't feel more different than where we lived during my 3 months in Paris, in the 8th arrondissement (in a good way).
First up is Bistrot Paul Bert, one of those classic Parisian restaurants. Things are very cozy inside but as always, a spot outside on the terrasse is almost always a better option. The menu is written on a small chalkboard that gets moved around as guests come in. Choose from a starter, main, cheese, or dessert for €41 per person (there's also a great wine selection). It's not cheap by any means but if you're looking for a classic Parisian restaurant, great food at a reasonable price, and lots of romance – this could be a good option.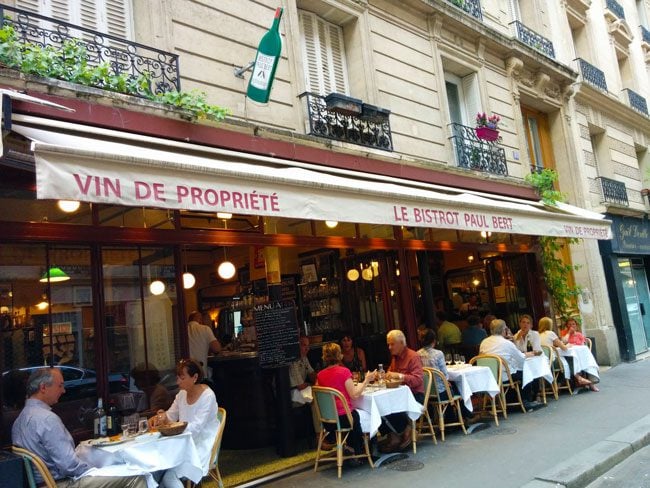 We had a foie gras to share, beef bourguignon for mains, and shared an awesomely sweet dessert. The service wasn't great but overall, we were glad to tick another restaurant from our list of places to eat.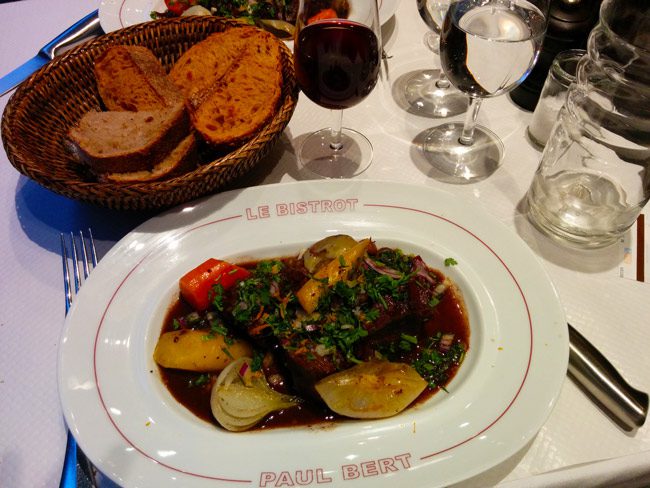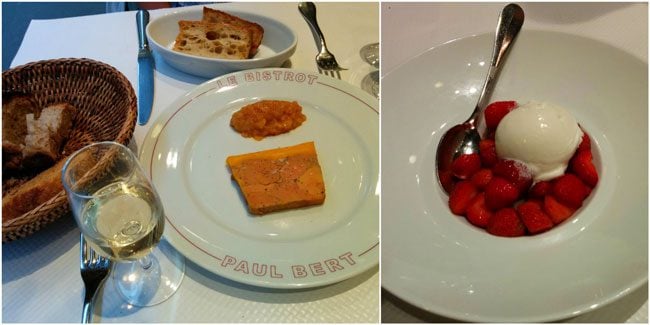 If seafood is your thing, you've come to the right place! When my friends came over to visit me as part of our culinary weekend in Paris, we went for a memorable seafood dinner at L'Ecailler Du Bistrot. We came here not being huge seafood experts but knew we wanted to try something new and this place was highly recommended. Whoever recommended this to us – thank you! We came with an open mind and left with lots of memories (and great food). We started off with a seafood platter that was out of this world. It was my first time eating oysters and snails – not bad at all! For mains, we had some fish and lobsters and all this plus wine didn't cost us much at all.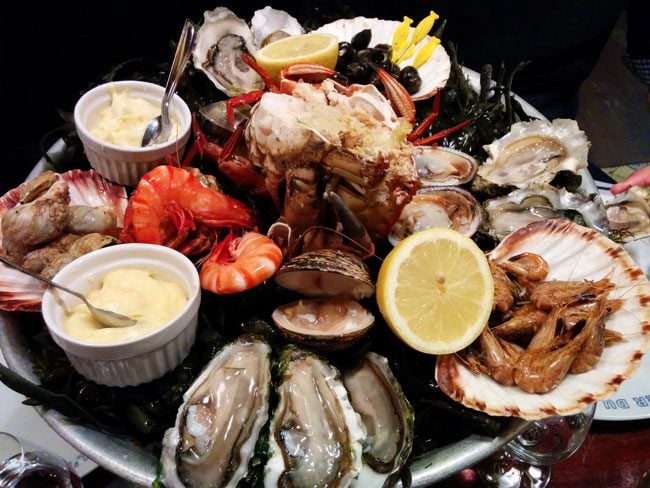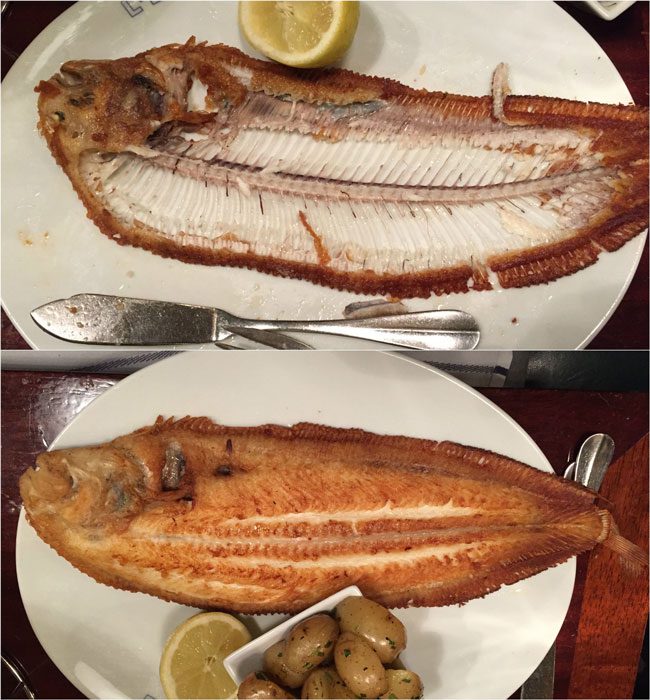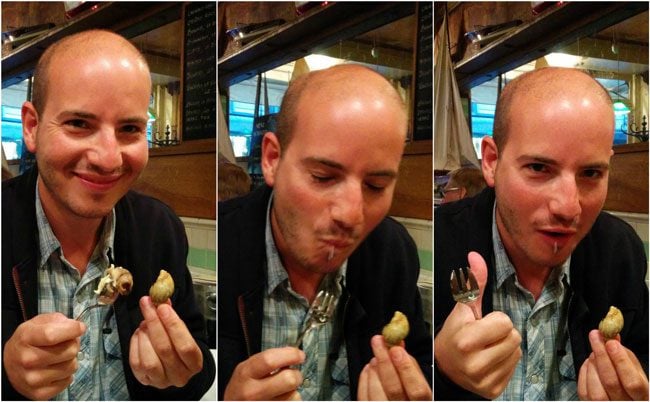 If you still have some 'gas left in your tank', rue Oberkampf is not too far away. It's currently the hotspot for bars and you'll surely find a place to quench your thirst.
In Conclusion
After exploring the Bastille area, I found myself thinking that if I were to live in Paris, this area would be a prime candidate. This part of town is going through a lot of changes but you can feel it's a lot more down to earth and at the same time, not too sketchy like some other parts of town further east. Though there aren't any 'must-see' sights like some other parts of town, the Saturday we spent here was one of our most enjoyable and the Aligre Market was probably its highlight.
To put it short: if it's your first time in Paris, I wouldn't necessarily spend the day here as you'll likely want to see the major sights (and there's plenty of them). However, you could sample this part of town for dinner & drinks and that way, get the best of both worlds.
One spot that I would try and stick into a Bastille area itinerary is Bercy Village. This part of Paris used to be dotted with warehouses but it's come a long way. There's now a park, a concert area and Cour Saint-Emilion – a charming pedestrian street that's full of wine bars, shops and restaurants. It's kind of out of the way from all the action I've described so perhaps just come here for an evening of dinner and drinks.
What's Next?
Plan the perfect trip to Paris with free and in-depth Paris travel guides, including the Best of Paris collection and a guide to all major Parisian neighborhoods.