Palais Royale – Grands Boulevards
Metro Stop: Palais Royal – Musée du Louvre
You can rarely enter the former palace that now houses government offices but the highlight is actually the garden which occupies the courtyard. It's another one of those romantic spots in Paris and a great place to take a quiet break, away from the madness of the city. For such a beautiful spot, it seems to get less traffic than it deserves – perhaps due to its somewhat secretive entrance. Lining the garden are lots of antique shops and if you're a fan of old coins and stamps – you'll have a blast. At the southern entrance you'll find Cafe Le Nemours, with one of the best terraces in Paris for people watching and a prime spot to watch the extraordinary street performances which usually take place in the square.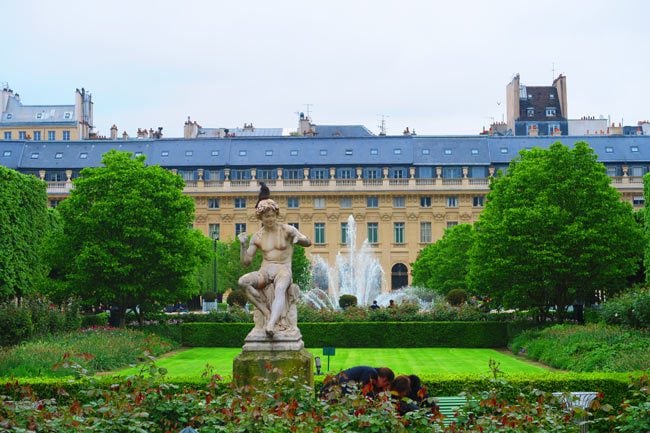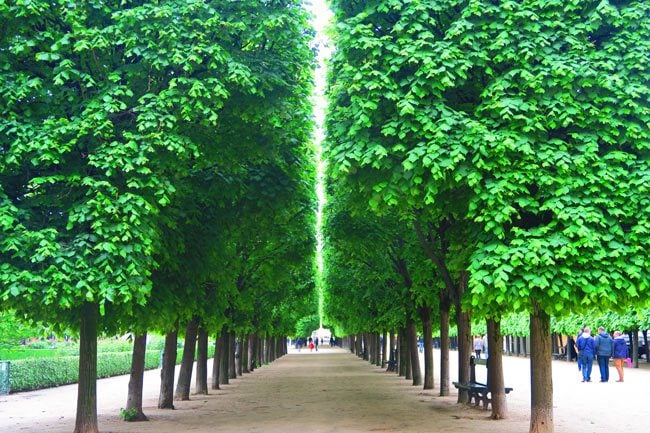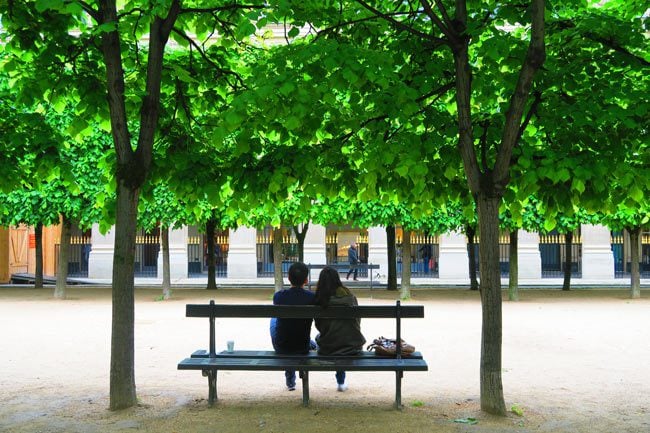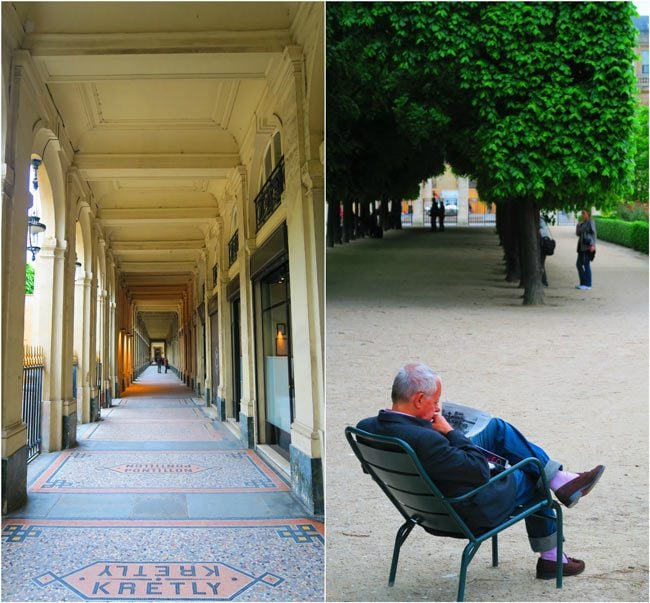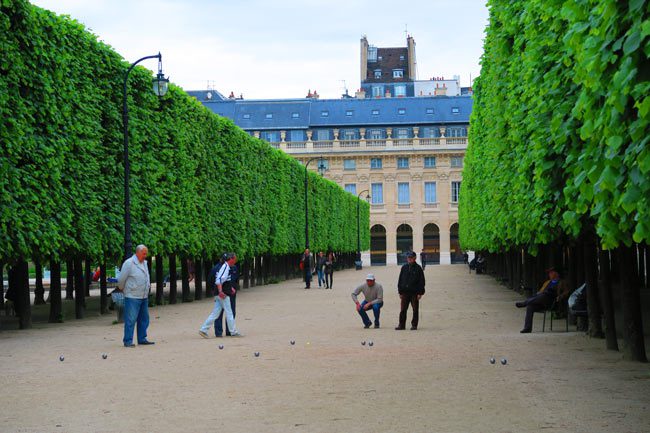 See what else is around Parc Monceau & the Palais Royale with this guide to the Paris Grands Boulevards.
Place des Vosges – Marais
Metro stop: Saint-Paul
When things got too crowded on Ile de la Cite & Ile Saint Louis, the aristocrats of Paris erected their mansions across the right bank in the former marshy ground known as the Marais. Even the king took notice and Henri IV planned his royal palace right here, complete with a beautiful square to catch some fresh air. Lucky for us, the palace moved to Versailles and today, Place des Vosges is one of the prettiest parks in Paris. It's the perfect spot to catch some sun, have a picnic or catch up on some sleep – and the best part is that it's in one of the coolest neighborhoods in Paris.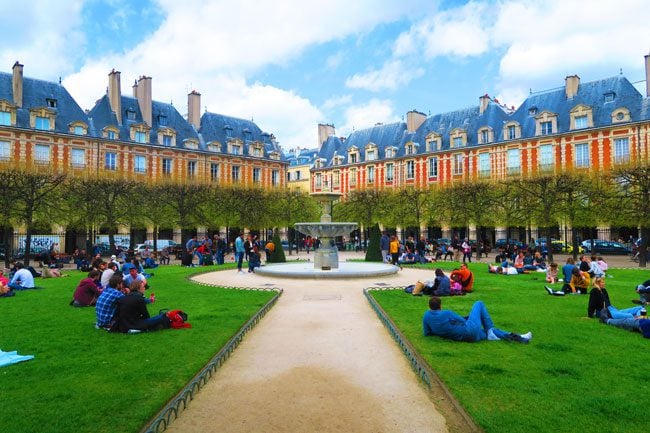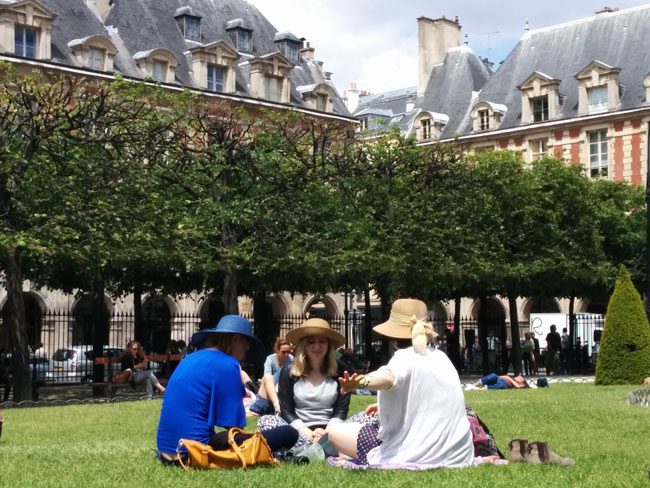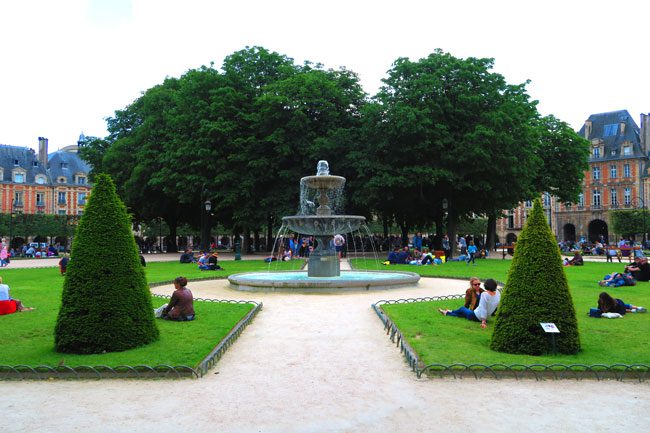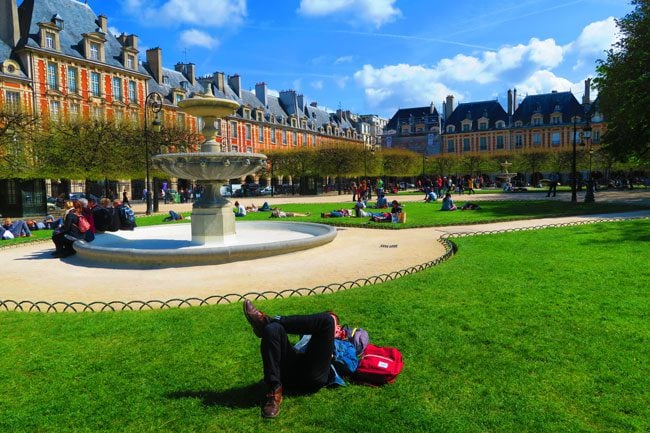 The Marais is best explored on a Sunday in Paris. Read more about this neighborhood and plan your visit.
Jardin des Plantes – Latin Quarter
Metro Stations: Gare d'Austerlitz, Place Monge
The massive complex that makes up the Jardin des Plantes started out as a medicinal herb garden in the 17th century and you can still stroll through its collection of plants today. Today, the giant green lung is the largest botanical garden in France. If you're into tropical plants or just want to warm up a bit, head inside the hothouses (€6) where you can even climb up to canopy level.
Aside from just walking the beautiful grounds of the Jardin des Plantes, you can also visit a small zoo, an impressive rose garden and the Museum of Natural History (€7). So there's plenty to do rain or shine at the Jardin des Plantes. Most tourists head over to the nearby Luxembourg Garden, leading to a more intimate feel in this park.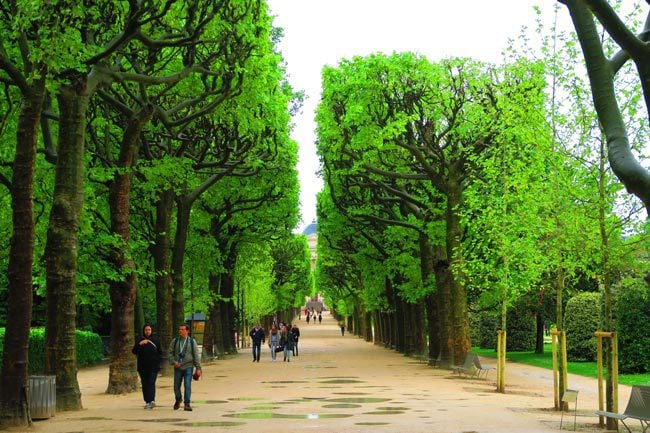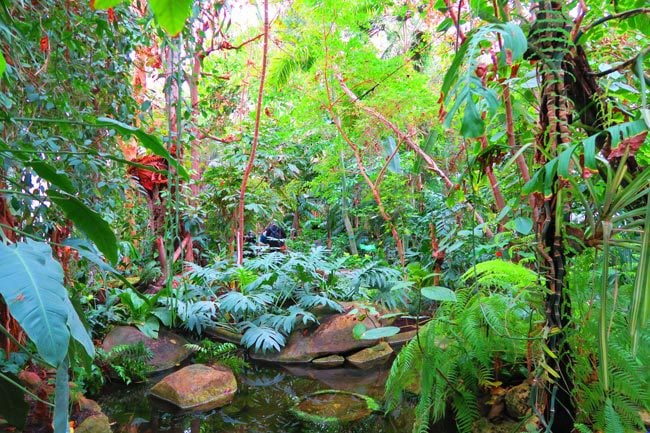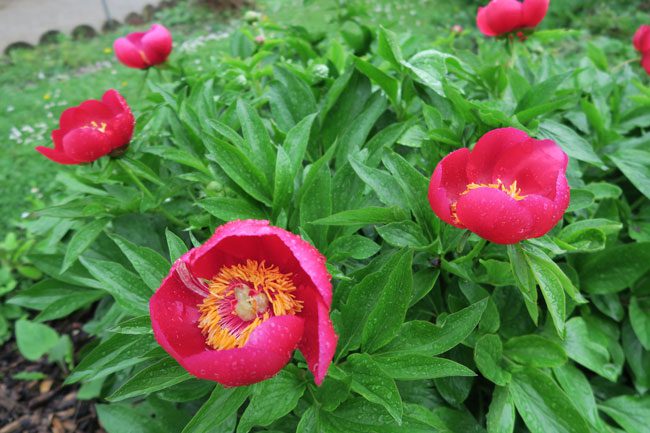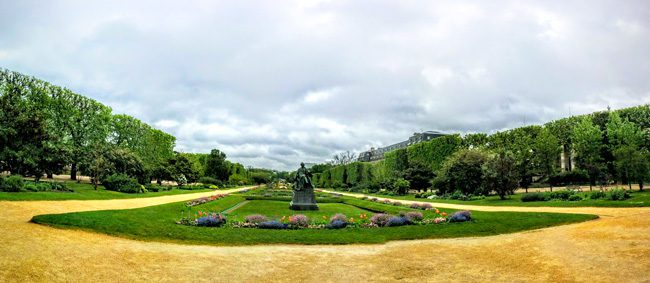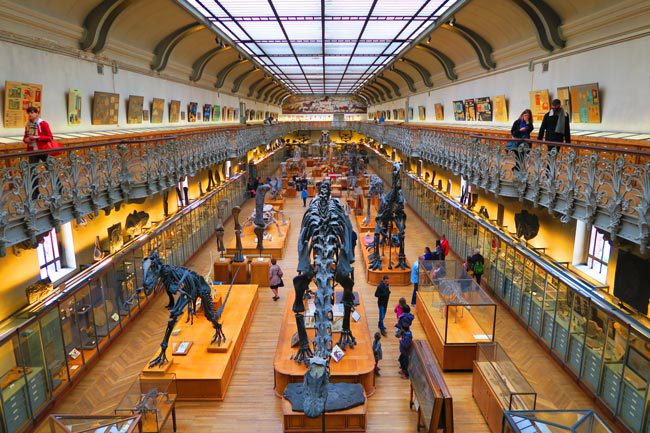 René Viviani Square – Latin Quarter
Metro Stations: Saint-Michel, Cluny – La Sorbonne
Good things often come in small sizes and if you're in need a short break as you explore the Latin Quarter, grab a seat on one of the benches at René Viviani Square. The view across the Seine to the Notre Dame is priceless and the massive broken tree is said to be one the oldest in Paris!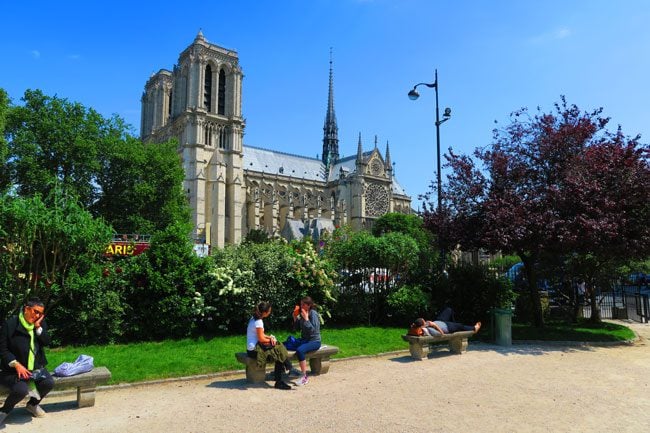 The Latin Quarter is not something you want to miss. Check out this Latin Quarter itinerary guide.  
Square du Vert Galant – Île de la Cité
Metro Stations: Pont Neuf, Cité
This tiny sliver of land just might be the most romantic spot in Paris. Sitting at the very tip of Île de la Cité, this is the spot to go if you want to enjoy a romantic picnic on the Seine. You'll be treated to views of both river banks and couples celebrating their love around you. It's Paris after all…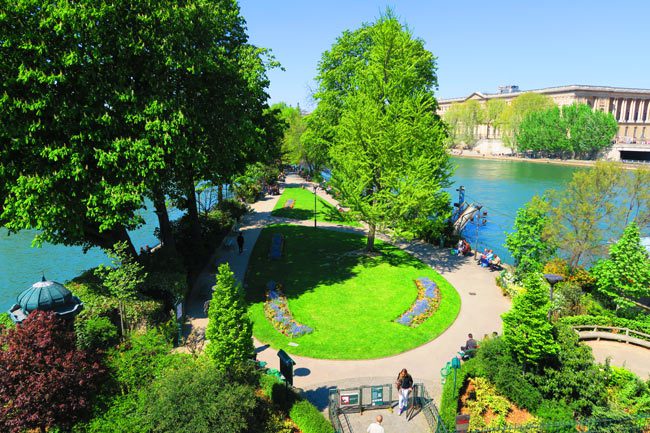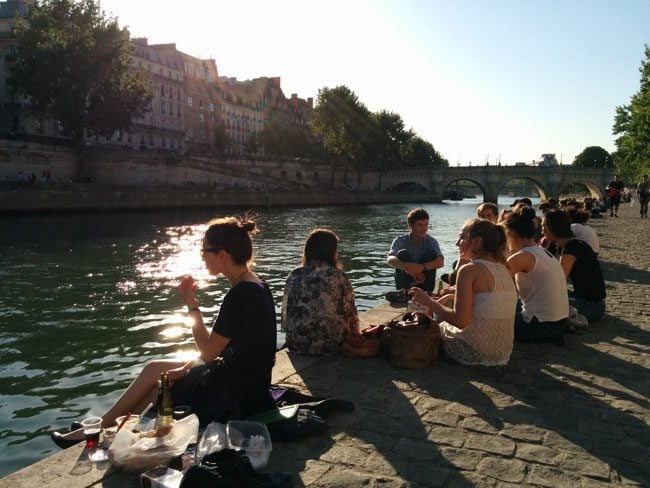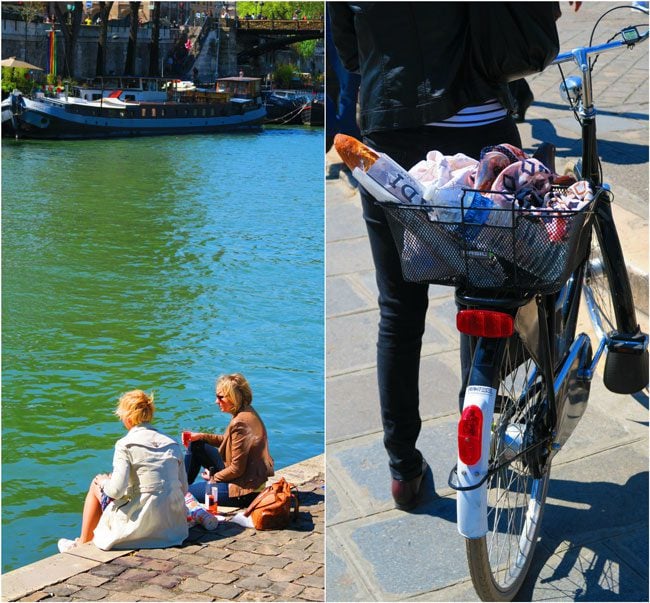 Île de la Cité is the birthplace of Paris with tons of must see highlights. Have a look at this itinerary guide to the islands of Paris.
Tuileries Garden – Champs Elysees Area
Metro Station: Tuileries
Connecting the Louvre with Place de la Concorde, there are few more pleasant walks in Paris than walking the length of the Tuileries Garden. The location, beauty and symmetry are unrivaled throughout town. It's one of the most beautiful parks in Paris and one of the best urban parks in the entire world – you don't want to miss this (and probably won't).  
The center of the Tuileries Garden is the most superb section. Grab one of the metal chairs that are randomly scattered throughout the garden and catch some sun next to the central pond. Around you are Classical sculptures, some by famous artists like Rodin and the finely cut lawns certainly add an element a royalty to this park that once actually housed a palace. As you head towards Place de la Concorde, on both sides are dozens of chestnut trees that are a just a haven on a hot and muggy Parisian summer day.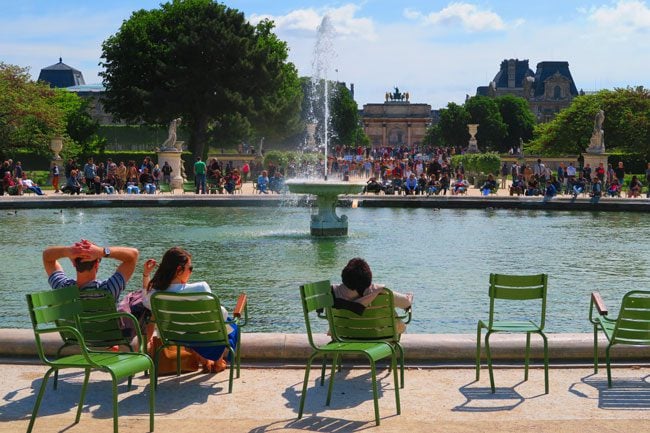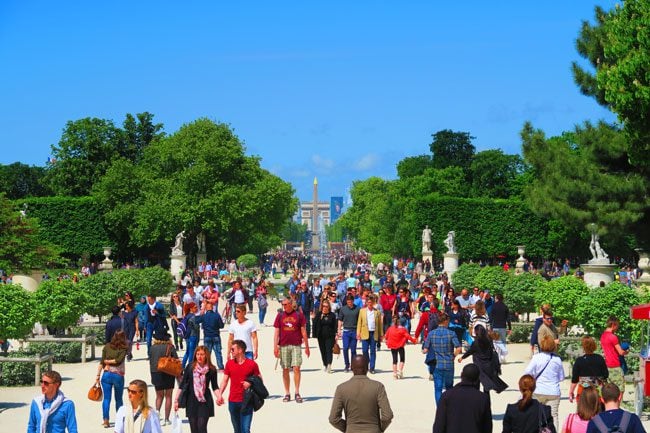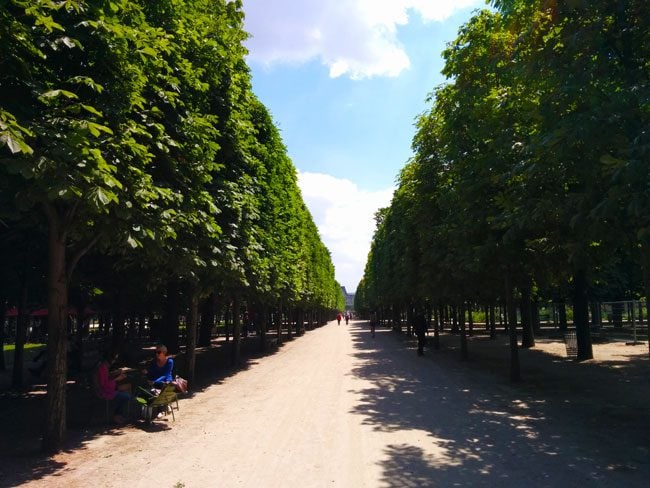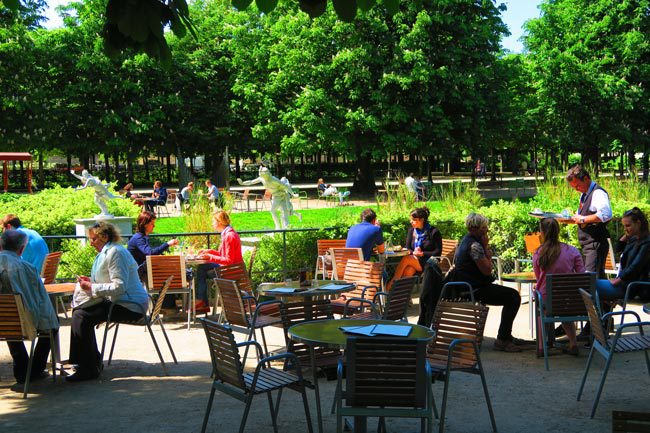 The Champs Elysees area is not just about fancy boutiques. See what else is around with this itinerary guide.
Luxembourg Garden – Saint Germain
Metro Stations: Odeon, Rennes
An absolute must visit, some would say the Jardin du Luxembourg is even prettier than the Tuileries Garden (I am among those). The Luxembourg Garden is really a world of its own, right in the heart of Paris. Every day, thousands pass through the park, dotted with beautiful classical sculptures, lots of randomly distributed metal chairs, one fine museum, beehives and quite a few more attractions that can keep you here for a good few hours!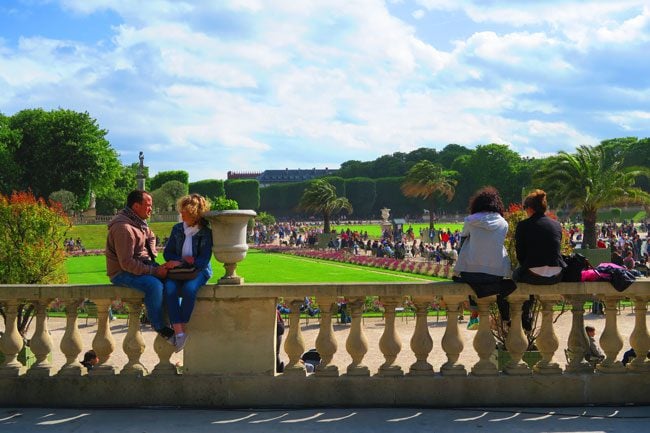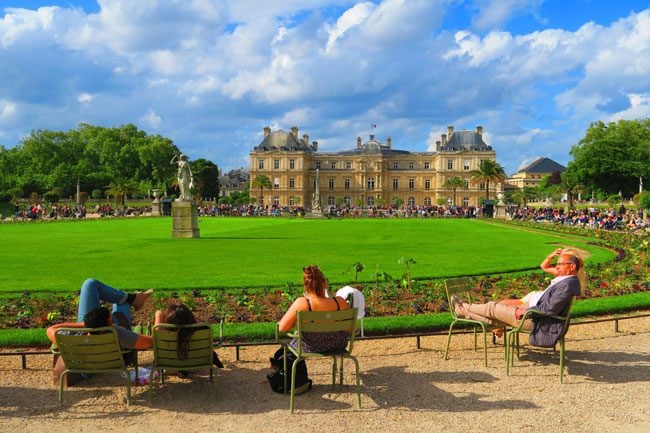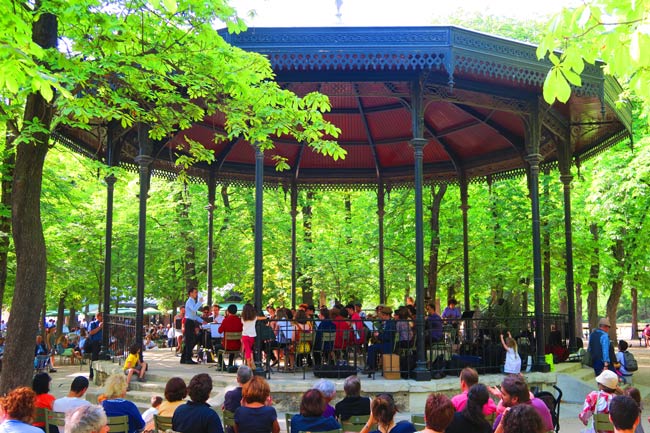 At the heart of the garden is the famous pond overlooking a former palace. The pond is a popular spot for children, trying their luck with toy sail boats and for folks chilling on those metal chairs. The area just south of the pond is home to rows of finely chopped trees shading the only grassy lawn in the park that you can actually sit on. It's the absolute perfect place for a weekend picnic or just catching some sun with the rest of Paris! Head over to the western edges of the garden to really get away from it all – but don't forget to take a book with you.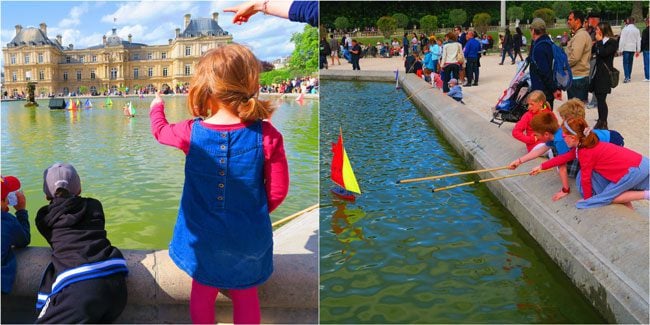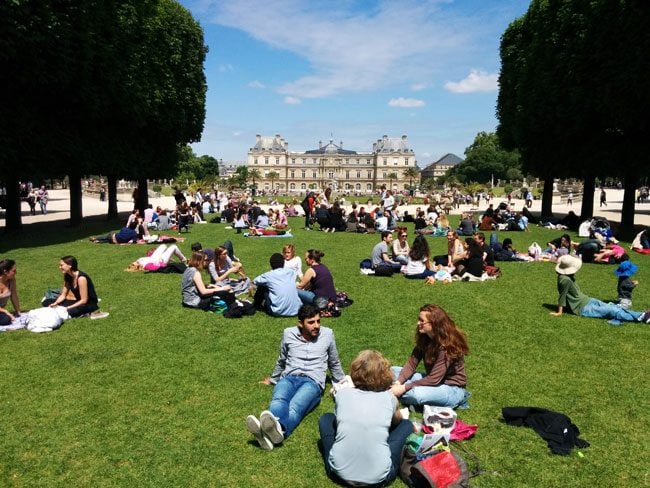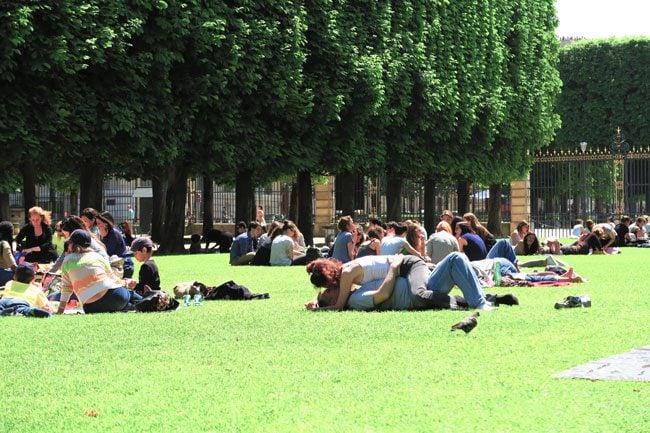 Have a look through this Saint Germain guide and plan what will be a perfect day in Paris.
As you can see, every part of Paris has its own green spaces. Small or large, Paris is definitely a city that treats its residents and visitors with plenty of nice spots to relax. So there's very little doubt that you'll always be just a few minutes away from some of the best parks in Paris. All that's left to do is grab a chair, bring a picnic lunch and just enjoy le joie de vivres!