This is the tale of a five-week, 6,000-mile road trip in the American southwest. Crossing four states and endless deserts, a road trip through the Old West is one of the greatest ways to satisfy one's quest for the feeling of ultimate freedom. In this road trip summary, I'll share highlights from this memorable adventure, inspired by my love for the warm outdoors and one classic 80s music video clip.
I've always had a travel love affair with warm extremes. Those who follow this blog have had to cope with my obsession for tropical islands, manifested via multiple escapes to the South Pacific in recent years. But I'm also a huge fan of deserts. I'm drawn to deserts not only for the warm climate and extraterrestrial-like geology but also because they're amongst the last vestiges of solitude, a rare travel commodity these days.

It's Time to Confess
There's one more confession that I must make to set up the more interesting part of this blog post. I'm a huge fan of 80s music. There it is, out in the open. Not ashamed to admit that. One particular tune that left its mark on me, the video clip to be more exact, is Everybody Wants to Rule the World by Tears for Fears. The straight desert highways, the old gas stations, the forgotten towns, the interesting characters, the windmills, and the general sense of freedom on a classic American road trip all fascinated me.
I've always dreamed of visiting the spots where that clip was filmed and just following the desert where it would take me. So when the opportunity came to take all of my vacation days in bulk and head on a long vacation, I booked yet another trip to Tahiti… Go figure.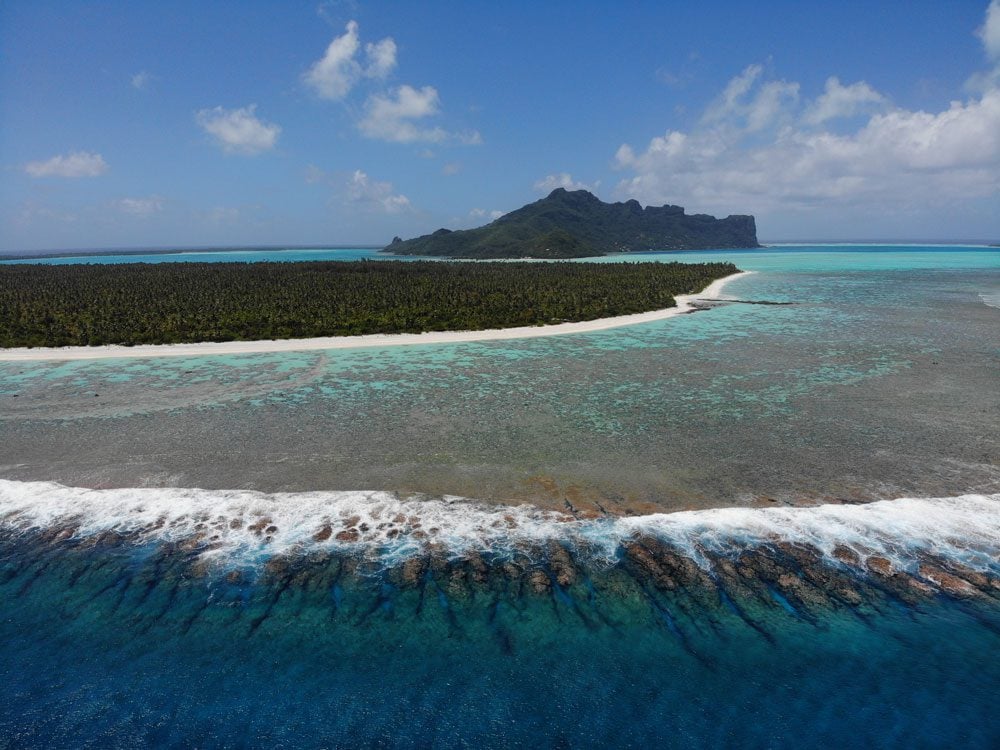 However, as luck, fate or destiny would have it, COVID-19 made it impossible to enter Tahiti at that particular time and a last-minute scramble for a plan B had to be put together. I already had a stop in San Francisco planned en route to Tahiti so this became a no-brainer. It's time to turn that desert road trip dream into a reality.
I didn't rent a convertible like the one featured in the iconic 80s clip but I did rent this American-made baby that was tasked with leading me through the desert and back in one piece via a few bucket list spots. She and I would need to cover miles of dirt roads and perhaps even spend a few nights together with some in-the-car camping.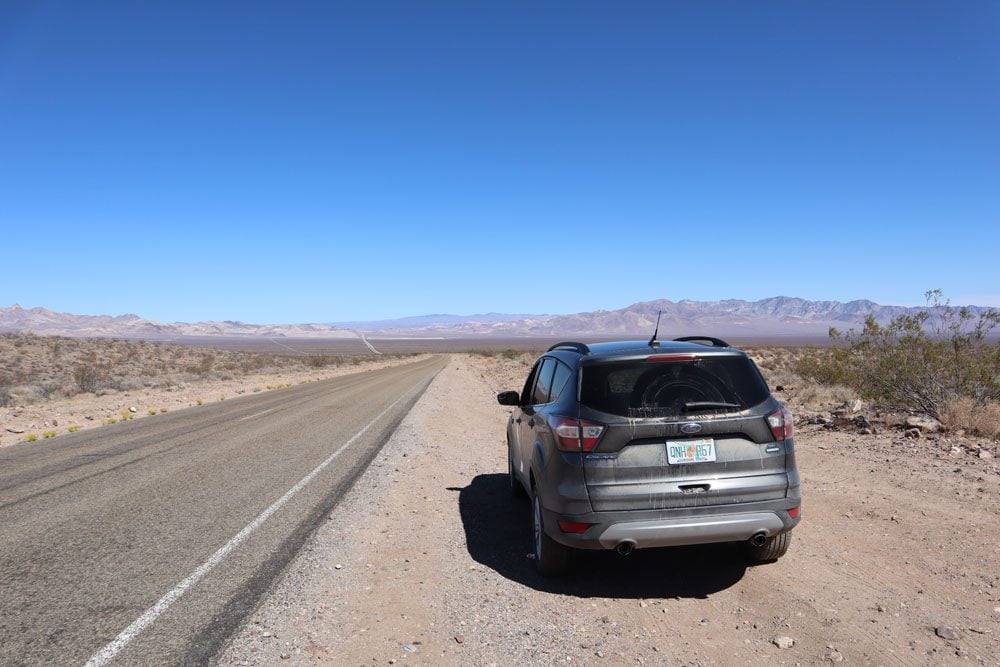 The Best Plan is No Plan
As a traveler who meticulously plans his trips (just look at the travel guides featured on this website), landing in San Francisco without a plan and with five weeks to kill was quite a scary proposition. I did have a rough idea of a few places I wanted to visit but I had no bookings made and no clue if my rough plan was feasible. I knew that I wanted to return to catch my flight home via the Pacific Coast Highway, so it basically meant that a big loop around the desert would be made. How wide would the circle be? No idea.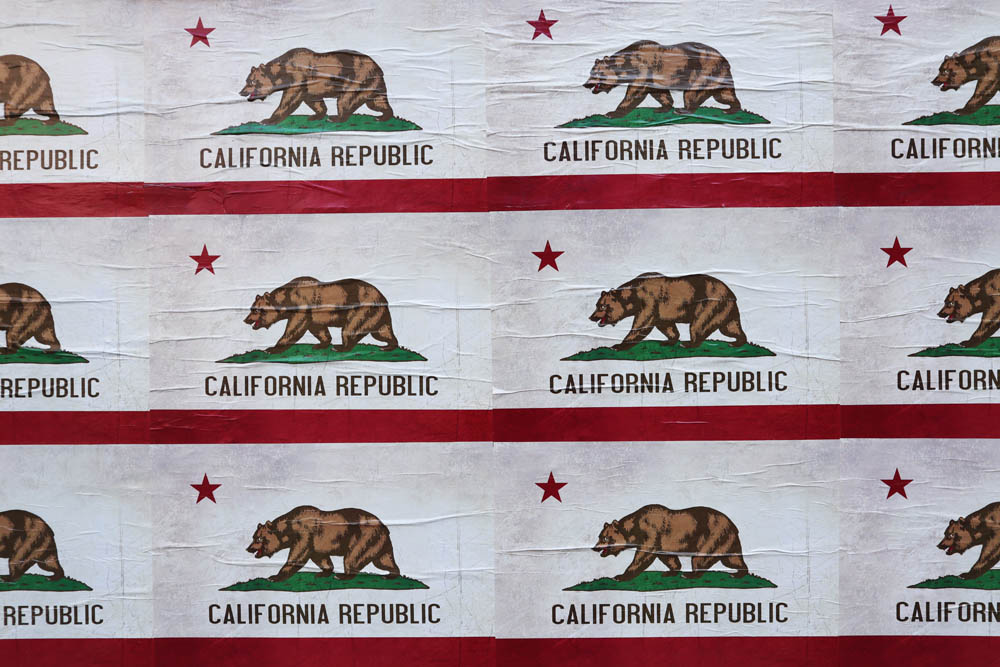 I ended up driving 6,094 miles or 9,807 km on this road trip, spending over a month in the great American desert. I revisited places etched in memory from family trips led by my father in the 90s and numerous trips to the US as an adult, but it was mostly about exploring the unknown. Here's a summary of the top highlights.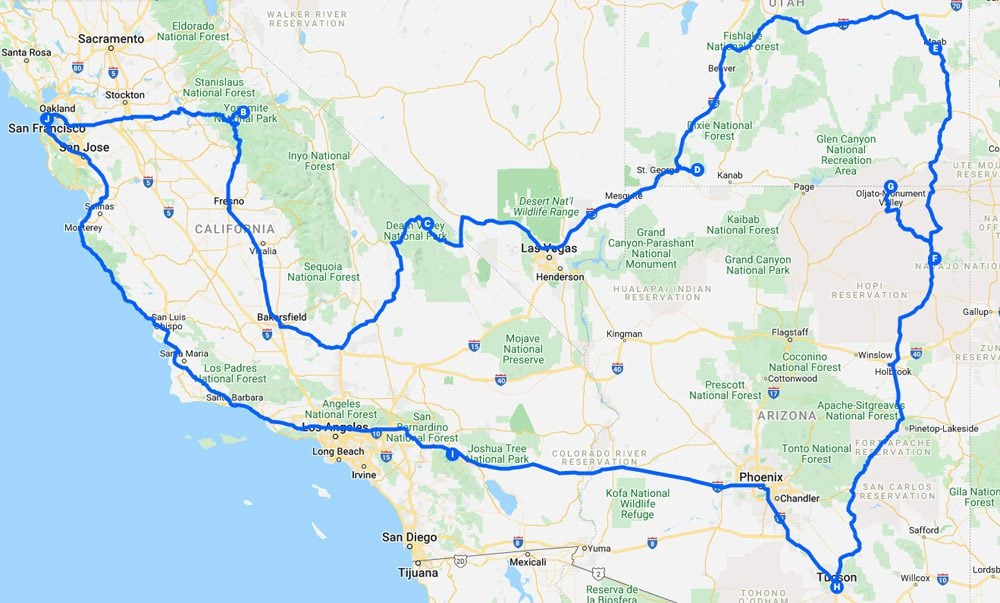 San Francisco
I'm not a huge fan of American cities but San Francisco is certainly an exception. I've visited the City by the Bay on a few occasions and even published a travel guide based on my experience. Since my trip started and ended here, I thought it would be nice to retrace my steps and revisit a few favorite spots.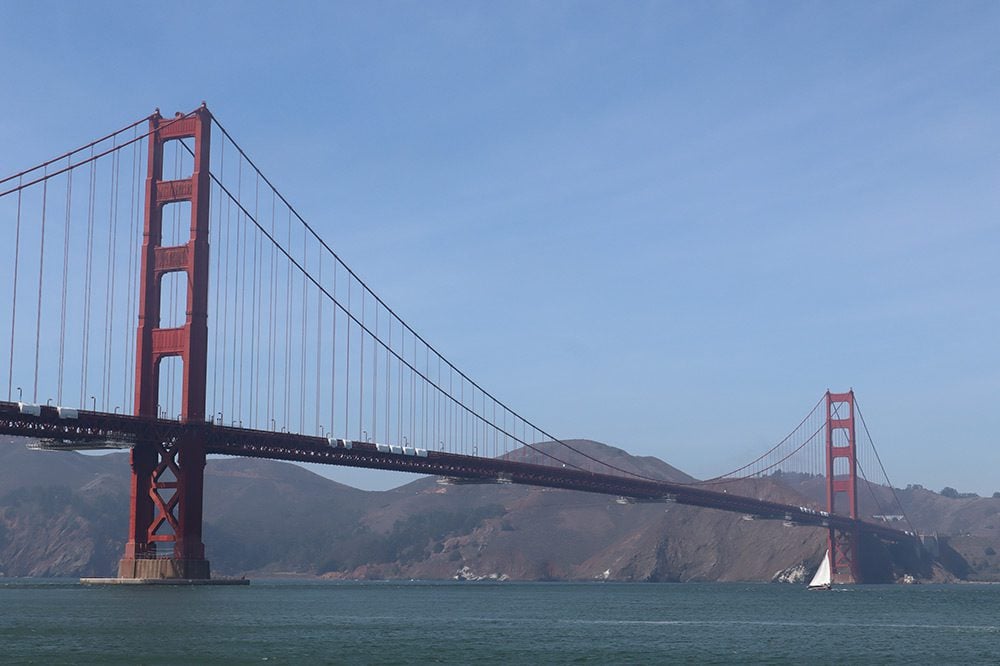 I particularly enjoyed strolling through Chinatown on a busy weekday, visiting San Francisco's scenic lookouts at Coit Tower and Bernal Heights, seeing the powerful street art at the Mission District, and following the shoreline from Fisherman's Wharf all the way to Baker Beach via the Golden Gate Bridge.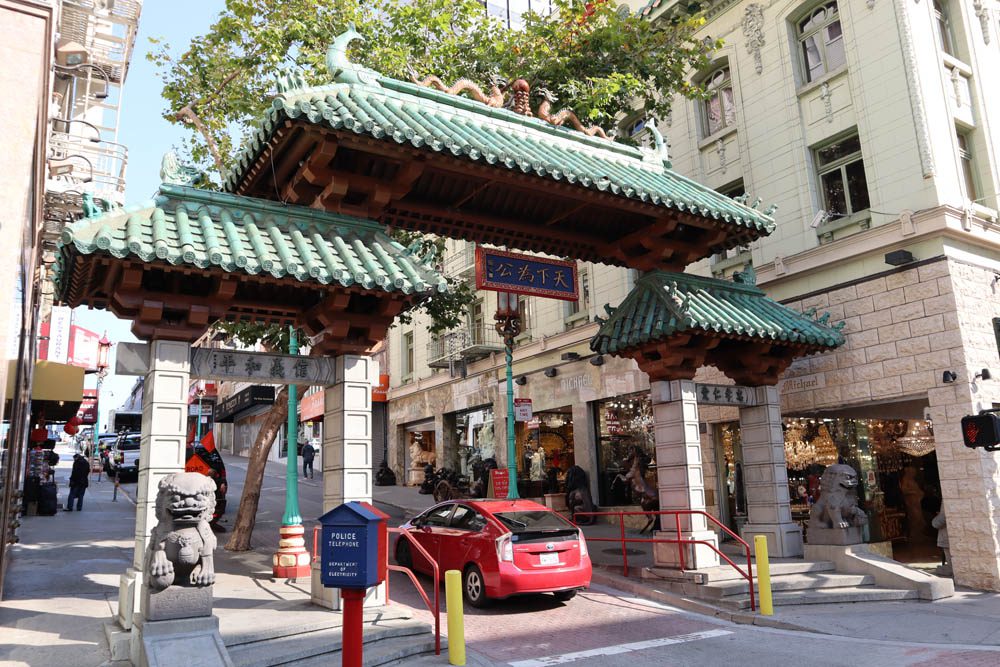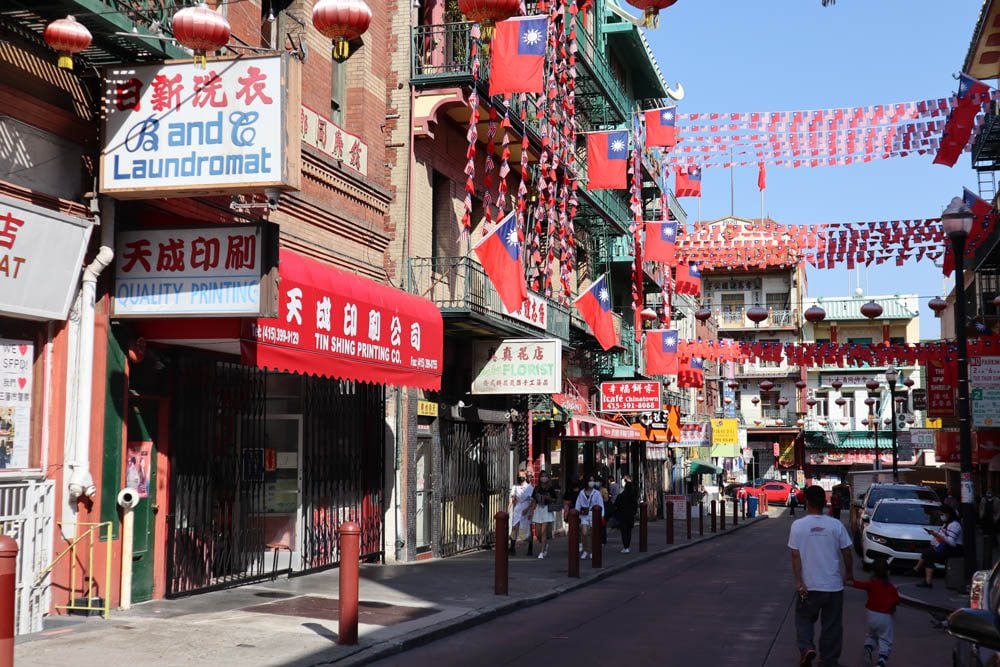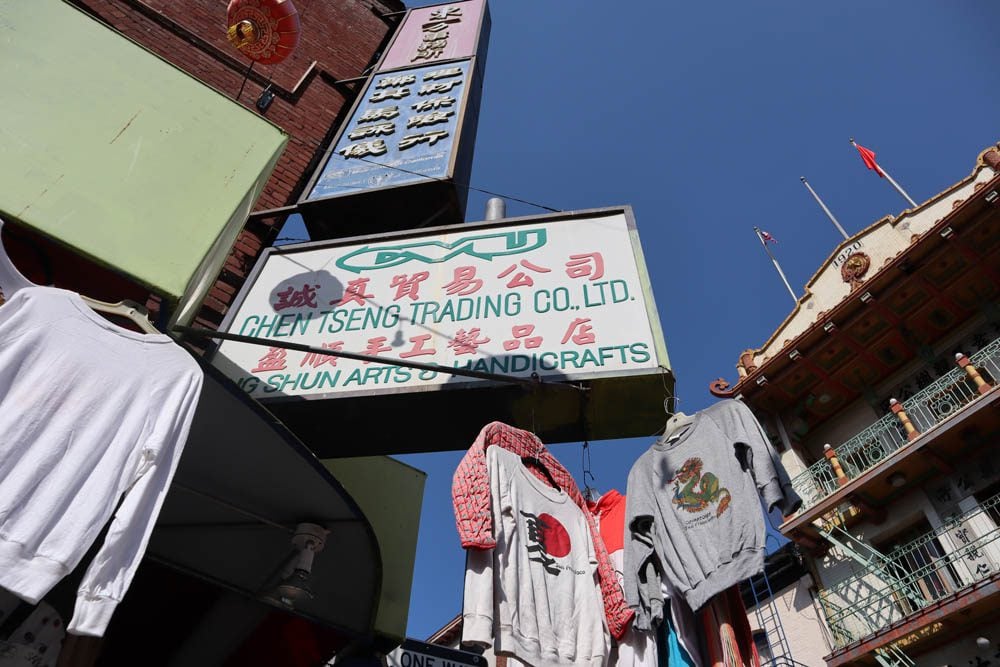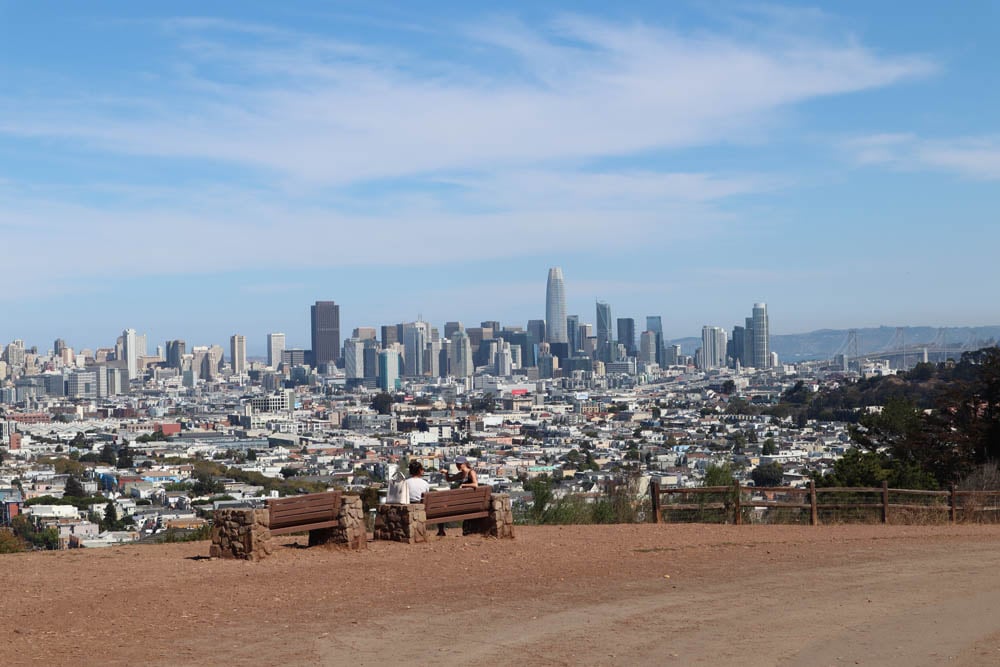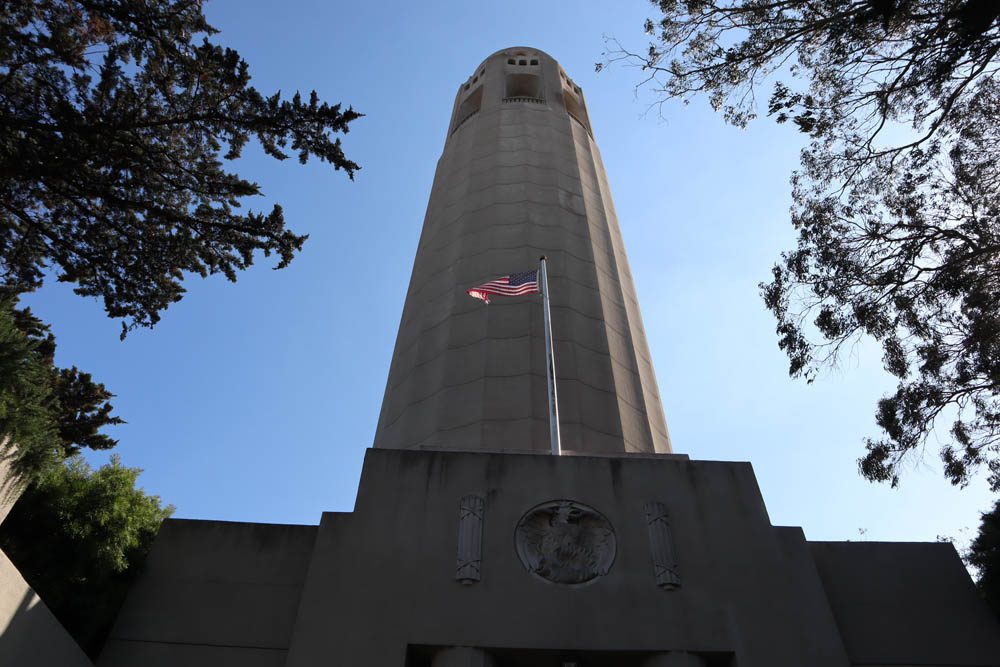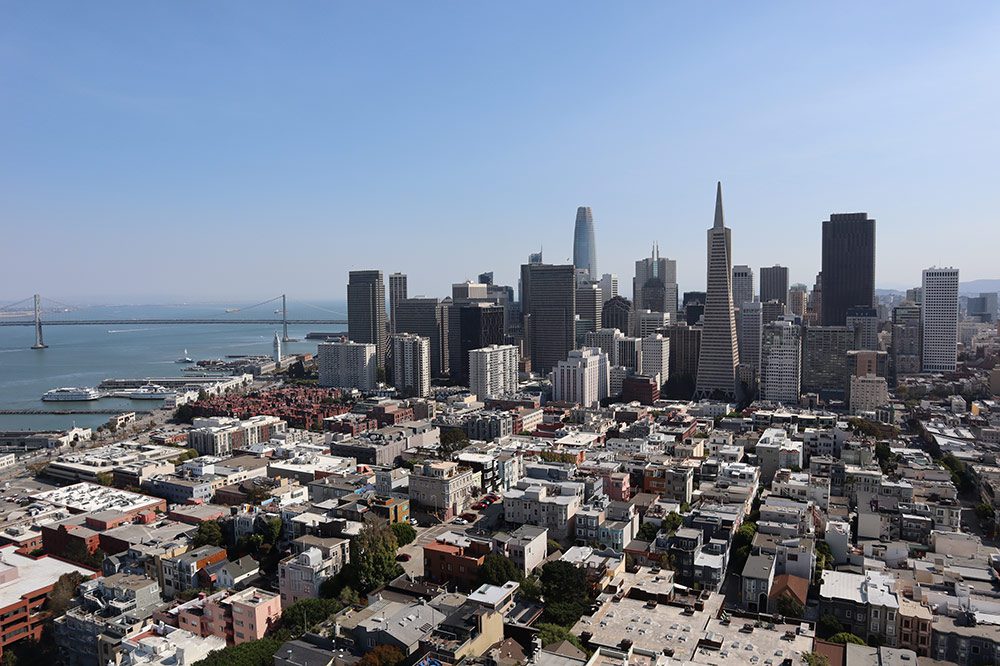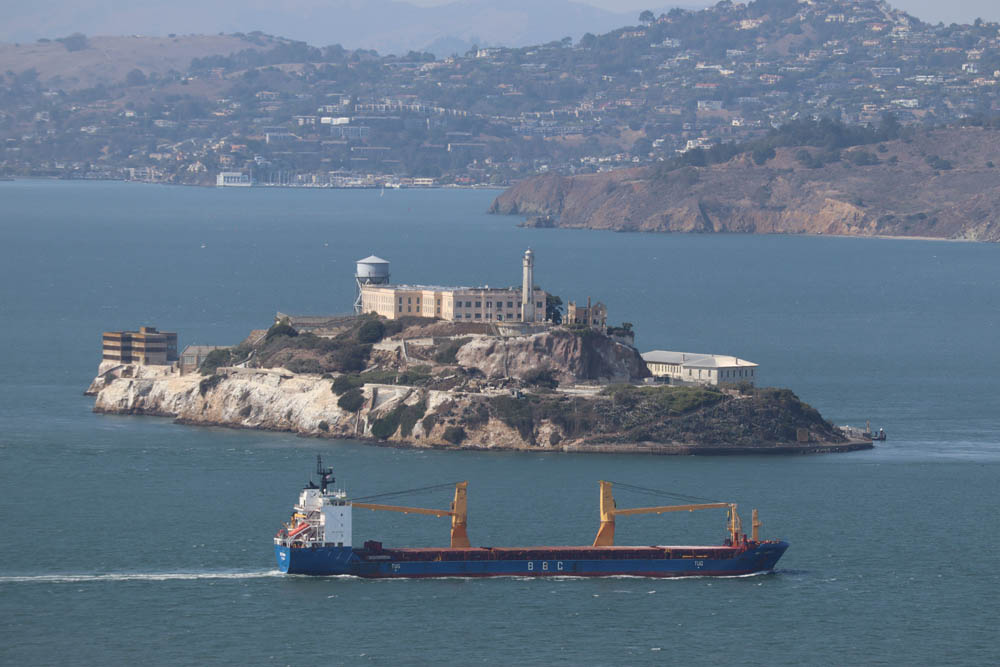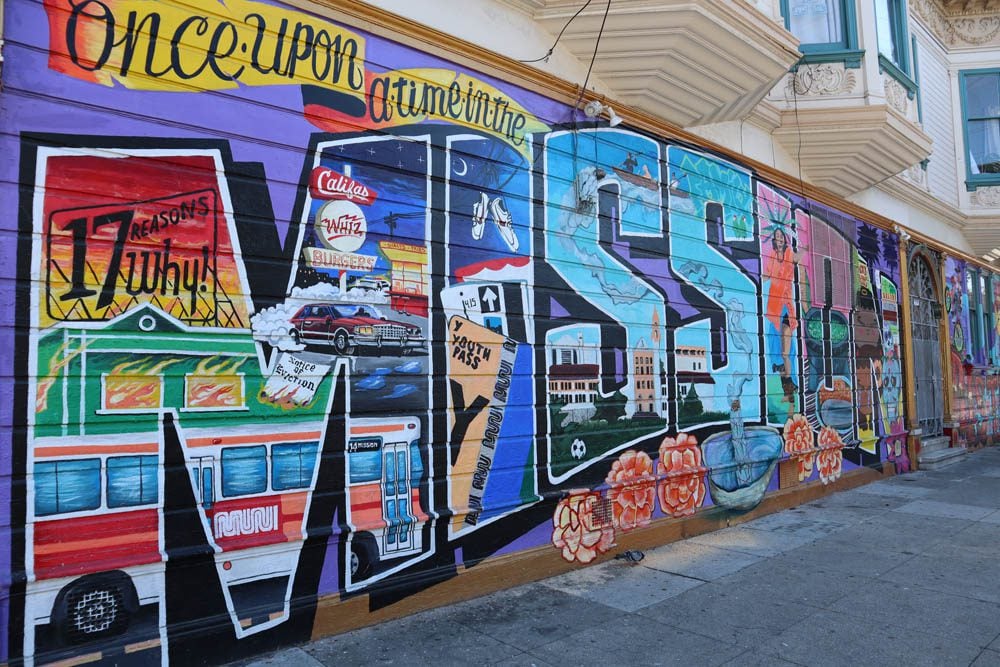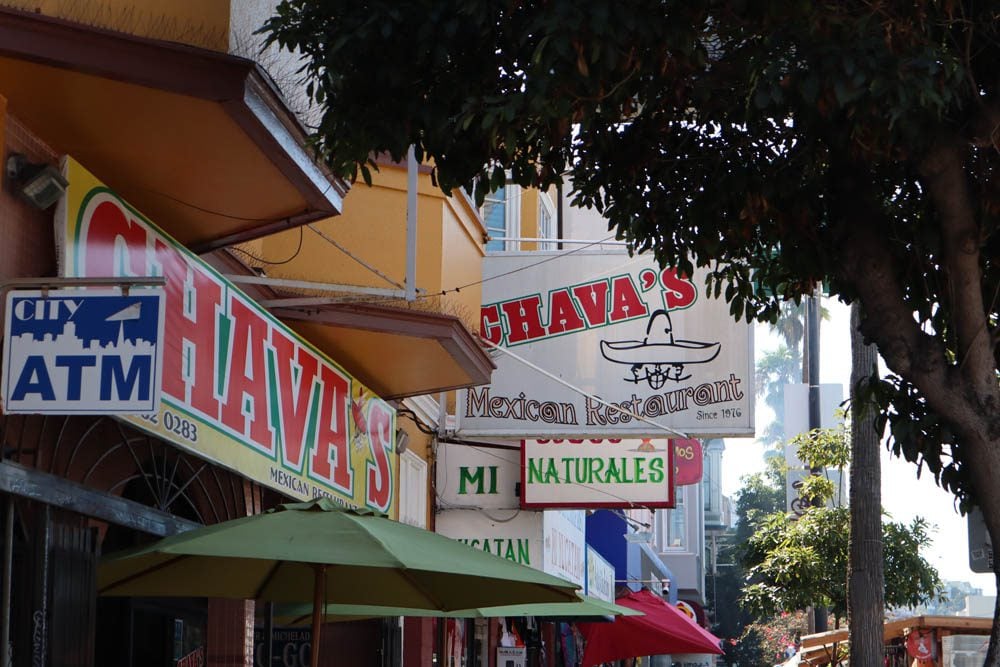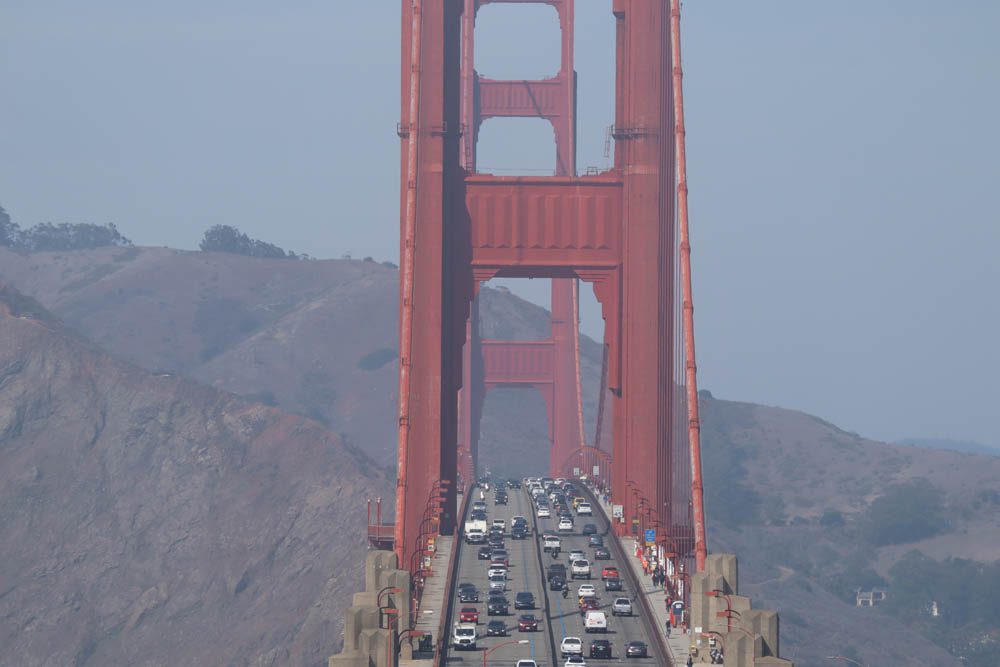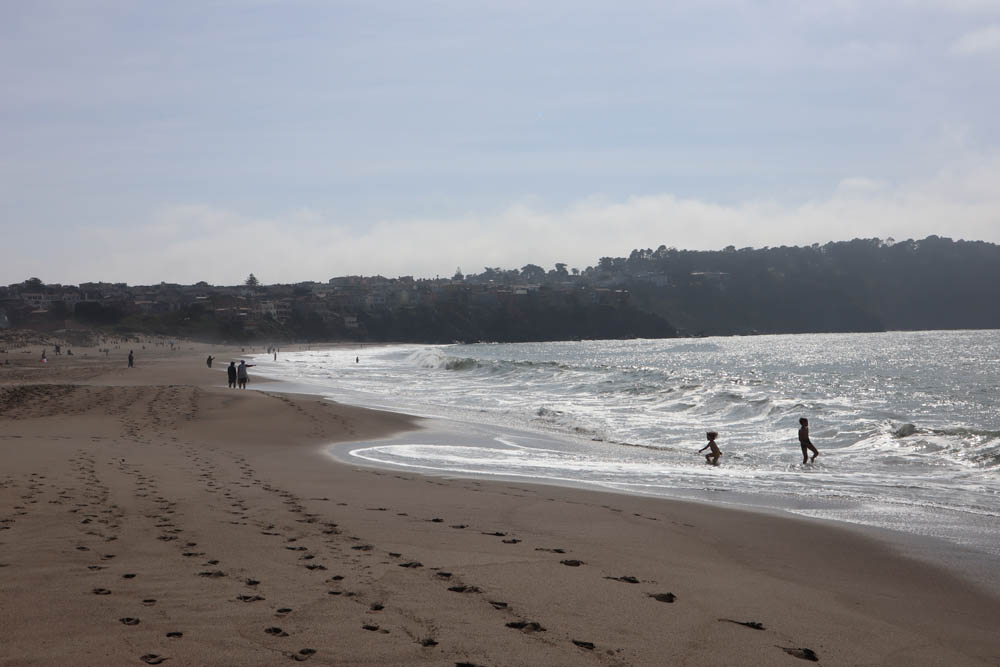 In San Francisco, it's wise to do a bit of stretching before heading out because walking up its hills can be mighty tough albeit rewarding. If you want to "cheat", you can always hop on one of the iconic cable cars. Sure, they're mostly used by tourists these days but it's a San Francisco experience that's not to be missed, along with calorie-heavy sundae at Ghirardelli.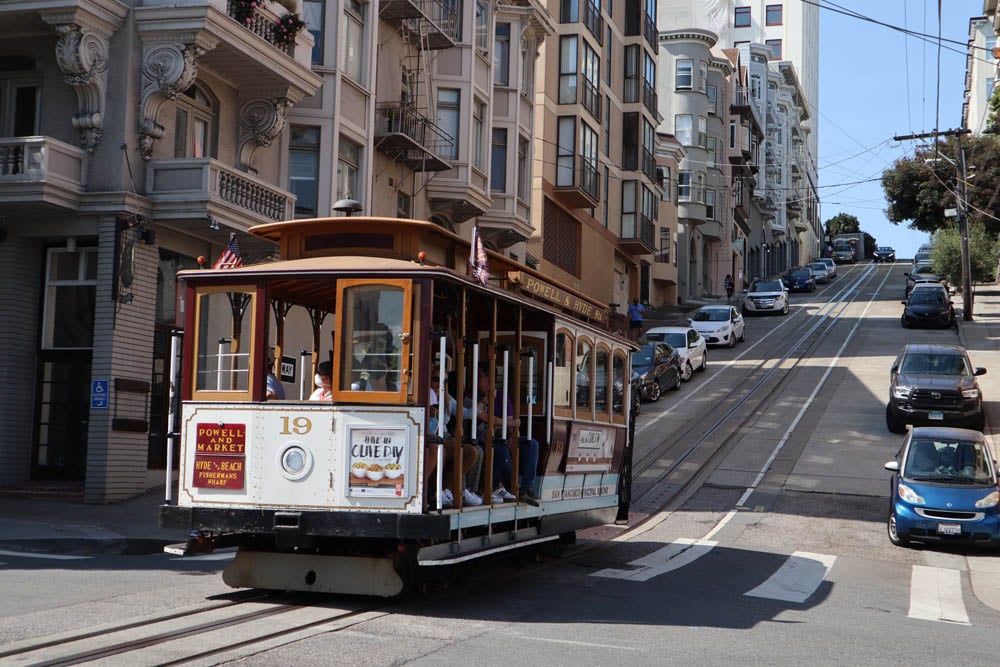 Yosemite
Before entering the desert, I wanted to do a bit of tree-hugging at Yosemite National Park. Due to COVID restrictions at the time, the only way to enter the park with a car was to either score one of the scarce vehicle day passes or to overnight in one of the lodges or campgrounds inside the park. I spent the first two nights "roughing it out" inside a tent at Curry Village and the last two nights in pampering fashion at the historic Wawona Hotel.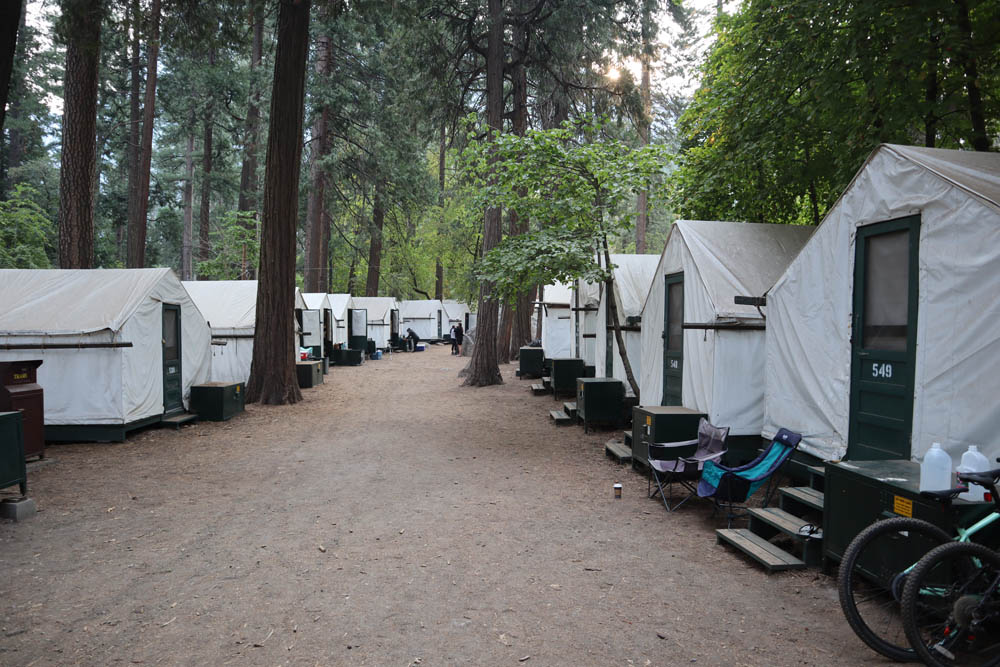 The drive from San Francisco took me through the Central Valley, where cherries, berries, watermelons, and everything else that grows this time of year was sold in roadside stalls directly from the source. Nearing Yosemite, the air was thick with smoke carried by winds from the devastating wildfire that struck Sequoia National Park and the surrounding area. Within Yosemite, large patches of forest were also burned to a crisp by recent unrelated fires.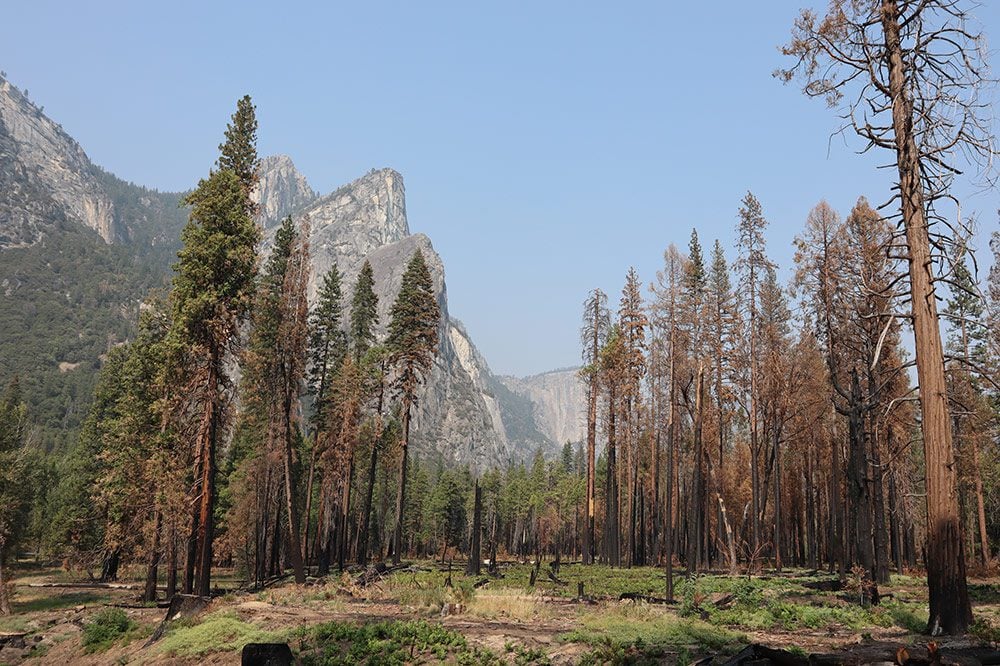 Few words can describe the beauty of Yosemite Valley, the national park's prime attraction. Even though its famous waterfalls were bone dry in late September, the valley was enchanting and full of life, always offering a different vibe from dawn to dusk.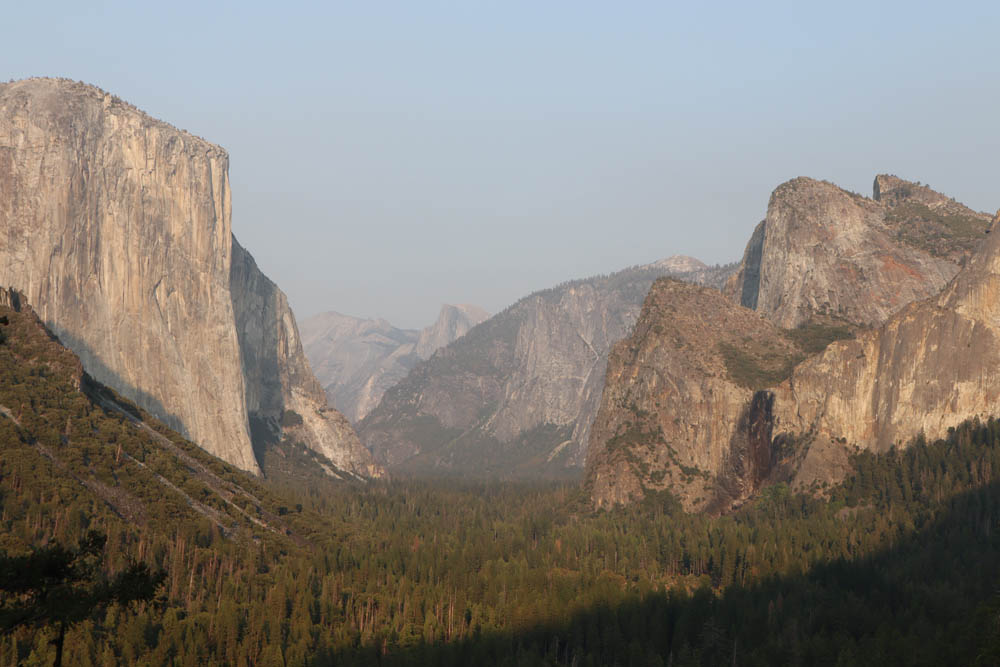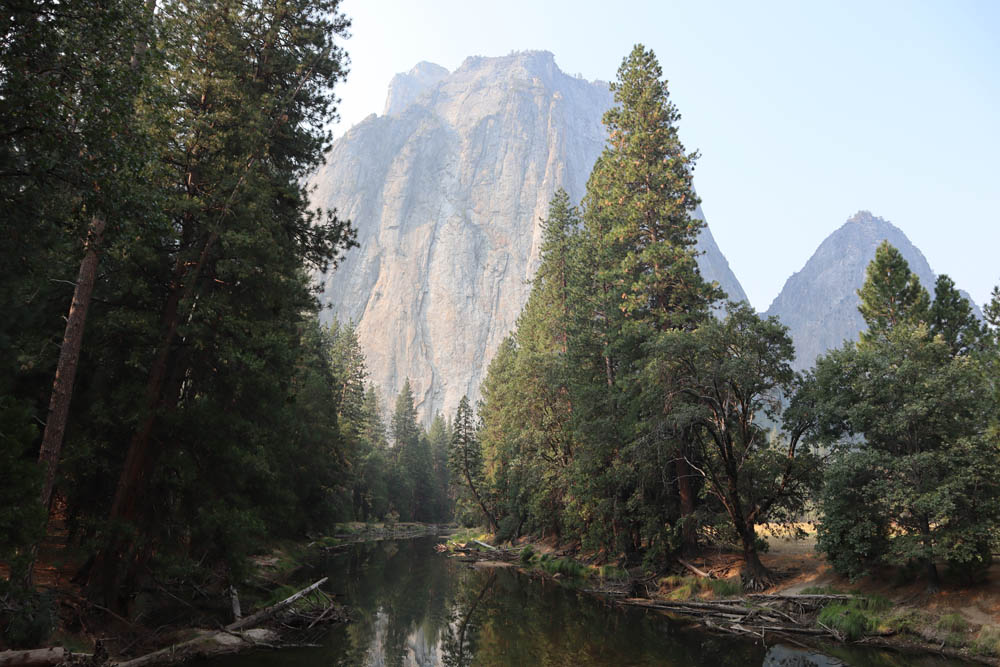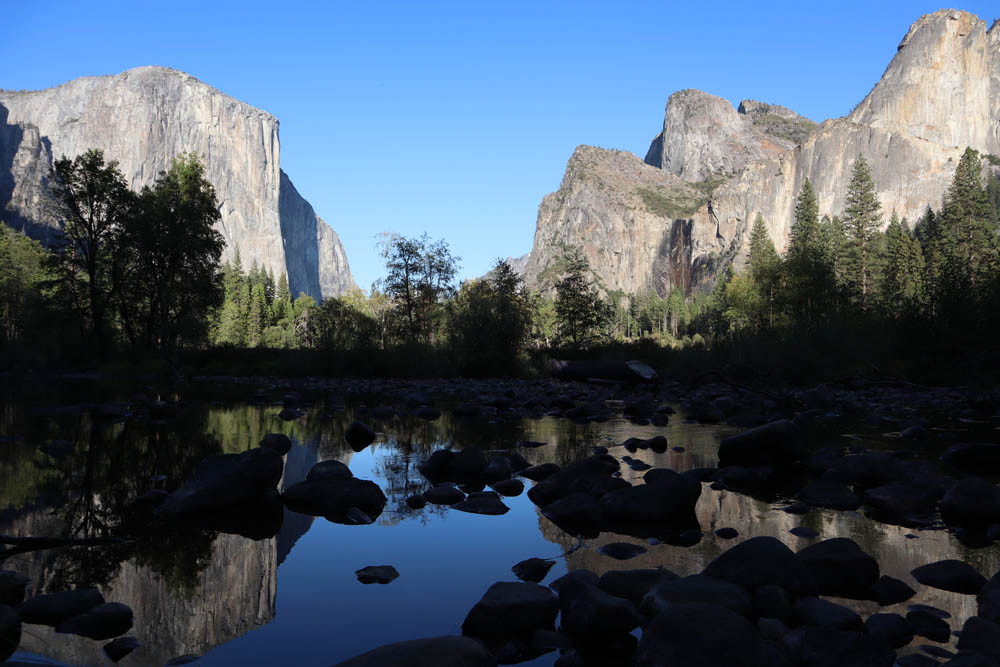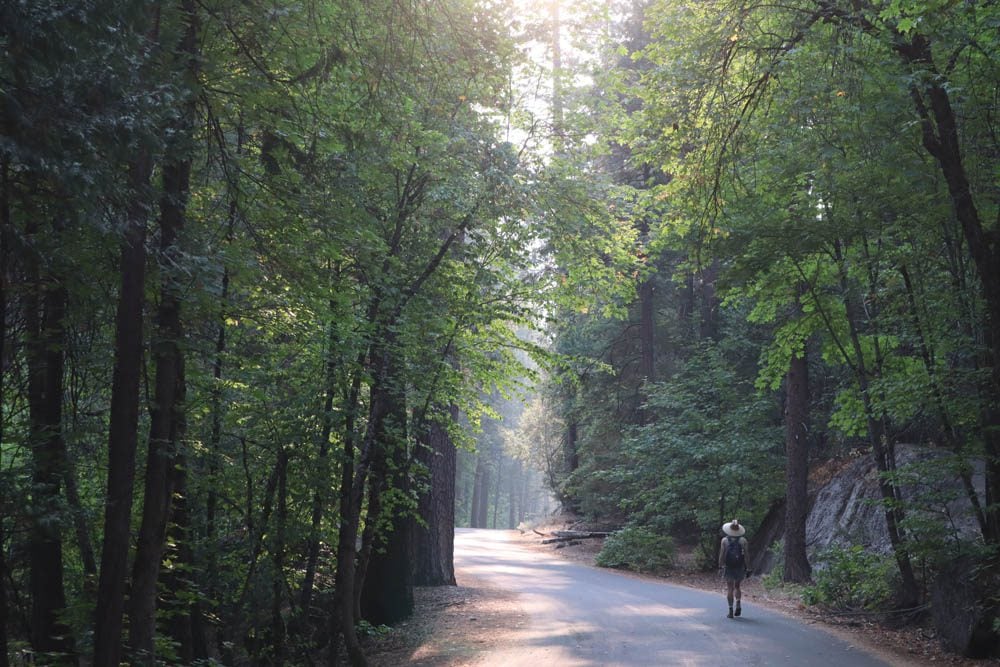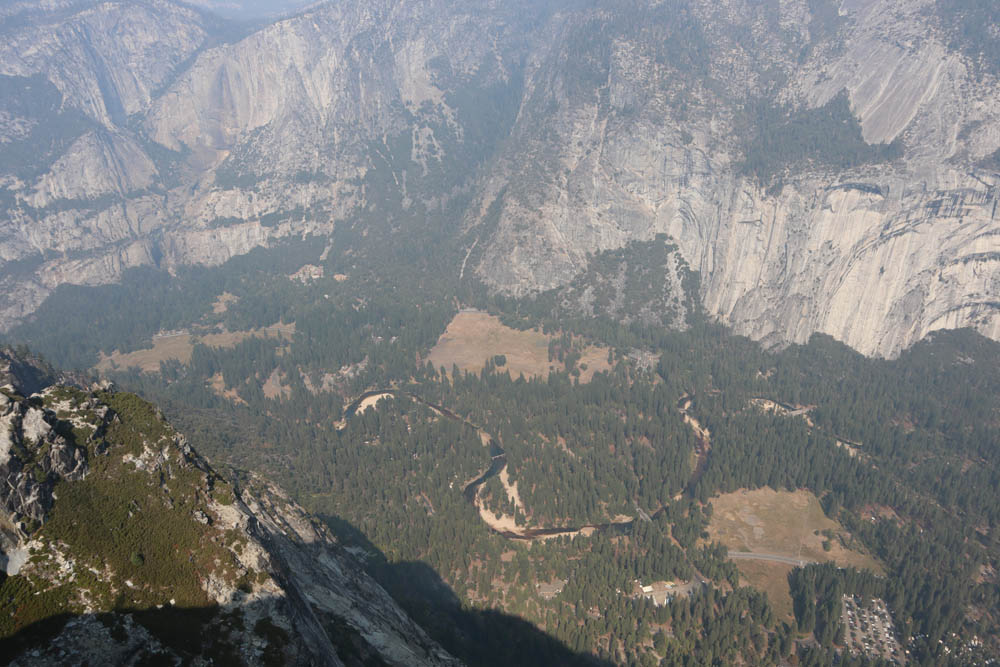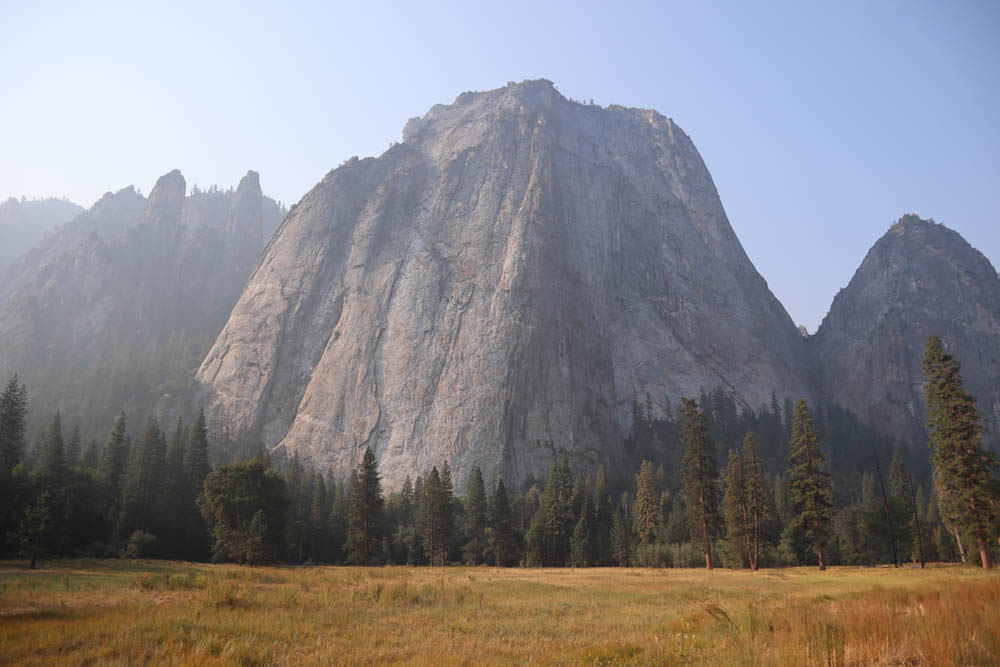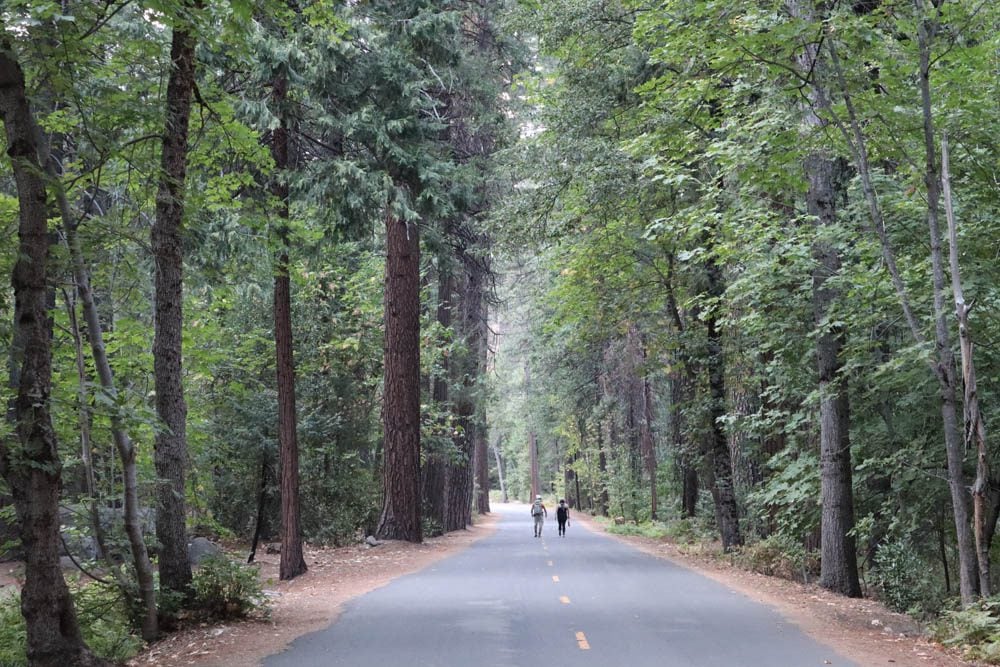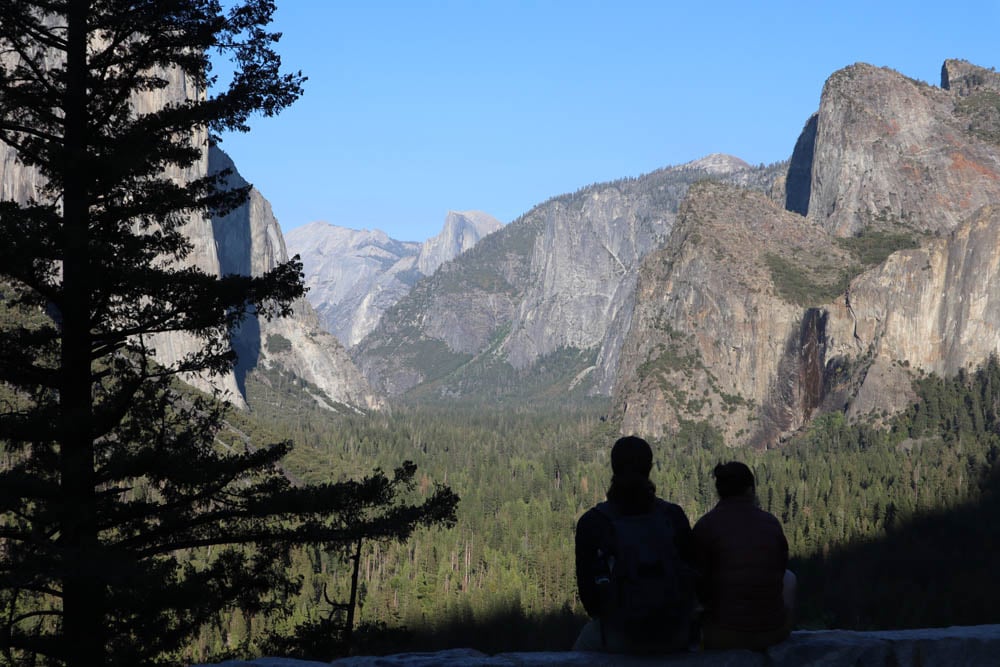 To fully absorb the magic of Yosemite, you need to put on some hiking shoes and hit the trails. Yosemite offers infinite ways to explore the park's sequoia groves or to get acquainted with its signature rocky domes. I especially enjoyed the Mariposa Grove for its giant sequoias, Four Mile Trail to Glacier Point and beyond to Sentinel Dome and Taft Point, Nevada Falls, and North Dome from where I was treated to exceptional views of Yosemite Valley and Half Dome.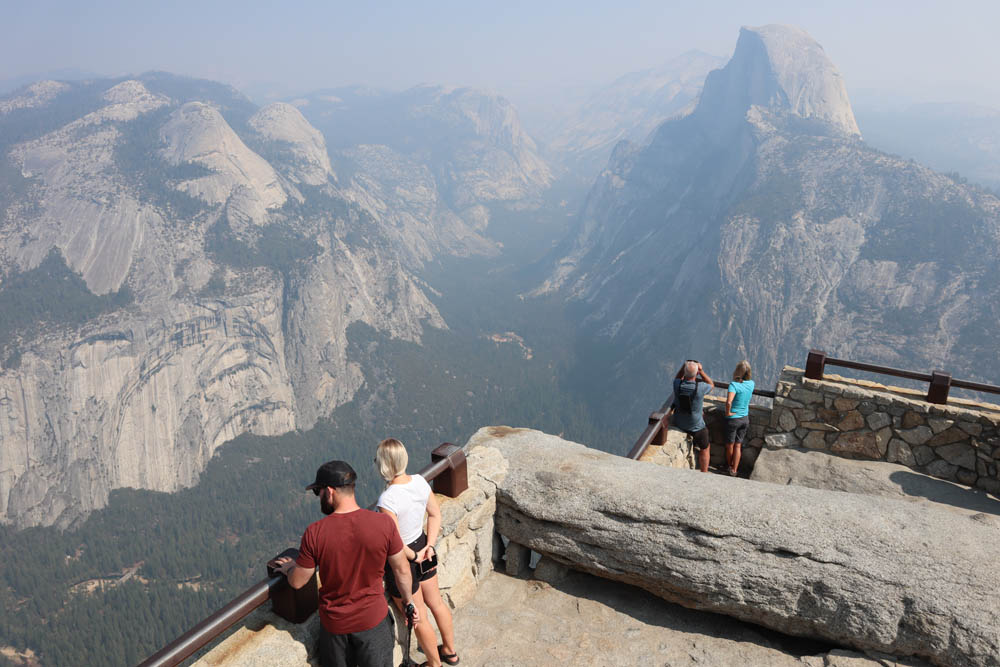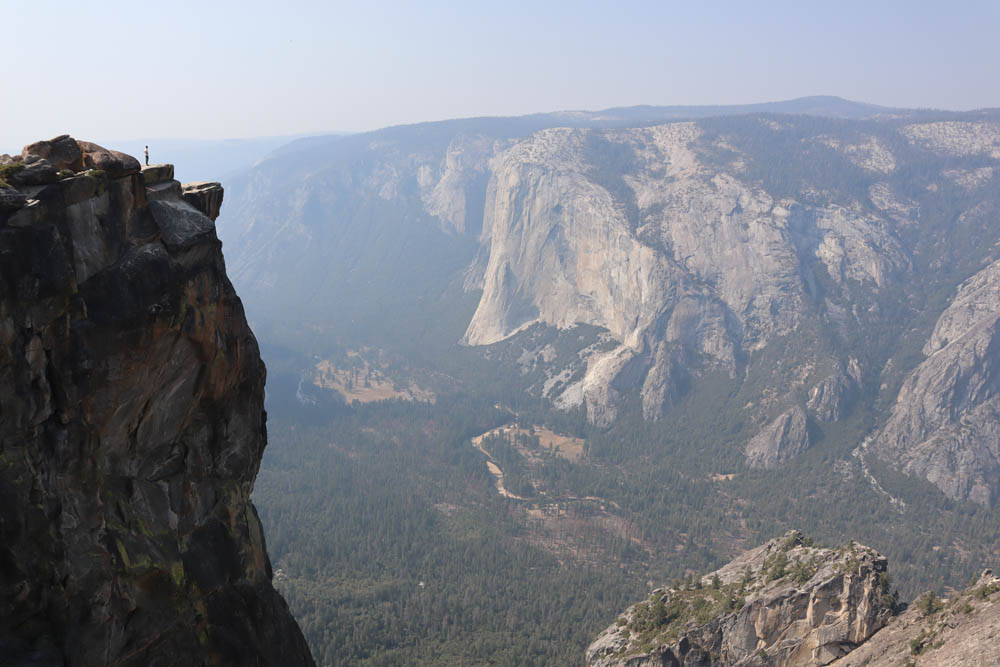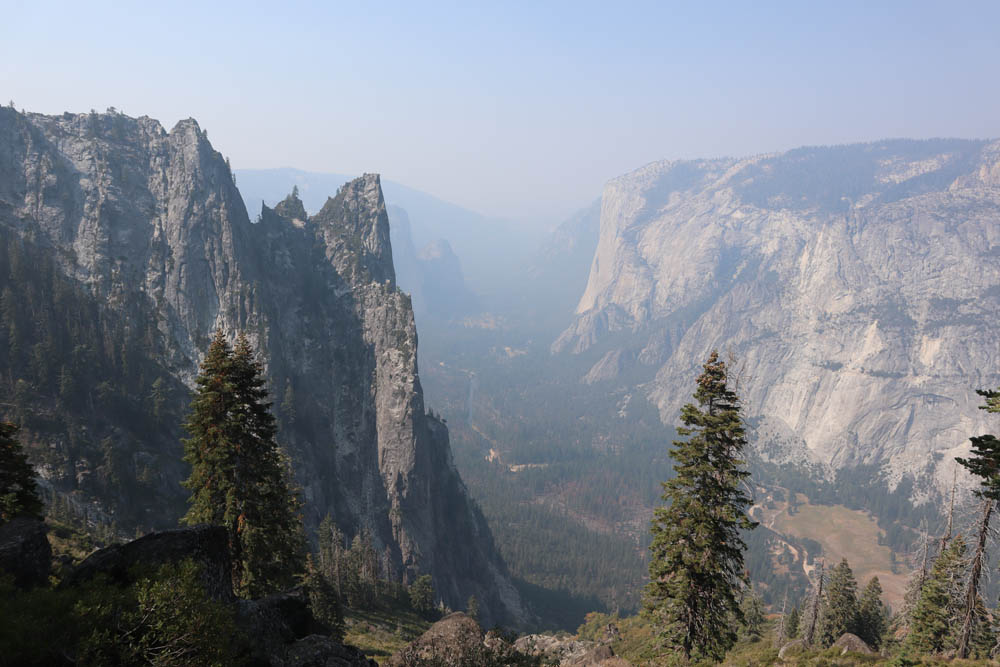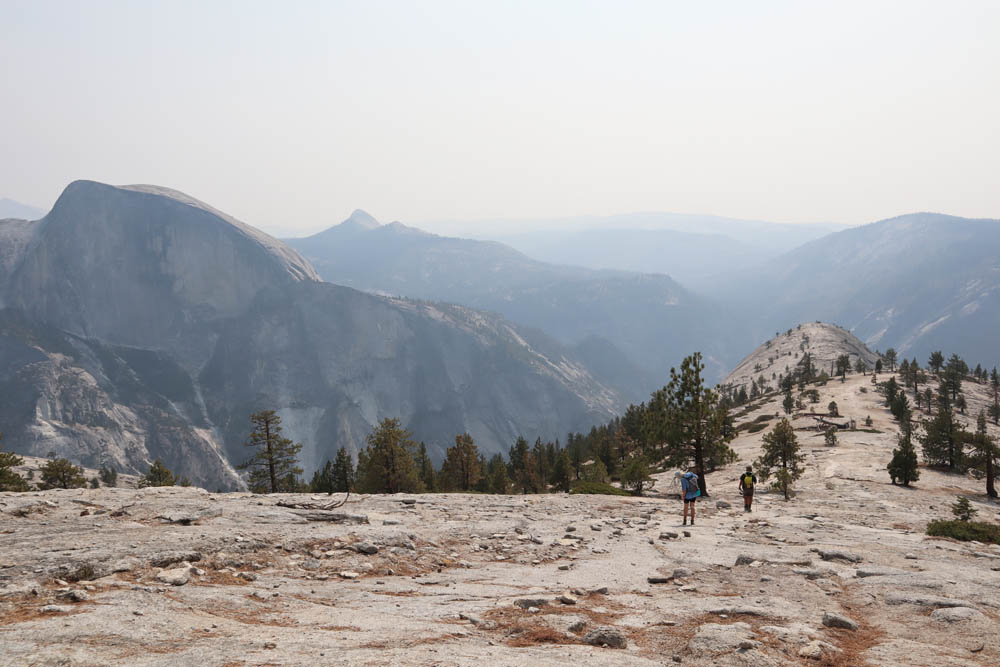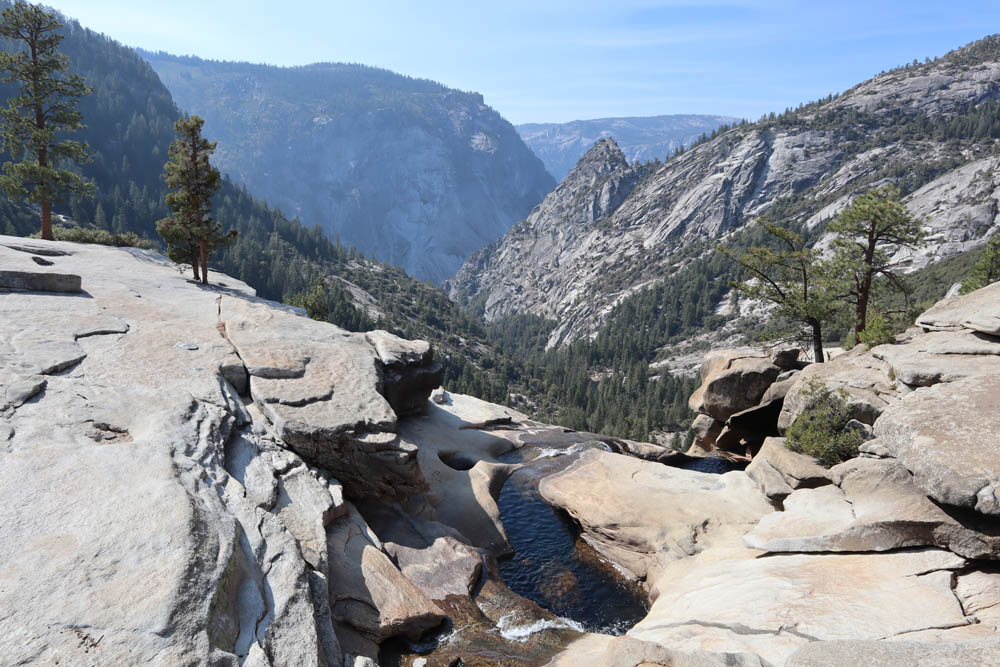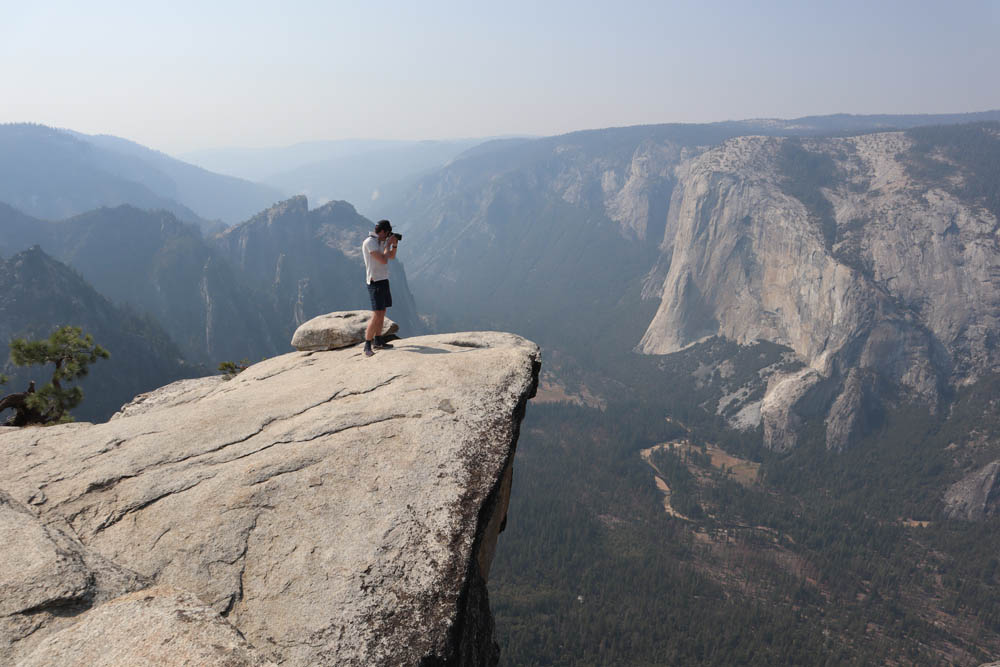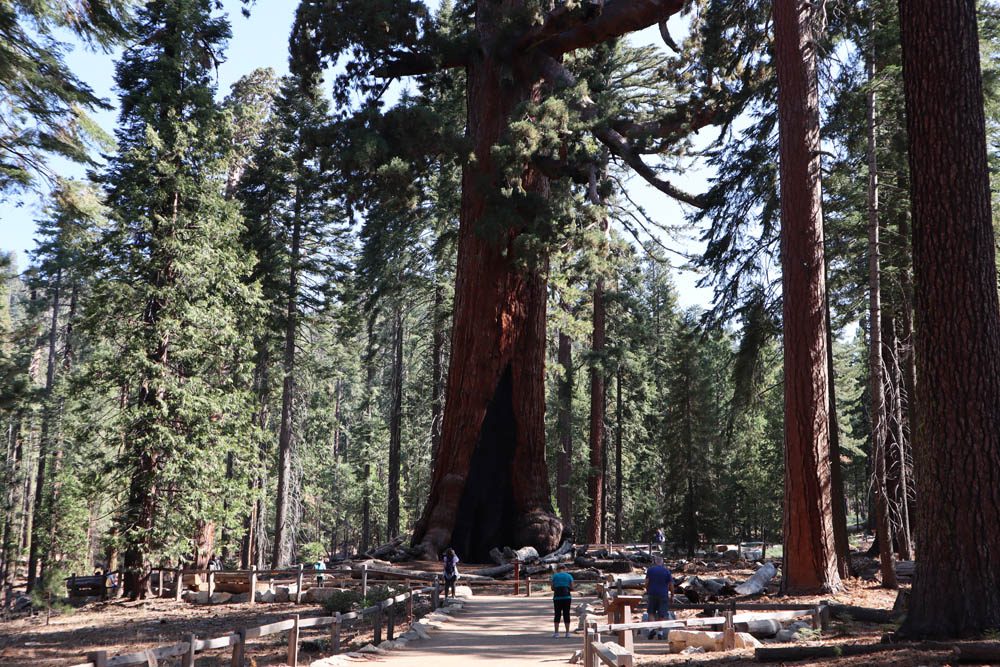 Yosemite to Death Valley
Since Sequoia National Park and Kings Canyon were closed due to the wildfires, it was time to enter the Mojave Desert. I exited Yosemite via Tioga Pass Road, an engineering marvel that slices through high elevation terrain that can often be confused with Iceland or the Scottish Highlands.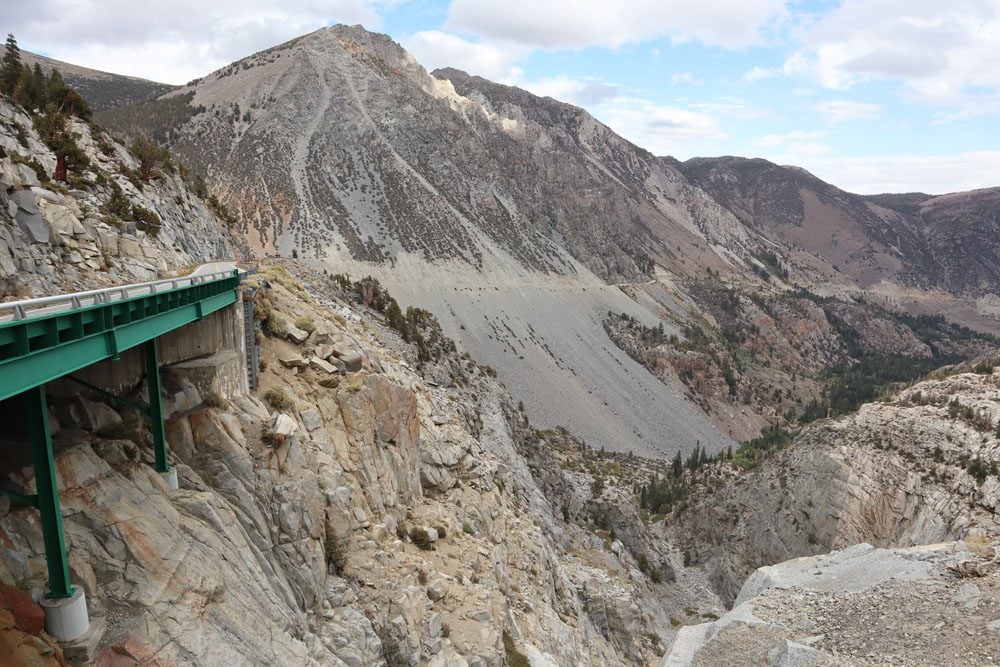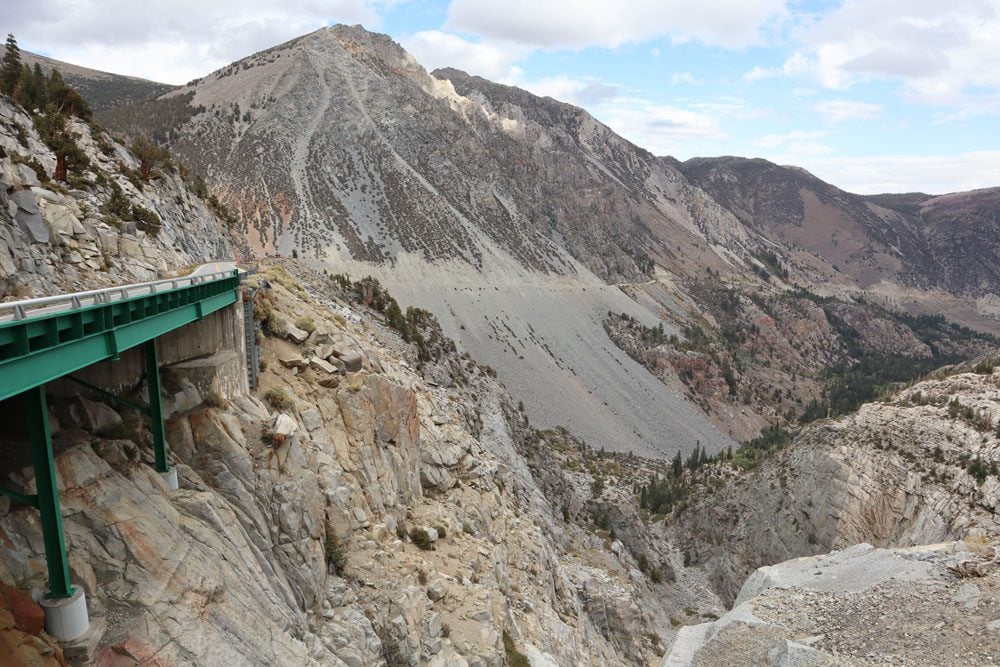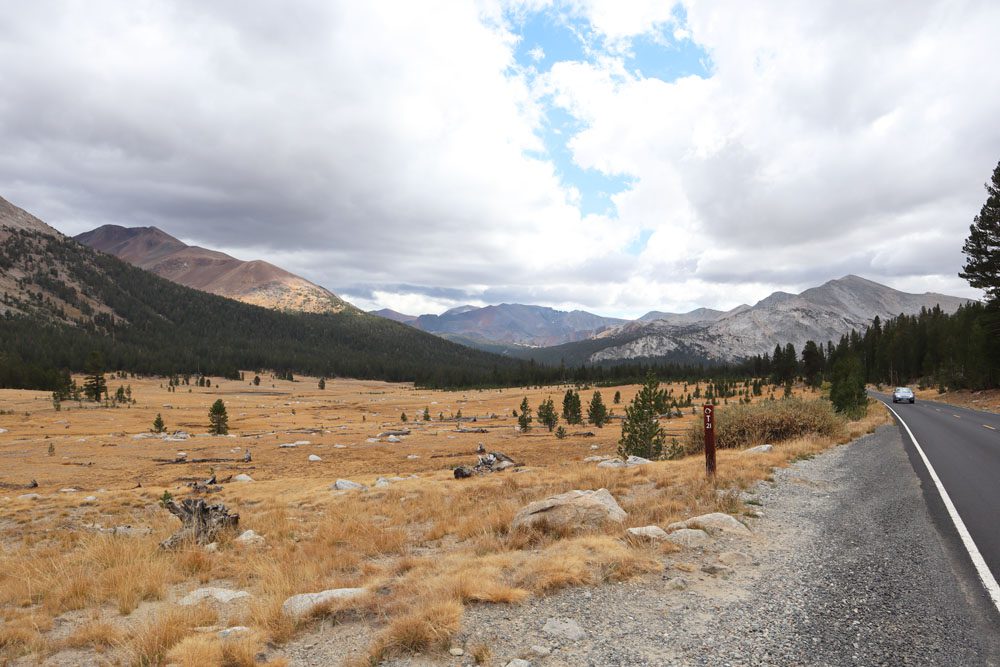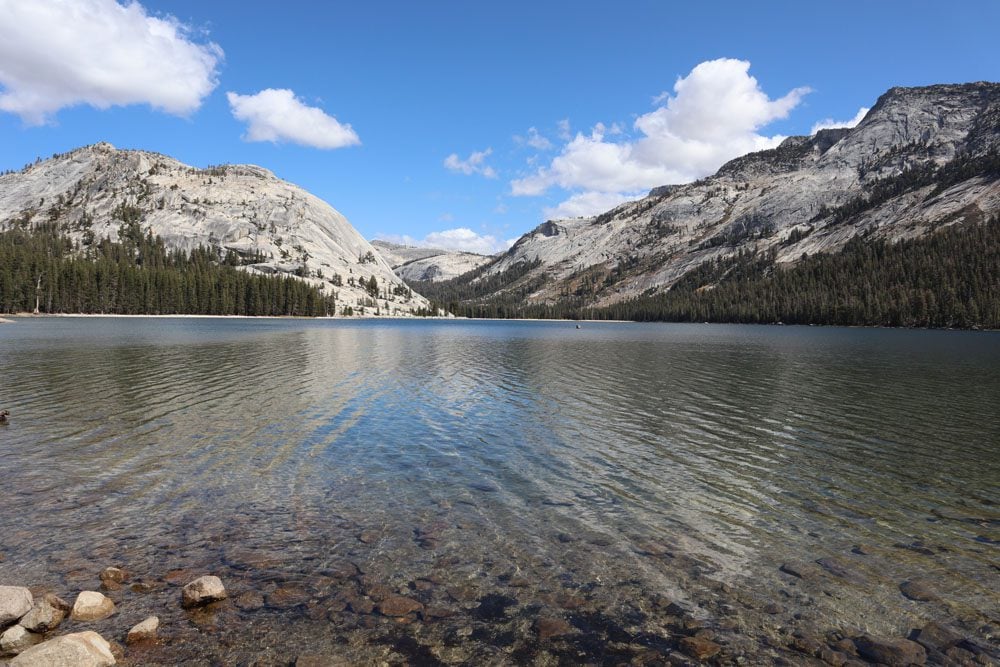 The end of Tioga Pass sharply descends to Owens Valley where the scenery quickly changes from alpine to desert. The cracking sounds made by empty one-gallon plastic water bottles in the back of the car confirmed what my ears were feeling, a rapid loss of elevation. In a matter of minutes, the outside temperature soared by 15 degrees Celsius. The endless sharp curves of Yosemite's roads suddenly gave way to seemingly endless asphalt as straight as an arrow.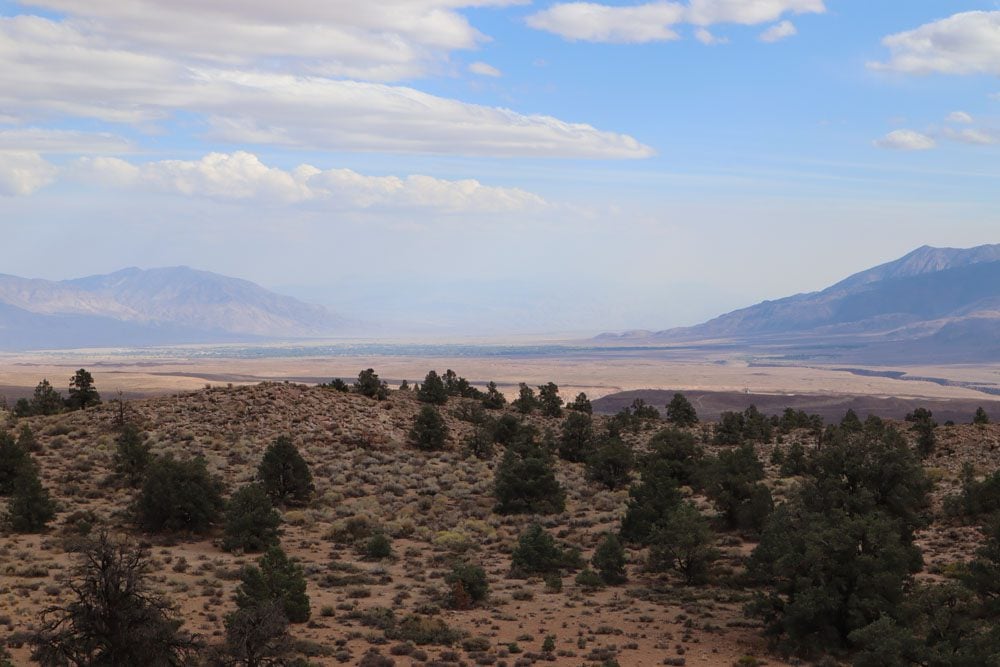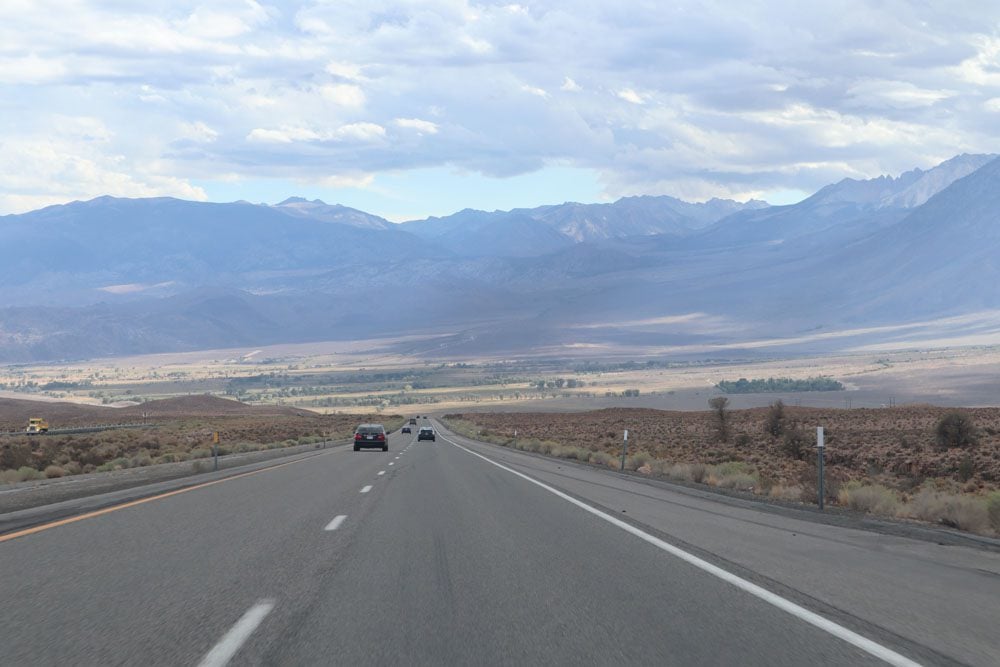 It was time to turn on the cruise control and enjoy the open country. To my right, the dusty slopes of the Sierra Nevada Mountains, and to my left, the vastness of the Mojave Desert. This stretch of Highway 395 connects enormous ranches with forgotten towns such as Tom's Place, via dry creeks and dry lakes that haven't seen a drop of water in months. I stopped to stretch my legs at Bishop, the kind of town where the highway slices through Main Street before calling it a night at lovely Lone Pine.
Death Valley
Death Valley was one of the top destinations on my list. I've visited California and Nevada many times before but never made it here despite my love for remote deserts. It turns out that Death Valley National Park is not only home to hell-like summer temperatures and low elevation, but it is also one of the largest national parks in the country so there will be a lot of ground to cover.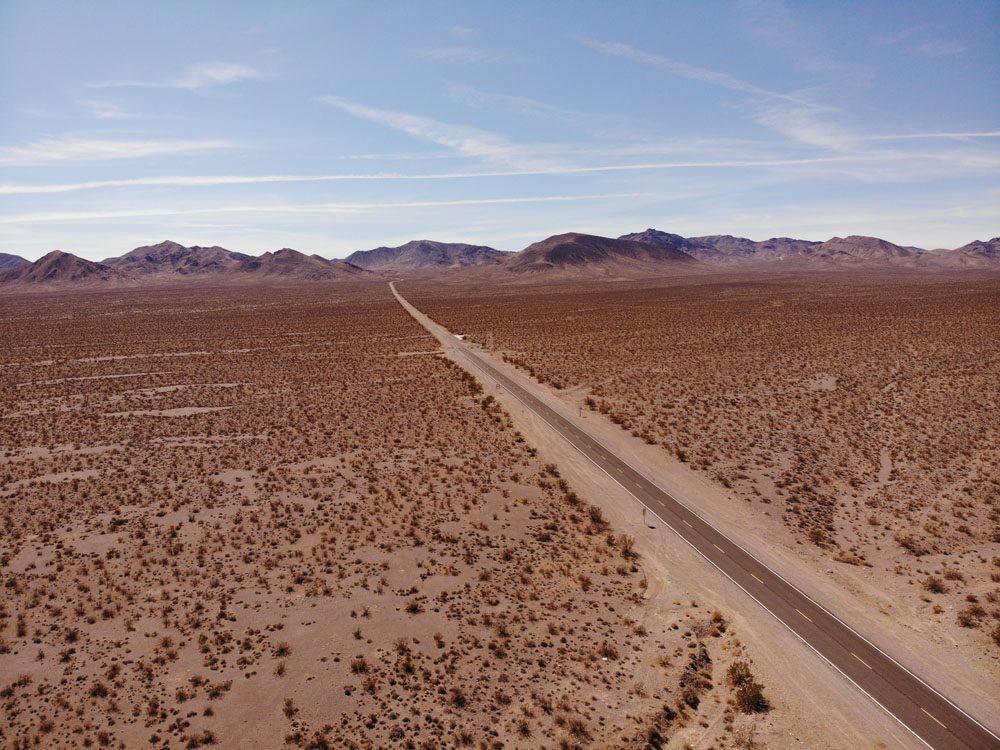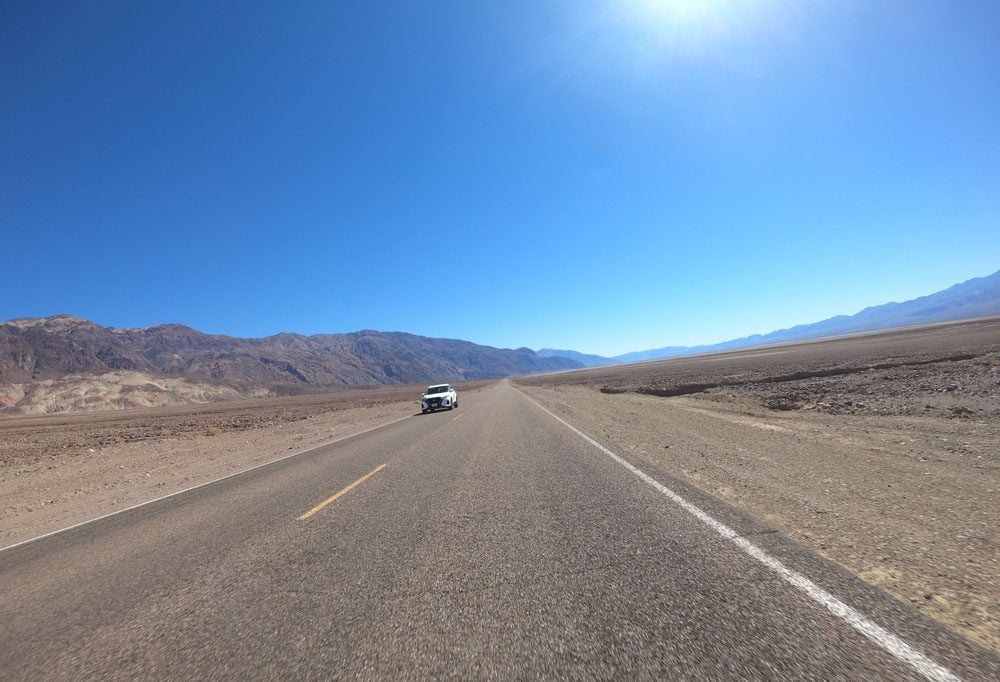 I started the day with a bit of off-roading to get to Aguereberry Point, one of the most expansive vistas in the park, before checking in at Stovepipe Wells, a comfortable motel in the middle of nowhere.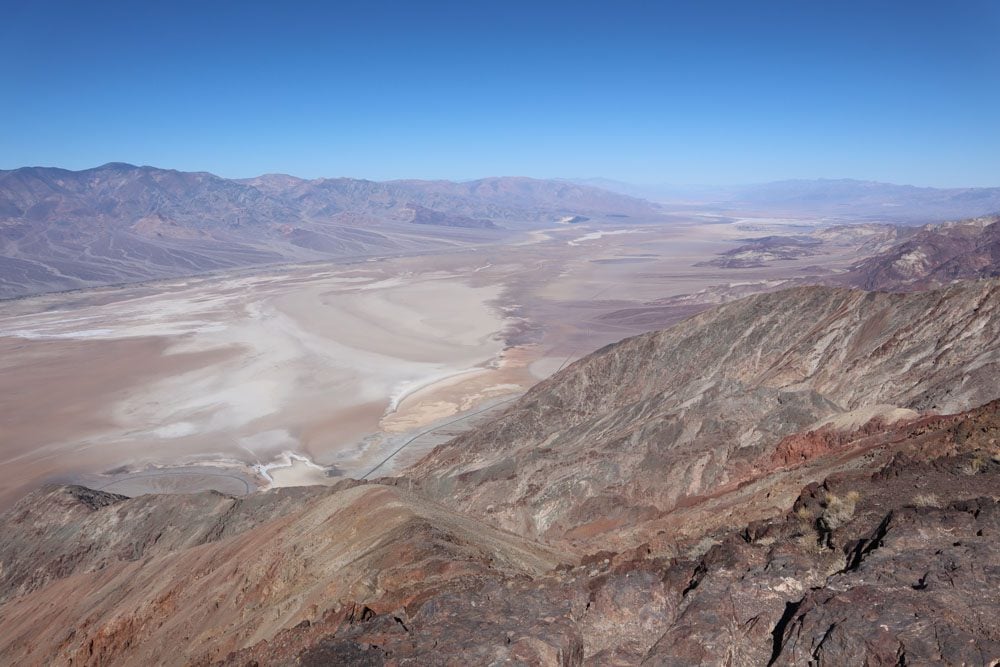 I spent the next couple of days driving and hiking within the park. Though there is a lot of ground to cover to get from one point to the next, the drive is an experience in its own right. I especially enjoyed Titus Canyon Drive, a 26-mile dirt road that is at times just wide enough for a car to pass through. Artists Drive was another memorable experience, culminating in the kaleidoscope of dusk colors at Artist's Palette.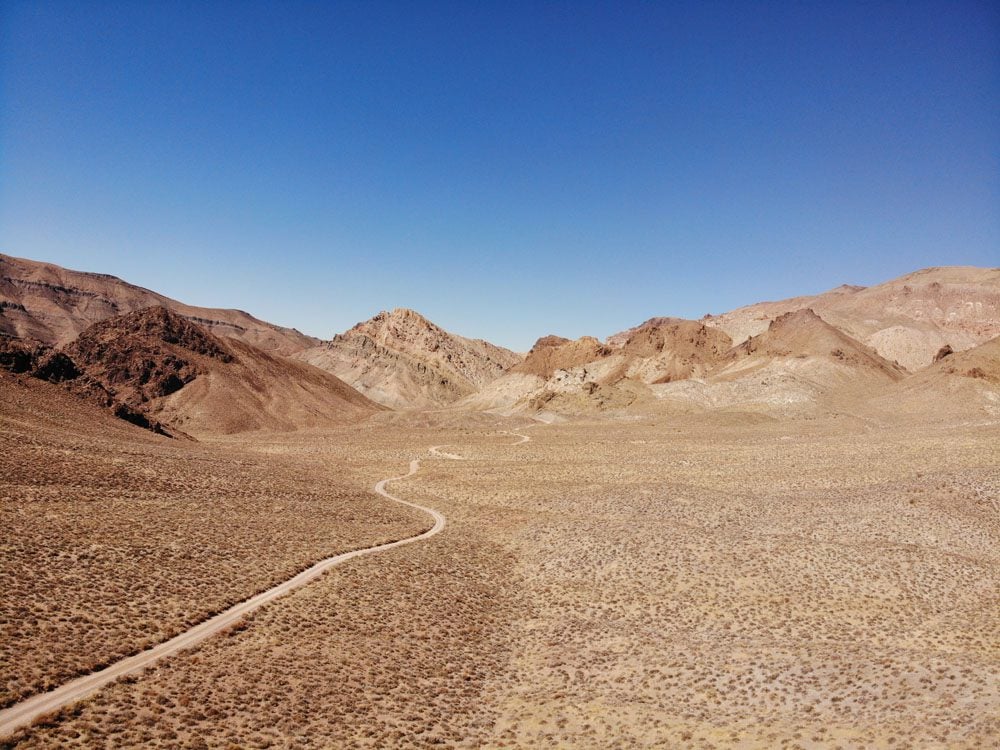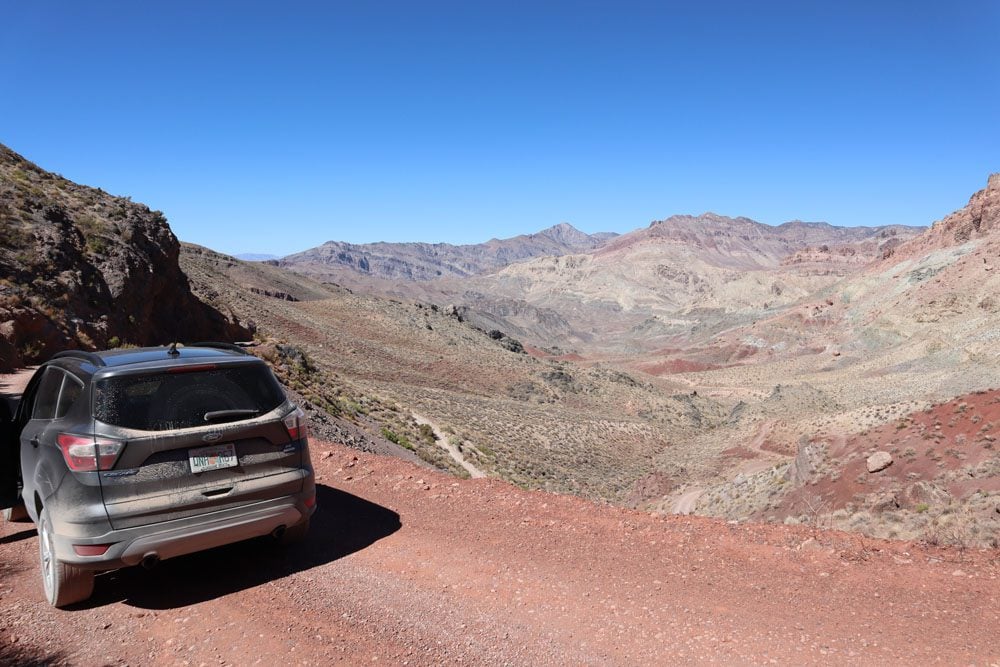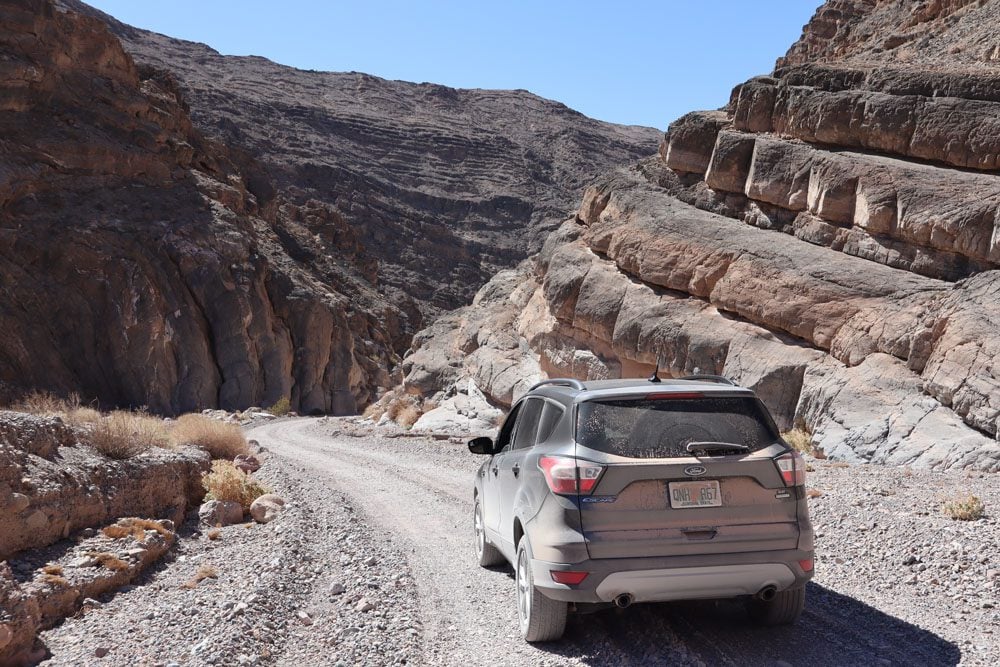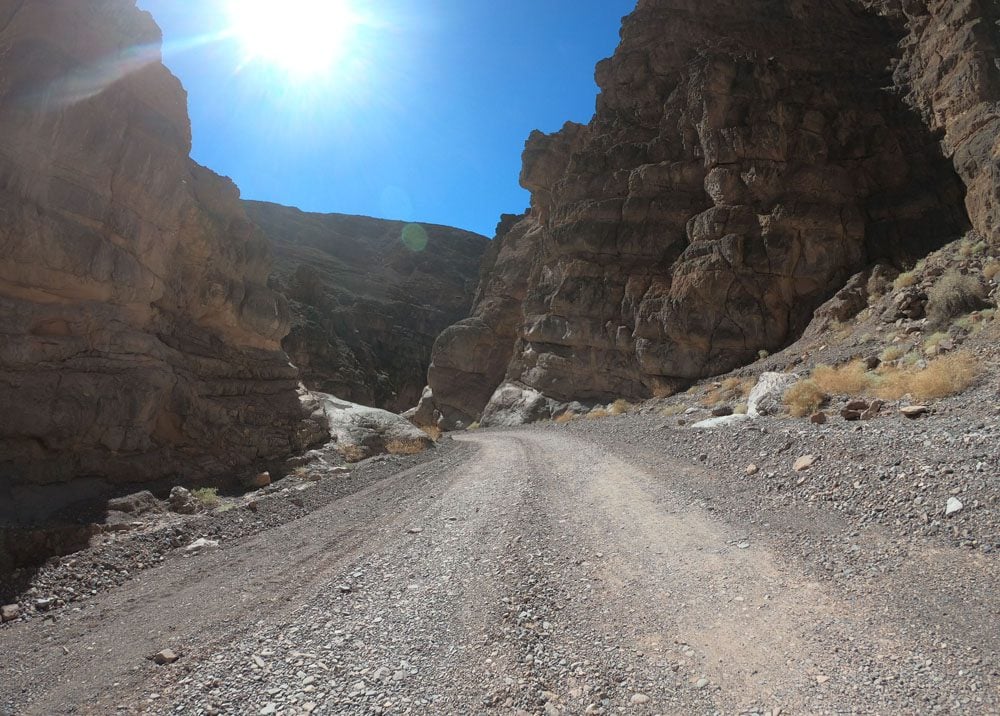 Death Valley's prime attractions are centered in and around aptly-named Furnace Creek. At salt-covered Badwater Basin, the thermometer made it to 100 degrees Fahrenheit as the elevation plummeted to 282 feet below sea level. At Zabriskie Point, erosion showed its artistic side, and at Dante's View, the strong winds could not deter me from enjoying the spectacular view. Before sunset, I would head to the soft sand dunes at Mesquite Flat and return at night to watch the Milky Way.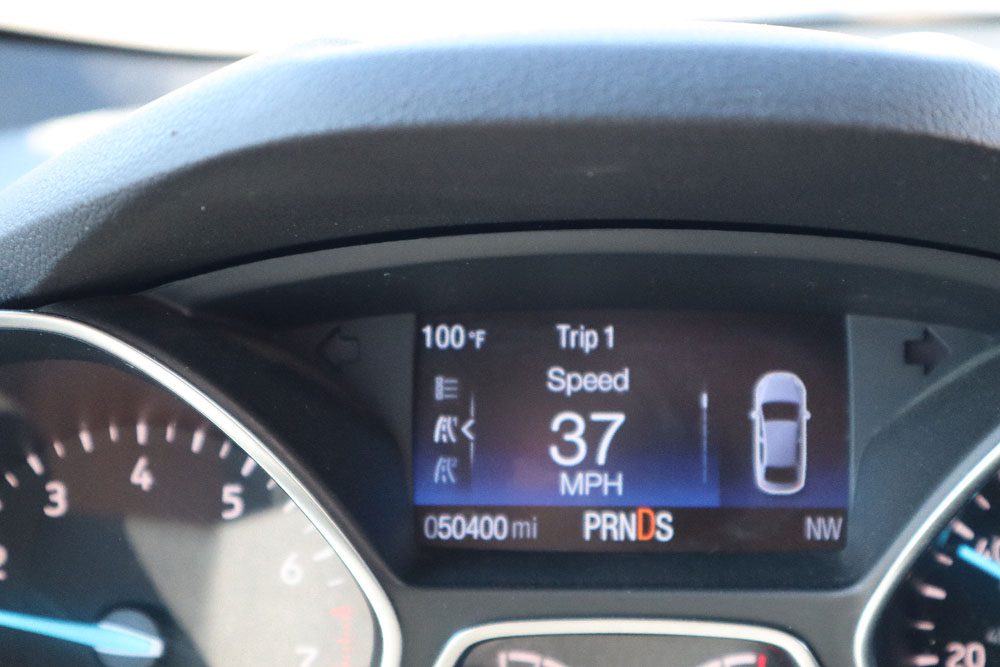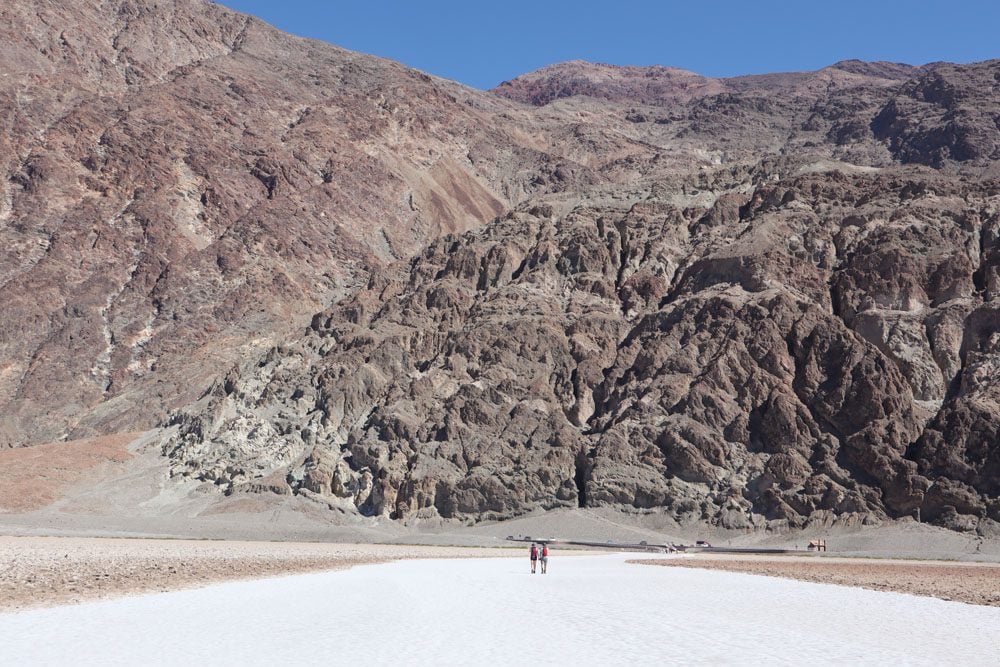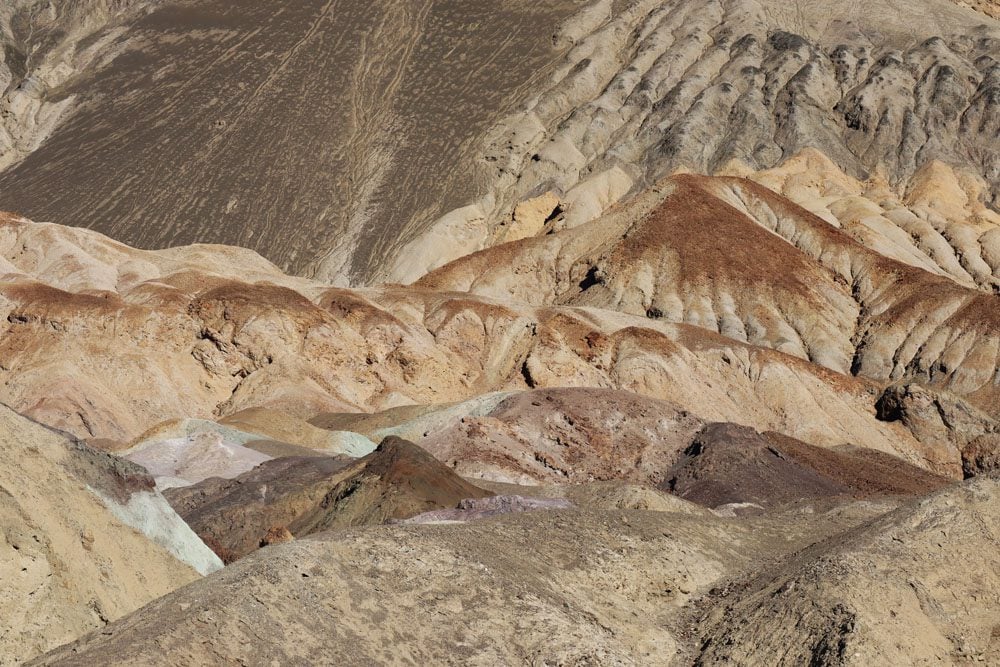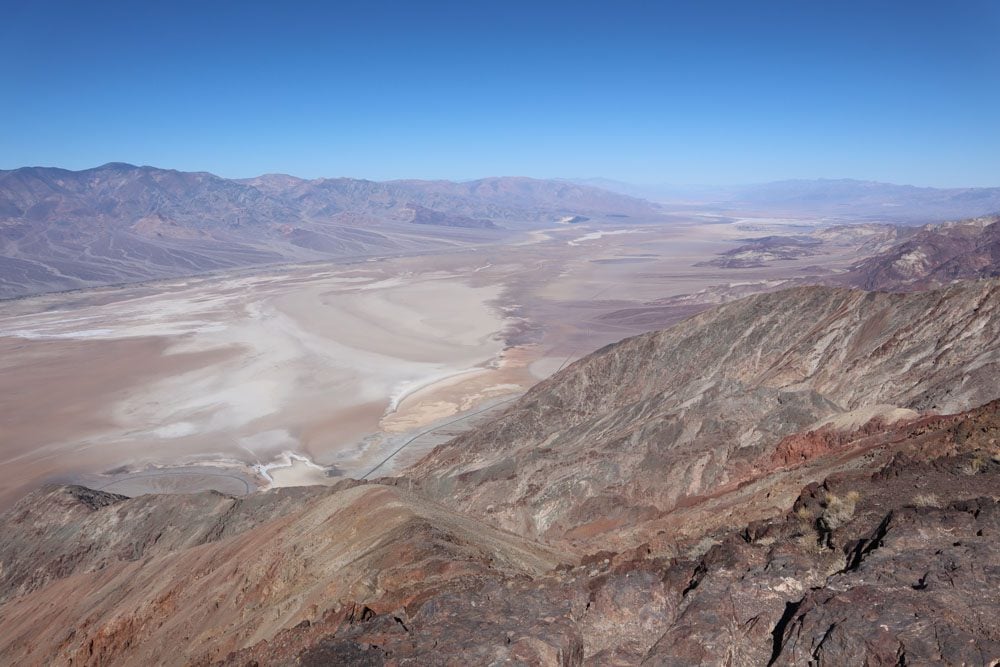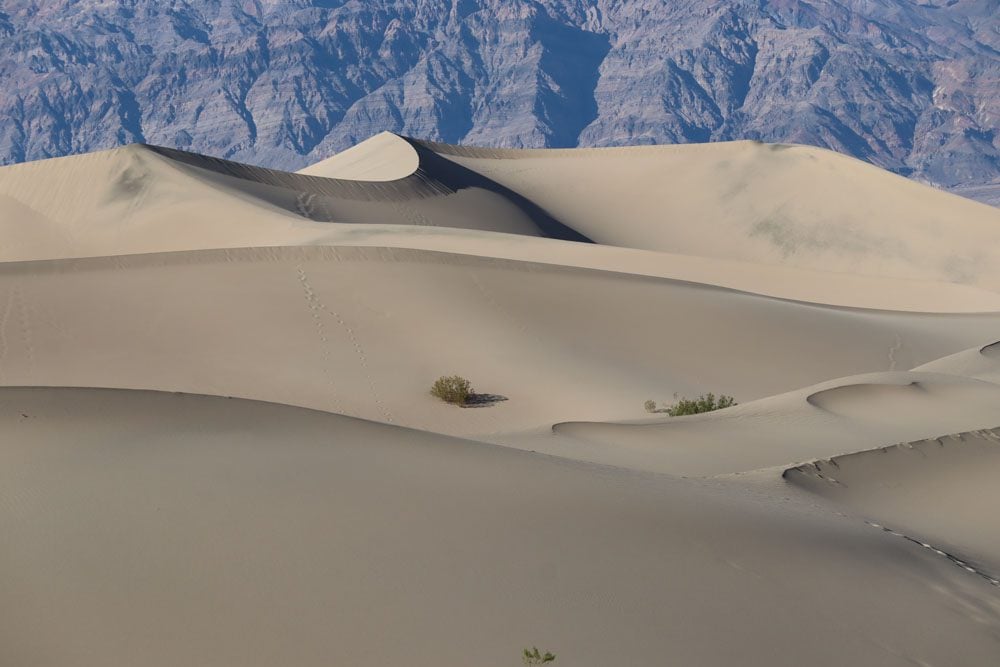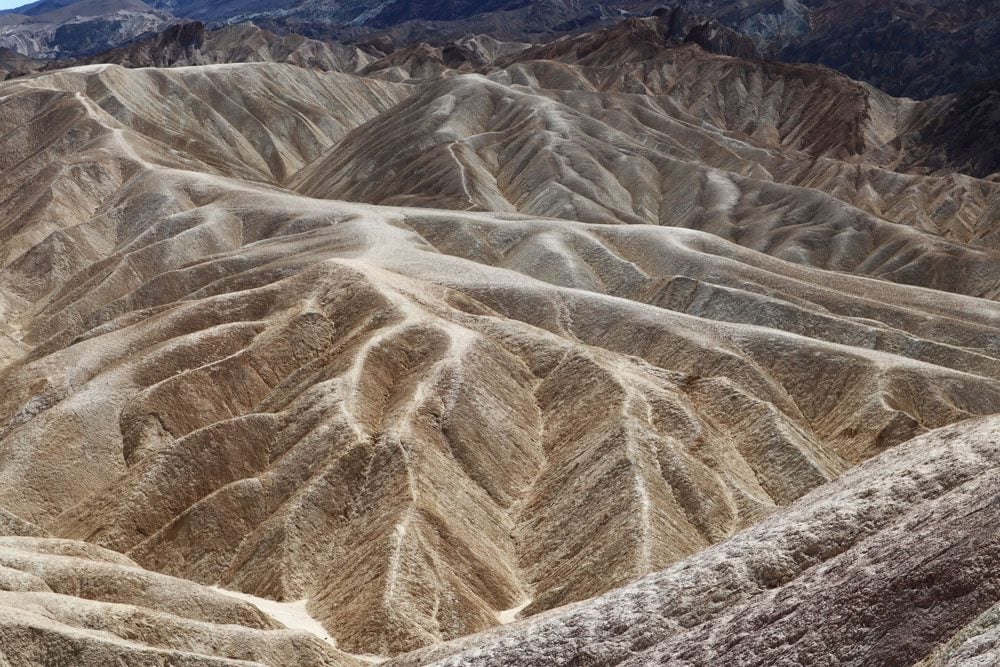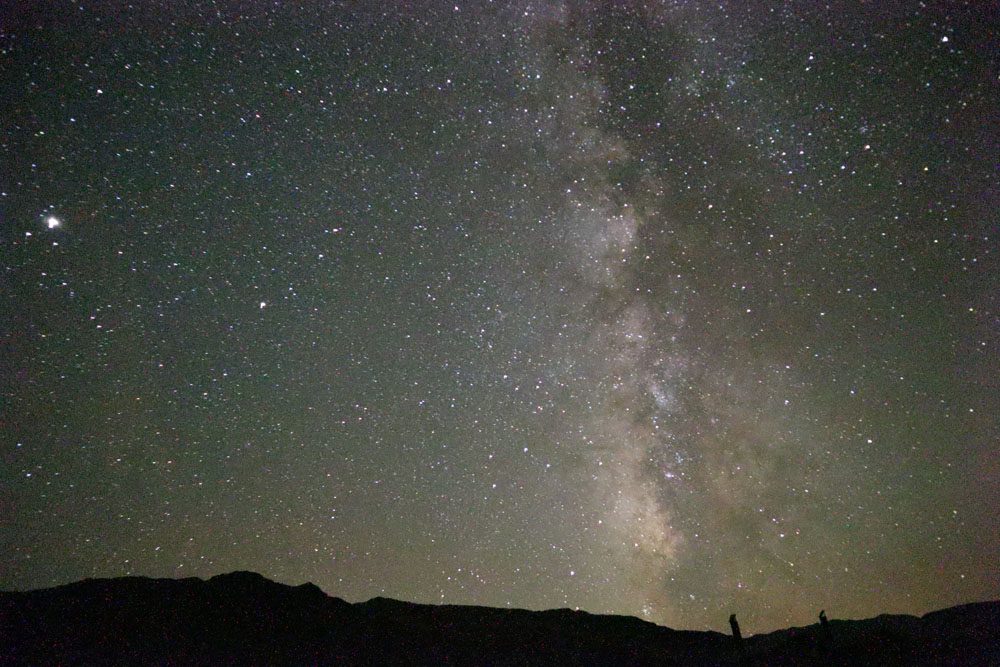 Mojave National Preserve
Lying almost halfway between Los Angeles and Las Vegas, the turn into Mojave National Preserve is easily missed by eager casino or beachgoers on scenic Interstate 15. I headed down here from Death Valley via lonely Highway 127 which, looking back, was one of the prettiest stretches of desert road on this entire trip. I hoped to spend the night in Baker before entering the preserve but, apart from the "world's tallest thermometer", pricey gas stations, fast food chains, and RV camps, there was no place to stay here. So a long detour to Barstow was called for just as the sun was setting.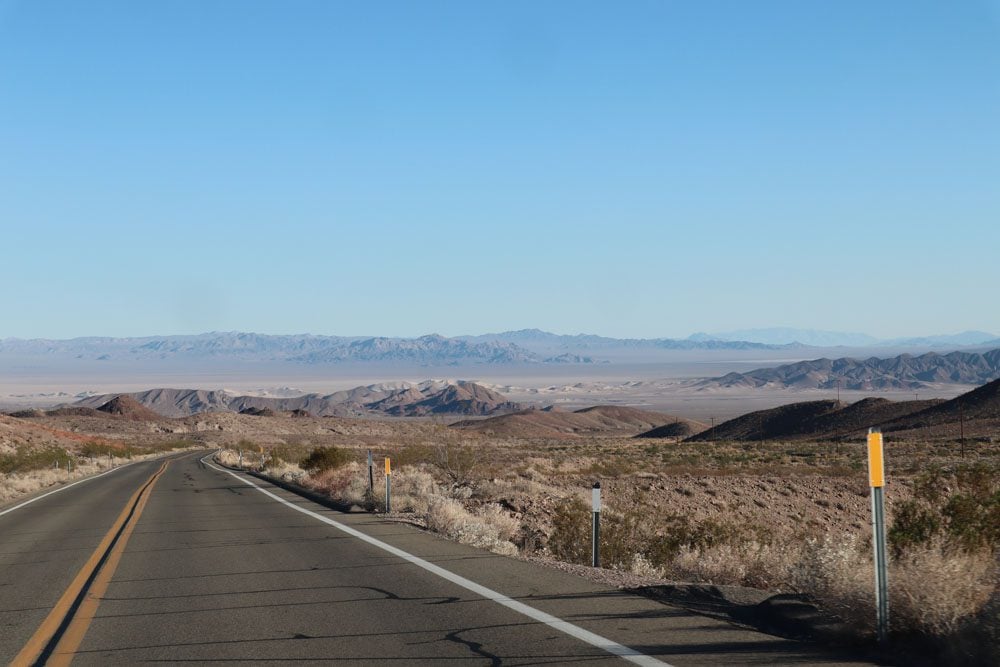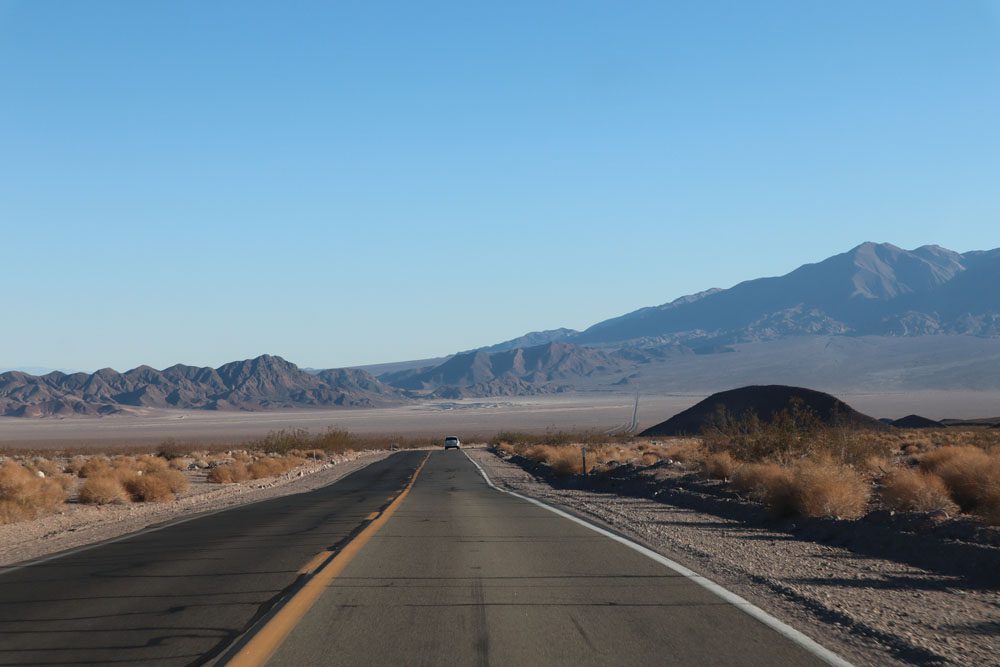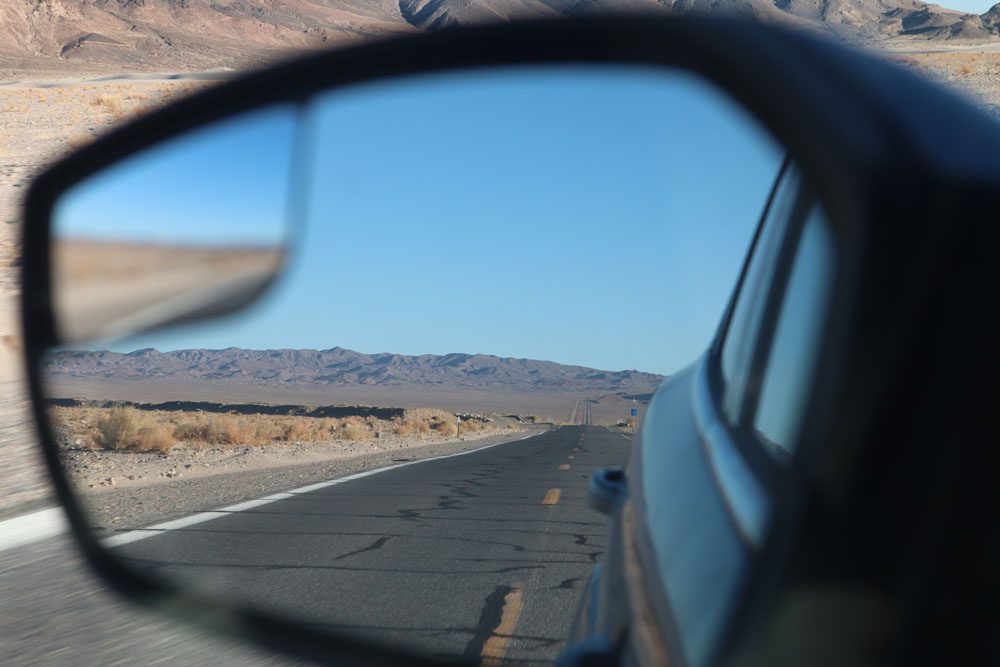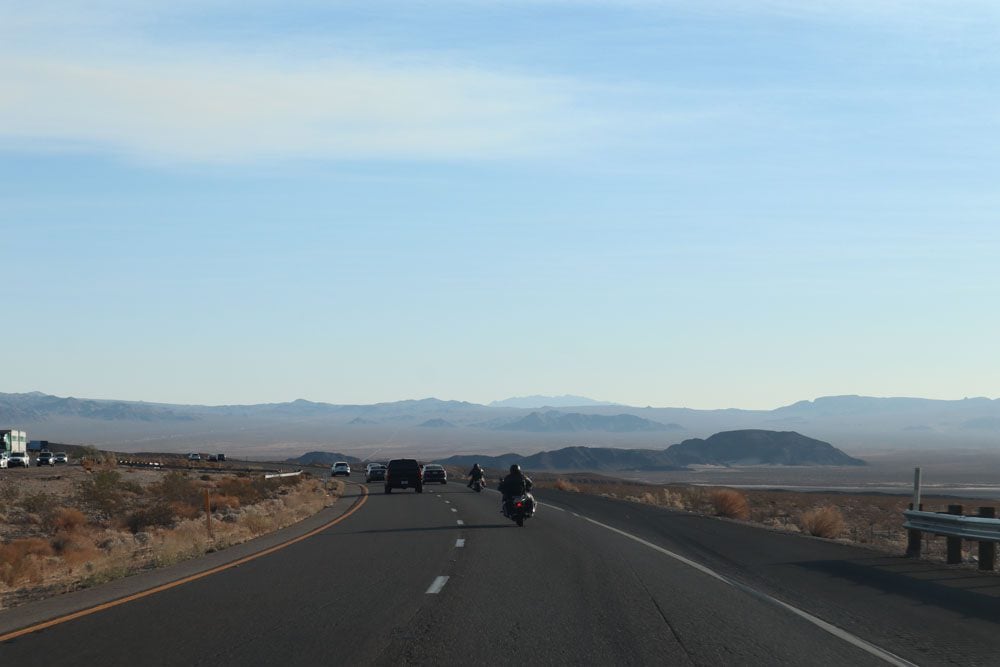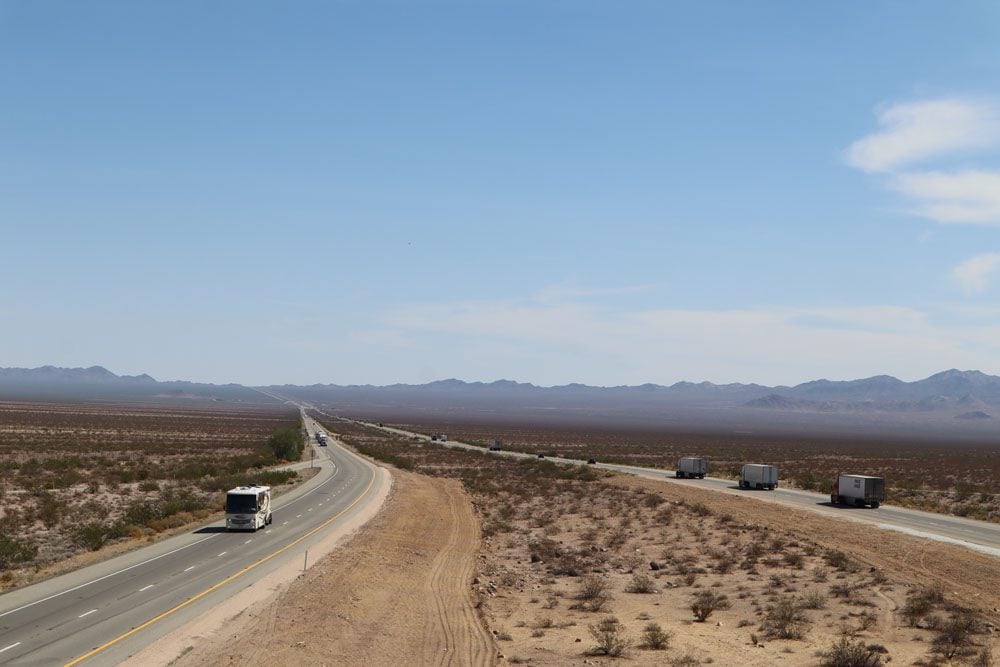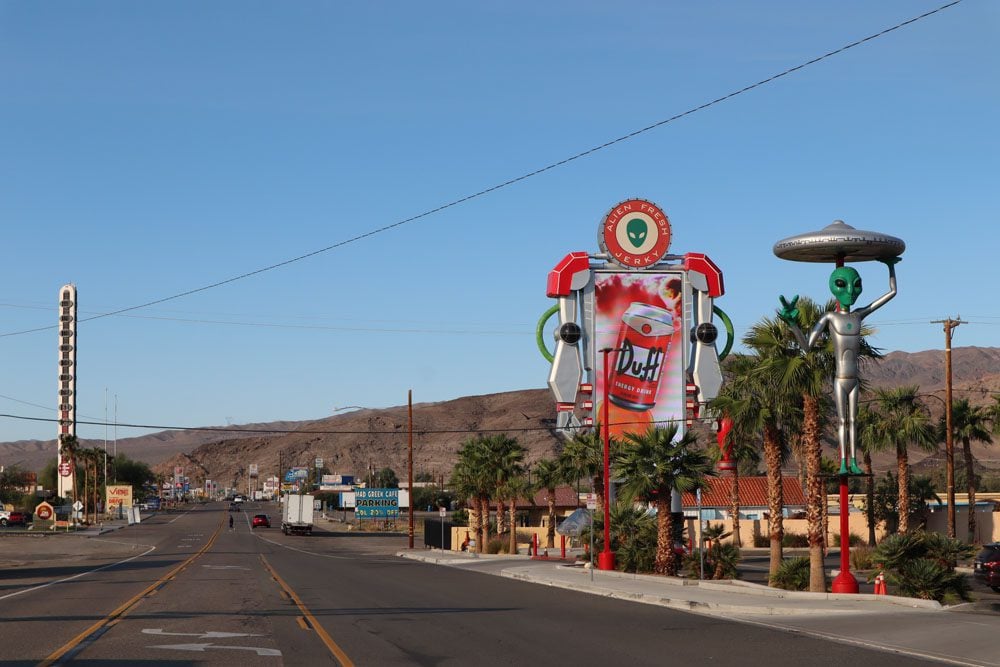 Mojave National Preserve is a great place to see Joshua Trees and to simply get lost in its empty expanse. At Kelso Dunes, I got reacquainted with the soft desert snow and at Hole-In-The-Wall, I experienced once again the bizarre forces of nature along with surprisingly diverse wildlife. Another surprise came at Kelso Depot, where I pulled in just as a lengthy freight train pulled in on its journey across the Mojave Desert. What a place for a lunch break…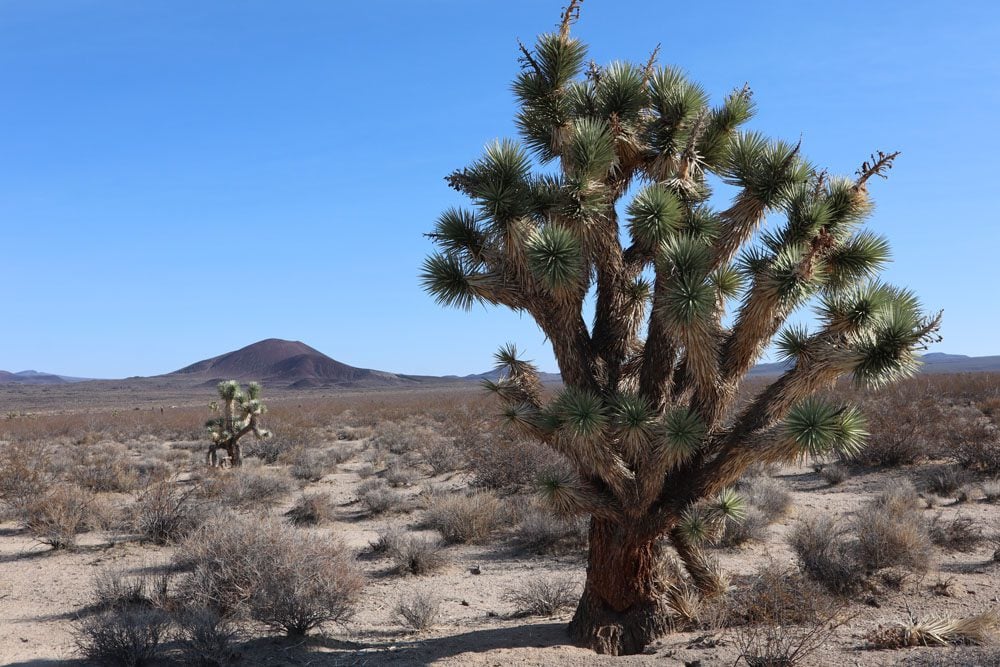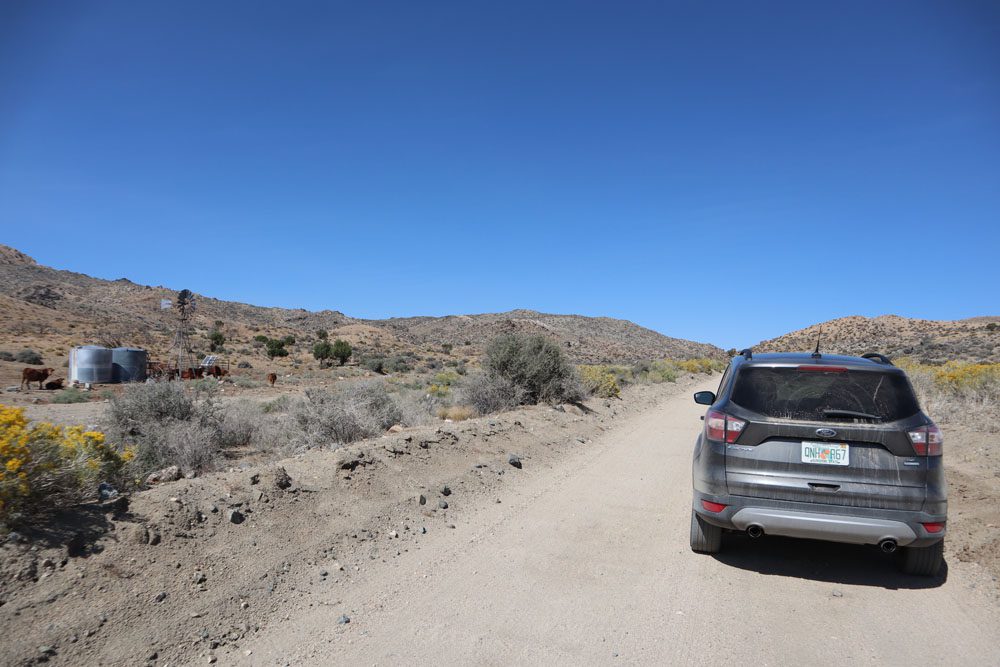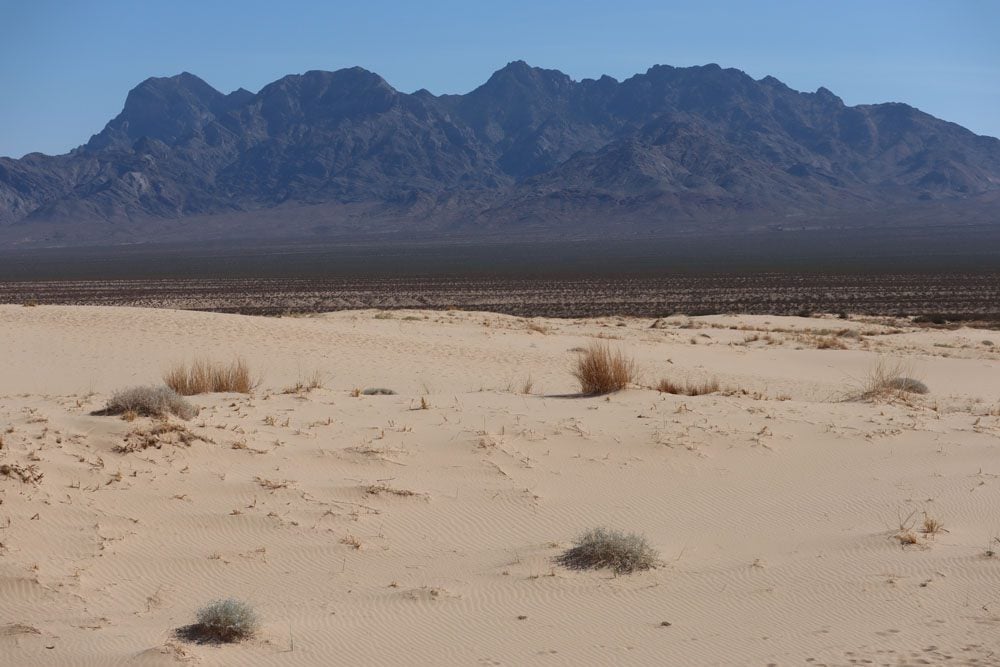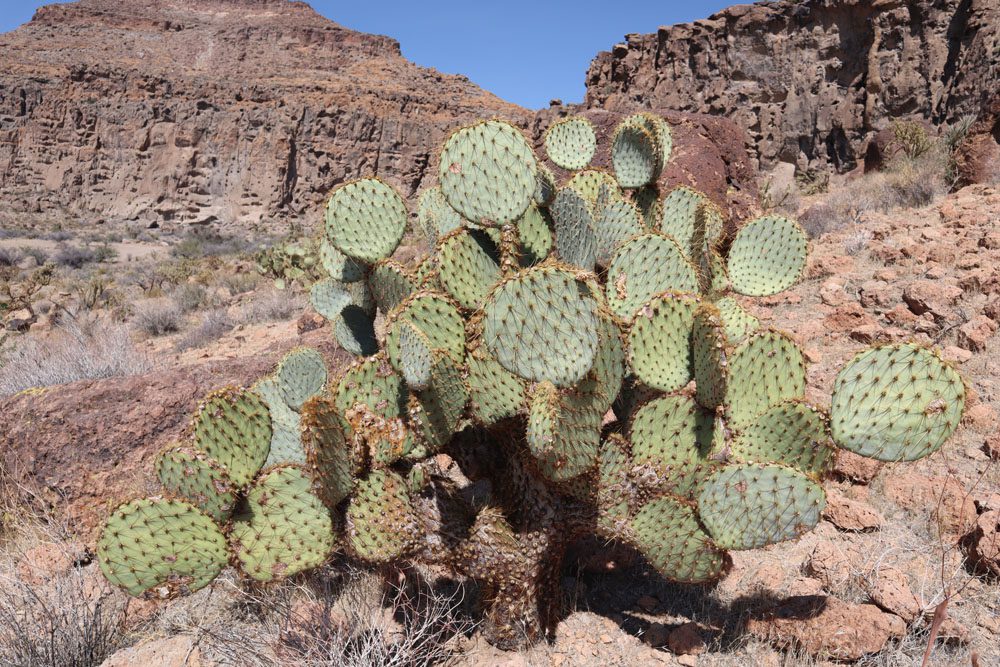 Zion National Park
Leaving the Mojave Desert (for now), it was over 300 miles to an overnight stop near Zion National Park where I would spend the next couple of days. The changing scenery of Interstate 15 broke the usual monotony. I passed by a bizarre-looking solar farm before reaching the Nevada state line, where a totally out-of-place casino-themed town was erected. The leg to Las Vegas was dotted on either side by billboards hyping casino shows, cheap buffets, and injury lawyers who guarantee to make you rich. At the Arizona state line, the clock skipped an hour to Mountain Time and another engineering marvel took me through the Virgin River Gorge before reaching the reddish mountains of Southern Utah.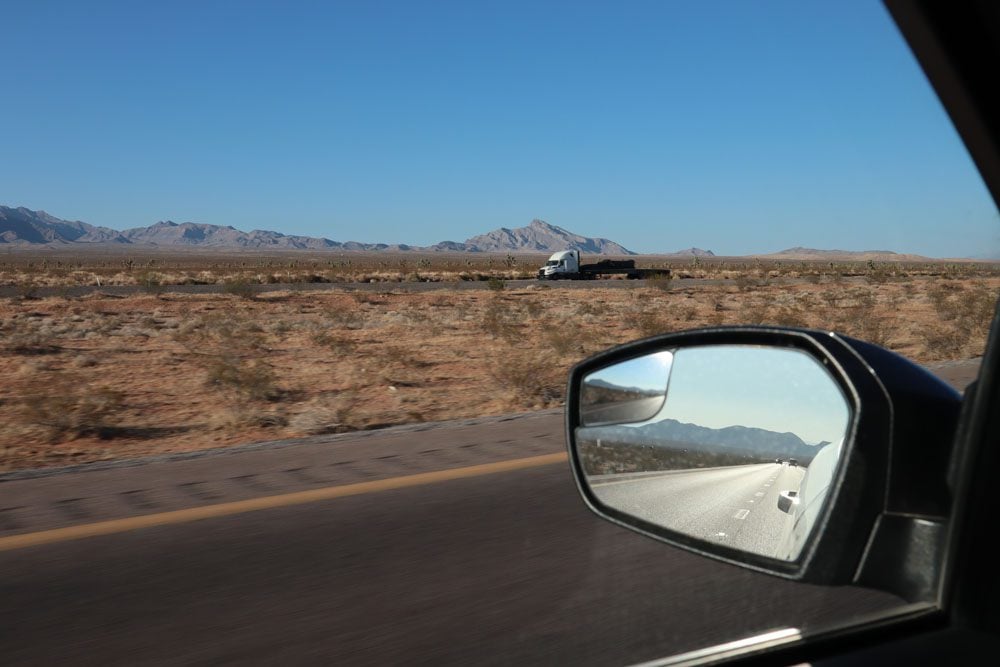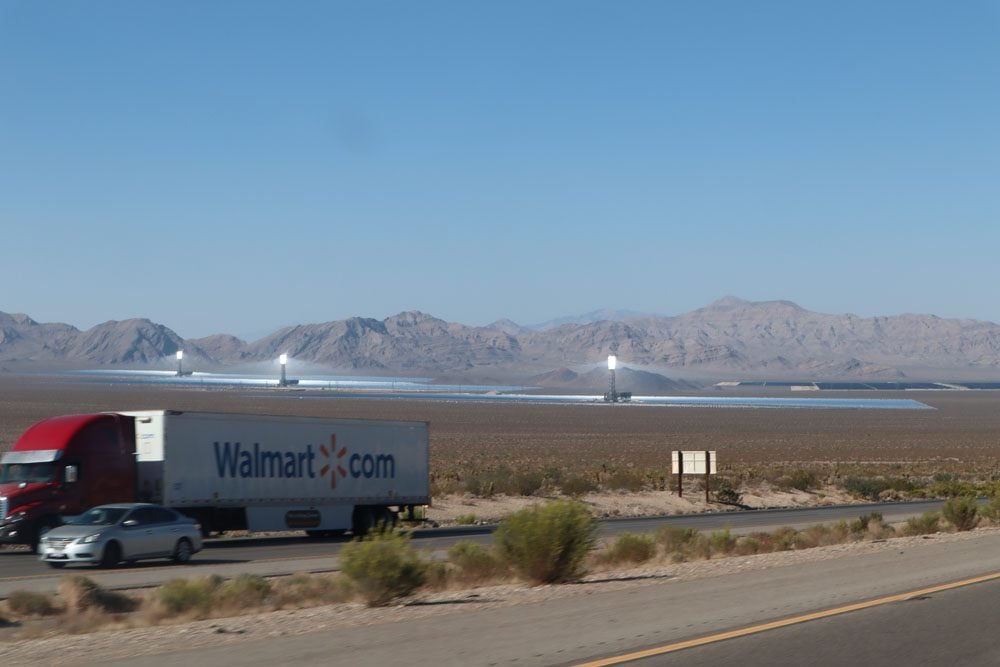 Zion National Park is magnificent but it comes with a price. The park is centered around the tightly-squeezed Zion Canyon which has to rank among the prettiest in the world. So as you can imagine, a lot of visitors head here and it can get crowded. For a few years now, you cannot drive through the canyon with your car but instead must use a shuttle. This seems to work quite well as you never have to wait for a ride and the canyon feels relatively unspoiled, especially from vista points along trails that climb to the canyon's rims.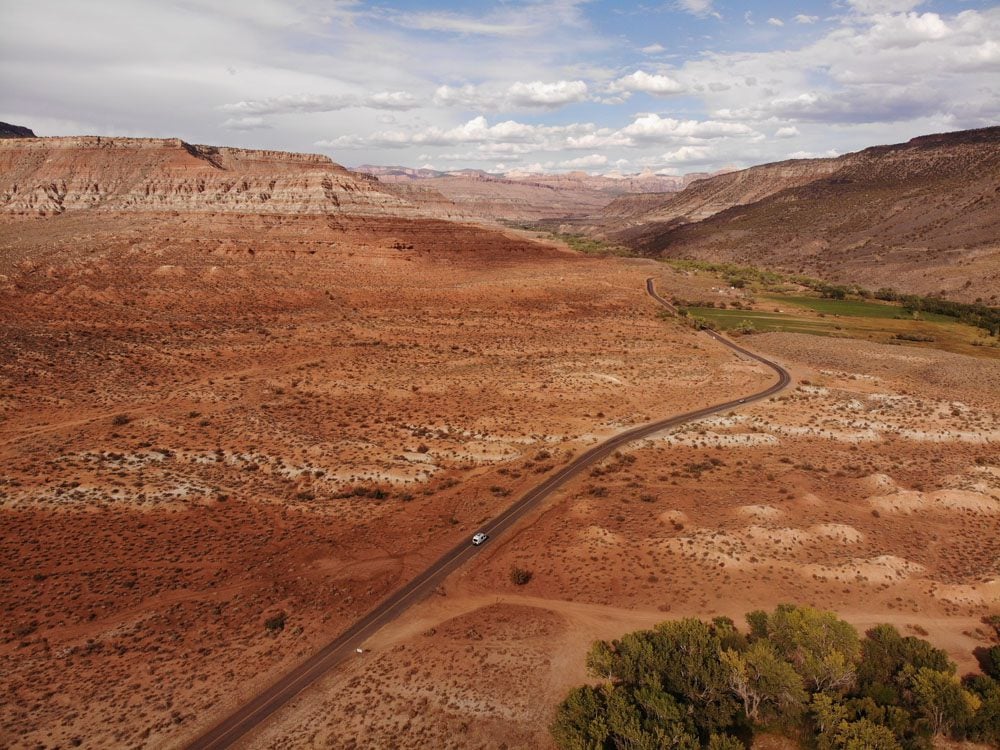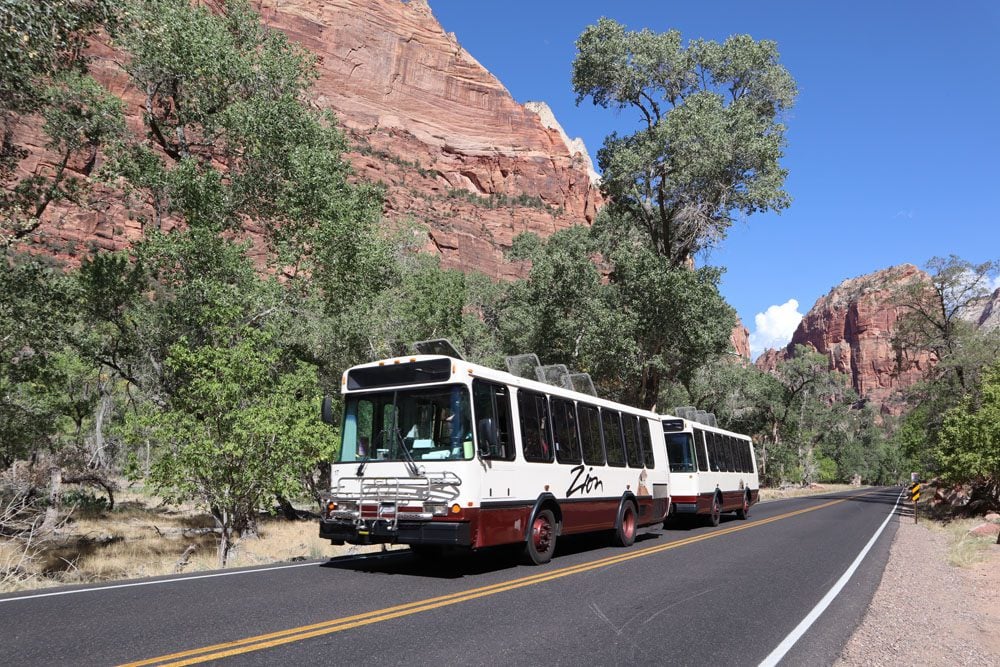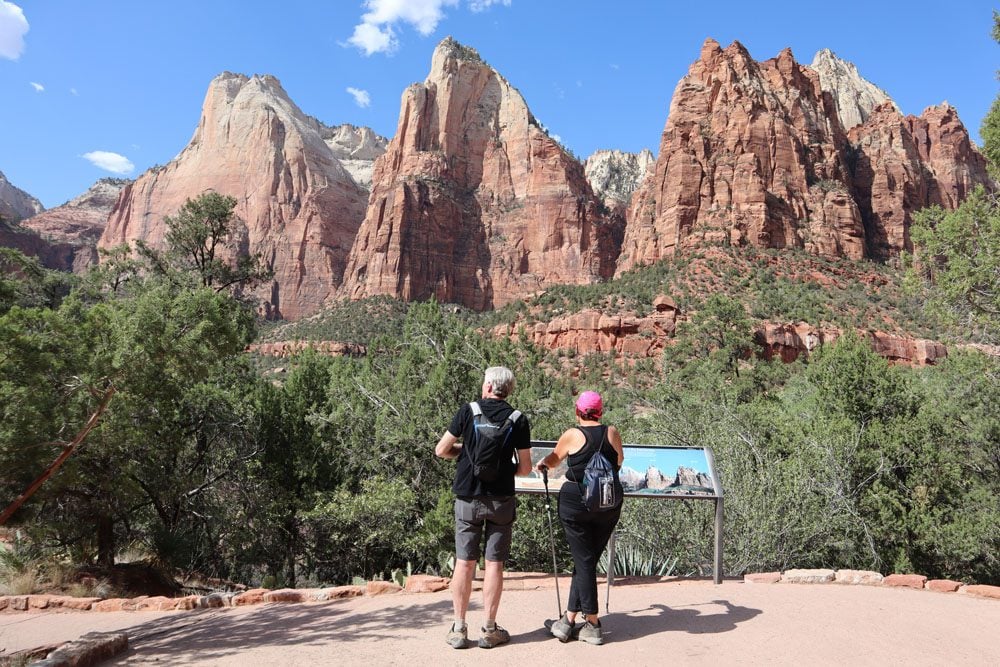 Hopping from one canyon floor lookout to the next was enjoyable, but the lasting memories came from hiking to scenic spots high above. The hike to the emerald pools offered a shady break from the beating sun and culminated in the upper pool's mirror-like surface. To reach the Canyon Overlook Trail, I drove on the scenic stretch of Highway 9 through the Mount Carmel Tunnel before hiking to this prime vista point. But the mother of all hikes in Zion was without a doubt Angel's Landing, a punishing yet rewarding hike not only due to the steep inclines but also due to the patience required to climb and descend a narrow rockface that leads to this memorable spot overlooking the canyon.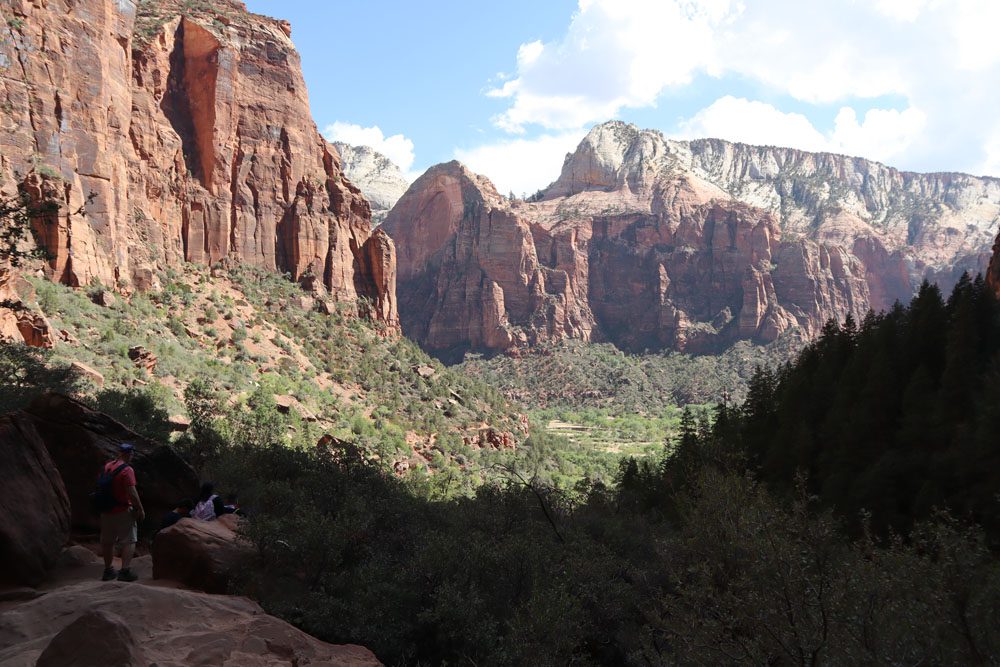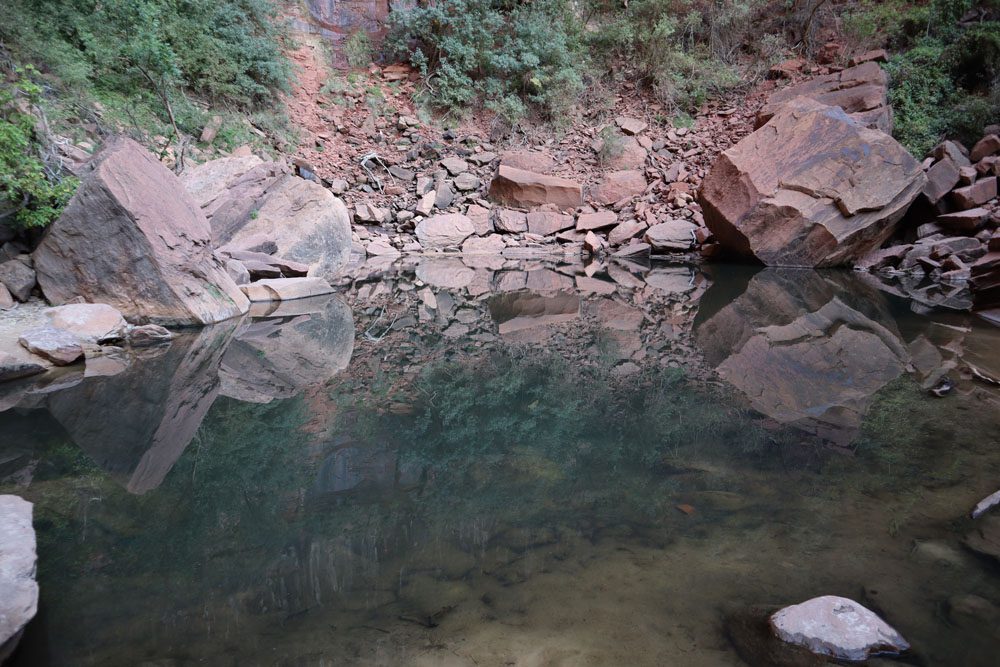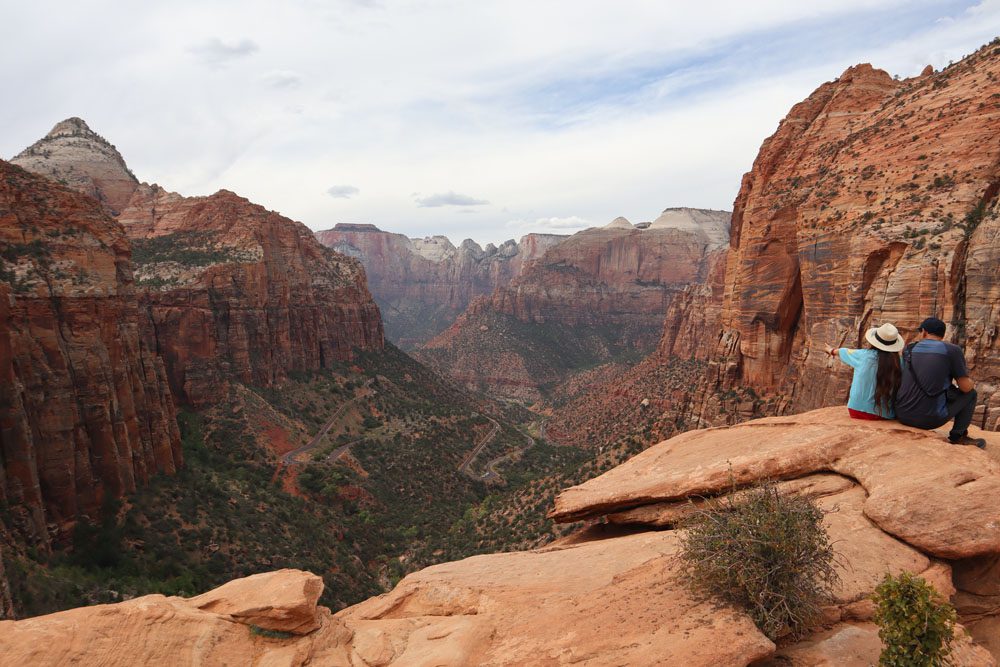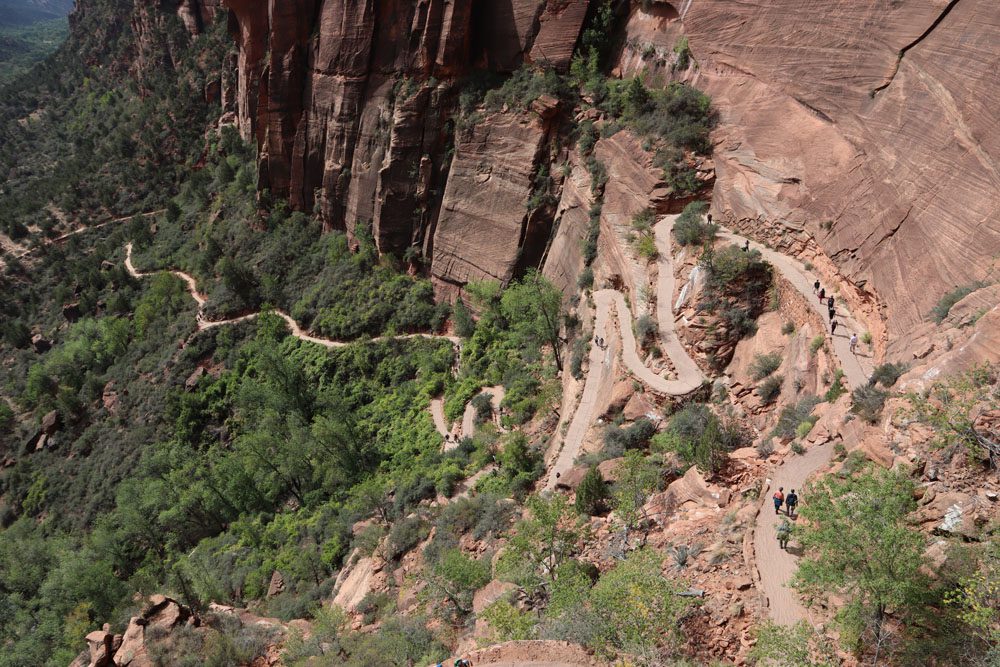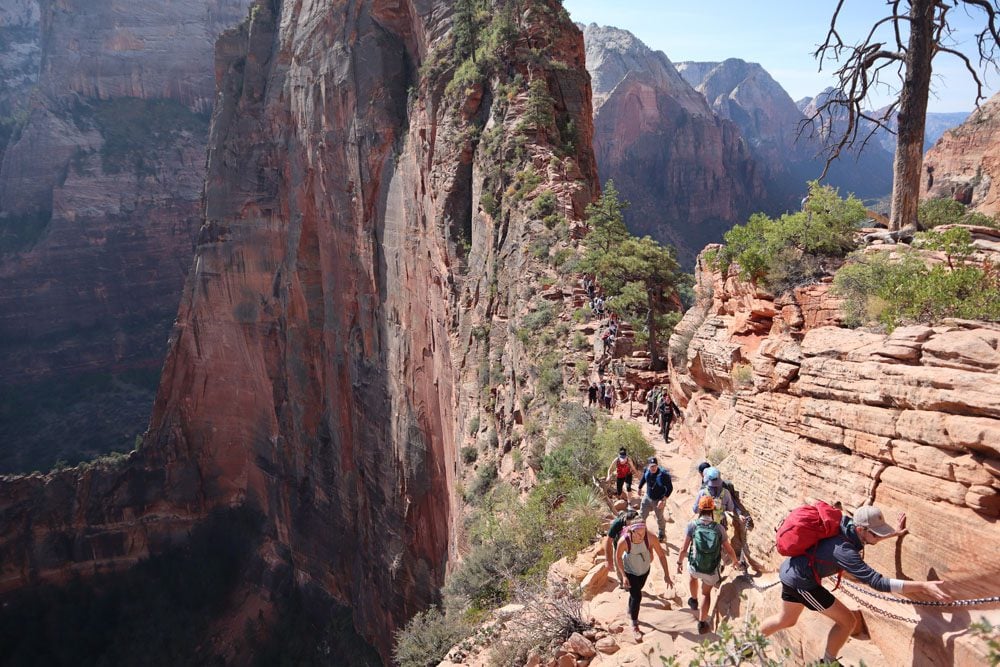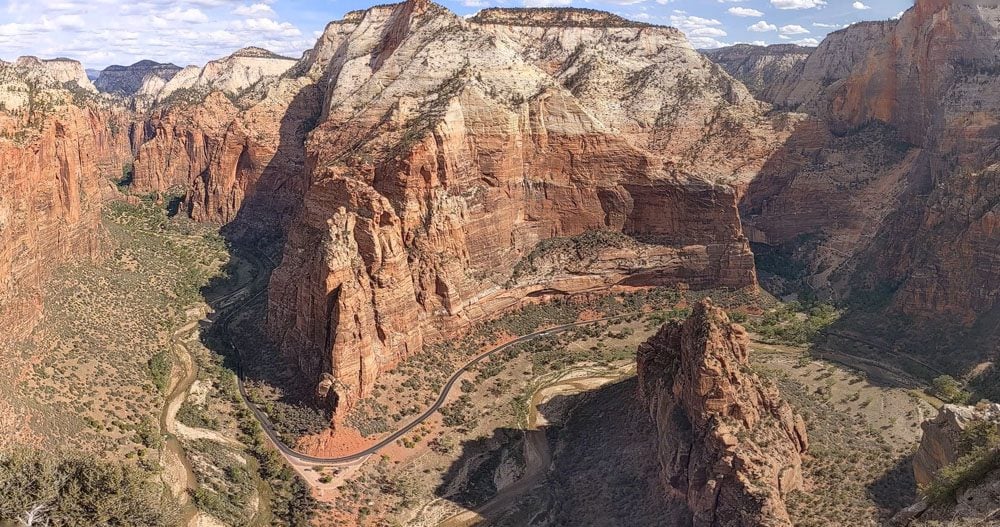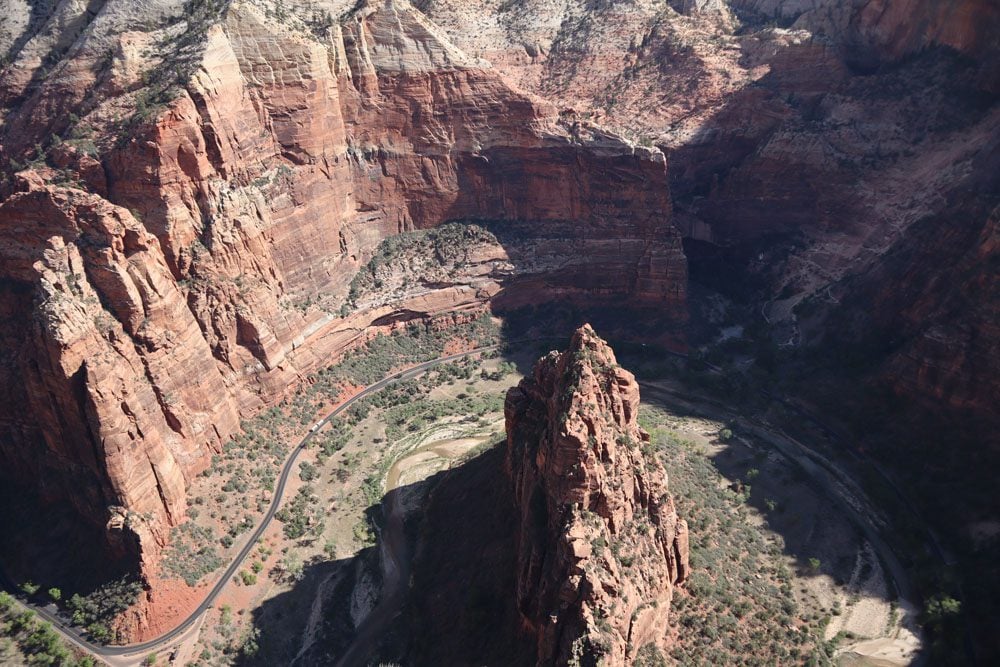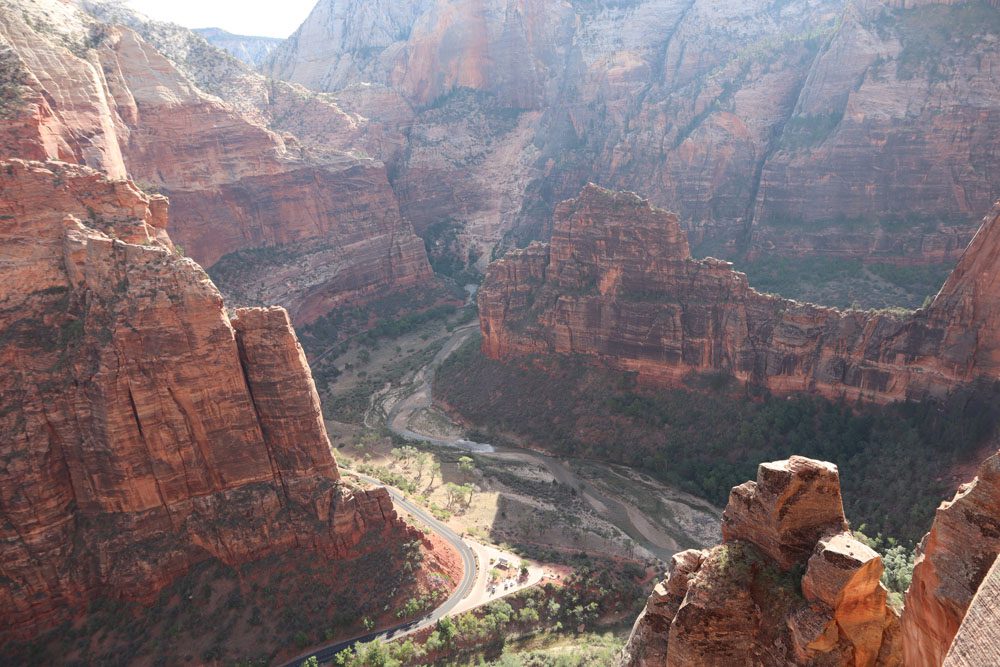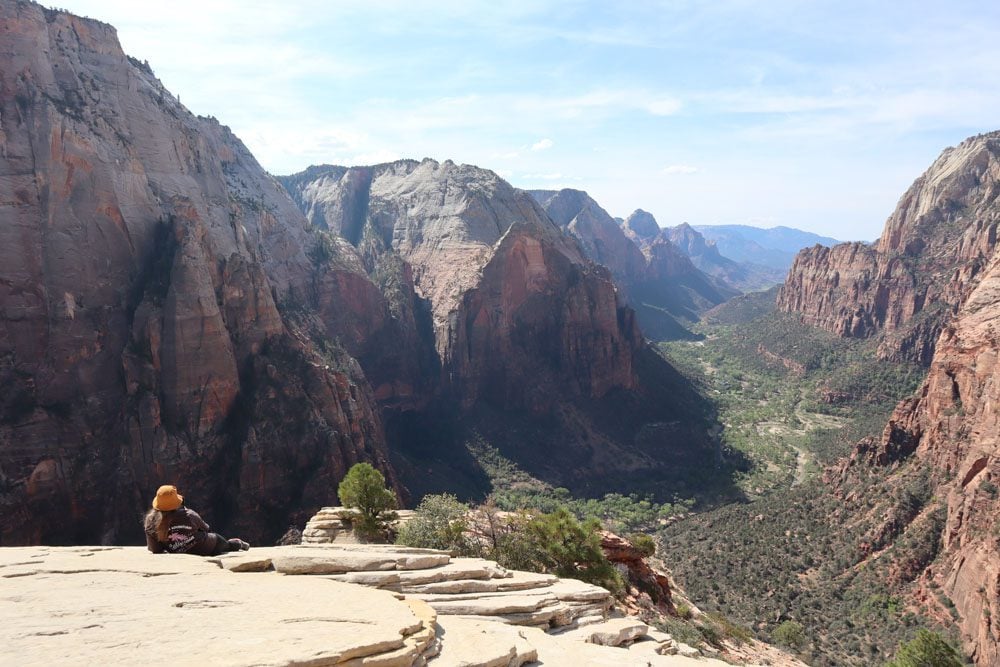 Bryce Canyon
I got hit with bad weather for the first time on this road trip in Bryce Canyon. Reaching an elevation of over 7,500 feet, when it wasn't raining the sky was mostly grey, long sleeves were called for during the day and a jacket was needed at night. Bryce Canyon National Park is like nothing else around. Erosion on steroids has carved thousands of narrow pillars known as hoodoo, the park's star attraction.
I checked into the Ruby's Inn, a historic lodge now taken over by Best Western, and bought tickets for the dinner and country music show at Ebenezer's Barn and Grill. I enjoyed the country classics performed by the Bryce Canyon Wranglers and the food was OK. But what I remember the most was sitting around a large round table and meeting a diverse group of American road trippers from around the country. I had a great connection with a couple from Louisiana who I'm sure I'll get the chance to show around my home country, Israel, one day.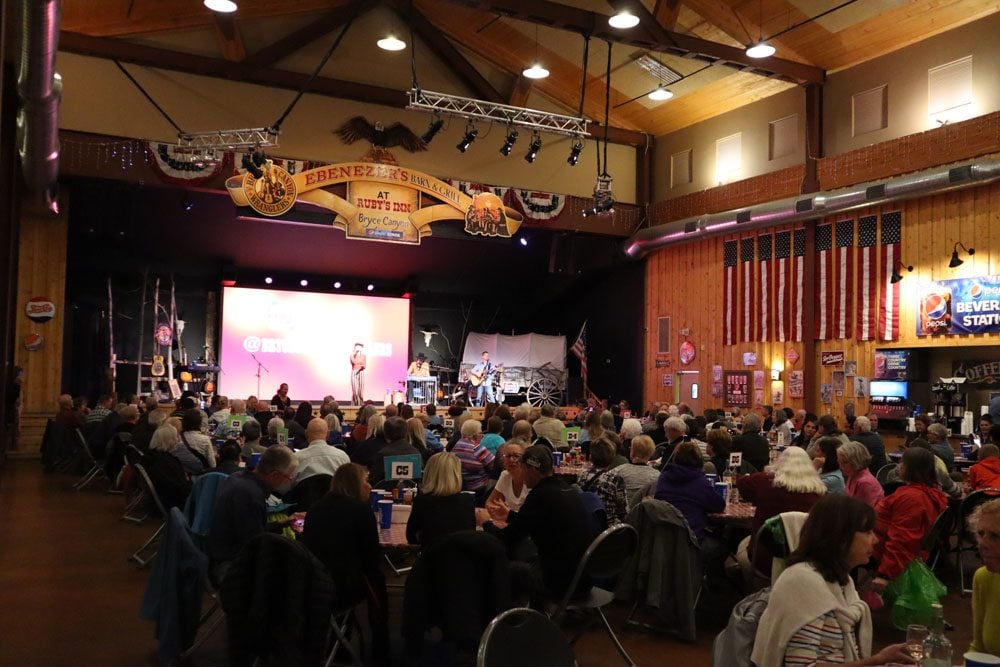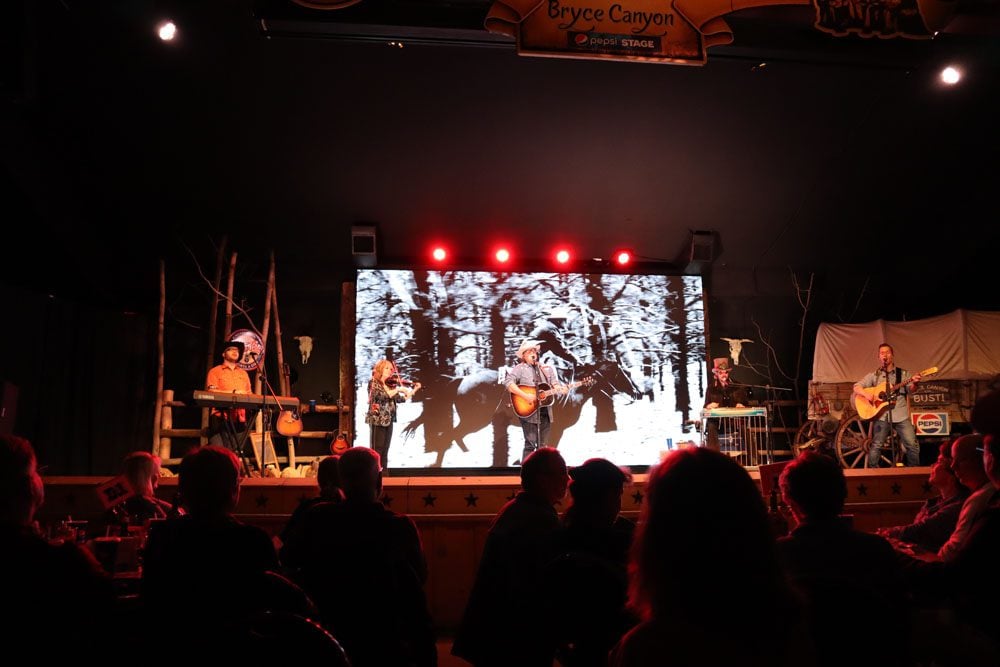 You could easily spend the better part of the day in Bryce Canyon driving from one overlook to another and spice things up with easy walks on the flat canyon rim. It's hard to get bored with these views as no two hoodoos are ever the same.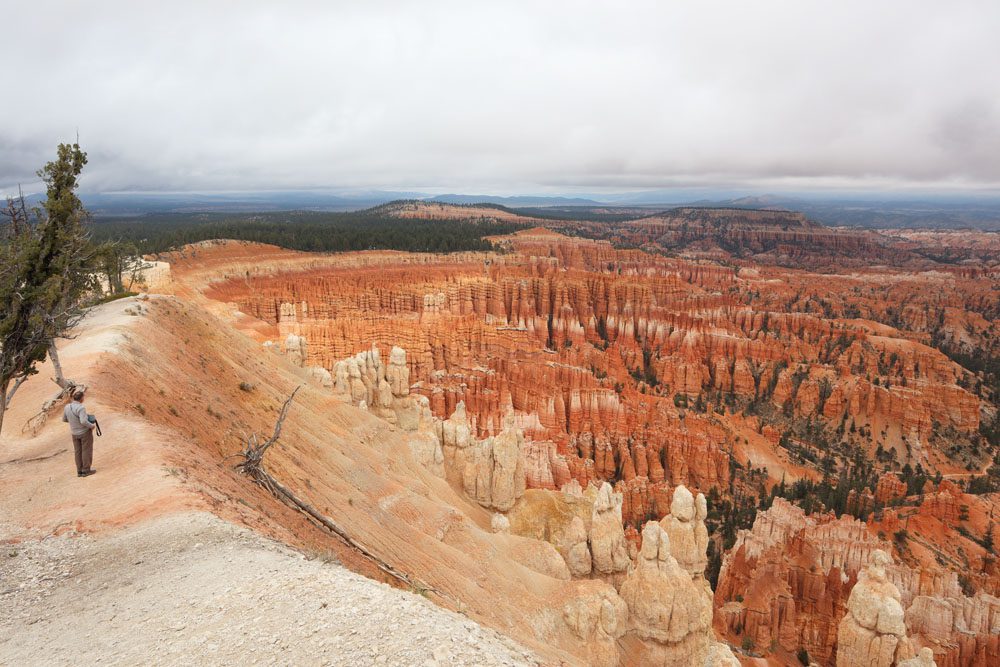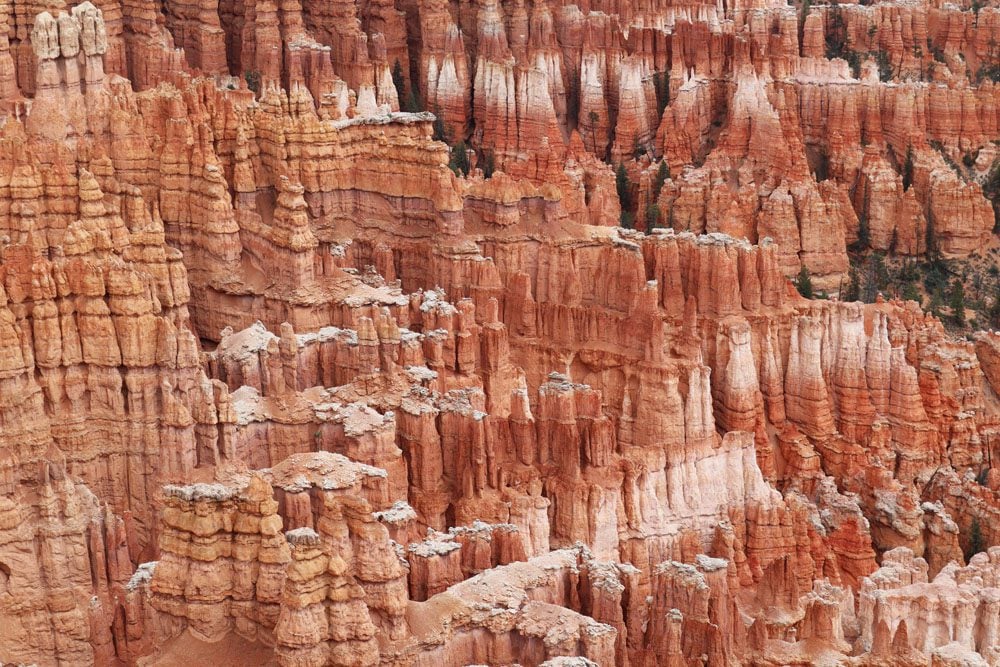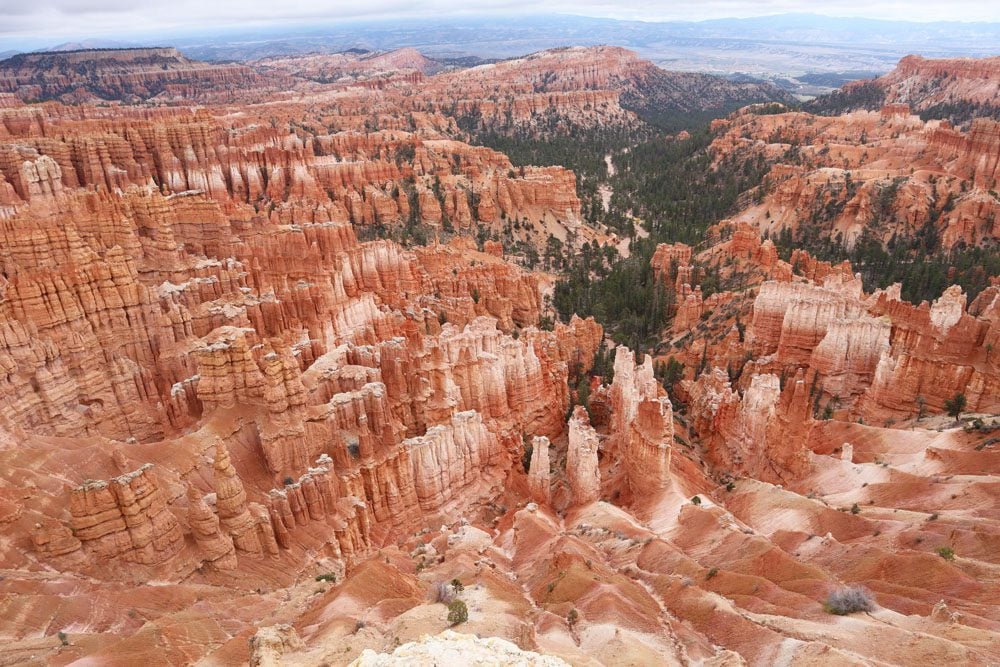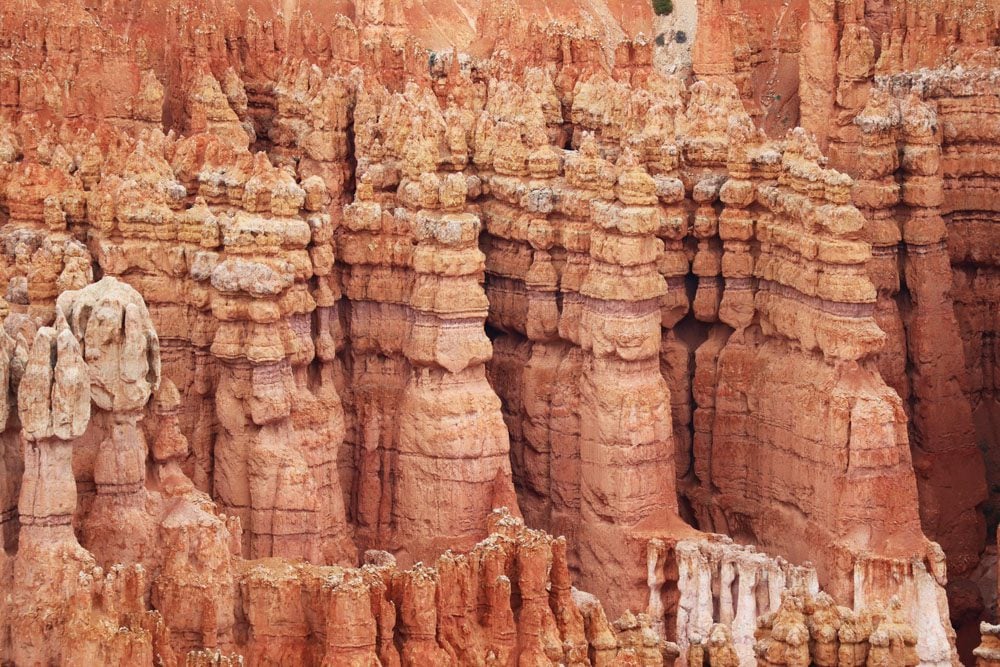 But no trip to Bryce Canyon is complete without leaving the comforts of the canyon rim and hiking down to its floor. I embarked on the long trail that combines the Peekaboo Loop with the Navajo Loop and Queen's Garden, pretty much covering all the major highlights in the canyon floor. At times, I had to squeeze through narrow passes and even straight through the rock.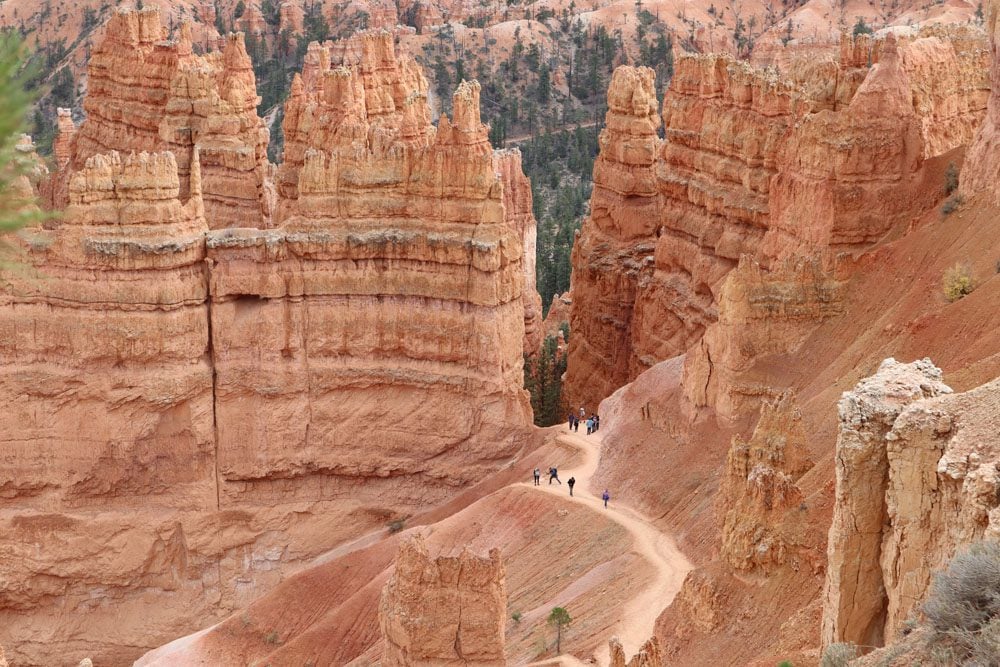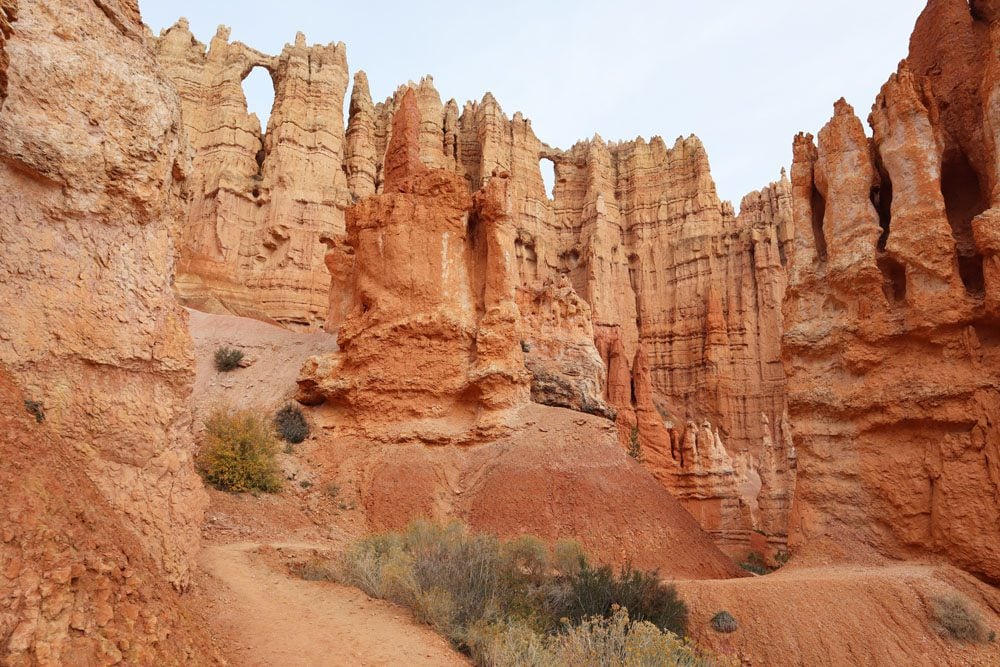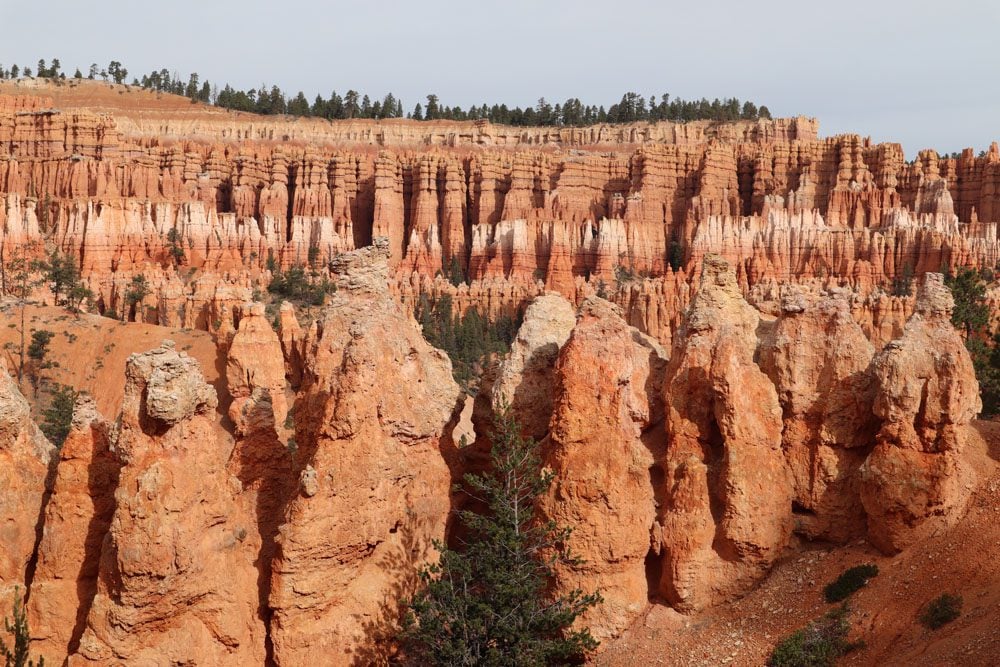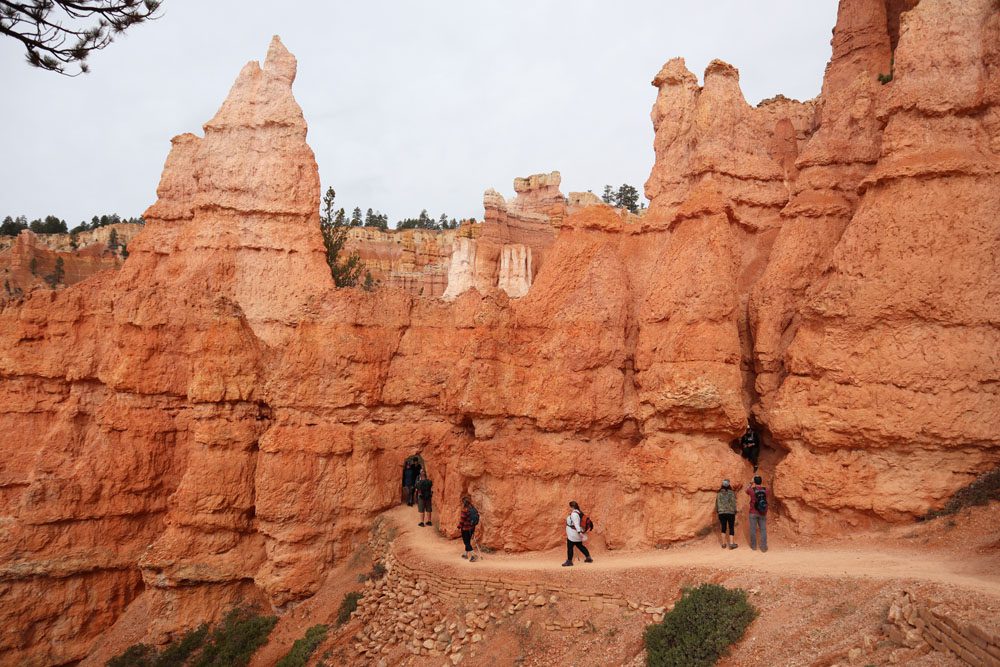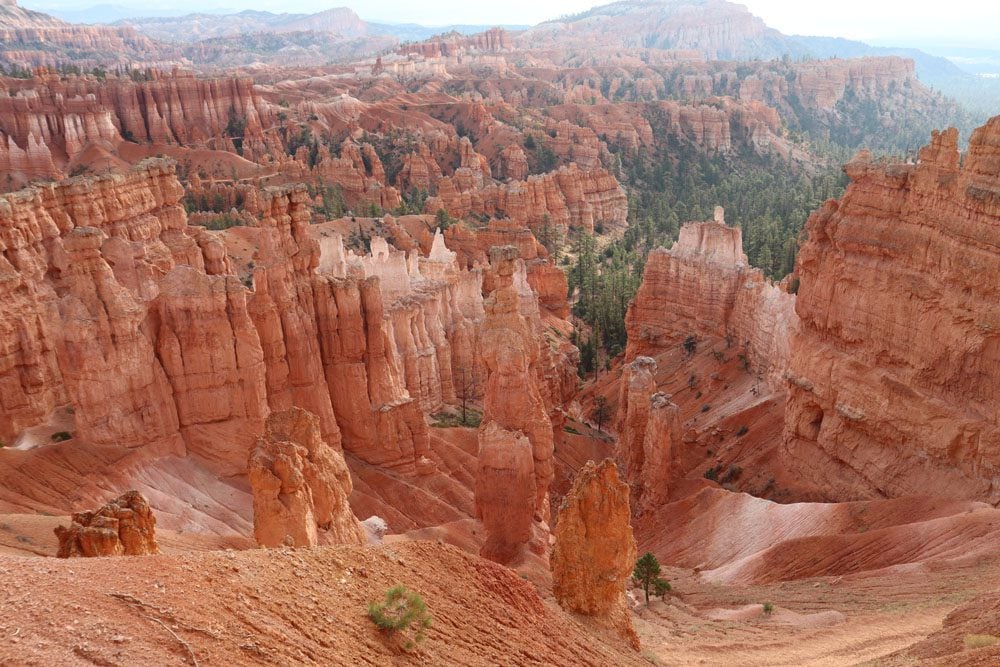 Bryce Canyon to Moab
It was almost noon when I exited Bryce Canyon with 250 miles to Moab on the plan and lots to see on the way. This leg is worthy of at least an overnight as it encompasses Grand Staircase Escalante National Monument and Capitol Reef National Park, one of Southern Utah's "mighty five" national parks. But even on a five-week road trip, tough calls need to be made so I did my best to maximize the time and see the top sites along the scenic highways.
Utah's Scenic Byway 12 cuts through Grand Staircase National Monument and offers numerous vista stops and trails for day-trippers. I stopped at Head of the Rocks Overlook for the views and hiked the narrow creek to Calf Creek Falls before gaining elevation and experiencing the fall colors of aspen trees covering Boulder Mountain.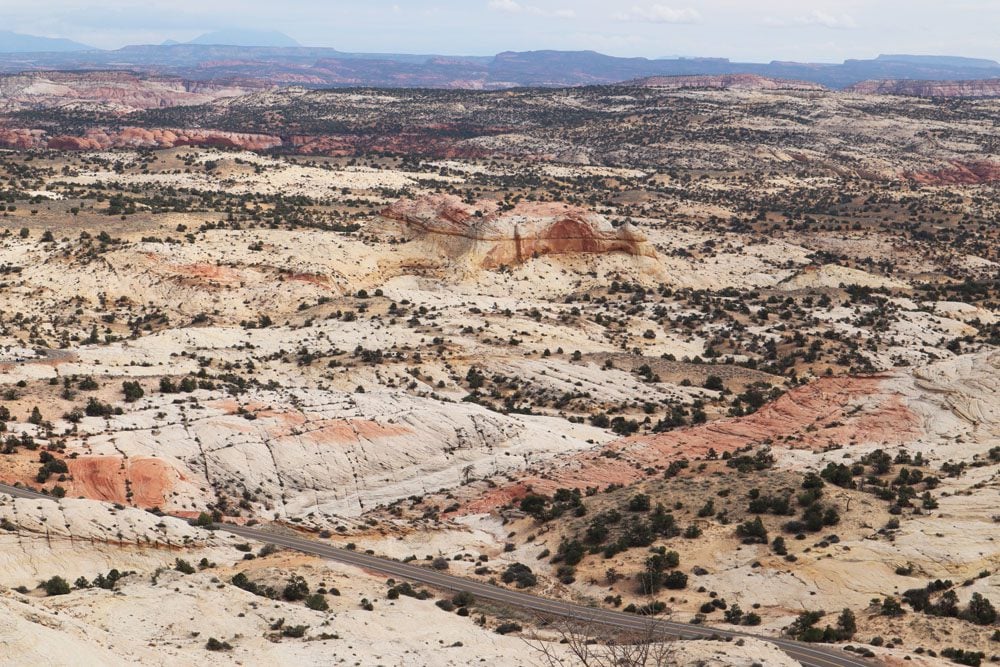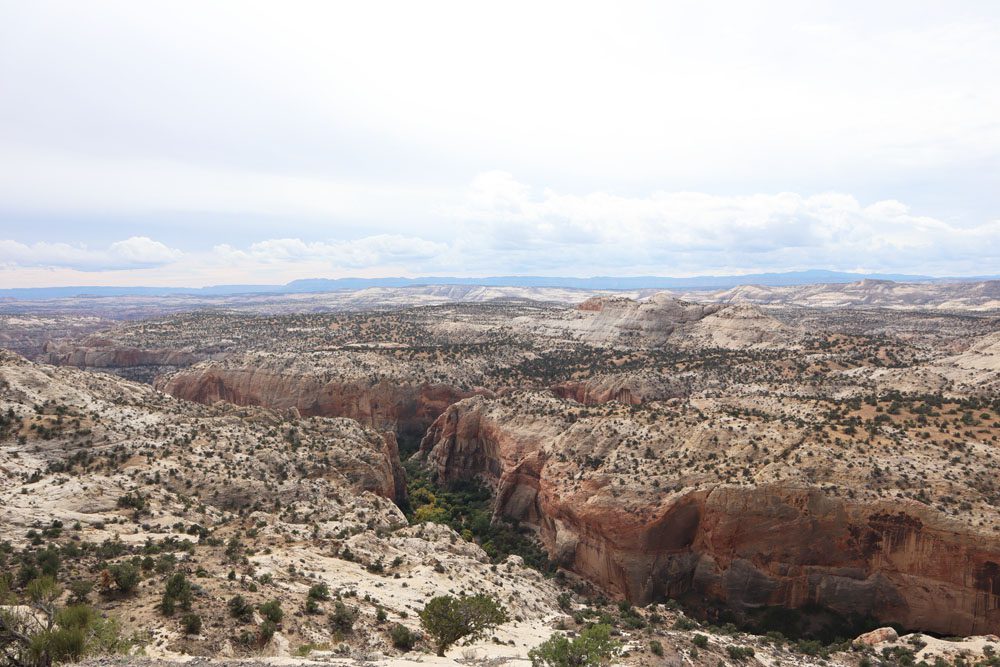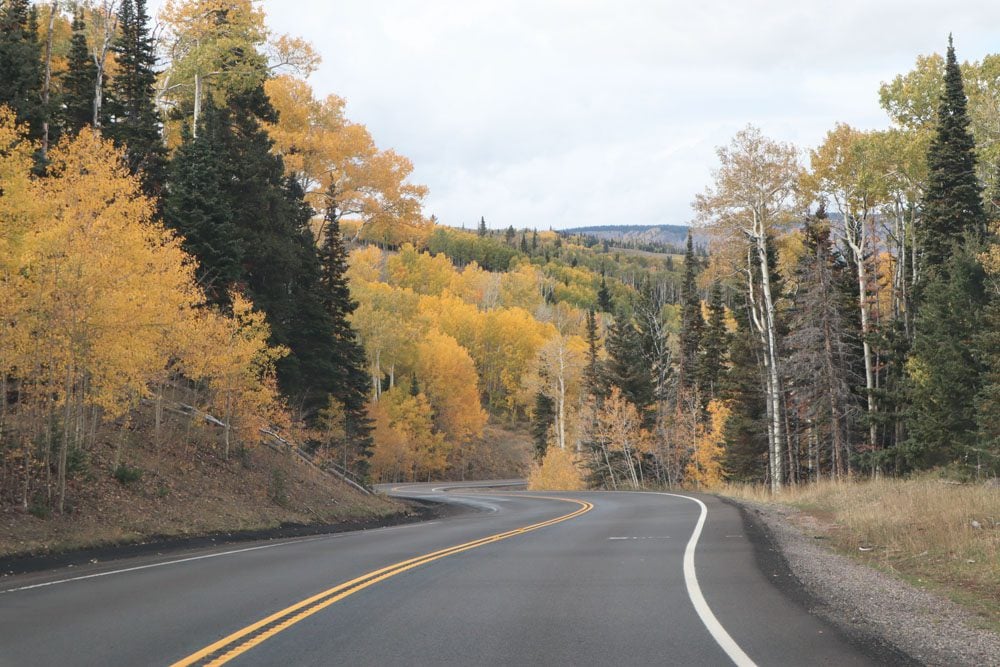 In Capitol Reef, the scenery turned to "classic" Southern Utah with the towering reddish pinnacles and rocky mesas at Goosenecks Overlook, Chimney Rock, and the Fluted Wall. Near Fruita, I stopped to check out some Native American petroglyphs, hiked to Hickman Bridge, and drove the famous dead-end scenic drive.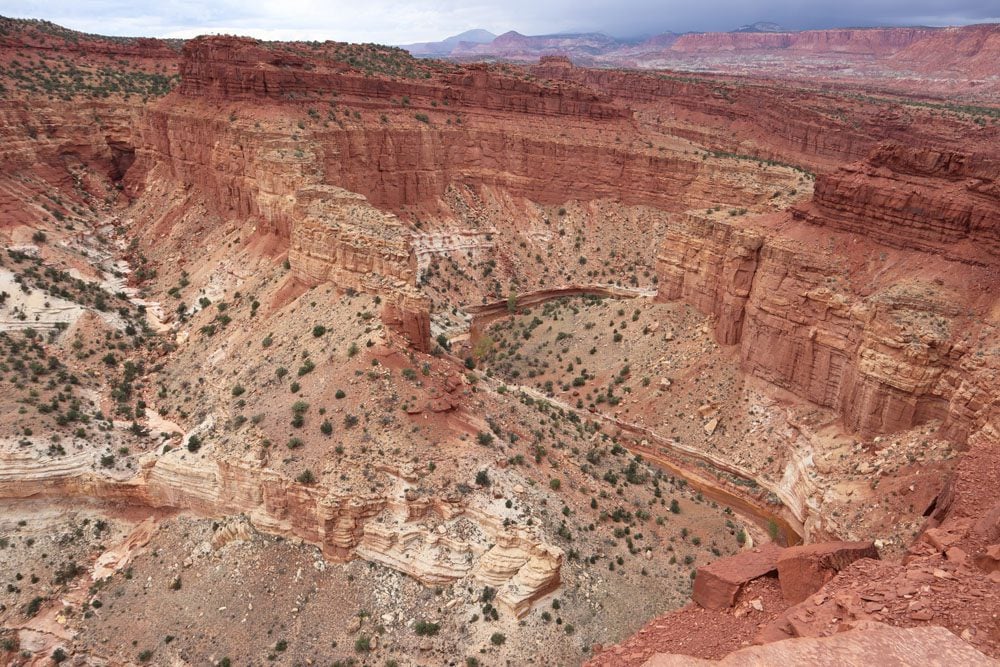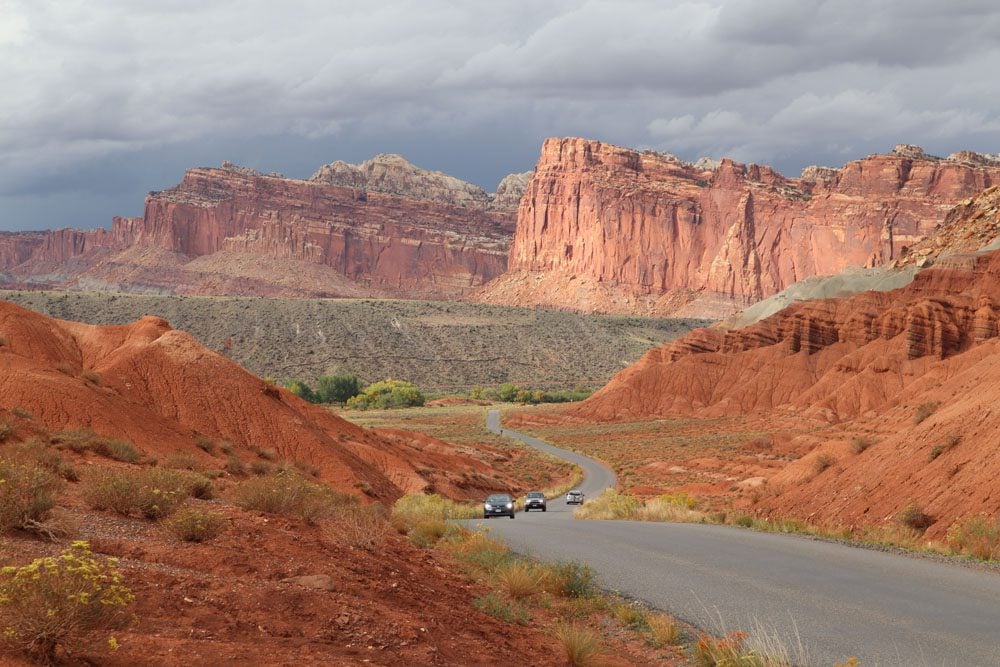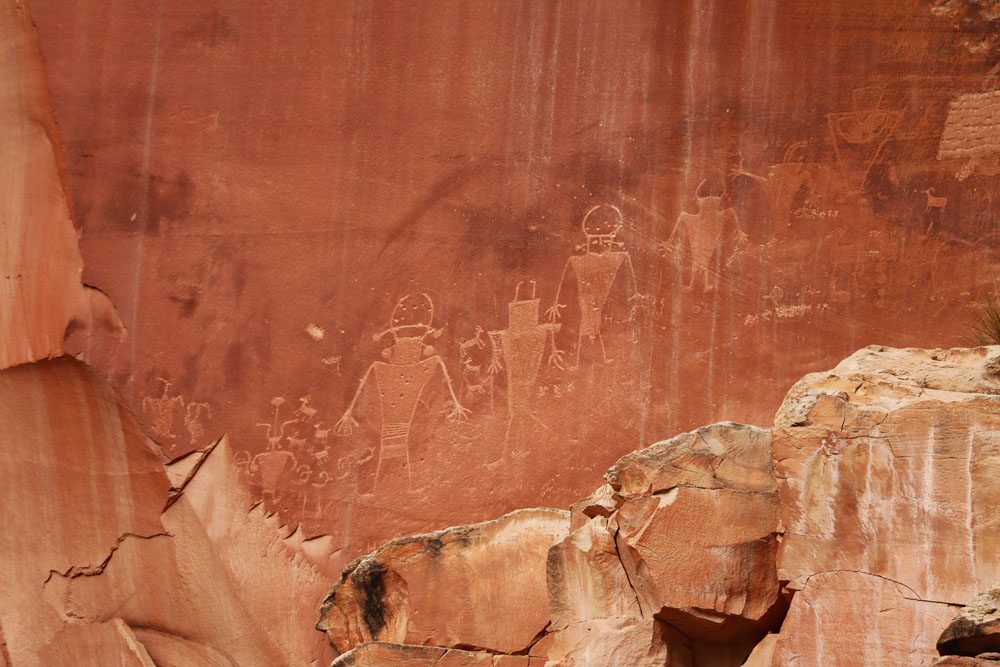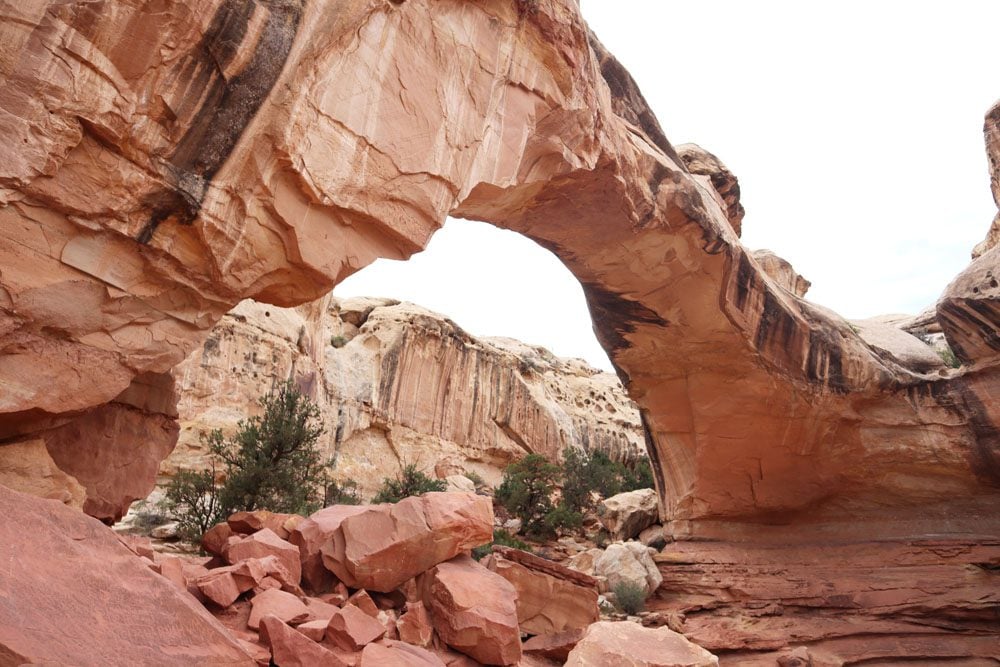 Beyond the farming town of Hanksville, scenic highway 24 ran nearly straight for 45 miles through open country with almost absolutely nothing around until joining Interstate 70. I made it to Moab with its busy main street and flashy neon signs at 19:30 on a Friday, just as a convoy of cars headed down after catching the sunset at Arches National Park, my next stop.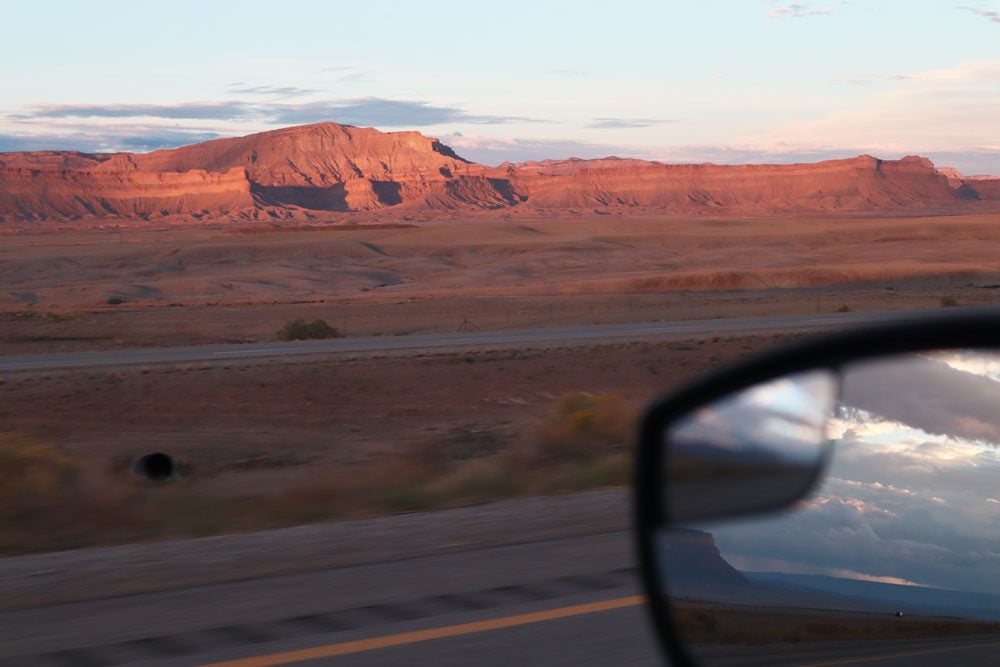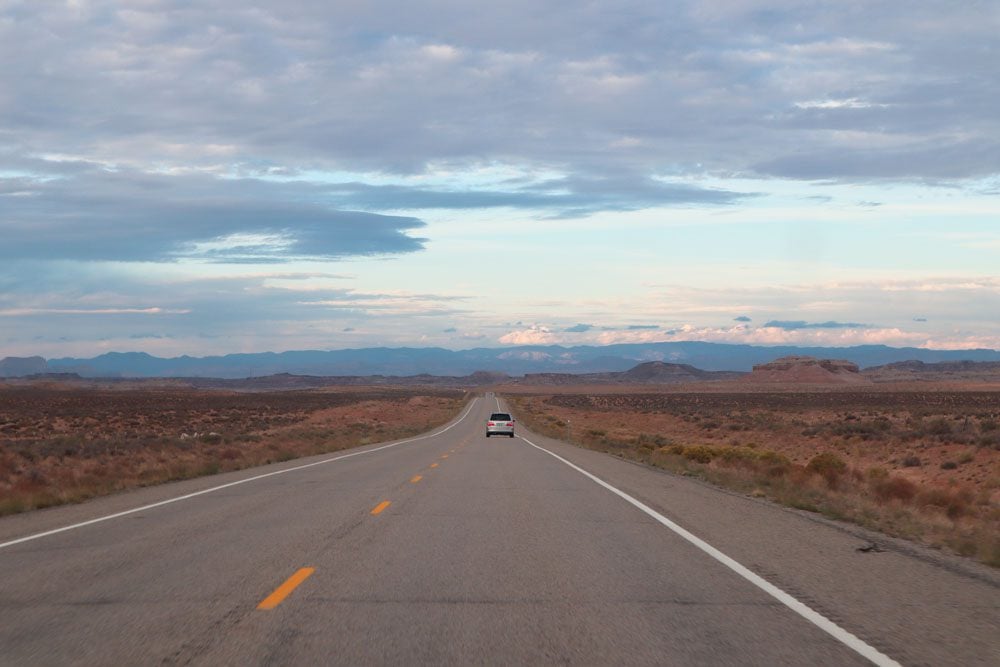 Arches National Park
Together with Death Valley, Arches National Park ranks at the top of my experiences on this road trip. I've seen nothing like this before, perhaps only in NASA footage of Mars. Like Zion, this national park is heavily congested but a shuttle system is yet to have been put in place. You must enter the park very early in the morning to avoid having to wait at the gate for cars to exit. And even with this load balancing act, the park's interior is quite busy. Scoring a parking spot at one of its top attractions is certainly worthy of a pat on the back.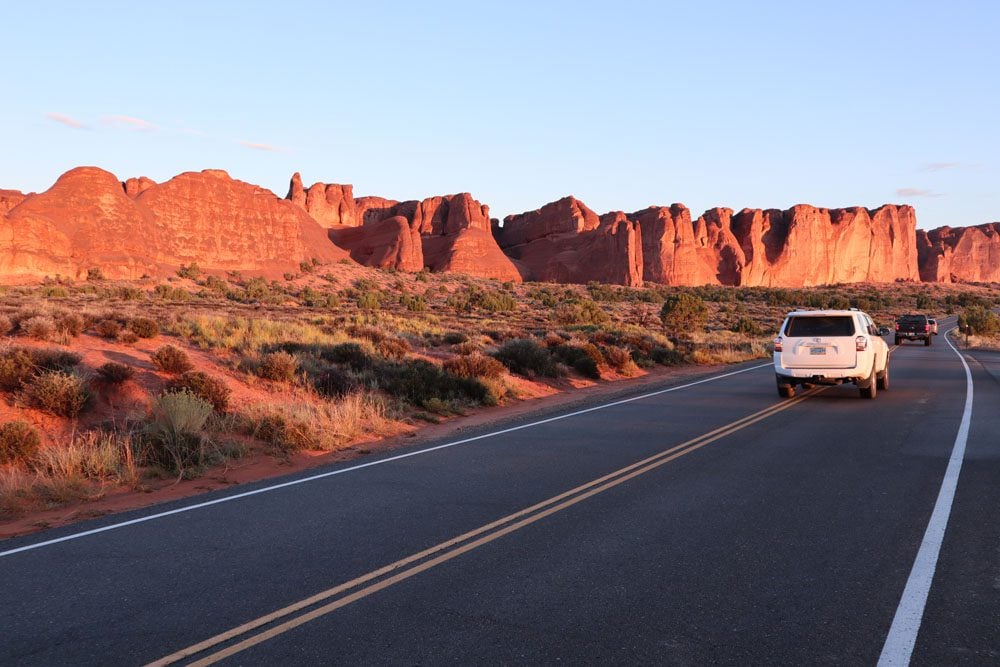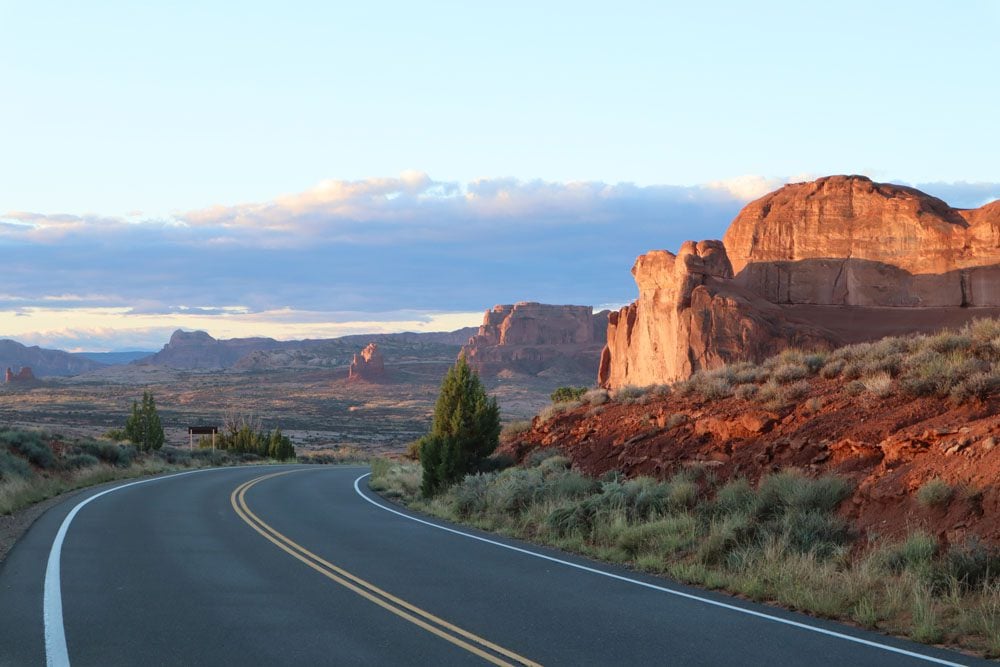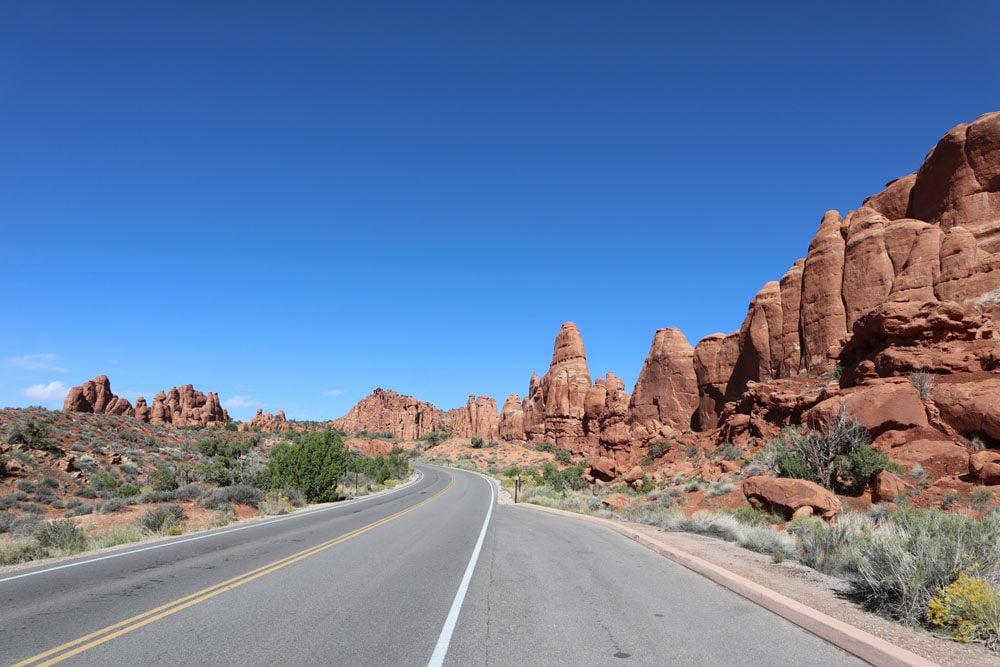 The park's scenic drive is its main artery and offers tempting opportunities to stop at vista points or embark on short hiking trails. What surprised me the most is that Arches is not only about "the arches", though they are spectacular and found nowhere else around in such high numbers. The diverse geology ranges from the smooth rock faces of Devil's Garden to the eroded pinnacles of the Courthouse Towers and Park Avenue. If these sites seem familiar from somewhere, it might be from Thelma Louise, the classic road trip film that was partly filmed within the park.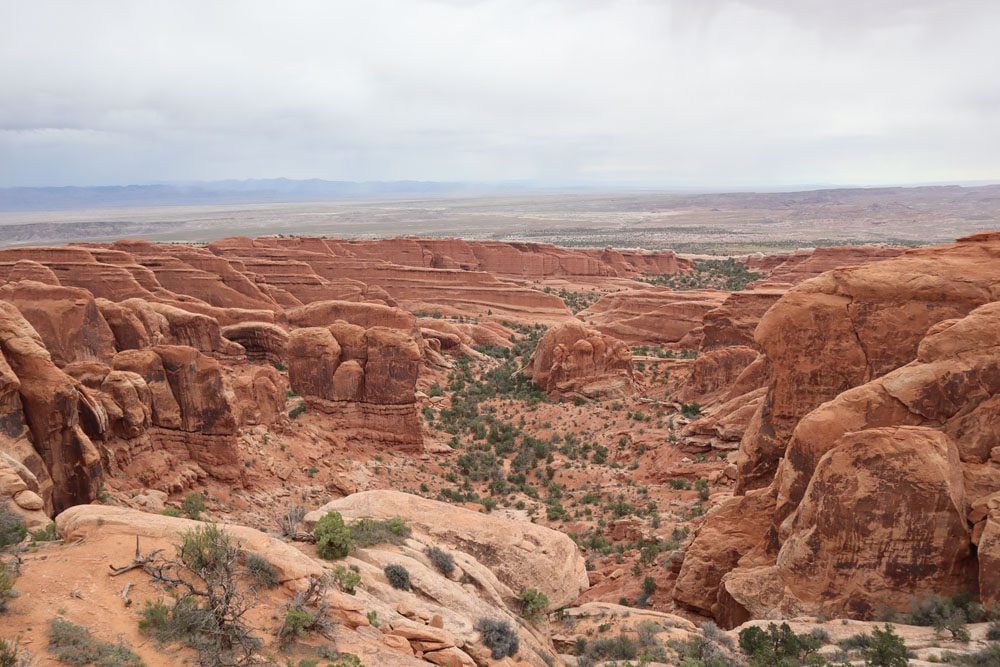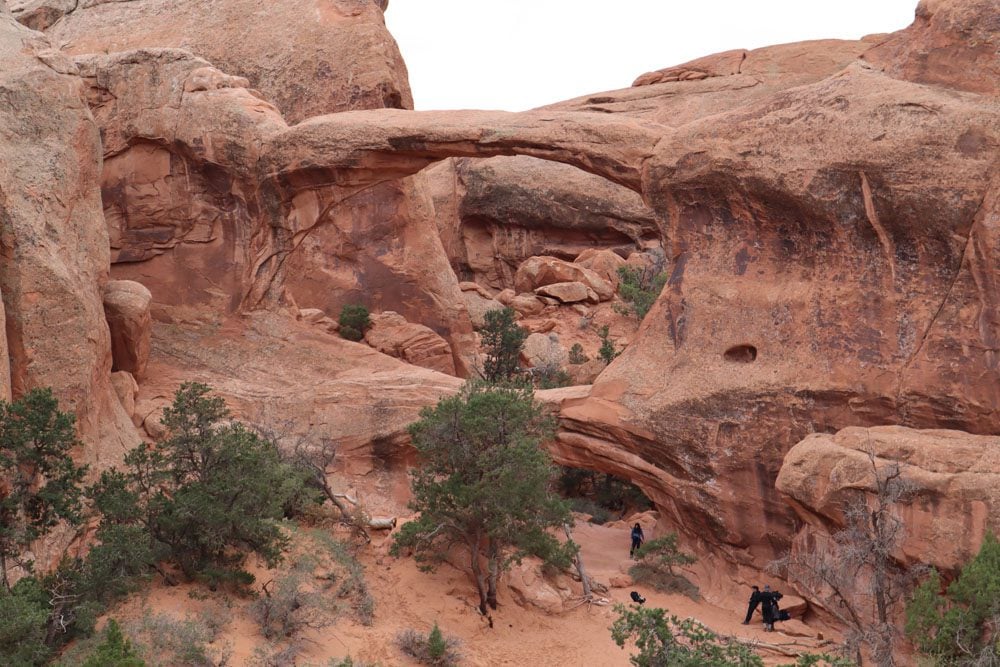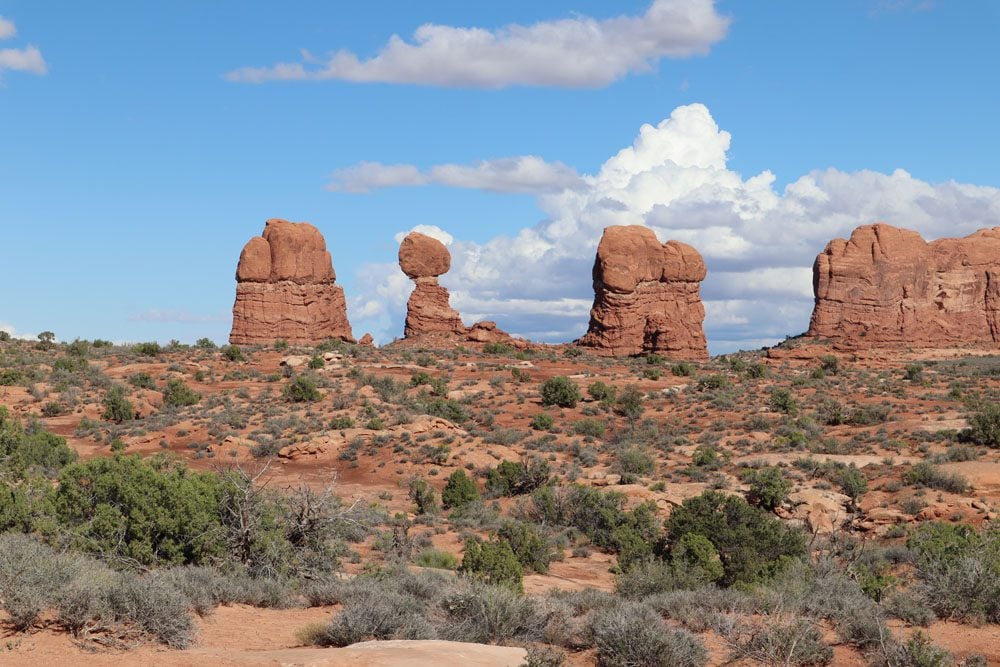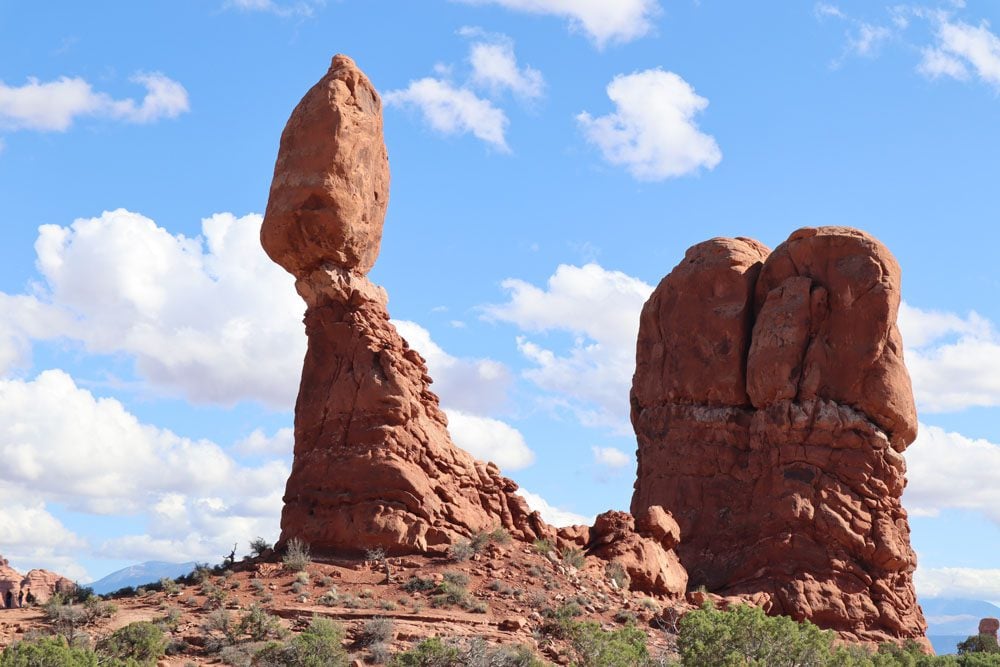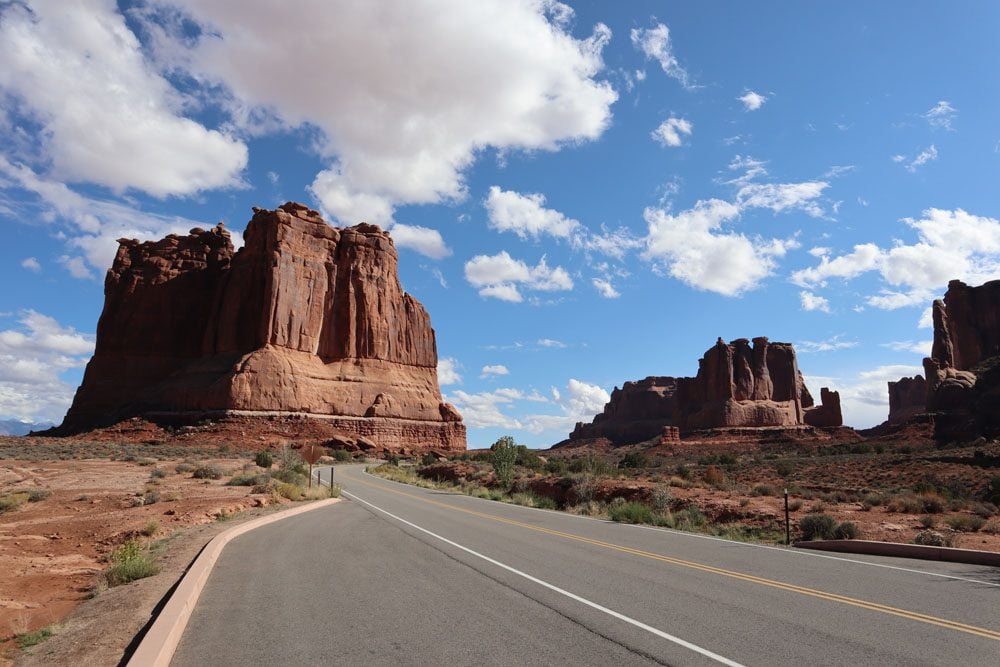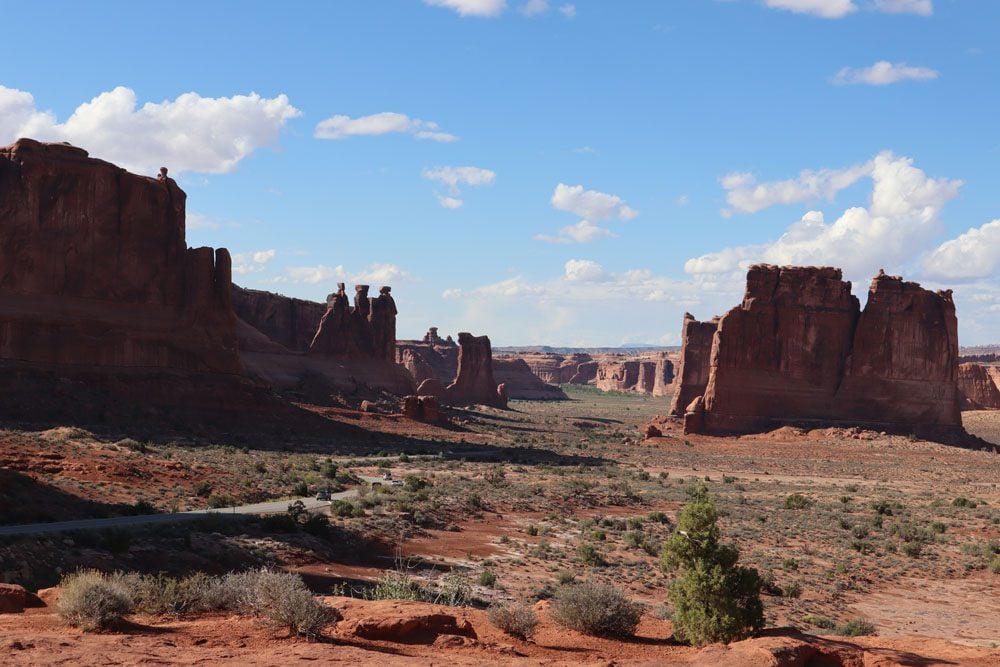 Without a doubt, the park's main attraction is Delicate Arch, the celebrity arch is even featured on Utah's license plates. But apart from this star, the drive to the Windows section of the park with its myriad of arches via the Garden of Eden lookout and the Parade of Elephants truly teleports the visitor to a seemingly different planet.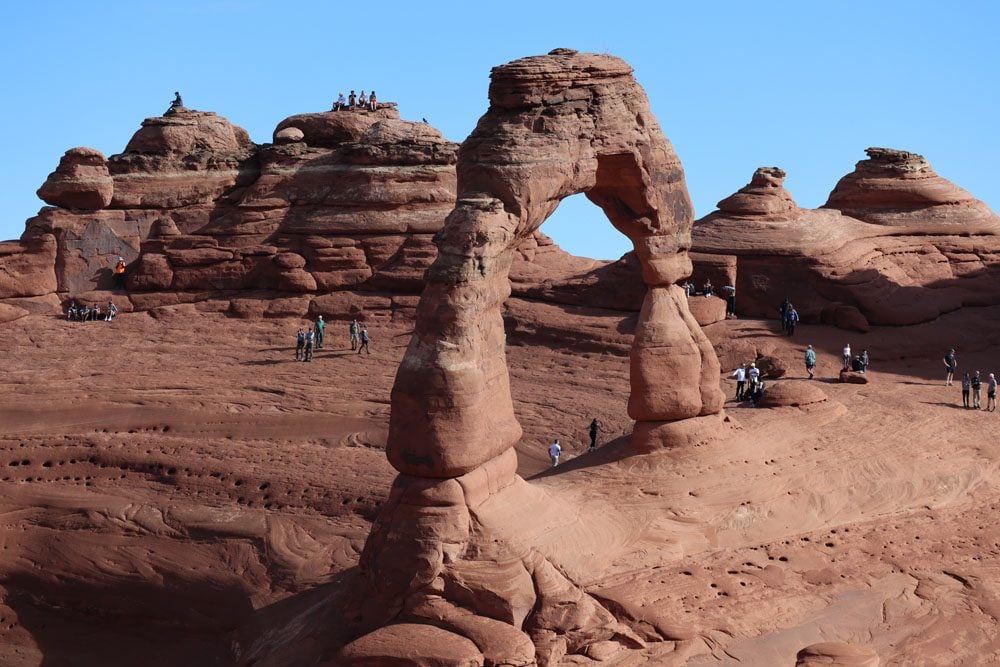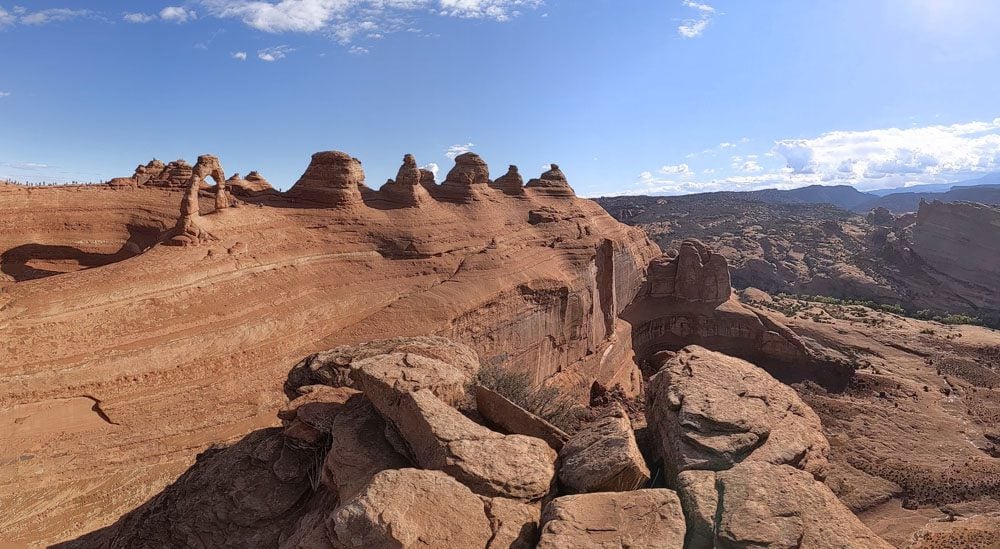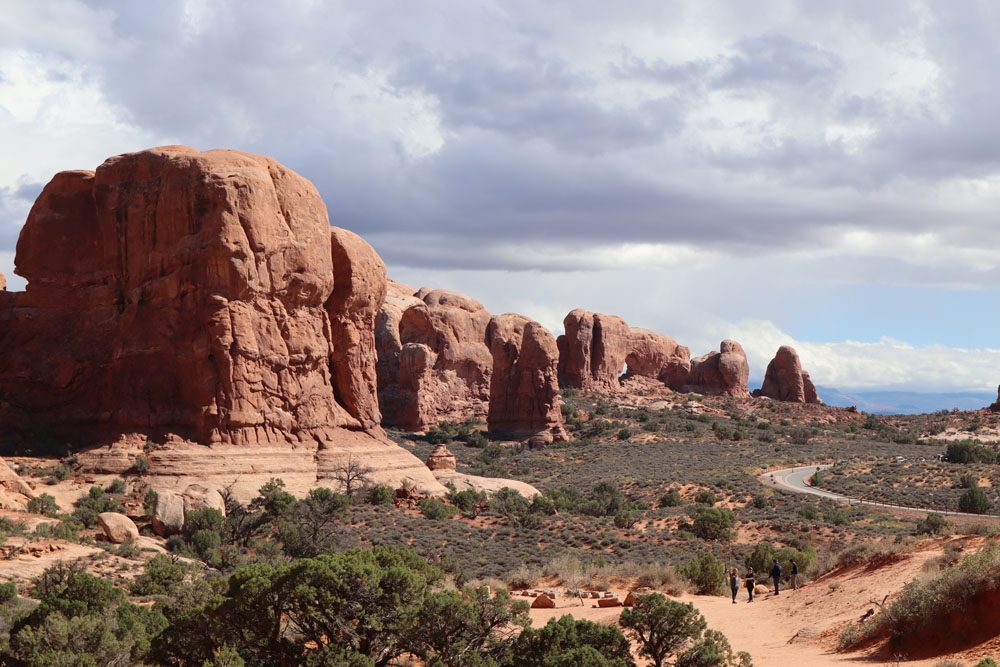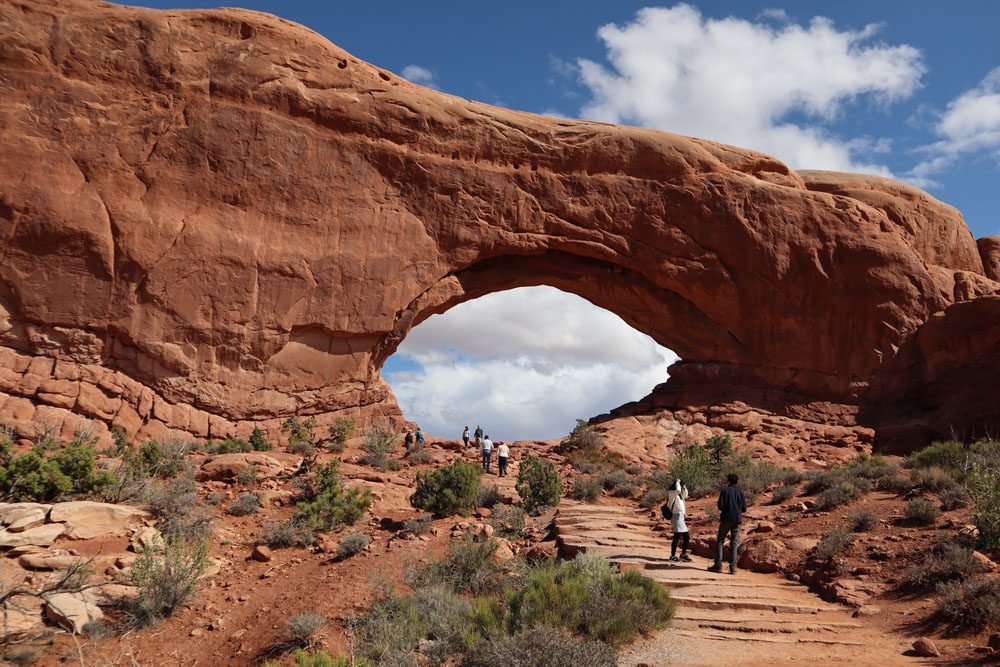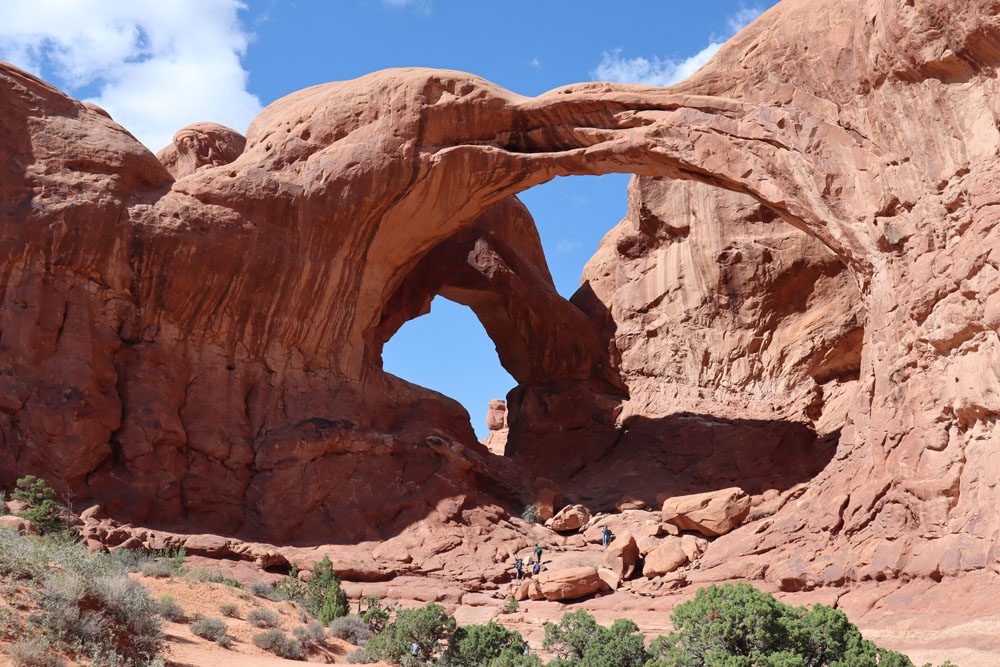 Island in the Sky
The next three days were spent at Canyonlands National Park, a park so massive in size that it's divided into four distinct sections. I devoted the first day to the park's star attraction, the Island in the Sky, a huge mesa almost completely detached from the outside world by a high drop in elevation and the natural boundary that is the mighty Colorado River. From the images below, you can understand how this place got its name.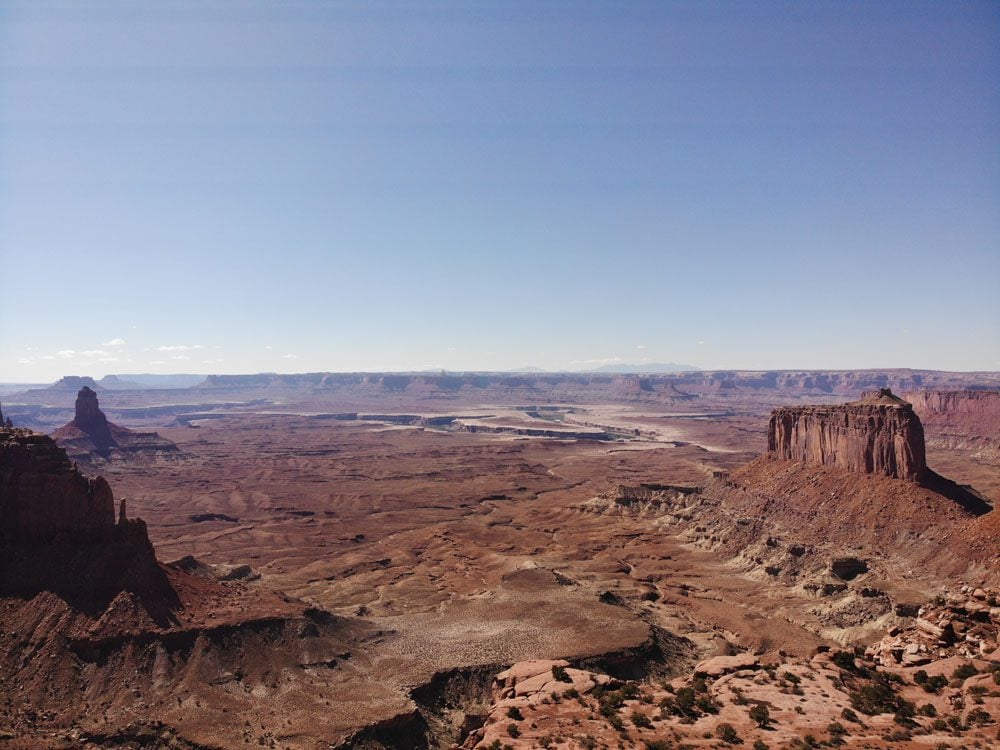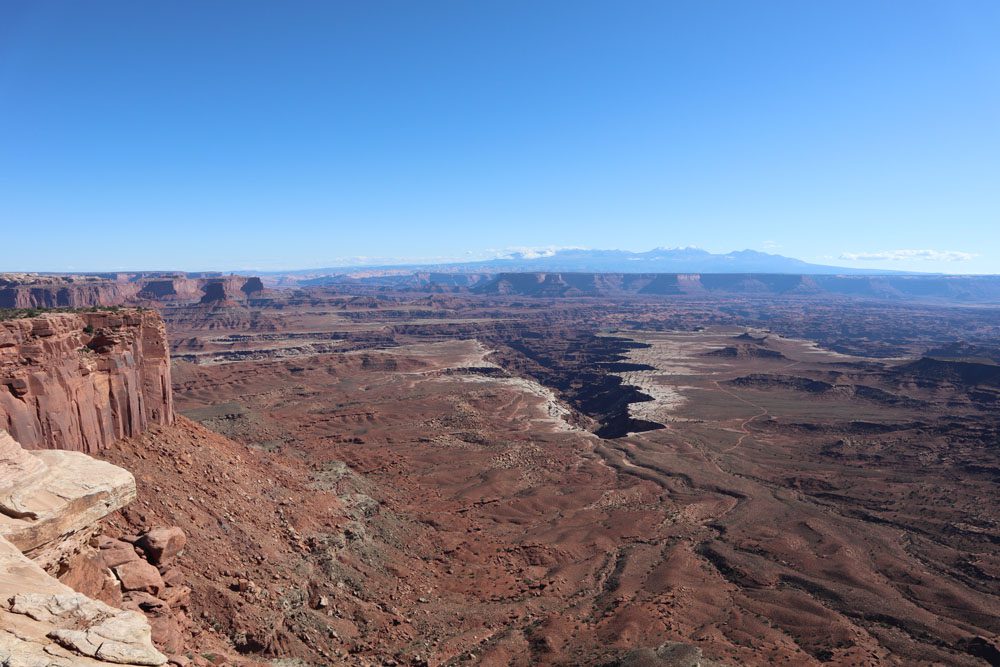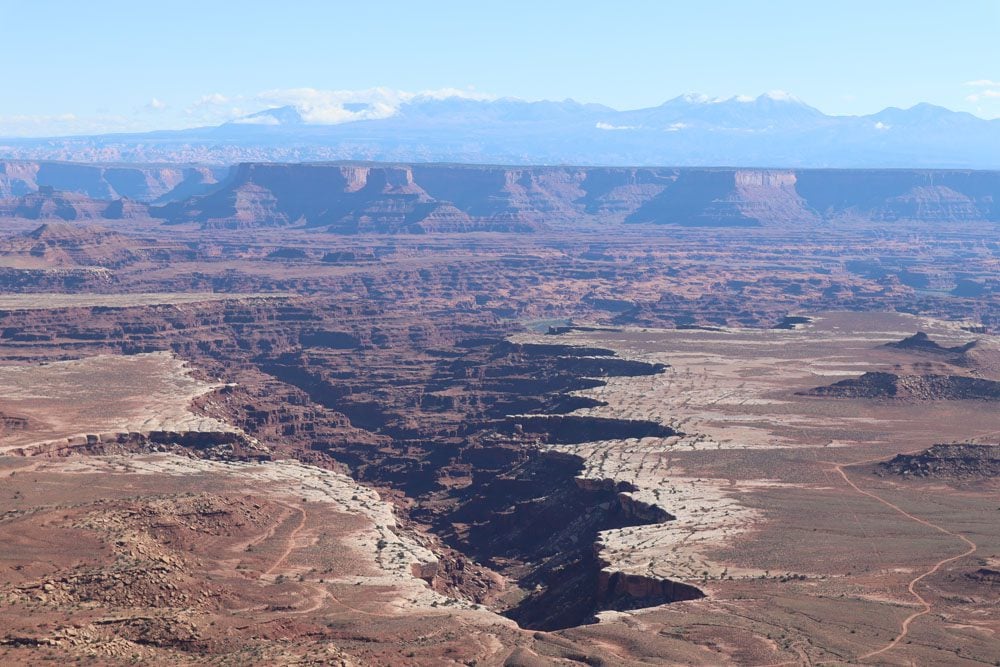 It was very cold up here in the morning but that's also the best time to enjoy the view at Mesa Arch, one of the iconic frames of Southern Utah. From there, I ventured along the top of the canyon rim from its various lookouts, the best of which were Grand View Point and Green River Overlook.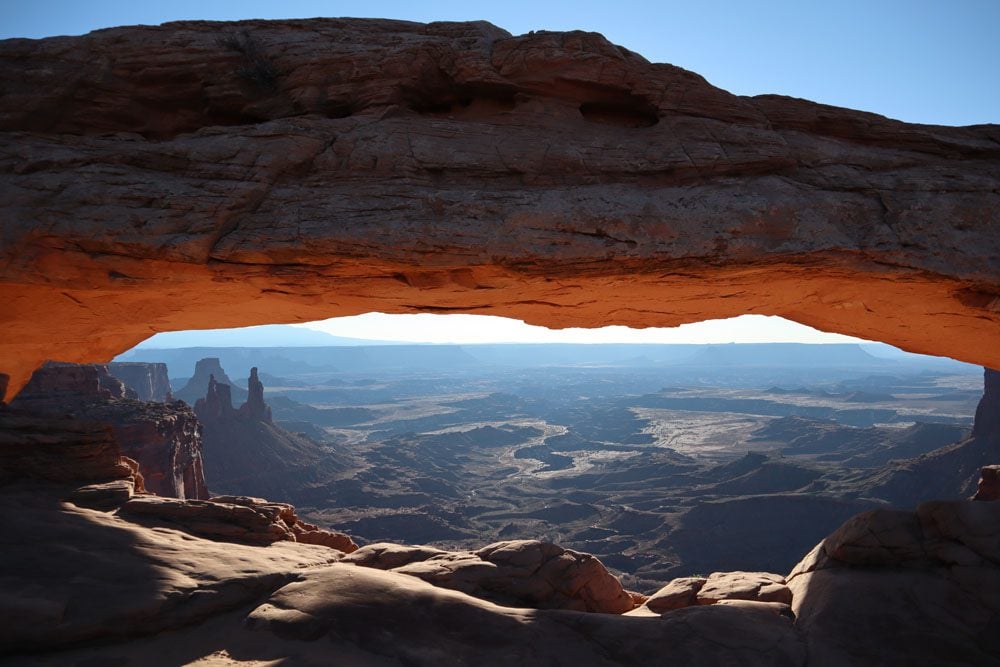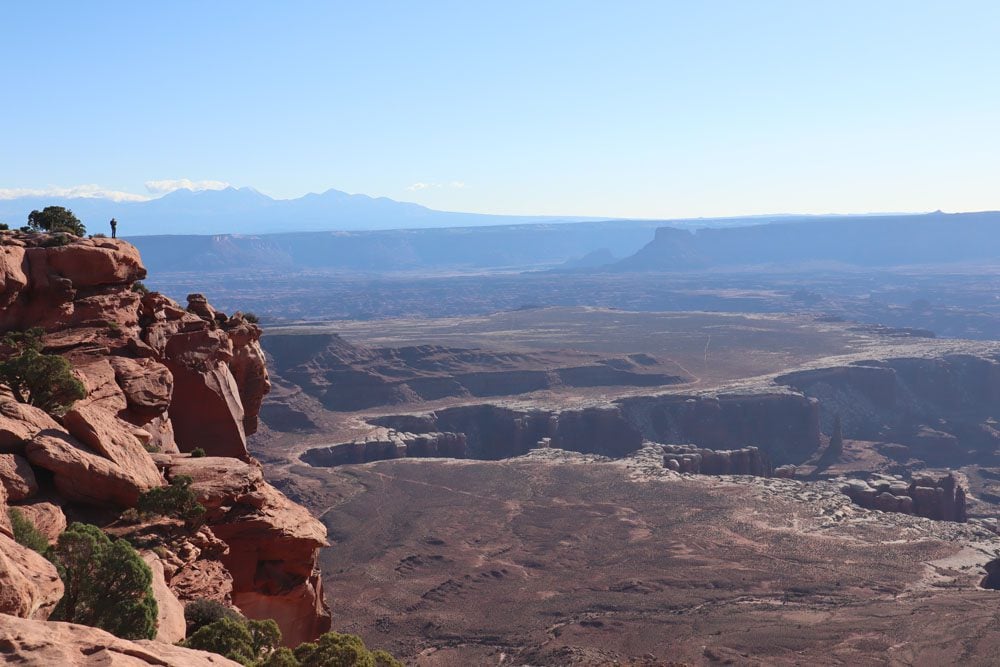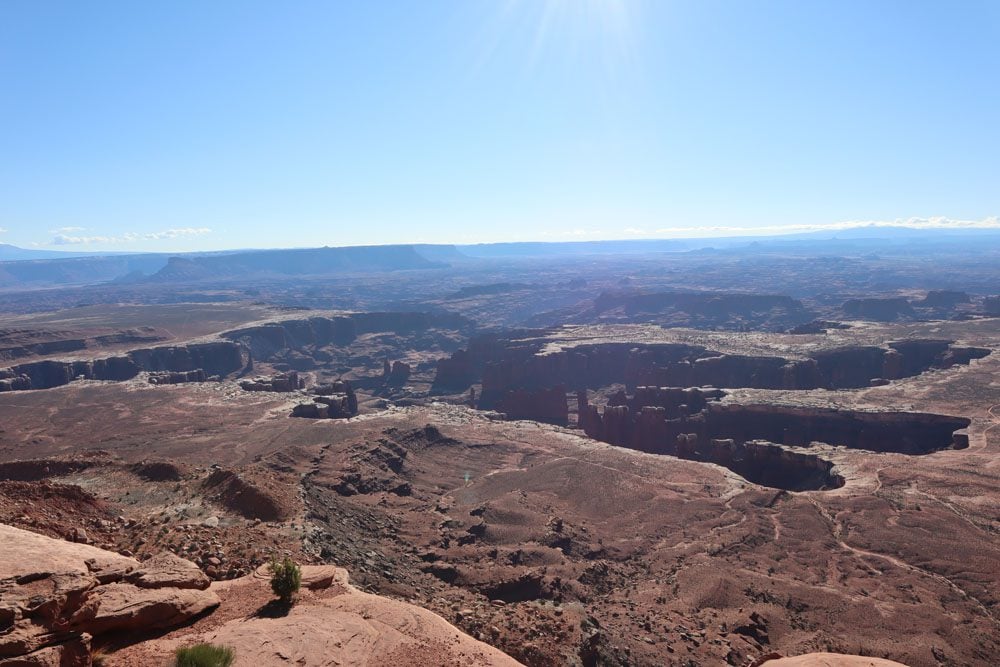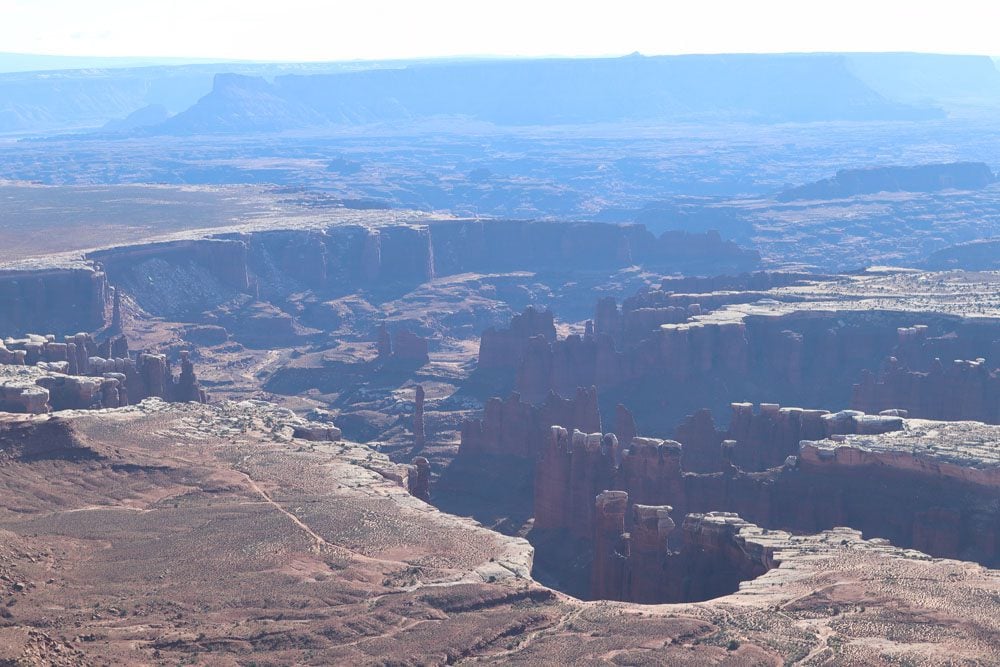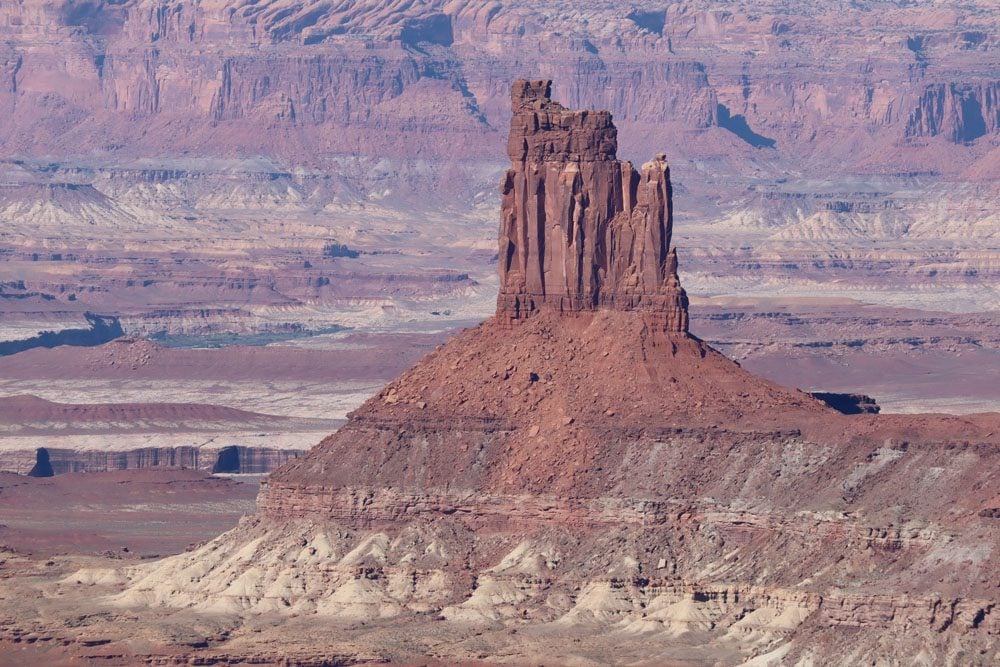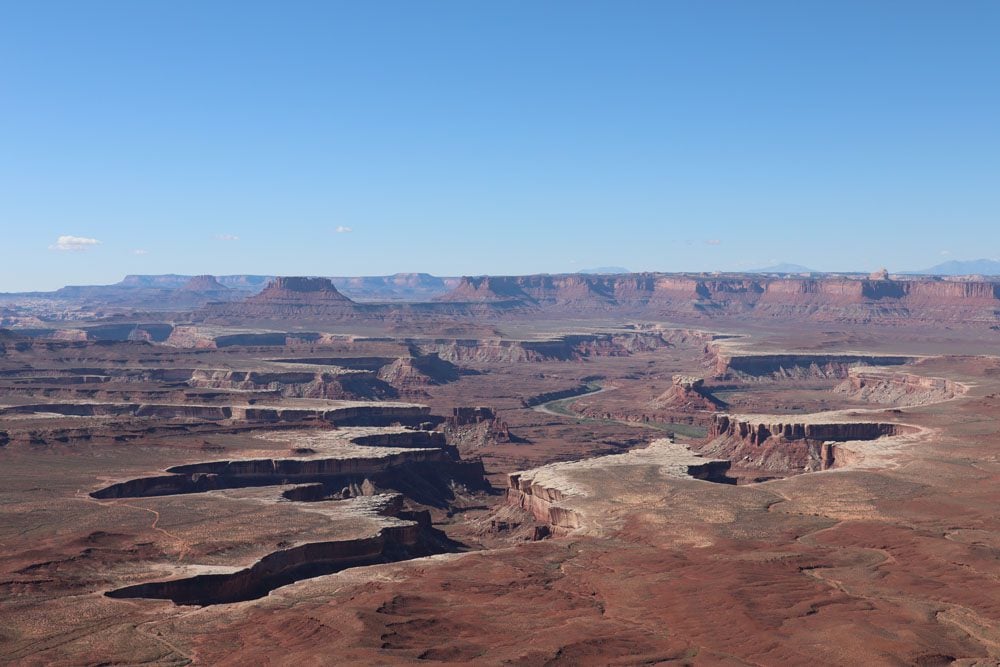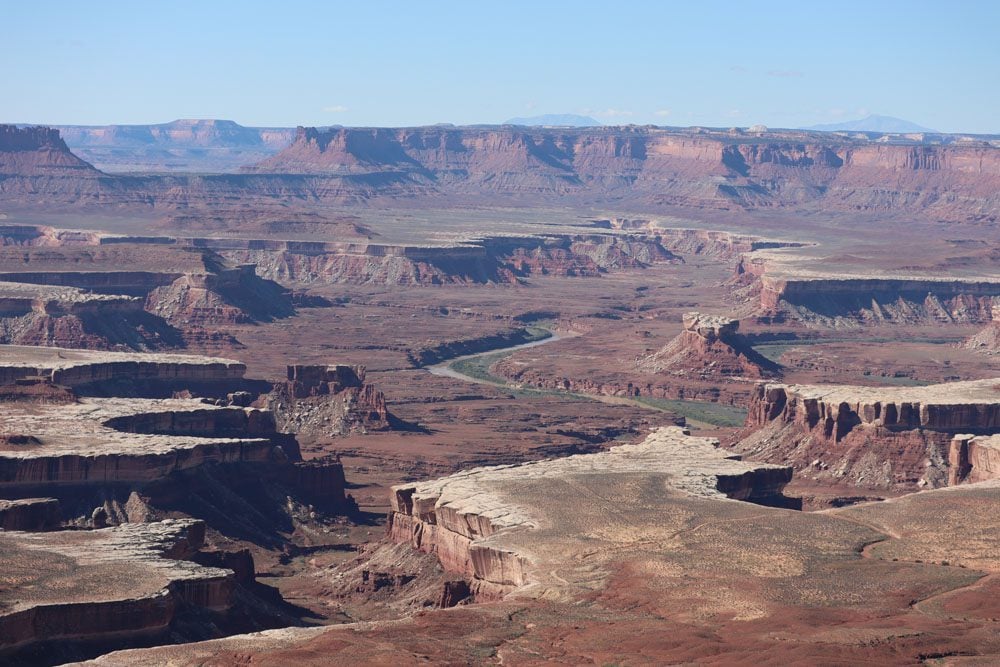 I was really curious to see what it's like at the bottom rim, metaphorically speaking where the island's shores meet the ocean, so I took the Murphy Trail for a challenging hike down to White Rim Road. It turns out that the view is better from high above but this hike was exceptional and there was hardly anyone around.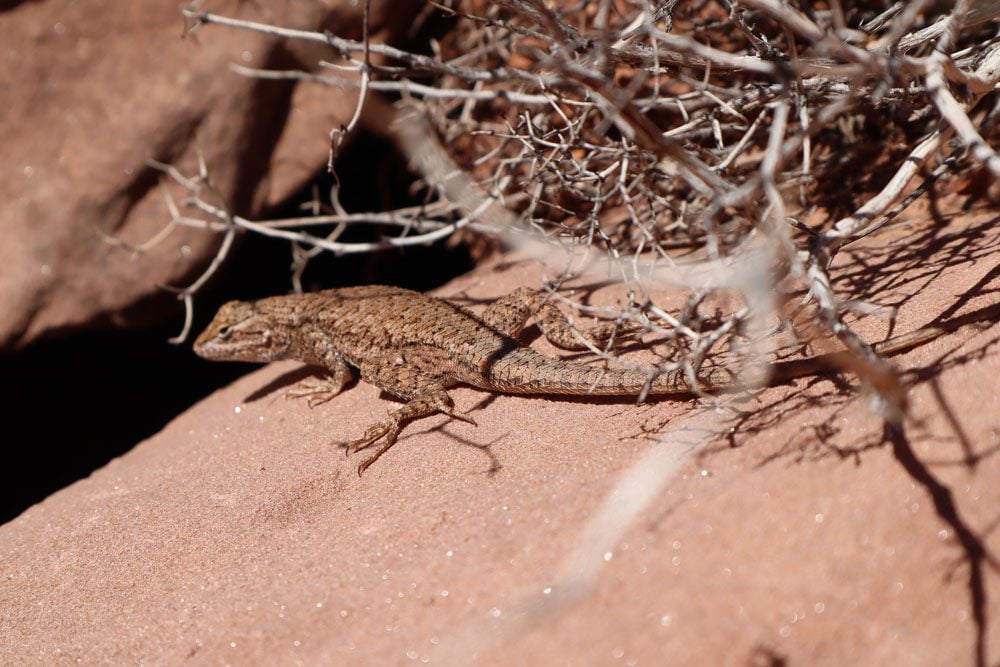 Before sunset, I headed to nearby Dead Horse State Park to see what all the fuss was about. From Dead Horse Point, it's easy to understand how this place got its name. Back in its ranching days, a band of horses was so scared of the terrain, that they died of thirst instead of traveling a short distance where water was found. It's also the area where the epic final scene from Thelma and Louise was filmed.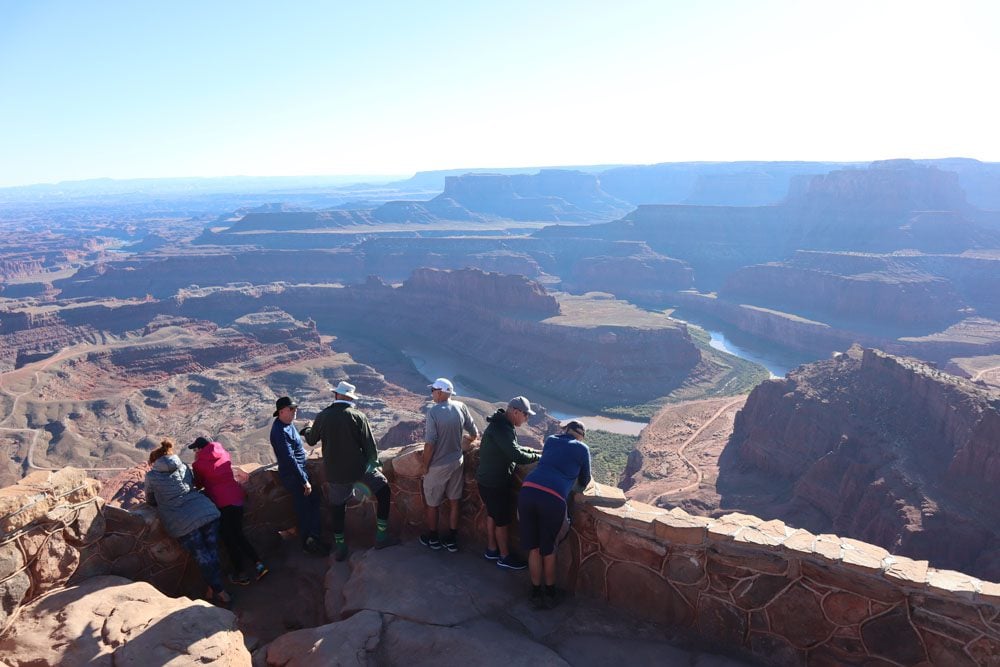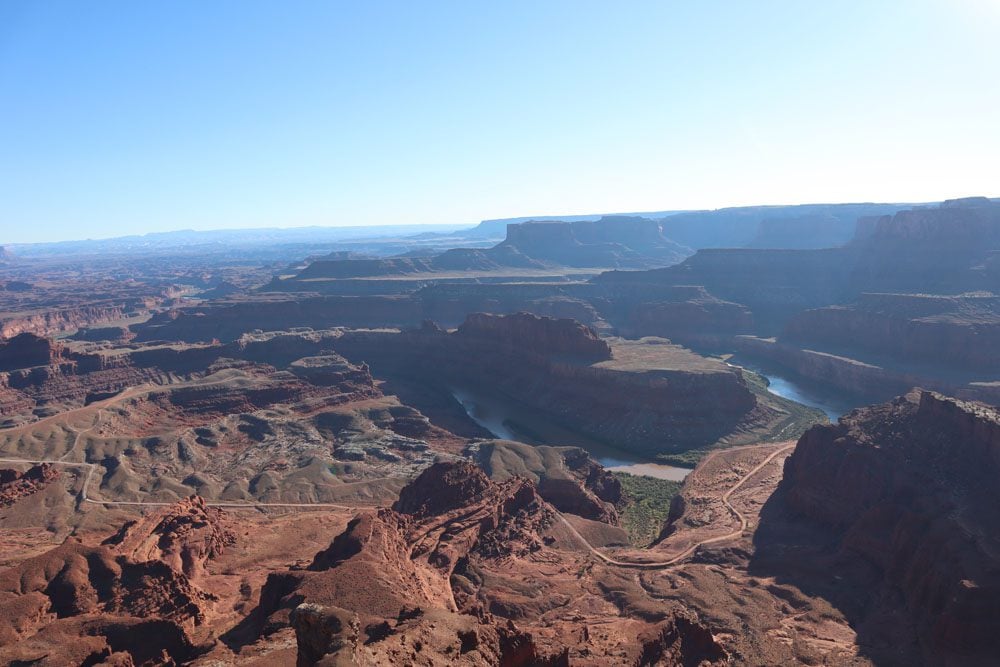 Horseshoe Canyon
Detached from the rest of the national park, reaching Horseshoe Canyon requires a very long drive on a dirt road. So what's the reason to venture to this remote canyon? How about the most impressive Native American rock paintings currently known in North America. I remembered seeing an episode of Ancient Aliens featuring Horseshoe Canyon, so I just had to see it with my own eyes.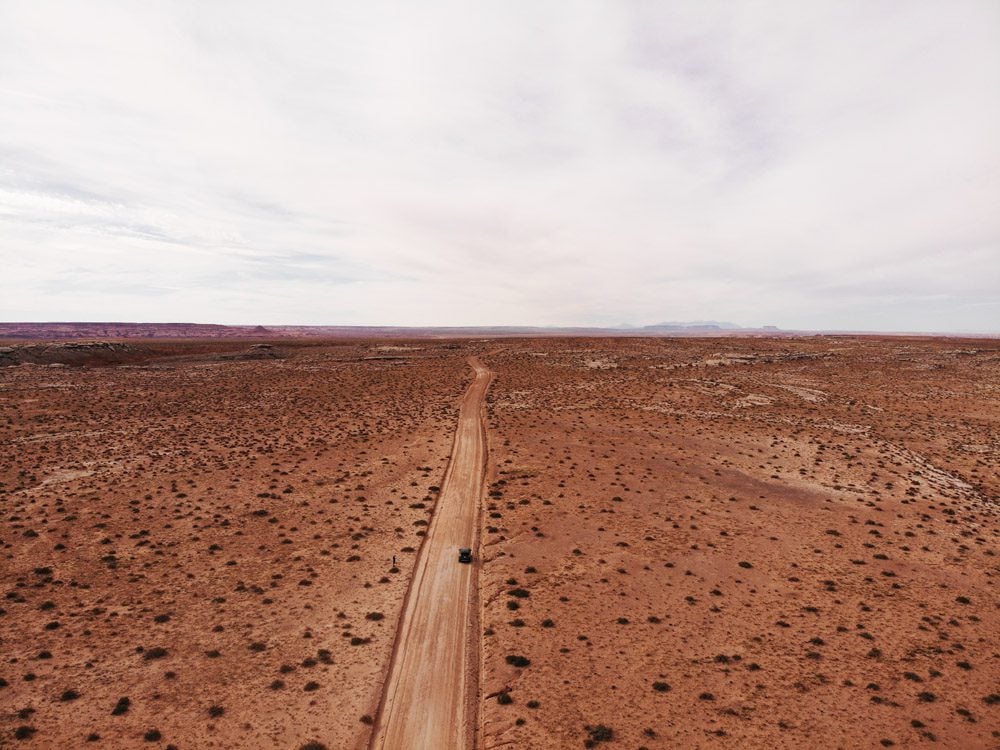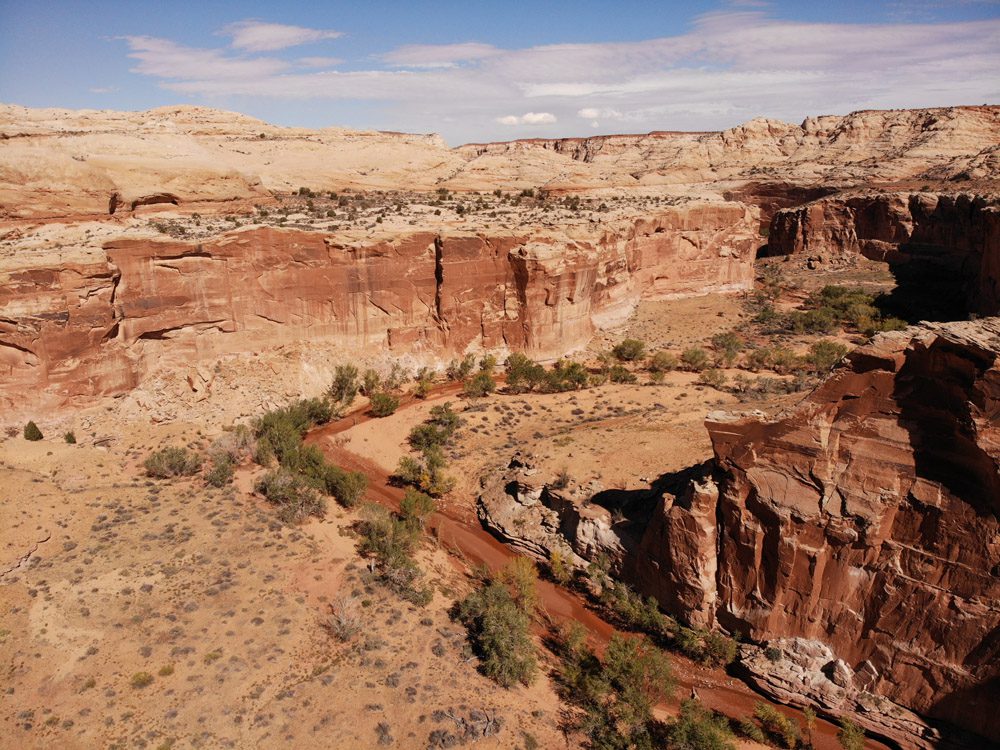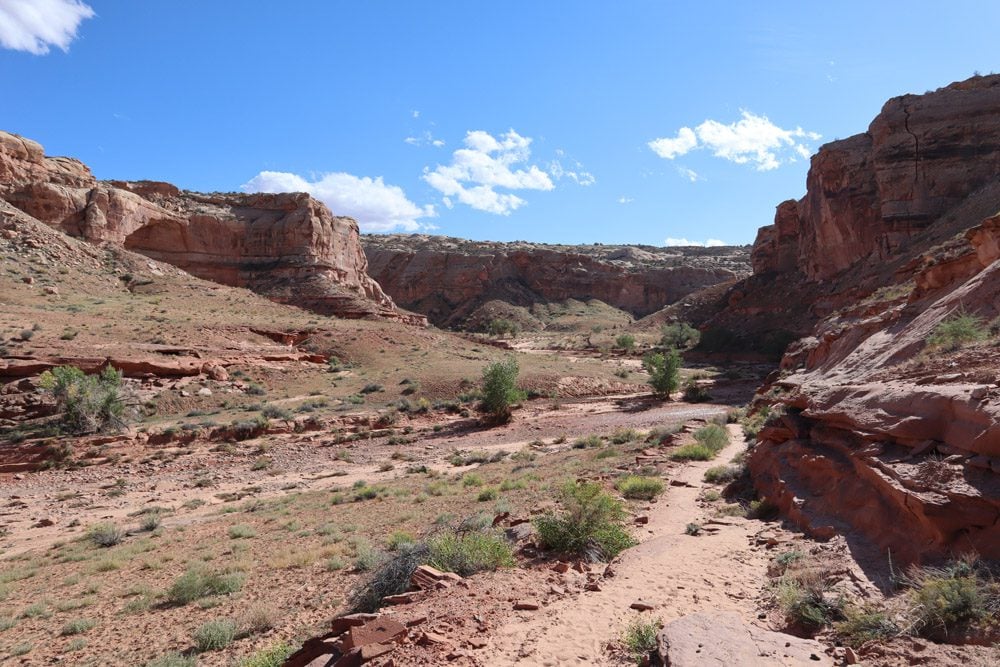 To see the rock paintings, you need to walk the length of the sandy canyon floor. The experience is quite surreal because it can be very windy at the rim but as soon as you descend to the floor, complete silence. It's a different world down here, with smooth sand cliffs, lots of green, and lots of lizards.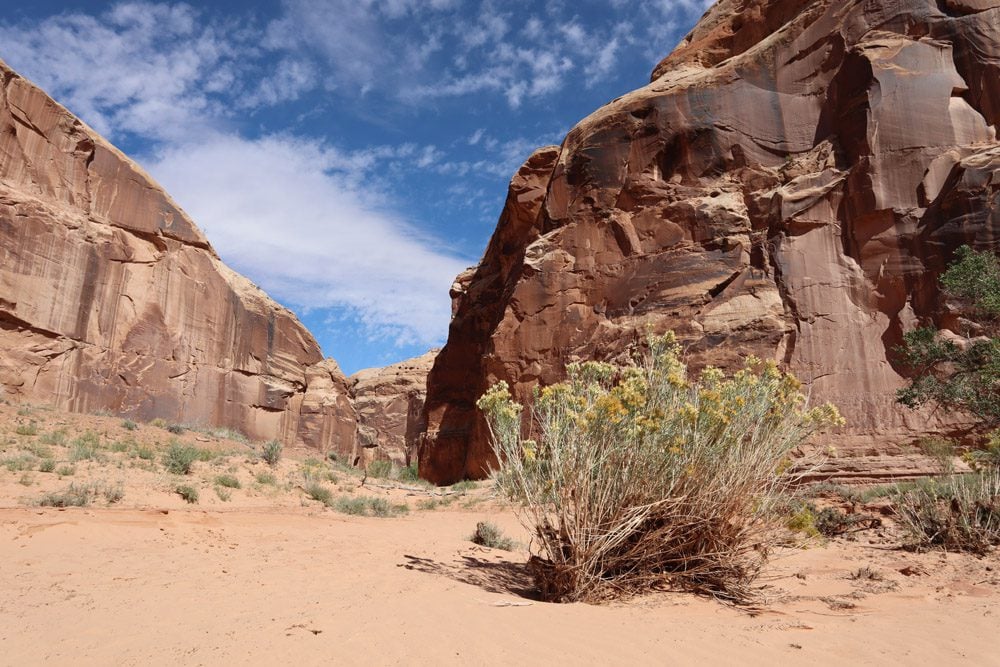 The hike reaches its climax at the Great Gallery, where a series of lifesize paintings of humans and perhaps non-humans decorate the canyon wall. Not much is known about these works of art, among the oldest found to this date.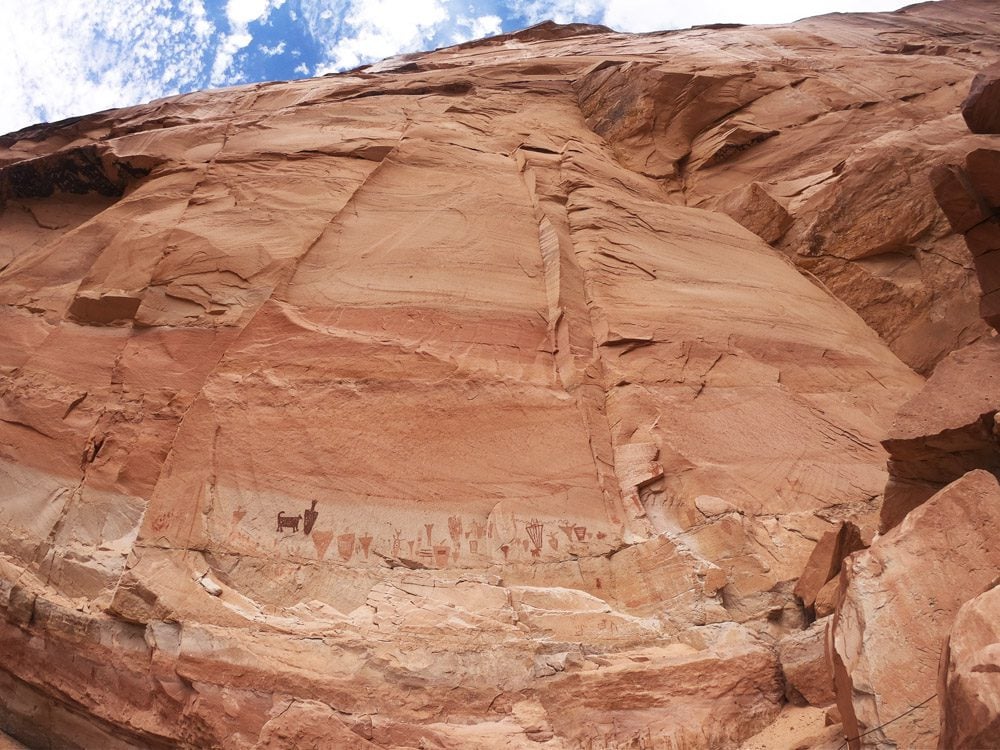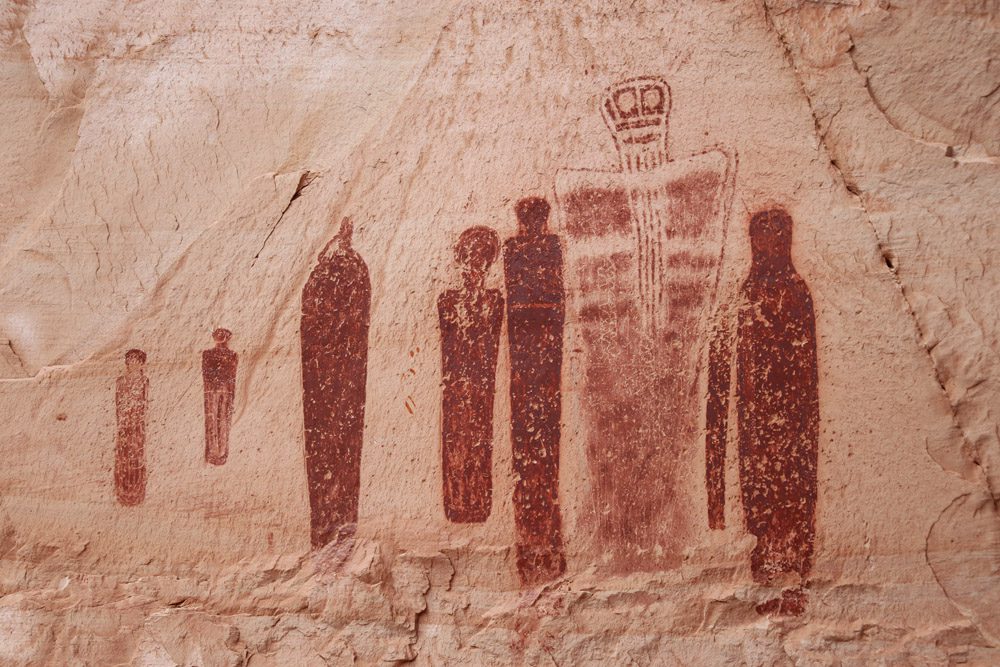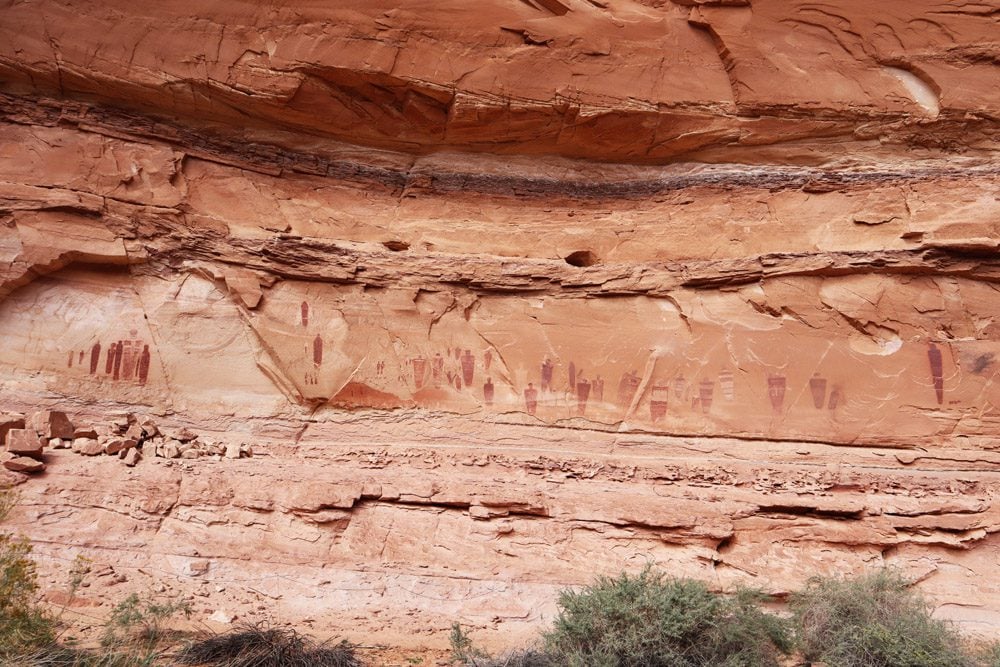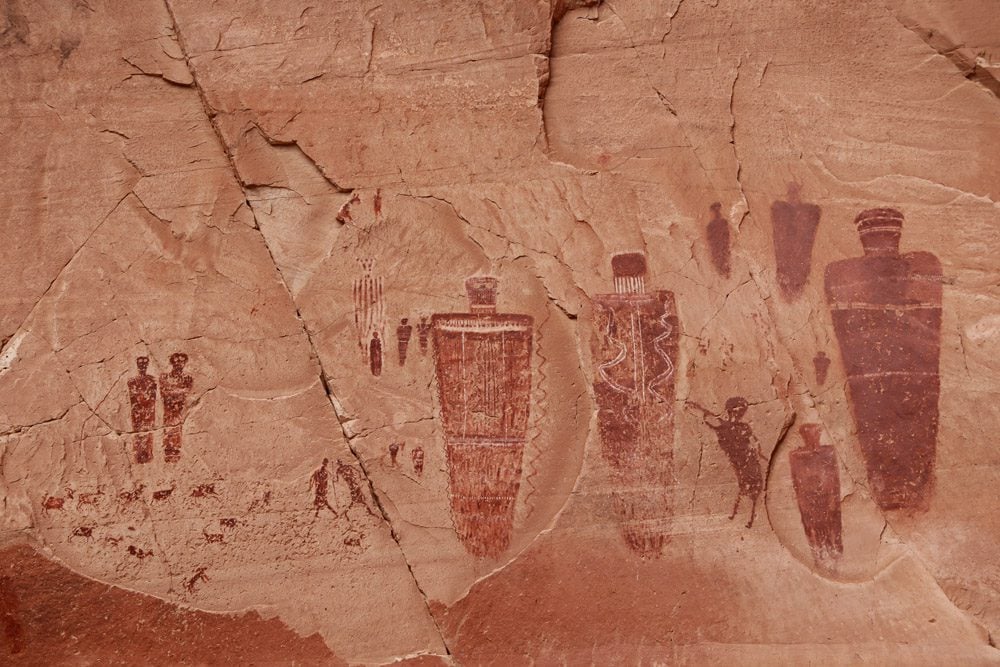 Moab to Chinle
I planned to spend another day in Canyonlands National Park to explore the more remote Needles section, but the bad weather caught up with me once again. It was a very chilly morning and I managed to catch a good glimpse of the pointy rocks from a distance before conditions worsened.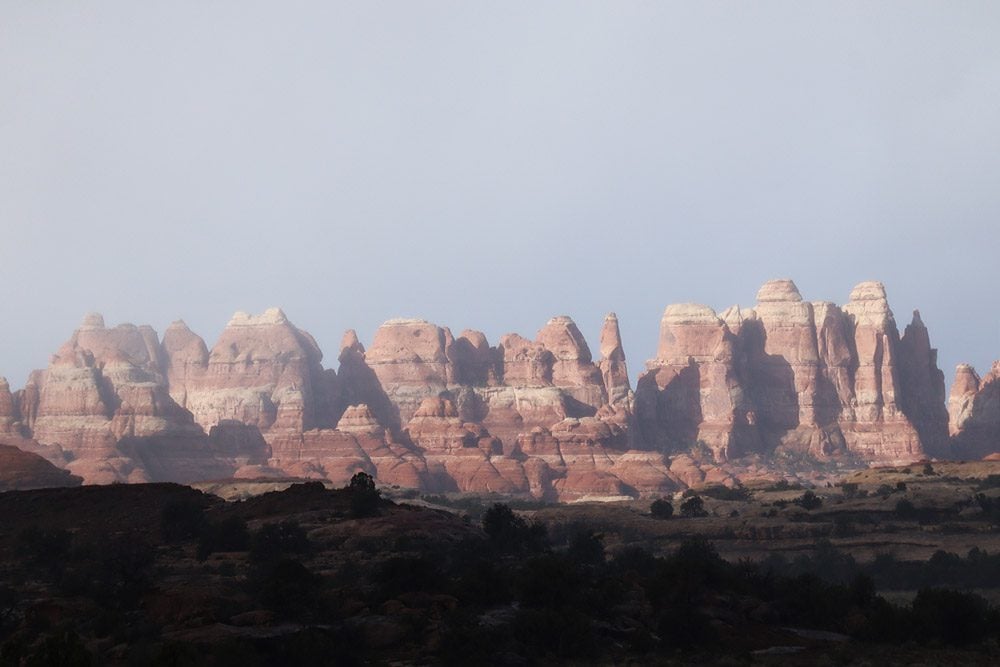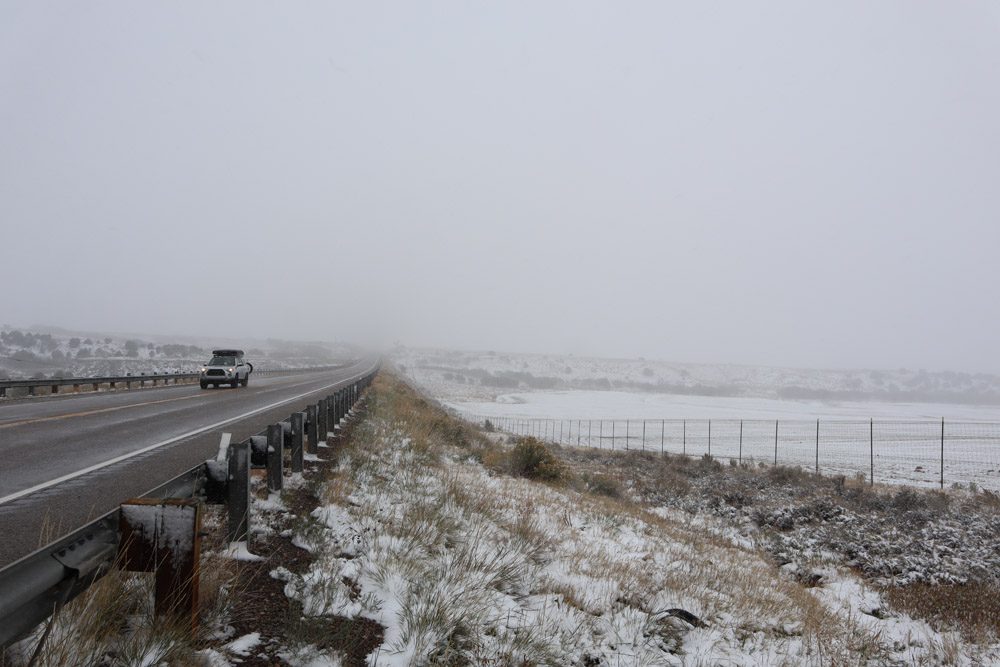 To head further south, I had to pass by the Blue Mountain area which on this early October day was covered in white. This was a proper snowstorm with low temperatures and low visibility. There was no point in taking the scenic backcountry so I just headed straight into Navajo country. The self-governing Navajo Nation is the largest Native American reservation. It covers an enormous area across three U.S. states and even sets its own time zone.
Though mostly flat at times, the drive was interesting if only for the clear signs of the culture change; trading posts instead of 7/11s, Navajo police instead of the highway patrol, washes instead of rivers, fry bread instead of pizza, and absolutely no alcohol. After being heavily hit by early waves of COVID-19, residents take extreme caution now. Dirt roads leading to family compounds explicitly warn visitors to keep out. It's family only from this point. I rolled into Chinle and settled into the Thunderbird Lodge to warm up and wait for the promise of sunshine tomorrow.
Canyon de Chelly
Pronounced canyon de-shay, Canyon de Chelly National Monument is regarded by some as the most beautiful canyon in the southwest. For almost 2,000 years, Canyon de Chelly has served as a place of refuge, first from the elements and later from Spanish colonizers. The first to arrive were the Ancestral Puebloans. They erected cliff dwellings in seemingly inaccessible spots, some of which still stand today. When they mysteriously vanished, the Hopis moved in and when they left, the canyon was left to the Navajo.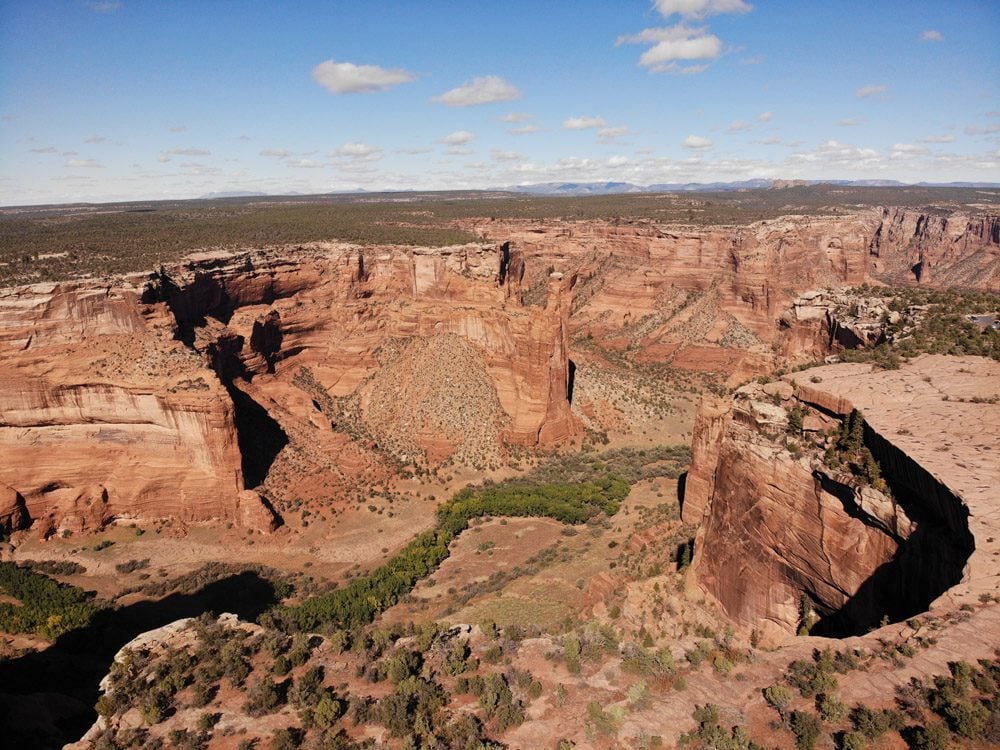 Together with three other curious guests, I hopped on the behemoth military surplus Pinzgauer all-terrain 4WD on a sunny but freezing cold morning to explore the canyon floor. Elton, our superstar Navajo guide, easily maneuvered the beast through the soft sand and took us to scenic spots while sharing the canyon's history and the ins and outs of contemporary Navajo life. A few families raise cattle and grow crops inside the canyon. Elton tells us that once every few years, the canyon floods and becomes inaccessible, so ranchers must toss hay from the rim to feed the stranded cattle below.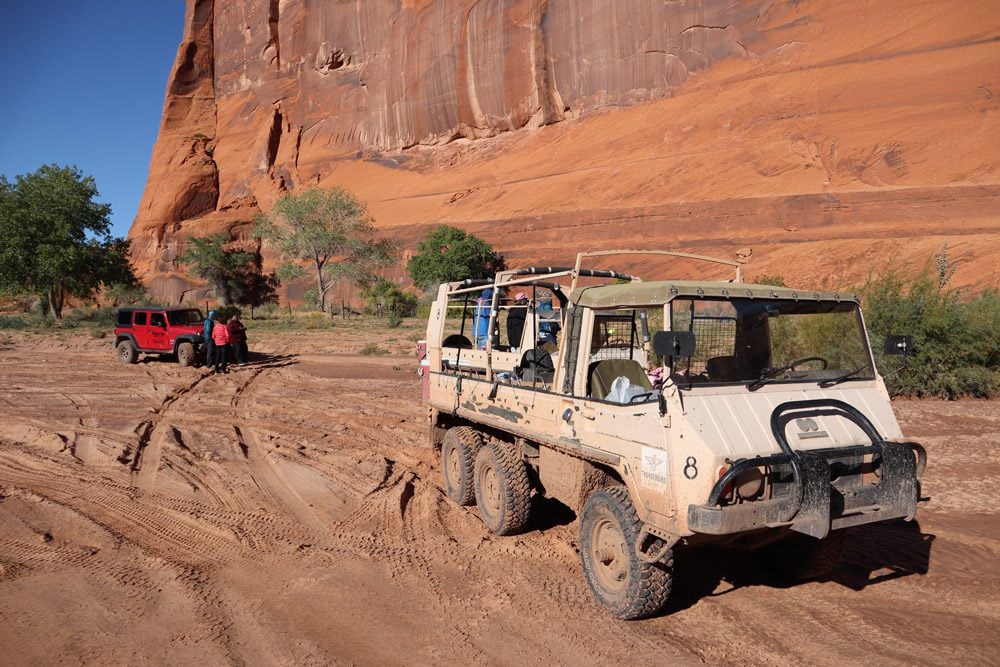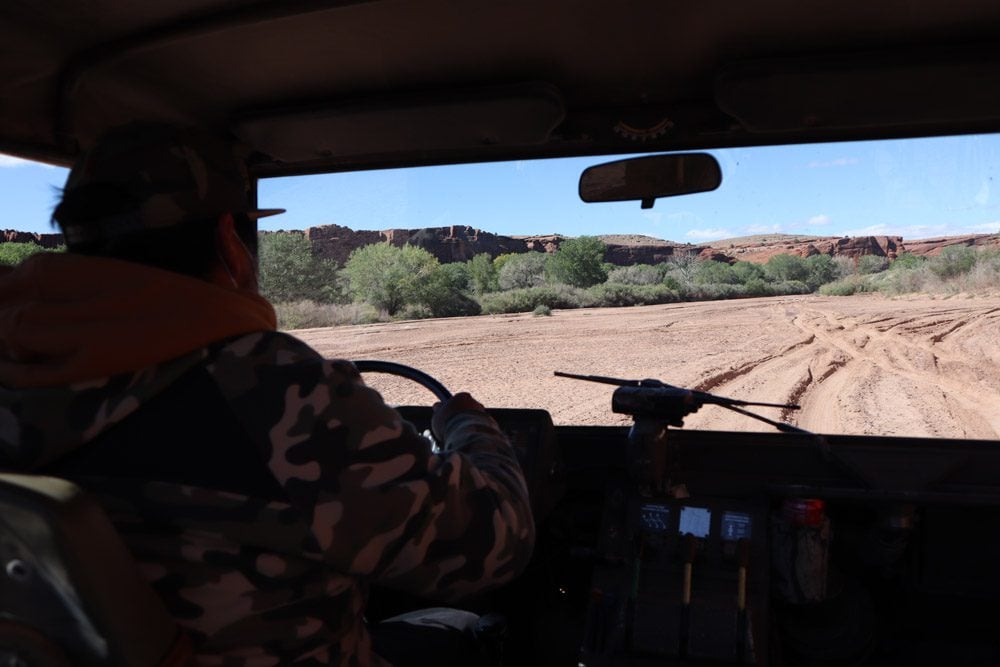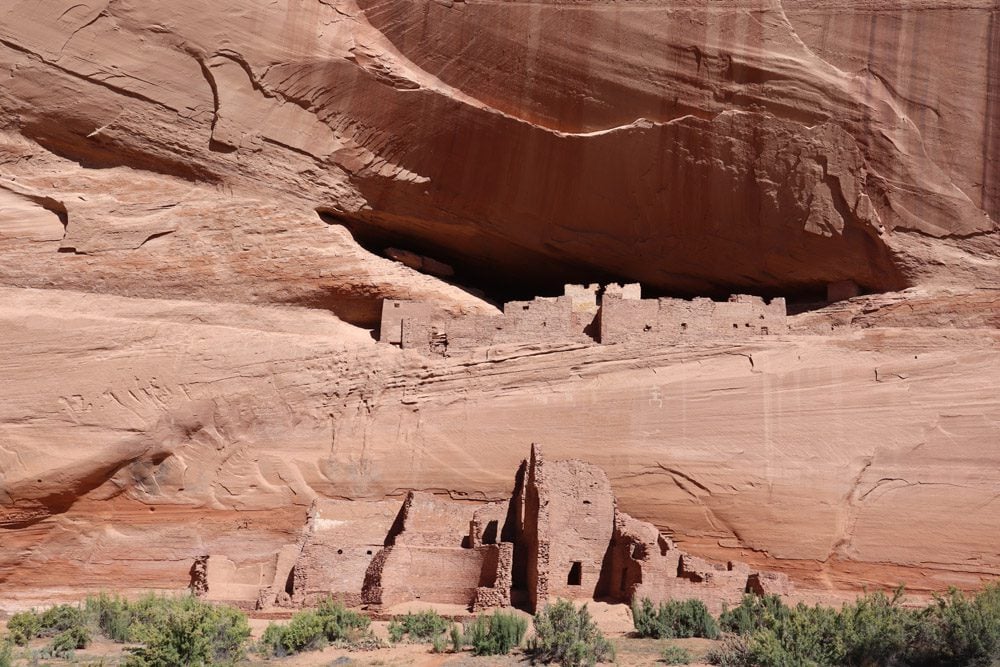 After exploring the low ground, I turned to the north and south scenic rim drives to enjoy the views of the canyon and the pueblo remains from high above. The "money shot" without a doubt comes at Spider Rock, where a giant double monolith vertically rises from the canyon's floor.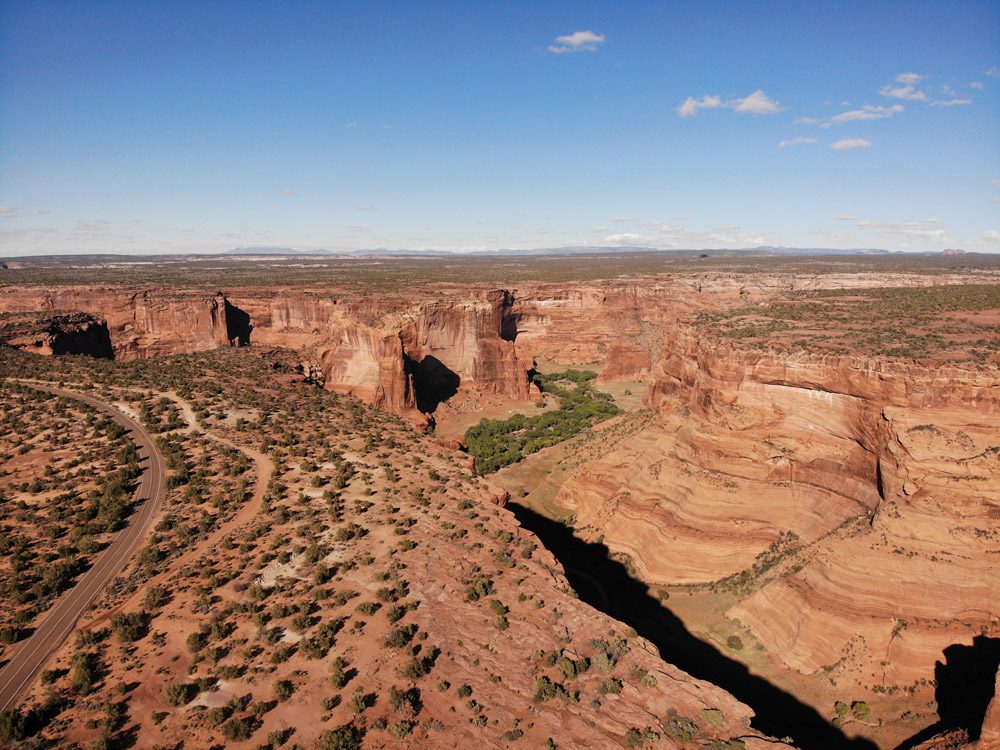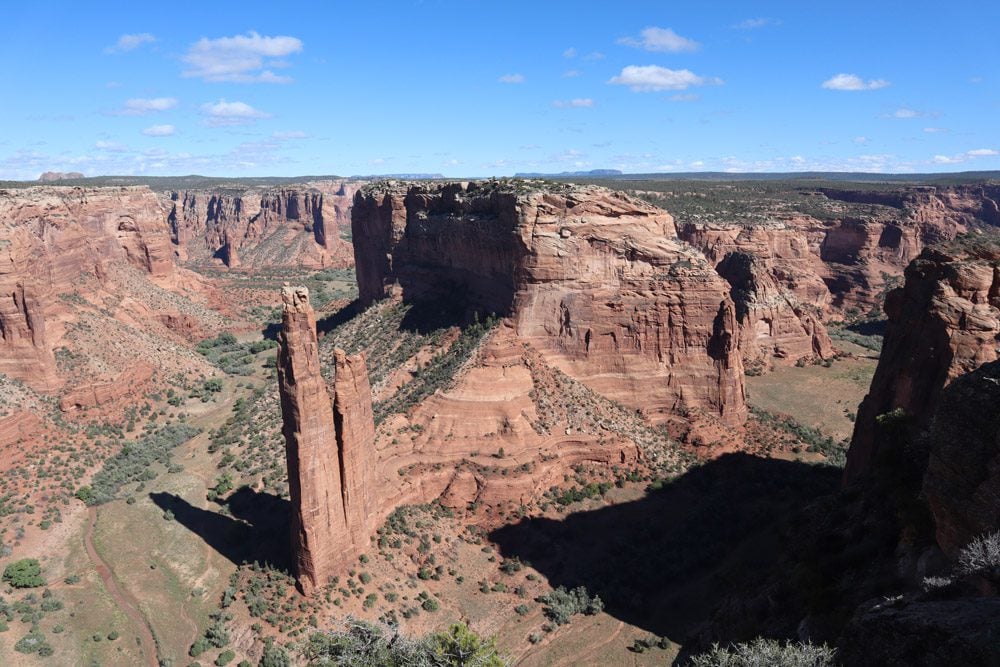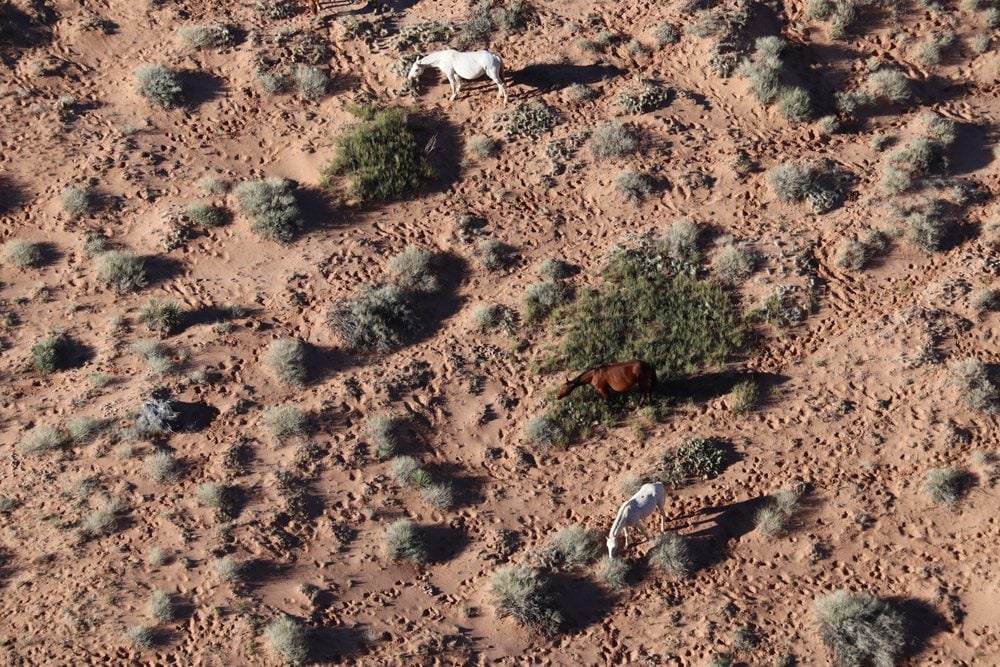 Monument Valley
Featured in legendary westerns and one famous scene in Forrest Gump, Monument Valley is a quintessential stop on any road trip in America's southwest. I came here for the first time in 2014 as part of a short road trip from Las Vegas and even sent my folks here a couple of years later. What I especially love about Monument Valley is that you can see it from a distance and the excitement builds up as you inch close to its official entrance.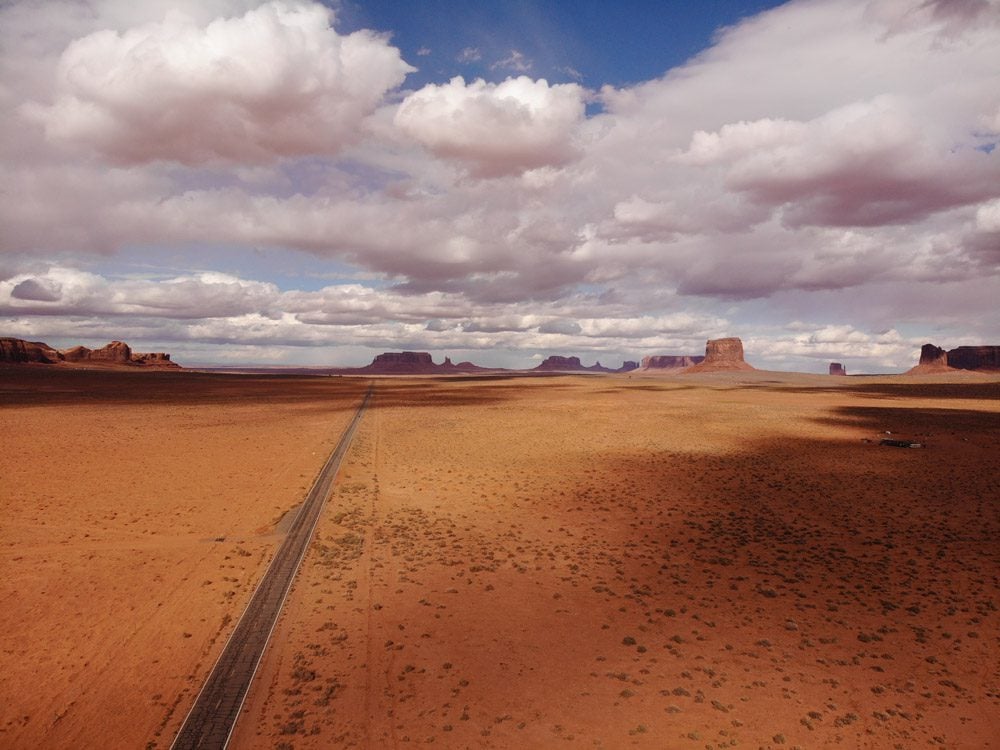 As in the original visit, I chose to stay at The View Hotel and made it just in time to catch the sunset and prepare for an evening of stargazing despite the freezing nighttime temperatures. I woke up before the sun did and brewed a few cups of coffee, waiting for it to paint the valley in beautiful morning colors as it rose above the horizon.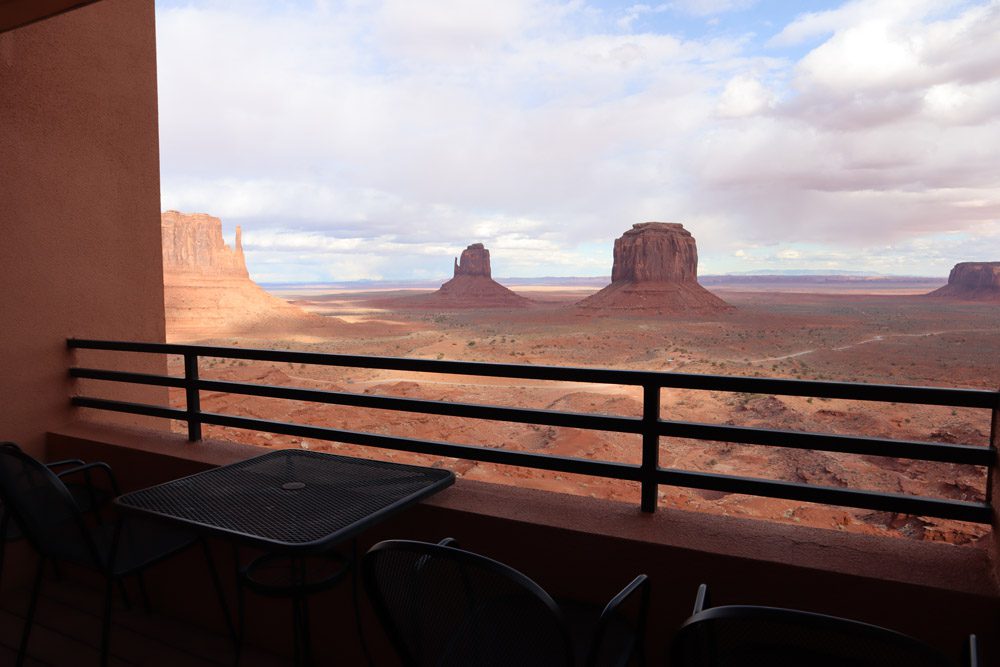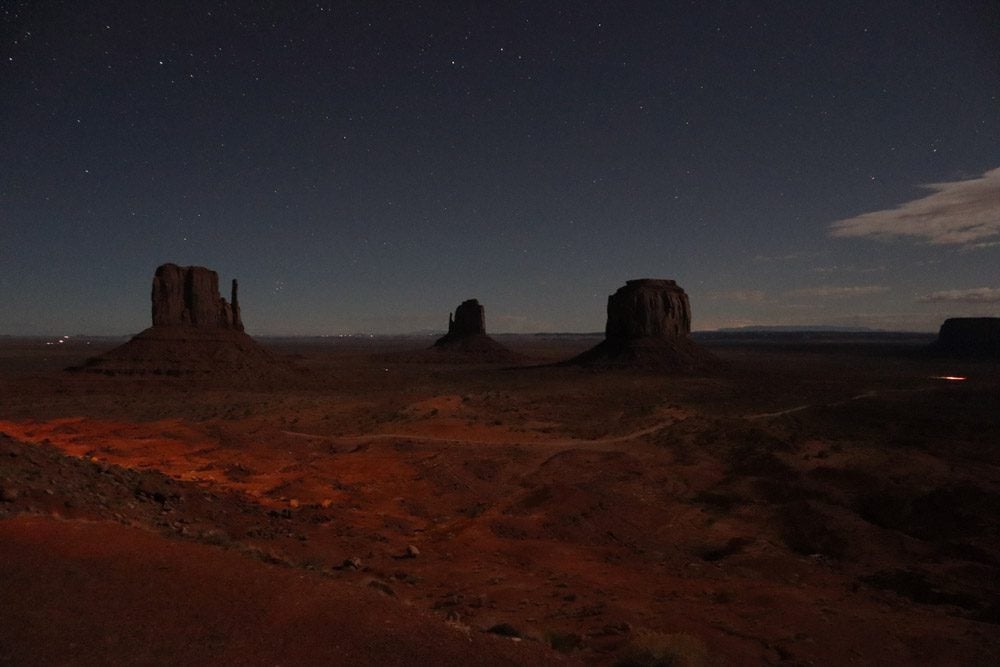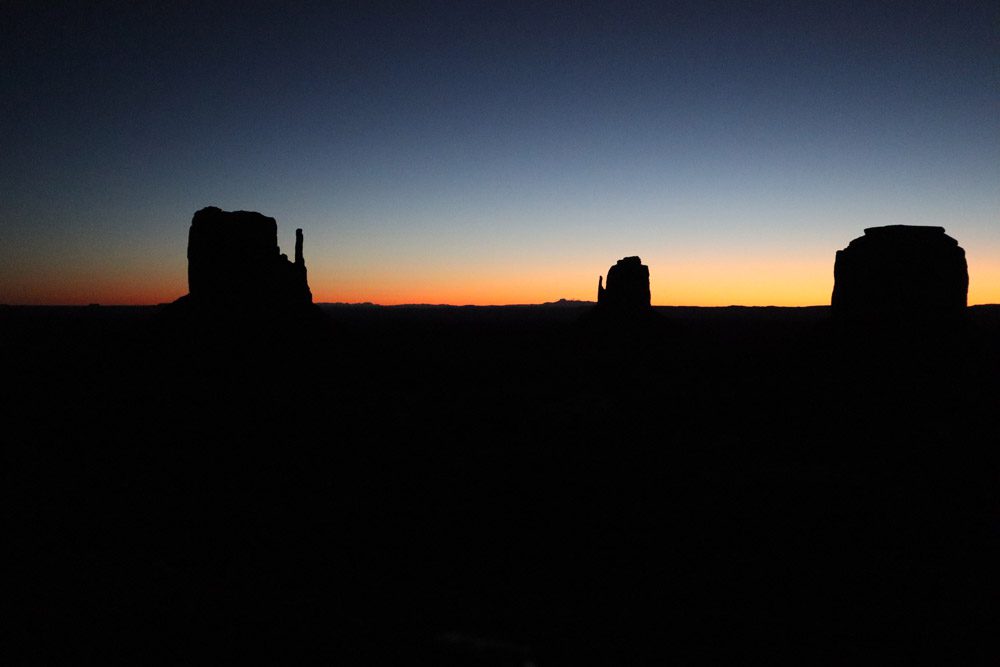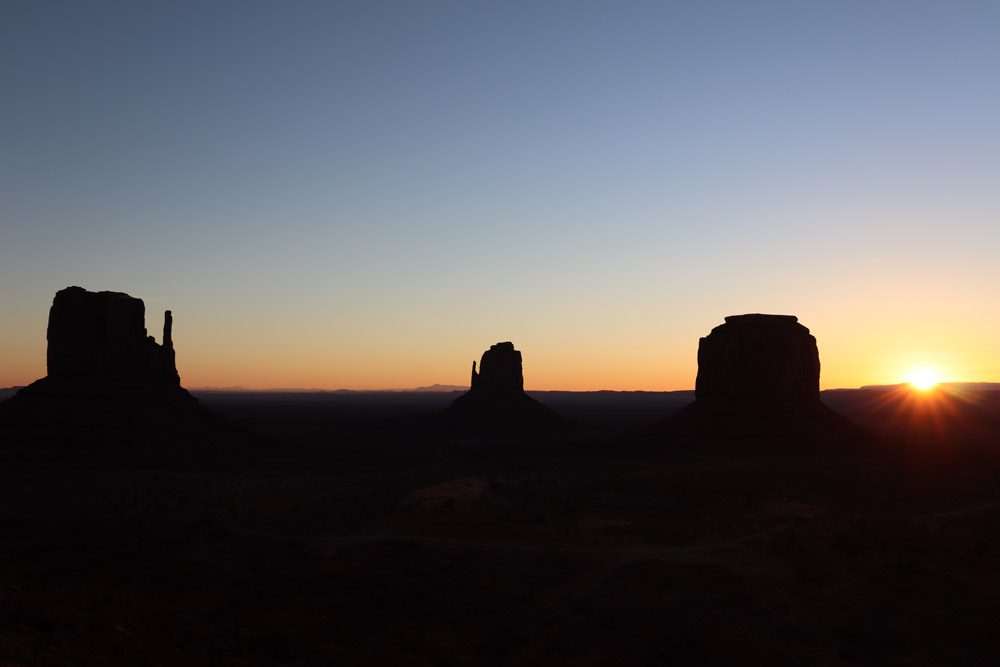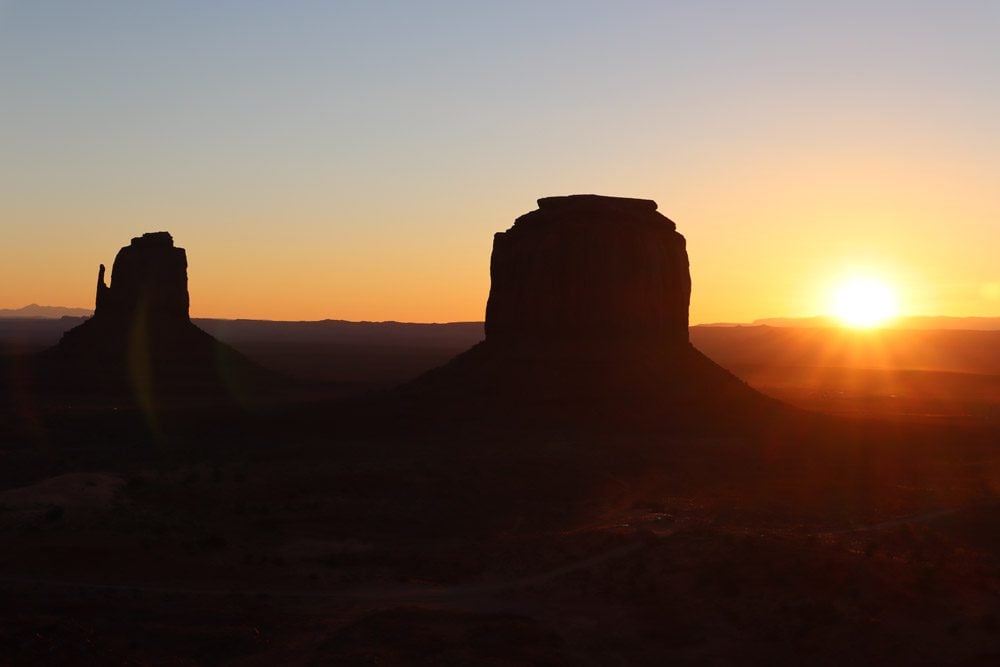 The first order of call was to revisit one of the most photographed spots in America. If not from Forrest Gump, surely you recognize this from popular culture.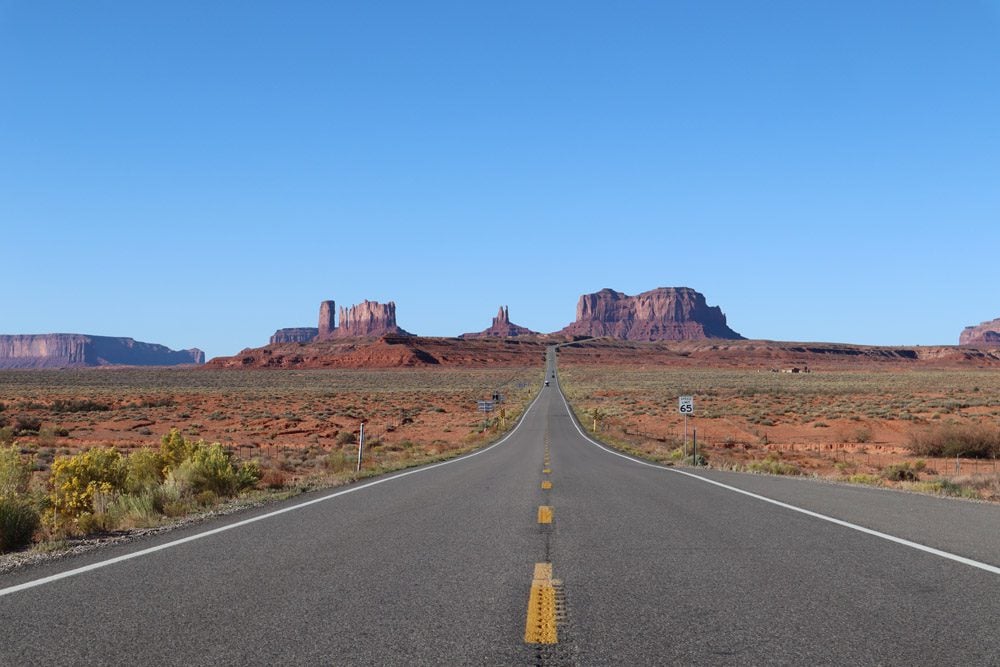 With that out of the way, I descended to the canyon floor and drove the length of the scenic drive, stopping at all the possible lookouts to digest the unique desert landscape of Monument Valley. Due to COVID-19, the Navajo restricted the number of cars allowed on the scenic drive notwithstanding the outdoor nature of the experience. So despite having to queue for my turn, there were spots where I had the valley floor all to myself.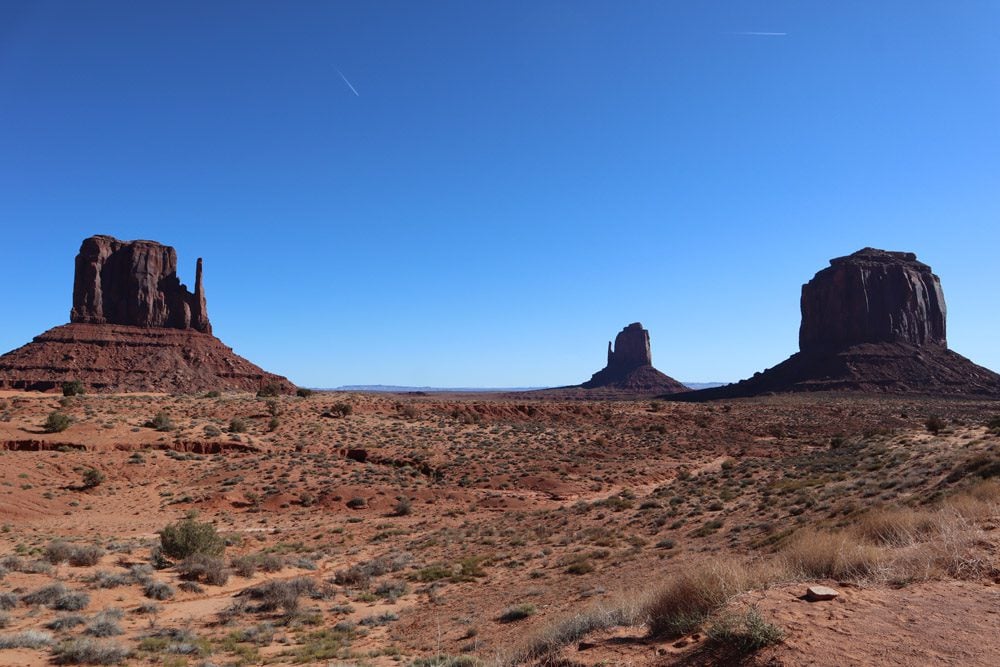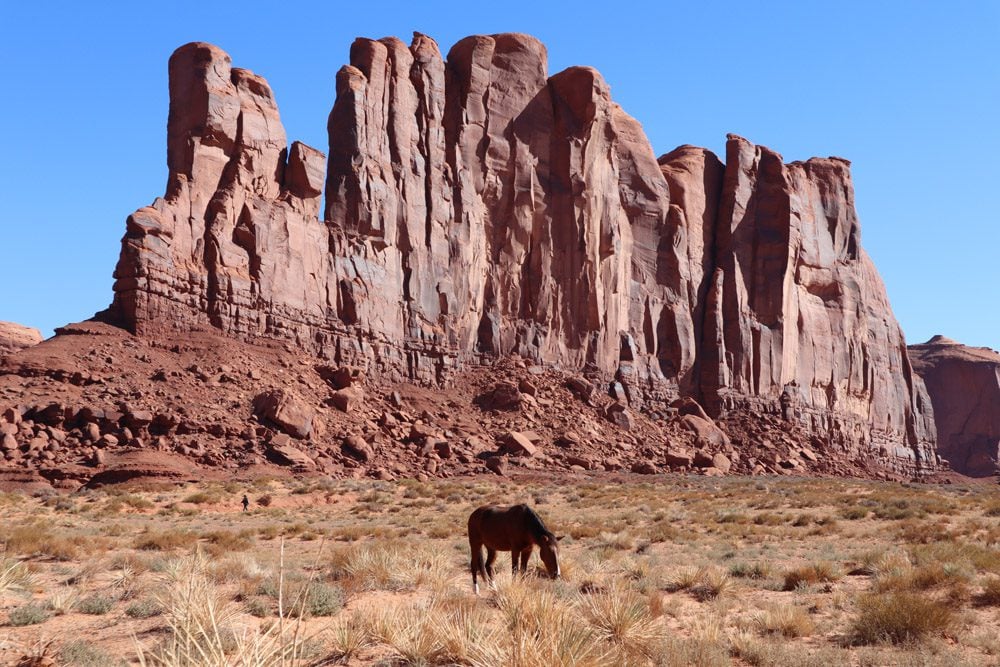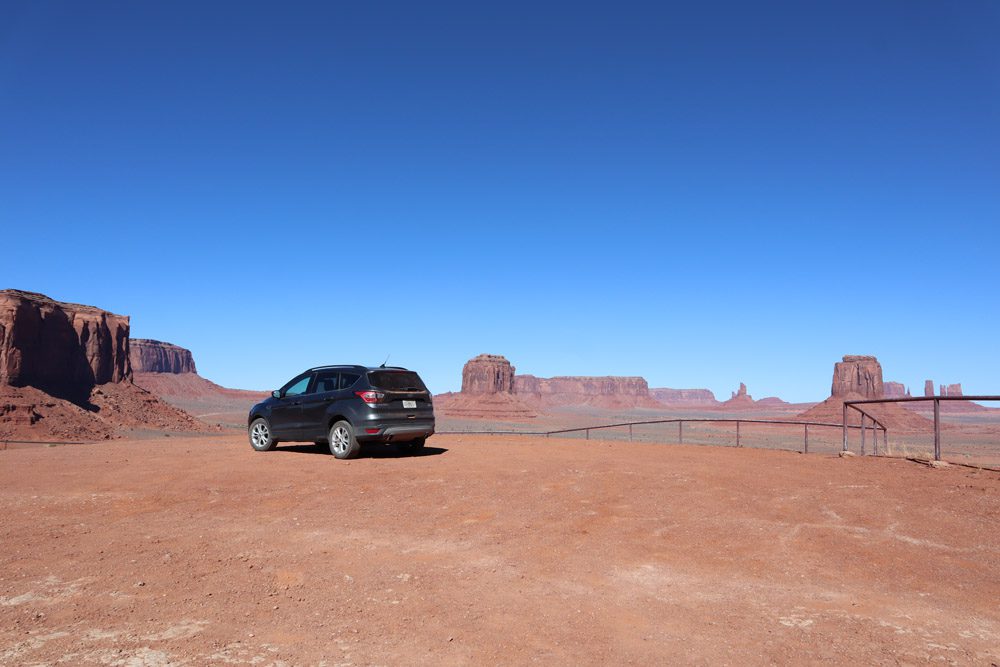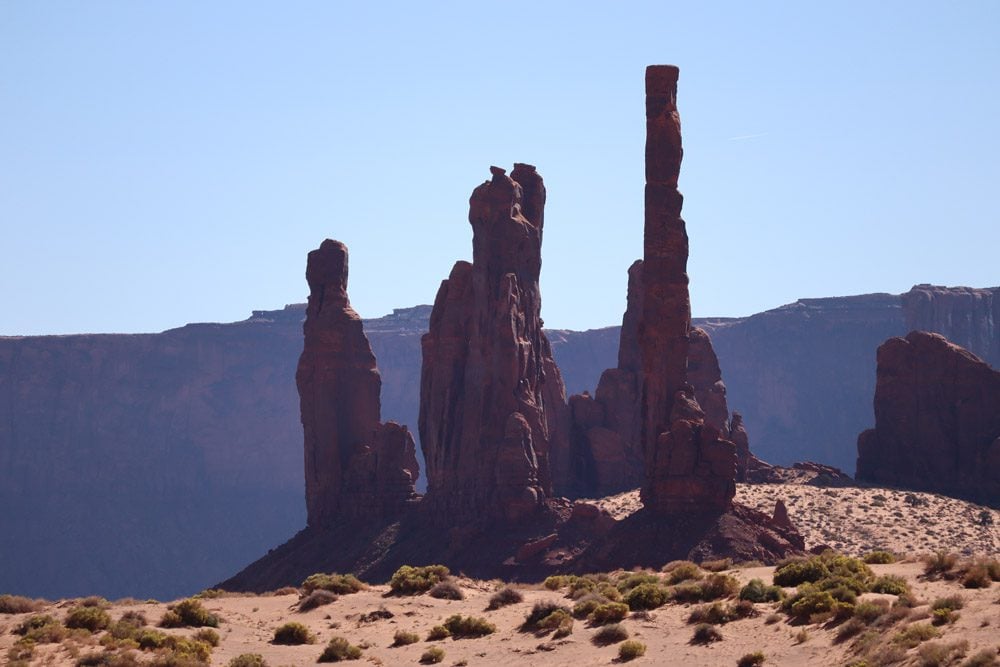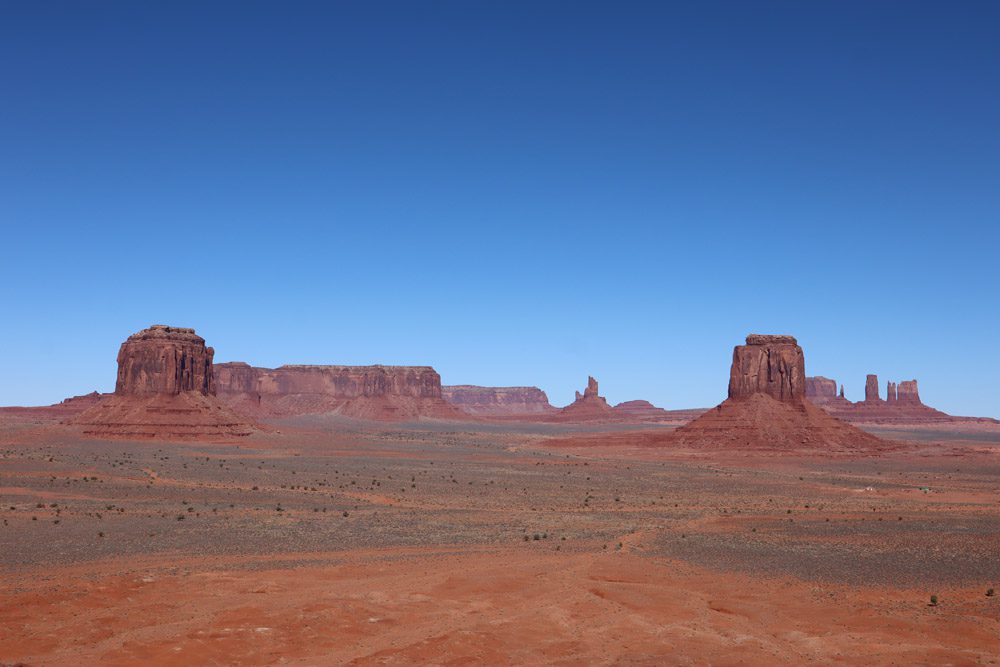 Having scaled my consumption of burgers, fries, Twizzlers, beef jerky, and other junk food on this road trip so far, I thought it's a wise idea to try and squeeze in a short hike before departing. I circled the famous mittens on the Wildcat Trail, getting even a quieter experience of the valley before getting back into the car and heading 127 miles west to Page.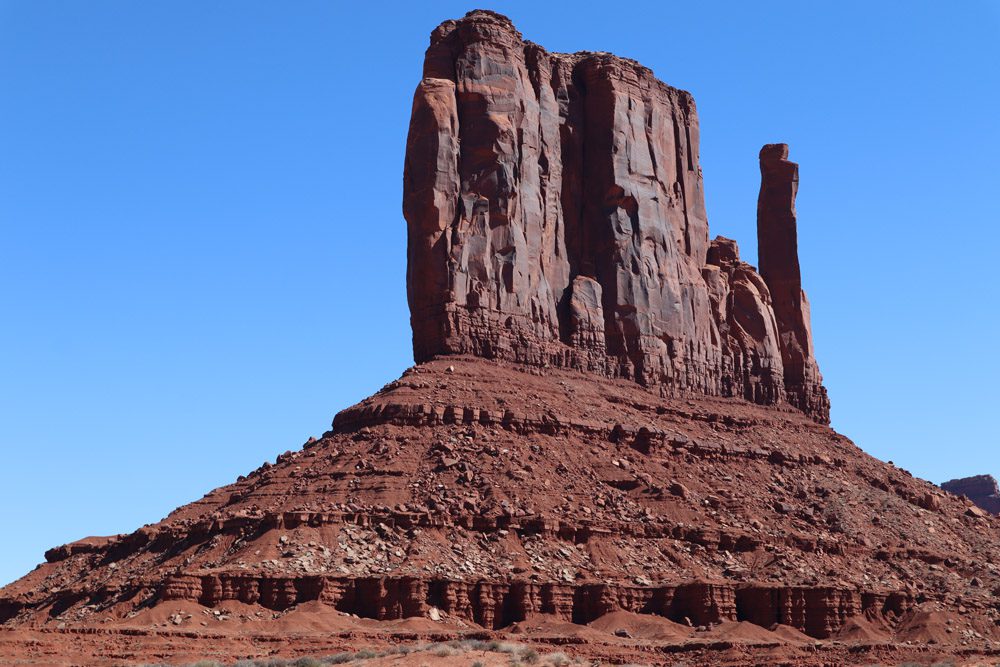 Antelope Canyon and Horseshoe Bend
I had hopes of returning to the Grand Canyon and visiting Antelope Canyon en route, so an overnight in Page, Arizona, made perfect sense. The drive from Monument Valley on backcountry roads took me deeper into Navajo Nation on a seemingly never-ending high plain with little signs of action apart from ranches with typical "old west" wind-powered water pumps. The GPS showed that a gain of one hour was called for soon, as I was about to exit Navajo time, and flashes of Glen Canyon in the distance promised forgotten warmer temperatures.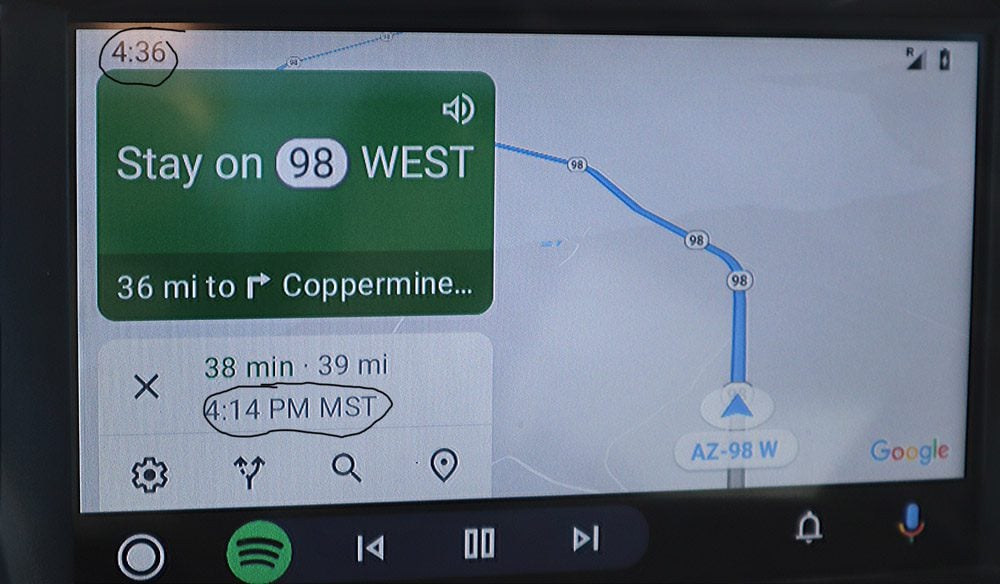 Seeing the cold weather forecasted for the Grand Canyon and realizing the sacrifices this return visit would entail, I made the call to skip this detour and head south deeper into the Arizona desert. I was lucky to score last-minute (overpriced) tickets to Antelope Canyon and had some time to kill before the tour, so I checked out the Glen Canyon Dam and Horseshoe Bend. Surely you recognize the latter from countless Instagram photos.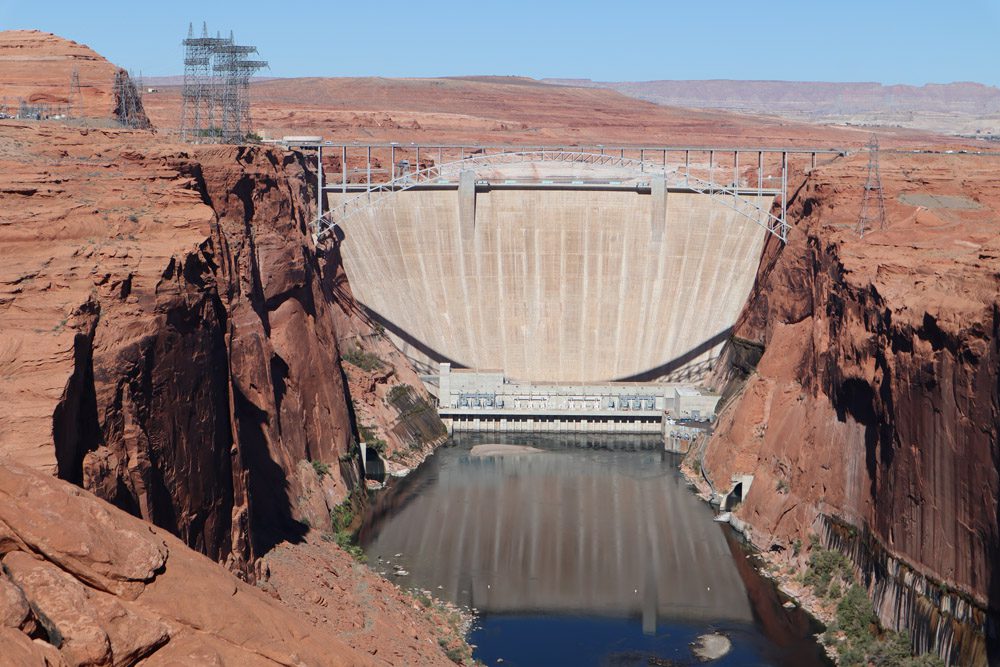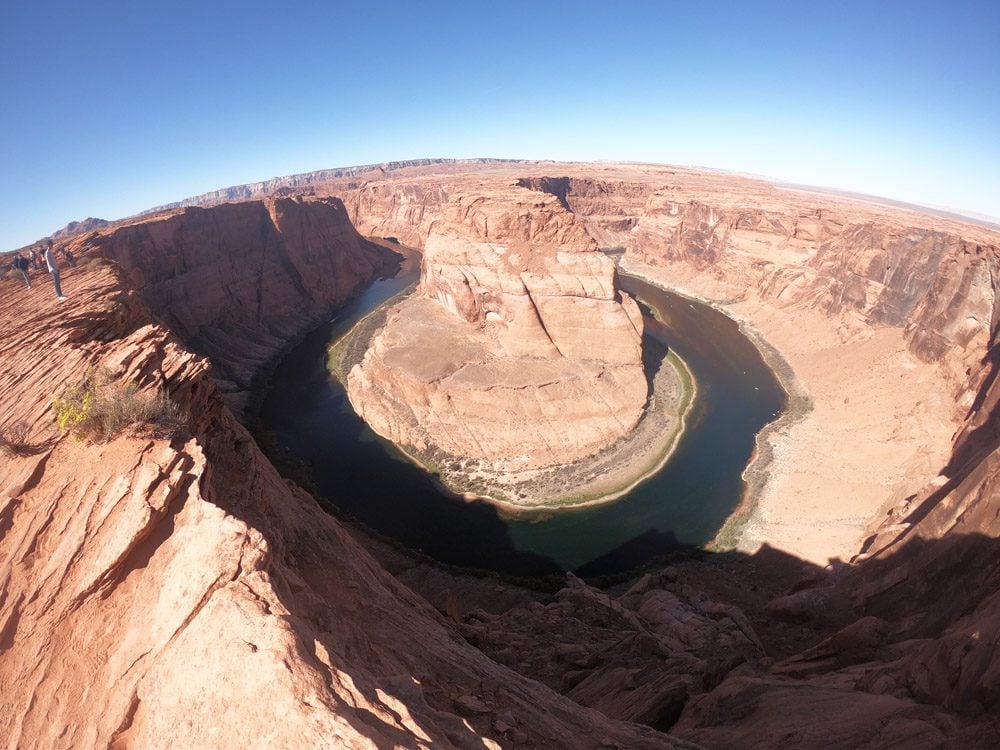 Along with parts of Utah, the area around Page is blessed with slot canyons. Without a doubt, Antelope Canyon is the most famous of them all. I'm sure you recognize it from somewhere, if only from a computer screensaver. Back in Navajo land, groups are ferried on 4WD vans from Page to the mouth of Upper Antelope Canyon for a rapid tour in the slot. From high ground, you could never suspect that this natural wonder hides right beneath your feet inside a small crack. Created by the force of water meeting compact sand, the canyon reaches 85 feet (26m) at its deepest point.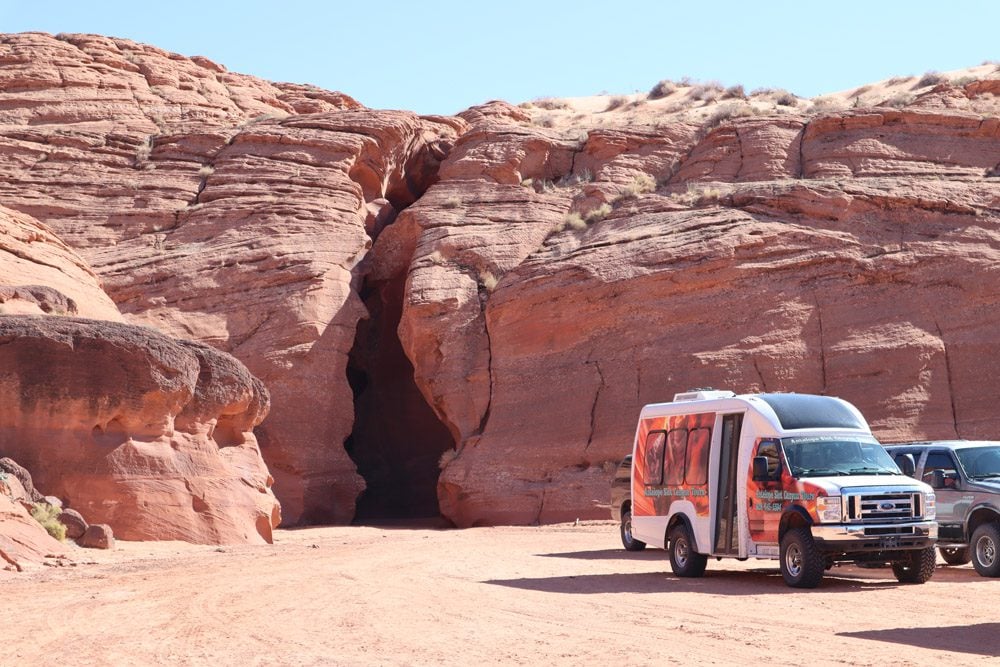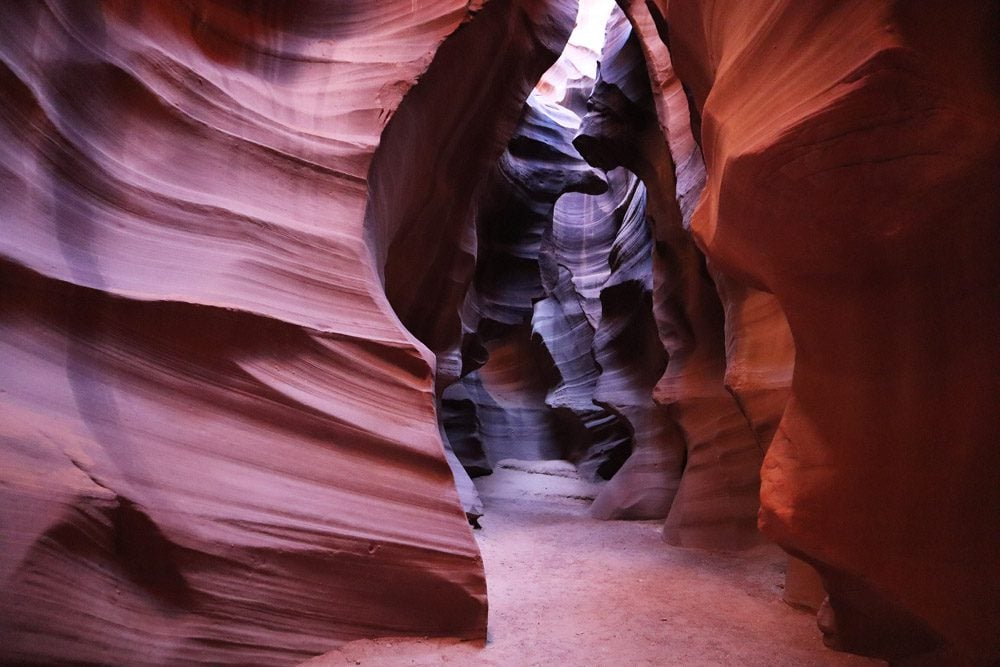 The tour itself is pretty much a claustrophobic hunt for the perfect shot to beam to one's social media accounts. This is what's become of us these days… While the guide focuses most of his energy on pointing out the best angles, he does also share a few interesting tales, and the geology of Antelope Canyon is out of this world.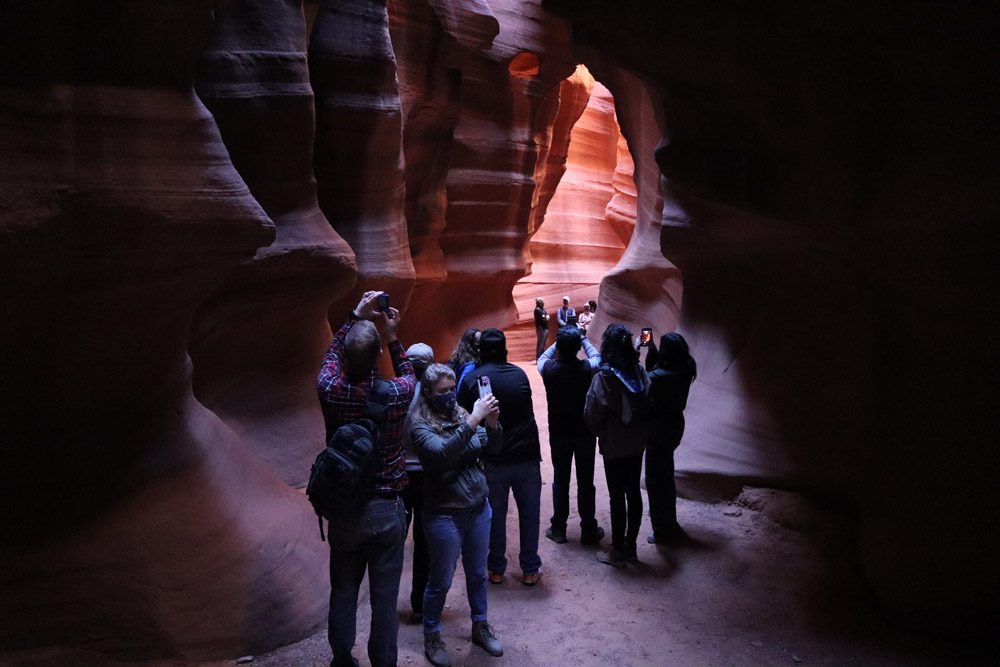 Standing On a Corner In Winslow Arizona
I could have taken the quick route to Phoenix but, longing for a taste of old Route 66, I went out of the way back into the backcountry to visit a couple of forgotten towns. From Page, I re-ascended the high plateau where the temperatures plummeted and there was nothing to block the wind for miles, apart from a few farmhouses. This was the Hopi country, tribal members of the Navajo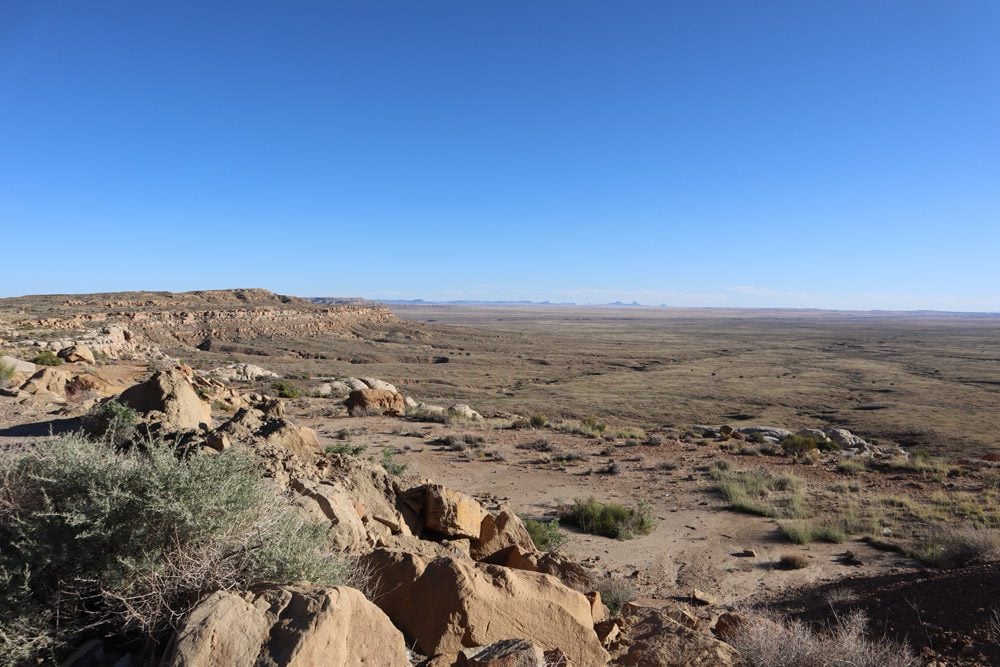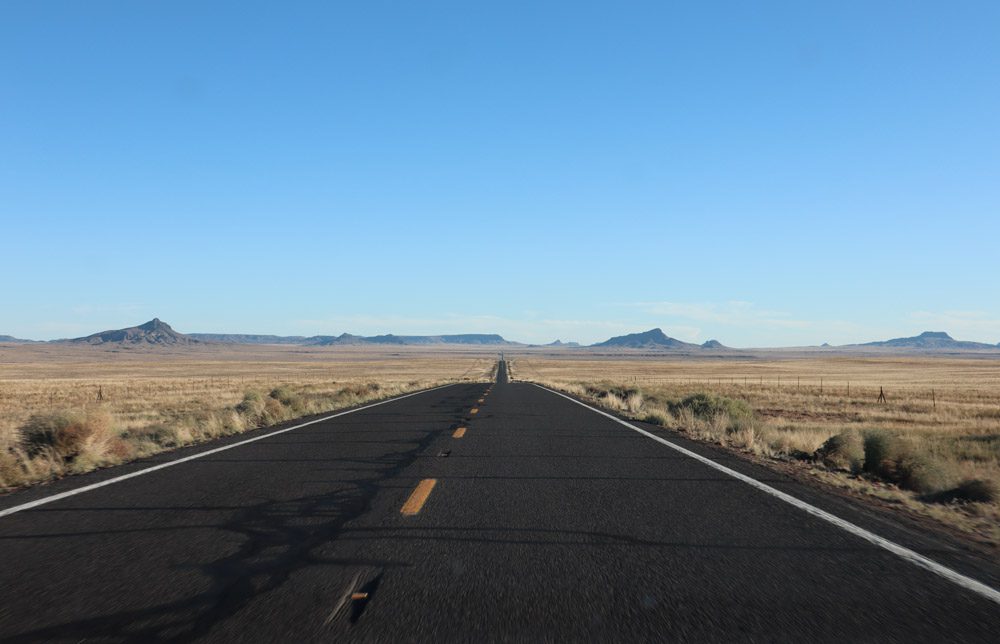 It was getting dark by the time I rolled into Winslow together with a New Mexico-bound freight train. I had hoped to score last-minute accommodations at the upscale and out-of-place La Posada but instead had to settle for the truckers-favorite Motel 6. Winslow used to be a happening place in the old Route 66 days but interstate travel and other external factors left it a historical sh%$hole. What draws the crowds these days apart from La Posada is a single line in the Eagles classic song Take it Easy ("Well, I'm standing on a corner in Winslow, Arizona…"). Since the Eagles didn't exactly specify which corner in Winslow they were referring to, the local council decided on a spot and erected a mini shrine to celebrate its claim to fame. This whole intersection is quite lovely, with restored buildings, a huge Route 66 road painting, diners, and souvenir shops.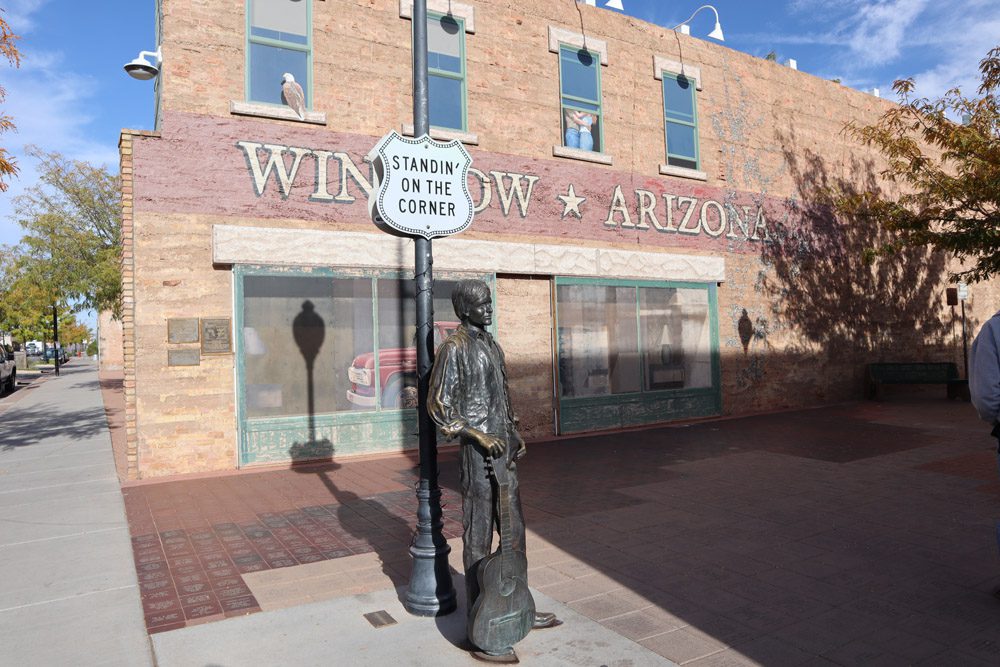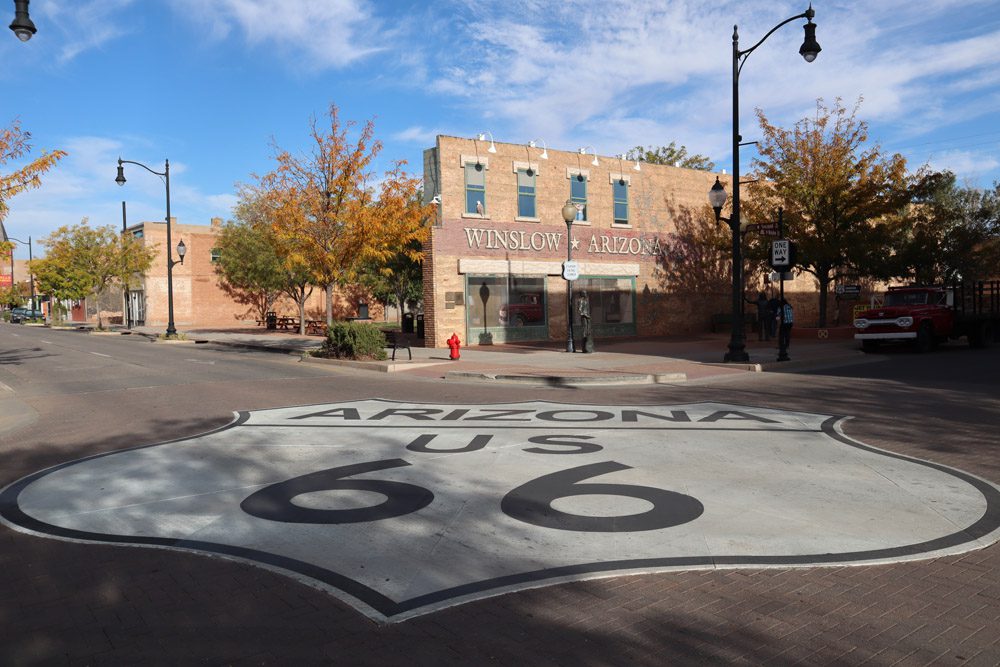 In an effort to capture more of that Route 66 charm, I continued down the interstate to Holbrook, and that's exactly what I found. At the Wigwam Motel, I regretted not pushing further on yesterday's drive to have a chance to spend the night inside a wigwam. At the old courthouse, I found one of the most interesting museums I've ever visited. The county gathered local antiques from decades past and put them on a display that takes visitors down memory lane.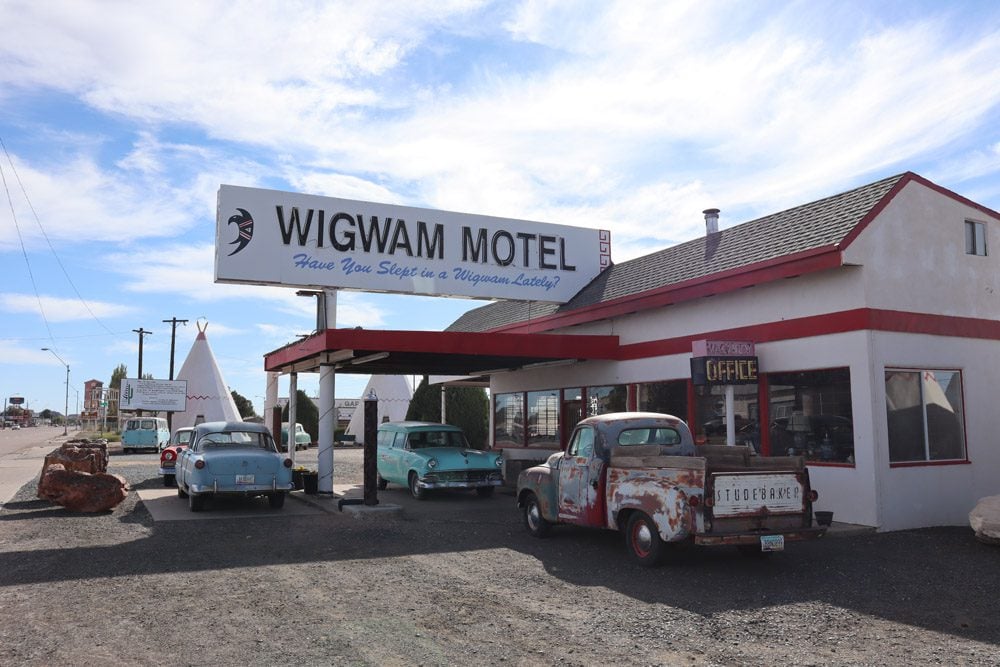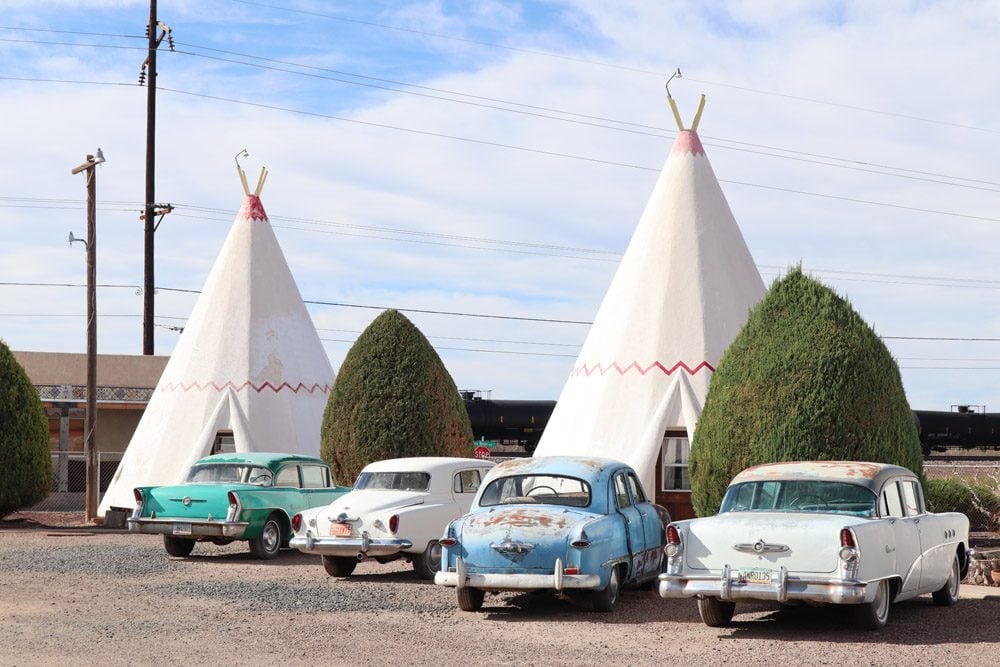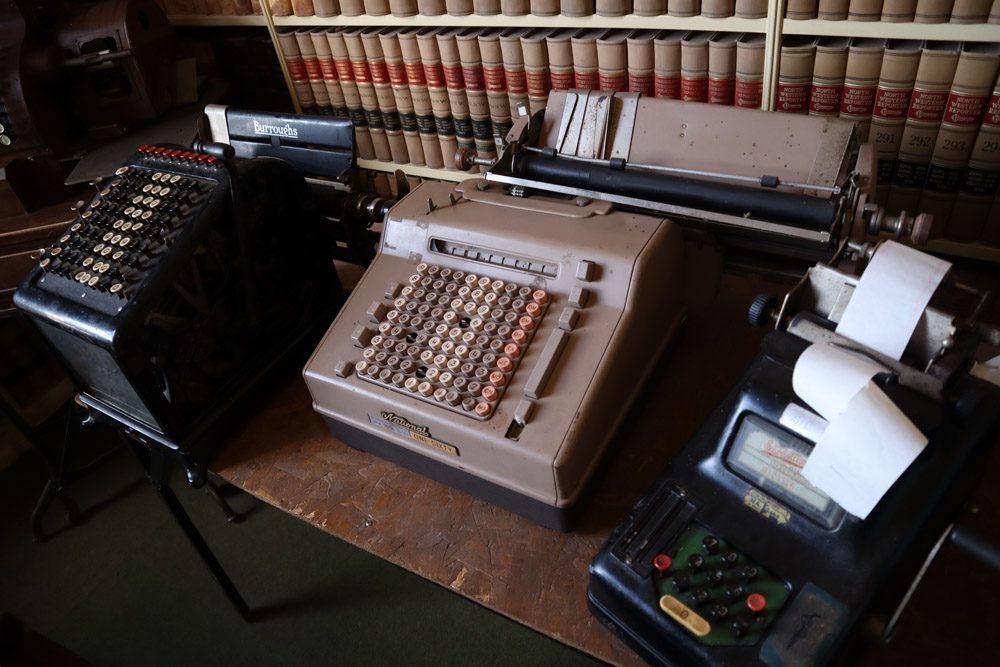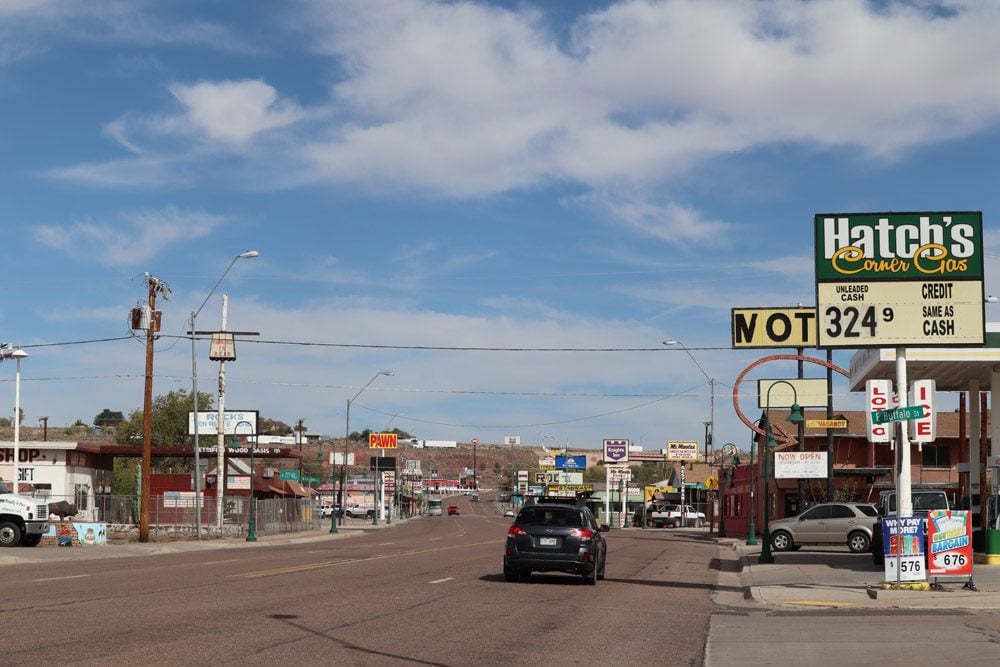 Pushing on towards Phoenix, the backcountry highway took me through the vast Apache territory, where the flat desert and ruler-straight road entered the woods around the "old west" town of Snowflake, Arizona. Getting through Salt Creek Canyon with its hair-razing turns and sharp grades proved to be a challenge. But at the creek's exit in Tonto, the road straightened again, the temperature topped 30 degrees Celsius, and cactuses made their first appearance before giving way to an eight-lane freeway.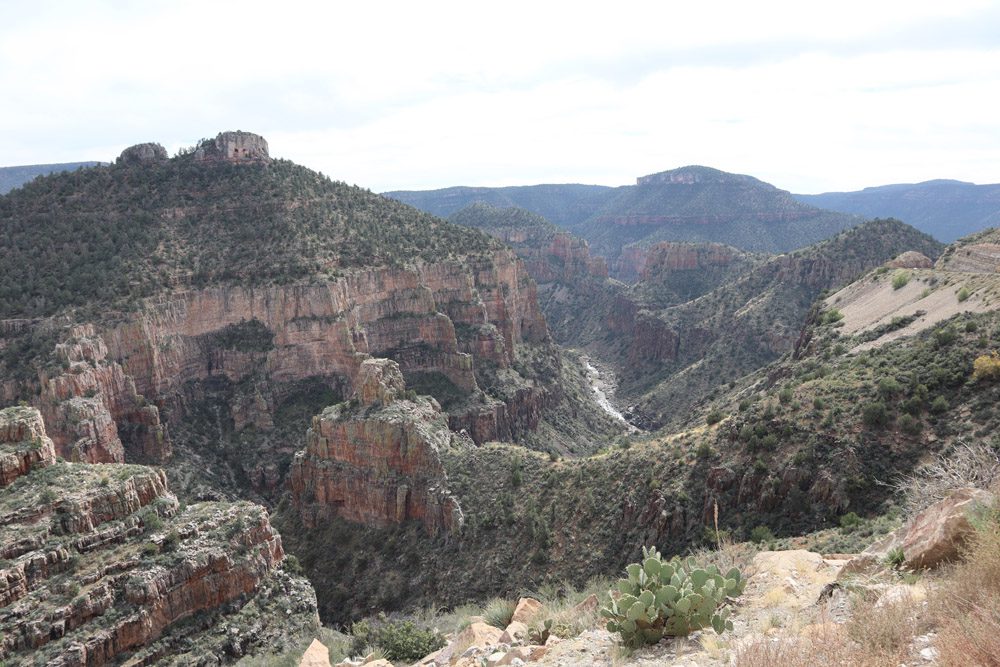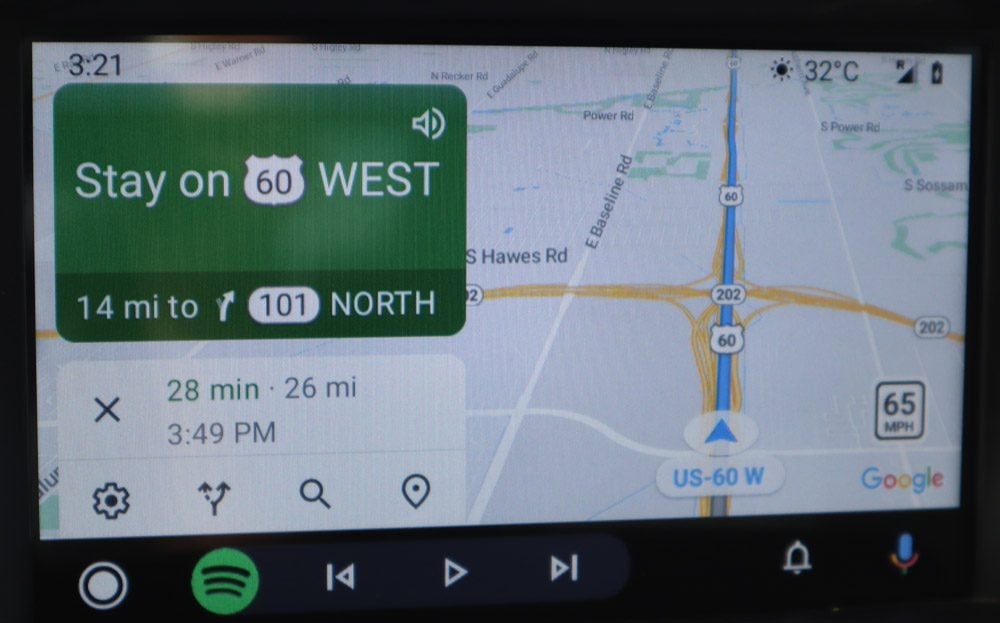 In Phoenix, I finally reunited with my aunt and cousins from my father's side. I hadn't seen them since 1997! Before leaving for Tucson the next day, I took the short but challenging Echo Trail to the top of Camelback Mountain to catch the finest views of the "valley of the sun". My overall impression from this rapid stop in Phoenix is that there's a great quality of life here.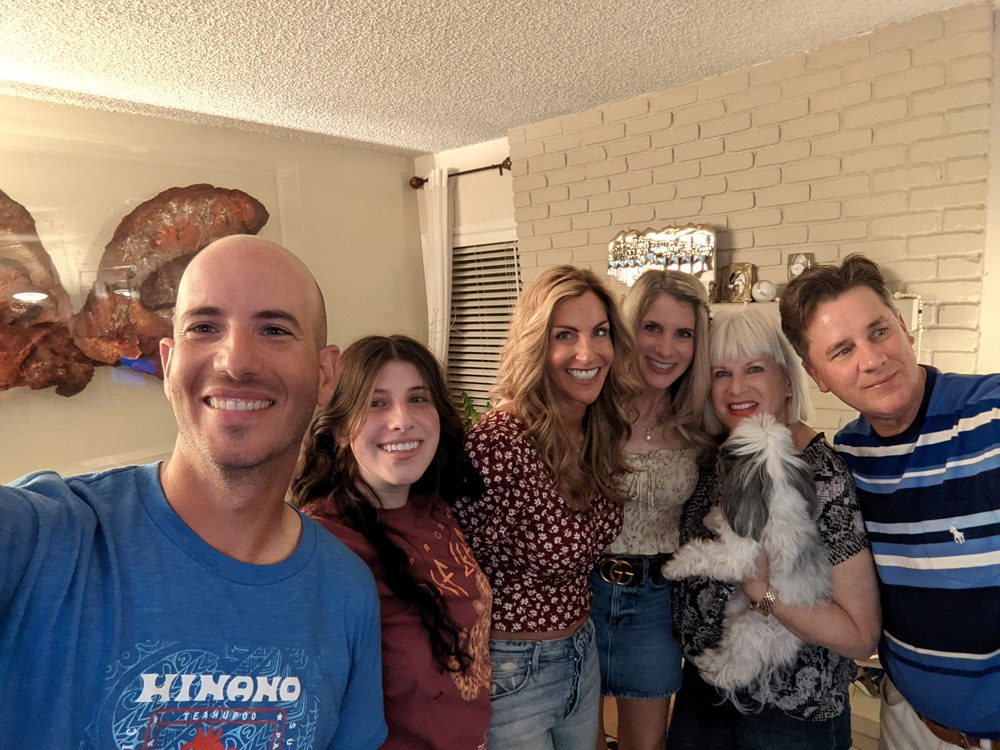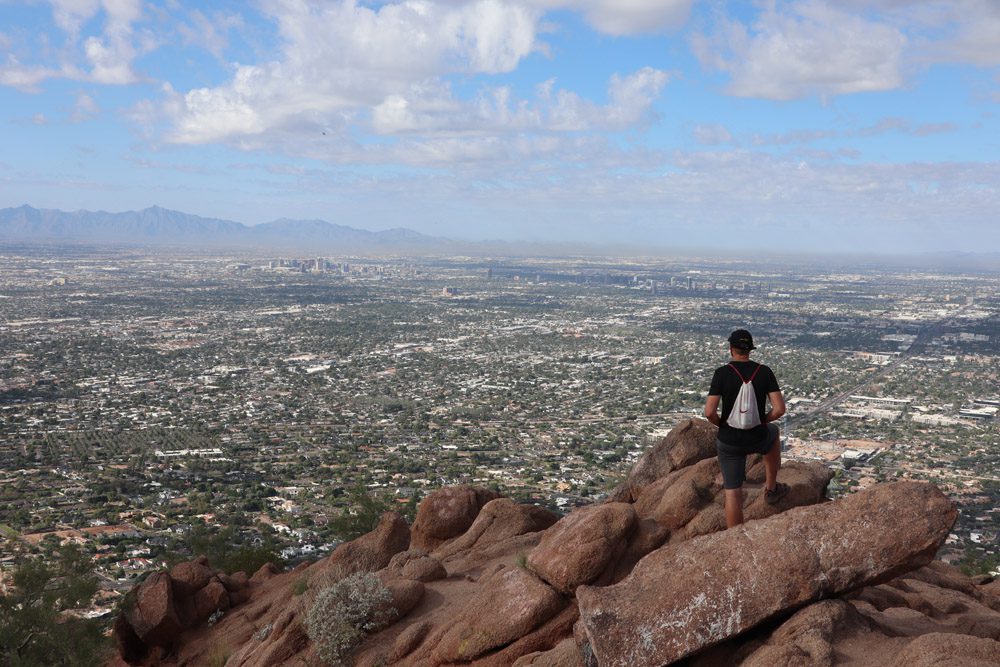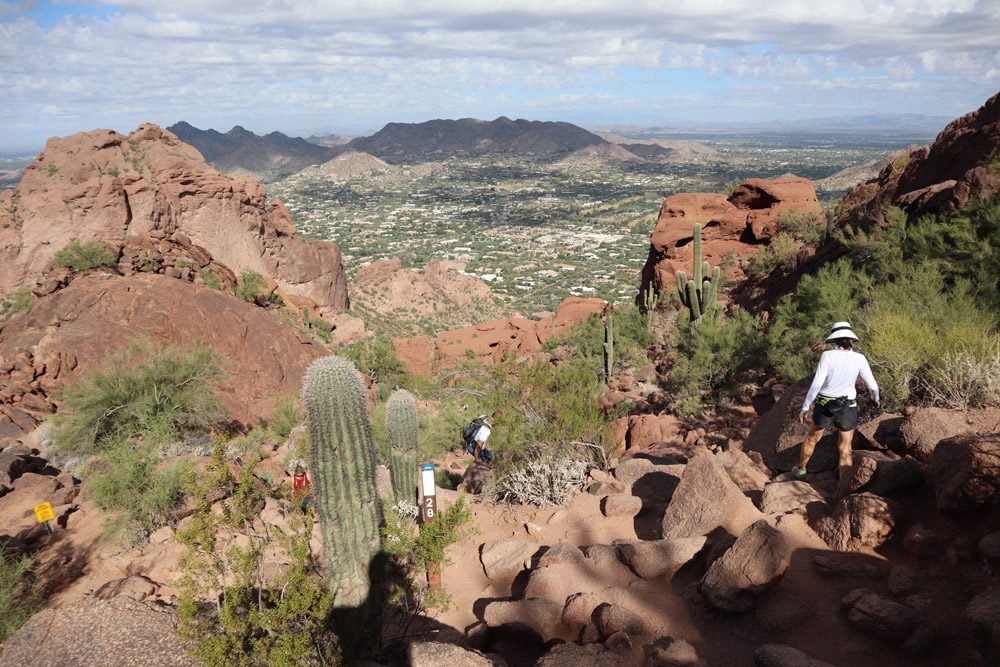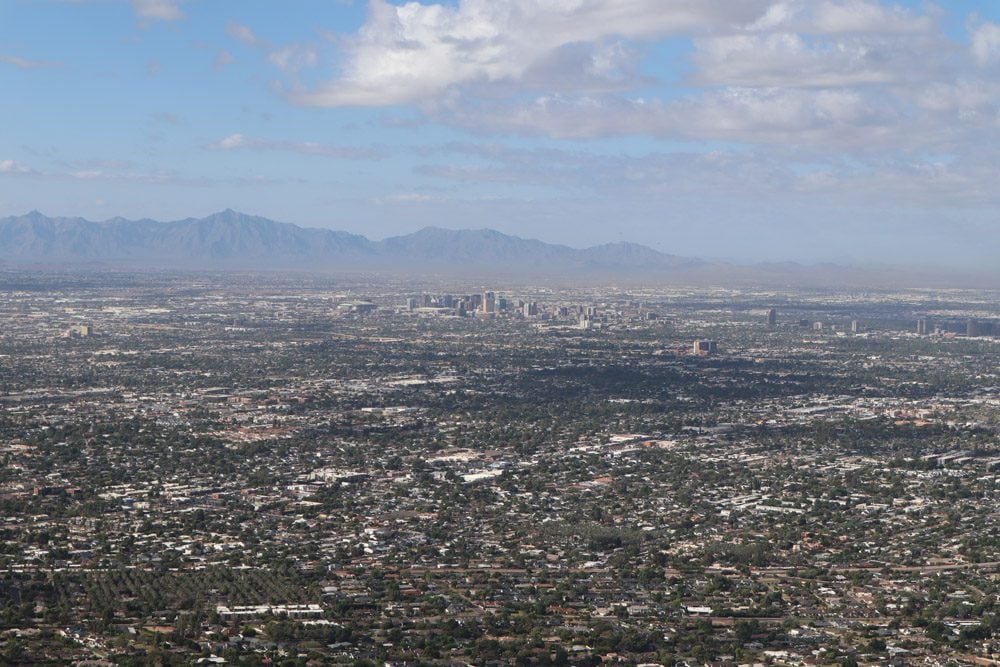 Tucson and Down to Mexico
Tucson is a cool desert town although its downtown was disappointingly boring and devoid of much action, perhaps due to COVID-19 measures. The weather was great though, warm and dry, and even cactuses spring up inside gas stations! I checked into my luxury suite for the next three nights at El Amador and did what many Americans do when there are a few hours to kill… hit the outlet mall for some shopping.
The following day was dedicated to Saguaro National Park, where the highlight is, of course, seeing the famous cactus. Although the saguaro is very ubiquitous around here, it's hardly a bore since no two are ever the same. There are also a few exceptional hiking trails within the park, some of which offer quite an escape into the deep wilderness.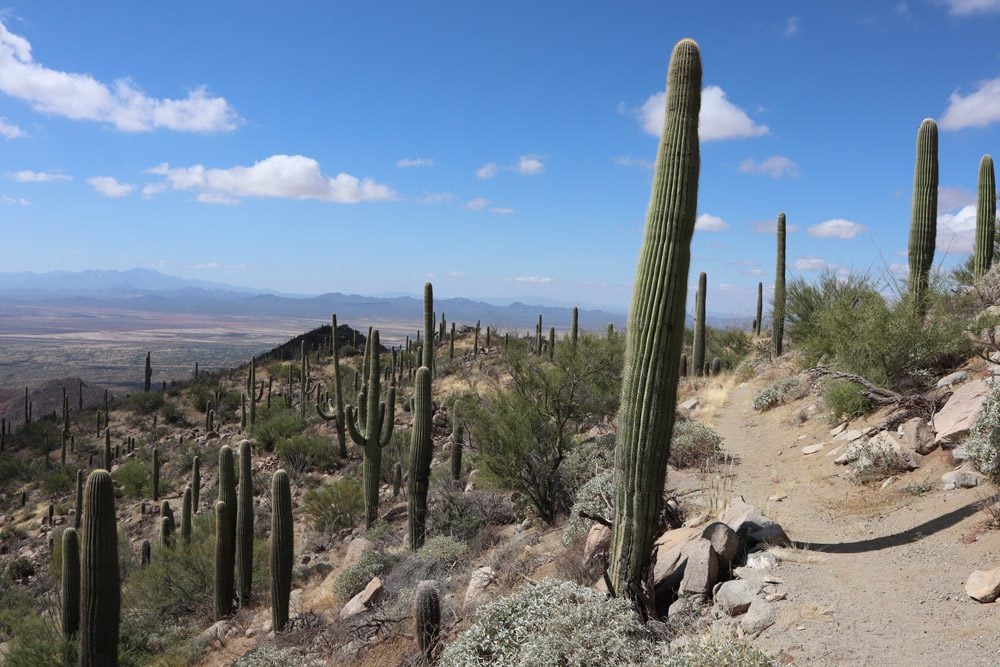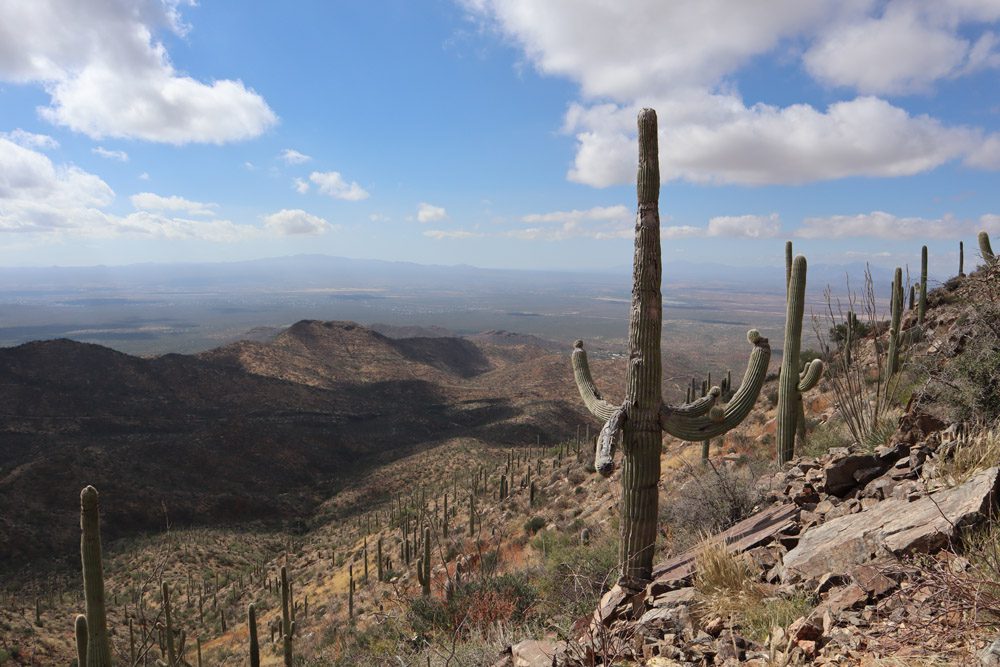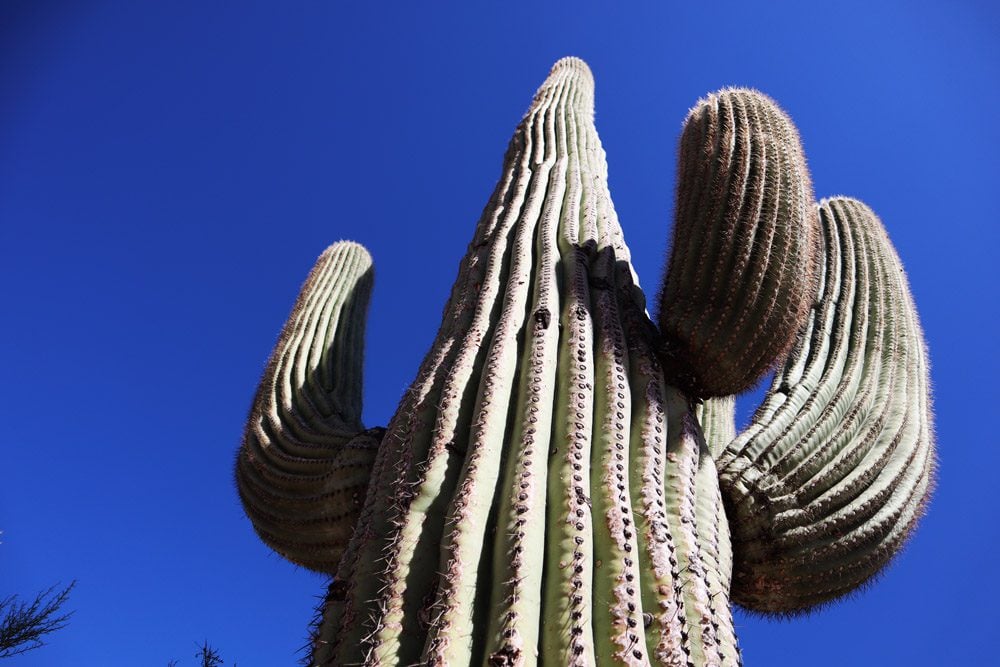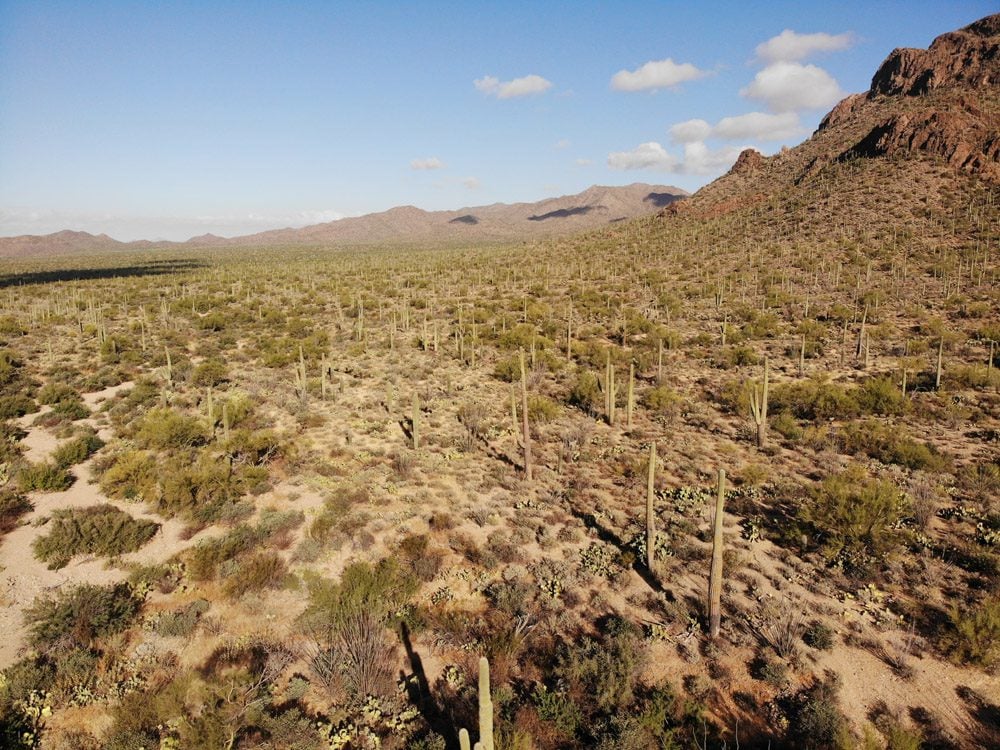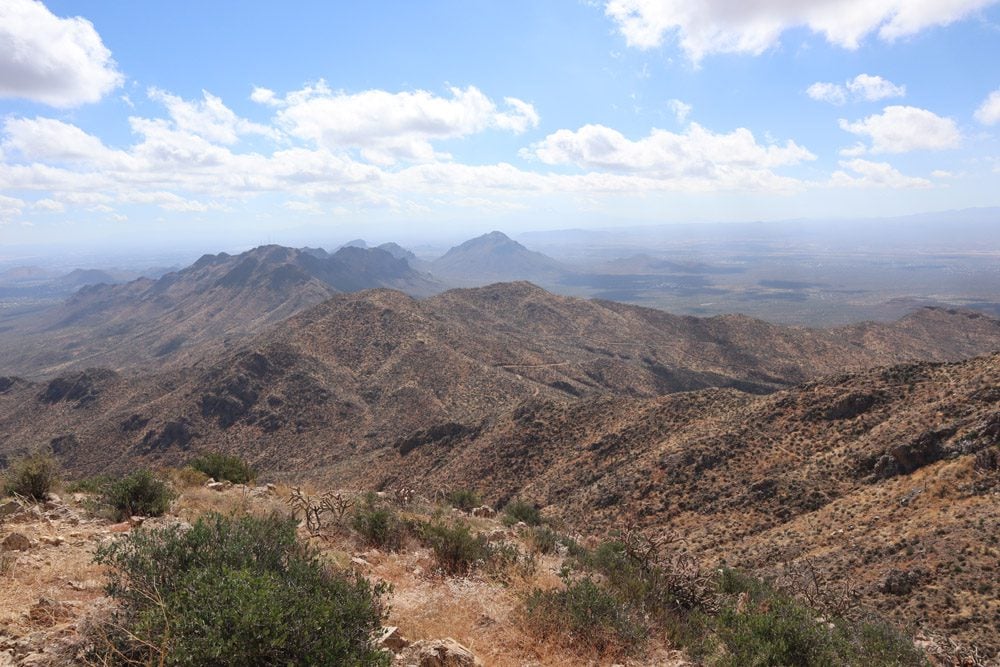 On day two in Tucson, I headed on a small road trip that would take me very close to the Arizona-Mexico border. First up was Tombstone, a Wild West throwback town where mustaches and smoking are totally in fashion. I came here as a child in the late 80s, so the stroll through the town, the reenactment of the gunfight at the O.K. Corral, and the saloons, all resurfaced some sweet childhood memories.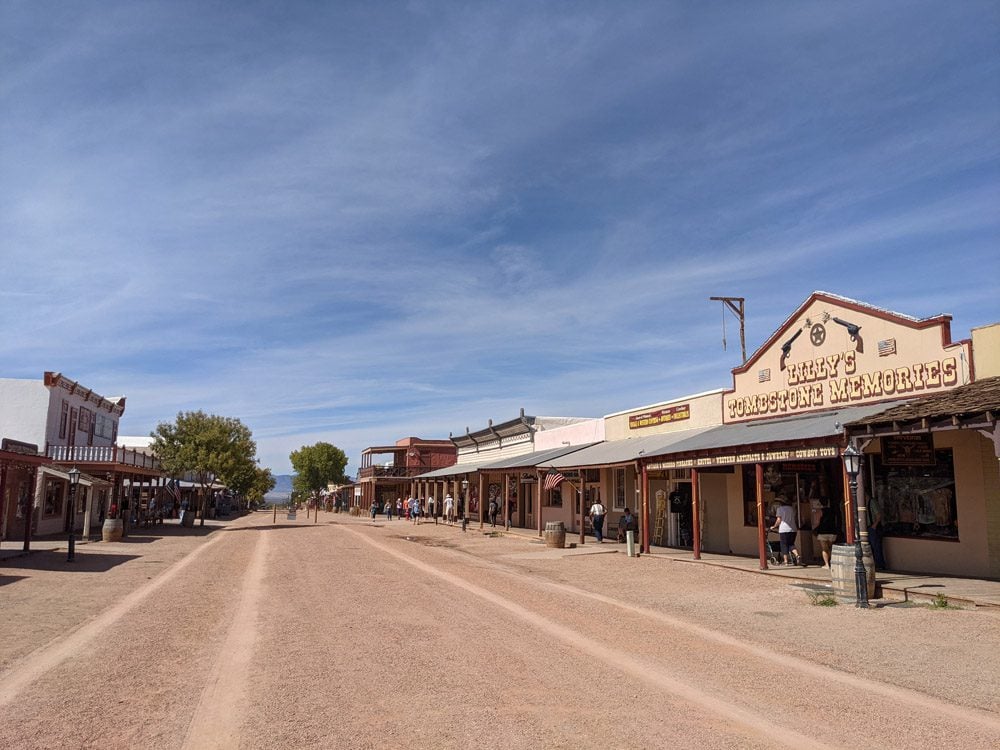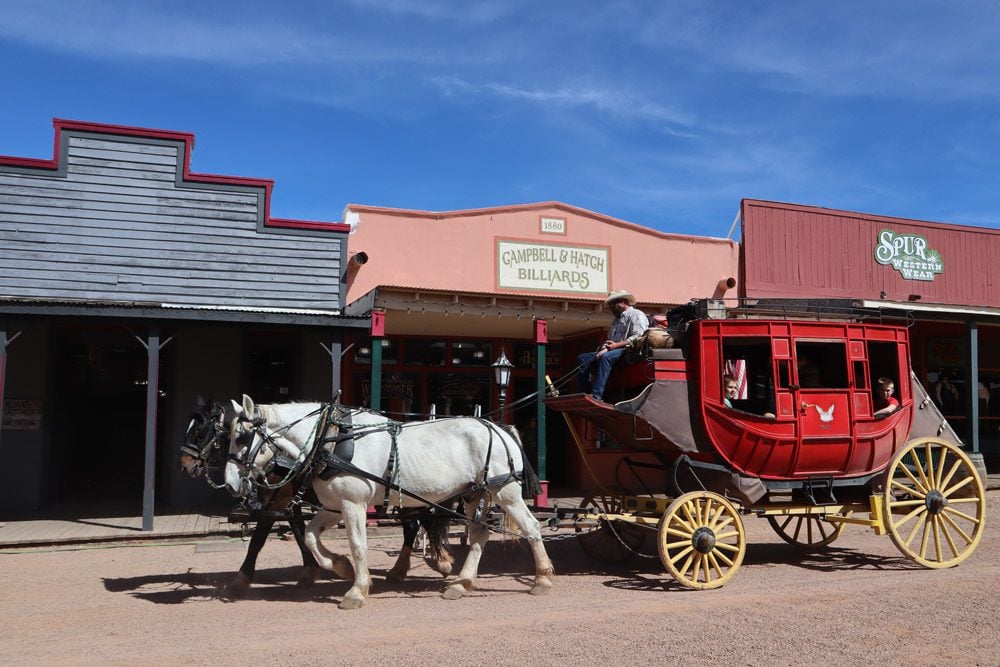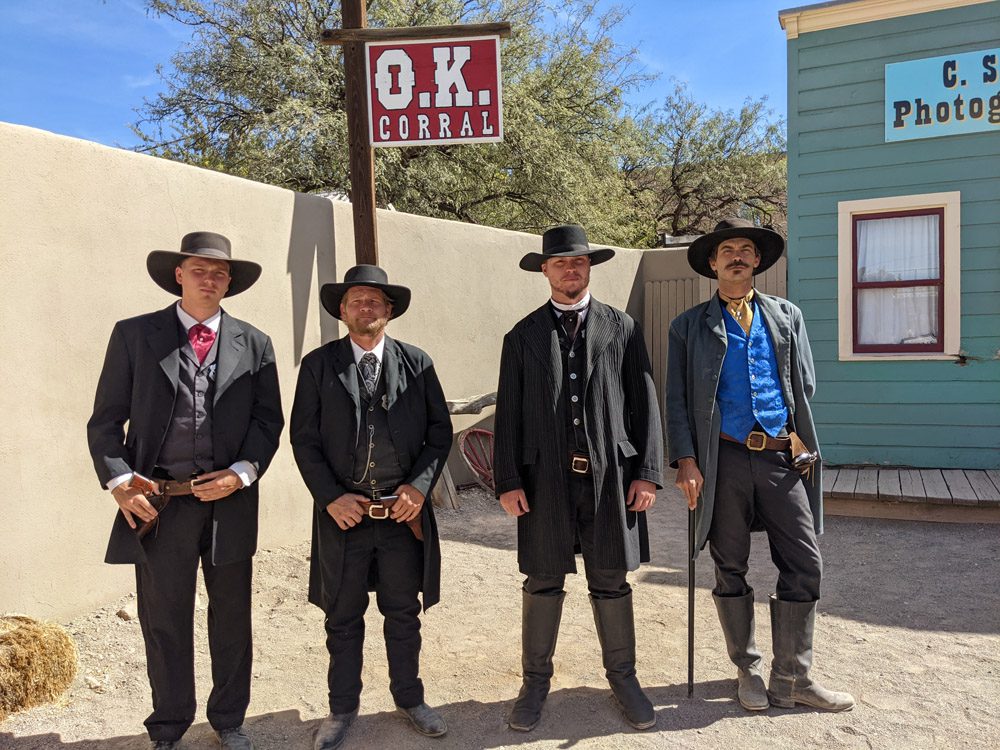 From Tombstone, I continued to the former mining town now turned local art capital, Bisbee. At the Queen Mine, I hopped on a mine train and railed down to 1,500 feet. There are over 2,500 miles of tunnels around Bisbee and it was very cool to learn about the area's mining history, in particular, what life was like for everyday miners as technology advancements were made.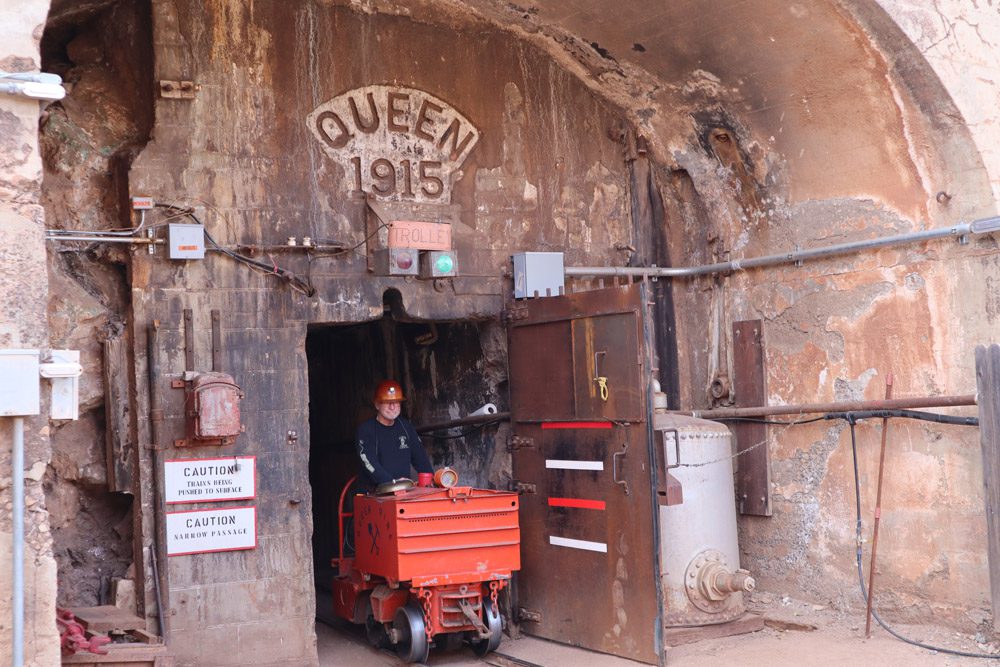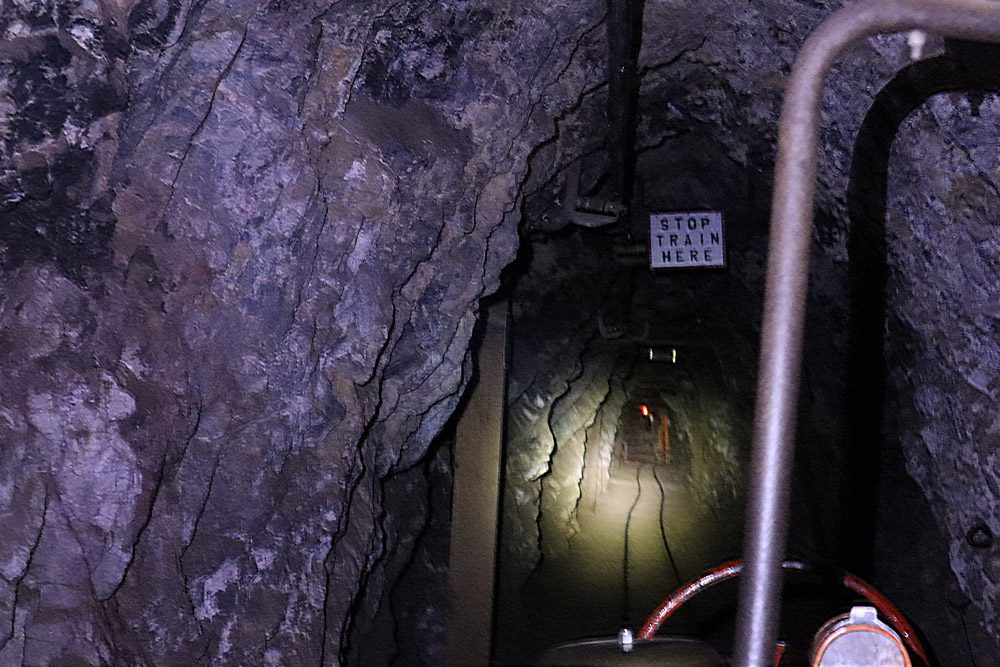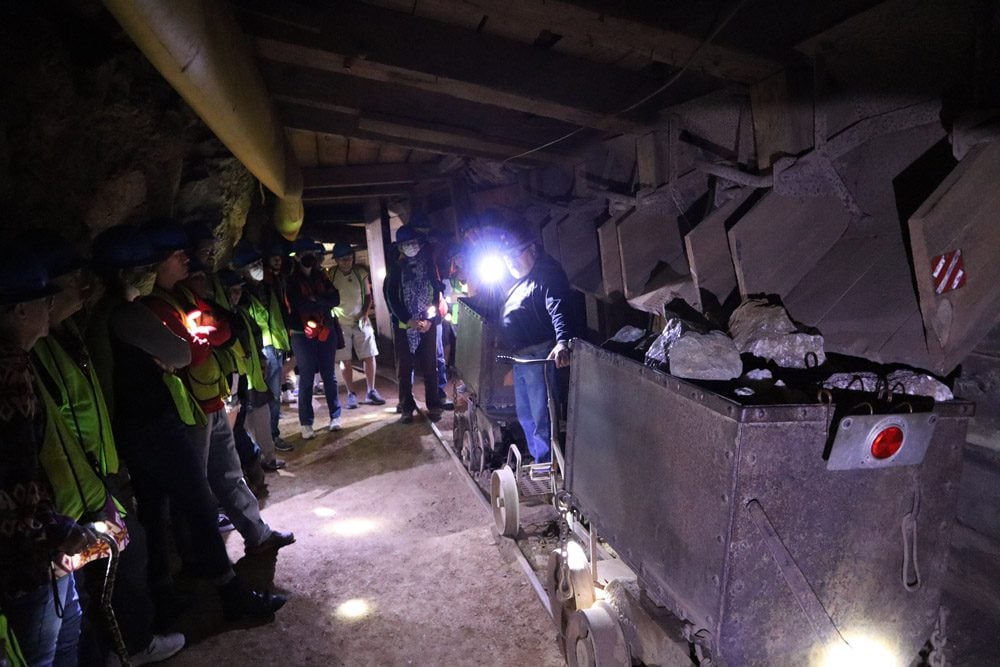 Leaving Tucson, the plan for the day was to do a bit of sightseeing and to get as close as possible to Joshua Tree National Park, some 450 miles to the west. I started the morning at the Pima Air and Space Museum, an absolute fantasyland for children and aviation fans. The highlight for me was the F-14 Tomcat, the featured fighter in the greatest film of all time – Top Gun. Next up was the San Xavier del Bac Mission, a surreal sight in the middle of the desert.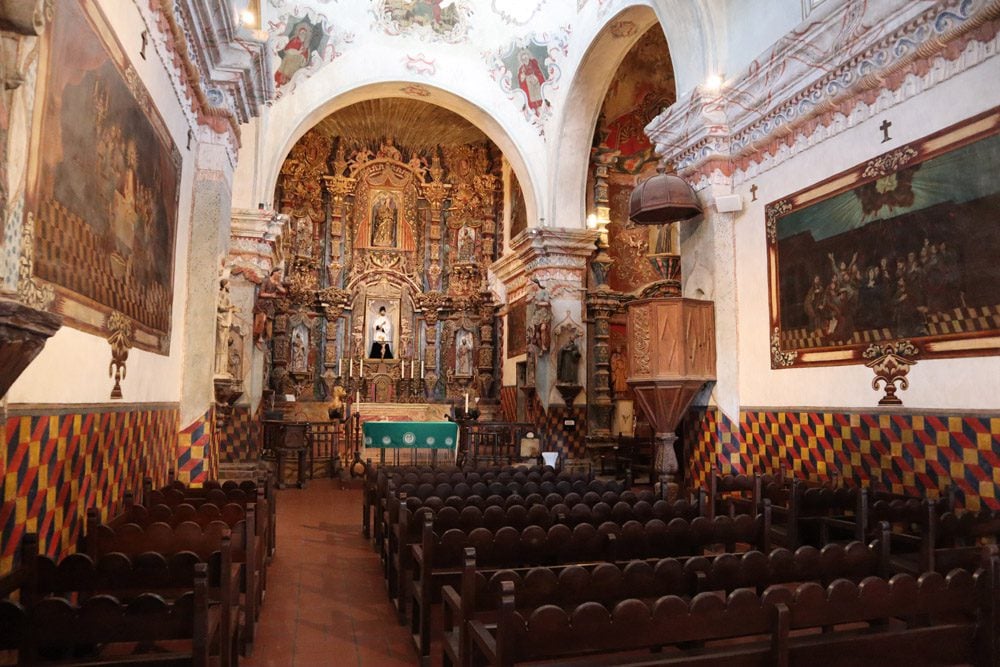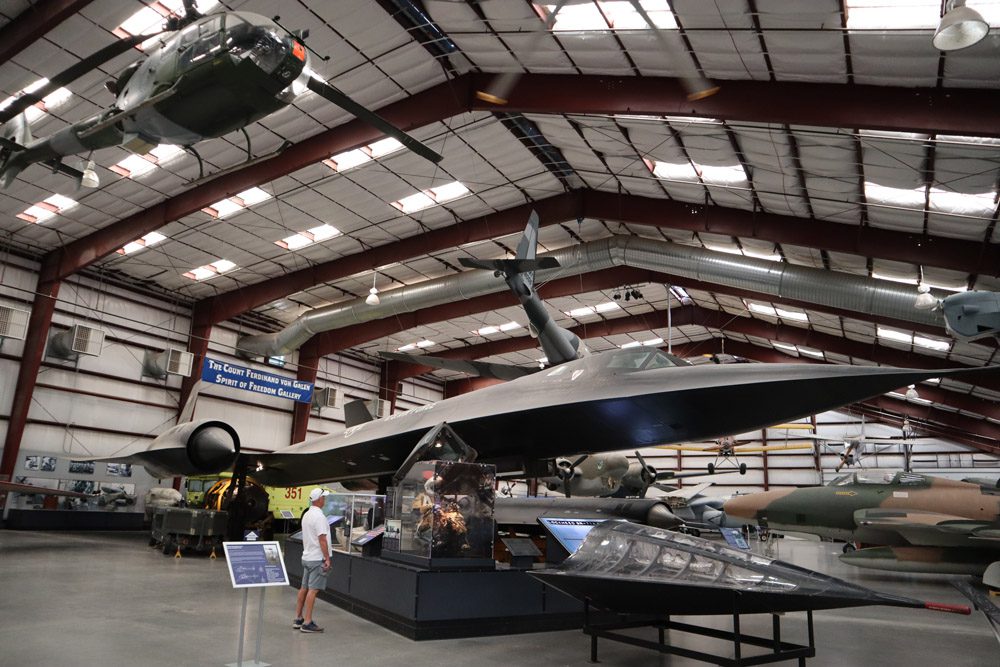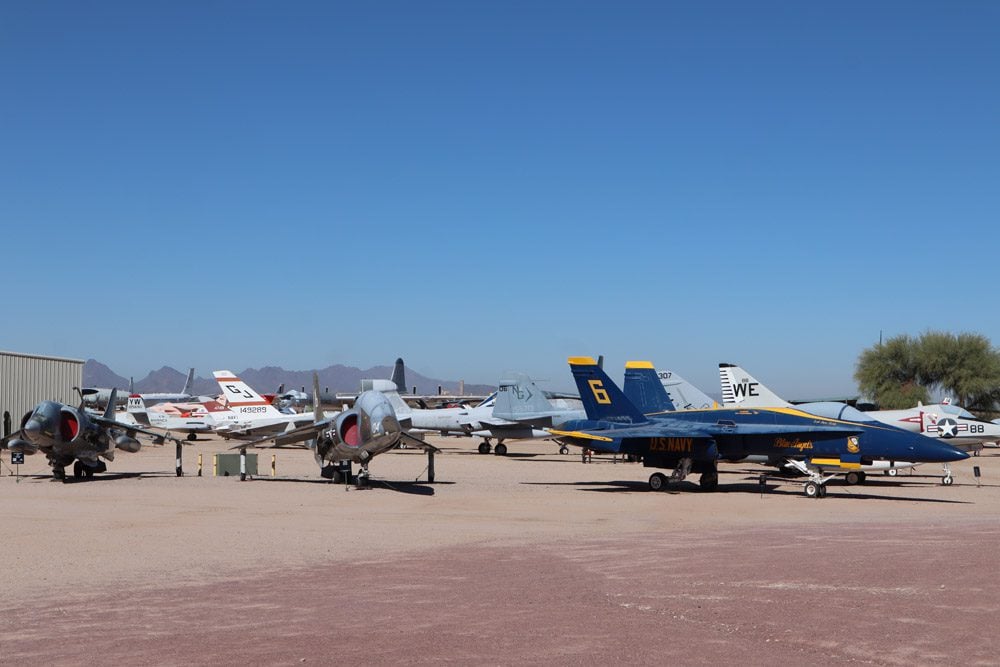 As a standard procedure, I took the long route to Joshua Tree. On highway 86, I drove the length of the Tohono O'odham Nation Reservation, one of the most desolate spots in Arizona. There was nothing but roadside cactuses, occasional border patrol cruisers, and a couple of checkpoints. Reaching the oddly-named town of Why, I filled up the tank with expensive gas and headed north on highway 85. This part of Arizona is favored among both RV-owner snowbirds and Mexico-bound road trippers. Many local businesses cater for the two, offering places to camp or purchase car insurance valid south of the border.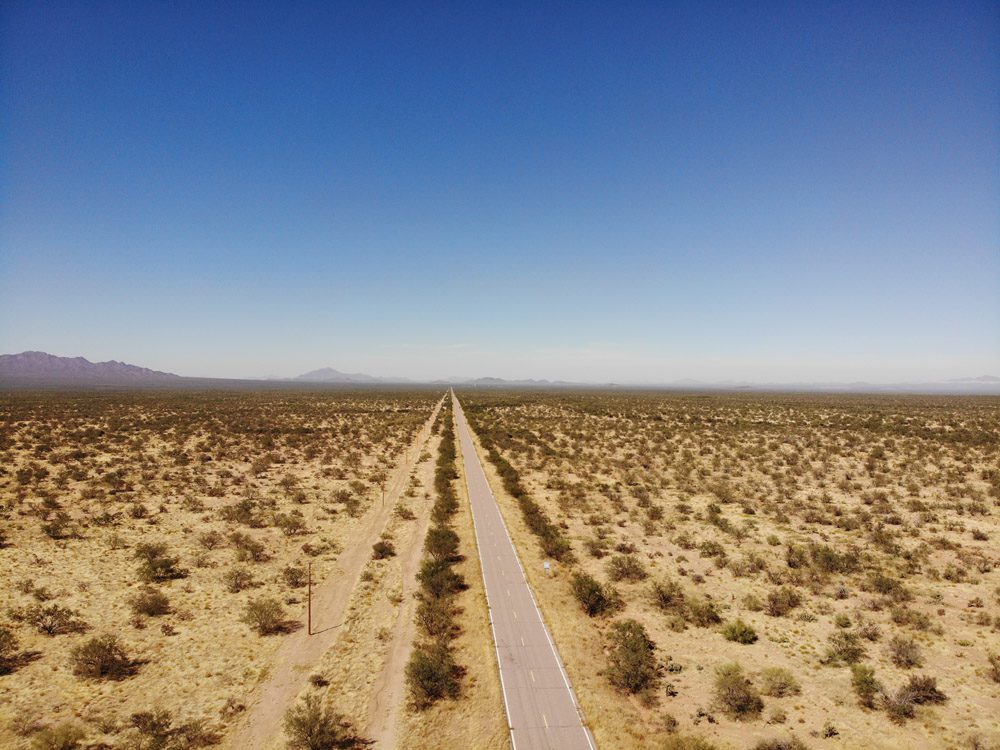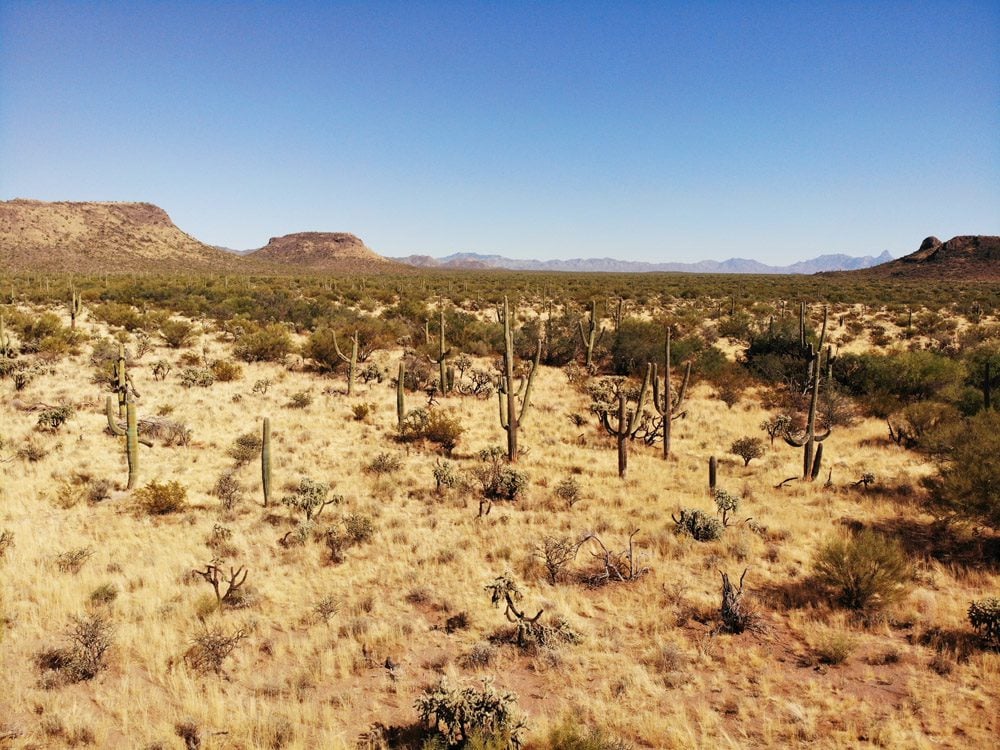 On Interstate 10 heading west, I was chasing the sun at 80 mph but to no avail. Miscalculating the great distance, I was forced to drive for over an hour on a dark backcountry road through the Mojave Desert just as my car began to demand an oil change. As soon as light pollution from Twentynine Palms became visible, my spirits were lifted and thoughts of a nice shower and some ESPN before calling it a night took over.
Joshua Tree National Park
Where the Mojave and the Colorado deserts meet lies Joshua Tree National Park. This park is not just about the unique desert tree for which the U2 album is named after but also interesting for its beautiful desert landscape, highlighted by clusters of strange rock formations. I spent two days exploring the park and its two distinct sections, mainly hiking to vista points such as Ryan Mountain, short loops like the Hidden Valley, and remote spots like the Lost Palms Oasis.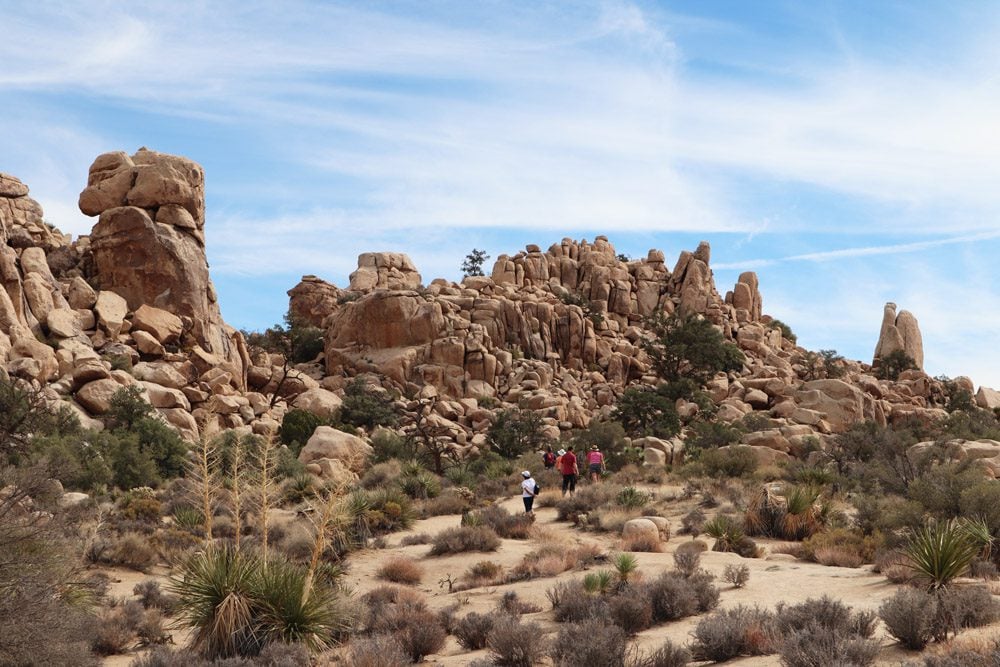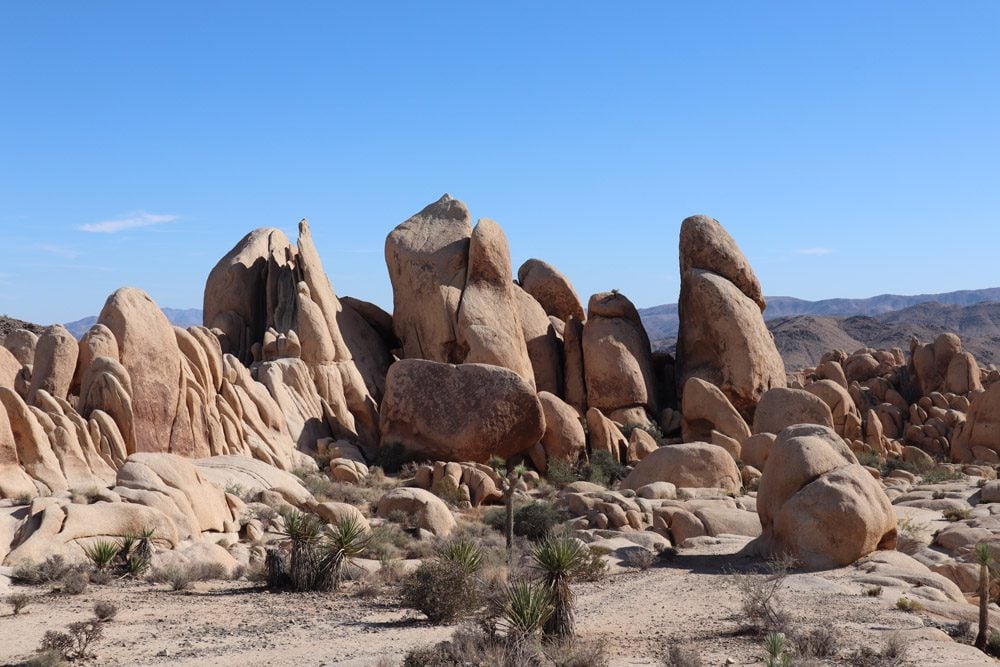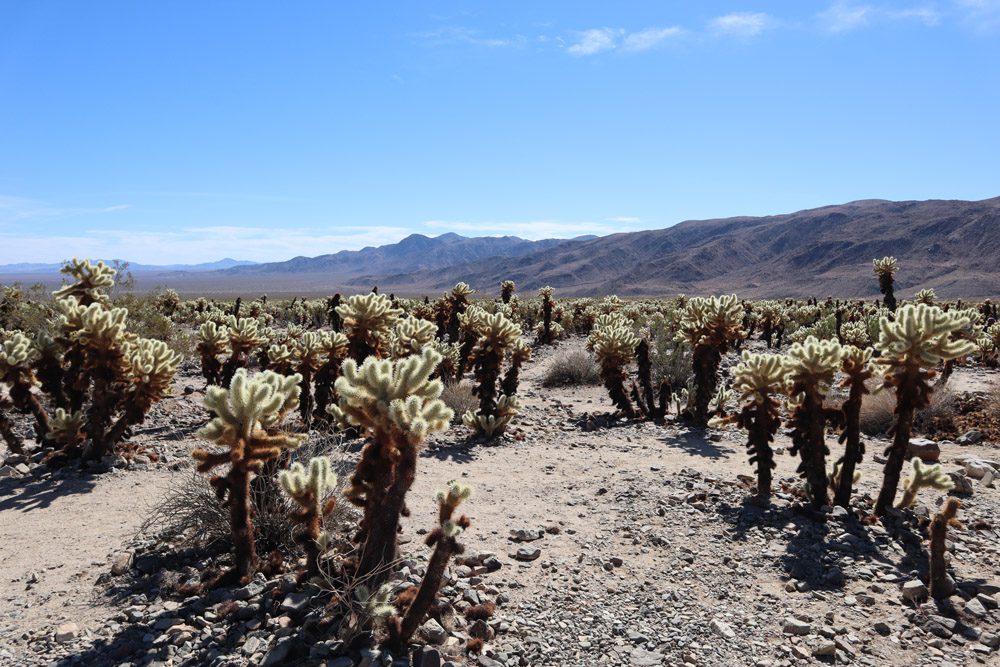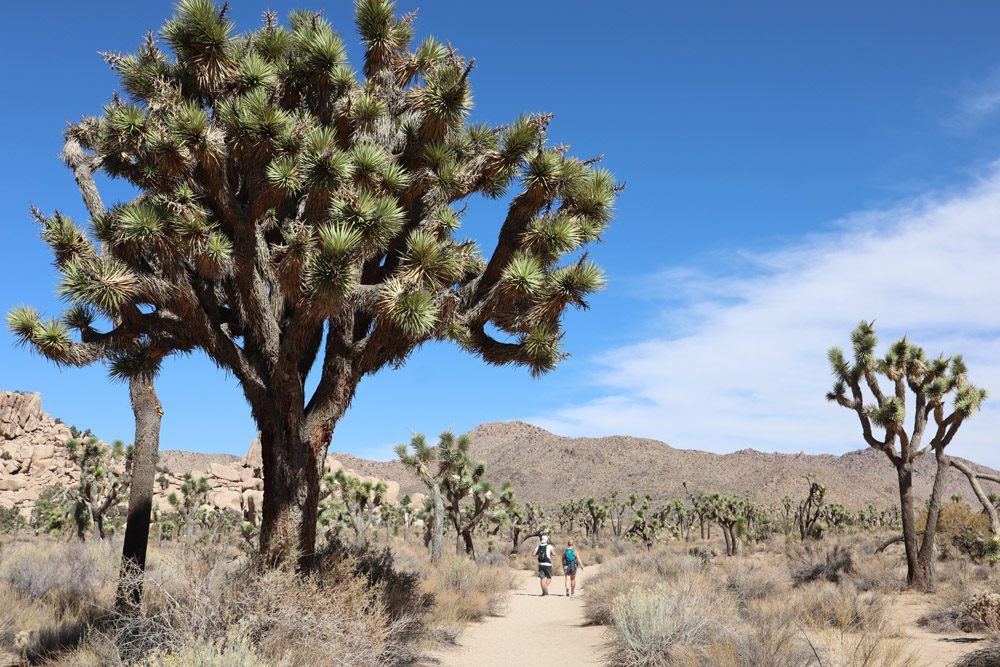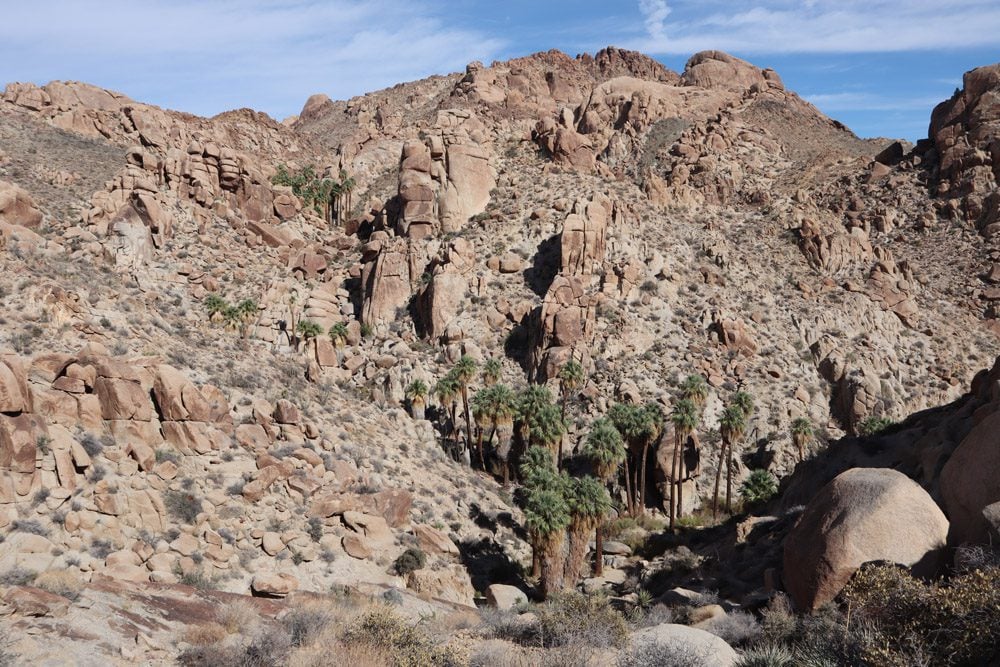 Joshua Tree is also a prime stargazing and sunrise viewing spot but I settled for a sunset viewing at Keys View. From up here, you need to withstand the chilly breeze but the reward is a sweeping view of Coachella Valley and even of Palm Springs if it's not too hazy.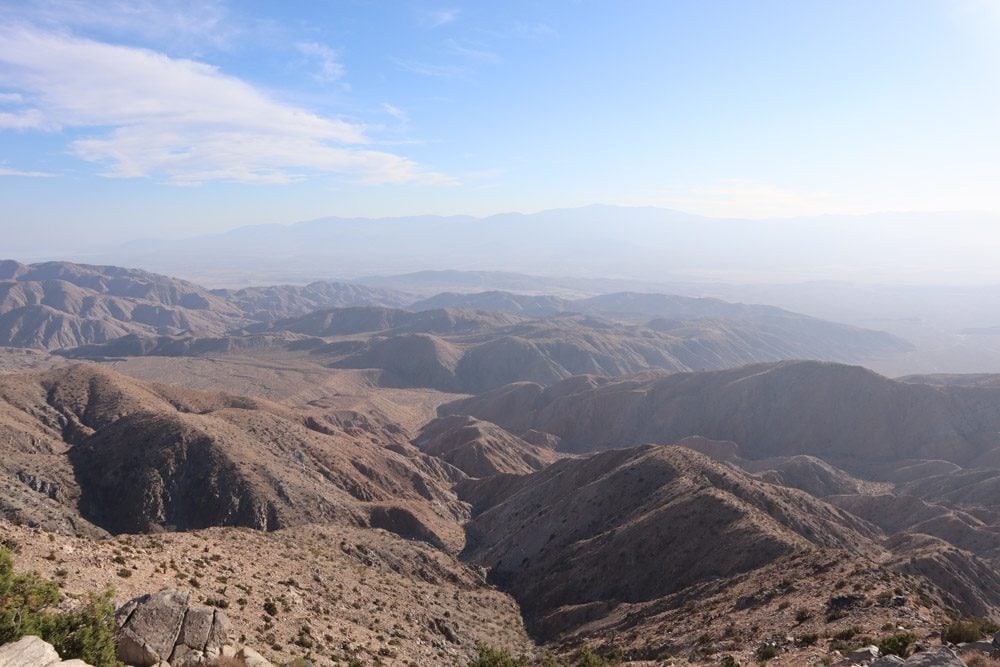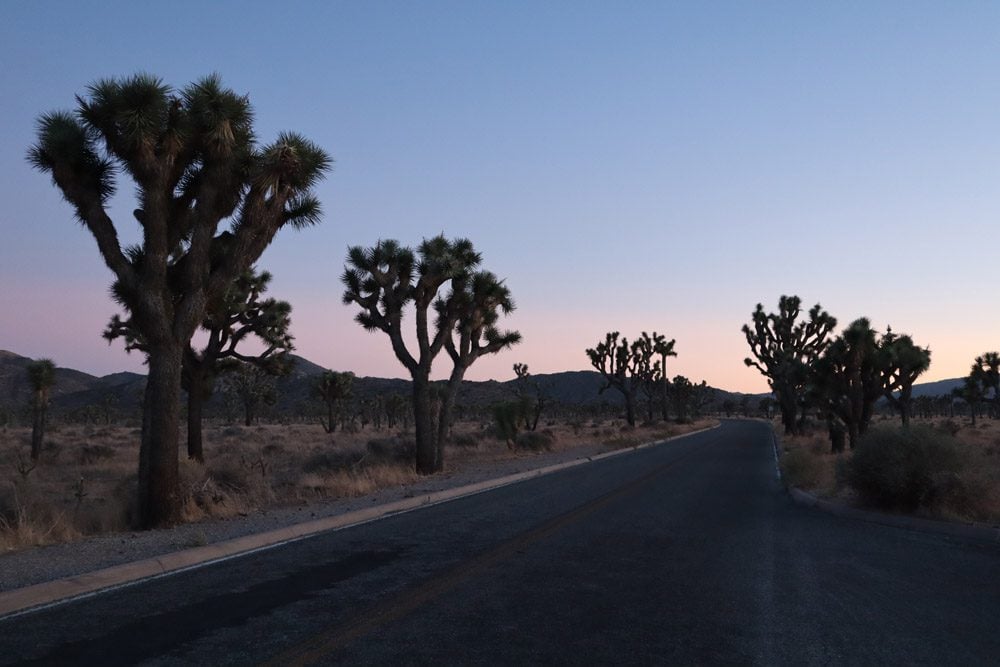 Palm Springs
I planned a quick overnight stay in Palm Springs but poor weather on the Pacific Coast Highway called for slowing things down so an extra night in this luxury desert town was added. I actually really liked this place, not for its pretentious downtown but for its fine late October weather and the variety of surrounding highlights.
First up were the wind farms just outside Palm Springs, where many Hollywood scenes were shot. The next order of business was to catch the Palm Springs Aerial Tramway and explore Mount San Jacinto State Park. The aerial ride is quite thrilling, not only for the splendid views and the altitude gained but also for the rotating floor! What a great method to fairly share the vista. Just a few minutes ago, I was on the desert floor but inside the park, it's back into the forest with flashbacks of Yosemite. The state park offers miles of short and long hiking trails. I opted for the short Desert View Trail that loops around a series of scenic overviews.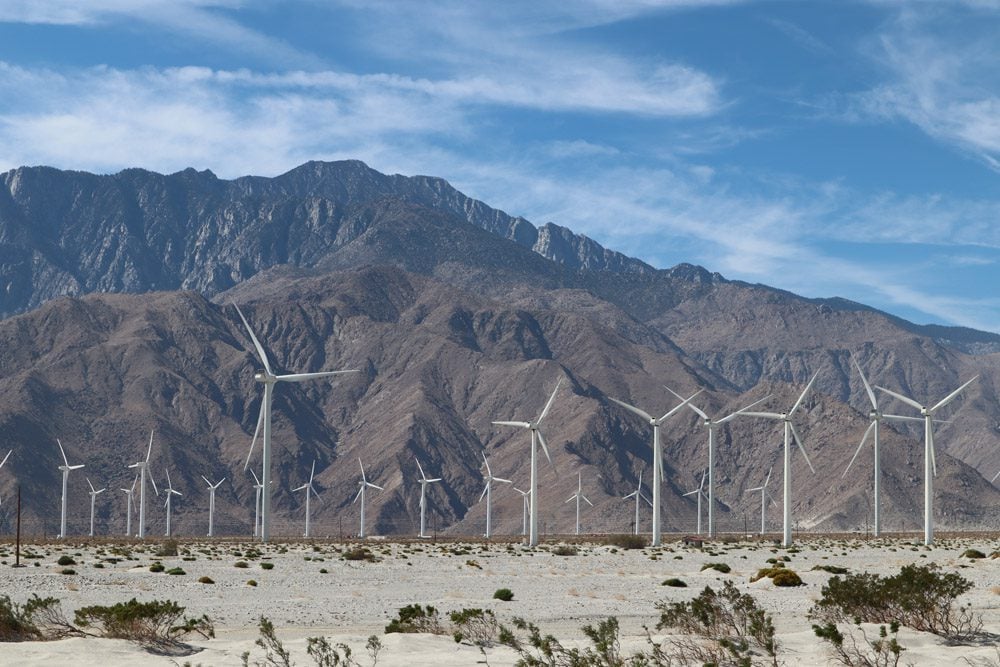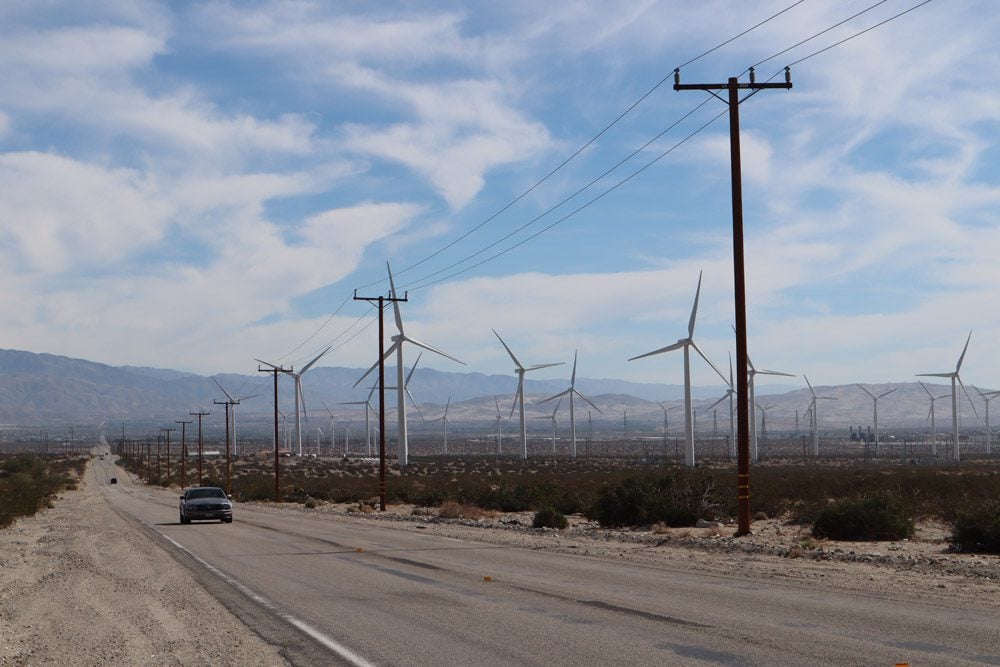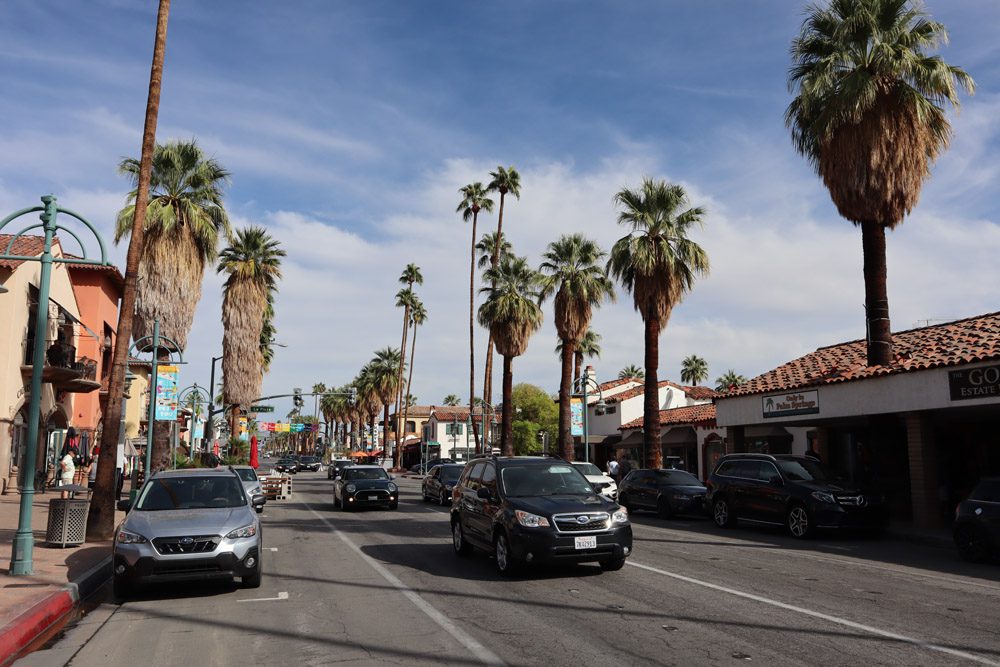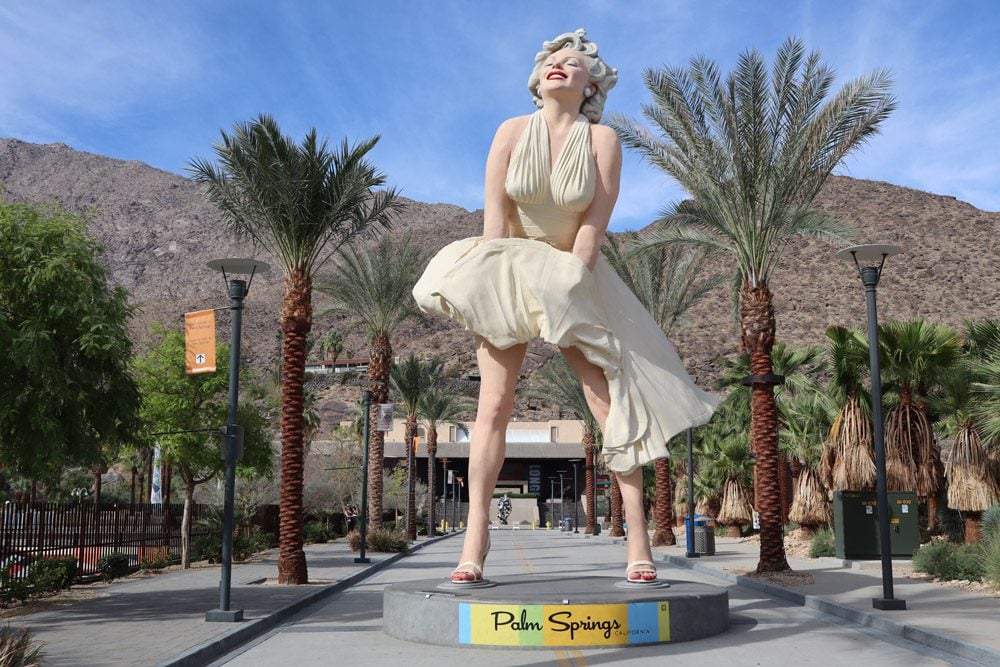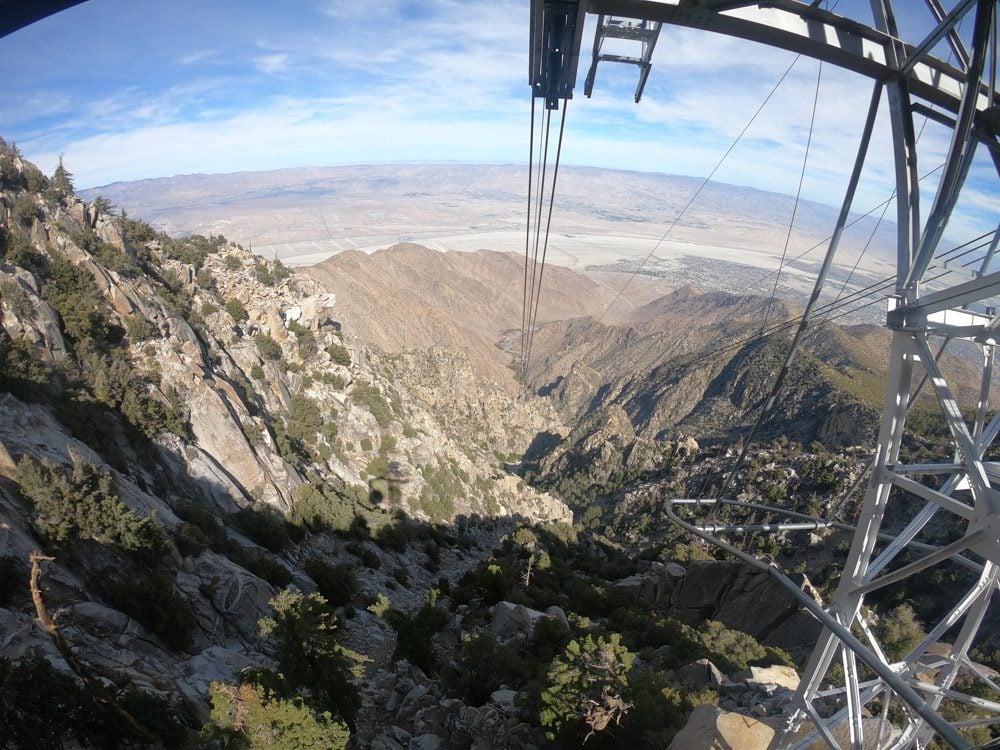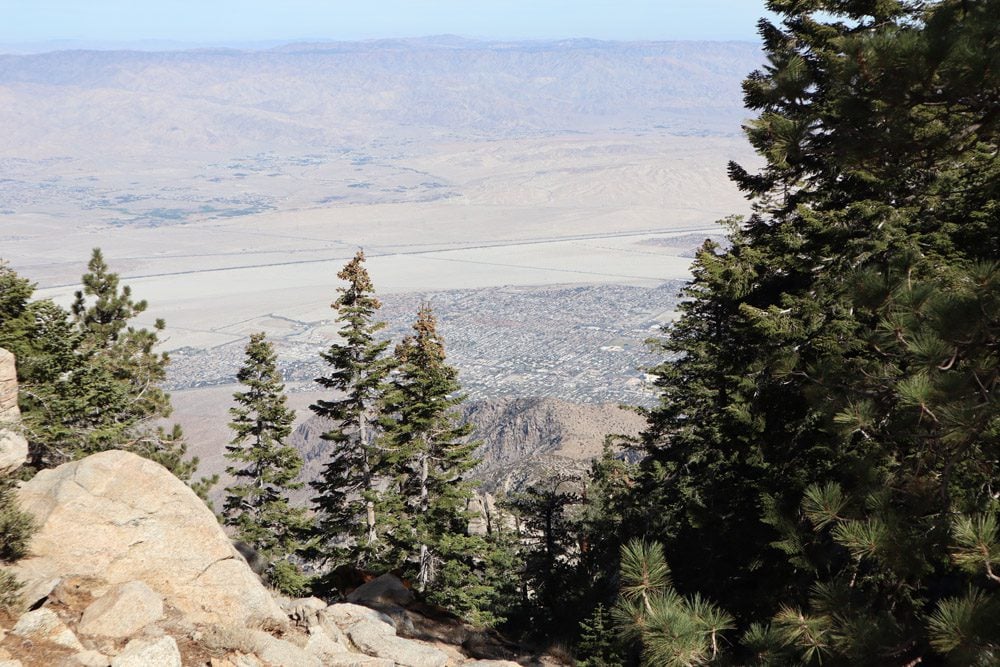 Back on the desert floor, I entered Indian Canyons just a couple of hours before its gates closed. This area is well known for its high concentration of desert palms. On the Andreas Canyon Trail, I got acquainted with the stars and was surprised to find a live stream of water flowing through the desert.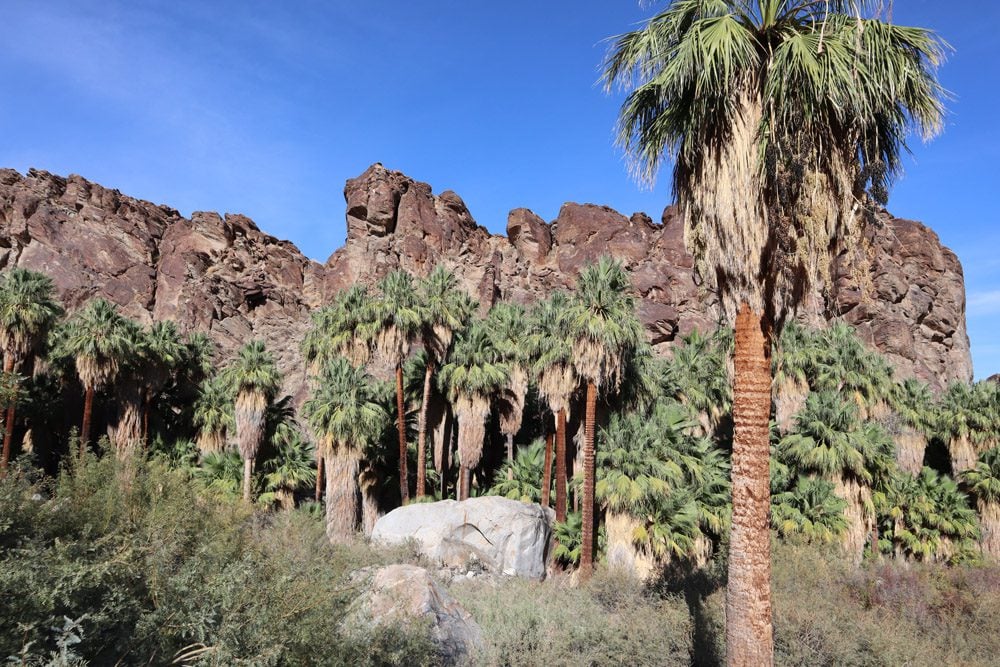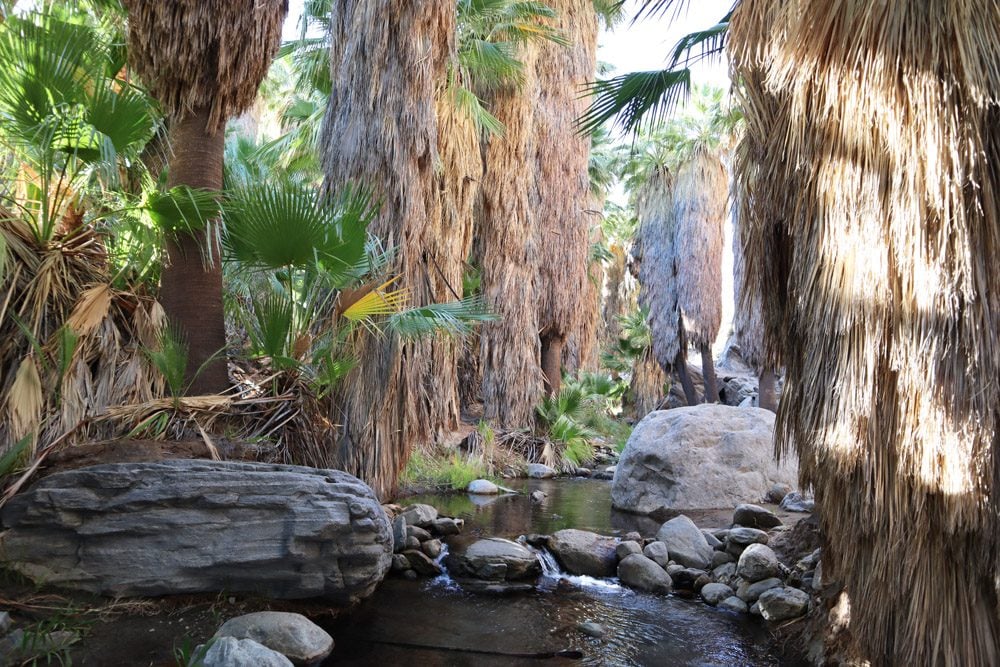 Pacific Coast Highway
With the end of this five-week road trip well in sight, it was time to return to the coast and head north towards San Francisco. A miserable weather day was a perfect excuse to spend hours in the car for the 230-mile leg to Solvang. Outside Palm Springs, I made a quick stop at the Cabazon Dinosaurs. This legendary rest stop was featured in the Tears for Fears clip Everybody Wants to Rule the World, a major catalyst for this road trip. The famous Wheel Inn Diner is no longer here but its sign still looms on the side of the interstate.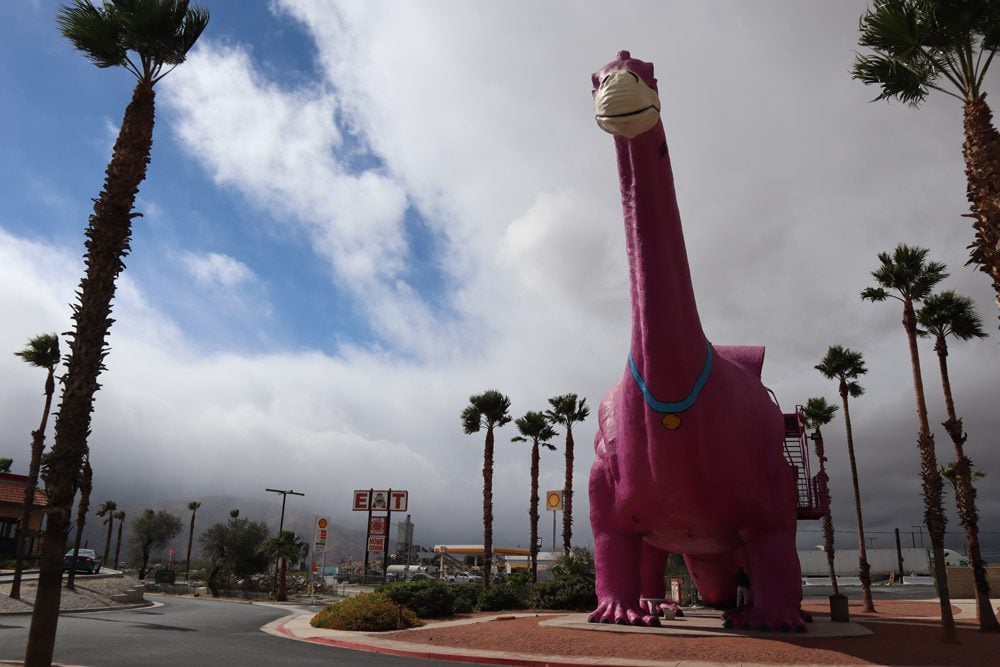 I made it to Malibu just as the clouds that poured rain the entire day cleared. A perfect sunset marked my return to the Pacific coast after more than a month and a dark drive to Solvang ended a long day. After a sweet danish pastry for breakfast, I set out to explore this cute tourist town that hails everything Danish.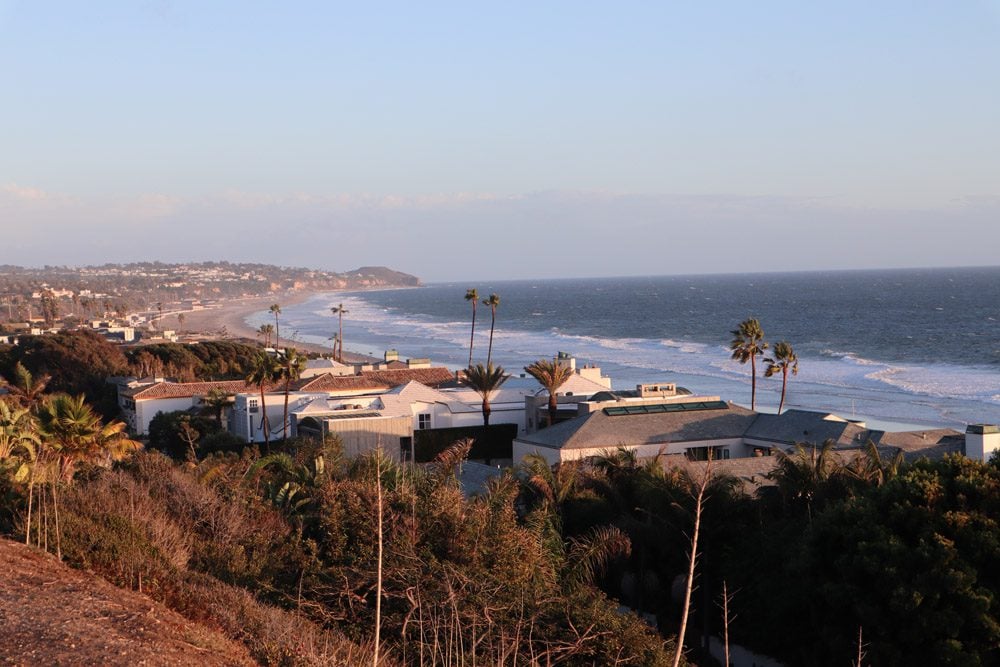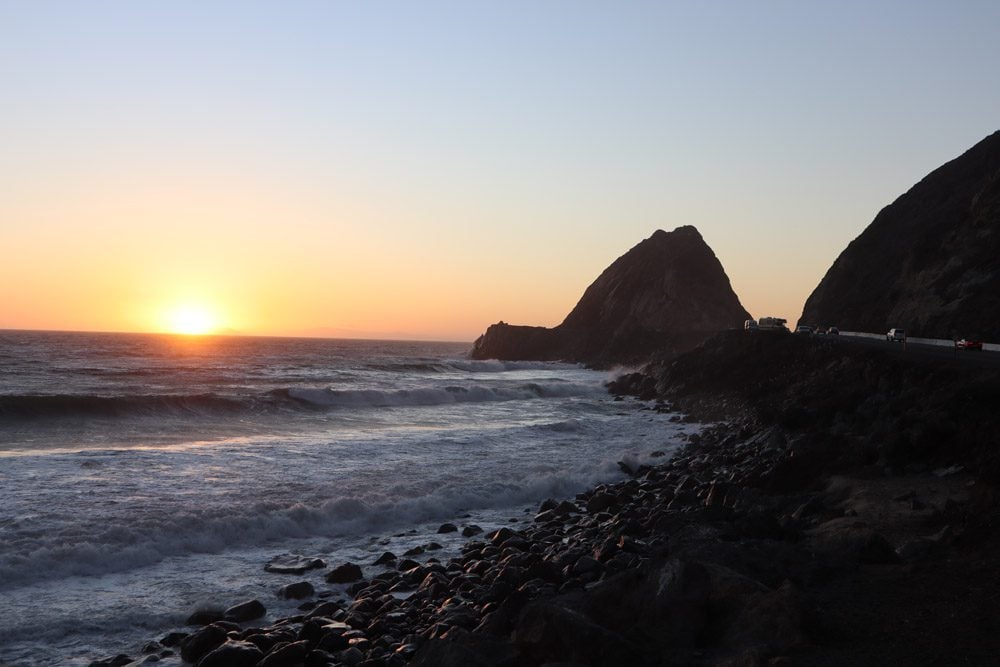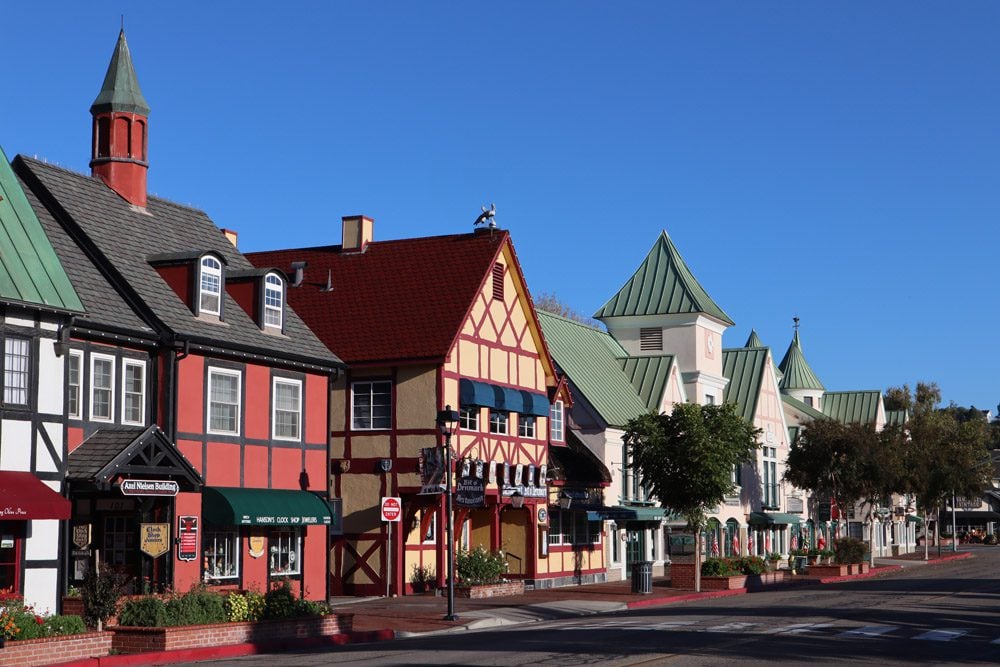 At Morro Bay, the seagulls, sea lions, and ocean-scented breeze meant I was back on the Pacific Coast Highway (PCH). A few years back, I made the opposite journey south from San Francisco but had to swing back north at Big Sur. This time around, I would drive a much longer stretch of the legendary coastal highway.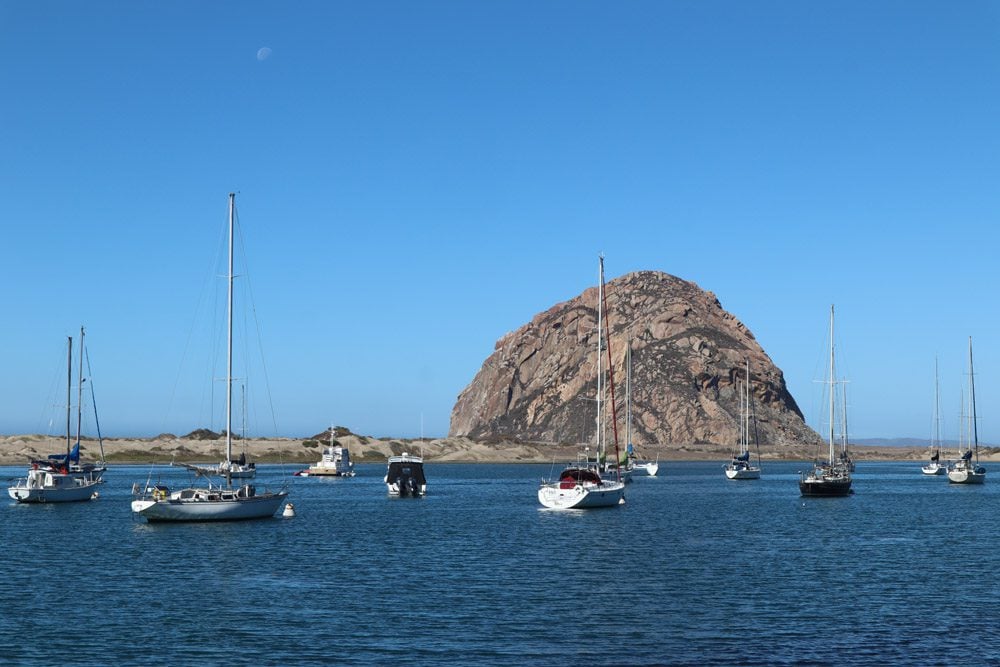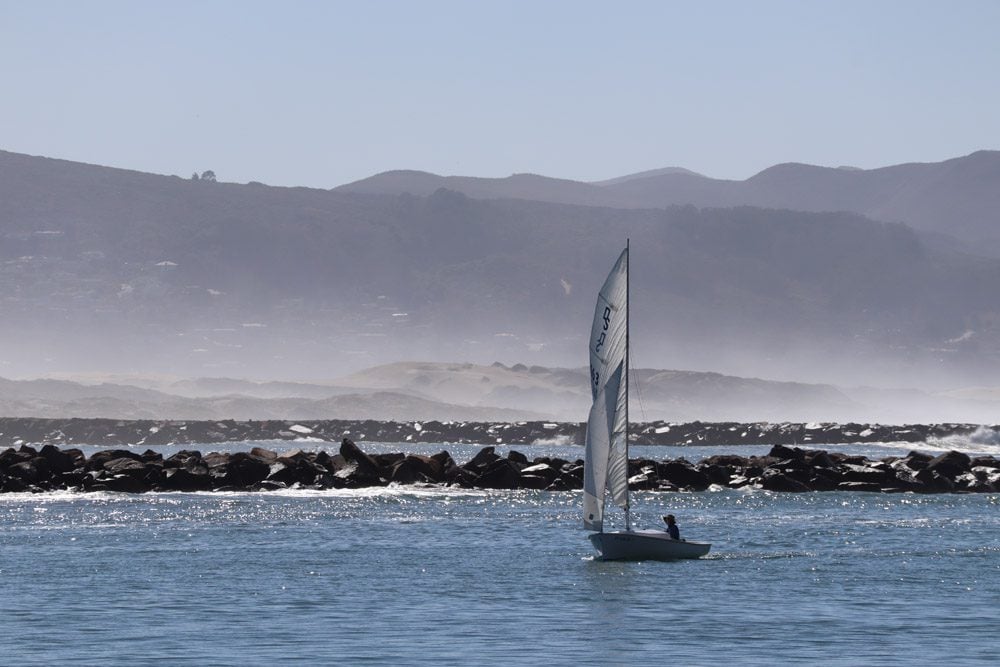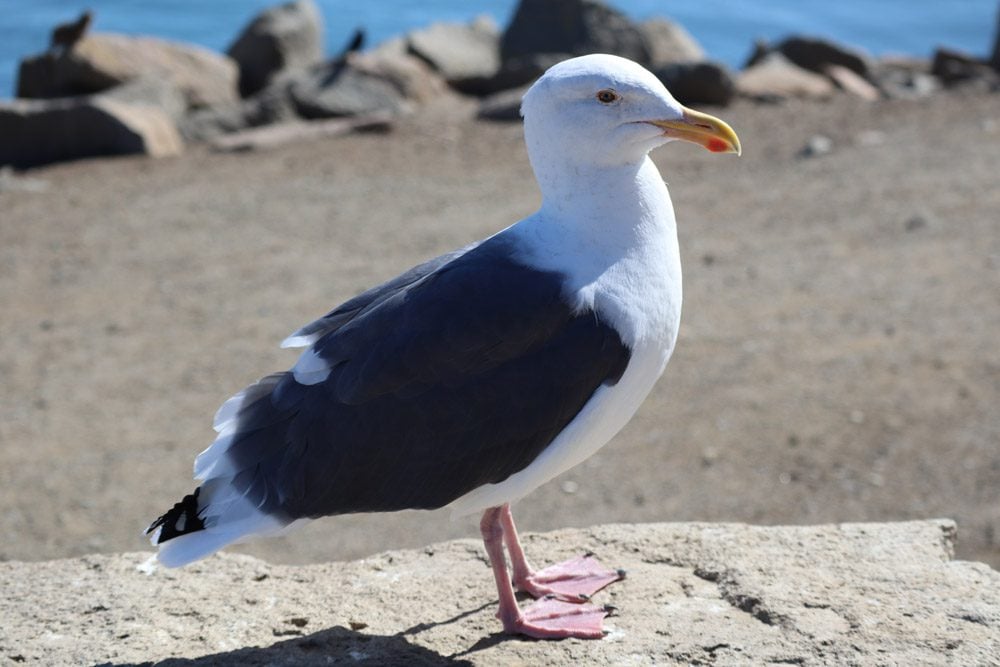 At Ragged Point, the "classic" PCH thrills begin as you inch closer to Big Sur. The road was narrow, the curves were sharp and never-ending, and the temptation to stop at every roadside scenic overlook really slowed progress down.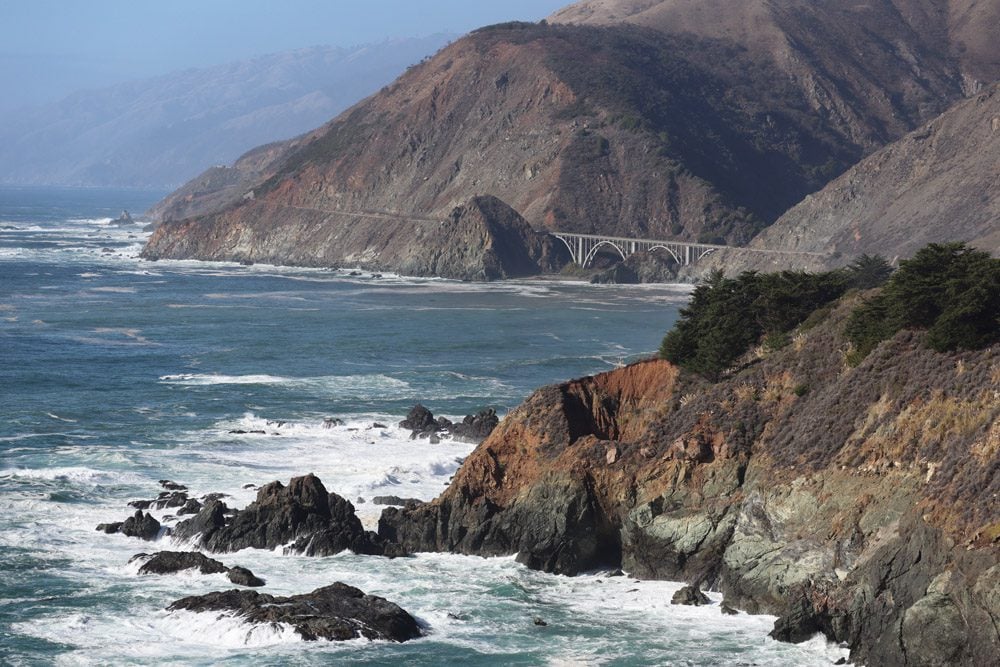 A trickle of water was all that was needed to keep McWay Falls, at Julia Pfeiffer Burns State Park, at the top of my list of PCH sights. I also hiked to Pfeiffer Falls and headed down Pfeiffer Beach, one of the most impressive sandy spots on the PCH. To end the day, I crossed Bixby Bridge, a well-known spot from social media and car commercials, reaching artsy and ritzy Carmel-by-the-Sea just in time for sunset.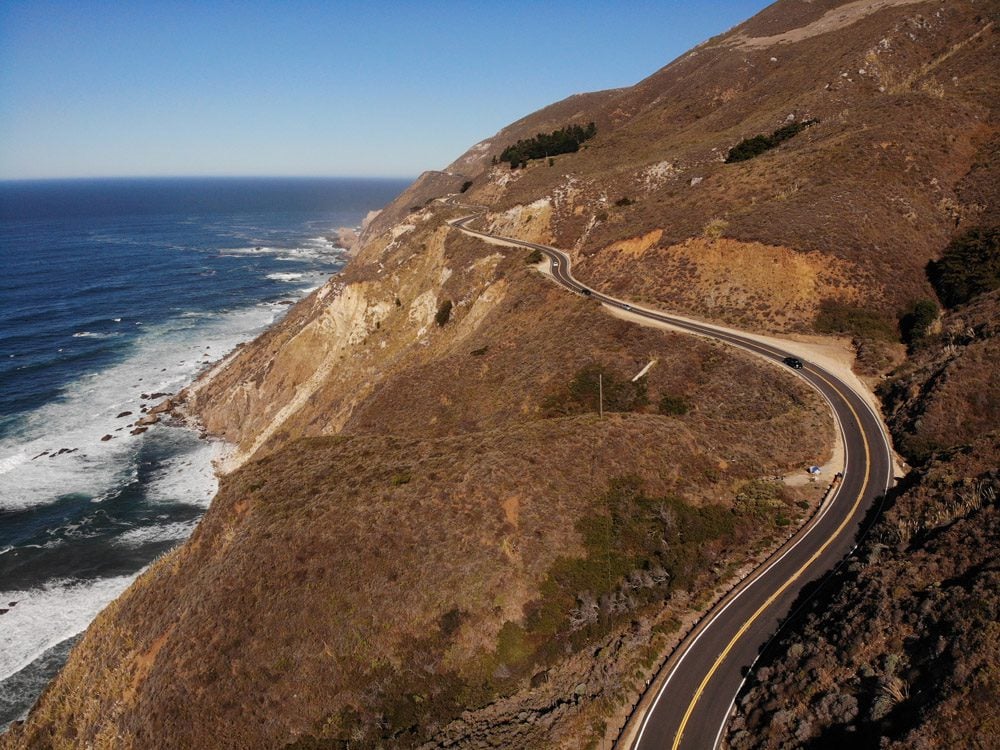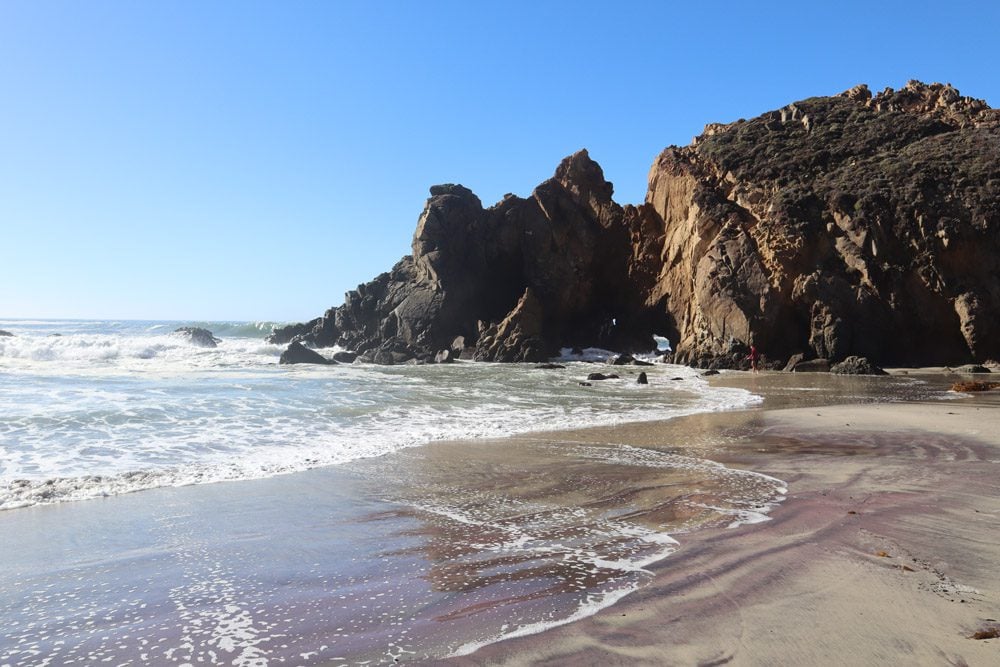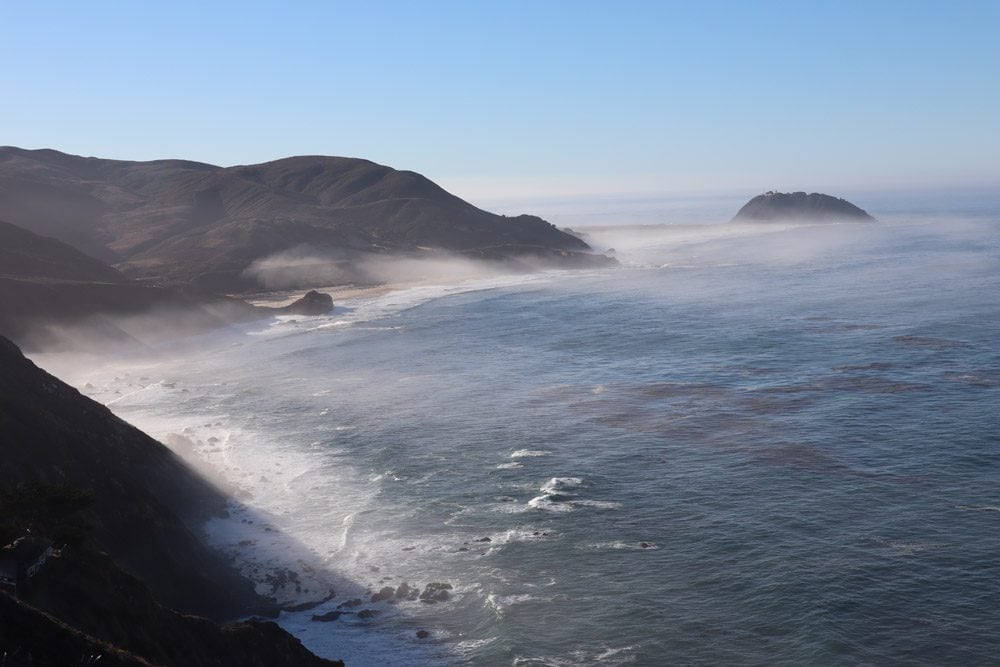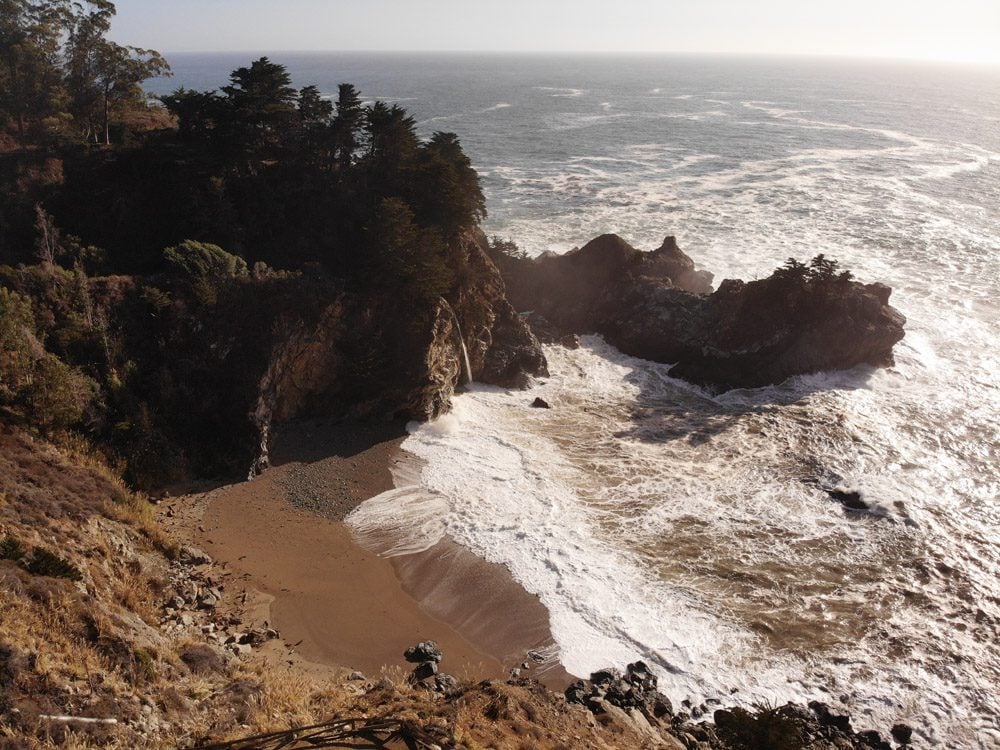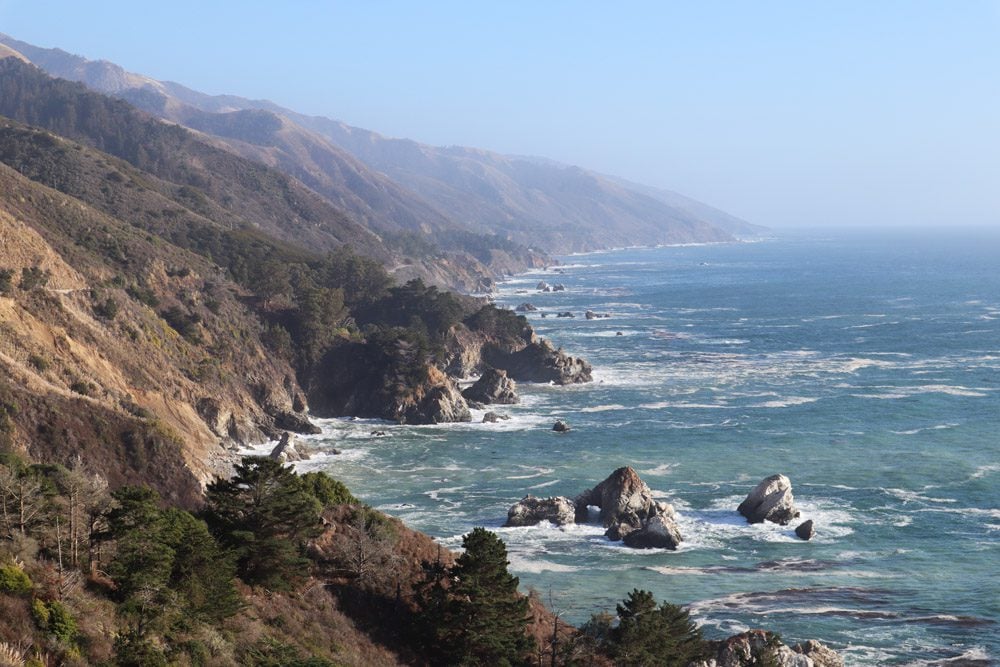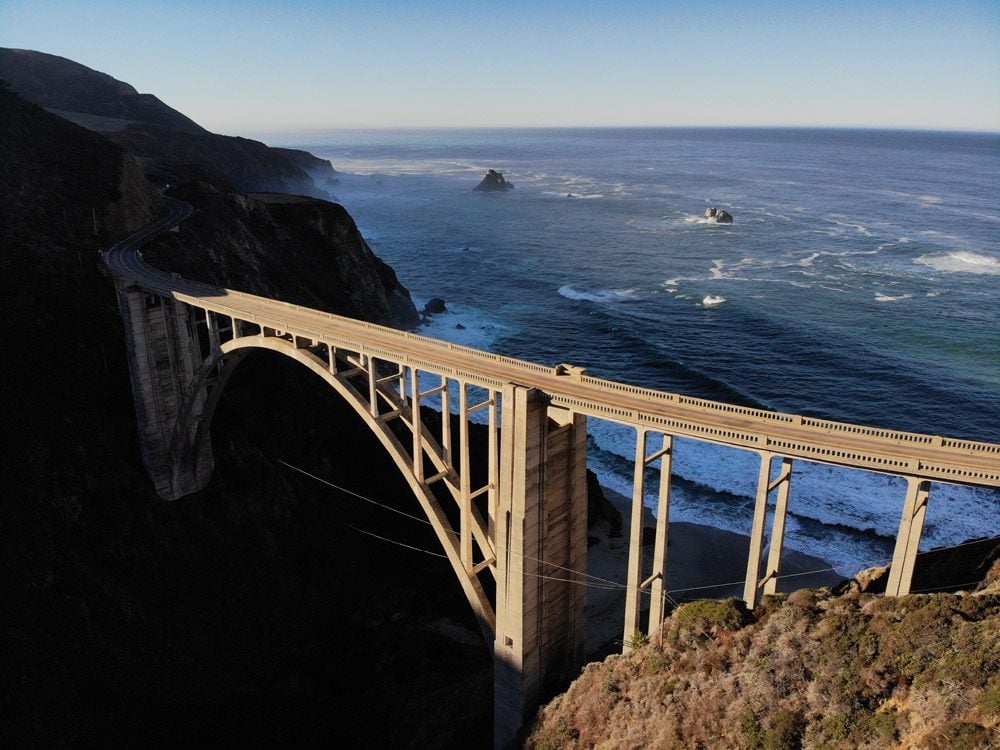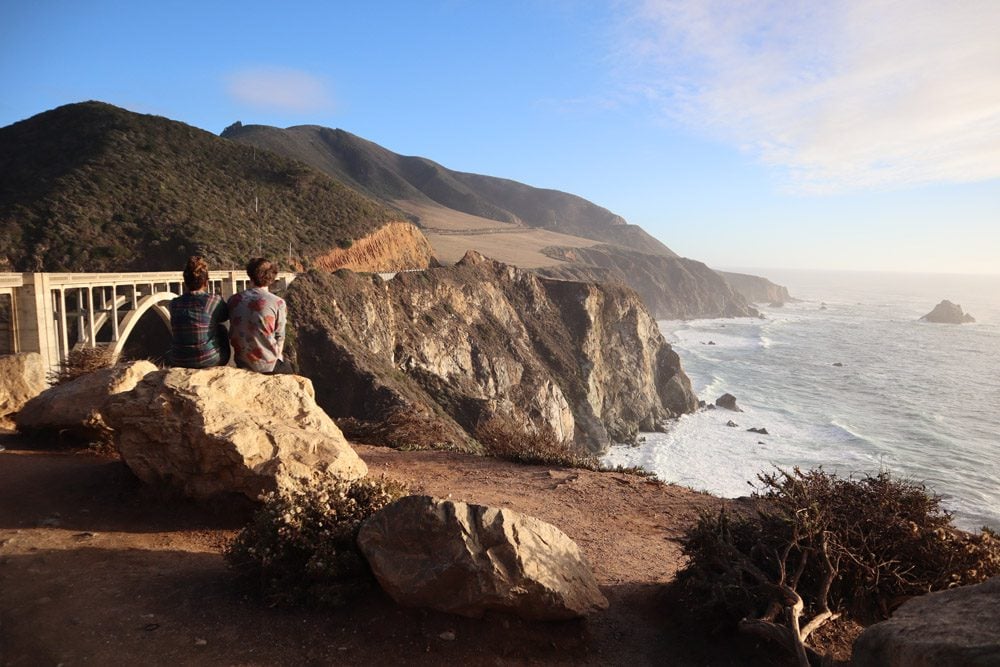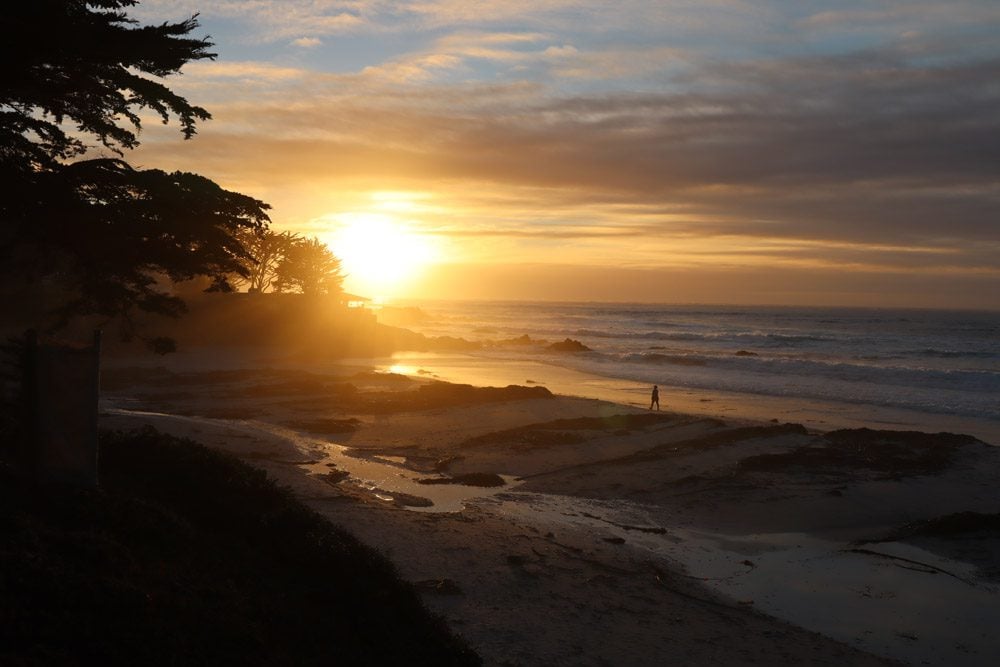 Carmel is the kind of town many people can picture themselves living in. It's got a pretty beach, clean streets that bend around trees that were there before, art galleries galore, and fine dining only restaurants. The Carmel Mission is a great stop to learn about the area's history and marvel at the bygone architecture. Nearby, Point Lobos State Natural Reserve is a prime spot for nature viewing.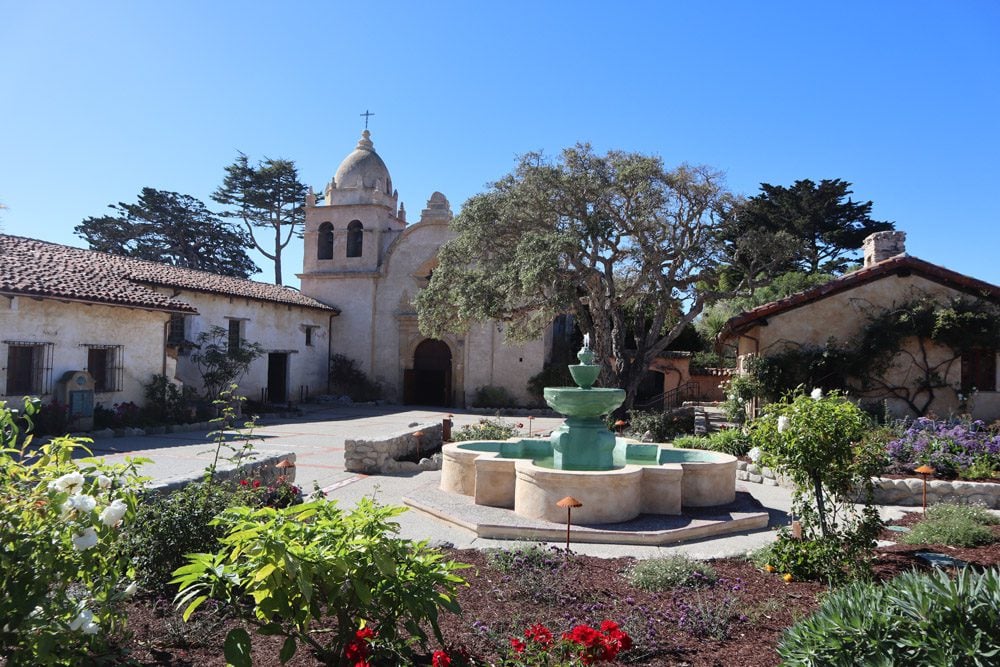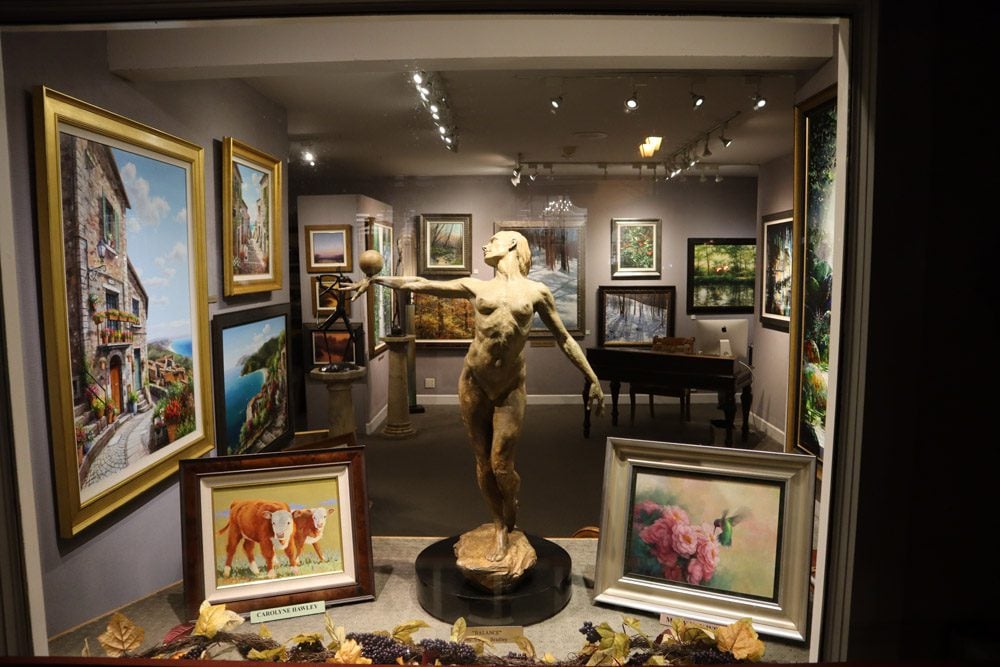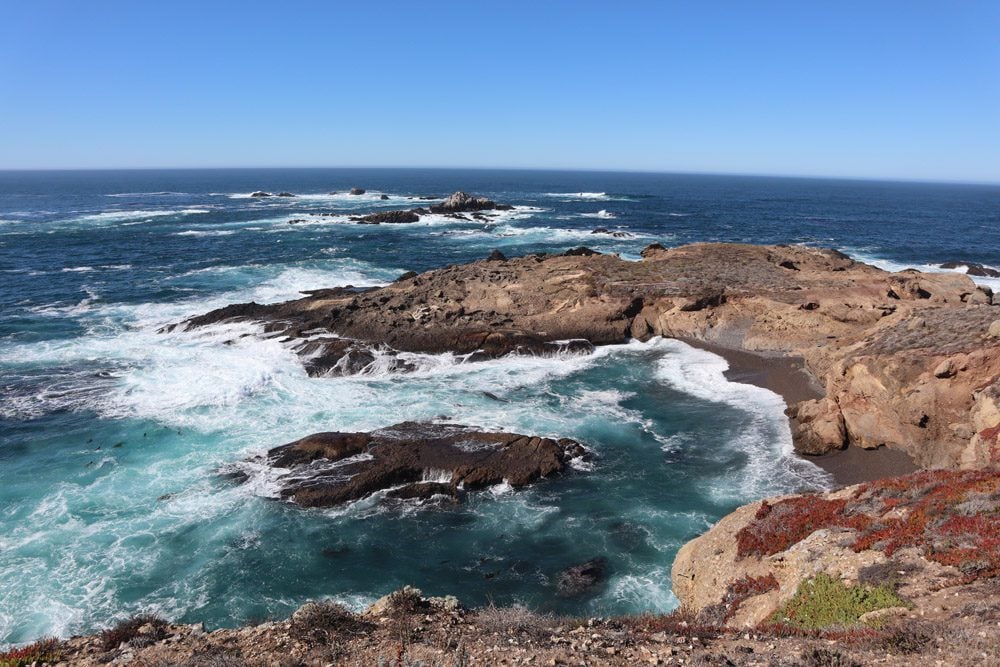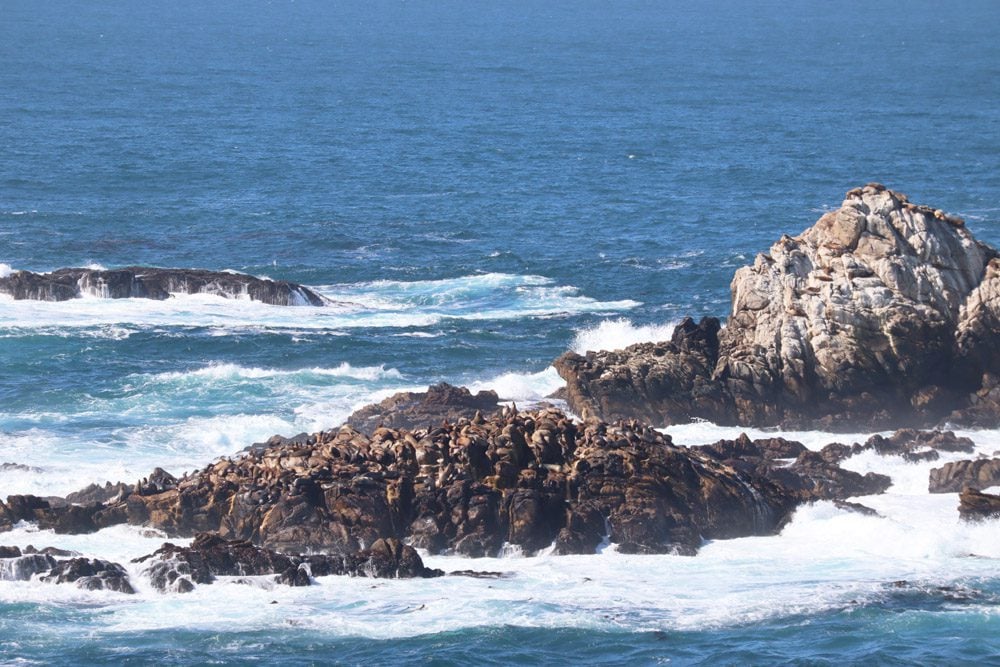 With just a few hours left before my flight back to Israel, I cruised 17-Mile Drive where I definitely could not picture myself living despite the pretty beach and clean air. This area is a gated community, home to the Pebble Beach Golf Links and lots of folks sporting Lacoste fashion.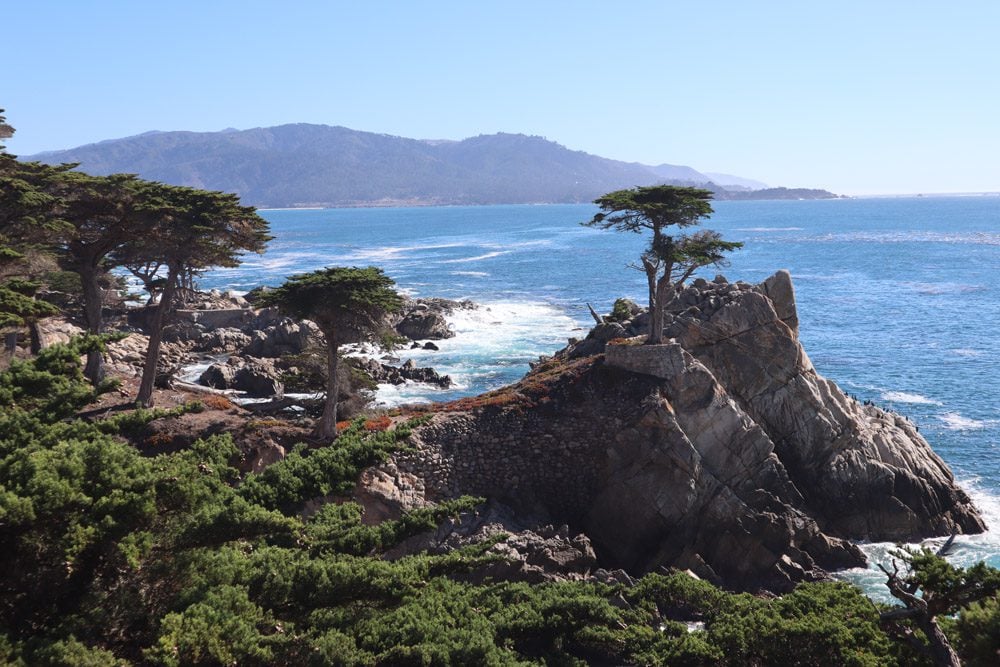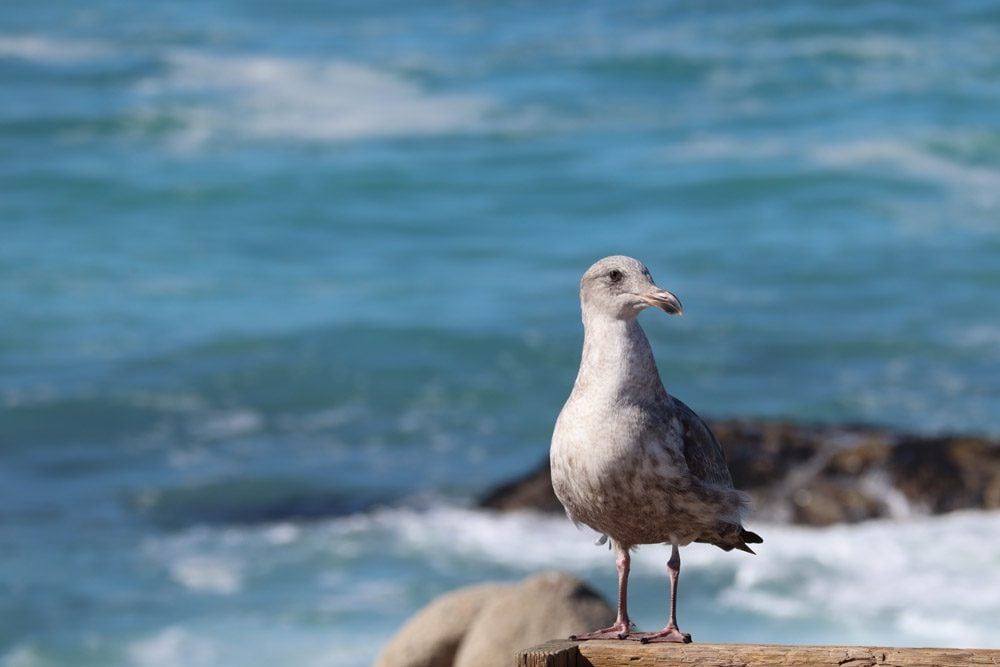 Slightly further north, I was running out of time. I broke a few speed limits to revisit Santa Cruz, though it was kind of dead because of COVID-19 restrictions. Disappointed at not being able to continue on the PCH as planned, it was time to ask Google Maps for the opposite thing I've been asking since picking up the car: find me the quickest way to get to my next (and final) destination – San Francisco International Airport.
---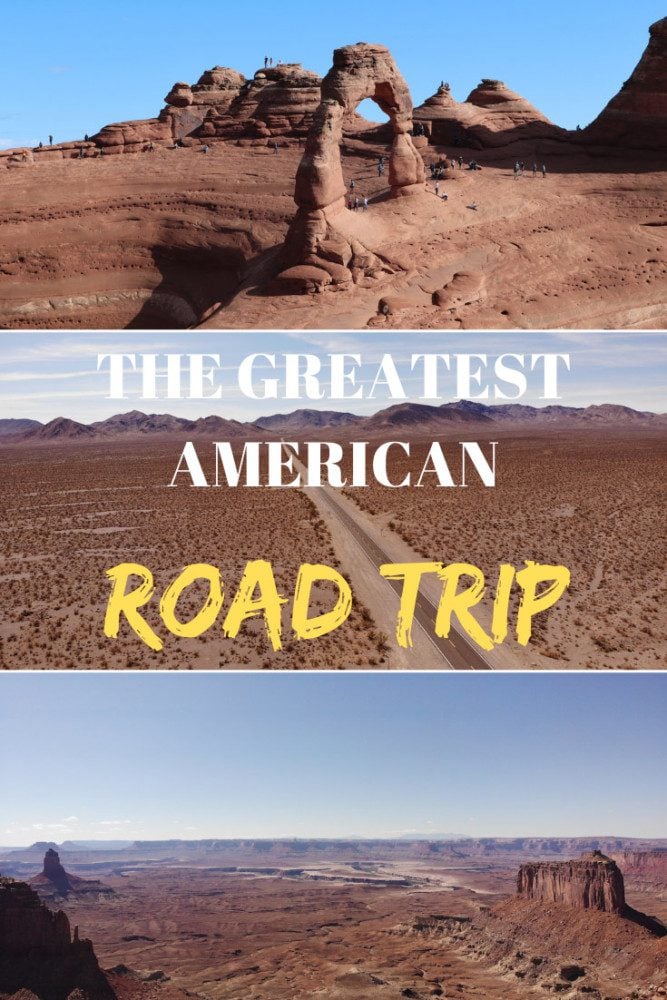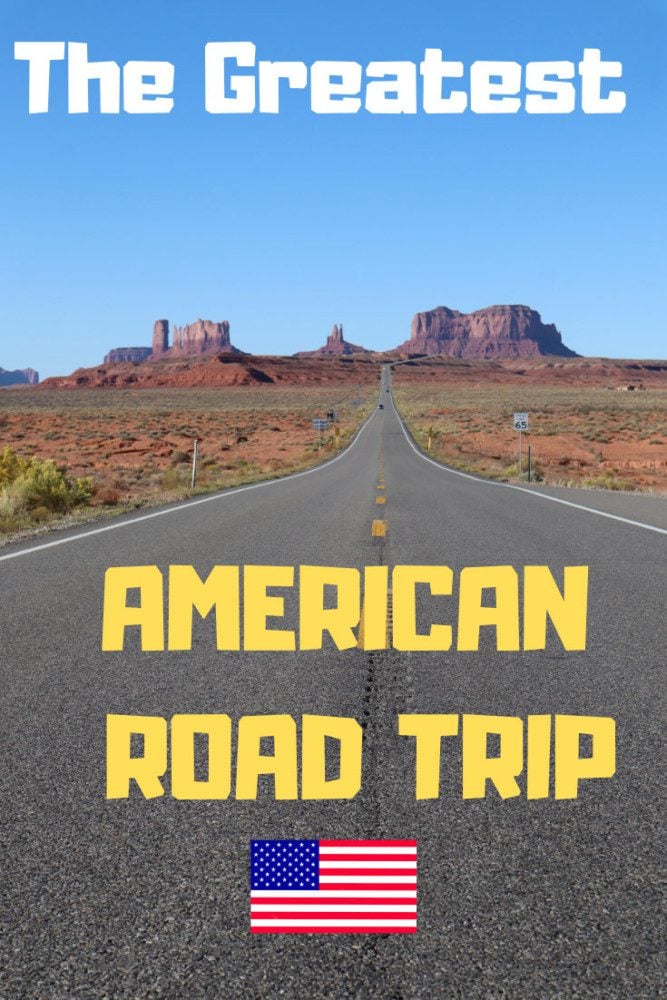 Pin These Images To Your Favorite Boards!