A Guide For Visiting The Paris Flea Market – Marché aux Puces
The Paris Flea Market, locally known as the Marché aux Puces, is the largest market in Paris and one of the largest flea markets in the world. It's actually a series of 15 markets scattered around a few blocks that together, make up the Marché aux Puces. In the old days, it used to be the place where unwanted 'junk' was sold but nowadays, it's mostly an antiques market where quite a few 'pro' shoppers hunt for bargains. In fact, some sections of the market are home to stupendously expensive antique furniture shops and taking photos there is definitely at your own risk. That said, you'll find at Marché aux Puces anything from 19th century chandeliers all the way to Uzi sub machine guns. If you're looking for cool, off the beaten path things to do in Paris, this is one of them.
Heading to Paris?
Plan the perfect trip to Paris with free and in-depth Paris travel guides, including the Best of Paris collection and a guide to all major Parisian neighborhoods.
Why Visit the Paris Flea Market?
It's definitely a must-visit for antique lovers but for those who generally love markets, it's a great way to spend a weekend afternoon. Visiting the various stalls, some in super tight alleys, is like walking in back in time and who knows what you might find? Not so many tourists venture out to this part of town so even on the weekend, you'll have plenty of space for exploring the market. If you've been to Amsterdam and visited the De Looier Antiques Market, you'll love the Paris flea market as well.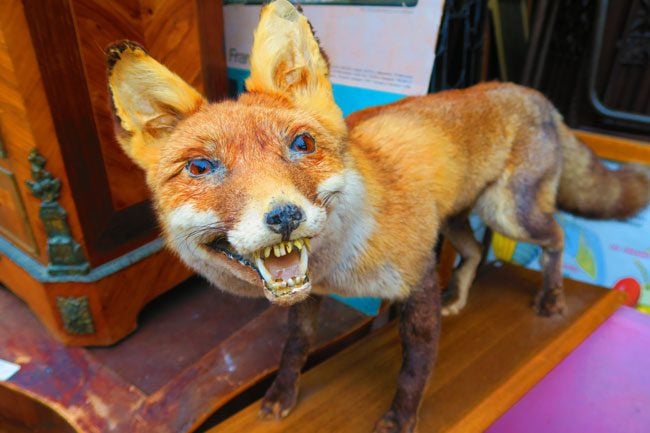 How to Get to the Paris Flea Market
The market is located in St-Ouen, which is technically outside Paris 'proper'. It's actually not the best part of town and you should take some degree of caution when venturing outside the market area. In fact, if you tell a Parisian that you're going to visit St-Ouen, they'll likely raise an eyebrow or two. But not to worry, you'll have a great time as long as you know what's expecting you.
The closest Metro stop is Porte de Clignancourt but if you get off here, you'll have to walk beneath the infamous peripherique highway, which marks the edge of town, and along rue Jean Henri Fabre, which is a 'rough' street lined with stalls selling mostly counterfeit everything.
A better way of getting to Marché aux Puces is to get off at the Garibaldi Metro station (line 13). You'll have a slightly longer, but more pleasant walk, which will bring you right to Rue des Rosiers, the heart of the market complex.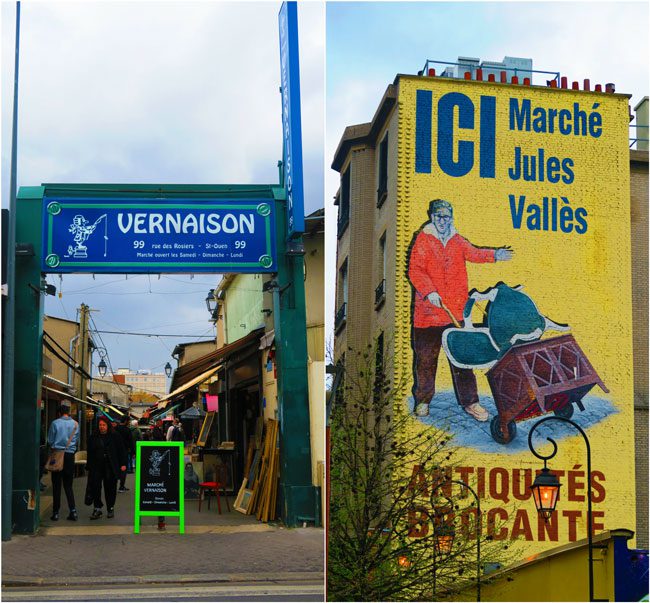 When to Visit the Marché aux Puces
The markets are open every day except Monday (as many Paris markets do) from 9 am to roughly 6 pm. Stalls may close during the day to take a break.
How Long to Spend
If only coming for the atmosphere and you aren't on the hunt for antiques, allow yourself 3-4 hours to properly enjoy the markets.
What to See & Do at the Paris Flea Market
OK, now you've made it to the serious stuff! I recommend starting your visit at Marché Vernaison. It's the oldest market in the entire complex and offers the best balance between the merchandise on display and the overall atmosphere. It's also home to a wonderful place for food/drinks but more on that later.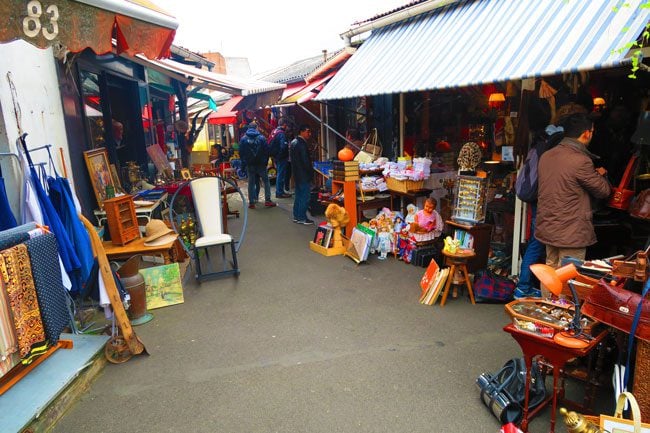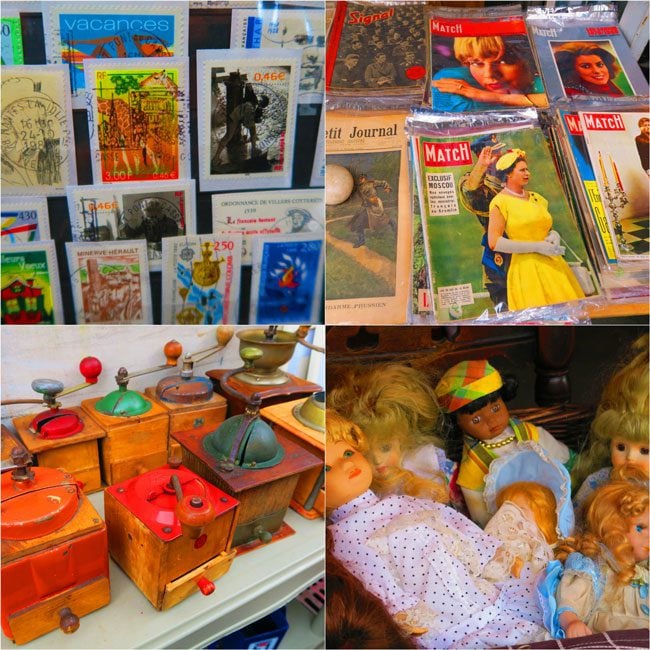 Marché Vernaison is pretty much an organized maze of alleys crisscrossing each other and has a few entrances. Getting lost is definitely part of the fun but don't worry, you'll eventually make it to one of the exits. This market has a good balance between the more posh stalls selling fine antiques and the usual flea market stalls we all know and love, selling old stamps, magazines, coffee grinders, and what not.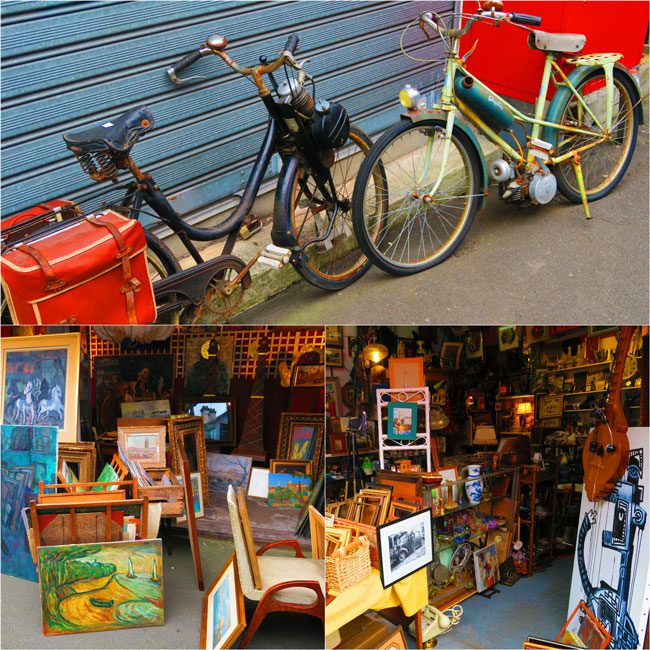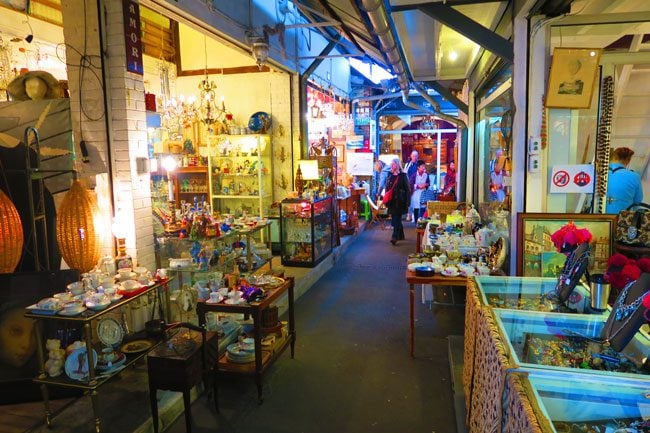 Next up is Marché Biron, the most luxurious and poshest of all the markets that make up Marché aux Puces. It's pretty much one street that's lined up with proper shops selling fine pre 20th century furniture. This is the kind of furniture that can be found in the finest apartments in Paris, the ones that you'll likely not get to see on your visit to Paris. Taking photos here was extremely difficult (as was in other parts of the market). Shopkeepers are very protective of their privacy and that of their buyers. Or perhaps, they just don't want to make it easy for counterfeiters. Come here to get a taste for Classic French home decor because it's probably the closest you'll ever come to this kind of furniture in your lifetime.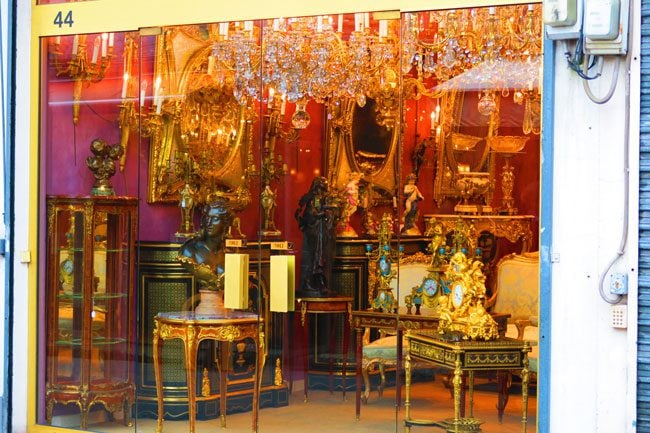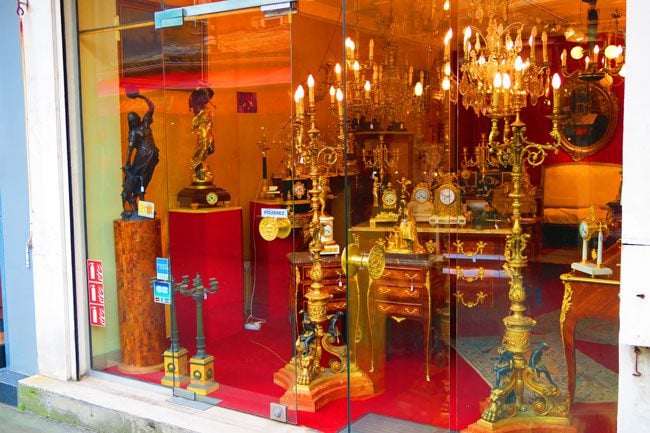 Marché Jules Vallès was up next on our list. This market is much more down-to-earth than Marché Biron and is a tiny covered market with proper antique shops. There are some hardcore sellers here as well and you can see they've been in the game for decades. Fancy some stuffed animals, some antique paintings, or perhaps even an old clock? You'll find it here plus much more.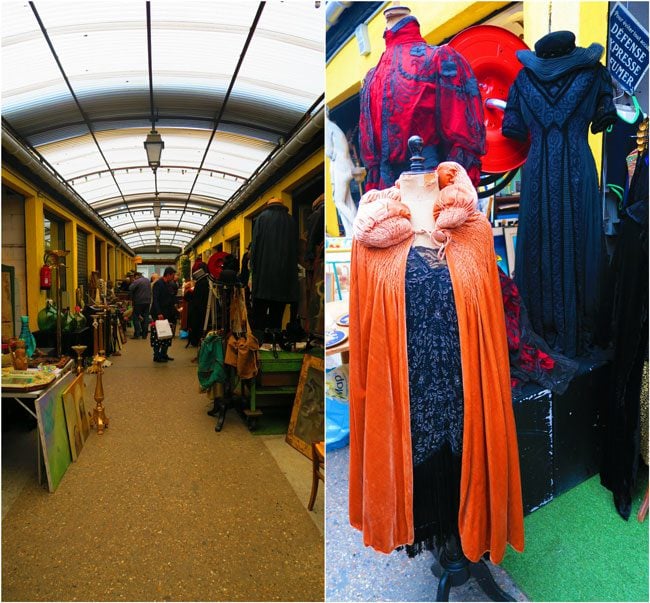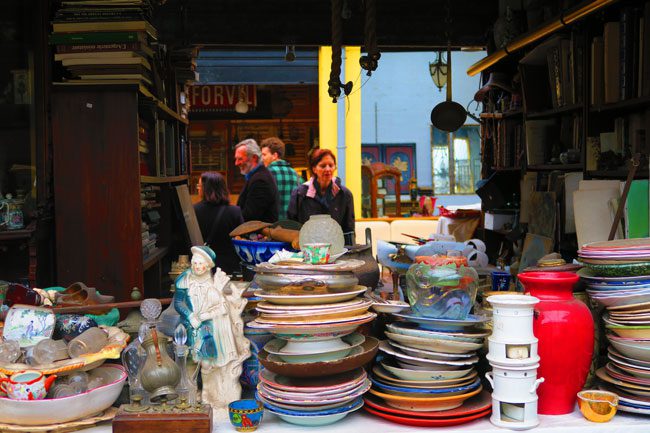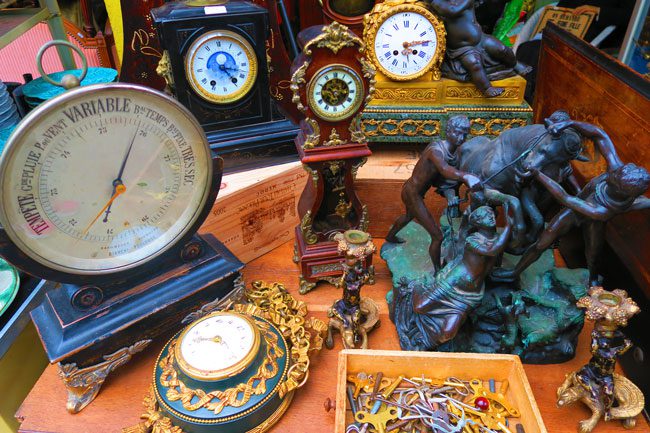 There are only so many antiques you can see in one afternoon so our last stop on this visit was at Marché Le Passage. There's a super cool vintage clothing shop that stretches for the better part of the entire passage. The 'no photo' signs cannot be missed but since I strongly disagree with such policies (it's a public market after all), here's what you'll get ladies: an amazing collection of vintage wedding dresses, wedding gear, and, well, just normal dresses.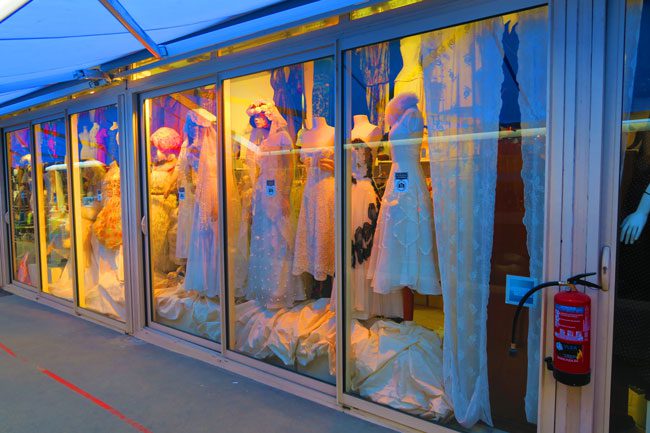 For the men (and for the women, of course), there's a super cool vintage bookshop over here. If you need to catch up on your French history reading or brush up on your Latin, this is the place for you.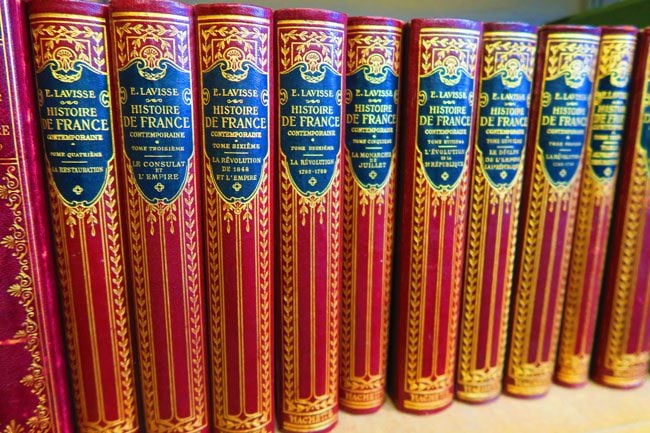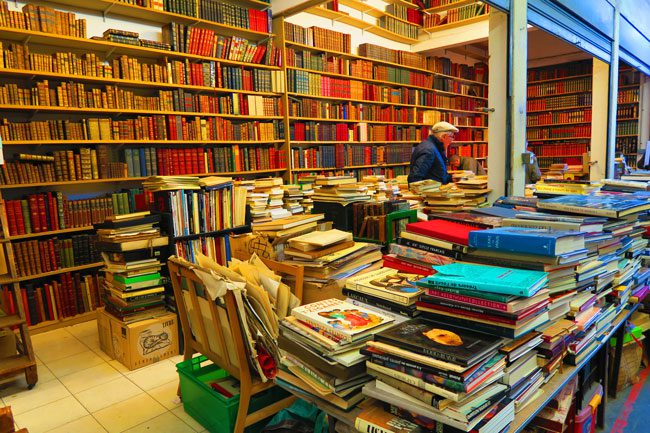 Aside from books and dresses, this hidden passage on the outskirts of the market is also home to some interesting ornaments for one's garden. With the way real estate prices in Paris are going, good luck selling these. But hey, it's free to look!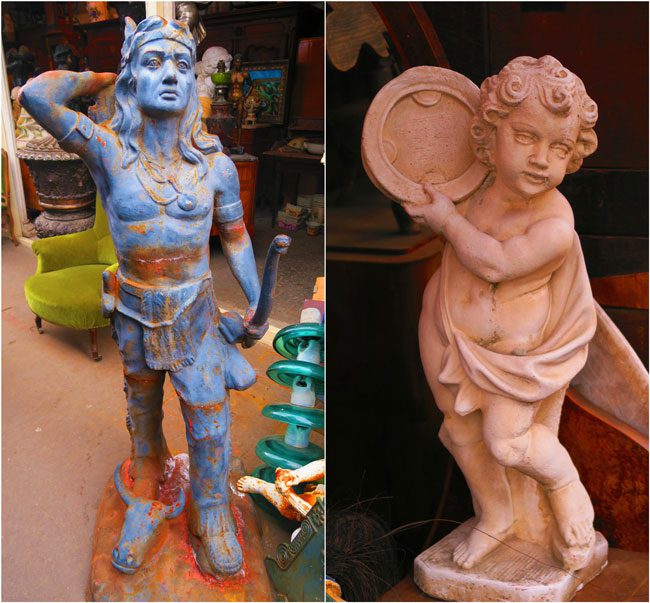 Where to Eat?
There are quite a few options along Rue des Rosiers and you'll have no problem finding a bistro. There are also a few places at the intersection of Rue Jules Valle & Rue Paul Bert. For lunch, we went to La Pericole. It's a very popular place with the locals and the food is simple and satisfying, but not extraordinary. What's nice in Paris is that restaurants generally do offer a good value for lunch specials. You can have a 3-course meal for less than 20€. In our case, we had salads and herring for starters, beef steak for mains and creme brûlée along with tiramisu for dessert.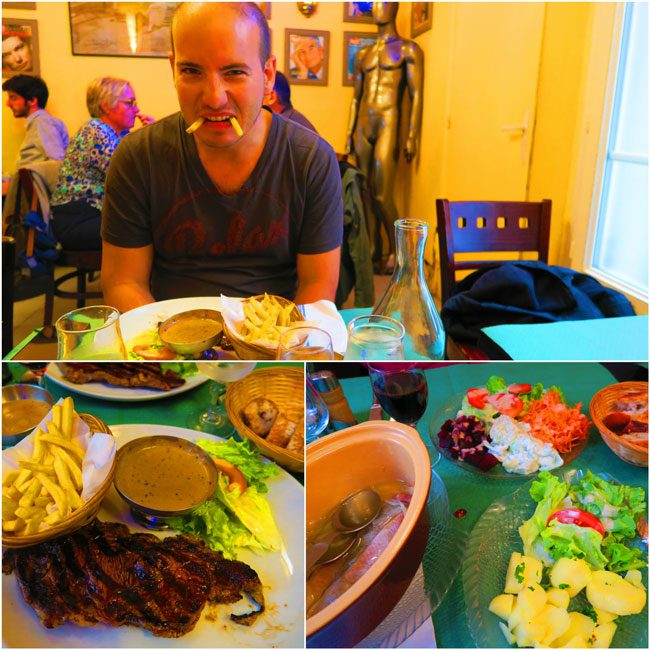 For a more memorable lunch, follow the sounds back in the Marché Vernaison and you'll make it to Chez Louisette. While the place is not famous for its food, it is mega-famous for Manuela, who cranks out Edit Piaf tunes like there's no tomorrow. She really knows how to get the crowd going with our favorite chansons. It's perfectly OK to just come here for coffee and to turn the wheels of time back to classic Paris and La Vie en Rose!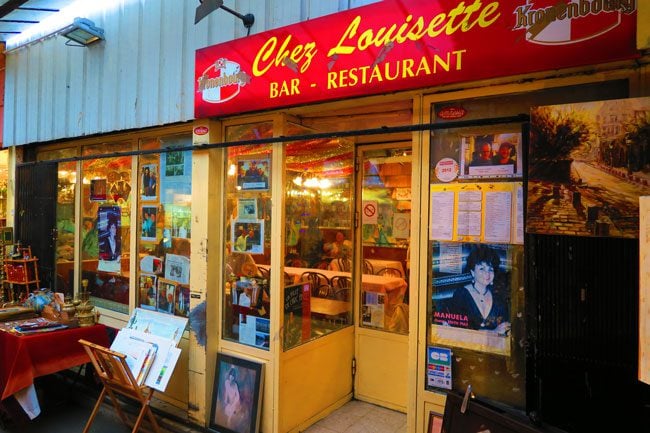 In Conclusion
The Paris flea market is definitely an interesting thing to do in Paris. If you love flea markets, this is kind of Mecca for you. I wouldn't put this on my 'must see' places if you're only coming to Paris for a few days but if you have more time, or perhaps returning to Paris and have already been to all the mega crowded and super touristy sights, this could be a pleasant way to spend an afternoon.
What's Next?
Plan the perfect trip to Paris with free and in-depth Paris travel guides, including the Best of Paris collection and a guide to all major Parisian neighborhoods.