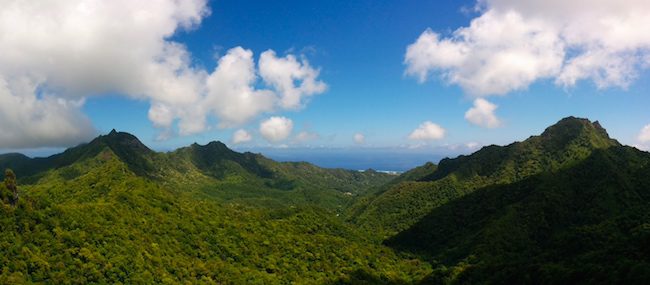 Picture yourself starting out your day as the sun's rays make their first appearance above the sleepy lagoon. After a tropical breakfast and perhaps a stroll on the beach, you go for a bit of scuba diving, hop on your scooter for a mini road trip around the island, or maybe you just do nothing on the beach. As the day draws to a close, you admire the sunset with a cocktail in your hand and cap off typical day in paradise with a Polynesian fire and dance show. All this and more are what your holiday in Rarotonga might look like. To help you plan the tropical vacation of a lifetime in the most 'happening' of the Cook Islands, start your reading with this Rarotonga Travel Guide.
About This Guide
I spent three weeks in the Cook Islands as part of a six-month backpacking trip across the South Pacific Islands, with almost three weeks in Rarotonga. This Rarotonga Travel Guide was written based on my experiences and is meant to help you make the most of this dream destination. The travel guide is geared towards independent travelers, but any visitor will find it useful.
Traveling to the Cook Islands? Start your reading with The Cook Islands Travel Guide!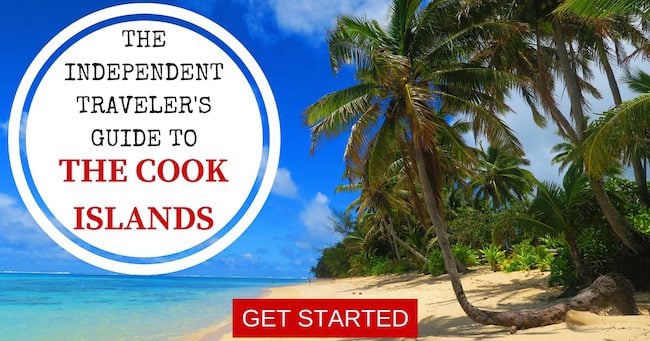 Visiting other South Pacific destinations? Get expert advice on how to island hop in the South Pacific and check out these travel guides to French Polynesia, Samoa, American Samoa, Easter Island and Vanuatu
Why Should You Visit Rarotonga?
With only 32 kilometers required to circle the island and so many options to keep you both sleeping like a baby at night and happily 'busy' during the day – Rarotonga feels like one big tropical playground. Catering to the entire spectrum of travelers (even backpackers and weddings), there's really something for everybody. The island is big enough to find your own spot, yet small enough to easily be explored. What's even better is the affordable cost of getting around on your own, and the stiff competition for your tourist dollars. While not as traditional as other South Pacific islands – if you're looking for a comfortable holiday in a modern yet relaxed setting, and with plenty of things to do (or not do) – you'll love Rarotonga!
What's Included In This Guide To Rarotonga?

Rarotonga Travel Guide Map
Click on the image to open in Google Maps. This map covers all the highlights mentioned in this travel guide.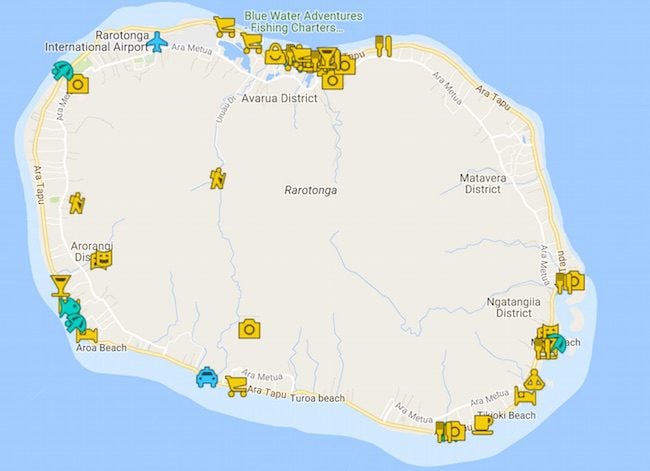 Facts & Brief History
Rarotonga is the main island in the Cook Islands chain (meaning 'south of Tonga'). Located in the southern group of islands, nearly 70% of the Cook Islands' current population of 15,000 resides here. Rarotonga was formed by intense volcanic activity, leading to a rugged and mountainous interior characterized by sharp peaks and dense forests. The island is only 32 km in circumference, surrounded by a coral reef which sharply drops more than 4,000 meters to the ocean floor.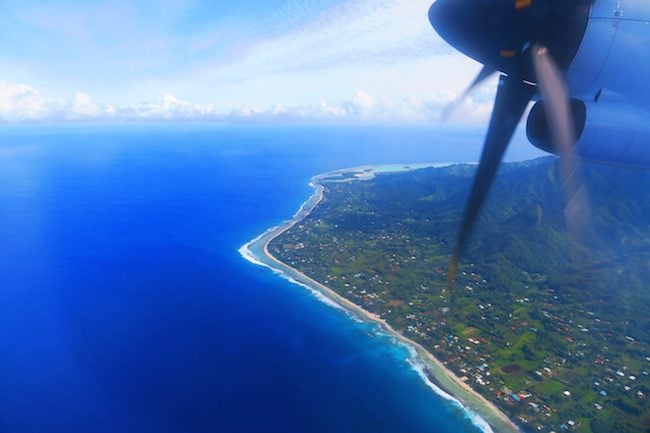 Rarotonga was settled by seafaring Polynesians, likely arriving from neighboring French Polynesia sometime in the 6th century. These pioneers were masters of the sea, sailing in massive outrigger canoes called Vaka, and navigating using stars and waves pattern. These pioneers would later embark on a voyage out west, discovering New Zealand – some 3,000 km's away!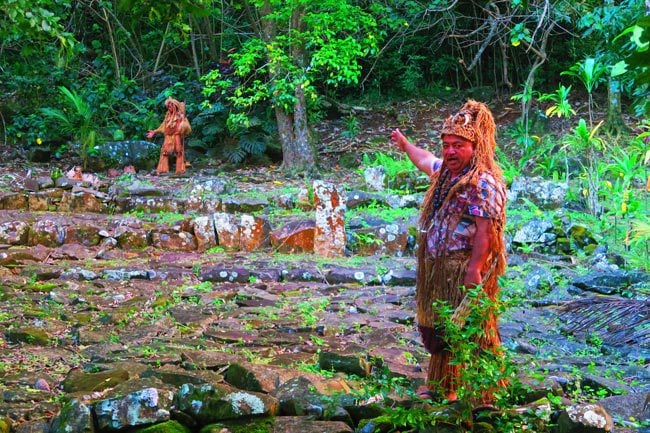 Contact with Europeans and missionaries in the early 19th century marked the beginning of the end of local Maori culture and the devout acceptance of Christianity. These days, Rarotonga's economy is primarily focused on tourism, with modern infrastructure and facilities concentrated around the island's beautiful coastline.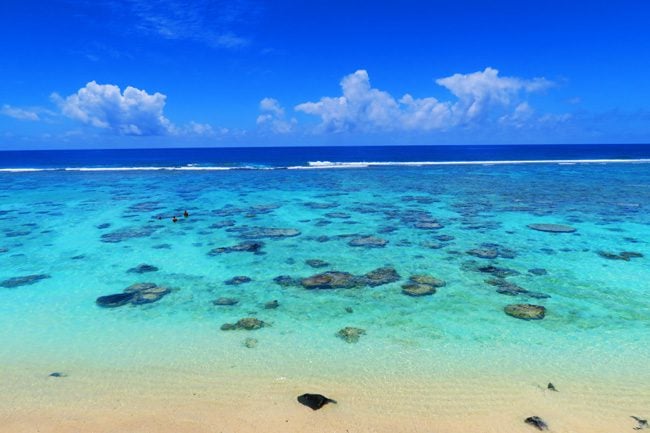 One of the few challenges for locals is the issue of land. Plots traditionally belong to the various island tribes, later shared with families who in turn split the property into smaller plots for the younger generation. This never-ending cycle means that fewer and smaller plots can be shared. It is only because more Cook Islanders reside outside of the Cook Islands, that this land division challenge is not ballooning to a national problem.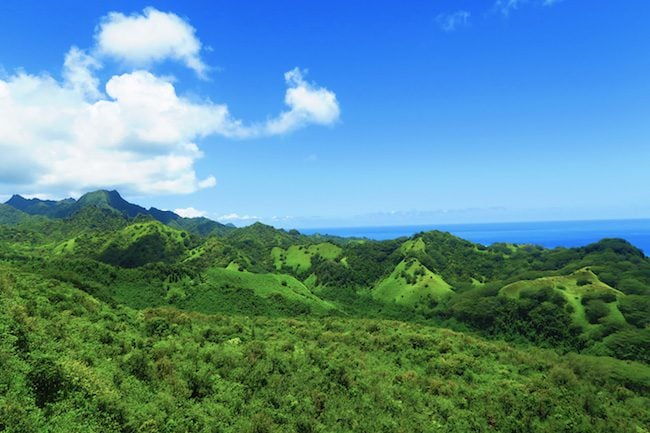 Rarotonga Travel Guide Tips
Listed here are specific travel tips for Rarotonga. Be sure to also read the Cook Islands Travel Guide, filled with general travel tips to paradise.
Recommended Reading
How Many Days Do You Need In Rarotonga?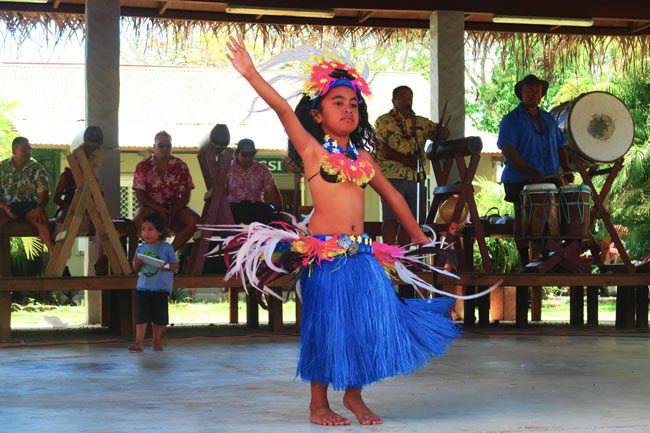 Most visitors spend a week in Rarotonga and that's plenty of time to do a bit of sightseeing, experience island life and finish a good book. Rarotonga isn't very big, and everything will start to look familiar after a few days. If you spend a week in Rarotonga, you'll be able to experience the various events that take place on specific days on the island such as the Saturday market, Sunday church service, island nights etc. Keep in mind that if you haven't got a few days to spare for Aitutaki, you can visit on a day trip from Rarotonga. More info on that in the Aitutaki Travel Guide.
Is Rarotonga Worth Visiting?
Rarotonga offers a great mix of laid-back South Pacific charm, natural beauty and lots of activities to keep you busy. It's so easily accessible from Australia and New Zealand that it should be a no-brainer. If it's more traditional Polynesian life you're after, Samoa is also a worthy candidate. Rarotonga caters to all types of travelers, from backpackers to honeymooners to seniors, and everything in between.
When Is the Best Time To Visit Rarotonga?
Rarotonga enjoys comfortable weather throughout the year, never as oppressively hot as other South Pacific destinations.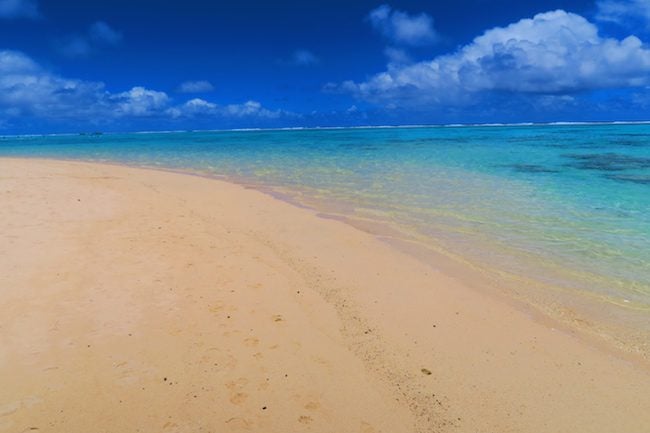 Cyclone season (November – March): cyclones are always a threat but rarely hit the island. Expect hot and humid days, combined with rainy, cloudy and thunderous periods that can be short-lived or last for a few days. That said, there are plenty of sunny days. Having something light yet warm is also advised for those colder and windier evenings.
Cooler months (June – August): the southeasterly trade wind is in full swing, blowing away the clouds and affording consistent sunny weather. Temperatures will dip below 20 degrees at night so pack something warm.
Shoulder seasons (September – October & March-May): pleasantly warm days with fewer chances of cloud cover and rain. Temperatures will rarely dip below 20 degrees at night and rarely rise above 30 degrees during the day.
I personally spent time in Rarotonga during November and December – the start of cyclone season. I had exceptionally good weather, with plenty of sunny days that weren't too hot but hot enough. It was kind of humid, but nothing like I experienced in Samoa – my previous destination. The only exception was a period of a few days with high winds and rain that were caused by a cyclone that was hitting Samoa – some 1500 km's northwest.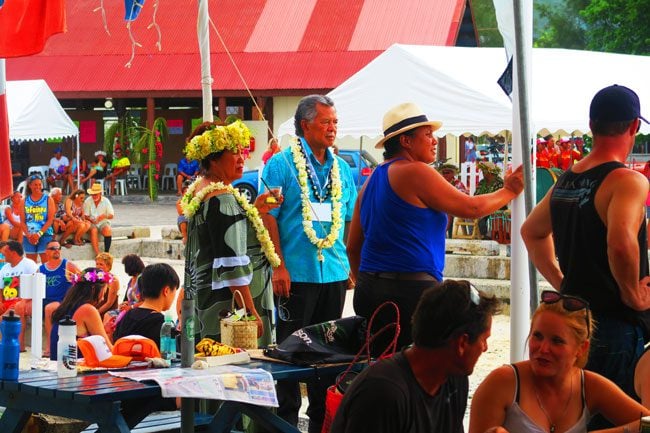 Keep in mind: December and January experience a huge surge in visitors to Rarotonga and locals heading home. With that comes a surge in prices and difficulty in finding spots on flights and accommodations. Book in advance if you plan to visit during this time. April sees the Constitution Celebration (Te Maire Nui), the Cook Islands' major festival, while November hosts the Vaka Eiva canoe race – both periods of extra high tourist demand.
What To Pack?
Have a look at the X days In Y Packing List for recommendations on what to pack for Rarotonga based on my own experience.
Money
Finding an ATM in Rarotonga should not be a problem as you're never too far from one. Most businesses accepted credit and debit cards, without any extra surcharge.
Rarotonga Average Costs
Here's a breakdown of costs during my weeks in Rarotonga. I stayed at quite a few places around the island, always had either a scooter or car, did all the major activities including scuba diving, and mixed dining out with self-catering
Tips For Saving Money In Rarotonga
Here are three ways to save a bit of money in Rarotonga:
Self-catering: choose accommodations that have cooking facilities.
Use the bus: while renting a vehicle is not an expensive affair in Rarotonga, the island's bus system is the most efficient in the South Pacific.
Visit the Saturday market: all major tour operators are present in the Saturday market and might have some interesting deals for you.
Coupons: the official Rarotonga tourist map has pretty useful coupons for restaurants, bars and even scooter rental.
Duty-free: buy spirits and tobacco (if you smoke) at the duty-free.
Night market: the Muri night market has lots of inexpensive outdoor dining options.
Happy hour: a lot of restaurants and obviously bars, will have special hours where food and drinks are low priced. Most island brochures will list where and when happy hours take place.
How To Get To Rarotonga
Flights are pretty much your only option of getting to Rarotonga. At the time of writing this Rarotonga Travel Guide, there are direct flights from Australia, New Zealand, Los Angeles and Tahiti. Important: you must be able to show your onward ticket if asked by the border police upon arrival in Rarotonga.
Getting Around Rarotonga
Rarotonga isn't very big. A 32-kilometer paved road circles the island, taking about 45 minutes to complete. Renting a car, scooter or bicycle in Rarotonga is very inexpensive – with lots of competition and extra discounts for longer-term rentals (~$15/scooter, ~$40/car). I highly recommend having the freedom to get around on your own, but here are a few options I can think of:
To/from airport: all accommodations will arrange airport transfer, either for free or for $10-20 (NZD) per person using a local transport company. You can also use public buses if the timing is right.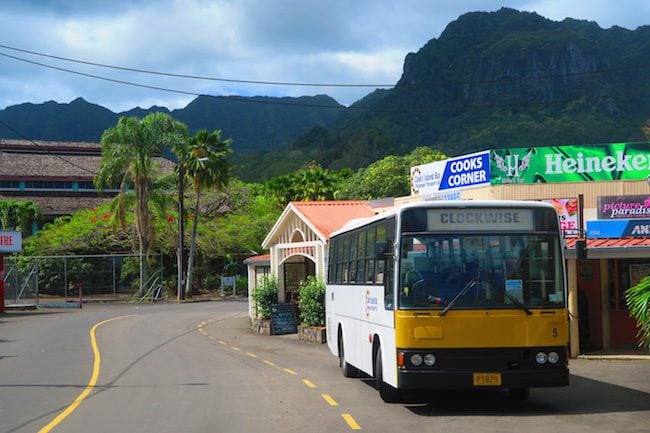 Public transportation: busses in Rarotonga are refreshingly efficient, by far the most of any South Pacific island I visited. Heck, you might even have 'Mr Hopeless' as your driver, singing Andrea Bocelli tunes while sharing valuable tips with newly arrived tourists. Two lines circle the island, running in clockwise and anti-clockwise directions. They stop at designated stops and anywhere along the road. The fare is $5 one way or $8 return (cash only), and there are discounts for multi-ride packages. The buses run on a set timetable, leaving from the center of Avarua near the Bergman & Son's pearl shop. Frequency is reduced after 4 pm and on weekends. Have a look here for official information on how to use the bus in Rarotonga.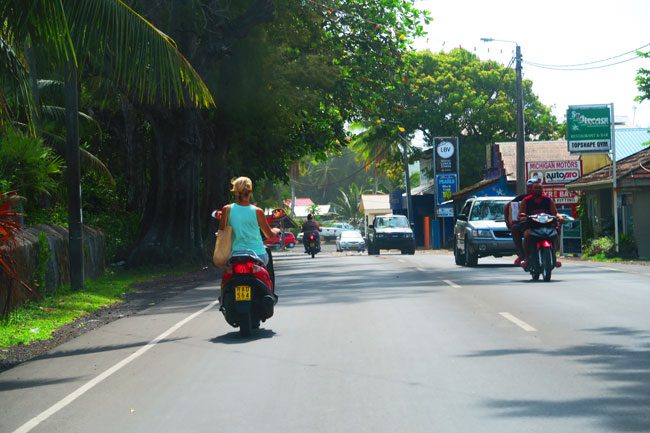 By scooter: getting around Rarotonga by scooter is by far the most popular and most fun way to go. There are so many scooters around here probably in a similar ratio to the number of smartphones back home. Polynesian Rental Cars & Bikes is a top choice for scooters. They have a wide range of bikes in excellent conditions, six locations spread around the island and unbeatable deals. Polynesian runs a very efficient business both online and on the ground. I had an extremely pleasant experience renting a scooter from them.
Have a look at the Cook Islands Travel Guide for important information on how to get a scooter license in the Cook Islands.
By car: if two wheels ain't your thing, renting a car in Rarotonga is a breeze. Go Cook Islands has the largest fleet of cars in Rarotonga, all super well maintained. Canadian born Manager Jaret Moore is extremely helpful and will offer you the lowest possible price for car rental on the island. Need to pick up or drop off the car at the airport? Not a problem! Go Cook Islands will arrange that for you with no extra hassle, and they'll also pick you up from your accommodation if necessary. Along with your car, Jaret will throw in a super useful coupon booklet that he put together. I actually managed to save quite a bit with it. There are also special deals with leading accommodations in Rarotonga – so renting a car from Go Cook Islands is a real no brainer.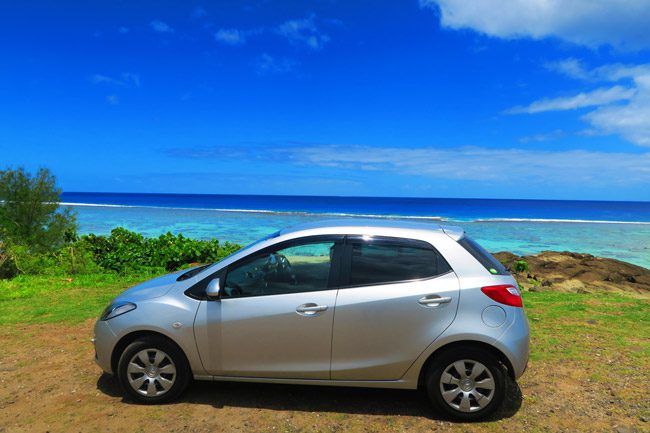 In style: if you want to explore Rarotonga in style, rent a Mini Cooper from the friendly folks at Polynesian Rental Cars & Bikes. The small convertible is a bit of a gas guzzler, but there's nothing like the wind blowing in your face as you're road tripping around Rarotonga!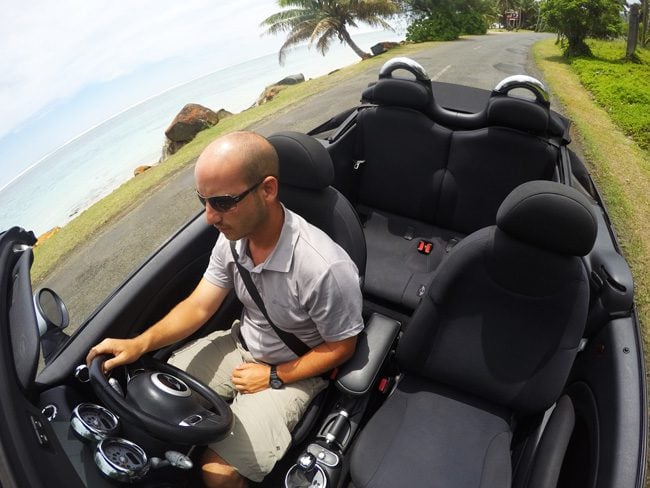 By bicycle: cycling in Rarotonga is a breeze, without any great distances and a pretty flat surface all the way around the island. Polynesian Rental Cars & Bikes has a good selection of bicycles, and there are lots of other providers spread around the island.
Where To Stay In Rarotonga?
Rarotonga is fully geared for tourism, so there are plenty of accommodations to choose from – ranging from backpacker friendly to high-end luxury resorts. The self-catering scene in Rarotonga is very popular. You'll find that many accommodations are equipped with cooking facilities, with quite a few geared towards longer stays.
I stayed at both in the Muri Lagoon area and the west side of the island, known as 'the sunset side'. Both are excellent spots to base yourself at, with Muri pretty much being the 'center of the action' outside Avarua, and the sunset side a lot more low key but nonetheless a short distance from all the action. Here are my recommended places to stay in Rarotonga.
Here's a list of all Rarotonga accommodations that can be booked online!
Muri Lagoon
Te Vakaroa Villas
Smack in the middle of the Muri Lagoon and right on the beach, the exclusive gated property of Te Vakaroa Villas offers the absolute self-catering luxury in Rarotonga, without the anxiety of a large resort. Relax and rejuvenate in one of six spacious villas, impeccably furnished and tastefully decorated. All units open up to a large secluded balcony overlooking a well-kept garden. Furnished with comfy sunbeds, a spa and an infinity pool – the garden fronts the prettiest section of Muri beach. After a perfect night's rest, enjoy a complimentary tropical breakfast delivered daily to your villa, and for an extra romantic dinner – order from the adjacent Sail's Restaurant or have the chef come over.
Te Vakaroa Villas is perfect for self-catering couples, honeymooners, wedding groups and special family occasions. Here's a full review of Te Vakaroa Villas, including an exclusive offer for X Days In Y readers.
Muri Beach Cottages
On the much quieter southern end of the Muri Lagoon, the adults-only Muri Beach Cottages offers a get-away-from-it-all atmosphere in Rarotonga's most sought after location. The rustic units are absolutely charming, with all but one right on the water's edge. In fact 'the pole house' is literally on the water! From the comfort of your breezy wooden deck, enjoy sweeping panoramic views throughout the day – from the sun rising over the magnificent lagoon to millions of stars shining at night. All units are fully self-contained, feeling like that dream cabin in the woods you've always wanted – except this one is in a tropical oasis. There's also a studio unit in the lush front yard, and you're more than welcome to pick whatever you fancy from the trees.
Muri Beach Cottages is a top choice for single travelers and couples, seeking some privacy and a low key vacation without being too far from all the action. Here's a full review of Muri Beach Cottages
West Coast
Lagoon Breeze Villas
Spread across a lush five-acre tropical garden that's backed by Rarotonga's signature peaks, there's plenty of space to call your own in one the 18 spacious units at Lagoon Breeze Villas (soon to be 22). With a large swimming pool, trampoline, a children's playground, free kayaks and snorkeling gear – there are plenty of ways for both children and adults to stay busy during the day. Let's not forget beautiful Aroa Beach just across the road, perfect for swimming, snorkeling, kayaking and especially for sunsets. All units are fully self-contained, with some specially designed for larger families. A complimentary breakfast is served daily in the main house, where you'll also get to interact with the lovely owners Debbie and Garth, along with guests from around the world that keep returning to Lagoon Breeze Villas Oh, and there's even happy hour!
Lagoon Breeze Villas is perfect for self-catering couples, families, groups of friends and long term holidaymakers. Here's a full review of Lagoon Breeze Villas.
The Black Pearl At Puaikura
This up and coming place has recently been renovated and yet to be fully discovered – so hurry up and check out The Black Pearl at Puaikura! Twelve extremely spacious units are intimately set in a lush tropical garden with a saltwater pool at its center. Units are fully self-contained and have plenty of storage space, so there's no chance you'll be living out of your bag on this holiday. Each is painted in bright pastel colors and decorated with local island art. When you're not relaxing in your room or poolside, Aroa Beach is just across the road. This part of the island isn't as busy as others, and you might have a lovely beach for yourself. Don't miss the sunsets! Restaurants, bars, car hire and other useful amenities are just a short walk away.
The Black Pearl at Puaikura is a great choice for self-catering families traveling with or without children, and those seeking a quiet setting with impeccable service. Here's a full review of The Black Pearl at Puaikura, including an exclusive offer for X Days In Y readers.
Finally, here's a list of all Rarotonga accommodations that can be booked online!
Scuba Diving
Rarotonga is the best place in the Cook Islands for scuba diving. While the coral is mostly hard, visibility is excellent and you can expect to have close encounters with sharks and sea turtles. I joined Patrick from Adventure Cook Islands for 4 dives around the island. Catering to both beginners & experienced divers and always with personal treatment, they'll take out a maximum of five divers at a time on their small boat. A two-tank dive including gear will cost $129 (NZD), with the price dropping for additional dives. Aside from scuba diving, they also rent out scooters, bicycles and can arrange adventure tours.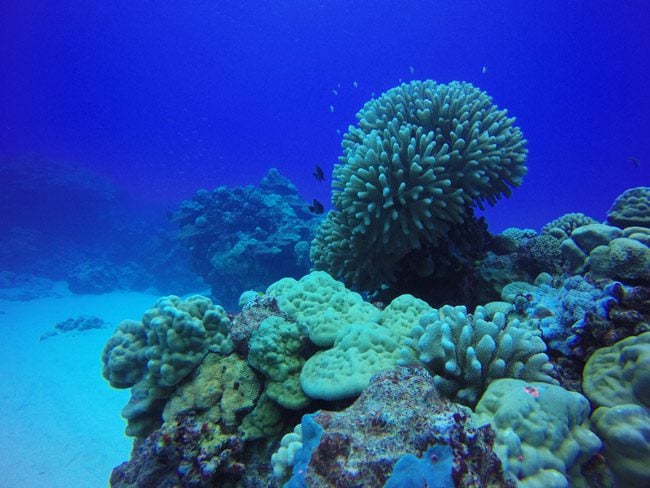 Have a look at the 'diving in Rarotonga' section for more info and lots of photos.
Beaches
Rarotonga's best beaches are on the southern side of the island, starting from Muri Beach in the east to Aroa Beach in the west. Over on this side of the island, the reef breaks far from the coast, creating a large and calm lagoon. See the 'best beaches in Rarotonga' section for more info. I recommend entering the water with reef shoes, and watch out for signs pointing out to the dangerous spots where the reef opens up to the ocean. In case you were wondering if there are private beaches in Rarotonga – the answer is 'no'. You can freely park it on any beach you fancy, just don't cross private property to get there.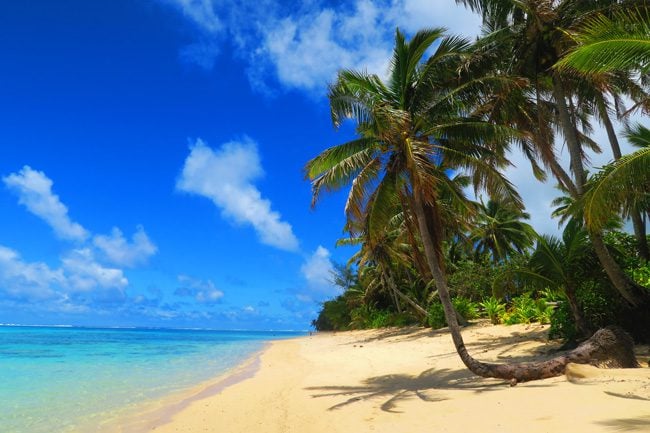 Drinking Water In Rarotonga
Do not drink tap water in Rarotonga unless it is filtered. Some accommodations will have filtered water coming out of the taps, while others might have a special tap inside your unit or a communal one outside. Always ask your hosts before stocking up on bottled water.
Internet In Rarotonga
Vodafone is currently the main (and perhaps sole) Internet and mobile phone provider in the Cook Islands. You'll need to connect to their hotspots, which are spread in various places throughout the island. Some resorts may still use the Zenbu prepaid system so inquire before purchasing Vodafone credit. See the Cook Islands Travel Guide for more information.
Eating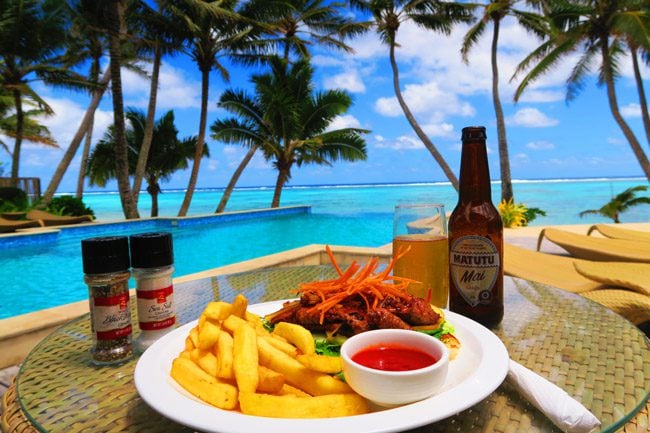 Rarotonga has quite the culinary scene, with more than enough choices to fill up your holiday calendar. You'll find anything from juice bars, to simple eateries, to fine dining and even Indian & Mexican restaurants. For the self-caterers, there are several supermarkets in and around Avarua: Prime Food (good for meat), Wigmore's (good for fruit, vegetables and healthy food), CITC (large selection) and Foodland (on main street Avarua).
See the 'places to eat & drink' section for specific recommendations.
Safety In Rarotonga
For general safety tips in the Cook Islands, have a look at the 'safety' section of the Cook Islands Travel Guide. As for Rarotonga specific safety tips:
Wear reef shoes when swimming or snorkeling as there could be a stonefish hiding amongst the sand.
Be extra careful and inquire about the dangerous swimming spots. Those should be signposted and are dangerous for kayakers as well as for swimmers. Just before I visited Rarotonga, a German kayaking couple got into a bad spot and died.
Theft is not common in Rarotonga but it can happen. Don't leave your bags unattended at the beach. If you're traveling alone, a metal wire and a lock will allow you to tie your stuff to a palm tree.
What To Buy In Rarotonga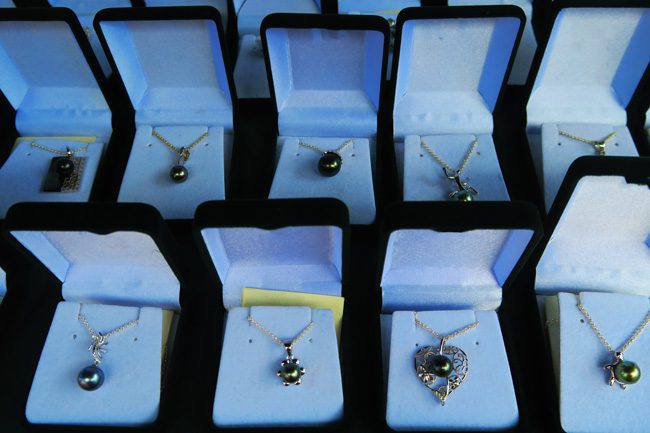 Shopping in Rarotonga is an integral part of your Cook Islands vacation. Most shops are concentrated in Avarua and Muri, along with the Saturday Punanga Nui Market that's geared for tourists. Aside from a ukulele, you can shop for: island fashions, sarongs, shell necklaces, bags & hats from coconut fiber and wood carvings. However, the most unique souvenir you can bring back from Rarotonga (at least on the materialistic side) is a black pearl. Common in the Cook Islands and French Polynesia, these beautiful pearls are a great gift for a lady.

Things To Do & Places To See In Rarotonga
Check out this 7 days in Rarotonga sample itinerary to see how to divide your time on the island
Circle The Island
With 32 km's of road circling the compact tropical island, hit the road on a slow tour of Rarotonga. Whether by car, scooter or bicycle – stop wherever you feel like, take it easy and enjoy the South Pacific sun!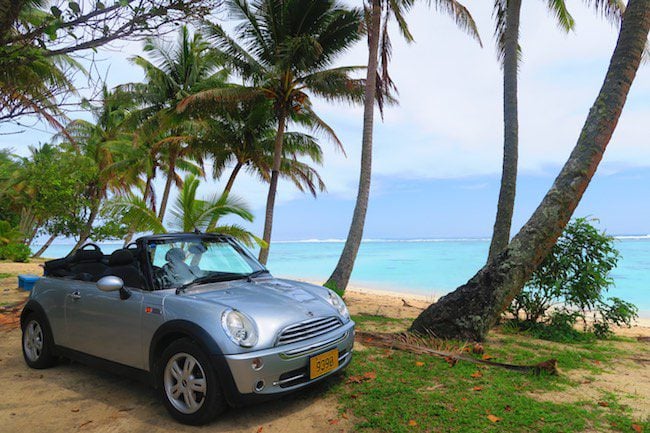 Avarua
Avarua is the biggest town in the Cook Islands. It's nestled at the foothills of Rarotonga's mountain ridge and fronted by a pretty little beach that's too rough for swimming.
Despite a four-lane main street, the town is super laid back yet offers both locals and visitors everything they need. Come here to do some food and souvenir shopping, run a few errands, walk along the beachfront or grab a bite to eat.
Here are a few interesting sights in and around Avarua:
Para O Tane
Unfortunately, you can only check out this former chief's palace from the outside. This is the site of the treaty signing, accepting British protectorate over the Cook Islands in 1888.
Avarua Catholic Church
The Cook Islands Christian Church in Avarua (CICC) is the island's major house of worship. Built in 1853, its graveyard is the final resting stop for many of the island's notable former residents. Do not miss the opportunity to attend Sunday church service, whether you're a believer or not!
As with its older sister in Aitutaki, service starts at 10 am, as locals wearing their finest Sunday whites start packing the church to the reminding sounds of the bell. Grab a seat in the upper deck or ground floor, and enjoy a delightful service filled with island hymns perfectly sung a capella style by devout men and women.
Here are some of the sights and sounds from Sunday church service in Rarotonga
Takoma Theological College
A pretty little colonial-style building that's worth having a peek at if you like your architecture (and history). Completed in 1853 for a mere $150, it was the first theological college established in the South Pacific by the London Missionary Society (LMS) – the folks pretty much responsible for everyone around here converting to Christianity. It was here that future missionaries would train to spread the word of Jesus across the remote islands of the South Pacific.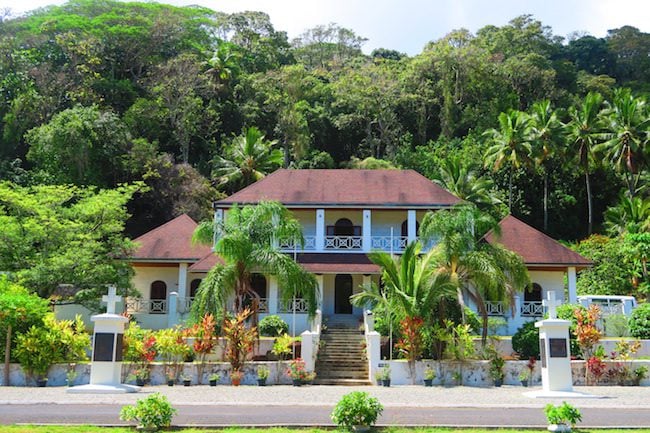 National Museum
This ain't exactly the Louvre in Paris but the small museum is interesting for those who want to learn about Cook Islands history. There's a good display of vaka models (outrigger canoes) that brought the first settlers to the islands and afterward to New Zealand, along with explanations about the Cooks' modern history (admission by donation, Mon-Fri 8am-4pm).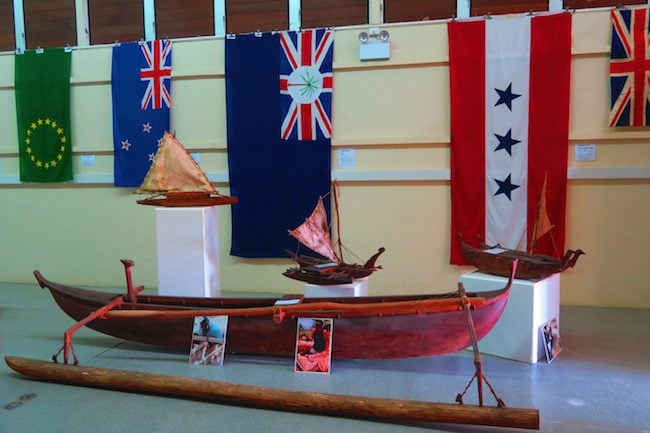 Beachcomber Gallery
This historic waterfront building was once the LMS missionary school. In fact, it's the second building to be constructed from stone on the island. These days, it's a trendy contemporary art gallery, but there's also a high-end black pearl shop and a lovely chic cafe.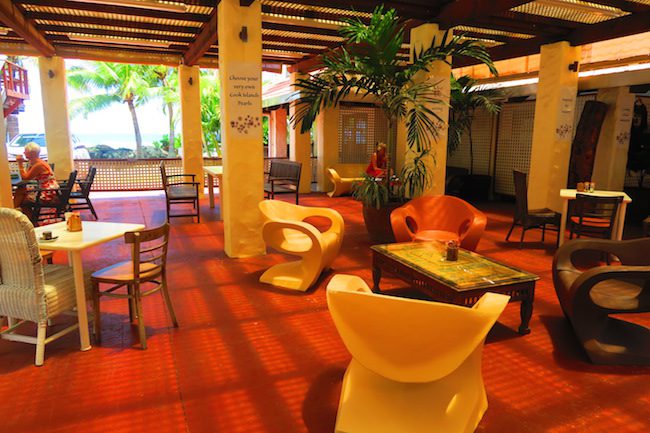 Punanga Nui Market
Saturday mornings in Rarotonga can only mean one thing – wake up bright and early and make your way to the Punanga Nui Market in the outskirts of Avarua. Along with the Papeete Market in Tahiti, it's one of the best markets in the South Pacific, though geared more towards tourists than locals. Don't worry about breakfast or brunch, there are plenty of options around here. Wander around from stall to stall, grab a fresh tropical juice on the way and shop for anything from black pearls to locally made ukuleles.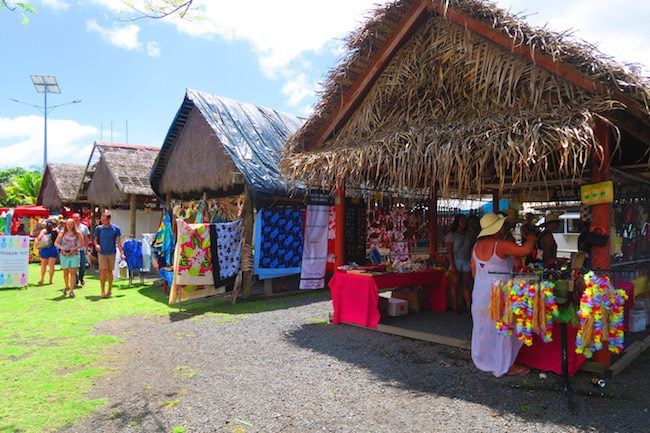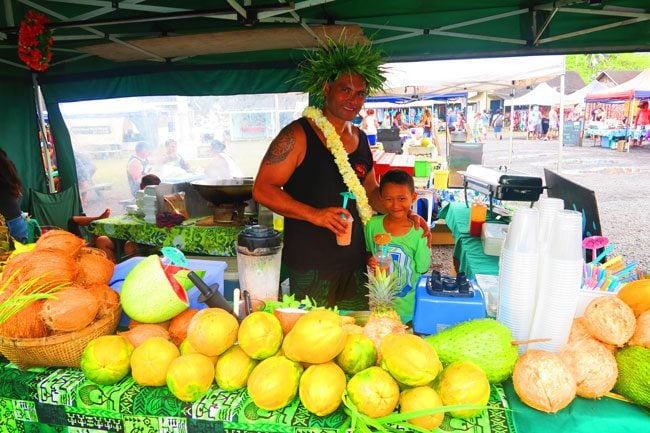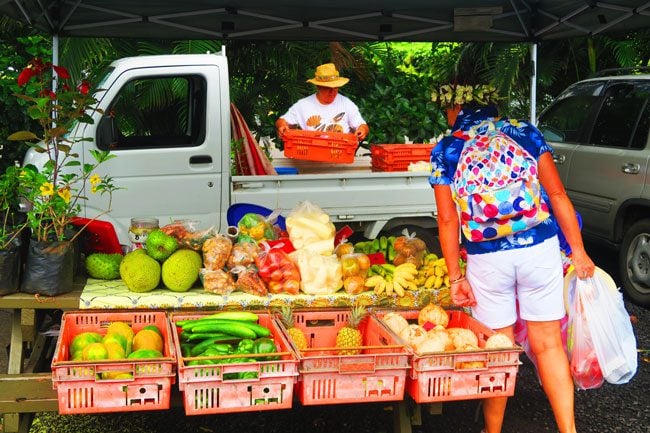 At some point (always 5-10 Cook Island minutes from now), the entertainment will begin. First it's the young children showcasing their traditional dancing skills, and then it's the senior bunch taking center stage. It's really amazing to see how traditional song and dance is instilled in children from a young age. Pretty much every Cook Islander can showcase their exotic culture through song and dance, hardly the case further east in French Polynesia.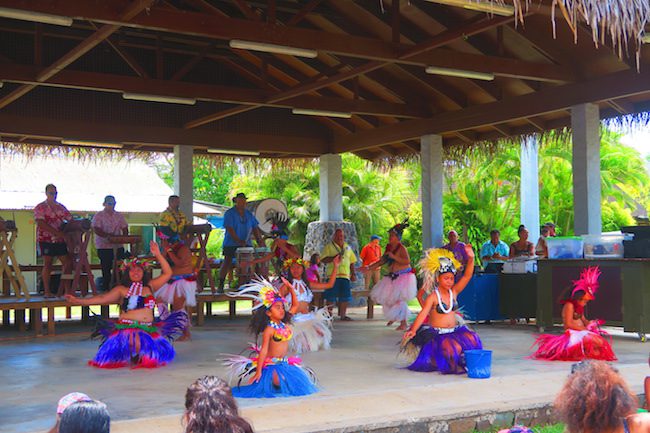 The market offers a good chance to do a bit of grocery shopping for anything from locally grown food to artisan bread. The action wraps up around noon and don't forget to bring enough cash. Local tour operators are also present and you might be able to find deals on island night shows, activities and excursions.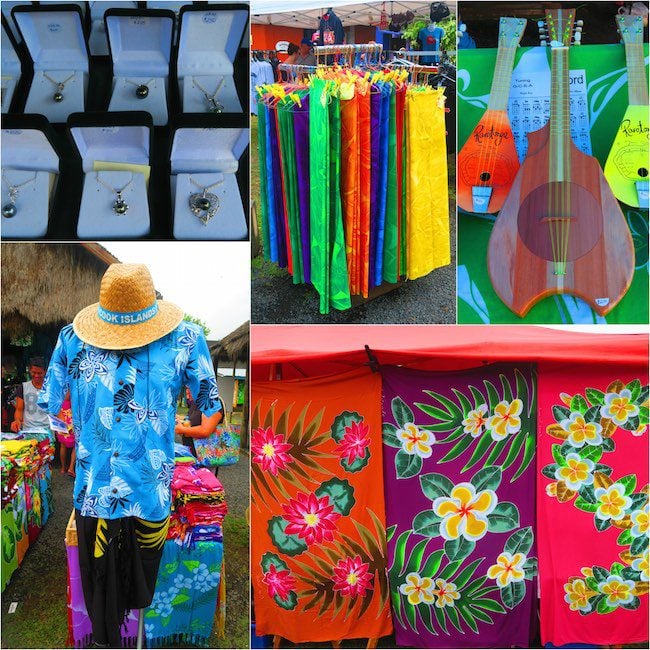 Panoramic Lookout
Heading west out of Avarua, follow the signs to the Rarotonga hospital. The hospital is nestled on a hill overlooking the island's northwest coast and you can stop along the way for sweeping views.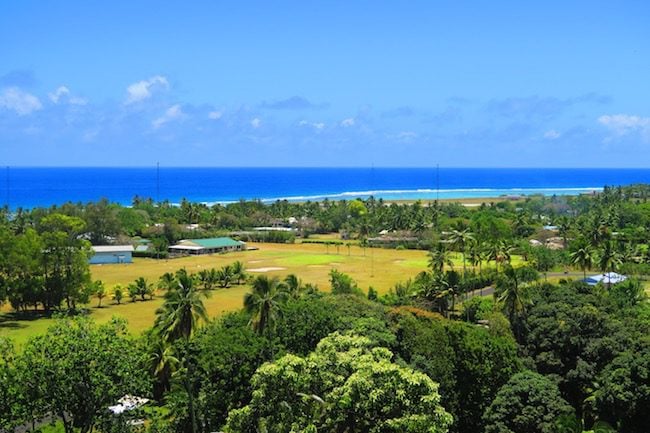 Island Night
There are many things you must do in Rarotonga, but if there's an absolute one that you shouldn't miss – it's got to be taking part in an 'island night'. It's a well-known fact that all Cook Islanders can sing, dance and play with fire. They combine all three with a huge buffet dinner in a memorable evening that showcases the exotic Polynesian culture of the Cook Islands. The best place in Rarotonga for island night is at Te Vara Nui Village, smack in the middle of the Muri Lagoon area.
If you didn't opt-in for the village tour, you'll enter the impressive reconstructed Polynesian village just in time for the buffet dinner. Order a refreshing cocktail and enjoy a massive selection of local dishes and your favorites from back home. There's really something for everybody and there's plenty of it.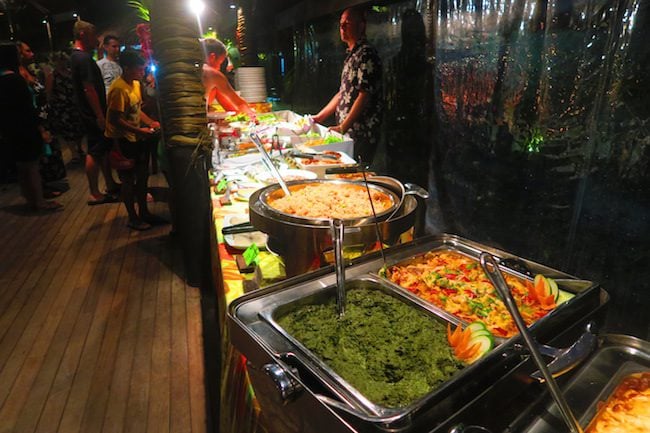 As dinner winds down, the show is about to begin. This is the prime reason you come to an island night. At Te Vara Nui, they really took it up a few notches. The show takes place over the water – on floating and fixed stages.
Professional dancers wearing exotic costumes, act out the legend of Tongaiti. An ancient fearsome warrior, Tongaiti landed in Rarotonga and was challenged by the mighty local chief. After flexing their Polynesia muscles, the two rivals agreed to end their quarrel in the only possible way – marriage. Tongaiti's beautiful daughter marries the chief, and everybody lives happily ever after.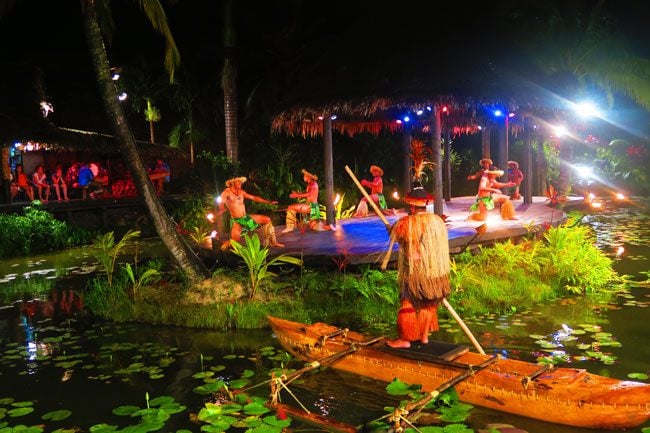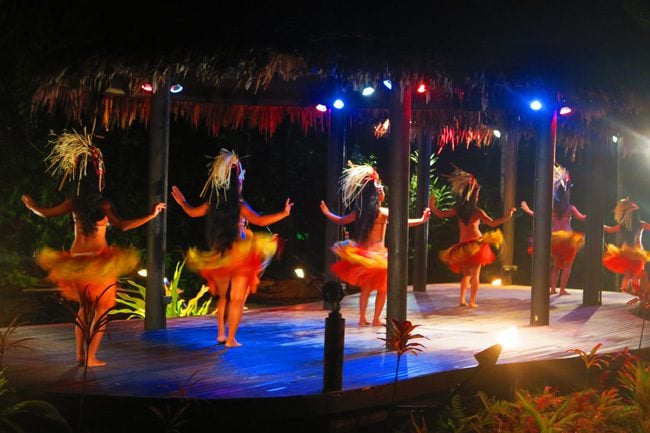 If this sounds like a Hollywood script – it really is that elaborately directed. In fact, island night in Te Vara Nui is more like a Las Vegas show – even better! To go along with the timeless legend, you have exotic costumes, beautiful local dancers, thrilling fire dancing and dramatic live music. Can you really ask for more?
Don't miss the mother of all island nights! Here's a full review of Te Vara Nui Village, including all packages and key information you need to know.
Maire Nui Botanical Gardens
The only botanical gardens in Rarotonga, the Maire Nui gardens are refreshingly tranquil. Wander around the well kept tropical garden and treat yourself to something fresh in the cute cafe ($5 entrance in an honesty box).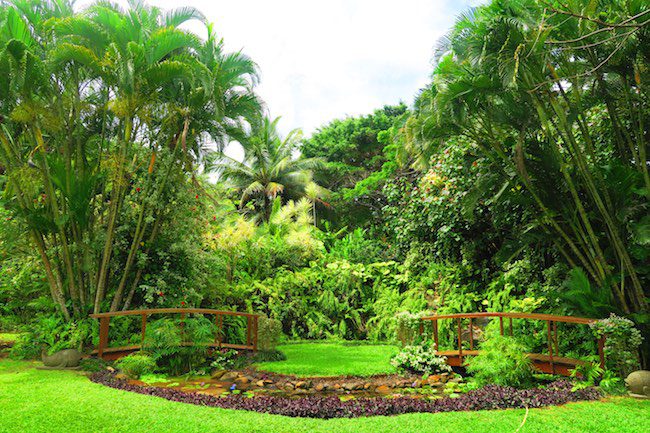 Rumours Waterfall Spa
To really get into holiday mode, book a spa treatment at Rumours Waterfall Spa in the Muri side of Rarotonga. This multi-award-winning spa is the top choice in the Cook Islands. Renowned for the 'vichy shower ' natural water massage, you can also opt-in for the more conventional jet lag recovery treatment or Polynesian body masks. The spa also offers the chance to stay in two luxury villas on the premises or five bungalows nearby, so you're never too far from a pampering massage.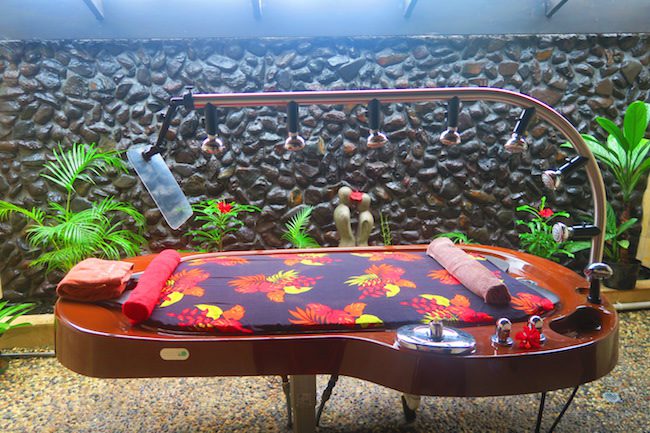 Here's a full review of Rumours Waterfall Spa
Wigmore's Waterfall
Cutting inland next to the abandoned Sheraton Resort, the road ends at Wigmore's Waterfall – the only waterfall in Rarotonga that I'm aware of. It's nothing spectacular and in fact may not even exist in the dry season, but it's still pretty cool to see if you've got your own vehicle. The waterfall also marks the end of the strenuous Cross Island Track, rewarding those who hike from north to south with a refreshing dip in the waterfall's cold pool (see 'hiking' section).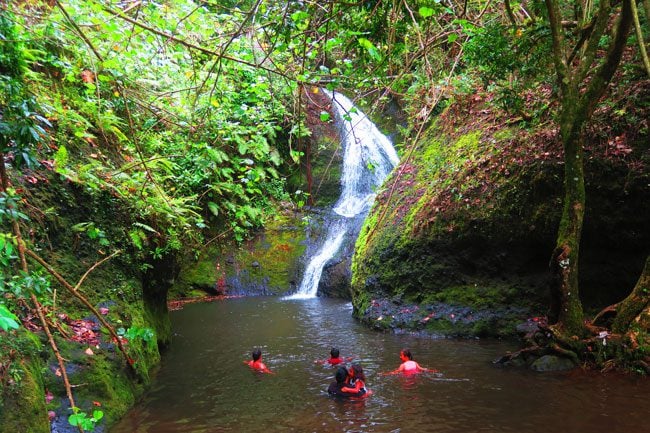 Storytellers Bicycle Tours
Up for some island discovery? Join one of the tours offered by Storytellers Eco Cycle Tours. Choose one that suits your riding level and how much time you feel like spending on the bike. Whichever tour you opt for, you'll learn about Rarotonga's natural landscape, culture and history – while getting a bit of exercise done.
Highland Cultural Paradise
Commanding wonderful panoramic view of Rarotonga's quiet West coast, a visit to the Highland Cultural Paradise is a great way for both adults and children to learn about the ancient Cook Islands culture. Located up in the mountains, the cultural village sits on the grounds of the former residence of the Tinomana tribe. The tribe's ancient village spreads across a vast expanse of the surrounding mountains, with just a fraction excavated to date.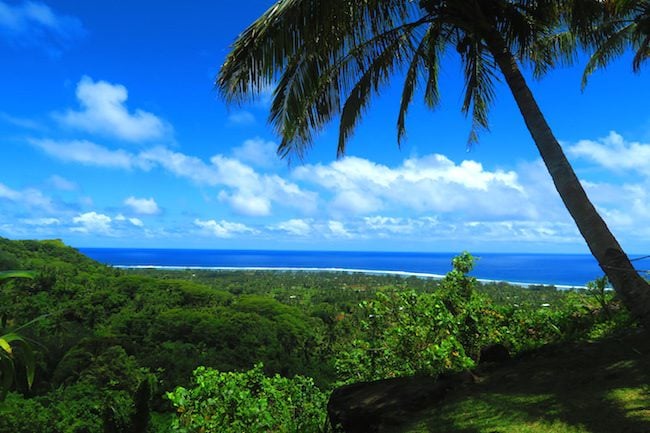 You can wander around the village on your own, but I highly recommended joining a guided a tour. On the tour, your authentically looking guide will take you through the village, which brings back to life the tribe's ancient ways. The Tinomana controlled this part of the island but not without having to protect their land from neighboring tribes. There were plenty of battles, lots of bloodshed and honor was paramount. You'll visit an actual ancient marae (Polynesian temple), where you'll witness a key religious ceremony followed by a lesson on how justice was carried out in the old days (hint: it wasn't pretty).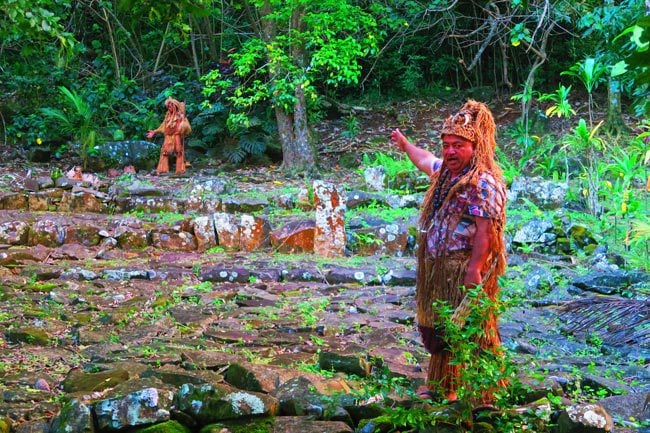 Here's a full review of Highland Cultural Paradise, including the village tour and island night show.
Avana Passage
At the northern tip of the Muri Lagoon, this is a site of great significance for both Cook Islanders and Kiwis. It is from here that centuries ago, several vakas (massive outrigger canoes), departed on a voyage into the unknown west. Several of them eventually made it to Aotearoa – better known as New Zealand. These days, you'll find here a small harbor and the delicious Mooring Cafe (see 'places to eat' section).
The Best Beaches In Rarotonga
Black Rocks
A little west of the airport, it's hard to miss this beach, with its large volcanic boulders (black of course) sticking out the blindingly turquoise waters. Park your car/scooter/bicycle and hop down from one black rock to another until you make landfall on the soft sand.
It's a lovely spot for a swim and the snorkeling is OK, depending on the currents. What I especially loved about this beach is the fact you can stroll in every direction and find yourself all alone after just a few minutes. There are no facilities so bring everything you need.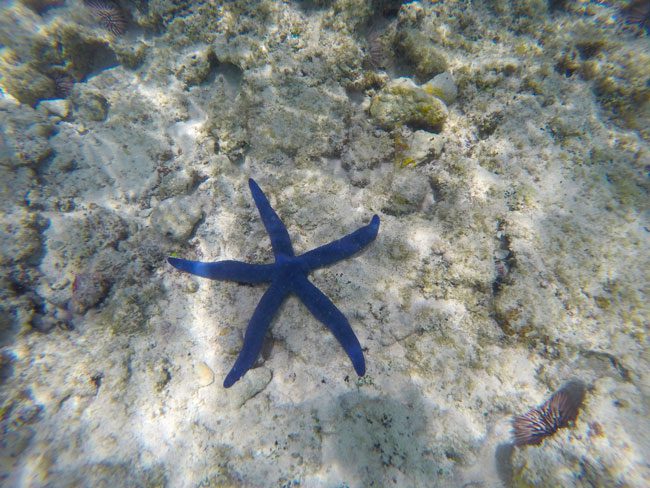 Muri Beach
This is the most popular beach in Rarotonga, extending across the southern section of the island's east coast. There's a huge concentration of hotels, resorts, restaurants and tour operators along the beach, but you can still find your own quiet spot especially towards the southern end.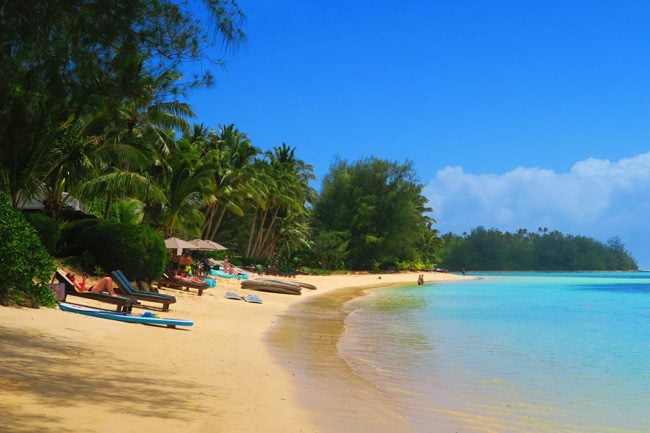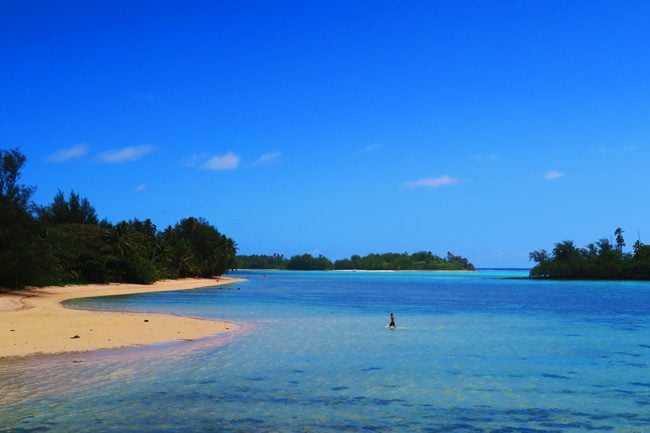 The beach fronts the Muri Lagoon with its four small motu (islets) that can be reached on an organized lagoon tour or by renting a paddleboard from the friendly folks at KiteSUP.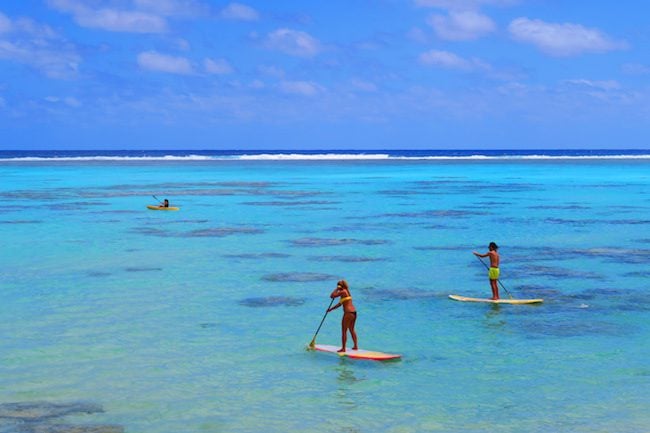 The snorkeling can be a hit or miss and definitely enjoyed at high tide. There's even a slight chance of spotting stingrays if you're lucky. When I visited, the lagoon was going through a bad period of algae taking over certain parts. However, this is not always the case and on most days – the Muri Lagoon is a glorious spot.
Titikaveka Beach
This was my favorite beach for relaxing, exactly how you imagined a Cook Islands beach to look like. The prettiest section of the beach is just in front of the Little Polynesian resort, which is also a great place to grab lunch (see 'places to eat' section).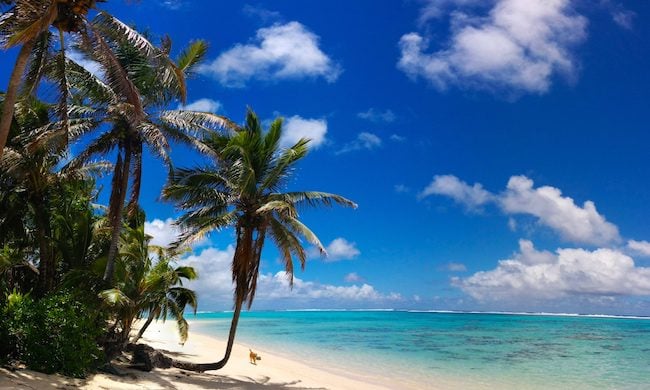 Aroa Beach
Over on the west coast of the island, come here if you want to really get off the grid in Rarotonga. There aren't too many resorts around here, and the beach is great both for swimming and snorkeling.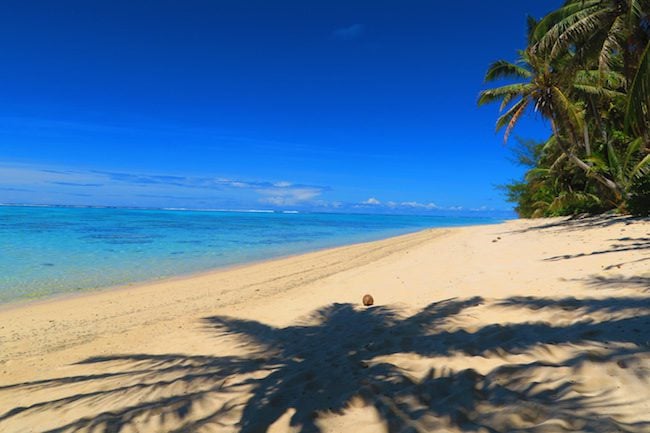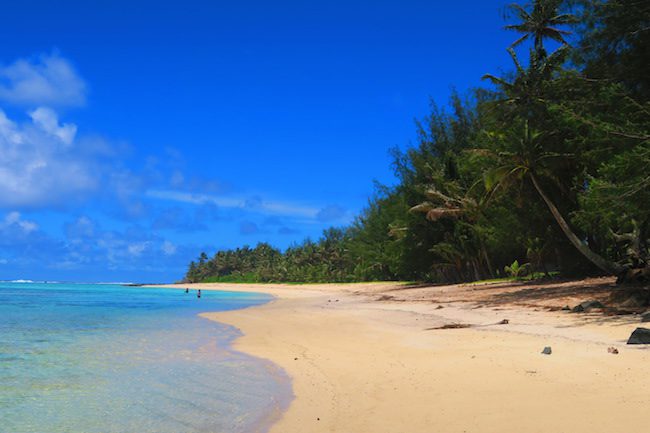 The real draw of Aroa Beach is the sunset. Do not miss the opportunity to witness this glorious act, with nothing but soothing sounds orchestrated by swaying branches of palm trees. I kept coming here over and over again. Can you really blame me?
Hiking In Rarotonga
With such an impressive mountainous skyline, hiking in Rarotonga is a great activity for those who relish the outdoors. Unfortunately, most hiking trails are not marked and/or are in such poor condition that can actually pose a danger (covered in shrubs, ropes haven't been check etc.). It is paramount to check with the local tourism office before embarking on any hike, aside from the following two.
Cross Island Track
The most popular and accessible hike in Rarotonga, the moderately difficult Cross Island Track cuts through the island and should be done going from north to south.
After a quick and easy stroll, you'll begin a steep ascent through the dense forest. This part of the hike is the most challenging one, as you'll often use the tree roots as stairs.
Once you reach the plateau, you'll catch your first glimpse of 'the Needle' – the iconic natural feature that's the signature of Rarotonga. This huge chunk of rock is so massive, that hikers at its base look like tiny flies from a distance.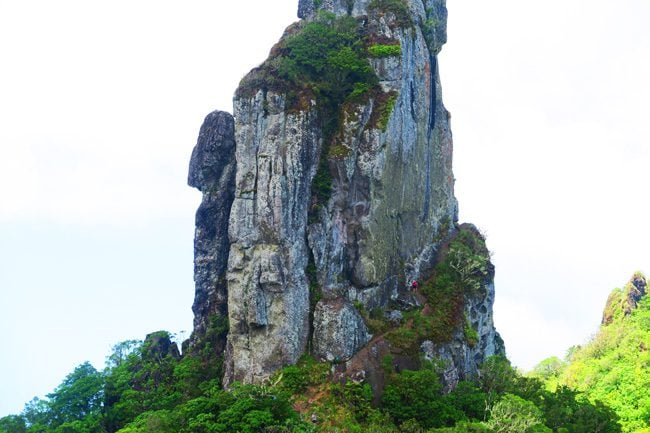 From up here, take the trail going right towards the needle and use a series of chains and ropes to make it to the highest section of its base. From up here, the views are simply breathtaking, with 360-degree vistas of the island. It is here that you realize just how wild Rarotonga is. With so many modern facilities down by the coast, it's easy to forget that the bulk of this high island is uninhabited and too rugged to settle. Note that it's not advised to rock climb the needle.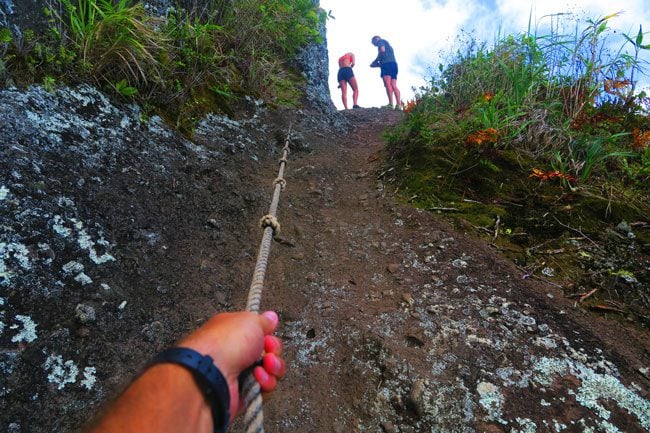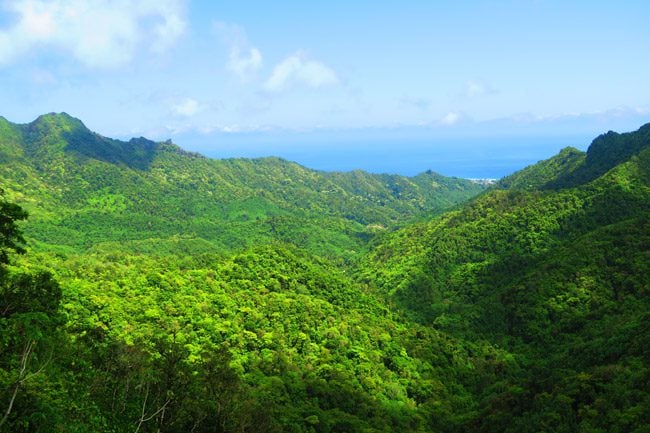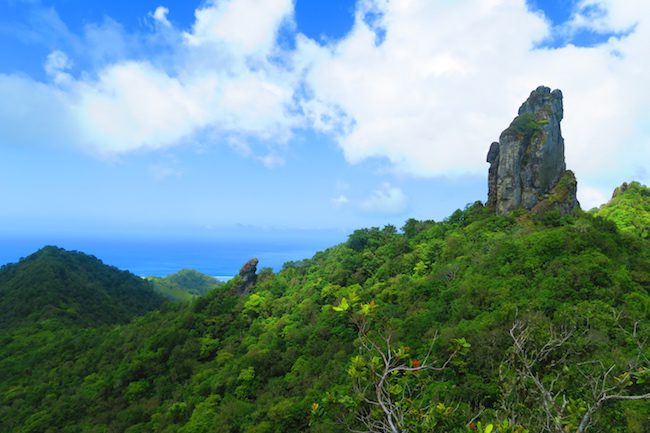 It'll be hard to leave this spot but once you do, you can either walk back to the car park or take a left this time and hike down to the south coast, completing the crossing of the island.
This part of the hike will be slippery, as you're walking along and over a few streams. Since a lot of hikers simply go back after the needle, you might be all alone in the thick rainforest (as I was) – and that can be a super cool experience.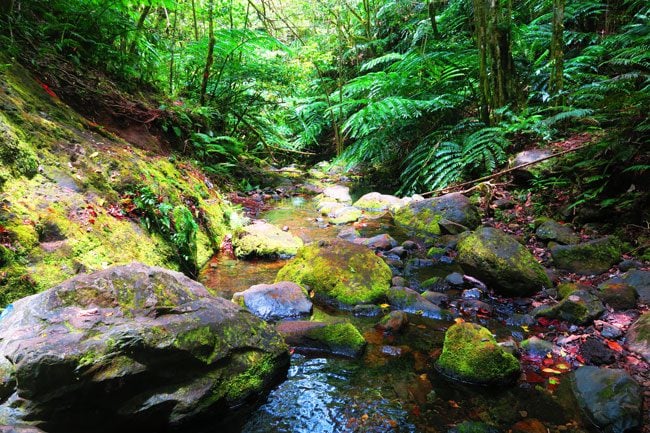 You'll complete the crossing at Wigmore's Waterfall, a refreshing way to end this serious hike – that is if there is actually water cascading down to the fresh pool.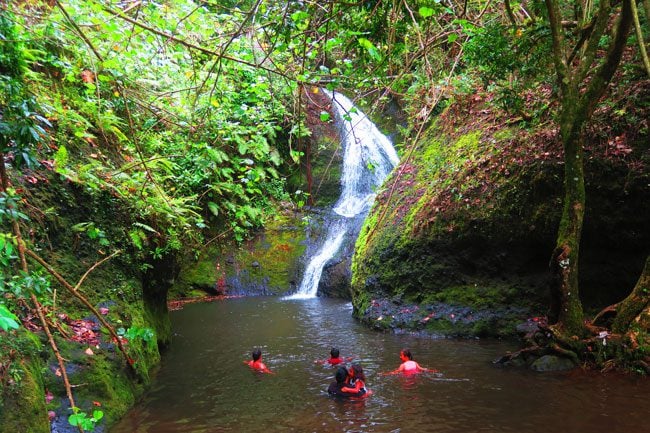 Logistics: the clearly marked track begins inland, somewhere behind the airport. Just ask any local to point out the direction of the car park. DO: wear comfortable hiking shoes, take at least two liters of water, wearing shorts is OK but bring with you a change of clothes as you'll be completely soaked in sweat. DON'T: leave anything in your vehicle or scooter (though it's safe to leave it locked) or hike after heavy rainfall. Getting back: The entire walk takes 2.5 hours plus another two if you chose to complete the circuit and need to use a mix of bus and walking to get back to the car park. You can simply head back after the needle or team up with a friend and leave a second vehicle at Wigmore's Waterfall.
Mount Raemaru Track
Over on the west coast of the island, not many tourists know about this moderately difficult hike. You'll begin with a 45-minute climb through the rainforest, clearing a few spider webs along the way if nobody's been hiking up here for a while.
You'll then reach the ridgeline, where the views keep getting better and better. At some point, you'll reach what looks like a dead-end, with a bunch of colorful Buddhist flags that you might recognize from Himalayan hikes.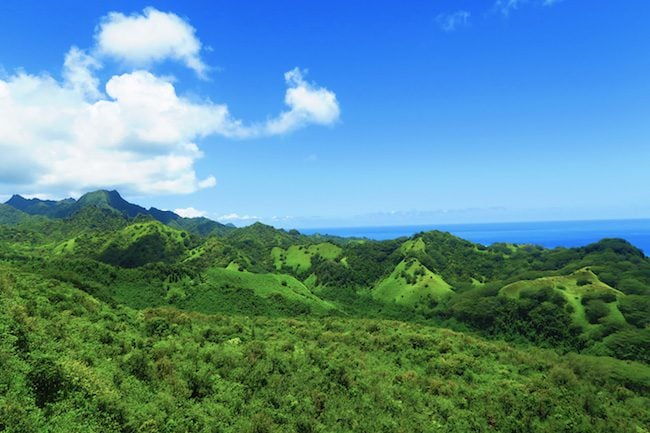 This actually isn't the end of the line folks! Grab on to the rope and begin climbing your way up the cliff. It's quite a breeze and not slippery at all if it hasn't been raining – totally paying off in just a few moments.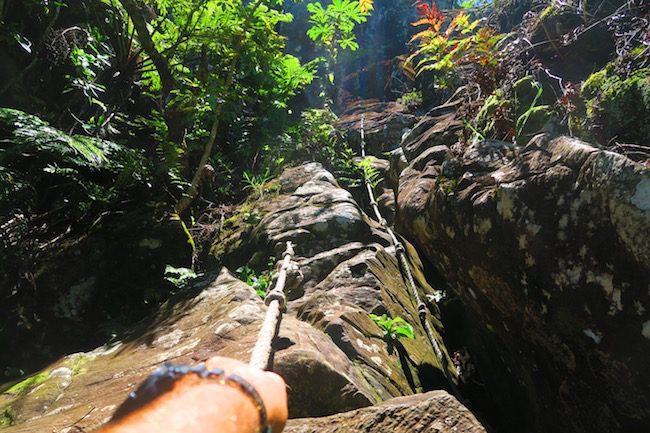 As you make your way to the top, you'll reach a grassy plateau with a series of small trails taking you in different directions. Find the spot you like and enjoy the panoramic views. From up here, the tiny villages look even tinier, and life just seems so beautiful! There's a very good chance you'll have this spot all to yourself.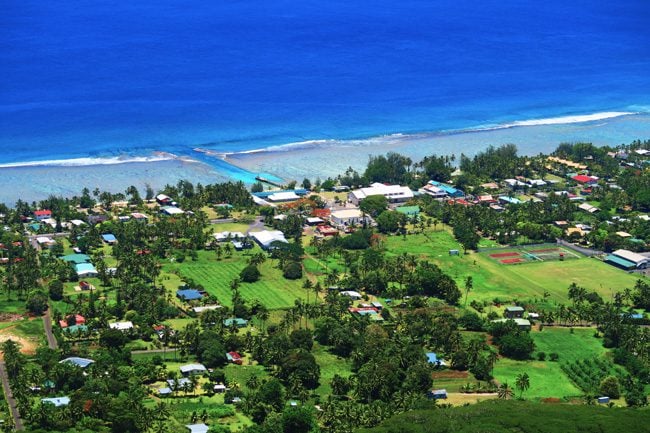 Logistics: Take a right on Akoka Road by the Friendly Supermarket and across Magic Reef Bungalows. The trailhead itself is quite difficult to find as you need to take a right on a larger trail that leads to an agricultural plot up a neighboring mountain. Look out for this sign but keep in mind that it might be covered in bush. If you walked for more than 10 minutes and started ascending not through a thick forest – you missed it. DO: take plenty of water, tell your hosts that you're attempting this hike, wear comfortable shoes and shorts are OK. DON'T: attempt this hike after heavy rain or continue hiking up the bare mountain without spotting the trailhead sign.

Diving In Rarotonga
Scuba divers should not miss the opportunity to discover Rarotonga's rich marine life. Those without certification can use their time on the island to get their diving card. I went diving with Patrick from Adventure Cook Islands and absolutely loved it. Their small powerboat fits only five divers, so I highly advise booking in advance and planning for an early start to your day.
South Coast
On our first dive, we crawled our way through one of the lagoon passes – where the current is strong and where lots of fish like to hang out. A pass essentially drains the lagoon, nature's way to clean this massive 'swimming pool'. All this hard work pays off though, with close encounters with sea turtles, moray eel and colorful trumpet fish.
On the second dive, we calmly cruised along the reef, venturing out in the deep blue from time to time only to return to the safe comforts of the rocky cliff. It is here that you realize just how sharply Rarotonga rises from the deep ocean, or sharply drops down – depending on how you look at things. Aside from vertigo, you'll also be treated to incredibly clear waters and beautiful corals stemming from the purest of white sand.
North Coast
Our second pair of dives were in calm waters, weaving our way through the lush coral garden. We spotted a few sharks having a good time and ventured into caves, while having close encountering with colorful tropical fish.
The water visibility in Rarotonga was some of the best I experienced throughout the South Pacific Islands. I highly recommend having a go, and who knows – maybe you'll see a few surprises in the deep blue?
Places To Eat & Drink In Rarotonga
There's no shortage of places to eat and drink in Rarotonga. Here are a few I recommend:
Breakfast
Cafe Salsa: in 'downtown' Avarua and a great place to start your day. Breakfast with a drink goes for $10-15 (NZD) and is served until 2:30 pm. They also do lunch and sometimes even dinner, using their wood oven to bake fresh bread and pizza.
LBV: with several locations around the island, my favorite was in the historical Beachcomber Gallery in Avarua. Sip on a strong cup of coffee and maybe even dive into a buttery croissant, listen to tropical birds happily singing and lagoon waves breaking just meters away.
Lunch
Tahiti Cafe: one of my favorite places on the island. I just kept coming back here again and again, always going for the combo of sashimi and Tahitian fish salad – served with rice, special sauce and vegetables ($12 for takeaway, $18 to eat inside). It's only when I made it to French Polynesia, that I fully understood just how authentic the food at this special cafe was.
Little Polynesian: you don't have to stay at this beachfront resort to enjoy lunch. Just grab a seat poolside and admire the view of the prettiest beach on the island. I had the open beef sandwich and my first taste of the local brew – Matutu Beer (excellent). Mains go for $15-25.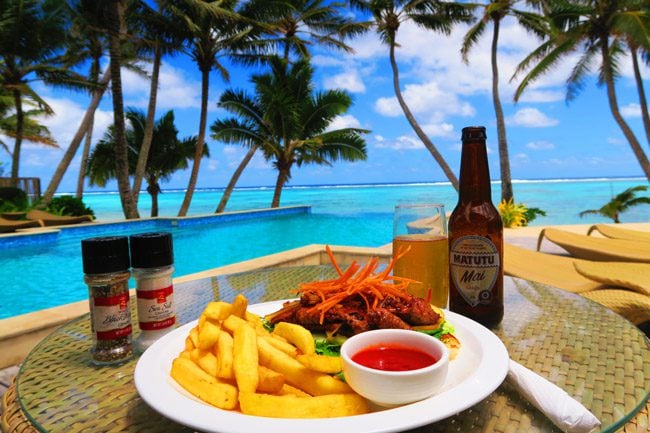 Mooring Fish Cafe: another place I kept coming back to. The sandwiches are simply to die for and the setting super relaxed, in Avana Harbour.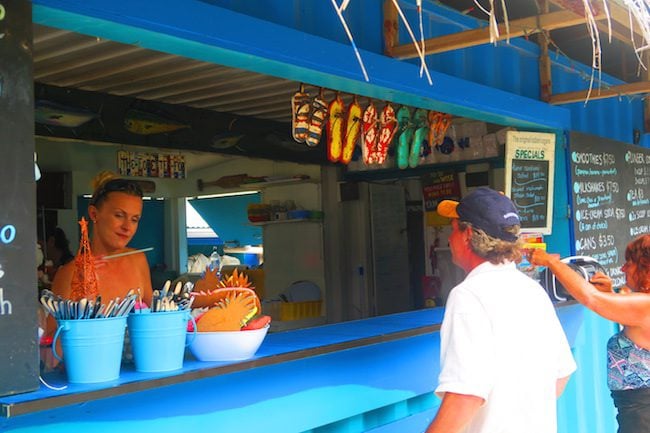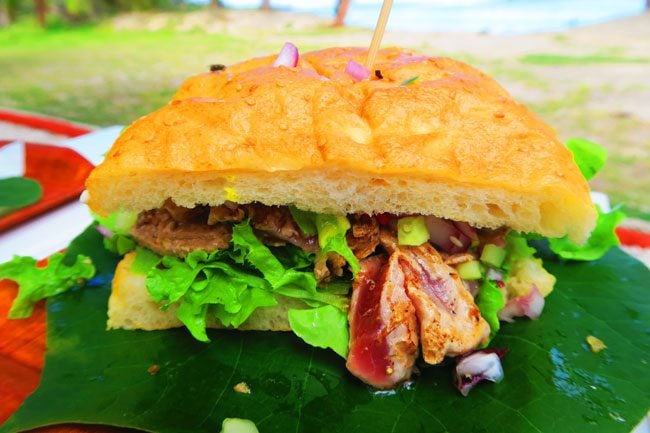 Atmosphere
Trader Jacks: one of the iconic spots in Rarotonga, there's always a great vibe at Trader Jacks. Grab a drink at the bar or come here for lunch or dinner. I heard they smoke their own marlin so opted for that. It was simply delicious. They also serve dishes from back home, and a meal plus drink will set you back about $30.
Punanga Nui Market: if you're in Rarotonga on a Saturday, do not miss the chance to wander around one of the coolest markets in the South Pacific. Aside from shopping and entertainment, there are lots of food and drink options. You can even do some grocery shopping. The market wraps up by noon.
Muri Beach Night Market: grab some food from one of the stalls and find a table beneath the stars. There's always some form of local entertainment and the best day to visit is Thursday.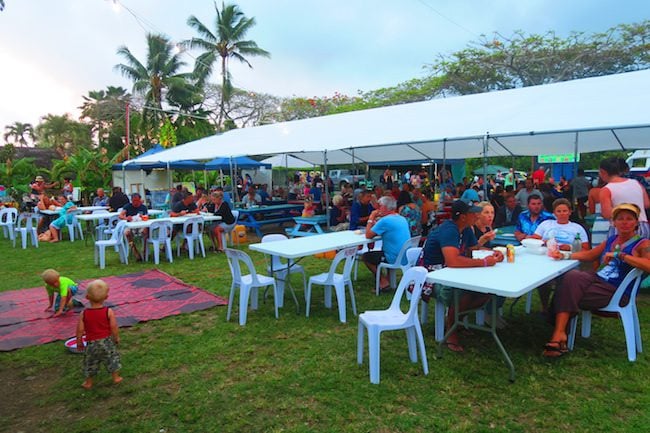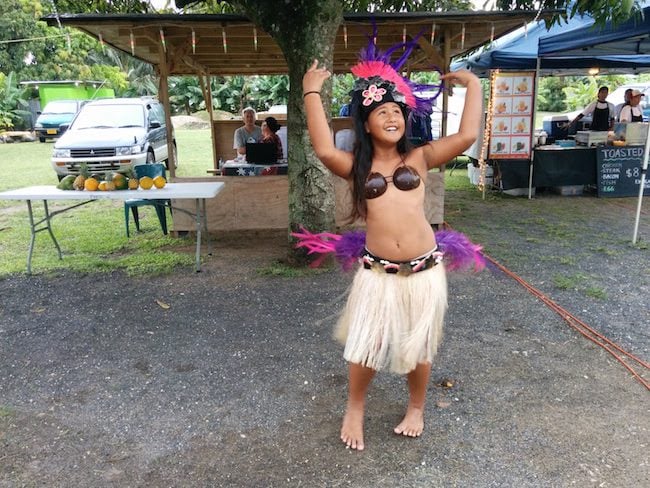 Romance
Tamarind House: come here for a romantic dinner or a fancy lunch. Housed in a 1909 colonial-style house overlooking a wild beach, the setting is magnificent whether you're dining inside or by candlelight in the garden. The lunch menu is simple but the specials are the real deal. I had the seared tuna with a side of breadfruit and pawpaw (papaya) salsa. Mains range from $20-30.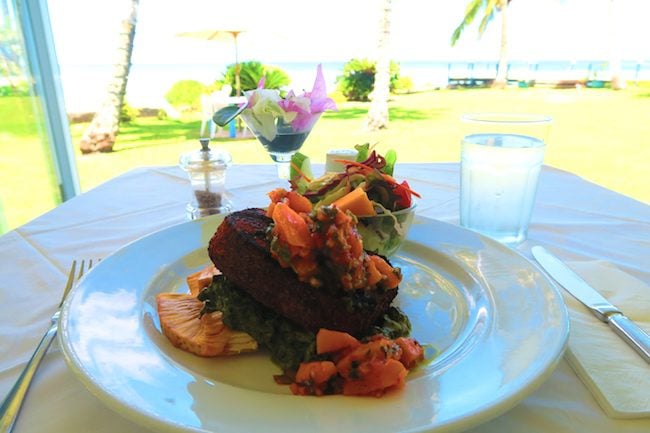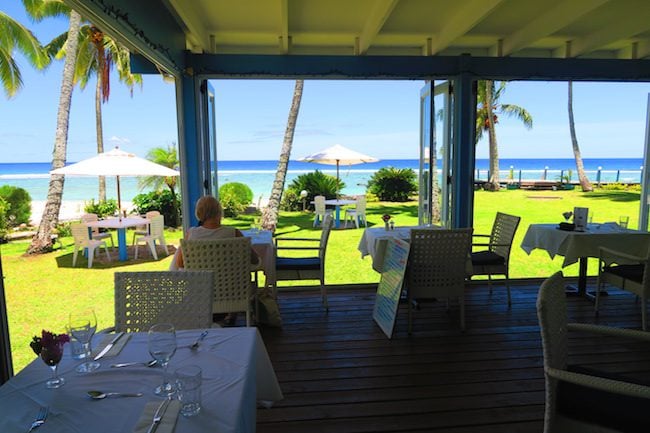 Indian
Raviz: in downtown Avarua and the only Indian restaurant in Rarotonga (I was even surprised to find this one). Takeaway lunch is just $6.95 and they have special offers every day of the week.
Groceries
With self-catering so popular in the Cook Islands, you'll likely visit a supermarket or two during your visit. Prime Food is good for meat, Wigmore's is good for fruit, vegetables and healthy stuff, CITC has the largest selection, Foodland is on main street Avarua, and Ocean Fresh (right by the airport) is the best place to buy fresh fish in Rarotonga.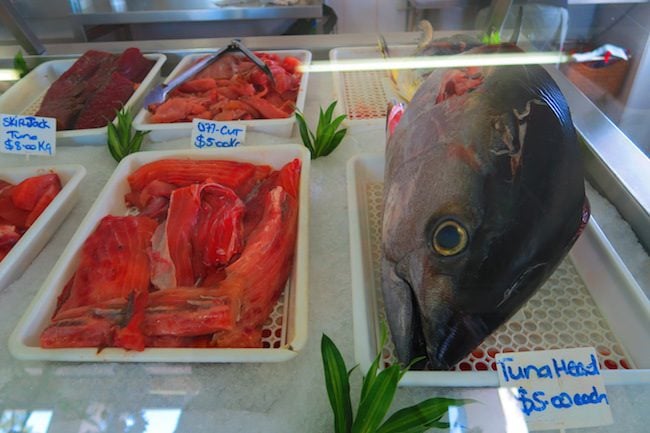 Local Experience
Progressive Dining Rarotonga: have dinner with a real Rarotongan family, learn about the culture and enjoy a great local meal. Inquire with your accommodation or phone 20-639.
Beach Bars
Shipwreck Hut: definitely the coolest bar in Rarotonga. Come here to watch the glorious sunset and even better – on Tuesdays, Thursdays or Saturdays when there's live music.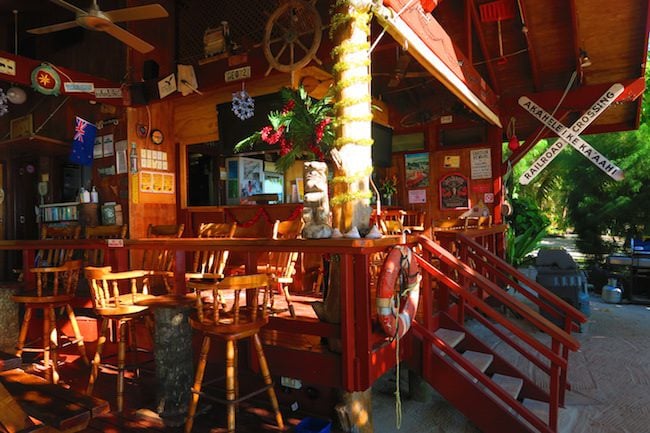 Isobar: adjacent to Sail's Restaurant, happy hour goes from 4-8pm. Grab a drink and catch the breeze on the wooden deck overlooking the Muri Lagoon.
Staircase: climb up to the deck, grab a cocktail, maybe some food – and enjoy the views!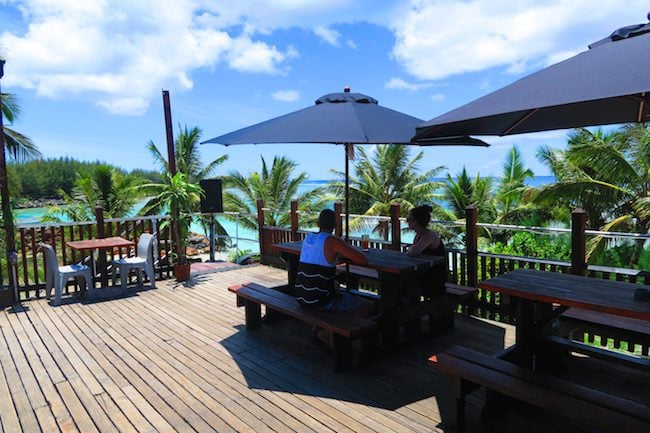 Smoothies
Fruits Of Rarotonga: treat yourself to a massive cup of freshly prepared smoothie and pick up some chutney for later.
Now It's Your Turn
I hope you've found this Rarotonga Travel Guide useful. If you have any questions or your own Rarotonga travel tips, leave a comment below and let's get the conversation started!