If you're looking for cocktails by the pool, 24-hour room service, and touristy luau shows – look elsewhere. Molokai is as real as Hawaii gets and finally drives the message home that you're actually visiting one of the most remote island chains in the world – the very tip of the Polynesian Triangle. Life around here is beautifully stuck in the 90's, on a good day, but this is actually part of the "Friendly Isle's" charm. Just stick to the island's unofficial motto – "Slow down, this is Molokai!" – and you'll discover a Hawaiian treasure that is off the beaten track. This 5 days in Molokai sample itinerary will showcase the island's top activities and highlights while leaving plenty of time to… slow down time.
I spent a full week in Molokai while visiting my local friends Bob and Karen whom I met on the even more remote Ofu Island in American Samoa back in 2015. Unlike the rest of the main Hawaiian Islands, Molokai has very few "temptations" in the form of organized tours. Therefore, your visit is mostly about getting close to the island's pristine nature and its authentic laid back vibe. Molokai is the birthplace of the hula dance and to this very day, is the most "Hawaiian" of the main islands with over 50% of its population having genetic ties to native Hawaiians.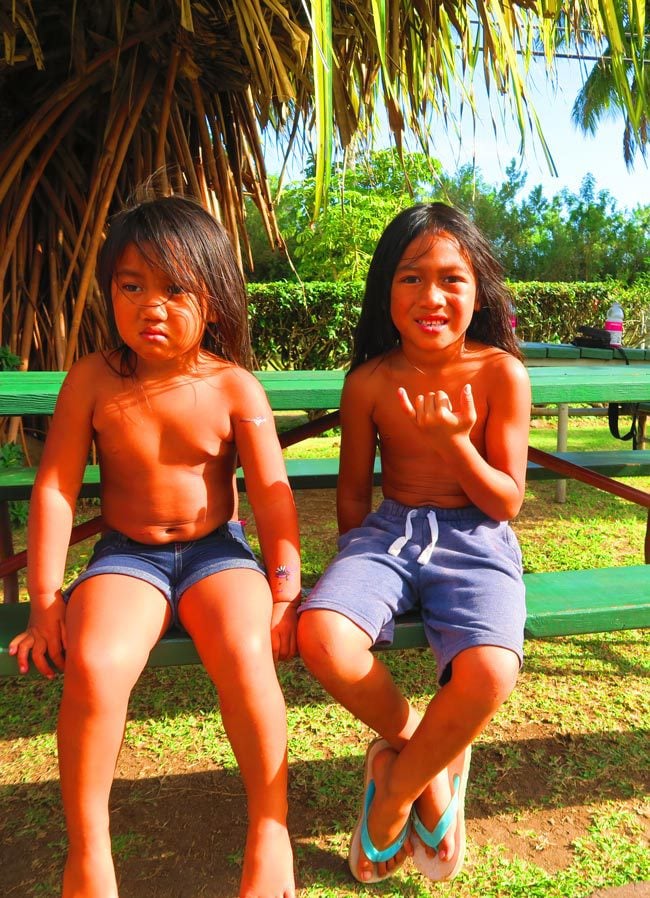 What's Included in this 5 days in Molokai Sample Itinerary?
This Molokai sample itinerary is made up of the following sections. Continue reading or click on a particular day that interests you the most.
Day 1: Essential Molokai Tips, Kaunakakai, South Coast Beaches & Snorkeling [This Page]
Looking for a Quick Read?
---
Visiting other Hawaiian islands? Sample itineraries, guides to the best beaches and lots more are waiting for you in the Hawaii Travel Guide collection. Aloha!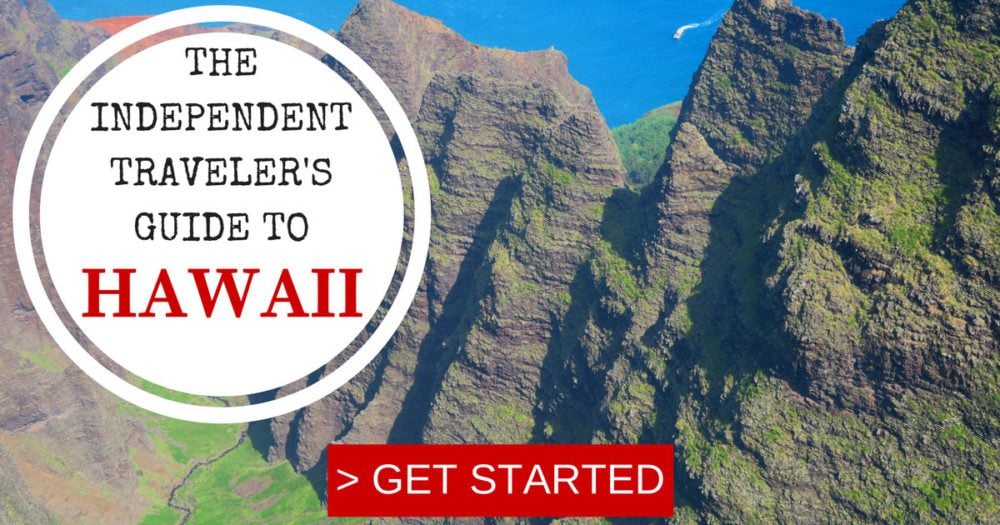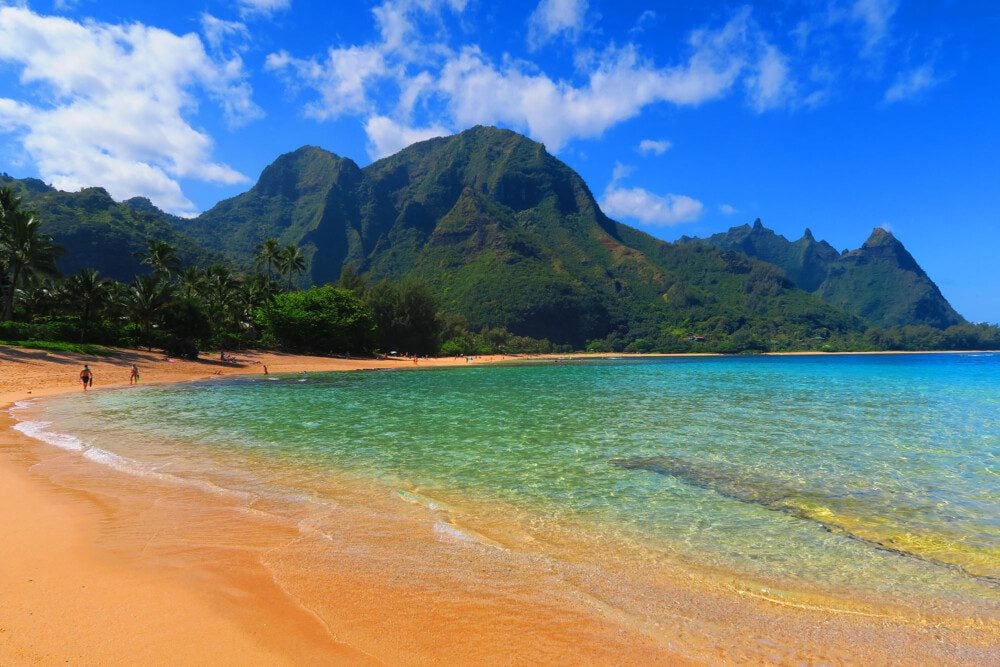 Hawaii, Tailor Made!
The Hawaiian islands are among the last places to be colonized by mankind, five main islands each with their unique personality.
Get expert advice and assistance with planning your trip to the destination where tropical dreams come true!
See Options
Why Visit Molokai?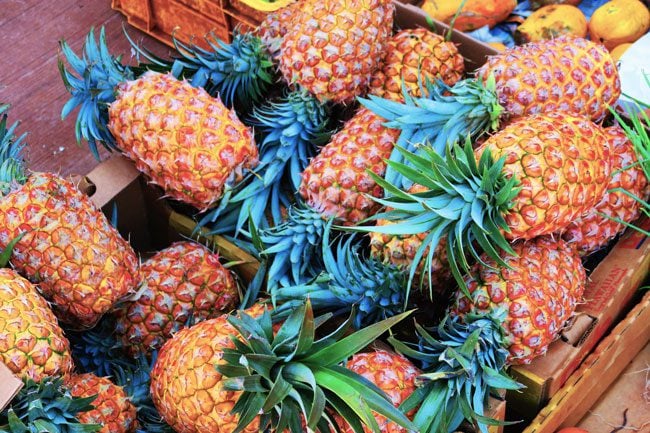 Authentic Vibe
Molokai's motto is to "slow down" and its island time ticks at a slower pace than its neighbors. Its strong native Hawaiian population keeps traditional values alive.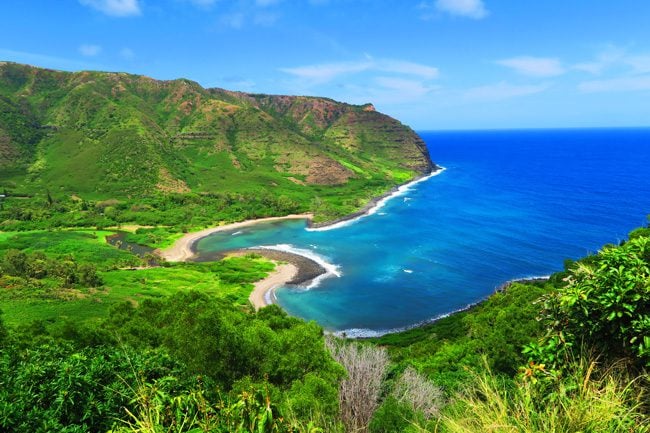 Beaches & Valleys
The only Hawaiian island with a proper coral reef, Molokai's beaches offer endless opportunities to work on your tan and its deep valleys to get lost in.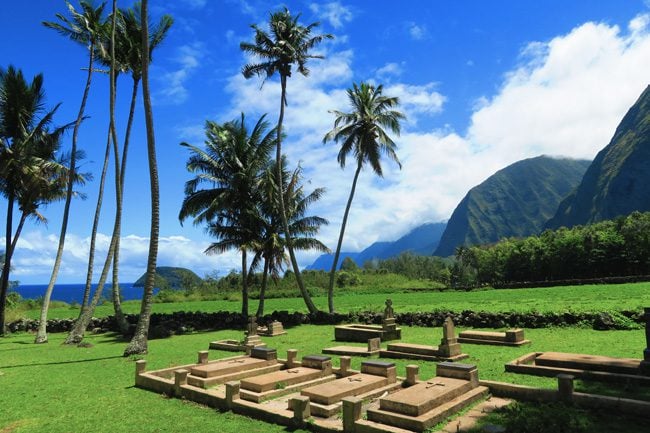 History
Molokai's stunning Kalaupapa Peninsula, once home to a leper colony, is now an important historical site you cannot miss!
5 Days In Molokai Map
This map contains all the places mentioned in this sample itinerary. Click on the image to open in Google Maps.
Molokai Travel Tips
Here are a few essential travel tips for Molokai. Don't forget to go over the things you need to know before visiting Hawaii, where you'll find general advice on visiting the Hawaiian Islands including how to save on costs.
When is the Best Time to Visit Molokai
Molokai can be visited throughout the year, however, the island can experience long periods of consecutive rain during the winter months (November-March). I visited Molokai in the middle of March and I was blessed with exceptionally sunny weather. It is important to note that the weather in Molokai greatly differs from east to west. The east coast – the windward side – is more tropical and wet while the west coast – the leeward side – is practically a desert!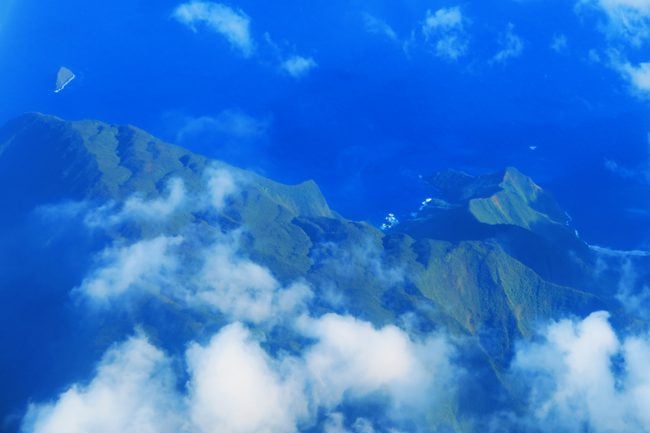 How to Get to Molokai
As of the time of writing this "5 Days In Molokai" guide, the only way to reach Molokai is by air. The Molokai Ferry – which connected Molokai with Maui and Lanai – is no longer in operation due to a lack of profitability. Both Hawaiian Airlines and the smaller Mokulele Airlines connect Molokai with Maui, Honolulu and the Big Island. Makani Kai Air used to offer $50 one-way tickets between Honolulu and Molokai but they have since merged with Mokulele Airlines.
Keep these two points in mind:
The Molokai Airport is about a 15-minute drive from Kaunakakai.

When it comes to Molokai, air transport options often change so do your research

.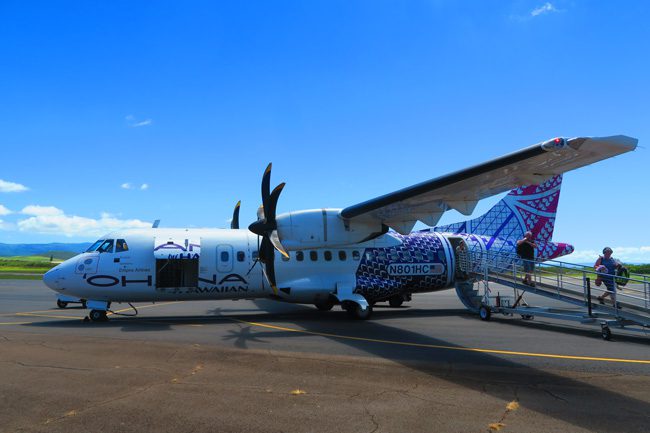 Getting Around Molokai
A car is an absolute necessity on Molokai. There is, apparently, a free shuttle service that may or may not be in operation by the time you visit, but it is definitely not geared towards tourists and will not help you get around the island to see the sights. So while the island is quite small, you will need a car and there are basically two options. I strongly recommend reserving a car as soon as you can because, during peak times, there simply aren't any left! In case you're wondering, hitchhiking on Molokai is very safe and you'll likely not wait too long for a ride to/from town.
Alamo

: the only major chain that stuck around while the others gave up. They have a branch at the airport and their fleet of cars is what you would expect. With no other brand names around, their prices are very high so expect to pay $50-70/day and even more. Booking in advance may not necessarily mean lower prices.

Molokai Car Rental

: into the vacuum caused by the lack of competition, local car rental companies have sprung up. I rented from these guys and the experience was perfectly OK. The price was $40/day and the car was just fine (even though it was about 10 years old). They have a branch in town but will arrange airport pick up/drop off if necessary. They do not have an online reservation system so booking will be done via email.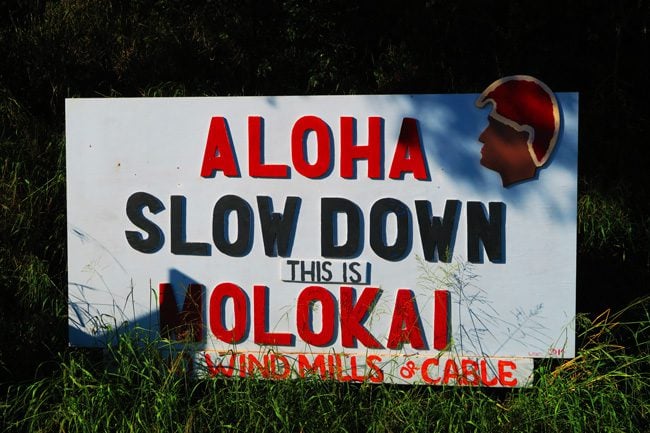 Here are a few more essential tips for exploring Molokai by car:
The price of gasoline is extremely high on Molokai despite the island's close proximity to Maui. Just to give you some sense, when the price of a gallon was $3 in Honolulu and $2.20 on the mainland, it was $4.75 on Molokai! The island sees some of the highest gas prices in the US. That said, distances are not great so it makes swallowing this pill a bit easier.

Gas stations are only found in Kaunakakai so take this into account. One of them is open 24/7.

A 4WD is not a must, however, it will allow you to explore the beautiful Kamakou Preserve (the Molokai Forest Reserve) and make it down to secluded Mo'omomi Beach.

Drive very carefully on Molokai roads, especially along the southern coastal road to Halawa Valley. There are many blind turns along the way and "crazy" local oncoming drivers without much room for error. Moreover, locals like to "camp" with their vehicles on the narrow margins of the south coast road, increasing the risk of driving at night.

As the forgotten child of Maui County (Maui – Lanai – Molokai), rookie police officers are sent to Molokai to complete their training and "practice" their "ticketing skills". Drive safely and adhere to road rules or you risk getting a ticket.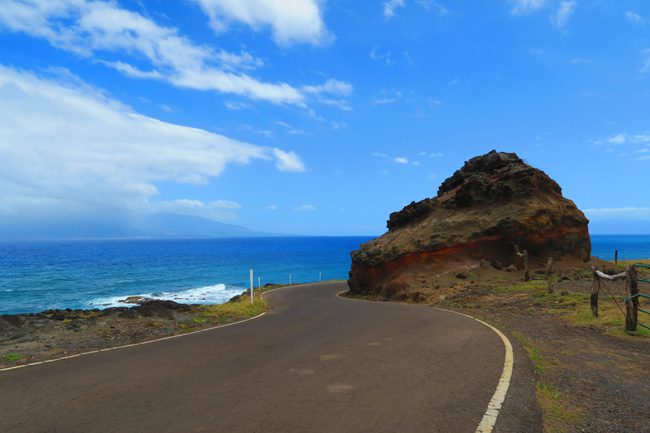 Where to Stay in Molokai
Here's the deal: as Hawaii's low-key island, Molokai has no resort scene. If you're looking for cocktails by the pool, 24-hour room service, and a pampering spa – go elsewhere! In fact, the only resort on Molokai shut down several years ago. When the owner threatened to close the resort (along with the loss of crucial jobs which come with it) unless further development rights were granted, guess what? Locals told him to F%$K off!
With the exception of the Hotel Molokai, 99% of Molokai accommodations consist of vacation homes or condos rented out by the owners. You'll find somewhat of a selection on booking.com or Airbnb and I will make a few recommendations here. Basically, most of the accommodations are bunched up around Kaunakakai, midway along the scenic south coast between Kaunakakai and Halawa, and more remotely around the majestic beaches of the northwest.
Wavecrest Resort: not really a resort but more like an early 80's condo development. Several blocks face a well-maintained grassy area that meets the calm lagoon. There are lovely views of Maui and Lanai during the day and of millions of stars at night. Facilities include a swimming pool and a BBQ area but the interior state of the condos themselves are really up to the owners. Some have recently renovated while others have not. You'll find lots of listings on booking.com.
Paniolo Hale & Ke Nani Kai: condos on the remote northwest coast of Molokai. It is a bit out of the way but you'll have three beautiful beaches right at your fingertips to choose from, not to mention the sunsets are out of this world! If these are fully booked, try Kaluakoi Villas.
Hale Malu: the only budget/backpacker option in Molokai that I managed to find. You can stay here for as little as $60 per night (which is cheap by Molokai standards) but it is a little bit out of the way at about 20 minutes from Kaunakakai.
A few more Molokai accommodation tips:
It is very common for owners to add a separate

cleaning fee

to your bill. This can be around $150 or even more per stay. It's quite absurd but also quite common on some Hawaiian islands (such as

Kauai

). What usually happens is that condo owners – who normally spend just a few weeks on the island per year or even less – hire locals to maintain the units. The cleaning fee, in theory, is their salary.

Always double-check the fine print: does your

specific

unit include Wi-Fi? Is it completely self-catering? How is the payment to be made? When in doubt – ask.

It's always best to check into your condo, have a look at what's in the kitchen and only then go grocery shopping. Often times, many items will be left over by previous guests and the owners. If anything should not be touched, owners will clearly make it clear.

Most grocery shops are closed on Sundays so keep this mind and stock up before.

There are two

campgrounds in Molokai

, both requiring advanced reservations and permits.
Here's a link to a complete list of Molokai accommodations that you can book online.
What to Pack for Molokai
Together with this 5 days in Molokai itinerary, I recommend grabbing a Lonely Planet guide to Hawaii to have useful information at your fingertips and to better understand Hawaii's culture and interesting history.
As far as packing goes, Molokai is all about hiking and the beach. I recommend packing comfortable clothing for outdoor activities, including proper hiking shoes and rain gear. When it comes to the beach scene, Molokai's beaches are wild and do not have facilities (as far as I remember). Therefore, bring everything needed to feel comfortable at the beach and always have your snorkeling gear at hand as Molokai's south coast is home to one of the longest coral reefs in the US. Moreover, mosquitos can be quite annoying, especially on the tropical east coast. Pack plenty of mosquito repellent as well as a lightweight long sleeve shirt and a pair of pants for the evening. Have a look at this page for more information and recommendations.
Hiking in Molokai
Unfortunately, nature is not always free of charge in Molokai. Hiking in the Halawa Valley must be done with a certified guide and visiting the Kalaupapa Peninsula requires a permit (more info on both in later sections). I have met a few tourists who purchased tickets/permits from their hotel at an unnecessary premium so always book directly. Advanced bookings are recommended just in case. There are other hiking trails that are free of charge but they are unmarked and require either an updated map or an experienced local. Don't mess around with this.
Mobile Reception in Molokai
Practically non-existent in large chunks of the island and this, of course, includes mobile data. Use this time to disconnect, make calls/inform people when you do have coverage (Kaunakakai is the best spot) and double-check if your accommodation has Wi-Fi.
Staying Safe in Molokai
Molokai is the safest of the major Hawaiian Islands. Locals are friendly and everybody knows everybody so there isn't really a place to hide. You won't run the risk of a car break-in as on other islands but there are a few safety tips nonetheless:
Driving can present several challenges. Have a look at the "getting around Molokai" for specific tips.

Molokai's west coast beaches are wild and can be very hazardous to swim in during the winter months. Without any lifeguards around, you'll need to exercise extreme caution and use good judgment. When in doubt, stick to suntanning.

Download an offline Google Map of Molokai before arriving on the island. Mobile data is horrible, at best.
---
Day 1: Kaunakakai, South Coast Beaches & Snorkeling
On the first of your 5 days in Molokai, we'll take things relatively slow to get used to the beautifully slow place of Molokai. Remember the island's motto: "Slow down! This is Molokai."

Morning in Kaunakakai
This is it! The most happening place in Molokai. The island's only "real" town seems like something out of a 1950's movie set, with little changed two-story wooden buildings, small shops which specialize in a very narrow spectrum, and a Texaco gas station where old manual pumps are fitted with a bell to let the attendant know you've arrived. It's rustic, charming, and something you just don't see on other islands with their (totally fake and tourist-oriented) "historic towns".
Downtown Kaunakakai is best visited on Saturday morning, where "main street" experiences a short-lived resurrection in the form of a small market. It's a good opportunity to get to know the locals and stock up on some snacks for the day. On other days, it's a good idea to pay a visit to either one of the small supermarkets before starting the day.
As far as sightseeing goes, Kaunakakai does have one interesting historical building – the Molokai Library – built in 1937. It's right across from the Saturday morning market and hard to miss. You can also walk or drive to the Kaunakakai Pier and catch lovely views of the south coast.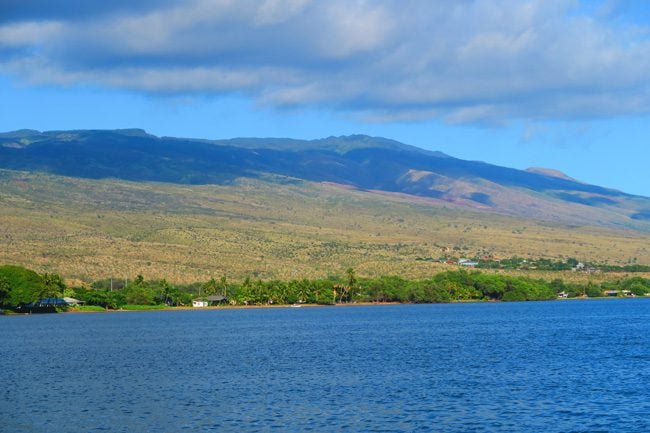 Coconut Grove & Church Row
In the 1860s, King Kamehameha V had a large coconut grove planted just outside of town. Though entering the grove is tabu (i.e. prohibited), the sight of hundreds of palm trees rising towards the bluest of skies is nonetheless a pretty sight. The coconut grove is opposite "church row", a series of small and picturesque churches from various denominations.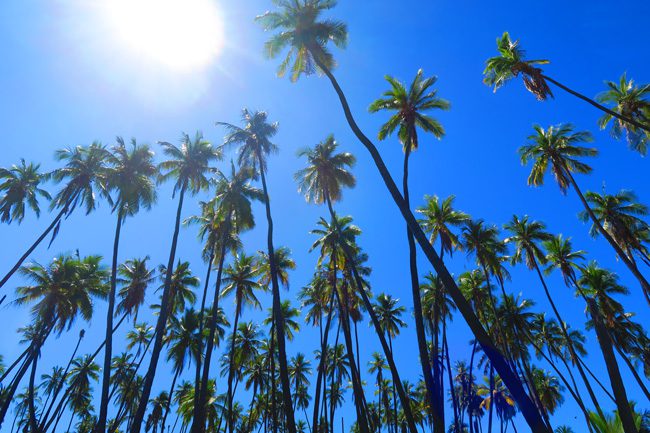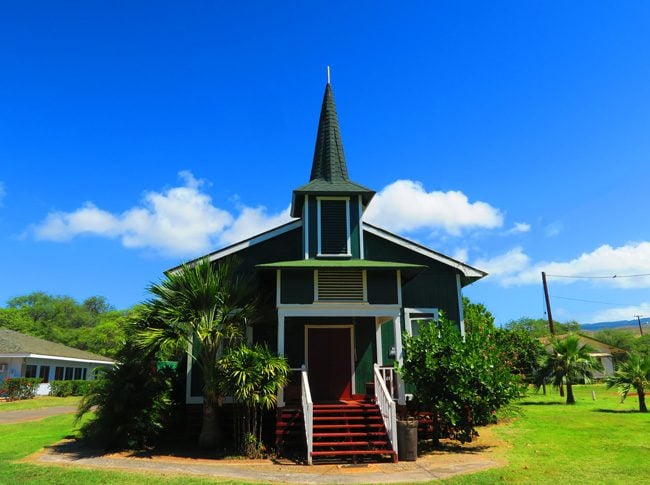 South Coast Scenic Drive
Heading out of Kaunakakai, make a left and begin the scenic drive along Molokai's beautiful south coast. To your left are rolling hills, eroded mountains, and hidden coves, while on your right are the Molokai's famous coral reef, the islands Maui and Lanai. There are many small stops along the way such as secluded beaches, but the fun here is just to take things slow and adjust to "island time".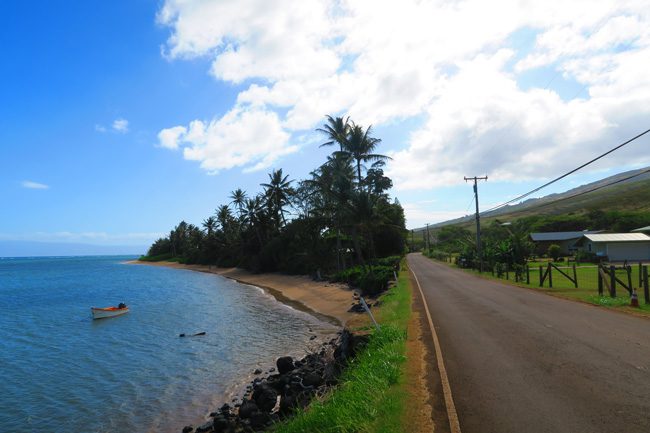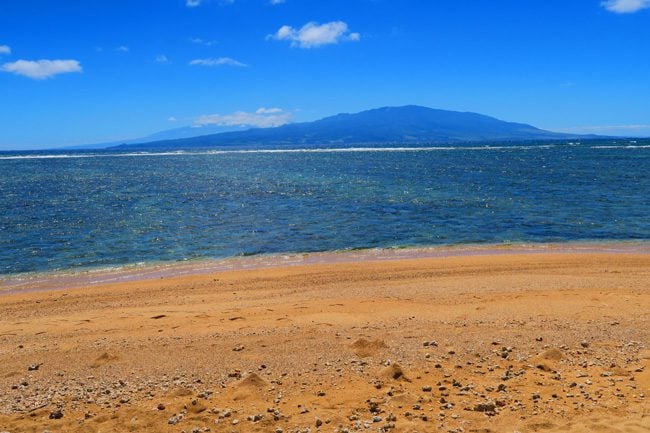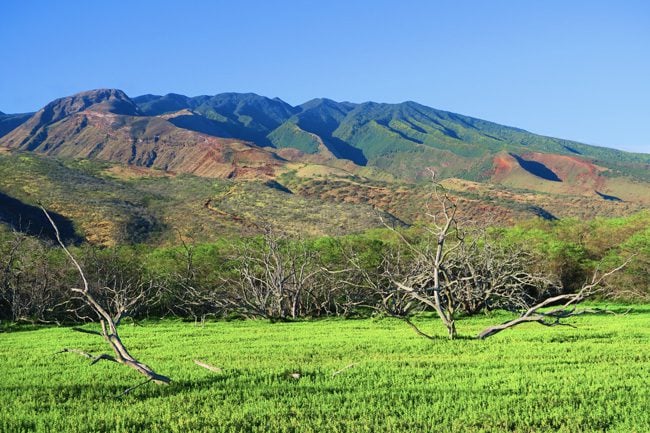 St Joseph's Church
Make a quick stop at this tiny church which dates back to 1876. It was built by Father Damien, who is now a saint thanks to his work with leprosy patients on the island's remote Kalaupapa Peninsula. Since we'll head there tomorrow, this is a good place to stop and catch your first glimpse of the saint, whose small statue is located at the entrance to the adjacent cemetery.
Ancient Fishponds
At mile marker 13, stop to check out the Ualapue Fishpond – one of a number of ancient fishponds dotting the calmer south coast. While on the gorgeous island of Huahine in French Polynesia, locals used large volcanic rocks to create V-shaped fish traps, the Polynesians of Molokai went for a circular shape but the results are the same. These contraptions are used to trap fish inside, making the catch a whole lot easier. Further down the road around mile marker 19, the Kahuna Pohaku Fishpond is another worthwhile stop.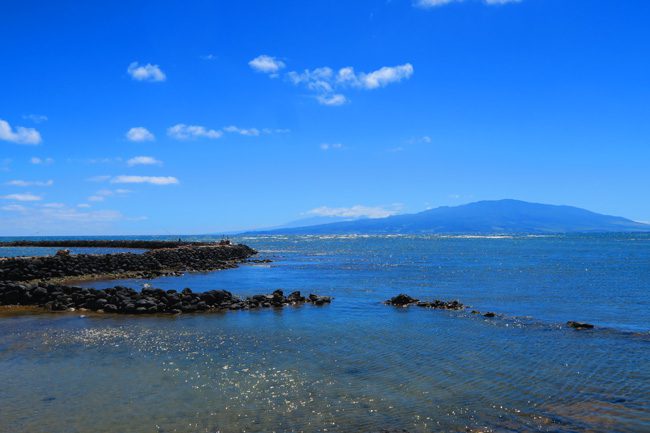 Lunch at Mana'e Goods & Grindz
The Hinano beers from Tahiti are always cold (and well priced), the takeaway plate lunches are awesome, and the service always comes with a side of authentic aloha. Mana'e Goods & Grindz is not only a great place to grab lunch and a few snacks, but also to catch another slice of local life. Outside, the picnic benches also double as meeting spots for locals and the small parking lot is always busy (well… "Molokai busy") with hungry folks re-entering their trucks with a smile! Open every day, even Sundays.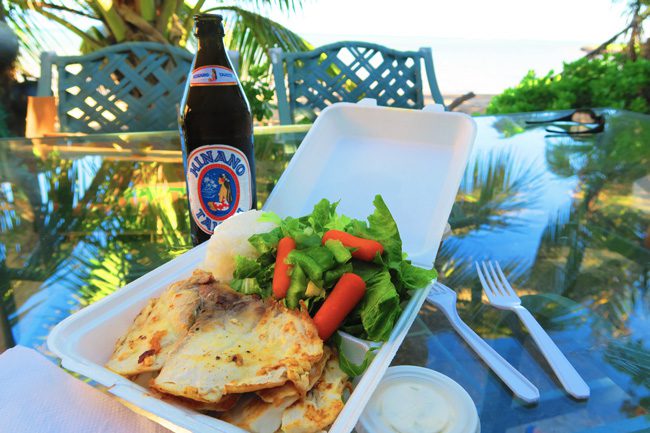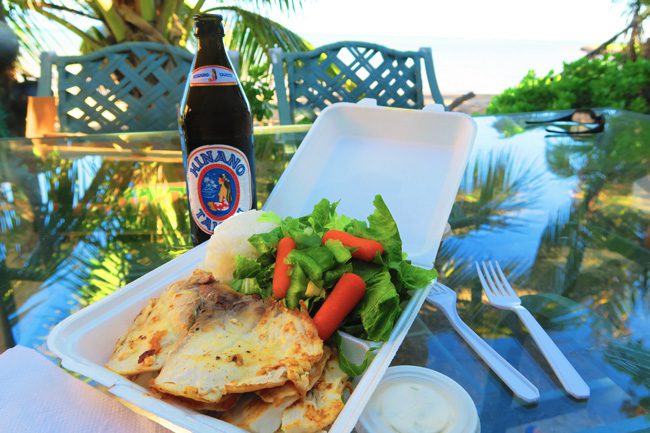 Murphy's Beach
The George Murphy Beach Park – more commonly known as Mile 20 Beach – is located… take a guess… at mile marker 20. This is the prettiest and most popular beach along the southeast coast, but you'll likely have it all to yourself with the exception of weekends and holidays. There are a few parking spots on the side of the highway but that's about it. The beach offers a relatively long stretch of golden sand (considering how tight things are on this side of the island), palm trees for some shade, and even decent snorkeling when conditions are calm. With Maui in the distance and the possibility of spotting humpback whales (in season), you can easily kill a few hours here.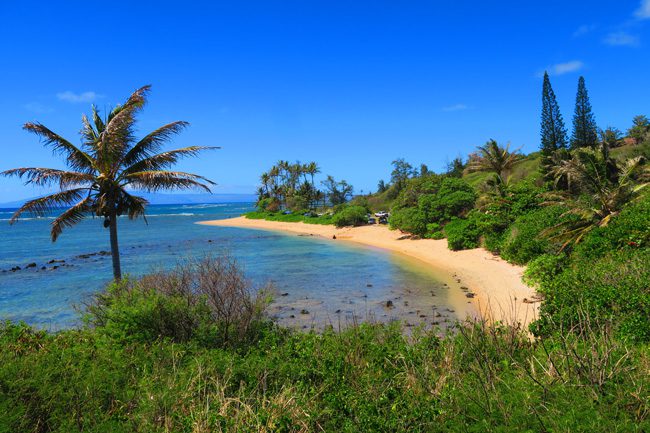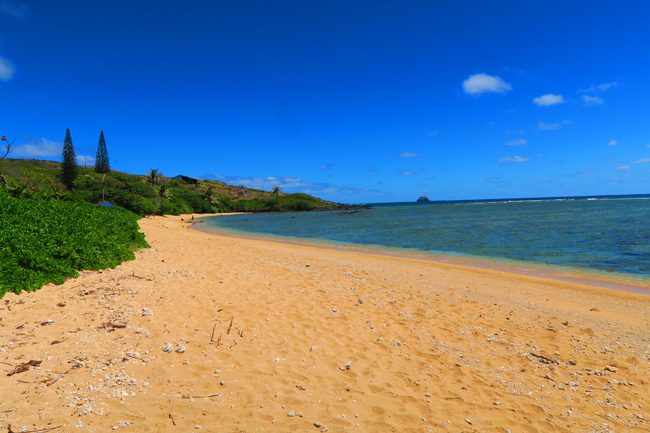 Snorkeling
Between MM 20 and 21, you'll find the best snorkeling spot on the south coast of Molokai. I recommend simply parking the car on the side of MM 21 and begin to drift towards MM 20. The reef is nothing special until you gain a bit of distance from the shore, where it becomes comfortably deep. From here on out, there's a sandy bottom with patches of impressive coral, clear waters, sea turtles and large schools of fish. Swimming is generally safe but be aware of currents. Somewhere out here is an underwater cave so keep your eyes peeled. Unfortunately, I left Mr. GoPro at the condo on this day so you'll have to trust my description.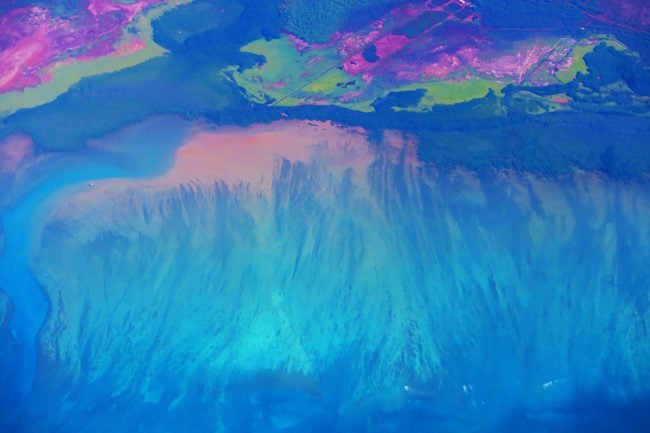 Sandy Beach
Right after Murphy's Beach and the snorkeling spot, the coastal road begins to get even narrower, with blind turns galore opening up to beautiful vistas. It's a challenging section of the road but also the most rewarding.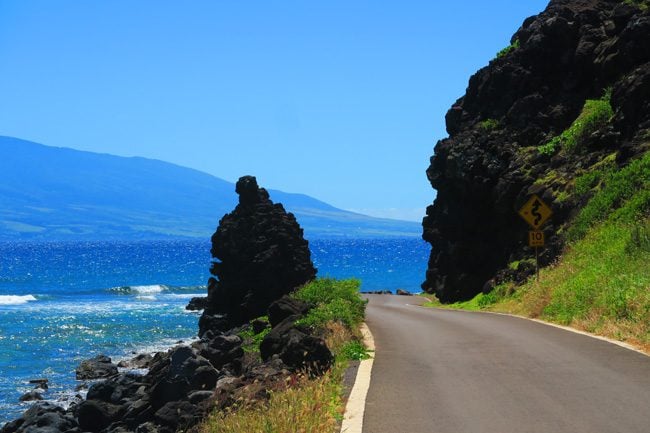 About halfway between MM 21 and 22, there's a small patch of golden sand. Locals call this "Sandy Beach" and you can stop here for a dip if you haven't gotten wet enough already.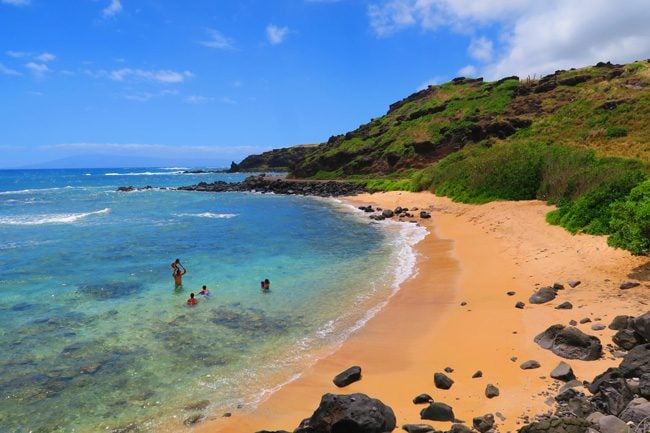 Mokuhi'iniki Islet
The last leg of the coastal road from Sandy Beach is wild and rocky, before descending through a shaded forest to the Halawa Valley and its scenic beach. You can technically continue all the way but we'll dedicate a full day to this end-of-the-road-gem. Before turning around, catch a glimpse of the Mokuhi'iniki Islet – a tiny rock rising out of the water. This is a designated bird sanctuary and you can often spot humpback whales from this spot when facing the island of Maui.
Sunset, Stars & Hot Bread
Head back to your condo, enjoy the sunset, cook some dinner, and celebrate. After counting some stars, head to Kanemitsu's Bakery & Coffee Shop for a bizarre local experience. Every day but Monday, this 80-year old bakery sells hot bread out of its back door starting at 10:30 pm. Locals line up for this calorie bomb and so should you. You're on holiday after all.
Day 2: Kalaupapa Peninsula & Leper Colony
The second day of your 5 days in Molokai will uncover one of the most fascinating stories you've probably never heard of. Today, we'll explore the remote Kalaupapa Peninsula, home to a former leper colony that is still somewhat in use today. Get your history books and hiking shoes ready!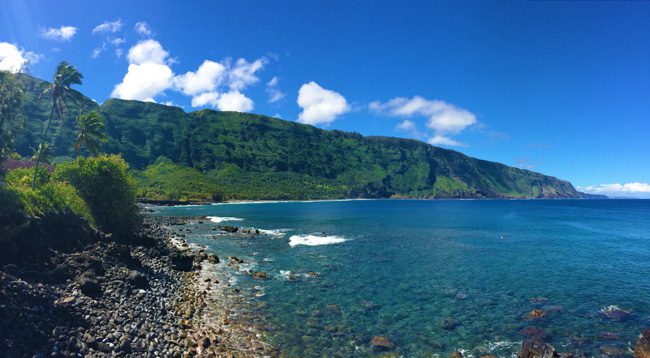 Background
In the most inaccessible part of the most isolated of the (main) Hawaiian Islands, lies the Kalaupapa Peninsula. Meaning "flat-leaf", the peninsula is squeezed by the majestic Pali Coast – the tallest sea cliffs in the world – and the Pacific Ocean. The peninsula is not only a place of dramatic natural beauty but also the site of a tragic episode in modern Hawaiian history. In an effort to curb the spread of the leprosy virus and under mounting pressure from wealthy sugar plantation owners who feared a dwindling labor supply, King Kamehameha V signed legislation to designate this isolated spot as a permanent quarantine area for patients of leprosy from across the Hawaiian Islands.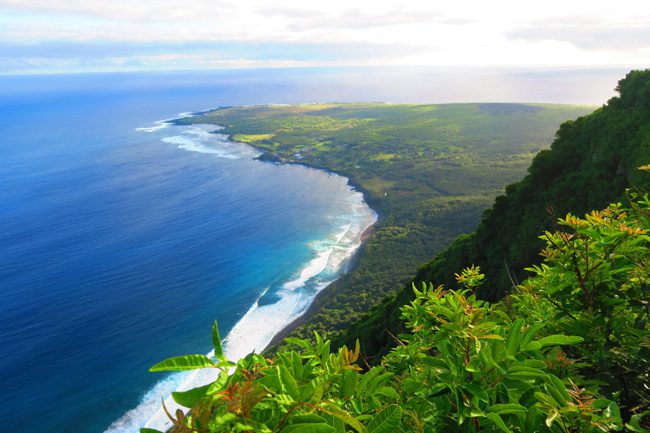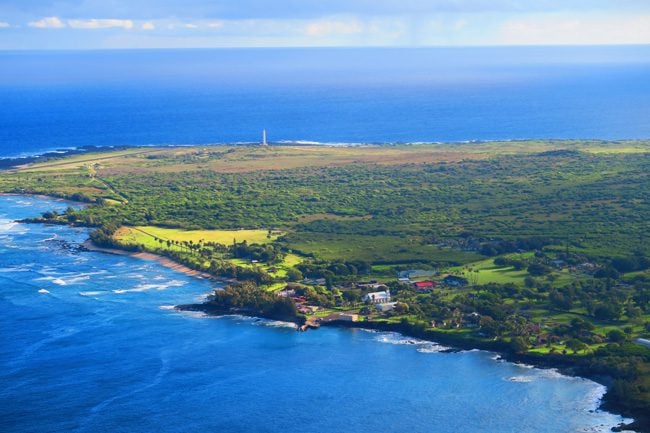 From 1866 to 1969, about 8,500 patients called this place home, forced to leave their islands, their families, and even their children behind in the case of adults. Living conditions were appalling during the first few years, with patients having little medical care or adequate facilities.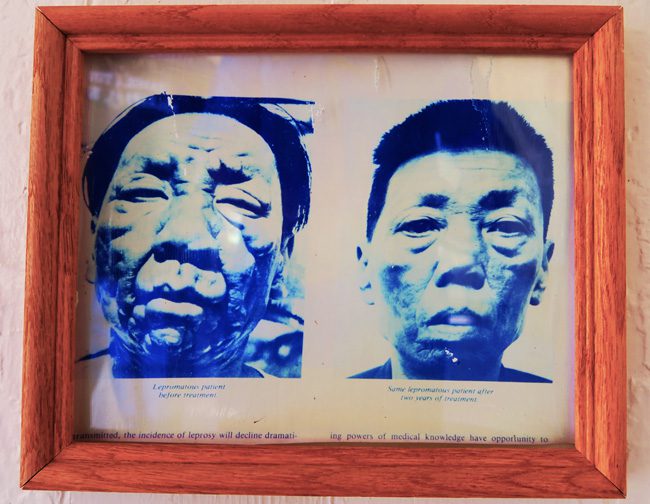 That all began to change with the arrival of Belgian-born Father Damien (now St. Damien) and later Mother Marianne, Joseph Dutton and a number of other good souls who cared for the patients, washed their wounds, provided schooling and even created a rich social scene (theatrical plays, sporting activities, parades, and even a working dairy farm). Ironically and tragically, Father Damien contracted the leprosy virus in Kalaupapa, eventually succumbing to the disease for which a cure was eventually discovered in the 1940s. You can say a lot of things about the church but here's an example of something good, a story of compassion and sacrifice when nobody else cared.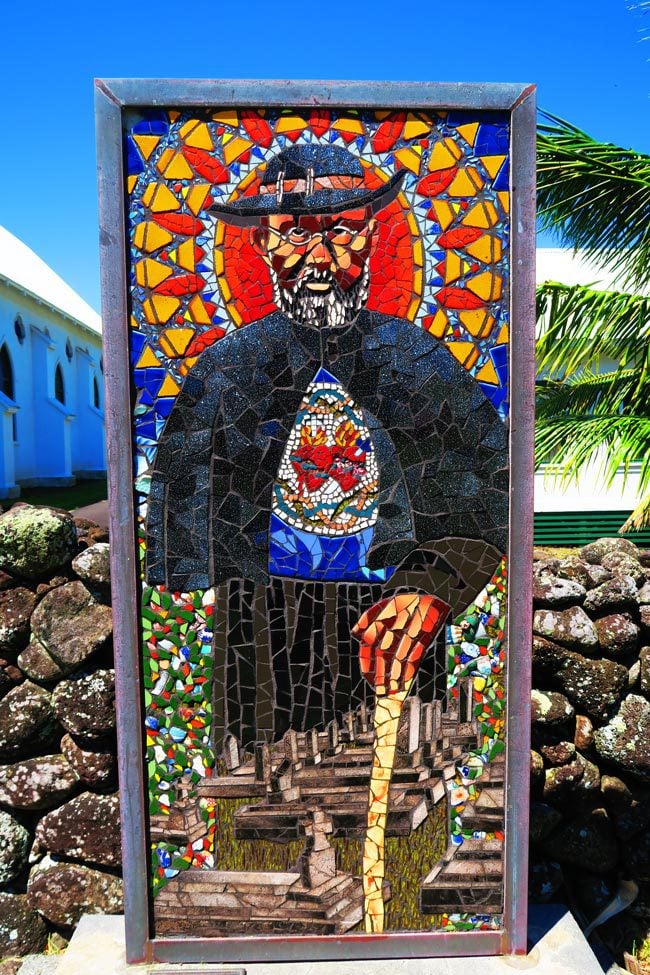 The cure for leprosy (known as Hansen's Disease in the politically correct lingo) made the need for a quarantine zone obsolete, turning the tides for the colony and leading to a very happy end. Patients were now free to leave and return home, but some simply chose to stay. Kalaupapa was their home and, well, the million-dollar views probably helped tip the scales. With their status changed from "patients" to "residents", the government took over and has tried ever since to make up for all those "lost years". Residents were awarded with some degree of self-governing autonomy (their own county, for example), healthcare, meals, modern infrastructure such as super-fast internet, and even a post office. Heck, even Amazon delivers! A real mini-utopia.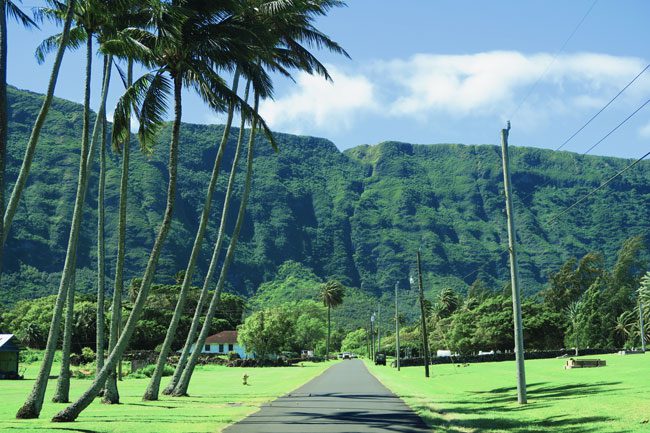 These days, only about a dozen or so resident-patients live in Kalaupapa, which has become a National Historical Park. Visiting the former leper colony is a must-do activity in Molokai, not only for its sheer natural beauty but also for the feeling of visiting a forbidden place (even Hollywood made a film about its story).
Logistics
Visiting Kalaupapa is a bit tricky so let's start with the logistics of the day before exploring the peninsula.
Entering the peninsula can only be done so with an official permit and as part of a guided tour

. Hiking down without a permit is an offense and the privacy of residents is taken very seriously around here.

Overnight stays are only permitted for guests of residents and volunteers in the National Park (the latter is a good idea if you wish to spend a few nights in this magical place).

No children under the age of 16 can enter the peninsula. This draconian rule stems out of respect and remembrance to the fact that patients could not bring their children with them when forced to relocate here back in the day.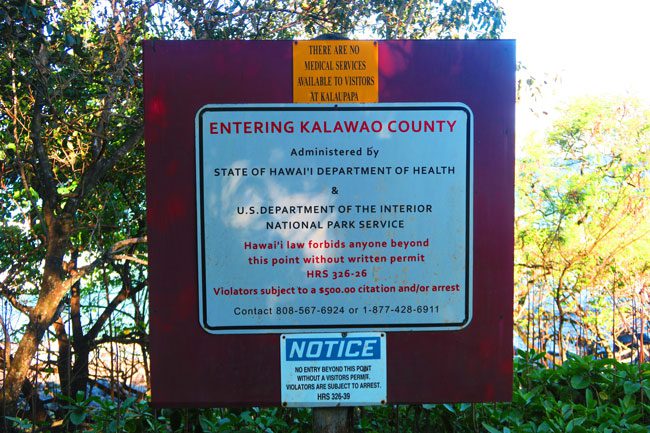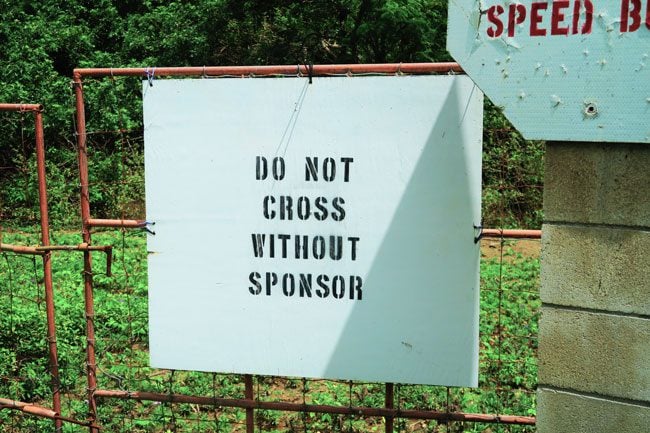 There are three ways of visiting the Kalaupapa Peninsula:
(#1) Hiking: by far my recommended option. The 3.5-mile trail (each way) is advertised as super strenuous, but if you are fit this shouldn't be a problem. You'll hike 1664 ft down for about one hour on a well-marked trail that has 26 switchbacks and 1,400 steps. The views along the way are superb and you can stop whenever you want as there's hardly anyone to share the trail with. The challenge, of course, is getting back up so take things slow and allow for about 90 minutes at least (I did it in 45 mins). Wear comfortable shoes, sweat-repelling clothing, sun protection, and pack light rain gear just in case, a full change of clothes, packed lunch, snacks and plenty of water (can refill). Bring walking poles if it helps you. You can park your vehicle right at the trailhead (see map) but aim to start hiking by 8-8:30 am. That way, you'll avoid sharing the trail with the convoy of mules heading down, which also involves negotiating their manure…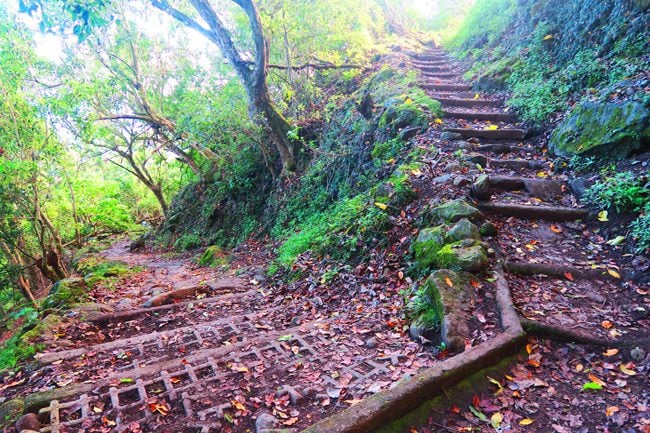 Most importantly, you'll need to pre-book a tour with Damien Tours and meet your guide at a designated signposted area more or less at the end of the trail. The guided tour costs $60 (cash only + tip) and be aware that some accommodations will offer this exact tour for $75 (so book directly). I was fortunate to have Rick Schonely as my guide. He was super knowledgeable about the history of the place and was really into his job, not to mention he's a talented singer and plays the ukulele.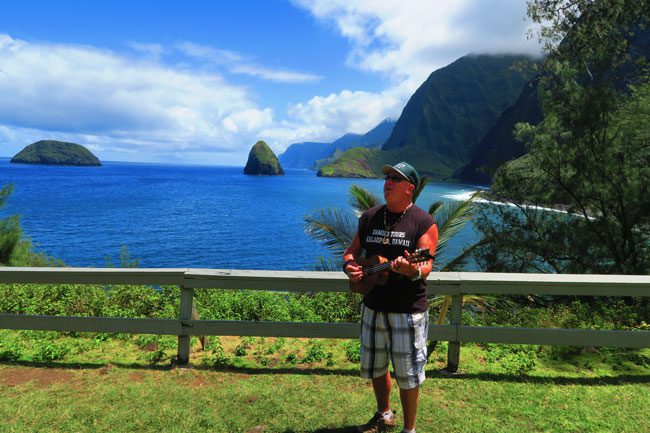 Surprisingly, Damien Tours offers a slightly cheaper self-guided option which also involves having to check in with a guide. They'll equip you with a map and a permit which you must wear throughout your visit. However, I do not recommend this option since you won't have the benefit of a knowledgeable guide in a place which is mostly "about the story" but also because you will not be able to visit the super-scenic Kalawao section with its incredible views of the Pali Coast and famous twin churches (it is simply too far of a walk).
(#2) Mule rides: quite an expensive way to avoid the hike. You might be able to score a return ride on the mules to avoid hiking back up. Book with Kalaupapa Mule Tour.
(#3) Flying: Makani Kai offers daily flights to the peninsula from the "topside" airport in Molokai. You can book a return ticket or combine it with a hike and a one-way ticket.
Places of Interest
Here are some of the sights you'll get to visit in the Kalaupapa Peninsula as part of your guided tour.
Kalaupapa Beach
One of the most dramatic beaches in Hawaii and there will likely not be a soul around here when you visit. The part sandy part rocky beach offers a great view of the Pali Coast of Molokai with its towering sea cliffs. If you have some time to kill before your tour begins, this is a good place to wait.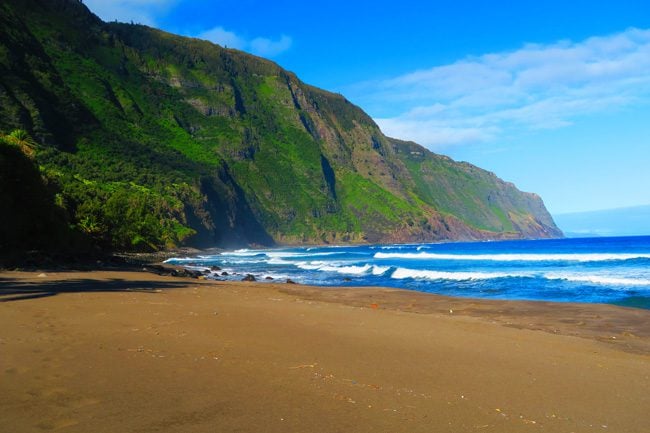 Kalaupapa Village
Your guide will then lead you on an air-conditioned ride through the village, where you'll make a number of stops. You'll notice how organized this place is, with a post office, infirmary, and even a small bar. Most, if not all of the buildings were once used by patients and have since been restored, now used by either the remaining residents or by park staff and volunteers.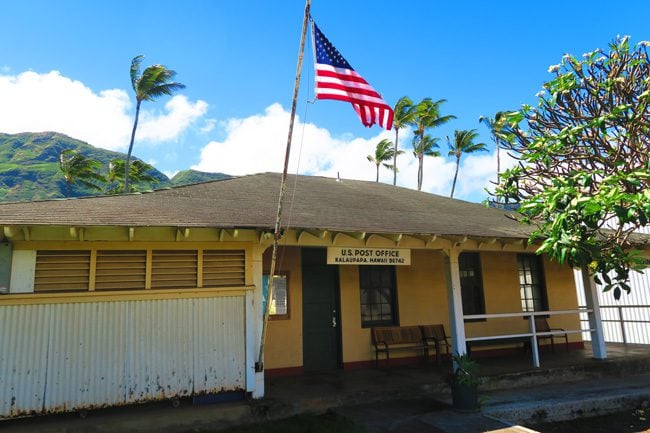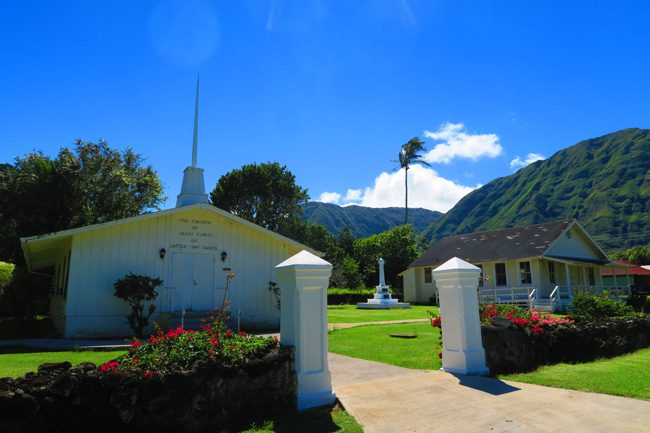 If you're in luck, you might visit the bookstore and get to meet Boogie, one of the few residents that actually like to meet visitors. He's lived here for a few decades and now runs the bookstore, where you can buy a few cool souvenirs that help run this place. Over at the Bishop House, you'll meet the resident sister, who will show you around and share the story of the former girls' home that was established by Mother Marianne.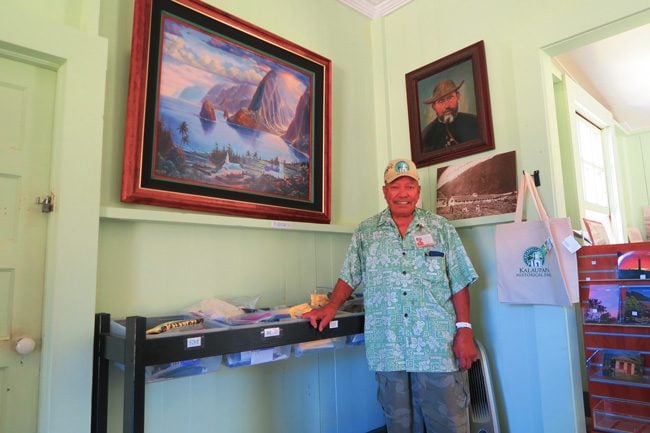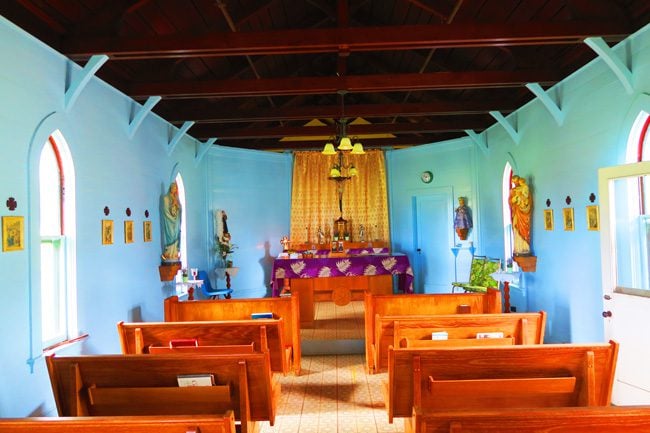 You'll also stop at the scenic Kalaupapa Landing – the only port in the peninsula. The views from here are, once again, incredible, and you might even spot a few whales breaching in season. In case you were wondering, supply is delivered to Kalaupapa once a year on a barge sent over from Oahu. All heavy equipment including new cars, appliances, etc come on the barge and its arrival in the summer months is as celebrated as Christmas (day-to-day supply is shipped via air cargo).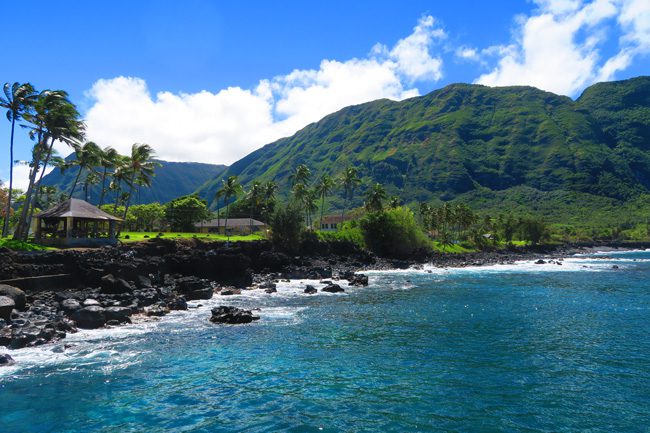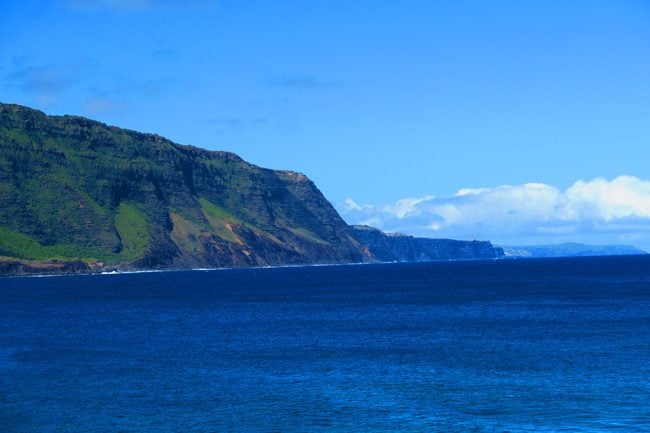 Finally, you'll pay a visit to the local cemetery and the impressive Catholic church. The church has a small museum where you can see pictures of former patients (it ain't pretty) as well as statues of Father Damien and his "gang of saints".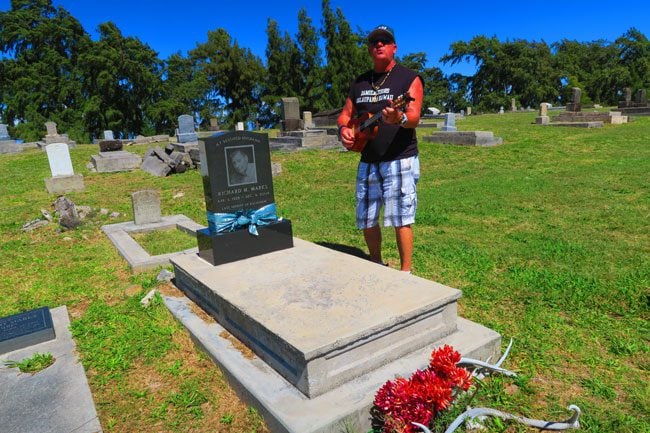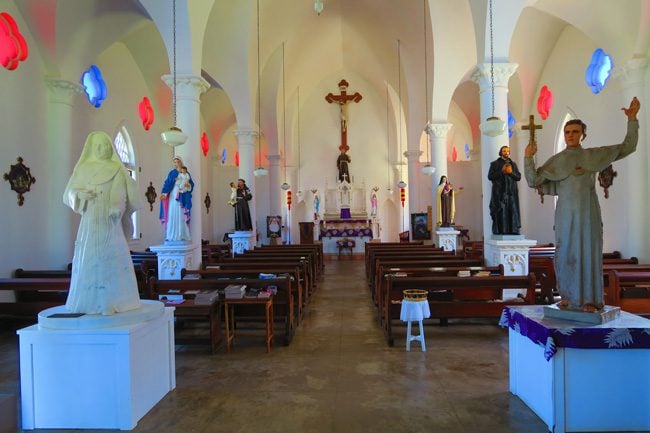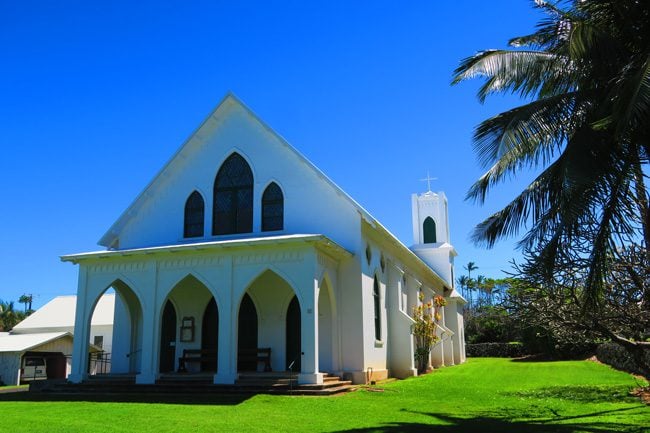 Lighthouse
Next up is the tiny airport and lighthouse. This is where flights arrive and depart on a daily basis. The lighthouse is another interesting story. Keepers and their families were confined to the lighthouse during the quarantine years and were not allowed to come into contact with the patients. This extreme isolation, in an already isolated place, was often broken by patients who came at night to socialize with the lonely keepers. Today, locals and staff swear that visiting the lighthouse overnight guarantees a meeting with one or two spirits.
Kalawao
The highlight of the tour is the trip to the windward side of the peninsula, known as Kalawao. This is the site of the original settlement and where patients were "dropped off". As you'll soon see, it is a very wild spot. Eventually, the settlement was relocated to the leeward side of the peninsula, where the weather was a bit more friendly.
The scenic drive from the village offers incredible views of deep valleys that slice the peninsula's interior. There are a number of heiaus along the way (ancient Hawaiian temples) which you'll pause next to and a very eerie forest where spirits are said to often roam.
Next up are the Siloama Protestant Church and St Philomena Catholic Church. The latter was built was Father Damien in 1872 and he is buried out back along with others who are rewarded with eternal scenic views. Damien's body was actually exhumed and shipped back to Belgium, but in 1995, his right hand was returned and buried at this very spot.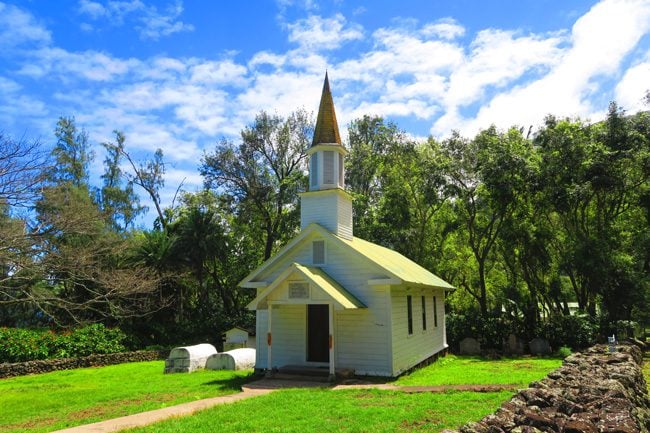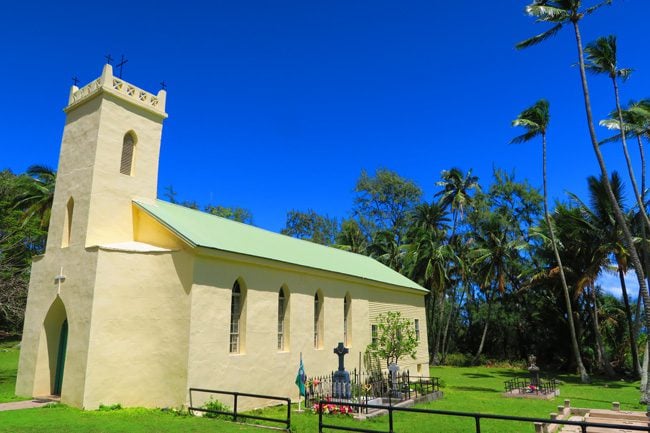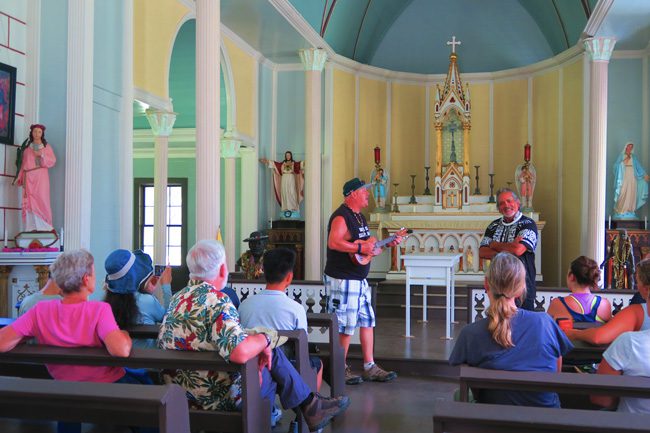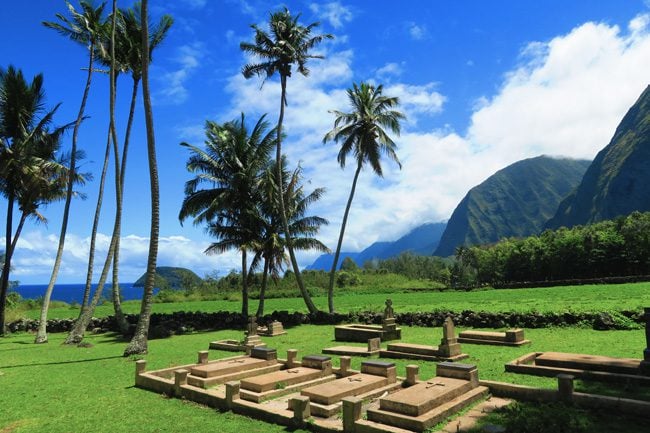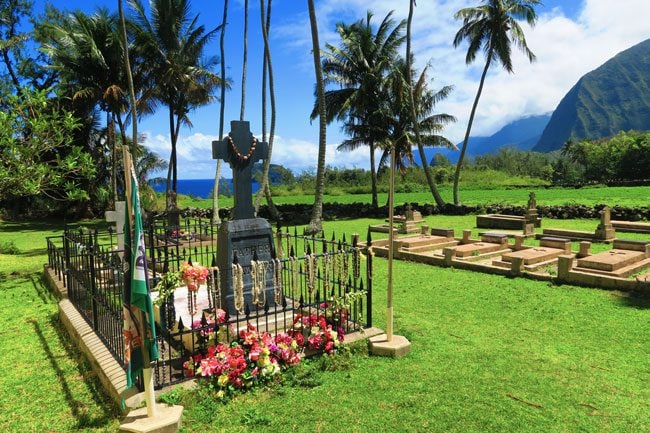 As far as scenic views are concerned, the viewpoint in Kalawao is one of the best in Hawaii (and maybe even the world). From here, you can get a good sense of the sheer size of Molokai's Pali Coast and only imagine what it was like for terrified patients landing here in rough waters. This rugged coastline is only accessible by boat, and I'm told hides incredible camping spots that only locals know about!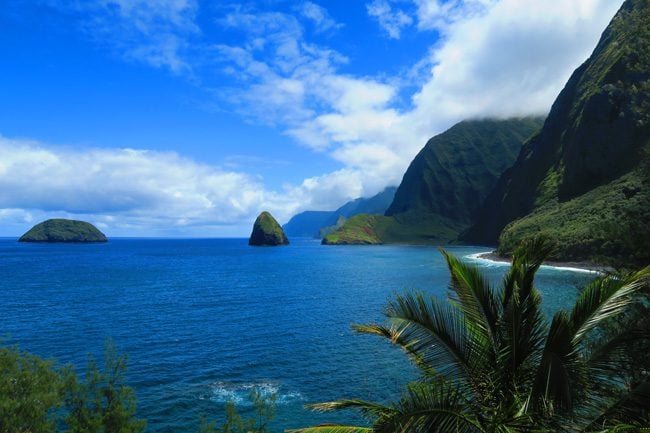 You'll have time for lunch at the shaded picnic area by the viewpoint so don't forget to pack something. Apparently, there is also an impressive water-filled crater not too far away but it wasn't accessible as part of the tour.
Kalaupapa Overlook
Back "topside", drive to the end of the road and visit the Kalaupapa Overlook. The bird's eye view from this spot is breathtaking and offers the chance the fully appreciate the journey you just completed. If you won't be visiting the peninsula, this is obviously an even greater must.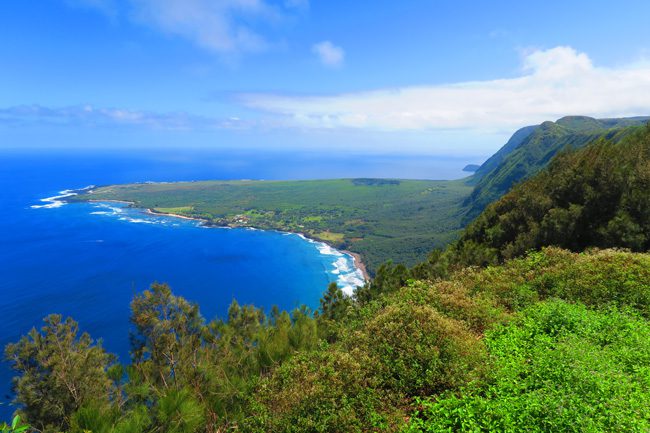 About a 10-minute walk from the parking, you can hike through the ironwood forest to the phallic rock, a huge slab in the shape of a… penis. There's obviously a Hawaiian legend behind this weird-looking boulder but, in any case, these days women have been known to offer the rock a flower necklace and following an overnight stay (spooky), got pregnant!
Spending the Rest of Your Day
You'll likely wrap up the Kalaupapa chapter of the day at around 2-3 pm (including the hike and overlook visit). This leaves enough time to either head west to one of the beaches (see day 3 itinerary) or simply take it easy in and around Kaunakakai or at your condo. En route back to town, stop at Coffees of Hawaii and taste their locally grown coffee. There's a lovely outdoor seating area and they also sell souvenirs. For dinner, head to Paddlers Inn – the only proper bar/restaurant in Molokai (the one at the Hotel Molokai shut down when I visited). Both locals and visitors come here for the good food and the great vibe.
Day 3: Wild West Coast Beaches
The third of your 5 days in Molokai is another relaxing one. We'll head to the desert-like west coast of Molokai to the island's finest beaches.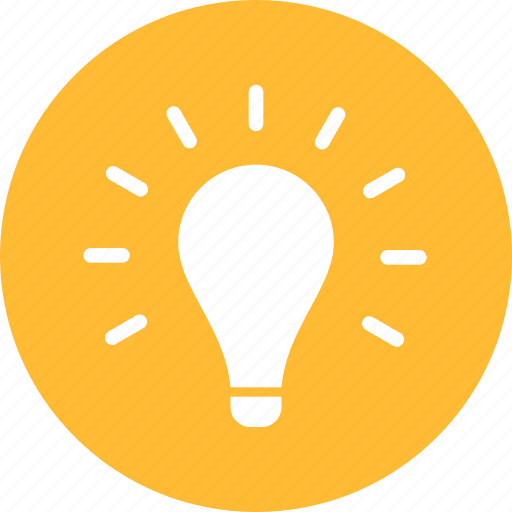 Pro Tip
You can combine one of the beaches listed here with either day two's itinerary (Kalaupapa) or tomorrow's (Molokai Forest Reserve). However, keep in mind that it will take about 35 minutes to reach the beach and a further 30+ minutes to get back to the Kaunakakai area. I personally devoted a full beach day to the west and then drove for the sunset post Kalaupapa visit (returning to my Wavecrest condo well after 8 pm).
Scenic Drive from Kaunakakai
No need to get an early start on this day so enjoy your morning, head to town for a stroll, and either prepare or buy some lunch and snacks for your day at the beach(es). I also recommend packing plenty of water and some form of shade if you "suffer" from direct sunlight. In any case, bring your beach gear and the usual sun protection (lotion and large hat).
From Kaunakakai, head on HWY 460 in the direction of the airport and just keep going. Before the turnoff to HWY 470 (Kalaupapa), don't forget to look back and catch a view of Molokai's gorgeous coral reef – such a rarity in Hawaii. Over here – on the saddle between the island's two volcanoes – the scenery quickly changes and is very arid despite the presence of a number of agricultural farms (GMO fields, much to the discontent of a few health-conscious residents).
After the airport, pull over on the side of the road whenever you feel like it. There are a number of unofficial scenic spots where you can admire the rolling red-soiled hills meeting the blue ocean. You'll eventually enter Molokai's Kaluakoi region which was for many years home to the island's only resort and golf course. The resort is long gone but there are a few condos left (see "where to stay" section).
Kawakiu Beach
By far the prettiest beach I visited in Molokai and right up there in my list of best beaches in Hawaii. Kawakiu Beach is actually a series of sandy coves that are hugged by eroding limestone cliffs whose fine interior layers are exposed to the elements. The southern cove is the main beach, where you'll find shade, relatively calm waters, and an out-of-this-world natural wading pool!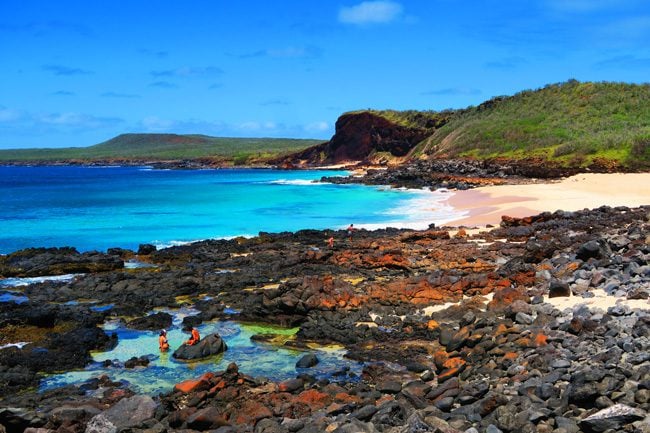 To get to the more secluded coves, cross the beach and pick up the trail heading north along the cliff line. After a few minutes you'll get a sense of where to park it, and the further you go out, the less of a chance of seeing a soul.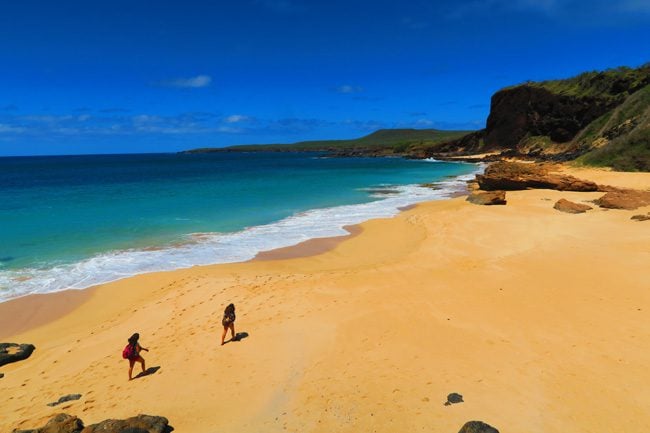 Logistics: keep in mind that swimming is dangerous on the west coast during the winter months and there ain't gonna be anyone to come rescue you. Park your car in the Paniolo Hale parking lot and walk for a few minutes to pick up the beach's trailhead. Alternatively, you can continue driving on the dirt road and park right in front of the beach. There are (obviously) no facilities so bring everything you need with you.
Kepuhi Beach
A well-marked trail leads from Kawakiu Beach to Kepuhi Beach and even if you aren't planning to beach-hop, it's worth walking up the path to catch a view of the two golden beauties. The beach itself is even rougher for swimming and is backed by the former resort-turned-condo.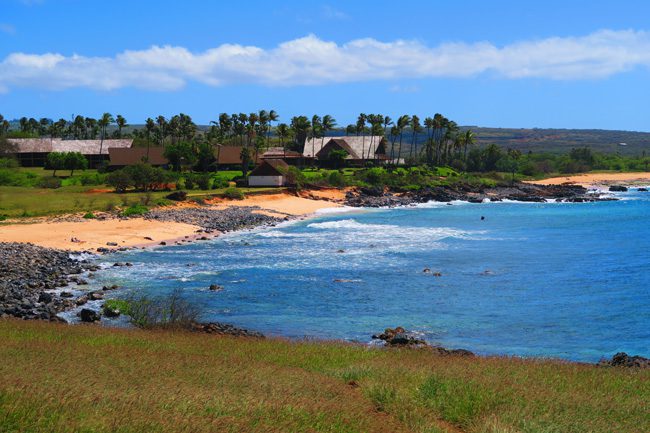 Papohaku Beach
This is where you want to wrap up this beach day with a sunset that will live in your memory for a very long time. Stretching for over two miles, Papohaku Beach is blessed with some of the softest sand I've ever stepped on, and since it is so immense, you can easily find your very own spot to disappear in. Oahu is clearly visible in the distance on an average day, and strolling up and down the beach, as you await the setting sun is quite a must.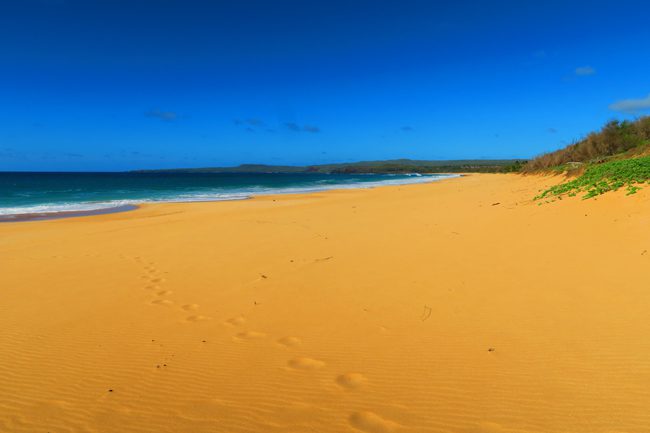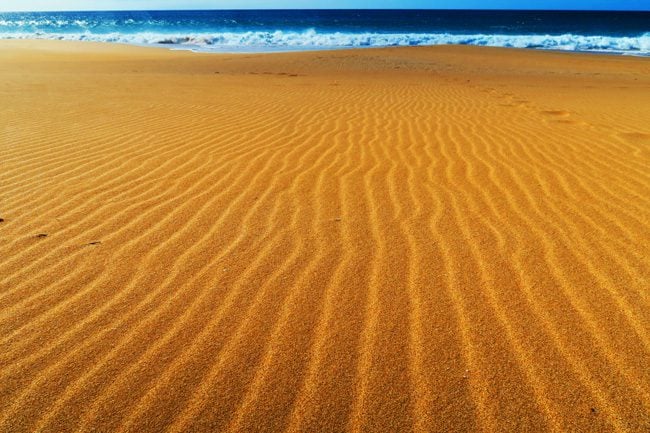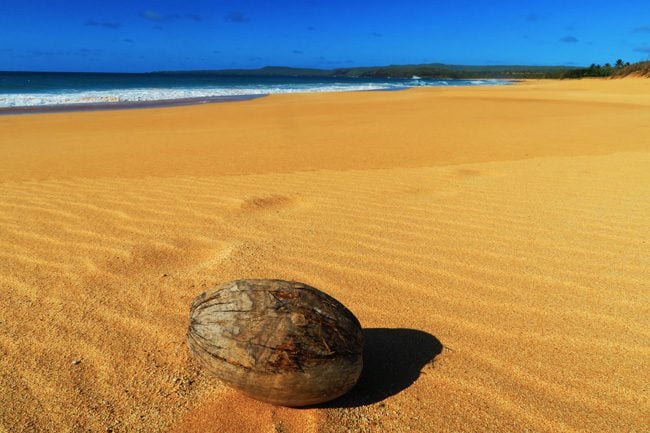 Swimming, on the other hand, is very hazardous out here so stick to the beach. On a windy day, the flying fine sand will be quite annoying, but moving to one of the wooden benches overlooking the beach will do the trick. Sunsets are (obviously) quite glorious, and though I can never quite see them myself, that "green flash" just before the sun's final dip on the horizon is supposedly quite visible from this beach (binoculars will come in handy for this).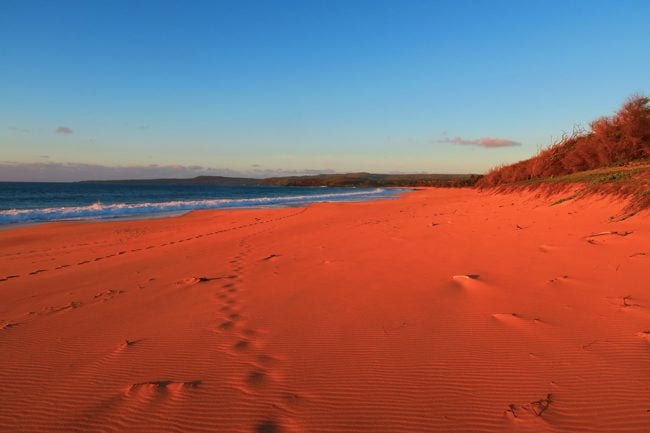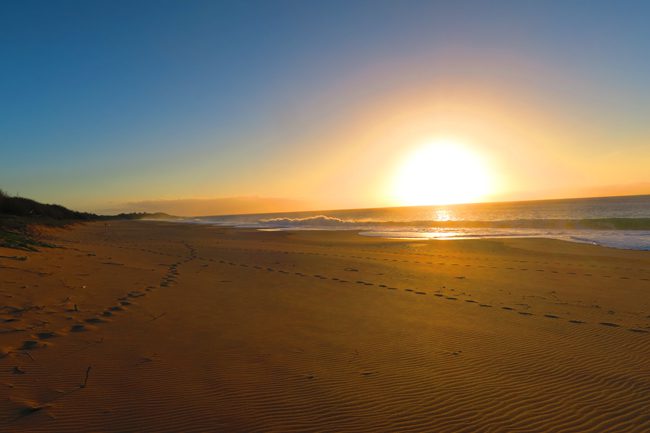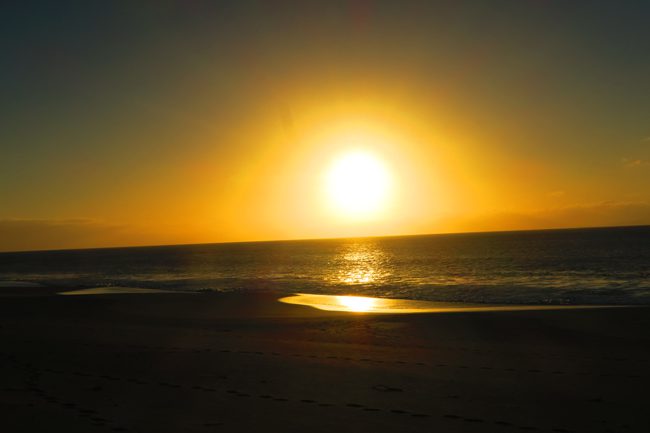 Day 4: Molokai Forest Reserve & Kamakou Preserve
Day four of your 5 days in Molokai will be spent exploring Molokai's tropical and elevated interior on a scenic drive and hike. If the weather cooperates, you will be awarded with unparalleled views that might offer a glimpse as to what the other Hawaiian islands may have looked like prior to mass development.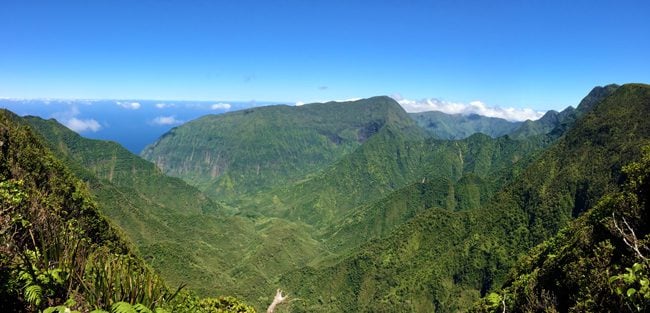 Logistics for the day: a proper 4WD is essential for this day's itinerary. It is even worth renting one just for this day if the weather report is optimistic. The other option is mountain biking and you'll need to inquire in town where to rent one. Aim to start the off-road section by no later than 9 am. The road is rough and despite only having to drive 30 miles or so (return) on the dirt road, it will take a few hours without taking into account the breathtaking scenic stops. Moreover, starting early means having a better chance of beating the clouds but in any case, be prepared for rain and the wind (and intense sun on a clear day). Bring lots of food, snacks and more water than you think you need. Wear comfortable hiking shoes (no sandals) and pack beach gear for later.
Molokai Forest Reserve
There are a number of ways to enter the remotest part of Molokai, but basically, you just want to make it onto Forest Preserve Rd somehow (ask around). I personally turned right on HWY 460 just before The Tobacco Shack. The scenery here is still desert-like and you can spot the coral reef just like we did the other day. However, be prepared for rough-going as the road is very bumpy from here on.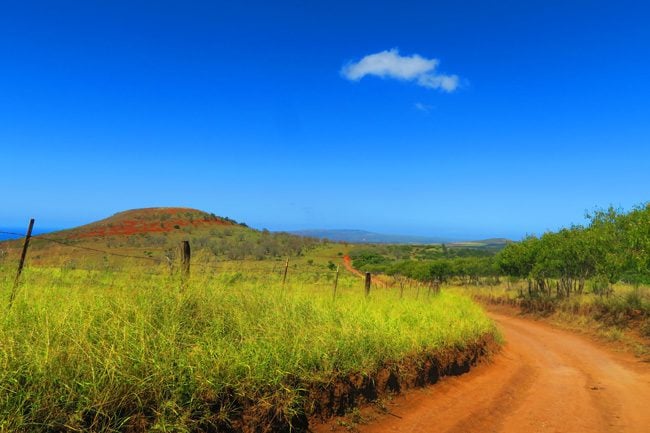 The bumps taper off as you enter the Molokai Forest Reserve and it actually gets cooler as you keep driving and gain elevation. As you'll soon see, the reserve's trees were once of great monetary value but these days, driving through is a magical experience, with a changing scenery so different than what you've seen just a few minutes before.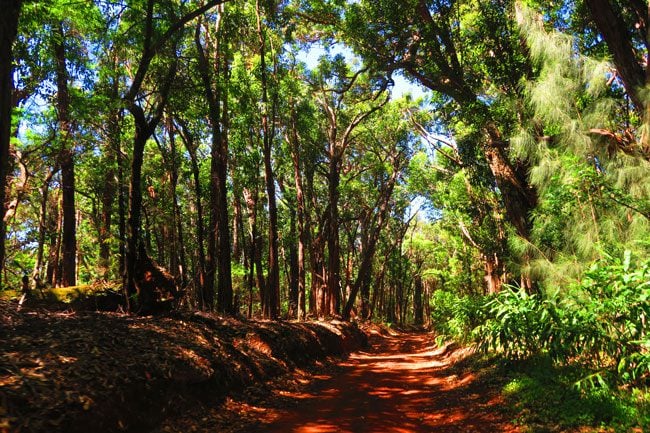 Your first real stop is at the Sandalwood Pit. Now covered in grass, the pit was excavated in the 19th century to the exact dimensions of a ship's "cargo bay". Locals would trek all the way up here and chop down the sandalwood trees – a sought-after tree with an addictive fragrance that is pretty much extinct on many Pacific islands. They would use the pit's dimensions to maximize their efforts and somehow manually carry the logs down to the port. The pit itself is nothing exciting, but with the history added, it makes for an interesting stop.
The next stop is at the 3600 ft Waikolu Lookout. From here, you'll be treated to sensational views of the Waikolu Valley and its beach, a portion of which you saw from the Kalawao Lookout in Kalaupapa a few days ago. Bear in mind that clouds and mist can quickly roll but that's not necessarily a bad thing – just have a look at the pictures. Moreover, if it's been raining lately, the peaks will be dripping with waterfalls – yet another reason to visit. Note that camping is possible just across the lookout, with a permit, of course.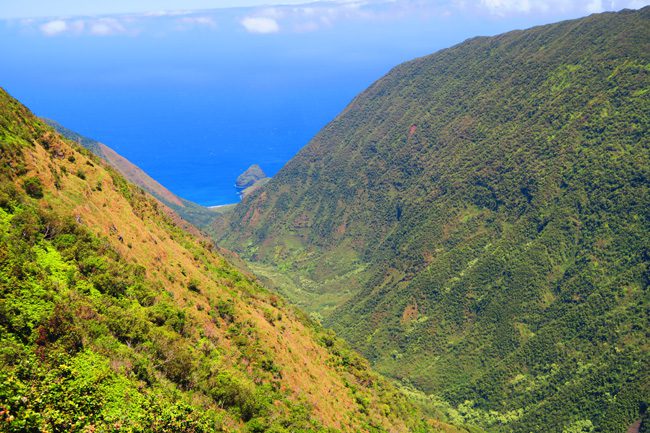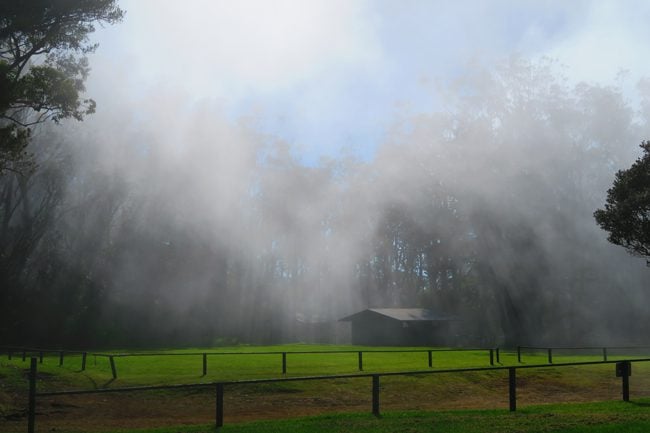 Kamakou Forest Preserve
Continuing from the Waikolu Lookout, you'll now enter the Kamakou Preserve – home to over 200 species of native plants, songbirds, and unique ecosystems. The dirt road pretty much ends at the entrance to the PepeOpae Trail and is the absolute highlight of the day.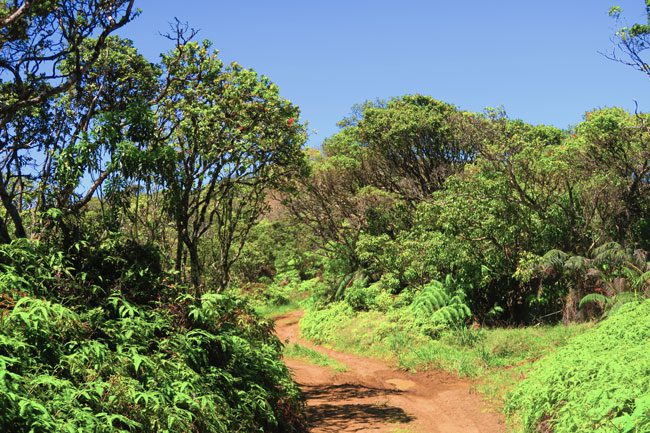 Walking a "tightrope" along a narrow boardwalk, you'll hike over a mile deep into a cloud forest and over a bog where centuries of rotten vegetation has mixed with who-knows-how-many inches of rain (so watch your step because every mistake is a muddy one). Similar to the Alaka'i Swamp trail in Kauai (minus 99% of the people you need to share the trail with) the setting is surreal and looks like something out of an episode of Lord of the Rings. Spongy moss-covered ohia lehua trees are arching over your head, their sweet red flowers a magnet for apapane songbirds who cheer you on.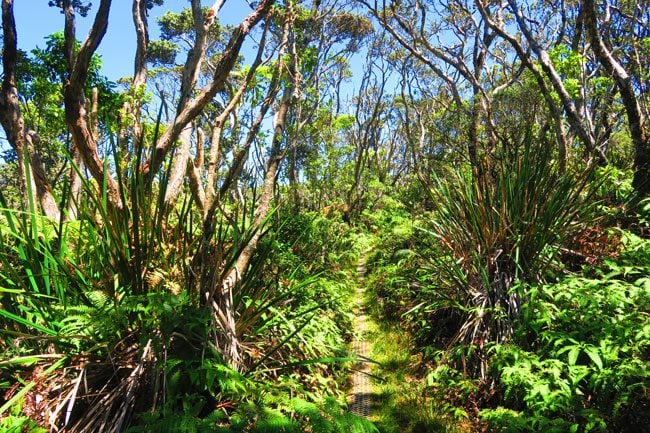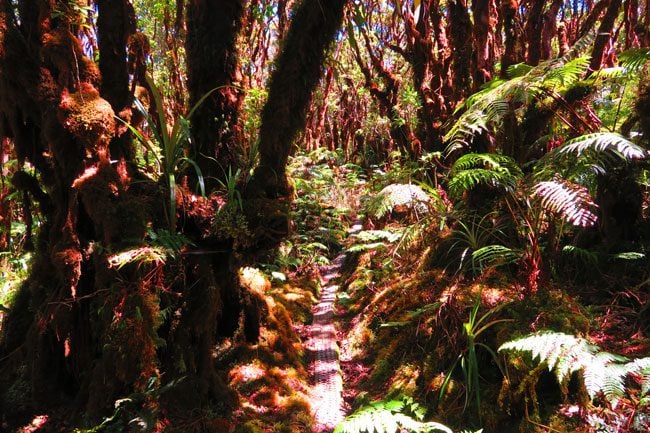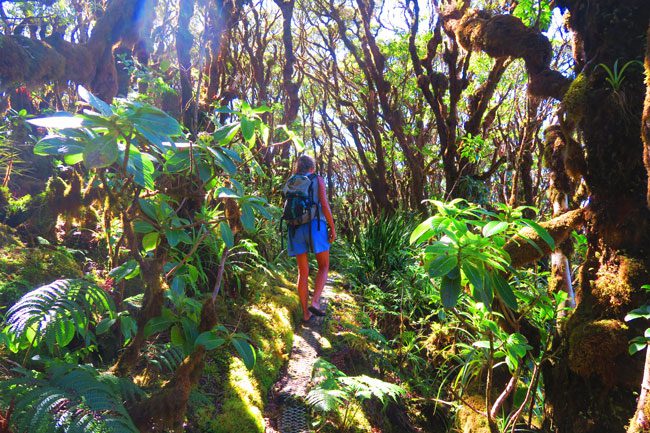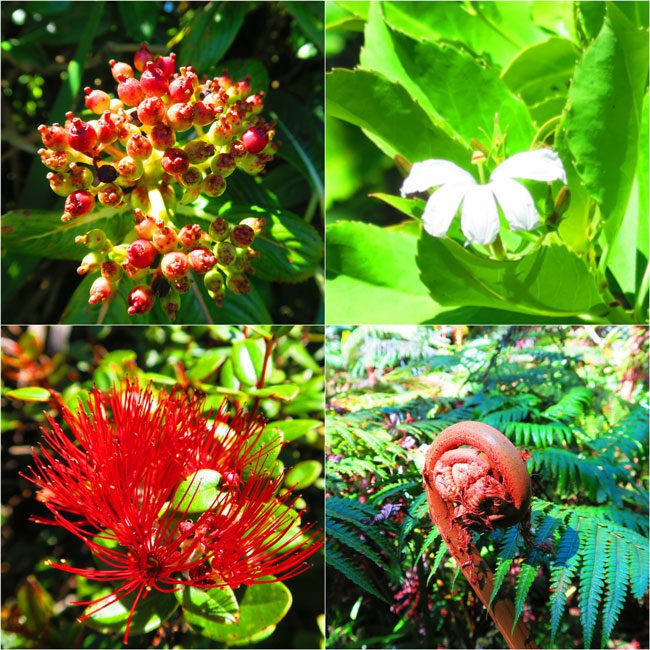 The metal-covered boardwalk then leads you to a rare clearing in the cloud forest where the views on a clear day are phenomenal. Pay close attention to the unique flora and fauna: species of native birds and the mountain naupaka paka – so reminiscent of the rare tiare apetahi on the sacred island of Raiatea in French Polynesia.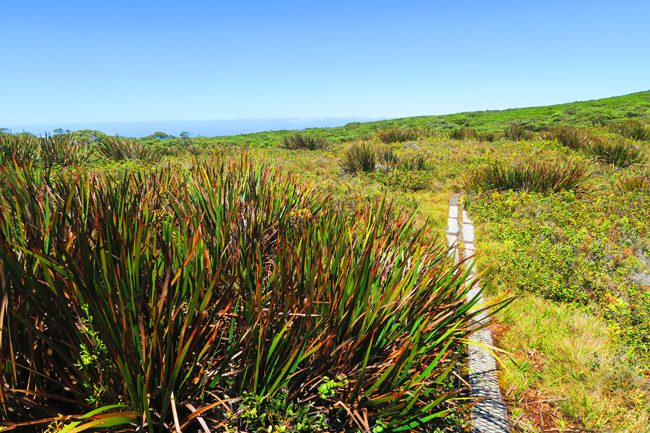 You then re-enter the cloud forest, only to emerge at the Pelekunu Valley Overlook. No words can describe the breathtaking vista and the purity of nature that you experience from having this magical spot all to yourself. Across the valley are Molokai's highest peaks, often covered in clouds. To your left, the deep chasms of the valley meet the blue of the Pacific Ocean. Once again, if it has been raining lately, you'll be treated to a display of towering waterfalls but even on an extremely rare super-sunny day like I was fortunate enough to have, this is a pretty good spot to park it for a couple of hours, have a picnic lunch, and to count your blessings.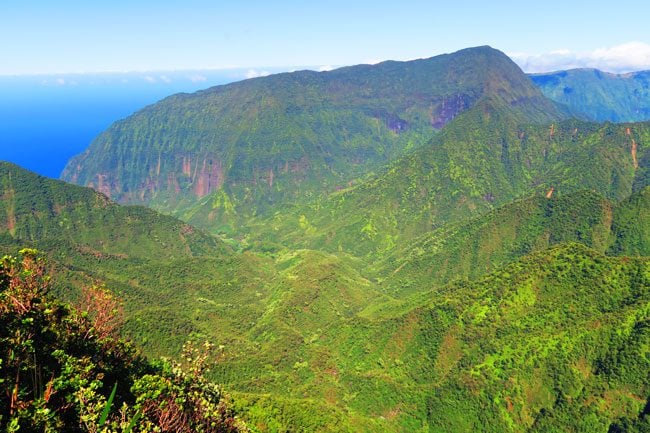 Mo'omomi Beach
Not ready to call it a day quite yet? Since you already have a 4WD, you might as well continue your off-the-grid day with a trip to deserted Mo'omomi Beach on the island's north shore. This sand dune of a beach – a favorite breeding ground for sea turtles – is remote and only accessible with a 4WD via a 2-mile stretch of muddy road from the end of HWY 480.
Day 5: Halawa Valley & Beach
The last of your 5 days in Molokai will be spent exploring the magical Halawa Valley, followed by a refreshing dip in its twin beaches. This is yet another active day in Molokai so prepare for an awesome (and wet) hike!
Logistics for the day: Halawa Valley can only be hiked with a guide since the trail passes through private land. Do not attempt to hike on your own as you will piss off local residents and get a mouthful about this, which completely goes against Molokai's true aloha spirit. So pre-book at least two days ahead of time with Halawa Valley Falls Cultural Hike ($60) and keep in mind that leaving a voicemail is standard practice in the absence of cell phone reception in the valley. You will be required to meet just before the Halawa Beach parking lot at 9 am, where you will see makeshift signs (tours depart at 9:30). You can also just show up randomly and join the hike but that's pushing your luck.
The hike to the waterfall and back takes approx. 3-4 hours and includes swimming at the falls. The hike itself is mostly flat going and involves crossing at least one stream, so wearing sandals is recommended. Bring mosquito repellent, a full change of clothes, beach gear for later, sun protection, food, snacks, plenty of water, cash.
Driving to Halawa Valley
Around mile marker 25, the coastal road – which is already quite narrow at this point – becomes even narrower, and begins to twist and bend as it rises and then descends towards the valley via a forest of eucalyptus trees. Drive with extra care as you negotiate the blind spots.
As you begin to descend to the valley, the Pacific Ocean comes back into view as the green of the lush and deep ridges meets the ocean's blue. A few seconds of further slow driving and the Halawa Valley itself makes an appearance, crowned by the Moa'ula and Hipuapua Falls in the distance and topped off by the valley's twin symmetric beaches.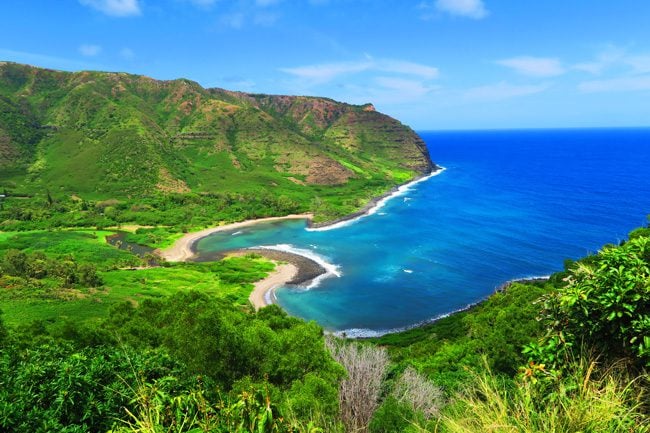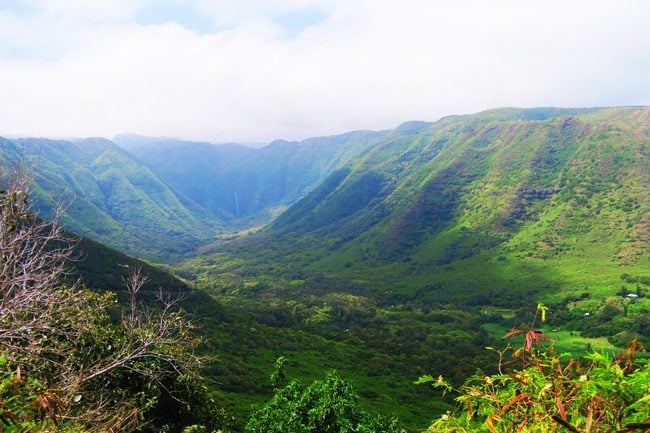 Once you've made it down, look for the picturesque old church. Looking completely out of place, the church held Sunday services until recently shutting down for essential structural repairs (for which there currently are no funds available). A few meters later is a nice coconut grove and a waiting area. This is where the hike will commence. At the very end of the road is the Halawa Valley Beach Park. This is where you'll park the car and later reach the beach.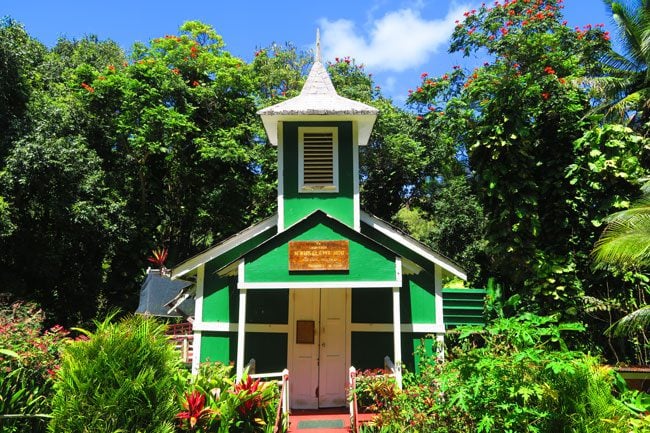 Halawa Valley Hike
Together with the hike to the Kalaupapa Peninsula, Halawa Valley was one of the highlights of my visit to Molokai. A sacred place for ancient Hawaiians, the fertile valley was once home to over 1,000 residents who mainly grew taro, much like in Waipio Valley on the Big Island. This all ended when a tsunami struck the valley in 1946 and today, very few residents remain in the most isolated of the inhabited areas of Molokai.
The guided hike in the Halawa Valley begins with a stroll through the former taro patches and irrigation ditches. There are but a few working plots these days, though locals are working on a community project that will involve the island's children restoring the plots and learning the ancient ways in the process.
You then enter the thick rainforest, where the real fun begins. Every few minutes, your guide will point out ancient stone structures on either side – some of which are former temples (heiaus) not to be messed around with – along with at least a dozen or so fruit trees that totally make you understand how self-sufficient valley residents could be. There are giant centuries-old mango and avocado, cacao, breadfruit, jackfruit, papayas, passion fruit (lilikoi), nuts, oranges, and even wild coffee trees.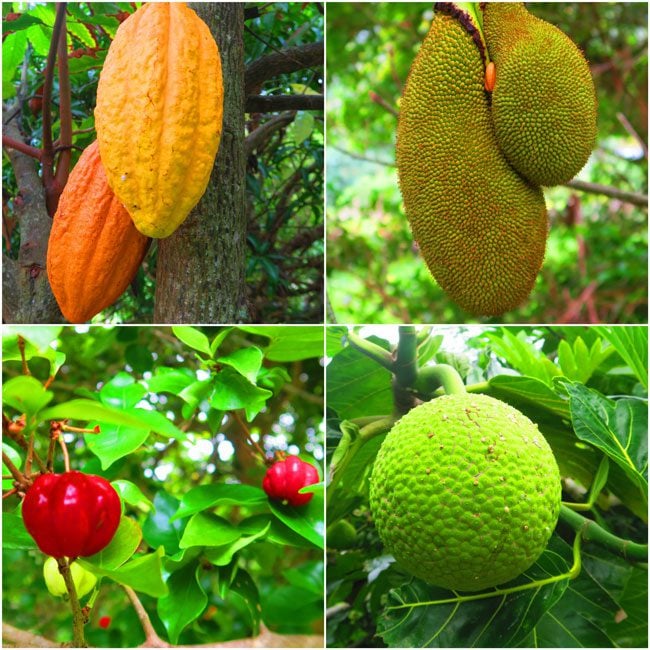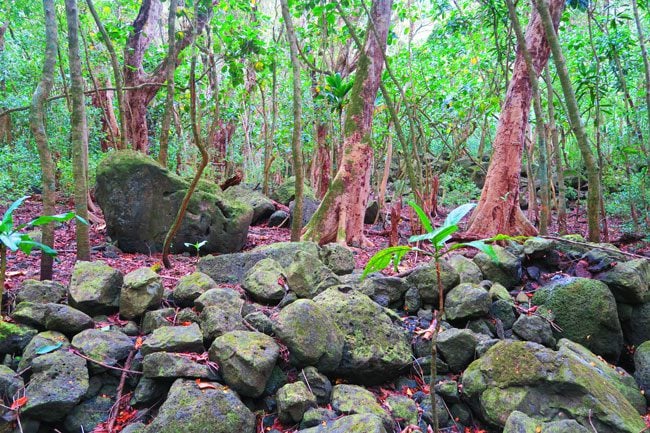 There's definitely no need for a supermarket here and, heck, you can even satisfy your need for morning caffeine! And whatever the trees don't provide, the shotgun will, with the valley's current residents still hunting deer and wild pigs whenever they're short on protein. It is all very reminiscent of another valley in the Pacific, this time the Hakaui Valley of Nuku Hiva in the Marquesas Islands and its waterfall (hint hint).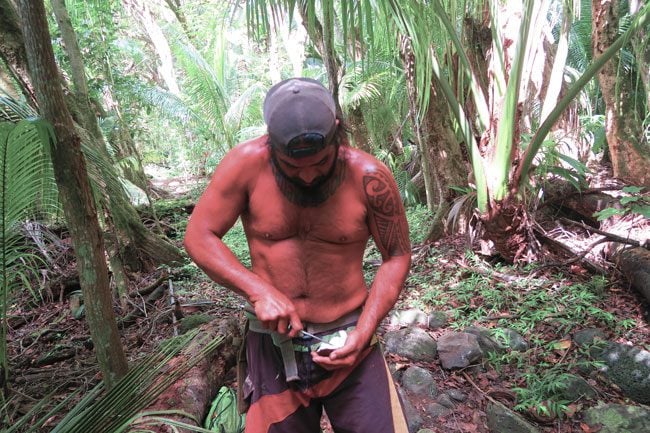 With your stomach quite full from all the tastings along the hike, you catch your first glimpse of the Moa'ula and Hipuapua Falls and a mad dash begins to reach their source as if you've just discovered the final piece of some treasure map. At their source, a lovely natural swimming pool is waiting for you. You're free to splash, cliff jump, and get a massage from Mother Nature!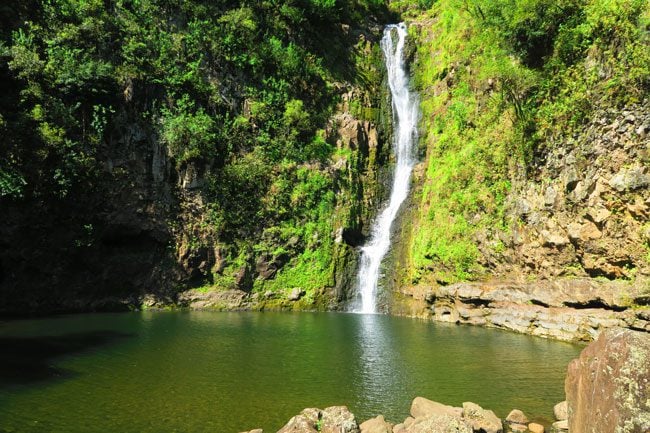 Halawa Beach Park
This beach is an absolute stunner! Well, there are two beaches here that totally look like twins. The northern beach is much longer and a bit more secluded than its southern twin, but does involve crossing a stream. From just beyond the parking lot, there's a great wide-angle view of the valley and its waterfall, and from the beach, you can spot humpback whales in season. As with all Molokai beaches, be careful in the water and exercise caution during the winter months.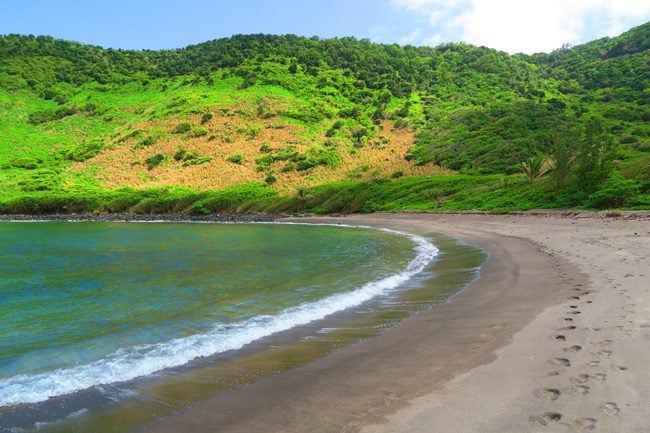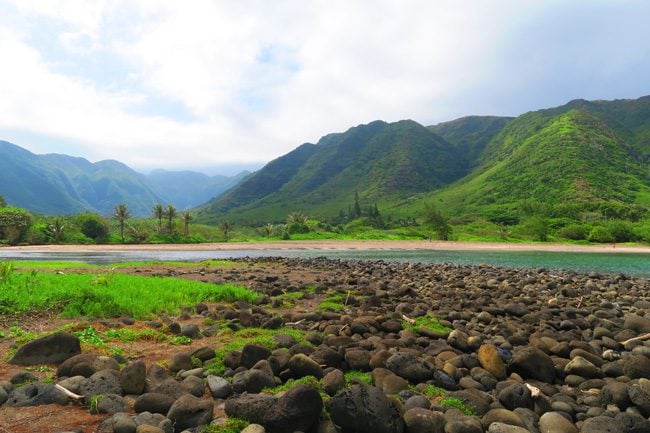 What's Next?
I hope you've found this 5 days in Molokai sample itinerary useful for planning your own adventure! Visiting other Hawaiian islands? Sample itineraries, guides to the best beaches and the must-see highlights are all waiting for you in the Hawaii Travel Guide collection. Aloha!
Looking for More Information on Molokai?
---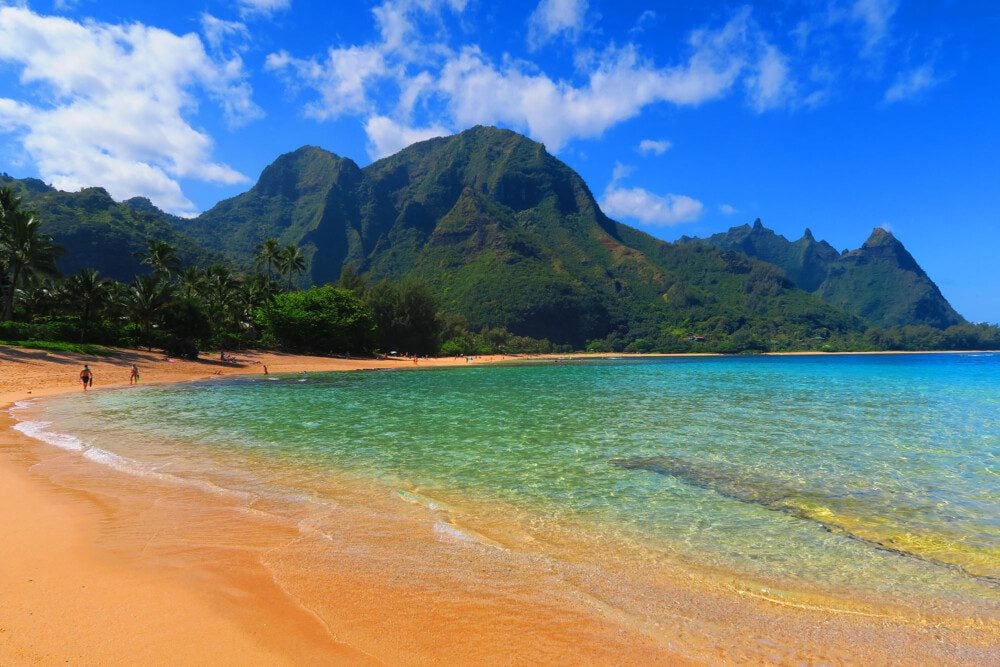 Hawaii, Tailor Made!
The Hawaiian islands are among the last places to be colonized by mankind, five main islands each with their unique personality.
Get expert advice and assistance with planning your trip to the destination where tropical dreams come true!
See Options
---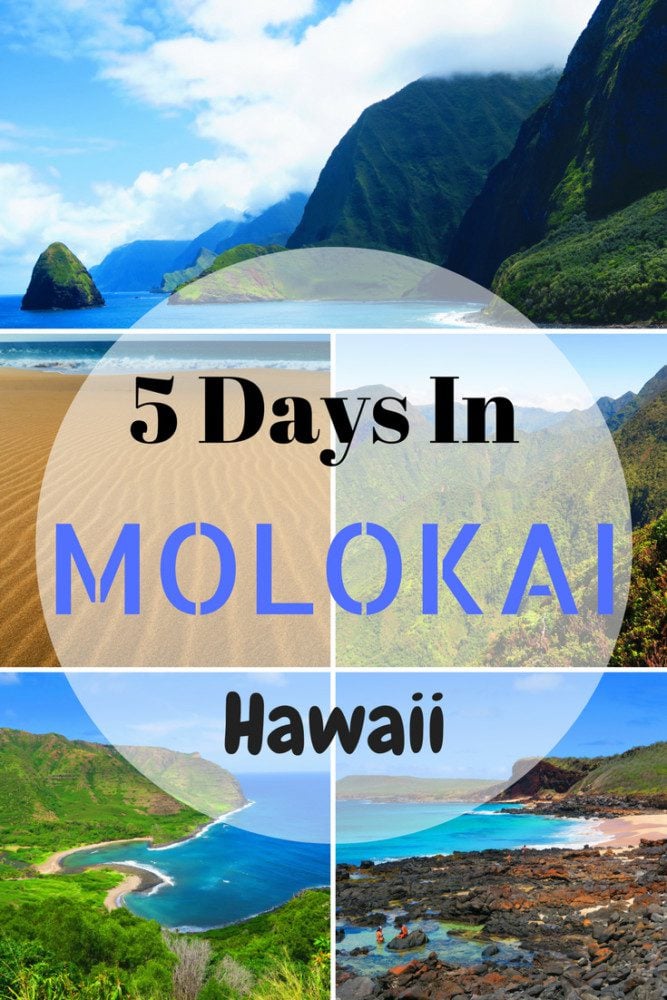 Pin These Images To Your Favorite Boards!