5 Days In Molokai itinerary
If you're looking to sip cocktails by the pool, 24-hour room service, and touristy luau shows – look elsewhere. Molokai is as real as Hawaii gets and finally drives the message home that you're actually visiting one of the most remote island chains in the world. Life on the island is beautifully stuck in the 90's, on a good day, but this is actually part of Molokai's charm. Just stick to the island's unofficial motto – "Slow down, this is Molokai!" – and you'll discover a true Hawaiian treasure. In this Molokai itinerary, we'll explore how to spend up to five days on the "Friendly Isle".
I spent a full week in Molokai while visiting my local friends Bob and Karen, whom I met on the even more remote Ofu Island in American Samoa in 2015. Unlike the rest of the main Hawaiian Islands, Molokai has very few "temptations" in the form of organized tours. Therefore, your visit is mostly about getting close to the island's pristine nature and its authentic laid-back vibe. Molokai is the birthplace of the hula dance and, to this very day, is the most "Hawaiian" of the main islands, with over 50% of its population having genetic ties to native Hawaiians.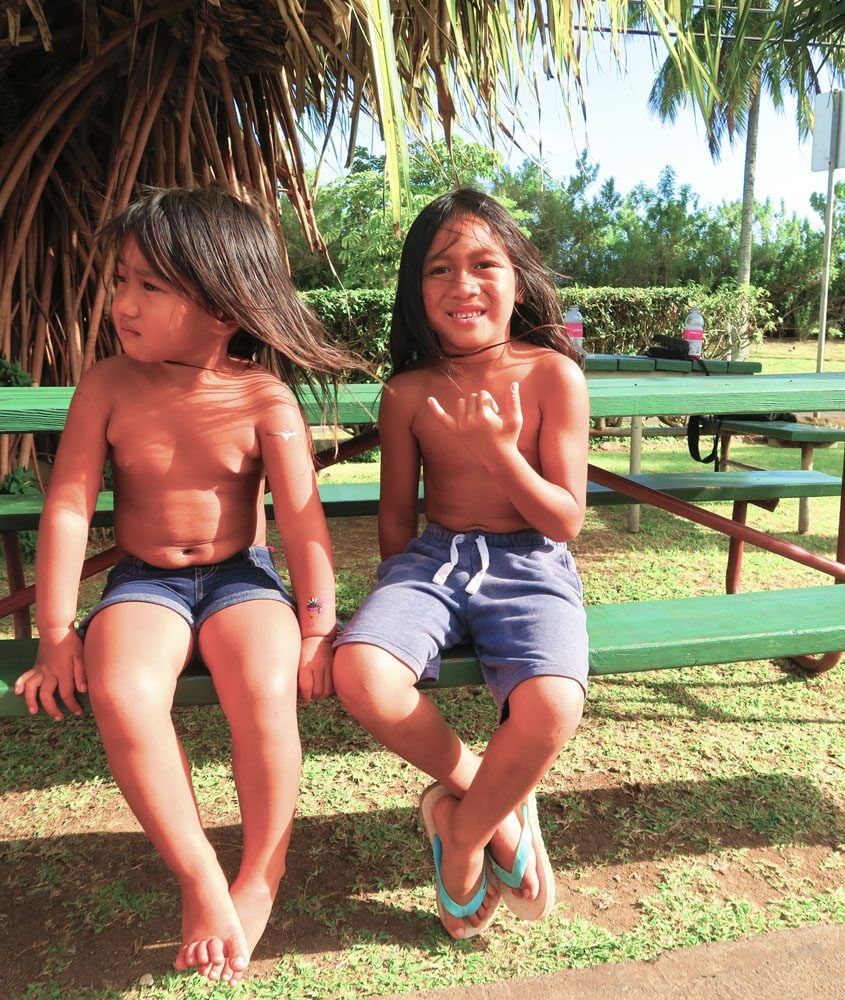 What's Included in this Molokai Itinerary?
This Molokai itinerary is made up of the following sections:
Day 1: Essential Molokai Tips, Kaunakakai, South Coast Beaches & Snorkeling [This Page]
Looking for a Quick Read?
---
Visiting other Hawaiian islands? Sample itineraries, guides to the best beaches, and lots more are waiting for you in the Hawaii Travel Guide collection. Aloha!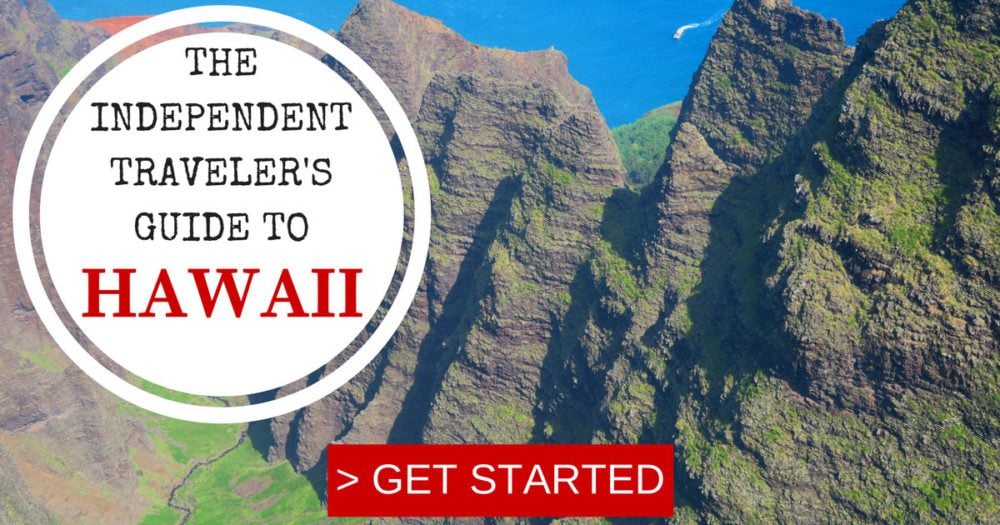 Why Visit Molokai?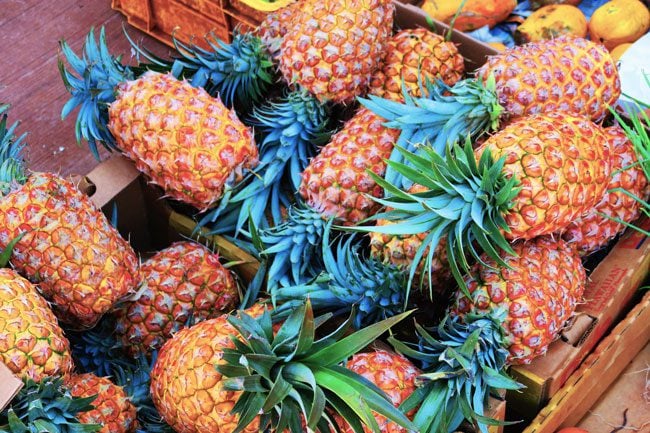 Authentic Vibe
Molokai's motto is to "slow down". With island time ticking slowly, its proud Hawaiian population keeps traditional values alive.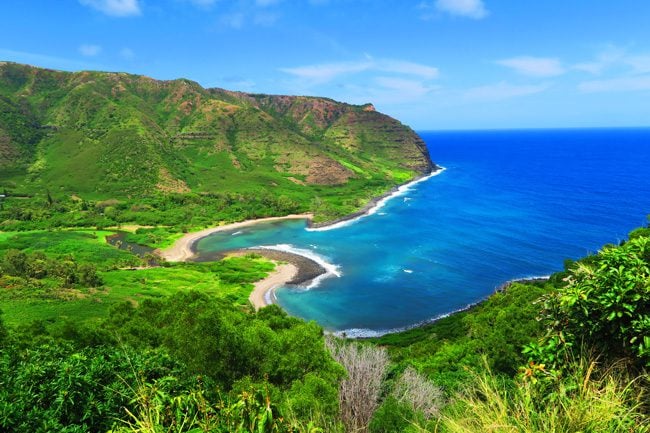 Beaches & Valleys
The only Hawaiian island with a proper coral reef, Molokai's beaches offer endless opportunities to work on your tan and its deep valleys to get lost in.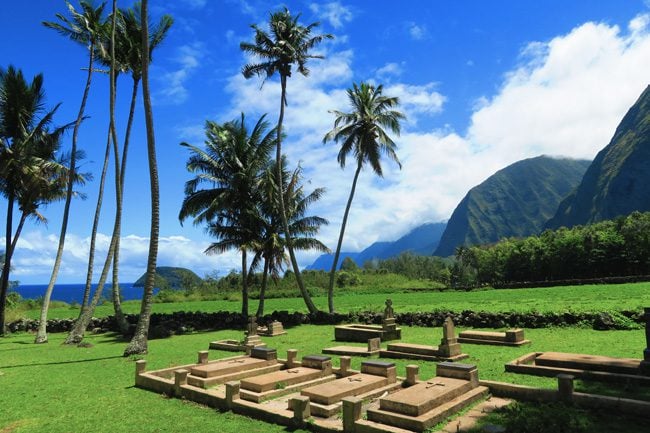 History
Molokai's stunning Kalaupapa Peninsula, once home to a leper colony, is now an important historical site you cannot miss!
Molokai itinerary Map
This map contains all the places mentioned in this Molokai itinerary. Click on the image to open in Google Maps.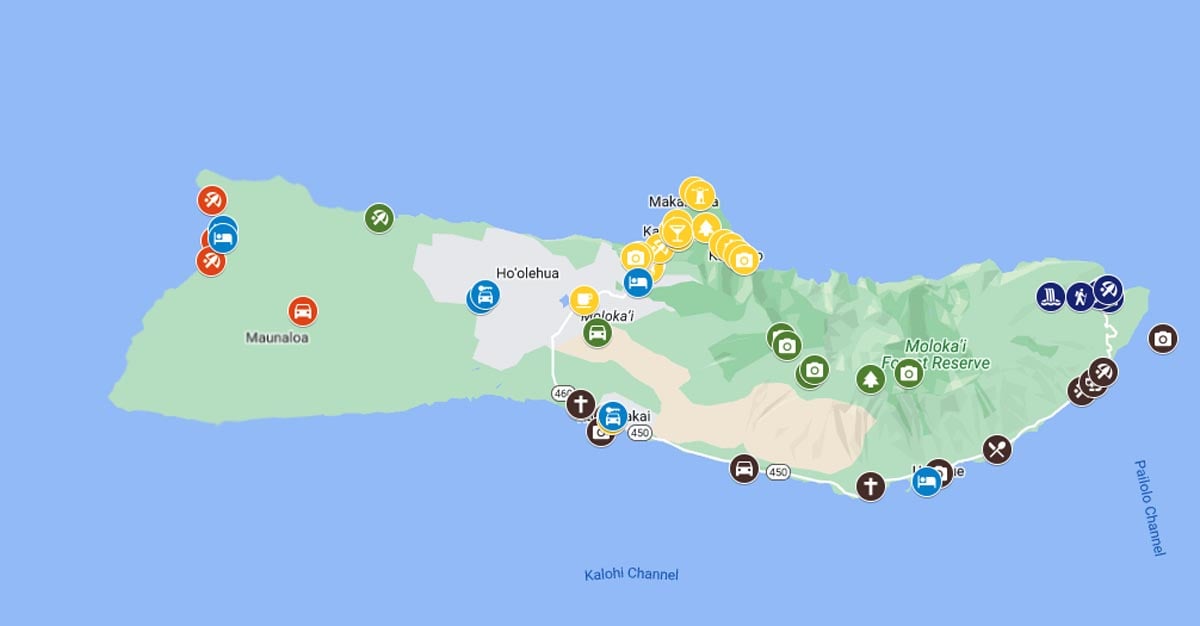 Molokai Travel Tips
The first section of this Molokai itinerary covers essential travel tips. Don't forget to go over the things you need to know before visiting Hawaii, where you'll find valuable advice on visiting the Hawaiian Islands.
When is the Best Time to Visit Molokai
The best time to visit Molokai is spring (April to June), a relatively dry period on the island. However, you can visit Molokai throughout the year, taking note of possible long periods of consecutive rain during the winter months (November-March). I visited Molokai in the middle of March, and I was blessed with exceptionally sunny weather. It is important to note that the weather in Molokai greatly differs from east to west. The east coast – the windward side – is more tropical and wet, while the west coast – the leeward side – is practically a desert!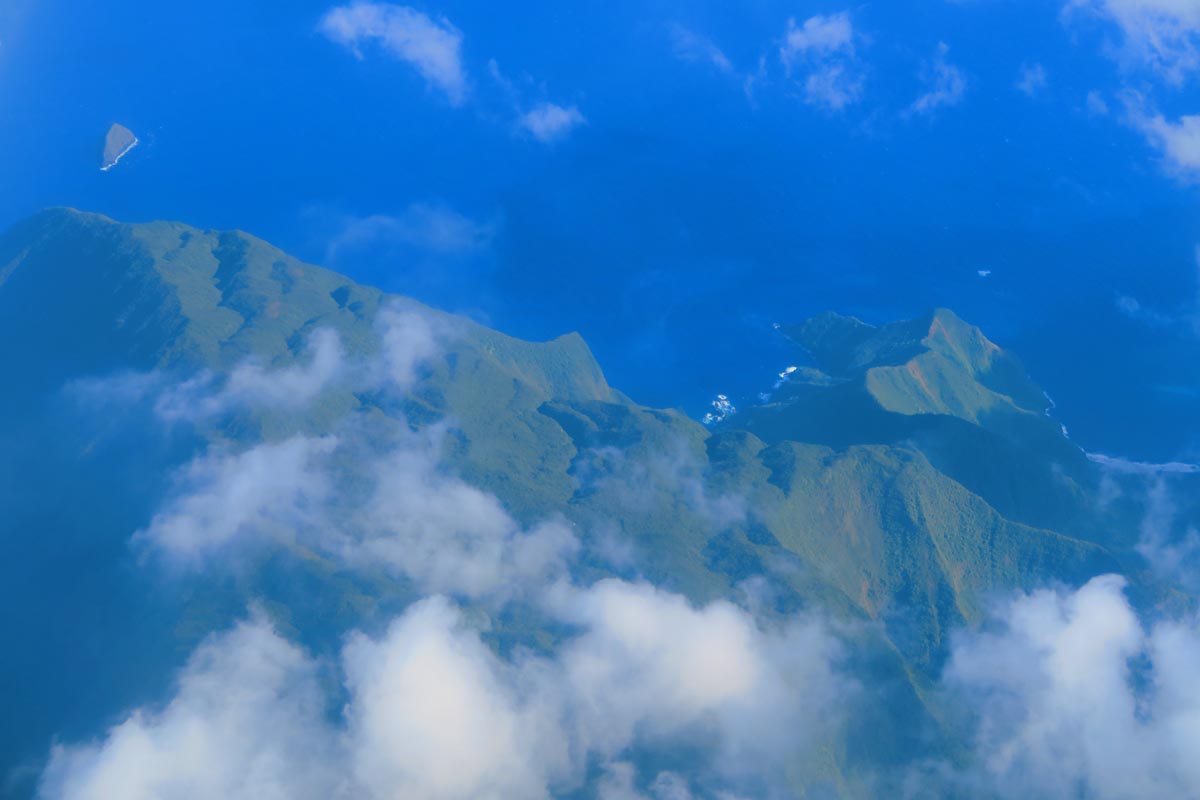 How to Get to Molokai
When updating this Molokai itinerary, the only way to reach Molokai is still by air. The Molokai Ferry – which connected Molokai with Maui and Lanai – is no longer operating due to a lack of profitability. Both Hawaiian Airlines and the smaller Mokulele Airlines connect Molokai with Maui and Honolulu. As always, on such small islands, things can change. Airlines and ferries come and go.
The Molokai Airport is about 15 minutes from Kaunakakai, Molokai's only town. Rent a car at the airport, get a ride from friends, or book a taxi to get to your accommodation.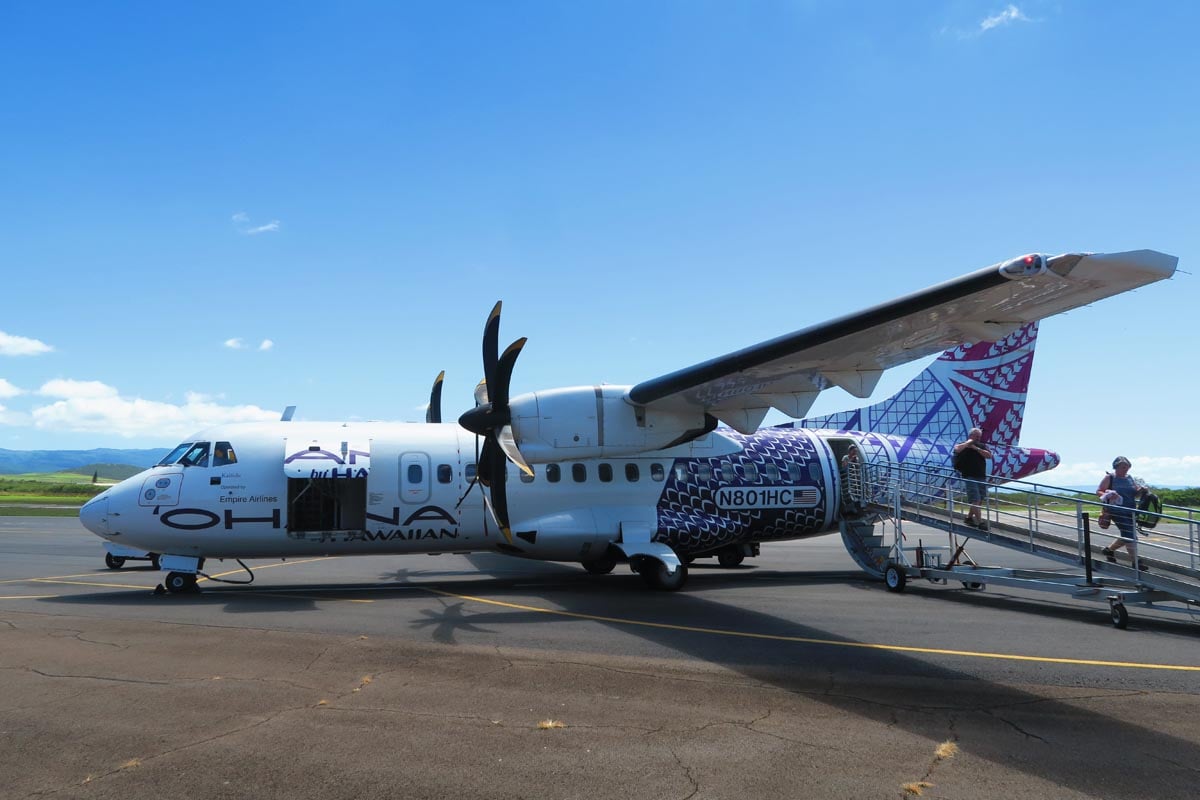 Getting Around Molokai
A car is an absolute necessity on Molokai. Even though the island is quite small, there is no public transportation. Rent a car from the pricier but more modern Alamo Rent A Car or from local providers such as Molokai Car Rental. Their fleets are older, but the cars work just fine, and the price is more affordable than Alamo.
Molokai Car Rental Tips
Demand sometimes is greater than supply. Book your car rental as soon as possible.
The price of gasoline is extremely high on Molokai. Just to give you some sense, when the price of a gallon was $3 in Honolulu and $2.20 on the mainland, it was $4.75 on Molokai! The island sees some of the highest gas prices in the US. That said, distances are not great so it makes swallowing this pill a bit easier.

Gas stations are in Kaunakakai so take this into account. One of them is open 24/7.

A 4WD is not a must, however, it will allow you to explore the beautiful Kamakou Preserve (the Molokai Forest Reserve) and make it down to secluded Mo'omomi Beach.

Drive very carefully on Molokai roads, especially along the southern coastal road to Halawa Valley. There are many blind turns along the way and "daring" local oncoming drivers. Moreover, locals like to "camp" with their vehicles on the narrow margins of the south coast road, increasing the risk of driving at night.

As the forgotten child of Maui County (Maui – Lanai – Molokai), rookie police officers are sent to Molokai to complete their training and "practice" their "ticketing skills". Drive safely and adhere to road rules or you risk getting a ticket.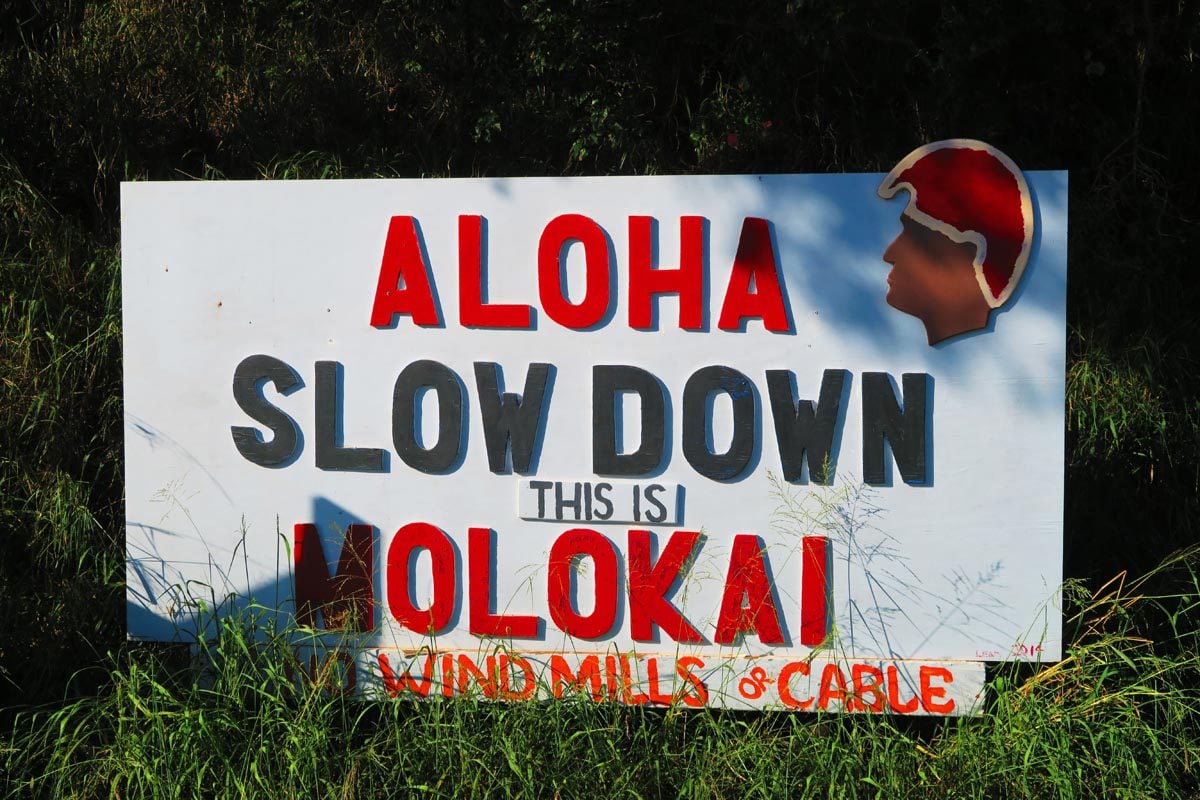 Where to Stay in Molokai
As Hawaii's low-key island, Molokai has no resort scene. If you're looking for cocktails by the pool, 24-hour room service, and a pampering spa – go elsewhere! In fact, the only resort on Molokai shut down many years ago. When the owner threatened to close the resort, along with the loss of crucial jobs that come with it, unless further development rights were granted, guess what? Locals told him to F%$K off! With few exceptions, 99% of Molokai accommodations consist of vacation homes or condos rented by the owners.
The South Coast
Most of Molokai's accommodations are on the island's south coast, primarily in the lovely stretch of coastline between Kaunakakai and Halawa. The Hotel Molokai is the island's only "proper" hotel and has a great location. The next best option is the Wavecrest Resort. Its name is confusing because it's a condo complex, not a resort. There are lovely views of Maui and Lanai during the day and millions of stars at night. Facilities include a swimming pool and a BBQ area. Some units are renovated and you'll find many available for rent on Booking.com.
Paniolo Hale & Ke Nani Kai: condos on the remote northwest coast of Molokai. It is a bit out of the way but you'll have three beautiful beaches right at your fingertips to choose from, not to mention the sunsets are out of this world! If these are fully booked, try Kaluakoi Villas.
Hale Malu: the only budget/backpacker option in Molokai that I managed to find. You can stay here for as little as $60 per night (which is cheap by Molokai standards) but it is a little bit out of the way at about 20 minutes from Kaunakakai.
Molokai Accommodation Tips
It is very common for owners to add a separate cleaning fee to your bill. This can be around $150 or even more per stay. It's quite absurd but also quite common on some Hawaiian islands. What usually happens is that condo owners – who normally spend just a few weeks on the island per year or even less – hire locals to maintain the units. The cleaning fee, in theory, is their salary.

Always double-check the fine print: does your specific unit include Wi-Fi? Is it completely self-catering? How is the payment to be made? When in doubt – ask.

It's always best to check into your condo, have a look at what's in the kitchen and only then go grocery shopping. Often times, many items will be left over by previous guests and the owners. If anything should not be touched, owners will clearly make it clear.

Most grocery shops are closed on Sundays so keep this mind and stock up before.

There are two campgrounds in Molokai, both requiring advanced reservations and permits.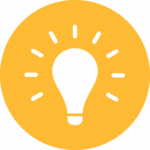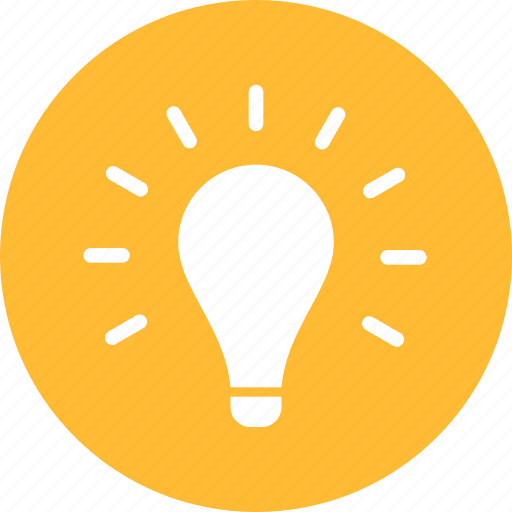 What to Pack for Molokai
Together with this 5 days in Molokai itinerary, I recommend grabbing a Lonely Planet guide to Hawaii to have useful information at your fingertips and to better understand Hawaii's culture and interesting history.
As far as packing goes, Molokai is all about hiking and the beach. I recommend packing comfortable clothing for outdoor activities, including proper hiking shoes and rain gear. When it comes to the beach scene, Molokai's beaches are wild and do not have facilities (as far as I remember). Therefore, bring everything needed to feel comfortable at the beach and always have your snorkeling gear at hand as Molokai's south coast is home to one of the longest coral reefs in the US. Moreover, mosquitos can be quite annoying, especially on the tropical east coast. Pack plenty of mosquito repellent as well as a lightweight long sleeve shirt and a pair of pants for the evening. Have a look at this page for more information and recommendations.
Hiking in Molokai
Unfortunately, nature is not always free of charge in Molokai. Hiking in the Halawa Valley must be done with a certified guide and visiting the Kalaupapa Peninsula requires a permit (more info on both in later sections). I have met a few tourists who purchased tickets/permits from their hotel at an unnecessary premium so always book directly. Advanced bookings are recommended just in case. There are other hiking trails that are free of charge but they are unmarked and require either an updated map or an experienced local. Don't mess around with this.
Mobile Reception in Molokai
Practically non-existent in large chunks of the island and this, of course, includes mobile data. Use this time to disconnect, make calls/inform people when you do have coverage (Kaunakakai is the best spot) and double-check if your accommodation has Wi-Fi.
Staying Safe in Molokai
Molokai is the safest of the major Hawaiian Islands. Locals are friendly and everybody knows everybody so there isn't really a place to hide. You won't run the risk of a car break-in as on other islands but there are a few safety tips nonetheless:
Driving can present several challenges. Have a look at the "getting around Molokai" for specific tips.

Molokai's west coast beaches are wild and can be very hazardous to swim in during the winter months. Without any lifeguards around, you'll need to exercise extreme caution and use good judgment. When in doubt, stick to suntanning.

Download an offline Google Map of Molokai before arriving on the island. Mobile data is horrible, at best.
---
Day 1: Kaunakakai, South Coast Beaches & Snorkeling
On the first of your 5 days in Molokai, we'll take things relatively slow to get used to the beautifully slow place of Molokai. Remember the island's motto: "Slow down! This is Molokai."

Morning in Kaunakakai
This is it! The most happening place in Molokai. The island's only "real" town seems like something out of a 1950's movie set, with little changed two-story wooden buildings, small shops which specialize in a very narrow spectrum, and a Texaco gas station where old manual pumps are fitted with a bell to let the attendant know you've arrived. It's rustic, charming, and something you just don't see on other islands with their (totally fake and tourist-oriented) "historic towns".
Downtown Kaunakakai is best visited on Saturday morning, where "main street" experiences a short-lived resurrection in the form of a small market. It's a good opportunity to get to know the locals and stock up on some snacks for the day. On other days, it's a good idea to pay a visit to either one of the small supermarkets before starting the day.
As far as sightseeing goes, Kaunakakai does have one interesting historical building – the Molokai Library – built in 1937. It's right across from the Saturday morning market and hard to miss. You can also walk or drive to the Kaunakakai Pier and catch lovely views of the south coast.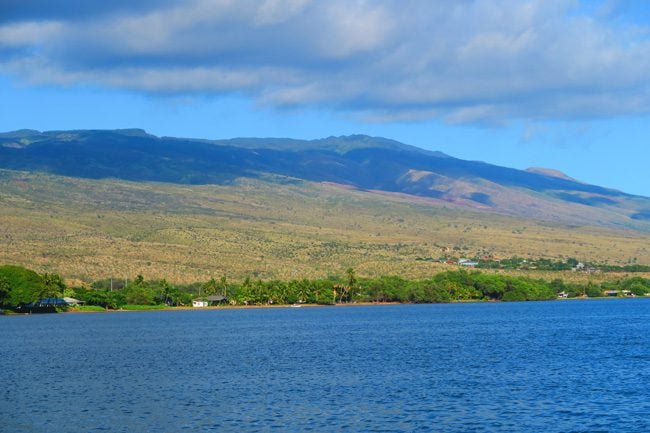 Coconut Grove & Church Row
In the 1860s, King Kamehameha V had a large coconut grove planted just outside of town. Though entering the grove is tabu (i.e. prohibited), the sight of hundreds of palm trees rising towards the bluest of skies is nonetheless a pretty sight. The coconut grove is opposite "church row", a series of small and picturesque churches from various denominations.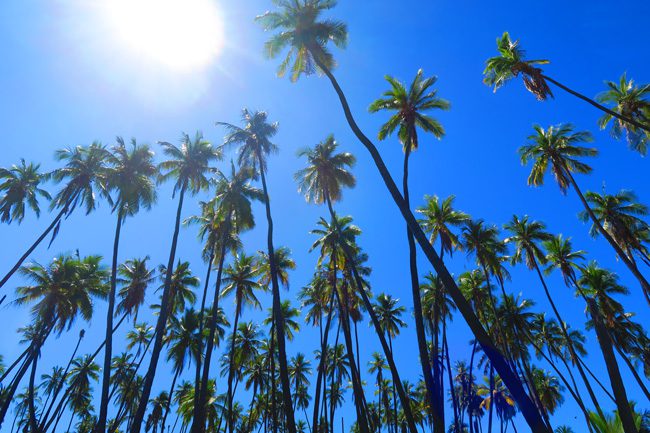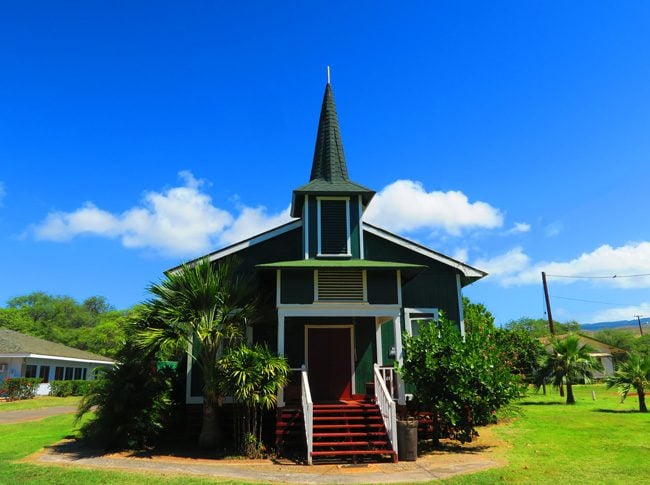 South Coast Scenic Drive
Heading out of Kaunakakai, make a left and begin the scenic drive along Molokai's beautiful south coast. To your left are rolling hills, eroded mountains, and hidden coves, while on your right are the Molokai's famous coral reef, the islands Maui and Lanai. There are many small stops along the way such as secluded beaches, but the fun here is just to take things slow and adjust to "island time".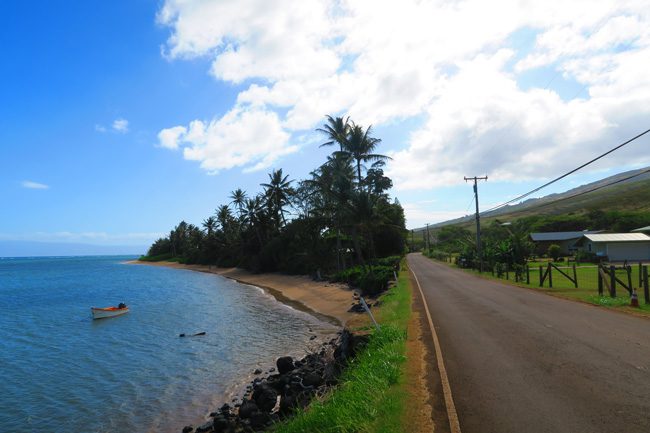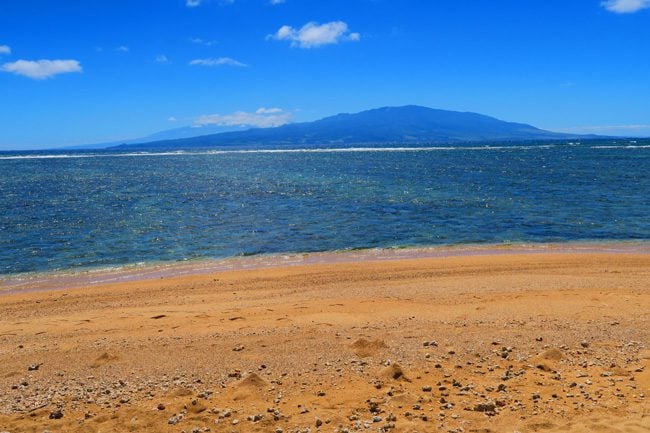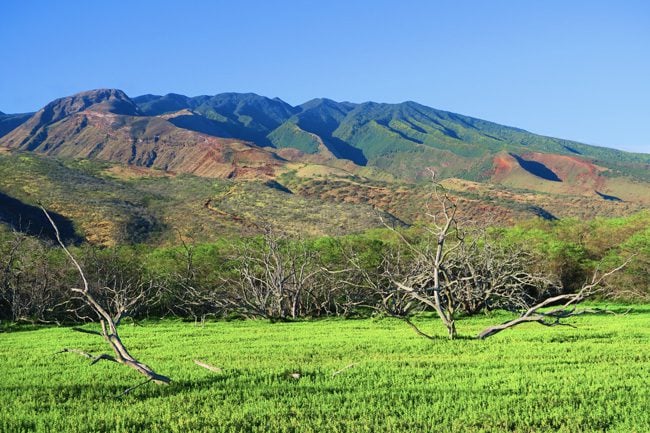 St Joseph's Church
Make a quick stop at this tiny church which dates back to 1876. It was built by Father Damien, who is now a saint thanks to his work with leprosy patients on the island's remote Kalaupapa Peninsula. Since we'll head there tomorrow, this is a good place to stop and catch your first glimpse of the saint, whose small statue is located at the entrance to the adjacent cemetery.
Ancient Fishponds
At mile marker 13, stop to check out the Ualapue Fishpond – one of a number of ancient fishponds dotting the calmer south coast. While on the gorgeous island of Huahine in French Polynesia, locals used large volcanic rocks to create V-shaped fish traps, the Polynesians of Molokai went for a circular shape but the results are the same. These contraptions are used to trap fish inside, making the catch a whole lot easier. Further down the road around mile marker 19, the Kahuna Pohaku Fishpond is another worthwhile stop.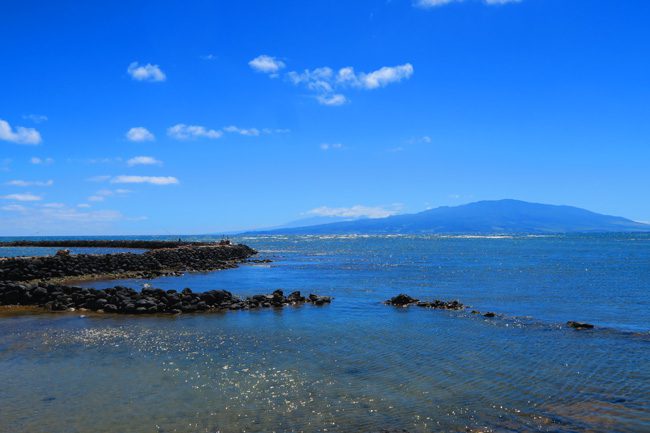 Lunch at Mana'e Goods & Grindz
The Hinano beers from Tahiti are always cold (and well priced), the takeaway plate lunches are awesome, and the service always comes with a side of authentic aloha. Mana'e Goods & Grindz is not only a great place to grab lunch and a few snacks, but also to catch another slice of local life. Outside, the picnic benches also double as meeting spots for locals and the small parking lot is always busy (well… "Molokai busy") with hungry folks re-entering their trucks with a smile! Open every day, even Sundays.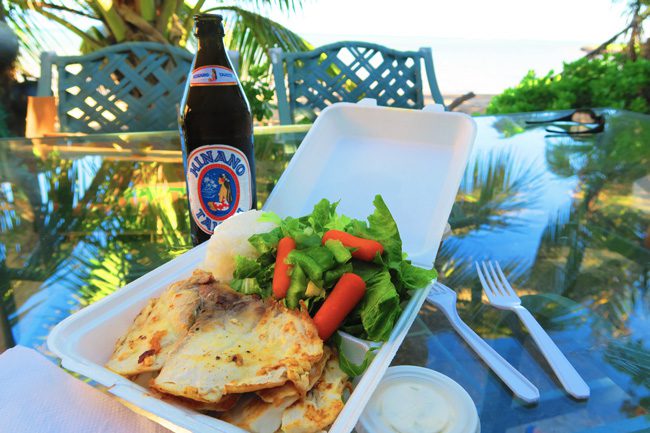 Murphy's Beach
The George Murphy Beach Park – more commonly known as Mile 20 Beach – is located… take a guess… at mile marker 20. This is the prettiest and most popular beach along the southeast coast, but you'll likely have it all to yourself with the exception of weekends and holidays. There are a few parking spots on the side of the highway but that's about it. The beach offers a relatively long stretch of golden sand (considering how tight things are on this side of the island), palm trees for some shade, and even decent snorkeling when conditions are calm. With Maui in the distance and the possibility of spotting humpback whales (in season), you can easily kill a few hours here.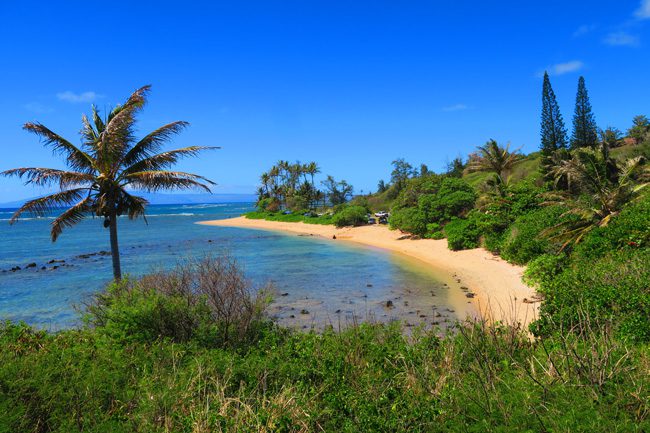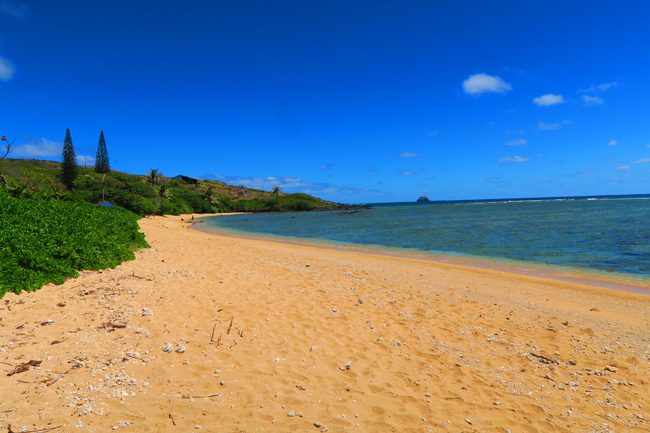 Snorkeling
Between MM 20 and 21, you'll find the best snorkeling spot on the south coast of Molokai. I recommend simply parking the car on the side of MM 21 and begin to drift towards MM 20. The reef is nothing special until you gain a bit of distance from the shore, where it becomes comfortably deep. From here on out, there's a sandy bottom with patches of impressive coral, clear waters, sea turtles and large schools of fish. Swimming is generally safe but be aware of currents. Somewhere out here is an underwater cave so keep your eyes peeled. Unfortunately, I left Mr. GoPro at the condo on this day so you'll have to trust my description.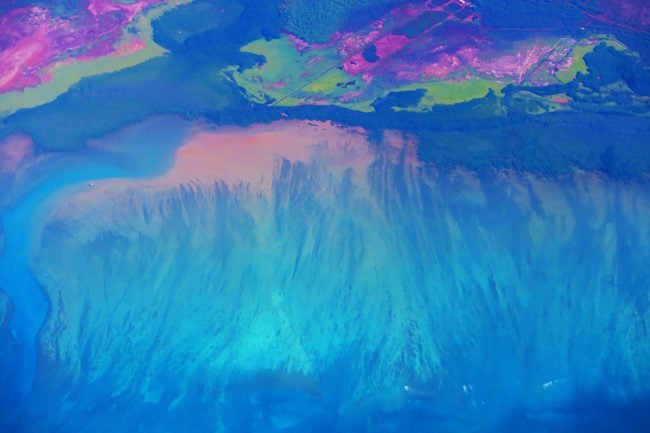 Sandy Beach
Right after Murphy's Beach and the snorkeling spot, the coastal road begins to get even narrower, with blind turns galore opening up to beautiful vistas. It's a challenging section of the road but also the most rewarding.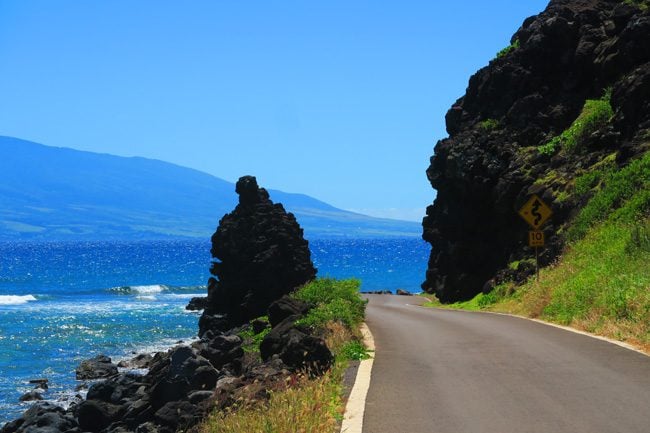 About halfway between MM 21 and 22, there's a small patch of golden sand. Locals call this "Sandy Beach" and you can stop here for a dip if you haven't gotten wet enough already.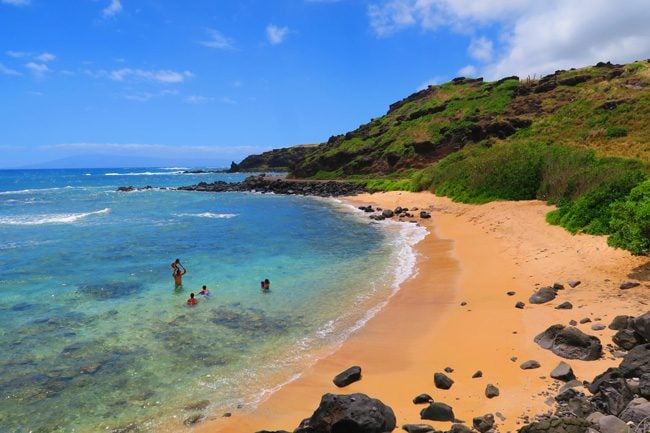 Mokuhi'iniki Islet
The last leg of the coastal road from Sandy Beach is wild and rocky, before descending through a shaded forest to the Halawa Valley and its scenic beach. You can technically continue all the way but we'll dedicate a full day to this end-of-the-road-gem. Before turning around, catch a glimpse of the Mokuhi'iniki Islet – a tiny rock rising out of the water. This is a designated bird sanctuary and you can often spot humpback whales from this spot when facing the island of Maui.
Sunset, Stars & Hot Bread
Head back to your condo, enjoy the sunset, cook some dinner, and celebrate. After counting some stars, head to Kanemitsu's Bakery & Coffee Shop for a bizarre local experience. Every day but Monday, this 80-year old bakery sells hot bread out of its back door starting at 10:30 pm. Locals line up for this calorie bomb and so should you. You're on holiday after all.