With no overwater bungalows or beach bars, and with an Internet connection that's barely strong enough for sending emails, a trip to the Austral Islands is a trip back in time. The southernmost archipelago of French Polynesia is packed with adventure and culture for those who seek to get off the beaten track. Perhaps this is the reason why humpback whales like to visit in large numbers every year. Come and see this slice of paradise for yourself with this Austral Islands travel guide.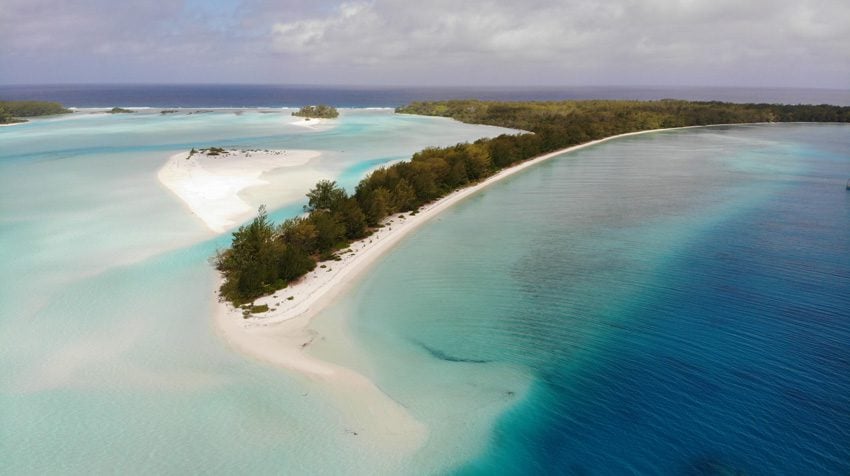 About This Guide
It was only on my fifth visit to French Polynesia that I had finally made it to the distant Austral Islands. I spent ten days exploring Rurutu, Tubuai, and Raivavae before the domestic flight schedule forced me back to Tahiti. This Austral Islands travel guide is based on my experience and extensive research. When planning my visit, it was hard to find reliable information about the Austral Islands, so I hope you will find this travel guide useful.
Heading off to French Polynesia? In-depth island guides to all 5 archipelagos await you, including sample itineraries and essential travel tips & tricks.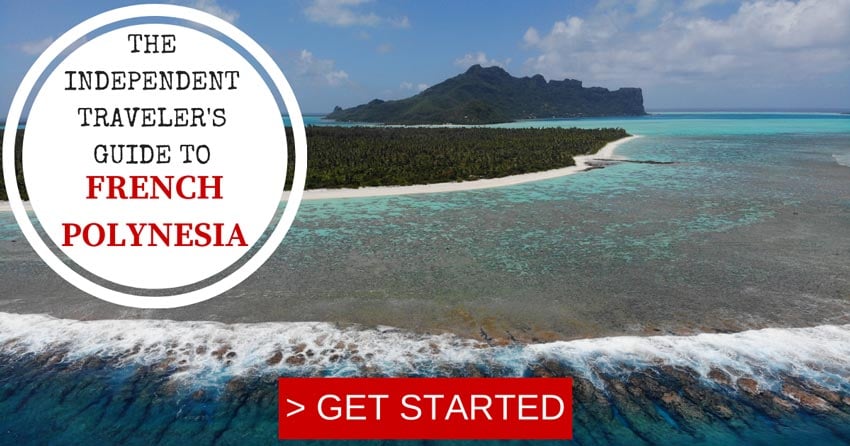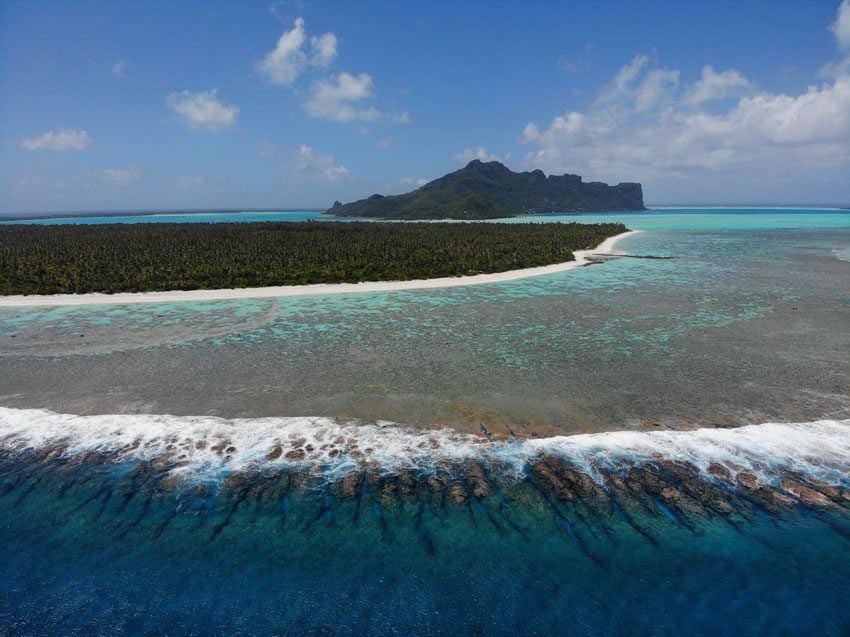 Tahiti, Tailor Made!
The Islands of Tahiti are among the last places to be colonized by mankind, 118 islands, each with their unique personality.
Get expert advice and assistance with planning your trip to the destination where tropical dreams come true!
See Options
What's Included In This Austral Islands Travel Guide?
Several sections make up this travel guide:
Austral Islands Travel Guide Video
Watch this video to see what's expecting you in the Austral Islands (you might need to disable your ad blocker).
Additional Austral Islands Resources
For a quick read, check out the top things to do in the Austral Islands. To see how to put everything together, check out this Austral Island itinerary.
---
Austral Islands Travel Guide Map
All points of interest mentioned in this guide can be found on this map. Simply click on the image to open in Google My Maps.
Facts and Brief History
The Austral Islands consist of five inhabited and two uninhabited islands that straddle the Tropic of Capricorn in a chain of submerged volcanoes running 800 miles long. This is the southernmost archipelago in French Polynesia, hence the name Austral. South of here, there's nothing but an empty ocean until Antarctica. The archipelago's most remote island is Rapa Iti, separated by almost three degrees of latitude from Rurutu. It is rarely visited by outsiders. Rimatara, on the northwest tip of the archipelago, is "only" 650 km from Tahiti and 730 km from Rarotonga in the Cook Islands.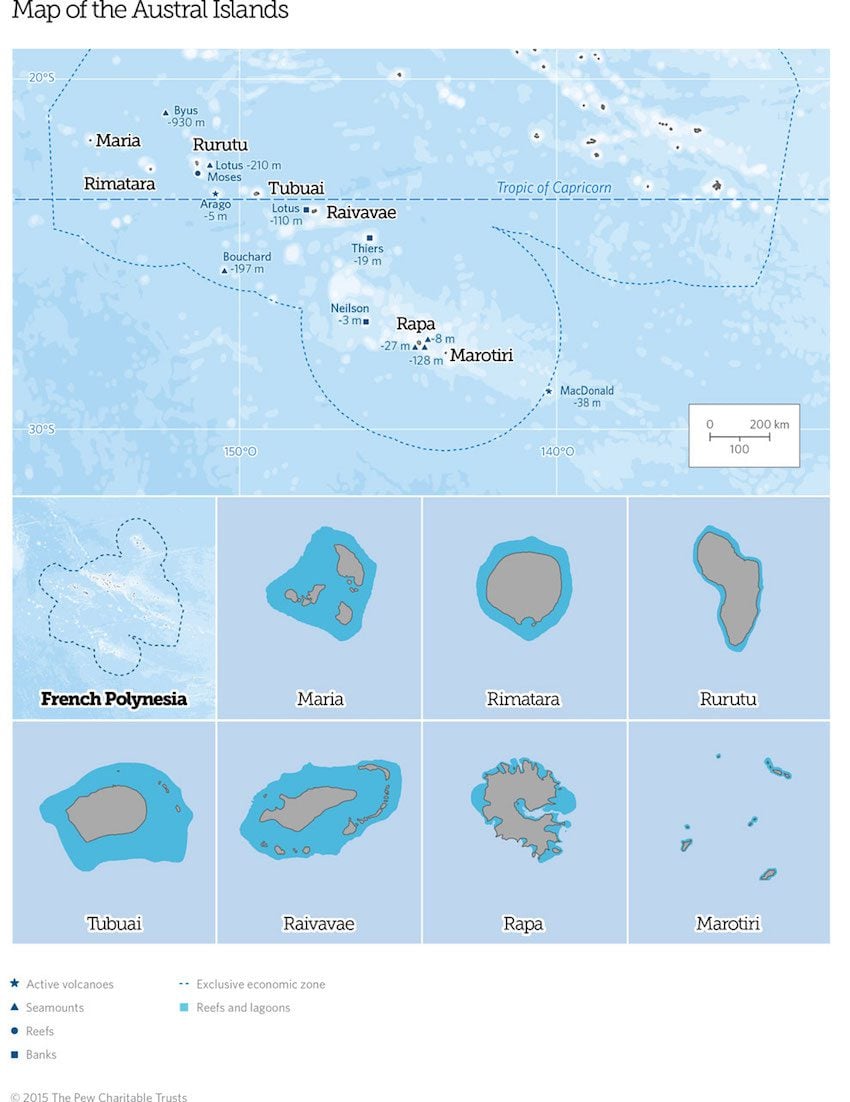 Due to the chain's remote location, the Austral Islands were the last to be settled by Polynesians and were rarely visited by European explorers. Even today, the entire population of the Austral Islands is just 7,000 inhabitants. Most of the islands in the chain are highly fertile. The fertile soil coupled with much milder weather than other, more tropical chains in the territory, make the Austral Islands the agricultural heart of French Polynesia. The islands produce massive amounts of taro in family-owned plots but it is the lychee that is the "king" crop of the Australs. Every year, just in time for the Christmas season, Tahiti's markets are flooded with much-awaited lychees which are shipped to the "big island" from the Australs.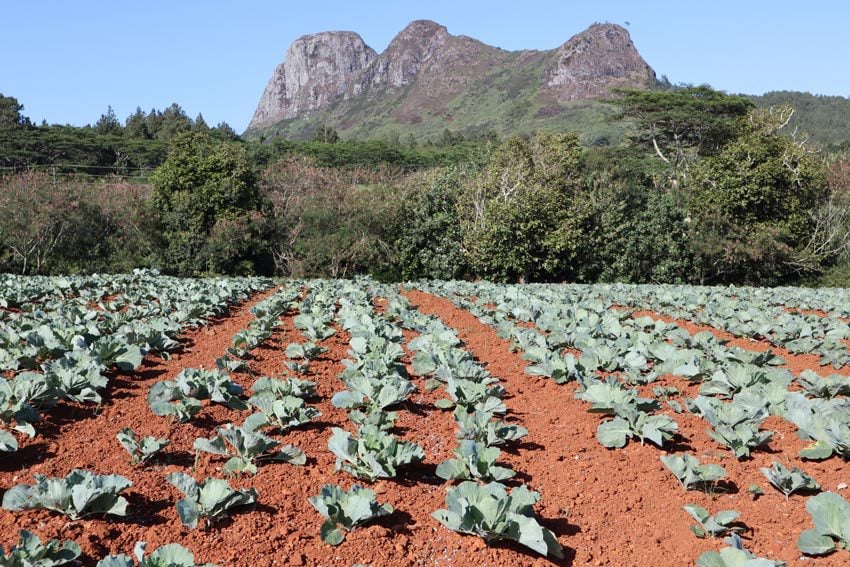 Why Visit the Austral Islands?
Preserved, authentic, raw nature, wild, diverse, and humpback whales. Those are some of the main reasons for heading to the Australs. Apart from the Gambier Islands, this is the least-visited archipelago in French Polynesia. Unless you are very flexible with your time, visiting the Austral Islands is probably something you save for a second or third visit. That is unless you really seek to get off the beaten track and experience what some of the Society Islands may have felt like decades ago. Islanders are still very family-oriented and traditional. Moreover, the Austral Islands are ideal for watching or swimming with humpback whales.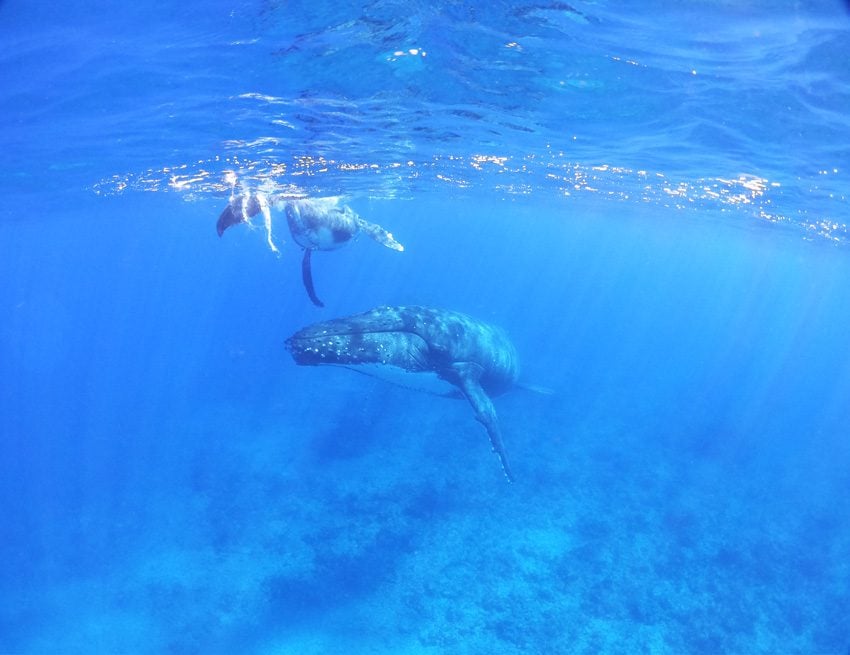 Austral Islands Travel Tips
Listed in this section are general travel tips for the Austral Islands. In the next sections, I'll share specific travel tips for the islands covered in this guide.
Recommended Reading
When Is the Best Time To Visit the Austral Islands?
The best time to visit the Austral Islands is during the "dry season" in French Polynesia, between May to October. Between July and October, humpback whales visit the chain, mainly camping off the coast of Rurutu. Keep in mind that the Australs are much milder than other islands, especially during the heart of the dry season between June and July. If you're visiting during these months, prepare for chilly weather at night. I visited in September and the weather was perfect. There were a few slightly chilly evenings but, for the most part, the temperature was just right.
How to Get To the Austral Islands?
The primary islands of Rimatara, Rurutu, Tubuai, and Raivavae can all be reached via domestic flights. Rapa (Iti) can only be reached via a cargo ship that visits every month. Despite having air links with the outside world, island-hopping within the chain can be challenging. Rimatara and Rurutu are served by the same flight, as are Tubuai and Raivavae. There is a flight between Tubuai and Rurutu but not daily, making the hop possible albeit challenging to time. If planning to visit more than one island in the chain, purchase the Austral Pass from Air Tahiti or the Austral Extension if purchasing an air pass for one of the other chains.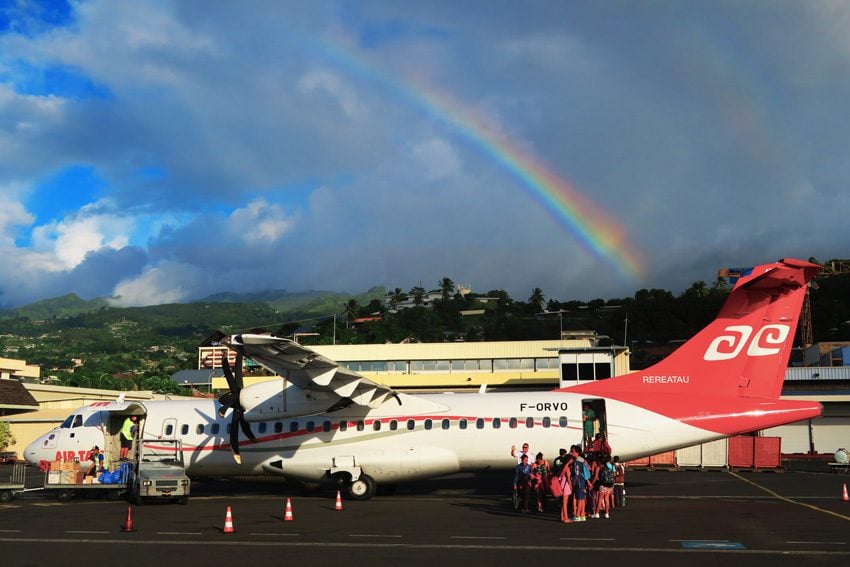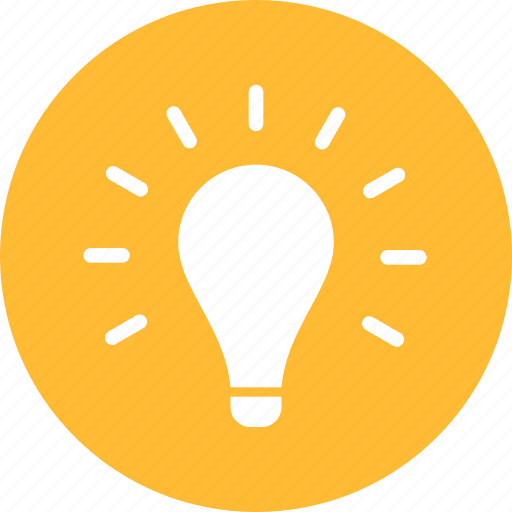 Pro Tip
The check-in process at Austral Islands airports can be extremely slow due to the paperwork involved with sending cargo. Many locals on the flight will send various items of cargo and this can really slow things down. You won't miss your flight but if you plan to eat at the airport cafe or do some souvenir shopping (all airports have a crafts shop), arrive well in advance to beat the queue.
Where to Stay?
The Austral Islands do not cater to mass tourism so there are no resorts or hotels, just low-key family-owned pensions. Some are better than others but all provide simple accommodations, and meals (breakfast and dinner). This is an excellent opportunity to get to know islanders. The more you open up and immerse yourself in the situation, the better your experience will be. It's important to set the right expectations.
Since you're visiting small and remote islands, you are often dependent on your hosts not only for accommodation and meals but also for taking you on or helping you book tours. The more kindness and respect you show, the more likely they will go the extra mile for you, such as sharing experiences that are outside the normal "tourist route". Remember that it isn't easy to run a small business out there.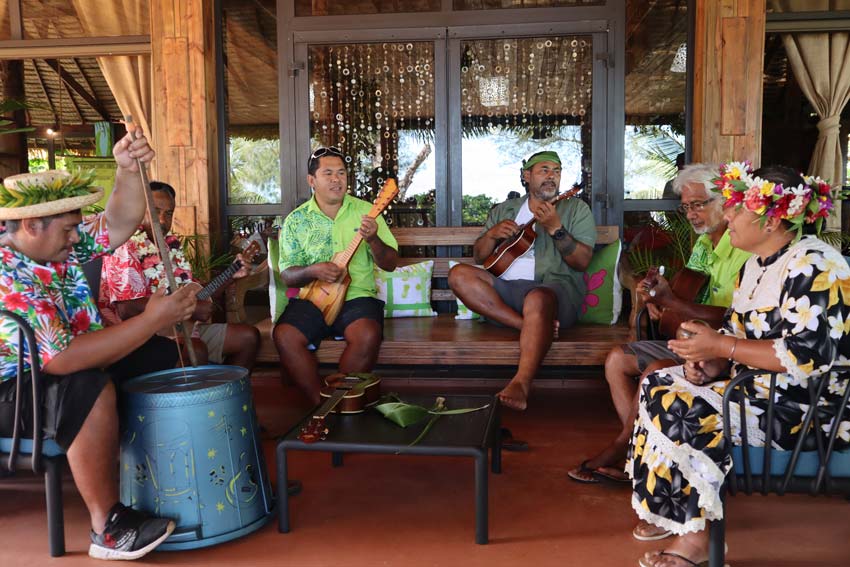 Don't expect room service, certain things in your room might not be perfect or might malfunction, and your hosts may not be able to cook vegan food (but do let them know in advance about basic dietary restrictions). Do your research before booking on sites like Tripadvisor and just enjoy the simplicity of a homestay on beautiful islands.
I highly recommend booking accommodation in advance, especially if you have your heart set on a specific pension or lodge. Don't be surprised if you're asked to pay a deposit via a wire transfer, even if you have booked online.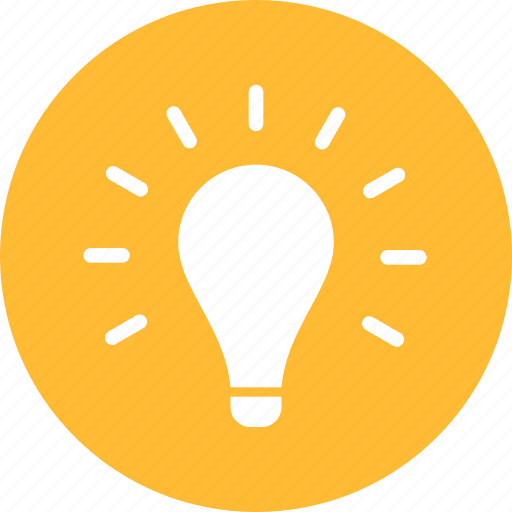 Pro Tip
The next sections of the Austral Islands travel guide will provide specific recommendations for places to stay on each island.
Money
Almost all pensions and shops do not accept credit cards so it's best to inquire ahead of time with your hosts and either prepay or bring cash. Rurutu and Tubuai have ATMs. At the time of visiting Raivavae, it had an ATM at the post office that is said to accept foreign cards.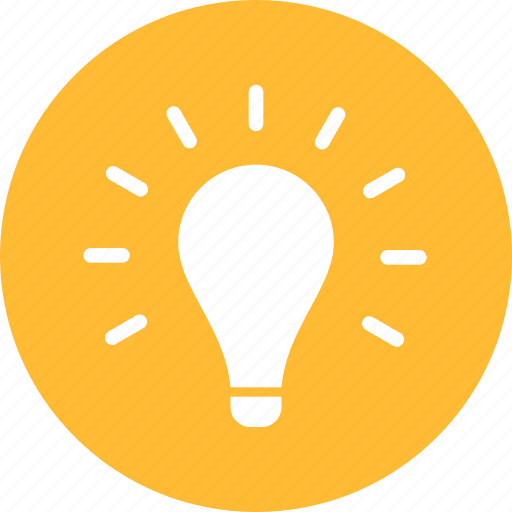 Pro Tip
Always carry with you some Euro to serve you in emergencies. Euro is accepted but only in extreme cases where you have no local cash left.
Mobile Reception and WiFi
Vini is the only mobile network with coverage in the Austral Islands (my Vodafone roaming package did not work). That said, even Vini does not have good 3G coverage and some areas have either no data coverage or extremely poor connection. Internet is also a struggle here. Some islands do not have full coverage and the households that do, have a very poor internet connection. Expect to struggle with the basics such as sending emails, attaching files, and even sending text messages. Forget about streaming and surfing the web. French Polynesia is underground a process of connecting to a new fiber cable but there are no plans of delivering this service to the Australs.
Speaking English
Speaking French goes a long way in the Austral Islands as not many islanders speak English. This is true even for islanders working in the tourism industry. You should be able to find English-speaking guides in Rurutu and Tubuai.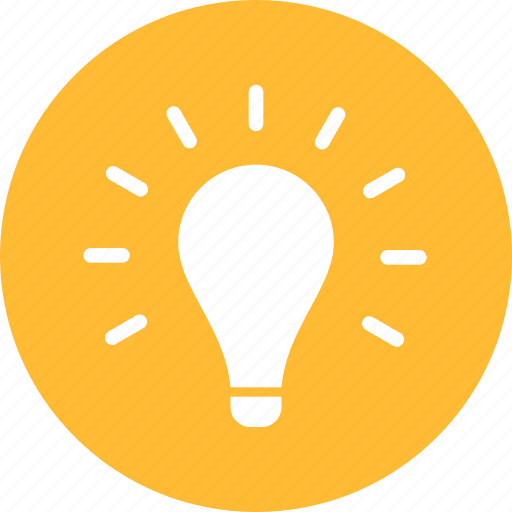 Pro Tip
Download Google Translate offline before visiting French Polynesia.
Drinking Water
Some pensions have started to filter their water supply so it will be safe to drink from the tap. It is best to inquire with your hosts and to be prepared to purchase bottled water. If tap water cannot be consumed, hosts will usually provide a bottle of water for your first day. Never drink water from streams. They might be safe for the locals, but your stomach won't approve.
Your First Day
The amount of sightseeing and food shopping that you can do on the day of arrival to a new island is always limited. In the Austral Islands, I found the following tips to be helpful for the day of arrival:
Bring with you some snacks and even sandwiches because there might not be any open restaurants or grocery shops. It might also be quite a distance to get to both.

Aim to book a guided island tour for the first day. It's best to book in advance but there's also a good chance that your host will be up for showing you around on a paid excursion. Half-day tours are sufficient for getting to know the island and for spotting areas you might want to revisit over the next few days.

If you haven't done this in advance, use the check-in time to also book your excursions for the remainder of your visit. Keep in mind that

other

tourists also arrived on your flight so you don't want to be faced with fully-booked excursions.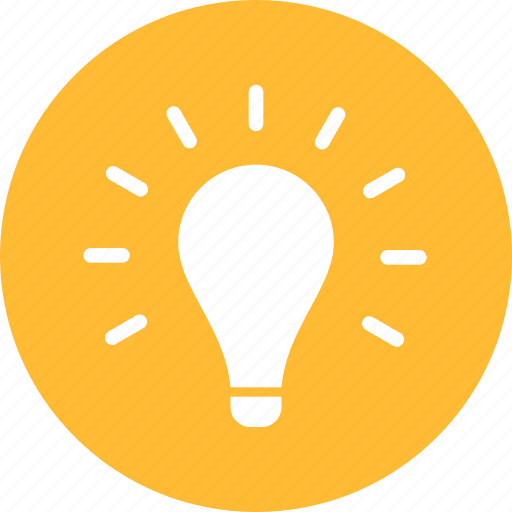 Pro Tip
Islands such as Raivavae prohibit visitors from bringing fresh produce from other islands, even within the Australs. This includes fruits, vegetables, and even flower necklaces.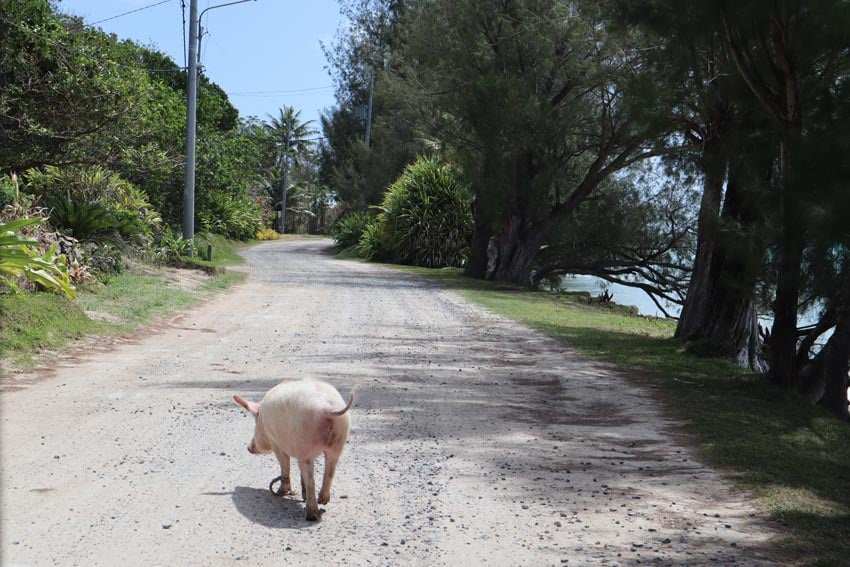 What to Pack
Listed below are a few essential items to pack, specifically for the Austral Islands. Check out the X Days In Y Packing List for recommended products.
Light rain jacket with a hood

Thin but warm fleece jacket

One or two long pants suitable for hiking

Warm clothes for the night (but not too warm)

Mosquito repellent

Sun protection: lotion, sunglasses, monoi oil for after-sun care (optional), rash guard T-shirt for snorkeling (optional), hat

Reef shoes (strongly recommended), dry bag (for diving and lagoon tours)

Mask and snorkel (must), fins (optional)

Swimwear, including

pareo

(sarong), and quick-dry towel for diving (optional)

Camera, underwater camera, and drone (optional)

Zoom lens/binoculars if you're into whale watching

Light sweat-repellent clothing

Flashlight

Snacks for arrival day

Hiking shoes

Cash and emergency Euro/US Dollars

Soap for doing some handwashing
What to Bring Back
The Austral Islanders are renowned for their craftsmanship, much like the Marquesas Islands. Their specialty is in weaving anything from mats (pe'ue) to fine woven hats and bags. Women own this tradition, passing it from one generation to the next. They mainly use pandanus for this. In the old days, woven mats were a symbol of wealth throughout Polynesia and were used as gifts to newlyweds. In addition to weaving, Austral Island women are masters in the making of tifaifai, traditional patchwork blankets that feature exotic patterns.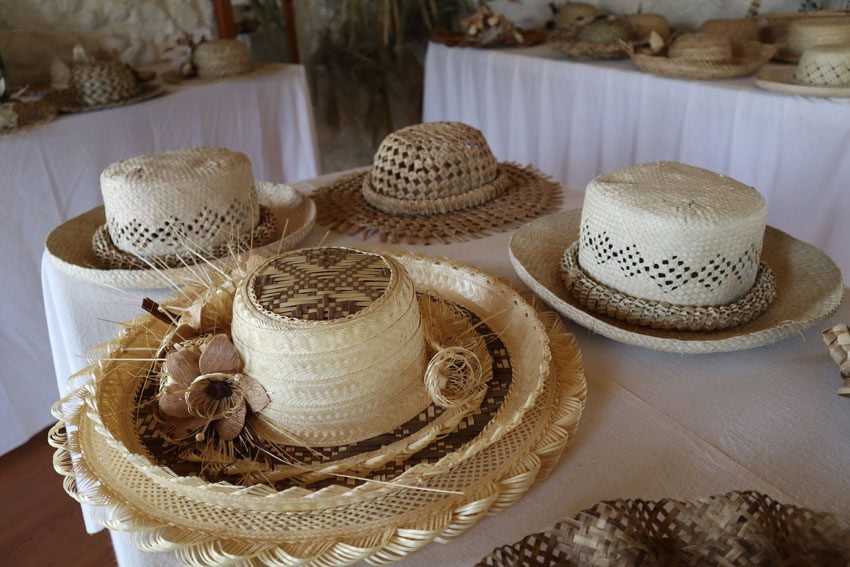 Be Aware of Dogs
Dogs are present in almost every country home throughout the Polynesian islands but in the Australs, I found them to be slightly more aggressive. Perhaps it's because they are not yet used to outsiders. If you're approached by a dog or see that you're about to cross paths with one, don't panic and simply cross to the other side. If they approach you, keep walking. Once you've passed a certain point beyond the property which they're actually protecting, they'll come to a complete stop and turn back.
Rurutu Travel Guide
Rurutu is one of the most surprising destinations in French Polynesia. It is the most visited island in the Australs and for good reason. There's so much to see and do, from swimming with humpback whales to venturing into bizarre caves and getting to know proud and skillful locals.
It was a dream of mine to visit Rurutu for many years and I finally headed south on my fifth visit to French Polynesia, spending five days in Rurutu during September 2020.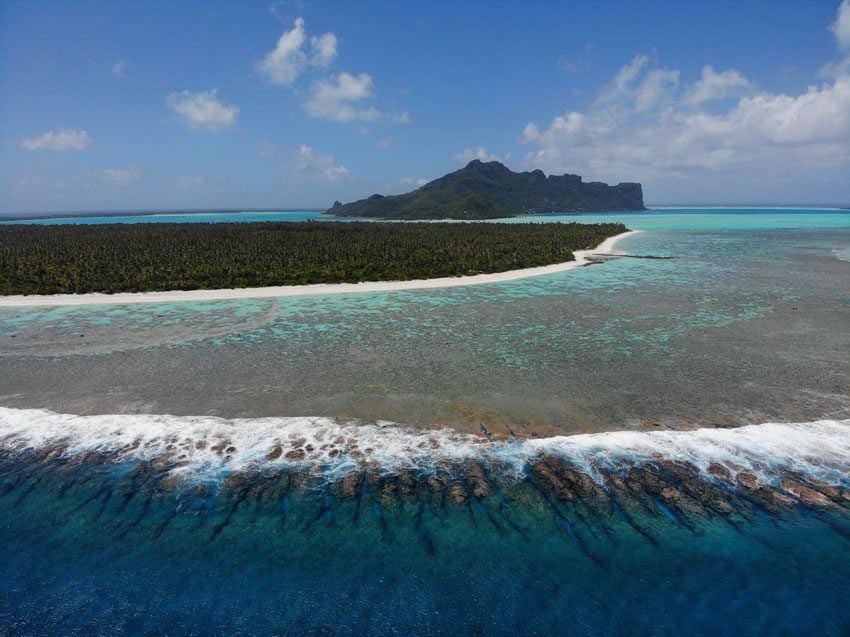 Tahiti, Tailor Made!
The Islands of Tahiti are among the last places to be colonized by mankind, 118 islands, each with their unique personality.
Get expert advice and assistance with planning your trip to the destination where tropical dreams come true!
See Options
Brief History
From space, the island resembles the shape of a "mini Africa". Rurutu's natural beauty is the result of interesting geology. Once known by the name Eteroa, Rurutu was formed by a complex geological history, unfolding over several chapters. It started just like any other South Pacific island, formed by volcanic activity some twelve million years ago as the earth's plate moved over a hot spot. The initial volcano gave rise to a high island, with mountains, valleys, and eventually a fringing coral reef.
The newly formed island then underwent millennia of erosion, slowly sinking back under the waves. A second period of volcanism, some two million years ago, lifted it once more high out of the water. The coral reef was pushed upwards and a new fringing reef began to form. So, Rurutu is both a high island and a raised atoll.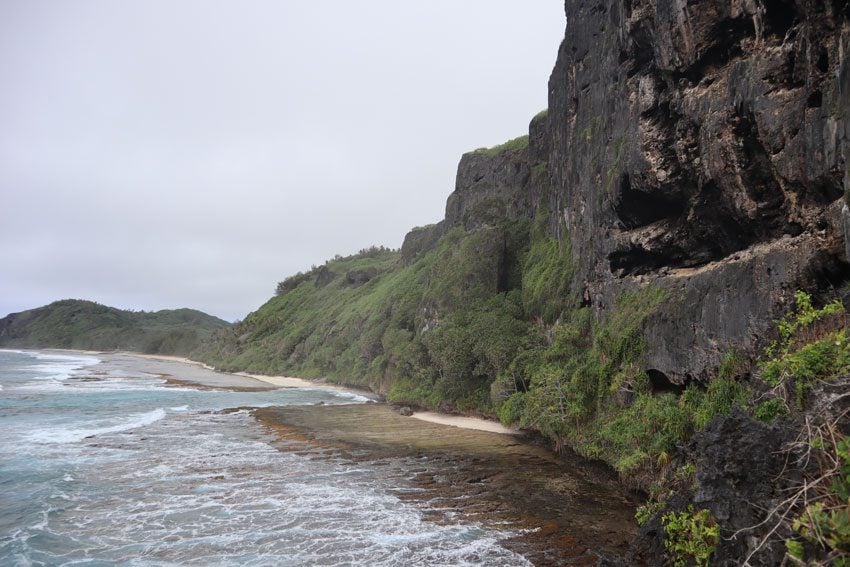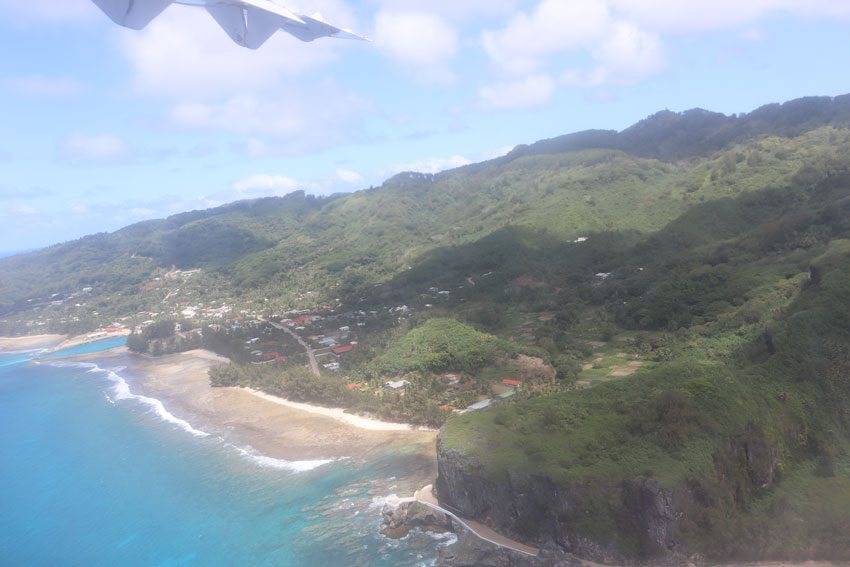 The temperature in Rurutu is comparatively cool, with an annual average of 23 degrees. In July, the very heart of the "Austral winter", it can get down to 12 degrees at night. The island's climate is subtropical, ideal for cultivating food crops, primarily taro, but also coffee, lychee, vanilla, and various citrus fruits.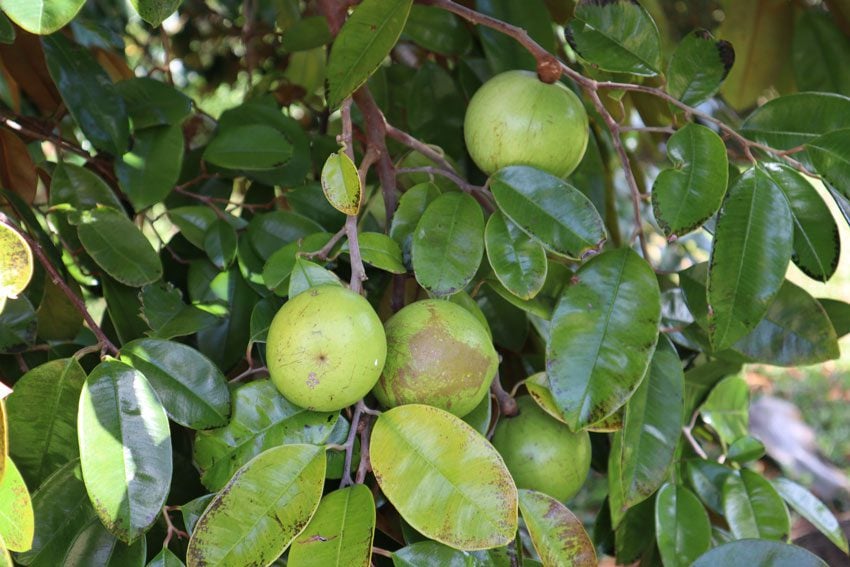 Rurutu was colonized by Polynesians during the first millennium, likely by canoes arriving from Tahiti (though some say from the Cook Islands). The oral history recounts three waves of migration, with the first people arriving from Puna'auia (on the west coast of Tahiti) and the second from Pa'ea (just south of Puna'auia). The third wave of settlers is set to have come from South America, bringing with them the knowledge of agriculture, house building, and underground cooking.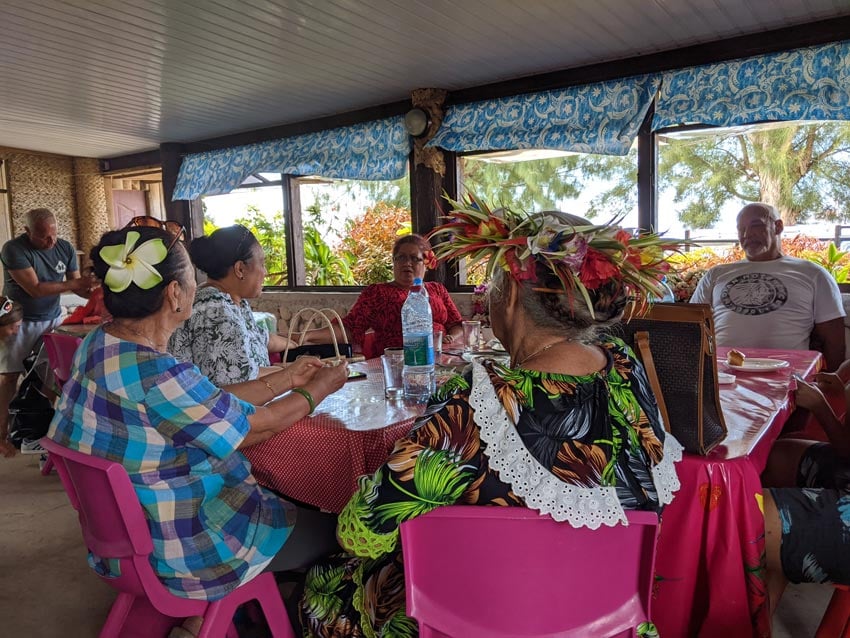 Settling tribes are said to have engaged in unending conflicts and alliances, each vying for absolute supremacy. In 1769, Captain Cook sighted the island during his first Pacific voyage, unsuccessfully attempting to land. Once appearing on sea charts, Rurutu began to receive few European vessels. From the beginning of the 19th century, the island was visited by several merchant ships and whalers. Today, Rurutu is home to about 2,500 residents who live in and around three villages, Moerai (the main village), Auti and Avera.
Rurutu Travel Tips
Listed here are specific travel tips for visitors to Rurutu. Be sure to go through the general Austral Islands travel tips in the previous section.
When to Visit Rurutu?
Rurutu is one of the best places in the world for swimming with humpback whales. Between July and October is the best time to visit Rurutu for swimming with whales. This is also the "dry season" which sees less rainfall but also colder temperatures.
If you like festivals, Rurutu boasts several highlights:
January:

New Years' Day is the

tomora'a 'are

, a day in which villagers visit their neighbors to spread goodwill. It's essentially an "open house" all around the island and all participating houses are finely decorated with the best that springtime has to offer. A few days later, the

tere 'a'ati

begins. It is an "island tour" organized by each of the three villages with a day or two to recuperate between. An elder will recite the history of his village as his posse goes around the island, teaching the significance of the sites visited along the way to the younger generation. In each of the visited villages, locals engage in the traditional sport of stone lifting. The men's record is said to be over 200 kg and the women's stands at a respective 72 kg.

May:

three weekends are reserved for the

mē

, a religious celebration held to raise funds for the Protestant church.

July

: the

Heiva festival

is in full swing in Rurutu with two weeks of fierce competition between the three villages in the realms of sport, music, dance, craft, and agriculture. The festival is locally known as

Tiurai,

which means July in the local dialect
Flying to Rurutu from Tahiti
For the best aerial views of Rurutu, sit on the right side of the plane if flying to Rurutu from Tahiti.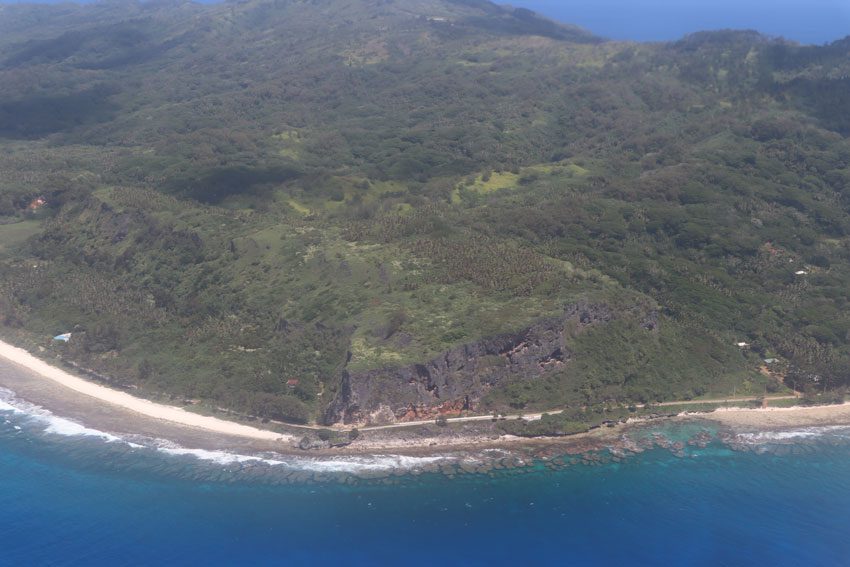 Where to Stay in Rurutu?
Pensions and lodges are spread around the northern section of the island. The Manotel is just south of Moerai and Pension Teautamatea is on the grounds of marae Tararoa, the most impressive remains of an ancient ceremonial site. If you're looking for a simple stay, Heiata Guesthouse offers four rooms on the top floor of a family home in the main village of Moerai.
I stayed at Vaitumu Village and highly recommend it. Looking back, it's one of my top picks in French Polynesia. The family-friendly lodge is located just south of the airport along the west coast, perfectly situated for sunset views and whale watching. The lodge started as Pension Rurutu back when the airport opened in 1983.
Vaitumu Village manages to retain a local charm while offering many pampering features that you wouldn't expect to find in such a remote location. Credit cards are accepted, island tours are offered and excursions can be arranged, there's a bar, swimming pool, car/quad bike/bicycle rental, and delicious meals are offered with many local dishes to sample. It's best to stay here on a half-board basis (breakfast and dinner) and order lunch from the restaurant on a need-to basis. On Sunday's live music is played and a traditional meal is cooked in the ahima'a (underground oven). Extremely slow WiFi is available in the main building but consider yourself lucky to even have this luxury.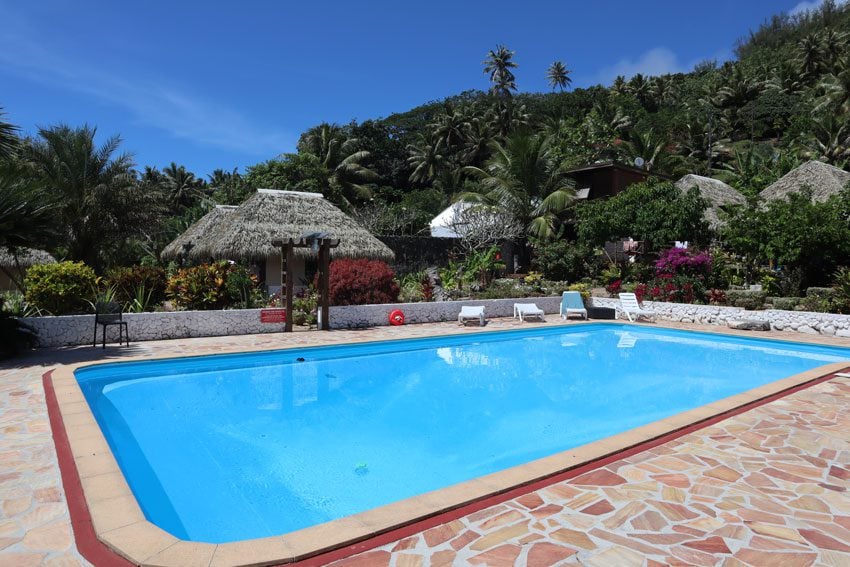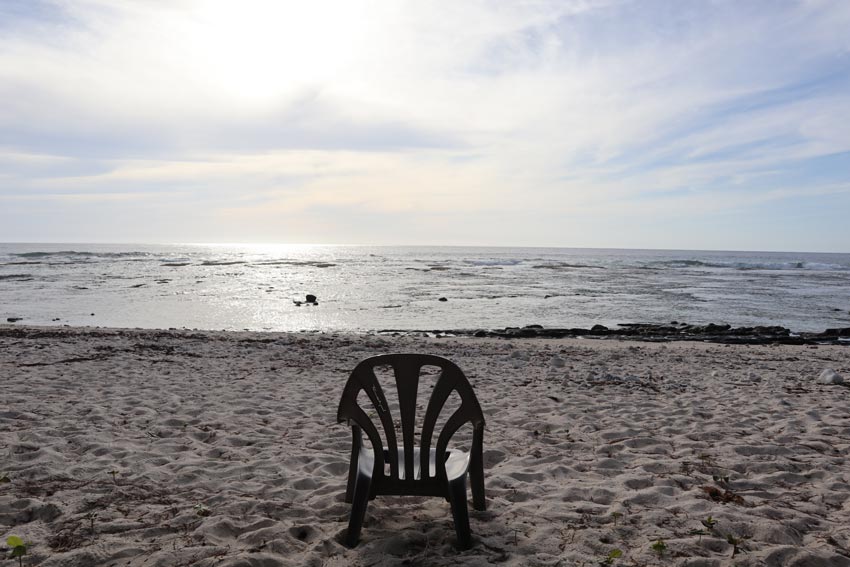 Bungalows are nestled around a swimming pool and an immaculately-kept garden teeming with gardenia and pomelo. Rooms are large, cleaned daily, and are traditionally decorated with pandanus, coral bricks, and woodwork featuring traditional motifs. Water is safe to drink from the tap and hot showers are a thing of a norm. I especially remember the pampering sounds of the ocean waves crashing on the reef at night. I would wake up from time to time during the night and just pinch myself at just how magical my stay is here.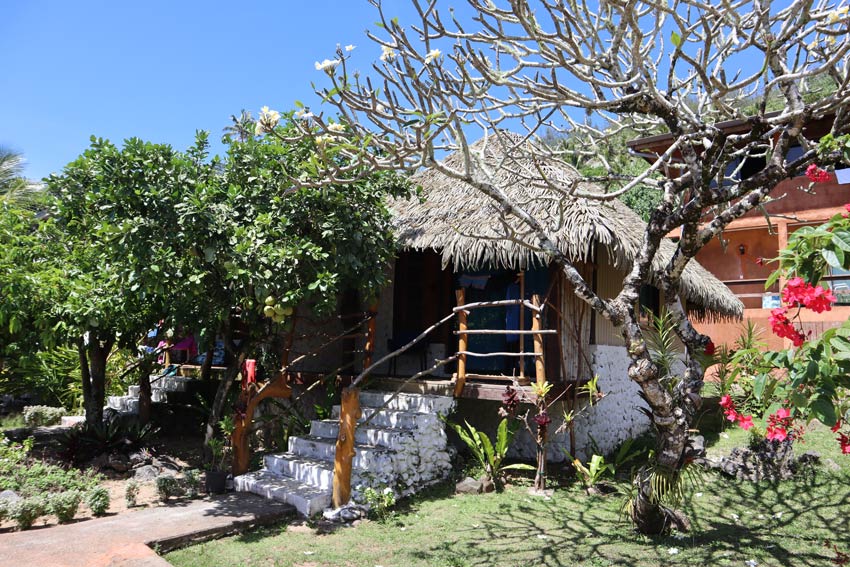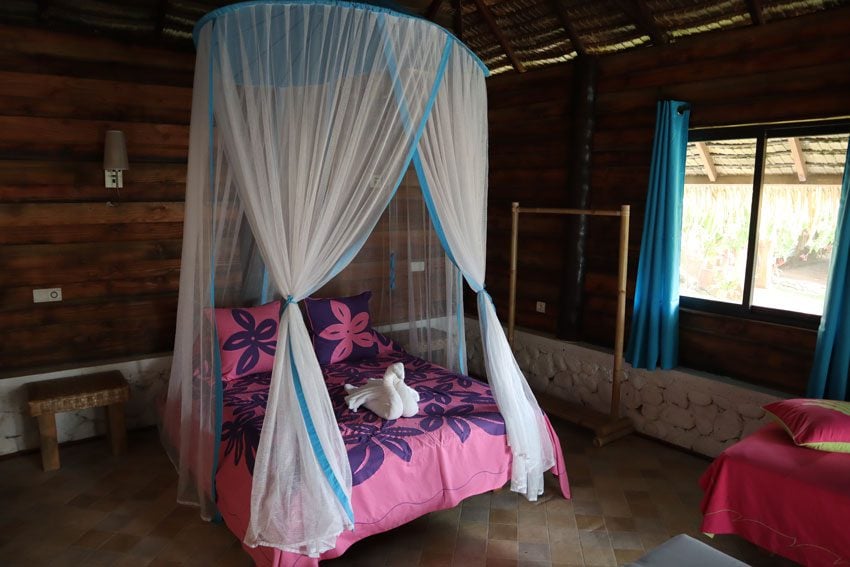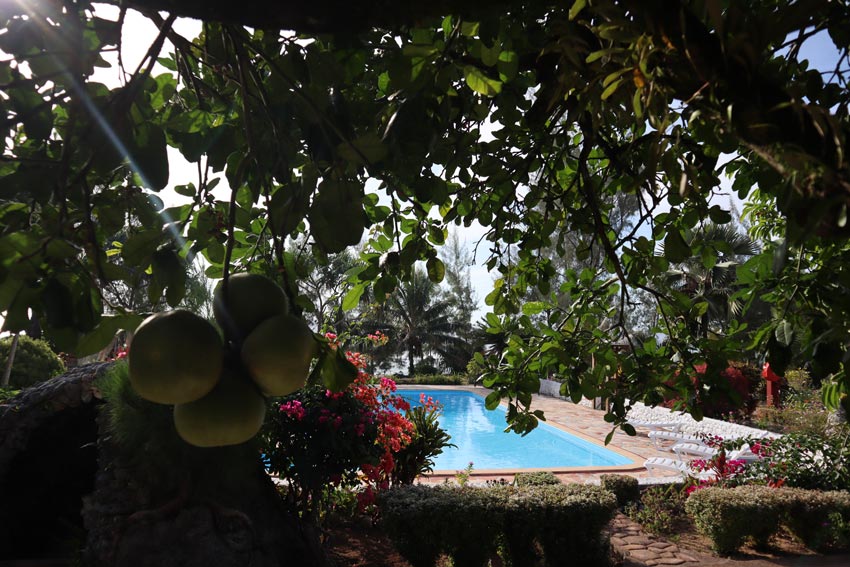 Getting Around
There is no public transportation in Rurutu. Your hosts will pick you up and drop you off at the airport (free or for a small fee) and the same goes for whale watching excursions and other organized tours. A 30 km circle island road is flat apart for a few steep sections. For DIY sightseeing, you can rent a car for the day, bicycle, or hitchhike. Just be aware of sunset times.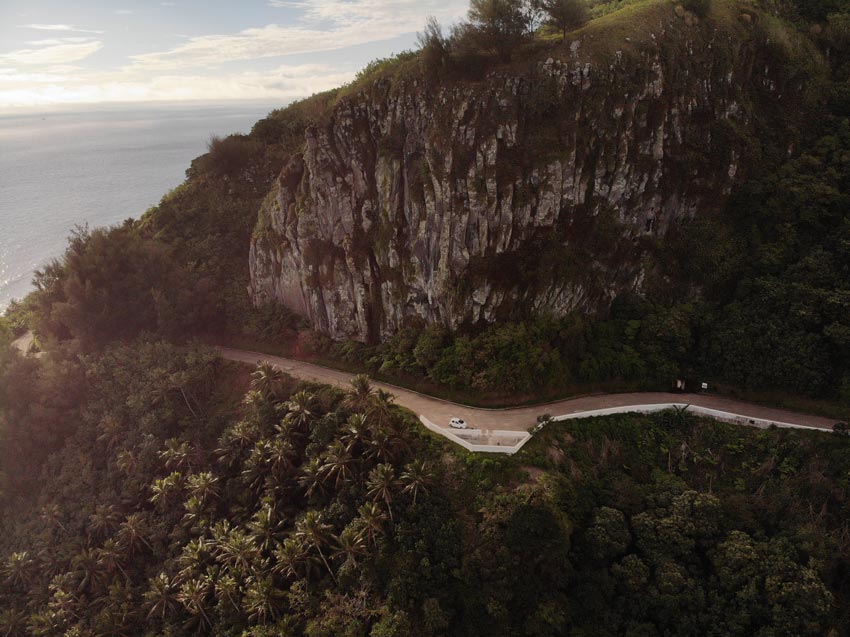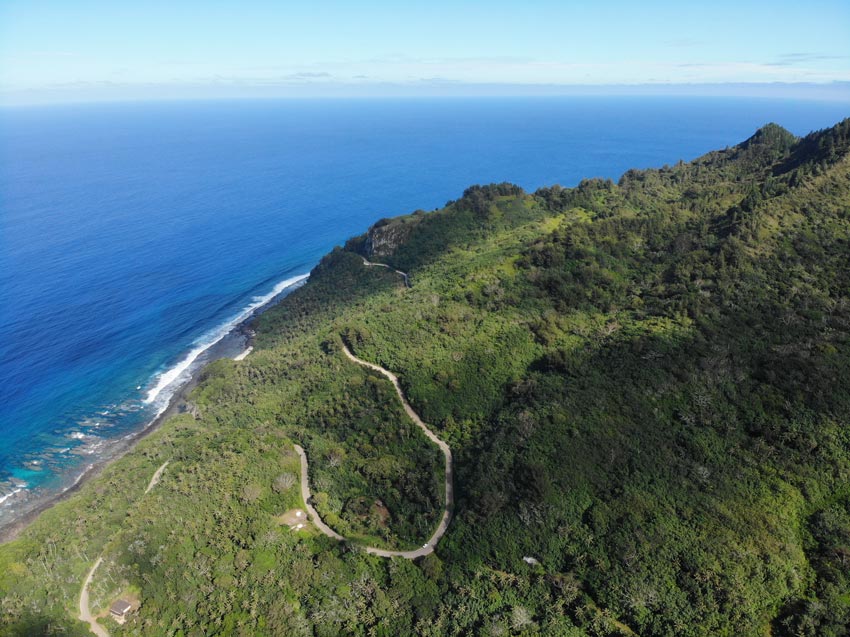 Money
Rurutu has an ATM in the bank branch in the main village of Moerai.
What to Buy in Rurutu?
The "mammas" of Rurutu are famous throughout the island for their craftwork, in particular for woven hats, mats, bags, and other life essentials made from pandanus. Traditional patchwork blankets, known as tifaifai, are also unique to the Australs. These can be purchased at the artist markets in the airport and in Avera village (hats sell for about $30-40). Locally-grown vanilla and coffee are other options to consider.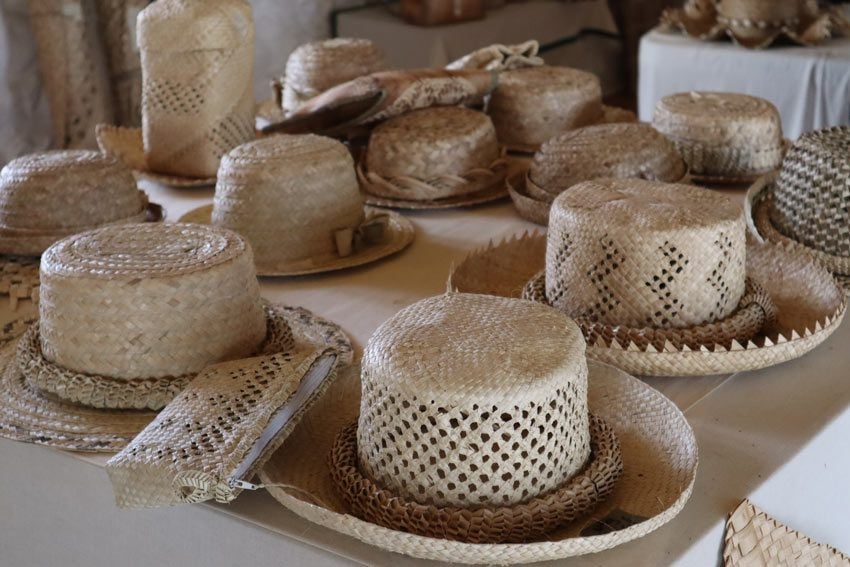 Safety
While some hikes can be done without a guide, it is strongly advised to hire a guide on a shared or private basis if you wish to explore the caves. Trails can be hard to track, it can be slippery, certain sections require "know-how" and the coral rock is as sharp as a razor so things can go wrong. As far as swimming, be sure to ask before entering the water. It should generally be safe to swim inside the lagoon apart from a few sections affected by currents.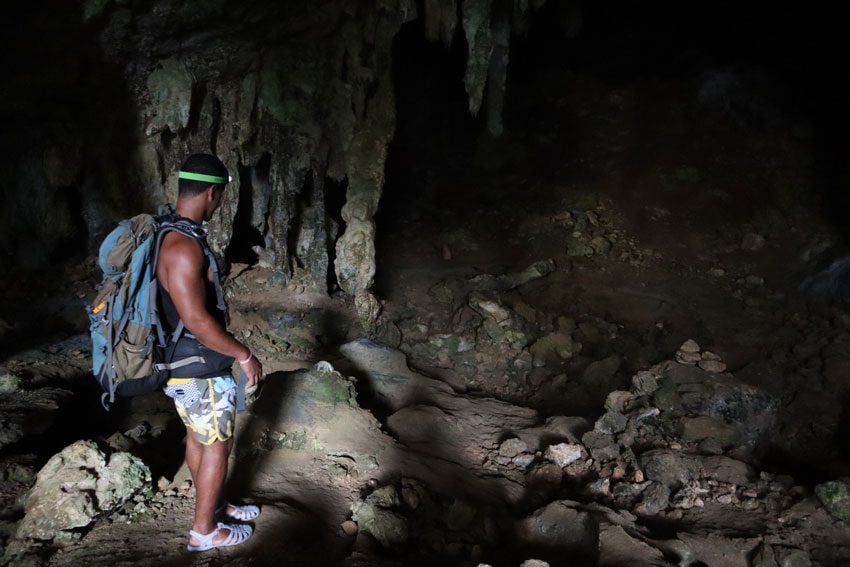 Things To Do In Rurutu
All the following spots are highlighted in the Austral Islands travel guide map. I also recommend reading this Austral Islands itinerary to see how to put everything together.
Swimming with Whales in Rurutu
Swimming with whales is the top thing to do in the Austral Islands. The main reason visitors come to Rurutu is for this activity and it was a memorable experience. Every year humpback whales migrate north from Antarctica to give birth and to mate in the warm Polynesian waters. Their journey takes them via the Austral Islands, where they can be observed from late July until the end of October. Rurutu is renowned for the quality of whale-watching because the whales are easily observed close to the coast and due to the island's clear waters. The whales are treasured by islanders and swimmers are instructed to keep a safe distance to keep the disturbance to a minimum and to avoid aggression by mothers and males.
I went swimming with whales with Yves Lefèvre from Raie Manta Club. Yves has clocked more hours with whales than practically anyone in French Polynesia, having even worked with Jacques Cousteau. Yves shared with us that whales migrate to Polynesia not in search of food but rather in search of comfort. There is no abundance of food for them here and the mother will lose 30% of her body weight in a single season before heading back to Antarctica.
We trailed a family that was chilling just outside the reef in Avera Bay. The calf was staying close to the mother, gently rolling from her front to back only then to rise to the surface and dive once again. Very quickly, a male arrived to guard the family.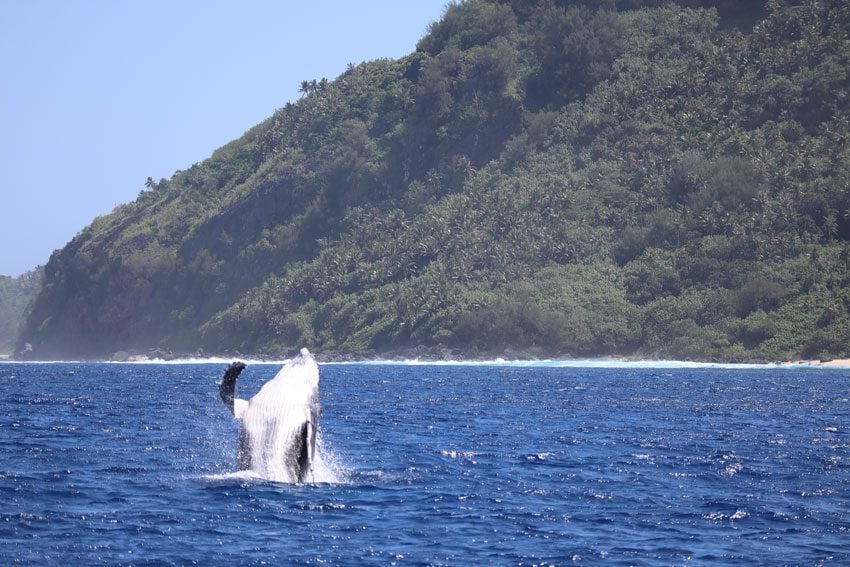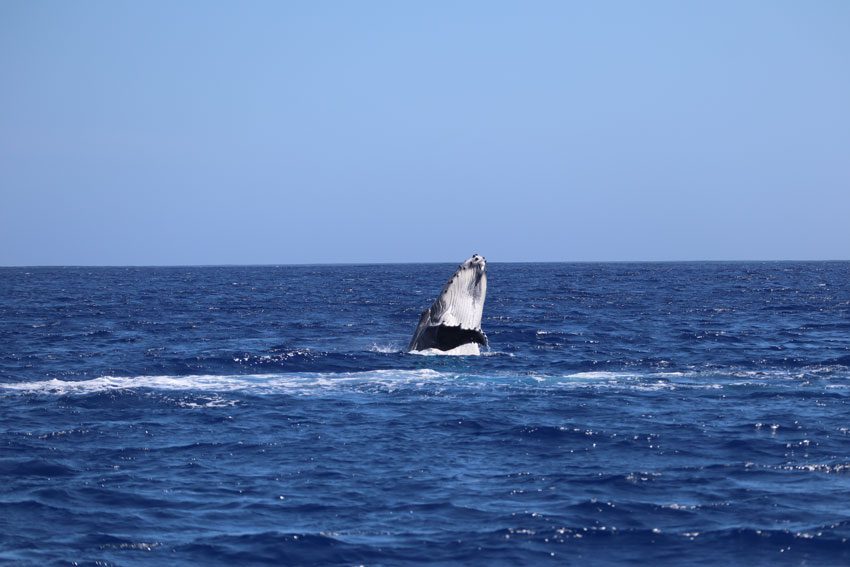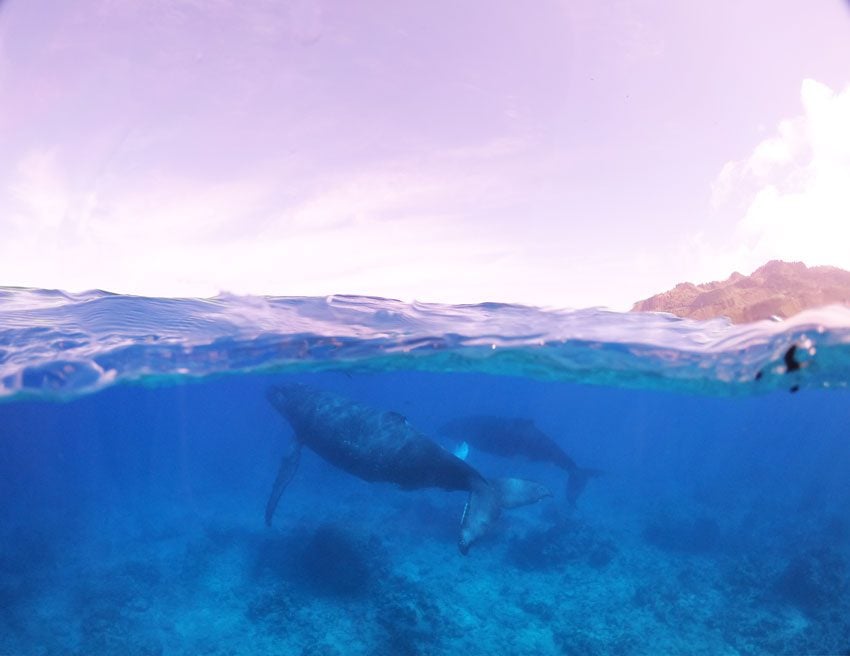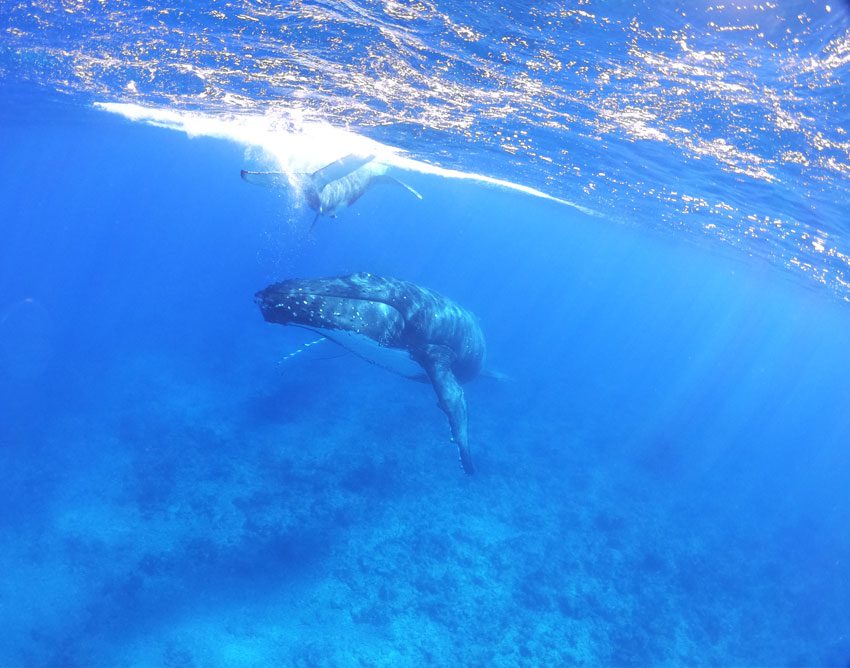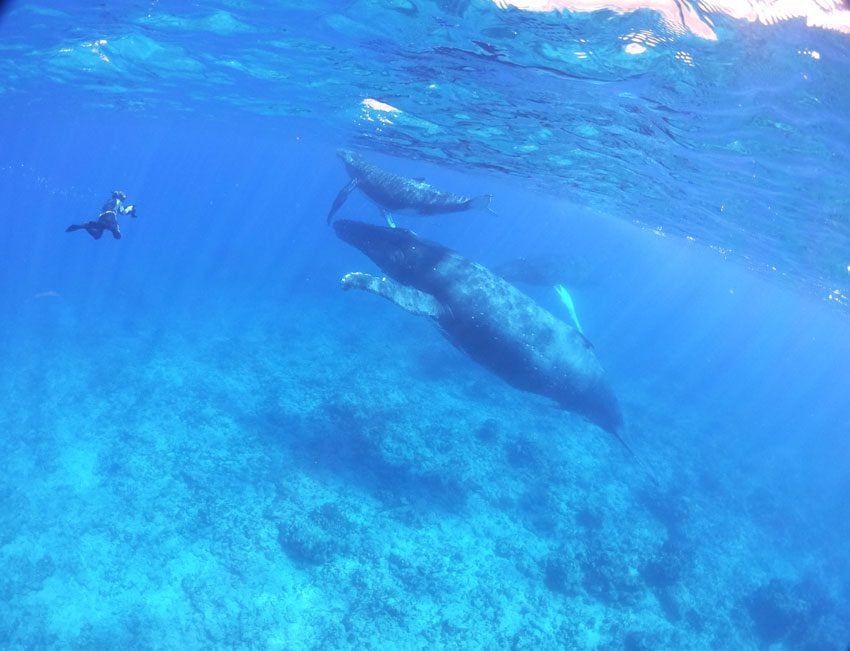 The outing with Raie Manta Club was 12,000 XPF ($120) paid in cash. It was quite expensive but Yves is an expert and we were a small group. There is another supplier that charged 9,000 XPF at the time but groups were a lot larger. Both clubs coordinate their outings and head to separate bays. Altogether, we were out for three hours on the boat. It can be quite tiring swimming from one spot to another but if the distance is great, the boat will pick you up. I spent most of the time in the water and the rest viewing the whales from the boat.
No matter which supplier you choose, I recommend booking this ahead of time and for your first day in Rurutu. Morning and afternoon outings are offered and in some cases, the price drops if you book more than once. I recommend doing a morning tour, see how you feel, and book additional outings. My outing was incredible and sufficient, so I opted to use the remaining days for exploring the island. Other guests went swimming with whales every day.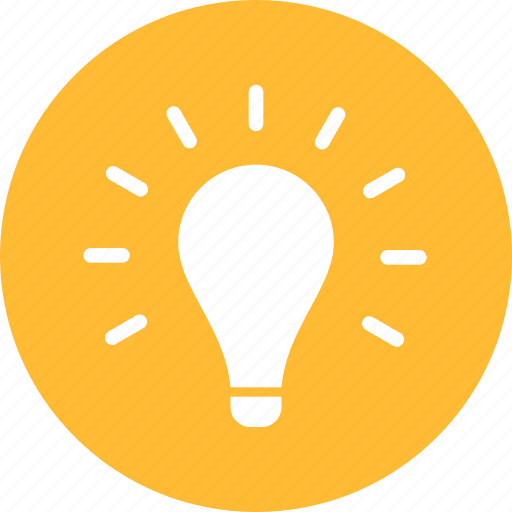 Pro Tip
Due to regulations, scuba diving with whales is only possible with rebreathing equipment (i.e. no bubbles can be exhaled).
Monster's Cave Hike
Besides whales, Rurutu is famous for its caves. Different tectonic movements have uplifted the island's once submerged coral reef dozens of meters into the air. The huge blocks of fossilized limestone, eroded by rainwater and ocean waves, are now peppered with caves that are richly decorated by impressive stalactites and stalagmites. The most famous cave to visit in Rurutu is Ana Taupe'e, better known as the "Monster's Cave".
The Monster's Cave is reached via a hike along the "lost trail" and it should be done with a guide as sections of it are hard to find and can be tricky to traverse. I went hiking with Aivanaa Vanaa and his son. My hosts at Vaitumu Village helped to make the arrangements. The trail begins at low tide on the beach of Auti Village where you can clearly see the raised coral to your left and a large coral cliff dotted with caves ahead of you.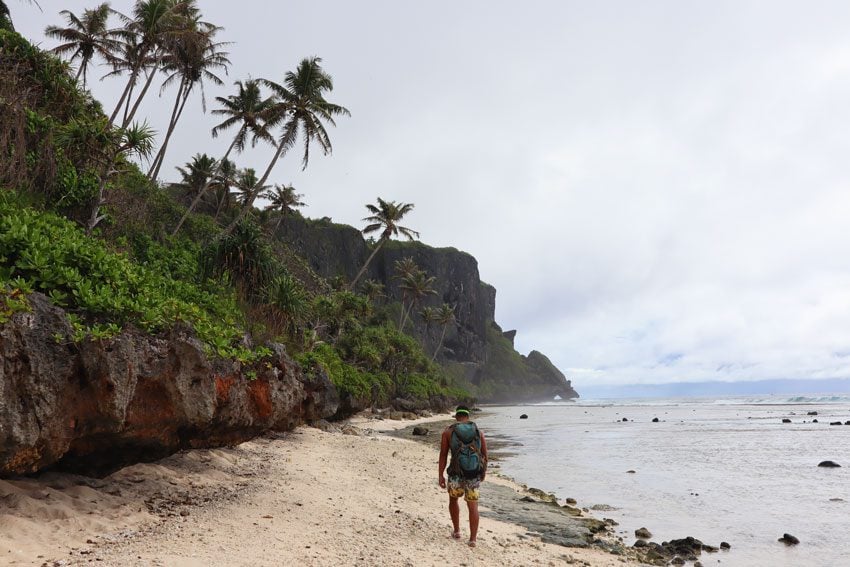 The first cave on the hike is Ana Mōuo, reached after a short walk on razor-sharp dead coral and a narrow path in the bush where Hinano and pandanus are abundant. The cave has a deep amphitheater-like cavern, stalactites and stalagmites, and generous calcium deposits that have formed shapes and patterns over the ages.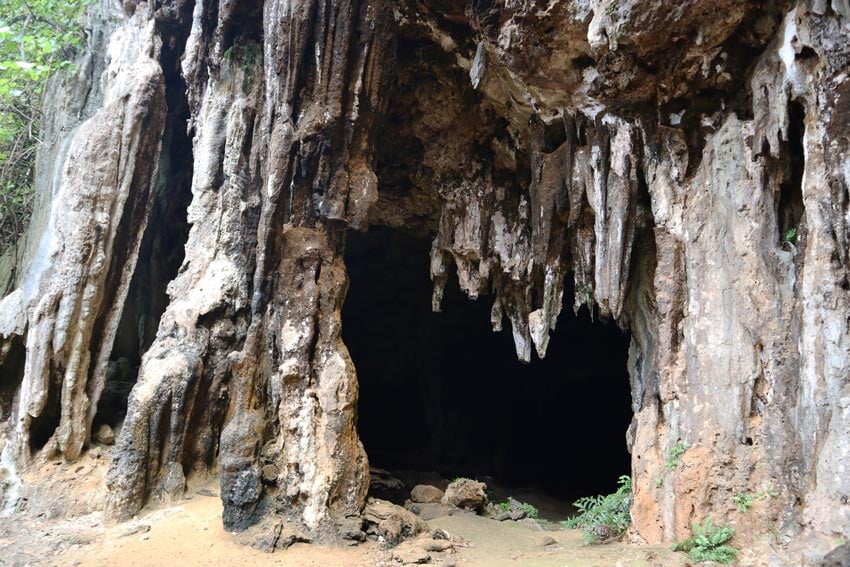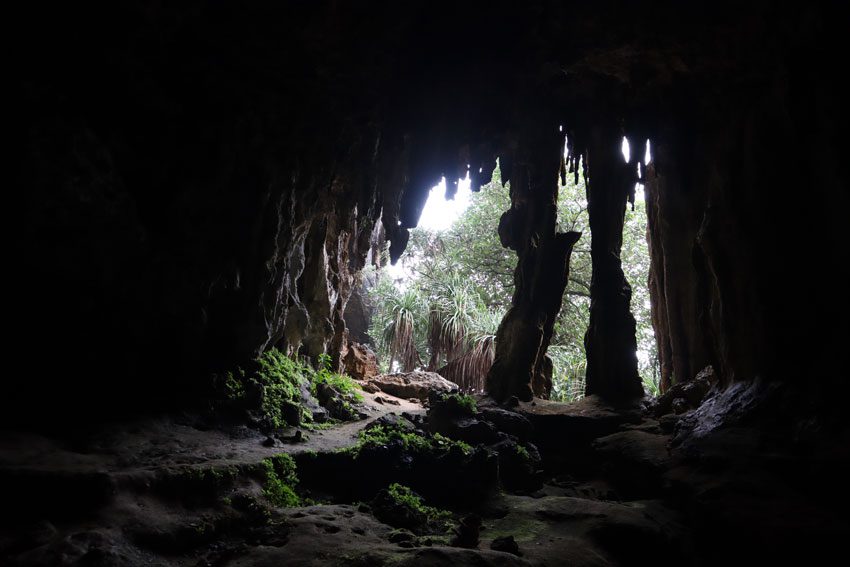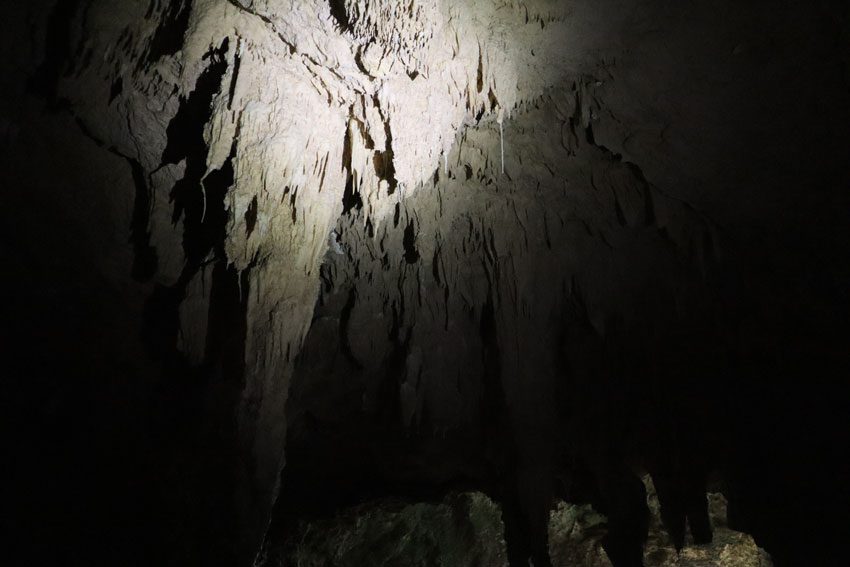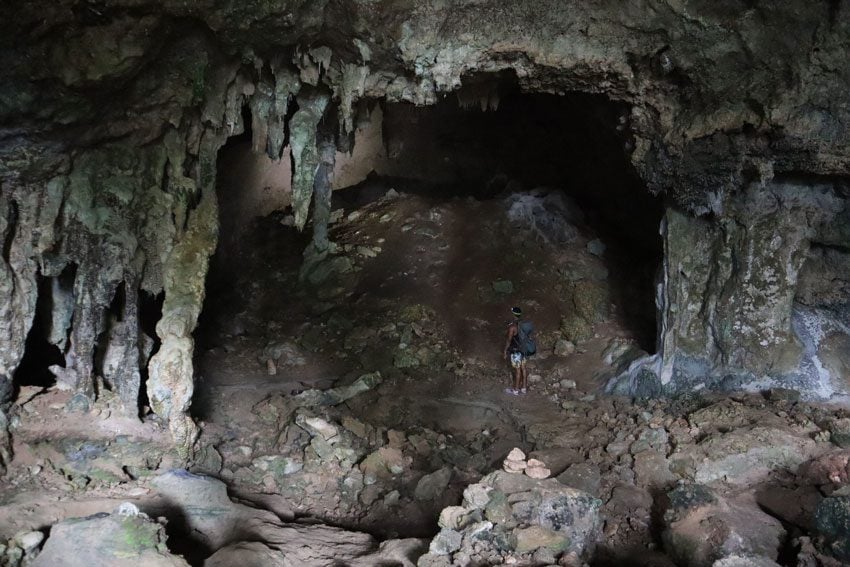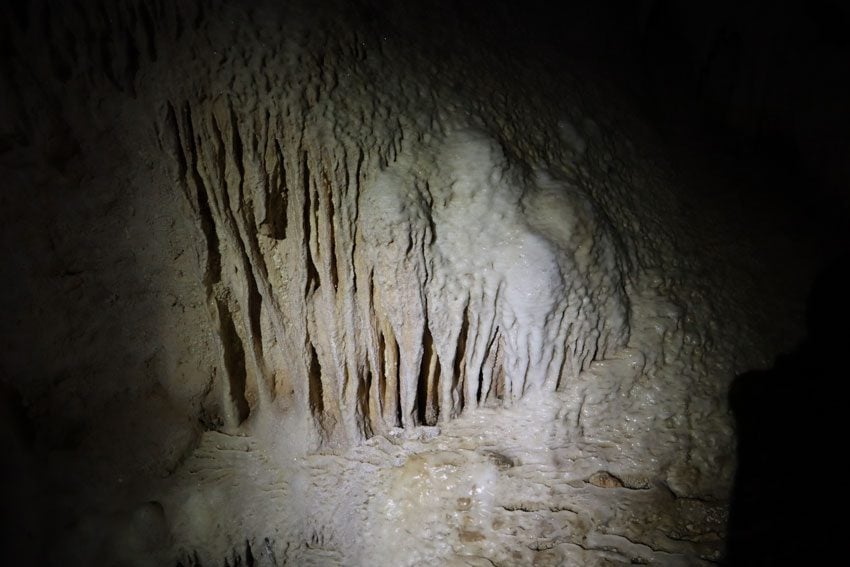 We continue on the lost trail, having to squeeze through boulders from time to time, and eventually reach the Monster's Cave. Looking at it from the exterior, it's easy to understand how this cave got its nickname, resembling the full head of a dinosaur or dragon of some sort. Inside the cave, the "monster's teeth" are to be carefully negotiated. The Monster's Cave is often featured in publications promoting tourism in French Polynesia, so this is the "money shot".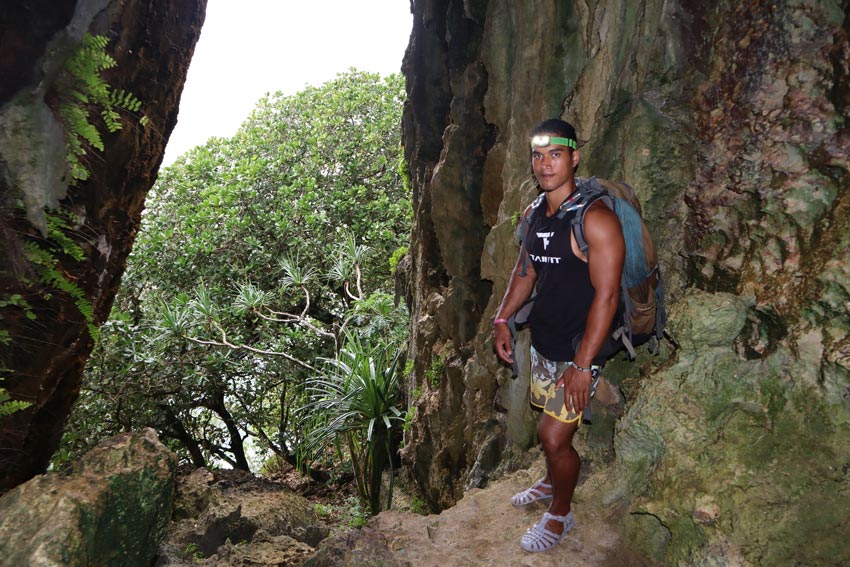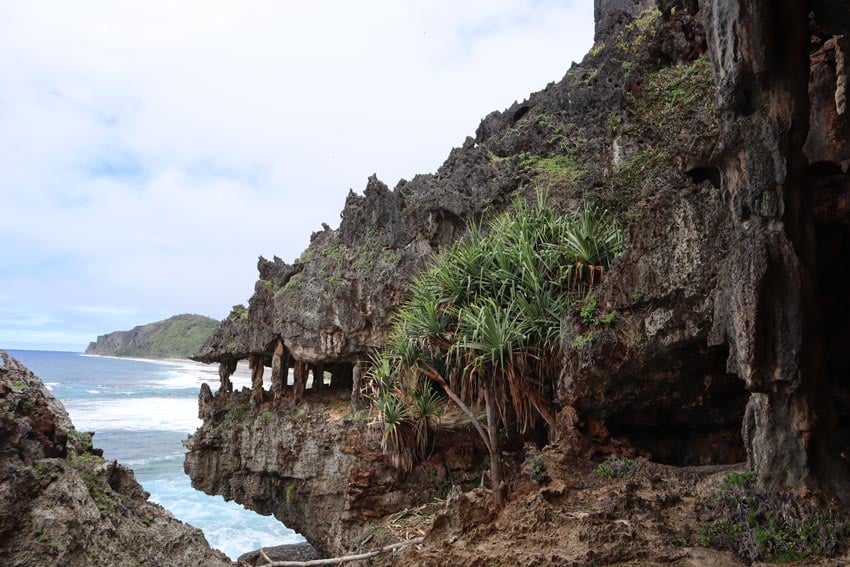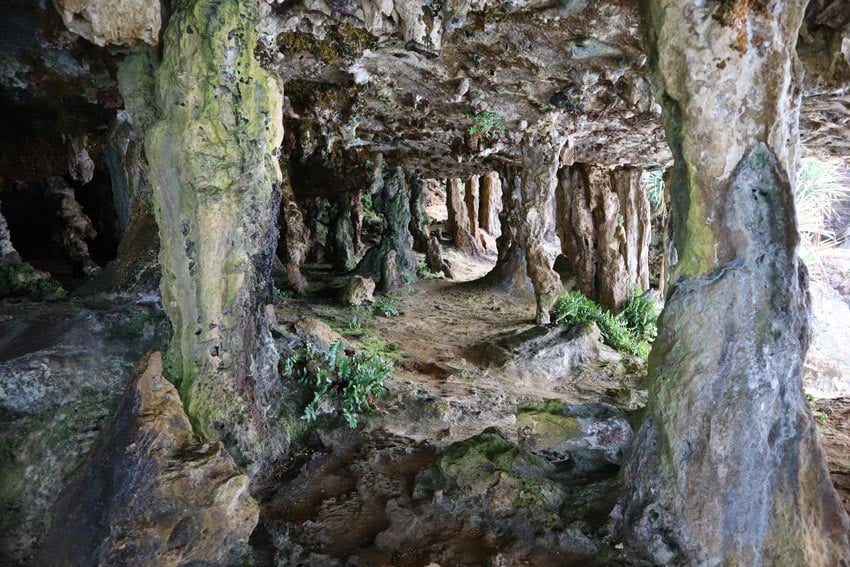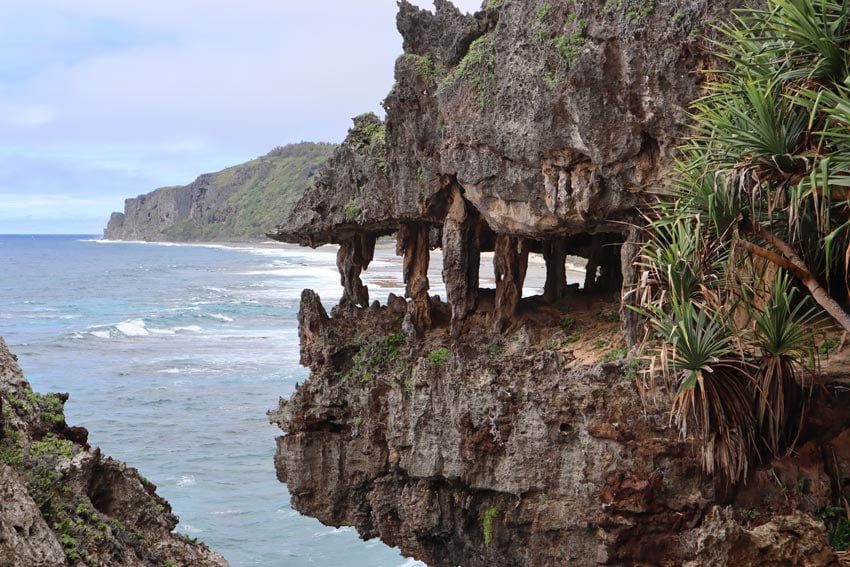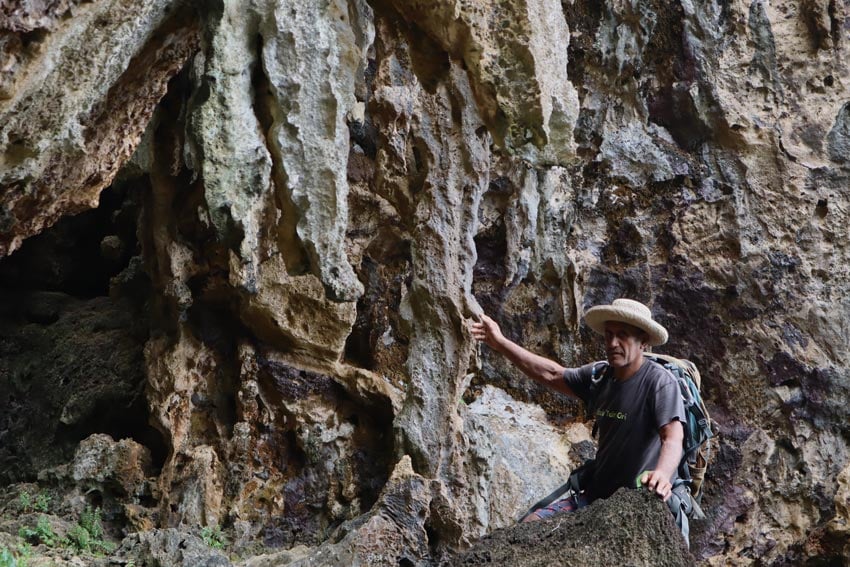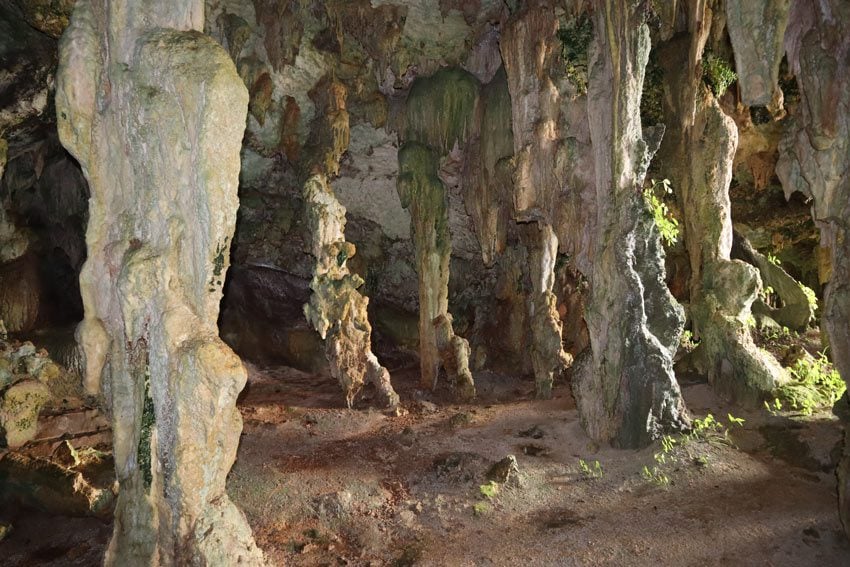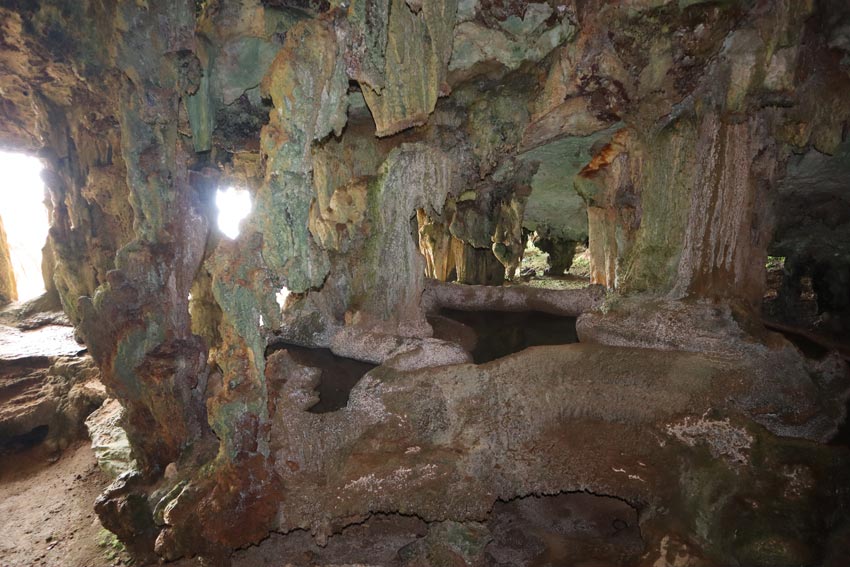 The third cave is known as the "White House". We reached it after a tight walk along the edge of the cliff with sensational views all around. From the third cave, we started to descend to the beach where we walked at low tide back to dry land not too far from Moerai Village.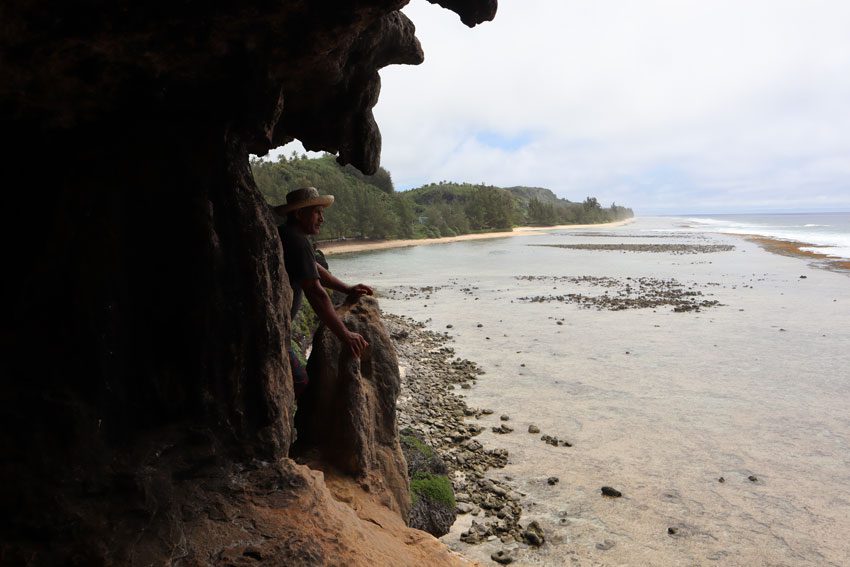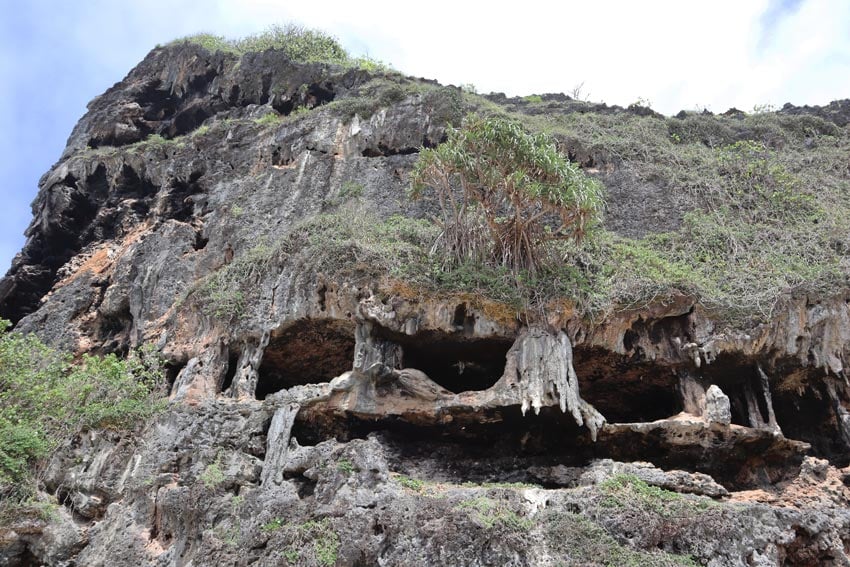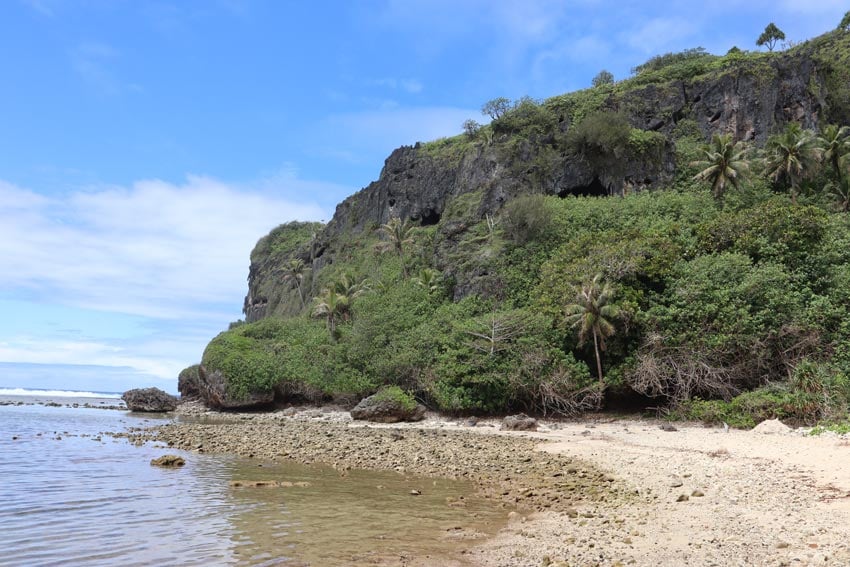 Logistics: it took about three hours from start to finish and we really took it easy. I paid the guide 4,500 XPF but I did have to rent a car for the day as he did not have one (8,900 XPF via Vaitumu Village). It's best to start the hike with sandals, then switch to hiking shoes as you're walking on razor-sharp coral, and finish with the sandals as you walk in low tide back to the car. The guide provided protective gloves which came in very handy on the sharp coral. Take extra care when walking, especially inside the caves but not only. I had a deep gash on my head after contact with a sharp boulder. For your safety, do not attempt this on your own!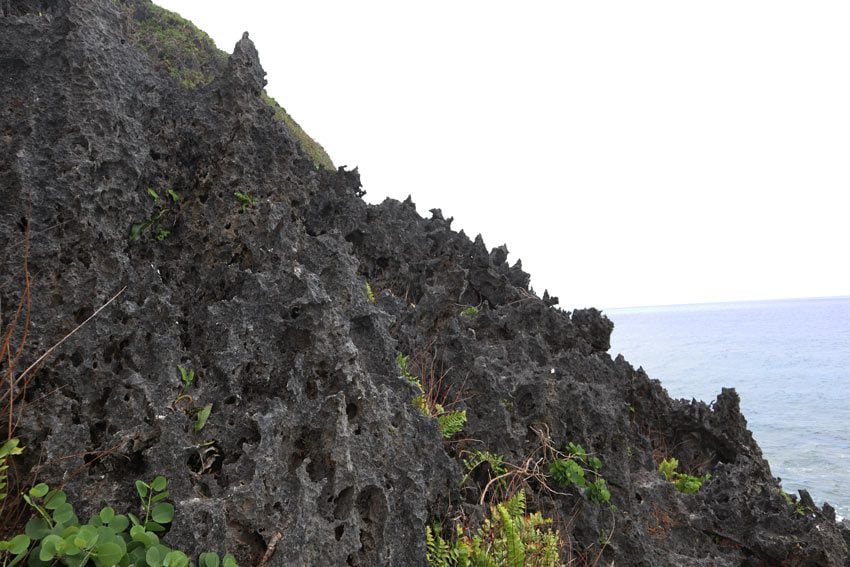 Secret Cave
The Secret Cave is something not too many tourists get to experience and requires an athletic level. I visited the cave with the same guide who took me to the Monster's Cave. The cave's entrance is a short distance from Avera Bay Lookout, reached after a short walk in the rainforest.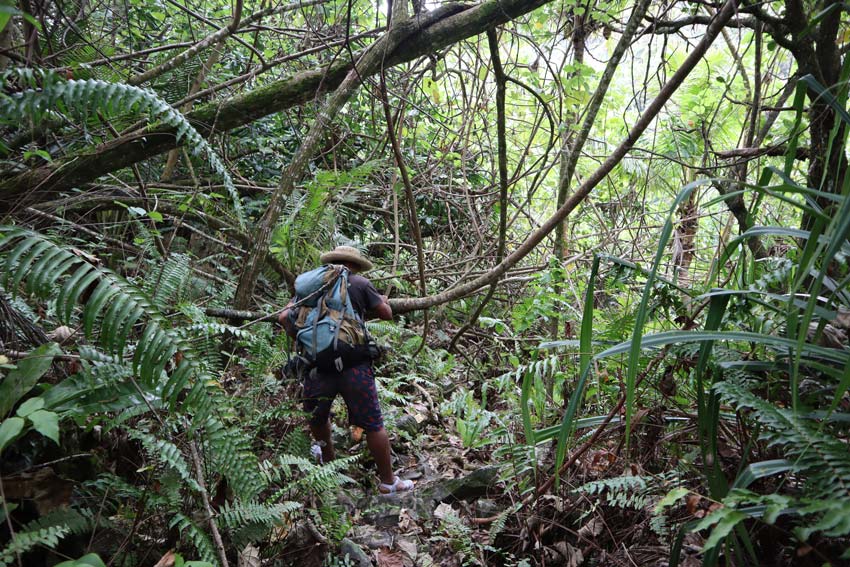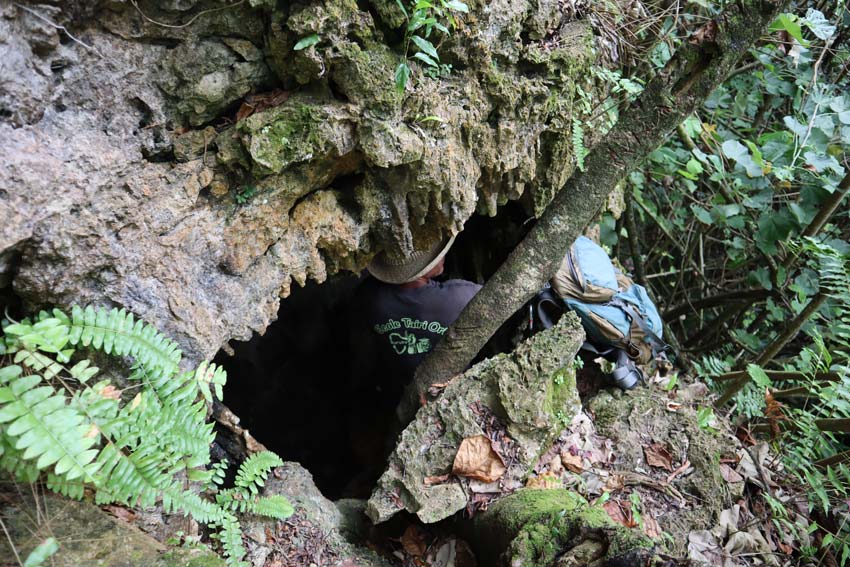 Inside this hole is a whole different world. We ventured deep into the belly of the island. To keep our bearings and make sure we get out, Aivanaa lit candles every 10 meters. Inside the cave, there is nothing but silence, broken only by the sound of drops of water trickling to the ground.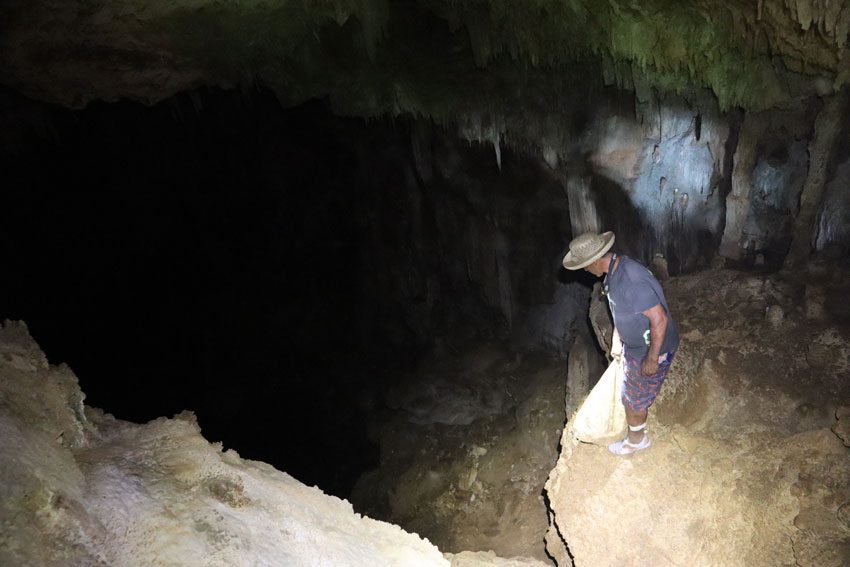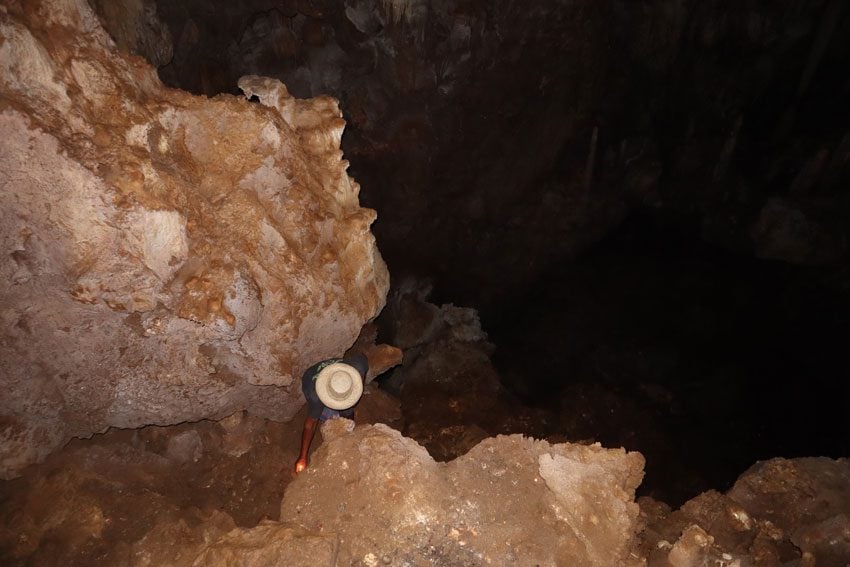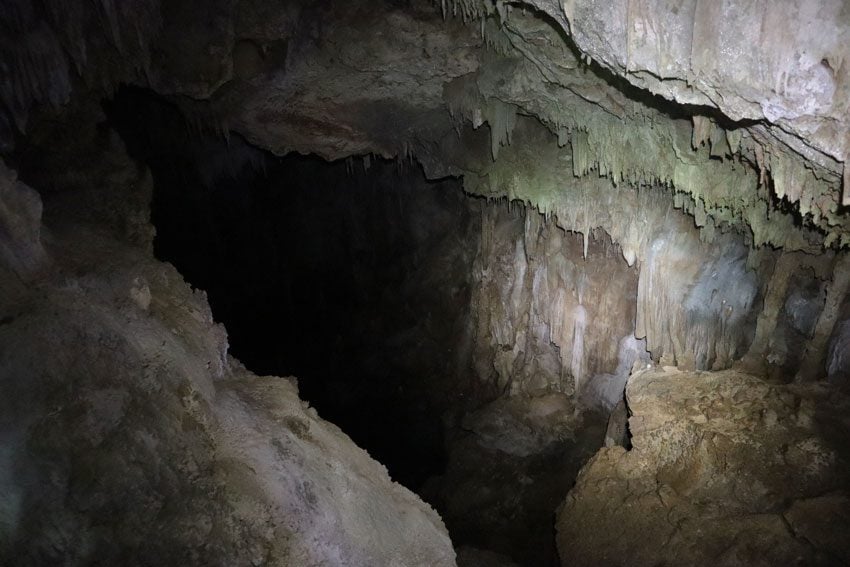 After descending for about 30 minutes, our torches revealed a crystal clear swimming pool at the bottom of the cave. Above it, a vast network of tightly-knit stalactites, razor-sharp and still fed from the rainwater trickling from above. There's nothing left to do other than go for a dip in a pool that has likely been fed by centuries of rainfall.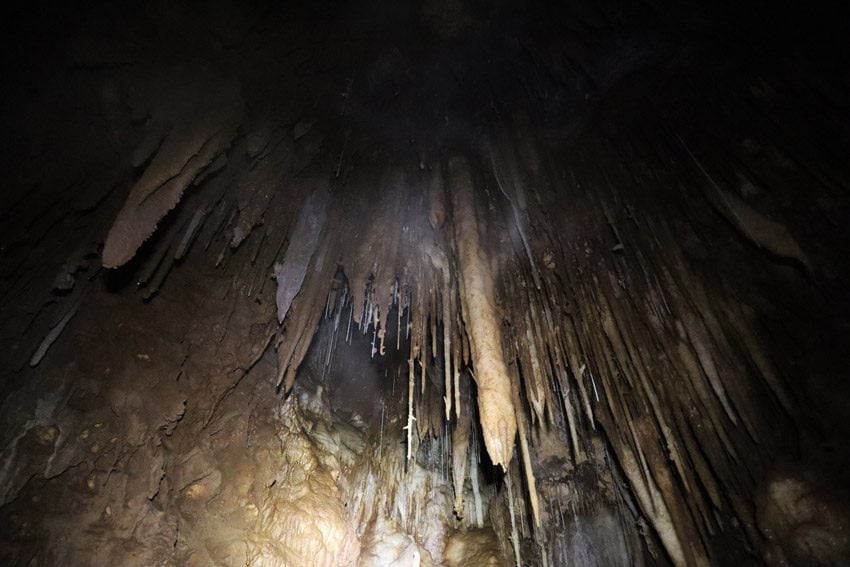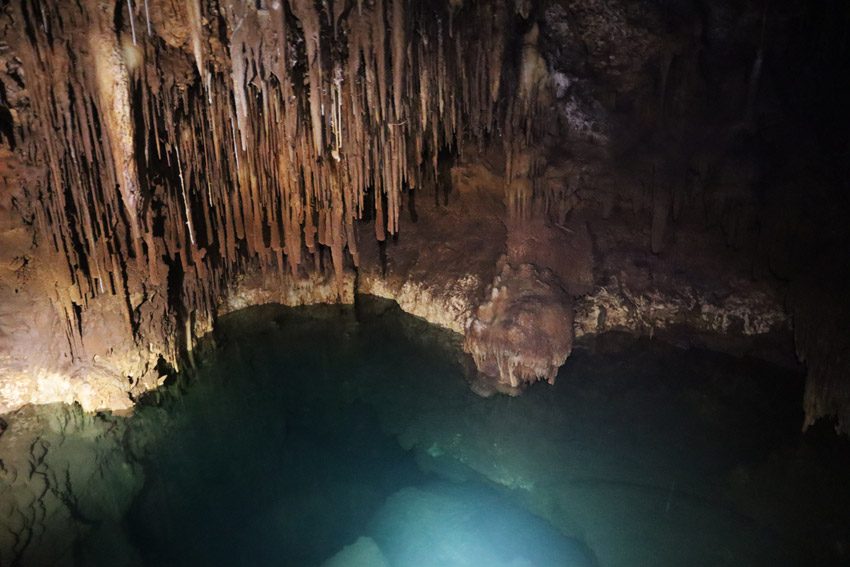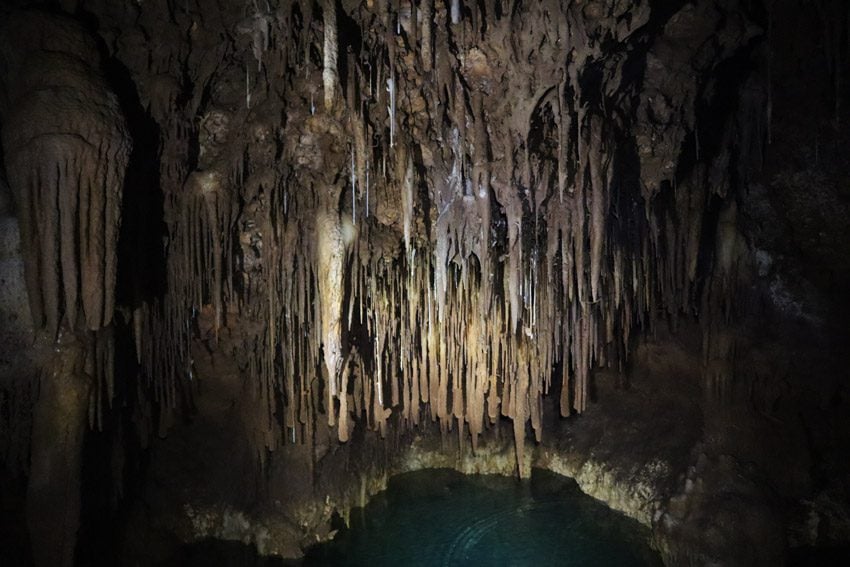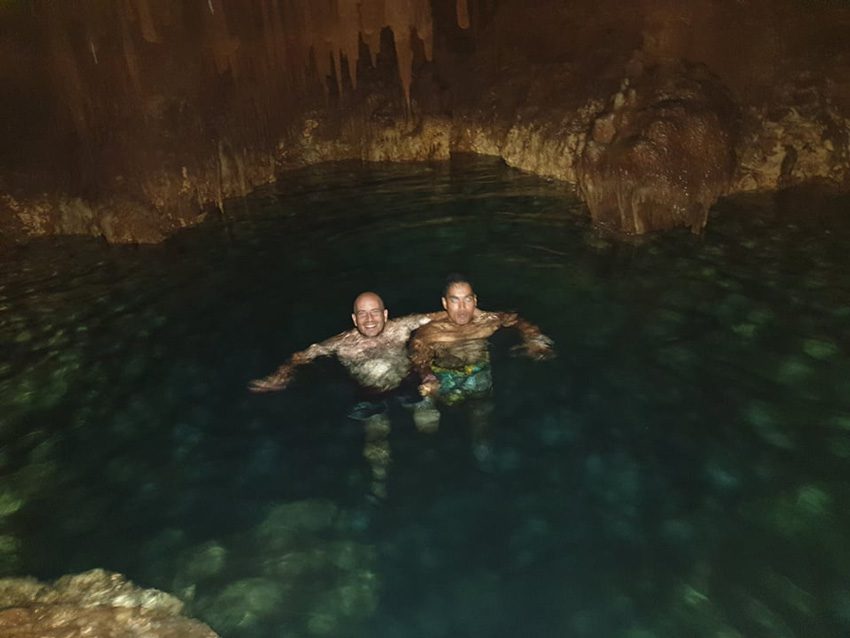 Logistics: it took about two hours from start to finish and it cost an additional 4,500 XPF to see this cave. It can be very slippery in some sections and you'll use ropes to reach the pool. Bring plenty of water, a small bag, an underwater camera, a headlamp, and wear clothes that you don't mind getting muddy. Obviously, if you suffer from claustrophobia, this isn't recommended.
Around the Island
A great way to see the bulk of Rurutu's main highlights is by joining an island tour. A half-day tour offers ample time to explore the island on its 30km of road. I joined an afternoon island tour offered by Vaitumu Village (4,500 XPF) that left at 13:30 and returned just before sunset (approx. four hours). I could have also rented a car and explored on my own, but the guided tour offered the added value of a local's perspective and I discovered spots around the island that I later wanted to visit at my own pace with a rented car.
Most, but not all the sites listed below are included in the island tour.
Ana A'eo
Following a visit by the late French president in 1990, this signposted cave is better known these days as "Mitterrand's Cave". It's a large limestone cave with impressive stalagmites and stalactites. When large cruise ships visit the island, cultural shows are held inside the cave.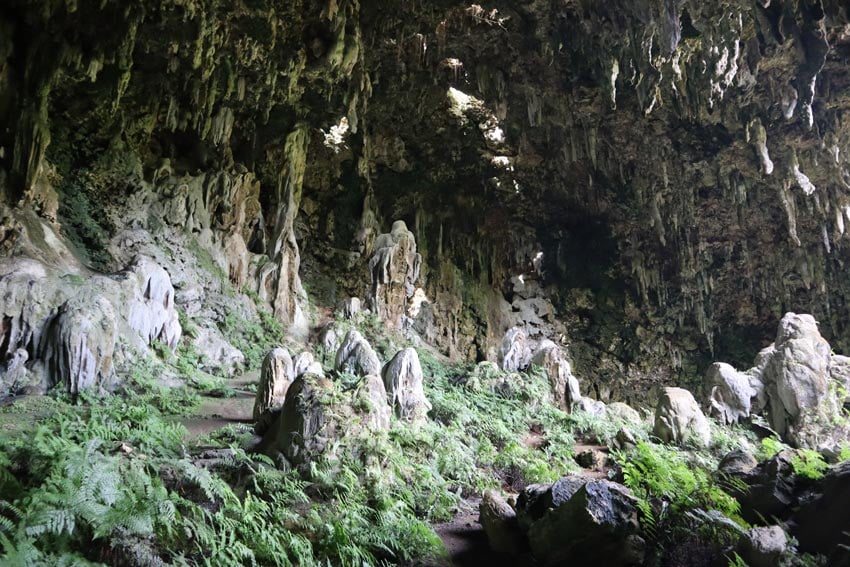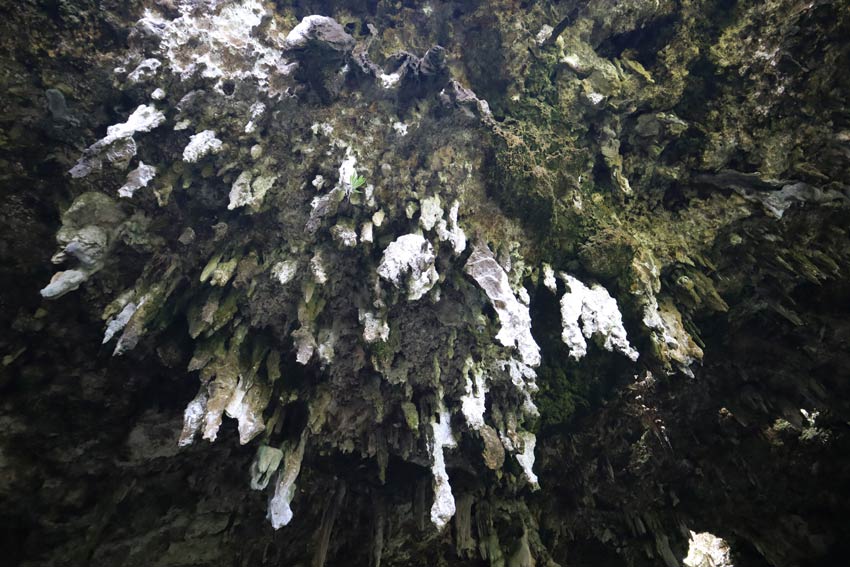 Marae Tararoa
The most impressive remains of an ancient ceremonial site lie on the property of Pension Teautamatea. Ask for permission to enter the grounds and just imagine the powerful ceremonies that took place here back in the day.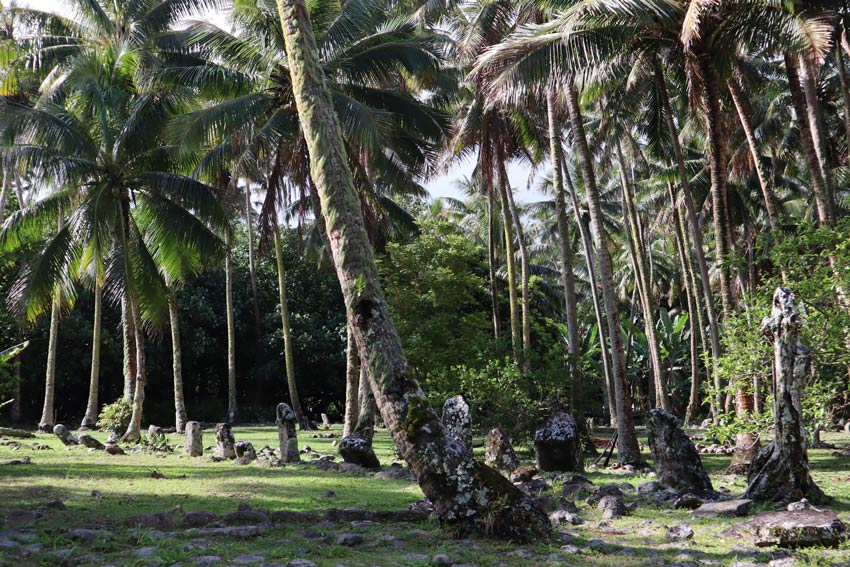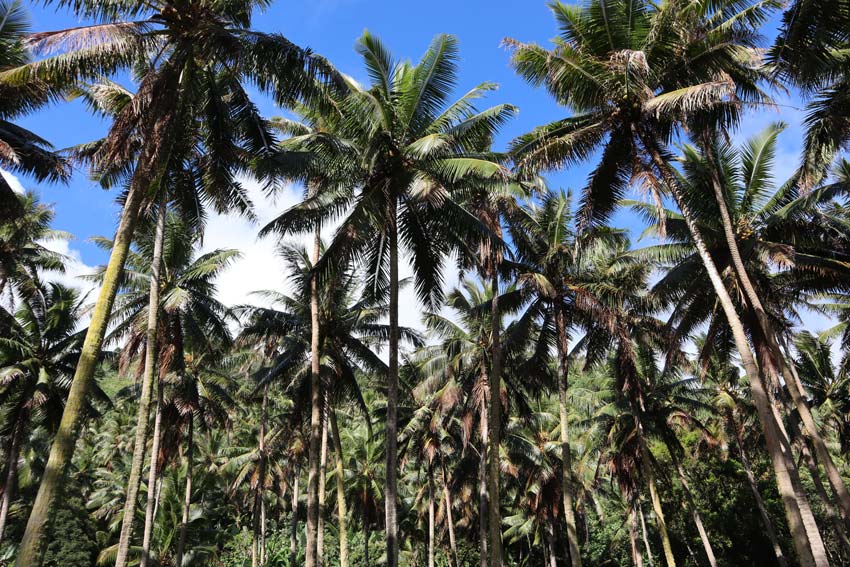 Beach
One of the best swimming beaches in Rurutu is right across from the marae. It's sandy and the reef breaks just a short distance away so the sound is perfect to calm the soul. The grassy roadside has a few picnic benches where locals love to "chill" when the weather is fair.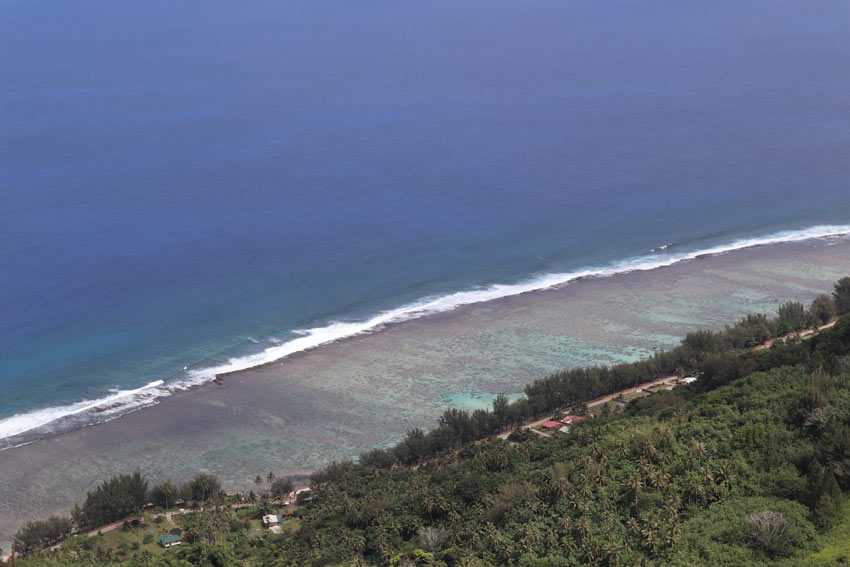 Avera Bay Lookout
Arguably the prettiest section of Rurutu, the Matotea Belvedere beckons a stop to absorb the magnificent views of Avera Bay. Look down and spot a "secret beach" that seems to be shut from the outside world. Our guide told us it's possible to reach the beach via a path through the rainforest. The "Secret Cave" mentioned in this section is also somewhere here. If you're not staying on the west coast, this lookout and the beach mentioned just before are both excellent spots for watching the sunset.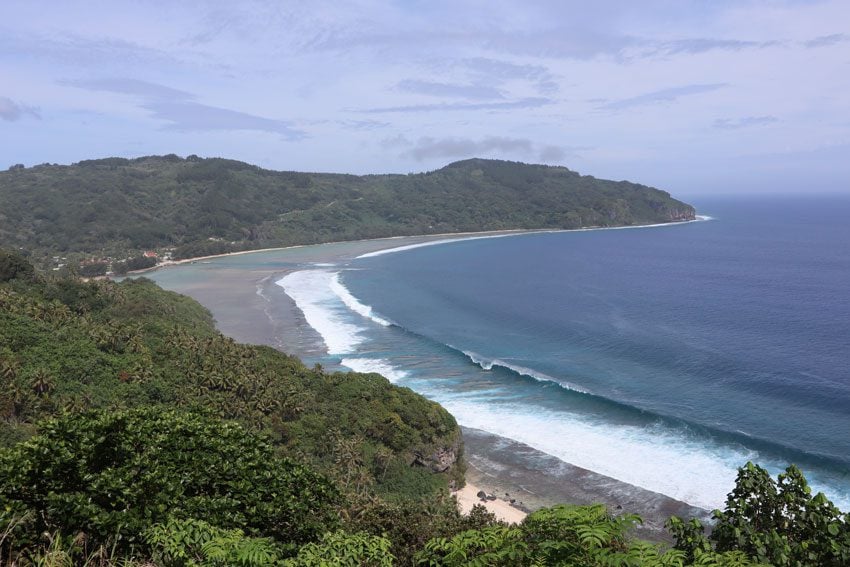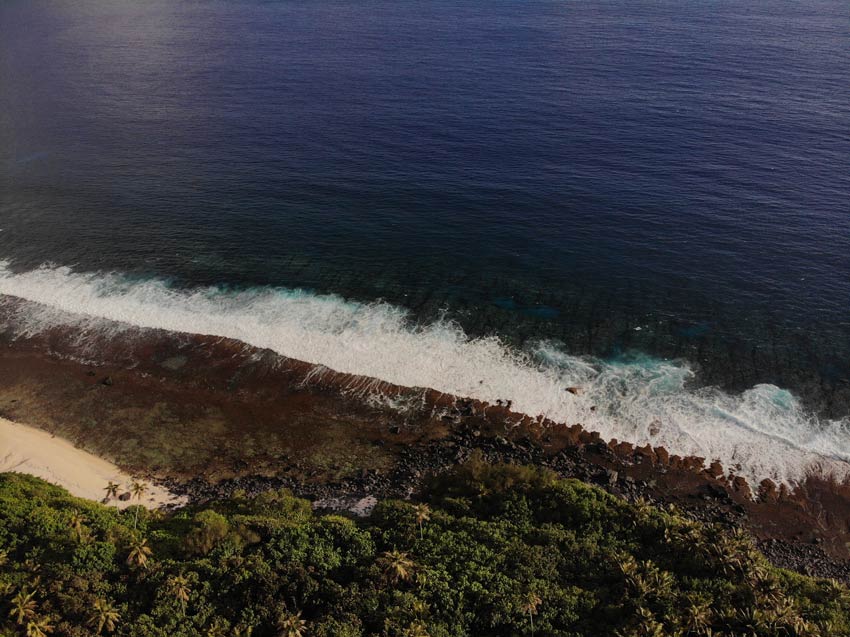 Avera Village
Meaning "ray of sunset", Avera is an absolute jewel. Its beach is safe for swimming and whales are almost always present in its bay in season. The village is home to a crafts center that is usually open during the week until 3 pm but it's best to inquire ahead if not visiting as part of a guided tour.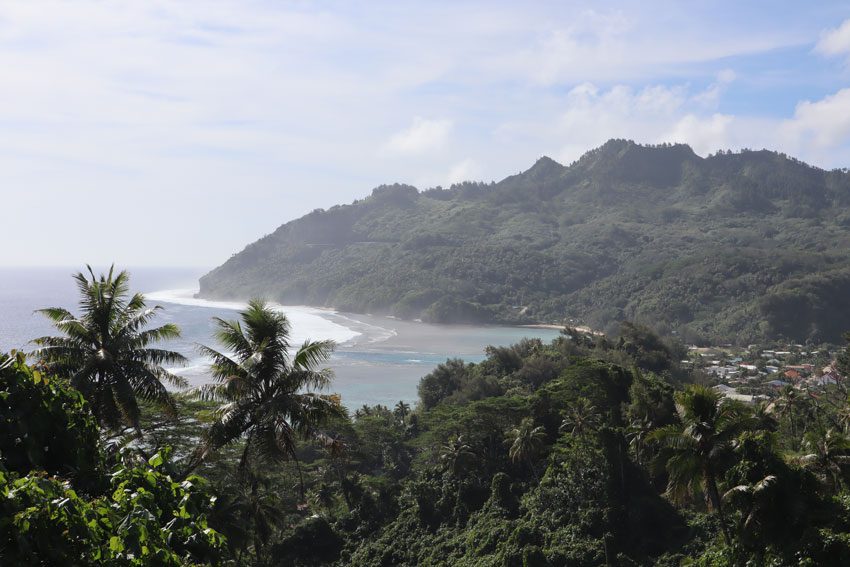 Rurutu is reputed across French Polynesia for hats, bags, and woven mats made primarily from pandanus. The leaves are prepared, dried and sorted, before being cut into strips of varying width, according to the project at hand. Women often still work together in traditional
workgroups or pupu, allowing the transmission of weaving techniques, that require incredible dexterity. Austral Islands woven crafts are highly prized in Tahiti so this is a great opportunity to learn (and purchase) directly from the source.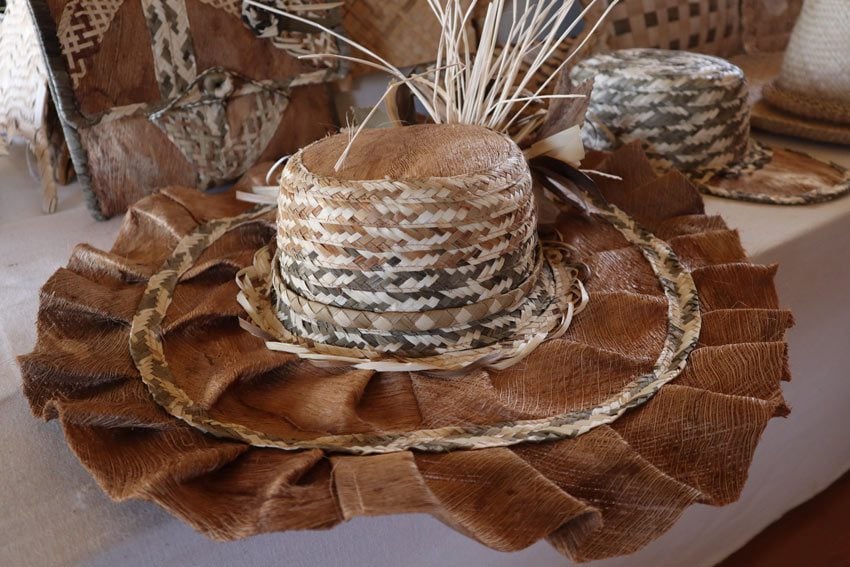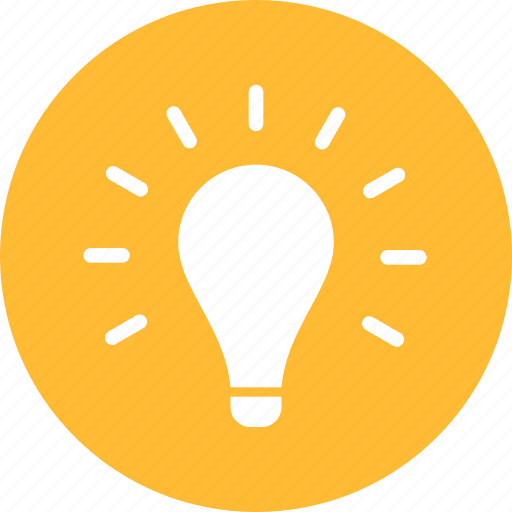 Pro Tip
Some items are made with the help of a machine while the more intricate ones are solely woven by hand so inquire before purchasing (hats sell for $30-40).
Taro Fields
Avera Village sits at the mouth of a lush valley where taro is widely grown. This marshy area, irrigated by a network of channels perfect for growing taro. The roots, boiled in water, are an excellent source of protein and are rich in starch and calcium. The cooked leaves can also be eaten as greens. Different varieties of taro can be seen in this particular field, distinct by the color of their stems and color after cooking. Taro is a staple crop in Polynesia, what the potato is for a European. Each family has its own plot, either for self-consumption or for export to Tahiti.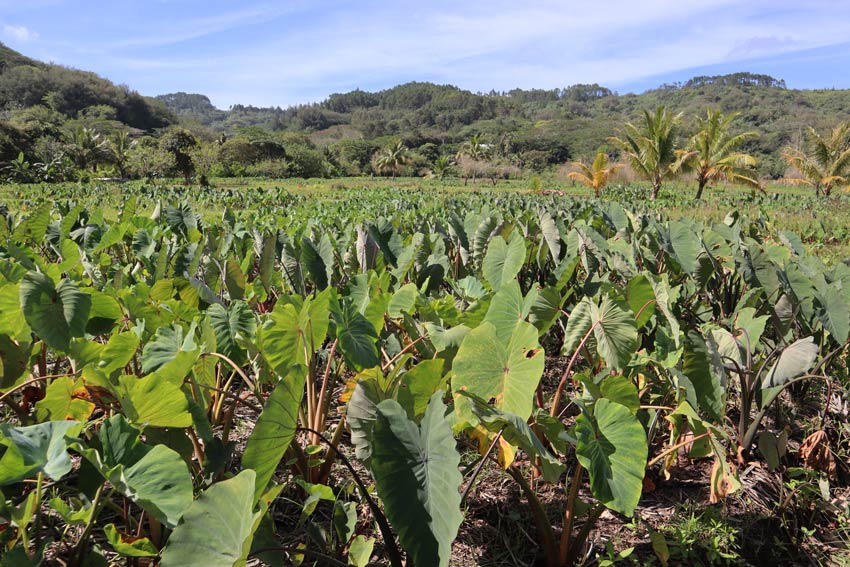 Blowhole Beach
A good whale watching spot, "blowhole beach" is more happening when the swell is strong and water gushes upwards through the small lava tube.
Toa Tara Tara Beach
Locally known as "lovers beach" this is a lovely spot that's not only romantic but also safe for swimming, even for small children. The beach is located just about where the unpaved road begins if coming from Avera.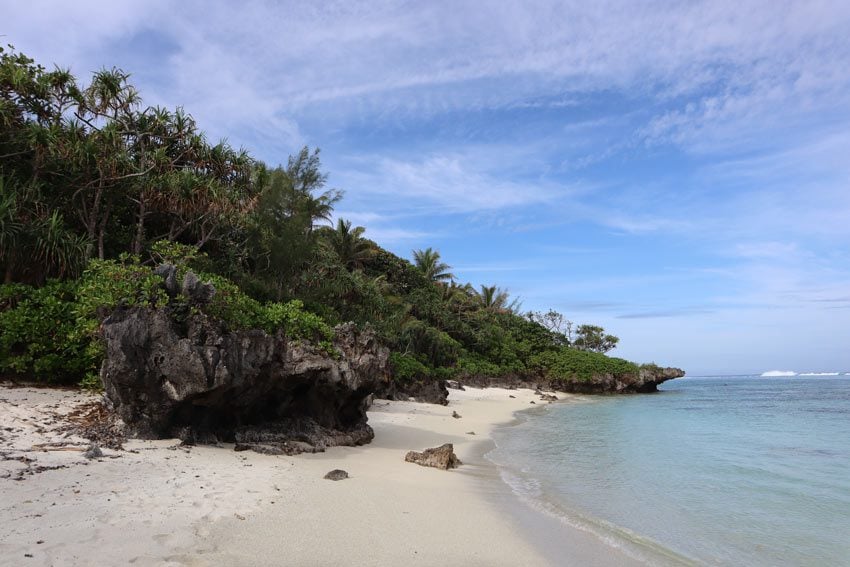 Naairoa Beach
Another lovely and calm spot. It's the southernmost point of the island and features limestone boulders rising out of the water to add to the vibe. Some might claim the beach is on private land but it is safe to explore.
Marae Poreopi
Meaning "baby shells" in the local language, the creators of this ancient ceremonial site named it after small shells were found at the bottom of the rocks brought over from the lagoon. This marae is claimed to belong to the first people who colonized Rurutu.
Cave Cliff
Not a must but if you fancy seeing a few caves from a distance, continue right at the fork and head to the end of the road.
Naairoa to Auti
This section of the circle island road is unpaved and cuts through a lush forest where everything seems to be growing. It's quite a scenic part of the journey.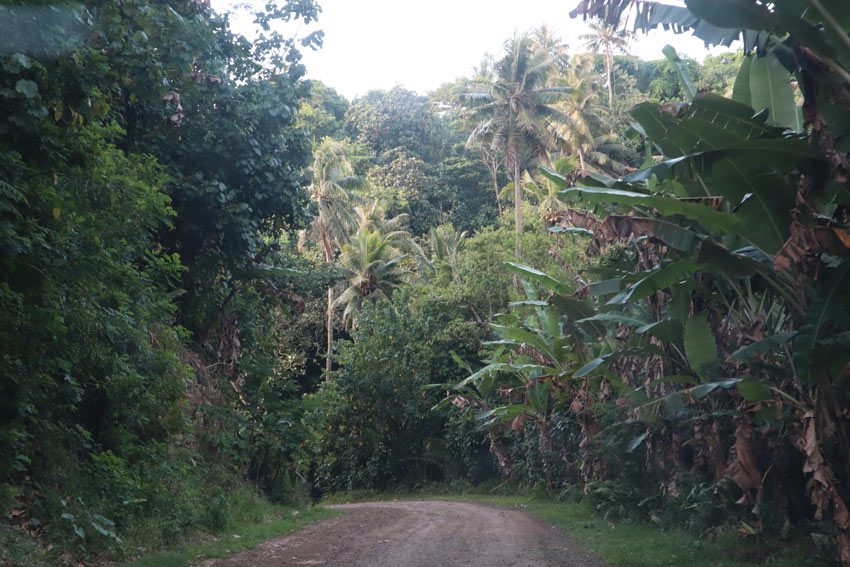 Auti
Nothing much is happening in the village but its wild beach is very scenic and serves as the starting point for the trail to the Monster's Cave along the "lost trail". Check out the towering limestone cliff dotted with caves. This was once part of the coral reef!
Moerai
Moerai is the main village in Rurutu and you can certainly feel the lowkey "action" once you enter. Moerai was the place of residence of the last chief of Rurutu. It has a small communal market that's open from 8 am to 3 pm (not sure on which days), two snacks (local restaurants), grocery shops, ATM, and the first church to be erected on Rurutu, built from coral blocks and lime mortar. Inside the front garden of the mairie (town hall), you can see the lifting stones that are used in competitions during festivals.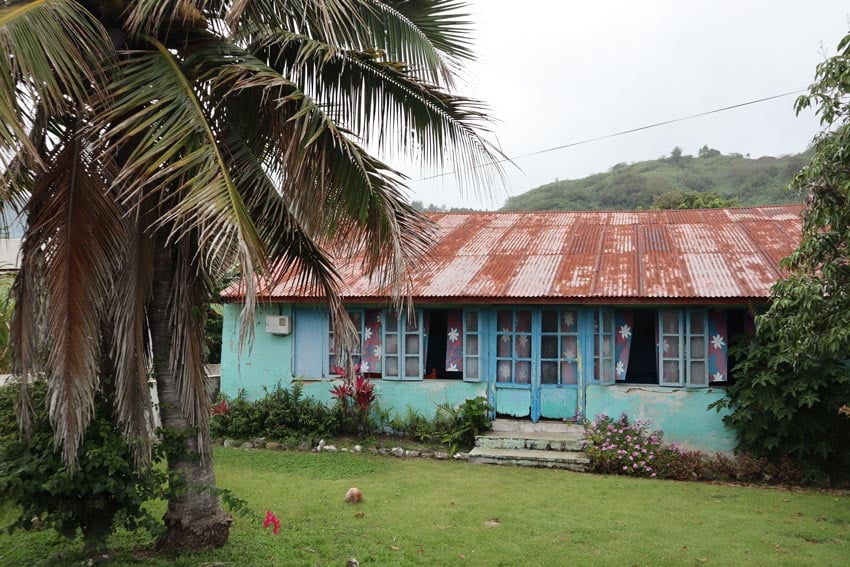 Tropicbird Lookout
Officially known as Tavae, this is a lovely lookout over Moeari. It does require some hiking and instructions on how to get there.
Hiking
There are several hikes you can do in Rurutu but the most famous hike is to its three highest peaks. You don't need a guide for this hike but you will need a ride to the trailhead and a map drawn by your hosts to find the right path back to the main road, from where you'll either hitchhike or walk back.
The well-marked trail leads to the peaks of Mount Ta'ati'oe, Manureva (the highest peak at a height of 389m), and Te'ape. At the first summit, there's a shelter that's ideal for a picnic, and at the third peak, there's a lonely bench. All three peaks offer panoramic views of the island and especially of picturesque Avera Bay. If you hang around long enough, you should be able to spot whales breaching the bay's waters. Also worth a mention is the patch of taro fields just in the back of Avera Village.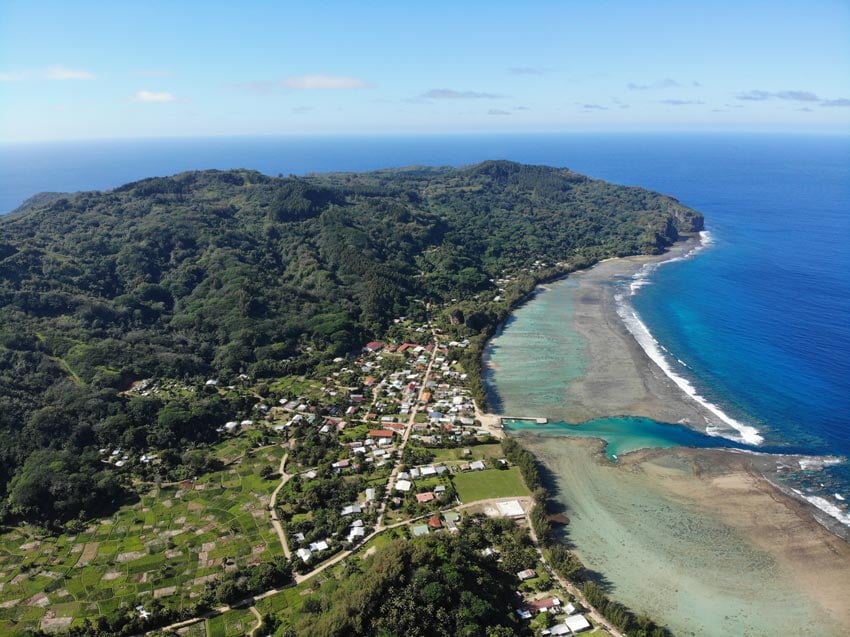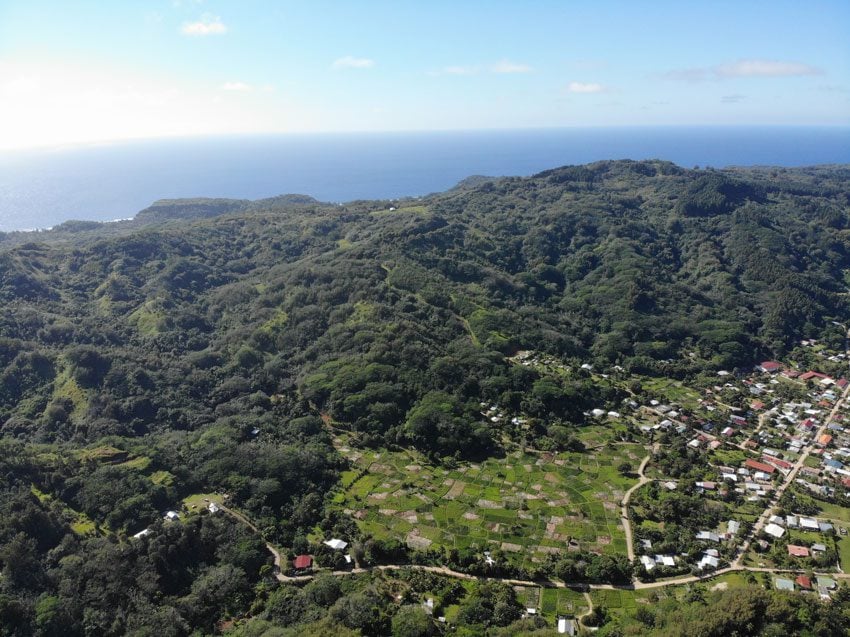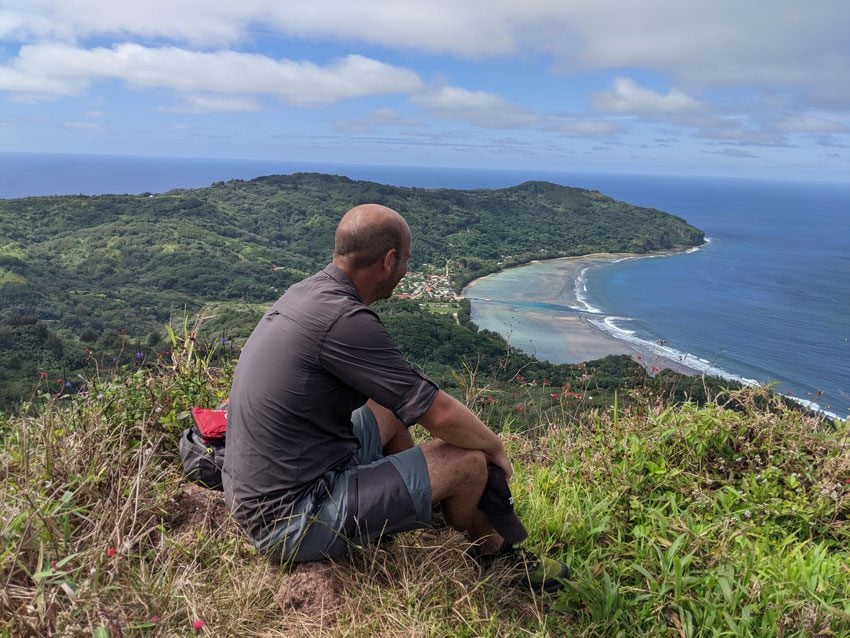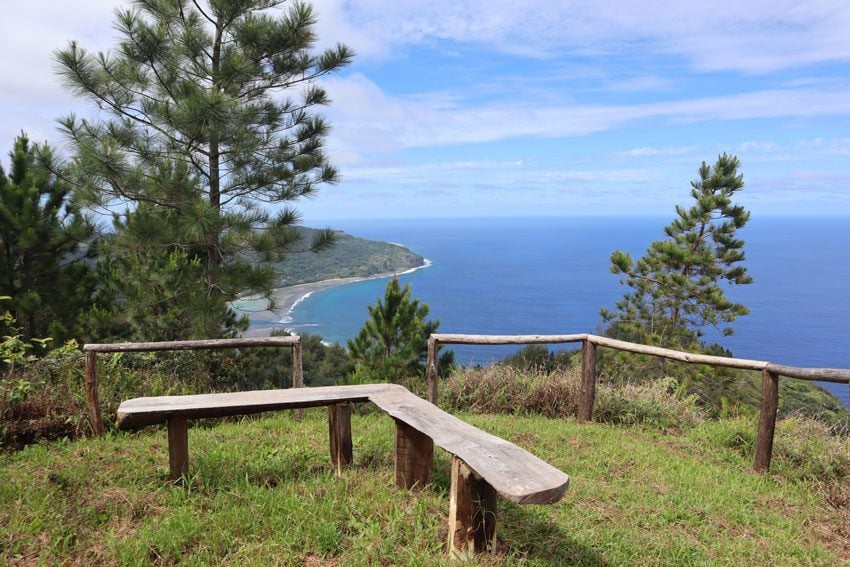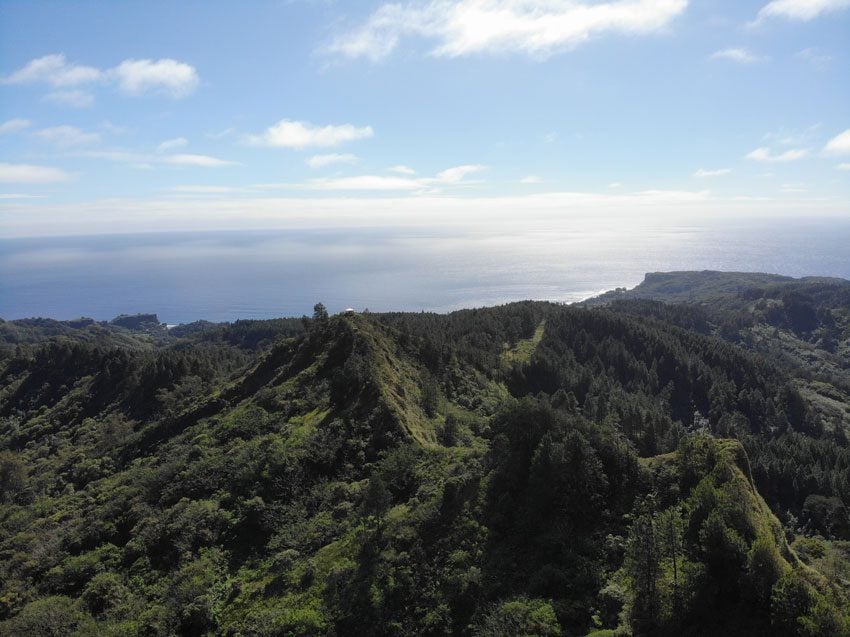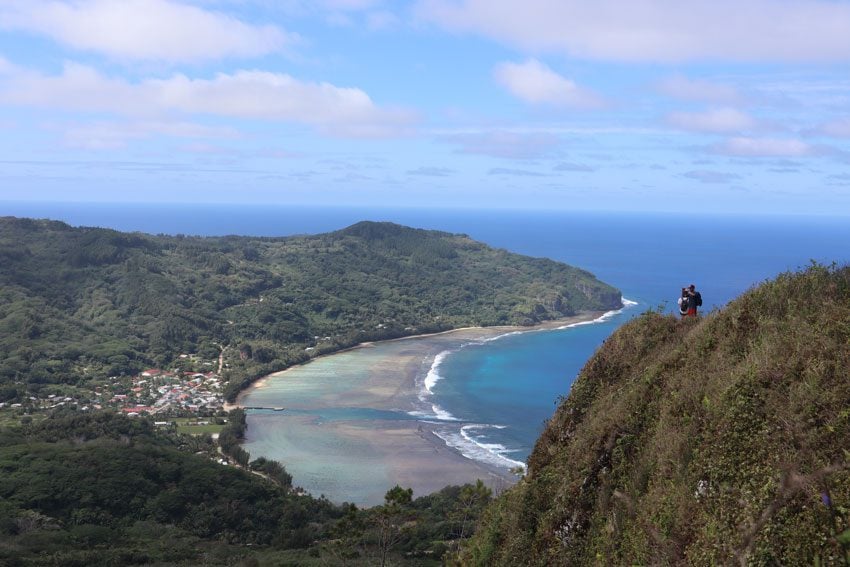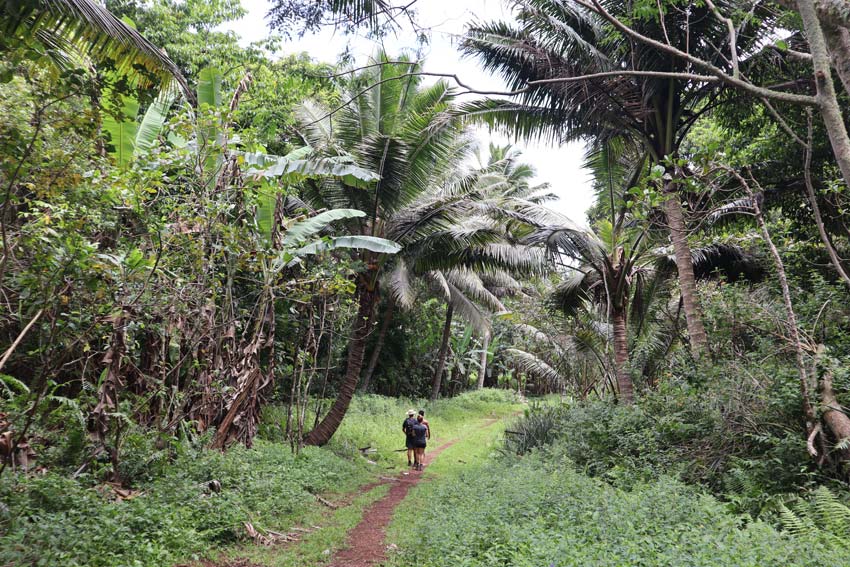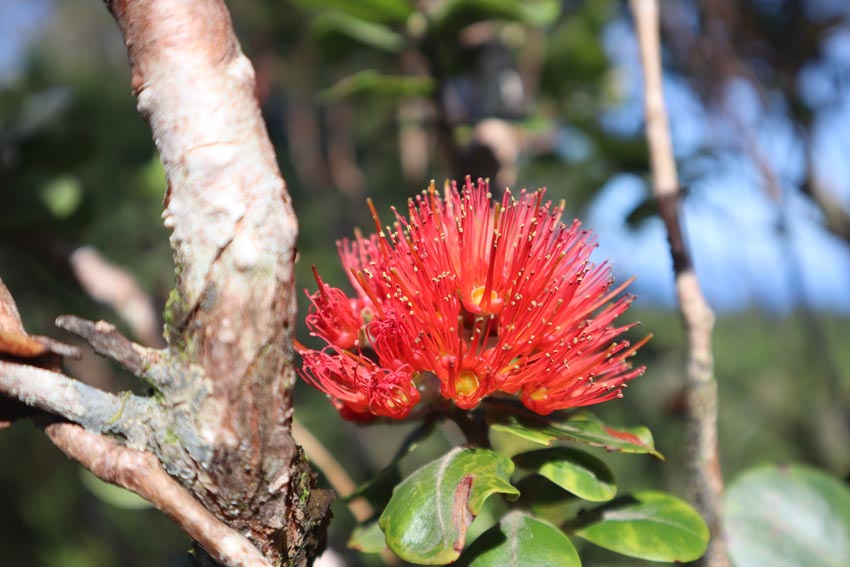 It takes about three hours to complete, including stops. The vegetation greatly changes from pines and itchy bushes at the peaks to more tropical in lower elevations, including wild vanilla, citrus, and coffee. I recommend wearing good hiking shoes since parts of the trail can be slippery coming down, especially if it has recently rained.
Horseback Riding
Horses are a big deal in Rurutu. You'll see islanders riding their prized stallion on the roadside, on the beaches, and in the villages. You can hop on a horse and head on a guided tour of the island's interior, including some of the above-mentioned viewpoints. Inquire with your hosts about booking.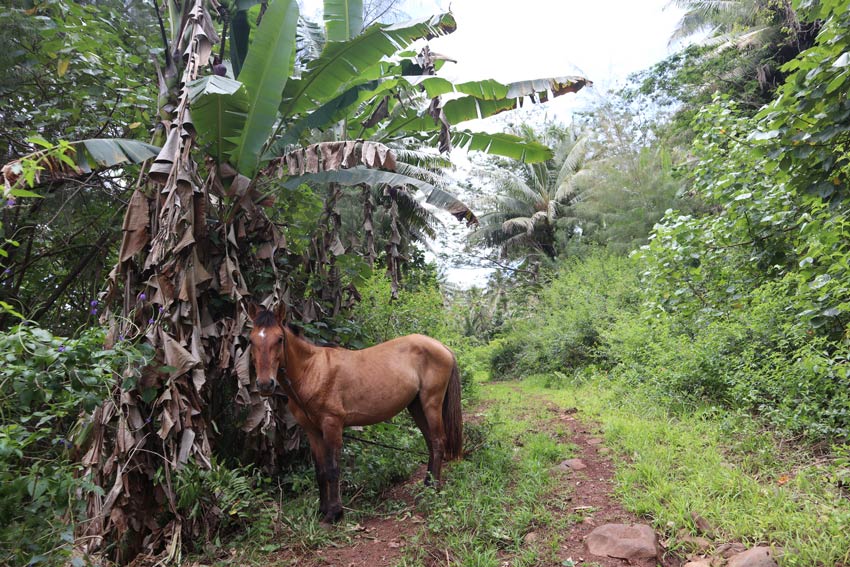 Around the Airport
Rurutu's airport has a small cafe (snack) and a crafts center. On days when no flights are planned, I was told that it is possible to venture to a natural pool made of lava rocks. Just beyond the airport's parking lot, head inland on the trail for about 100 meters and you'll reach the Shell Cave (Ana Coquillage). It's a small cave with lots of fossilized shells. Once you've checked in for your flight, check out the crafts center and head to the cave.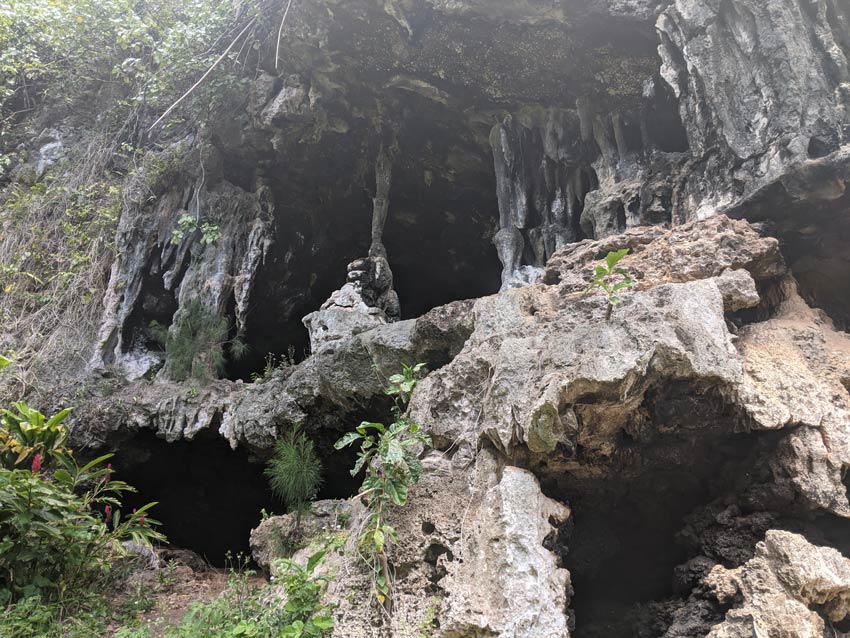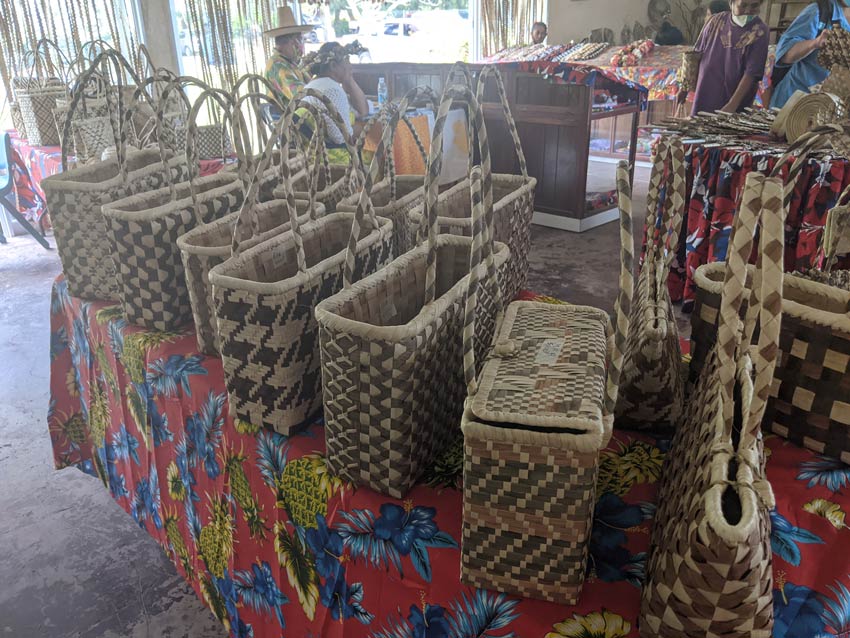 Sunday Church Service
Attending Sunday service whenever I'm visiting a Pacific island is one of my favorite activities and I'm by no means a religious man (here's a video of Sunday service in Tahiti). In Rurutu, Sunday's church service sees women exquisitely dressed in their Sunday best, sporting headwear that is nothing short of art. Head to a Protestant service as there's more singing and it's shorter than the Catholic service.
Weddings
Weddings in Rurutu are a seriously big deal so if you have the chance to attend one as a guest, don't miss the opportunity. It can be hard to find a match on such a small and distant island, so locals often resort to "importing" a bride or a groom or marrying a distant cousin. Weddings in Rurutu ('aiai poipora'a) last for several days and since they're such an expensive affair, the family aims at marrying all their sons at the same time (families often save for two years ahead of the ceremony). There's lots of food but especially gift-giving, highlighted by finely woven mats, tifaifai (traditional patchwork blankets), live pigs, houseware, and taro. It's an occasion to recite the genealogies of the families involved, and also to exchange hospitality between the families.
Tubuai Travel Guide
Tubuai is the largest island in the archipelago (45 square km) and its administrative capital. I planned to use it as a stopover from Rurutu to Raivavae but ended up staying for three nights due to the flight schedule. Without any monumental highlights, Tubuai on its own may not be alluring enough to warrant the voyage, but as a stop on your Austral Islands tour, you certainly won't be bored.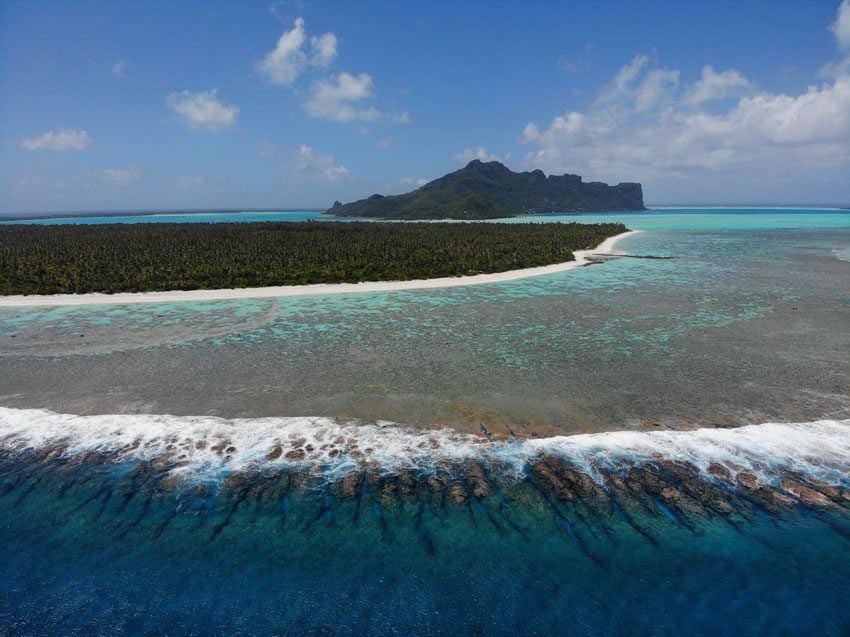 Tahiti, Tailor Made!
The Islands of Tahiti are among the last places to be colonized by mankind, 118 islands, each with their unique personality.
Get expert advice and assistance with planning your trip to the destination where tropical dreams come true!
See Options
Brief History
Perhaps its immense lagoon, mild weather, and large fertile plains are the reasons why Tubuai has always been a seat of power in the area. The island is thought to have been settled by Polynesians well over 1,000 years ago and evidence of their ancient settlement can still be seen today in the form of expansive ceremonial sites known as marae.
Challenging to navigate through, Tubuai's barrier reef is low-lying for the most part though there are several slightly-elevated sandy islets (motu) scattered in some sections. This might explain the lack of European visitors to the island and also why the Bounty mutineers chose it as their initial hideout from the British Crown after the infamous mutiny in 1789. Led by Fletcher Christian, they unsuccessfully tried to erect Fort George, which no longer exists.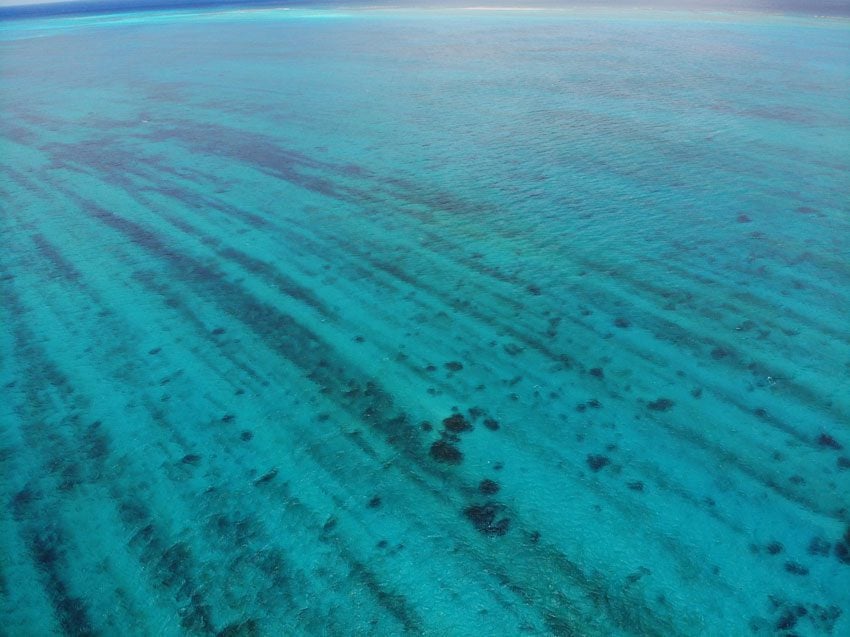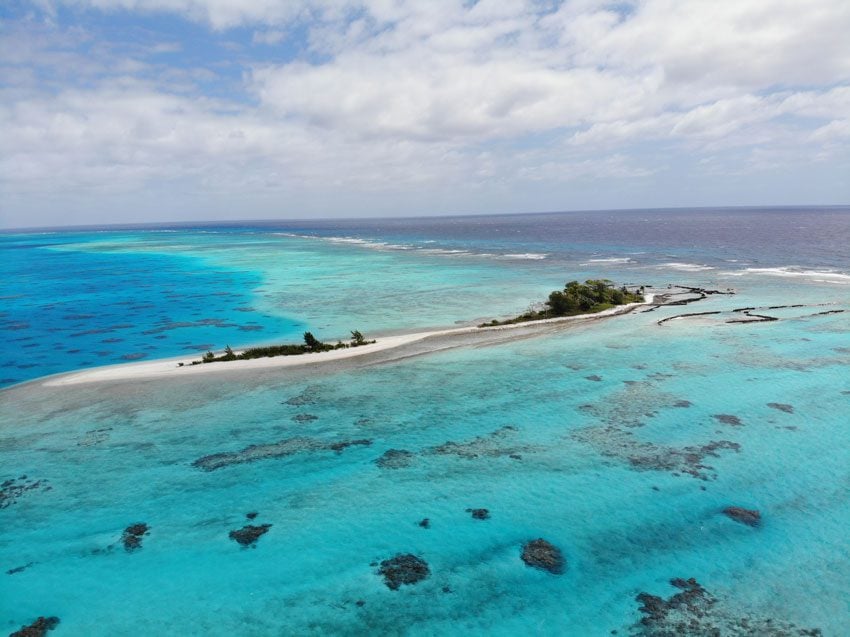 Tubuai enjoys mild weather throughout the year though the island has been devastated by cyclones in the past, most recently by Cyclone Oli in 2010. Agriculture is the main source of income for the island's 2,050 inhabitants.
Tubuai Travel Tips
Listed here are specific travel tips for visitors to Tubuai. Be sure to go through the general Austral Islands travel tips in the first section of this Austral Islands Travel Guide.
Tubuai or Tupuai?
Tubuai is pronounced locally Tupuai, though the island's original name is Raroata.
When to Visit?
Like all islands in the archipelago, Tubuai is best visited during the dry season between May/June to October. These are also the cooler months of the year. On sunny days, it will be pleasantly warm during the day but it can be quite chilly at night, especially if the trade wind blows. During the wet season (December to April), it can rain for the entire day in Tubuai. Though only 150 km southeast of Rurutu, Tubuai tends to be colder by 2-3 degrees on average during the dry season.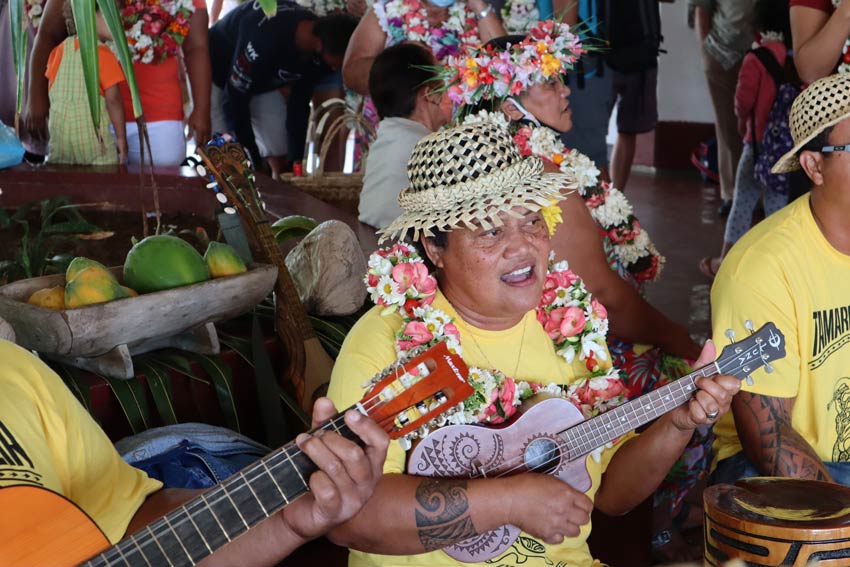 Flying to Tubuai from Rurutu
For the best aerial views of Rurutu, sit on the left side of the plane if flying to Tubuai from Rurutu. The airport in Tubuai does have a small kiosk and a crafts shop.
Where to Stay in Tubuai?
I stayed at the Wipa Lodge and highly recommend it. Operated by Wilson Doom and his wife Gisele, don't let their last name scare you away. Though you might hear some mixed reviews about him, Wilson is an amazing host and he's very knowledgeable about the island's history.
The modern yet charming pension has been recently rebuilt in its present location, a short drive from the airport and the main village. A sandy beach fitted with a wooden shack is just across the road, a perfect hideout for watching the sunset.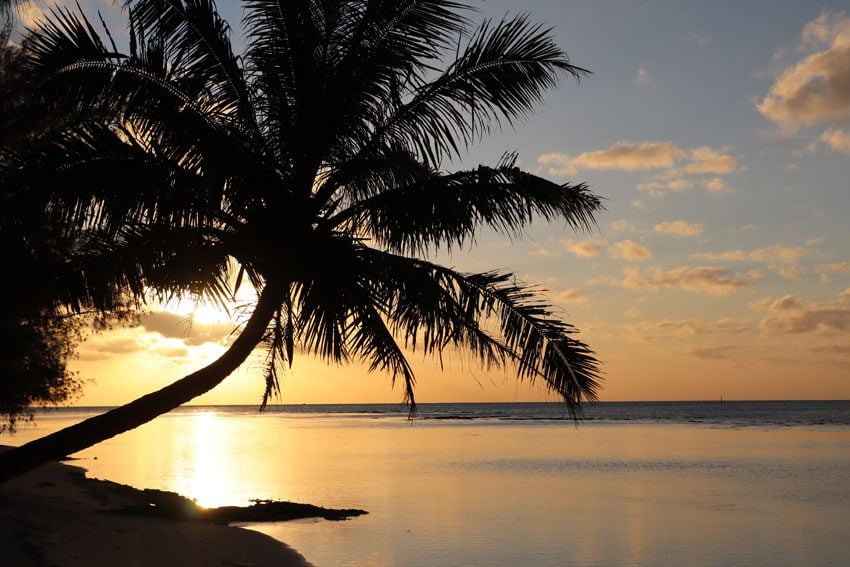 Bungalows surround a well-kept garden and the main house, where delicious and plentiful communal meals are eaten together with Wilson and sometimes with his wife. Units are very spacious, tap water is filtered for drinking, showers are excellent, and there's a ceiling fan in case it gets too hot. There were many wasps when I stayed here but it was very easy to get rid of them and I assume it's a seasonal nuisance.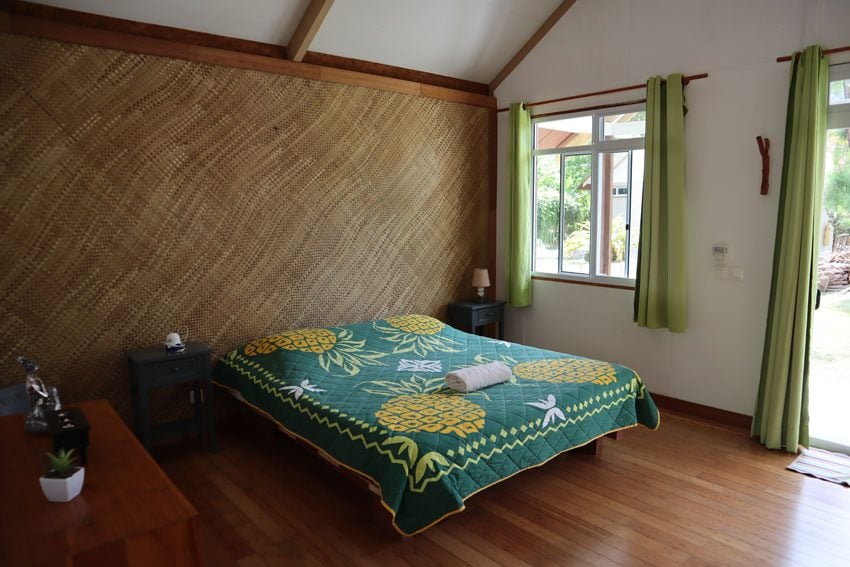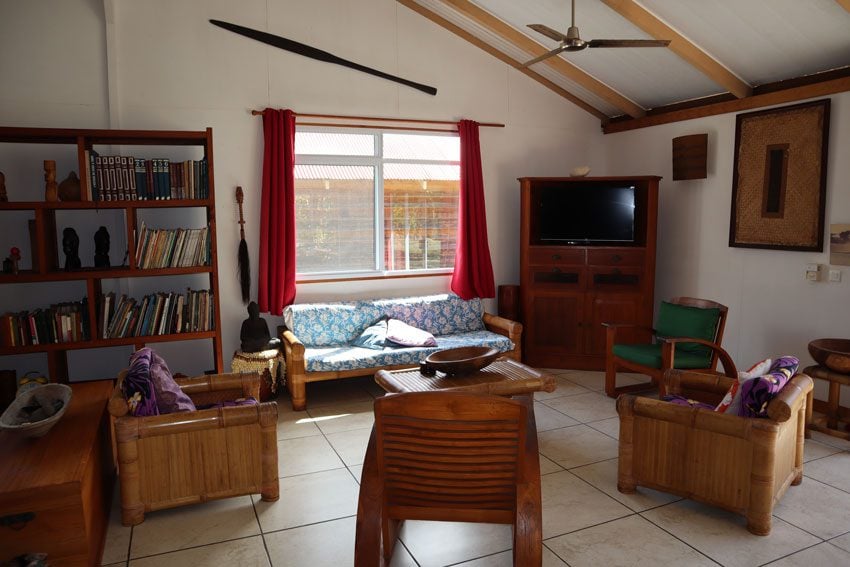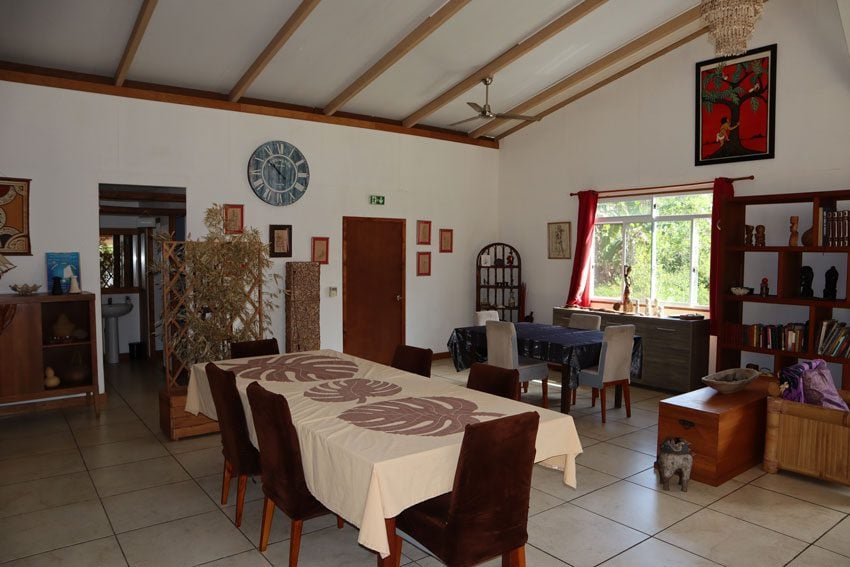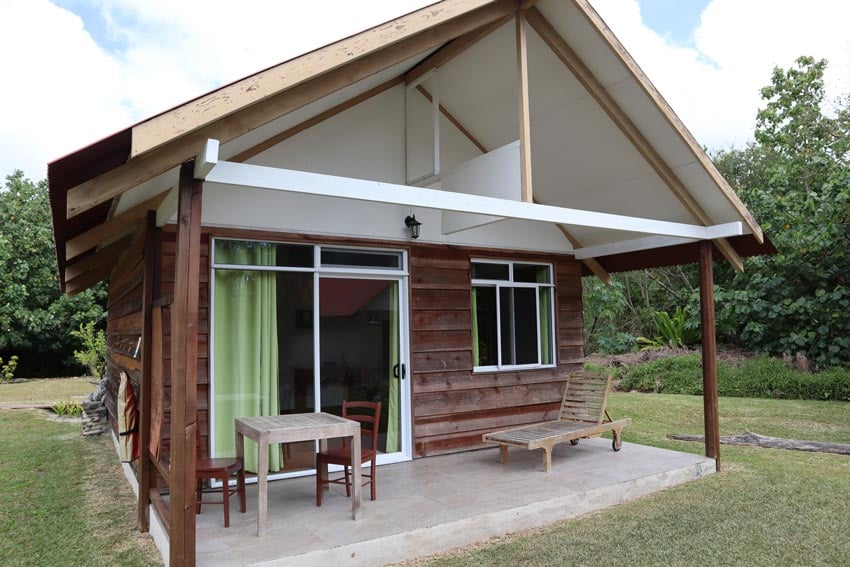 Wilson can also show you around the island and he was very gracious at dropping me off at the quay and the trailhead. Kayaks and bicycles are free to use though the bikes needed fixing at the time of my visit. WiFi was quite OK and available at the main building.
Another highly recommended pension is Pension Taitaa who can also take you on lagoon tours with their boat. There are a few other options that can be booked online, and Pension Toena as another option.
Getting Around
There is no public transportation in Tubuai but there really isn't a need to rent a car. The 27 km circle island road is always flat so a bicycle should be enough and hitchhiking is always an option. Island tours are provided by all pensions and you can always ask for a ride to the trailhead if hiking, hitching, or walking your way back.
Money
Tubuai has a bank ATM located across from the mairie (town hall), halfway between the Wipa Lodge and main quay.
Food
Your accommodation will most likely be on a half-board basis so breakfast and dinner are taken care of. Lunch and snacks can be a bit tricky in Tubuai so inquire with your hosts when planning your day. It might be wise to ask for a quick stop at a shop on the way to the pension from the airport. There are a few roadside stalls that sell fresh produce and snacks but you never know if they'll be open when you pass by. There are two snacks in Tubuai (local restaurants) and apparently also a few roulottes (food trucks). As always in the Austral Islands, I recommend flying to a new island with a sandwich or some snacks for the first day.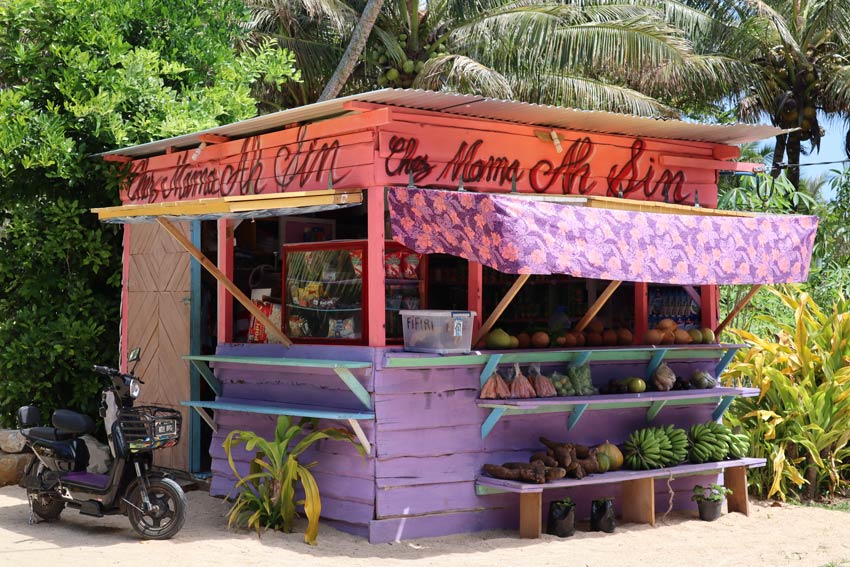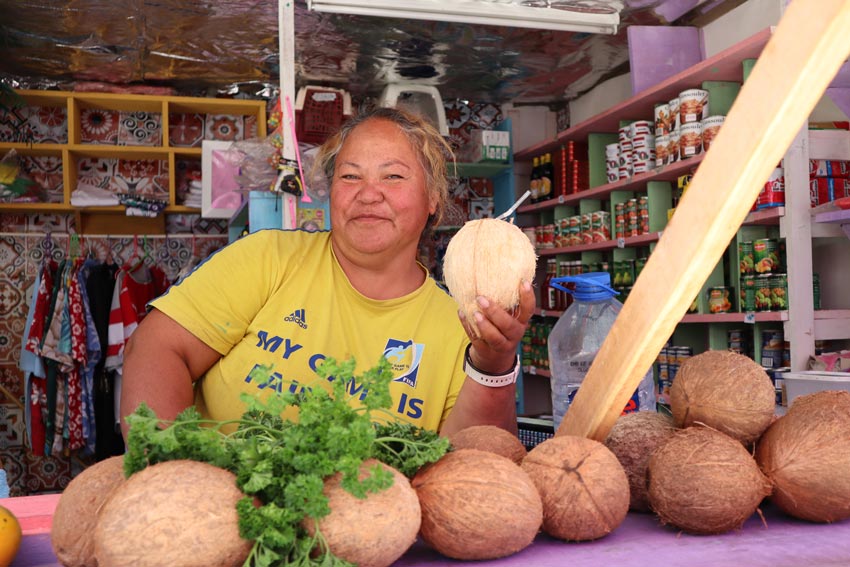 Things To Do In Tubuai
All the following spots are highlighted in the Austral Islands travel guide map. I also recommend reading this Austral Islands itinerary to see how to put everything together.
Around the Island
The main island's highlights can easily be seen in a half-day guided island tour. If you're a DIY traveler, renting a car and getting some instructions is also possible, though getting a local's perspective on things is always superior. I joined a guided tour offered by Wilson Doom from the Wipa Lodge on the day I arrived in Tubuai. We left in the early afternoon and returned before sunset (3,000 XPF).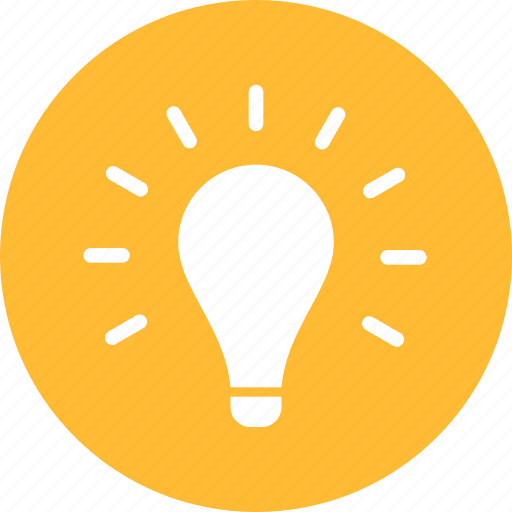 Pro Tip
Bring mosquito repellent. You'll need it when visiting the ancient ceremonial sites in the island's interior.
Crafts Center
Apart from the small crafts shop at the airport, there is a craft center in Tubuai that can be visited. Inquire with your hosts for opening hours and ask to visit as part of the island tour. The center is located in the main village of Matuara.
Fort George
In 1789, mutineers from the HMS Bounty arrived in Tubuai. Led by Fletcher Christian, they were looking for a good place to hide from the British Crown who would, no doubt, come looking for them. The first contact with the local population resulted in a massacre at what is now known as Bloody Bay. After a few days on the island, the mutineers returned to Tahiti to get women and supplies and returned to Tubuai once again. Better equipped, they erected Fort Geroge to protect themselves and their ship. The mutineers stayed for two months, after which they left in search of a permanent hideaway, eventually found in Pitcairn Island.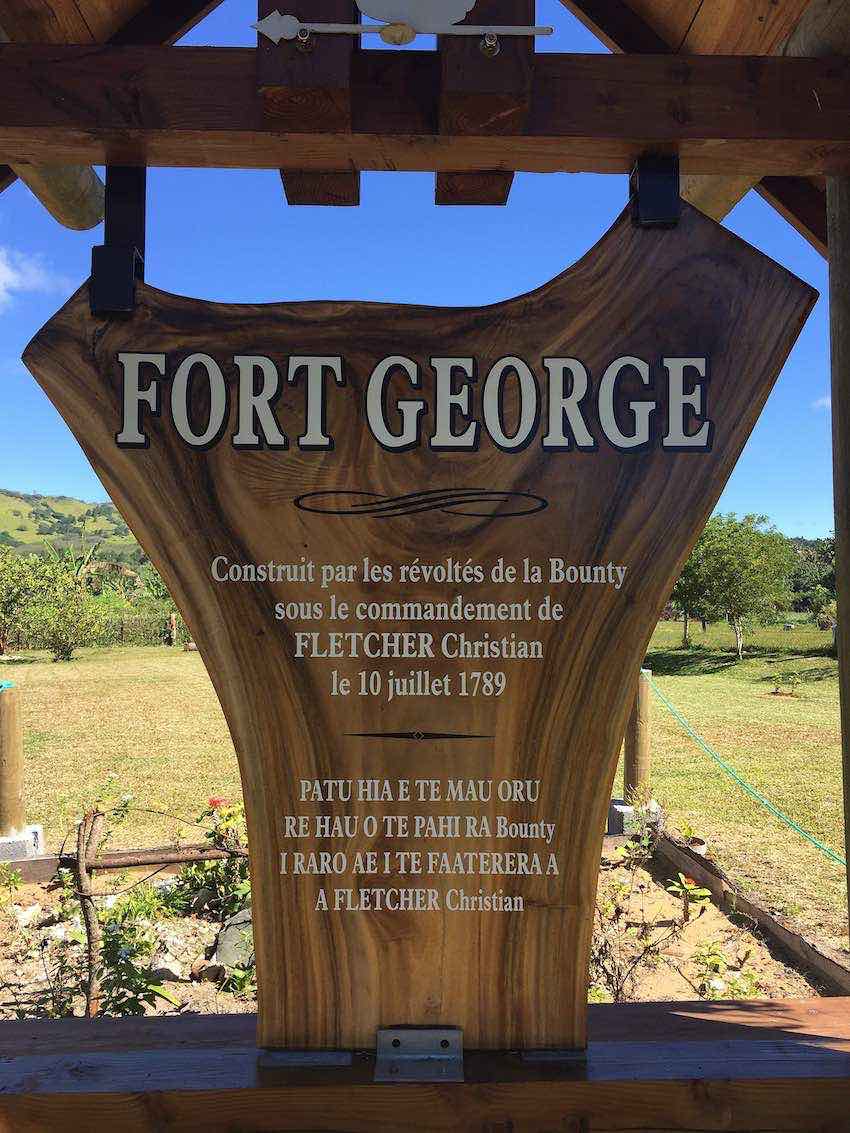 There is nothing left of Fort George in Tubuai today, mainly due to storms and beach erosion. Across the road from where the fort once stood, a local resident has erected a small wooden plaque in memory.
Archaeological Sites
Over 200 ancient sites have been discovered in Tubuai and there are probably hundreds more waiting to be unearthed. Some of the more famous sites are covered in the island tour (see below) but if you're really into archeology, inquire with your hosts if some of the lesser-known sites can be visited.
Marae Tupaparu
Reached via an unmarked path that heads inland from the coastal road, Marae Tupaparu is a large ancient complex that hasn't been completely unearthed despite its current size. It is believed to have been a ceremonial site for the disabled and around what used to be the main altar were many houses. The jagged rocks are believed to have been used for sharpening tools. The petroglyphs on some of the large rocks are not original but do walk around and discover some of the exterior sections of this complex.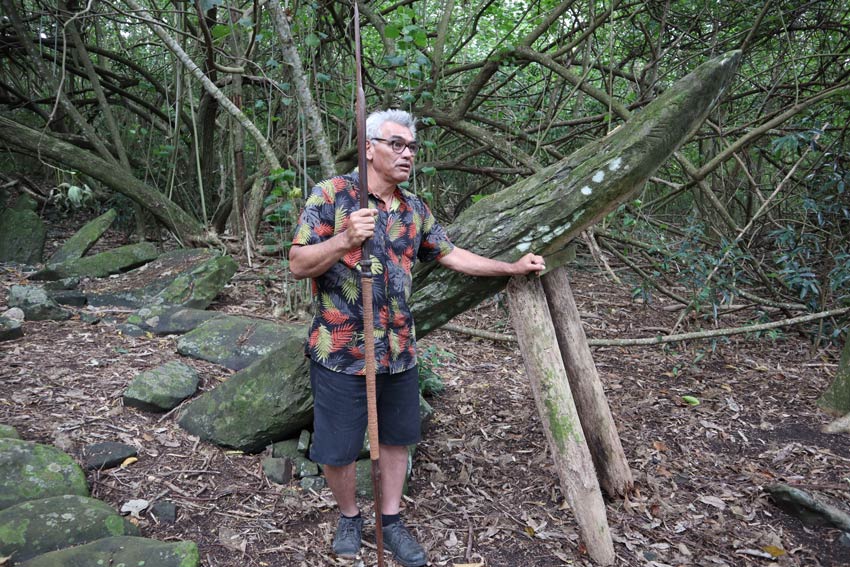 Marae Raitoru
It was both a moving and eerie experience to visit this ancient ceremonial site, believed to have served as a birth-giving marae. For ancient Polynesians, birth was a cause for both prayer and celebration. Women would give birth at this spot and the umbilical cord would be severed and planted in the ground. Our host Wilson tells us that he likes to visit this place of solitude from time to time. Very often, he can see the ancient spirits come to life. Believe it or not, Polynesians on many islands have these experiences, as the marae is believed to be a source of mana.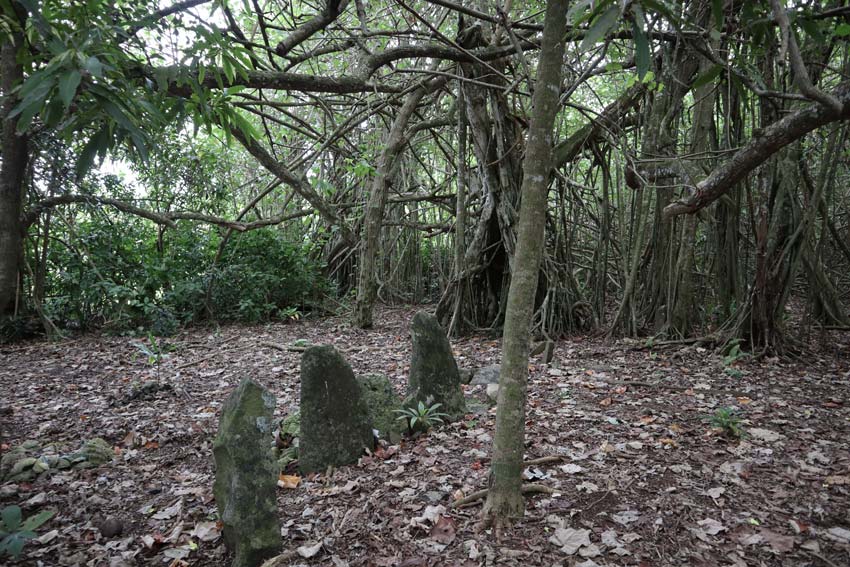 Island Interior
Along the cross-island road, you'll see why many islands in French Polynesia depend on Tubuai's produce. They grow everything on this island, from the usual tropical favorites such as mango, papaya, cassava, and taro, to fruits and vegetables that require a cooler climate, such as cabbage and lychee.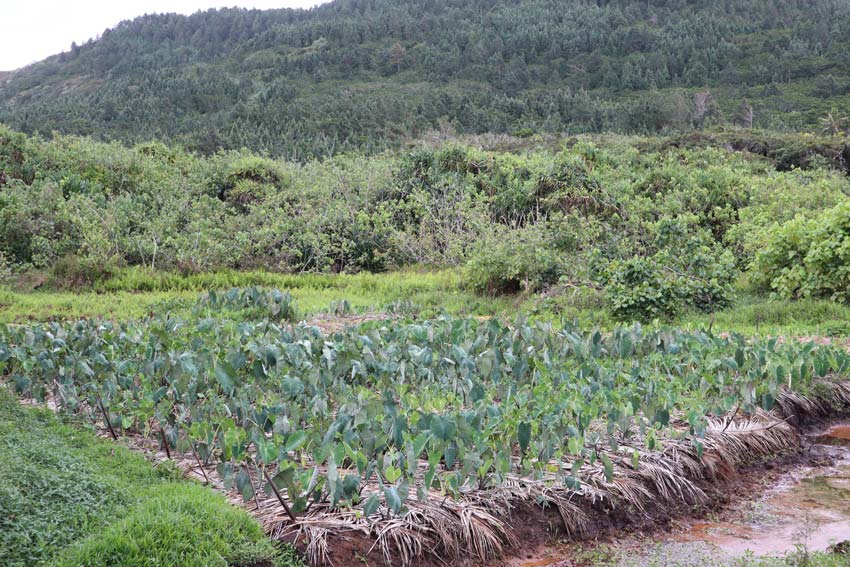 Bloody Bay
The site of the massacre that took place when the Bounty Mutineers first arrived in Tubuai is probably the nicest beach on the main island. It has a long sandy shore and casuarina trees for shade. Picnic tables are laid out behind the trees.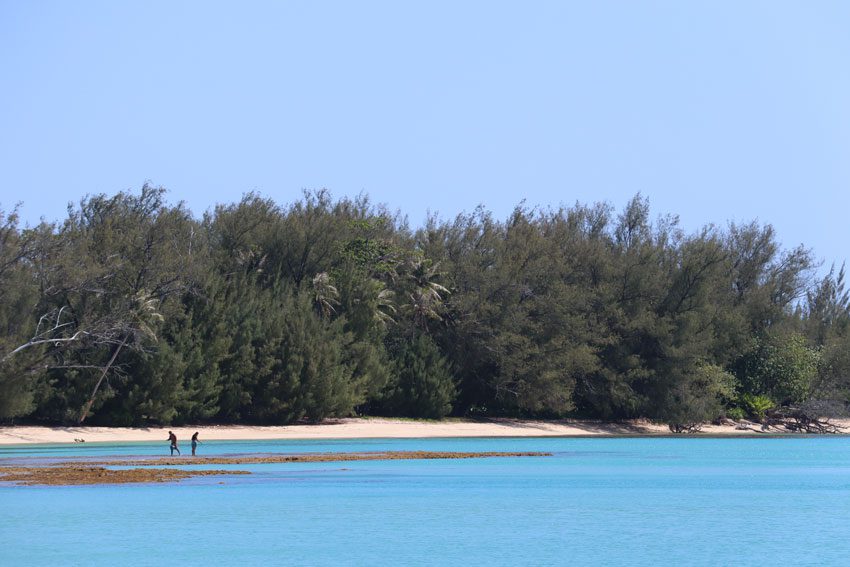 Hiking in Tubuai
Tubuai has one famous hike and it's signposted so you can do it on your own. You'll just need to get a ride to the trailhead and return either by walking or hitchhiking along the coastal road. The official direction is north-south and that's the way the arrows point but I hiked in a south-north direction which turned out to be much easier. I recommend hiking in the direction that brings you the closest to your pension at the end of the trail.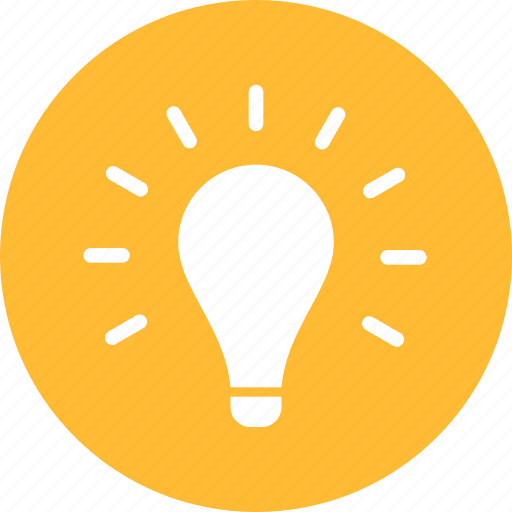 Pro Tip
If you're pressed for time, simply climb to the summit of Mount Taitaa from the official starting point and return the same way.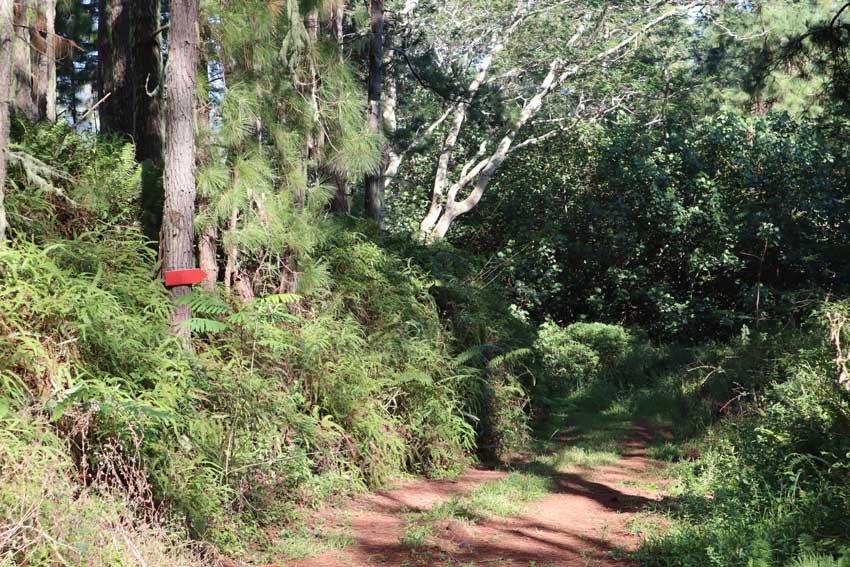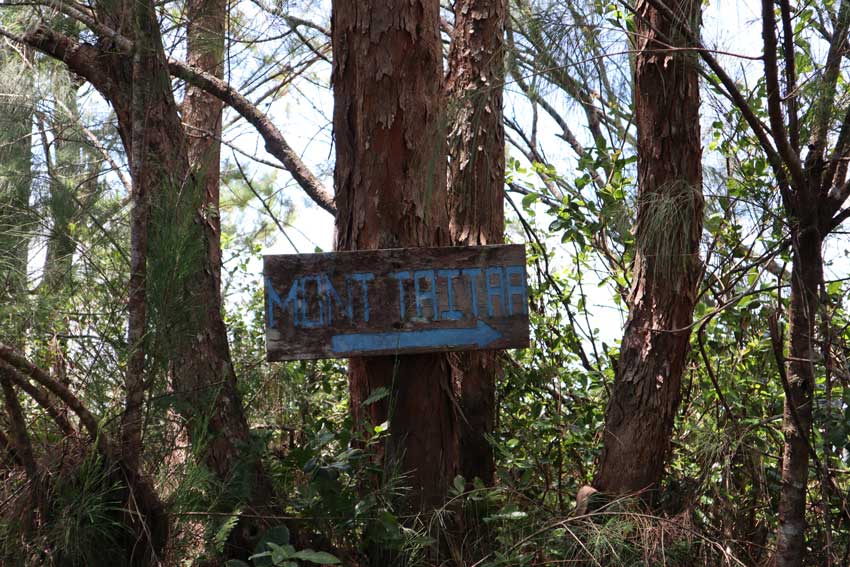 Hiking in a south-north direction, the hike begins with a moderate climb through a forest of pines and ferns. The grade is moderate and from time to time, a clearing in the forest offers great views of the island's interior and lagoon.
After about 90 minutes of hiking, the summit of Mount Taitaa is reached (422m). You'll want to stay here for at least an hour as the 360-degree views are sensational. The summit itself is quite strange, formed by a collection of immense boulders that seem to have piled on top of each other.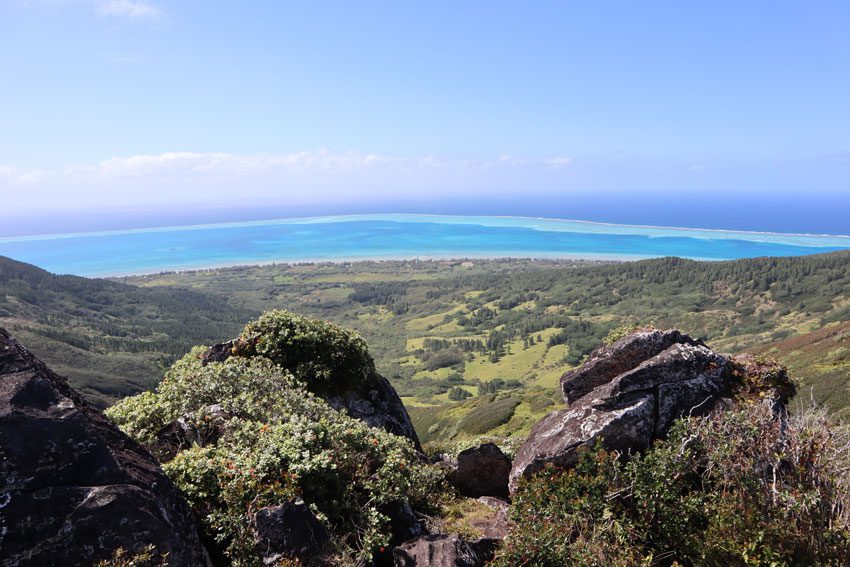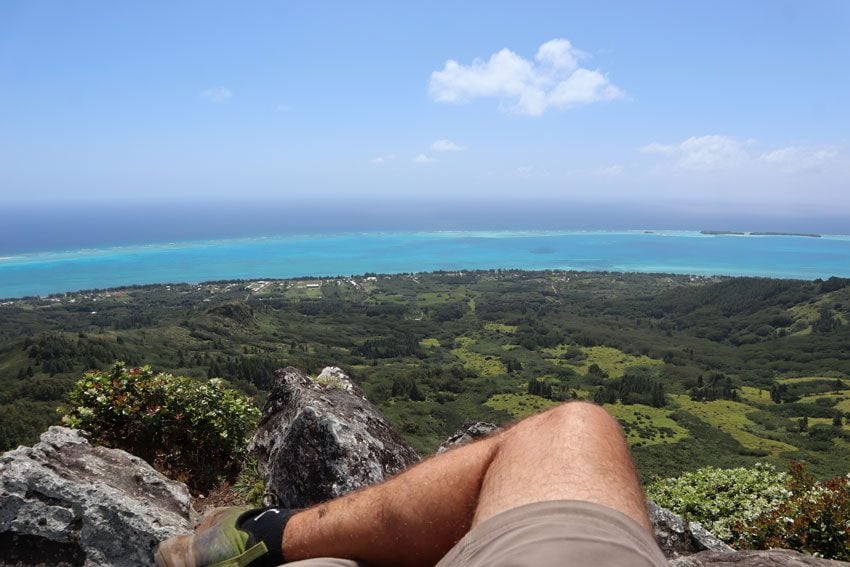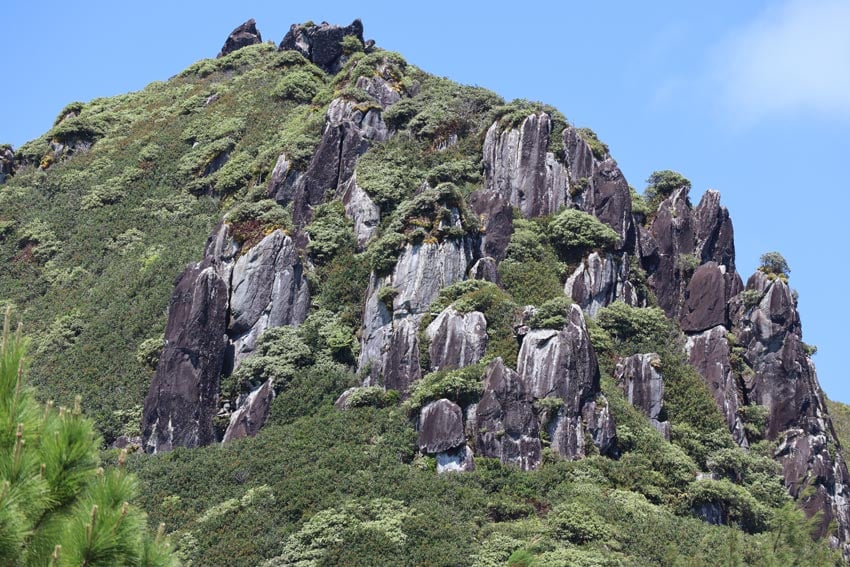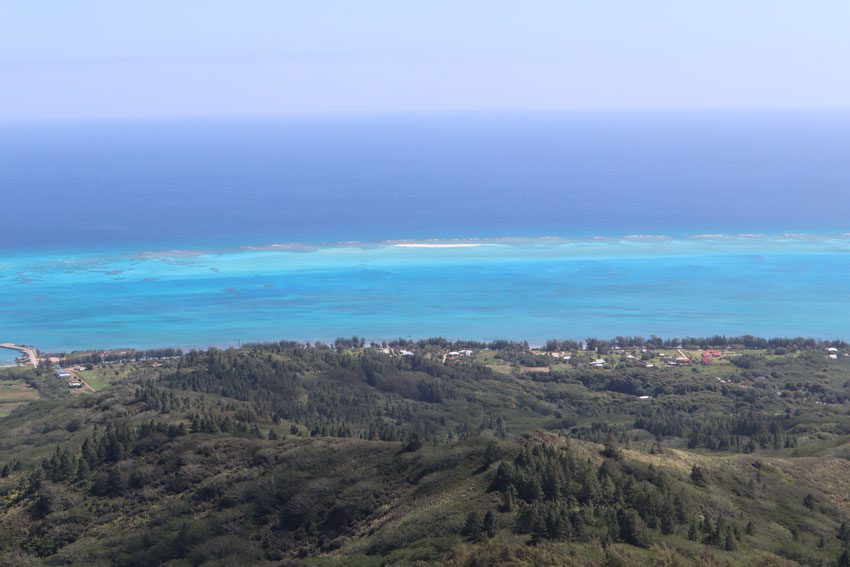 Hiking down from the summit required some care as it was steep in many sections. I was happy to be going down and not hiking up. Some sections were also overgrown with vegetation but the trail itself was easy to find.
Logistics: the hike takes about 4 hours to complete, including stops and the walk back to the pension. Wear long pants if your skin easily gets irritated as some sections are overgrown with vegetation. Bring plenty of water and snacks. Prepare for windy weather and no shade at the summit. Have some cash with you for the walk back as you might come across a roadside stall or a restaurant.
Motu Picnic & Motu One
Tubuai's immense lagoon is much larger than the island itself so you really should check it out. I spent a full day chilling on one of the motu (islets) at the edge of the lagoon. The tour was booked via Pension Taitaa (6,500 XPF including lunch).
After a short but choppy boat ride from the main quay, we reached the family-owned motu. This is a paradise of a spot through the vegetation on the islet is not tropical. Dozens of birds were hanging out around this motu and its neighbors, and the uninterrupted view of the main island is perfect.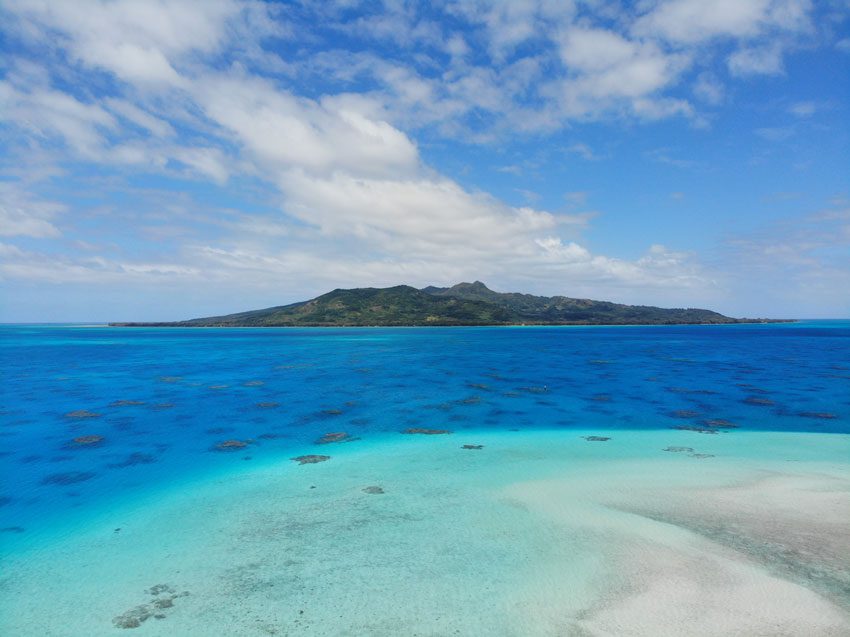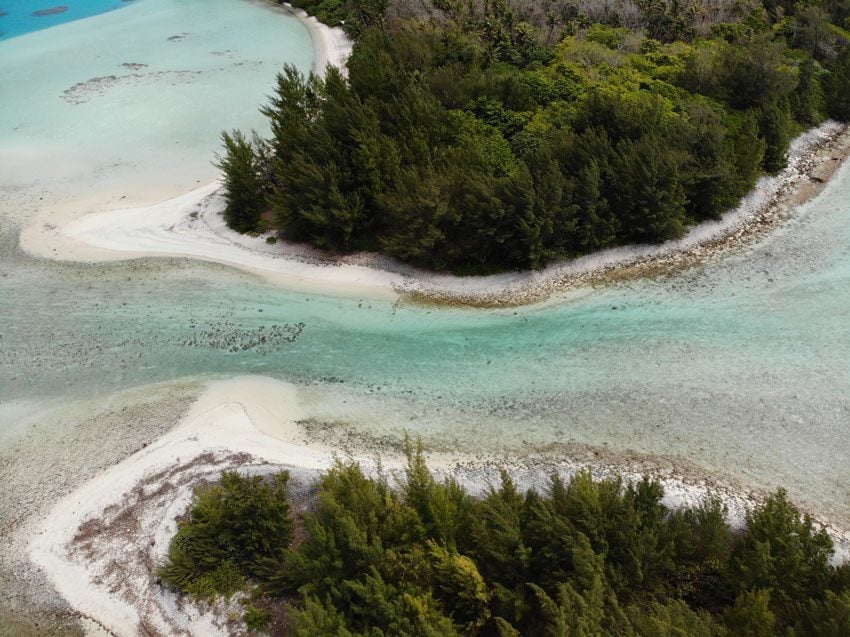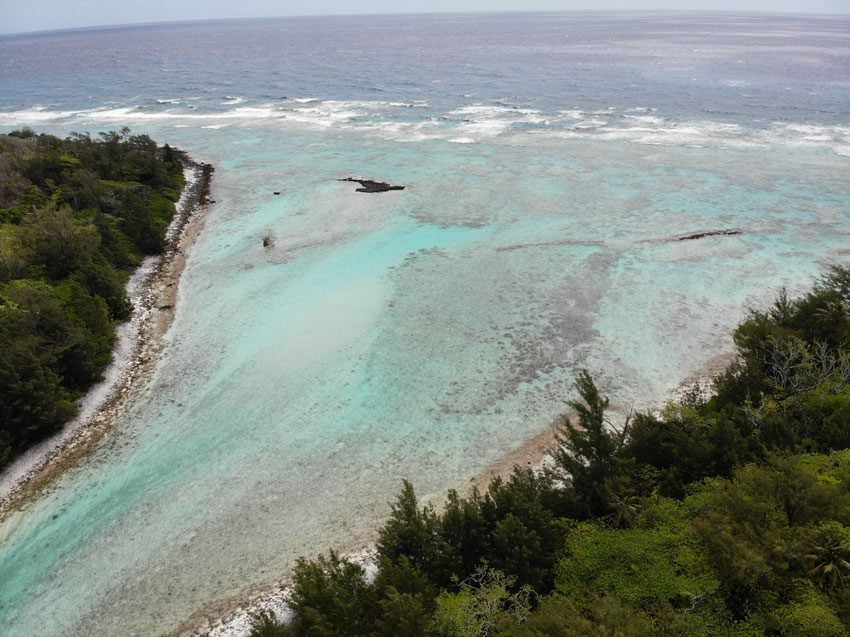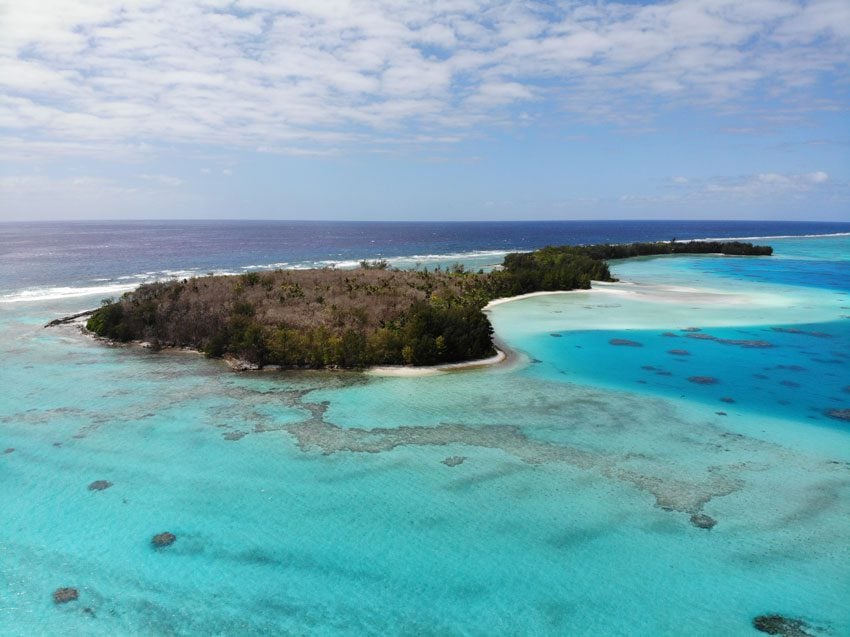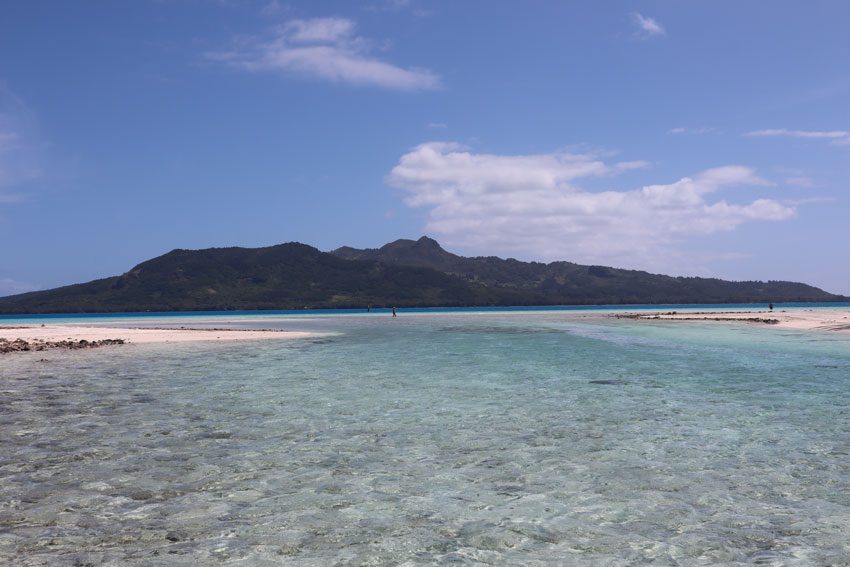 As your hosts fire up the grill, go snorkeling on the lagoon side where you'll see Tubuai's famously large and colorful clams.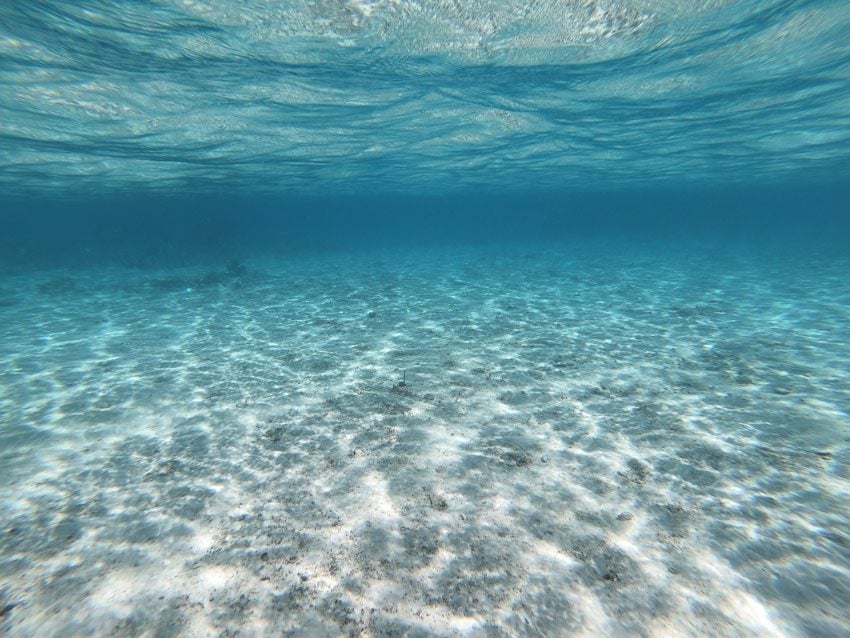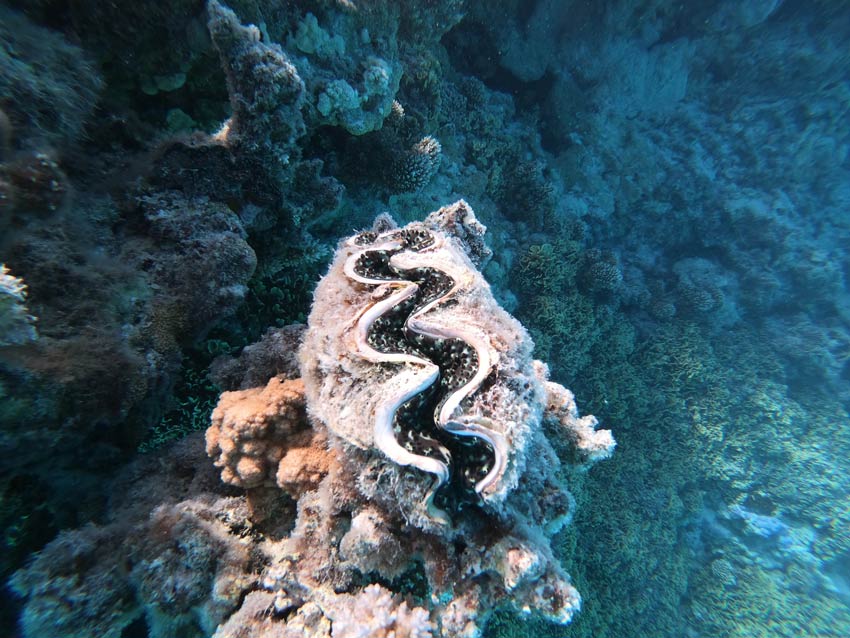 A traditional Polynesian lunch is served inside old clam shells and is both plentiful and delicious. We had grilled lagoon fish, poisson cru (raw chunks of marinated tuna), coconut and banana bread, fresh clams, and urchins caught just before lunch inside the lagoon. After lunch, you'll have some time to nap, go for a stroll, or snorkel once again.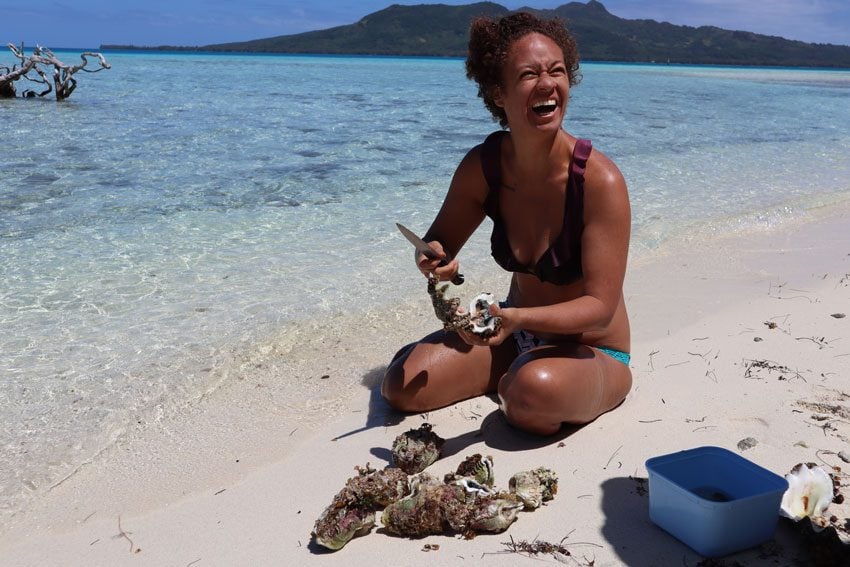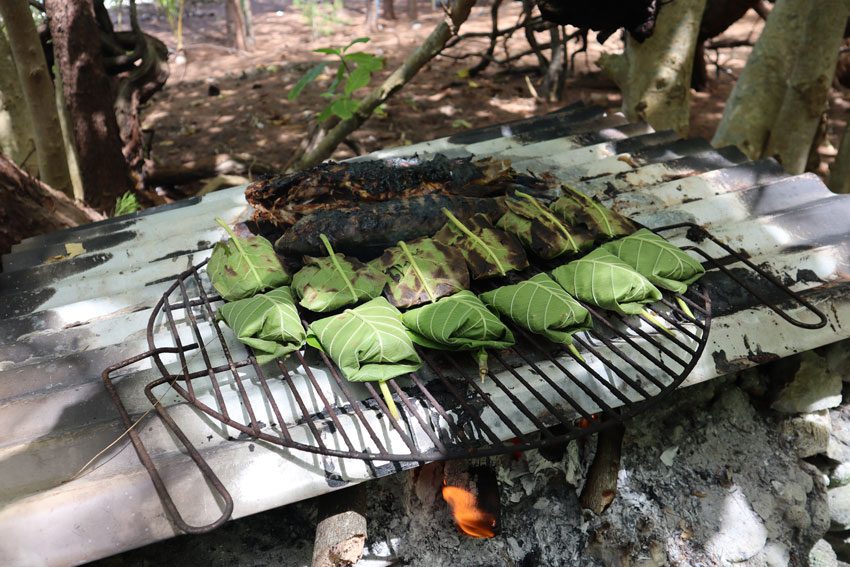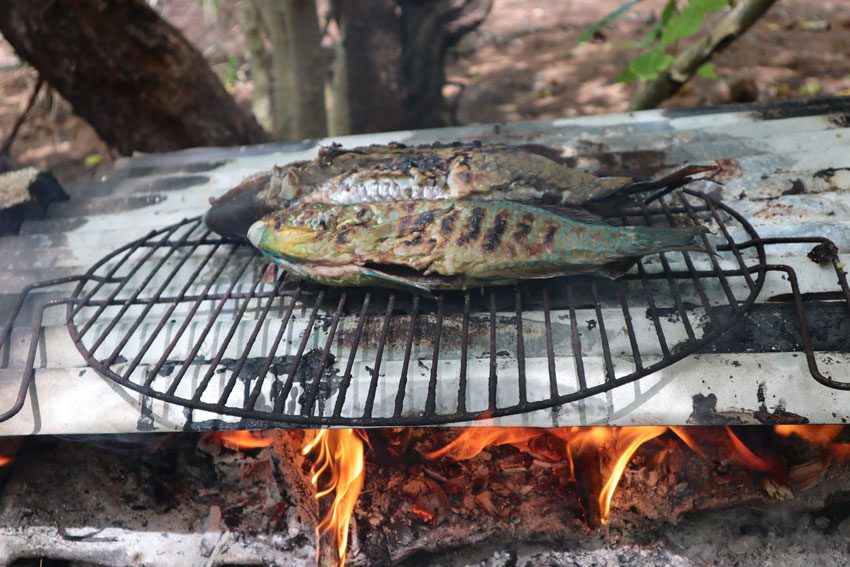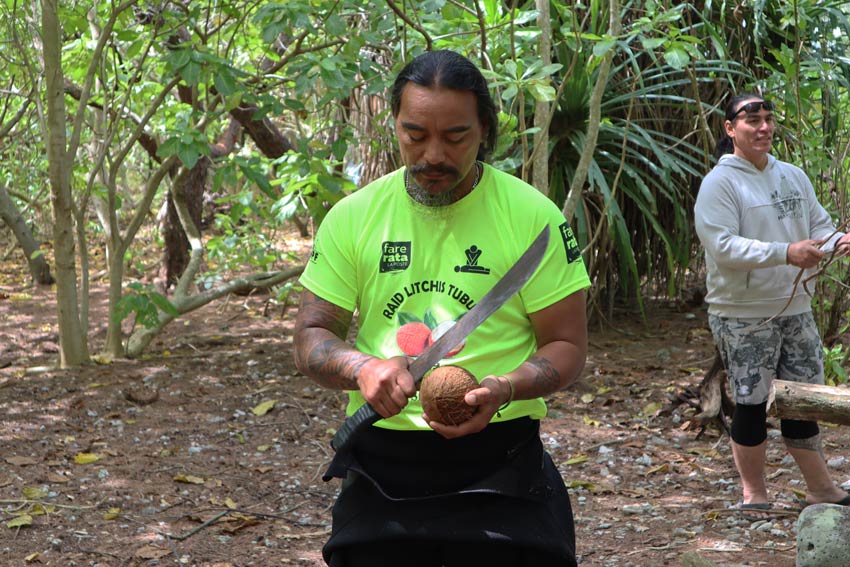 Our hosts Narii and his brother James were gracious enough to make an additional stop before heading back to the quay. We requested to see Motu One and, despite poor weather conditions, our hosts took us to see this strange sandbar floating at the edge of the lagoon. Perhaps someday, it will look like some of the other motu but for now, there is almost nothing but fine and soft white sand.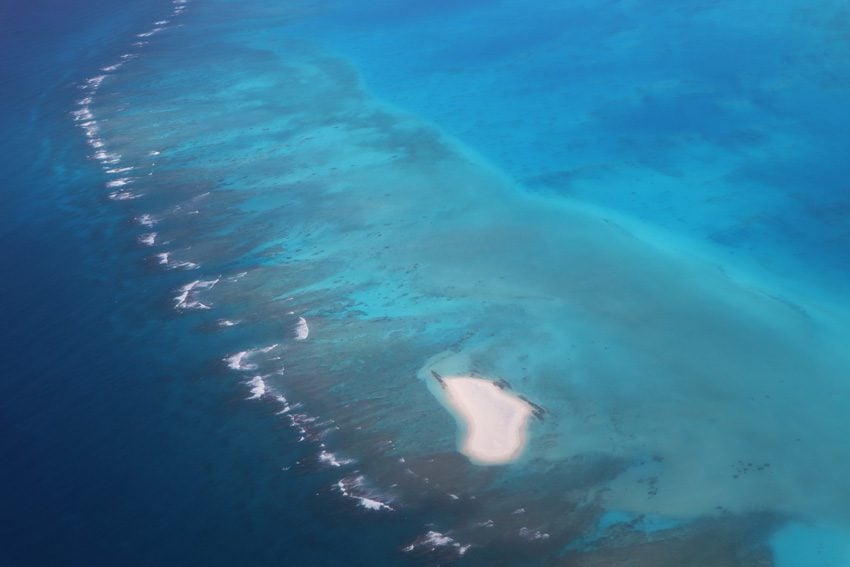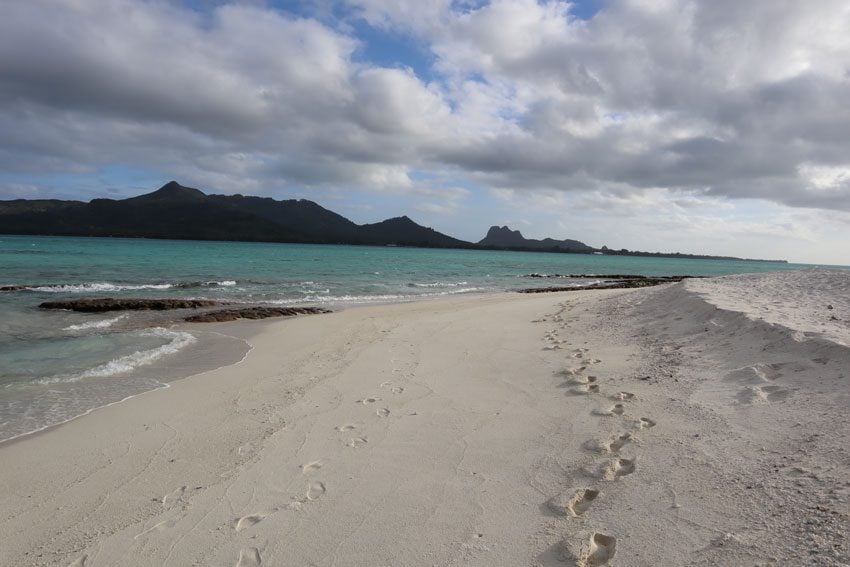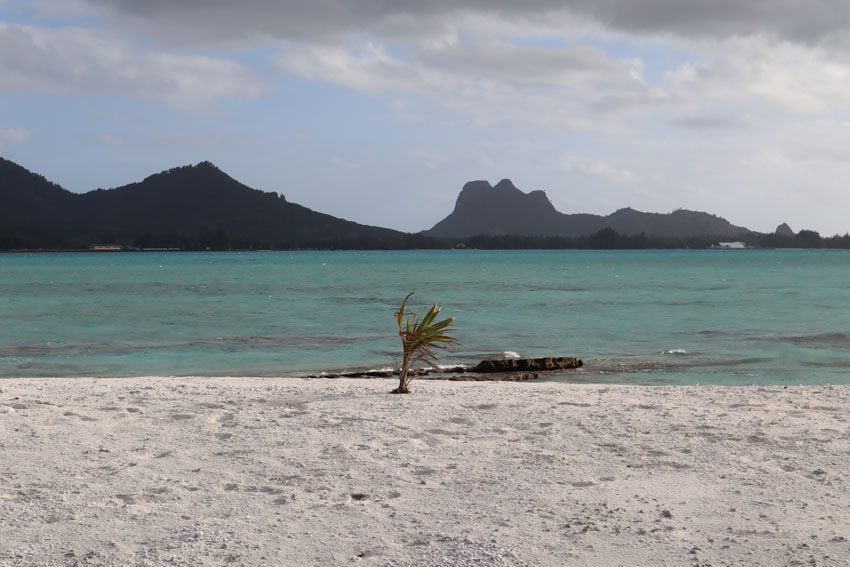 Logistics: we left at 9:30 and returned at 16:30 (because of the additional stop). Payment is in cash. Bring reef shoes, snorkeling gear, swimwear, water, beer (optional), sun protection, sanitary gel (for lunch), something warm for the boat ride. Note that water can splash over the boat so be prepared with the right gear to protect any valuables.
Scuba Diving & Swimming With Whales
For scuba diving and whale watching tours, get in touch with Tubuai Plongee. The coral around Tubuai is quite impressive, with both hard and soft coral in abundance. Technically, to dive with humpback whales, you do need a rebreathing system but inquire with the dive center for the various options.
Horseback Riding and Nautical Sports
Horseback riding excursions can be arranged in Tubuai. Simply inquire with your hosts about various options. Depending on the right people being on the island when you visit, it might also be possible to do some windsurfing.
Raivavae Travel Guide
It might sound like a travel cliche but visiting Raivavae really feels like going back in time. They say that Raivavae feels the way Bora Bora was a few decades ago. I wasn't around back then, but I can sure vouch for the authenticity of this seldom-visited island. It reminded me of an even slower version of Maupiti, a traditional island that has already been discovered by adventurous tourists.
With only a small number of tourists on the island at any given time and with the pace of life moving in slow gear, visit Raivavae if you're truly seeking to get off the beaten track. And we haven't even mentioned the island's impressive natural beauty, marked by successive high peaks and a clear lagoon dotted with nearly 30 islets (motu). I spent three days in Raivavae to complete my tour of the Austral Islands in late 2020.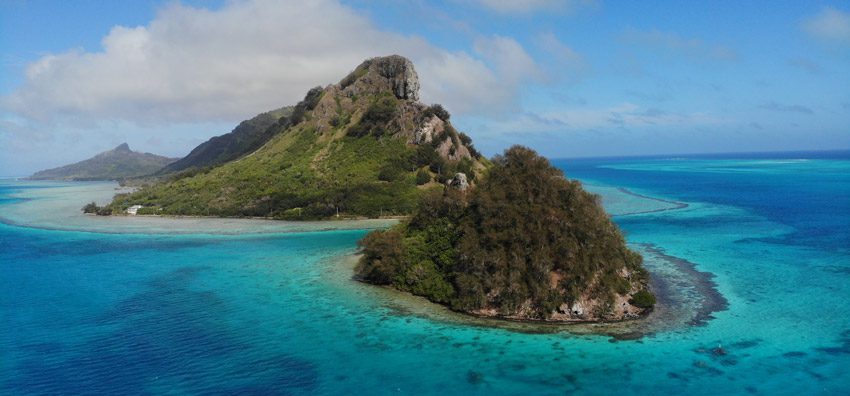 Brief History
Meaning "open sky" or "sunny sky" in the local dialect, Raivavae is a tiny island that measures less than 20 square kilometers. It's home to less than 1,000 residents who live primarily off the land. Located 257 km southeast of Tubuai, Raivavae is slightly milder in weather than its northern neighbors in the chain.
Raivavae was settled by ancient Polynesians together with other islands in the archipelago. It had a rich religious past as evidenced by the large number of ceremonial sites discovered on the island. Raivavae is still home to an original stone tiki statue, a testament to the island's superior sculptures. The Austral Islands were once home to many exquisite religious artifacts made from wood, stone, and animal bone, but they have been carried off the island to private collections and museums such as London's British Museum.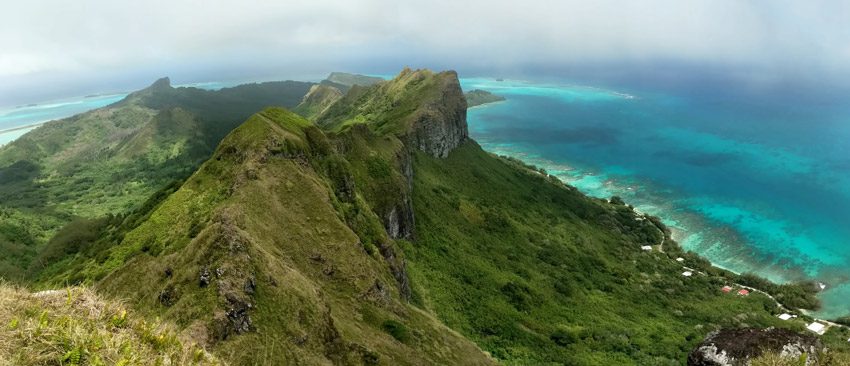 In 1775, Raivavae was first "discovered" by Europeans. It was the Spanish explorer Thomas Gayangos who spotted the island. During the 1820s, the inhabitants converted to Christianity, thanks to Protestants missionaries from the London Missionary Society (LMS). Due to this conversion, numerous sacred sites, as well as statues, were destroyed. At the same time, a terrible epidemic decimated the population, killing all the elders and other holders of the ancestral culture.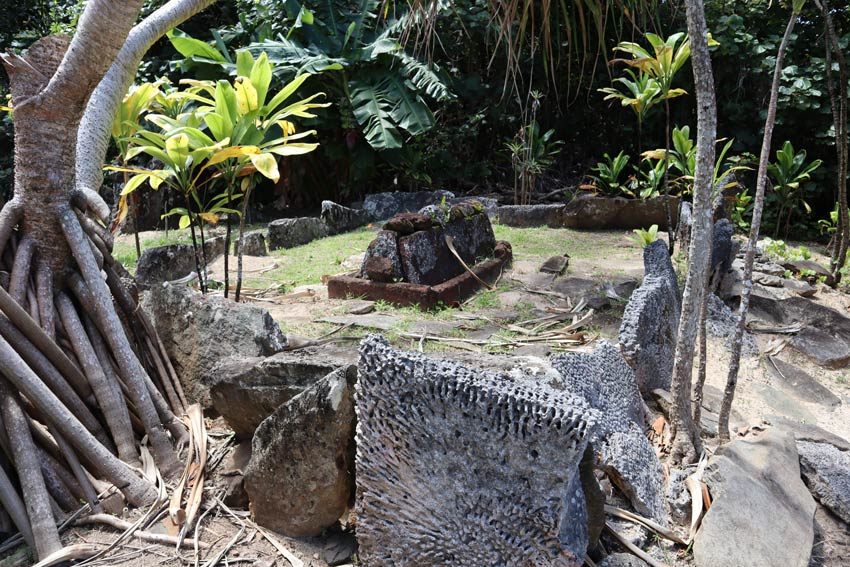 Raivavave was annexed to France only in 1880 (Tahiti was unofficially annexed already in 1842). Over the decades since, the island was quite off the grid, only accessible by cargo and cruise ships. In 2002, an airport was opened, its runway reclaimed from the lagoon. Since then, the island has been slightly modernized but is still very low-key. Tourists are slowly discovering Raivavae on their hunt for "authenticity", and locals are still figuring out how to balance ecotourism without disturbing their way of life too much.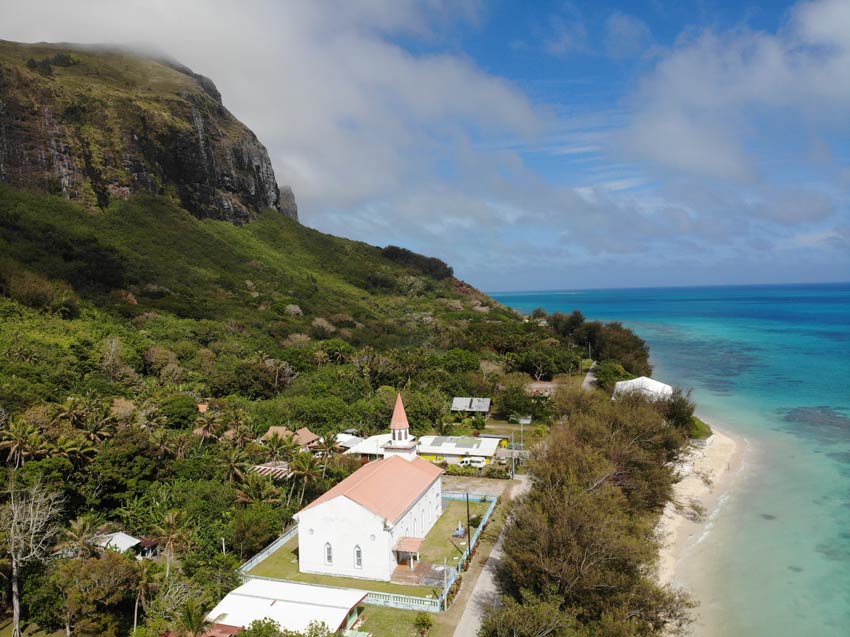 Raivavae Travel Tips
Listed here are specific travel tips for visitors to Raivavae. Be sure to go through the general Austral Islands travel tips in the first section of this Austral Islands Travel Guide.
The Local Dialect
It's hard enough to try and pronounce the island's name but let me add another twist to the story. On this island, they replace "r's" with "g's" so Raivavae becomes Gaivavae, ia ora na (hello) becomes ia oga na, and māuruuru (thank you) becomes mauguugu. I was certain that this is a prank played on rookie outside visitors but after a few hours on the island, I came to an understanding that this is indeed part of the local dialect. Locals mainly speak to each other in the local dialect and not in French, yet another proof of the authenticity of Raivavae.
When to Visit?
Like all islands in the archipelago, Raivavae is best visited during the dry season between May/June to October. These are also the cooler months of the year. If you visit between July and October, you might be able to see some humpback whales.
Flying to Raivavae from Tubuai
For aerial views of the main island, sit on the left side of the plane if flying from Tubuai and on the right side for views of Motu Piscine. The airport in Raivavae houses a small kiosk and a crafts shop.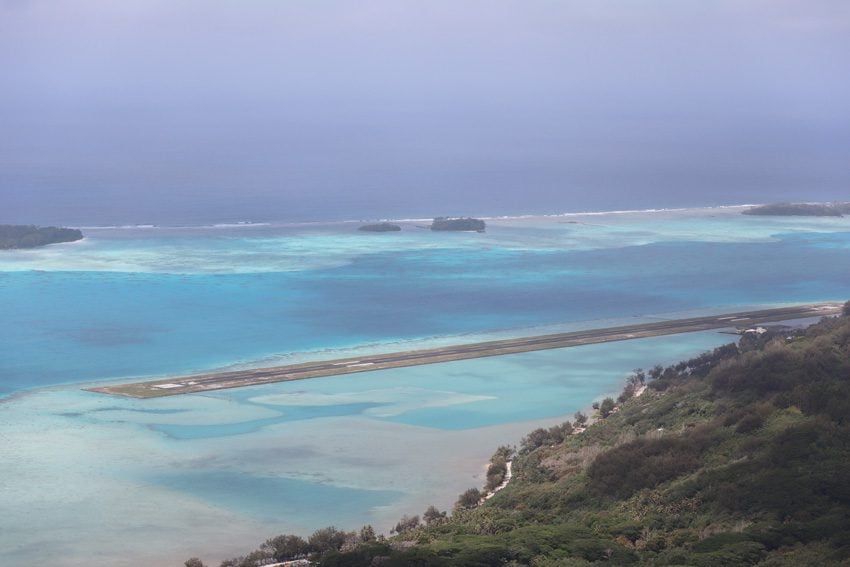 Where to Stay in Raivavae?
I stayed in Raivavae at Pension Vaimano, not too far from Vaiuru Village. It is owned and operated by Clarisse Paulin who is not only a very gracious host but also well-known in the Austral Islands for her tifaifai. In fact, she has won several awards in exhibitions in Tahiti over the years for her craftsmanship. Her pension has four bungalows perched on a hillside facing Motu Piscine. Units are equipped with a hot shower, mini-fridge, kettle, and a lovely porch that's perfect for chilling.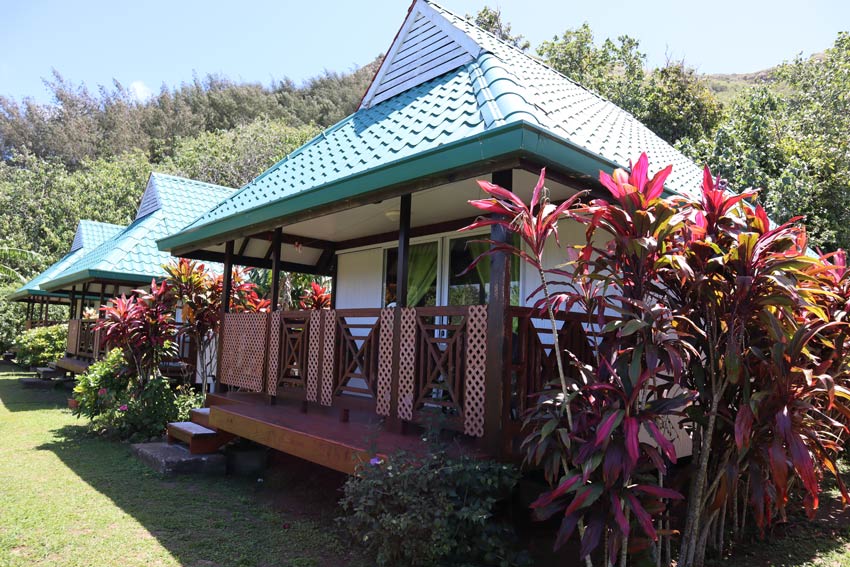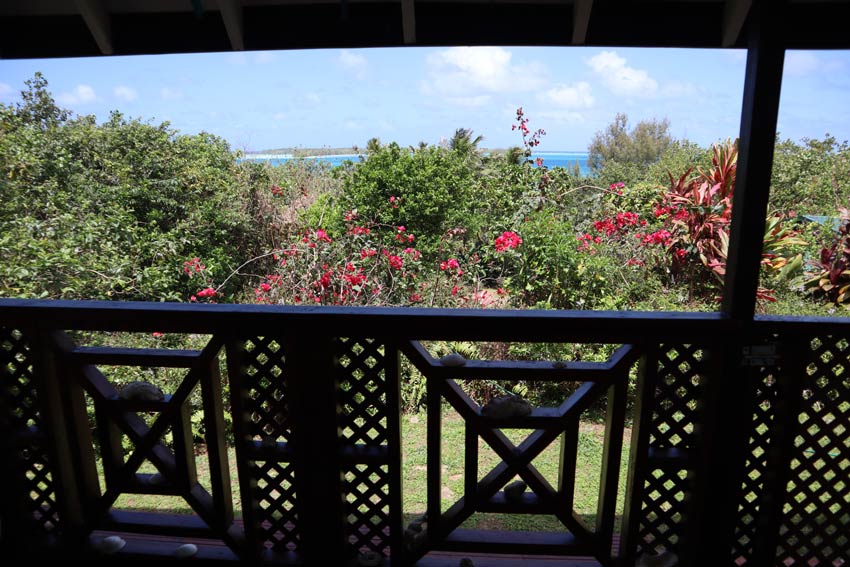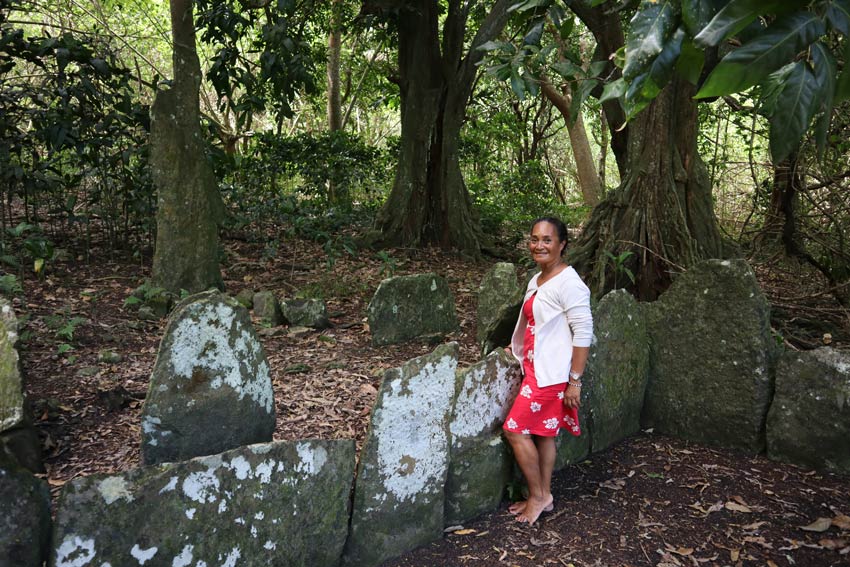 The room is quite spacious though the wooden beds are squeaky. Bicycles and kayaks are free to use but there was no WiFi at the time I visited since the utility company had not laid out infrastructure to this part of the island.
Though Clarisse worked for the tourism office many years ago, she either does not speak English at all or is too shy to try. She will understand some of what you say but it's best to come equipped with Google Translate downloaded to your phone. Breakfasts are an absolute delight, thanks to her homemade coconut bread, French bread rolls, honey, and jam. Dinners are very generous but the chats with Clarisse are the best part. Clarisse also offers guided island tours (3,5000 XPF) and guided hikes to Mount Hiro (3,500 XPF including snacks).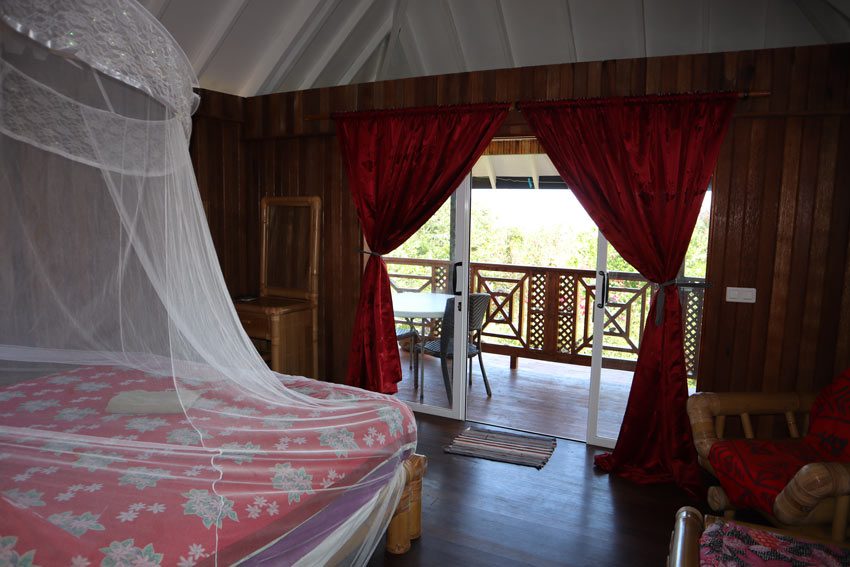 Other recommended options in Raivavae are Raivavae Tama Resort, Pension Ataha, and Pension Chez Linda. You'll also find a few low-key options on Airbnb and a few other pensions that are more of a homestay type of accommodation.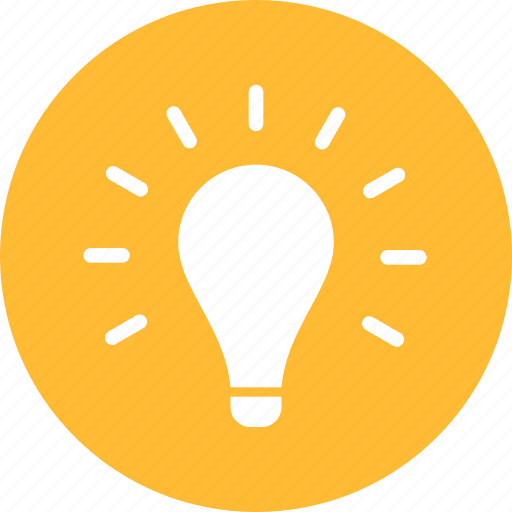 Pro Tip
It is possible to sleep on Motu Piscine itself in a small cabin. On Airbnb, you'll see a few listings by "Angelique". Contact them to see if they can arrange accommodations on the motu itself (approx 8,000 XPF per night).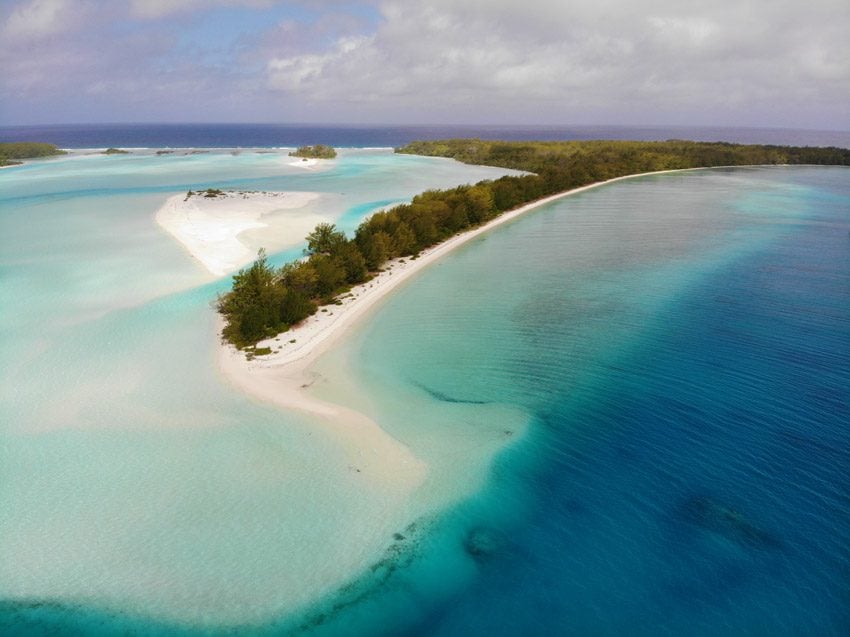 Getting Around
Raivavae is a tiny island so it does not have public transportation. Walking and cycling are great ways to get around the island. Hitchhiking should also not be a problem.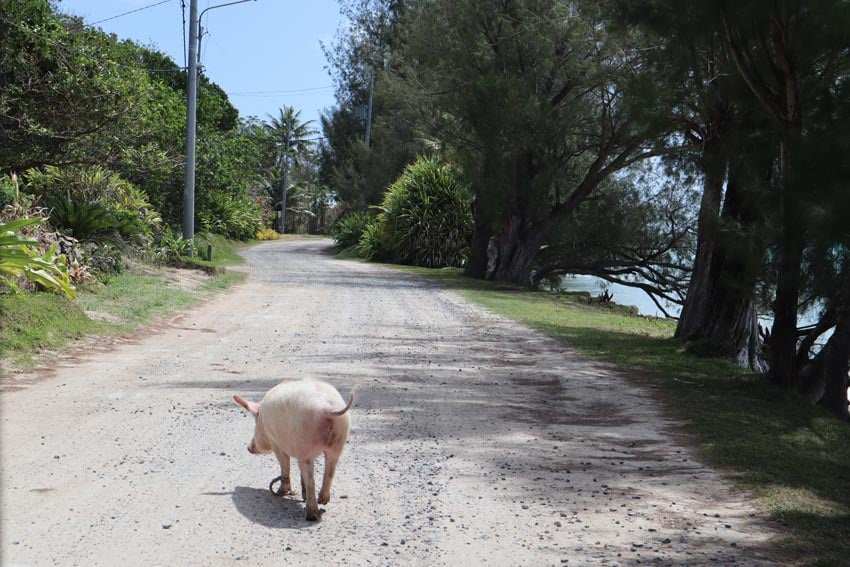 Mobile Reception & Internet
If you have a Vini Travel Card, you might have 3G in certain sections of the island. When I visited Raivavae, internet was not available in all parts of the island so my best advice is to tell your loved ones who might worry that you are off the grid for a few days. The post office in Rairua Village does have a hot spot that you can connect to for a small charge.
Money
It's best to come prepared with enough cash as credit cards are not widely accepted. The post office in Rairua Village has an ATM which I was told also accepts foreign cards.
Drinking Water
Water was not safe to drink out of the tap in my pension so be prepared for the possibility that you'll need to buy drinking water in grocery shops.
Food
Your pension stay will be on a half-board basis. For snacks and lunch, every village should have at least one small grocery shop but it's important to sync with your hosts about their opening hours. As always in the Austral Islands, I recommend flying to a new island with a sandwich or some snacks for the first day.
Agriculture Restrictions
At the time of my visit to Raivavae, it was forbidden to enter the island with any fresh produce. This included fruits and vegetables from other islands, even from within the archipelago, but also flower necklaces which sadly must be left on the plane. The good news is that you'll most likely get a fresh flower necklace from your hosts upon arrival.
Dogs
Almost every Polynesian house is guarded by at least one or two dogs. In Raivavae, they seemed to be slightly more aggressive, leaving their "extended perimeter" more than the usual. Simply cross to the other side of the road and keep walking. They'll eventually come to a halt and head back.
What to Pack
It can get a bit chilly at night in Raivavae during the dry season so pack some warm clothes (but not too many). Be sure to also gear up for both snorkeling and hiking.
Things To Do In Raivavae
All the following spots are highlighted in the Austral Islands travel guide map. I also recommend reading this Austral Islands itinerary to see how to put everything together.
Around the Island
Raivavae's coastline is ringed by a 20-kilometer road that can be easily covered by bicycle. Not all sections were paved when I visited in 2020. There is also a cross-island path that cuts through the rainforest. It's best to join a half-day island tour and get a measure for the island but especially to learn about its history and current state. In later days, you can revisit your favorite sections. I joined a three-hour island tour offered by Clarisse Paulin from Pension Vaimano (3,500 XPF).
Island Life
Less than 1,000 residents live in Raivavae and they seem to be going about their lives with a great deal of tranquility. As you round the island, you'll notice that no matter how simple the homes are, their gardens are perfectly manicured. Houses seem to have exceptionally large mailboxes on the main road but those are actually for baguette delivery every morning. In the absence of a cemetery, locals still bury their loved ones directly on the property.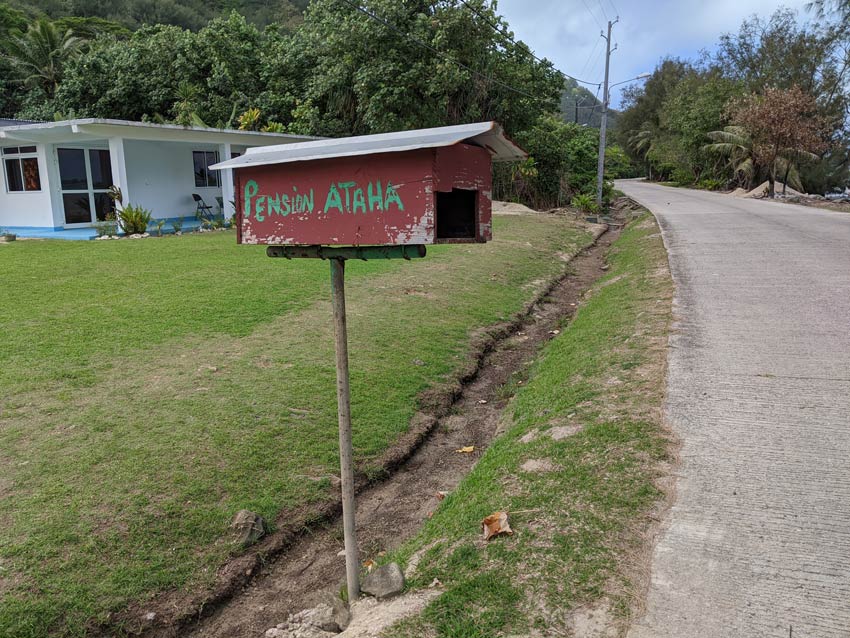 The slow pace of life is evident as you circle the island. From time to time, your host will come to a stop to give way to pigs, chickens, or dogs crossing the road. The lagoonside is also dotted with many wooden canoes. Those are the signature canoes of Raivavae and an indication of the reliance on fish as a main part of the local diet.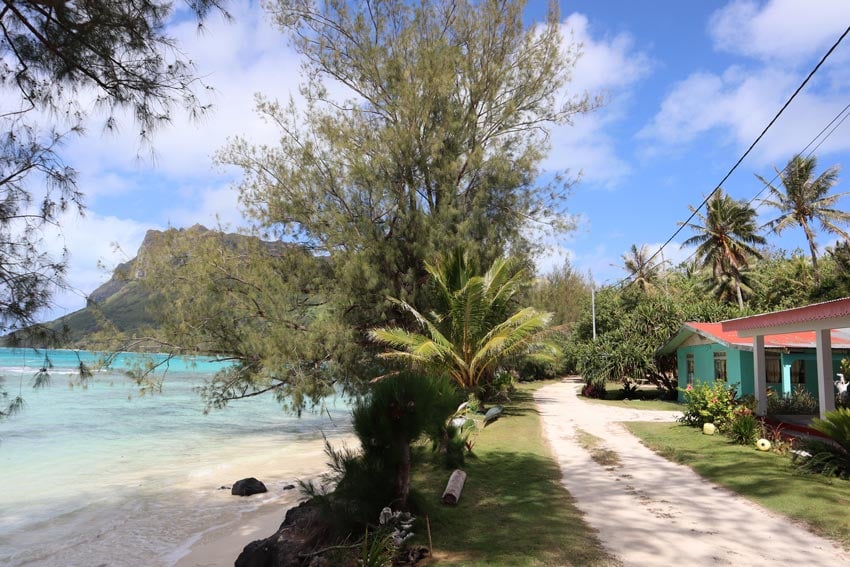 Marae Mauna Oto
This ceremonial site lies on private land. If you visit with a local guide there is no problem but if you're on your own, ask for permission first unless a sign says otherwise. This marae was a site of sacrifice and as you enter the complex, there's another small platform next to the large pandanus tree that's known as the "princess marae".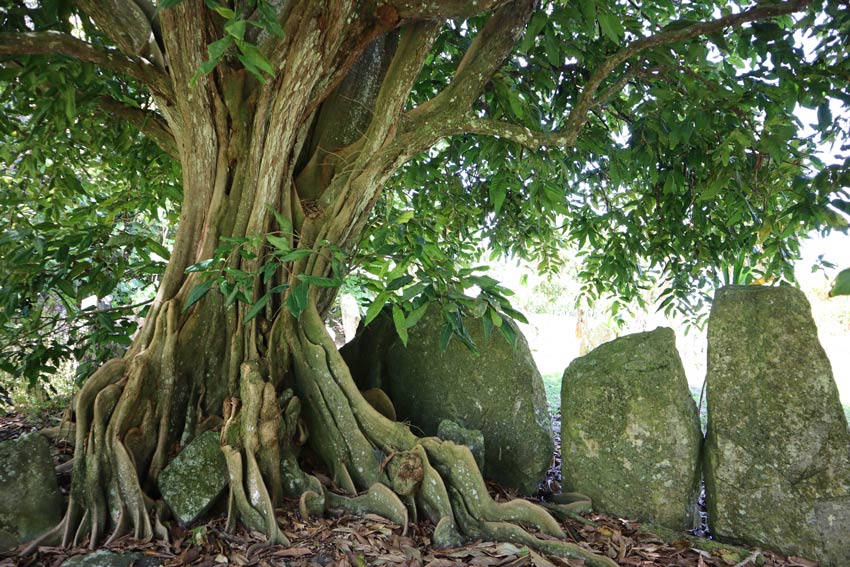 Vaiuru Protestant Church
The dominant denomination in Raivavae, this is one of two impressive churches on the island.
Cross Island Road
Enter the wild side of Raivavae, an area that was in pre-missionary days a popular place to live, evident by the numerous ancient relics uncovered by locals and researchers. Nowadays, the interior is a wild rainforest where wild coffee and bananas freely grow. Small paths veer to agricultural plots owned by the communes and various families.
Marae Puapua Tiare
Challenging to find, I was guided to this impressive unrestored complex by a barefoot Clarisse. This marae was used for birth-giving and medicinal ceremonies. The complex features a rock used for measuring height and rocks with cavities that were used for making medicine. When a newborn came to the world, a special rock would be banged on to announce to the gods and the commoners of this special event. Around the complex are mape and falcata trees that are used locally for making canoes.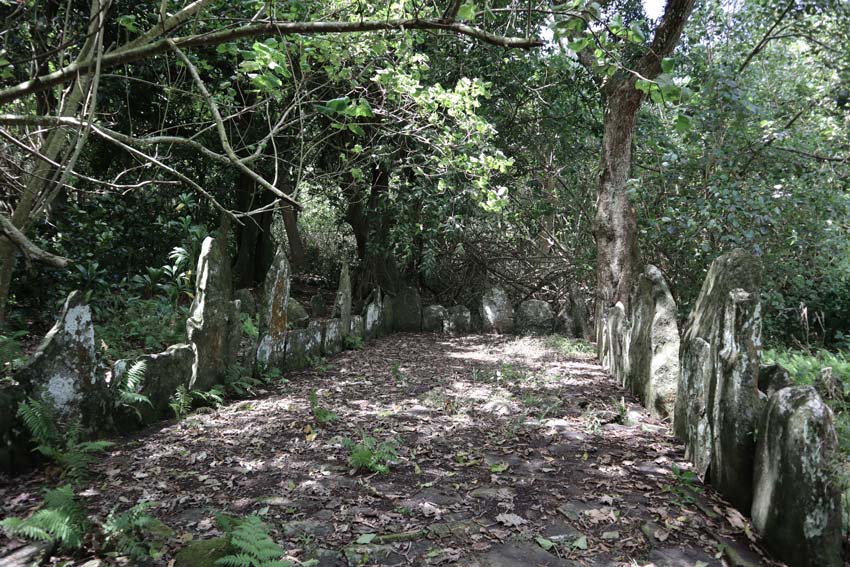 Marae de la Reigne Akiivainee
Across the road from the previous stop, this small marae is said to have been used by the queen for birth-giving. Notice the main rock that certainly seems to be fashioned in the right angle for birth-giving.
Motu Hotuatua
A beautiful high islet rising close to the shore of the main island. It might remind you of a small Thai island. The meaning of its name is "rock of the woman" and to make a long story short, there's a legend about a man and a woman who fought for this place and the woman won. There's a small and dreamy sandy beach on this motu. Inquire with your hosts about permission to kayak there.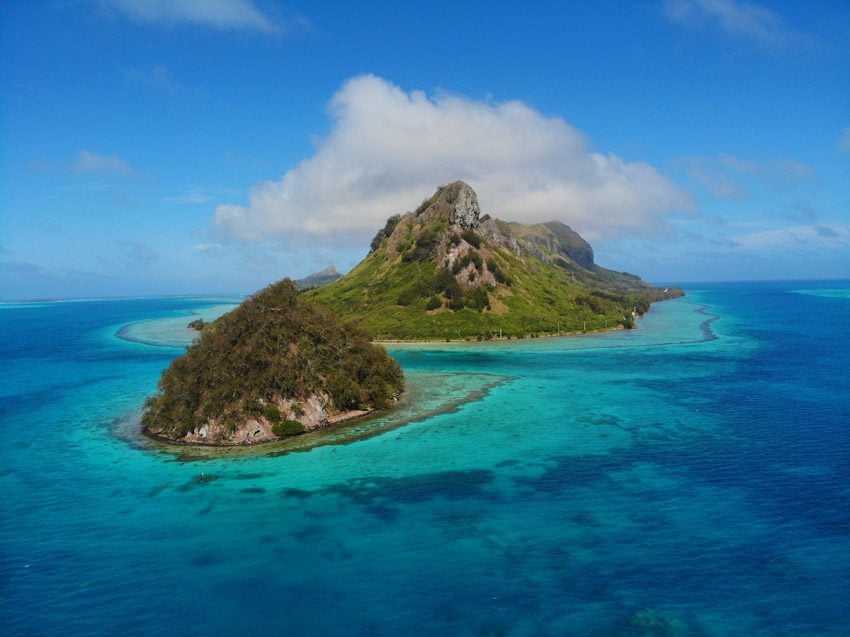 Antonu Village
There are a few grocery shops, a school, and another beautiful Protestant church in this village. Clarisse also took me to a workshop where locals still make traditional wooden fishing canoes.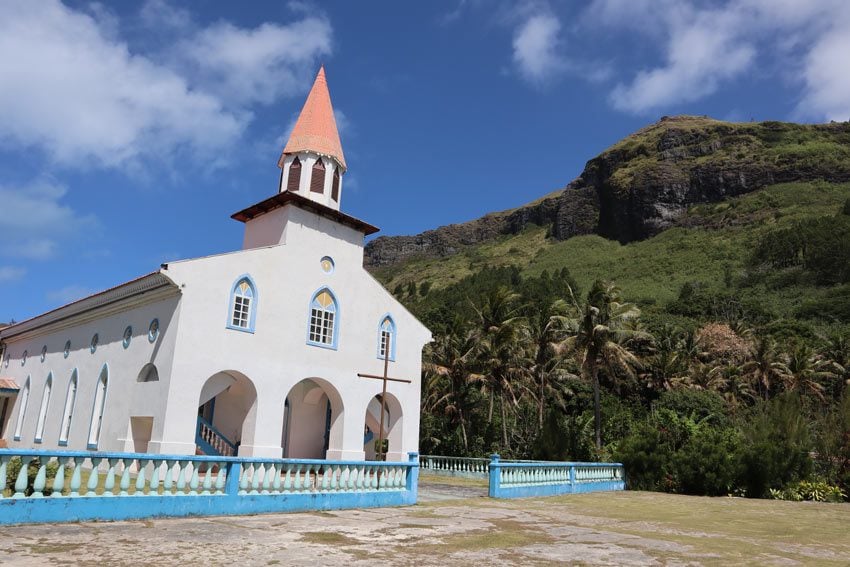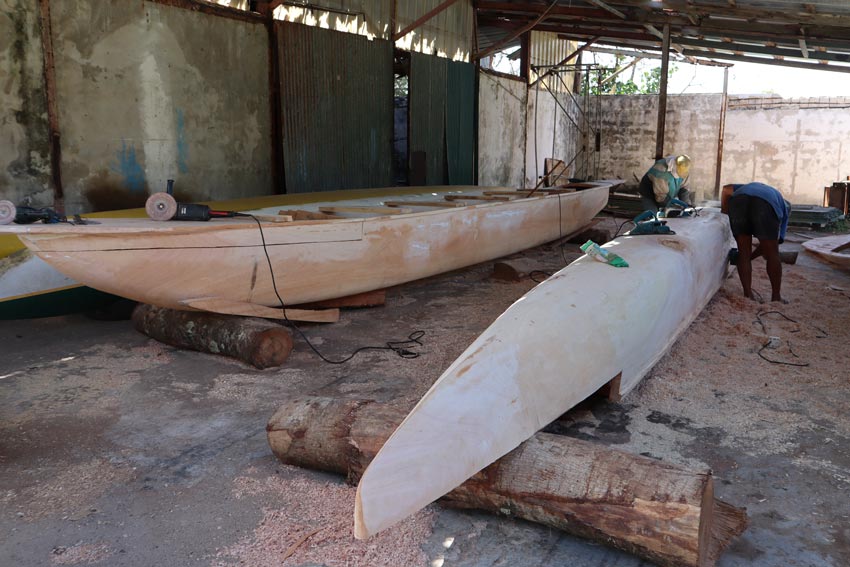 Plage Ruatara
Arguably the best beach on the main island, sheltered by high basalt cliffs and radiating under the warm sun.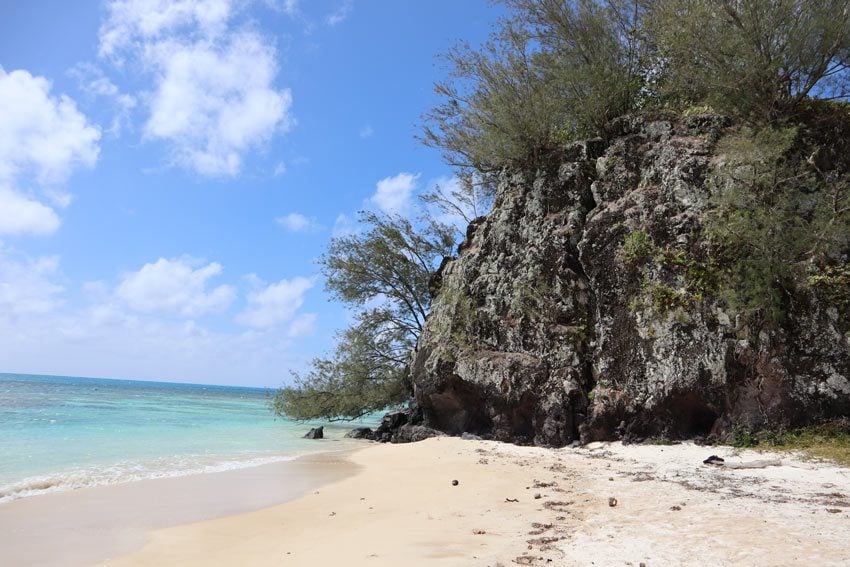 Mahanatoa
After the Protestant Church of Mahanatoa, take a right, park the car and walk a bit to enjoy great views of the mountain range and the coastline. The lagoon pass is somewhere nearby.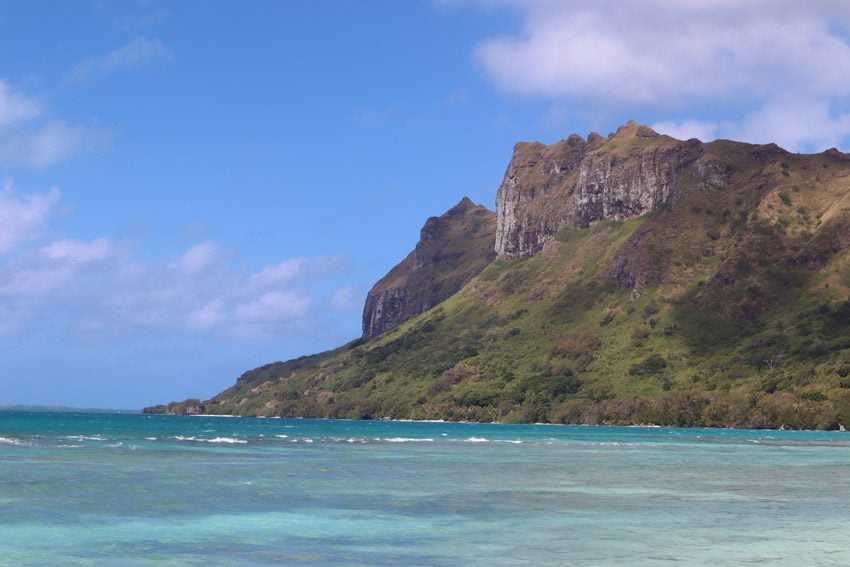 Smiling Tiki
The only remaining original tiki on the island is on private property. If the owners are present, it shouldn't be an issue to pay a visit.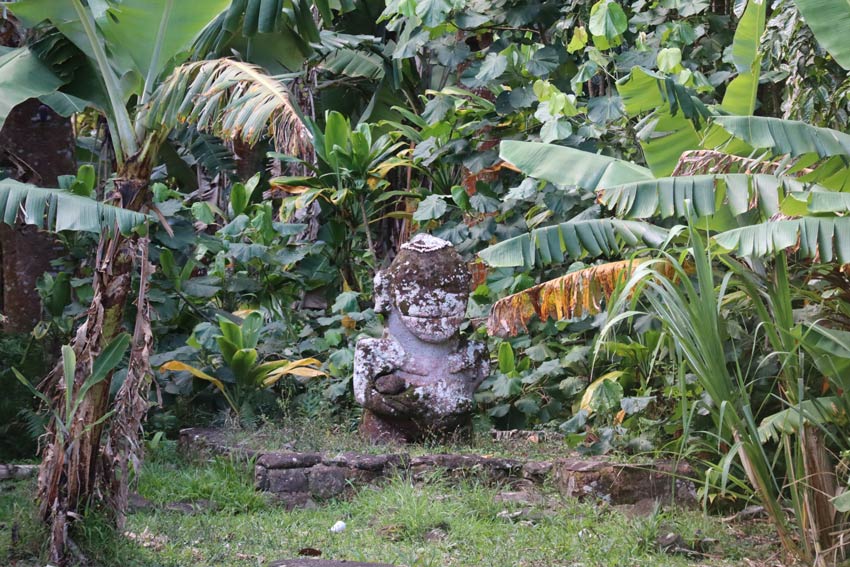 Rairua
The administrative center of Raivavae. The post office is here in case you need cash and an internet hotspot.
Cave
As you round the westernmost part of the island, there's a cave that can be visited. Inquire with your hosts if it's worth it.
Mount Hiro Hike
At an elevation of 437m, Mount Hiro is the highest peak in Raivavae, and hiking to its summit is one of the best hikes in French Polynesia. I've heard the name Hiro on several islands and everyone has a different legend about the mythical hero. The one I was told by Clarisse is that Hiro created Raivavae according to oral tradition, then he proceeded to create Tubuai, Rururutu, and Rimatara. He then moved on to the Society Islands and New Zealand, before returning to Tahiti.
Hiking to Mount Hiro is a short yet challenging experience. It should not be undertaken if it's raining and extra care is required if it has rained in previous days. Ask your hosts to drop you off close to the trailhead and ask for directions. You'll basically need to walk up an overgrown path from the main road and then head right once you reach a small building at the top of the steep path. At this point, cross the creek and follow the path using the red and white ribbons. You'll then begin to hike up the mountain via a series of steep rope-assisted switchbacks. Done with the switchbacks, you'll reach a clearing where you'll finally start to enjoy the views. This first section takes about one hour to complete.
From here, it's a short hike through a few hundred meters of thick and thorny bushes. Some sections are very slippery and steep so take extra care and always be prepared for a fall. This will continue until you've reached the ridgeline and the fun part of the trail.
There are two summits along this ridgeline. At the first summit, there's a large clearing where you can take a break and enjoy the best views of Motu Piscine on this trail. Mount Hiro is just a short distance away and you'll reach it by carefully walking on the ridgeline.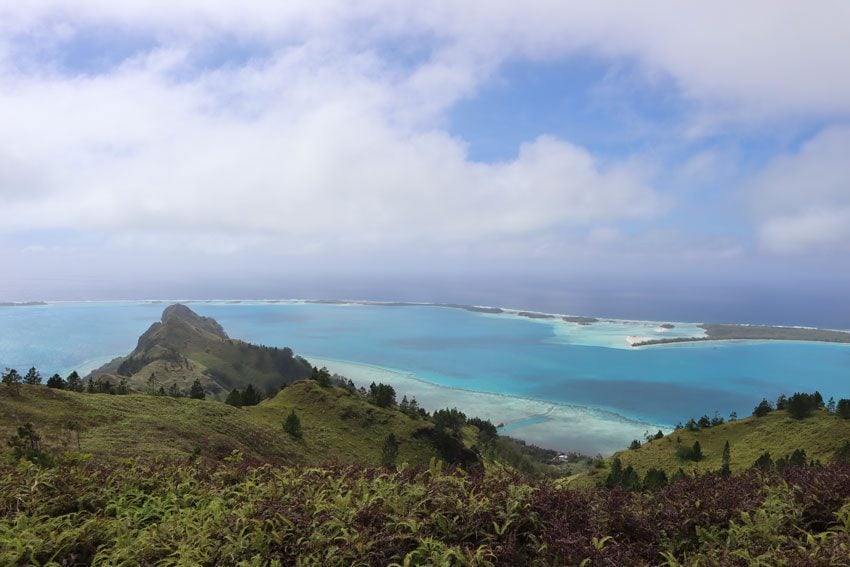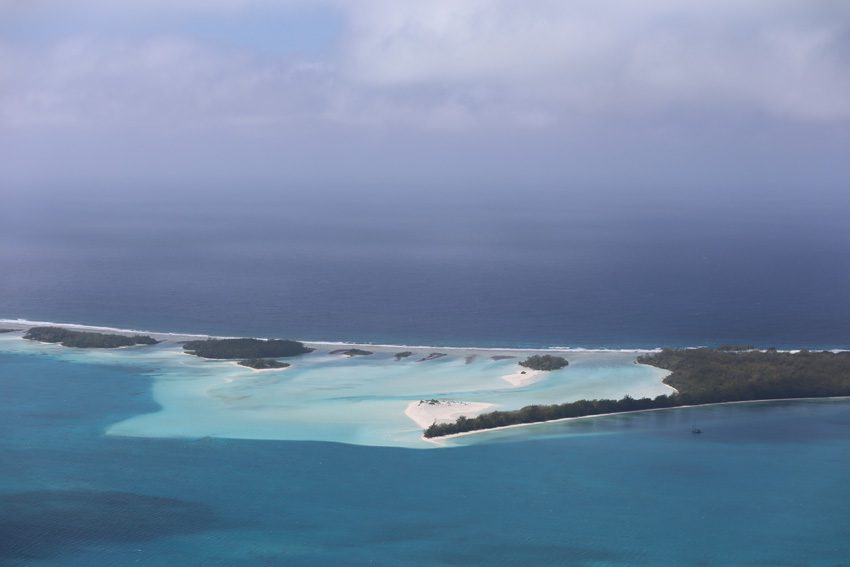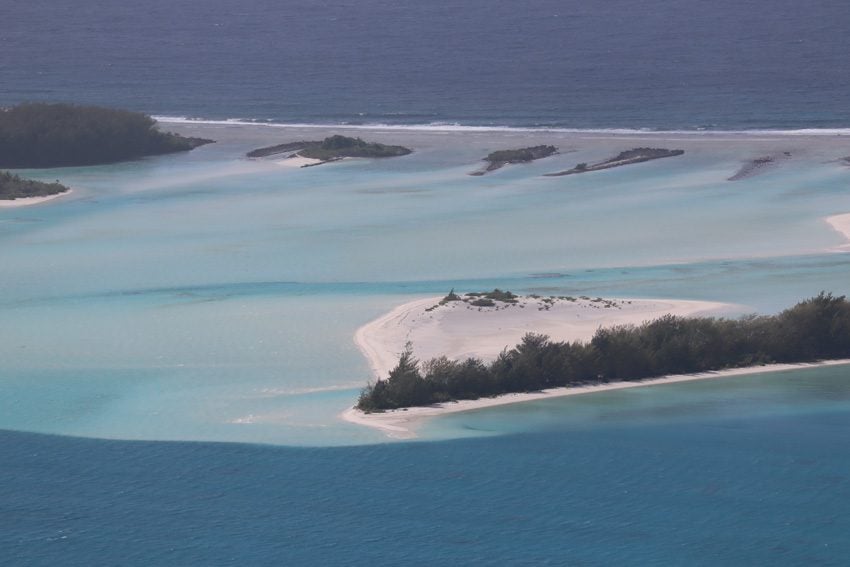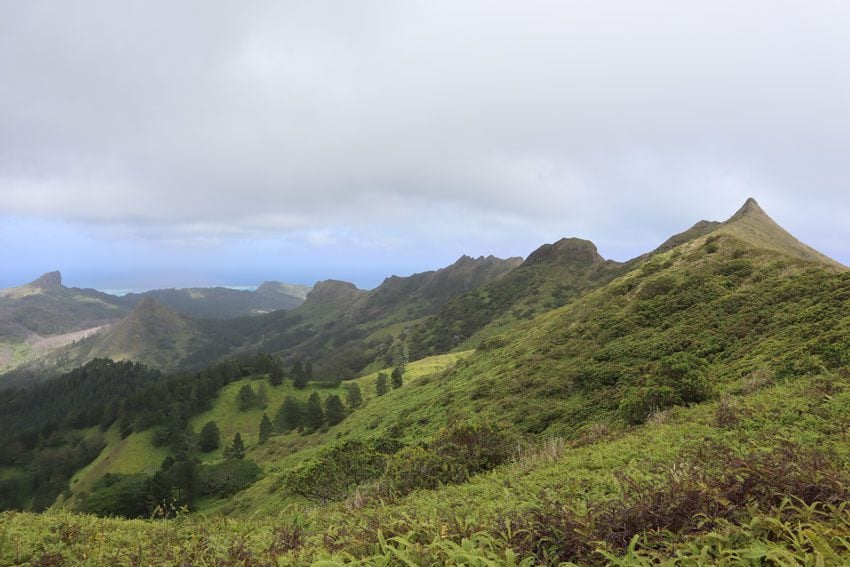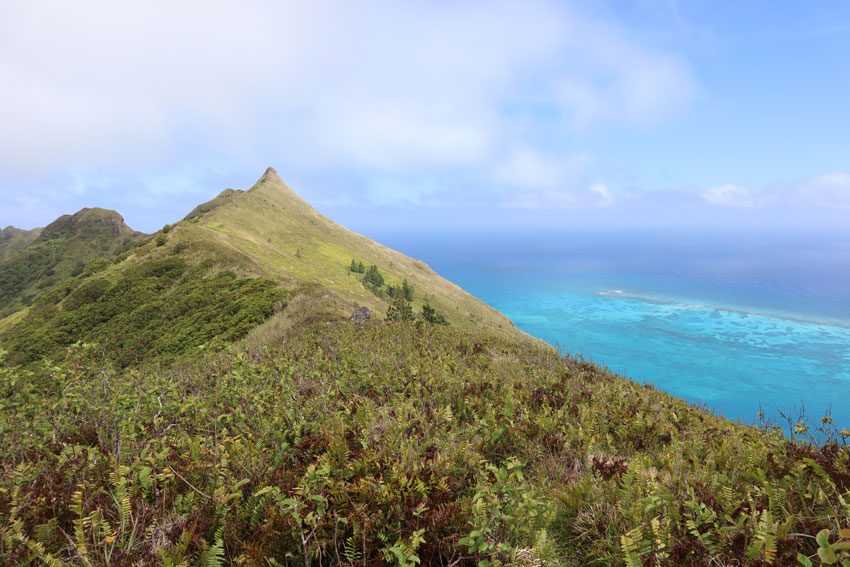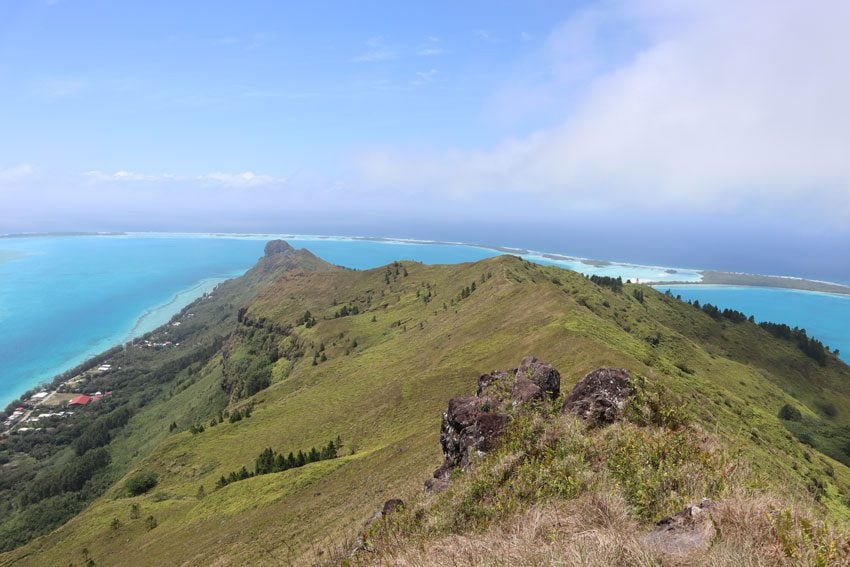 The view from the summit of Mount Hiro is one of the finest views in the South Pacific. You'll want to stay here for at least an hour to enjoy the sites and sounds. Keep your eyes peeled for birds riding the thermals and for wild goats that somehow manage to graze on the steep slopes.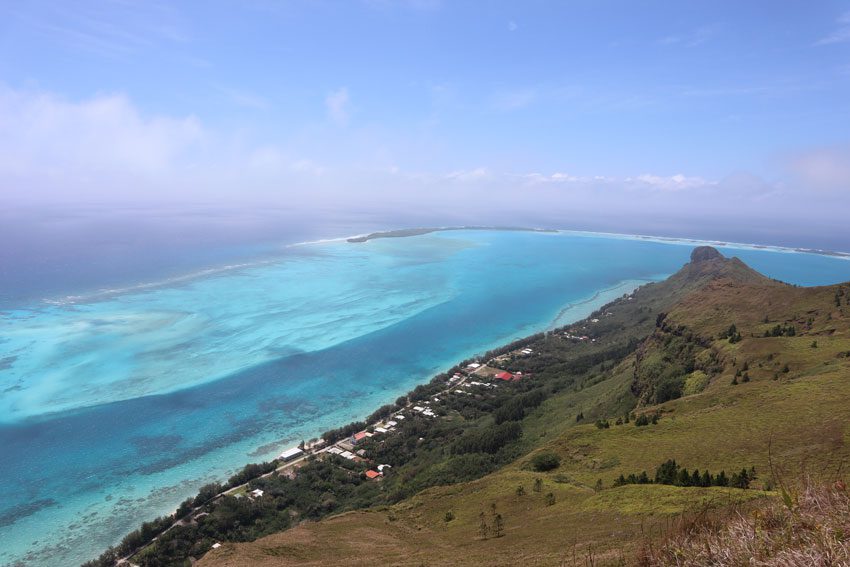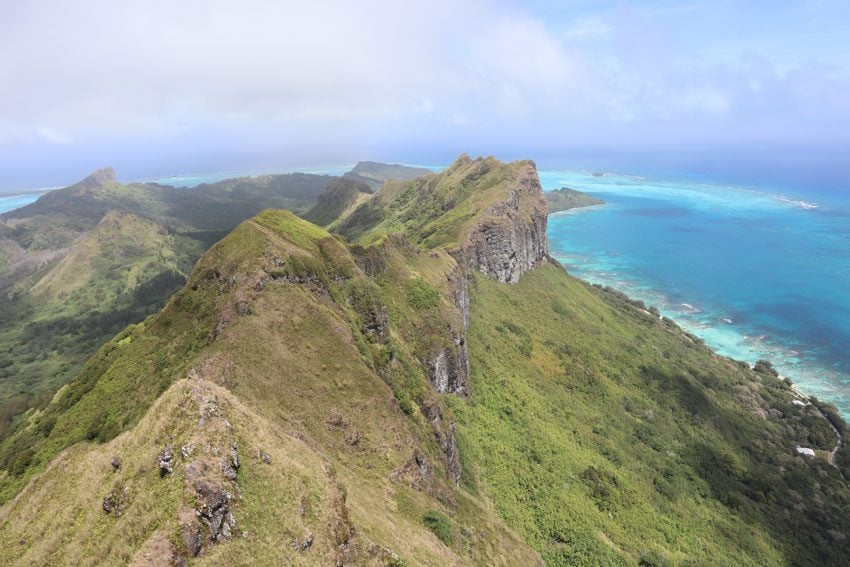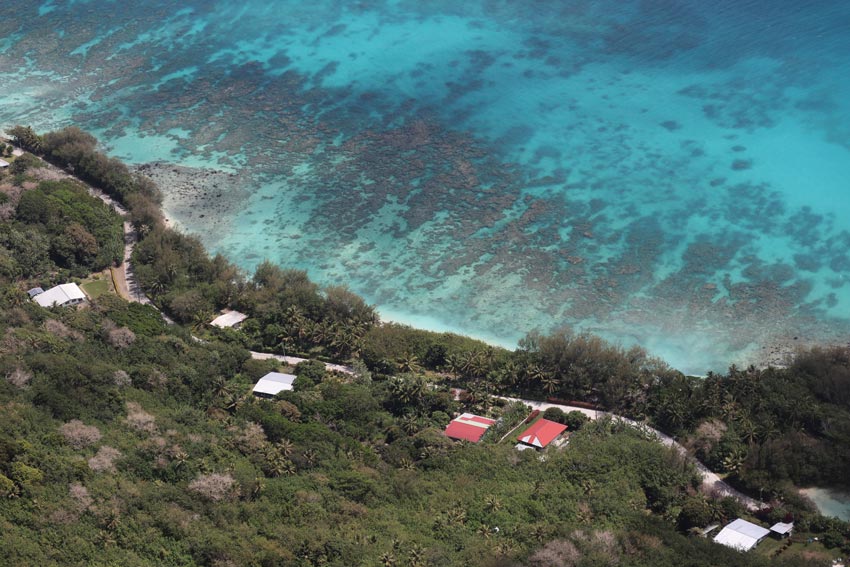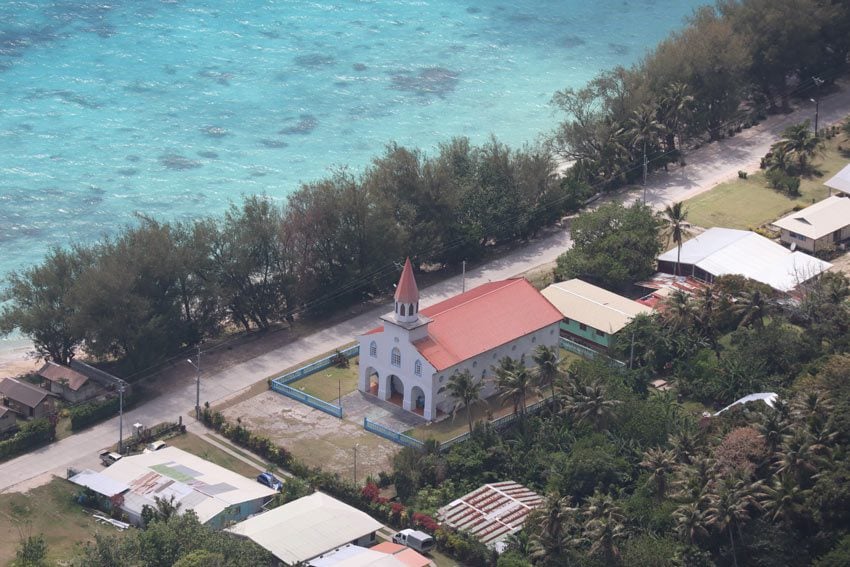 Logistics: the hike takes 4-4.5 hours to complete including stops. Be prepared for windy and exposed conditions at the summit. I highly advise you to wear proper hiking shoes and long pants. Poles might come in handy for extra stability.
Motu Piscine
Without a doubt the crown jewel of Raivavae, Motu Piscine is home to one of the best beaches in French Polynesia. Known as Motu Vaiamanu, locals call this place the swimming pool motu. The motu has spacious untouched landscapes and more than a mile of beaches lined with vegetation. With its blues of indigo and turquoise, this place is the perfect postcard scene that comes to mind when thinking of Polynesian islands.
All pensions should be able to arrange day trips to Motu Piscine, where clear waters, snorkeling, and traditional food are on the menu. It's also possible to sleep on Motu Piscine (see "where to stay" section).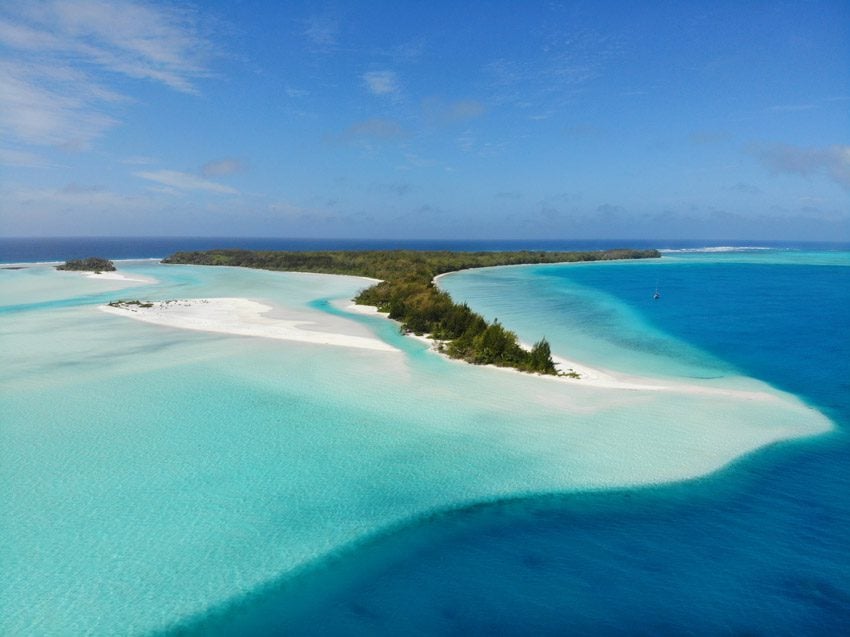 Whale Watching
Whale watching and swimming with whales in Raivavae isn't as popular as it is in Rurutu. But whales do visit between July and October and apparently, they like to hang around the reef side of Motu Piscine. Ask the locals if any excursions are available. I've also been told there's a "whale cemetery" and marae dedicated to whales somewhere on the island.
What's Next?
With this Austral Islands Travel Guide, you are now prepared to visit some of the more accessible islands in the archipelago. To further explore your options, I recommend going over the following resources to see how to put the puzzle together on your visit to the Austral Islands.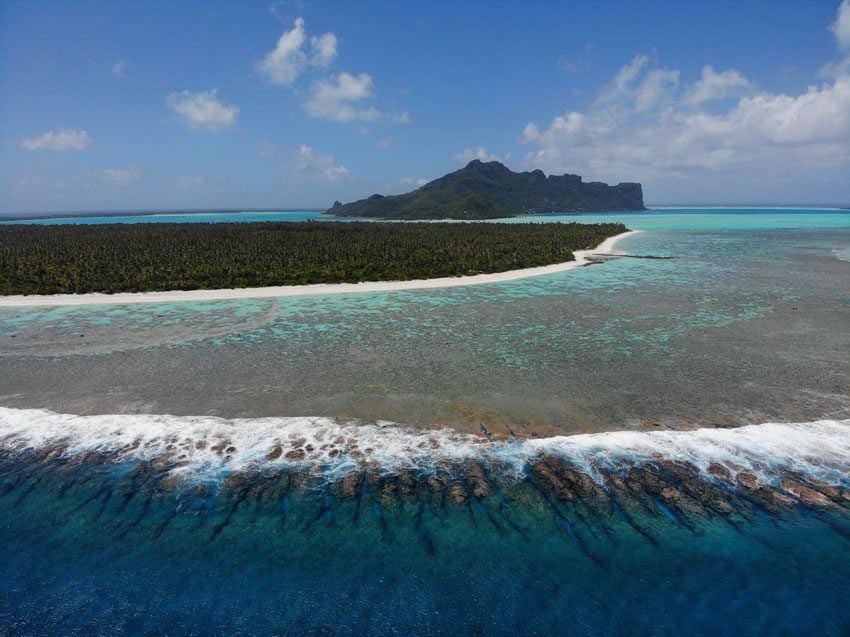 Tahiti, Tailor Made!
The Islands of Tahiti are among the last places to be colonized by mankind, 118 islands, each with their unique personality.
Get expert advice and assistance with planning your trip to the destination where tropical dreams come true!
See Options
---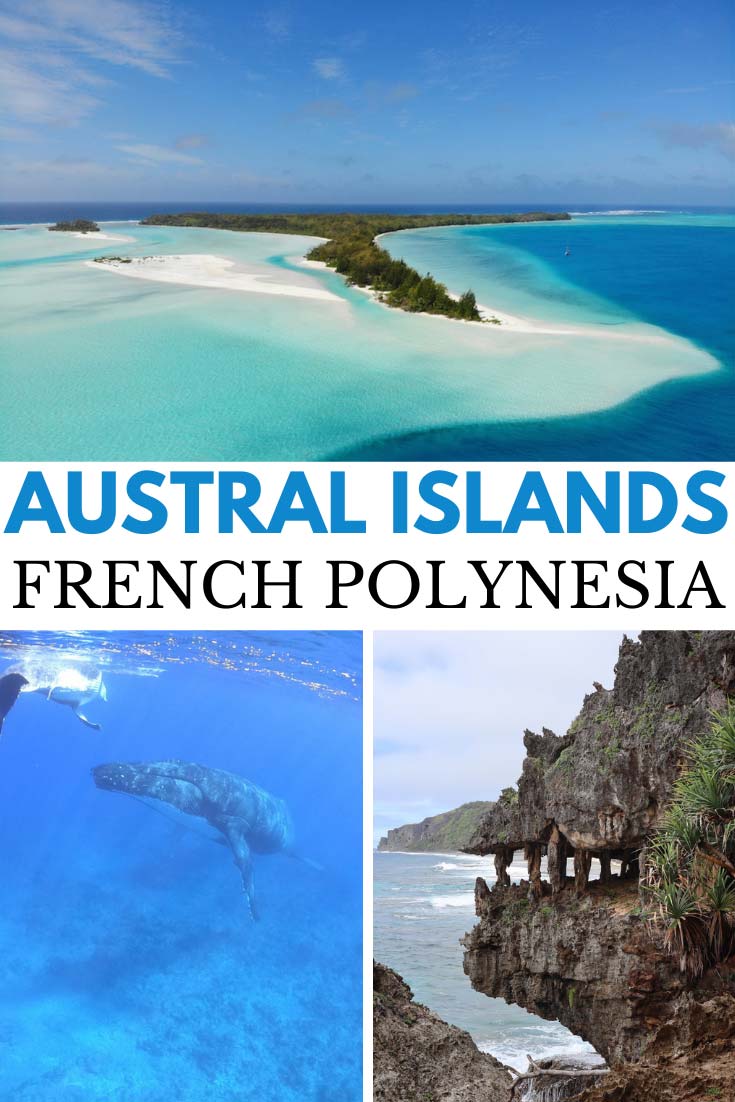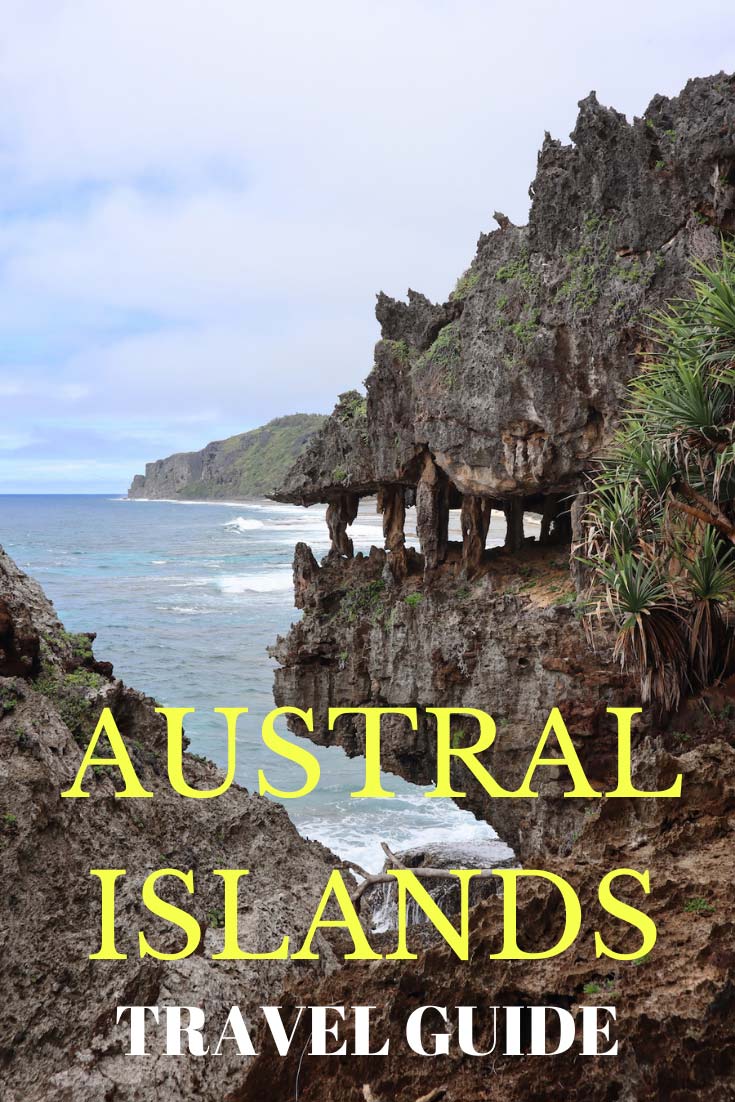 Pin These Images To Your Favorite Boards!