How to Plan a Trip to Tahiti Like a Pro
The islands of Tahiti have sparked the idyllic image of a paradise on Earth ever since the first contact between European explorers and native Polynesians. Though hard to find these days on the tourist map, these exotic islands in the South Pacific still retain much of their original allure. A vacation to Tahiti has a lasting effect on every visitor. The sheer beauty of its islands and the friendliness of its people are second to none. Learn how to plan a trip to Tahiti with this guide and experience the magic of Tahiti on a vacation that will change your life.
Heading off to French Polynesia? In-depth island guides to all 5 archipelagos await you, including sample itineraries and essential travel tips & tricks.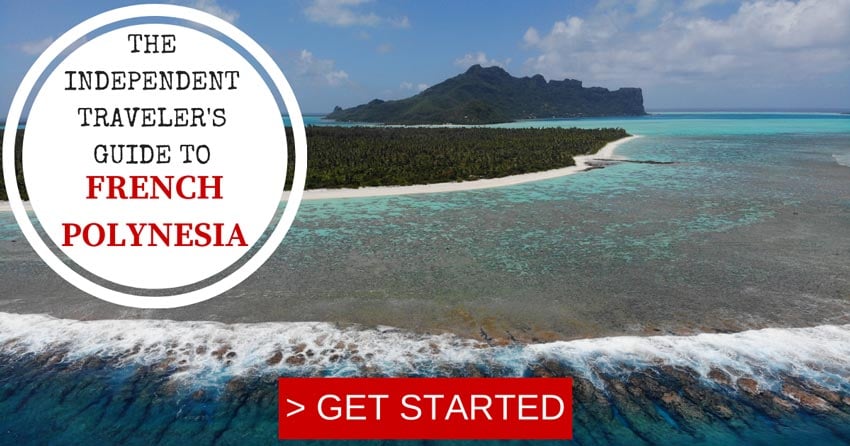 About this Guide
After many years of dreaming, I first made it to Tahiti at the very end of a long voyage across the South Pacific Islands in 2015. It was a life-changing experience for me and I have since returned to Tahiti on four additional occasions. I have written extensively about traveling to Tahiti on this website and in other publications. My passion has led me to extensively research Polynesian history and I currently lead organized tours to Polynesia in addition to helping independent travelers plan tailor-made trips to French Polynesia.
Tahiti, Tailor Made!
The Islands of Tahiti are among the last places to be colonized by mankind, 118 islands, each with its unique personality.
Get expert advice and assistance with planning your trip to the destination where tropical dreams come true!
Tahiti vs. French Polynesia
Just to set the record straight, Tahiti is the name often used in the travel world to refer to French Polynesia. In fact, Tahiti is just one island among the 118 islands and atolls that make up the French territory. Tahiti is the largest and most populated island in French Polynesia, home to its capital city, Papeete.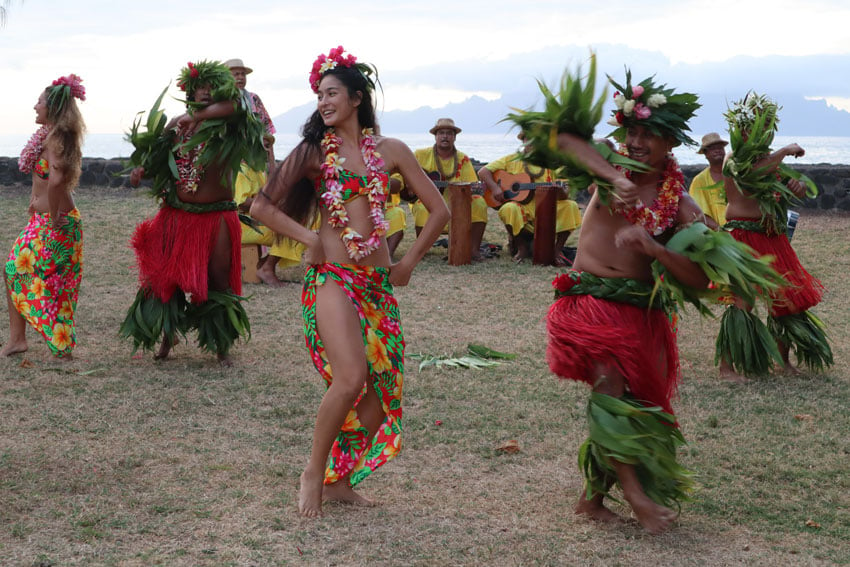 Where is Tahiti
Tahiti is located in the heart of the Polynesian Triangle, an imaginary triangle running from Hawaii in the north to New Zealand in the west and Easter Island in the east. Polynesia is an immense region in the Pacific Ocean, dotted by roughly 1,000 islands and atolls. Tahiti is the largest island in French Polynesia and the gateway for international travelers to the French territory. Flight time to Tahiti from the west coast of the United States is about eight hours and from New Zealand about 5.5 hours.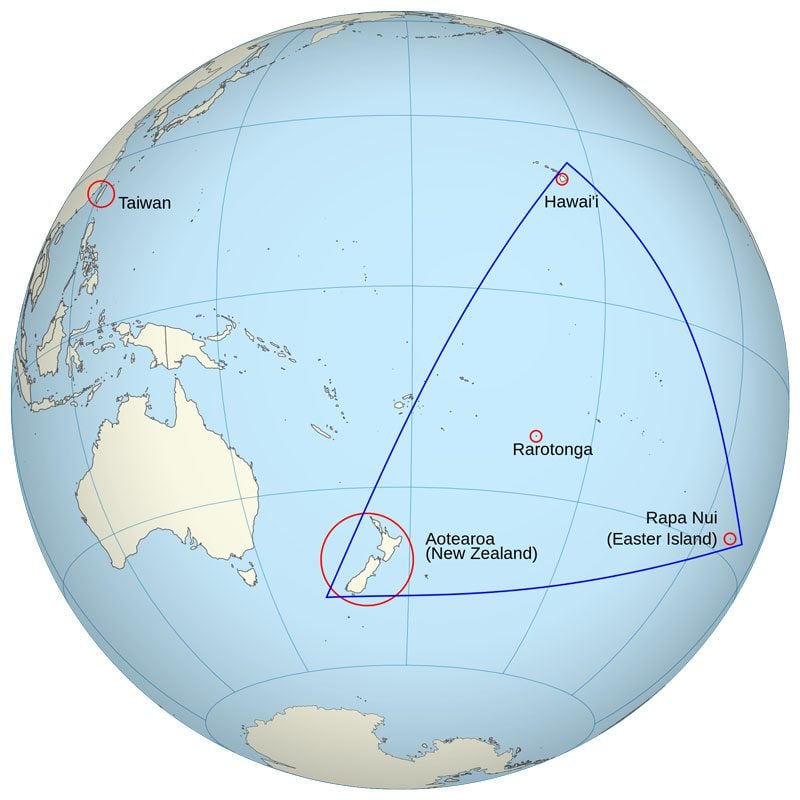 Why Visit Tahiti
For most travelers, Tahiti is the furthest destination you can visit while wearing shorts and a T-shirt. Due to its isolation, Tahiti is one of the last places on Earth to be discovered and colonized by humans as part of the great Polynesian migration. It is the ultimate destination for lovers of tropical islands and, in my opinion, the closest definition of a tropical paradise on Earth.
I'm often asked why bother traveling so far and visiting Tahiti? There are five "ingredients" that make Tahiti such a special destination.
The diversity of islands:

Tahiti is just one island of French Polynesia's 118 islands and atolls, which are divided into five distinct archipelagoes: the

Society Islands

, the

Marquesas Islands

, the

Tuamotu Atolls

, the

Gambier Islands

, and the Austral Islands. Each archipelago has unique geology and vibe so hopping from one archipelago to the next is like traveling to a new destination. Within the archipelago, every island looks and feels different as well.
The lagoons:

nowhere on Earth will you find such majestic lagoons as in French Polynesia. The uniqueness of these lagoons lies in the manner in which they "hug" high volcanic islands that rise in the middle of the lagoon, like in

Bora Bora

. The exception to this is the lagoons of the Tuamotus, where there is no high island. These coral atolls resemble giant pearls when viewed from the air. The high islands that once stood here have long since sunk beneath the waterline and all that's left is a ring of coral sand with an immense lagoon in the middle.

The people

: Polynesians are among the friendliest people you will ever meet. They are very connected to their ancestral heritage and to the beautiful land and sea that is their home. Flower necklaces, smiling, and saying hello when passing by are all genuine parts of life in these islands. You will find that making a connection with the locals unlocks memorable experiences and life lessons.

The tourist numbers:

traveling to Tahiti was reserved only for luxury travelers in the past but this isn't the case today. That said, Tahiti still only gets a fraction of the visitor amounts that Hawaii sees on an annual basis (roughly 200,000 vs. 9 million). Fewer tourists mean you'll feel more special in Tahiti, often be the only hiker on a trail, and never have to work hard to find an empty beach. In case you're contemplating, here's an article comparing

Tahiti vs. Hawaii

.

Mana

: Polynesians believe their islands were blessed with a supernatural power called

mana

, and many believe it can still be felt around various sites throughout the islands. After a few days in Tahiti, you, too will feel the mana. I kid you not. The combination of the reasons listed above plus a mysterious "x-factor" casts a spell on you, only fully realized when you return home.
Video Tour of the Islands of Tahiti
Here's a relatively lengthy but (I guarantee) enjoyable video that takes you across all five archipelagos in French Polynesia. You might need to disable your ad blocker for the video to load.
When is the Best Time to Visit Tahiti
When thinking about how to plan a trip to Tahiti, this is really the most important thing to consider. Being in the tropics, Tahiti has two distinct seasons: a dry season and a wet season. That said, since we're talking about small specks of land in the world's largest ocean, this isn't an exact science.
When To Visit?
June-September: the "dry" season is the best time to visit Tahiti. This period is marked by trade winds, which sweep the region, bringing cooler temperatures, less humidity, less cloud-cover, and obviously less rain. July also sees the annual Heiva Festival in Tahiti, a celebration of traditional Polynesian culture, with minor festivals on other islands throughout June and July. From August to October, humpback whales visit French Polynesia. Due to the cooling trade winds, choppy waters in the lagoons can make things uncomfortable during periods of high swells.
November-March: The "wet" season begins in late November and lasts until April. It doesn't rain all the time and a typical day will start with a dry and cloud-free morning, rain the afternoon (often time only on the "wet" side of the island), and a perfect sunset. That said, there are prolonged periods of rain, especially during December. Though rare in French Polynesia, cyclones are also a possibility during these months. Humidity levels and cloud-cover are also high during this period but accommodation rates are lower. Another bonus is generally calm and flat lagoons, perfect for snorkeling and photos.
Shoulder seasons: the months between the official seasons are also a good time to visit. The weather might be slightly unstable but you'll enjoy lower visitor numbers in the popular islands.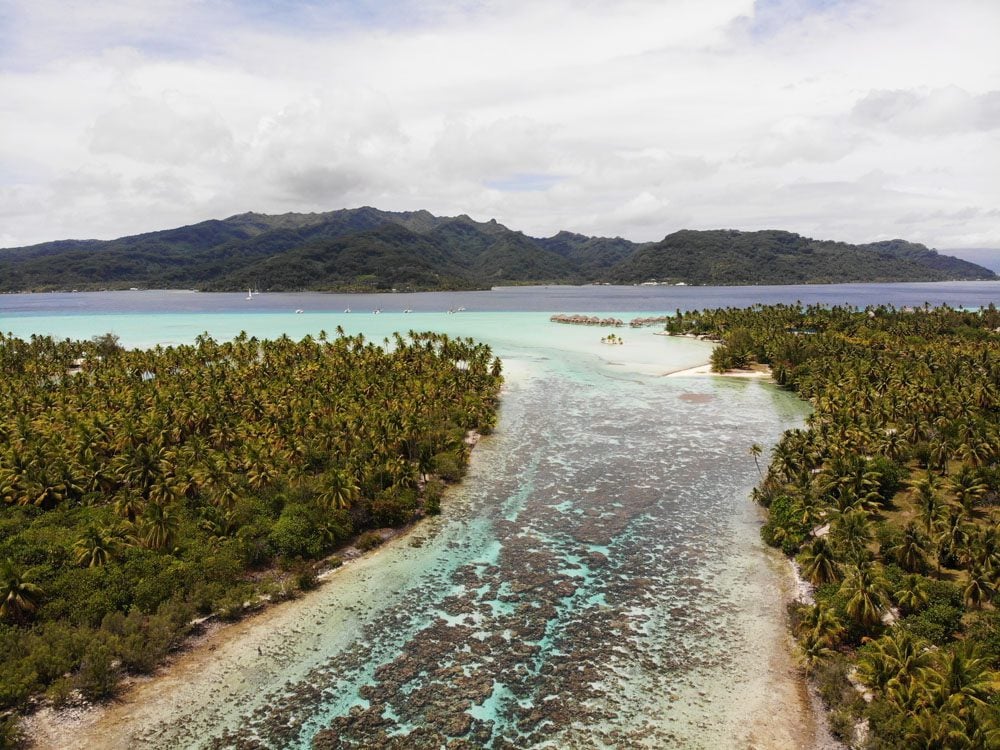 How to Get to Tahiti
The easiest way to get to Tahiti is by air, though many cruise lines offer itineraries that include a few islands in French Polynesia. At the present time, you can fly to Tahiti from Los Angeles, San Francisco, Honolulu, Auckland, Easter Island, Paris (with a stopover in North America), Japan, and the Cook Islands. The COVID-19 crisis severely crippled the airline industry so this list might change by the time you're planning your trip to Tahiti.
How Much Does a Vacation in Tahiti Cost
Perhaps the "million-dollar" question, Tahiti is often perceived as a luxury honeymoon destination, where you either need to take a loan, win the lottery, or break a savings account to pay a visit. If you're looking to stay at an overwater bungalow for the entire stay, this might also be true. However, if luxury isn't the sole purpose of your trip to Tahiti, you'll find that traveling in French Polynesia is very reasonably-priced (considering its location), roughly equivalent to traveling in Western Europe during peak tourist season.
Moreover, it is now a lot cheaper to get to Tahiti from Europe and North America thanks to new airlines entering the marketing such as French Bee and United Airlines. If full recovery is made from the COVID-19 airline crisis, airfare should remain reasonable.
Average Costs
Here's an in-depth
cost breakdown
from my first trip to Tahiti (2015-2016) and current average prices for key expenses:
Night in a luxury overwater bungalow: starting from 400$

Night in a pension/boutique lodge: 90-300$
Car rental: 60-110$ per day
Full-day lagoon excursion: 80-130$
Two-tank scuba dive: ~140$
Beer in a restaurant: ~6$
Meal in a local restaurant: 15-25$
Cultural show: 70-120$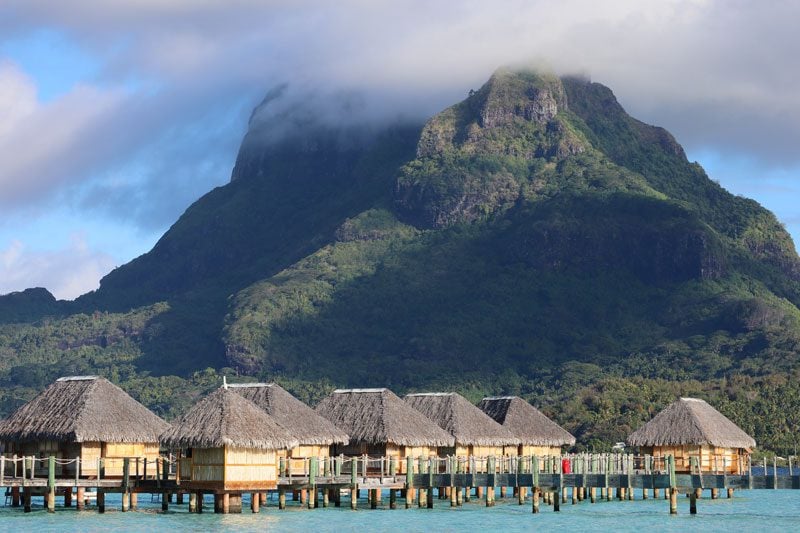 How to Save on Costs in Tahiti
Here are a few basic tips on how to reduce the cost of a trip to Tahiti:
Low/shoulder season

: though more humid and with a higher chance of rain, traveling off-season in Tahiti is less expensive by about 15-20%.

Resorts

: reduce the number of nights spent at a luxury resort and/or in an overwater bungalow, book well ahead of time to enjoy reduced rates, stay in the same resort chain on multiple islands to unlock possible discounts.

Accommodation:

stay in family-owned pensions that range from simple stays to boutique-style accommodations. Rates are often based on a half-board stay, including both breakfast and dinner.

Car rental:

rates are lower on manual cars (vs automatic gear) and for multi-day rentals.

Interisland flights:

purchase air passes that include the islands you wish to visit.

Scuba diving:

if you're planning to dive on multiple occasions and in multiple islands, a dive pass is recommended.

Excursions:

some land-based excursions and most lagoon-based excursions offer a cheaper half-day itinerary. The half-day tour will usually not include a picnic lunch and perhaps (but not always) less sightseeing.

Food:

eat in local

snacks

(simple local restaurants) during the day and in

roulottes

(food trucks) in the evening. You can also stay in self-catering accommodations and cook your own meals.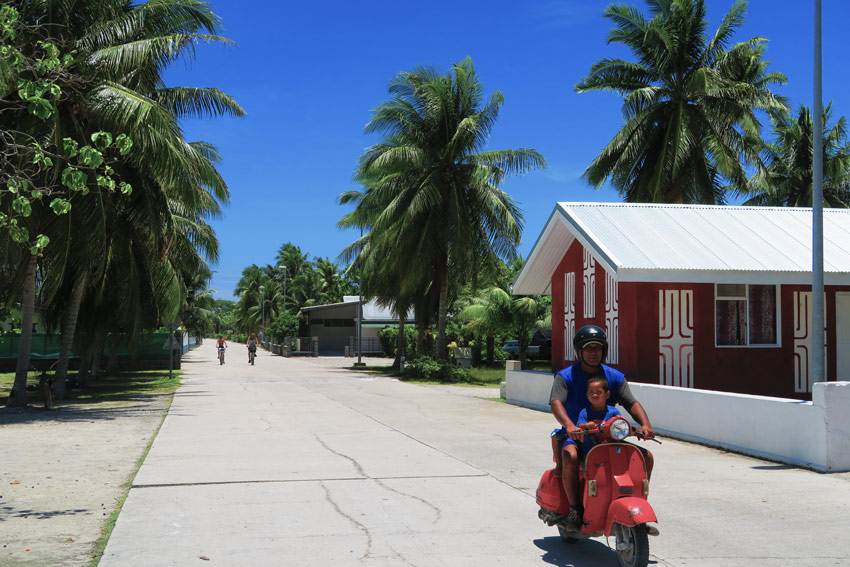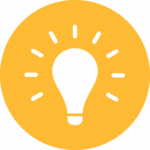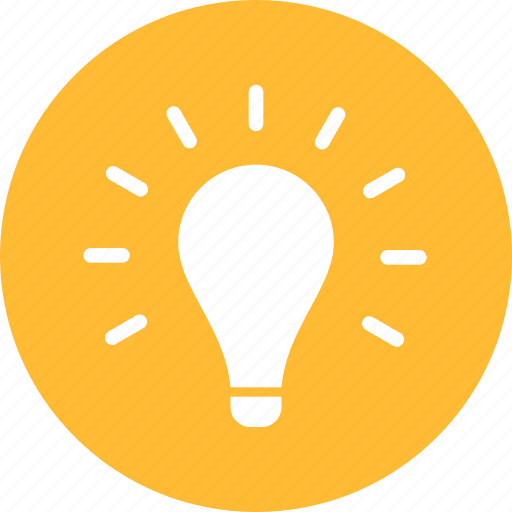 Pro Tip
Get in touch and let's plan a trip that's tailored to your needs. Special resort discounts of up to 30% that aren't available online can be attained in some cases.
Which Islands to Visit in Tahiti
With 118 islands and atolls, choosing the right mix of islands is a very challenging task. The "classic" itinerary usually starts in Tahiti, continues to Moorea, and ends in Bora Bora, but French Polynesia has so much more to offer. Here's a list of what I consider the best islands in French Polynesia and below is a general overview of how to choose which islands to visit in Tahiti.
Choosing the Right Island
Markets: Tahiti
Watersports: Tahiti, Moorea
Luxury: Moorea, Bora Bora, Tahaa, Tikehau, Tetiaroa
Diving: Moorea, Huahine, Raiatea, Rangiroa, Fakarava, Tikehau
Laidback: Moorea, Maupiti, Huahine, Tahaa, Fakarava, Nuku Hiva, Hiva Oa, Raivavae, Rurutu
Off the beaten track: the Marquesas Islands, Huahine, Maupiti, Tahaa, the Gambier Islands, the Austral Islands, any atoll in the Tuamotu group apart from Rangiroa.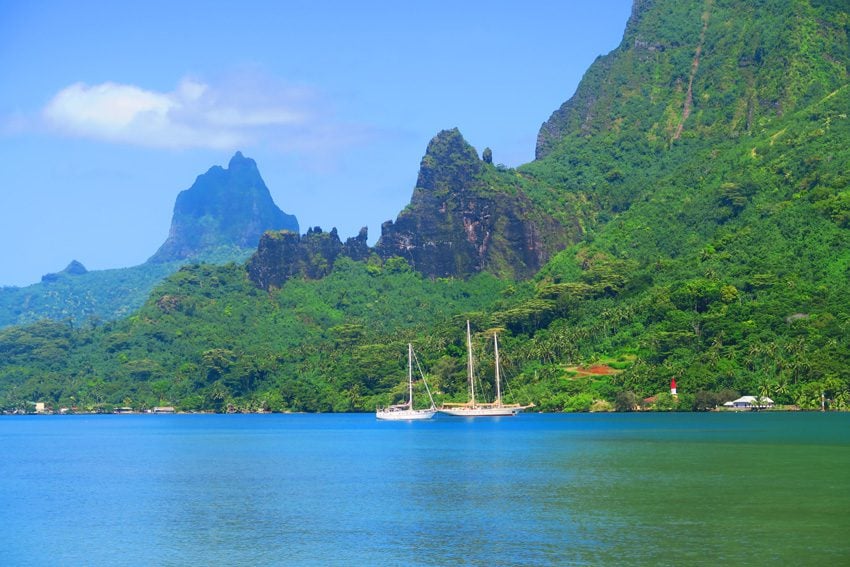 Video of the Top 10 Islands in French Polynesia
Here's a video that showcases the top 10 islands in French Polynesia. You might need to disable your ad blocker for the video to load.
How to Island-Hop in Tahiti
Unless you charter a yacht or join a cruise, flying from one island to the next in French Polynesia is the most optimal choice. Cargo ships do take passengers, but this method of island-hopping is more suitable for backpackers with a flexible schedule. Tahiti and Moorea are the exceptions, as both islands are connected by a ferry that runs on a regular schedule (~30 minutes). There are ferries connecting other islands as well but the service is geared more for locals and isn't something you can count on. At the present time, Air Tahiti is the only domestic airline in French Polynesia. Depending on your itinerary, Air Tahiti air passes are the best way to save on costs if visiting multiple islands.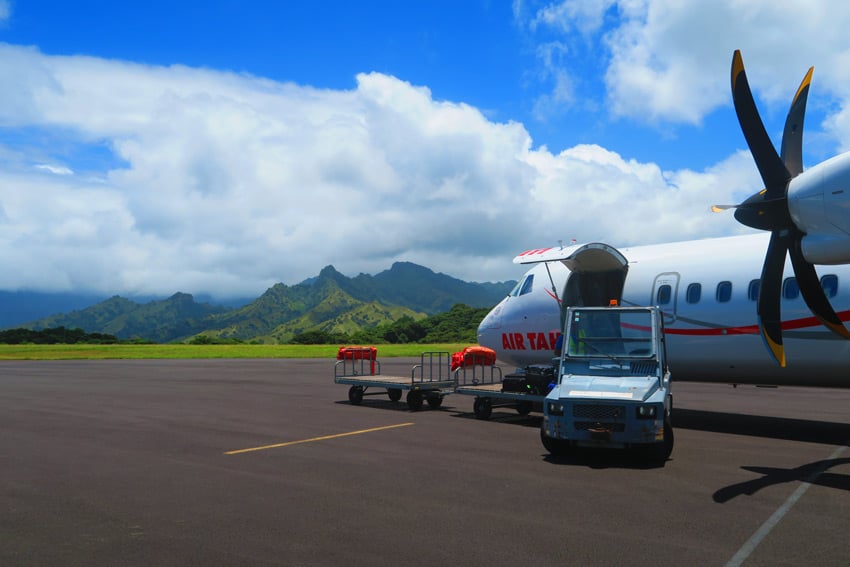 Where to Stay
The big island of Tahiti has the widest range of accommodations, including business hotels, resorts, and simple accommodations. Once you leave Tahiti, options narrow down.
Resorts

: mosts islands in the Society Islands and a small handful of outer islands have resorts. They range from three to five stars and some offer the overwater bungalow experience.

Lodges

: a cross between a resort and a high-end pension, few lodges can be found on some islands. They usually occupy a large property and offer excursions.

Pensions

: my preferred choice, these are small family-owned businesses that range from super simple to super pampering. Pensions have a small number of units and almost always offer meals as part of the package (served communal-style).

Self-catering units:

found in pensions or independently owned on most islands.

Dorm rooms:

quite rare in French Polynesia, only available on the most visited islands.

Camping

: also quite rare to find but available on some islands.
Here's a list of all available French Polynesia accommodations that can be booked online!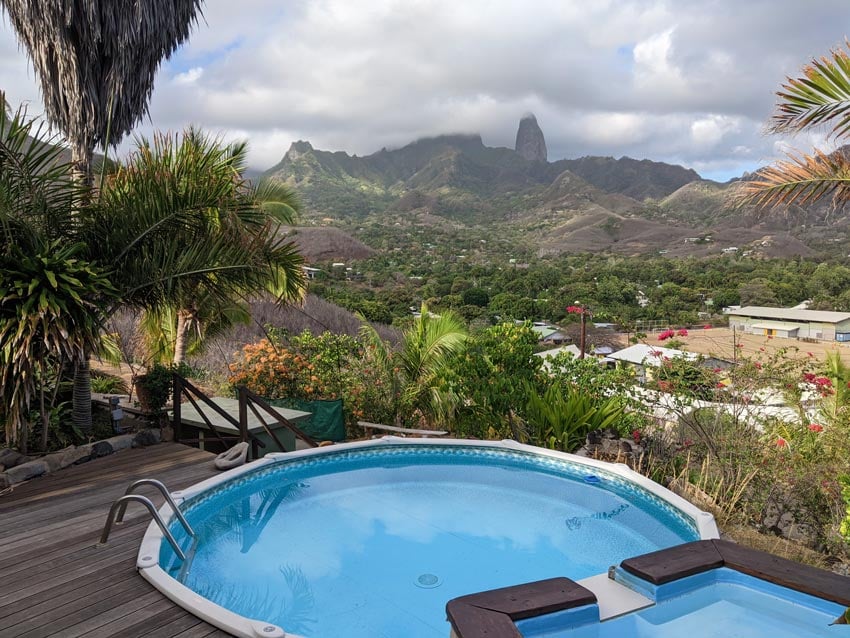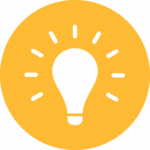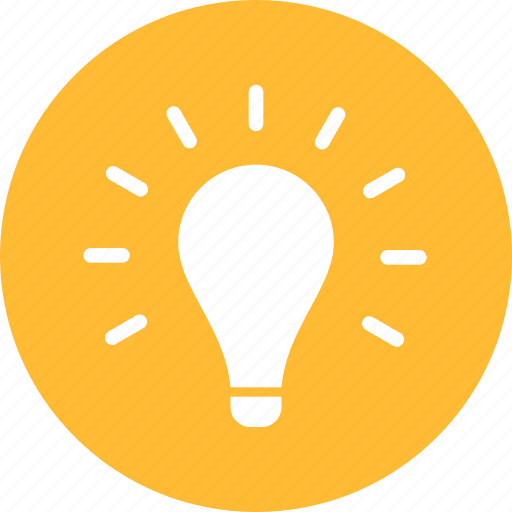 In some of the Society Islands, accommodations are available on either the main island or on islets at the edge of the lagoon (motu). If the main purpose of your visit is sightseeing, staying on the main island offers more flexibility.
How to Get Around the Islands
Apart from the island of Tahiti, most islands in French Polynesia do not have a public transportation system that can be counted on by tourists. Unless you're visiting for the resort experience, it is quite frustrating to stay on a beautiful island without the means of exploring it on your own. Some places of interest can only be visited with a guide as part of an excursion, but apart from those, every island has its means of getting around.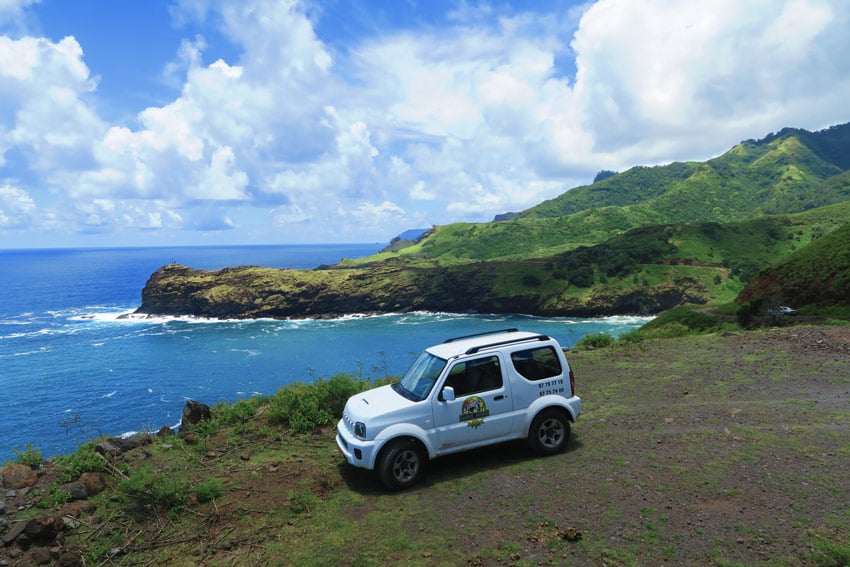 Things to Do in Tahiti
A vacation in Tahiti does not have to solely be a beach vacation, though French Polynesia does have its fair share of breathtaking beaches. Here are a few ideas.
Walking/cycling:

a great way to get the feel for an island, especially the smaller ones.

4X4 tours:

half or full-day guided 4X4 tours will take you to the most remote corners of the island and to panoramic lookouts on some. The finest tours are to the

Papenoo Valley of Tahiti

and to the Lipona archeological site in

Hiva Oa

.

Hikes

: possible on every "high island" in French Polynesia. Some trails are marked but most are not, requiring a local guide. Here are some of the

best hikes in French Polynesia

.

Lagoon tours:

half or full-day guided lagoon tours include snorkeling in a few spots and a Polynesian BBQ lunch in the full-day version. The best lagoon tours are in

Bora Bora

,

Maupiti

, and the

Tuamotus

.

Pearl farm visits:

French Polynesia is a major producer of exquisite black pearls, and you can visit part of the operation, especially in the Tuamotus and in the

Gambier Islands

.

Cultural show:

unlike luau shows in Hawaii, cultural shows in Tahiti are a lot more authentic. Most resorts host at least one show per week and tickets are available for purchase to nonguests as well. During the peak tourist season, some larger accommodations will host free shows. In

Moorea

and Tahiti, dedicated cultural centers offer "Polynesian workshops".

Snorkeling

: possible to do on your own in many islands, especially in the Society Islands (apart from Tahiti) and the Tuamotus.

Scuba diving:

French Polynesia is a "mecca" for scuba divers. Scuba diving is at its best in the Tuamotus but also available in the Society Islands (including Tahiti) and even in the Marquesas Islands.

Whale watching: humpback whales visit French Polynesia between August to October and some whale watching tours allow tourists to enter the water if conditions are right. The best place to see whales in French Polynesia is in the remote Austral Islands, followed by Moorea and Tahiti.
Birdwatching

: some islands or sections of islands in French Polynesia are nesting grounds for birds. The best are in

Tetiaroa

and Tikehau.
Fishing

: deep sea fishing charters are available on most of the Society Islands and in the Tuamotus.

Surfing

: without a doubt, Tahiti (the island) is the place to surf.

Rock climbing: the best place for rock climbing in French Polynesia is on the remote atoll of Makatea.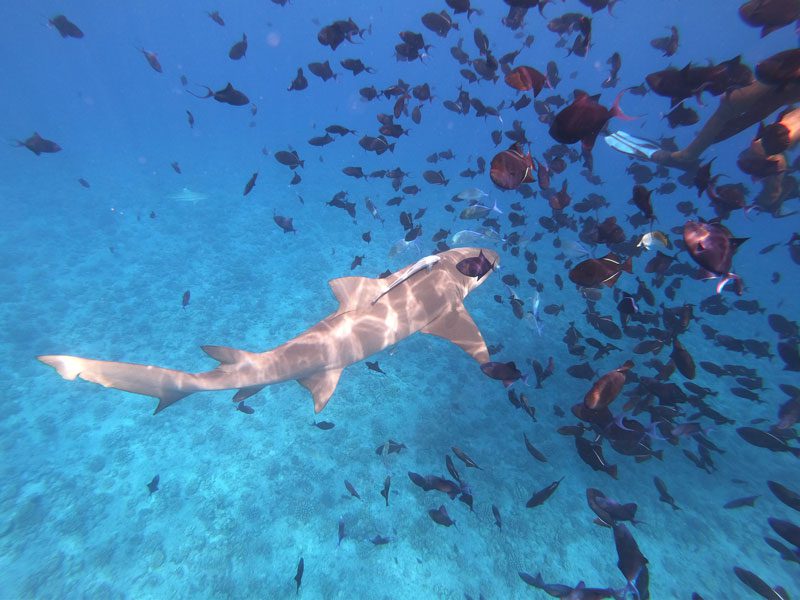 What to Pack for Tahiti
Be conscious of weight restrictions on domestic flights when packing. In a nutshell, pack light and sweat repelling clothing, and if traveling in the dry season, also something warm as evenings can be chilly. Always be prepared for wet weather with proper (but light) gear and protect yourself from mosquitos and the sun. If you're planning to spend a lot of time in the water, bring your own mask and snorkel (get fins from your hosts) and a rashguard to protect against sunburns. Be sure to also buy a copy of the Lonely Planet Guide to French Polynesia. It will come in handy during the planning stage and for a quick reference on the ground.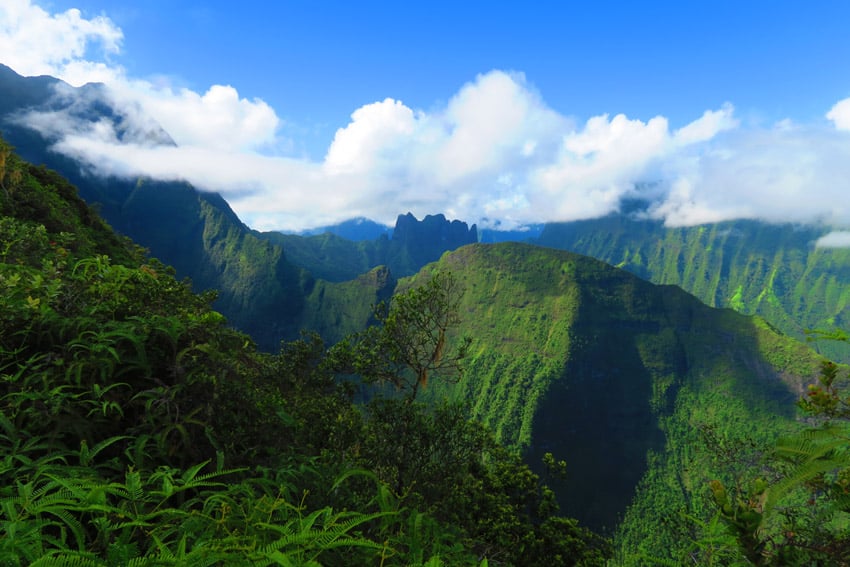 What to Buy in Tahiti
Polynesian souvenirs are second to none as there's only a slight chance that your friends have seen their likes before. Here are a few ideas on what to bring back home from a vacation in Tahiti.
Crafts

: available in the most visited islands, the best crafts are made by locals in the Marquesas Islands. These include

tapa

, woodwork, and crafts carved from the bone of local animals.

Black pearls:

ranging from simple jewelry to fine necklaces, tourists can purchase tax-free pearls in French Polynesia.

Monoi products

: scented coconut oil that will always remind you of the islands.

Island fashion

: sarongs (

pareo

), Tahitian flower shirts, and trendy

Hinano fashion

.

Vanilla

: the world's best vanilla is produced in French Polynesia and the finest originates from the island of Tahaa.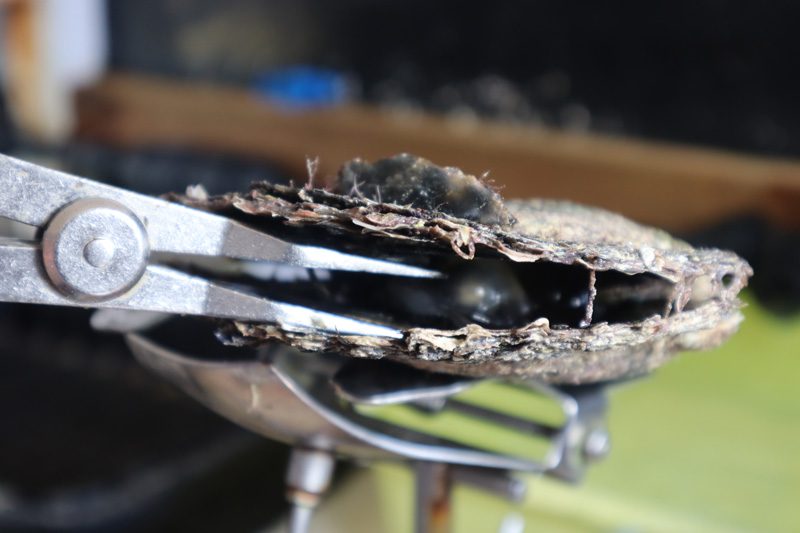 What's Next?
You now have a solid idea of how to plan a trip to Tahiti. Be sure to check out an extensive list of related travel resources and in-depth information about planning a trip to the islands of French Polynesia!
---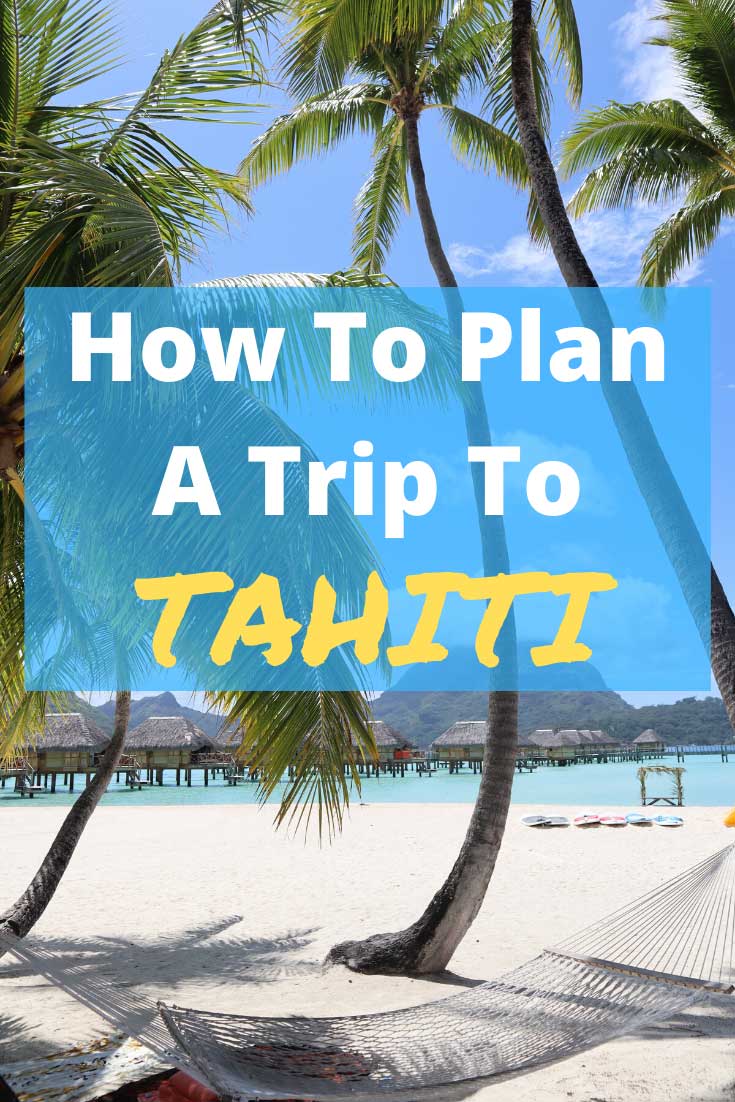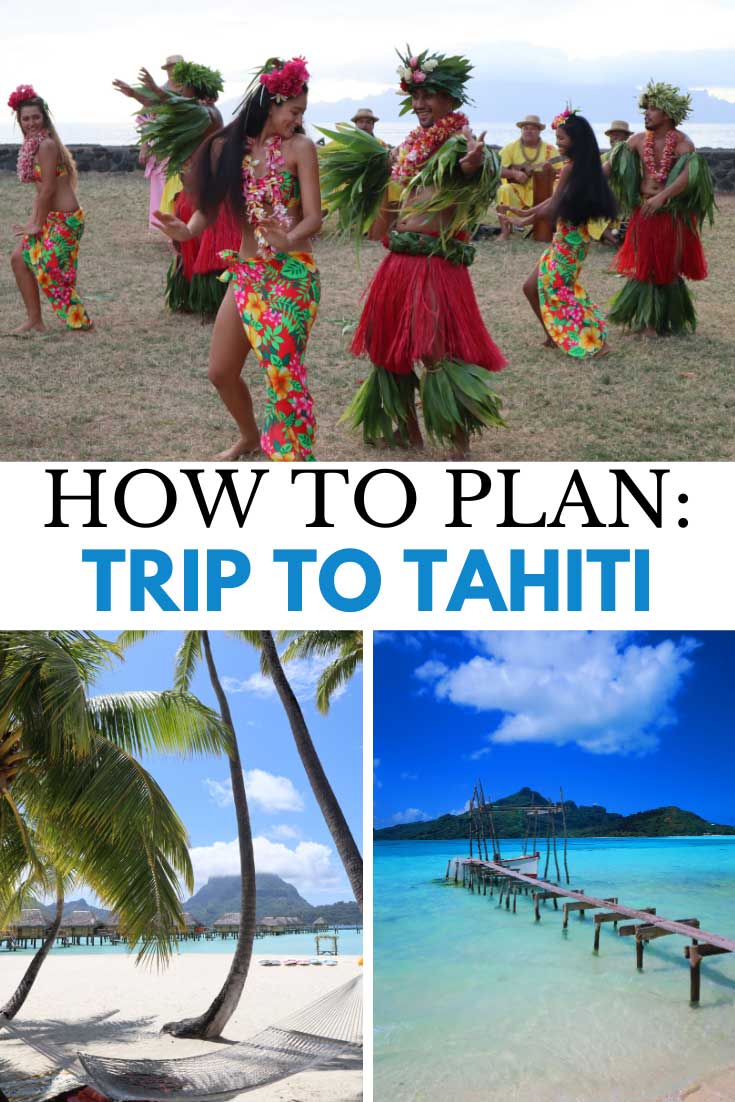 Pin These Images To Your Favorite Boards!