A Tale Of The Greatest American Road Trip
This is the tale of a five-week, 6,000-mile road trip in the American southwest. Crossing four states and endless deserts, a road trip through the Old West is one of the greatest ways to satisfy one's quest for the feeling of ultimate freedom. In this road trip summary, I'll share highlights from this memorable adventure, inspired by my love for the warm outdoors and one classic 80s music video clip.
I've always had a travel love affair with warm extremes. Those who follow this blog have had to cope with my obsession for tropical islands, manifested via multiple escapes to the South Pacific in recent years. But I'm also a huge fan of deserts. I'm drawn to deserts not only for the warm climate and extraterrestrial-like geology but also because they're amongst the last vestiges of solitude, a rare travel commodity these days.

It's Time to Confess
There's one more confession that I must make to set up the more interesting part of this blog post. I'm a huge fan of 80s music. There it is, out in the open. Not ashamed to admit that. One particular tune that left its mark on me, the video clip to be more exact, is Everybody Wants to Rule the World by Tears for Fears. The straight desert highways, the old gas stations, the forgotten towns, the interesting characters, the windmills, and the general sense of freedom on a classic American road trip all fascinated me.
I've always dreamed of visiting the spots where that clip was filmed and just following the desert where it would take me. So when the opportunity came to take all of my vacation days in bulk and head on a long vacation, I booked yet another trip to Tahiti… Go figure.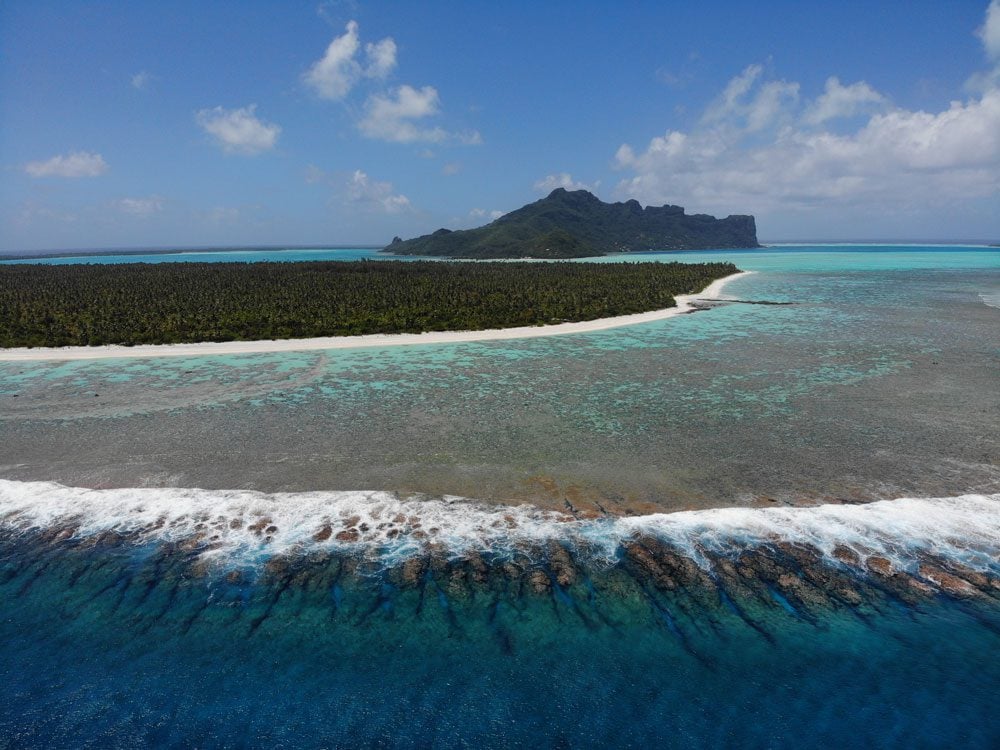 However, as luck, fate or destiny would have it, COVID-19 made it impossible to enter Tahiti at that particular time and a last-minute scramble for a plan B had to be put together. I already had a stop in San Francisco planned en route to Tahiti so this became a no-brainer. It's time to turn that desert road trip dream into a reality.
I didn't rent a convertible like the one featured in the iconic 80s clip but I did rent this American-made baby that was tasked with leading me through the desert and back in one piece via a few bucket list spots. She and I would need to cover miles of dirt roads and perhaps even spend a few nights together with some in-the-car camping.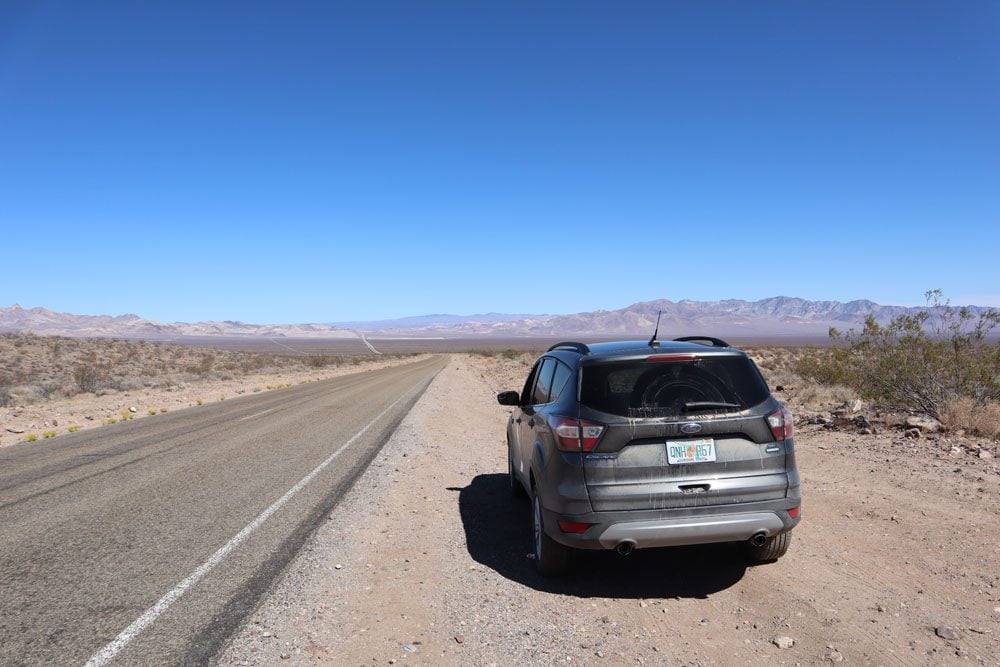 The Best Plan is No Plan
As a traveler who meticulously plans his trips (just look at the travel guides featured on this website), landing in San Francisco without a plan and with five weeks to kill was quite a scary proposition. I did have a rough idea of a few places I wanted to visit but I had no bookings made and no clue if my rough plan was feasible. I knew that I wanted to return to catch my flight home via the Pacific Coast Highway, so it basically meant that a big loop around the desert would be made. How wide would the circle be? No idea.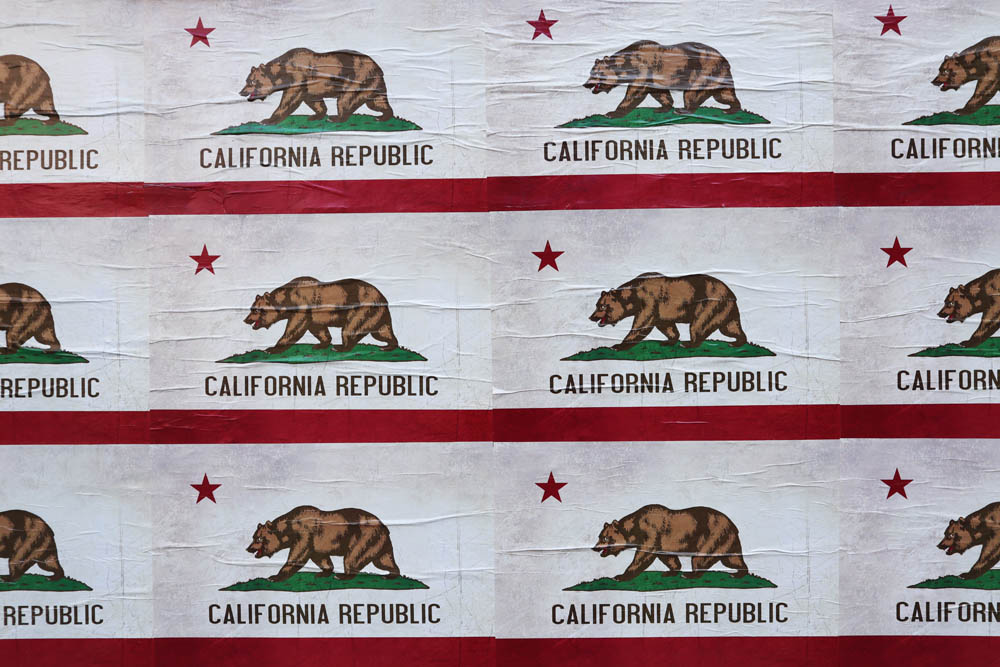 I ended up driving 6,094 miles or 9,807 km on this road trip, spending over a month in the great American desert. I revisited places etched in memory from family trips led by my father in the 90s and numerous trips to the US as an adult, but it was mostly about exploring the unknown. Here's a summary of the top highlights.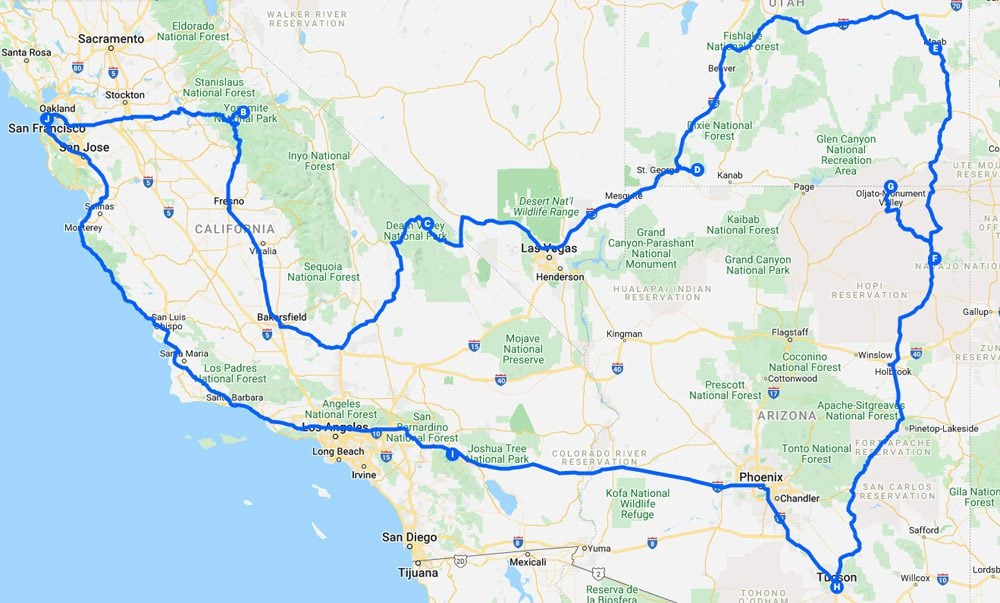 San Francisco
I'm not a huge fan of American cities but San Francisco is certainly an exception. I've visited the City by the Bay on a few occasions and even published a travel guide based on my experience. Since my trip started and ended here, I thought it would be nice to retrace my steps and revisit a few favorite spots.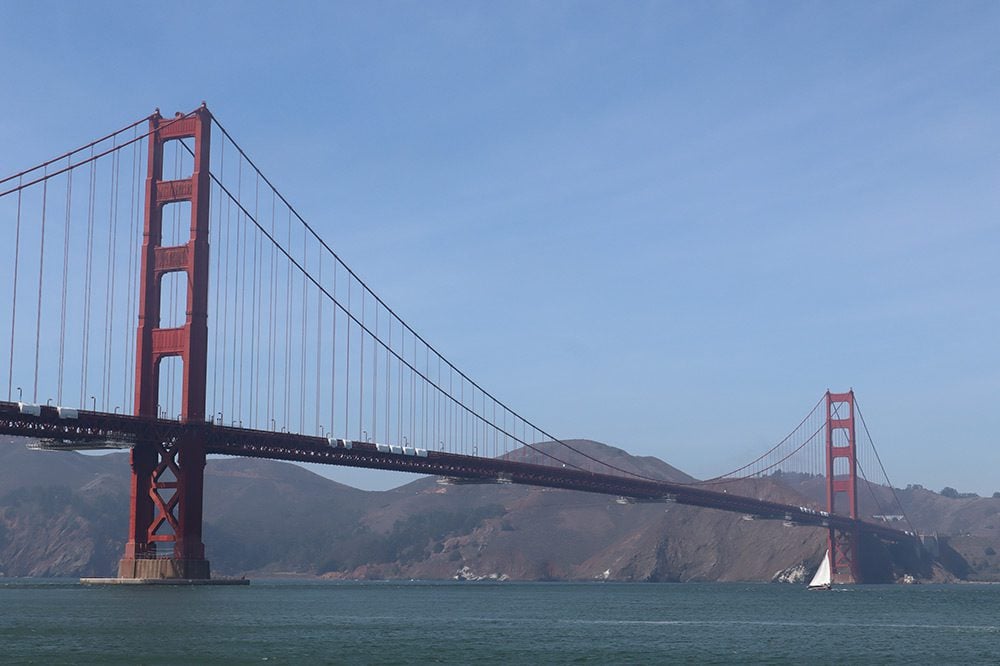 I particularly enjoyed strolling through Chinatown on a busy weekday, visiting San Francisco's scenic lookouts at Coit Tower and Bernal Heights, seeing the powerful street art at the Mission District, and following the shoreline from Fisherman's Wharf all the way to Baker Beach via the Golden Gate Bridge.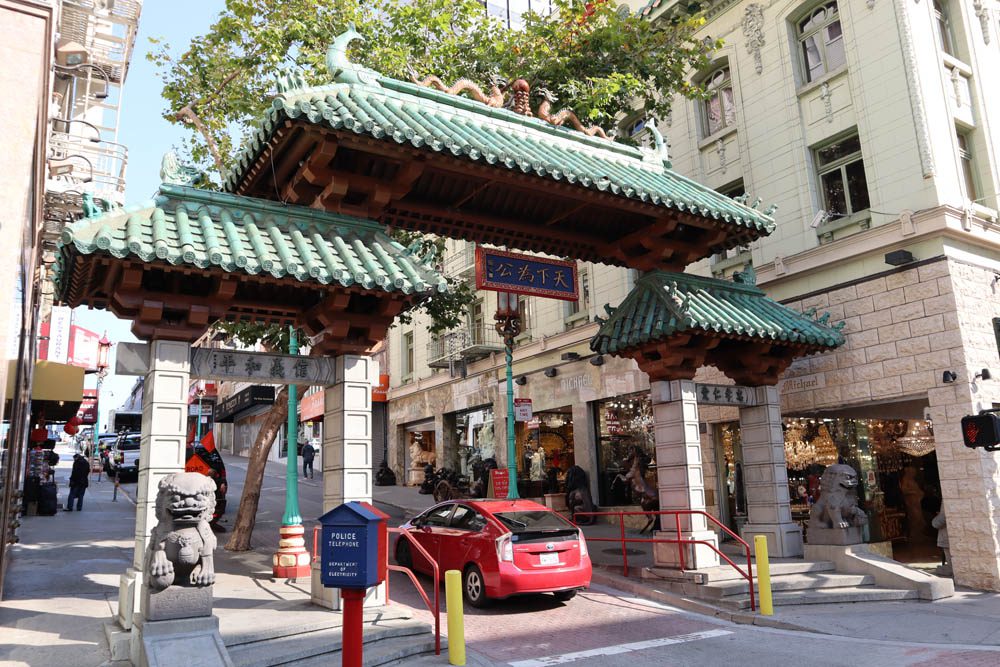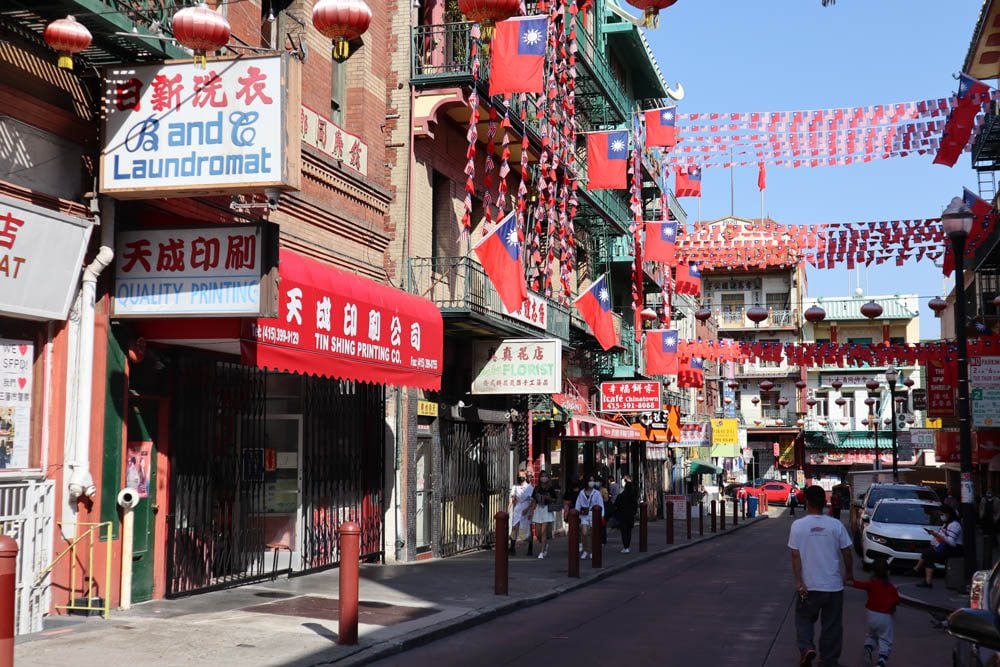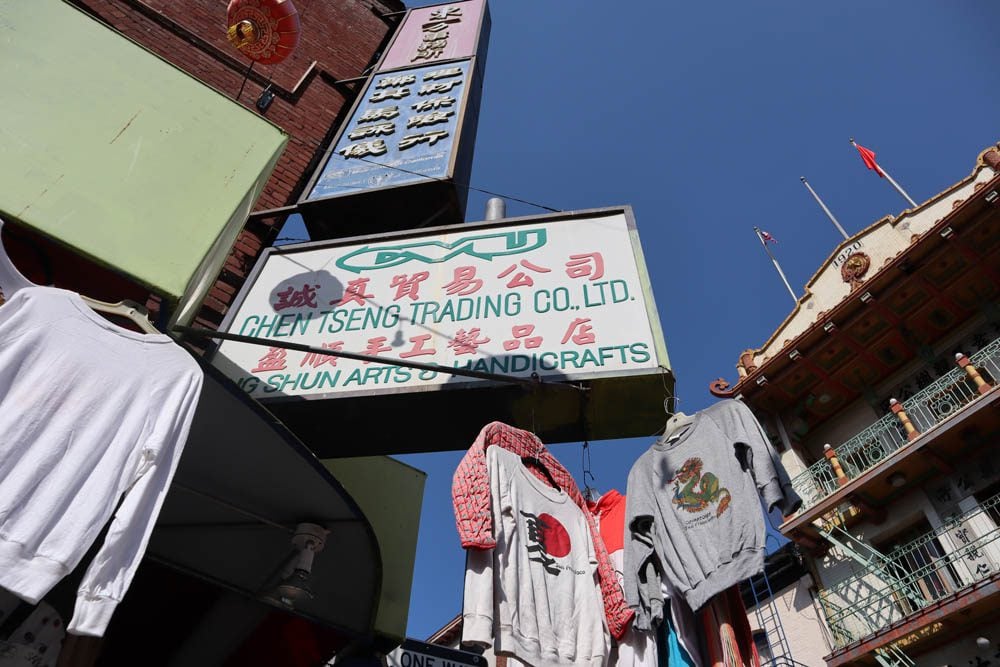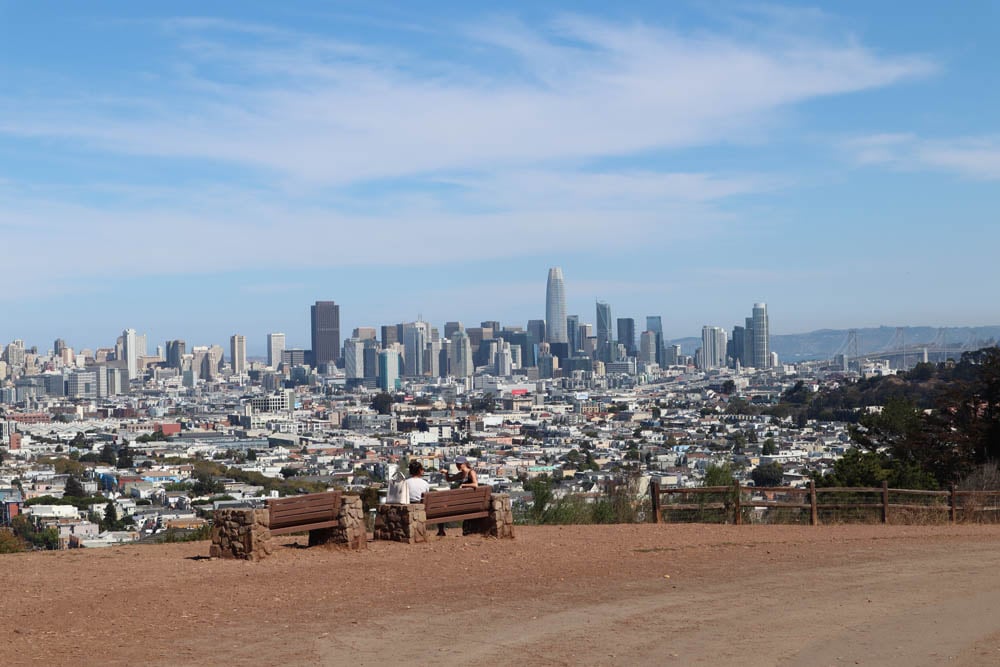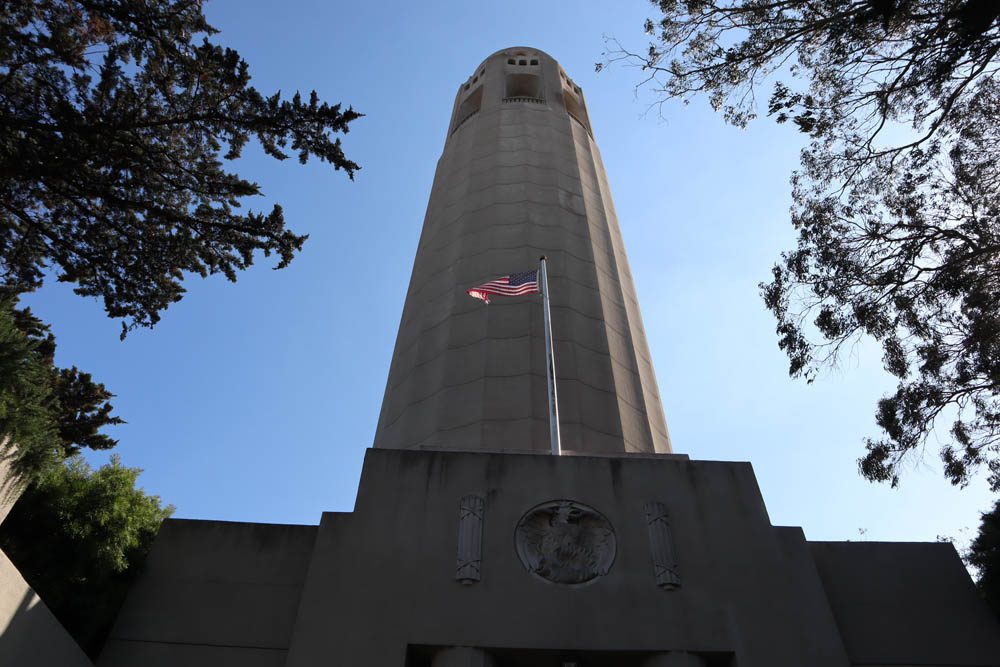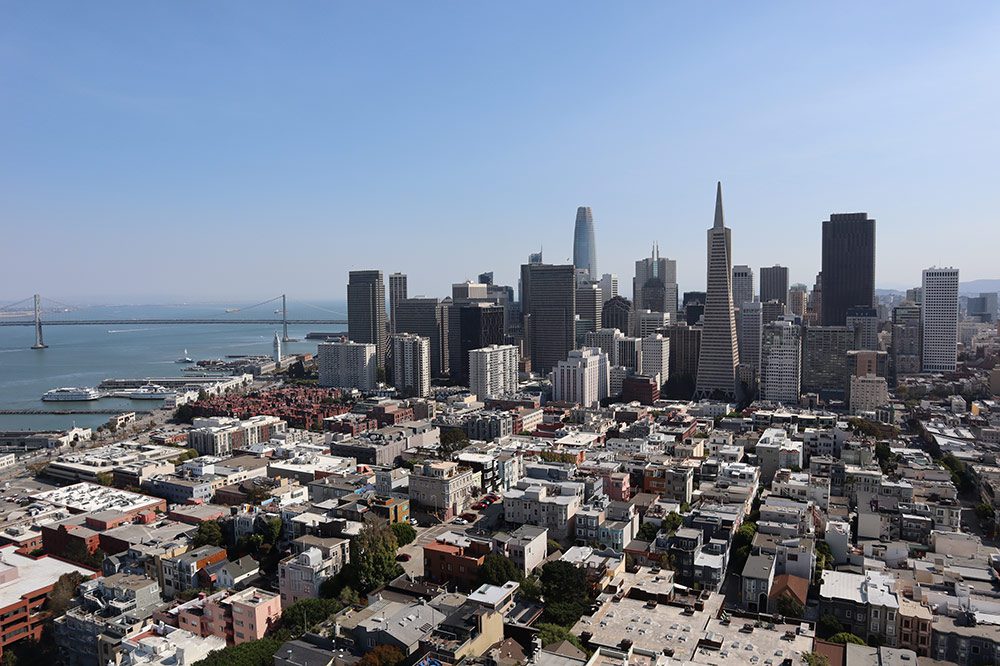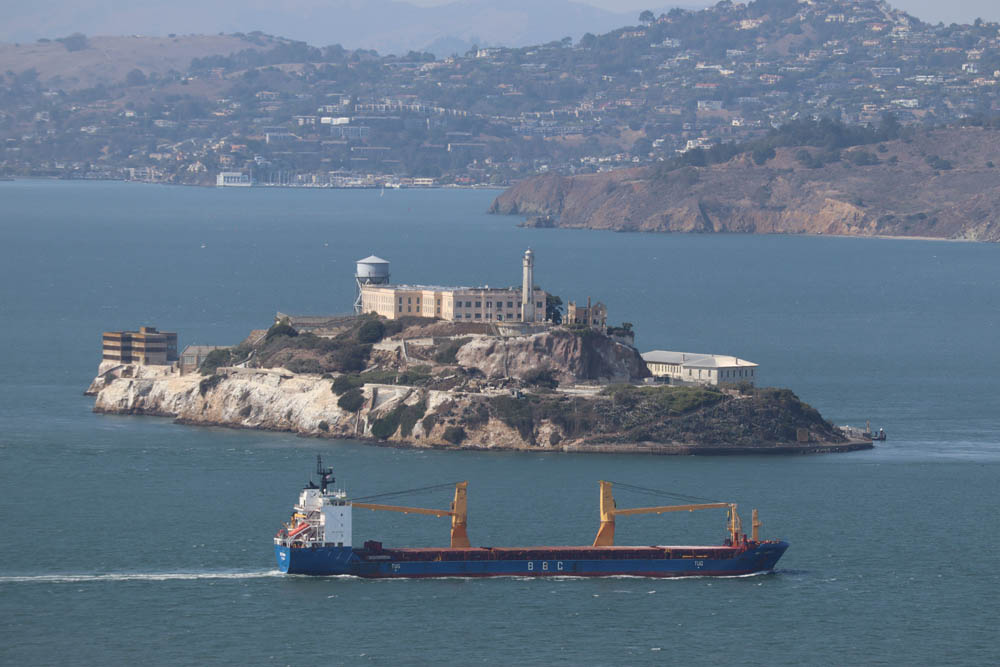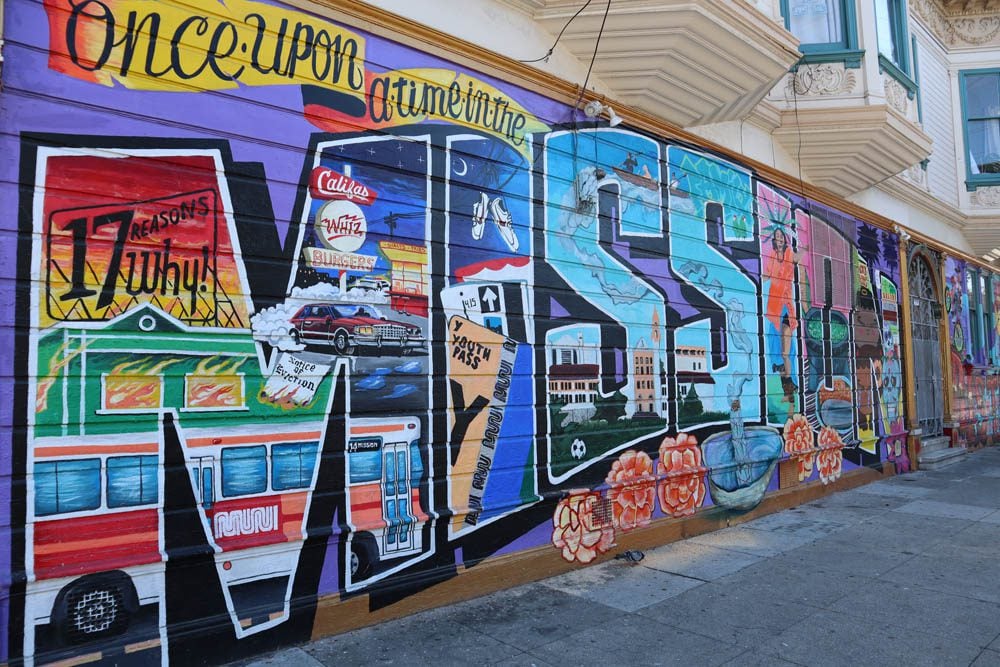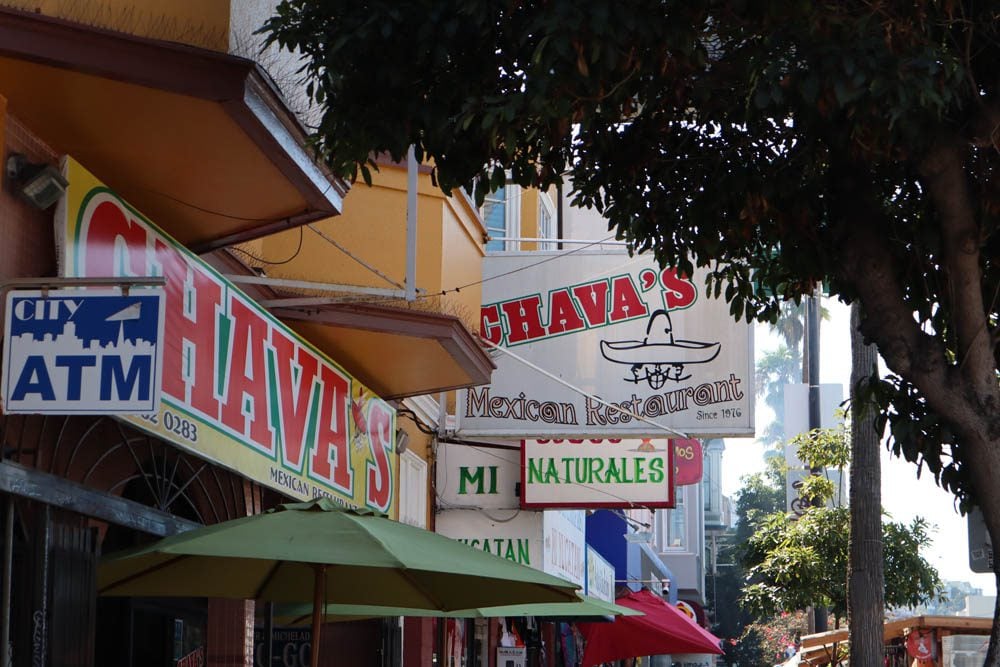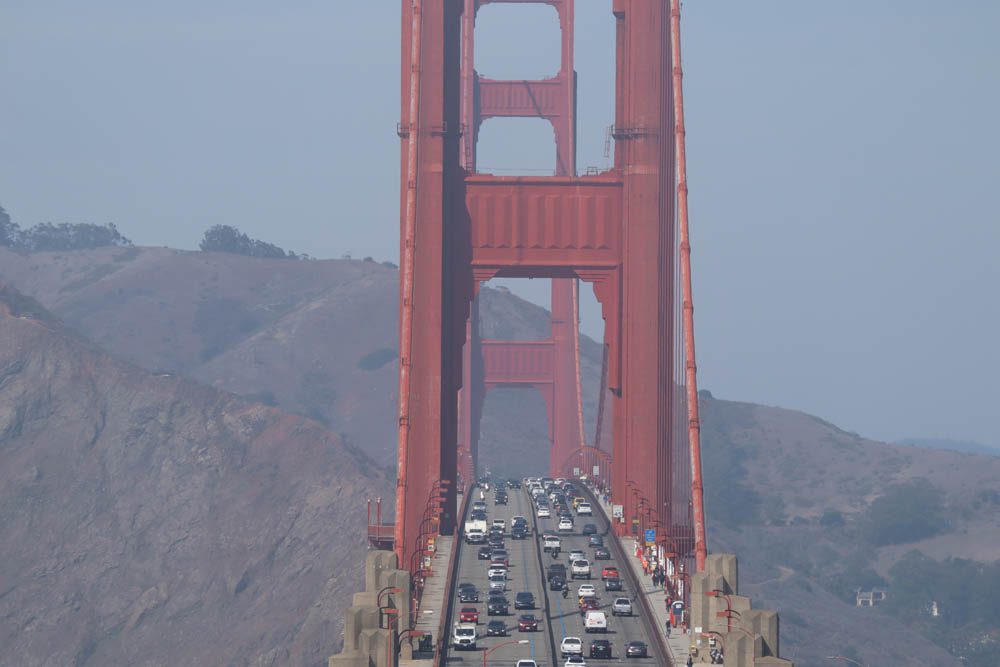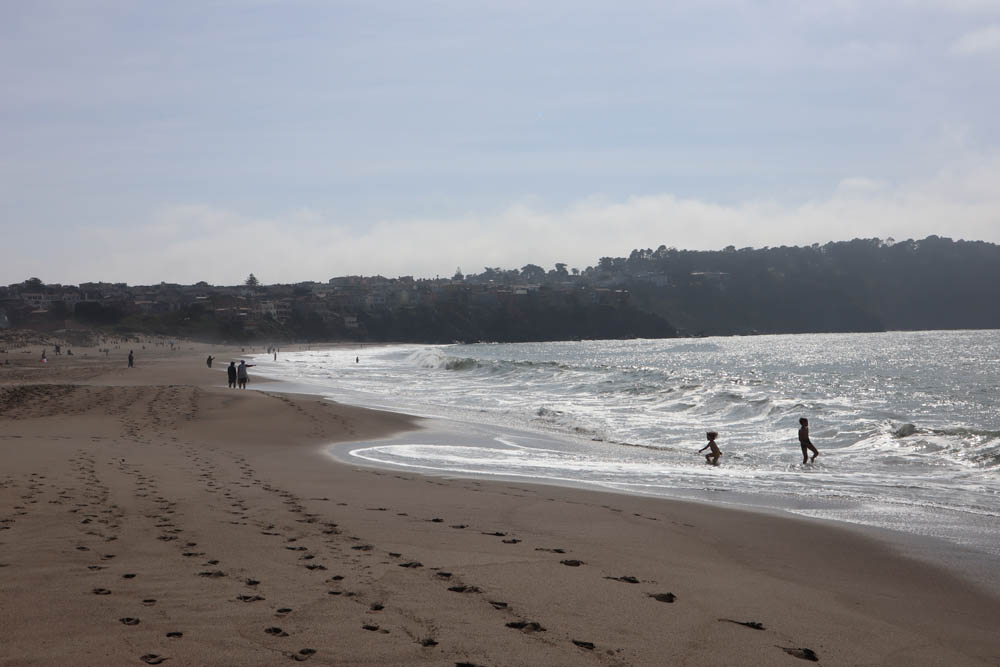 In San Francisco, it's wise to do a bit of stretching before heading out because walking up its hills can be mighty tough albeit rewarding. If you want to "cheat", you can always hop on one of the iconic cable cars. Sure, they're mostly used by tourists these days but it's a San Francisco experience that's not to be missed, along with calorie-heavy sundae at Ghirardelli.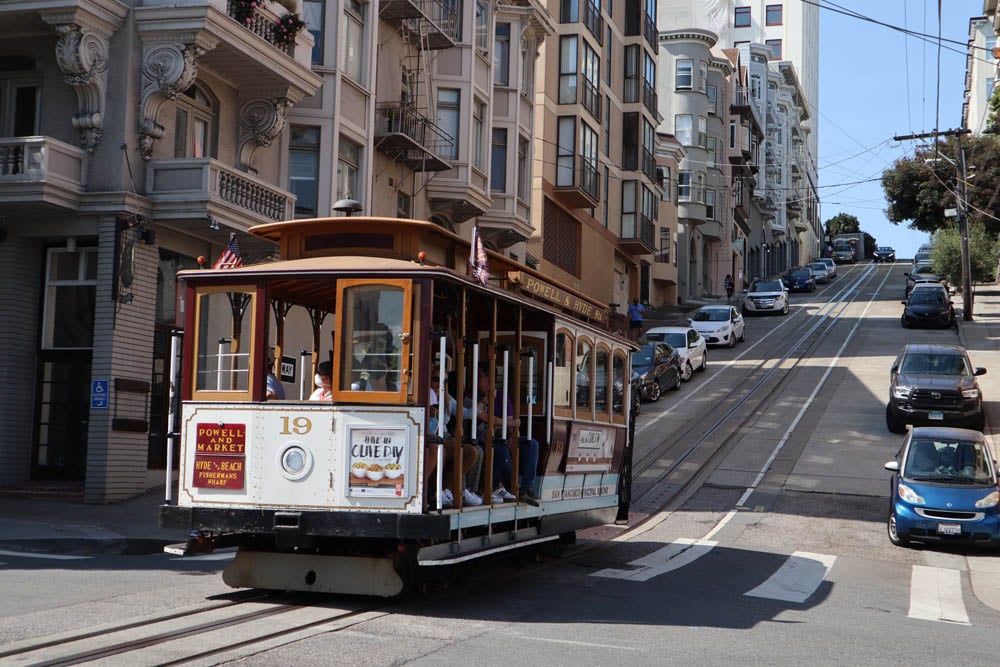 Yosemite
Before entering the desert, I wanted to do a bit of tree-hugging at Yosemite National Park. Due to COVID restrictions at the time, the only way to enter the park with a car was to either score one of the scarce vehicle day passes or to overnight in one of the lodges or campgrounds inside the park. I spent the first two nights "roughing it out" inside a tent at Curry Village and the last two nights in pampering fashion at the historic Wawona Hotel.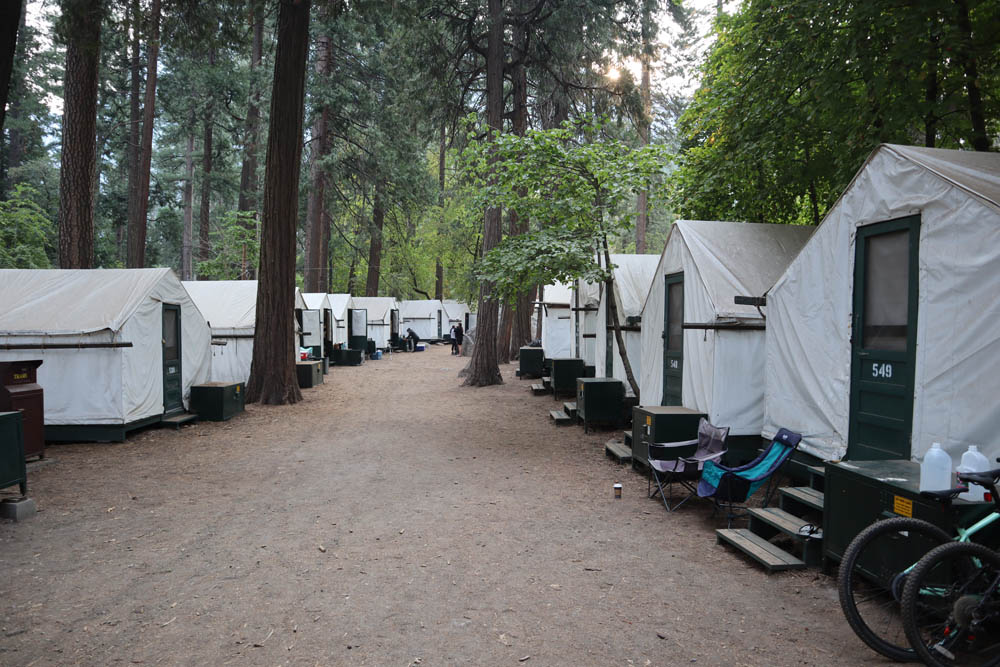 The drive from San Francisco took me through the Central Valley, where cherries, berries, watermelons, and everything else that grows this time of year was sold in roadside stalls directly from the source. Nearing Yosemite, the air was thick with smoke carried by winds from the devastating wildfire that struck Sequoia National Park and the surrounding area. Within Yosemite, large patches of forest were also burned to a crisp by recent unrelated fires.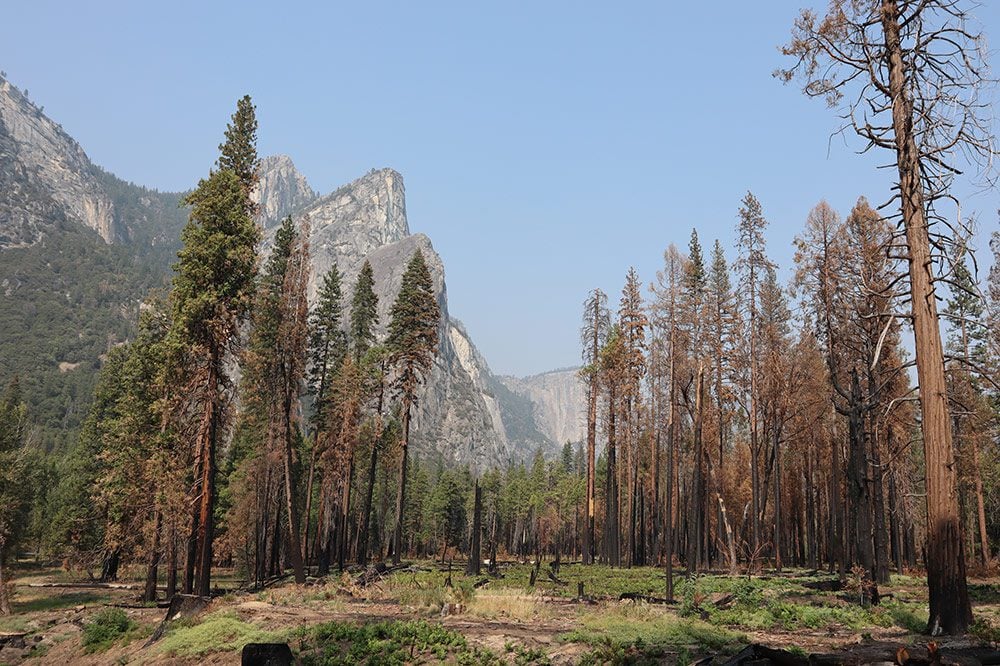 Few words can describe the beauty of Yosemite Valley, the national park's prime attraction. Even though its famous waterfalls were bone dry in late September, the valley was enchanting and full of life, always offering a different vibe from dawn to dusk.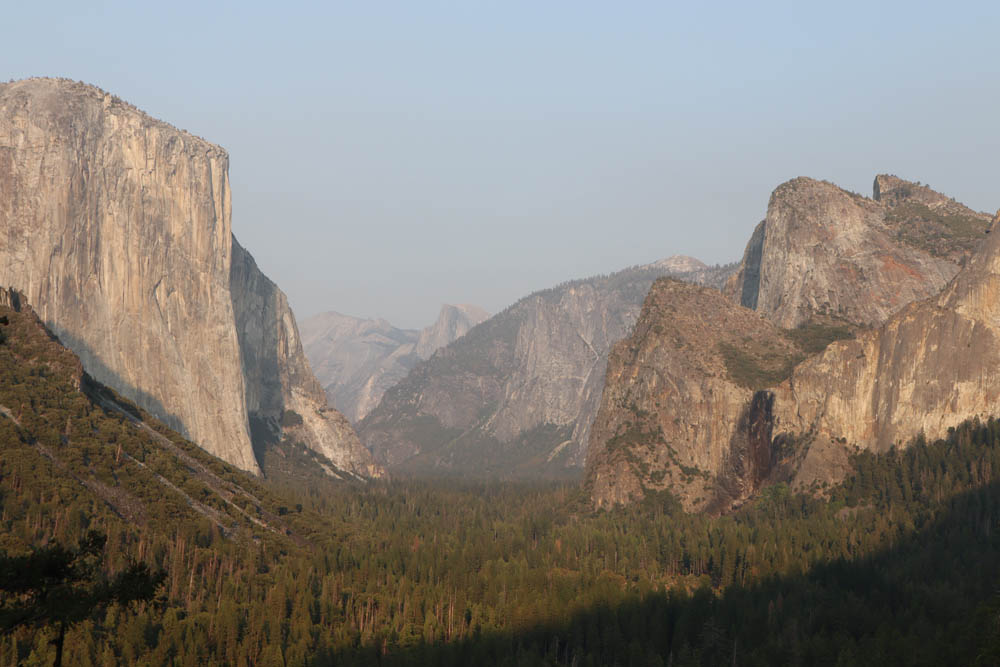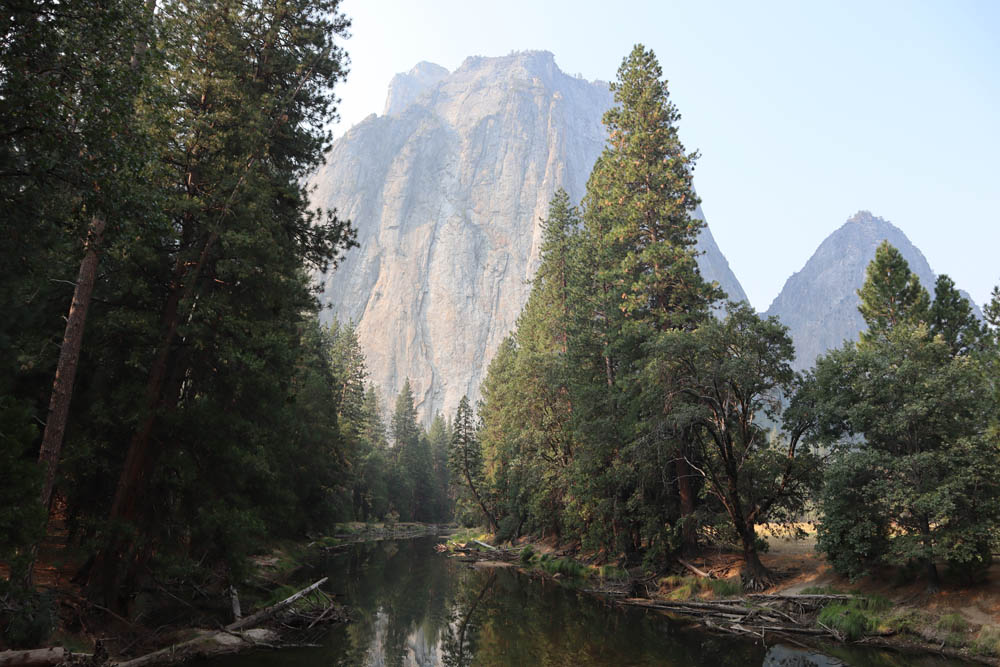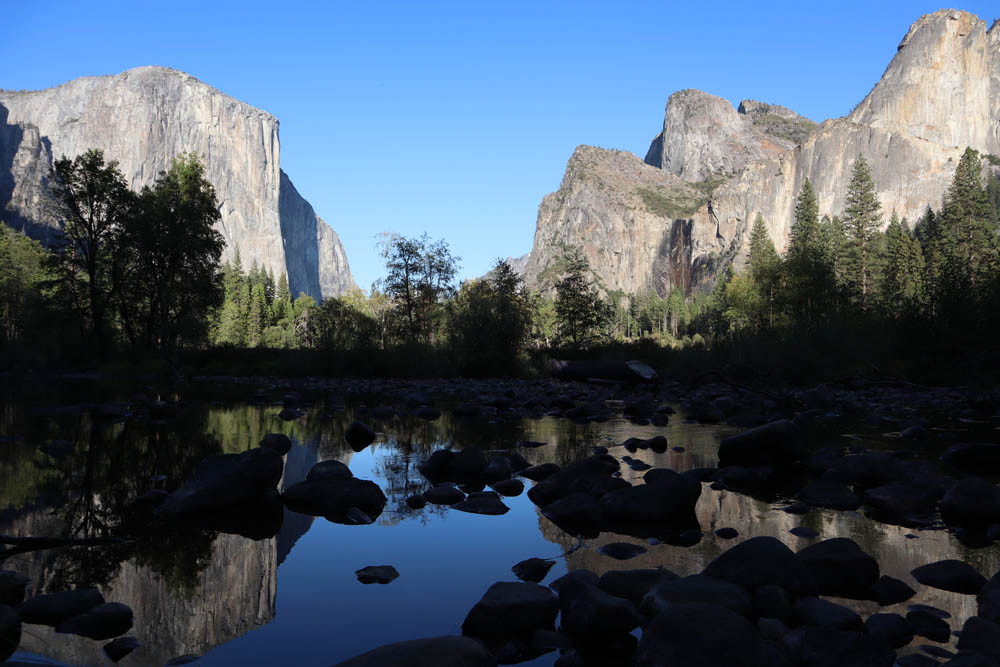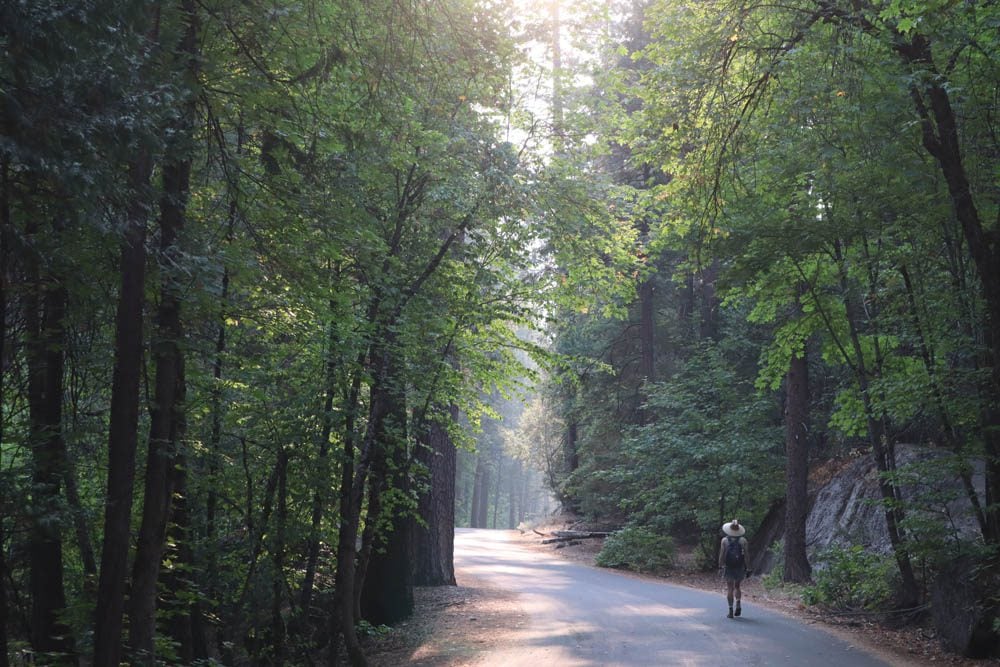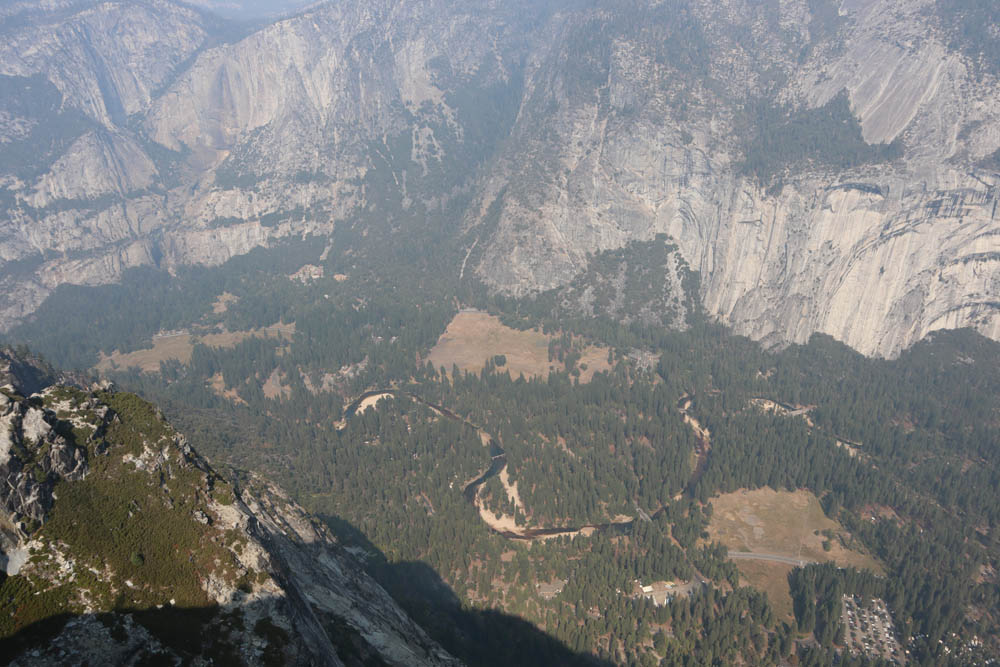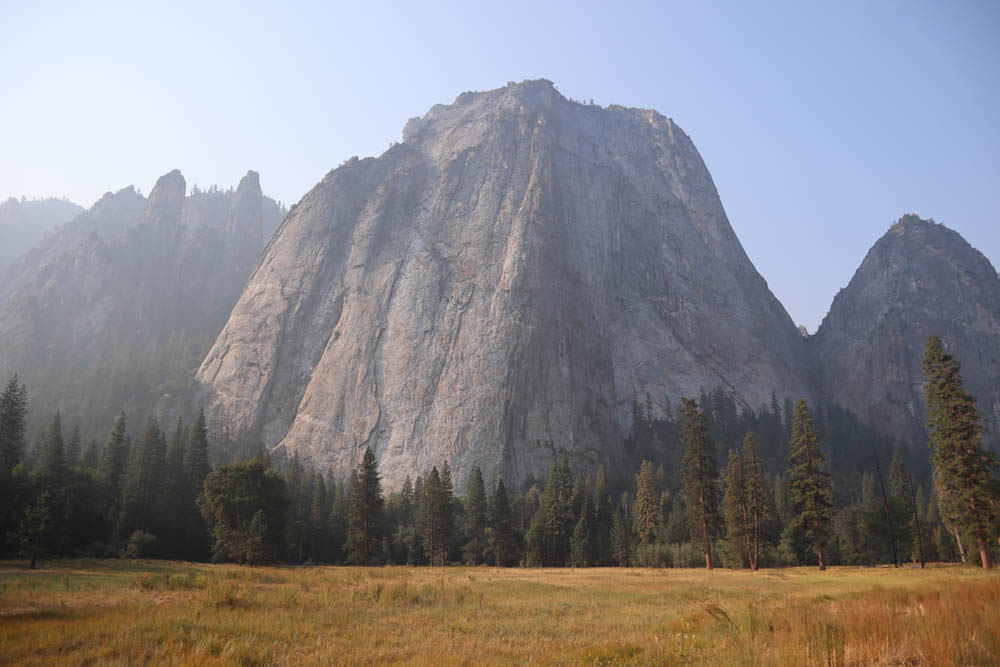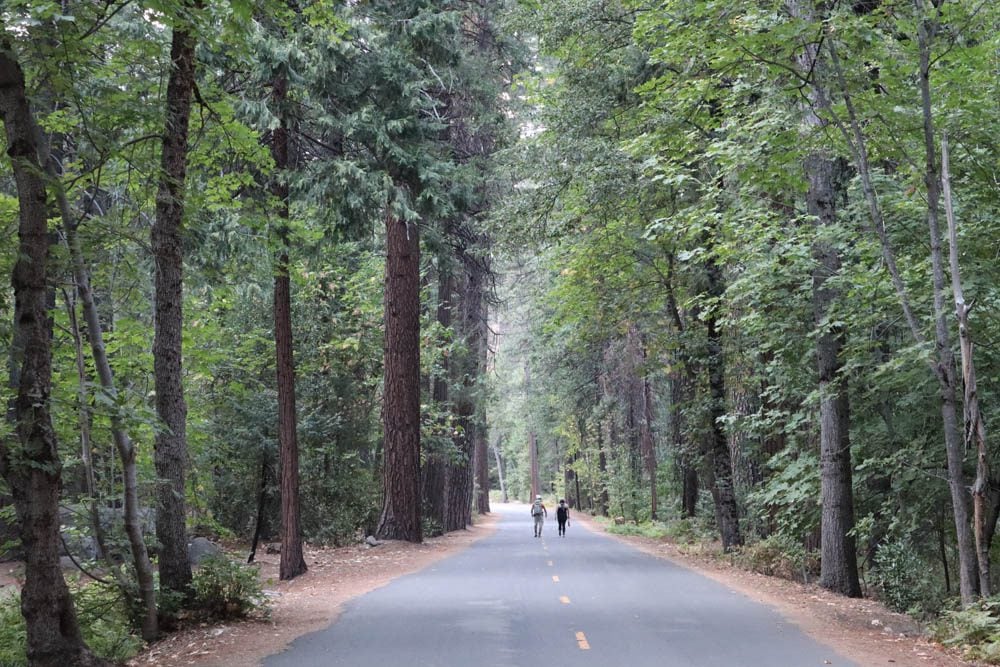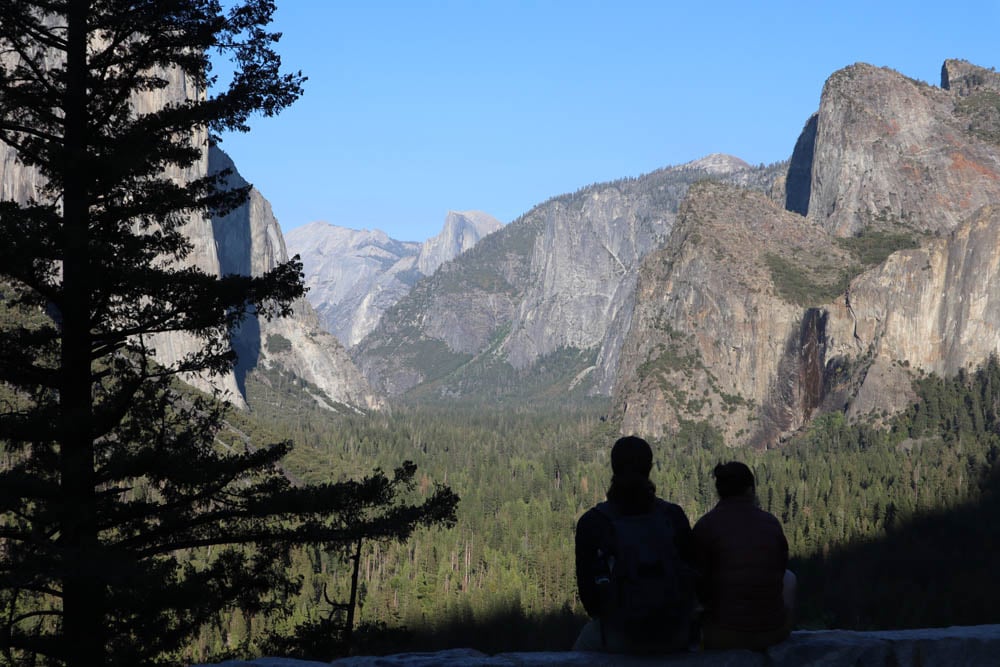 To fully absorb the magic of Yosemite, you need to put on some hiking shoes and hit the trails. Yosemite offers infinite ways to explore the park's sequoia groves or to get acquainted with its signature rocky domes. I especially enjoyed the Mariposa Grove for its giant sequoias, Four Mile Trail to Glacier Point and beyond to Sentinel Dome and Taft Point, Nevada Falls, and North Dome from where I was treated to exceptional views of Yosemite Valley and Half Dome.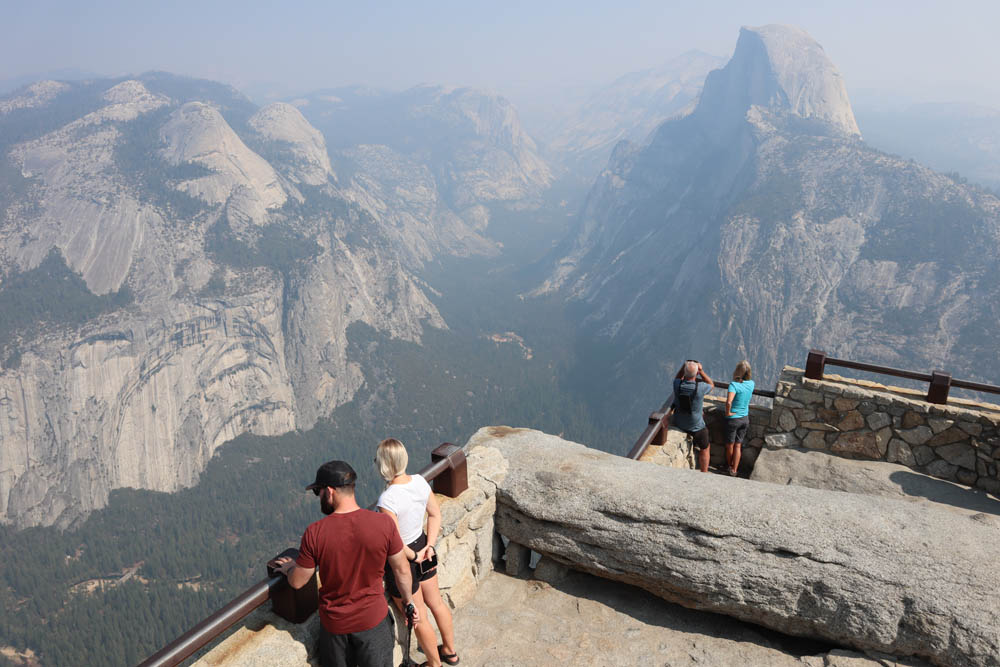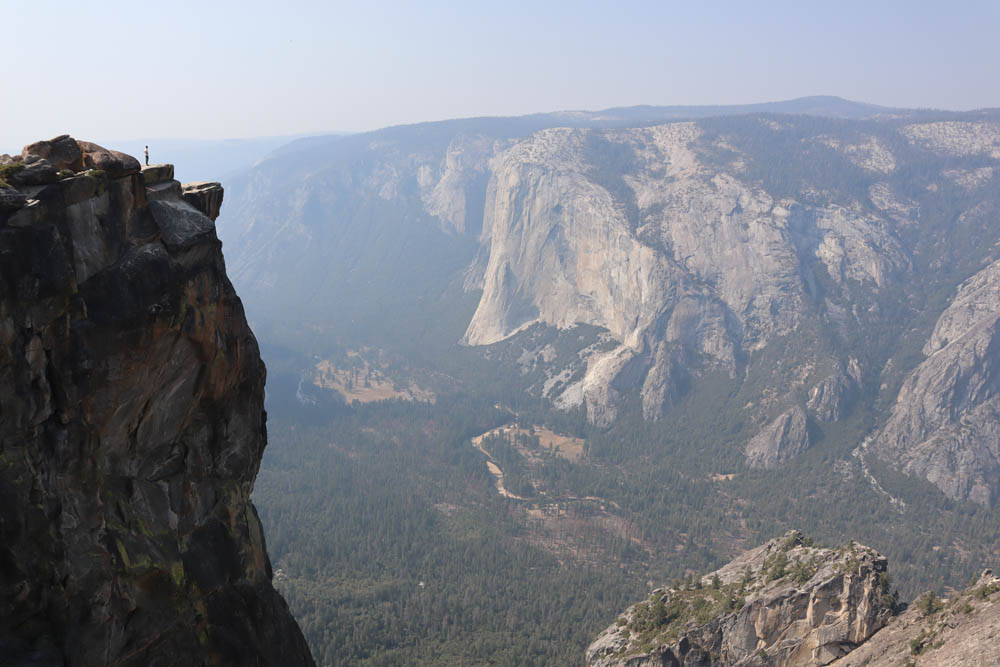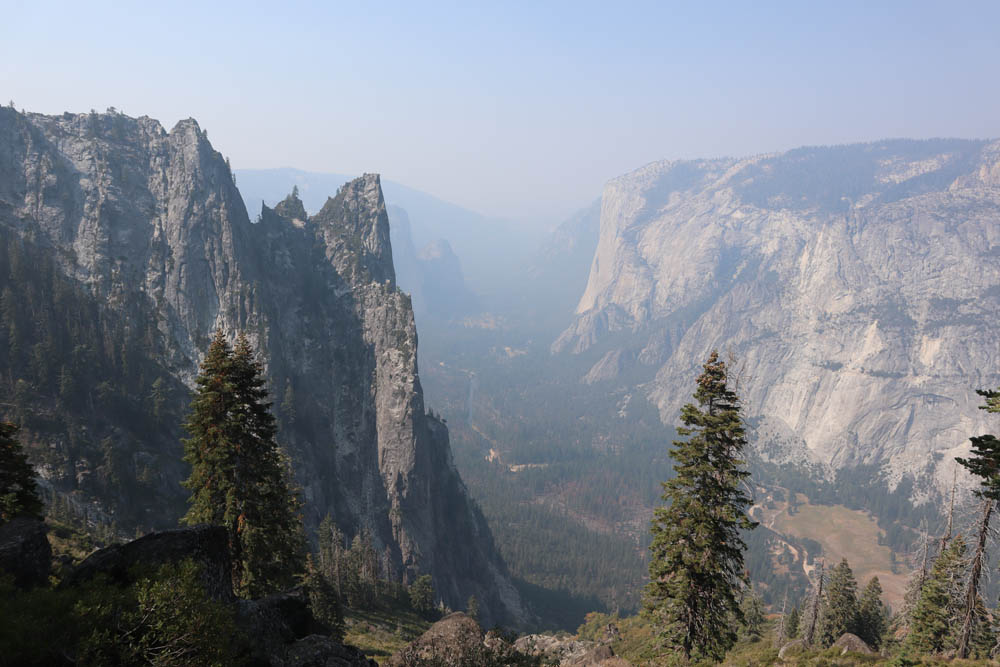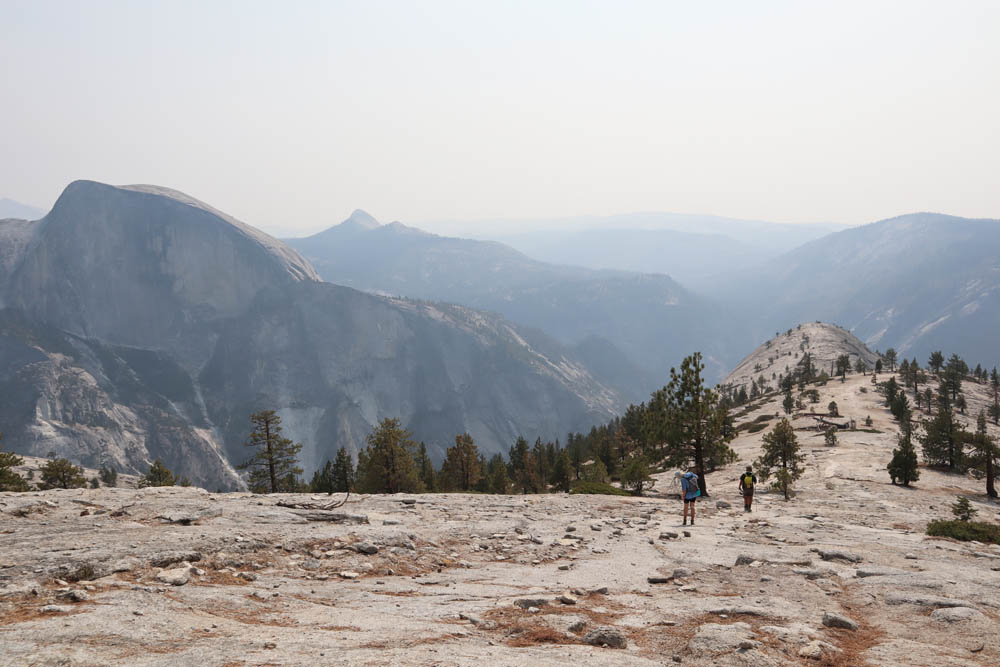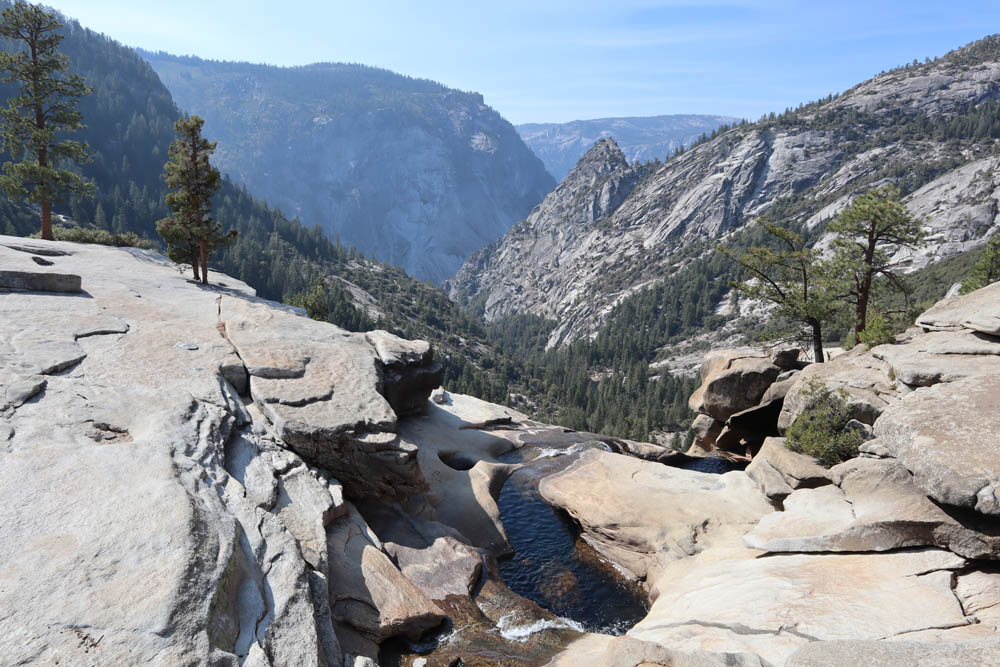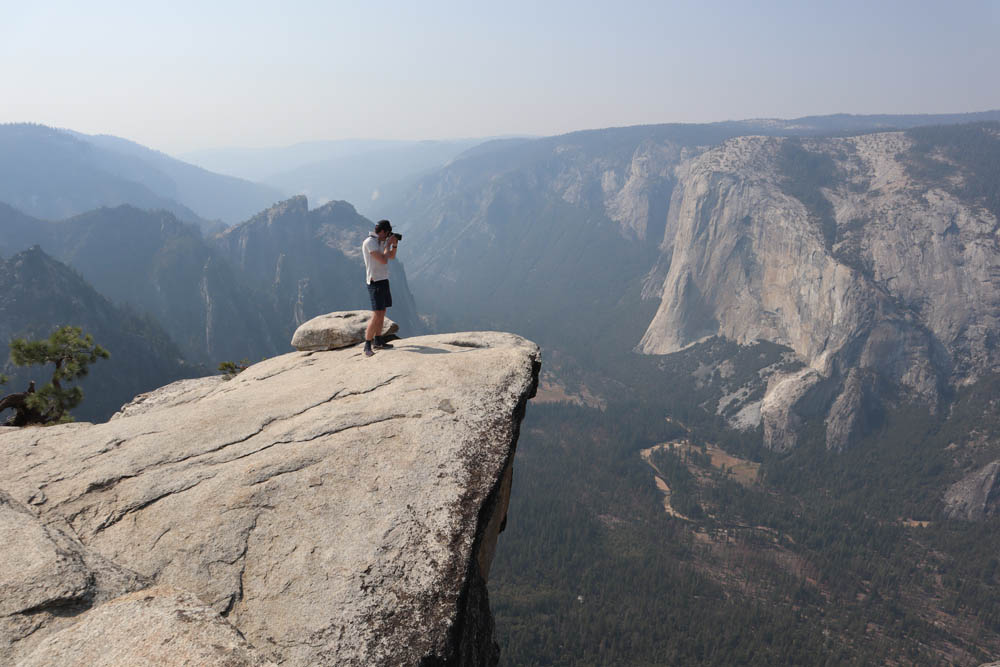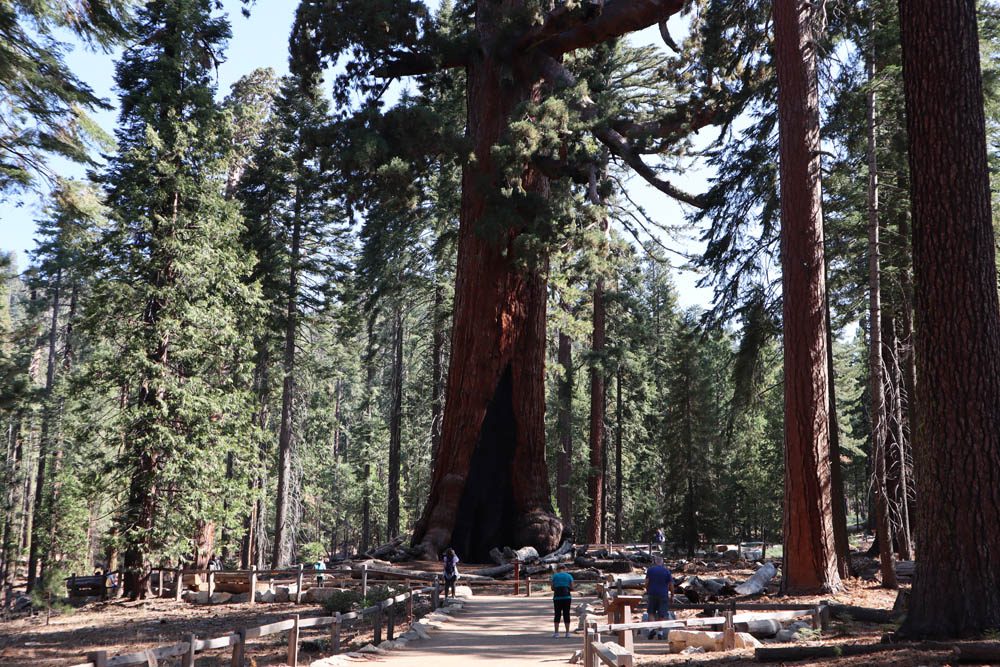 Yosemite to Death Valley
Since Sequoia National Park and Kings Canyon were closed due to the wildfires, it was time to enter the Mojave Desert. I exited Yosemite via Tioga Pass Road, an engineering marvel that slices through high elevation terrain that can often be confused with Iceland or the Scottish Highlands.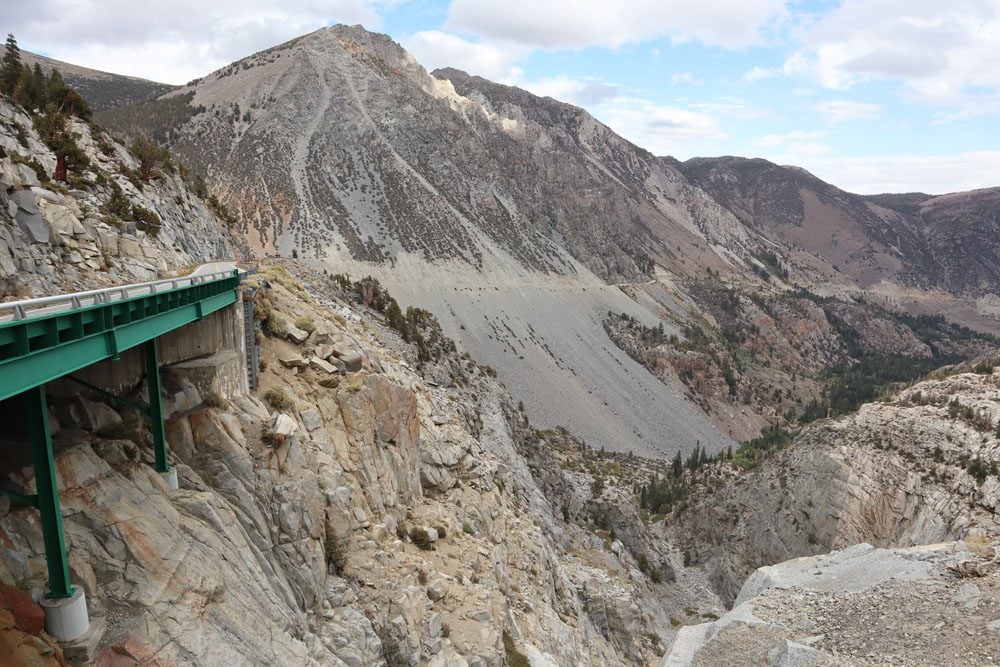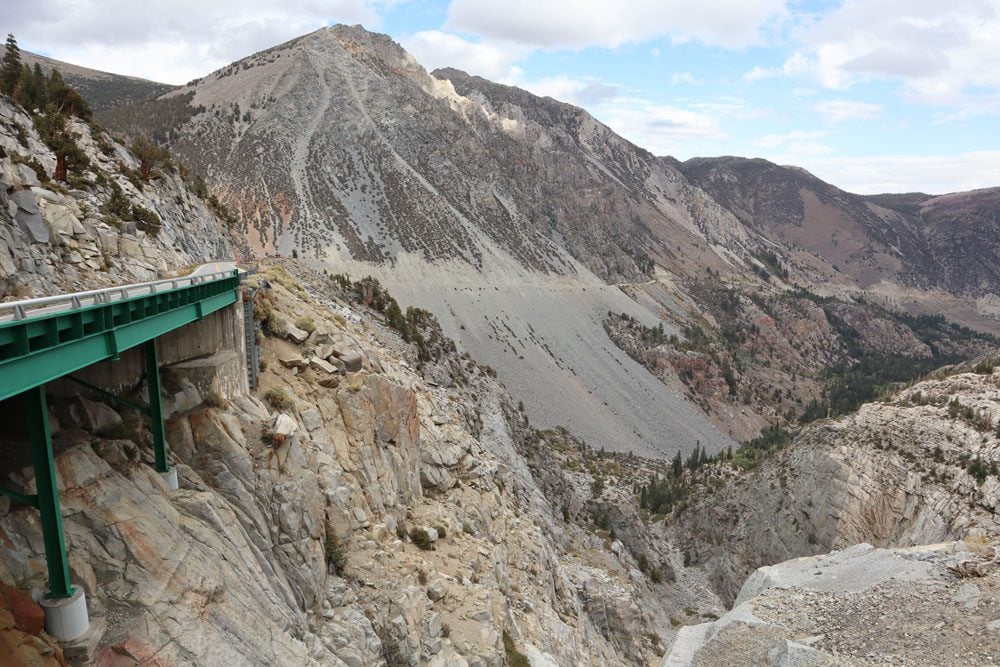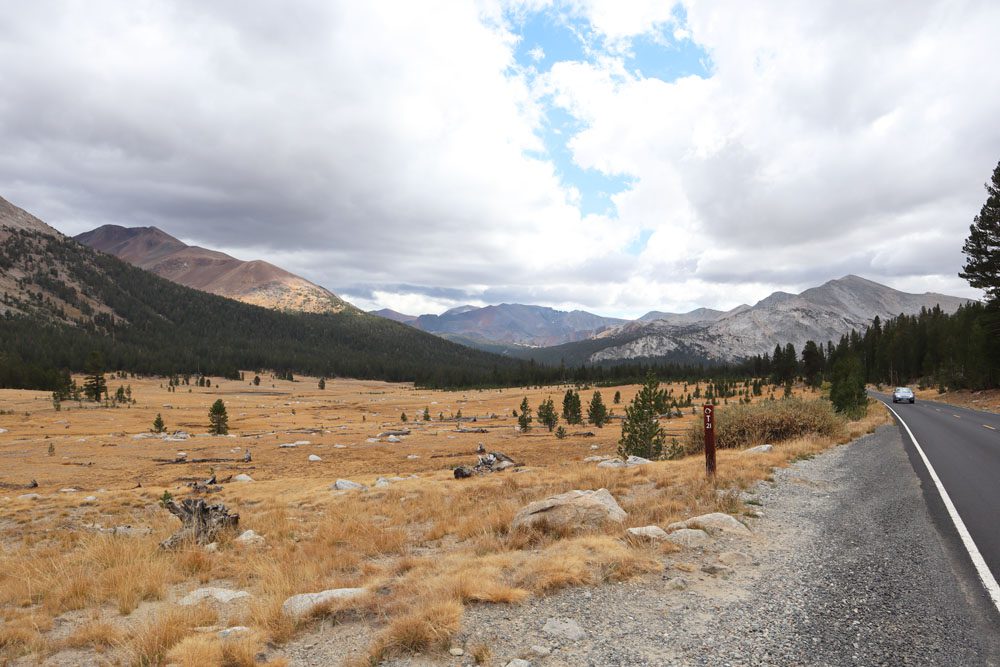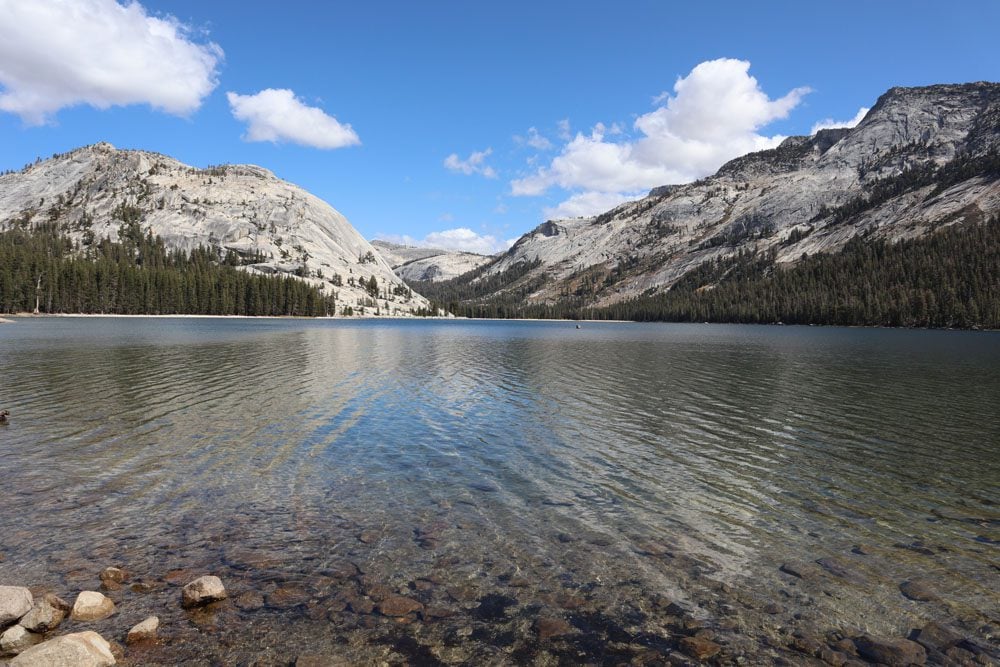 The end of Tioga Pass sharply descends to Owens Valley where the scenery quickly changes from alpine to desert. The cracking sounds made by empty one-gallon plastic water bottles in the back of the car confirmed what my ears were feeling, a rapid loss of elevation. In a matter of minutes, the outside temperature soared by 15 degrees Celsius. The endless sharp curves of Yosemite's roads suddenly gave way to seemingly endless asphalt as straight as an arrow.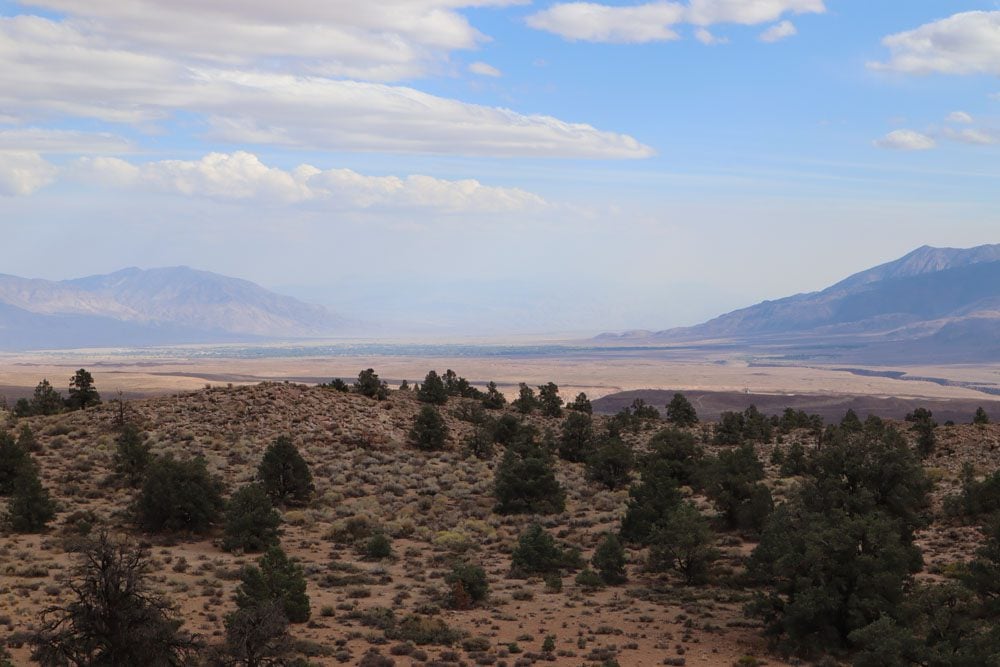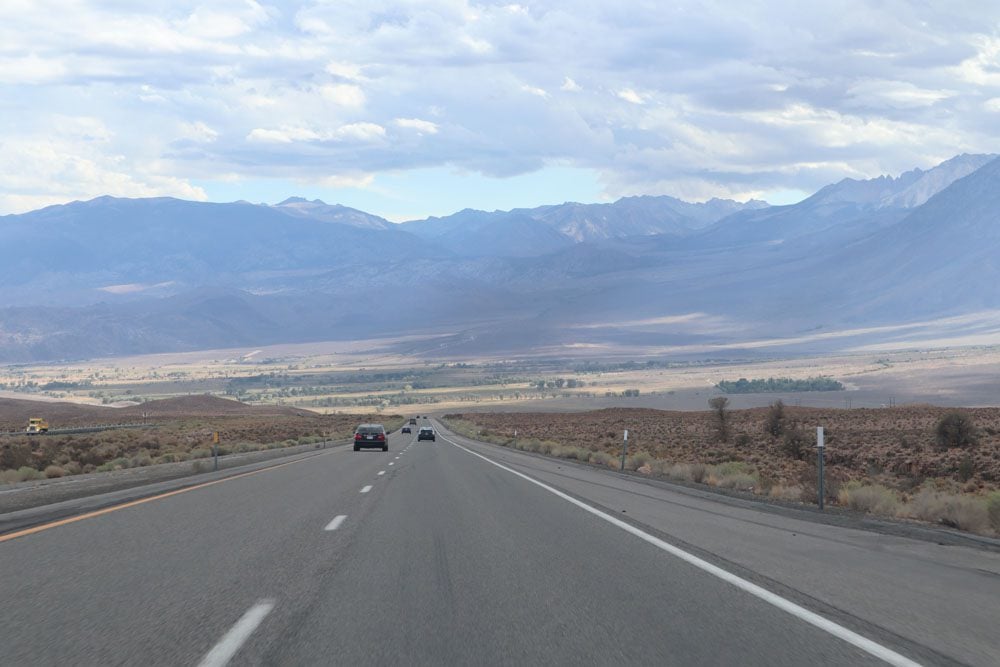 It was time to turn on the cruise control and enjoy the open country. To my right, the dusty slopes of the Sierra Nevada Mountains, and to my left, the vastness of the Mojave Desert. This stretch of Highway 395 connects enormous ranches with forgotten towns such as Tom's Place, via dry creeks and dry lakes that haven't seen a drop of water in months. I stopped to stretch my legs at Bishop, the kind of town where the highway slices through Main Street before calling it a night at lovely Lone Pine.
Death Valley
Death Valley was one of the top destinations on my list. I've visited California and Nevada many times before but never made it here despite my love for remote deserts. It turns out that Death Valley National Park is not only home to hell-like summer temperatures and low elevation, but it is also one of the largest national parks in the country so there will be a lot of ground to cover.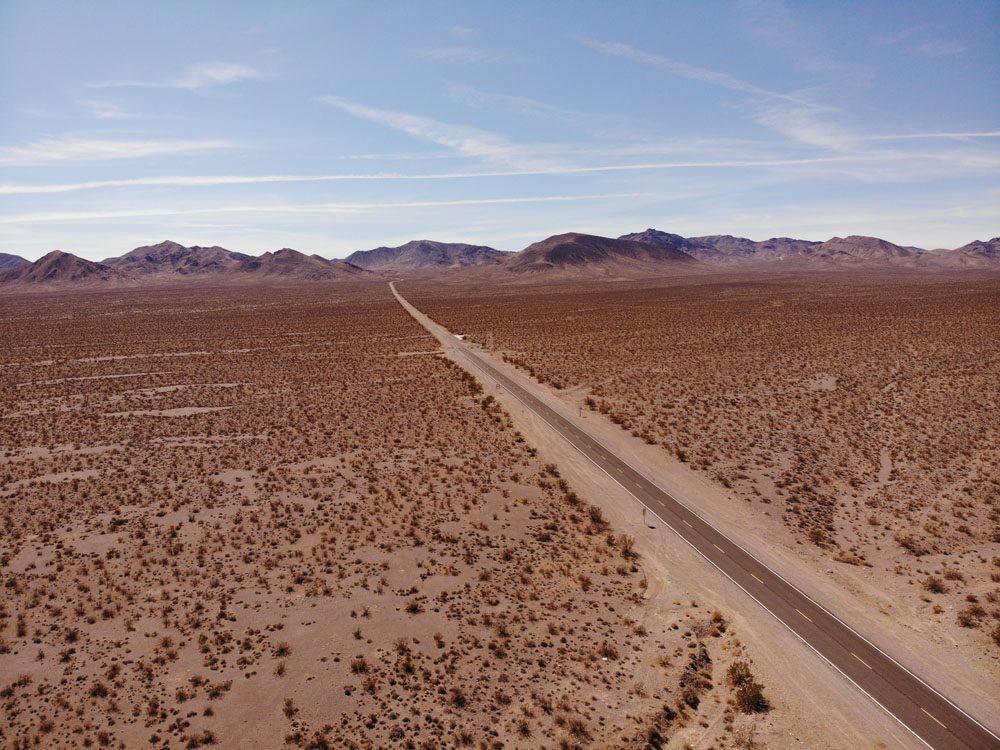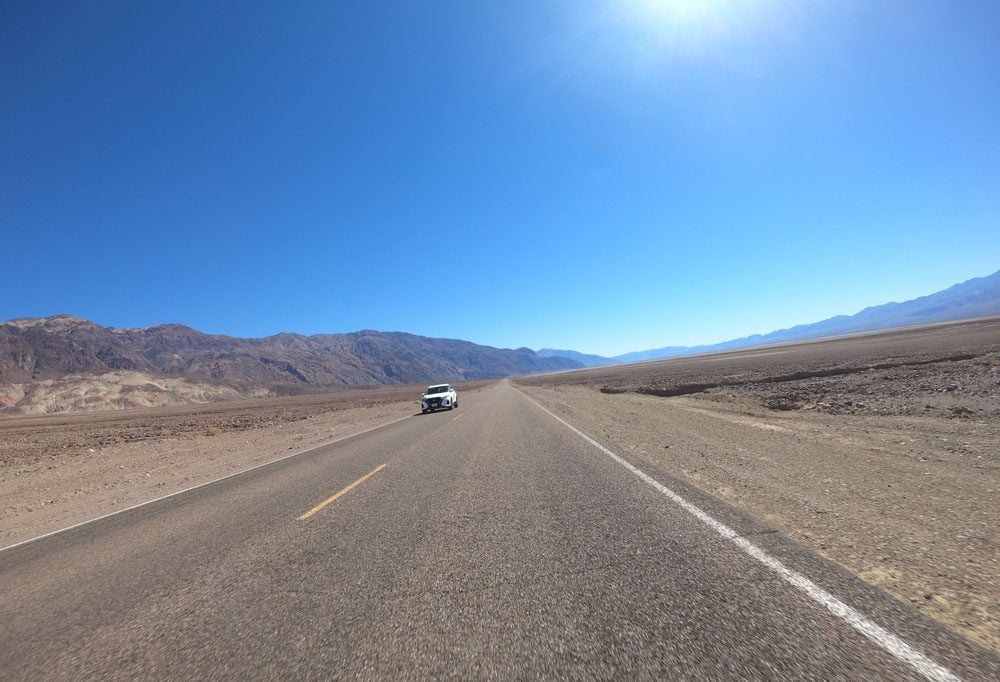 I started the day with a bit of off-roading to get to Aguereberry Point, one of the most expansive vistas in the park, before checking in at Stovepipe Wells, a comfortable motel in the middle of nowhere.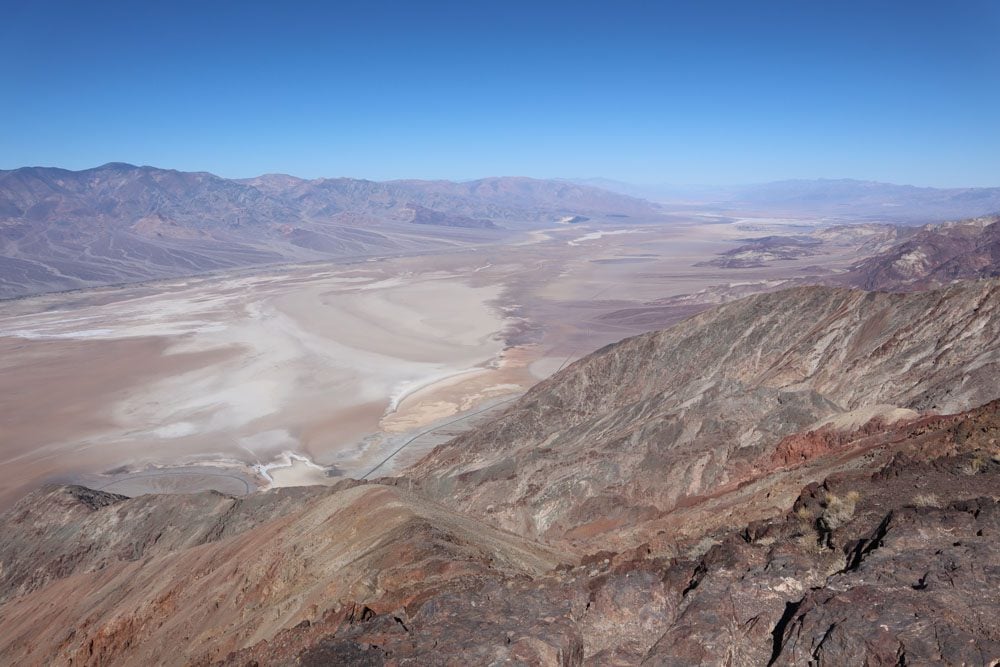 I spent the next couple of days driving and hiking within the park. Though there is a lot of ground to cover to get from one point to the next, the drive is an experience in its own right. I especially enjoyed Titus Canyon Drive, a 26-mile dirt road that is at times just wide enough for a car to pass through. Artists Drive was another memorable experience, culminating in the kaleidoscope of dusk colors at Artist's Palette.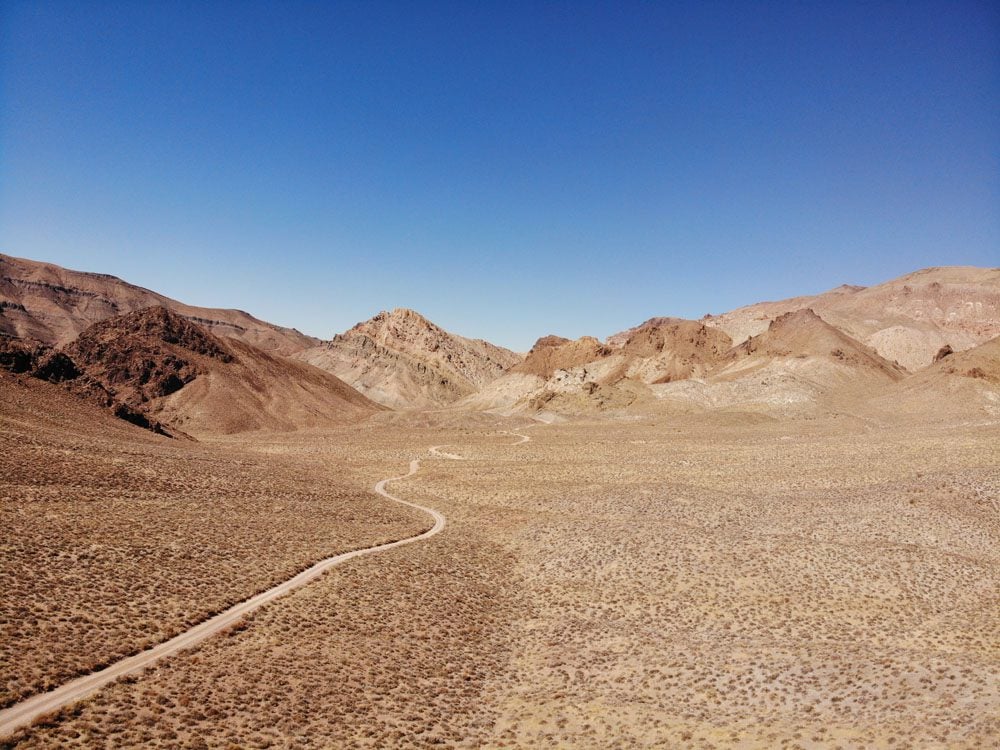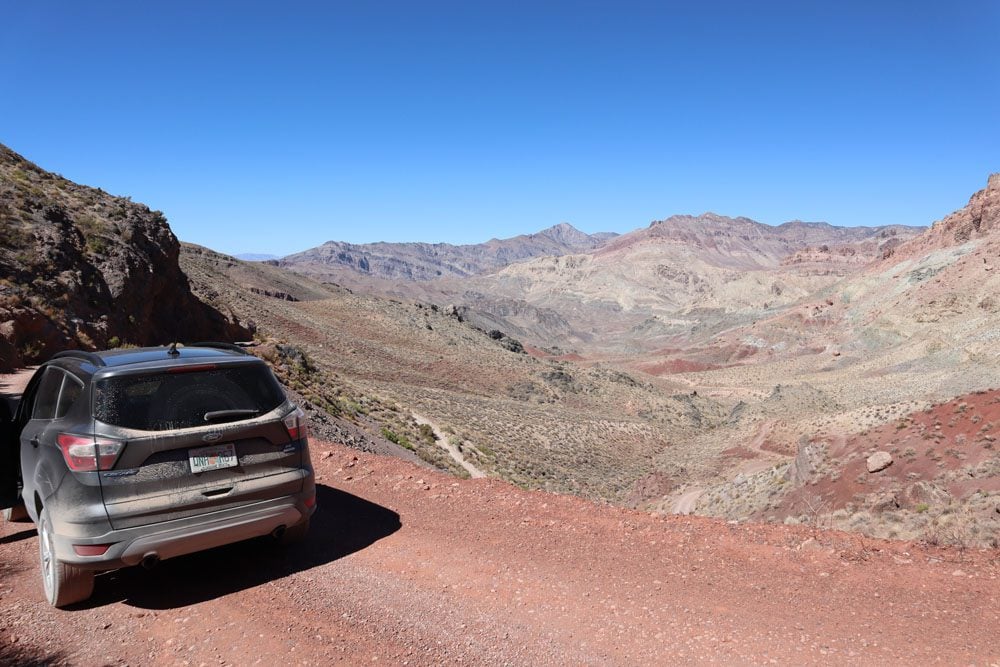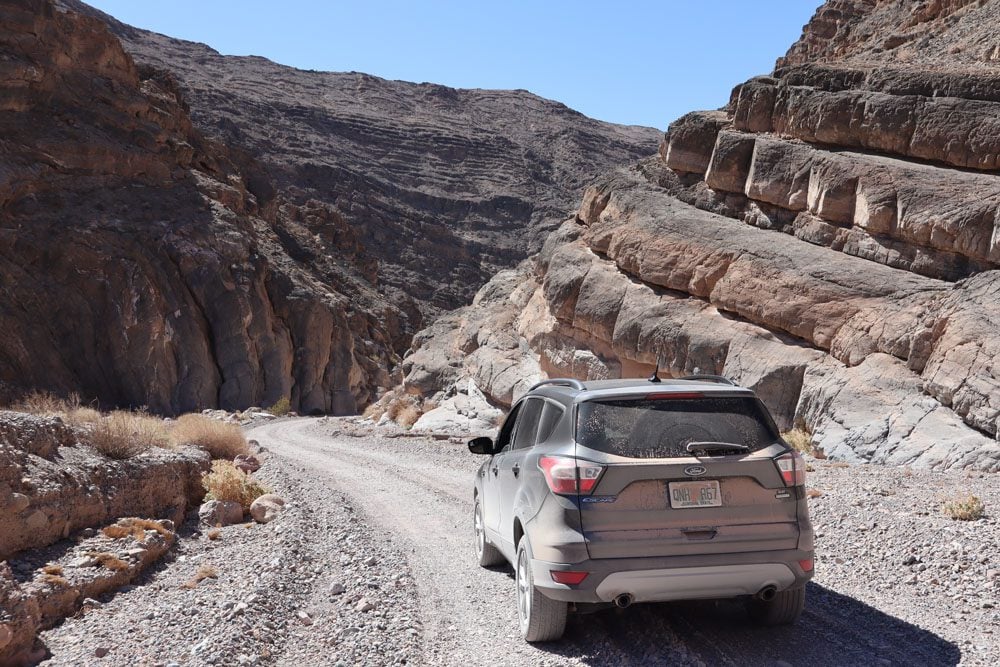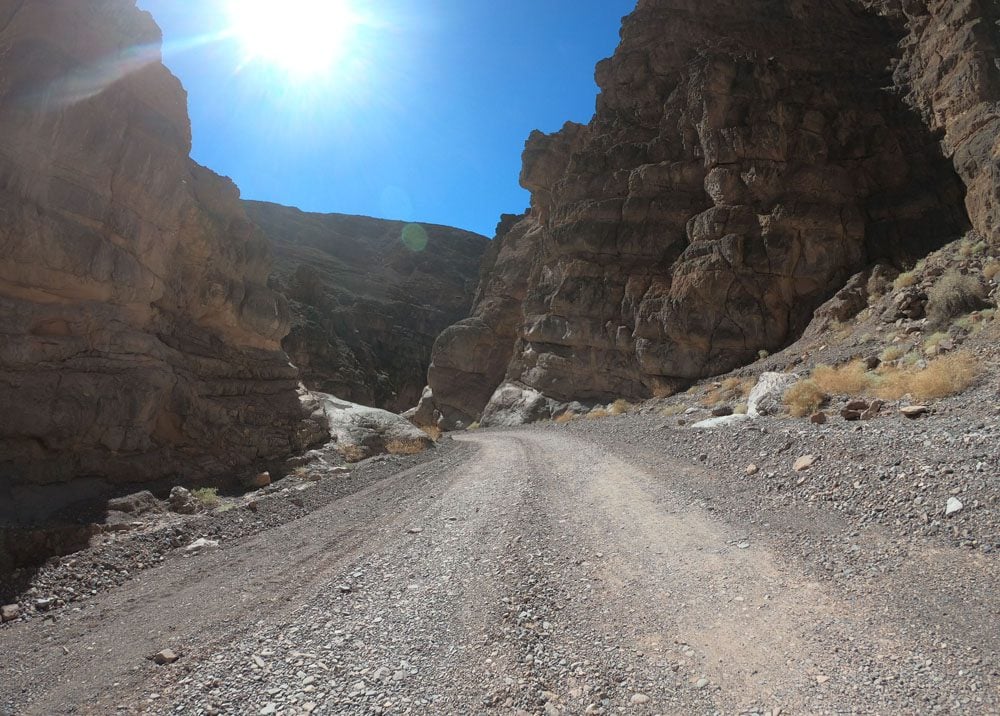 Death Valley's prime attractions are centered in and around aptly-named Furnace Creek. At salt-covered Badwater Basin, the thermometer made it to 100 degrees Fahrenheit as the elevation plummeted to 282 feet below sea level. At Zabriskie Point, erosion showed its artistic side, and at Dante's View, the strong winds could not deter me from enjoying the spectacular view. Before sunset, I would head to the soft sand dunes at Mesquite Flat and return at night to watch the Milky Way.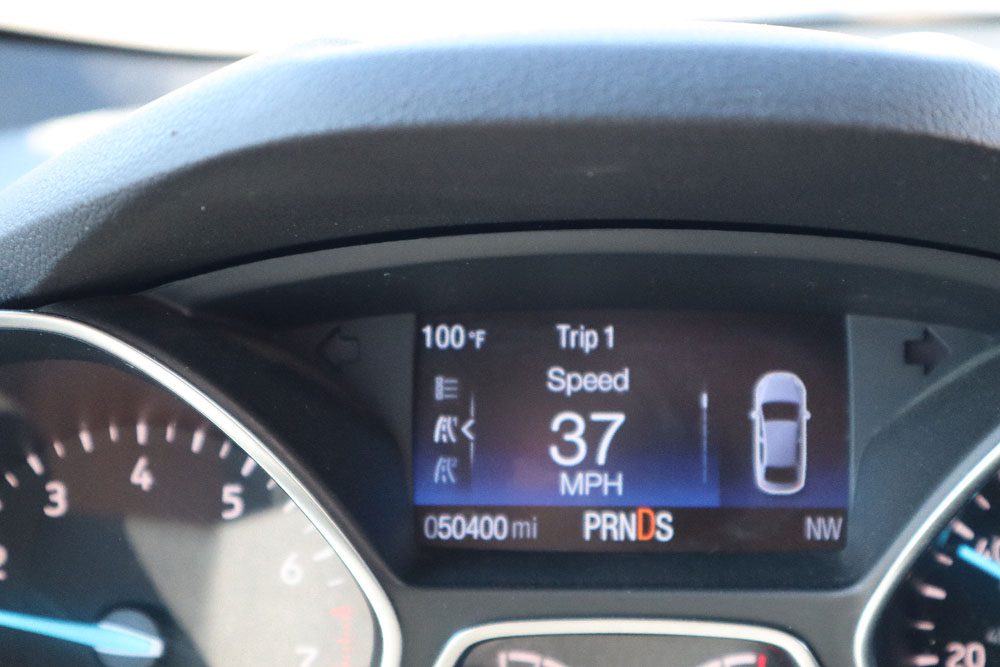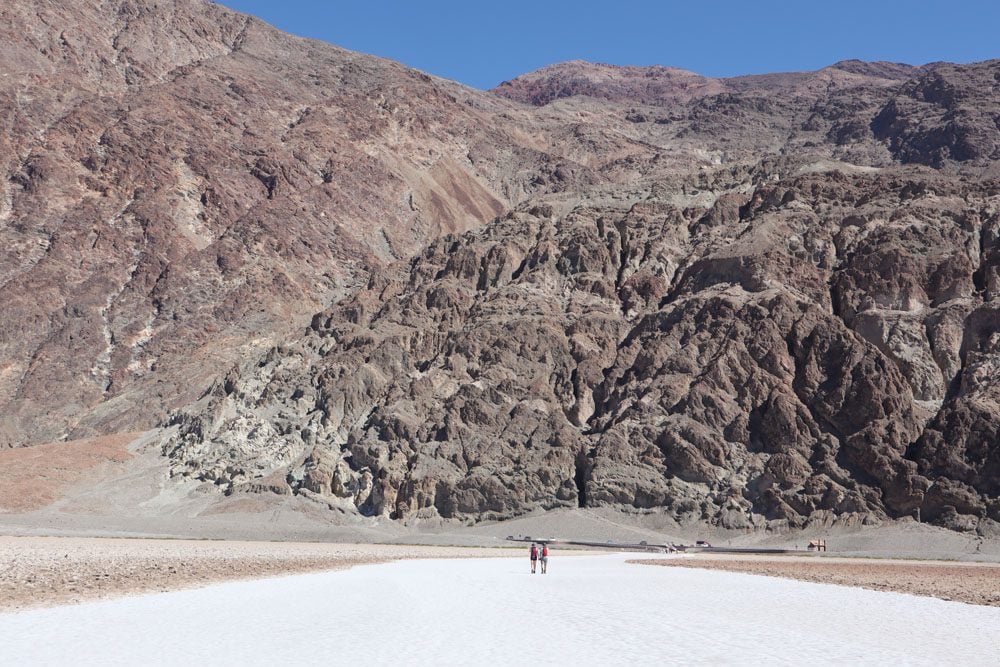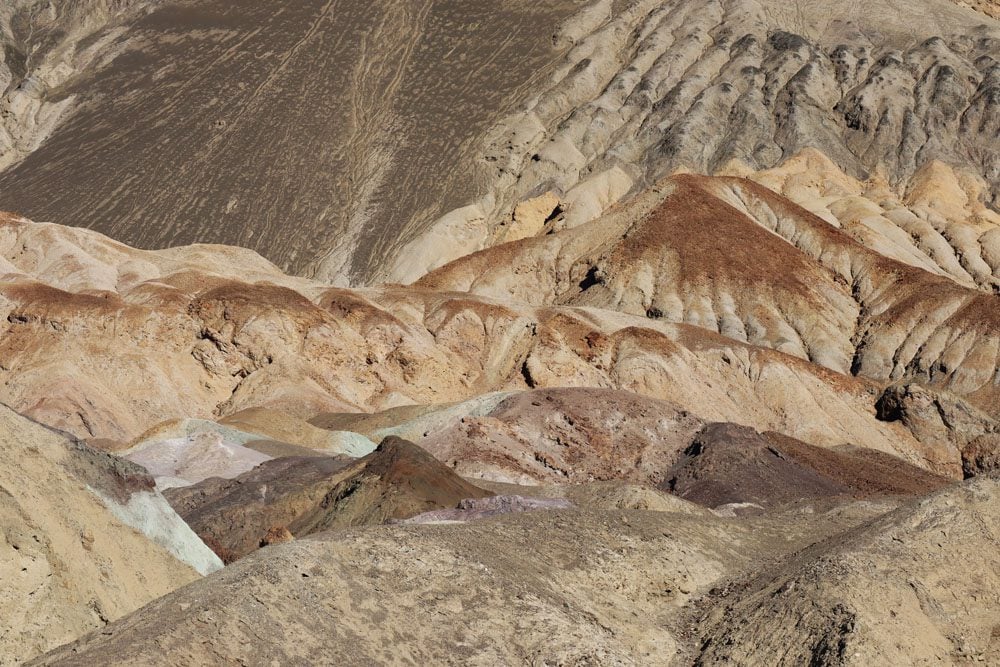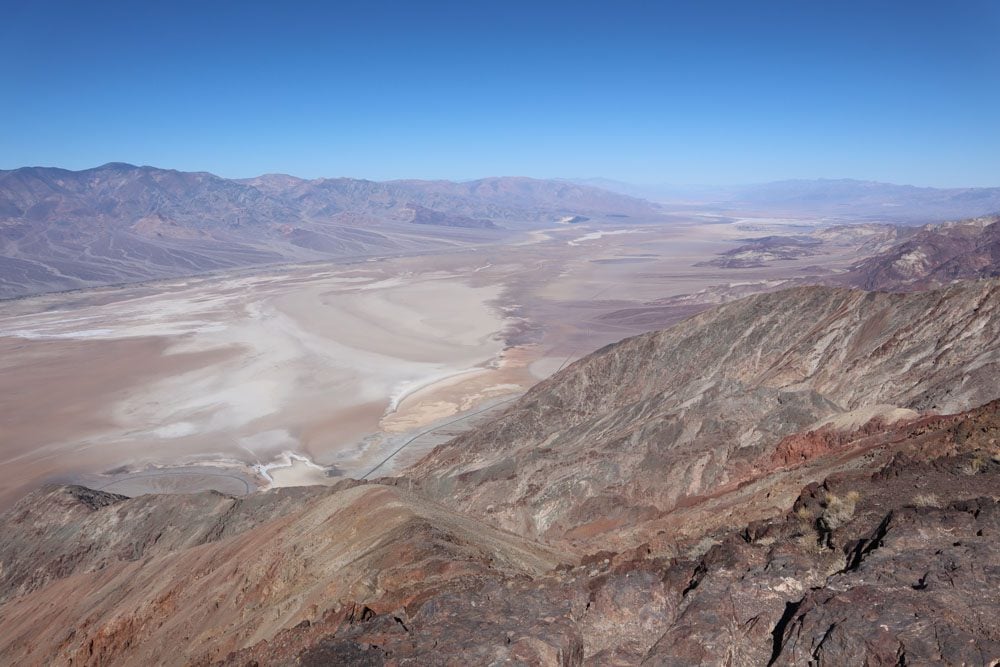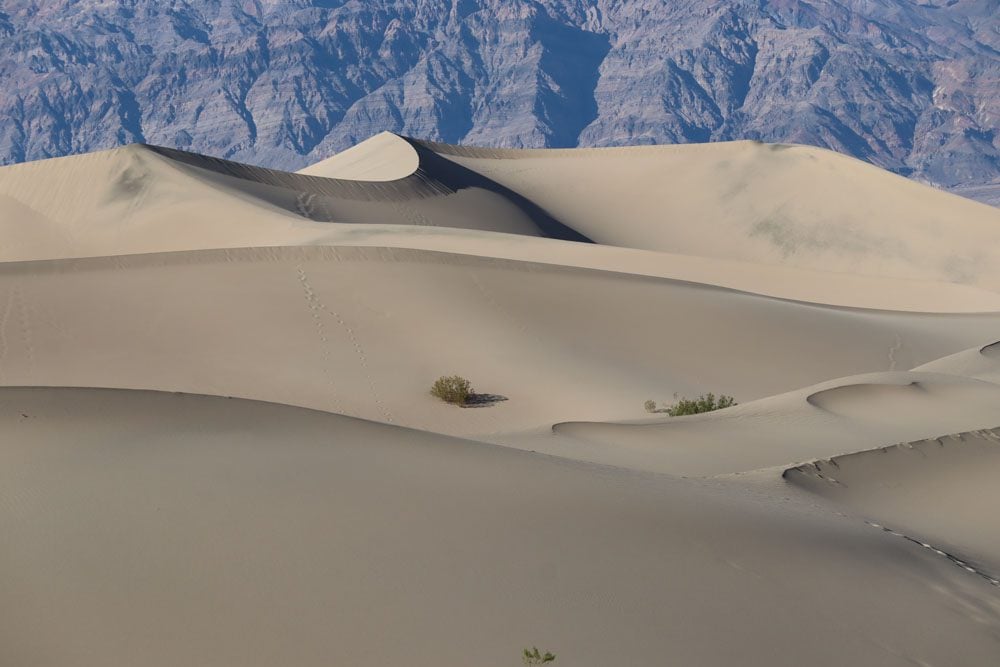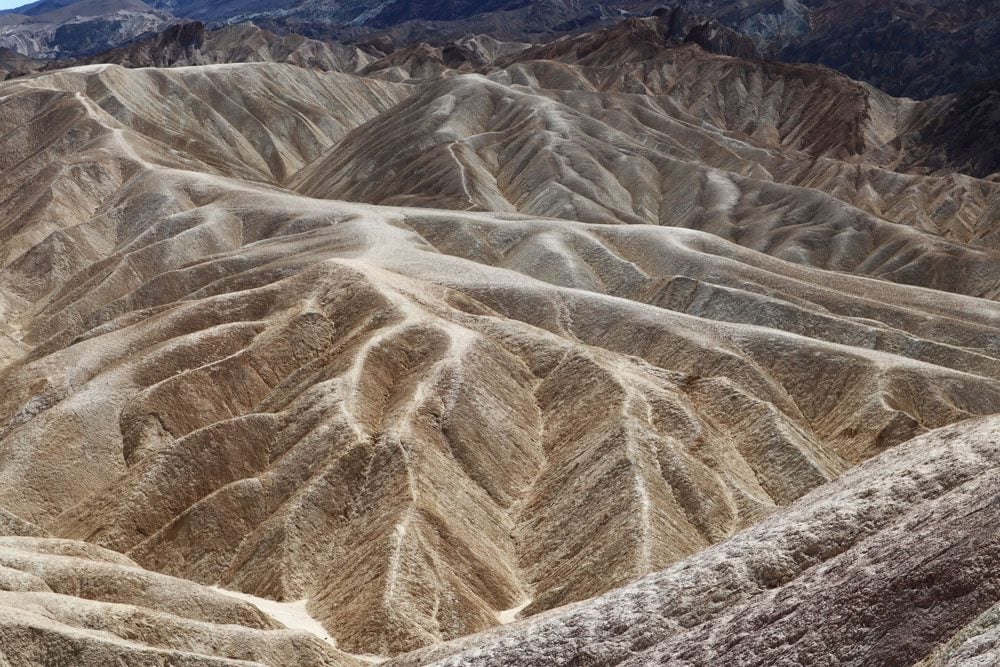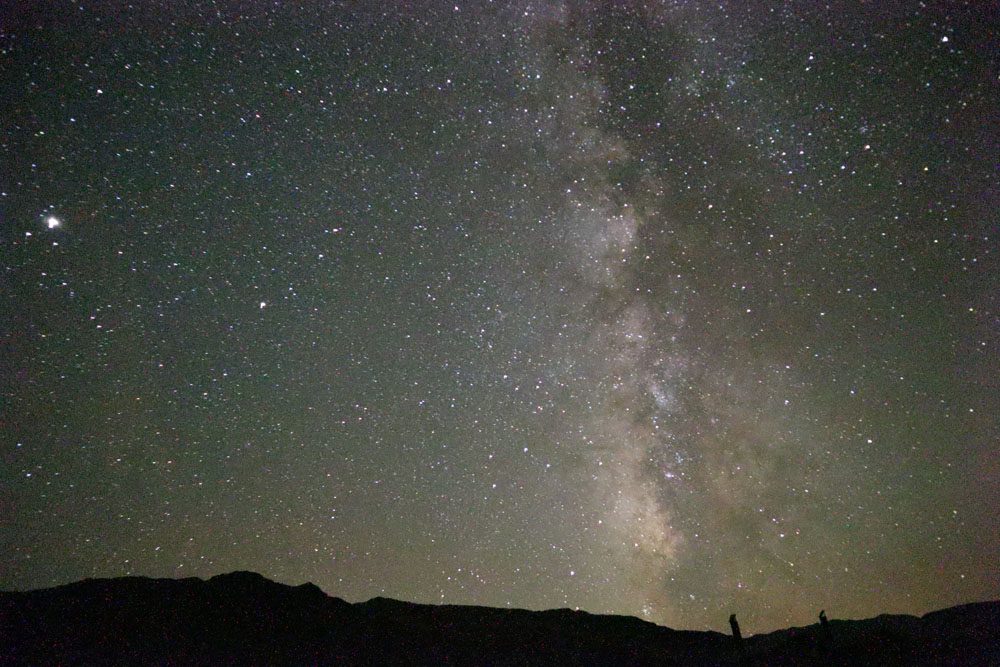 Mojave National Preserve
Lying almost halfway between Los Angeles and Las Vegas, the turn into Mojave National Preserve is easily missed by eager casino or beachgoers on scenic Interstate 15. I headed down here from Death Valley via lonely Highway 127 which, looking back, was one of the prettiest stretches of desert road on this entire trip. I hoped to spend the night in Baker before entering the preserve but, apart from the "world's tallest thermometer", pricey gas stations, fast food chains, and RV camps, there was no place to stay here. So a long detour to Barstow was called for just as the sun was setting.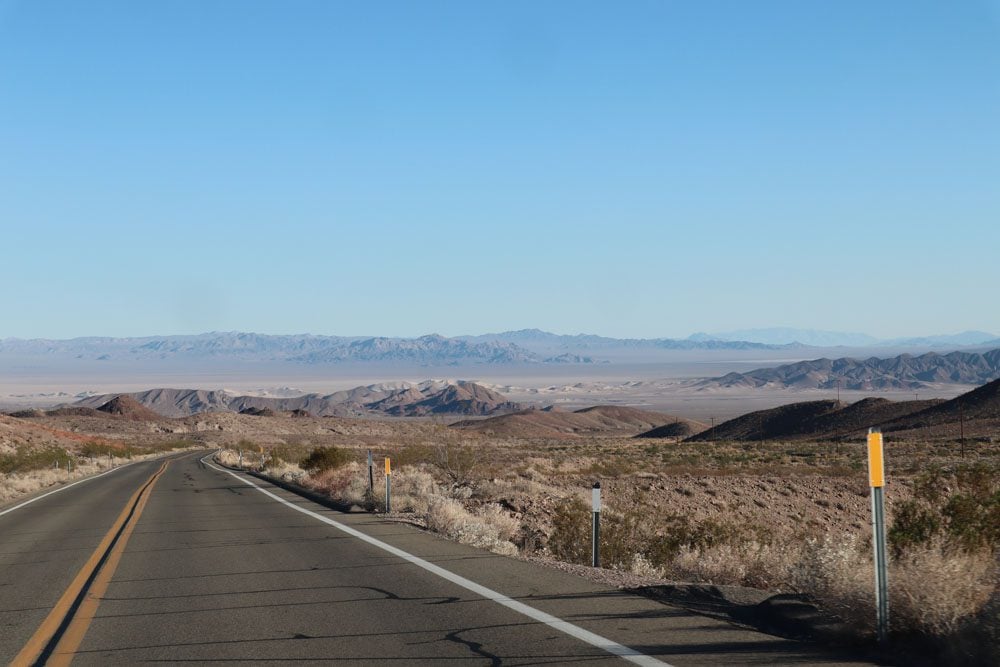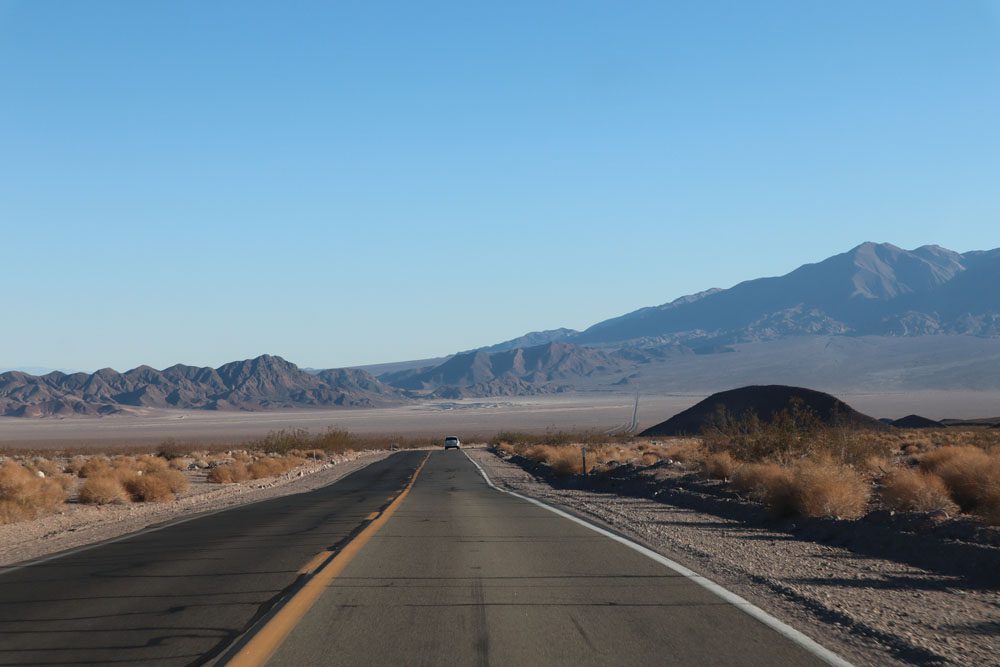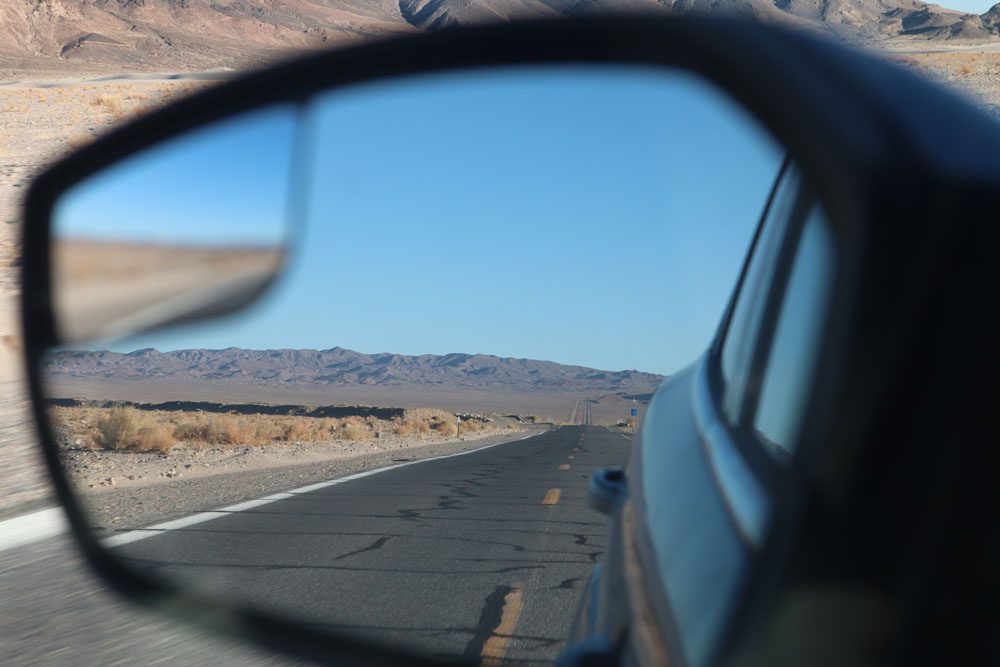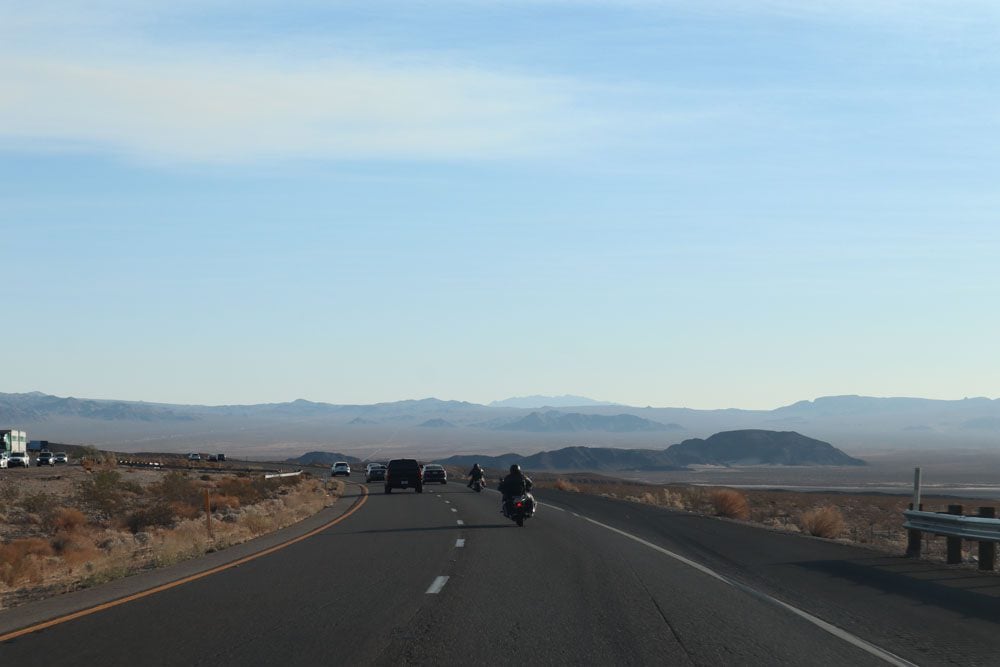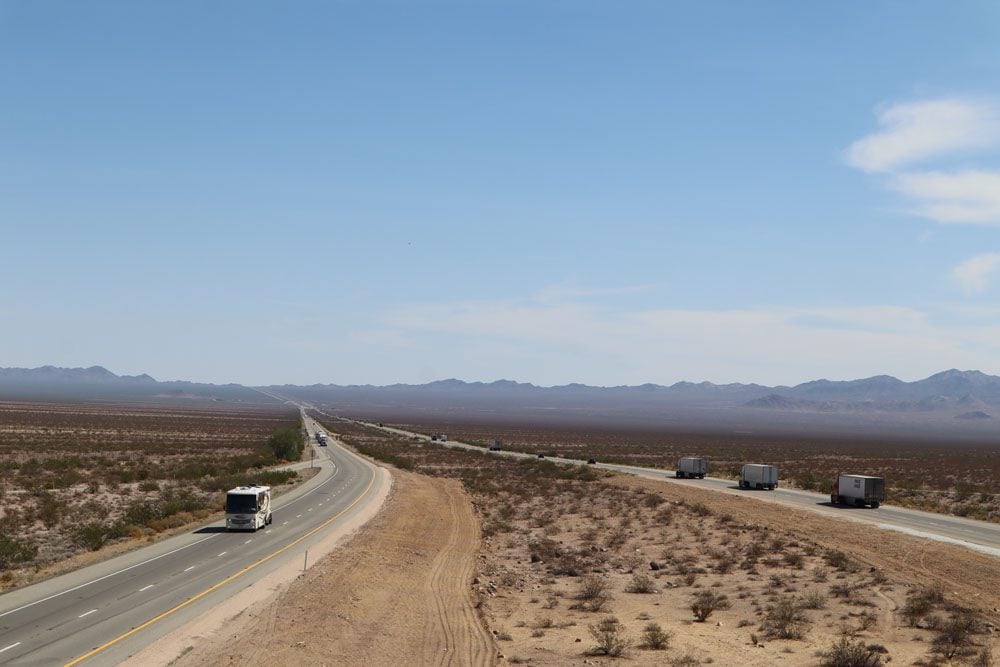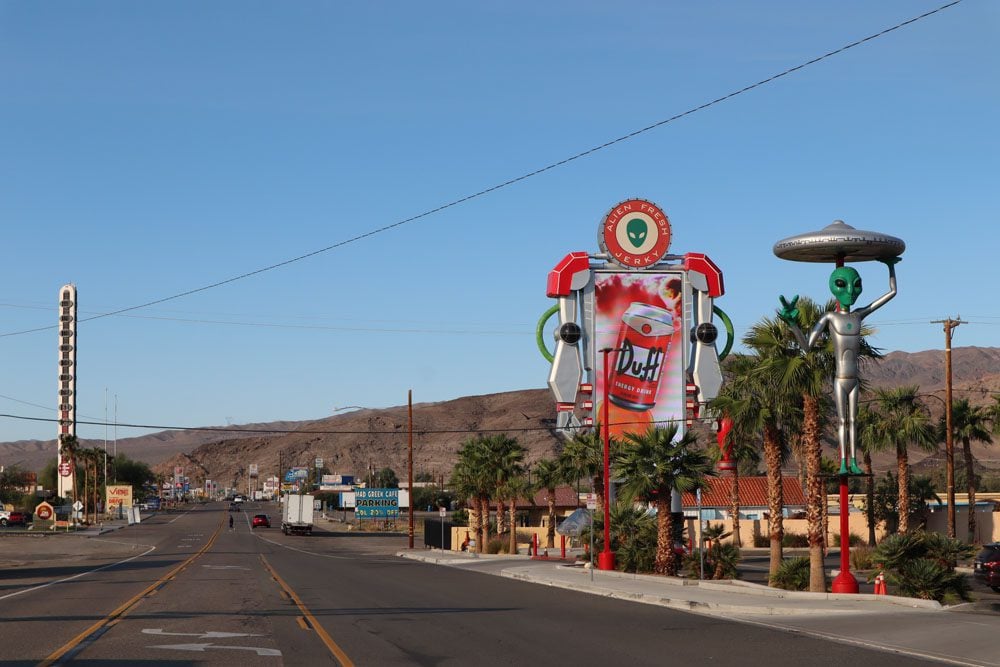 Mojave National Preserve is a great place to see Joshua Trees and to simply get lost in its empty expanse. At Kelso Dunes, I got reacquainted with the soft desert snow and at Hole-In-The-Wall, I experienced once again the bizarre forces of nature along with surprisingly diverse wildlife. Another surprise came at Kelso Depot, where I pulled in just as a lengthy freight train pulled in on its journey across the Mojave Desert. What a place for a lunch break…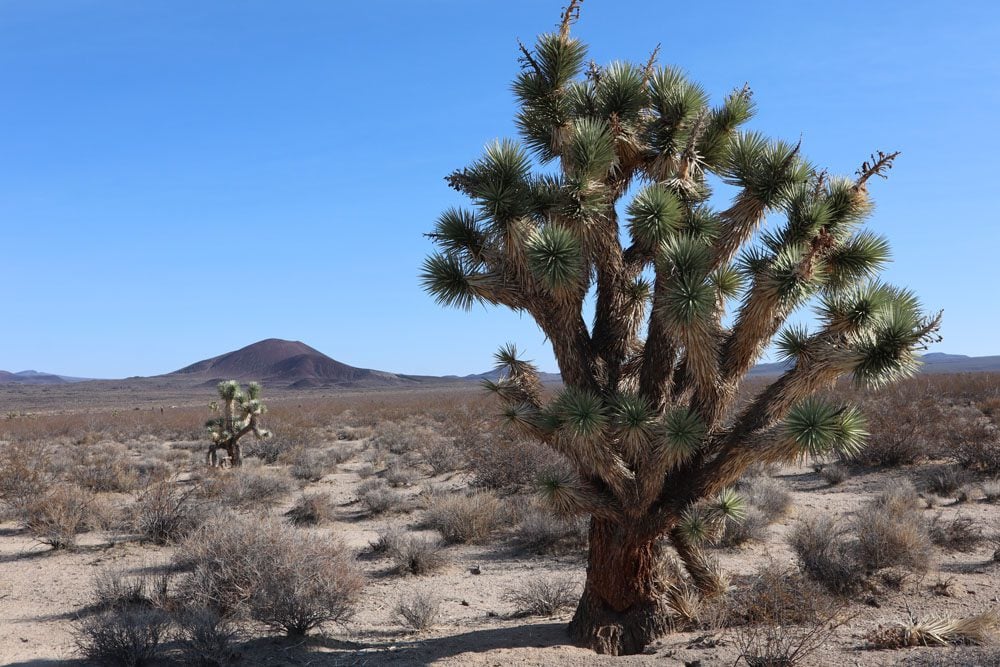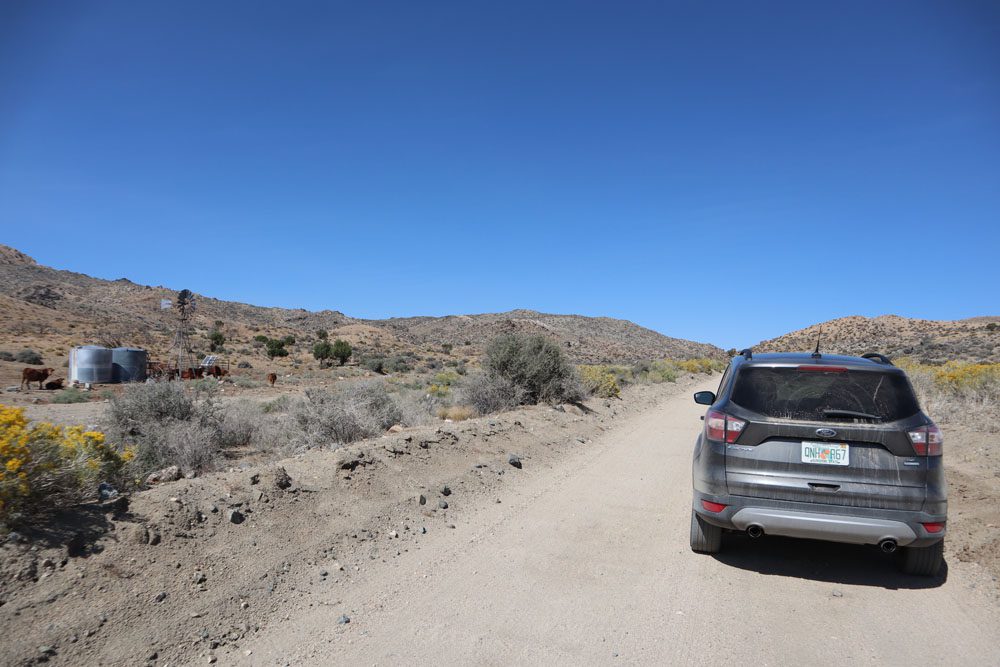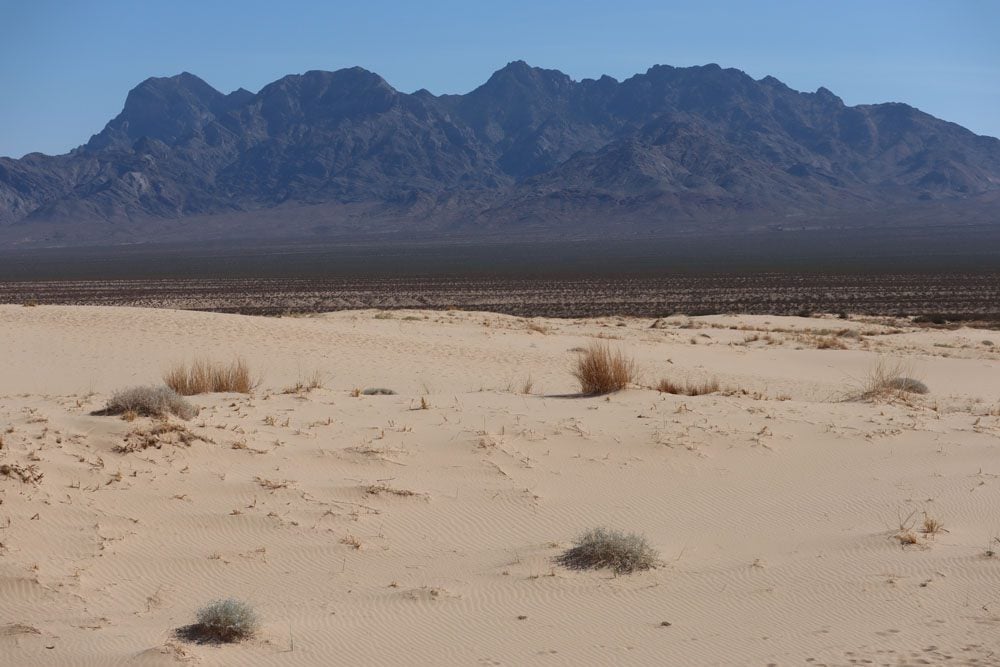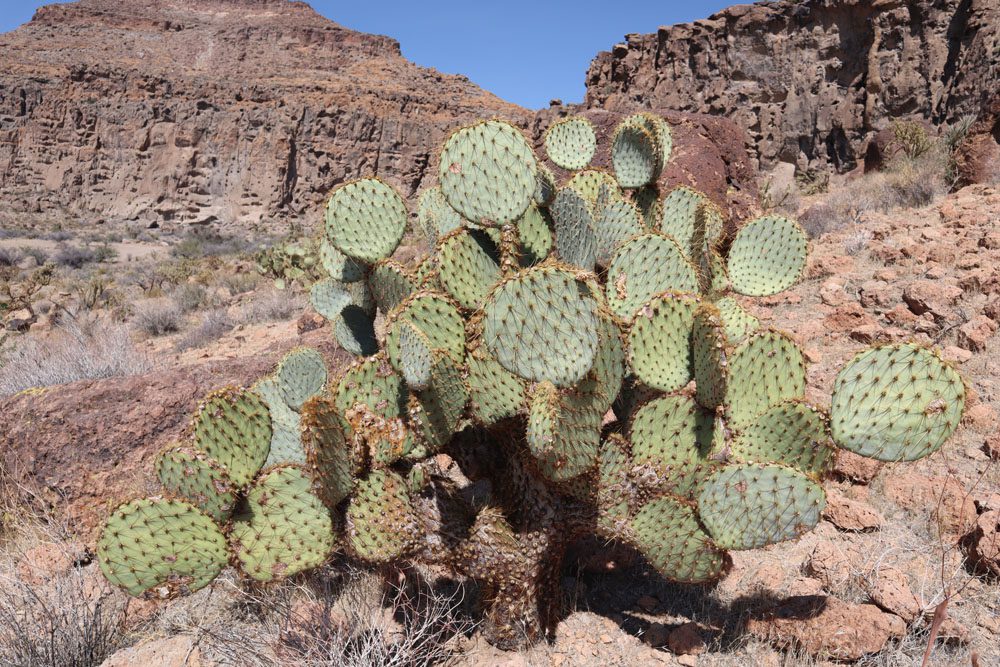 Zion National Park
Leaving the Mojave Desert (for now), it was over 300 miles to an overnight stop near Zion National Park where I would spend the next couple of days. The changing scenery of Interstate 15 broke the usual monotony. I passed by a bizarre-looking solar farm before reaching the Nevada state line, where a totally out-of-place casino-themed town was erected. The leg to Las Vegas was dotted on either side by billboards hyping casino shows, cheap buffets, and injury lawyers who guarantee to make you rich. At the Arizona state line, the clock skipped an hour to Mountain Time and another engineering marvel took me through the Virgin River Gorge before reaching the reddish mountains of Southern Utah.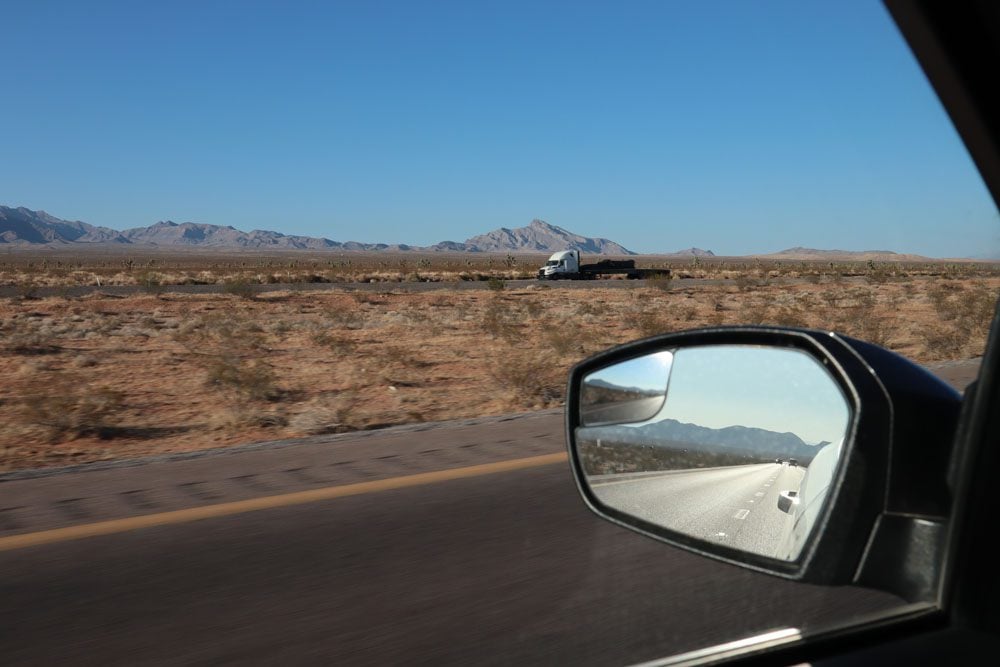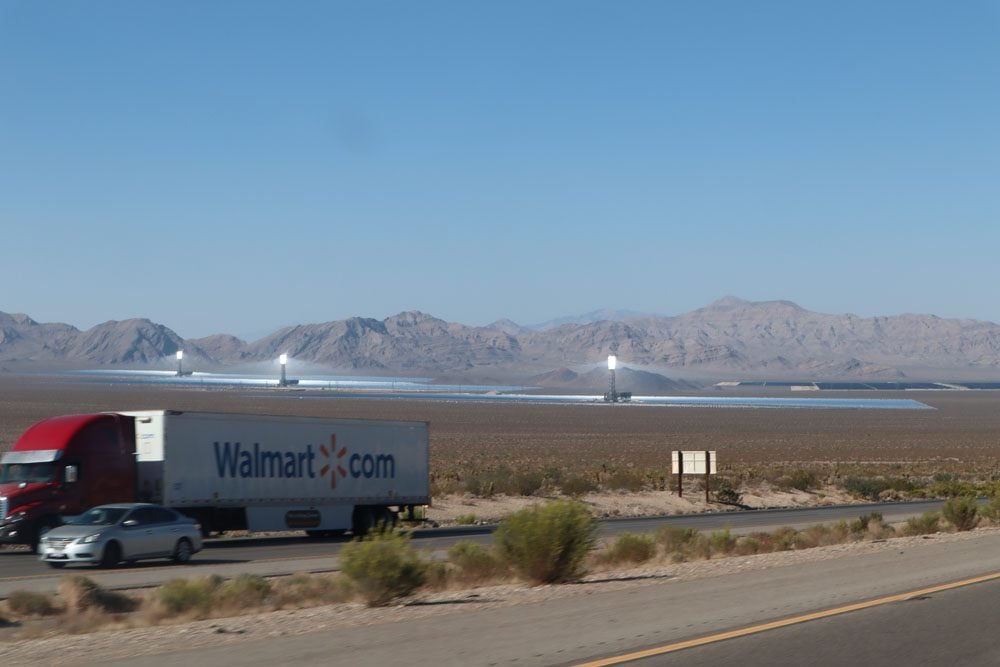 Zion National Park is magnificent but it comes with a price. The park is centered around the tightly-squeezed Zion Canyon which has to rank among the prettiest in the world. So as you can imagine, a lot of visitors head here and it can get crowded. For a few years now, you cannot drive through the canyon with your car but instead must use a shuttle. This seems to work quite well as you never have to wait for a ride and the canyon feels relatively unspoiled, especially from vista points along trails that climb to the canyon's rims.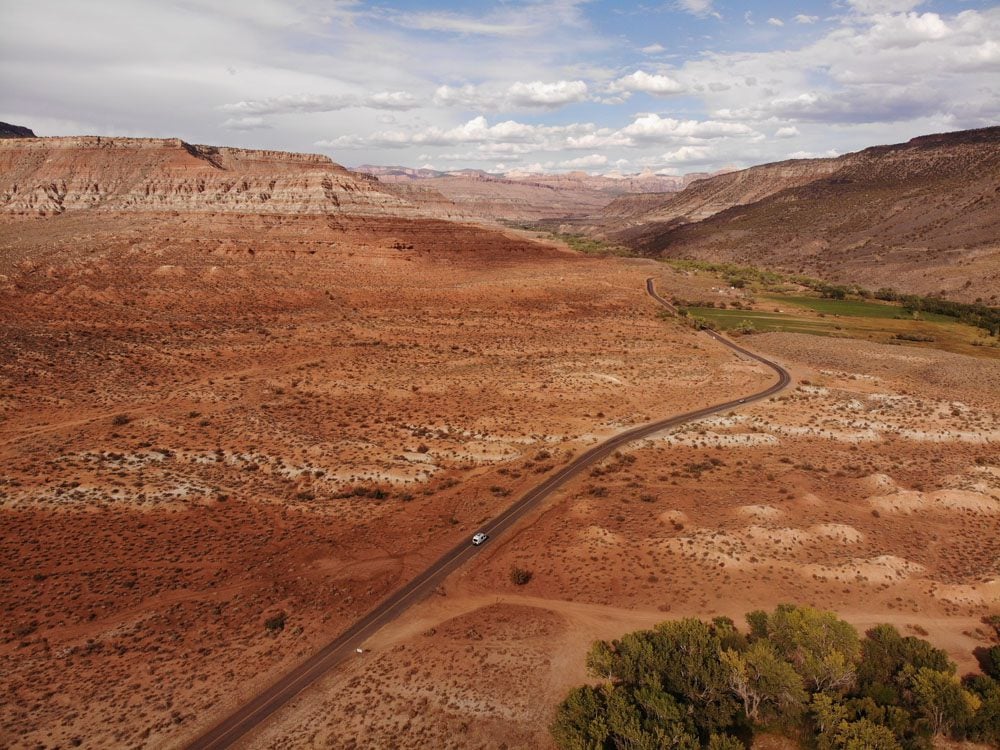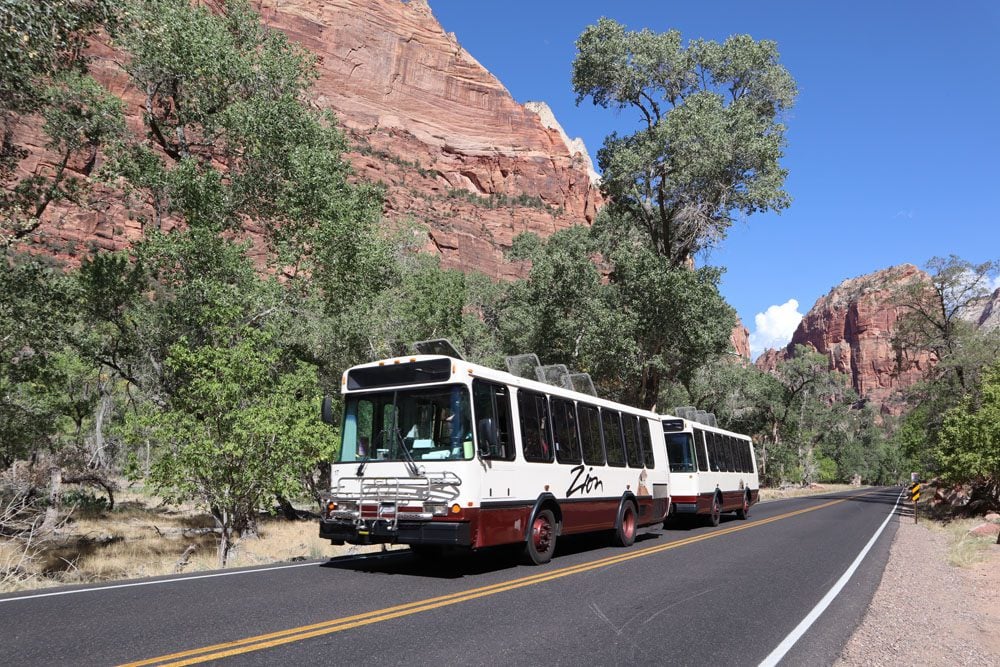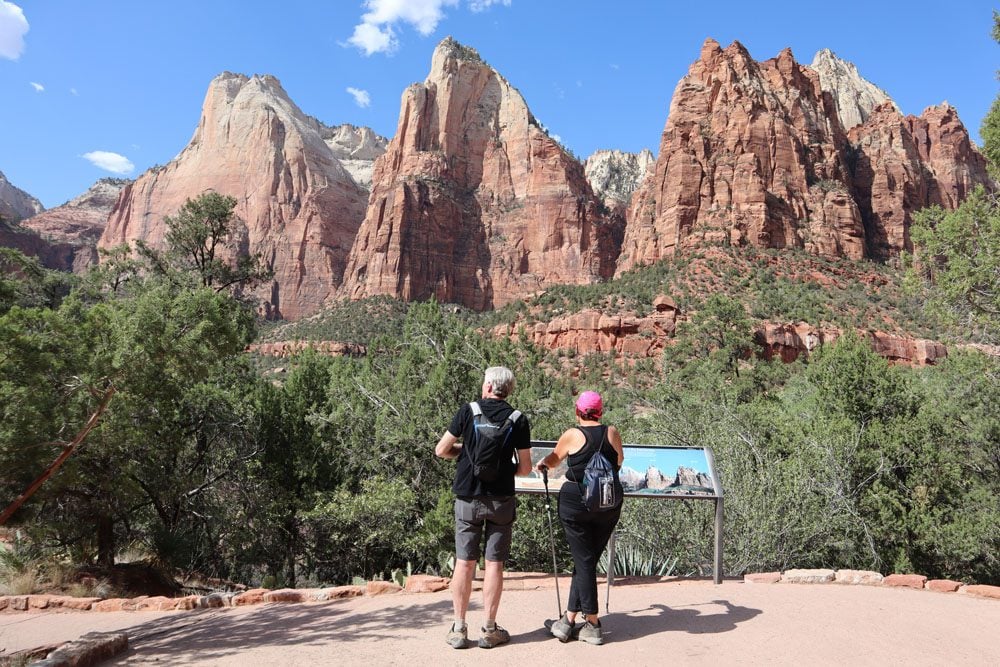 Hopping from one canyon floor lookout to the next was enjoyable, but the lasting memories came from hiking to scenic spots high above. The hike to the emerald pools offered a shady break from the beating sun and culminated in the upper pool's mirror-like surface. To reach the Canyon Overlook Trail, I drove on the scenic stretch of Highway 9 through the Mount Carmel Tunnel before hiking to this prime vista point. But the mother of all hikes in Zion was without a doubt Angel's Landing, a punishing yet rewarding hike not only due to the steep inclines but also due to the patience required to climb and descend a narrow rockface that leads to this memorable spot overlooking the canyon.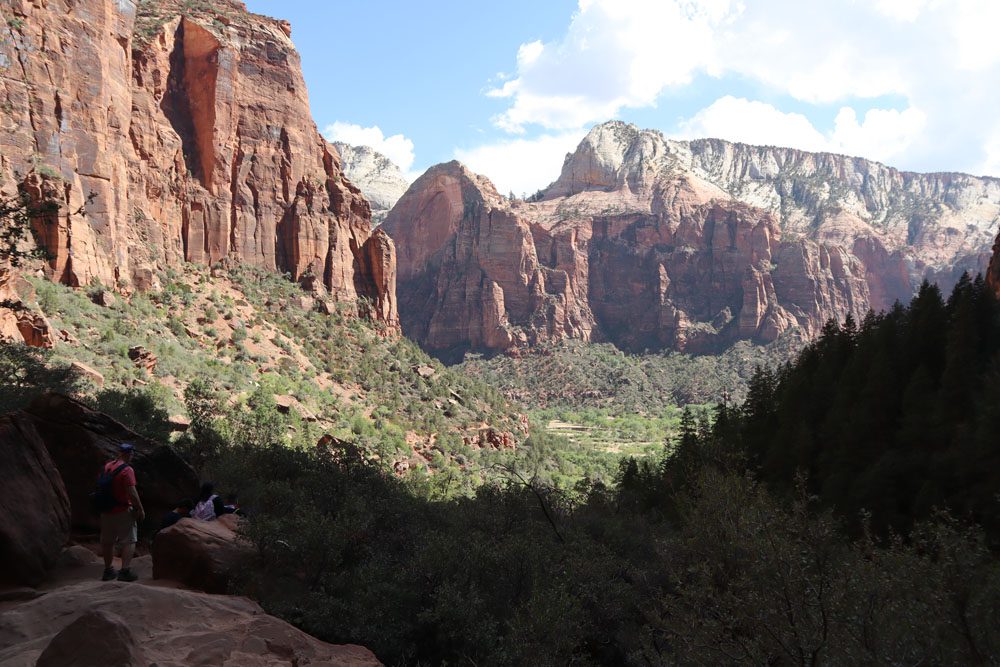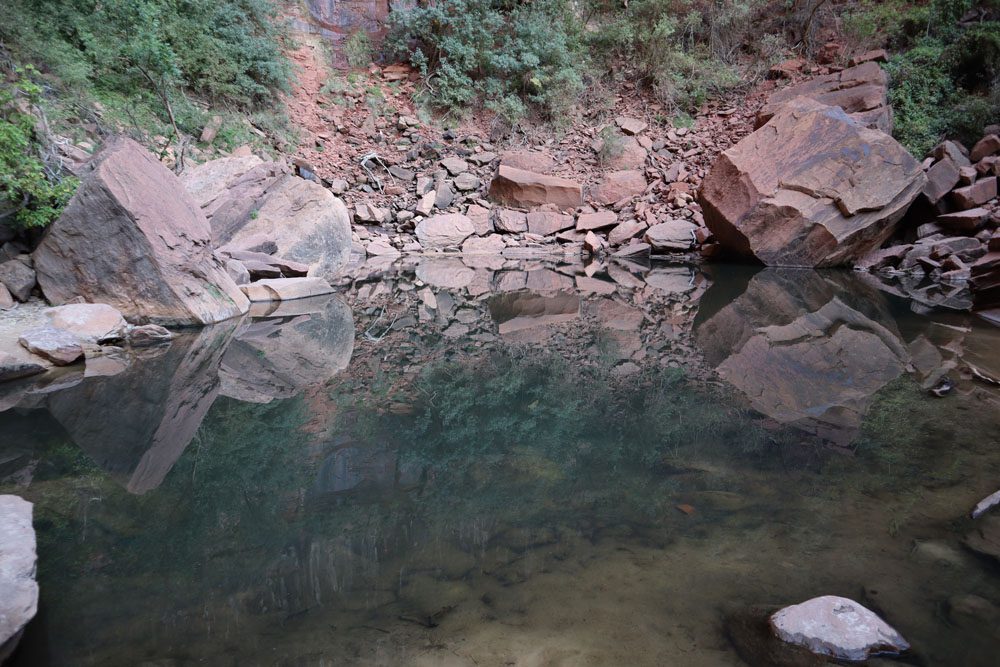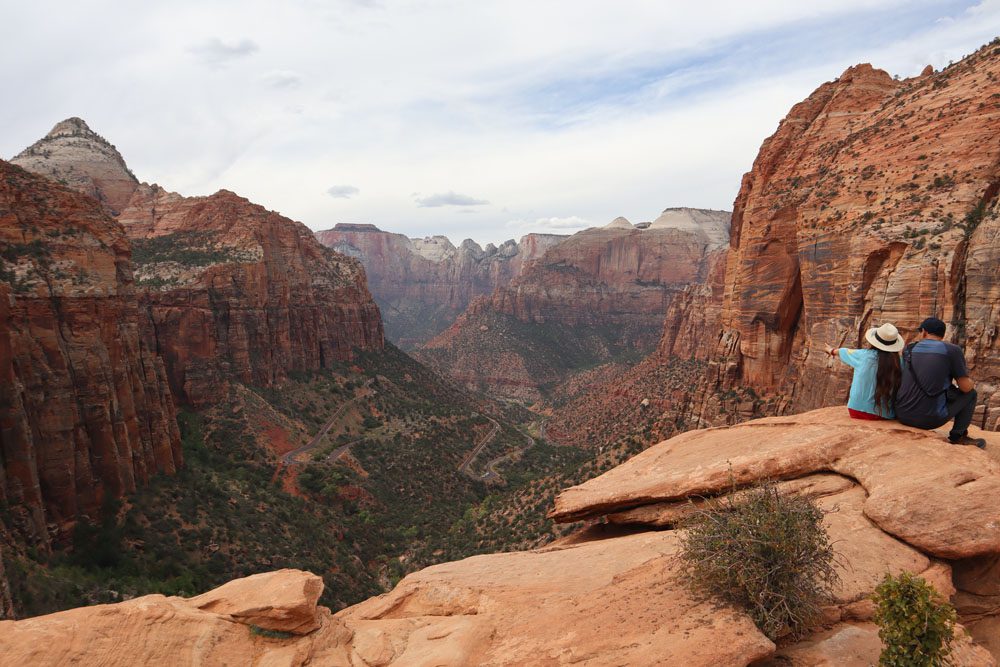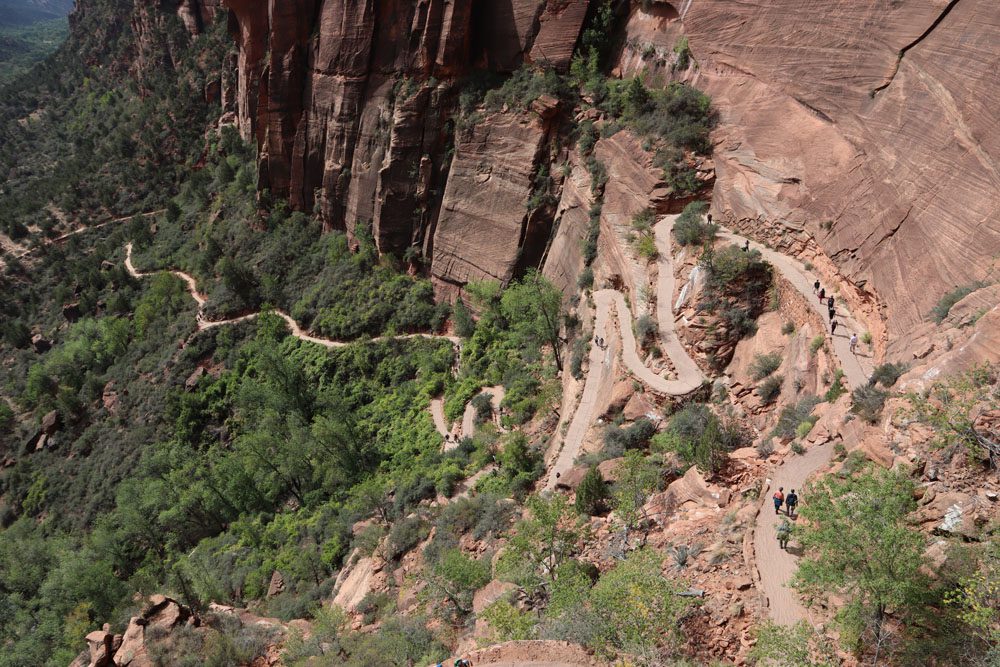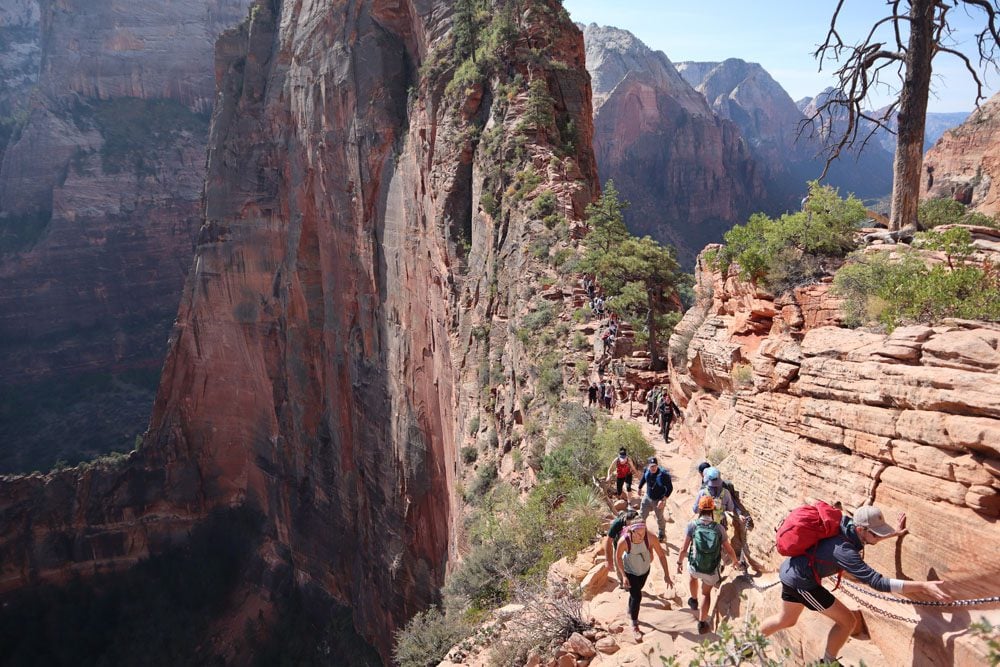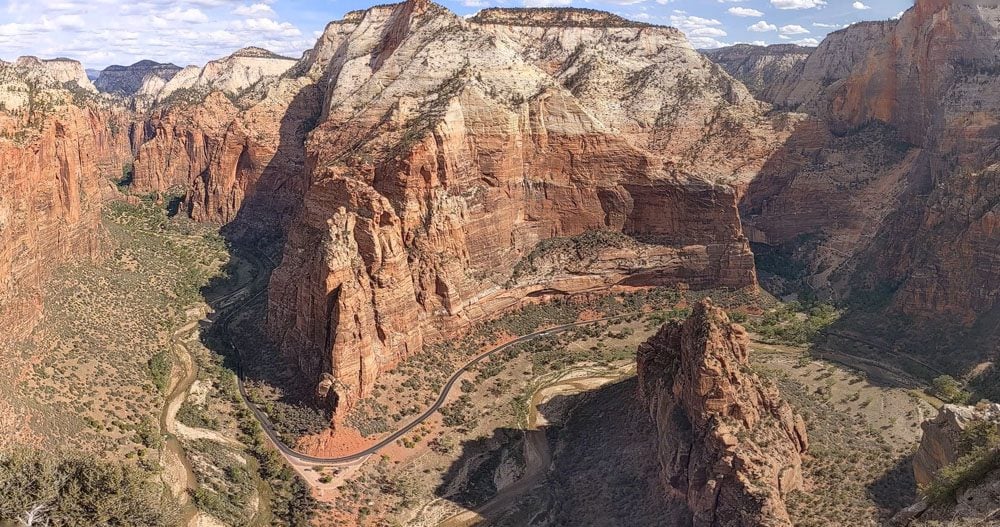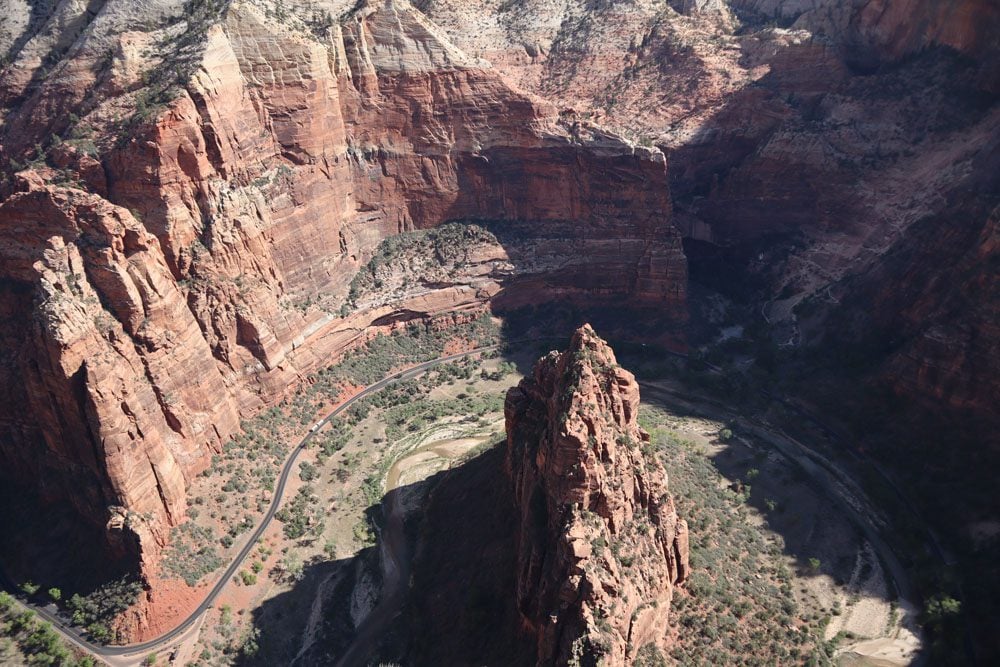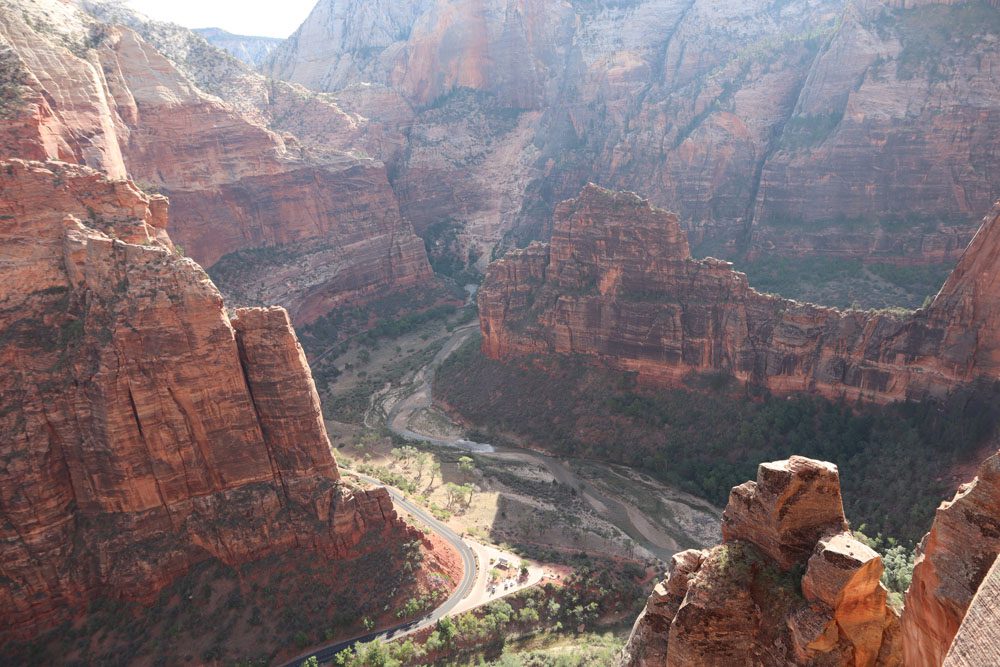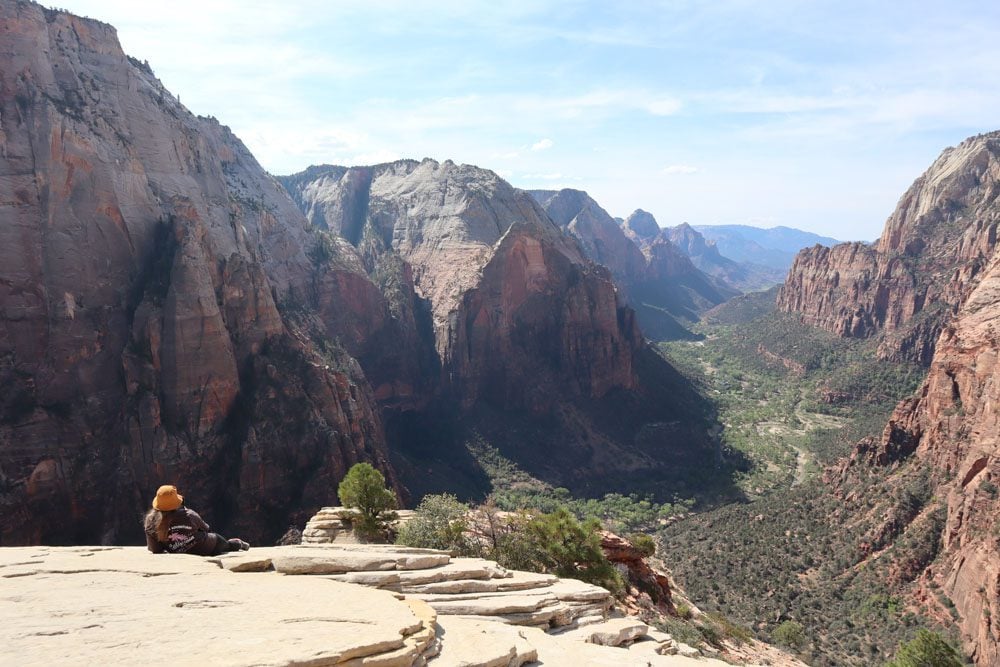 Bryce Canyon
I got hit with bad weather for the first time on this road trip in Bryce Canyon. Reaching an elevation of over 7,500 feet, when it wasn't raining the sky was mostly grey, long sleeves were called for during the day and a jacket was needed at night. Bryce Canyon National Park is like nothing else around. Erosion on steroids has carved thousands of narrow pillars known as hoodoo, the park's star attraction.
I checked into the Ruby's Inn, a historic lodge now taken over by Best Western, and bought tickets for the dinner and country music show at Ebenezer's Barn and Grill. I enjoyed the country classics performed by the Bryce Canyon Wranglers and the food was OK. But what I remember the most was sitting around a large round table and meeting a diverse group of American road trippers from around the country. I had a great connection with a couple from Louisiana who I'm sure I'll get the chance to show around my home country, Israel, one day.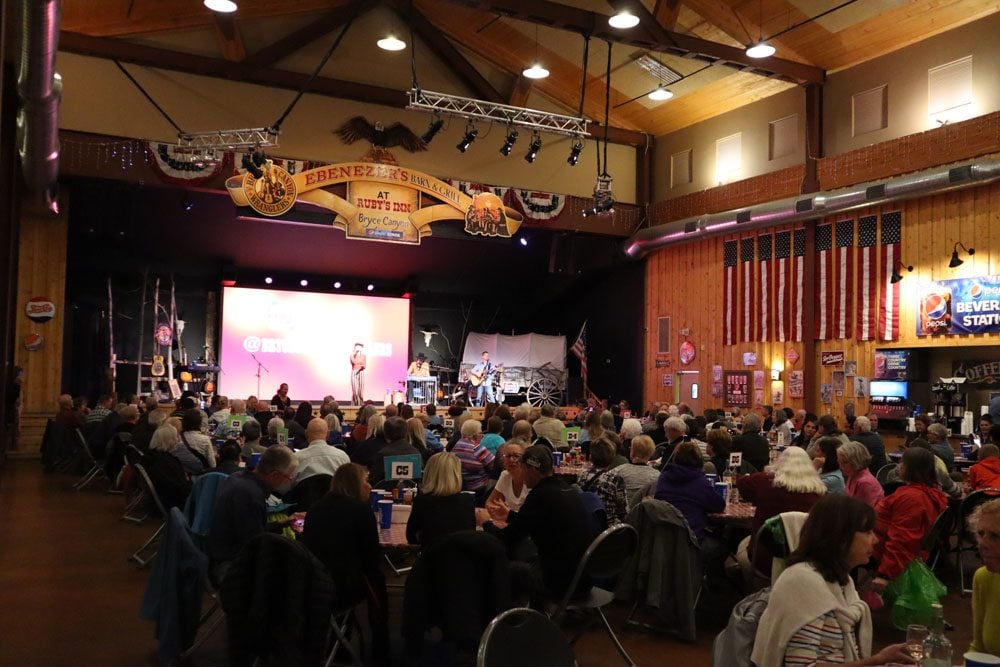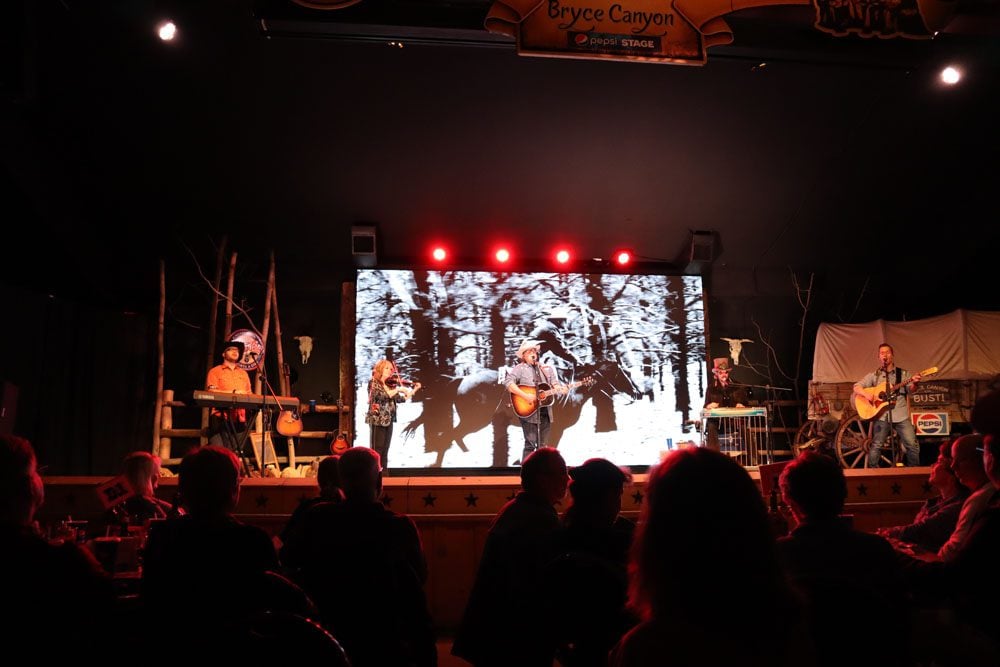 You could easily spend the better part of the day in Bryce Canyon driving from one overlook to another and spice things up with easy walks on the flat canyon rim. It's hard to get bored with these views as no two hoodoos are ever the same.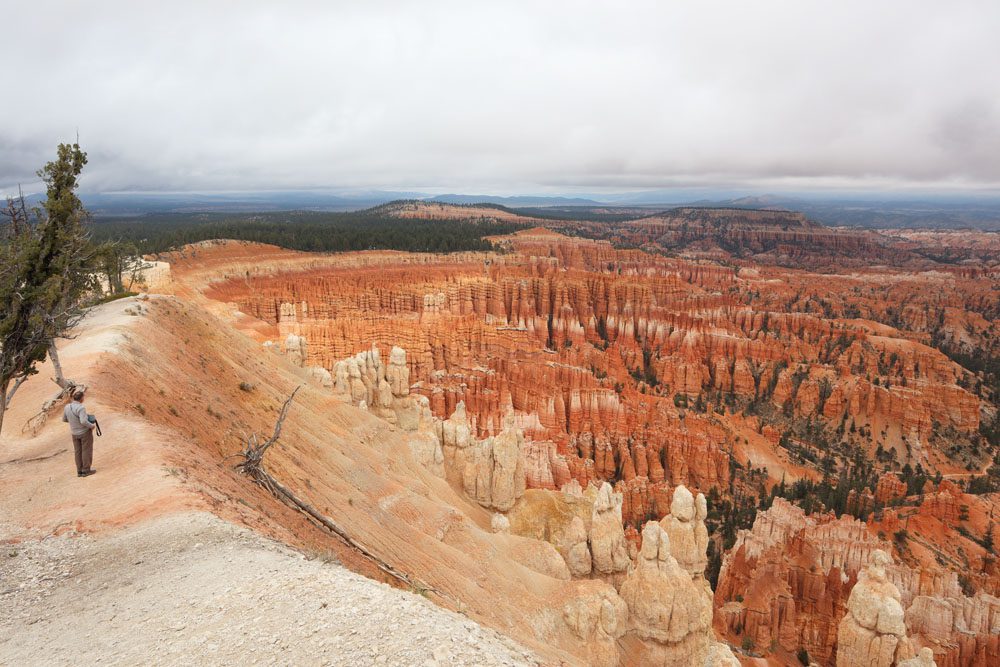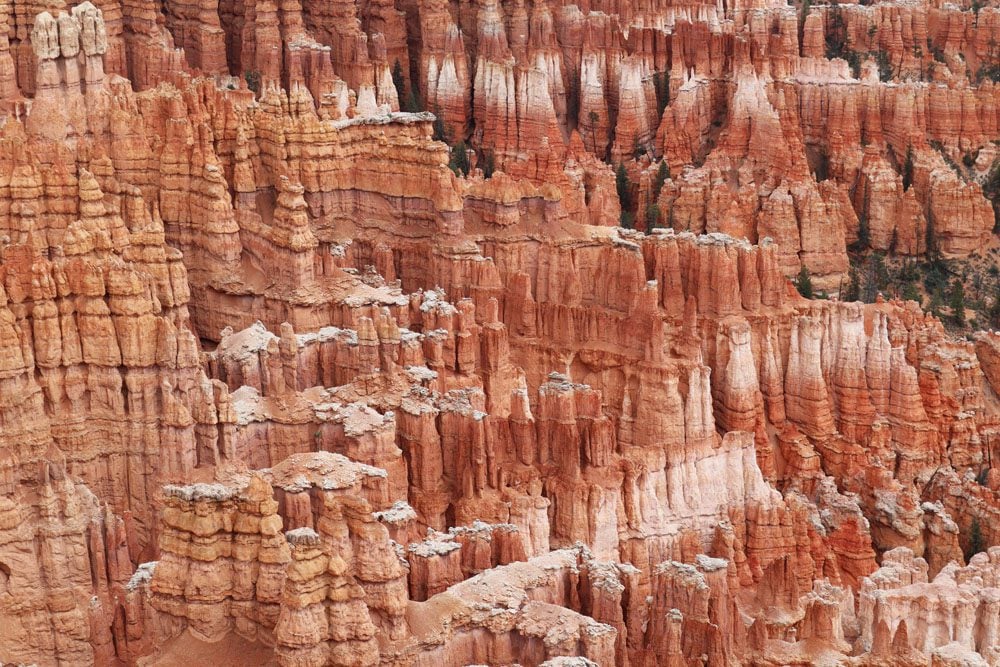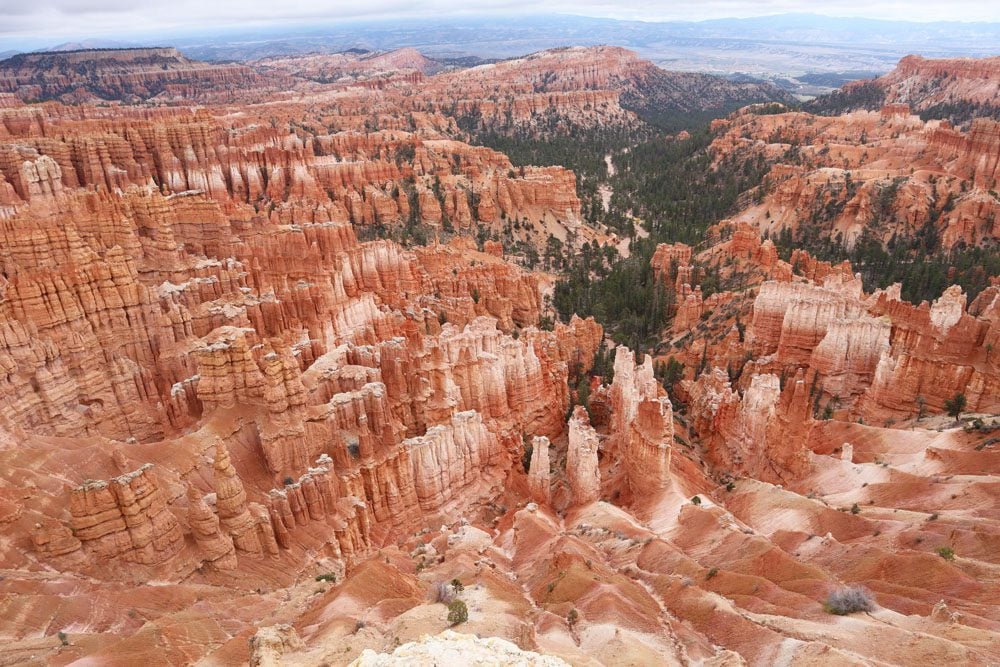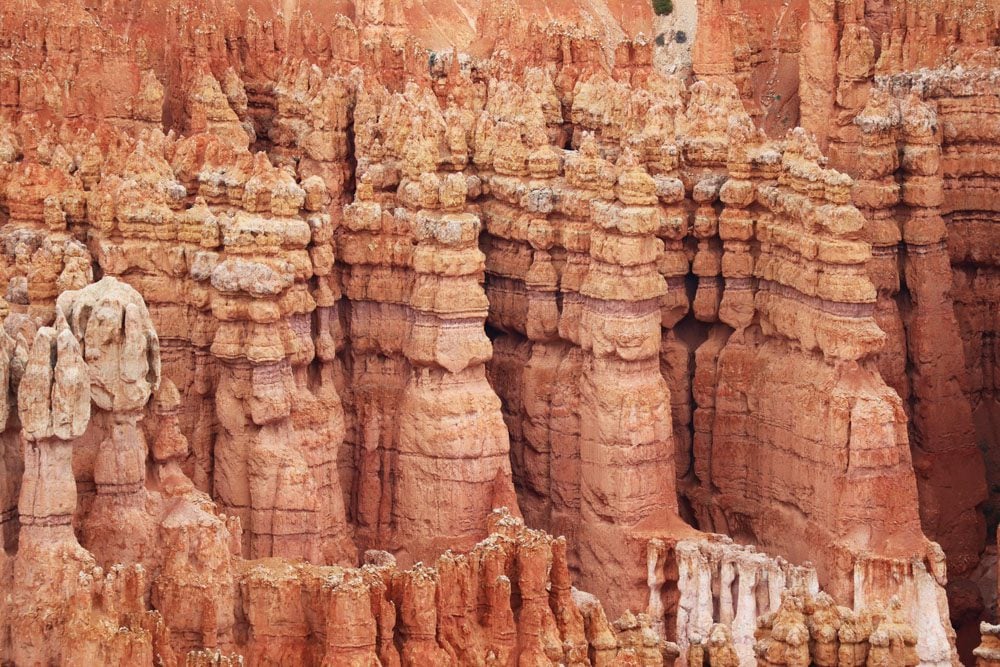 But no trip to Bryce Canyon is complete without leaving the comforts of the canyon rim and hiking down to its floor. I embarked on the long trail that combines the Peekaboo Loop with the Navajo Loop and Queen's Garden, pretty much covering all the major highlights in the canyon floor. At times, I had to squeeze through narrow passes and even straight through the rock.