Things To Do & Places To See In Moorea
Check out this 7 days in Moorea sample itinerary to see how to divide your days on the island
Hiking
Moorea is a hiker's paradise, offering at least a half a dozen excellent hikes for all levels. Some of the hikes require a guide but there are few you can do on your own. My personal favorite is the Vaiare to Paopao hike, but have a look at the 'hiking in Moorea' section for all the details.
Diving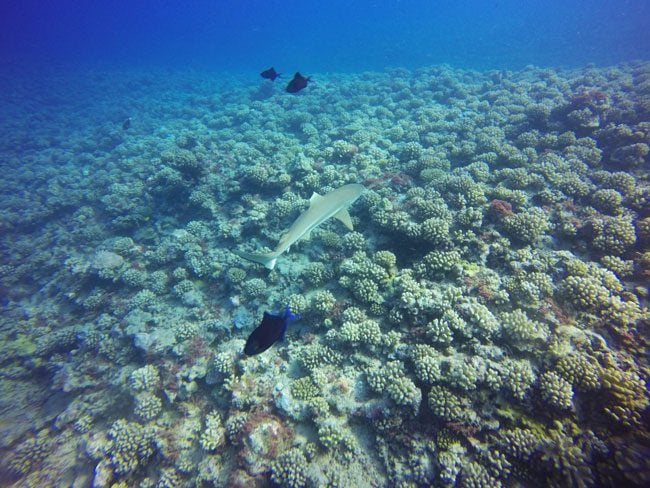 A great place to get your diving certification or just to plunge underwater and explore, diving in Moorea is a must – if you won't be visiting the atolls of the Tuamotu Archipelago later in your trip. Visibility is generally excellent and the waters calm. What to expect? Lots and lots of sharks mostly. In fact, you're almost guaranteed on seeing lemon sharks, with sea turtles and stingrays in high probability. In terms of coral? It's mostly hard coral down here, very similar to that of Samoa and the Cook Islands. Dives are mostly along the slopes of the reef on the north side of the island, with a few caverns and caves in between always hiding a surprise. I went with Moorea Blue Diving and highly recommend them. Have a look at the 'diving in Moorea' section for lots more details, photos and a 10% discount on diving.
Snorkeling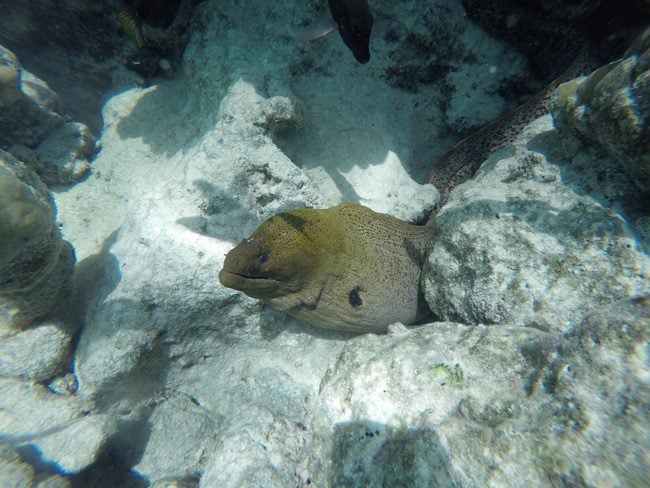 With the exception of the motus off Hauru Point, I found the snorkeling to be OK in Moorea. Mind you, I arrived here after 4 months on South Pacific Islands. The best snorkeling spot is between the motus and you'll get there either as part of a lagoon excursion (see 'excursions in Moorea') or by kayaking on your own (totally doable).
On the island itself, the best snorkeling spots are just off the best beaches. My favorite spots were off Temae Beach (swim towards the Sofitel Resort), followed by Les Tipaniers Beach, Painapo Beach & Mareto Beach – where there's a serious drop-off just a few meters offshore.
Beaches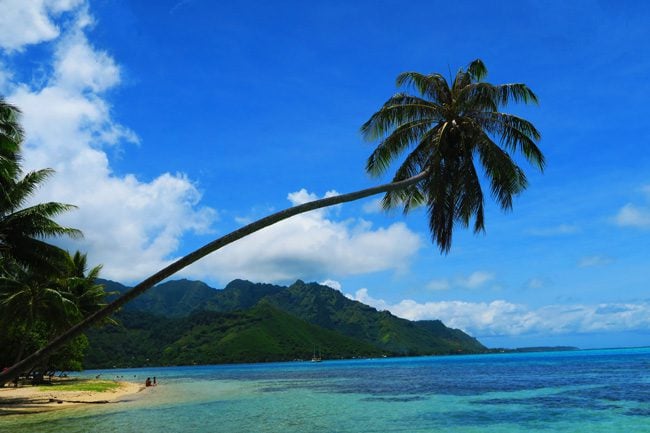 The best beaches in Moorea are all pretty much concentrated in and around the north coast of the island. With one exception, expect narrow slivers of white sand and quite the crowds on holidays and weekends. While there are no official 'private' beaches that I know of, you may not be able to venture into a resort's beach or one that is accessible only through private land. There are a number of public beaches and a few secret spots that I've found. Have a look at the 'best beaches in Moorea' section for more info.
Circling Moorea By Car Or Bike
The road that circles Moorea is only 60 km's long, so heading out on a short road trip is always a good idea. Whether in a car, on a scooter or bicycle – you'll just love finding a pretty spot along the way to pass some time. You'll also find a handful of local stalls along the main road, selling fruits & vegetables, ice-cold coconuts, and freshly caught fish.
Aside from the places of interest mentioned in this section, here are a few of my favorites:
Cook's Bay & Opunohu Bay: Moorea's twin bays sweep inland to give the island its famous heart shape. It's easy then to understand why you'll immediately fall in love with Moorea. Separating the two bays is the mighty Mount Rotui, which affords those who hike it mesmerizing views. There are a few points of interest along the bays (especially around Opunohu Bay), though just finding a nice spot and enjoying the view always a good idea.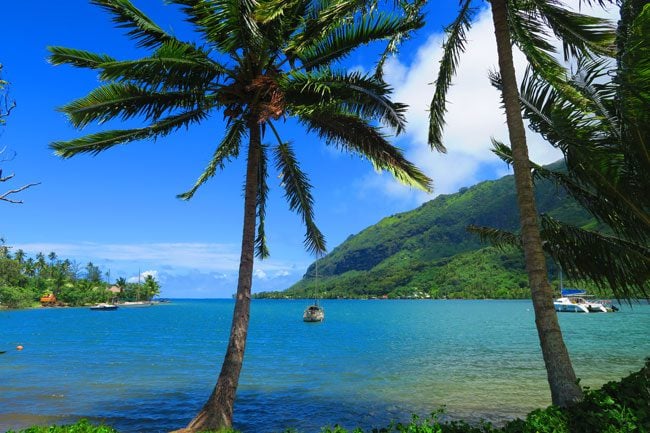 Cook's Bay is named after the legendary Captain James Cook, though he actually anchored in Opunohu Bay. It is the busier of the two with its close proximity to Maharepa and a bunch of resorts. Stop at Pihaena Lookout (PK11) to suck in the views and have a look at the pineapple fields clinging to the slopes of the surrounding mountains. The Pineapple Route meets the main road at the village of Paopao, where you'll find a small mini market and the end of the trail of the Vaiare to Paopao hike.
Opunohu Bay is probably the more dramatic of the two. On a clear day (usually mornings), the towering peaks around the Belvedere Lookout stick out in all directions. This is as good as it gets. Cruise ships often anchor here on day trips from Tahiti, and you'll find around the bay a bunch of points of interest (see map) and one of Moorea's public beaches – Mareto Beach (a.k.a Ta'ahiamanu Beach). The bay was one of the filming locations for The Bounty, a 1984 film starring Anthony Hopkins and Mel Gibson.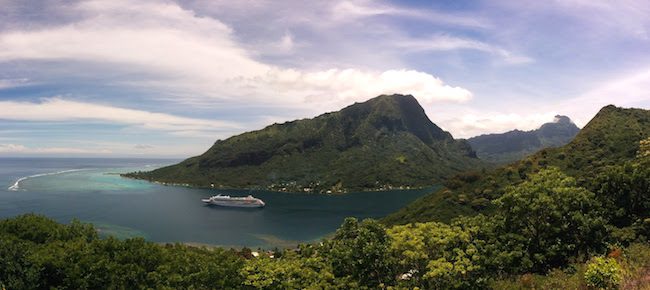 Atiha Bay: one of my favorite spots in Moorea, totally off the tourist map and on Moorea's lazy west coast. This sleepy fishing village is backed by imposing mountains. It's one of those classic 'paradise' spots, with an incredible display of color just before sunset.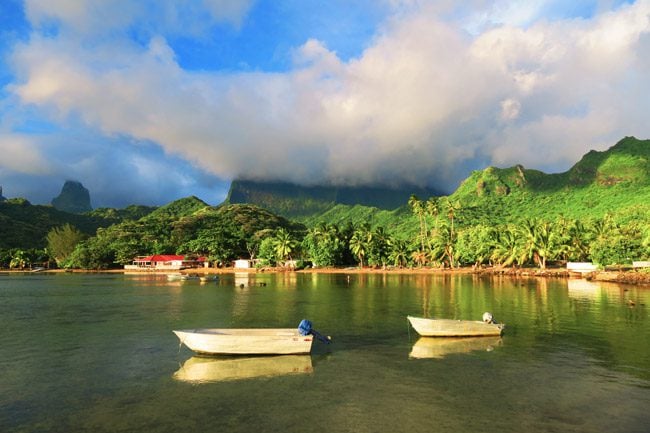 The following points of interest are listed in a counterclockwise direction starting from the Temae Beach
Toatea Lookout
A well-marked lookout point along the coastal road just above the Sofitel Resort. From up here, you'll be amazed at the lagoon colors, overwater bungalows and the long stretch of white sand that makes up Temae beach. In the near distance is the big island of Tahiti, so close yet feels like a world away.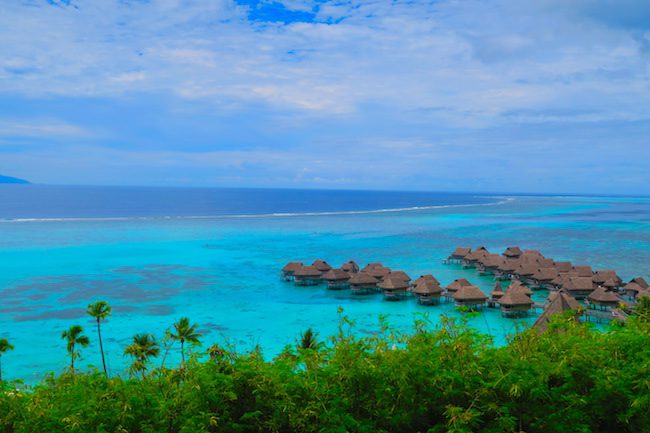 Lake Temae
A small and tranquil spot in Moorea where you can really get away from everything. Take the dirt road that continues after Temae beach and continues for a little longer. The road runs parallel to the lake until stopping abruptly. Great views of the lake and the neighboring airport can be seen from the Temae hike (see 'hiking in Moorea').
Maharepa Village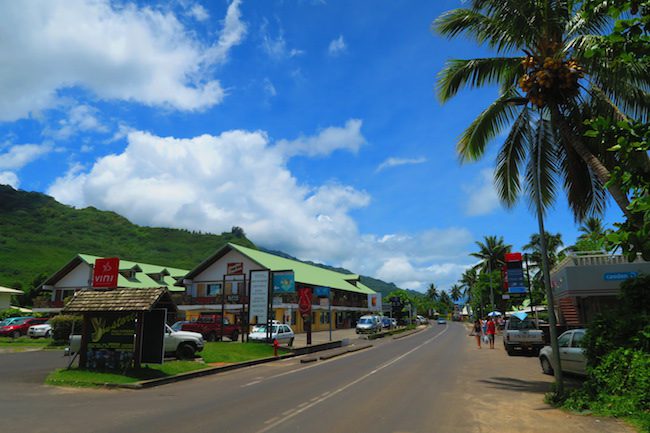 While Vaiare has the ferry and Afareaitu is the administrative capital, it is Maharepa that has the most 'action'. Conveniently located on the north coast close enough to all the big resorts, you'll find here all the amenities of a small town and tourist capital (black pearls, souvenirs, post office, supermarket etc.). My favorite spots are La Maison Blanche for island fashions (see 'shopping in Moorea'), Snack Didier for lunch and Carameline for lunch but especially breakfast (see 'places to eat').
Picturesque Churches
Though I am not a religious man, I always enjoyed visiting the churches in the South Pacific islands. They are just so cute. Moorea has three churches worth having a look out (the oldest one is in Papetoai but I did not find it interesting). Just as you round Cook's Bay, you'll see St Joseph's Church on the bayside. It kind of looks like one of those old Spanish churches, and has a great view from the back.
The next two churches are pretty close to each other in Haapiti. The Protestant church is on the lagoon side, while the twin-towered Catholic church is on the mountainside. So beautiful!
Moorea Juice Factory
There aren't a lot of indoor activities to do in Moorea, but here's one for you. Lining the shelves of every grocery store in French Polynesia are row after row of Rotui fruit juices. And where do they all come from? Right here from the Moorea Juice Factory! Founded by local pineapple growers way back in 1982, the factory has become one of the proudest brands in French Polynesia. It has come a long way since turning the locally grown Queen Tahiti pineapples into juice, now producing a wide range of flavors. Over the years, the factory has added the Manutea brand, producing delicious jams (my favorite is the guava) and liqueurs (nothing beats the vanilla cream and pineapple wine).
You can visit the factory shop throughout the week (except Sundays), but why not tour the factory (100F)? On Tuesdays and Thursdays, tours start at 9 am and 2 pm, running for about an hour. You'll learn about the different juices they make: which ones are pure and which ones are not, which contain the super healthy noni fruit, where do all the fruit come from and lots more.
Like all good factory tours, this one ends with a tasting. Shot after shot of exotic juice, vanilla cream and Tahitian punch are poured until you beg them to stop. I guess it's a good strategy to loosen up your wallet as you wander around the gift shop, but honestly – you'll really want to buy everything!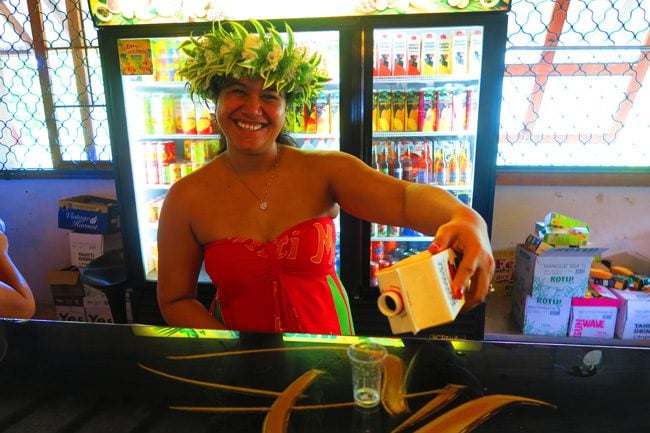 Belvedere Lookout
No visit to Moorea is complete without a visit to the Belvedere Lookout. This is a must! Reached by car or as part of an ATV tour (which I found to be totally annoying), the Belvedere offers panoramic views of the two bays split by Mount Rotui. You reach it by taking the only real inland road just in the middle of Opunohu Bay (you can't miss it). Keep in mind that it can get crowded up here very quickly and parking might be tricky to find. But after a few minutes, as the guided tours depart for the next stop, tranquility returns until the next group arrives. The Belvedere also serves as the starting (or meeting point) for a few of Moorea's hikes. Unlike on other islands, you'll find signs pointing you in the right directions.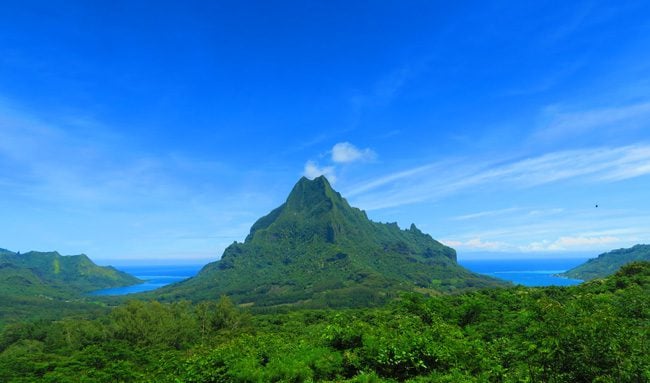 On the way back down, have a look at the marae complex (ancient temples) and later stop at the Lycee Agricole (agricultural college), where you can enjoy fresh fruit juices, ice cream and homemade jams that are very popular in French Polynesia.
From the Lycee Agricole, you can take the Pineapple Route and drive along endless pineapple fields, Moorea's prime crop – before rejoining the main road at the village of Paopao. The route is not paved and you're technically not allowed to drive it with a rental car.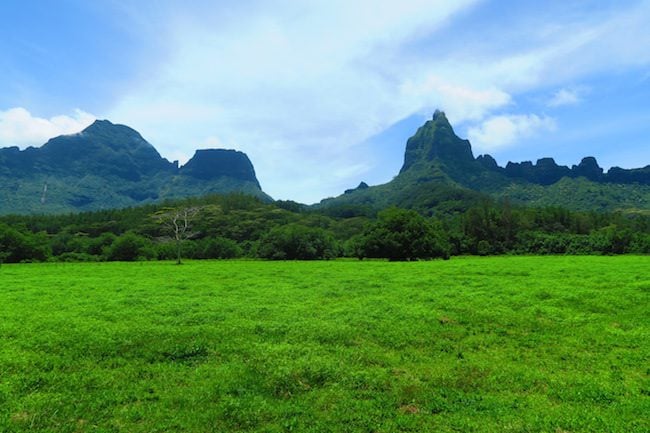 To explore the Pineapple Route on foot, simply park your car at the intersection of the main road to/from the Belvedere and the turnoff to the Pineapple Route. It's a short walk from them into the pineapple fields, eventually reaching the parking lot of the new 'Tiki Park' where you can actually enter a working field. And just in case you were wondering – this sweet crop grows out of the ground… not from a tree.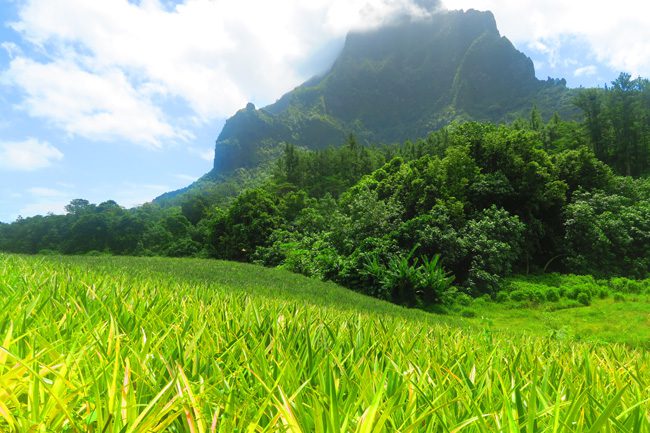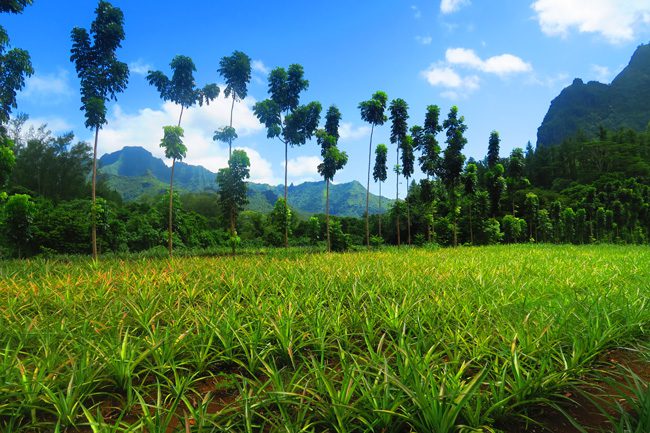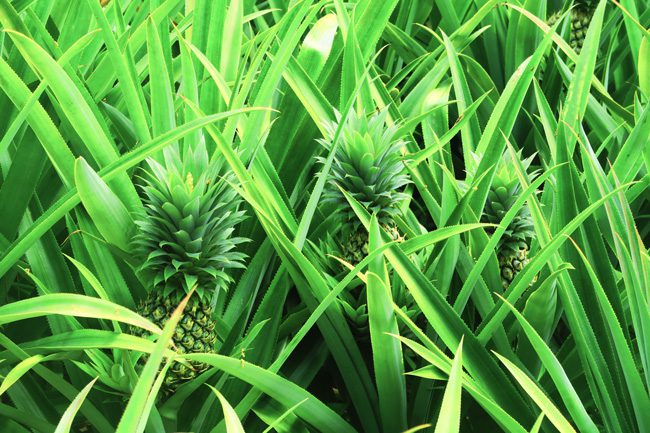 Moorea's Ancient Temples
Ancient Polynesian temples, known as marae, can be found on all islands in French Polynesia. Maraes were not only used in religious ceremony, but also as a gathering spot for local communities and families. Moorea's Opunohu Valley has a bunch of such temples which you can visit on your way to or back from the Belvedere Lookout. As you near the top, you'll find a large parking lot just in front of Marae Titiroa – the first of the three maraes you can visit here. I always enjoyed visiting such sites in French Polynesia. There's so much history and mystery in these excavated spots. Aside from the stone structures, admire how the forest has taken over and don't forget to spot the mape trees – with their incredible roots.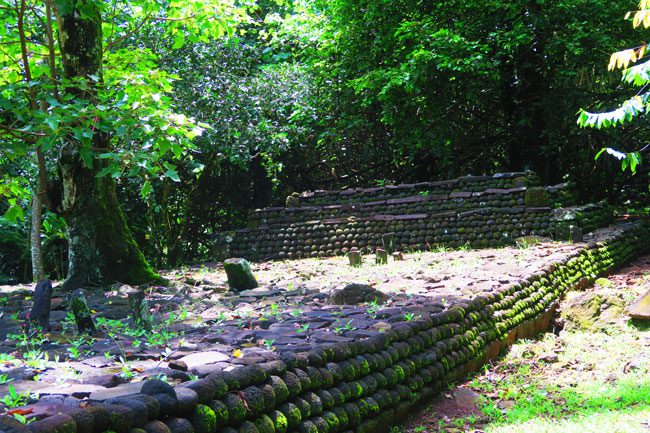 Magical Mountain
A little tricky to find, it is absolutely worth the effort. Magical Mountains offers views which I think are far better than those at the Belvedere. And the best part – you might have it all to yourself. Around PK21 in Opunohu Bay, there's a narrow cement road that heads inland. You'll know you're on the right road when you meet abnormally high-speed bumps, clearly erected in private fashion. If you aren't driving a 4WD or part of an ATV tour – park the car in the yard of the last house before the road heads up the mountain and pay 200F to the family. Take some water and don't forget your hat – and climb the mountain along the paved road for about 20 minutes until reaching the viewing area. The view from up here is out of this world! I was the only do-it-yourselfer up here, so when the small ATV tour groups left, I was up here all on my own.
Moorea Dolphin Center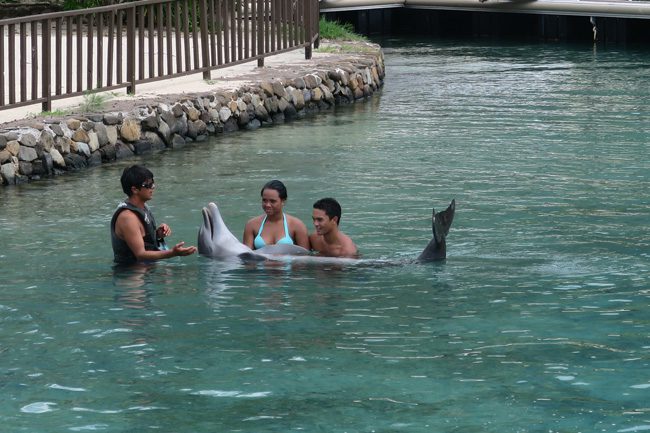 Located at the former InterContinental Moorea Resort & Spa the Moorea Dolphin Center is another great activity for a cloudy day with a bit of a drizzle. I'm personally not in favor of seeing animals in captivity, but the center is credited for safely promoting marine conservation. You'll be walking above a handful of enclosed pools, each housing one of the resident dolphins: Kuokoa, Hina and Lokahi. One of them is apparently a retired French Navy vet. He's one of those dolphins that were trained to place bombs on the bellies of enemy ships.
The dolphins are super friendly, and if your timing is right you might even get to see them do a few flips. It's free to walk around and have a look, but if you want to get up close and personal with the dolphins you can do so for a whopping 16,000F (adult). You can even swim with the dolphins (19,500F) and free dive with them (27,300F) though I'm not really sure what that means. At the edge of the center, you'll also find a couple of pools with turtles that were brought here to recover from an injury of some sort.
UPDATE: the InterContinental Moorea Resort announced permanent closure in May 2020 but the dolphin and turtle center should still remain open. It is expected that in the near future, a new resort will open on these grounds.
Moorea Tropical Garden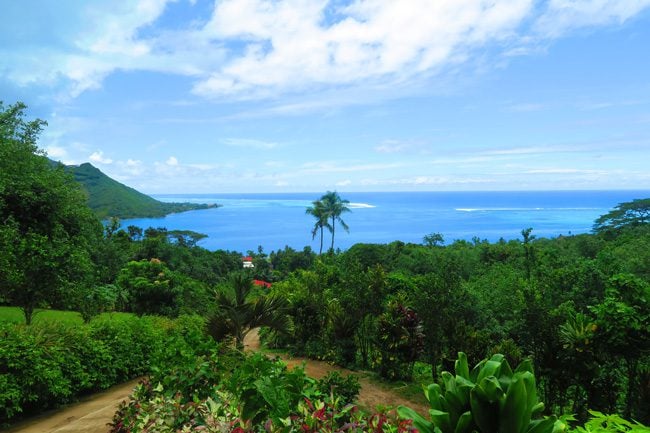 Commanding a great spot just above Opunohu Bay, the Moorea Tropical Garden is reached via a steep one-lane dirt road that's totally doable in a 2WD with a bit of courage. The garden itself is OK, built on a couple of levels and showcasing an active vanilla farm. The absolute reason for coming all the way up here is the restaurant. Enjoy the panoramic views of the bay and the lagoon with some freshly squeezed juice, or succumb to your appetite with a delicious Polynesian lunch (1,500F) complete with breadfruit, taro in coconut milk and sticky pudding for dessert. Bottom lunch: come here for the views and the food, less for the garden itself. You can also taste and buy homemade jams made from fruit grown in the garden.
Hauru Point & Lagoon Motus
The northwestern part of Moorea manages to feel low key despite having the only motus (small islets inside a lagoon) on the island that are worth a visit. The best place to enjoy this spot is the beach at Hotel les Tipaniers, one of Moorea's best. From here, you can rent kayaks or charter boats to visit the motus, where you might find your own beach for the day or swim with a few stingrays. Note that lagoon excursions will have the option of having lunch on the motus (see 'excursions').
Tiki Village
Proudly showcasing Tahitian culture since 1983, the Tiki Village in Moorea is not something you want to miss. Set in a reconstructed ancient Polynesian village, visitors have a few options for getting a taste of the exotic culture of Polynesia.
Day Visit: the village is free to enter, however, there are a number of workshops you can participate in to bring your traditional Polynesian skills up to standard (3,000F pp or 6,000F for three people). You'll learn how to make your very own pareo (sarong), weave a basket out of freshly cut branches of a palm tree, play the ukulele (good luck with that), do a bit of Tahitian dancing (this is an absolute must) and finally – how to prepare the national dish of French Polynesia, the poisson cru (raw fish in coconut milk). Here's the recipe.
Polynesian Night: if you didn't have time to visit the Tiki Village during the day, do not miss the opportunity to come here at night. Several times a week, some of the best dancers in the country tell the story of a Tahitian legend through incredible song, dance, and fire!
The fun begins with a welcome drink at the door and a quick tour of the village, complete with finally learning how on earth to properly crack a coconut. You'll then witness the unveiling of the traditional earth oven, where tonight's dinner has been slowly cooking for 6 hours!
Dinner is served buffet style. You'll enjoy delicious dishes from the Tahitian kitchen, as the staff serenades you with traditional tunes. Kids will have their fun as well, with their own favorites that appeal to younger pallets. As dessert is served, you'll even learn a dozen or so of the hundreds of ways you can wear a sarong (highly useful if you've just arrived).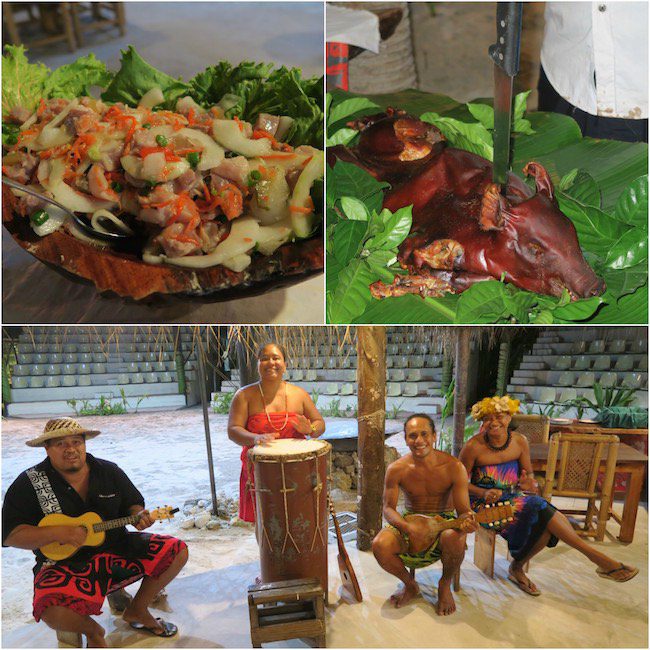 The highlight is no doubt the nightly dance show, which starts after you've had your own taste of what the dancers are about to show you. Tahitian dancing is mighty hard, with women working their hips from side to side and men twisting and turning their knees looking like a young Elvis Presley doing the famous 'shake'.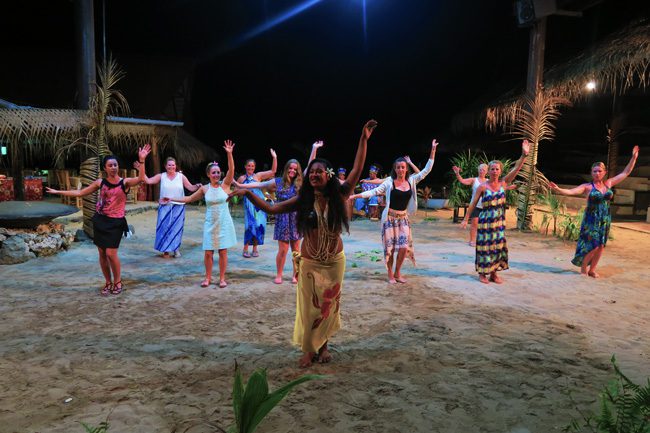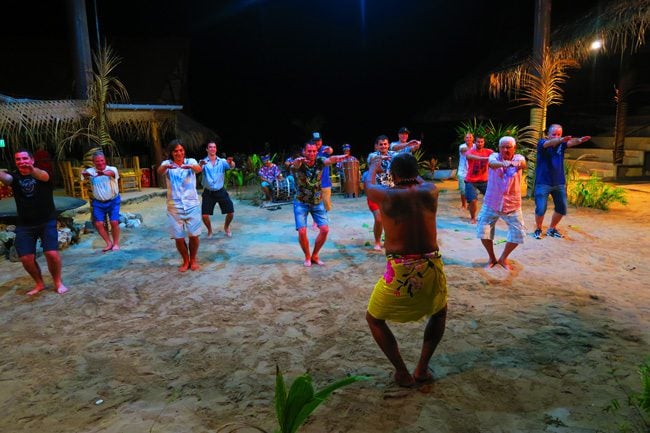 As the amateurs take their seat, the pros come on stage for the show of a lifetime – changing elaborate costumes (some with more clothes than others), singing, dancing and acting out a local legend. The sounds of the beating drums and the vividness on stage will surely cause you to pinch yourself and realize "damn, I'm really in French Polynesia!" I don't want to spoil more than I already have, but here are a few scenes from one of the older shows.
No Polynesian show is ever complete without some fire dancing. In the Tiki Village, they really outdo themselves. I've seen a few Polynesian shows, in the Cook Islands and Samoa, but the fire dancing here was by far the most impressive.
Here's a quick look at the Tiki Village dance show and spectacular fire dancing!
Dinner and a show cost 10,950F for adults (4,950F for children) but you have the option of just coming for the show (though I highly recommend the dinner if you've never been to one of these before). They'll pick you up and drop you off for free!
Bottom line: come here for an authentic Polynesian experience that you'll never forget. The Tahitian culture is so exotically beautiful, and the Tiki Village is the best place in Moorea to experience it.
More Options include private traditional Polynesian weddings within the village, vow renewal or simply a great meal in the restaurant overlooking the calm lagoon. The Tiki Village is also just a few steps away from a great beach that's only frequented by locals. I stayed right next door and would often calm here to relax and feed stingrays with leftover food.
Waterfall
There are two waterfalls in Moorea, but I only made it to one. To get here you'll have to hike a bit through the forest, but it's all very easy going. See the 'hiking in Moorea' section for more details.
The Best Beaches In Moorea
Moorea has a bunch of pretty beaches, mostly in and around the north coast. Below are my favorites, including a couple of secret beaches:
Tipaniers Beach: my favorite in Moorea, the beach at Hotel les Tipaniers wins top prize due to a combination of being just drop dead gorgeous and with a restaurant/bar/public toilets just next door. The beach is accessed via a paved path running from the entrance of the hotel (top choice for families) and is completely free to enter. Just by the restaurant, there's a grassy patch with some sand, but the wider section lies just a few meters along the beach. It will get a bit crowded on weekends and in peak season, but you'll always manage to find a spot (though no shade guaranteed).
The lagoon over here is like a giant bathtub, with beautiful azure colors and the lush mountains just behind you. There's a huge shallow area that's perfect for small children. In front are the motus, accessible via kayak or boat – both of which can be rented right from the beach. There's also a dive center and a variety of marine tours departing right from here. The beach is popular with kitesurfers when it's windy, which can be a bit annoying.
As for the snorkeling, it's not bad as you can see. I even spotted a shark and stingray momentarily. For even better snorkeling, head out to the motus.
UPDATE: pretty much adjacent to Les Tipaniers is Tiahura Beach – a recently-opened public beach occupying 130 meters of prime beach-front real estate on the former grounds of the Club Med resort.
Temae Beach: The biggest beach in Moorea and one of those 'classic' South Pacific beaches. Park your car along the dirt road (don't leave anything visible inside) and grab a spot along the long sliver of white sand. If it's not too crowded, you might even find some shade beneath a palm tree. To your right is the Sofitel Resort, backed by the imposing mountains and fronted by the signature overwater bungalows. To your left, Tahiti in the far distance and the ferries coming and going while you're relaxing away. In front, a crystal clear lagoon, shallow enough for kids and deep enough for adults. Swim in the direction of the resort for the best snorkeling. Bring with you everything as there are no facilities around.
Mareto Beach: also known as Ta'ahiamanu Beach, this is Moorea's second public beach along with Temae. The beach itself is very narrow but is backed by a large grassy lawn with dozens of beautiful palm trees growing in all directions. It gets very crowded with locals having an extended family picnic on weekends and holidays, which is a pretty thing to see on its own. The water is shallow but drops very quickly and very deep. There's not much coral to speak of, but lots of fish hang around the slope. Opunohu Bay is right next to you, and you can't go wrong with such a view. Like with Temae Beach, bring whatever you need with you though there is the occasional roulotte (food truck) selling pizza, but no toilets available.
Painapo Beach: also known as Pineapple Beach, look out for a large wooden statue of a Tahitian warrior of some sort holding a massive pineapple at PK33. The beach is absolutely free to enter and usually completely empty. Once a month, the owners throw a ma'a Tahiti (traditional Polynesian feast) that's super popular with locals. Lunch quickly turns to dinner, which quickly turns into a discotheque (quite a thing to see). During the high season, the restaurant is open throughout the day, presenting a good option for a stop when circling the island.
Fare Miti: this isn't a public beach and you'll need to find an opening on the main road to enter through to the beach (somewhere around pension Fare Miti). Once you've made it to the beach, just find a spot and enjoy dazzling views and plenty of shade. Somewhere along here, there's a tiny motu that you can swim to and really go "Robinson Crusoe" until the tide comes rolling in.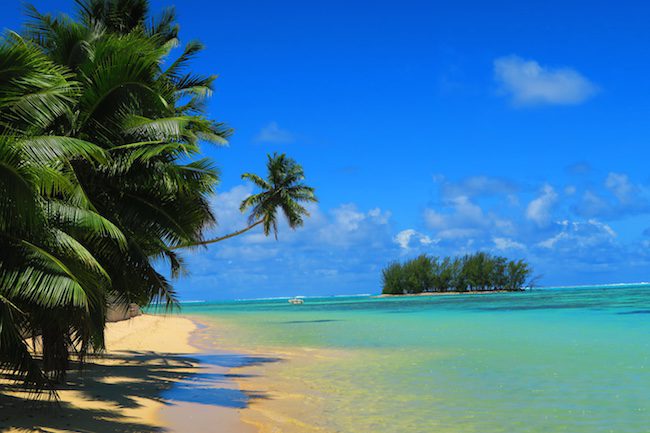 Tiki Village: another local secret, the small beach right in front of the Tiki Village is often empty. If you have some leftover food, just toss it into the lagoon and after a few minutes, later stingrays will sweep in for the easiest snack they've ever caught. The snorkeling is not amazing out here but the setting is pretty.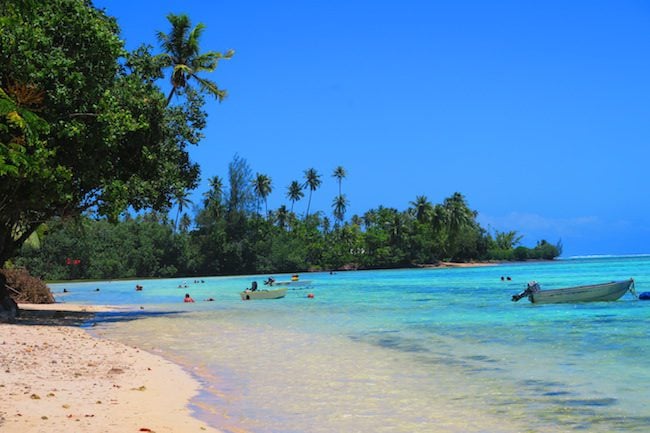 Places To Eat In Moorea
You will find a few high-end restaurants in Moorea, but in the spirit of independent travel – here are a few informal and delicious options (most are cash only):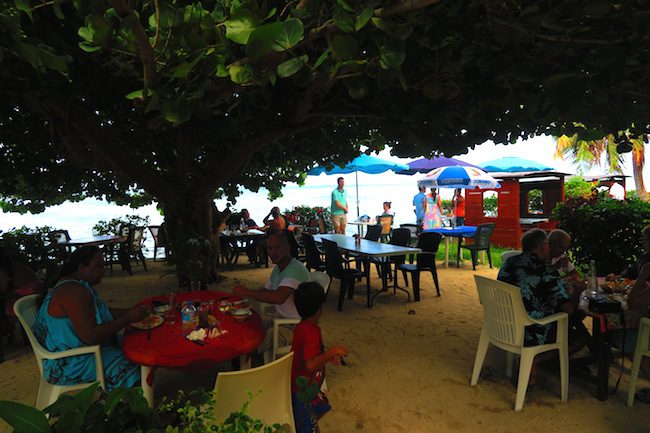 Snack Mahana: the best snack (casual dining) in Moorea by far, this place wins extra points not only for food but also for the great location. Set in a garden overlooking the lagoon, really get into holiday mode over traditional dishes or western favorites. Portions are huge, perhaps the reason for the relatively steep price (~2000F per main). It's easy to miss but just look out for cars clogging up the side of the road (open Tuesday-Saturday 11am-3pm).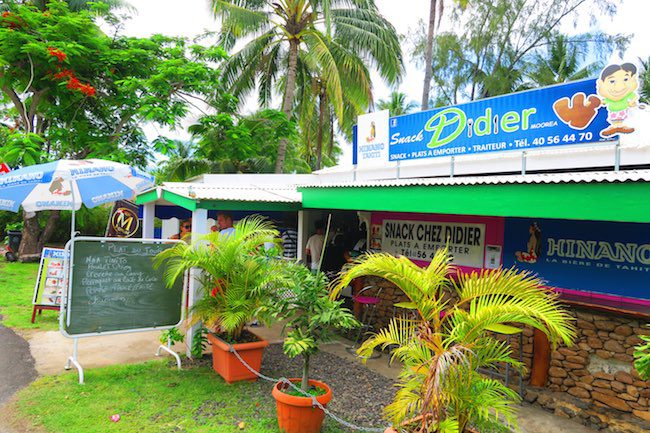 Snack Didier: in downtown Maharepa, this place gets busy at lunchtime. You can sit outside on the shaded terrace or take away local and Chinese dishes (1,300-1,500F). Try the poisson cru and sashimi.
Carameline: in the heart of Maharepa's shopping center, I really liked the pastries in this place – pretty much the only real pastry shop I've found in Moorea. Think of it as a mini Parisian patisserie in the middle of the South Pacific. They also do big breakfasts and lunches, with traditional and western dishes on the menu. Oh, and the free wifi is the fastest I've found.
Creperie Toatea: open after 6 pm at the Hilton Resort, enjoy a big French-style crepe (~1,800F) with stingrays and reef sharks swimming in the pool just beneath your feet!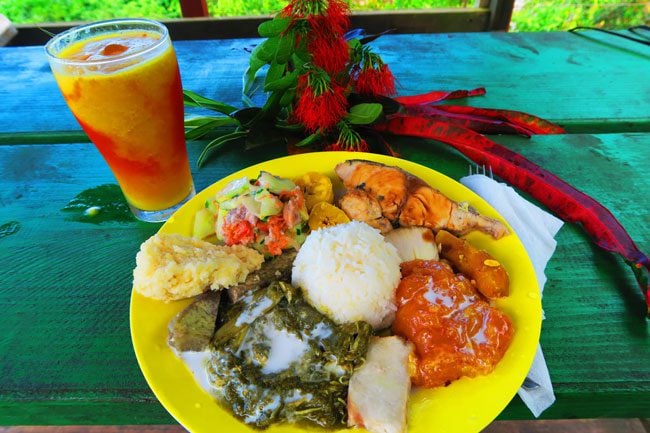 Moorea Tropical Garden: a 3 for 1 ticket with panoramic views of Opunohu Bay, a small tropical garden to wander around and an authentic Polynesian meal (1,500F) on the terrace to go along with some freshly squeezed fruit juice from the garden
Les Tipaniers: great for breakfast, lunch, dinner or just a drink – grab a seat on the outside deck and watch the hours pass away as you're staring out into the lagoon. Portions are generous and reasonably priced.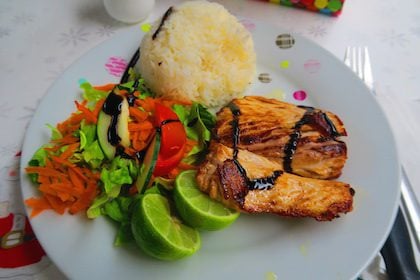 Snack La Paillote: a simple snack right across the overpriced Coco d'Isle in the outskirts of the Petit Village. This little snack specializes in roasted chicken and grilled fish (1,300F). Order in the shack and grab a seat on the small hidden terrace!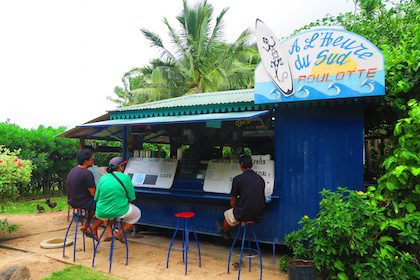 Roulotte a l'Heure de Sud: craving some food from back home? Had enough poisson cru already? Grab a stool next to a local in this very casual diner at the Petit Village. Opening hours are weird but if you come around noon it should be open.
Tiahura Restaurant: located in the Petit Village, this place is known for its seafood. I came here for lunch with a friend and we indulged ourselves with some classic sashimi and tuna tartare (~1,800F).
Chez Gerald: every Sunday (supposedly), Gerald throws a huge ma'a Tahiti – a traditional Polynesian feast. Inquire ahead and be prepared to spend 3,500F per person. I've heard good reviews about this from friends.