Moorea Island Travel Tips
Listed here are specific travel tips for Moorea Island. Be sure to also read the French Polynesia Travel Guide, filled with general travel tips to paradise.
Recommended Reading
How Many Days Do You Need In Moorea?
Moorea is the kind of place you'll want to retire in (in fact, many people do). You could easily spend your entire French Polynesia vacation in Moorea, with plenty of lazy or sporty activities to undertake. That said, if you are pressed for time – Moorea can be sampled with a three-day stay. Stays of five days or more will allow you to go beyond the beach, with some awesome hikes and inland thrills. If you are super pressed for time, there are daily excursions from Tahiti to Moorea.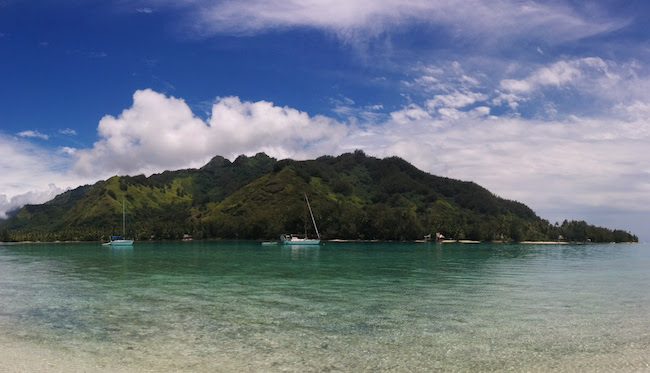 When Is the Best Time To Visit Moorea?
Moorea lies just 20 km away from Tahiti, so the weather is very similar. However, there can be days of heavy rain in Tahiti yet clear skies in Moorea. As with Tahiti, the best time to visit is in the dry season (May – October), which is also the cooler season. Sunny days are the norm, the beautiful mountains are less covered in cloud, it's a lot less humid and there's even a cool breeze from the east.
I visited Moorea during the wet season (Nov – April). There were days of rain but there were more days of sunshine. In the early morning hours, the mountains were usually cloud free, only getting cloudy in the afternoon. Unless there's a storm, the lagoon is usually sunny – even if the mountaintops are covered in cloud. The weather in Moorea can greatly vary from coast to coast. It can be raining on one side of the island, but completely sunny on the other. I've found that the area around Haapiti gets the most sun (with the bays getting the bulk of the rain).
You'll be able to dive year round, watch whales from July to October, hike and swim throughout the year when it's not raining. During holidays (especially local holidays), Moorea gets more crowded. It's a popular destination not only for foreign guests but also for vacationing families from Tahiti.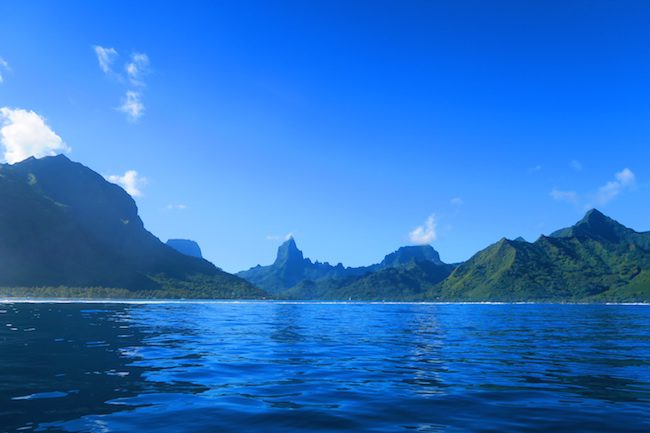 What To Pack?
Moorea is a tropical destination, and as such – I recommend packing clothes that dry quickly and keep moisture (a.k.a sweat) out. Have a look at the X Days In Y Packing List for recommendations on what to pack for Moorea based on my experience.
Moorea Average Costs
Here's a breakdown of my costs from Moorea. Keep in mind that I was here for a month, renting a place on a monthly basis and mostly (but not always) cooking my own meals.
Language
French is the most common language, followed by Tahitian. Surprisingly, I found English to be very widely spoken in Moorea.
How To Get To Moorea
There is an airport in Moorea, but I'm not exactly sure who uses it… Chances are you'll reach Moorea by ferry from Tahiti, which takes about 30 minutes. There are two ferry companies operating daily schedules, both arriving at the ferry terminal in Vaiare: Aremiti (1500F each way) and Terevau (1150F). Booking ahead of time is not necessary, but do so during peak season, holidays and if you'll be transporting a vehicle with you (car, scooter, bicycle). Schedules are not as frequent as you think, especially on weekends. Important note: only the Aremiti Ferry is served by public transportation (see 'getting around Moorea').
Getting Around Moorea
If you plan on seeing more than just the beach, you will need to have your own car (and it will likely be with manual transmission). Moorea is a big island, without a real public transportation system. Here are all the options I can think of for getting around Moorea.
To & from the ferry: public buses only serve the Aremiti ferry. Catching the bus from the ferry is easy, as buses will already wait for you. One travels in a clockwise direction and the other counterclockwise. Just ask the driver which bus you need to get on (300F, 150 per child). The tricky part is catching the bus to the ferry. You never really know when the bus will arrive, and there are no designated bus stops. Wait on the main road at least 90 minutes before the ferry departure to ensure you don't miss the bus. I am pretty sure that on Sundays, the bus only picks up from the ferry (double check this with your accommodation). Also note: on a recent return visit to Moorea which coincided with school holidays, no busses were there to greet the Aremiti ferry.
Bicycle: A newly paved bike lane practically hugs the entire coastline of Moorea. Lots of local businesses will also rent out bicycles so just ask around. Expect to pay 1500F for 8 hours of rental. I would recommend staying away from beach bikes, as Moorea does have a few hills.
Scooter: a number of outfits rent out scooters. Expect to pay 4000-6000F per day, depending on the rental duration.
Car: Avis Pacific Car was my choice after much research. They have an easy online reservation system, speak excellent English, and prices are competitive – especially for long term rentals. Their main branch is right across from the ferry terminal and they used to have another at the former Intercontinental Resort, which announced permanent closure in May 2020. Cars are brand new, cleaned whenever you want, and if you're taking the ferry to Tahiti – you can leave your car at their branch for the day. They even have special offers on prepaid wifi hotspots in your car! Open on Sundays and holidays, fantastic service! Prices vary depending on rent duration but email the Avis Pacific Car reservation center in Tahiti (reservations@avispacificar.pf) prior to booking online. They'll extend an extra 5% discount or more for X Days In Y readers (just mention X Days In Y)!
Bus: only serve the Aremiti ferry. There are two lines which start at Le Petit Village, one heading north and the other heading south (so there is no complete island loop). Both terminate at the ferry and will pick up passengers along the way (just wave it to stop). The bus will drop you off wherever you want along the way (300F, 150F per child).
Taxi: notoriously expensive in Moorea. A short ride starts at about 4,000F.
Hitchhiking: generally safe in Moorea can take a while to find a match.
Walking: Moorea is a big island so walking long distances is not really a viable strategy.
Driving In Moorea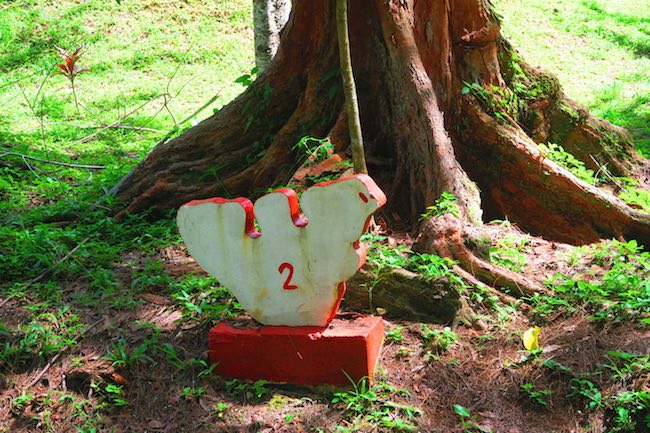 It's really hard to get lost in Moorea, with only a single main road running along the 60-kilometer coastline. Moorea uses the pointe kilometre system (PK), with markers along the road beginning at the airport and running in both directions until meeting at PK 35. Don't expect to be driving over 60 km/h (which is also the speed limit), though most locals do. That said, there are two things to watch out for. (1) Though repaved in recent years, some sections of the road are littered with potholes. The local council is making progress on fixing the road, but with the constant rainfall – this is a lost battle. (2) Drive with extra care at night! Roads are not well lit, locals (and animals) frequently cross the road and of course, there are the potholes. I certainly would not recommend riding a scooter at night.
Drinking Water In Moorea
Water should be safe to drink out of the tap. Just to be on the safe side, inquire at your accommodation. Note that Moorea recycles plastic bottles.
Safety In Moorea
For general safety tips in French Polynesia, have a look at the 'safety' section of the French Polynesia Travel Guide.
Like all the islands outside Tahiti, Moorea is a very safe place. That said, drive with extra care at night, and to be on the safe side – lock your doors and tilt your windows before going to bed (or leaving your room). There have been reports of thefts during the night, even when people were sleeping. Lastly, do not leave anything tempting in your car and keep an eye on things when you go swimming.
What To Buy In Moorea?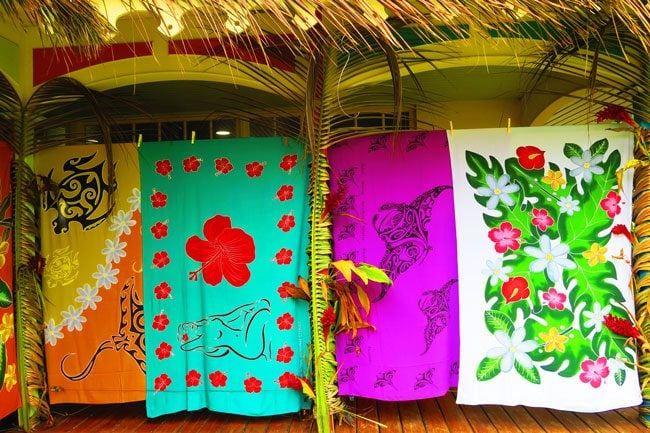 As you would expect from an island that gets a lot of visitors, you can find all the usual Tahitian souvenirs here. Around Maharepa and Le Petit Village (and of course in and around the hotels), you'll find the usual black pearl and pareo shops (sarongs). Note that black pearls are not produced in Moorea and you're better off buying them in Tahiti (see the 'shopping' section in the French Polynesia Travel Guide for more info).
However, there are three worthwhile mentions:
Tahiti Aromes: fancy some tamanu oil? Or how about some tiare scented monoi oil for some after sun care? How about some noni juice to keep your plumbing in tip-top shape? If you have no clue what I'm talking about, visit this factory & shop to learn and buy some natural Tahitian goodies.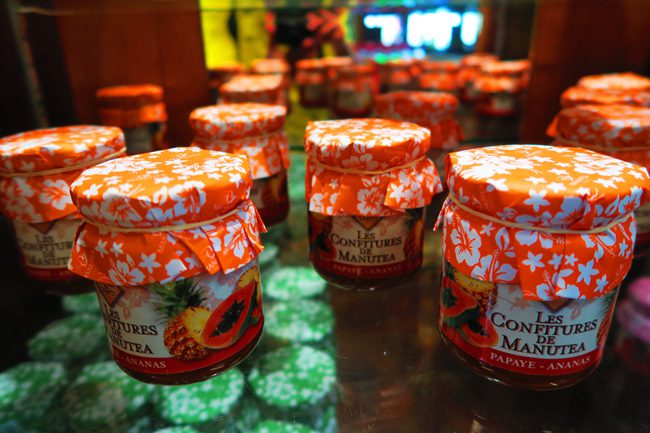 Manutea – Juice de Fruit de Moorea: the pride and joy of Moorea is the Rotui juice factory, supplying the islands with an endless supply of exotic fruit juices. The factory also runs the Manutea brand, producing vanilla liqueur, delicious jams, sugar cane alcohol and lots of other local delights that'll fill up your suitcase. Read more in the 'things to do' section and join a factory tour.
La Maison Blanche: an early 20th-century house in the outskirts of Maharepa that sells colorful island fashions, sarongs, and Polynesian crafts.
How To Save Money In Moorea?
Staying for more than 3-5 nights? Book accommodations with cooking facilities. You'll be able to whip up delicious dinners on your own, avoiding the 1,800-2,000F price tag at local snacks (restaurants much more). Same goes for breakfast.
Buy fruits & vegetables from families stalls on the side of the road.
If you're not locked on seeing every inch of Moorea, stay in the area in or around Opunohu and Cook's Bay. That part of the island is where most of the highlights are, and you might be able to see everything on a bicycle – avoiding the need to rent a car for the entire duration of your stay.
Get here on the Aremiti Ferry, which is served by local buses (unlike the Terevau Ferry)
Drink tap water. It's usually perfectly safe in Moorea. Just double check before.
Don't discount those tourist maps! They will have a few very useful coupons for businesses throughout the island.
Doing some shopping? Some items qualify for a tax refund upon your departure or even on the spot (such as black pearls).