Maupiti Island Travel Tips
Listed here are specific travel tips for Maupiti Island to help with the planning stages of your visit.
Recommended Reading
How Many Days Do You Need In Maupiti?
If island-hopping using Air Tahiti flights, fitting in Maupiti will be very tricky so the amount of time you have on the island will be determined by the flight schedule. Usually, flights arrive and depart Maupiti on Sunday, Tuesday, and Friday. I spent a full week in Maupiti on my first visit, more than the average visitor. Maupiti is a very small and very special place. If you plan on sampling multiple islands in French Polynesia, the absolute minimum would be three nights in Maupiti. However, you will really fall in love with this island and leave with a bitter taste in your mouth of wanting more. I would recommend favoring Maupiti over other islands, even at the cost of scratching some out. Five nights should be a solid amount of time and six/seven nights is a maximum. Maupiti was the highlight of my visit to French Polynesia (along with the Marquesas Islands), and I am very happy to have spent a week here. There was never a dull moment.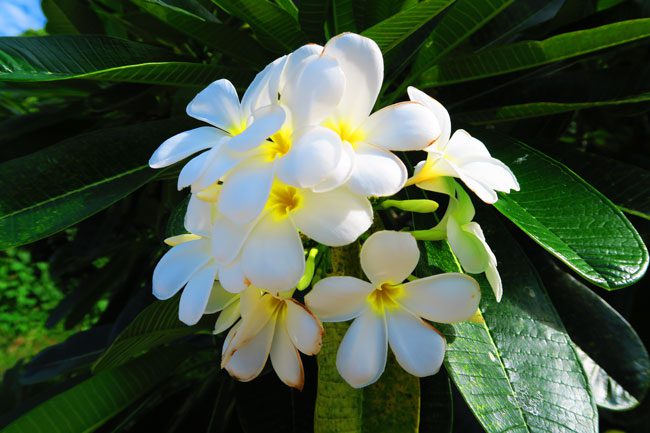 Maupiti or Bora Bora?
Choosing between Maupiti versus Bora Bora is a tough dilemma. The answer really depends on what you are looking for. You might have read in other publications that Maupiti is the Bora Bora of 'the good old days'. Though I wasn't around to visit Bora Bora in the 1950s, I can understand this claim. Topographically speaking, Maupiti resembles a miniature version of Bora with its main island centered in an almost completely enclosed shallow lagoon. But that's where the similarities end. The vibe in Maupiti is completely different, more authentic and laid back. Bora Bora is the most visited island in French Polynesia and decades of development and foreign money have taken their toll on the island's authenticity. In Maupiti, you can sample the true meaning of a South Pacific paradise. The only caveat is luxury. If you're looking for a pampering vacation, Bora Bora will help you tick off that box. Maupiti has none of the luxuries that you'll find in Bora Bora.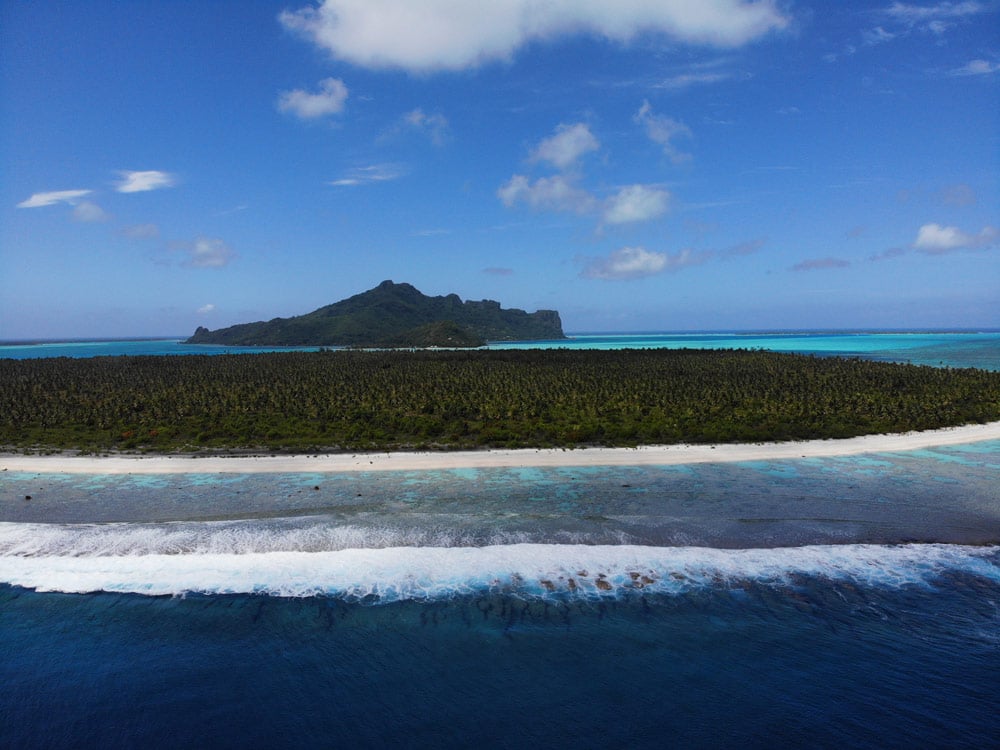 If you have a way to see both islands, go for it. I would recommend starting with Bora Bora and then head to Maupiti. Allow more time for Maupiti as three days in Bora Bora should be more than enough.
If you can't do both and must choose, go for Maupiti if you're looking for a laid-back and unspoiled setting, without the resort scene and with a real Polynesian feel. If you're absolutely looking for luxury, the overwater bungalow experience – Bora Bora is your answer (though you have an excellent substitute in Tahaa Island).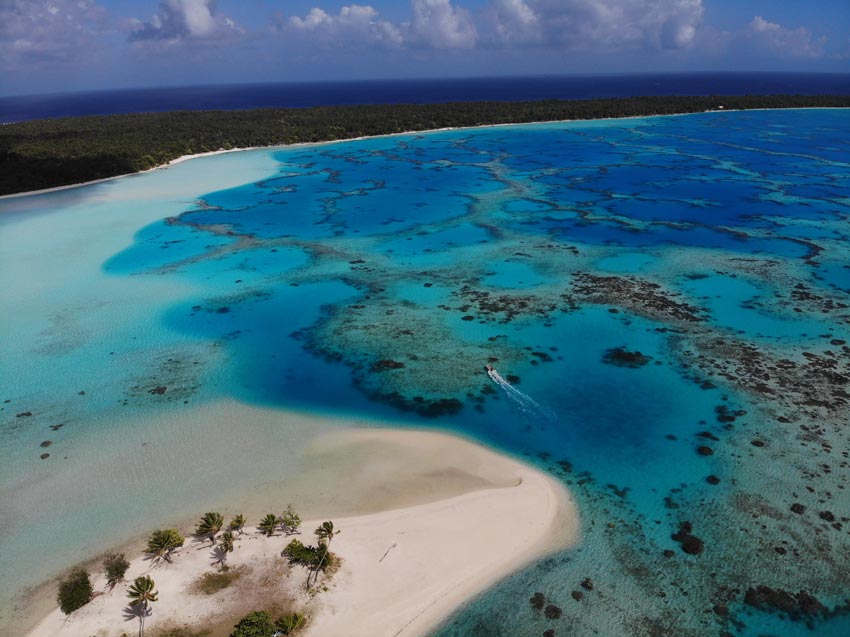 To summarize the question of Maupiti vs. Bora Bora:
What does Maupiti have over Bora Bora: much cheaper, authentic Polynesian vibe, laid-back, fewer tourists, harder to reach, DIY hike, can walk across the lagoon to a motu (islet), can circle the main island on foot, no resorts, friendlier locals
What does Bora Bora have over Maupiti: frequently served by Air Tahiti flights, easier connection to other islands (and archipelagos), a wider selection of excursions, more restaurants, multiple selection of resorts, overwater bungalows, better known (bucket-list island)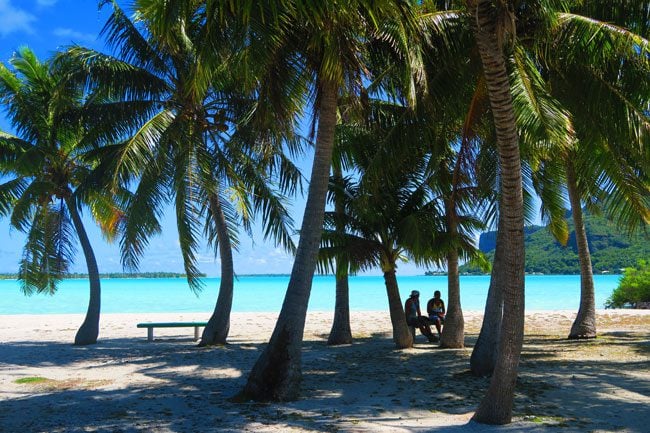 When Is the Best Time To Visit Maupiti?
Like all Society Islands, the 'best' time to visit Maupiti is during the dry season (May – October). During this time, the temperature is slightly lower and most importantly – there's less rain. You wouldn't want to travel all the way out here and be stuck indoors.
That said, I visited Maupiti during the heart of the wet season (November – April). Over the course of a week, I only had one cloudy day and almost no rain. Locals said it's good fortune, but it does happen. I also did see lots of manta rays inside the lagoon, even though it wasn't the official manta ray season.
Bottom line: aim for the dry season but don't let it stop you from visiting Maupiti. Watch out for local holidays and Christmas, when flights and pensions fill up quickly.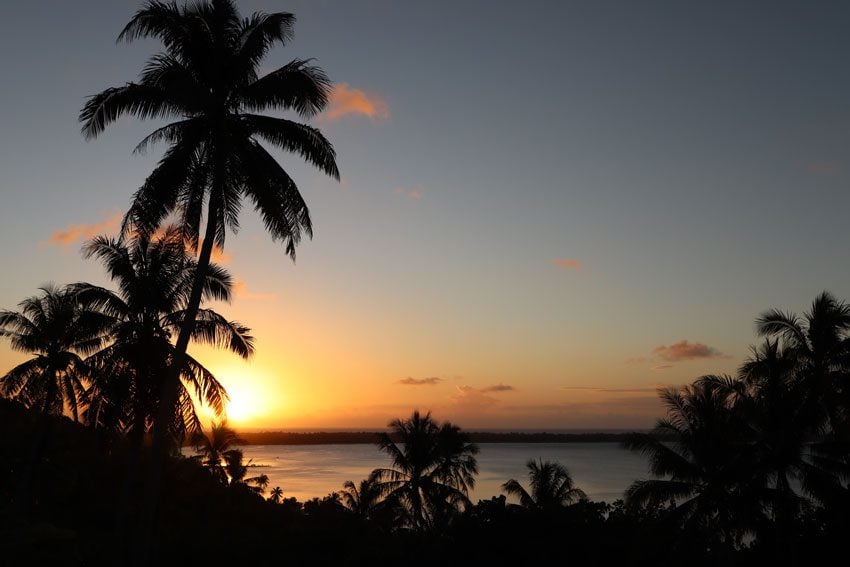 How To Get To Maupiti
Due to its small population and relative isolation at the very edge of the Society Islands, Maupiti is a very tricky island to get to so planning is essential. Think of Maupiti as "an anchor" in your itinerary and plan around it if you have your heart set on visiting this gem.
By air: always subject to change, Air Tahiti usually flies to Maupiti from both Tahiti and Raiatea three times per week (Sunday, Tuesday, and Friday) and once per week on Sunday from Bora Bora. On certain days, there will be two flights per day, a morning flight and a late afternoon departure. Flights to Maupiti are sometimes very much in demand, especially during school holidays. Booking well ahead of time is strongly advised. The small and unreliable Tahiti Air Charter also announced flights to Maupiti but I am not sure if this ever matured into anything.
By ferry: though lacking much information online, you can get to Maupiti from Bora Bora using the Maupiti Express. Contact them via email ([email protected]) or phone (+689-40676669 or +689-87740240). These might be the current schedule and ticket prices. Note that the passage might be bumpy even in fair sea conditions. From what I hear, departures to Maupiti are scheduled at 8 am every Tuesday from Bora Bora with a return on Thursday.
On a day trip from Bora Bora: you can visit Maupiti on a very expensive day trip from Bora Bora. After the short flight, you'll spend most of the day exploring Maupiti's lagoon.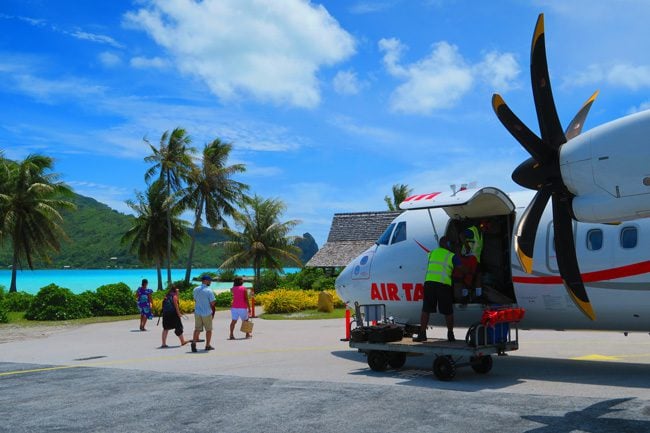 Getting Around Maupiti
To/from the airport: the Maupiti airport (if you can call it that) is located on one of the motus on the fringes of the lagoon. It was built during WWII by actually extending out into the lagoon. Landing in Maupiti is quite a special experience that you'll never forget. As you pick up your bags, a small boat awaits to take you across to Vaiea – the main village. To get back to the airport, inquire with your pension on boat departure times (500F each way). Pension hosts will usually pick up and drop off at the main jetty for free.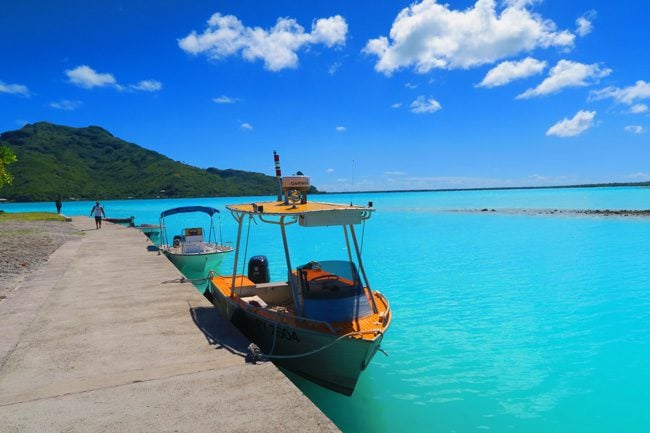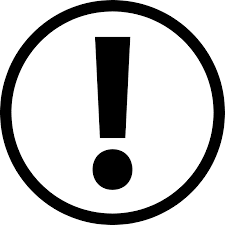 Update
Maupiti's airport has recently received a major facelift to bring it up to par with some of the more modern airports on other islands. Hopefully, the renovation hasn't taken too much away from the experience of landing in the "Preserved Island".
To/from the motus: if you're staying in the outer motus, pension owners will arrange airport transfers and will help you get to/from the main island for a small fee. Hiring your own ride from Pension Chez Manu (right in the village) will cost 1,500F to motu Tiapaa, 2000F to motu Pitihahei and 2500F to motu Paea – all prices are return fares. The only exception is Motu Auira, which you can walk to on foot from the main island (a few hundred meters through the lagoon).
Around the main island: locals all have 4WD's but honestly, I don't understand why. There's a 10 km coastal road circling the tiny island, and aside from one steep climb, it's all very flat going. You can easily make a morning out of circling Maupiti on foot but if you do want to rent a bike, there's a shop in the village that hires bicycles for 1,000F per day.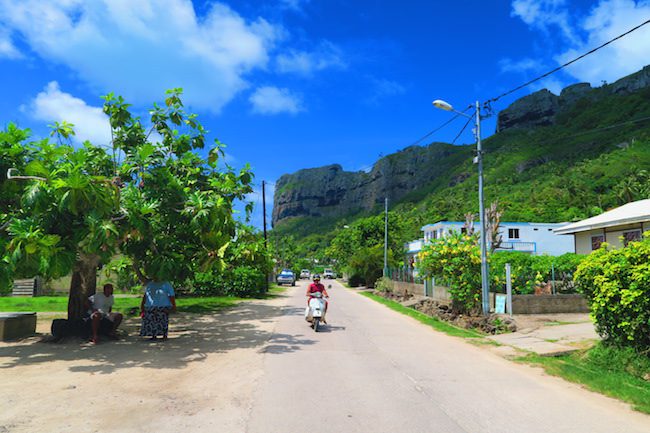 Where To Stay In Maupiti?
The residents of Maupiti have sat and watched as neighboring Bora Bora transformed into a mega-resort island. The last thing they want is for this to happen to their pristine paradise. In Maupiti, there are no resorts, no hotels, nothing on booking.com – just family-operated pensions, and a few low-key self-catering options. All pensions can arrange lagoon tours.
It's now time to decide if you want to stay on the main island or one of the motus, the small islets at the edge of the lagoon. Each has its advantages but I prefer to stay on the main island to have the flexibility of freely exploring the island.
Now for the most important point, space in Maupiti is very limited. The island is no longer a "top secret" and pensions haven't really expanded their supply in recent years. Therefore, it might be extremely difficult to find a place to stay in Maupiti exactly on the dates that you can visit. The earlier you plan, the higher the chances.
Here are my recommendations for where to stay in Maupiti.
Self-catering: Maupiti Residence is the best option on the island. Two large and well-equipped air-conditioned bungalows occupy prime real estate on Tereia Beach, the prettiest beach on the main island. Another unit is further up the hill. Owners will take you grocery shopping upon arrival and will help make other arrangements should you not wish to cook. Maupiti Residence is often booked up to a year in advance so consider yourself lucky if there's a vacancy.
Main island pensions: I've visited Maupiti three times and always stayed with Dawn at Pension Tautiare Village. Located halfway between the main village and Tereia Beach, the pension overlooks a grassy garden facing the lagoon filled with gardenia and fruit trees. Its signature feature is the 131-meter long pontoon extending way out into the lagoon. Though breakfast is very simple, dinners are delicious and plentiful. On the mountainside, Pension Taravanui is a newcomer with an exterior garden bungalow and a private room. Close to Tereia Beach, Pension Tereia offers a true family experience and on Tereia Beach itself, Pension Espace Beach is among the finest on the island.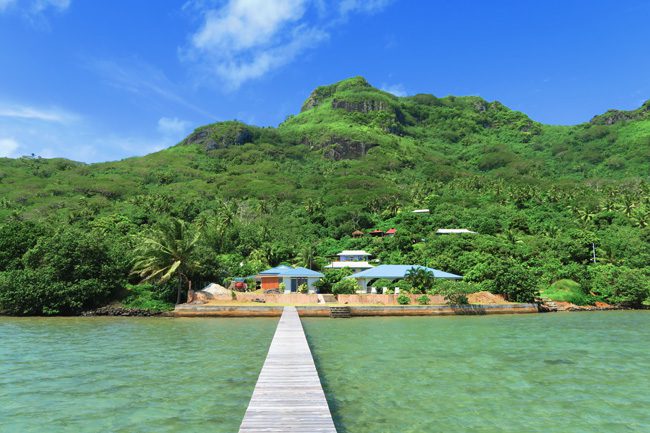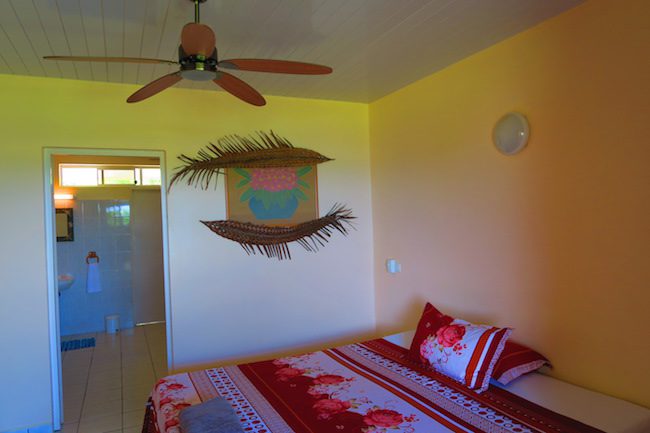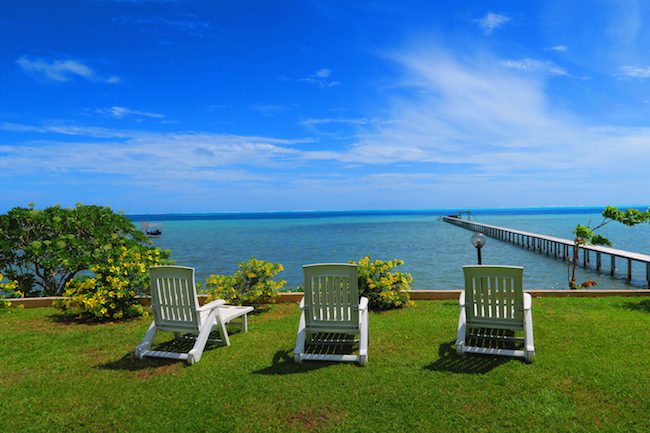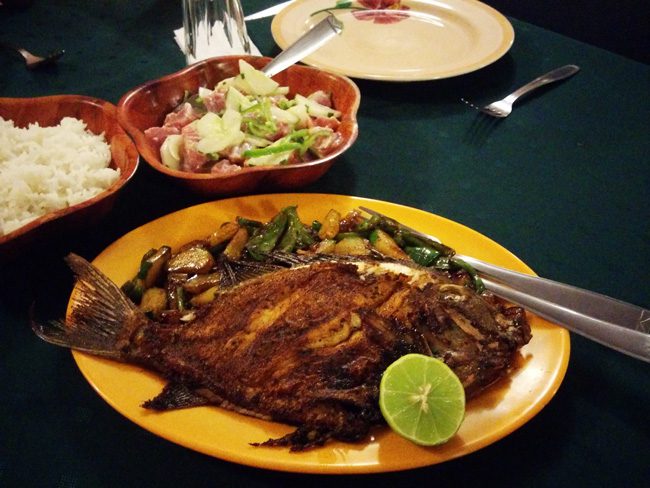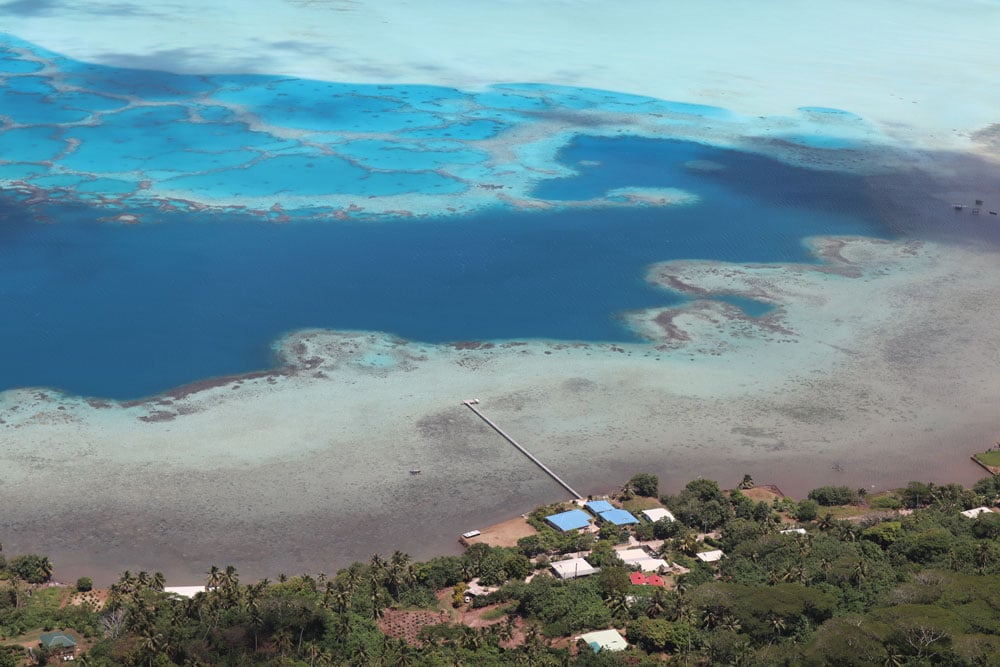 Motu-based pensions: there are several very low-key pensions on the motus of Maupiti but the recommended ones are Pension Papahani and the former Pension Maupiti Paradise, now reopened under the name Pension Maupiti Holiday.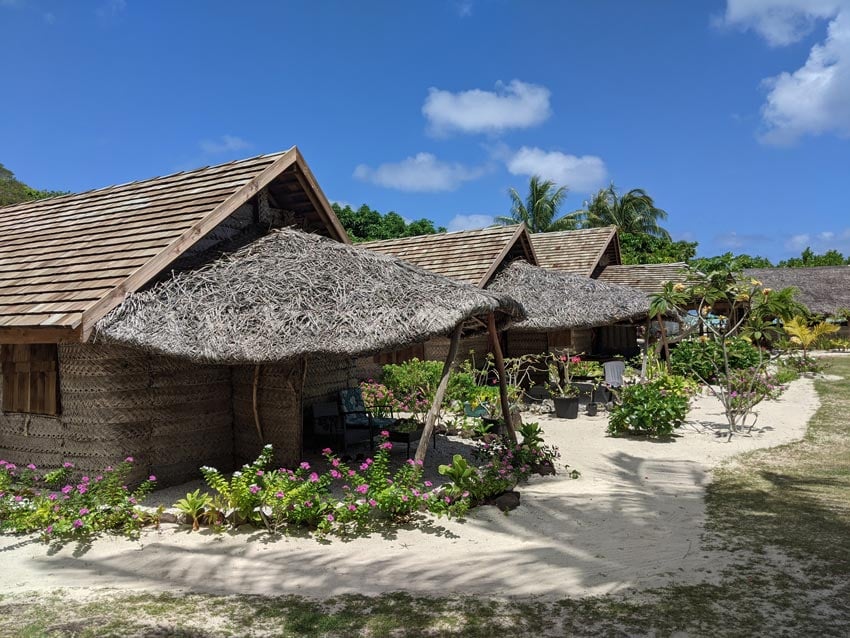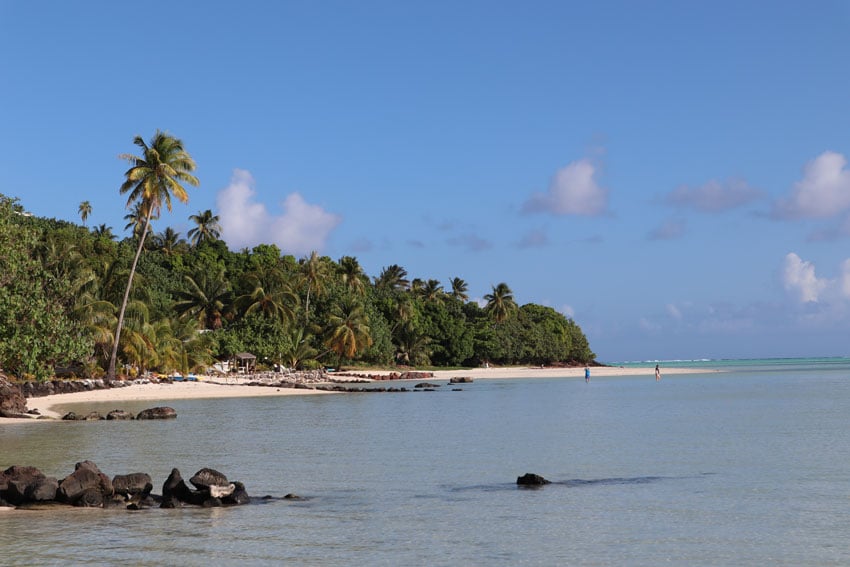 Camping in Maupiti: if you're looking for camping options in Maupiti, get in touch with Maupiti Camping. They're located in a quiet section of the island within walking distance of the lookout point, Tereia Beach, and the main village.
What To Pack?
Maupiti is a tropical destination, and as such – I recommend packing clothes that dry quickly and keep moisture (a.k.a sweat) out. Have a look at the X Days In Y Packing List for recommendations on what to pack for Maupiti based on my experience. If you're arriving on Sunday, it is best to pack a few snacks with you for lunch.
Money
Further evidence of Maupiti's laid-back charm lies in the fact that there are no ATMs on the island (in my recent visit, I heard that an ATM should be installed "soon", perhaps in 2021). Maupiti runs on a cash economy, no credit cards are accepted anywhere. How do the locals manage? Bank clerks arrive on the island a few times a month to collect cash and deposit in bank accounts upon their return to Tahiti. Bring all the money you need in cash before arriving on the island. For such reason, I always traveled with a few emergency Euros or US Dollars which can always be converted.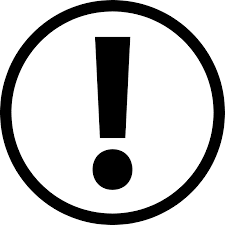 Update
After years in the making, an ATM has been inaugurated on the island in 2022. That said, it might not be affiliated with a bank but rather the post office, so check with your hosts if cash is still the only option in Maupiti.
Maupiti Average Costs
Here's a breakdown of my costs from Maupiti during my first visit in 2016. Apart from a couple of days, I ate breakfast and lunch at the pension, along with something small for lunch. I went scuba diving and took a lagoon excursion as well.
Drinking Water In Maupiti
Water in Maupiti is not suitable for drinking out of the taps. You will notice locals filling up at water dispensing stations along the side of the road (currently free). Pensions usually provide filtered water for free, so keep those plastic bottles.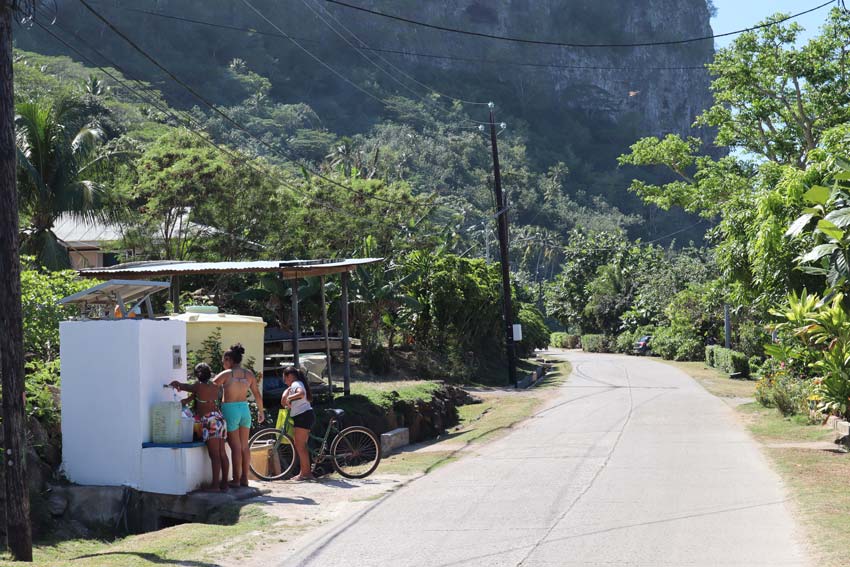 WiFi & Mobile Data In Maupiti
At present, only Vini has mobile coverage in Maupiti. Vodafone sim cards simply will not work here. Free but slow WiFi should be available in all pensions but only in common areas.
Eating
Pensions: if you're staying at a pension, you'll be able to stay half board, which includes breakfast and dinner. Food will almost always be exceptional and an integral part of your visit, just like the beach. Usually, half-board options are an extra 1,500F per night. Keeping in mind that meals in restaurants start at 1,300F – it's a very good option to just go, half board, if you like your pension's cooking.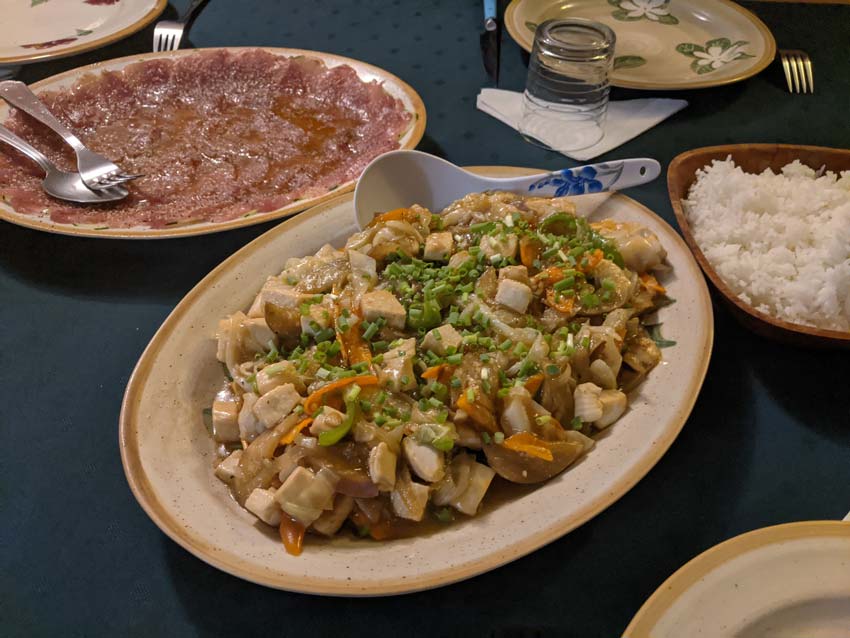 Food shopping: I found the opening hours of shops to be incredibly weird in Maupiti. So the rule of thumb when it comes to mini markets is to buy whatever you need when you see one open. Mornings are obviously the best time to try.
Eating out: there are a small handful of snacks and restaurants in Maupiti (see 'places to eat' section). Some will even deliver breakfast and dinner to your accommodation on the main island.
Market: there's a tiny 'market' right next to the main jetty and municipal buildings (open weekdays until ~12 pm). You'll find here a very small selection of fruits & vegetables, greasy snacks, and fresh coconut water.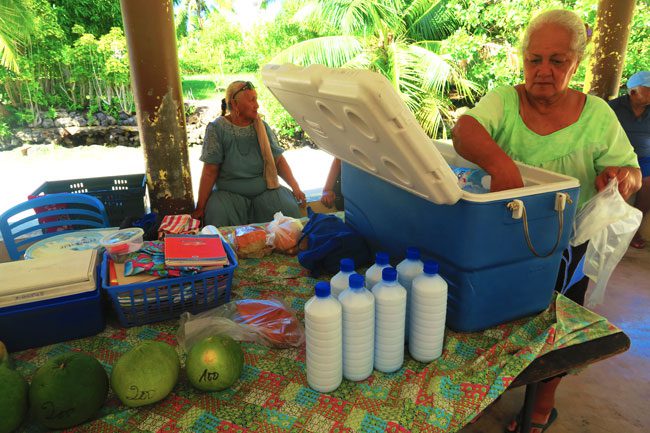 Safety In Maupiti
For general safety tips in French Polynesia, have a look at the 'safety' section of the French Polynesia Travel Guide.
As you would expect, Maupiti is a very safe & super friendly destination. That said: (1) I was advised by my hosts to safeguard valuables at night or when leaving my room. There have been rare cases of local youth taking advantage of the carefree vibe that runs throughout the island. (2) There are certain motus (small islets in the lagoon) where cannabis is grown. It's OK to hang around the beach, just don't venture inland where the crop is grown. (3) If you want to swim or snorkel near the lagoon pass – ask first. Currents can be dangerous and tricky out there.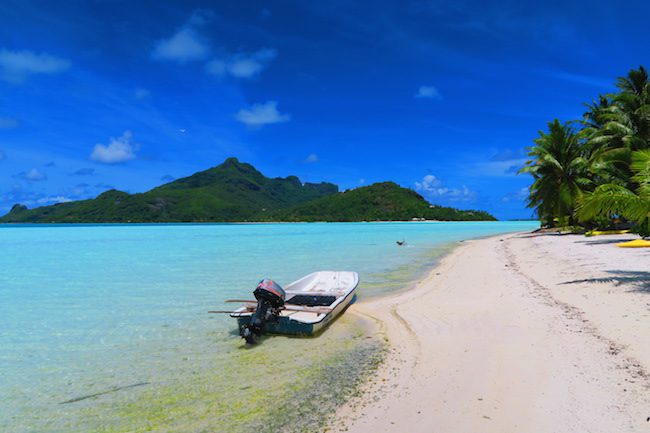 What To Buy In Maupiti?
Maupiti is by no means a shopping destination, save that for Tahiti. What you can find here is simple jewelry made from the wide variety of beautiful shells found on local beaches. The exception is the penu – the symbol of Maupiti. This is an ancient tool carved from basalt rock that was used for crushing herbs and fruit. It is a prized possession and can be purchased from the small handful of artists on the island, especially in the more remote southwest section of the tiny island. There's an artist that lives not too far from Tereia Beach but my pension host helped me by ordering one for me. I paid 4,000 XPF for a medium-sized penu.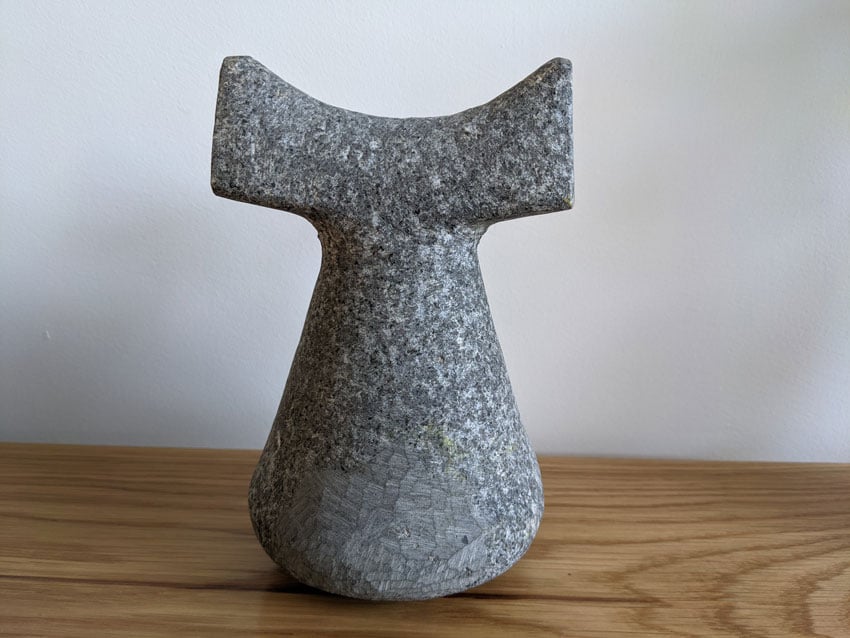 How To Save Money In Maupiti?
Traveling to multiple islands in French Polynesia? Get here as part of an

Air Tahiti Pass

. It will almost always work out much cheaper than point-to-point flights to multiple islands.

Book your accommodation as early as possible. There aren't any large resorts in Maupiti and the option in your budget bracket might get quickly filled up.

Most pensions will give you the option of staying half board. This means having breakfast and lunch at the pension, usually for an extra 1,500F. Considering a proper dinner at a restaurant costs at least 1,300F, it's worth it to eat at the pension. Usually, pension owners are wonderful cooks, making this a no-brainer.

Staying on the main island (as opposed to the surrounding motus) means you don't have to pay someone to take you to the village (and there are lots to do on the main island). Transfers will usually cost 1,500F (return) to and from the motus to the village.