Things To Do & Places To See In Maupiti
Listed in this section are Maupiti's top highlights to include on your visit to the island.
Flight to Maupiti
If you're flying to Maupiti from Tahiti, you're in for a real treat. The 55-minute flight is the most scenic commercial flight in French Polynesia, flying low over all the main islands in the Society Islands group. The flight begins with a short swing around Moorea, followed by Huahine, Raiatea, Tahaa, Bora Bora (and Tupai Atoll), and Maupiti. The final approach to Maupiti takes you around the entire island. Be sure to sit on the right side of the plane on the incoming flight and on the left when departing. Have your camera ready at all times!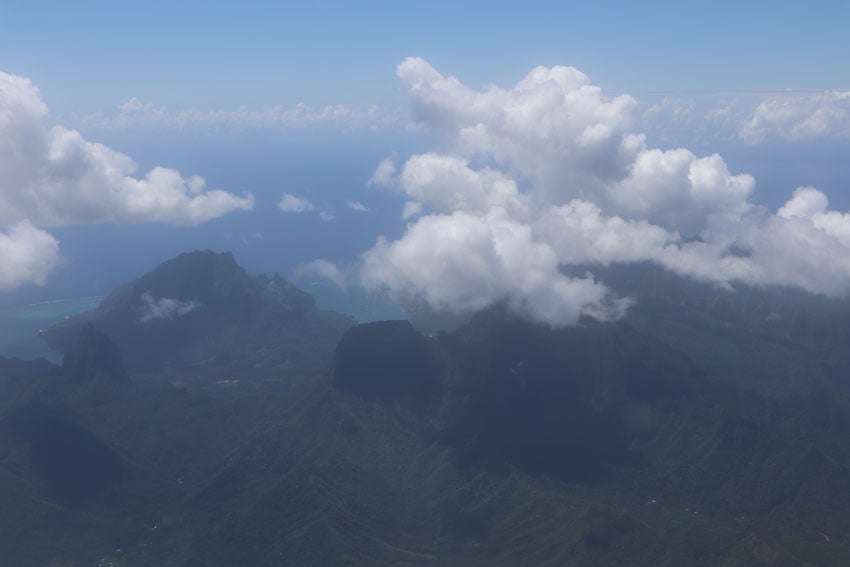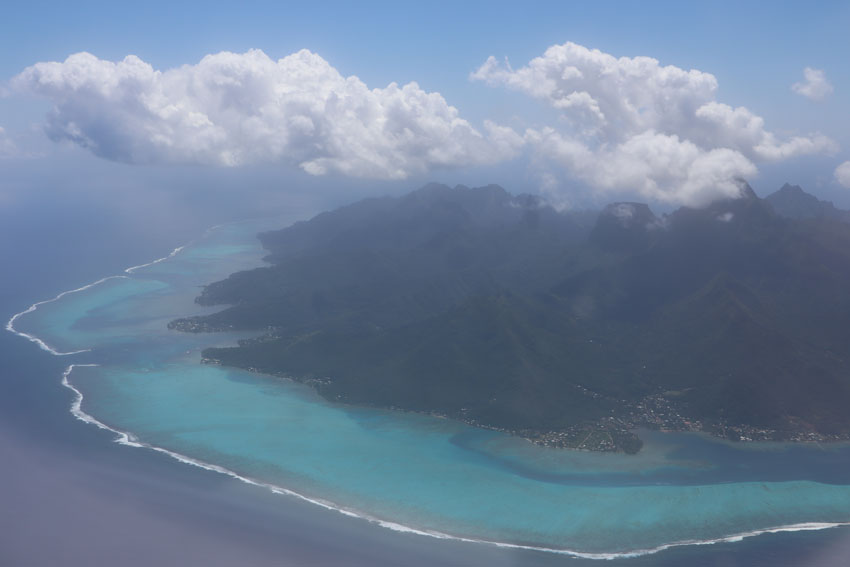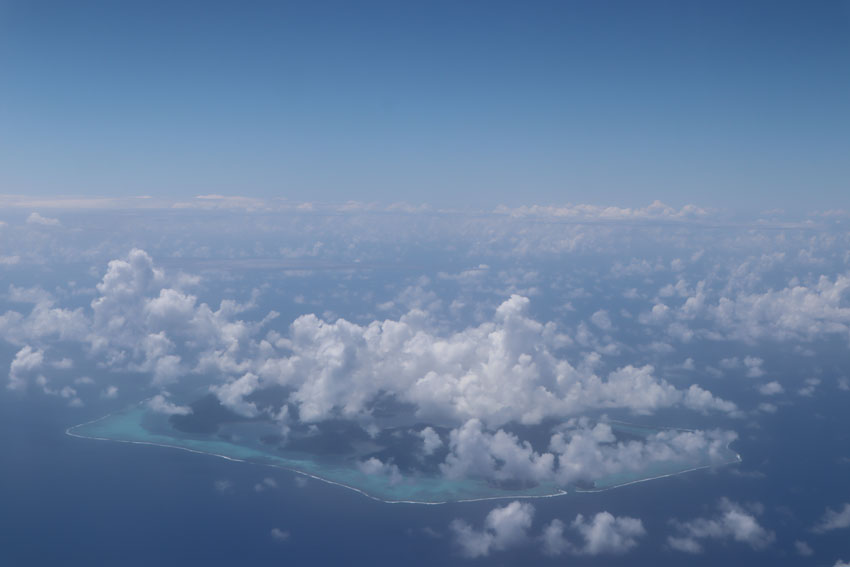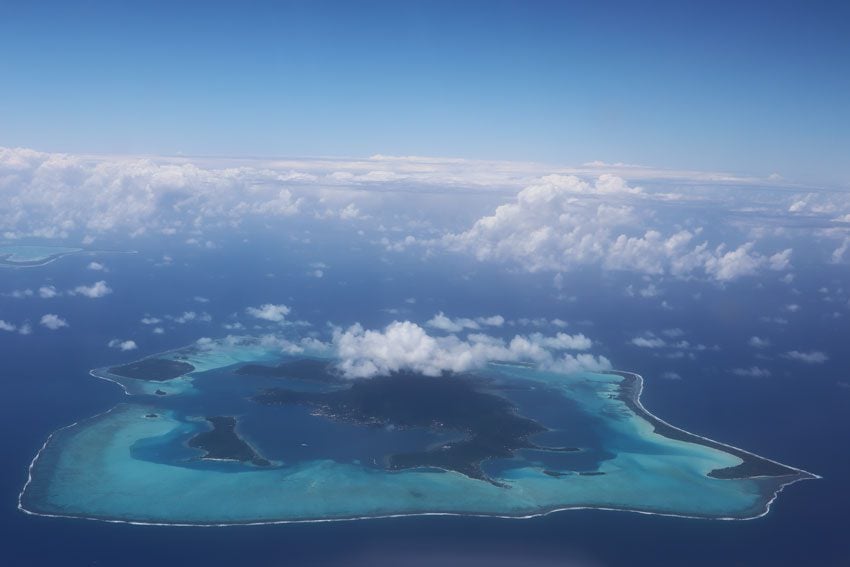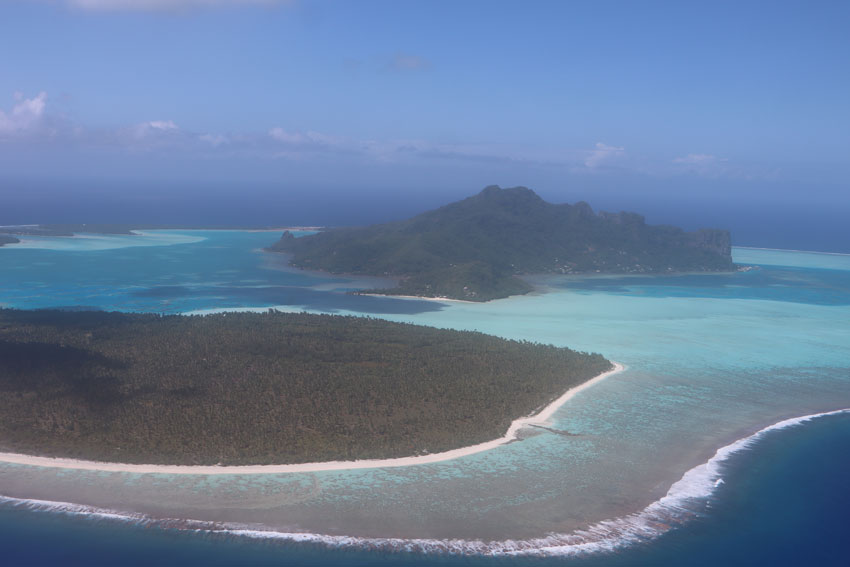 Vaiea Village
The only village in Maupiti is tightly tucked between a vertical cliff and the turquoise lagoon. A picturesque sight as you arrive by boat from the airport, it's also a good idea to explore on foot (it won't take very long). Simple homes line the main road, with gardens full of fruit and tropical flowers. Most homes have a small grave in the front yard, a tradition in Polynesian life though not that common in French Polynesia.
The village itself is the center of commercial & social life. During the day, locals drop their kids off at school before heading out to catch some fish. As the sun begins to set, youngsters play some volleyball while the older folks play a round of petanque. It's a very simple and beautiful life in Vaiea.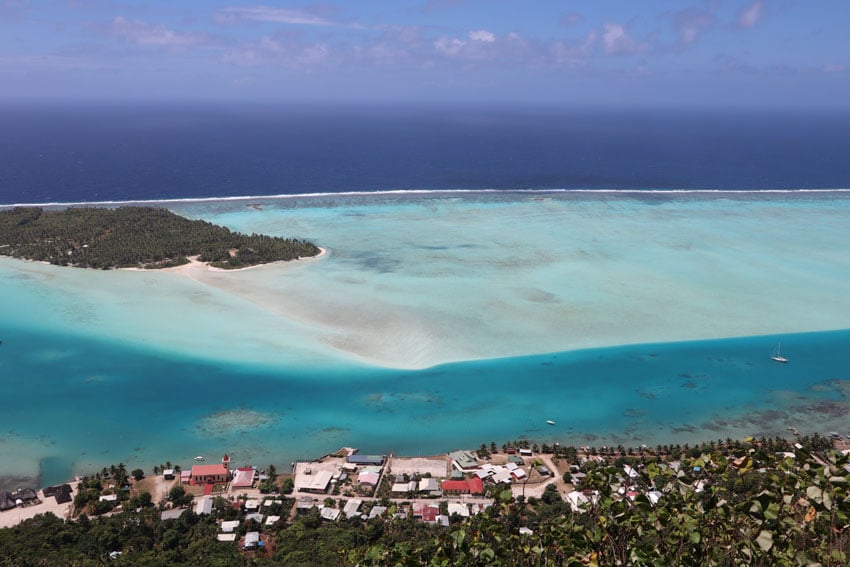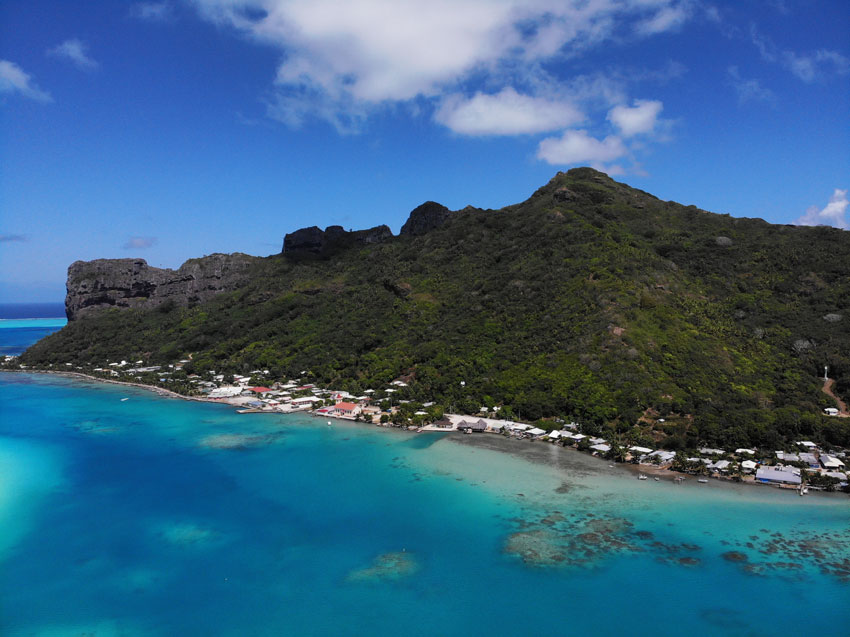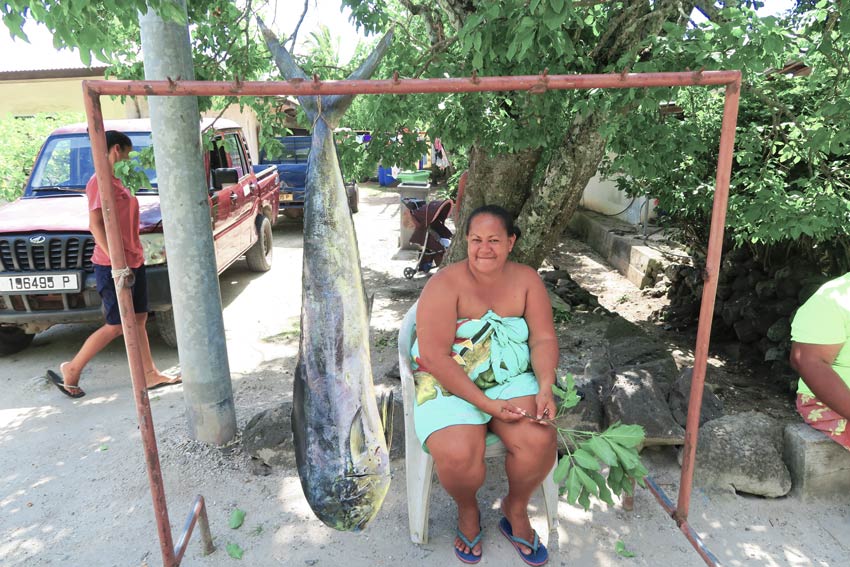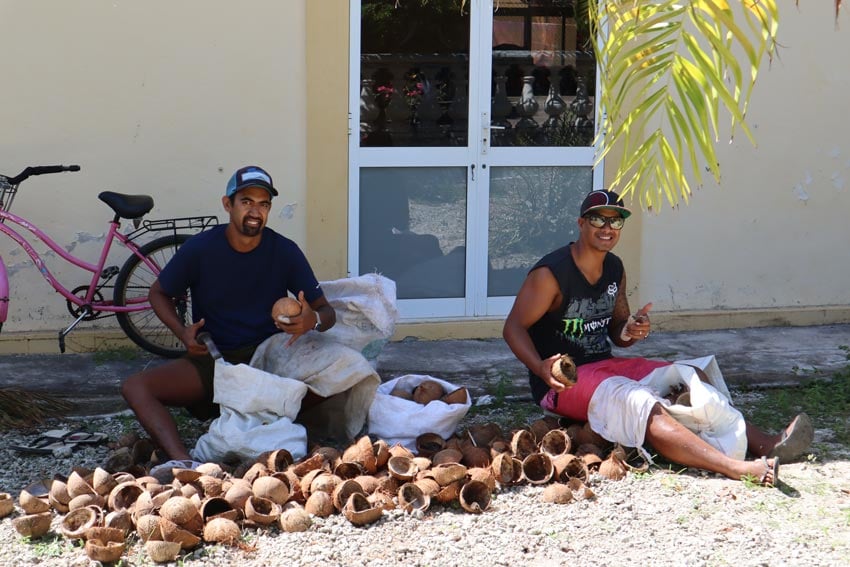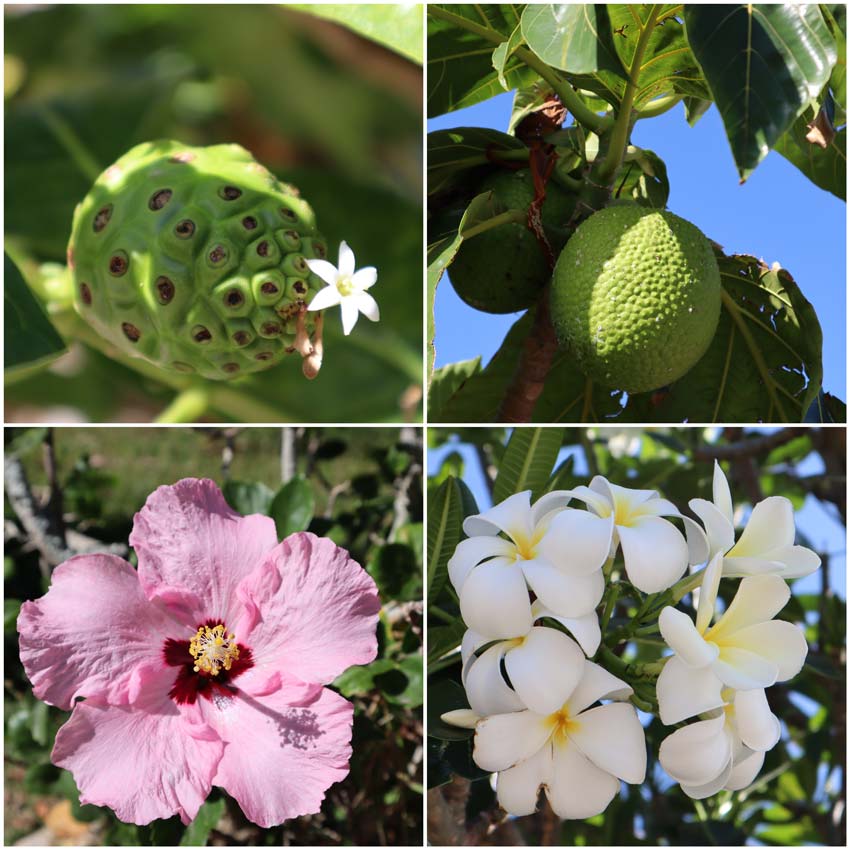 No matter how simple a house can be in Maupiti, it will always have a very well-kept garden. Residents take great pride in their garden so you'll almost always see someone working the yard. An interesting thing to look out for is the occasional grave in the front yard. In the absence of a local cemetery, residents often resort to burying their loved ones on the property. This gesture can only be seen these days in very traditional Polynesian islands such as Samoa and Maupiti.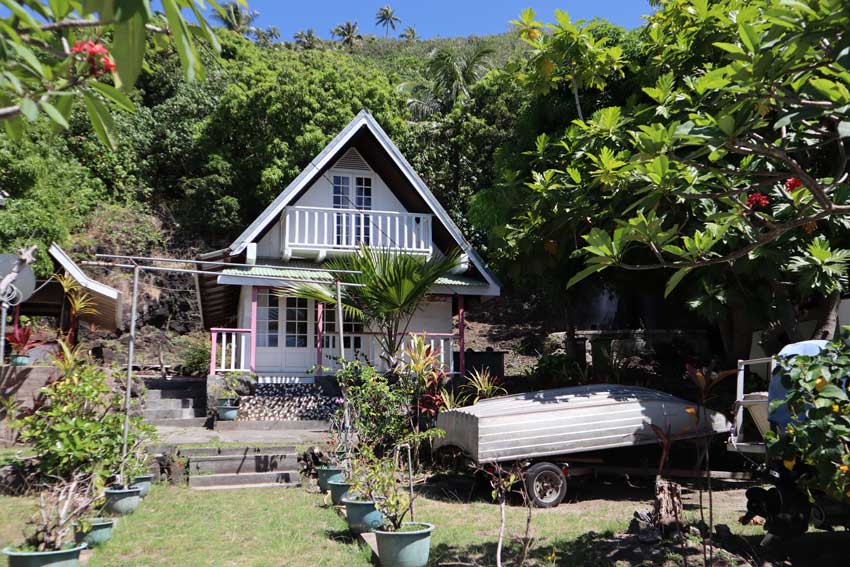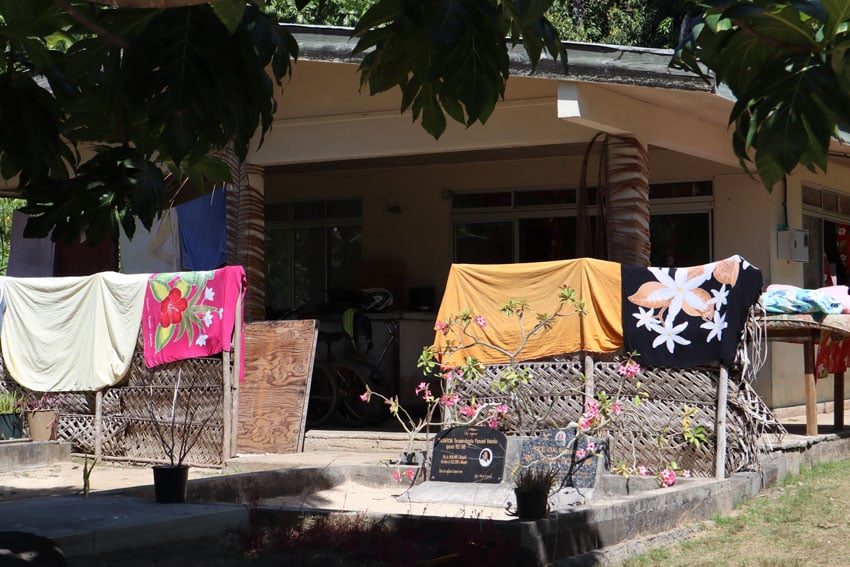 As you might expect, you'll find here a bunch of small food shops and snacks selling mostly sandwiches around lunch and dinner. Just in front of the municipal building and the pier, you'll find a small covered market that's open on weekdays until about noon. In my experience, I found this opening schedule to only be loosely followed so don't depend on it. There's not a huge variety on sale, but you will find some fruits and vegetables, fresh coconut, and baked goods (mostly fried). Note that fruits and vegetables are sold in bulk. If you want to buy small amounts, try the food shops or Chez Manu.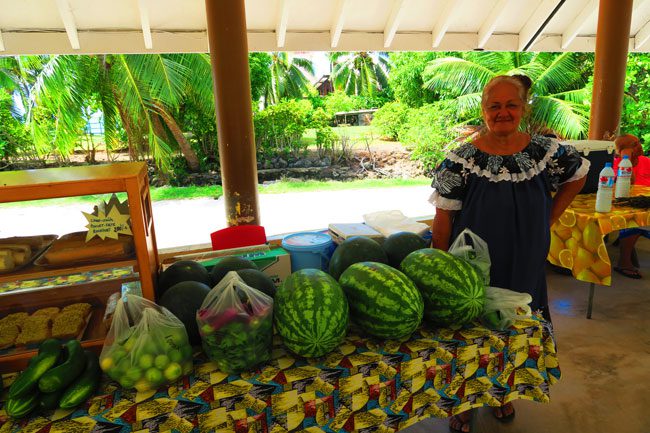 Mount Teurafaatiu Hike
Impossible to pronounce, the challenging hike to Mount Teurafaatiu (380 m) will be one of the highlights of your visit! It's one of the best hikes in French Polynesia. The steep trail snakes its way along the cliffs overlooking Vaiea, with incredible views of the village, lagoon, and the airport from way up above.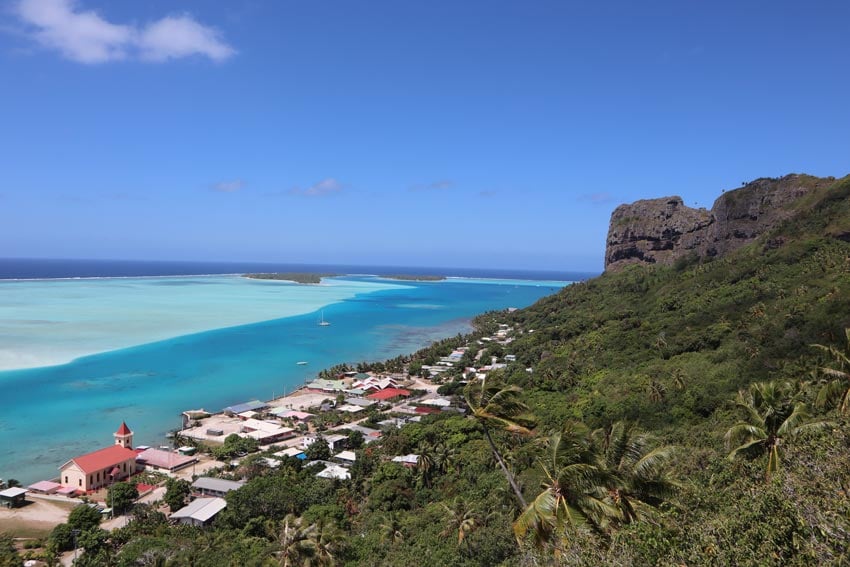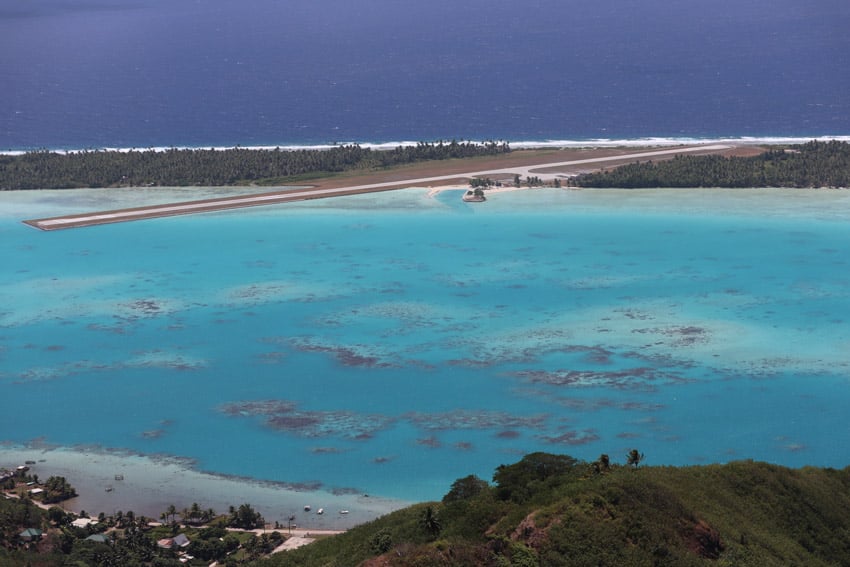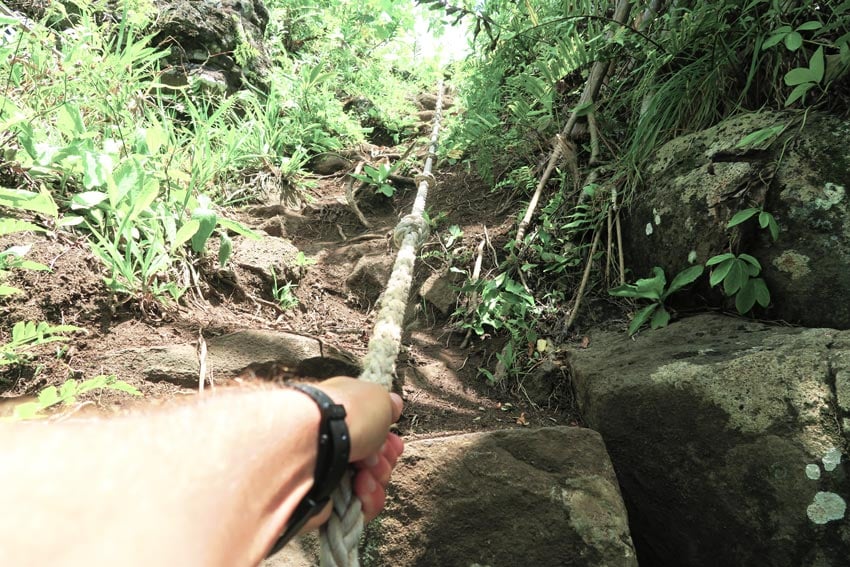 The view from the rocky summit will live in your memory for eternity. From up here, you'll be treated to breathtaking panoramic views of Maupiti. The colors of the lagoon from up here cannot be described in words. It's a good spot to observe the strange patches within the lagoon that are created by the shifting sand and the coral. On a clear day, you'll see Bora Bora in the far distance. There's a very good chance you'll have the summit all to yourself, so prepare to stay here for a while as you really won't want to leave!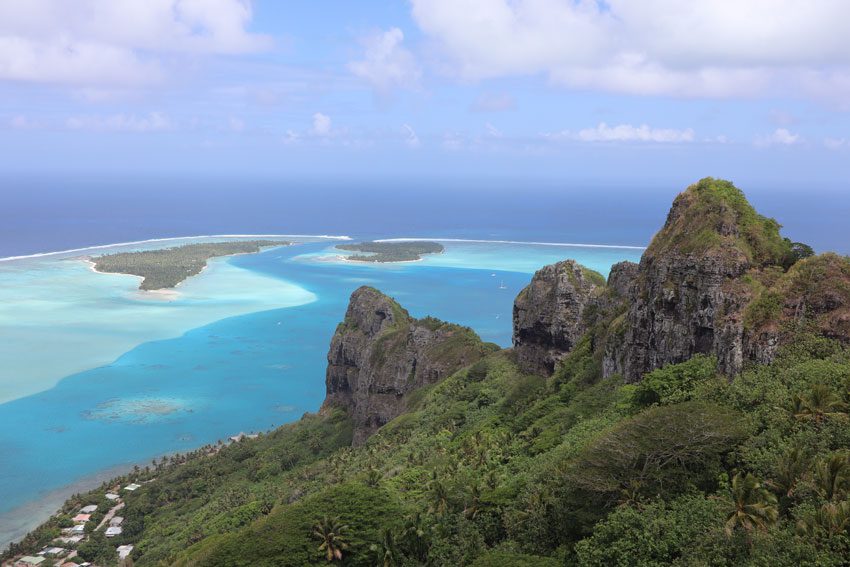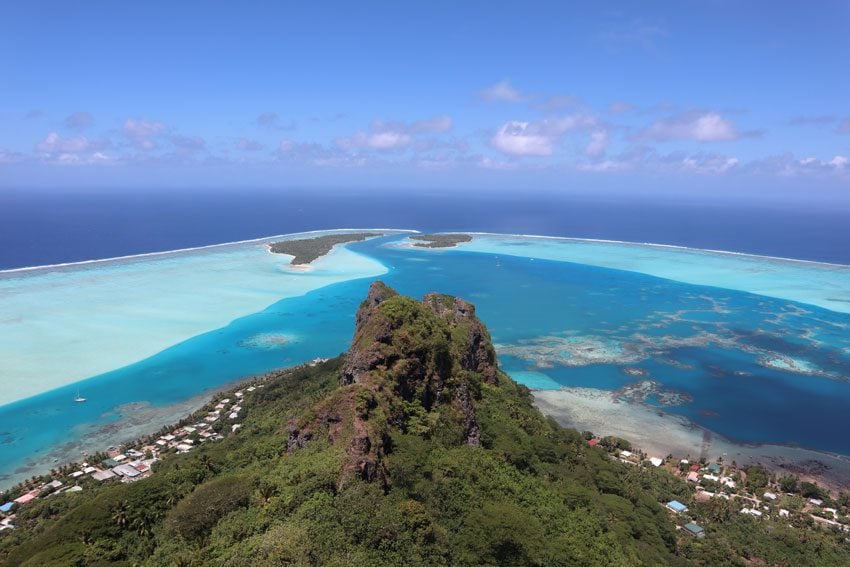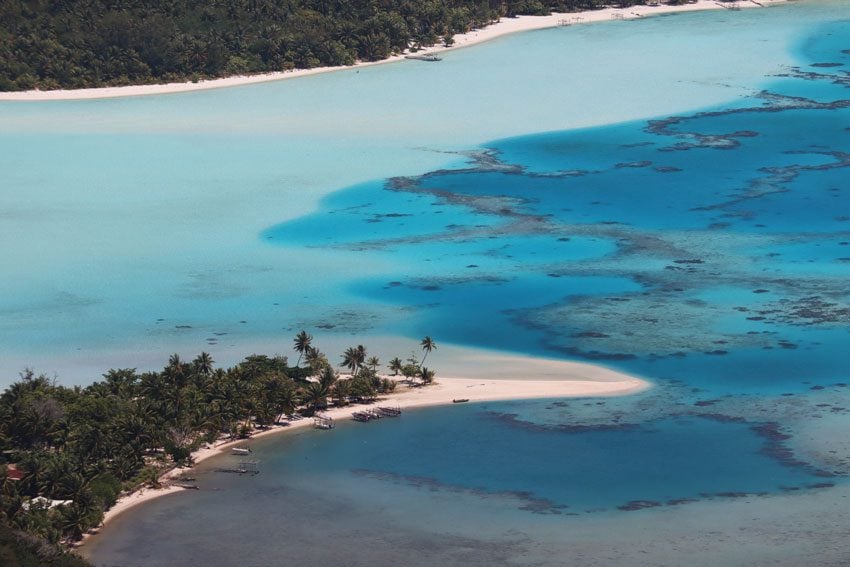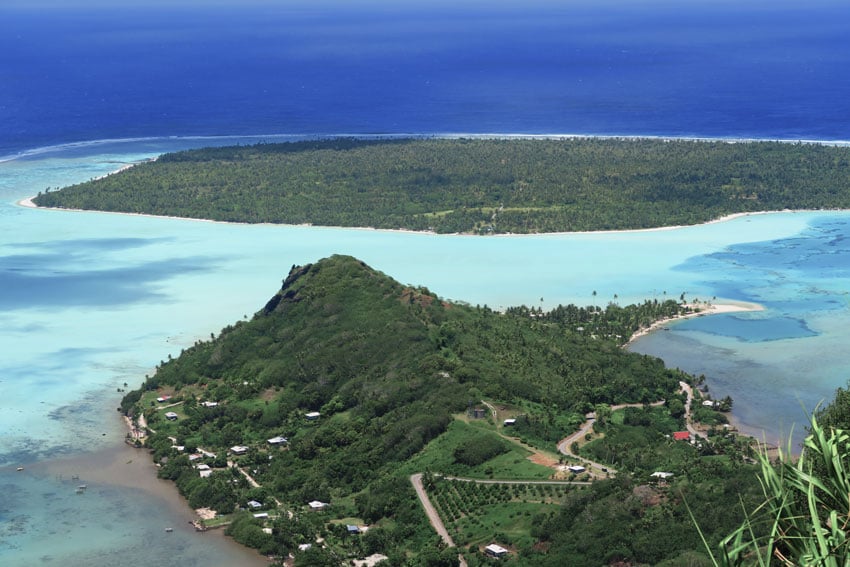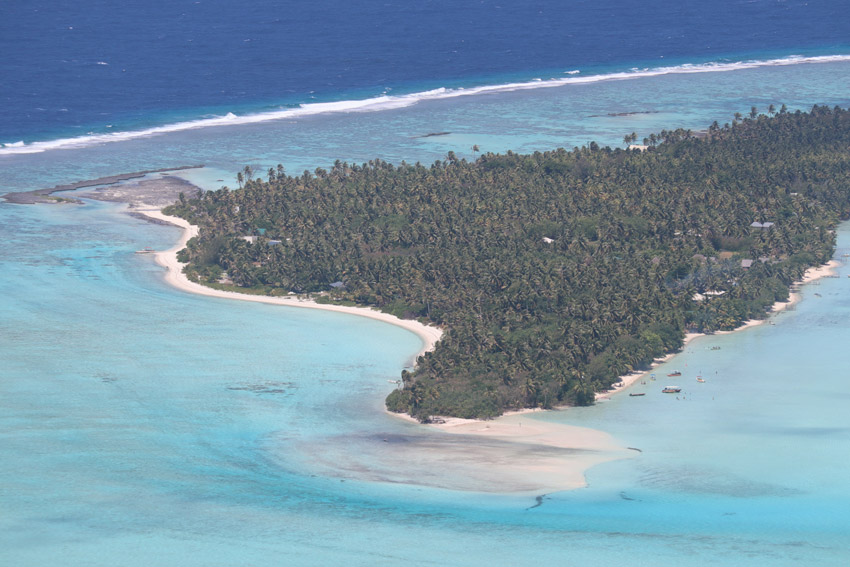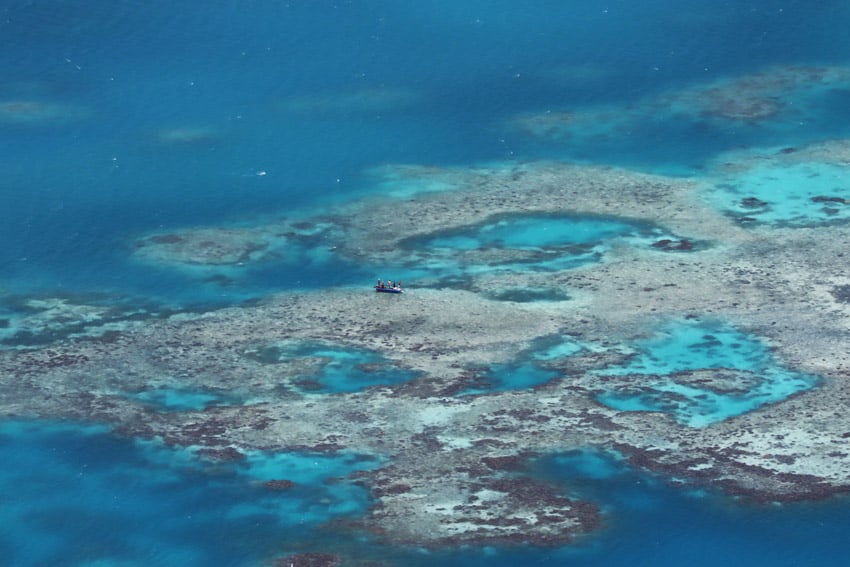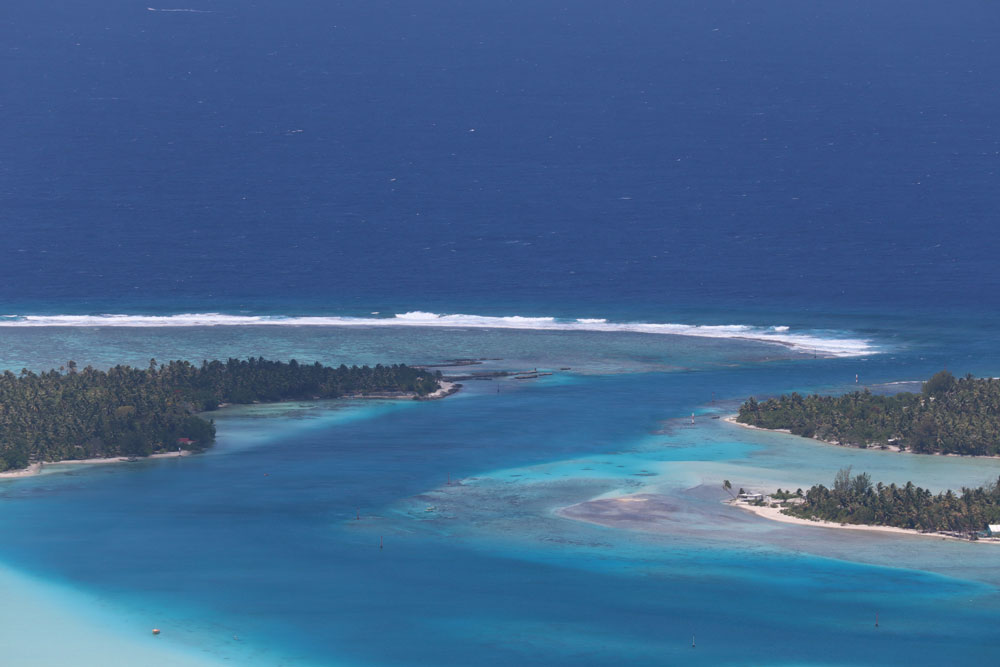 Here's what it felt like at the summit of Mount Teurafaatiu
Logistics: coming from the village, look for steps heading up the hill just past Tarona Restaurant. Follow the trail that's impossible to miss unless overgrown with vegetation. Arrows and ribbons will point you in the right direction until a set of ropes lead to the summit. Allow 60-90 minutes to go up and 30 minutes to go down. Wear sturdy hiking shoes, bring more water than you think you'll need (at least 2L per person), sunscreen, and a hat – as the summit is just bare rock and you'll want to stay there for hours! If you're lucky, you can find an open shop once you get back to the main road but don't count on that. Even if you think you cannot hike to the summit, it's worth hiking a small section for the views above the village.
Marae Vaiahu
The only marae (ancient Polynesian temple) on the main island. Compared to the ones you'll see on other islands (especially Huahine, Raiatea, and the Marquesas), there's nothing too impressive about this one but the mud crabs who have taken over.
Scenic Lookout
You'll reach this scenic lookout on the way to Tereia Beach if coming from the main village. It's the highest point on the main road from where you can enjoy beautiful views of various sections of the island. It's also my favorite spot for watching sunsets in Maupiti.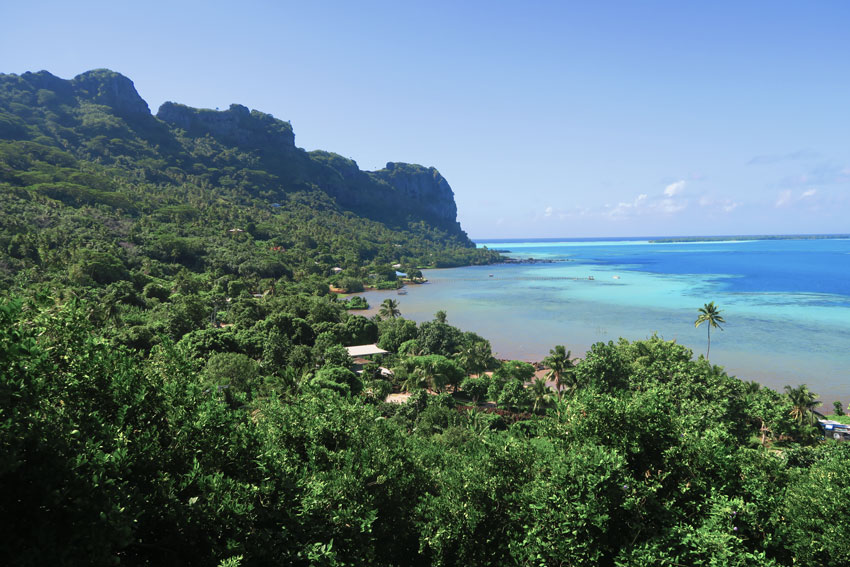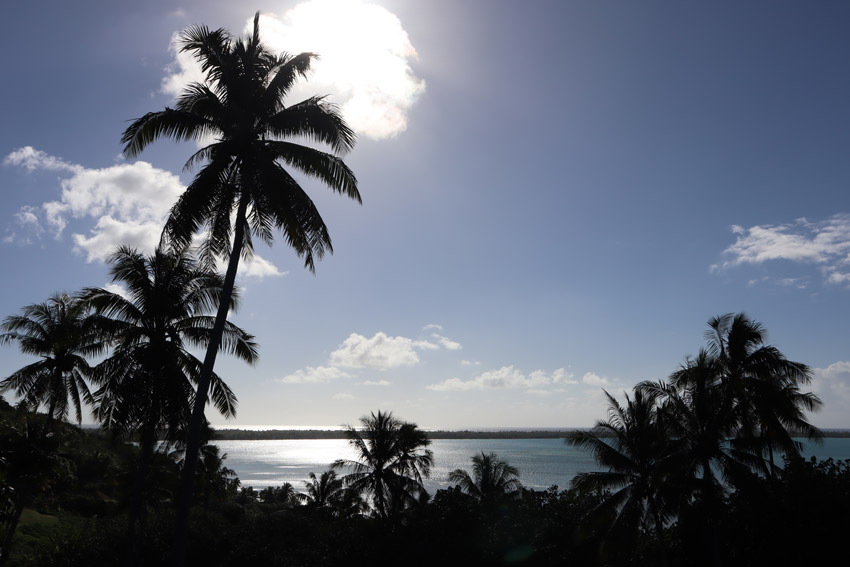 Tereia Beach
Tereia Point splits this part of the Maupiti into a murky beach marked by fishing boats on one side, and the prettiest beach on the main island on the other. Tereia Beach has a "far section" which seems to be reserved for guests of Maupiti Residence and Pension Espace Beach. The "near" section is a public beach where you'll share the space with locals, especially after school hours, on weekends and holidays. Most sections of the beach are very shallow so they're great for chilling and for small children. Small sections are quite deep and interesting to explore with a mask and snorkel. As far as dining, Snack Chez Mimi is great for local dishes, sandwiches, and drinks.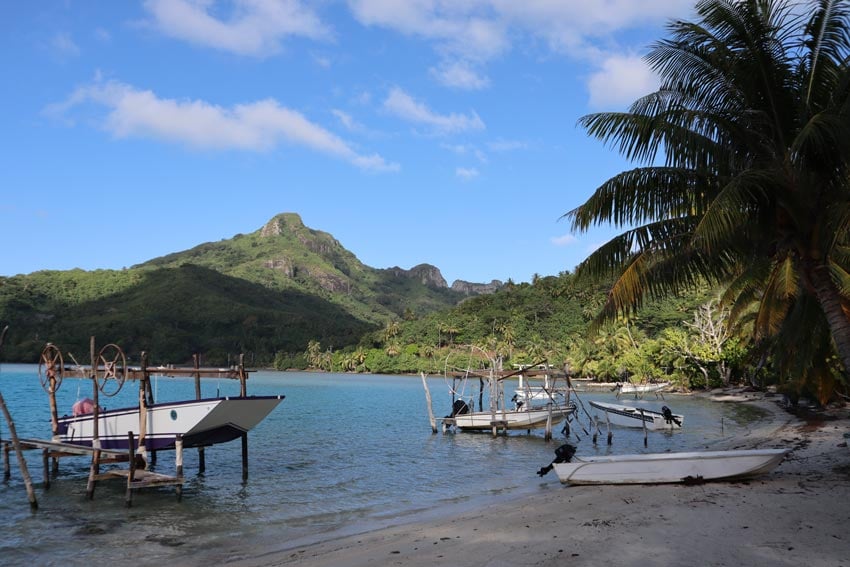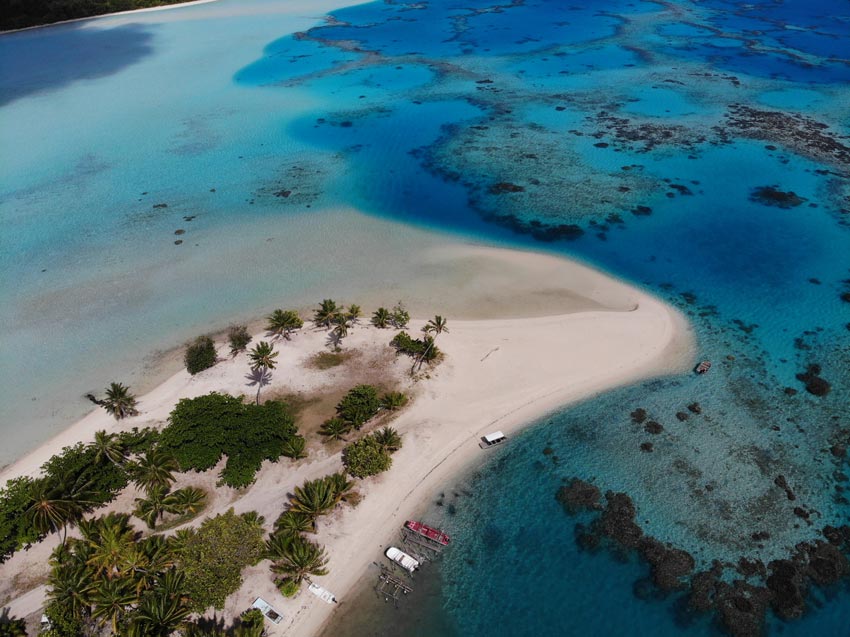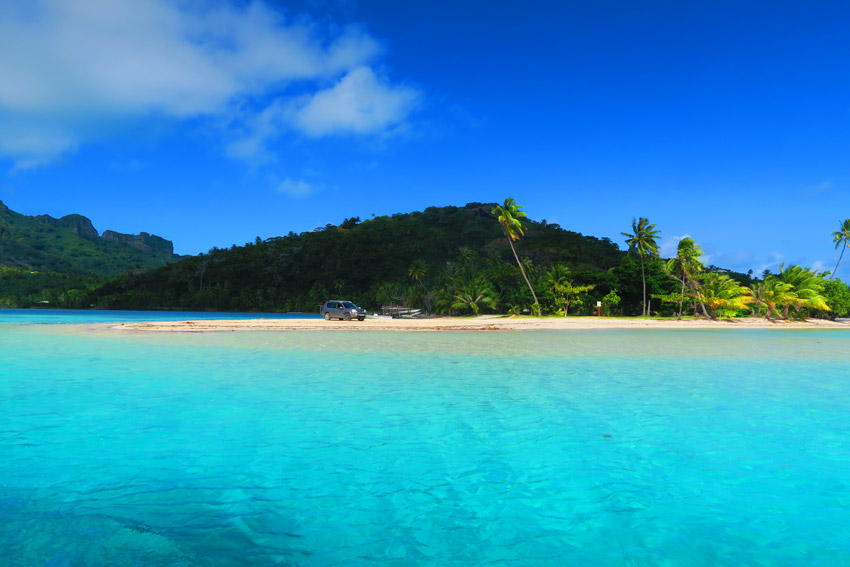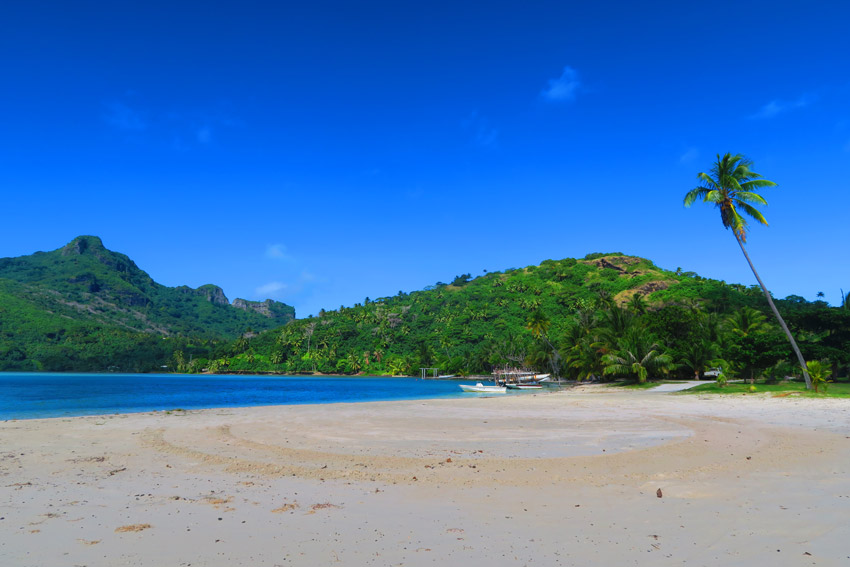 From Tereia Beach, you can round the corner in low tide and find yourself a hidden cove beneath the shade of tamanu trees. Teriea Beach marks the starting point for the crossing of the lagoon by foot to Motu Auira.
Motu Auira
Visiting Motu Auira is the #1 activity on my list of the top things to do in Maupiti. I often visit this remote part of the island several times during a single visit to Maupiti. Getting to Motu Auira is part of the fun, having to cross the shallow lagoon from Tereia Beach on foot for about 20 minutes. This is what Moses must have felt like, only instead of Pharaoh's army chasing you, it'll be a few stingrays and sharks that you'll see along the way.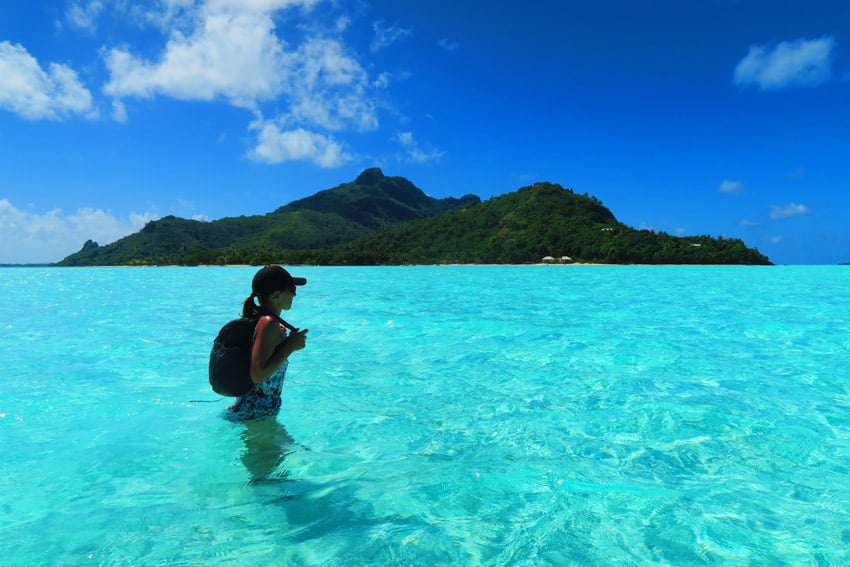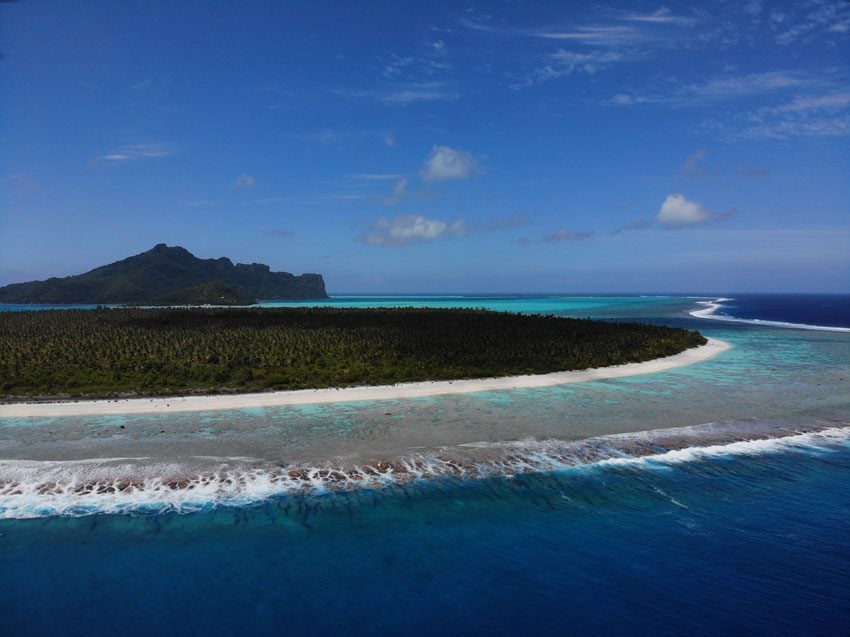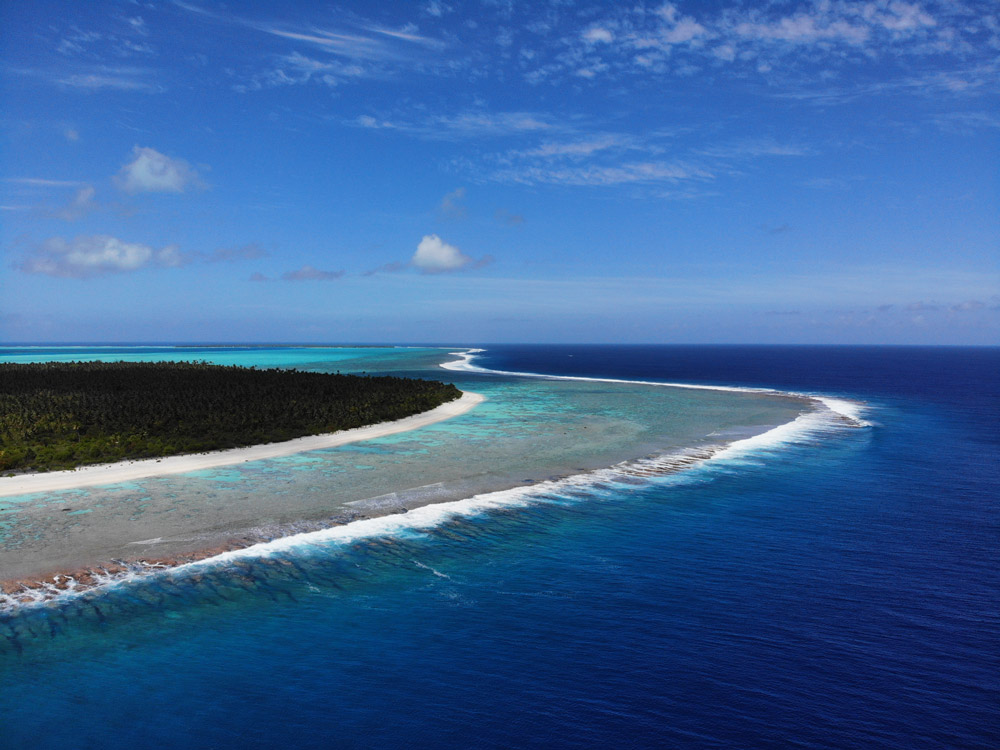 As you make landfall on the motu, you are faced with the option of heading right and exploring the lagoon side or heading left to round the bend after a few minutes and explore the off-the-grid reef side. If it's your first time here, venture slightly along the lagoon side just to get a taste for what living in paradise probably feels like but don't stick for too long because the reef side is where the real magic happens. Wherever you head, don't venture inland beyond the beach, even if it looks like nobody lives there. Most, if not all the land is privately owned and used for growing fruit and making copra from dried coconuts. However, there have been cases of marijuana growing on Motu Auira so locals might be suspicious if you don't stick to the beach or ask for permission.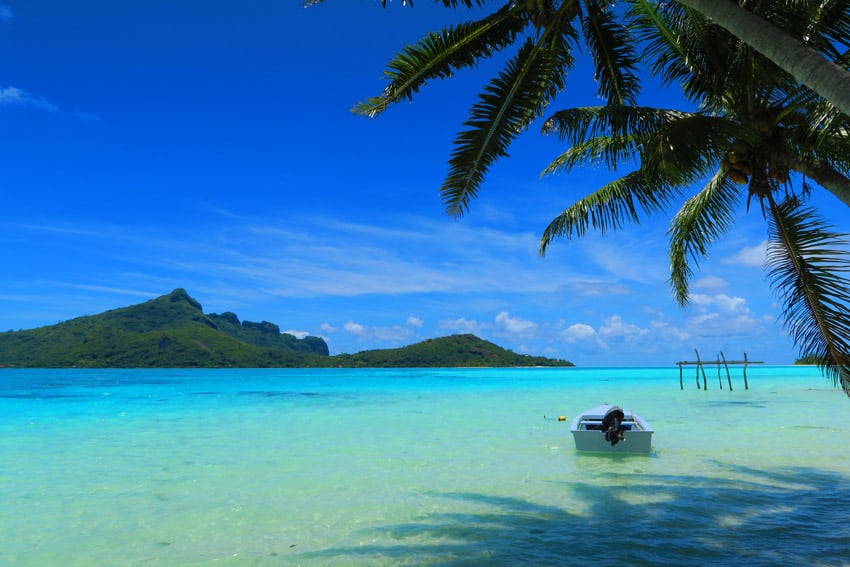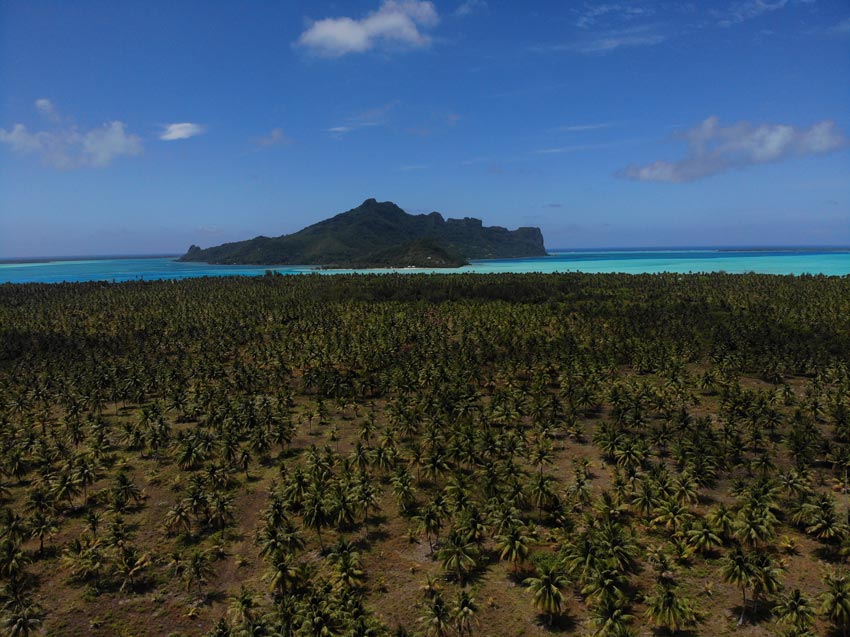 The Lagoon Side
A few families live along the beach in large plots of land dominated by coconut palms and barking dogs. Beware of aggressive dogs and carry a branch to keep them in check. There is a small stretch of lagoon beach devoid of settlement so if you don't want to face the dogs, simply head back when you start seeing the houses. Notice the fishing boats raised above the waterline, one of the signatures of Maupiti. This is to minimize salt damage.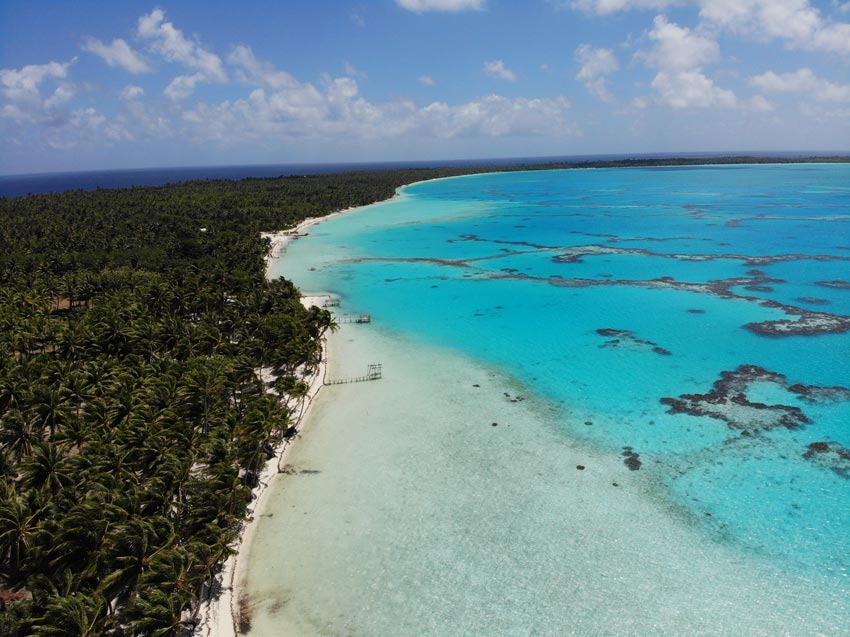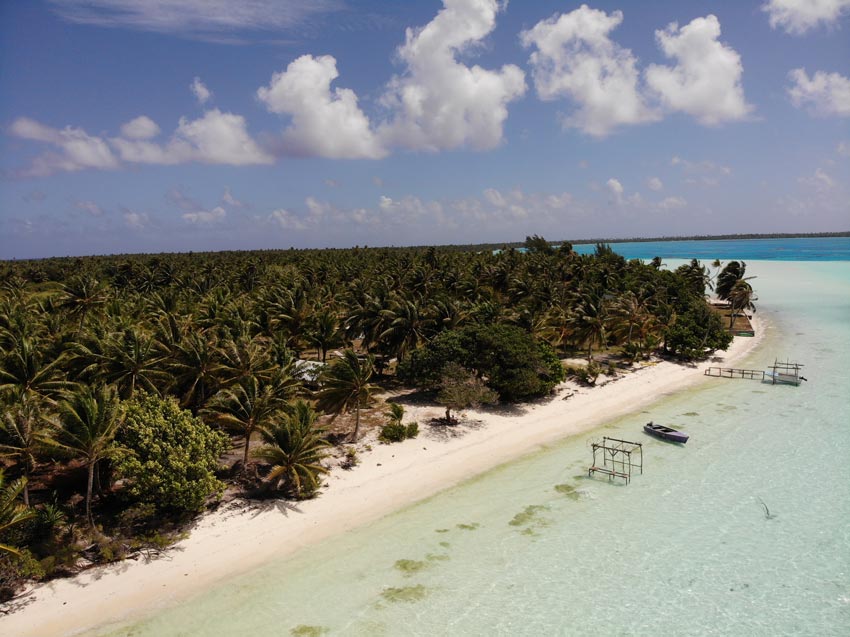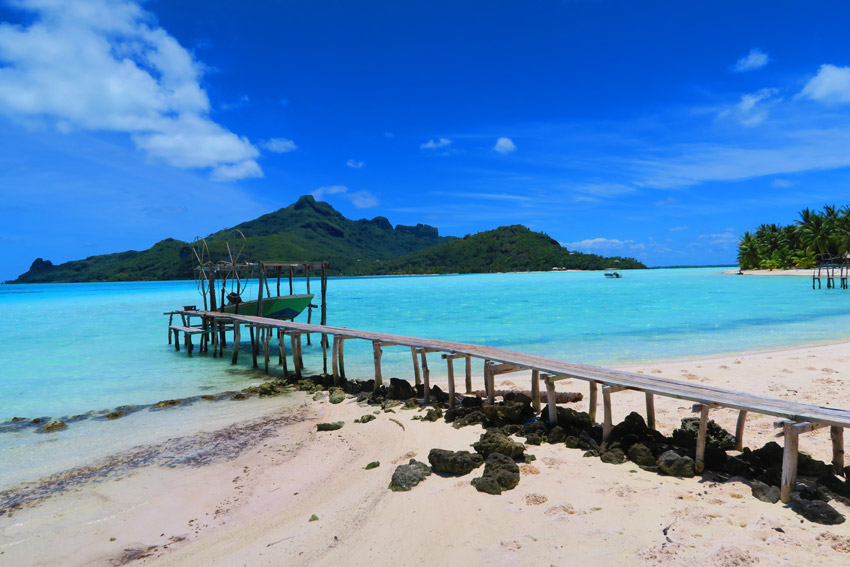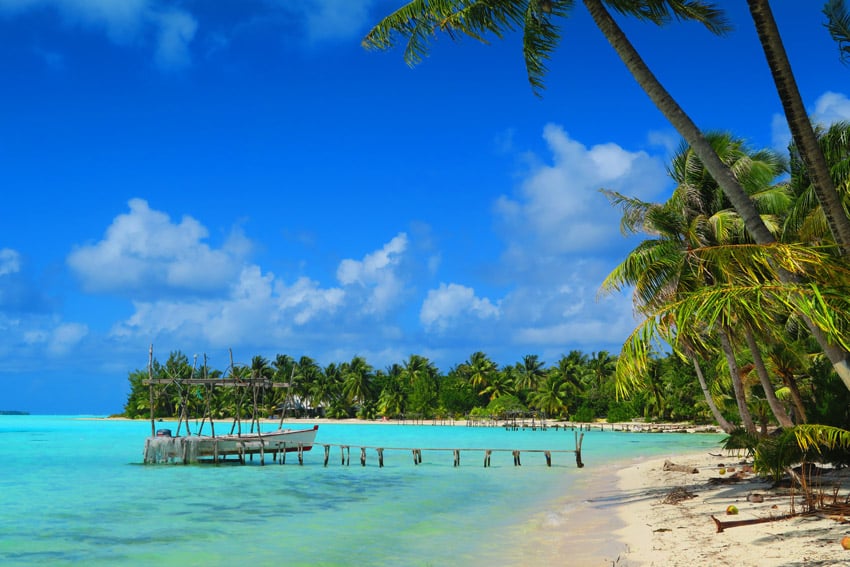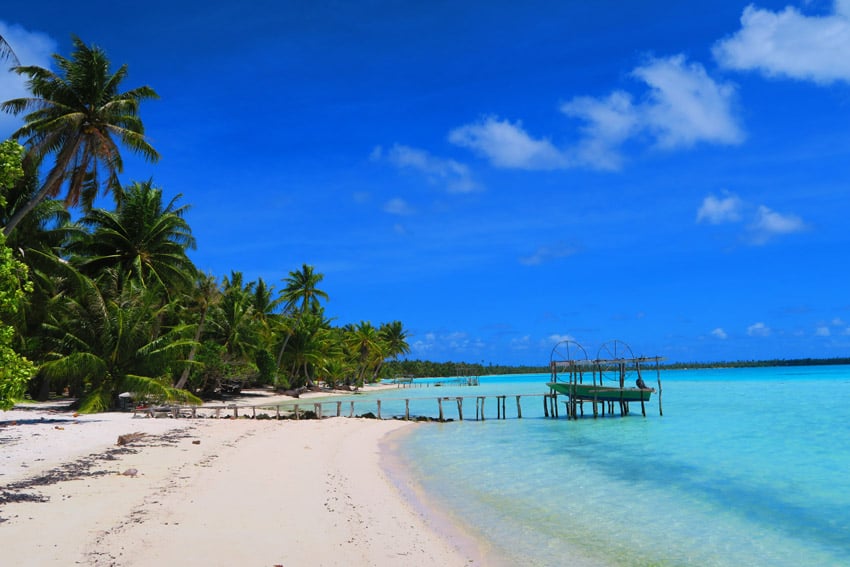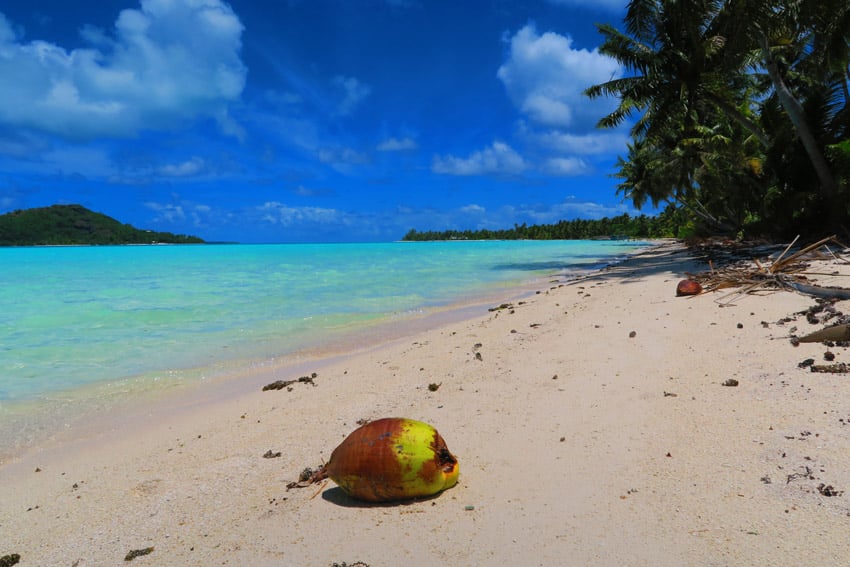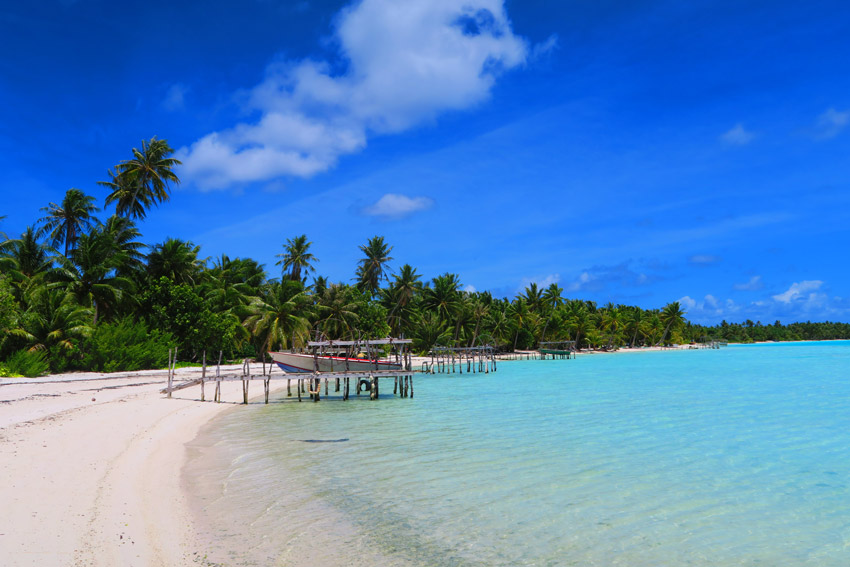 The snorkeling in the lagoon side is not amazing because the water is almost always murky. Curious snorkelers will find interesting "coral forests", with patches of corals that resemble miniature bonsai trees.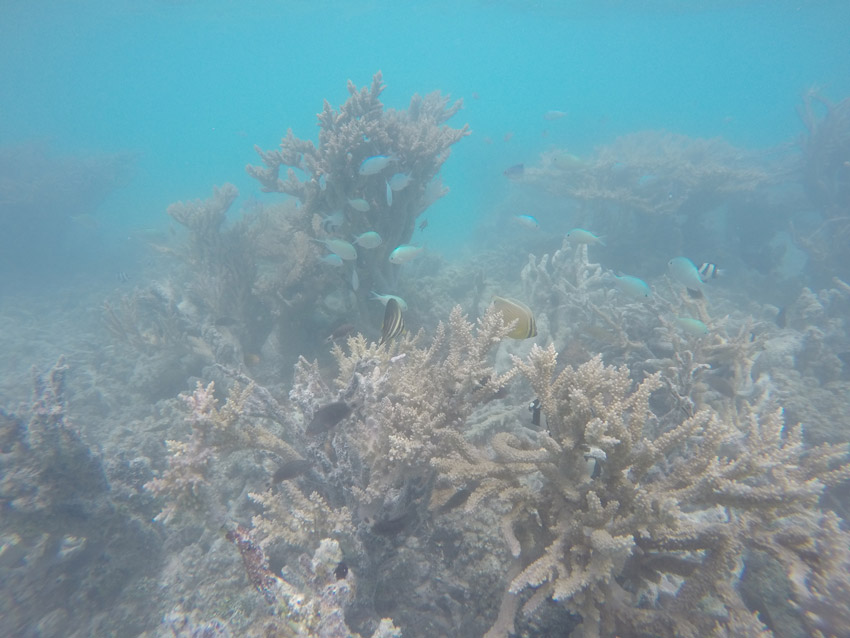 The Reef Side
The magic of Motu Auira begins when you "turn the corner" and begin to head in a seemingly straight direction as far as the eye can see. The sand is blindingly white and soft, the lagoon radiates in shades of blue, and it seems like you're the only one here. As you continue the walk, the main island will disappear behind you and there's nothing but the sound of breaking waves on the barrier reef to remind you that you're still on an island in the middle of nowhere. On a clear day, you might be able to see Bora Bora in the far distance.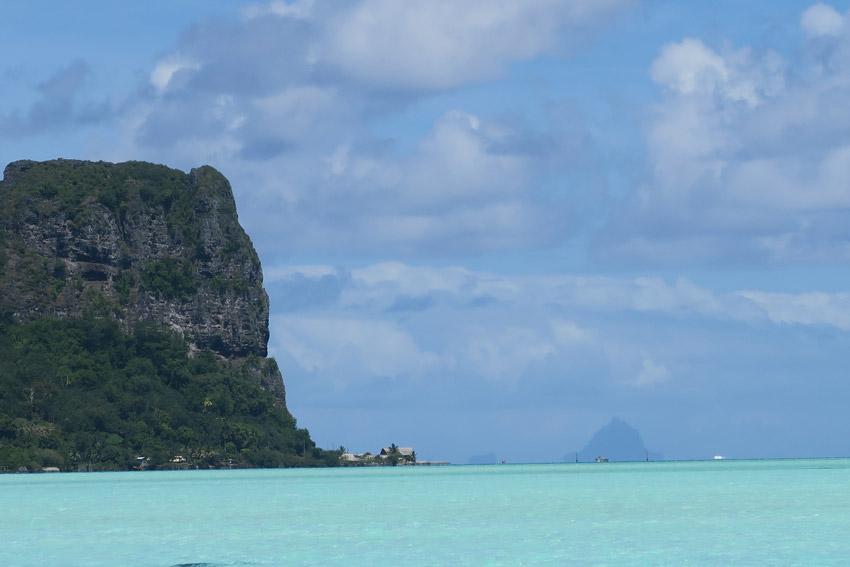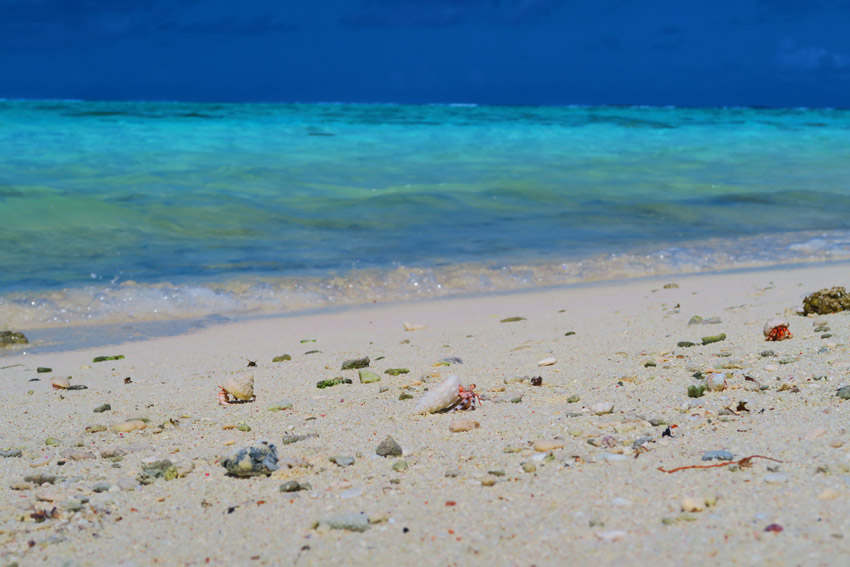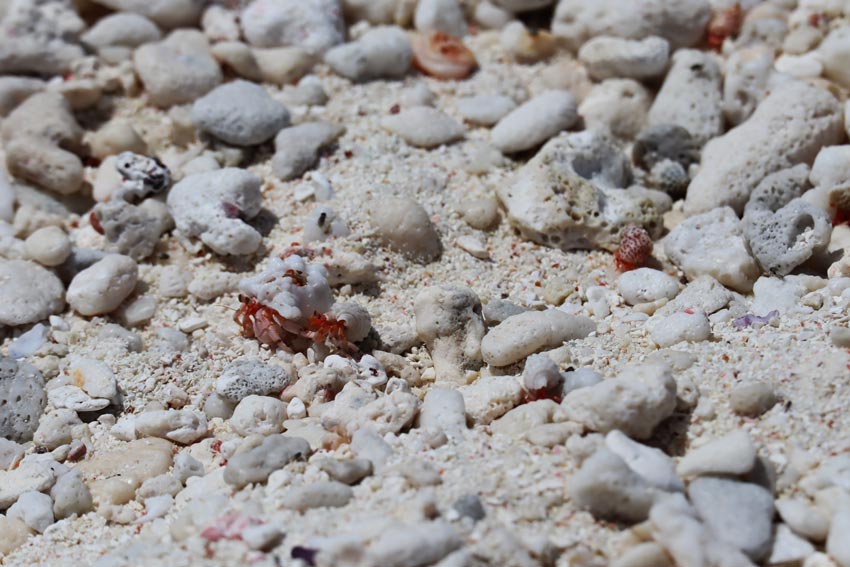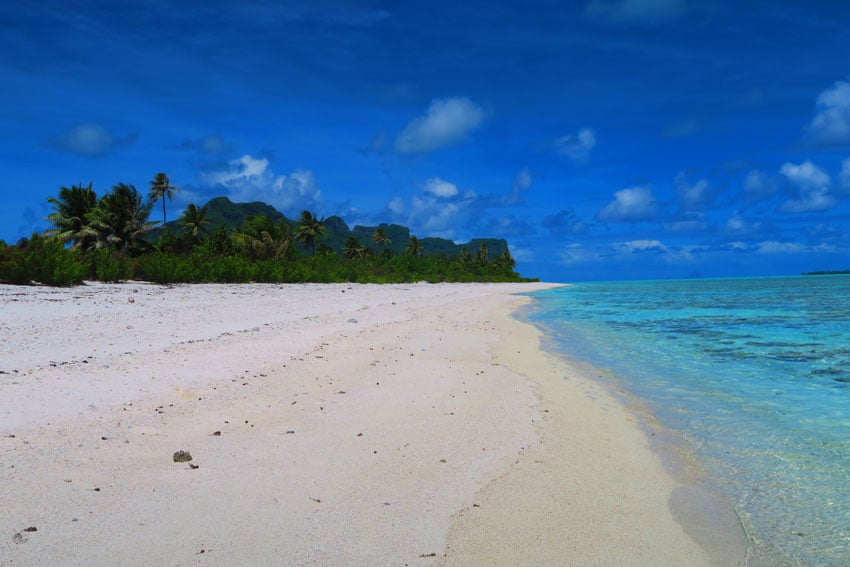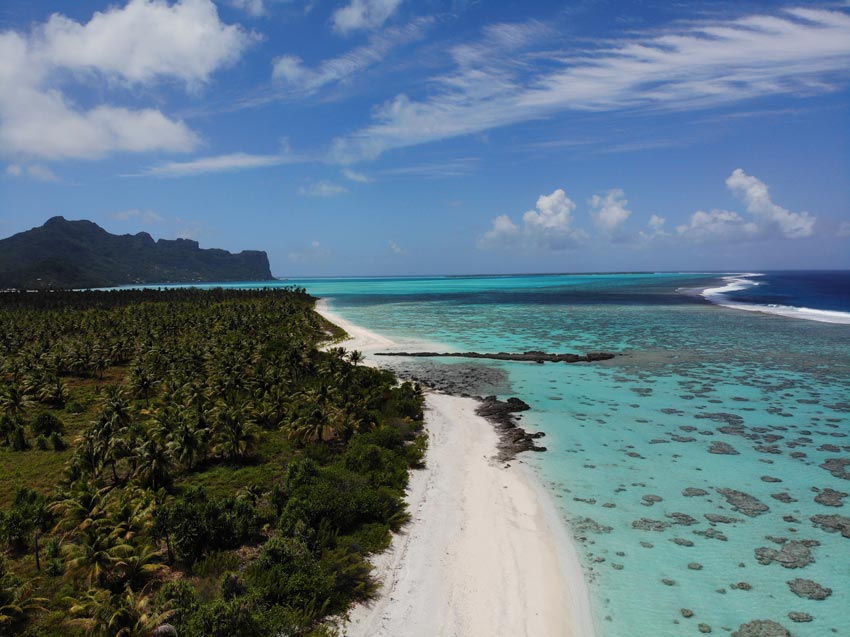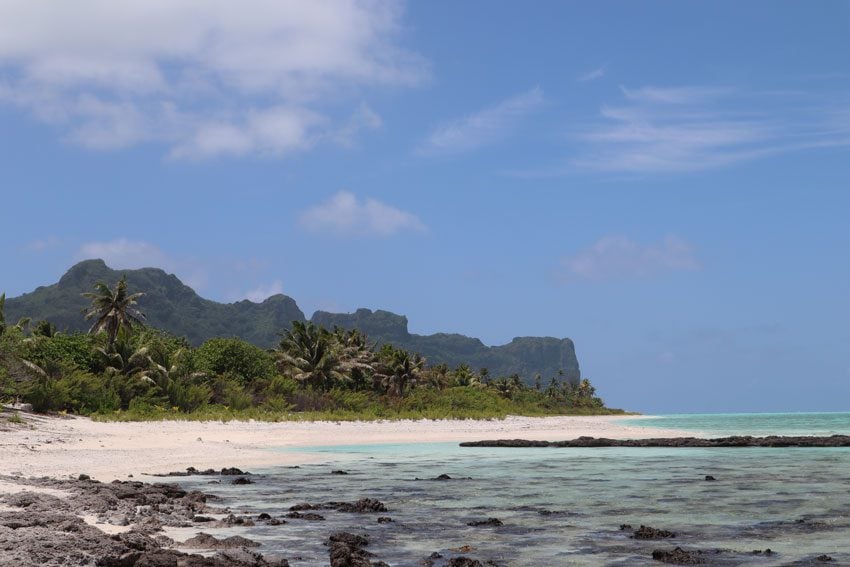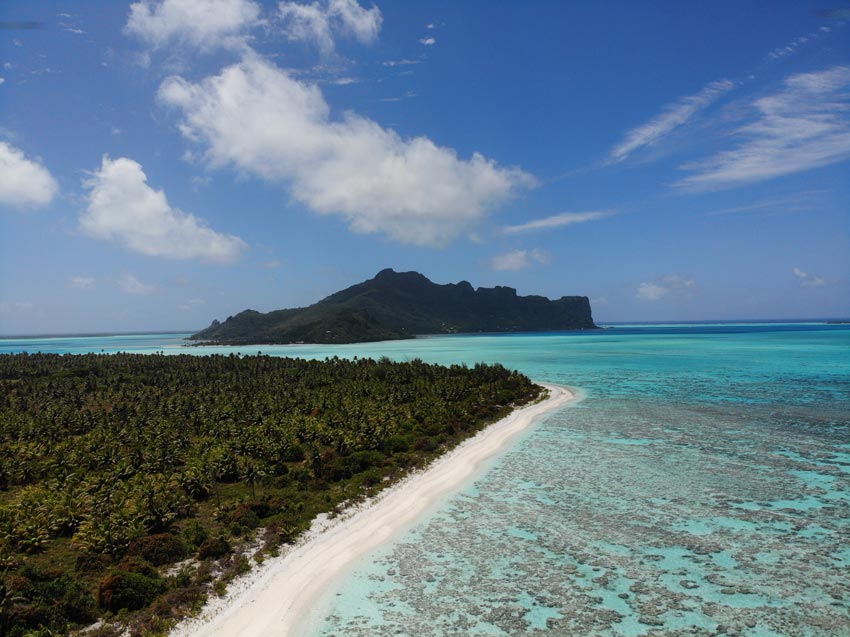 Don't try to circle Motu Auira because it is very large but do walk until you think you've found the right spot. I personally always like to base myself next to a shallow natural pool from where a row of boulders extends into. the lagoon.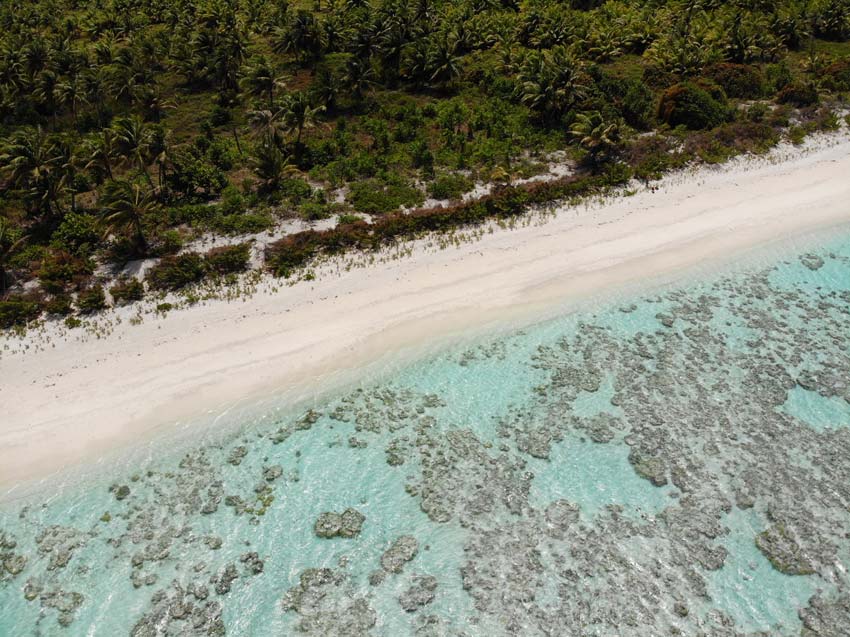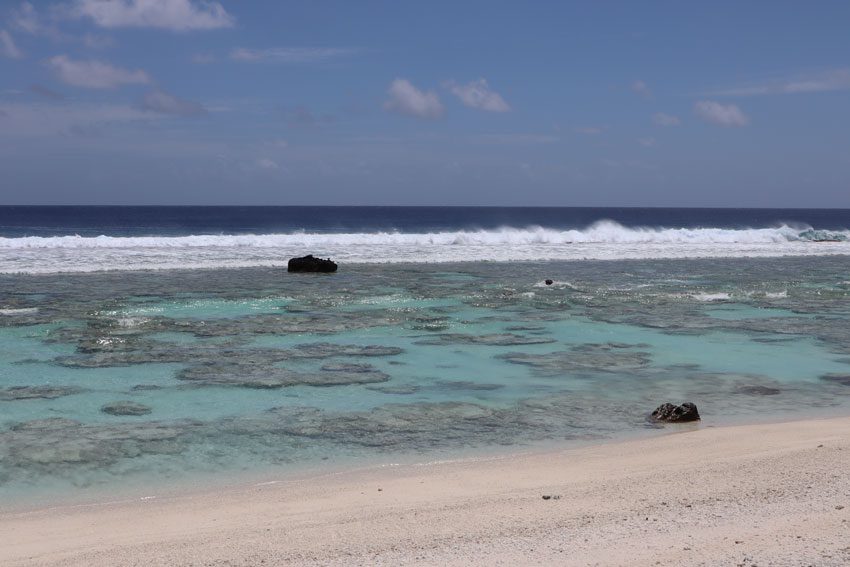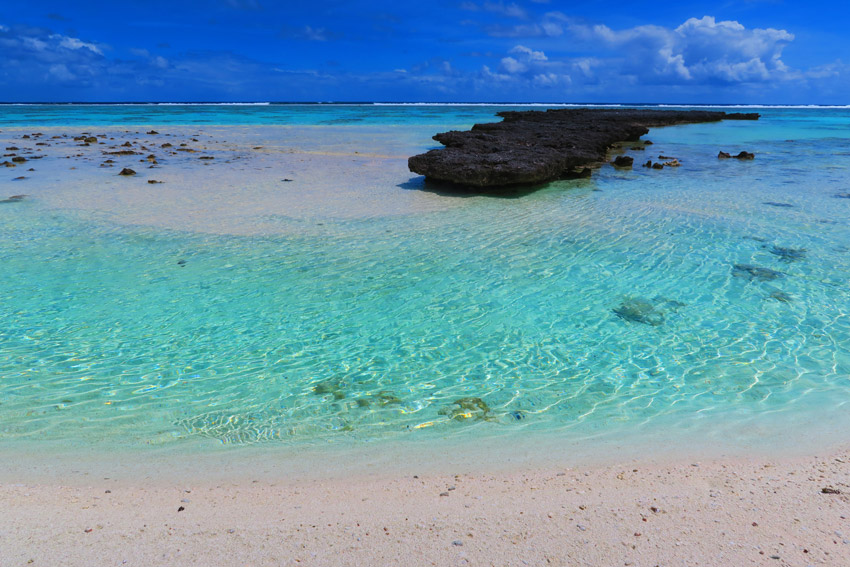 The water here is crystal clear, with healthy coral and lots of tropical fish. If you're extra lucky, you might even see a reef shark or perhaps a sea turtle. What especially amazed me were the colorful shells found throughout the reef. Some of them were radiating with colors of sapphire blue, deep purple and bright green. Locals come here during the day and spend hours catching and cleaning them for dinner.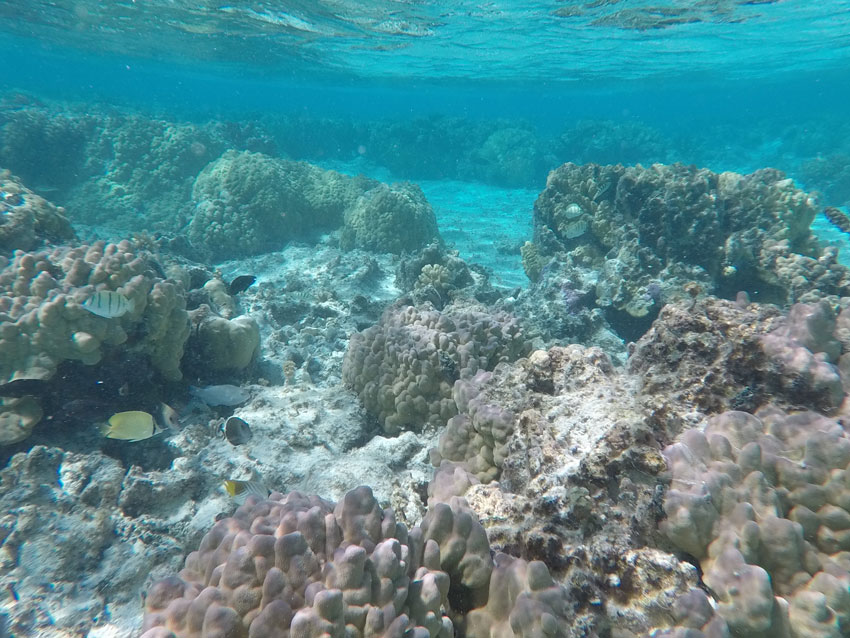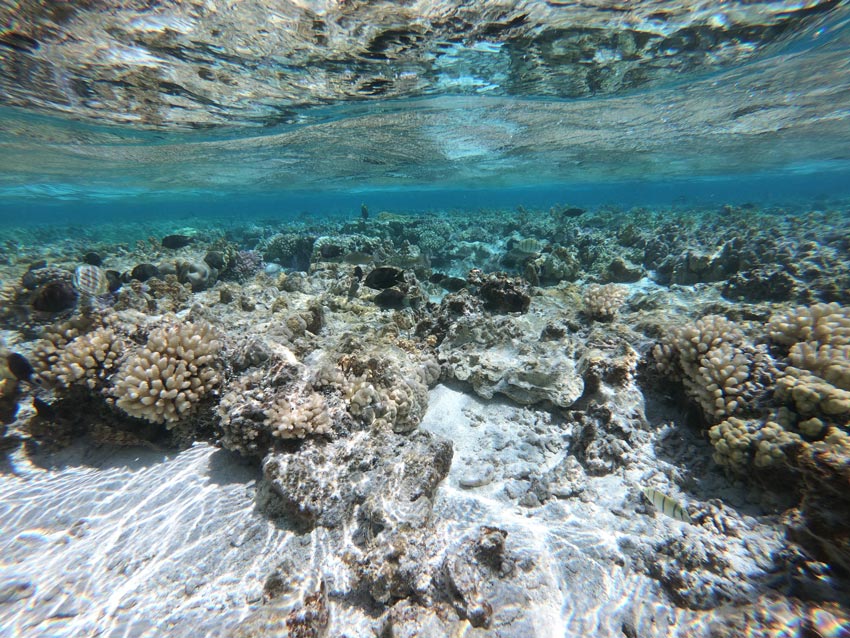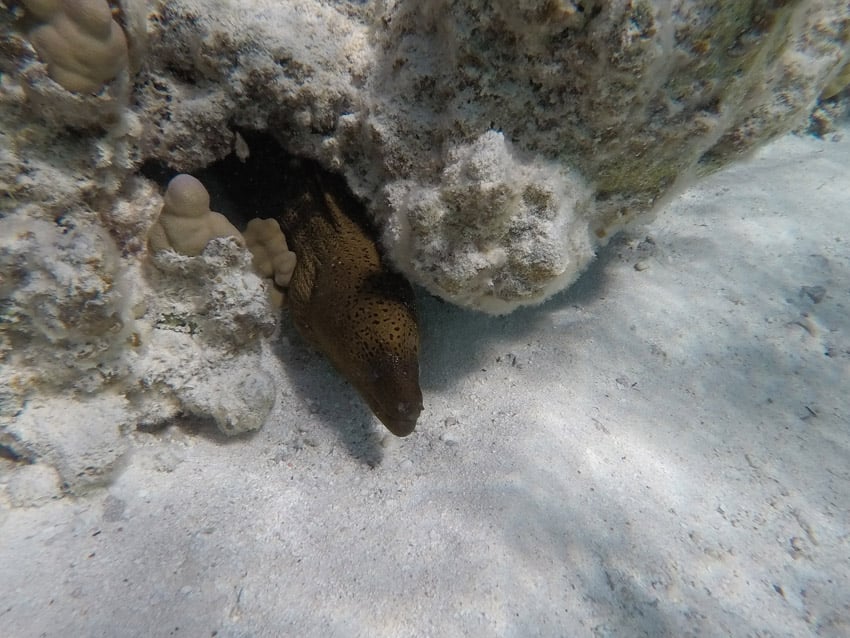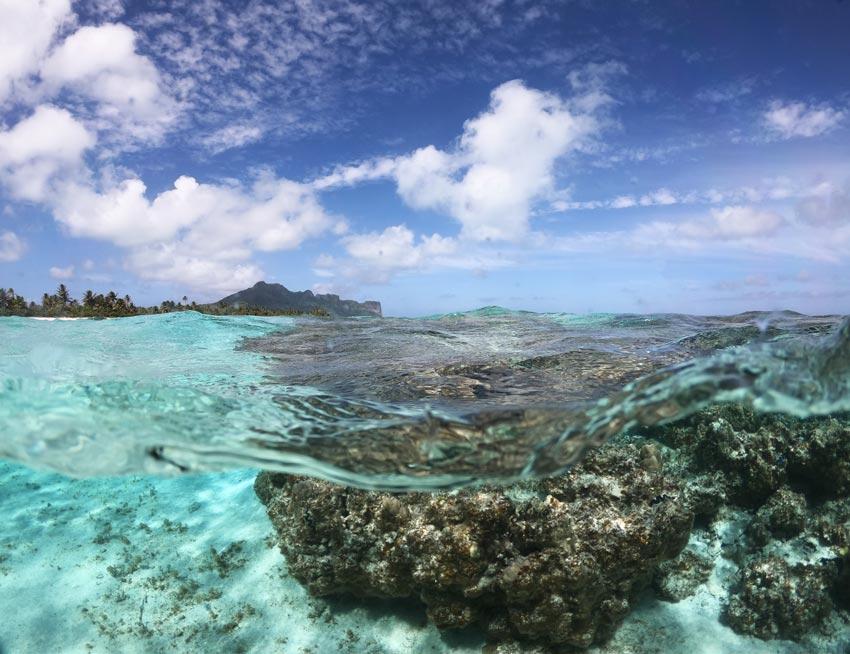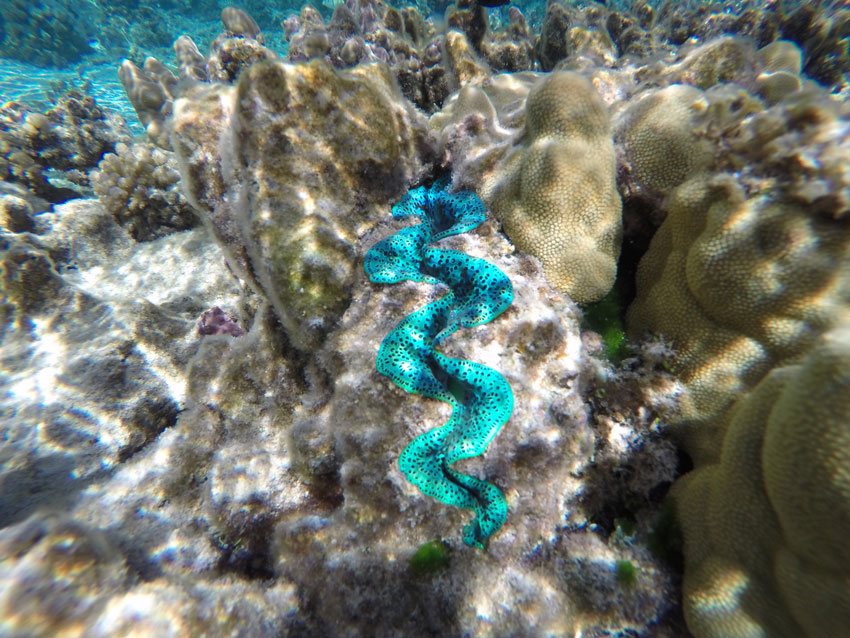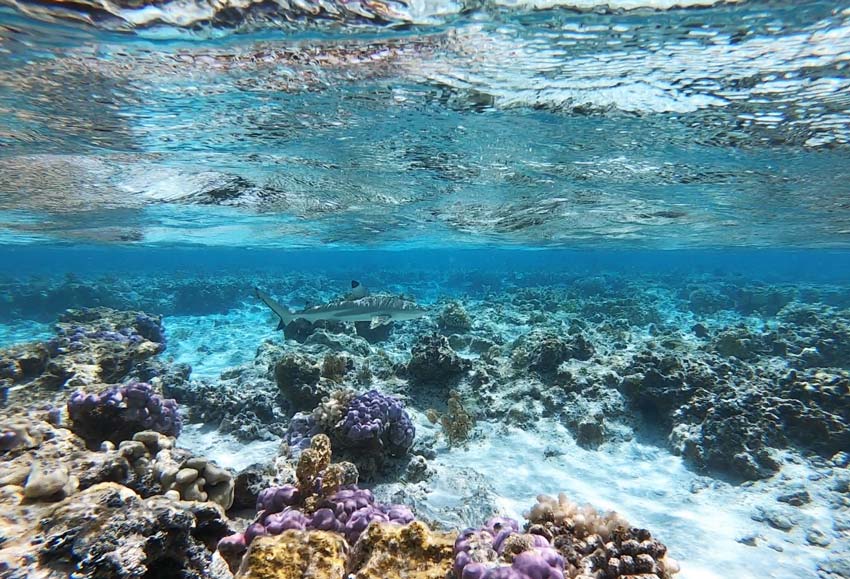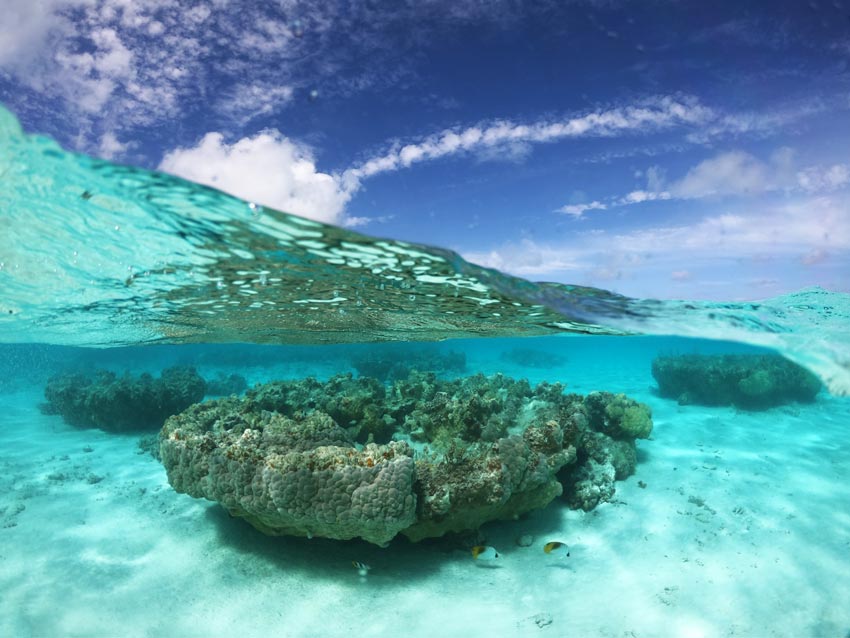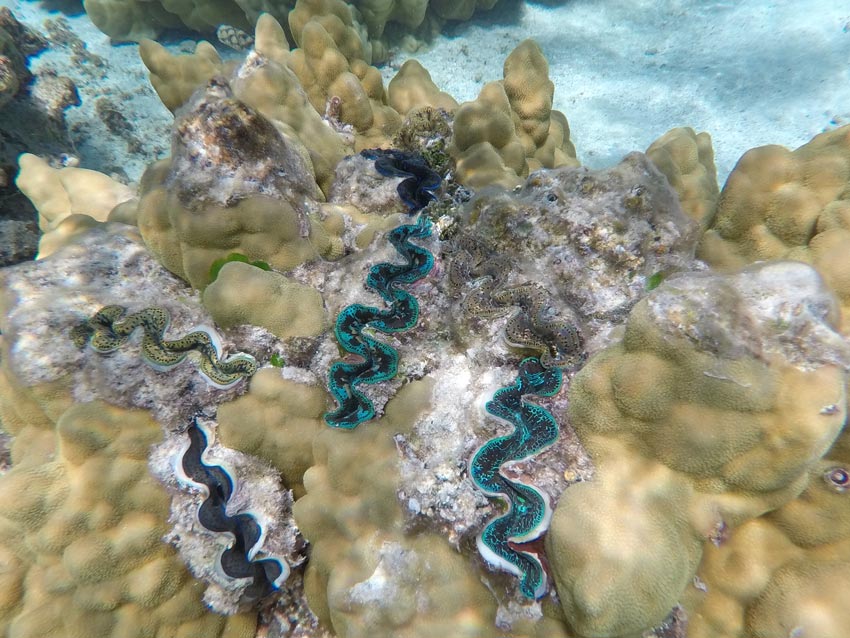 Visiting Motu Auira will be a day you'll never forget. Be sure to check out both sides of the motu!
Logistics: bring everything you need for the day. This includes snorkeling gear, waterproof bags (for the crossing – just in case), plenty of water, sunscreen, sandals, hat, locks, etc. Food can be bought from Snack Chez Mimi, which is also where you'll start crossing. The lagoon should be shallow enough to cross there and back at all times, but just double-check at your pension and at the snack. While on the motu, stick to the beach.
Haranae Petroglyphs
Signposted off the main road a few hundred meters north of the village. The petroglyphs themselves were a little tricky to find, at least in my case. Follow the track until you'll see a large rock with modern-looking carving – this is not it. Continue walking about halfway to the blue pumping station and enter the dry river bed to your left. You should be able to spot this turtle.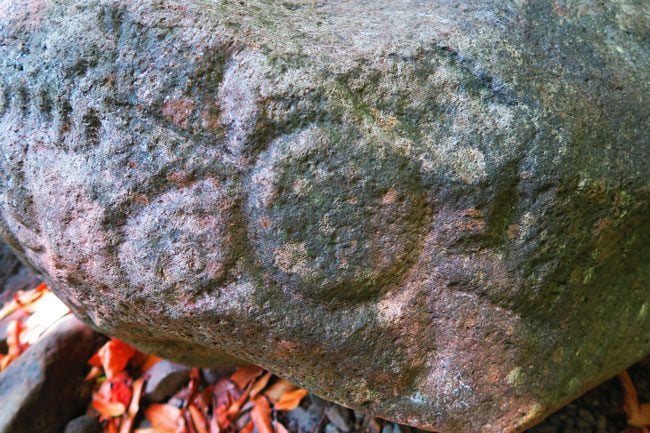 Palais de la Mer
An odd-looking structure made entirely of coral rock and shells. This museum is close to the petroglyphs, along the main road. Open weekdays from 9-10:30 am and then from 3-5:30 pm.
Diving With Manta Rays
Seeing manta rays from up close is one of the top things to do in Maupiti. These magnificent creatures hang around an area known as the 'cleaning station' (see map), where small fish feed off the parasites that hang around the wings of the mantas. Think of it as 'nature's car wash'.
You can experience this spectacle by snorkeling as part of a lagoon excursion (see next) or from super up close as part of a scuba dive. There's one dive center in Maupiti (currently), operated by the friendly Yannik. Maupiti Diving take up to four divers to the cleaning station daily, outside the lagoon when sea conditions are right and certify aspiring divers. One tank dives are 7,000F (cash only) and if you're going for the manta rays – one dive is enough. You'll soon see why.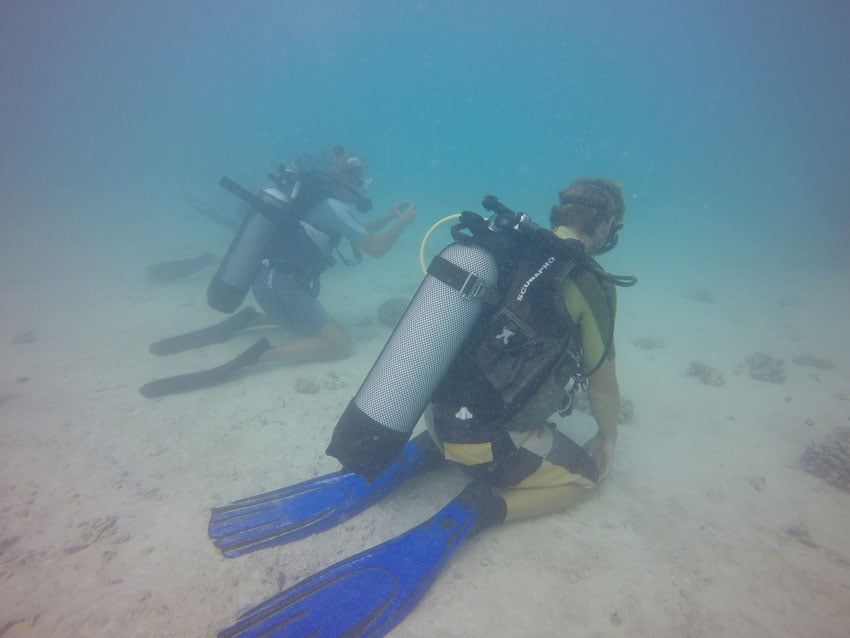 The dive begins with a very short 8-10 meter descent to the shallow bottom of the Maupiti lagoon. You get into position along the sandy floor in front of a few boulders that make up the 'cleaning station'. Before you know it, 3-5 meter long manta rays swing right over your head and around the boulders, as small fish give them a good scrub. It's a surreal experience that you'll never forget.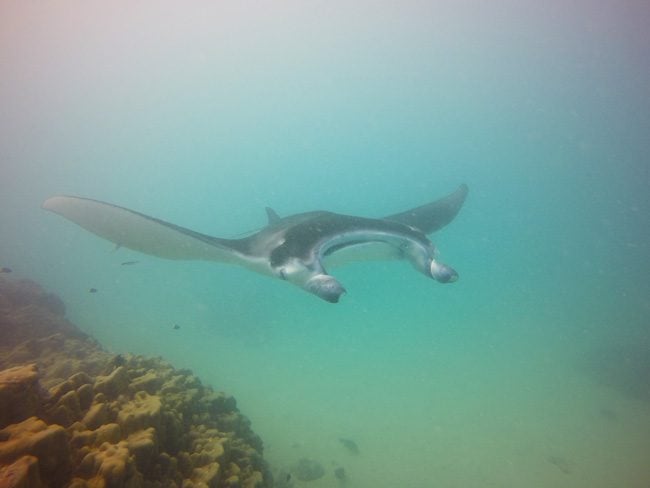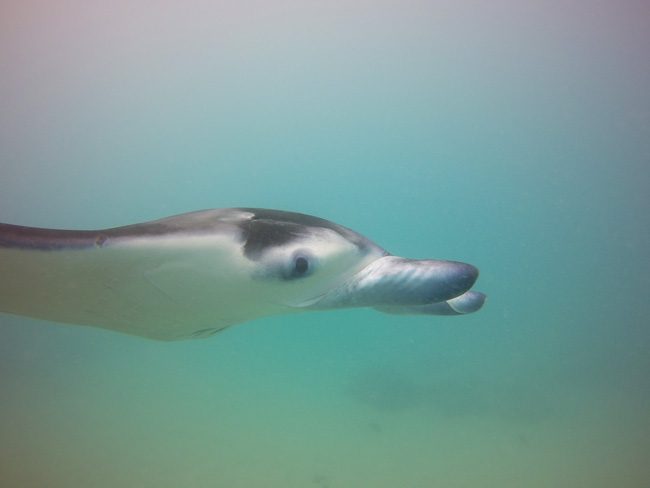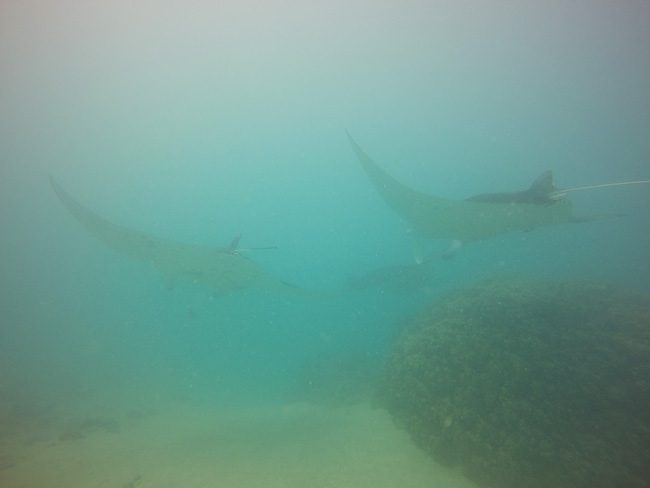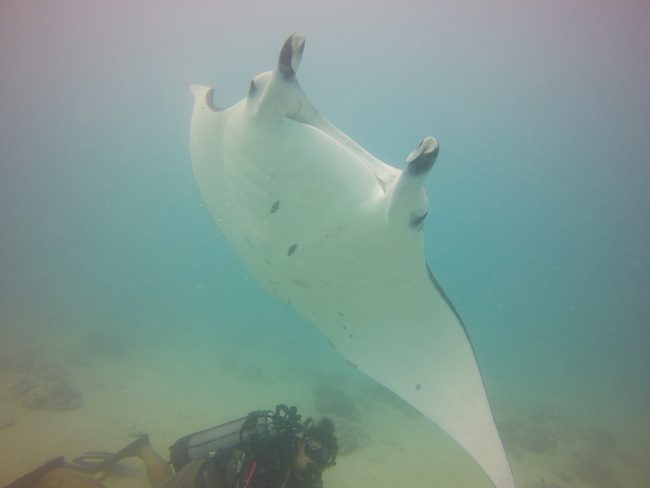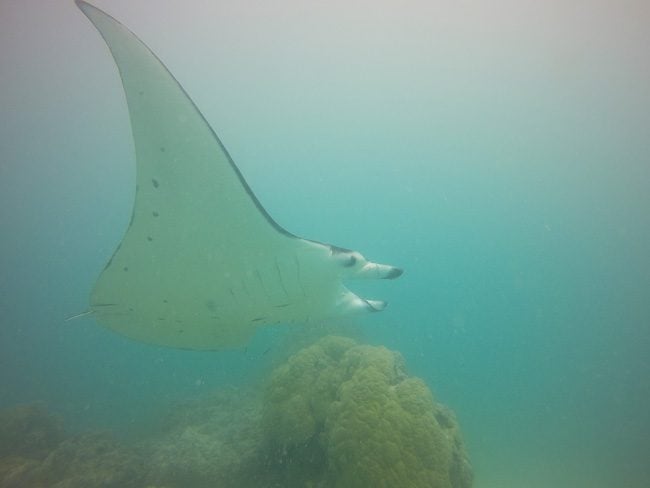 Since we're talking about such a shallow dive, you'll be at the bottom for over an hour – so one dive is really enough. We weren't lucky with the visibility on this particular day, as there was still lots of sand in the lagoon from a small storm the night before. If the weather is not good on the day you want to dive, I wouldn't recommend going out. You'll have another chance to see the manta rays on the lagoon excursion.
Maupiti Lagoon Tour
Along with the hike to the summit of mount Teurafaatiu and the magical day on Motu Auira, the lagoon tour in Maupiti will be the highlight of your vacation. Unlike the lagoon tours on other more visited islands in French Polynesia, the Maupiti lagoon tour is as low-key as the island is – and that's a very big plus. All pensions offer their own version of the lagoon tour but all full-day versions should include a picnic lunch on a motu. I did the lagoon tour on two occasions with Sammy Maupiti Tours (6,000-7,000 XPF, depart at 9 am, back between 3-4 pm, free pick up/drop off). Whether booking through Sammy or with your pension hosts, a minimum number of passengers is usually required so try to do this activity on your first full day on the island if traveling in a small party.
On the day I went, Sammy was sick, so his father Gabi was running the tour. Though his English wasn't amazing, he was the best lagoon guide I had in French Polynesia (and I did many lagoon tours). The tour starts with some snorkeling around the manta ray cleaning station. Visibility on this was great, so I was super happy to see these magnificent birds of the ocean after yesterday's poor visibility dive. Gabi was quick to spot the rays, pointing them out as we were in the water in a game of hide and seek. We swam with the manta rays for a full hour before hopping back on the boat.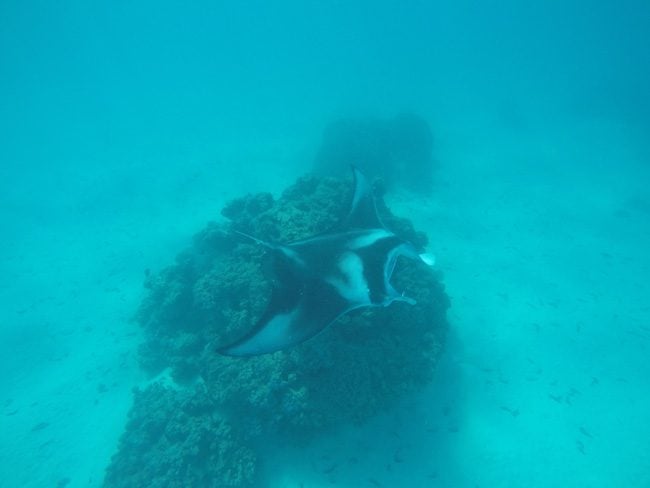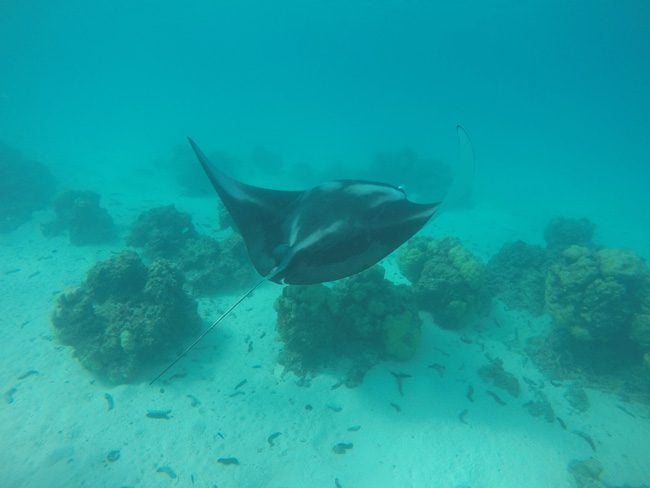 Gabi then took us on to the lagoon's only pass, explaining to us the geology of his island paradise and how boats actually make in and out of this tiny hole in the reef to the outside world. The view of Maupiti and the neighboring Motus from this angle is spectacular. If you haven't fallen in love with Maupiti up to this point, this will be the clincher.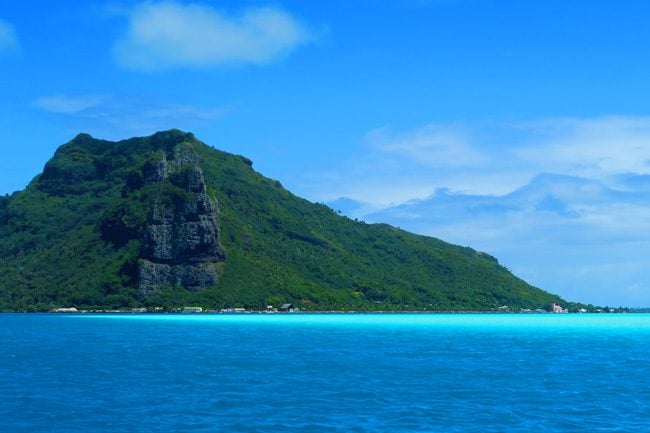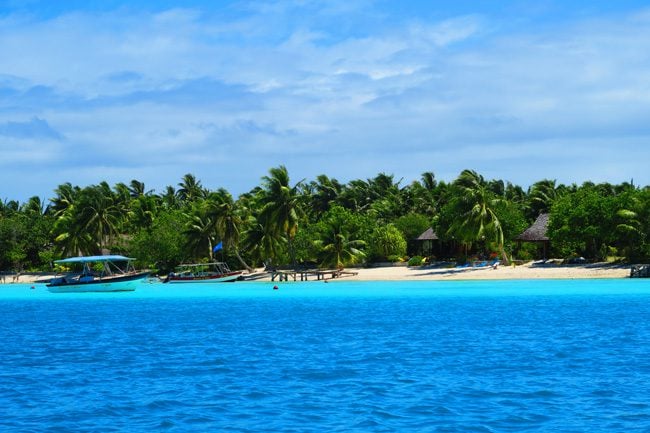 We then sailed to a shallow spot in the lagoon which didn't look like something out of the ordinary, that is until Gabi told us to get our snorkeling gear on and follow him into the Coral Garden. If I thought the snorkeling on the reef side of Motu Auira was the top choice, I didn't know what was coming. The coral garden in Maupiti boasts some of the most pristine underwater scenery you'll ever see. Schools of tropical fish live among the coral in unimaginable shape, color and size.
This was simply heaven and I didn't want to leave. Gabi did not rush us at all and I could take my time doing a few rounds inside the coral garden.
I thought the visit to the Maupiti coral garden was the highlight of the day… that is until Gabi anchored the boat on the beach at Motu Pitihahei for a picnic lunch. The sign said "I love you Maupiti", and whoever put that totally read my mind. What amazed me on every lagoon excursion in French Polynesia was the picnic lunch (usually referred to as 'picnic motu' because you'll have it on one of the small islets in the lagoon, known as a motu). The locals are just so good at whipping up delicious meals in the middle of nowhere!
As Gabi was slicing up some tuna, curious stingrays came to check us out. They knew what was about to come. The tuna was then tossed on the fire as Gabi fetched a few coconuts and we began to make the poisson cru together. This is the 'national dish' of French Polynesia, a delicious mix of raw tuna, vegetables and coconut milk (here's the recipe). To make the coconut milk, we all took turns cracking one open and scraping its white meat – looks easier said than done!
Lunch on our very own tropical beach was superb and I'll never forget it. There was so much food that even the stingrays got their snack!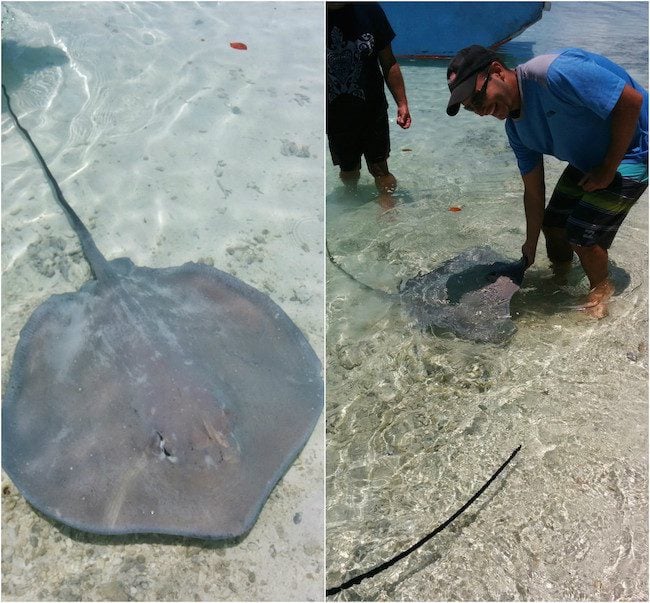 The tour ended with a round-the-island cruise, just to digest the food and the memorable sights of this beautiful island!
Here's a look back at this magical day out in the lagoon.
Maupiti Lagoon Tour
If you're interested to learn more about traditional Polynesian cuisine, some pensions offer a boat outing to a family-owned motu where you'll prepare a traditional meal in an underground oven known as "umu".
Places To Eat In Maupiti
Dining options are very limited in Maupiti so most if not all pensions will be on a half-board basis meaning breakfast and dinner included. There are a few small grocery shops in the main village but they are quite limited in what they have in stock and their opening times are unreliable. As far as restaurants, Maupiti currently has two snacks (simple restaurants).
Snack Chez Mimi
Conveniently located in Tereia Beach, Snack Chez Mimi becomes quite the gathering spot by noon. It offers Polynesian dishes and simple sandwiches.
Snack Tarona
I guess you could say that Snack Tarona is the fanciest option in Maupiti. The restaurant is lagoon side just outside of town. It's open for lunch and after an afternoon nap opens again at 6 pm for dinner. They serve huge portions of traditional fish dishes and western favorites (~1,400F), but they also tend to top things off with huge scoops of garlic butter.
What's Next?
I hope you've found this Maupiti Travel Guide useful. For more information about Maupiti and French Polynesia, check out these recommended guides.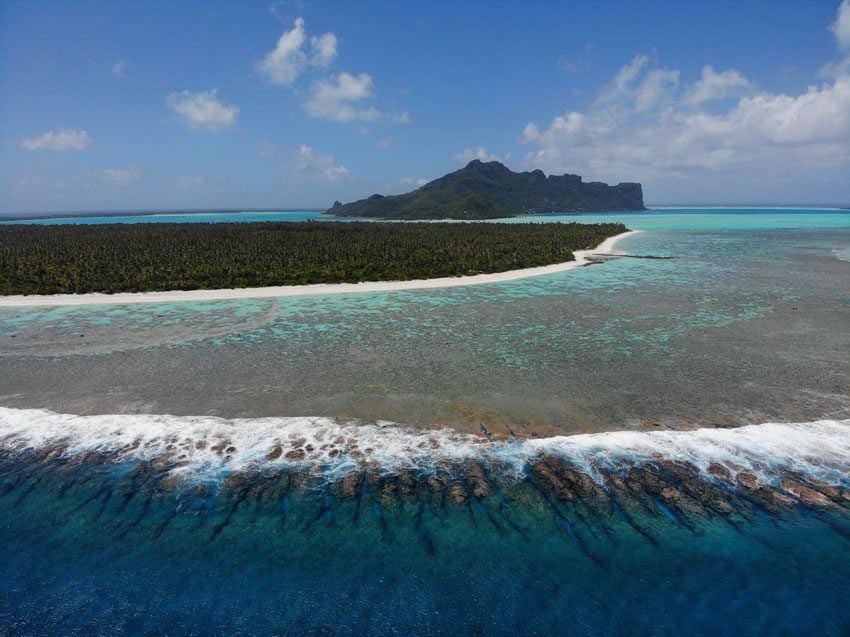 Tahiti, Tailor Made!
The Islands of Tahiti are among the last places to be colonized by mankind, 118 islands, each with their unique personality.
Get expert advice and assistance with planning your trip to the destination where tropical dreams come true!
See Options