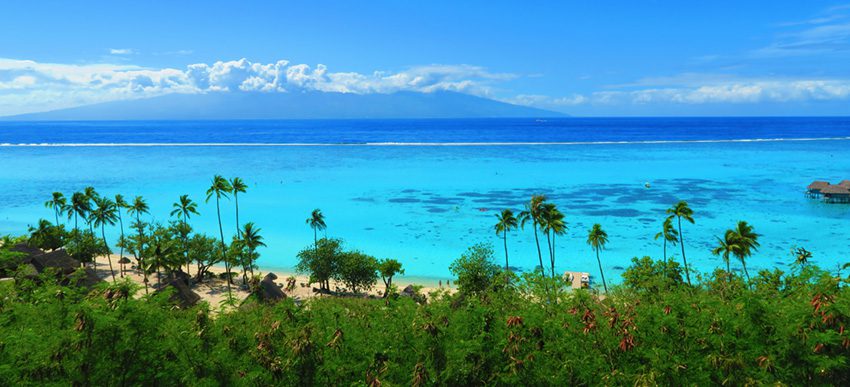 Your love affair with Moorea begins on a clear day in Tahiti, with the sight of giant peaks rising like shark fins out of the blue waters on the horizon. As you leave Tahiti behind on the ferry, dolphins lead the way into the harbor like a welcoming party. Moorea is known as 'the magical island' and for good reasons. Tahiti's little laid back sister feels is a world away from the big island, with time ticking away so peacefully as you're living the Polynesian dream. Moorea's twin bays carve out the island's signature heart shape, and its lush deep valleys spill into a massive lagoon that feels like a giant heated pool. There's something for everybody in Moorea, and once you visit – you simply won't want to leave! This Moorea Travel Guide will help you make the most of your time in the magical island.
About This Guide
I spent three months in French Polynesia, as part of a six-month backpacking trip across the South Pacific Islands – with a whole month dedicated to Moorea. This travel guide to Moorea was written based on my experiences and is meant to help you make the most of this once in a lifetime destination. The Moorea Travel Guide is geared towards independent travelers, but any visitor will find it useful. In this article, we'll explore the island of Moorea. Look inside for discounts on scuba diving.
Heading off to French Polynesia? Free travel guides to 11 islands await you, plus tailor-made services to make your vacation to paradise unforgettable!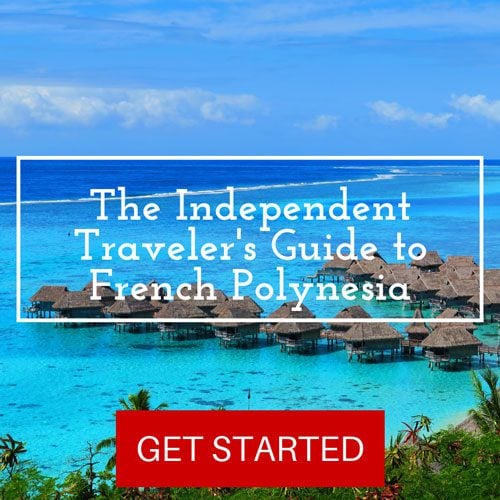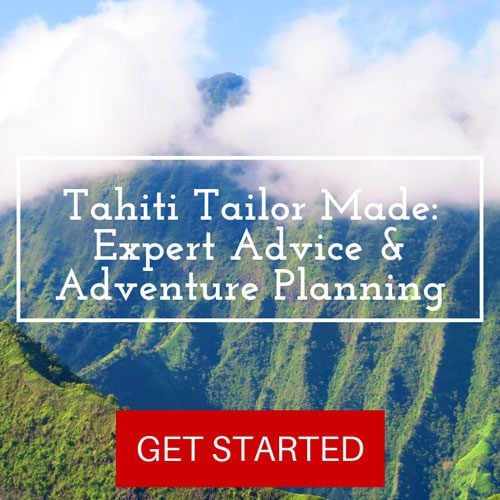 ---
Visiting other South Pacific destinations? Get expert advice on how to island hop in the South Pacific and check out these travel guides to the Cook Islands, Samoa, American Samoa and Vanuatu
---
Why Should You Visit Moorea?
Moorea is so beautiful you simply won't want to leave. A dream island with stereotypical French Polynesian charm, this is the idyllic holiday for anyone. Why? Because there's something for everyone in Moorea! It's the perfect holiday package without the packaged holiday. Beach lovers will love catching up on some reading under the shade of a palm tree, water sports enthusiasts will have plenty of ways to get wet and nature lovers will always remember those magical hikes through lush forests of mape trees, waterfalls and panoramic vistas over the lagoon. On the accommodation front, pamper yourself in a luxury resort, chill in local pensions or even rent a simple beachfront bungalow to really get the local feel. Moorea offers plenty of opportunities to satisfy your senses. They say Moorea is the Tahiti of old (much like Maupiti is the Bora Bora of old) and when you're in Moorea, Tahiti does feel like a world away.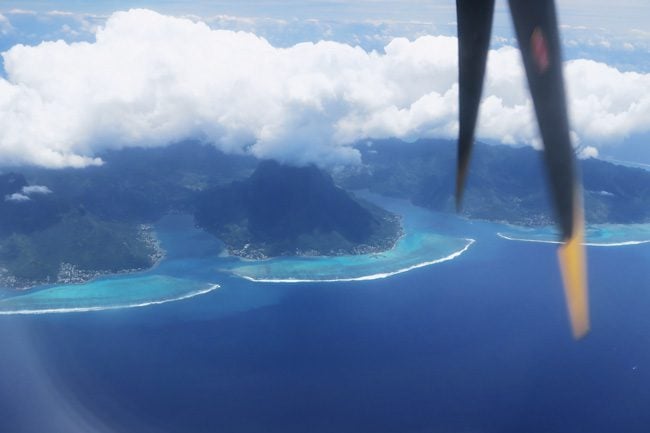 What's Included In This Guide To Moorea?
Interactive map, where to stay in Moorea & background (this page)
Top 10 things to do in Moorea
7 days in Moorea sample itinerary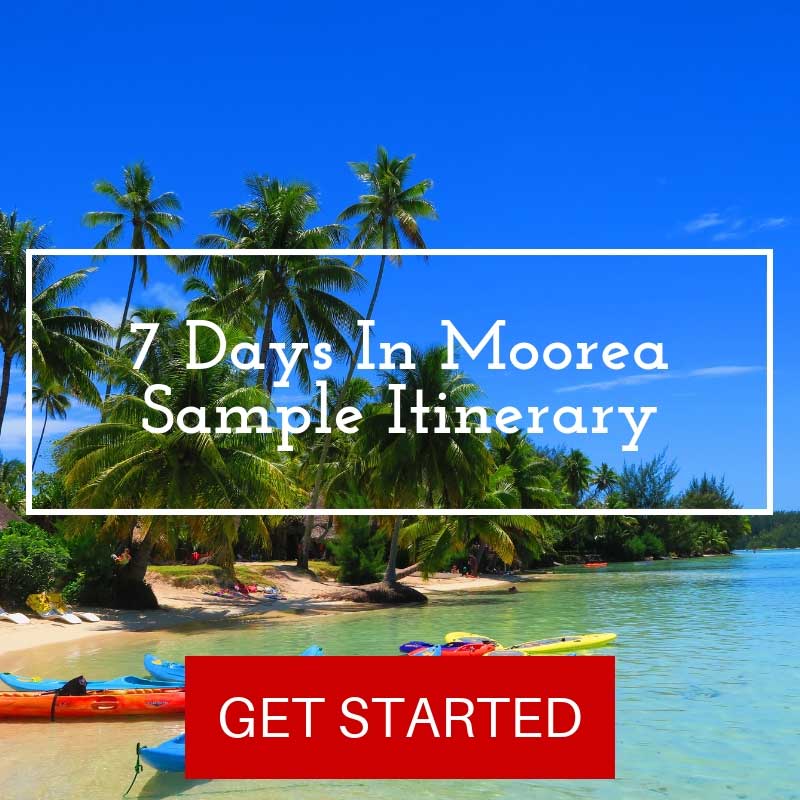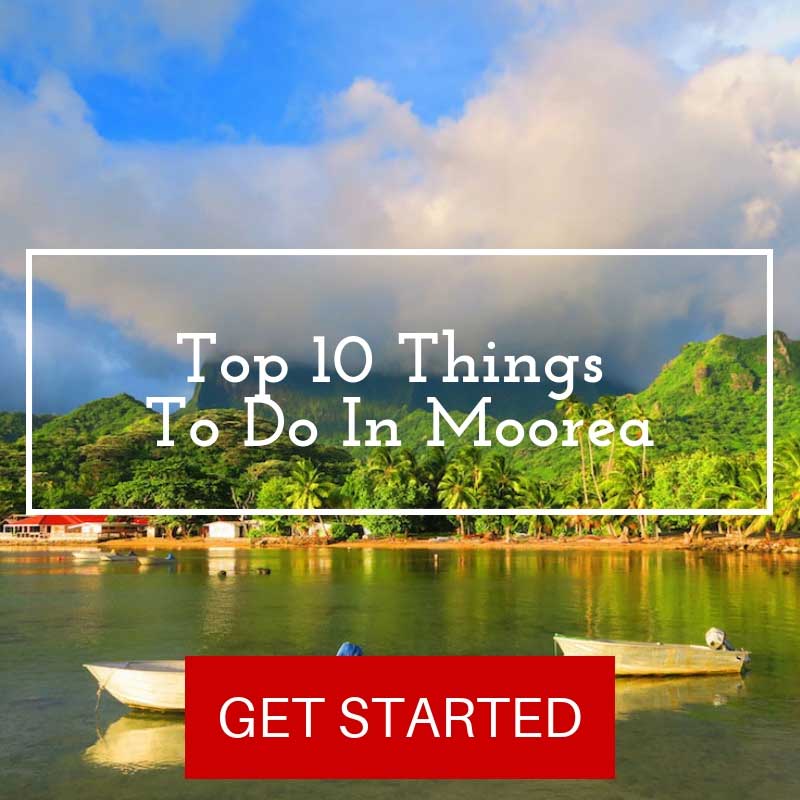 ---
Moorea Travel Guide Map
Click on the image to open in Google Maps. The map features all the highlights mentioned in this guide.
Where To Stay In Moorea?
Moorea has plenty of options to suit your budget, though unless you're staying at one of the resorts – book well in advance. Pensions and bungalows tend to be snatched, especially during the high season, local and international holidays (a.k.a Christmas).
Here's a list of all Moorea accommodations which you can book online.
The bulk of the 'action' lies in Moorea's north coast, between the main village of Maharepa and the small village of Hauru (also known as 'le Petit Village'). In between are Cook's Bay and Opunohu Bay – both beautiful spots, less for swimming but definitely for the gorgeous scenery. If you want to stay like a local, there are lots of options around Haapiti. This is less of a village but more like a strip of beachfront homes. It's hard to see the beach beyond the string of houses and there aren't many access points. This means the beach is a 'secret' to tourists, reserved primarily for the lucky residents that live around this part of the island. This could be you!
Here are a few worthwhile mentions, in all price categories.
Self-catering Bungalows: this is a great way to live like a local in Moorea and save on costs, especially if you are not traveling solo. There are quite a lot of such bungalows available for rent, usually with a 3-day rental minimum requirement and a need for advanced booking in high season or during local holidays. You can find such listings online or by running a Google search, but if you don't speak French, it might be a bit challenging. Lastly, don't be surprised if you're asked to pay a small deposit to secure your reservation.
(1) Fare Tokoau was my favorite place to stay in Moorea, location-wise. It's located not too far from Les Tipaniers beach (my favorite public beach) and all bungalows front a grassy lawn overlooking the lagoon and incredible sunsets. The swimming is not amazing at this particular part of the lagoon but it's still a very nice spot where the kids will be able to get wet and where you can kayak up and down the coast (free kayaks available) or to a small motu not too far away. The units themselves are very spacious and include everything you need to cook your own meals and stay cool when it's too hot. Wifi is fantastic and if you feel like grilling some tuna, BBQ facilities available lagoon-side. Owners Tea and Alex are very friendly and will help you with anything you need to make your Moorea vacation a success.
(2) I found a real bargain right by the Tiki Village, between Haapiti and Le Petit Village, a beautiful yet quiet spot in Moorea that doesn't see many tourists yet is minutes away from the major sights. This was a very simple yet spacious bungalow, only 20 meters away from the beach and inside a neighborhood of primarily French expats. There was a hot shower, wifi, simple outdoor or indoor kitchen and a fan to keep the air moving (because boy is it hot here). There's a grocery store just across the road that also rents bicycles and you'll see millions of stars at night.
Swimming and snorkeling were OK (free kayak to use), but there was a great beach just a few meters away by the Tiki Village. And what do you do with the leftover food? Just step down to the beach, toss it into the water and wait for a few minutes. Before you know it, friendly stingrays approach from the depths of the lagoon for the easiest catch they'll ever have!
This particular bungalow might now be available on Airbnb.
(3) A bit closer to the Tiki Village and about 50 meters away from the beach, this studio bungalow is renovated and can accommodate a family of 4 (double bed + a bunk bed). I stayed here for 10 days and paid about 70 Euros per night. The only downside is the lack of wifi but if you have a Vini 3G sim card you should be able to get online on your phone (Vodafone reception was bad). To book this place you'll need to get in touch with the friendly owner – Lawrence – who lives in Tahiti and doesn't speak English very well (use Google Translate).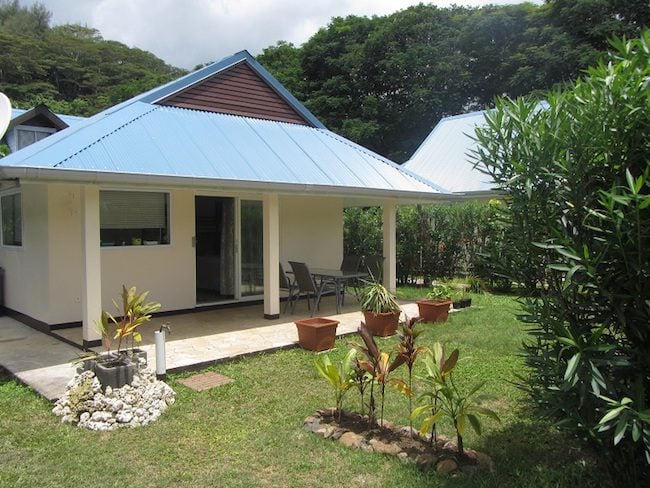 Pensions/beach lodges: there's a large selection of pensions and beach lodges in the prime areas of the island. We're talking about accommodations ranging from simple yet comfortable bungalows to "boutique" style lodging. My top recommendations include Moore Beach Lodge, Moorea Island Beach, Moorea Green Lodge, Pension Poerani, the family-friendly Linareva Resort (not actually a resort), and Pension Fare Miti.
Luxury Resorts: right up there with Bora Bora, Moorea is a top choice for honeymooners and package holidaymakers. Fancy an overwater bungalow? Moorea's got plenty of options for you. The top resort in Moorea is the Hilton Moorea Lagoon Resort & Spa, the only 5-star resort on the island and occupying pristine real estate between the two bays. Next up is the Sofitel Moorea la Ora Beach Resort, located in a more secluded part of the island facing Tahiti and right on the gorgeous Temae Beach. Closing the list is the Manava Beach Resort which is located within walking distance from the commercial center – Maharepa Village. UPDATE: the former InterContinental Moorea Resort announced permanent closure on May 2020 but there's a very good chance that a new resort will open on these grounds in the next year or two.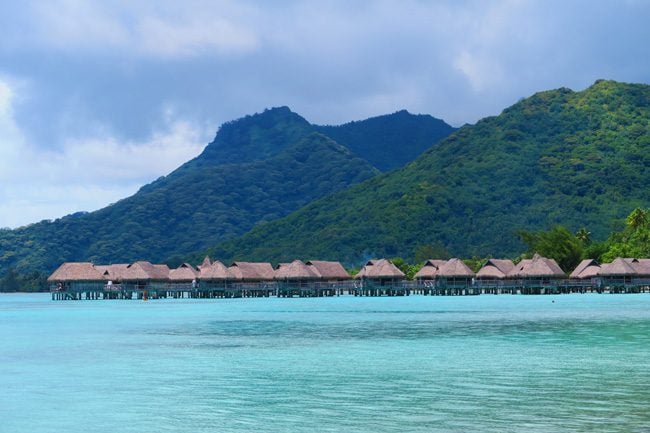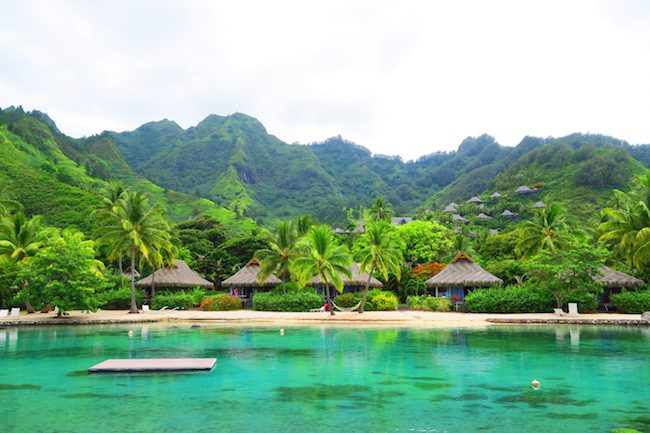 Hotel: Hotel les Tipaniers occupies the best beach in Moorea. It's popular with families, has a great restaurant and is meters away from a dive center and boat rental. The motus off Hauru point are just a short kayak ride away, as is the shark feeding spot. The beach is great for swimming, snorkeling, and kitesurfing.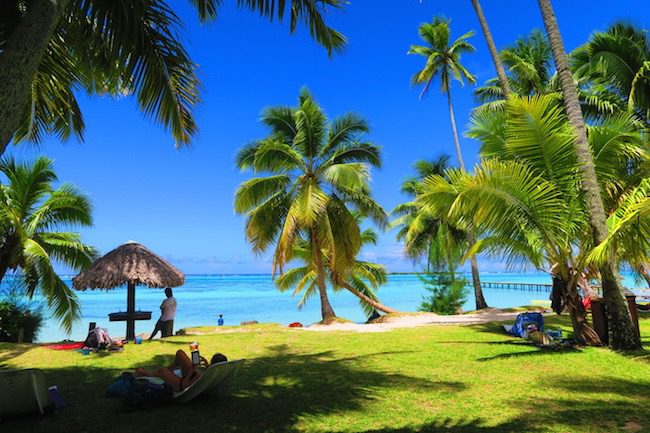 Airbnb: there are quite a few locals who rent out their house or part of it throughout the year. Things may get a bit tricky during the holiday season, as some actually head back to France and close down.
Backpacker: the only two budget backpacker options I'm aware of in Moorea are Pension Motu Iti and Camping Nelson. Motu Iti has a 12-bed mixed dorm room set in an ideal location right between the two bays. You're never too far from the action and a bicycle can get you to most points of interest. However, the owner of the place is not very hospitable (to say the least) and you have no access to a kitchen of any kind or even refrigeration. You get what you pay for (a cheap place to stay) and that's it. Camping Nelson offers a campground as its name suggests (see below) but also small budget rooms that can be shared or booked privately. Rooms are a bit stuffy and include no electric lighting or ventilation, however, the location is perfect (right on the beach) and the communal kitchen and showers are adequate.
Camping: believe it or not, there's camping available in Moorea. I've heard very mixed reviews about Camping Nelson so do your own due diligence. The location is not bad, close to the shops, snacks, and restaurants of Le Petit Village. The beach at Les Tipaniers is walking distance from here, but you can rent a bike/scooter from the nearby shopping 'center'.
Here's a list of all Moorea accommodations which you can book online.
Facts & Brief History
Moorea (properly spelled and pronounced Mo'orea) is a high island in the Society Islands archipelago. It was first settled by Polynesians about 1,000 years ago, arriving by boat (obviously) either from other islands already colonized in the South Pacific (originally departing probably from Southeast Asia). For many centuries, locals lived in a simple and traditional manner – with local religion and myths ruling life. Perhaps this explains the meaning of island's name – 'yellow lizard', likely stemming from local legend.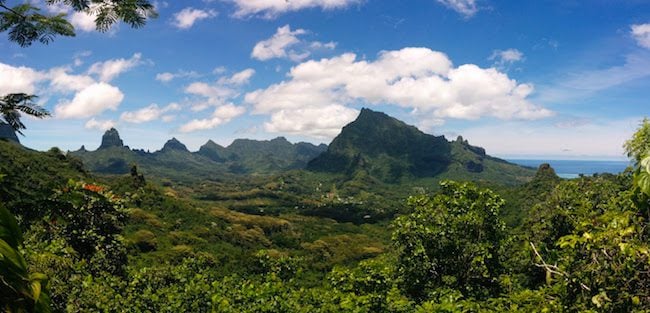 Samuel Wallis was the first European to make contact with the local Polynesians in 1767, followed by James Cook in 1769 and the Christian missionaries later on. With the arrival of the Europeans, traditional life gradually faded away along with much of the native population who were not immune to the diseases brought over by the foreign visitors.
These days, Moorea manages to retain some of its laid-back charms while still feeling connected to the world. Perhaps this is the reason why so many French expats and retirees call this place home, seeking the peaceful life that Moorea so beautifully offers. There are a little over 16,000 residents in Moorea, almost exclusively living around the very slim coastline. Unfortunately, such development is blocking parts of the gorgeous coastline, inaccessible to the public due to private homes forming long chains of private paradises (though the beach is public).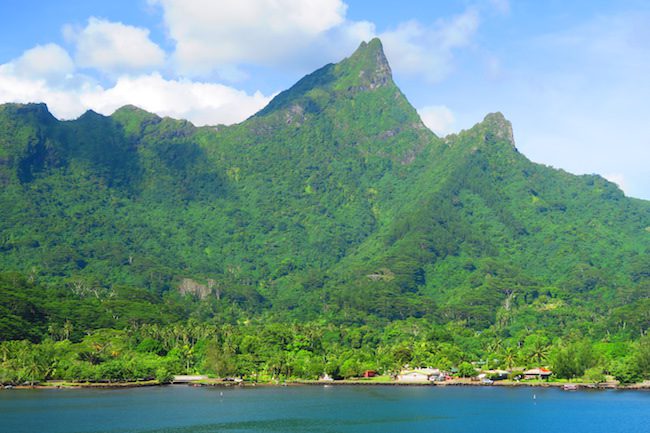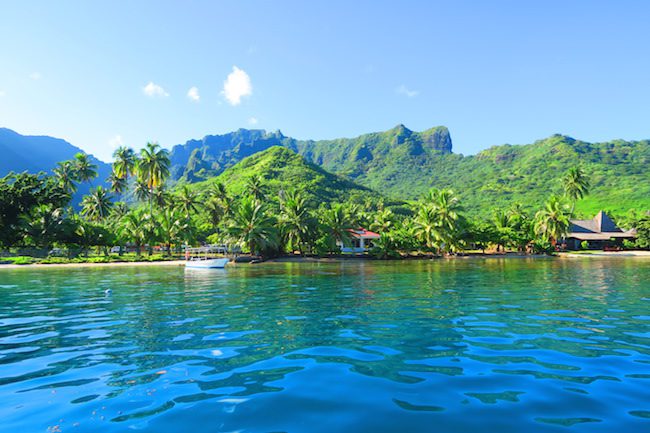 While in the past copra was a major source of local income, pineapple is the prime crop these days. In fact, Moorea is the 'pineapple capital of French Polynesia', so I hope you like this delicious fruit because there's plenty of it. Tourism is also a major source of income, drawing honeymooners, families and independent travelers who take advantage of the close proximity to Tahiti – only 30 minutes away by ferry. The island's tourism industry was badly hit by the 2008 global economic crisis, with a few resorts shutting down – most notably the massive Club Med at Hauru Point.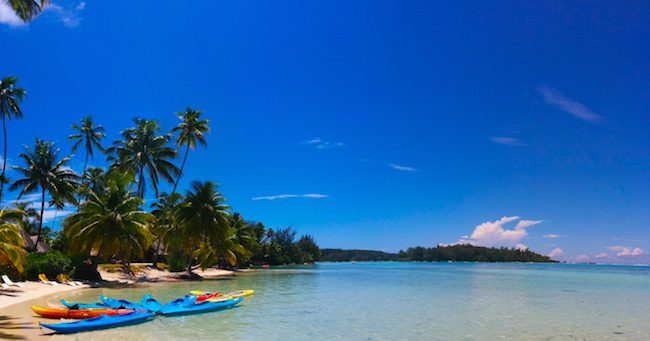 Moorea Island Travel Tips
Listed here are specific travel tips for Moorea Island. Be sure to also read the French Polynesia Travel Guide, filled with general travel tips to paradise.
Recommended Reading
How Many Days Do You Need In Moorea?
Moorea is the kind of place you'll want to retire in (in fact, many people do). You could easily spend your entire French Polynesia vacation in Moorea, with plenty of lazy or sporty activities to undertake. That said, if you are pressed for time – Moorea can be sampled with a three-day stay. Stays of five days or more will allow you to go beyond the beach, with some awesome hikes and inland thrills. If you are super pressed for time, there are daily excursions from Tahiti to Moorea.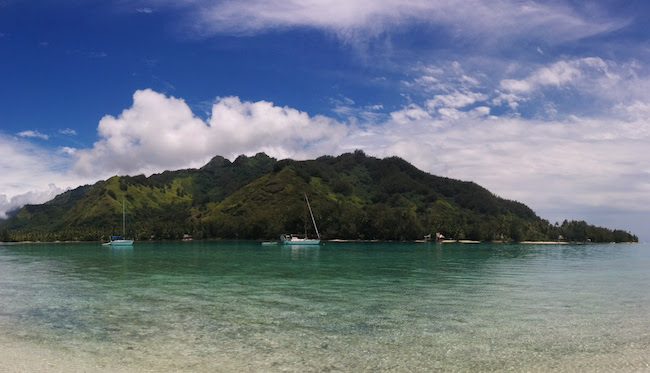 When Is the Best Time To Visit Moorea?
Moorea lies just 20 km away from Tahiti, so the weather is very similar. However, there can be days of heavy rain in Tahiti yet clear skies in Moorea. As with Tahiti, the best time to visit is in the dry season (May – October), which is also the cooler season. Sunny days are the norm, the beautiful mountains are less covered in cloud, it's a lot less humid and there's even a cool breeze from the east.
I visited Moorea during the wet season (Nov – April). There were days of rain but there were more days of sunshine. In the early morning hours, the mountains were usually cloud free, only getting cloudy in the afternoon. Unless there's a storm, the lagoon is usually sunny – even if the mountaintops are covered in cloud. The weather in Moorea can greatly vary from coast to coast. It can be raining on one side of the island, but completely sunny on the other. I've found that the area around Haapiti gets the most sun (with the bays getting the bulk of the rain).
You'll be able to dive year round, watch whales from July to October, hike and swim throughout the year when it's not raining. During holidays (especially local holidays), Moorea gets more crowded. It's a popular destination not only for foreign guests but also for vacationing families from Tahiti.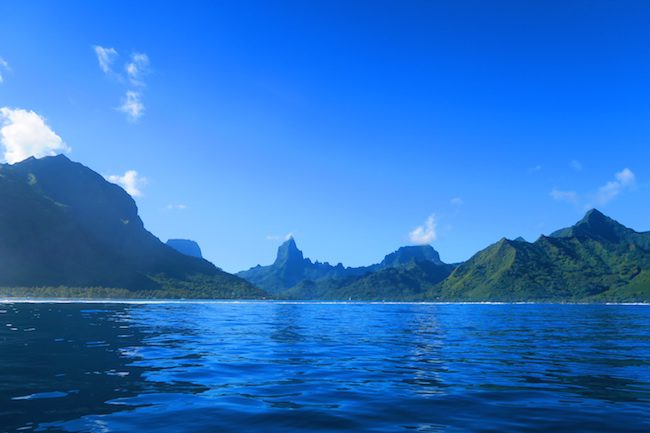 What To Pack?
Moorea is a tropical destination, and as such – I recommend packing clothes that dry quickly and keep moisture (a.k.a sweat) out. Have a look at the X Days In Y Packing List for recommendations on what to pack for Moorea based on my experience.
Moorea Average Costs
Here's a breakdown of my costs from Moorea. Keep in mind that I was here for a month, renting a place on a monthly basis and mostly (but not always) cooking my own meals.
Language
French is the most common language, followed by Tahitian. Surprisingly, I found English to be very widely spoken in Moorea.
How To Get To Moorea
There is an airport in Moorea, but I'm not exactly sure who uses it… Chances are you'll reach Moorea by ferry from Tahiti, which takes about 30 minutes. There are two ferry companies operating daily schedules, both arriving at the ferry terminal in Vaiare: Aremiti (1500F each way) and Terevau (1150F). Booking ahead of time is not necessary, but do so during peak season, holidays and if you'll be transporting a vehicle with you (car, scooter, bicycle). Schedules are not as frequent as you think, especially on weekends. Important note: only the Aremiti Ferry is served by public transportation (see 'getting around Moorea').
Getting Around Moorea
If you plan on seeing more than just the beach, you will need to have your own car (and it will likely be with manual transmission). Moorea is a big island, without a real public transportation system. Here are all the options I can think of for getting around Moorea.
To & from the ferry: public buses only serve the Aremiti ferry. Catching the bus from the ferry is easy, as buses will already wait for you. One travels in a clockwise direction and the other counterclockwise. Just ask the driver which bus you need to get on (300F, 150 per child). The tricky part is catching the bus to the ferry. You never really know when the bus will arrive, and there are no designated bus stops. Wait on the main road at least 90 minutes before the ferry departure to ensure you don't miss the bus. I am pretty sure that on Sundays, the bus only picks up from the ferry (double check this with your accommodation). Also note: on a recent return visit to Moorea which coincided with school holidays, no busses were there to greet the Aremiti ferry.
Bicycle: A newly paved bike lane practically hugs the entire coastline of Moorea. Lots of local businesses will also rent out bicycles so just ask around. Expect to pay 1500F for 8 hours of rental. I would recommend staying away from beach bikes, as Moorea does have a few hills.
Scooter: a number of outfits rent out scooters. Expect to pay 4000-6000F per day, depending on the rental duration.
Car: Avis Pacific Car was my choice after much research. They have an easy online reservation system, speak excellent English, and prices are competitive – especially for long term rentals. Their main branch is right across from the ferry terminal and they used to have another at the former Intercontinental Resort, which announced permanent closure in May 2020. Cars are brand new, cleaned whenever you want, and if you're taking the ferry to Tahiti – you can leave your car at their branch for the day. They even have special offers on prepaid wifi hotspots in your car! Open on Sundays and holidays, fantastic service! Prices vary depending on rent duration but email the Avis Pacific Car reservation center in Tahiti (reservations@avispacificar.pf) prior to booking online. They'll extend an extra 5% discount or more for X Days In Y readers (just mention X Days In Y)!
Bus: only serve the Aremiti ferry. There are two lines which start at Le Petit Village, one heading north and the other heading south (so there is no complete island loop). Both terminate at the ferry and will pick up passengers along the way (just wave it to stop). The bus will drop you off wherever you want along the way (300F, 150F per child).
Taxi: notoriously expensive in Moorea. A short ride starts at about 4,000F.
Hitchhiking: generally safe in Moorea can take a while to find a match.
Walking: Moorea is a big island so walking long distances is not really a viable strategy.
Driving In Moorea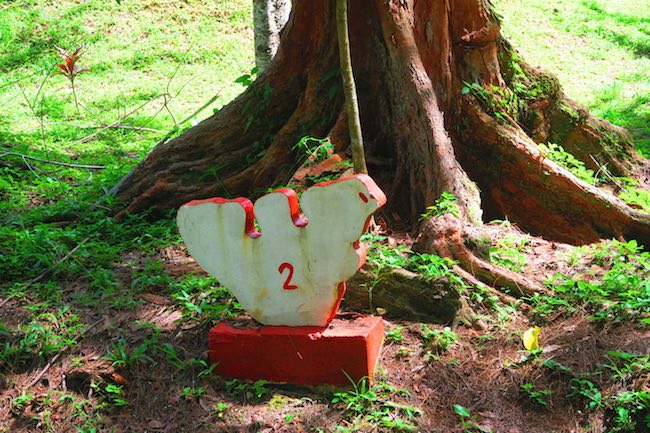 It's really hard to get lost in Moorea, with only a single main road running along the 60-kilometer coastline. Moorea uses the pointe kilometre system (PK), with markers along the road beginning at the airport and running in both directions until meeting at PK 35. Don't expect to be driving over 60 km/h (which is also the speed limit), though most locals do. That said, there are two things to watch out for. (1) Though repaved in recent years, some sections of the road are littered with potholes. The local council is making progress on fixing the road, but with the constant rainfall – this is a lost battle. (2) Drive with extra care at night! Roads are not well lit, locals (and animals) frequently cross the road and of course, there are the potholes. I certainly would not recommend riding a scooter at night.
Drinking Water In Moorea
Water should be safe to drink out of the tap. Just to be on the safe side, inquire at your accommodation. Note that Moorea recycles plastic bottles.
Safety In Moorea
For general safety tips in French Polynesia, have a look at the 'safety' section of the French Polynesia Travel Guide.
Like all the islands outside Tahiti, Moorea is a very safe place. That said, drive with extra care at night, and to be on the safe side – lock your doors and tilt your windows before going to bed (or leaving your room). There have been reports of thefts during the night, even when people were sleeping. Lastly, do not leave anything tempting in your car and keep an eye on things when you go swimming.
What To Buy In Moorea?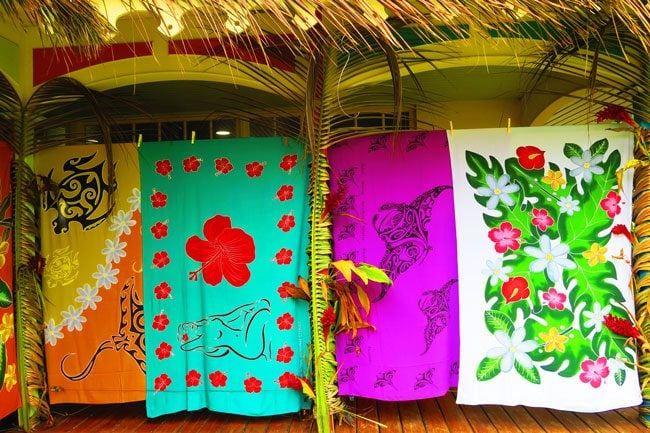 As you would expect from an island that gets a lot of visitors, you can find all the usual Tahitian souvenirs here. Around Maharepa and Le Petit Village (and of course in and around the hotels), you'll find the usual black pearl and pareo shops (sarongs). Note that black pearls are not produced in Moorea and you're better off buying them in Tahiti (see the 'shopping' section in the French Polynesia Travel Guide for more info).
However, there are three worthwhile mentions:
Tahiti Aromes: fancy some tamanu oil? Or how about some tiare scented monoi oil for some after sun care? How about some noni juice to keep your plumbing in tip-top shape? If you have no clue what I'm talking about, visit this factory & shop to learn and buy some natural Tahitian goodies.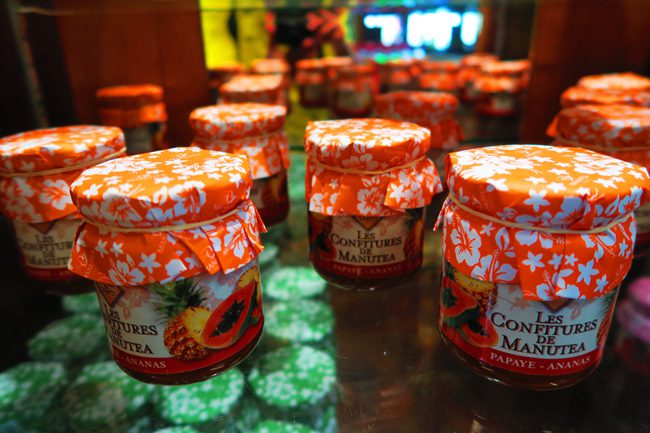 Manutea – Juice de Fruit de Moorea: the pride and joy of Moorea is the Rotui juice factory, supplying the islands with an endless supply of exotic fruit juices. The factory also runs the Manutea brand, producing vanilla liqueur, delicious jams, sugar cane alcohol and lots of other local delights that'll fill up your suitcase. Read more in the 'things to do' section and join a factory tour.
La Maison Blanche: an early 20th-century house in the outskirts of Maharepa that sells colorful island fashions, sarongs, and Polynesian crafts.
How To Save Money In Moorea?
Staying for more than 3-5 nights? Book accommodations with cooking facilities. You'll be able to whip up delicious dinners on your own, avoiding the 1,800-2,000F price tag at local snacks (restaurants much more). Same goes for breakfast.
Buy fruits & vegetables from families stalls on the side of the road.
If you're not locked on seeing every inch of Moorea, stay in the area in or around Opunohu and Cook's Bay. That part of the island is where most of the highlights are, and you might be able to see everything on a bicycle – avoiding the need to rent a car for the entire duration of your stay.
Get here on the Aremiti Ferry, which is served by local buses (unlike the Terevau Ferry)
Drink tap water. It's usually perfectly safe in Moorea. Just double check before.
Don't discount those tourist maps! They will have a few very useful coupons for businesses throughout the island.
Doing some shopping? Some items qualify for a tax refund upon your departure or even on the spot (such as black pearls).
Things To Do & Places To See In Moorea
Check out this 7 days in Moorea sample itinerary to see how to divide your days on the island
Hiking
Moorea is a hiker's paradise, offering at least a half a dozen excellent hikes for all levels. Some of the hikes require a guide but there are few you can do on your own. My personal favorite is the Vaiare to Paopao hike, but have a look at the 'hiking in Moorea' section for all the details.
Diving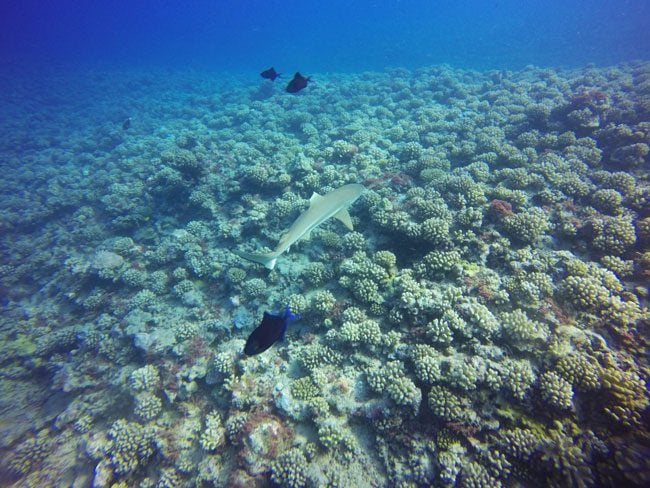 A great place to get your diving certification or just to plunge underwater and explore, diving in Moorea is a must – if you won't be visiting the atolls of the Tuamotu Archipelago later in your trip. Visibility is generally excellent and the waters calm. What to expect? Lots and lots of sharks mostly. In fact, you're almost guaranteed on seeing lemon sharks, with sea turtles and stingrays in high probability. In terms of coral? It's mostly hard coral down here, very similar to that of Samoa and the Cook Islands. Dives are mostly along the slopes of the reef on the north side of the island, with a few caverns and caves in between always hiding a surprise. I went with Moorea Blue Diving and highly recommend them. Have a look at the 'diving in Moorea' section for lots more details, photos and a 10% discount on diving.
Snorkeling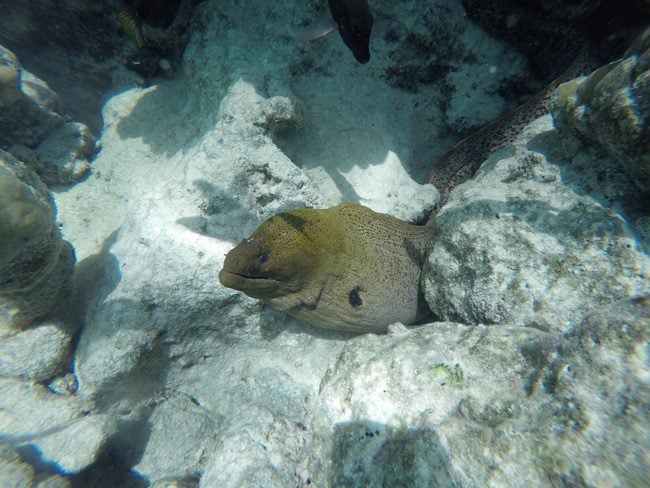 With the exception of the motus off Hauru Point, I found the snorkeling to be OK in Moorea. Mind you, I arrived here after 4 months on South Pacific Islands. The best snorkeling spot is between the motus and you'll get there either as part of a lagoon excursion (see 'excursions in Moorea') or by kayaking on your own (totally doable).
On the island itself, the best snorkeling spots are just off the best beaches. My favorite spots were off Temae Beach (swim towards the Sofitel Resort), followed by Les Tipaniers Beach, Painapo Beach & Mareto Beach – where there's a serious drop-off just a few meters offshore.
Beaches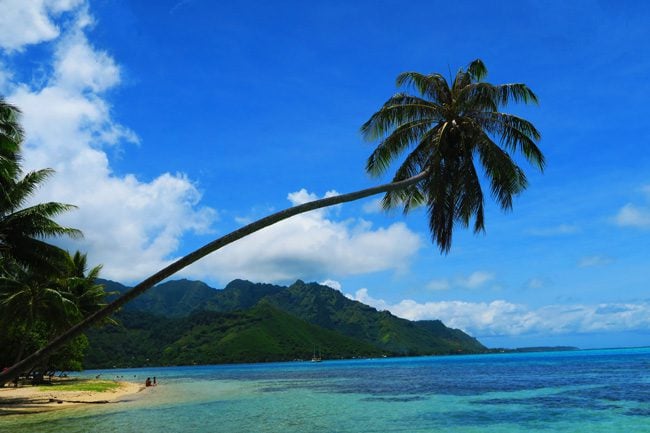 The best beaches in Moorea are all pretty much concentrated in and around the north coast of the island. With one exception, expect narrow slivers of white sand and quite the crowds on holidays and weekends. While there are no official 'private' beaches that I know of, you may not be able to venture into a resort's beach or one that is accessible only through private land. There are a number of public beaches and a few secret spots that I've found. Have a look at the 'best beaches in Moorea' section for more info.
Circling Moorea By Car Or Bike
The road that circles Moorea is only 60 km's long, so heading out on a short road trip is always a good idea. Whether in a car, on a scooter or bicycle – you'll just love finding a pretty spot along the way to pass some time. You'll also find a handful of local stalls along the main road, selling fruits & vegetables, ice-cold coconuts, and freshly caught fish.
Aside from the places of interest mentioned in this section, here are a few of my favorites:
Cook's Bay & Opunohu Bay: Moorea's twin bays sweep inland to give the island its famous heart shape. It's easy then to understand why you'll immediately fall in love with Moorea. Separating the two bays is the mighty Mount Rotui, which affords those who hike it mesmerizing views. There are a few points of interest along the bays (especially around Opunohu Bay), though just finding a nice spot and enjoying the view always a good idea.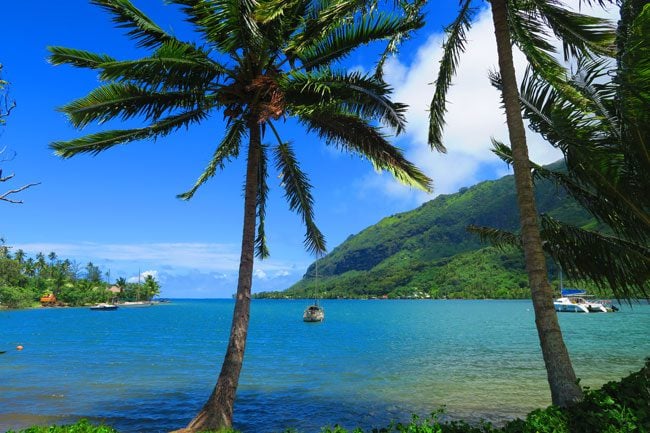 Cook's Bay is named after the legendary Captain James Cook, though he actually anchored in Opunohu Bay. It is the busier of the two with its close proximity to Maharepa and a bunch of resorts. Stop at Pihaena Lookout (PK11) to suck in the views and have a look at the pineapple fields clinging to the slopes of the surrounding mountains. The Pineapple Route meets the main road at the village of Paopao, where you'll find a small mini market and the end of the trail of the Vaiare to Paopao hike.
Opunohu Bay is probably the more dramatic of the two. On a clear day (usually mornings), the towering peaks around the Belvedere Lookout stick out in all directions. This is as good as it gets. Cruise ships often anchor here on day trips from Tahiti, and you'll find around the bay a bunch of points of interest (see map) and one of Moorea's public beaches – Mareto Beach (a.k.a Ta'ahiamanu Beach). The bay was one of the filming locations for The Bounty, a 1984 film starring Anthony Hopkins and Mel Gibson.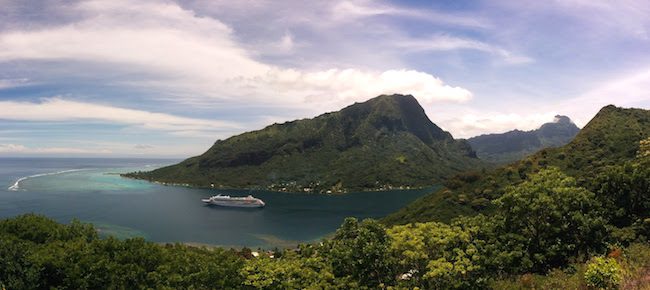 Atiha Bay: one of my favorite spots in Moorea, totally off the tourist map and on Moorea's lazy west coast. This sleepy fishing village is backed by imposing mountains. It's one of those classic 'paradise' spots, with an incredible display of color just before sunset.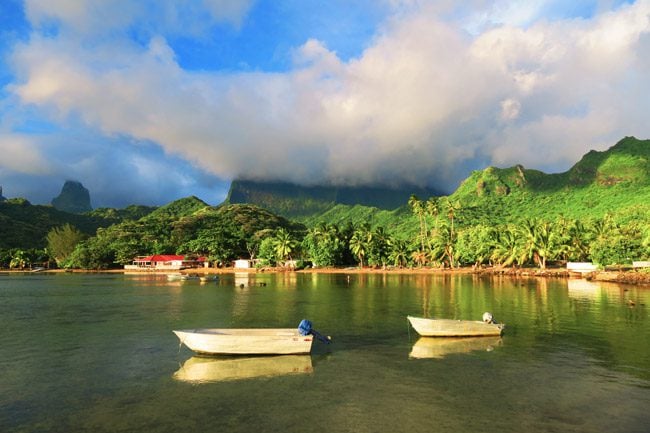 The following points of interest are listed in a counterclockwise direction starting from the Temae Beach
Toatea Lookout
A well-marked lookout point along the coastal road just above the Sofitel Resort. From up here, you'll be amazed at the lagoon colors, overwater bungalows and the long stretch of white sand that makes up Temae beach. In the near distance is the big island of Tahiti, so close yet feels like a world away.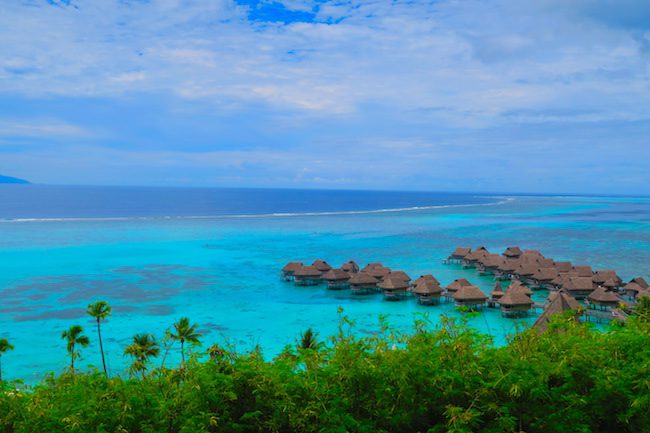 Lake Temae
A small and tranquil spot in Moorea where you can really get away from everything. Take the dirt road that continues after Temae beach and continues for a little longer. The road runs parallel to the lake until stopping abruptly. Great views of the lake and the neighboring airport can be seen from the Temae hike (see 'hiking in Moorea').
Maharepa Village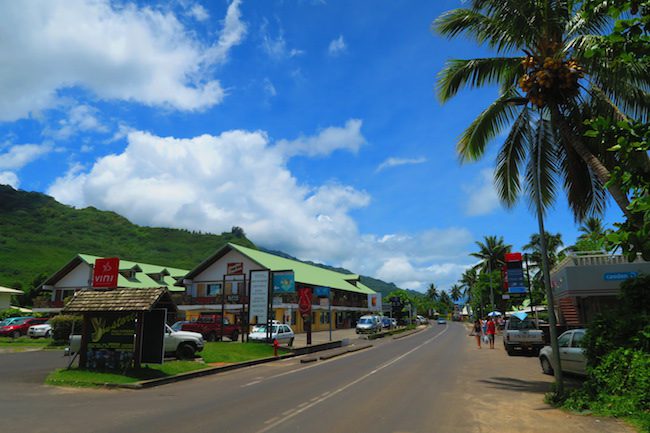 While Vaiare has the ferry and Afareaitu is the administrative capital, it is Maharepa that has the most 'action'. Conveniently located on the north coast close enough to all the big resorts, you'll find here all the amenities of a small town and tourist capital (black pearls, souvenirs, post office, supermarket etc.). My favorite spots are La Maison Blanche for island fashions (see 'shopping in Moorea'), Snack Didier for lunch and Carameline for lunch but especially breakfast (see 'places to eat').
Picturesque Churches
Though I am not a religious man, I always enjoyed visiting the churches in the South Pacific islands. They are just so cute. Moorea has three churches worth having a look out (the oldest one is in Papetoai but I did not find it interesting). Just as you round Cook's Bay, you'll see St Joseph's Church on the bayside. It kind of looks like one of those old Spanish churches, and has a great view from the back.
The next two churches are pretty close to each other in Haapiti. The Protestant church is on the lagoon side, while the twin-towered Catholic church is on the mountainside. So beautiful!
Moorea Juice Factory
There aren't a lot of indoor activities to do in Moorea, but here's one for you. Lining the shelves of every grocery store in French Polynesia are row after row of Rotui fruit juices. And where do they all come from? Right here from the Moorea Juice Factory! Founded by local pineapple growers way back in 1982, the factory has become one of the proudest brands in French Polynesia. It has come a long way since turning the locally grown Queen Tahiti pineapples into juice, now producing a wide range of flavors. Over the years, the factory has added the Manutea brand, producing delicious jams (my favorite is the guava) and liqueurs (nothing beats the vanilla cream and pineapple wine).
You can visit the factory shop throughout the week (except Sundays), but why not tour the factory (100F)? On Tuesdays and Thursdays, tours start at 9 am and 2 pm, running for about an hour. You'll learn about the different juices they make: which ones are pure and which ones are not, which contain the super healthy noni fruit, where do all the fruit come from and lots more.
Like all good factory tours, this one ends with a tasting. Shot after shot of exotic juice, vanilla cream and Tahitian punch are poured until you beg them to stop. I guess it's a good strategy to loosen up your wallet as you wander around the gift shop, but honestly – you'll really want to buy everything!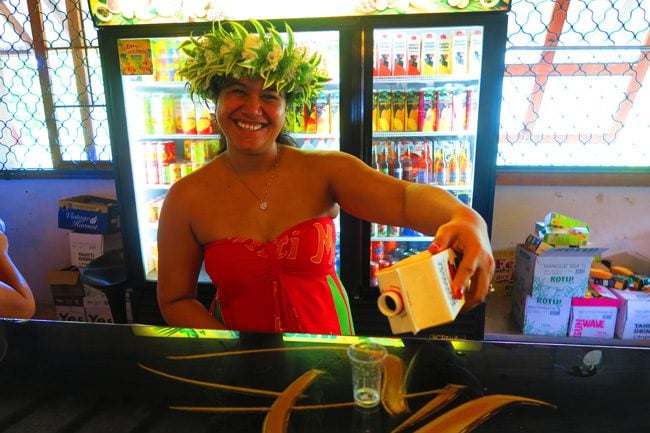 Belvedere Lookout
No visit to Moorea is complete without a visit to the Belvedere Lookout. This is a must! Reached by car or as part of an ATV tour (which I found to be totally annoying), the Belvedere offers panoramic views of the two bays split by Mount Rotui. You reach it by taking the only real inland road just in the middle of Opunohu Bay (you can't miss it). Keep in mind that it can get crowded up here very quickly and parking might be tricky to find. But after a few minutes, as the guided tours depart for the next stop, tranquility returns until the next group arrives. The Belvedere also serves as the starting (or meeting point) for a few of Moorea's hikes. Unlike on other islands, you'll find signs pointing you in the right directions.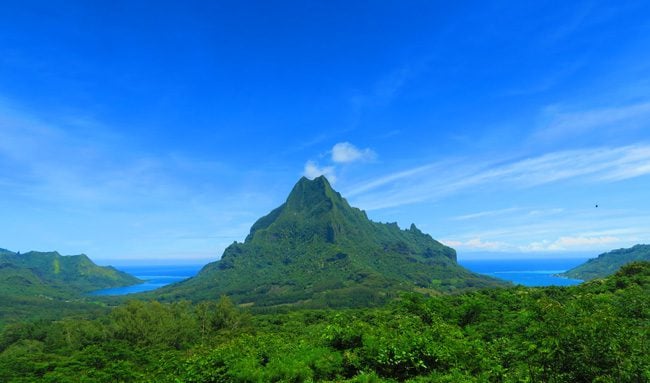 On the way back down, have a look at the marae complex (ancient temples) and later stop at the Lycee Agricole (agricultural college), where you can enjoy fresh fruit juices, ice cream and homemade jams that are very popular in French Polynesia.
From the Lycee Agricole, you can take the Pineapple Route and drive along endless pineapple fields, Moorea's prime crop – before rejoining the main road at the village of Paopao. The route is not paved and you're technically not allowed to drive it with a rental car.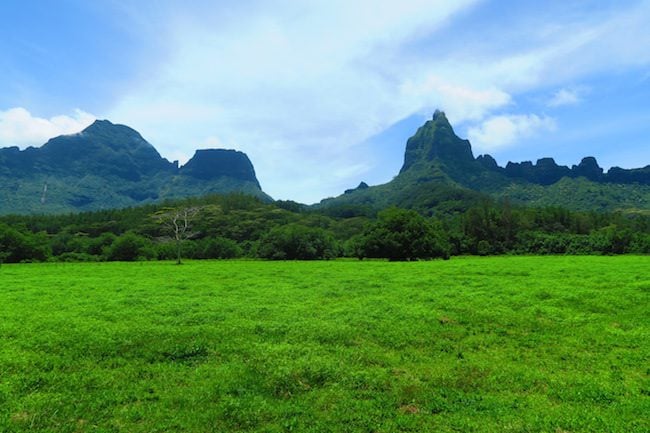 To explore the Pineapple Route on foot, simply park your car at the intersection of the main road to/from the Belvedere and the turnoff to the Pineapple Route. It's a short walk from them into the pineapple fields, eventually reaching the parking lot of the new 'Tiki Park' where you can actually enter a working field. And just in case you were wondering – this sweet crop grows out of the ground… not from a tree.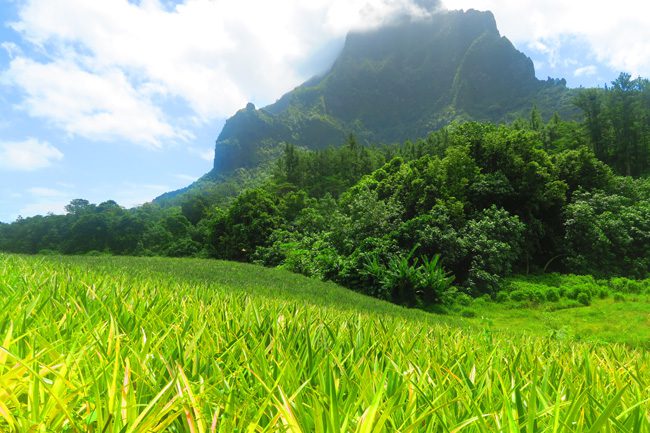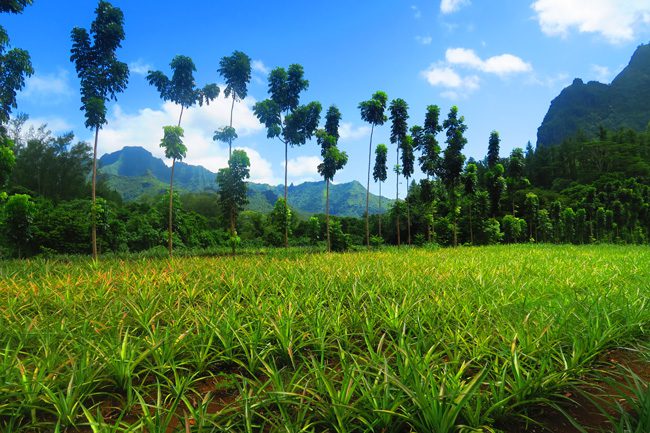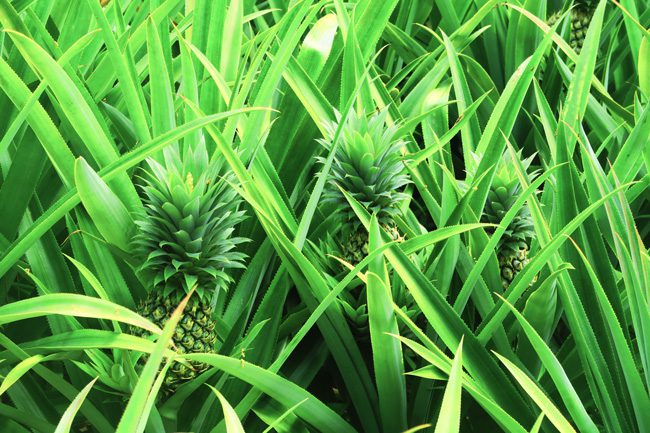 Moorea's Ancient Temples
Ancient Polynesian temples, known as marae, can be found on all islands in French Polynesia. Maraes were not only used in religious ceremony, but also as a gathering spot for local communities and families. Moorea's Opunohu Valley has a bunch of such temples which you can visit on your way to or back from the Belvedere Lookout. As you near the top, you'll find a large parking lot just in front of Marae Titiroa – the first of the three maraes you can visit here. I always enjoyed visiting such sites in French Polynesia. There's so much history and mystery in these excavated spots. Aside from the stone structures, admire how the forest has taken over and don't forget to spot the mape trees – with their incredible roots.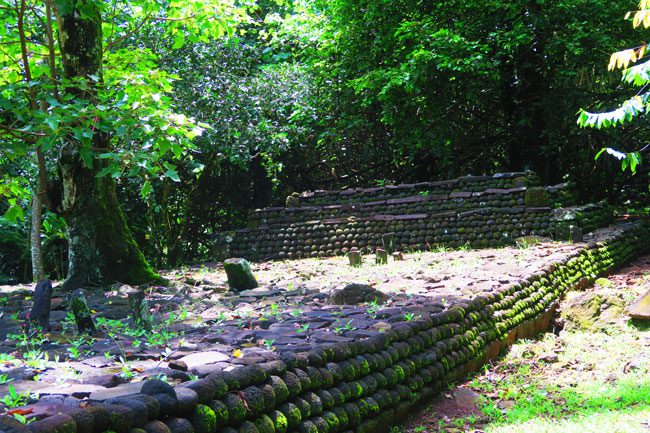 Magical Mountain
A little tricky to find, it is absolutely worth the effort. Magical Mountains offers views which I think are far better than those at the Belvedere. And the best part – you might have it all to yourself. Around PK21 in Opunohu Bay, there's a narrow cement road that heads inland. You'll know you're on the right road when you meet abnormally high-speed bumps, clearly erected in private fashion. If you aren't driving a 4WD or part of an ATV tour – park the car in the yard of the last house before the road heads up the mountain and pay 200F to the family. Take some water and don't forget your hat – and climb the mountain along the paved road for about 20 minutes until reaching the viewing area. The view from up here is out of this world! I was the only do-it-yourselfer up here, so when the small ATV tour groups left, I was up here all on my own.
Moorea Dolphin Center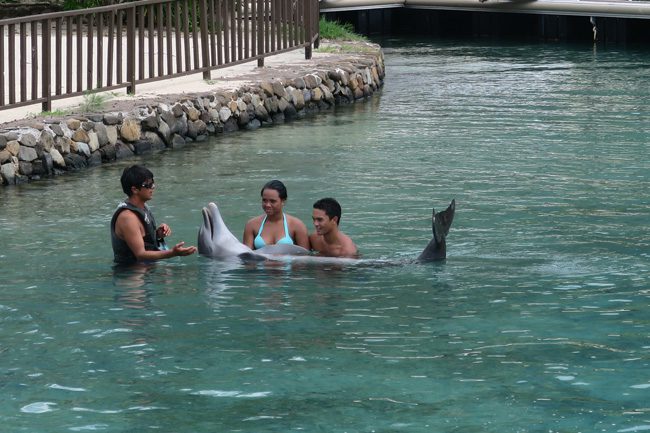 Located at the former InterContinental Moorea Resort & Spa the Moorea Dolphin Center is another great activity for a cloudy day with a bit of a drizzle. I'm personally not in favor of seeing animals in captivity, but the center is credited for safely promoting marine conservation. You'll be walking above a handful of enclosed pools, each housing one of the resident dolphins: Kuokoa, Hina and Lokahi. One of them is apparently a retired French Navy vet. He's one of those dolphins that were trained to place bombs on the bellies of enemy ships.
The dolphins are super friendly, and if your timing is right you might even get to see them do a few flips. It's free to walk around and have a look, but if you want to get up close and personal with the dolphins you can do so for a whopping 16,000F (adult). You can even swim with the dolphins (19,500F) and free dive with them (27,300F) though I'm not really sure what that means. At the edge of the center, you'll also find a couple of pools with turtles that were brought here to recover from an injury of some sort.
UPDATE: the InterContinental Moorea Resort announced permanent closure in May 2020 but the dolphin and turtle center should still remain open. It is expected that in the near future, a new resort will open on these grounds.
Moorea Tropical Garden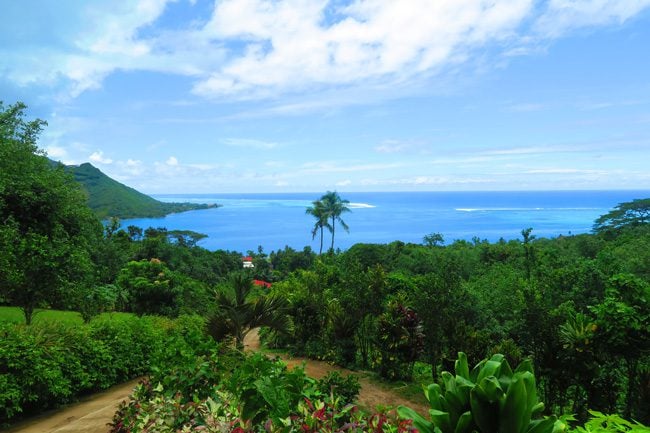 Commanding a great spot just above Opunohu Bay, the Moorea Tropical Garden is reached via a steep one-lane dirt road that's totally doable in a 2WD with a bit of courage. The garden itself is OK, built on a couple of levels and showcasing an active vanilla farm. The absolute reason for coming all the way up here is the restaurant. Enjoy the panoramic views of the bay and the lagoon with some freshly squeezed juice, or succumb to your appetite with a delicious Polynesian lunch (1,500F) complete with breadfruit, taro in coconut milk and sticky pudding for dessert. Bottom lunch: come here for the views and the food, less for the garden itself. You can also taste and buy homemade jams made from fruit grown in the garden.
Hauru Point & Lagoon Motus
The northwestern part of Moorea manages to feel low key despite having the only motus (small islets inside a lagoon) on the island that are worth a visit. The best place to enjoy this spot is the beach at Hotel les Tipaniers, one of Moorea's best. From here, you can rent kayaks or charter boats to visit the motus, where you might find your own beach for the day or swim with a few stingrays. Note that lagoon excursions will have the option of having lunch on the motus (see 'excursions').
Tiki Village
Proudly showcasing Tahitian culture since 1983, the Tiki Village in Moorea is not something you want to miss. Set in a reconstructed ancient Polynesian village, visitors have a few options for getting a taste of the exotic culture of Polynesia.
Day Visit: the village is free to enter, however, there are a number of workshops you can participate in to bring your traditional Polynesian skills up to standard (3,000F pp or 6,000F for three people). You'll learn how to make your very own pareo (sarong), weave a basket out of freshly cut branches of a palm tree, play the ukulele (good luck with that), do a bit of Tahitian dancing (this is an absolute must) and finally – how to prepare the national dish of French Polynesia, the poisson cru (raw fish in coconut milk). Here's the recipe.
Polynesian Night: if you didn't have time to visit the Tiki Village during the day, do not miss the opportunity to come here at night. Several times a week, some of the best dancers in the country tell the story of a Tahitian legend through incredible song, dance, and fire!
The fun begins with a welcome drink at the door and a quick tour of the village, complete with finally learning how on earth to properly crack a coconut. You'll then witness the unveiling of the traditional earth oven, where tonight's dinner has been slowly cooking for 6 hours!
Dinner is served buffet style. You'll enjoy delicious dishes from the Tahitian kitchen, as the staff serenades you with traditional tunes. Kids will have their fun as well, with their own favorites that appeal to younger pallets. As dessert is served, you'll even learn a dozen or so of the hundreds of ways you can wear a sarong (highly useful if you've just arrived).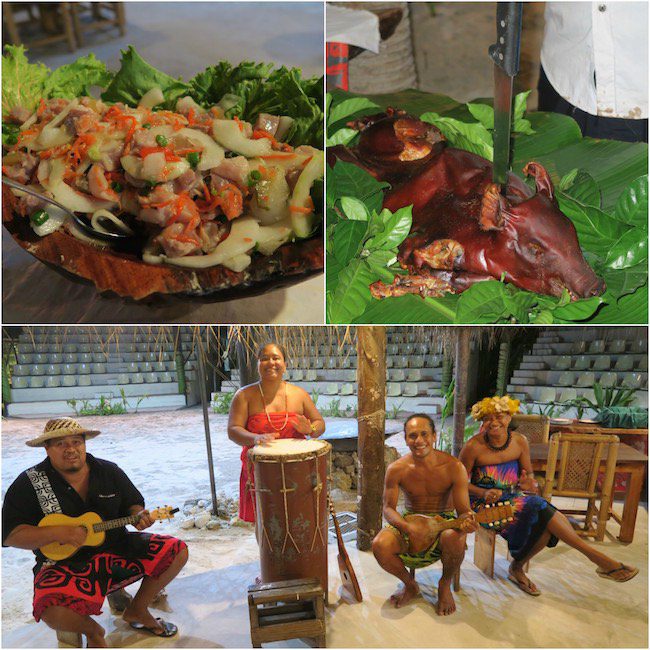 The highlight is no doubt the nightly dance show, which starts after you've had your own taste of what the dancers are about to show you. Tahitian dancing is mighty hard, with women working their hips from side to side and men twisting and turning their knees looking like a young Elvis Presley doing the famous 'shake'.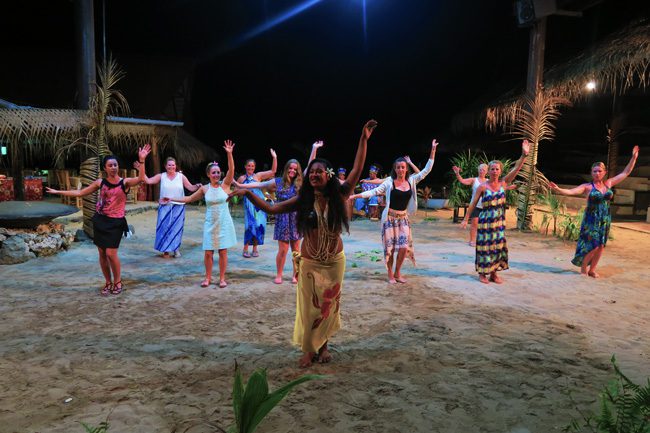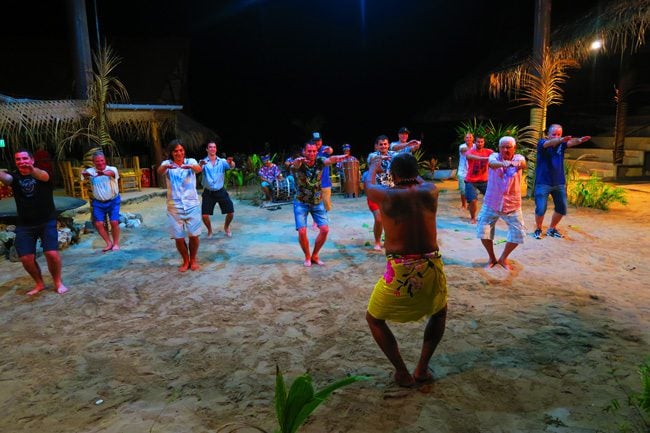 As the amateurs take their seat, the pros come on stage for the show of a lifetime – changing elaborate costumes (some with more clothes than others), singing, dancing and acting out a local legend. The sounds of the beating drums and the vividness on stage will surely cause you to pinch yourself and realize "damn, I'm really in French Polynesia!" I don't want to spoil more than I already have, but here are a few scenes from one of the older shows.
No Polynesian show is ever complete without some fire dancing. In the Tiki Village, they really outdo themselves. I've seen a few Polynesian shows, in the Cook Islands and Samoa, but the fire dancing here was by far the most impressive.
Here's a quick look at the Tiki Village dance show and spectacular fire dancing!
Dinner and a show cost 10,950F for adults (4,950F for children) but you have the option of just coming for the show (though I highly recommend the dinner if you've never been to one of these before). They'll pick you up and drop you off for free!
Bottom line: come here for an authentic Polynesian experience that you'll never forget. The Tahitian culture is so exotically beautiful, and the Tiki Village is the best place in Moorea to experience it.
More Options include private traditional Polynesian weddings within the village, vow renewal or simply a great meal in the restaurant overlooking the calm lagoon. The Tiki Village is also just a few steps away from a great beach that's only frequented by locals. I stayed right next door and would often calm here to relax and feed stingrays with leftover food.
Waterfall
There are two waterfalls in Moorea, but I only made it to one. To get here you'll have to hike a bit through the forest, but it's all very easy going. See the 'hiking in Moorea' section for more details.
The Best Beaches In Moorea
Moorea has a bunch of pretty beaches, mostly in and around the north coast. Below are my favorites, including a couple of secret beaches:
Tipaniers Beach: my favorite in Moorea, the beach at Hotel les Tipaniers wins top prize due to a combination of being just drop dead gorgeous and with a restaurant/bar/public toilets just next door. The beach is accessed via a paved path running from the entrance of the hotel (top choice for families) and is completely free to enter. Just by the restaurant, there's a grassy patch with some sand, but the wider section lies just a few meters along the beach. It will get a bit crowded on weekends and in peak season, but you'll always manage to find a spot (though no shade guaranteed).
The lagoon over here is like a giant bathtub, with beautiful azure colors and the lush mountains just behind you. There's a huge shallow area that's perfect for small children. In front are the motus, accessible via kayak or boat – both of which can be rented right from the beach. There's also a dive center and a variety of marine tours departing right from here. The beach is popular with kitesurfers when it's windy, which can be a bit annoying.
As for the snorkeling, it's not bad as you can see. I even spotted a shark and stingray momentarily. For even better snorkeling, head out to the motus.
UPDATE: pretty much adjacent to Les Tipaniers is Tiahura Beach – a recently-opened public beach occupying 130 meters of prime beach-front real estate on the former grounds of the Club Med resort.
Temae Beach: The biggest beach in Moorea and one of those 'classic' South Pacific beaches. Park your car along the dirt road (don't leave anything visible inside) and grab a spot along the long sliver of white sand. If it's not too crowded, you might even find some shade beneath a palm tree. To your right is the Sofitel Resort, backed by the imposing mountains and fronted by the signature overwater bungalows. To your left, Tahiti in the far distance and the ferries coming and going while you're relaxing away. In front, a crystal clear lagoon, shallow enough for kids and deep enough for adults. Swim in the direction of the resort for the best snorkeling. Bring with you everything as there are no facilities around.
Mareto Beach: also known as Ta'ahiamanu Beach, this is Moorea's second public beach along with Temae. The beach itself is very narrow but is backed by a large grassy lawn with dozens of beautiful palm trees growing in all directions. It gets very crowded with locals having an extended family picnic on weekends and holidays, which is a pretty thing to see on its own. The water is shallow but drops very quickly and very deep. There's not much coral to speak of, but lots of fish hang around the slope. Opunohu Bay is right next to you, and you can't go wrong with such a view. Like with Temae Beach, bring whatever you need with you though there is the occasional roulotte (food truck) selling pizza, but no toilets available.
Painapo Beach: also known as Pineapple Beach, look out for a large wooden statue of a Tahitian warrior of some sort holding a massive pineapple at PK33. The beach is absolutely free to enter and usually completely empty. Once a month, the owners throw a ma'a Tahiti (traditional Polynesian feast) that's super popular with locals. Lunch quickly turns to dinner, which quickly turns into a discotheque (quite a thing to see). During the high season, the restaurant is open throughout the day, presenting a good option for a stop when circling the island.
Fare Miti: this isn't a public beach and you'll need to find an opening on the main road to enter through to the beach (somewhere around pension Fare Miti). Once you've made it to the beach, just find a spot and enjoy dazzling views and plenty of shade. Somewhere along here, there's a tiny motu that you can swim to and really go "Robinson Crusoe" until the tide comes rolling in.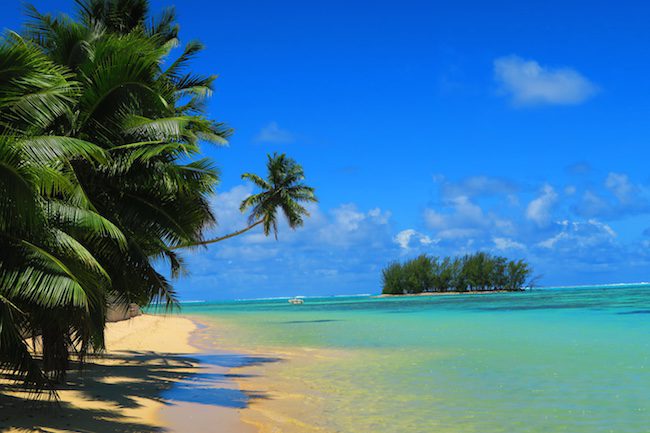 Tiki Village: another local secret, the small beach right in front of the Tiki Village is often empty. If you have some leftover food, just toss it into the lagoon and after a few minutes, later stingrays will sweep in for the easiest snack they've ever caught. The snorkeling is not amazing out here but the setting is pretty.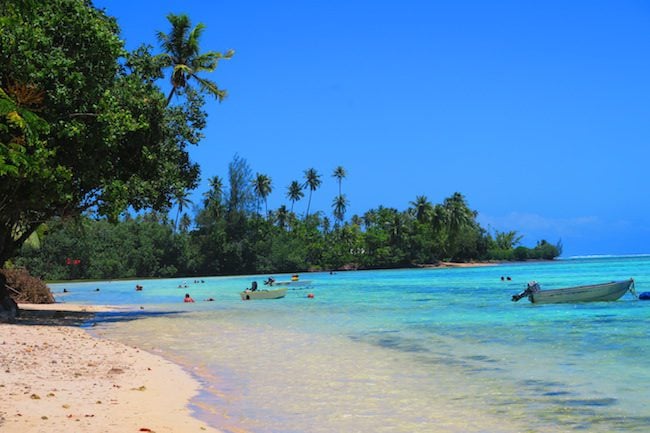 Places To Eat In Moorea
You will find a few high-end restaurants in Moorea, but in the spirit of independent travel – here are a few informal and delicious options (most are cash only):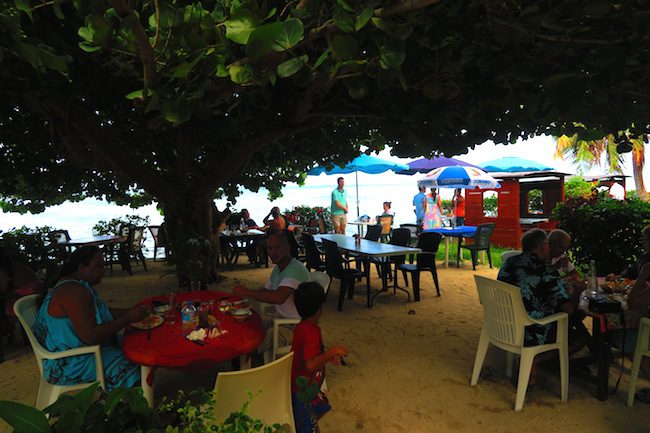 Snack Mahana: the best snack (casual dining) in Moorea by far, this place wins extra points not only for food but also for the great location. Set in a garden overlooking the lagoon, really get into holiday mode over traditional dishes or western favorites. Portions are huge, perhaps the reason for the relatively steep price (~2000F per main). It's easy to miss but just look out for cars clogging up the side of the road (open Tuesday-Saturday 11am-3pm).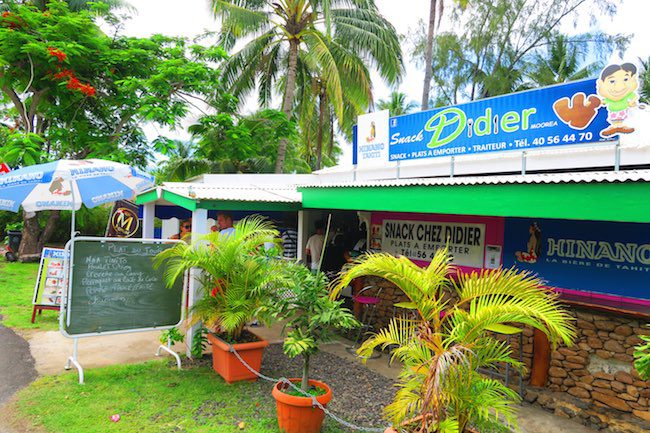 Snack Didier: in downtown Maharepa, this place gets busy at lunchtime. You can sit outside on the shaded terrace or take away local and Chinese dishes (1,300-1,500F). Try the poisson cru and sashimi.
Carameline: in the heart of Maharepa's shopping center, I really liked the pastries in this place – pretty much the only real pastry shop I've found in Moorea. Think of it as a mini Parisian patisserie in the middle of the South Pacific. They also do big breakfasts and lunches, with traditional and western dishes on the menu. Oh, and the free wifi is the fastest I've found.
Creperie Toatea: open after 6 pm at the Hilton Resort, enjoy a big French-style crepe (~1,800F) with stingrays and reef sharks swimming in the pool just beneath your feet!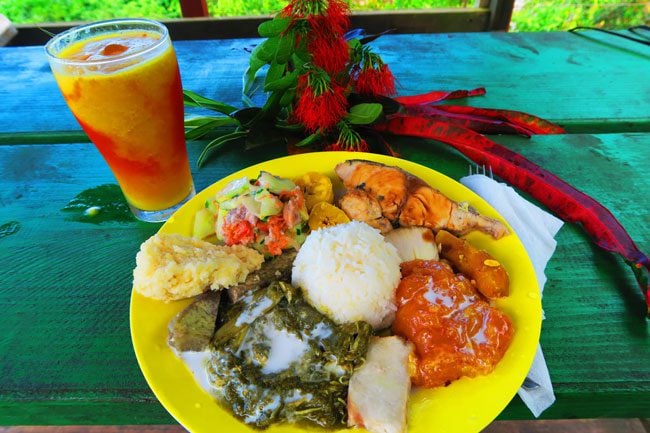 Moorea Tropical Garden: a 3 for 1 ticket with panoramic views of Opunohu Bay, a small tropical garden to wander around and an authentic Polynesian meal (1,500F) on the terrace to go along with some freshly squeezed fruit juice from the garden
Les Tipaniers: great for breakfast, lunch, dinner or just a drink – grab a seat on the outside deck and watch the hours pass away as you're staring out into the lagoon. Portions are generous and reasonably priced.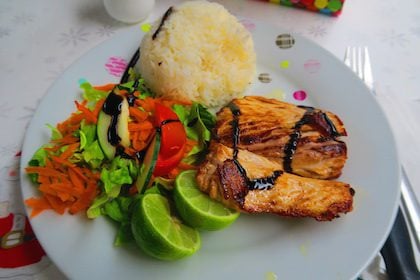 Snack La Paillote: a simple snack right across the overpriced Coco d'Isle in the outskirts of the Petit Village. This little snack specializes in roasted chicken and grilled fish (1,300F). Order in the shack and grab a seat on the small hidden terrace!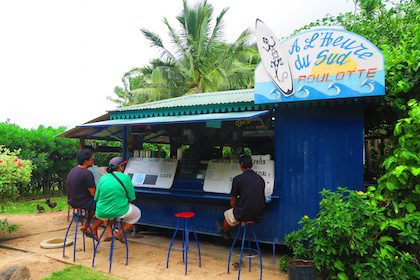 Roulotte a l'Heure de Sud: craving some food from back home? Had enough poisson cru already? Grab a stool next to a local in this very casual diner at the Petit Village. Opening hours are weird but if you come around noon it should be open.
Tiahura Restaurant: located in the Petit Village, this place is known for its seafood. I came here for lunch with a friend and we indulged ourselves with some classic sashimi and tuna tartare (~1,800F).
Chez Gerald: every Sunday (supposedly), Gerald throws a huge ma'a Tahiti – a traditional Polynesian feast. Inquire ahead and be prepared to spend 3,500F per person. I've heard good reviews about this from friends.
Diving In Moorea
Perfect for all levels, scuba diving in Moorea will be one the highlights of your visit to French Polynesia. Though nothing beats diving in the Tuamotu Archipelago, In Moorea you'll be treated to the inevitable sighting of nurse sharks, sea turtles and maybe even a few other surprises from the mammal family. You'll, of course, be diving outside the protective lagoon.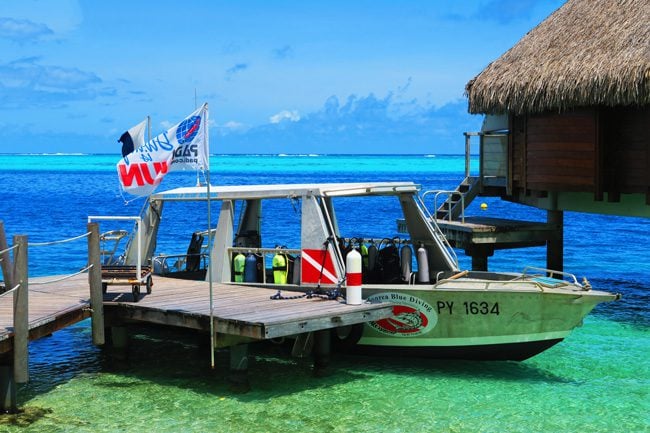 After much research, I went diving with Moorea Blue Diving. They're located at the Manava Beach Resort (formerly the Pearl Beach Resort), and part of the totally worth it Te Moana Pass. A few years ago, French couple Diane and Stephane decided to swap the snow of the French Alps for the warm waters of Moorea. They run this lovely dive center, where you'll get personal attention and enjoy top-notch gear. You can say that Diane & Stephane are the 'shark experts' in Moorea. They'll take you to dive sites just off the twin bays where you're almost guaranteed to see some serious sharks.
*** Save 10% off your dives when you mention the promotional code 'X Days In Y' to Diane & Stephane. The offer is for direct bookings not part of the Te Moana Pass ***
Our first dive was in a valley that leads into Opunohu Bay. Right off the bat, we saw a huge barracuda just chilling close to the surface as if to welcome us to his neighborhood. We then descended to 24 meters and the ocean floor, where we caught our first glimpse of a shark. This became the norm, sharks coming and going as we floated along the valley atop beautiful hard coral.
There were lots of reef sharks but also the occasional lemon sharks. These guys are the type of sharks that begin to resemble proper looking predators, though they're almost always completely harmless.
As we got closer to the boat, huge sharks were hanging around the mooring line with others arriving to check us out. It was quite a scene, as the fish smelled the bait that was carried by one of the other dive instructors.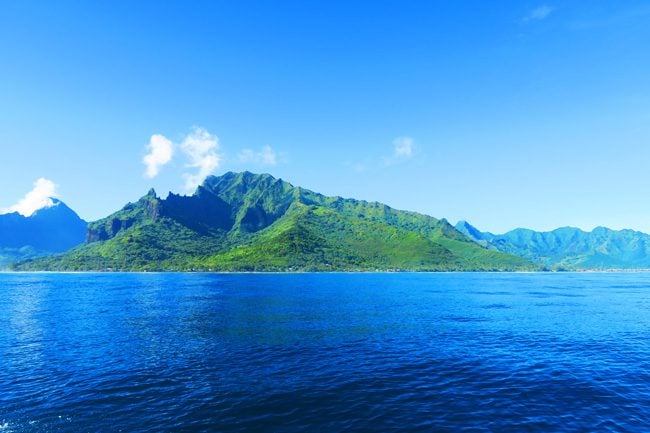 After some tea, cookies and amazing views of Moorea's coastline – it was time for the second dive of the day. This time, we battled our way through the current and swam along a few channels that run in the direction of the lagoon. We would grab on to something (just not yellow coral because that's poisonous) as the current washed out, and rode it as it swept into the lagoon. Along the way, Stephane spotted a small sea turtle just snacking away, and before we knew it, shark after shark arrived to see what the commotion was all about.
We finished off the dive scouting a few hidden caverns before Stephane spotted a sleeping nurse shark in one of them. What a good spot for a nap! Altogether, these two dives were among the best I've done in the South Pacific. In terms of coral, it's very similar to Samoa and the Cook Islands but in Moorea, there's a much greater chance of spotting more than one shark or turtle.
Here's a video summary of my dives in Moorea with Moore Blue Diving.
Logistics: the dive sites are just minutes away and you'll depart bright and early at 7:30 am (afternoons on Sundays only), back by 11 am with the rest of the day still free. They'll pick you up for free if you're staying between the Hilton and Vaiare (the ferry area). Only 10 divers can head out, so booking in advance is highly recommended. During the afternoons, certification courses and introductory dives take place inside the lagoon – great for children and for those who want to get a feel for scuba diving.
*** Save 10% off your dives when you mention the promotional code 'X Days In Y' to Diane & Stephane. The offer is for direct bookings not part of the Te Moana Pass ***
Excursions In Moorea
Shark & Stingray Feeding
You may have seen them when diving or snorkeling, now you have the chance to feed them (well, at least the stingrays). This is one of the highlights of a visit to Moorea and there are a handful of operators to choose from. I went with Moorea Mahana Tours on a full day lagoon excursion which also included a picnic on one the motus.
The tour begins with a quick ride to the worst kept secret in Moorea – the shark and stingray feeding area. Tour boats, jet skis, and kayaks all gather here and so do the fish. It feels very counterintuitive to step off the boat when you can clearly see dozens of shark fins zipping atop the water, but it's all perfectly safe and enjoyable.
Take your time swimming and snorkeling around the boat, as guides hand feed the stingrays and toss a few chunks for the sharks. You too can touch the stingrays without any fear, just stay away from the spiky tail. Their skin feels like jelly and they really stick to you in search of food, not realizing they've already swallowed what you had in your hand. It's an incredible and surreal experience that should not be missed. The only downside is the large number of people out here, stirring up sand and getting in your way at times.
After about 30 mins in the water with the rays and sharks, it's back on the boat and another quick trip to one of the motus. As the crew prepares lunch, head out to the best snorkeling spot in Moorea. Right in the channel between the motus, you'll find lots of tropical fish, massive stingrays and even moray eel hiding inside the beautiful coral.
Back on the small motu, enjoy a delicious Polynesian buffet, not before the crew teaches you how to make the national dish of French Polynesia – the poisson cru! The food is delicious and there's plenty of beer available along with soft drinks (here's the recipe). Post lunch activities include some more snorkeling, exploring the beautiful motu (with great views of Moorea) and yet another key lesson in island life – how to crack a coconut!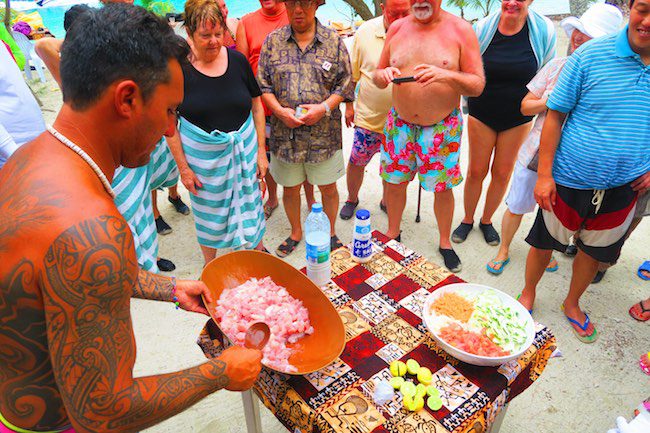 Logistics: leave at approx. 10 am and back by 2 pm. Bring with you a camera, sunscreen and a towel. They'll give you mask and fins for snorkeling. There are half-day options that do not include the 'picnic motu' but I highly recommend opting for the full day if you have the time and money (~8,500F per adult). If you're heading to Bora Bora, you have the chance to experience this there as well and in Huahine, you'll have something very similar (and more impressive in my opinion).
Here's a look back at this amazing day spent in the Moorea lagoon!
Lagoonarium
I heard excellent reviews about the Lagoonarium but didn't have enough time to do it on my own. It's very similar to the shark & stingray excursions, but with a much more local (and laid back) feel.
ATV Tours
There are a few operators running ATV tours in Moorea, which I personally stayed away from. They will basically all take you to the Belvedere, Magical Mountain, and the Pineapple Route (see 'things to do' section) – which can all be seen at the comforts of your own pace with a rented car. So unless you're really keen on driving an ATV, I would pass on this.
Hiking In Moorea
Moorea is a hiker's paradise, offering at least a half a dozen excellent hikes for all levels. Whether on the hunt for a hidden waterfall, or walking among the island's giant peaks – with a bit of effort you'll be treated to spectacular views over the lagoon and get to explore the island's rich rainforests with their unique mape trees, giant bamboo, and tropical flowers. Here are the hikes that I personally did (without a guide) during my four weeks in Moorea and a second return visit in April 2017. If you're looking for a hiking guide in Moorea, get in touch with Hiro Damide.
Mount Rotui Hike
It may not be the highest peak on the island of Moorea, but the hike to the summit of Mount Rotui affords views of the twin bays that you will never forget. This is a challenging hike that should not be attempted during the wet season or if it's been raining over the past few days.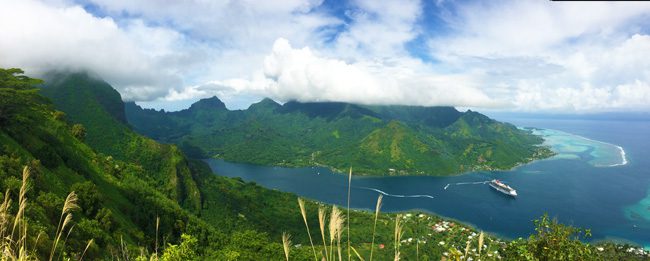 To pick up the trailhead, park your car in the Hilton Resort's parking lot and locate the Faimano Village Hotel. Take the inland path across the road from the hotel and you will see a sign marking the trailhead and a request to pay about 200F per person (if the owner is not present, pay on the way back). From here, just follow the signs until you start to climb on the visible trail. You'll begin an ascent that never really ends until the summit, first through dense rainforest and then along the ridgeline until the very top.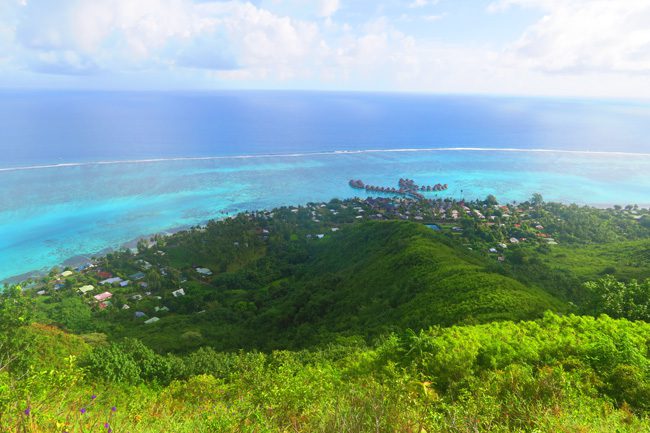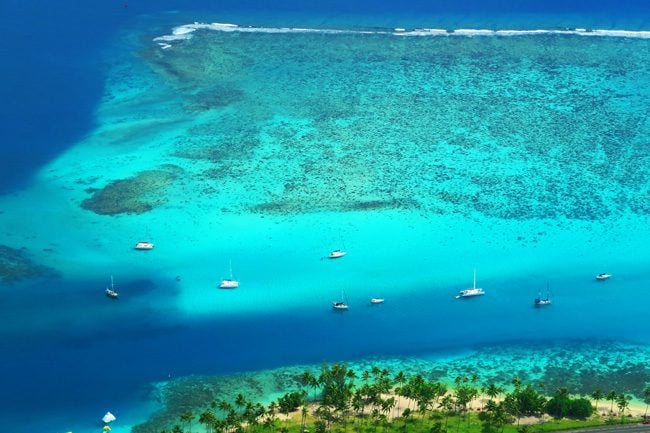 Once you clear the forest, the fun really begins. Views down to the overwater bungalows of the Hilton and the clear waters of Mareto Beach are the stuff dreams are made of, and the higher you ascend, the finer (and wider) the views of the spectacular Opunohu Bay get. There is no better place to catch such views in Moorea!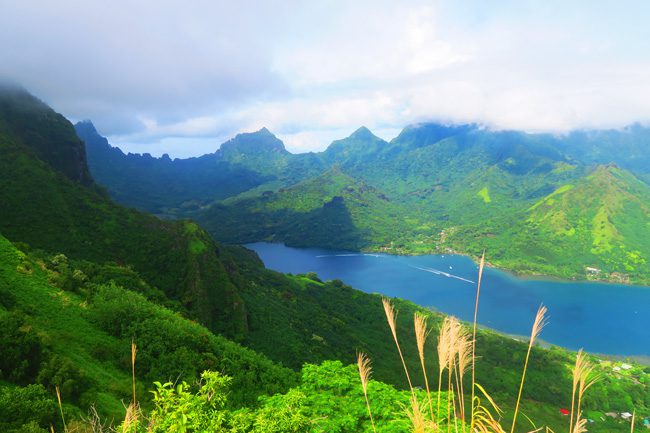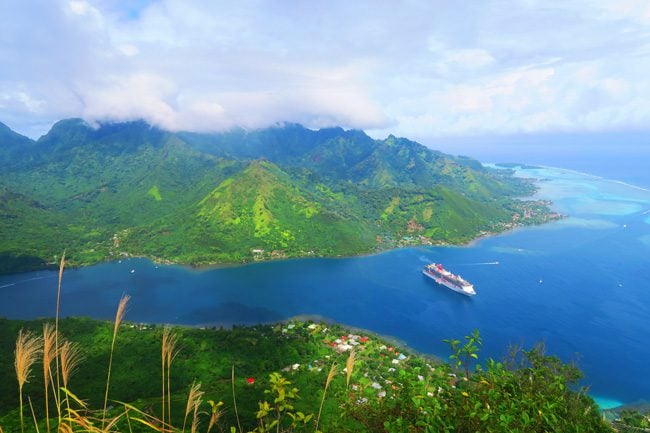 Logistics: summitting Rotui will take the full day and, as noted, do not attempt to summit during the rainy season or after a few wet days. Always watch for rain clouds moving in from the windward side and be cognizant of possible storms. It is not recommended to hike alone! Views are spectacular throughout the ridgeline section so if you see clouds covering the summit, it's best to stop, enjoy the views and head back down. Parts of the trail can be overgrown with vegetation, especially at the start of the hiking season (April-May). If you have a machete to bring along – great, if not, be prepared to get scratched and to plow your way. In addition, watch your step: the trail will be slippery, narrow and filled with blind spots. It's best to wear long hiking pants, good hiking shoes, hat and to bring plenty of food and water! I also advise to bring a full change of clothes and to treat yourself to a refreshing swim in Mareto Beach after the hike.
Vaiare to Paopao Hike
My absolute favorite hike in Moorea is one that crosses the island from the village of Vaiare (where the ferry is) to the village Paopao in Cook's Bay. It's a moderate hike which you can do on your own, assuming you can find the trailhead.
The hike starts along local orchards, filled with mangoes, papaya and that smelly yet super healthy fruit called Noni. Once in a while, a local farmer emerges out of the bush with a heavy payload of freshly picked fruits on each shoulder. This is a good time to check your bearings.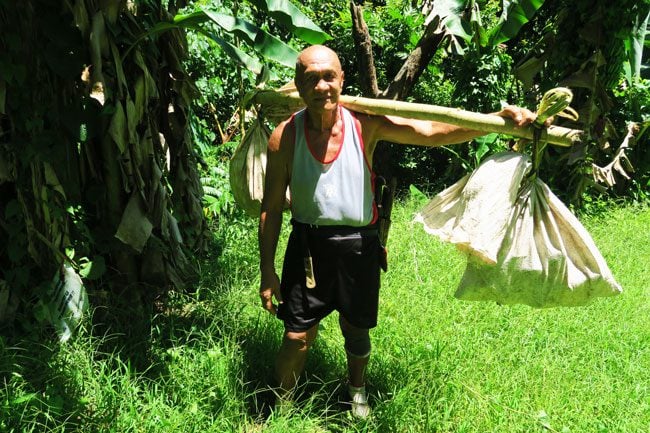 You then veer left and up the hill, through a very steep mape forest – where the roots can be used as natural steps to make your life easy. The mosquitoes are ferocious out here so just keep going!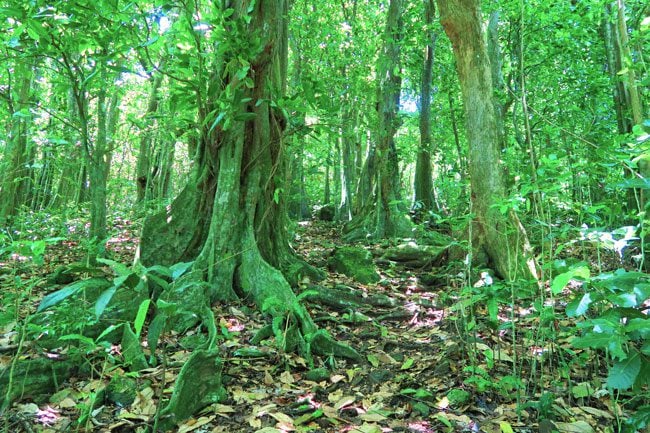 After about an hour of climbing, you'll make it to the ridgeline and your efforts will totally be rewarded. From up here, you'll be treated to truly 360-degree views of both sides of the island. On the one side – Vaiare, Tahiti and the ferry going back and forth. On the other side, nothing but mountains, pineapple fields, and Cook's Bay. What a sight! This is exactly how you had pictured French Polynesia to be and then some.
From up here, you have a few options: (1) continue down to the Opunohu Valley, eventually making it to Paopao and hitchhiking back to your car back in Vaiare (or timing it with the ferry bus). (2) Take the trail that continues from up here to the Belvedere. (3) Do what I did and turn around. Honestly, with such a view, you might as well stay up here and take a very long (and well-deserved) break.
Logistics: the only challenging part (aside from the steep climb) is locating the trailhead. You can do this hike on your own if you manage to find it. Follow the road that heads inland at the Bayside Moorea Market and keep right at the soccer field. At this point, it's best to ask the locals living here for the trailhead, which is basically up an agricultural road to your left. Once you're on the trail, you'll know it – it's used by farmers and there are red & white ribbons from time to time. It takes about 90 minutes to get to the ridgeline and 60 minutes back down to the main road. Bring plenty of water, hat, closed shoes, food, short pants are fine and a change of clothes for after!
Opunohu Valley Hike
There are quite a few hikes that venture into the lush Opunohu Valley. I did a small section of it called the Natira'a Roa hike. The easy hike takes you through a thick mape forest, before emerging into a clearing with mountain views. You then walk back down along the main road, passed the Lycee Agricole (can stop for some fresh juice or ice cream) and a few giant bamboo trees.
Logistics: take the road that heads up to the Belvedere and when you reach the bridge over the river, park the car (don't leave anything visible inside). You'll see a bunch of trail signs on the side of the road passed the animal fence. The hike is meant to be nearly 5 hours, but we returned well before that.
Afareaitu Waterfall
A short and easy walk along the river and through the forest will bring you to one of Moorea's waterfalls. You might have this place all to yourself so a picnic might not be a bad idea!
Logistics: coming from Haapiti, turn inland after the hospital and continue driving. Ask the locals if you can park your car next to their house and just follow the dirt road which eventually turns into the trail. About 30 minutes of walking will bring you to the waterfall. You can just leave your car along the main road and walk everything on foot, but that should add another 20-30 minutes to your hike. Once at the waterfall, the trail continues to the second waterfall, though we couldn't find it… Take mosquito repellent, sandals, food, drinks and obviously a swimsuit.
Three Coconuts Hike
One of the most popular and accessible walks in Moorea thanks to new signs that mark the way. The trail starts off at the Belvedere (can also start from Haapiti) and takes you first through a forest filled with mape trees and giant bamboos. You'll cross a few freshwater streams before starting a moderately difficult climb up to the ridge. The views from here are very similar to those in the Vaiare to Paopao hike – just from the other side of the same ridge. As for the three coconuts… they are no longer here, blown away a long time in a cyclone apparently.
Logistics: if you start from the Belvedere, look for the signs in the carpark. If you're starting from the coast in Haapiti, you'll have to ask around for directions. No special clothing required, just comfortable shoes as always and lots of water. Expect a 90-minute hike to the top and about an hour to get back to the Belvedere car park.
Temae Hike
You won't find this hike in the guidebooks so here's a secret hike only locals can tell you about. If you liked the view from Toatea Lookout, you'll love the view from the summit of this hike. It's short, it's steep and it's not easy – but once you reach the summit, it'll all be worth it. From up here, you can look down to the Sofitel Resort and Temae Beach. To your left is the lake and the airport, to your right the northern coastline of Moorea and right across the water – the big island of Tahiti. Enjoy!
Logistics: drive towards Temae Beach and just across the road from the turnoff to the beach, there's a post office. Park the car and head up the hill either via the steps or using the trail behind the large tree in the car park. You'll find yourself walking up towards a bunch of antennas, after which the steps turn into a proper (unmarked) trail. Follow it all the way to the summit and you can even continue for a little longer. It takes about 45 minutes of steep hiking to the summit and 20 minutes to get back down.
More hikes
I didn't manage to hike the 'pierced mountain' – Moorea's most challenging hikes. For this one, you'll need a guide and it's not easy to find one in the low (wet) season.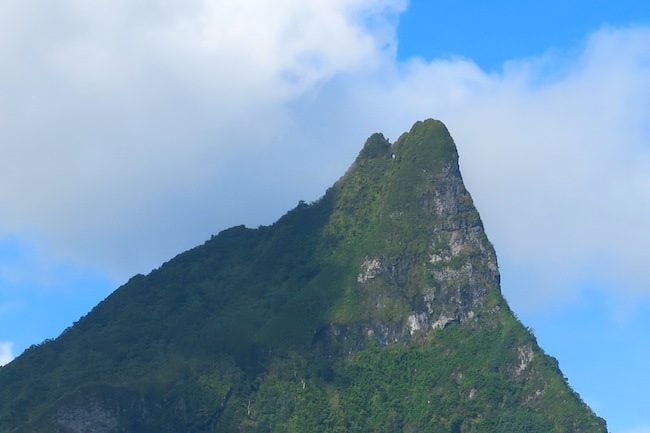 Now It's Your Turn
I hope you've found this Moorea Travel Guide useful. If you have any questions or your own Moorea travel tips, leave a comment below and let's get the conversation started!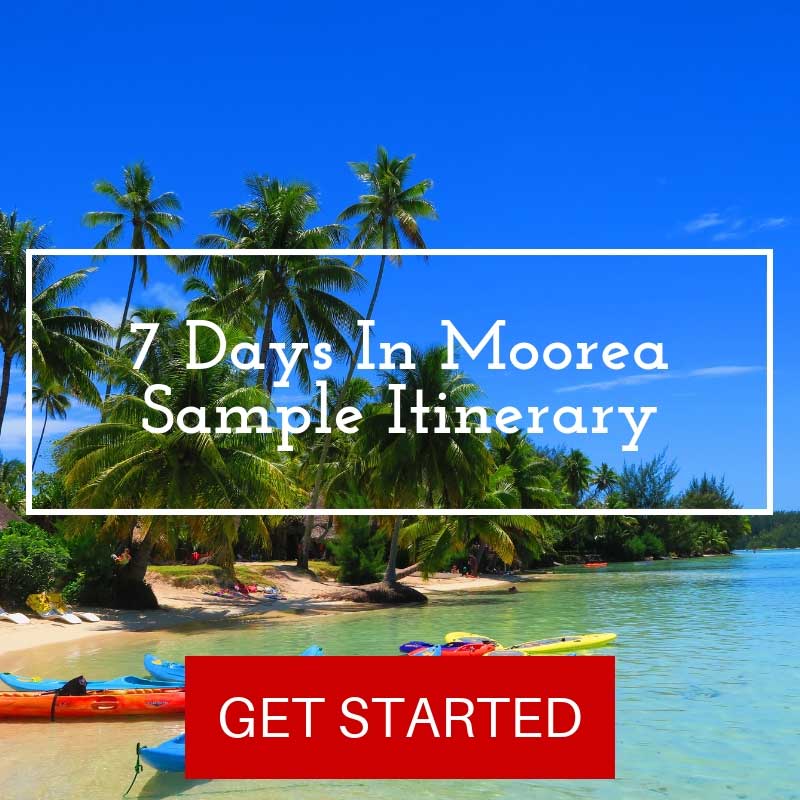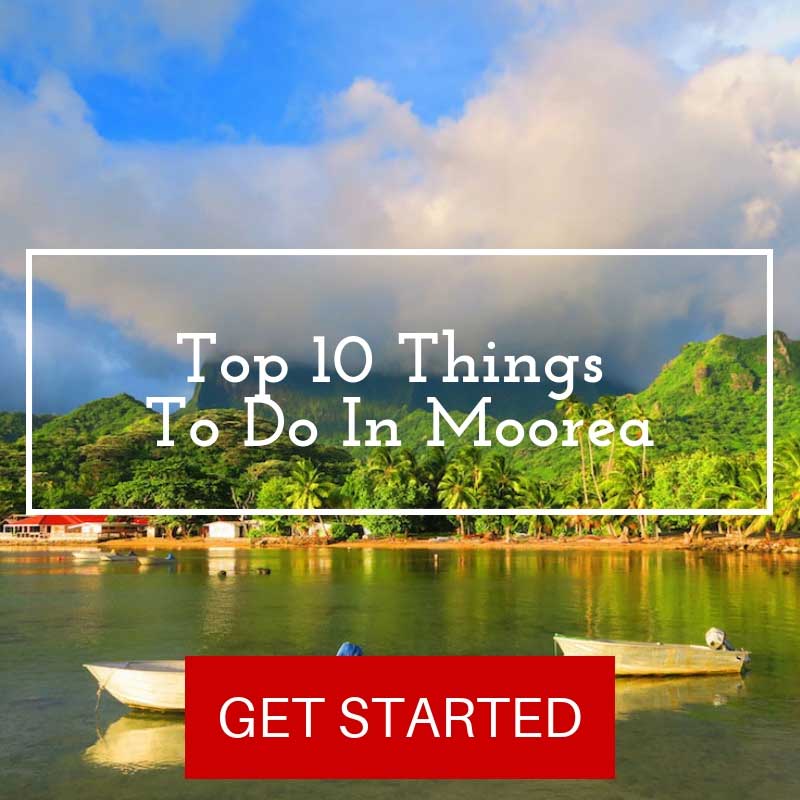 ---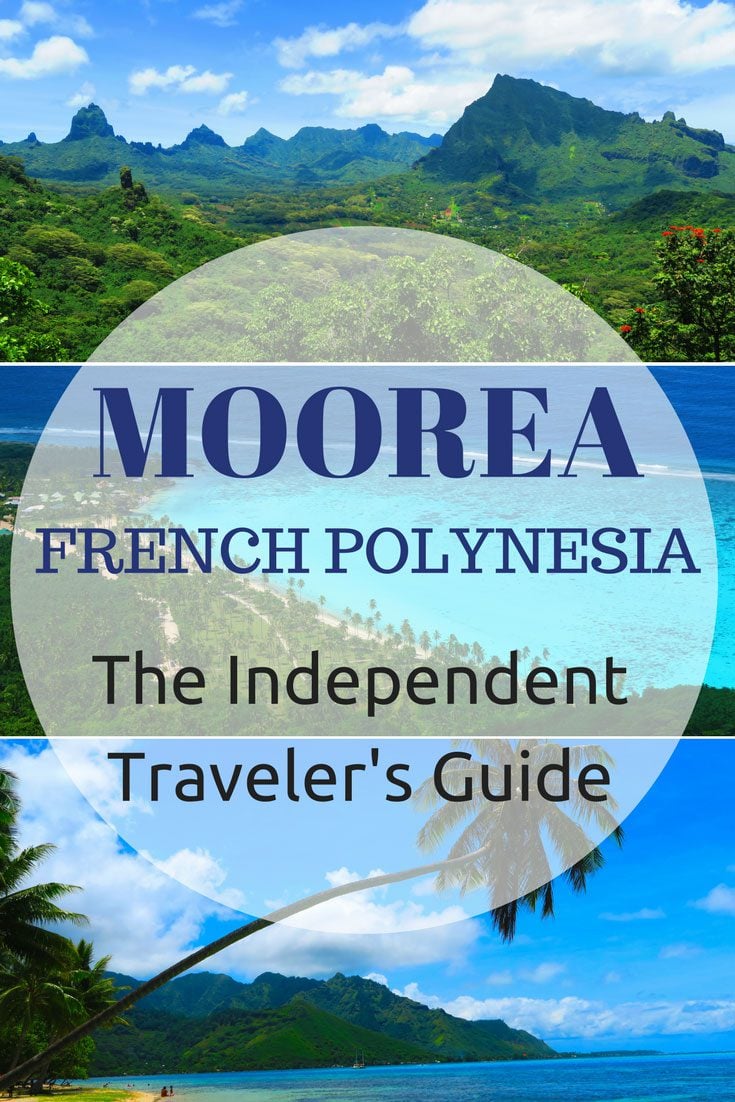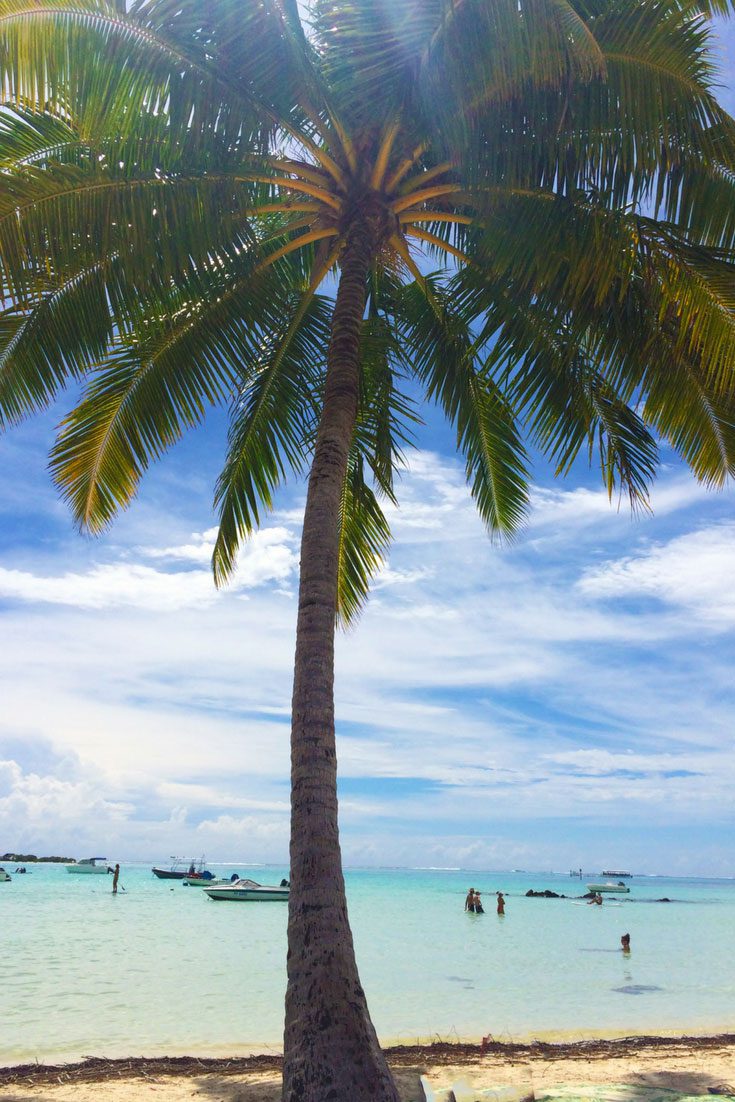 Pin These Images To Your Favorite Boards!
---