Hawaii Or Tahiti: Which Paradise To Choose?
If you're reading these lines, you are a very lucky traveler but one that is also faced with a very tough dilemma. Tahiti or Hawaii? Which paradise to choose? While both destinations are "the stuff" tropical dreams are made of, it is important to check which one is more suitable for your needs, desires, and expectations – should you be unable to explore both on a single journey. I spent both four months in Hawaii and fours months in the Islands of Tahiti and, in this post, I'll share with you the pros and cons of both. Shall we explore paradise?
Before we begin, it's important to note that even though Tahiti is the main island in French Polynesia, it is often used to refer to the entire territory (Islands of Tahiti). It'll be used interchangeably throughout this post.
Tahiti & Hawaii Travel Guides
---
The Best Islands In Hawaii
Watch this video countdown of the top 5 islands in Hawaii (you might need to disable your ad blocker).
What Does Hawaii Have Over Tahiti?
Here are some of the main advantages that Hawaii has over the islands of Tahiti.
Closer to the Mainland
Flight time to Honolulu from Los Angeles is just under six hours when compared with 8.5 hours to Tahiti. It's not a huge difference but can be the "tie-breaker" for some, especially if traveling with children on a family holiday. My advice: unless you really hate flying, don't let this be the deciding factor.
Lava
At least one of Hawaii's islands is still growing and it's an awesome experience to see live in action. I'm, of course, talking about the Big Island of Hawaii. The island's Kilauea Volcano is currently the most active volcano in the world and visitors can experience its power in either Volcanoes National Park or by walking straight up to the lava flow in Kalapana – outside the park grounds (currently closed following the 2018 eruption). Tahiti's islands are a lot older and thus have no active volcanic activity (apart from at least one active underwater volcano).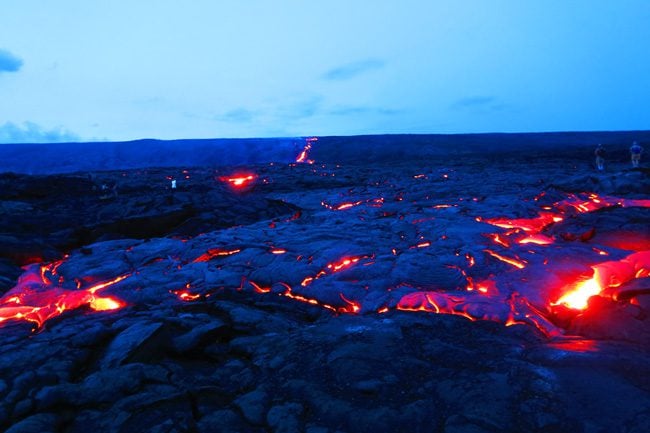 Microclimates & Landscapes
Every single one of Hawaii's six main islands has several microclimates, sometimes within a very short distance of each other. These range from desert-like landscape, scenes from a NASA image of Mars, tropical rainforests, "Grand Canyons", and even snow! The most diverse of the Hawaiian islands is the Big Island of Hawaii, where 11 of the 13 microclimates that exist on our planet can be found. In Tahiti, one needs to travel far in order to experience this climatic diversity, either to Nuku Hiva in the Marquesas Islands or to the far reaches of the Austral Islands.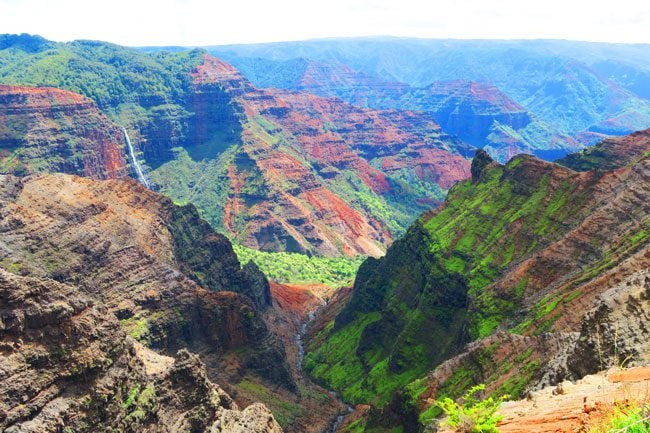 DIY Hiking & Road Trips
As you would expect from a U.S. state, the standards when it comes to infrastructure are quite high. With the exception of Molokai, the more visited islands in Hawaii boast a wealth of marked hiking trails that you can do on your own. This doesn't mean no precautions are needed, but it does mean that you don't need to hire a special guide who knows the way. The same is true when it comes to exploring the remote parts of the islands. In Hawaii, if you have a car (especially a 4WD), you can make it to just about anywhere. There will either be signs on the road or places of interest will be clearly marked on a physical or online map. In Tahiti, a lot (but not all) of the hikes should be done with a guide as the trails are overgrown with vegetation or unmarked. On the driving side, some scenic roads are either not signposted or unpaved (or both), such as the Papenoo Valley in Tahiti or the road to Lipona in Hiva Oa.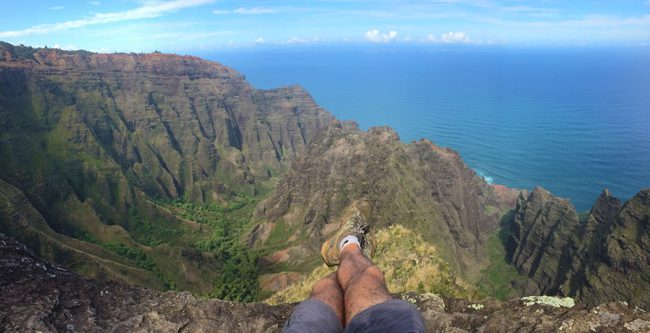 Cheap Car Rental
Depending on the island and the season (low or high tourist season), renting a car in Hawaii can cost less than $30 per day for an automatic transmission. Since Hawaii is a no-fault state when it comes to auto insurance, you do need to add an extra layer of insurance in some cases but if you opt-out – you have yourself a pretty good deal. In Tahiti, manual transmission prices start at $40-50 per day but they are hard to come by. Renting an automatic transmission car should cost about $70/day but may not always be possible on some islands. It's important to note, however, that basic car insurance is always included in the price. You can run a search on this website and find the right deal for you.
Multiple Domestic Airlines
There are currently three domestic airlines serving the islands of Hawaii: Hawaiian Airlines, Southwest Airlines, and Mokulele Airlines. This doesn't necessarily mean that airfare on interisland flights in Hawaii is cheap (expect to pay $50-150 per one-way segment, not including luggage), but it does mean that you'll almost always be able to find available space. In Tahiti, Air Tahiti is the only domestic airline. Though their coverage is very impressive, flights can quickly fill up so advanced reservations are always recommended (we'll talk about the price later on).
They Speak English!
This is a major advantage in Hawaii though not a "deal-breaker". In French Polynesia, English isn't that widely spoken, especially when you get off the beaten track and away from the resort scene. A little bit of French will come in handy, but sign language should also do the trick.
Camping
For those who enjoy camping beneath the stars, you'll be happy to know that every island in Hawaii has organized campsites. Reservations are required and sometimes space is very hard to come by, but the grounds themselves are well maintained and serviced by professionals. In Tahiti, there aren't any official campsites, though there are private ones where you can pitch a tent.
Sea Turtles
Nearly every island in Hawaii has a beach where you're pretty much guaranteed to spot green sea turtles baking in the sun. This is especially true on the Big Island, Maui, and Kauai. In the islands of Tahiti, this isn't really the case and your best shot of spotting sea turtles is underwater.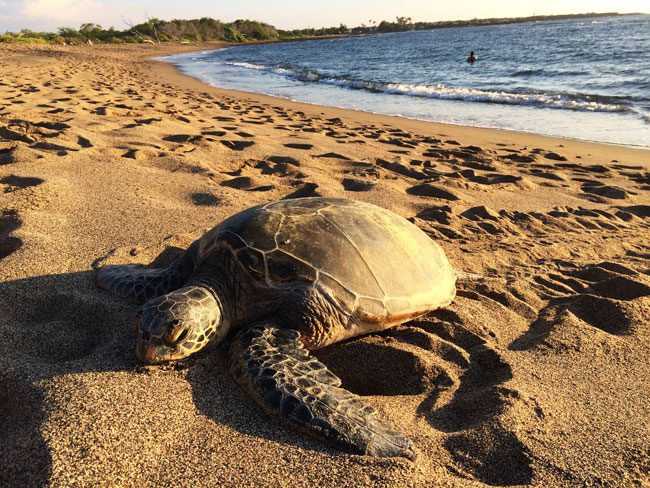 Family Holiday
Many of the beach resorts and organized tours in Hawaii cater to families with children. This ranges from dedicated swimming pools, babysitting services, ziplines and hundreds of other (paid) ways to keep the kids busy. In French Polynesia, this is less the case, and though you do see many families vacationing with their children, the focus seems to be more on nature and relaxation rather than on action-packed adventure.
Nightlife
In Hawaii, there's always something to do at night on every island. This ranges from luau shows to local bars, cocktail lounges, beach bars, and even nightclubs in Honolulu. In French Polynesia, the only island with "proper" nightlife is Tahiti, more specifically in Papeete – the capital city. There are a few low-key nightlife options in Moorea, Raiatea, and Huahine, but that's about it.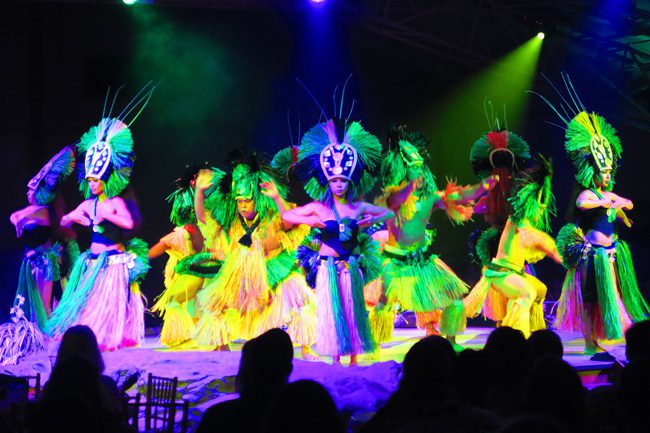 Mega Stores
In case you forgot you're in America, the Walmarts, Costcos, Targets and their brothers and sisters will serve as a reminder. Every island in Hawaii has these large chains, including supermarket giants Safeway and Foodland. If you like to stock up the fridge in your self-catering unit, it's a pretty easy task in Hawaii. In French Polynesia, there are large supermarkets only in Tahiti and Moorea, and most grocery shopping is done in small shops or mini markets.
Poke
I'm not sure why this delicious dish hasn't made its way south to Tahiti. Poke is essentially marinated chunks of raw tuna that come in a variety of flavors. The best part is that you can make a meal out of it by adding seasoned rice and a side salad (seaweed is the best) – called poke bowl. You'll find poke everywhere in Hawaii, but the best value for money poke is to be surprisingly found at Foodland supermarkets. In Tahiti, they have a similar dish called poisson cru (literally meaning raw fish). It's comprised of chunks of raw tuna marinated in coconut milk and tossed with vegetables and lime.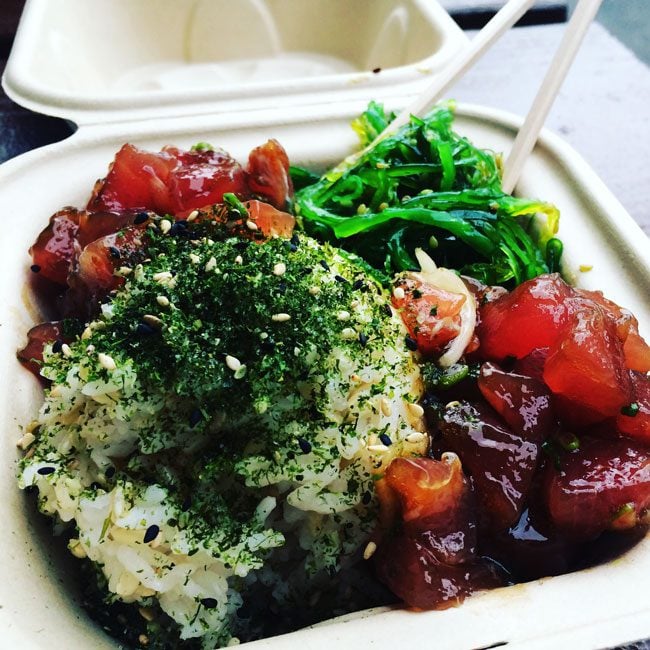 Surfing
Though Tahiti's waves are legendary, access to prime surfing spots often requires paddling outside the lagoon or using motorized help (Papenoo is an exception). Moreover, surfers risk crashing on the coral reef and injuring themselves. Since Hawaii's islands are not protected by a coral reef, catching big waves is a lot easier.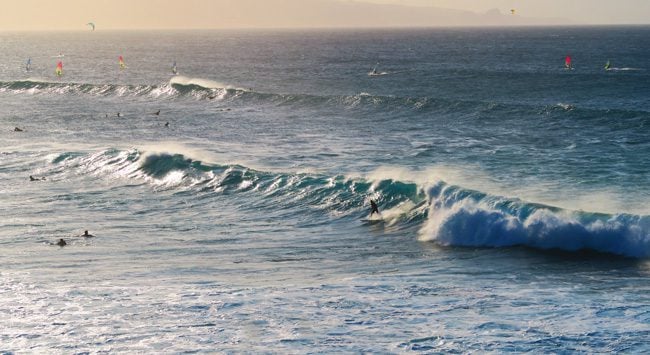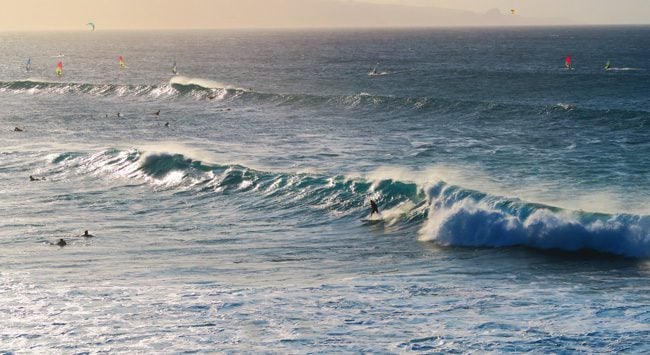 The Best Islands In Tahiti
Watch this video countdown of the top islands in Tahiti (French Polynesia). You might need to disable your ad blocker.
What Does Tahiti Have Over Hawaii?
Here are some of the main advantages that the islands of Tahiti have over Hawaii.
Small Population
French Polynesia's total population is roughly 280,000, with over 60% concentrated on the main island of Tahiti. Compare that with Hawaii's 1.4 million (and growing) population, one million of whom live in Oahu, and you get the point. You don't have to be a mathematician to understand where I'm going with this… There's more space for everyone in French Polynesia, including visitors!
(Much) Fewer Tourists
It is said that Hawaii gets the same number of visitors over the course of a single weekend as French Polynesia sees over the course of a full year! In 2016, nearly 9 million tourists visited Hawaii with an average of 220,000 visitors in the state on any given day. That's almost the entire population of French Polynesia. In comparison, the French territory received only 183,000 visitors in 2015, with an additional 50,000 cruise passengers. Once again, you don't have to be a genius to get the point. If you want a slice of paradise to call your own, there's absolutely no debate – French Polynesia easily trumps Hawaii.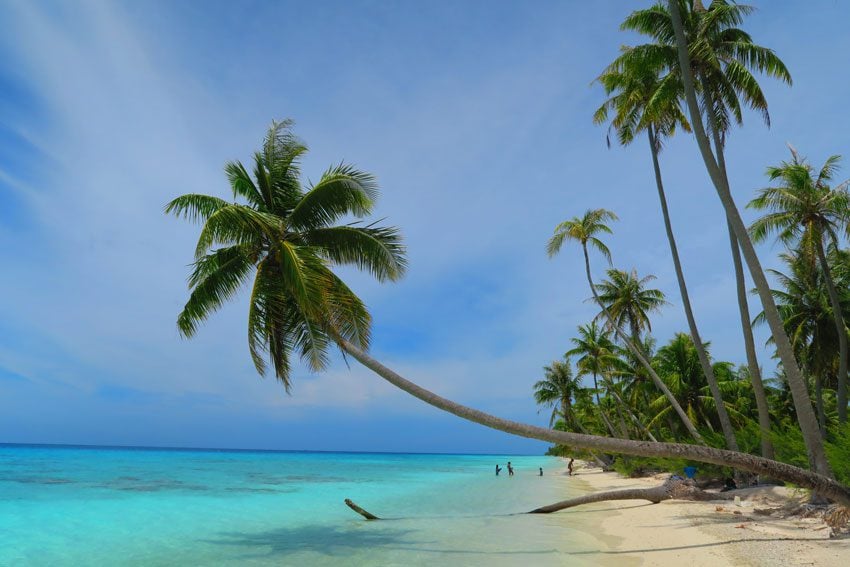 Air Pass & Ferry
Though Air Tahiti is the only domestic airline in French Polynesia, they manage to serve a pretty impressive network of routes that connect most of the inhabited islands in the territory. For visitors, the availability of multiple air passes makes island hopping in French Polynesia both feasible and quite affordable. In addition, you can get to the island of Moorea on a daily ferry from Tahiti so, theoretically, you can experience paradise without even taking a single domestic flight. And here's another ace up Tahiti's sleeve, a new low-cost international carrier now flies to the island from San Francisco and Paris. That's right, with French Bee, you can find a cheap flight to Tahiti that costs as little as $500 return airfare from San Francisco! You can also find reasonable airfare on United Airlines flights to Tahiti from San Francisco.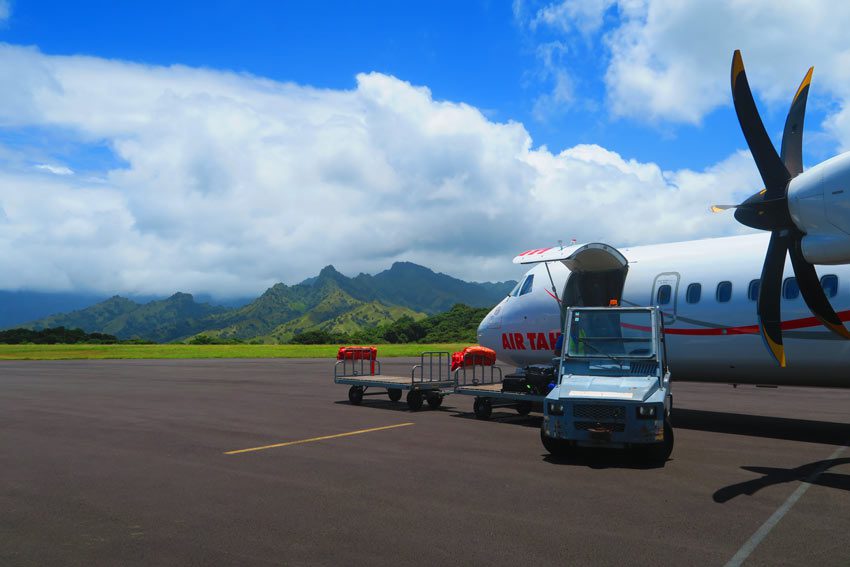 Cheap Accommodation & Food
Putting aside the five-star overwater bungalows that wrongly define French Polynesia, visitors to the islands can find affordable accommodations, certainly when compared to Hawaii's outrageous prices and even more so when you look at a world map and see where you're heading too. The best accommodation type for the independent traveler is by far the "pension". These family-owned sort-of-lodges can be very simple or quite fancy and will include the option of breakfast plus dinner in the price – a great way to taste the delicious local cuisine.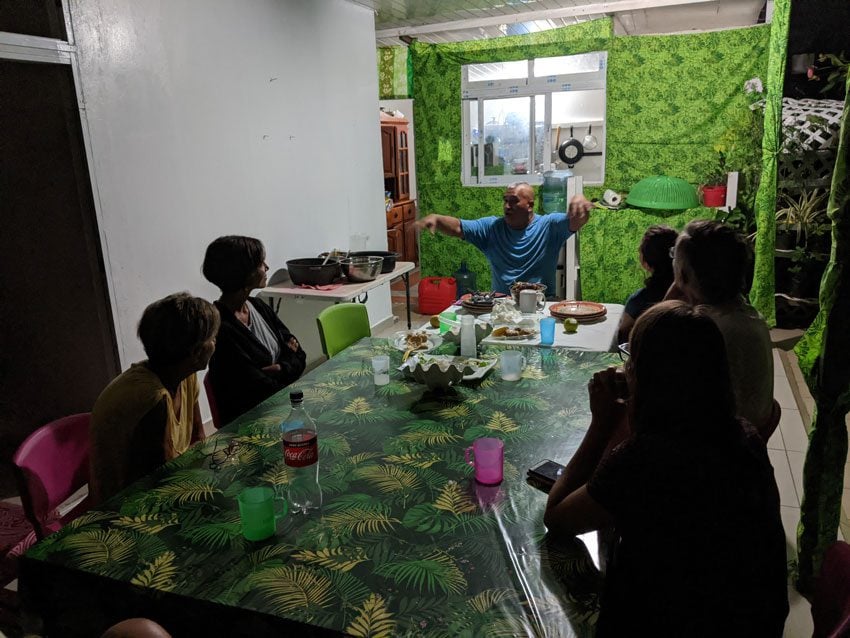 In the food department, I was shocked when asked to pay $8 for a coconut in Hawaii! I found those "authentic" farmers' markets in Hawaii to be (for the most part) totally fake, not to mention way overpriced. Moreover, how on Earth is it possible that an imported banana from South America costs less than a locally grown one in Kauai? In Tahiti, you might be faced with fewer options, but you can always find a simple meal for under $10 and local produce will always be quite cheap. The best is to buy fruit from roadside stalls, sandwiches (casse-croûte) for lunch, and dine in evening roulottes (food trucks).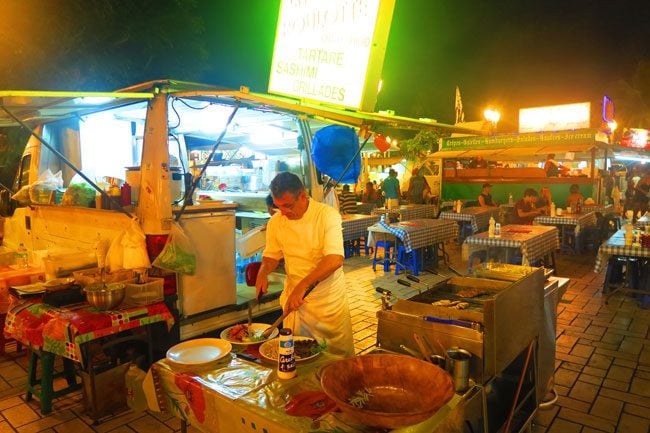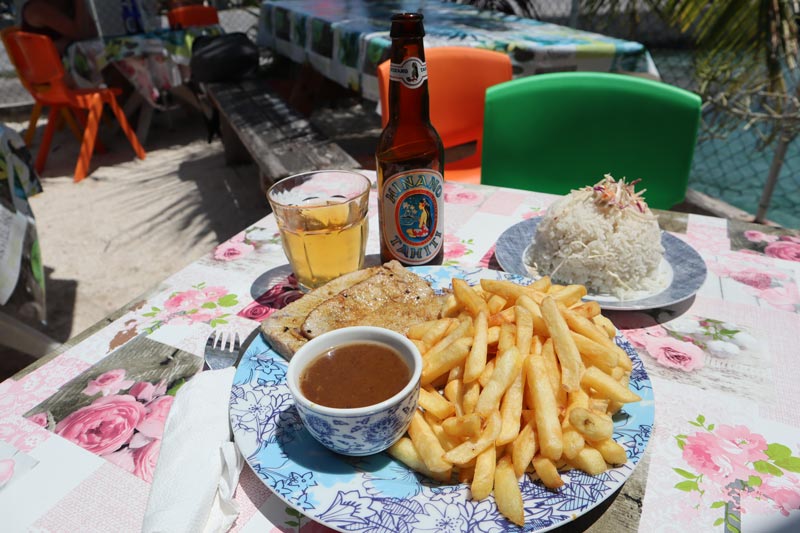 Authenticity
Here's another demographic statistic for you. In Hawaii, only 10% of the population is native Hawaiian and 23% are of mixed race – a.k.a "hapa". In Tahiti, about 60% of the population is native Polynesian and about 7% are of mixed race. What this means for the visitor to the islands of Tahiti is that you actually meet Tahitians! You don't have to go to a touristy luau show to see a real Polynesian. Sure, French influence has greatly changed Tahitians over the years, but it is nowhere as severe as to what happened in Hawaii. It isn't uncommon to hear Tahitians speaking Tahitian amongst themselves or to notice the "small things" like the unique island fashions, the physical and emotional gestures, and exotic beauty.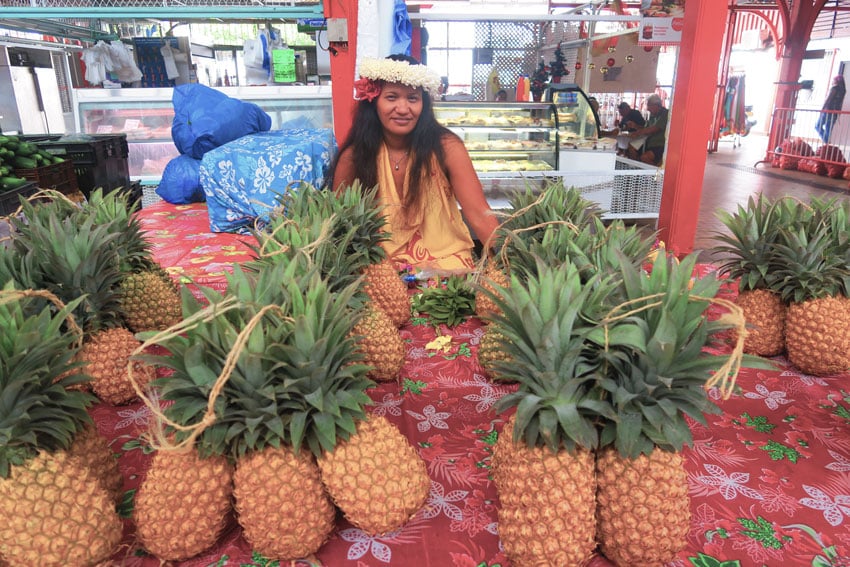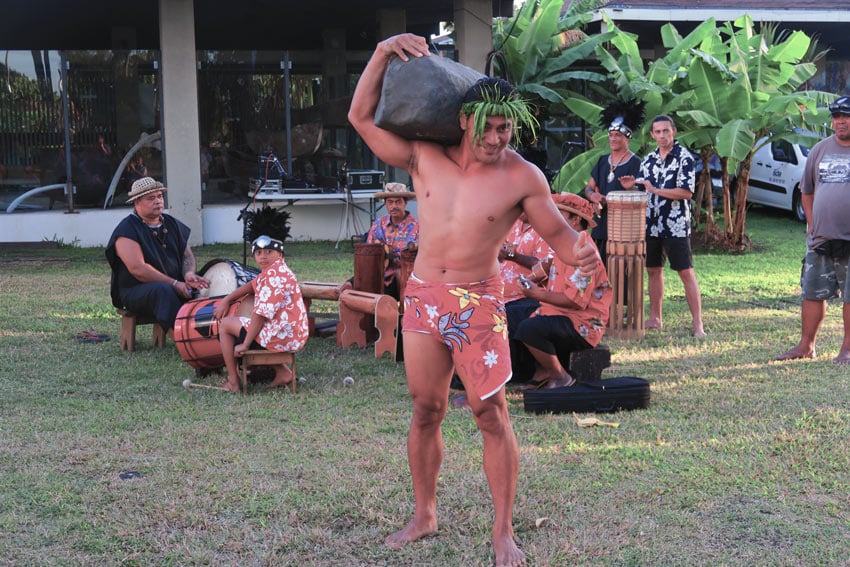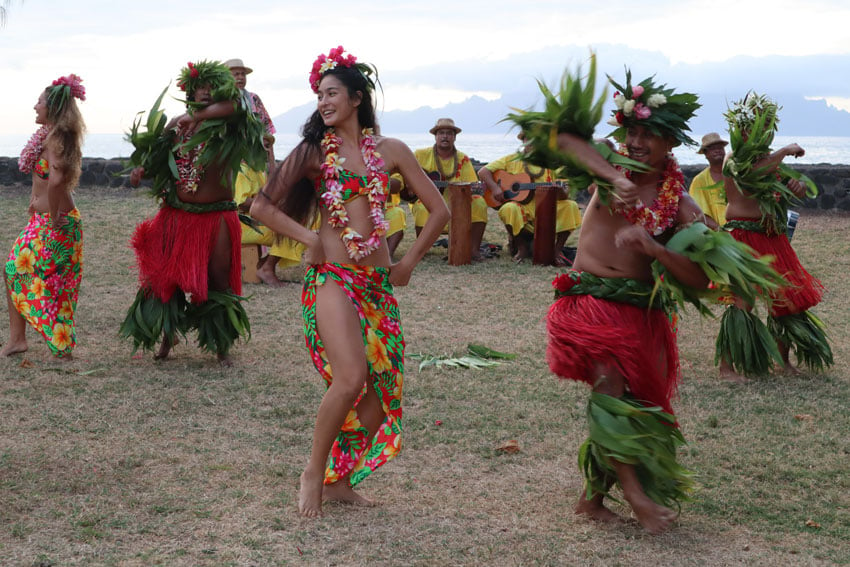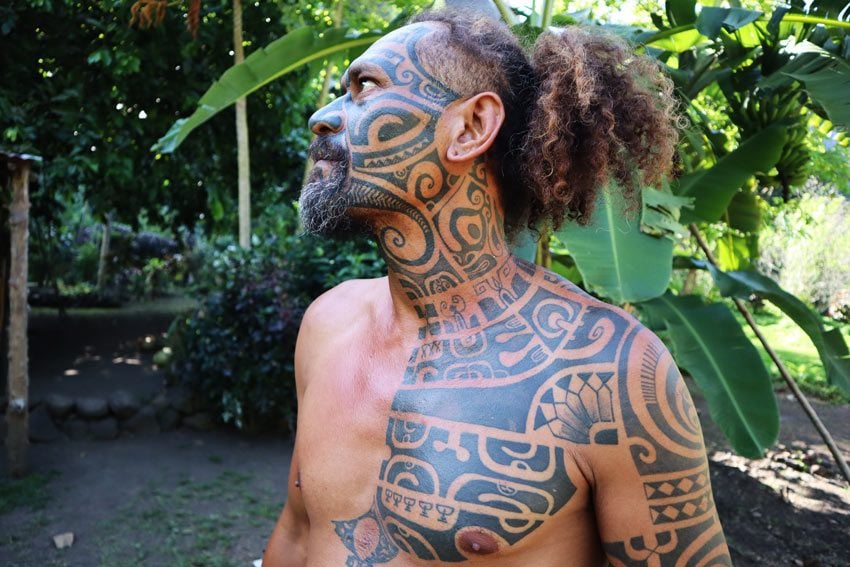 The Locals are Friendly
On the islands of Tahiti, locals often go out of their way to welcome tourists. They are truly happy to meet you and are passionate about sharing their way of life in paradise (only in Bora Bora, locals can be slightly less inviting). It's not only all about the tourism dollars, which are undoubtedly vital to the local economy. Tahitians are genuinely kind and eager to strike up a conversation with you if you just make a small effort. In Hawaii, it's difficult to find "real locals" and, when you do, they are not always that friendly. Some truly resent the transformation of their islands and culture under American statehood, and it isn't an uncommon sight to see the flag of the Kingdom of Hawaii (i.e. separatists' flag) hanging outside of homes and on (American-made) pickup trucks.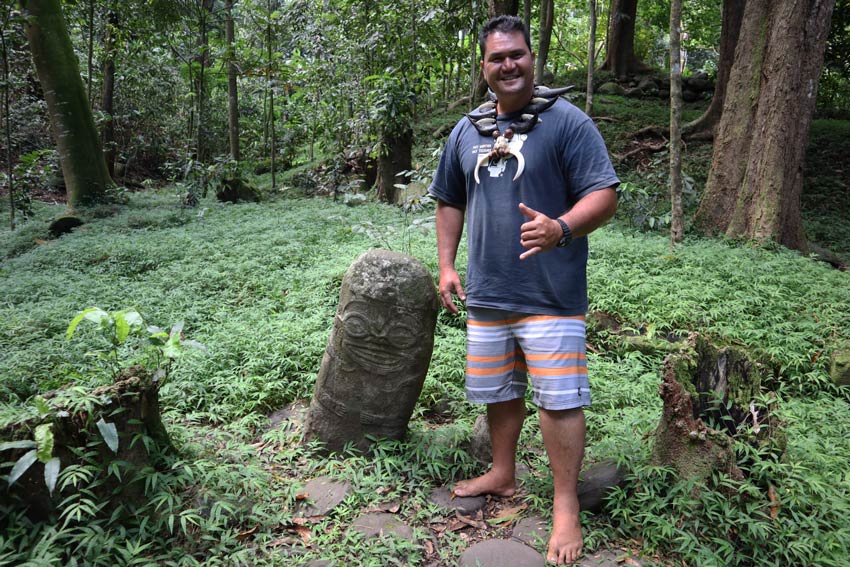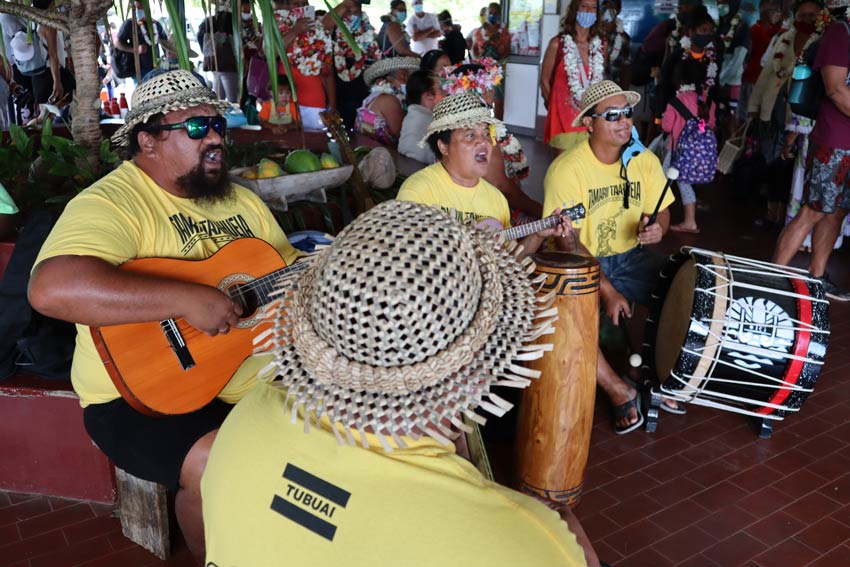 No Large Chains
With the exception of "metropolitan" Papeete, you will not find any familiar international (or French) chains in the islands of Tahiti. It's all about small, usually family-owned businesses, that remind you of what your shopping experience used to look like when you were a child. Though you can expect Western standards (more or less), things haven't really changed that much over the years in French Polynesia and it's all very beautiful to experience.
Stereotypically Tropical
The islands of Tahiti are your stereotypical paradise. The kind of images you see in travel magazines, computer screensavers, and desktop backgrounds – were probably all shot somewhere in this remote part of the world. In fact, the islands themselves are a lot prettier when you see them with your own eyes, and their pristine nature can often be all yours in the absence of mass tourism. That's when your other senses join the party and further amplify the paradise feeling. I'm talking about the smell of the sea salt mixing with humid air, the heavenly scent of flowers blooming everywhere, the fruit hanging from the trees, and fresh tuna tossed on the grill – to name just a few. Oh, and the locals… so exotic-looking and beautiful – a true feeling of visiting a parallel universe, nothing that you've ever seen before!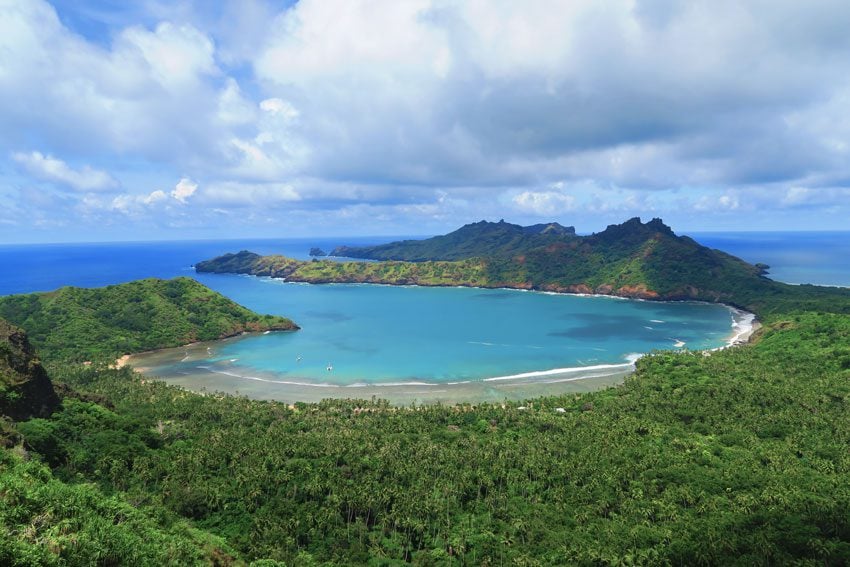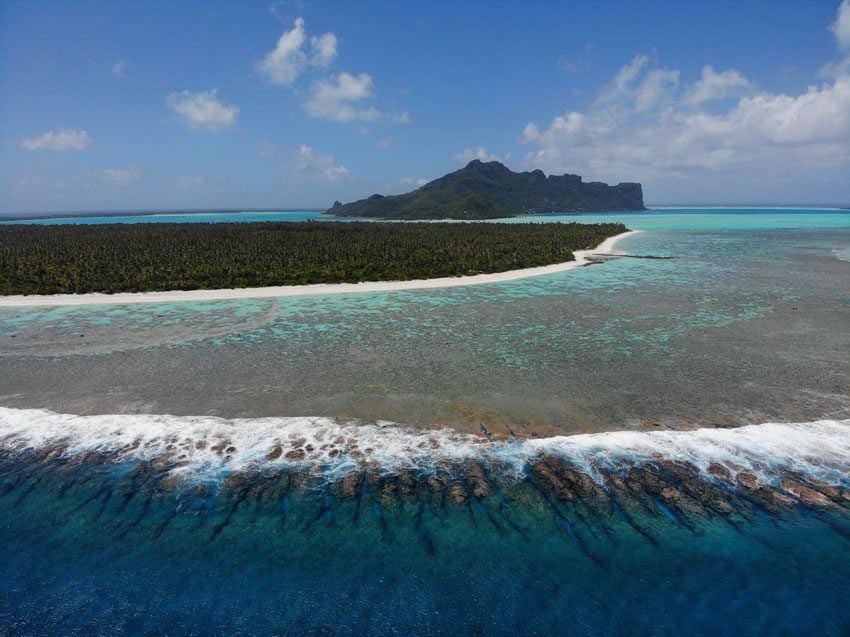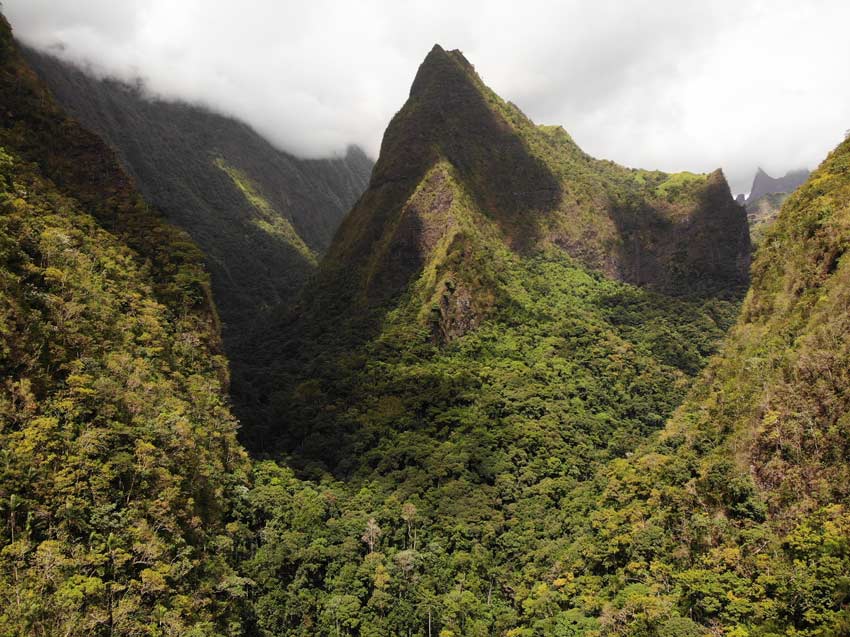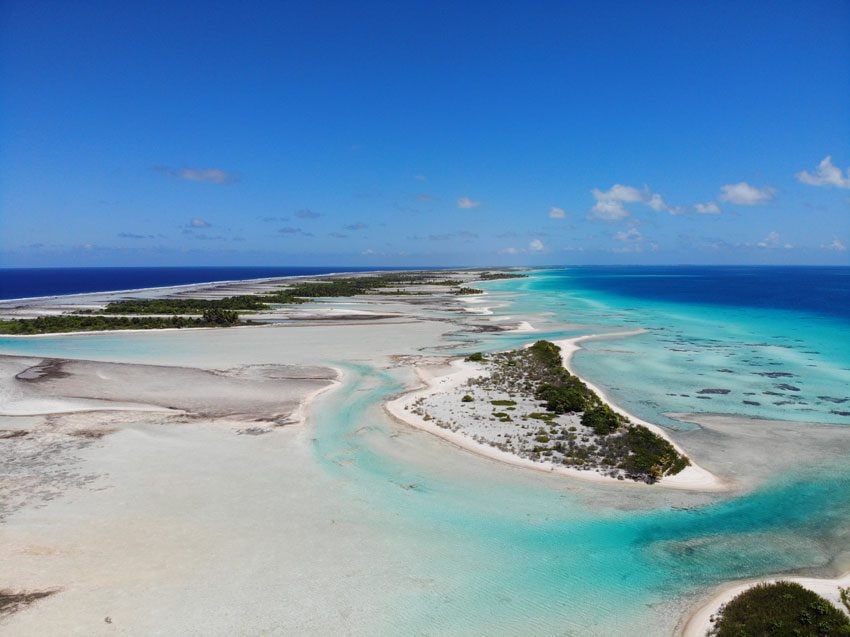 Diversity of Islands
The islands of Tahiti are comprised of 118 unique islands and atolls (65 of which are inhabited) that are spread across a vast distance of the South Pacific roughly the size of Europe! These islands are divided into five distinct archipelagos, providing visitors with the chance to travel to completely different worlds in a single voyage. In the Society Islands, high volcanic islands rise out of the ocean, each protected by a coral reef. In the Tuamotus, the largest chain of coral atolls in the world are all that remain once the islands sank to the ocean's depth. And in the distant Marquesas Islands, Mother Nature has been free to sculpt her finest work on these wild high islands that are not protected by a coral reef. In the southern Austral Islands, fertile islands are dotted with eerie limestone caves. The biggest question for the travel to French Polynesia is: which islands to visit?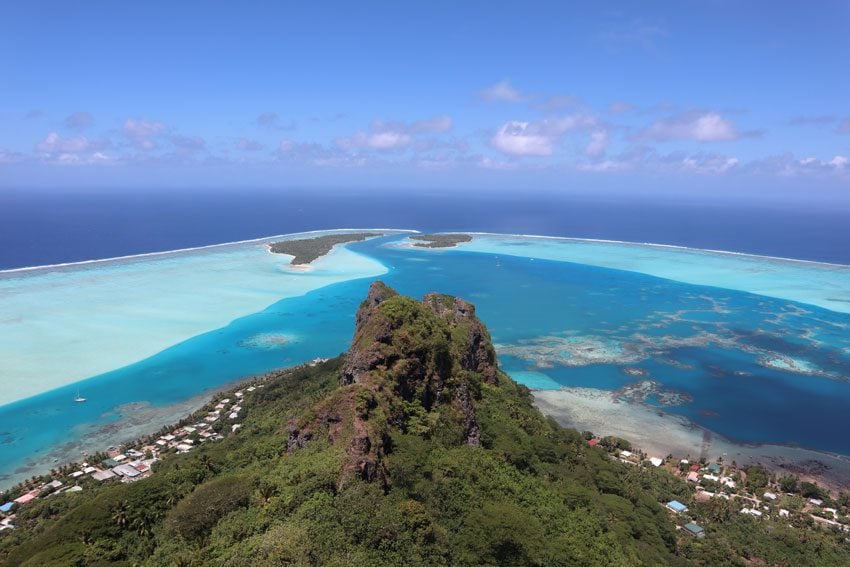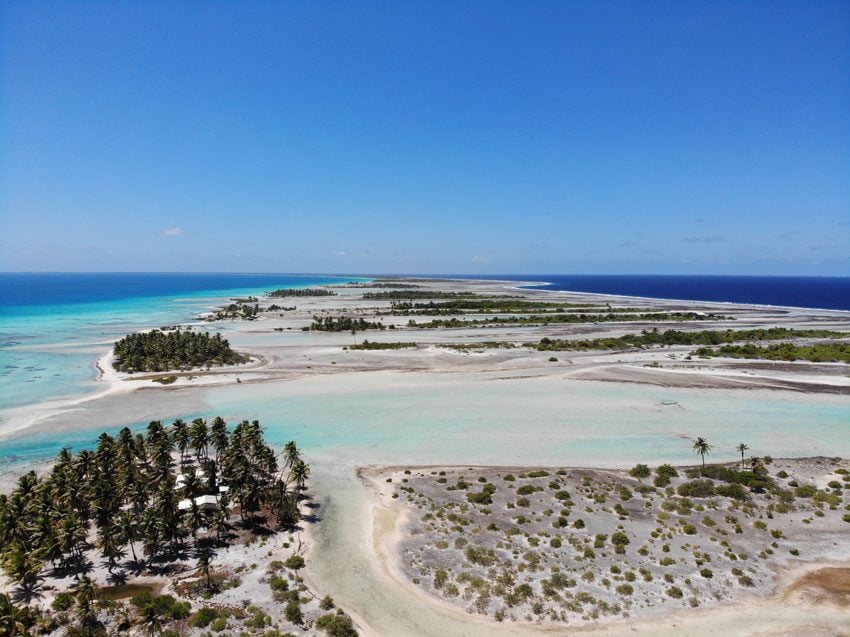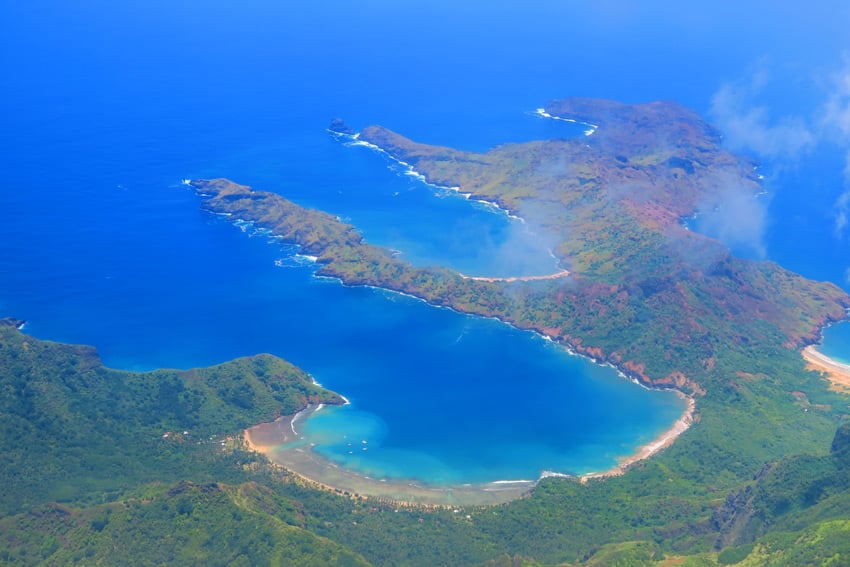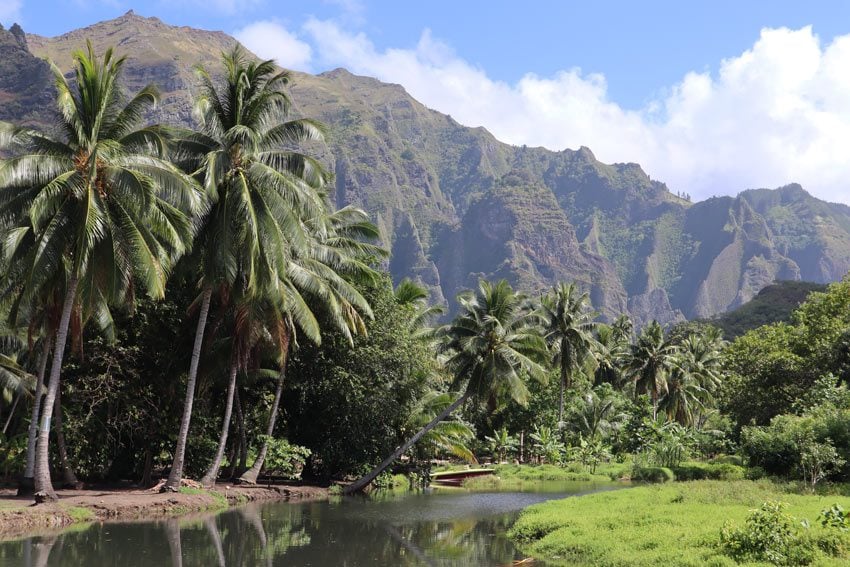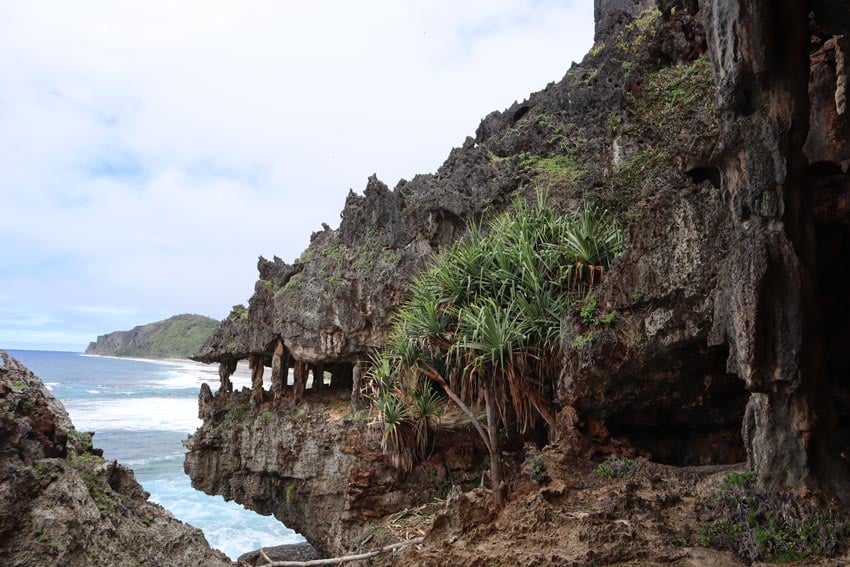 The Lagoons
Don't discount the importance of the next few lines. The lagoons which are found on most of the islands in French Polynesia are what make all the difference. In essence, they create an enormous "salty swimming pool" and protect the island from the violent forces of the ocean. They are the reason why overwater bungalows can be built, why the color of the water is out of this world, why you can snorkel just about anywhere, and why you can spend a few hours staring at the horizon and watch life go by. In contrast, the Hawaiian Islands have no protective reef (aside from the southern coast of Molokai). This means the swimming is rough, the beaches aren't as perfect, the snorkeling kind of sucks, and no overwater bungalows.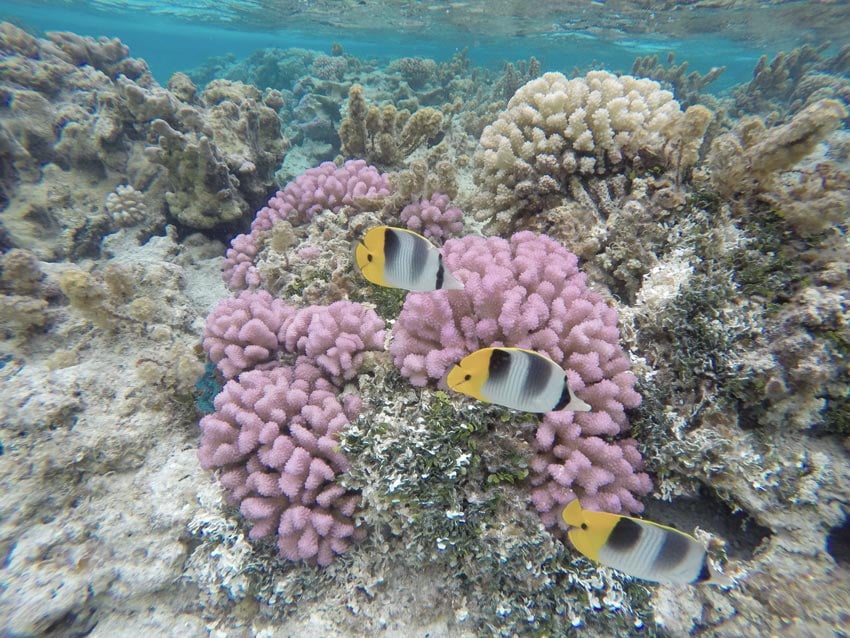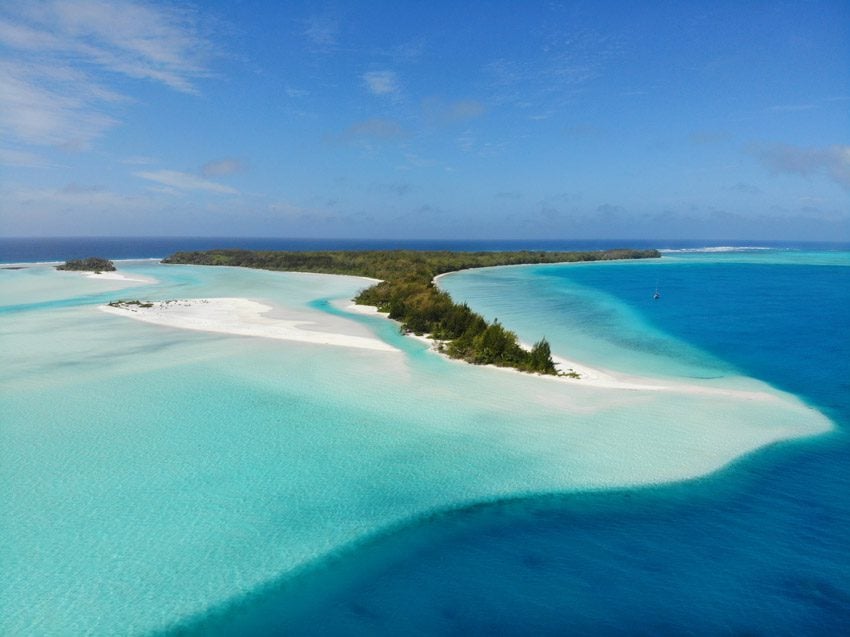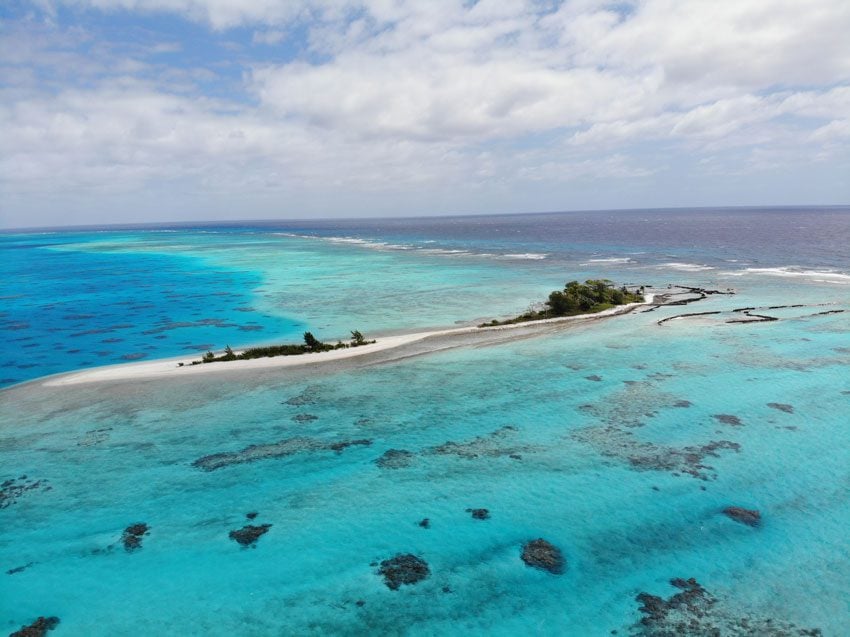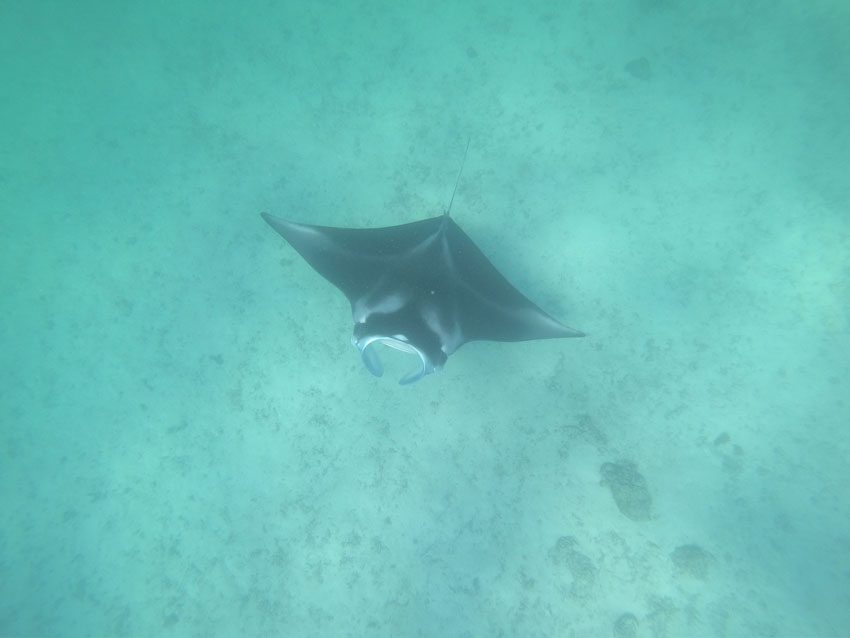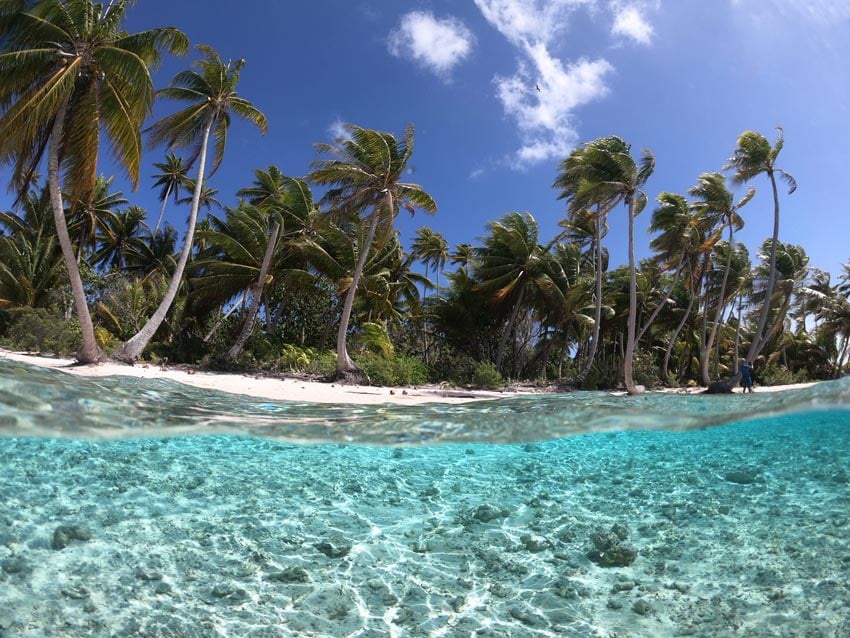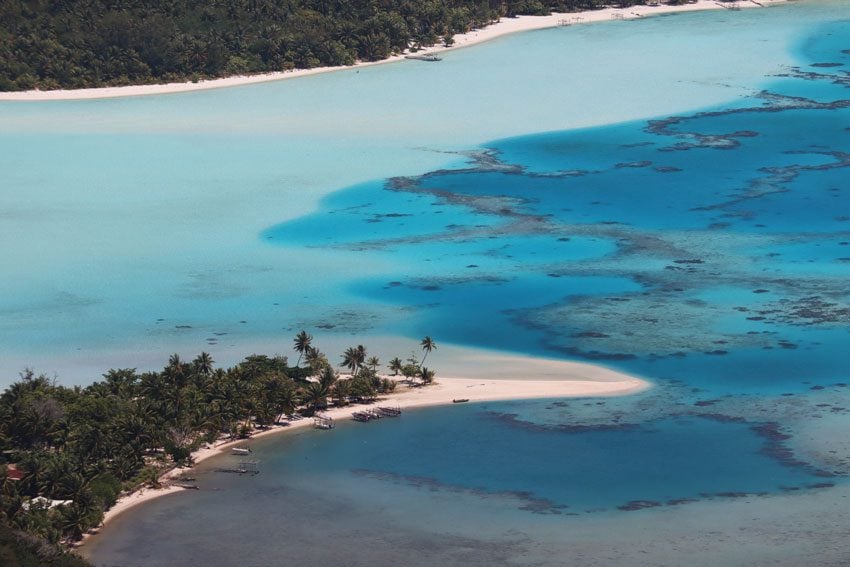 The Islands are Smaller
The islands of Tahiti are for the most part quite small when compared with those of Hawaii. But apart from Maupiti – which can be circled on foot in less than two hours – they are not that small. This means that hiring a car, scooter, or bicycle is the prime ingredient in a very pleasant road trip around the island. Driving times are just perfect for you to complete a circle island tour while stopping here and there to enjoy the sights.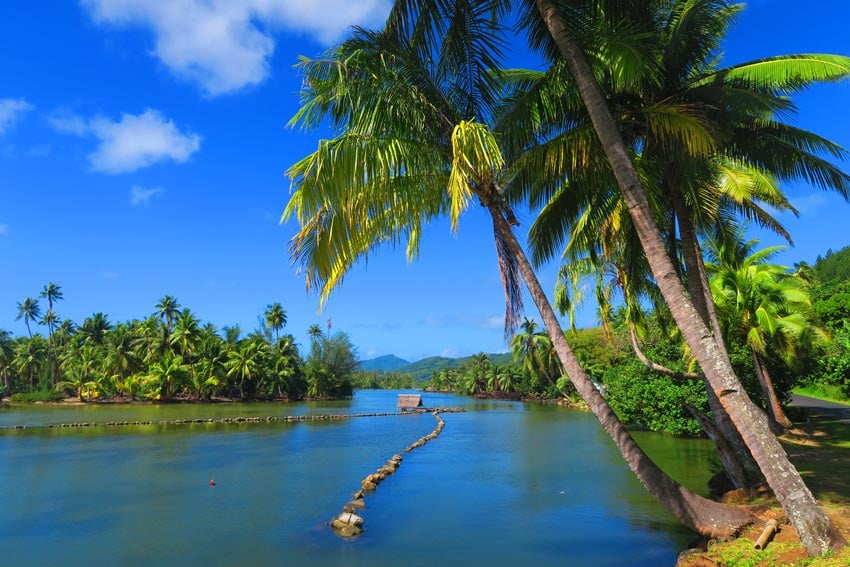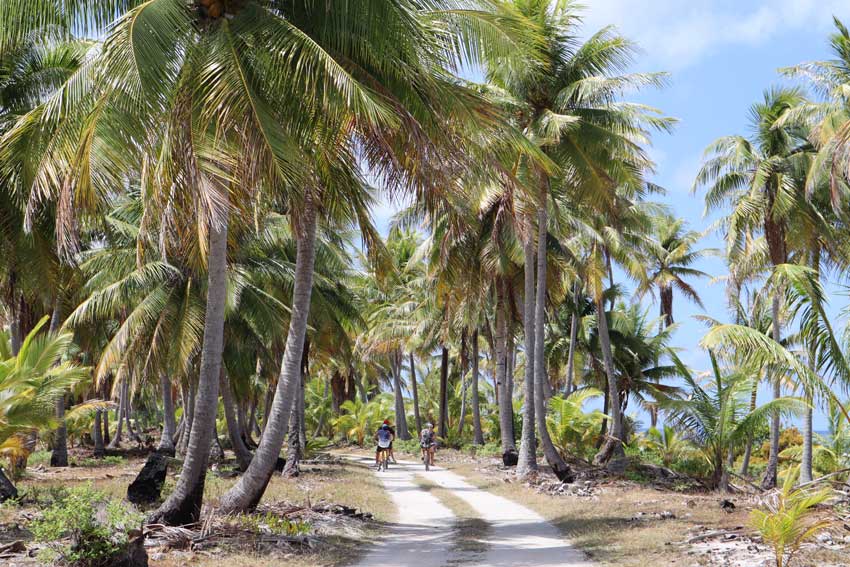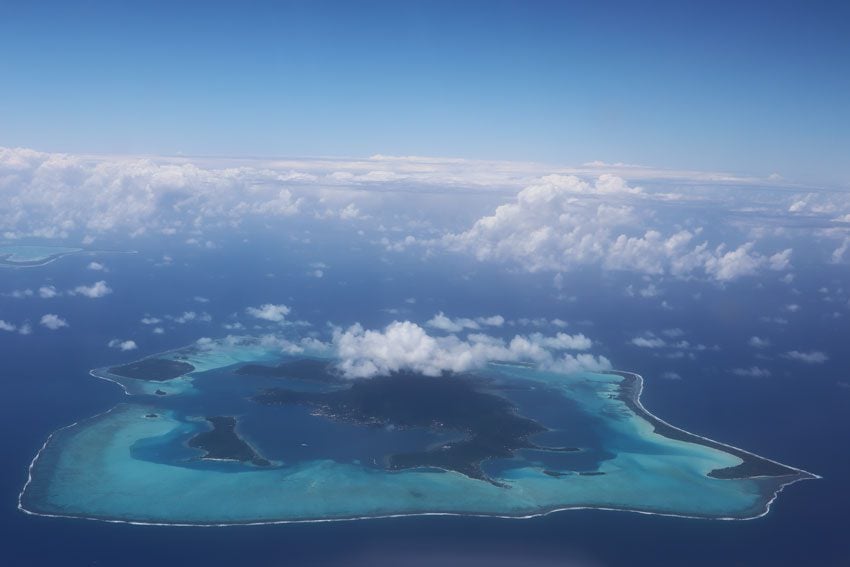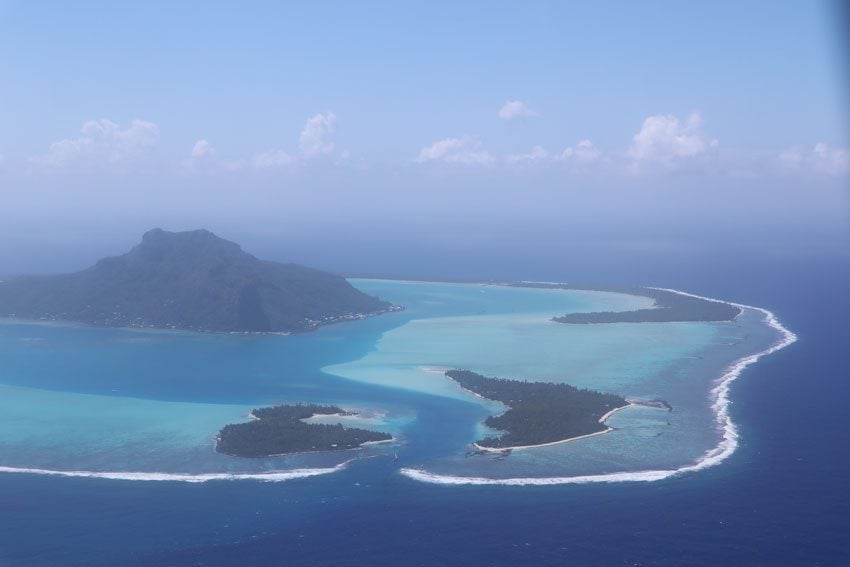 The Beaches
Though Hawaii has some pretty awesome beaches, they come nowhere near to what you find in French Polynesia. First of all, Hawaii's beaches are quite "sterile", meaning they're officially maintained by the county with all that comes with that: overuse of signs, concrete facilities, gated parking lots, etc. Secondly, the beaches in Hawaii aren't that great for swimming: the water is often rough, the temperature is slightly on the chilly side, and there isn't much to see underwater aside from rocks that you need to be careful of. In contrast, the beaches of French Polynesia are the stuff dreams are made of, and you'll often have them all to yourself!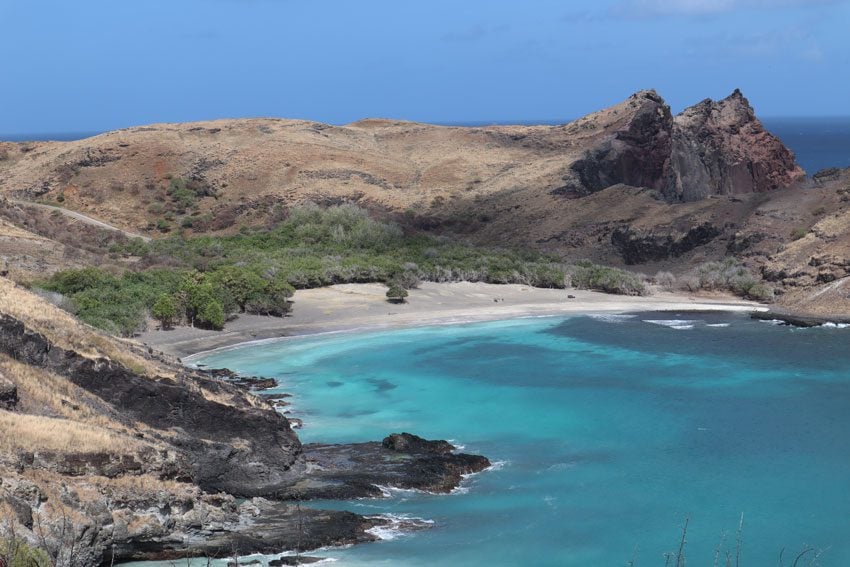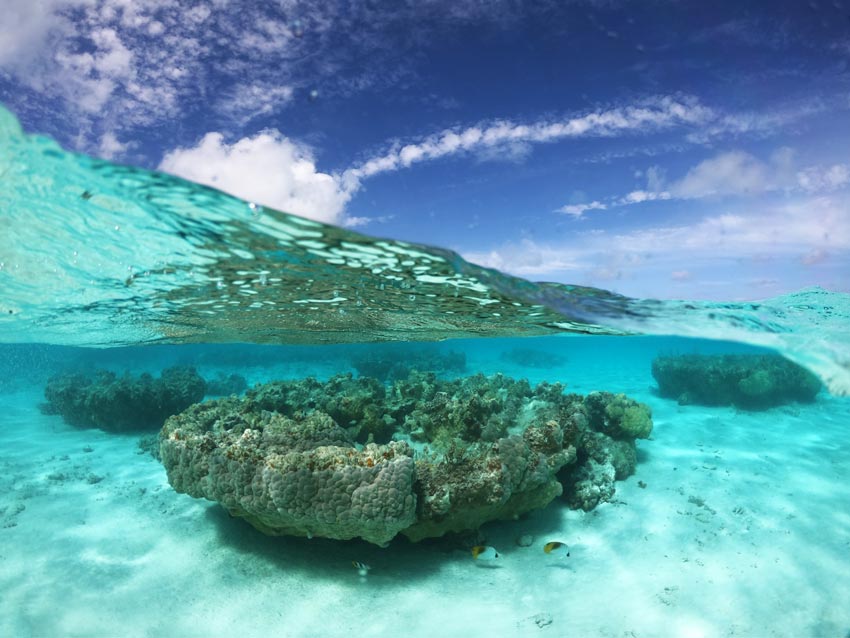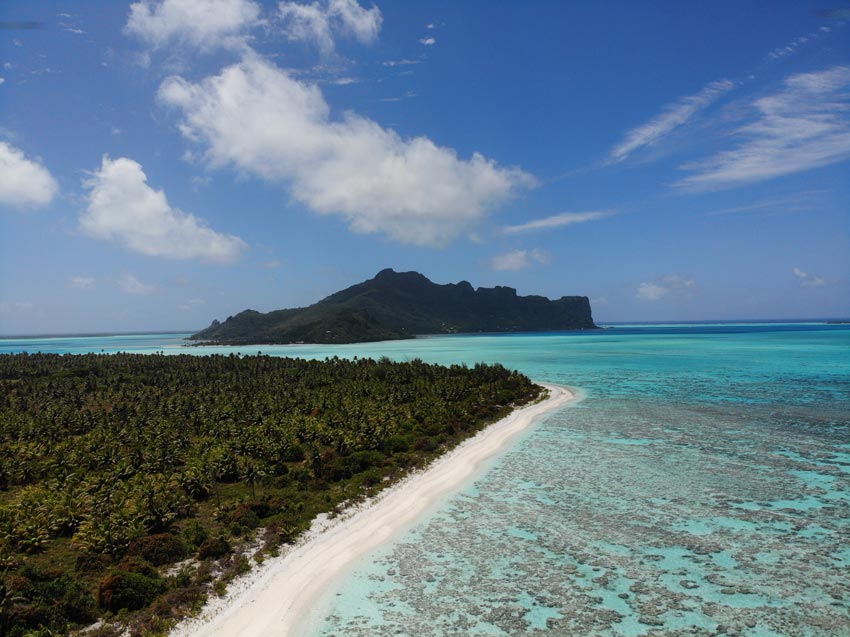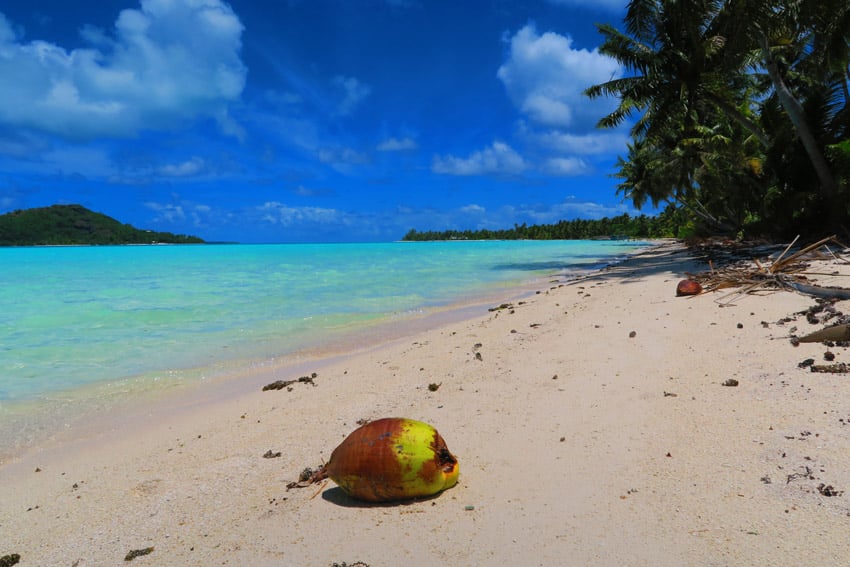 Snorkeling, Diving & Swimming With Whales
You don't have to travel very far to find a good snorkeling spot in French Polynesia. In fact, you should always have your mask and snorkel with you just in case. Snorkeling in the coral gardens just off the beach is a great way to kill a few hours and the spots reached by boat have the making of a memorable day which usually includes a picnic lunch on a small islet (motu). It isn't uncommon to snorkel with sharks, tropical fish of all colors, and even manta rays! In the scuba diving department, French Polynesia is home to some of the best dive sites in the world, both in the Society Islands but especially in the atolls of the Tuamotus (Rangiroa, Tikehau, and Fakarava). From July to October, humpback whales visit French Polynesia to enjoy the warm waters, give birth, and mate. The best island to see and swim with whales is Rurutu, in the southern Austral Islands.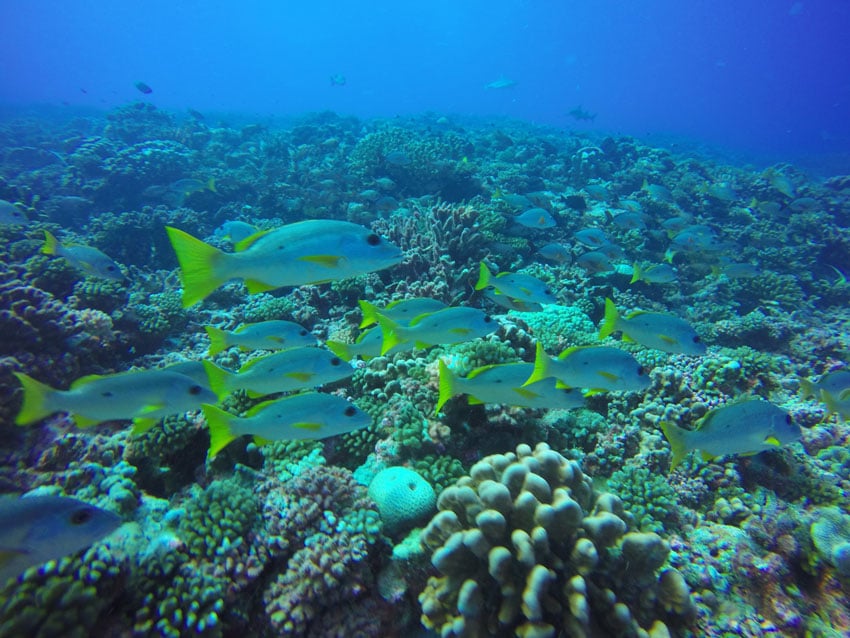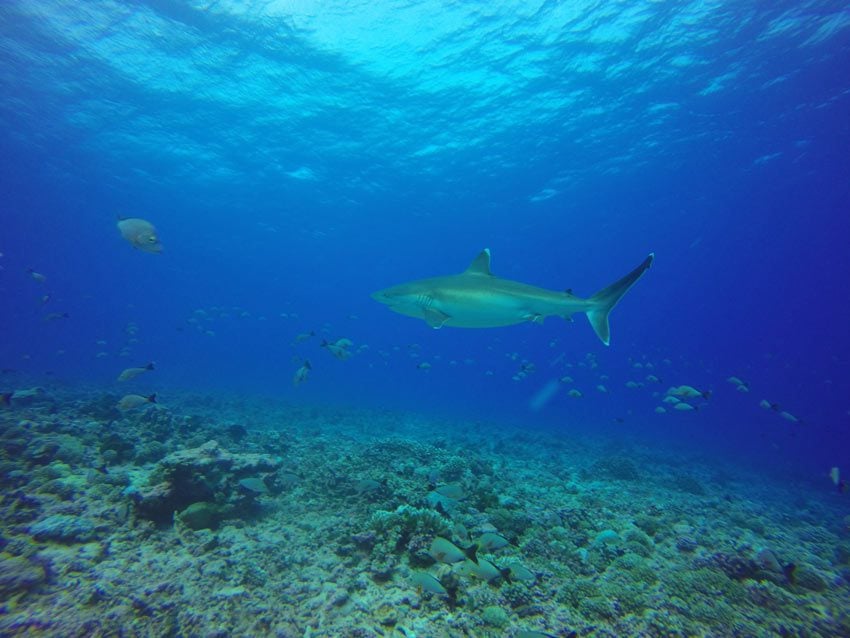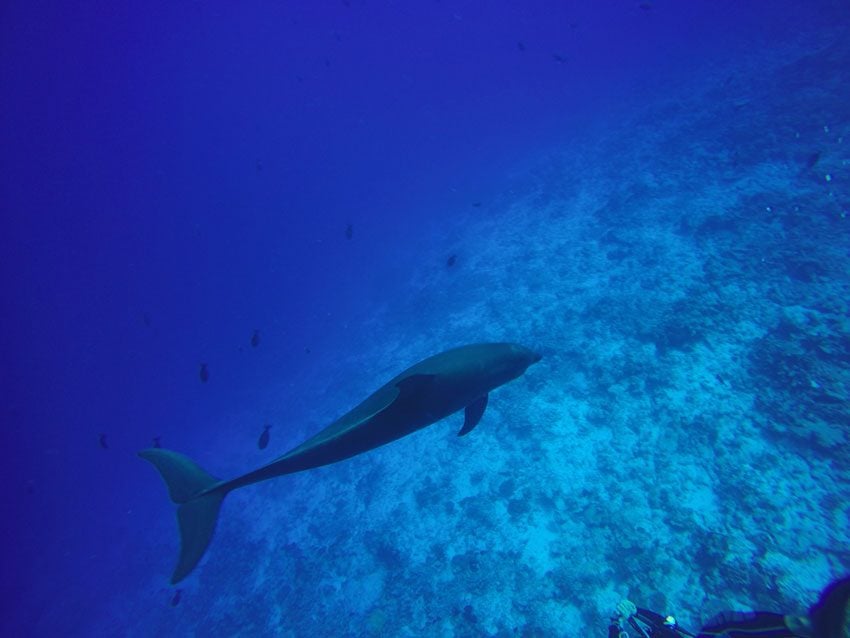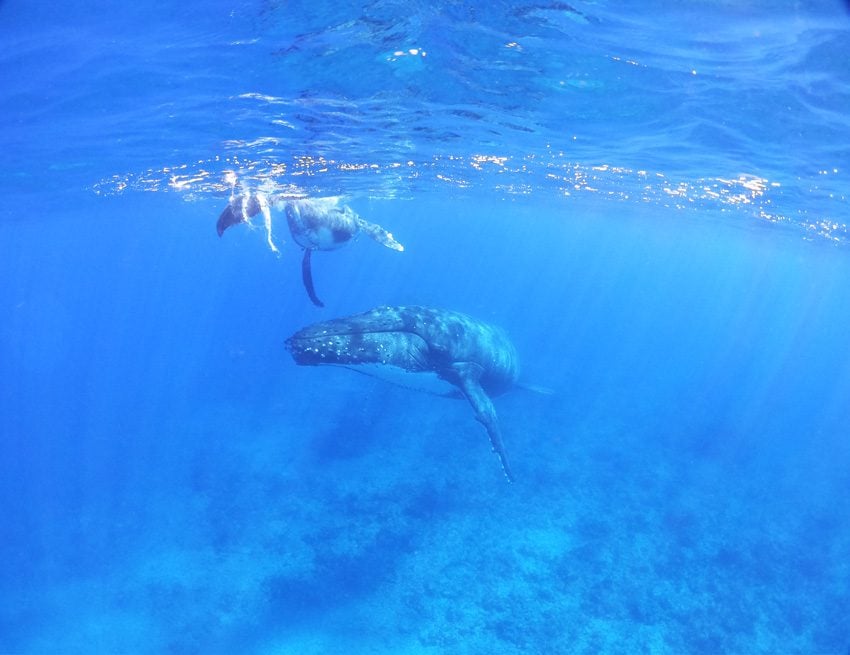 Ancient Temples
The ancient Polynesian temples in Tahiti – called marae – are a lot more impressive than the "pile of rocks" you usually see in the heiaus of Hawaii (no offense). In fact, French Polynesia is home to the most important ancient temple in the entire Polynesian Triangle – Marae Taputapuatea in Raiatea – and the best-preserved "tiki-statue" temples in both Nuku Hiva and Hiva Oa.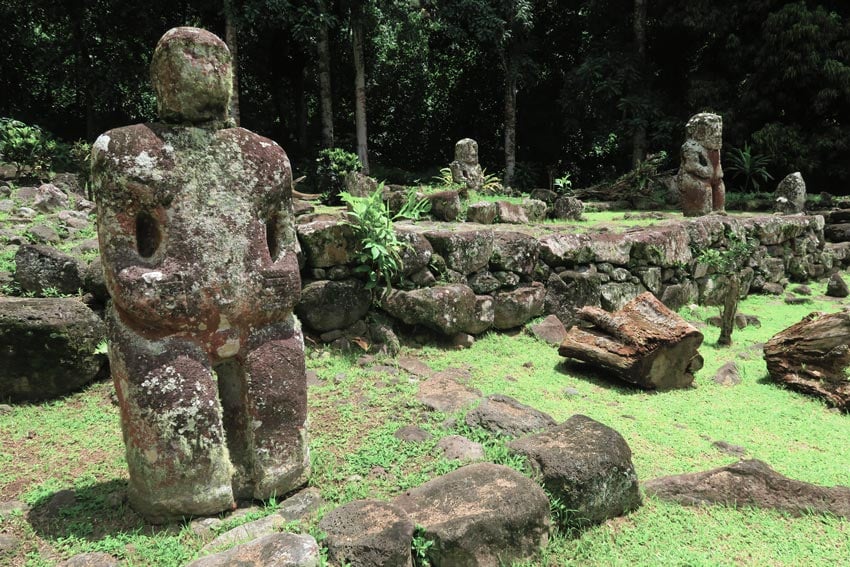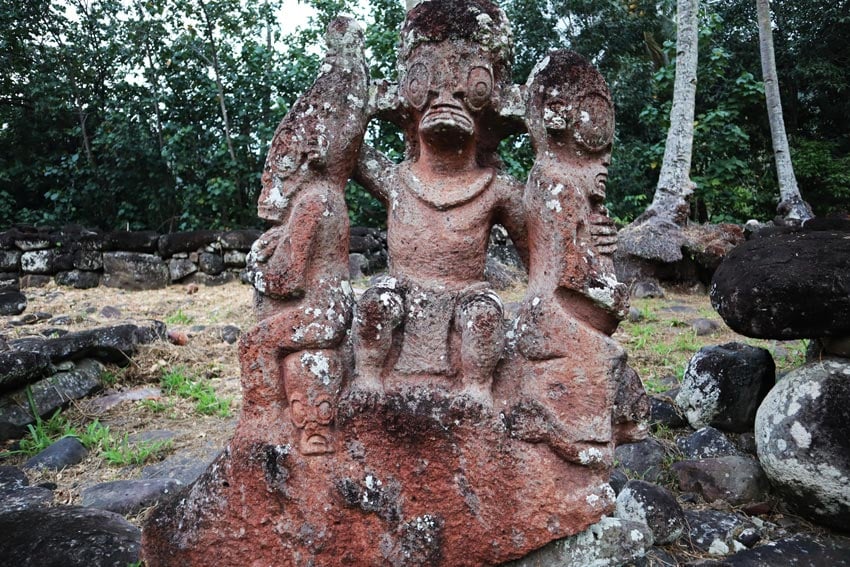 Edge of the World Feeling
I probably mentioned this already but I just want to stress this again. The nature in the islands of Tahiti might be on par with that of Hawaii, but the main difference is that you'll often have it all to yourself. Enough said, right?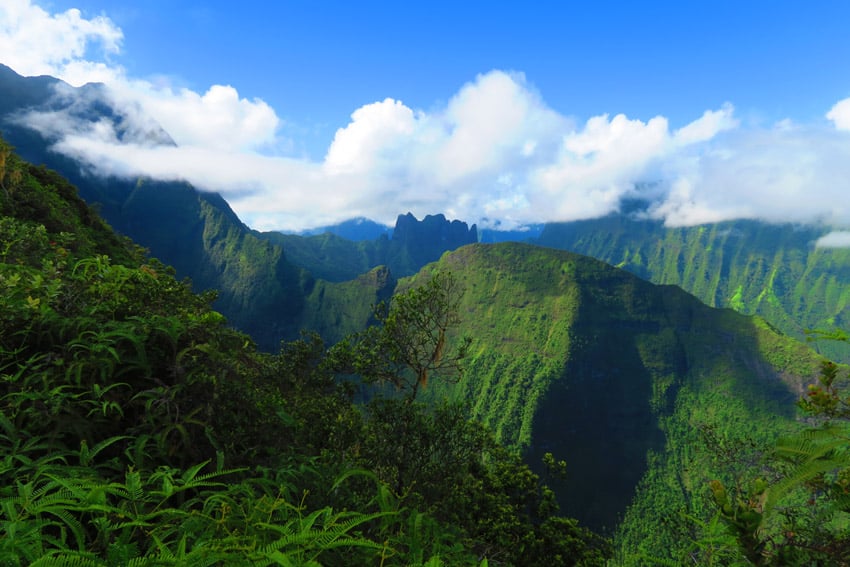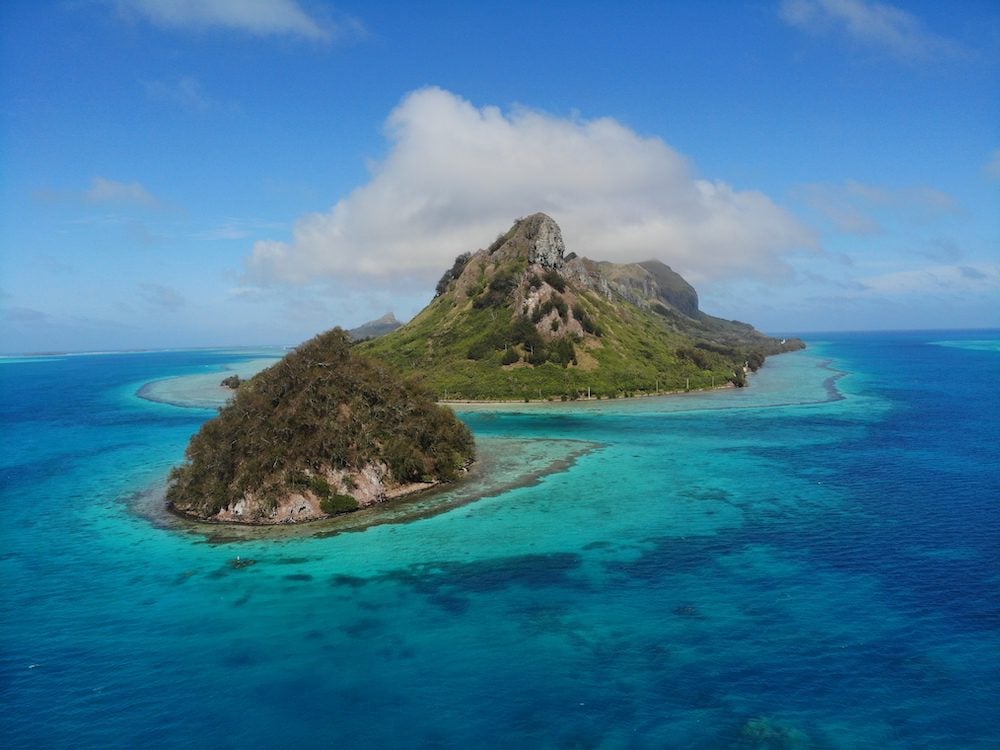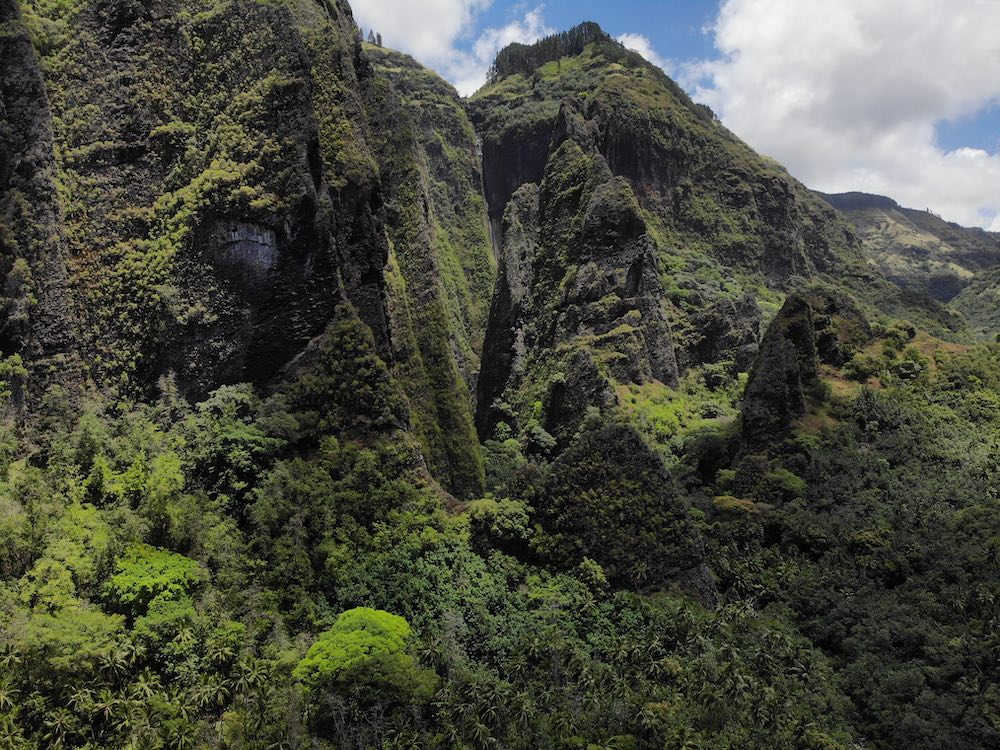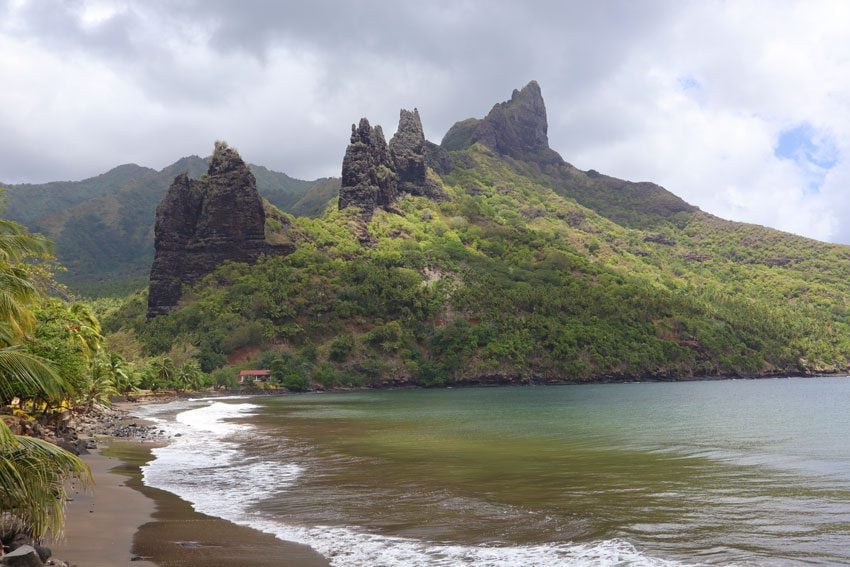 So What's The Verdict: Hawaii or Tahiti?
There's no question in my mind: Tahiti easily trumps Hawaii in the quest for the ultimate paradise vacation. And though you might find cheaper airfare to get you to Hawaii, my experience tells me that Tahiti is actually cheaper than Hawaii for travelers. Investing just a few more hours on the plane and having to practice your French is well worth the effort! If you feel the same way and want to plan the ultimate escape to French Polynesia, get in touch, and let's plan a tailor-made experience that exceeds your wildest dreams of paradise.
---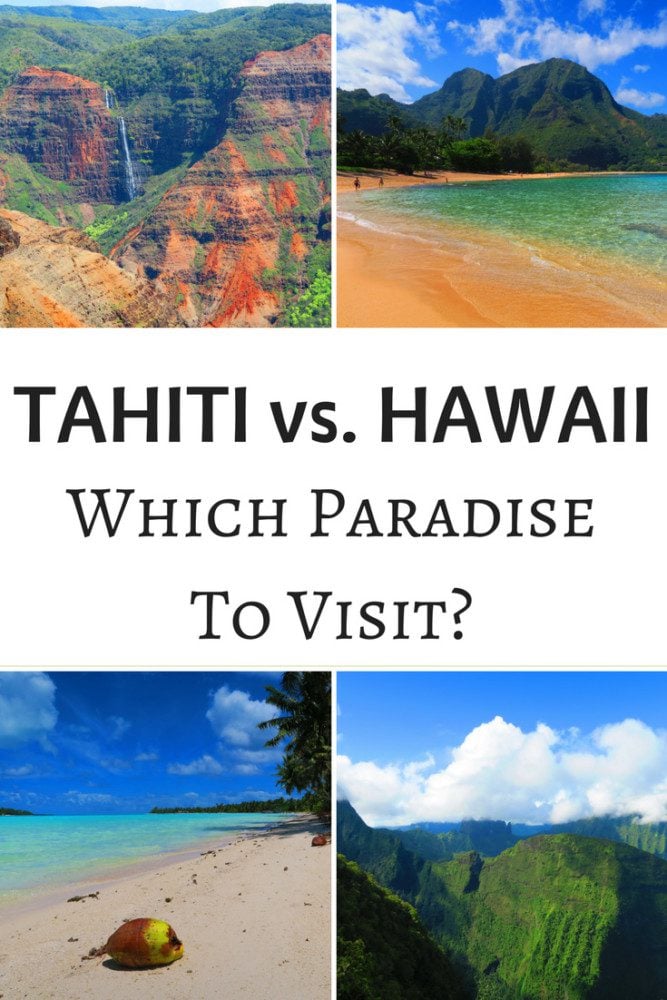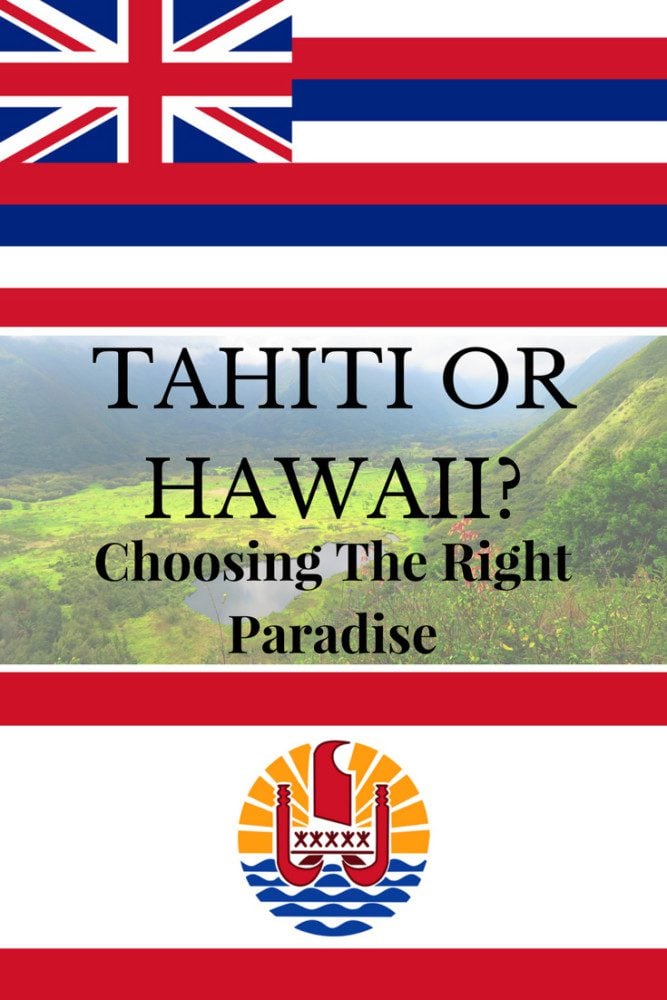 Pin These Images To Your Favorite Boards!