How To Island Hop In The South Pacific Islands
If you're reading this guide, it means you're about to fulfill a wonderful dream. Island hopping in the remote South Pacific islands is not a trip undertaken by many, but this is all part of the allure. With risk comes reward and in this part of the planet it means encounters with exotic cultures and spending every minute of every day in a state of complete amazement. Mother nature and the islands' pioneers have created some of the most unique places one can ever visit (at least until tours to Mars begin). If you're wondering how to island hop in the South Pacific islands – you've come to the right place!
In 2015, I left a comfortable job at Google and embarked on a six-month voyage across the South Pacific. I visited 21 islands in 5 countries, coming up just 4,253 km short of circling the Earth twice! That was my first prolonged experience with a region where I found my personal paradise.
Click to enlarge
I used this opportunity to write and publish in-depth travel guides for independent travelers so that everyone could have the chance to experience the same magic that took over my life. Since then, I have made four additional trips to the South Pacific, back to my favorite islands in French Polynesia, and on two occasions, led group expeditions on a cruise from Tahiti to Easter Island.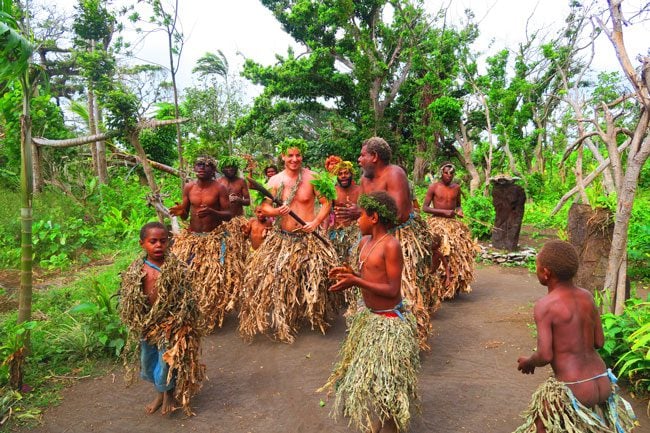 Quick Reads
In a Nutshell: How to Island Hop in the South Pacific?
What's Inside this South Pacific Island-Hopping Guide?
This island hopping guide to backpacking in the South Pacific Islands covers the basic things one needs to know before planning a trip to this remote region. Inside, you'll find links to valuable resources to help you get started.
When is the Best Time to Go?
Weather is the most crucial factor when planning a trip to the South Pacific islands. The islands experience a dry and wet season, each having its pros and cons for travelers. I started my journey at the end of the dry season in Vanuatu and finished during the heart of the wet season in French Polynesia. Unfortunately, climate change and the occasional El Nino season have made weather more unpredictable in the South Pacific. But to get a sense of what you're up against, here's an overview.
Dry season (April – October)
Pros
The weather is excellent

: cyclone season is in the books, rain is less frequent, it's a lot less humid,

and most importantly – the jaw-dropping skyline of the high islands is free from cloud cover.

It's festival time: from the land diving on Pentecost Island (Vanuatu) to the Polynesian celebration of the Heiva (French Polynesia).

Humpback whales visit the warm waters of the South Pacific between June-October.

The southeasterly trade wind is blowing, and the pampering breeze keeps the mosquitos at bay.

Did I already mention the weather is great?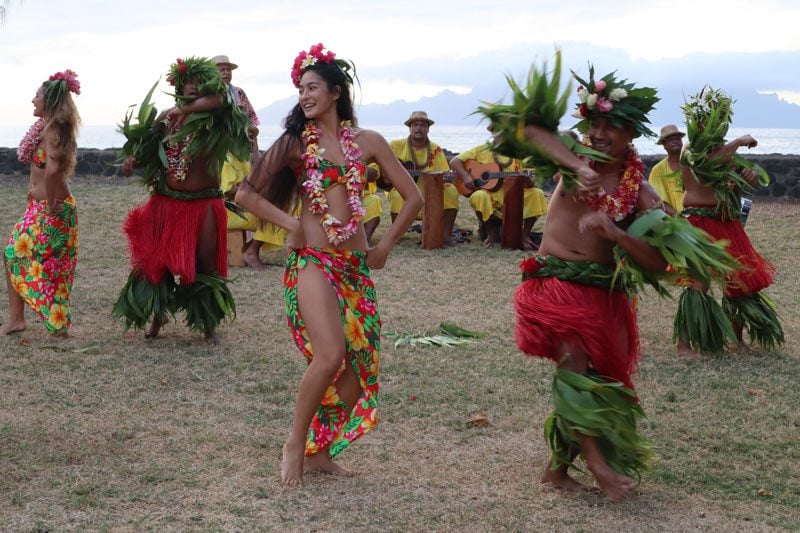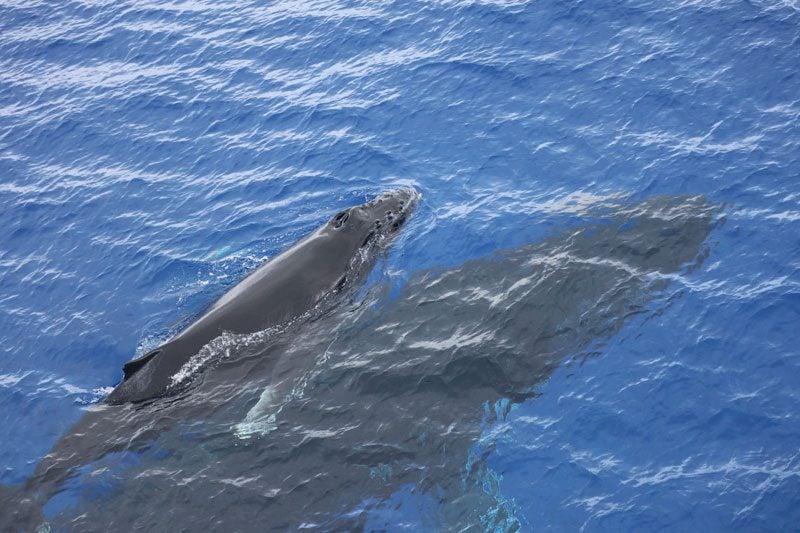 Cons
It's the

high season: accommodations and flights are expensive, good deals are hard to come by, and advanced bookings are a must.
Though by no means overcrowded, you will have to share the beaches and hiking trails with others.
The water temperature is a bit cooler,

and you might even need something warm for the evenings.

With the breeze come choppy lagoon waters.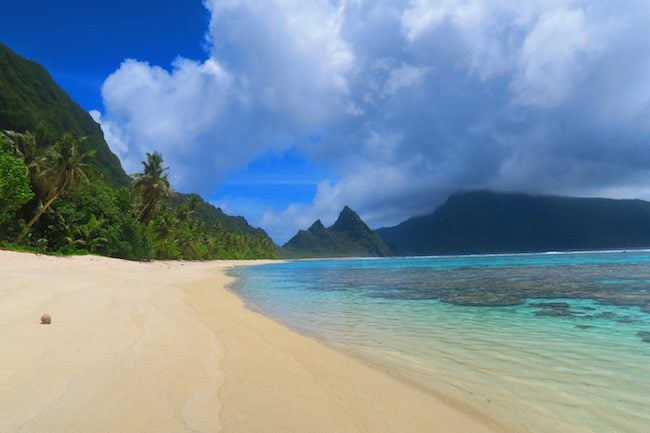 Wet season (November – March)
Pros
It's low season: everything is cheaper, availability is greater and advanced bookings are

not always needed.
Rain + mountains = waterfalls and lots of fruit!
It doesn't rain all the time!!! There's still plenty of sunshine and sometimes even for long stretches.
You won't be the only tourist around, but the crowds are definitely gone. So it

shouldn't be a problem getting lost on almost every island.
Cons
It's

cyclone season, and though rare – storms do occasionally make landfall. I visited Tanna Island in Vanuatu a year after Cyclone Pam destroyed it and personally experienced in

Rarotonga

the tail end of a weak cyclone hitting 'nearby'

Samoa

. The storm lasts a few nasty days, and there are not too many indoor activities on the islands (bring plenty of books, a deck of cards, and movies).

Putting the rare cyclones aside: if your visit is short and mother nature decided to water her plants (and she will) – it can kind of suck! You'll be checking

Windguru

all the time.

Excursions and flights might get canceled or postponed in case of bad weather.

You'll be sweating a lot: high humidity and temperatures around 30 degrees Celsius. Mosquitos love this kind of weather.

There isn't much wind during a typical day: moisture in the air rises to form clouds covering the mountaintops (not optimal for photos). That said, early mornings are usually clear, you will get the occasional super clear day, and the low-lying beach areas usually remain cloud-free.

It's Christmas time: Pacific Islanders and holiday tourists create a short-lived 'peak season.' Flights fill up quickly, and resort prices skyrocket.
Bottom line: each season has its pros and cons. For backpackers on long journeys in the South Pacific, fear not the wet season but plan to swiftly move in an eastbound direction and out of the cyclone hot zone by December (New Caledonia to Samoa). For travelers on short holidays, it's really a hit or miss. I met folks who came a long way for a week of holidays and had four days of rain… Here's a tip: the shoulder seasons (September-October + April-May) are also excellent times to visit.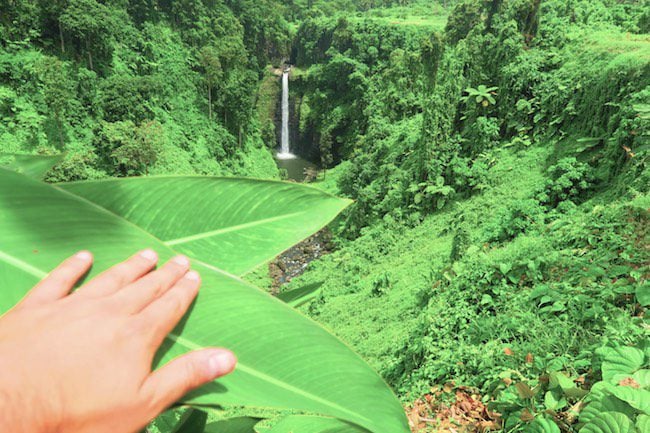 How Much Does it Cost?
Though paradise does come with a price tag, island-hopping in the South Pacific islands is totally within reach. While the biggest hurdle is the cost of getting there, you'll discover that travel on every budget is possible – especially if you're a couple. While some islands better cater to budget travelers than others, those annoying 'bucket-list' photos of ultra-luxurious resorts aren't the only game in town. The South Pacific is definitely not just for the rich and famous or honeymooners.
Now, it is crucial to set expectations with yourself: this is not Southeast Asia! The islands' remoteness and other factors significantly add to the usual costs. But if you've always dreamed of visiting this magical part of the world – the way you think about this trip will be different.
To make things easier for you, I created a spreadsheet that details how much it costs to island hop in the South Pacific. The data was meticulously gathered during my 6-month backpacking trip (2015-2016 prices). Note that in my case, I made a point of experiencing a wide range of activities and accommodations for the sake of being able to write about them objectively.
In this spreadsheet, you'll see:
A breakdown of each cost item in multiple currencies

Comments and tips so you can estimate costs for your travel style

Charts to visualize the time and money invested in each destination

Detailed cost breakdown for individual countries
Knowledge is power, so use this South Pacific cost breakdown to know what you're up against!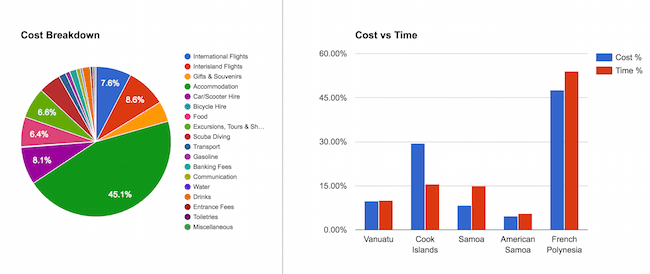 Which Islands to Visit in the South Pacific?
Let me start by clearly saying that no two islands are ever the same! The exotic cultures that developed in relative isolation on islands so uniquely sculpted by nature – meaning that every island has its personality. Think of the Pacific islands as one large family: no two siblings are entirely alike. Here's my personal list of the best South Pacific islands, and though I have met a few travel "junkies" out on a quest to visit every country on the planet, I wouldn't recommend trying to squeeze as many stops as possible in one short visit. Here's what I do recommend:
Take things slow

and avoid simply ticking an island off a checklist. The South Pacific is as close to paradise as it gets, so leave enough time for sightseeing, relaxing, and immersing yourself in island life.

Choose which island to visit based on where you are in the world and how 'easy' it is to get there (both in terms of time and money).

To take two steps forward, be prepared to take one step back. What the heck do I mean? Unfortunately, you can't just fly in one direction and stop whenever you want. In addition, not all countries are connected via direct flights, and you will need to connect (usually overnighting) in hubs such as Auckland and Nadi. See "getting to the islands" for more information.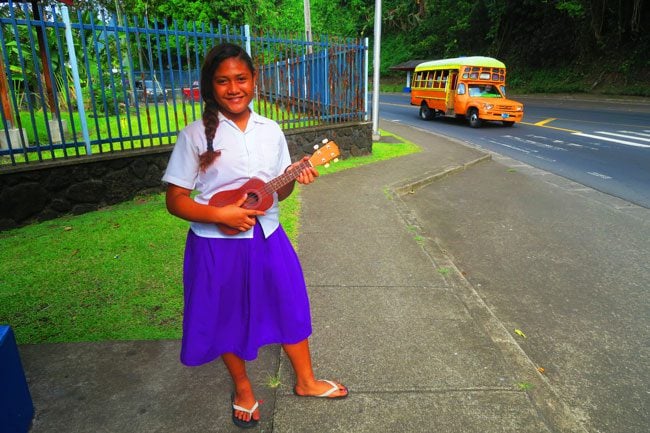 Listed below are South Pacific destinations that do go well together as far as direct flights. Keep in mind, however, that South Pacific air routes frequently change, for better and for worse:
New Caledonia <> Vanuatu <> Fiji <> Samoa

Samoa <> Tonga <> American Samoa <> Hawaii

Cook Islands <> French Polynesia <> Hawaii or Easter Island

Fiji <> Tonga

New Caledonia <> Wallis & Futuna <> French Polynesia <> Hawaii or Easter Island
Here's an overview of a few popular destinations starting from east to west:
New Caledonia: a very expensive-to-visit French Overseas Territory. Its main island is home to a proper city, excellent water sports, and plenty of space for road trips and hikes. A short trip from the main island brings you to Ile de Pins – an absolute beauty. New Caledonia is not the most popular South Pacific destination, frequented mainly by French visitors.
Vanuatu: a charming and diverse destination that's easily accessed from Australia. Vanuatu is little developed, and its people are among the friendliest you'll ever meet. While getting around the islands is costly, each is a world of its own. Vanuatu is great for families, wreck diving and WWII relics, cultural discovery (the tribes of Tanna or the Land Divers of Pentecost), beaches, and active volcanoes. Here are the top 10 things to do in Vanuatu.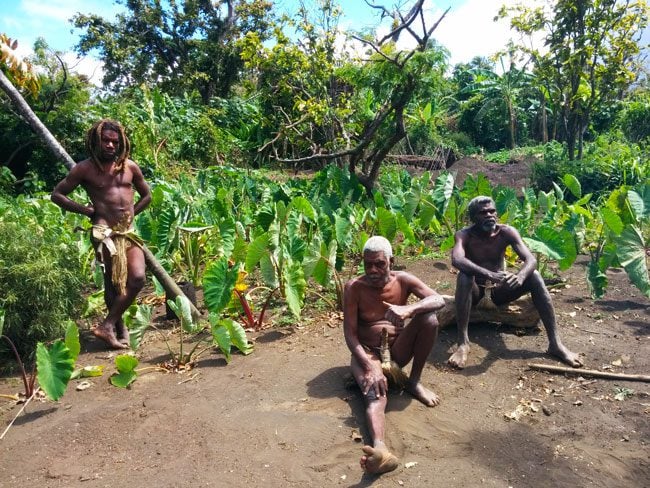 Fiji: well geared for tourism, Fiji's 100+ inhabited islands cater to backpackers, luxury travelers, and everything in between. Locals are friendly, prices are reasonable, and there's anything and everything to be found on the islands. Fiji is to the South Pacific what Thailand is for Southeast Asia: with accessibility and variety come the masses. This doesn't mean you can't 'get lost' in Fiji, but it's not the lucrative badge it used to be. So if you're backpacking in Australia or New Zealand and seeking a tropical escape – look no further.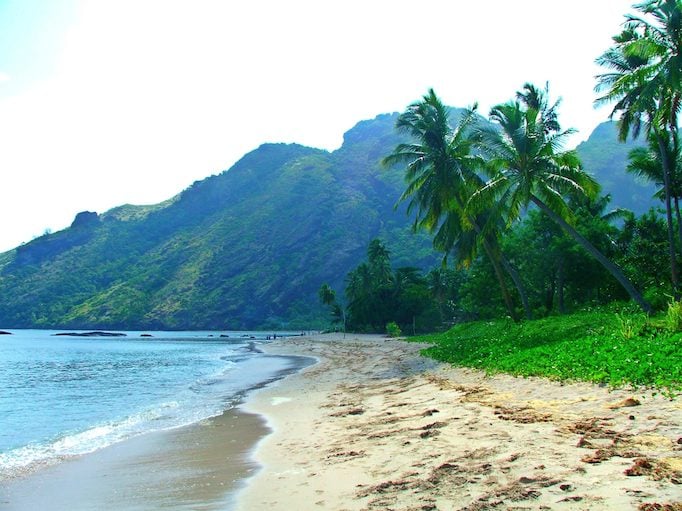 Samoa: beautiful Samoa is authentically Polynesian. In fact, Samoans still adhere to centuries-old social codes known as Fa'a Samoa (the Samoan Way). Together with Fiji (or perhaps even more so), Samoa is the most affordable South Pacific destination – perfect for backpackers though lacking a backpacking scene like in Fiji. Its two islands are connected by a ferry, and getting around is easy in traditional buses or hired cars. Samoa is the stereotypical South Pacific destination. On the menu? Tropical beaches, simple villages, waterfalls galore, and cultural experiences. Here's a closer look at the top 10 things to do in Samoa.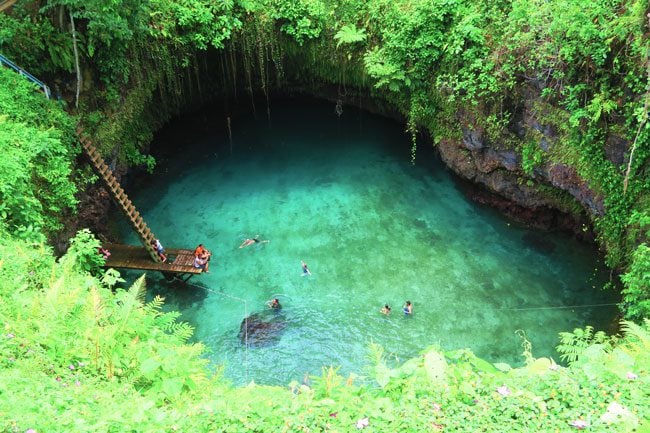 American Samoa: challenging to get to and not that frequented by non-American tourists, American Samoa is an extraordinary blend of US influence with traditional Samoan culture. Thanks to the National Park of American Samoa, the territory's pristine nature can be independently explored on memorable hikes. If you do make it out here, put in a little extra effort and be one of the lucky few to visit Ofu Island – home to one of the most beautiful beaches in the world. Here's a 10-day sample itinerary for American Samoa.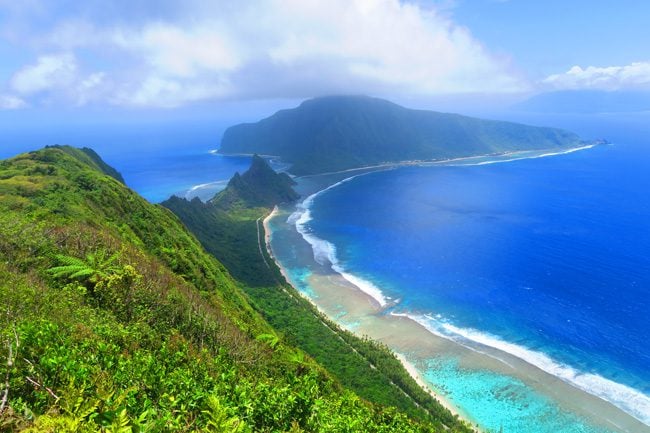 Tonga: the only Pacific island nation never to be colonized, Tonga is not as developed as some of its neighbors (partially because there's no ex-colonial power to fund it). It's an off-the-beaten-track destination that's great for swimming with Humpback whales (June-October), tropical beaches, and getting lost. I had to choose between Tonga and the Cook Islands and chose the latter since it is connected to French Polynesia and I was traveling outside the whale season.
Cook Islands: somewhat independent from New Zealand but partly not – visiting 'the Cooks' is limited to its more accessible southern group of islands, mainly: Rarotonga, Aitutaki, and Atiu. Rarotonga is a compact island with a wide range of accommodations catering to any budget, hiking, water sports, diving, beaches, markets, and Polynesian 'island nights' that are not to be missed. Aitutaki is perhaps home to the most beautiful lagoon in the Pacific and where life slowly meanders in first gear. Atiu is gradually developing for tourism, home to a maze of caves and traditional villages. Have a look at the top 10 things to do in the Cook Islands.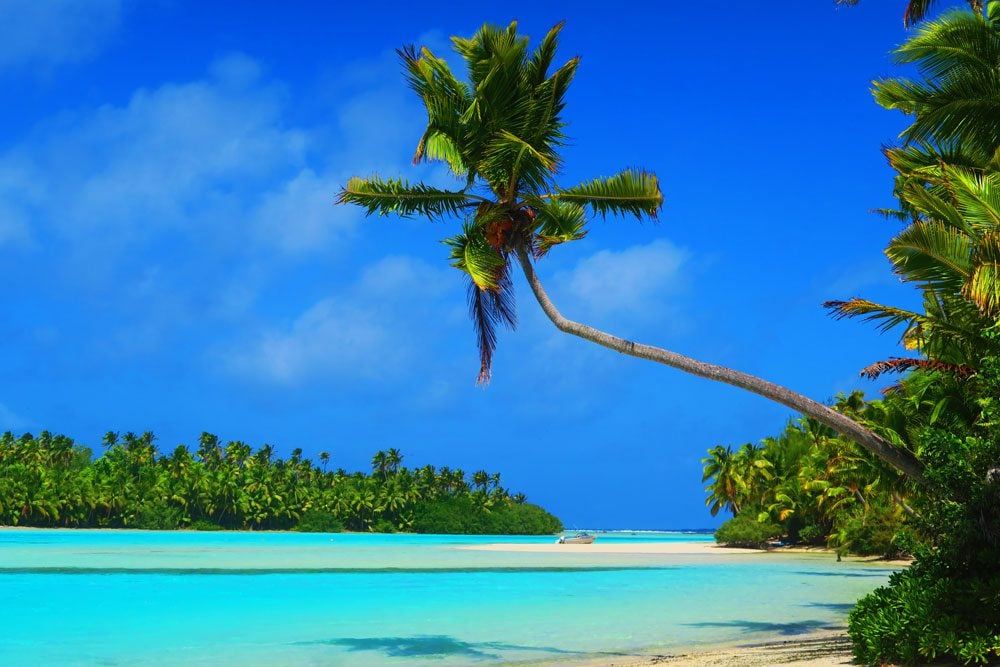 French Polynesia: the best of the best, without a doubt! By far the most diverse, impressive, and easiest destination to get around. Though it is not a budget destination, the islands cater to more than just luxury travelers. Its three most visited archipelagos are the Society Islands (great for beaches, lagoons, hikes, snorkeling, and island vibe), the Tuamotu Atolls (world-class scuba diving), and the Marquesas Islands (a dream destination for nature and history lovers). Have a look at the top 10 islands in French Polynesia and decide for yourself.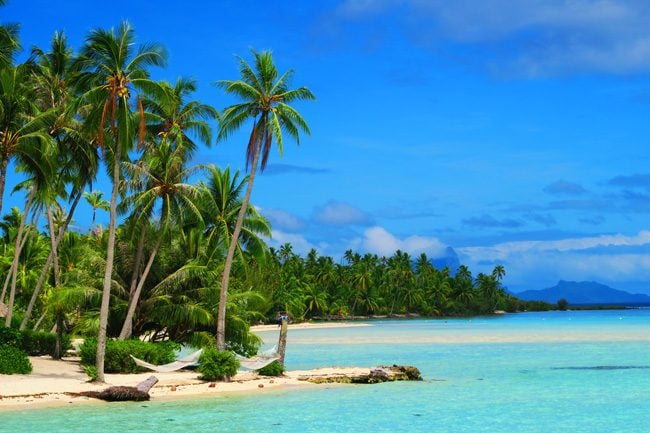 Easter Island: famous for the strange Moai statues scattered across this distant island, Easter Island is reached via direct flights from Chile and French Polynesia.
Before You Go
Here are a few logistics to take care of before getting on the plane:
Though unlikely, check if the islands require a special visa on websites such as

VisaHQ

. Run the same check for Australia and New Zealand if you'll be using their airports to catch connecting flights.

Book all your international flights and print your tickets. Entry to the islands is contingent upon showing your onward ticket at immigration. Therefore, it is also highly recommended to print your eventual ticket back home just in case.

No special vaccinations are needed in the South Pacific but double-check with your doctor.

Ensure your passport and driver's license are valid for at least six months

after

your arrival date.
What to pack?
Having the right gear for this kind of trip can make or break your experience. Everything I personally packed for my backpacking trip in the South Pacific appears in the X Days In Y Packing List section. Use the filters or browse through the catalog and click on the item to buy on Amazon – hassle-free and at a great price!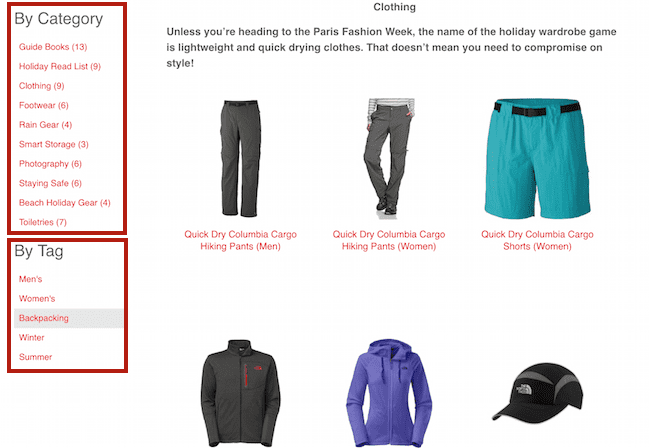 Getting to the Islands
Challenging, scenic, and definitely part of the fun – island-hopping in the South Pacific is an experience you'll never forget. Here are most of the common ways of getting from one island to another:
By plane: by far the easiest way to island-hop in the South Pacific. It is expensive and often the only (reasonable) option, but you'll undoubtedly get your money's worth with priceless aerial views of paradise (grab a window seat!!!). Surprisingly, many islands have a small airstrip – at times with an extension built over the calm lagoon. Many were built during WWII by the US Army and still serve islanders today. If you're visiting multiple islands in one country, inquire about air passes. For example, in French Polynesia, Air Tahiti offers various air passes that allow you to island-hop at a reasonable cost with only minor restrictions, while in Vanuatu, Air Vanuatu offers an air pass that is not quite cheap but cheaper than buying separate segments.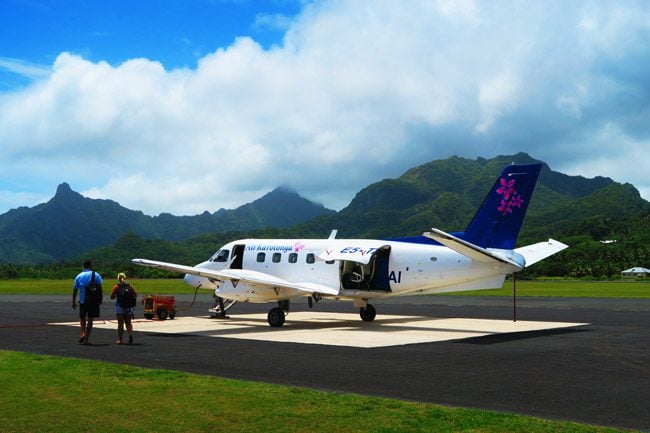 Ferry: some neighboring islands are connected by regular and reliable ferry lines, making island-hopping very easy. These include Tahiti and Moorea in French Polynesia and Upolu and Savaii in Samoa. It is often the case that new lines are added over time, but it can also work the opposite way. Again, it's worth inquiring with locals and your hosts.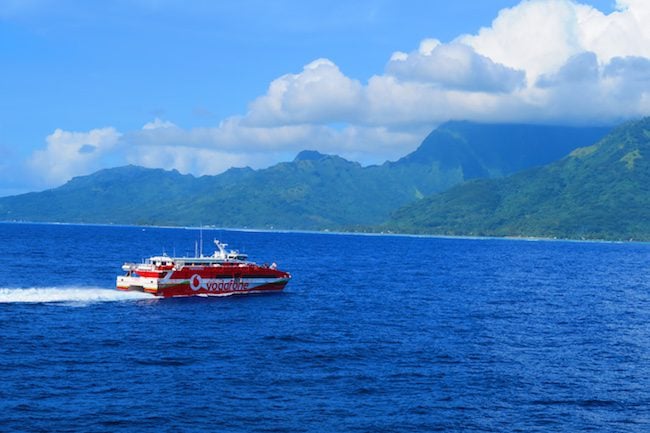 Cargo ships: if you are flexible with your time, getting a ride on the cargo ships which supply the islands will significantly reduce your island hopping costs. Some routes officially serve local residents, so finding information should not be tricky if you speak the local language. Remember that departures may get canceled at the last minute, or you may be bumped in favor of taking more cargo. This mode of transport is reserved for the adventure traveler with plenty of time on their hands.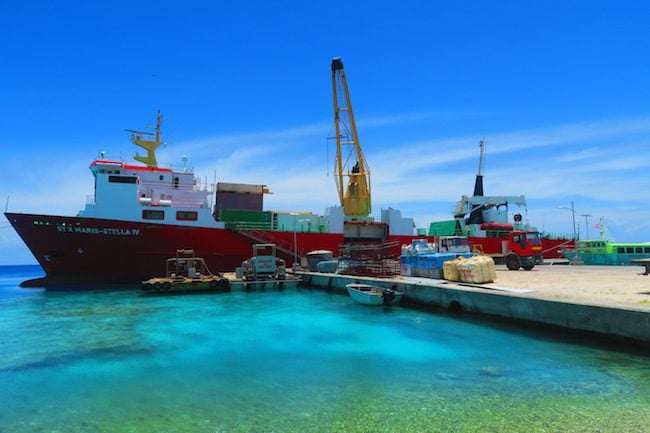 Sailboat: it is possible to crew on sailboats voyaging across the South Pacific. The sailing season is almost exclusively during the 'dry season' when the prevailing trade winds blow from east to west and cyclones aren't a threat. Search online for opportunities on websites such as Workaway or Crew Seekers but keep in mind that unless you're super experienced – captains will usually want to meet you in person before making a decision.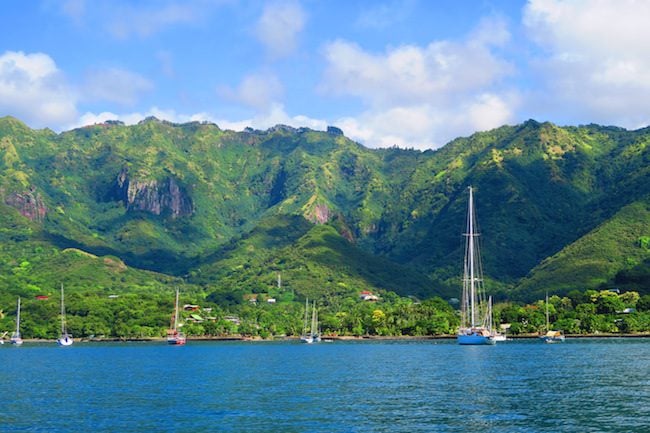 Cruise ships: there are plenty of those around, surprisingly also during the wet season. I am personally not a huge fan of cruises, especially when it comes to the South Pacific. Passengers usually disembark in large bulks for a few hours of organized activities on islands. Imagine how painful it is to board the ship after just a few hours in paradise.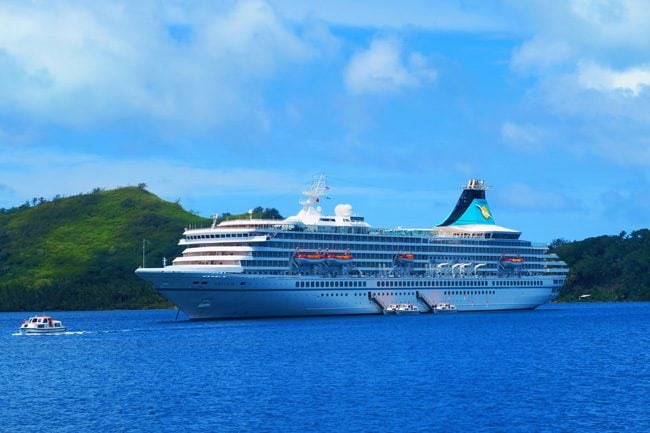 Getting Around the Islands
Though the islands usually look like specks of land on a world map, they are, in fact quite large. The rare ones, like Maupiti in French Polynesia, can be fully explored on foot. But for the most part – you'll need to find a way to get around the islands to satisfy your (justified) urge to explore. Here are all the options I encountered on my trip:
Car: the most comfortable and recommended way of getting around (if not just for the air conditioning!). Rates fluctuate from the super cheap in Rarotonga to the absurdly expensive in French Polynesia. Traveling solo? Renting a car for one or a few targeted days of exploring can totally make sense – especially when compared with the costs of equivalent organized tours. Traveling as a couple or a small group? Renting a car for more extended periods might make sense. Here are a few things to consider/enquire about: Are the island's roads sealed? Are there special rates for rentals of 3 days or more? Do you drive manual/automatic? Is insurance included in the price (fixing a car in the South Pacific is costly)? Always gas up at the first chance you get, and finally – avoid driving at night as roads are poorly lit and animals/villagers cross without warning.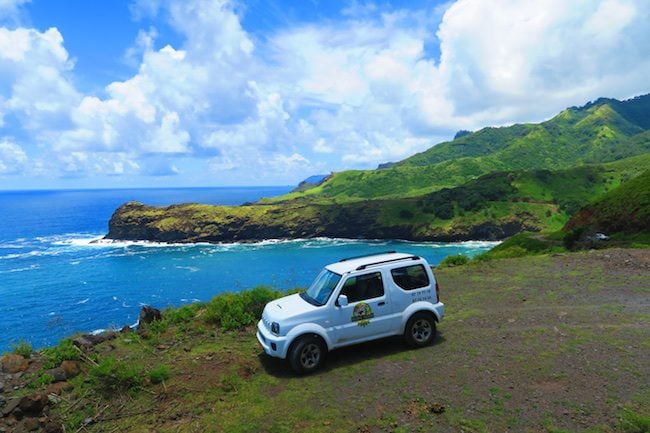 Bus: very few islands have proper public transportation in either buses or shared taxis (vans). The most adequate networks are in Rarotonga, Tahiti, Samoa, Port Vila, Pago Pago, and parts of Viti Levu in Fiji. In the 'Samoas,' riding the flamboyant buses with the locals is a memorable experience that should not be missed. Other islands may have some form of public transportation, but it isn't reliable enough to plan a busy day around.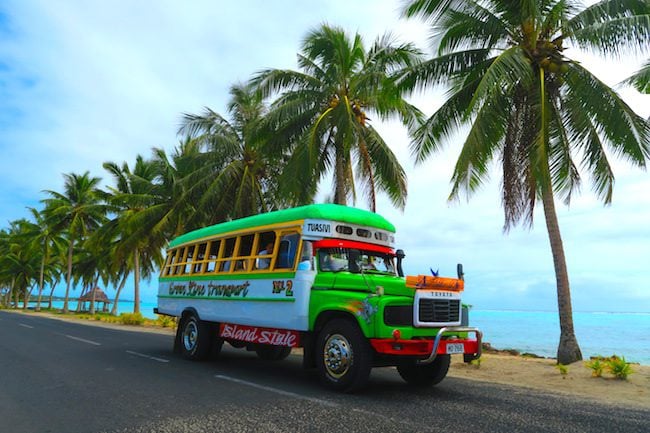 Scooter: this is the ultimate way of inexpensively getting around. A special license is usually not a prerequisite, and in places like the Cook Islands, you can actually get a permit on the spot. A few things to consider and inquire about: does your travel insurance cover scooter-related accidents? Are the island's roads safe for driving? Can the scooter handle a driver + passenger on steep inclines? And finally – avoid driving in the dark/rain and always wear a helmet (even if the locals don't).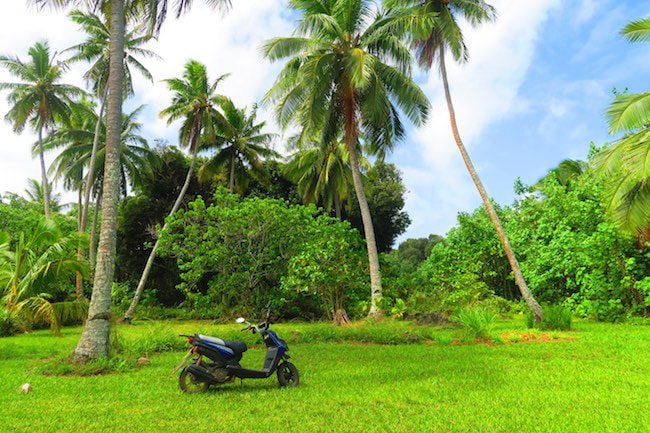 Bicycle: cycling is a great and inexpensive way of exploring small sections of an island. The flatter the island and less humid it is – the more it makes sense. Most islands have someone renting bicycles to tourists, and in some cases, your accommodation might be able to arrange one. However, if the island does have a few hills or dirt roads – avoid paying for rusty beach bikes or bicycles without gears.
Taxis: private taxis are costly on the islands (as opposed to shared taxis which function more like buses). If you must take one: try sharing with other tourists, ask locals how much the fare should be before flagging a taxi, and finally – always agree on the price with the driver before closing the door.
Organized tours: this is an expensive way of exploring but unavoidable on some islands due to the poor infrastructure, for example, on Tanna Island in Vanuatu. On the plus side, tour guides are usually very knowledgeable about their island. I recommend always inquiring: how many people will be on the tour, if the tour includes food/drinks, will there be photo stops and time to wander around, and finally – who is the guide?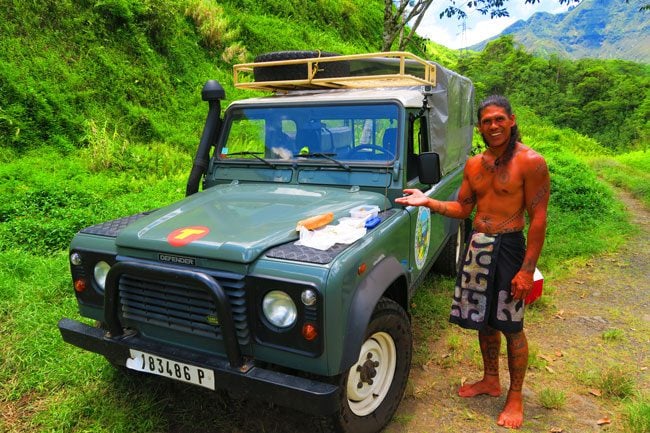 Hitchhiking: Pacific Islanders are some of the friendliest folks in the world, and in general, you shouldn't have a problem hitchhiking your way around the islands. As always, be careful who you get in the car with and avoid hitchhiking solo. Also, remember that days are short in the South Pacific, and you should leave plenty of time to return to your accommodation during the daytime.
Where to Stay
Let's put aside the ultra-luxury resorts because we all know they're there from all those 'bucket list' photos. If it's your dream to stay in an overwater bungalow – go for it! The South Pacific is all about making your tropical dreams come true. But let's discuss other more down-to-earth options since this is a guide on how to island-hop in the South Pacific.
During my six-month backpacking trip, I stayed in every possible accommodation: from an airport bench to an Airbnb, from a simple beach hut to a luxury overwater bungalow. My personal favorites were always the family-owned small businesses. Often, you can strike gold: warm hosts, great views, delicious home-cooked meals, and like-minded travelers. I highly recommend reading my specific island guides, where I always list a wide variety of options.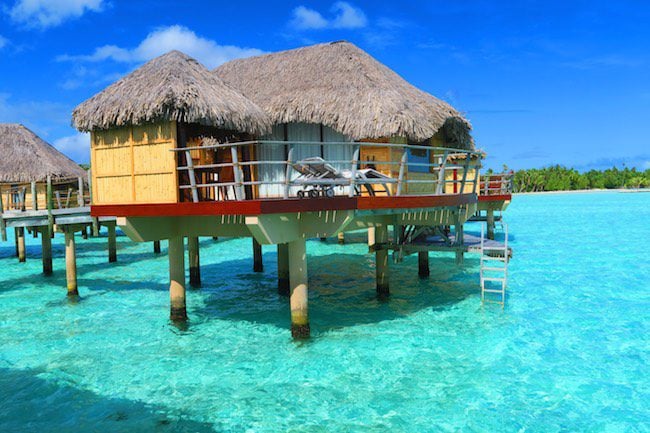 Here are a few rules of thumb:
Unless you have a vehicle, I recommend staying within walking/cycling distance of a town or commercial center for the highest degree of independence (not like I did when I

first arrived in Tahiti

…).

Sites like

booking.com

have a good selection of accommodations in most destinations. An added benefit is that should something happen, you can call them 24/7, and they'll find you a replacement. This actually saved me in the middle of nowhere in Aitutaki. My strategy was always to pre-book with the option of free cancellation and try and find better deals every once in a while.

Some of the more authentic and charming locally-owned accommodations cannot be booked online, just in the old-fashioned way of calling or emailing. In addition, you might be asked for a credit card deposit, and their cancellation policy is sometimes quite strict. So inquire ahead and also ask about any surcharge if paying by credit card.

Want to volunteer in the South Pacific in exchange for free accommodations (and sometimes even meals)? Have a look at workaway.info – they always have lots of opportunities.
Here's what you can expect in some South Pacific destinations, starting with the most inexpensive and working our way up the luxury ladder. I also included a very rough estimate of the starting price for the cheapest option, which should be taken lightly as things can quickly change.
Vanuatu

: village stays, beach huts, motels, resorts >

starting at $30/night

Fiji

: backpackers, family pensions, resorts >

starting at $50/night

Samoa

: beach huts (

fales

), bed and breakfasts, lodges, resorts >

starting at $30/night

American Samoa

: homestay programs, motels, lodges >

starting at $70/night

Cook Islands

: backpackers,

Couchsurfing

,

Airbnb

, self-catering villas, motels, resorts >

starting at $20/night

French Polynesia

: camping, backpackers, Couchsurfing, Airbnb,

holiday homes

, family pensions, lodges, resorts >

starting at $30/night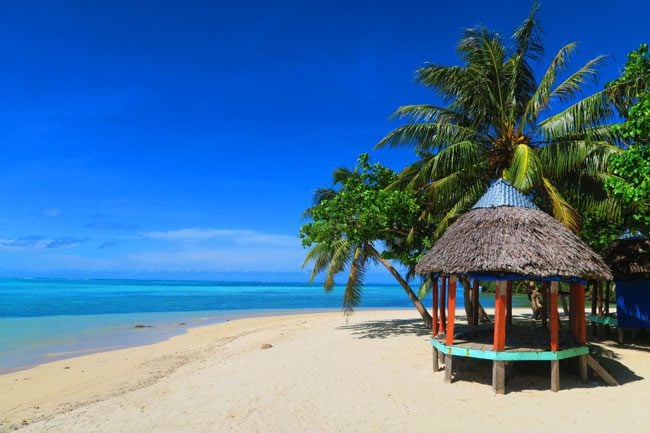 Understanding the Locals
Despite having a cannibalistic history, the South Pacific islanders are some of the friendliest people you'll ever meet. At the beginning of your trip, you'll feel strange when every passing local greets you with a warm 'hello.' And when you return home, you'll be the weirdo that greets strangers who stare at you as if you just landed from another planet.
Here are a few tips when it comes to dealing with the locals.
The land is often privately owned by an extended family or village, so if a nice beach or a waterfall happens to be on their property – they'll charge an

entrance fee

. Ranging from the small to outrageous – this is perfectly normal and helps the family survive.

Islanders run on

'island time'

so never try to rush them or act in a pushy manner. Smiling even when faced with poor service will go a long way.

Tipping is not customary in the Pacific islands and,

in some places, even frowned upon since locals might feel obliged to pay it back.
On the same token, bargaining is not customary either. In fact, during your first visit to the market, you'll notice that every banana is marked with a price. On the other hand, feel free to negotiate with tourism providers if booking long stays or renting vehicles for longer than three

days.

Pacific Islanders have long withstanding social codes of behavior. They may not make sense to you, but they do to the locals. For example, Vanuatu has Kustom, and Samoa lives by Fa'a Samoa. I recommend doing prior research before visiting, including on the X Days In Y guides for your specific destination. Official tourist brochures will also usually have a special section on the dos and don'ts.

Sunday is a time for church and family. More on that in the next section.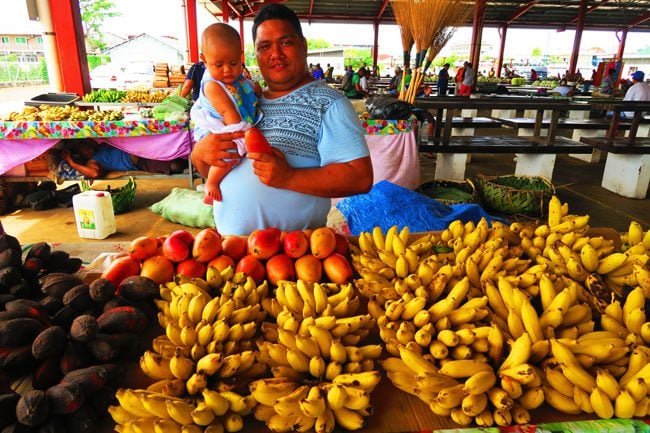 Finally – living on remote islands is a fascinating accomplishment. Use this opportunity to strike conversations with your hosts, waiters, housekeepers, and that 'Messiah' who sells ice-cold coconuts on the side of the road when you're super thirsty. Talk to them about life on the island, their secret to happiness, the traditional code of behavior, and the challenges of living on the island (there are many).
Planning Your Day
Every day will bring beautiful new discoveries, so keep that long snooze for the plane ride home. Here are a few tips to help you structure your day:
Since you're close to the equator,

the days are quite short

. So get

an early start when the weather is still pleasant, and aim to wrap things up before 6 pm. You'll notice that islanders start their days early, with kids starting school before 8 am!
Try to time your arrival to the new islands during the daytime so you'll be able to catch a bus from the airport/ferry and avoid paying for taxis.
Always pack an 'emergency meal' when switching accommodations/islands. You never know if there's a restaurant nearby, if the shop is open etc. I always had some peanut butter, crackers, fruit, and maybe a cucumber.
Fancy some snorkeling or hitting the beach? Inquire with the locals about the tides.
Travel times can take a lot longer than planned: the road might be slow-going, and you'll probably want to stop to take photos every 5 minutes. So always

give yourself extra time.

Sunday on the island: this deserves its own section, so keep reading.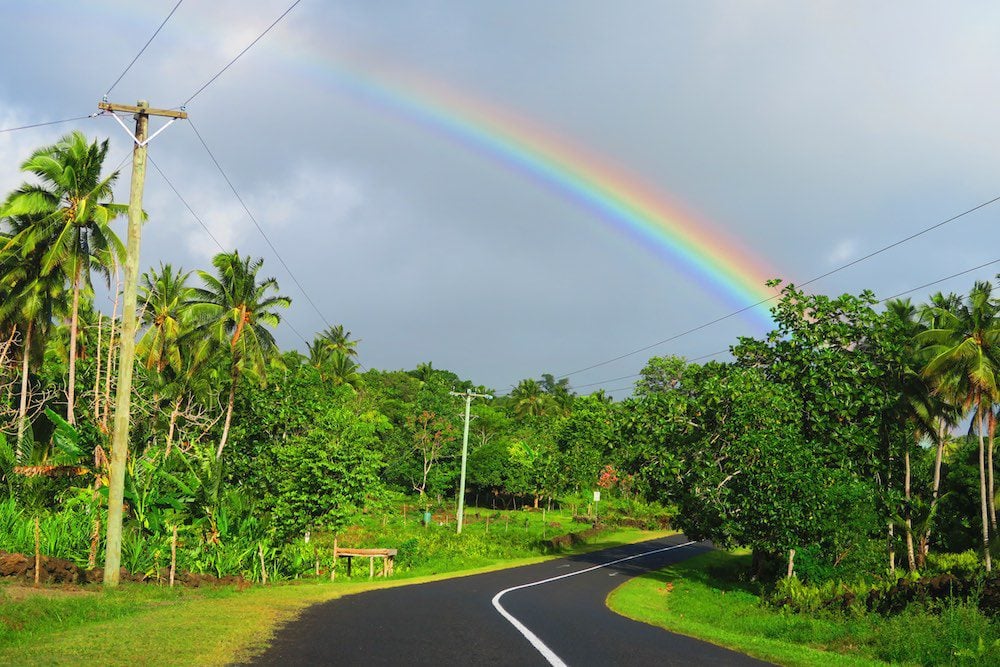 Sundays on the Islands
Pacific Islanders are predominantly devout Christians (some islands more than others), so as expected, not much happens on Sundays. Mornings are spent at church, afternoons eating with the extended family, and evenings digesting all that food! Stores and restaurants are closed, buses don't operate, and tour providers take the day off (dive centers, organized tours). There are exceptions, for example, in proper resorts and famous islands like Bora Bora.
Therefore:
Avoid heavy-duty logistics on Sunday (interisland flights, moving around, etc.)

Stock up on some food if staying in rural areas and budget accommodations

Join the locals! Religious or secular, believer or not – attending Sunday church service is a heartwarming experience. I must have gone a dozen times to church, and I'm Jewish! Highlights include the

strange village church

in Espiritu Santo (Vanuatu),

dressing like a real Samoan

in Upolu, shaking my body to the Lord in

Ofu

(American Samoa), finely dressed locals singing in perfect harmony in

Rarotonga

(Cook Islands) and

Tahiti

, a

church straight out of King's Landing

in the Marquesas, and finally –

a church made out of coral

in Fakarava (French Polynesia).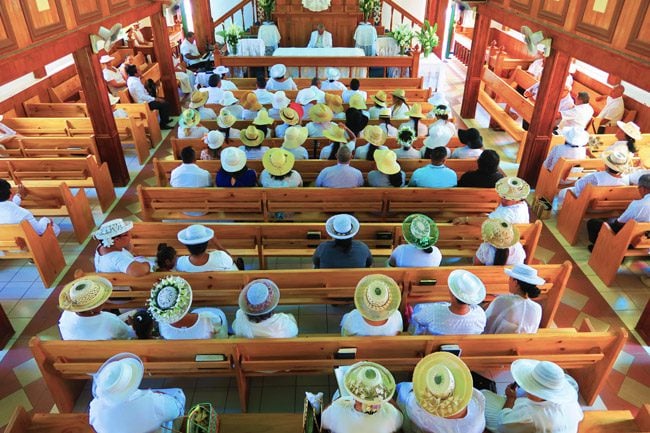 How to Save on Costs?
As mentioned earlier, island-hopping in the South Pacific islands isn't the cheapest trip (though it is probably the most rewarding), but it's not solely reserved for luxury travelers. If you haven't already done so, look at a detailed cost breakdown of my 6-month backpacking trip to get a feel for what you're up against (2015-2016 prices).
Here are a few ways to lower your travel costs in the South Pacific:
Money:
ATM fees will be outrageous, so withdraw as much as you can in one go and inquire with your bank how much it charges

(the local bank will also take its cut)

. What happens in the background is that your bank uses a base currency for the conversion to your home country's currency (USD, Euro, etc.). As such, multiple "steps" or additional conversions might take place to get from the island nation's currency to your home country's – with each step involving a % fee.

Want to pay with a credit card? Local merchants might add a 3-5% surcharge.

You know those tourist maps you get everywhere? They actually have beneficial coupons in the South Pacific!
Flights & Getting to the Islands:
Travel during the low

or shoulder seasons, and avoid school holidays when flights tend to fill up quickly. Traveling in the low (rainy) season can unlock huge savings but is more applicable to travelers on an extended journey where three days of rain won't ruin your experience. The only caveat? The cyclone-prone zone of the mid-South Pacific (Vanuatu to Samoa) takes place between December and March. The solution? Keep heading east towards French Polynesia, which sees far fewer cyclones.
Inquire about air passes if island hopping within a single destination (for example, in Vanuatu and French Polynesia).
Travel on cargo ships if you are flexible with your time. All islands are serviced by these large ships, which often have a few spots open for travelers at dirt cheap prices. It's best to do some research and ask the locals. Travel between Samoa and American Samoa, as well as between certain islands in French Polynesia, is totally doable by boat.
Accommodations:
Search for couch surfing hosts, stay in dorms, campgrounds,

or volunteer.
That's not your thing? Not a problem! Spend your nights in locally owned and operated lodges. These are anything from beach huts in Samoa (fales) to local pensions in French Polynesia, with both usually including half-board meal plans in the price (I made the calculation, and the increased per-night cost is more optimal than having to buy two meals).

Getting around:
Use buses or shared taxis to get around the island.

The best islands for public transportation are Efate (Vanuatu), Espiritu Santo (Vanuatu), Upolu & Savaii (Samoa), Rarotonga (Cook Islands), and Tahiti (French Polynesia).

Want your own wheels? Scooters are cheap and manual cars more than automatics.
Tours & diving:
Are you planning

to do more than one tour on the same island? Inquire whether these can be booked through the same operator or your accommodation for a bulk discount.
Inquire about dive passes if planning to do multiple dives in the same country. For example, in French Polynesia, you can take advantage of a dive pass that not only lowers the per-dive cost but is also valid in participating dive centers on six islands.

Have your own mask and snorkel

(see 'what to pack').
Food and water:
Eat local and whatever is in season.

Buy fruits and vegetables in local markets and

roadside stalls.
Markets are usually great spots for home-cooked lunch meals (see 'staying safe' for more).
Does your lodge or pension offer a half-board stay (breakfast + dinner included)? This almost always works better than eating dinner outside, unless you can cook your meals.
Book self-catering accommodations (very popular in the Cook Islands and on some islands in French Polynesia).
Don't rush to buy a six-pack of mineral water. Instead, ask

your hosts if tap water is suitable for drinking where you'll be staying. On some islands, it will be.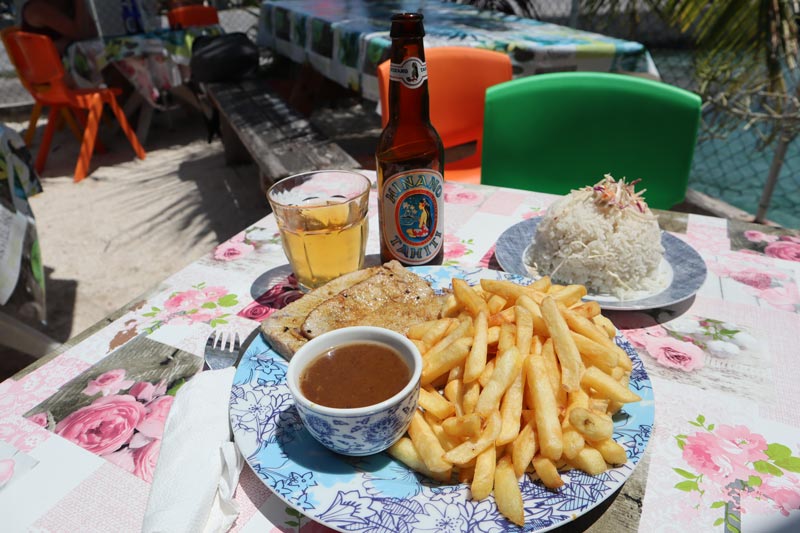 Alcohol and tobacco:
Aside from French Polynesia, spirits

and tobacco are pretty expensive on the islands. If you smoke or want to have some booze in your room, do

duty-free shopping.
Internet & Mobile Phones
Internet, mobile phones, and even mobile data have made it to all South Pacific islands. While some rely on satellite communications, others are connected to the world via undersea cables. Though the connection might be a bit unreliable and slow, you'll be amazed that even in the most remote corners of our planet – you can still get your daily dose of Facebook! Keep in mind that in some destinations, such as the Cook Islands and Samoa, the concept of free WiFi does not exist (yet), and you'll need to connect to paid hotspots.
Here's what I recommend:
Buy a local SIM card

upon arrival (at the airport or in town).

Traveling to multiple islands? Check which mobile operator has the best coverage.

If WiFi is only available via paid hotspots – check which provider has the best coverage before buying credit. Private hotspot networks usually have deals with hotels/resorts,

but those are probably way too overpriced (because they,

in fact, 'ride' on the national provider's network).

Top up your Skype/Google Voice accounts before leaving home. You might need to make international calls to your bank (card got blocked), the family, travel agent (booking.com customer support saved me in

Aitutaki

), etc.

Restrict mobile data on your smartphone to avoid precious megabytes from being consumed by your meager prepaid data plan.

Download

offline Google Maps

in case there's no reception.

Like to watch movies/shows? (Legally) download these before leaving home.
Lastly, have I already mentioned you're traveling to paradise? Use this time for that much-needed digital detox, forget about life and concentrate on enjoying every minute of every day!
Scuba Diving & Snorkeling
If you are impressed by what's happening above ground, wait until you see what's happening beneath the waves. Here's a shocker: the South Pacific islands are home to some of the most amazing marine life in the world, so don't leave home without a GoPro (see 'what to pack').
Snorkeling Tips:
The best snorkeling is found on islands protected by reefs. The reefs form lagoons where coral can grow in

shallow waters.
Snorkeling conditions are optimal between the tides, when the water is not too shallow and when the incoming tide doesn't wash up sand

.

Always inquire with your hosts about the do's and don't's of the island: where it's safe to snorkel and where it's not. Be very aware of breaks in the reef where swimming is hazardous.

Unless you're hiking up a mountain, always have your mask and snorkel. Sometimes, the best snorkeling is just off the side of the road.

Fins are not a must but do come in handy (pack them if you have extra room in your luggage).

On many islands, the best snorkeling spots are in 'coral gardens' – sections of the lagoon accessible by boat. Either hire a local with a boat or join a lagoon tour that includes some snorkeling.

Needless to say: don't touch or remove any coral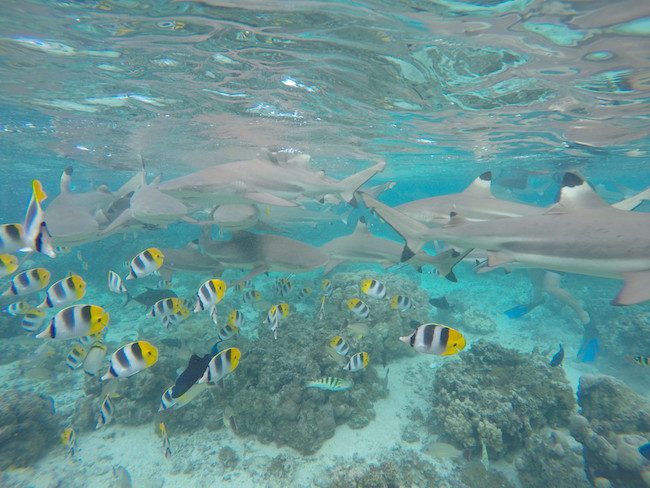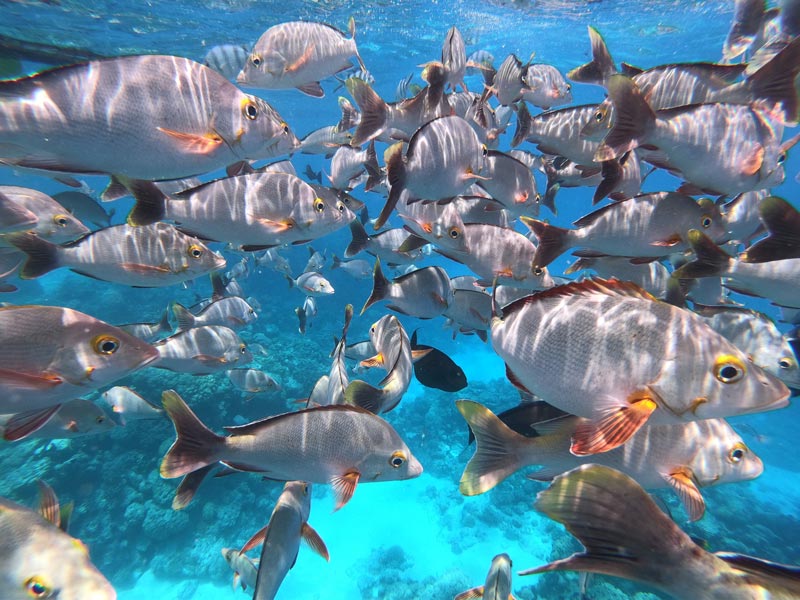 Scuba Diving Tips:
The atolls of

Fakarava

and

Rangiroa

in French Polynesia are the best islands for scuba diving in the South Pacific. I saved most of the diving for my visit to the atolls, where you experience thrilling drift dives into the massive lagoons and encounter: sharks of all kinds, dolphins, turtles, and pristine coral.

Other notable mentions include Espiritu Santo – Vanuatu (wreck dives), Rarotonga – Cook Islands (reef drops), Tonga (diving with whales), Moorea – French Polynesia (sharks), and Maupiti – French Polynesia (manta rays).

The more you dive, the more you save. Always inquire about discounts for multiple dives or dive passes if visiting multiple islands in the same country.

PADI and SSI are accepted everywhere, but in French Polynesia – a CMAS certification allows you to take part in more challenging (and rewarding) dives.

Dive-friendly destinations like French Polynesia reward drivers with additional weight at no extra charge on checked luggage. You'll need to show your diving card and (sometimes) the equipment.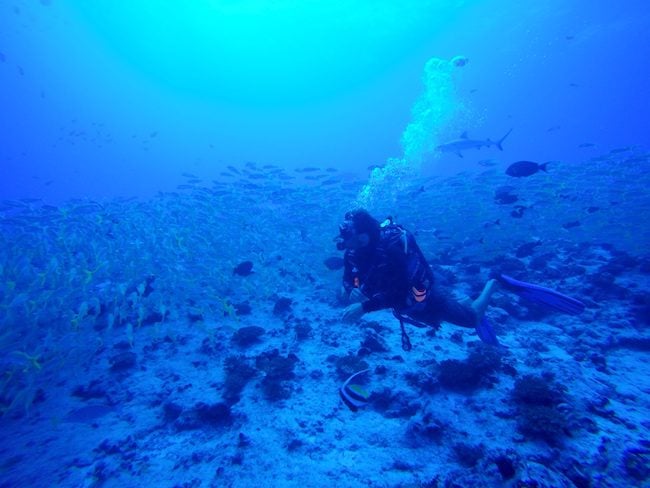 Hiking in the South Pacific
The South Pacific islands are a lot more than just tropical beaches. In Fact, one of the most rewarding ways of exploring an island is by hiking it. Whether through the dense rainforest on the hunt for a hidden waterfall or steeply climbing to an island's highest peak – don't forget to pack those hiking shoes! The only problem? The islands' beautiful nature is often inaccessible, with hiking trails either non-existing, unmarked, or overgrown with vegetation. However, there are a few exceptions, and you should always be able to find at least 1-2 hikes that you can safely do on your own.
A few things to consider:
Always inquire at the local tourist office or with your host about which hikes can be done without needing a guide.

When in doubt, always hire a certified guide. Every island has stories about tourists and locals who got lost and never made it back (I'm serious).

If you're hiking without a guide, pack something colorful that can be cut into small pieces and tied to trees to mark the way back. Let your hosts know where you're going and when to expect you back.

Inquire if the hike is circular or if you'll need a ride back.

Take at least 2L of water for every 3 hours of hike and some food.

Wear a hat and long pants in case of overgrown vegetation, put on sunscreen, and wear sandals instead of shoes if rivers must be crossed.

Bring a change of clothes for after the hike. You'll be soaked in sweat!

Plan your hike for the mornings.
What to Buy in the South Pacific?
Despite the weight restrictions, leave plenty of room in your luggage! The things you can buy on the islands are as exotic as the islands themselves. On those cold winter days when your visit seems like a distant memory – here are a few things that will prove that you indeed made it to paradise:
Vanuatu

: shell necklaces, wood carvings, traditional dresses,

Tanna Coffee

Fiji

: wood carvings, tribal masks

Samoa

: exquisite yet inexpensive

siapo

(

tapa cloth

), shell necklaces, tattoos, island fashions

Cook Islands

: black pearls, modern island fashions, grass skirts/coconut bras, ukuleles, noni juice, tattoos

French Polynesia

: black pearls, modern island fashions, vanilla, scented soap,

monoi,

and

tamanu

oils, jams, liquor, tattoos, wood, stone & bone carving (especially in the Marquesas Islands)
* Everything mentioned above will make it through customs (at least the ones in New Zealand, Australia, and Canada).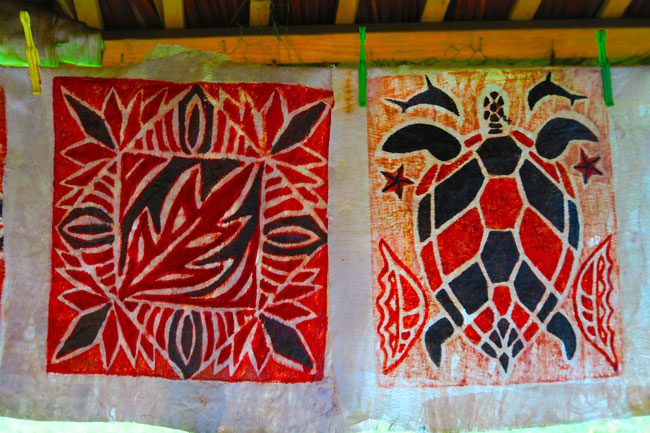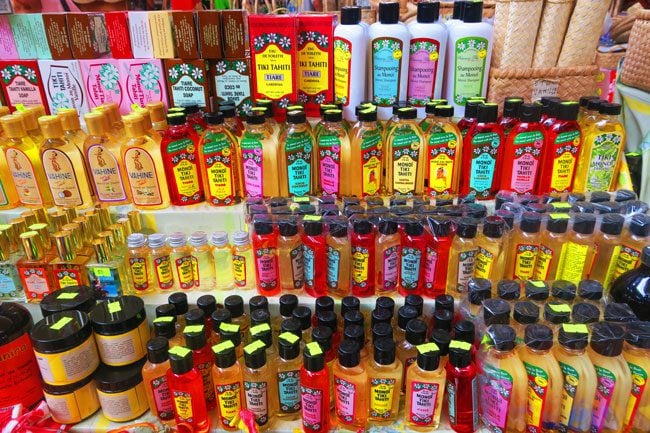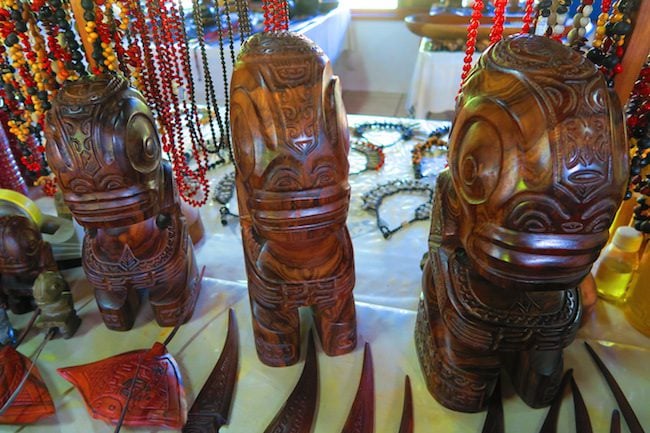 Essential Safety Tips!
Though the South Pacific islands are a VERY safe destination, there are a few things to watch out for. Some dangers are caused by nature and cannot be avoided, while others are totally within your control. Here's a general list that is not intended to scare you in any way (honestly).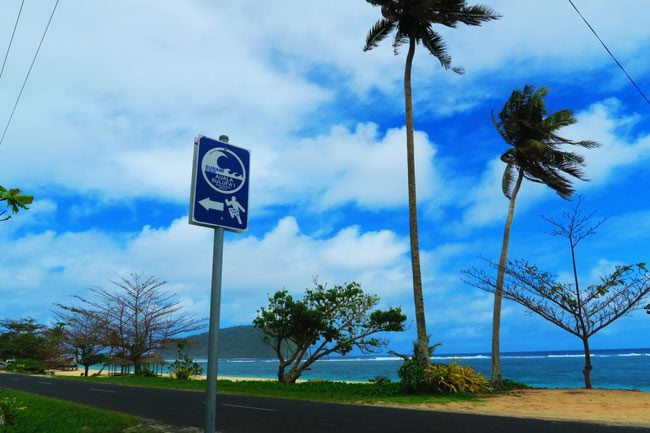 Don't forget to visit the 'what to pack' section for essential safety gear you must take with you:
Insurance:

do not leave home without proper travel insurance!

World Nomads

offer excellent coverage that fits any travel style.

Cyclones

: can happen between November to April, especially west of French Polynesia.

Tsunamis

: rare but can happen (

the last one was in Samoa in 2009

). You'll notice evacuation signs and might even witness a safety drill.

Leptospirosis

: usually caused by eating food that's been contaminated by pig or rat urine.

Always

wash fruits & vegetables – even if you just picked them off the tree.

Dengue fever & Chikungunya

: there are cases reported each year. There's not much you can do once ill,

so it's best always to use mosquito repellent as a preventative measure.
Dogs: islanders LOVE their wild dogs, and nearly every household seems to have at least one. Be very careful when entering driveways to ask for directions. If you see a pack of dogs coming at you, just walk away quickly and confidently. Threatening with a rock or a coconut branch can help solve the issue quickly.
Driving at night: try to avoid this since roads are poorly lit, potholes exist, and locals or animals tend to cross without warning.
Eating out: when in doubt, always choose a place where a refrigerator can clearly be seen.
Hiking: see the 'hiking' section for helpful tips
Emergency: be sure to have enough phone credit and always share your itinerary with your hosts.
Theft: lock your stuff! (seriously).
Swimming/snorkeling/kayaking: always inquire about the dangerous spots. These are usually where a break in the reef leads to aggressive currents. For example, I visited Rarotonga a few days after a German kayaking couple didn't adhere to the warning signs and drowned.
Coral: if you're cut by coral, swiftly clean with alcohol and apply an anti-inflammatory cream. Coral infections can be nasty and spread to the bones.
Stonefish: these well-camouflaged fish can leave a painful mark. Except on absolute sandy beaches, I always entered the water with waterproof sandals.
Ciguatera: can be caused by eating infected lagoon fish. Always ask the locals if it's safe to eat a specific fish. Fish found outside the lagoon (tuna, mahi-mahi, etc.) are almost always safe to eat. Drinking water: most islands rely on collected rainwater that isn't suitable for drinking unless filtered. The rule of thumb is always ask.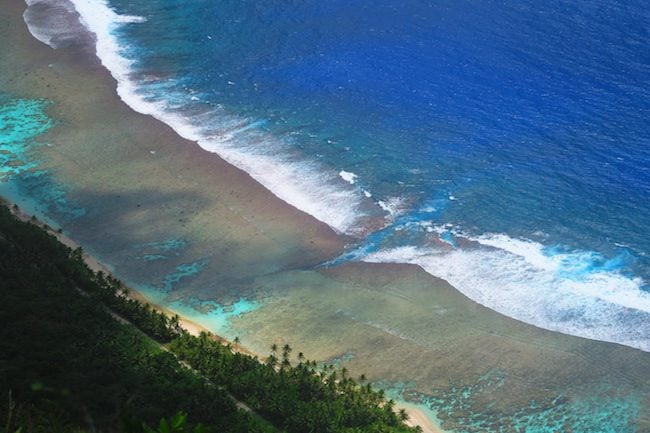 Are You Now Ready?
So now you have a pretty good understanding of how to island-hop in the South Pacific islands! Lots of information awaits you on X days In Y, and I would love to hear your plans for visiting paradise.
---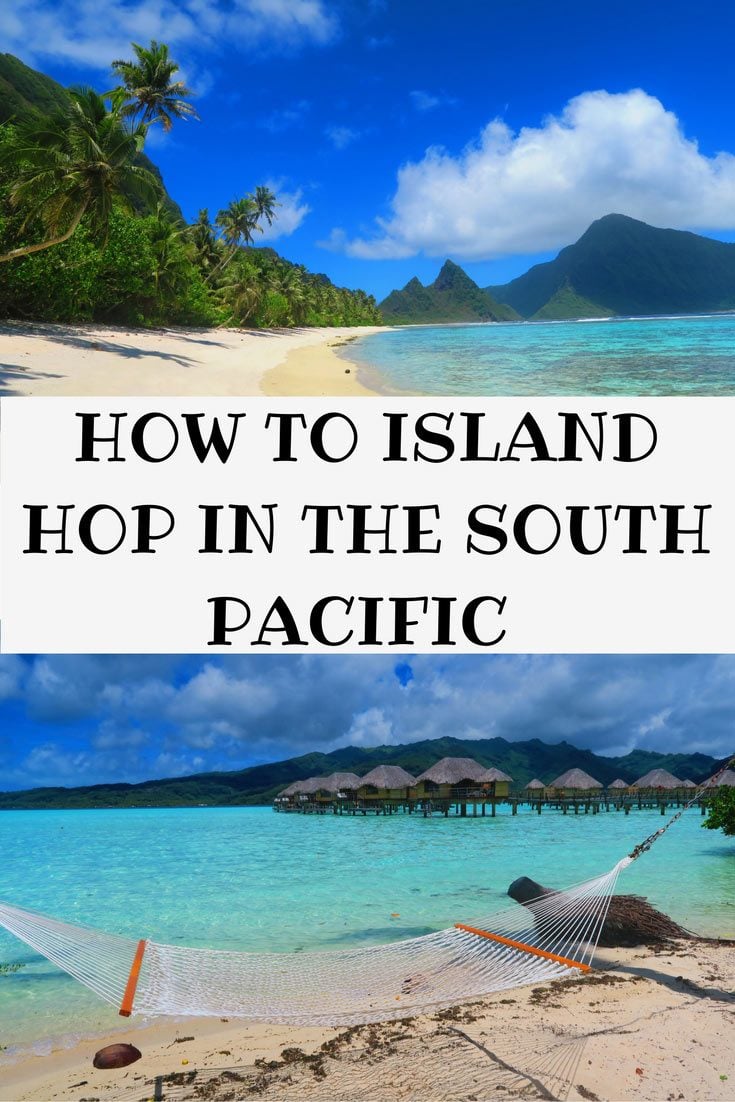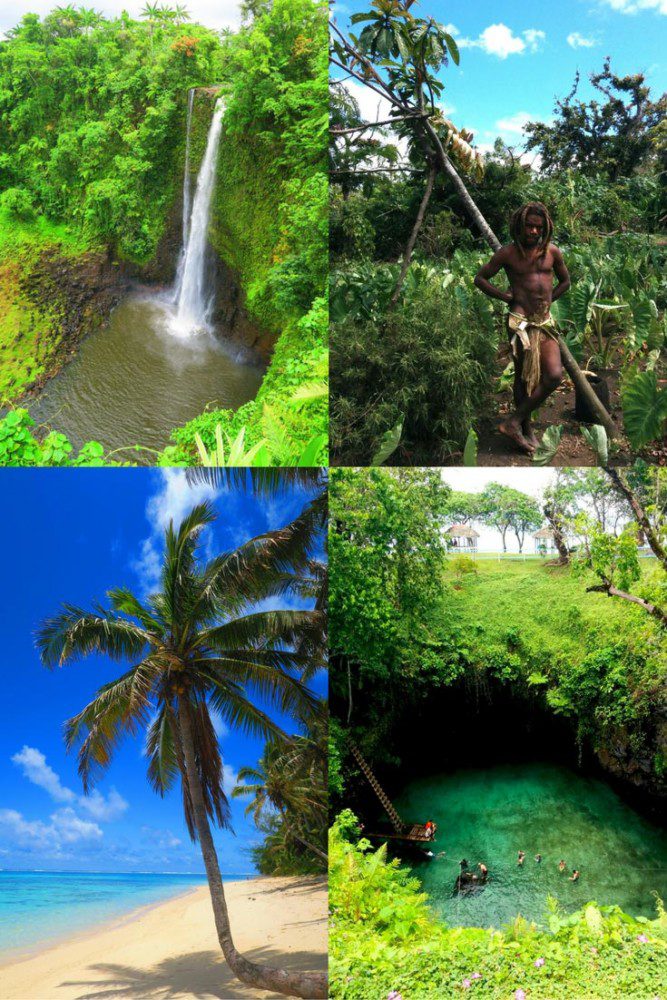 Pin These Images To Your Favorite Boards!